Stand out with colorful nails! Ever wondered how you could get glow in the dark nails polish? It's pretty easy when you can simply go to the stores and purchase high quality and long lasting ones in the color of your like.
What makes glow in the dark nail polish different is the fact that it simply stands out from the rest; especially in the dark. It's very convenient and perfect for parties, night outs and other special occasions where you simply want to shine and look cool at the same time.
However, what if you think glow polish is a bit expensive for your taste or maybe, you just cant find the right color that you would want for your nails. Don't worry too much since there are ways where you can have do-it-yourself for your dark nail polish.
Make your own glow in the dark nail polish
There are three ways to make your nail polish glow in the dark, using glow sticks, using nail resin or acrylic paint.
Make sure that you have a matching nail polish close to the color of the glow stick you want to use. The colors don't necessarily need to match each other, just the same hue will be good enough. There is a fine line about being creative and ending up with a mix that is unusable. To be safe you can always use clear nail polish so that you will be able to use just about any color of glow sticks you want.
A glow stick is a plastic tube filled with a chemical and fluorescent dye. Simply cut the glow stick in half and let the glow liquid out of the stick. Mix it thoroughly with your nail polish. This makes your nail polish texture different and permanent so if you want to use your nail polish in the future it is advised to simply pour out a small amount and mix it with the glow liquid separately. The fluorescent dye is what gives the light a color in the dark, similar to the UV glowing tattoos.
You can then apply your base coat and add the newly combine glow in the dark polish on top. To check you can simply turn of the lights or go to a dark room to see the effects.
Here are other options you would want to try when creating your original glow nail polish
-nail resin
-acrylic paint
It depends on which one is available in your area and which type you would feel comfortable using. Just make sure that you have looked at the precautions when using the products on your nails. You would not want to put something toxic and can potentially hurt your nails. Try to watch tutorials or read blogs on how to mix or make your very own glow in the dark polish if you are not yet sure. If you have friends who have done this before, you can also inquire them about the procedure they used and how long the glow effect lasts.
Once you've got it down, you can easily combine colors and enjoy painting on your very own budget and totally cool looking glow in the dark nail polish!
Play along with this neon and icy UV blue nail polish in the dark and paint your nails with the color of absolute icy.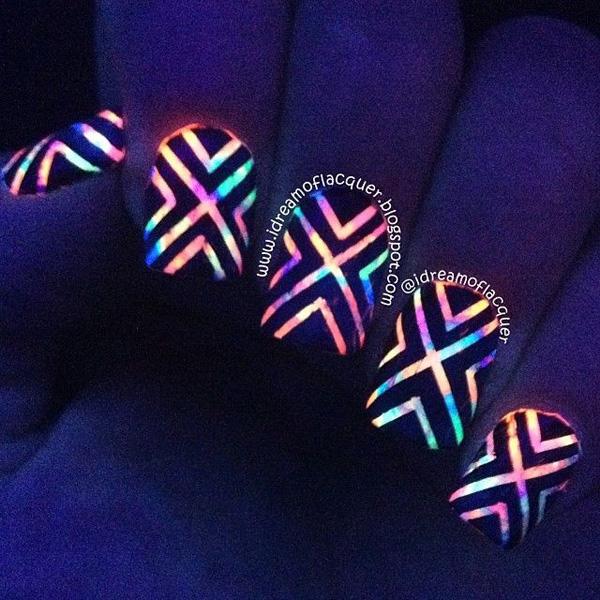 Neon colored x-shaped glow nail polish design. Make your nails shine bright under the dark light and at the same time look smashing and vicious.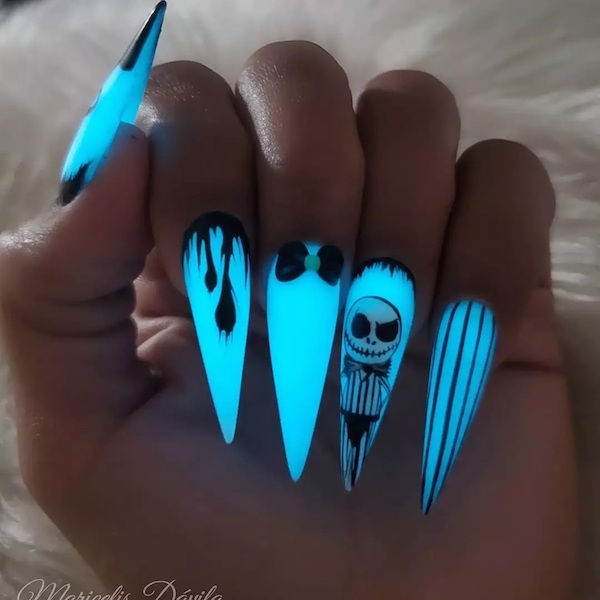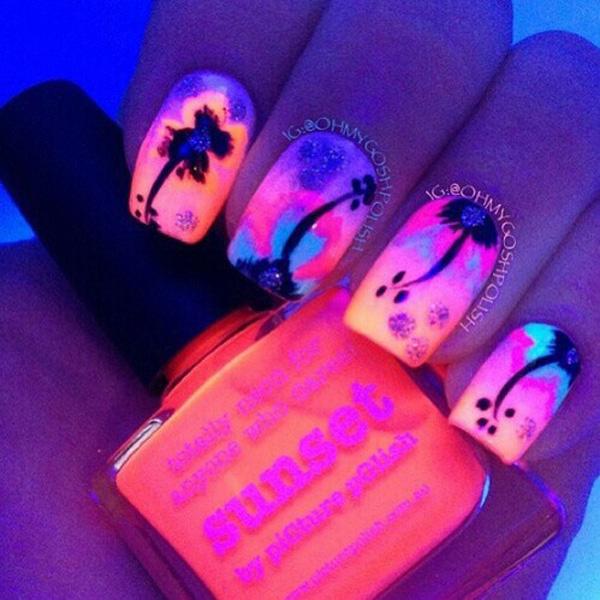 Hibiscus nail polish design. The petals of the hibiscus have been painted in UV nail polish while the stems retain its black color under the dark light. The flowers have a somewhat silhouette effect.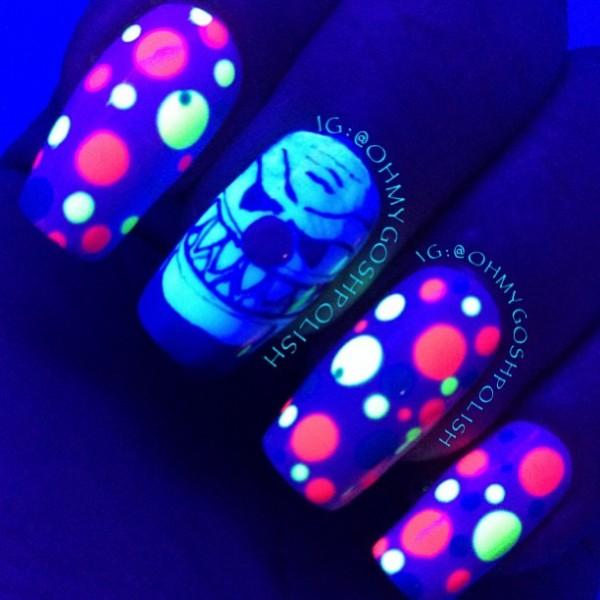 Instill fear and terror with this glowing evil clown inspired nail polish. Apart from the glowing clown's face, various circles in different sizes are also added for effect.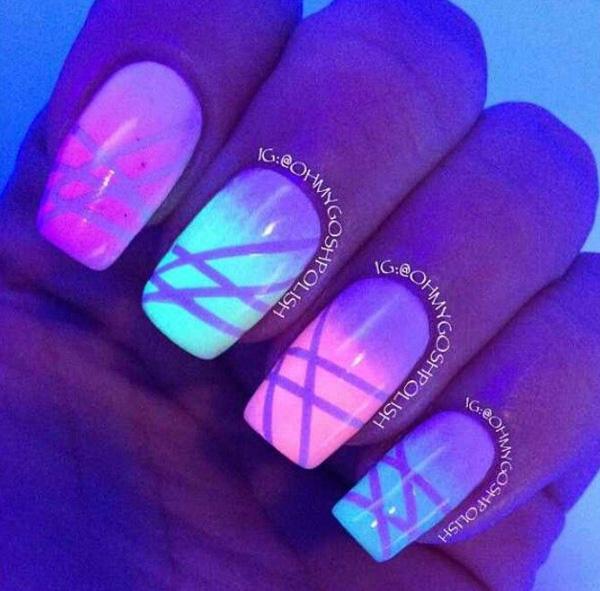 Look cool with neon glow gradients on your nails. The stripes have also been added on top of the gradient to make the design look even more sophisticated and classy.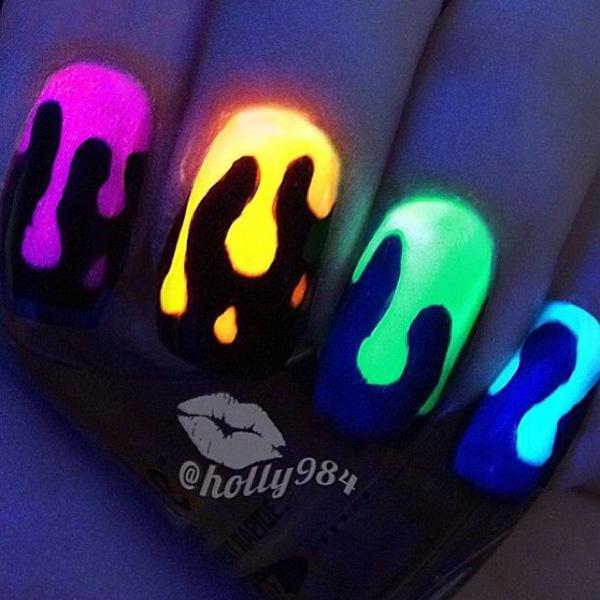 Give a darker feel to your nails with this paint dripping inspired glow nail design. The UV light looks as if it is slowly dripping from your nails unto a dark base on the tip of the nail which simply looks amazing.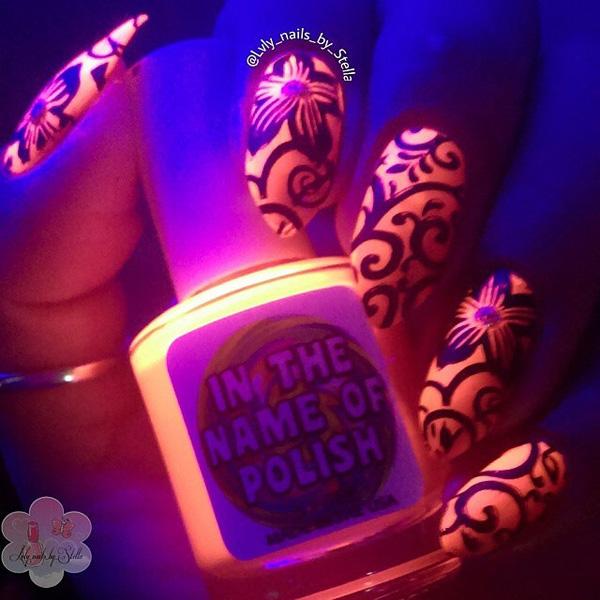 Tribal inspired glow in the dark nail polish design. Make the hibiscus tribal design jump out of your nails by adding a neon colored background.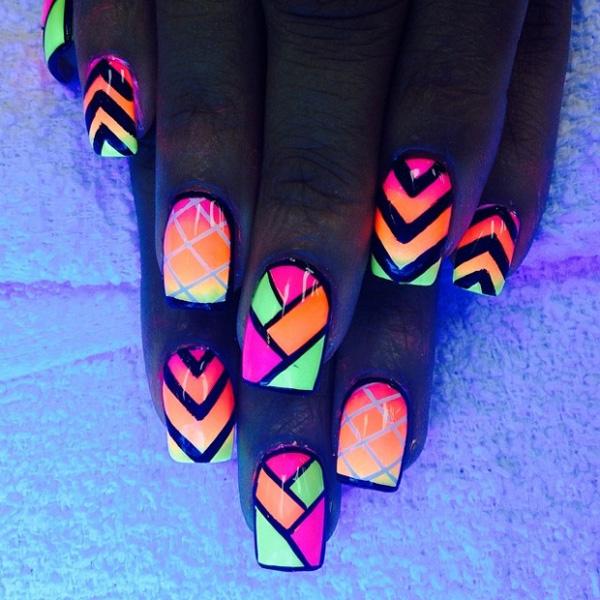 Bold colors and lines are combined to create this amazing looking tribal nail art design. Play with diagonals and stripes over a set of matte and gradient neon base polish.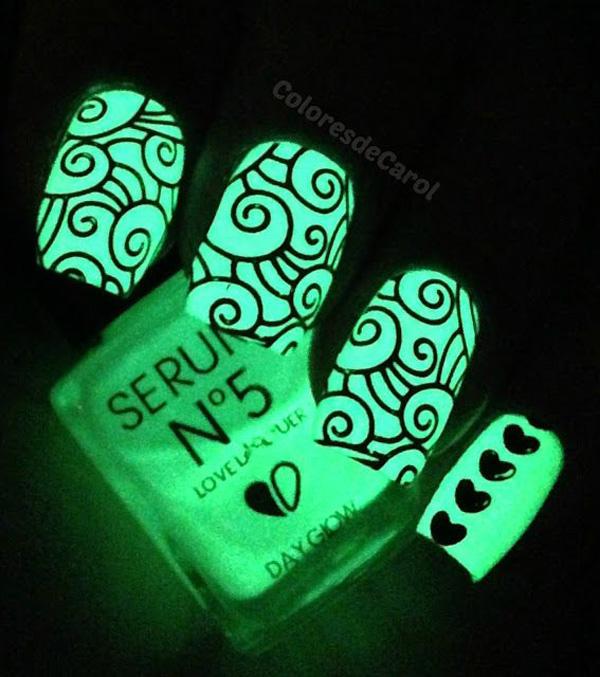 Be mesmerized with this swirling green themed UV nail art design. The green nail polish looks perfect against the black swirling outlines that encompass the entirety of the nails.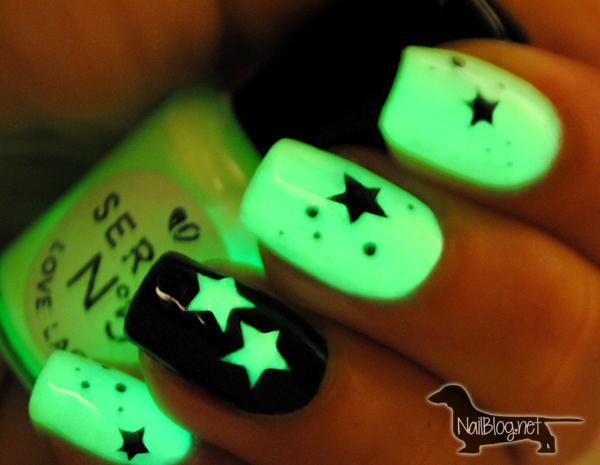 Revel in neon green glow in the dark of stars plus a striking background and silhouettes of black.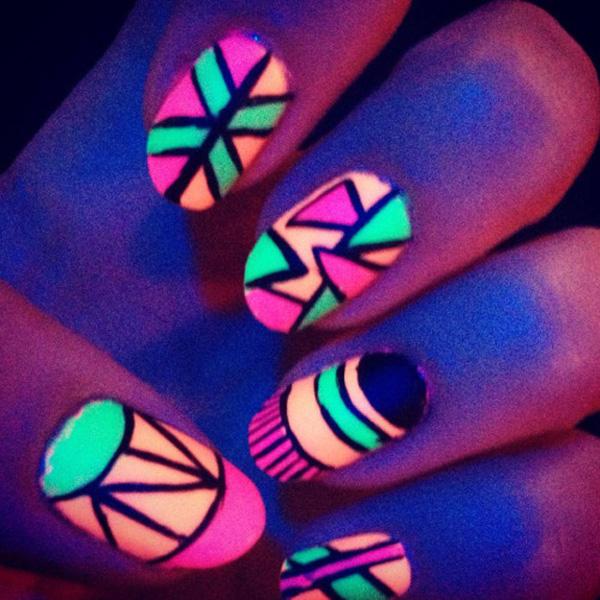 More tribal neon color UV nail polish design. The straight and bold lines plus the variety of colors give the nails a strong and vibrant touch.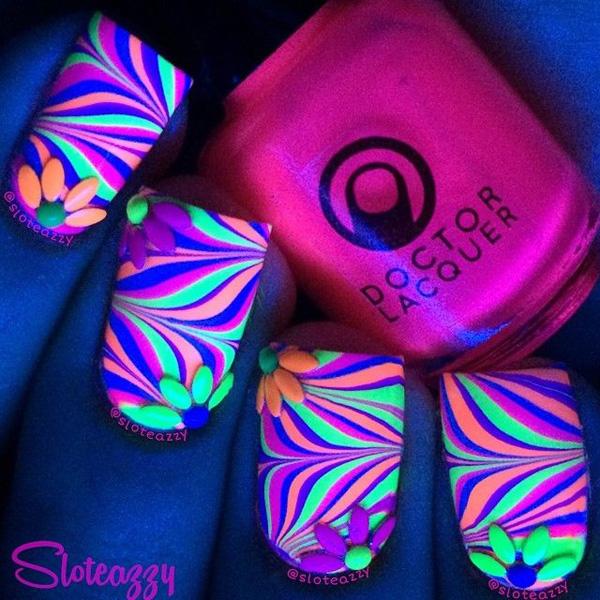 Adorable looking glow nail polish design. Paint on UV light in the dark nail polish in various colors and design them to look like warping lines of colors passing through the nails. The flower petals on top of the nail polish add to the overall cuteness of the design.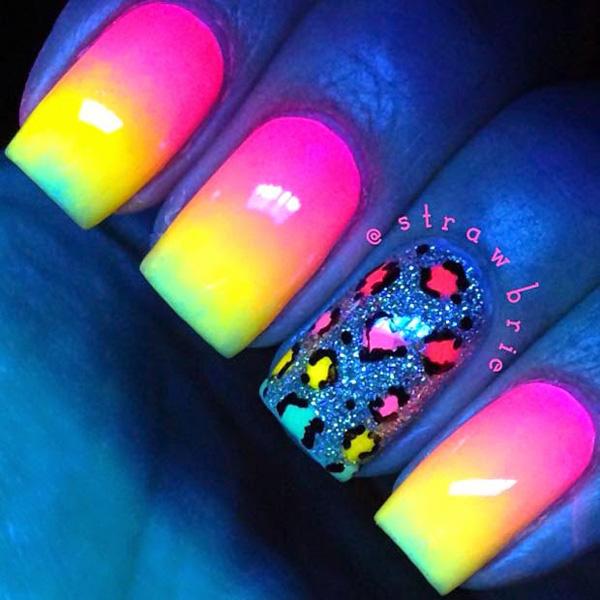 Gradient and leopard print themed glow nail art design. The nails are coated in gradient glow nail polish and topped with silver sparkles in leopard print holes showcasing the gradient beneath the layer.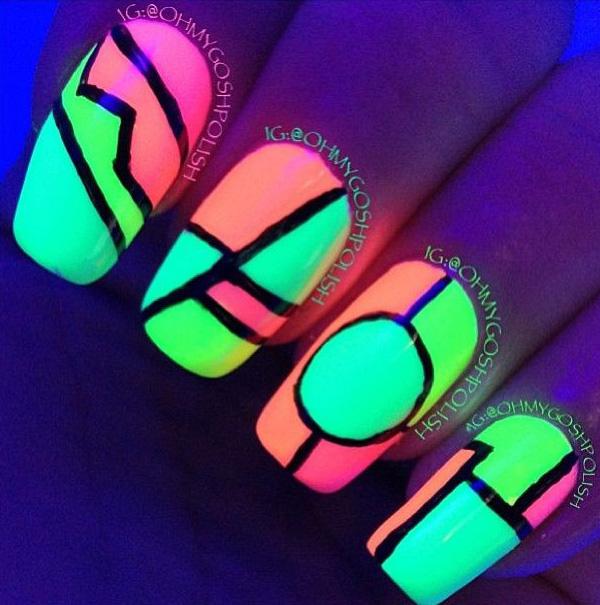 Abstract and strong looking glow nail art design. The straight and bold lines quaintly divide the various neon glow nail polish colors; centering a lone circle on one of the nails.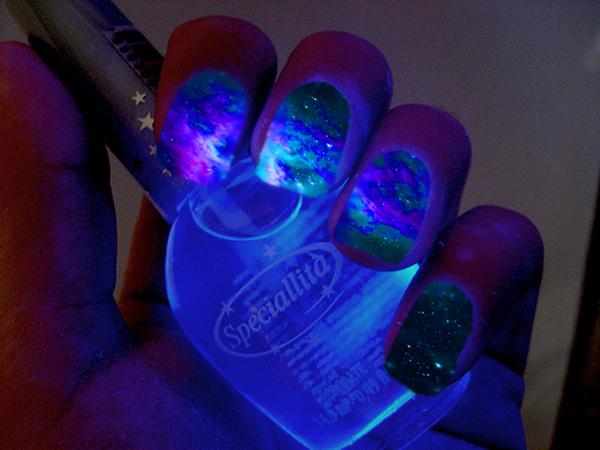 Paint the galaxy on your nails. With the help of the glow in the dark nail polish you can make your nails look spacey and ethereal underneath the dark light.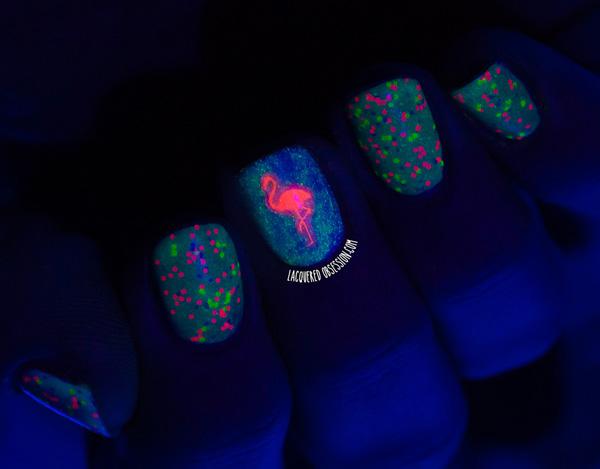 Glowing pink flamingos and polka dots can surely make you stand out from the rest. Paint your nails with this unique and fun looking UV light nail art design.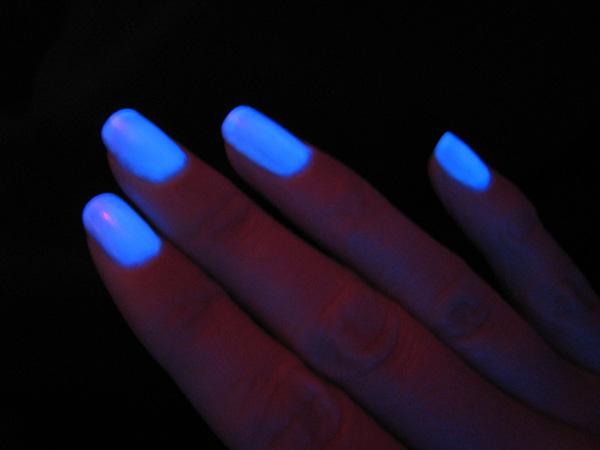 Paint your nails with this flashy electric blue glowing nail polish. Simple yet it looks amazing especially when under the dark light.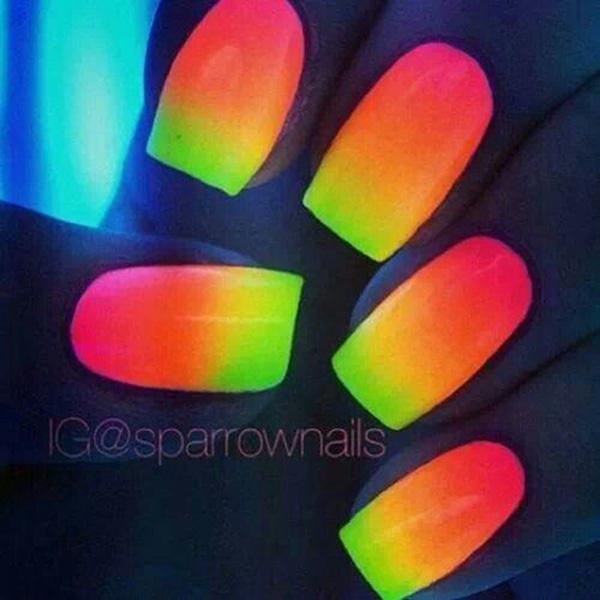 Gradient nail art design.
Make your nails look unique with this gradient themed glow in the dark design. Combine your favorite colors and turn them into a gradient on your nails whilst glowing brightly.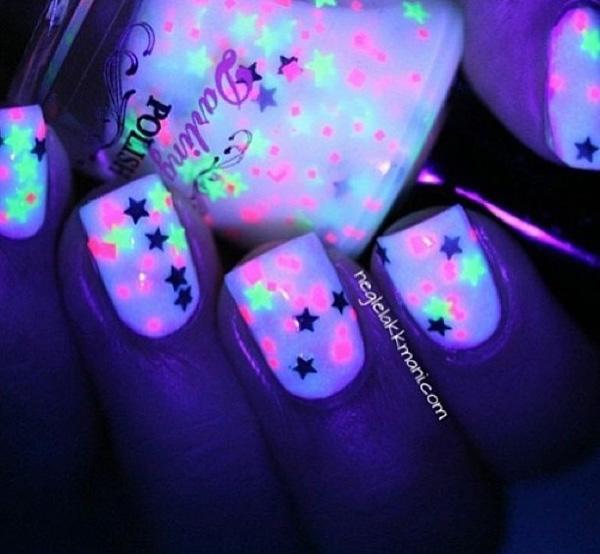 Have fun with this glow in the dark stars and polka dots on your nails. Start off with a clean matte white as base color and add some noise into your n ail canvas by adding cute heart and star shapes all over.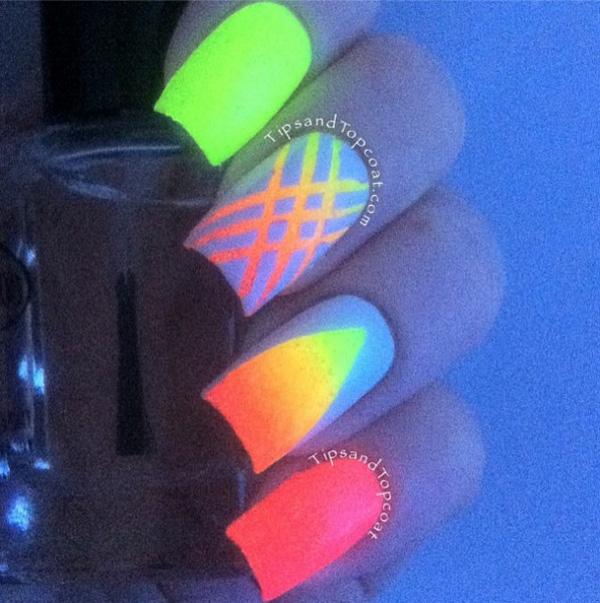 Stripes and shapes in gradient glow in the dark nail polish. Coat your nails with striking striped gradient along with an oval shaped gradient to contrast the full gradient polish on the rest of the nails.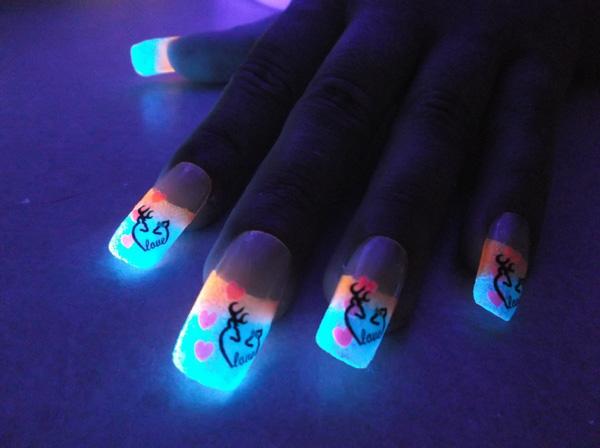 Check out this glowing French tip nails. Give an edge to your nails by coating the tip with glow in the dark polish while adding cute and strong caricatures on top.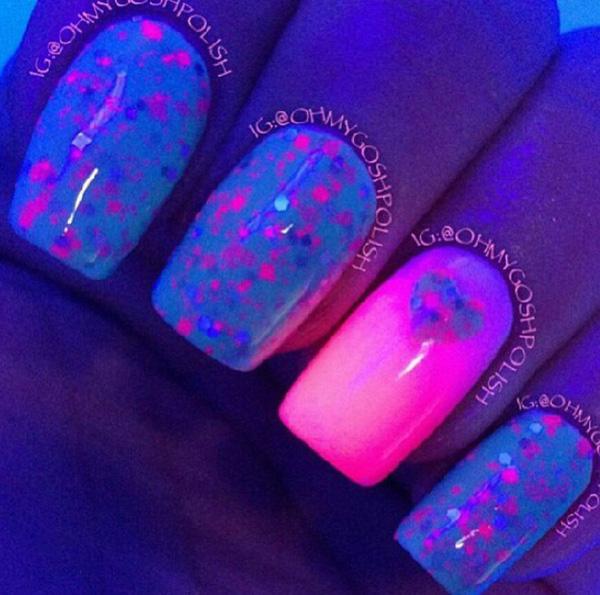 Fill your glow in the dark nail polish with adorable little beads and hearts. Use a striking glow base coat for this concept while filling the rest of the nails with beads and matte nail polish to make the glow nail stand out.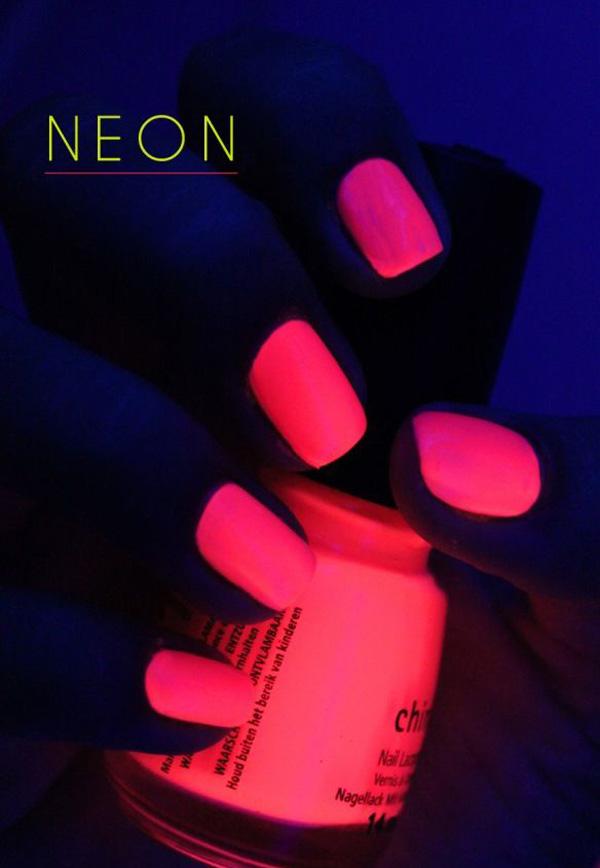 Rock your world with this hot pink neon UV light in the dark nail polish. It looks astounding and can be a true head turner and attention getter when you wear them at a place with low light.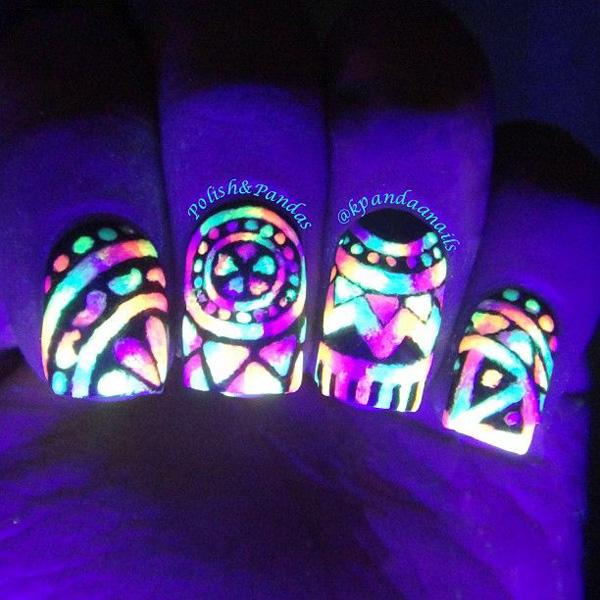 A colorful tribal inspired glowing nail design. The design seems to mimic chapel windows that more often than not have mural glass windows that are perfectly represented on this type of nail design.
Imagine having nails that simply sparkle! Add more glamour to your nail with this great looking glow in the dark sparkles on top of your chosen base coat.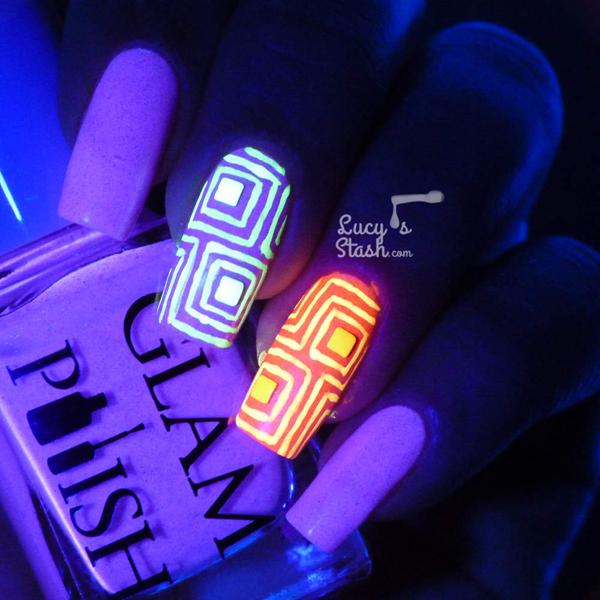 Play along with shapes and with UV light in the dark squares and lines against your regular matte base polish. Paint a maze unto your nails and enjoy the creative results you have.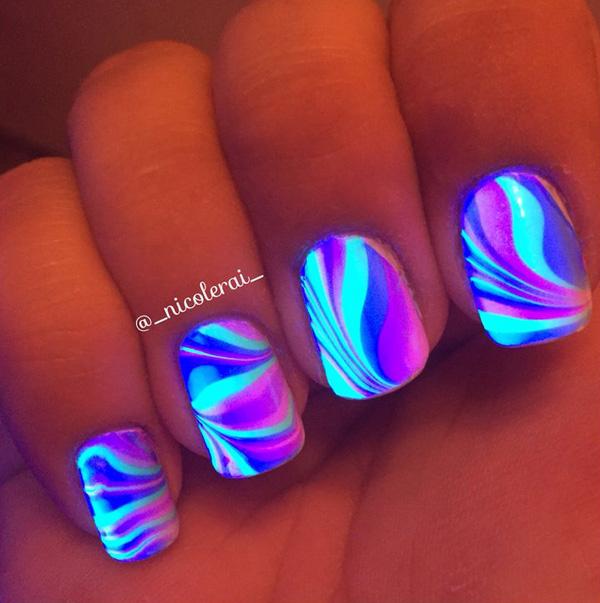 Color your nail polish with water marble curves glow in the dark. A combination of blue and violet creates an ethereal looking ensemble.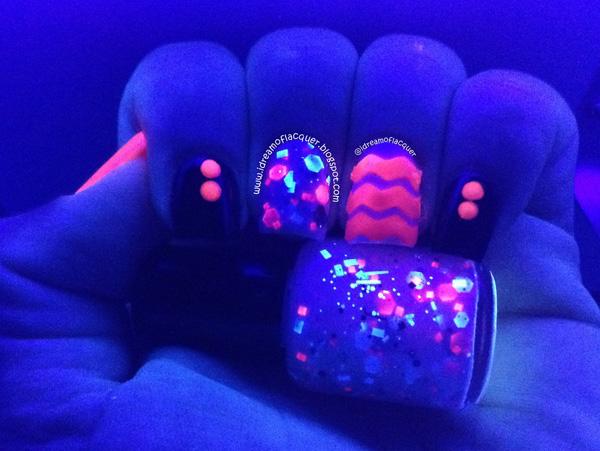 Be creative and funky by combining different glow in the dark shapes and sparkles for your nails. Make them look striking and solitary from one another so that each nail is simply trendy.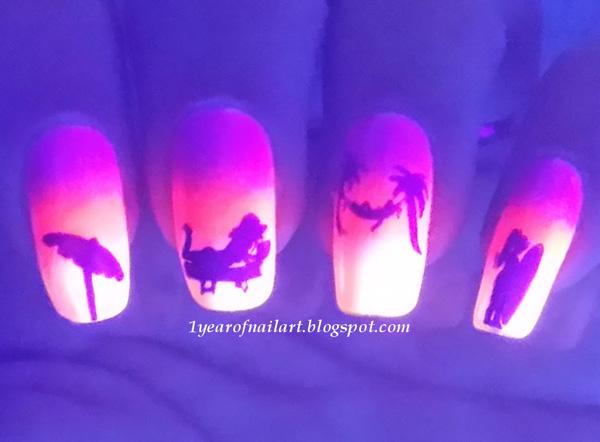 Tell a story by using your favorite nail polish. Throw in a glow in the dark background to make everything stand out with a silhouette feel.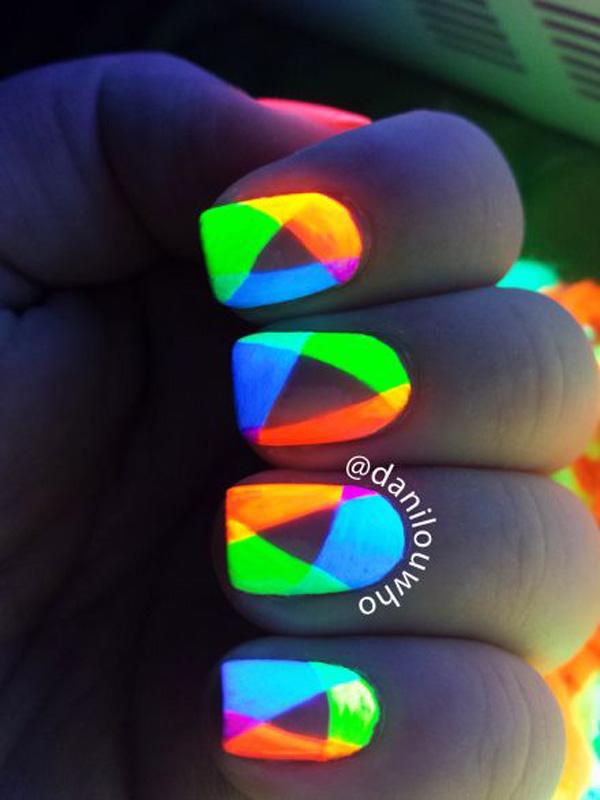 Give a certain edge to your nails by painting overlapping abstract shapes in glow in the dark nail polish. The rainbow colors are a great contrast to each other giving a new color each time one layer overlaps with another.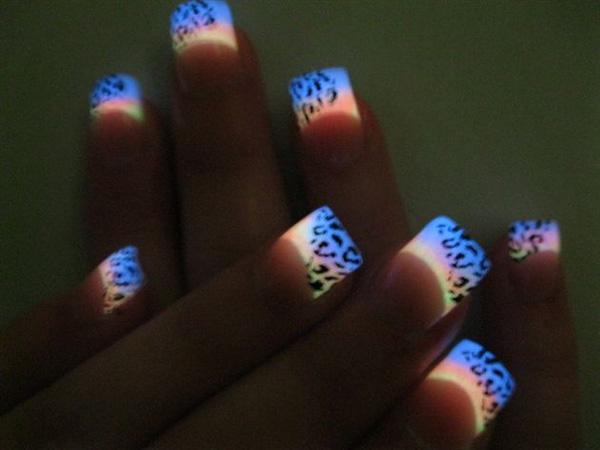 Try something new with your French tips by using glow in the dark nail polish. This French nail tips feature Leopard print with the soft glowing gradient on the tip of the nails.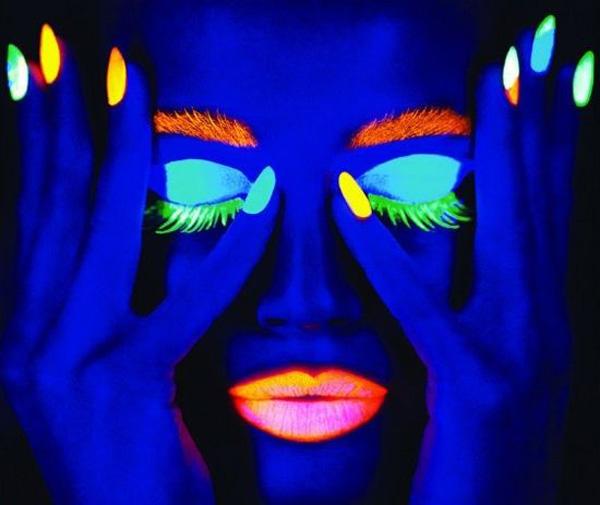 Make your nails look as if they're on fire but in rainbow colored fire. You can do this by combining various UV-in-the-dark nail polishes unto your nails to achieve the desired strong and fiery effect on each nail.