White ink tattoos have been gaining popularity over the past few years, with many people turning to this unique style as a way to stand out from the crowd. Unlike traditional black ink tattoos, these tattoos have their own unique charm. And it's not hard to see a surge in demand for this tattoo style. They offer a unique and subtle way to express yourself through body art. So if you're looking for a tattoo that's a little more understated but still packs a punch, then you might want to consider a white ink tattoo. In this article, we will explore everything you need to know about this style of tattoos, from the basics to the benefits and drawbacks, and some popular design ideas.
What are White Ink Tattoos?
White ink tattoos, as the name suggests, are tattoos that are created using white ink rather than black or colored ones. The ink has a subtle, translucent quality that allows the design to blend in with the wearer's skin. This gives the tattoo a more subtle and elegant look than traditional tattoos.
One special type of this kind of tattoos is UV glowing tattoo, also known as blacklight tattoo. It is made with a special ink that is visible under ultraviolet (UV) light or blacklight. UV tattoo could be nearly invisible under non-UV light. It's a popular choice for people who works in KTV or night club where UV light is available.
White ink tattoos are created using a tattoo machine just like any other tattoo. The white ink is injected under the layer of skin, which is only noticeable against the skin pigmentation. However, there are some differences in the technique used for this kind of tattoos. Since white ink is less pigmented than black ink, the tattoo artist needs to work at a slower pace and apply the ink in layers to ensure that the tattoo is evenly colored. The tattoo artist may also need to go over the design multiple times to get the desired effect.
Benefits
If you are someone who loves tattoos but wants a more subtle and understated look, then white ink tattoos are perfect for you. The subtle and elegant appearance is perfect for those who want a tattoo that is discreet but still meaningful. They also tend to age better than traditional tattoos, as the ink does not fade or blur as easily over time.
Drawbacks
Despite of many benefits, there are also some drawbacks to consider. Firstly, not all tattoo artists have experience in creating such tattoos. So it would be challenging to find a skilled artist. It's important to do your research. Additionally, it could fade overtime, particularly if exposed to sunlight. So proper healing is critical to reduce the tendency of fading out. The more pale your skin the more the ink will show up. So these tattoos may not be a good choice for darker skins.
White tattoo ink
Tattoo ink is generally permanent while white ink fades overtime. White tattoo ink is normally metal based pigment, such as lead, zinc, titanium. Glow in the dark ink and blacklight ink are used for UV glowing tattoos. The ingredients in some "glow" inks are disclosed as: (PMMA) Polymethylmethacrylate and microspheres of fluorescent dye suspended in UV sterilized, distilled water. Phosphorescent ink does not re-emit the visible light it absorbs immediately but re-emitted it very slowly. Some phosphorescence phosphors glow for a few minutes, while other may glow for days. However, there are questions about the safety and health to inject this type of ink in the skin. It is believed that this type of ink contains radioactive material.
There's no difference between the price of a white tattoo and other tattoos. The cost of the tattoo is dependent on the size, complexity of the design as well as the skill of the artist. UV ink costs more than other inks, so the price of UV tattoo may be higher than other tattoos.
White ink tattoos tend to be opaque and outlined as only one color is used. Although it's not colorful, there are the same a lot of tattoo ideas for white ink Tattoos. In this post, I consolidated the collection of 60+ beautiful white ink tattoos. If you are looking for inspirations for your first tattoo, please have a study of them. First, think about what meaning you expect your tattoo represent. Second, think about where you want your tattoo inked.
Flower tattoos
Unlike traditional black ink, white ink is more subtle and delicate. When it comes to flower designs, white ink pieces can be both feminine and timeless. Here are some of examples.
Rose outline
If you wanna reveal your love the special person, the rose tattoo is a good idea of representation. As for others, it's almost invisible unless they walk close to you.
White Ink Chest Flower Tattoo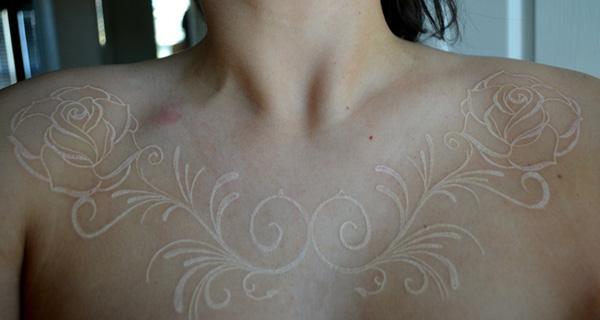 Flower side tattoo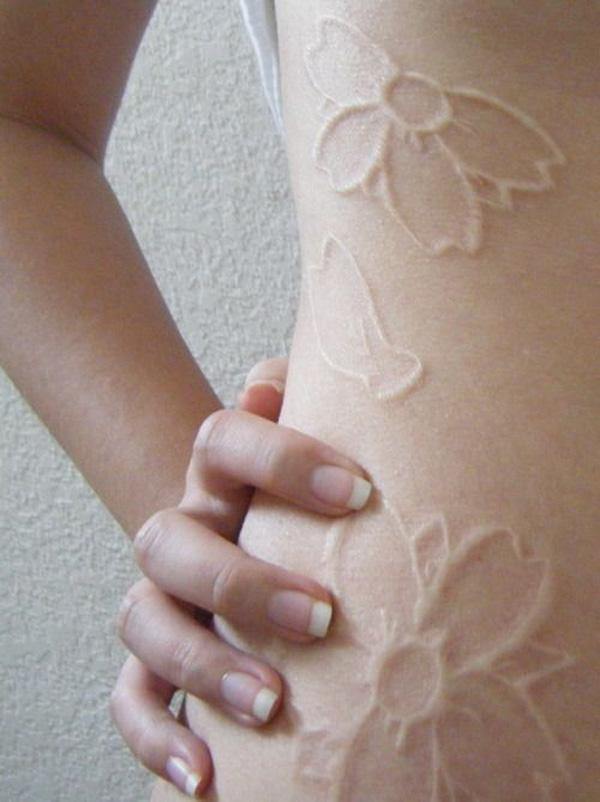 Flower tattoo on foot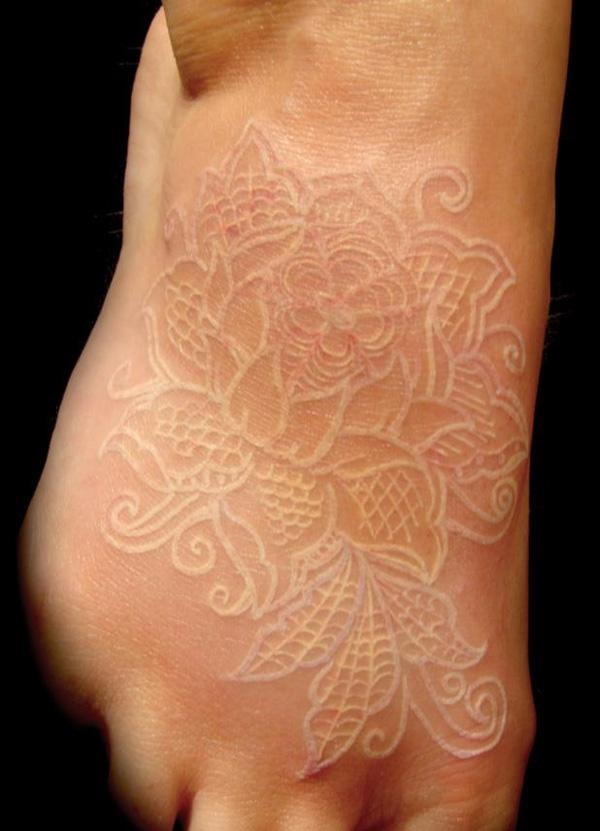 Floral pattern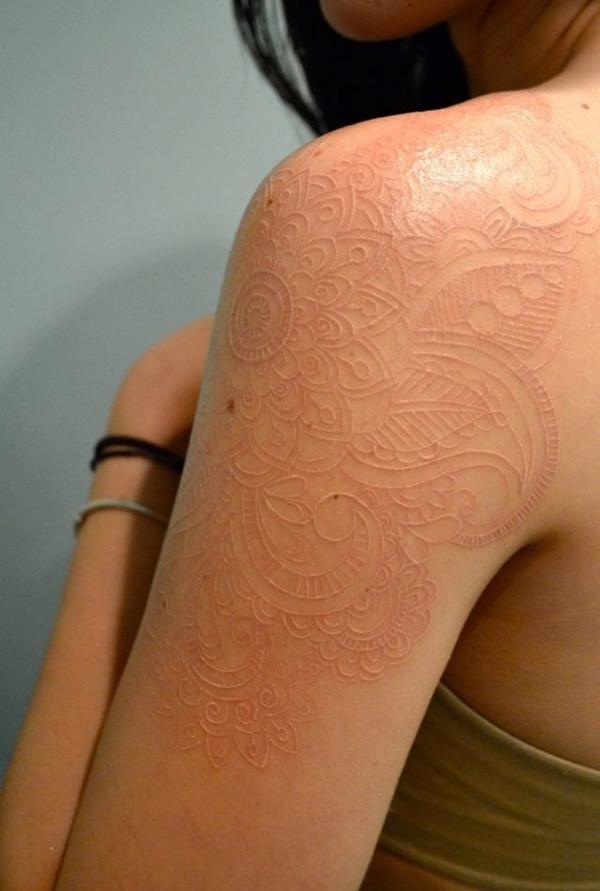 Floral patterns Arm Tattoo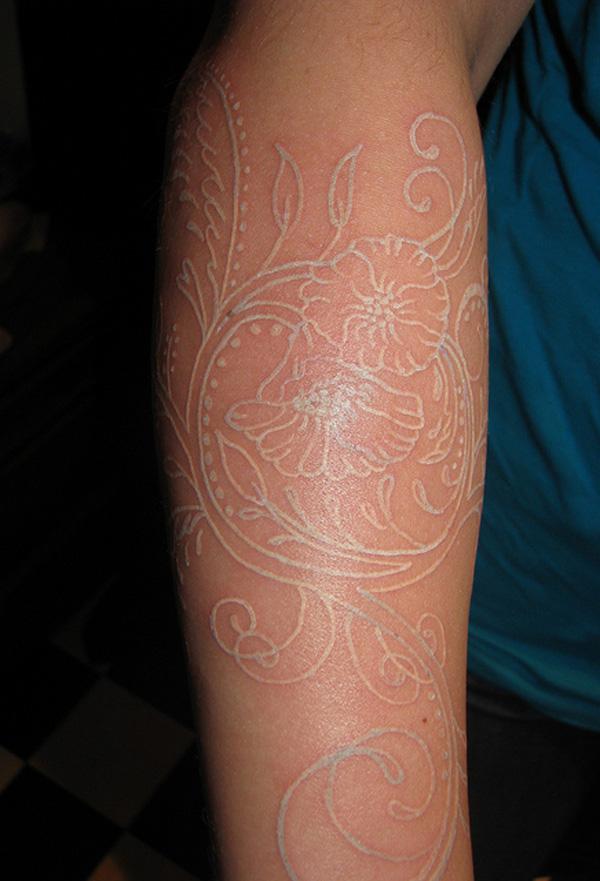 Mandala Tattoo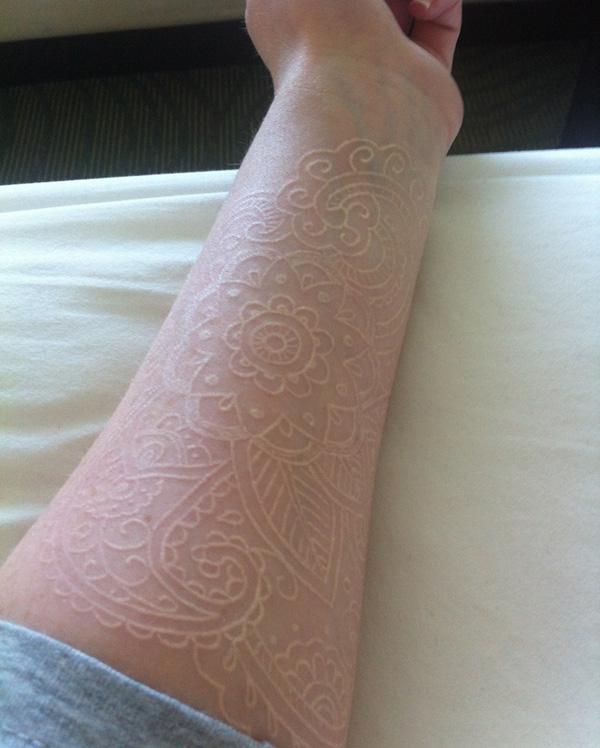 White ink flower tattoo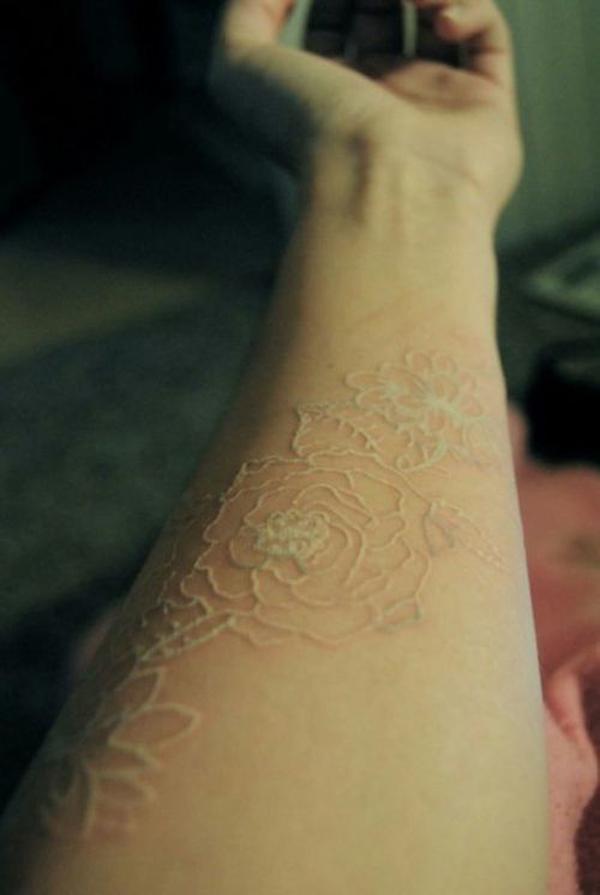 White ink floral tattoo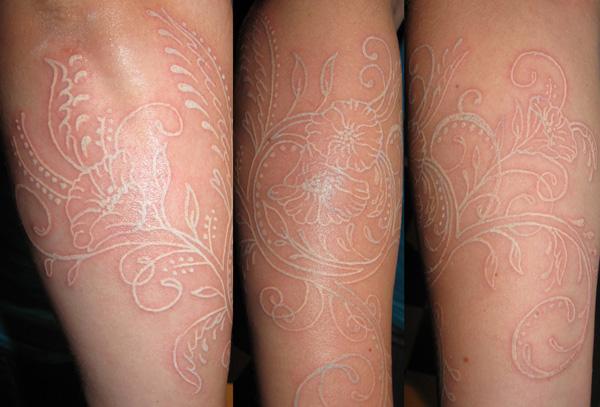 Rose outline white ink on Shoulder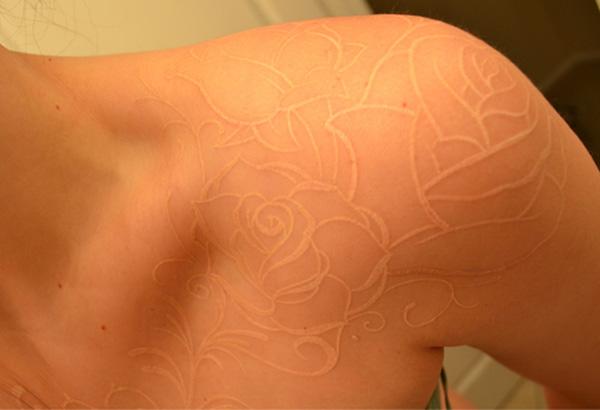 White Ink Flower Tattoo on Shoulder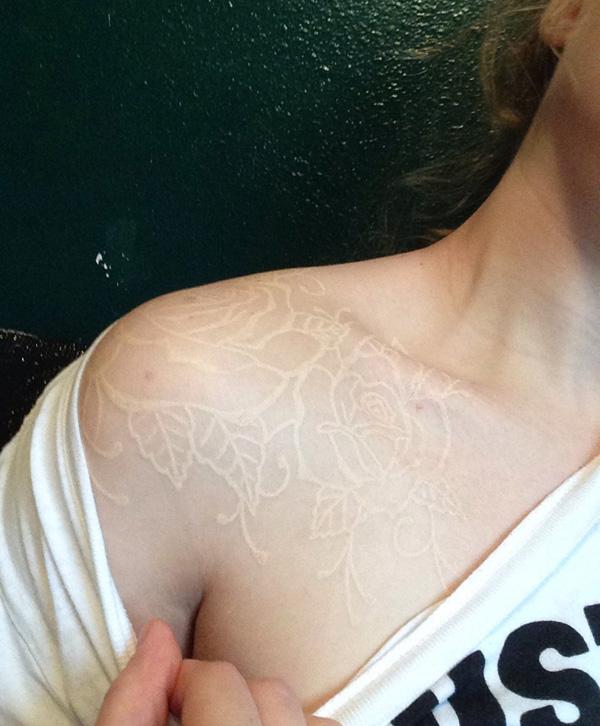 White Ink Flower Tattoo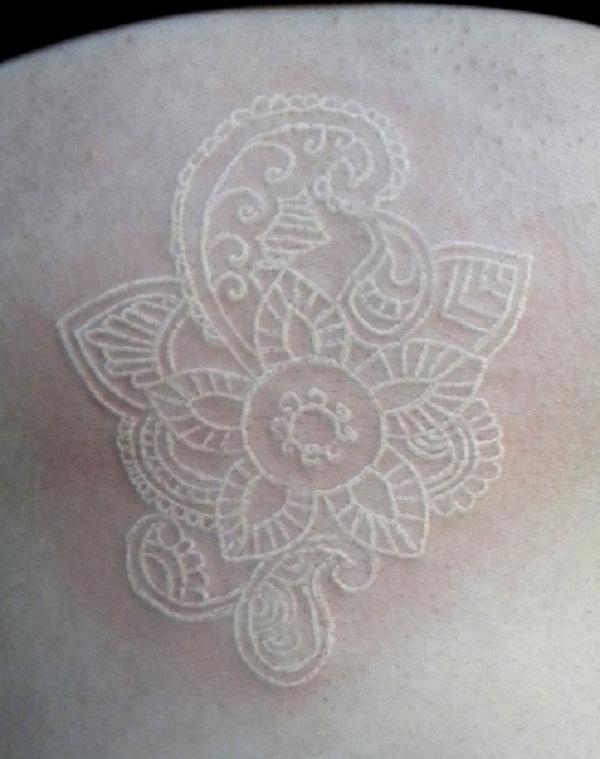 Floral Collar tattoo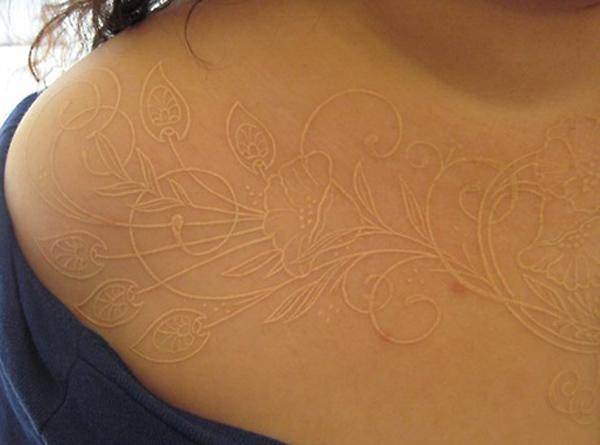 Delicate flower tattoo on foot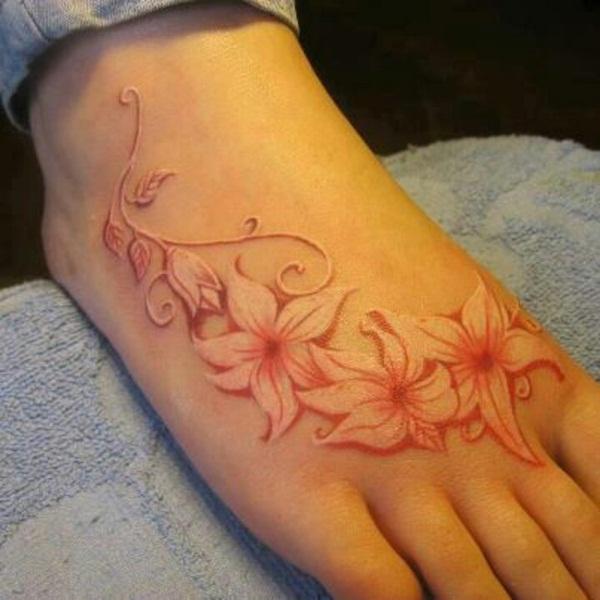 Nautical Ideas
A Compass white ink tattoo on the neck
A Compass – a nautical instrument determining directions. A compass tattoo represents the power to find the right direction or make right decision.
Direction Compass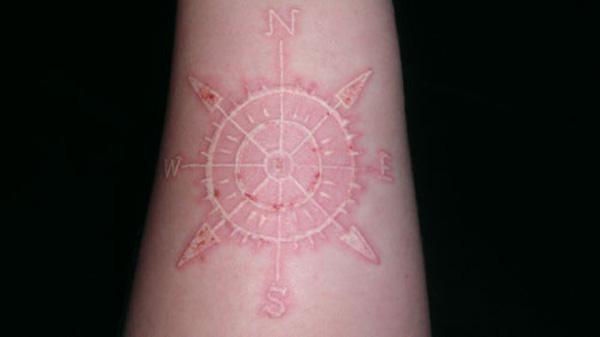 Small White Ink Anchor Finger Tattoo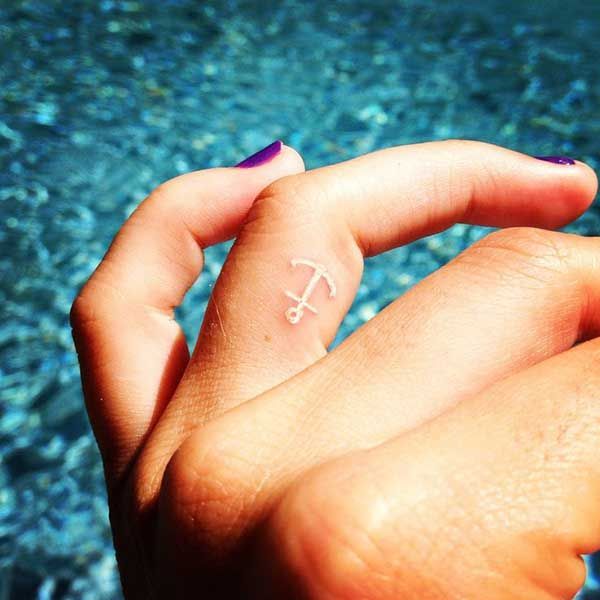 Butterfly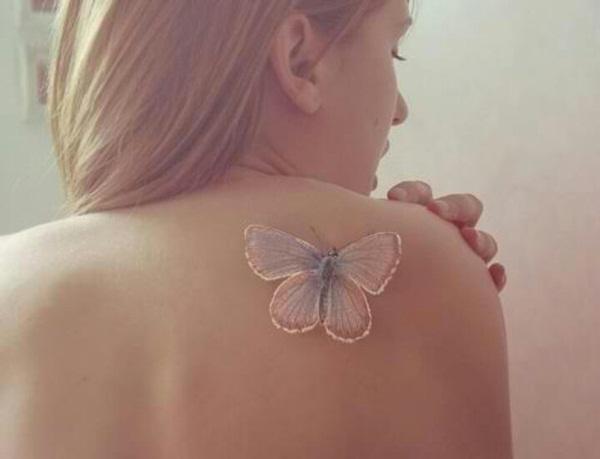 The UV butterfly looks resting on the back at day time. At night time, it's the time for its shining.
Butterfly tattoo on the front of neck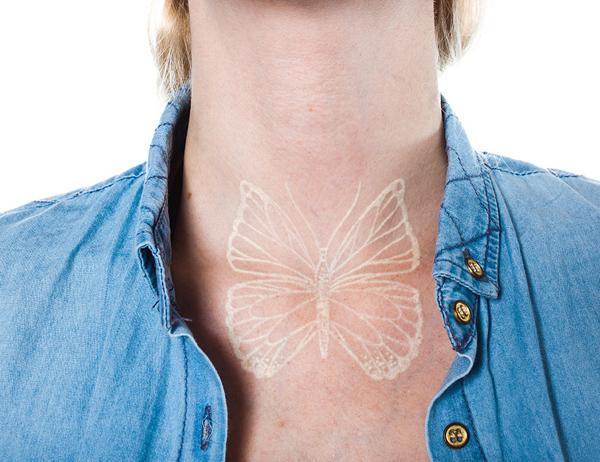 Feather Tattoos
3D Feather Tattoo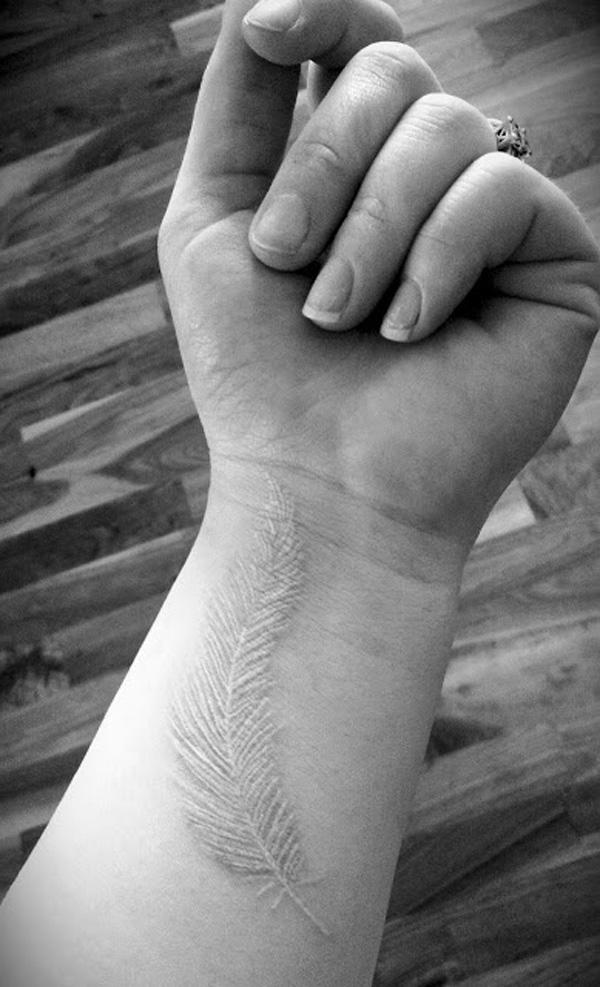 Feather Rib Tattoo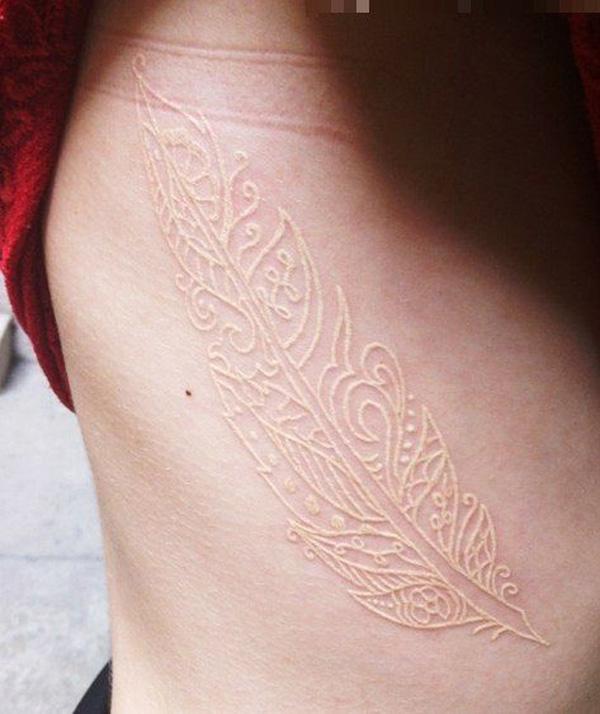 Delicate Feather Tattoo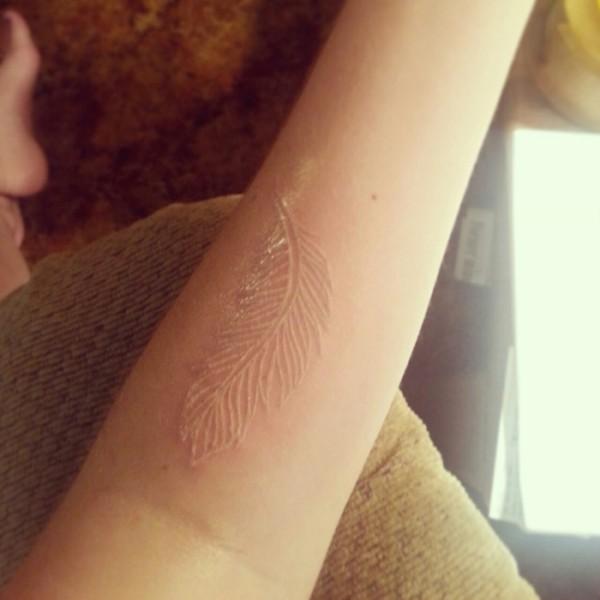 The feather tattoo on the forearm is a delicate and ethereal piece of body art. The white ink gives the tattoo a subtle and understated appearance, as if the feather is just barely visible on the skin. The lines of the feather are fine and intricate, with each individual barb and quill carefully etched in the design. This tattoo is a beautiful way to express a love of nature or a sense of lightness and freedom.
Intricate patterns on Back
White ink of swirling line pattern on wrist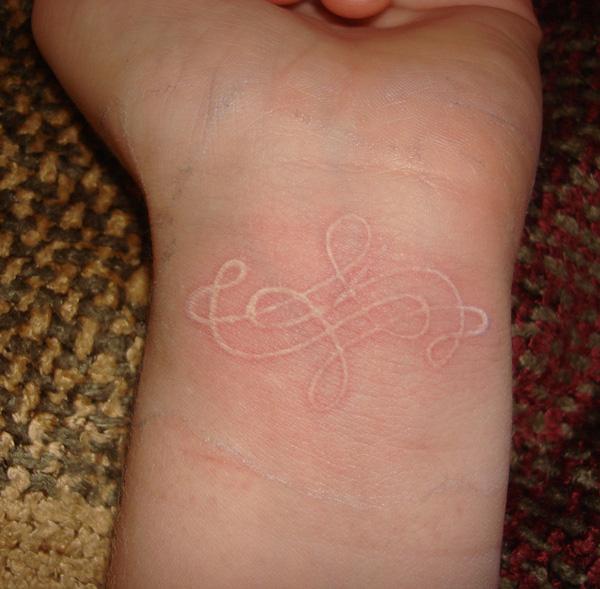 Om Mani Padme Hum in Sanskrit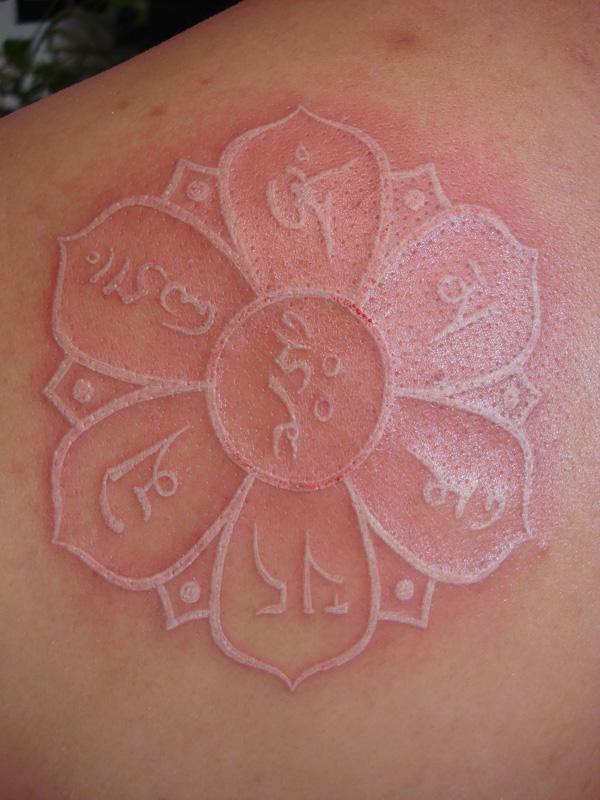 This special yogic chant is Sanskrit. It's comprised of four words six syllables, and those four melodic words are all the words on many of those colorful Tibetan prayer flags.
Om = the vibration or sound of the universe; represents divine energy and generosity and purifies the ego
Ma = represents ethics and purifies jealousy
Ni = represents patience and purifies want or desire
Pad = represents diligence and purifies ignorance and judgment
Me = represents concentration and purifies attachment
Hum = the unity of all; represents wisdom and purifies hatred
"Thus the six syllables, Om Mani Padme Hum, mean that in dependence on the practice which is in indivisible union of method and wisdom, you can transform your impure body, speech and mind into the pure body, speech, and mind of a Buddha." ~ The Dalai Lama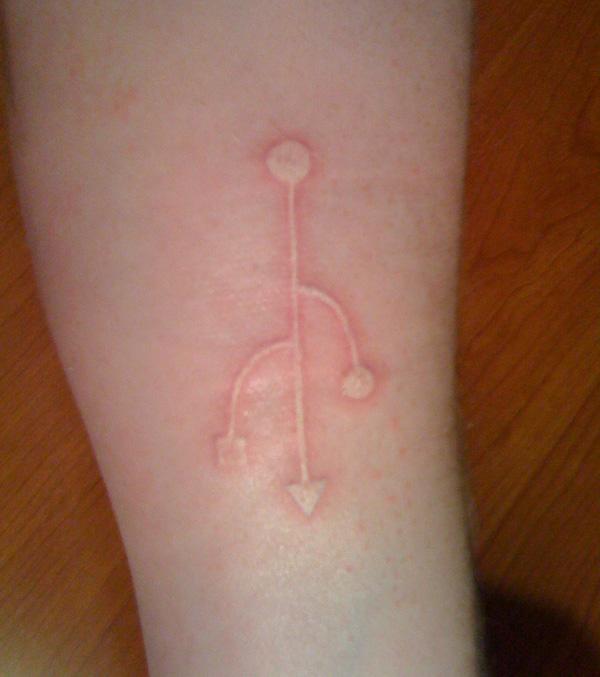 Arrow white ink tattoo signifies defend and protection.
Lace Tattoo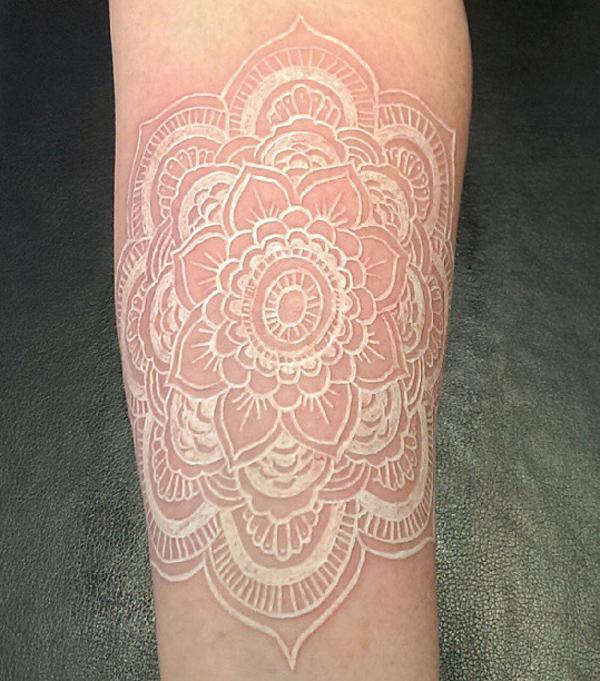 An elegant feminine pattern, popular women's tattoo.
Lettering Tattoos
Dream tattoo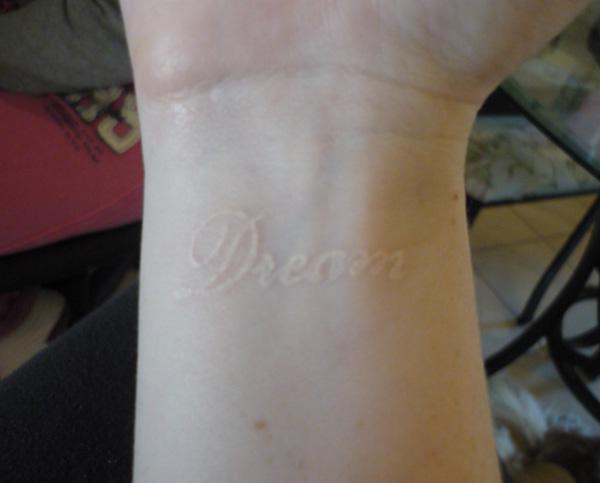 The stylish text 'Dream' speaks everything.
Love life tattoo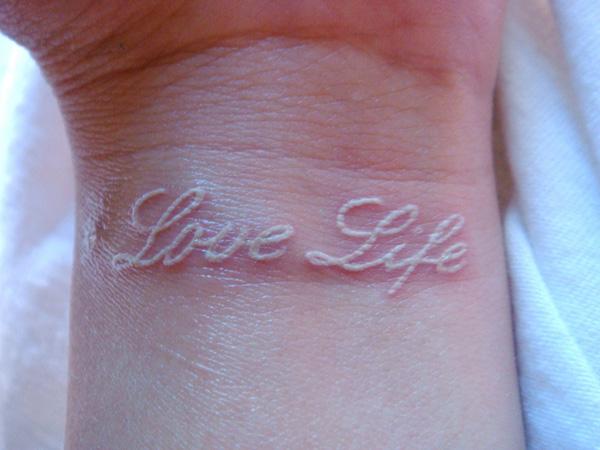 Another cursive words white ink tattoo.
Courage Tattoo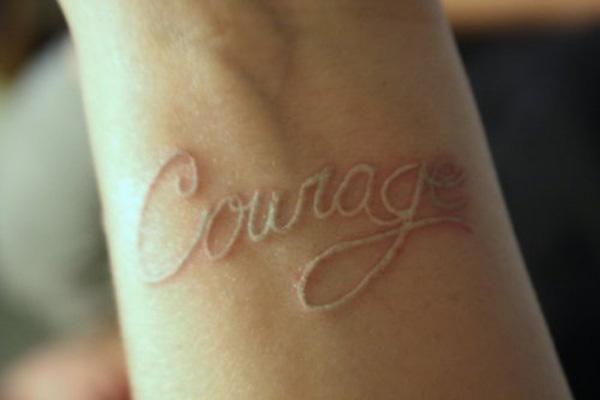 White ink Chinese word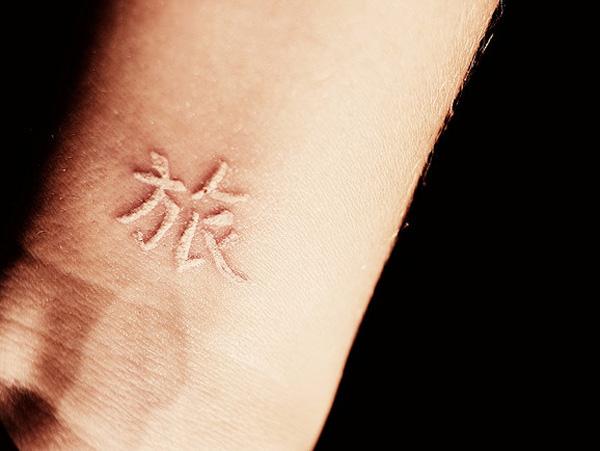 Loved tattoo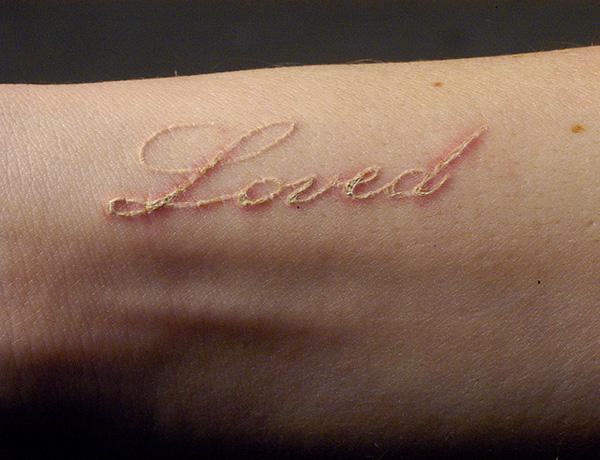 Infinity symbol with loving word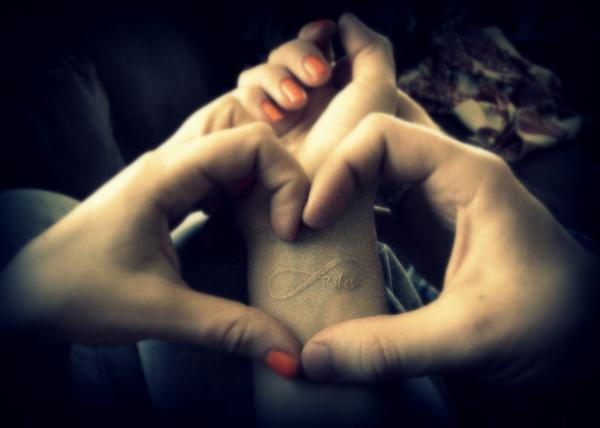 White Ink Love Tattoo
Flower with name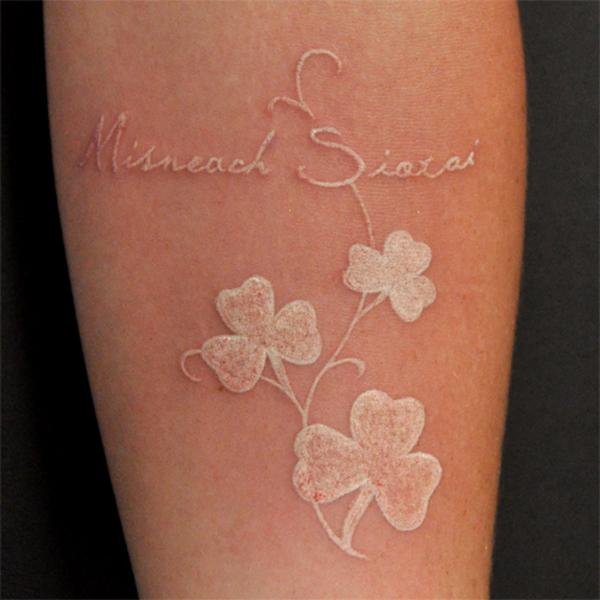 Just Breathe tattoo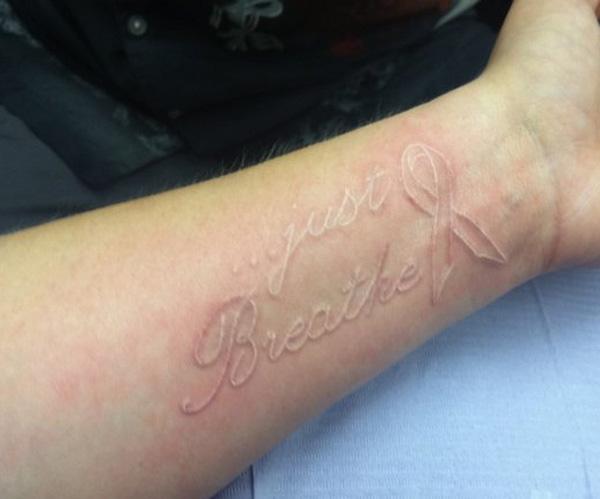 White ink music note tattoo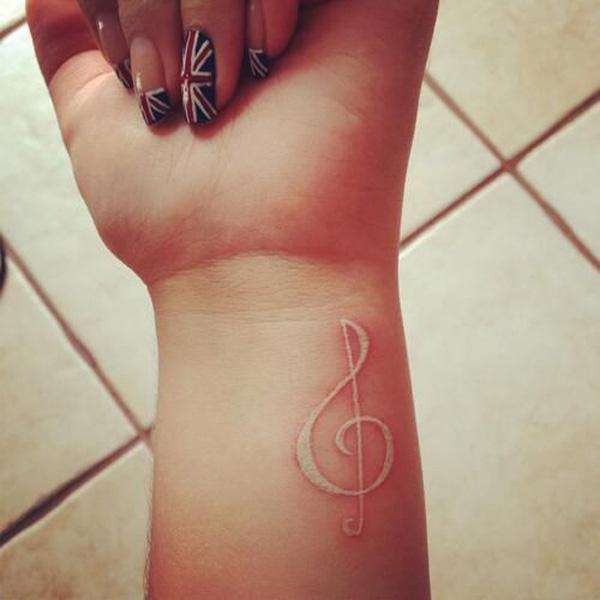 The symbol of music note is the representation of the wearer's hobby and the love of life.
White Ink Tattoos On Dark Skin
Dreamcatcher Tattoo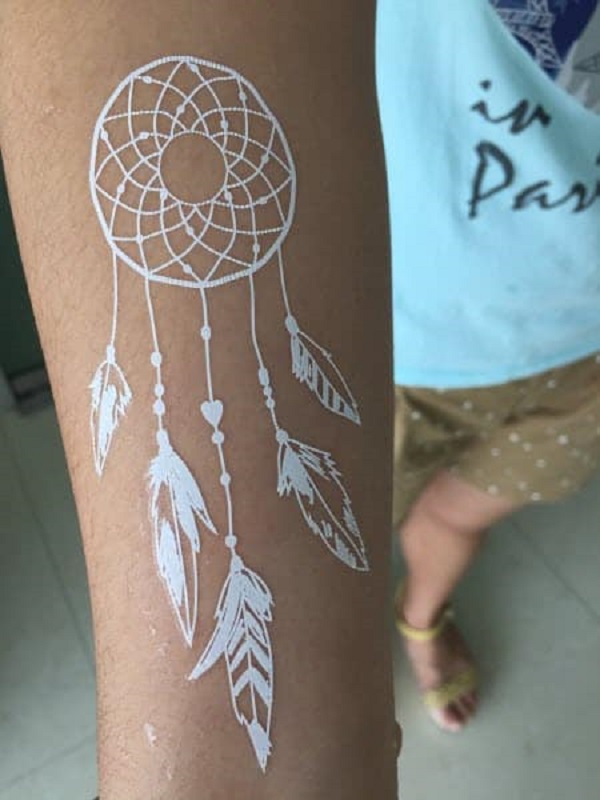 Elephant Tattoo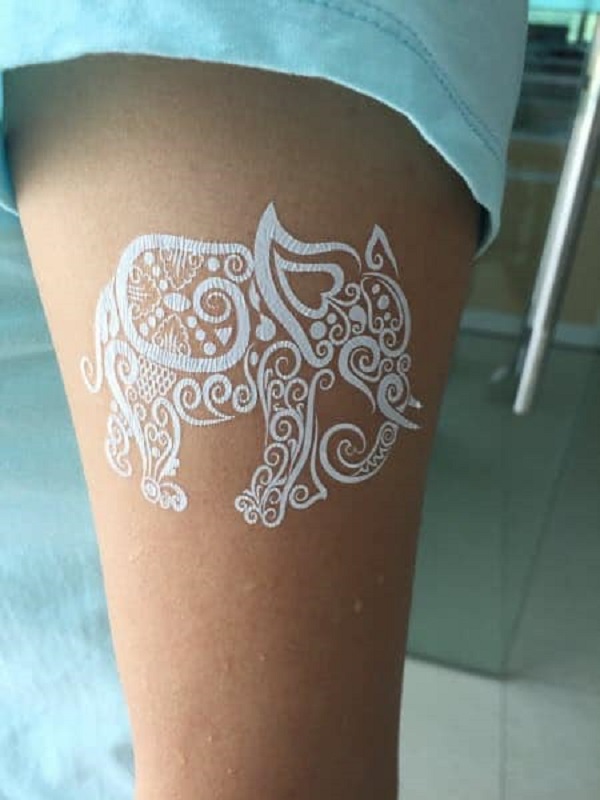 Wing tattoos
Matching wing white ink tattoos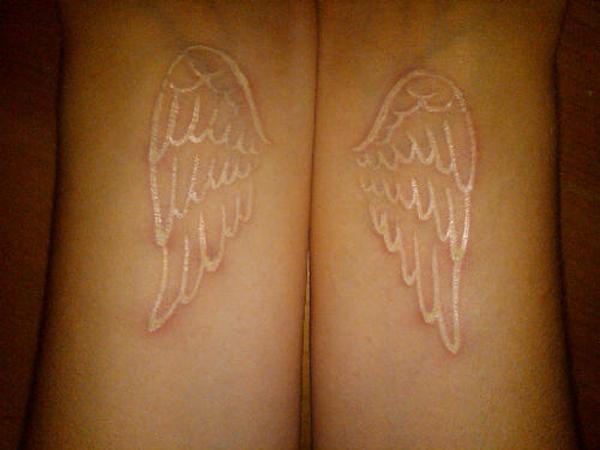 White Ink Angel Tattoo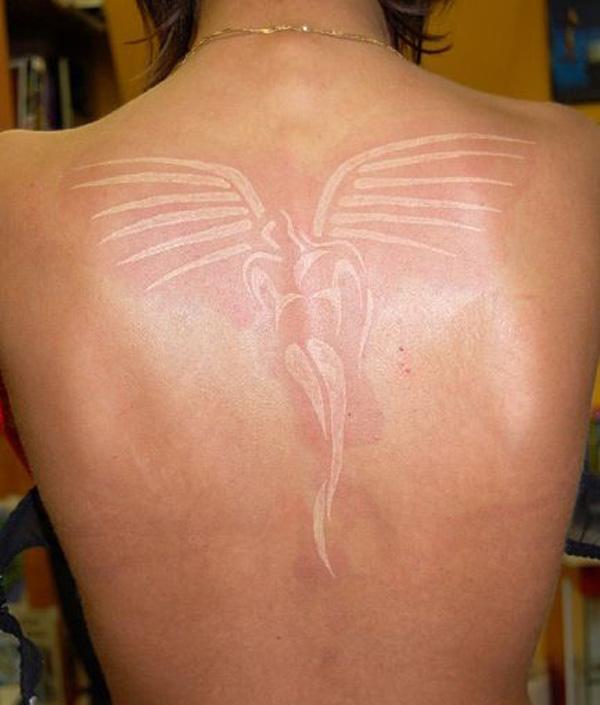 Full back wing tattoo in White ink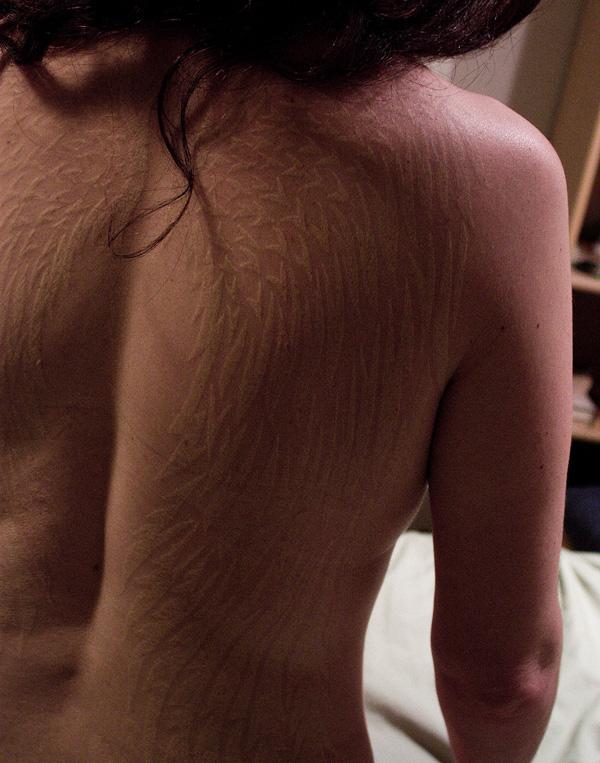 Mandala White Ink Hand Tattoo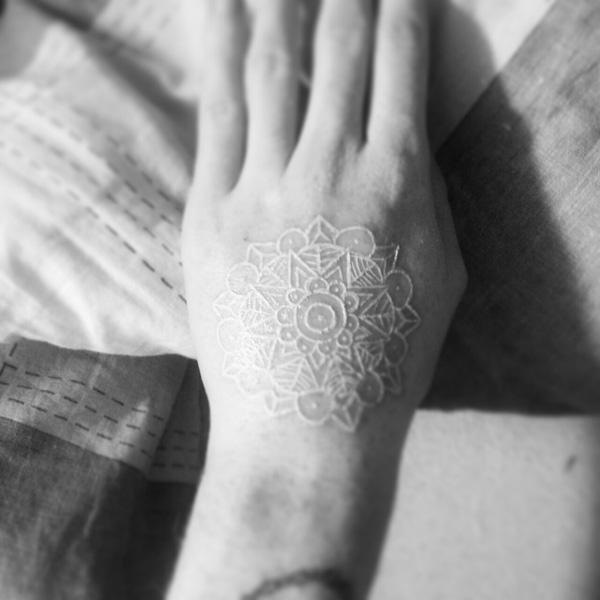 Wrist white Ink with swirl heart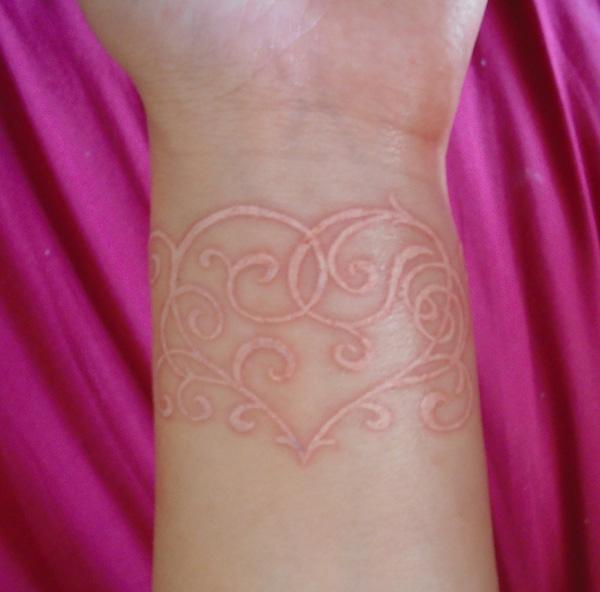 Animals tattoos
Owl White ink tattoo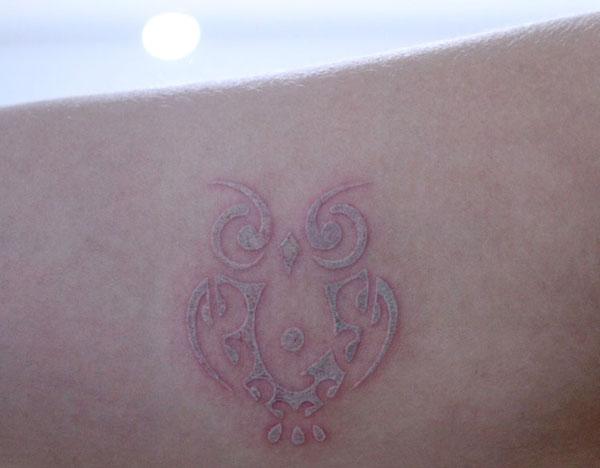 White Ink Snake Tattoo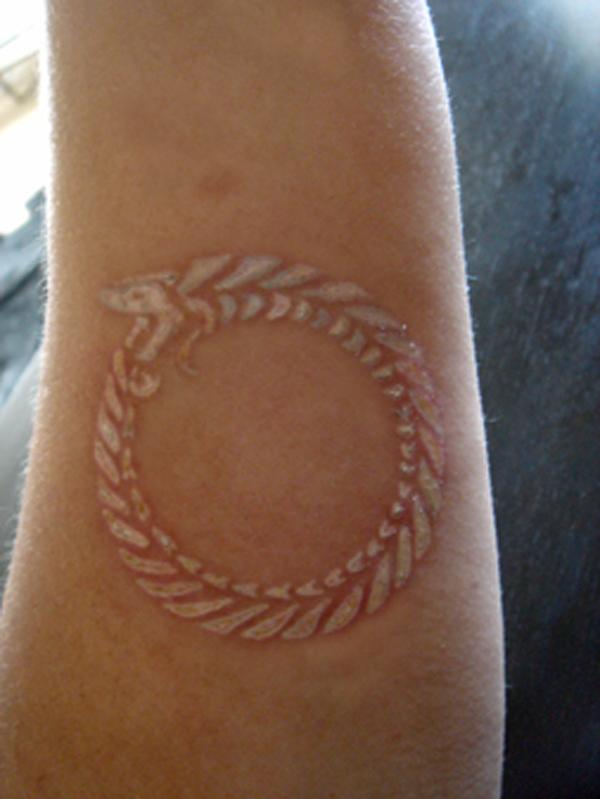 Dragonfly white ink back tattoo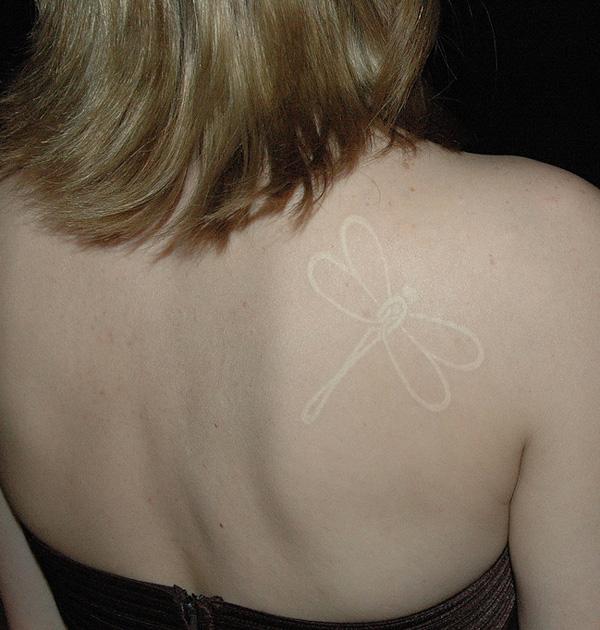 White ink blackout snake tattoo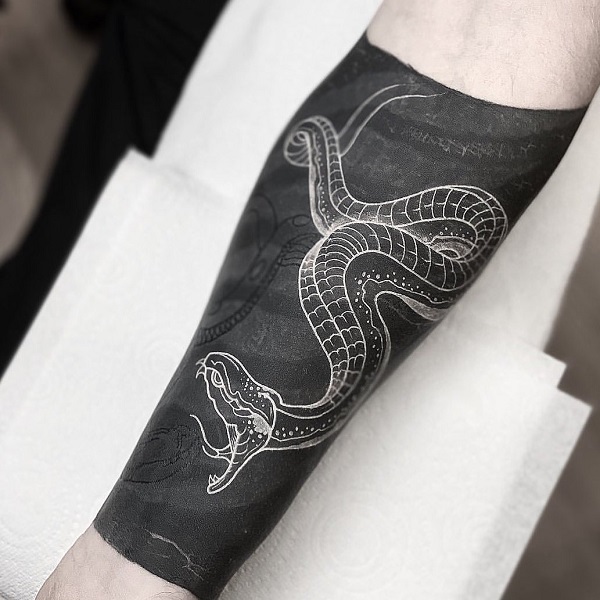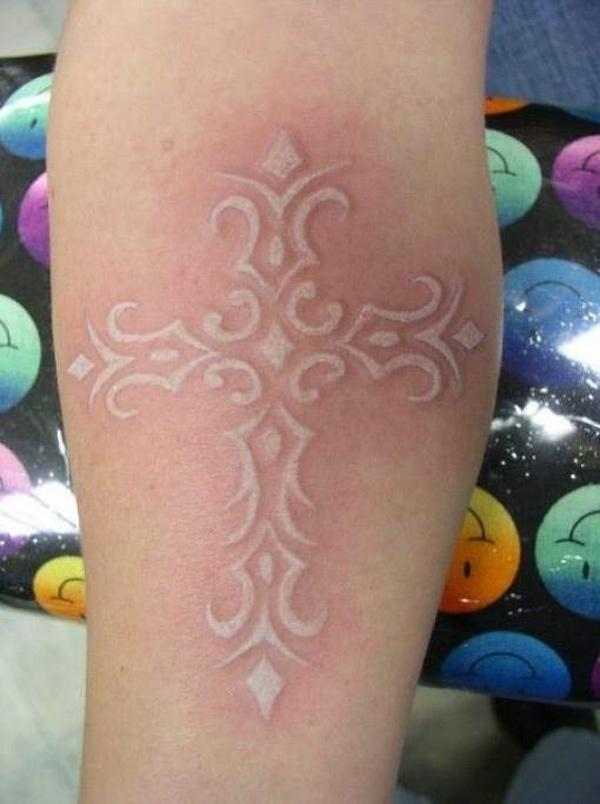 White Ink Cross Tattoo
Paw Print white ink tattoo on wrist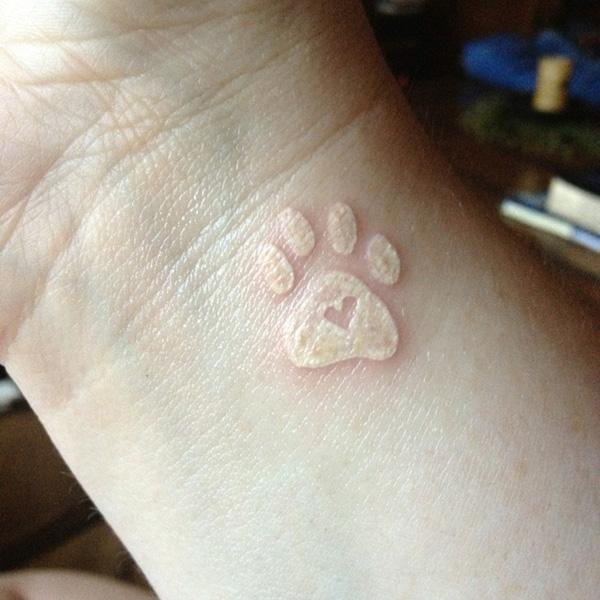 Snowflake white ink ankle tattoo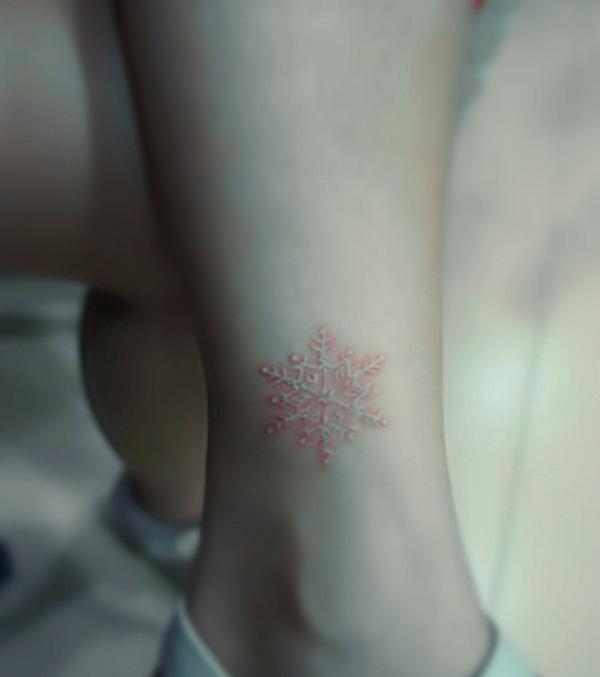 Lace tattoos
Lace white ink tattoo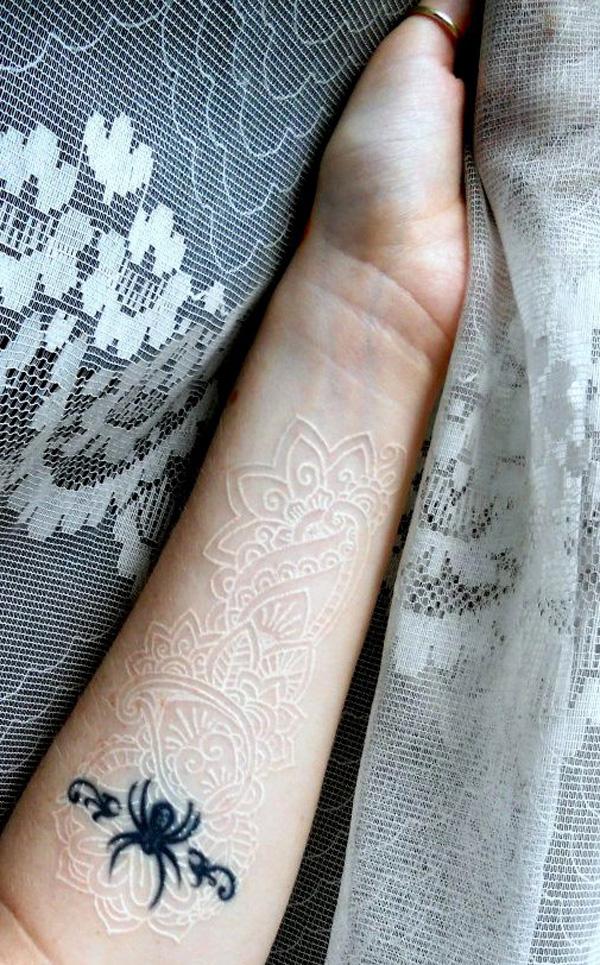 White Ink Lace Tattoo on Arm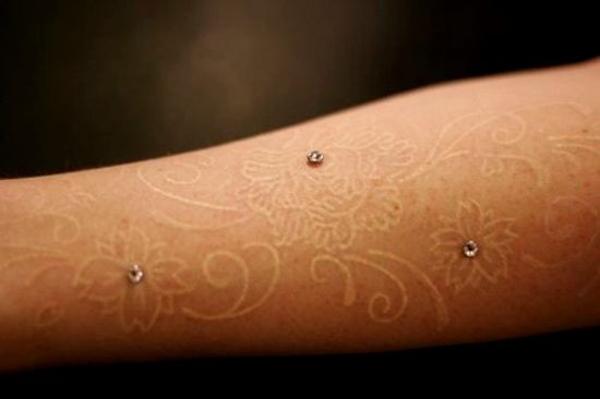 Half sleeve lace white ink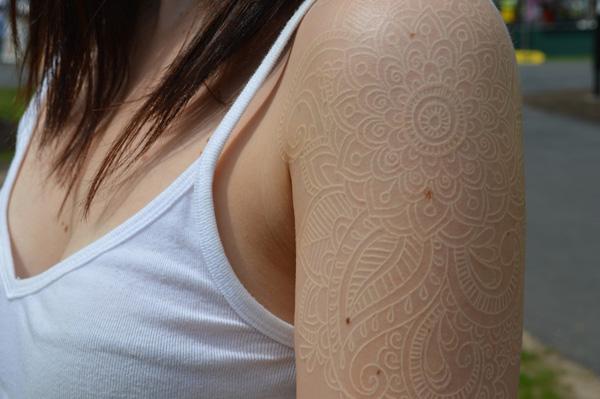 White ink lace tattoo on back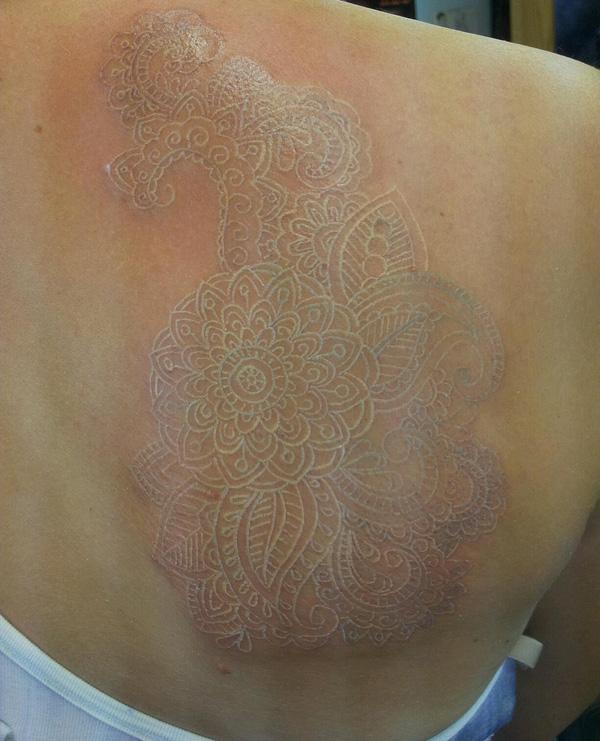 White ink lace tattoo on arm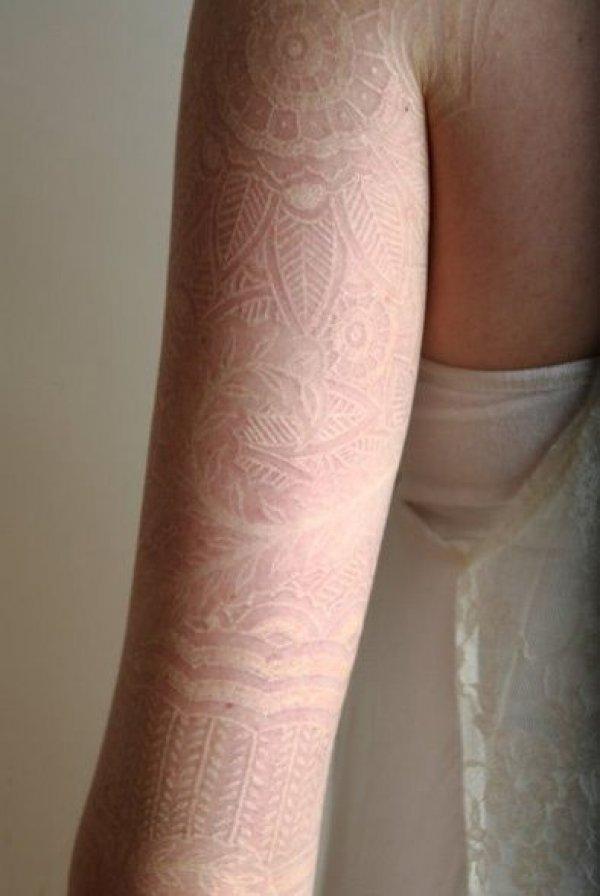 Mandala Lace pattern white ink on shoulder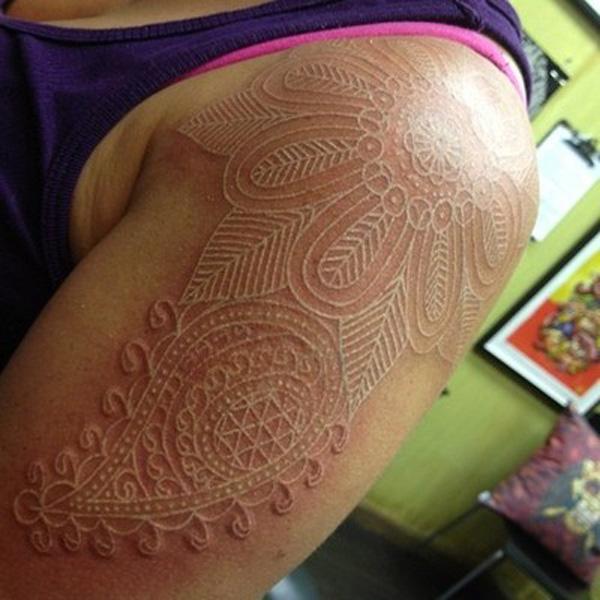 Full sleeve design of tattoos white ink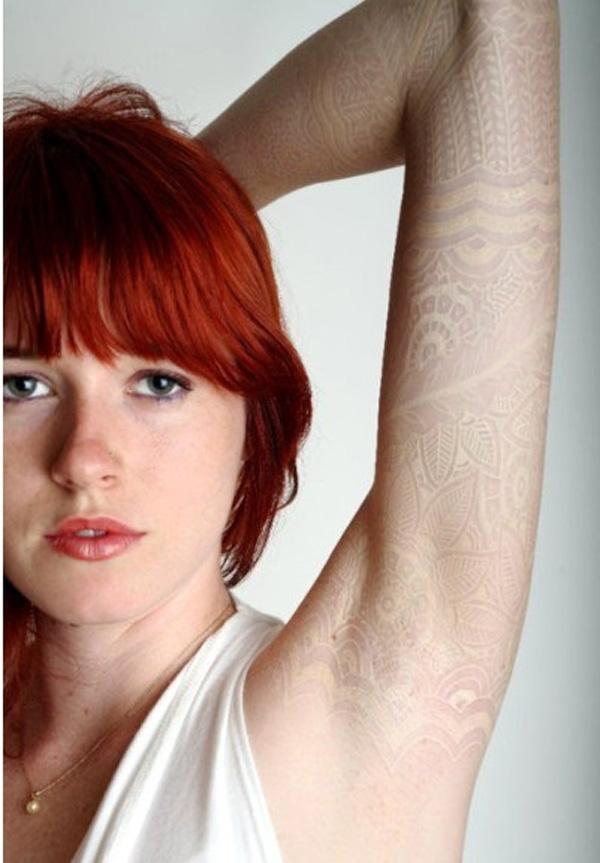 Bird Tattoos
A bird with the branch in its mouth white ink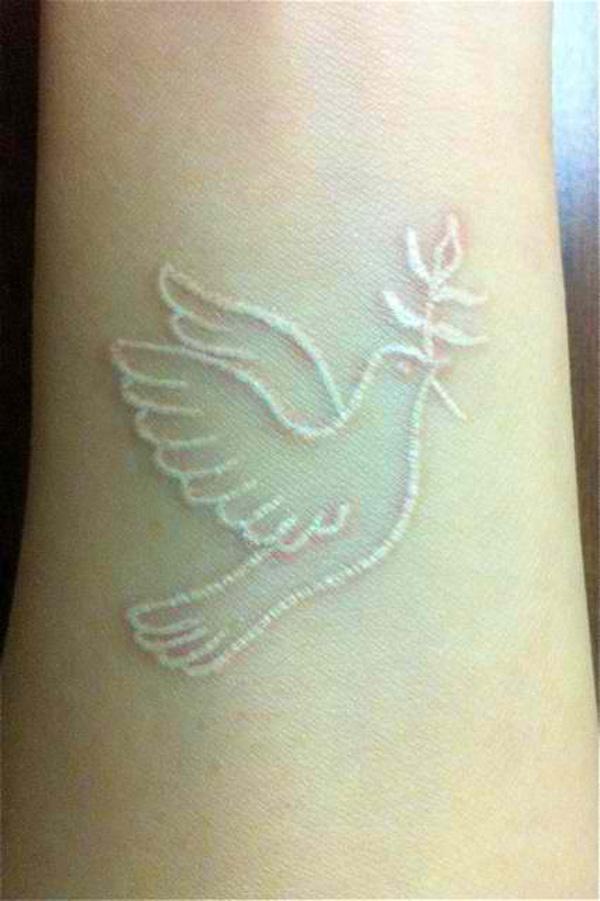 Bird tattoo on neck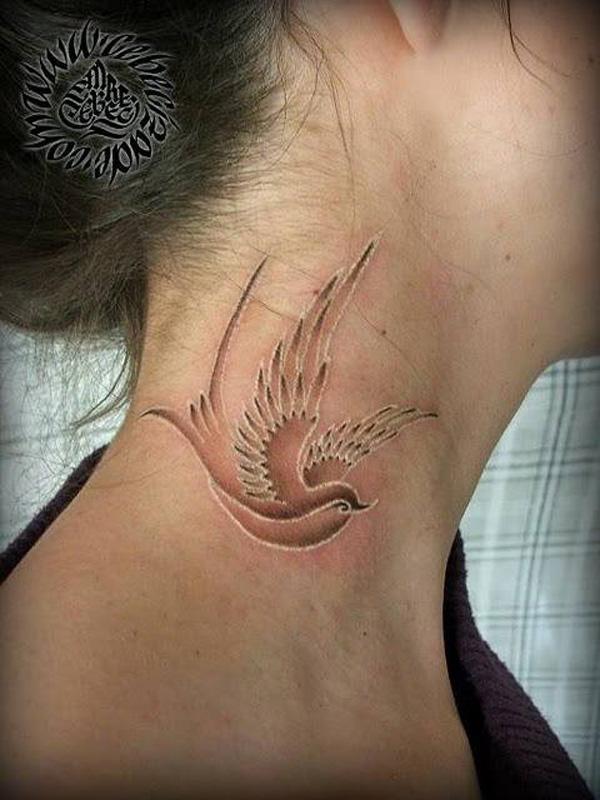 Sparrow white ink wrist tattoo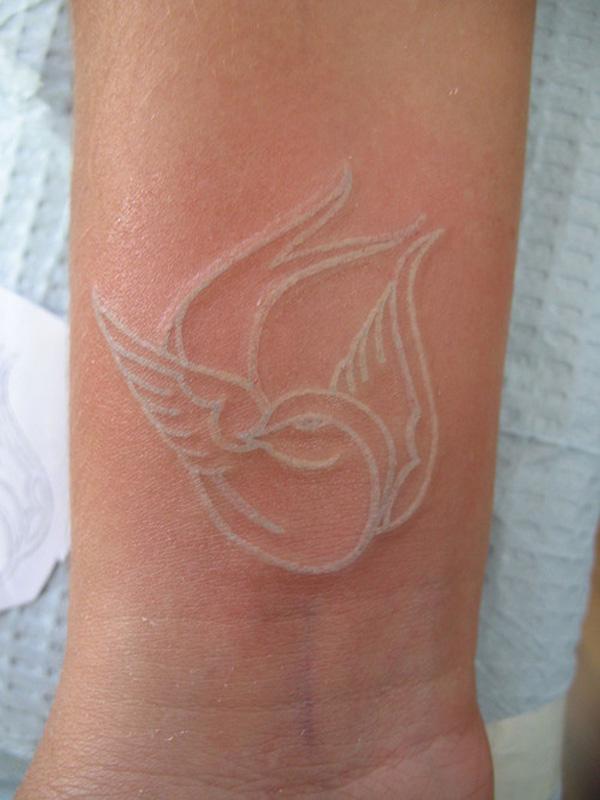 Infinity white ink with birds and the phrase Faith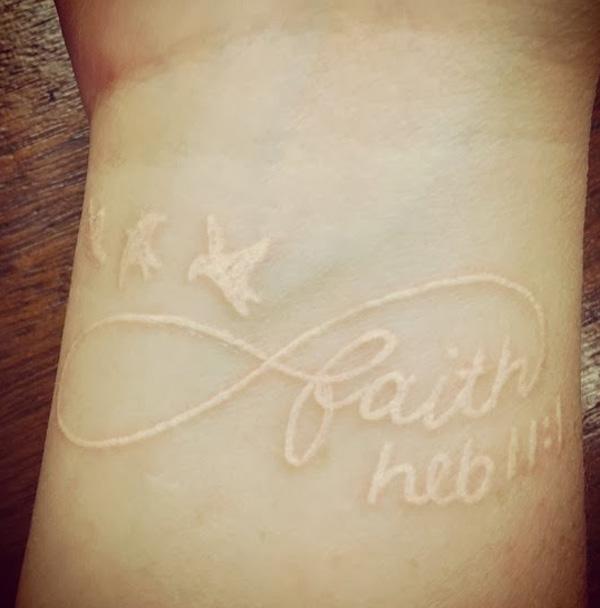 Cloud and Bird tattoo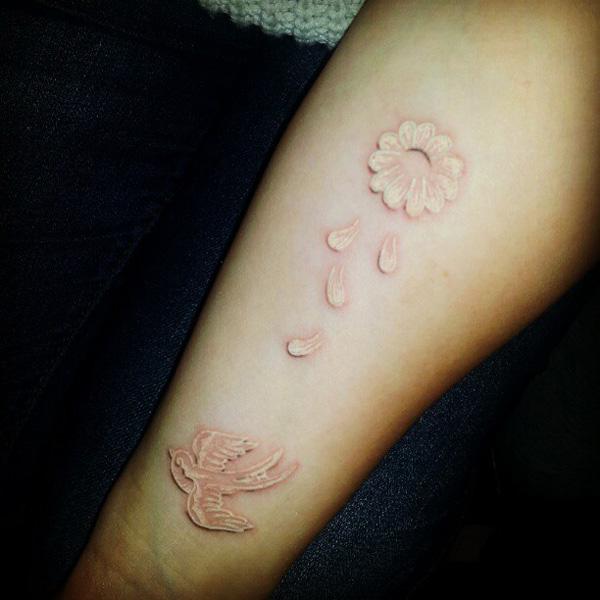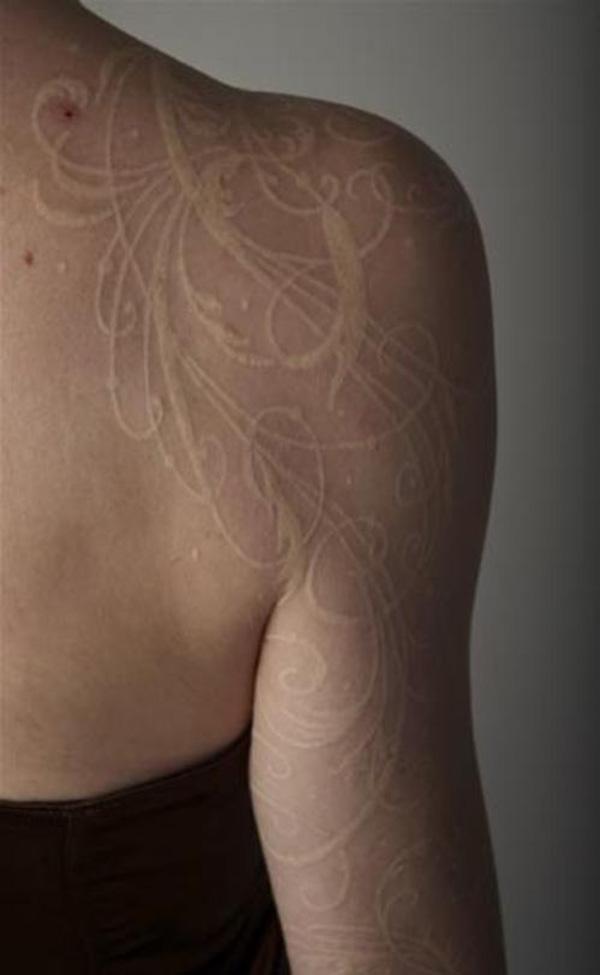 Conclusion
In conclusion, white ink tattoos are a unique and elegant option for those who want a more subtle and understated look. While there are some drawbacks to consider, the benefits of white ink tattoos make them a popular choice for many people. With a skilled tattoo artist and some creativity, you can create a stunning piece that is both meaningful and beautiful. So, if you're looking for a new tattoo design, why not consider a white ink tattoo?
FAQ
Q: How long does white tattoo ink last?
A: The durability of white tattoo ink varies from person to person and depends on the location of the tattoo and the aftercare. White ink tends to fade faster than other colors because it is not as deeply embedded in the skin. On average, white ink tattoos typically last for about one to five years.
Q: Why do tattoo artists use white ink?
A: White ink is used by tattoo artists to create highlights, add depth and shading, or help other colors stand out. It can also be used on its own to create a subtle and unique tattoo design.
Q: Why does white tattoo ink hurt more?
A: White tattoo ink is normally metal based pigment, such as lead, zinc, titanium., which can cause more pain while getting the tattoo. Additionally, the placement of the tattoo on a bony or sensitive area can also contribute to the discomfort.
Q: Are white ink tattoos a good idea?
A: White ink tattoos can be a good option for those looking for a subtle and unique tattoo, but they require proper aftercare to maintain their appearance. It's also important to consider the risks, as white ink tattoos can be difficult to remove and may not show up well on darker skin tones. Consult with a reputable tattoo artist before getting a white ink tattoo to ensure it's the right choice for you.