Since Valentine's Day is seriously getting closer, how about we look into some of the most awesome nail art designs for the season of hearts? It's perfect season to make your nails a glamorous and fabulous look. If you got a date with someone special, your nail styles should be able to go with particular outfit you'll be wearing. Even if you decided to stay home, nothing would make you feel loved by pampering yourself with the perfect set of nails as well as the holiday DIY home decors.
Paint your Nails
When it comes to nails, people tend to be meticulous with how it would appear. Usually, dirty nails aren't much of a good sign especially when you're trying to rock out a clean and smart look. It could only be an exception when you're doing manual labor or the like. But when it's time to groom up, your nails shouldn't be forgotten.
You can make your nails look exceptionally beautiful and clean by of course, going to a salon and have it manicured. You can go have it cleaned and even have it "painted". Sure enough they won't be using paints but nail polish in varying colors. From dark to light to neon and glittery colors, you have the option. You can partner it with your daily outfit or the dress you'll be wearing on a party. You can choose your favorite color or a new and trendy one to experiment with your look.
But even when these simple nail colors are still in vogue, nothing can be much trendier these days other than nail art. It can go from simple works of art to the most complicated designs.
Celebrate Valentine's Day with your Nails
Valentine's day is the moment to show your true love with creative ideas. When the clock hand moves to February 14, the world would be overwhelmed with love hearts in pink or red shades. These images are always strong links to the subject of love and romance. If you are a true trendsetter, there are always other creative ideas for you to achieve flawless nail art.
Take care of your Nails
If you love to take care of your nails, it would be easier and better looking to have long nails. There would be more space for the design and longer nails could make your fingers look more elongated. It's usually a shape associated with elegance and class.
Aftercare is also important if you want to keep you nail art longer. There are hardening nail polishes which coats your nail art and protects it from getting chipped. But apart from using such products, try not to get into too much manual work. Usually these kinds of jobs tend to get your nail chipped earlier than you want it too. Avoid getting it soaked in water for a long time, all of the time as well. The water tend to soften the cuticle even the protective colorless coat which could make it easier for the polish and the design to chip off.
Make your Valentine's Day nails cuddly
So without much further ado, here are some of the designs you can choose from for your Valentine's Day inspired nail art.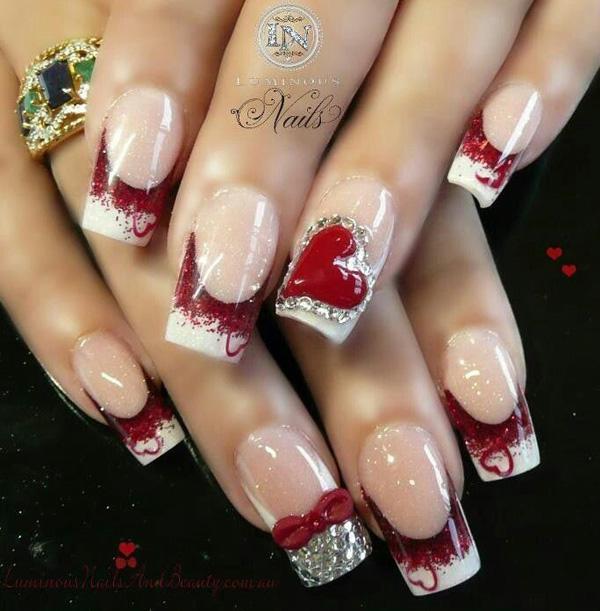 Glitter nails on French tips for Valentine's Day
You can now celebrate Valentine's Day by adding red and silver glitters on your French tip. Add little hearts or create a big one and surround it with little diamonds for a more fabulous finish.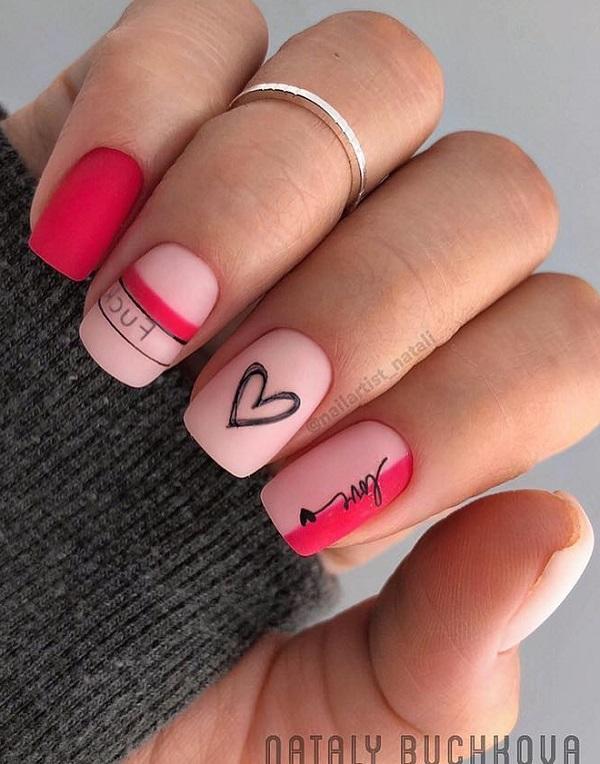 sketchy heart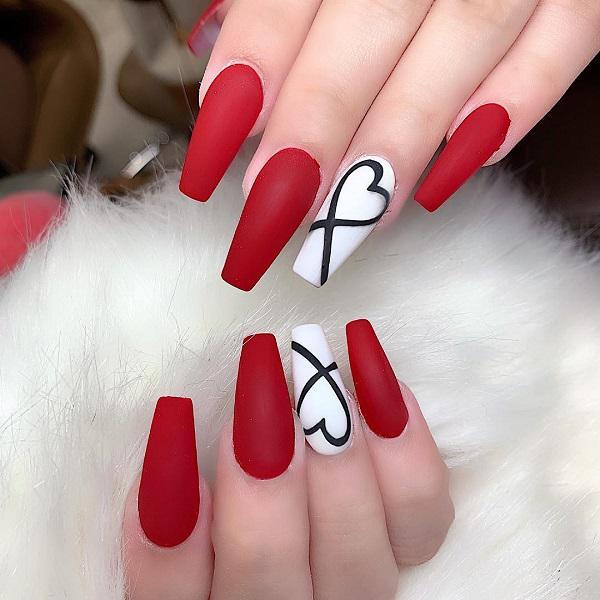 Red Coffin nails with Cursive heart shape on white background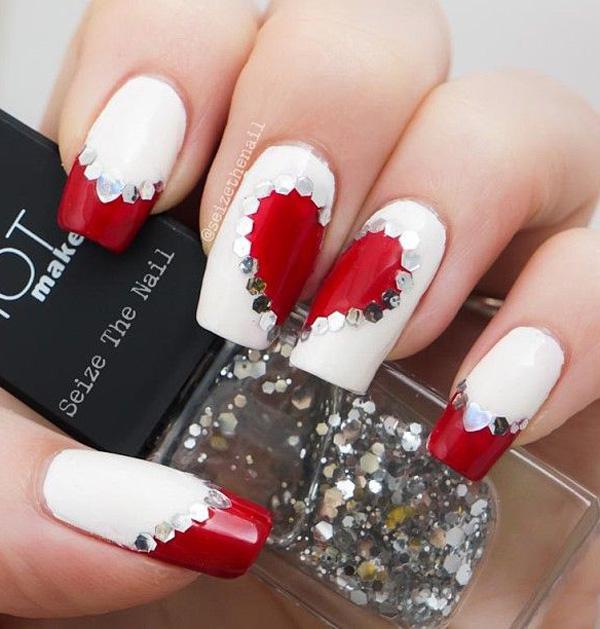 Get a simple red and white tattoo by adding some rhinestones to hide the line between your red and white nail polish. Of course a heart shape design shouldn't be gone for the day of Hearts.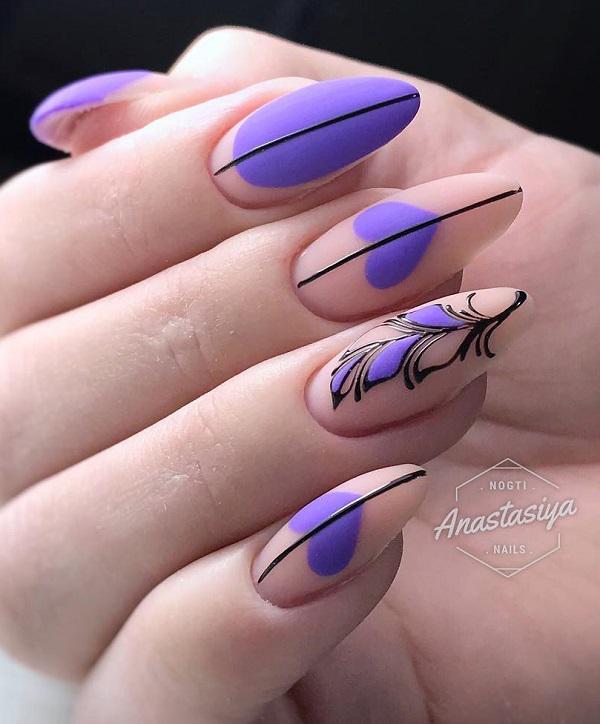 Feather and love heart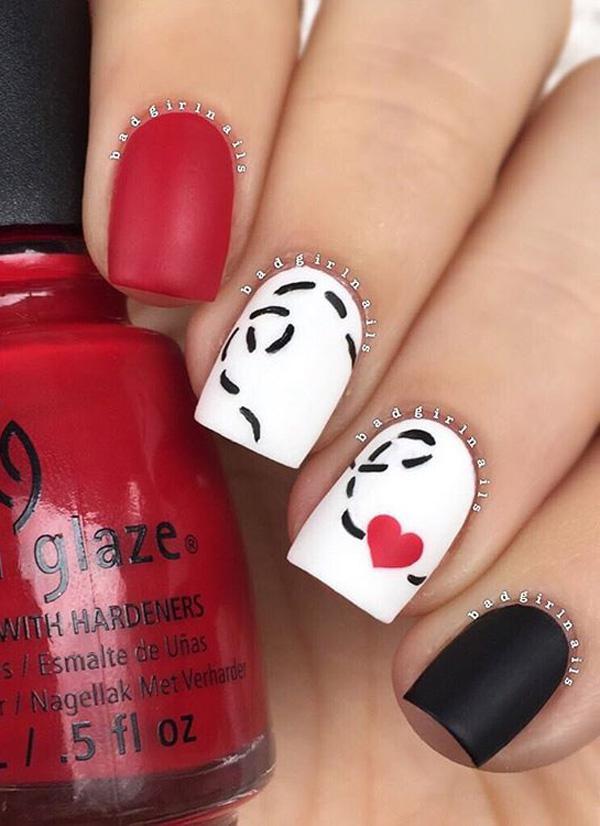 Cute flying heart nails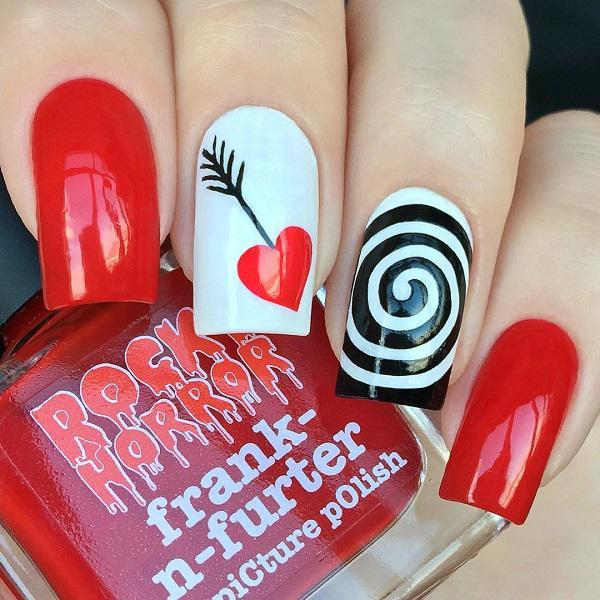 Red heart with arrow nails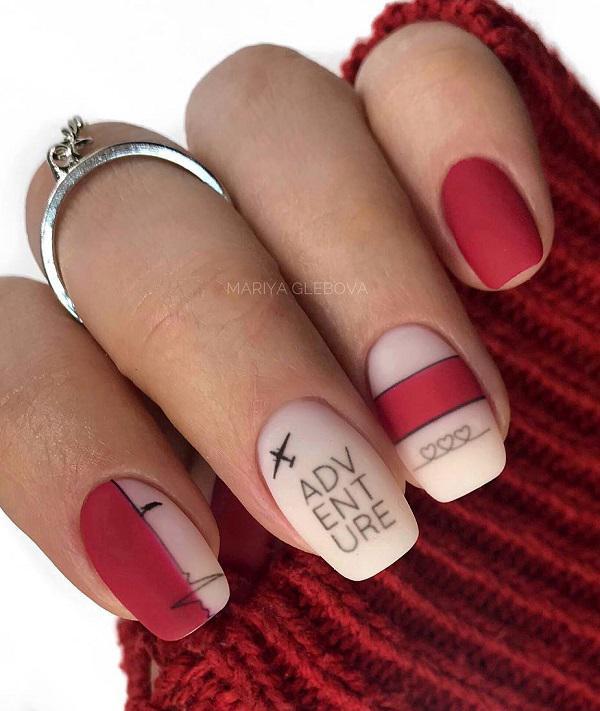 Heart beats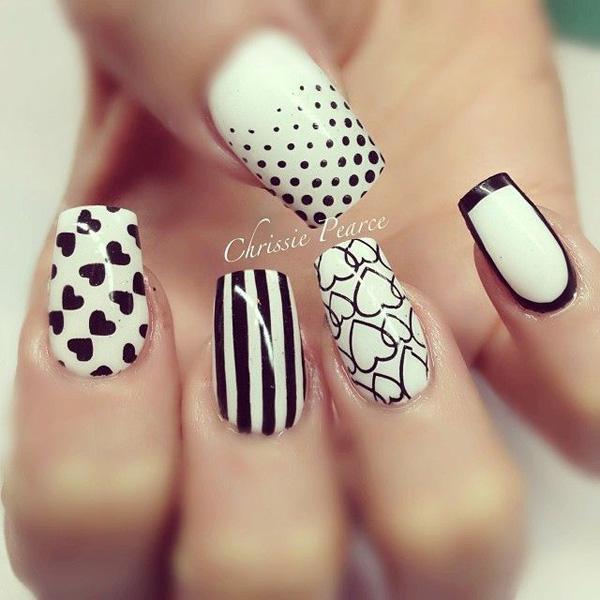 Simple, clean and quirky. Have five different styles on your nails for each finger. From dots, to hearts to stripes to a simple black border; black and white nail polish works for everyone.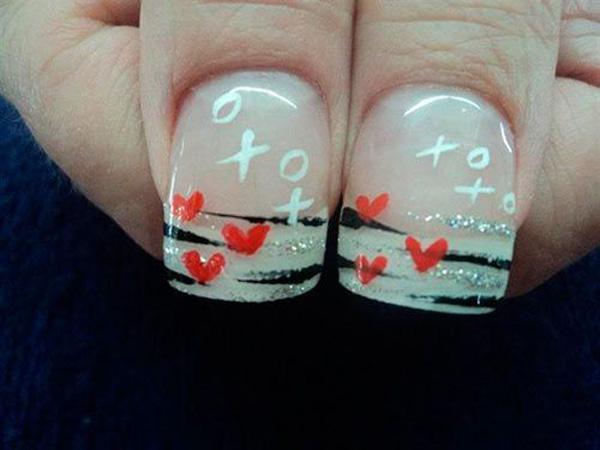 Here's a simple and clean design for those who are not into complicated and shiny nail art. Just add a bit of black stripes for some color, silver glitter polish for a bit of shine and of course, cute little hearts for the spirit of Valentine's. PS. XOXO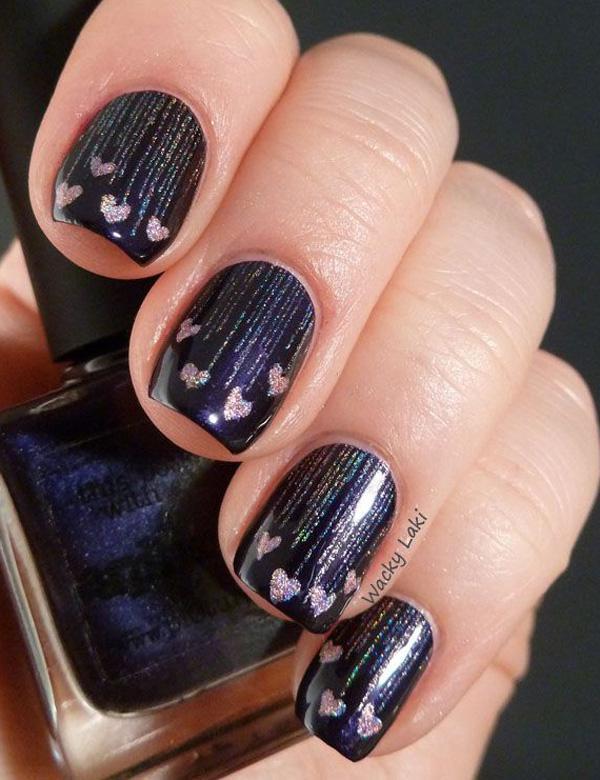 Black is elegant but not usually a color for the Valentine's. So if you want to make it work for the season, get a glitter nail polish, much preferable if light pink or silver, then create cute little hearts.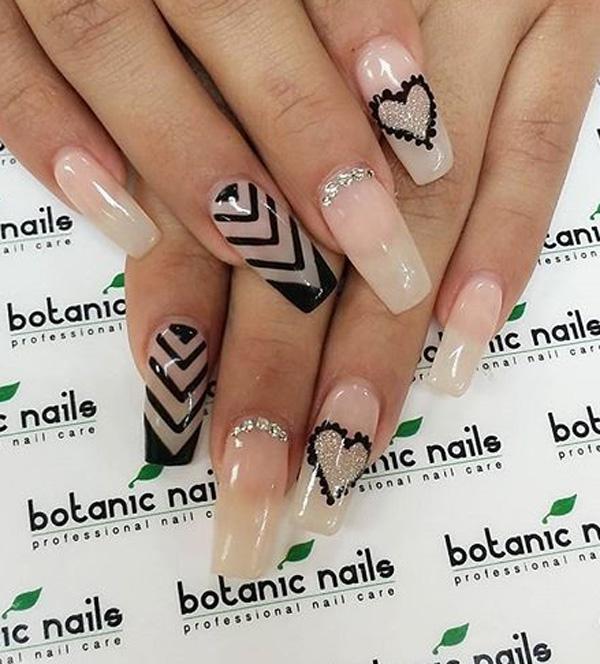 If you don't have the perfect nails, you can still get this look through false nails. It's easy to use and perfect for a date night. After that, you can take it off and clean it so you can use it again.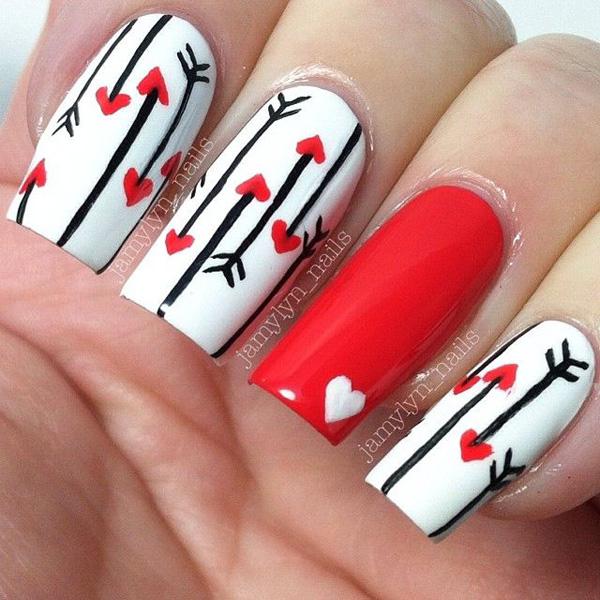 What could be a better symbol of Valentine's and falling in love than Cupid's heart arrows? Well of course you can have that as a design on your nail art. But skipping a finger and going full red with a little heart would make your nail look more quirky.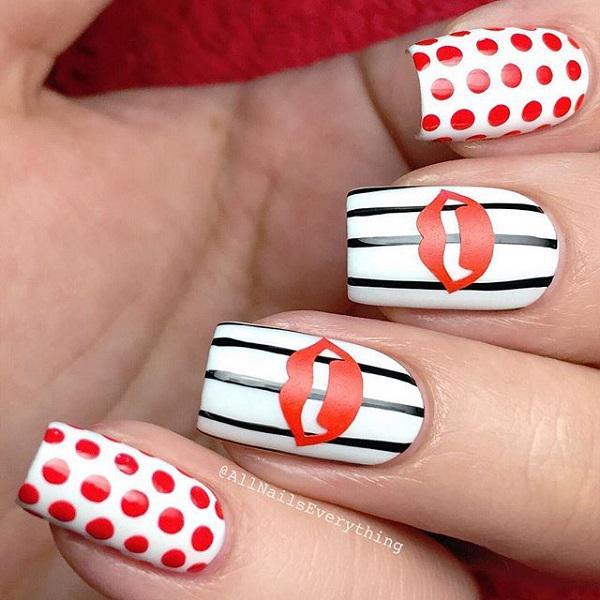 This one is actually much easier than you think. Just paint your nails white, then pick which finger would have the polka dots and the stripes. Then you can either find transfer stickers in the shape of your puckers or cut out from nail strips and glue in your nails with nail polish and your design is done.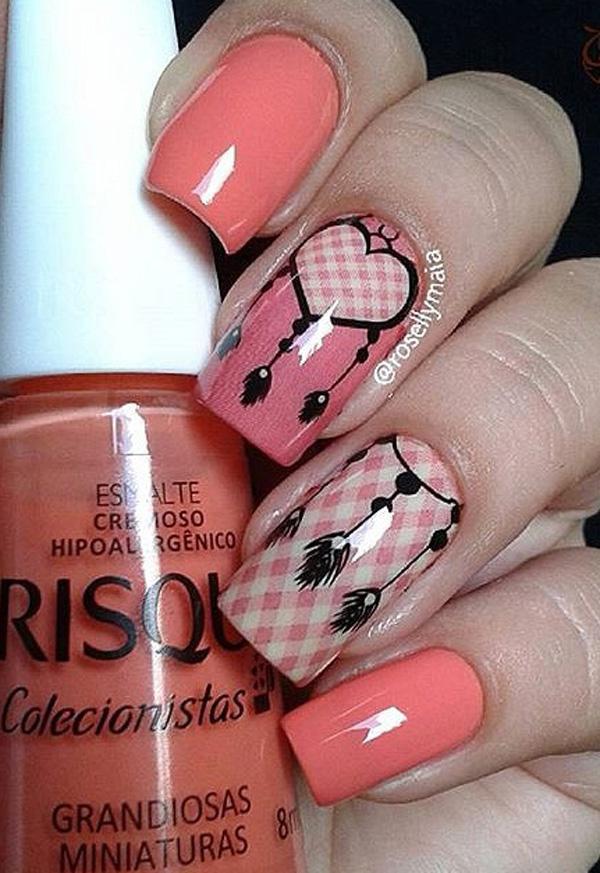 You can probably get a false nail with the white and pink checkered design to get this nail art design. There are also some vinyl stencils you can use. Or complete the whole look with available decals with various designs for sale.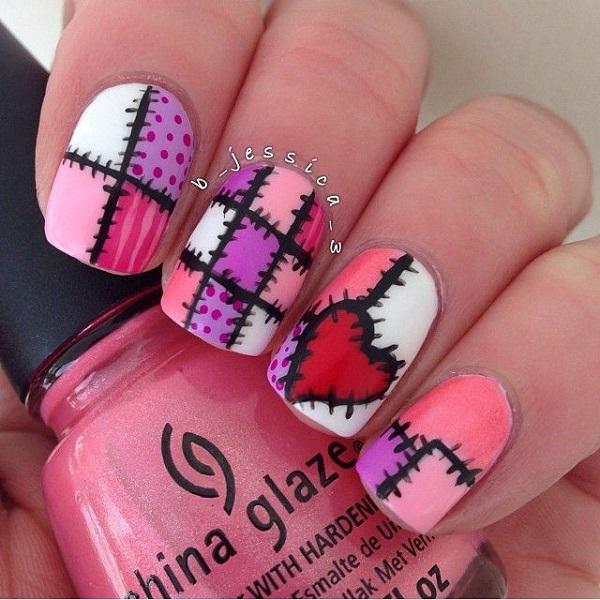 Stitched love Valentines day nail art ideas
This stitches nail design is perfect for every girl who's got a bit of skills on nail art as well as who likes having different colors and designs for each nail. Choose 3-4 colors you will use and always have that black nail polish to draw the "stitches". It's important to have a think brush for drawing and making designs.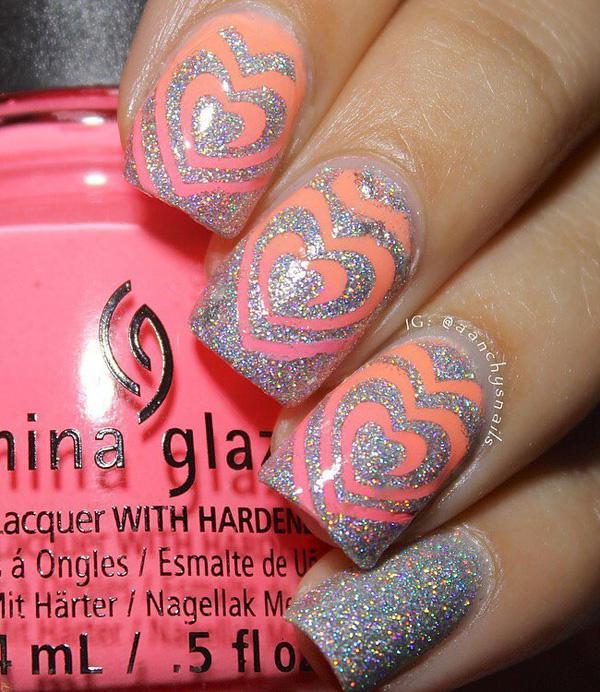 First off, choose two colors you will have for the base; paint it on a sponge and dab in your nail for an ombre effect. If you get the desired effect, then bring out a stencil and use a glitter nail polish to trace the heart design you've chosen.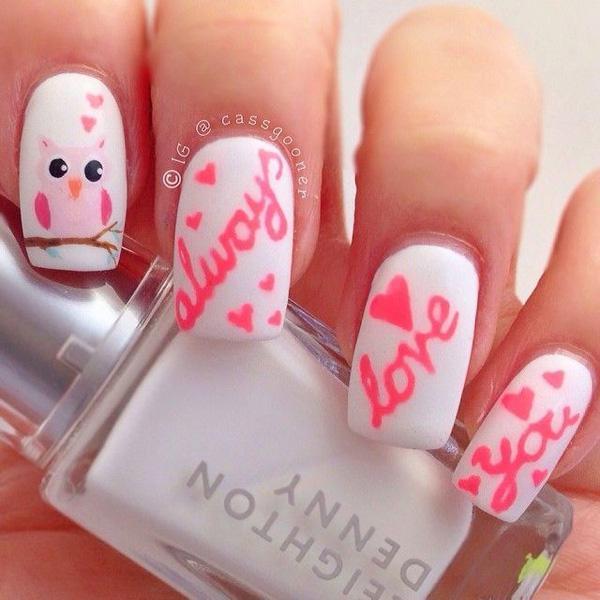 Pink and white Valentines day nail art
Artsy and geeky. This could be what this design is all about. But it comes off as a sweet and simple design for everybody who believes in love. Always.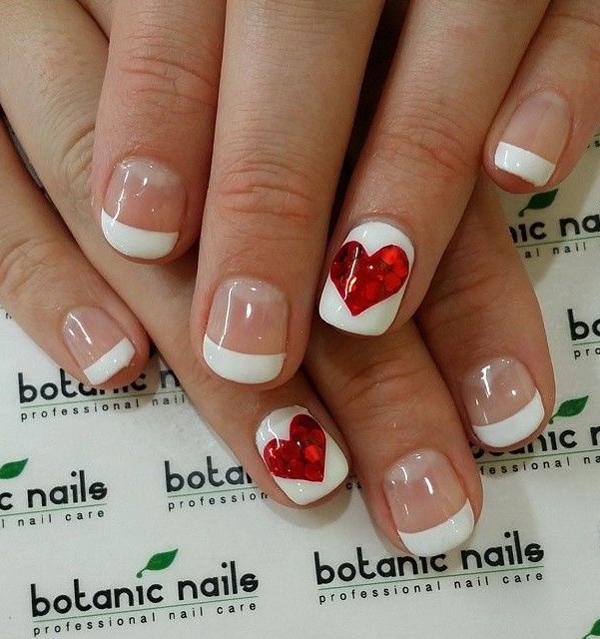 Here's a much more simpler design for you. It's perfect when you haven't got much time to prepare and paint your nails well. All it takes is a clean and simple French tip on four fingers and a heart design on both your ring fingers.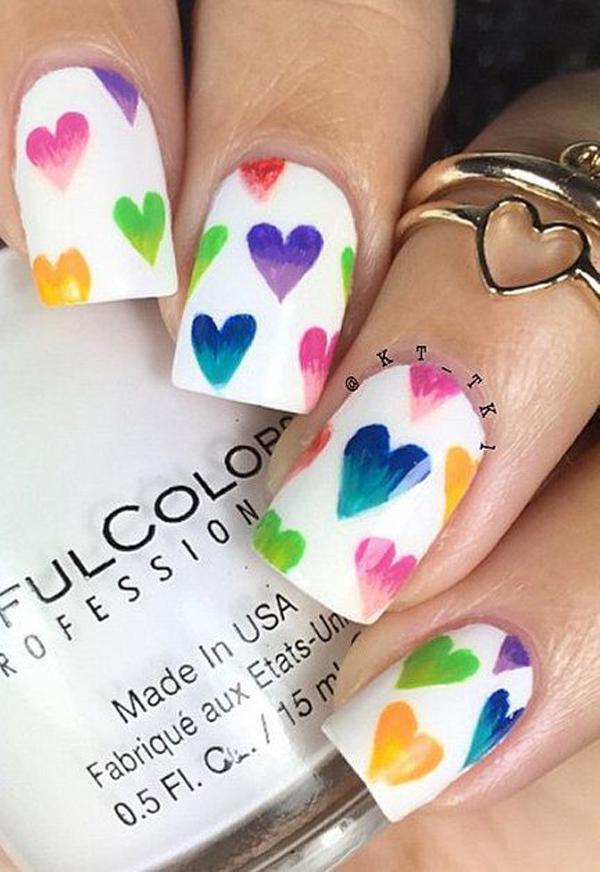 Challenge your skills and creativity through these little ombre hearts on a white nail.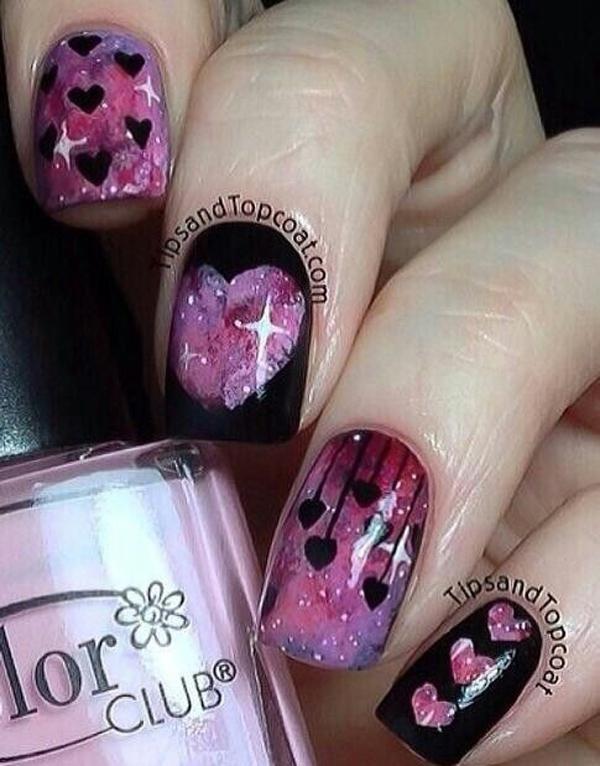 Galaxy aren't just for the outer space only. You can now send your love through the galaxy…on your nails. You can look for some tutorials on how to achieve a galaxy nail. Plus covering it with some black designs (heart shaped of course) would complete this trendy look.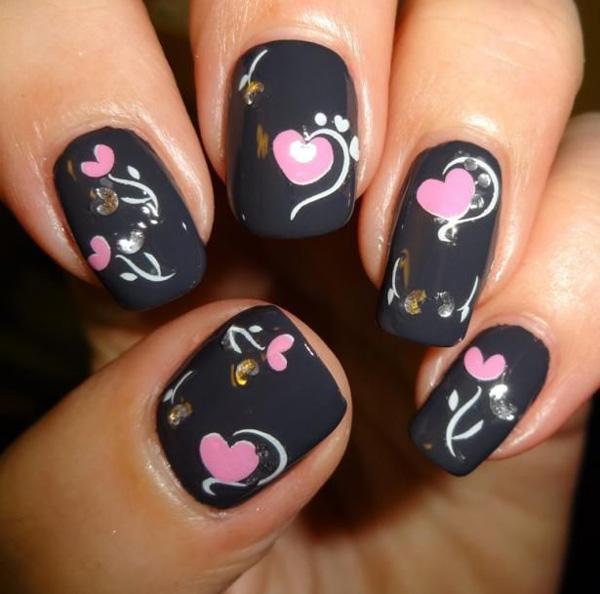 Take out your grey nail polish and make it alive with this gorgeous design. Swirl a bit of white, paint a pink heart and add some rhinestones. It doesn't need to be all over the place since the simplicity is what makes it beautiful.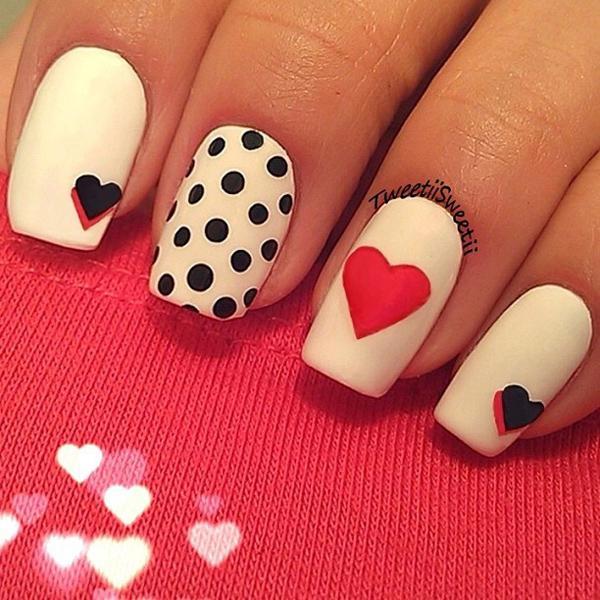 Tired of plain white nail polish? Add simple design that even you can create on your own with just the use of stenciled design. Here's a tip though: using a white matte nail polish would make it look more solid.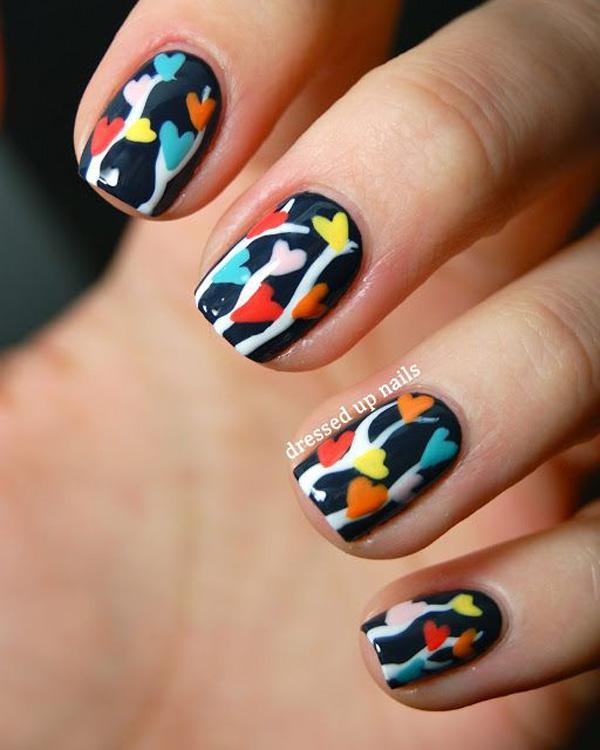 If you've got the set plus the time and practicing your nail art skills, here's another simple yet pretty piece that you can work on. Usually you can only create the little hearts through specific nail art materials.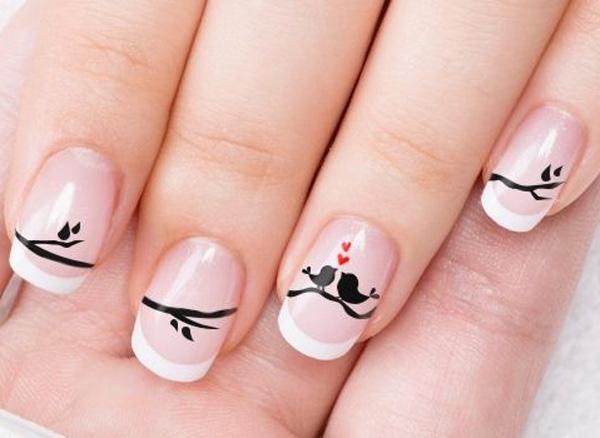 It may look simple but it can take great skill in drawing and nail art to perfect such a design. Getting the right pressure for the thickness of the lines would have to be practiced well. But if you have a good nail artist, this is a great and simple design.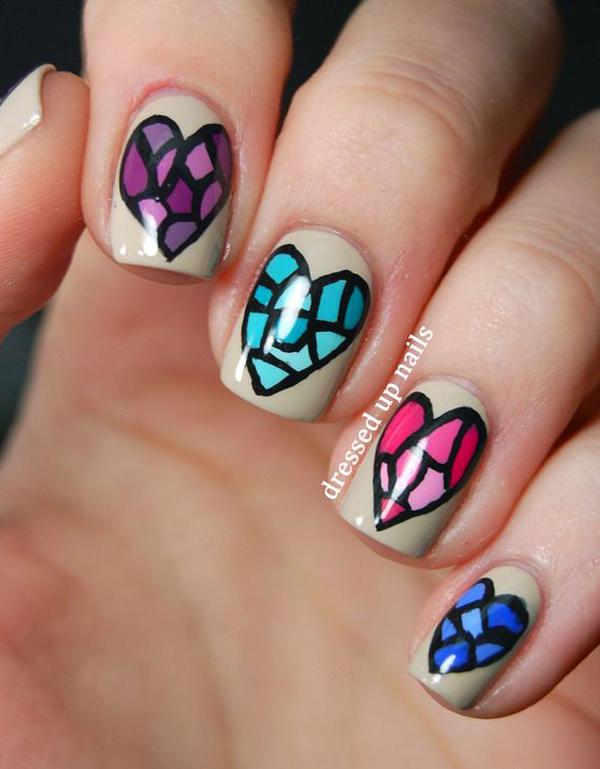 Another DIY design for those who are practicing with their nail art designs. You may need 3 shades of each color.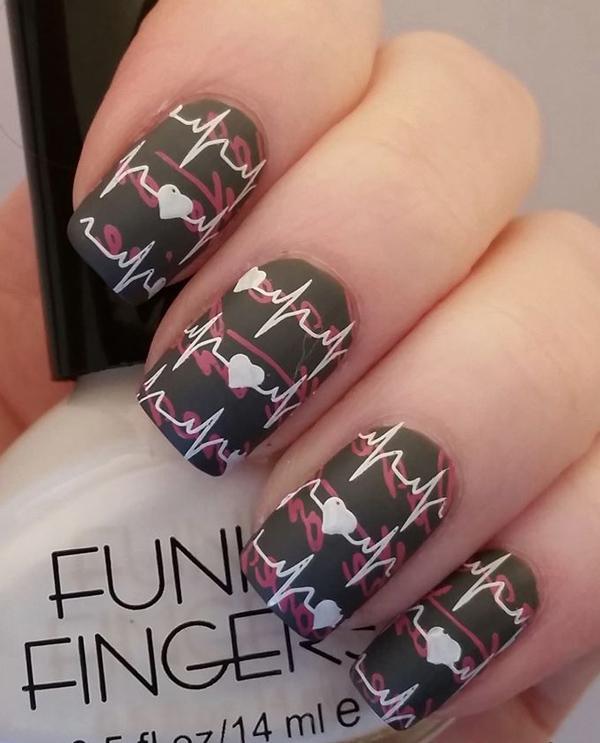 Matte nail polishes are the new trend and with nail art design, it would even make your nails look ravishing. Here's a design you might need an expert to do but is definitely worth it.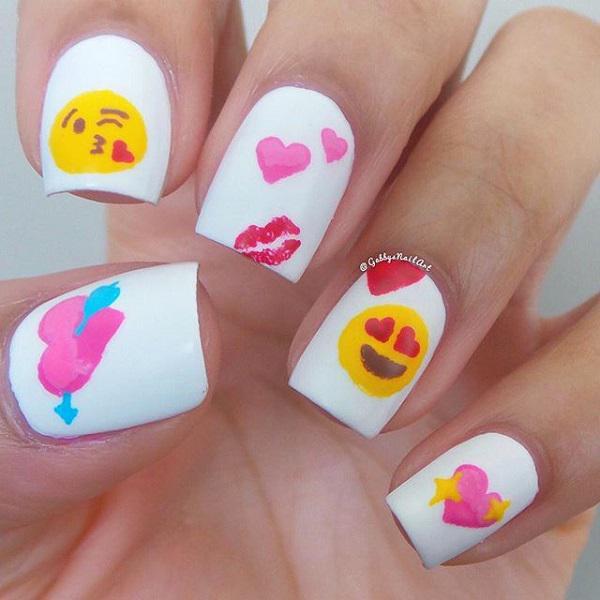 If you're a fan of emojis, then here's a quirky emoji and hearts design that would be perfect for your idea of celebrating Valentine's.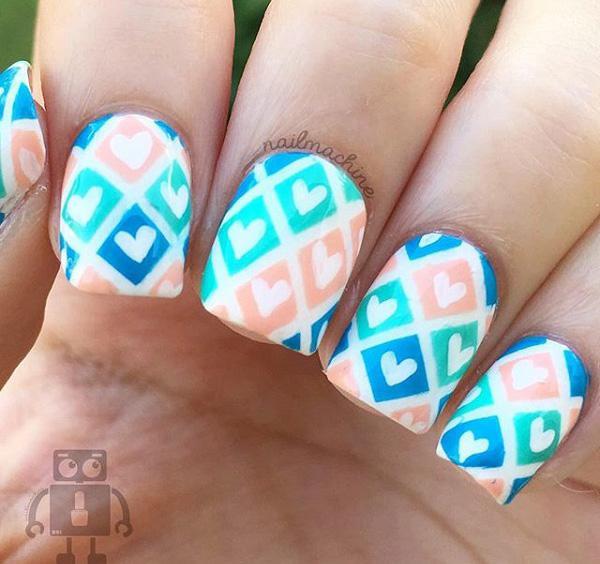 Pastel and neon colors on a white base could make a simple design pop up and come alive.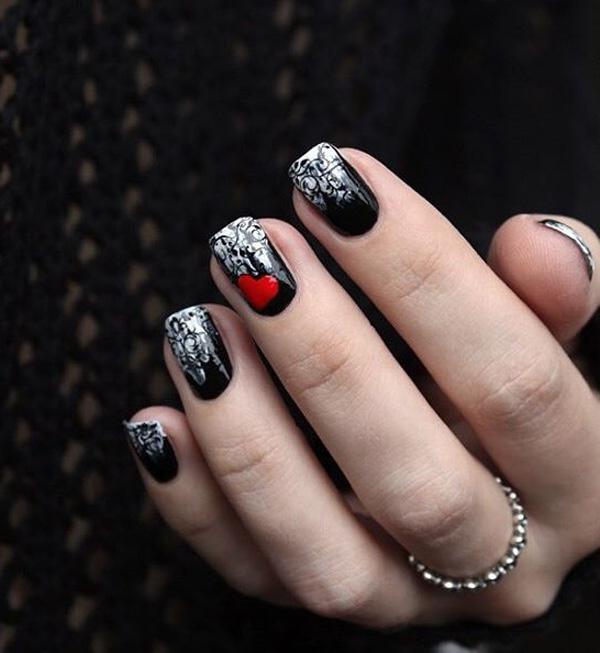 If you're more on the gothic or emo side, here's a stylish nail art design that would be perfect for you. It's also great for formal date nights since it could go perfectly well with any outfit.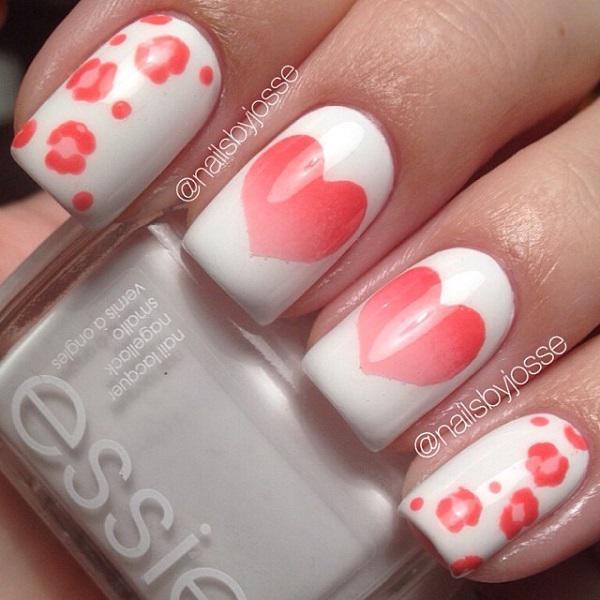 Peaches and pinks with white can definitely lighten everything up. If you aren't int dark and heavy colors and designs, you might want to suggest this to your nail artist.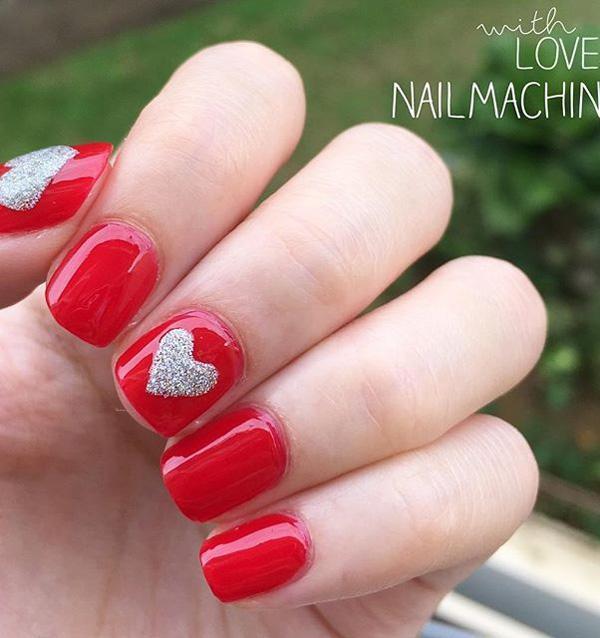 Not everyone has the time for complicated nail designs. So here's another alternative for those who are more on DIY nail arts that can be done much faster.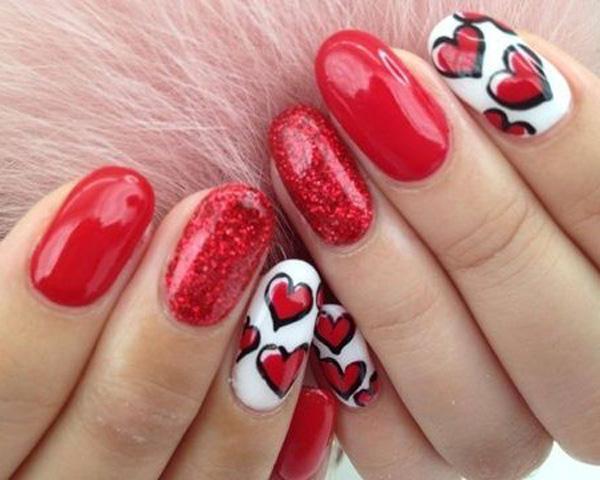 Gone are the days when people will look at you because of different colored nails. Nowadays, it's not only colors you can alternate but designs as well. Choose from two to three designs and alternate them for a stylish look.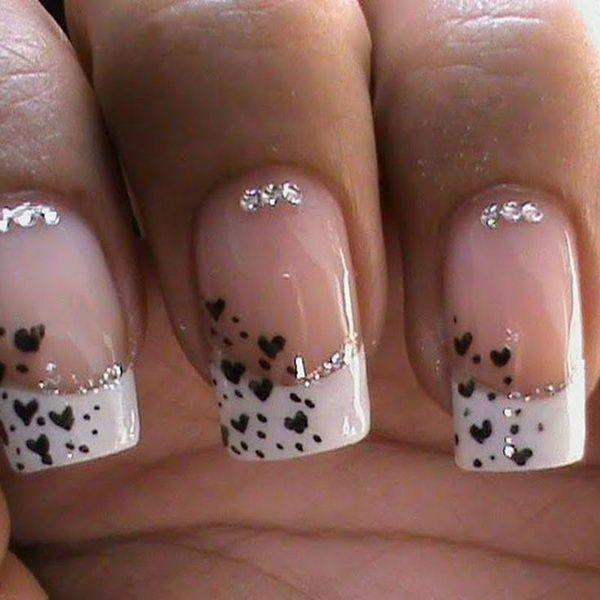 Adding diamonds to even a simple french tip could make it 10x more elegant so here's a design to make you feel like a queen on a special day.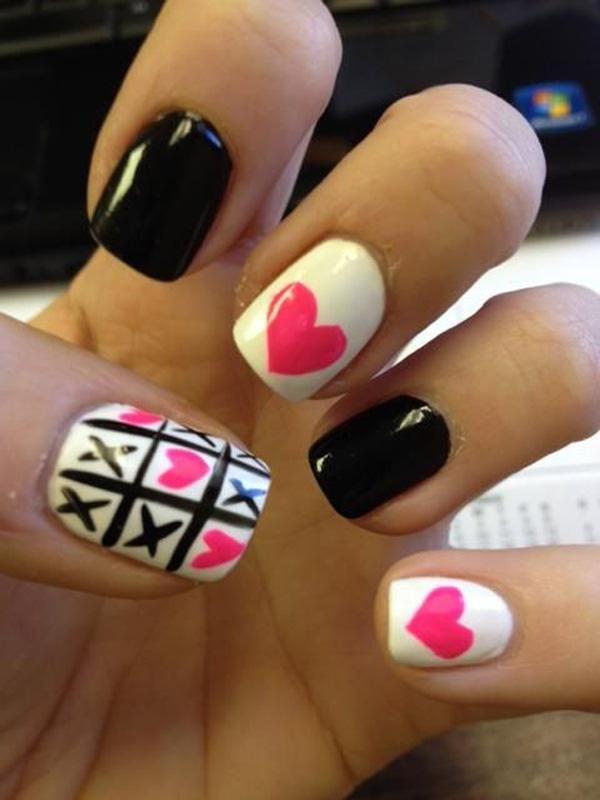 If you want your designs to equally appear on your nails, well adding a separate design and putting it on your thumb would do the job. Additionally, the design is also simple to make, even on your own.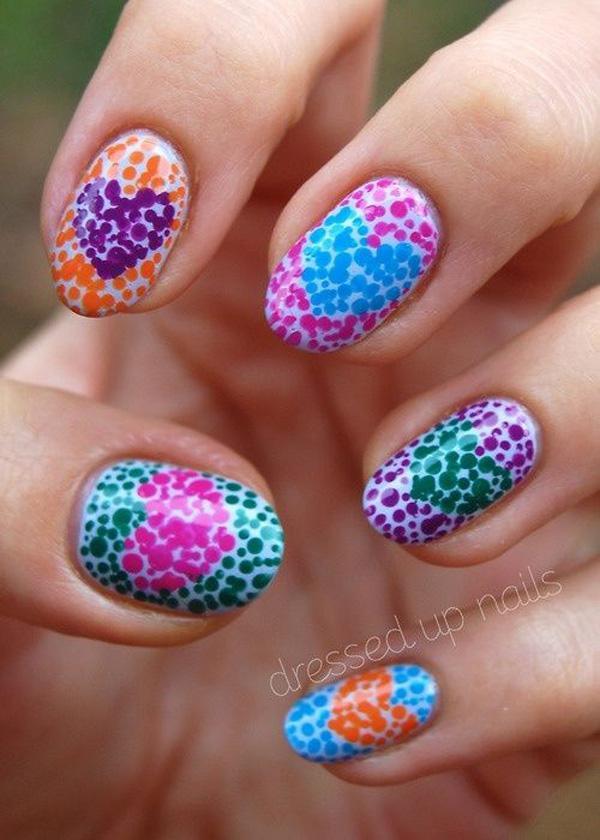 It could take you quite some time to dab these dots but the end results is a fancy and eye catching art on your nails.
"As long as you live, you can love", this could possibly be what this design could tell us. If you have a thin brush, you can actually create this design by yourself. It would take practice to perfect it though so take your time.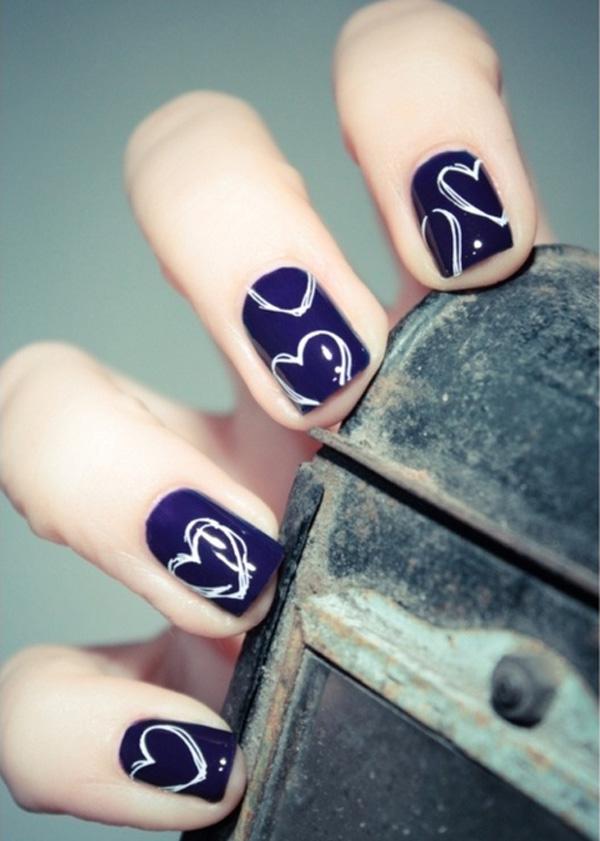 Nail art shouldn't be all complicated drawings and swirly and glittery designs. Here's one that is both simple and rather imperfect (in a good way).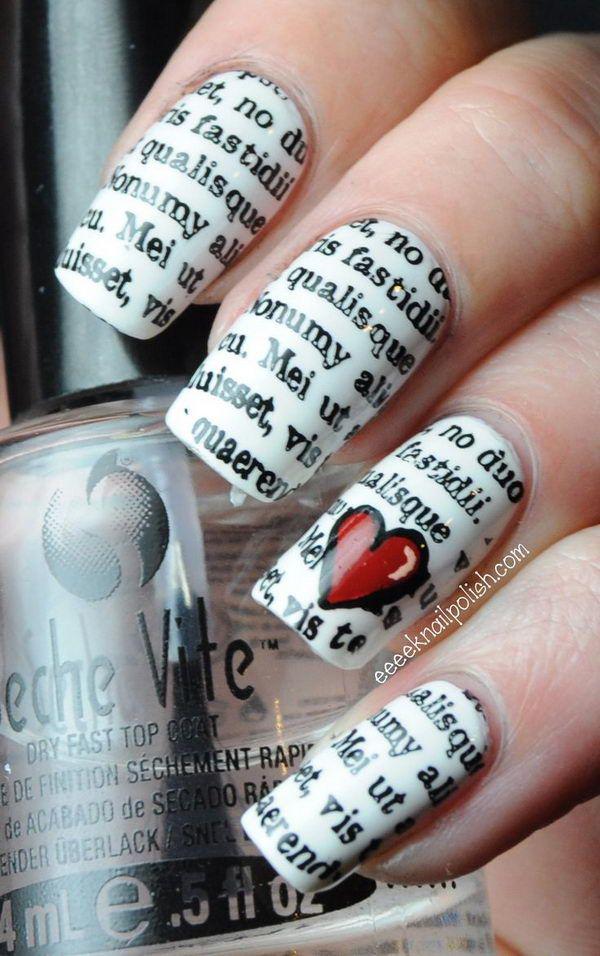 Here's a design to book lovers and mentally dating fictional characters from books. You can get the design through stencil design, stamps or water transfer stickers with words and letters as a design.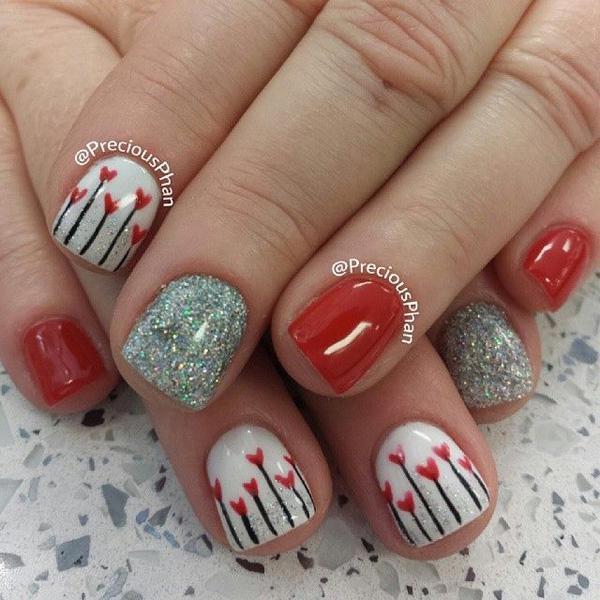 A glittery nail polish wouldn't be so bad if you partnered it with a simple nail polish and a simple nail art design.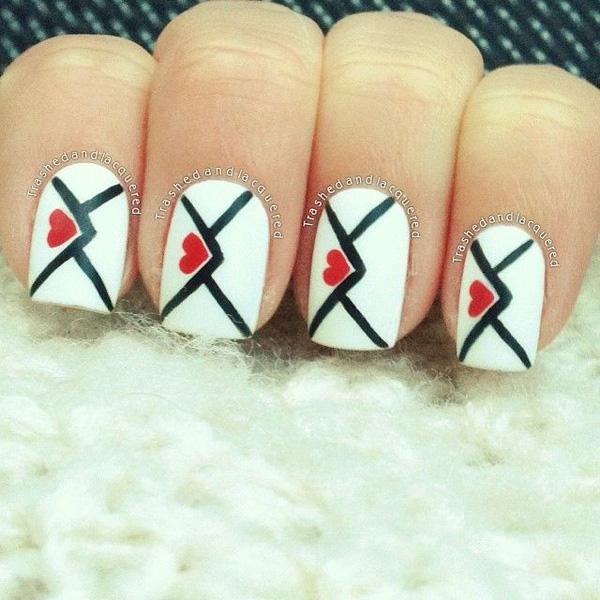 This one is a unique design you don't see often: love letters. On your nails. Who said that old fashioned snail mails aren't romantic anymore?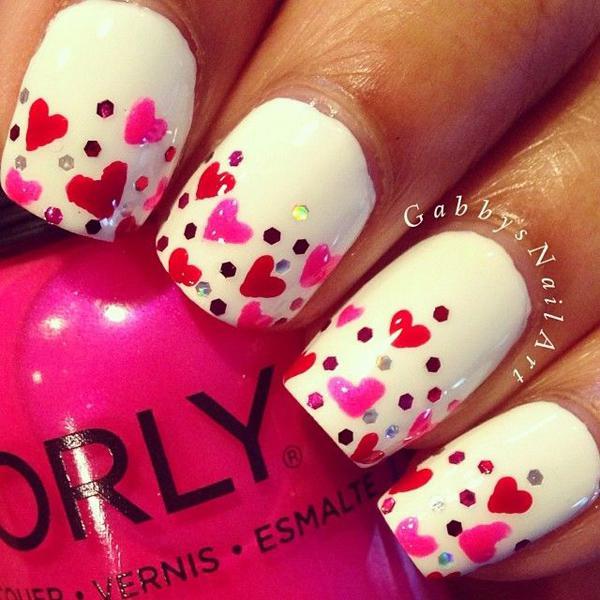 You can buy sets of rhinestones that are perfect for nail arts that cpmes in different colors and shapes. It could make simple designs more glamorous.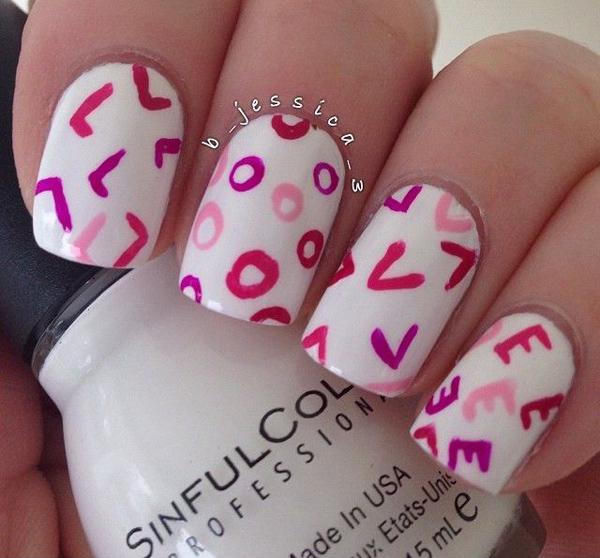 L-O-V-E. That's what Valentine's is all about. And you can even have it anytime of the year you want, even when you're single or in a relationship.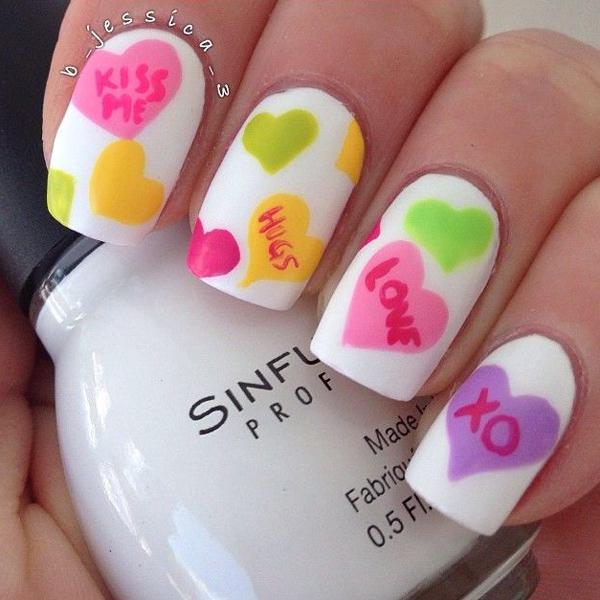 White nail polish is a perfect base since it could make the designs stand out. For example, these statement hearts can be easily spotted from afar.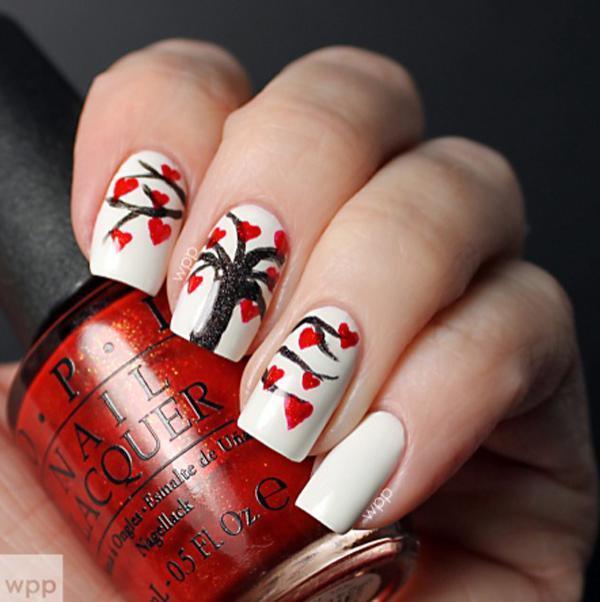 Your nails may not be as big as a paper but you can definitely paint a picture on your nails. Bring them all closer and it would look like one big picture.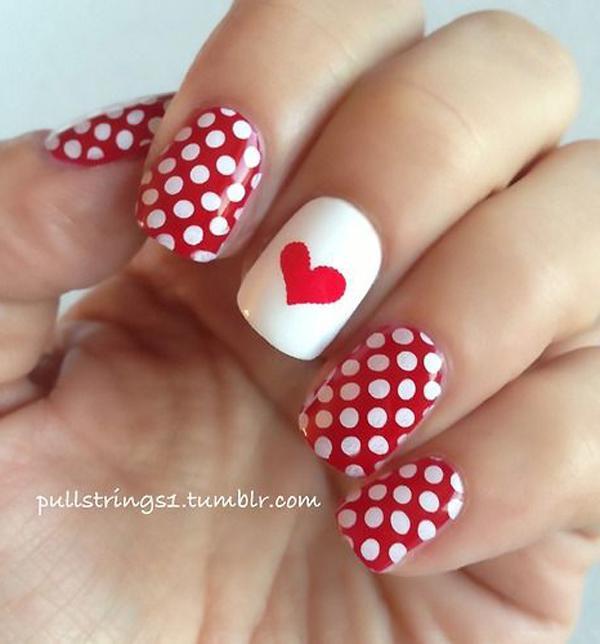 You can make the perfect heart or the perfect dots through stenciled design or stamps. It could even make your work easier and faster.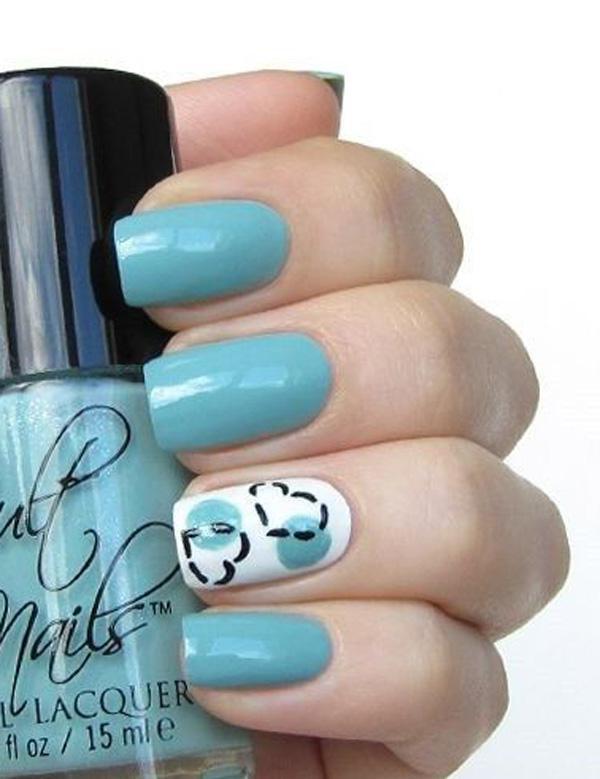 Blue is soothing to the eyes; but it's not really a color often associated with love and Valentine's. So how about breaking the norm and go with this nail art design for your Valentine's date?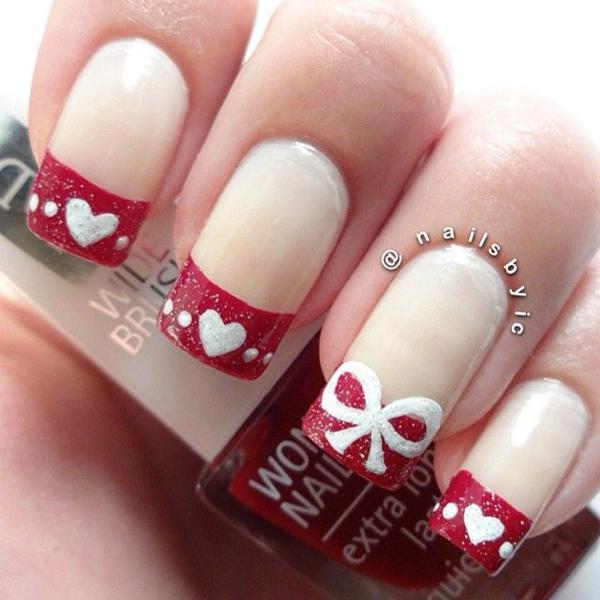 Tired of soimple white French tip? Play with the classic style by making it red, add some white hearts and a bow and finish it off with glitters. Flawless for a date night.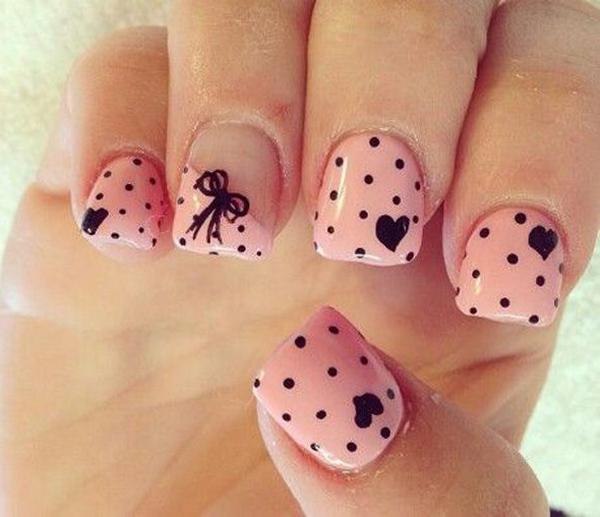 If you're not really a fan of popping colors, peach is great. Then you can add little details of black such as dots, bows and of course, hearts.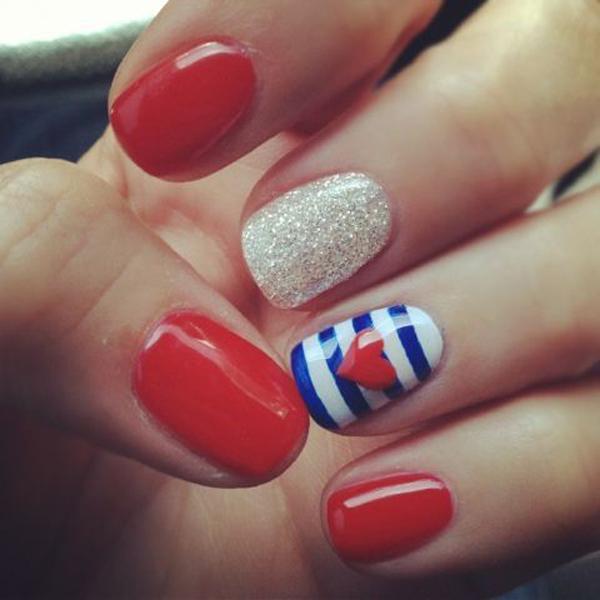 Your ring finger is where you wear your wedding ring. It only makes sense that it's specially designed on the day of Hearts. Here's a design that will make it unique.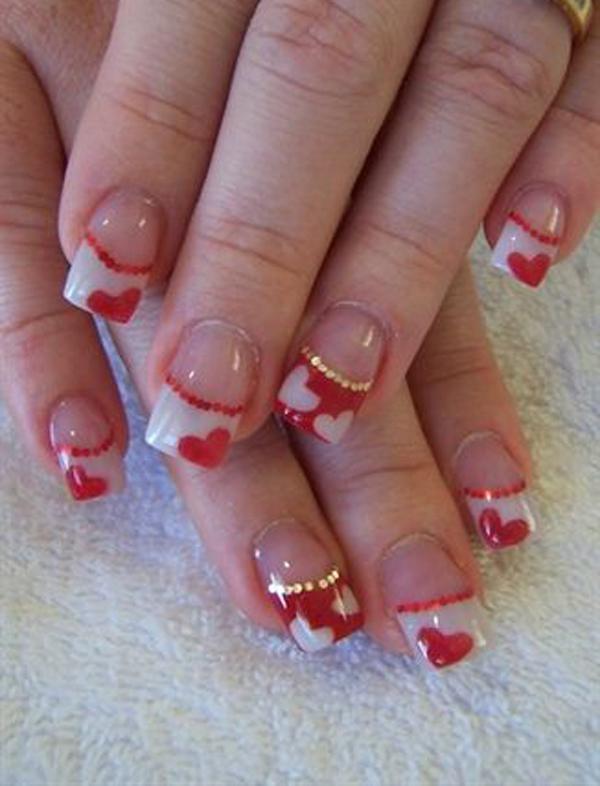 Here's another alternative when you're getting a bit tired of old regular French tips. And never forget the hearts.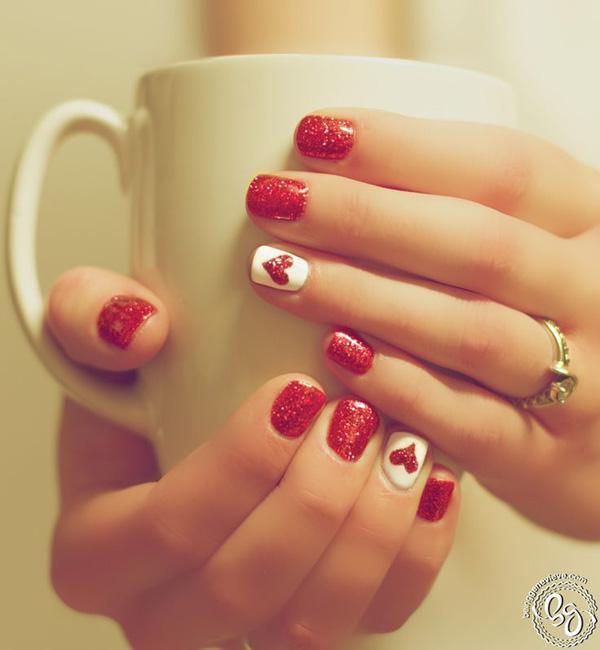 Glitter nail polishes are art all on their own. Here's a great example why. It's simple and easy but definitely marvelous and fab.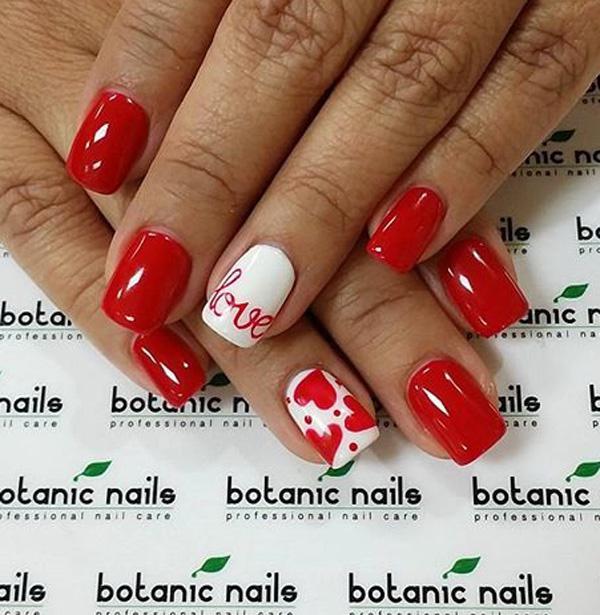 If you're going to have a nail art design, white or lighter colors would be the best base. Don't be scared even if it's only one finger you're going to design. It would still look glorious.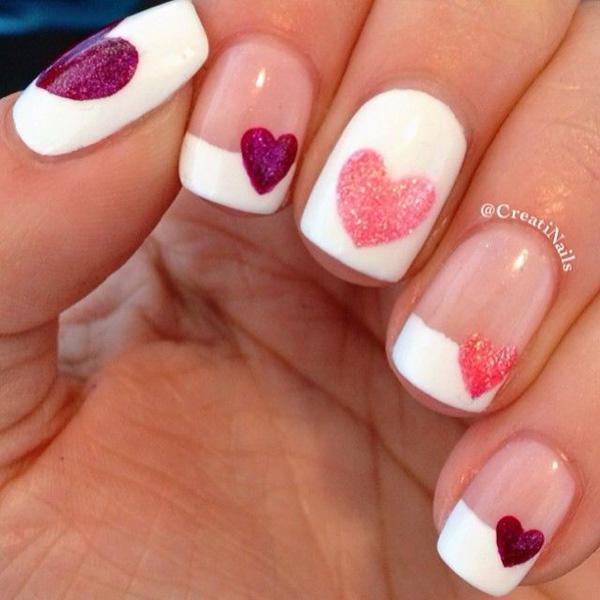 Hearts. French tips. And glitters. The greatest combinations for a simple and clean, date night nail polish design.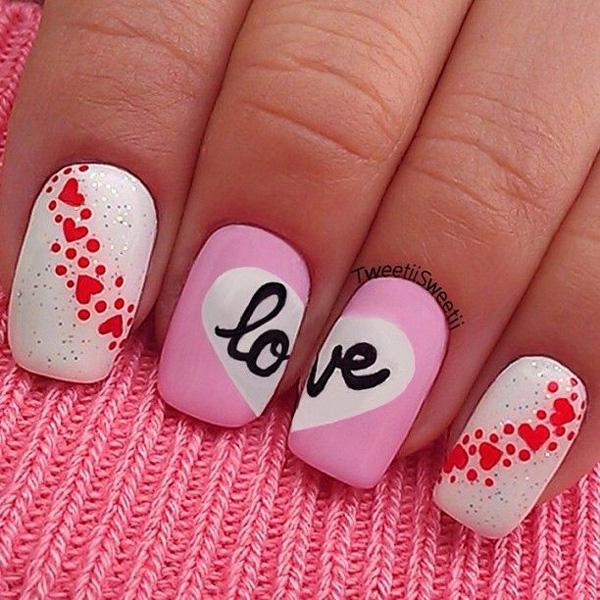 Love heart on two pink nails
You might want to visit a nail parlor for this one. It could be quite complicated to do especially with the word love. You can have it done while getting a facial or relaxing.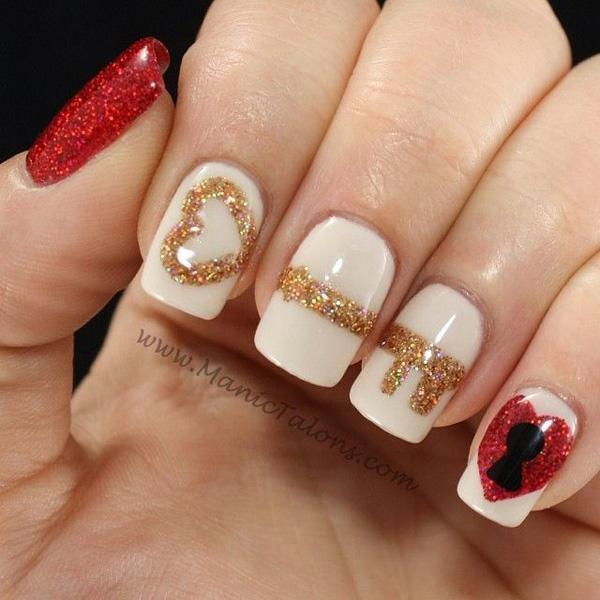 Key to my heart
Here's a great depiction of "key to my heart" through nail art. Definitely artistic and beautiful.