Chest tattoos are a popular choice for many people, as they provide an area of the body that is easily visible and can be used to express yourself. Whether you're looking for something small and subtle or large and bold, there are plenty of creative chest tattoo ideas out there to suit your individual style. To help get your creativity flowing, here are 100 nice and creative chest tattoo ideas that range from classic designs to modern styles.
From minimalistic designs to intricate pieces with multiple elements, there is something here to suit every taste. Whether you want an abstract design or something more traditional like a tribal pattern or portrait – these ideas will get your creativity flowing!
For those seeking something more elaborate – floral patterns are always popular when it comes to chest tattoos. From full blooms covering half of the torso area down to delicate vines wrapping around arms; flowers make beautiful additions no matter where they appear on skin! Another great option is nature-inspired imagery such as birds or trees which look lovely either alone or combined with other symbols like stars and moons.
Colored tiger and snake ink in Japanese style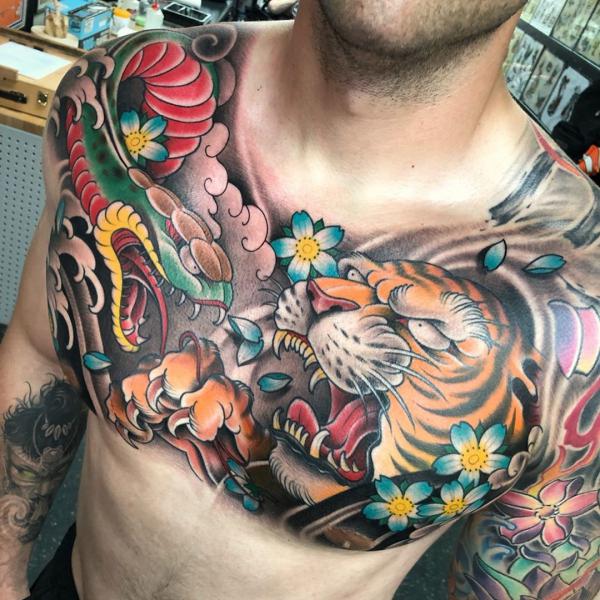 Chest tattoo with Bride and groom facing flowers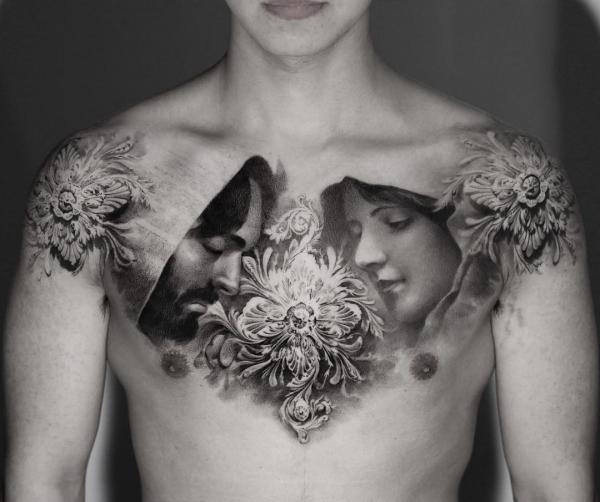 This amazing tattoo is an excellent way to commemorate your love. The beautiful imagery of the two figures facing the blossoming blooms, symbolizes how their relationship has grown over time. It speaks to the beauty of marriage and all that it entails – companionship, trust, and unconditional love. This meaningful piece can serve as a reminder of your special bond every day for years to come.
Floral composition with wisteria and peony chest tattoo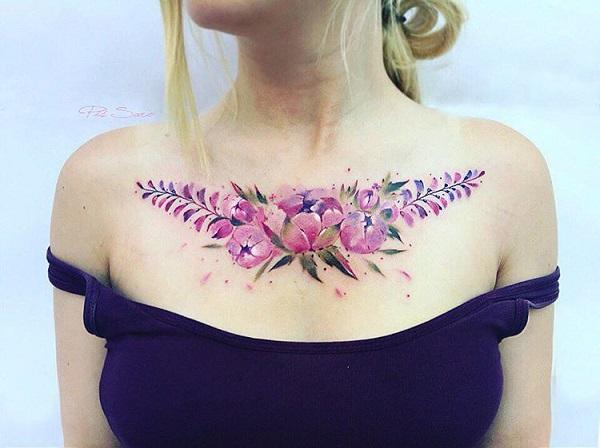 This gorgeous floral composition tattoo is a stunning work of art that features wisteria and peony blooms. The vibrant colors of the flowers are beautifully highlighted against the skin, creating an eye-catching piece that will draw attention wherever it's seen. The delicate details in each bloom make this design truly unique, with intricate lines and shading to bring out its beauty even more.
Full chest blackwork – A creeping wolf obscuring half the moon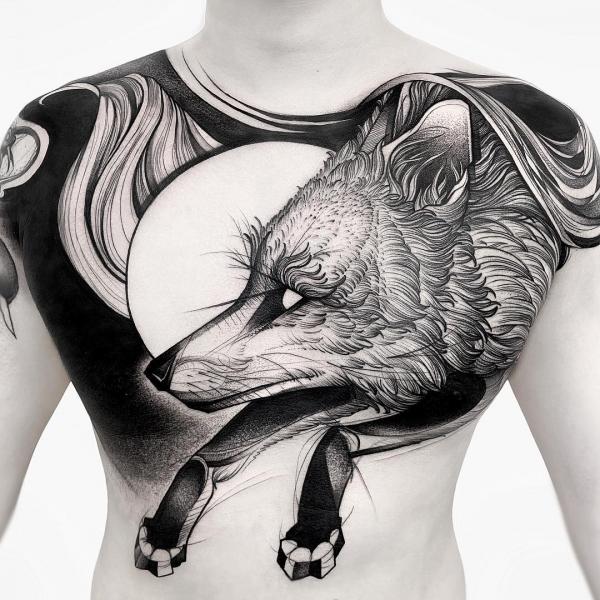 Featuring a creeping wolf obscuring half the moon, this intricate design showcases bold lines and striking shadows to create an eye-catching piece of body art. The dark colors used in this type of blackwork add depth to the image, allowing for detailed shading and highlighting that bring out the nuances of each element within the design. With its unique blend of realism and abstract imagery, full chest blackwork provides an impactful way to express your individual style while also paying homage to classic tattooing techniques.
Custom font script chest tattoo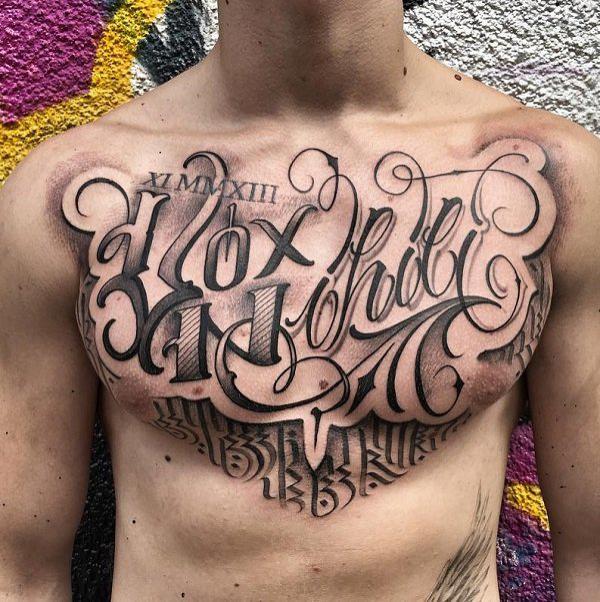 Watch and rose full chest tattoo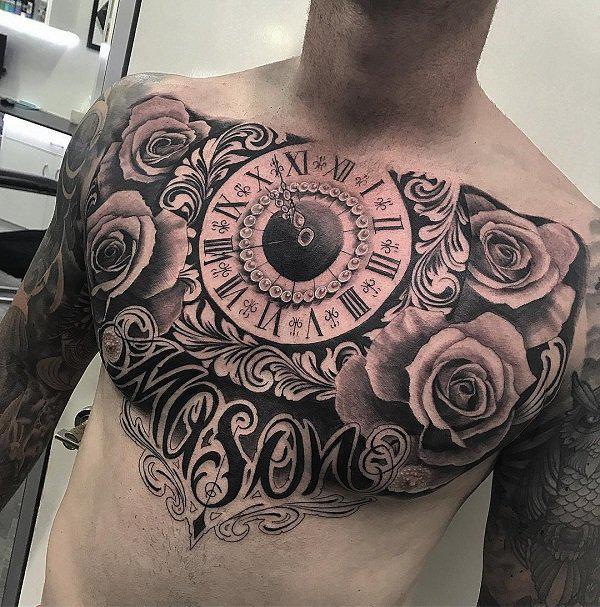 The stunning tattoo is a bold statement symbolizing time, life, love and beauty. It can represent the passing of time or remind its wearer to live in the moment. The combination of these two symbols also represents balance; masculine energy from the watch and feminine energy from the rose combined creates a powerful statement about strength, courage and resilience. This type of tattoo is an excellent choice for any man looking to make a strong visual impact.
Pink Peony in watercolor style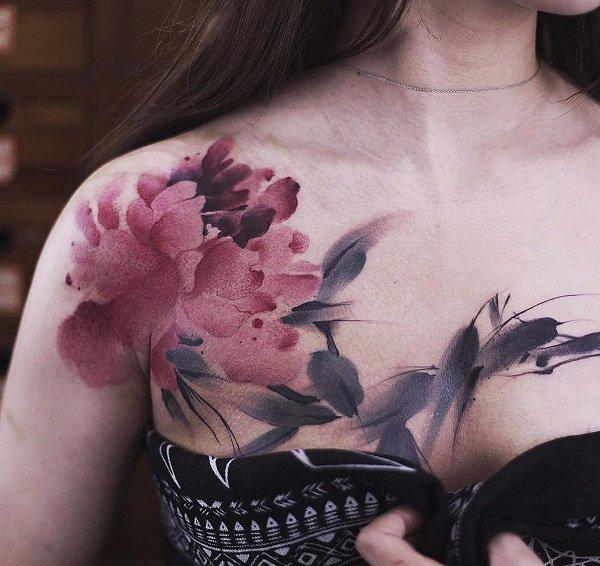 The light, airy strokes of the watercolor technique give the design an ethereal feel that will be sure to draw attention. This type of tattoo allows for a great degree of creativity when it comes to color choice, allowing you to create something truly personal and meaningful. The delicate petals and soft hues make this particular design perfect for those looking for something feminine yet understated at the same time.
Colorful Realistic Roses tattoo above the chest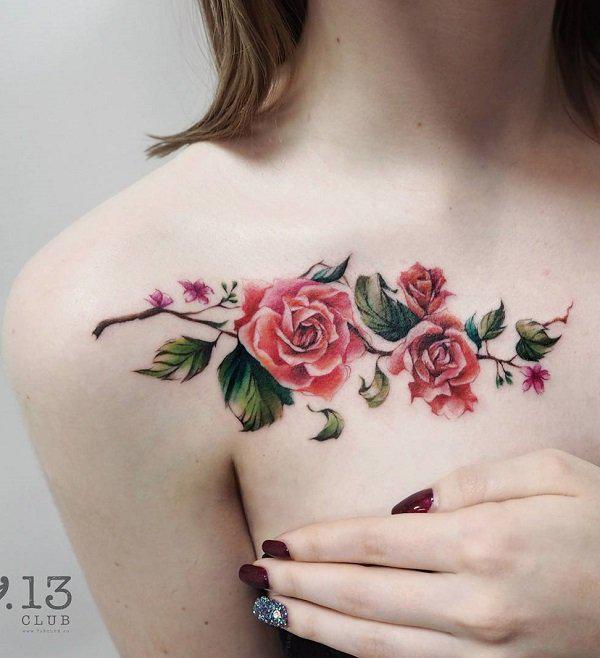 This beautiful realistic rose tattoo lies horizontally above the chest, adding a splash of vibrant color to any individual's look. The intricate detailing of the petals and leaves is truly captivating, while its bright colors give it an eye-catching appeal that no one can ignore. Not only does this tattoo add a unique touch to your style but also symbolizes love and compassion in all its glory.
Giant Tiger head full chest tattoo for men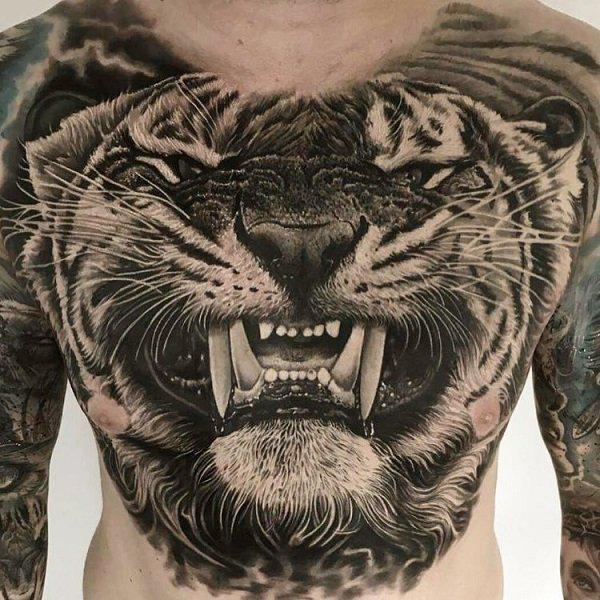 This stunning tiger tattoo is a bold and striking design for men. The black and white colors provide a dramatic contrast, with the tiger's tooth showing prominently and its eyes closed in an intimidating expression. This tattoo will make you stand out from the crowd with its fierce look, symbolizing power, strength, courage and protection all at once.
A fox and the fire for Walpurgis night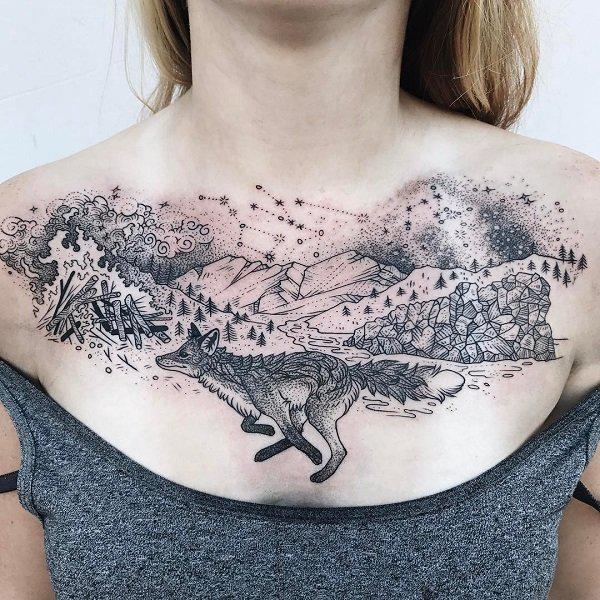 This full chest tattoo is a stunning piece of art, depicting Fire for Walpurgis night and the Thompson River as its backdrop. The focal point of this design is a witch in fox form, with intricate details such as her long tail adding to its mysterious allure. The black and white shading creates an intense contrast between light and dark, further enhancing this magical scene's dramatic effect.
Beautiful butterfly tattoo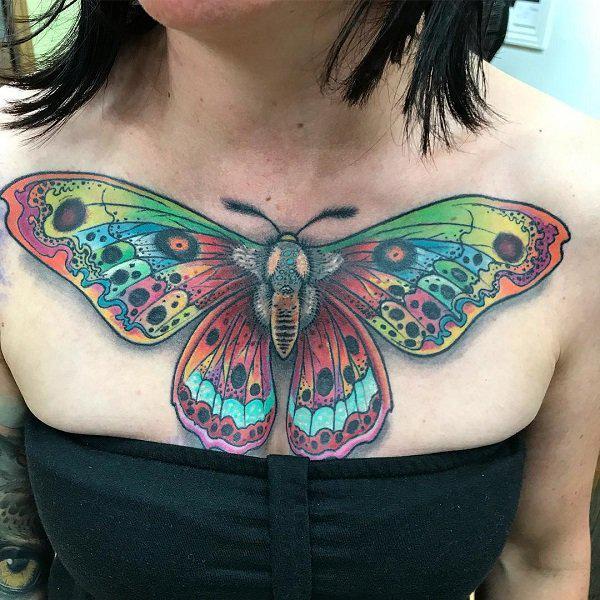 Bird and rose chest tattoo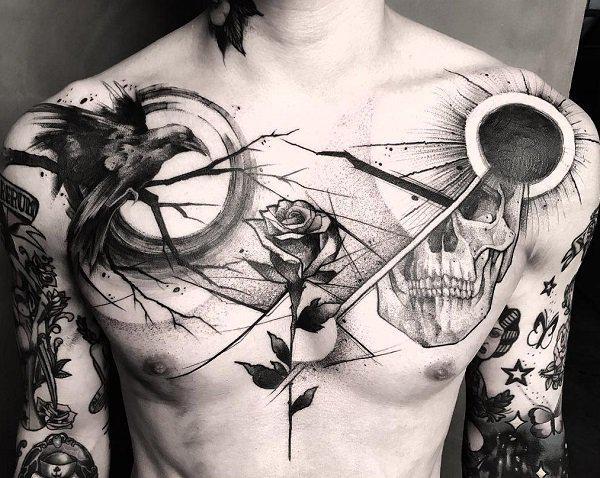 This full chest tattoo is an impressive and powerful piece of body art that combines a raven, skull and rose stem in black and white. The combination of the three elements creates a striking visual effect that speaks to themes such as mortality, strength, protection from evil forces, and even love. The dark tones used for the raven's wings provide contrast with the brighter colors of the skull while also emphasizing its sinister nature; meanwhile, the rose stem serves as a reminder that beauty can still be found in death.
Blackwork with cool geometrical patterns Cool for women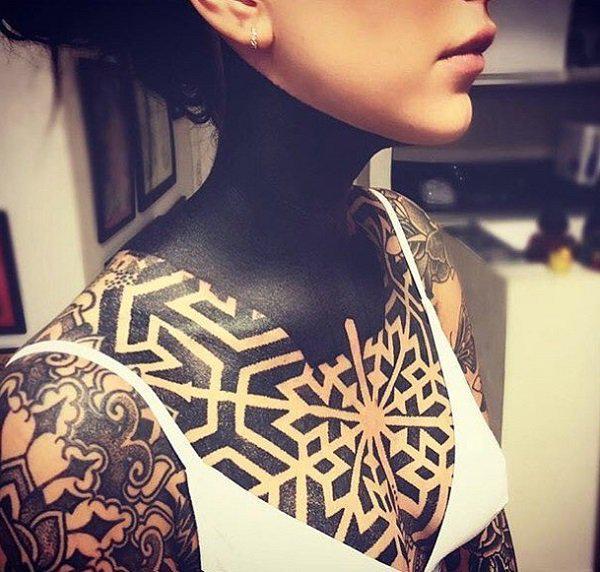 Black and grey skull with flowers tattoo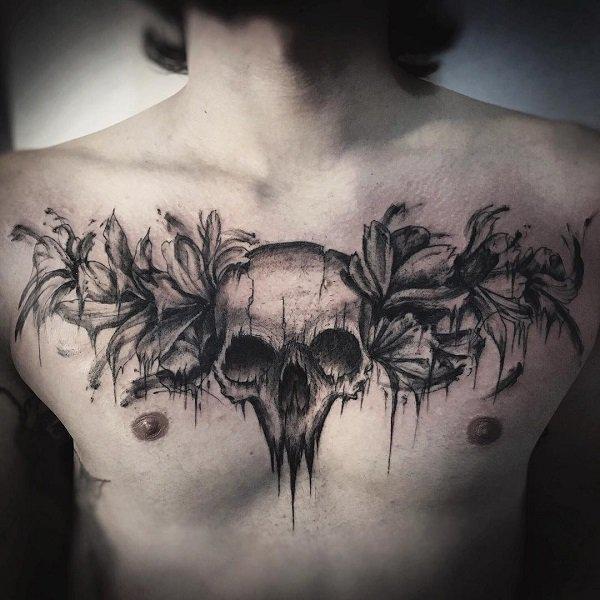 This design combines the symbolism of death, represented by the skull, with that of beauty and life through the addition of colorful flowers. It can be used to represent mortality or rebirth, depending on your own interpretation – making it an excellent choice for those looking for something meaningful yet beautiful at the same time. The combination of dark hues and bright colors also makes this an eye-catching piece that will draw attention wherever you go!
Masculine Mandala tattoo for man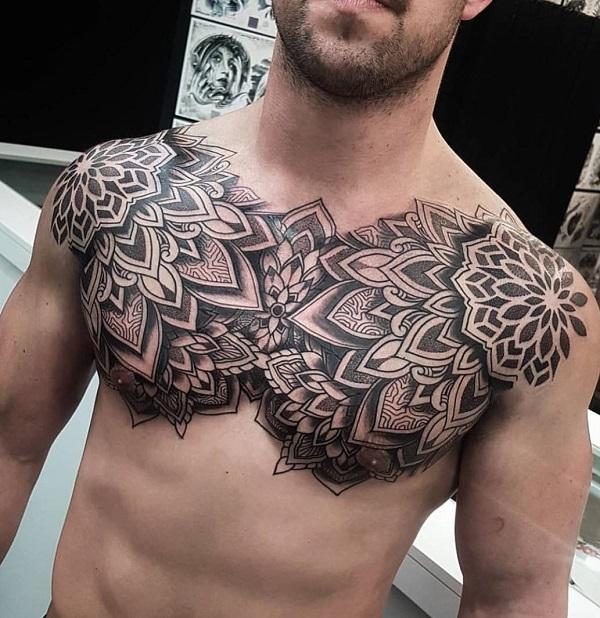 Elegant Mandala chest piece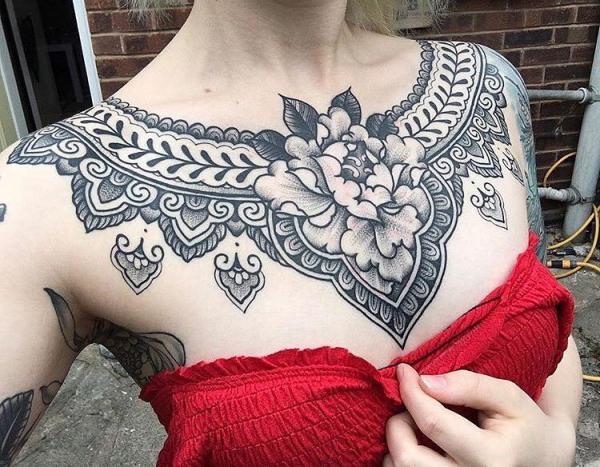 Abstract design with an owl standing on branches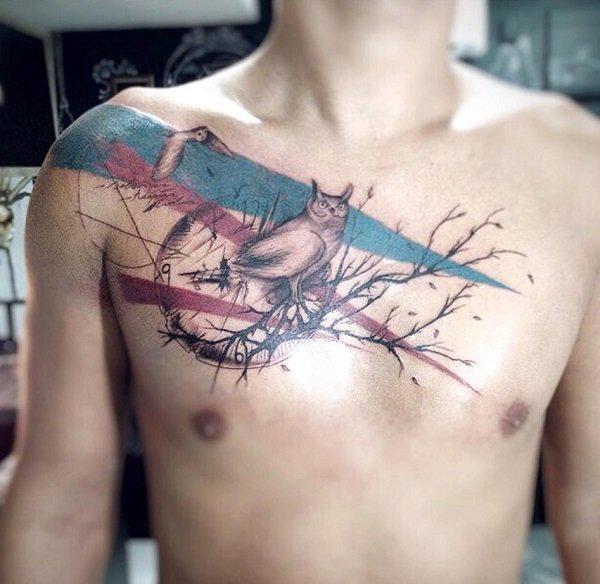 Wolf and forest chest tattoo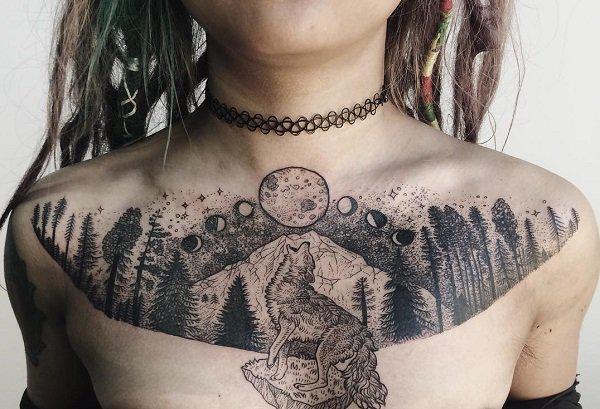 Realistic Wolf and women portrait tattoo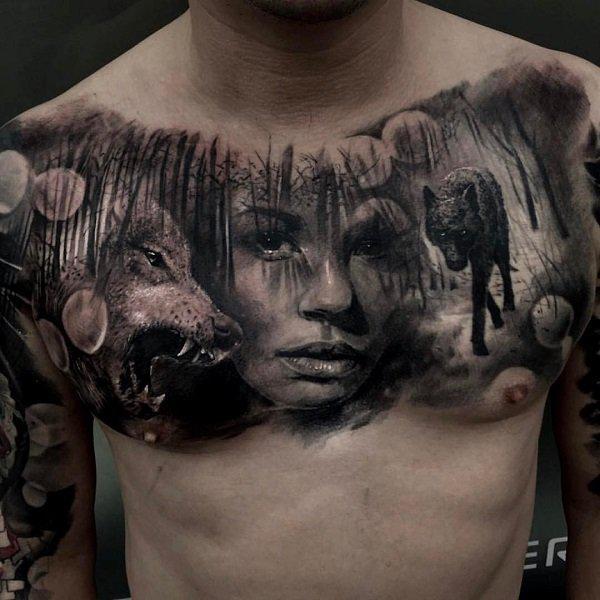 Wolf chest tattoo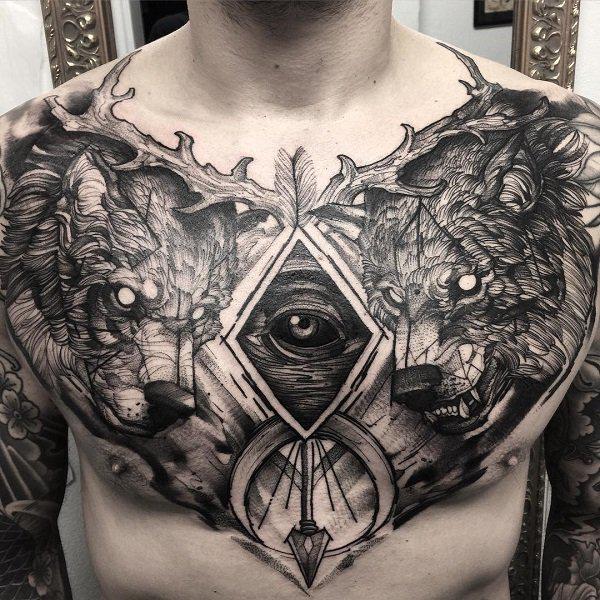 Realistic blackwork with a woman holding a skull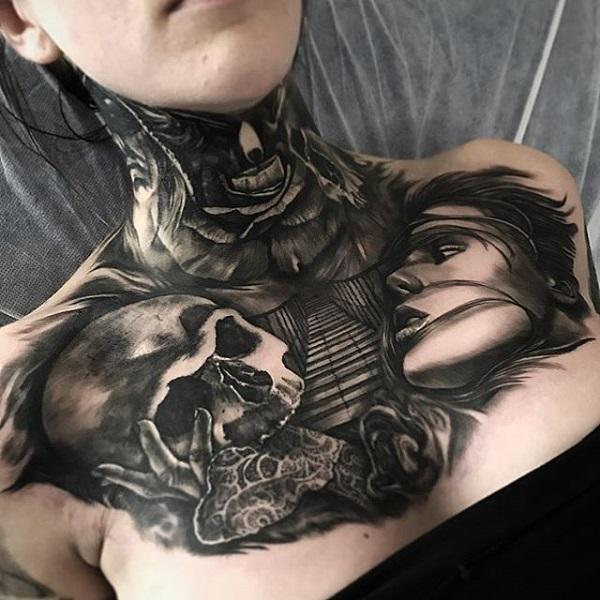 The intricate detail of the artwork gives it an almost 3D look as the shading and line work creates shadows that enhance its realism. This bold statement piece is perfect for those looking to make a lasting impression with their body art, while still retaining classic elements of traditional tattoos.
3D linework for men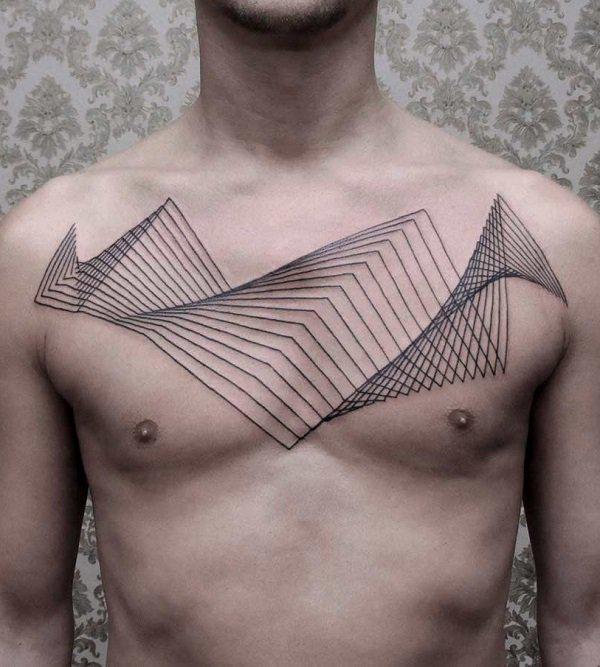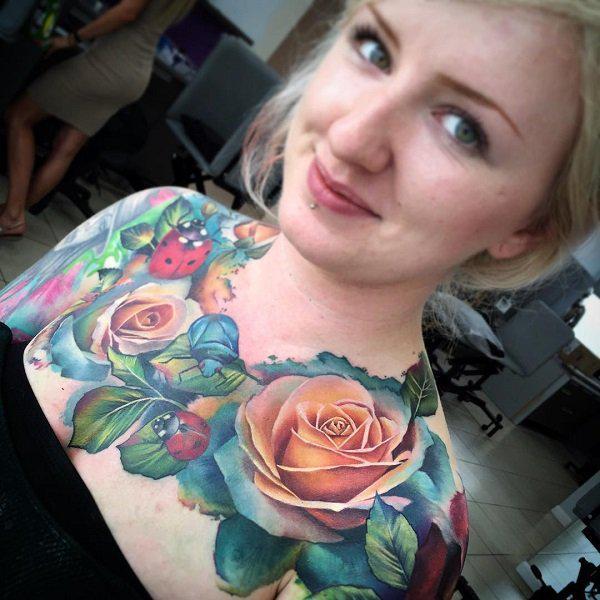 Amazing colorful flower chest tattoo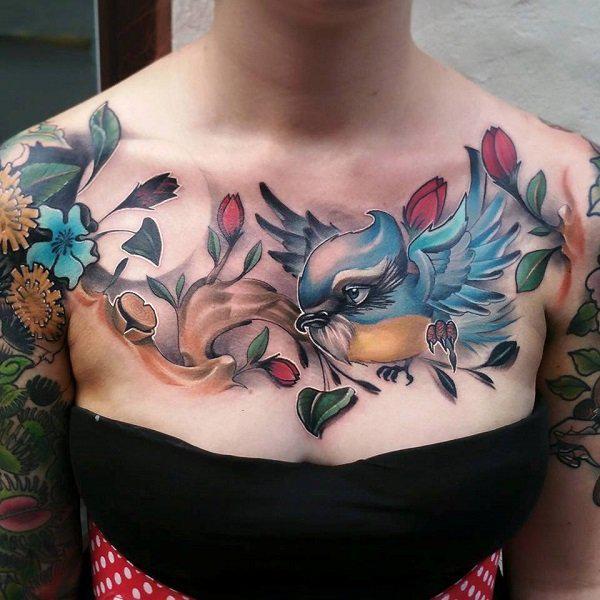 Amazing flower and bird chest tattoo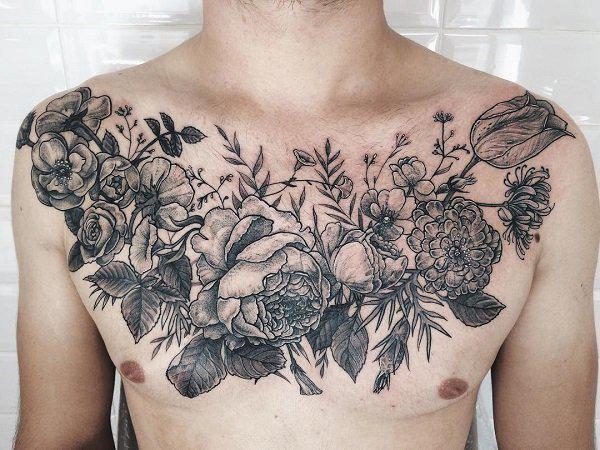 Black and grey flowers tattoo for men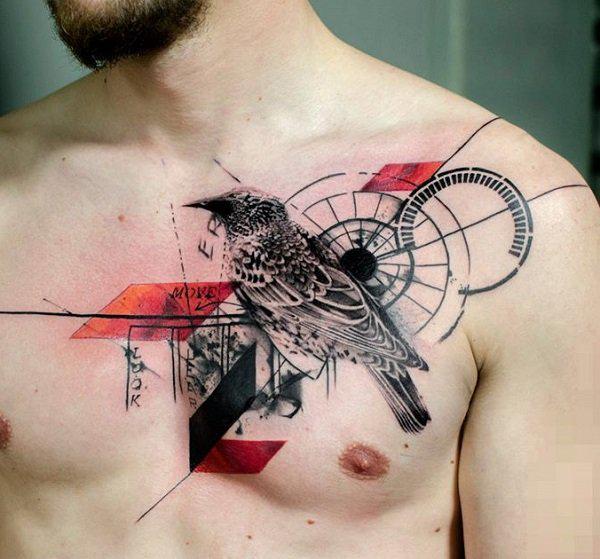 Bird chest tattoo for man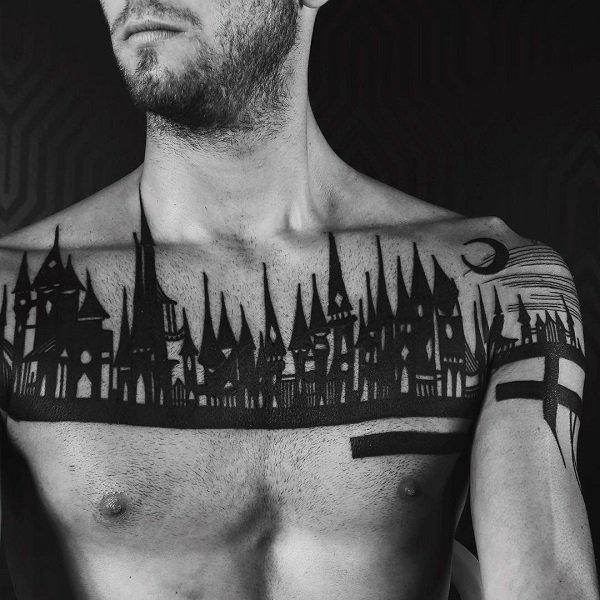 Colored flower tattoo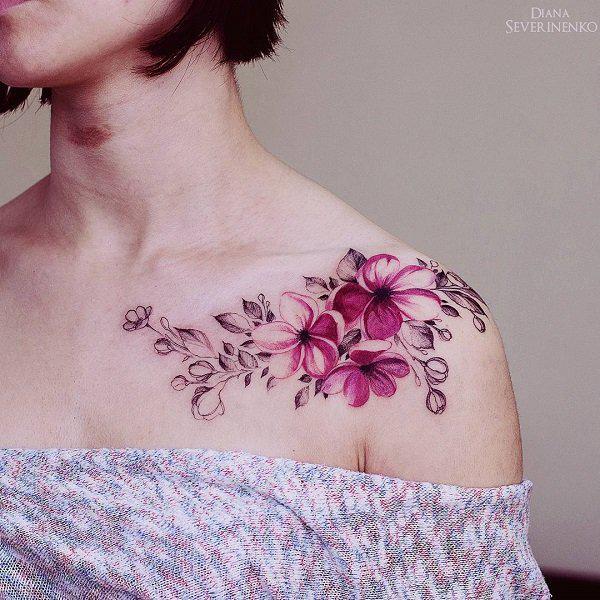 Abstract geometric shape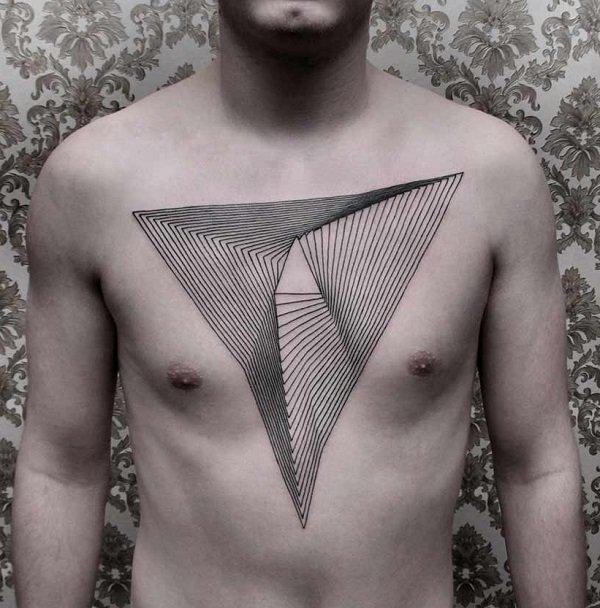 Two Deer head to head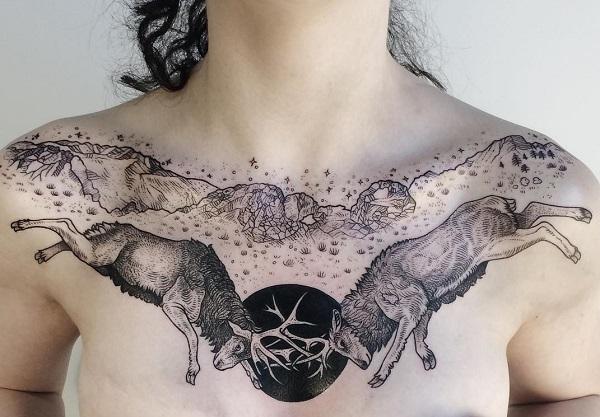 Snake and skull chest tattoo with flowers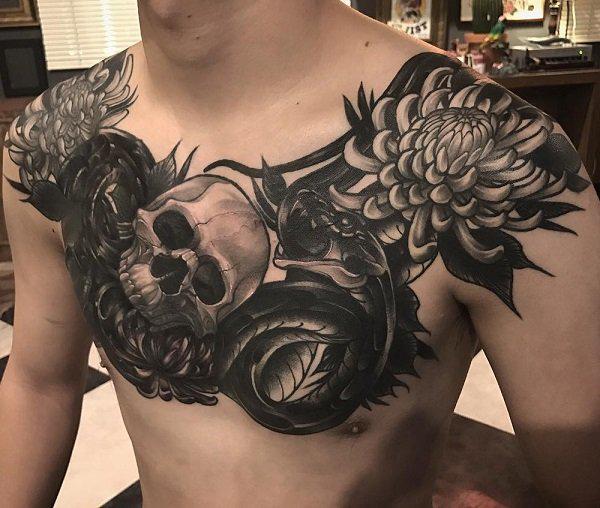 This snake and skull tattoo is a beautiful combination of dark, gothic elements and vibrant floral designs. The intricate details in the design bring out the best of both worlds – from the menacing skull to the colorful petals that make up each flower. This bold piece will surely turn heads as it stands out against your skin, creating an unforgettable look that is sure to be admired by all who see it.
Flower chest tattoo for gir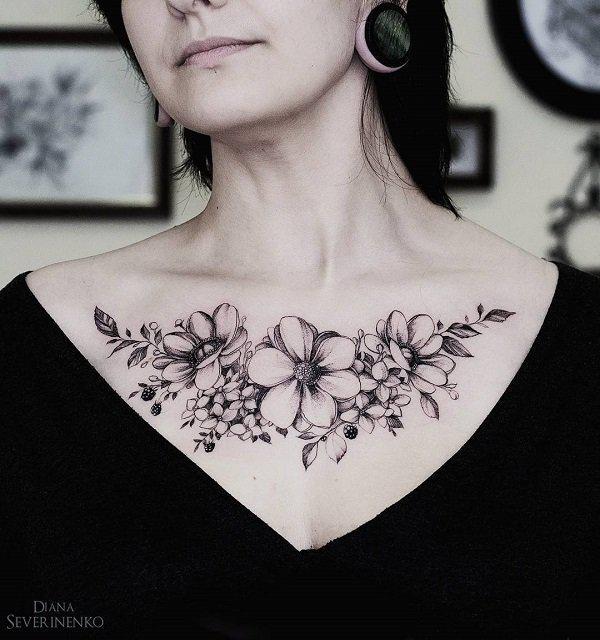 Flower chest tattoo for women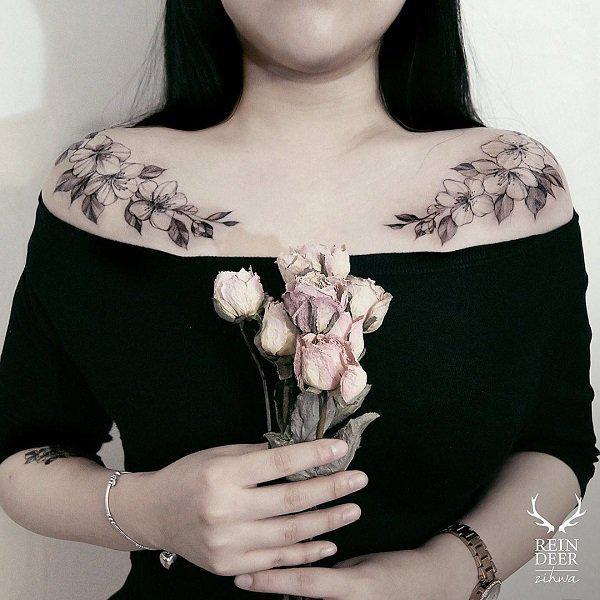 Black and grey tattoo with Roses, Owl and skull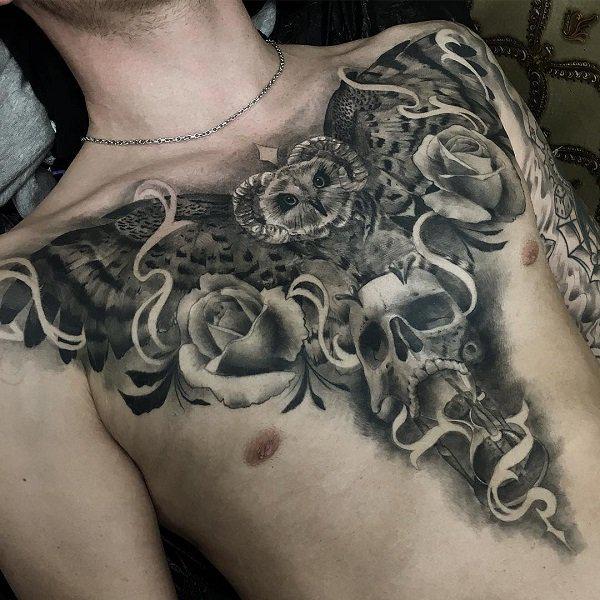 Owl chest tattoo for man
Owl chest tattoo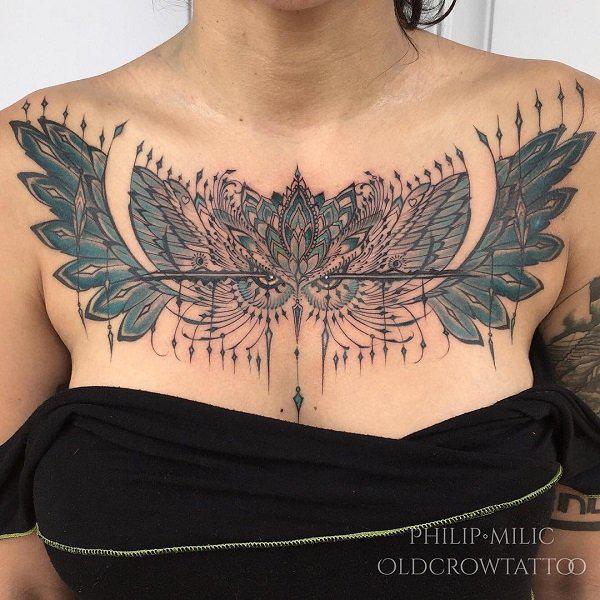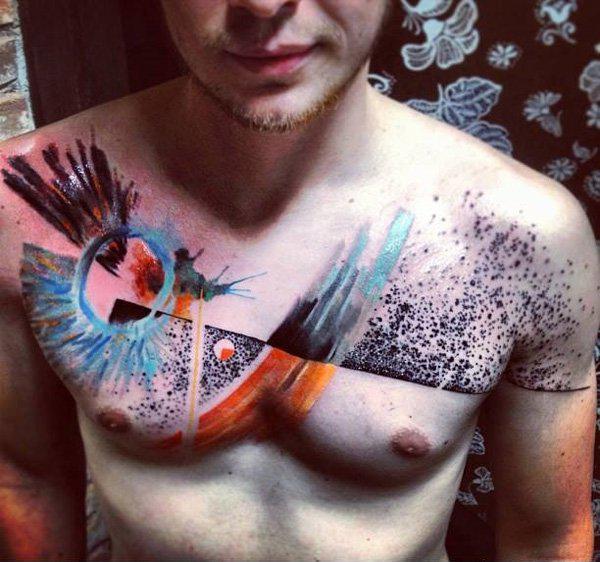 Watercolor tattoo on chest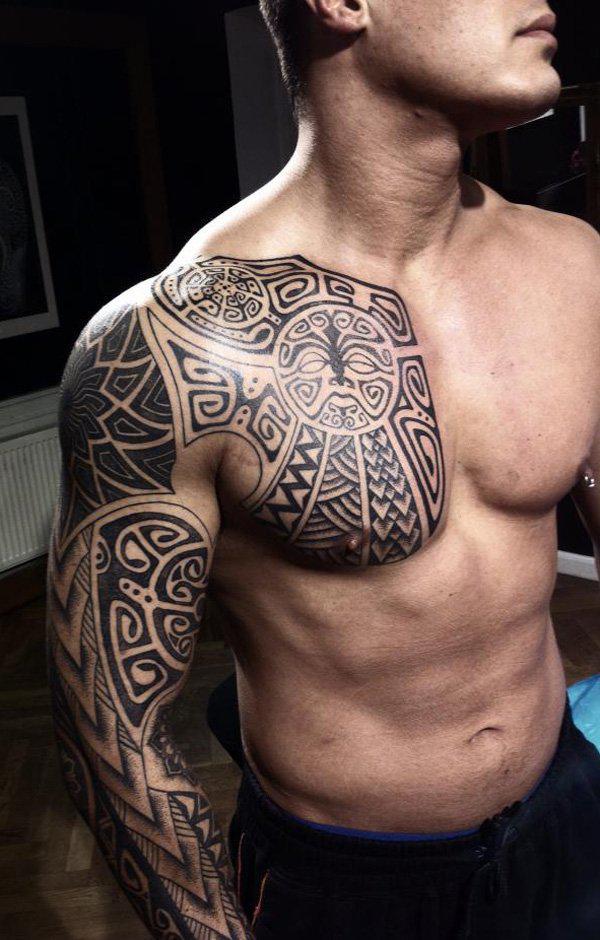 polynesian chest tattoo by Peter Walrus Madsen
Trash Polka chest skull tattoo for men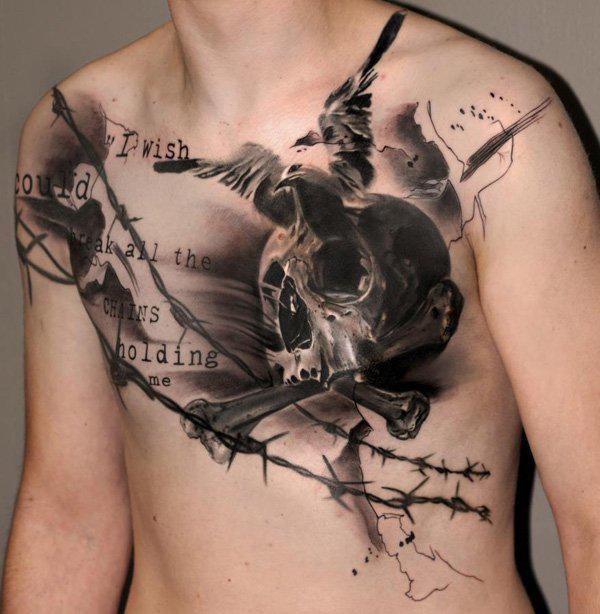 Roses and ribbon with font scripts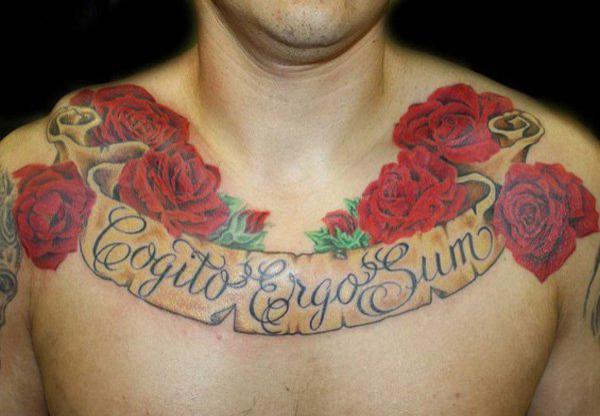 This captivating chest tattoo features a stunning bouquet of roses and ribbon, with the Latin words Cogito Ergo Sum inscribed in elegant script. The phrase translates to "I think, therefore I am" and is an iconic expression of human existence first coined by philosopher René Descartes. This meaningful tattoo serves as a reminder that we are all unique individuals capable of making conscious choices about our lives. It's sure to be admired for its beauty and inspiring message alike!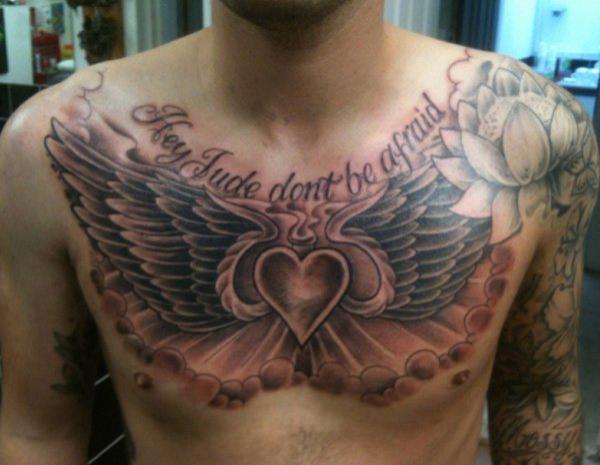 chest tattoos for men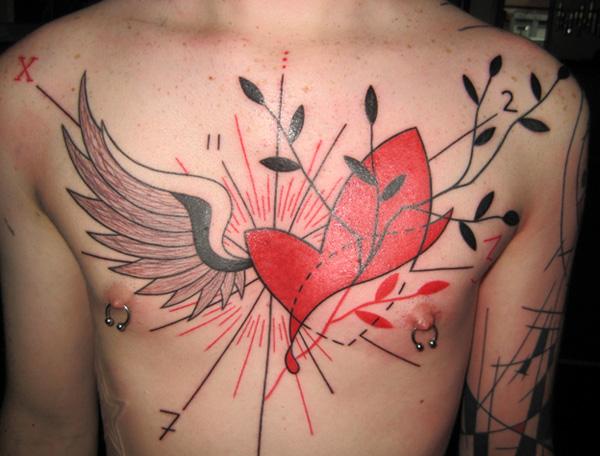 chest tattoo by YANN BLACK
Lotus flower tattoo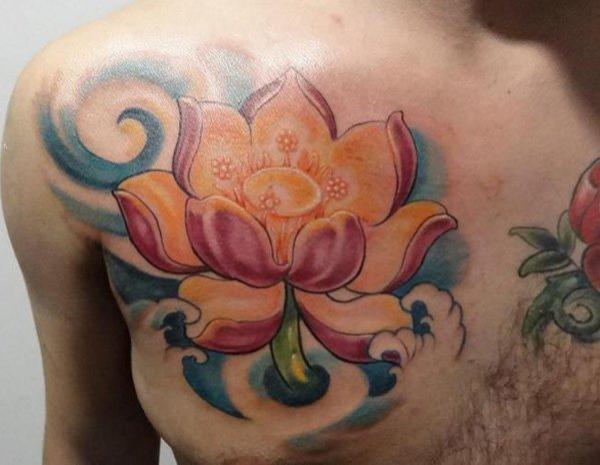 Gothic eagle with skull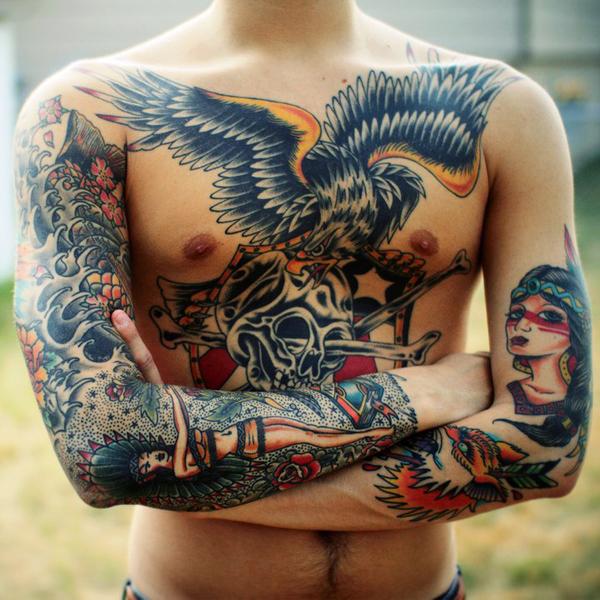 3d butterfly tattoo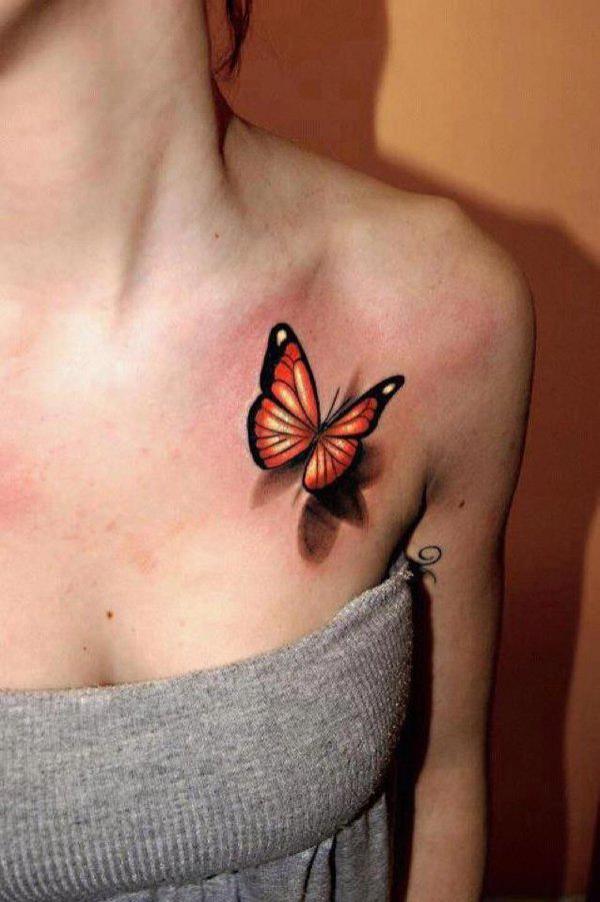 Tribal tattoo covering half the body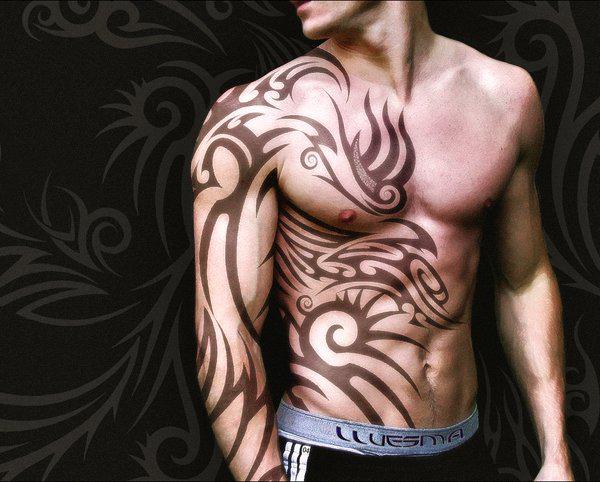 The Polynesian inspired tribal tattoo covers half of front body include chest. Love the masculine style. A tribal-style design can be bold and eye-catching on the chest. Choose from classic Maori patterns or create your own unique look with intricate line work and symbols.
Roses tattoo wrapped with ribbon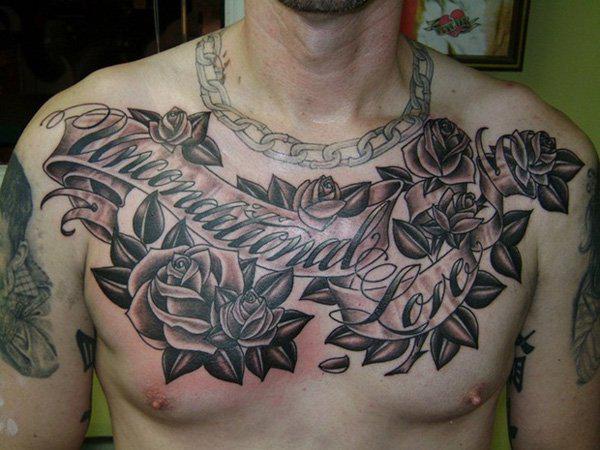 This beautiful roses tattoo is a perfect way to express your commitment to someone you truly care about. The roses are intricately detailed and carefully shaded. Along with the roses, there is a ribbon around them with "unconditional love" written. The ribbon adds an extra layer to this romantic gesture by suggesting that your bond will stay strong even when times get tough. Ultimately, this unique ink choice speaks volumes about the commitment between two people who share unconditional love for one another.
Cross of baroque style with swirls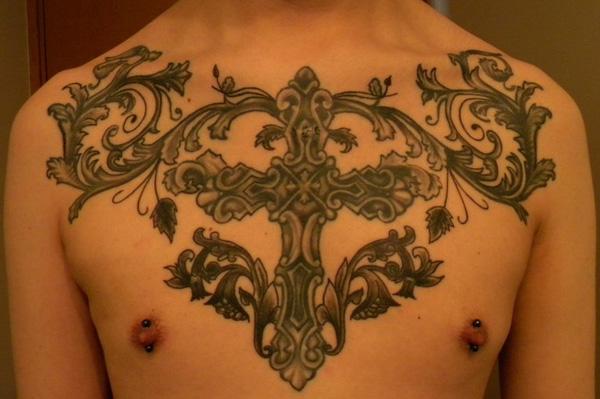 Realistic dragonfly chest tattoo female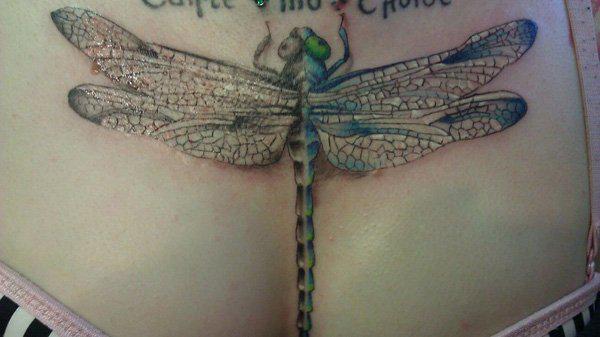 A mantra of peace and happiness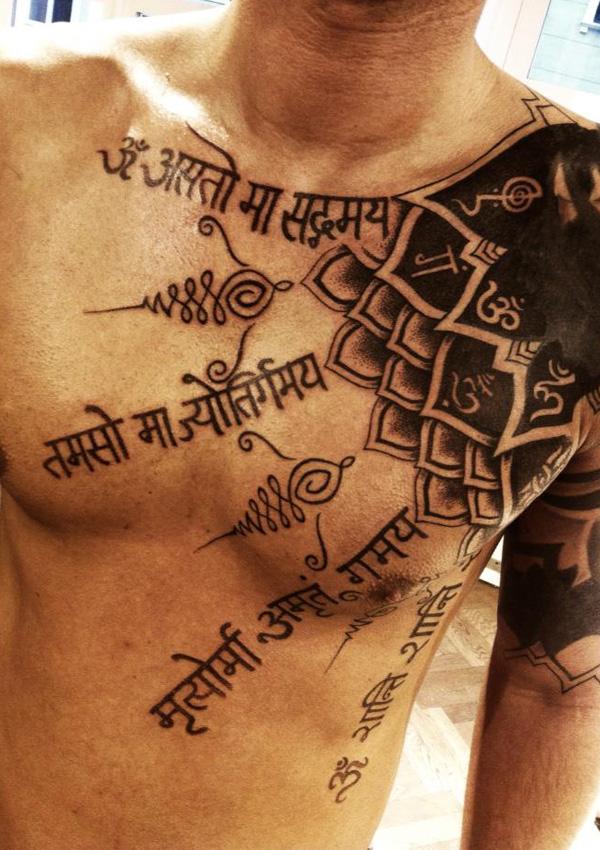 A chest tattoo with words expressing a mantra of peace and happiness written in Sanskrit is a powerful way to show your commitment to living an enlightened life. The ancient language of Sanskrit carries profound meaning, so the words you choose can have deep personal significance. This type of tattoo also serves as an outward reminder that no matter what challenges you face, there is always inner peace and joy available within yourself if you take the time to look for it.
source
Radiant stars with inspiring words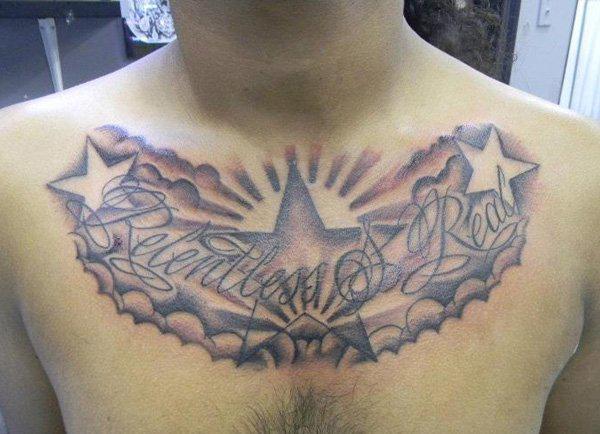 The chest tattoo is a perfect reminder to stay resilient in the face of adversity. The bright, shining stars represent hope and optimism, while the phrase 'real relentless' serves as an empowering mantra for those who wear it. The tattoo reminds them that no matter what life throws their way, they can remain strong and push forward with determination. This beautiful piece will be a constant source of motivation for its wearer on their journey through life's highs and lows.
Chest Swallows Tattoo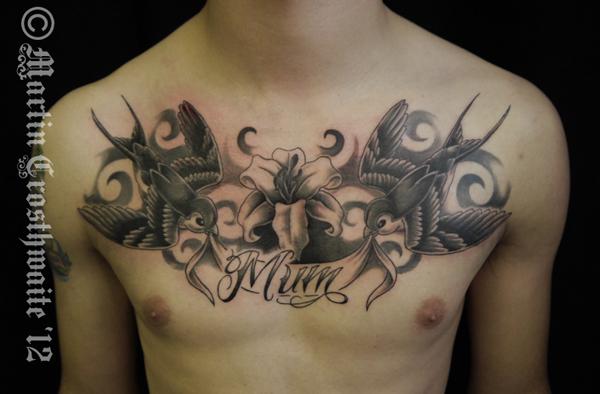 This chest tattoo is a beautiful and meaningful piece of art. It features two swallows with their mouths holding a banner on which the word "Mum" is written in an elegant script font. This design symbolizes loyalty, protection, and love for one's mother or family member who has passed away. The colors used are bold yet subtle enough to be tasteful and timeless, making it an ideal choice for anyone looking to express their appreciation for someone special in their life.
Decorative chest pieces with flowers and fine patterns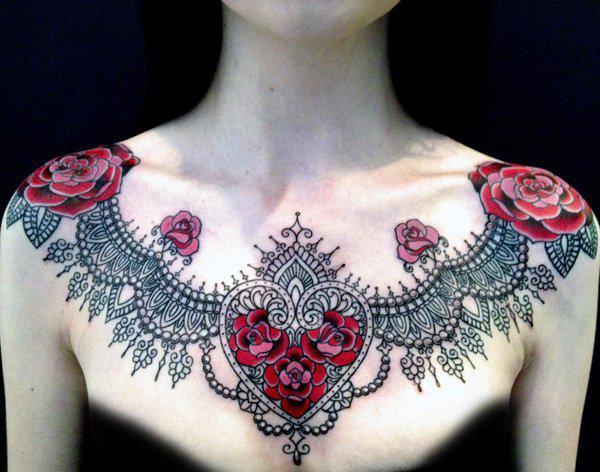 Anchor and roses on chest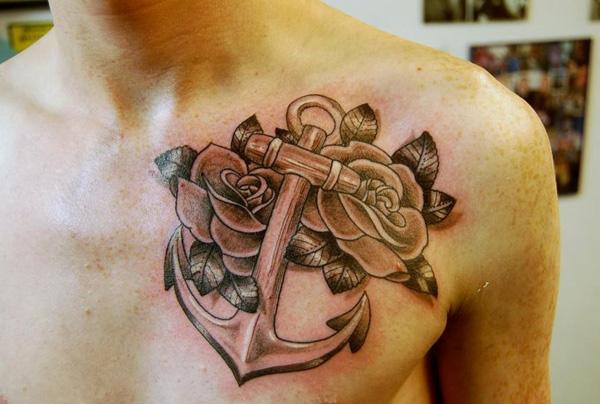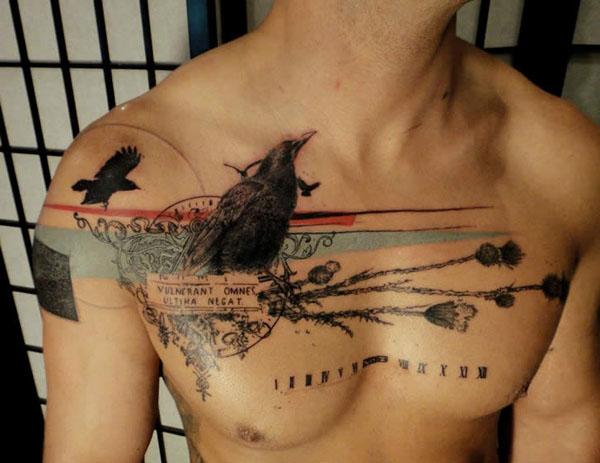 bird tattoo on chest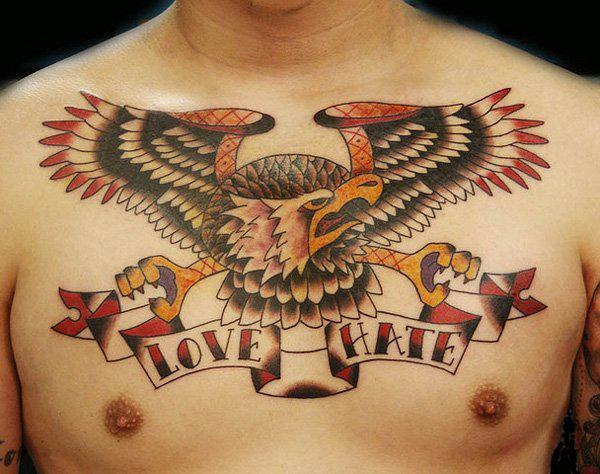 eagle tattoo chest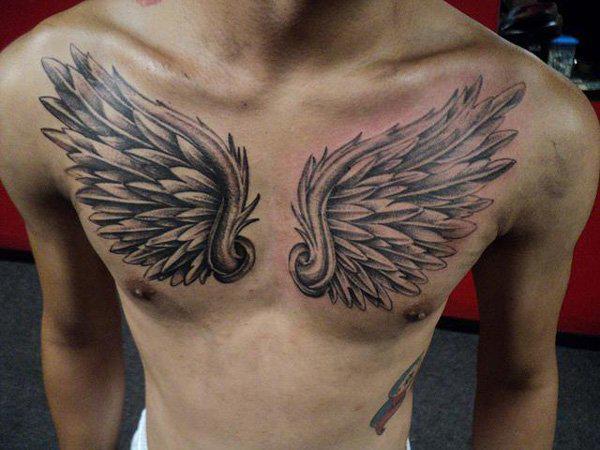 Wings on chest tattoo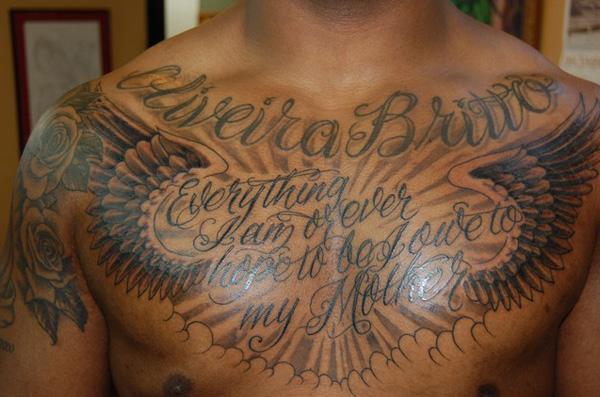 Cloud Tattoos On Chest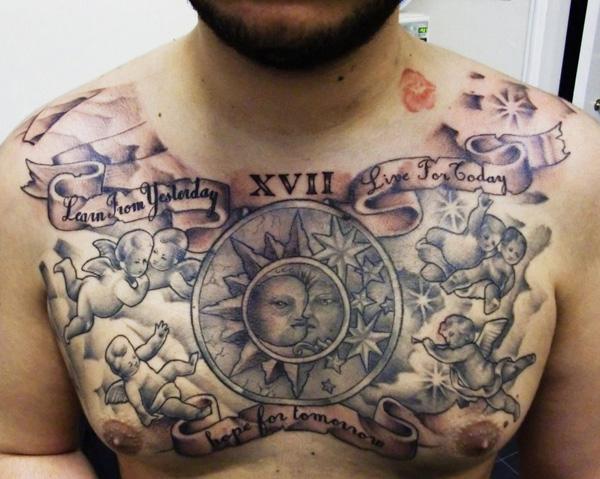 night and day black and grey chest tattoo
Chest tattoo with the banner – Only God Can Judge Me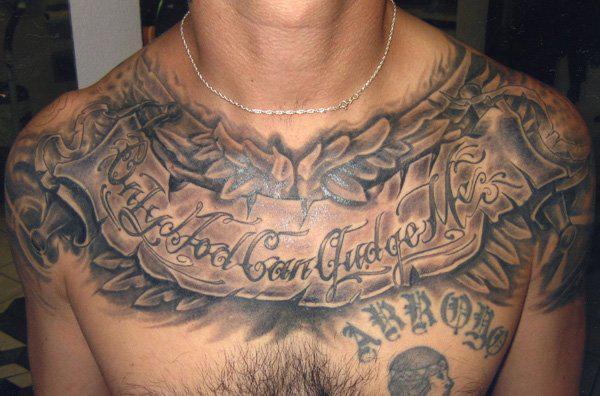 Urban skull and cars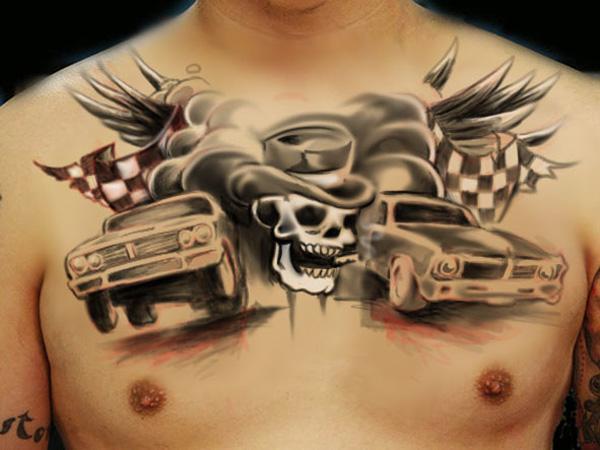 Three hanging skulls chest tattoo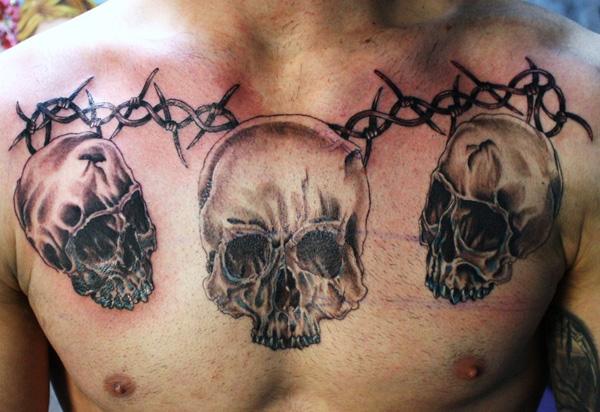 This chest tattoo is an impressive and unique piece of artwork, featuring three skulls hanging from a twisted iron wire. The detailed shading and intricate line work create a realistic image that stands out against the skin. The boldness of the black ink outlines set against the grey shading gives this piece a powerful and intimidating appearance. It exudes strength and power while conveying a sense of mystery with its dark imagery – perfect for anyone wanting to make a statement!
Mandala inspired flower tattoo for women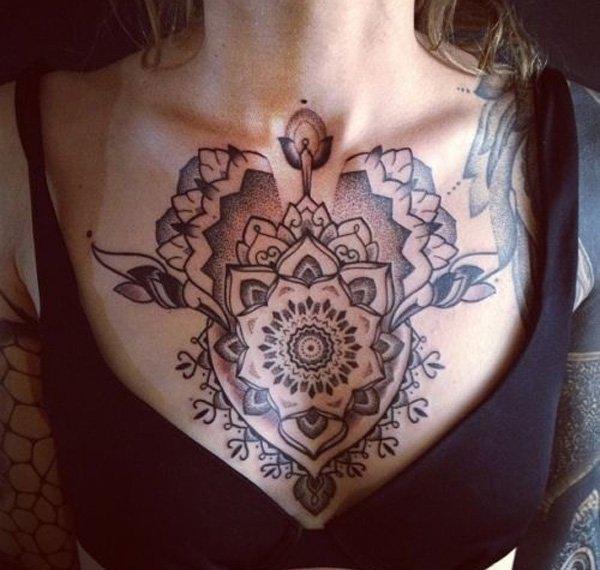 Ink of Owl with its wings spreading over the chest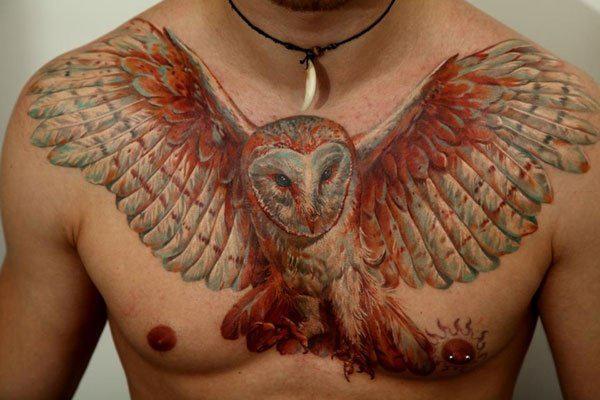 An eagle gliding in the sky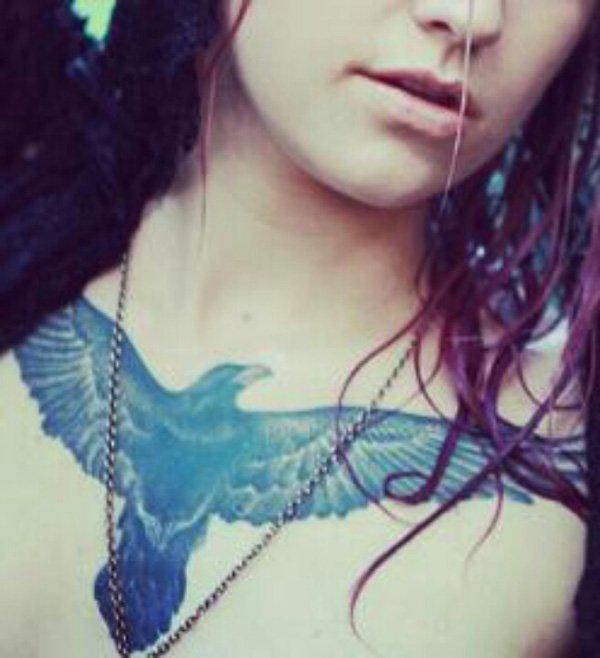 Angel wings and Eye of Providence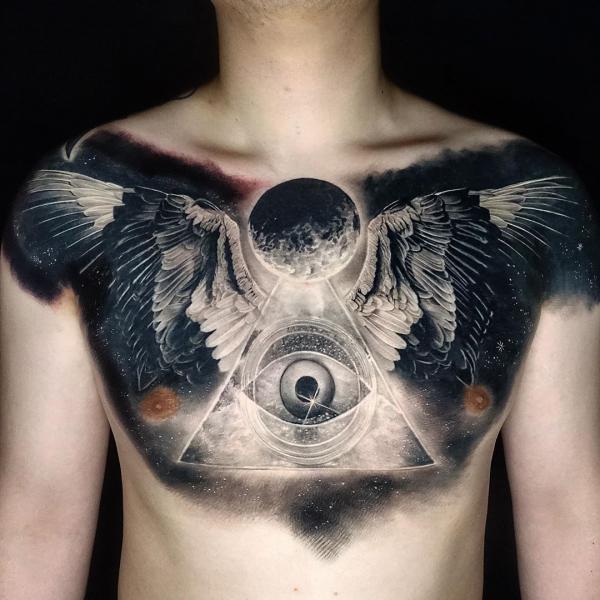 Roaring hyena and tiger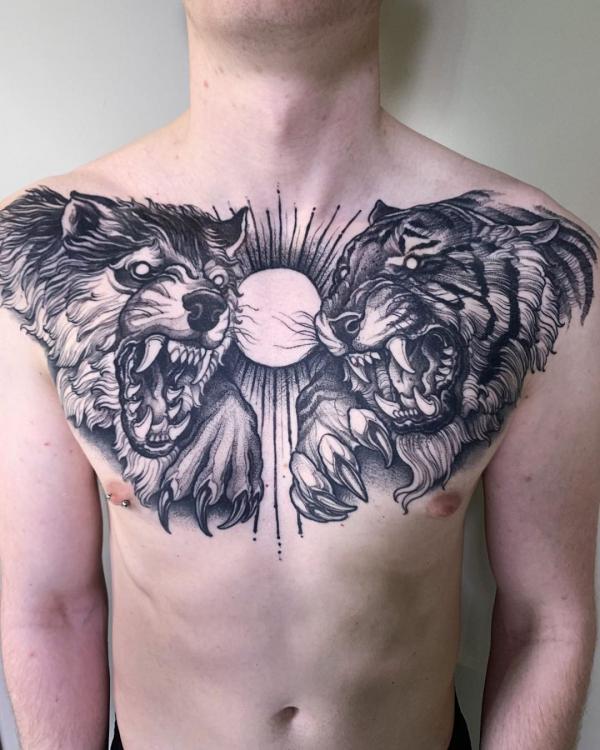 Skull and Female portrait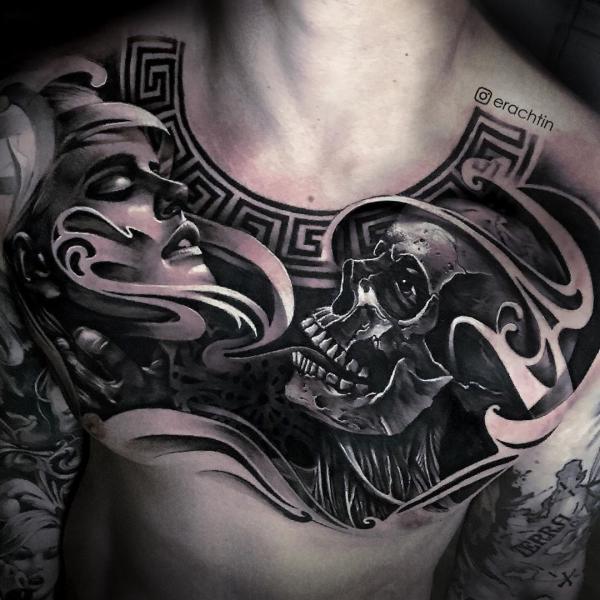 Stylized animal skull tattoo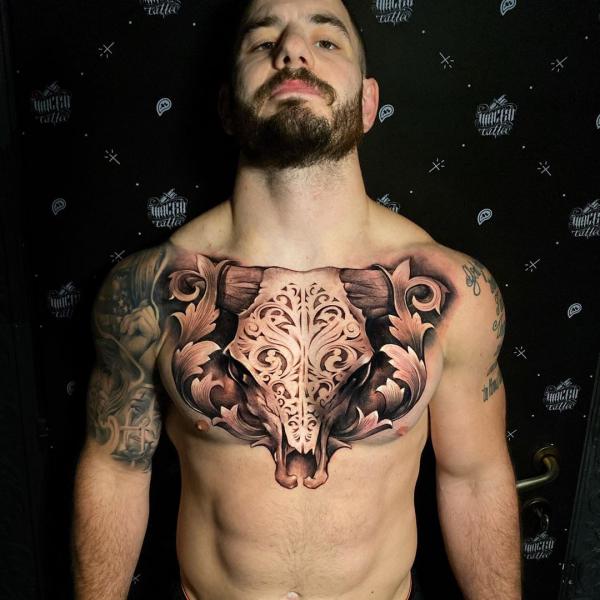 Twin tiger tattoo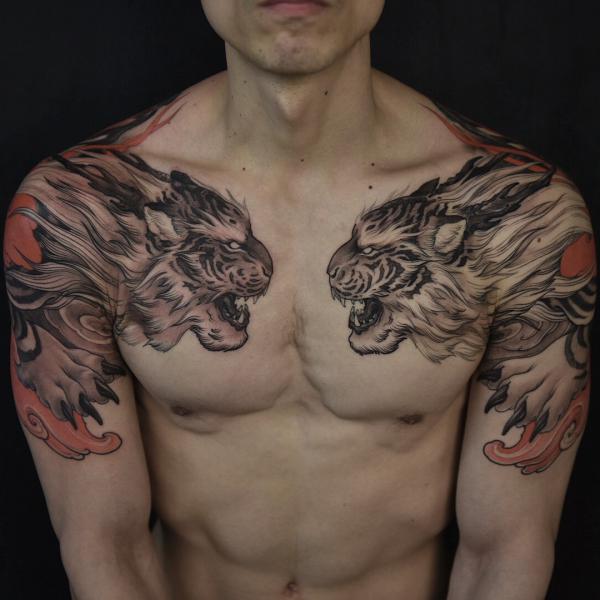 Two hawks forming heart shape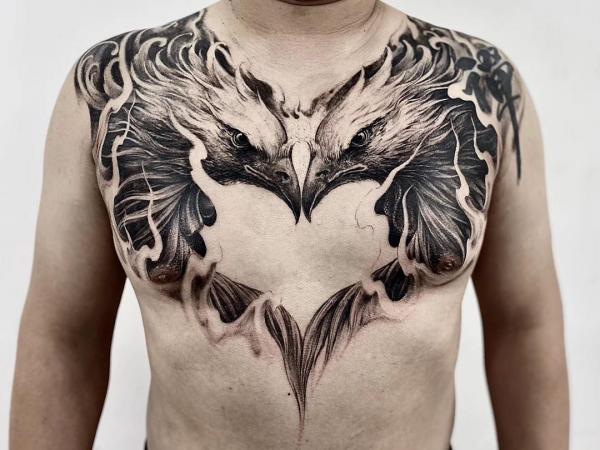 Watercolor tiny bird and flower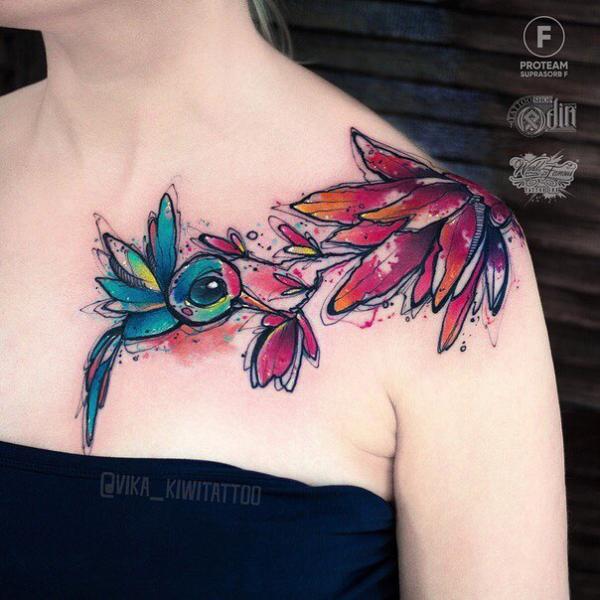 Angry bird and snake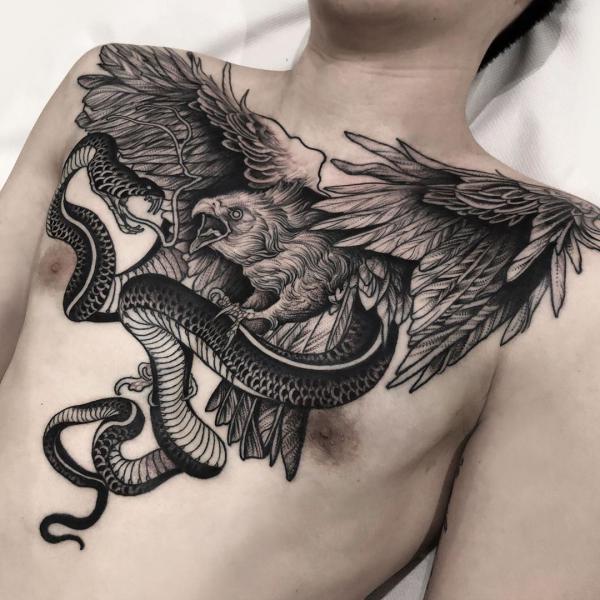 Black and grey dark fantasy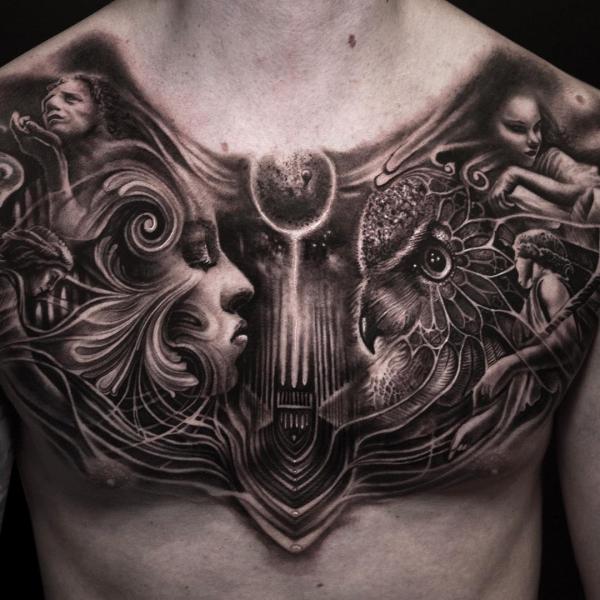 Black and grey hawk tattoo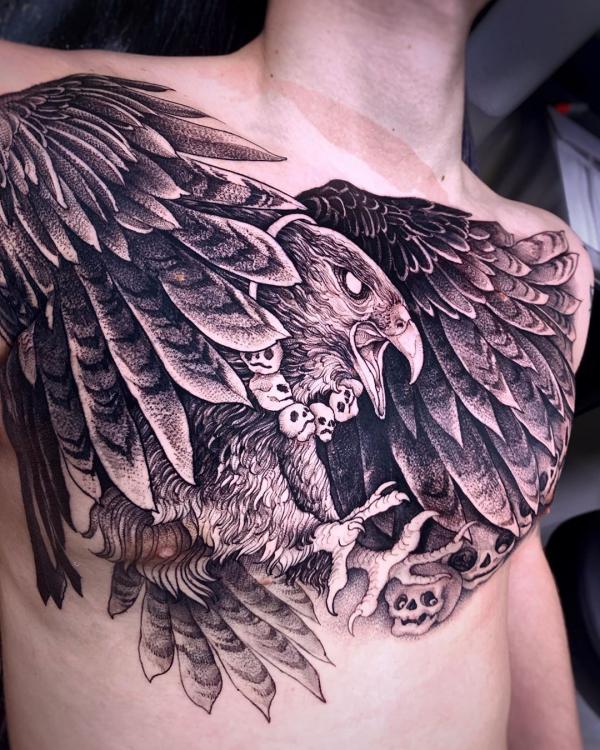 Cease from anger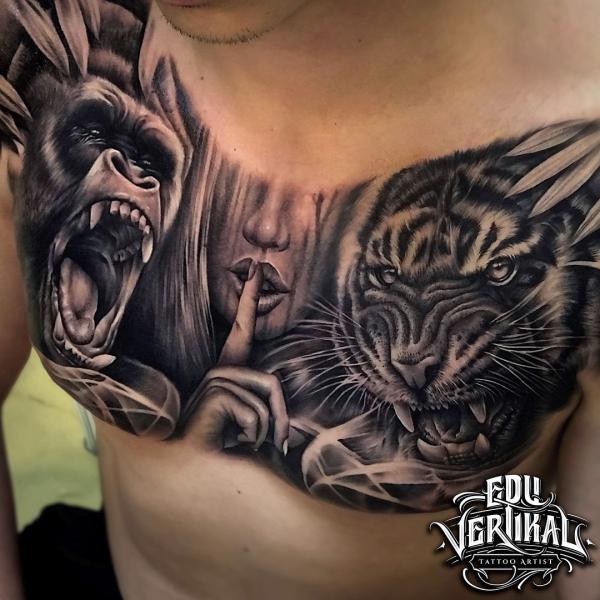 Clock dove rose and king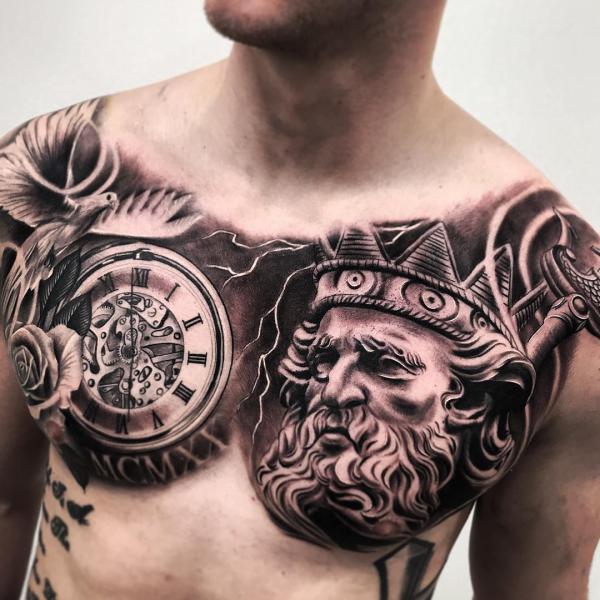 Cinematic war themed tattoo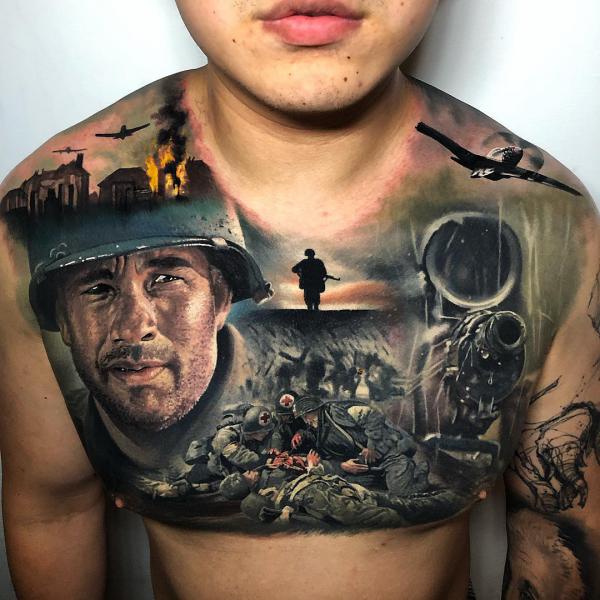 This cinematic war themed chest tattoo is a powerful and moving design. The imagery of fighters, guns, and saving wounded soldiers conveys the intensity of battle and the bravery of those who fight in it. It captures both the tragedy as well as heroism that are part of warfare. The detail in this piece makes it even more impressive – from individual soldiers to their weapons to scenes depicting rescue operations – all elements combine together for an incredible impactful statement on courage under fire.
Colored Hawk Tattoo on Chest by Matt Adamson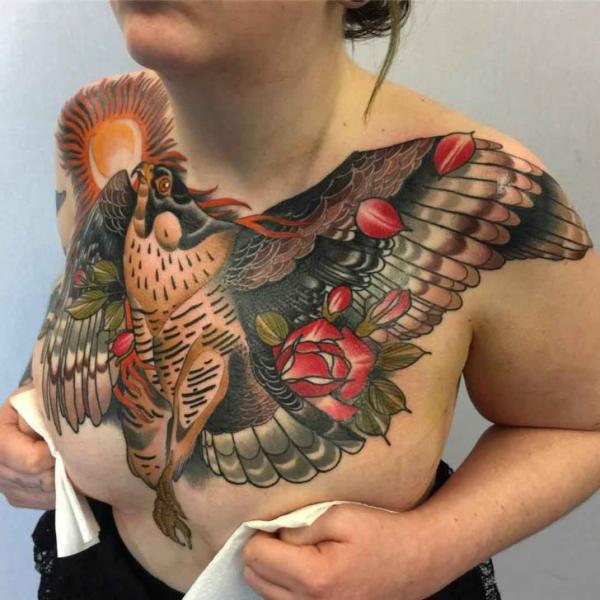 Double snakes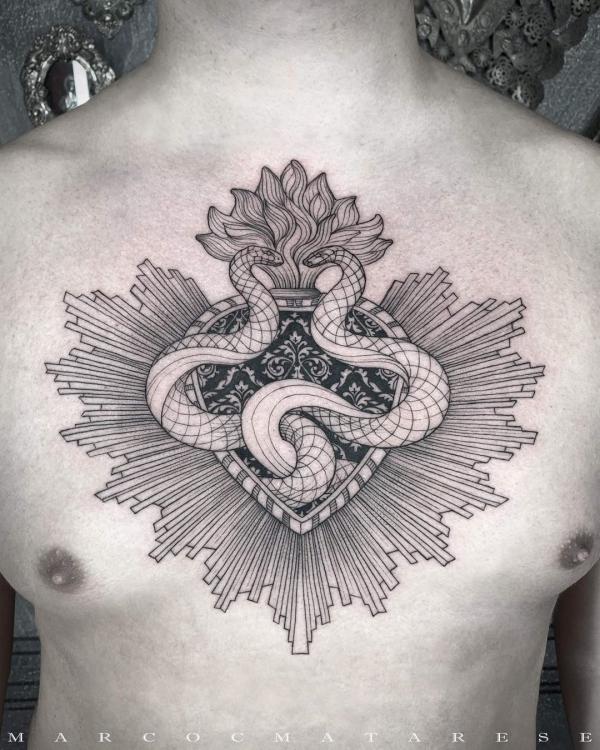 Double tigers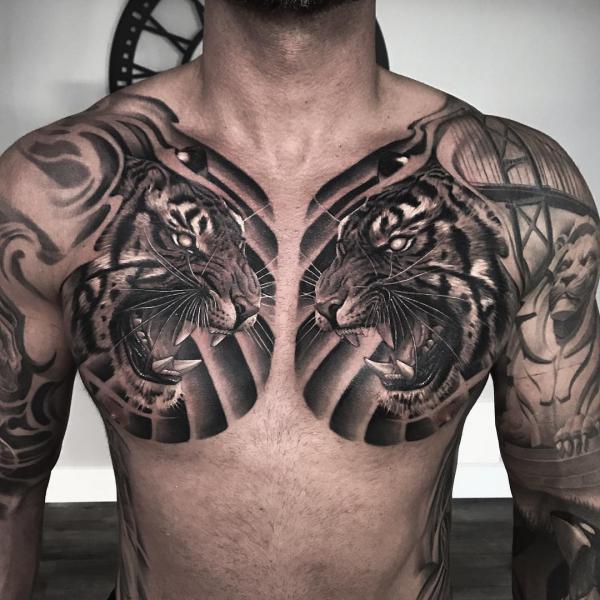 This double tigers' heads tattoo is an impressive piece of body art. The bold black and white design is inspired by traditional Japanese tattoos, giving it a unique and timeless look. This striking tattoo has a fierce yet elegant quality to it, making it the perfect choice for any man looking to make a statement with their ink.
Eye in clock with stars and crown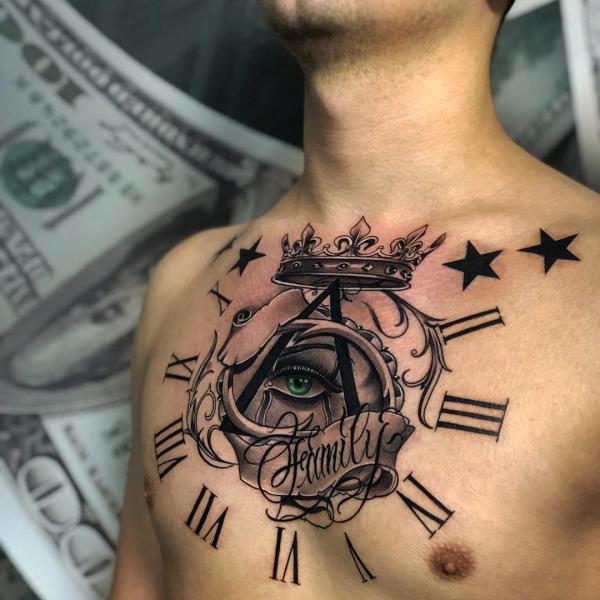 Forest fire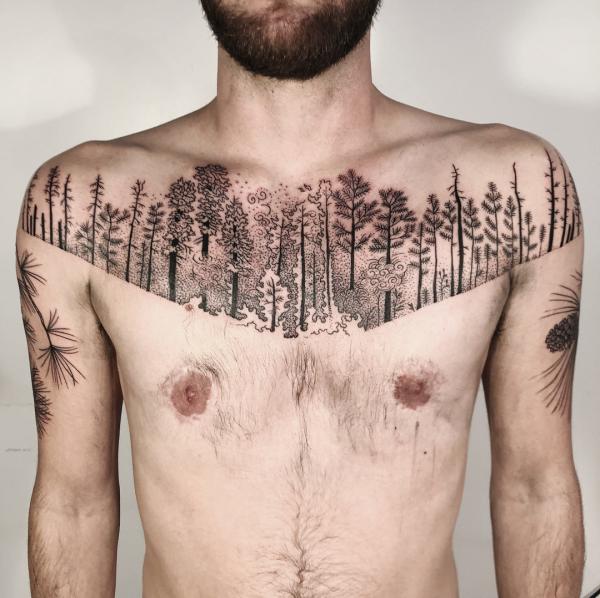 Heart shaped mandala geometric tattoo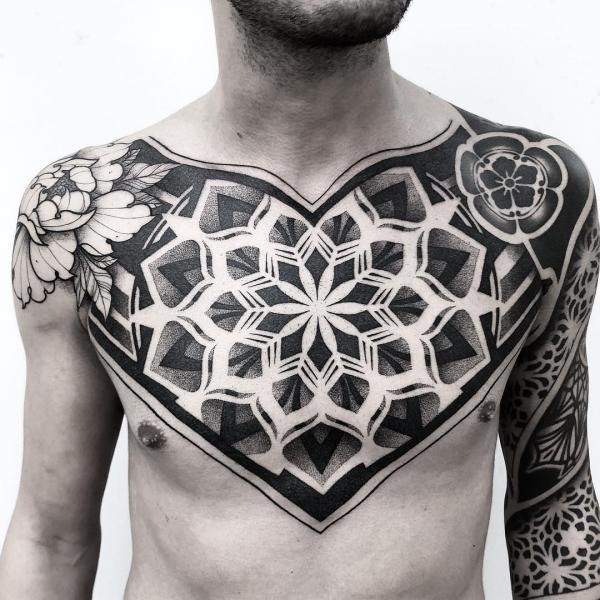 Holding the dream Amazing lettering tattoo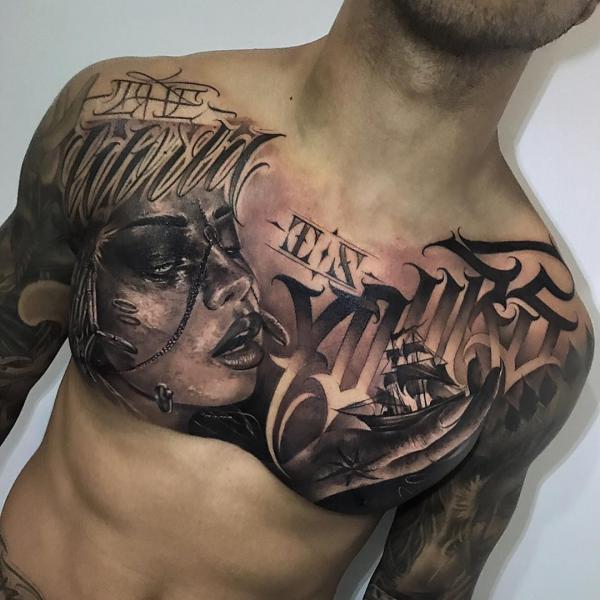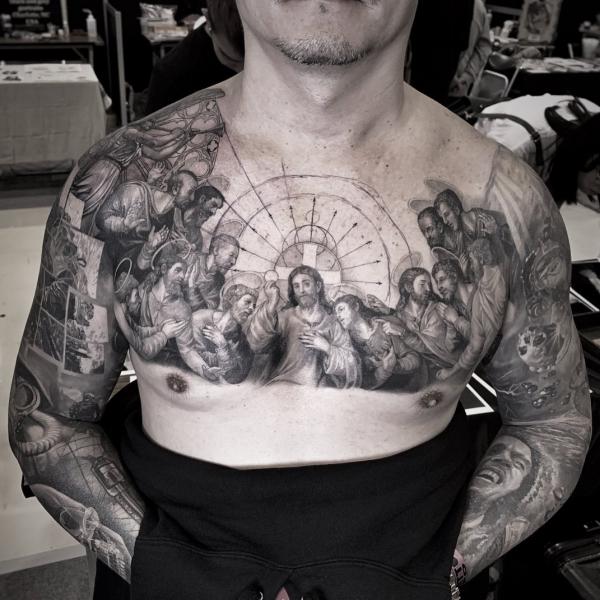 Jesus and his followers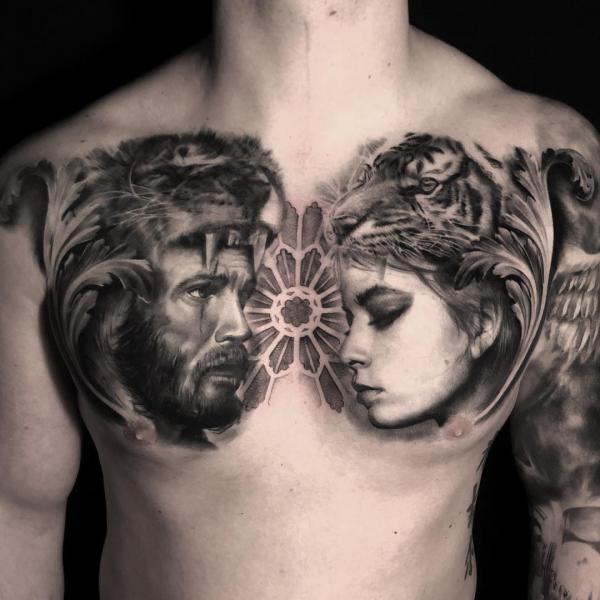 Jungle lovers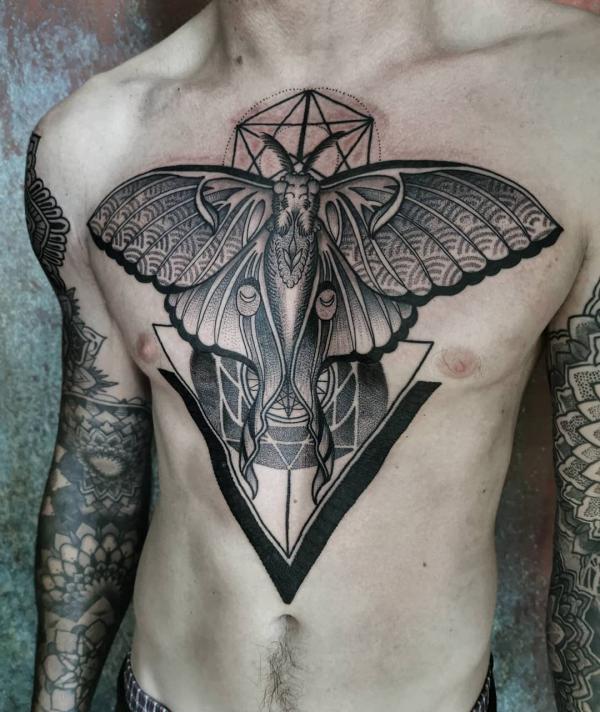 Large moth tattoo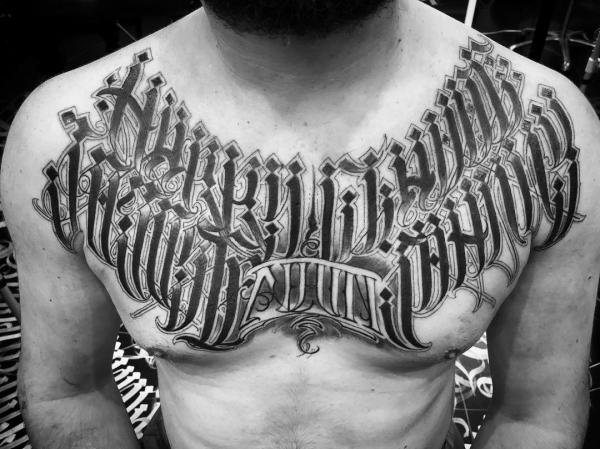 Lettering maze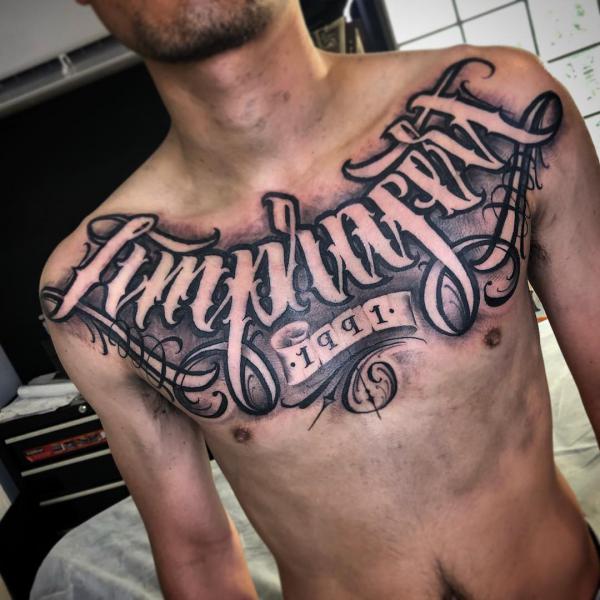 LIMPRASERT Big style lettering tattoo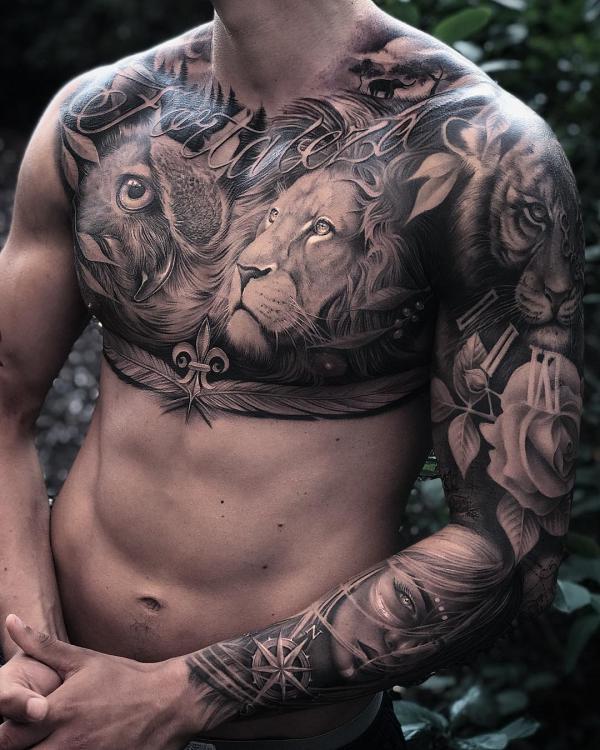 Lion and rabbit jungle life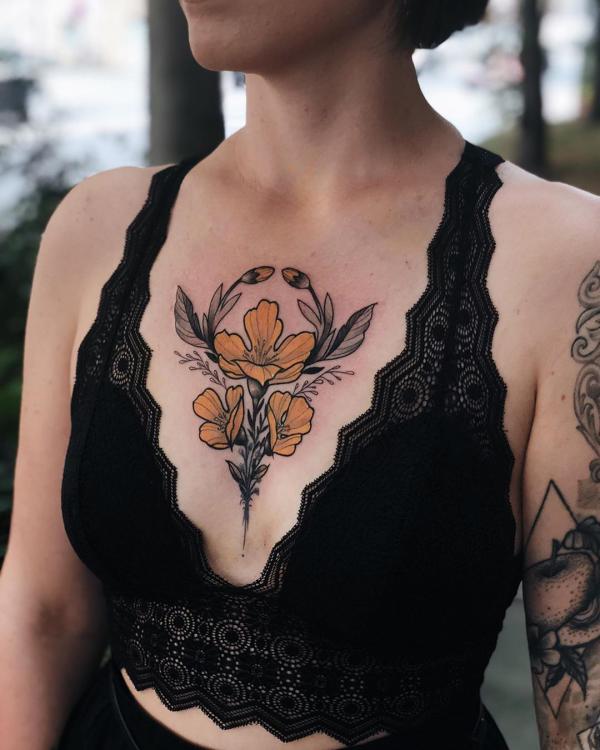 Lovable flowers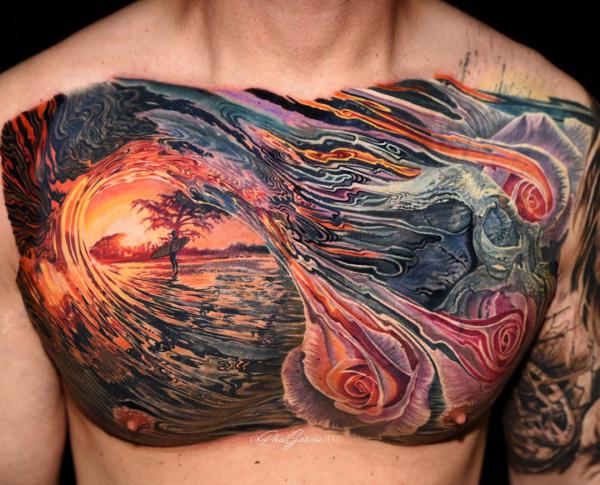 Melting wave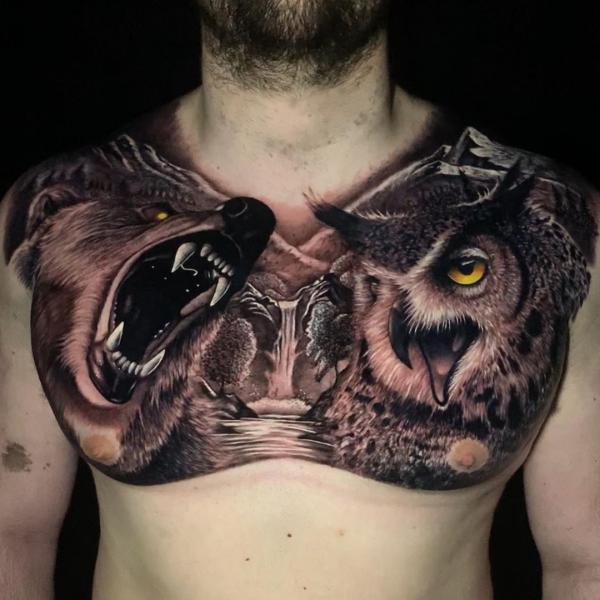 Owl and wolf in realistic style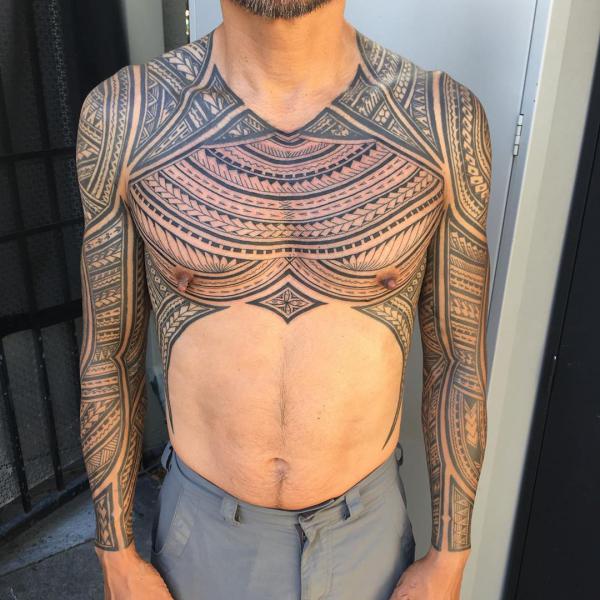 Polynesian armor tattoo
Reminiscent clips