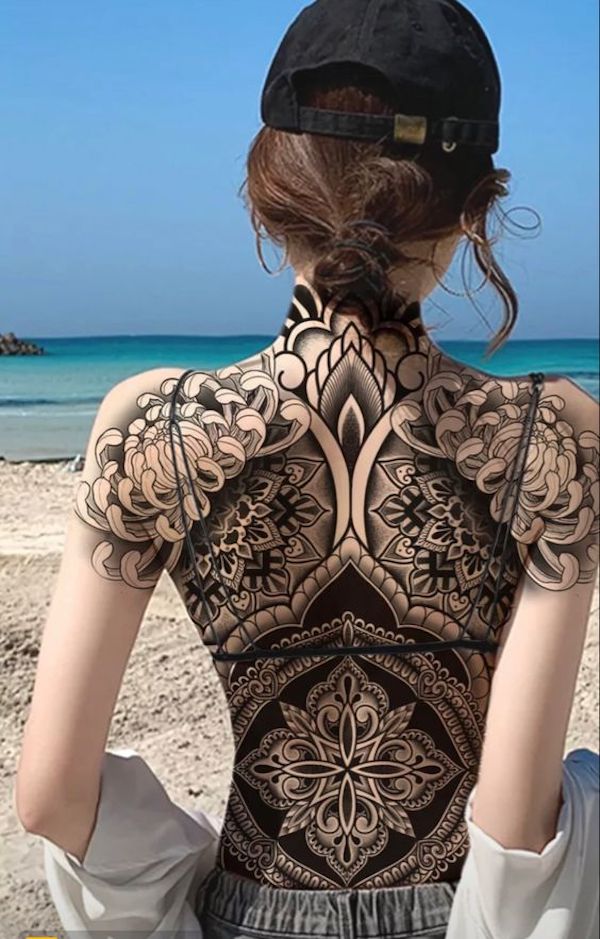 In Japan, you can see two distinctive styles of tattoos, western and Japanese tattoos. A Japanese tattoo refers to Irezumi, its style is called wabori. A tattoo in western style is called youbori. Western tattoos are modern styles similar to those in Western countries to express symbolic meanings or for fashionable purposes. Japanese tattoo, on the other hand, has been practiced in the country for more than thousands of years. Its unique culture identity draws attentions from all over the world.
There are multiple Japanese words refer to the name of tattoo, Irezumi, horimono and shisei. Irezumi is the broad term for traditional Japanese tattoos without implication of tattooing technique. The word horimono is generally used by artists, especially those working with tebori methods of tattoo insertion. Shisei is a novel published by a Japanese novelist Junichirou Tanizaki in 1910. In the novel, a tattoo artist draws a silk spider tattoo on a beautiful young girl. As the novel became so popular that the novel name was also read as Irezumi.
The History of Japanese Tattoo
In ancient Japan, there was no tattoo tradition for mainland Japanese people except Ainu people. At that time, people with tattoo were regarded as aliens and very much discriminated.
Ainu people
In the northernmost island of Japan, Hokkaid, an indigenous population Ainu people inherited tattooing tradition from their ancient ancestors. In Ainu culture, women have to go thought a heavy tattooing process on their lips and forearms. Notably, the mouth tattoo looked much like mustaches. But there is no evidence to indicate its linkage with or development of irezumi.
Edo period
It was not until Edo period (1603-1868) when the modern style of tattooing emerged in Japan. At that time, the term irebokuro was used as tattoo. Ire or ireru, means to insert, and bokuro or hokuro is a beauty spot. Despite avoidance by high-ranking courtesans for inelegance, irebokuro was accepted by yujos and geishas (women of pleasure). For some of them, the tattoo was a bond to beloved one or expression of eternal love. For others, it was a means to please clients.
According to Tamabayashi Haruo's book Bunshin hyakushi, the custom of tattooing was also found among Samurai warriors in the 16th century. In certain areas, these warriors had tattoos for their identification.
It's a painful process to get a traditional Japanese tattoo as irezumi is still done traditionally by hand rather than done by needle gun. And the Japanese style tattoos are often subjects covering large area of the body. It's also a time-consuming process.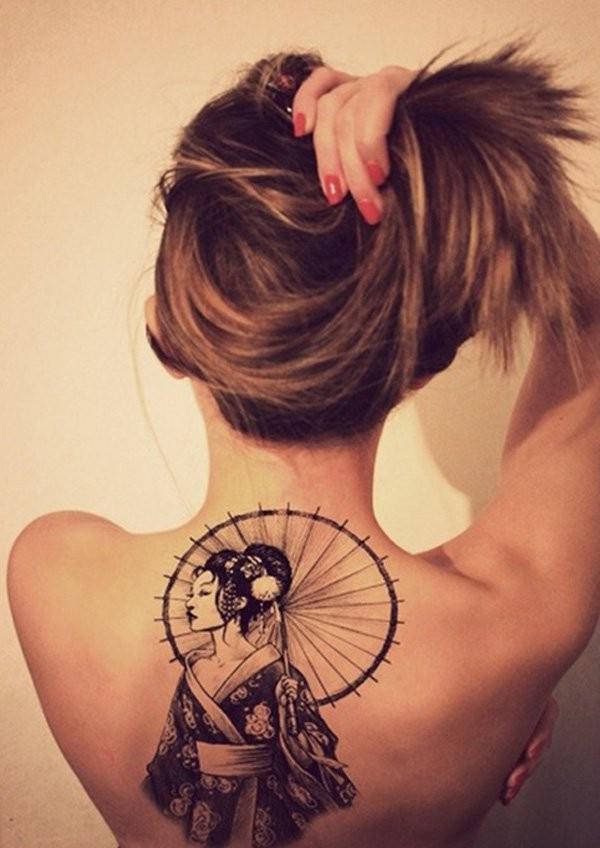 Traditional Japanese tattoo ideas
Traditional irezumi tattoo ideas could be Japanese dragon tattoo, Japanese cherry blossom tattoo, Koi fish tattoo, etc. Each subject represents certain meaning which derived from Japanese traditional cultures. In this post, let's enjoy the collection of awesome Japanese tattoo designs. Let us know you like.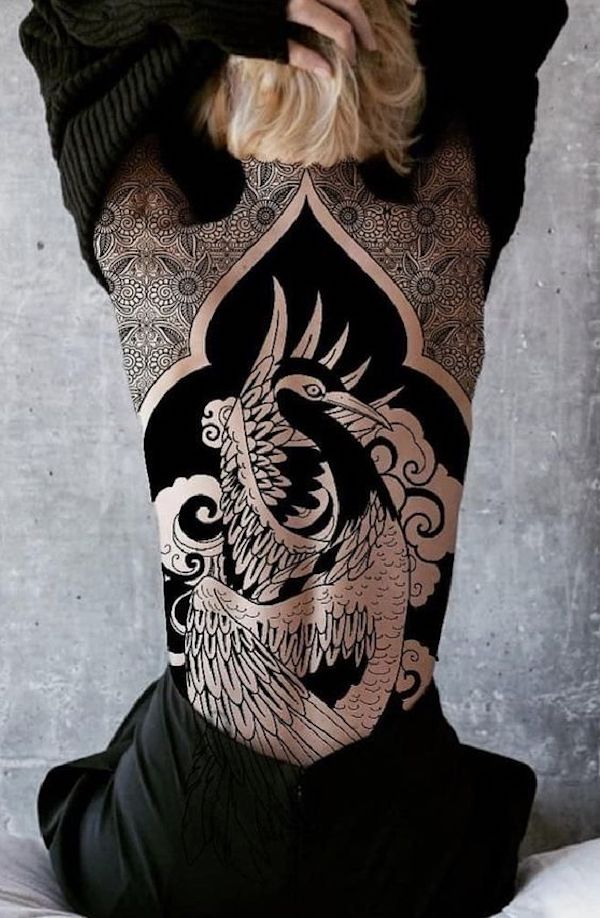 Japanese sleeve tattoo ideas
Traditional Japanese tattoo sleeve is a stunning blend of tradition, symbolism, and artistry. These tattoos often incorporate elements from Japanese folklore, nature, and mythology. Common themes include dragons, koi fish, cherry blossoms, and clouds, each with their own unique meanings. The designs can be intricate, with vibrant colors or stark black and white, and can cover the entire arm, from the shoulder to the wrist, presenting a captivating narrative.
Japanese sleeve dragon design for men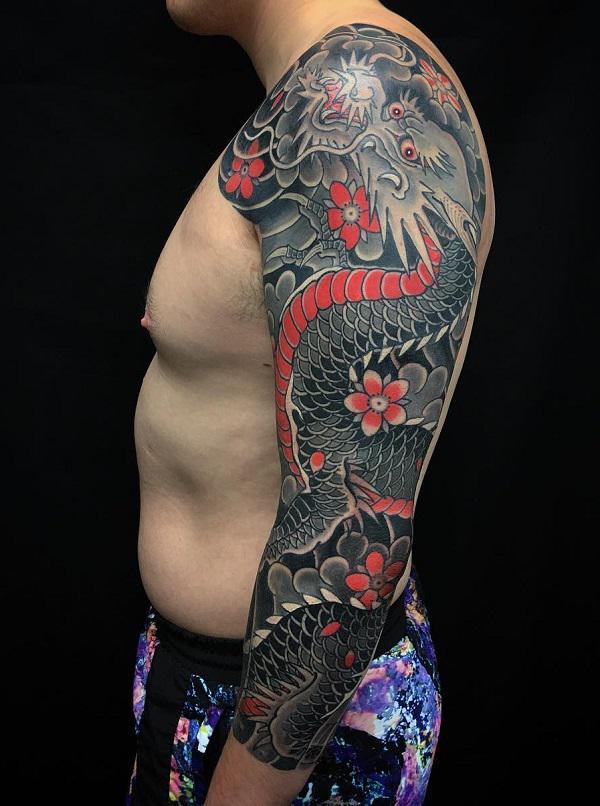 Dragon is a popular motif in Japanese style tattoos. It is a powerful embodiment of strength, wisdom, and bravery. The vibrant colors make the design pop, while the intricate detailing adds depth and realism.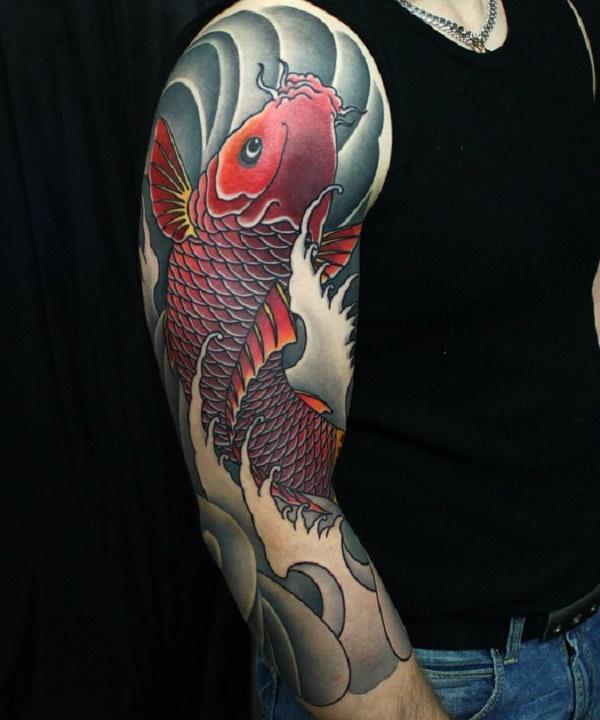 Koi fish in water is another popular theme for a full sleeve tattoo. Representing courage, determination and transformation, this design tells a profound story. The flowing water enhances the dynamic nature of the tattoo.
Japanese Cloud full sleeve tattoo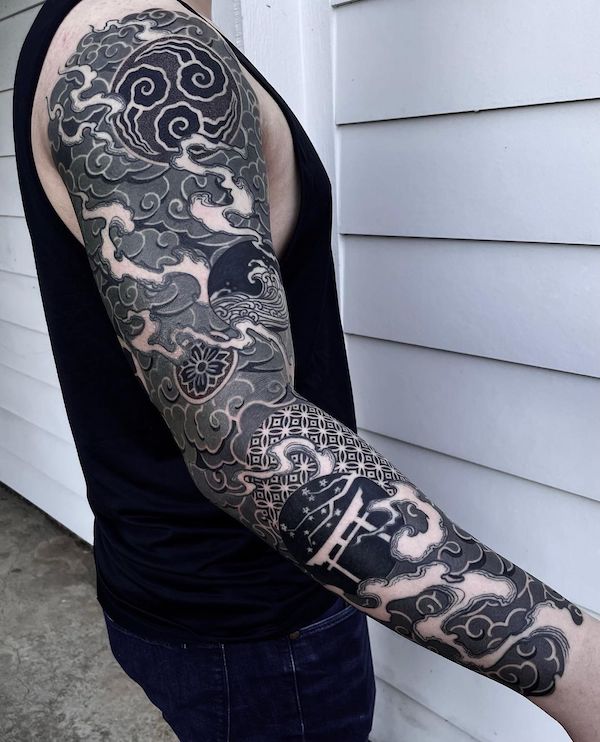 The Cloud tattoo with intricate Japanese patterns is a captivating choice. Clouds in traditional Japanese art symbolize the transient and ever-changing nature of life. The intricate patterns add a sense of complexity and sophistication.
Beautiful Japanese flower full sleeve tattoo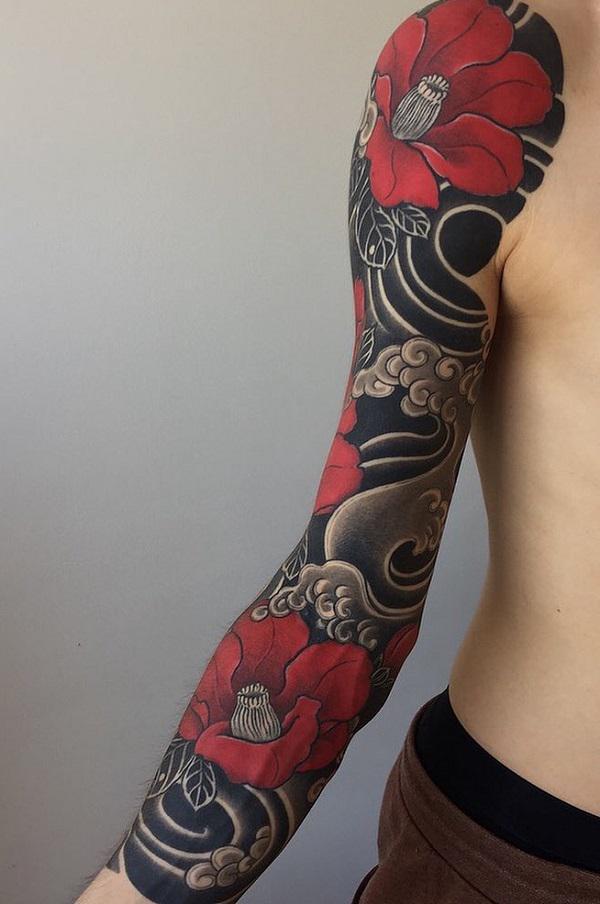 A beautiful Japanese flower on the backdrop of black swirls offers a balance of beauty and strength. The black swirls can represent the unpredictability of life, while the flower, often a cherry blossom, symbolizes the beauty and fragility of existence.
Samurai Japanese tattoo designs
Samurais are deeply embedded in the country's history and culture. These tattoos epitomize the ideals of honor, bravery, and discipline that were held by the samurai, Japan's ancient warrior class. The designs can vary greatly, featuring detailed depictions of samurais in various poses, often with traditional Japanese elements like cherry blossoms, dragons, or maple leaves. They can be rendered in vivid colors or in striking black and white, covering large areas like the full back or arm.
Japanese female samurai full back tattoo
A female samurai with a dagger in her mouth showcases the strength and tenacity of women warriors. The dagger adds an element of danger and intrigue, while the full back placement allows for a grand portrayal.
Black and white Japanese samurai tattoo on arm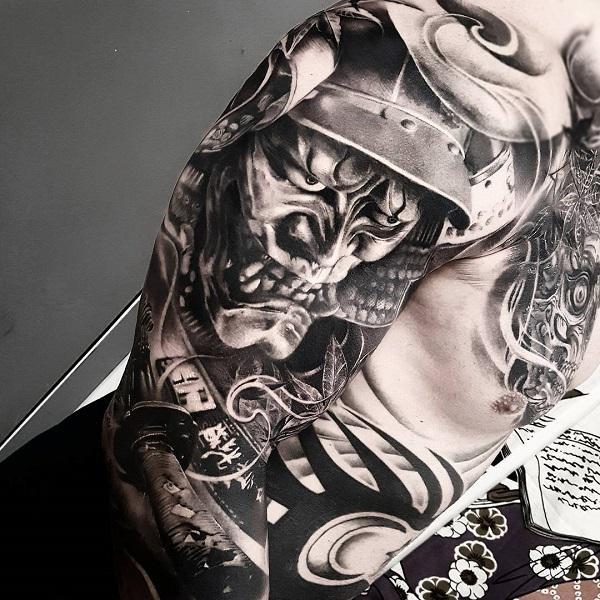 A black and white samurai tattoo can be an impactful representation of the warrior spirit. The monochrome palette highlights the intricate details and adds a timeless touch.
Horimono Samurai tattoo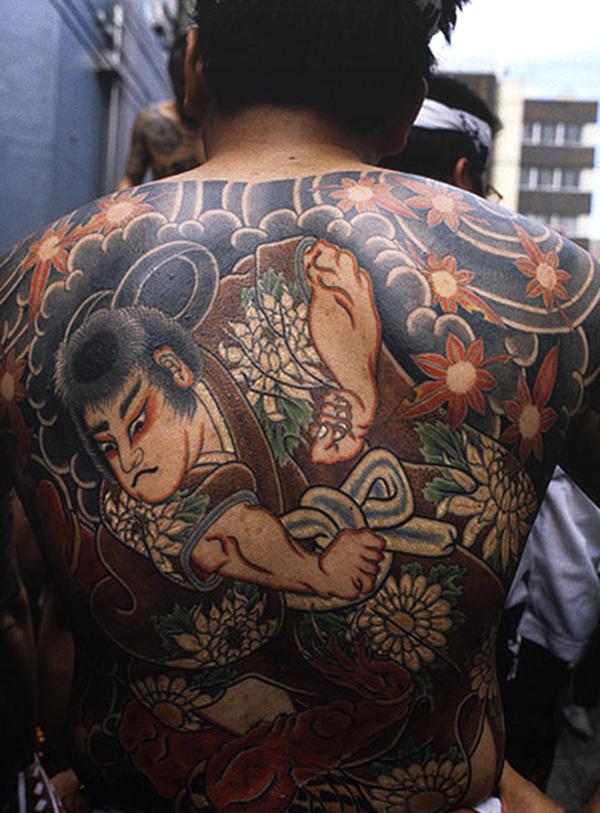 The full back tattoo is a classic design, featuring the traditional Japanese tattooing style. Horimono often involves complex themes and the samurai rendered in this style is a testament to the artistry of this ancient technique.
Bald warrior full back tattoo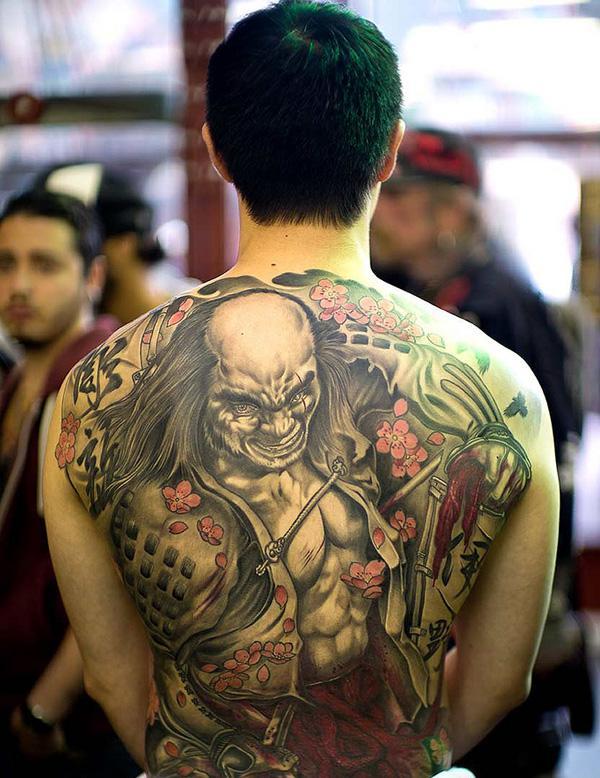 A bald warrior could symbolize enlightenment and determination. The baldness can represent a monk-like devotion to the warrior path, while the full back allows for a detailed depiction.
Traditional Japanese warrior fighting tattoo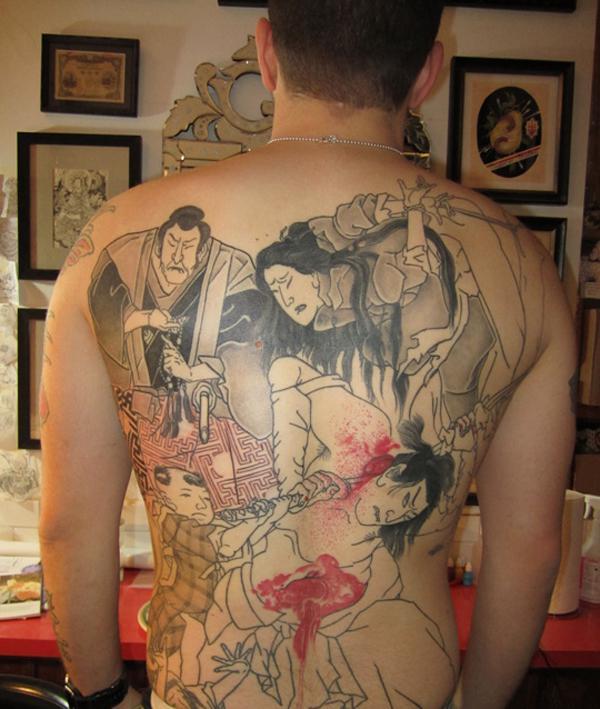 The full back tattoo is a dynamic design that tells a story of battle, honor, and bravery. The movement and action can make the tattoo feel alive and dramatic.
Japanese Warrior tattoo with maple leaves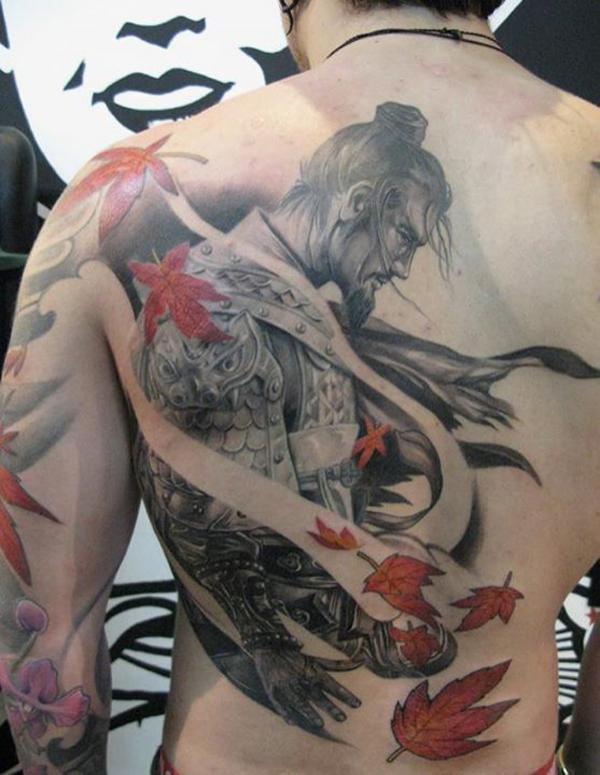 Japanese Warrior and maple leaves is a beautiful blend of strength and nature. The maple leaves, a symbol of peace and serenity, offer a striking contrast to the fierce warrior figure.
Japanese back tattoo designs
Back tattoos can cover the entire back, providing a broad canvas for complex narratives. These designs often incorporate elements from Japanese mythology, nature, and folklore, such as dragons, phoenixes, tigers, and geishas. Whether rendered in vibrant colors or in striking black and white, these tattoos can be a magnificent personal statement.
Nature themed tattoo on back with dolphins, underwater sea world for women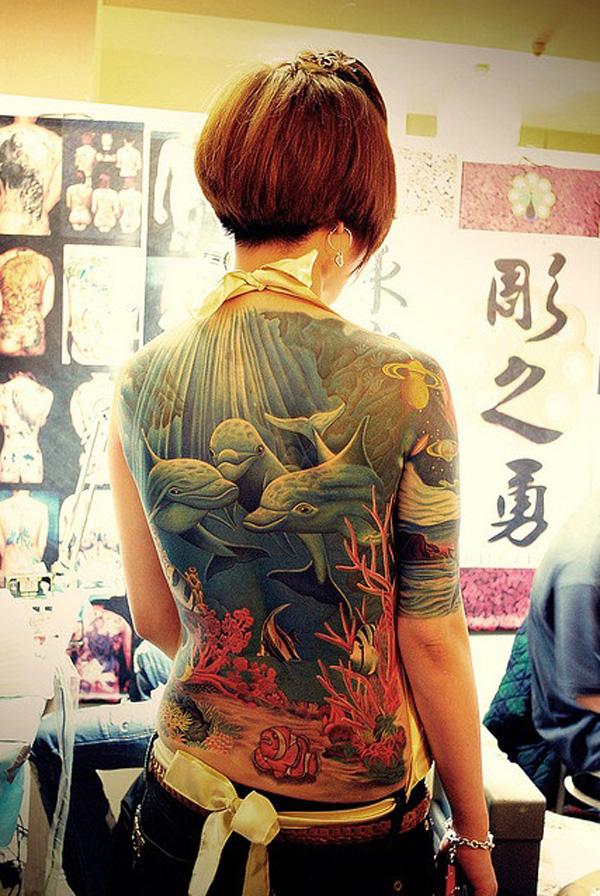 A nature-themed back tattoo featuring dolphins and an underwater sea world is a modern take on Japanese style tattoos. Ideal for women, this design is a celebration of marine life and the beauty of the ocean.
Realistic full back tattoo with pavilion, tiger and geisha for women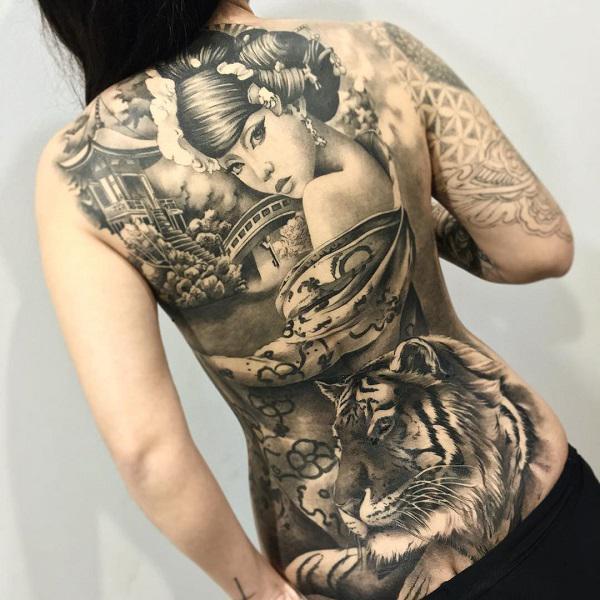 The full back tattoo featuring traditional Japanese elements such as a pavilion, tiger, and geisha is a perfect blend of culture and artistry. The realism adds depth, making it a unique tattoo idea for women.
Black and grey full back tattoo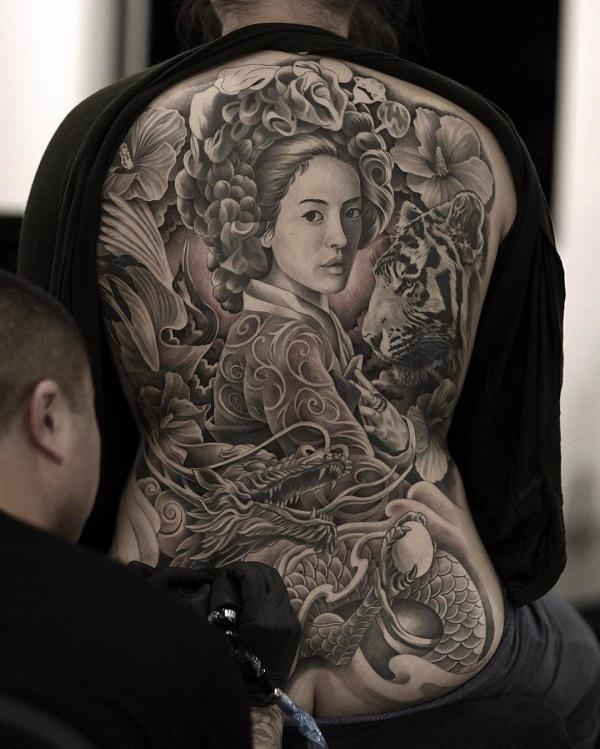 A black and grey Japanese dragon back tattoo is a powerful and mystical design. The monochrome palette enhances the dragon's mystique, making it a striking choice for women.
Japanese sun and cloud full back tattoo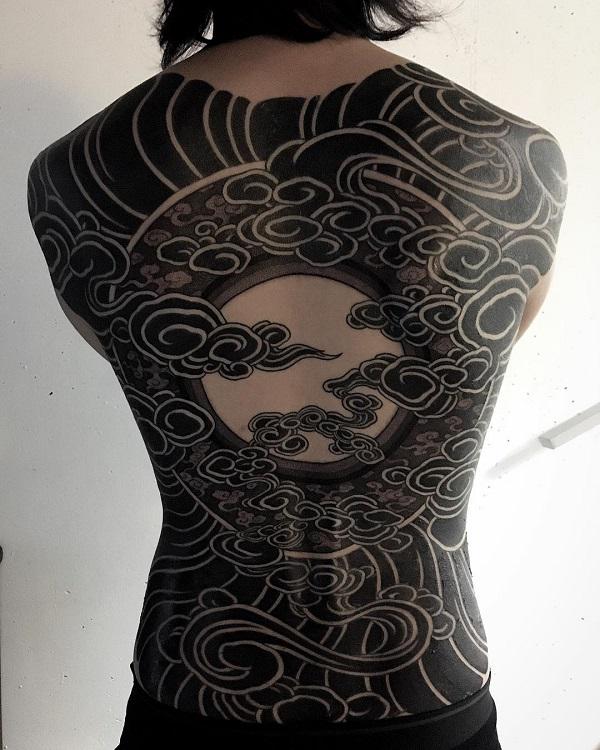 A sun and cloud tattoo can symbolize life's contrasts – brightness and darkness, joy and sorrow. The large scale allows for an impactful representation of these elements.
Black and white Hannya mask and snake full back tattoo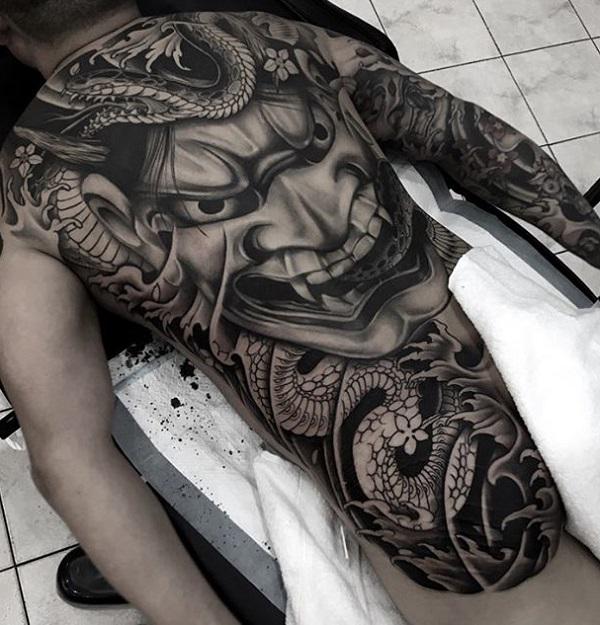 Hannya mask and snake full back tattoo is a dramatic blend of traditional symbols. The Hannya mask represents a woman transformed by jealousy and obsession, while the snake often symbolizes transformation and rebirth.
Phoenix Tattoo for women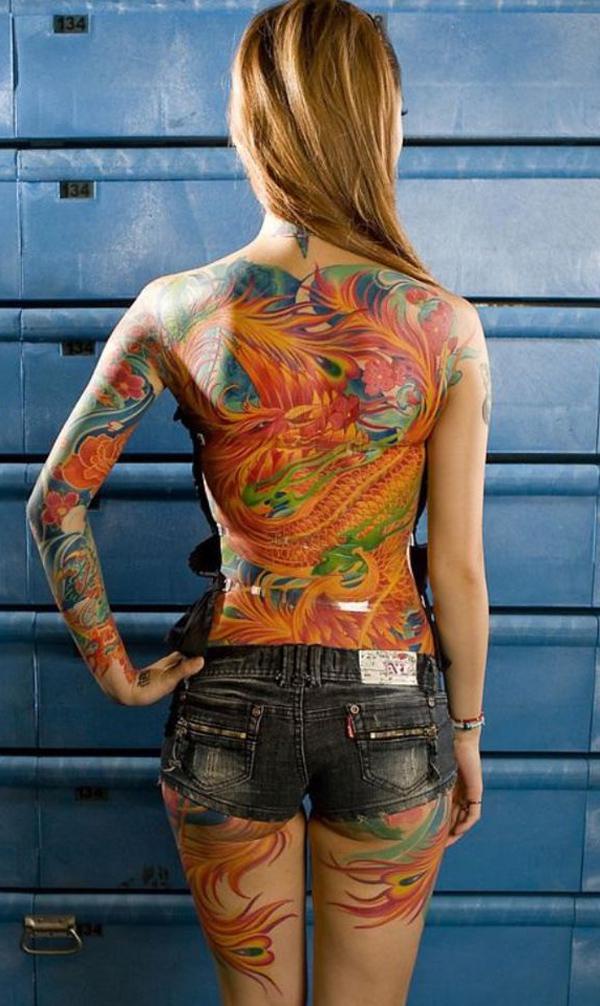 A Japanese phoenix back tattoo is a beautiful symbol of rebirth and immortality. Designed for women, it's a powerful statement of resilience and renewal.
Japanese dragon and Phoenix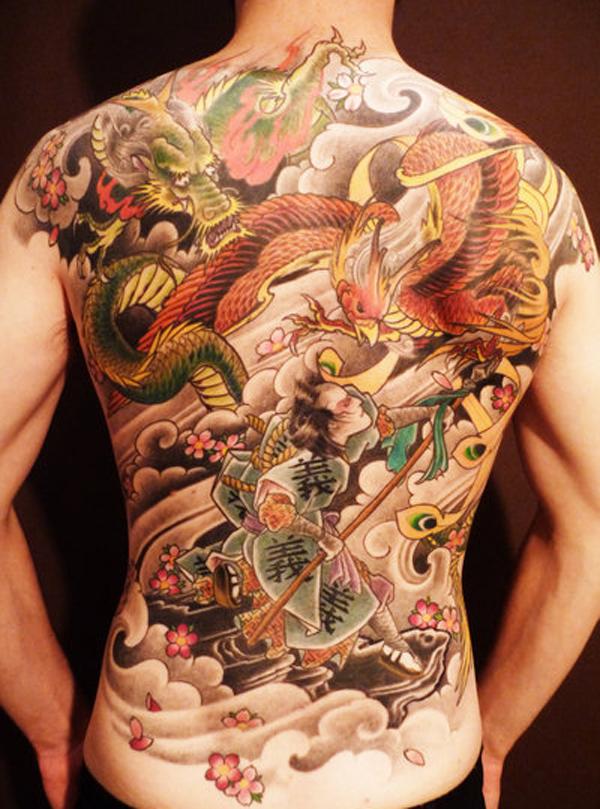 A Japanese dragon and Phoenix full back tattoo is a captivating design that combines two potent symbols. The dragon represents wisdom and strength, while the phoenix symbolizes rebirth and resilience, making this tattoo a symbol of profound transformation.
Japanese Koi fish and lotus back tattoo design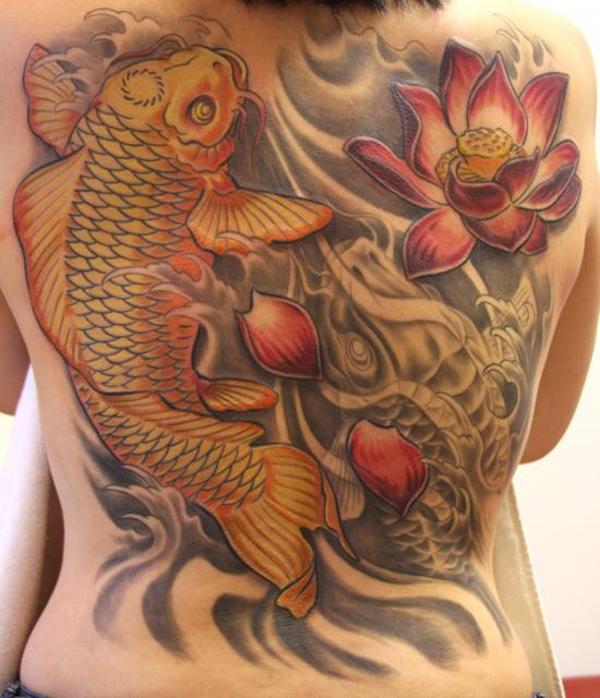 The designo featuring Japanese Koi fish and lotus flower, a powerful symbol of resilience and enlightenment. The Koi, known for swimming upstream, embodies perseverance, while the lotus, blooming from muddy waters, represents purity and spiritual awakening. Combined, they create a stunning, meaningful design.
Japanese geisha and lotus tattoo design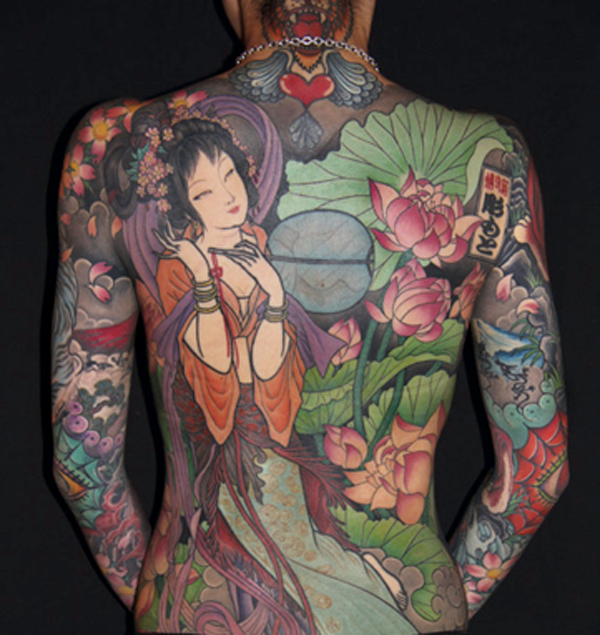 A playful geisha among lotus full back design is a beautiful and intricate piece of art. The geisha is depicted with a fan in her hand, exuding an air of elegance and grace. On the other side of the back, is a scene of lotus and green leaves, creating a stunning contrast between the delicate flowers and the geisha's elaborate kimono. The design is a perfect blend of traditional Japanese elements and modern tattoo art, making it a unique and eye-catching piece.
Japanese tattoo ideas small
Small Japanese tattoo designs are a charming way to capture the essence of Japanese art and symbolism. These compact tattoos can be a subtle nod to Japanese culture, featuring elements like waves, samurais, koi fish, cherry blossoms, and more. Despite their size, they can tell a rich story, embodying themes of strength, balance, and beauty in unique ways.
Japanese wave ankle tattoo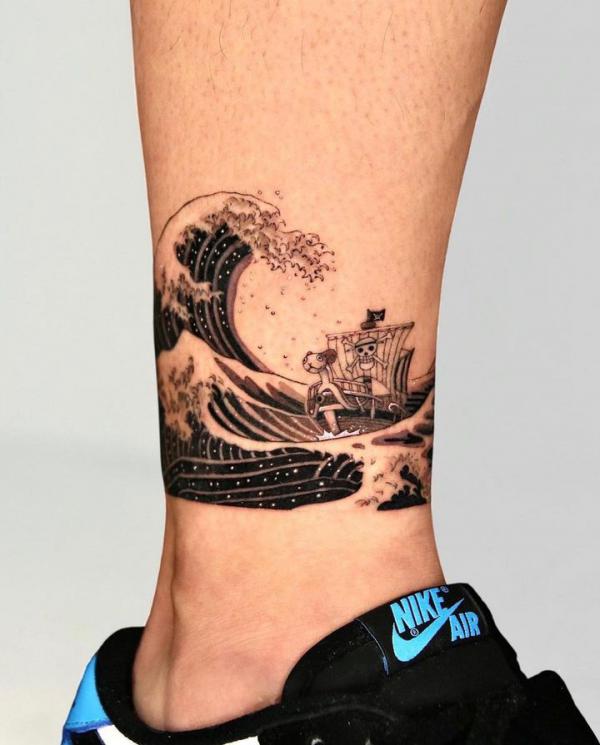 This design captures the power and beauty of the ocean. The Japanese wave, symbolizing strength and life's ups and downs, is paired with a tiny pirate boat, adding an adventurous touch.
Minimalist wave tattoo – Miniature painting The Great Wave by Hokusai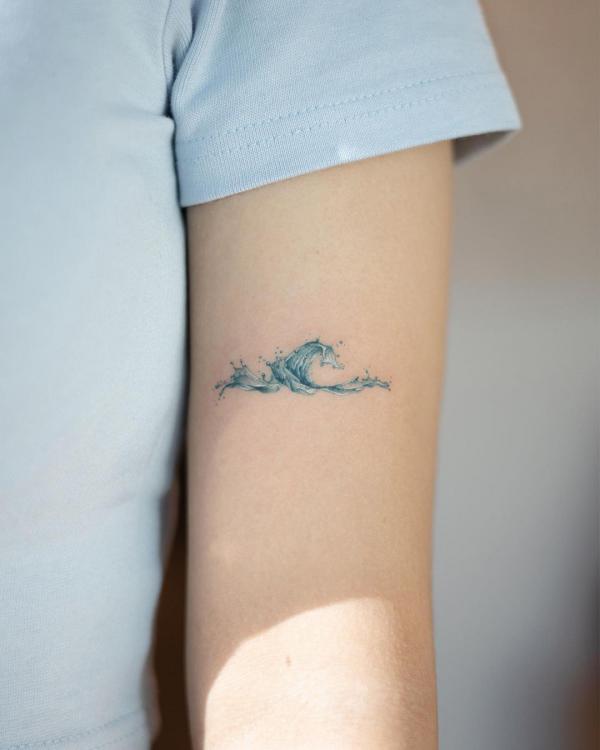 A minimalist wave design is inspired by Hokusai's "The Great Wave". It is a beautiful tribute to one of Japan's most iconic artworks. Despite its small size, it carries a powerful message about the force of nature.
Small Japanese samurai tattoo black and white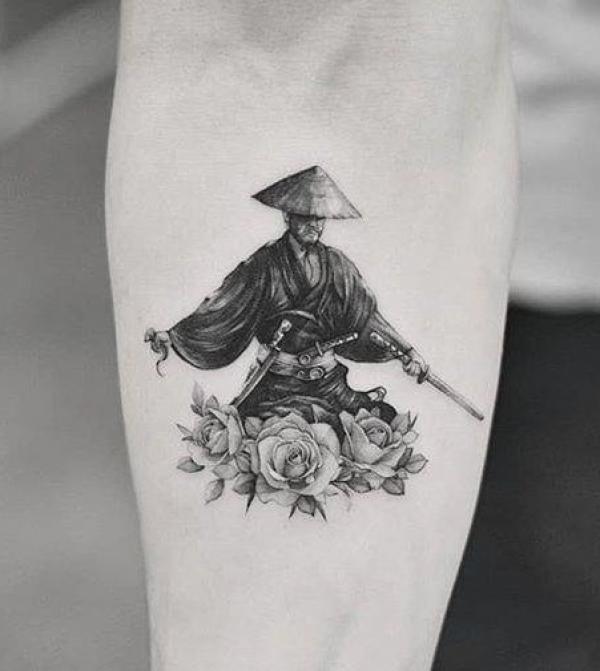 The Samurai, a symbol of courage and discipline, is a timeless choice. In black and white, this small tattoo is a minimalist nod to traditional Japanese culture.
Small Japanese wave and sun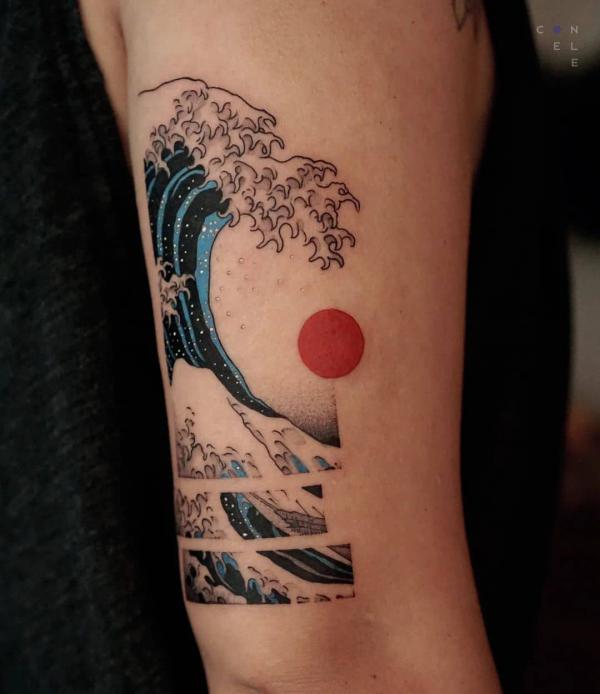 This design combines two powerful elements. The wave symbolizes life's challenges, while the sun represents optimism and renewal.
Yellow koi fish and lotus sternum tattoo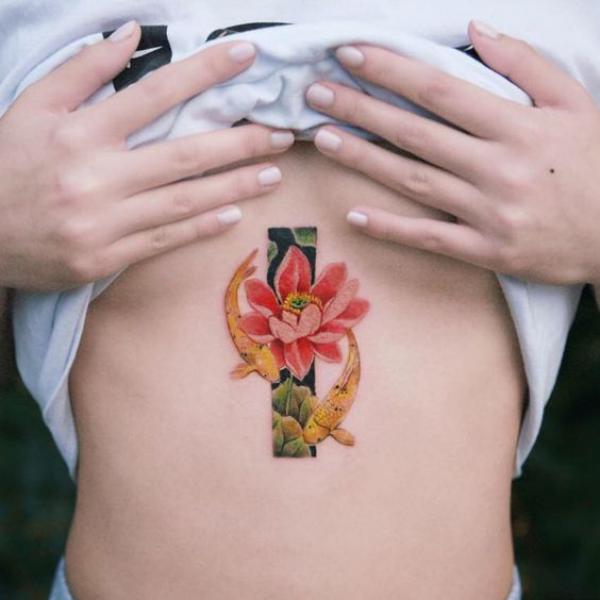 A yellow koi fish and lotus is a vibrant design. It signifies transformation and purity, perfect for a central, intimate location.
Cherry blossom and wave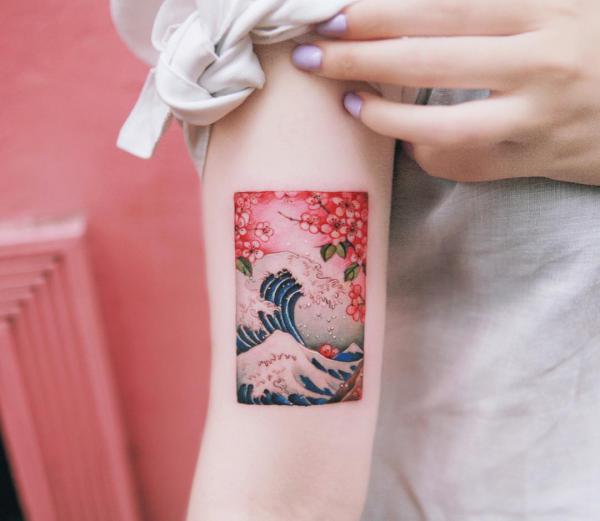 This design combines two powerful Japanese symbols – the fleeting beauty of cherry blossoms and the unyielding strength of waves. It symbolizes beauty and resilience.
Day and night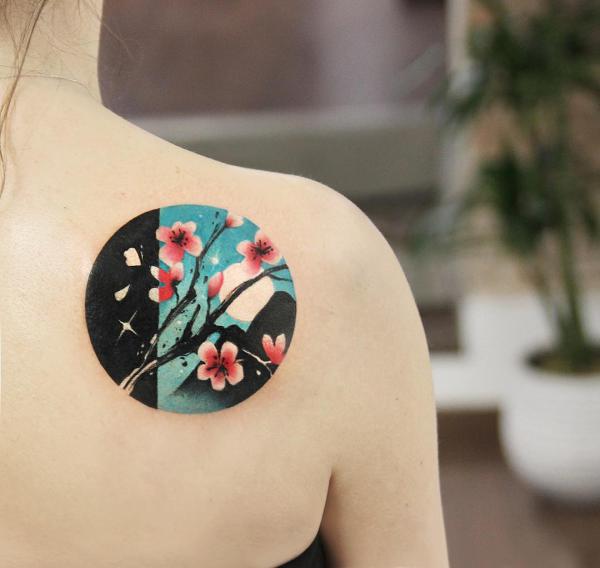 A unique design showing the transition from day to night, symbolizing the cycle of life and the balance of the universe.
Japanese crane rectangular tattoo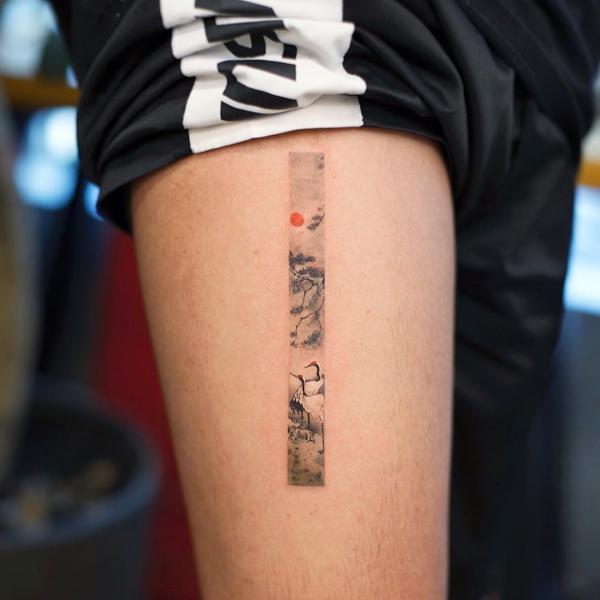 The crane, a symbol of longevity and good fortune in Japanese culture, makes for an elegant rectangular tattoo design.
Small Japanese tiger and sun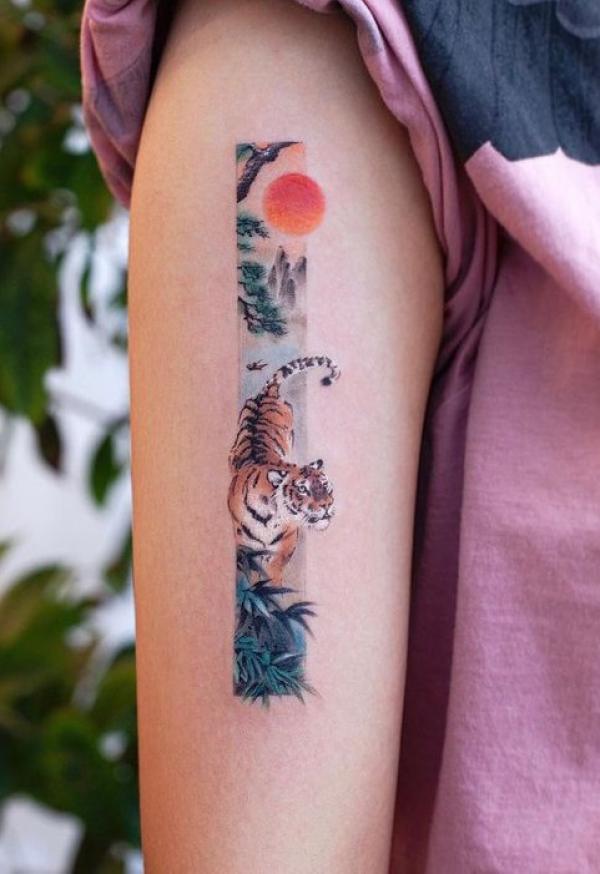 Tigers represent courage and strength, while the sun signifies life and energy. This design combines these elements for a dynamic tattoo.
Black and grey half back tattoo with elements of snake, cloud and phoenix for men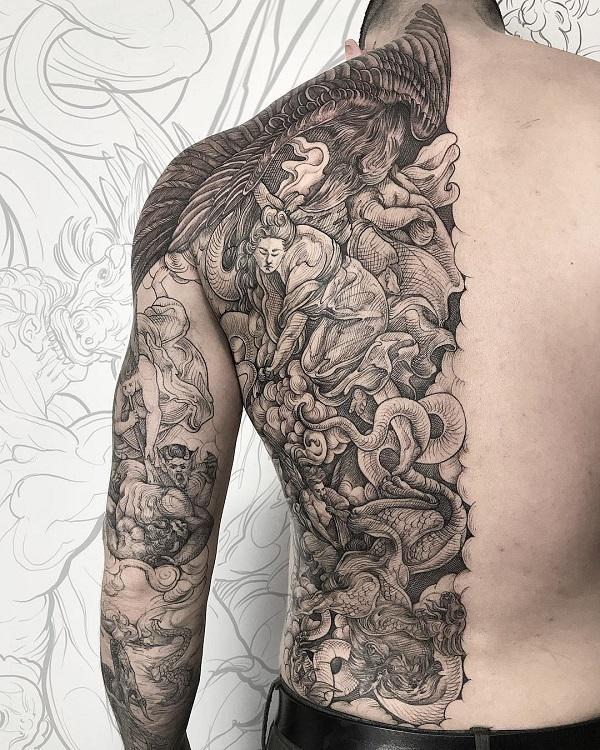 Japanese words tattoo designs
Japanese words designs are captivating pieces of body art that blend elegant calligraphy with profound meanings. They're a great way to pay homage to the rich culture and philosophy of Japan. These designs often feature Kanji, the complex system of Japanese writing, which lends an air of mystery and depth to the tattoo.
Kanji tattoo on back of the neck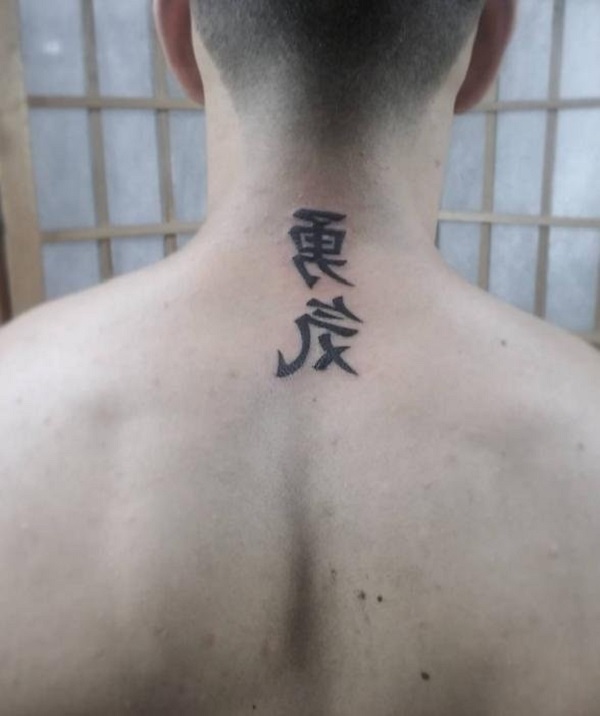 This Kanji tattoo is a subtle yet impactful design. It's a unique placement that allows you to carry the power and wisdom of Japanese philosophy close to your mind. This design is perfect for those who appreciate minimalistic art with a profound message.
Japanese Dragon and Kanji Back Tattoo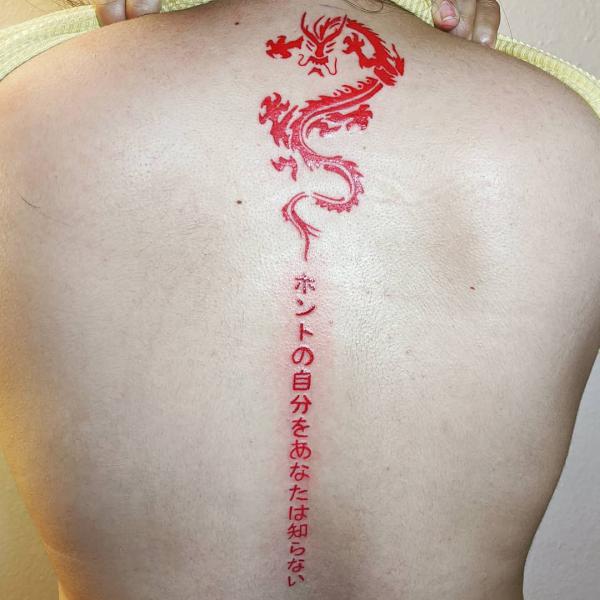 A Japanese dragon, symbolizing wisdom and strength, coupled with Kanji characters along the spine, can make a powerful statement on your back.
Black ink of bamboo and Japanese Kanji tattoo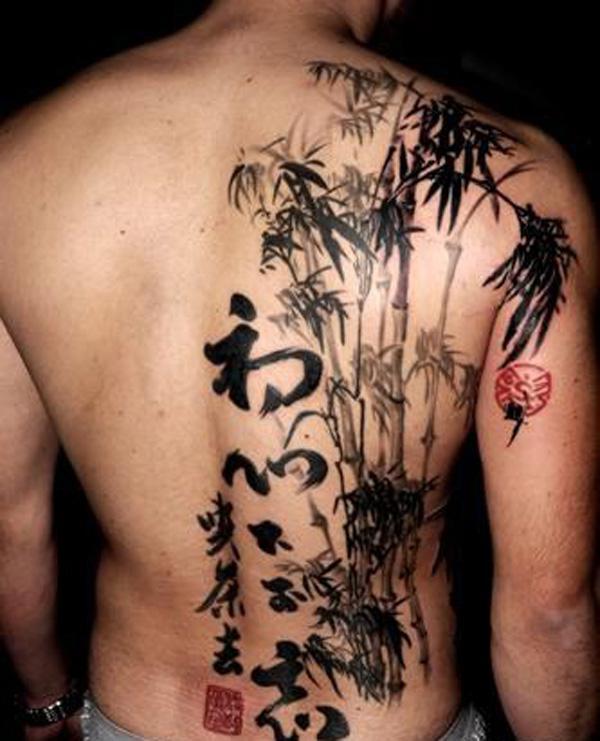 The black ink of bamboo combined with Japanese Kanji is an artistic nod to Japan's natural beauty and rich linguistic tradition. This design is a visually stunning representation of resilience and the deep wisdom encapsulated in Kanji. It's a great choice for men who value strength, resilience, and wisdom.
Sakura and Kanji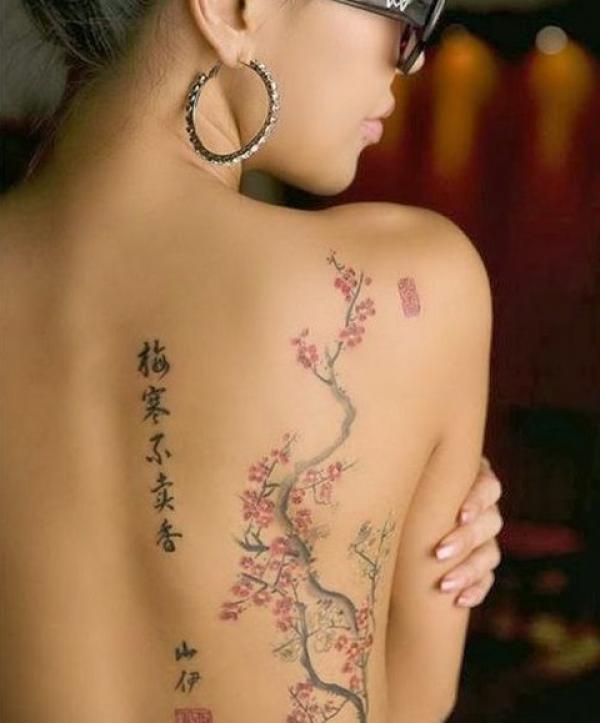 Combing Sakura and Kanji is a powerful blend of beauty and philosophy. The ephemeral Sakura symbolizes the fleeting nature of life, while the Kanji adds a deeper philosophical layer to the design. This back tattoo can serve as a beautiful reminder of the transient beauty of life and the profound wisdom of Japanese culture.
Japanese words neck tattoo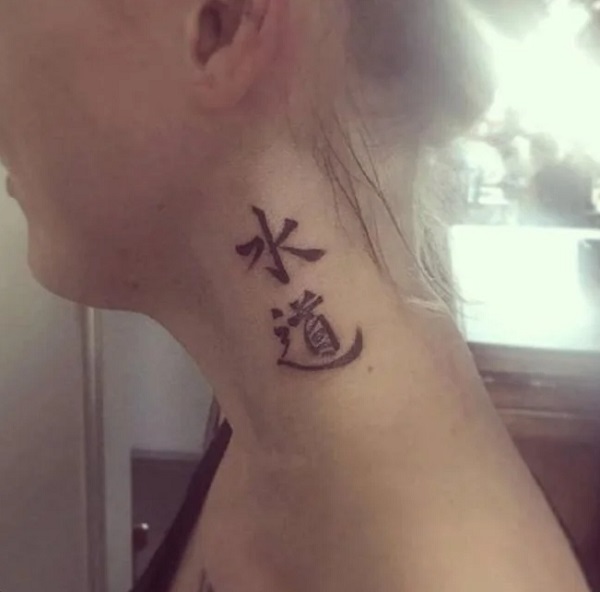 Picture two Kanji symbols, carefully inked on the side of your neck. Each character holds a world of significance, whether it's a trait, a sentiment, or a name. This subtle design is both personal and stylish, a whispered statement rather than a loud proclamation.
Japanese leg tattoo Ideas
Leg has plenty of space to blend Japanese tradition with personal expression. Featuring intricate designs, vibrant colors, and rich symbolism, these tattoos often depict legendary creatures, beautiful flora, and cultural icons. Whether you're looking for a showstopper or a subtle piece, there's a Japanese leg tattoo idea to inspire you.
Japanese style chrysanthemum tattoo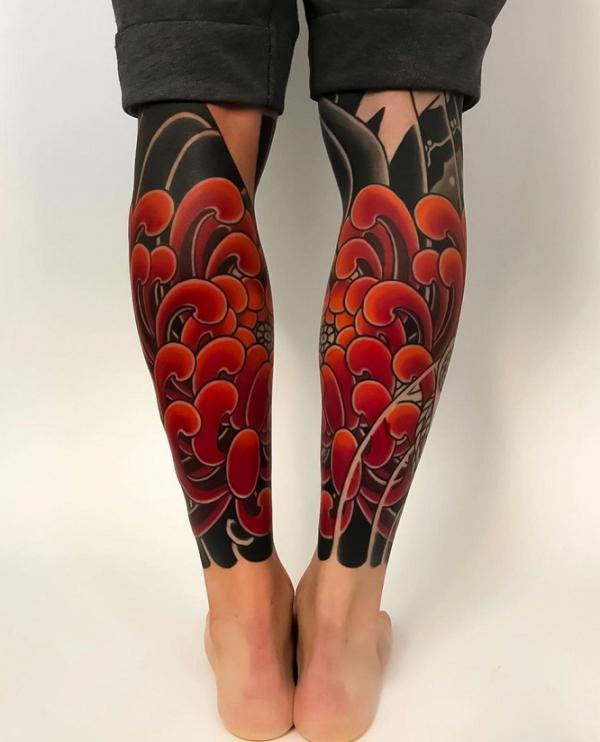 The chrysanthemum, a symbol of longevity and rejuvenation in Japanese culture, makes a stunning tattoo. Imagine a feminine design on your calf, featuring a chrysanthemum with vibrant red, swirling petals, creating a vivid contrast against your skin.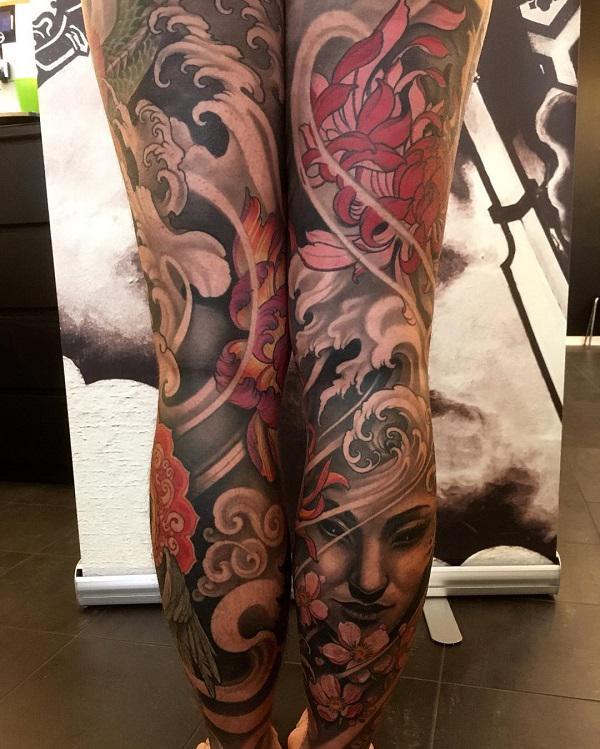 For a more complex design, consider an intricate leg tattoo featuring a woman, a wave, and a dragon. This combination of feminine beauty, the relentless power of nature, and the mythical strength of the dragon holds a captivating story in ink.
Japanese oni leg sleeve tattoo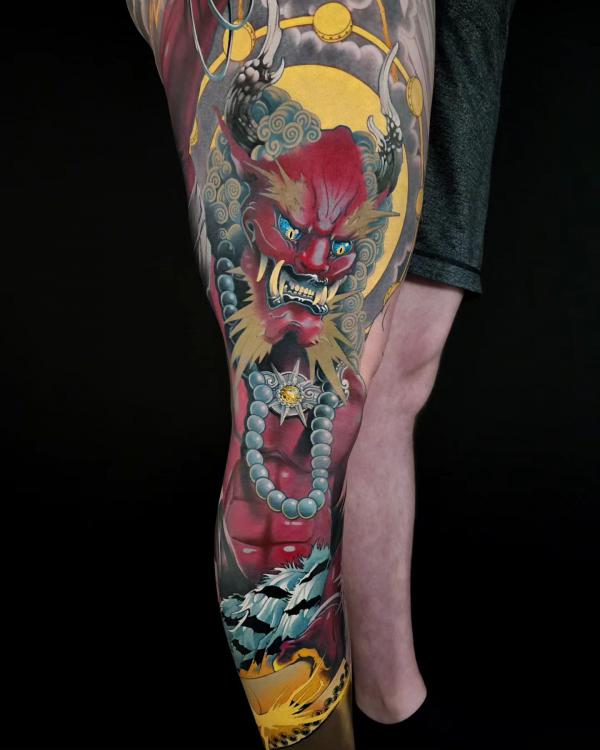 The Oni tattoo is a formidable and captivating design. The Oni, a mythical demon from Japanese folklore, is depicted with fierce facial expressions and vibrant colors. This intricate design symbolizes protection from evil spirits and misfortune, marking a strong statement of resilience and courage.
Watercolor tattoo with geisha, crane and sun on the leg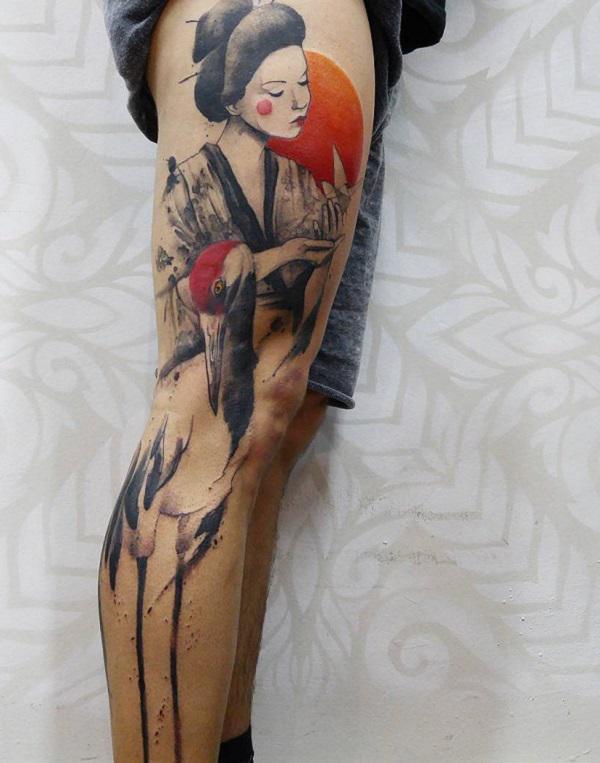 A watercolor tattoo can bring traditional Japanese imagery to life in a modern way. Picture a geisha, a symbol of grace and beauty, with a crane signifying luck, and the sun representing warmth and positivity, all in soft watercolor hues on your leg.
Leg tattoo with Kio fish and cherry blossom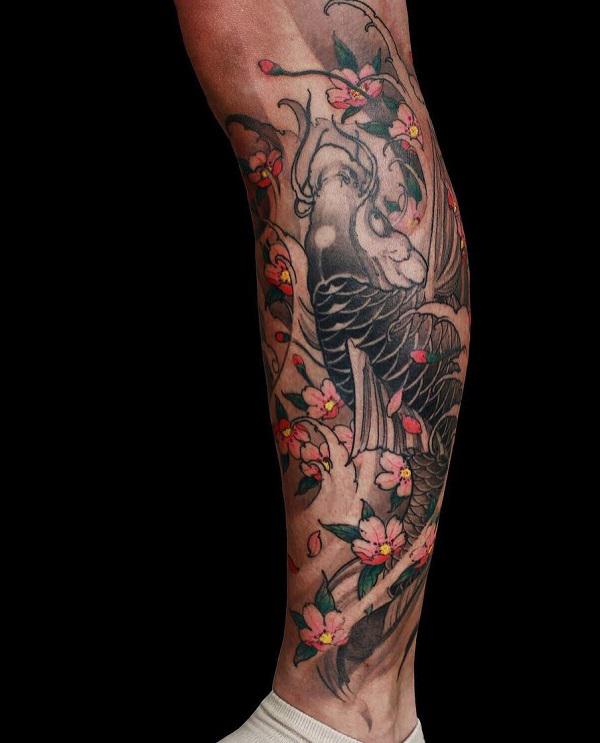 A Koi fish, symbolizing luck, prosperity, and perseverance, coupled with cherry blossoms, emblems of life's fleeting nature, can make a profound tattoo. This design on your leg serves as a reminder of life's ebb and flow.
Geisha portrait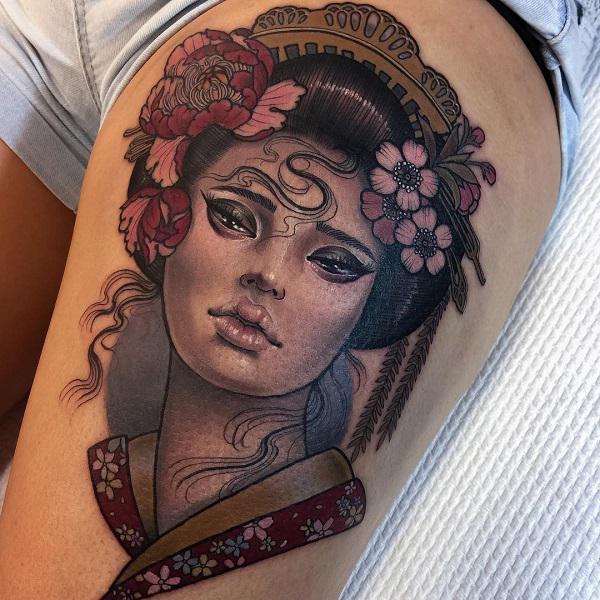 Black and white geisha tattoo on forearm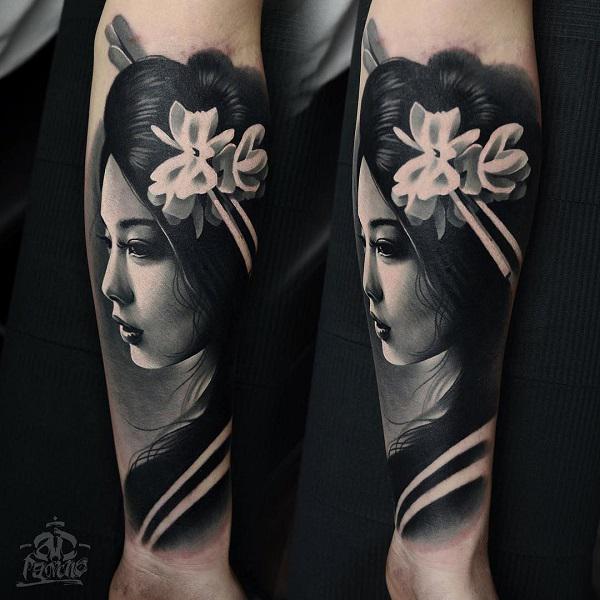 Japanese demon half sleeve tattoo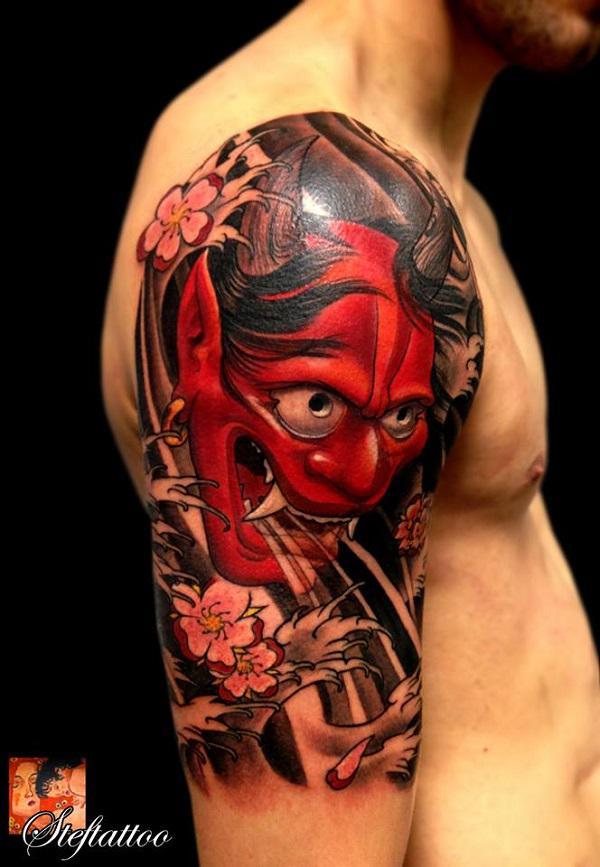 Realistic Japanese woman tattoo with shadow on forearm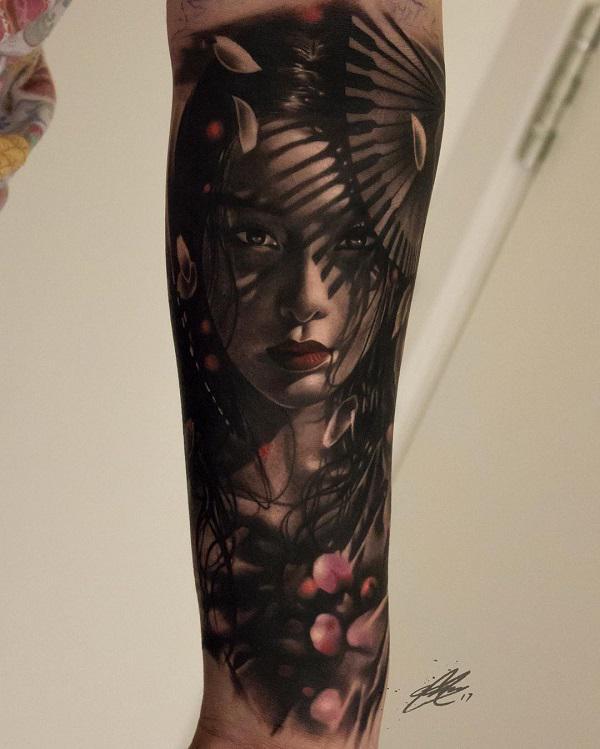 Geisha tattoo on upper arm in watercolor style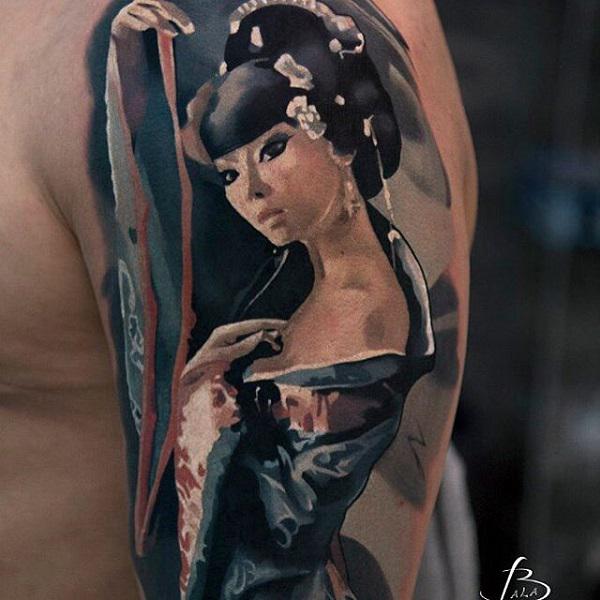 Sketchy Geisha forearm tattoo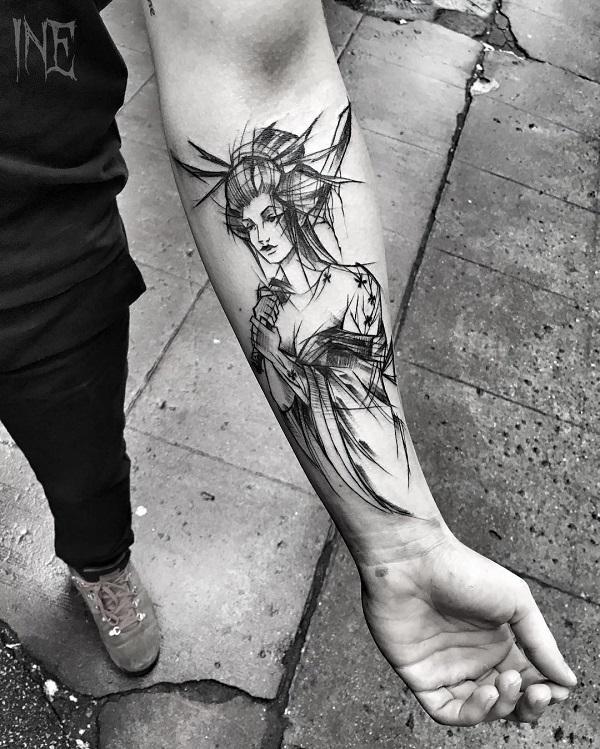 Japanese Geisha thigh tattoo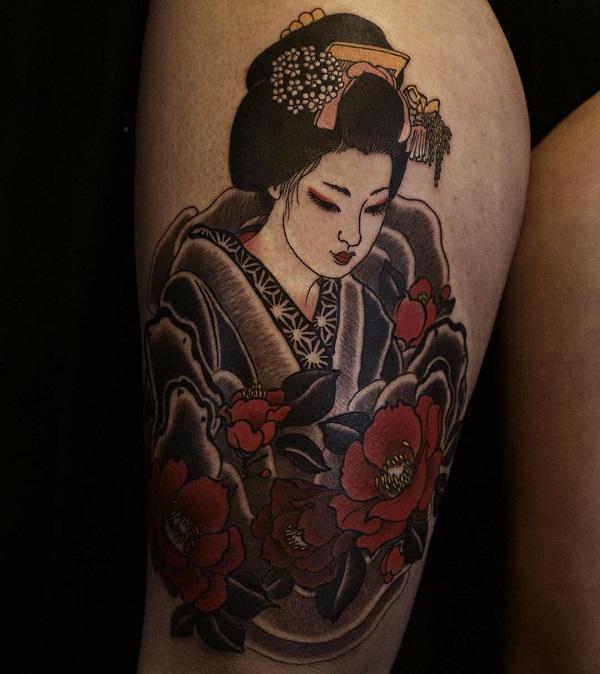 Realistic geisha portrait sleeve tattoo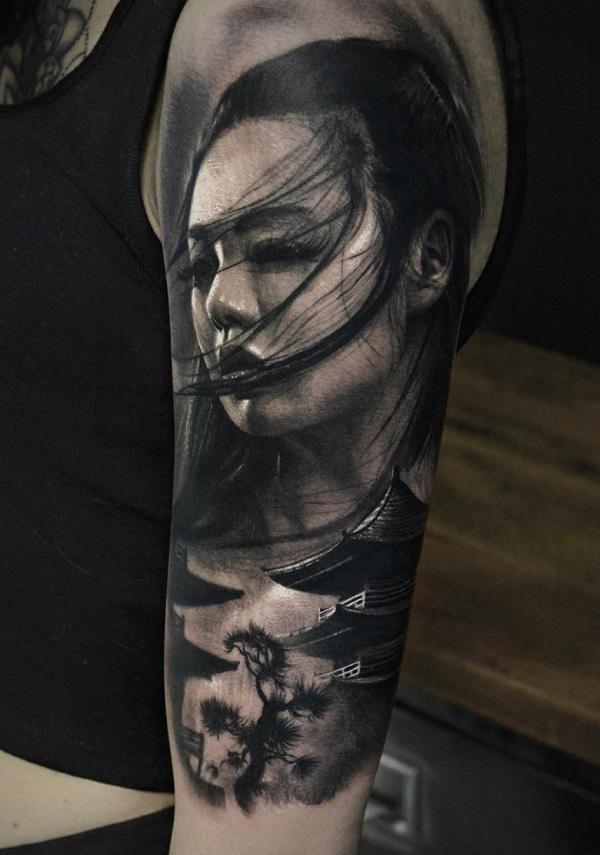 Amazing Japanese tattoo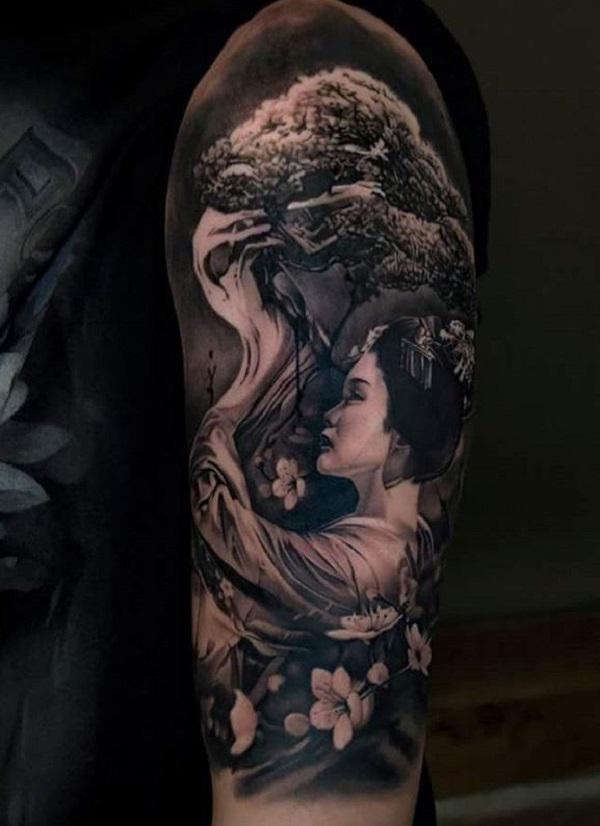 Amazing Japanese tattoo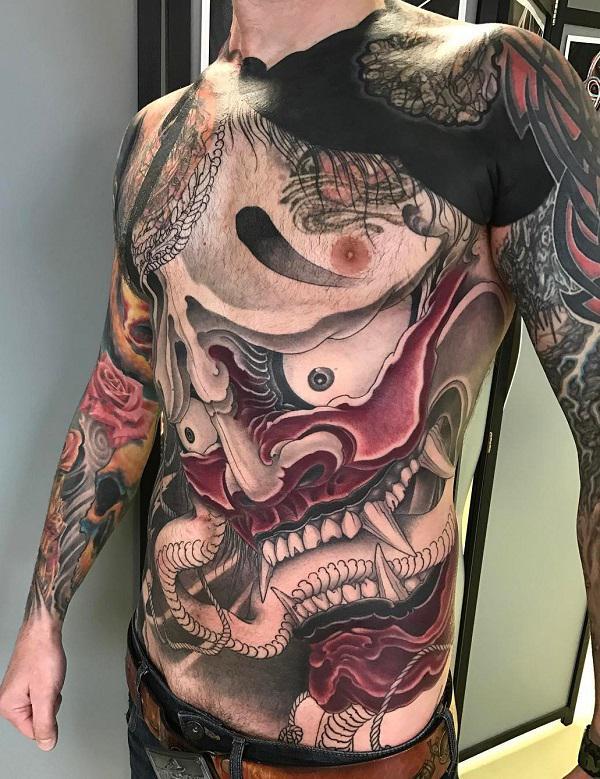 Beautiful Japanese Geisha and demon sleeve tattoo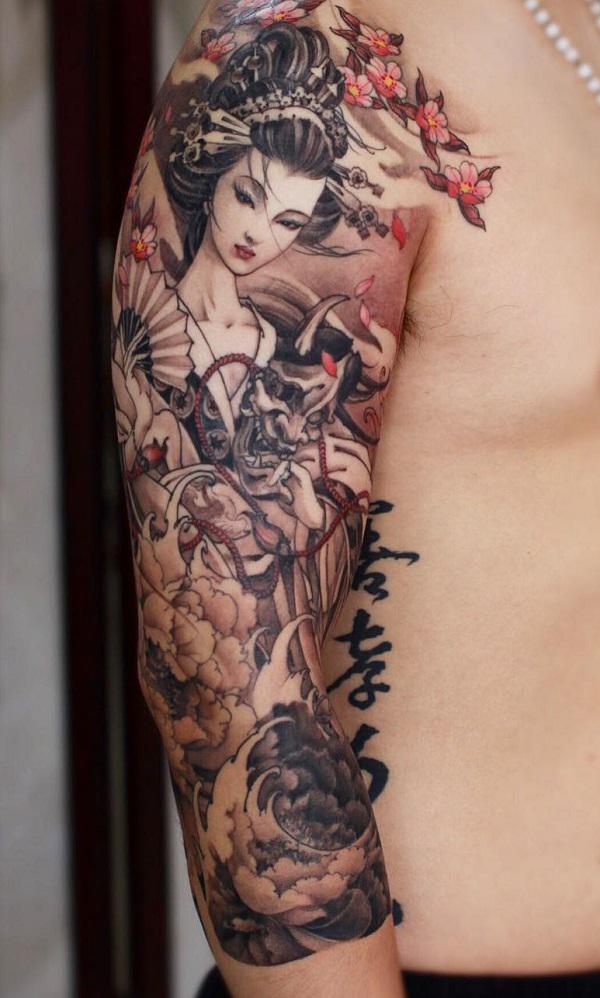 Beautiful Japanese tattoo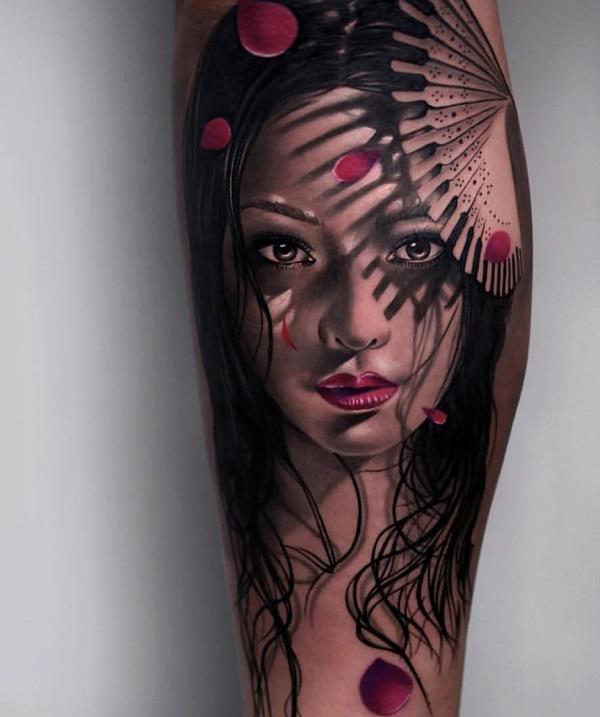 Full back Japanese tattoo for men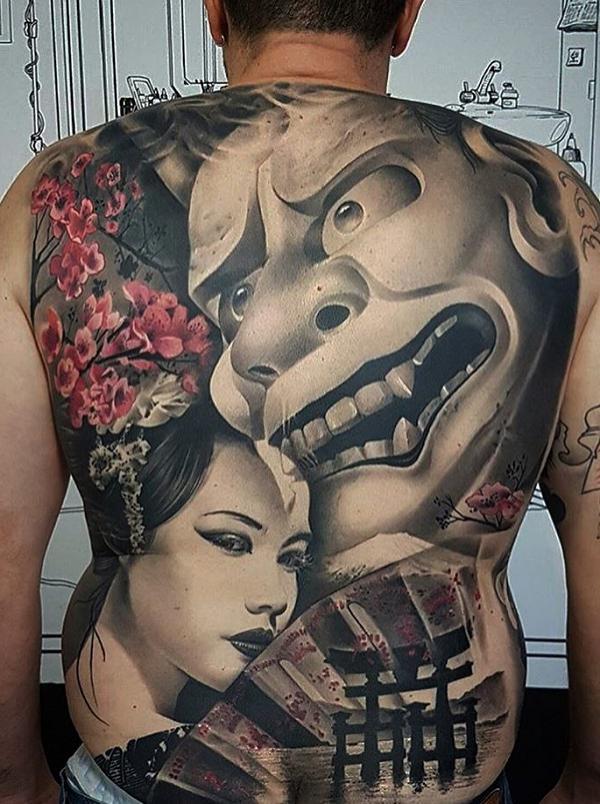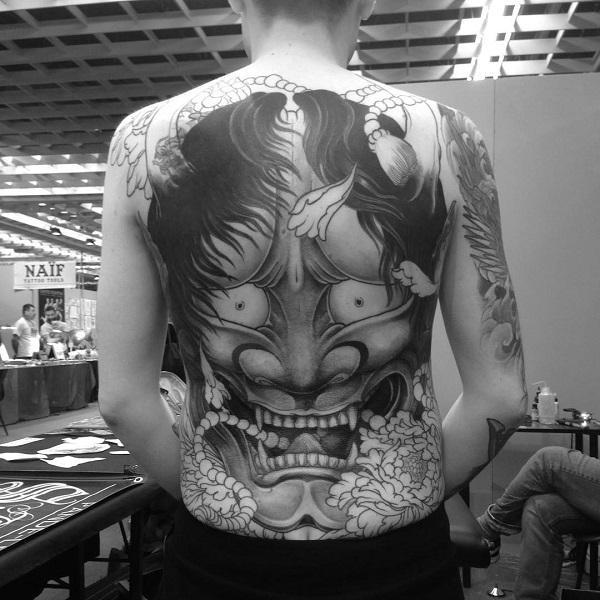 Geisha Japanese tattoo design
Full sleeve Japanese tattoo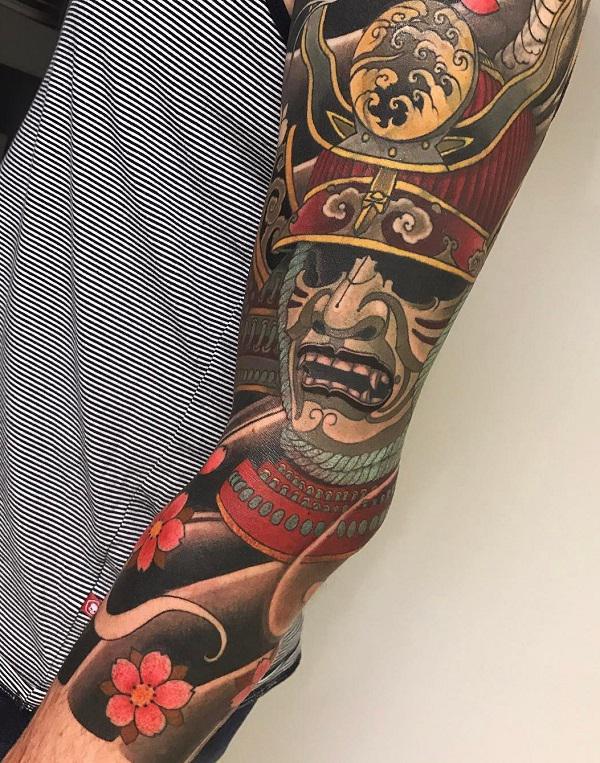 Geisha and flower sleeve tattoo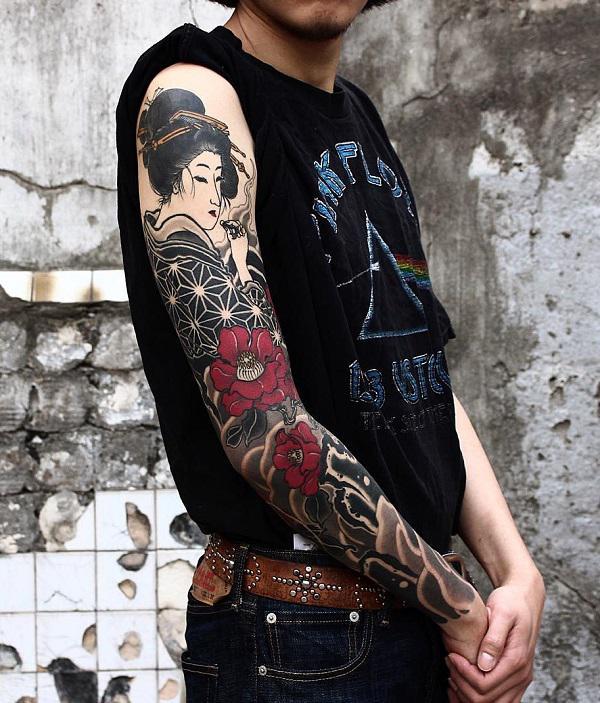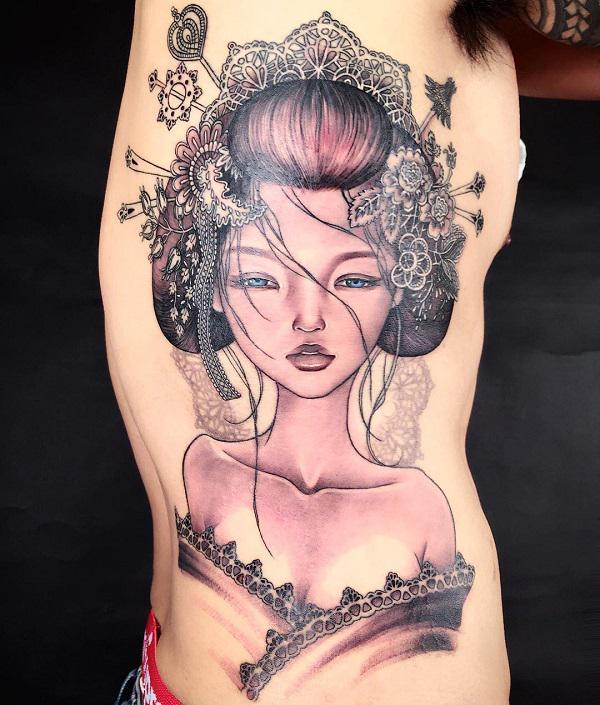 Geisha Half sleeve Japanese tattoo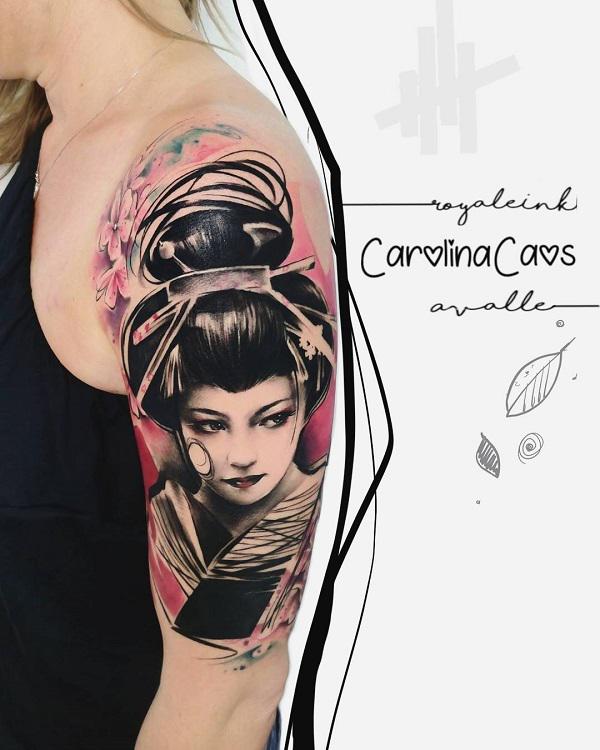 Hannya mask and dragon thigh tattoo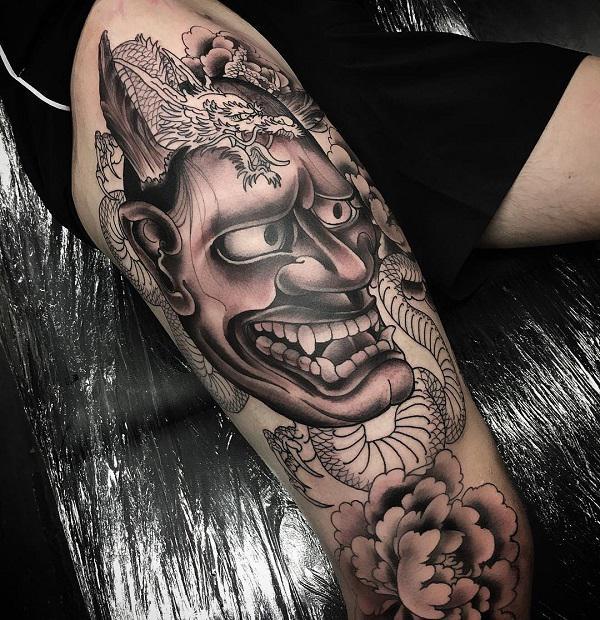 Japanese geisha with umbrella back tattoo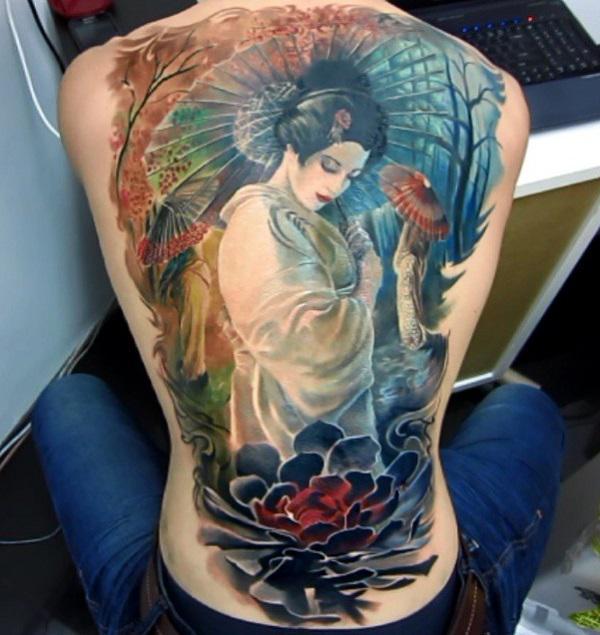 Japanese Foo Dog back tattoo black and grey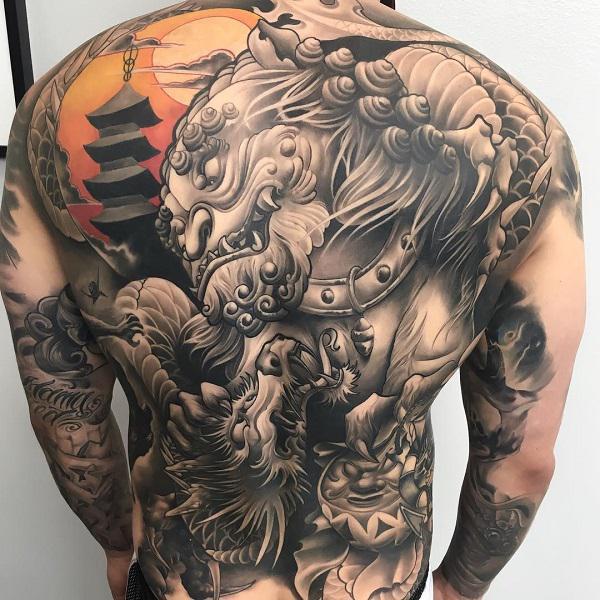 Japanese geisha tattoo full back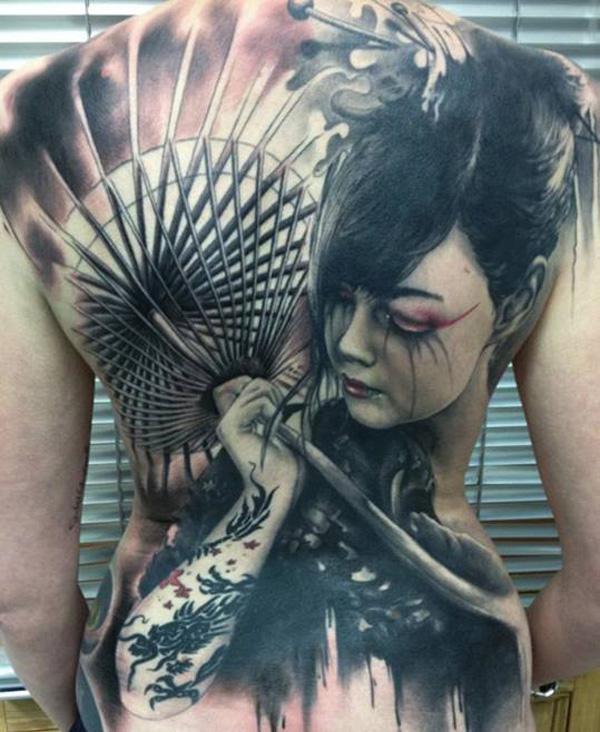 Japanese landscape painting tattoo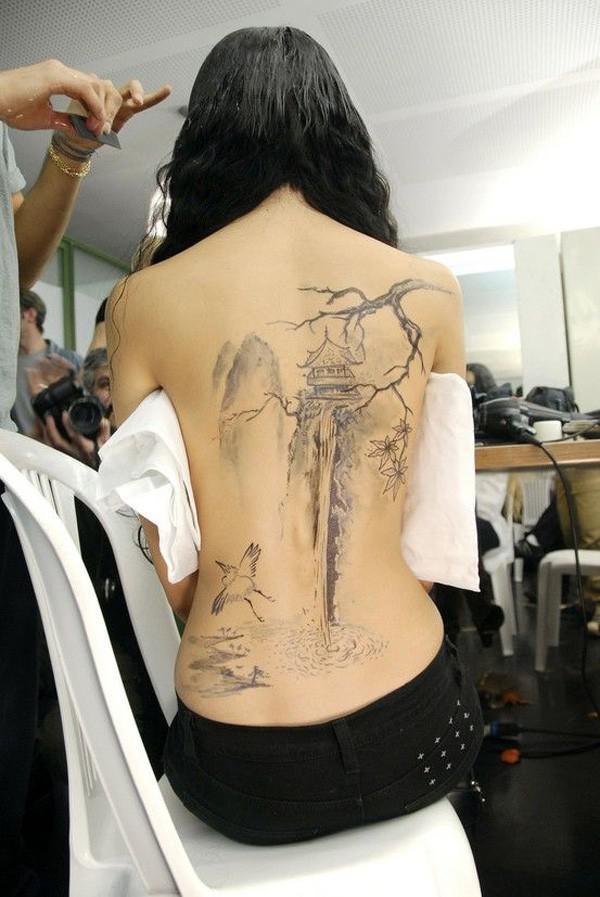 Listras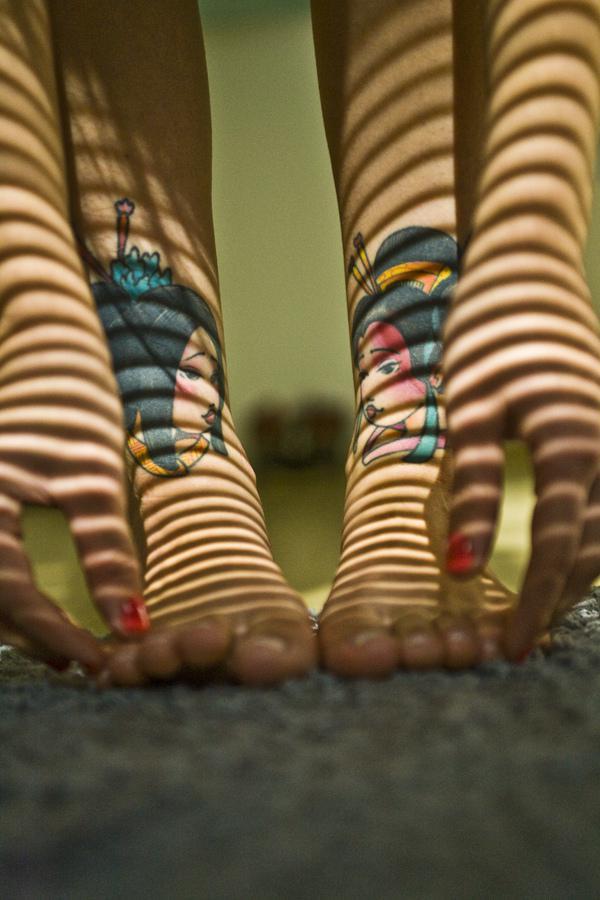 Japanese tattoo on back for woman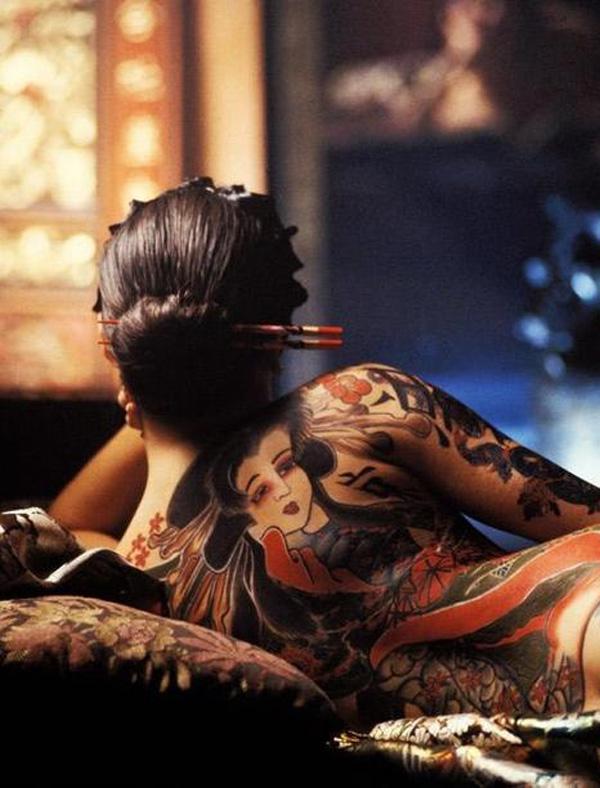 A dragon entwined with ankle and foot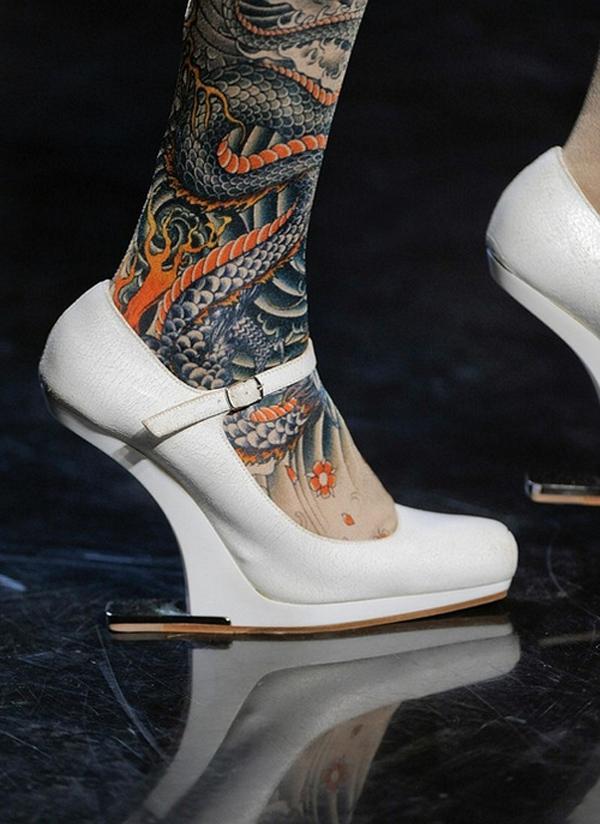 Japanese Phoenix Tattoo on back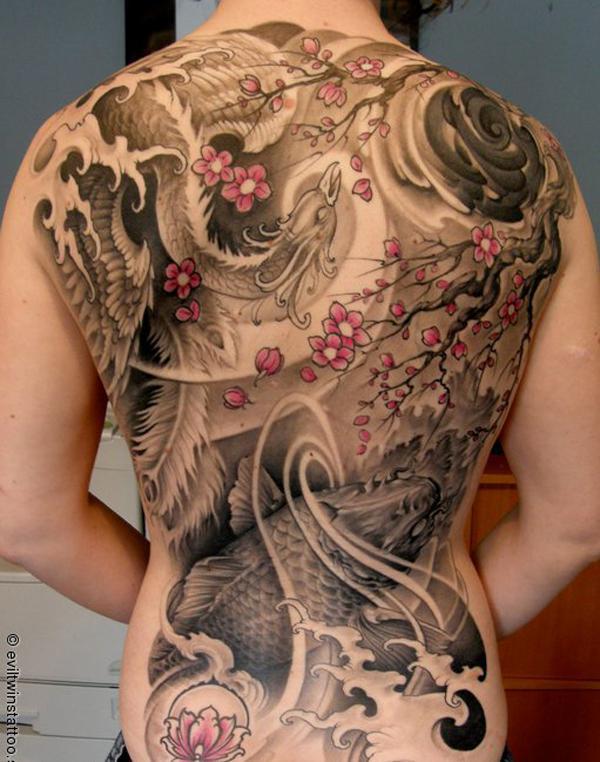 Cherry blossom tree and lettering tattoo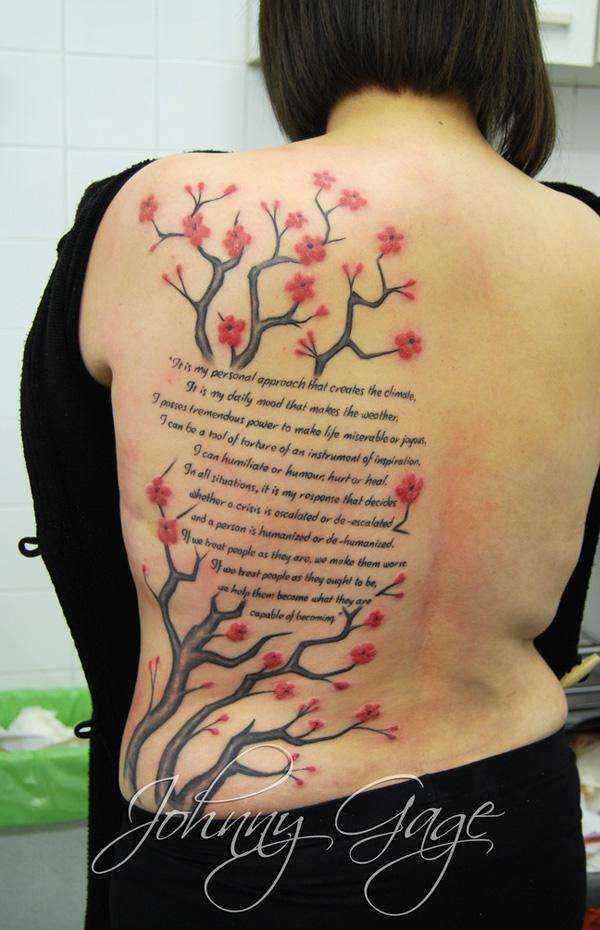 Japanese koi fish and frog tattoo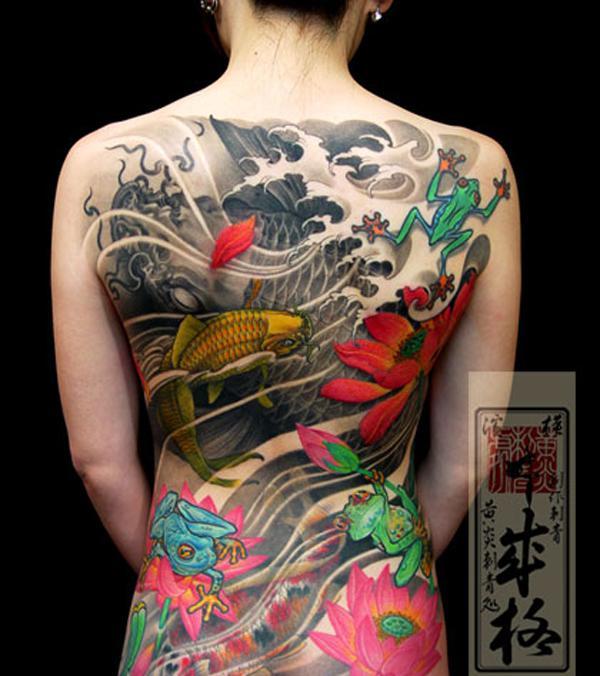 The Japanese Koi fish and frog design is a beautiful depiction of harmony and resilience. Featuring these playful creatures frolicking in a serene lotus pool on the back, it symbolizes prosperity, luck, and peace. With intricate detail and rich colors, this design is a vibrant celebration of life and tranquility.
Japanese koi fish half sleeve tattoo black and grey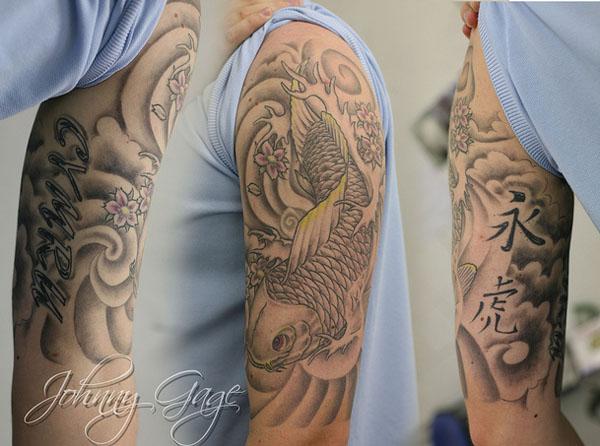 Portrait of a Japanese Geisha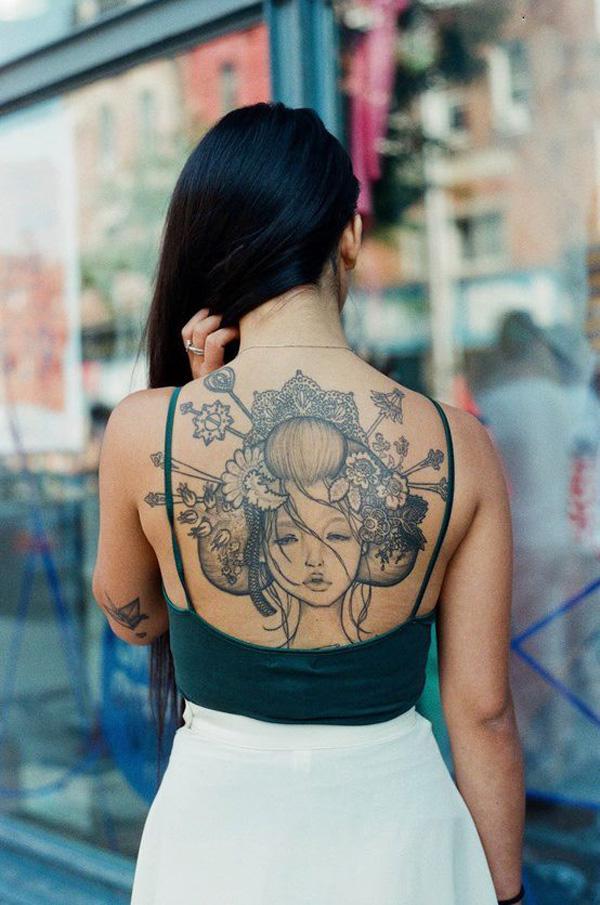 Japanese courtesan playing a shamisen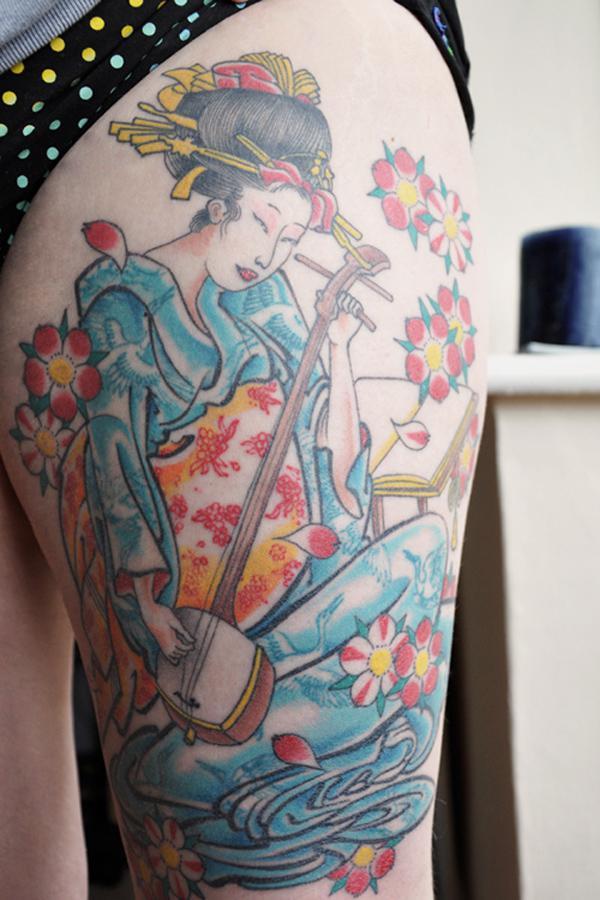 Japanese dragon and geisha tattoo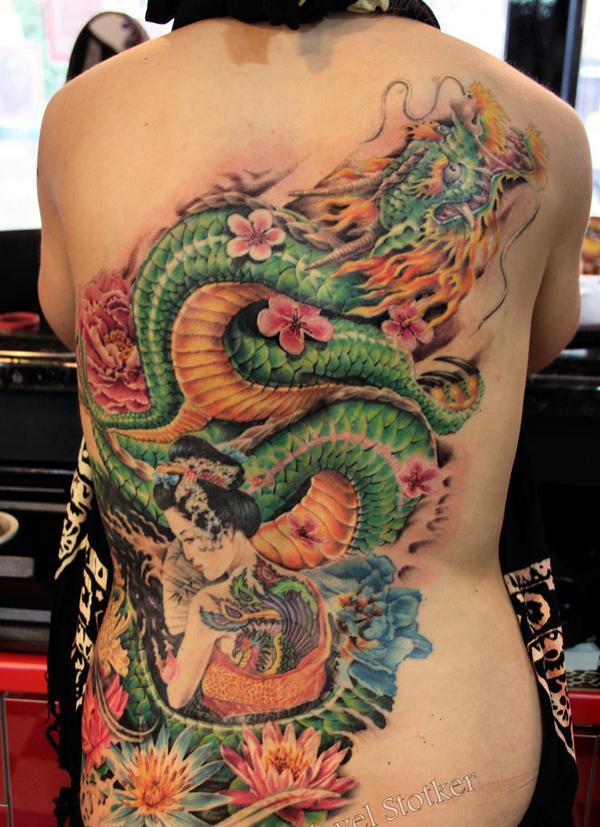 Octopus tattoo by Mirek vel Stotker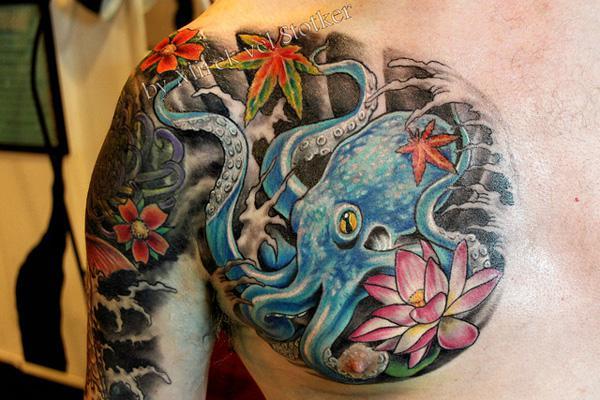 Japanese Geisha Bird Back-piece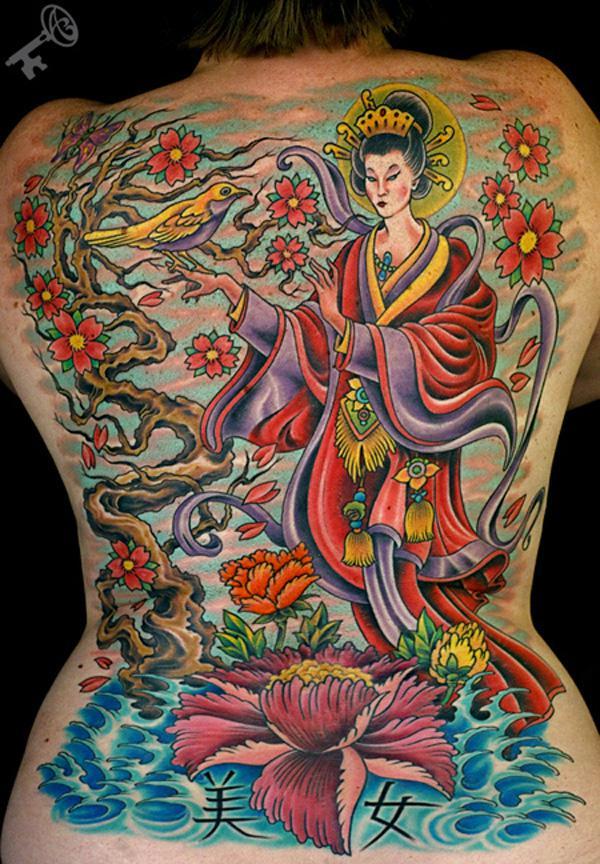 Hannya mask and cherry blossom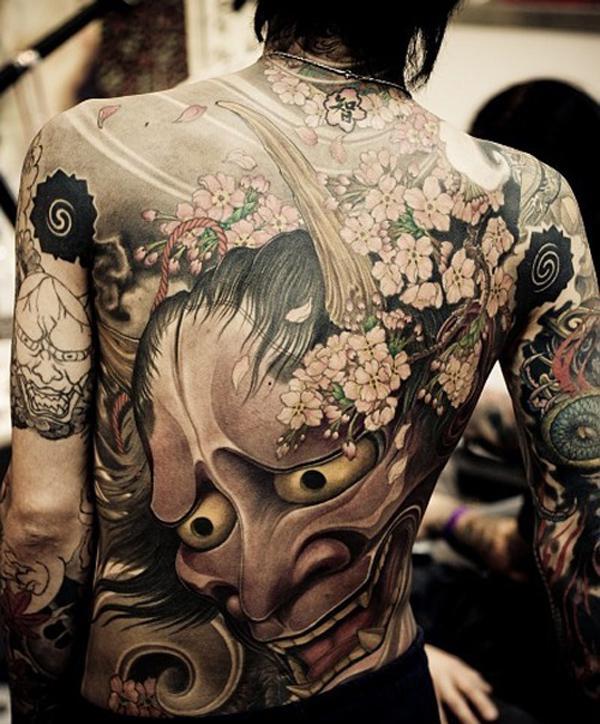 Sakura Tree and koi fish tattoo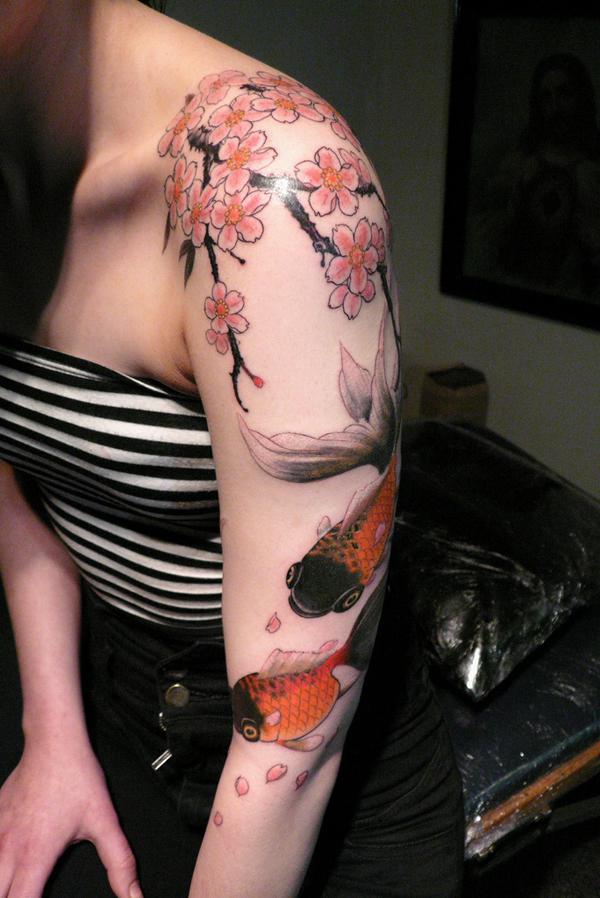 Japanese Phoenix Tattoo on back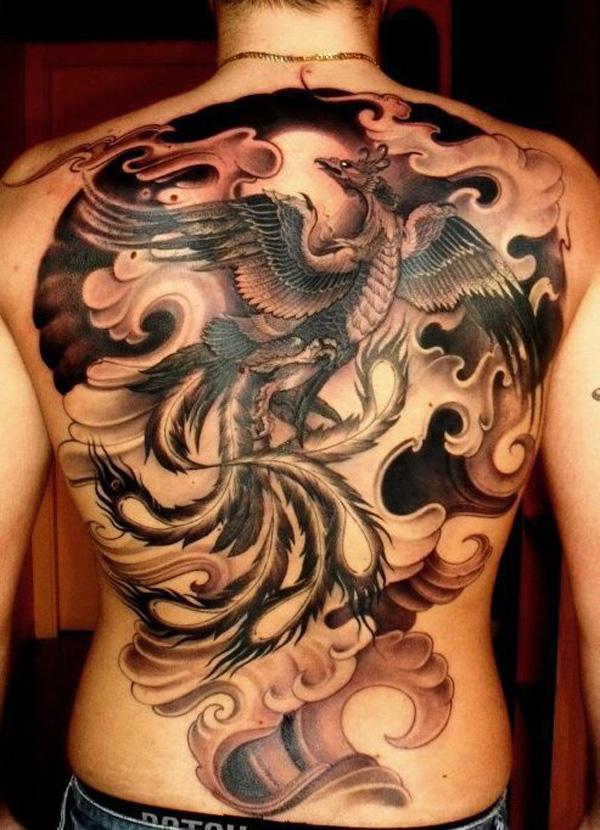 Japanese kabuki tattoo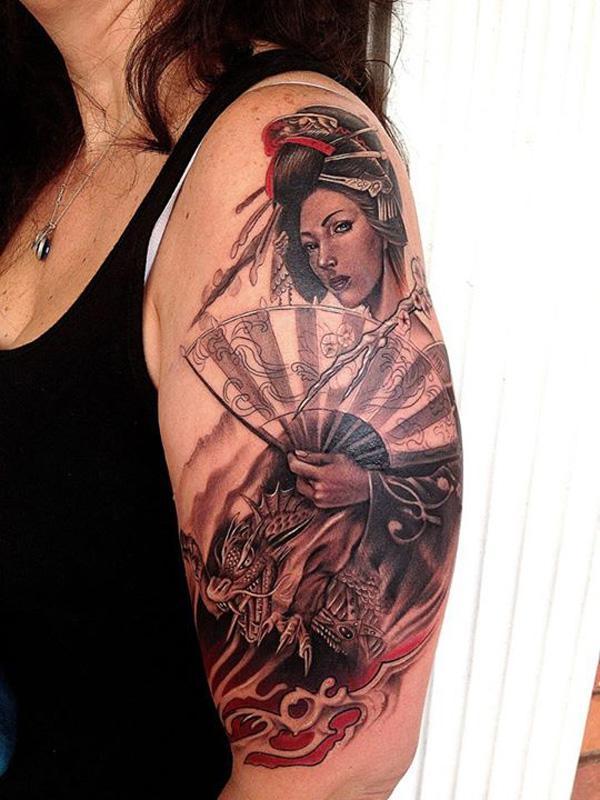 Japanese kabuki entwined with snake tattoo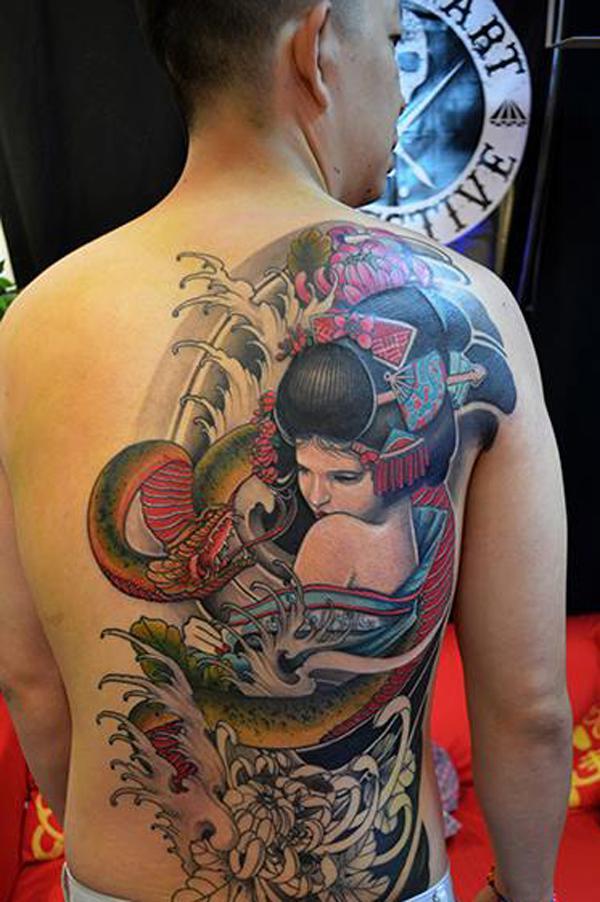 Black and grey geisha with lotus and cherry blossoms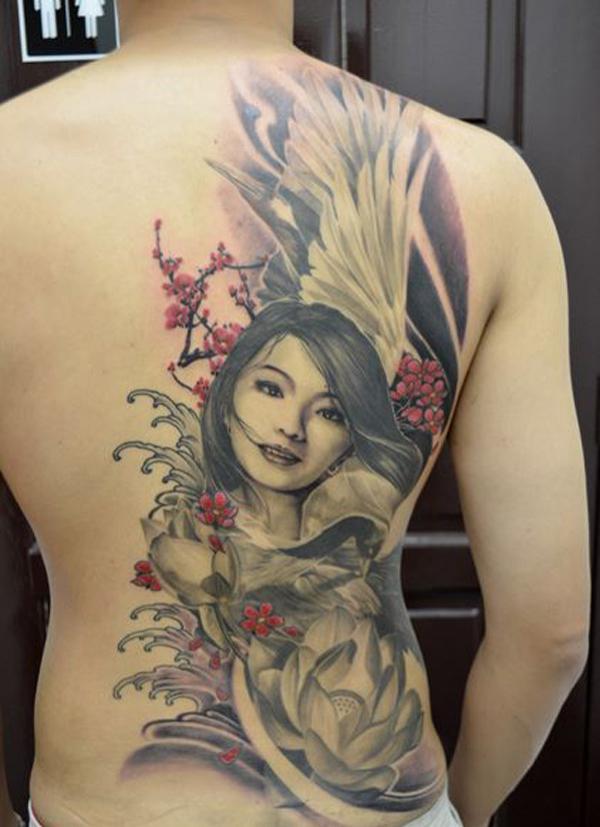 Black and grey crane with cherry blossom tattoo full back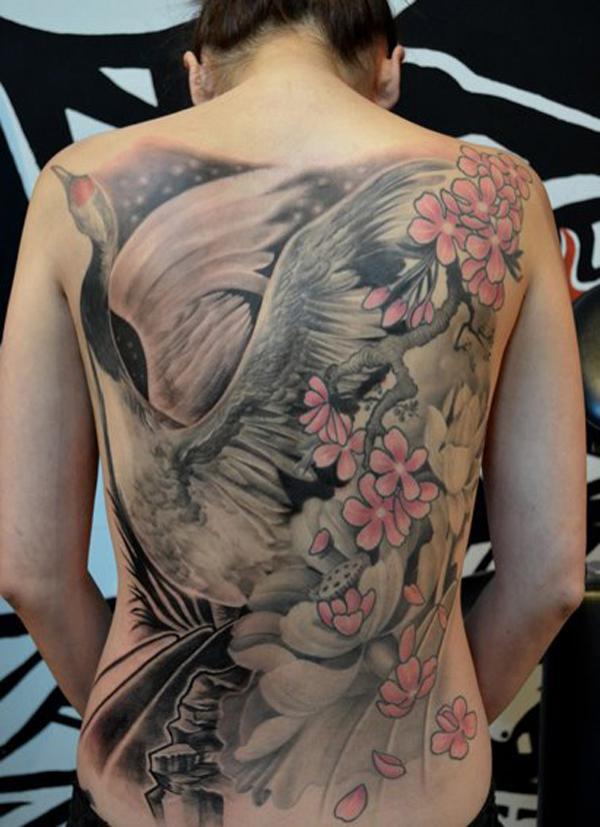 Japanese Crane with plum blossom tattoo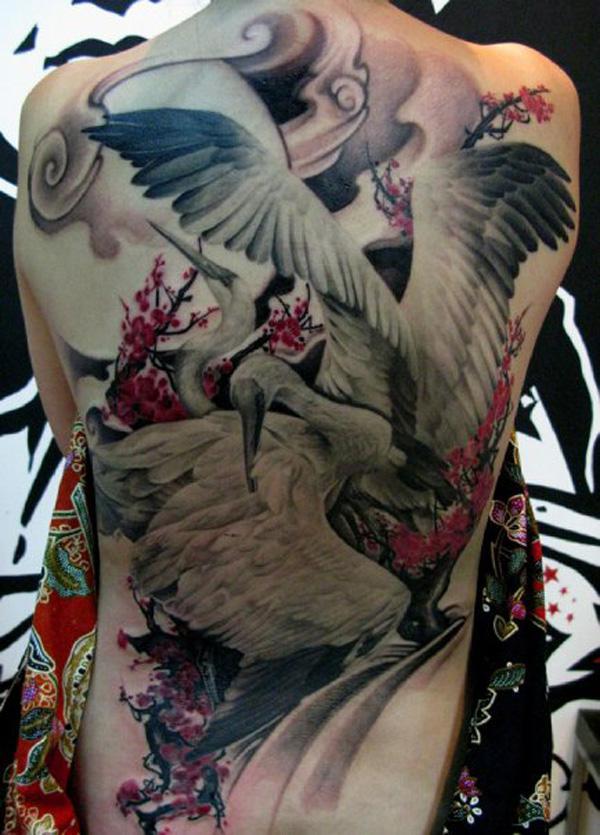 Japanese geisha tattoo on upper arm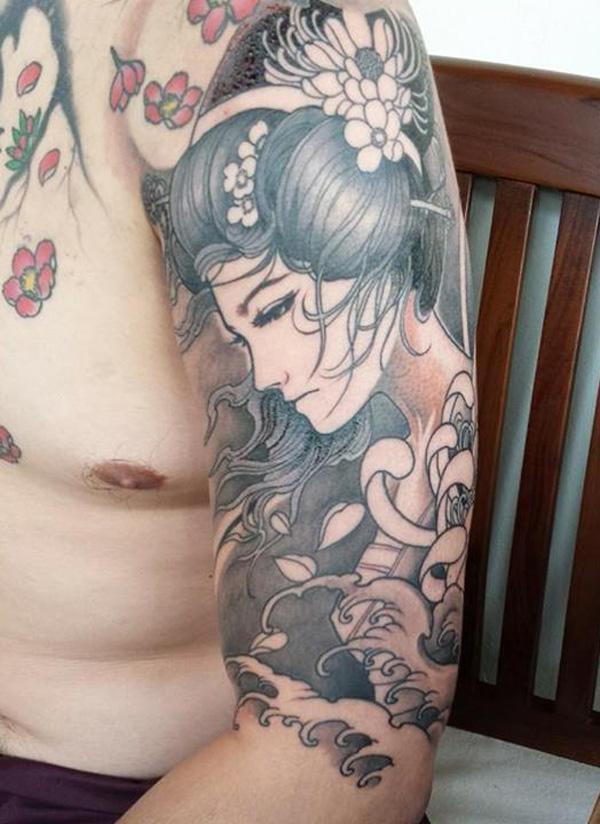 Green dragon and red koi fish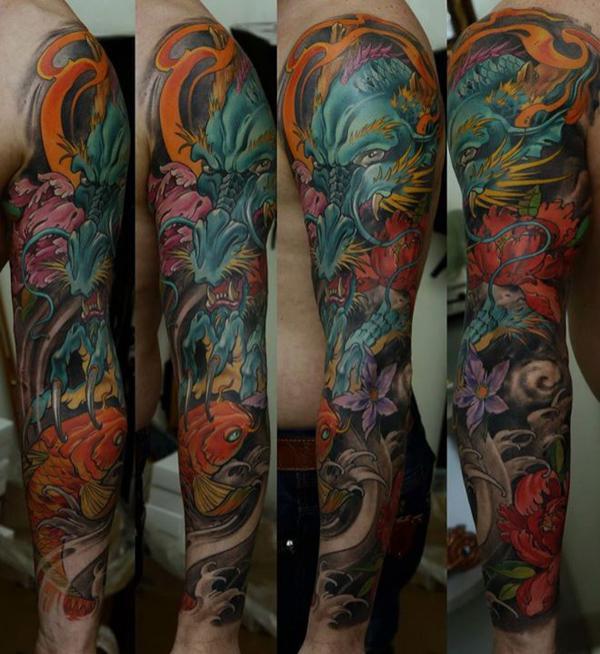 Japanese traditional geisha tattoo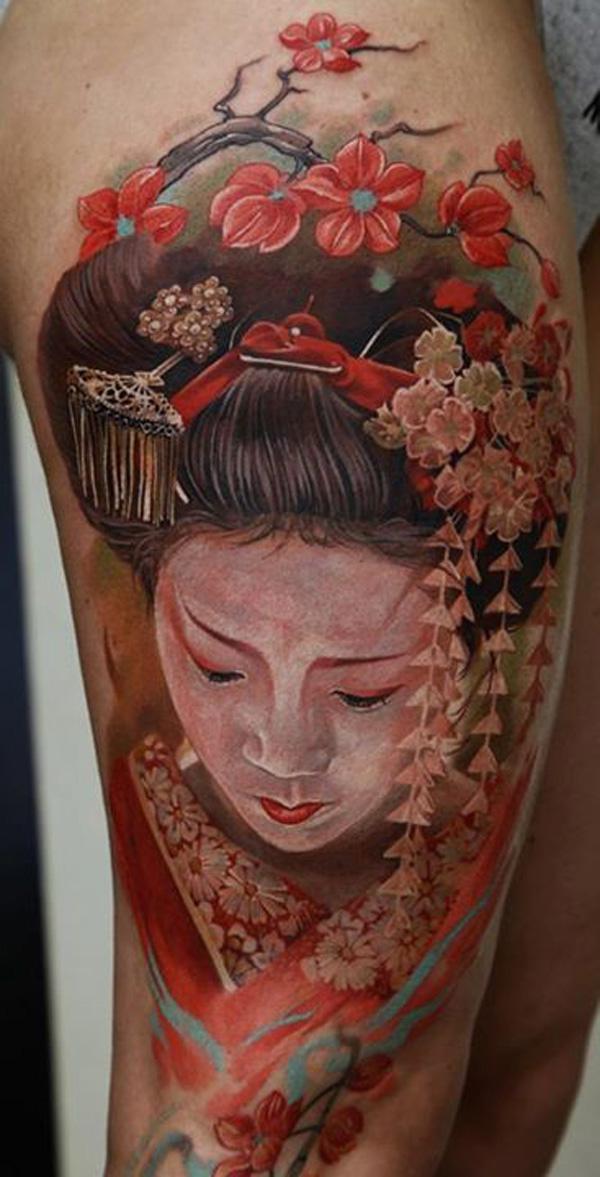 Japanese dragon tattoo on back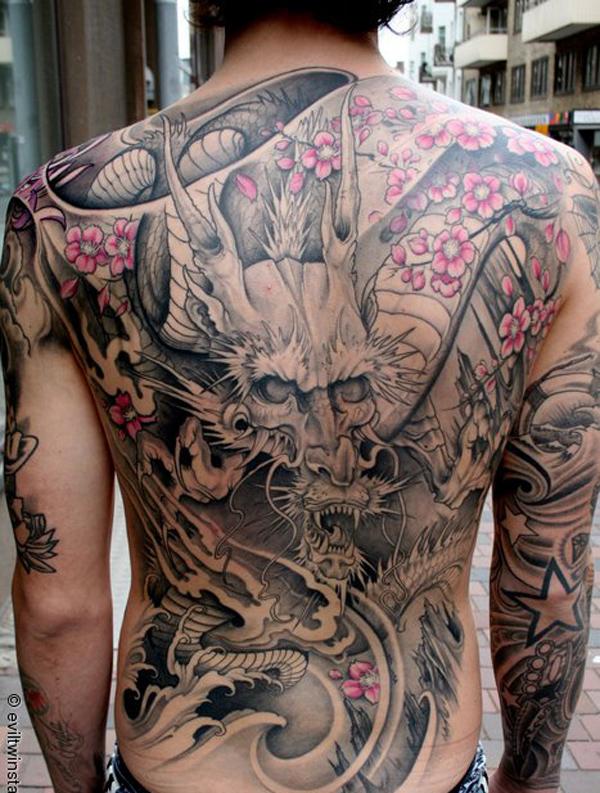 Realistic Hannya with cherry blossoms half sleeve tattoo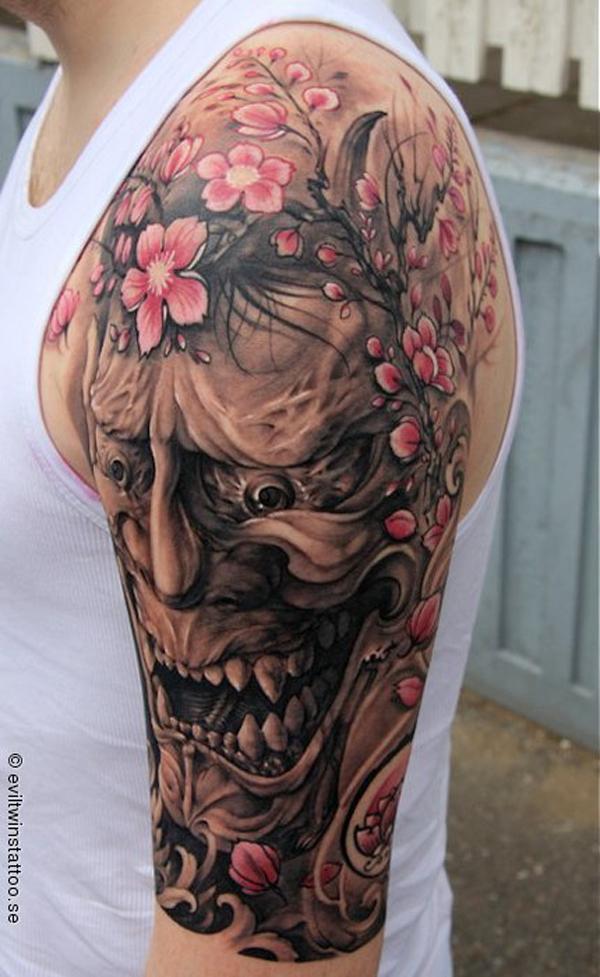 The Hannya tattoo marries intensity with tranquility. The Hannya mask, symbolic of a tormented and vengeful spirit in Japanese Noh theater, is balanced by the serene cherry blossoms, signifying life's ephemeral beauty. This intricate design is a poignant depiction of the dualities in life – pain and peace, sorrow and joy.
Japanese geisha and koi fish sleeve tattoo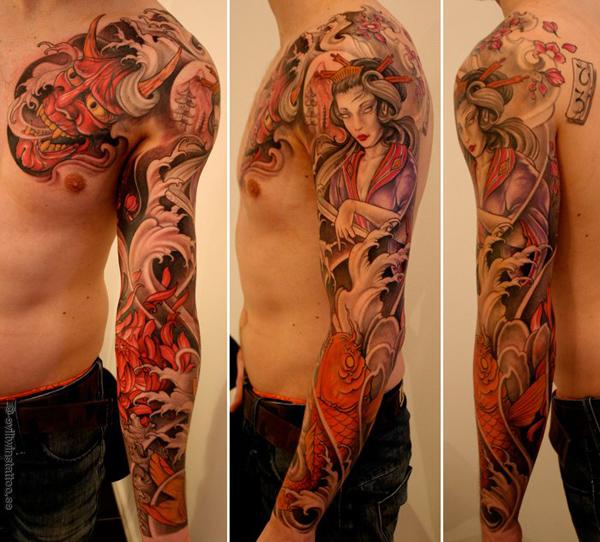 The traditional tattoo is a captivating blend of elegance and strength. The Geisha, a symbol of beauty and mystery, complements the Koi fish, a symbol of resilience and determination. Together, they create a stunning, full-sleeve design that narrates a tale of grace, courage, and perseverance.
Japanese skull Tattoo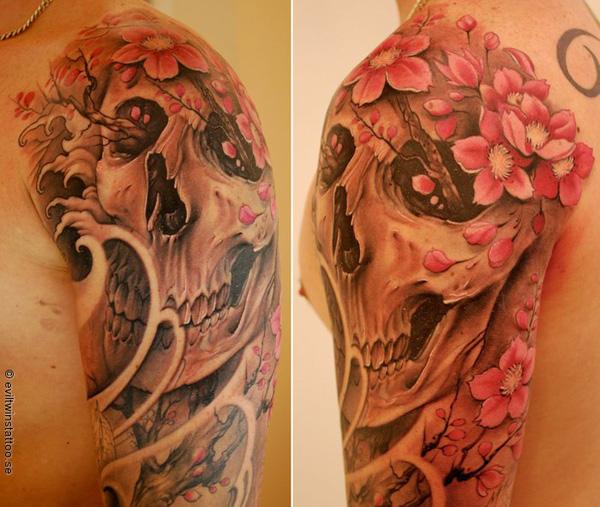 The skull adorned with cherry blossoms is a striking contrast of life and death, symbolizing the transient nature of existence. The skull represents mortality, while the cherry blossoms, known for their fleeting beauty, signify life's fleeting moments. It's a powerful, breathtaking design that embraces the cycle of life in a profoundly artistic way.
Japanese geisha portrait half sleeve Tattoo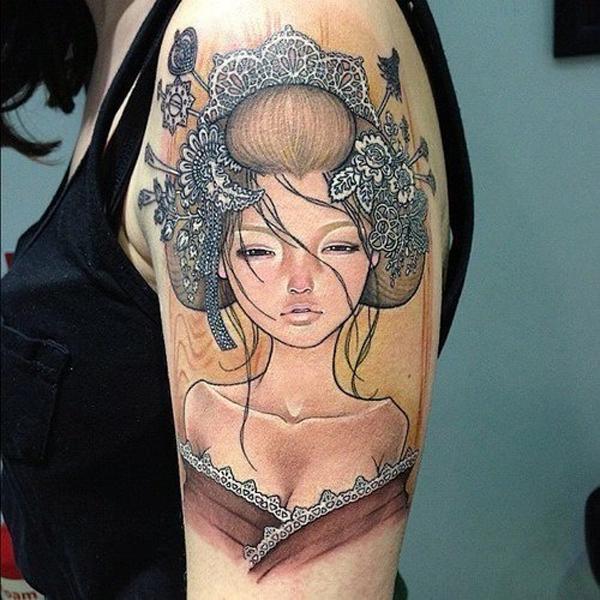 Japanese Buddha and tiger sleeve tattoo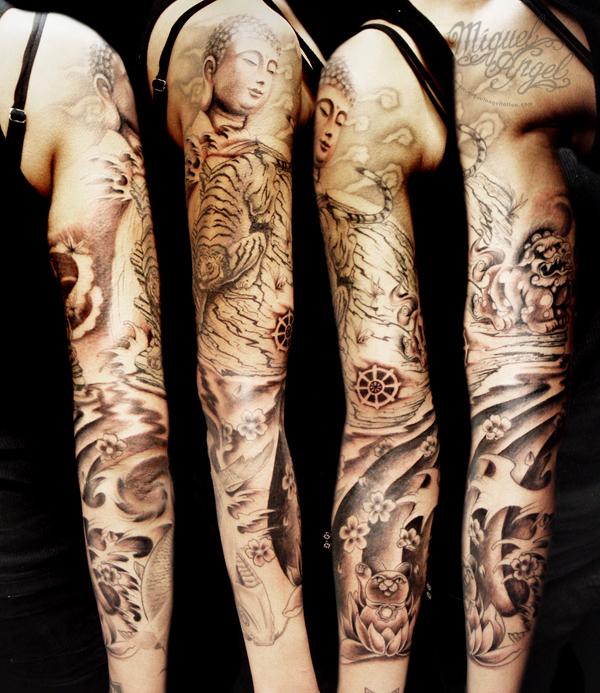 Japanese hibiscus landscape tattoo on back for women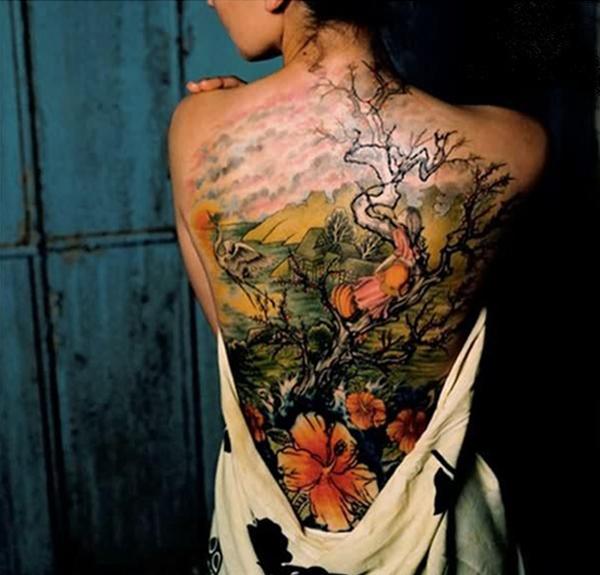 Japanese dragon head full back tattoo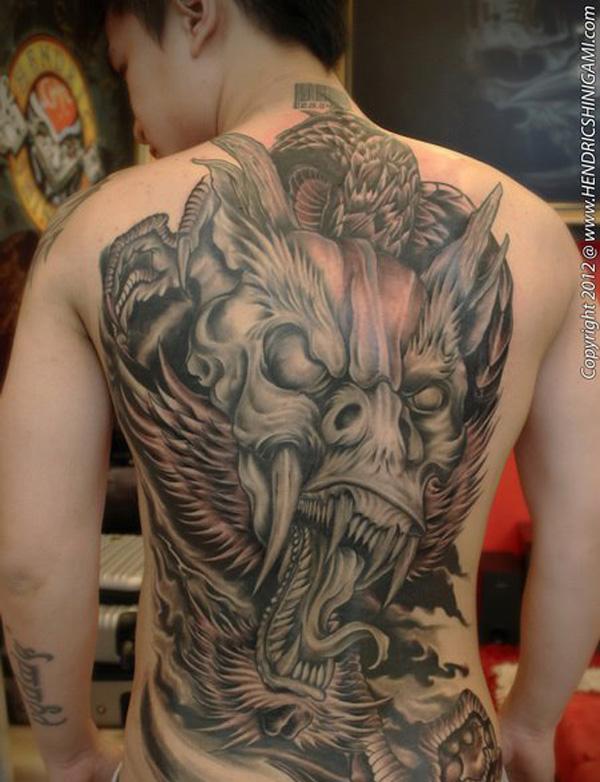 Best Cherry Blossom Tattoo on rib cage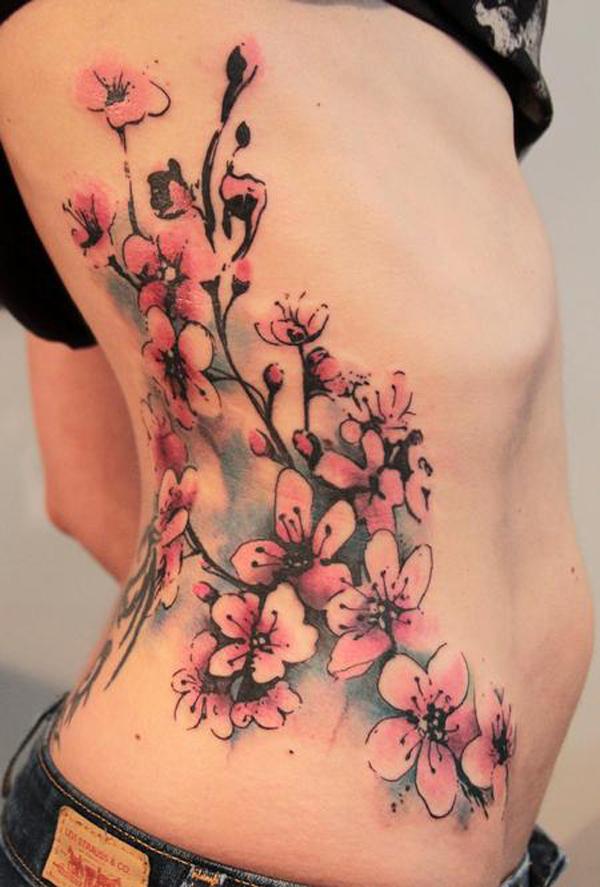 Vibrant cherry Blossom tattoo on side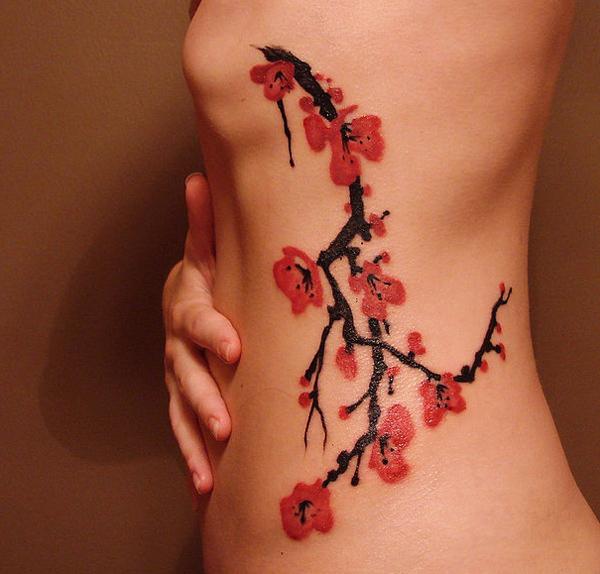 Cherry Blossom Branch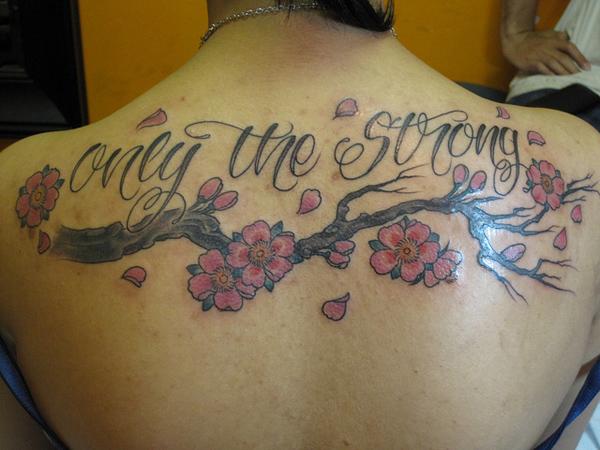 Japanese Tiger and snake Tattoo on back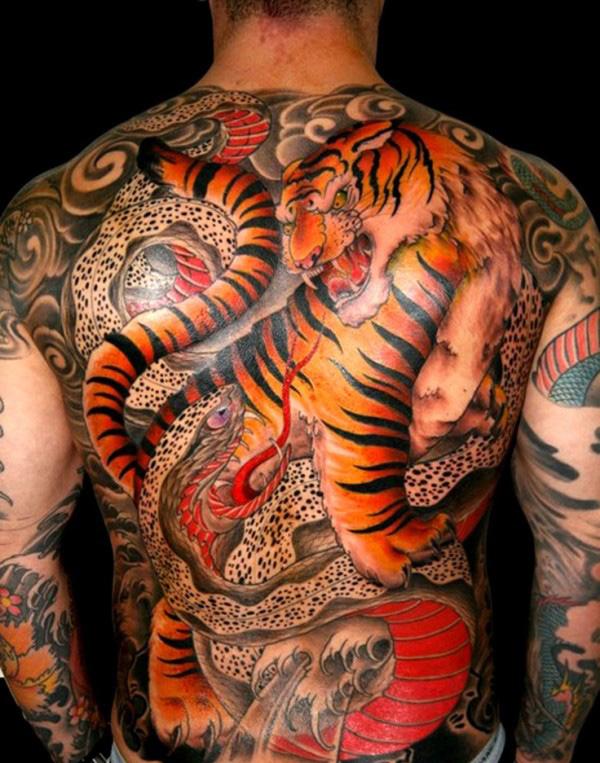 Japanese geishas and cherry blossom full back tattoo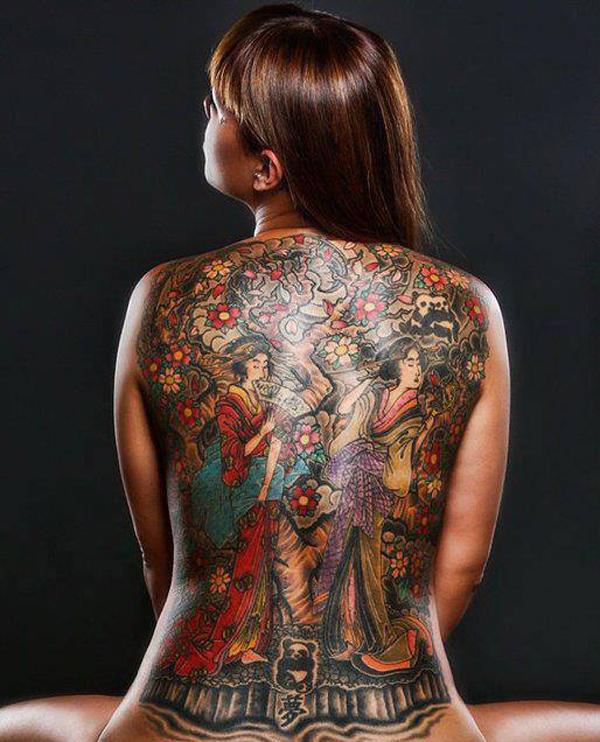 Black and white peony and birds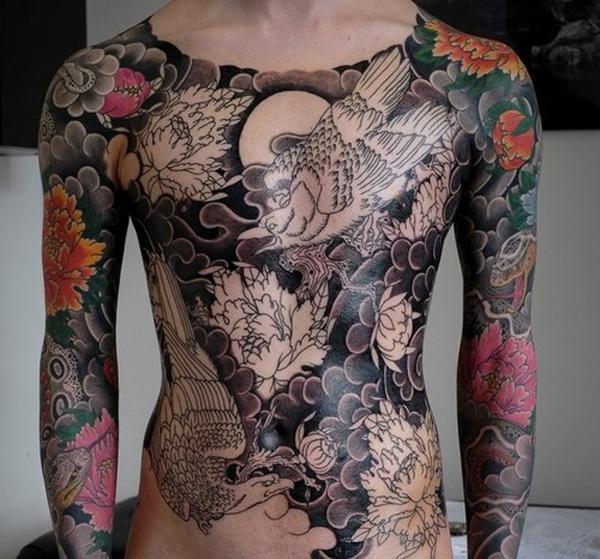 Colorful Japanese geisha and phoenix tattoo full back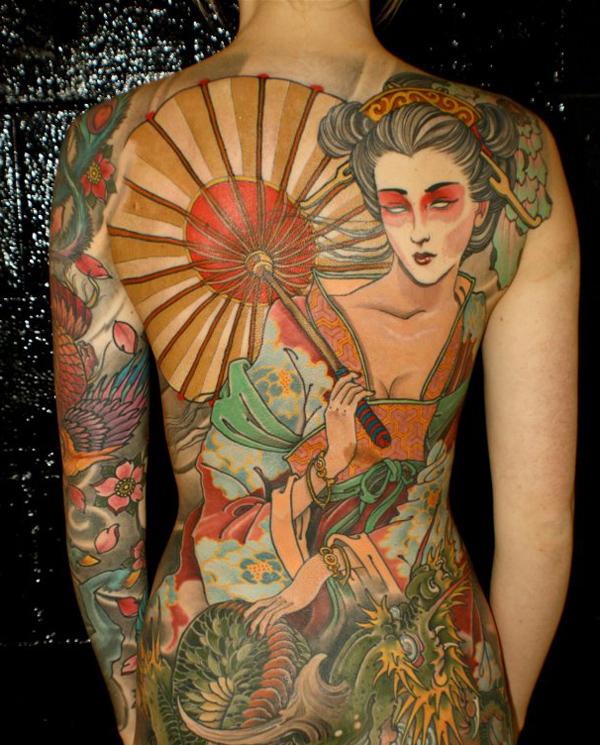 Skull and koi fish half sleeve tattoo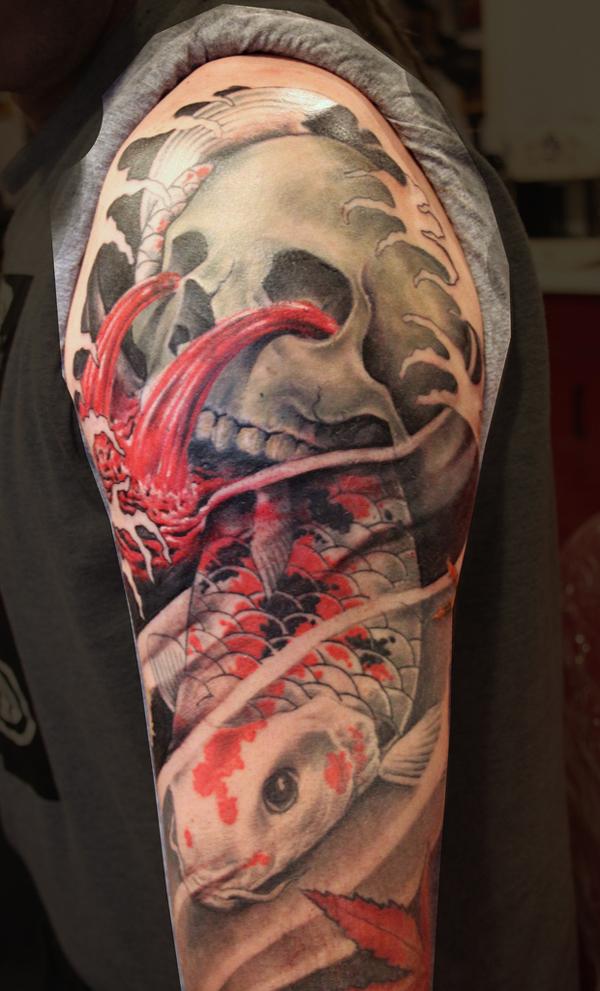 Black and red fullback dragon tattoo for men