The beauty of fall is undeniable. From the changing colors of the leaves to the cozy sweaters and warm drinks, it's a season that inspires warmth and reflection. What better way to commemorate this enchanting season than with a fall-themed tattoo? Whether you're a fan of the vibrant foliage, the mystical Halloween vibes, or the symbolism of transition and change, there's a fall tattoo design out there that's perfect for you. Let's explore some creative and captivating fall tattoo design ideas.
A Harvest of Colors: Autumn Foliage Tattoos
When we think of fall, the first thing that often comes to mind is the kaleidoscope of colors that nature puts on display. The leaves' transformation from green to shades of orange, red, yellow, and brown is a sight to behold.
Maple Leaf Tattoos
Maple leaves are iconic symbols of fall, and they make for beautiful tattoos. Whether you opt for a single, intricately designed maple leaf or a cluster of them in full autumn color, this tattoo can be a stunning tribute to the season.
Fall leaves arm tattoo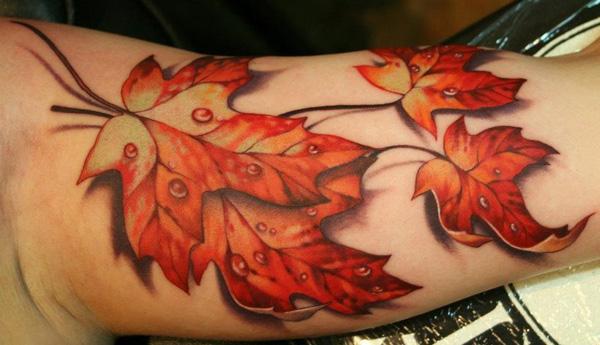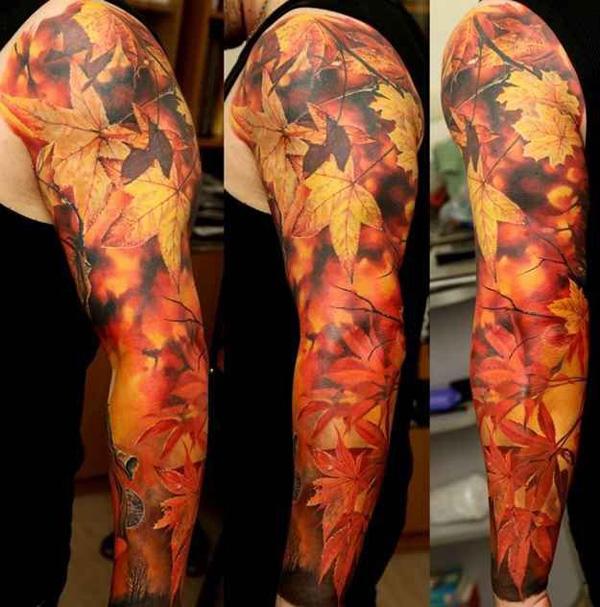 Autumn Leaf side tattoo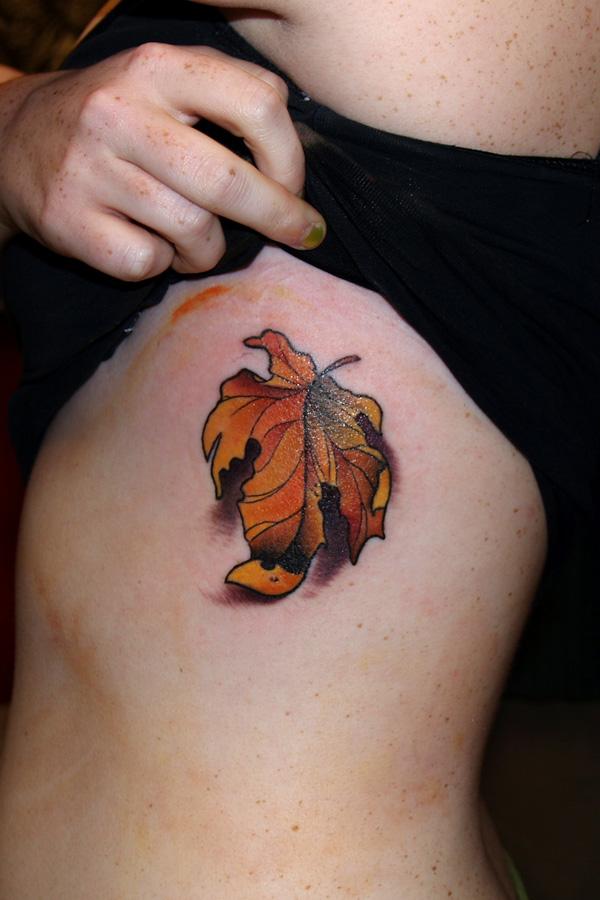 Maple leaves and snowflakes – from fall to winter scene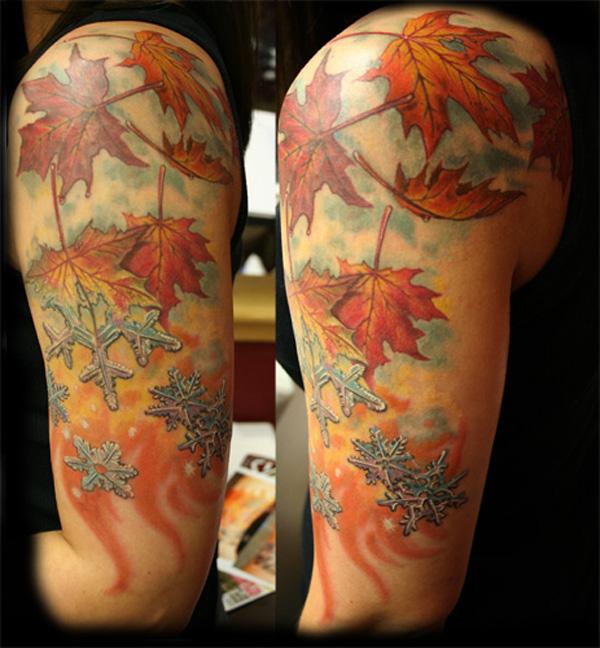 Colored fall leaves back tattoo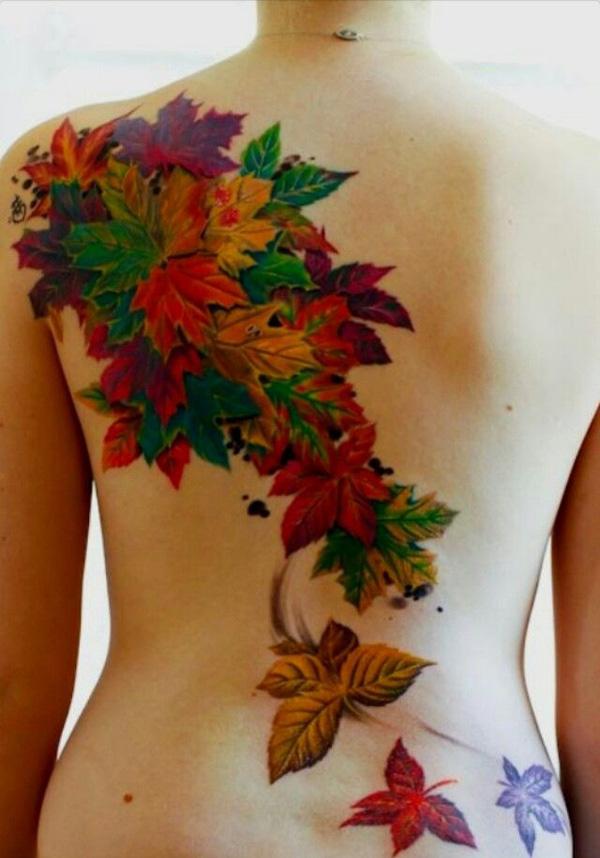 Orange faded maple leaf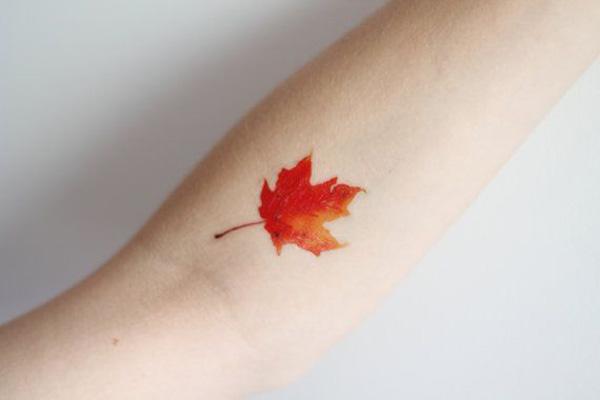 Autumn Leaves tattoo Sleeve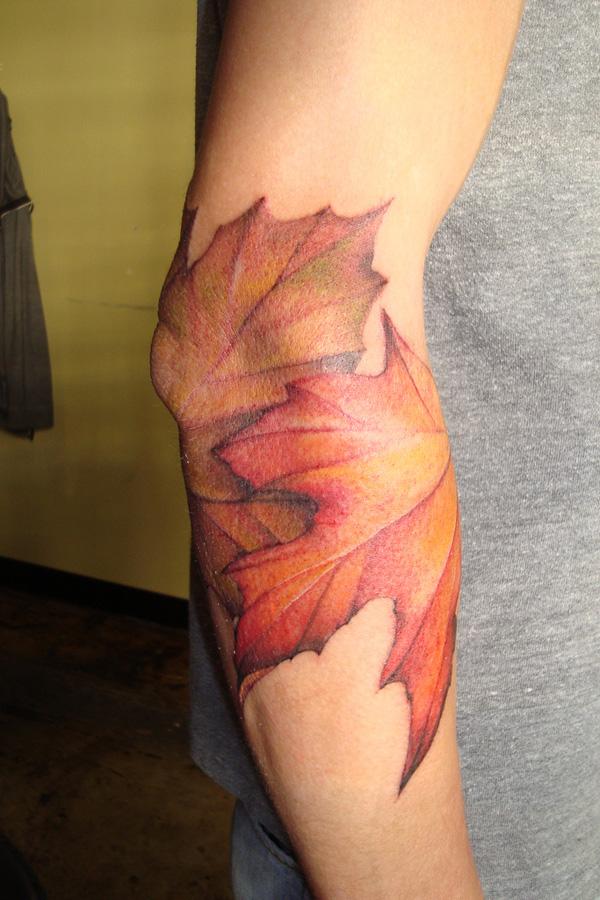 Fall leaves and simple vines tattoo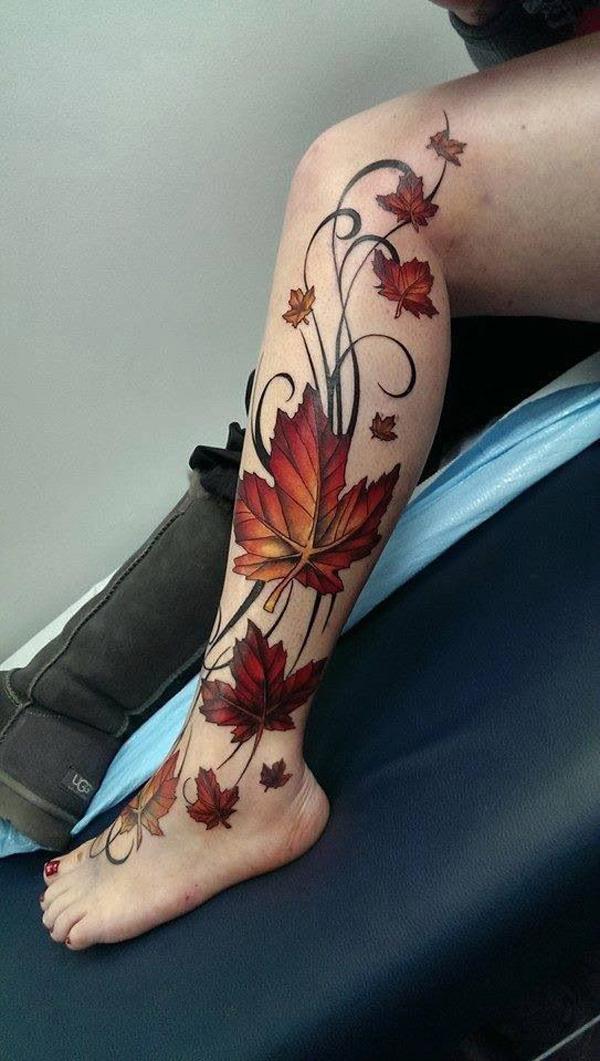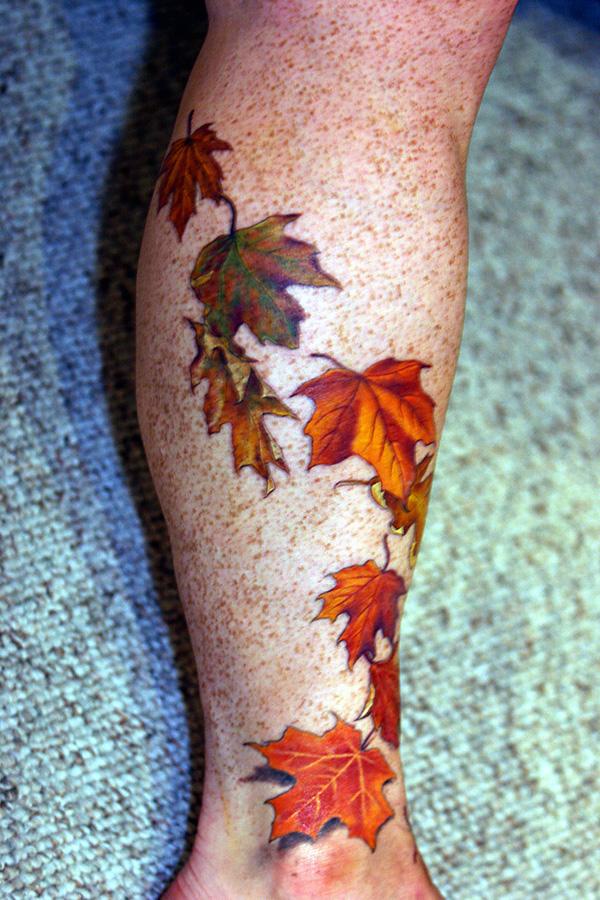 Realistic fall leaves and branches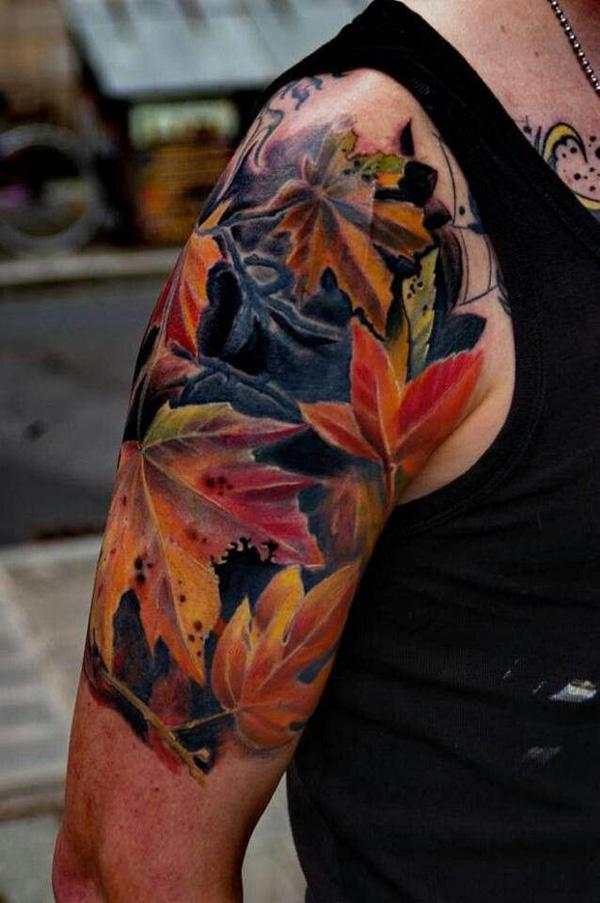 Dark fall leaves tattoo black and grey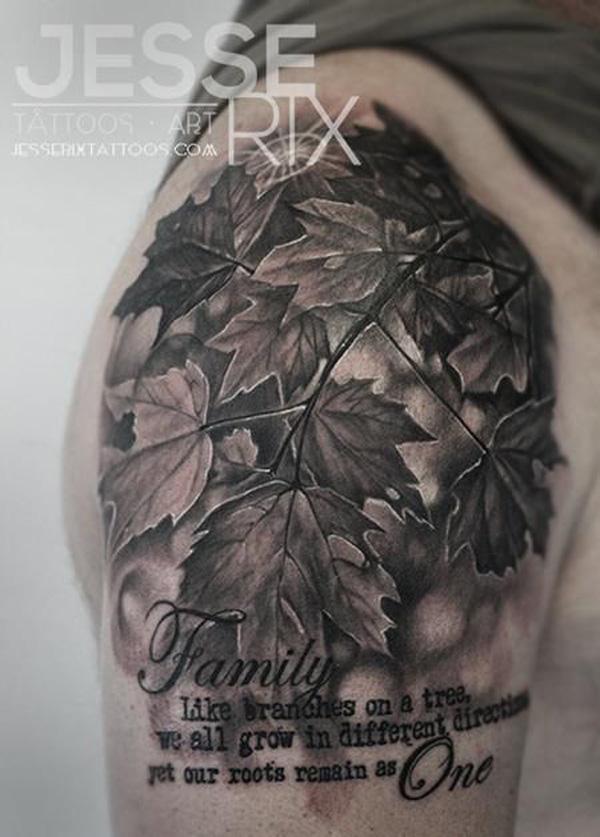 Vibrant Autumn Leaves Flew By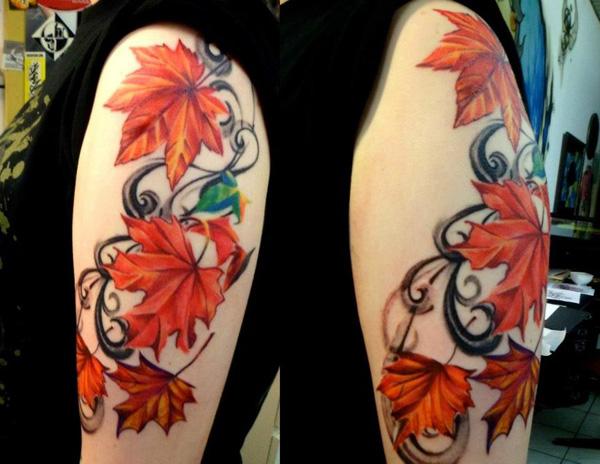 Autumn maple leaves shoulder and sleeve tattoo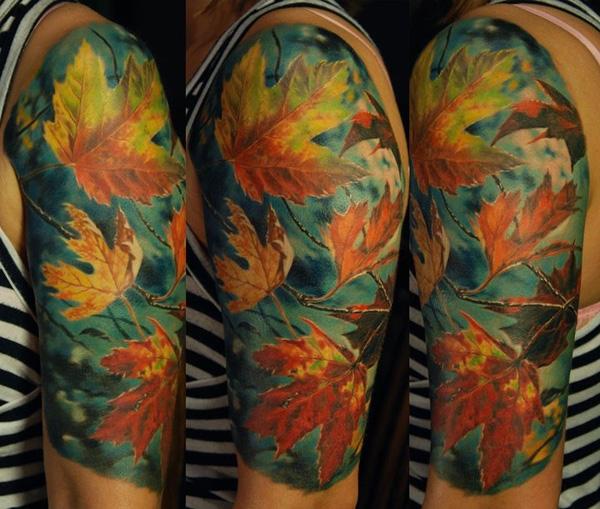 Maple leaves from green to orange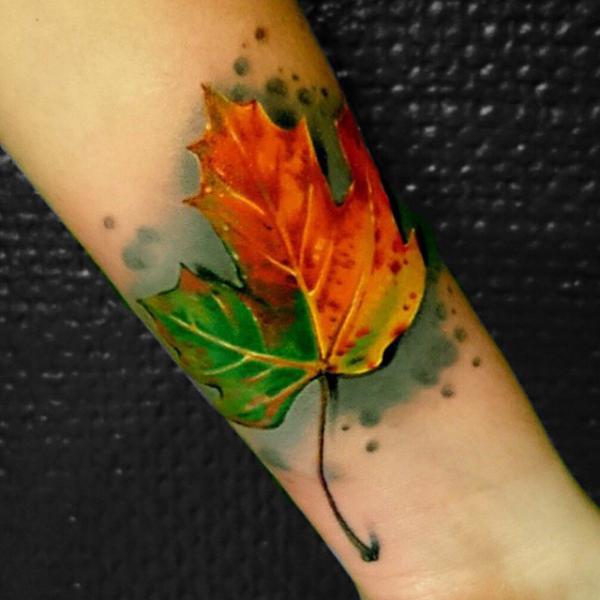 Realistic leaves on blue bokeh backdrop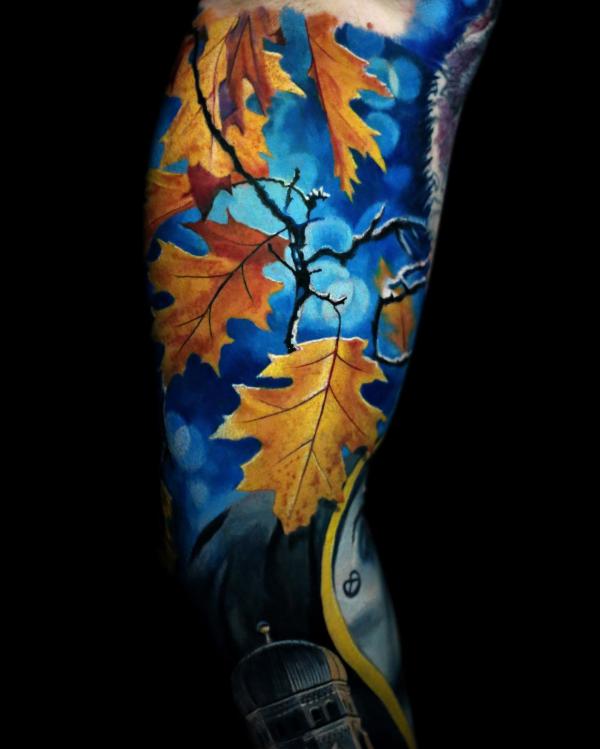 Small maple leaf tattoo on forearm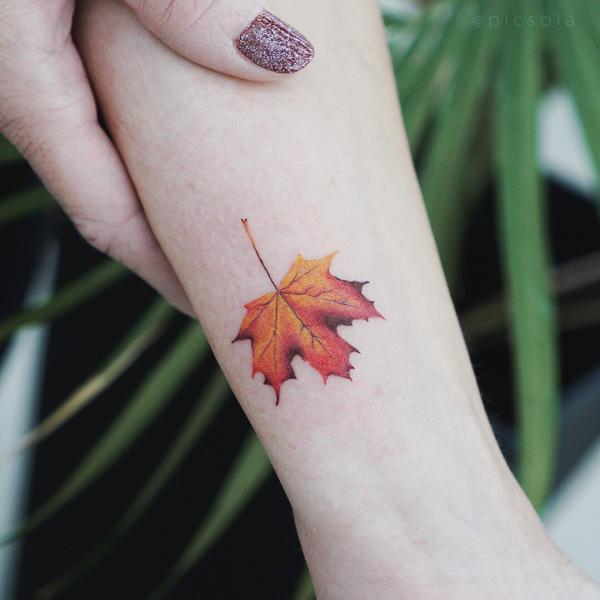 Vibrant maple leaf neck tattoo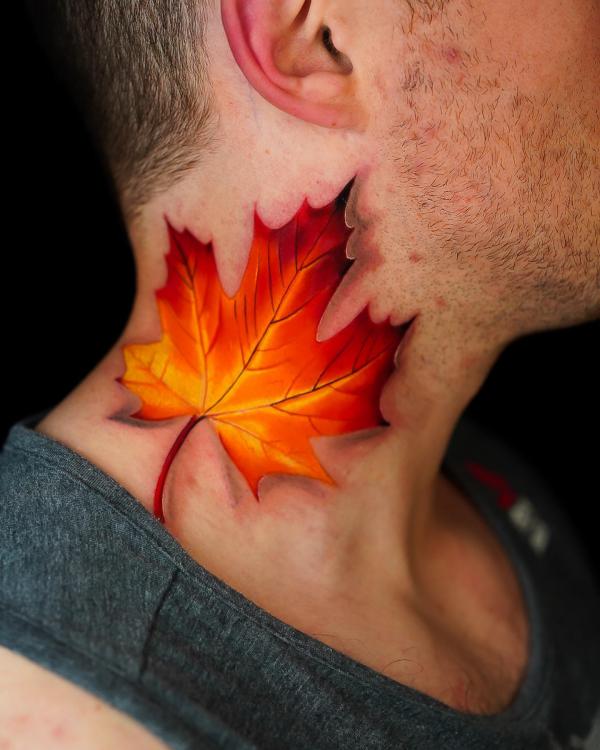 Fall leaf tattoo with silhouettes of rabbit, eagle and landscape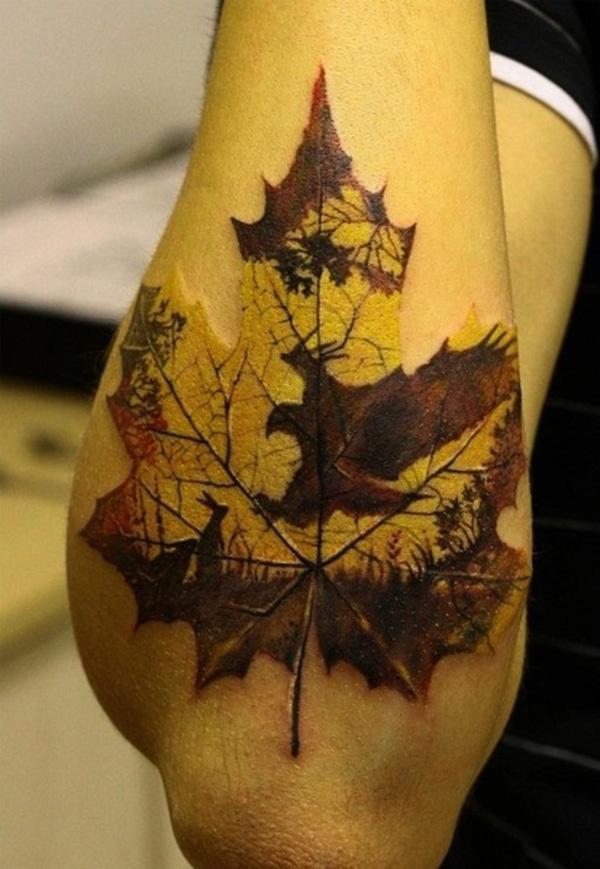 Falling Leaves Tattoos
A design featuring falling leaves can beautifully capture the essence of fall. This tattoo can range from a simple, minimalist depiction to a complex, realistic, and colorful design, depending on your personal preference and aesthetic.
Falling leaves with waving swirls
Free Falling leaves back tattoo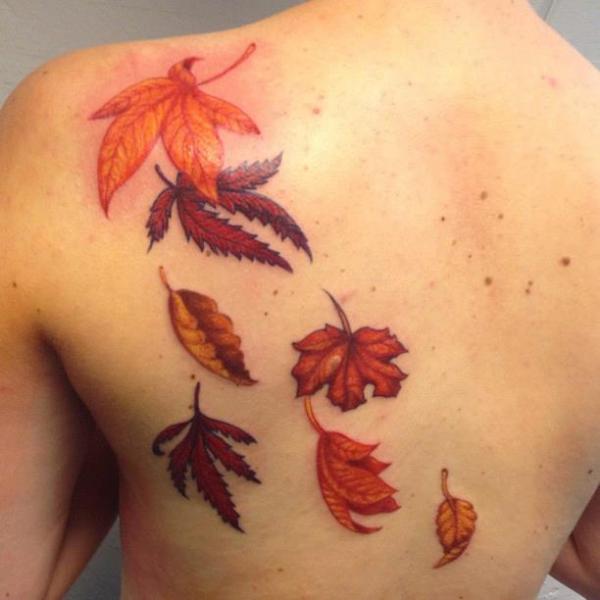 Dark fallen leaves foot tattoo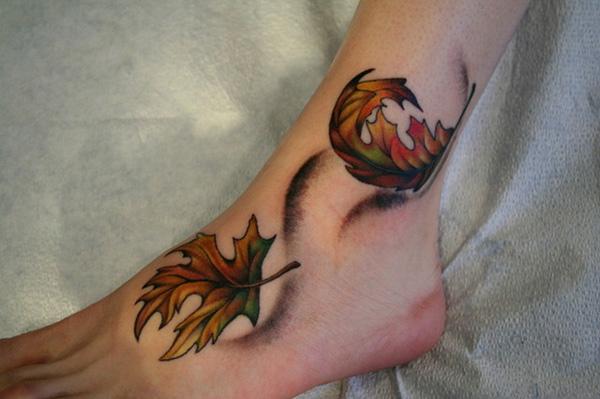 Autumn falling leaf and dandelion neck tattoo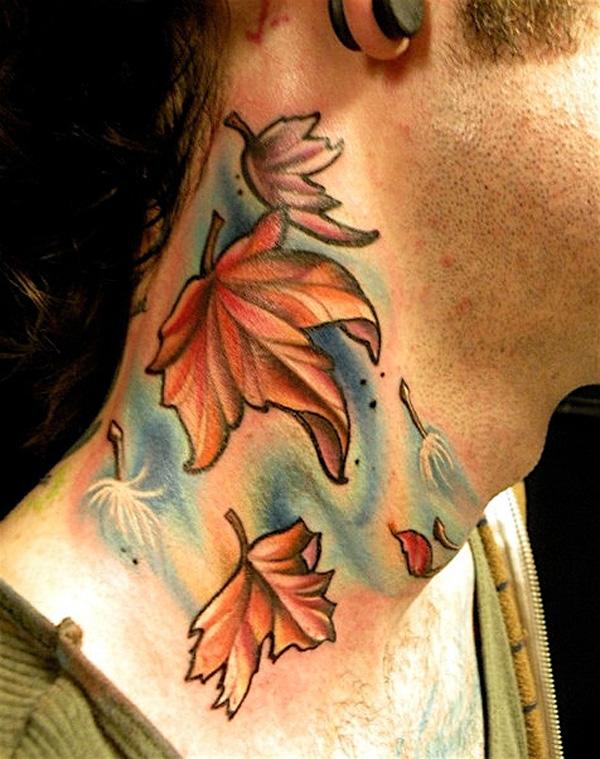 Falling Autumn leaves leg tattoo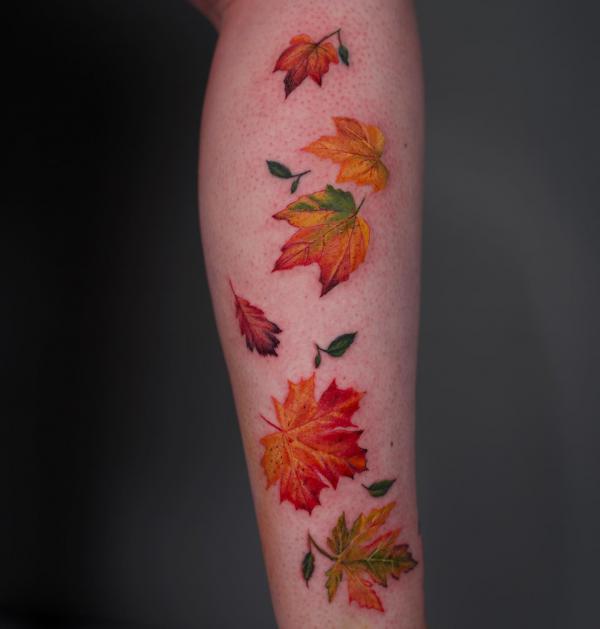 The Harvest Moon: Lunar Tattoos
The harvest moon holds a special place in fall symbolism. It represents the time of year when crops are harvested, and its warm, golden hue matches the colors of the season.
Full Moon Tattoos
A full moon tattoo can be a beautiful way to pay homage to the harvest moon. You can opt for a realistic design or a more stylized, artistic rendition. Pair it with some fall elements like leaves or pumpkins to enhance the autumn feel.
Harvest moon tattoo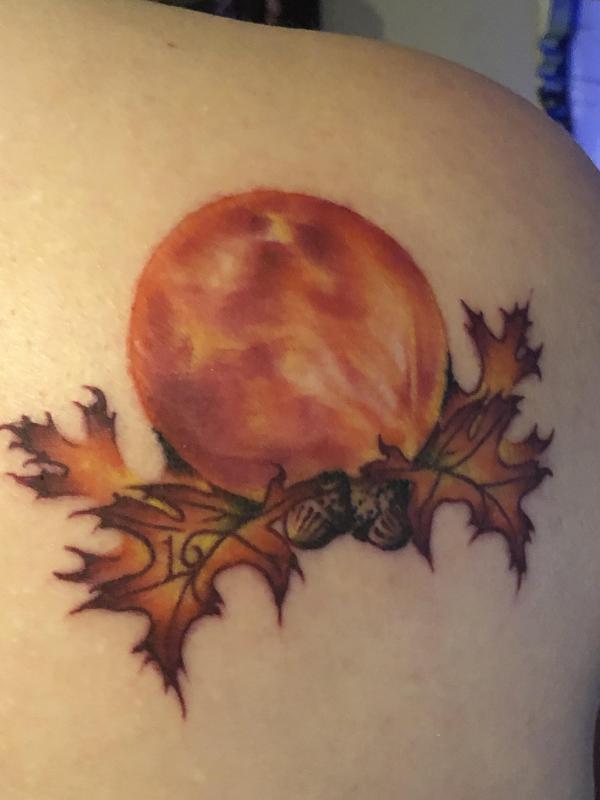 Harvest moon and wheat tattoo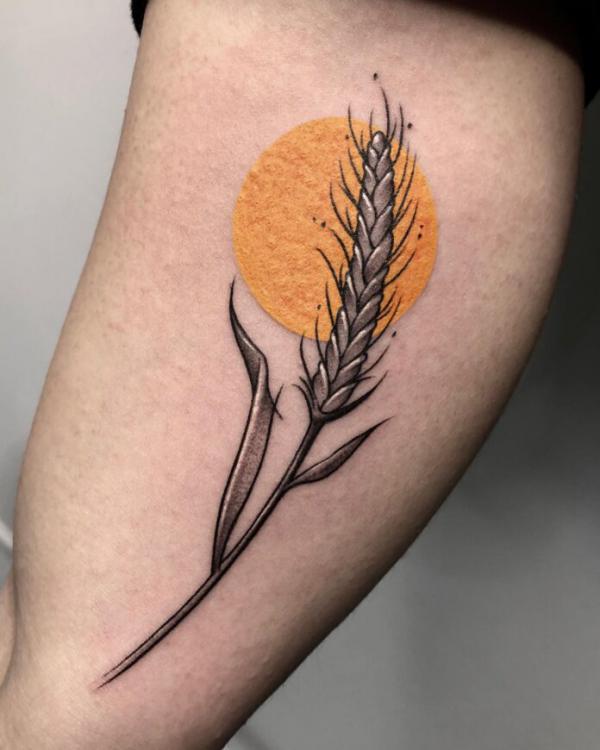 A bird perched on a pine cone under Autumn sun with a snowflake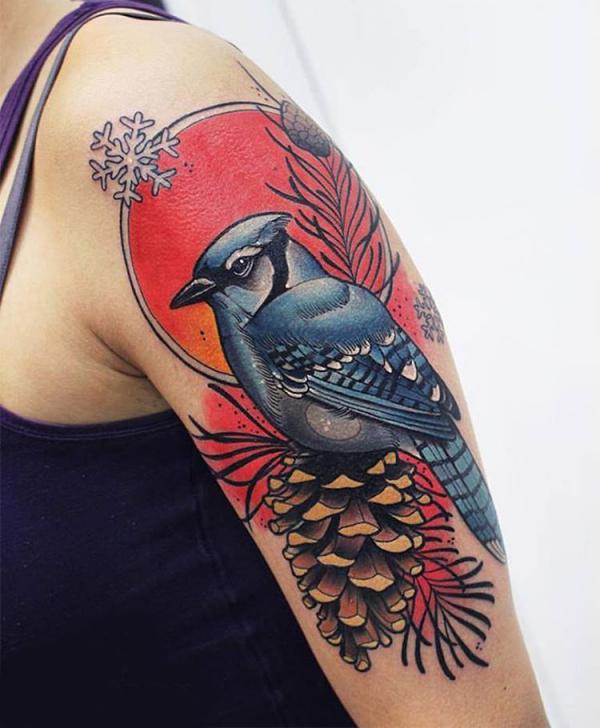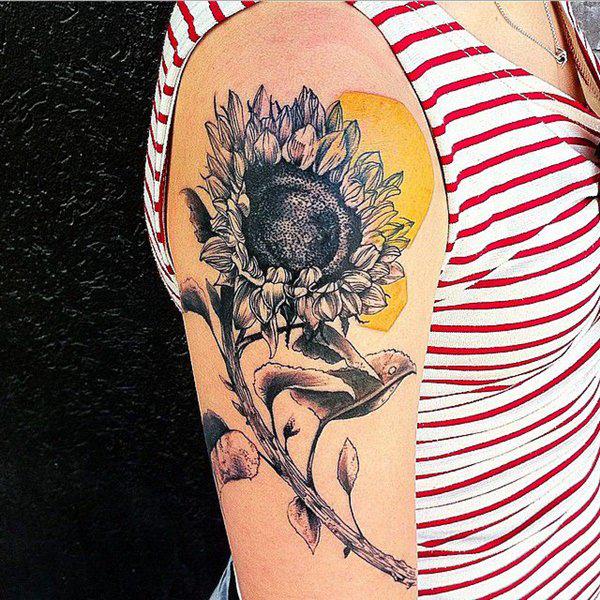 Crescent Moon and Autumn Elements Tattoos
A crescent moon paired with autumn elements like fall leaves, acorns, or even a fall fairy can make for a mystical and enchanting tattoo design.
Fall Flora and Fauna: Nature Tattoos
Fall isn't just about the changing leaves; it's also a time when certain plants bear fruit and some animals prepare for hibernation.
Pumpkins are another fall favorite. A pumpkin tattoo can be a fun and festive way to celebrate the season. You can go for a traditional pumpkin design or get creative with a jack-o'-lantern or a pumpkin patch.
Pumpkin harvest with raven tattoo on shoulder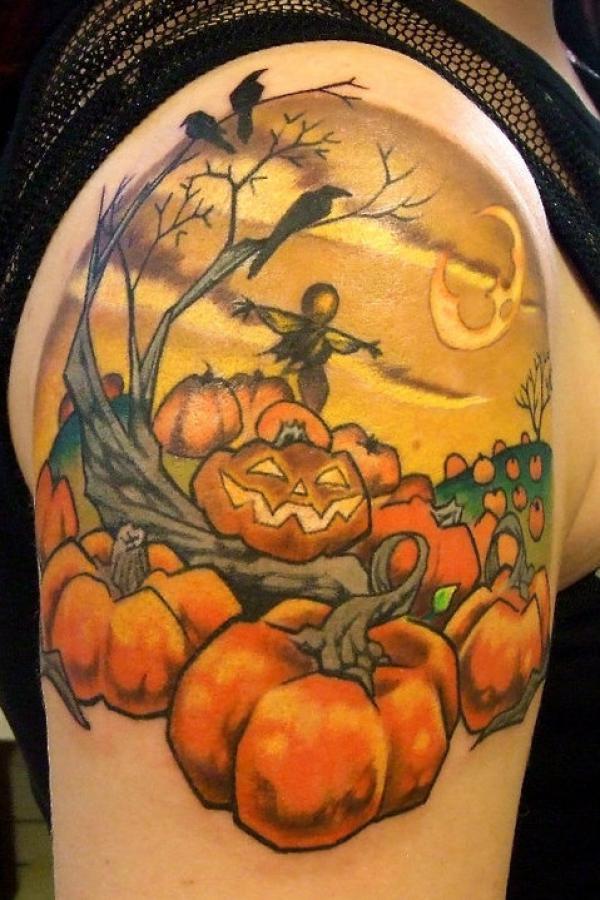 Vintage Pumpkin tattoo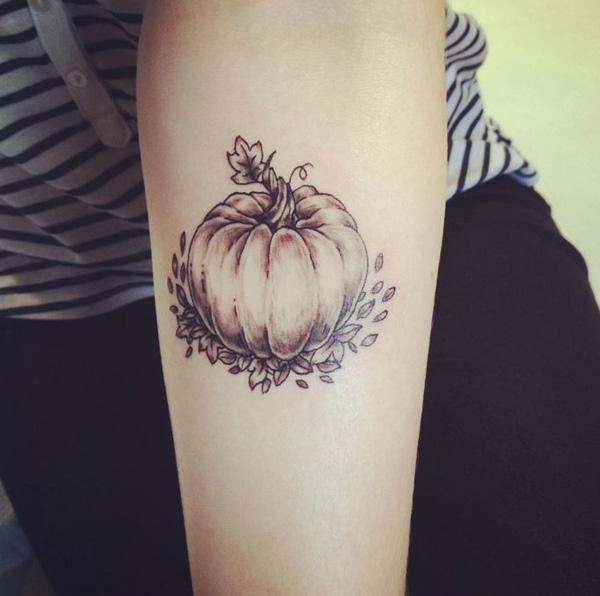 Squirrel and Acorn Tattoos
Squirrels are busy creatures in the fall, gathering acorns to store for the winter. A tattoo featuring a squirrel and an acorn can be an adorable and whimsical way to pay tribute to the season and the cycles of nature.
Fall Acorn and Oak Leaves chest tattoo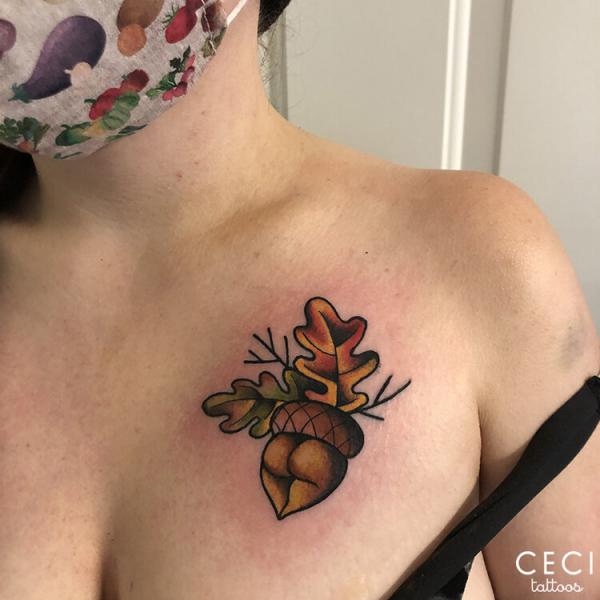 Neo traditional squirrel and acorn tattoo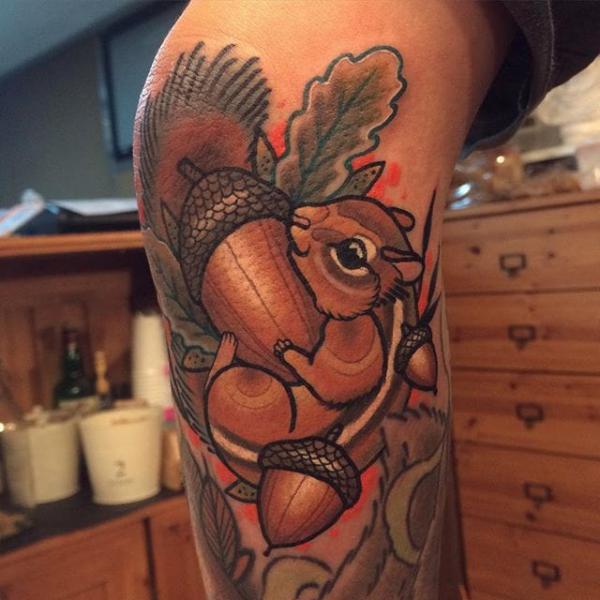 Autumn Acorn and Oak Leaves tattoo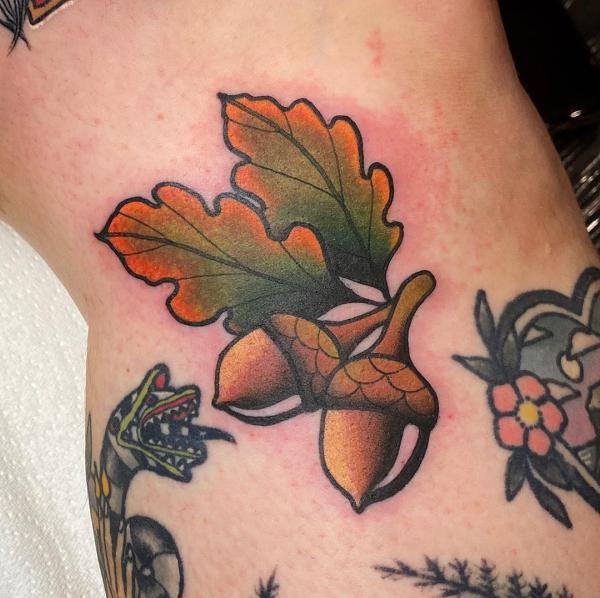 Acorn and green Oak Leaves tattoo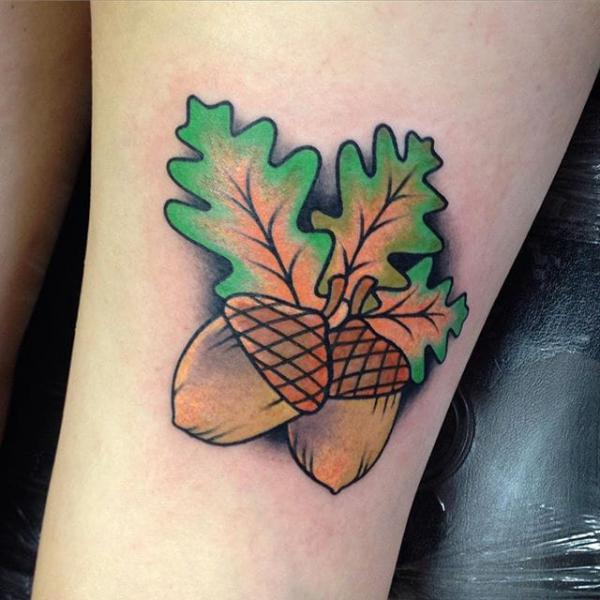 Mystical Elements: Halloween-Themed Tattoos
For many, fall is synonymous with Halloween. The mystery and magic associated with this holiday can serve as excellent tattoo inspiration.
Witchy Tattoos
Witches are iconic Halloween figures. A witch tattoo — whether it's a witch on a broom, a witch's hat, or a cauldron — can evoke the mystical vibes of Halloween and the fall season.
Halloween ghost with pumpkin and wheat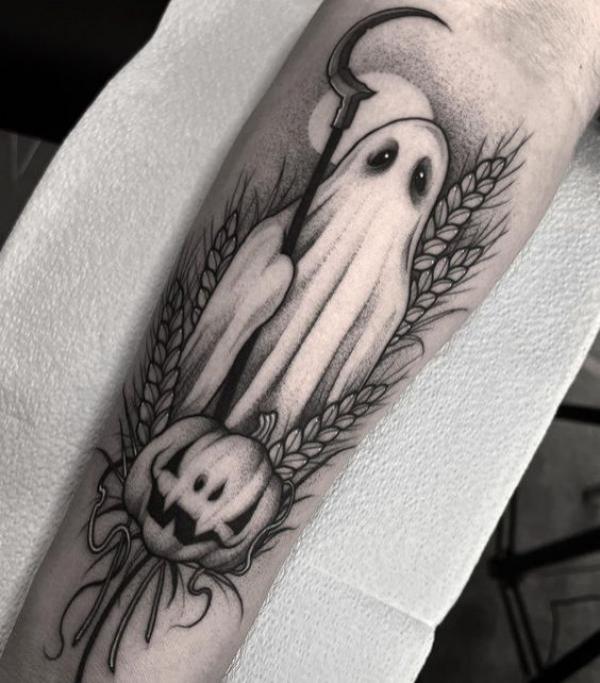 Halloween pumpkin with ghost and bats tattoo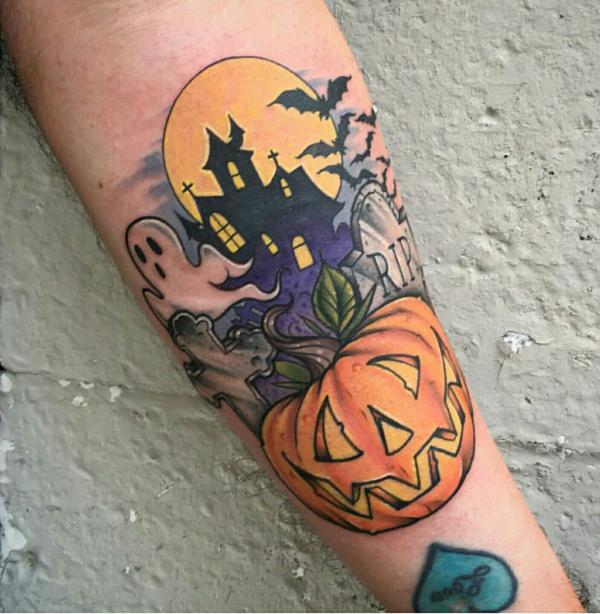 Black Cat Tattoos
Black cats, with their sleek appearance and association with superstitions and folklore, make for compelling tattoo subjects. A black cat tattoo can be a striking way to celebrate the mystery and magic of the fall season.
Fall leaves and black cat tattoo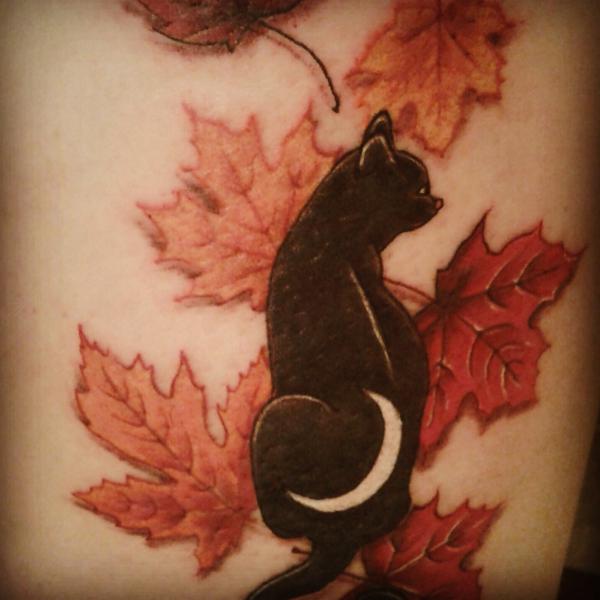 Black and Grey Jack O' Lantern and black cat tattoo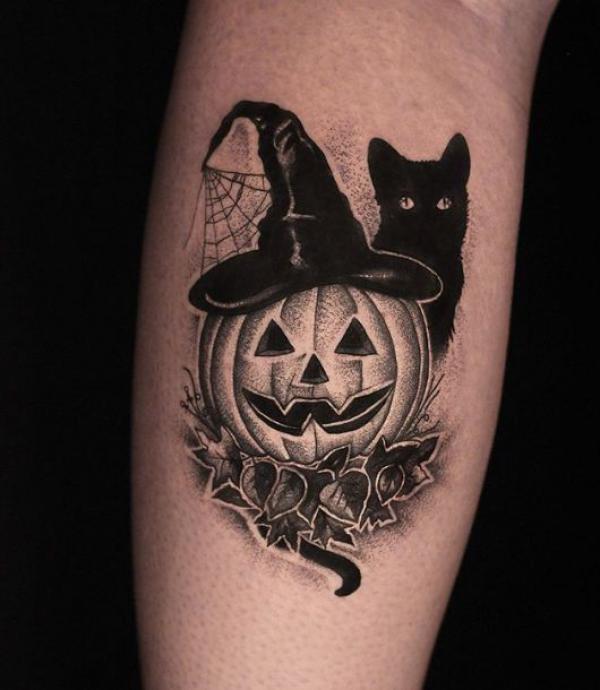 Symbolism of Change: Transformation Tattoos
Fall is a season of transition, symbolizing change and transformation. This symbolism can be creatively translated into your tattoo design.
Tree of Life Tattoos
The Tree of Life is a powerful symbol of growth, change, and the cycle of life. A Tree of Life tattoo with fall-colored leaves can be a beautiful representation of personal growth and the inevitability of change.
Old tree with fallen leaves in fall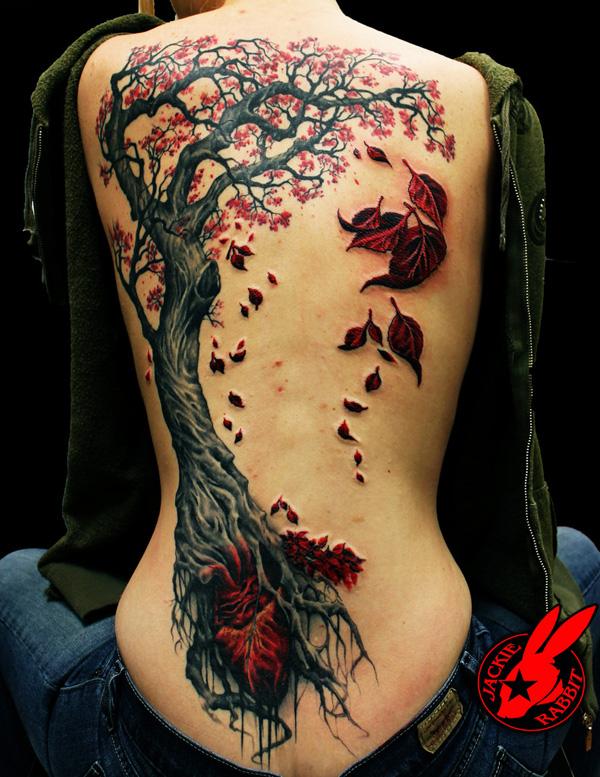 Fall tree full back tattoo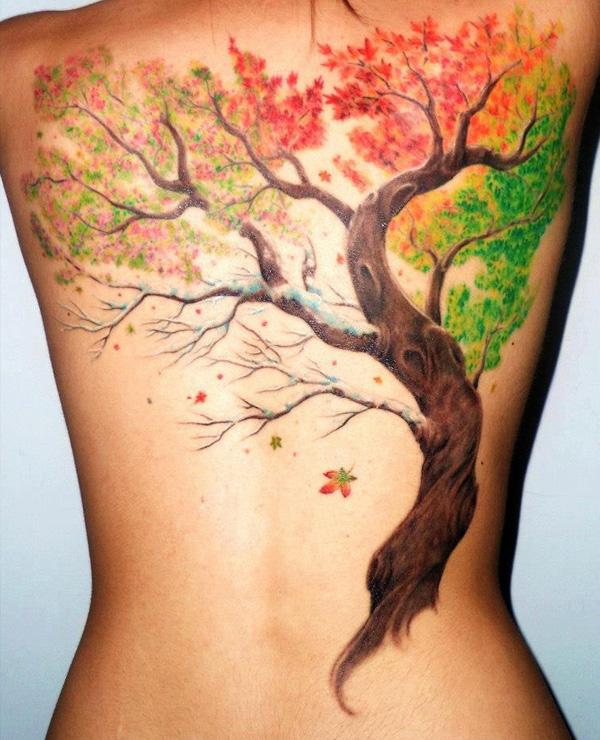 Fall tree in wind side tattoo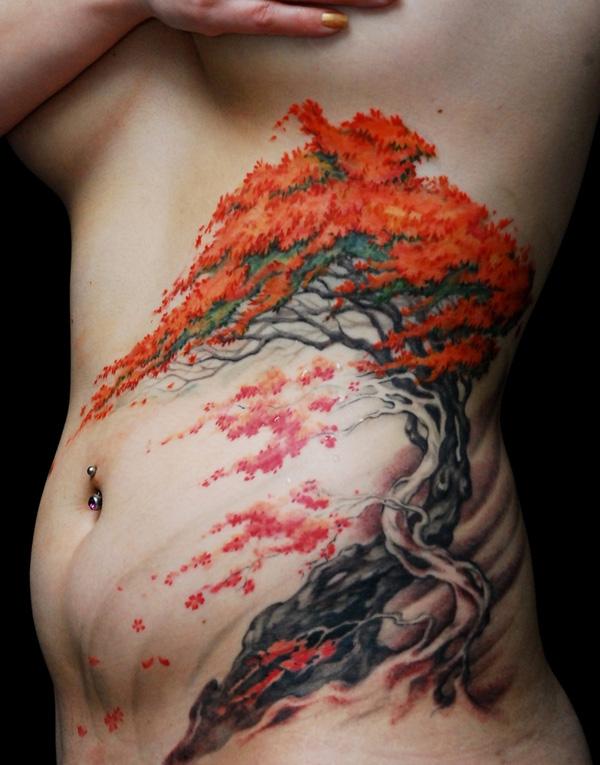 Autumn Tree Half Sleeve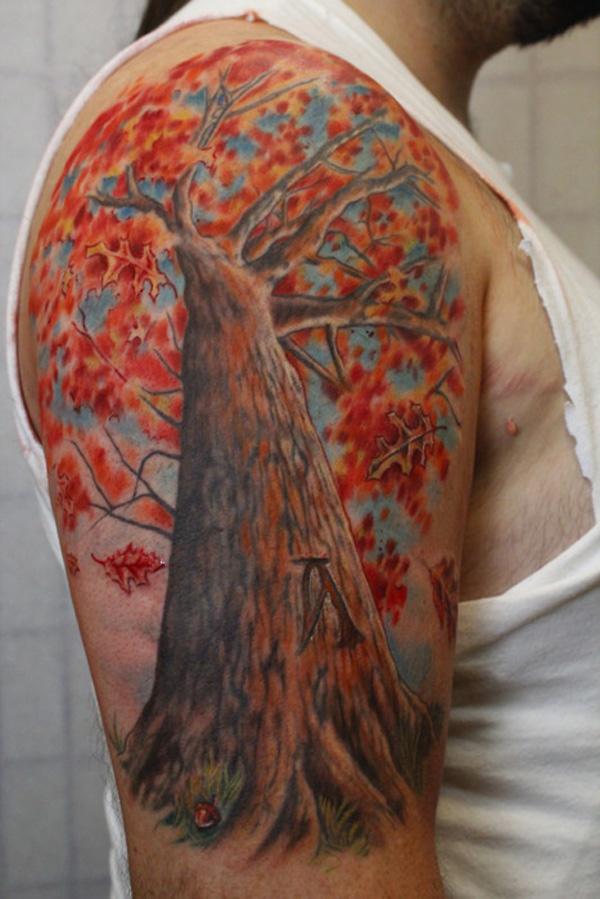 Trash polka fall tree full sleeve tattoo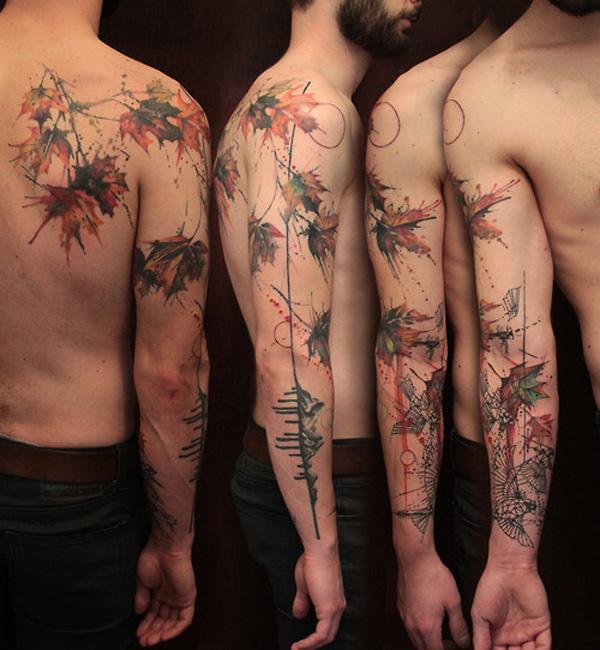 Halloween tree with pumpkins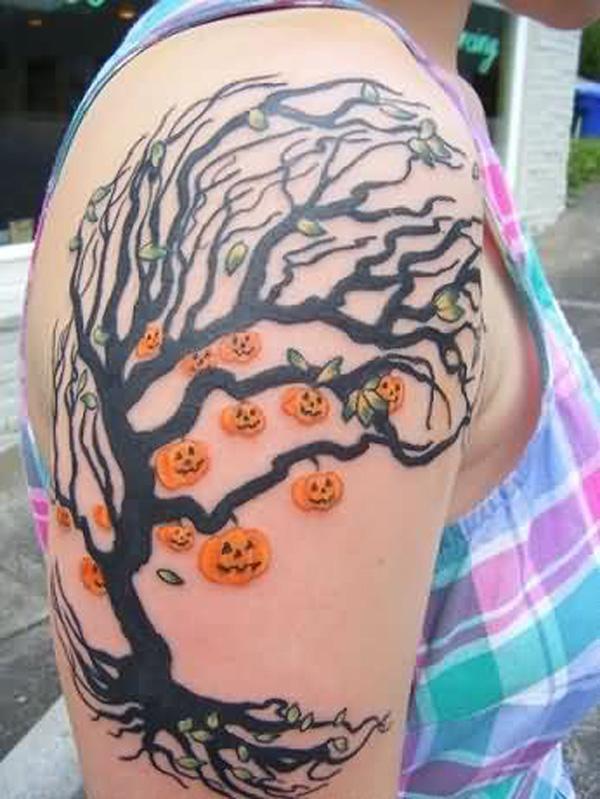 Colored fall tree tattoo on shoulder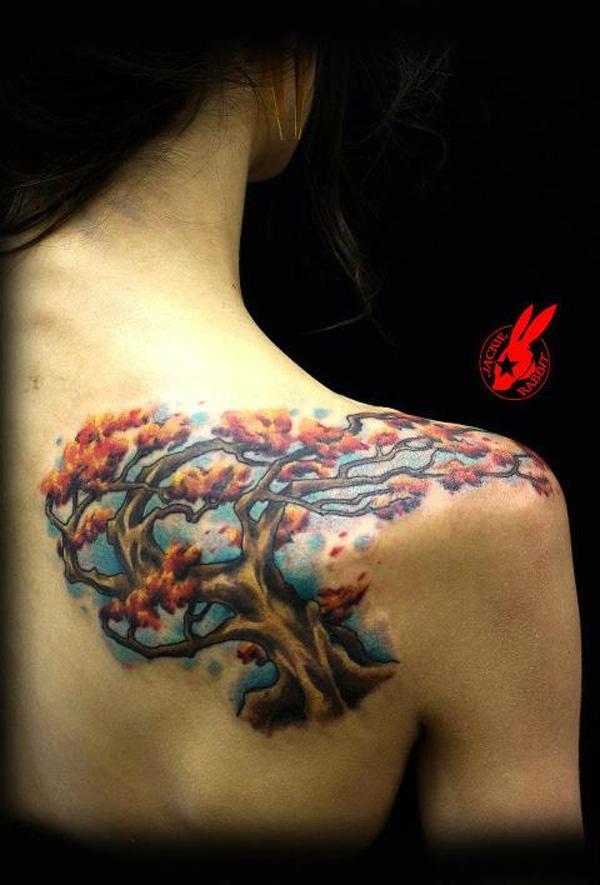 Colorful Fall tree with monarch butterfly tattoo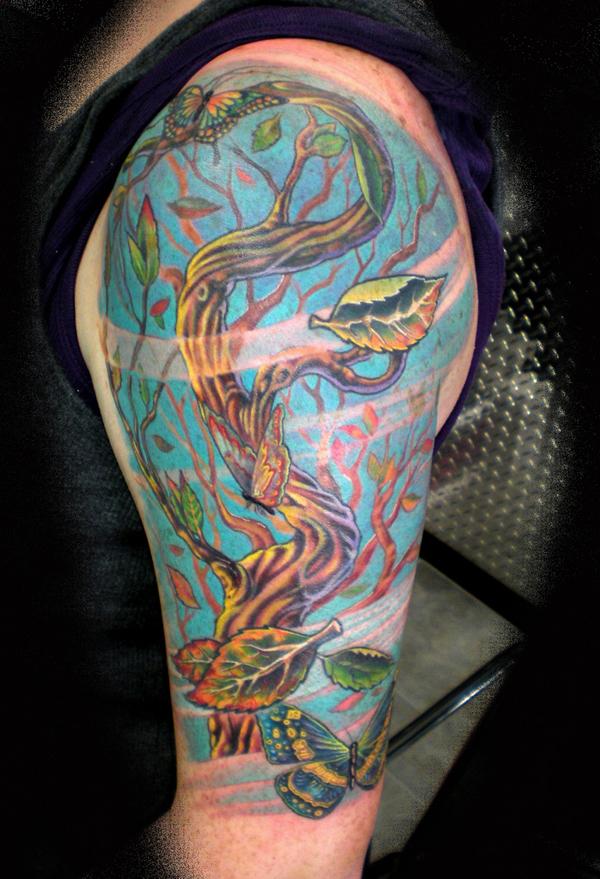 Watercolor orange fall tree forearm tattoo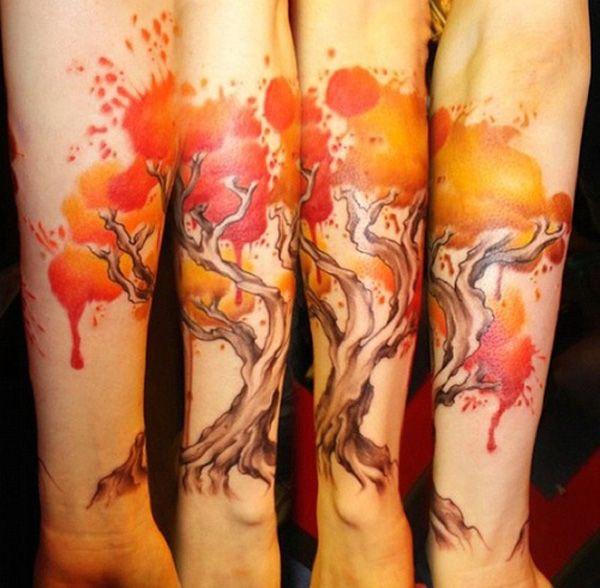 Fall Animals: Embodying the Spirit of the Season
Fall is a time of activity in the animal kingdom, with many creatures preparing for the long winter ahead. This flurry of activity, coupled with the unique symbolism associated with these animals, makes them ideal subjects for fall-themed tattoos.
Fox Tattoos
Foxes are very active during the fall, preparing for the winter, which makes them a popular choice for autumn tattoos. These creatures are often associated with cunning and adaptability. A fox tattoo, especially when combined with autumn leaves or acorns, can represent the ability to adapt to changes, a perfect reflection of the changing season.
Fox and maple leaves forearm tattoo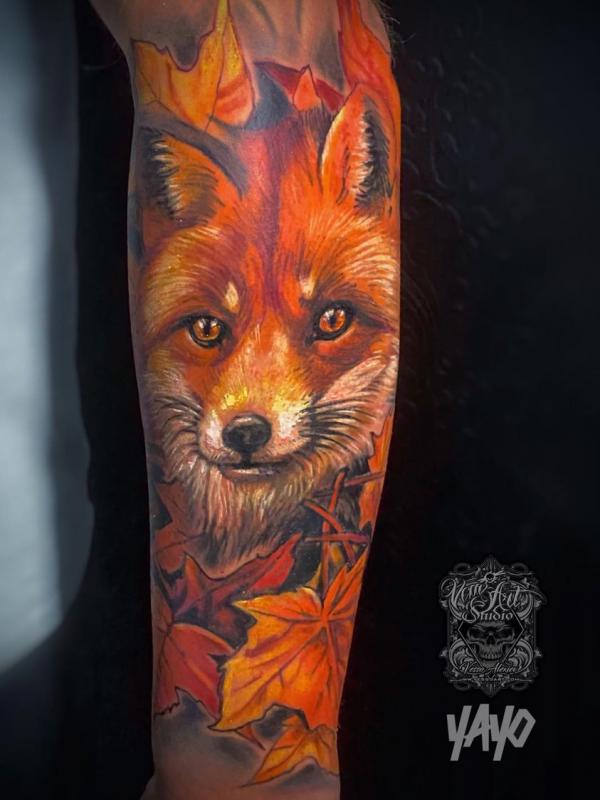 Owl Tattoos
Owls, with their nocturnal habits and silent flight, are often associated with wisdom and mystery. They are also creatures that are quite visible during the fall season. An owl tattoo can serve as a symbol of knowledge and the mysterious nature of life. Adding fall elements like a moon or falling leaves can enhance the autumnal feel of the design.
Autumn owl tattoo with tree and leaf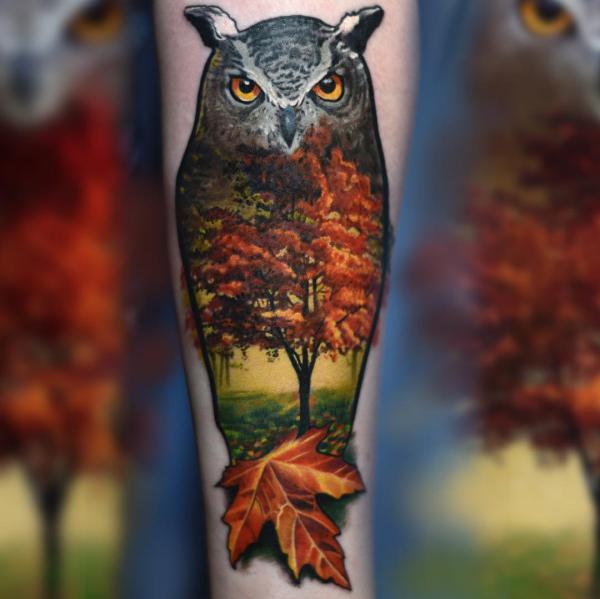 Realistic owl with orangle leaves half sleeve tattoo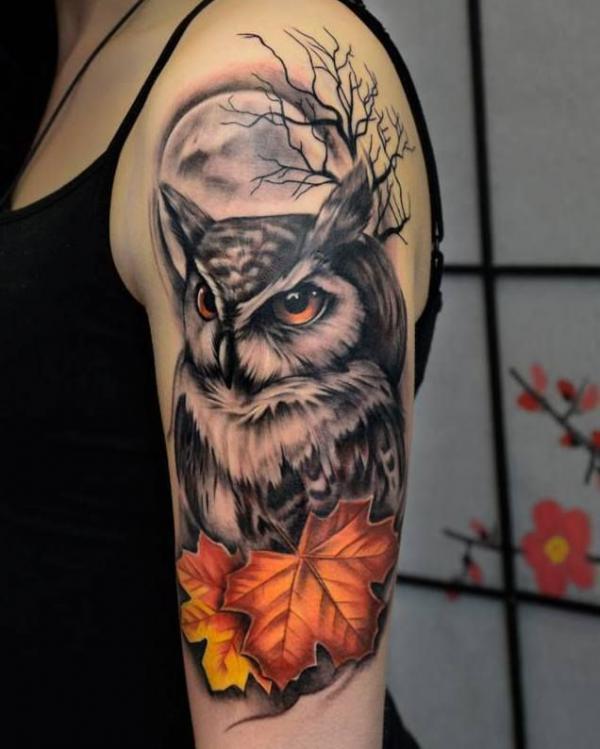 Deer or Stag Tattoos
Fall is a significant time for deer, as it's the season of the rut, where stags compete for the attention of does. Deer or stag tattoos can symbolize grace, strength, and fertility. Pairing a deer or stag with fall elements like colorful foliage can create a powerful and visually stunning tattoo.
Fall leaves full sleeve tattoo with deer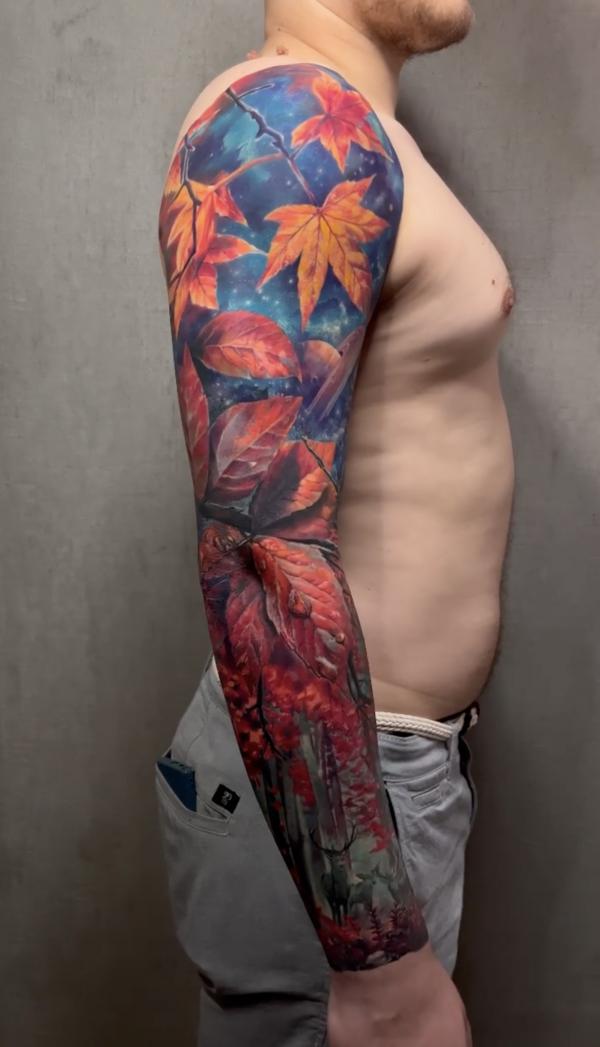 Deer in Autumn forest tattoo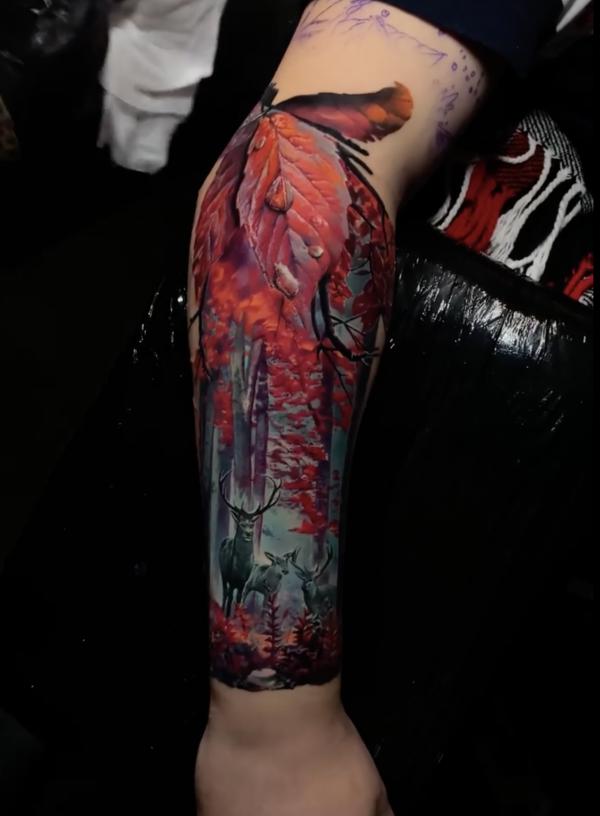 Realistic deer in fall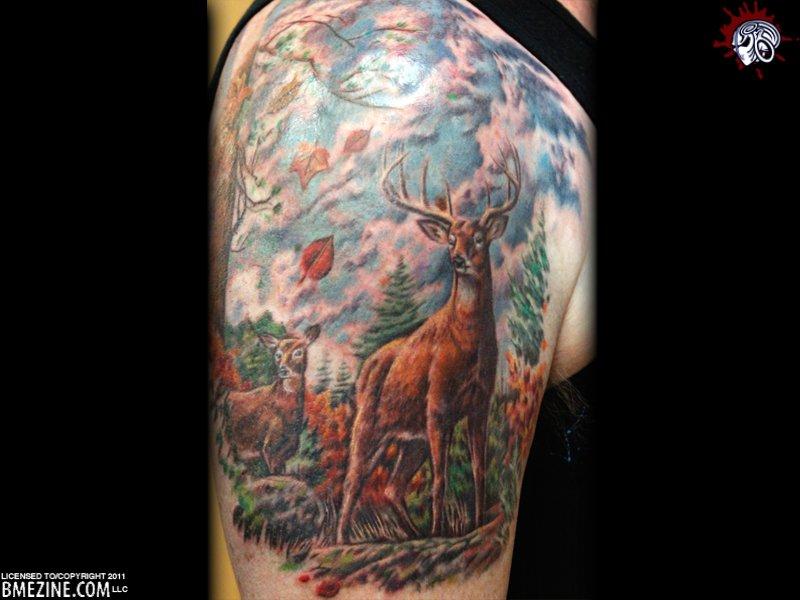 Bear Tattoos
As creatures that prepare for hibernation during the fall, bears symbolize introspection, strength, solitude, and transformation. A bear tattoo, particularly one depicted with fall foliage or in a fall landscape, can be a beautiful homage to the season and its themes of preparation and change.
leopard and bear silhouette on a maple leaf.JPG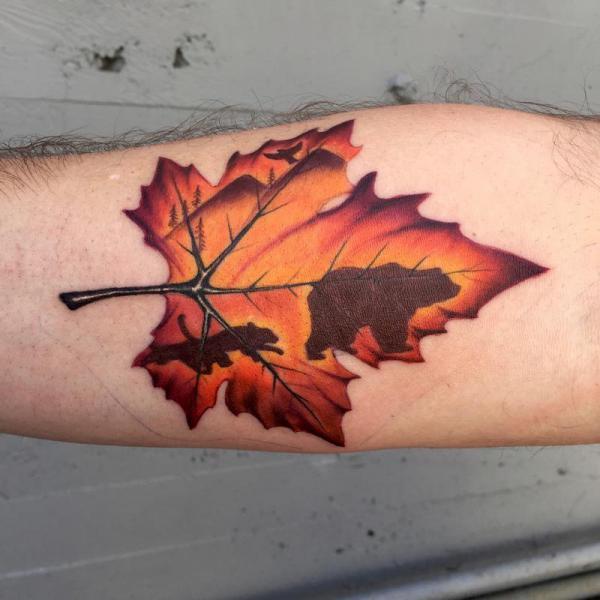 Neo traditional fall bear and leaves under moon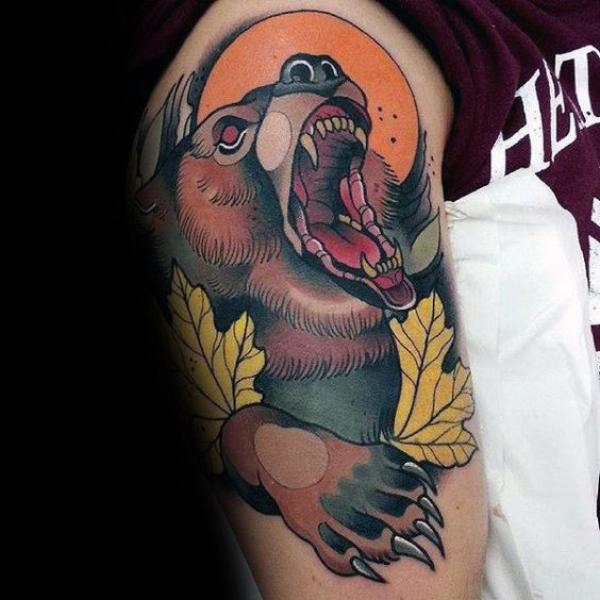 Bird Migration Tattoos
Many bird species migrate during the fall, making them another excellent choice for a fall-themed tattoo. A tattoo featuring a flock of birds in flight can symbolize transition, freedom, and the cycle of life. Consider pairing this design with a sunset or autumn trees for a more explicit fall feel.
Colorful robin and maple leaves tattoo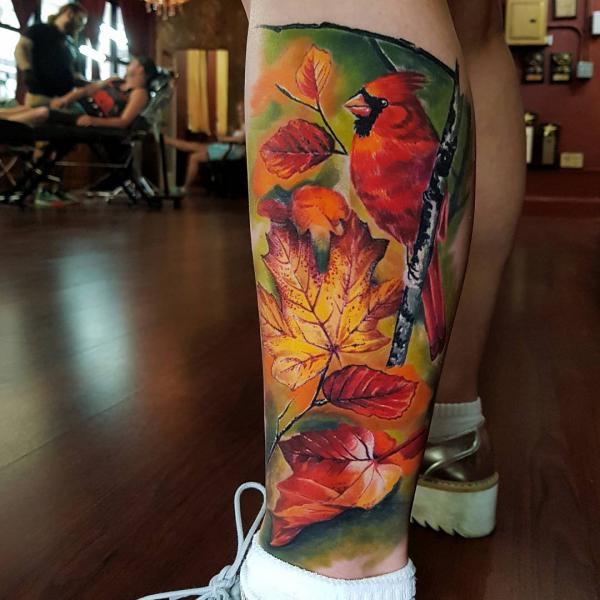 Maple leaves and bird tattoo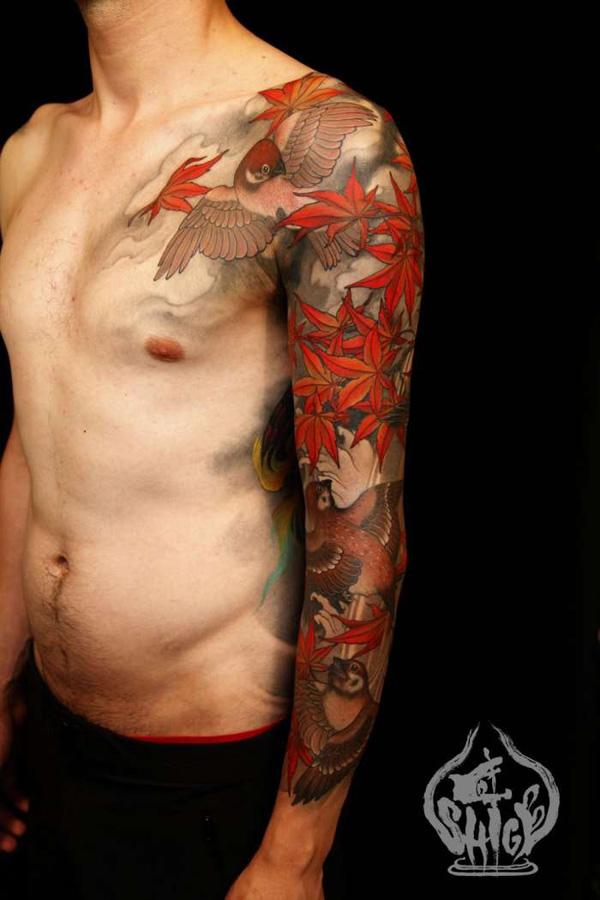 Crow, fall leaves and clock tattoo on back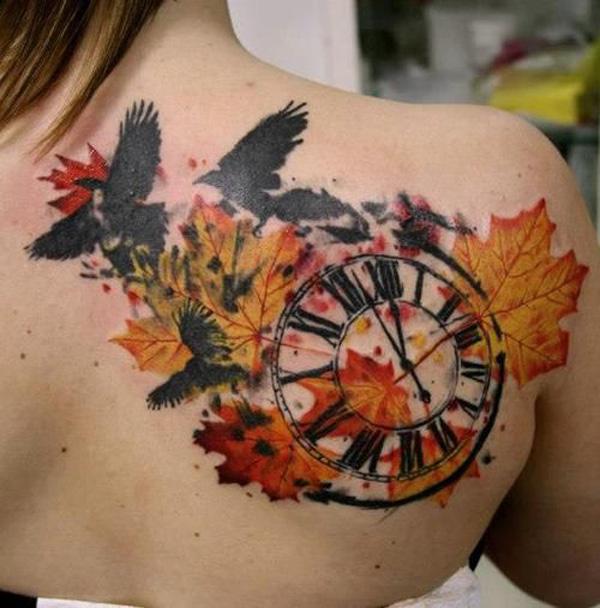 Heart shaped branches with fall leaves and angry birds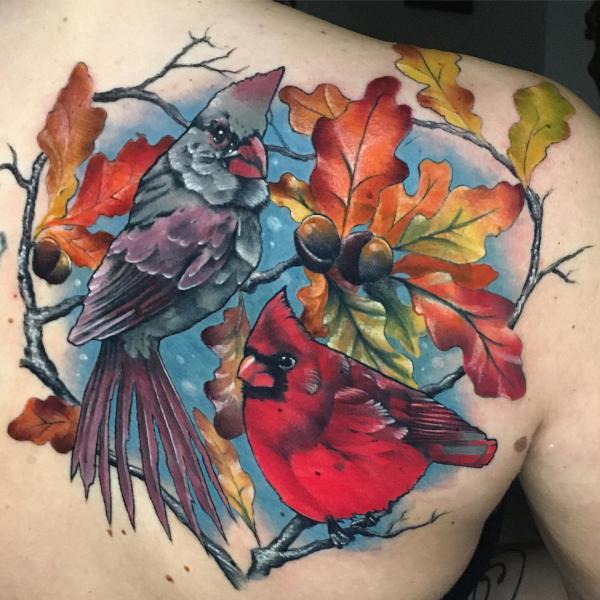 Blue jay bird and maple leaves arm tattoo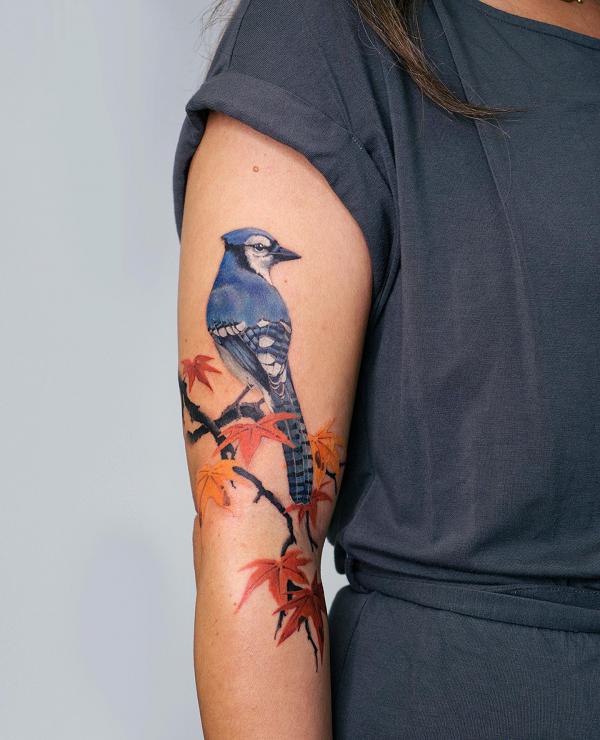 Fall sparrow and Chinese lantern tattoo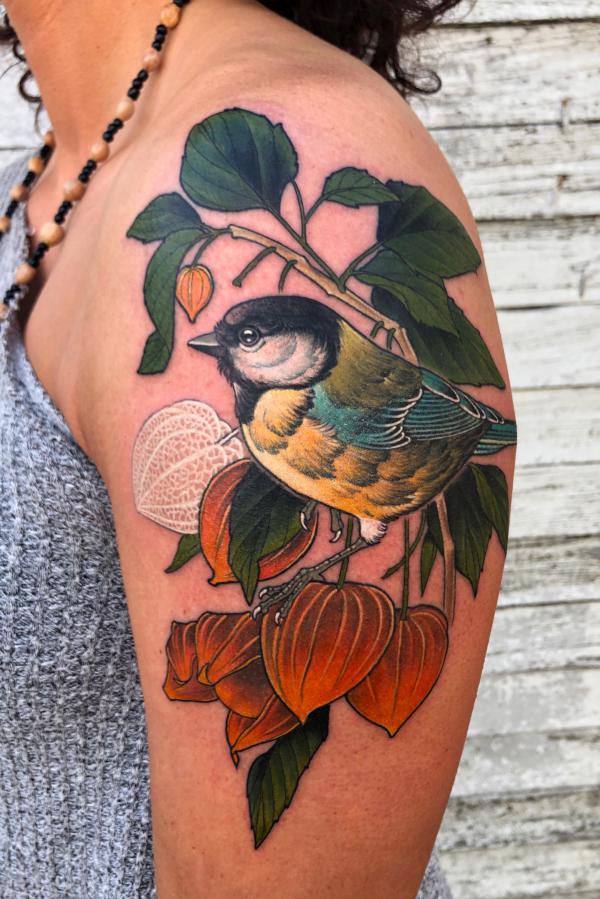 Each of these animals embodies aspects of the fall season, from the preparation for winter to the themes of change and transformation. A fall animal tattoo can be a meaningful and visually appealing way to celebrate your love for this season and its unique energy.
Beyond the Expected: Other Creative Fall Tattoo Ideas
While leaves, pumpkins, and animals are popular choices for fall tattoos, there are many other elements related to this season that you can incorporate into unique and meaningful designs. Let's delve into some creative fall tattoo ideas that defy the conventional
Daisy, autumn foliage, snowflakes and butterfly – a fall tattoo on thigh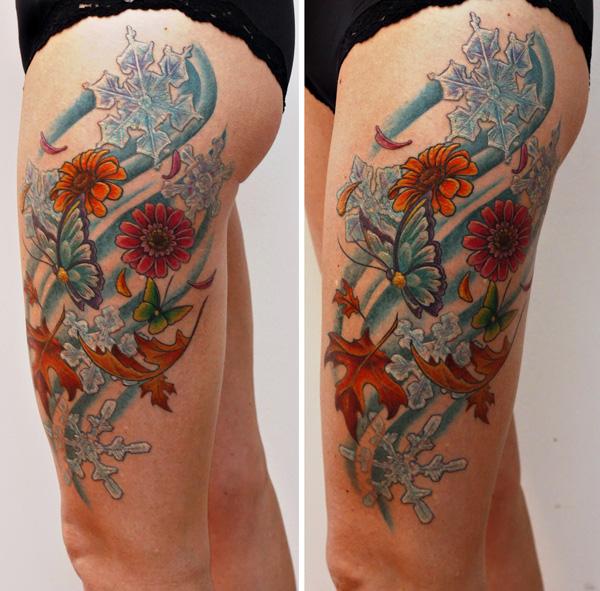 Here's a design that captures several elements of nature in a harmonious blend. The daisy symbolizes innocence and purity, while autumn foliage represents change and transformation. Snowflakes add a touch of winter's approach, and the butterfly, a symbol of rebirth and metamorphosis, ties the elements together. This tattoo is a beautiful representation of life's cycles and the beauty in every stage.
sometimes you've gotta fall before you fly tattoo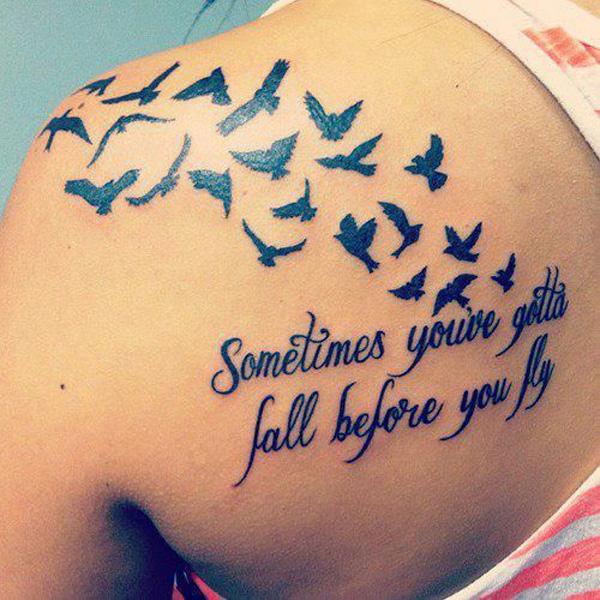 This design captures the spirit of resilience. The quote, "Sometimes you've gotta fall before you fly," resonates with the journey many of us face in life. The silhouette of a flock of birds in flight against the backdrop of an autumn sky is a visual metaphor for this journey, reminding us that sometimes, we need to face challenges to truly soar.
Fall butterfly tattoo shoulder blade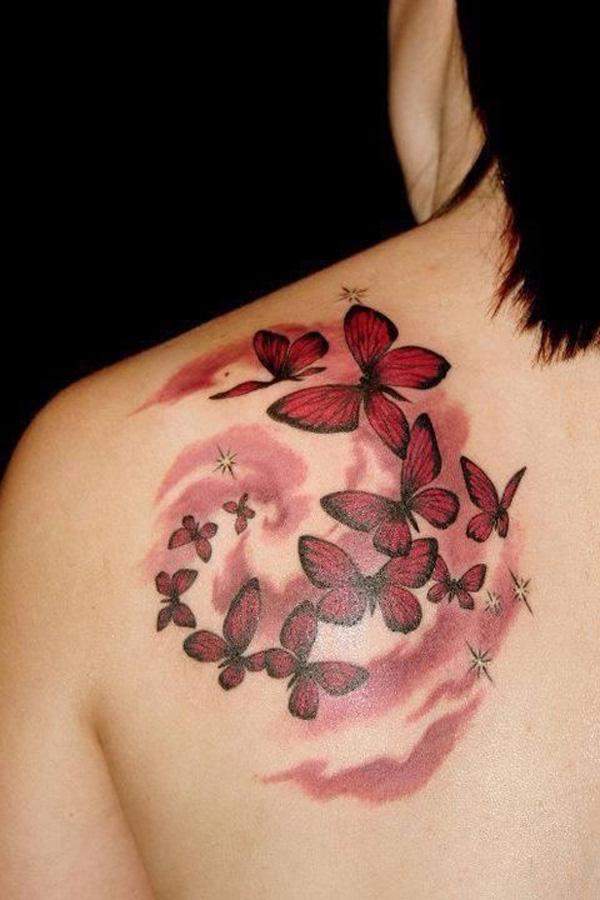 A butterfly, with its transformative journey from caterpillar to winged beauty, is a powerful symbol of change and rebirth. Placing this symbol on the shoulder blade makes for a subtly striking design. Add some autumn-colored wings to the butterfly, and you have a perfect homage to the vibrant colors and transformative energy of fall.
Pine cone tattoo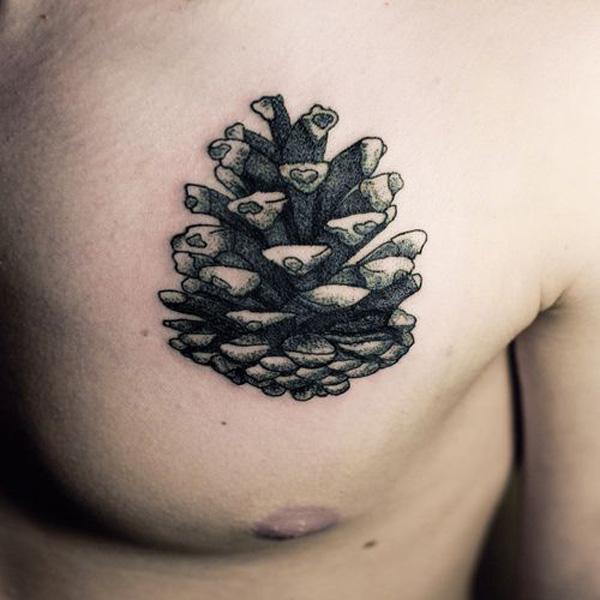 Pine cones, often found scattered on the ground during fall, symbolize growth and potential. A pine cone tattoo can serve as a reminder that even after the fall, there is potential for new growth. It's a simple, yet profound, symbol of life's resilience.
Every leaf speaks bliss to me, fluttering from the autumn tree tattoo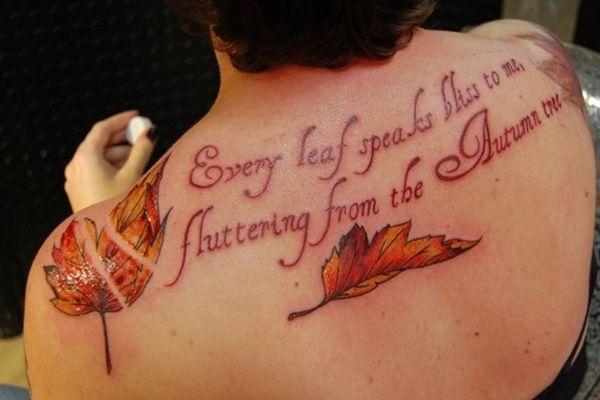 A design of fall leaves combined with a personal mantra or quote can make your design unique and meaningful. Whether it's "Every leaf speaks bliss to me, fluttering from the autumn tree" or "Bless me father, for I sinned. Let my sins be gone with wind," the combination of words and visuals can create a powerful statement about transformation, forgiveness, and the beauty of change.
Fall leaves tattoo with quote – Bless me father, for i sinned. Let my sins be gone with wind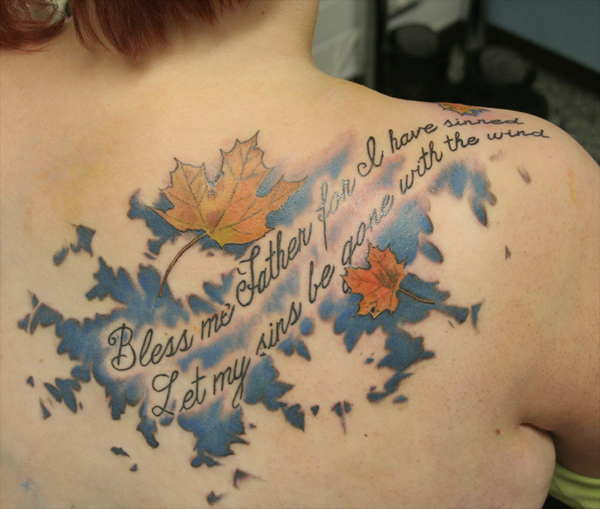 Fall leaves and koi fish tattoo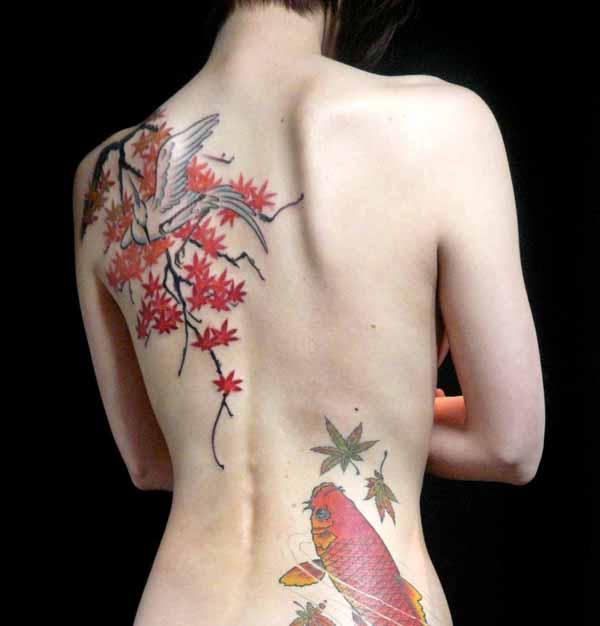 Nishiki koi tattoo Kyoto Autumn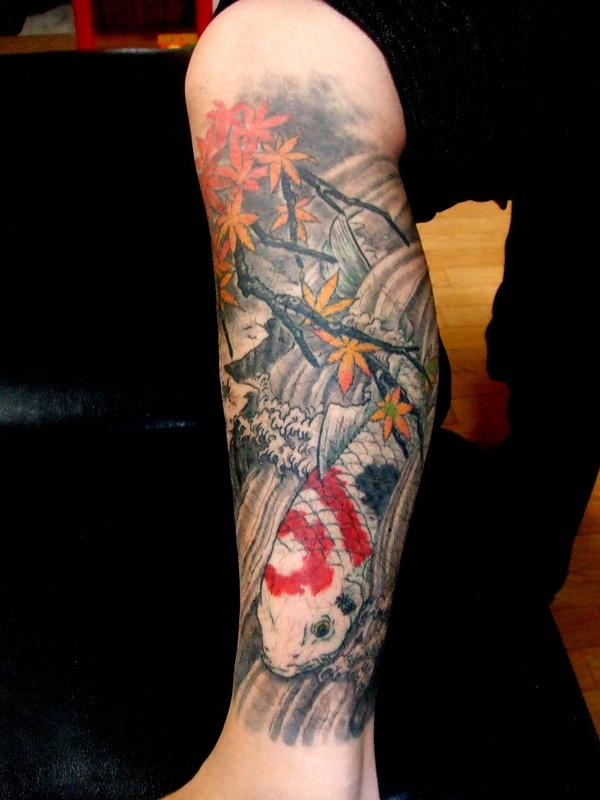 Koi fish are symbols of strength, courage, and perseverance, while fall leaves represent change and transformation. A tattoo design combining these elements can serve as a reminder of your strength during times of change. Whether it's a Nishiki koi in a Kyoto autumn setting or a koi fish swimming amidst fall-colored leaves, this design can be a beautiful and meaningful tribute to your resilience
Fall sunflower tattoo black and grey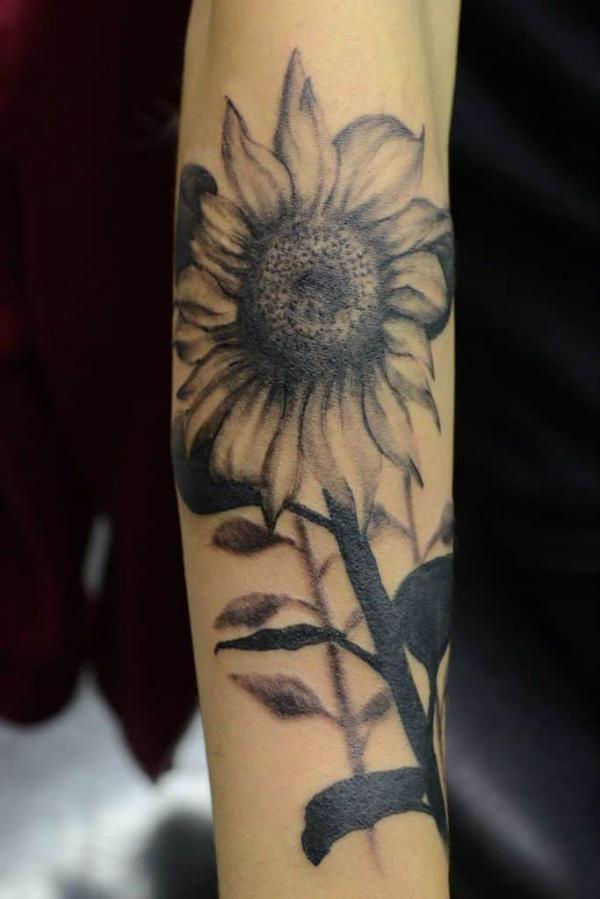 Sunflowers are symbols of adoration, loyalty, and longevity. A fall sunflower tattoo in black and grey can be a powerful and visually striking design. The monochromatic tones add a sense of depth and realism to the design, while the sunflower symbolizes your loyalty and steadfastness amidst the changing seasons.
Field of wheat tattoo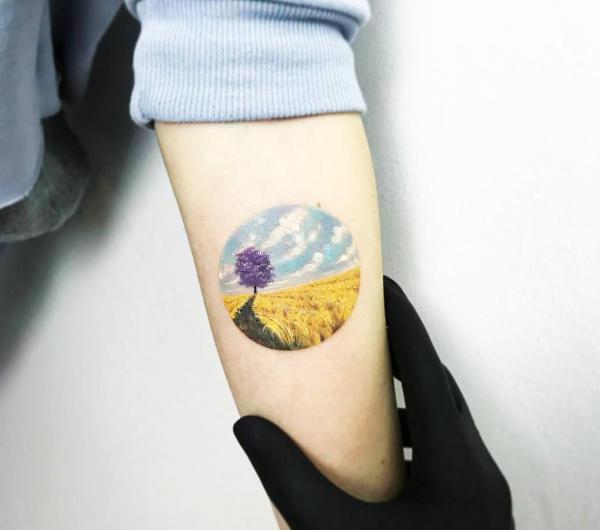 A field of wheat is a symbol of the harvest, abundance, and the fruits of hard work. A wheat tattoo can serve as a reminder of your hard work and its rewards. This design, with its golden hues and flowing lines, can be a beautiful and symbolic tribute to the season of harvest.
Fruits fall tattoo sleeve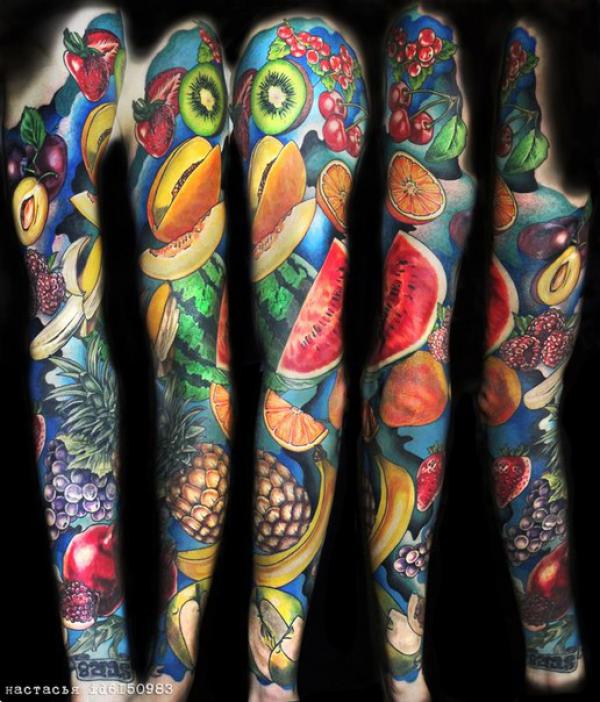 Fruits are often associated with abundance, fertility, and the sweet rewards of hard work. A fall fruit tattoo sleeve can be a vibrant and colorful celebration of the season's bounty. Choose fruits that are harvested in the fall, like apples, pears, and grapes, to enhance the autumnal feel of the design.
A girl silhouette and maple leaf forest tattoo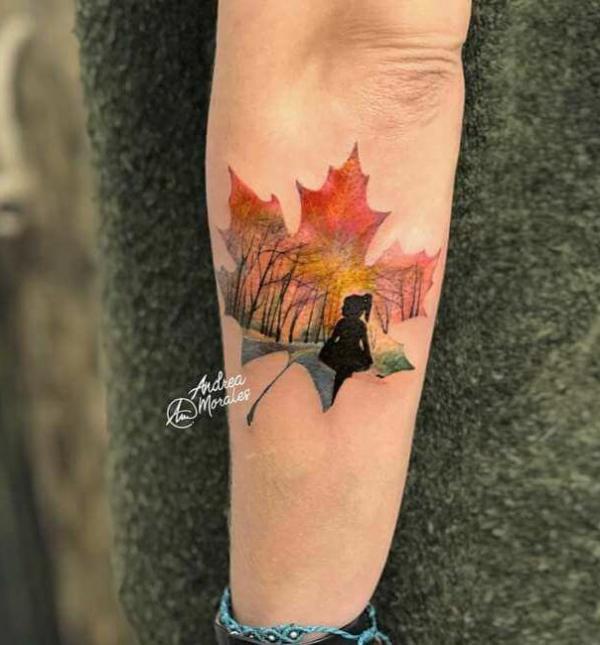 A tattoo featuring a girl's silhouette against a forest of maple leaves can be a striking and symbolic design. The girl could represent you, standing strong amidst the changing seasons. The maple leaves, with their vibrant autumn colors, add depth and texture to the design, creating a visually stunning tribute to the beauty and resilience of fall.
Conclusion: Fall Tattoos for Every Taste
Whether you're drawn to the vibrant colors of autumn foliage, the mystical vibes of Halloween, or the deeper symbolism of change and transformation, there's a fall tattoo design that's perfect for you. Remember, a tattoo is a personal expression of your story and your passions, so choose a design that resonates with you. As you embrace the enchanting beauty of fall, let your creativity flow and create a piece of body art that celebrates your love for this magical season. Happy tattoo designing!