Tattoos are personal declarations, silent yet powerful expressions of our inner selves. Among the myriad of tattoo designs available, sunflower tattoos have steadily gained popularity for their vibrant aesthetic and profound symbolism. But before you get a sunflower tattoo, it is important to understand their symbolism, meaning and the various design options.
The Symbolism of Sunflower Tattoos
Sunflowers, with their bright yellow petals reaching out towards the sun, are symbolic of joy, adoration, longevity, and loyalty. This symbolism is consistent across various cultures and beliefs. The sunflower's constant orientation towards the sun represents warmth, energy, and light, making it a symbol of positivity and joy.
In many cultures and historical contexts, sunflowers have been revered as representations of the sun itself, embodying the attributes of warmth, energy, and life. They are also closely connected with nature and the cycle of life, from seed to full bloom and eventual decay.
Considered the "happy" flower, sunflowers are often associated with longevity due to their ability to withstand harsh conditions, representing resilience and endurance. They also symbolize loyalty, as they always face the sun, showcasing constancy and devotion.
Popular Sunflower Tattoo Designs
The versatility of sunflower tattoo designs allows them to be adapted to various styles, sizes, and placements, catering to different individual preferences. Here are examples of meaningful designs:
Traditional Sunflower Tattoos
Traditional sunflower designs often feature large, bold designs with dark outlines and vibrant colors, encapsulating the sunflower's vitality and brightness. Conversely, they can also be rendered as small, delicate designs with subtle shading and details, perfect for those seeking a more understated piece.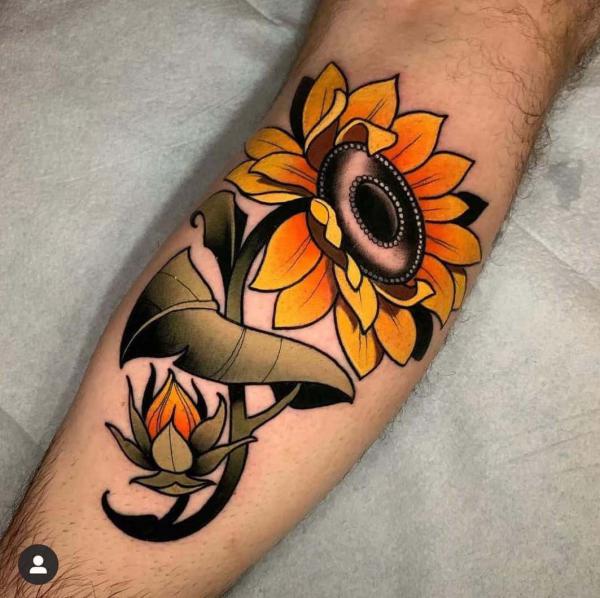 American traditional sunflower tattoo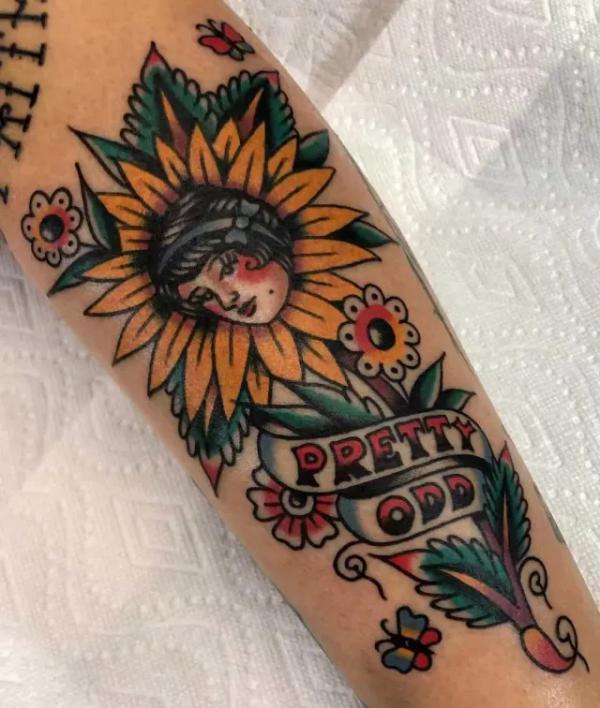 The traditional design features a sunflower with a female face as the bud, with the stem wrapped in a ribbon bearing the words "Pretty Odd". This design is a nod to vintage aesthetics while adding a touch of whimsy and individuality.
Realistic Sunflower Tattoos
Realistic tattoos are another popular choice. These designs are highly detailed, featuring realistic coloring and shading that brings the sunflower to life on the skin. Some artists even employ a 3D effect to give the appearance of a real sunflower, adding depth and dimension to the tattoo.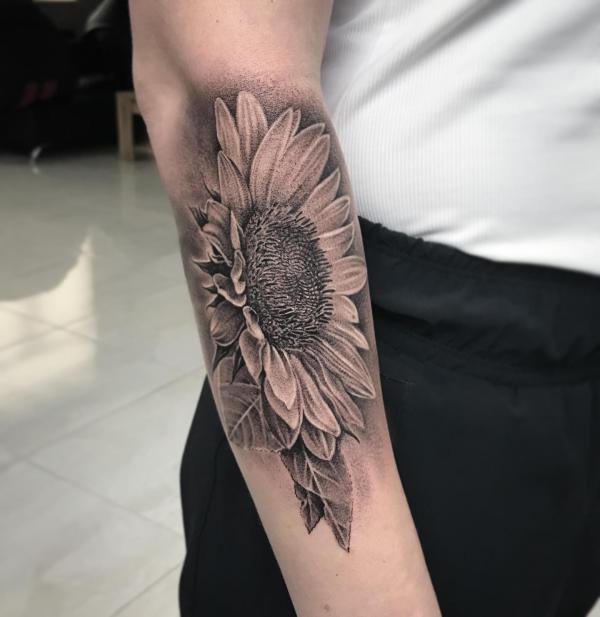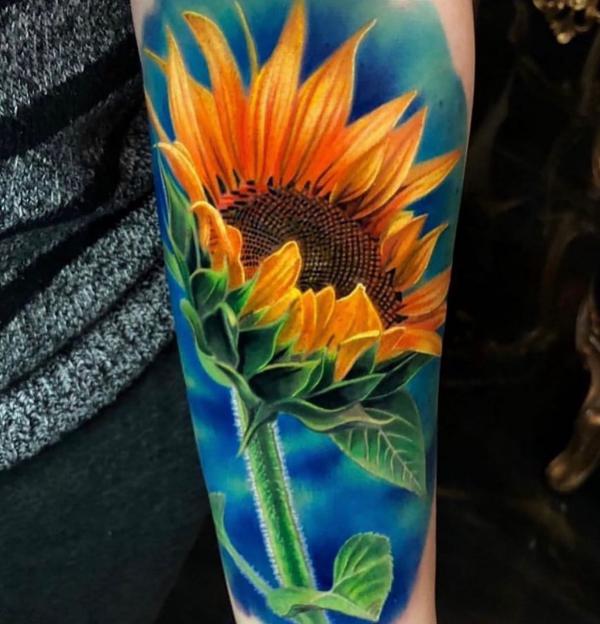 Realistic sunflower and bee ink design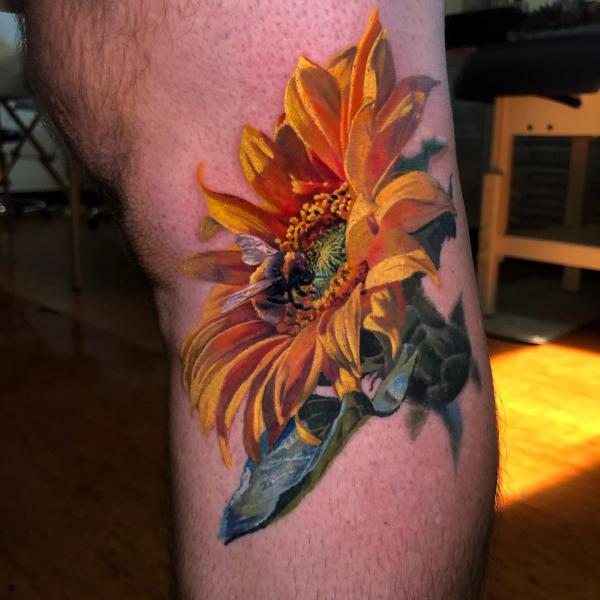 Sunflower tattoo black and white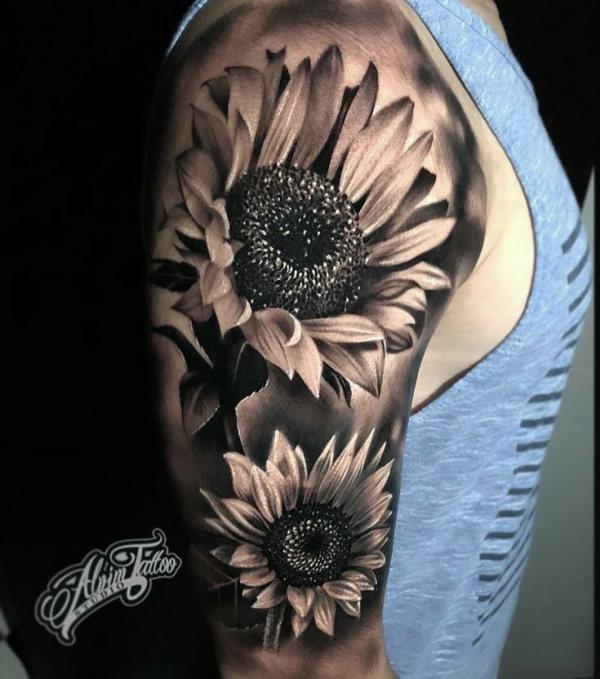 Triangle Sunflower tattoo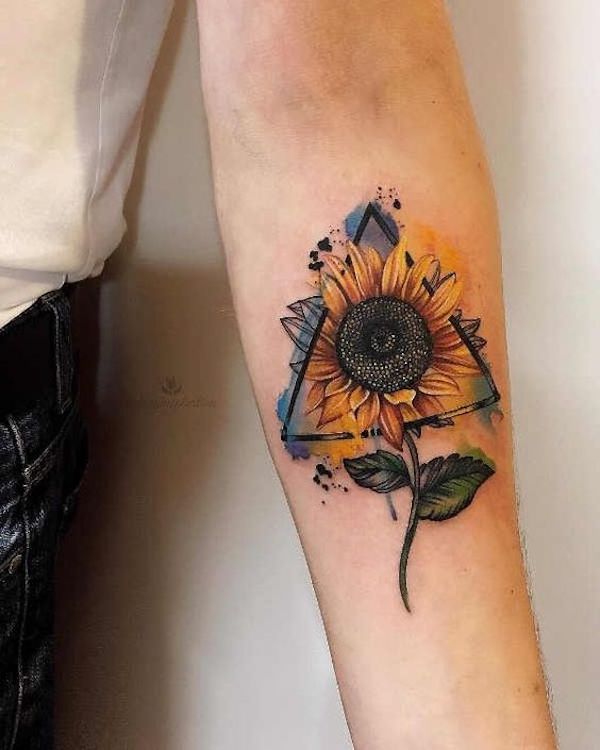 This design features a sunflower at the center of a triangle, giving the impression of an all-seeing eye. It's a unique fusion of natural and geometric elements, creating a striking visual contrast.
Growing Sunflowers sleeve tattoo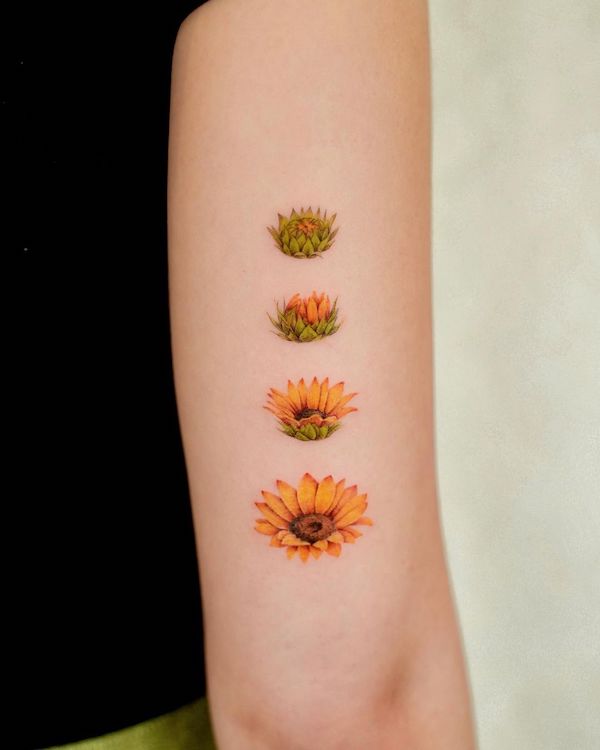 This sleeve tattoo depicts four sunflowers at different stages of growth, from bud to bloom. It's a beautiful representation of the life cycle, symbolizing growth and transformation.
Dead Sunflower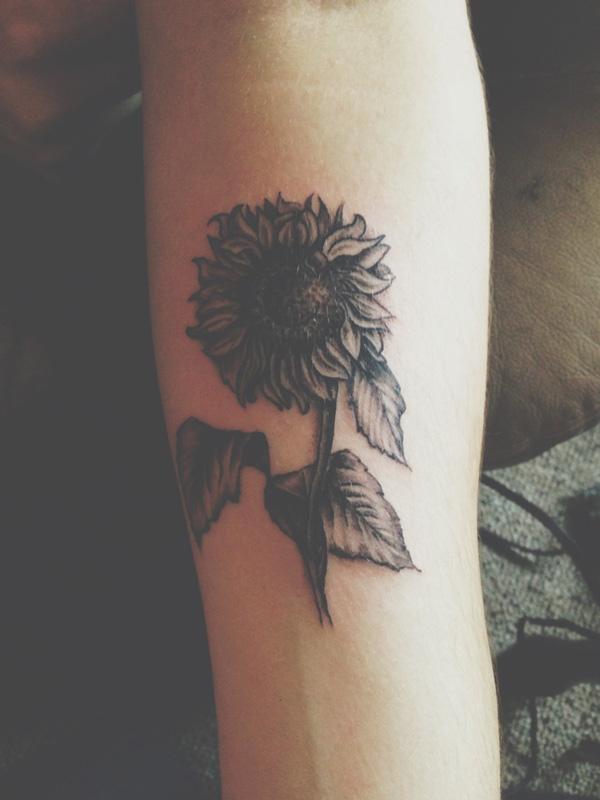 A black sunflower tattoo serves as a stark symbol of mortality and the darker side of nature. It's a bold and unconventional take on the traditional designs.
Black and grey Sunflower dream catcher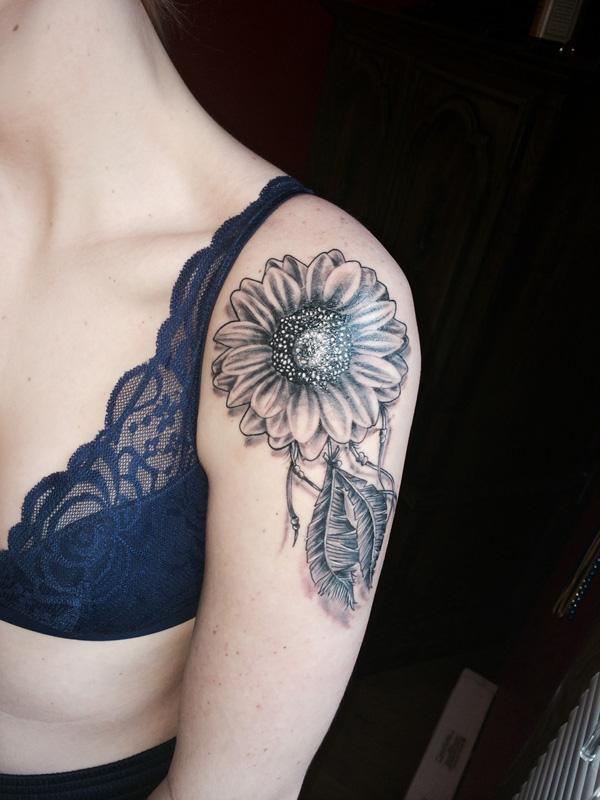 This design ingeniously incorporates a sunflower into the wheel of a dream catcher. It's an atmospheric piece that combines natural and spiritual symbols.
Sunflower skull tattoo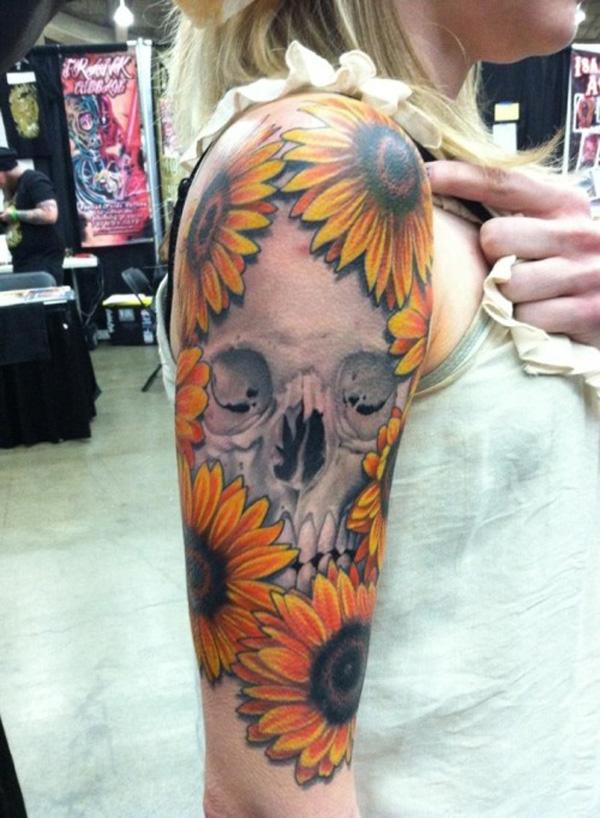 This half-sleeve tattoo features a black and grey skull embraced by sunflowers. It's a striking juxtaposition of life and death imagery, creating a thought-provoking piece.
White and grey rose and Sunflower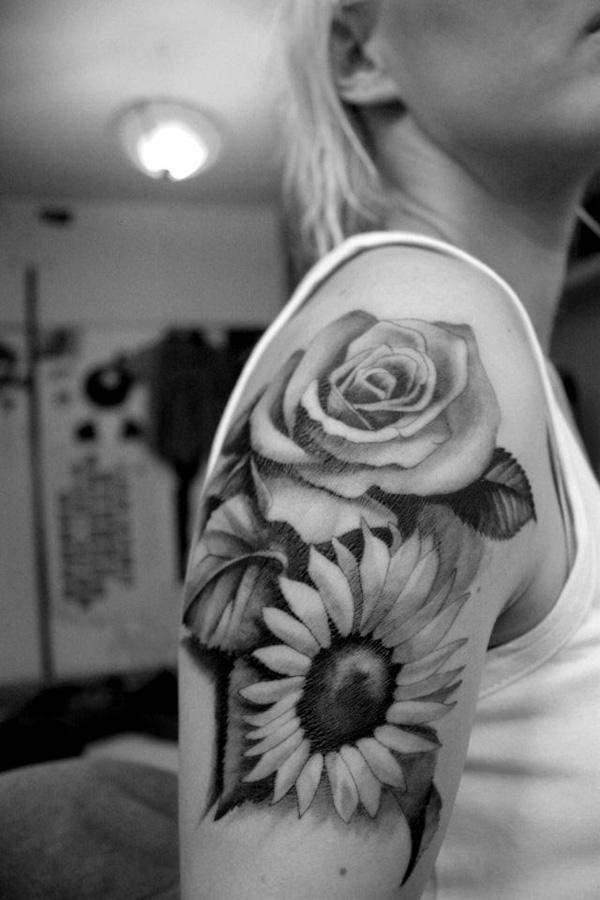 This tattoo in a realistic, dreamy style features a rose and a sunflower in shades of white and grey. It's a soft and romantic design that exudes elegance.
Sunflower and wheat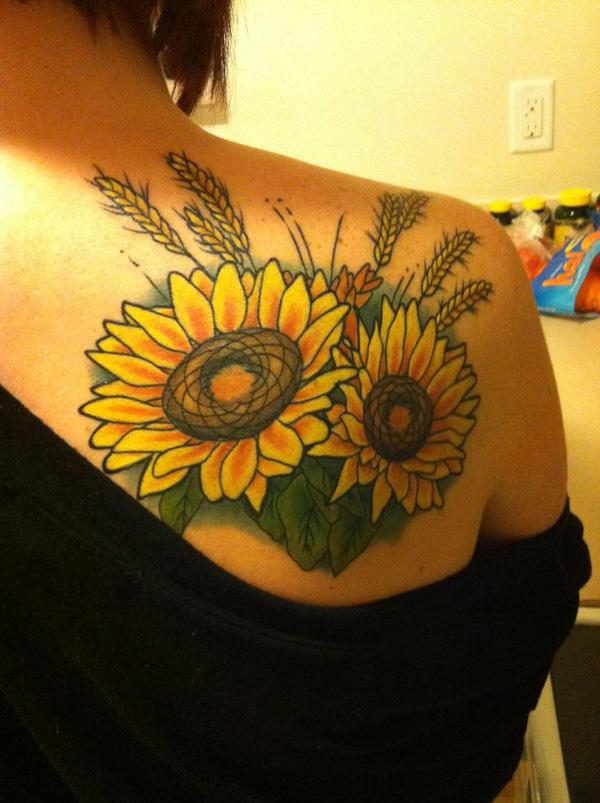 This design features an ear of wheat and two sunflowers on the shoulder blade. It's a charming piece that pays tribute to nature's bounty.
Sunflowers petals to a flock of birds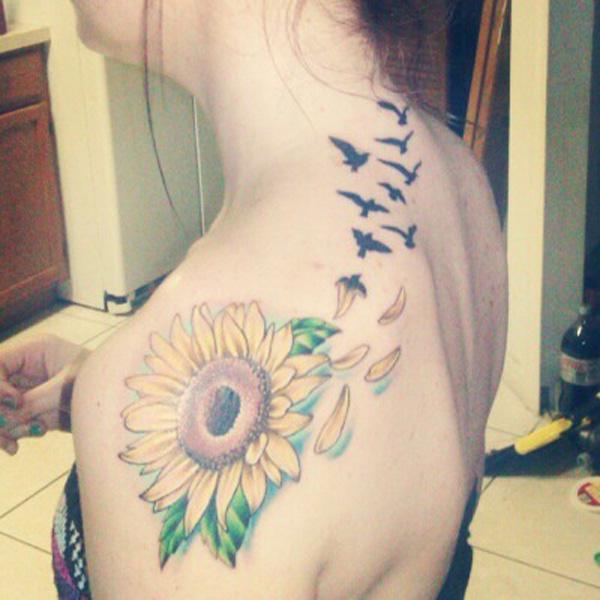 In this design, sunflower petals transform into a flock of birds, symbolizing freedom and transformation. It's a striking visual metaphor that's sure to catch the eye.
Sunflower and Birds TattooSunflower and birds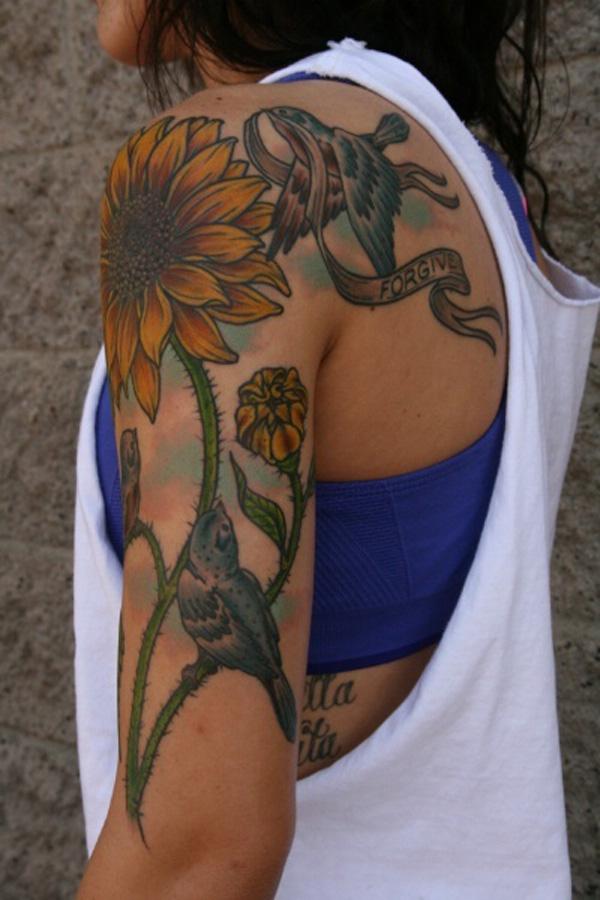 This whimsical, dark-themed tattoo features a bird perched on a branch and another holding a ribbon with the word "Forgive," all set against the backdrop of a sunflower. It's a poignant piece that tells a story.
Dead and live Sunflower with birds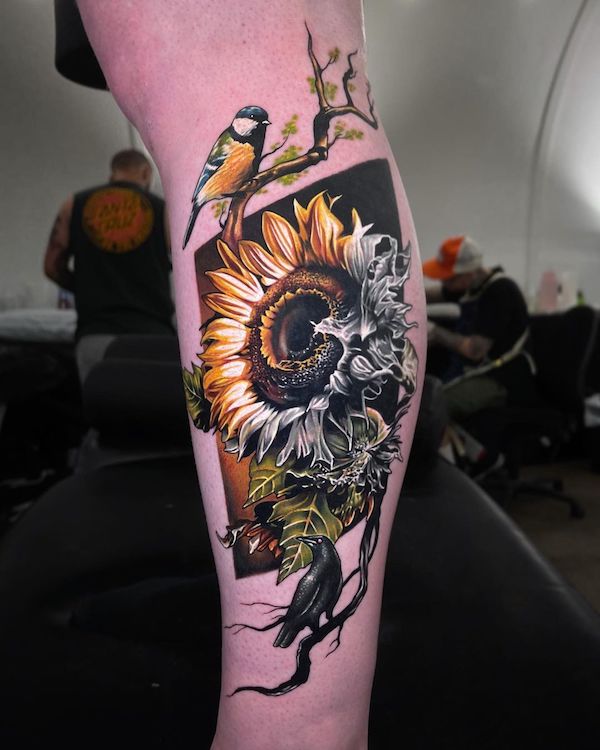 This design depicts a sunflower divided into two halves – one alive and one dead, each with a bird perched on a branch. It's a powerful representation of the dualities of life and death, growth and decay.
Wilted sunflower and sunflower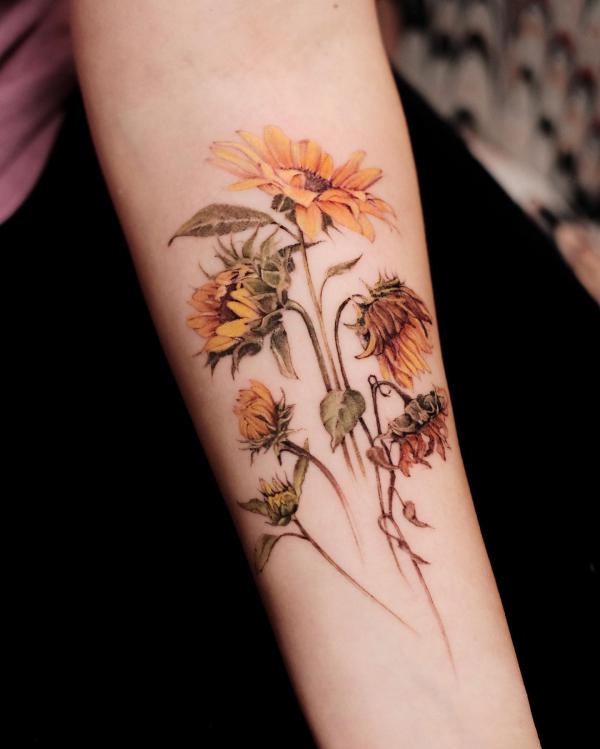 A design that features both wilted and vibrant sunflowers can be a striking exploration of life's dualities. This design captures the cycle of life, the inevitability of change, and the beauty inherent in every stage of existence. The contrast between the decay and bloom of the sunflowers adds depth and intrigue to the tattoo.
Yin yang sunflower tattoo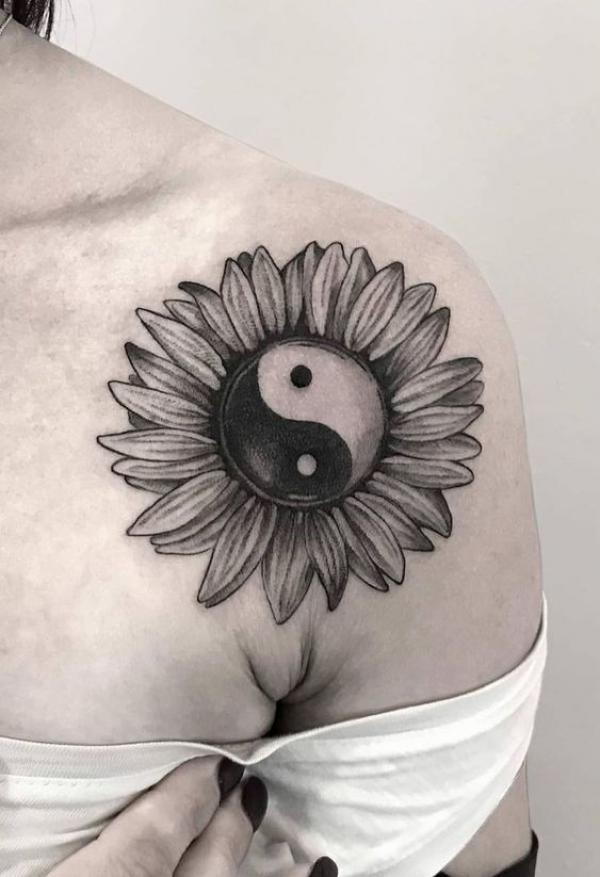 A Yin Yang sunflower is a beautiful fusion of natural imagery and ancient philosophy. This design typically features a black and grey sunflower with a Yin Yang symbol as the bud. The Yin Yang represents balance and harmony, making this tattoo a symbol of equilibrium and peace in the midst of life's complexities.
Amazing sunflower with galaxy tattoo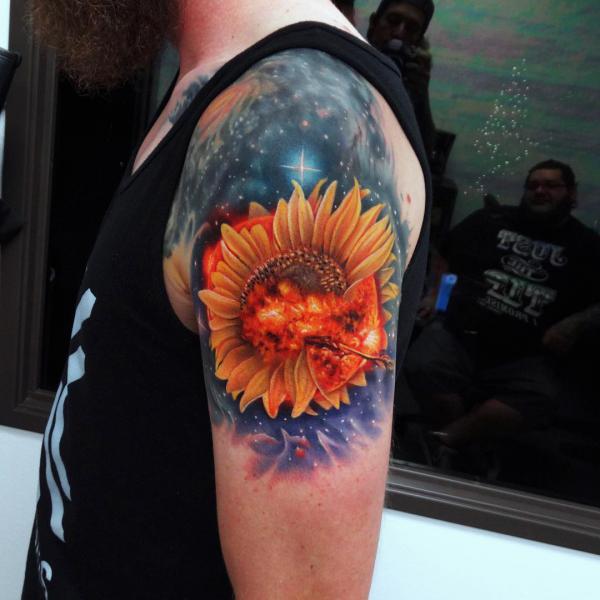 This quarter sleeve tattoo design features a vibrant sunflower set against the backdrop of a galaxy. The use of cosmic imagery adds a sense of mystery and wonder, transforming the sunflower into a celestial body. This design can symbolize a sense of connection with the universe, or the idea that there is beauty and potential in the unknown.
Big sunflower tattoo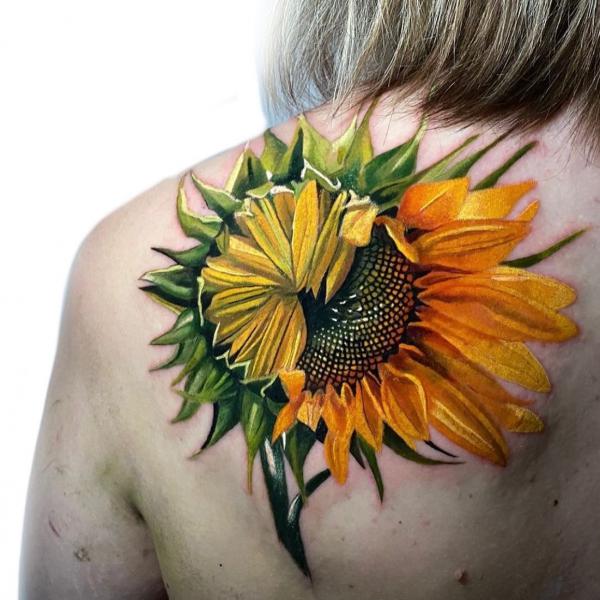 This unique design features a large sunflower on the shoulder blade, half of whose petals are green, and the other half, yellow. The use of two colors on the petals adds visual interest and can symbolize the various facets of one's personality, or the idea of growth and transformation.
Black and white sunflower and butterfly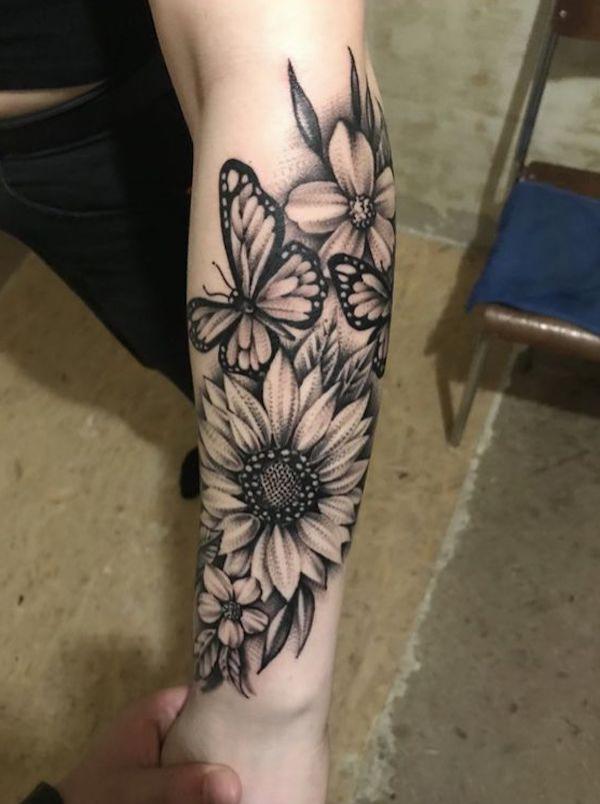 A black and white sunflower paired with a butterfly makes for a stunning and symbolic ink design. The monochrome palette lends an elegant, timeless feel, while the butterfly can symbolize transformation and renewal, making this a deeply meaningful design.
China cat sunflower tattoo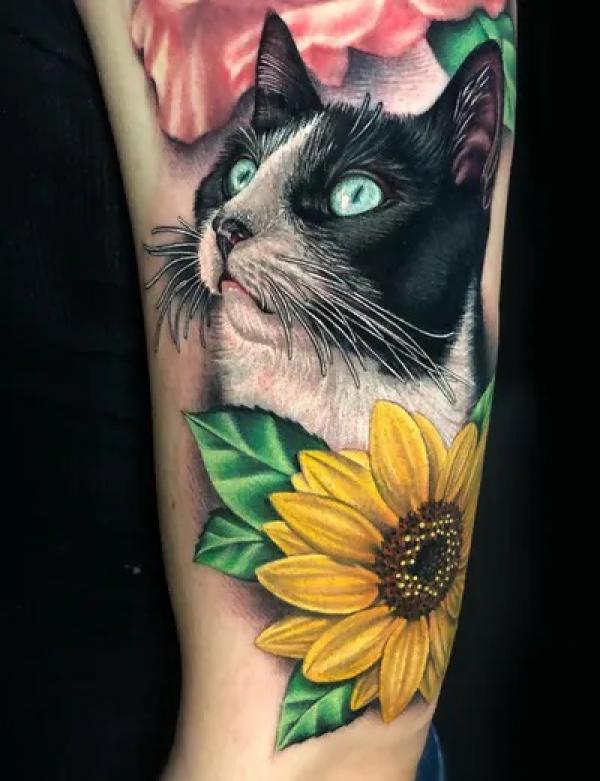 The arm tattoo is an intriguing design that combines floral and feline imagery. It's a delightful choice for cat lovers or those who appreciate unique and playful tattoo designs.
Daisy and sunflower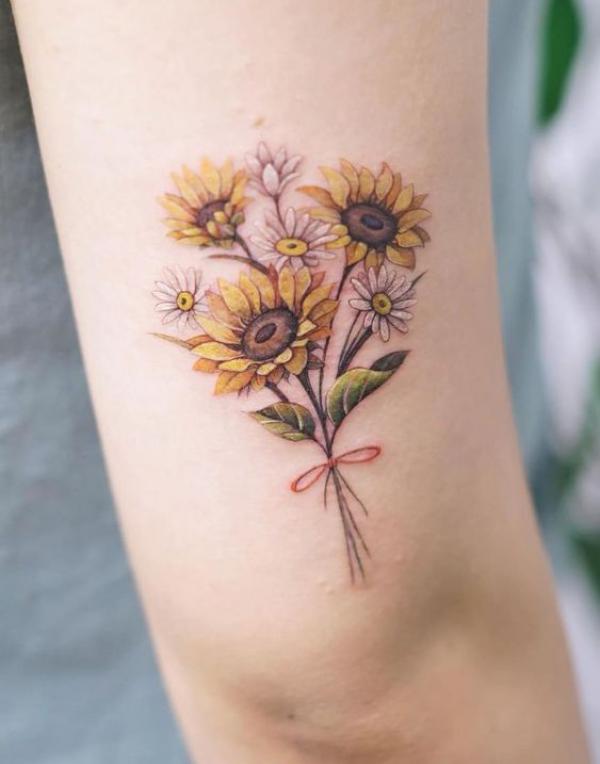 A tattoo featuring a bouquet of daisies and sunflowers is a beautiful celebration of nature. This design is a burst of joy and positivity, combining the cheerful symbolism of both flowers.
Dead sunflower tattoo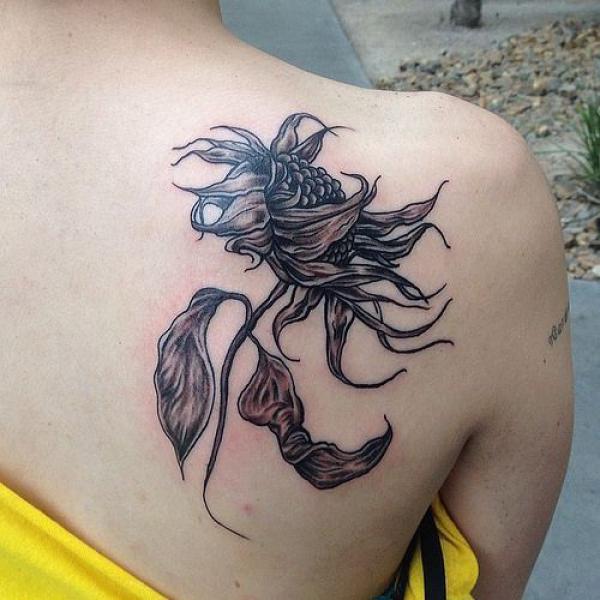 A dead sunflower can be a poignant and powerful symbol. Although it might seem morbid, the image of a dead sunflower can represent the cycle of life and death, or the idea that beauty can be found even in decay.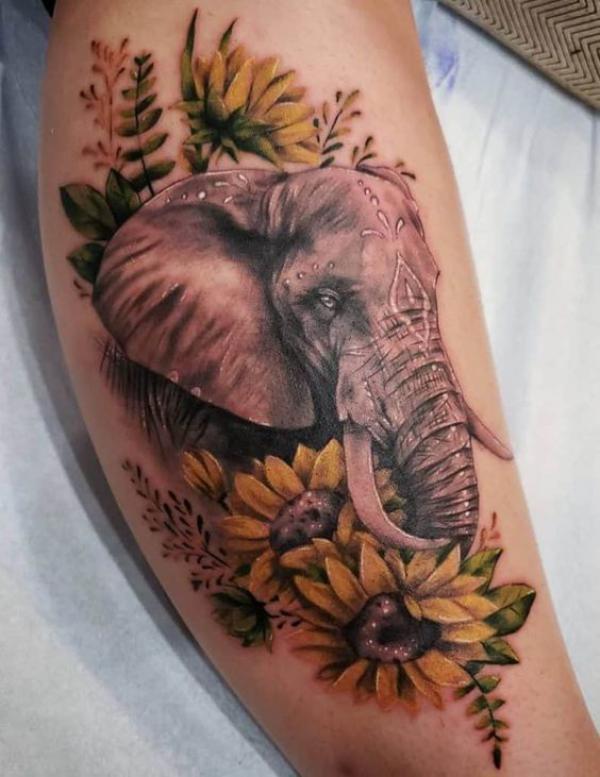 This tattoo features a realistic elephant head surrounded by sunflowers. This design combines the strength and wisdom associated with elephants and the joy and energy symbolized by sunflowers, creating a powerful and inspiring tattoo.
Full moon bud sunflower tattoo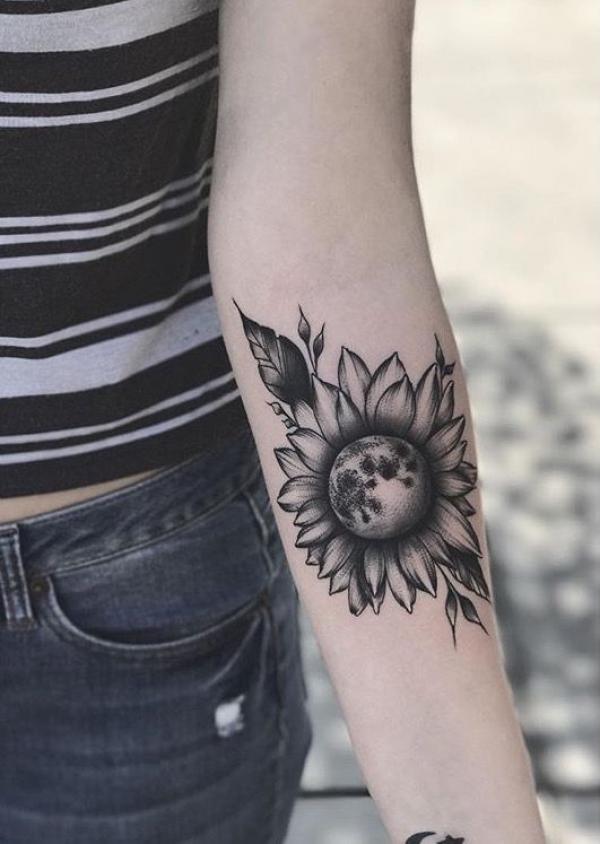 A full moon bud sunflower is a unique and mysterious design. The dark imagery of a sunflower with a 3D moon as the bud adds a celestial touch, creating a sense of mystery and wonder. This tattoo can symbolize the connection between nature and the cosmos, or the idea that there is more to us than what meets the eye.
Half sun half sunflower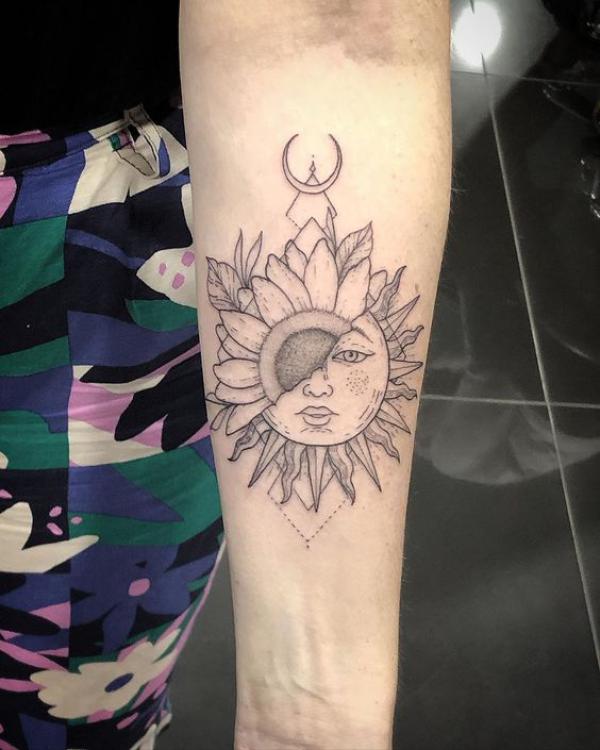 A black and grey sunflower design on the forearm, with half of it morphing into a sun face, offers a beautiful blend of nature and celestial bodies. A crescent moon on top complements the design, creating an intriguing fusion of day and night, light and darkness.
Sunflowers and Butterfly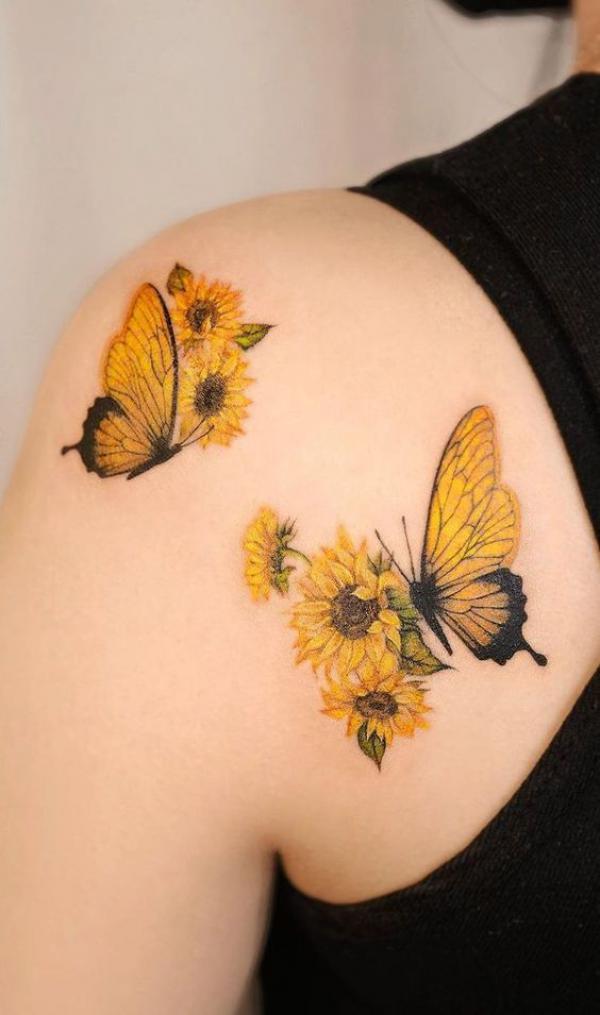 What could be more enchanting than two yellow butterflies perched on sunflowers? This design brings together two of nature's most colorful and lively elements, embodying beauty, transformation, and the vibrancy of life.
Half sunflower half compass tattoo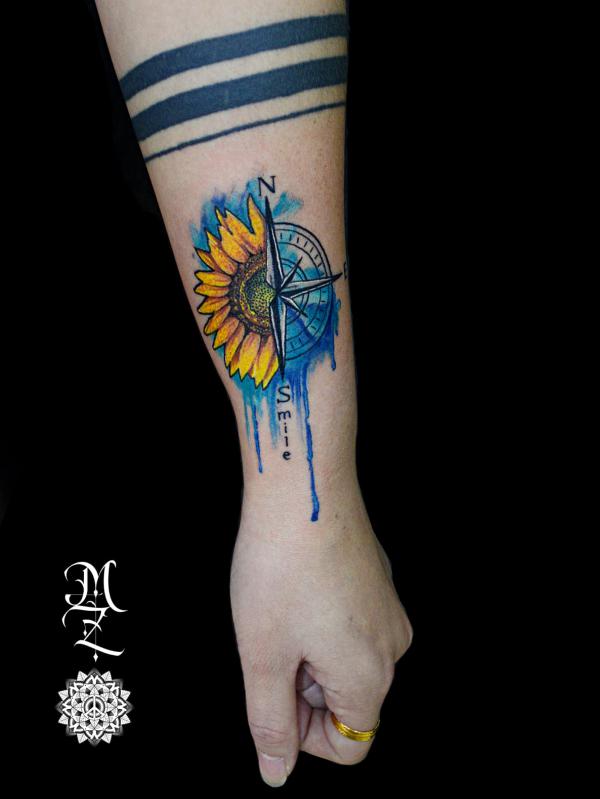 A unique twist on the classic sunflower design, this concept merges a sunflower with a compass set against a blue watercolor backdrop. It's an artistic representation of guidance and direction, symbolizing one's journey through life.
Leo sunflower tattoo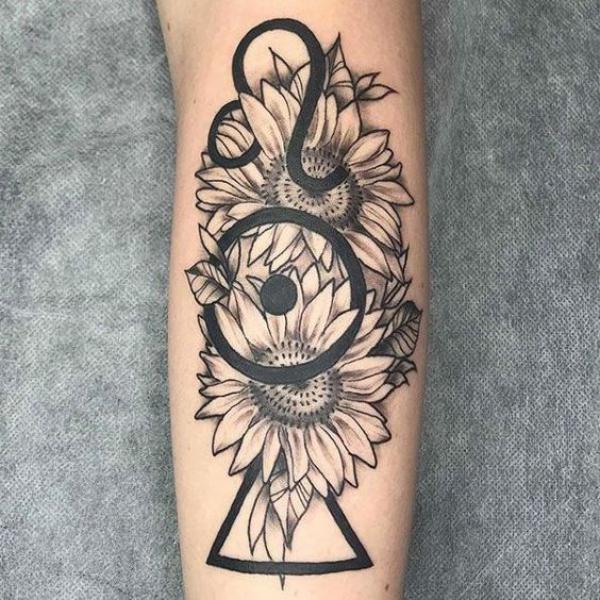 This design combines two black and grey sunflowers with the Leo sign, a circle dot symbol, and a triangle. It's a perfect choice for those who find strength and identity in their astrological sign and want to express it through an elegant, nature-inspired design.
lion and sunflower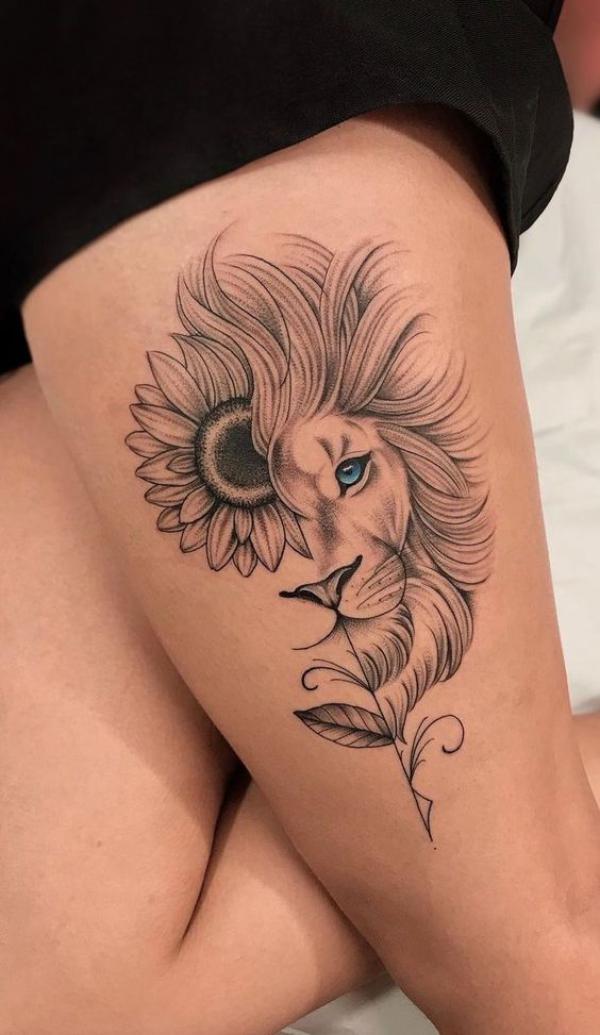 In this striking thigh tattoo, half of a sunflower transforms into a lion's face. It's a bold and dynamic design, embodying the strength, courage, and regal presence of the lion, intertwined with the sunflower's positivity and joy.
Sunflower reflection tattoo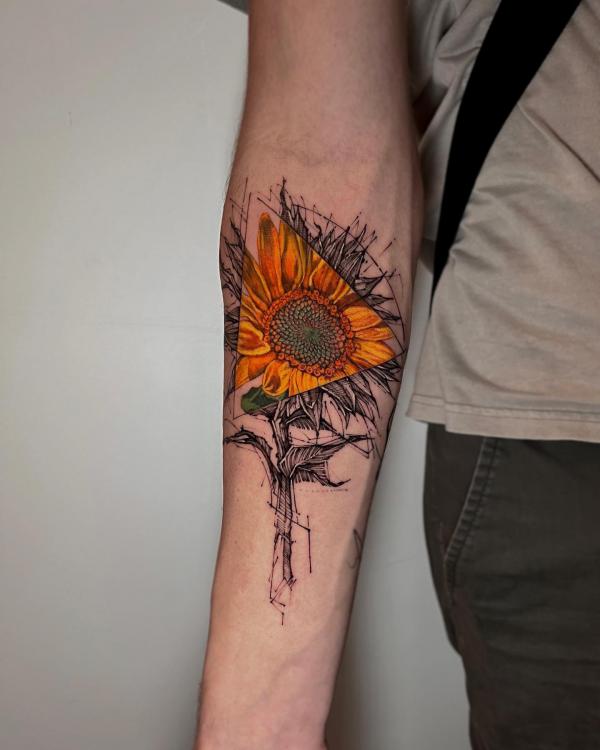 A triangle sits atop a withered sunflower in this design. Within the triangle is a vibrant sunflower, as if reflecting the past life of the dead one. This tattoo tells a story of resilience, rebirth, and the cycles of life and death.
Neo traditional sunflower tattoo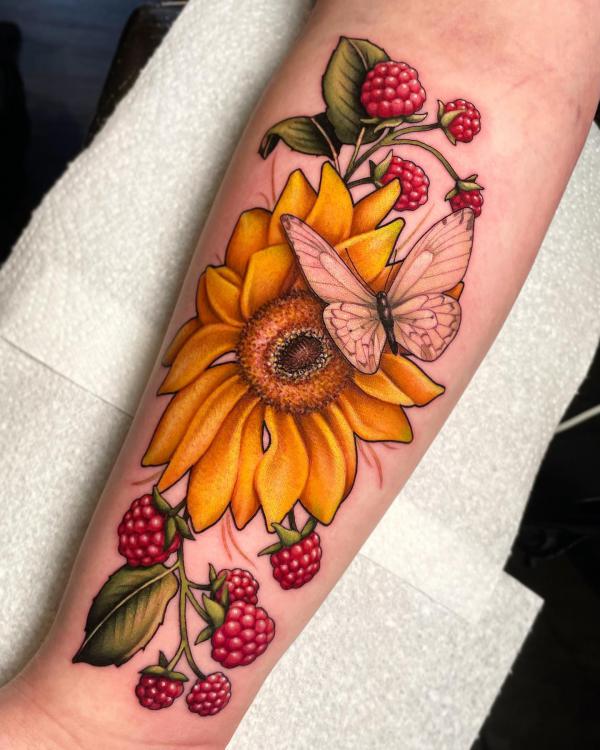 A neo traditional design features a butterfly perched on a sunflower, surrounded by vibrant red berries. This design is rich in color and detail, a beautiful homage to traditional tattoo styles, with a modern twist.
Owl and sunflower tattoo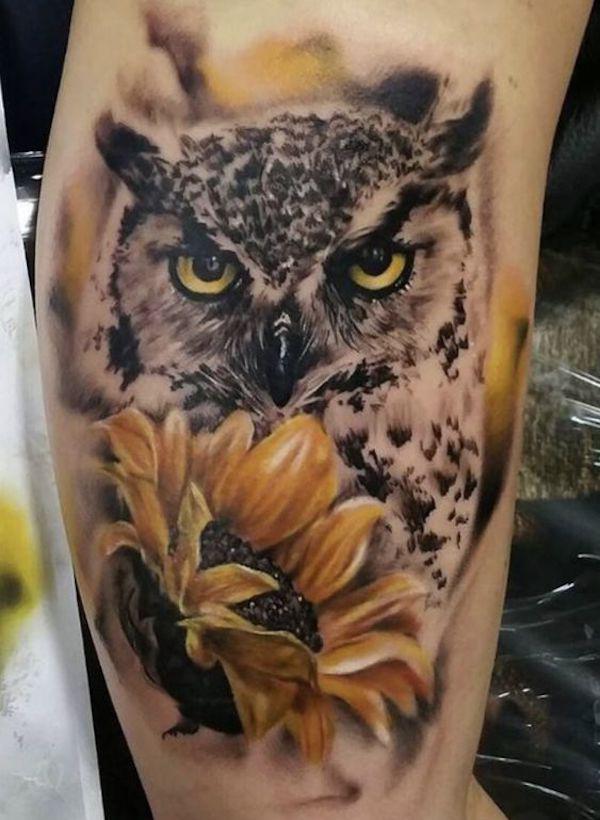 Marrying wisdom and joy, an owl and sunflower tattoo is a powerful representation of the beauty in knowledge and learning. The wise owl, paired with the cheery sunflower, creates an intriguing juxtaposition.
Rainbow sunflower with name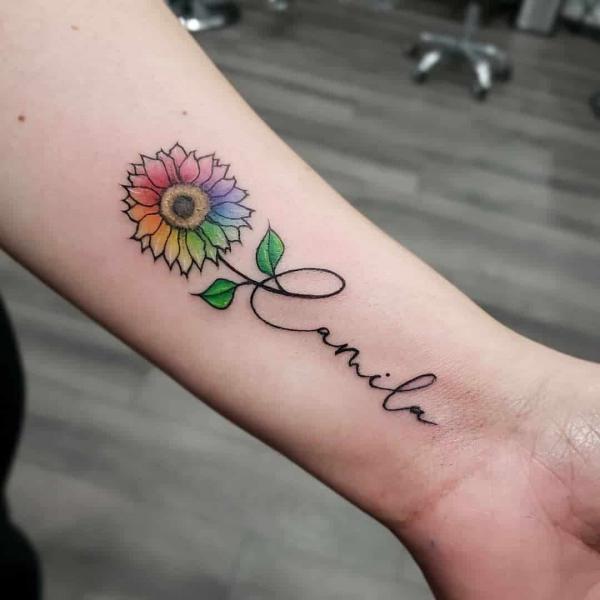 A sunflower with gradients of different colors and a name connecting to its stem is a colorful celebration of individuality and diversity. It's a personal tribute, a vibrant burst of color that celebrates life and love.
Sea turtle sunflower tattoo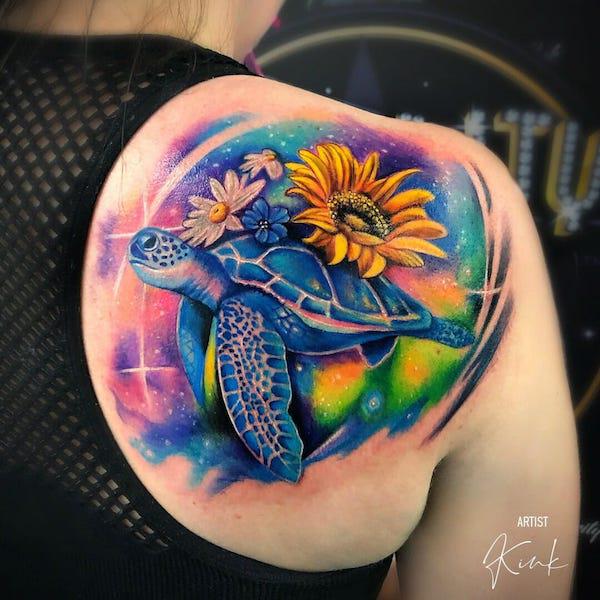 In this colorful design, a sea turtle is rendered within the heart of a sunflower. It's a charming blend of land and sea, offering an artistic appreciation for wildlife and nature's beauty.
Skull with sunflower tattoo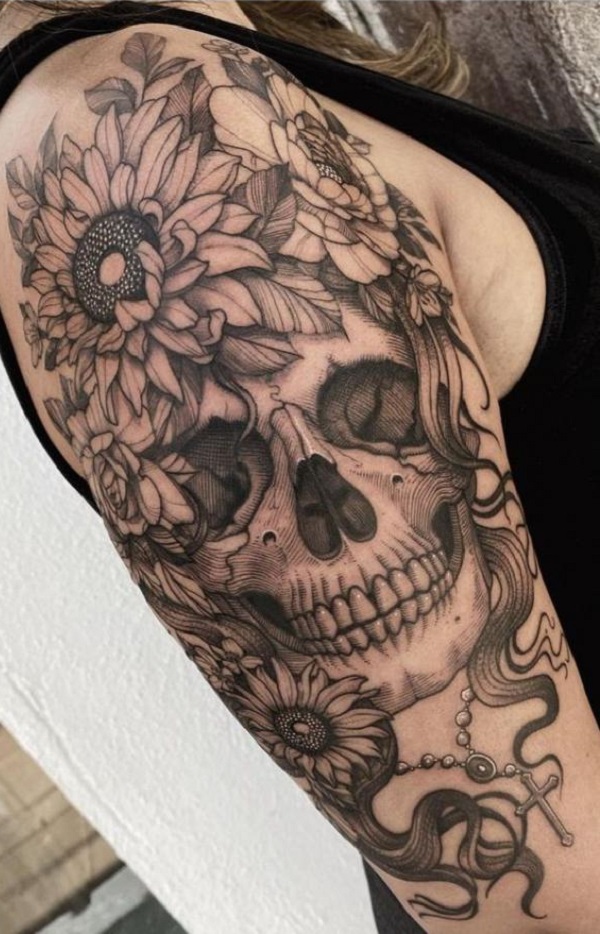 A black and grey half-sleeve tattoo featuring a skull with a sunflower creates a captivating contrast between life and death. It's a stark reminder of mortality, softened by the sunflower's symbol of vitality and perseverance.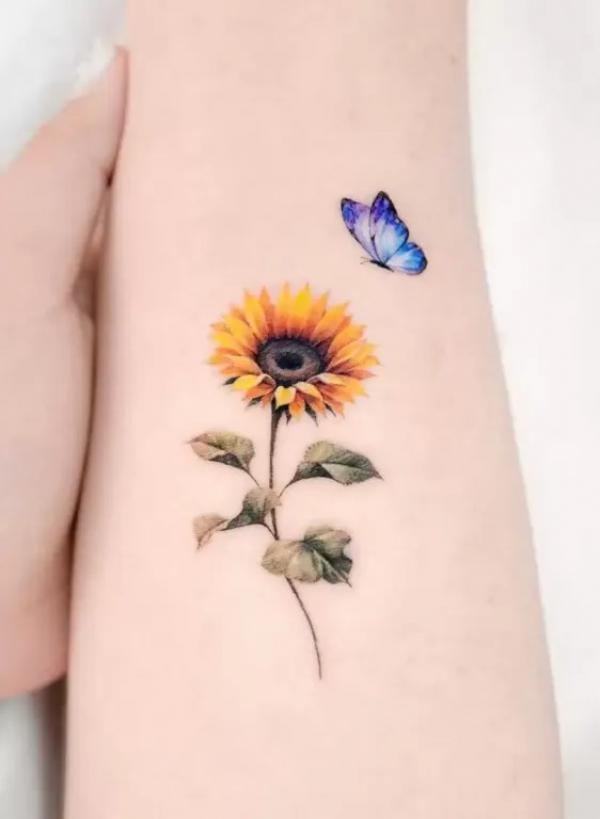 For a more feminine design, consider a delicate blue butterfly near a single sunflower. It's a small, subtle design but carries a powerful symbolism of transformation and the joy of life.
Snake and sunflower
A snake entwined with sunflowers offers a stunning balance of danger and beauty. It's a symbol of growth and renewal, as both the snake and sunflower represent transformation in their unique ways.
Starry night and sunflower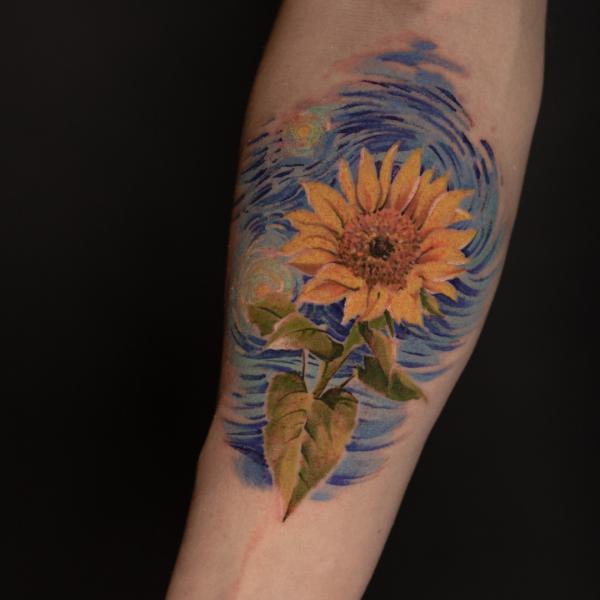 A yellow sunflower set against the backdrop of Van Gogh's Starry Night on the forearm is a tribute to one of the most iconic works of art. It merges the beauty of nature with the magic of the night sky, creating a captivating visual narrative.
Sunflower and bee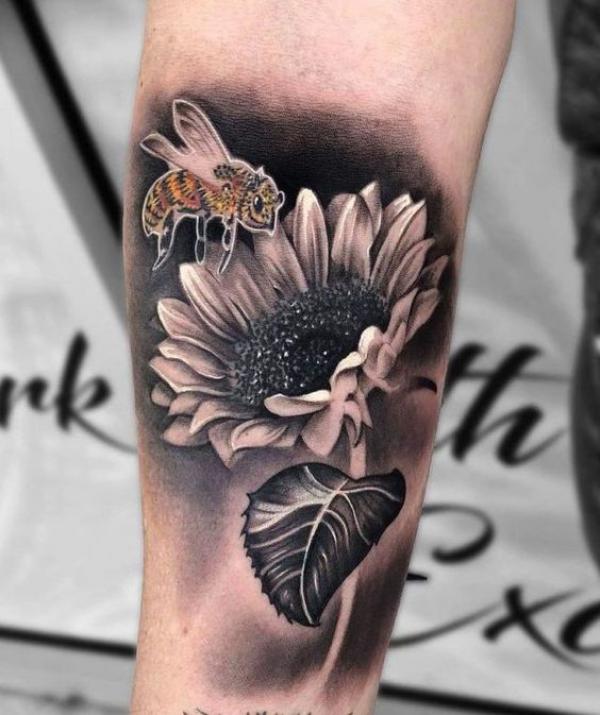 A sunflower and bee design is a delightful tribute to nature. The design typically features a bee approaching a realistically rendered black and white sunflower. This tattoo can symbolize the symbiotic relationship between these two creatures and how they rely on each other for survival.
sunflower and carnation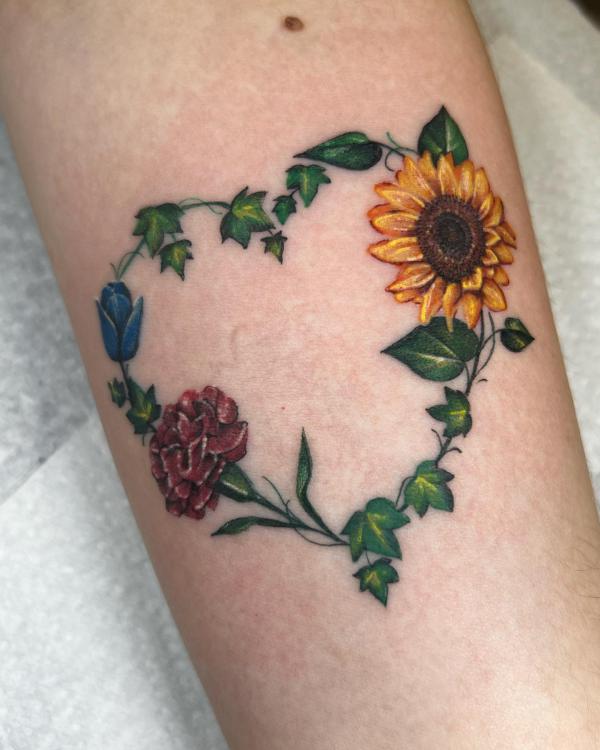 The lovely design features a sunflower and carnation as well as green leaves forming a heart shape. The tattoo combines the joy and positivity symbolized by the sunflower with the love and admiration represented by the carnation. It's a heartwarming tattoo that can express love for someone or something.
Sunflower and dandelion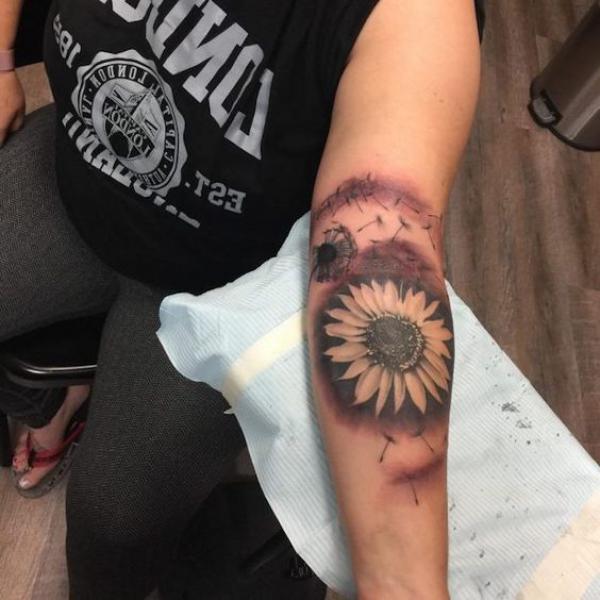 The design of a sunflower surrounded by dandelion seeds on the inner forearm is both beautiful and symbolic. This tattoo can represent the idea of growth and transformation—the dandelion seeds symbolizing change and the sunflower representing the result of that change.
Sunflower and dragonfly tattoo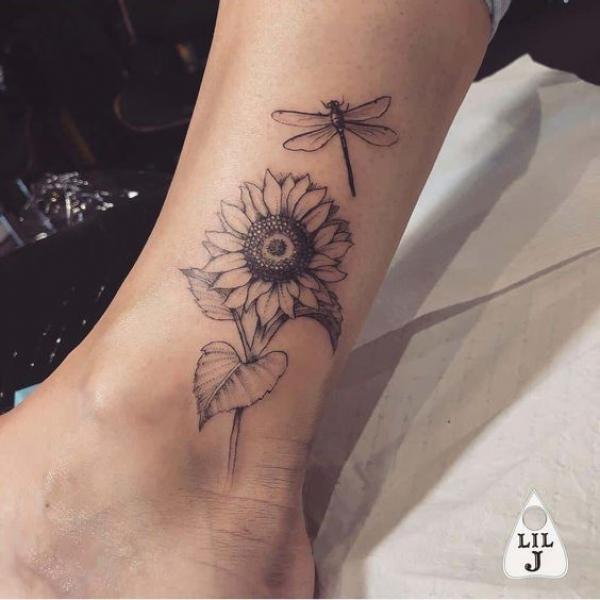 The elegant design depicts a fine line work of a dragonfly near a sunflower. It can symbolize the balance between strength and fragility, as both the sunflower and dragonfly display these qualities in nature.
Sunflower and hibiscus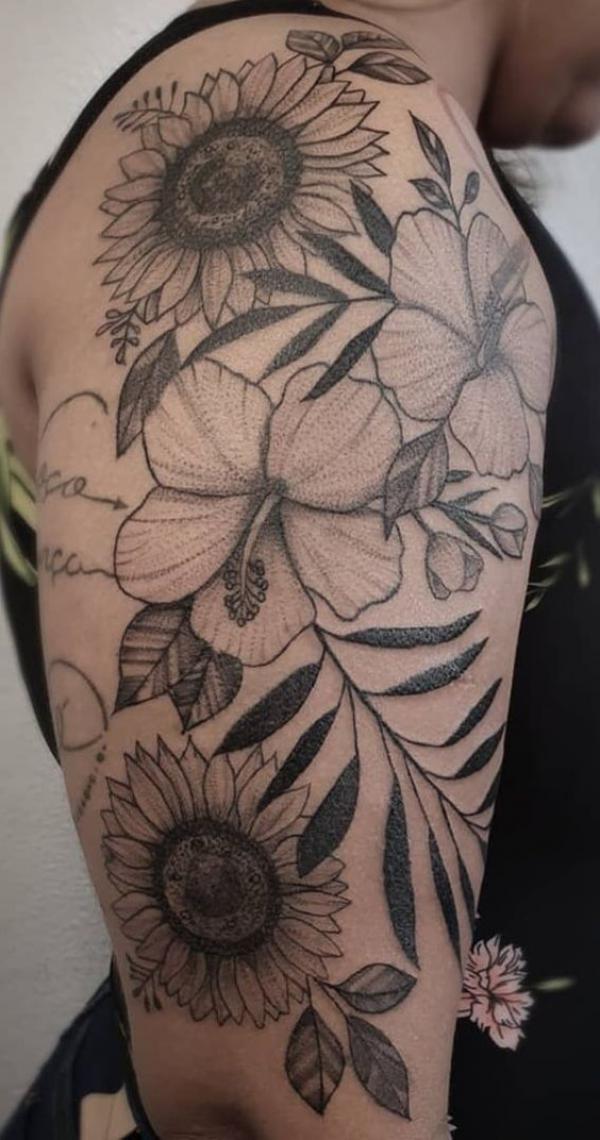 A sunflower, hibiscus, and ferns stretching from the shoulder to upper arm create a vibrant and eye-catching design. This tattoo can reflect a love for tropical landscapes and the joy and energy associated with these places.
Sunflower and Hourglass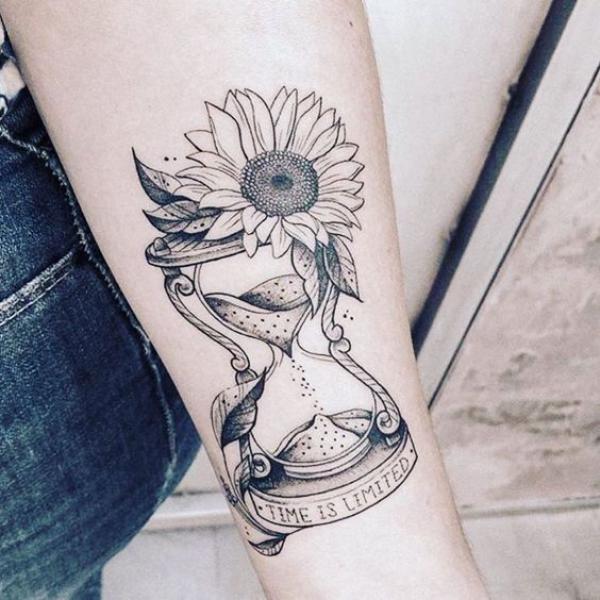 An hourglass with a sunflower resting on it, bearing the words "Time is limited", is a poignant design. This tattoo can serve as a reminder of the fleeting nature of time and the importance of living in the moment.
Sunflower and hummingbird tattoo
A hummingbird drinking from a sunflower is a beautiful design that portrays a dynamic scene from nature. This tattoo can symbolize the sweetness of life and the joy of finding your "nectar," just like a hummingbird finds its nourishment from flowers.
Sunflower and ladybug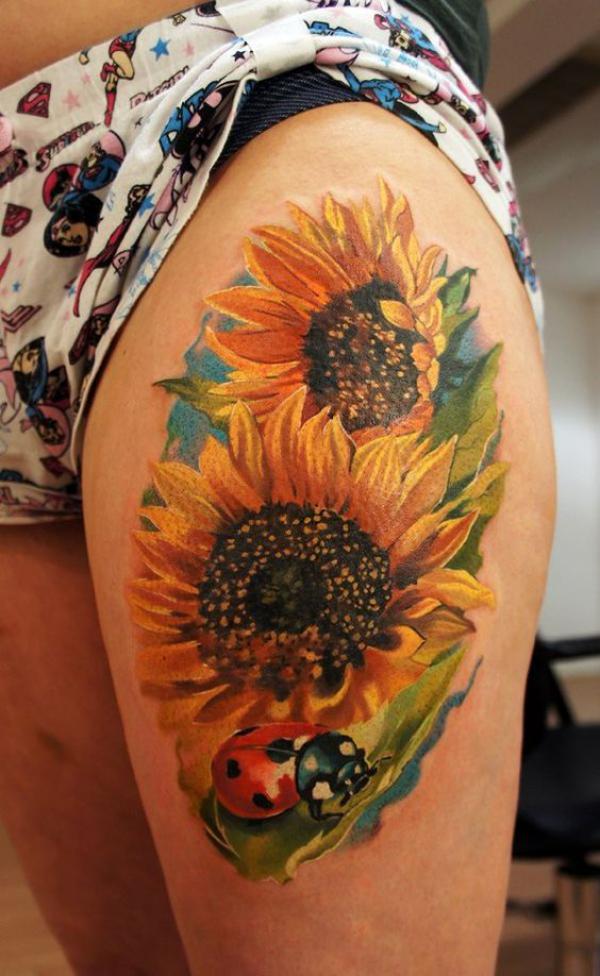 A ladybug underneath two vibrant sunflowers is a charming thigh tattoo. The ladybug is often seen as a symbol of luck, and in combination with the sunflowers, this design can represent good fortune and happiness.
Sunflower and lavender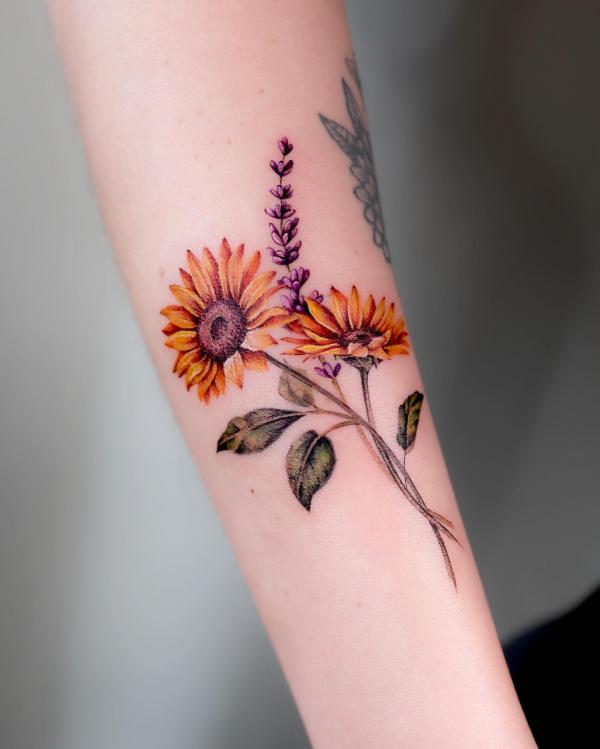 The combination of a yellow sunflower and purple lavender in an ink design creates a striking color contrast. This tattoo can symbolize a love for nature, joy, and calm, as both flowers are known for their uplifting qualities.
Sunflower and lily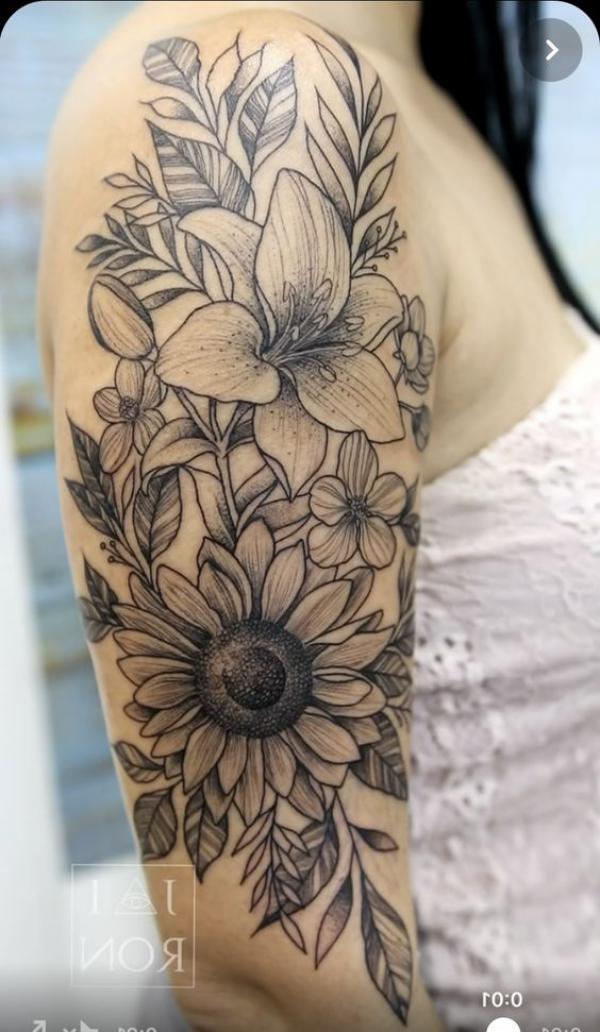 A black and grey half sleeve tattoo featuring a sunflower and lily is a popular design idea. The monochrome palette lends the design a timeless and classic look, while the flowers add a touch of nature's beauty.
Sunflower and peony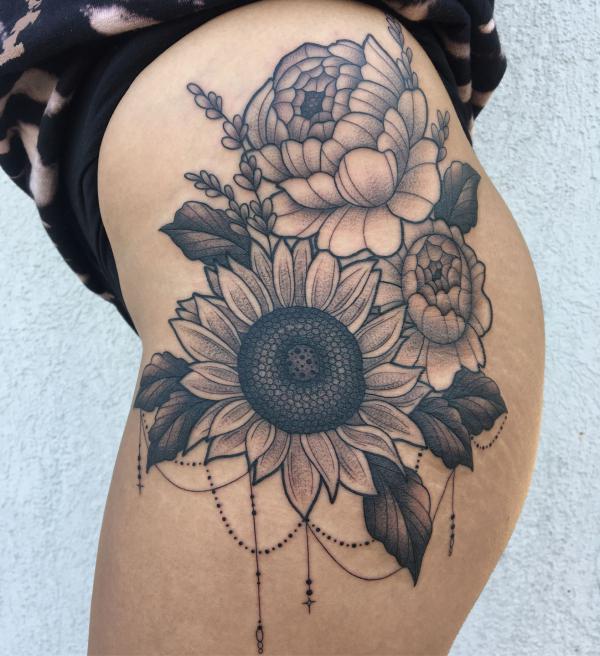 A sunflower and peony in black and grey, adorned with hanging bracelets, is a unique design. This tattoo can symbolize cherished memories, with each bracelet representing a significant event or person.
Sunflower and portrait tattoo outline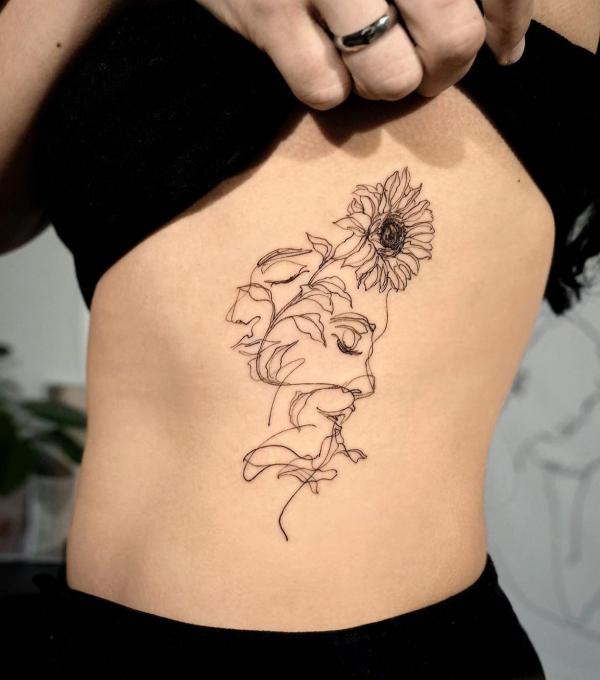 The creative and unique design features leaves and stems depicted as a human face, with a sunflower as the focal point. This abstract design can symbolize the deep connection between humans and nature.
Sunflower and rose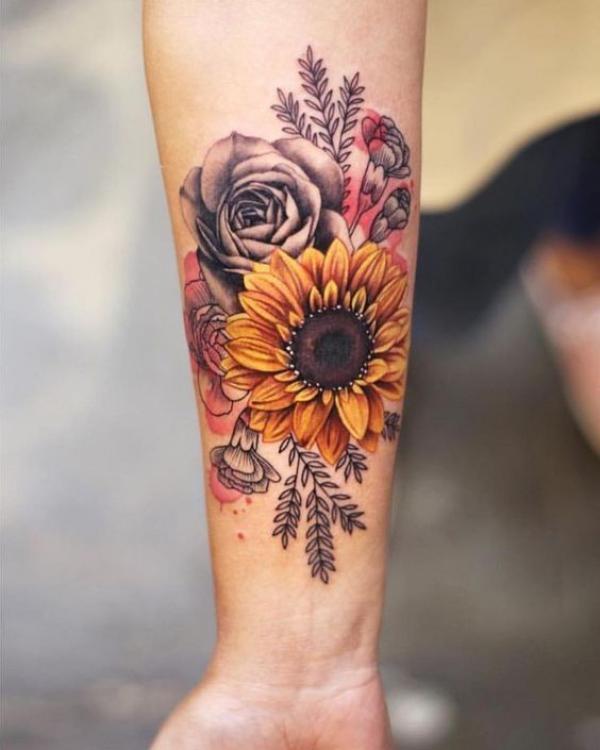 A vibrant sunflower paired with a dark rose creates a striking tattoo design. This combination can represent the contrast between joy and sorrow, reminding us of life's ups and downs.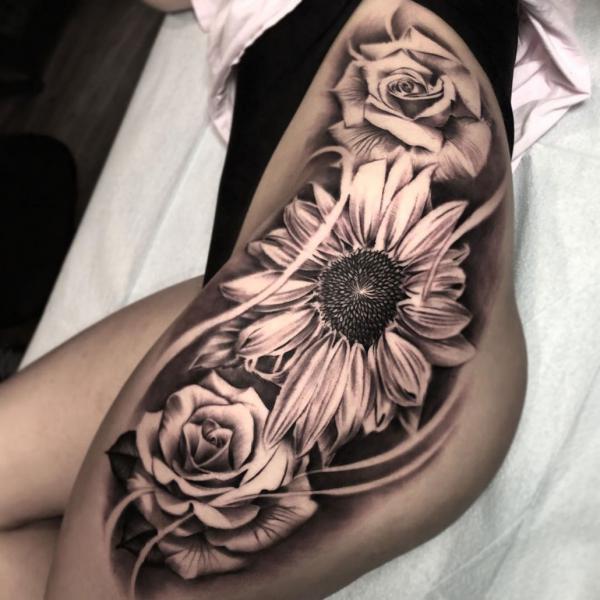 A sunflower situated between two roses, running from the rib to the thigh in black and white, is an elegant and detailed design. The three flowers together can symbolize a balance between love (roses) and happiness (sunflower).
Sunflower and tulip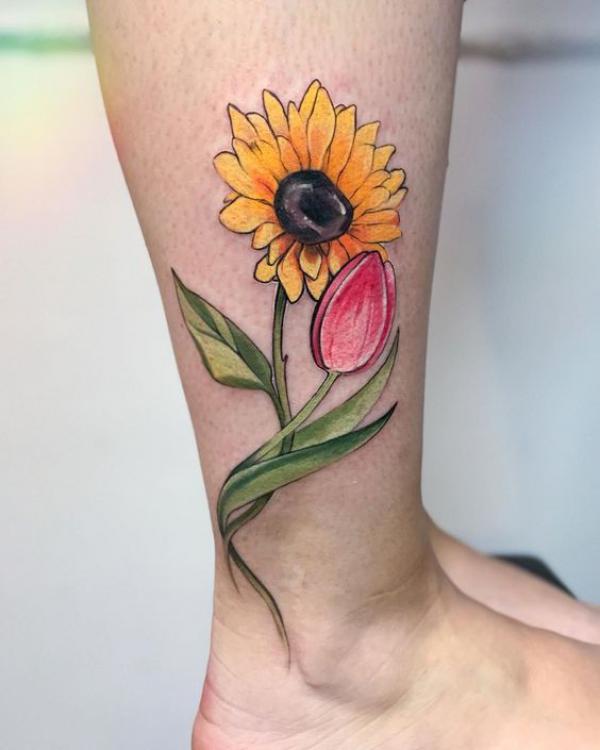 A yellow sunflower and pink tulip tattoo is a bright and cheerful design. This tattoo can symbolize the joy and rebirth associated with spring, as both flowers are popular during this season.
sunflower arrow tattoo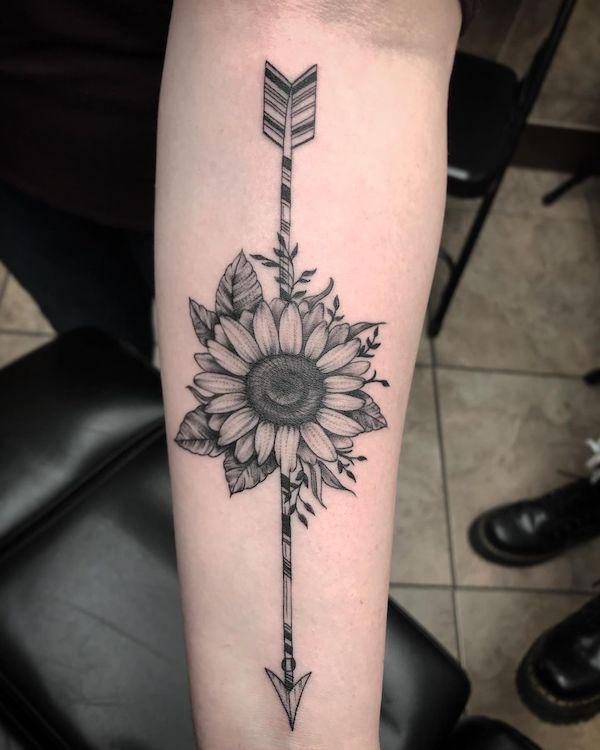 An arrow passing through a sunflower in black and grey is a unique and intriguing design. The arrow can symbolize direction or purpose, while the sunflower adds a touch of joy and positivity.
Sunflower clock tattoo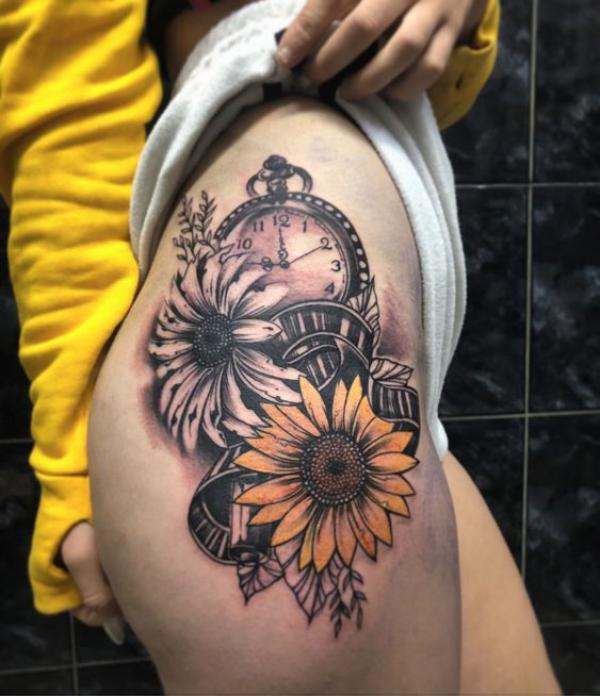 A sunflower clock design features a clock atop a withered sunflower and a vibrant one, rendered in black and grey on the side of the hip. This design can symbolize the passage of time and the cycle of life and death, with the sunflowers representing these contrasting stages.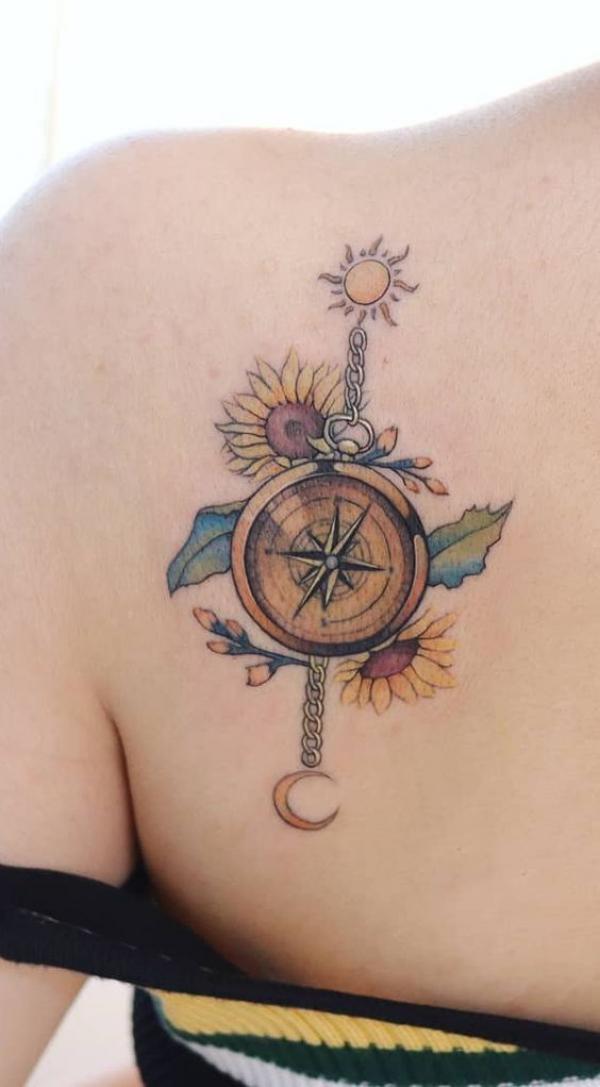 The unique design features a vintage compass adorned with two sunflowers connected to the Sun and Moon through chains. This tattoo can symbolize guidance and direction, with the sunflowers adding an element of positivity and joy.
A cover up tattoo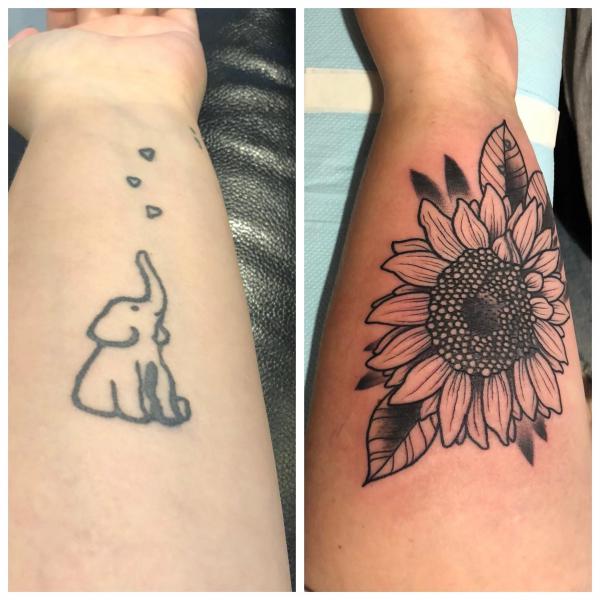 This sunflower piece on the inner forearm is a prime example of a masterful cover up tattoo idea. Originally, a small elephant design occupied the space of the inner forearm . But now, a meticulously inked sunflower has taken its place. Despite being in black and white, the sunflower stands out with its distinct shape and intricate details.
Sunflower crescent moon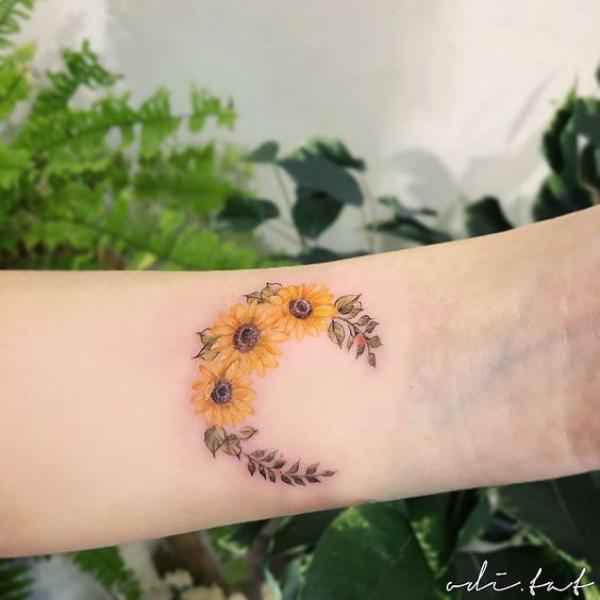 A crescent moon formed with yellow sunflowers, leaves, and ferns is a visually striking design. This tattoo can symbolize the connection between nature and the cosmos, or the cyclical nature of life.
Sunflower cross tattoo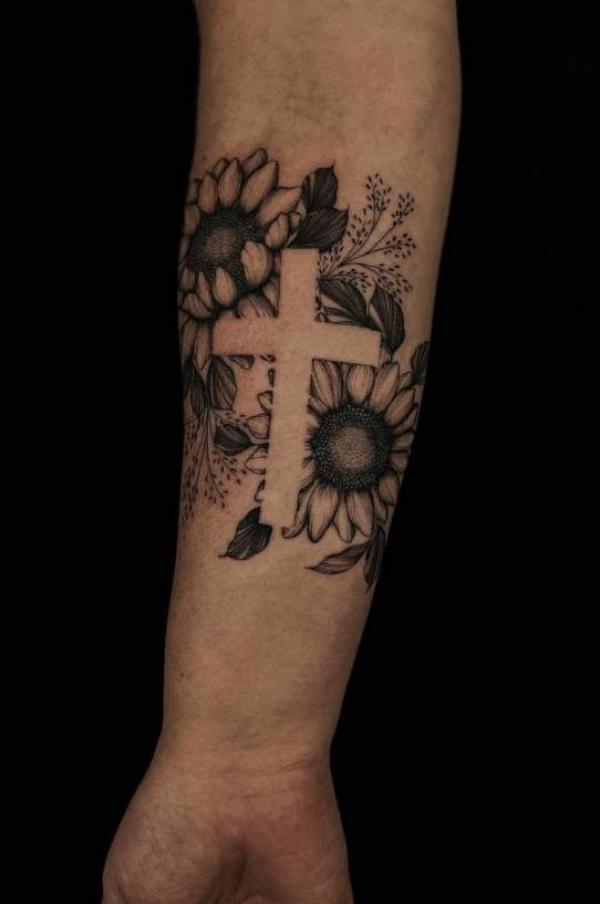 A design featuring dark sunflowers with a cross rendered in negative space is a profound symbol of faith. The sunflowers add a touch of positivity and joy to the spiritual symbolism of the cross.
Sunflower drawing tattoo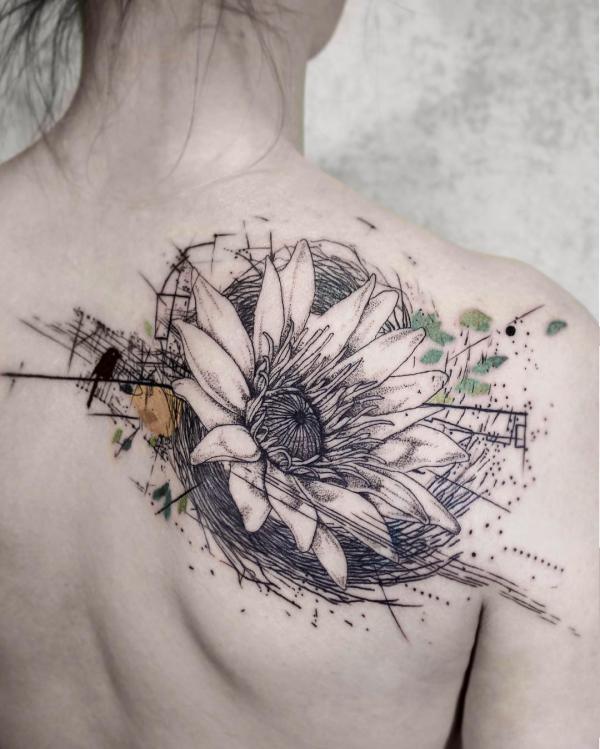 A sunflower drawing design on the shoulder blade is a classic design. It's a simple yet beautiful design that can symbolize joy, positivity, and the beauty of nature.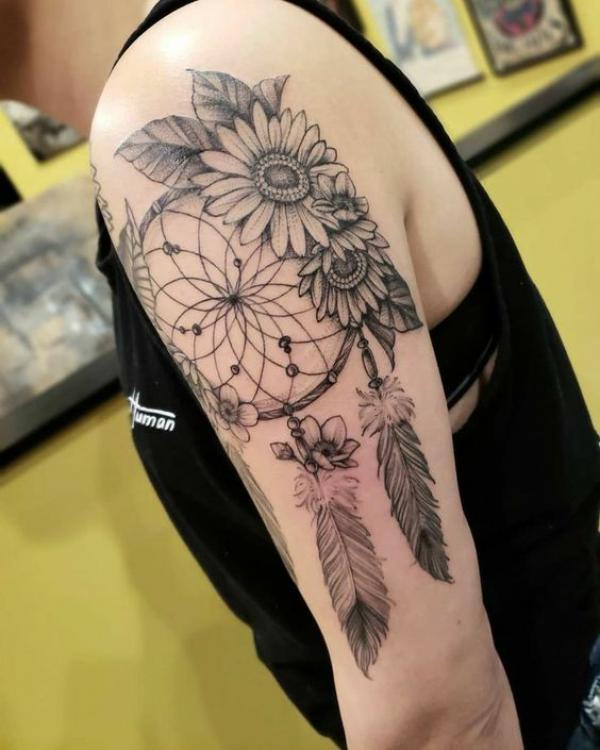 The wheel of a dream catcher adorned with sunflowers creates a beautiful and meaningful tattoo design. This tattoo can symbolize protection and positivity, with the sunflowers adding a touch of joy.
Sunflower face tattoo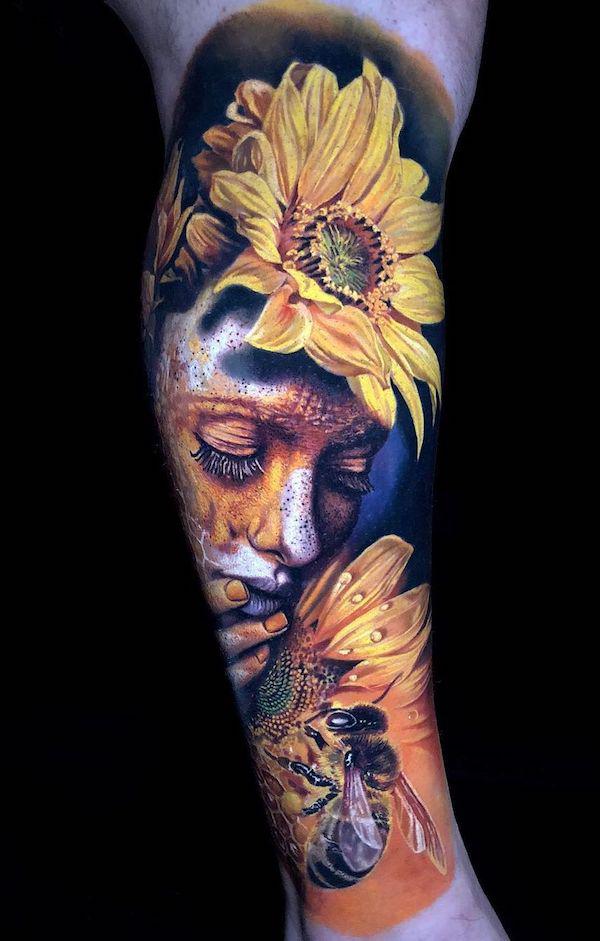 A makeup face adorned with two sunflowers, one atop and one underneath where a bee is drinking, is a unique design. This tattoo can symbolize beauty, positivity, and a love for nature.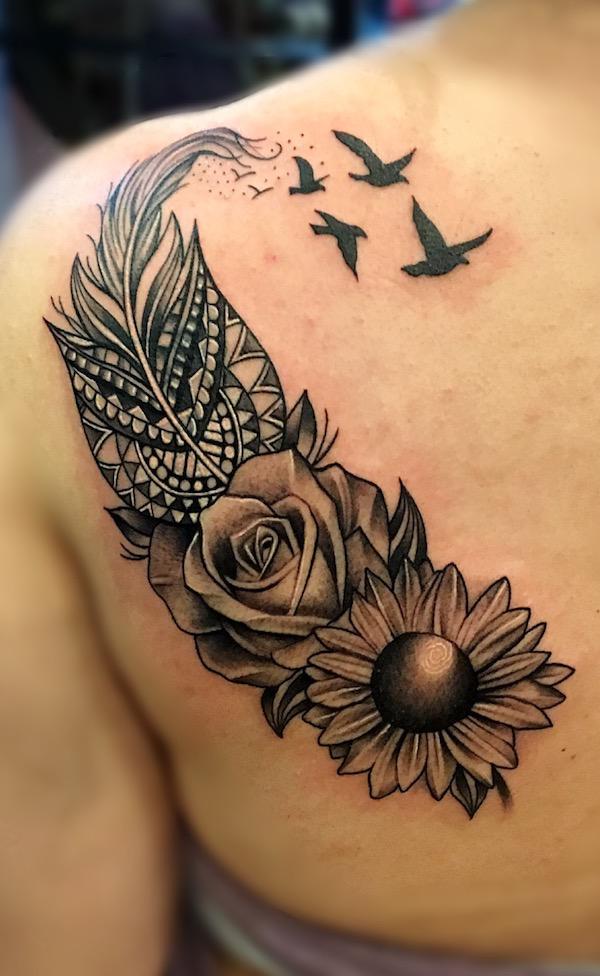 Birds flying out of a feather transformed from sunflowers and roses is a striking design. This tattoo can symbolize freedom, transformation, and the beauty of nature.
Sunflower friendship tattoos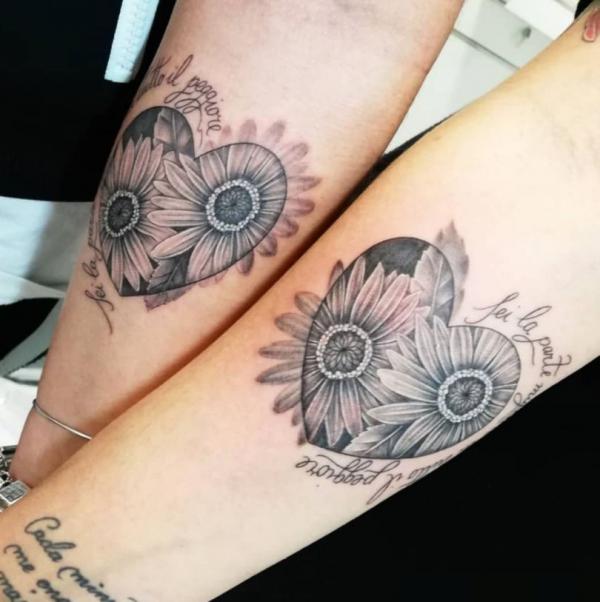 Matching sunflower designs on the forearms of friends, featuring two sunflowers in a heart shape, is a touching tribute to friendship. These tattoos can symbolize the shared joy and love between friends.
Sunflower paw print ink design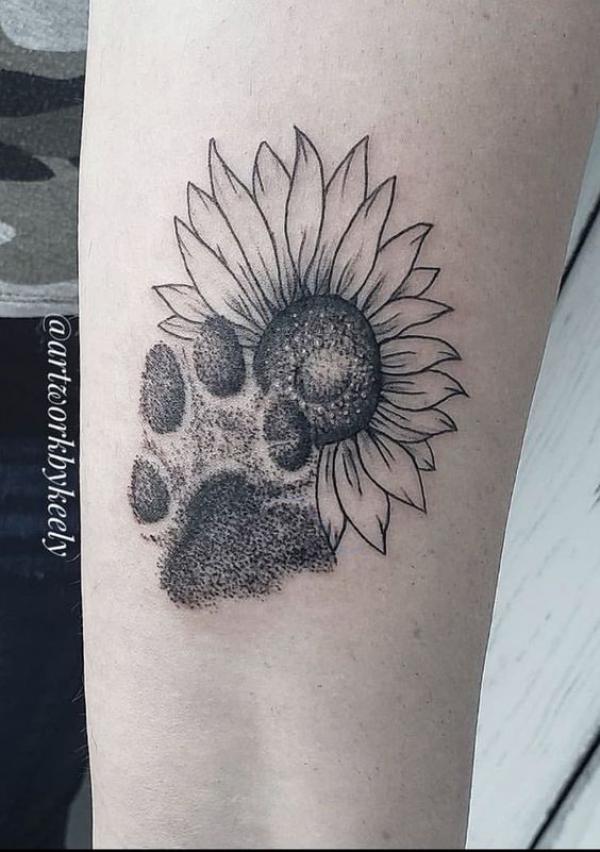 A design where half of a dark sunflower transforms into a paw print is a unique design for pet lovers. This tattoo can symbolize the joy and love that pets bring into our lives.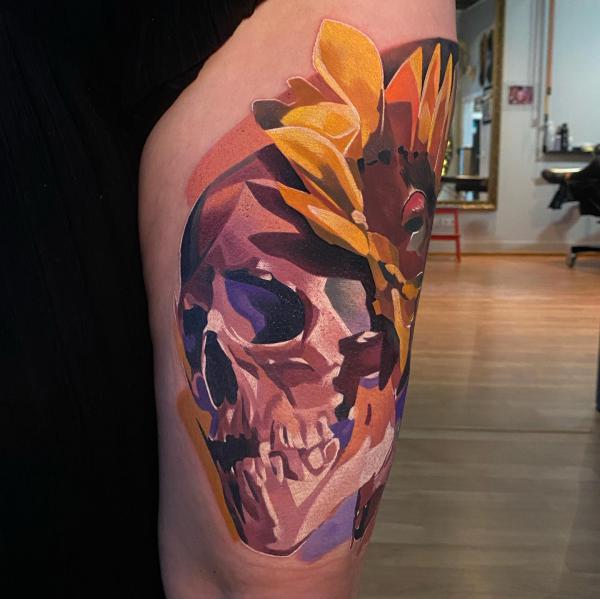 A 3D style skull with sunflower is a striking design. This tattoo can symbolize the cycle of life and death, with the sunflower representing life and the skull symbolizing mortality.
Sunflower sun tattoo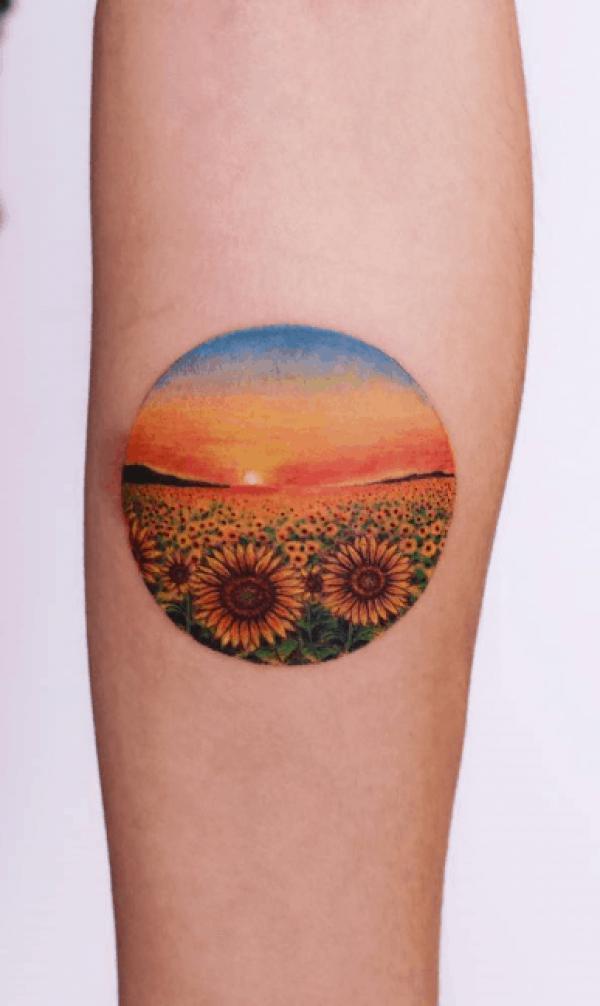 A sunset landscape with sunflowers in a circle is a vibrant design. This tattoo can symbolize the end of a day or phase, with the sunflowers adding a hopeful touch of joy and positivity.
Imagine a miniature of sunset landscape of sunflowers. This creative idea combines the warmth and serenity of a sunset with the optimistic symbolism of a sunflower. The vibrant colors of the setting sun, coupled with the stunning silhouette of sunflowers, create a breathtaking view that can be beautifully translated into a tattoo.
Sunflower tattoo sketch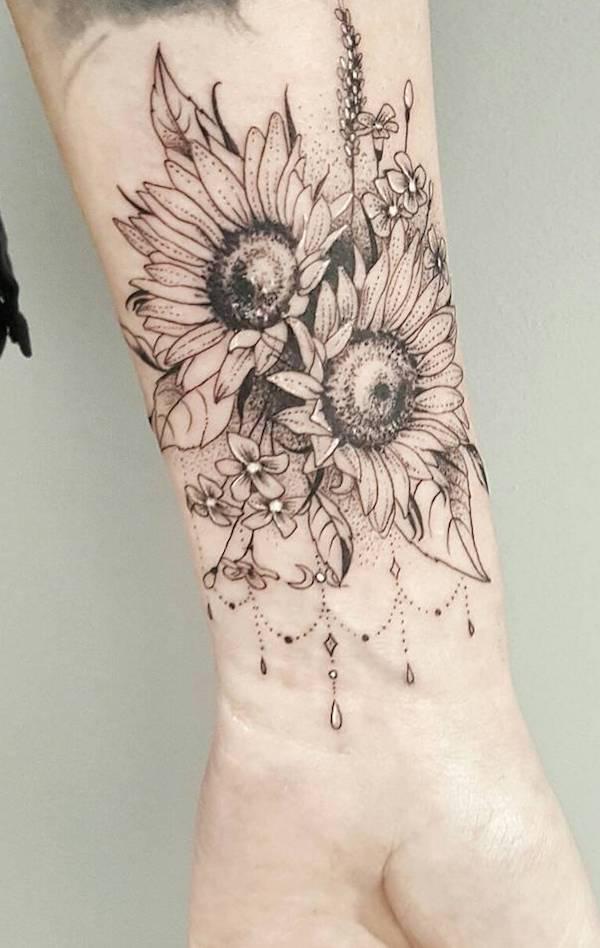 Two sunflowers etched onto your forearm in a sketchy style can be a great choice if you're looking for something artistic and slightly abstract. The sketchy style adds an artistic touch that makes the tattoo feel like a personal doodle—but on your skin!
Sunflower triangle tattoo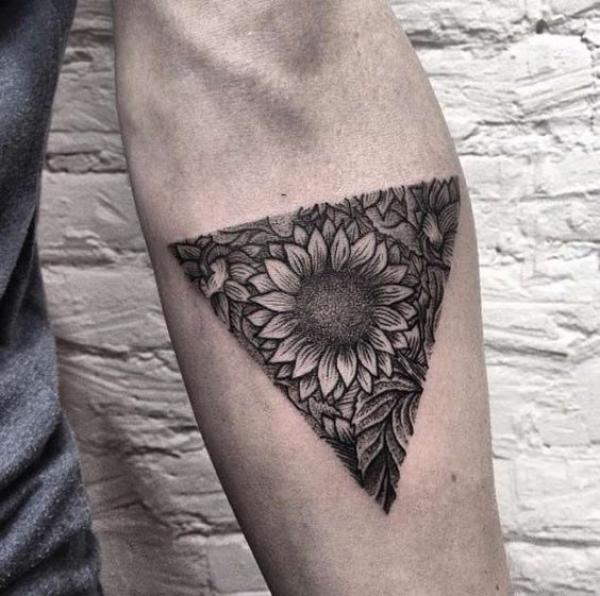 A triangle filled with a dark sunflower design blends the precision of geometric patterns with the organic beauty of nature. This tattoo idea is a perfect choice if you're looking for something that balances a sleek, modern aesthetic with a touch of natural charm.
Sunflower tribal tattoo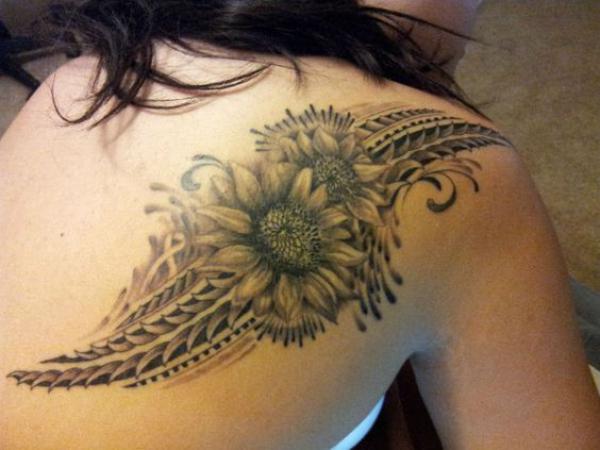 Incorporating Polynesian tribal elements into a sunflower design gives a traditional twist to a modern symbol. The intricate tribal patterns surrounding or forming the sunflower add depth and texture to the tattoo, providing an interesting contrast to the smooth, rounded petals of the sunflower.
Sunflower and human face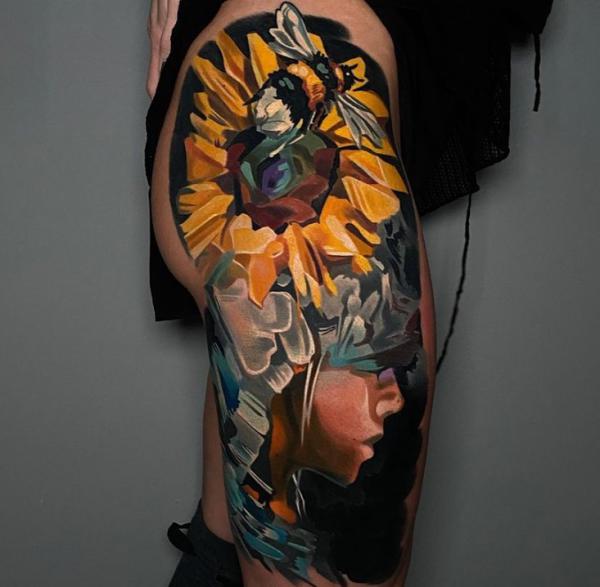 Starting from the side of your hip and reaching down to your thigh, a sunflower tattoo merging with a human face is a truly unique and impressive design. Symbolizing the deep connection we have with nature, this tattoo is a powerful piece of art that will surely make a bold statement.
Van Gogh sunflower ink design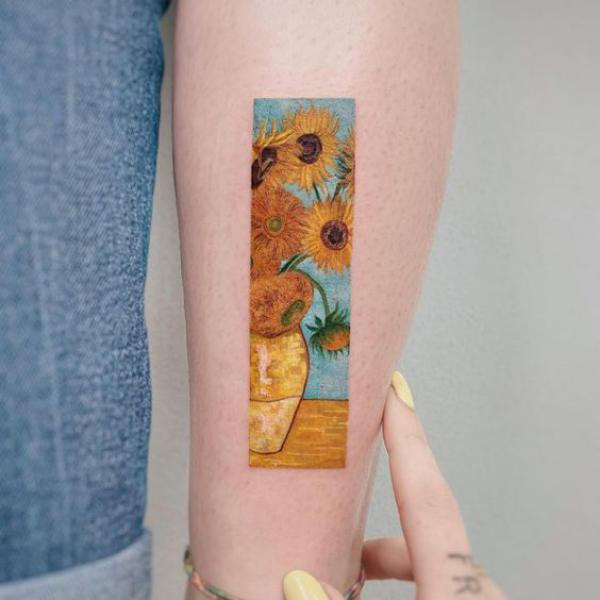 If you're an art enthusiast, why not carry a piece of Van Gogh's genius on your skin? A rectangular tattoo featuring the famous "Sunflowers" painting is not just a beautiful piece of art. It's a tribute to one of the greatest artists of all time. The vibrant yellow petals and the distinct brush strokes make this tattoo a standout piece that's sure to capture attention.
A popular trend in sunflower tattoo designs is the inclusion of meaningful quotes. These phrases often enhance the symbolism of the sunflower, adding a personal touch to the design.
You Are My Sunshine Tattoo
This design combines the image of a sunflower with the phrase "You Are My Sunshine." It's a beautiful expression of love and admiration, as the sunflower and the sun are used symbolically to represent a beloved person.
You are my sunshine butterfly semicolon tattoo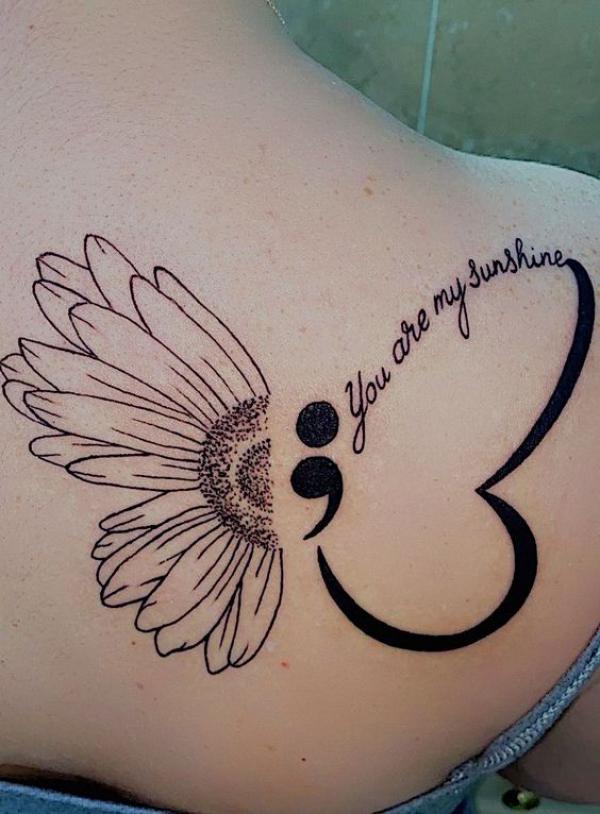 You are my sunshine sunflower tattoo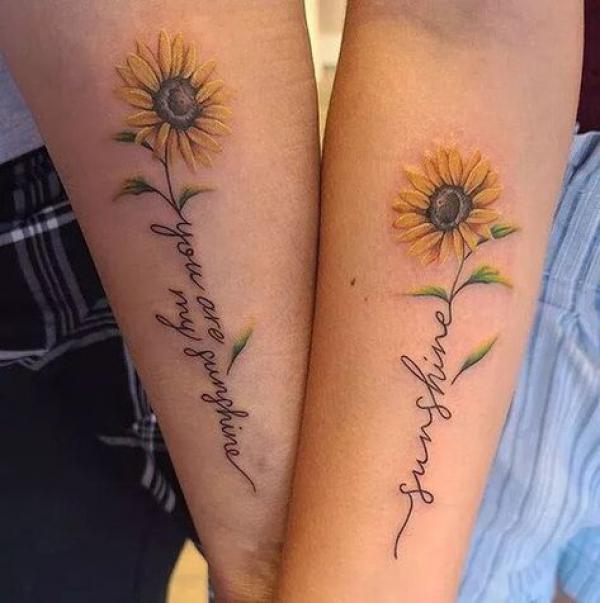 collarbone tattoo You are my sunshine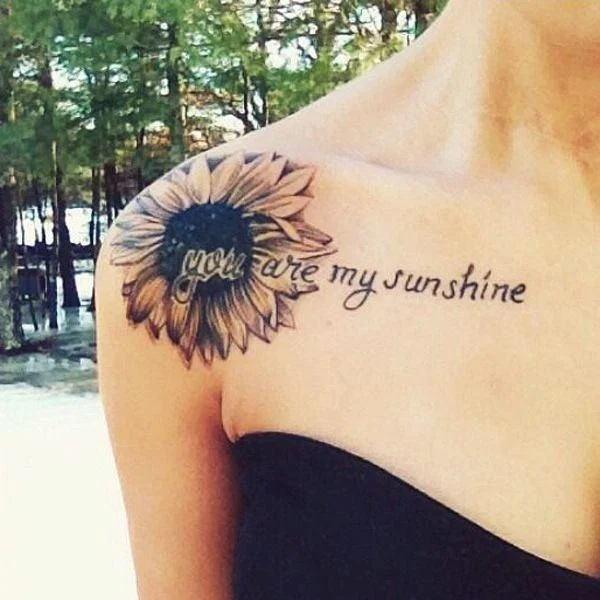 Love Myself Sunflower Tattoo
The "Love Myself" sunflower tattoo is a powerful affirmation of self-love and acceptance. The sunflower, symbolizing joy and positivity, complements the message perfectly.
I love you with all my heart sunflower tattoo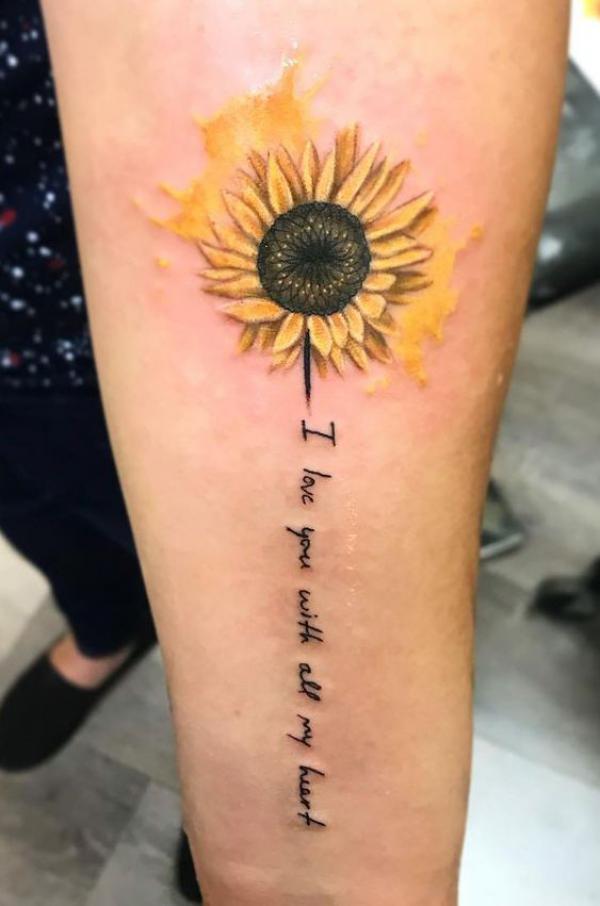 Love myself tiny sunflower tattoo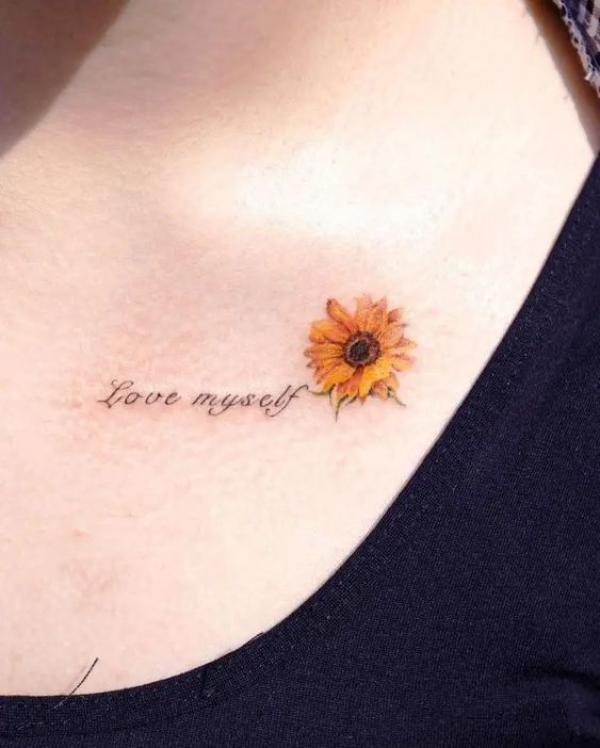 How Strange It Is To Be Anything At All Tattoo
This quote, paired with a sunflower, is a profound reflection on existence. The sunflower symbolizes life, making this design a contemplative piece about the beauty and mystery of being alive.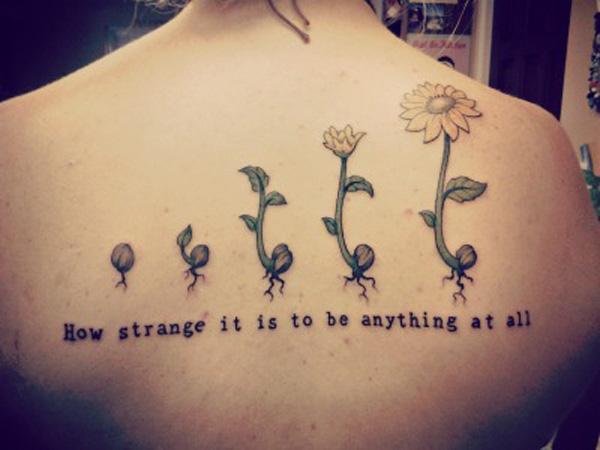 Love Yourself Tattoo
Similar to "Love Myself," the "Love Yourself" sunflower tattoo is a vibrant reminder of self-love and self-care. It's a statement about valuing oneself, with the sunflower enhancing the positive vibe.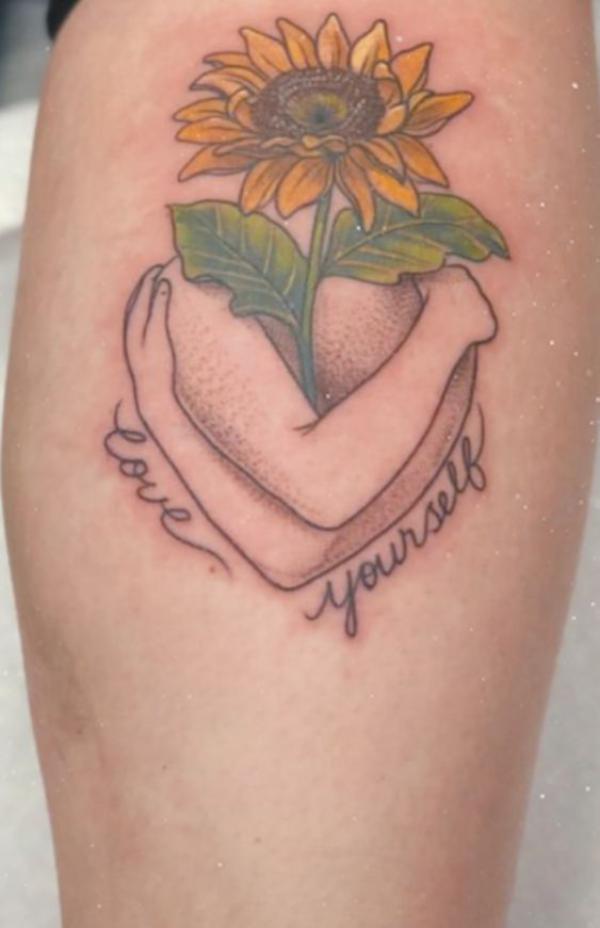 Mother Daughter Sunflower Tattoo
A popular choice among mothers and daughters is the "You Are My Sunshine, My Only Sunshine" sunflower tattoo, usually inked on their forearms. It's a heartfelt expression of the deep bond between mother and daughter, symbolizing their shared love and joy.
You are my sunshine, my only sunshine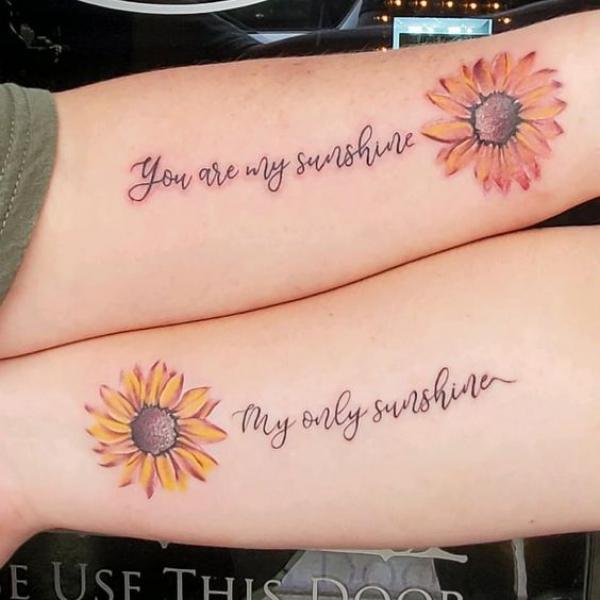 Here comes the sun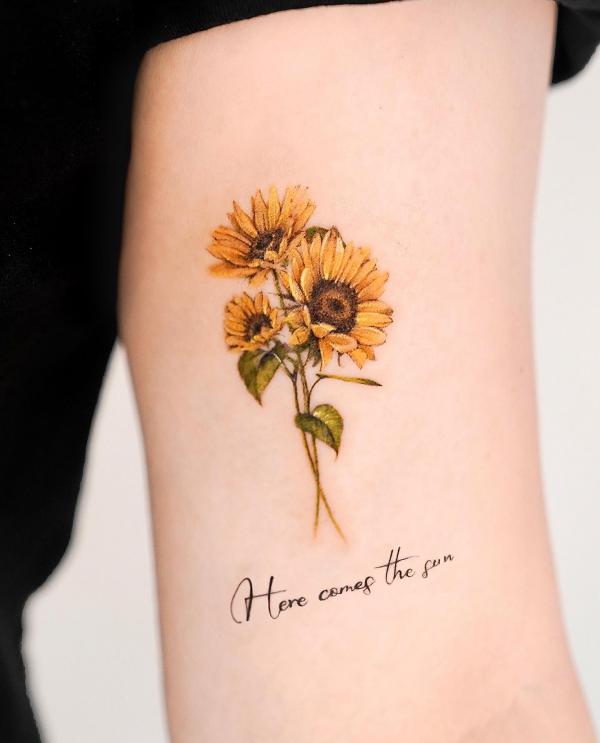 A sunflower bouquet tattoo paired with the quote "Here comes the sun" is a beautiful embodiment of optimism and positivity. "Here comes the sun" is a line from a popular Beatles song and is often associated with the emergence of hope after a period of hardship. The sunflower bouquet enhances this meaning, representing joy, energy, and the warmth of the sun.
I love you more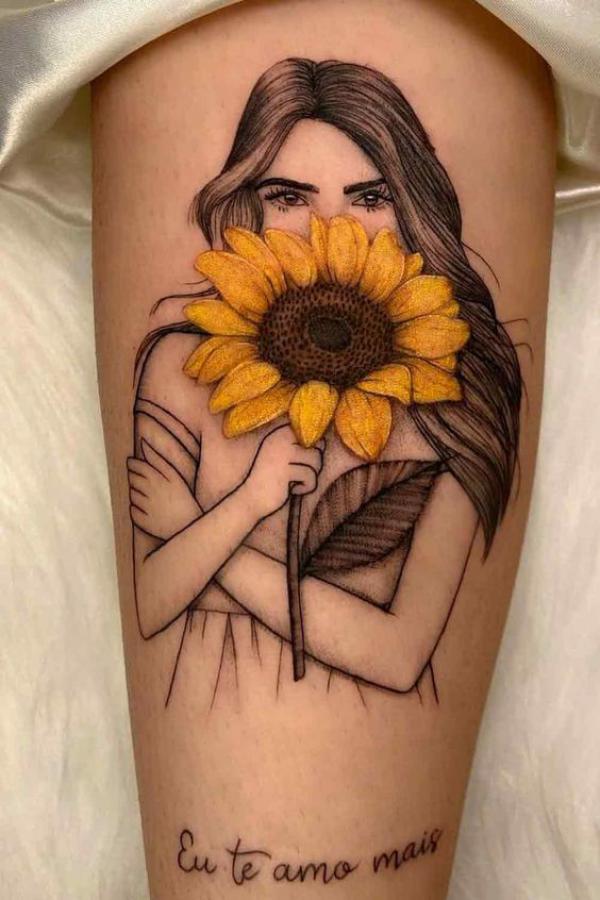 A sunflower lady tattoo with the phrase "Eu te amo mais" (Portuguese for "I love you more") is a heartfelt declaration of love. This design often features a woman with sunflowers, symbolizing beauty, strength, and warmth. The quote "Eu te amo mais" adds a romantic touch, turning the tattoo into a loving tribute or a personal reminder of deep affection.
Please Don't Take My Sunshine Away Tattoo
This design is often paired with a sunflower and symbolizes a plea or a deep fear of losing someone or something precious. The sunflower enhances the emotional depth, making it a poignant piece.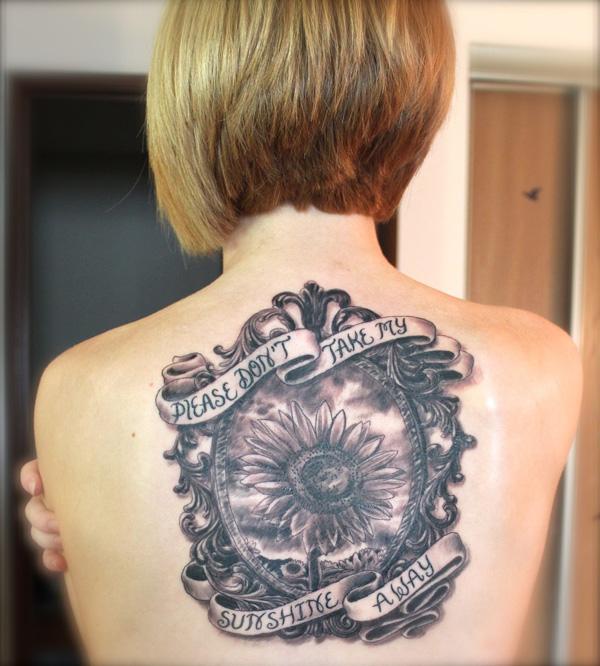 Sunflower tattoos in different colors and their meanings
Sunflower designs, while traditionally yellow, can be inked in various colors, each giving a unique aesthetic appeal and interpretive meaning. Changing the color of your sunflower tattoo can add a personal touch and differentiate your design from the usual yellow tattoo designs. Let's explore some different color options.
Pink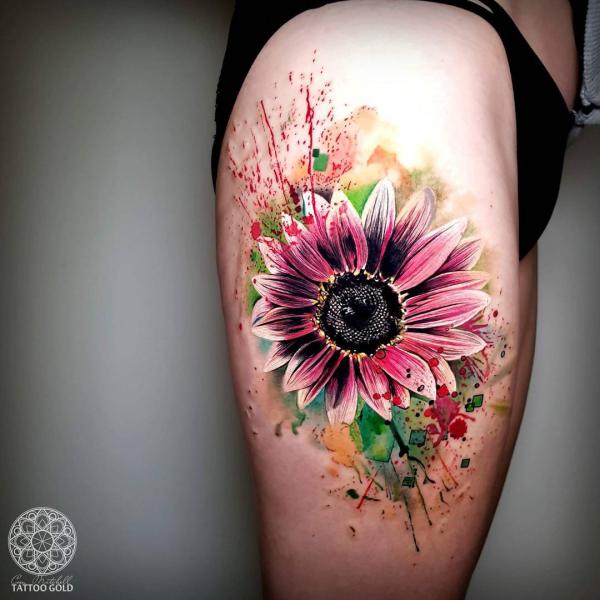 Pink sunflower tattoos are a beautiful deviation from the traditional. The color pink is often associated with love, gentleness, and femininity, making the design a symbol of delicate beauty and affection.
Purple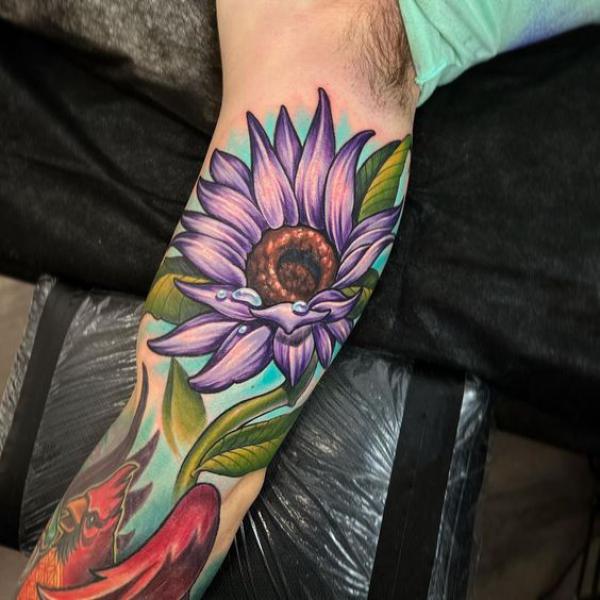 Purple is a color often linked to royalty, mystery, and magic. A purple sunflower tattoo can express the meaning of charm, grace, and elegance. It's a unique choice for those who want to stand out.
Yellow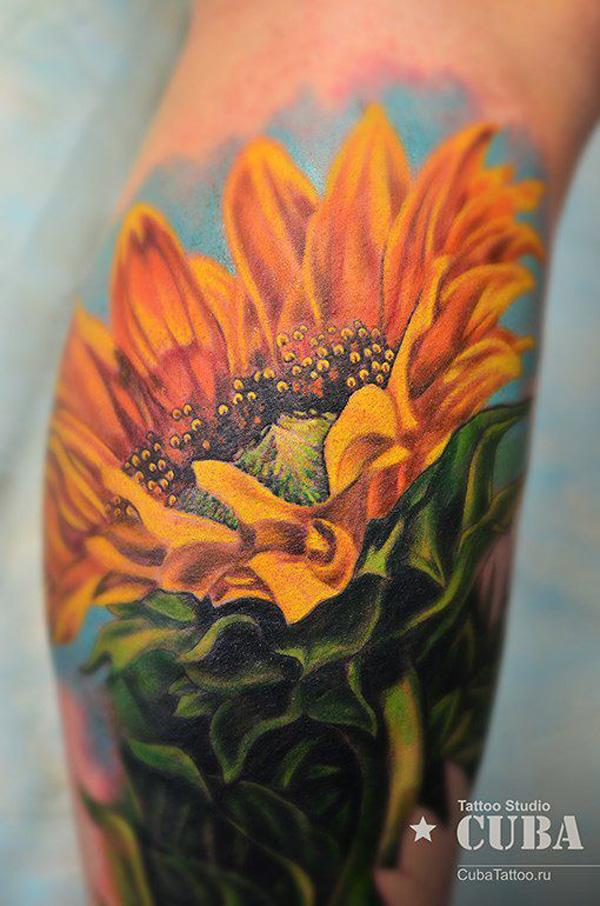 Yellow is the traditional color for sunflowers, representing happiness, positivity, and vitality. A yellow sunflower design can be a vibrant symbol of joy, energy, and optimism, staying true to the natural color of sunflowers.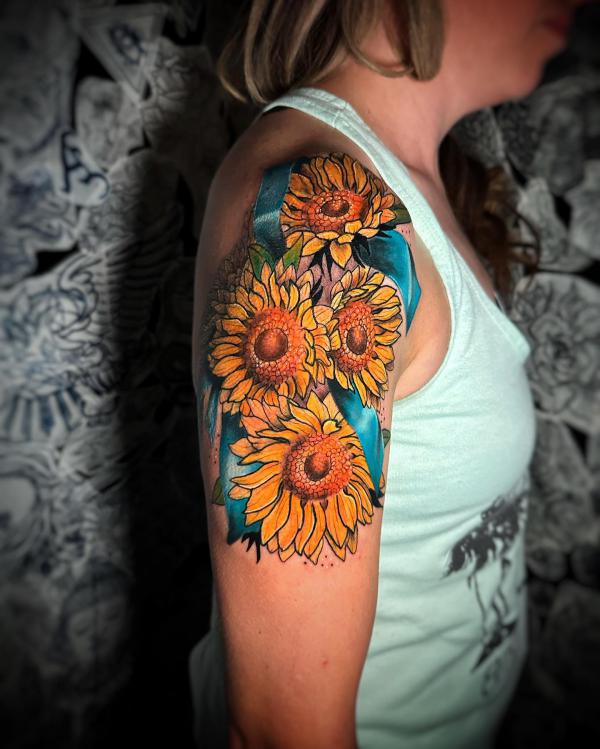 Blue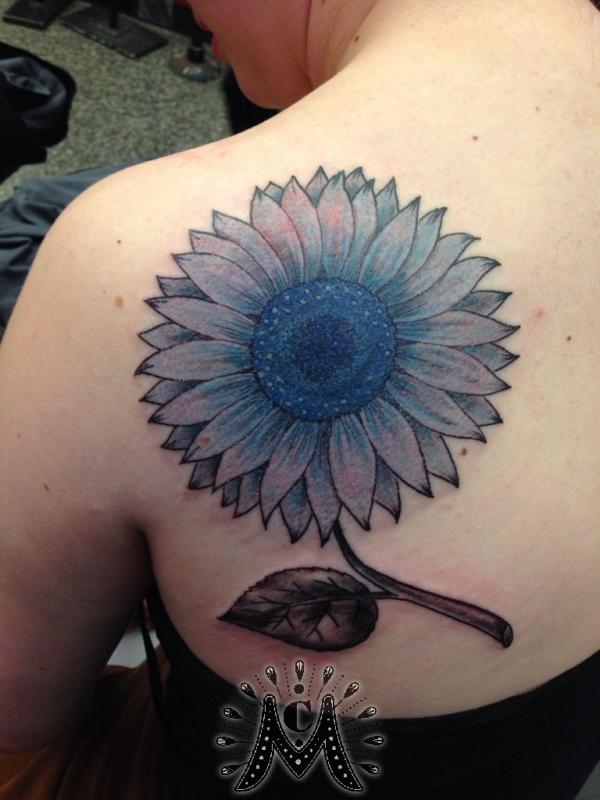 Blue sunflower tattoos are quite unique and eye-catching. The color blue signifies tranquility, stability, and depth. A blue sunflower design could thus symbolize peace, stability, and deep emotion.
Red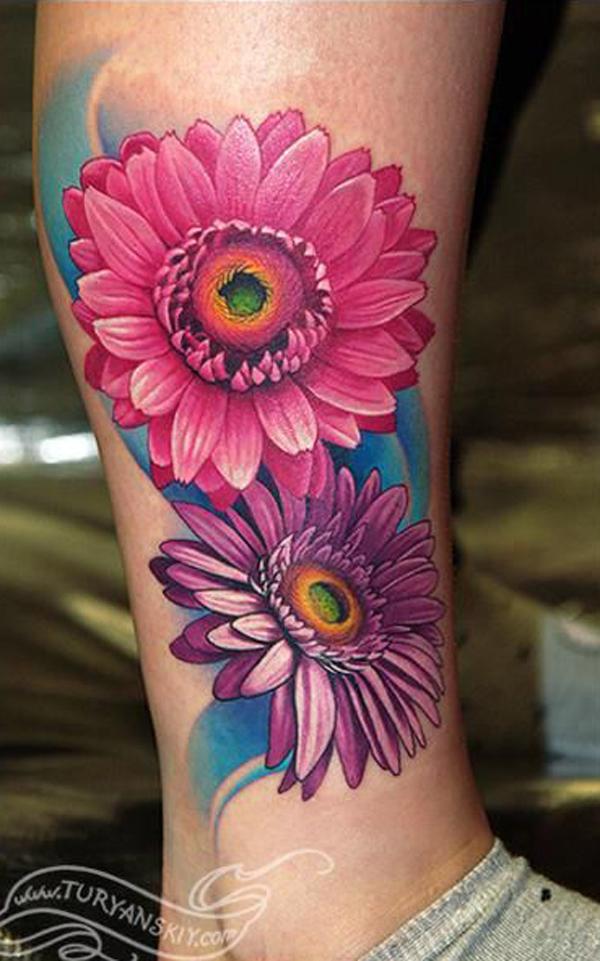 Red is a color of passion, love, and desire. A red sunflower tattoo can symbolize intense love or passion, making it a bold and romantic choice for a tattoo.
Sunflower Lettering tattoos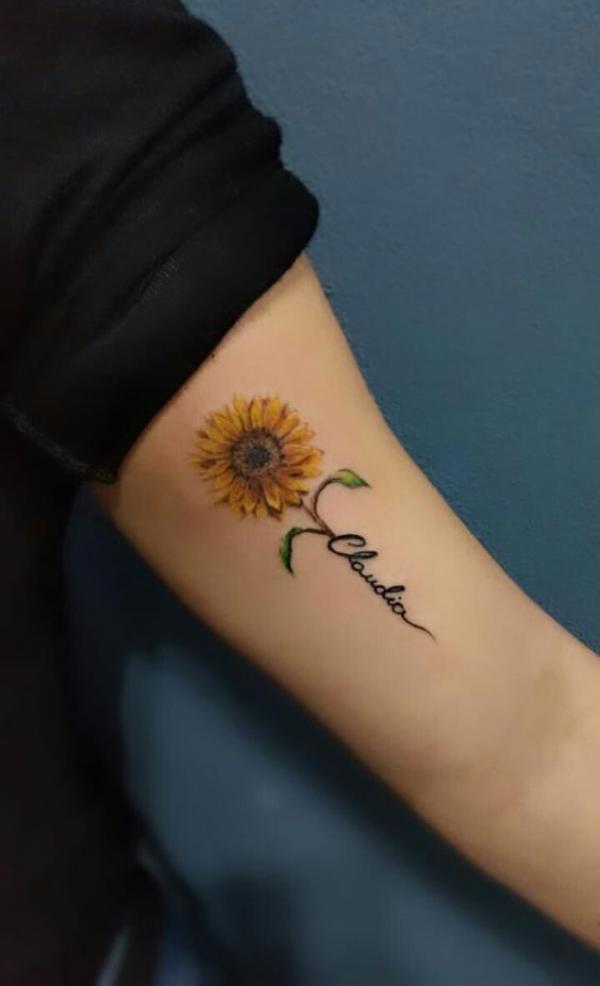 Sunflower lettering tattoos are a popular trend in body art. They combine the vibrant imagery of sunflowers with meaningful words or names, creating a personal and poignant statement that's both visually stunning and deeply significant. Whether it's a loved one's name, or a personal mantra, the addition of lettering adds a narrative element to your sunflower ink design.
Skull sunflower ink design with cursive words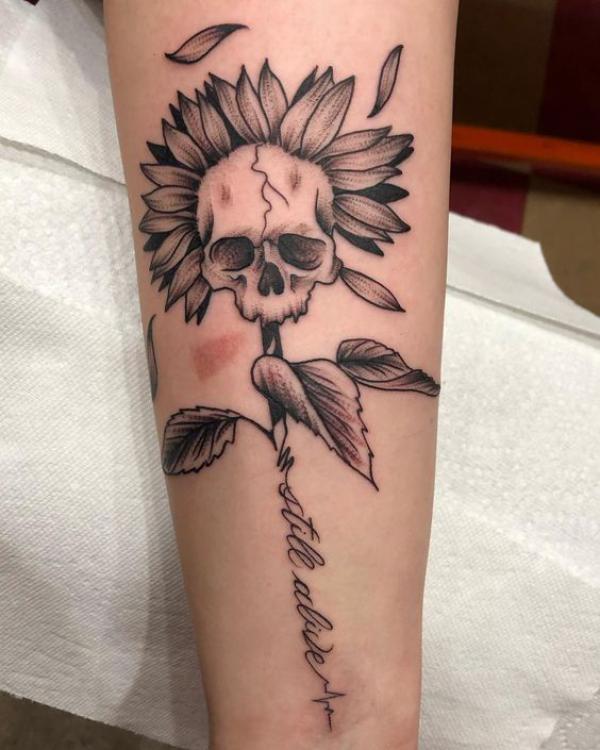 A skull sunflower tattoo combined with cursive words can symbolize the cycle of life and death. The words add a personal touch, complementing the stark yet beautiful imagery.
Sunflower design with words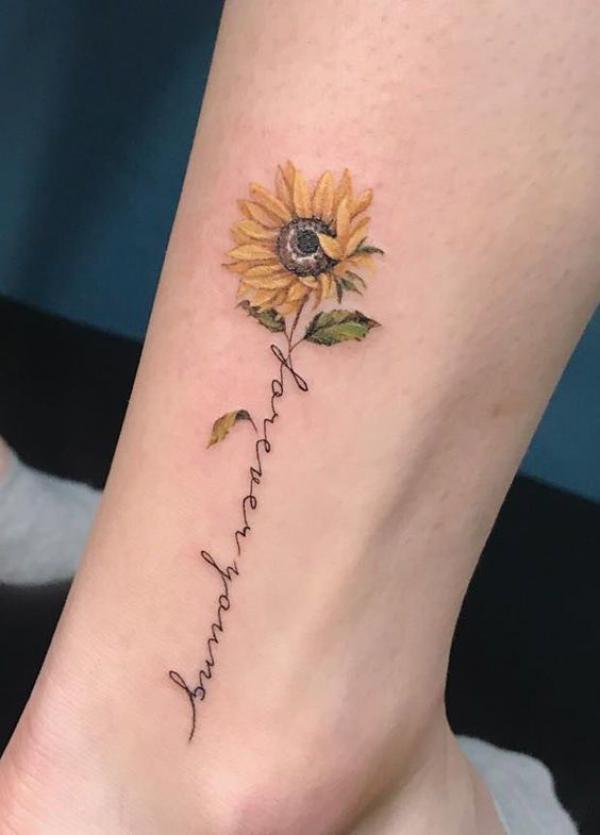 A sunflower tattoo paired with words can convey a personal meaning or philosophy. The words can be a quote, a name, or any text that adds meaning to the tattoo.
sunflower and rose bouquet with words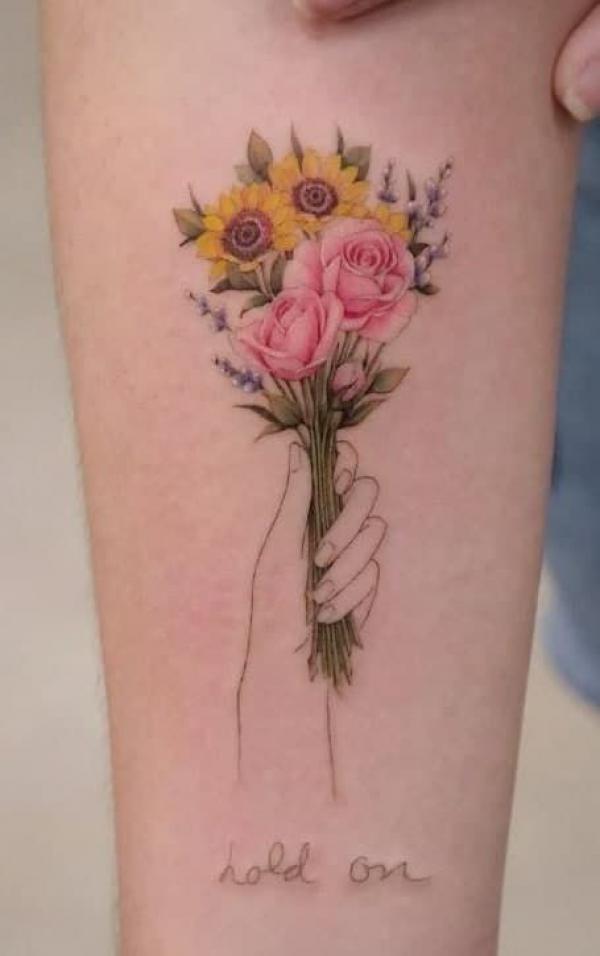 This design combines sunflowers and roses, symbolizing joy and love. The words "Hold On" add an element of perseverance and hope, making it a powerful symbol of resilience.
Sunflower heart tattoo with name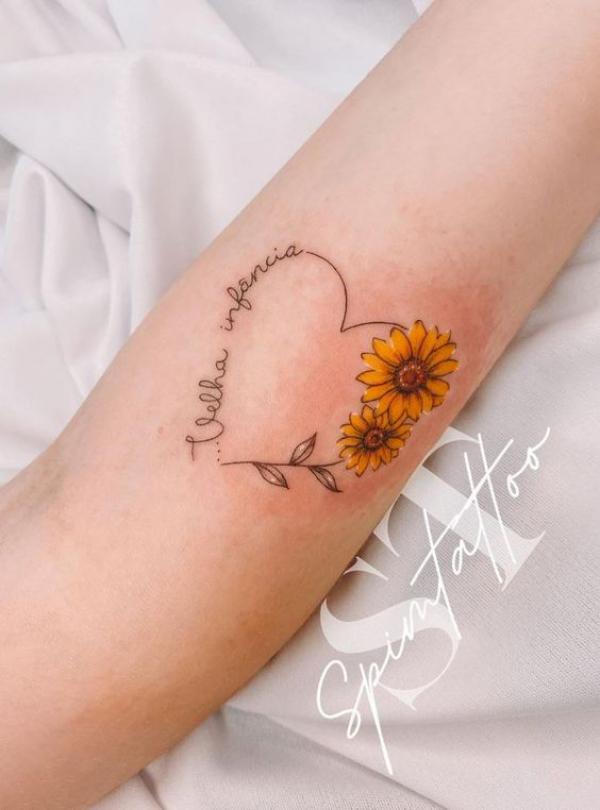 A sunflower heart design with a name combines love and joy in one design. It can be a tribute to a loved one or a personal reminder of someone special.
Sunflower infinity with name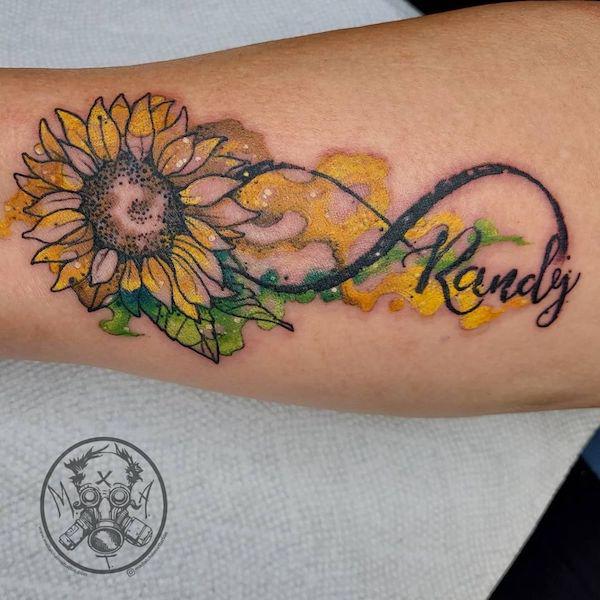 The infinity symbol represents eternity. When combined with a sunflower and a name, it can symbolize eternal love or friendship.
Sunflower sister matching tattoos with the words – Keep shining and Keep smiling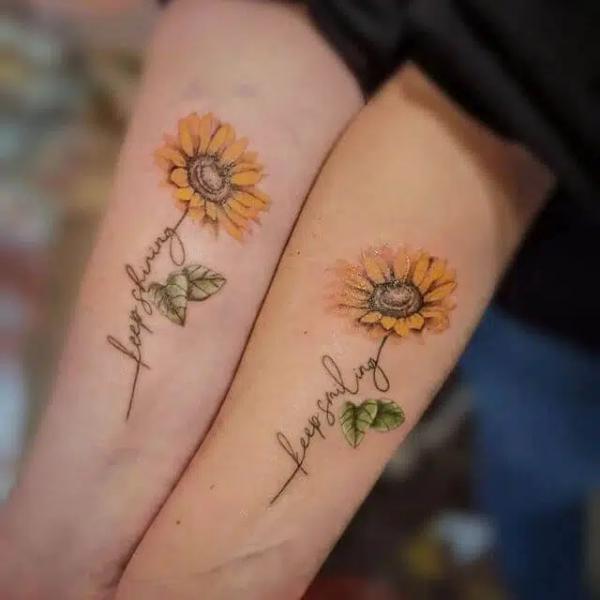 These matching tattoos are a beautiful tribute to sisterly love. The phrases "Keep Shining" and "Keep Smiling" paired with sunflowers encourage positivity and resilience, reflecting the bond between sisters.
Sunflower tattoo with names in petals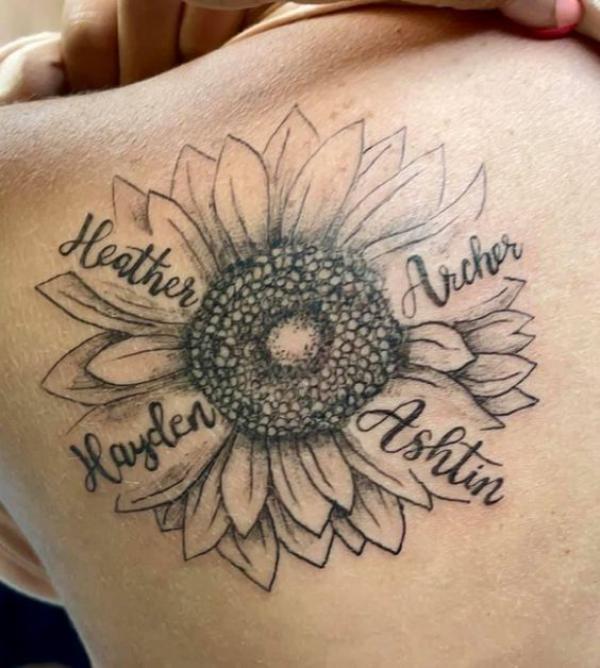 Incorporating names into the petals of a sunflower design is a unique way to make a personal statement or honor loved ones.
Sunflower tattoo with names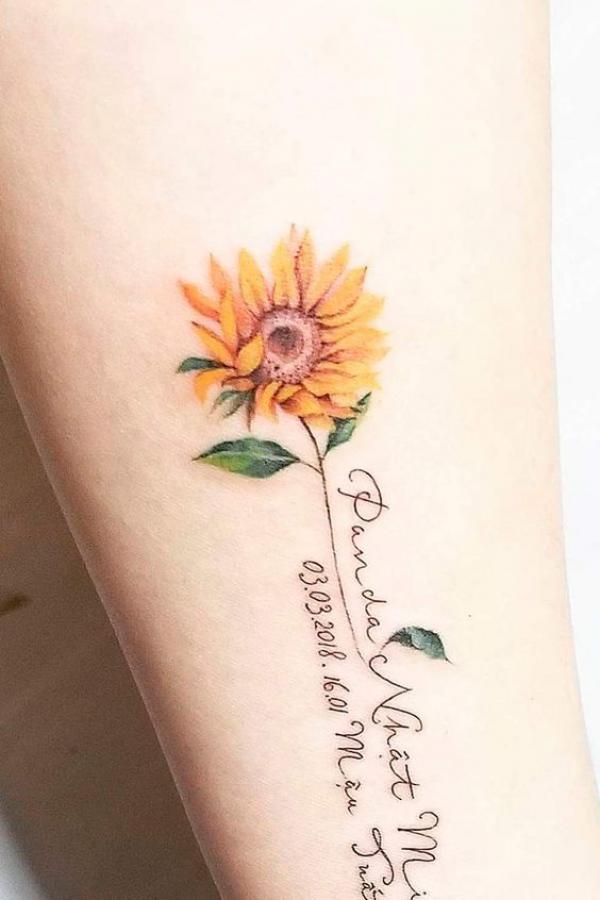 A sunflower tattoo with names can be a beautiful tribute to someone special. The combination of the sunflower's symbol of joy and the personalized touch of a name makes this a meaningful tattoo choice.
Placement ideas for sunflower tattoos
Sunflower tattoos can be placed in various locations on the body, offering a range of aesthetic possibilities. The choice of placement can depend on factors like visibility, pain tolerance, and personal preference. Whether you want a large, detailed piece or a small, subtle symbol, there's a perfect spot for your tattoo design.
Back
The back offers a spacious canvas for a sunflower tattoo, ideal for intricate, large scale designs. A back tattoo can be subtly hidden or revealed with different clothing styles, offering a versatile choice for many.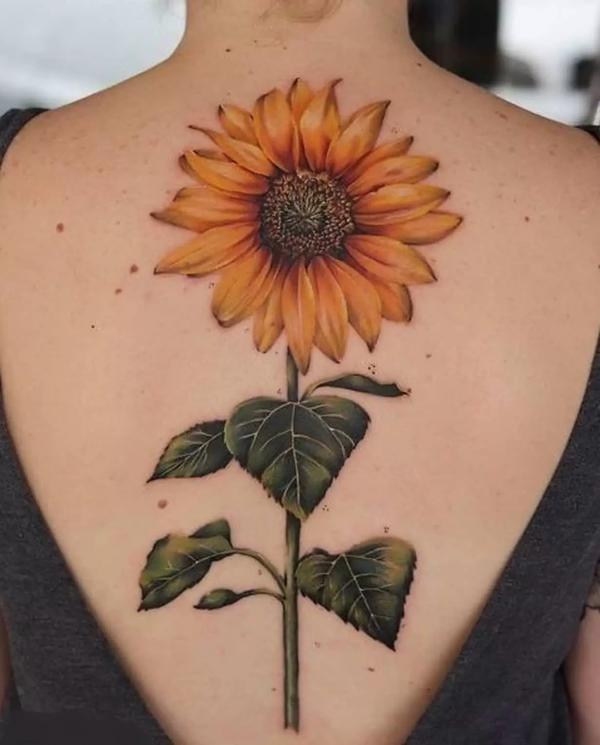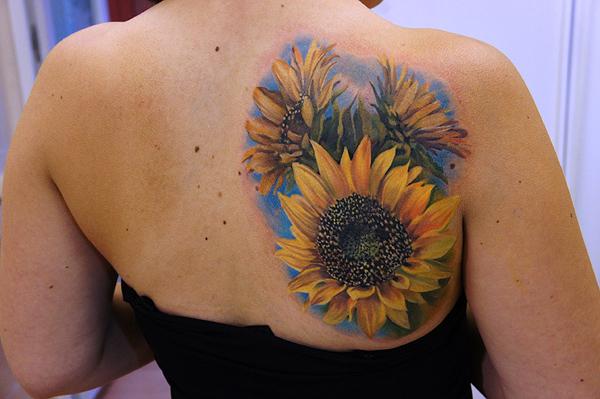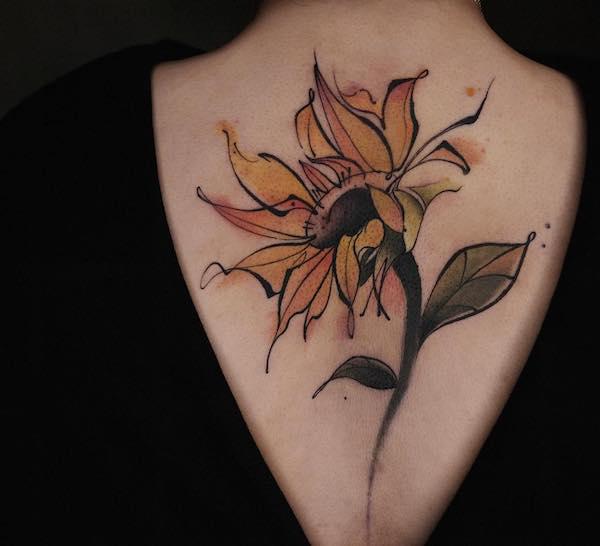 A single sunflower back piece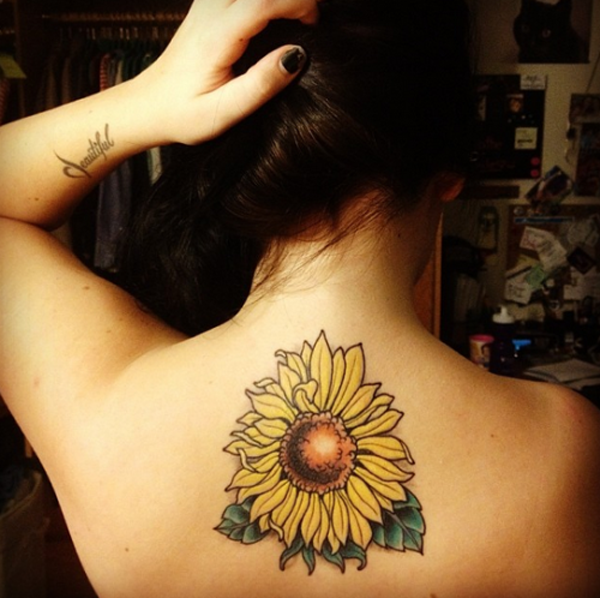 A butterfly perched on a sunflower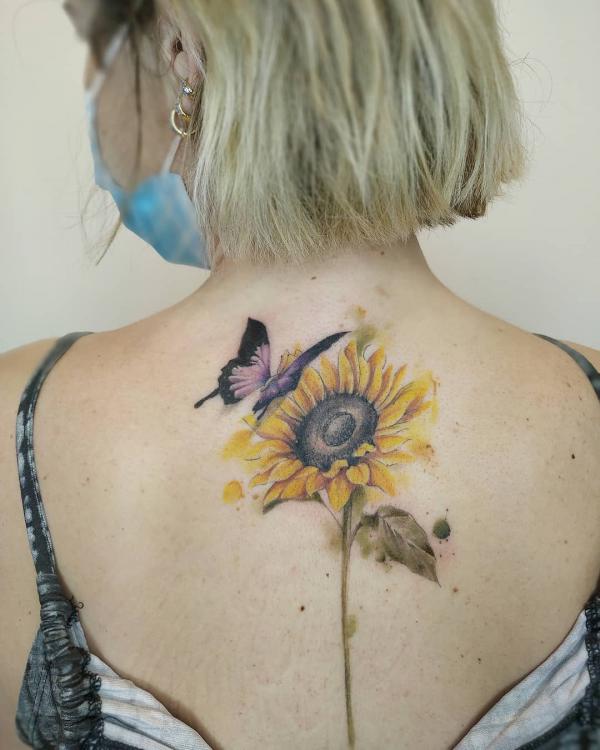 Sunflower spine tattoo with cursive words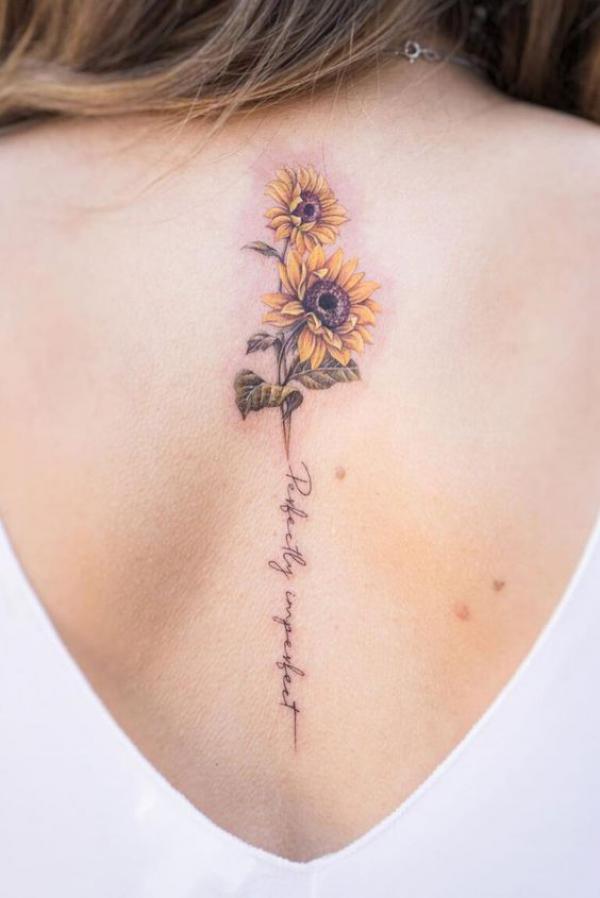 Realistic sunflower and cherub full back tattoo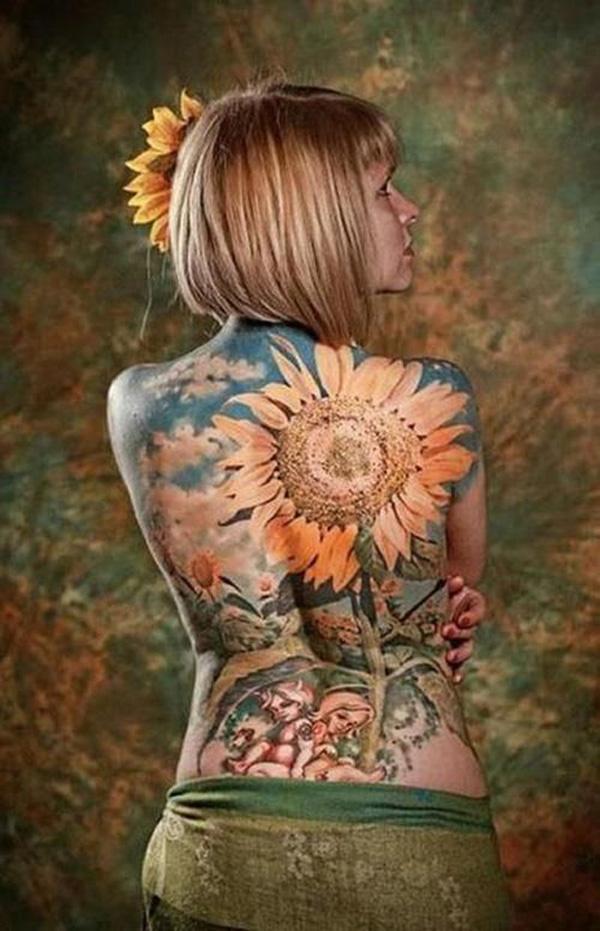 Mandala inspired sunflower back piece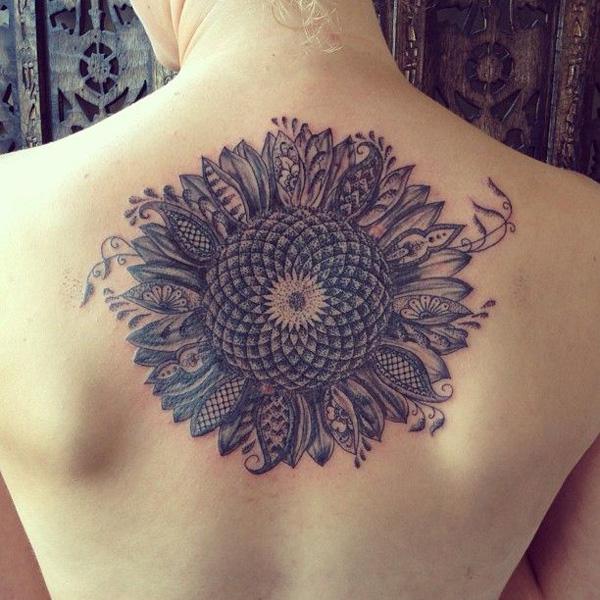 Shoulder Blade
A sunflower tattoo on the shoulder blade can serve as a private symbol or a statement piece. This area is suitable for medium-sized designs and can be easily concealed or showcased depending on the wearer's choice.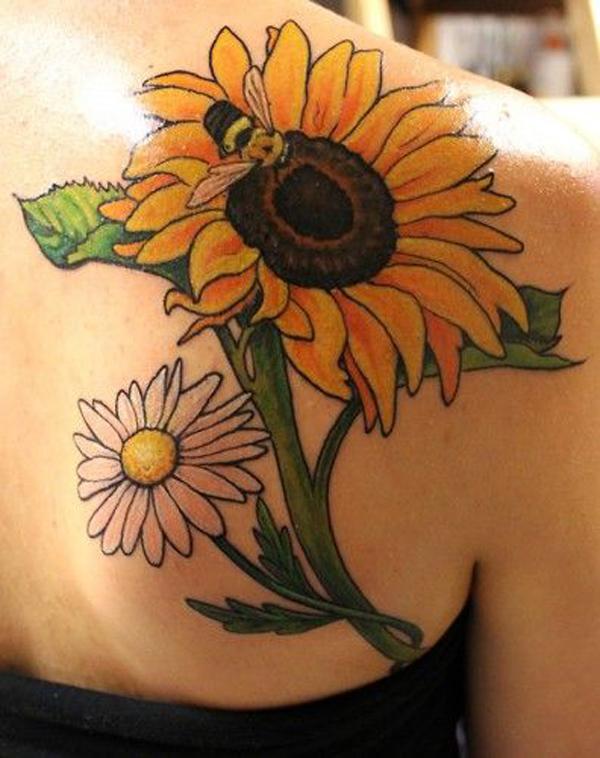 Black and grey two sunflowers tattoo on one side of back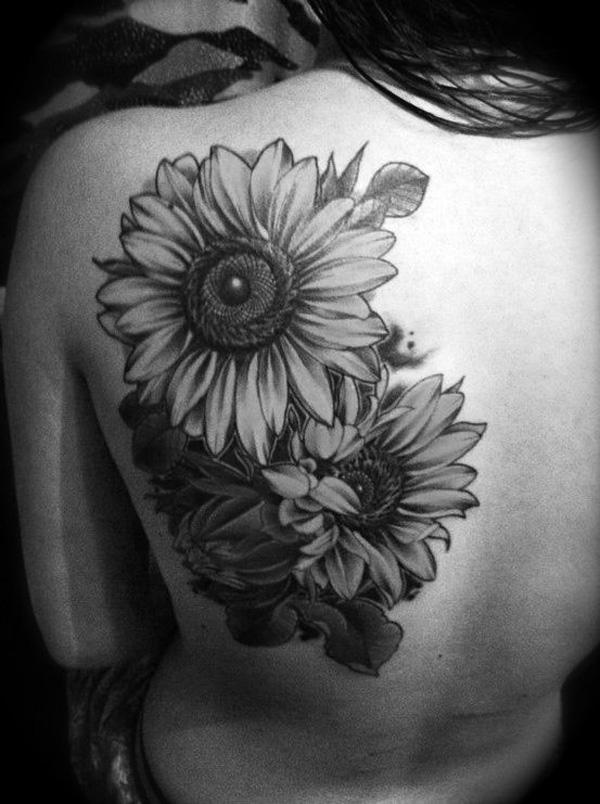 Sunflower tattoo with swirls on dark skin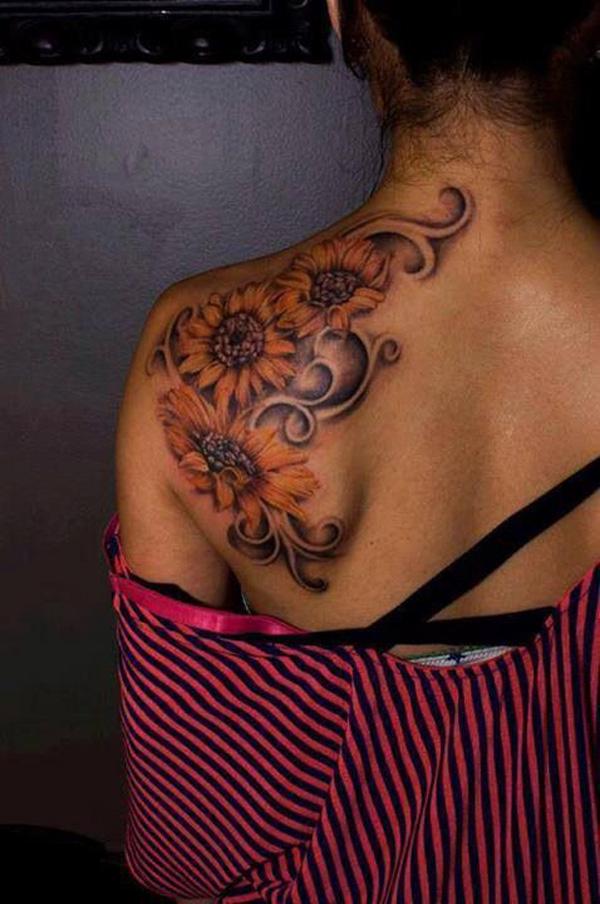 Colorful roses and sunflowers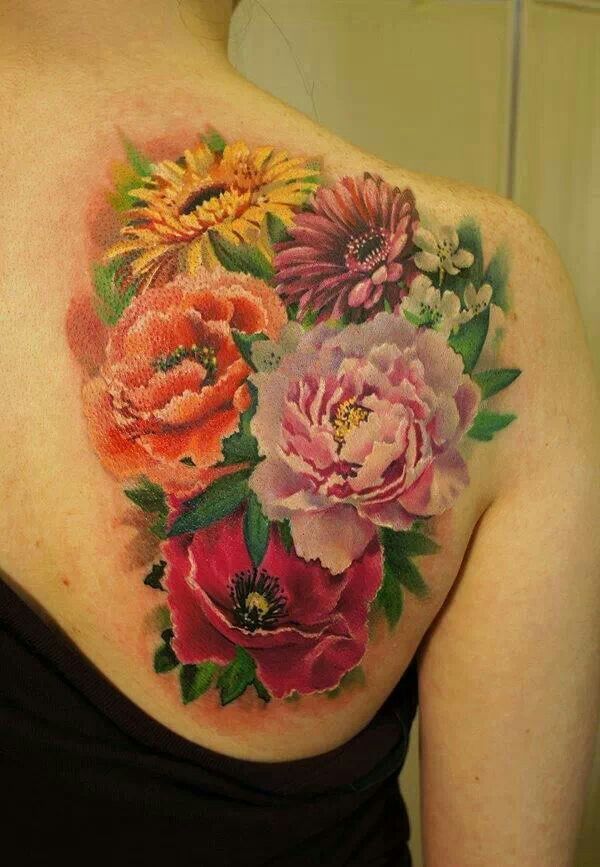 Sunflower tattoo with phrase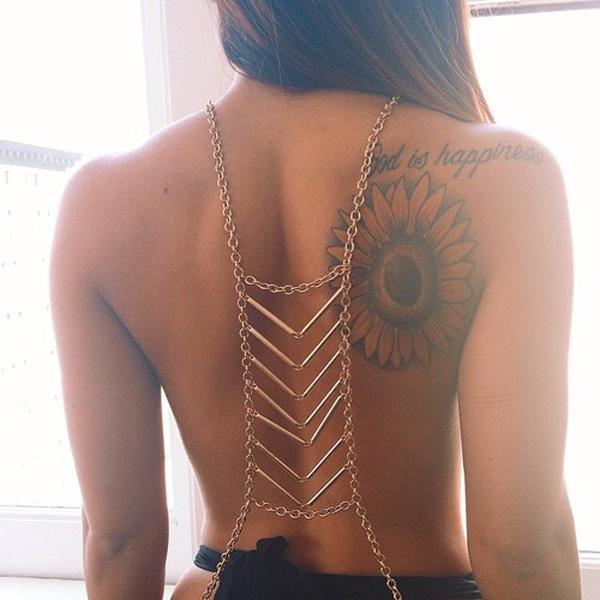 Sunflower moon shoulder blade tattoo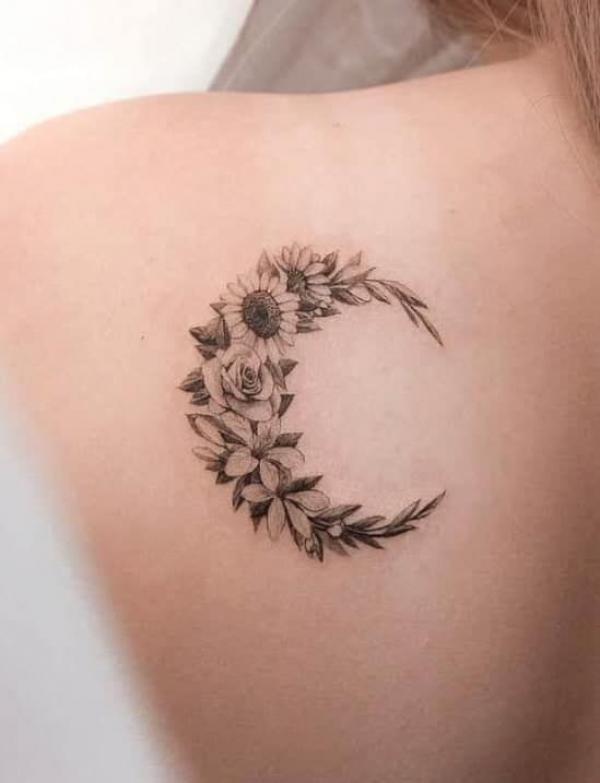 Shoulder Cap
The shoulder cap is a popular location for sunflower tattoos. This spot is perfect for detailed designs, with the rounded shape of the shoulder adding a unique dimension to the artwork. This placement also allows for easy visibility.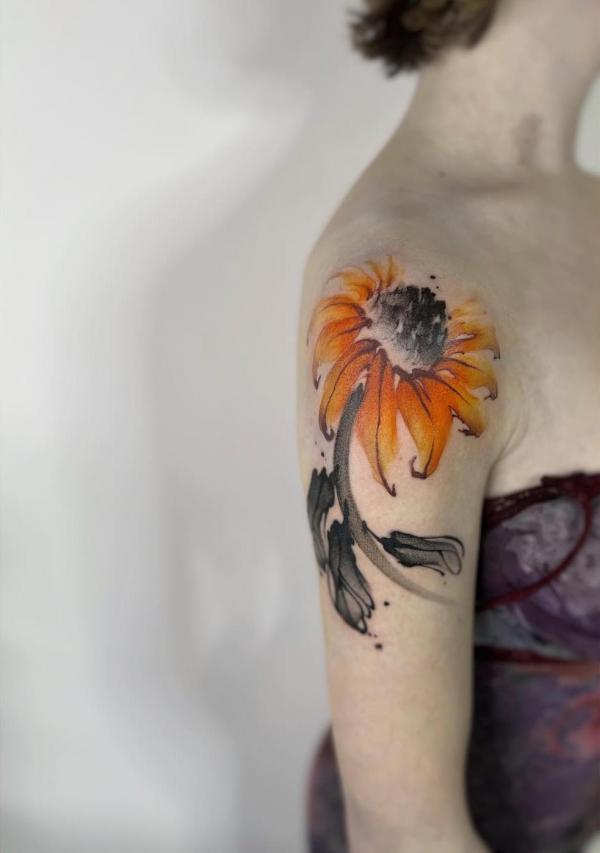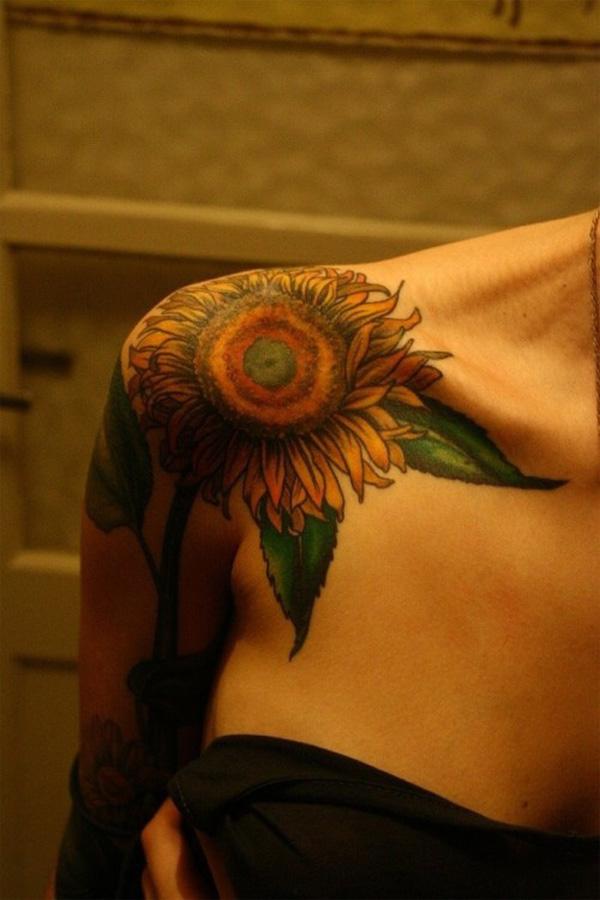 Dark Sunflower shoulder tattoo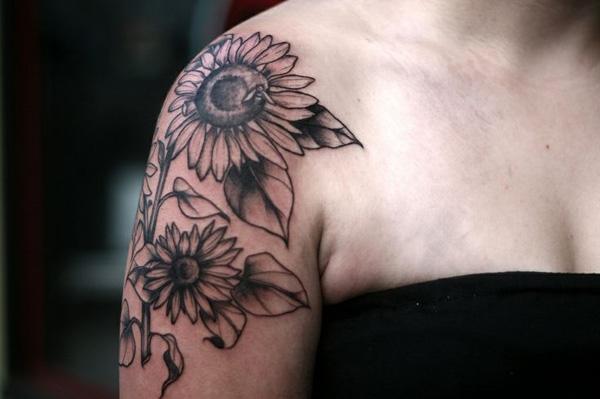 Wrist
Ideal for smaller, delicate sunflower tattoos, the wrist ensures high visibility. And they can serve as a constant reminder of the tattoo's significance. Its prominent location makes it a popular choice for first-time tattoo recipients.
Realistic small sunflower tattoo on wrist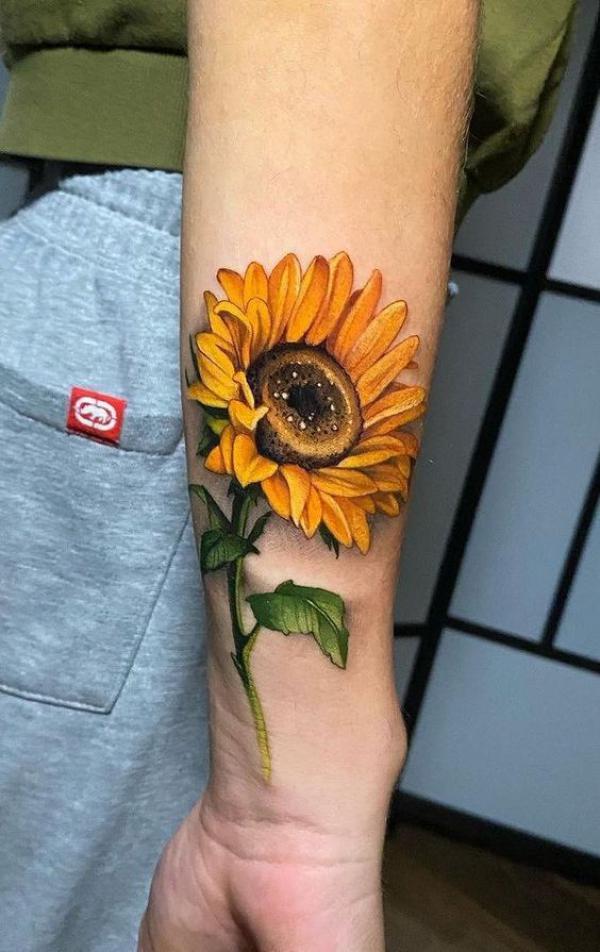 Sunflower with cursive words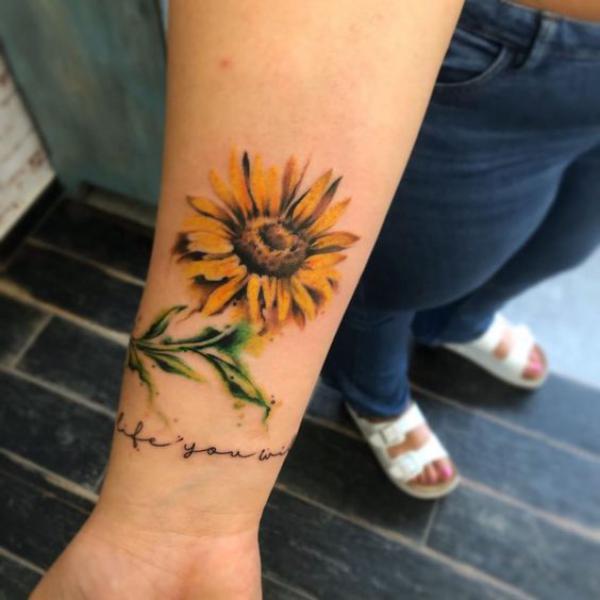 Sunflower wrist band tattoo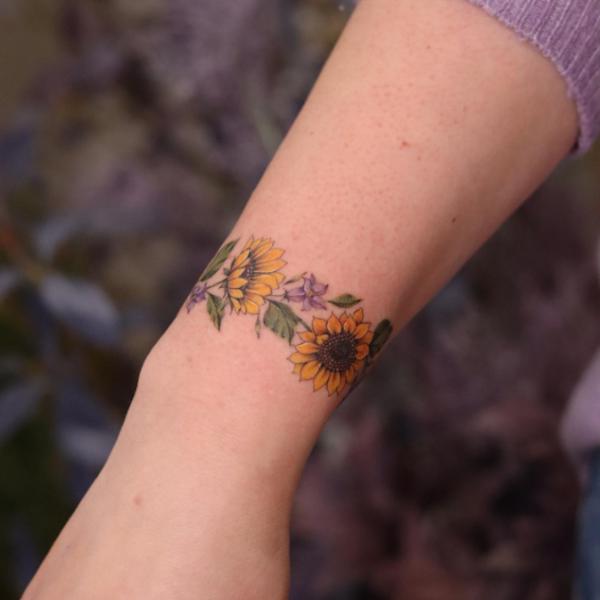 Rib
The rib area, while often associated with a higher pain level, is perfect for larger sunflower tattoo designs. It's a more private location, making the tattoo a personal and intimate symbol for the wearer.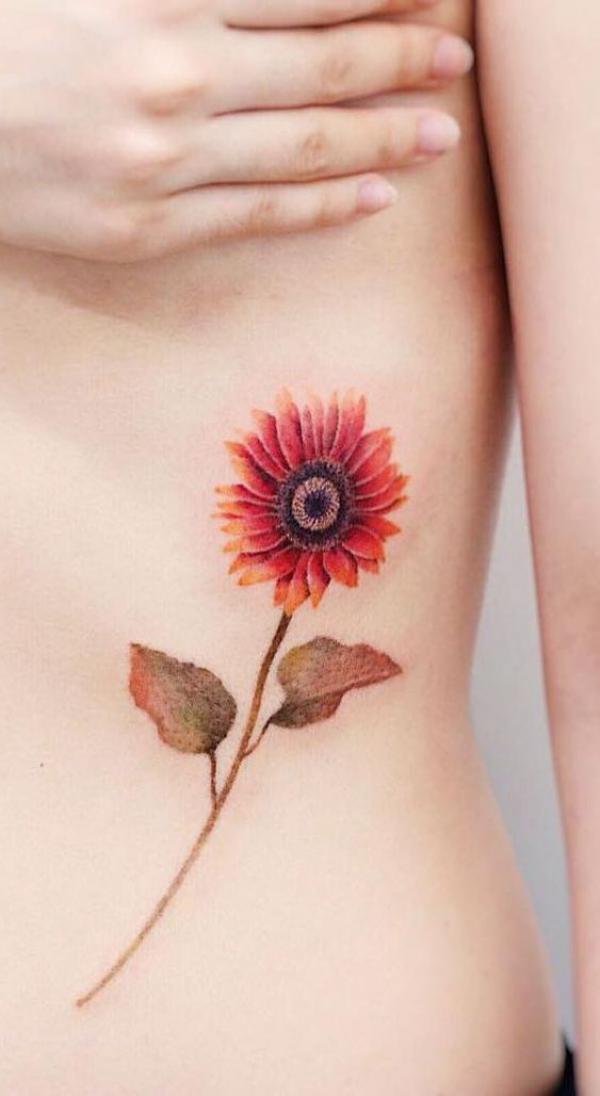 Watercolor sunflower side tattoo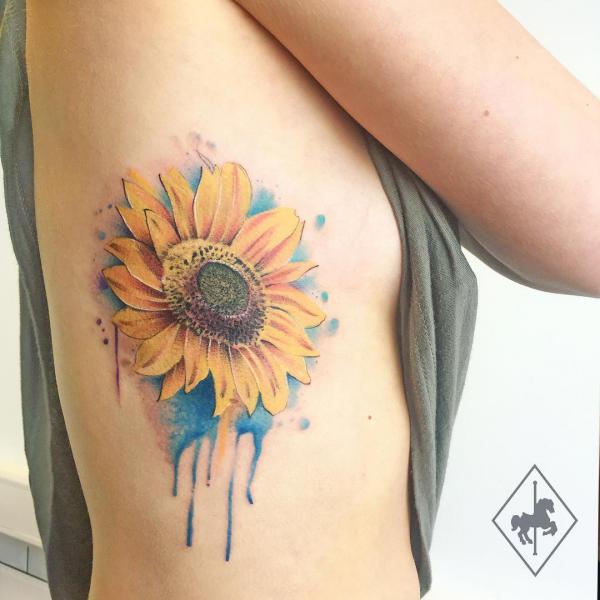 Sunflower rib tattoo for women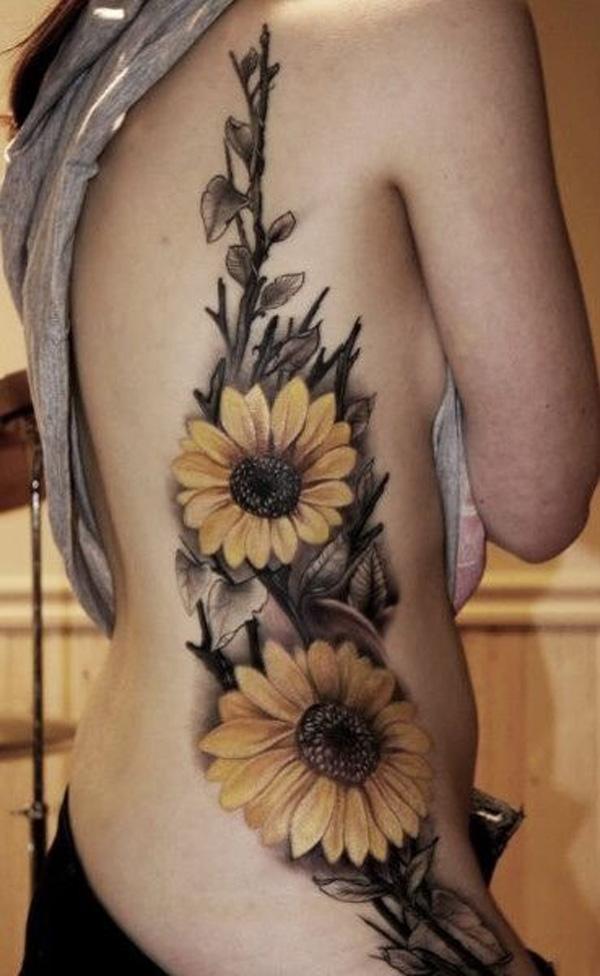 Large realistic sunflower side tattoo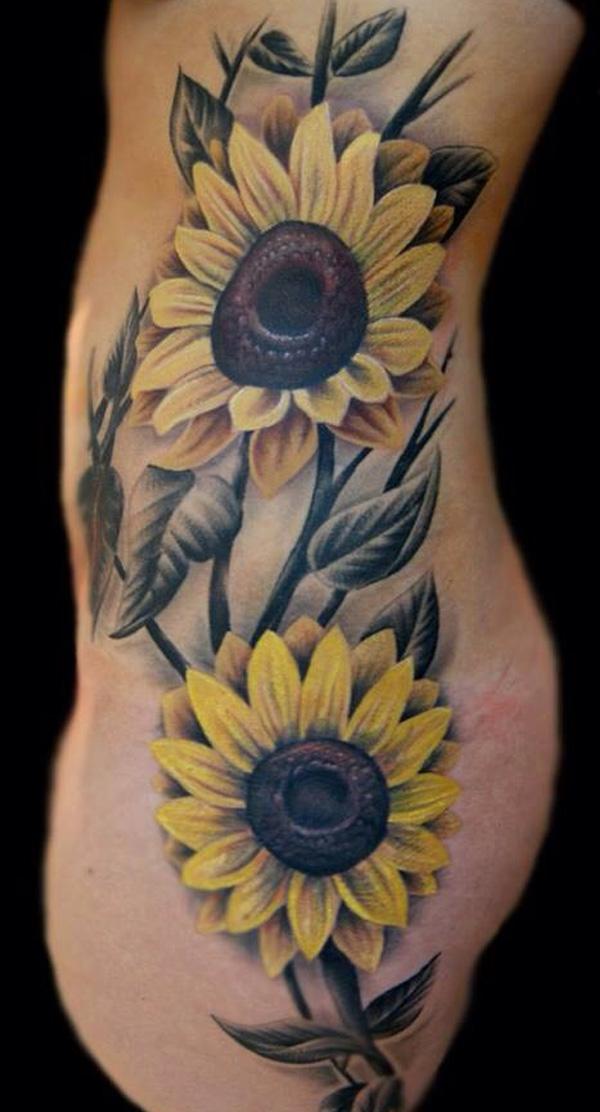 Bicep
You can easily showcase or hide the tattoos on the bicep. So it's flexible. The area can accommodate medium to large designs, making it a versatile choice for an array of sunflower tattoos.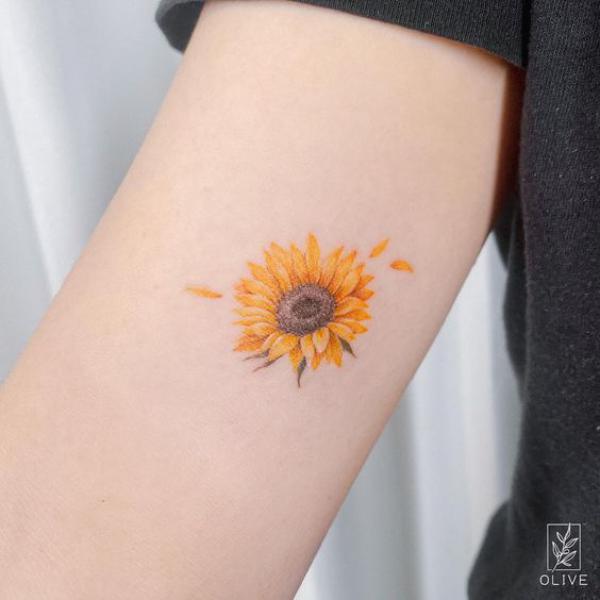 Black and white bicep sunflower ink design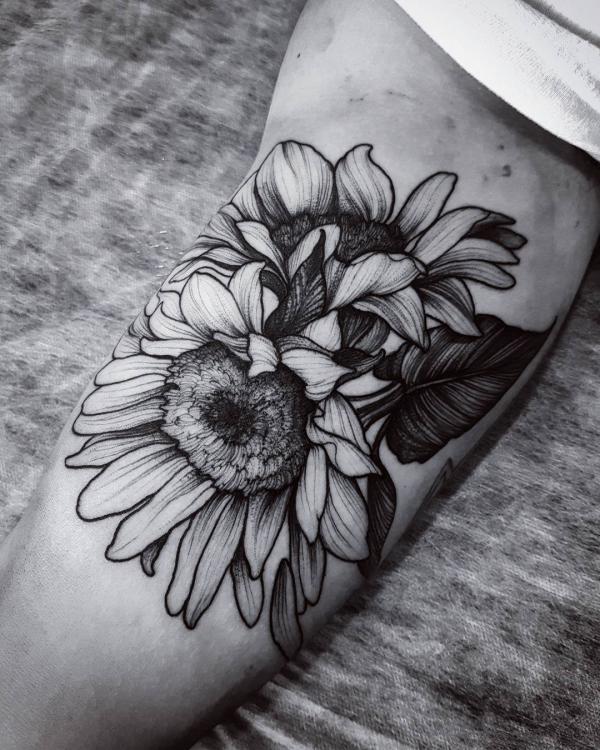 Fine line sunflower bicep tattoo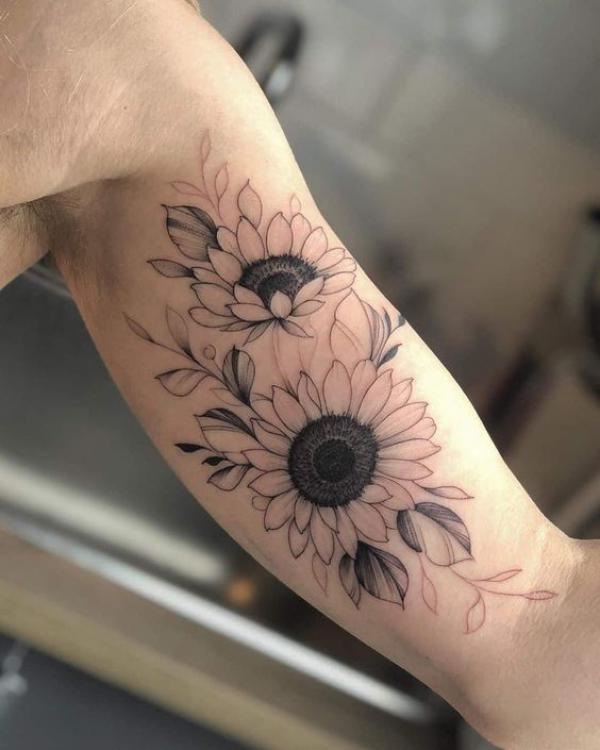 Sunflower with black leaves
Thigh
The thigh offers a large canvas for sunflower tattoos, allowing for intricate and expansive designs. Its location also provides a choice between public display and private concealment.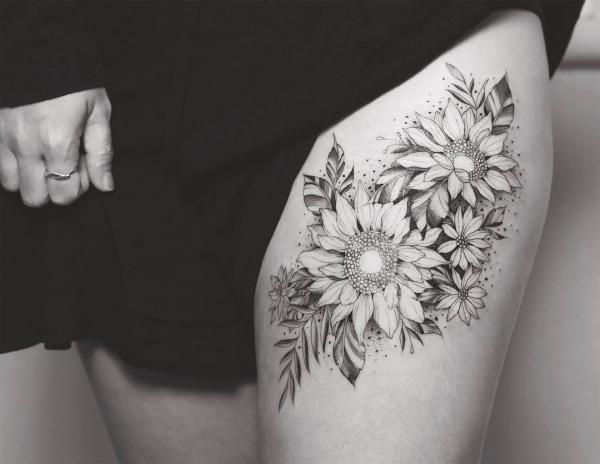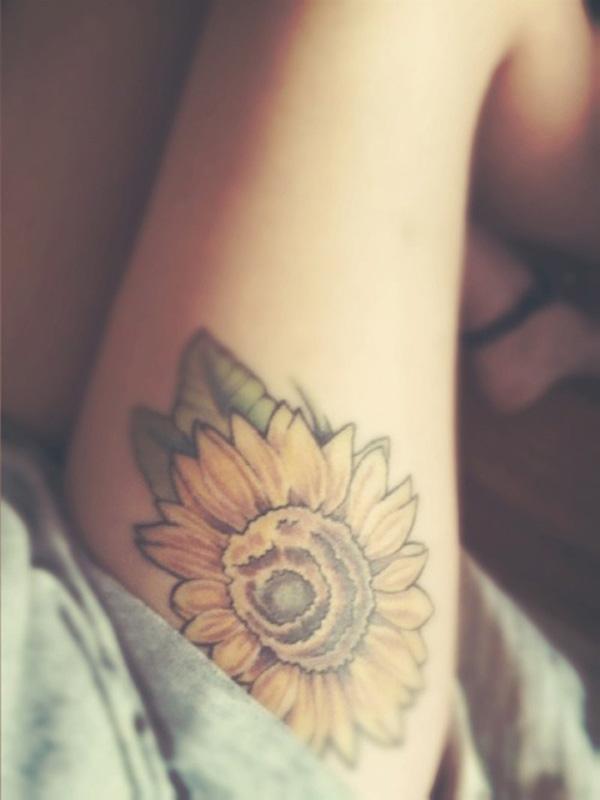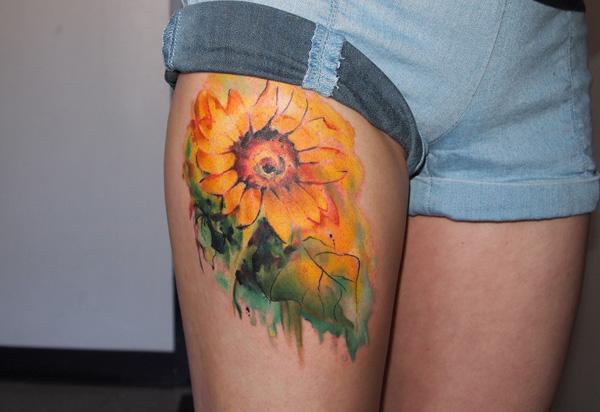 Realistic Sunflower thigh tattoo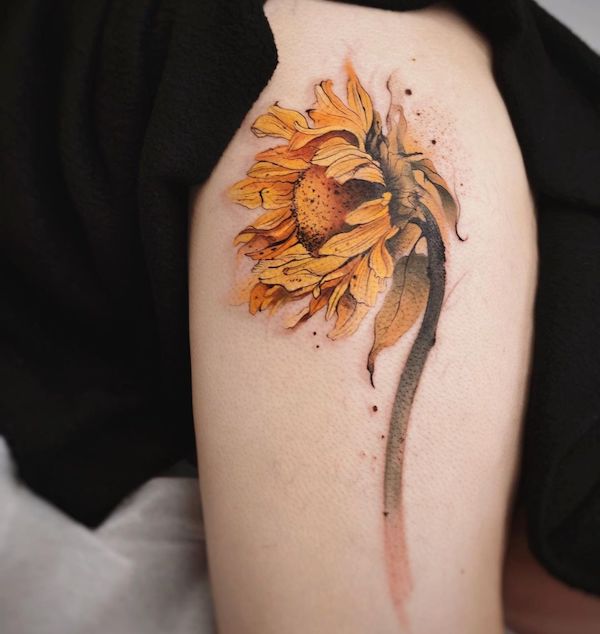 Wanderlust Sunflower thigh tattoo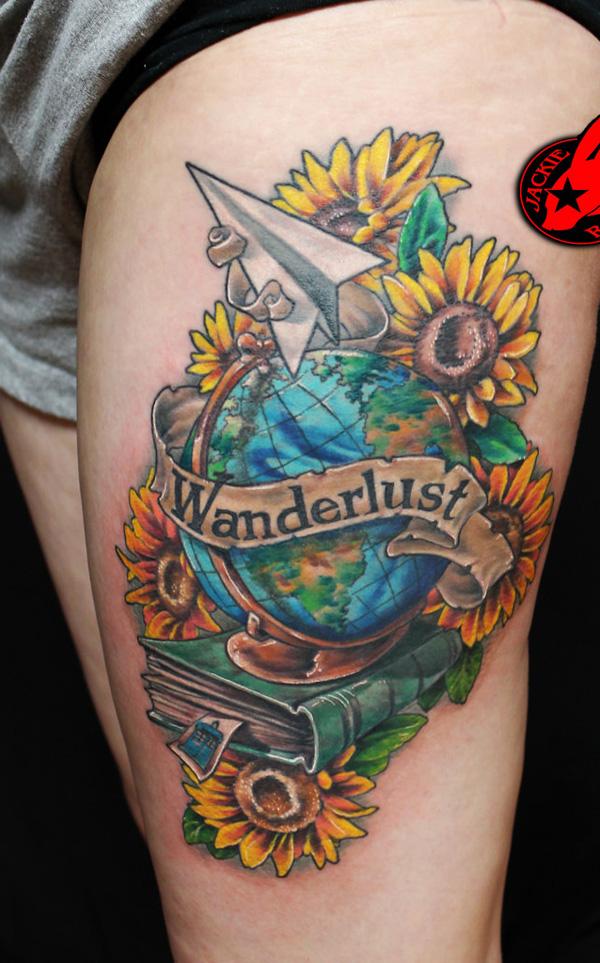 Black and grey sunflower line work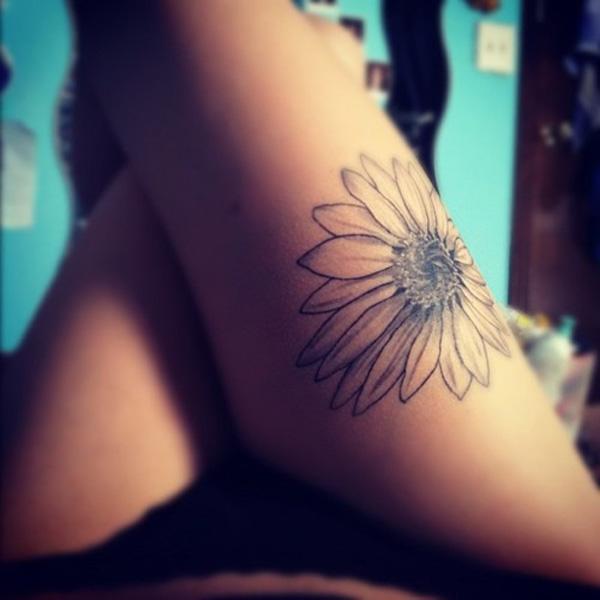 Low back
Low back offers a fairly large and flat canvas, allowing for intricate sunflower tattoo that can capture the beauty of the flower. You can be easily conceal a tattoo in this area, making it a more personal and intimate expression. Additionally, the low back is a traditionally feminine and sensual area, adding an element of allure and mystery to the sunflower design.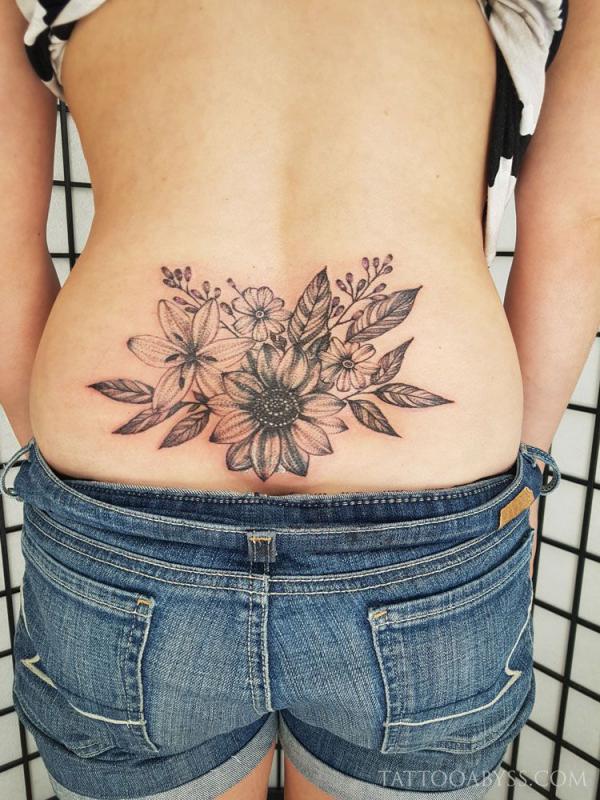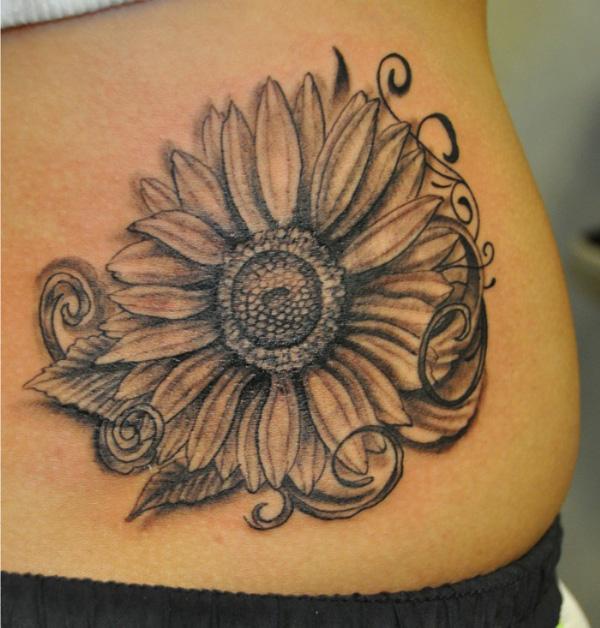 Clavicle
Clavicle, or collarbone, can be a subtle or dramatic canvas to one's body art. You can place the tattoo designs horizontally along the bone or vertically hanging down.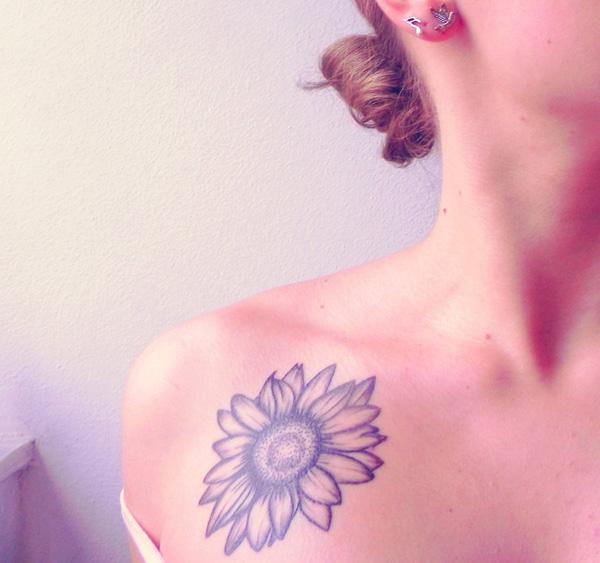 Sunflower collarbone tattoo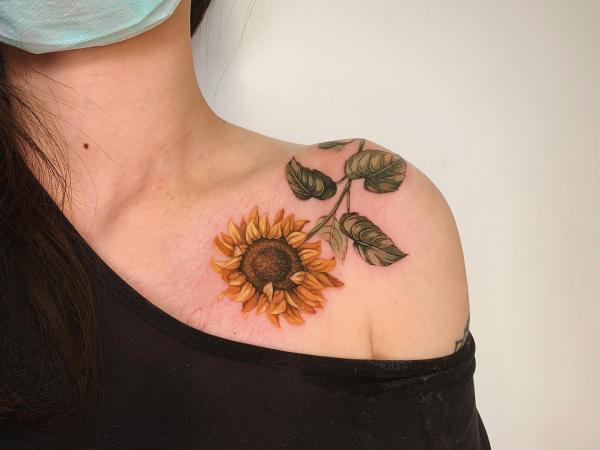 Behind the Ear
Behind-the-ear tattoos are generally small, discreet, and personal. A tiny sunflower tattoo in this location can be a secret adornment.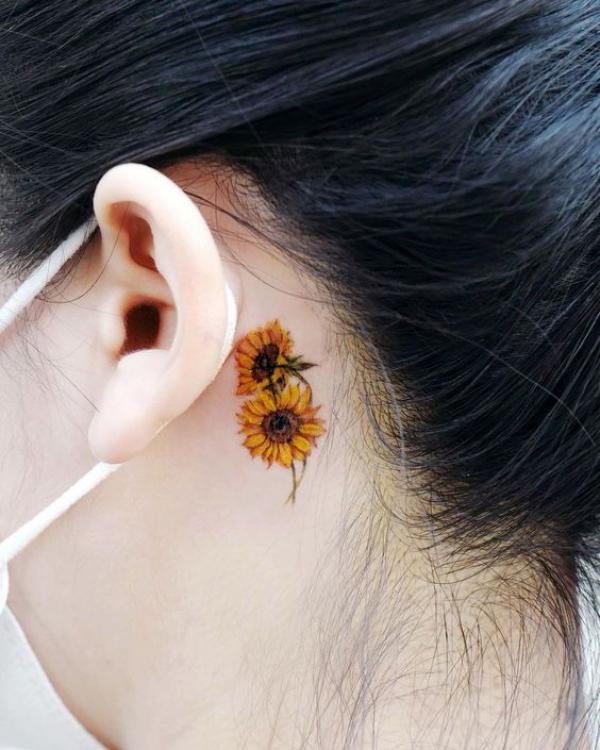 Hip
Sunflower tattoos on the hip can be easily concealed, making them a private piece of art. They can range from tiny designs to larger ones extending towards the thigh or abdomen.
sunflower and rose hip ink design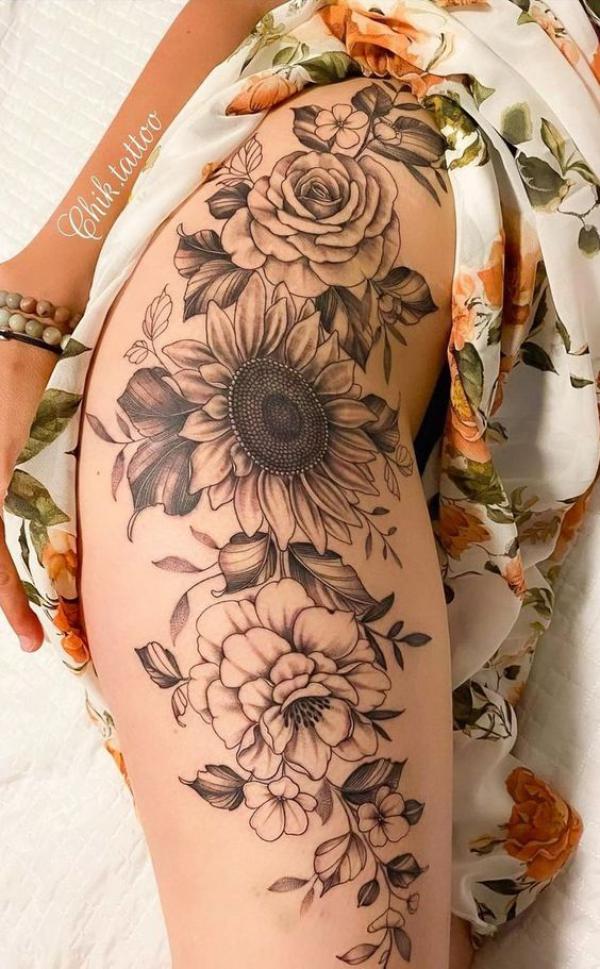 Head
Head tattoos, including sunflower designs, are bold and highly visible. They often require a commitment to a shaved or buzzed hairstyle.
Sunflower mandala head tattoo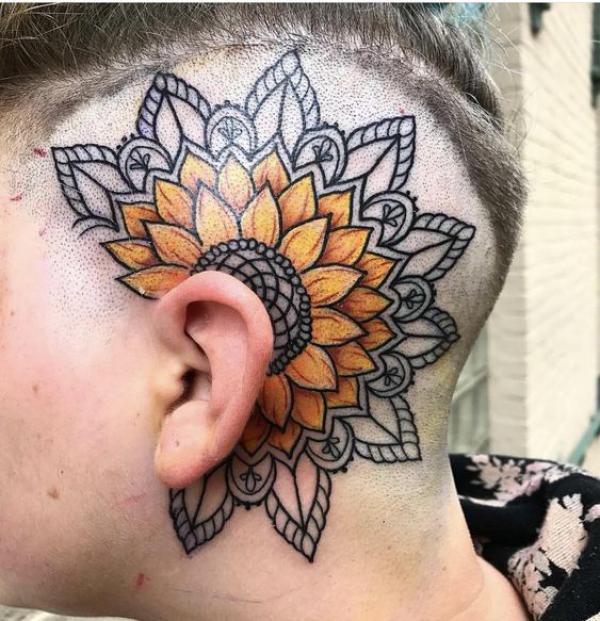 Sunflower floral head tattoo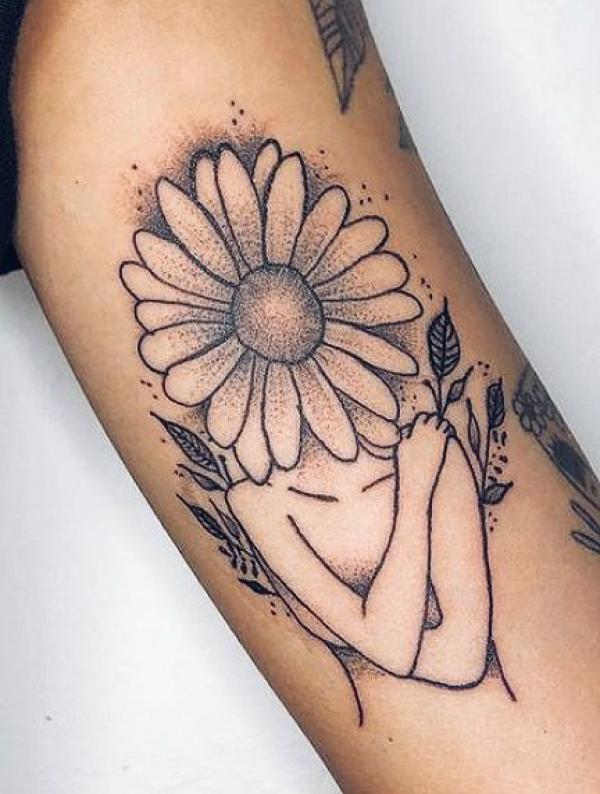 Sternum
Sternum tattoos are typically private due to their location. A sunflower tattoo here can be a beautiful, personal expression.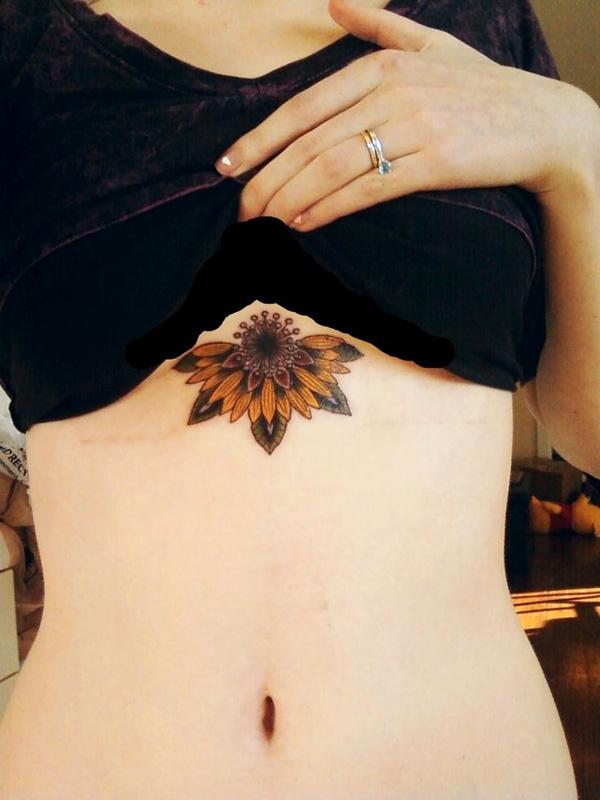 Large Sunflower underboob tattoo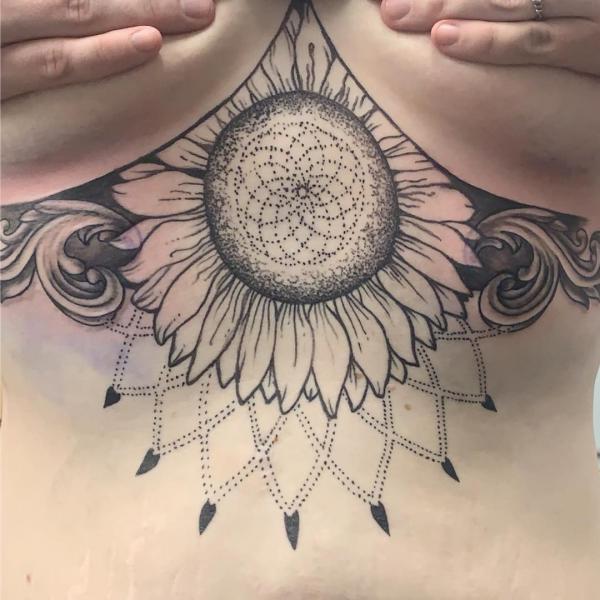 Ankle
Ankle tattoos can be small and delicate. A sunflower design here can be a charming addition, easily displayed or hidden by footwear.
Minimalist sunflower ankle ink design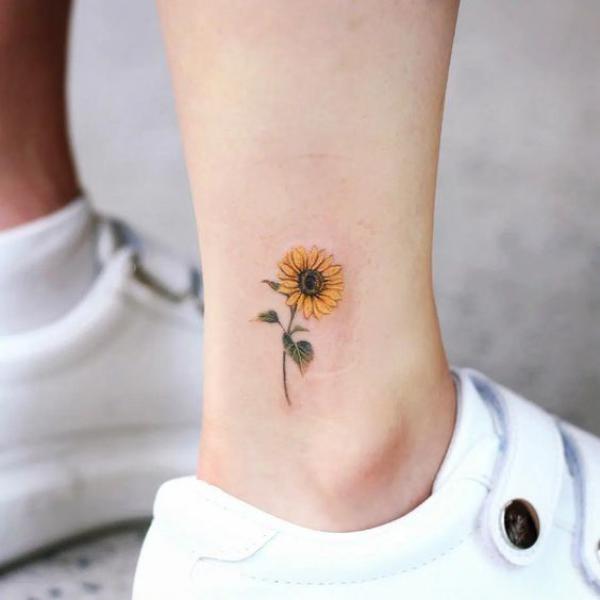 Sunflower semicolon tattoo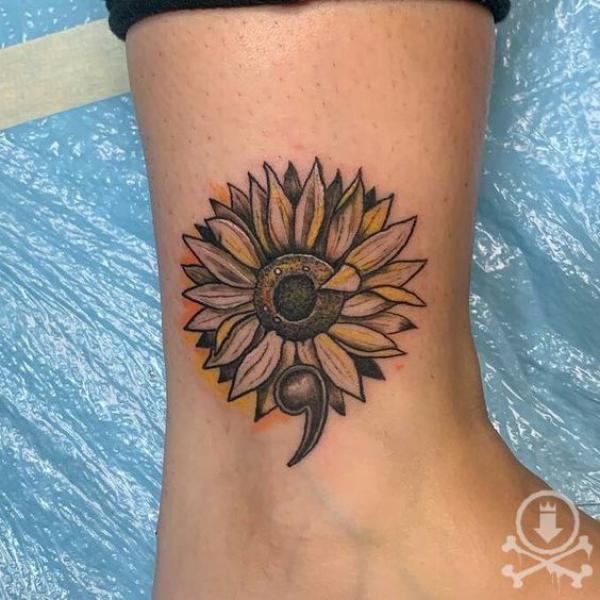 Knee
The knee, with its distinct round shape, is a uniquely fitting location for a sunflower tattoo. Sunflowers, renowned for their circular bloom and radial symmetry, can beautifully echo the knee's natural curvature, creating a harmonious aesthetic. However, Knee tattoos can be painful due to the proximity to the bone. But a sunflower design here can be a unique choice, visible when wearing shorts.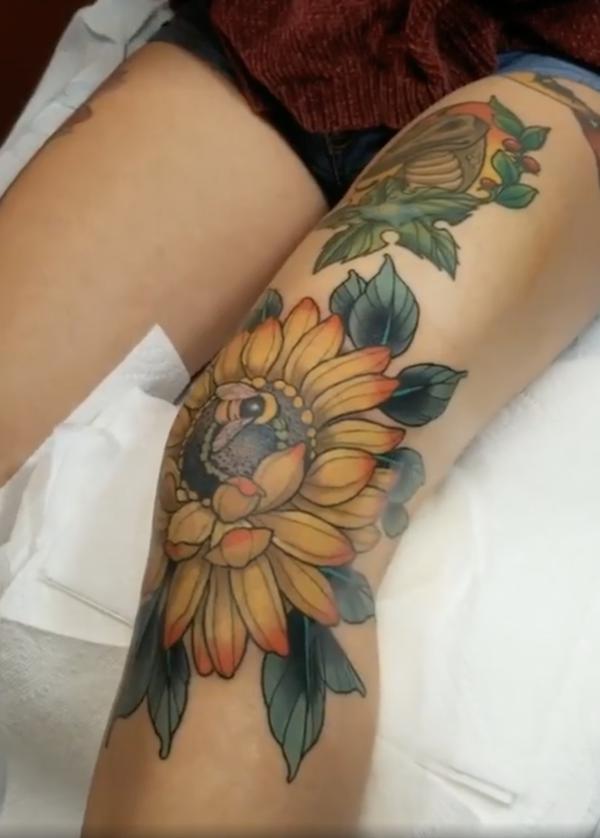 Elbow
The elbow, like the knee, presents a distinctive, rounded canvas that is ideal for a sunflower tattoo. The circular shape of the elbow joint complements the round bloom of a sunflower, creating a visually pleasing and cohesive design. Similarly, Elbow tattoos can be a challenge due to the area's movement and skin texture. Nonetheless, a sunflower design here can be an interesting conversation starter.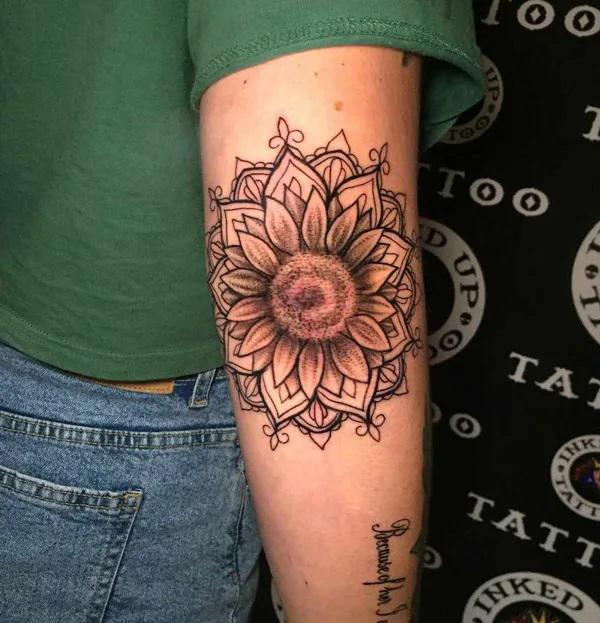 Sunflower tattoo below the elbow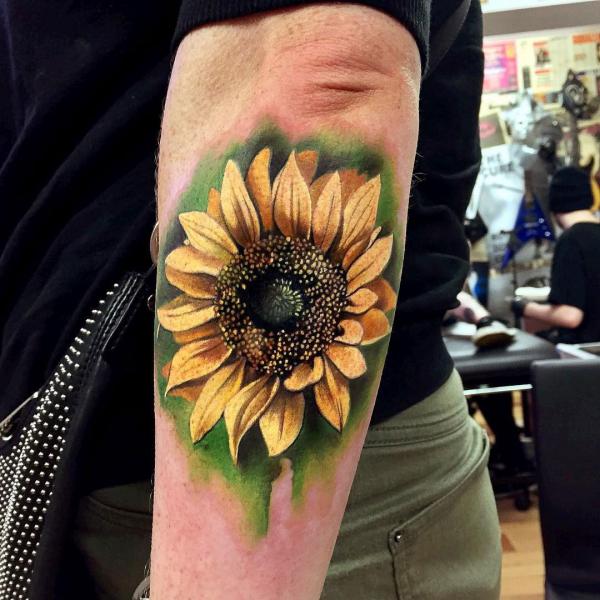 Mandala sunflower tattoo on elbow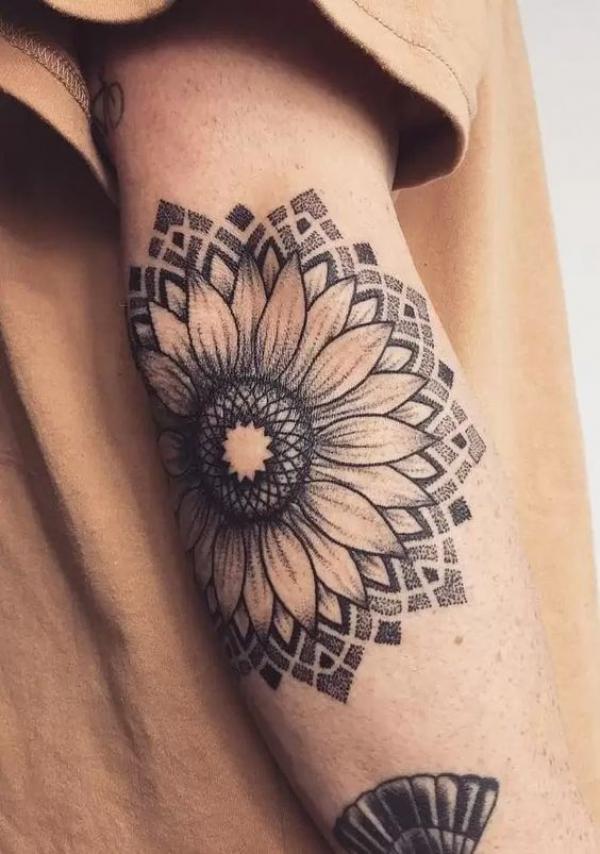 Arm
The arm is an excellent location for sunflower tattoos, allowing for public display and personal appreciation. It can accommodate a variety of designs, from small and simple to large and detailed, and is easily covered if necessary.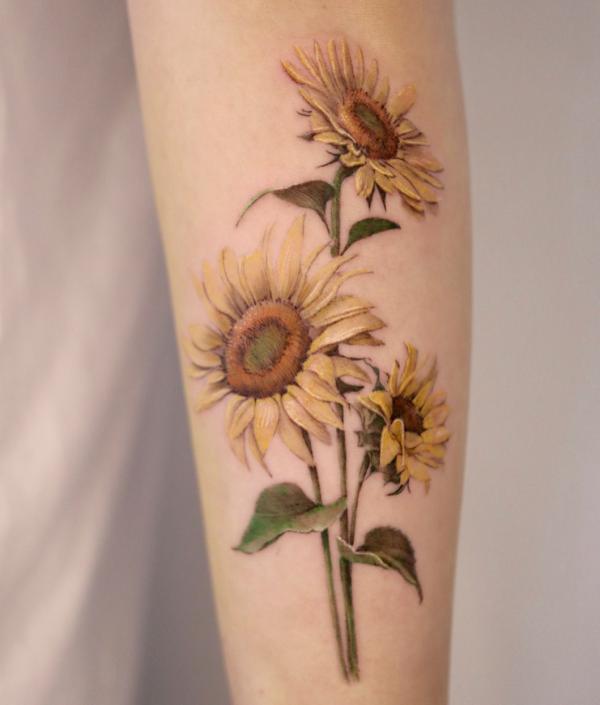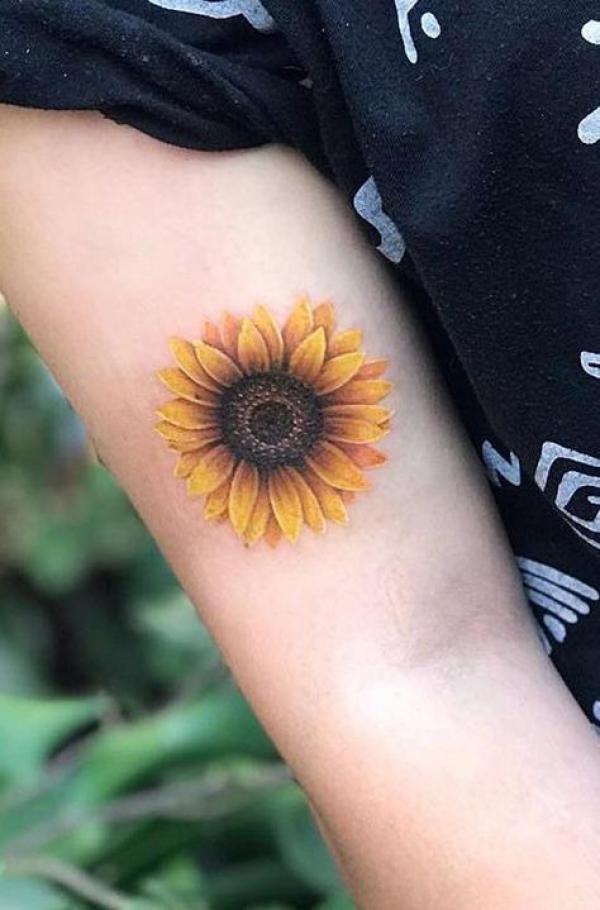 Three sunflowers tattoo with black shade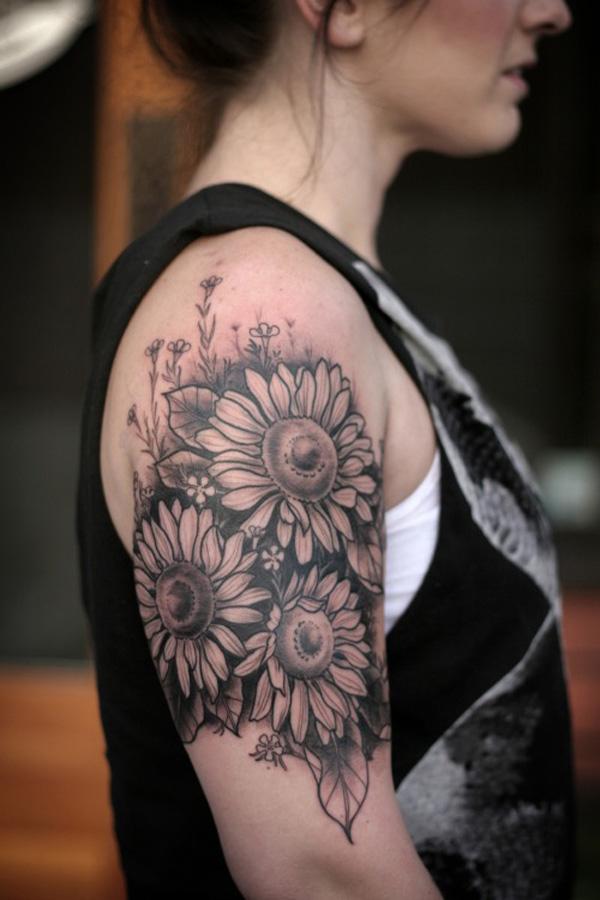 Faded and vibrant sunflowers tattoo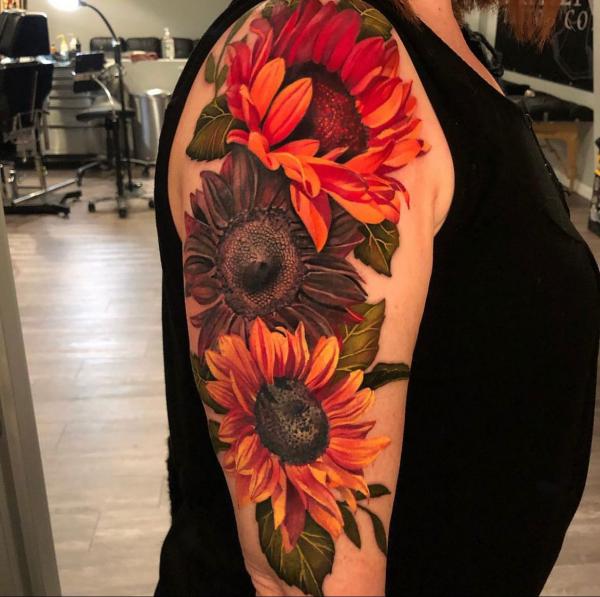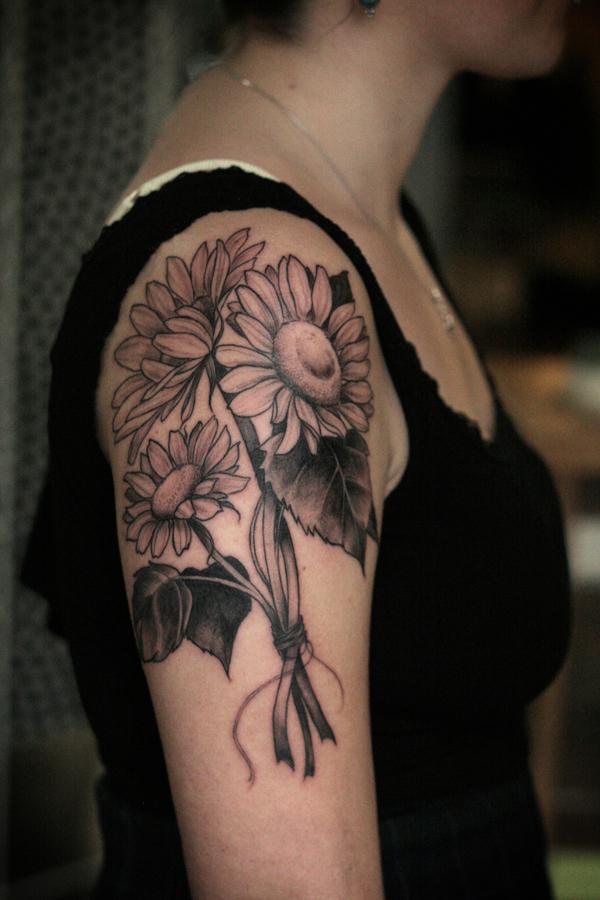 Chest
Sunflower tattoos on the chest can range from small and discreet to bold and expansive. They can be artfully concealed, making them a personal statement, or placed visible when wearing open-necked clothing.
Three dark sunflower chest piece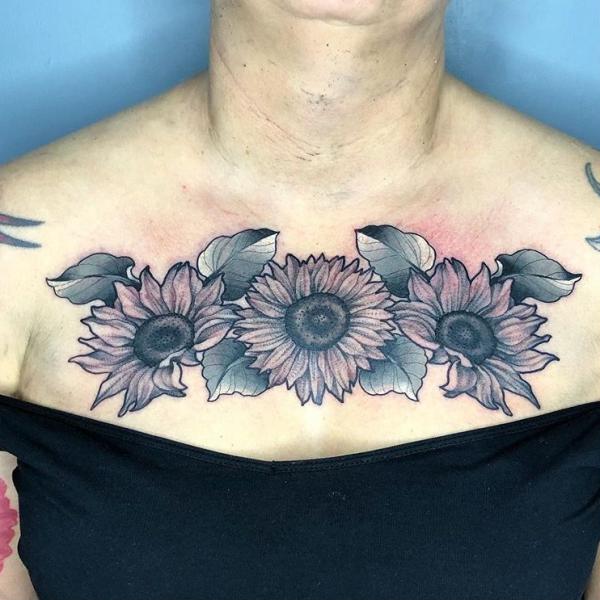 Forearm
The forearm is a popular location for sunflower tattoos due to its visibility. Additionally. it's easy to show off or cover the design. This area can support detailed designs and is often chosen for its visibility during daily activities.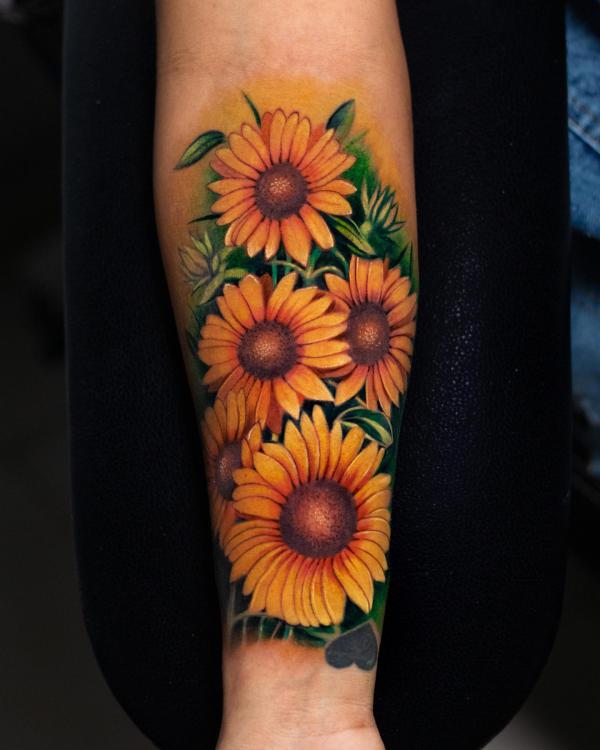 Simple sunflower outline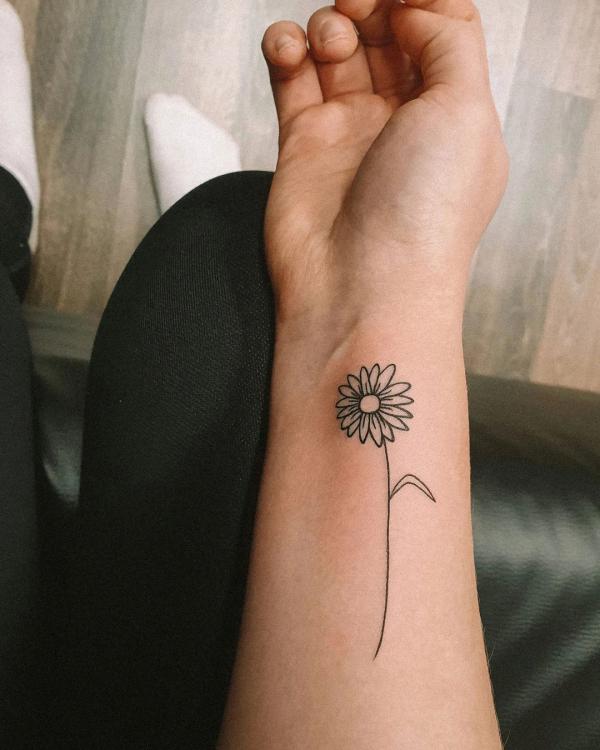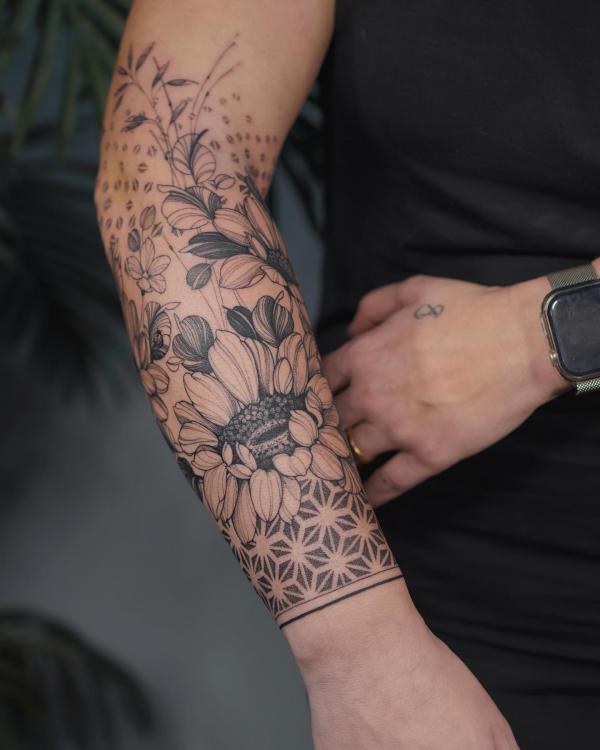 Sunflower with two rings on the bud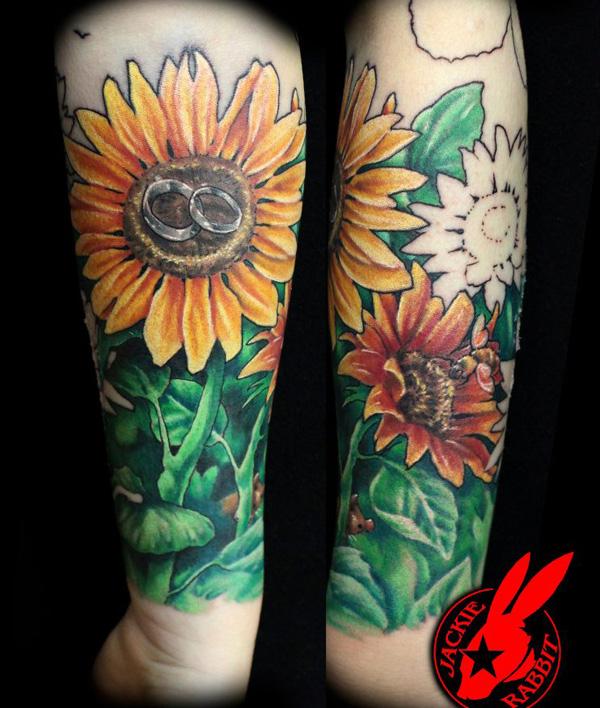 Small sunflower tattoo black and white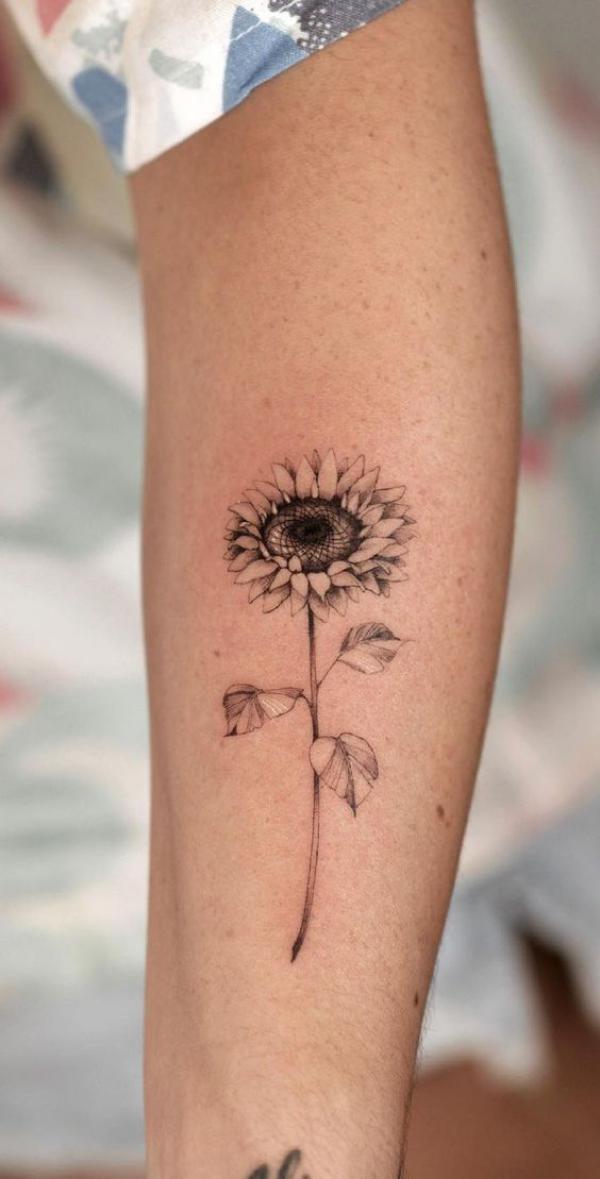 Hand
Due to limited available space, sunflower tattoos on the hand tend to be smaller and less complex. However, these tattoos are highly visible, making them a bold choice for personal expression.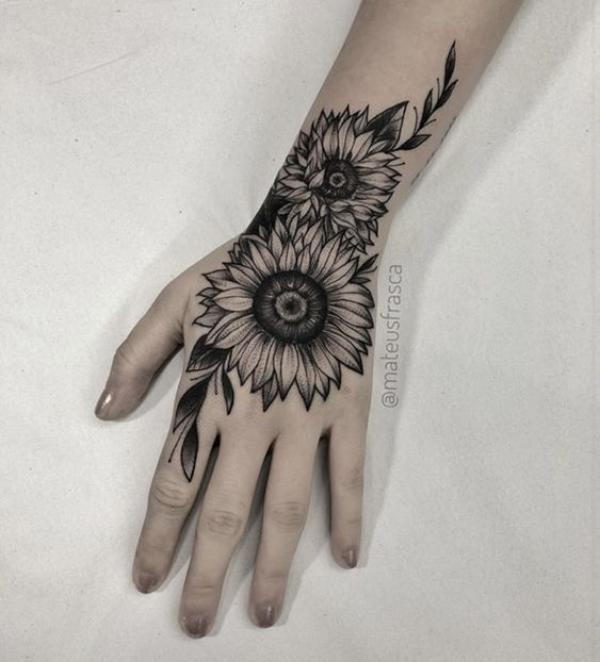 Leg
The leg offers a considerable canvas for sunflower tattoos, supporting large and intricate designs. You can easily control the visibility of tattoos in this location with different clothing choices.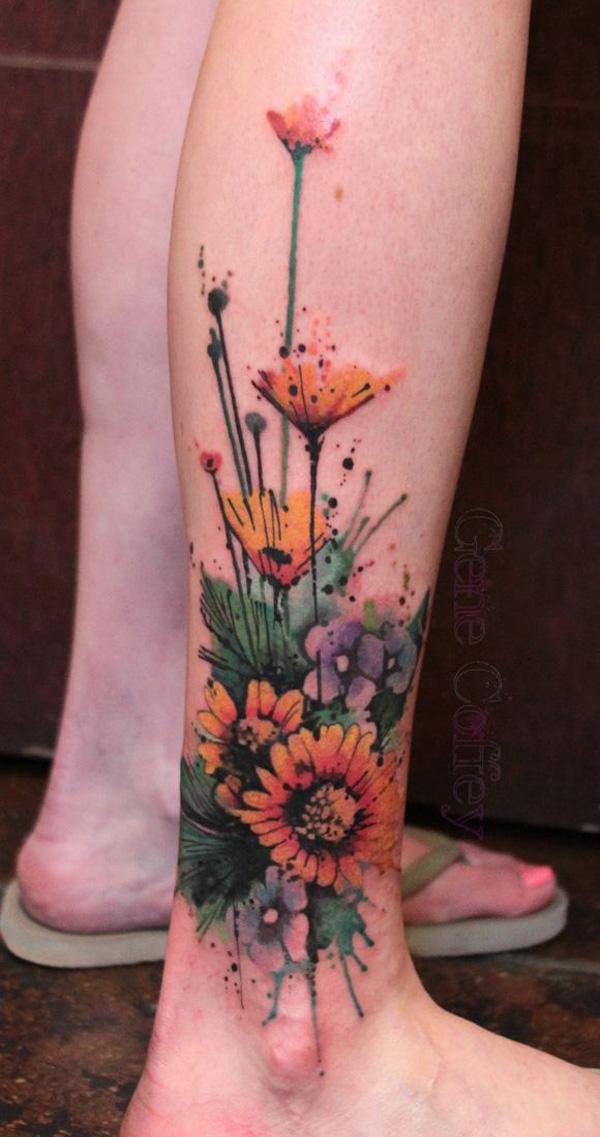 Sunflower and bee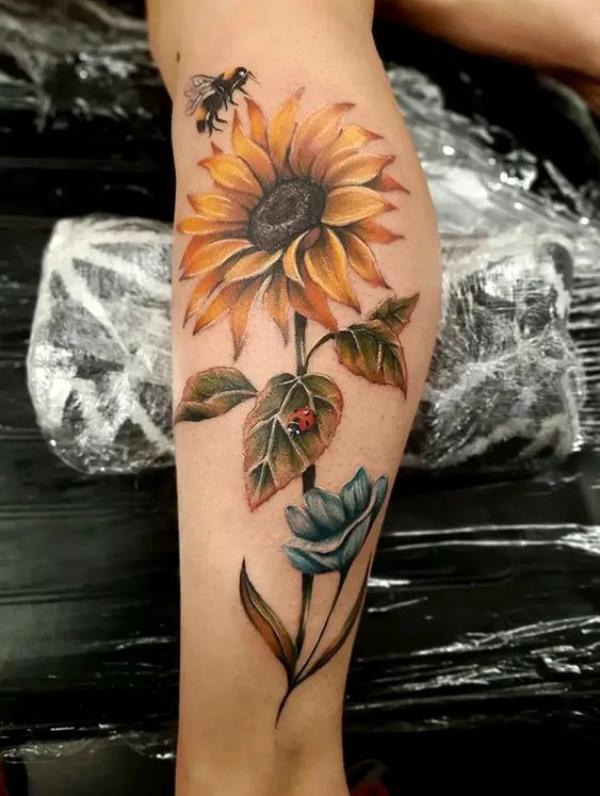 Two Sunflowers tattoo on green backdrop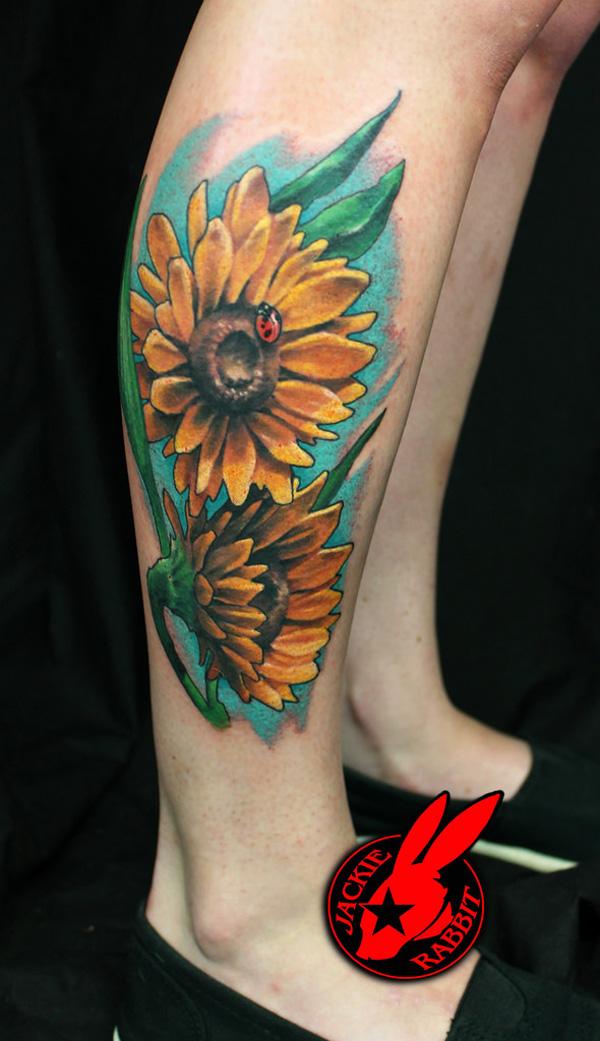 Little sunflower tattoo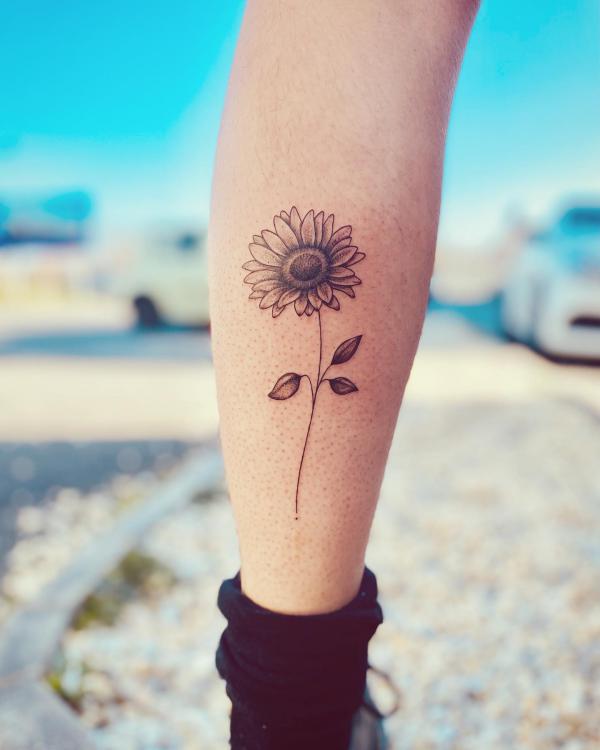 Sunflower calf tattoo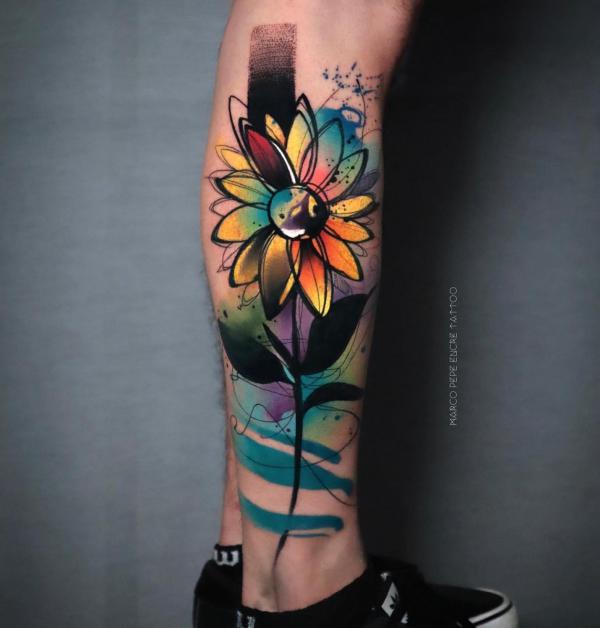 Half Sleeve
A half-sleeve sunflower tattoo provides an opportunity for a comprehensive and cohesive artwork, covering the entire upper or lower arm. This large canvas allows for detailed, intricate designs, and it makes a strong visual statement.
Fine line sunflower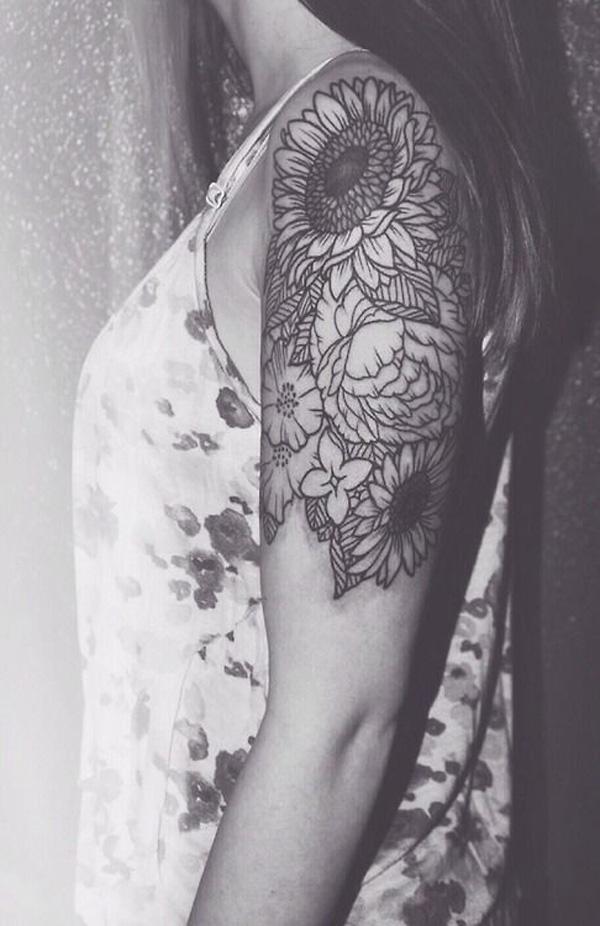 Skull with sunflower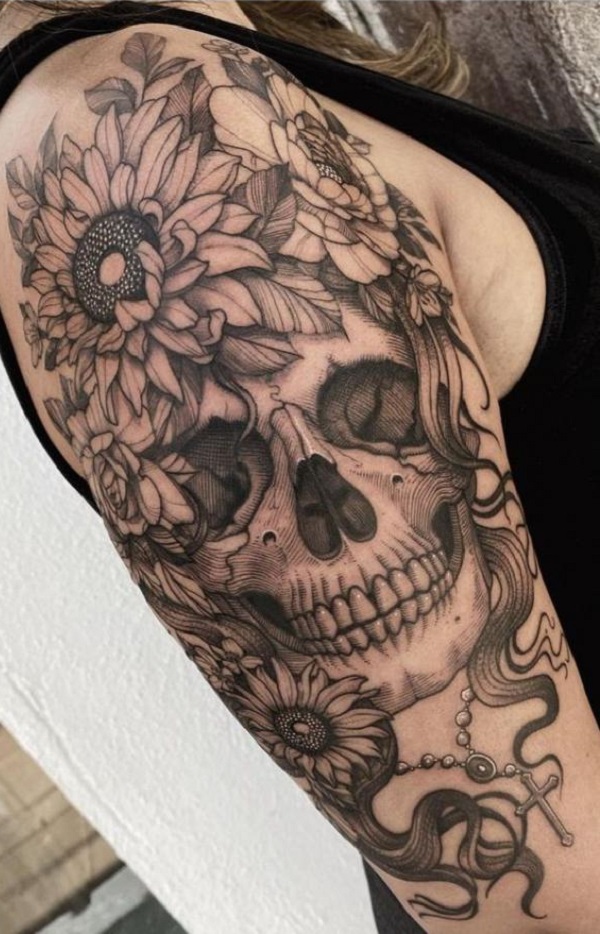 Foot
A sunflower tattoo on the foot can be both subtle and charming. You can easily hide or display them with certain styles of footwear or barefoot. Additionally, the foot provides an interesting curved canvas that can add a unique dimension to the sunflower design. It can be a personal symbol of one's journey, reflecting growth and connection to nature.
Colorful flowers foot tattoo with a sunflower in the center
Butterfly and Sunflower with words on foot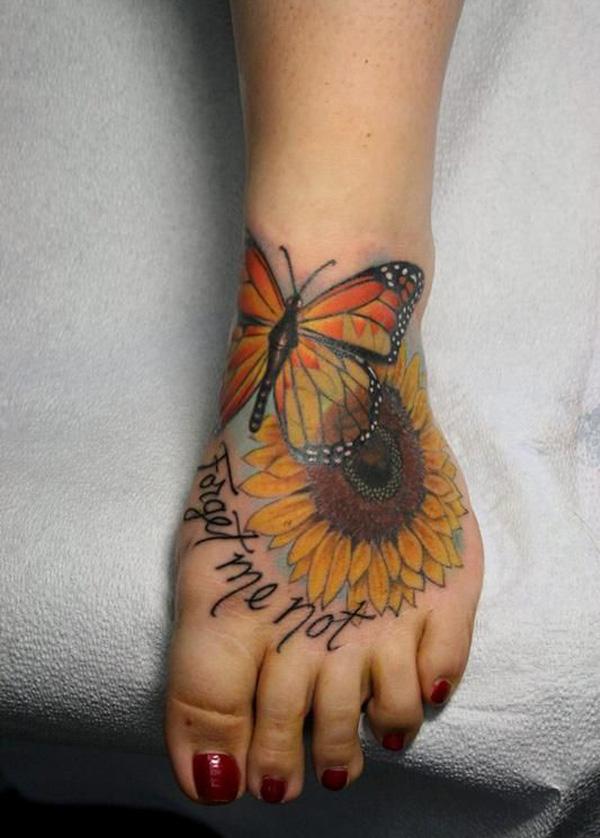 Mandala sunflower foot matching tattoo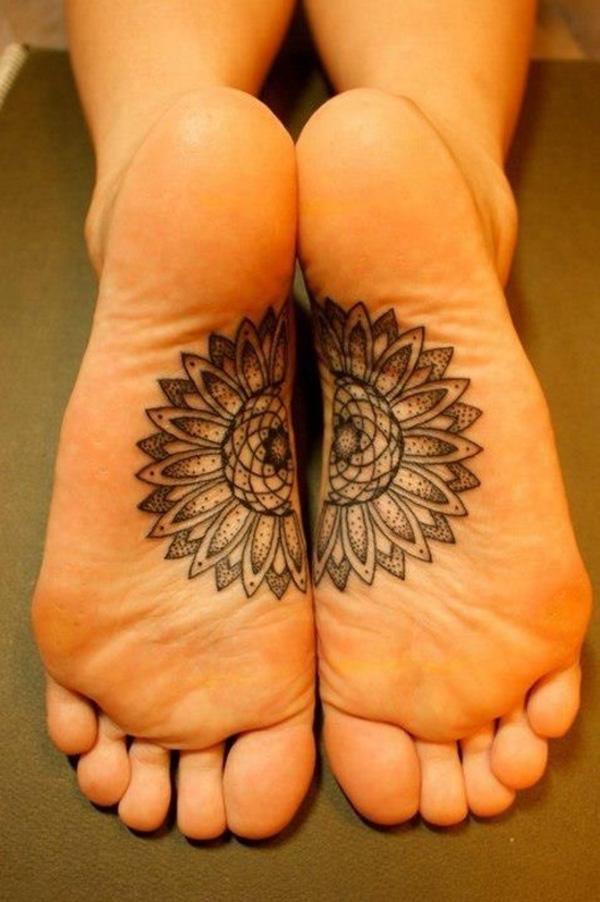 Neck
A sunflower tattoo on the neck serves as a bold and visible statement. This location is great for small to medium designs and suits people who wish to display their tattoo openly.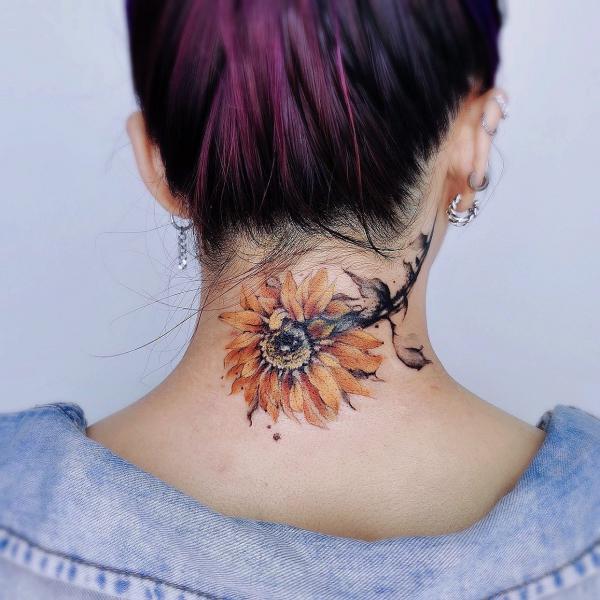 Throat
The throat is a distinctive and unconventional location for a sunflower tattoo. It offers a unique canvas for a striking design, ideal for those who prefer distinctive and noticeable tattoo placements.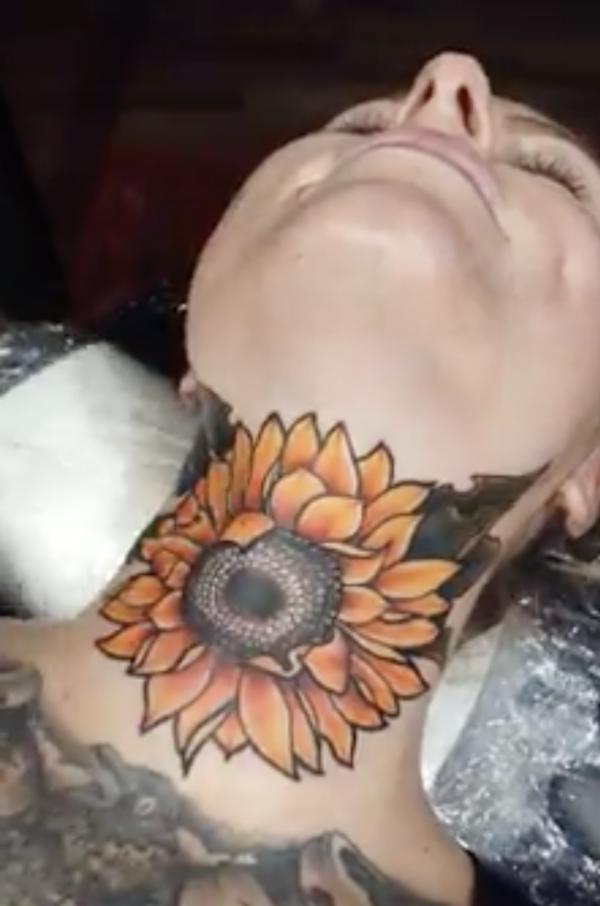 Finger
Sunflower tattoos on the finger offer a unique blend of subtlety and visibility. Due to limited space, these tattoos are often small, simple, yet distinctive. They can be a discreet, personal reminder for the wearer or an understated artistic statement. Despite their size, these tattoo tattoos can capture the essence of the flower's beauty, making it a charming and interesting choice for a tattoo placement.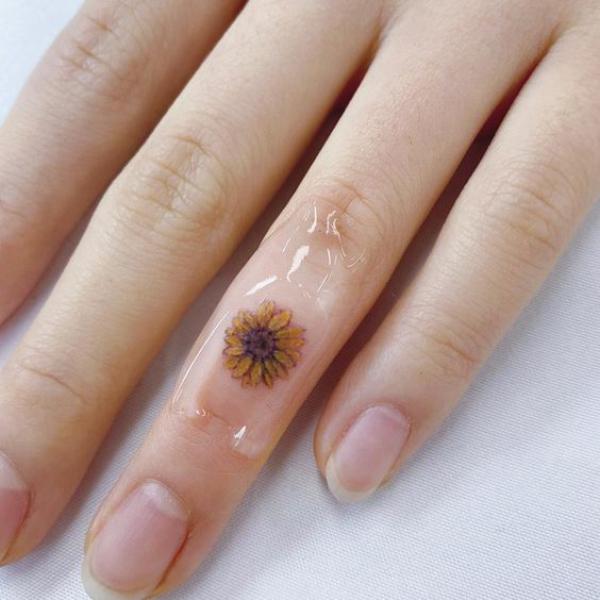 Conclusion
Sunflower tattoos are much more than just beautiful designs. They carry profound symbolism and can be personalized in countless ways. Whether you prefer a traditional, realistic, or quote-incorporated design, the essential thing is that your tattoo reflects your personal style and symbolism. After all, a tattoo is a lifelong commitment, a piece of art that you carry on your skin, symbolizing something uniquely significant to you. So, choose wisely and let your sunflower tattoo be a meaningful expression of your inner self.