Many have experienced staying and living in dorms during our college and university years. Usually these institutes are far from home. Or we would want to go to the school of our dreams even it means states or even countries away. Some even start staying on dorms ever since their middle school years. But no matter how miles away we seem to be when we stay at our dorm rooms, the experience simply teaches us how to become independent.
And of course, since these are where we are staying for the majority of the year, dorms could very well be our homes away from home. And like our very own places, we ought to make our dorms more comfortable. This could at least help make us feel a little less homesick.
There are different ways of making our dorms feel more at home. But a bunch of personal things won't simply do that. We should try to incorporate our own styles. Personalize your decorations or if you've got a roommate, work with them to make the place really belong to you. You don't need to have great knowledge on interior designing. You could do whatever you want as long as you're keeping the rules of the place.
The Best Way is the Smart Way
But do you know that making your dorm comfortable isn't the only thing you need to do? Since you're basically a student (the majority of people living in dorms), you need a place that is convenient. You need a place that could follow your strict schedules or accommodate all your needs (like having to charge your phones and laptop all at the same time while enabling you to get to your food stock within seconds). So try to plan the best look for your dorm room.
Then again, don't forget about your roommate. Chances are you would have one. When thinking of the design of your home (by design, I also meant the placement of every single thing), you need to talk to your roommate. Cooperate with them and ask where they want their things to go and if your plan suits their taste. Normally, this isn't just a way to keep your place cool and comfy but keeping things cool with your roommate at the same time.
Creative dorm room design ideas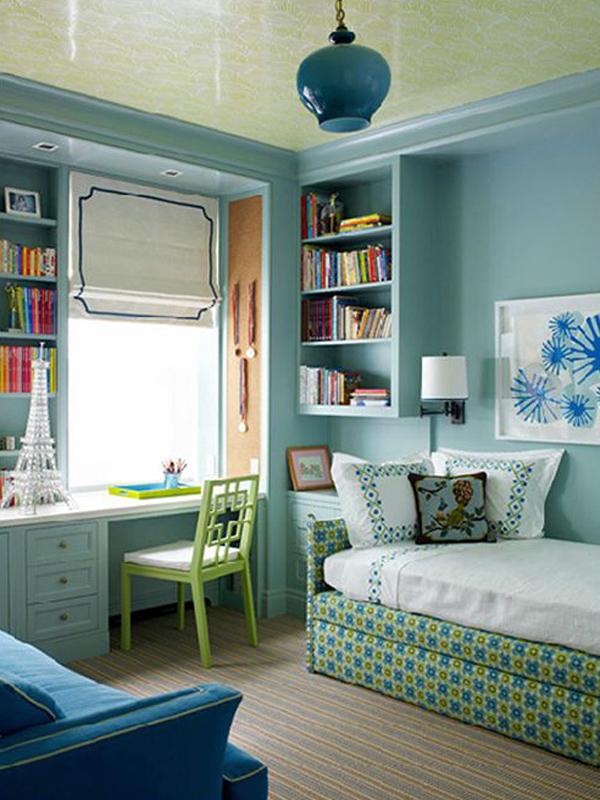 Studying should be easy for both you and your roommate. Keep the study area in the back in between your beds so any one of your could take their seat and study. Plus it's great to keep books organized.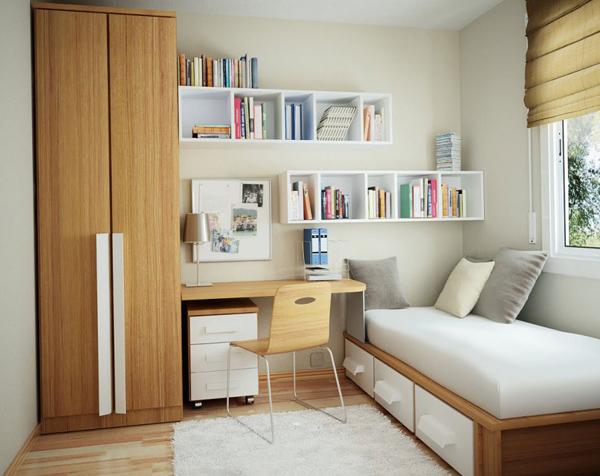 A clean and organized dorm would help you study and do your job better. If you're on your own, you keep the remaining space untouched to make the space appear much wider. Plus a white rag could do the job.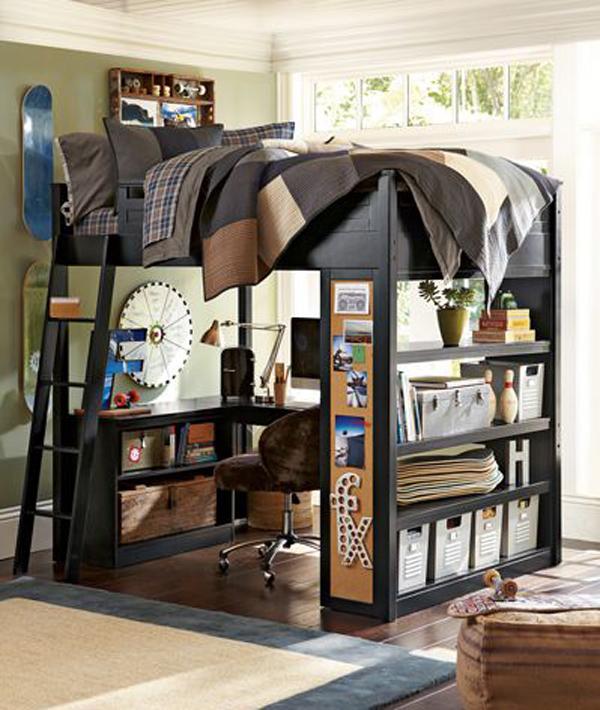 Dorm spaces are often smaller so maximize your space with this amazing bunk bed. The upper part is your bed space and in the lower part, instead of another bed, is your work and study space. It's customized with shelves so you can place your books and other things there.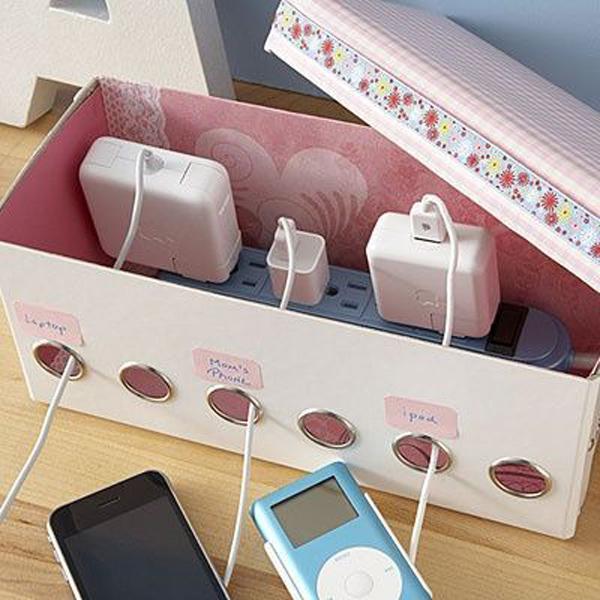 Wouldn't it be nice to know where you should charge your gadgets? Here's a fun electricity outlet organizer where each hole represents where the gadgets should be plugged.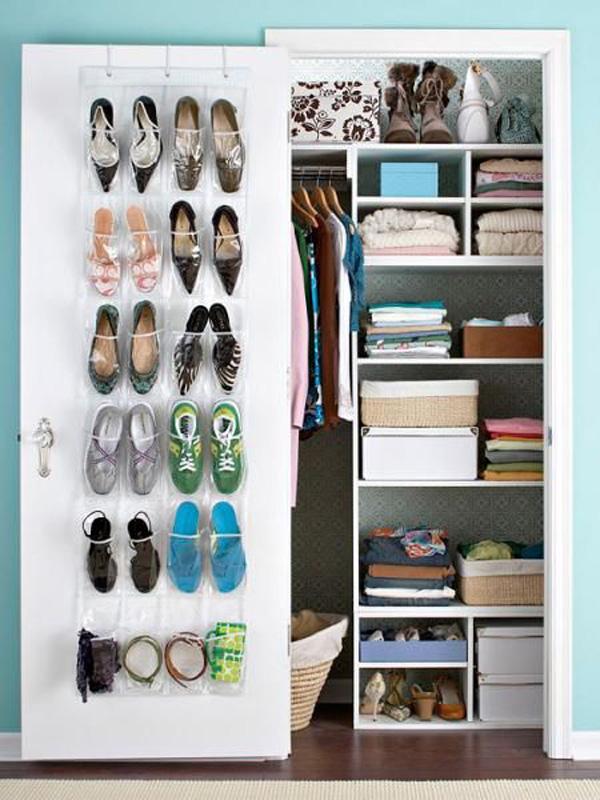 Your closet is one of the hardest things to organize. But you can also do the best move of maximizing space through shoe pockets and placing hard to organize clothes on boxes and baskets.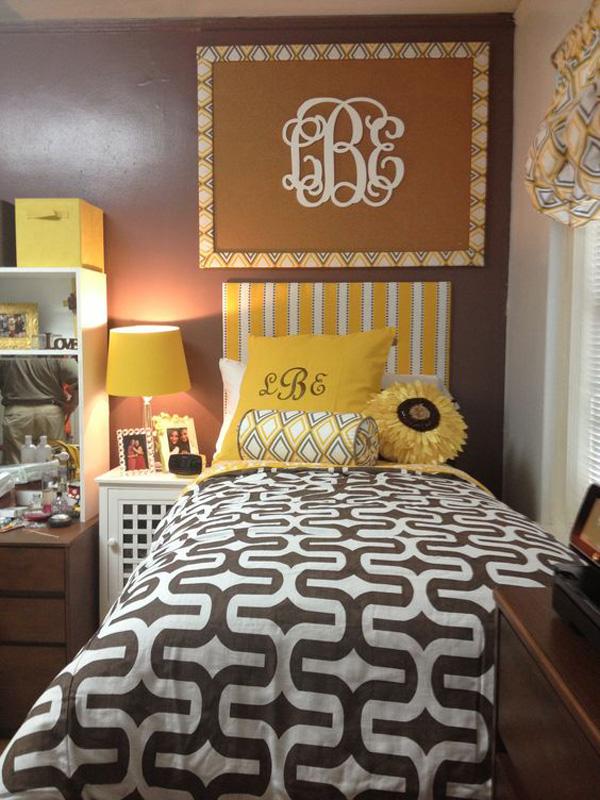 Want to let your roommates know which is yours without being too harsh? Well, you can do this trick; embroider your initials on the pillowcase and perhaps make a design out of it as well. You and your roommate could do this.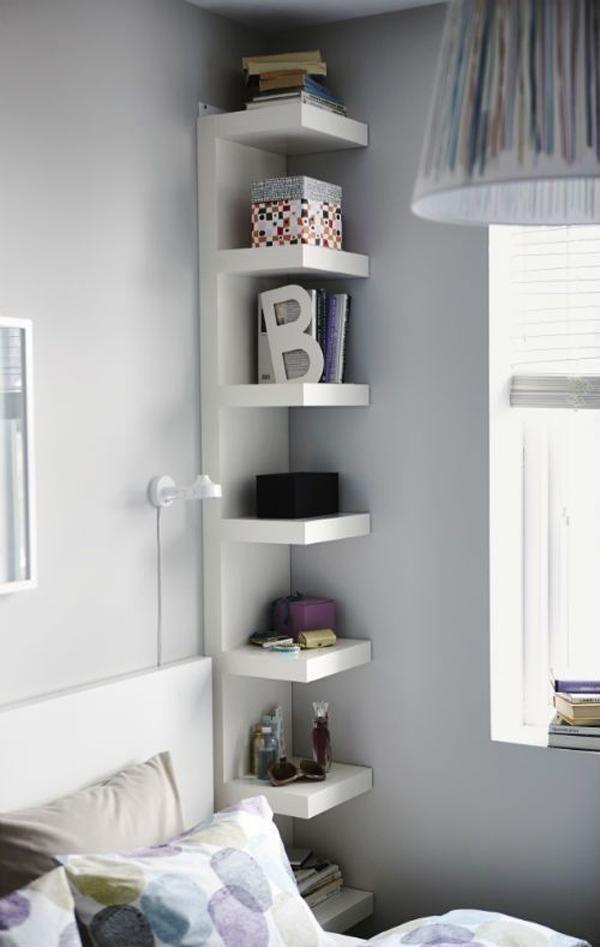 This unique looking and stylish shelf is what you need for bedside stuff or decors. It goes from ceiling to floor so you can put quite a lot on this if you want.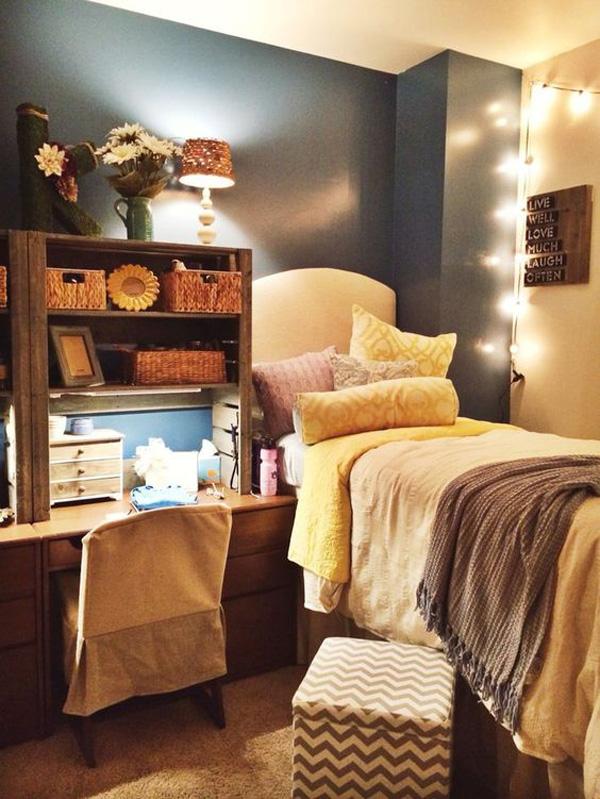 Earth tones and yellow lights could keep everything mellow and comfortable. This is the kind of room that you can really relax and sleep well.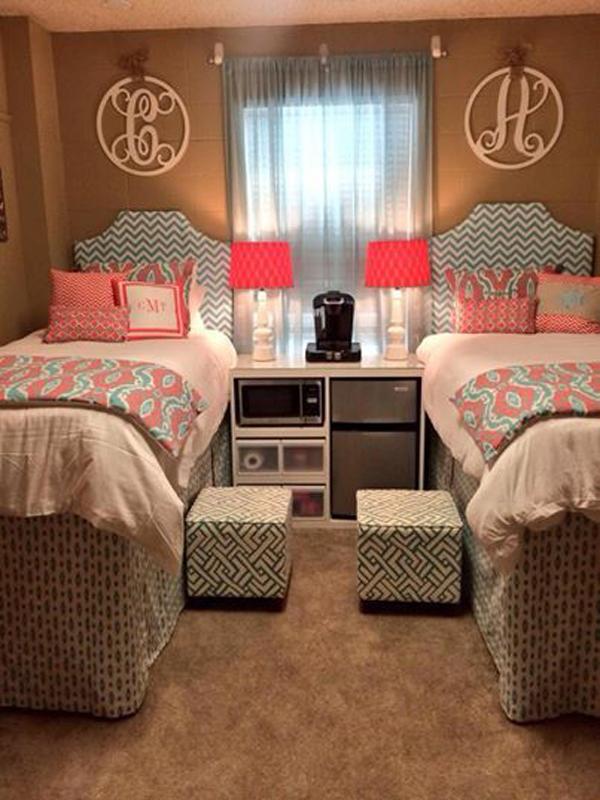 Friendship goals achieved. Although each side has their own mark (embroidered initial trick), they still go with the same style. Plus the mini fridge, oven and little drawers combined in a center table with coffeemaker and twin lampshades makes life so much easier.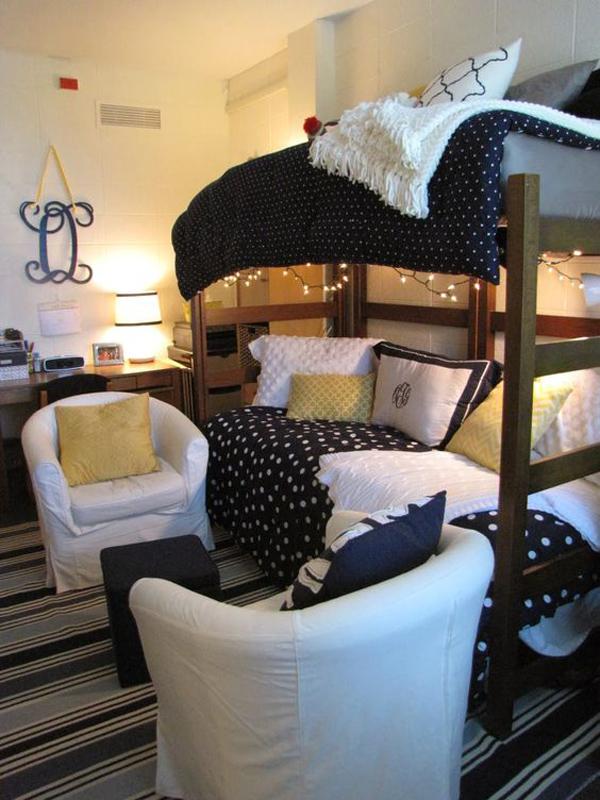 Instead of having two beds, you and your roomie could enjoy a bunk bed. But not the one that could get so boring. Try with fluffy comforters, lights and extra pillows for more comfort. The side for the other bed could leave space for two cozy chairs where you can hang out or study.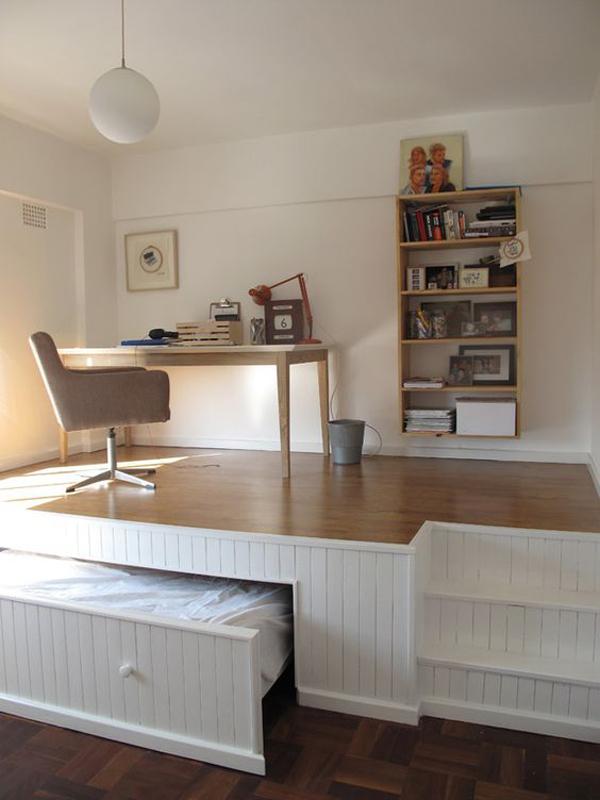 If you can have your dorm customized, here's what you can do: create two levels one shouldn't be too high but just right for a bed to fit beneath. Then the upper level could be transformed as your spacious study then you can have a pull out bed below.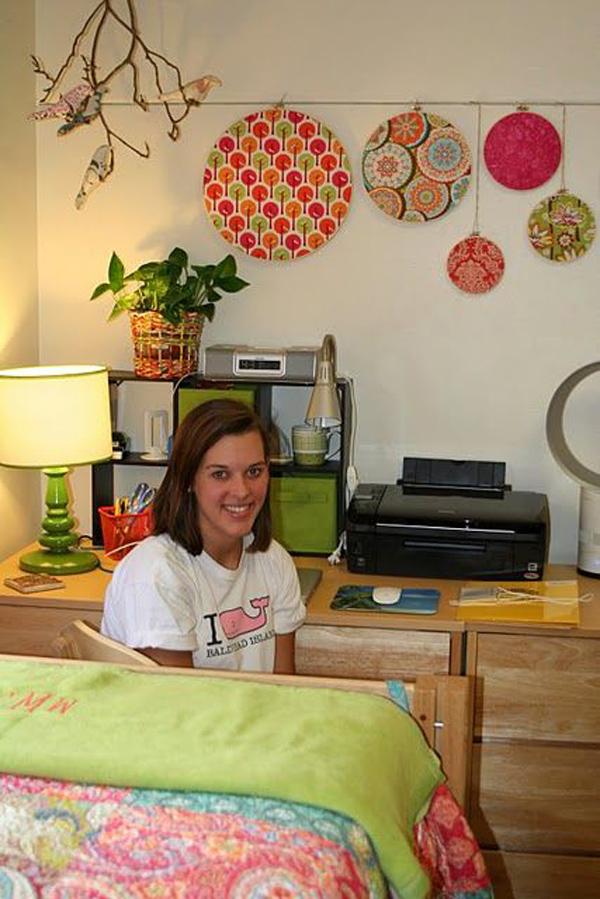 Student life can be stressful. What you need is something that will relax you. Plants could do that as well as colorful designs. Green is also soothing to the eyes and mind.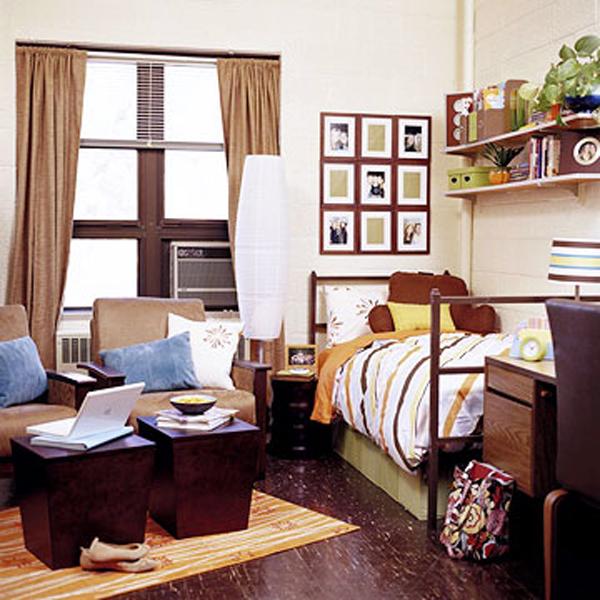 For an English Country interior design style, make your dorm room grand but friendly. This is commonly what English Country style partains to. Add sofas and tables, slender lampshades and a plethora of your stuff.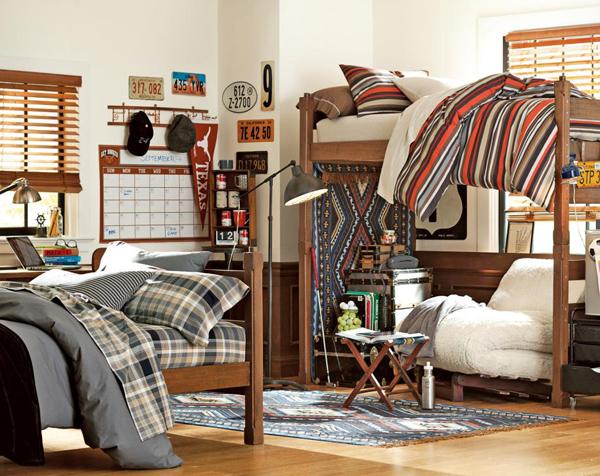 Prints, stripes, plaids. An entire room could appear more wild and lively with the combinations of these designs. Plus change that lower part of your bunk bed to a place where anyone could relax.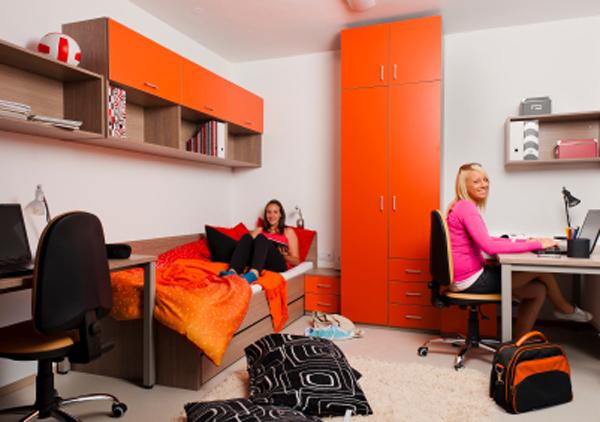 You can go with the minimalist approach. This means less anything; just what you need. In this case, study areas, a bed, a closet plus a shelf. Oh, and orange is a great way to at least liven up the place even with just little stuff.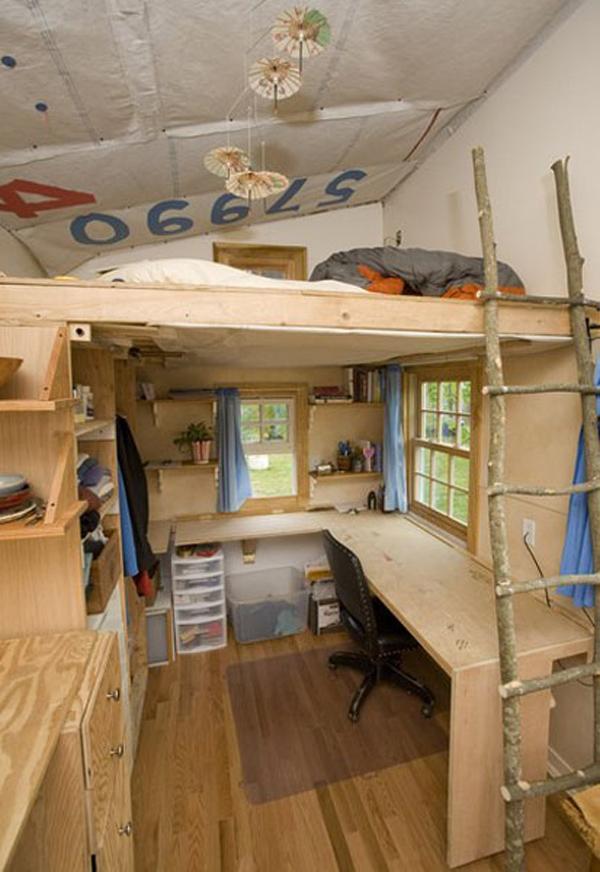 Remember your tree house when you were a kid? Well, you can still recreate that into something better for your dorm. The upper part is where you can go to bed while the bottom part of the room is a spacious work space. And to not stray with the tree house vibe, the ladder would be good when it's made from tree branches and keep everything made from wood.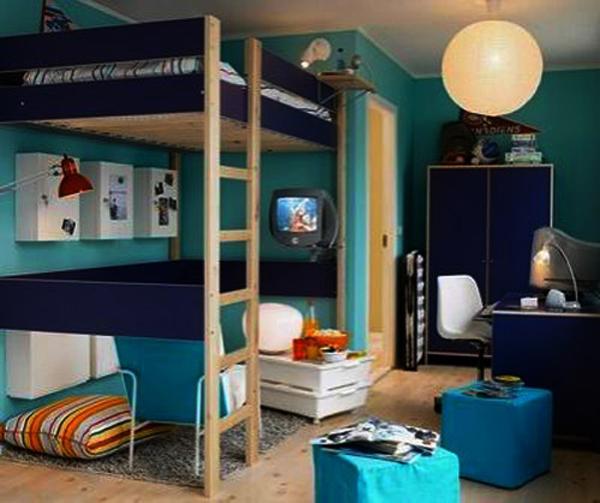 Blue and green, no matter what shade, is cool for the eyes so why not use these as the main color for your room?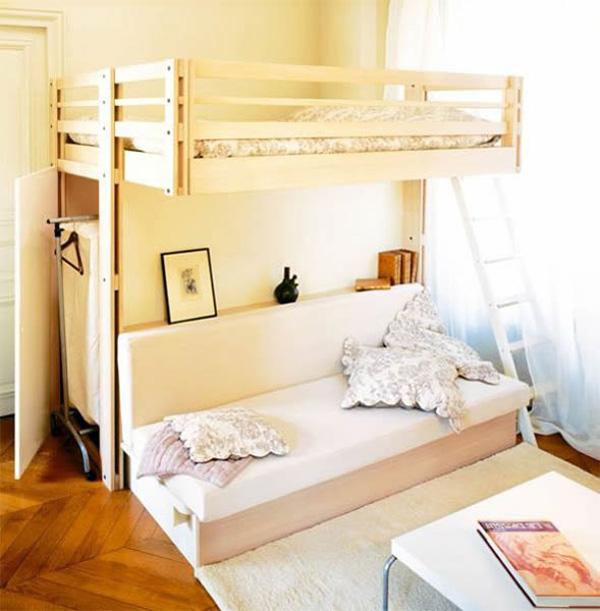 See how much space you can save with this type of bunk bed? The back side of the lower part also contains a room for your rack of clothes. Convenient!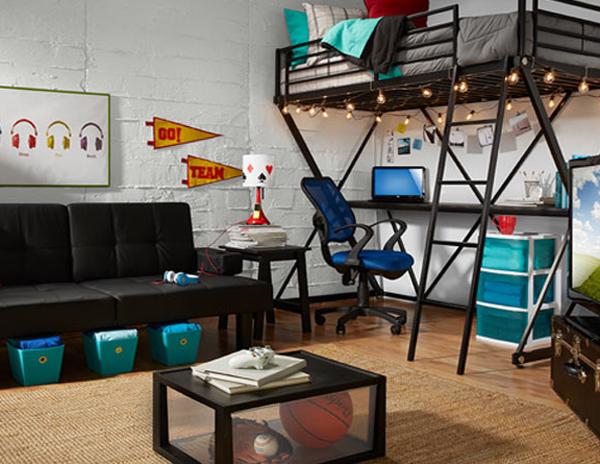 Of course, modern designs aren't lost. This steel bunk bed and black sofa and white walls is actually very common in dorms like in New York.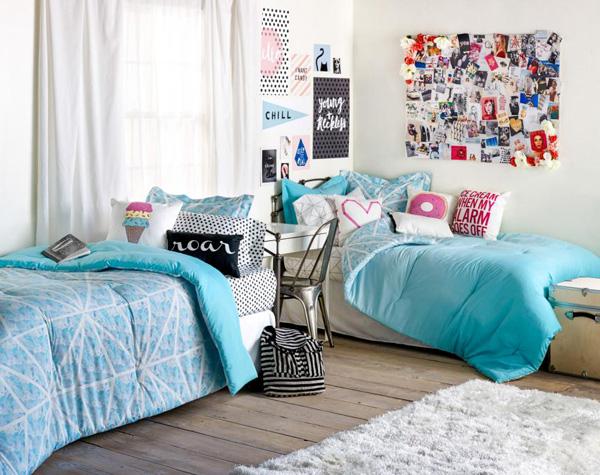 Go chic with your friend. Statement pillows, a wall of wisdom and quotes, a freedom board and some cool color is what's included in the starter pack.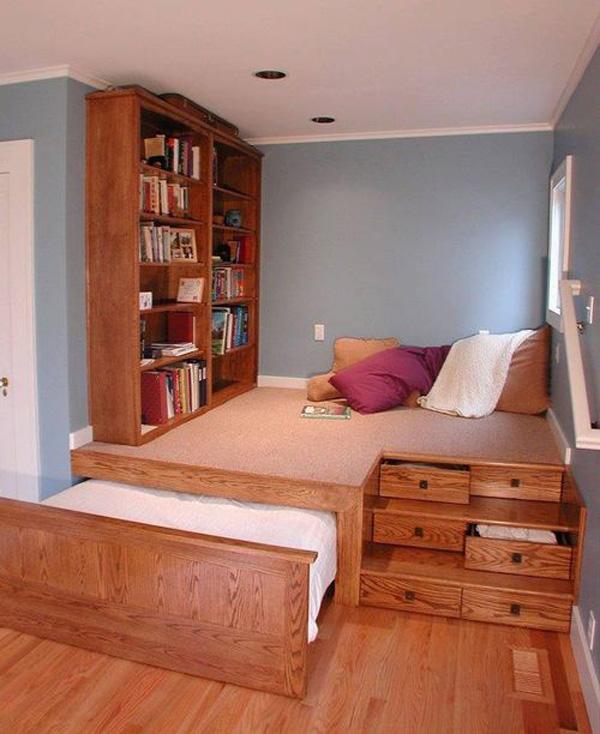 Pull out beds as well as drawers in the stairs are a great way to maximize space. See? You can now put a bookshelf plus your own cozy spot in the upper level.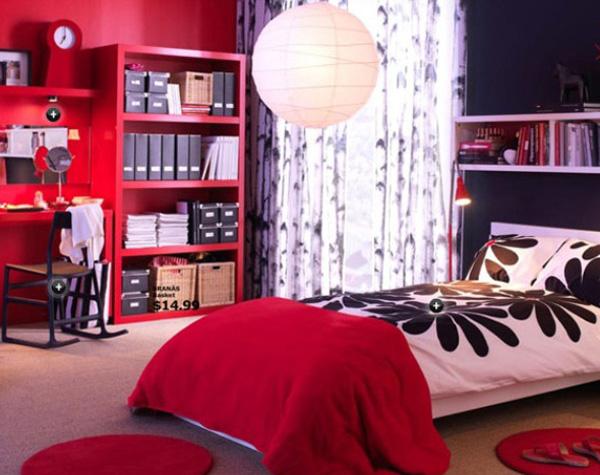 Red and black aren't always the most common motif for dorms, but if you want this elegant style, you can recreate the look. Plus boxes are great for anything you want to organize for your shelf.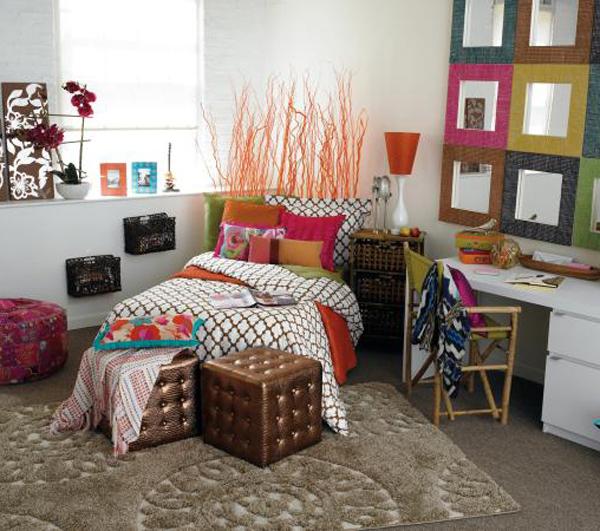 Colorful decors could go pretty well with earth tones. It has the playful vibe of the colors while still having the cozy and homey effect of the earth tones.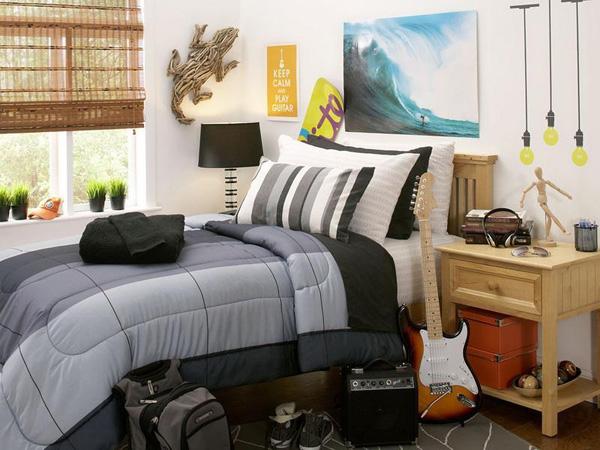 Another modern look for a modern dorm. A good duvet and comforter could definitely keep you comfortably snuggled in bed in no time.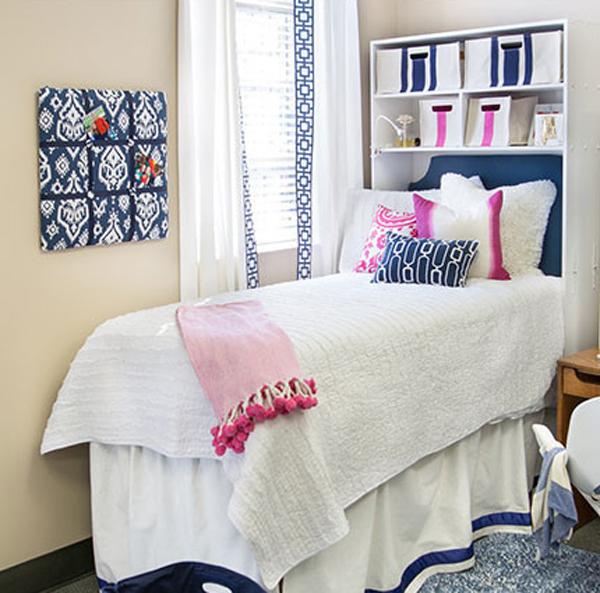 Bring out your inner feminine with this design. get the pink and blue hues working with the white room.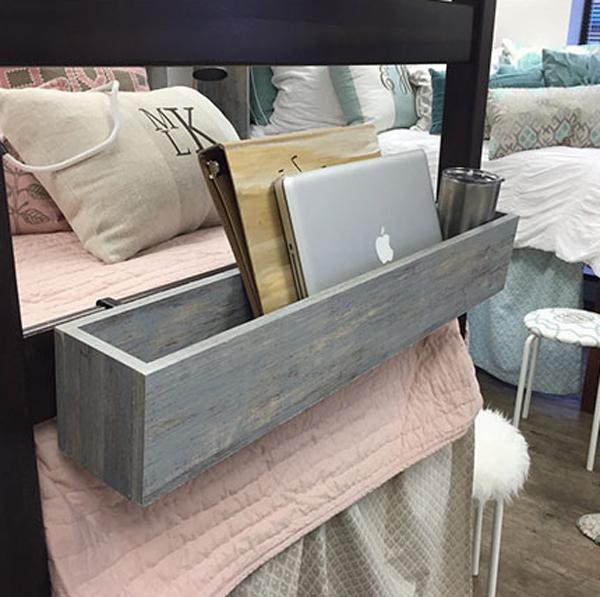 Don't know where to place your laptop or important files? Get this addition in your bed rail for easy access to whatever you need.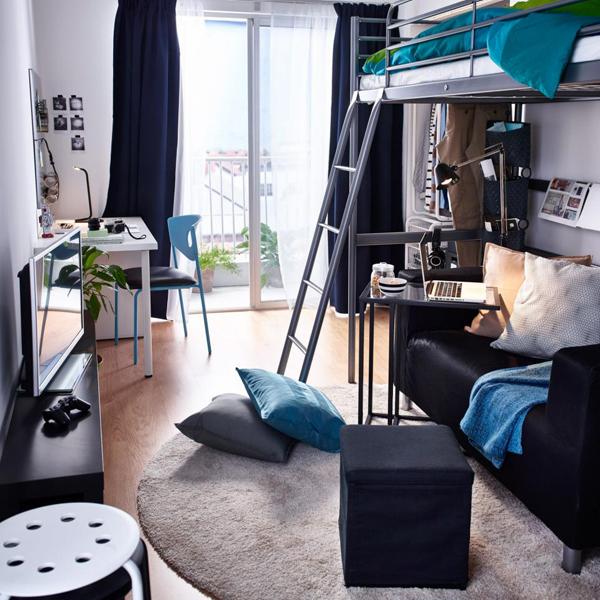 The sleekness and the comfort of this room is in an entirely different level. It's the place you really want to be in.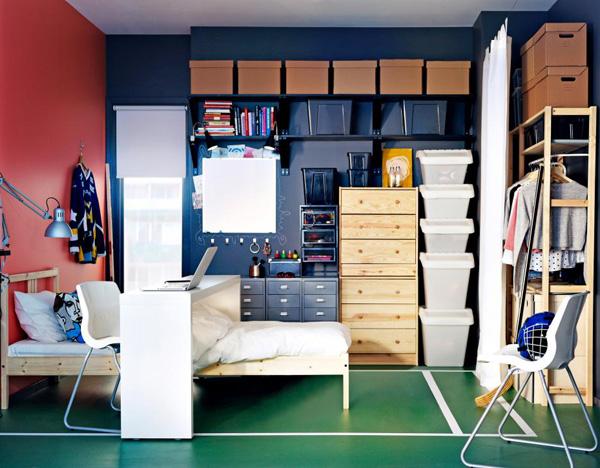 Boxes everywhere? You'd know how important these are when organizing your stuff. Plus see the lines like in a your gym? Well, this could be your guide to this rolling table where you can study on your bed as you can adjust it.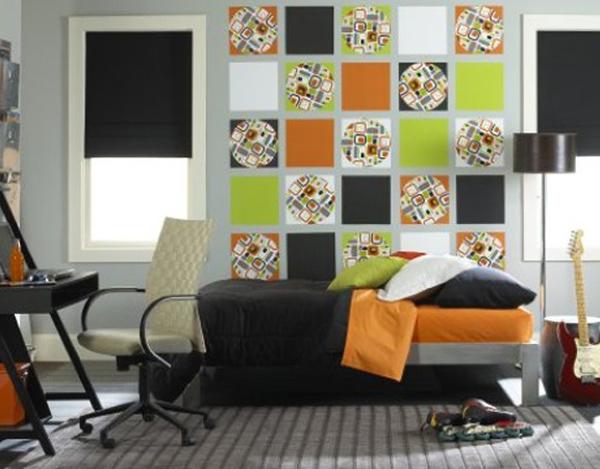 It's always the best to go with a theme. If you're going for a certain color, making the majority of your place in that color has a sense of satisfaction and organization. Plus it can be very relaxing.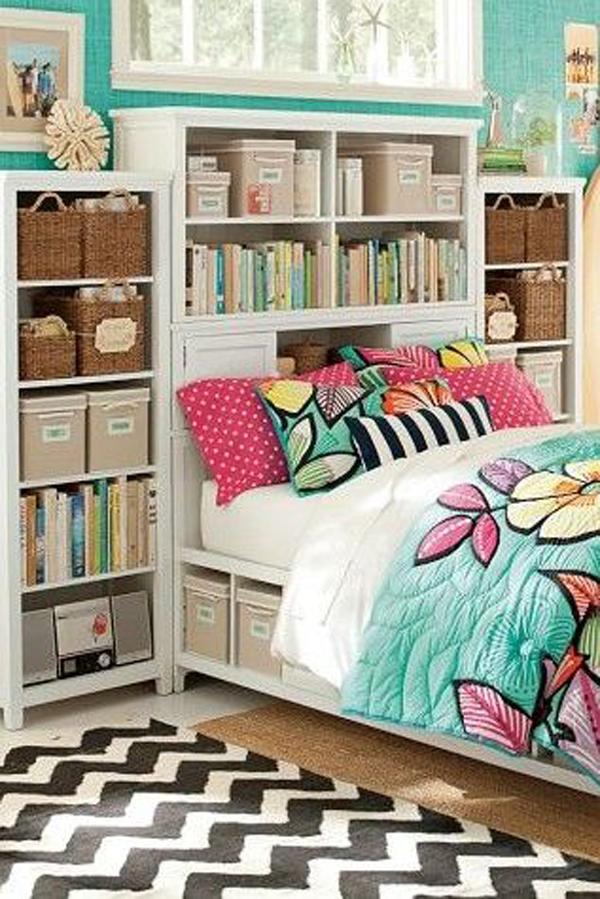 If you're someone who has lots of stuff, this would really help organize your things. Basket and boxes with labels so you won't forget what's inside and shelves by the head of your bed is a good way to also design your place.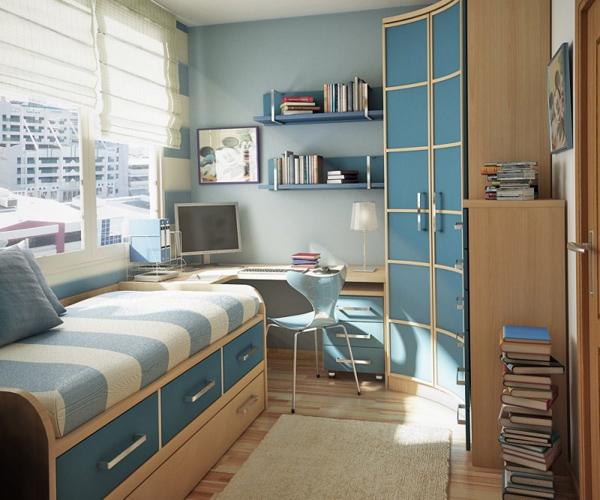 Even with the little space, everything still looks clean and in order and try to keep it that way. Stack some unread books well but keep everything hidden in drawers in your bed.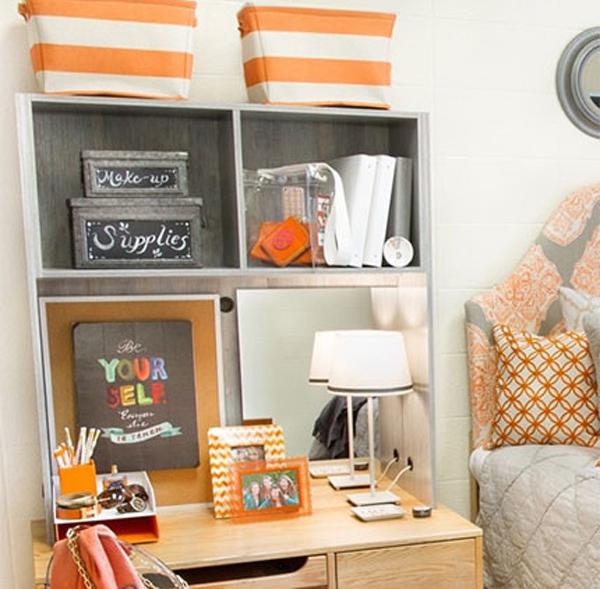 There's always something charming about a brightly colored room and some boxes and labels and a calligraphy of your favorite quote. It's simply personal.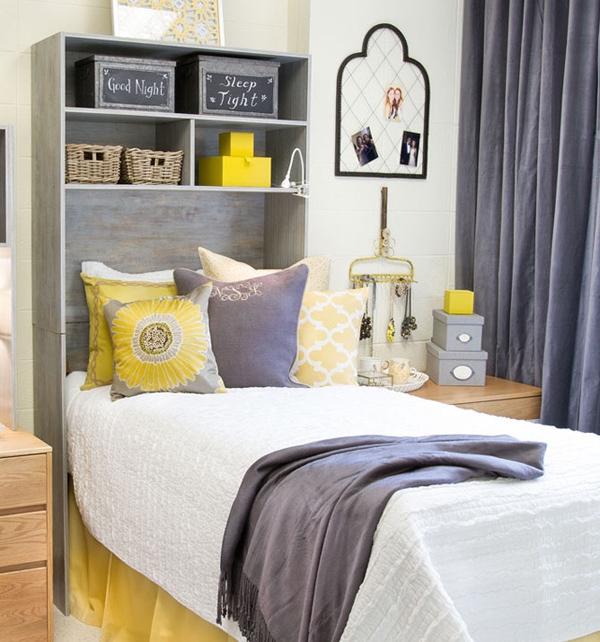 Instead of an overhead board for your bed, you can turn it into an overhead shelf where it extends higher to make a shelf for some of your needs.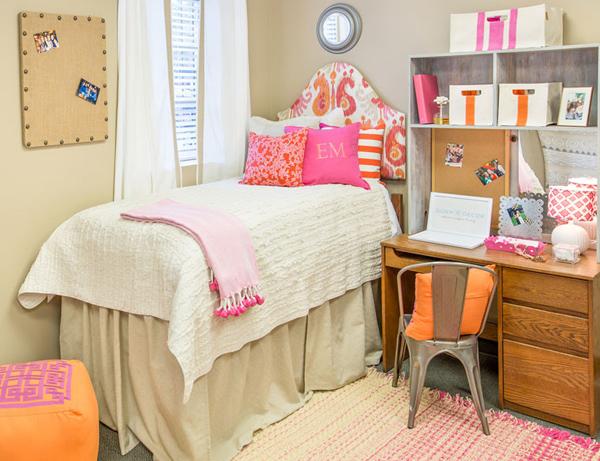 Turn your dorm room lighter with lighter colors. This can instantly make you feel more relaxed.
Finding the right furniture for your dorm is important. These should help in maximizing using the space while still helping you organize your stuff well.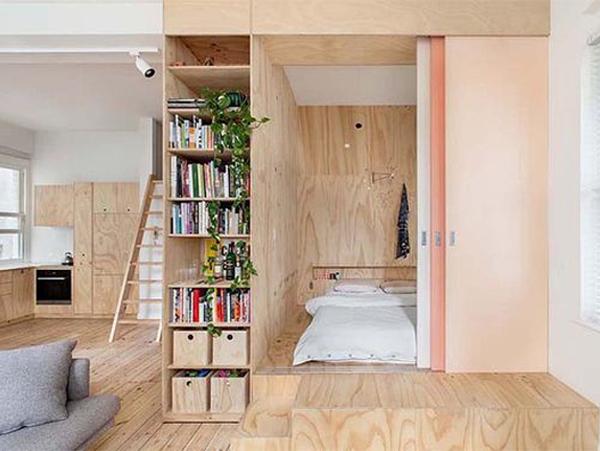 Incorporate Japanese style in your dorm room. Sliding doors and futons (or basically just putting the bed on the floor), bonsai and plywood could make that look effective.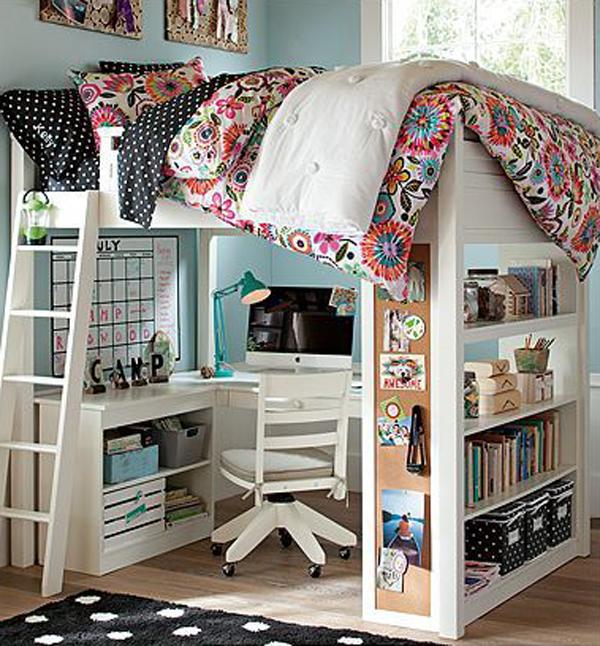 You don't need to have a roommate to have a bunk bed. This one is designed for lone occupancy since the lower part is for study and work station. Or just anything that you want to do with it.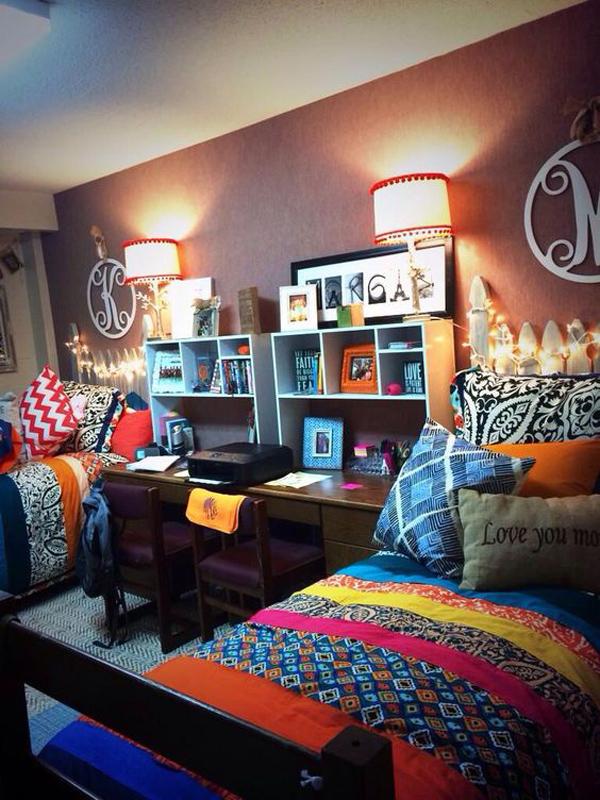 Twinning or getting the same design with your roommate for #friendshipgoals. Because it definitely is.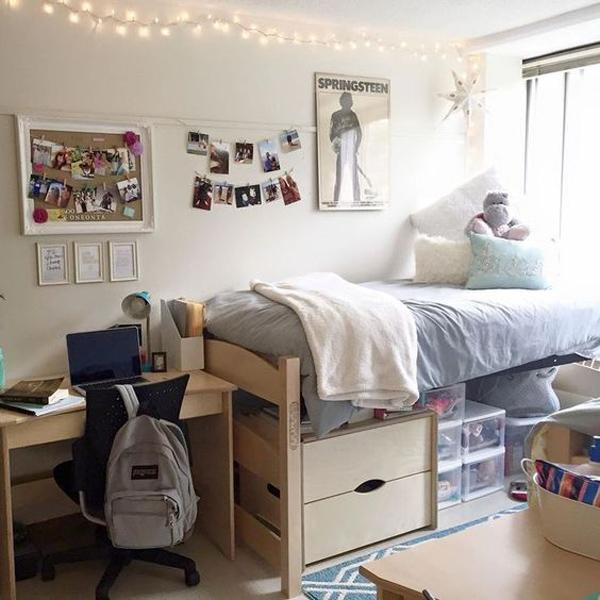 If you lack the space for your drawers and stuff, you can customize your bed to make it higher. The space under your bed could be your space for your stuff. Just remember to have it organized on boxes well.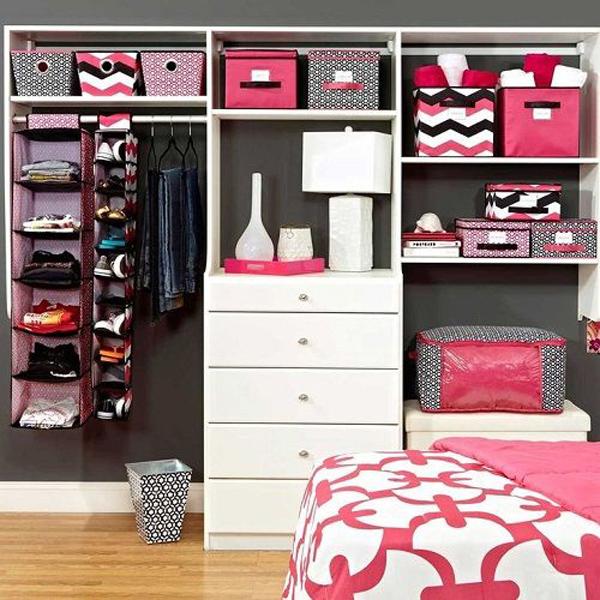 Everyone needs a shelf like this. It's big and it's easy to organize your clothes. Again, boxes help. But the best part is that even the boxes are totally in sync with the design.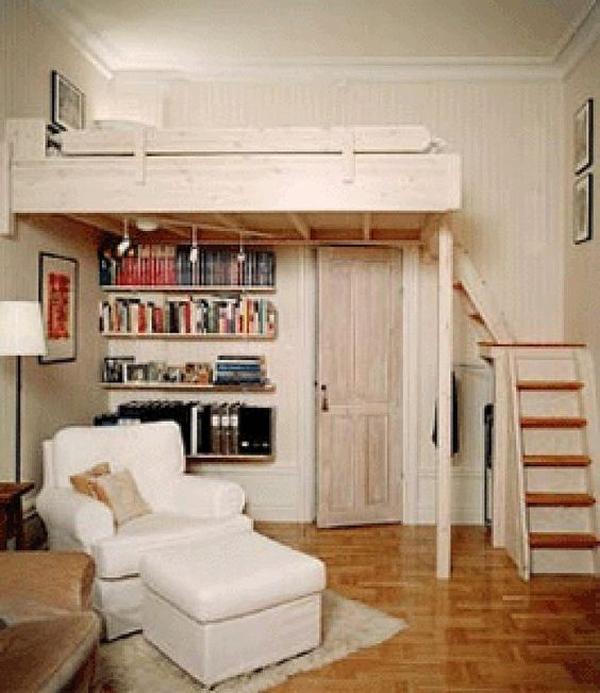 Spacious and classy. This would work pretty well if you're dorm room has a high ceiling. You can make a "second floor" where you're sleeping area is. Then the "downstairs" part is anything you want it to be.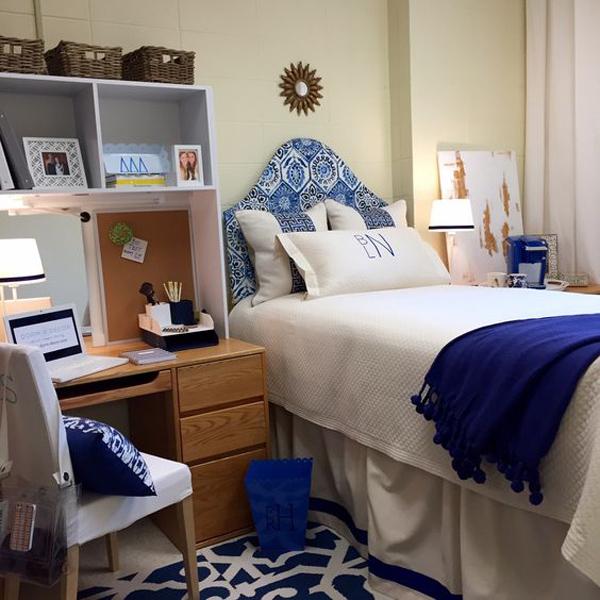 Blue, yet another color with a rather cooling and calming effect. The blue pattern on the headboard and mixed with the little wooden baskets and ornament also makes your room look elegantly beautiful.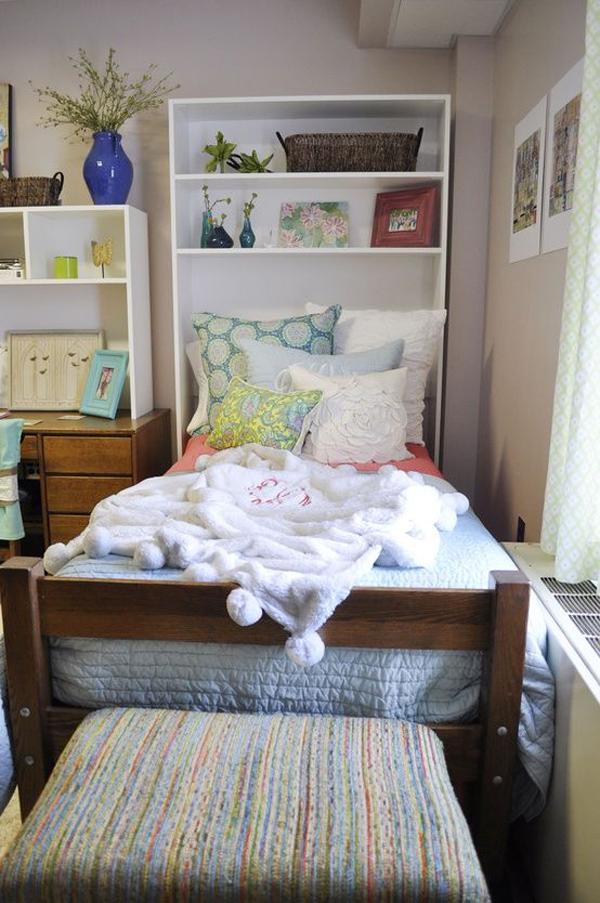 Don't forget indoor plants. These are said to make the atmosphere a lot cooler and refreshing.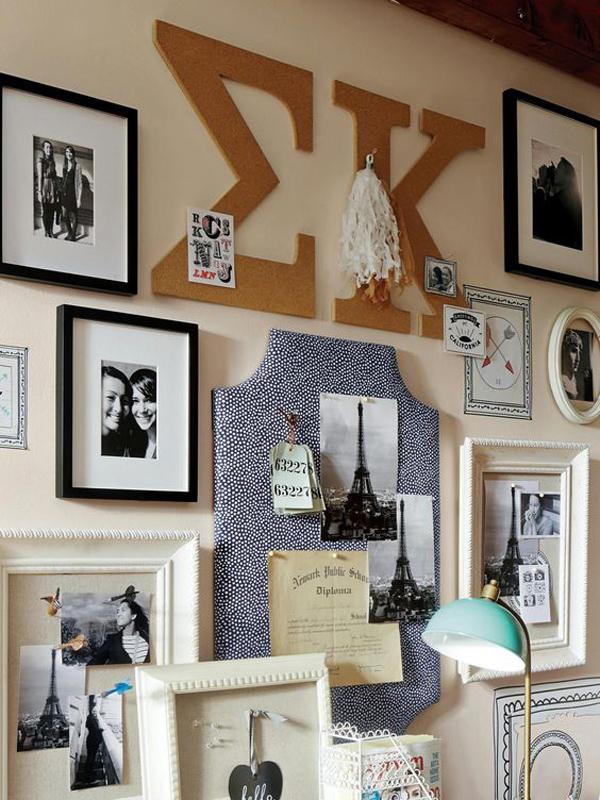 There is always this one wall where all the memories are shared and placed. Don't be afraid to create your own.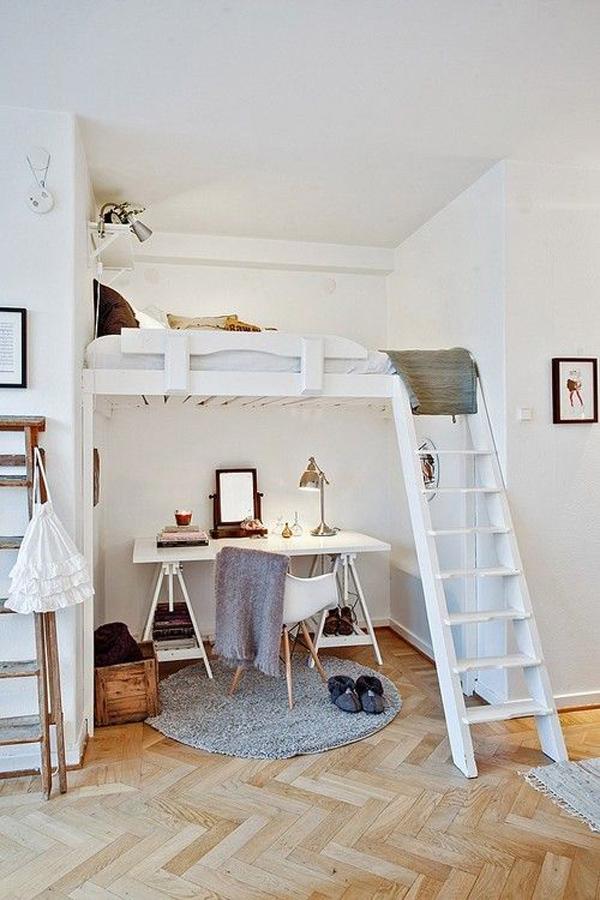 Although your side isn't that big, this type of bunk bed could easily make your place appear more spacious.
And since student life includes books, then you ought to have a convenient bookshelf where you can place all of the books you need.