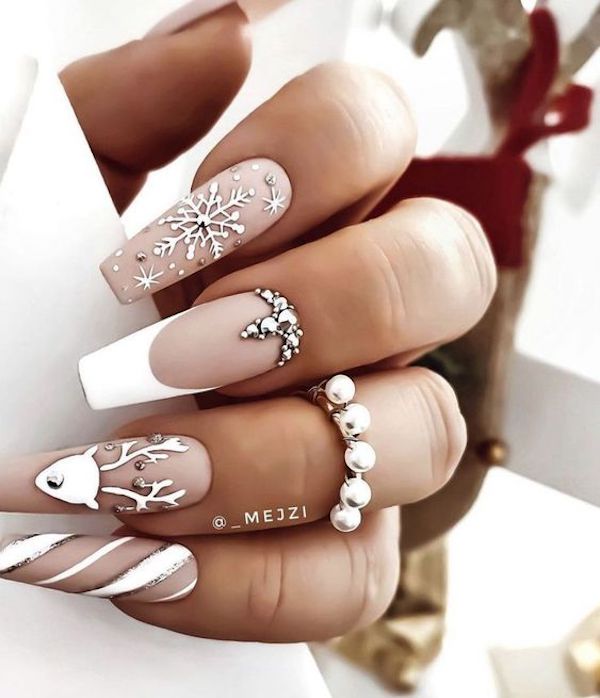 We have already walked into December silently. This is the month of holidays and special euphoria that is felt in the air and that we can see on the beautiful decorated streets. Ordinary people are enthusiastically decorating Christmas tree in the center of town, shopping centers and local gift shops. December is the month of giving, first for Christmas, but also for the New Year. Month of celebration. I can see already beautiful dresses and shoes that arrived in boutiques for the craziest night. I again hear the old good questions that we all ask someone at least once this month: " Where are you going for Christmas and New Year? "
Surely you already have a reserved place in a restaurant, disco or reserved airplane ticket for these holidays, and if because of the enormous commitments you still didn't do that, it's yet not too late. Dates in beauty salons, hair stylists and manicures are traditionally crowded around these holidays. Schedule your appointments so that you won't be nervous without need.
Fashion designers and houses have tried to present what will be trendy for this craziest night, so that you can shine on that special evening. The fashion house Fendi this year decided for gold, leather and lots of glamour and shine when it comes to dresses, shoes, handbags and other accessories. Evan golden shades are on the fur … Beyonce also presented her Christmas collection. She has published a collection for the cold winter days with written quotes from her songs.
Desigual is not far behind the competition, but also presented it's collection for the upcoming holidays. Desigual emphasis on black and white pieces, and animal print in this color combination, then the bright shades, plush is also represented in their collection. Trendy brave shoes are also part of the collection Disigual so if you're brave, do not bypass their great pieces.
In the new look book H & M called "GO GLAM" can be founded various festive dresses for going out in disco but also for the craziest night. Gray pencil dress in this collection would be my choice. There is also a red suit for the strong ladies, shimmering skirts and blouses, and an elegant black suit. It all depends of place where you are going…
When we talk about Christmas nail polish this year, snowflakes, reindeer, sparkles are prevailing ideas associated with the upcoming holidays. For example, lollipops on the nails, you can draw a Christmas tree on one or two nails … With red and gold you can't make a mistake. As for the form, select the one that best fits your hands. French manicure is a classic and with it there's no mistakes, but my advice is to be brave and to choose for this special evening a bolder manicure like a hipster disco nails, or turquoise, marble nails, dark blue, dark brown, red … In our gallery, that we have prepared with special attention for you, hope you will enjoy and get an idea of how to do your manicure for holidays. Enjoy!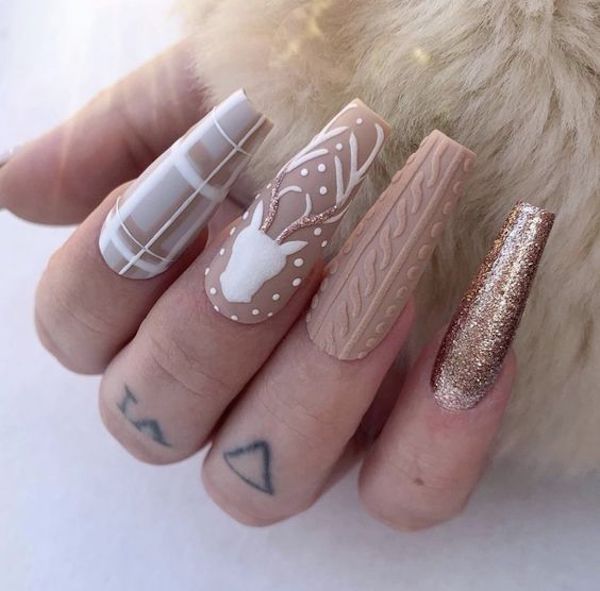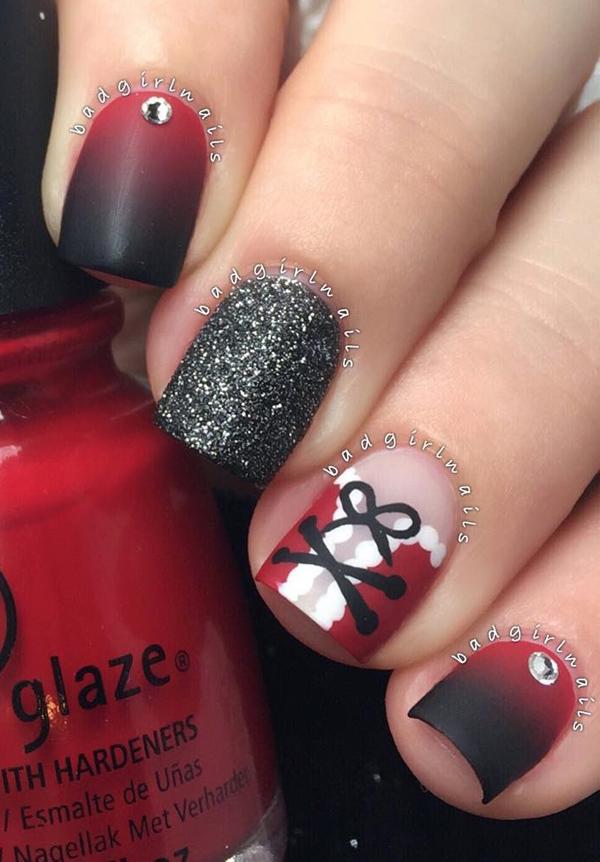 The nails are painted differently but are in similar tones. Real Christmas/New Year nails. There are the inevitable red, shine and sexy corset female Santa Claus.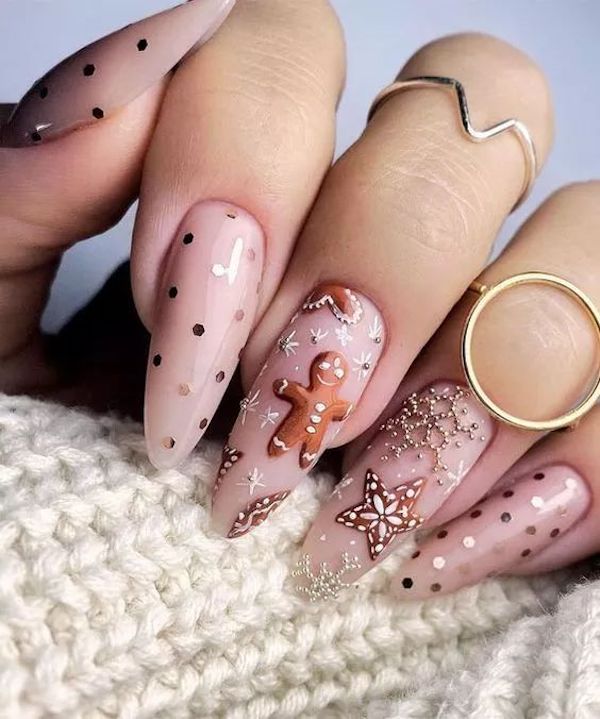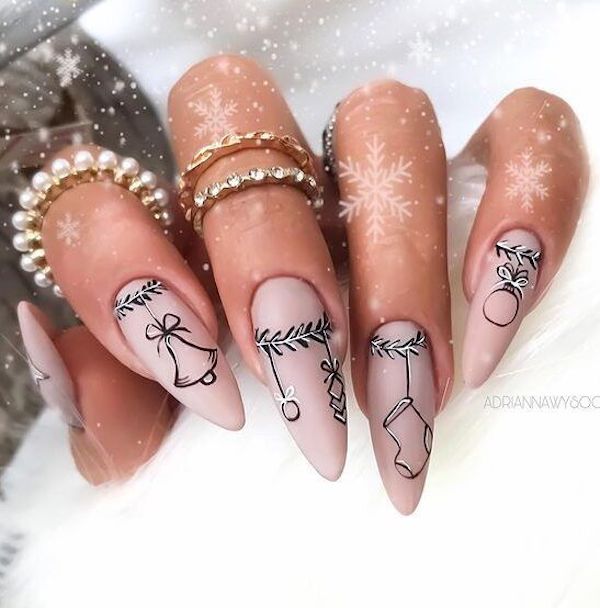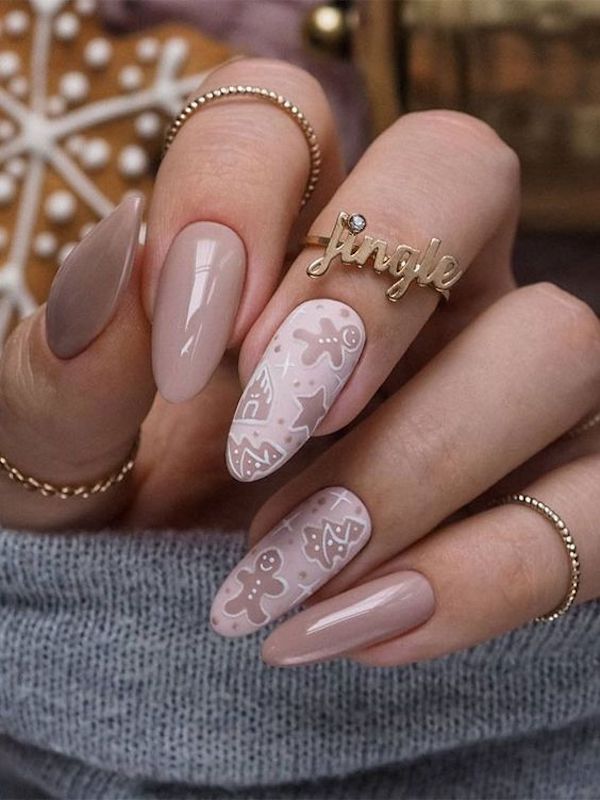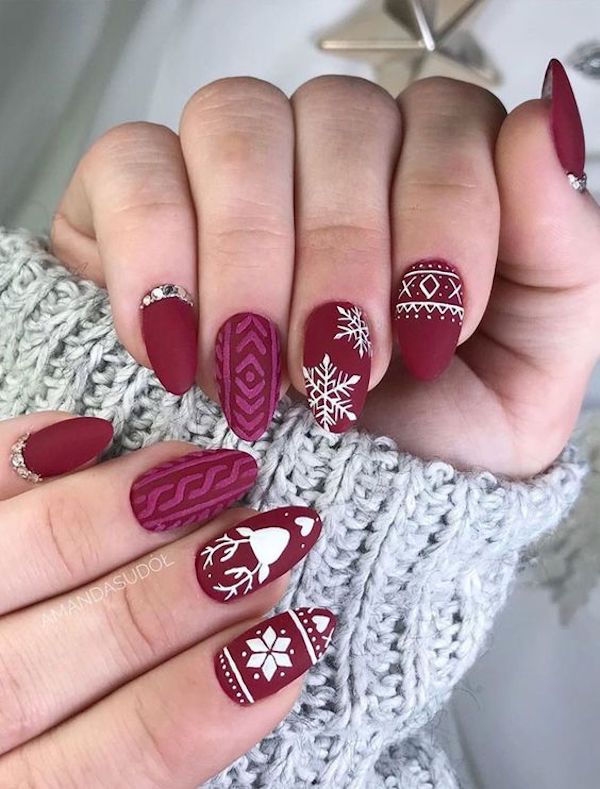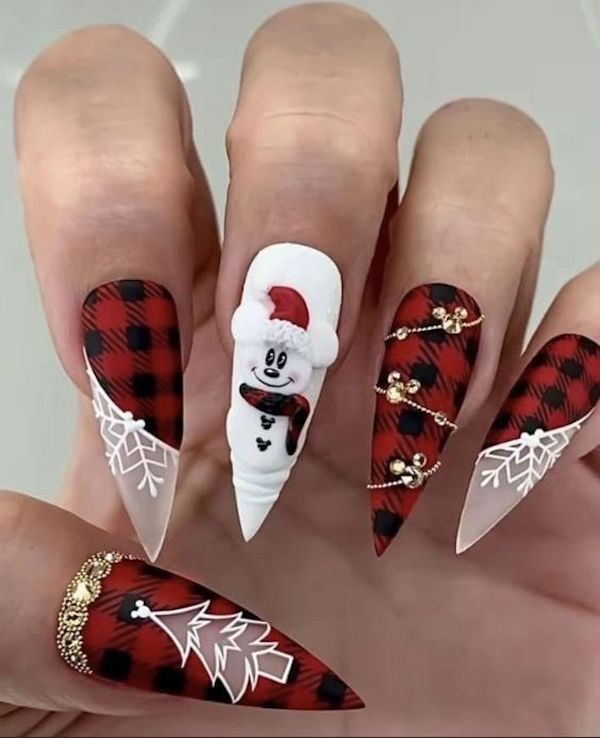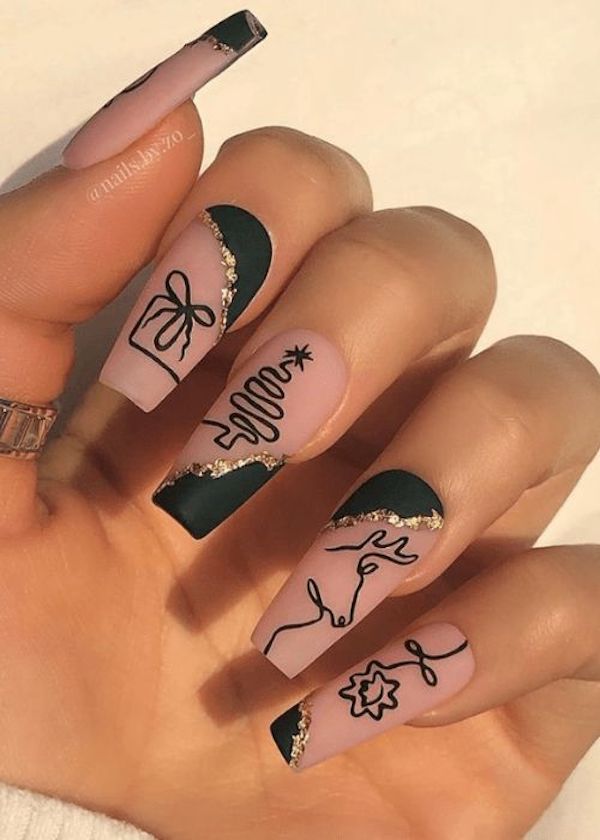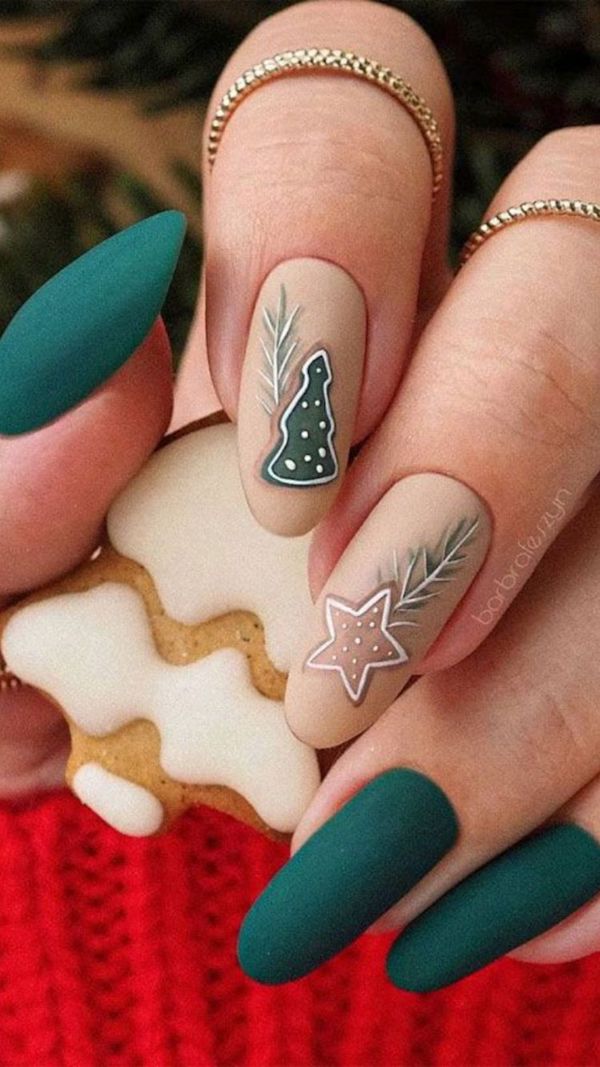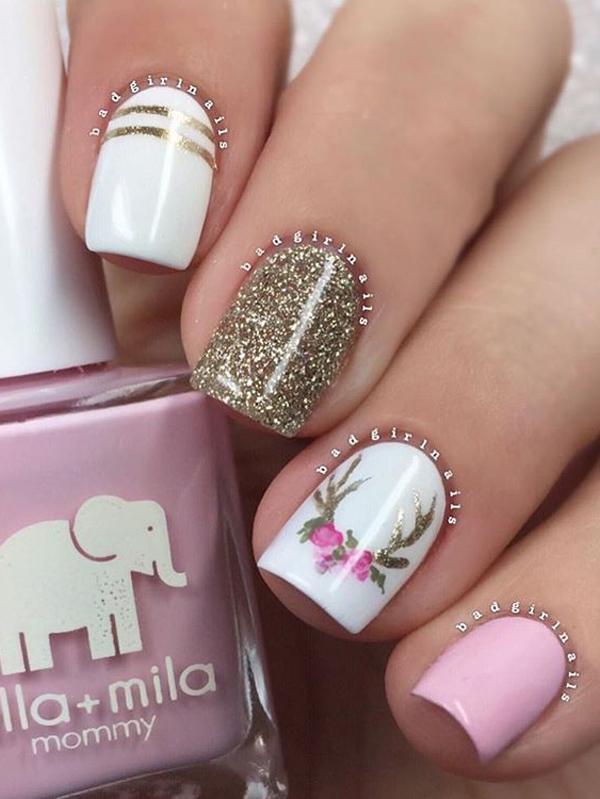 Cold white color in combination with gentle baby pink and gold tones is not so cold. Beautiful and very youthful nail art for these cold winter days.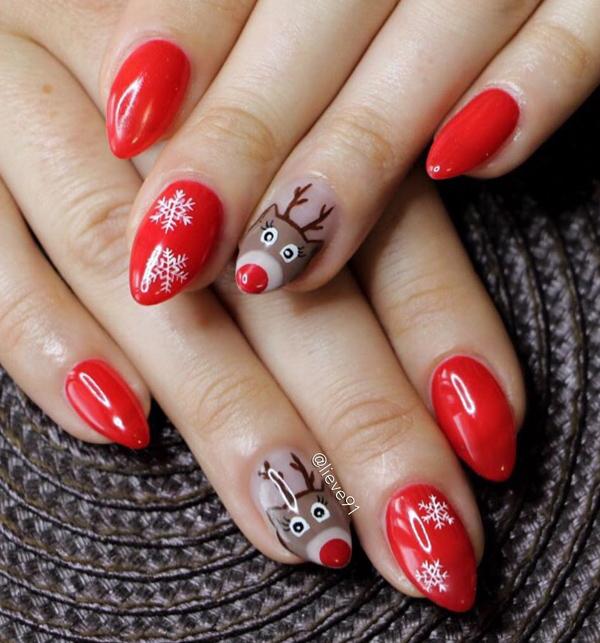 What else symbolizes the upcoming holidays if it's not reindeer and snowflakes. On this red background that details look very nice. The shape of the nail is modern, and length is moderate and will not disturb you in your everyday activities.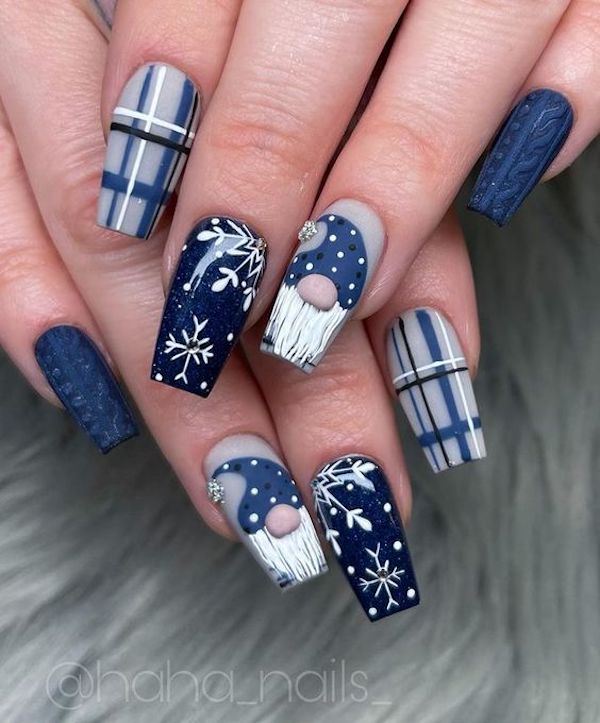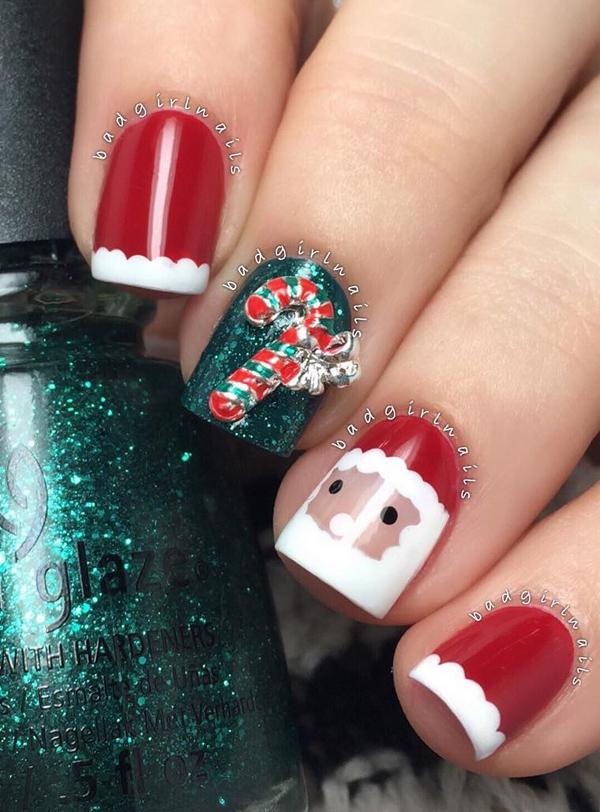 I'm always for shine and sparkles especially for such important days like those that follow. When we will shine, if not in the craziest night? Santa Claus observe us and from our nails to see whether we are good to bring us presents and lollipop!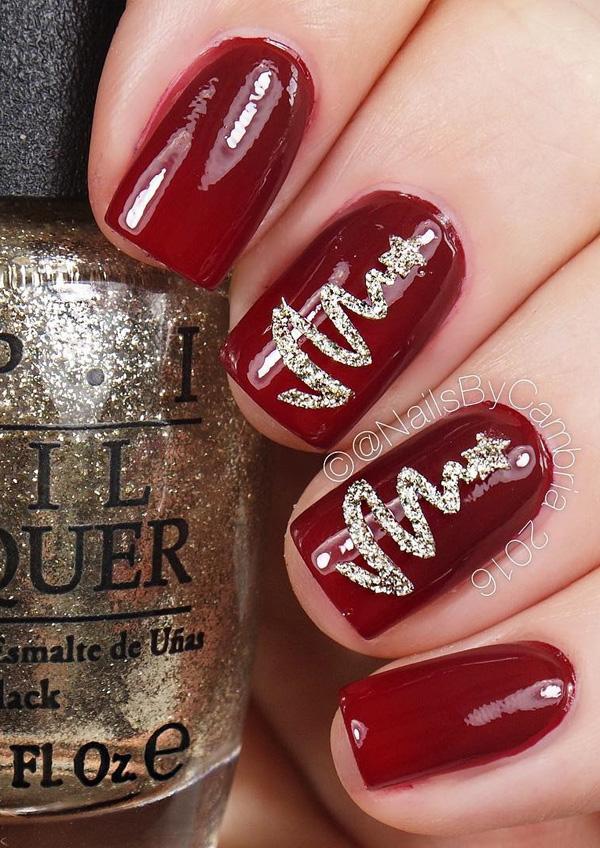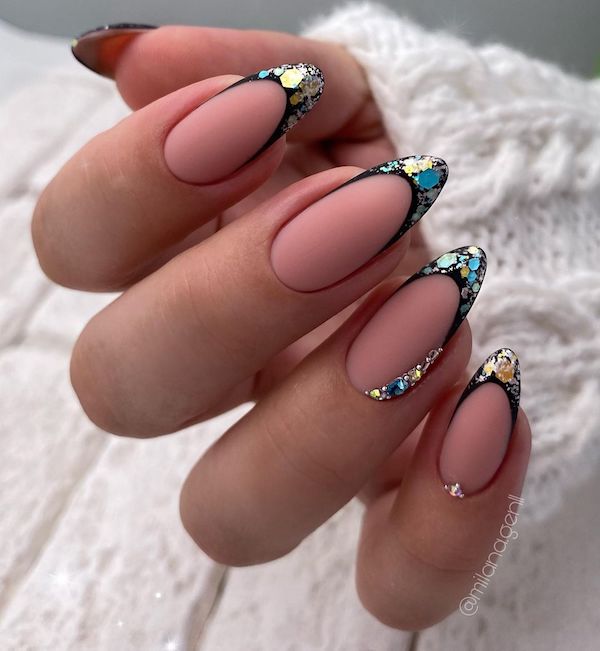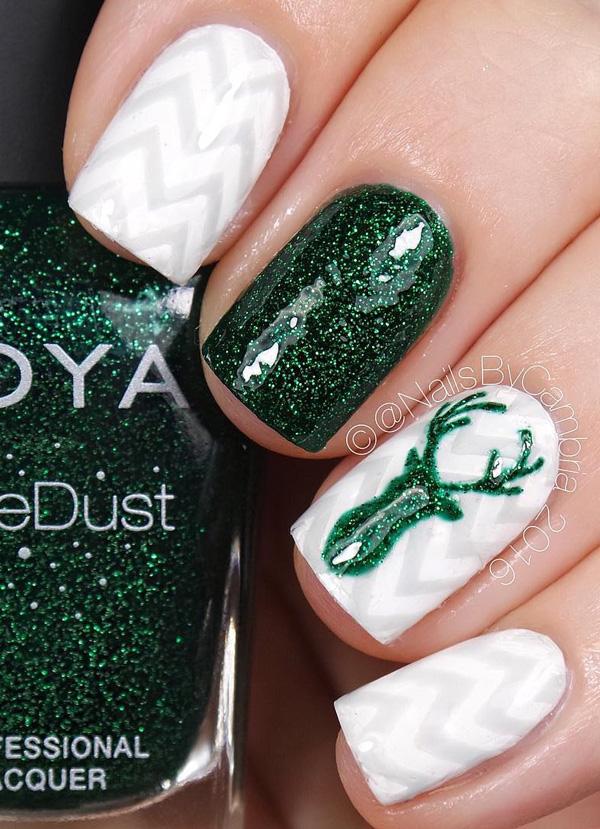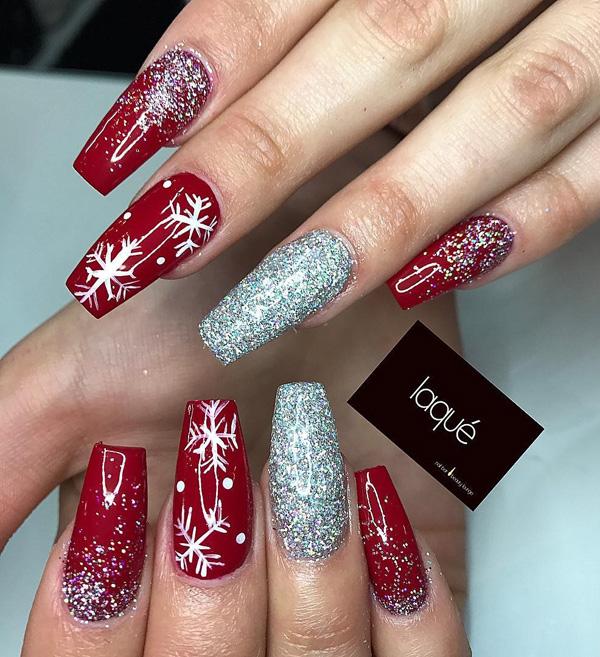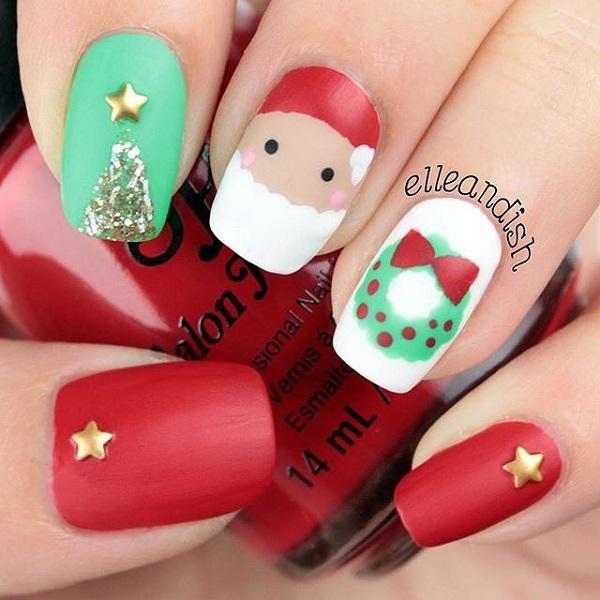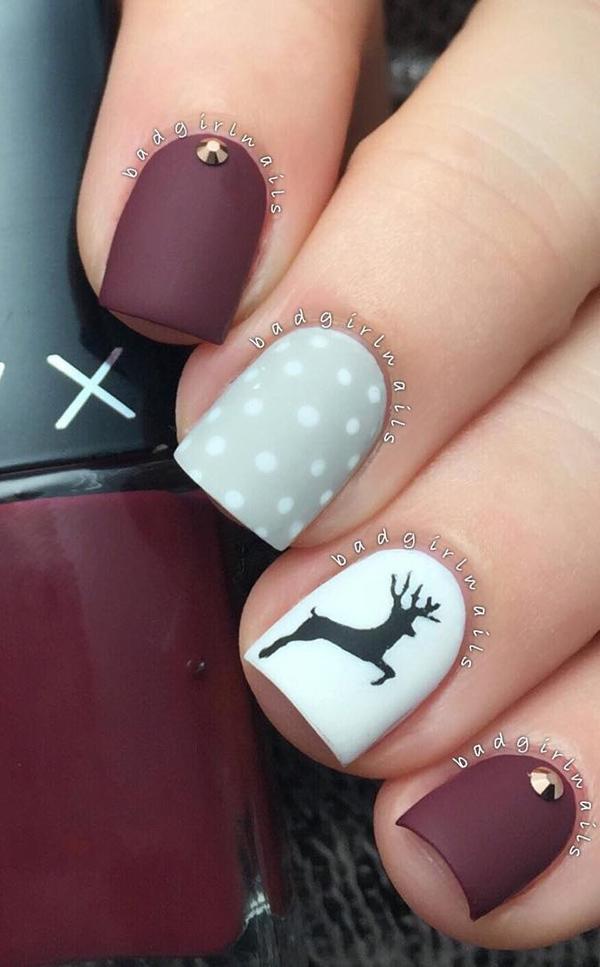 Great done nails in mat colors. The only shine gives rhinestones on some nails. Reindeer in black coolor is great contrast on the nail whose basic color white.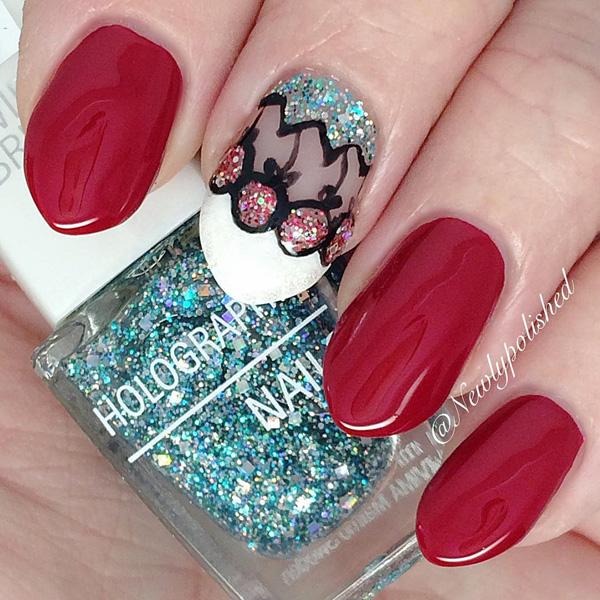 Nail polish with glitter is immortal trend for New Year's Eve. Balloons are a nice decoration and indispensable details of many holidays.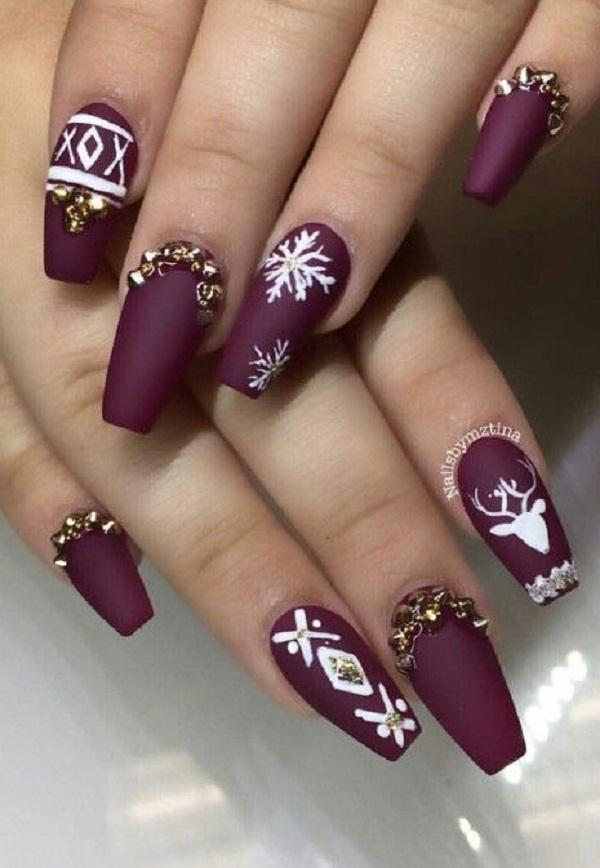 The dark purple color is the trend for autumn / winter 2016/2017. It seems to me that this mat shade makes the whole luxurious manicure. White color perfectly fits, and detail as snowflakes and reindeer.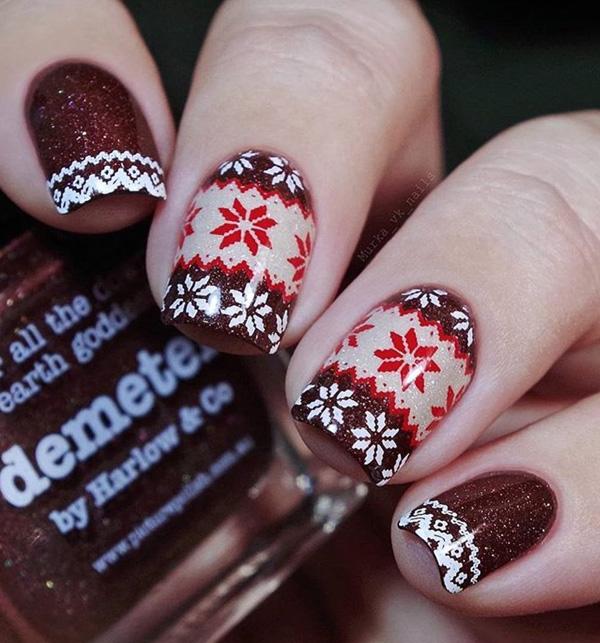 Knitted patterns like those on the modern sweater are trendy this season. So it would be a good decoration for your nail art.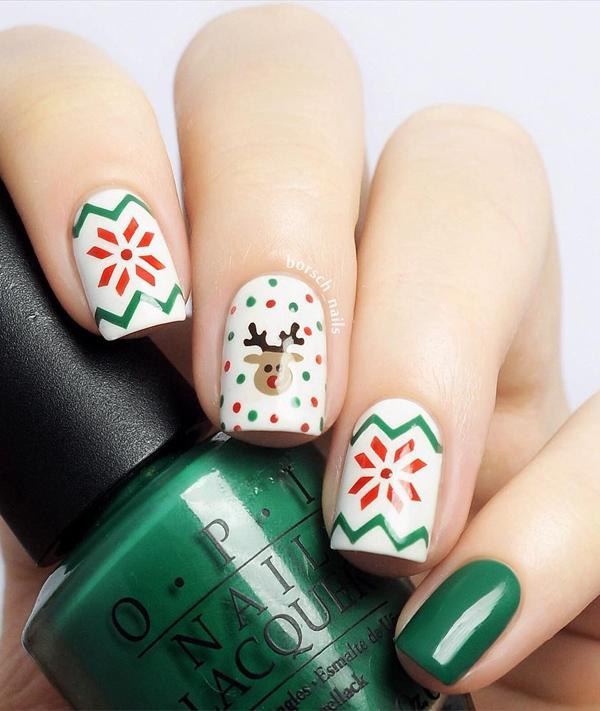 OPI nail polishes are very popular in the leading nail care salons. These nail polishes are American brand. It is the quality and long-lasting nail polish, which perfectly fits to the natural and artificial nails.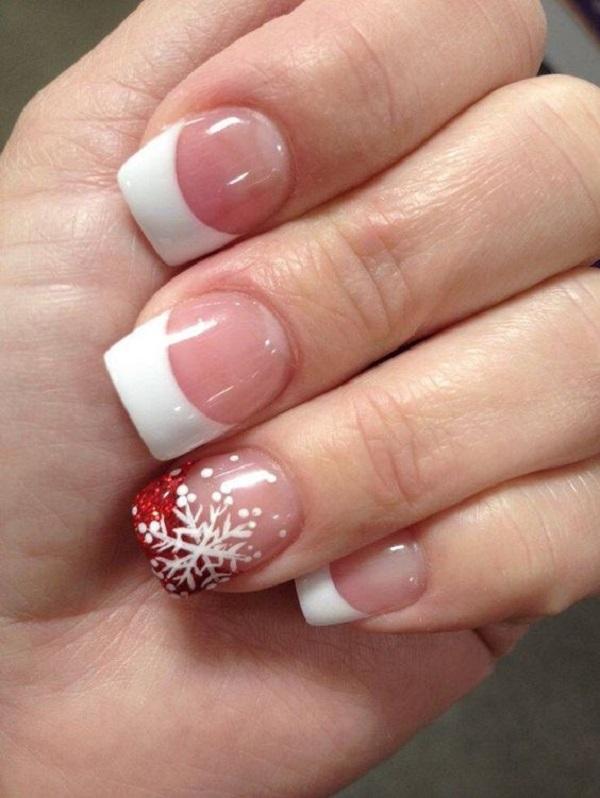 If you decide for french manicure you can not go wrong at all. But it is not bad if you enrich this manicure with some details like this snowflakes on ring finger, and the red color instead of white.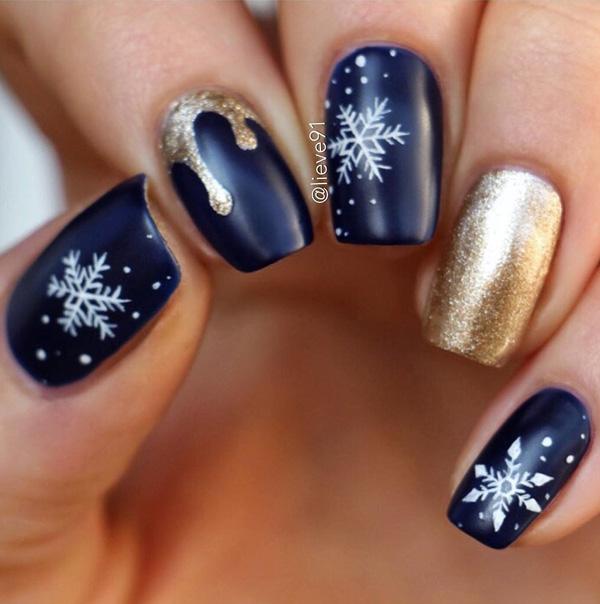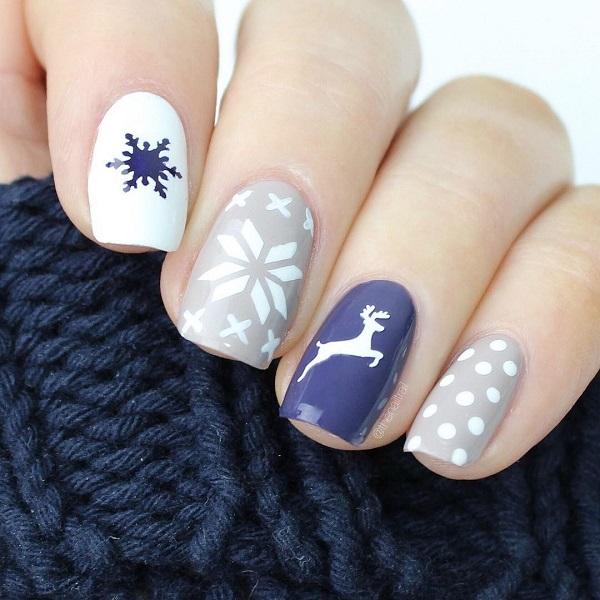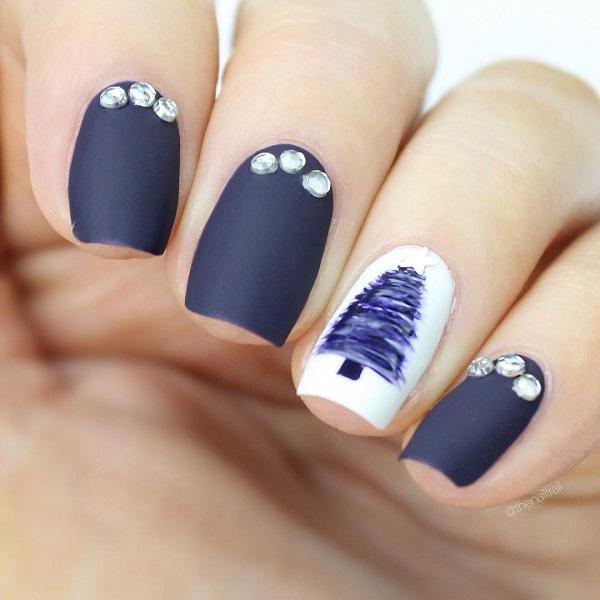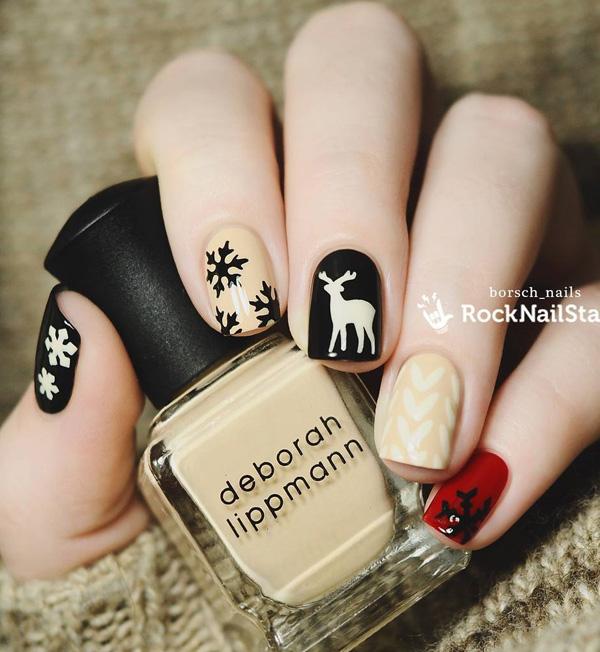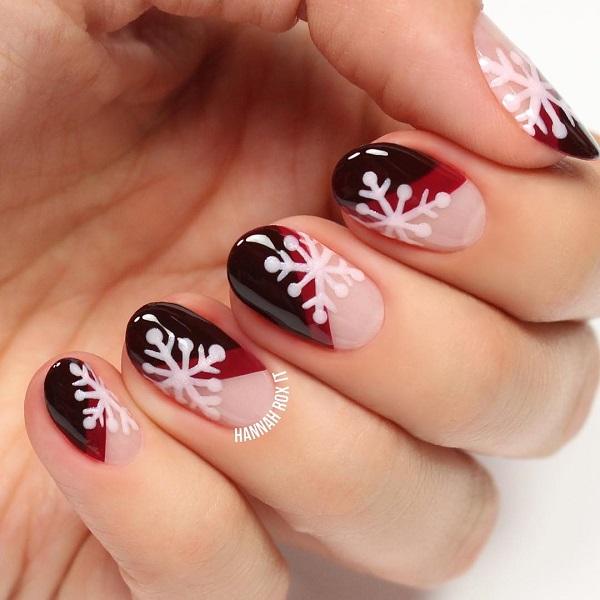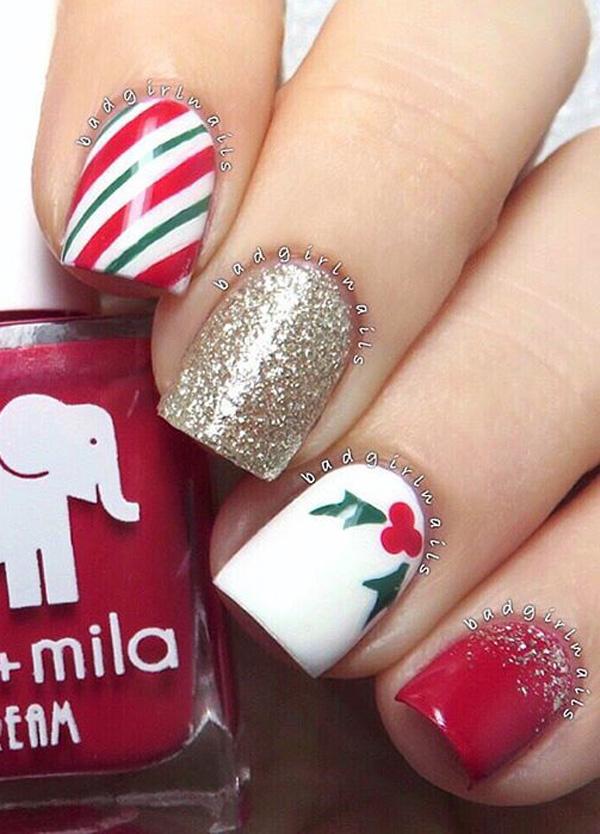 This manicure is perhaps the best representative of the New Year's Eve manicure. Red and white colors combined with the green color that represents color of the Christmas tree.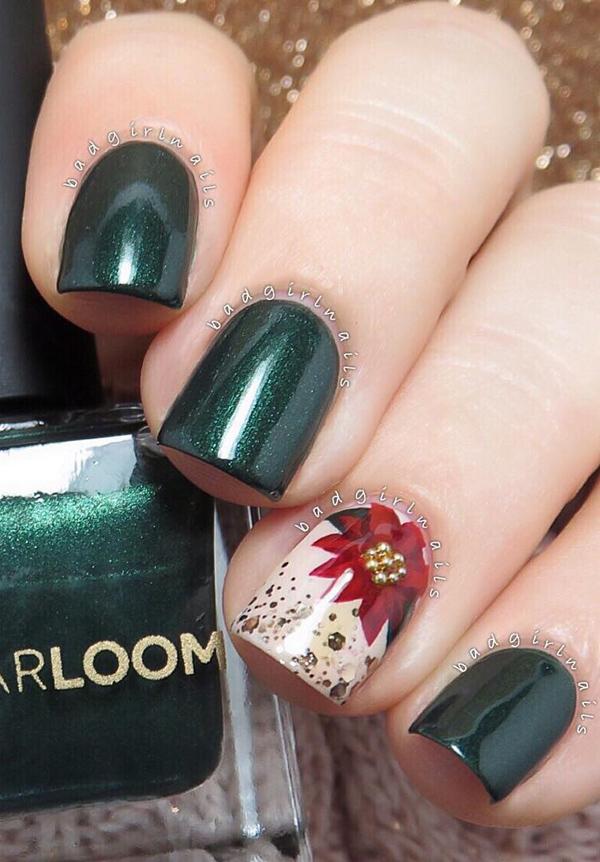 This dark autumnal shade of green is an absolute hit. Everything becomes even more interesting when green color is enriched with diamond brilliance. One nail in gentle beige with a red flower refreshes the whole manicure and makes it a real work of art.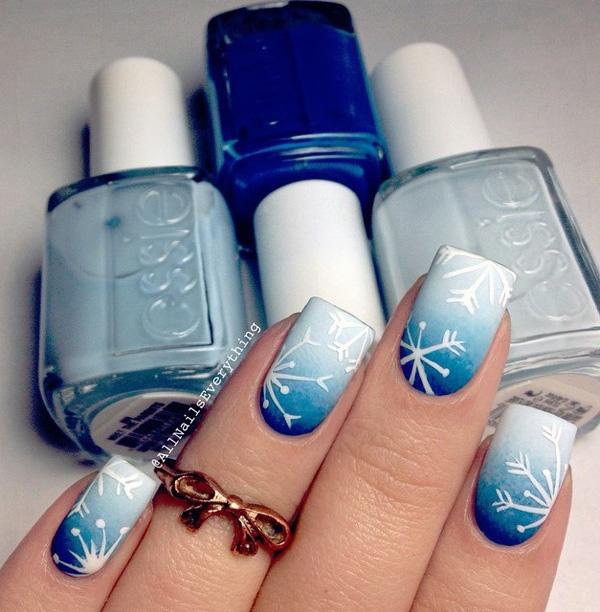 Discreet blue ombre with smooth transitions. White flakes were decoration and for this manicure. Cared nails say a lot about you, so try that always be dressed up.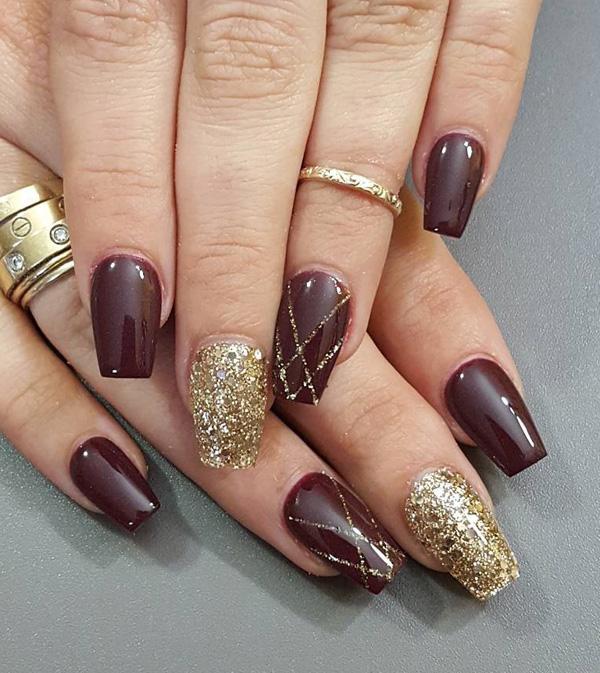 This is a lavish manicure. Although there is no New Year symbols gold color is sufficient for your nails to be glamorous and shine in all its glory.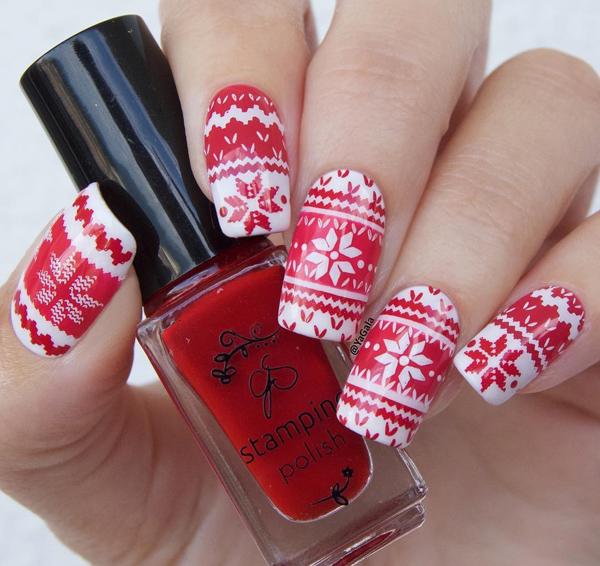 When is the best time for combination of red and white, if not during the upcoming holidays what are all in these two colors. Patterns as knitted sweater give your appearance warmth…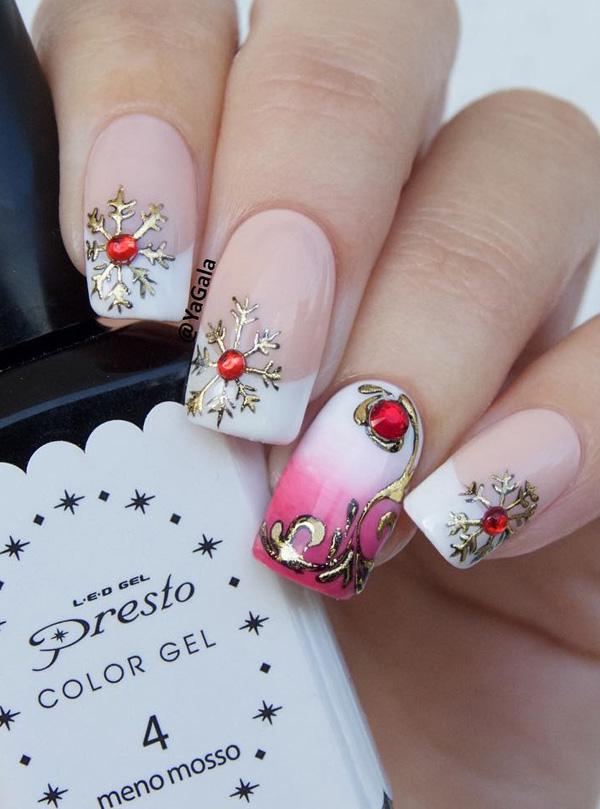 Another idea how to enrich your french manicure for the upcoming holidays. Tih manicure is richly done, French manicure is nice combined with an ombre style on ring finger, and gold snowflakes and red rhinestones are really in the spirit of the holidays …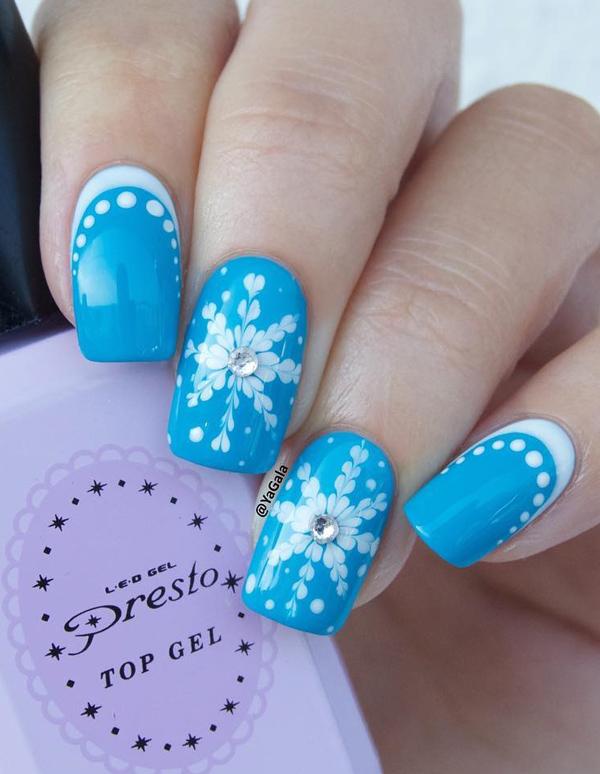 Gentle and seductive manicure … With the help of this fantastic led UV gel which is dried in UV led lamps your nails will seem spotless. PRESTO gels originate from the US market and will satisfy the most sophisticated ladies. They are used all over the world, so why not they wonderful stand on your nails?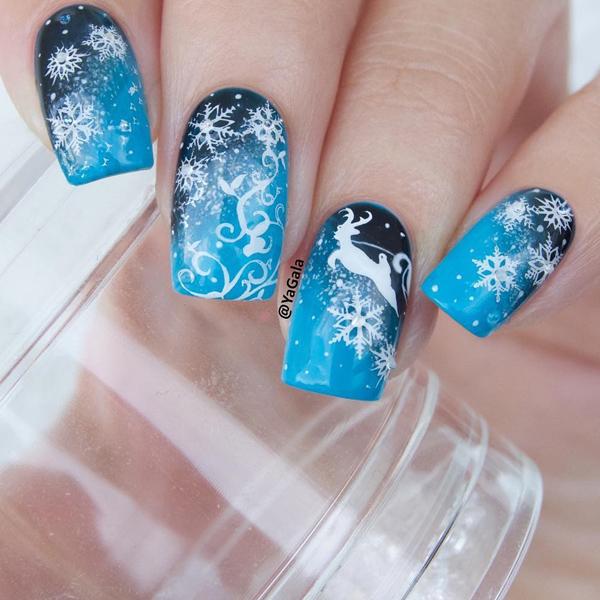 These nails prove that you really enjoy in this cold winter days and winter magic is not only in your heart but also on your nails.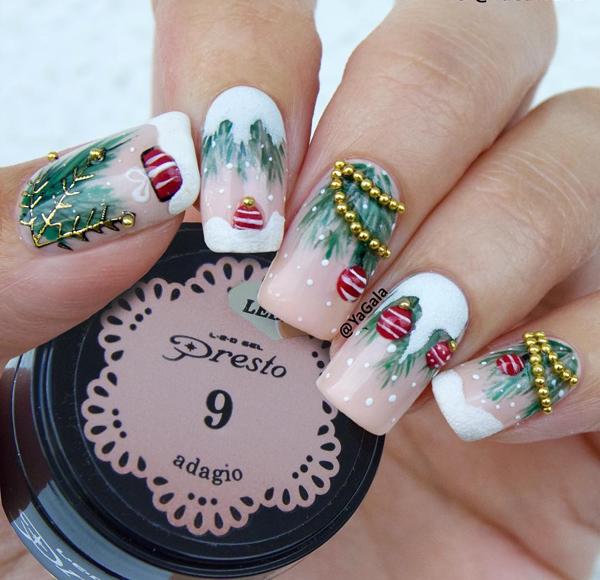 Crowds are already in beauty salons, schedule your appointment on time in order to guarantee the flawless appearance of your nails!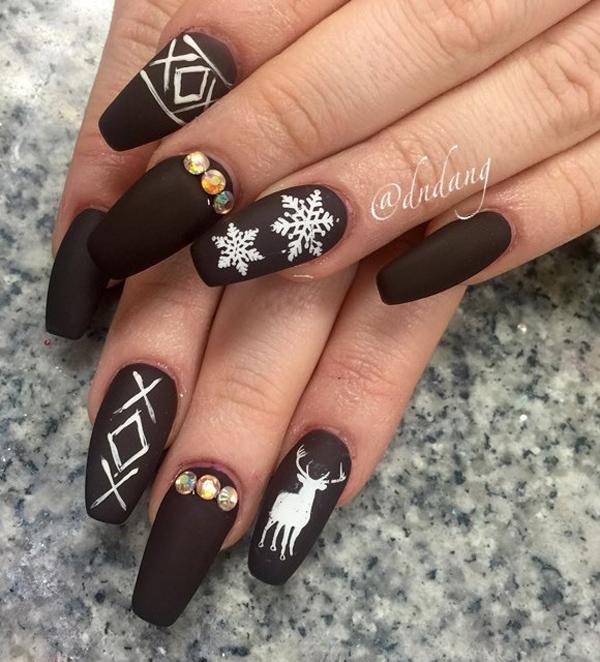 The black color if I may notice is modern all the time, both in summer and winter. Decorated with adequate details it is not at all dark and boring actually it is interesting like this manicure in photo.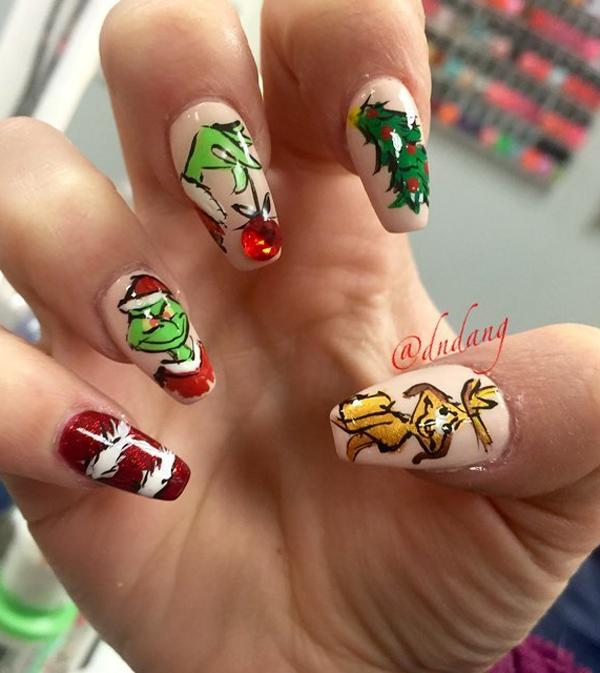 I have a habit that how I feel so choose my wardrobe, make up, nail polish … Maybe it is not always wise … Perhaps, my dear, we need most beautiful spruce up even when we feel the worst, because it will surely correct our mood.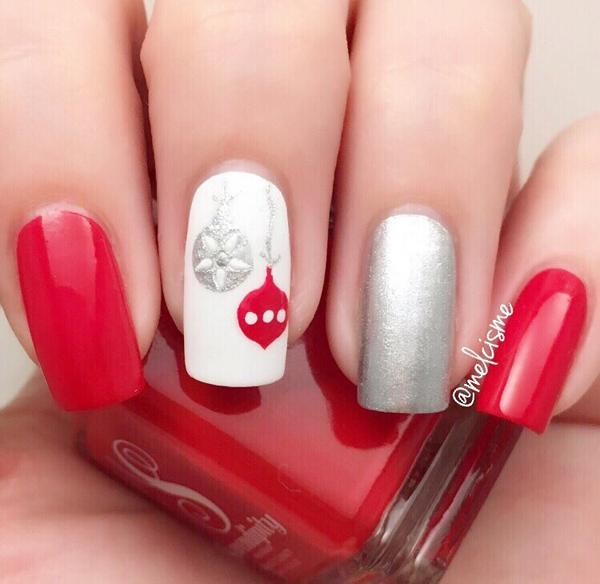 Metallic colors are popular for a long time, so feel free to decorate some or all your nails in this shade. It also can be combined with other colors, like here with red …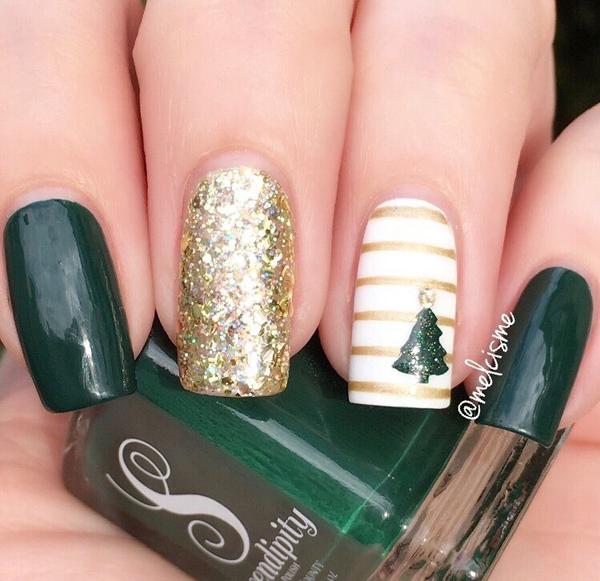 This manicure you can wear at any time of year but little Christmas three in one corner of nail, is what gives them holidays spirit.
Source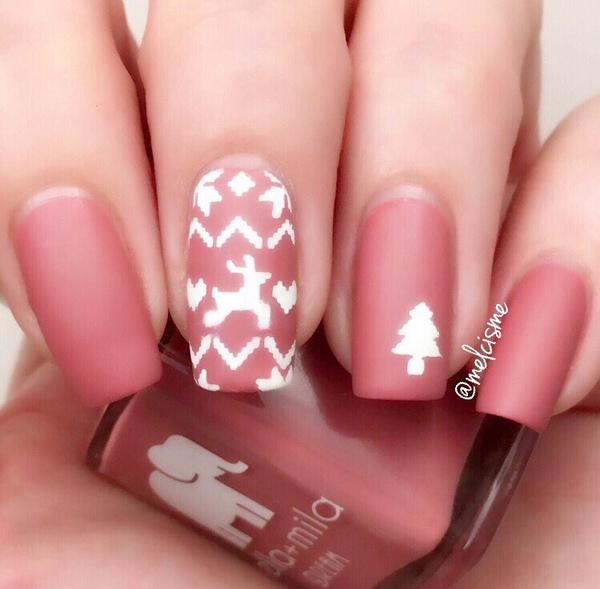 This is one soft combination of white and pink colors you can fit almost with every styling.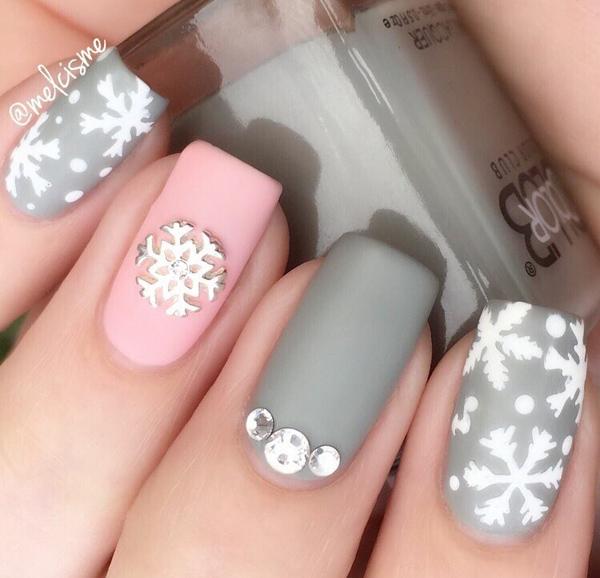 This gray color is not cold at all. Her cold note was eliminated using pink and white.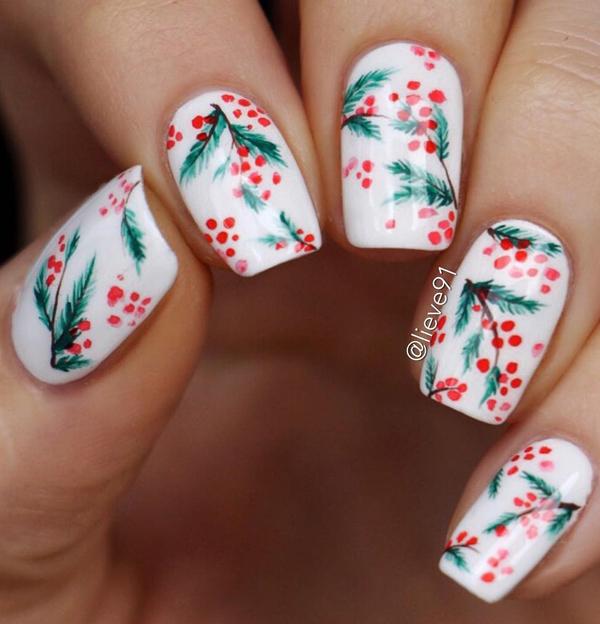 In the spirit of the upcoming holidaysc white manicure decorated with evergreen twigs and red berries.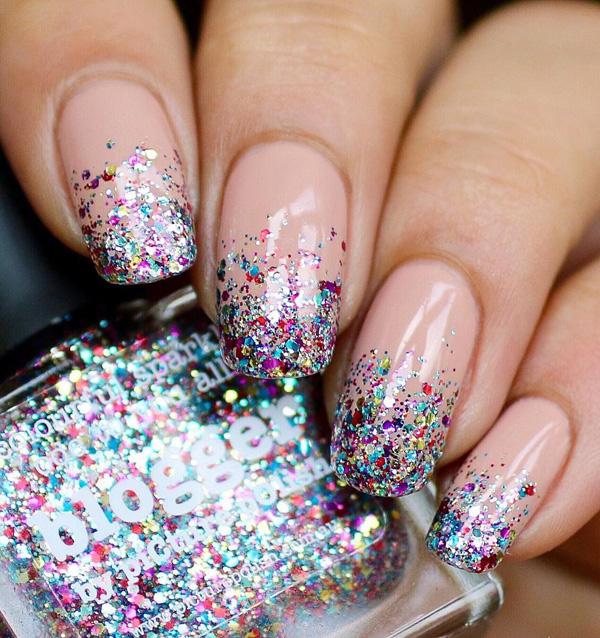 If you decide to spend this craziest night in a disco this manicure will be the right choice for you.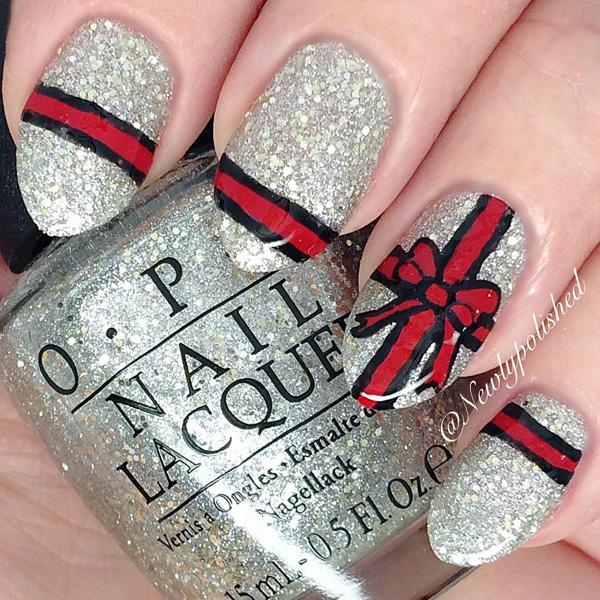 The holidays are a time of giving, so that tie and red tape is absolutely associations to them. There is very nice red tie and tape paired up with silver nail polish.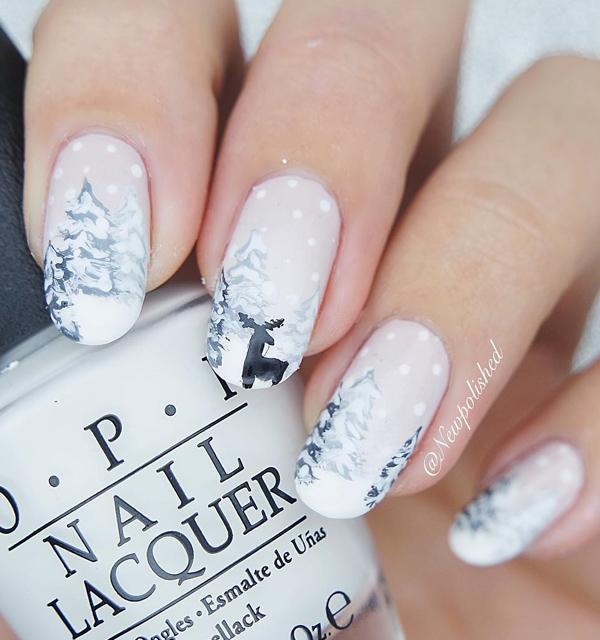 A little piece of art on your nails. Seamless french manicure. Soft hues and bright tones Update occasional black detail like reindeer are a wonderful choice.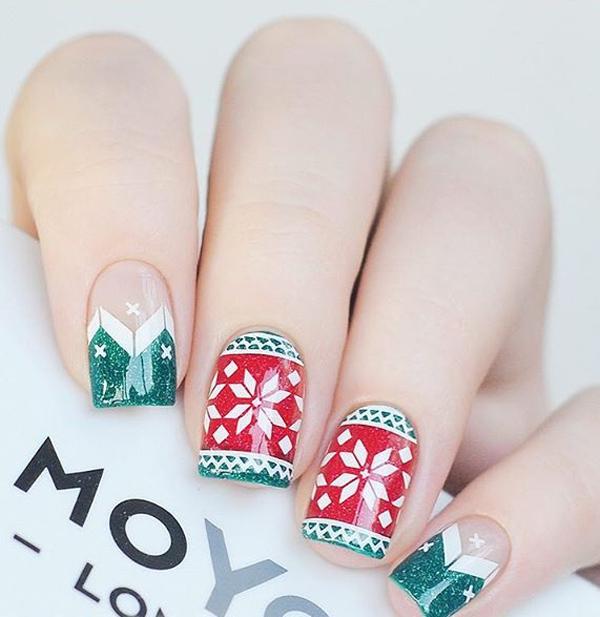 If you arent good in drawing and with brush, go to the store and buy ready-made stickers to decorate your nails.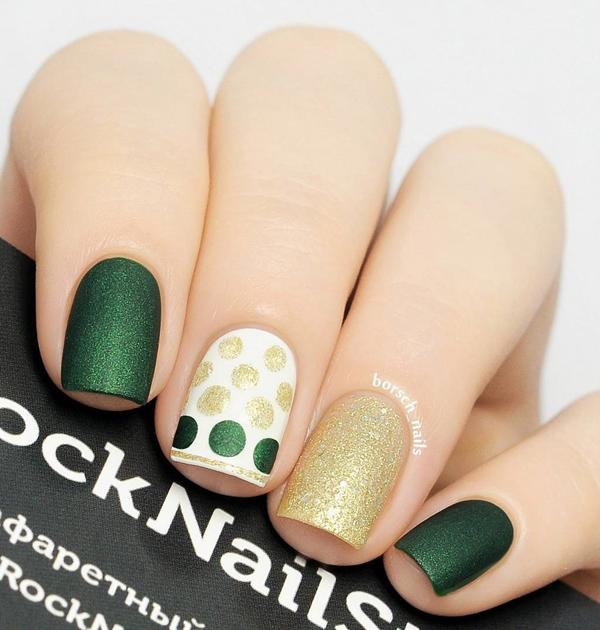 Metallic shades are very modern. This is a manicure that would enter certainly in my short list for a forthcoming holiday.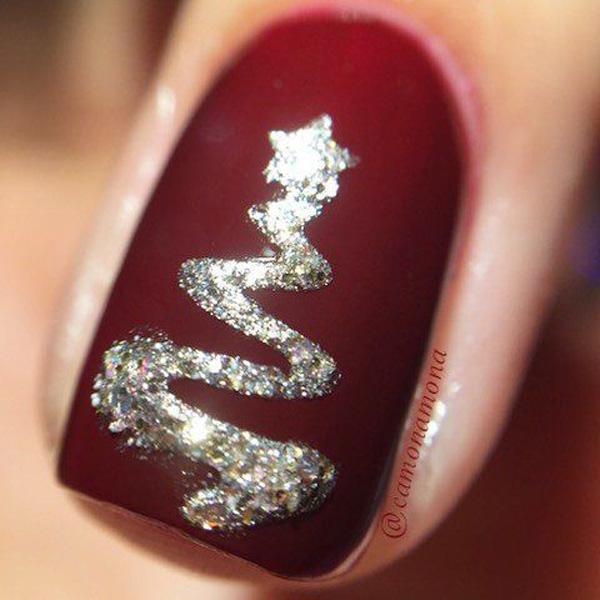 If you decide to use the red manicure here's an idea for adding a solemn tone using silver paint for drawing.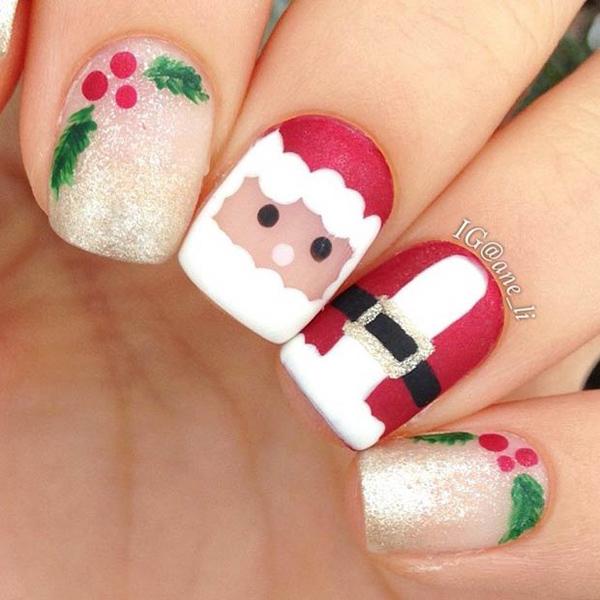 For young girls who love this kind of decoration nails here's a really interesting festive idea.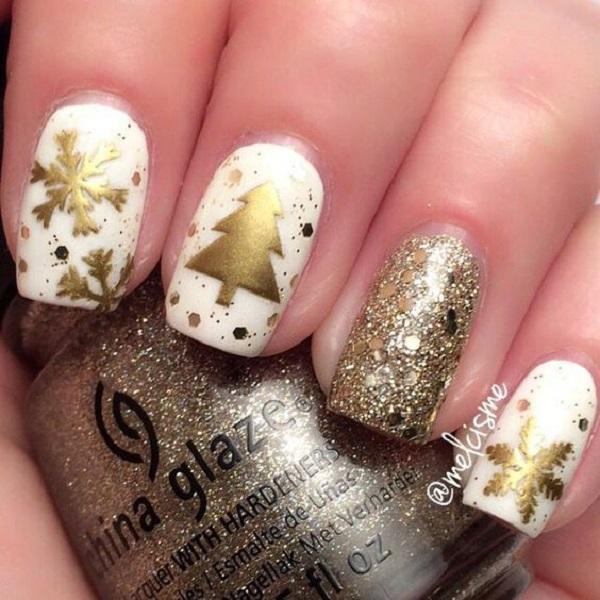 If you decide for permanent nail polishes, brand China Glaze you can not go wrong, because these polishes give your nails huge shine and last much longer than ordinary polish.
This manufacturer offers you a wide range of products, or only nail polish such as: stroke for fast drying lacquer, sealer prominence, cuticle oil, base for better adhesion of paint.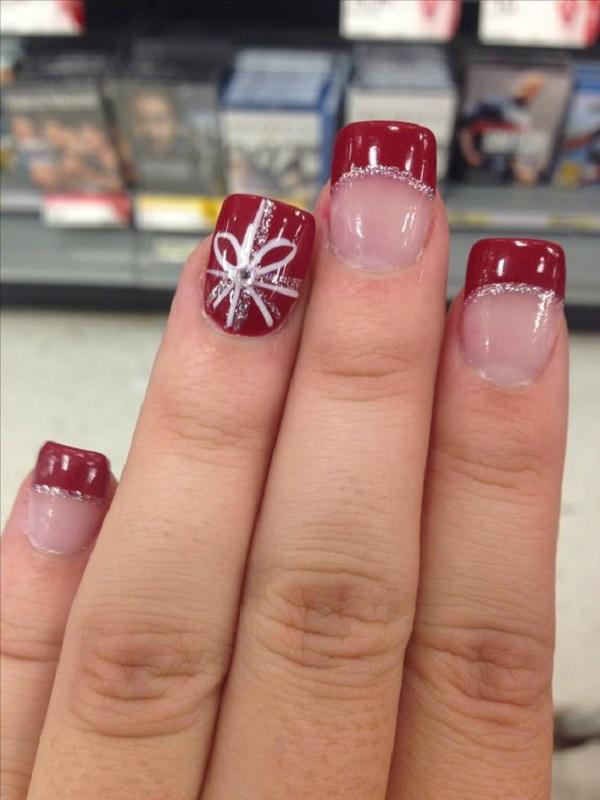 Instead of the classic manicure what is on top of the nail decorated in white this lady decided for the red tops nails. It is not a mistake, actually opposite!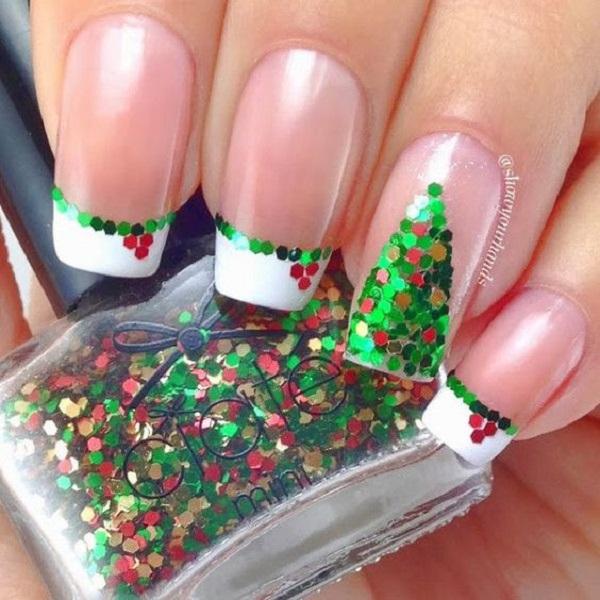 This Ciate nail polish is adequate for the Christmas and New Year decoration, because of the color. Here's how with this great paint behind which stand big experts (in this case – the color with tisels), you can decorate your nails.
With tinsels on New Year's night there's no mistakes, even if they are on all your nails. In this night everything is permitted!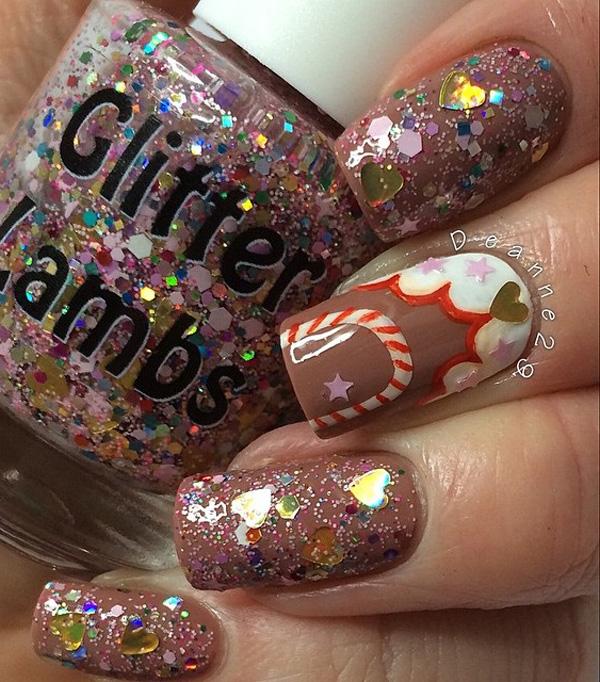 This manicure is so adorable that reminds me of some chocolates, all is playful and it would stand perfectly on some young girl!
coat of Pink Gingerbread House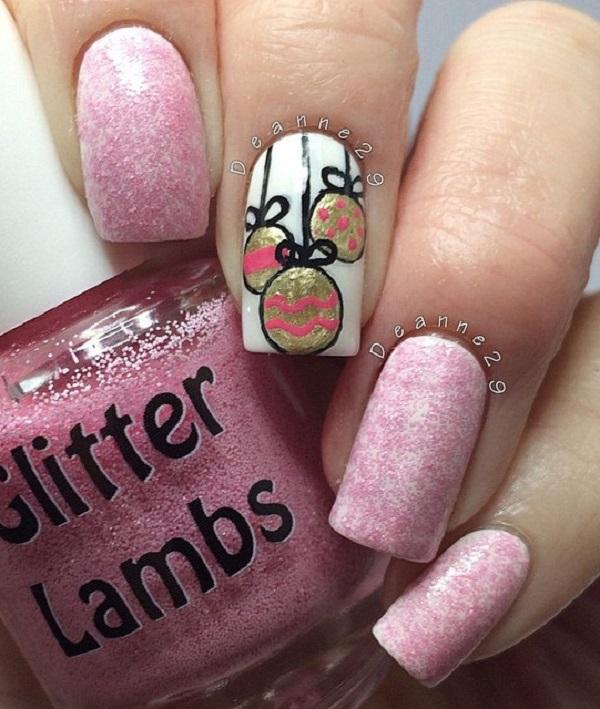 Delicate pink color combined with white paint, one nail is decorated with balloons and a black and gold color that give a little harshness to this gentle manicure.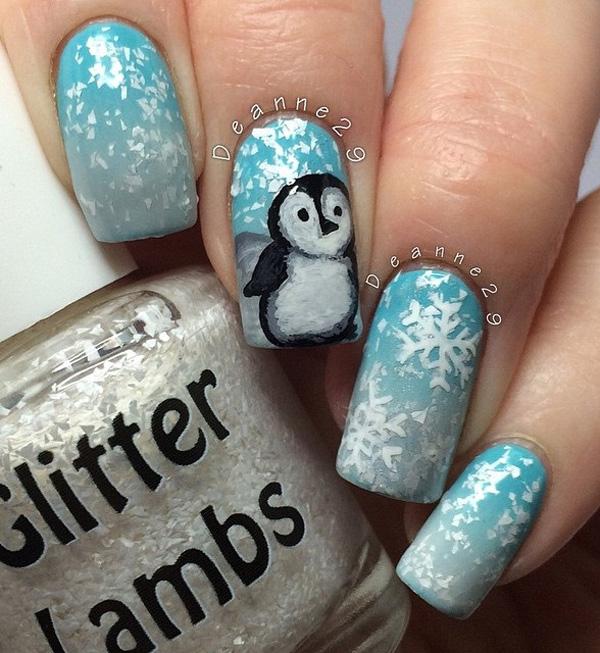 This manicure was inspired by cold weather and low temperatures in winter. There is a small penguin.
Christmas collection is Snow Storm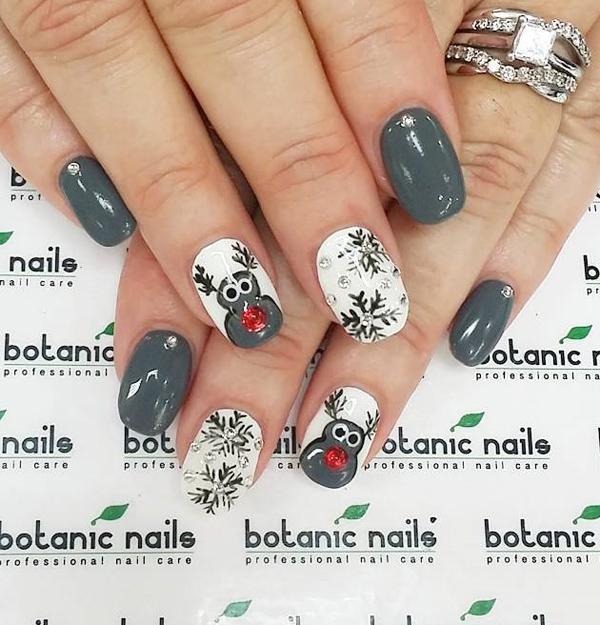 Red rhinestones served as the nose of reindeer, and silver remind me on snowflakes. A beautiful festive manicure.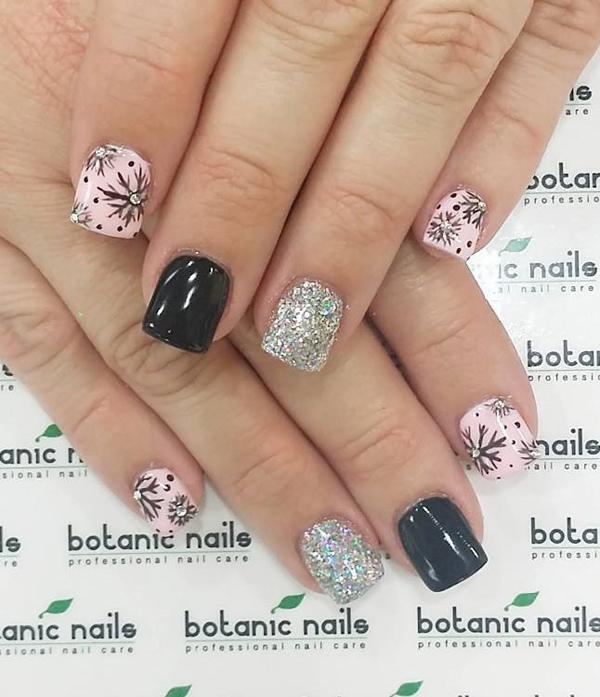 Very appropriate length of the nails for a working woman and housekeeper who always has her hands full of job. The nails will look cared and will not be too long to bother you.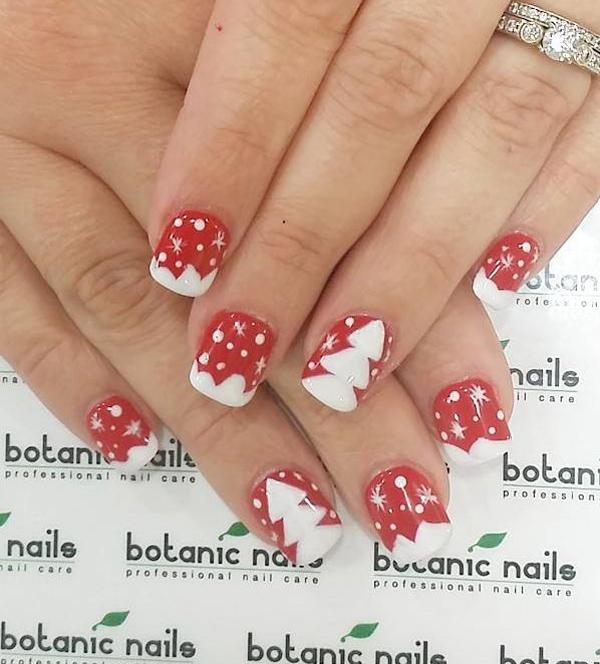 A real festive manicure! Red and white are connected with Christmas, Santa Claus, the New Year, the presents …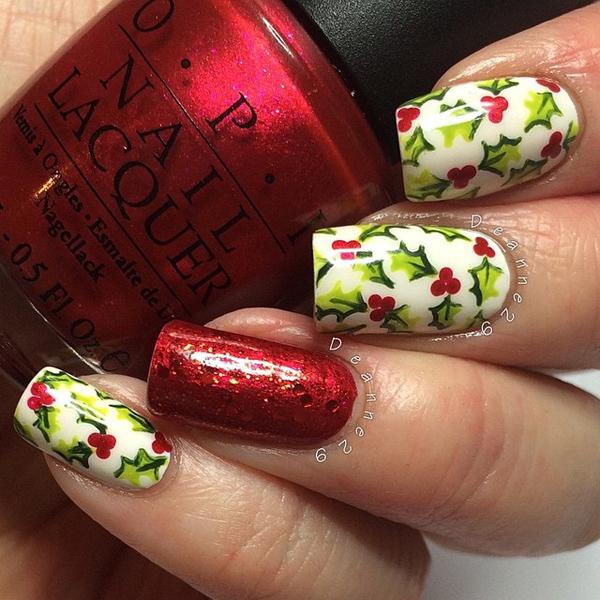 Here's one more festive manicure. As you can see there are a lot of ideas. Up to you depends which you will wear. Enjoy this December in your nails, in the snow, the Christmas, in love …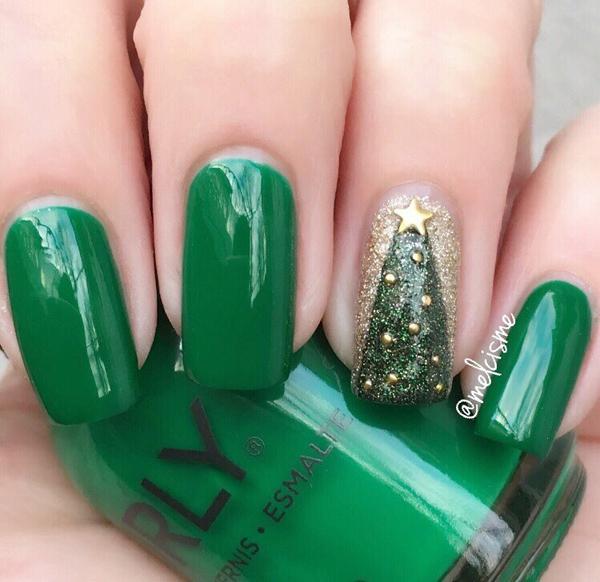 Do not worry about what others will say about your manicure, if some makes you happy, then do it, it is the right thing for you. Remember, our happiness is a thing of our decision!