Well groomed hands and trendy nail art is no less important than the stylish hairstyle and perfect makeup. Well, this is not what I am saying, this is a proven fact that a woman should be classy and fabulous at the same time. Classy means stylish clothes, alluring hairstyles, elegant makeup and trendy nail art. There are no only one direction or design among the nail fashion trends and hence provides a woman with the flexible choices to make.
From different styles of manicures to multicolored nails, there are different yet classy designs that can match the image, clothes and personality of the girl equally. Talking of this, multicolored nails are the recent trend in nails that have got our minds.
So, if you are bored of looking at your nails clad in monotones, you are at the right place. This time we have got you covered with some of the best, vibrant and bright multicolored nail art designs, that can be your next nail thing.
Sit back and relax and prepare yourself to be inspired by these simple yet classy multi-colored nail art designs.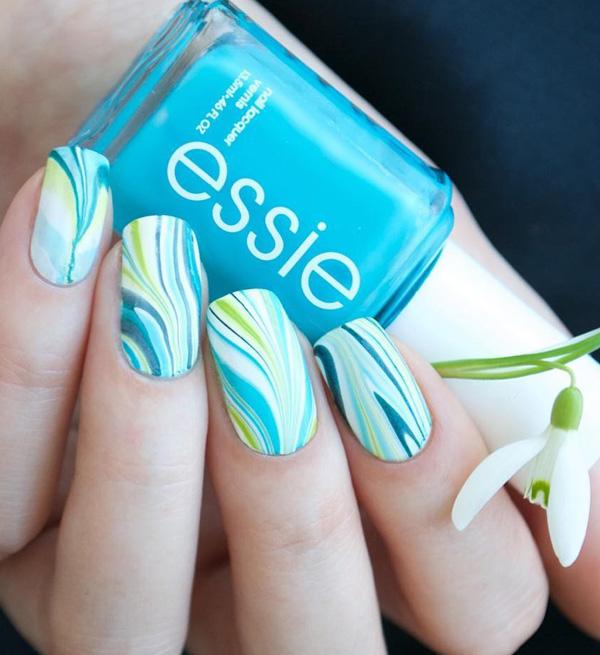 Blue and White Wavy Manicure. This white and blue wavy manicure is all about lines. Add a bunch of multicolored lines over a white base and you are done!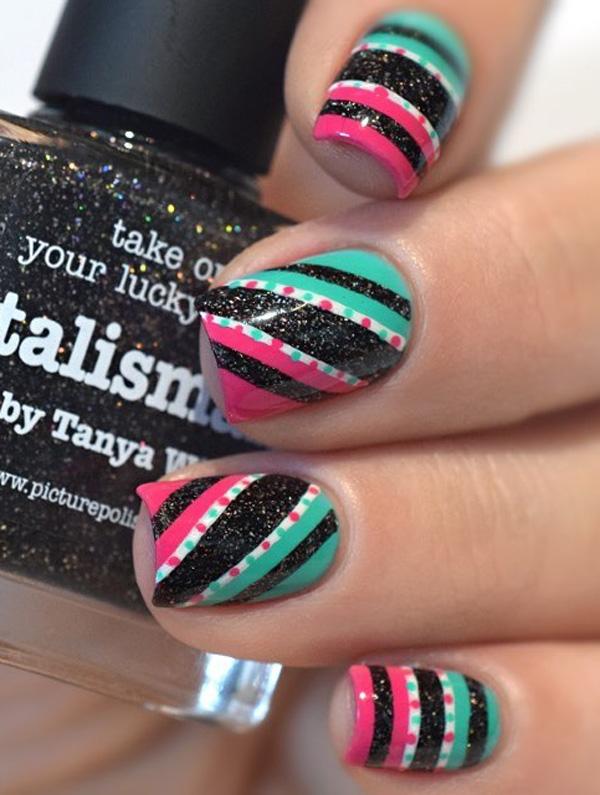 Glittered Strip Multicolored Nail Art Idea.Who knew a bunch of lines would be so attractive? All you need is a nail stripper and your choice of colors. Add glitter of sequence to enhance its looks.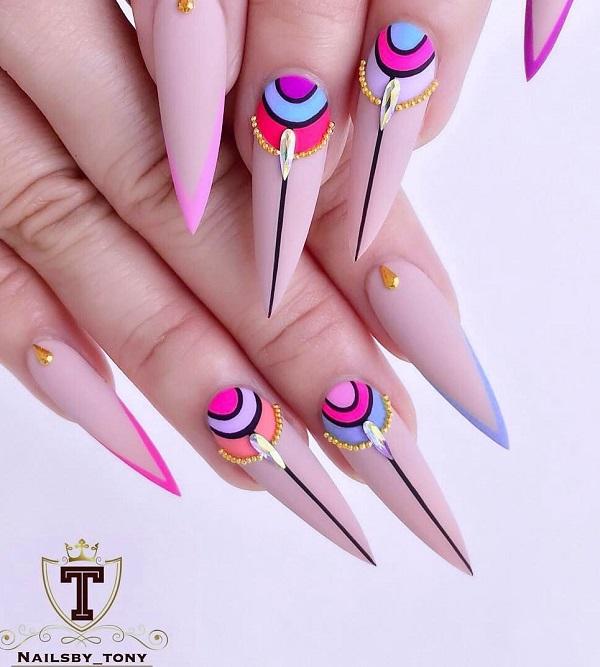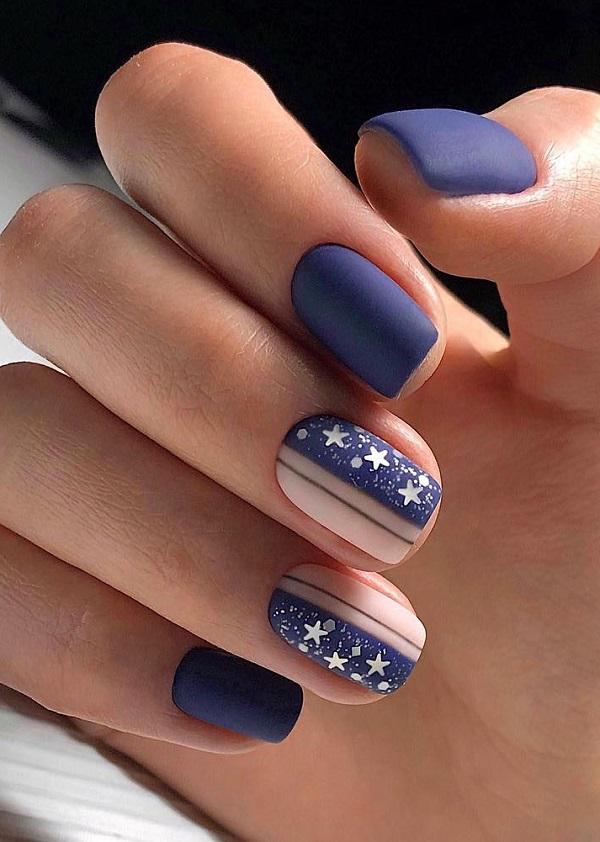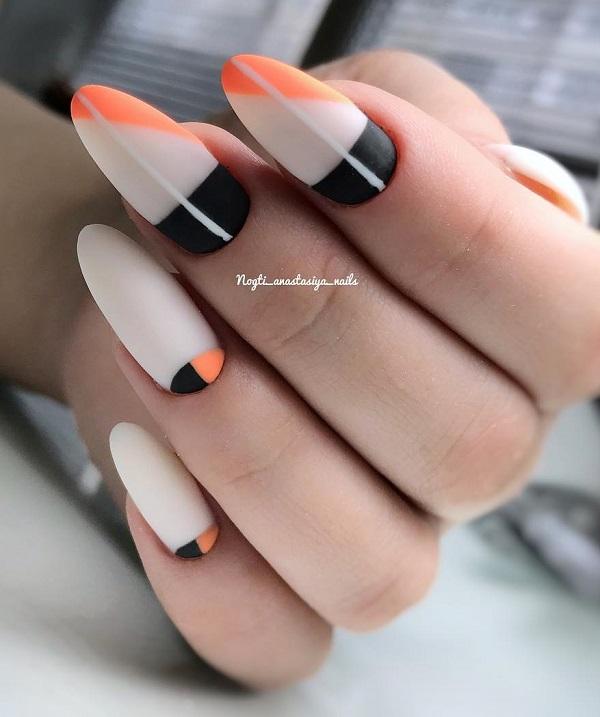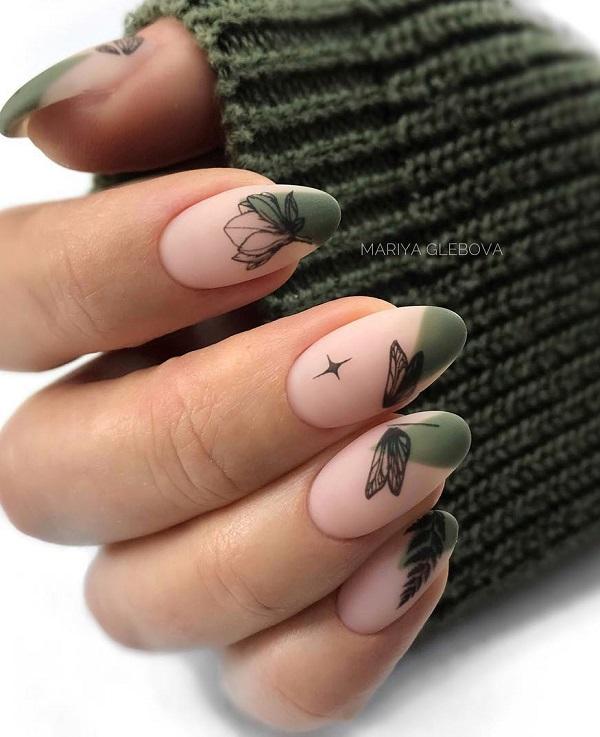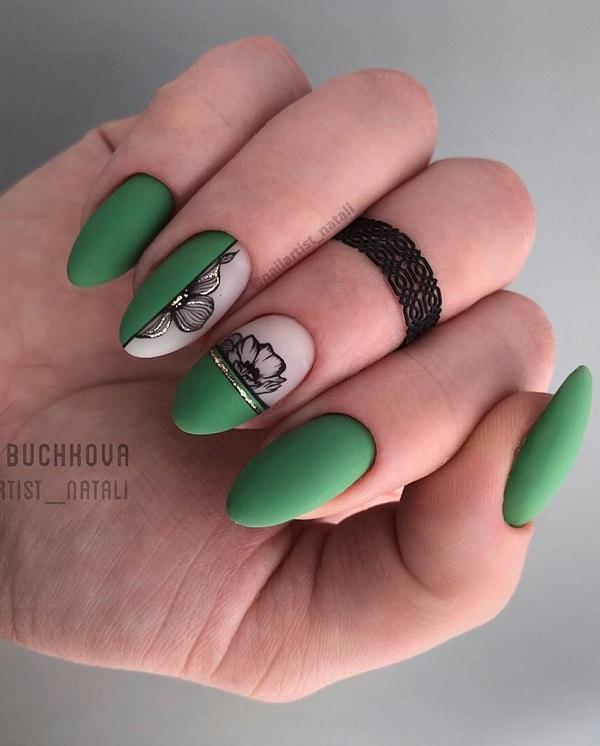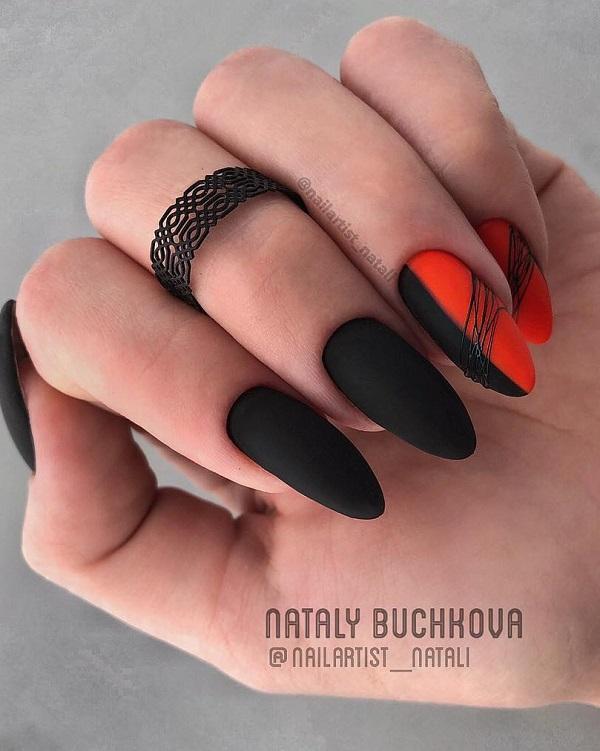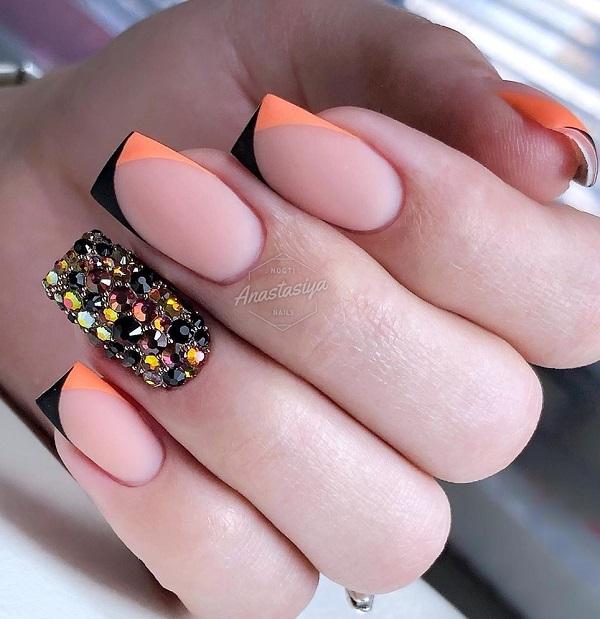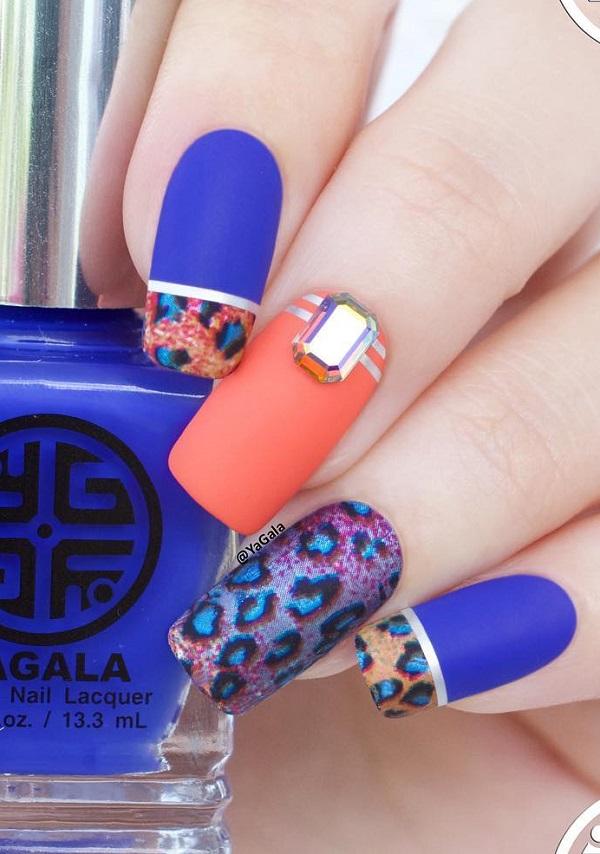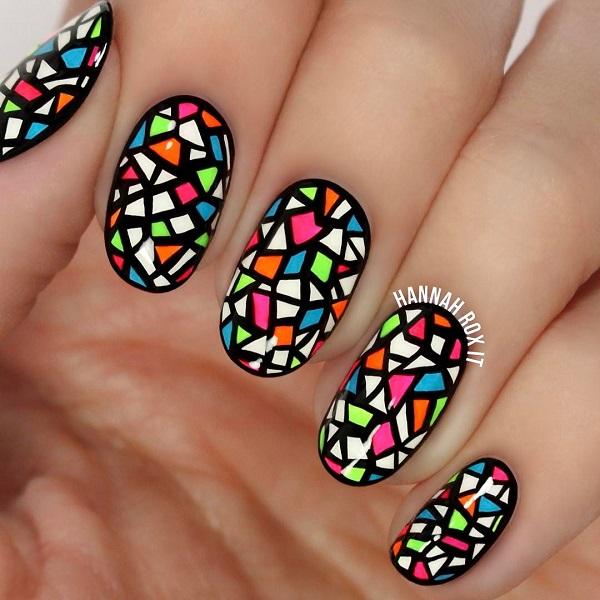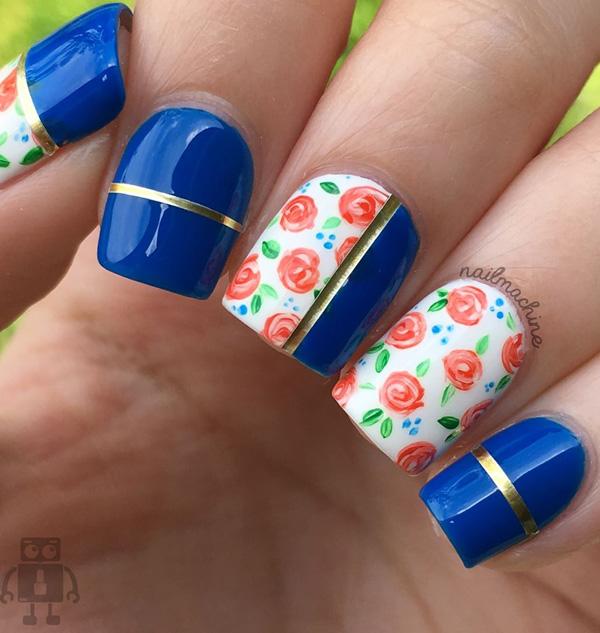 The Multicolored Floral Nail Art Design.The multicolored floral nails with the punch of bold blue and gold definitely makes a good nail art choice.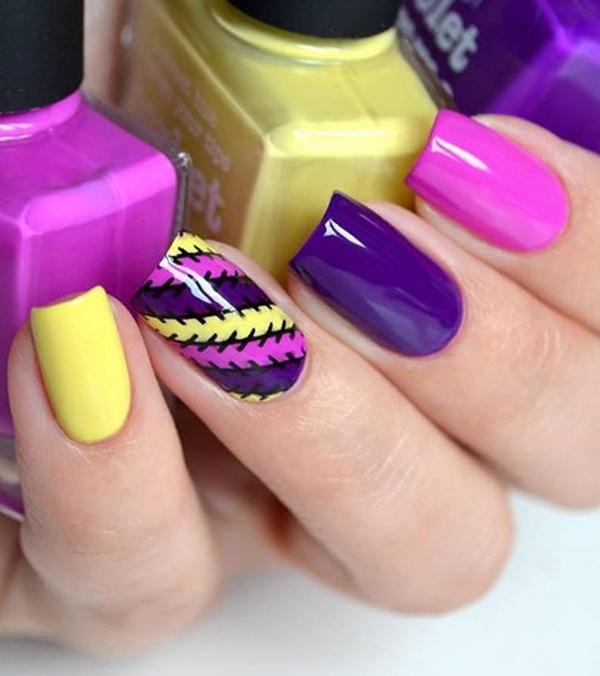 Multicolored Manicure.Apply different colors on your random nails. Add stripes, waves or any kind of pattern with these colors on alternative nails and you would end up having amazing nail art!
Source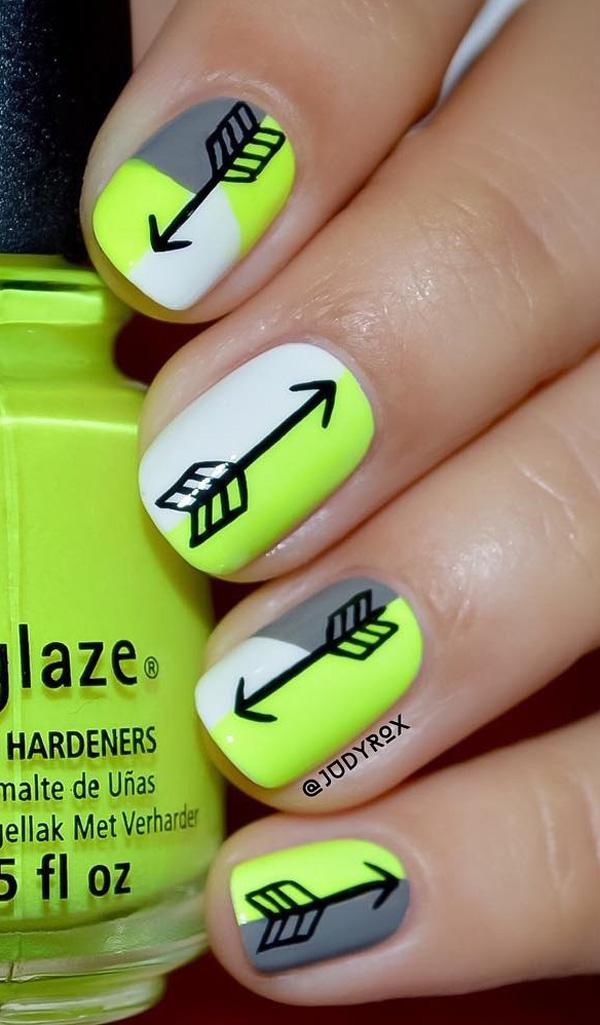 Neon Arrow Nail Art Design. Fan of neon? When it comes to bold colors, neon nails always remain over the top.
Source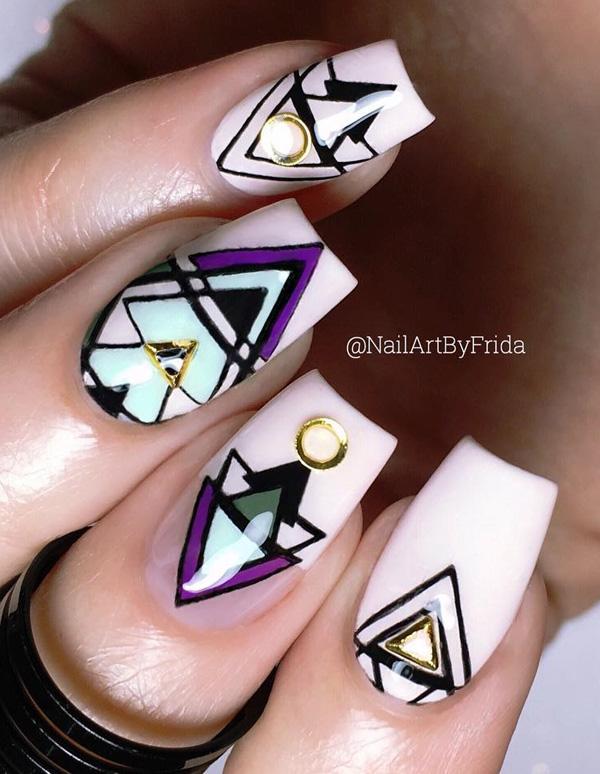 Multicolored Geometrical Nail Art Design. Different colored lines over the white base, gold and white studs are all the goals in this nail art design.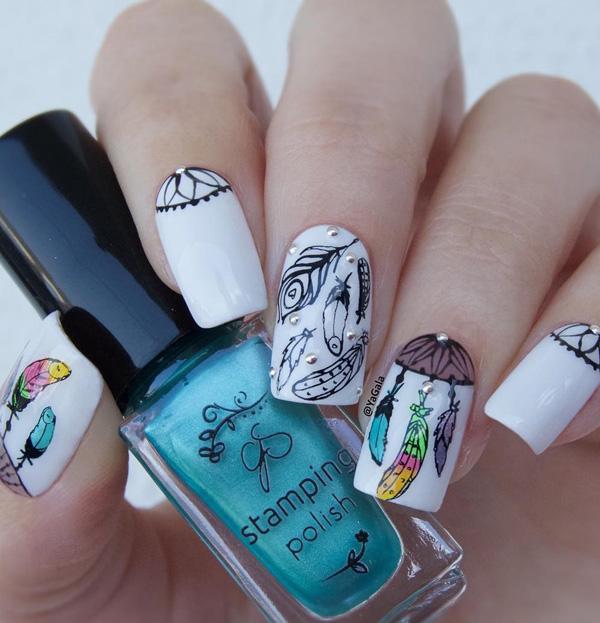 Multicolored Feather-y Nail Art. Although this nails art is bit complicated, but once it is completed, it is the best thing to have on nails. The punch of multi-colors over the white base gives extraordinary look to this design.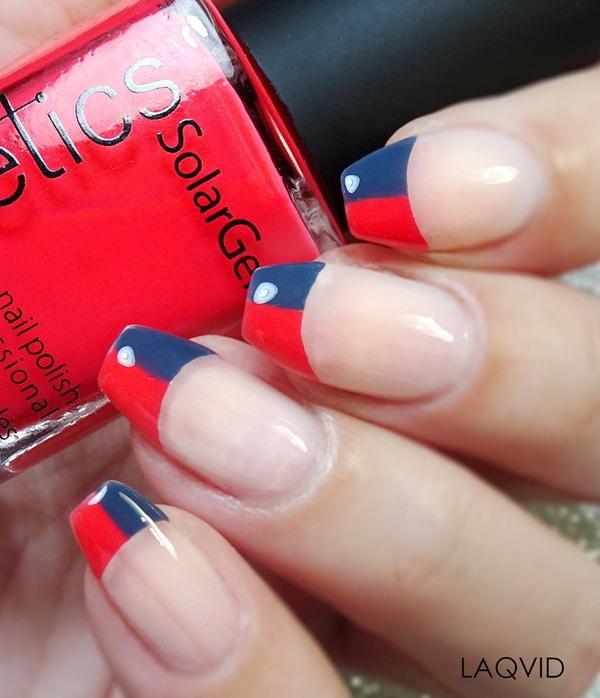 Amazing multicolored French Manicure. Choose two contrasting colors of your choice and get this simple yet attractive multicolored French manicure.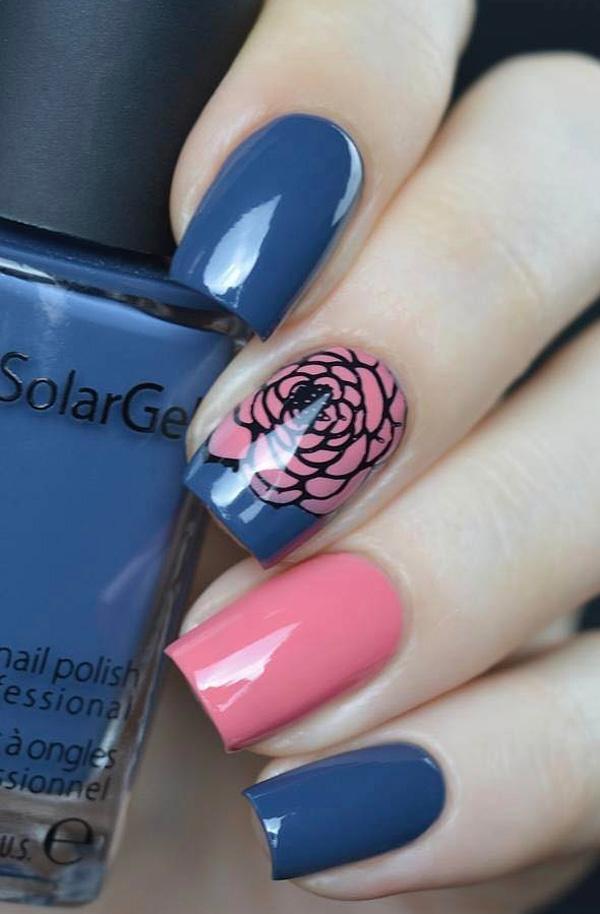 Pink and Blue Floral Nail Art. This girly girl floral nail art can go with your short dresses as well as with your jeans. Try it out!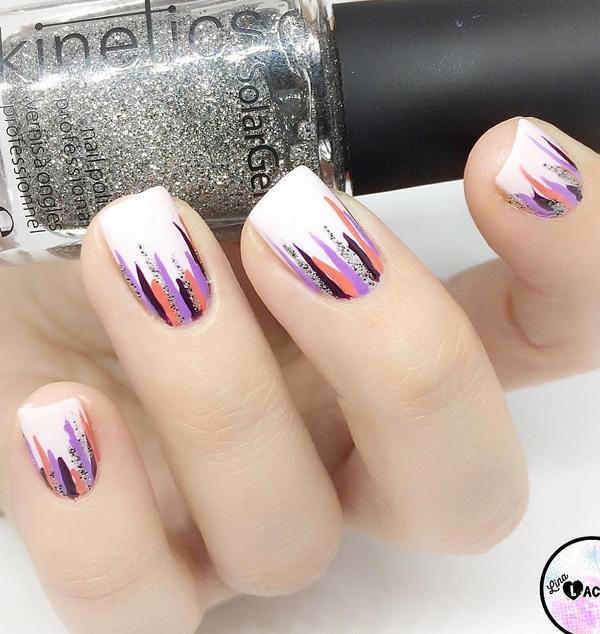 White Base Nails with Multicolored Stripes. This nail art is for someone who is looking to make a strong impression. You can use the colors of your choice along with the feisty glitter to make it bold and worth seeing.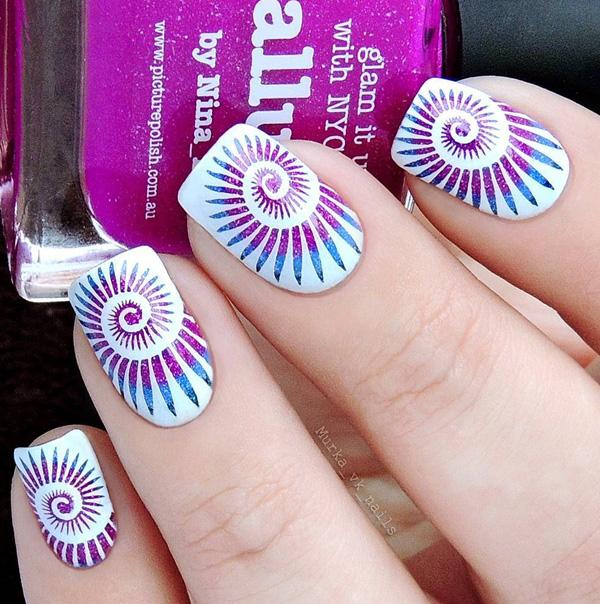 Multicolored Tribal Nail Art Idea. This one is something complex, yet very pretty to wear.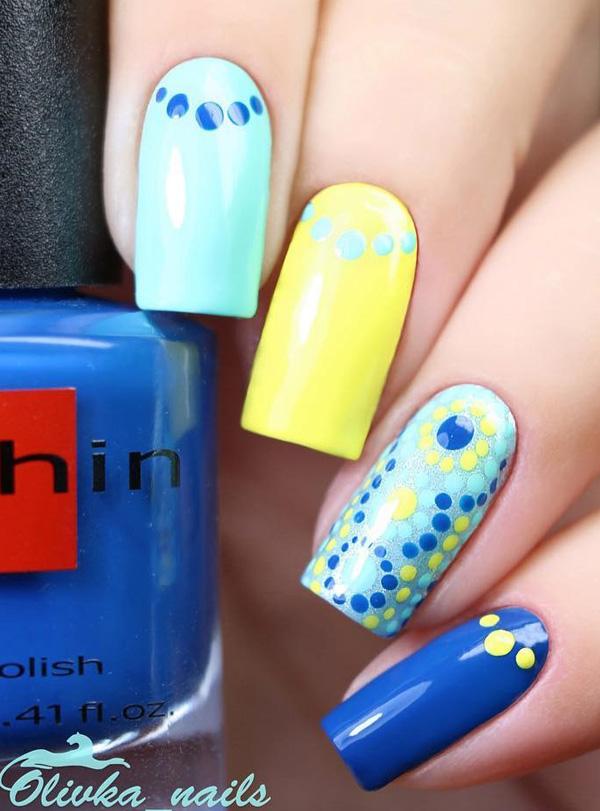 Blue and Yellow Nail Art Design for Long Nails. Incorporating all the summer colors, this nail art is perfect for your summer season.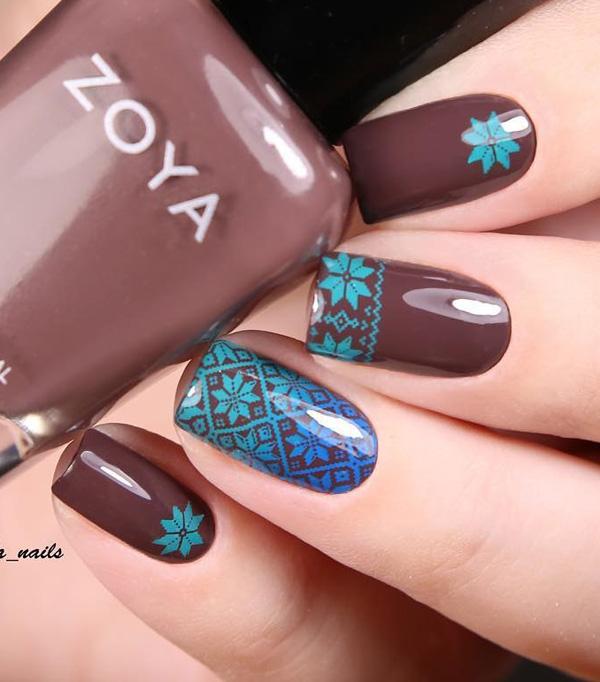 The Printed Nail Version. You will need some stickers to do this printed version of nails. The choice of colors matter the most in this type of nail art designs.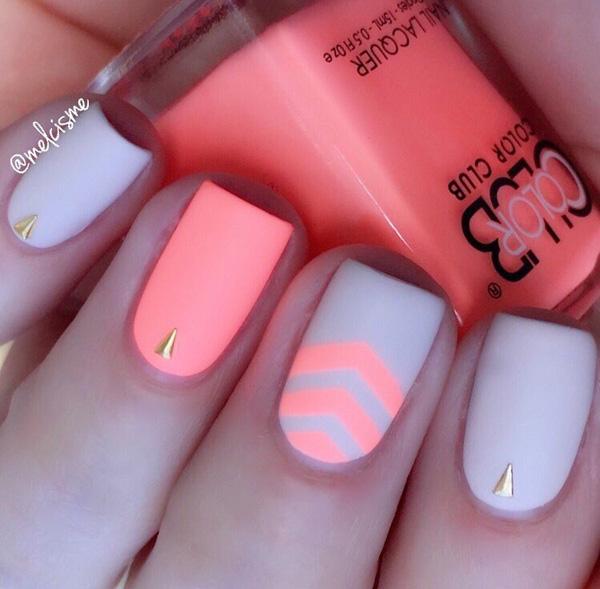 Multicolored Matte-y Chevron Nails. The neon chevron nails are inspiration for classy girls out there.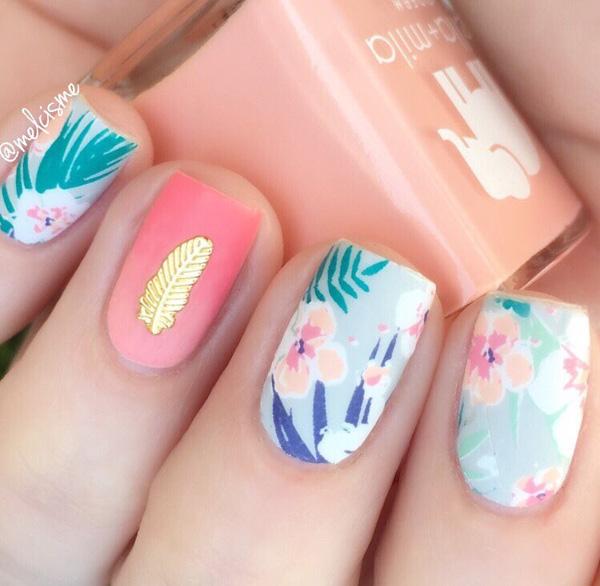 The floral multicolored Nail Art. With the element of gold, this multicolored floral nail art is worth a shot.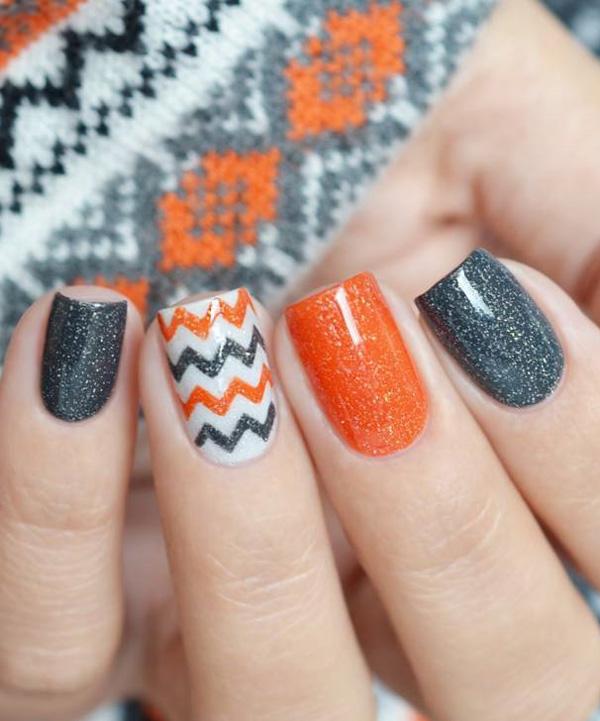 Source
Glittered Multicolored Chevron Nails. Chevron nails always be trendy to wear. You can try different styles in chevron nails as well to make a statement.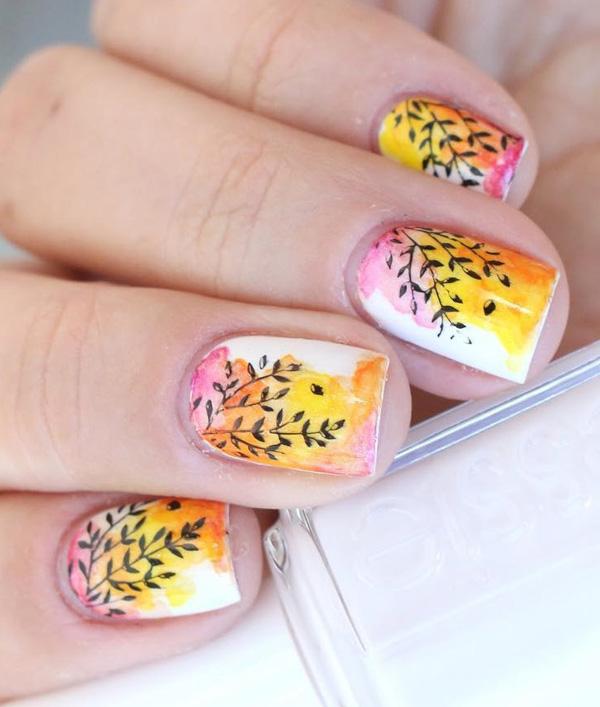 Multicolored Vine on Nails. The multicolored background and black vine over makes another amazing nail art design to wear this season.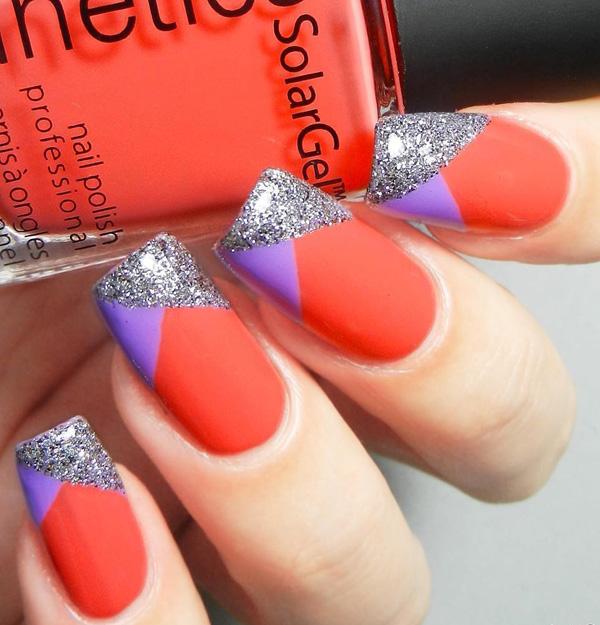 Beautiful Multicolored Manicure. This kind of manicure is easiest to do. All you need is to have a tape, different colors, glitters and your nails. Place the tape in shape you want and apple coats for the same design.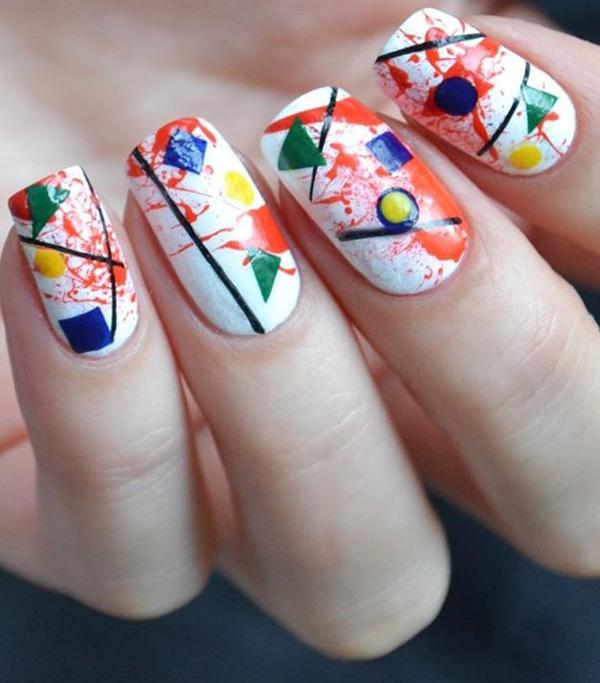 The Multi- Geometric Nails. Multi-geometric nails are next on our list because of their classy appearance and amazing play of colors.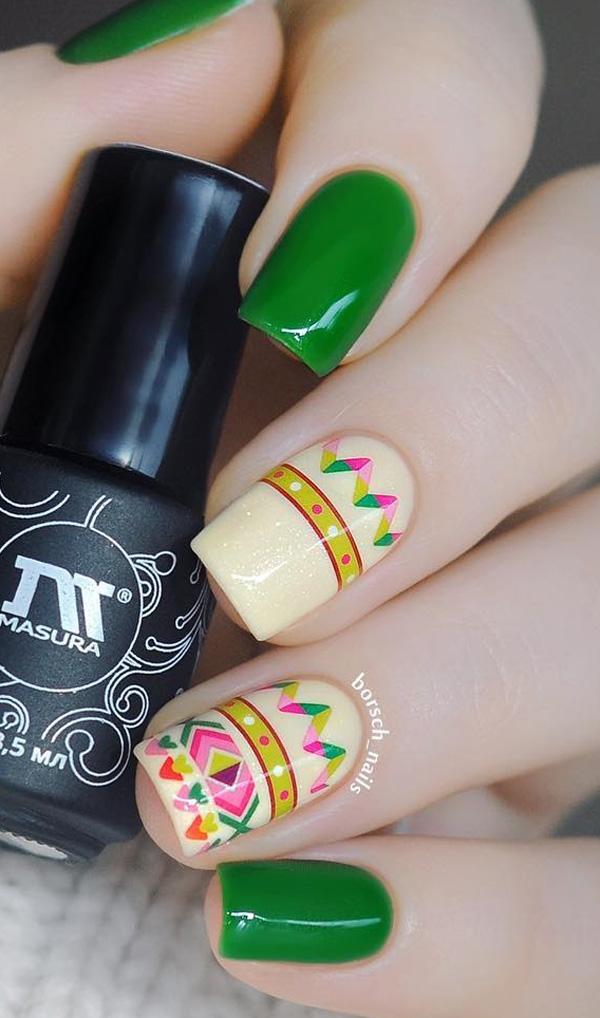 Contemporary Tribal Nails. Tribal nails are so In with different colors and different patterns. This one is a mix of tribal and geometric nail art. So if you like the contemporary tribal nails, this one is definitely made for you.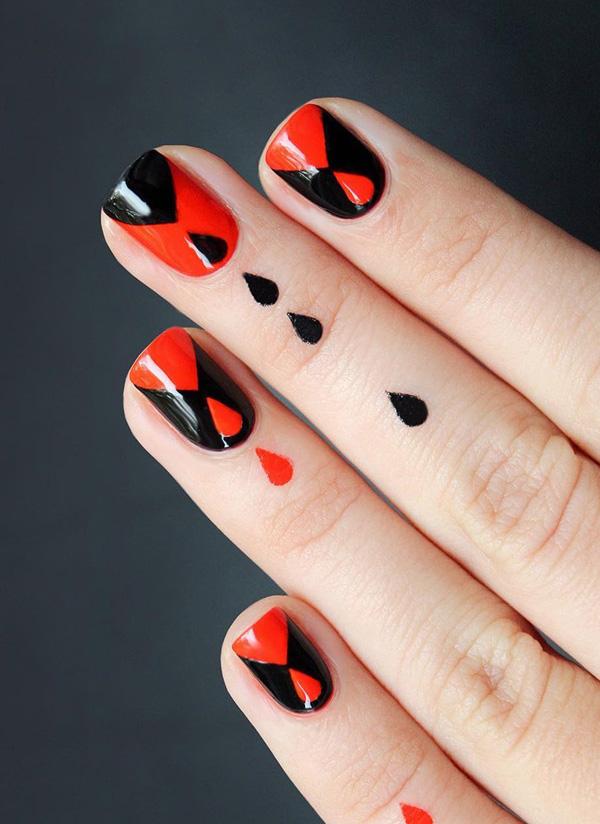 Black and Red Nail Art Design. Fan of black and red combo? If so, you have got the best one!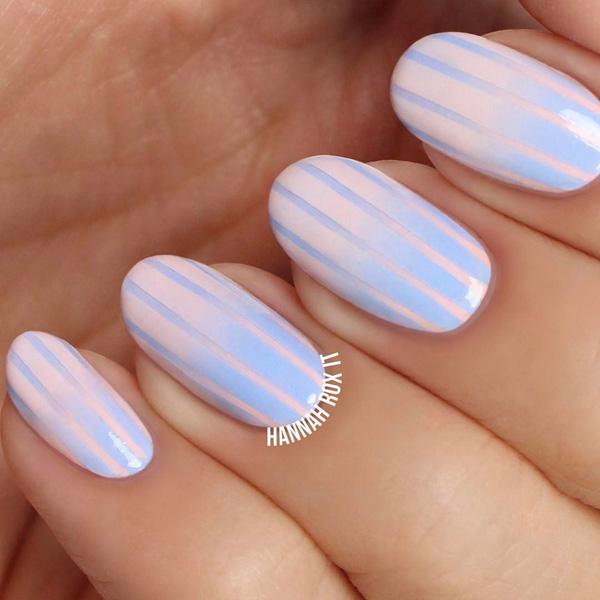 The pastel Colored Stripes. If your mind sets for a unique nail art, then these pastel colored stripe-y nails are made just for you.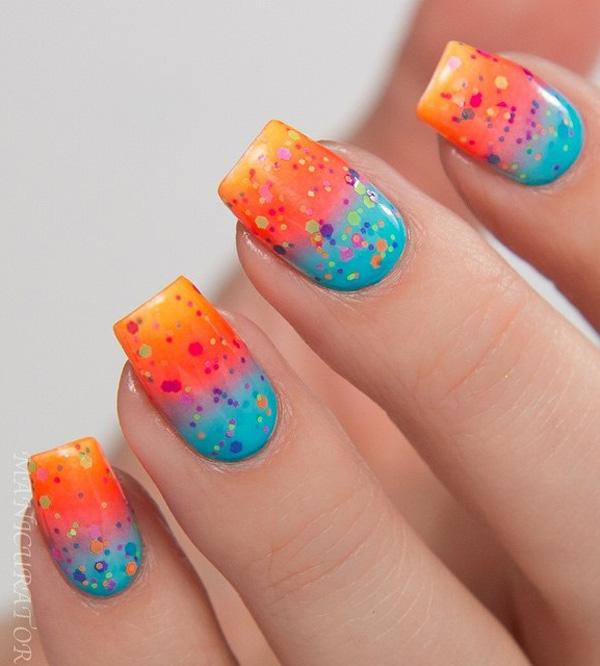 The Multi Dotted Nails. This one is all about colors. The nail art has lot going on. With the gradient base and multi-colored dots above, this nail art design has got my mind.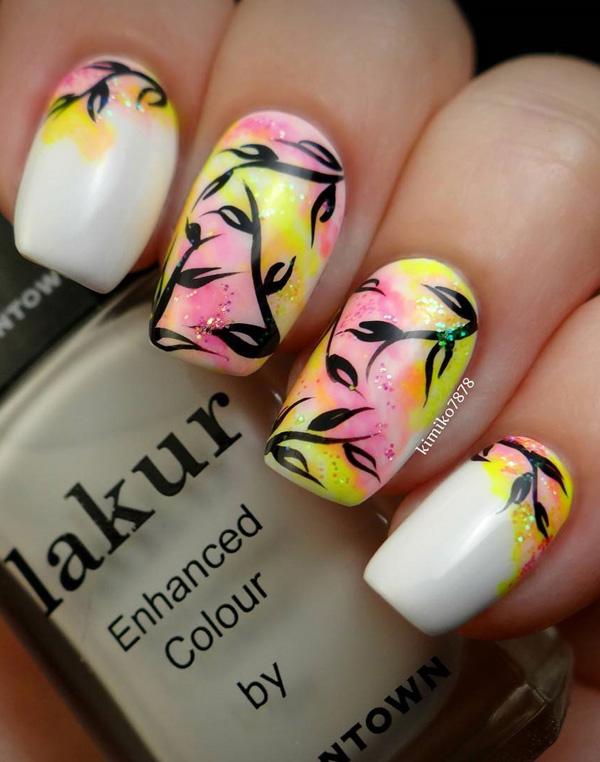 Multi colors on White Base Nail Art. This is literally the one best nail art I've ever seen. With the touch of glitter and the spark of different colors, this nail art is definitely worth trying.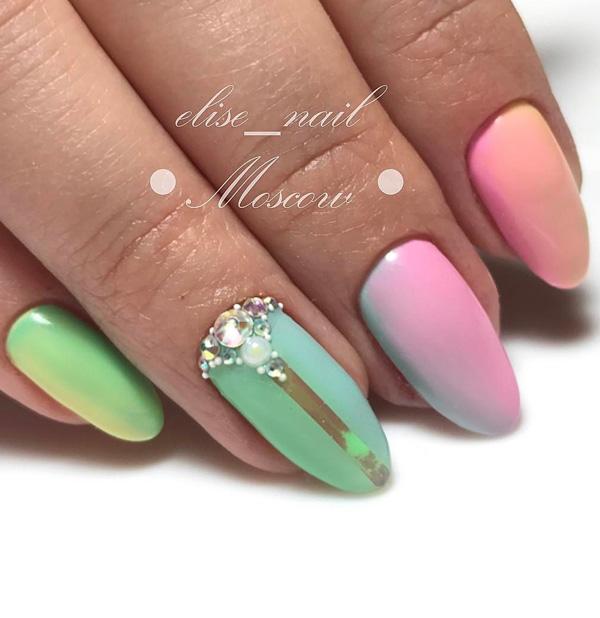 Jeweled Pastel Colored Nail Art. The multi-pastel shades gradient with the touch of jewel, makes this nail art design worth trying on your prom night.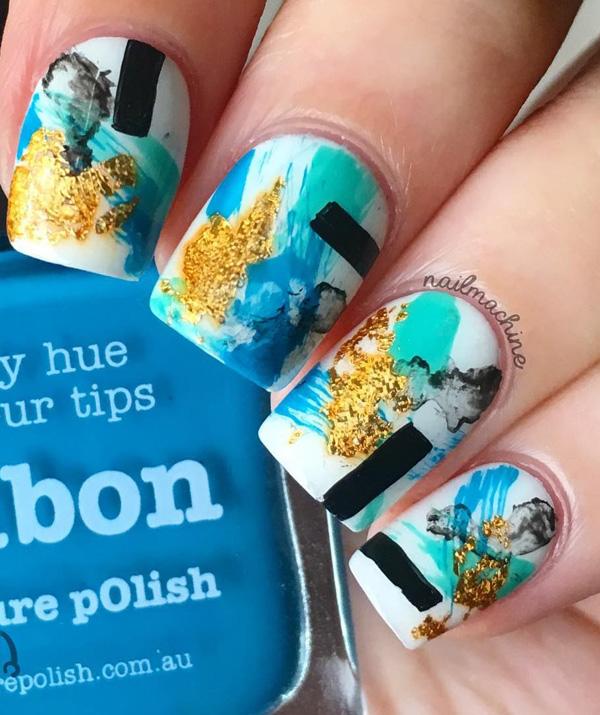 Multicolored Abstract Nail Art. If you are not a pro at doing these nail stuffs, you can still have this multicolored abstract nail art. Just follow a theme of nothing and have an amazing nail design just like the one above.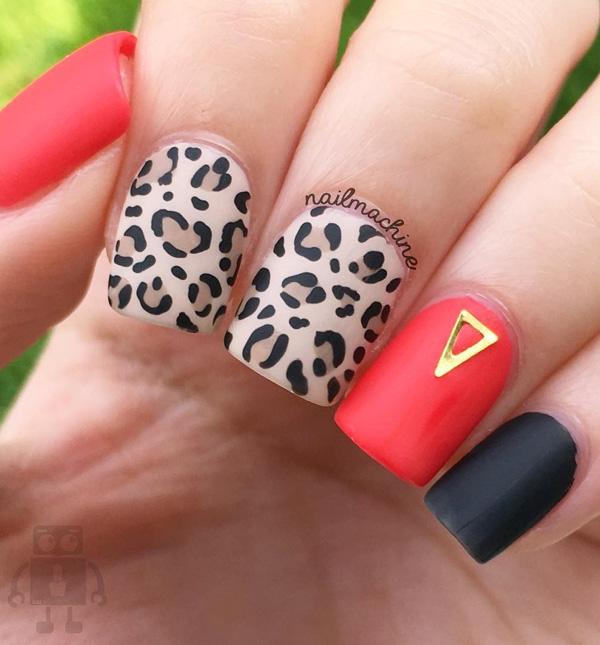 Classy Leopard Nail Art. This classy leopard nail design is an inspiration.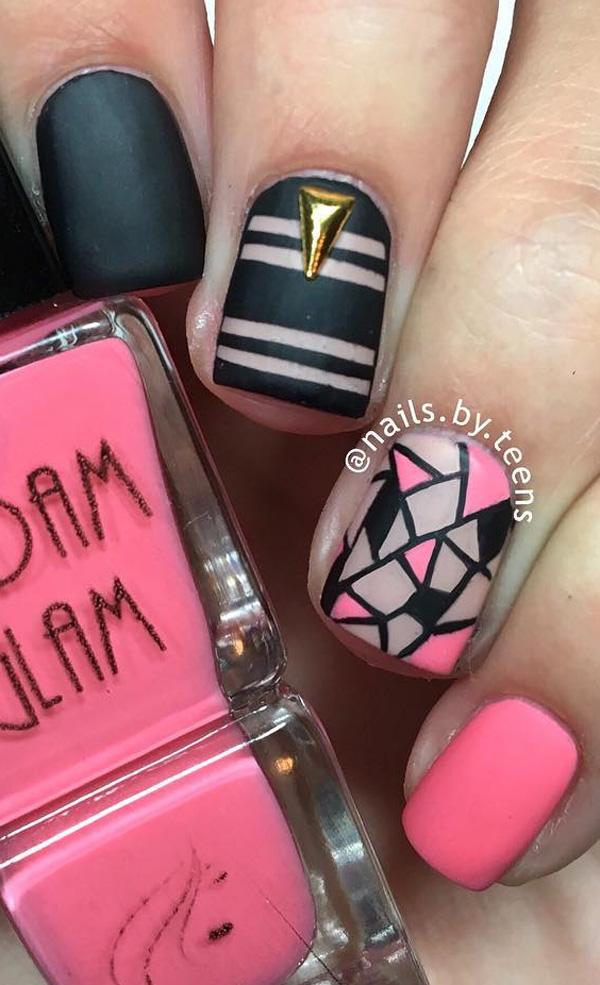 The Dreamy Nails by Teens. These dreamy nails with matte pink, black and gold are perfect for anyone who wats something unique yet classy.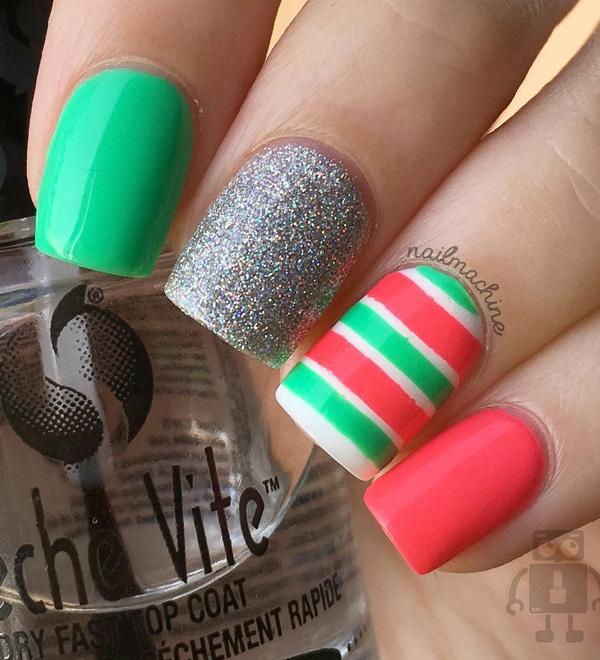 Glitter-y Multicolored Nail Art Design. These multicolored nails are definitely going to be on my list to try next.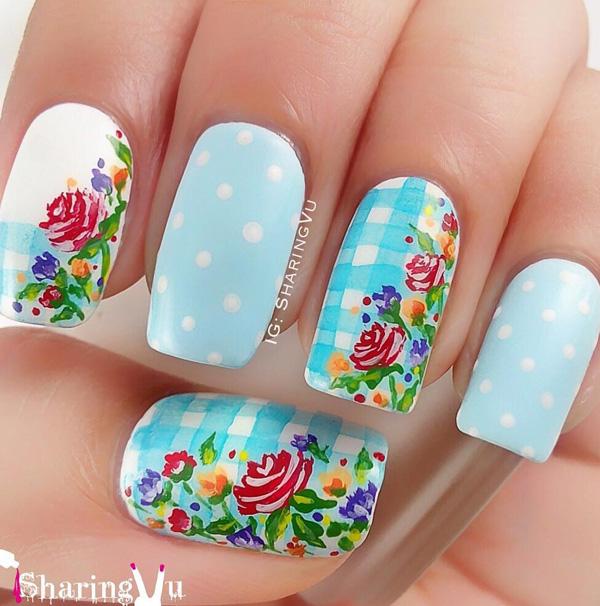 Plaid ++ Polka Dots Multicolored Nail Art. Summer without colors don't seem to be fun. Add some fun to your summers by adding vibrant and bold colors in your nails.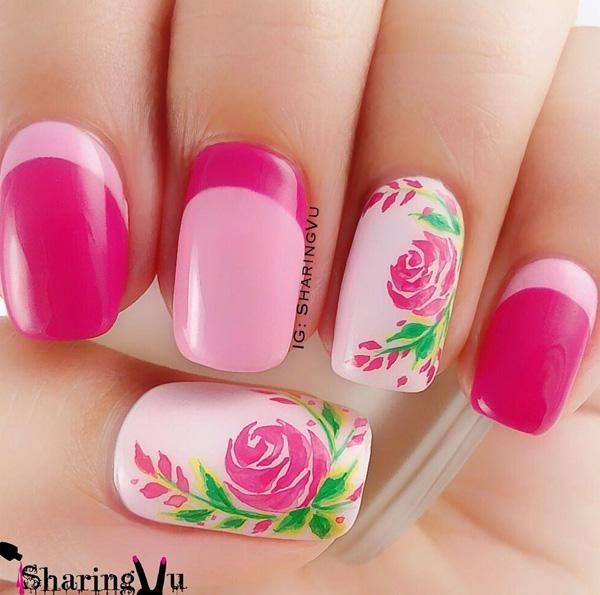 Beautiful Multicolored Flora. Whether you are wearing pink dress for your girls day out or having short Tee with jeans, these beautiful multicolored floras will definitely go along.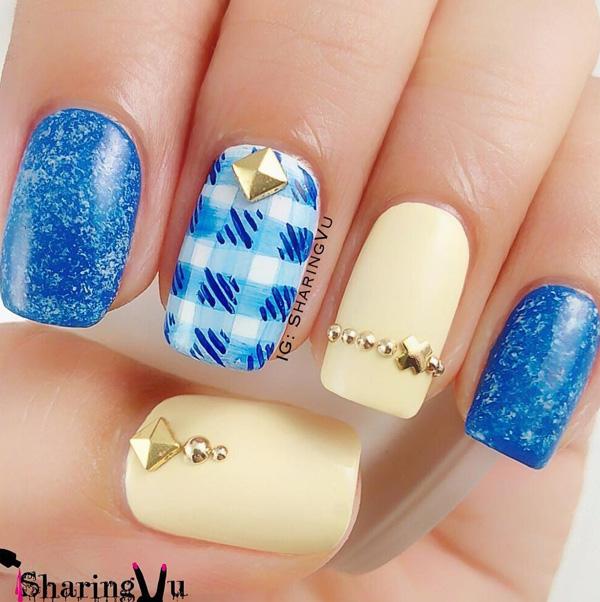 The Alluring Aqua Jeweled Nail Art. This nail art is perfect for your denim days.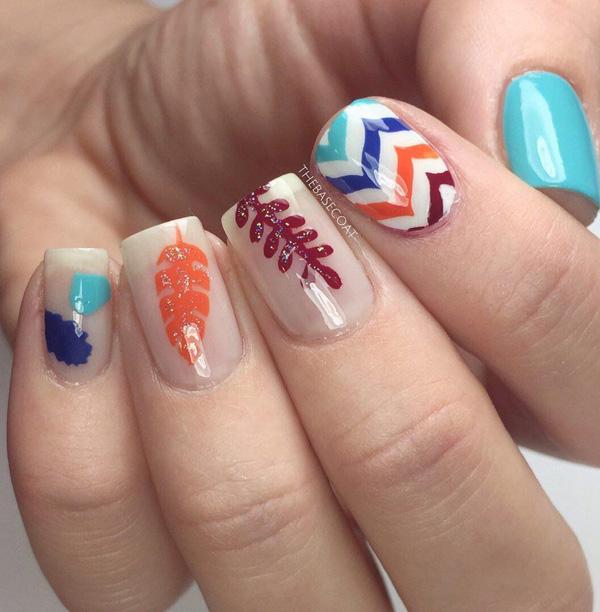 Captivating Multicolored Negative Space Nail Art. Give your old nails a break and try out this negative spaced nail art designs with different patterns like feather, sun, clouds hearts, or anything you want.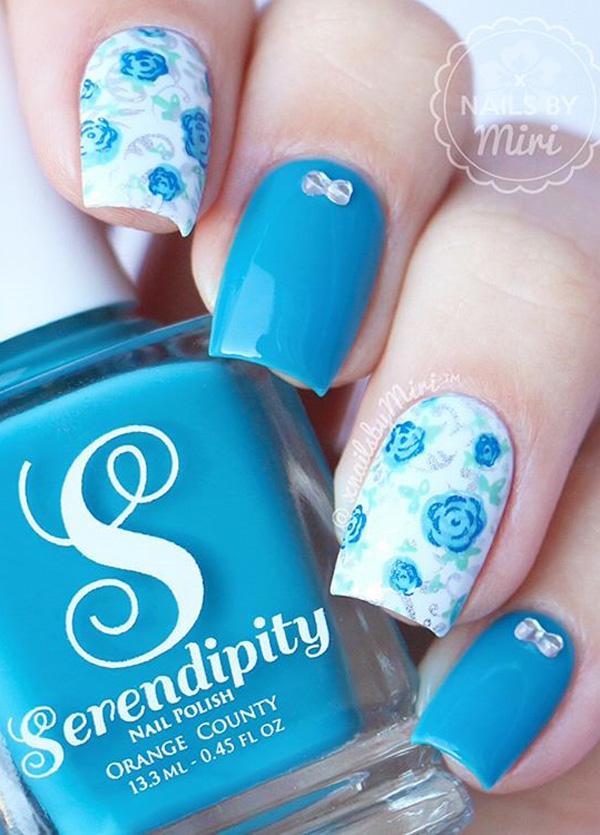 Blue and White Girly Nail Art. Have a pool party? This blue and white girly girl nail art is the best thing to wear.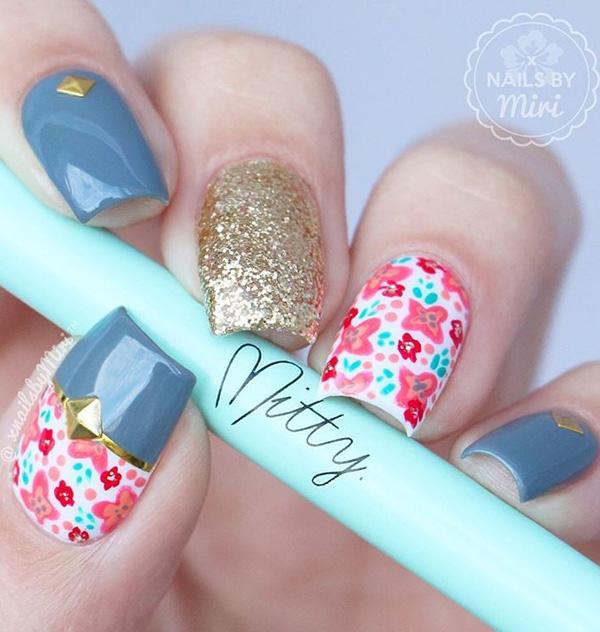 Glittered and Studded Multicolored Nail At Design. Get some floral multicolored nail art design done with the spark of glitter and punch of studs for perfect nail art.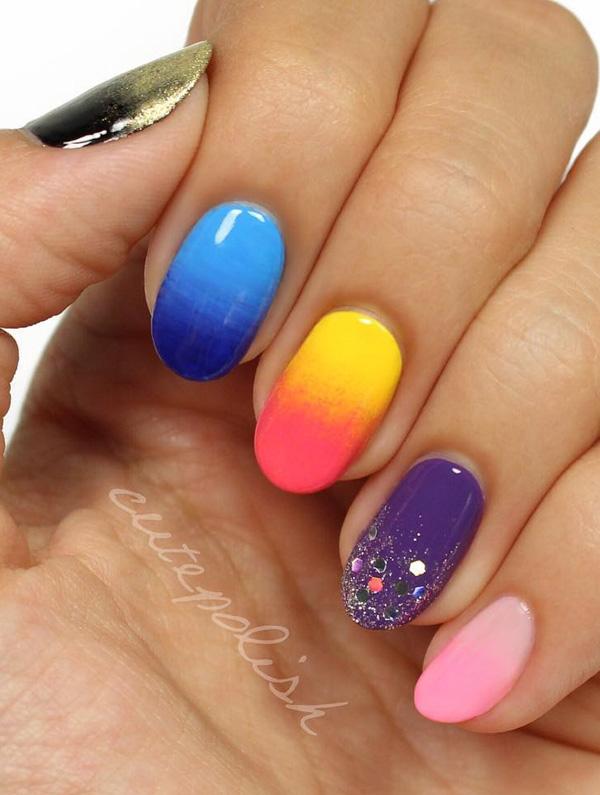 Beautiful Multicolored Gradient Nails. Switch those boring nails with these beautiful multicolored gradient nails with sequence. You can customize the design by trying out your favorite color combinations.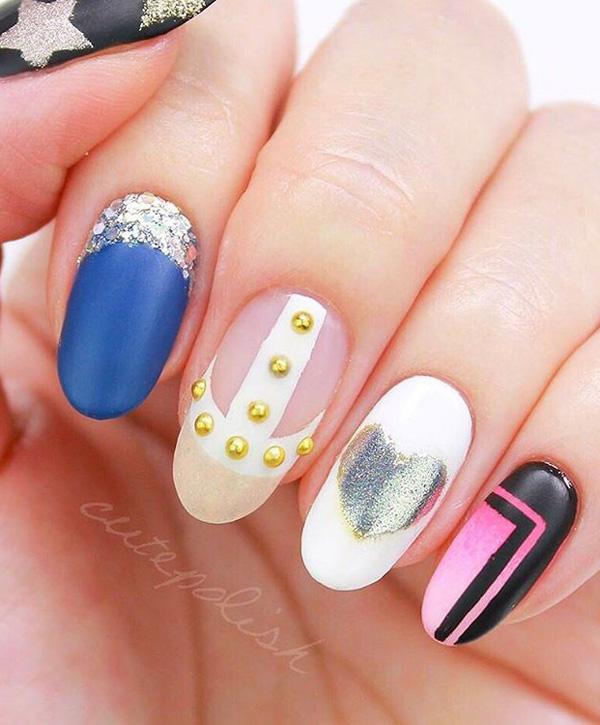 Girly Girl Multicolored Nail Art Design. This all -in-one multicolored nail art design can go perfect with every outfit you wear.
Source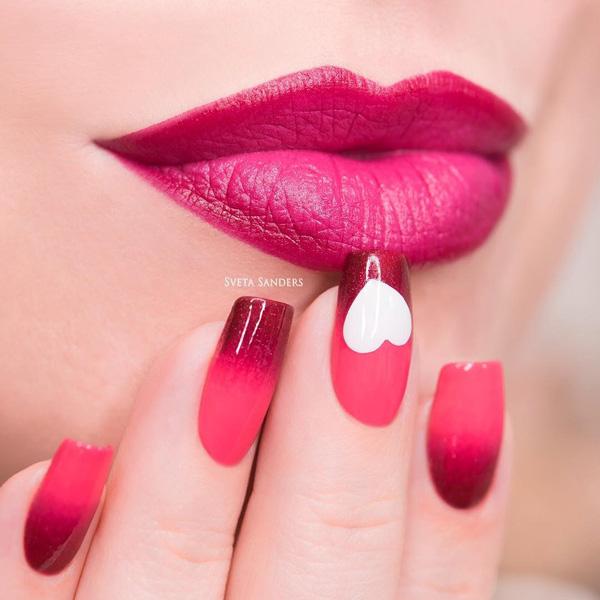 Gradient Nails with White Heart Nail Art. Have a date dinner with your loved one? This romantic nail art design is worth trying.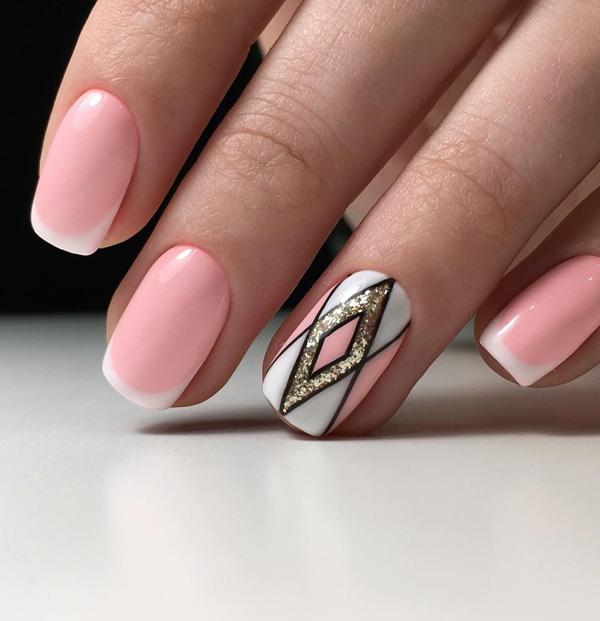 Pink and White French Manicure with Glittered Pattern. Want French Manicure with some tweaks? Check this amazing one out!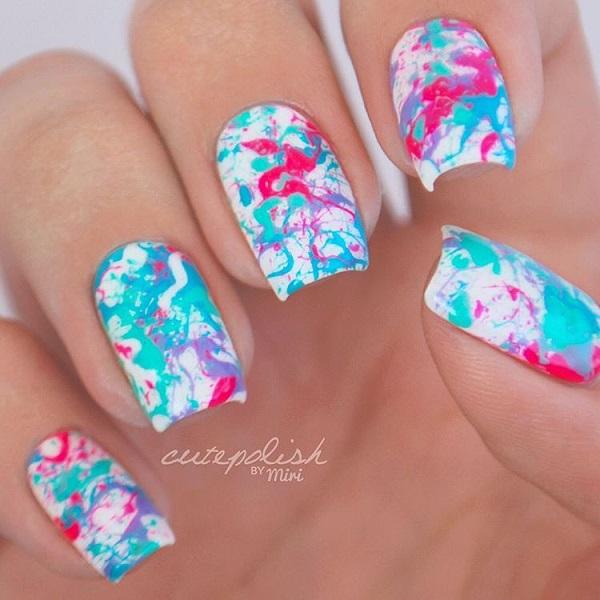 Multicolored Marble Nail Art Design. If you are not professional in doing complex nail arts, this multicolored marble design is the best thing that you can do at your home without any tools.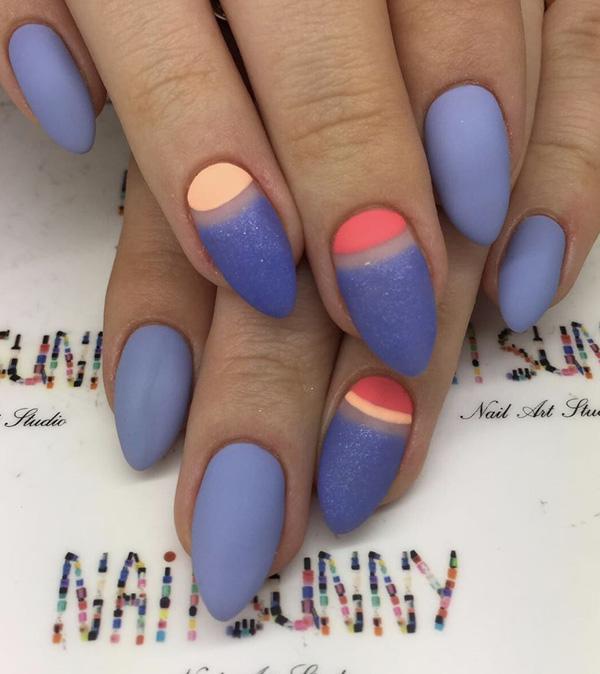 Matte-y Negative Space Nails. Negative space nails are in trends for the past few years and when they are combined with multi-colors, they make perfect nails for everyone.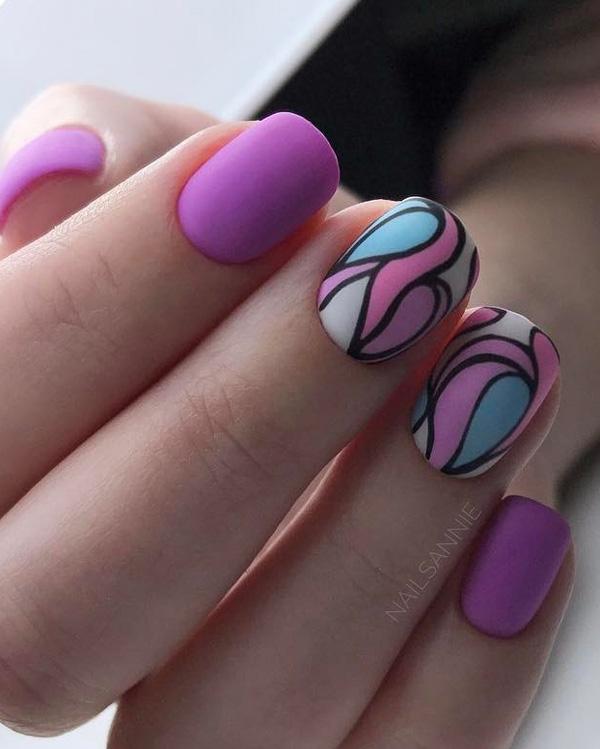 The Pink Abstract Nail Art Design. Whether you want a simple nail art design or something that goes with every outfit, this unique yet attractive abstract nail art design is inspiration.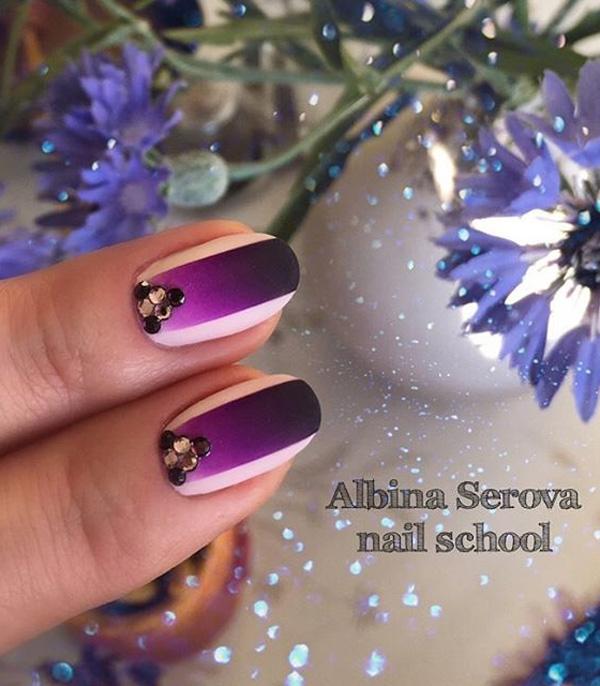 Rhinestone Studded Striped Nail Art Design. The spark of rhinestones with the punch f some some festive colors makes the perfect nail art design for any occasion.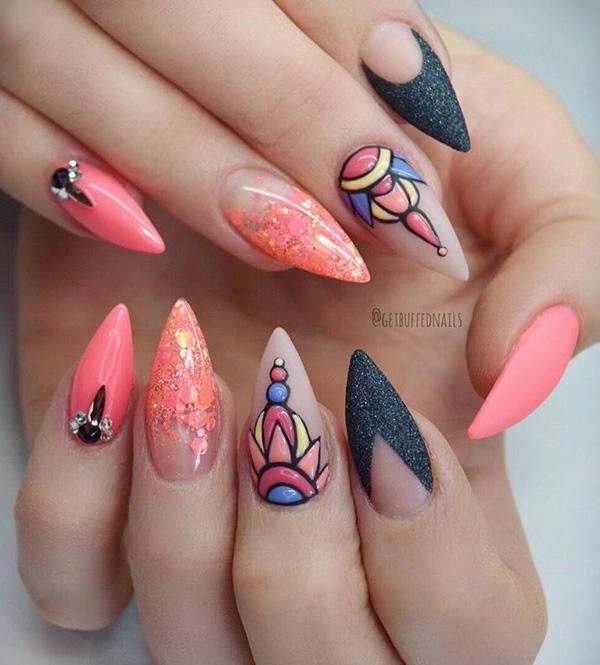 Beautiful Multicolored Pointed Nails. If you have pointed shaped nails and worried for its nail art, this design is a perfect fit.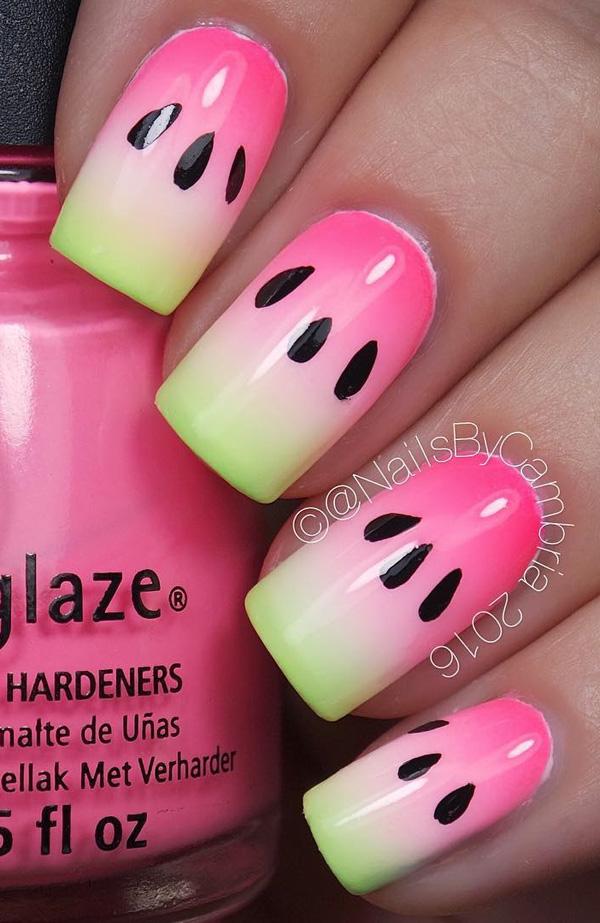 Multicolored Watermelon Nail Art Design. This nail art design is perfect for summer with watermelon theme. Find the perfect color, make gradient and add seeds with black and you are done with this yummy multicolored watermelon nail art design.
You have just covered the most amazing multi-colored nail art designs. For more inspiration for nails, keep vising us!