Green has always been a refreshing color for nails. It's the color of spring when the leaves on trees are starting to sprout; when grasses start to grow; when plants spring to life. It's the color of nature and growth so it's always refreshing to the eyes.
But the thing is, green isn't really a normal color you often see for make up or for cosmetics. It could either be too bold or strong for eye-shadows. It's also a color that you need to partner with certain colors or else it won't really look flattering on you. But fashion and beauty has now been taken to new heights and experimenting with unusual styles and colors is rather common. In these experiments, we discover new trends.
Even when green isn't still that much common for make up, it has become a good trend for nails. Whether you stay with the normal green to darker shades or even to lighter ones, green has now brought its refreshing feel to your hands. You can go with a normal coat of green nail polish or you can choose to have green nail art. The latter is actually more stylish and fun and you can achieve a lot of different looks. If you get tired of your current style, you can always go for a new one. There's always new ides you have yet to try.
But of course, you should't just be focusing on what color suits you or what's the best design for you would be. You should be focusing more on the health of your nails. If your nail is pretty much brittle, your nail art won't look good for long. And you might not be able to paint and design your nails if it's always breaking. So as much as possible, keep it healthy and strong just like every part of your body.
Now without much further ado, let's start with some green nail art ideas to start some refreshing beauty styles for you.
Green and Golden Nail art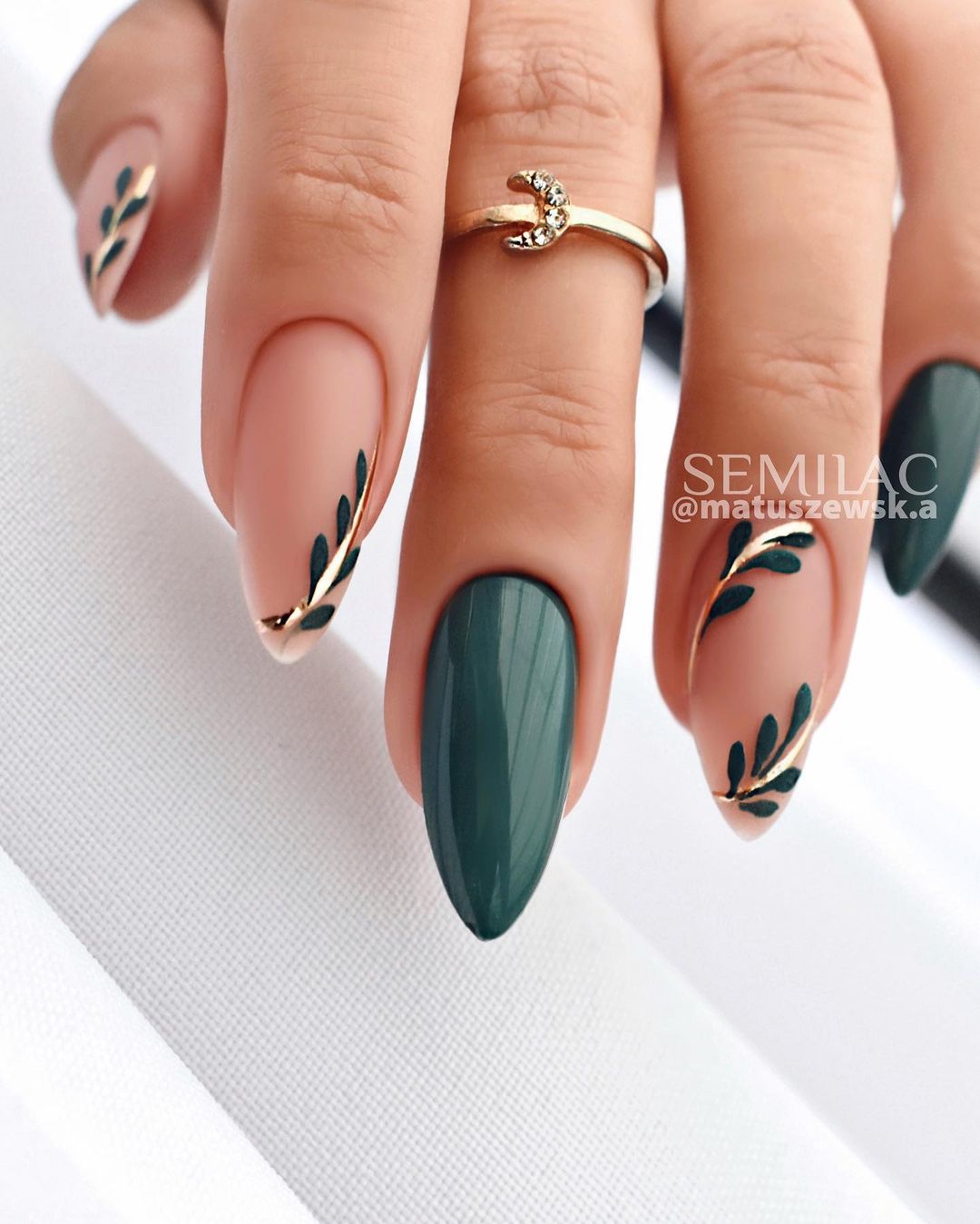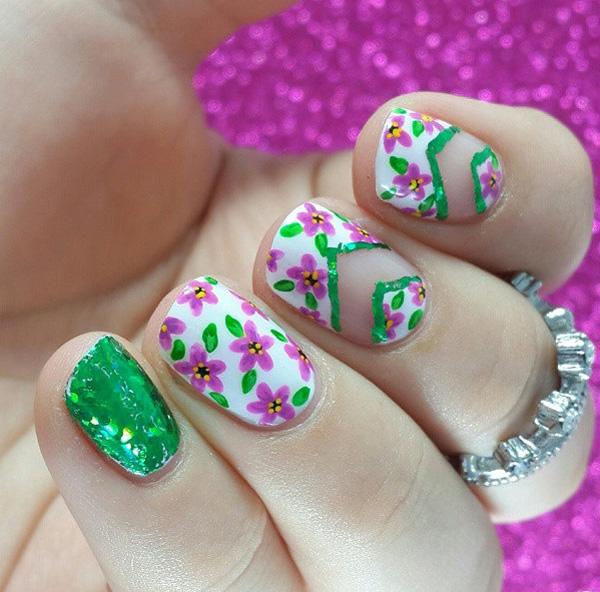 Nothing feels more refreshing than spring, so why not have spring in your hands? Here's a floral design with green accent to complete the spring vibe.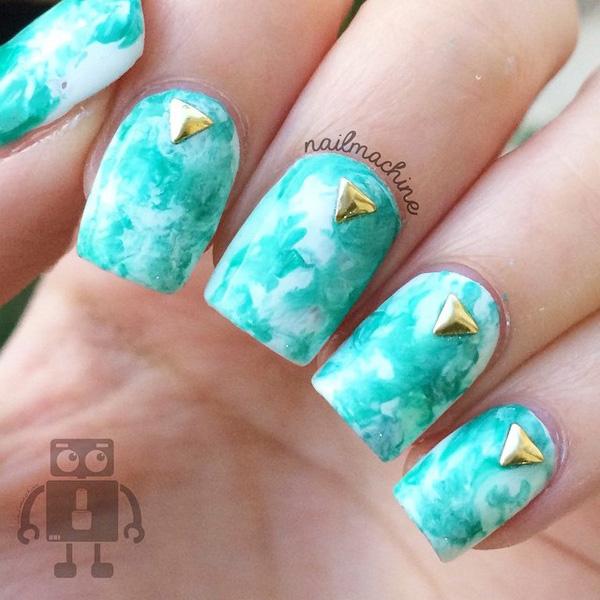 Green and white marble design is the best for sophistication and style. Add some gold accent and it would definitely pass for a glamorous design.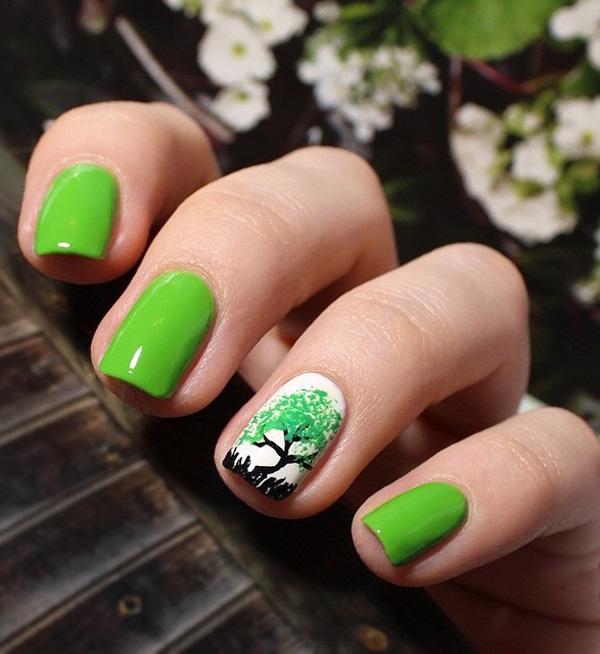 Choose a lighter green nail polish and paint it in your nails. Then on your ring finger's nails, you can create a beautiful scenic view that just shouts out nature and life. Keeping the design on one finger and simple nail polish on the rest will make it look casual.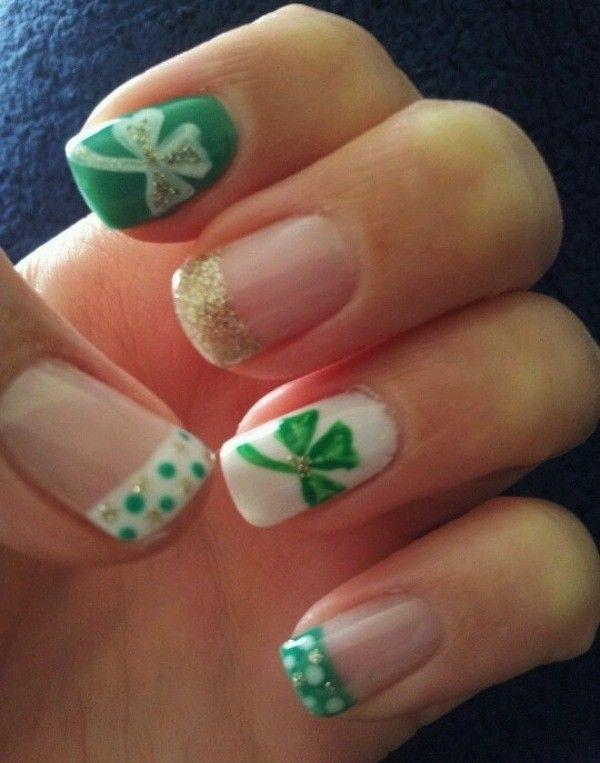 Clovers for luck? Have these anywhere with you by painting some clover designs on your nails. Partner it with gold glitters and white and green polka dots and it would look and feel lucky.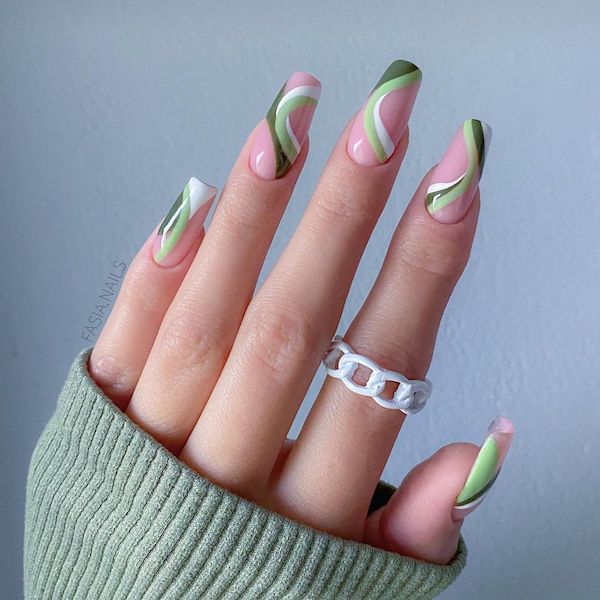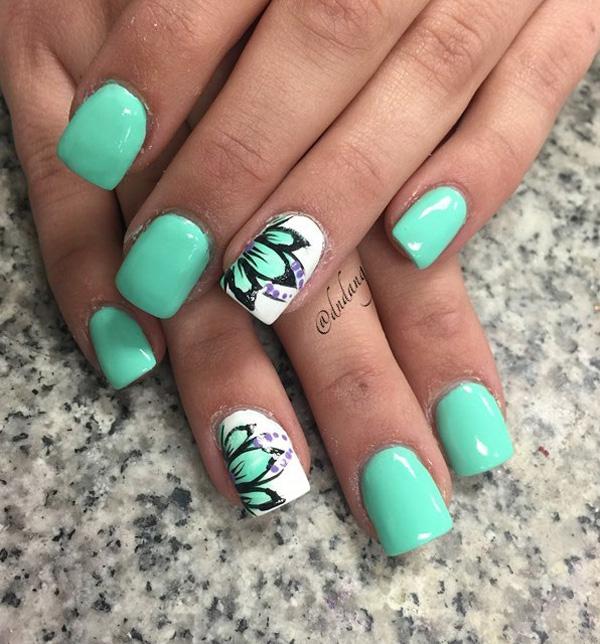 Sea greens are always cool and fresh to look at so it's one of the most common nail colors around. And since green portrays more of nature, have that floral design and you'd be ready for spring and summer.
Source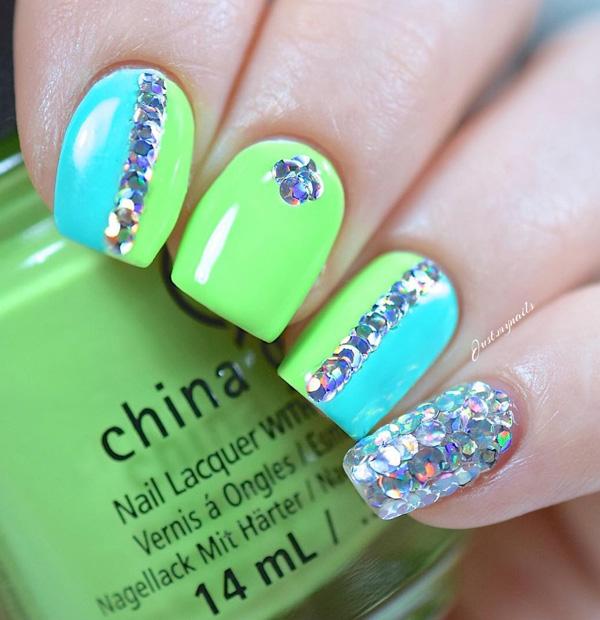 If you want a little more fun and fabulous design, you can always rely on dazzling sequence to combine with your nails. Make it as the accent but don't overdo it by putting so much. It's always good to have good green colors to combine it together.
Green ombre nails as background for simple daisies. Definitely what spring and beauty is all about.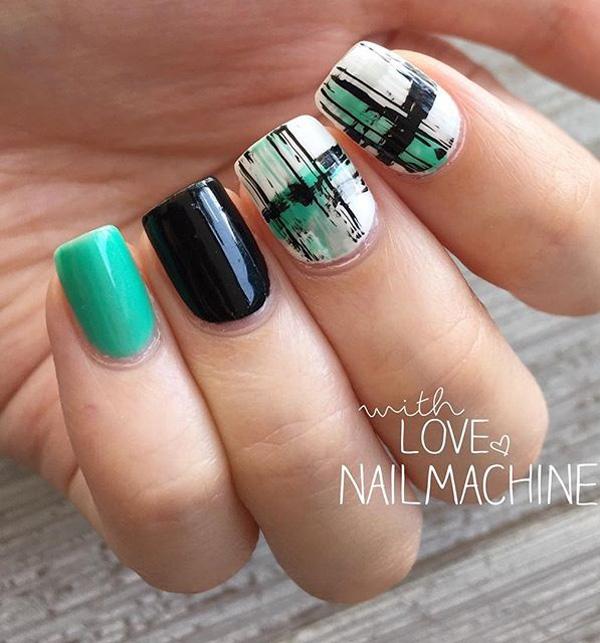 If you aren't that much of a floral and spring kind of girl, you can still use refreshing green colors for a more trendy and urban design like in this green, black and white design.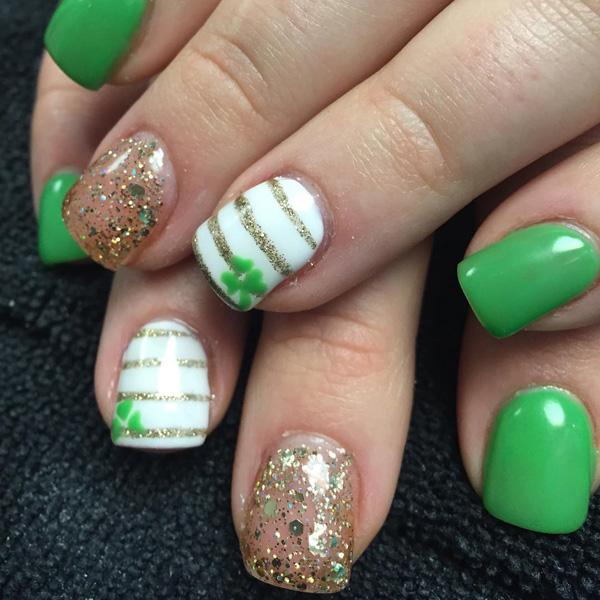 Another variation of the lucky clover design. If you're Irish or have some little Irish in you, it's definitely a design to try.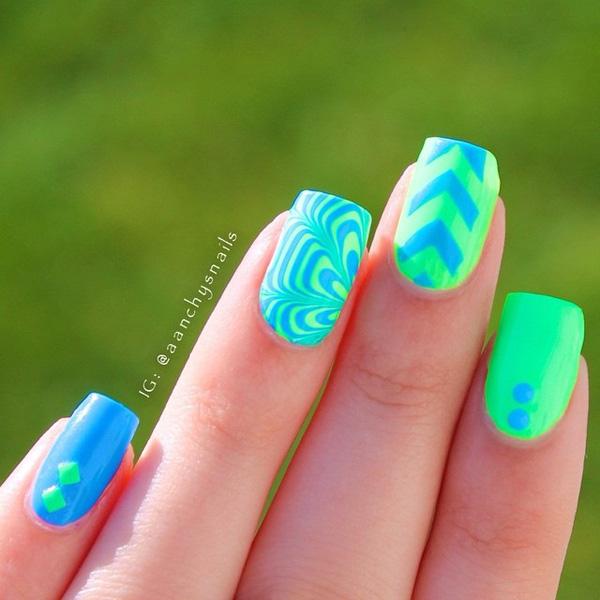 This green and blue geometric designs is all you need when you want a fun and retro design. Plus blue is yet another refreshing color so it's really good for summer feels.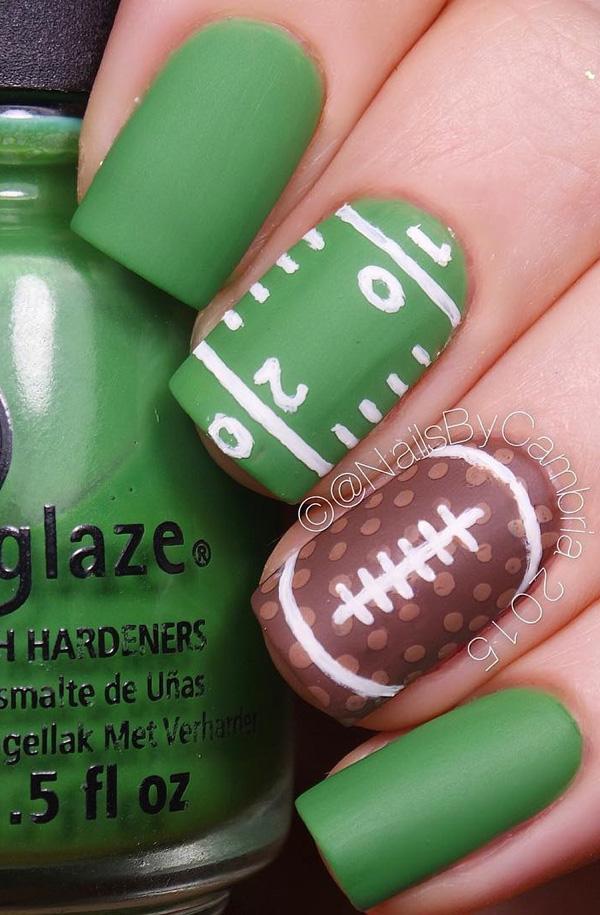 Green is a color for fields. And if the fields you are thinking of are football fields, it still counts. Here's a matte football design for fans out there.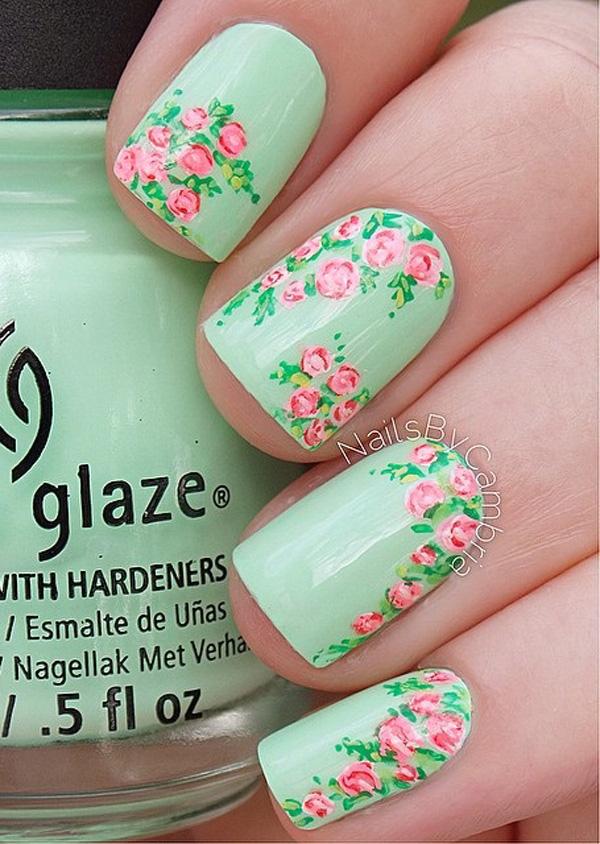 Pink isn't the only color to show off your softer feminine style; you can also do it with this green and floral design. Perfect for sophisticated women out there.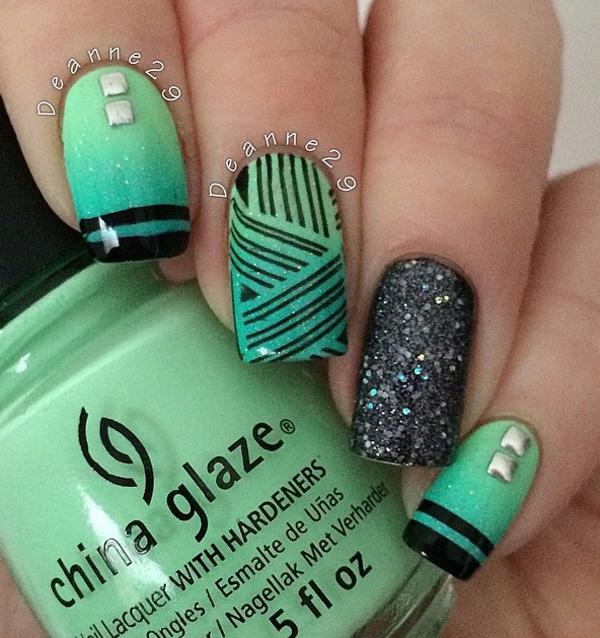 Here's another green and black combo for trendsetters and stylish girls. The glitters adds a fun and glam to the design.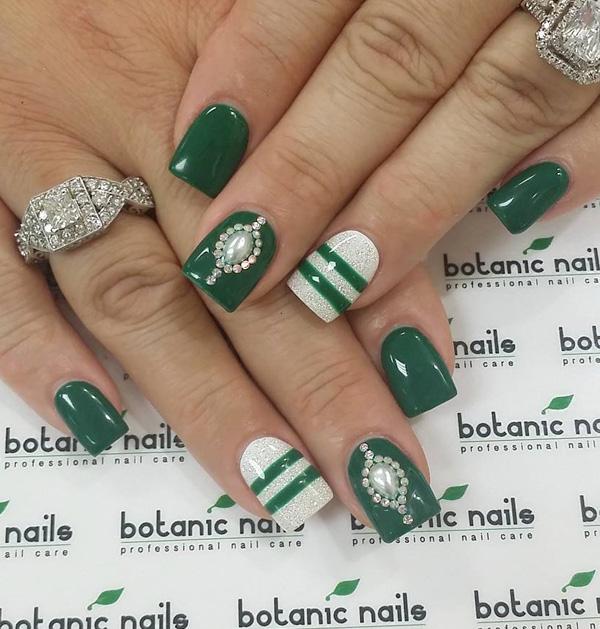 Darker shades of green would be the perfect color if you want a glamorous design perfect for parties and special occasions. Partner it with a silver nail polish and then add some diamond nail accessories and voila! You look like a refreshing star.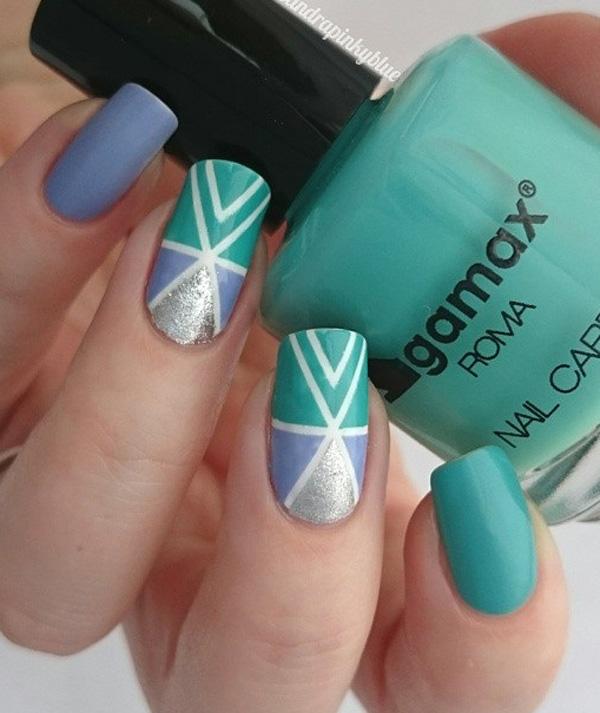 Here's a green and blue with silver nail polish design that is simple but eye-catching. Thanks to this beautiful shade of green.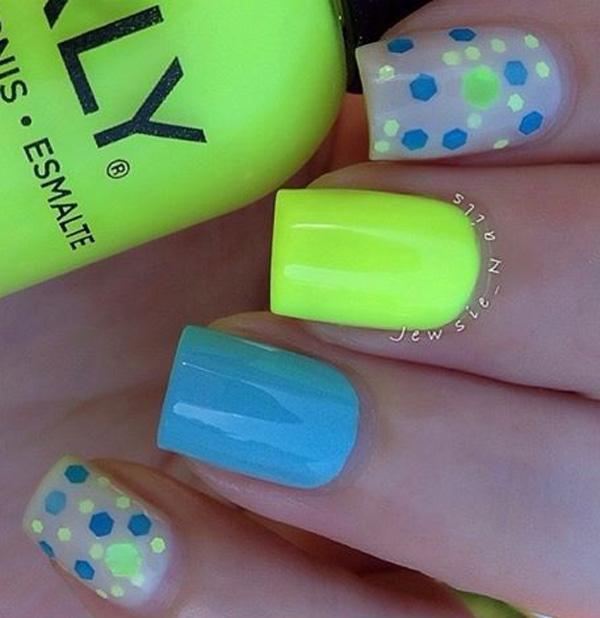 Here's a design if you want to go with neon colors. It can get really bold and bright so this design is perfect to subtle it down a bit.
Source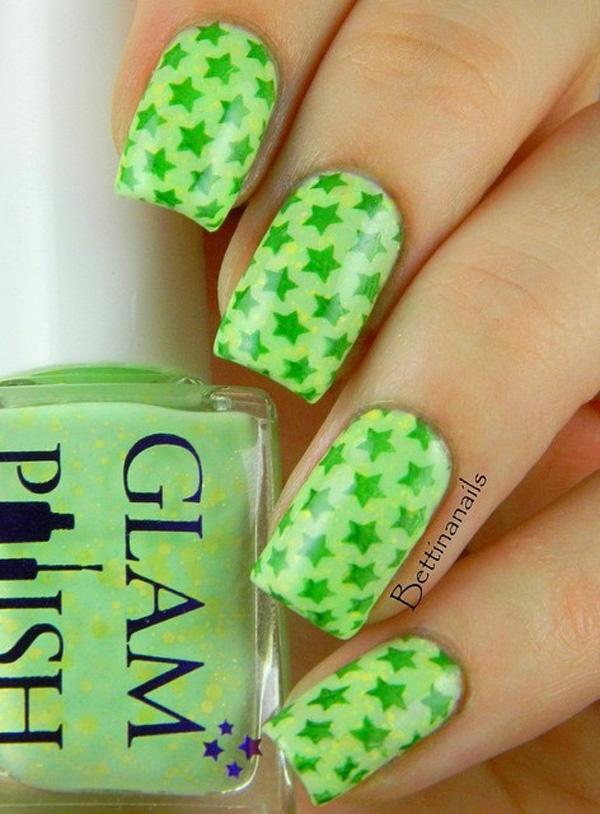 This nail polish is really cute with a mixture of yellow accent. Then you can create dark green stars for a fun and cute design.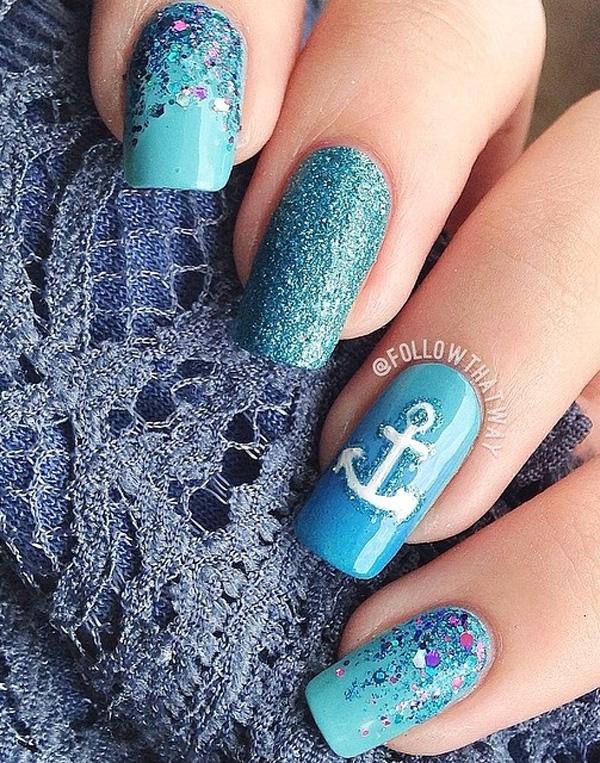 Glitters can definitely make your nail design so much better. It can be the accent of your nails or make it the highlight your design. But whatever you want it to do, it would be a great addition for your nail art.
Source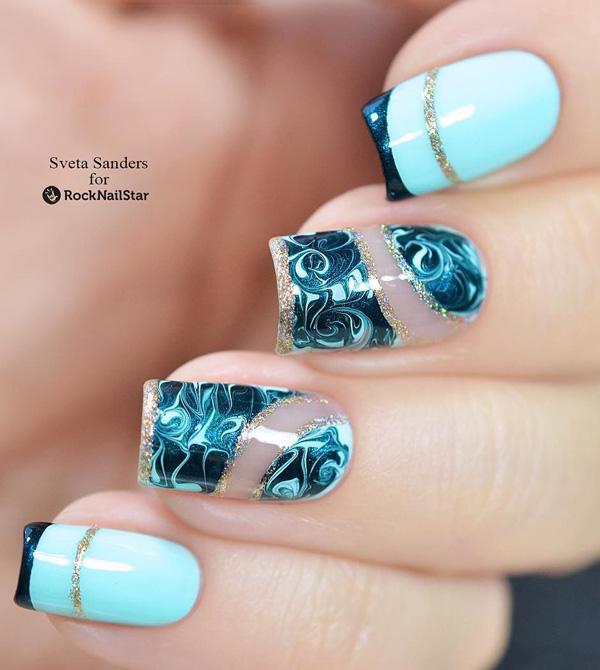 This very elegant dark and light green marble design with gold lines works for those who want unique and beautiful designs to wear.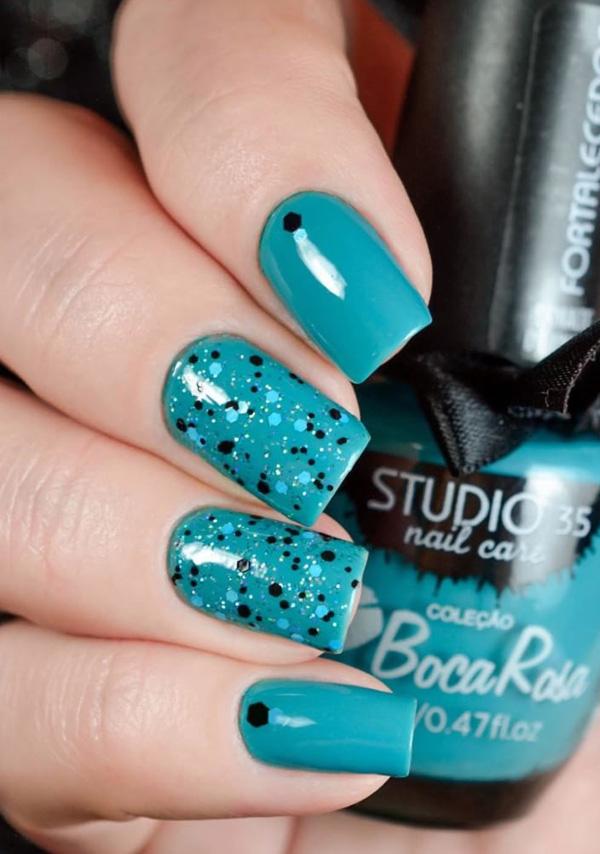 Another proof that shows green and black is a great combination. Punk and fun but stylish.
Source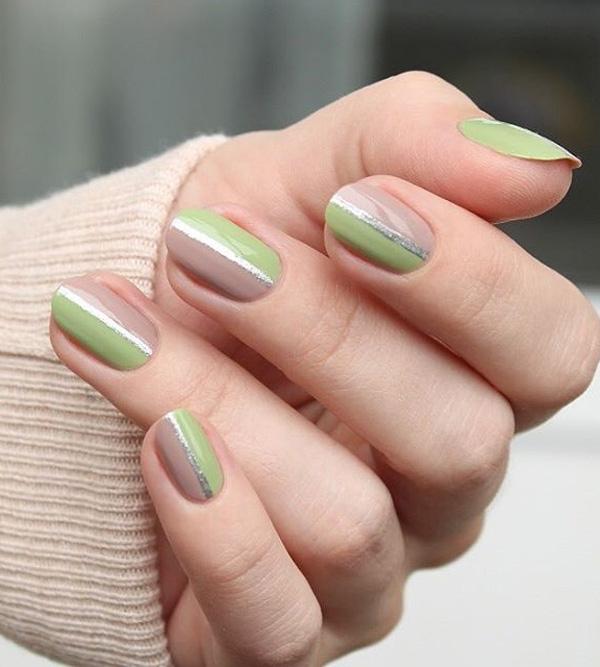 Simple is the way to elegance. And this nude and green nail art design is the epitome of simplicity is beauty.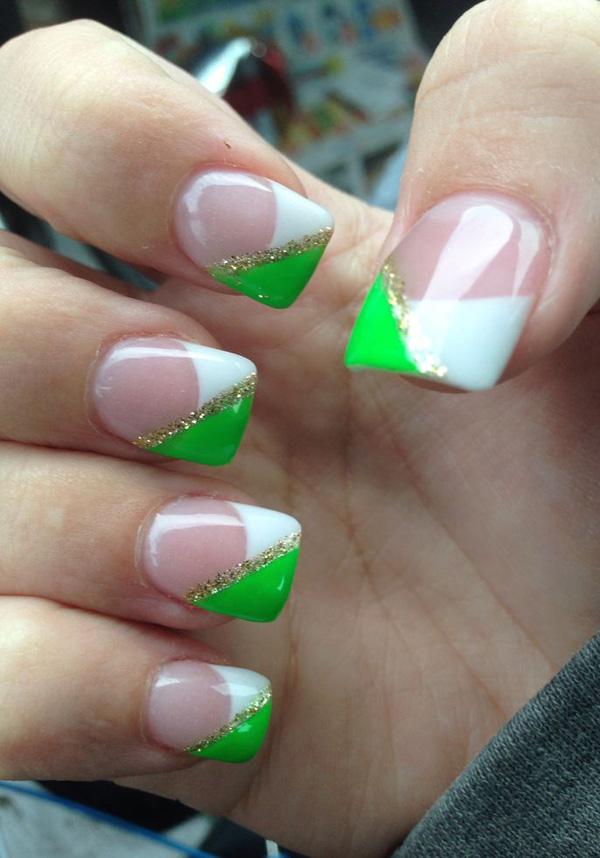 This green, white and gold french tip is perfect for normal events that you want to look your best at.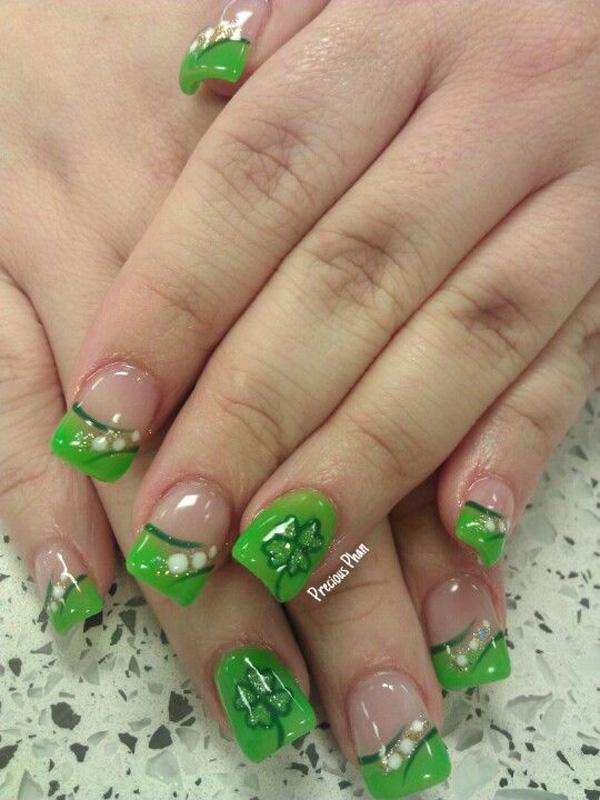 Another lucky clover design to try out. It looks professionally made so if you want this clean and beautiful strokes, you might want to visit the nearest nail parlor.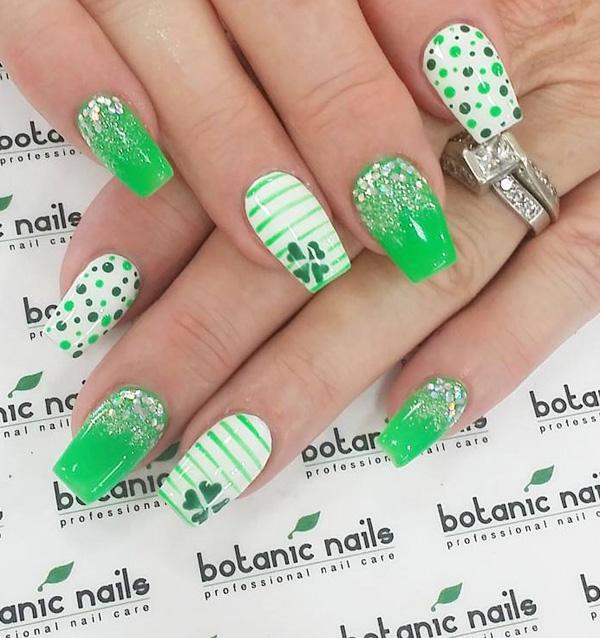 Mix clover leaves, polka dots and glitters and you will have a whole ensemble of great designs to boast. It's really fabulous so you can make it work for parties and date nights.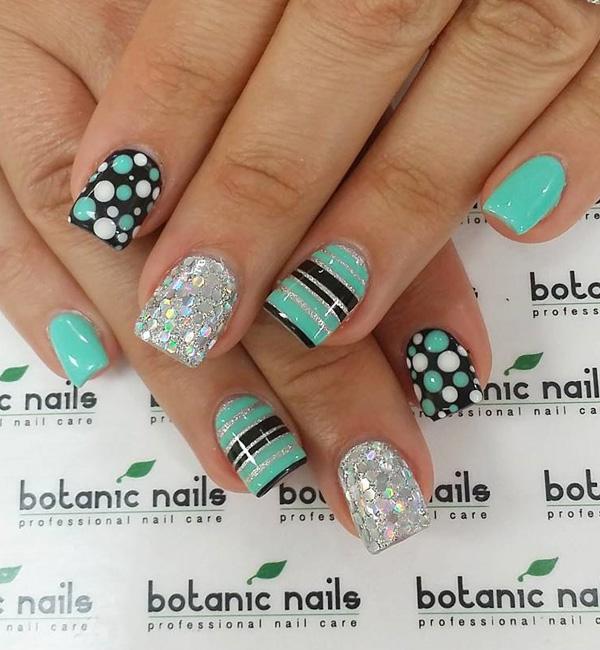 Combining green with black makes it easier to let the green pop out more. The silver on the other hand, gives a highlighting effect for the green to look glittery and elegant.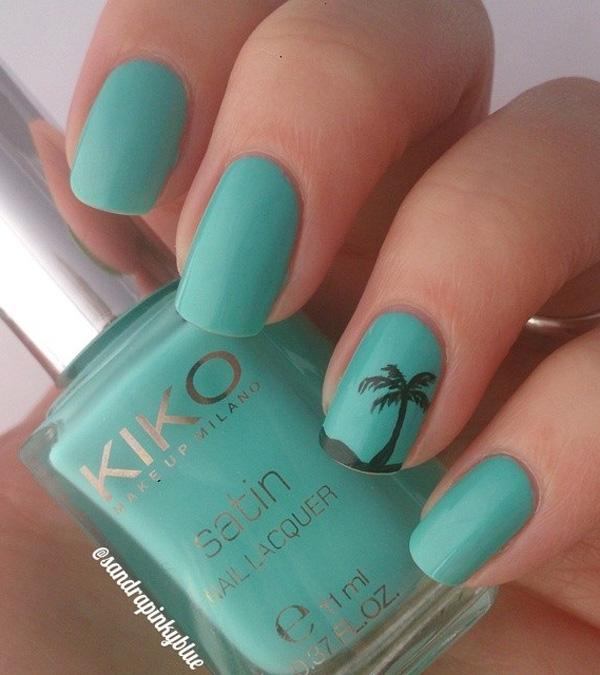 Although this aquamarine nail polish s already beautiful on its own, you can create a silhouette of a scene that you can closely relate to this color; like the beach. The end results would be breathtaking.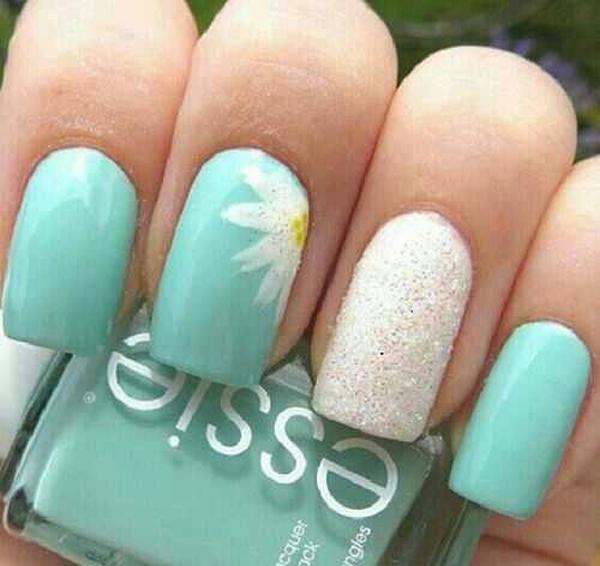 You don't have to overdo your nails by putting the designs on all your nails. The trend now is actually to put the designs on either your ring finger only, or alternate or on two nails. By doing so, you would have diverse designs without looking messy.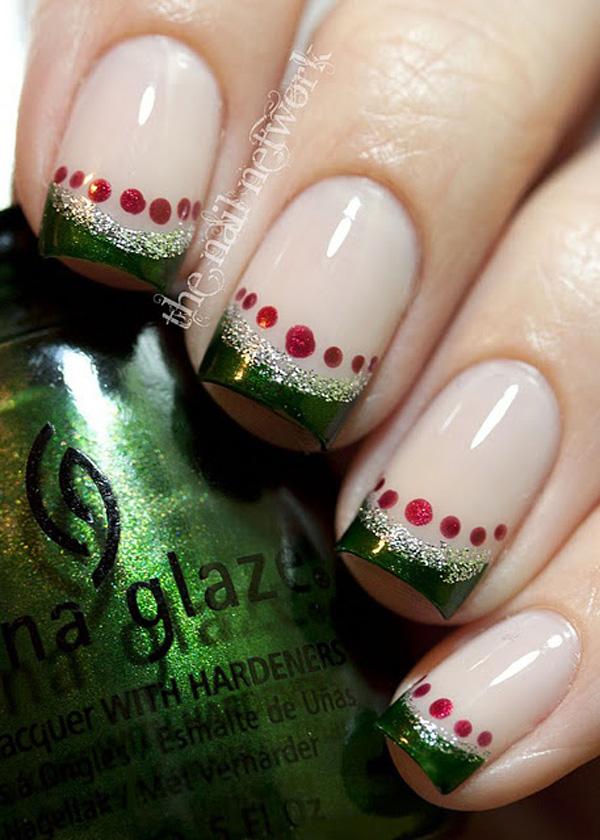 This green, white and red glittery french tip is perfect for Christmas parties. It just gives a feeling of the season's fun and it just goes to show that green isn't just for springs only.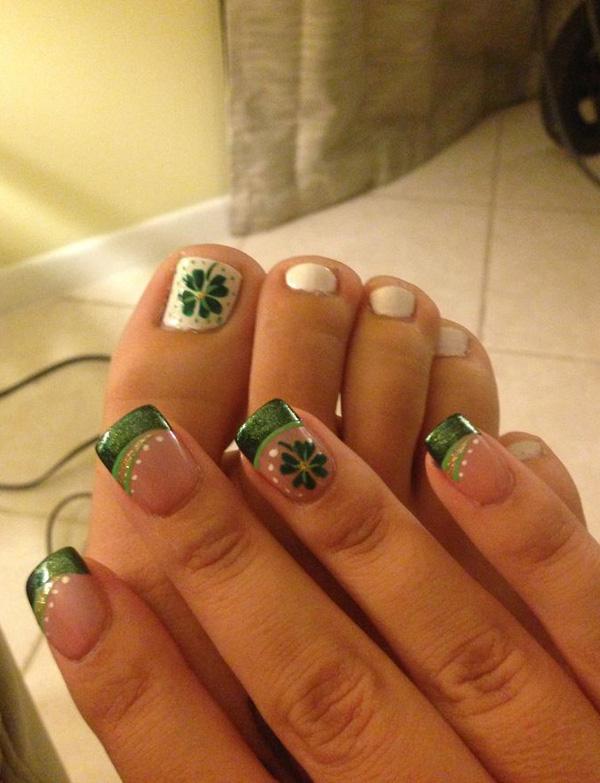 You can put nail art not just on your fingernails but also on your toenails. You can even match the designs and you would see green is great from bottom to top.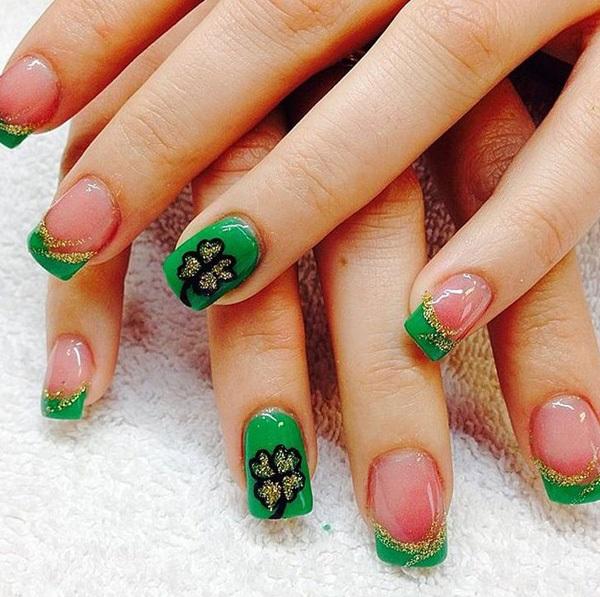 Another clover leaf design, but this one is rather simple. The clover leaf is only on one finger with gold leaves for extra luck. Then the rest are green and gold french tips for versatility to go with any look.
If you have a professional nail artist, you can ask them to do this design. It's very suitable for spring and can go well with your spring outfits. And even when every nail has a design, it's not overkill.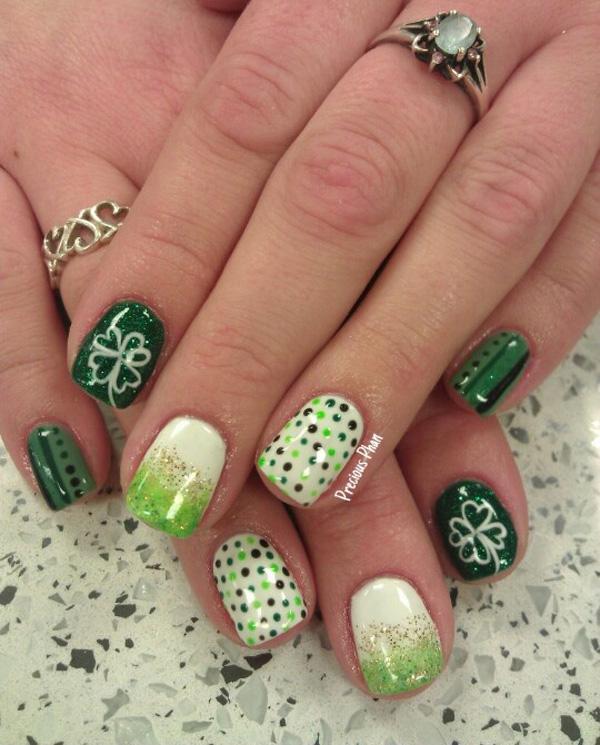 There's something very soothing with clean looking nail arts and this design just shows that.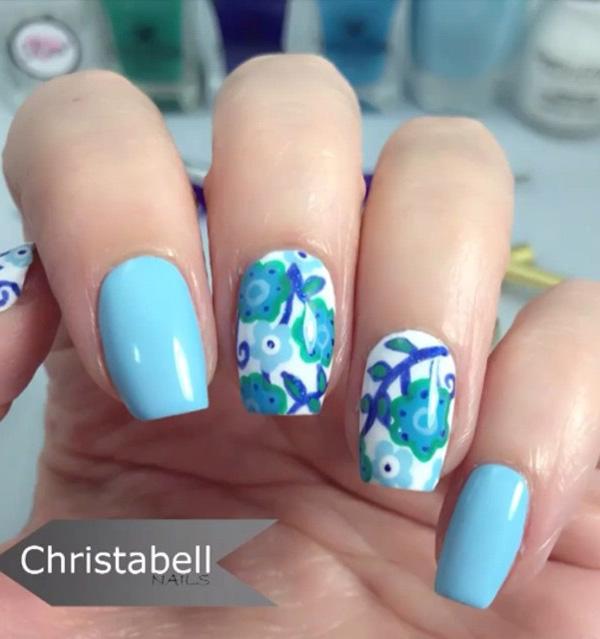 Combining two soothing colors would result in a soothing design. And with this floral design, it'very hard not to simply fall in love with this.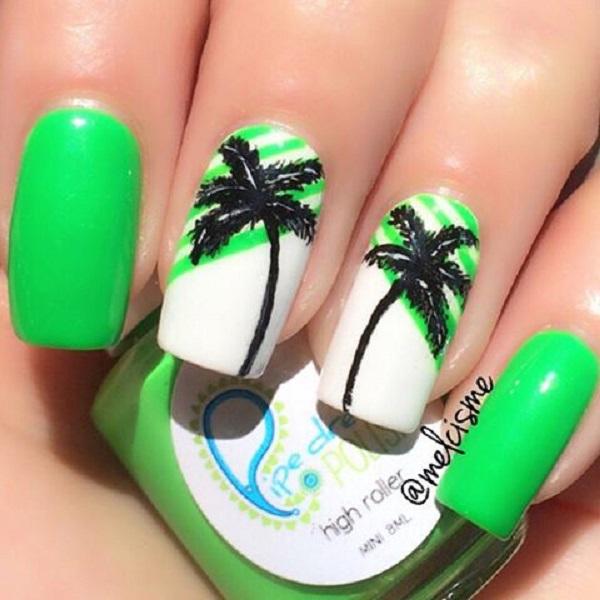 If you think your shade of green is too green, the answer is to alternate it with a design that won't be too hard to the eyes. The design plus the green would mix well.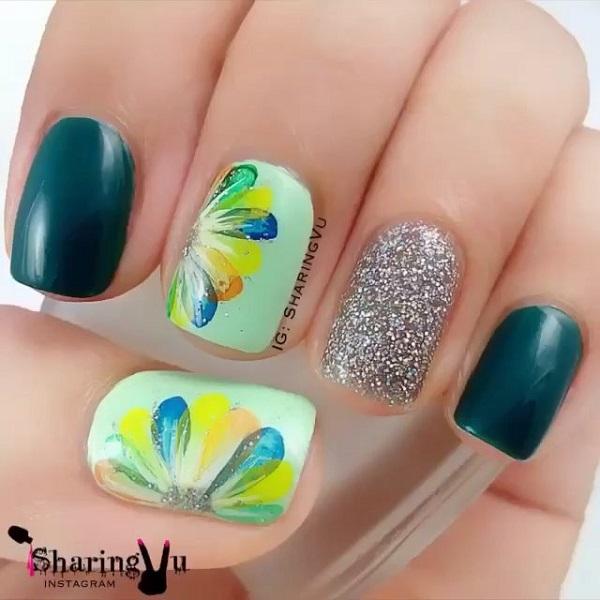 This beautiful masterpiece of mixing different colored petals with silver and darker shade is everything. From fun to classy to simple.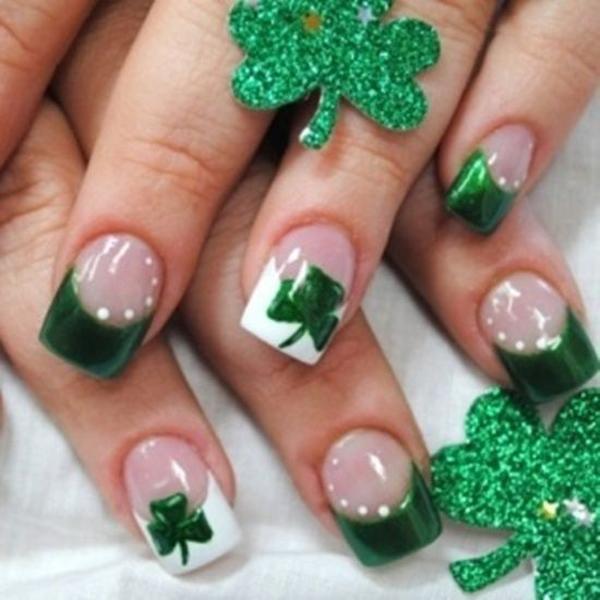 If you want to look glamorous but is tired of the normal black and gold, white and silver combos; here's a metallic green and white clover leaf french tips. You're welcome.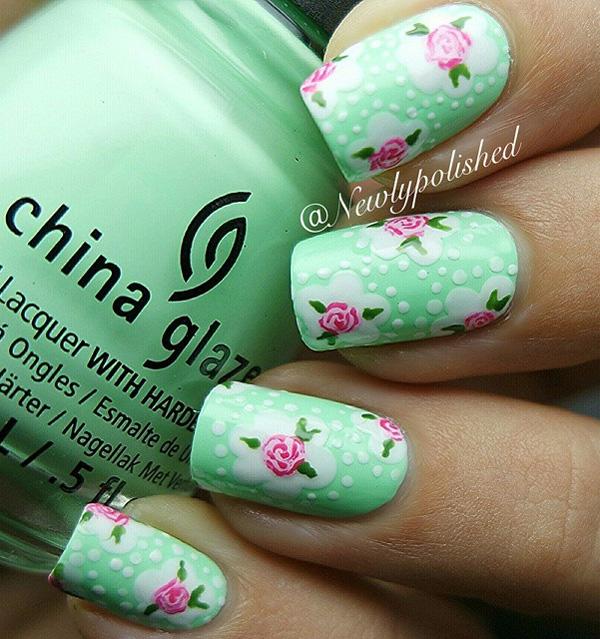 Pink roses on sea green background just calls for a vintage spring feel. Very beautiful and romantic.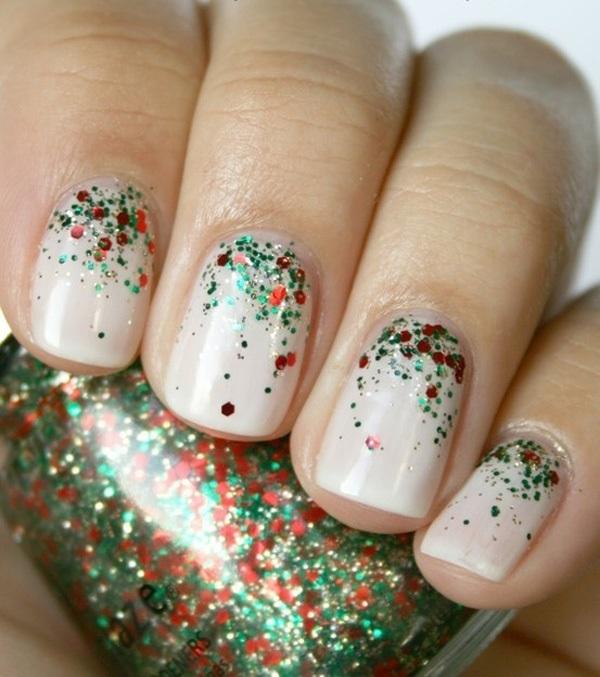 If you don't have a green nail polish but you do have green and red rhinestones, then this is the way to make full use of it.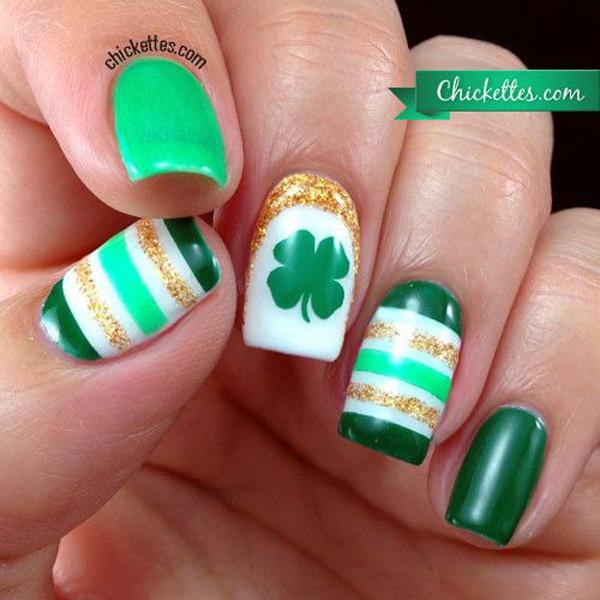 Four-leaf clovers with gold crescent moon design and green, white and gold stripes. If this doesn't make you feel lucky and trendy, then I don't know what will.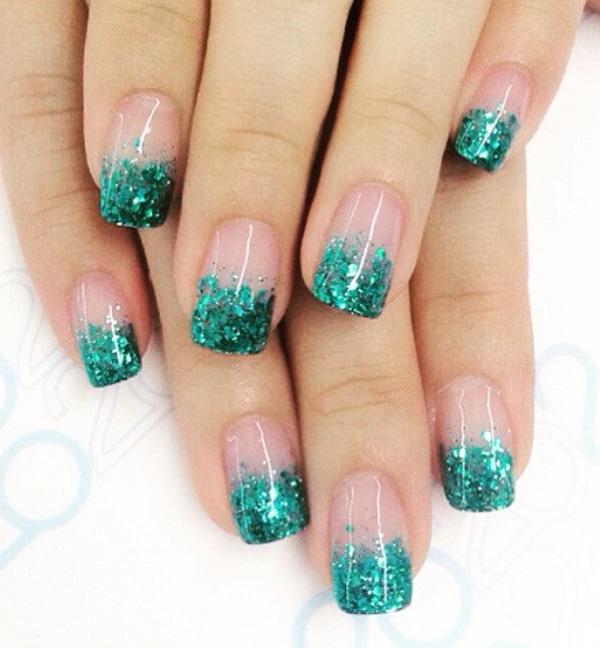 French tips are usually made from nail polish. But this one is unique and even more classy. The french tip is made from green rhinestones and glitters.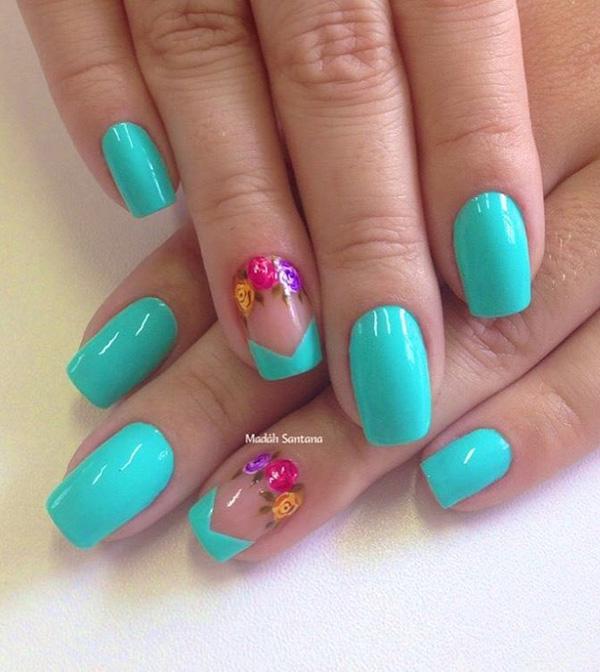 This ring fingernail design is the epitome of sassy; with a unique french tips style and colorful floral crescent moon.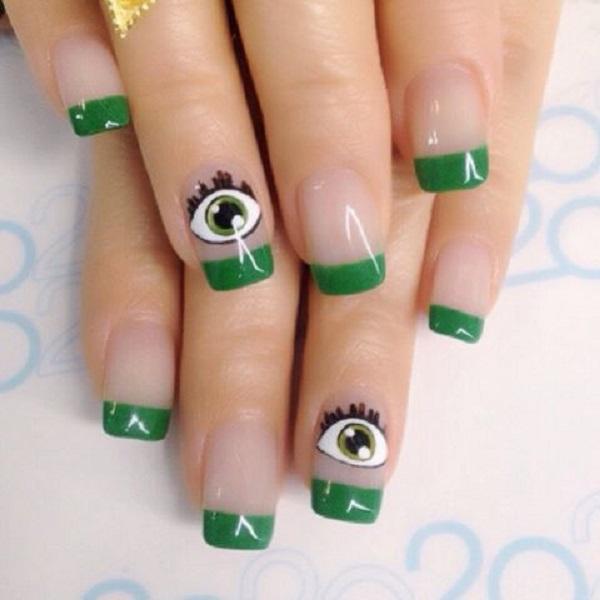 Well this one could be weird but it definitely is one of a kind. And if you are the type who has a rather unusual taste, this would work perfectly well for you.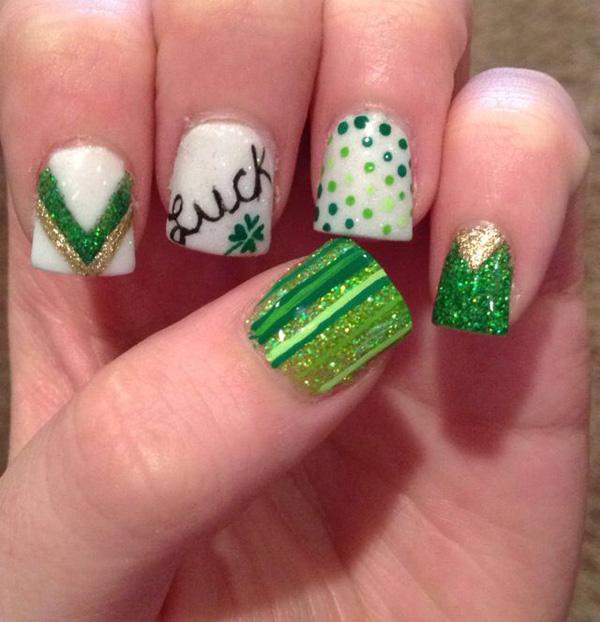 If you're someone who loves glitter, well this would really make you fall in love. Plus, the luck of four-leaf clovers and polka dots is present so it will be a cool design to have.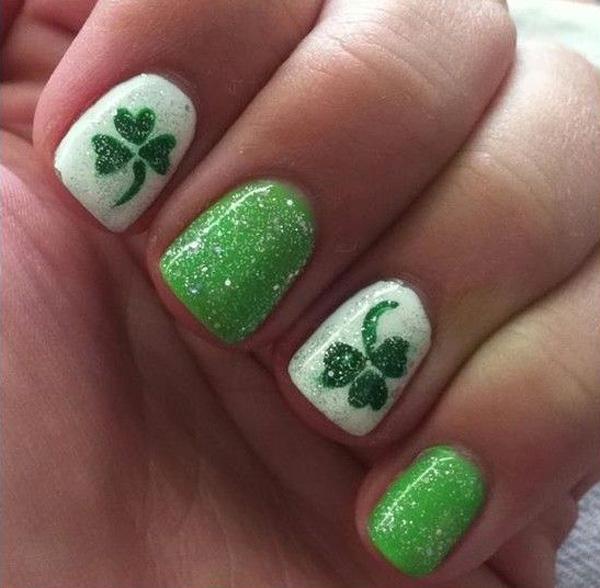 This is a simpler versions of those four-leaf clovers design. But it still has the glitter and shimmer so it would still be sassy.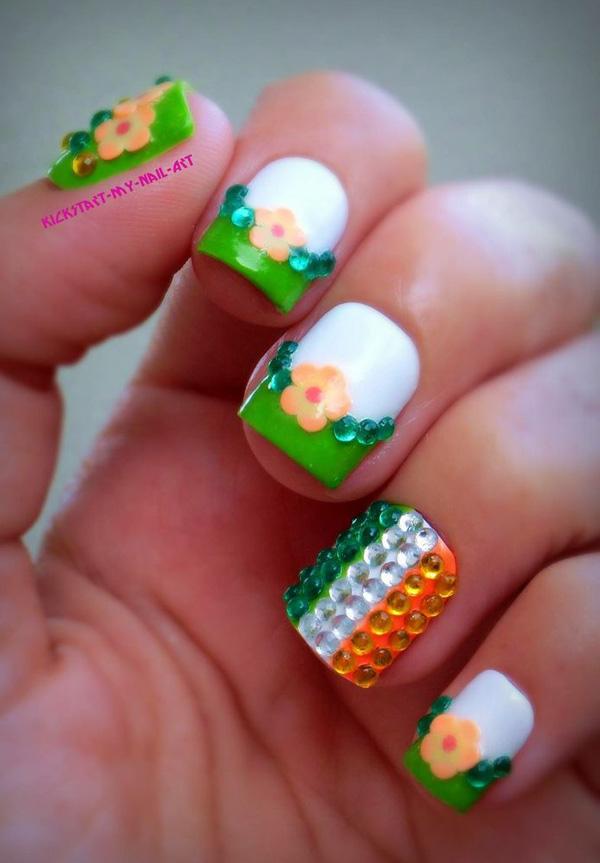 If you're one for cute designs and popping colors, you can absolutely work this design.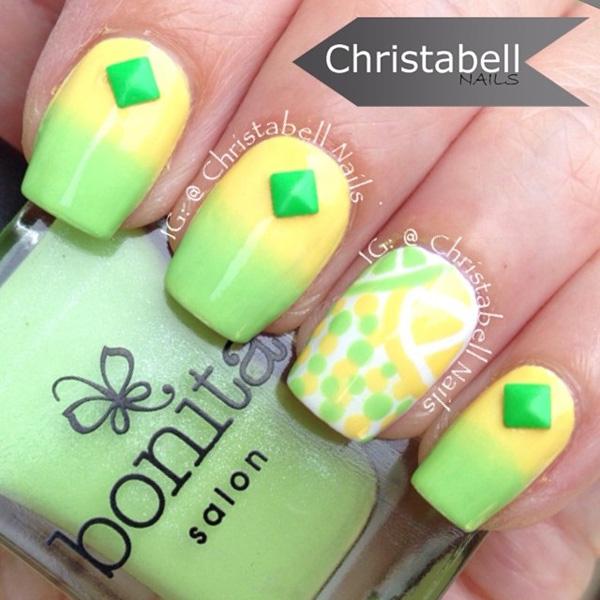 This yellow and green combo is what you're looking for when you want a refreshing and soothing design. The ombre design and even the polka dots still doesn't break the soothing effect.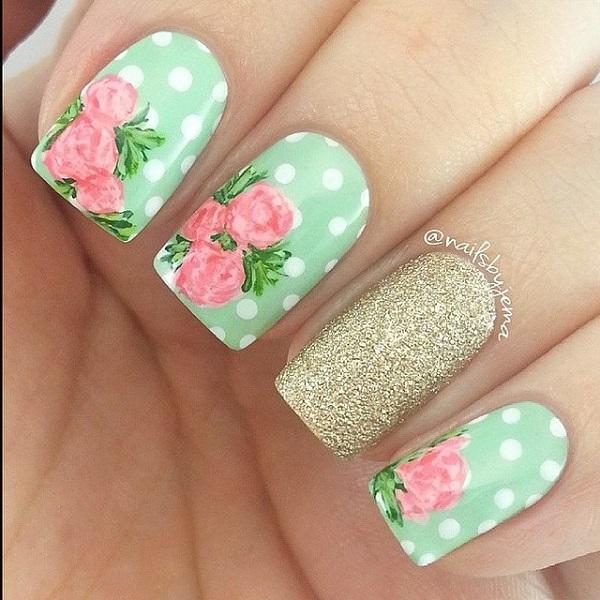 Another romantic vintage design. But this one has a gold accent which would make it even more vintage and romantic.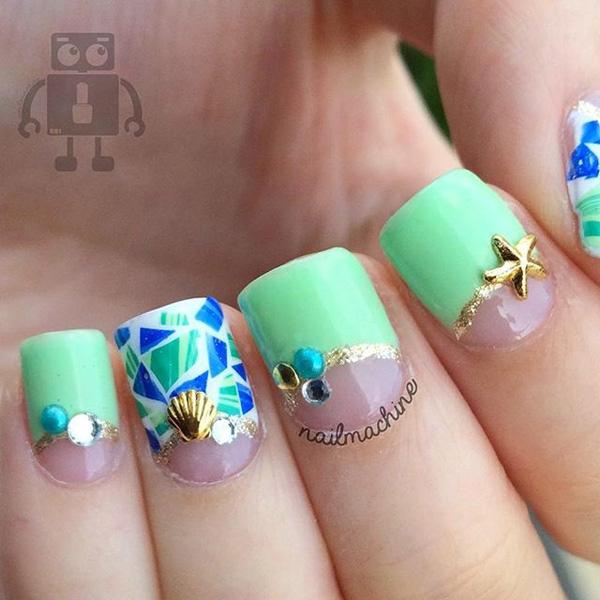 Lastly, a mermaid inspired nail art design to channel your inner Ariel.