Winter is starting to peek and it is one of the most exciting seasons of the year for fashion. Standing out in the winter, you need decent nails and hair style. Winter nails could be eye-catching when applying right designs that suit the season. Even though most of your body is covered in layers of clothes, your hands will be visible from time to time. You will need to make sure that your nails are on point.
Be fashionable this season with beautiful winter nail art
Nail art gives color and accent to your everyday look and that is something that clothes can't give you. This is why if you want to wear something fashionable that will last for a week or so, you should definitely try out beautiful winter nail art. It's easy, affordable and all you need to have is a little creativity.
Accessories can be very costly which is why painting your own nail art doesn't only showcase your fashion, but your creativity as well. Being fashionable is more fun when you have control over the designs that you wear on you and that includes nail art. There are plenty of winter nail references online that you can find online to fuel your creativity.
One of the most prominent designs on winter nail art is snowflakes. Of course, snow is unquestionably the most popular icon any winter nail art should have but it doesn't mean that you need to stick to this design. You can be creative and bend it a little by using other styles like color combination, frost nail art techniques and even patterns. The possibilities are endless.
Below are some winter nail art ideas that you can apply on your own nails and the bonus is, you can even have fun when painting them on!
Winter Louboutin nail art
There have been a lot of trends when it comes to nail art, but one of the most fascinating is painting the underside of the nail. So, why is this nail art linked to Christian Louboutin? It's because he made the trend of colored sole of the heels which up to now is being adored by lots of people. Louboutin has launched a new type of nail polish that specifically caters the underside of your nails. The underside nail polish package includes the iconic crimson polish as well as a classic black nail polish to go on top. It's simply like putting the heel fashion onto your own hands, or nails in this matter.
Cracked metallic winter nail art
This is a really stylish and creative nail art where you get to try something new and more quirky than a simple painting on the nails. You can try a classic silver and black combination for the nails because these colors are generally neutral and can go from about any occasion. All you need is a simple black nail polish and a top coat of a glaze crackle metal nail polish to complete the effect.
Anti French winter nail art
You probably have heard about French manicure, but did you know that there was a reverse for that style? It's leaving your cuticles nude and choosing another nail polish shade for the rest of the nails. To make it more of a Christmas color scheme you can use shades of gray and chrome, depicting the cold winter nights ahead. Simply paint a thin coat of the chrome nail polish at the tip of your nails where it will complement with the gray shade on the rest of the nails. You can experiment with styles and even use gradient techniques to make the nails look more interesting.
The gold and beads winter nail art
If you're into classic and baroque style, this edgy golden nail art is perfect for the winter season. Not only does it give warmth to your fingers, but it can also jive well with the Christmas season coming up. The great thing about gold is that you can pair them up with just absolutely everything, beads, and embellishments and so on. They are also perfect no their own, so can just paint them on and add a minimum amount of embellishments and it will still be bold and a stand out. If you're not too sure that the gold hue can work for you, you can always get a set of press on nails that you can remove whenever you like.
Of course there is all-white nail art that everyone loves. If you love basic and classic colors then this is your best choice. You can always amp up white polish with a bit of creativity on your nails. Try placing silver beads on the tip of the nails, or you can also create a quilted effect by making use of thin straight edges to push in the lines to the nail polish right after the final layer. This nail art will definitely look unique and out of this world.
More White winter nail design ideas
If you look hard enough you can find the perfect winter nail art ideas that you can paint yourself. There are no requirements when you pant your own nail art, you simply just need to be creative and willing to invest time and effort into making your nails look amazing in time for the winter season.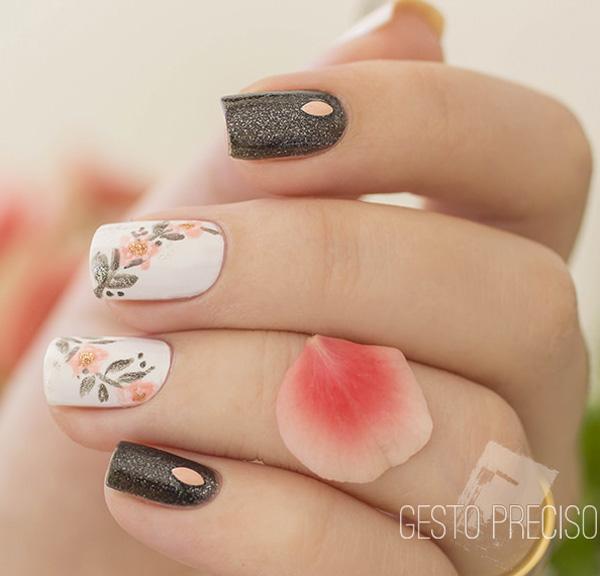 Beautiful flower nail art for the white season
Combine glitter nail art with carnation flowers and beads on your nails.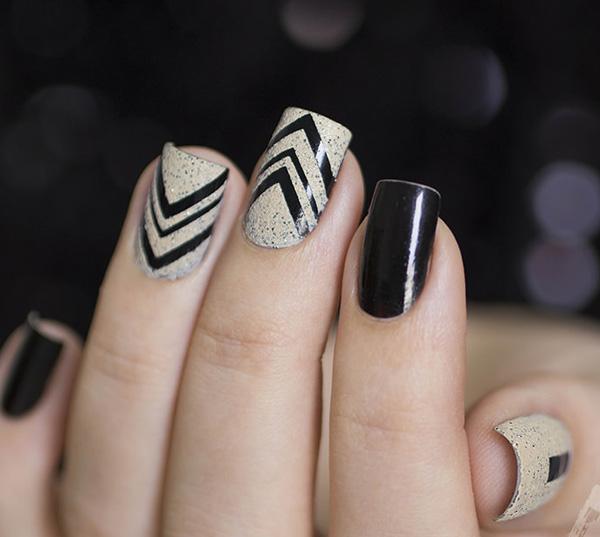 Elegant nail art in black and white polish
You can also add clear glitter polish on top to add accent to the design.
Pretty winter flower nail art design. Paint on a variety of pretty flowers on your nails with a nude matte background and glitter polish.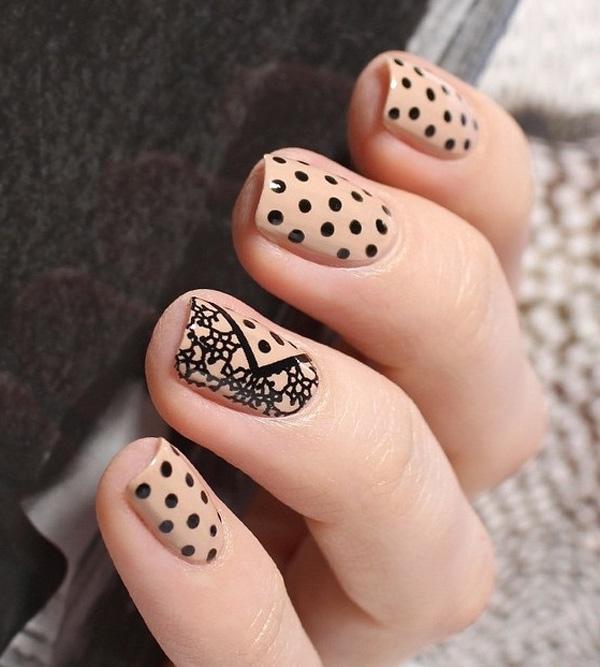 Nude polish in polka dot and flower nail art design
Give statement to your nails by painting on flower and polka dot details in black polish.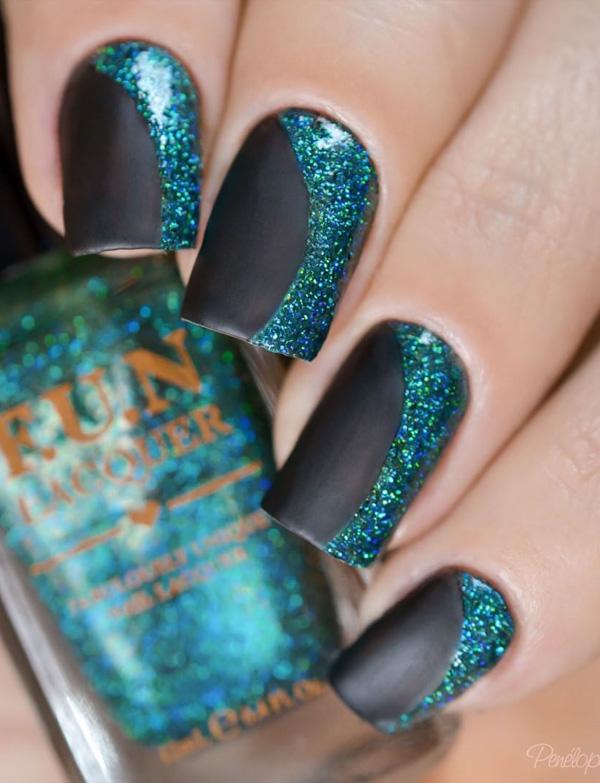 Black, blue and green glitter nail art. Give life to that matte black nails of yours by adding a half moon of blue and green glitter polish on top.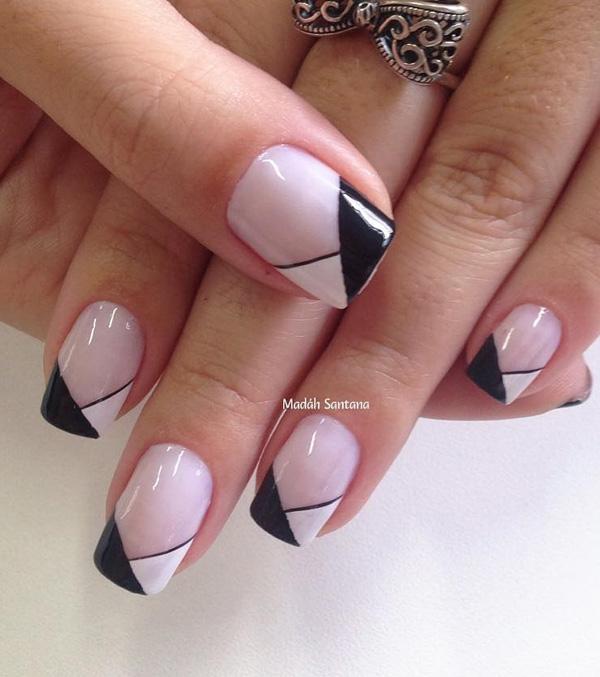 Partner this classic black and white French tip with a light blush color as the base.
Source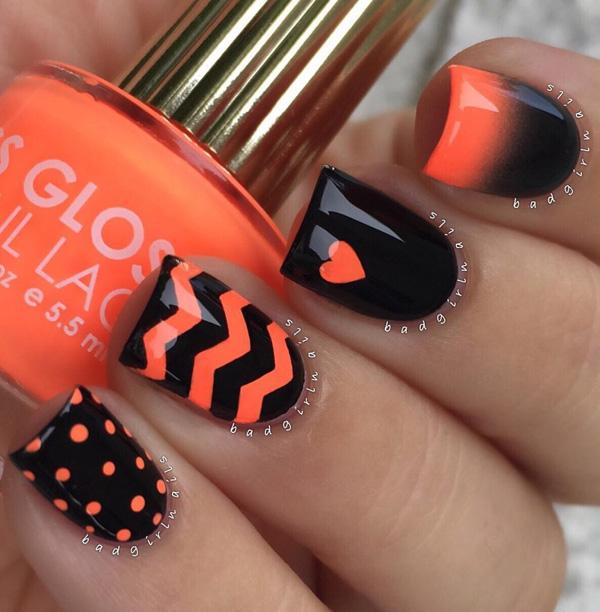 Orange and black combinations
Combine cute designs like polka dots, zigzags, hearts and gradient techniques to make your nail art stand out.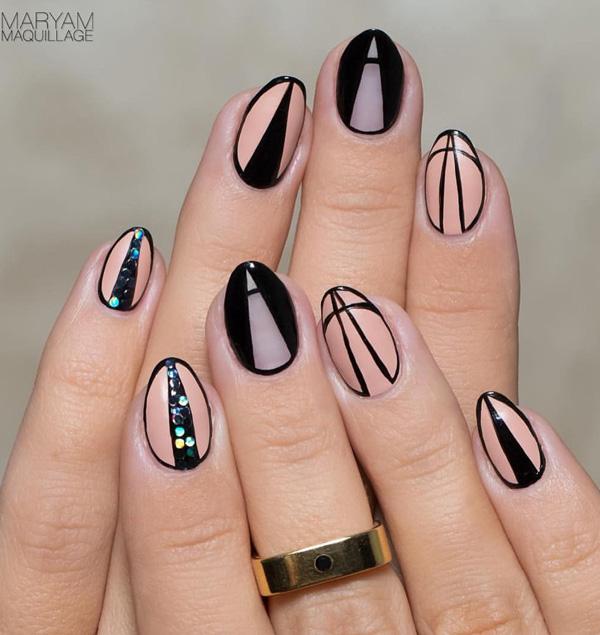 Play along with triangles in this interesting nails. Use black and nude polish for the base and details while adding sequins as accent.
Elegant black and gold ensemble
There's nothing more classic than black matte nail polish with gold embellishments on top to make just about any winter outfit stand out.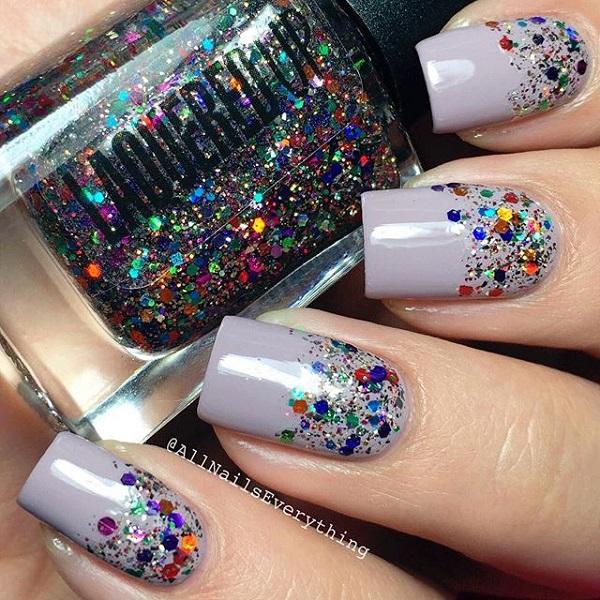 Colorful silver polish and neon sequins and glitter nail art
Unleash those bright colors on your nails by painting on a matte silver polish as base and simply splashing neon colored sequins and glitters on top.
Pretty gradient winter nail art design. Give more attitude to your nails by giving it the gradient design with violet and sky blue polish. Sprinkle glitter on top for effect.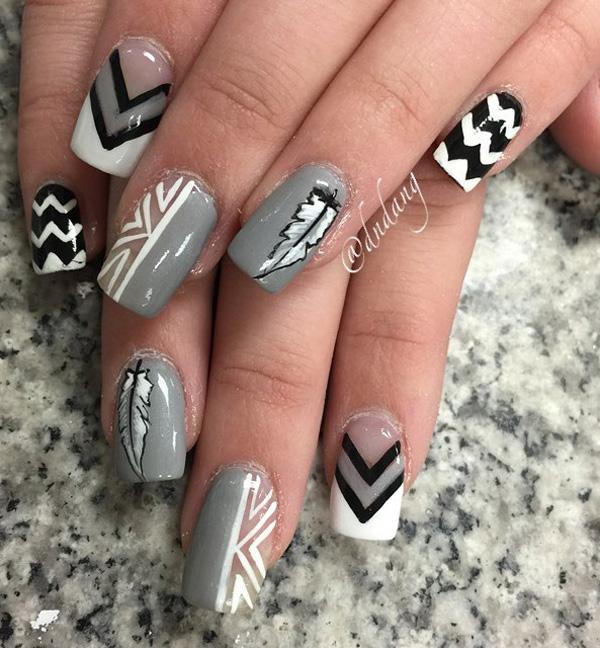 Perfect winter nail art design. Use winter hues such as black, gray and white to create tribal images and designs on your nails.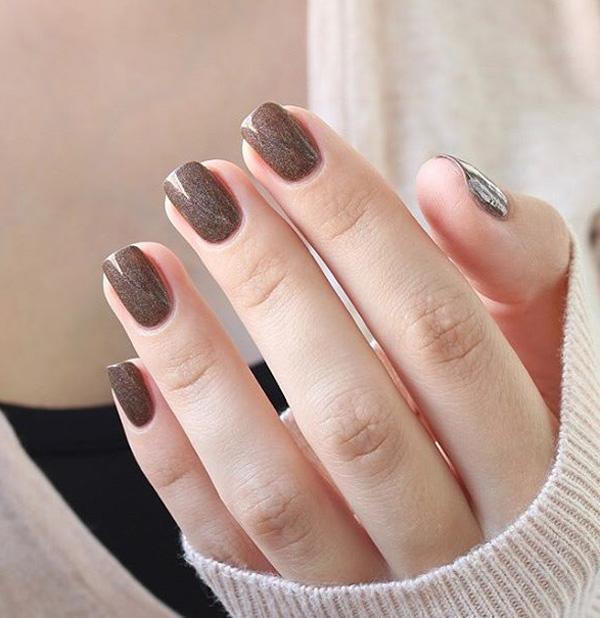 Elegant looking bronze glitter nail art. Add warmth to your nails this winter by painting on glitter polish sandwich designs on your nails.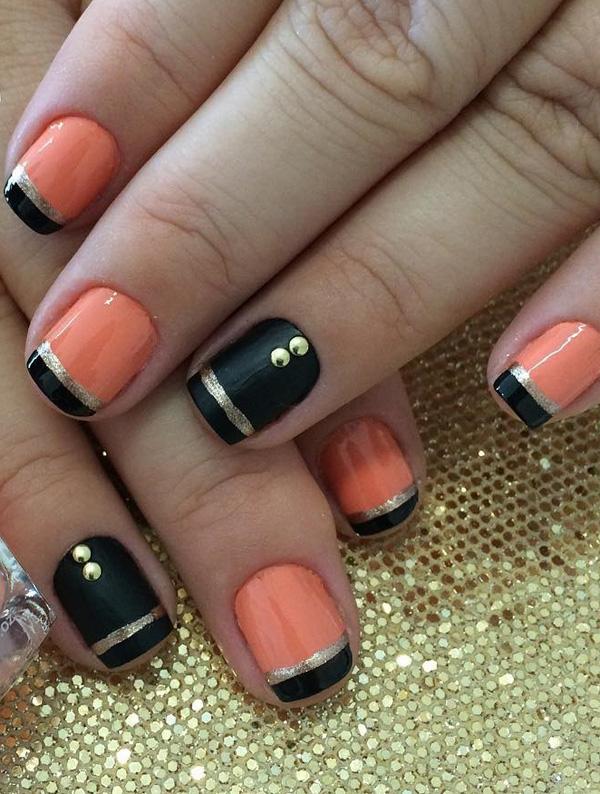 Black and melon nail polish with accents of silver glitter polish and beads. Make your nails stand out with contrasting colors and embellishments on top for effect.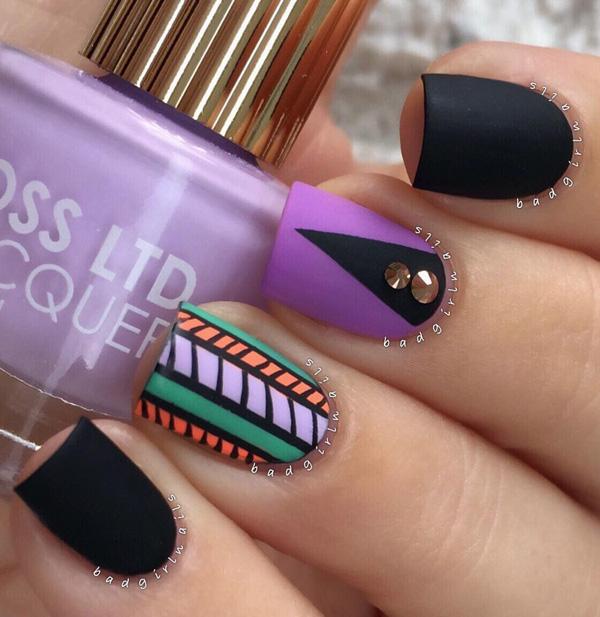 Love matte colors> this winter nail art is perfect for you. Complete with tribal designs and embellishments, this nail art design will surely rock your nails.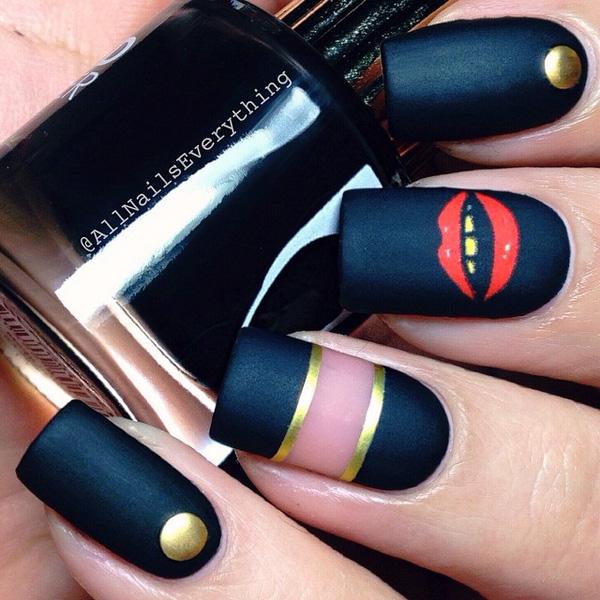 Chick looking winter nail art design. Paint your nails in blue metallic nail polish with hints of gold metallic here and there. Add gold beads and a sexy lips detail for accent.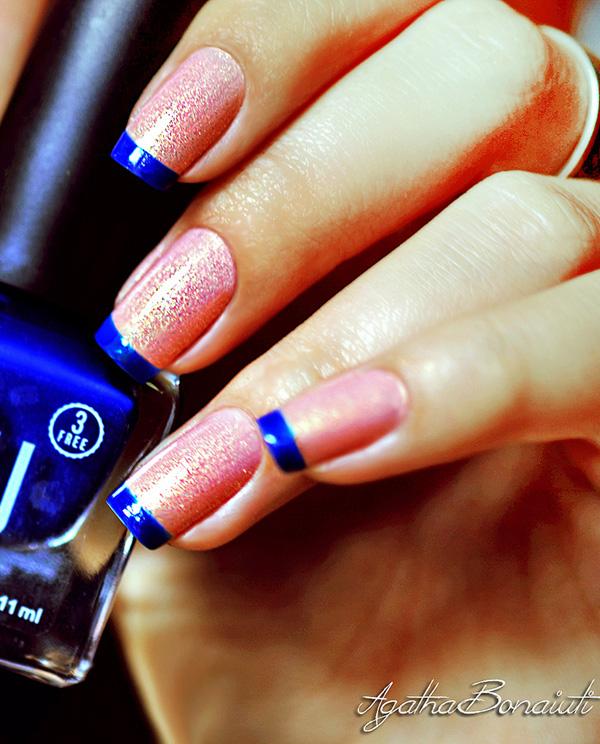 Cute blue and pink French tip. Make your nails spring to life with this adorable blue French tip with pink glitter polish as base.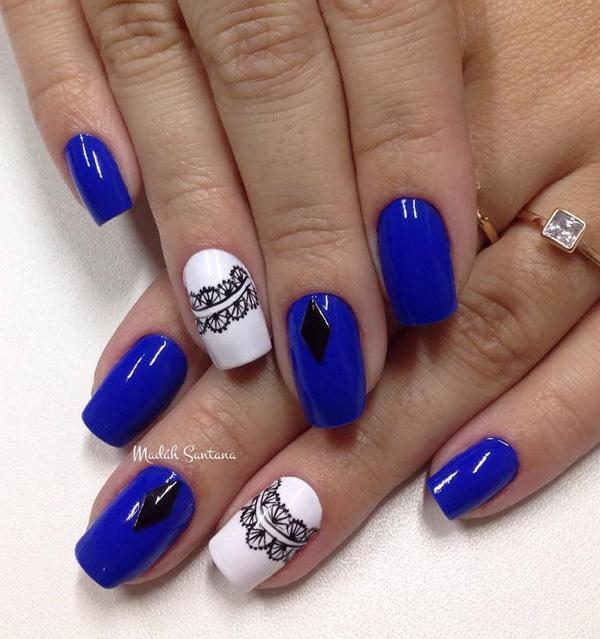 Royal blue and white winter nail art design. Paint on adorable lace details with black polish on the white base and add black diamond embellishments on top for a perfect accent.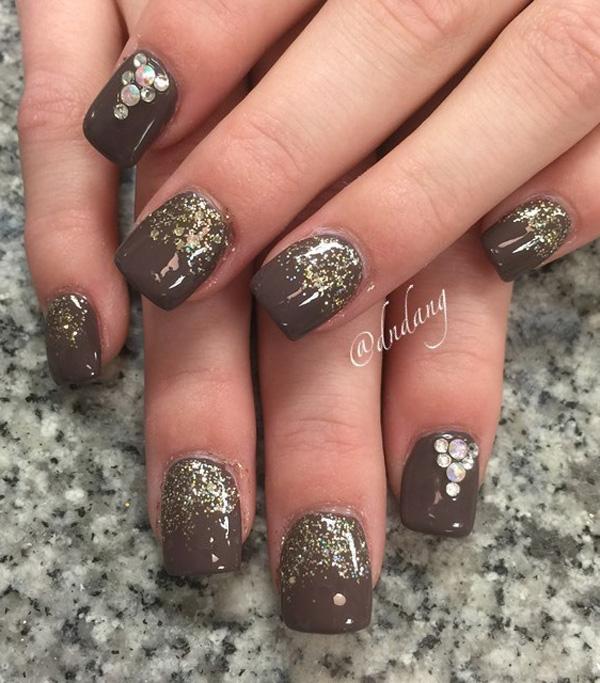 Want a stand out and risqué polish? Why not try this chocolate and gold inspired winter nail art. Sprinkle gold glitter on top and add beads on top to finish the look.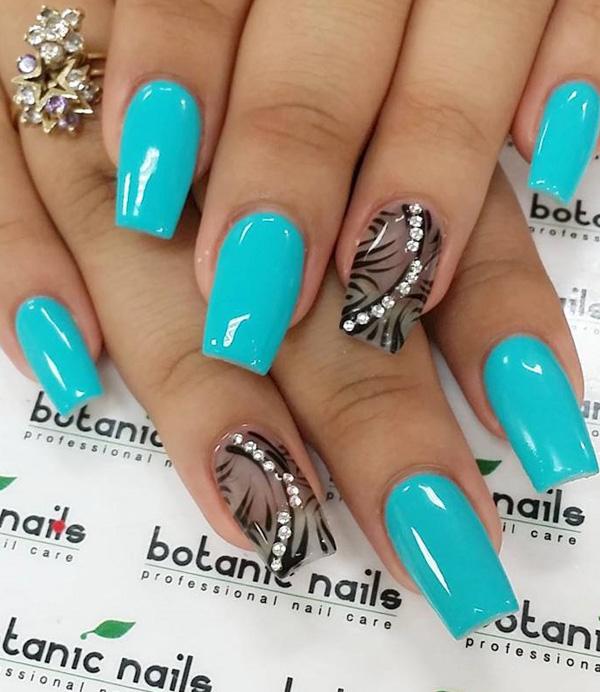 Neon blue and black winter nail art
There's nothing like contrasting colors combined to make the nail art stand out more. You can also add beads on top to make it look even more beautiful.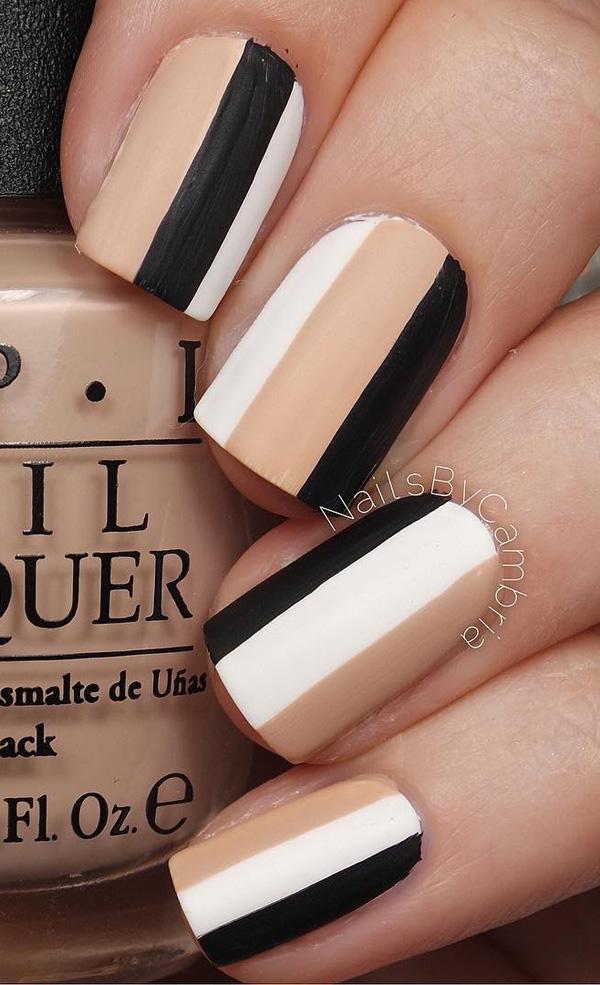 Combine these neutral tricolors for your winter nail art. Black, white and nude nail polish goes perfectly together in creating a really classy ensemble.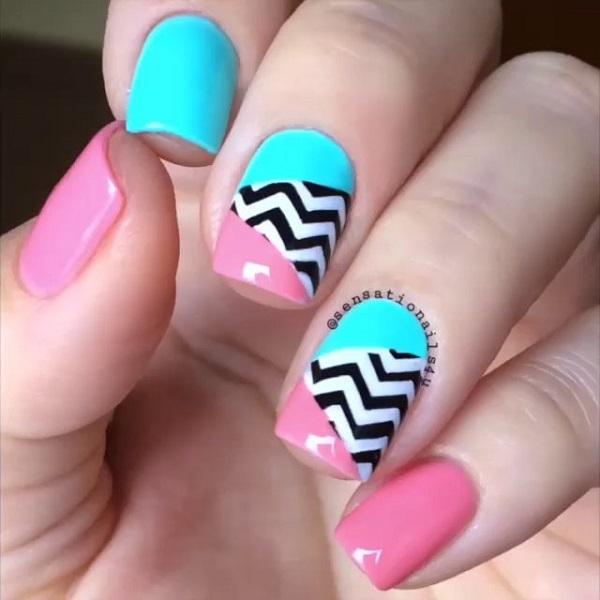 Try out baby colors for your winter nail art. Check out this amazing combination of baby pink, baby blue, black and white colors with zigzag patterns on.