White nails may seem lifeless, boring and no fun. But when it comes to nail art, white spells out classic and elegance. It looks pure and if you want to complete a radiant and vibrant look, white goes well with a lot of things. White dresses look divine. Even white hair has become the trend since it makes someone look ethereal. So it doesn't mean that when white as a color is boring, white in fashion and beauty is the same. And nowadays, people are more creative. Nail arts are the rage. Despite the monochrome base color, there are so many ideas that could make your nails look classy and stylish.
Choose your own white nail art design
You can choose any design that you want depending on your mood or your personality. You can even change the way it looks depending on where you are going or what you're celebrating. The great thing with nail arts is that you can do whatever you can; pictures or patterns or shapes or any trends.
You don't have to be afraid of the old and boring white. You can now create a beautiful masterpiece and more alive and more bold nails to complement your style. We've got a bunch of white nail art designs so it's very likely you'd be finding the best design that will suit you. Here are some great ideas to give you inspiration on your next nail art endeavor.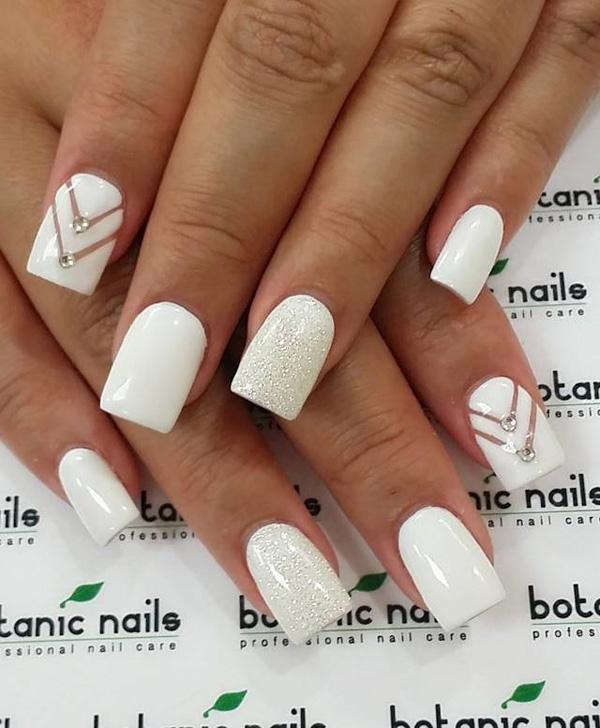 Got a romantic date? Or you're going to prom or any of that formal events? This classy white nail art with naked chevron design accentuated with diamonds and a glittery nail is what you need for an overall elegant look.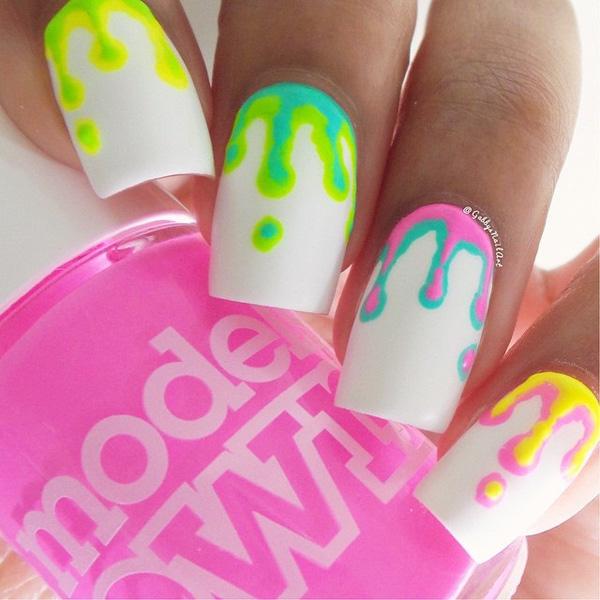 Now we're in for an adventure. White base makes colors come out more vibrant. So in this splash of neon colors, the colors will definitely pop out more.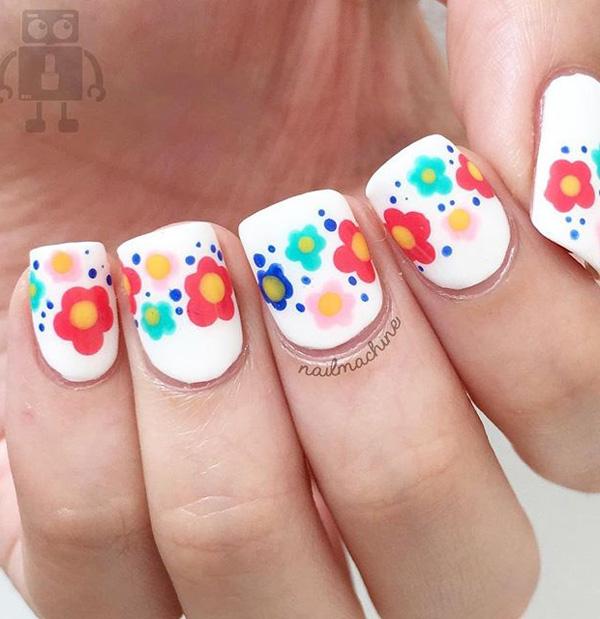 What is girly without flowers? In this preppy nail art design, it's all about bouquets of flowers in different colors.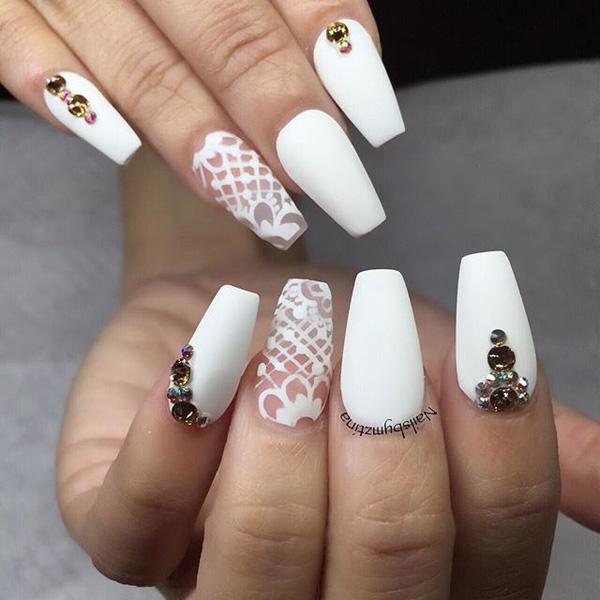 If you're up for an elegant piece, diamonds and graceful patterns will do the job. And when you use a matte white nail polish? Everything turns out ten times better.
Source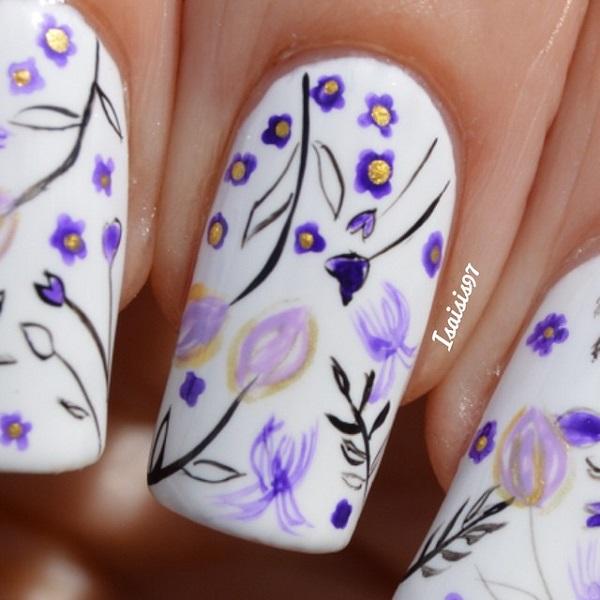 The great thing with white is you can create pictures in it. It's basically like a blank canvass. You can create delicate flowers and it would still appear clearly on your nails.
Source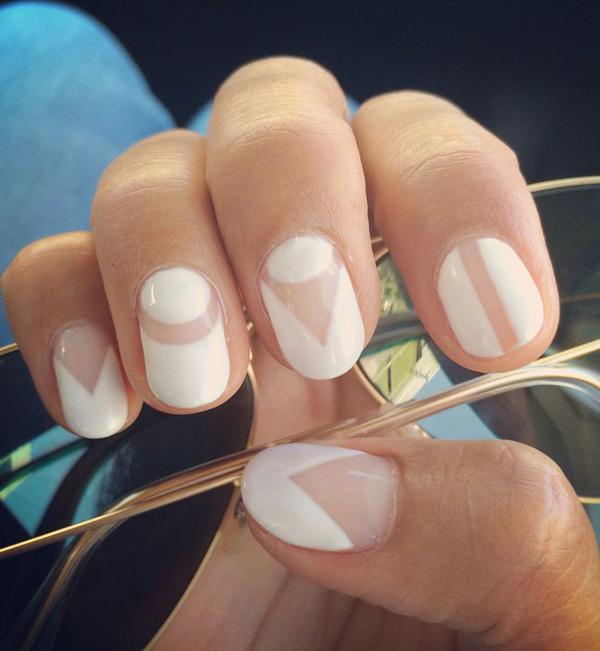 Go for the minimalist approach and create these beautiful shapes using white nail polish and your natural nail color.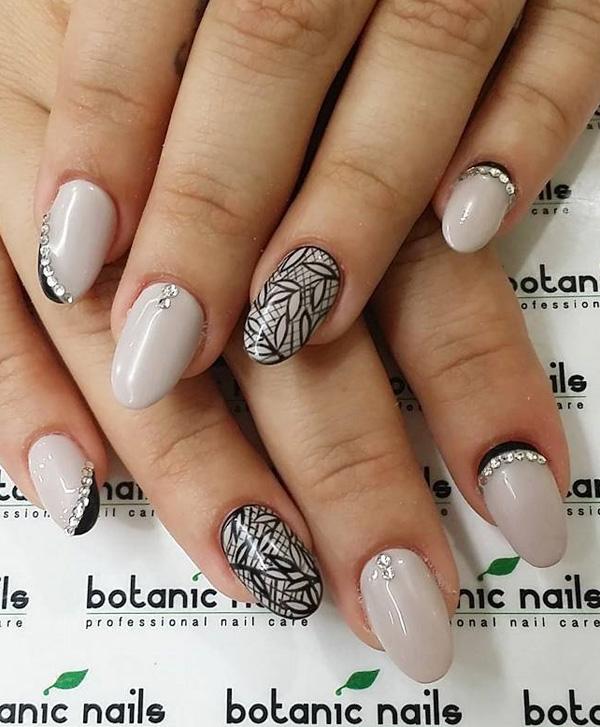 Black French tip inspired nail art and leaf patterns on an off white base for sophistication. Add on diamonds for more accent.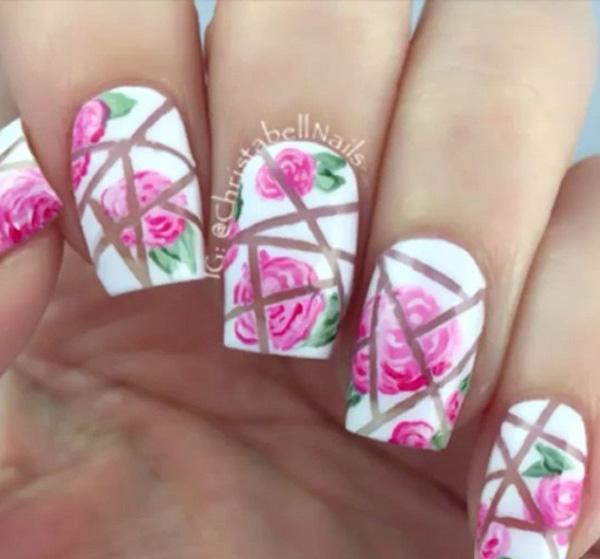 Doing this "broken" style isn't really as hard as it looks like. You just need strips of tape, place it on your nails after you have prepped your nails and work on your design like normal. Stripping off the tape will then create the effect.
Never be afraid to use glitters. And don't be afraid to create amazing pictures like this rose. It definitely brings life and personality to the design.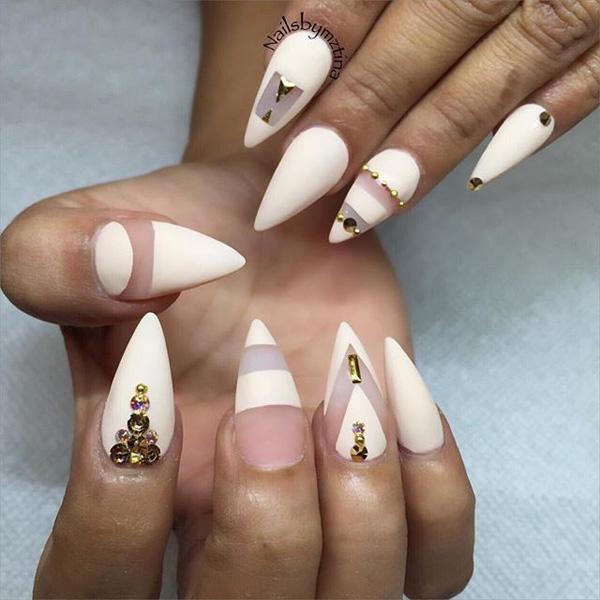 Cone shaped nails may look dangerous but you can make it look sophisticated by creating shapes (by not painting certain parts) and adding diamonds and gold beads.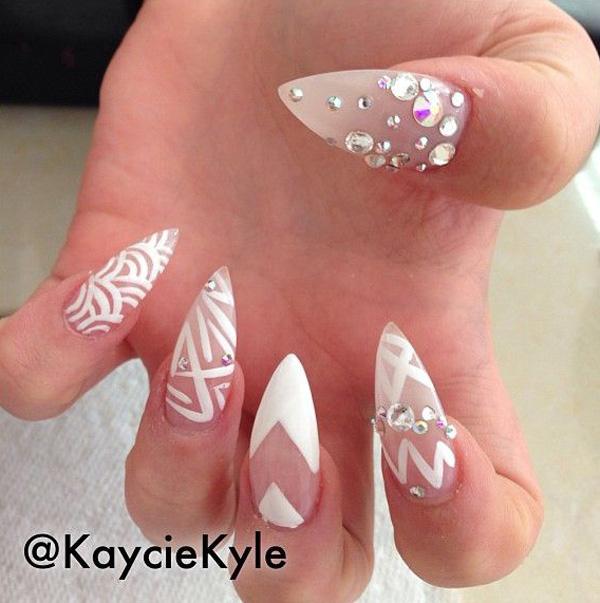 Play with patterns and diamonds and you can have a fun but glamorous design.
Source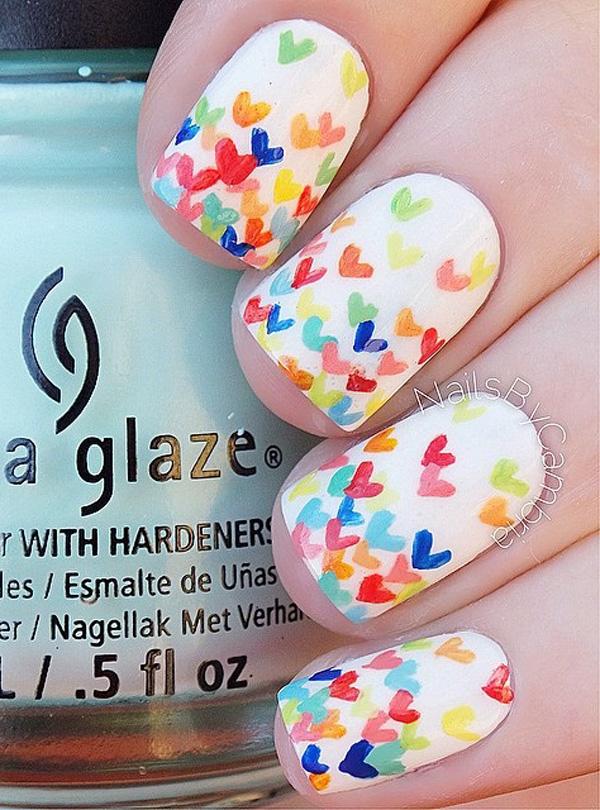 You can even create your own design if your up to DIY nail arts. Here's a simple hearts design on a white base to make the colors more distinct.
Source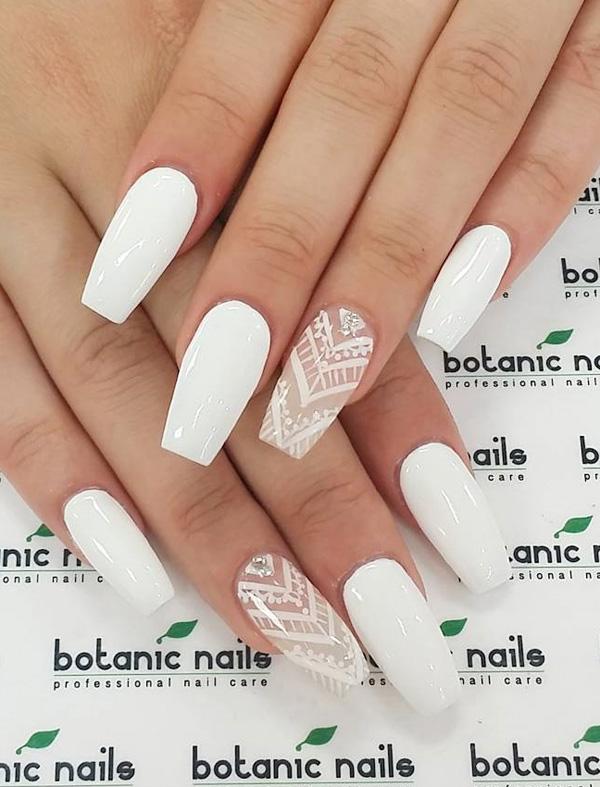 Even with the simple whit nail polish, you can actually see how stunning it would make you look like. But you can accentuate your nail art with a great pattern and a diamond stone.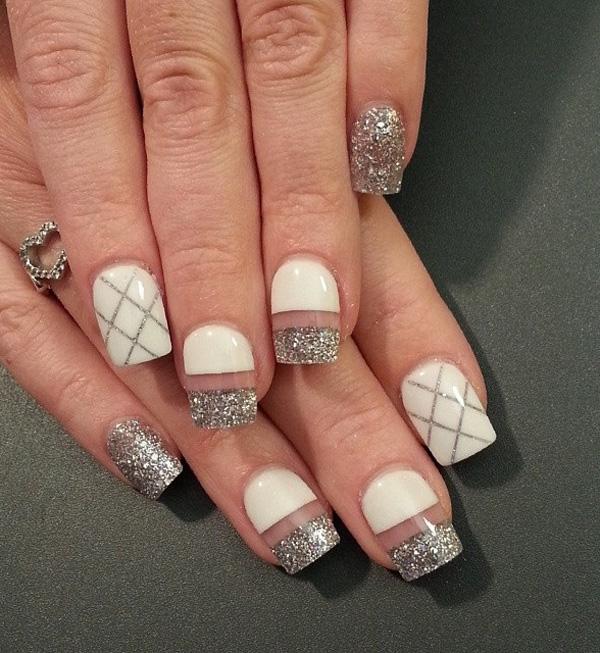 Of course you can mix white with another color. In this case, working with glitters will give you a look somewhere between demure and spontaneous.
Source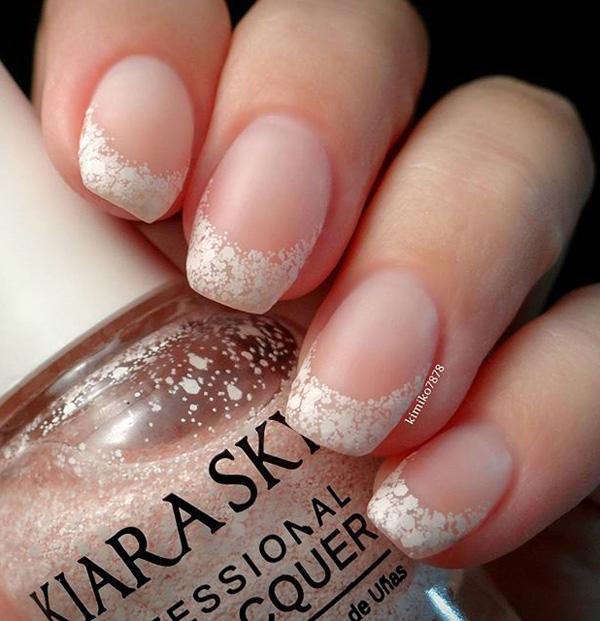 If you're tired of the old white french tip, you can try this colorless nail polish with bits of white pieces. This could then be your new attack on the classic trend.
Source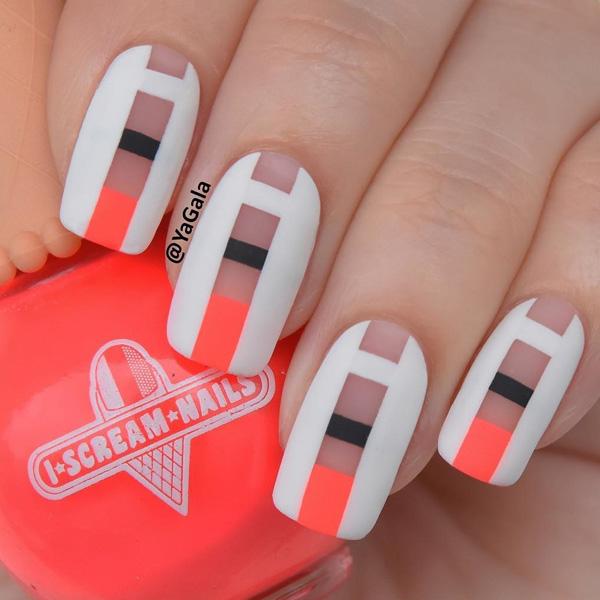 This simple yet eye-catching design mixes simplicity and creativity. Although the design isn't that much, this is a unique nail art design. The screaming orange nail polish also gives it a major boost.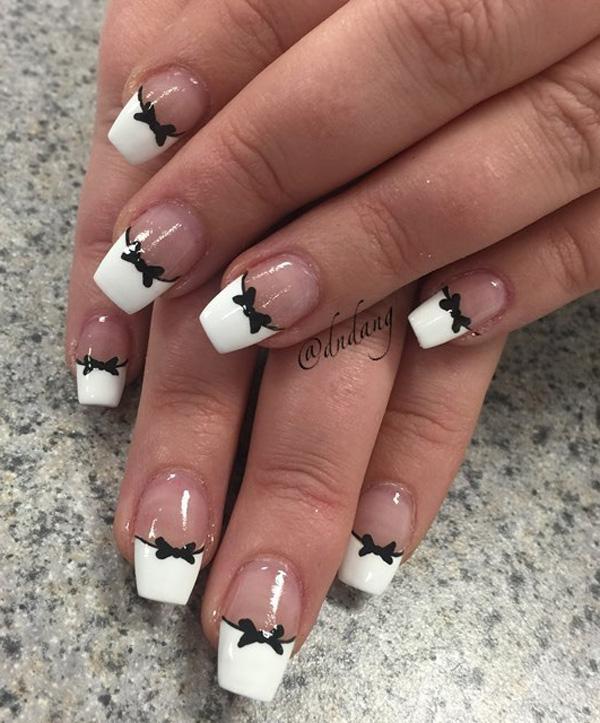 White French tips with a little bit of something new.
Source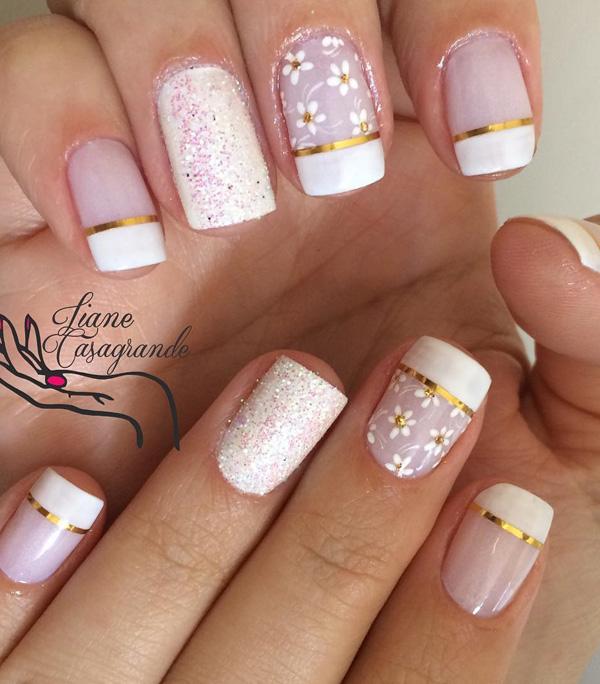 The classic French tip? Check. Metallic gold strips? Check. Floral design? Check. Tiny sprinkles? Check. This is the perfect wedding nail art design.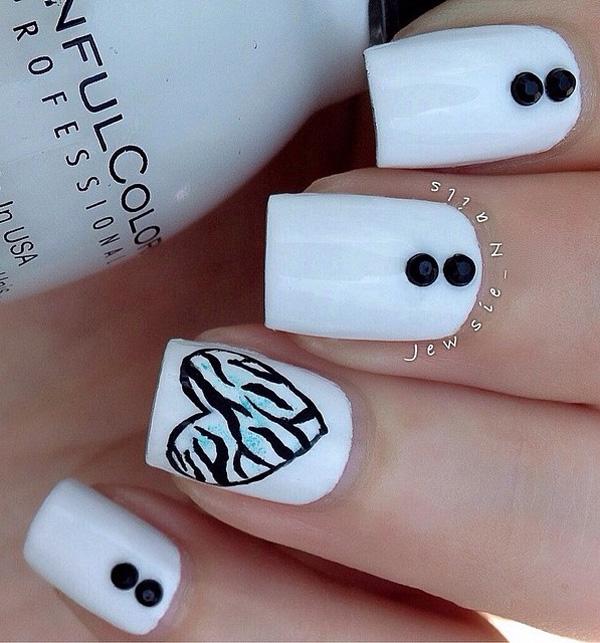 You don't need popping colors to make a grand nail art design. Going for safer designs isn't really so bad like this black and white heart and rhinestones design.
Source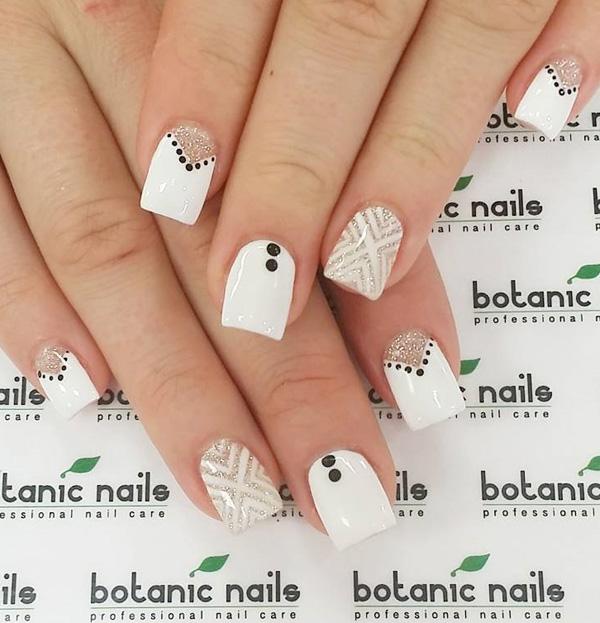 The chevron pattern looks so much better with a white base since it makes the pattern more prominent.
Geometric designs will never go wrong especially when you combine it with simpler designs, like plain white nails or particular spots left unpainted for the design.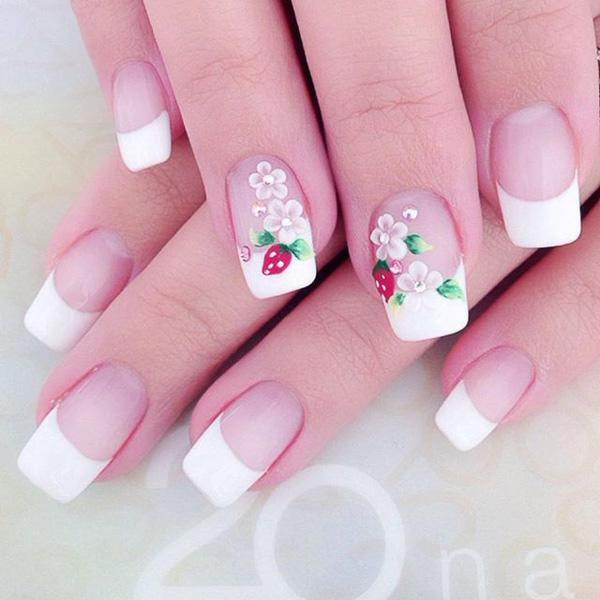 If you think French tips are too mature, you can make it a little bit youthful witha beautiful floral design.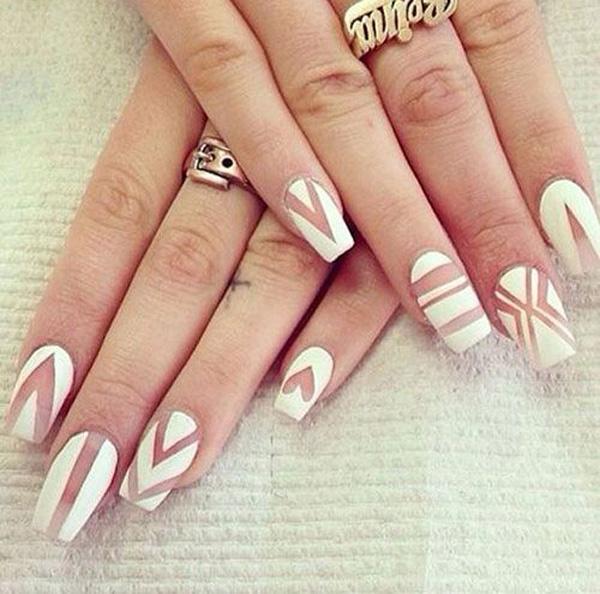 This nail polish + natural-nail-color-for-the-patterns style is now becoming the trend. And I don't see any reason why not. From Chevron to stripes and even shapes, all looks stunningly beautiful.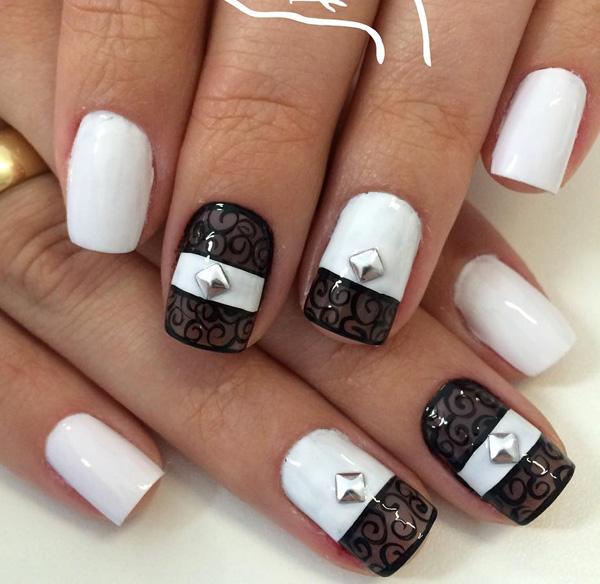 Adding these silver studs to your white nail polish is actually enough to make your nails look better. But this black swirls and white ensemble just makes it the best.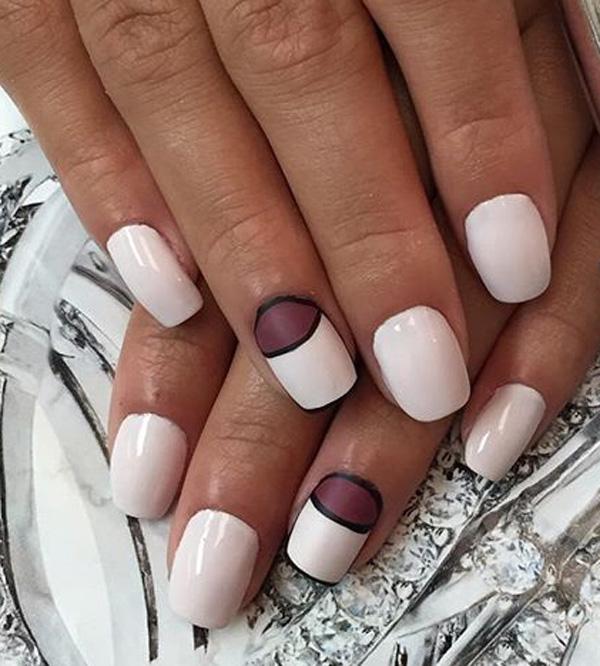 Partner your white nail polish with a matte maroon one for a crescent moon design. Outline it with a black nail polish and voila! You now have a one-of-a-kind nail art design!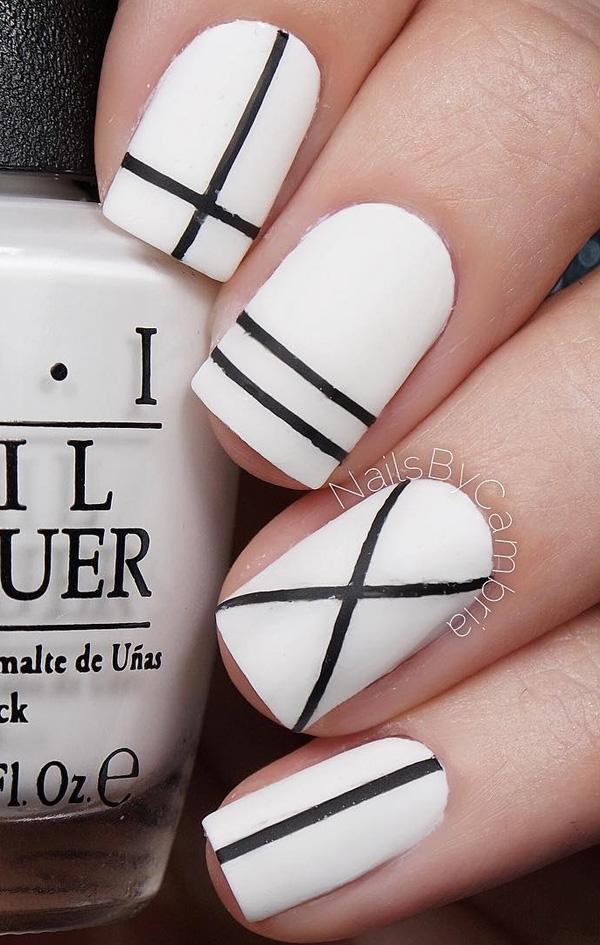 Another minimalist design using matte white nail polish and matte black stripes. Again, using strips of tape will do the job. Just make sure the base color is completely dry before you place the tapes.
Source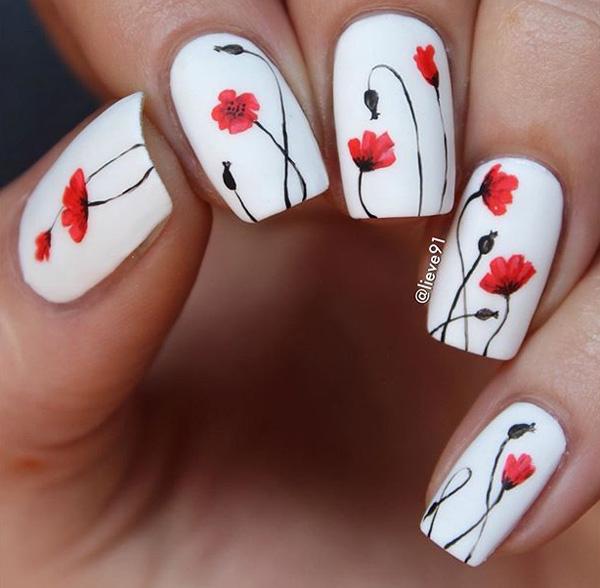 Definitely a work of art in a once blank canvass. These beautiful red flowers look effortlessly magnificent in a white backdrop.
Either with a clear nail polish or a white base, diamonds and rhinestones works perfectly fine. This is more of a formal look so you might want this for prom or formal parties.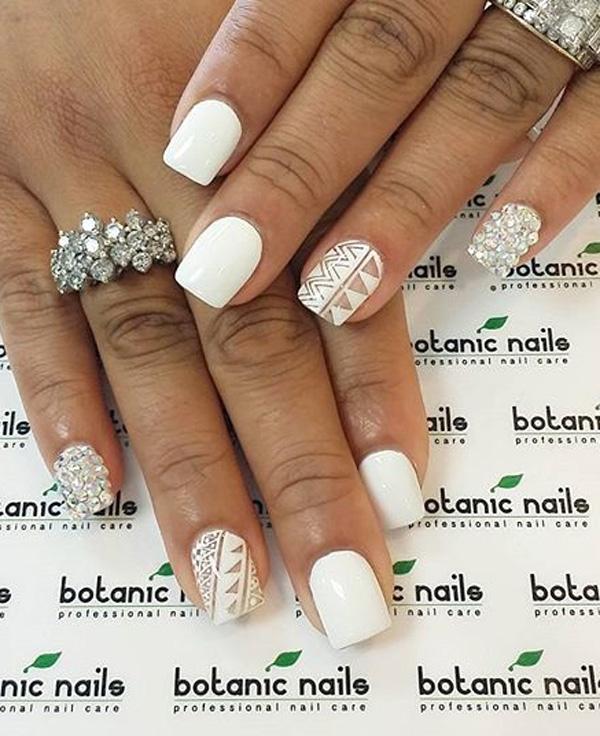 Afraid of overdoing a design? Well you can have it on one nail such as a nail full of diamonds or one with tribal designs. Then you can just combine it with more simpler nails to tone it down.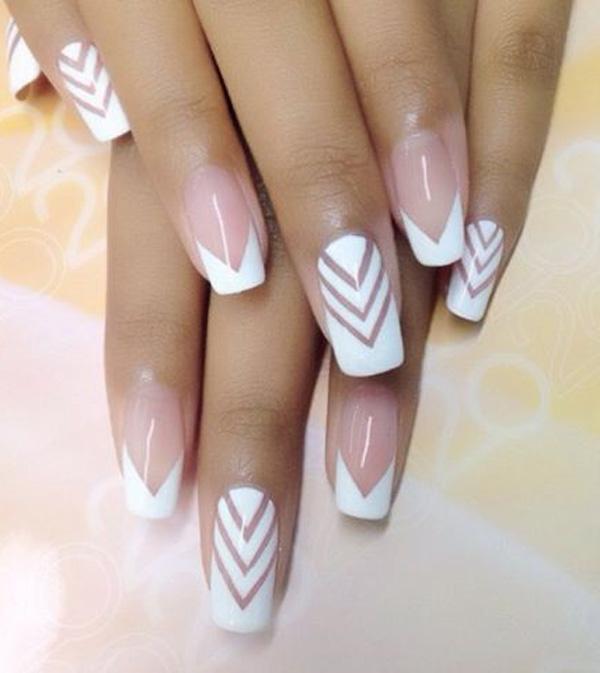 The "Look Stunning" starter pack: white and naked nails with chevron pattern.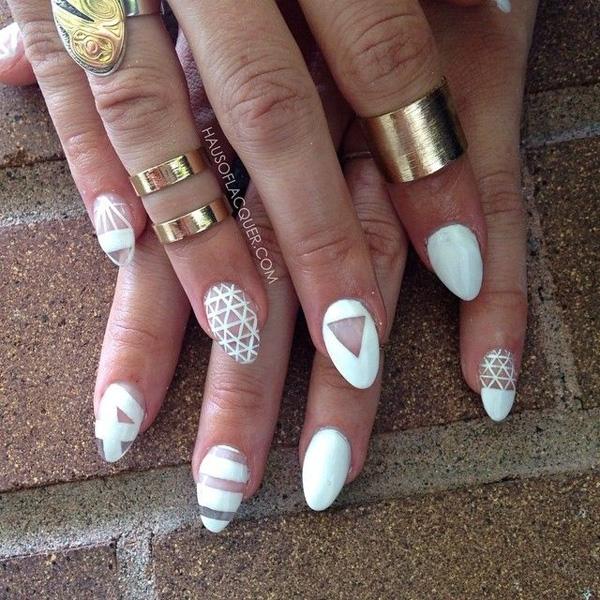 Go bold and strong with your accessories; go feminine and delicate with your nails.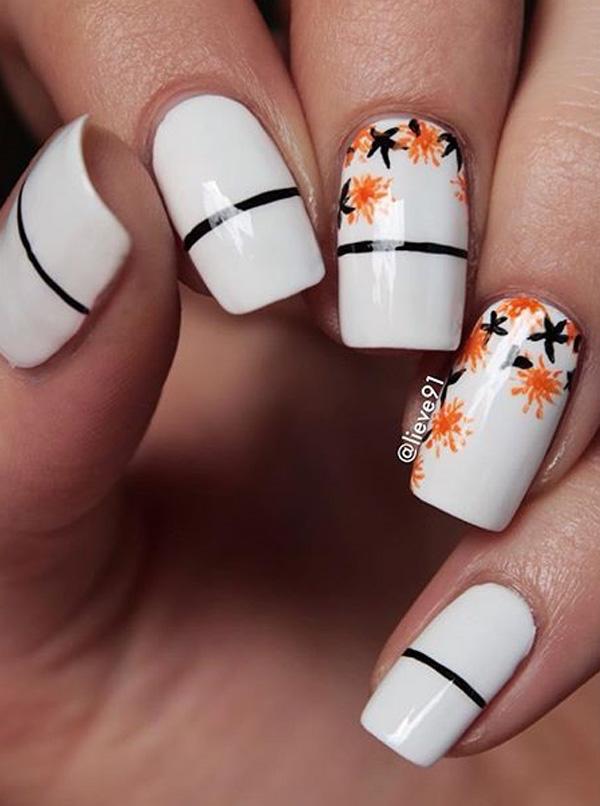 The orange flowers will instantly bring life to the design. And sometimes going this kind of simple is enough to enchant everyone.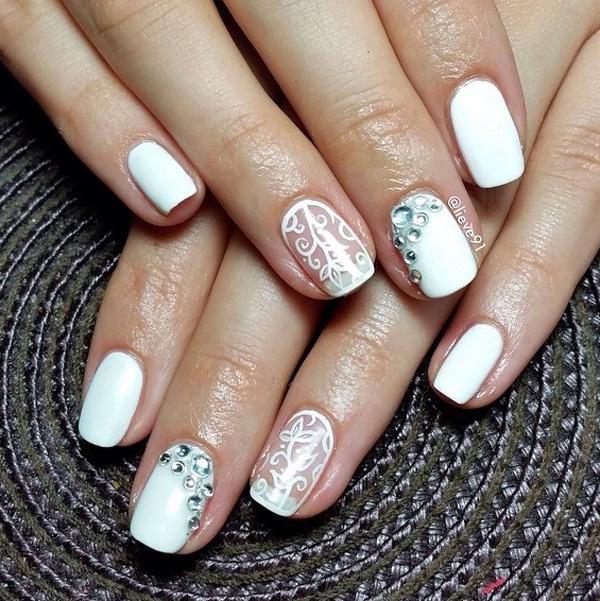 Instead of painting on of your nails all white, you can just try to create pictures like swirling leaves similar in this picture. Then add some diamonds on the nail beside it, crescent moon style.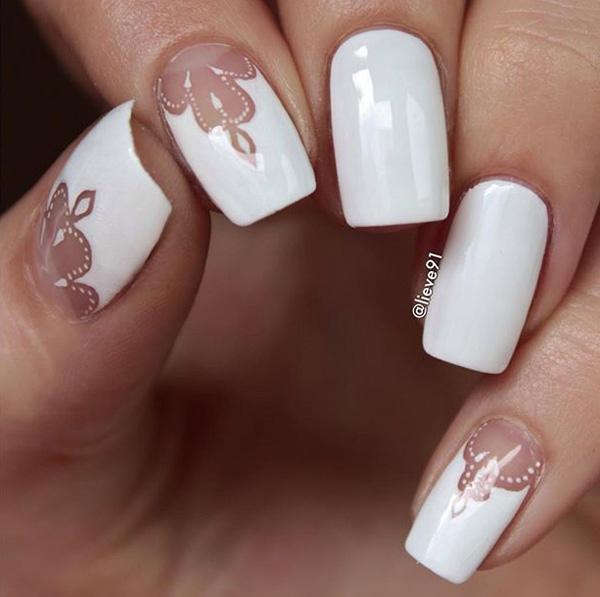 This absolutely regal design is perfect for anyone who wants to feel royalty.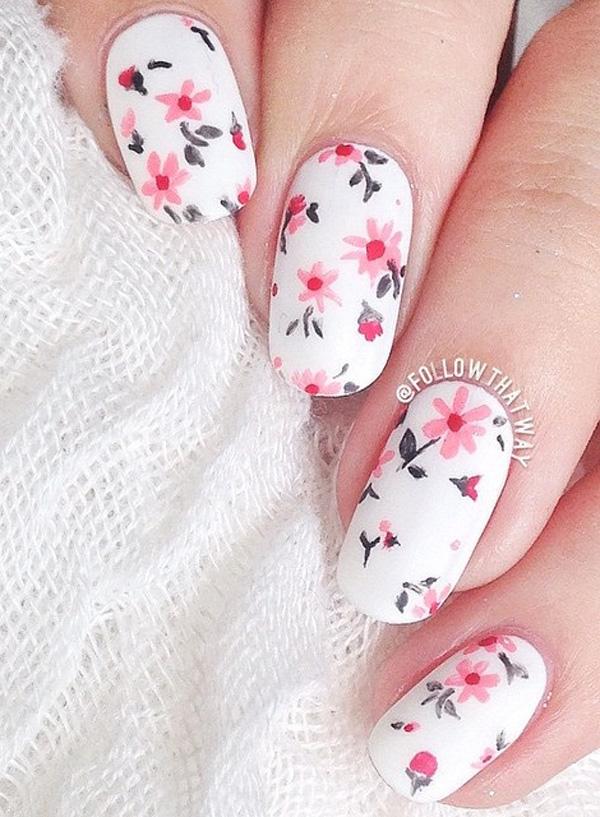 This pretty pink and gray flowers on white base will never cease to make you feel relaxed and instantly more feminine. I guess that's what floral usually do for women.
Recreate this beautiful even though simple nail art design. Pick a matte white as the base (a little off is good), add some polka dots in silver glitter and then add another dot in the middle in sea green. Then add some gold studs and you're done.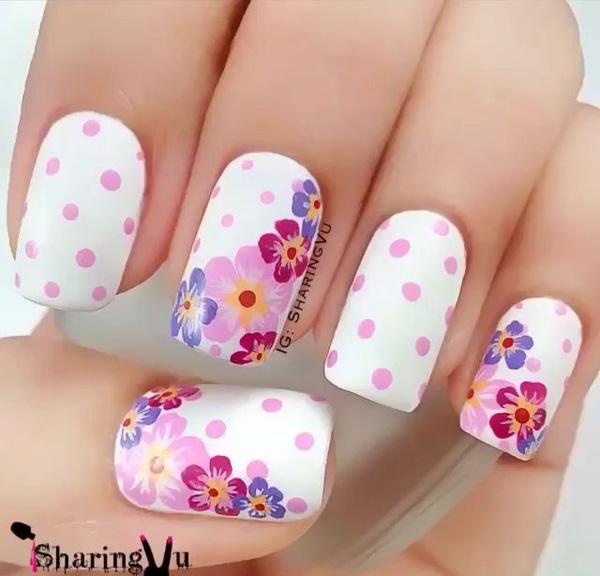 Go with hues of violets and create a fun and refreshing floral design with a polka dot background.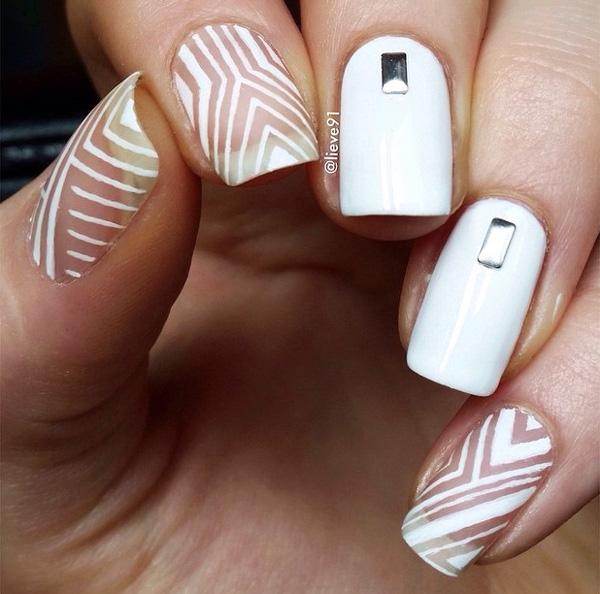 In order to achieve this design, you need a thin nail brush. You may also need some strips for this design. Otherwise, you can do very well on the plain white with silver rectangle plate.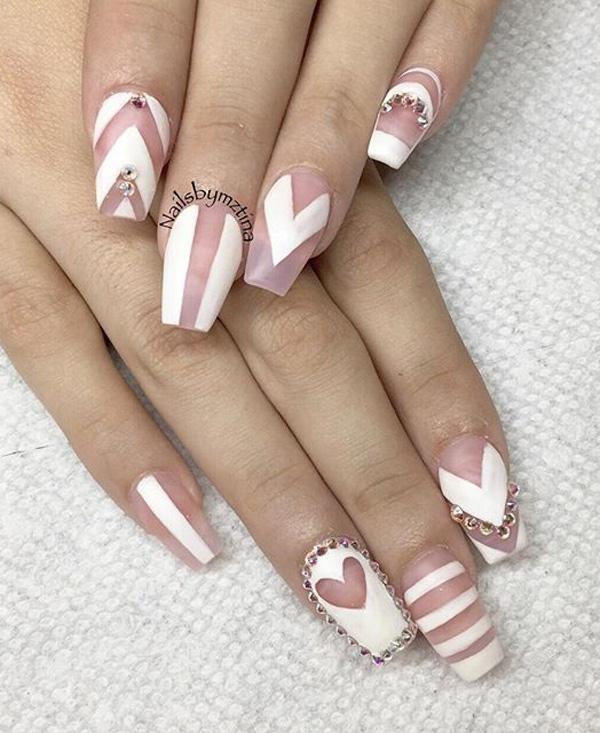 False nails could always help you if you have a hard time achieving this shape. Apart from the diamonds and the white nail, long nails could instantly make you look more fab.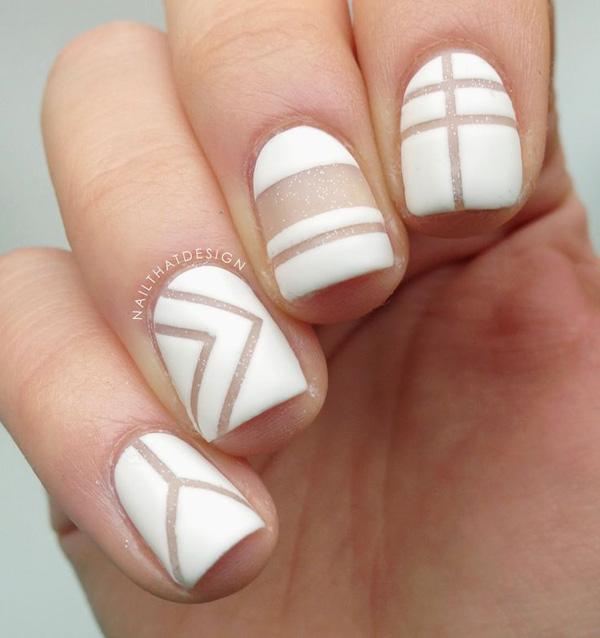 For a more interesting naked-nail design, you could try using a slightly hazy colorless nail polish with little glitters for the base. Then you can begin making patterns with your white nail polish and strips of tape.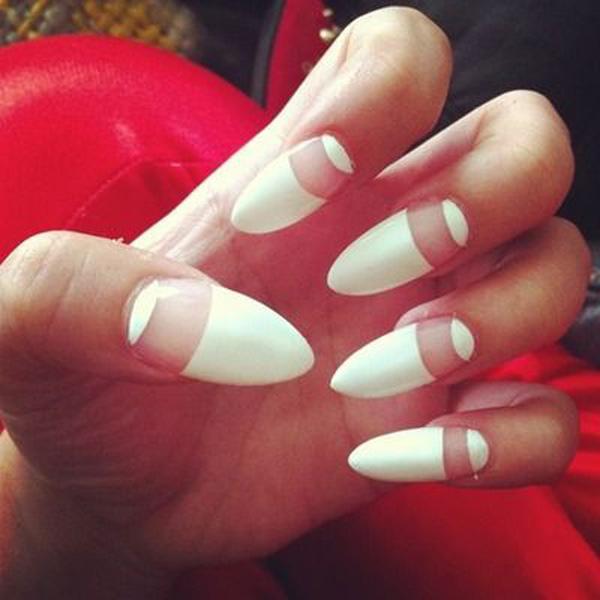 Leave a section unpainted like in this one. Uniformed looks would do well since the design isn't over-the-top.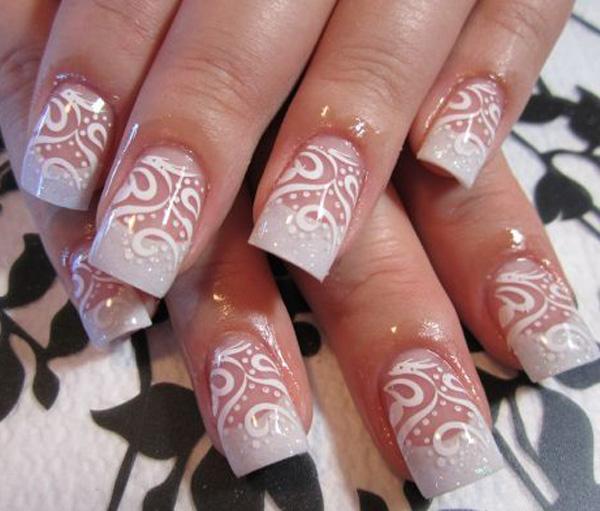 You can see stencils of these swirls for a more synchronized look. You can then add the dots later on. There are more designs that you can actually choose from.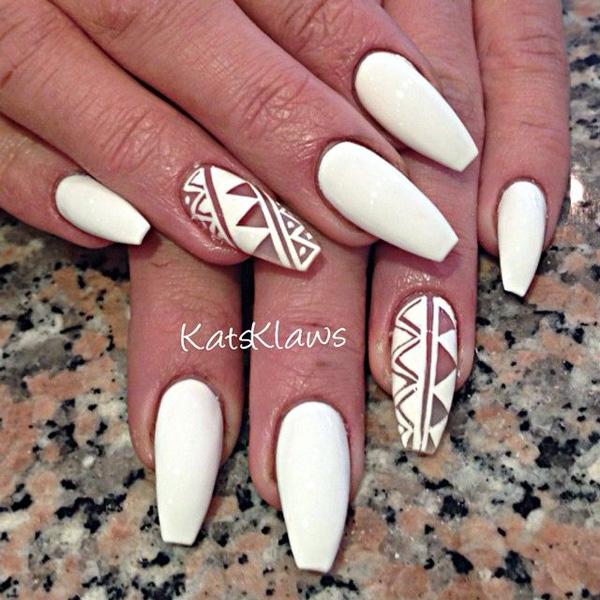 Tribal designs can actually do well for a glam look.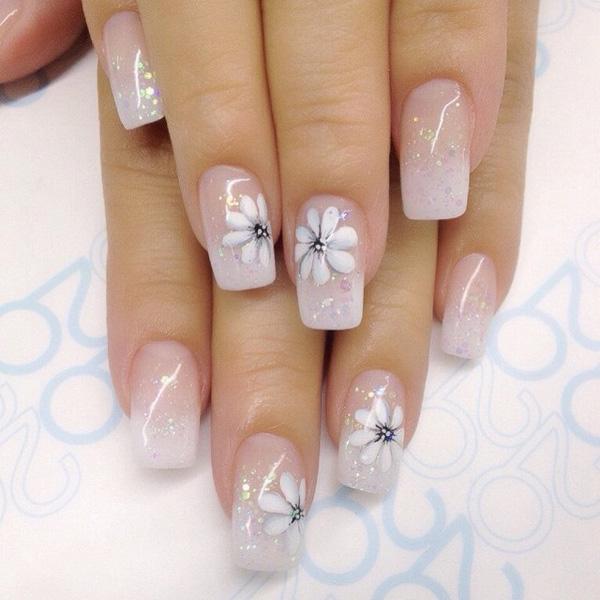 Give more focus on your flower design and keep it as realistic as possible. Then keep the base a pink-base clear nail polish with little glitters.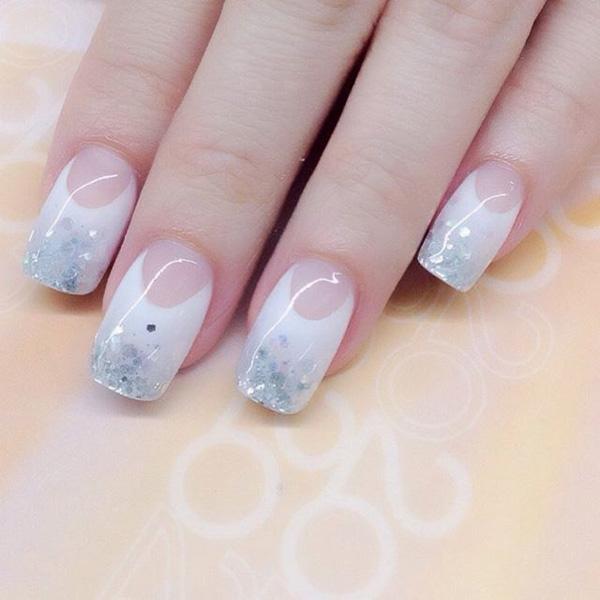 Rhinestone tip is another way to recreate a French tips. Then create the accent by leaving the lunula part unpainted.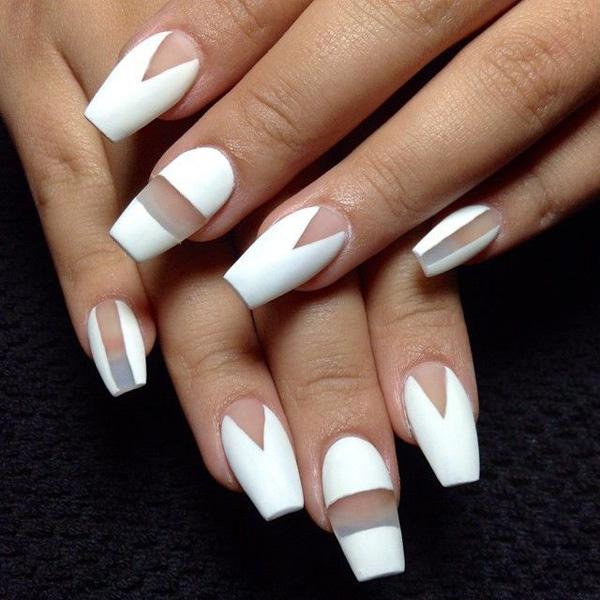 There is an instant improvement with your white nail art design when you use a matte color.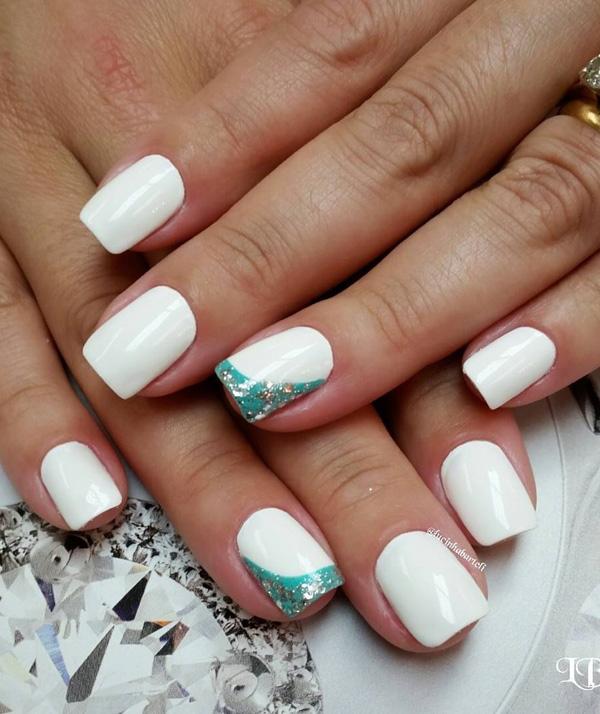 Add a blue accent (or any color of your choice really) then add some glitter on that area. Simple and easy for a DIY session.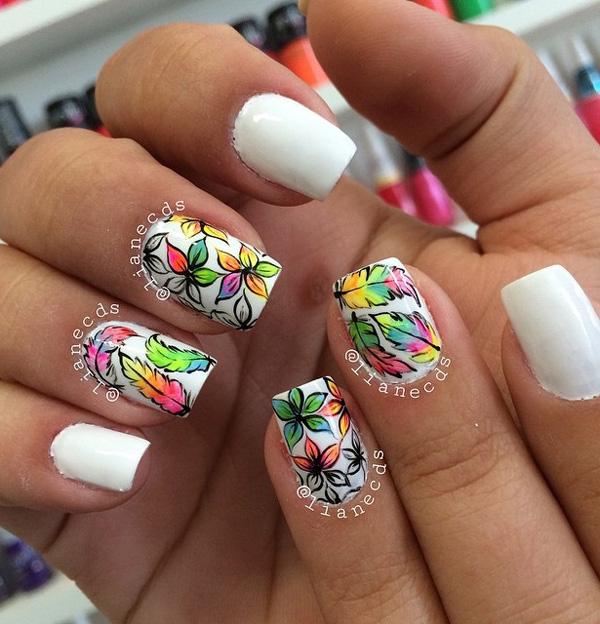 Nail art at its finest. Definitely brings art to the game. These beautifully drawn feathers and flowers with a watercolor inspired color is really a masterpiece and a must-have.
The best thing about a white base is that you can combine it with any color of your choice and it would still look good.
What's really great with this French tip alternative is details on the lace-like part under each tip.