Back tattoos are becoming increasingly popular, and with so many options available, it can be hard to decide which design is right for you. Whether you're looking for something bold and eye-catching or a more subtle design that will still make an impact, there are plenty of back tattoo ideas out there to explore.
Because of its big area and flexibility, the back may be one of the best body parts for tattooing. You've undoubtedly seen many awesome tattoos inked on the largest canvas of the human body, from upper back to lower back. When searching for a first back tattoo idea for yourself or a friend, keep in mind that a tattoo is both personal and unique. Most people have only one opportunity on the same body part, or they risk painful tattoo removal or cover-up.
Tattoo is all about expressing oneself or going fashion. For men, they may prefer large meaningful masculine back tattoo ideas, for example, dragon, large skulls, portrait, etc. Full back intricate tattoos are often signatures for tattoo addicts while lower back tattoos are mostly loved by sexy women.
How to choose a back tattoo
Despite too many choices, one question remains in common for most people. In order to have a beautiful tattoo that you will not regret in the future, don't forget the following 3 considerations.
Placement of tattoo
Main purpose of the tattoo
Back tattoo ideas and their artistic styles
For the first consideration, let's make it clear which part of the back I am going to have the tattoo? In terms of placement, a back tattoo could be displayed on left upper, right upper, left lower, right lower, left half, right half, upper half, lower half, and fullback of the back. It is dependent on the shape of the tattoo, your preference and body type. And the placement will have some impact on which kind tattoos more suitable.
And the second, we need to be clear which goal the tattoo is mainly to serve. Is the tattoo to express my personality, honor my unique experience, or commemorate an important family member? Of course, you can combine multiple goals together in one tattoo. The answer to this question is necessary for the artist to know so that adequate artistic presentation style could be implemented for your purpose.
The third consideration is which kind of tattoo idea I'd like, incl. its artistic style. Of course, you need to consult your favorite artist for better suggestions. While you are still pondering over your very first tattoo, please pause here and enjoy the collection of 100 awesome back tattoo ideas for your inspiration.
Seamless back tattoo design ideas
If you're looking for ideas to make your next back tattoo unique, then look no further. Our collection of 100 Seamless Back Tattoo Design Ideas offers something for you from classic designs like flowers to bolder choices such as dragons or mandalas. Whether you prefer a subtle design that blends into the background, or an eye-catching piece that stands out from the crowd, our selection has it all! With so many options available in one place, finding your perfect idea is easy.
Cinematic tattoo in black and white with a striking 3D effect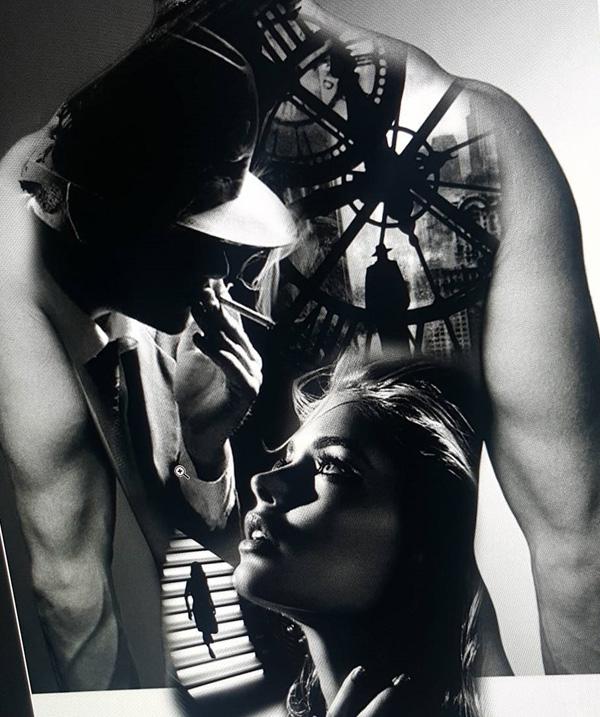 Fullback blackwork with intricate patterns for women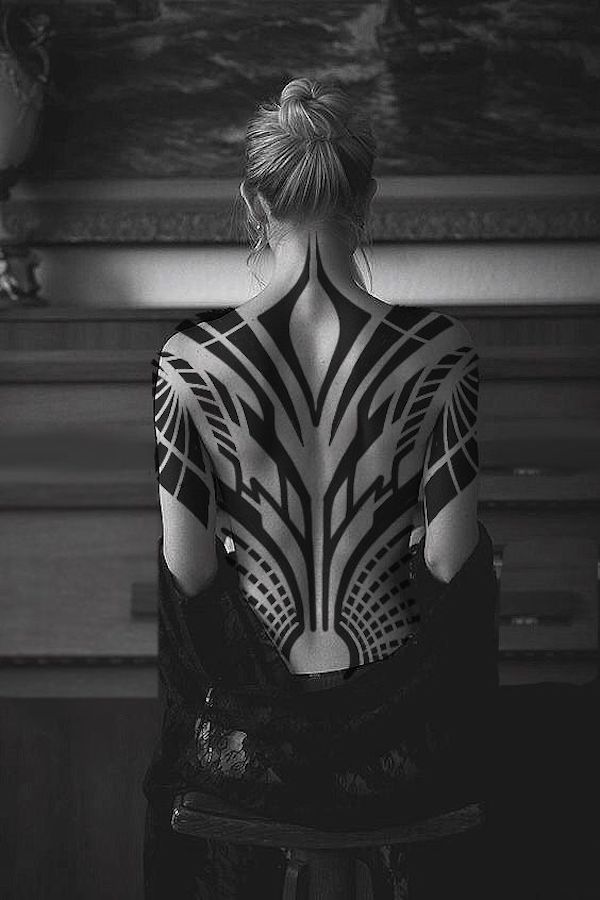 Realistic back tattoo depicting a thunderous night with an eagle, lighthouse and boat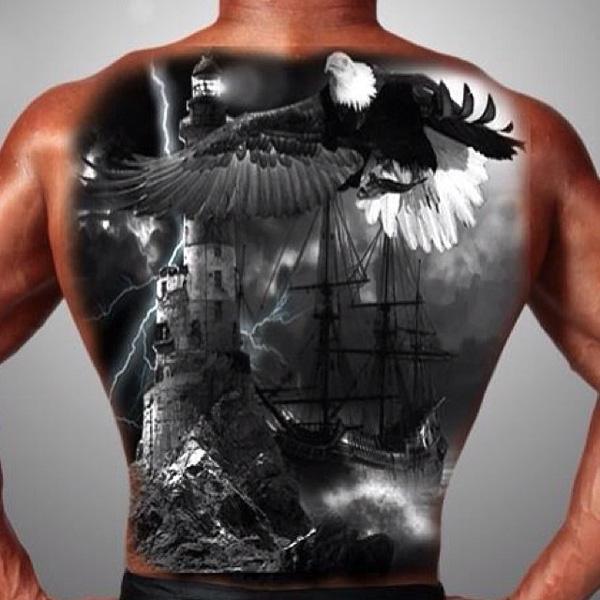 Trash Polka with a blindfolded lady portrait, cursive writing, and birds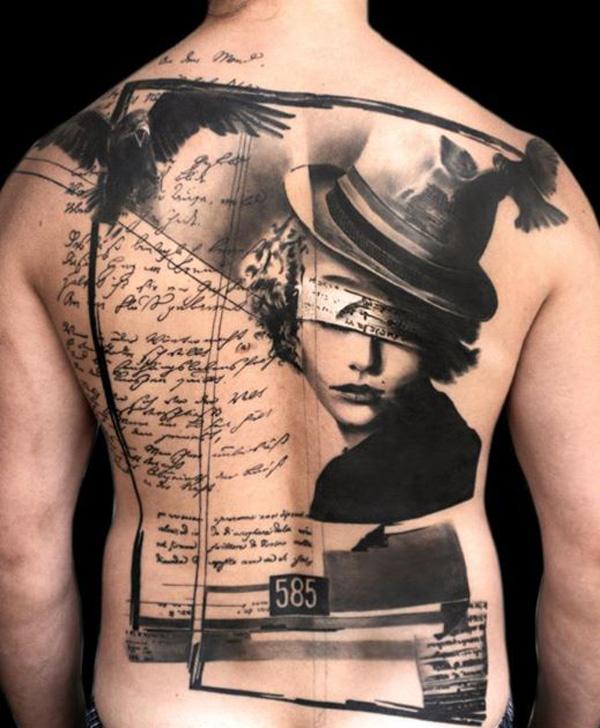 Frightful open spine Piece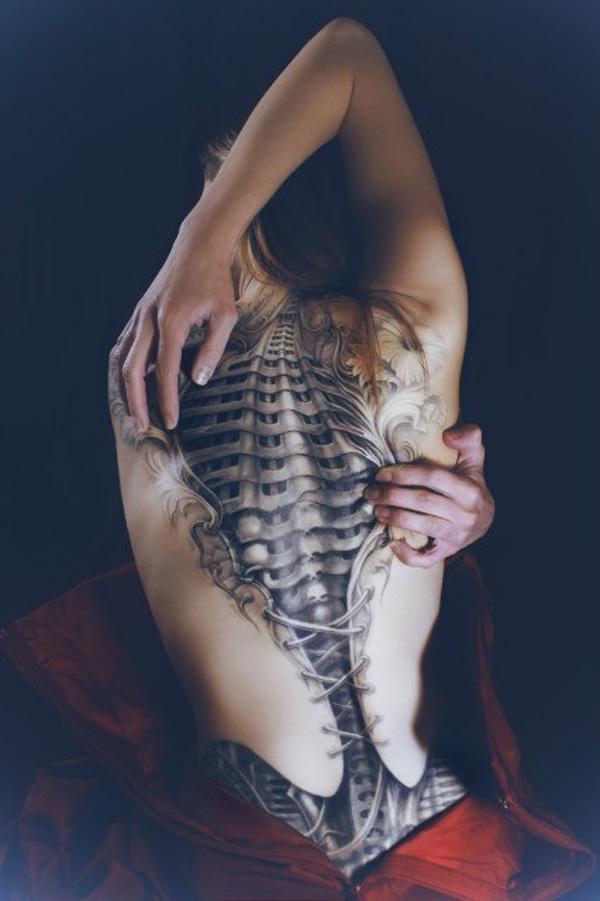 Mandala inspired Concentric circles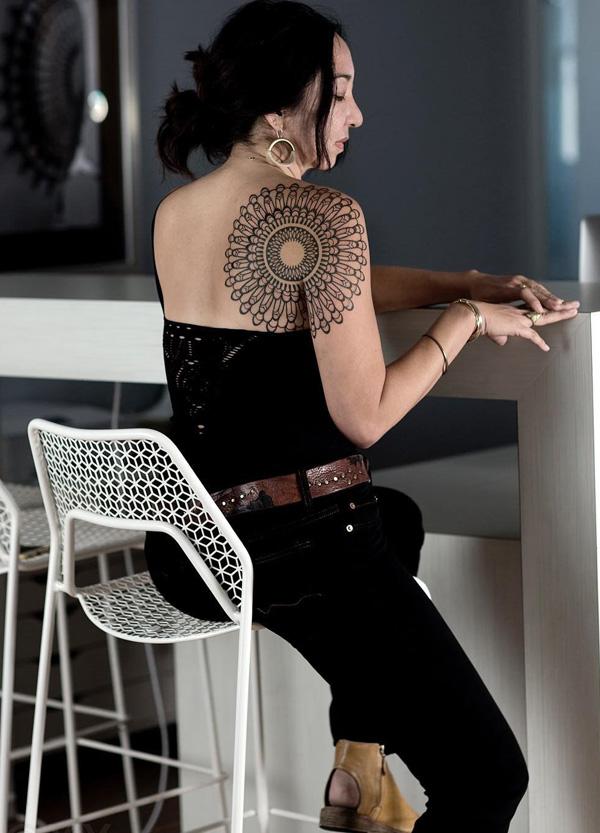 Magic bird back tattoo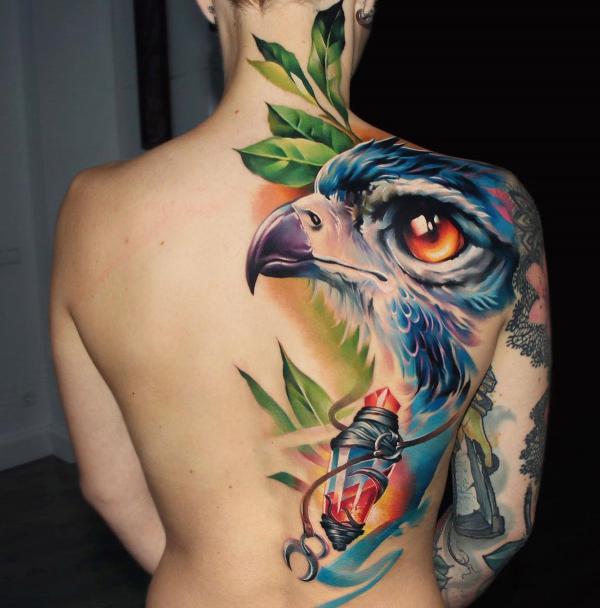 Compass tattoo with watercolor splash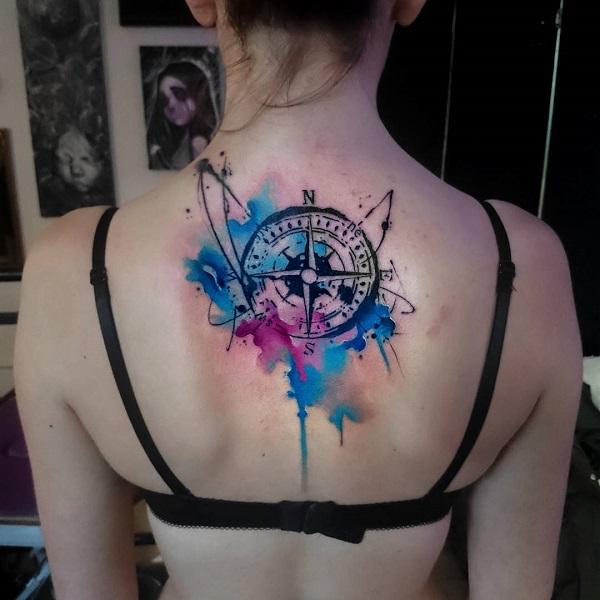 Quotes tattoo with customized font type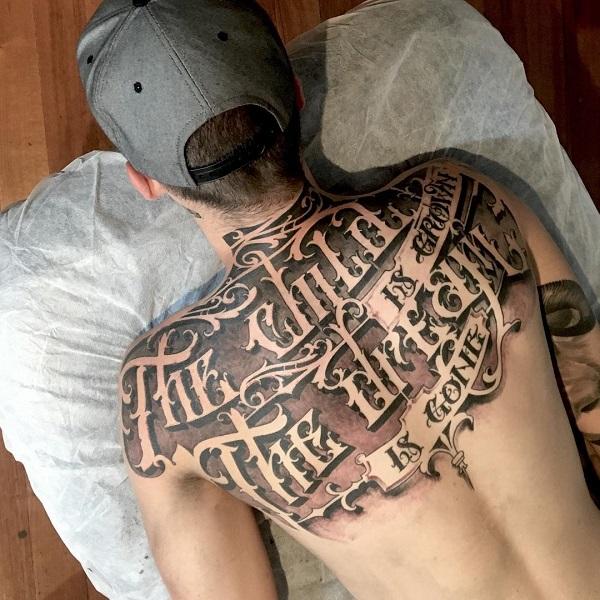 The quote is "The child is grown the dream is gone"
3D realistic tattoo with a Skull and a woman portrait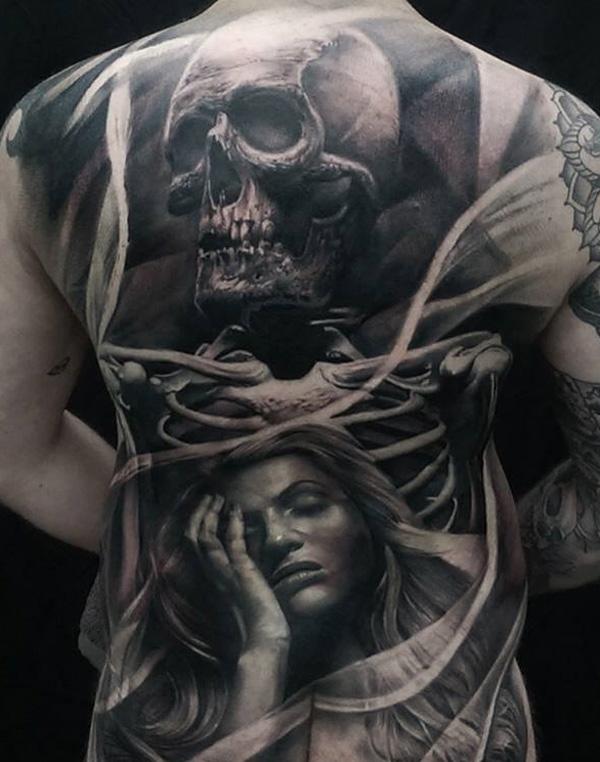 This incredible tattoo is a stunning work of art. It features an incredibly realistic black-and-white portrait of a skull and woman covering the entire back, from the upper back to the lower back. The two figures appear to be in stark contrast with each other, yet they are connected by intricate details that suggest both worlds can coexist peacefully. This piece speaks volumes about how beauty and strength can exist side by side even within our own lives. It's truly remarkable!
Skull tattoo with Mosaic tiles and butterfly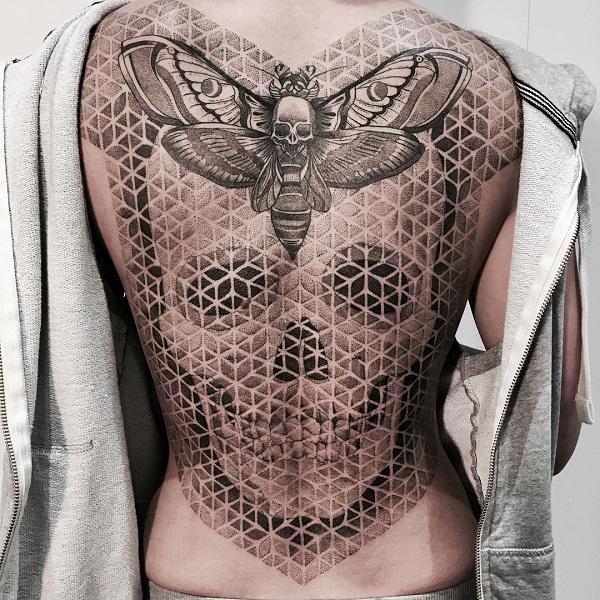 This unique skull tattoo combines the ancient art of mosaic tiles with a modern twist. The skull is covered in an intricate wall of mosaic tiles, while a butterfly adds an element of surprise and beauty. Turn your back into a stunning work of art by celebrating this timeless craftsmanship, and let the skull and butterfly bring you peace and joy every time you look at it.
Birds with Flowers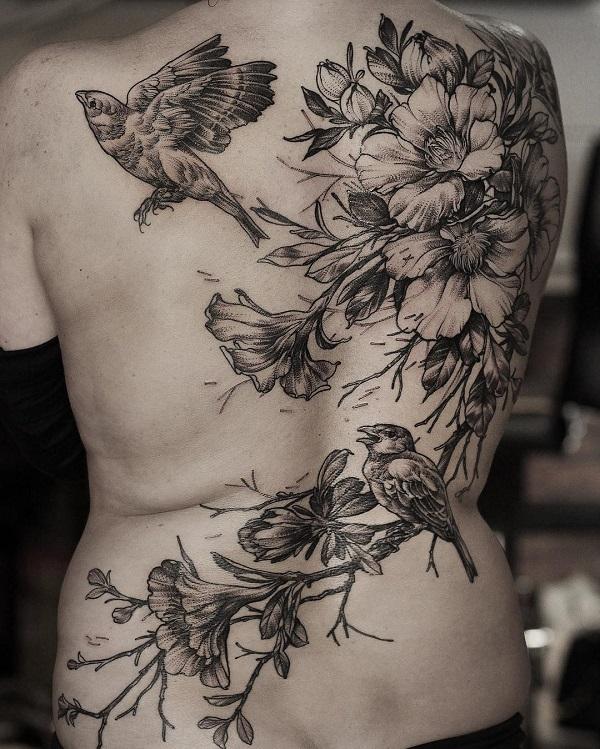 This tattoo idea is perfect for nature lovers. The plain picture of free birds playing over trees with flowers is a great way to express your appreciation and admiration for the beauty of nature. This design will be a constant reminder to appreciate and take care of our natural environment, while also being aesthetically pleasing at the same time.
Woman and owl
This stunning large tattoo features two portraits of a woman and an owl, seamlessly combined on the upper back and lower back respectively. The dark realistic style brings out the beauty of both subjects, while also conveying spirituality through its theme and embellishment. This unique combination is sure to add a touch of exoticism to any wearer's look!
Tiger woman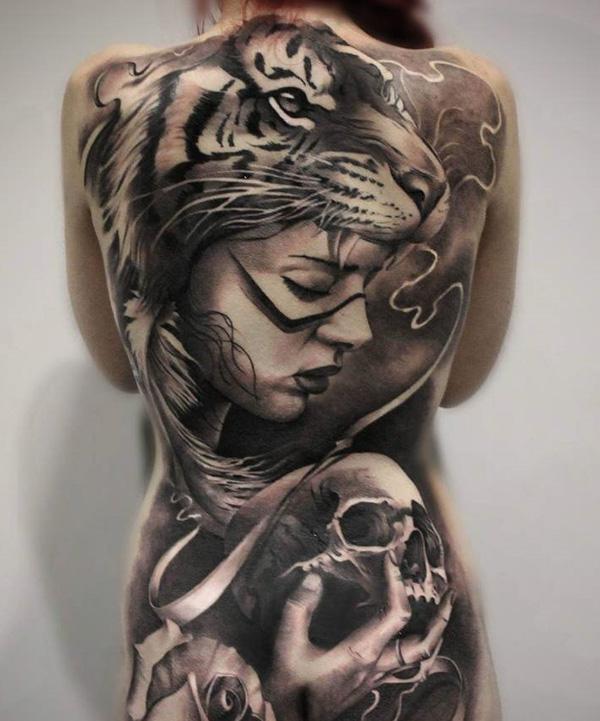 The tiger is the king of the jungle. The fearless woman wearing a tiger headpiece implies how close she has been to this land. The skull in her hands is the recollection of her past memory. The dark black and white background accent the motif of the amazing fantasy picture.
Changed life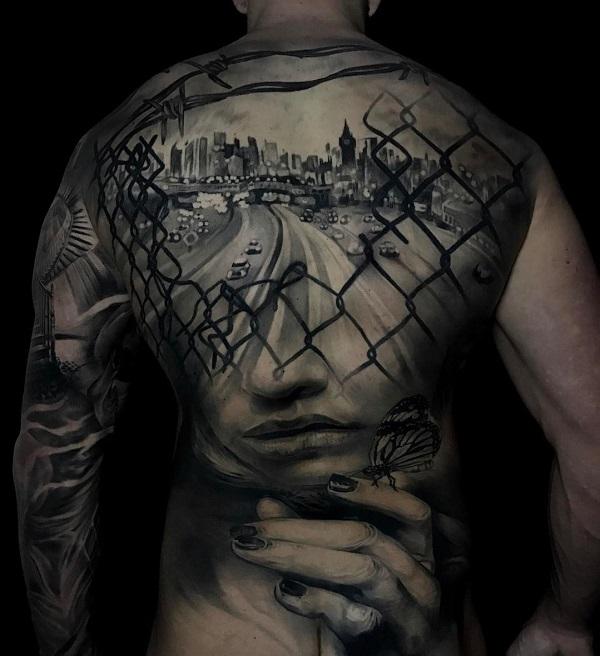 Black and white films could always induce one's recalling. The theme of this tattoo has been perfectly spotted to the scene in hyper realistic style. A butterfly which represents "change life" stands on the hand of the woman whose nails polished and wrinkles faintly visible. Her brain has been melted in a crowded urban city, which maybe has too many stories of her past.
Lost Eden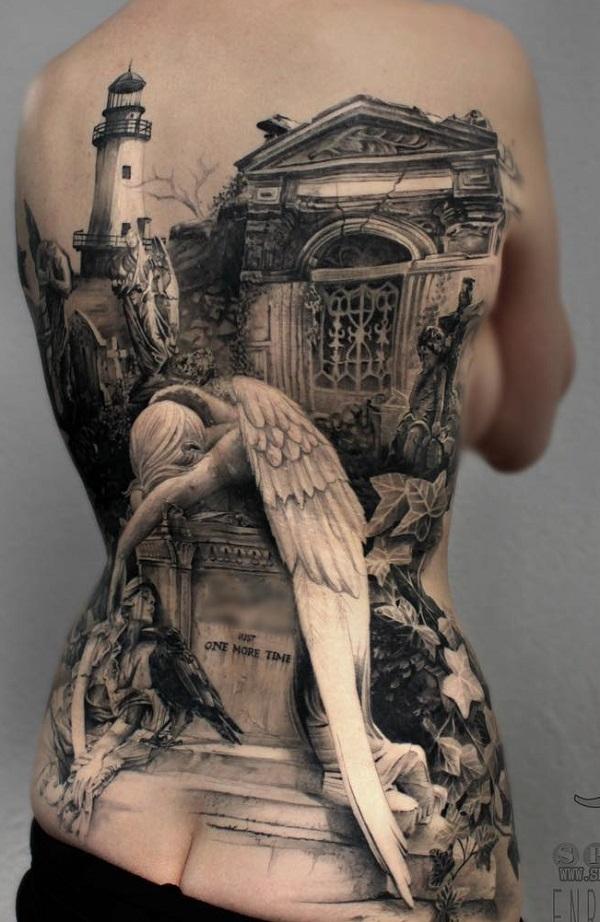 The lonely light house, the broken palace and the dead angle render a picture of lost Eden. When life gets hard and you encounter failure, remember that life is full of ups and downs. There's one thing never defeatable that is your mind.
Exotic culture and embezzlement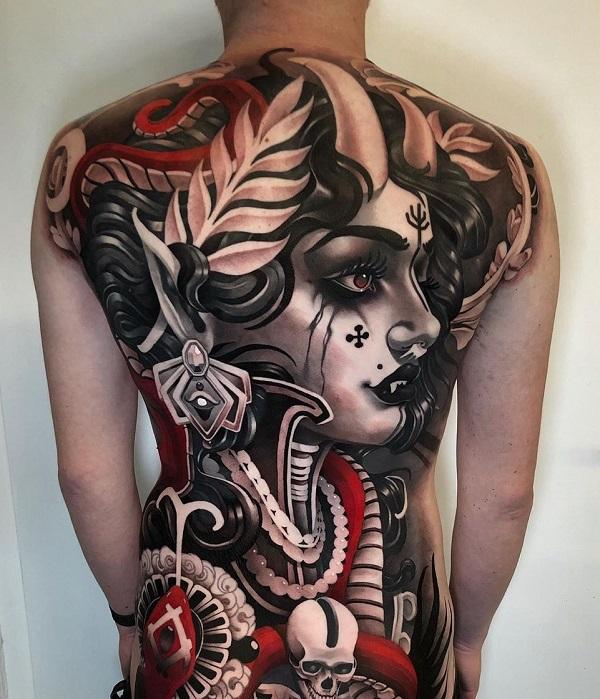 Mandala Inspired Tattoo for women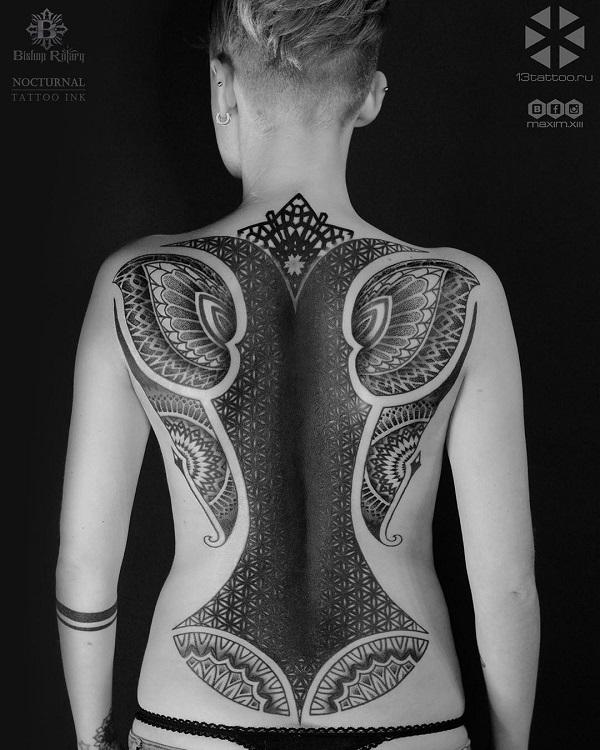 The cool Mandala inspired tattoo is unique for people having or longing special experience, which is bilaterally symmetrical on the back. The compact tattoo also reminds me of the style of Polynesian Samoan Tattoos.
Japanese Girl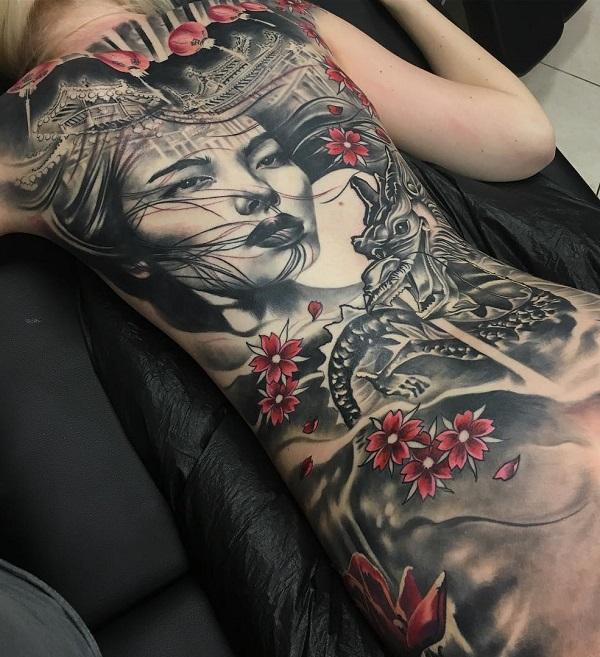 A Japanese culture inspired tattoo for women features a portrait of modern woman, cherry, dragon, palace.
Realistic black and white tattoo of a fallen angel from heaven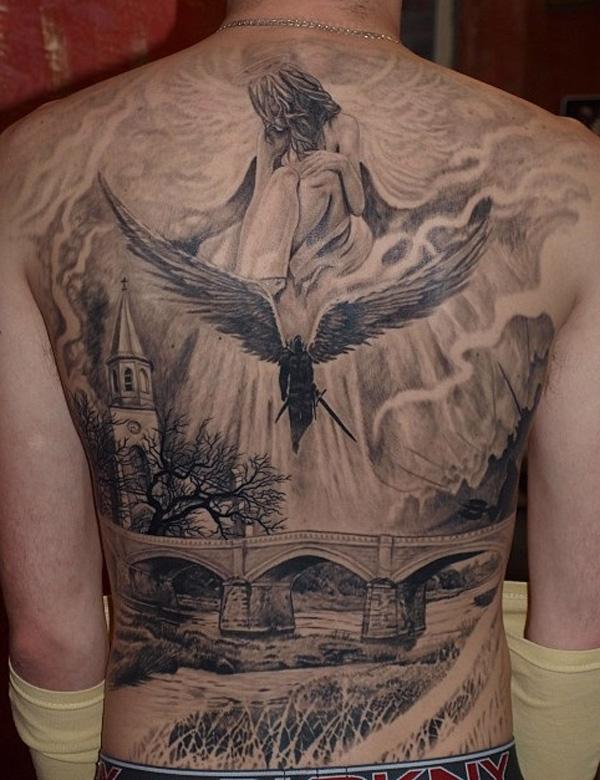 This realistic tattoo is an incredible work of art. The intricate details in the wings, church and bridge are stunningly rendered with precise lines and shading that bring this image to life. This piece will make a bold statement on any canvas while also conveying the faith through its symbolic representation. It's sure to be an eye-catching conversation starter for years to come!
Amazing mandala inspired blackwork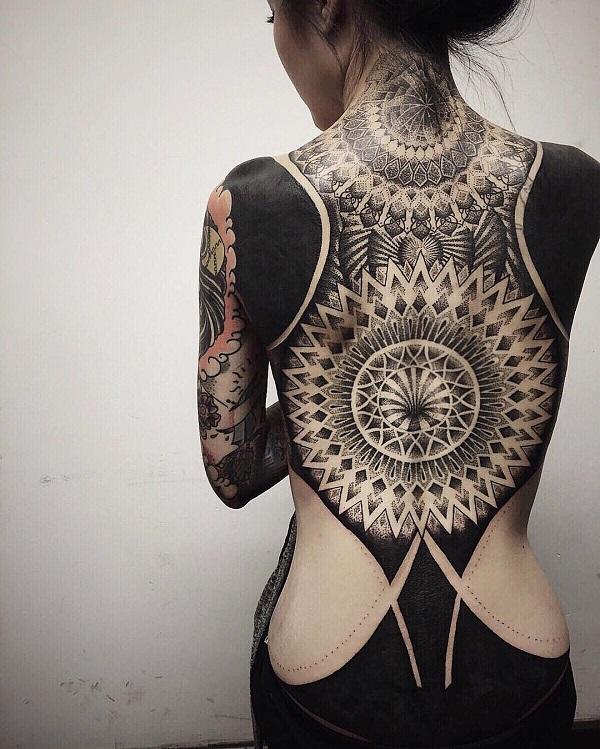 This amazing tattoo is the perfect choice for fashion-forward young women. The bold design looks like a piece of tight-fitting outfit, with two pieces of symmetrical mandala on the neck and center of the back. With its intricate details and stylish look, this tattoo will surely make you stand out in any crowd!
Blackwork with a woman, clock, tree and birds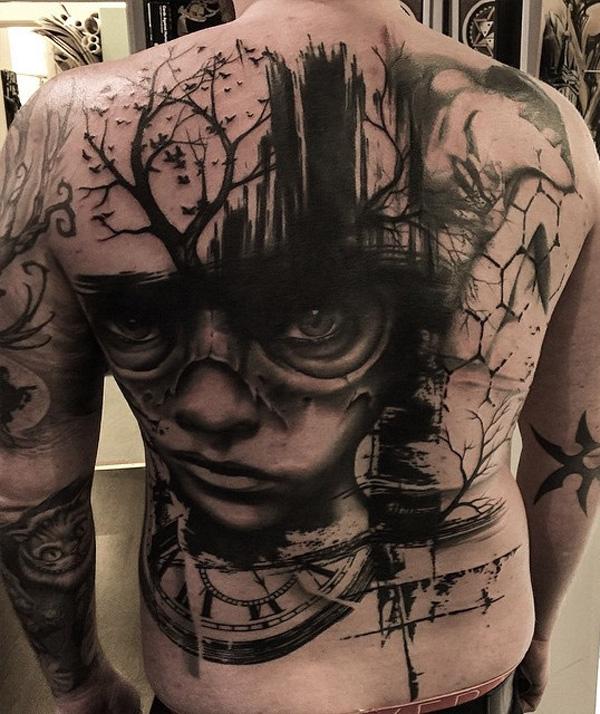 This full-back blackwork features a woman with gazing eyes, surrounded by a clock, brushstrokes, tree and birds. The intricate details of the design are eye-catching from the shades of the woman's face to the tiny birds. This piece is sure to be admired for its unique style and will be an enduring reminder of your commitment to body art.
Mountain and palace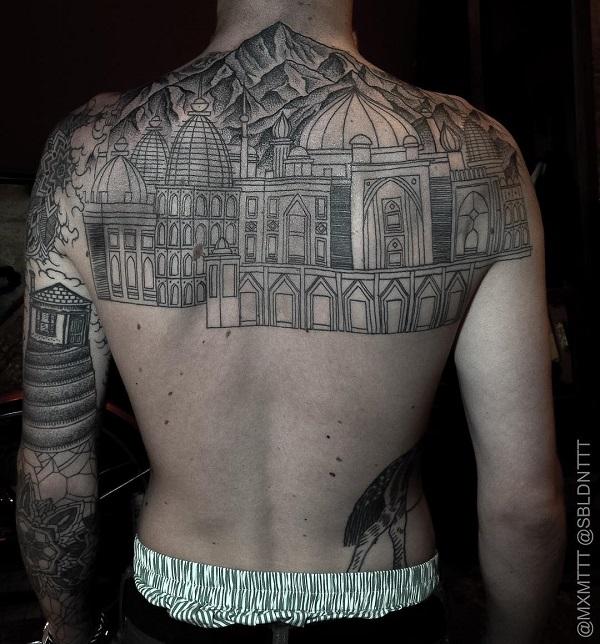 Ornamental lettering back tattoo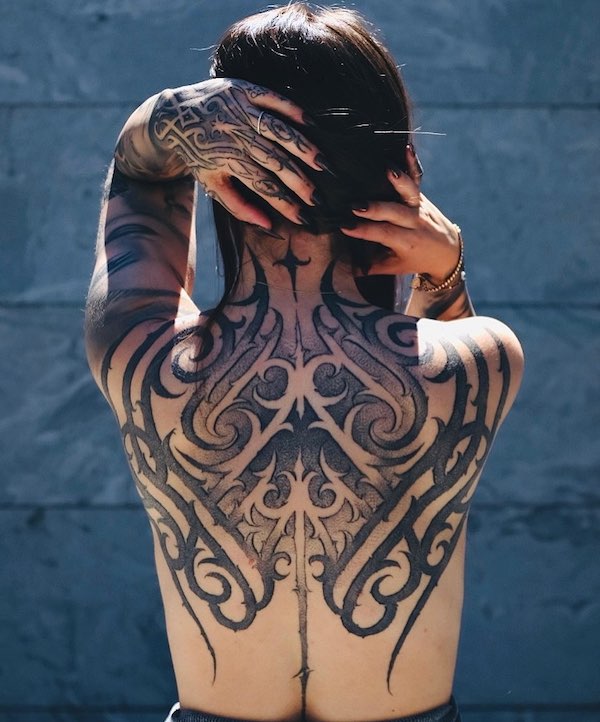 Beautiful Mandala tattoo for women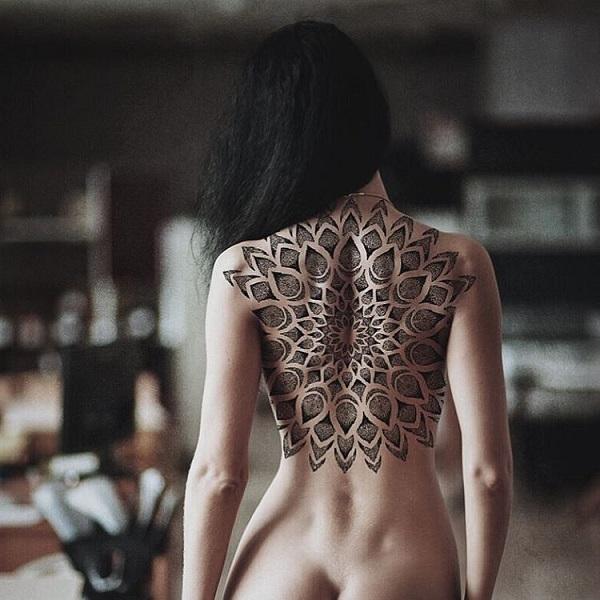 Colorful animal and blossom watercolor tattoo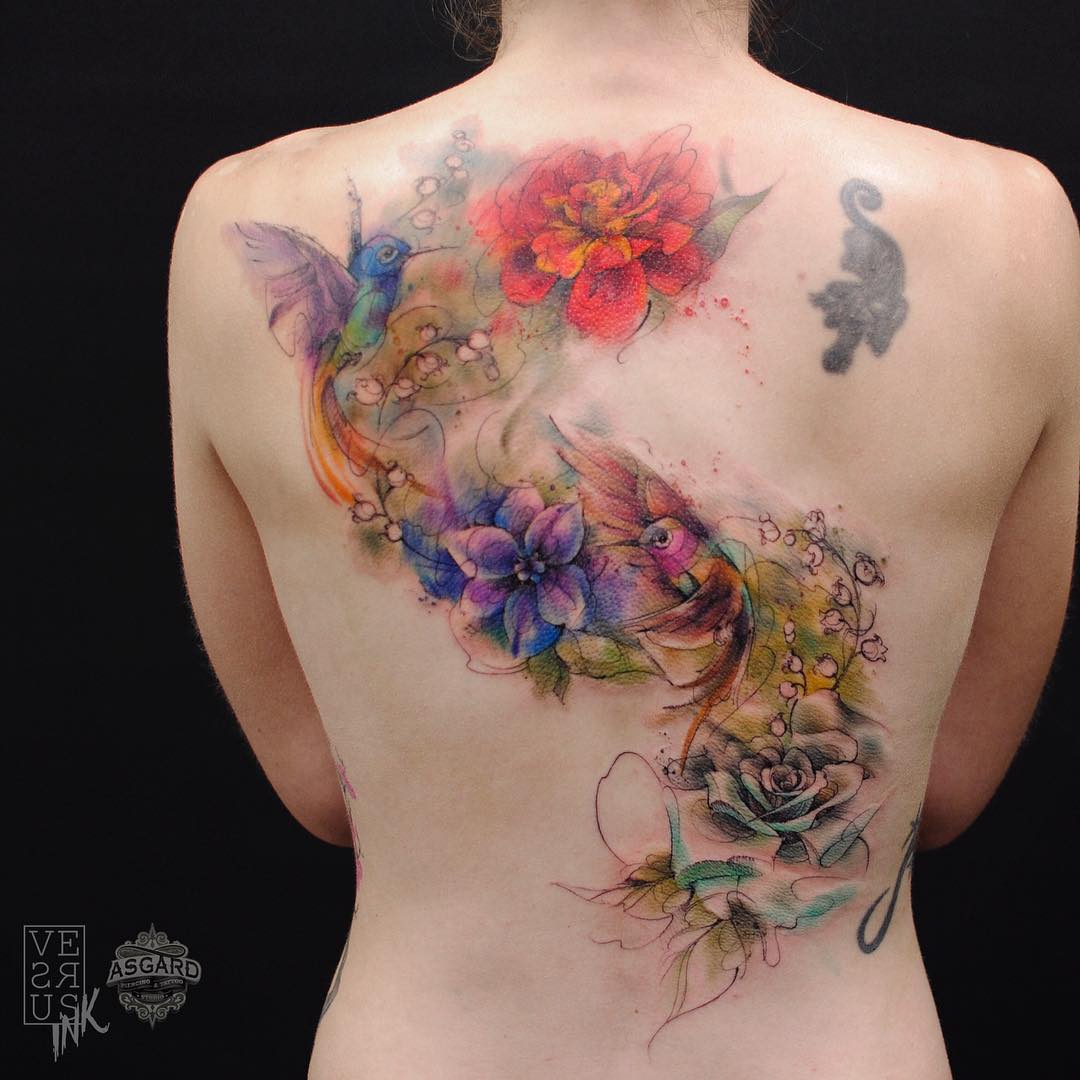 This beautiful watercolor tattoo is a perfect combination of art and nature. It features colorful birds, cats and flowers in a playful manner that will bring joy to any onlooker. The vibrant colors used in the tattoo create an eye-catching effect that stands out against the skin, while still maintaining its delicate beauty. With this unique design you can express your love for animals and nature with style!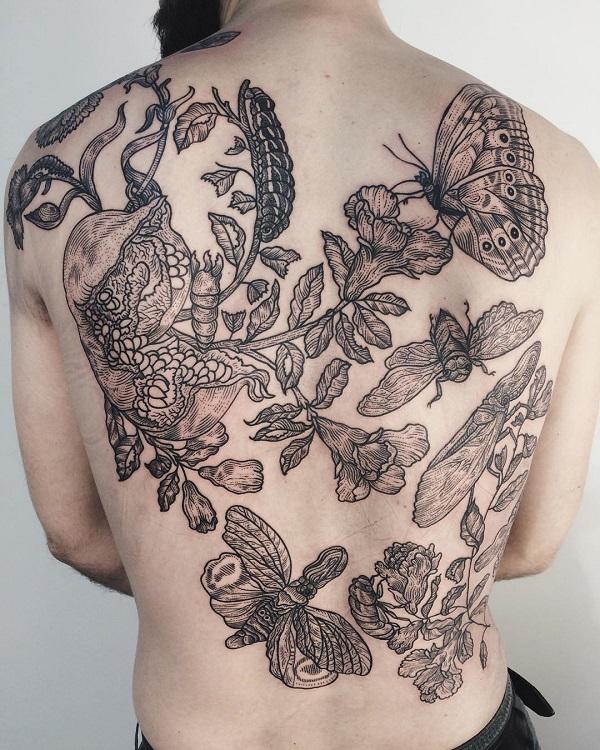 Butterfly, insect and plant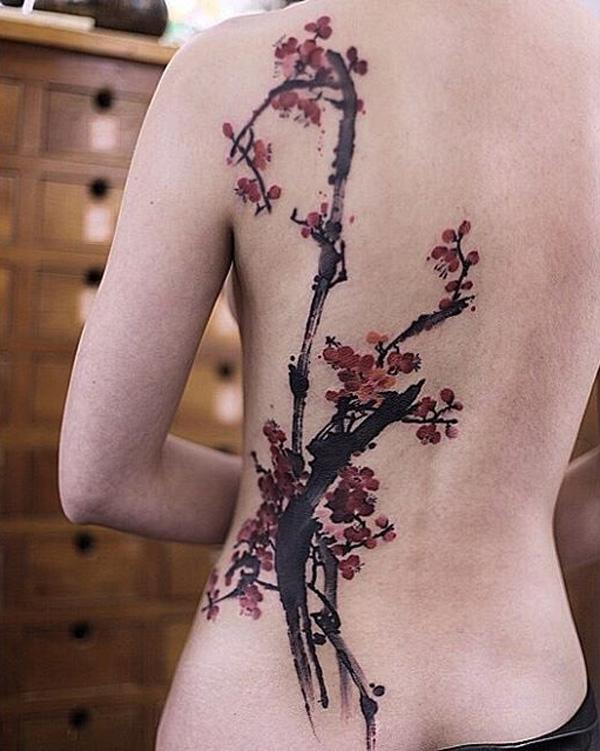 Cherry blossoms painting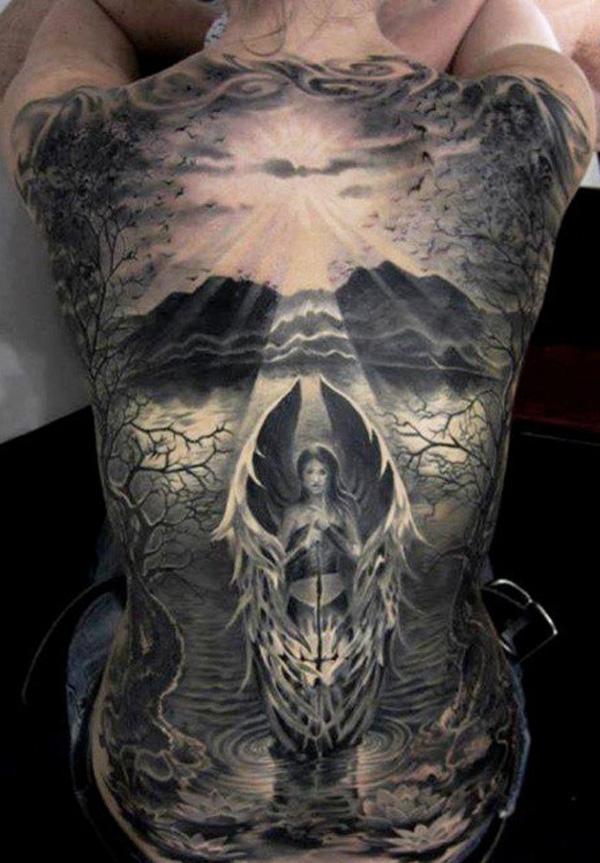 Holy Fantasy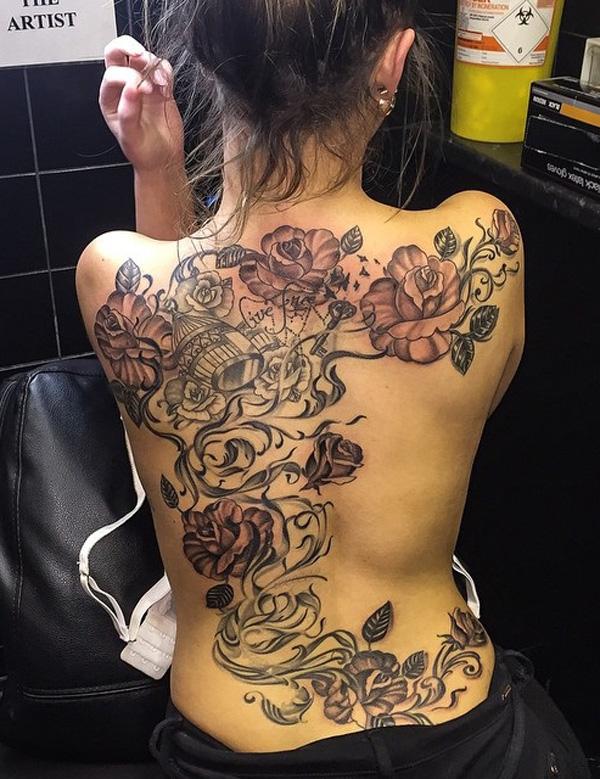 Flowers tattoo for women
The playful tattoo contains flowers from upper back down to lower back. Nice choice for the woman.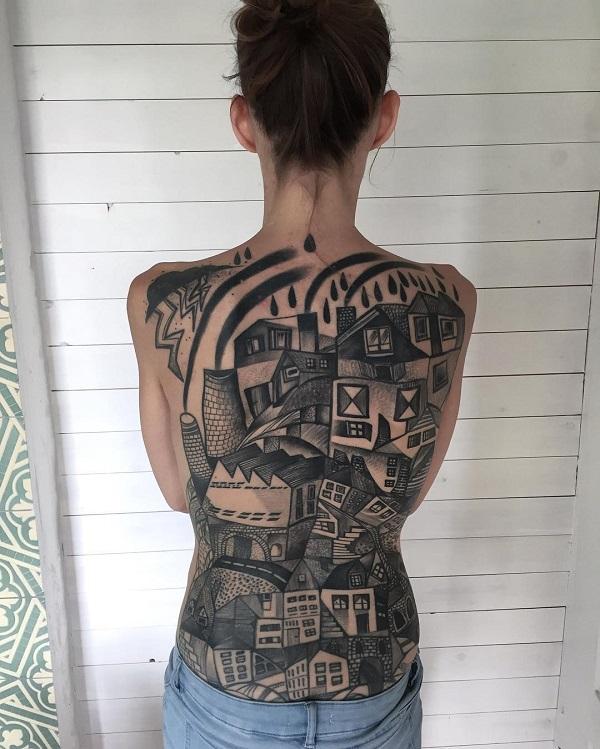 Cartoon City
How many of us grow up without playing anime games or watching carton video? It's always joyful moment at that time. Then why not to have a unique tattoo to express one's interest or record the moment?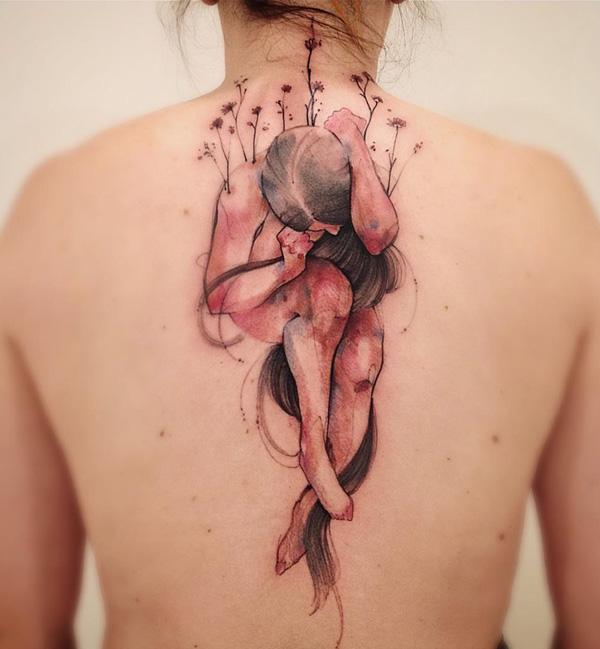 Illustration inspired tattoo for women
This is a whimsical illustration inspired tattoo, which perfect for women.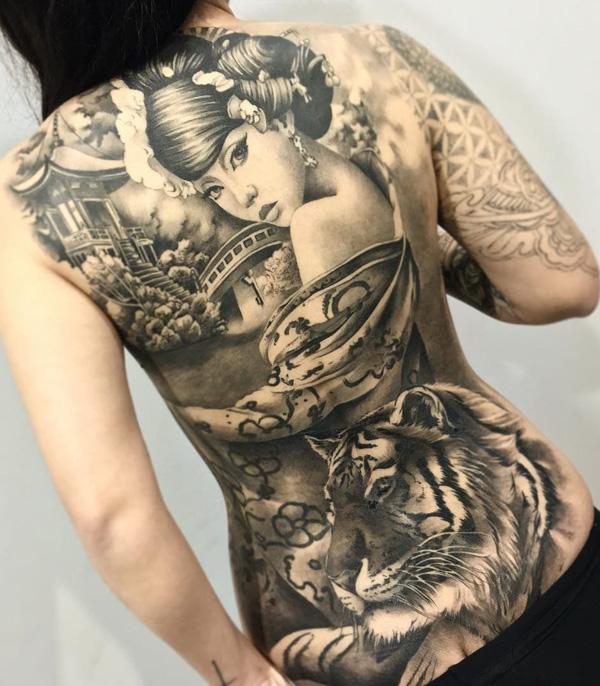 Japanese culture inspired tattoo
The epic black and white realistic tattoo features a Japanese woman in Kimono, tiger and light house.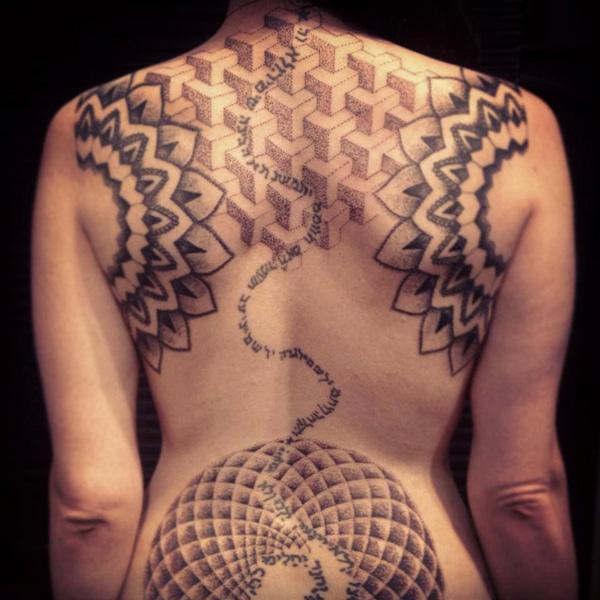 Mandala illusion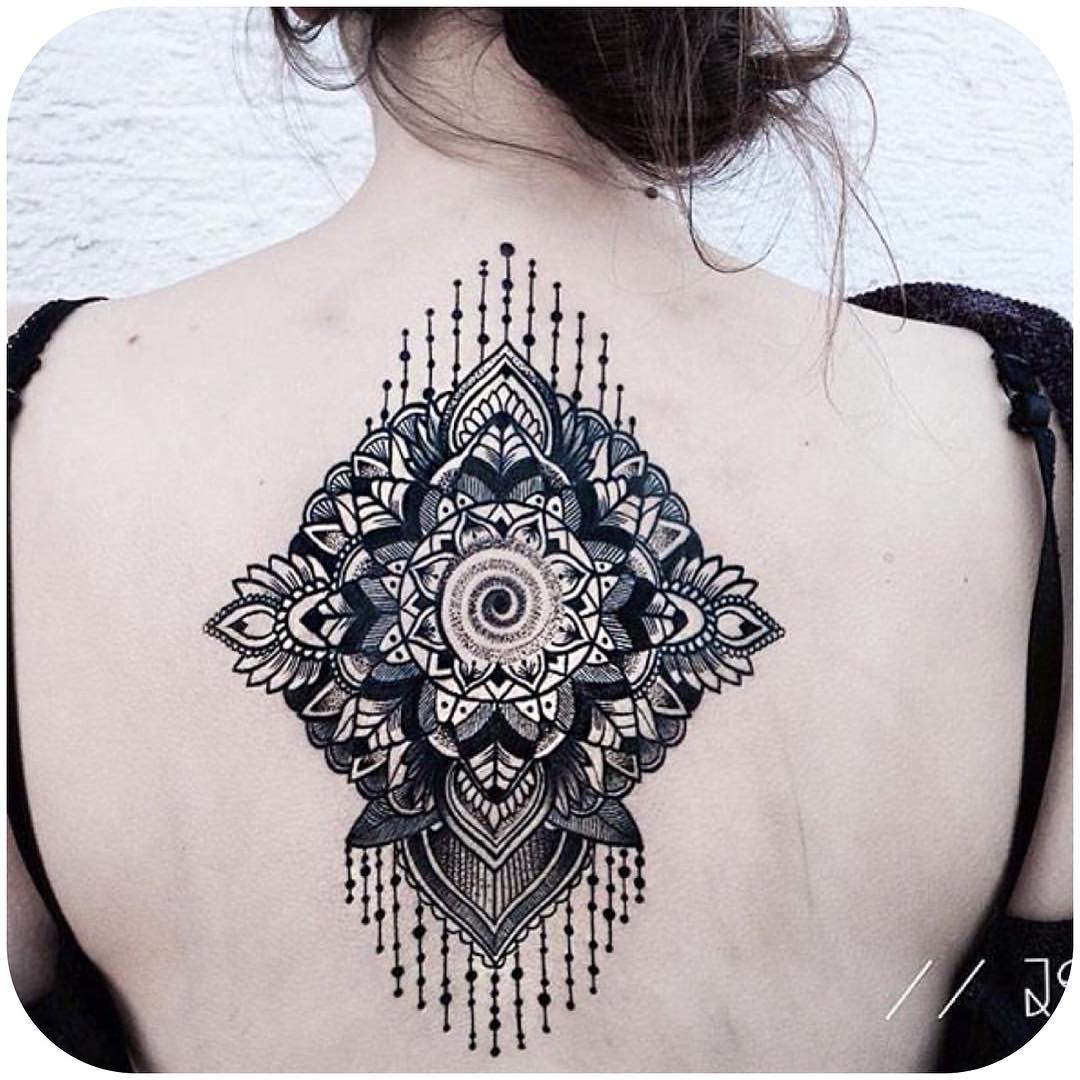 Mandala flower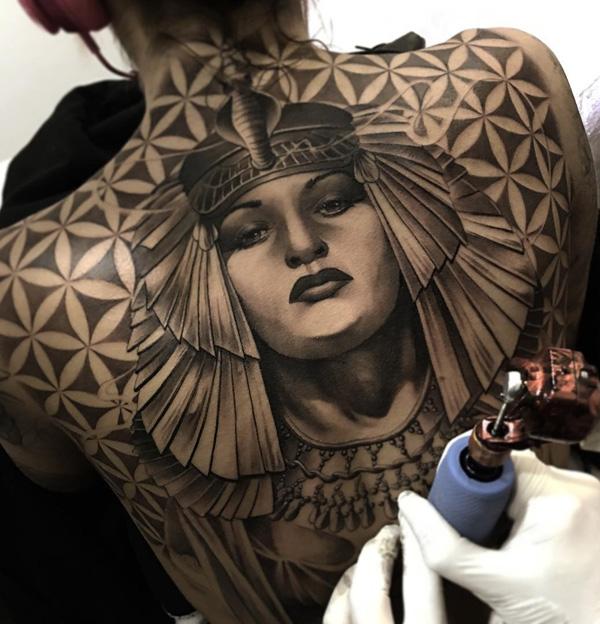 Egyptian Queen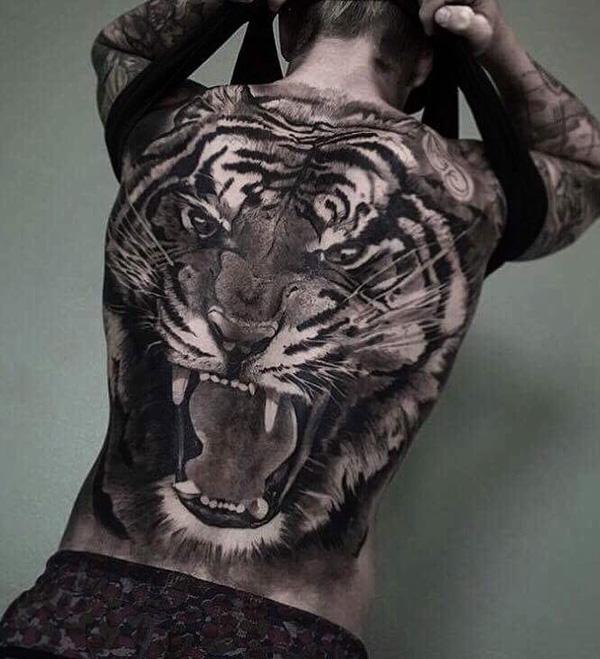 Tiger Mouth
The realistic tattoo looks like photographic image of the giant tiger mouth with details of its whiskers, teeth and seamless skin patterns. The size of tattoo looks heavy but it reminds me of positive attributes – the willpower, courage, and strength, etc.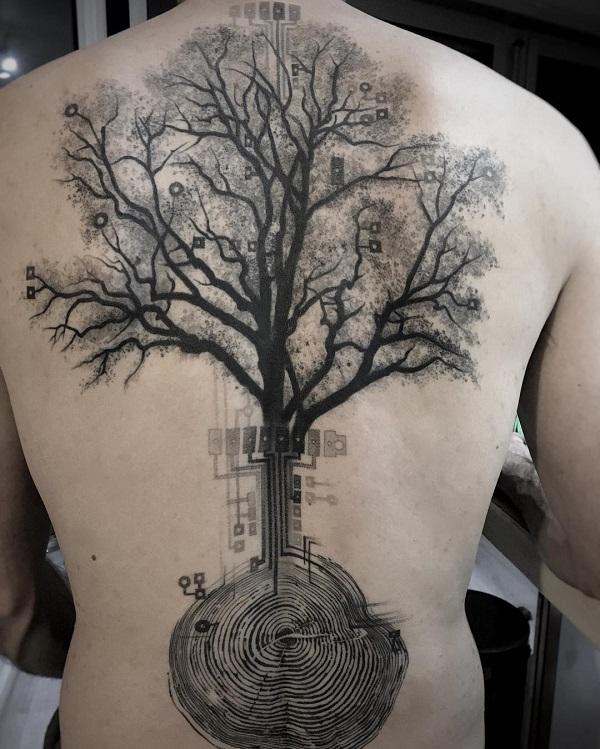 Whimsical Tree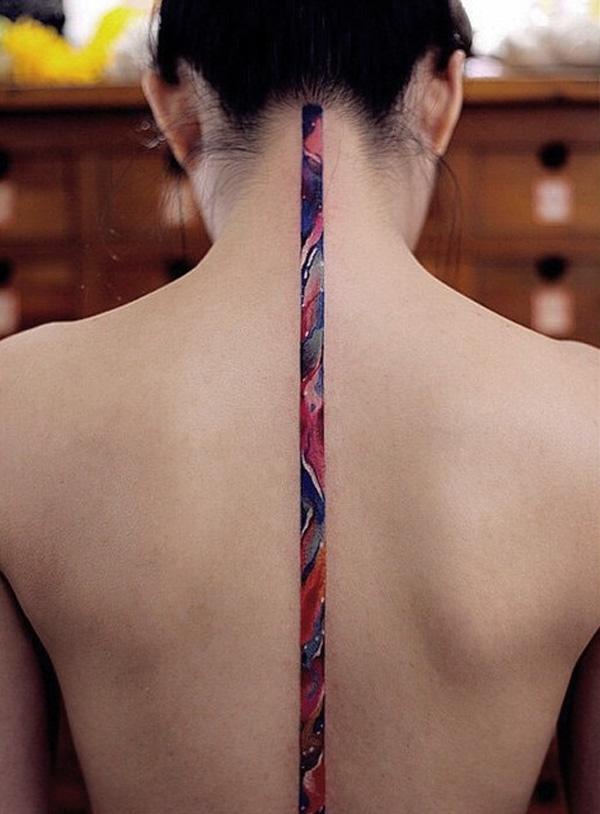 Watercolor Strip
Sometimes simplicity is uniqueness like the watercolor strip tattoo, which goes along the backbone from neck to lower back.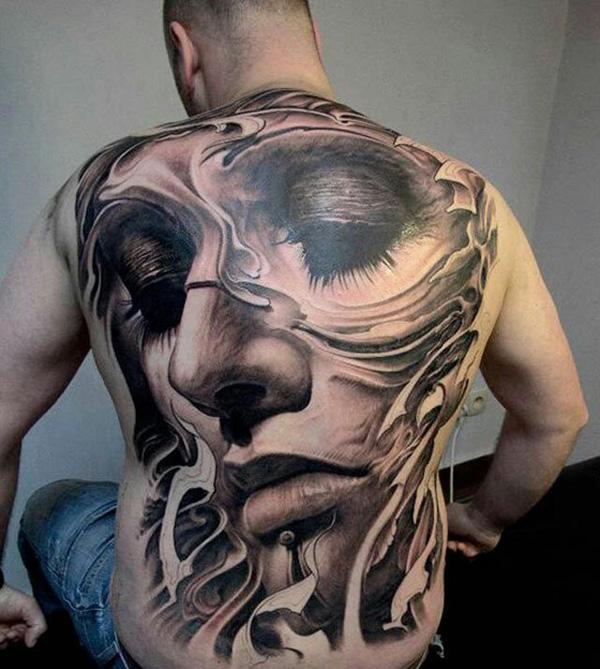 Melting Portrait
This tattoo features a large portrait of a woman her nose broken and melting along the edge. A surrealistic tattoo image on the human back.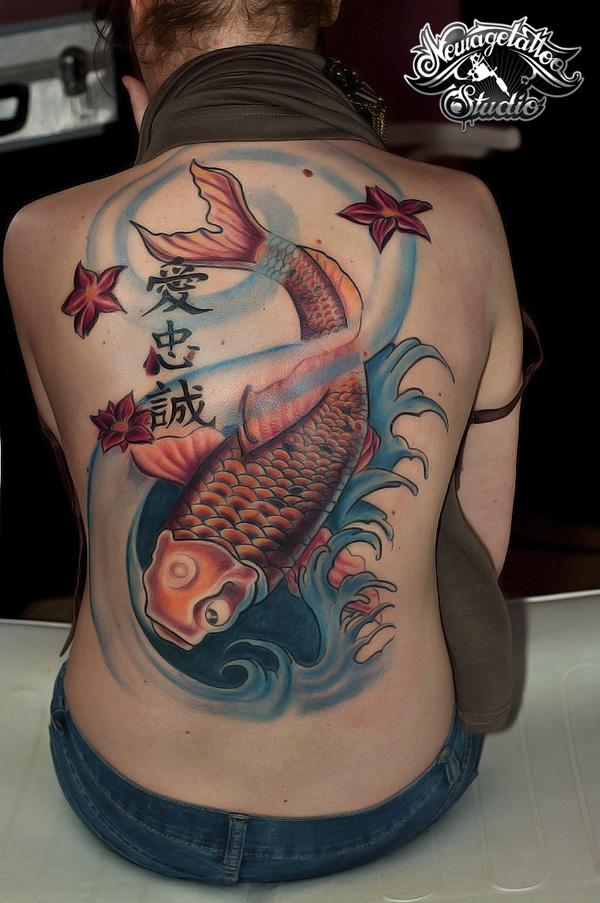 Girly tattoo with colored koi fish, wave and stars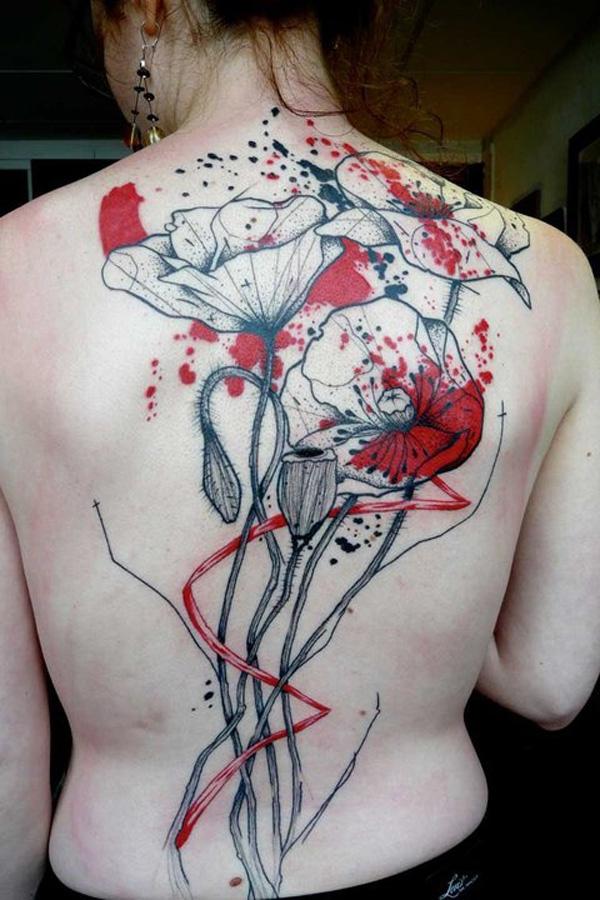 Gray wash lotus with watercolor splashes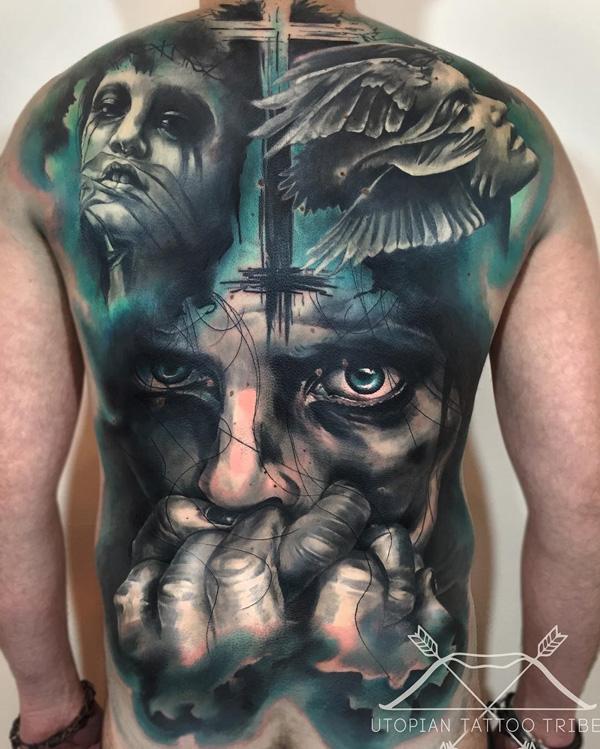 Emotional faces fullback ink in blue color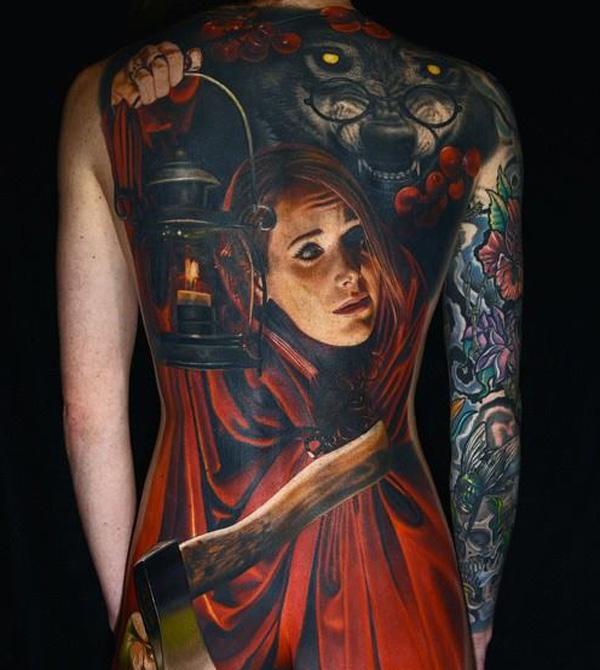 The woman with lamp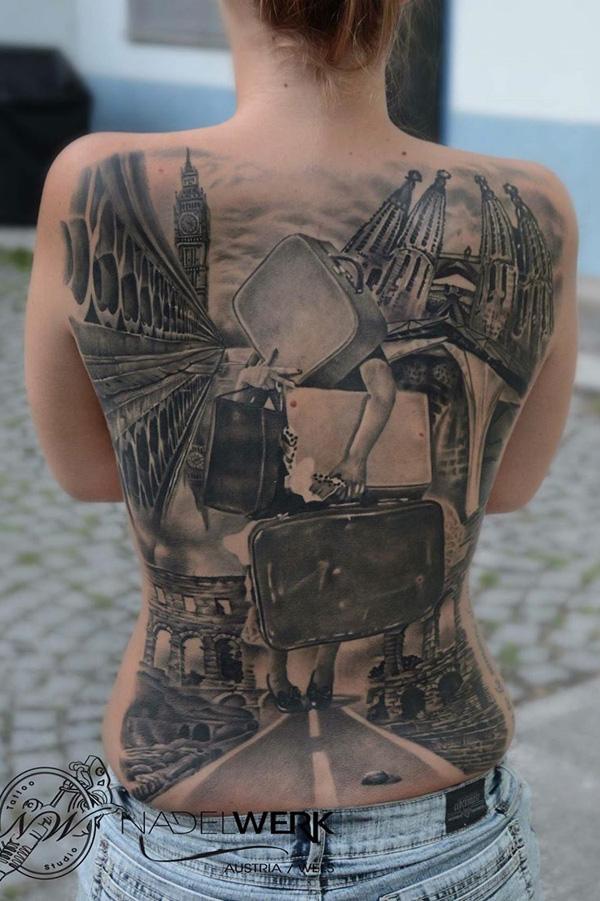 City life – moving house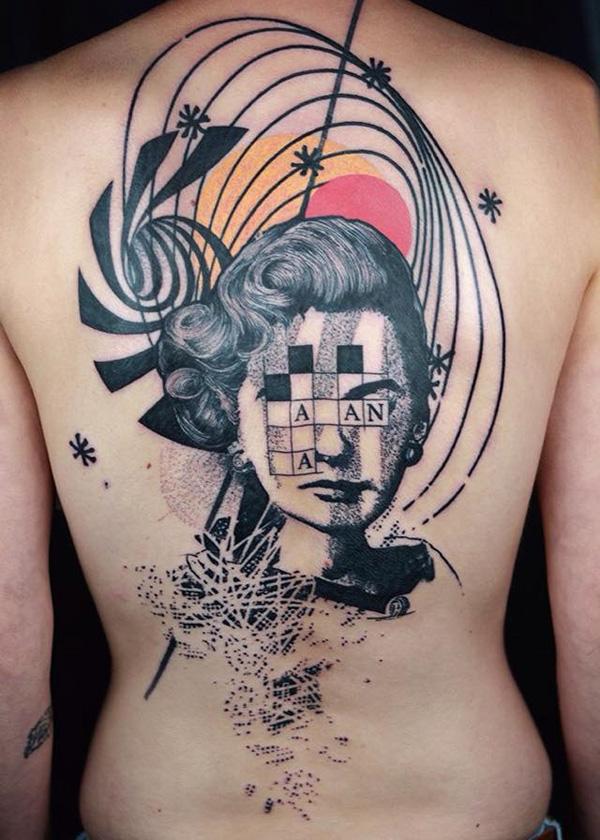 Mixed median illustration style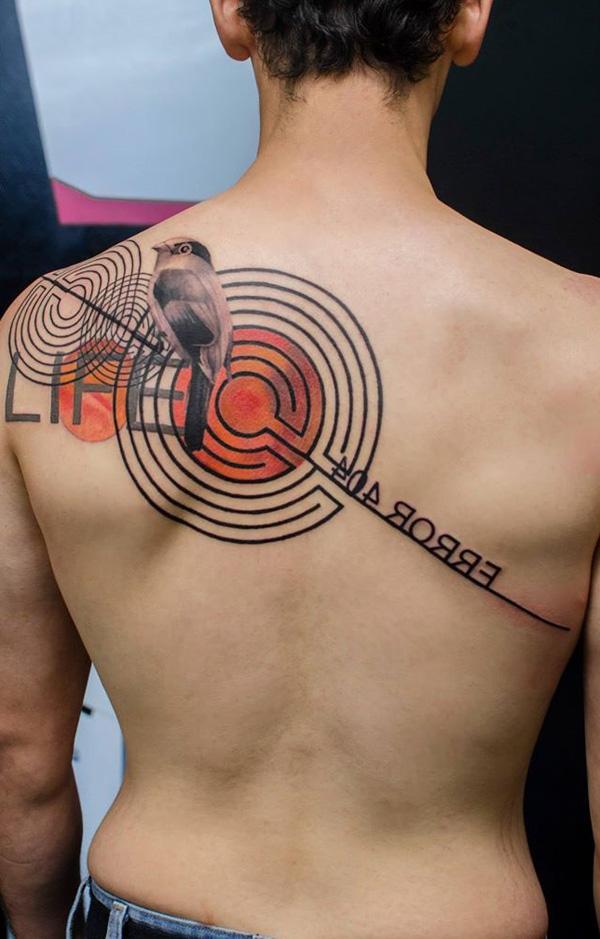 Life 404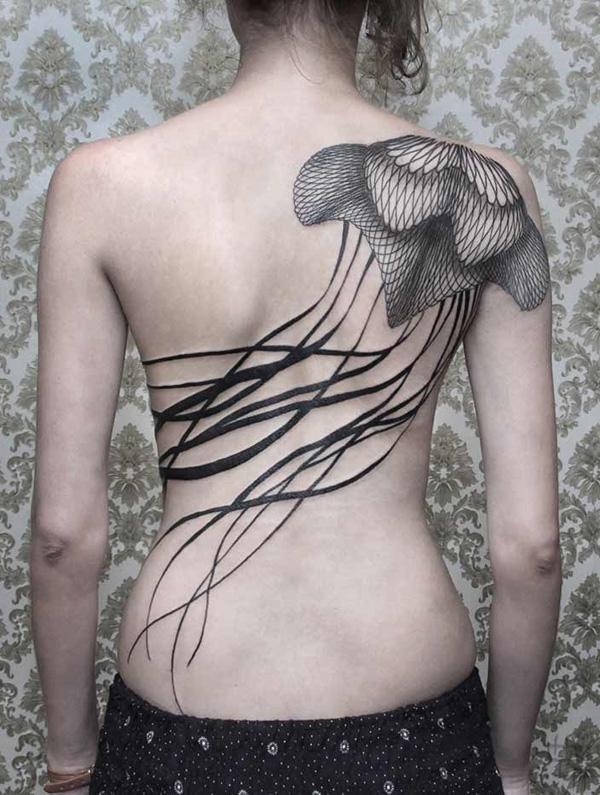 Stylized Jellyfish in black and grey style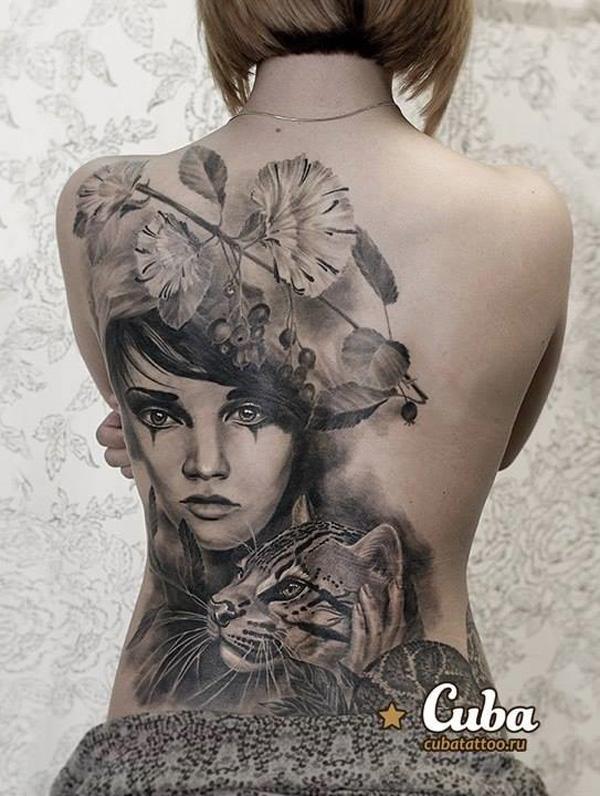 Woman wearing flower with tiger and python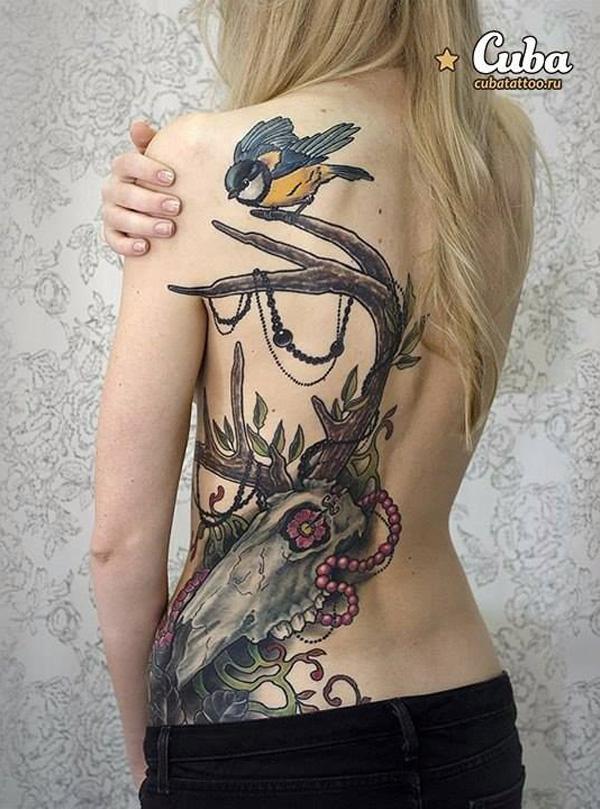 A bird standing on a dead branch with skull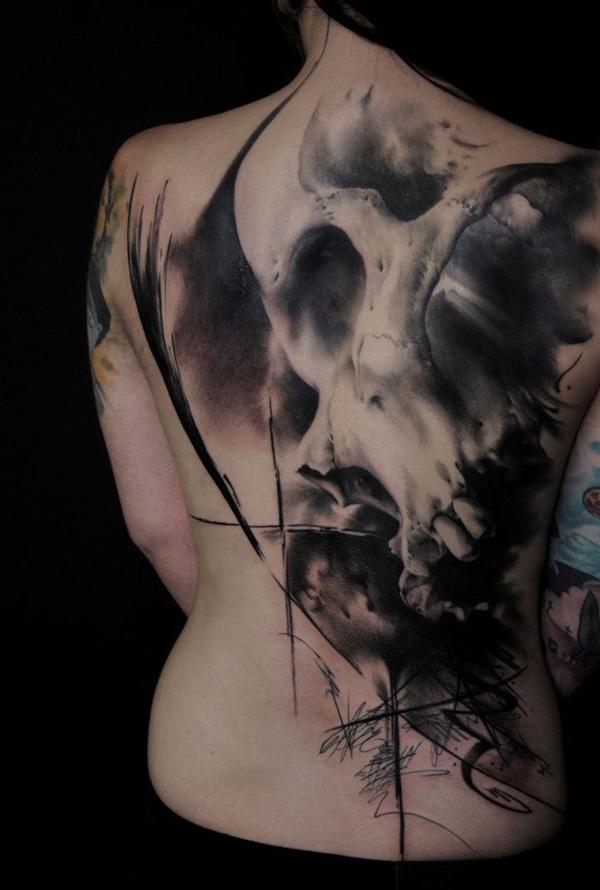 Skull blackwork on full back for women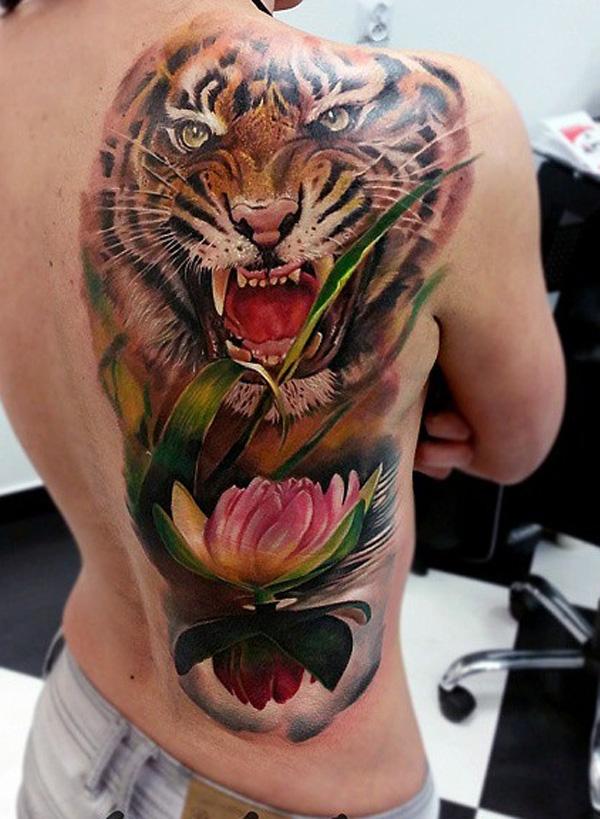 Realistic lotus and tiger face tattoo on half back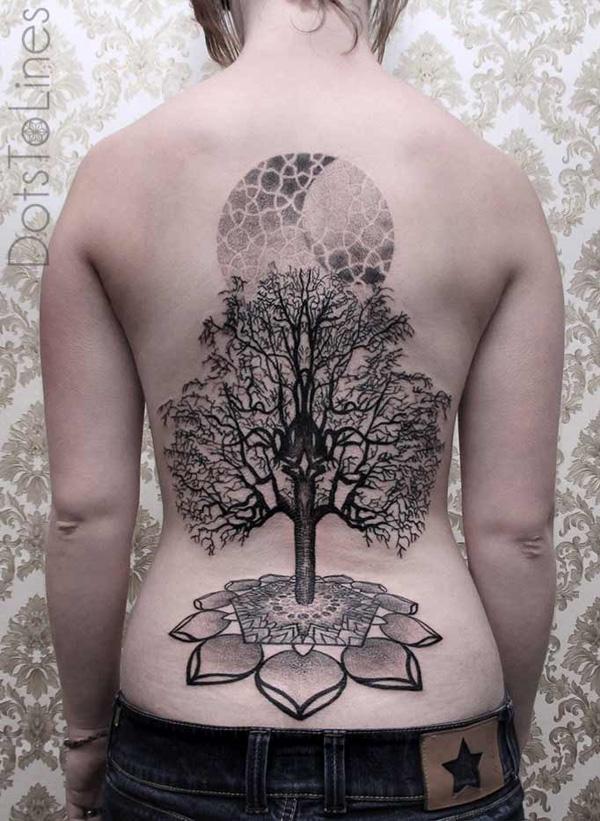 sun and tree of lifeDynamic line-based geometric tattoo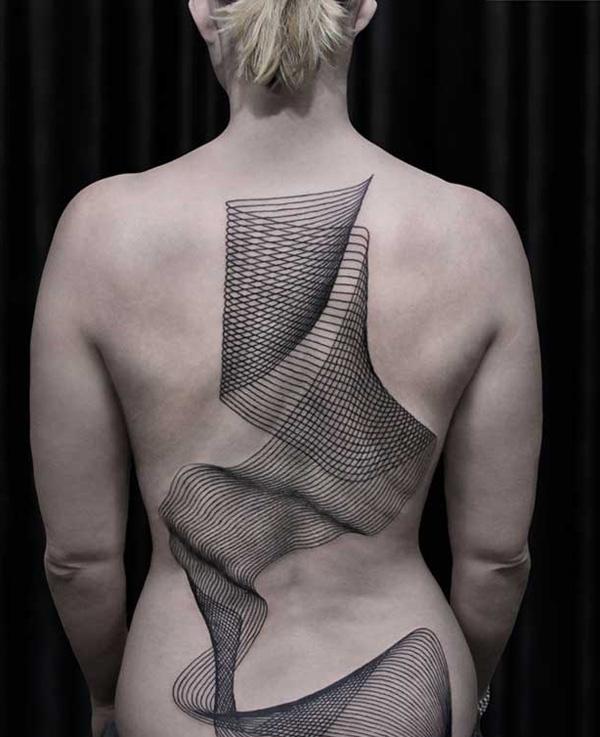 This piece features complex line-based works that creates illusion of dynamic wave on the back. The lines flow seamlessly over flesh in a way that looks similar to vectors on a computer. Despite tiny geometric element, what the artist rendered is not only precise artwork, but also broad imaginations.
Tree and leaf crafts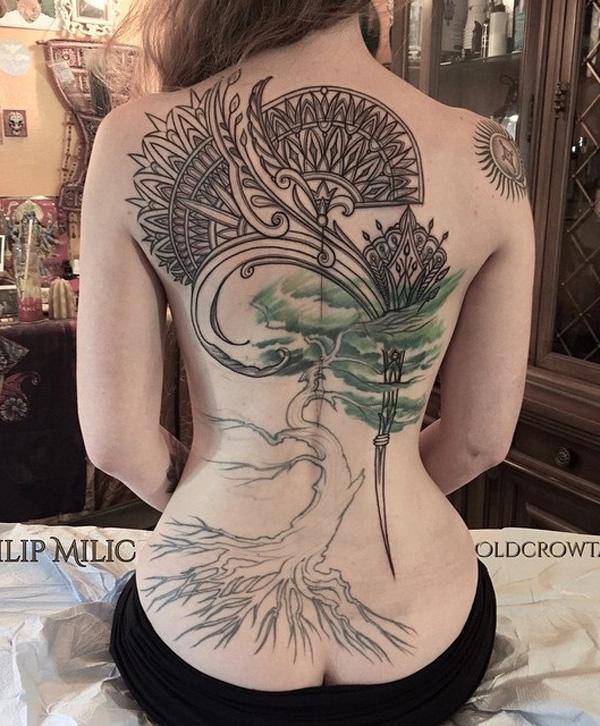 Stitched skin tattoo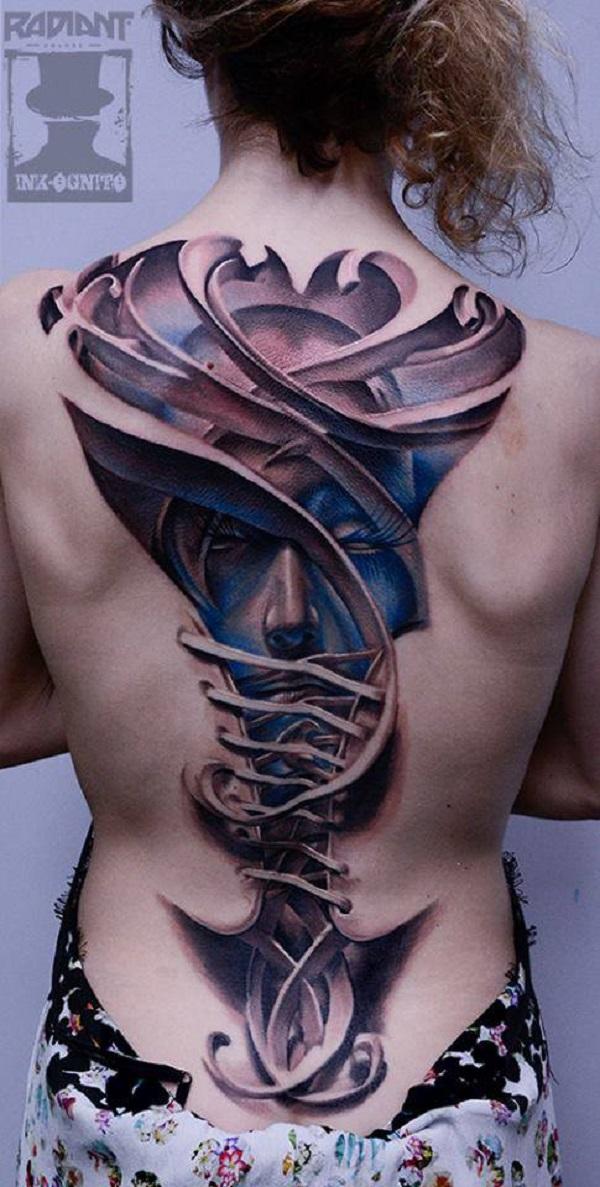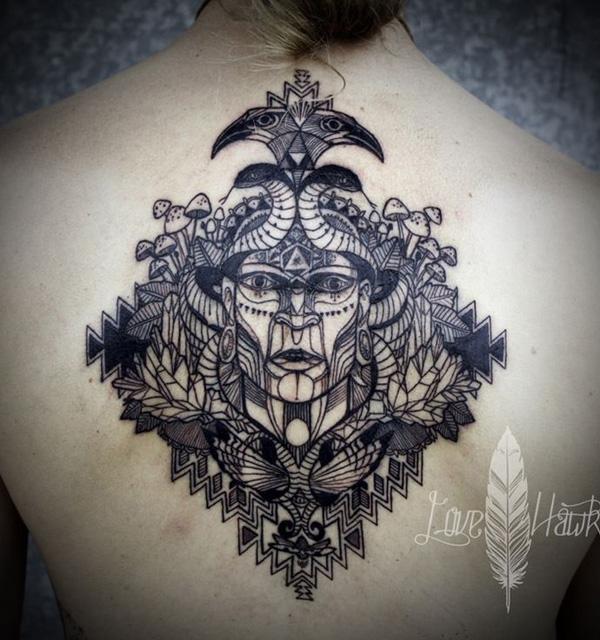 Colored birds and tree back tattoo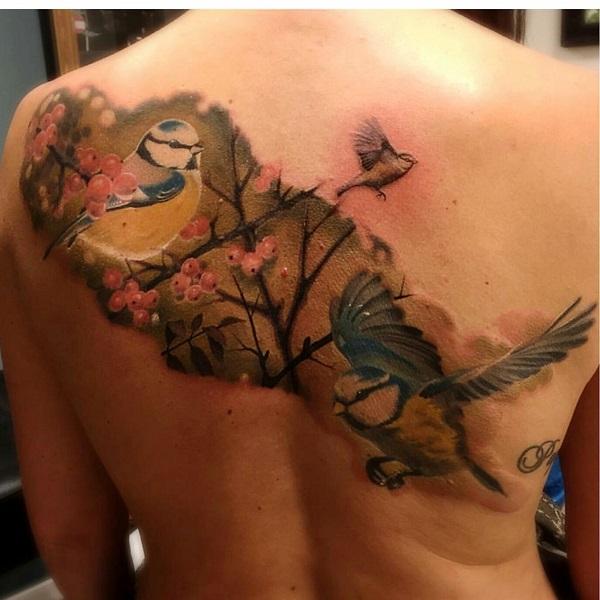 Dream catcher and deer back tattoo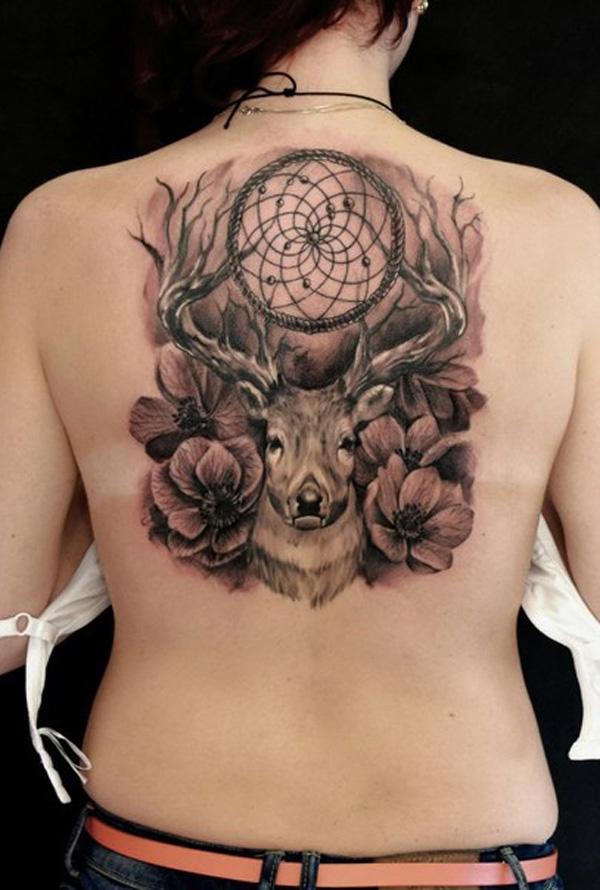 Double Kio fishes and wave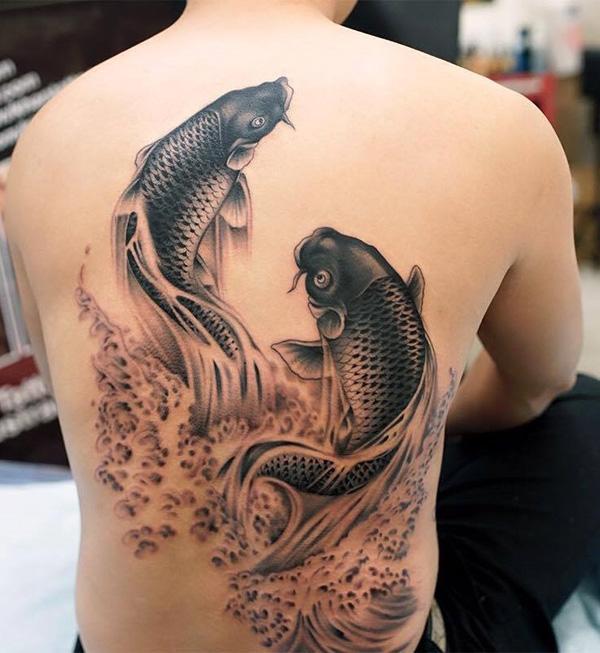 Lily and butterflies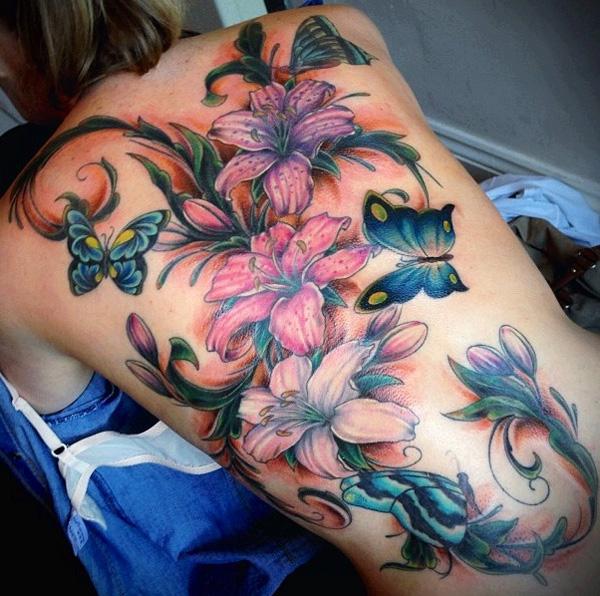 A feather and flock of birds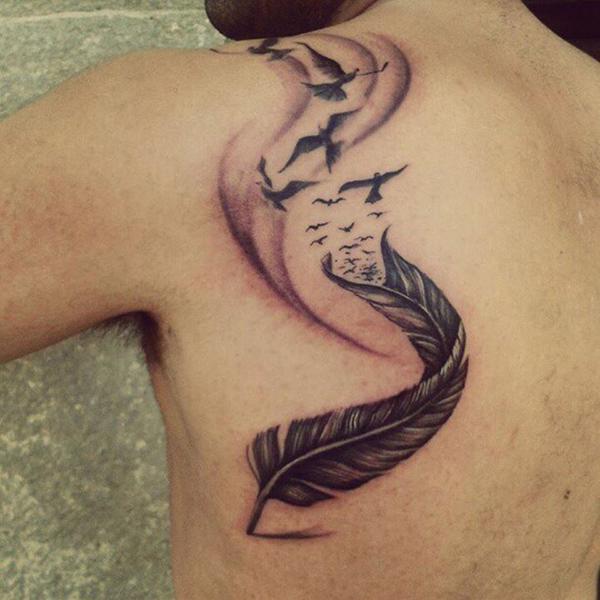 Cool tattoo on full back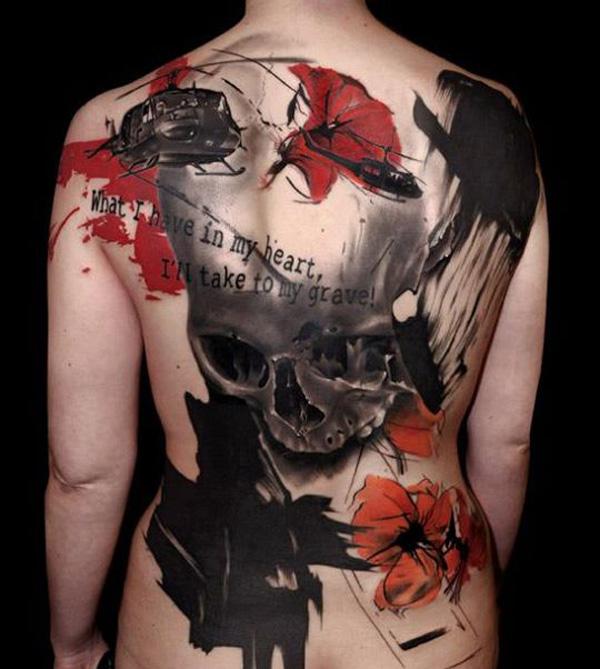 Awesome Back Crow Tattoo for Girls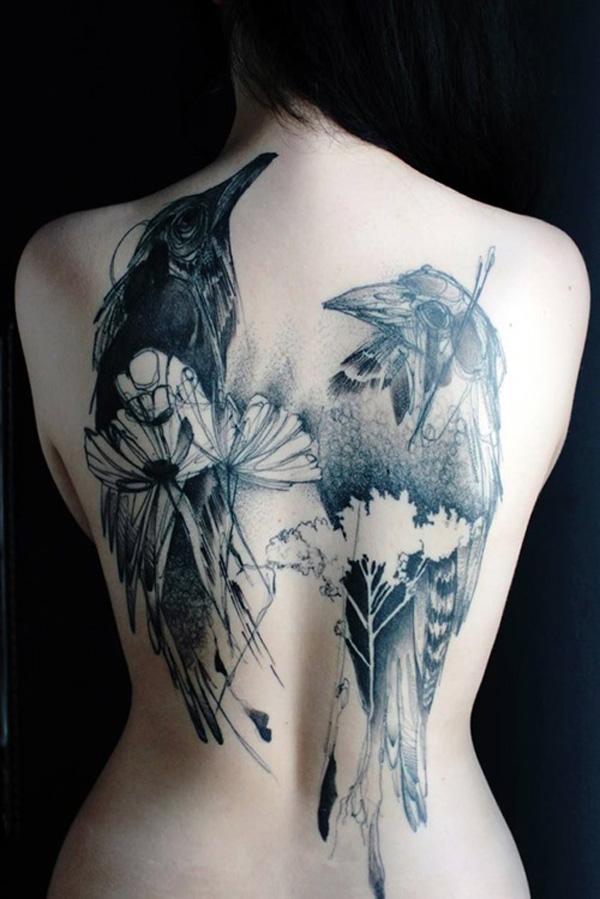 Tree Cover Up tattoo
Dragonfly Tattoo on the back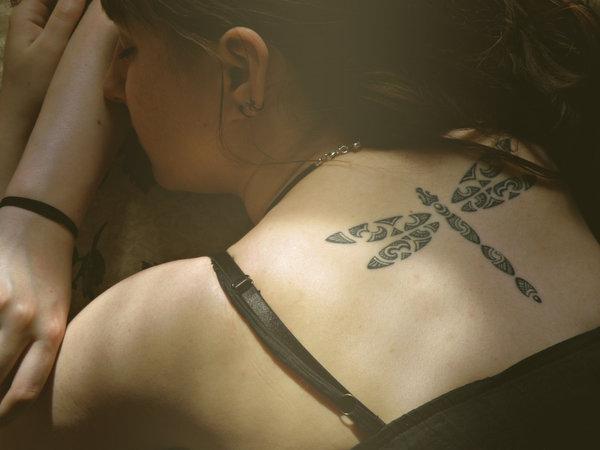 Fullback dragon tattoo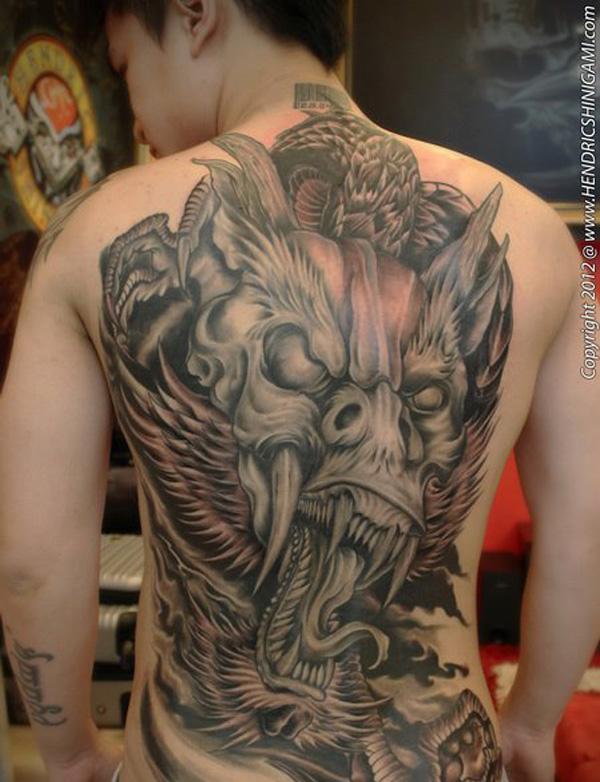 Boy and Feather Tattoo on Back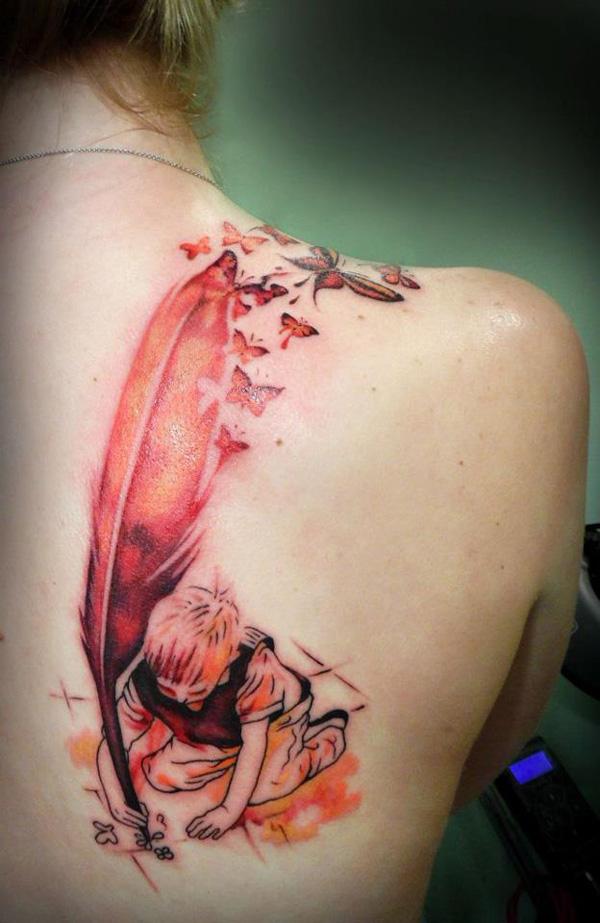 Phoenix Tattoo on the back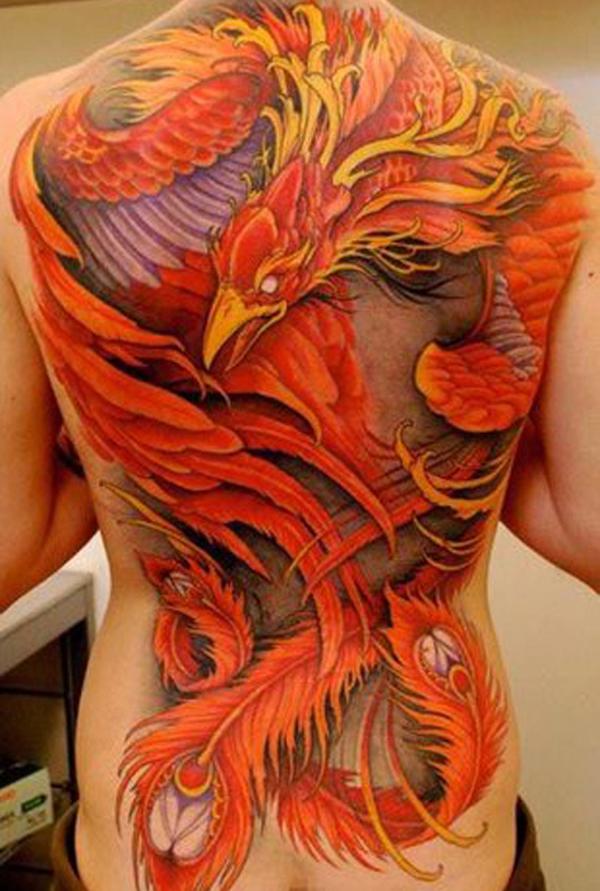 Stylish Anchor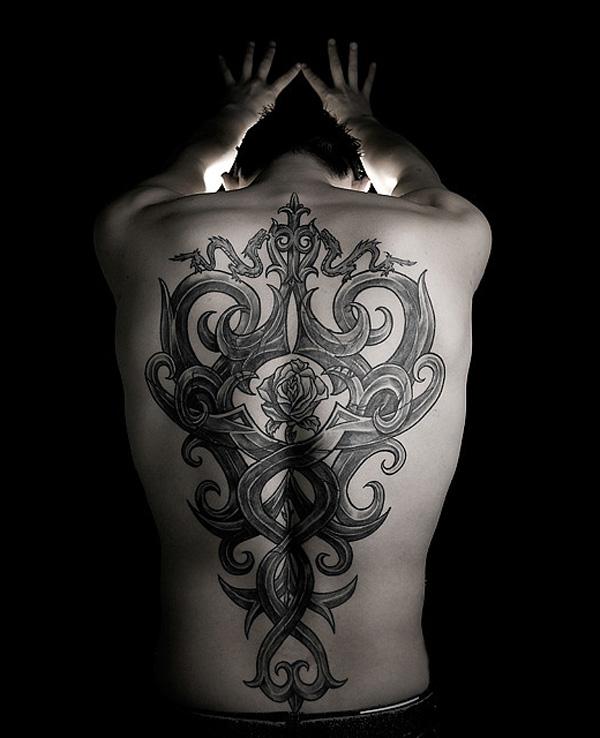 Japanese style Dragon on the back
Bird cage on back
3D tattoo on back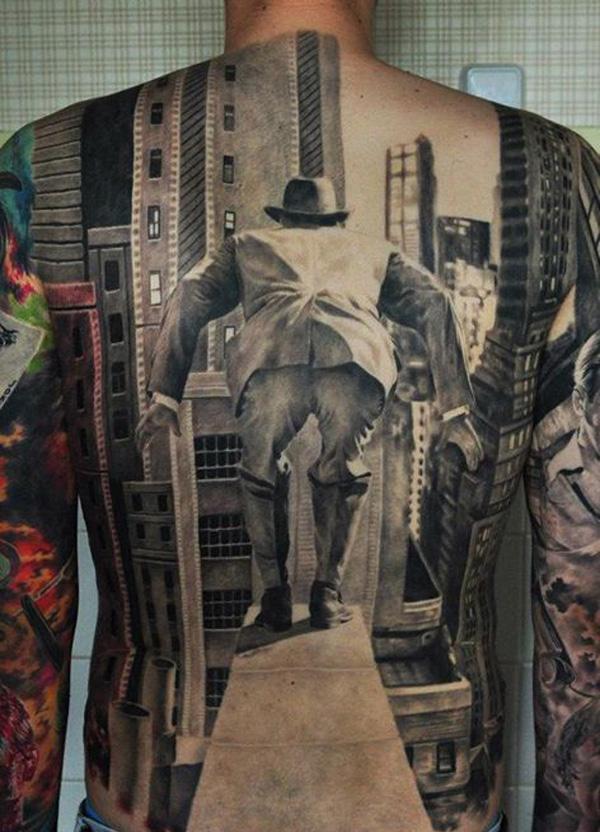 Cool tattoo on back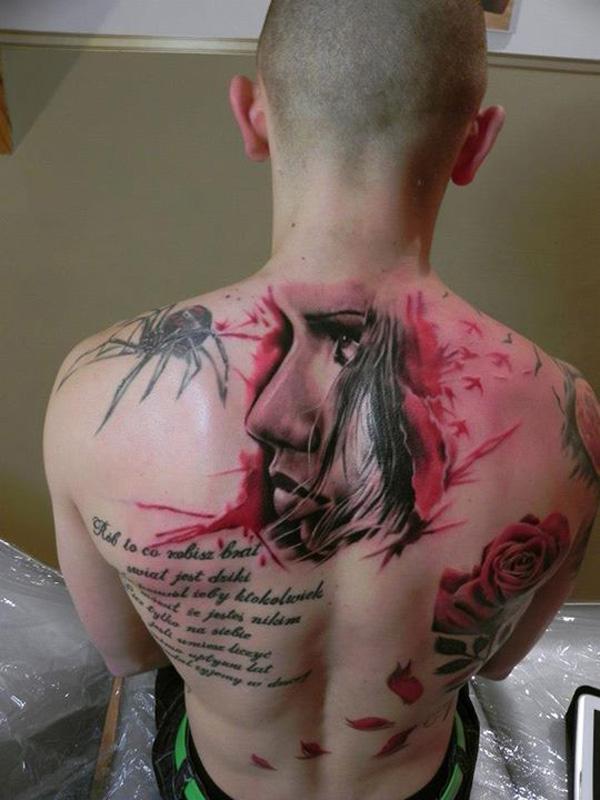 flowers butterflies tribal tat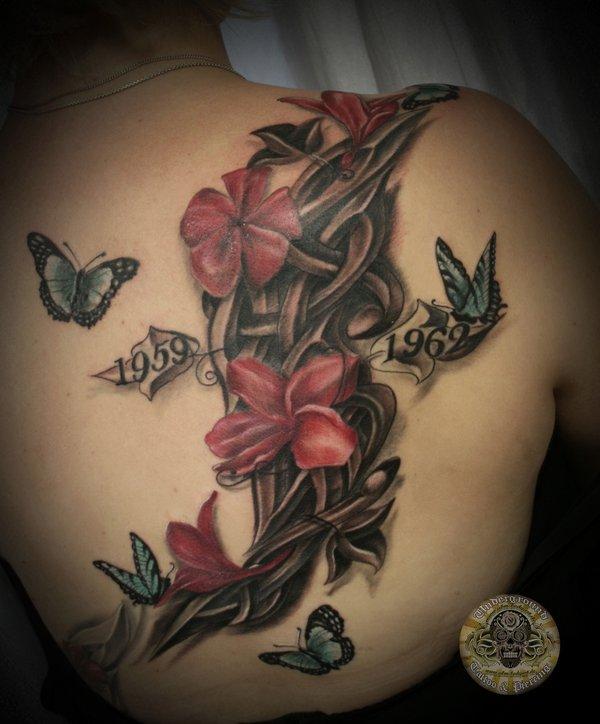 Tribal Tattoo on back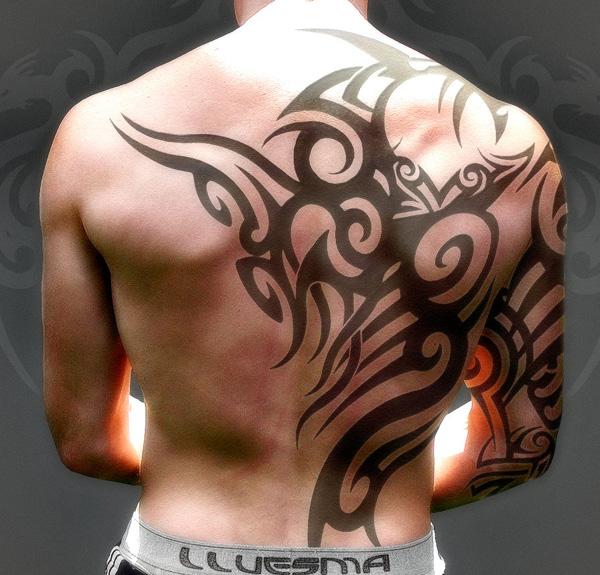 Symmetric Lotus in Mandala style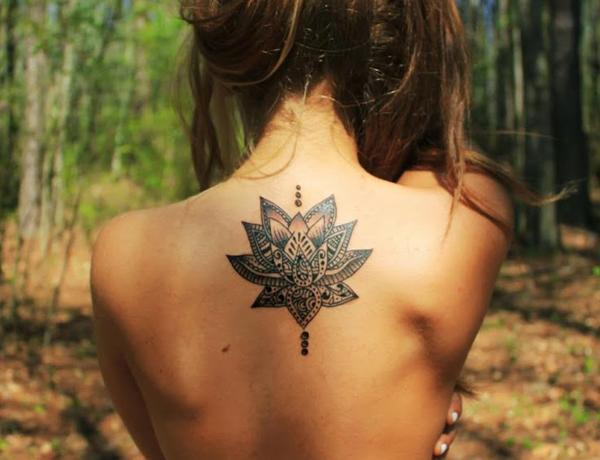 Realistic Lace Ribbon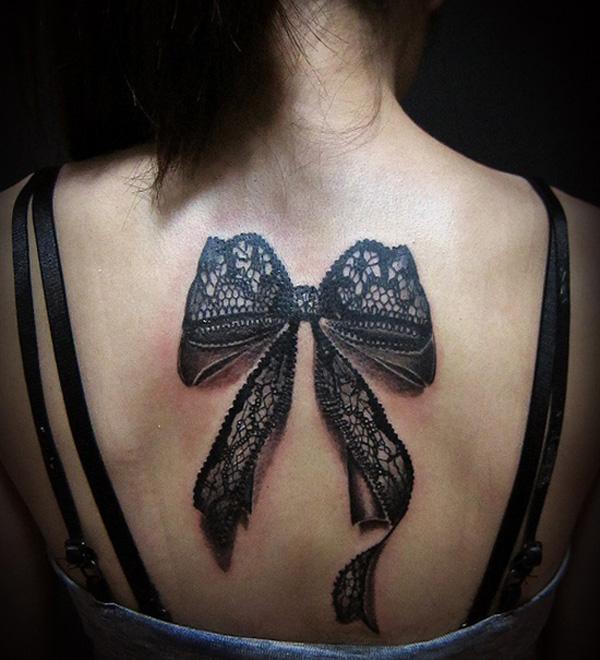 Gorgeous Native Warrior Skull on back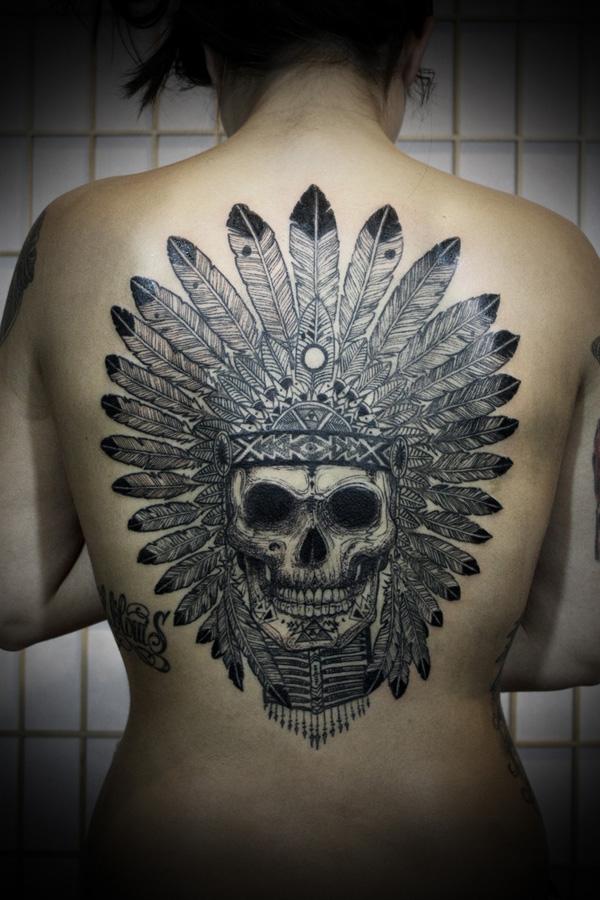 Tree tattoo on back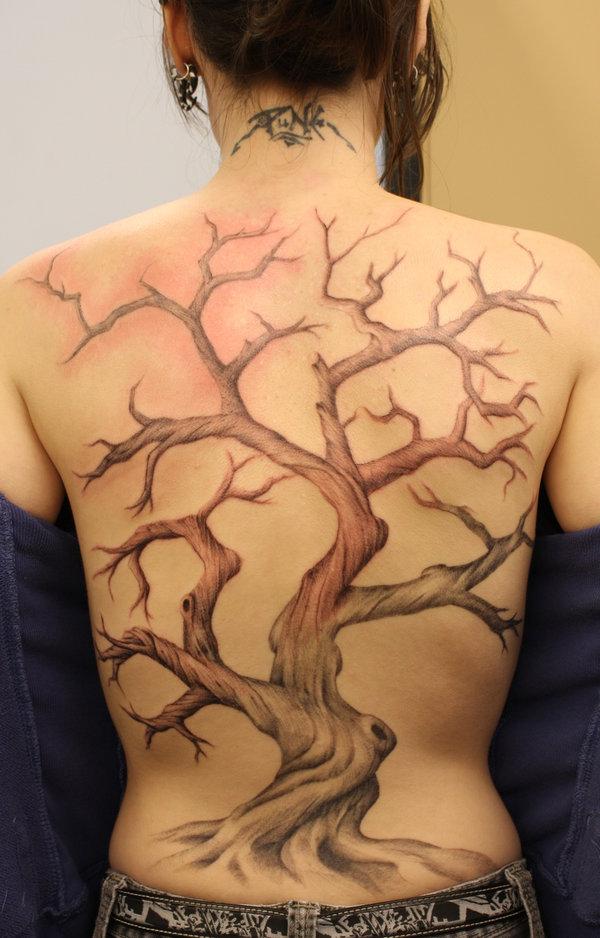 Kneeling Angel with wings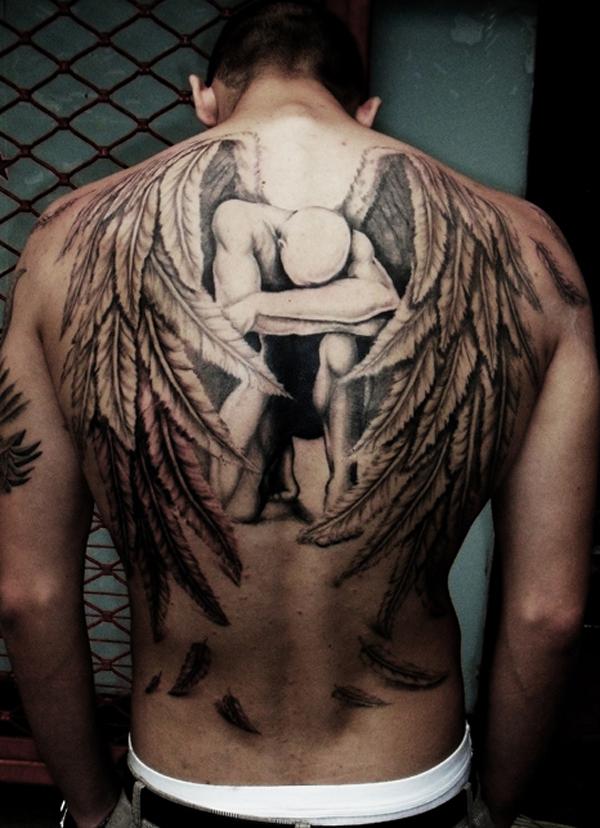 This stunning angel tattoo is a beautiful and meaningful piece of body art. Featuring an angel in prayer, the tattoo conveys a sense of reverence and faith while its intricate details create an eye-catching effect. The wings add to the feeling of grandeur, making this tattoo perfect for anyone looking to express their spirituality or belief system through ink.
Intricate design with a portrait of a woman and and fine details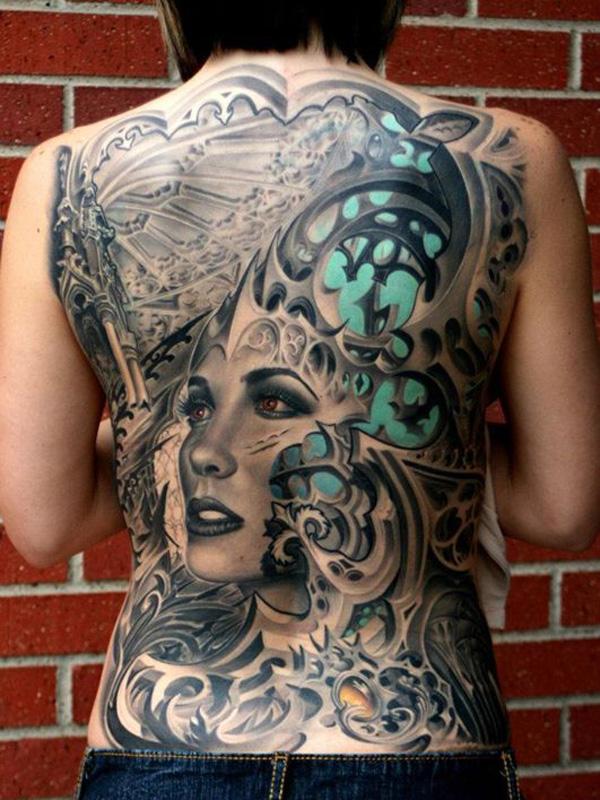 Realistic tattoo with a woman surrounded by lotus, wave and cherry blossoms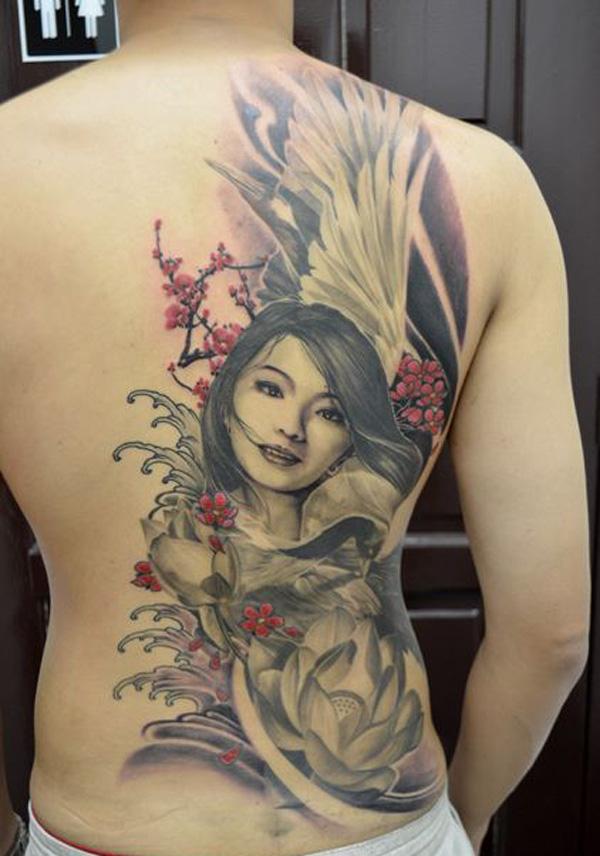 Watercolor ink with a bird on a tree and a butterfly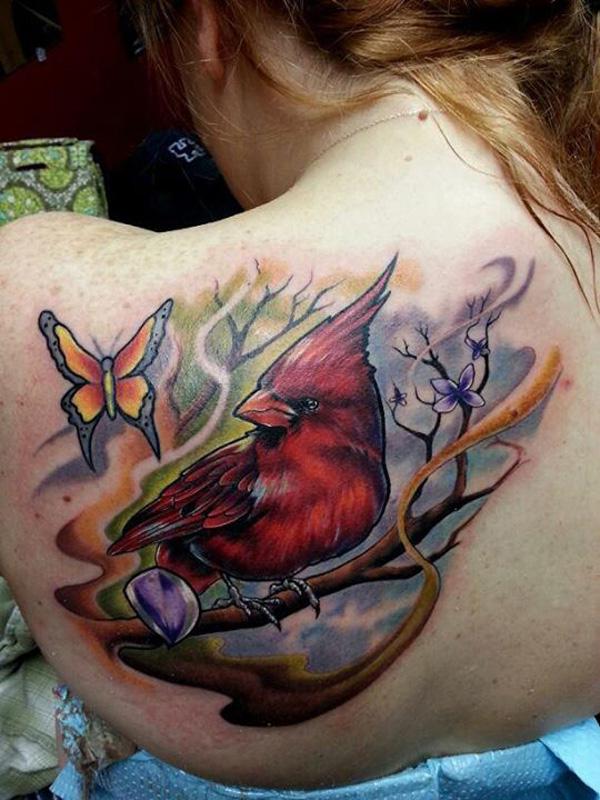 Skull and crows tattoo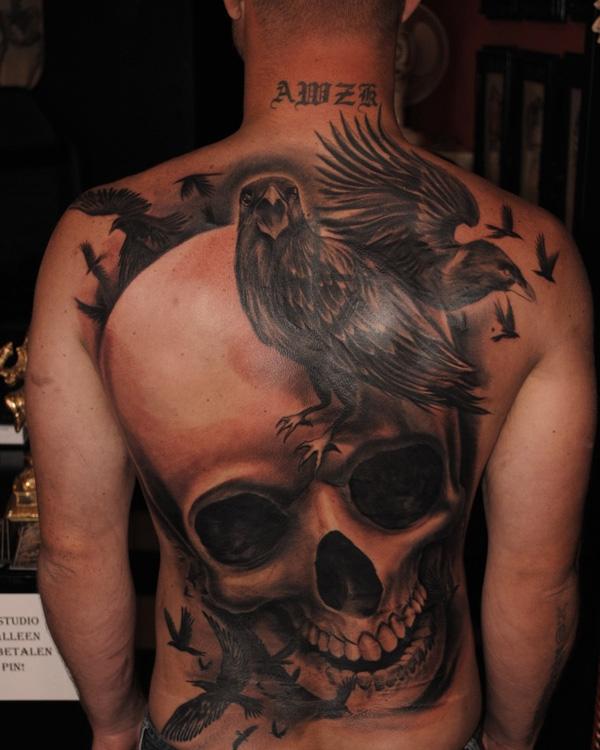 Full back dragon tattoo in the Japanese style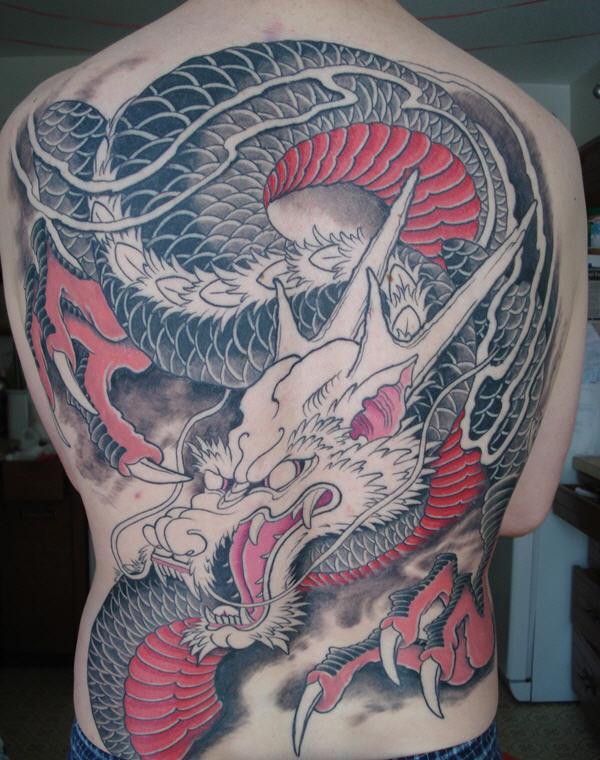 Ribbon and bow tattoo in a rusty watercolor style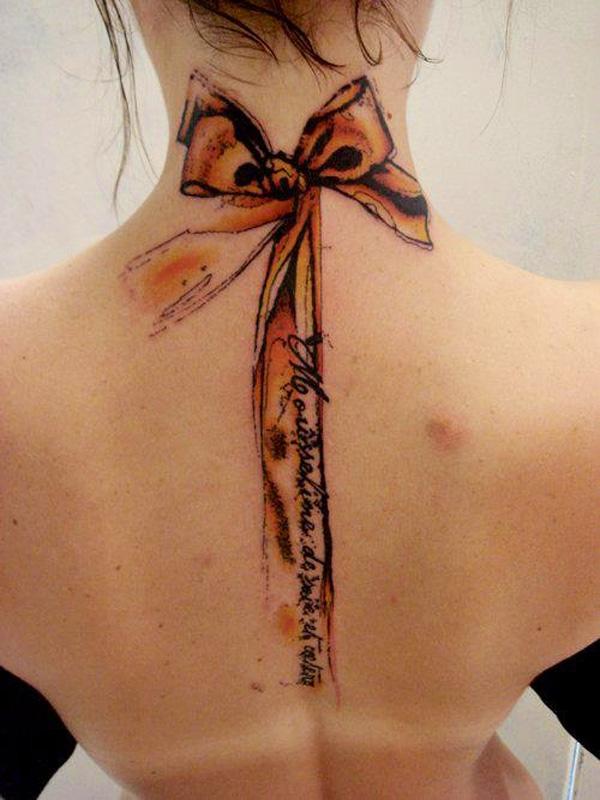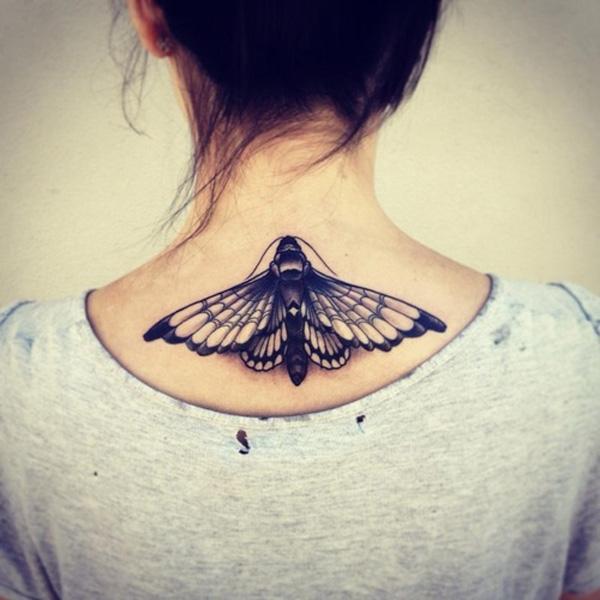 Butterfly tattoo back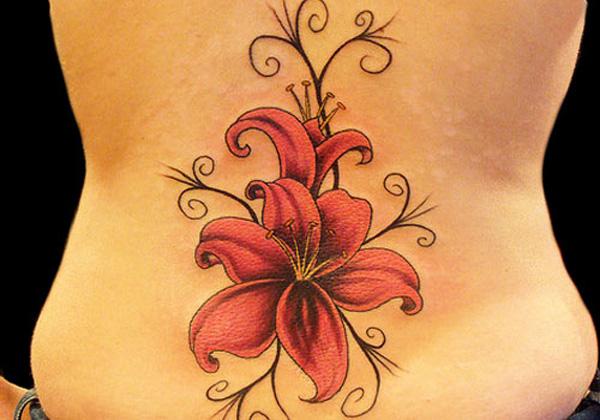 lily flower on back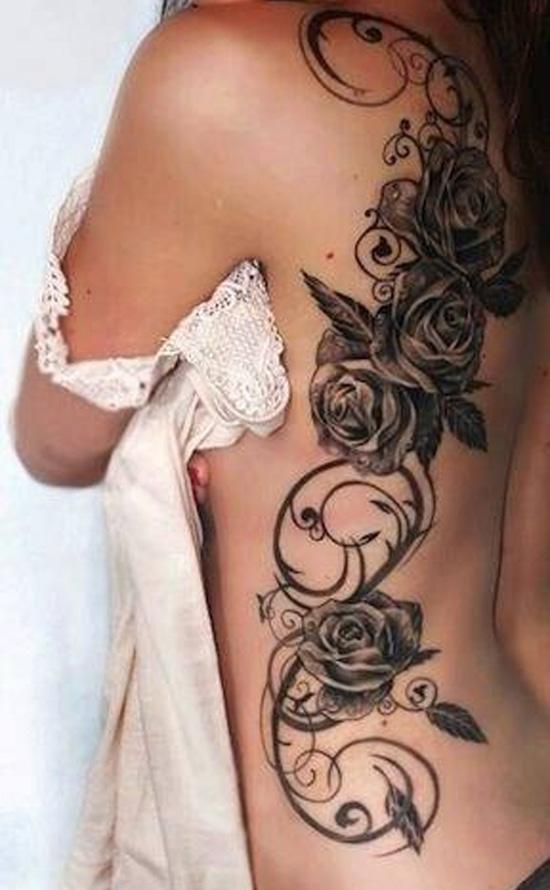 Black and grey roses with swirling branches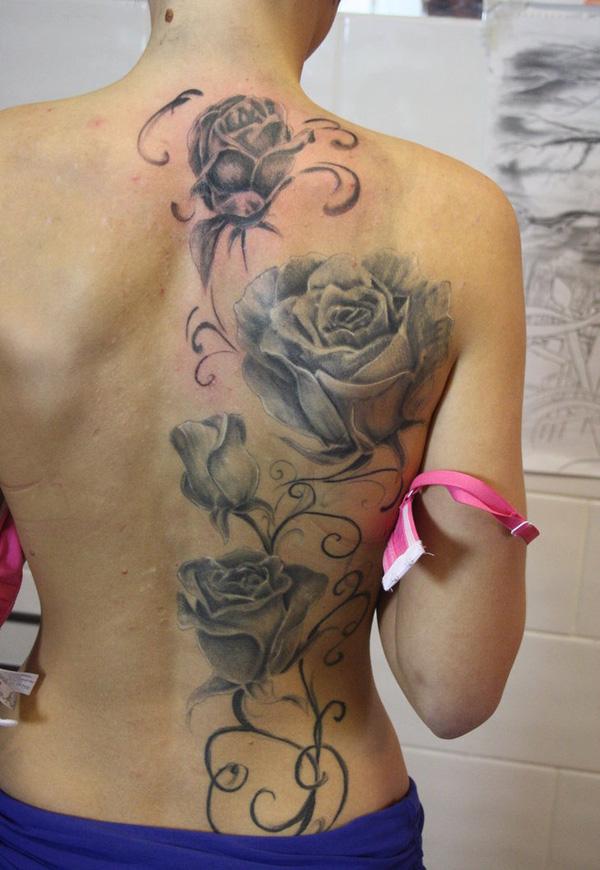 Gray wash roses on half back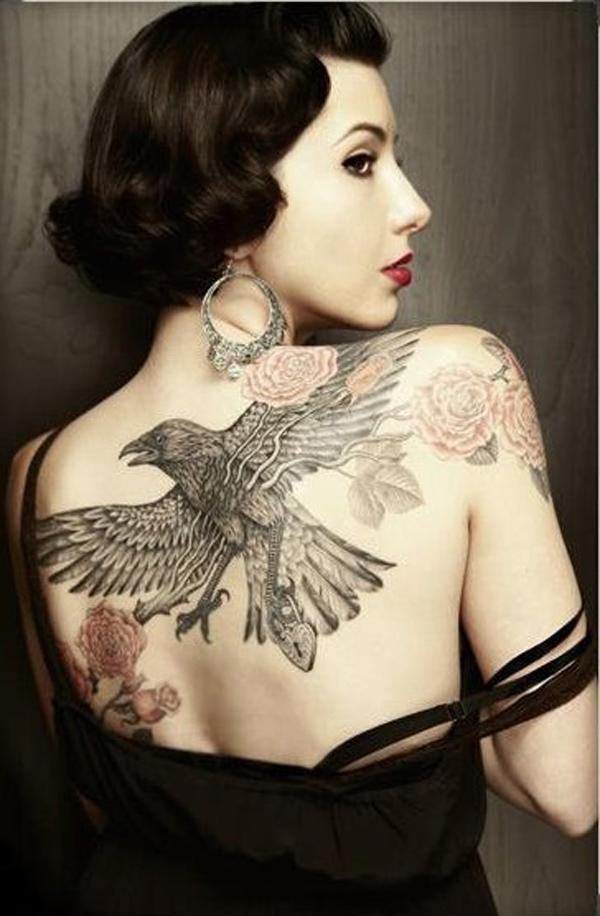 Eagle and roses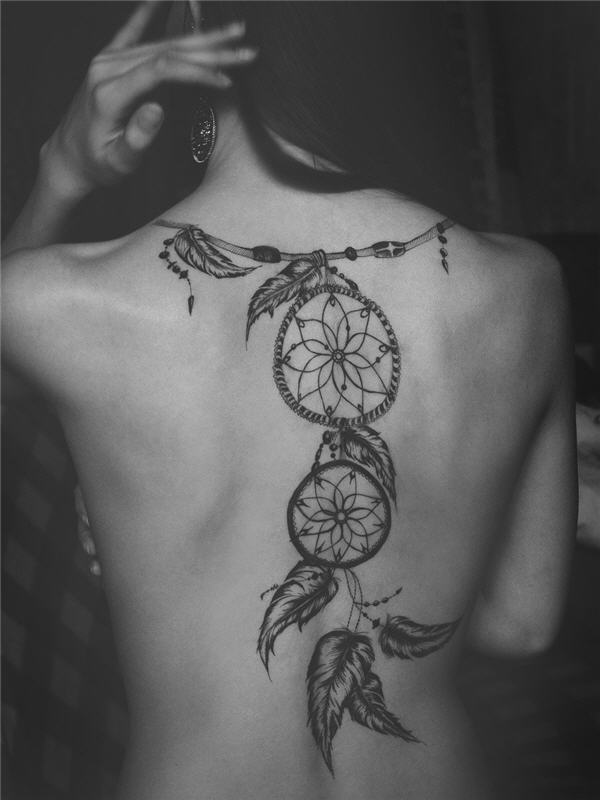 Black and gray dream catcher tattoo for women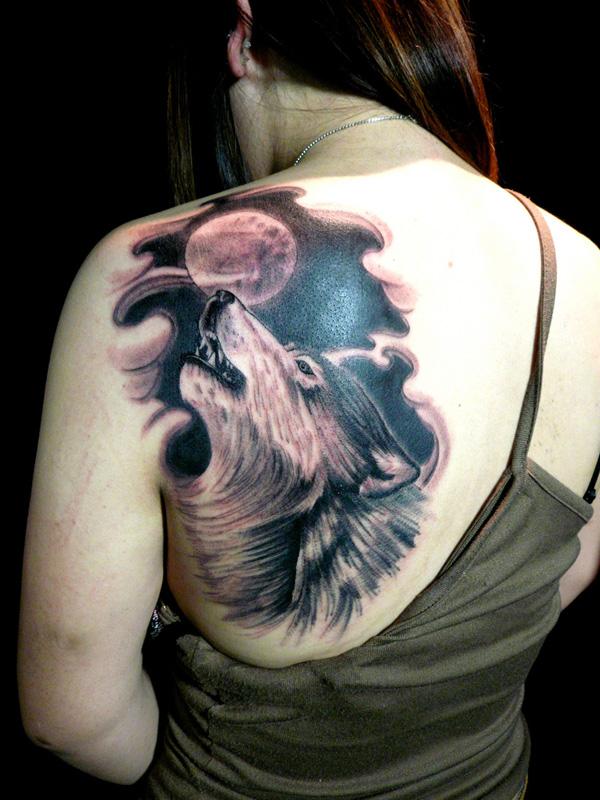 Wolf and moon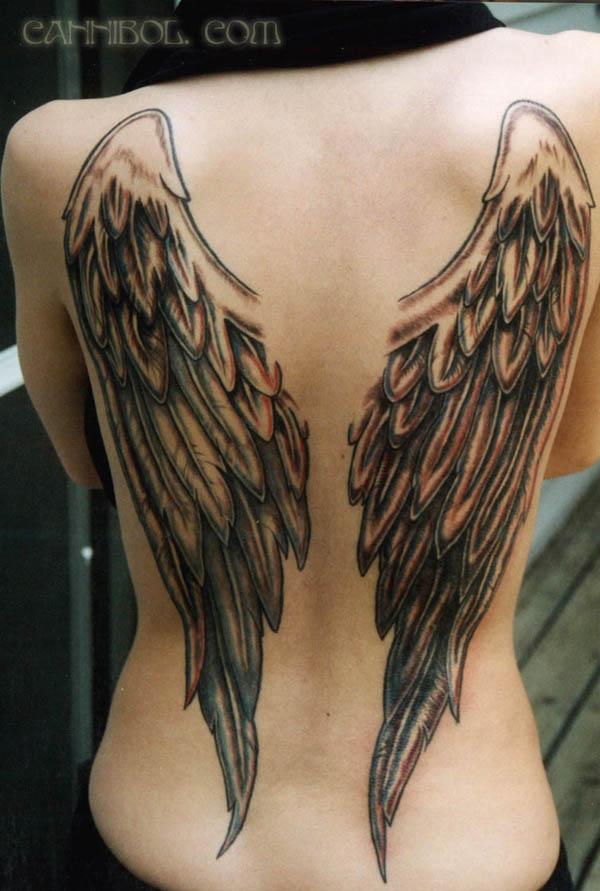 Angel wings tattoo on back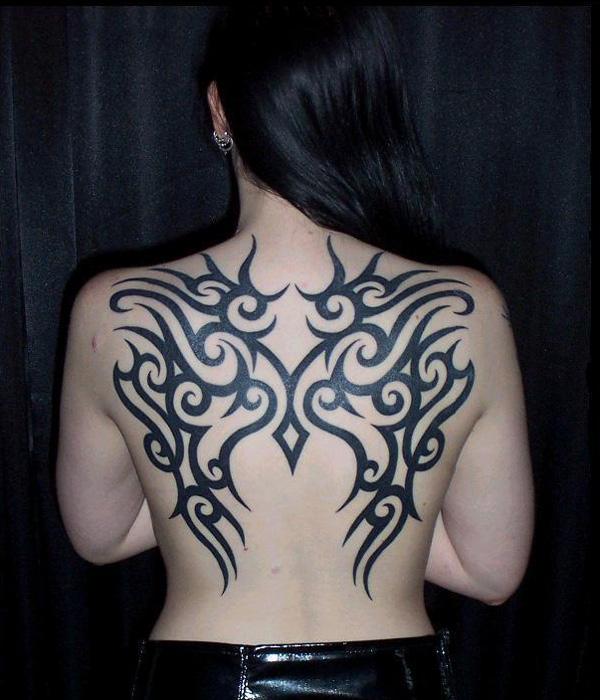 Maori back piece on back
Glowing hourglass tattoo with roses and wings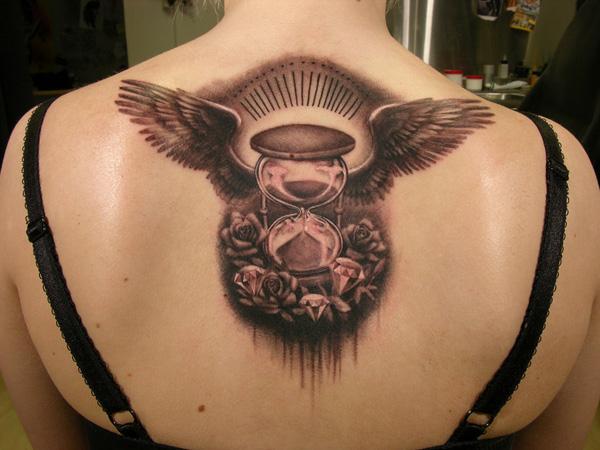 This stunning glowing hourglass tattoo with roses and wings is perfect for any woman looking to make a bold statement. The intricate details of the design, such as the delicate petals of each rose, create an eye-catching piece that will draw attention wherever it's shown. The addition of wings gives it a sense of freedom and beauty that can't be found in other tattoos. This unique design is sure to stand out from all others and become an unforgettable part of your style!
Elegant peacock tattoo for women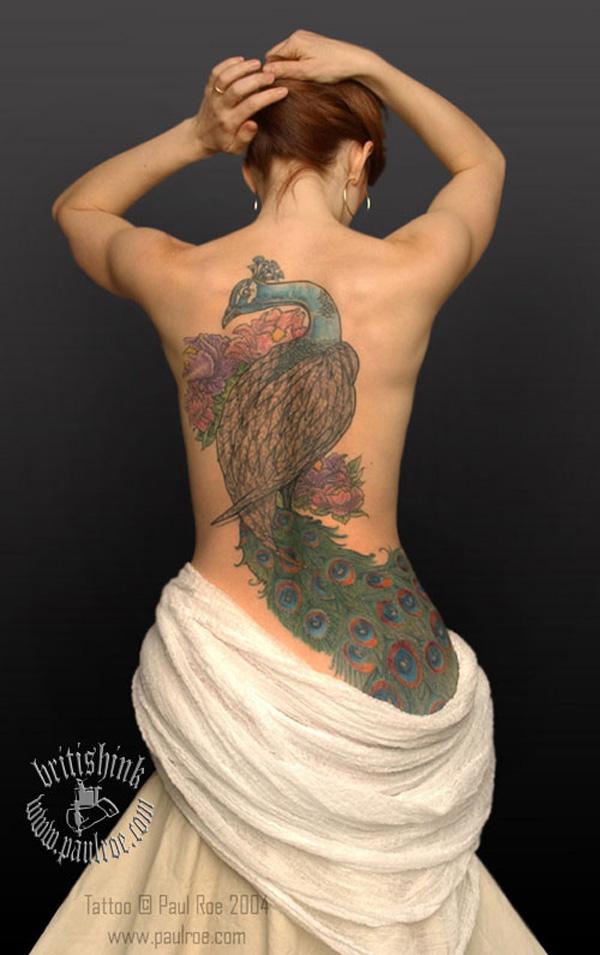 Back tattoo with trees and geometric bocks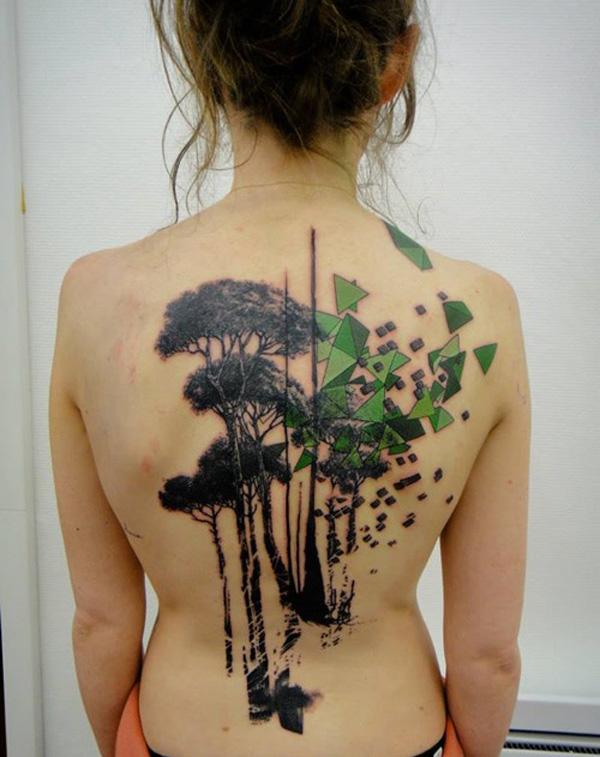 Intricate back piece with Octopus and details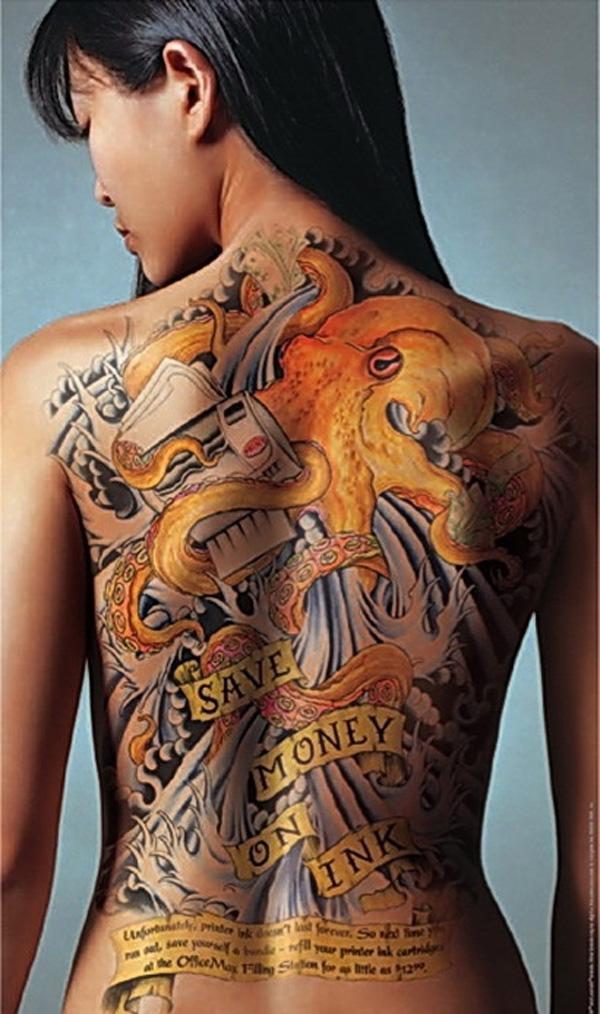 Nature call – a realistic elephant tattoo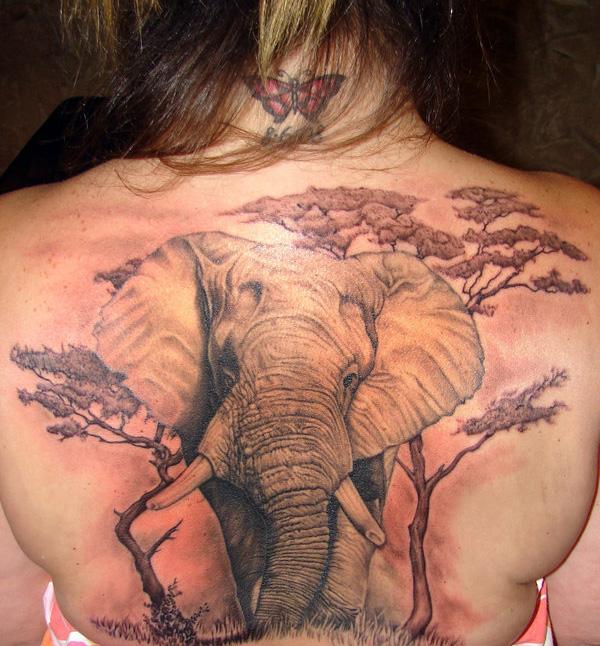 Angel inspired tattoo for men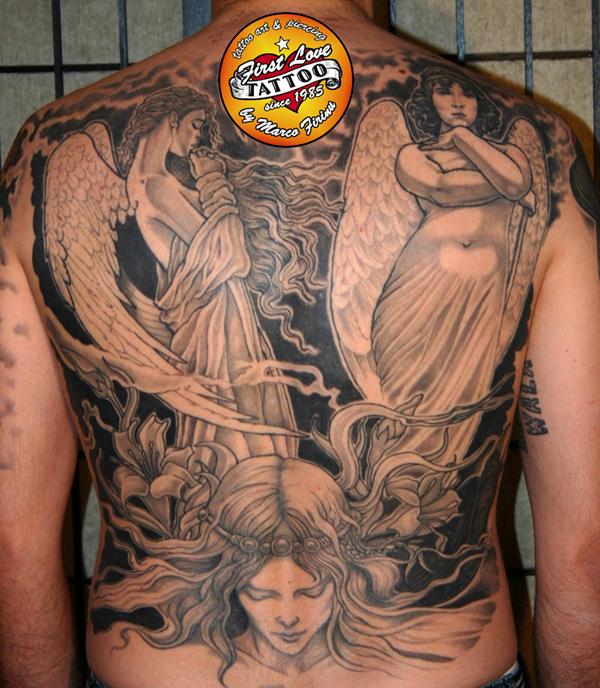 Typical Japanese style tattoo with Phoenix, fish and cherry blossoms