You may have come across some beautiful tattoo designs with holy wings or winged beings. There's a general name for this type of tattoos – Angel Tattoo, which could be worn by both men and women as they could be rendered in either masculine or feminine style. You may wonder why so many people love the religious subject tattoo idea. What should I consider if I have to make a choice?
The meaning of Angel Tattoos
Although it was originated from the Greek word, the word angel was found in the bible as the title for spiritual beings who serve as God's messengers. Their outward appearance was often depicted to have a pair of holy wings with shining halo. Besides the duty as the divine messengers to interpret and promote God's will, another function of Angels is their duties acting as guardian angels which convey wisdom and offer guidance to human beings. Therefore, many of guardian angel tattoos are based on this concept and come up with varieties of artistic design.
For pure religious concept of Angel tattoos, you may need to know more about the story of angel. For example, seven high rank angels were called archangel among servants of God in Jewish literature. Seven archangels are given their names as related to the seven days of the week, i.e., Michael (Sunday), Gabriel (Monday), Raphael (Tuesday), Uriel (Wednesday), Selaphiel (Thursday), Raguel or Jegudiel (Friday), and Barachiel (Saturday). So it would make it easy for you to understand the meaning of the Angel tattoo should you know the literature. For instance, the above fullback tattoo was inspired by Guido Reni's painting Archangel Michael Trampling Lucifer, 1636.
Angel Wing Tattoo
One of prominent characteristics of Angels found in fine art is they all with beautiful wings. As messengers of God connecting with humans, they travel back and forth from heaven to earth with wings. So many people may choose pure angel wing tattoos as they express one's faith and convey the meaning of God's presence. As an example, here is a beautifully designed angel wing tattoo.
Probably what is the most important we need to know is that Angels aren't just for Christians but for all people with faith no matter which religion you believe. Therefore, it's the best choice if you'd like to have a tattoo to express your faith. If you are struggling which kind of designs to choose, let me help you go through the list of 60 holy angel tattoo designs, and you will enjoy the beauty, purity, and kindliness of the angels.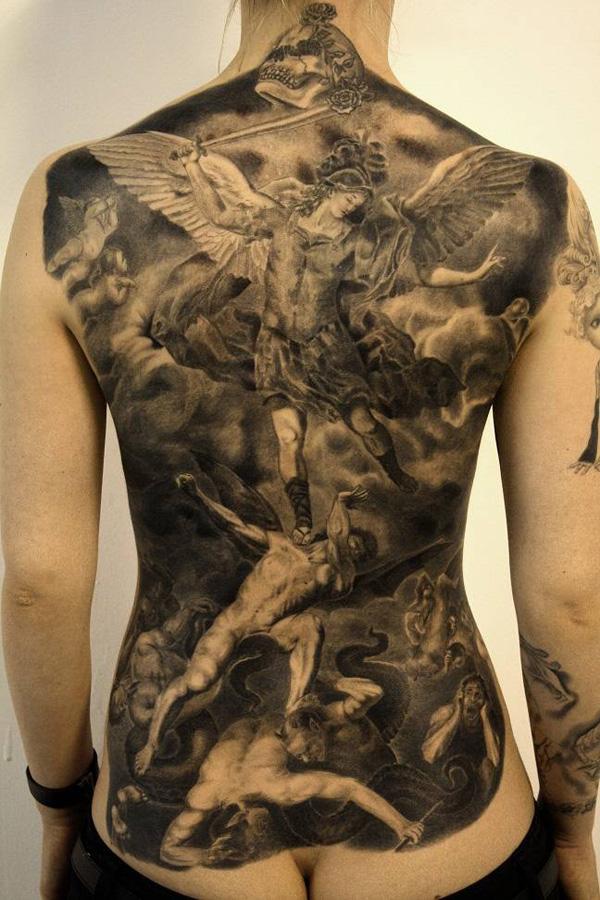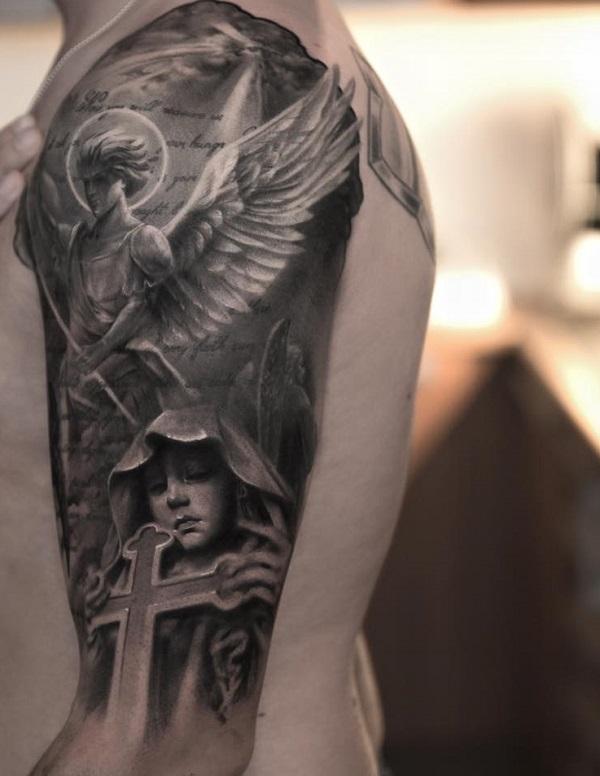 Powerful Guardians of Cross
The black and white sleeve tattoo features winged guardian angles standing by the holy cross as the cross represents their Lord Jesus.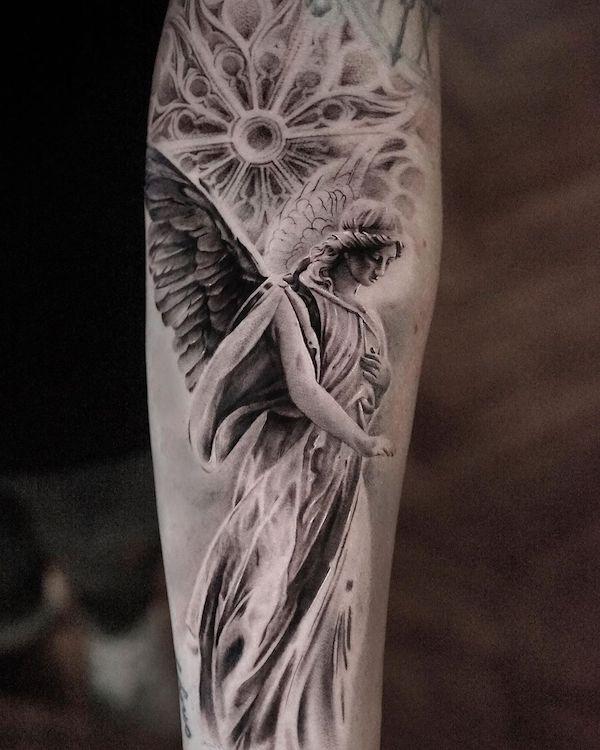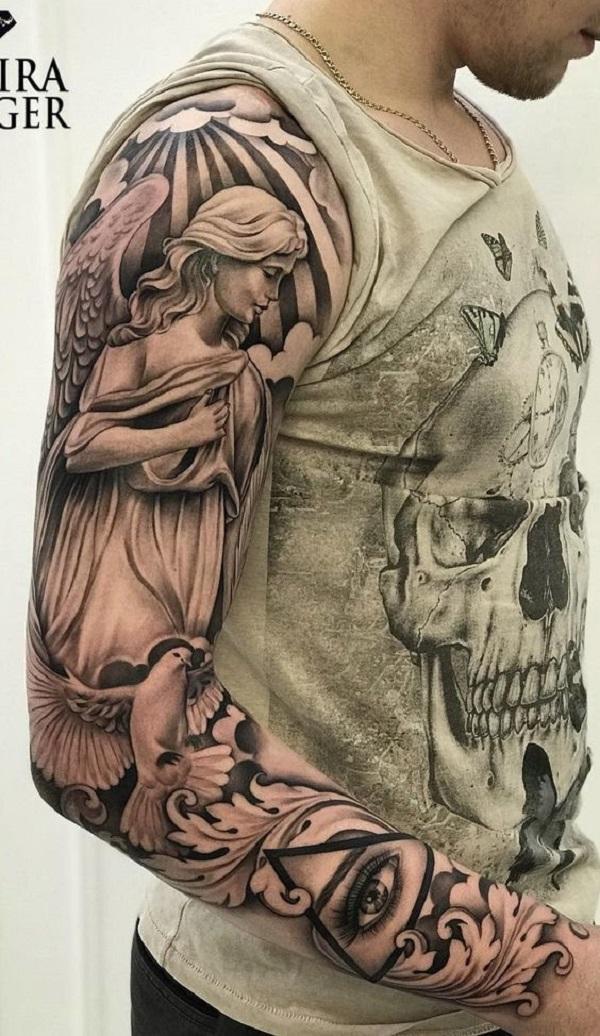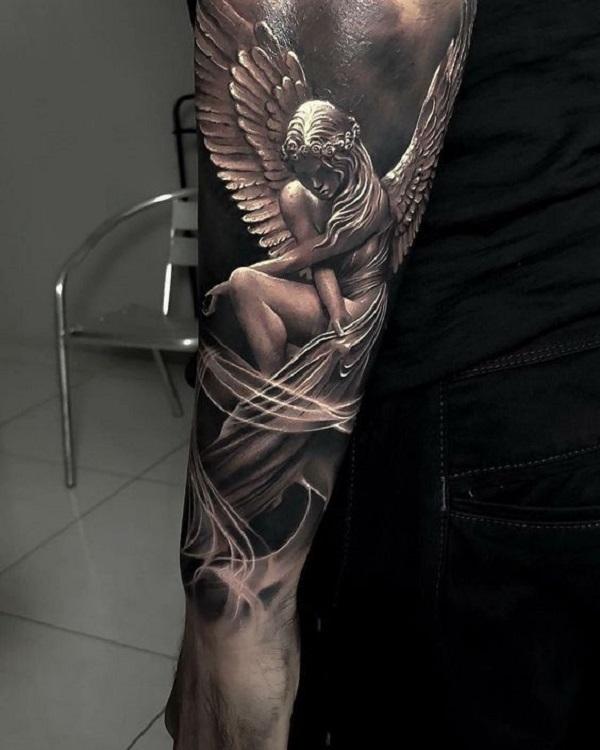 Angel sculpture
The dark sleeve tattoo turns the forearm of wearer to a hyper realistic sculpture with an angel crossing her arms while its iconic wings standing strong. Angel brings us comfort and happiness, however there are also times of falling down as human beings. As long as we persevere and never give up, there's always chance to open a new chapter.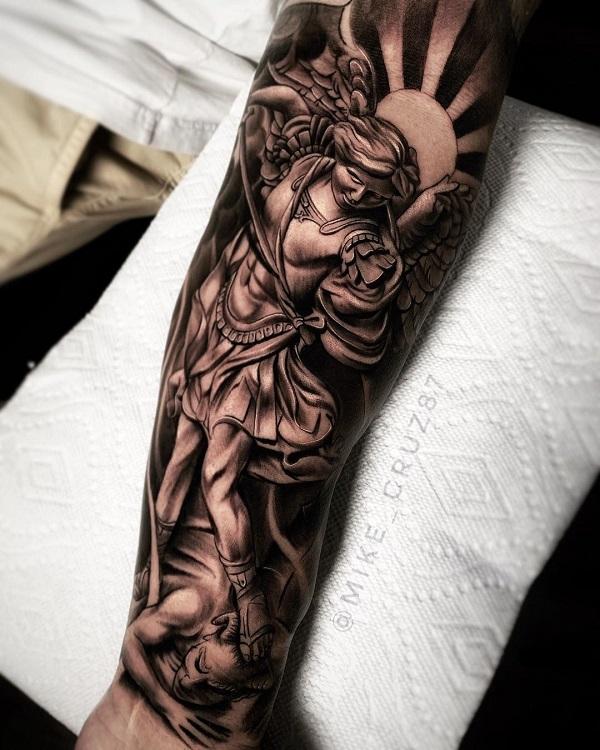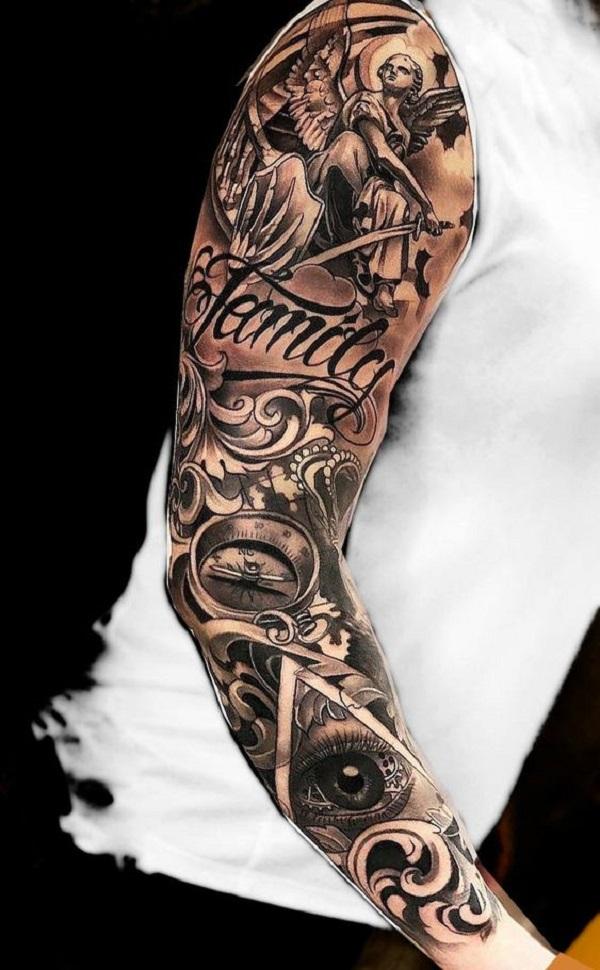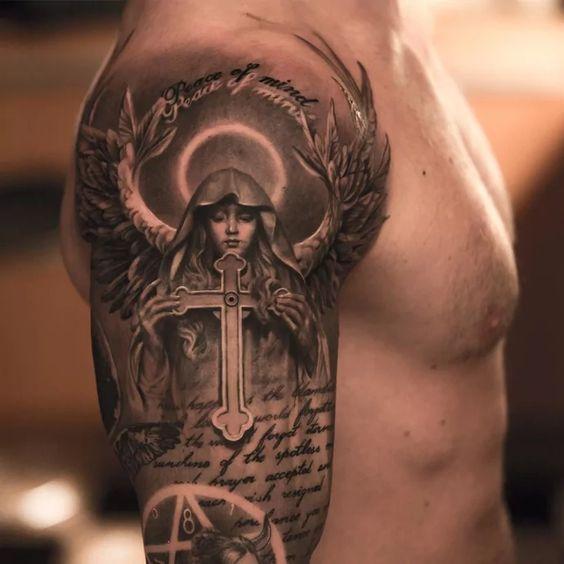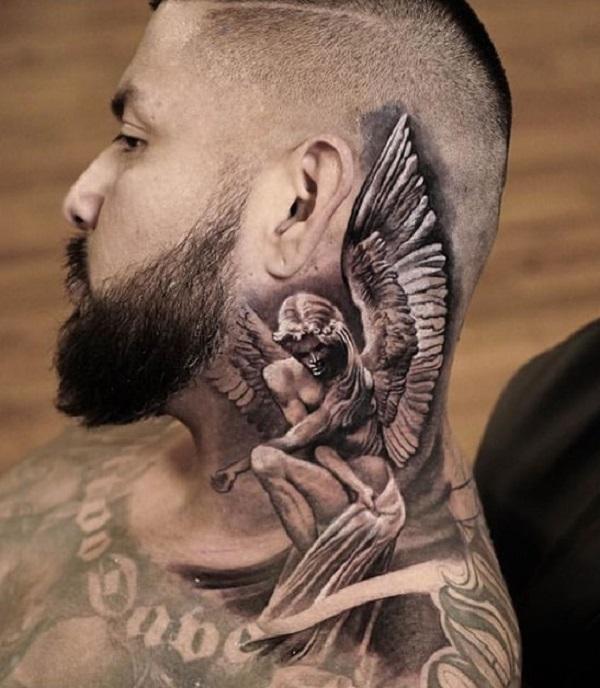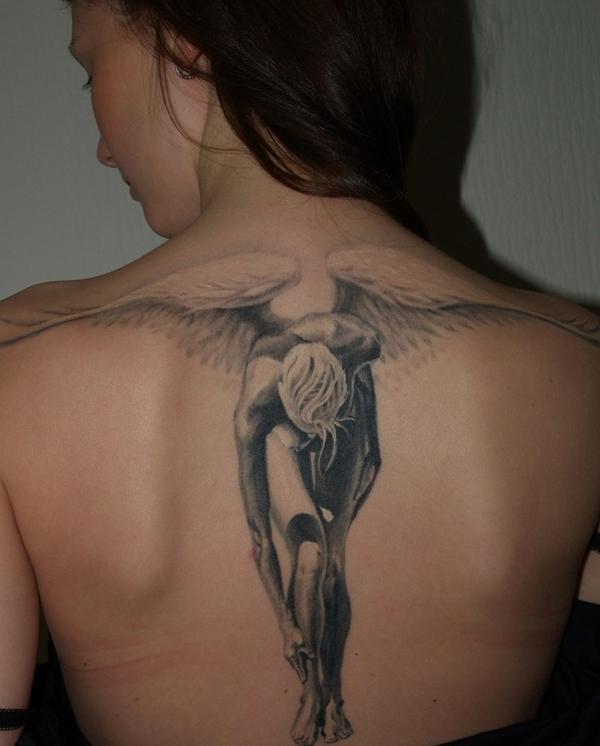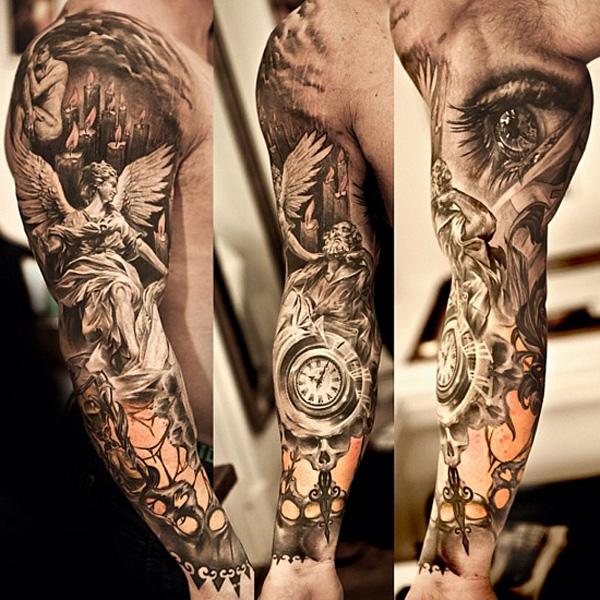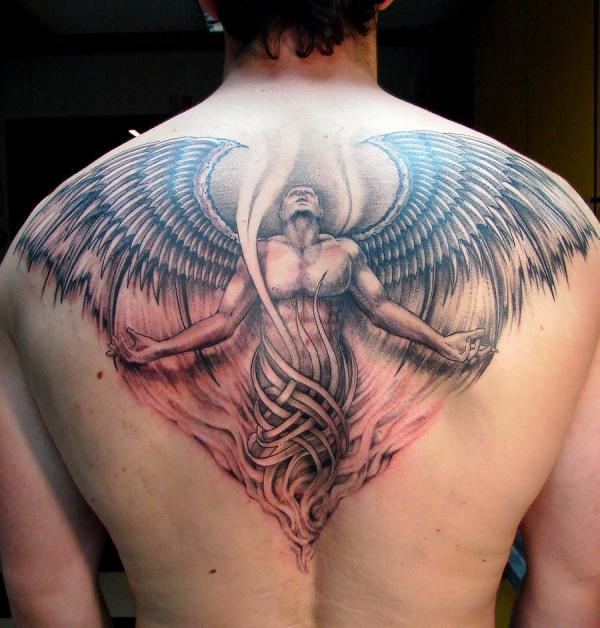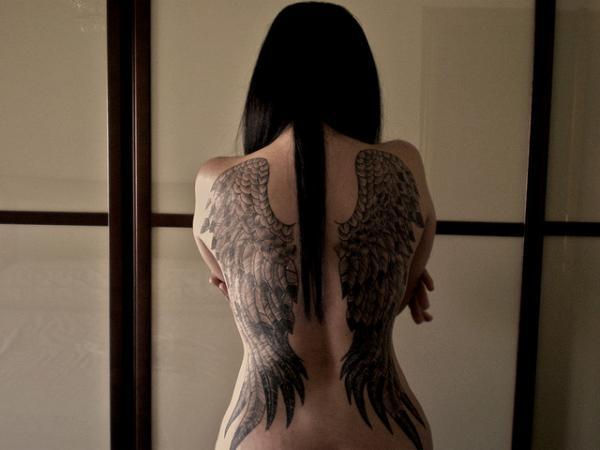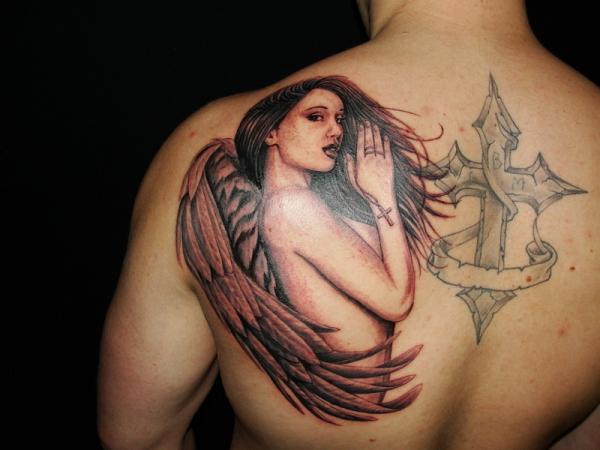 Angel tattoo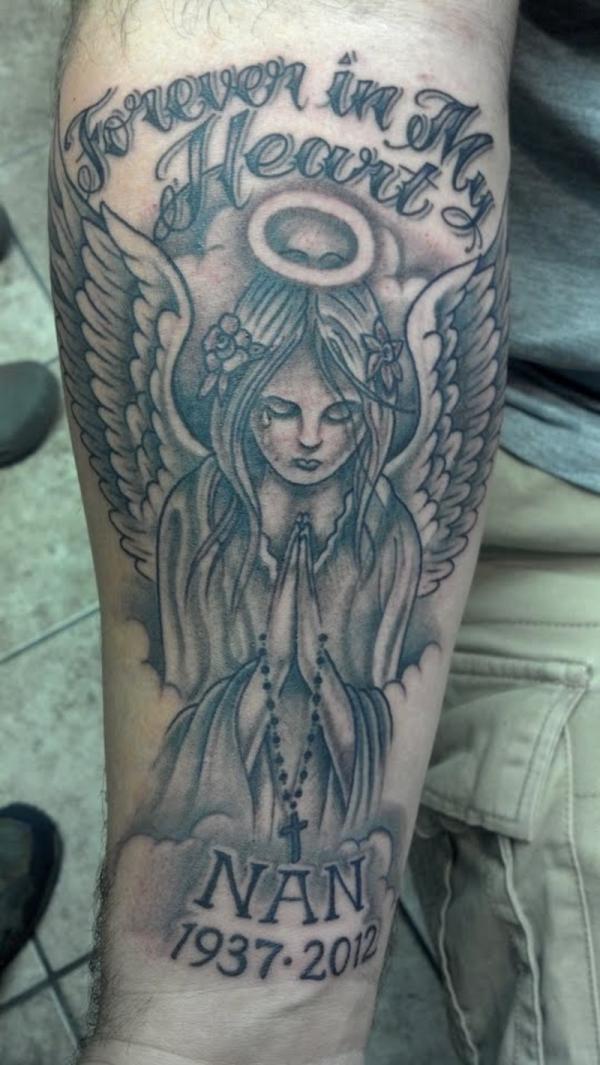 Praying angel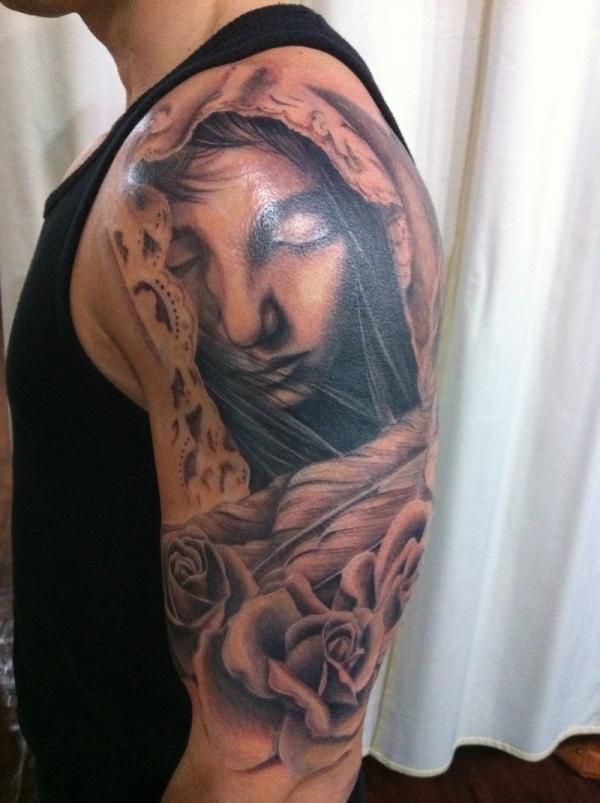 Sleeve guardian angel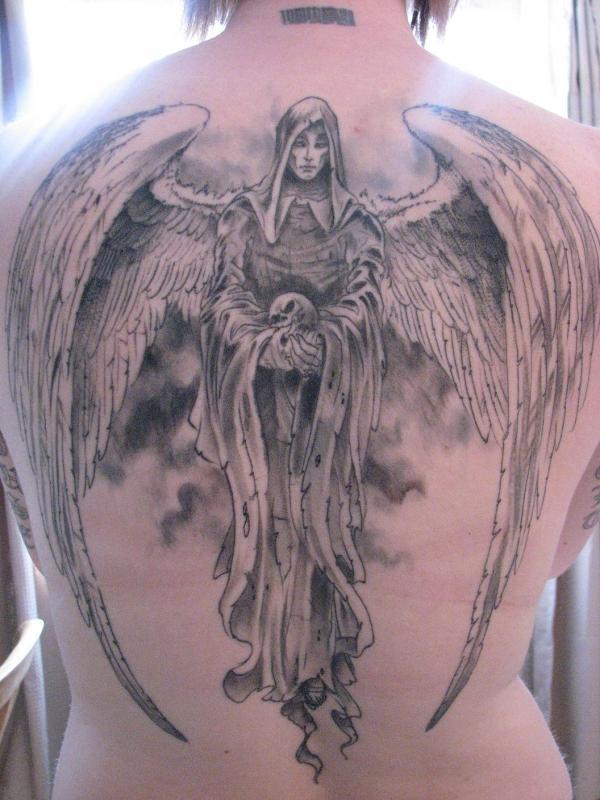 Angel of death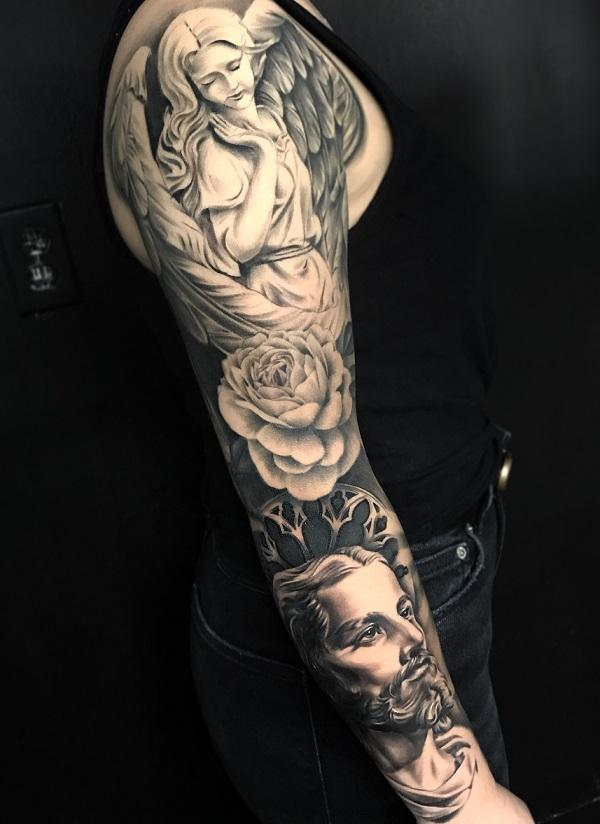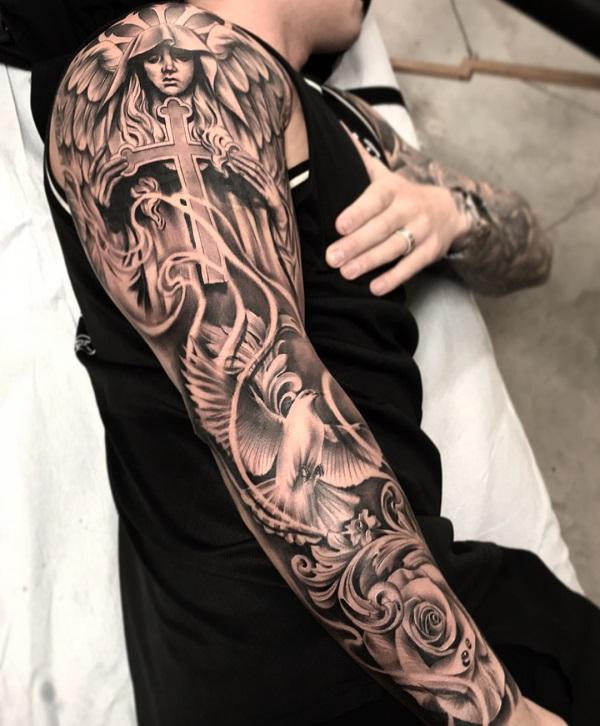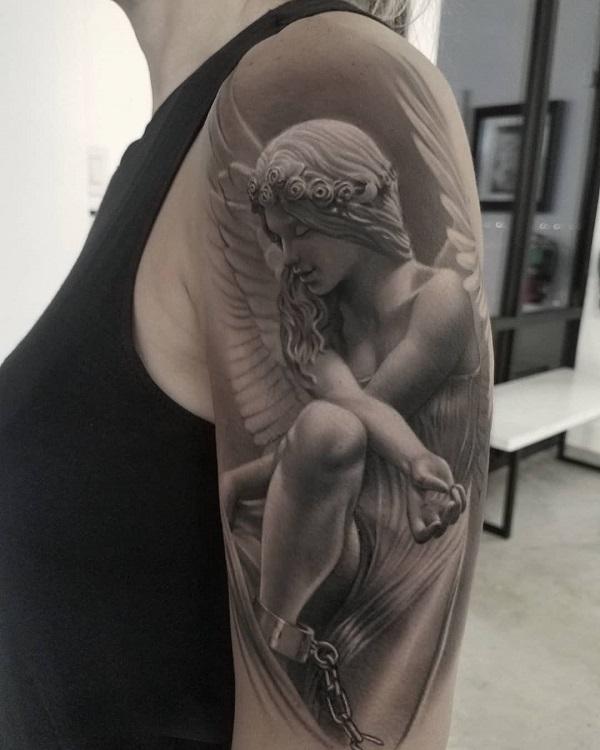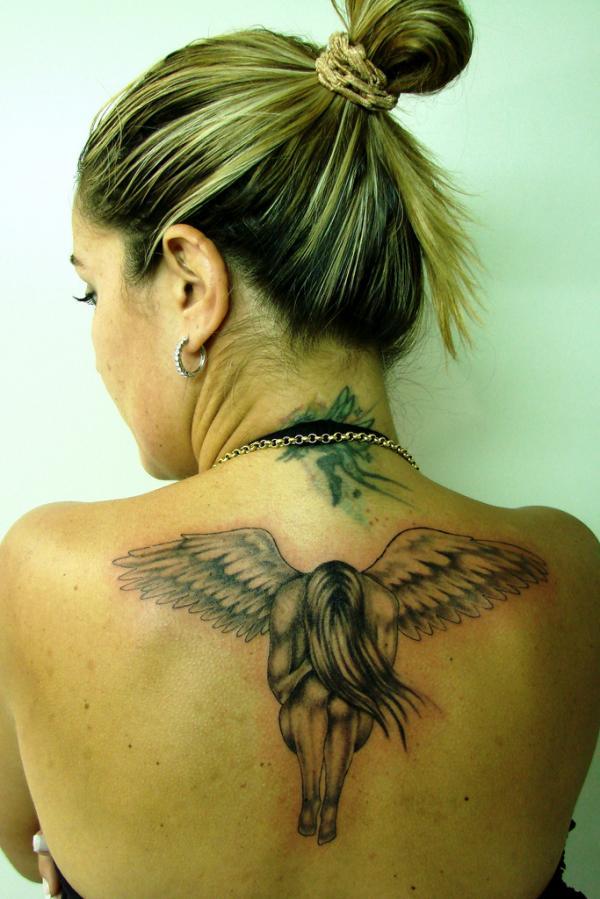 Elegant Fallen Angel Back Tattoo for Women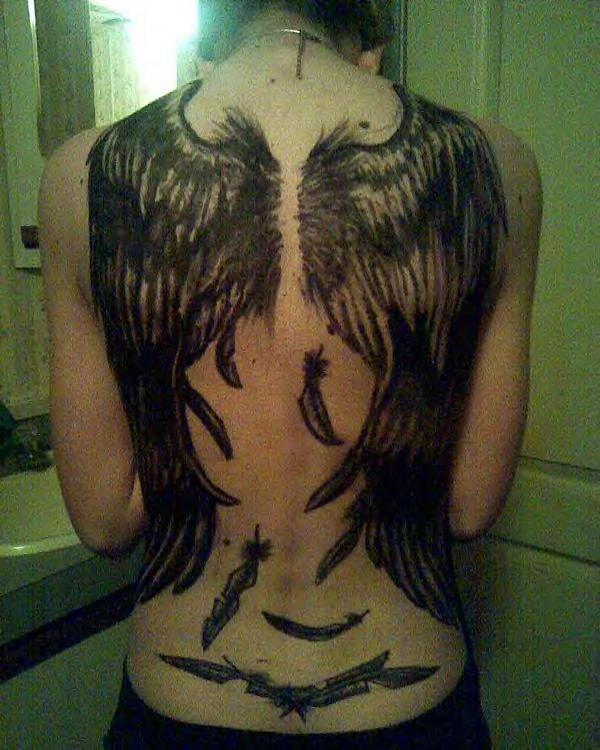 Fallen angel wings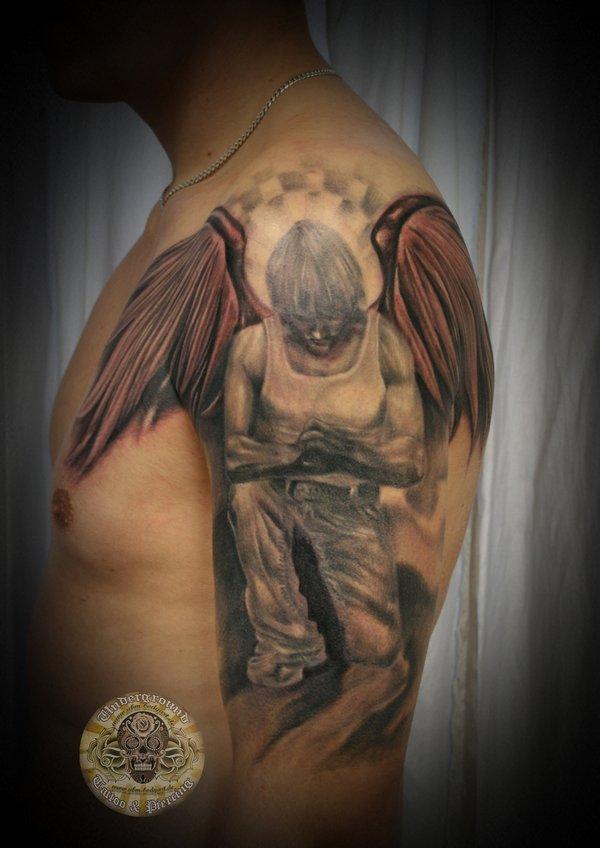 Fallen angel tattoo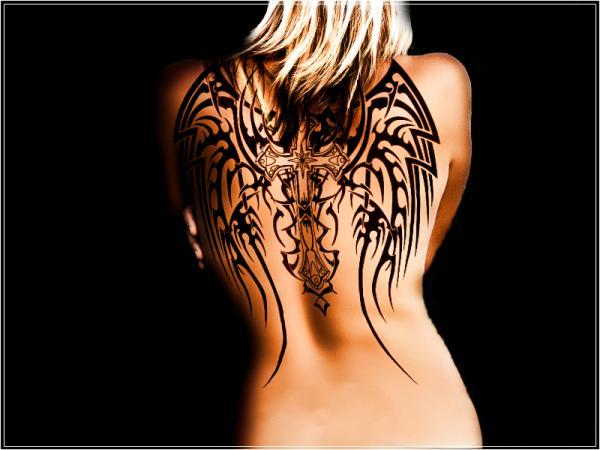 Angel cross wings tattoo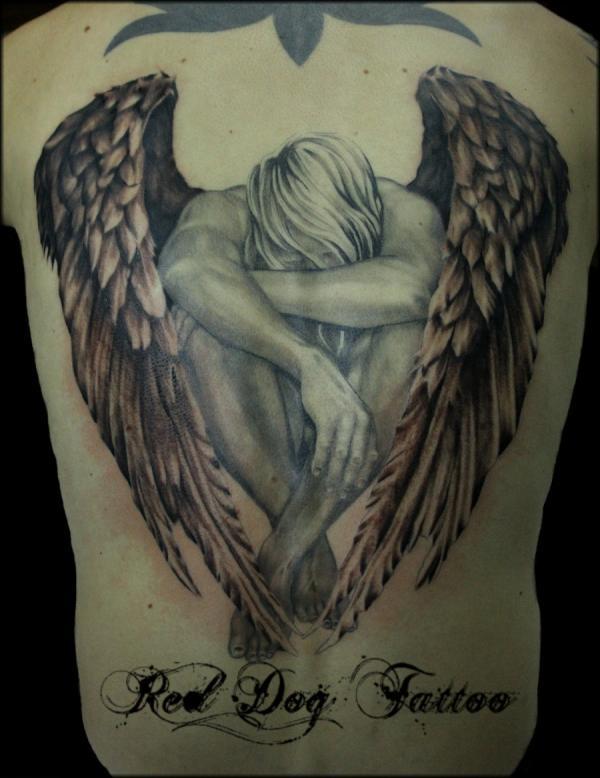 Back angel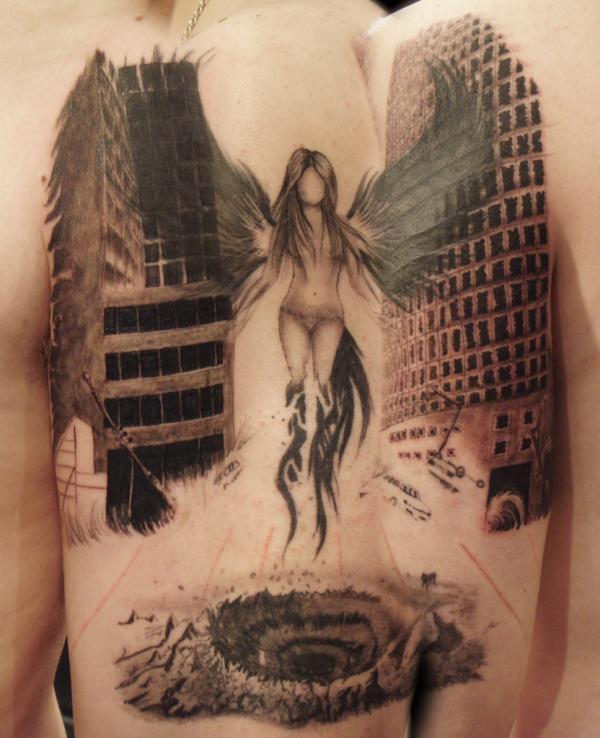 siting of the dark angel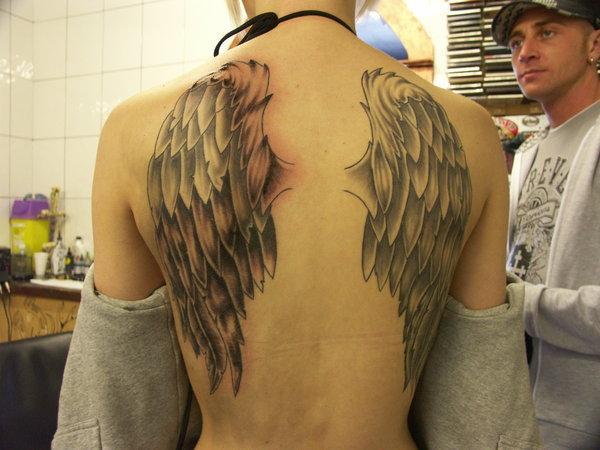 Wings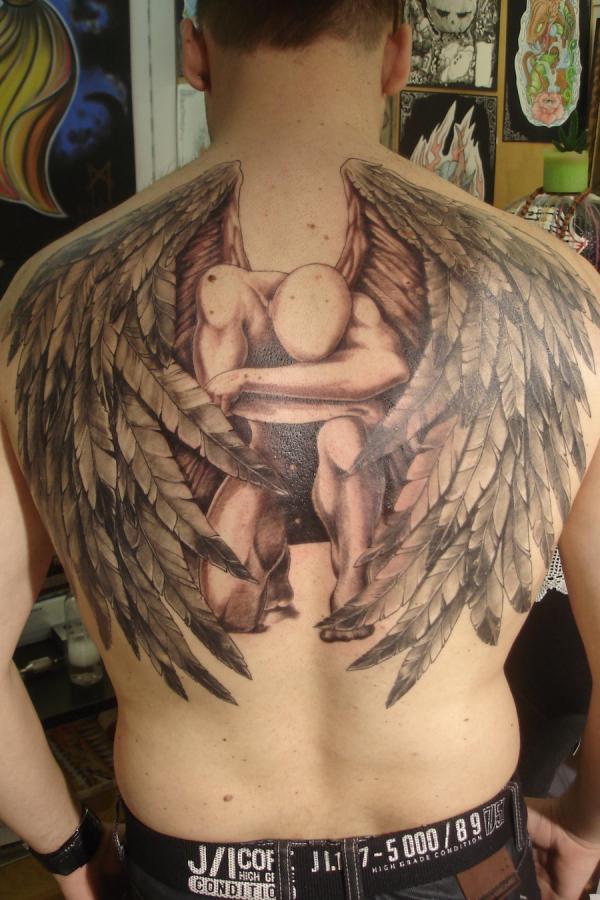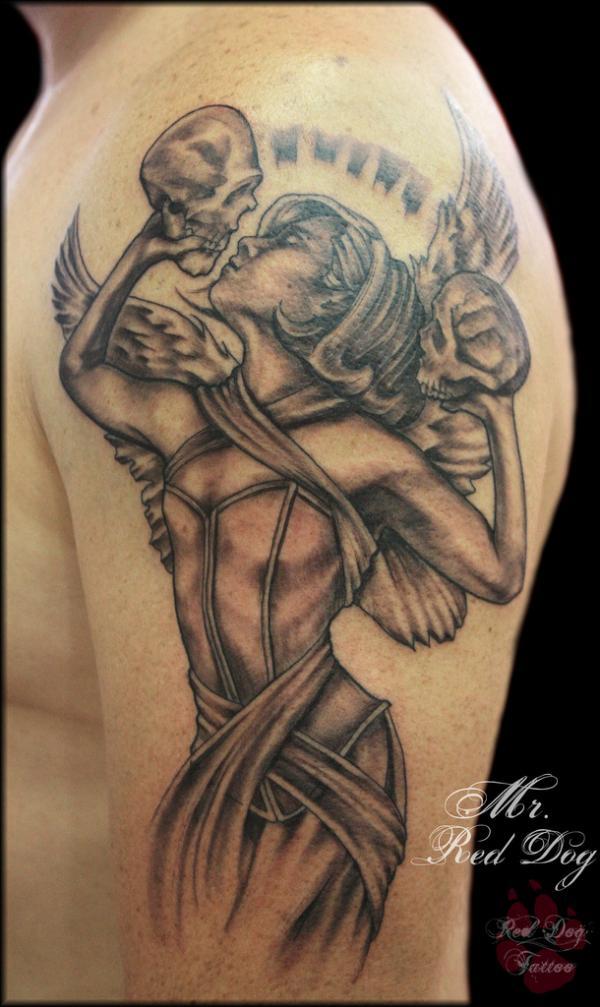 Angel with skulls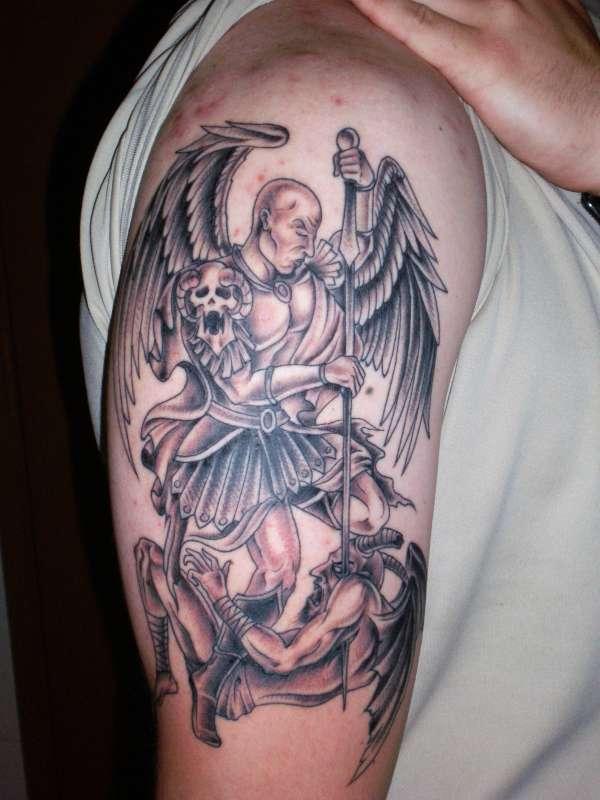 Angel and devil tattoos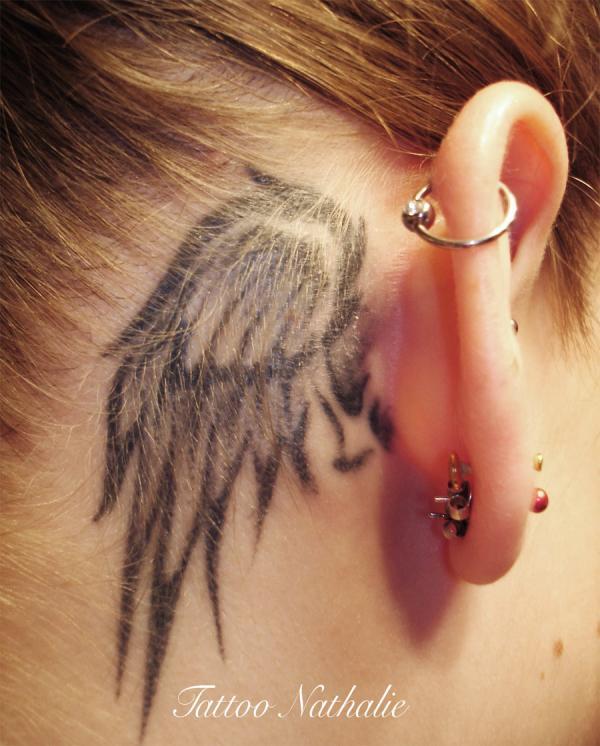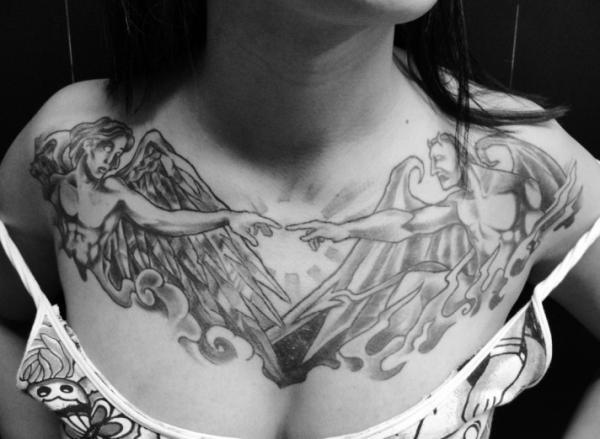 Angel demon tattoo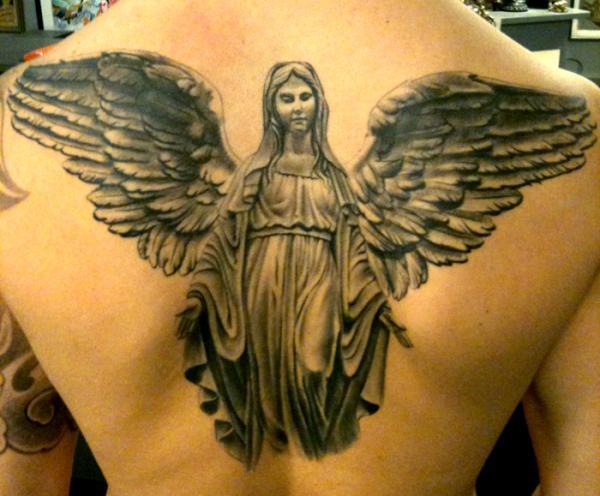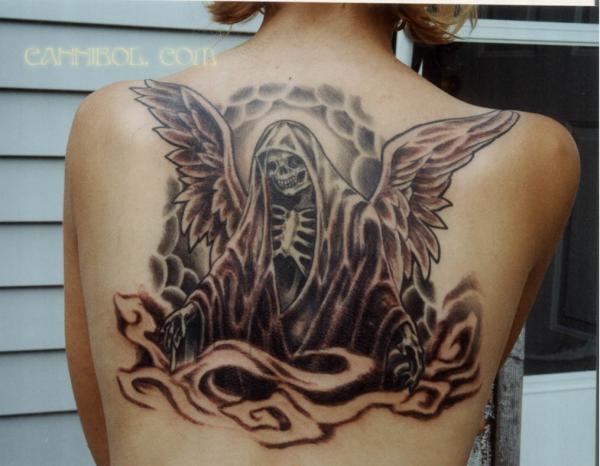 Vanessa angel of death tat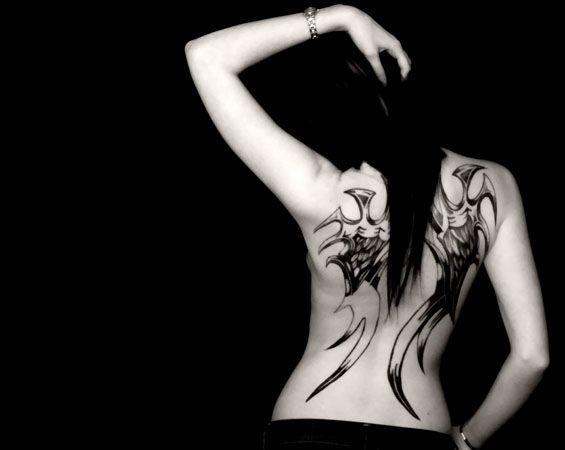 The angel wings tattoo in tribal style covers full back of the lady, making her look unrestrained like a warrior.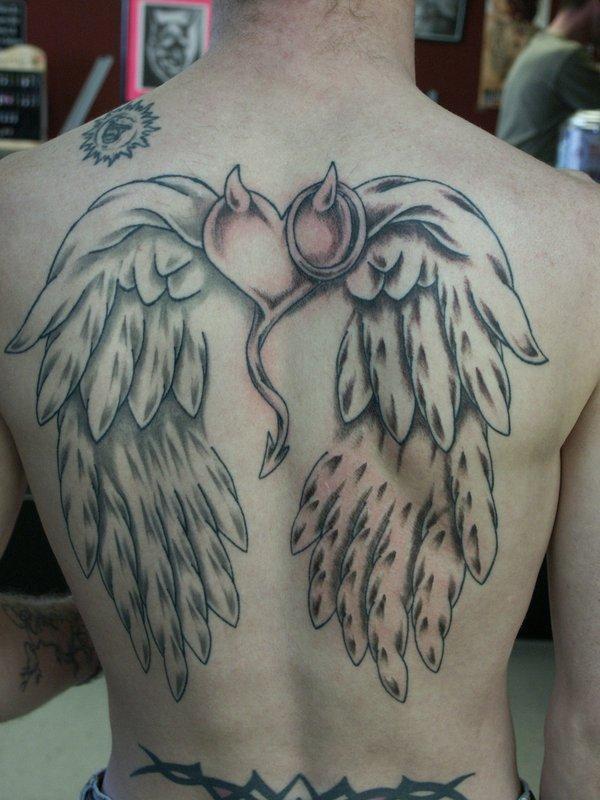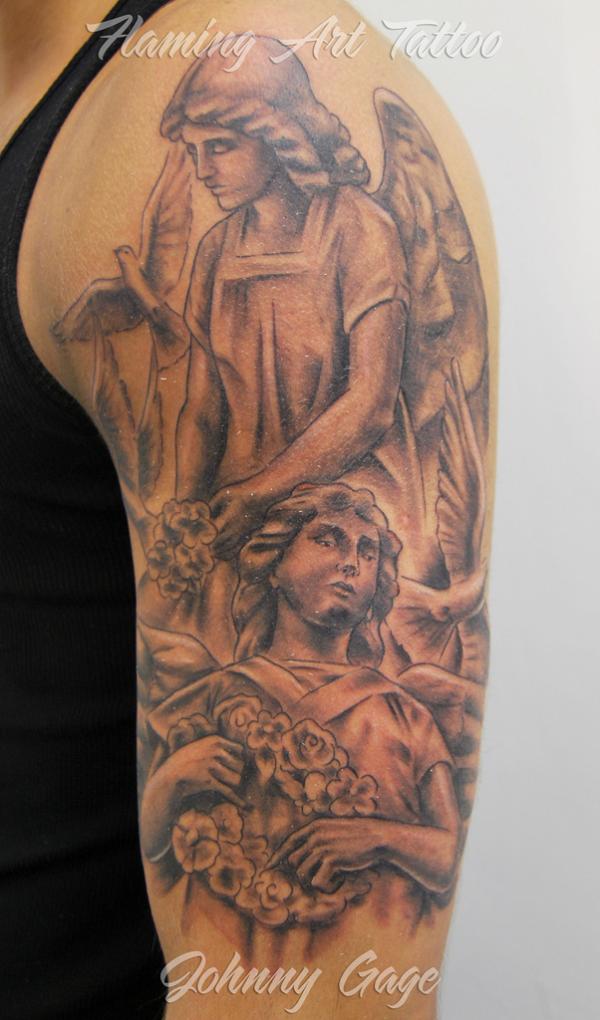 Angel half sleeve tattoo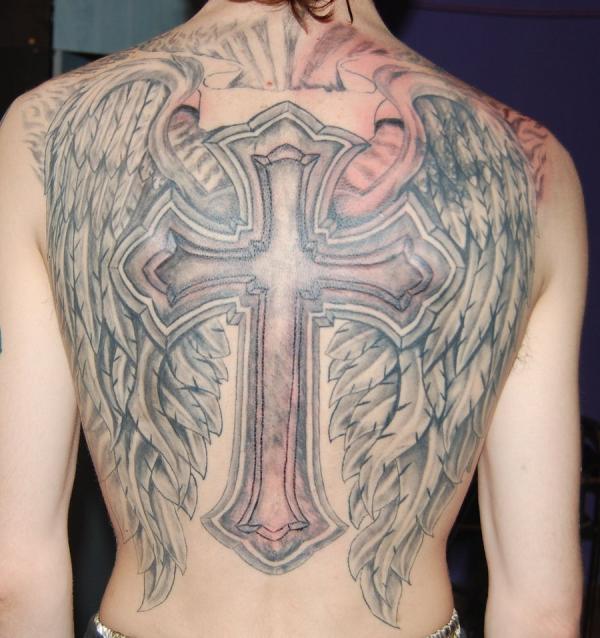 Cross with angel wings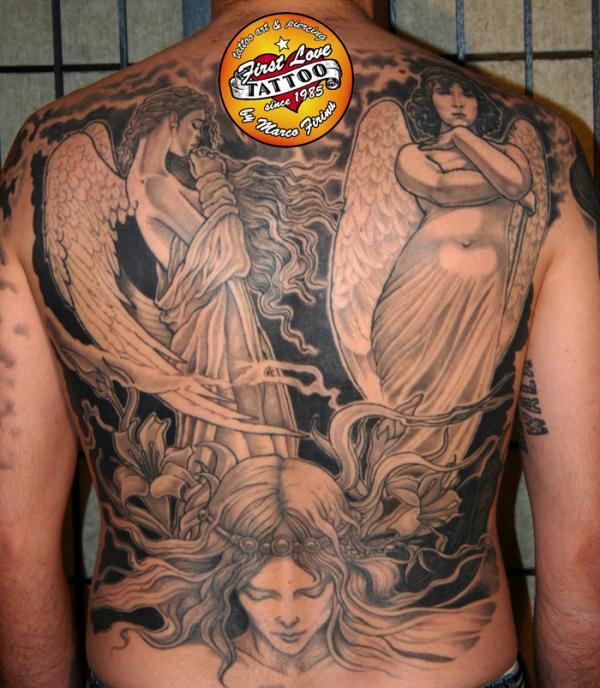 Angels on the back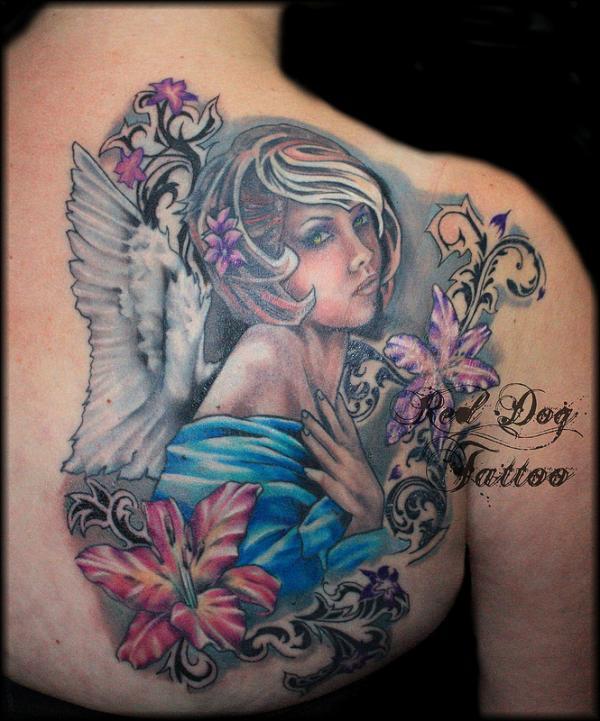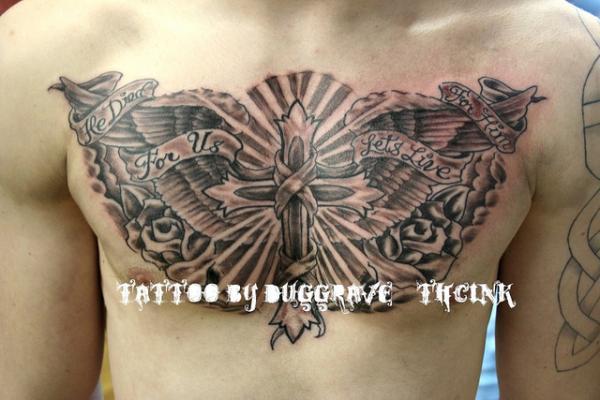 Winged cross chess piece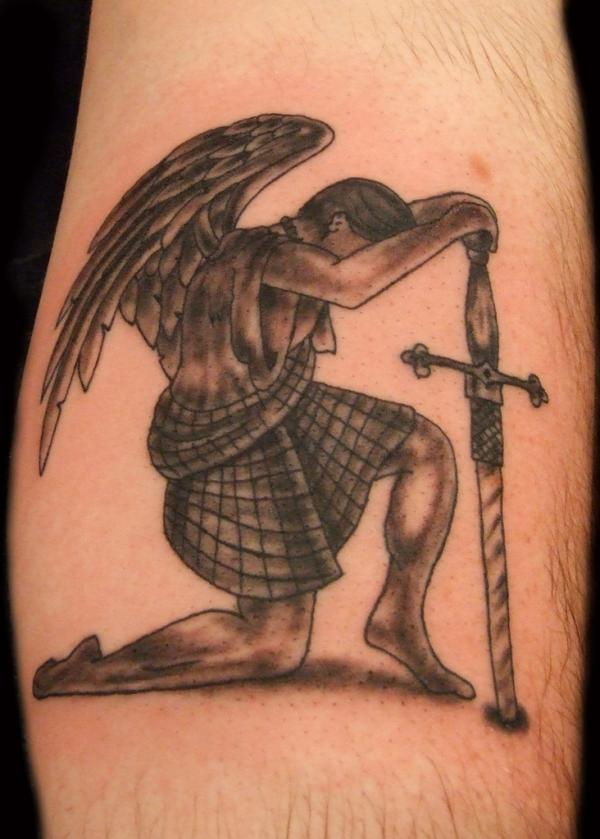 Guardian angel tattoo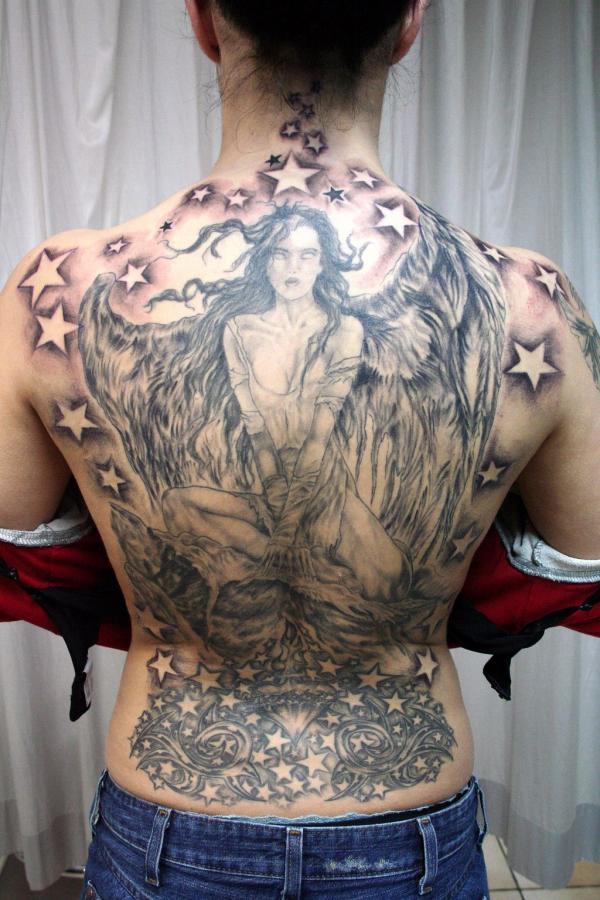 Angel wings finished tattoo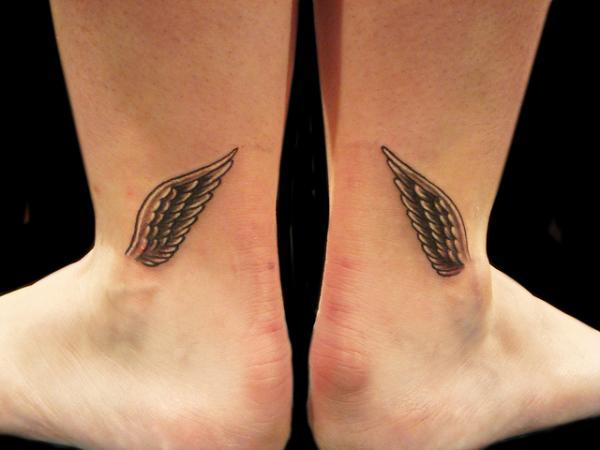 Mercury ankle wings tattoo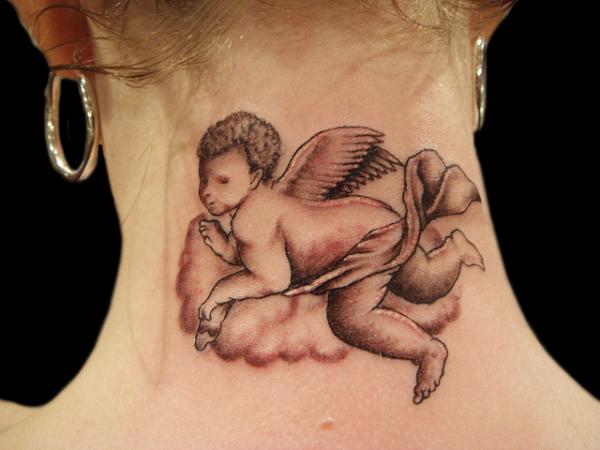 Warior angel backpiece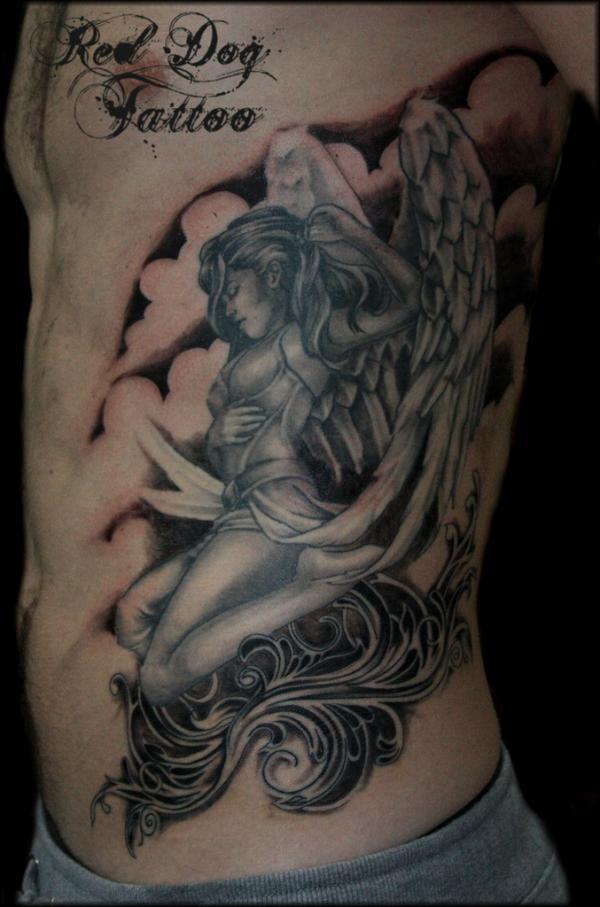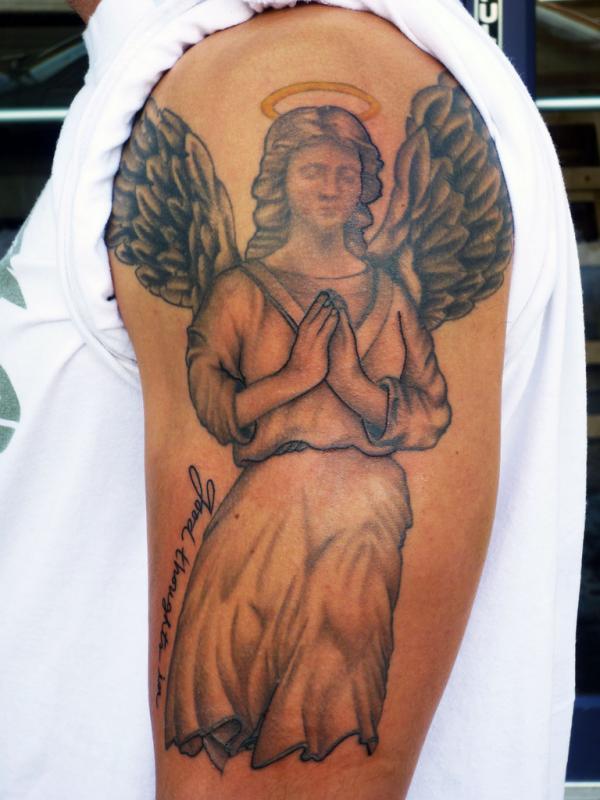 Black an grey angel tattoo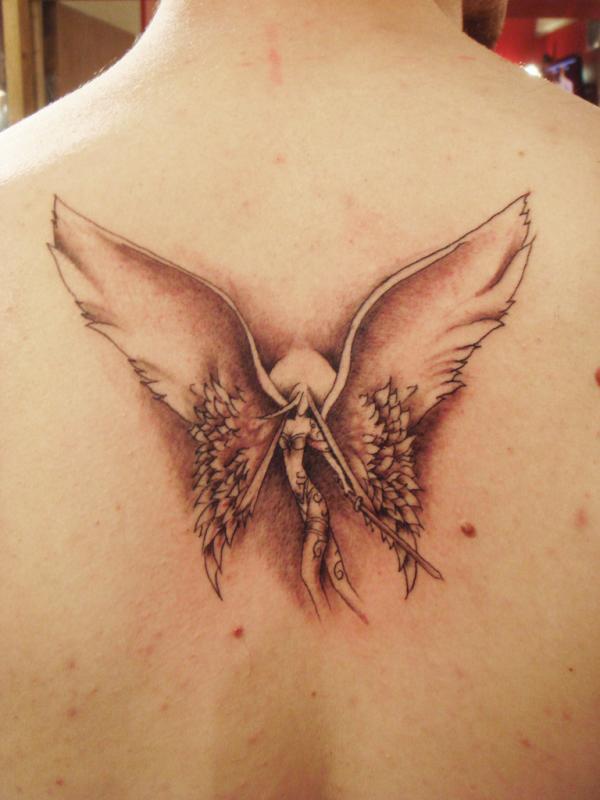 Angel woman tattoo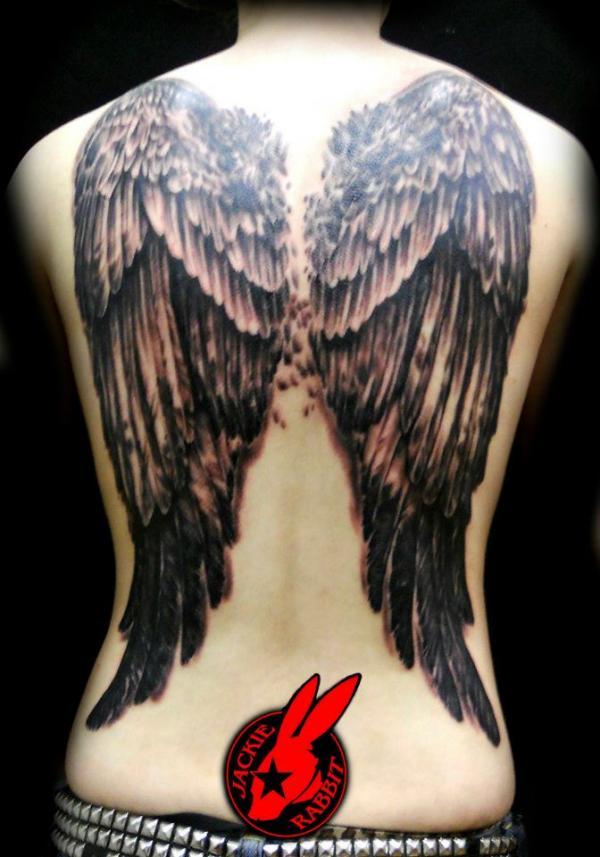 Angel wings back tattoo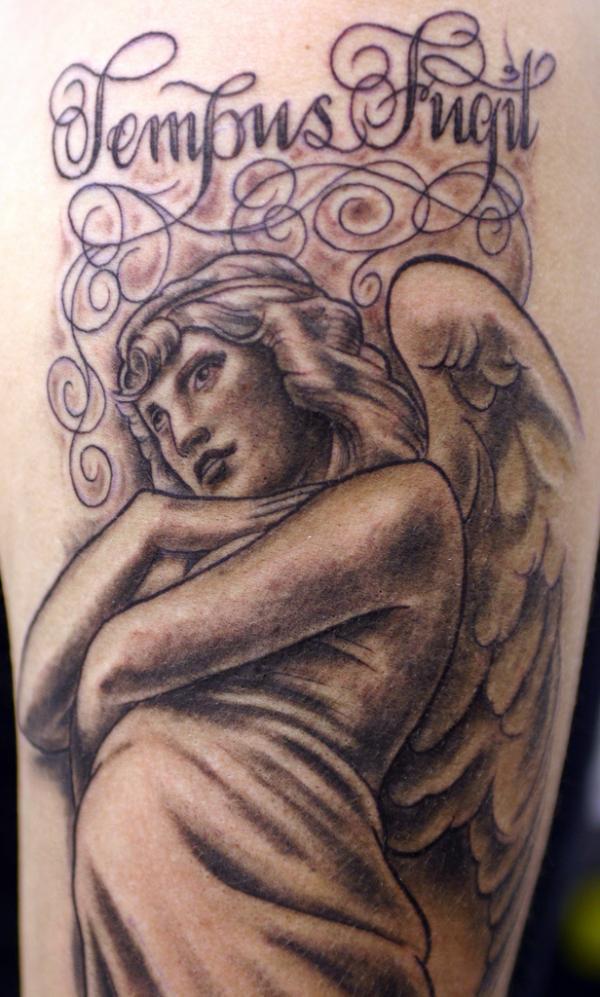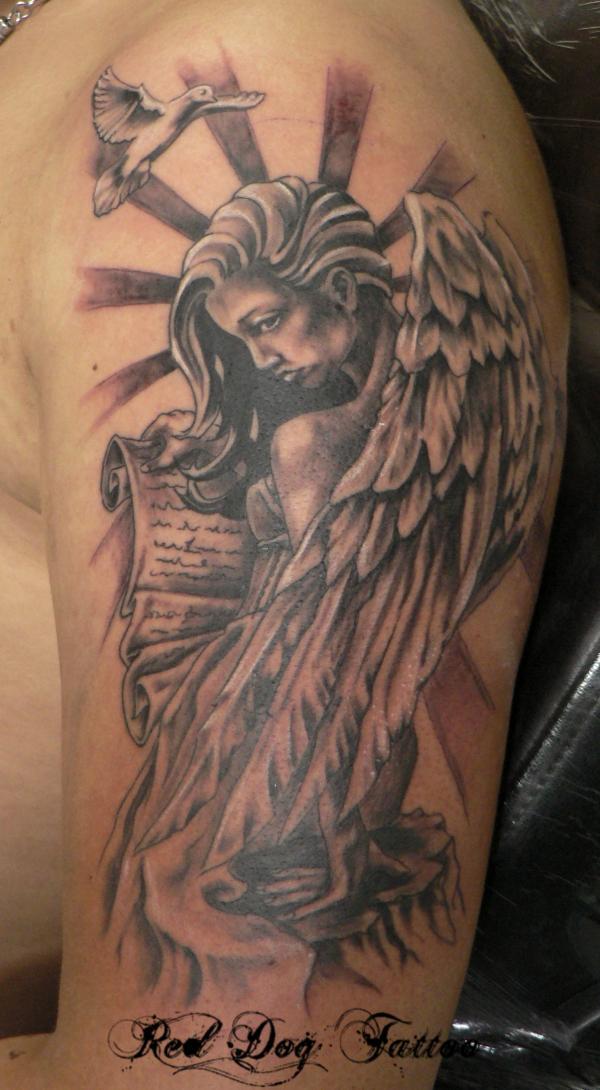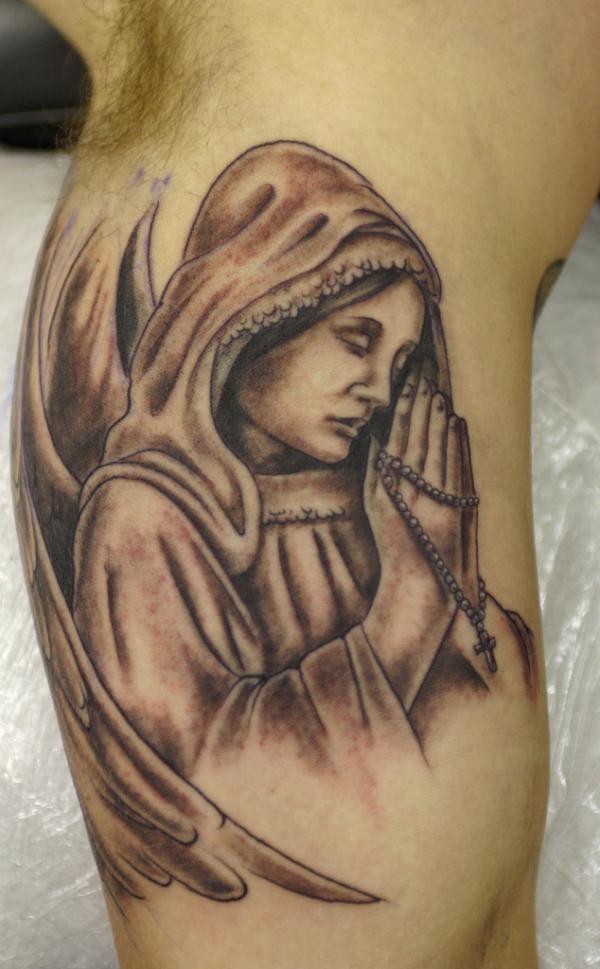 Angel and cross tattoo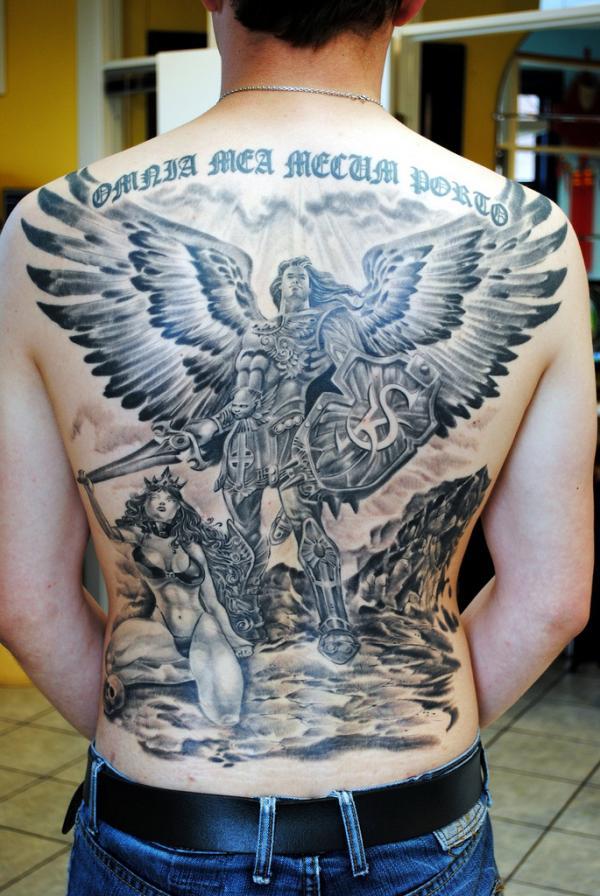 Warior angel backpiece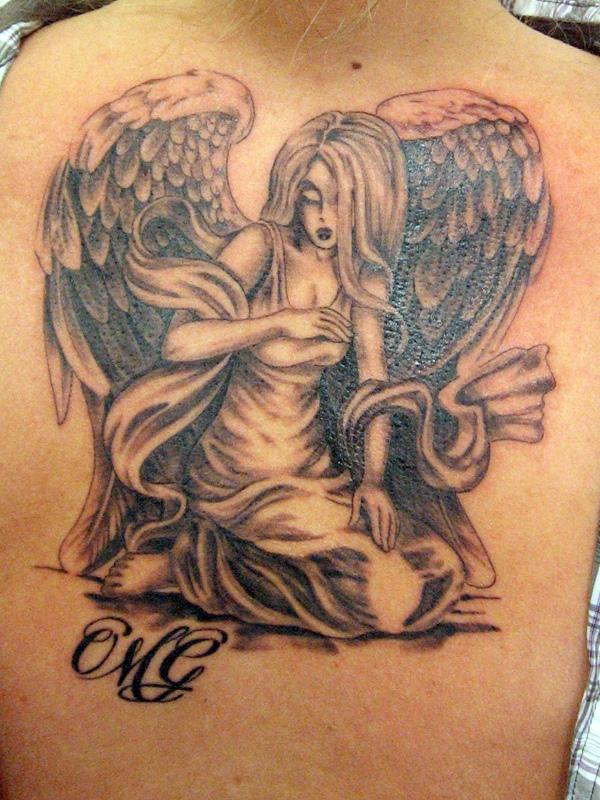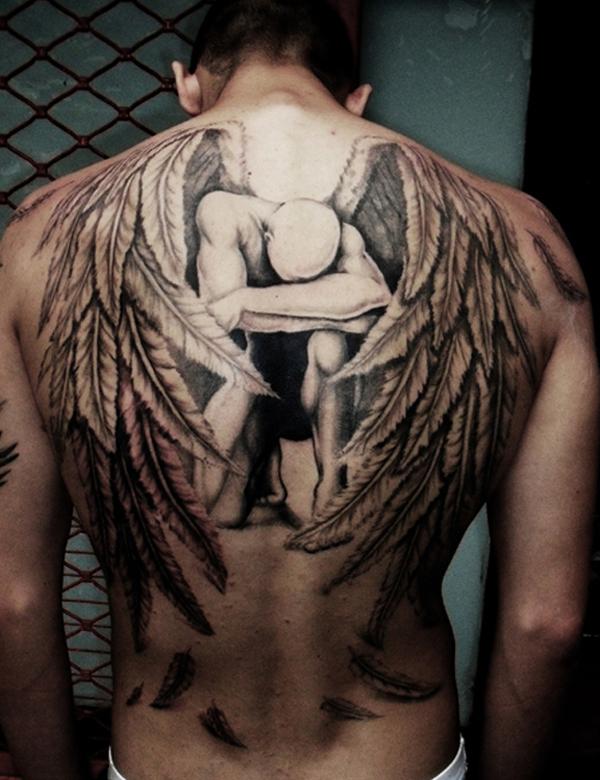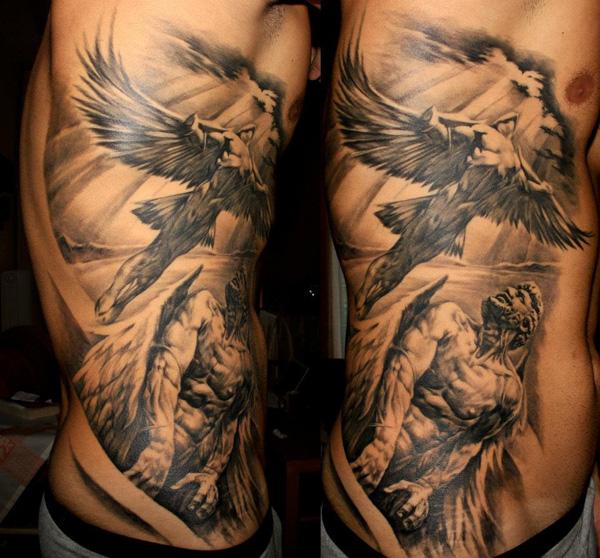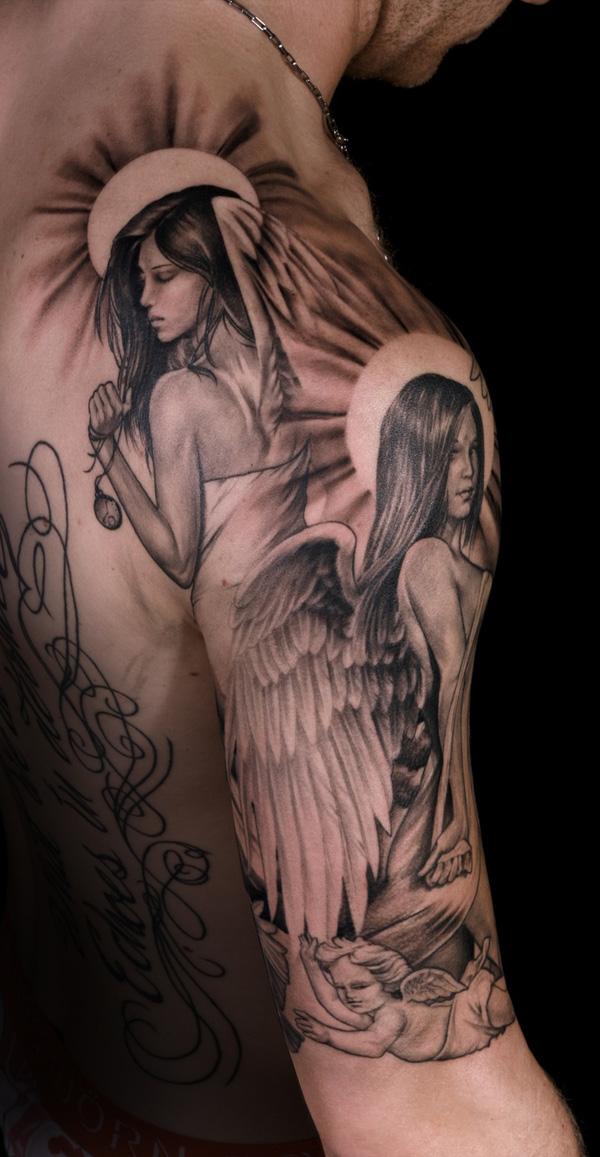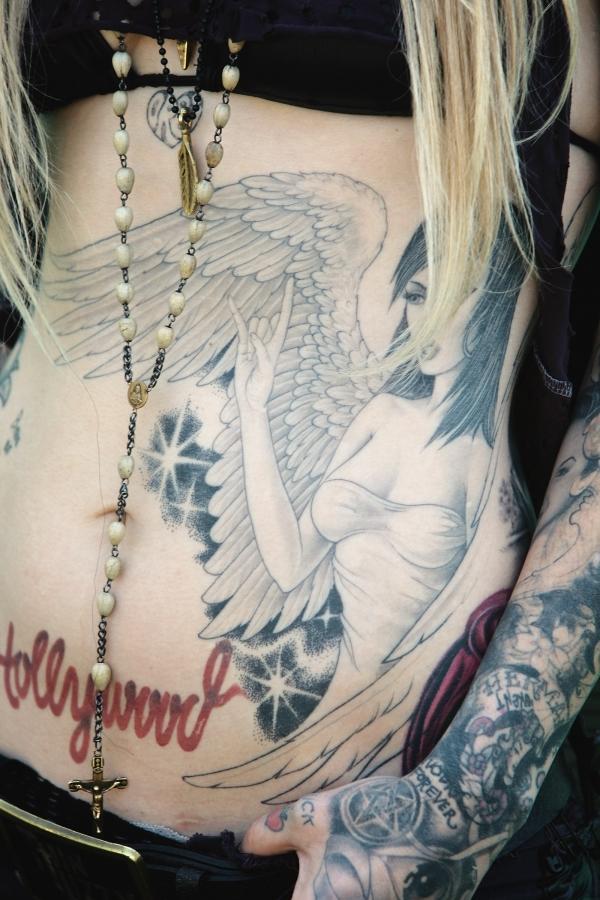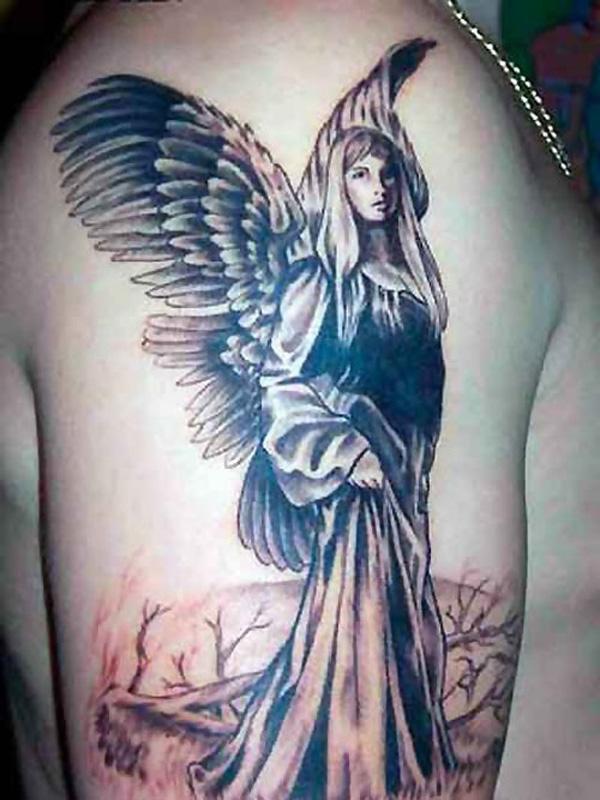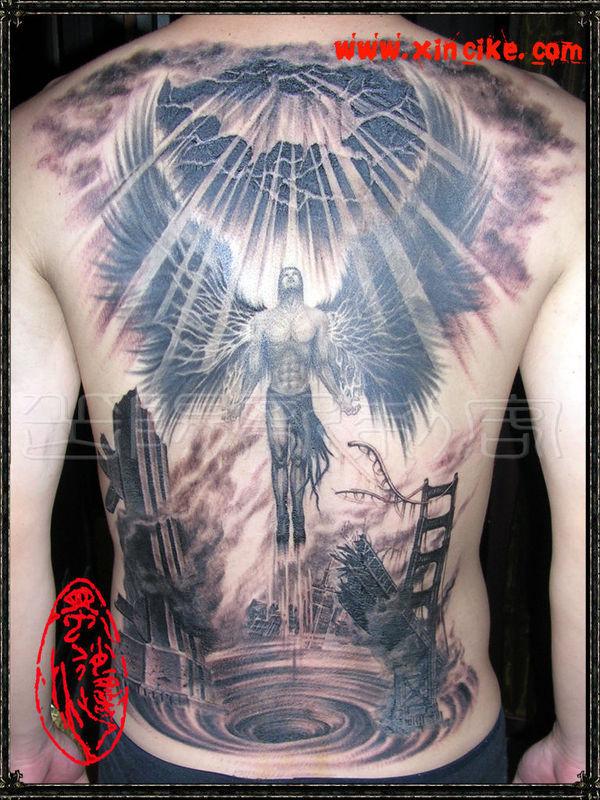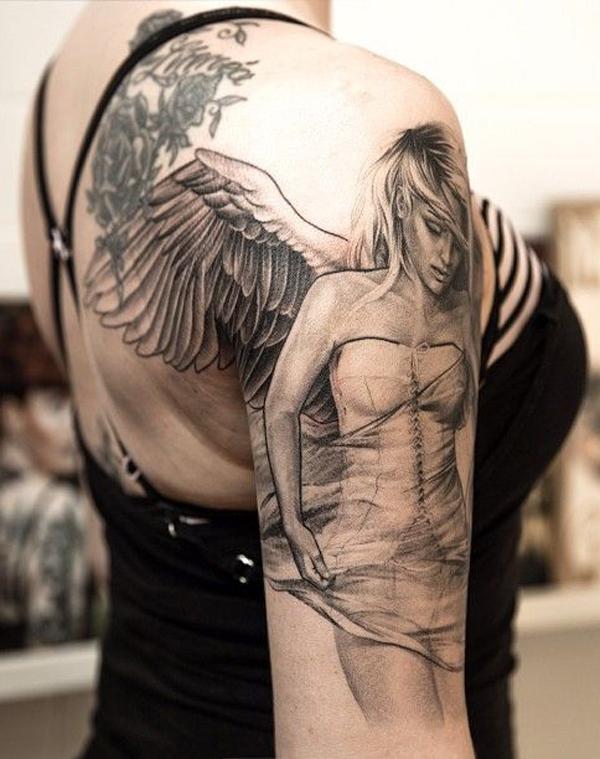 The angel wings could be accompanied with the modern girl. The pencil drawing style realistic sleeve tattoo produces the illusion that the girl is always standing by.