Coffin Nails…?
Okay, so without any pictures and without any prior knowledge or even idea about these, you would probably be creeped out by these coffin nails. Like what are these? Are these those nails they use to keep those old-style coffins shut? Or do they have anything to do with Halloween and scary stuff especially vampires or a horde of zombies?
Well, before we get our imaginations get the best of us, coffin nails aren't actual nails (those pointy things for construction and handiwork) or anything related to Halloween…unless you make it so.
Coffin nails are actually long and slender shapes of our nails that became more and more viral when Kylie Jenner shared them in Instagram. These were called "coffins" because the shape has a close resemblance to those old-style coffins we often see on vampire flicks and props on horror houses. But even when it sounded so sinister or it has quite a bad comparison, getting these coffin nails aren't bad. To be honest, these are actually kind of sophisticated and stunning to look at especially with colors and nail arts.
Get more Artsy Bitsy
These coffin nails are longer and that could mean something. In the world of nail art, it would become a beautiful canvas. There's more space for almost any kind of nail art you wish for. If you were having troubles before with the designs you want to put, now it could be so much easier.
You can now put words on your nails without them looking so small and unreadable and looking like accidental smudges. Now you could be able to create pictures with more clarity and detail. You can turn really artsy bitsy if you want. There isn't really anything that you can't do with those nails.
Although, you have to be reminded that these nails could easily break. One wrong move and snap! those beautiful nails could be gone. And it would hurt so much you could get on a coffin and lie there forever. So what you have to do is to keep it easy when you have the nails. Hard manual work could wait after that date night or hot party and you have cut your nails to the normal size and shape.
So as always, keep your nails ready for the makeover. Nail hardeners are available to help keep your nails hard and brittle free. As much as possible, use nail polishes and nail products that aren't harsh or else it could make it thinner and easier to break.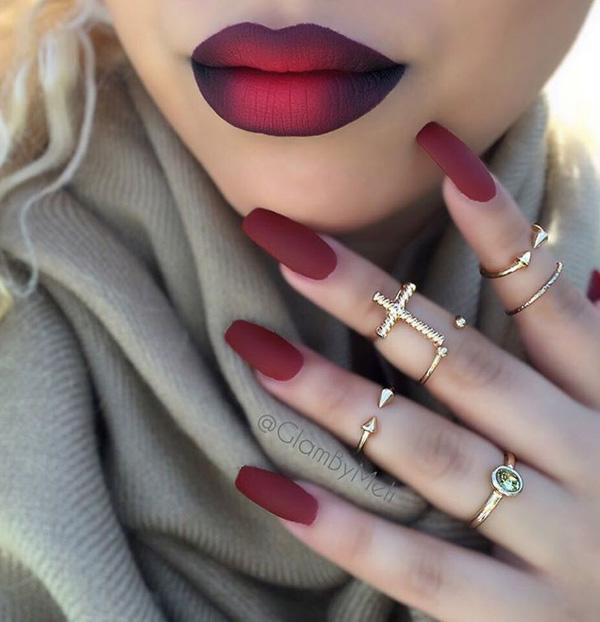 Achieve a sophisticated and sensual look by adding a trend to a trend. Matte maroon nail polish works best on these elongated coffin nails. And then partner it off with a matte maroon and black ombre lips to complete the look.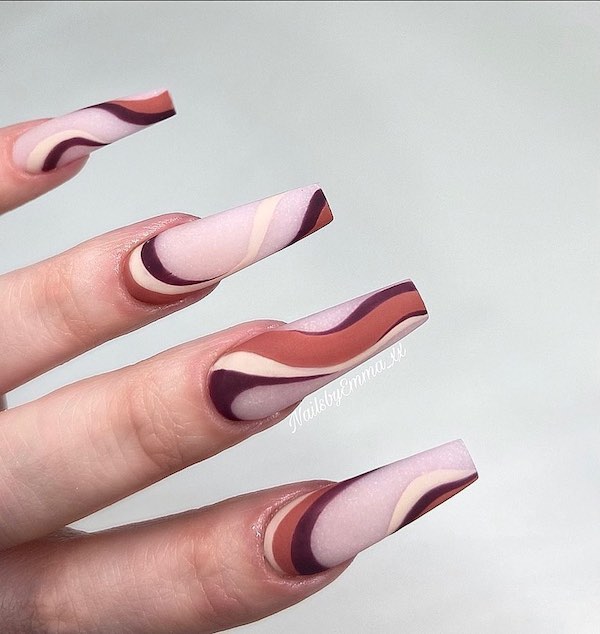 Coffin nail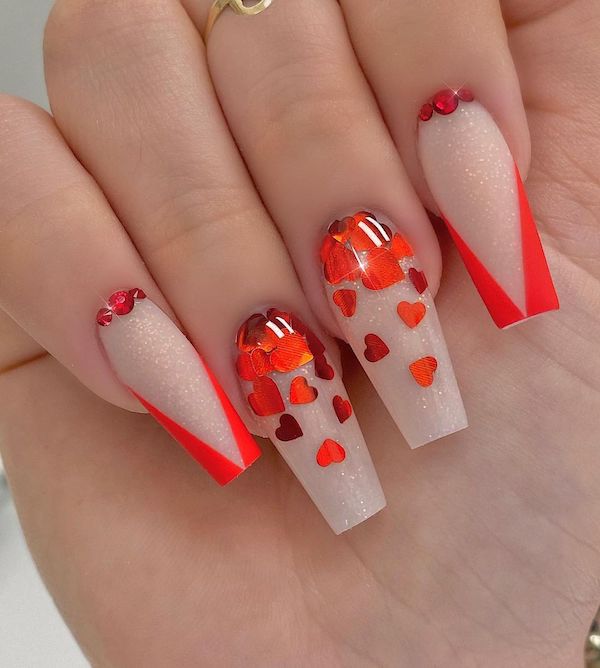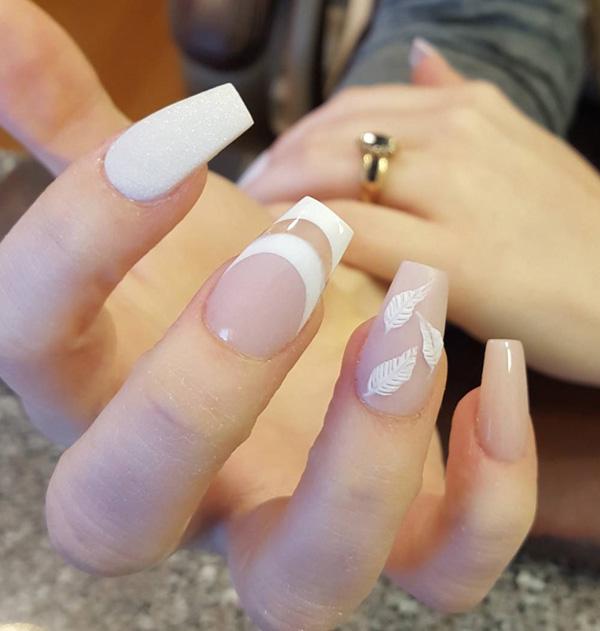 Sparkly pearl nail polish, a stylish french tip, little feathers and a nail in naked color. Nothing screams glam more than these designs on a coffin nail.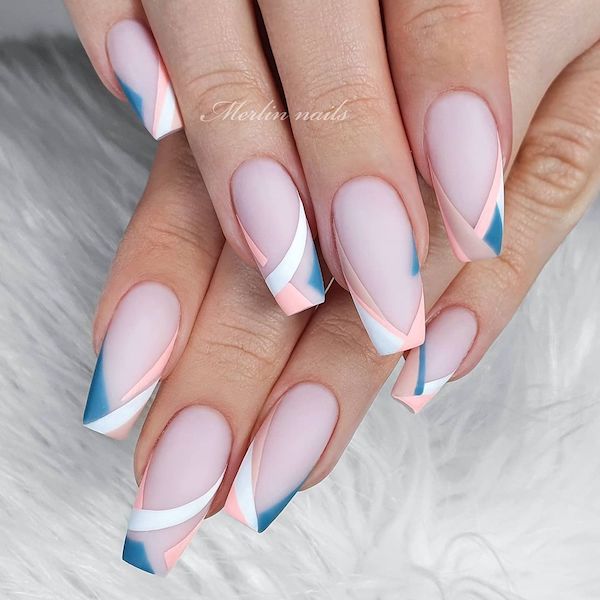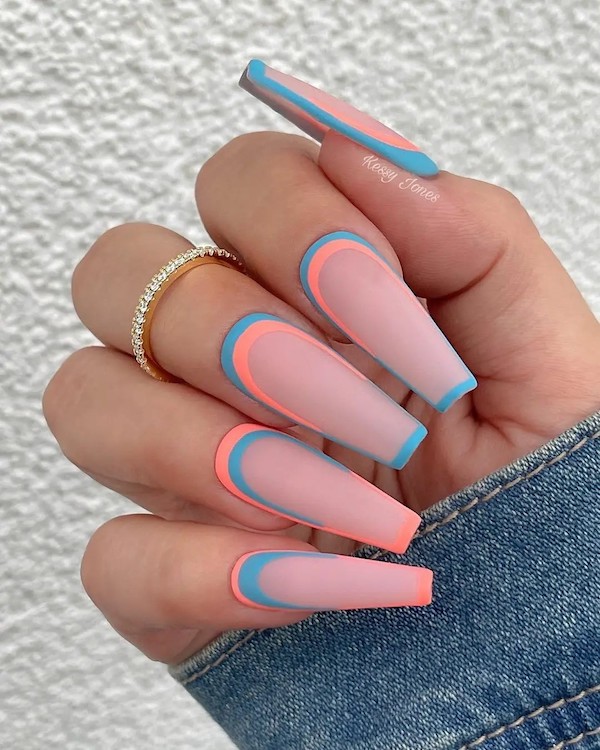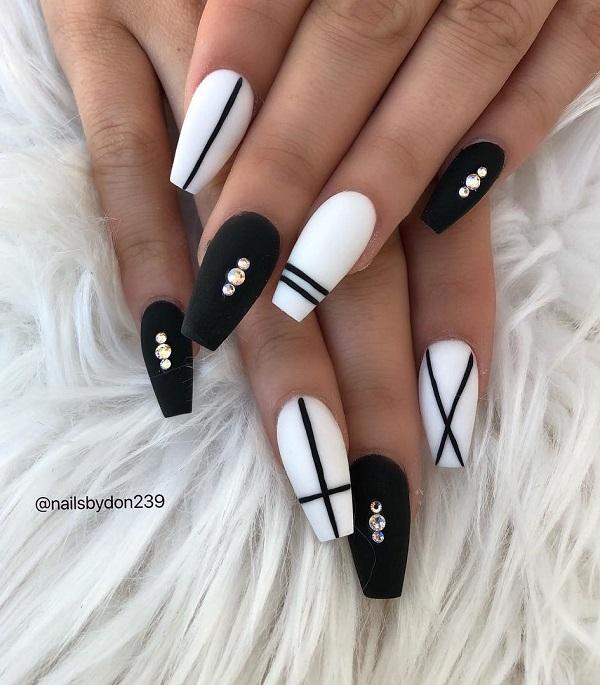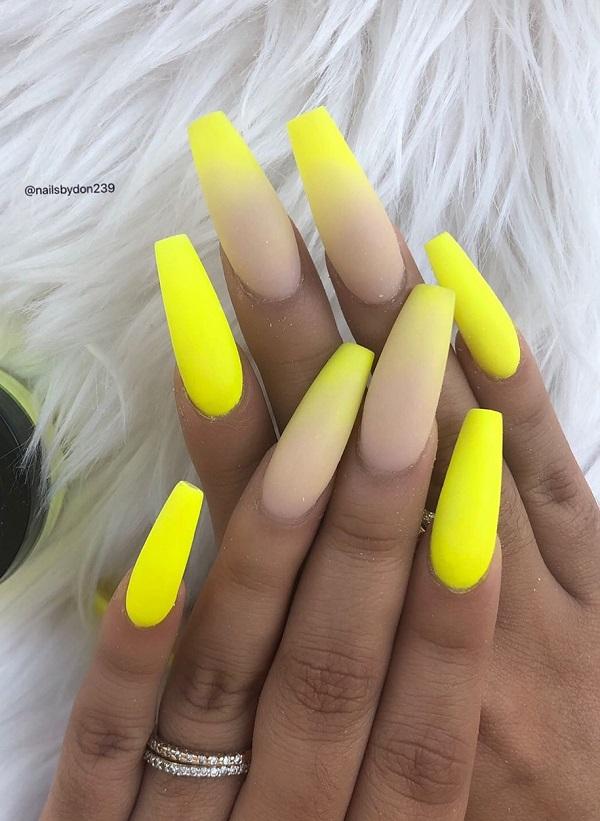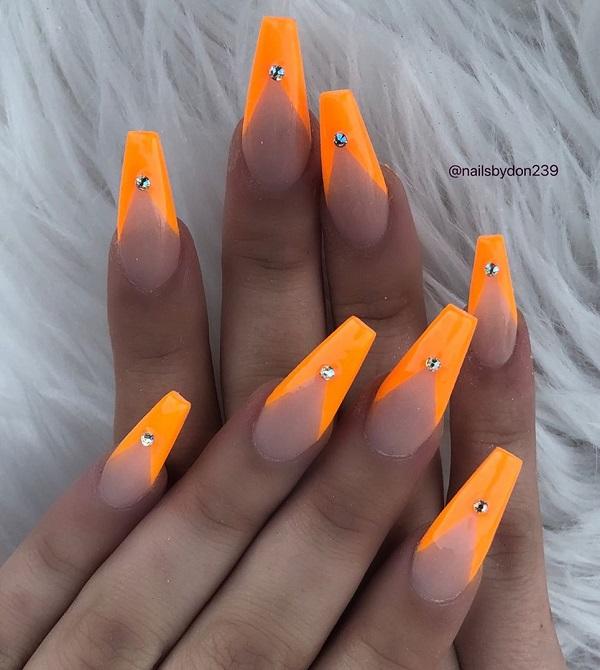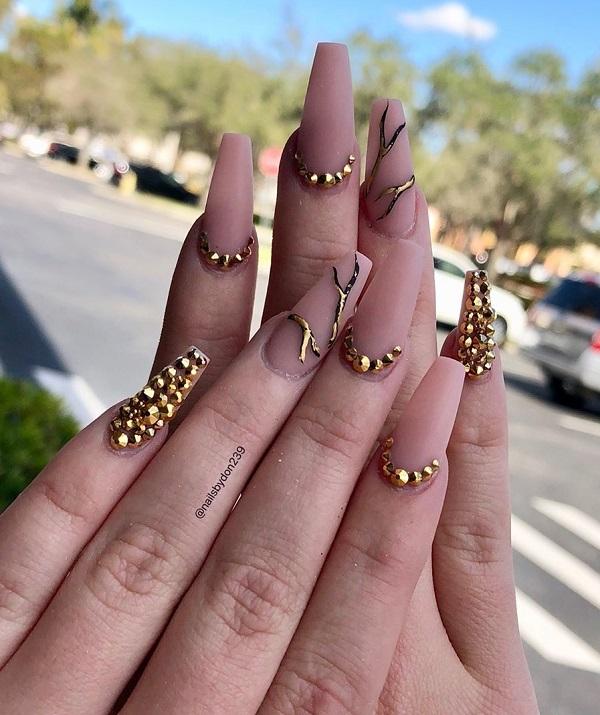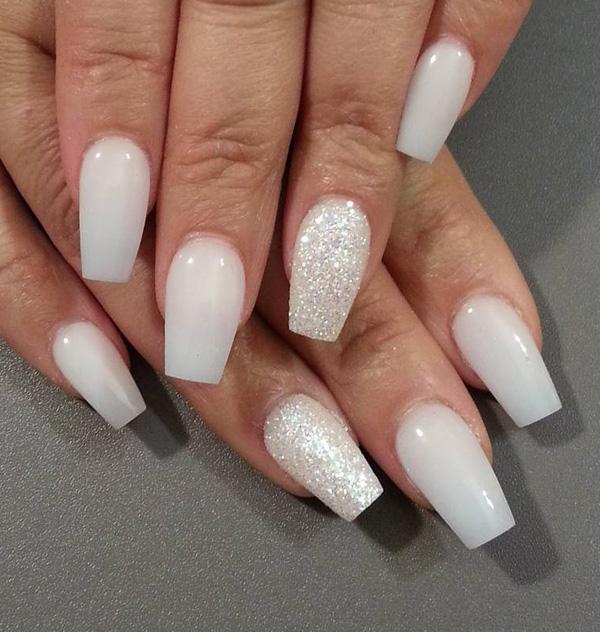 If it's hard to achieve those nails, you could buy false nails with the right shape. You don't really have to design or put nail polish on these if you want. But silver glittery nails as an accent could improve your look.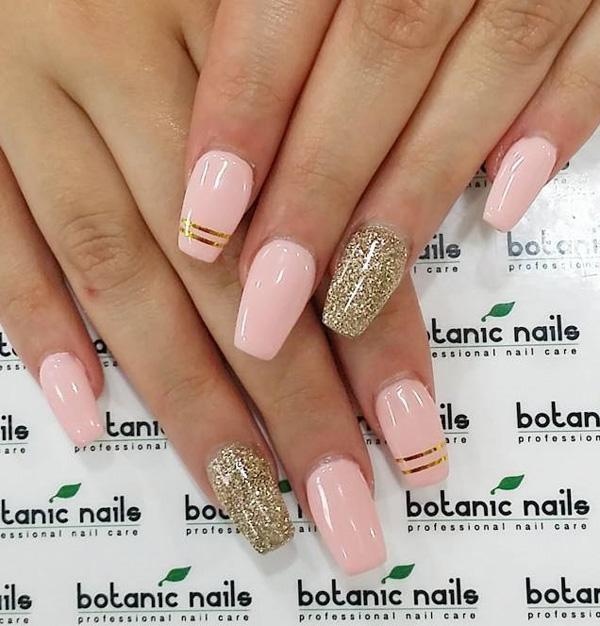 Girly and yet fab. If you want to get that kind of vibe, this pink and gold coffin nails would do the work best.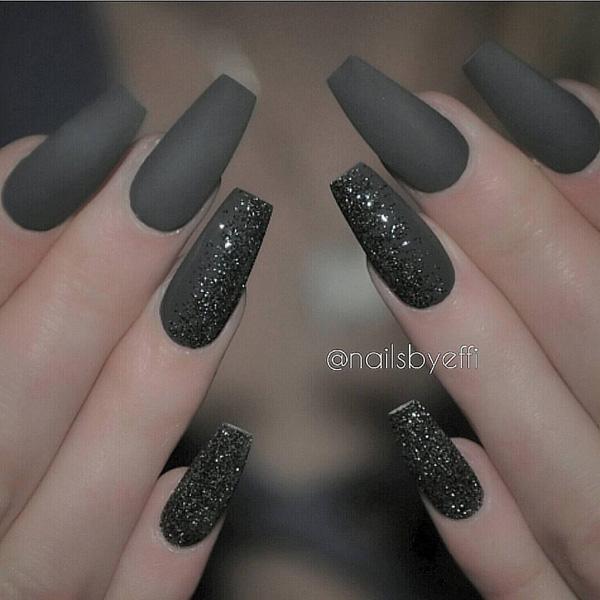 Matte colors, although without the shine, could look fashionably better especially on long nails. Here's a matte black set of nails with little black glitters for accent.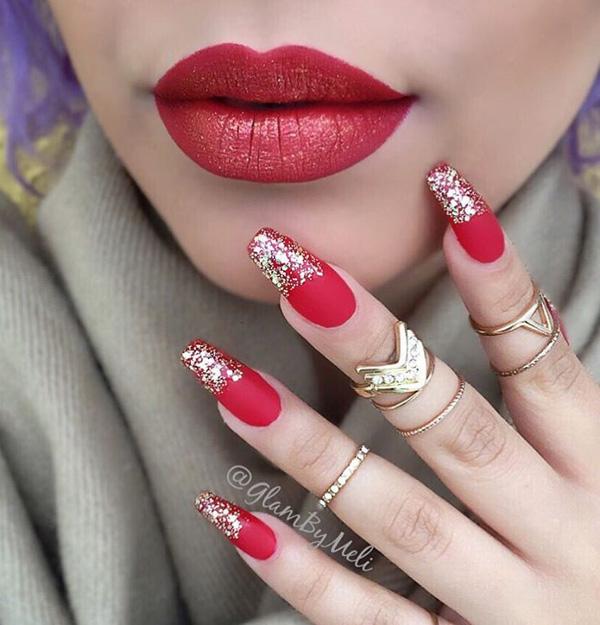 Pair your lips with your nails. Get those red with hues of gold shimmer for your lips and a red matte nails with silver glitters to partner it off.
Source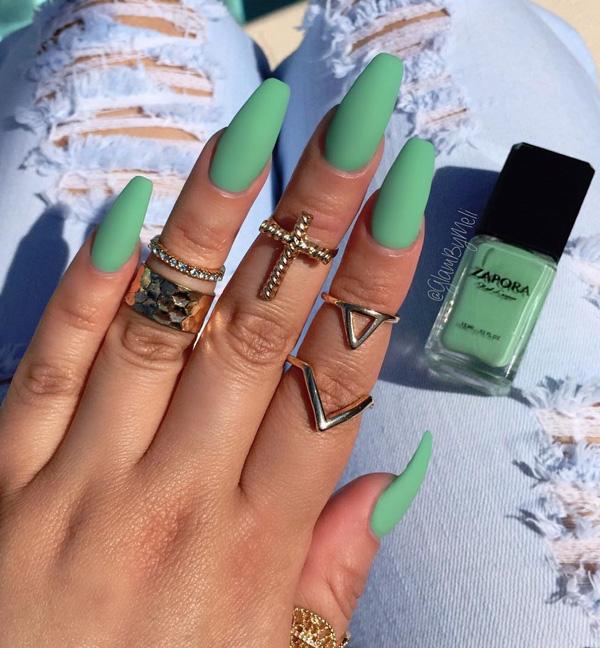 Gold goes great with these matte sea green nail polish.
Source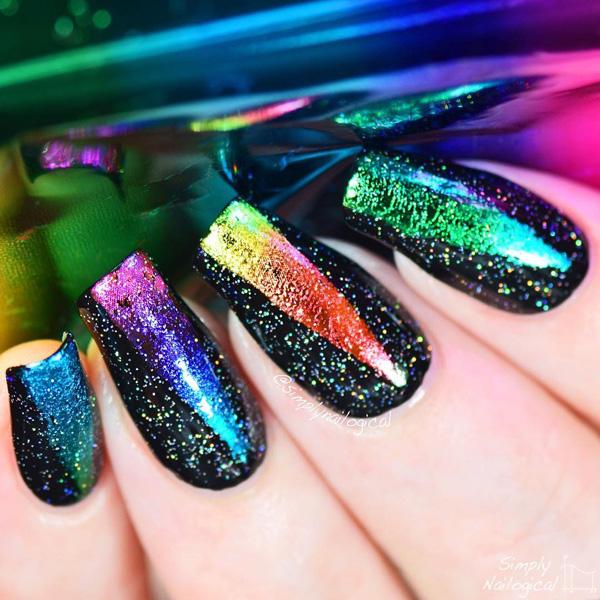 These cool and funky rainbow ombre on black background and glitters would do great for a rave party.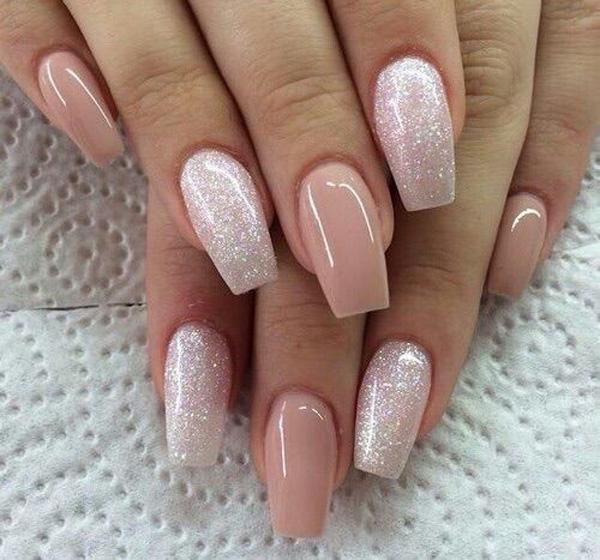 Nothing beats a demure and sophisticated look. You can complete that with this pale pink and silver glitter nail art.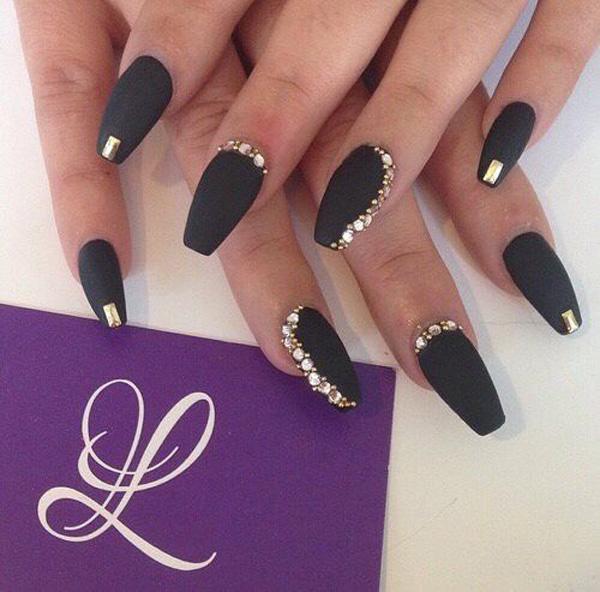 Rock it with this black matte nail polish and glam it up by adding diamonds and golds. You don't need anymore jewelry when you have this coffin nail art design.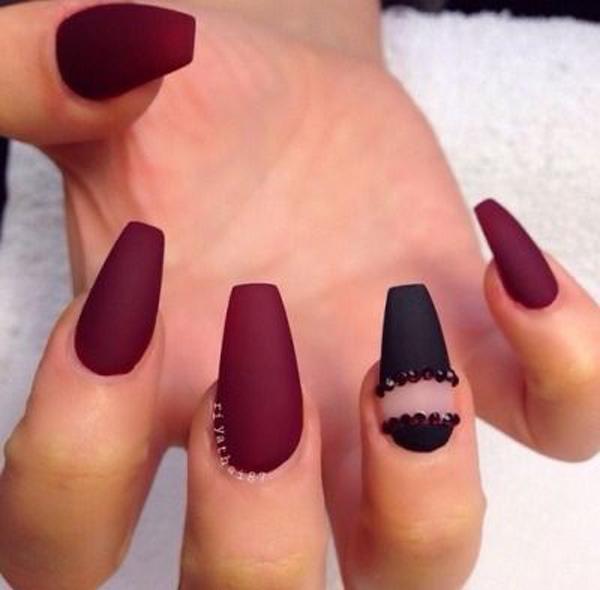 We all know maroon and black goes greatly well together when you want a dark and sexy look so if that's what you're aiming for, here's a design that would go well with you.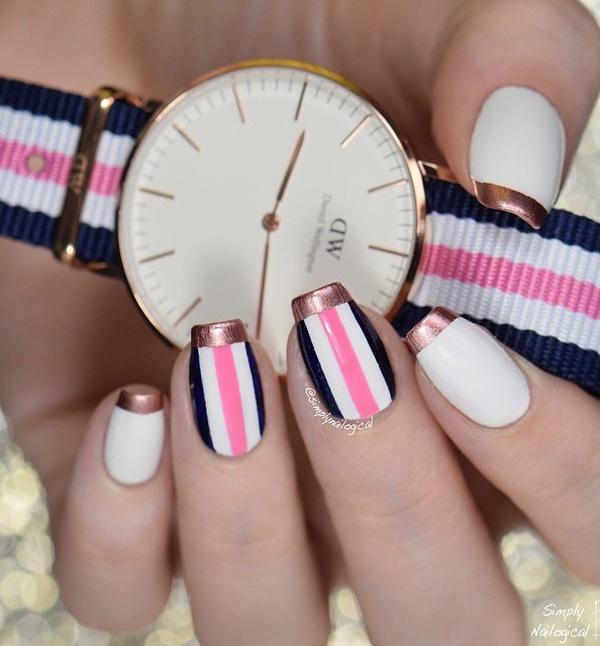 Pairing has always been part of fashion. In here, you can partner your nails with your watch! It doesn't really matter if it kinda looks corny now. It definitely looks great to have those stripes and golden french tips.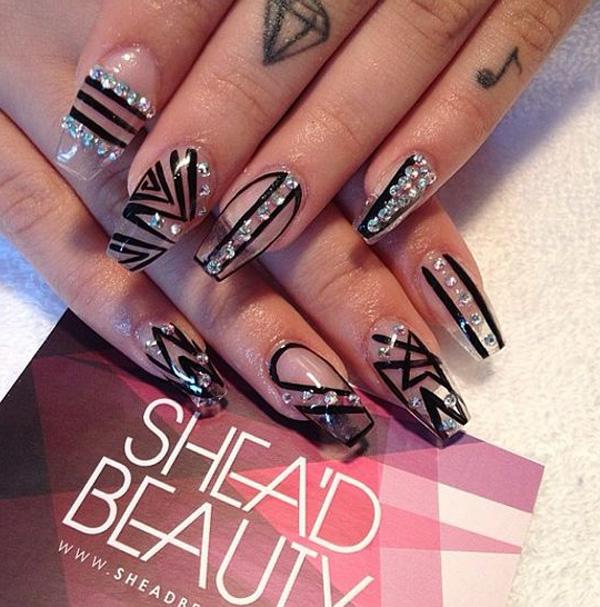 Transparent nails may look weird at first. But when you get this black and diamond designs to go with it, it would look great all of a sudden.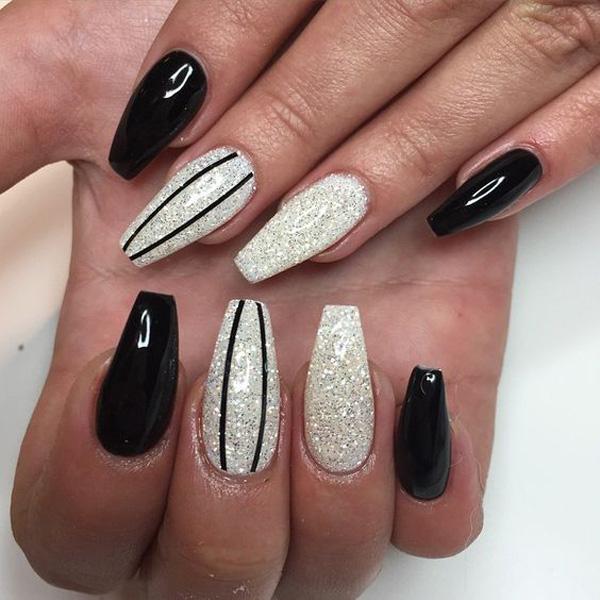 Be a stunner with this black and silver glitters nail design.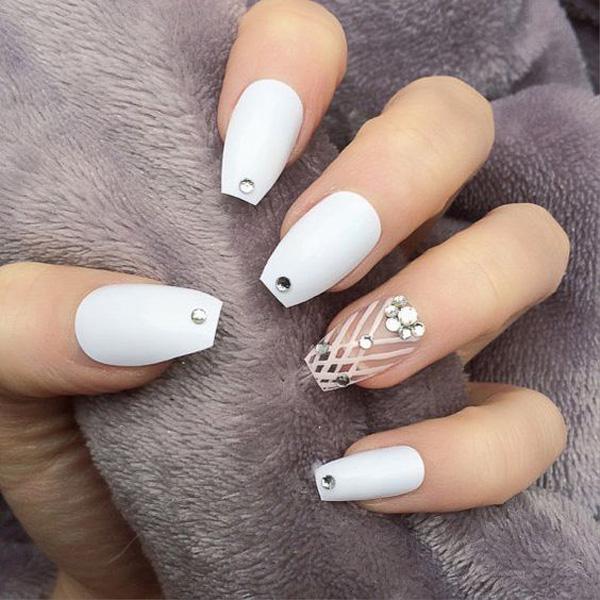 False nails will make it easier for you to achieve the design and the shape that you are looking for. Here it's a simple matte white nail with diamond for accent. But the main event is the transparent falsies with white stripes and diamonds.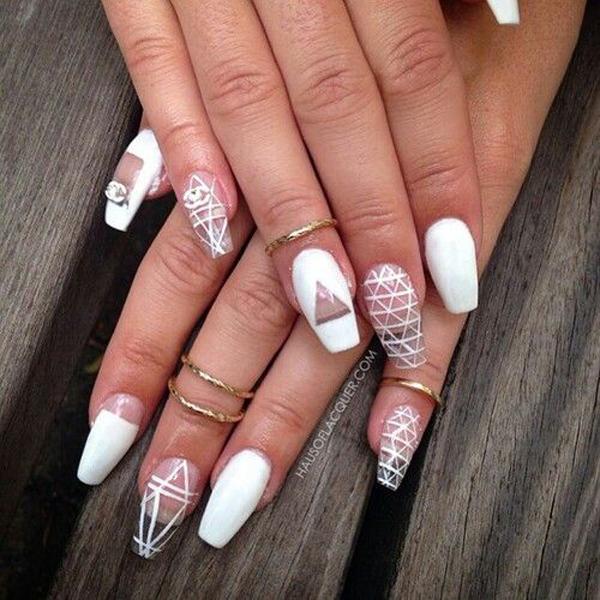 This kind of design is achievable with the help of thin brushes and stencils. You can either go with false nails or perhaps, wait and grow your nails.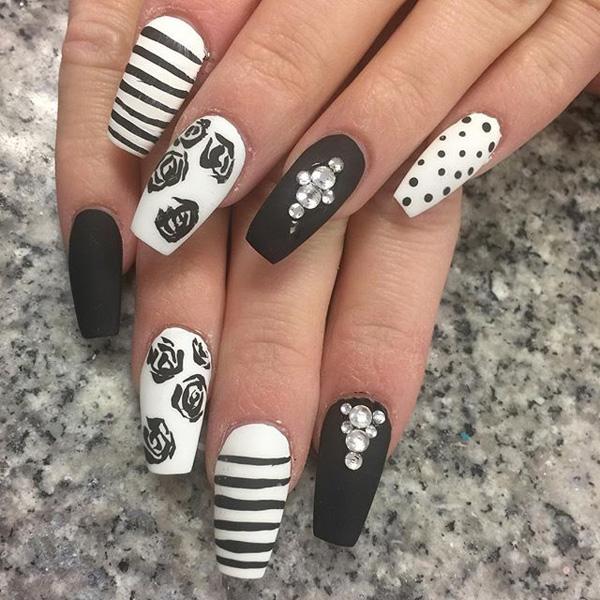 Be a black and white beauty with these matte black and white designs. You have the classic and simple black and white stripes and polka dots as well as a glamorous black and diamond nail art plus a vintage feel of black roses.
Source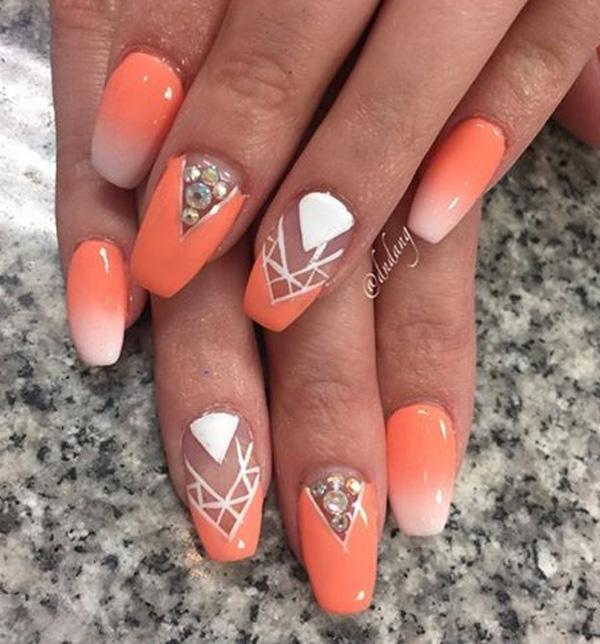 Create these ombre peach and orange nails and background. It would be so much better with chevron pattern on an unpainted spot and add some white patterns or even faux diamonds.
Source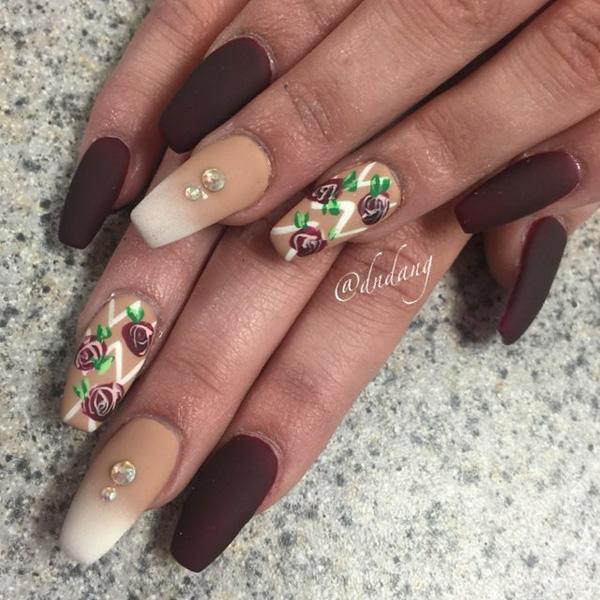 Chocolate brown color isn't really that much used in nails. But here's a combination of the color in matte with lighter brown and white ombre and combinations. You can add roses and diamonds for a more feminine side.
Source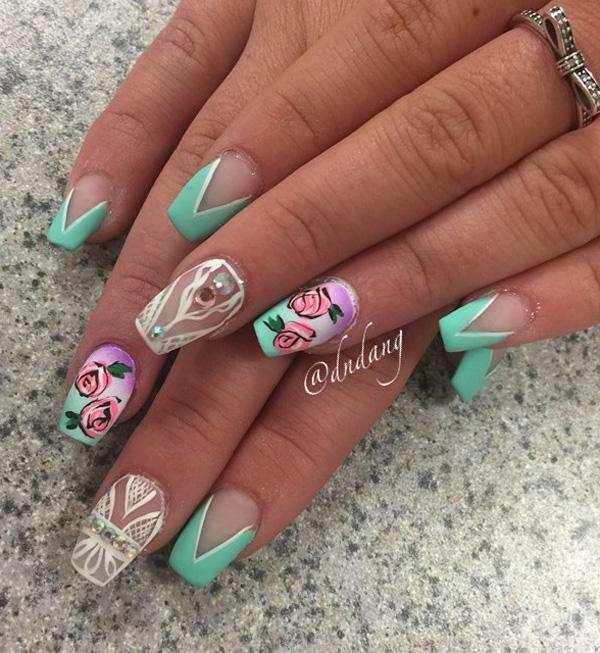 Create this unique look with a sea green chevron look with white highlights combined with white sea green and purple ombre with roses. And the accent nails would be translucent background with white curves and diamonds.
Source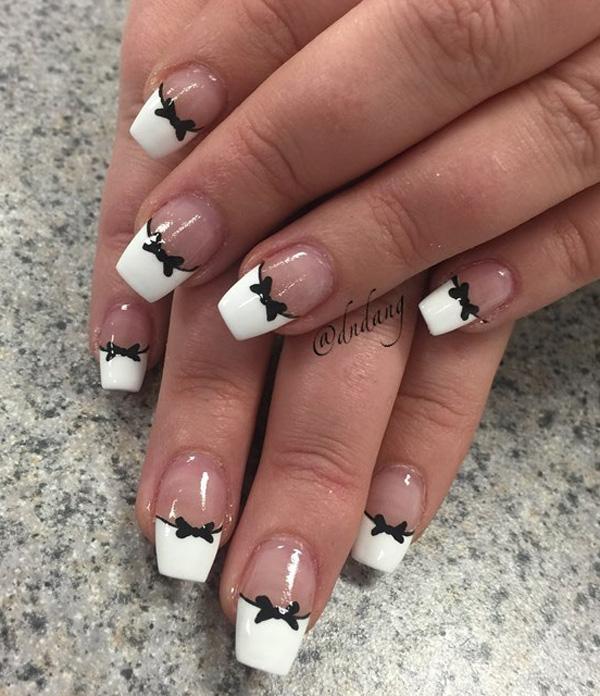 This one is a much simpler design. Just create a white french tip and add some black bows to highlight and give more character to your nail art.
Source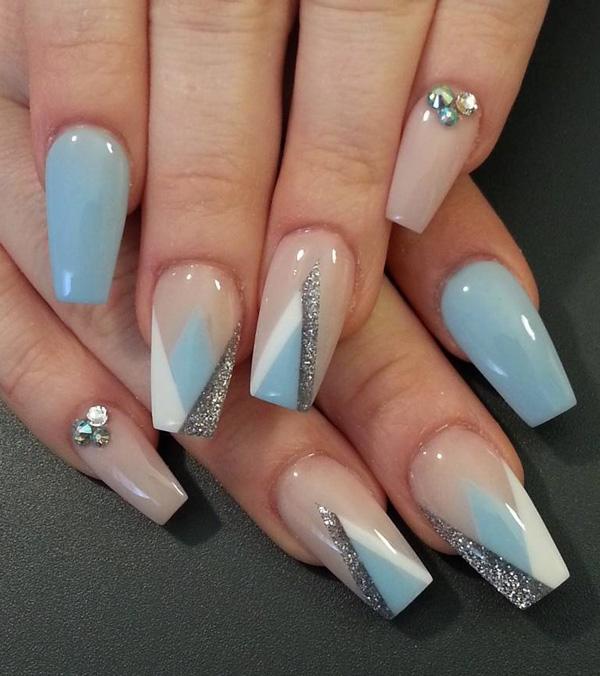 This sophisticated but very soothing nail art design is made up of blue, white and silver glitter triangular tips. Adding some diamonds creates a more dazzling look.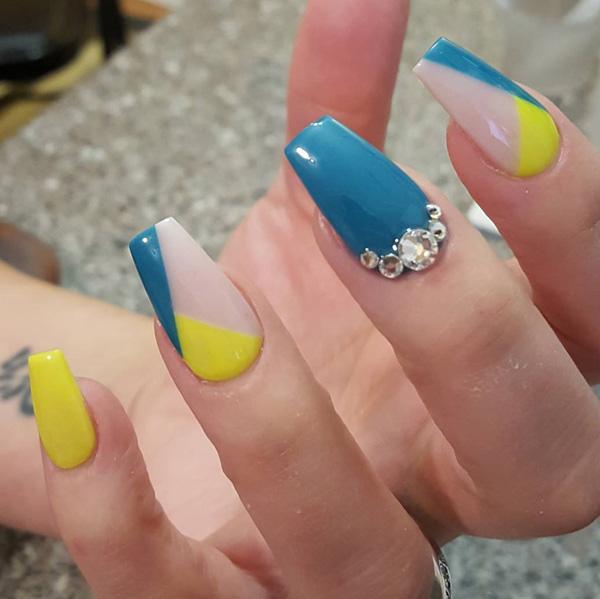 Sassy and funky and yet a cool look for whatever occasion you want to get it.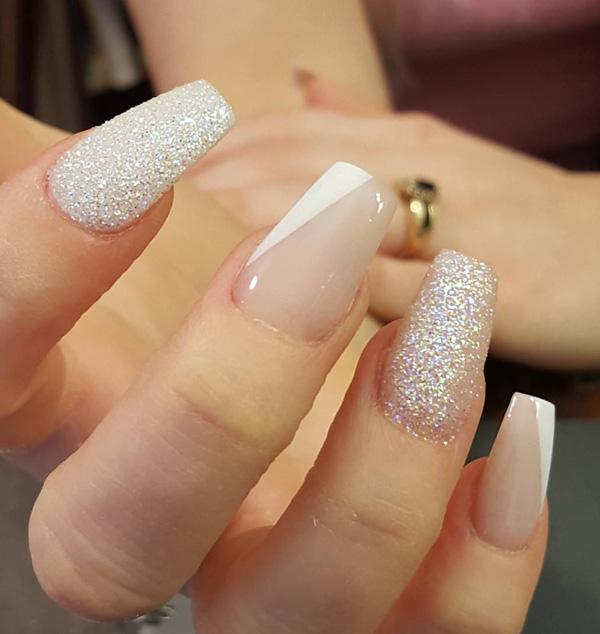 Simplicity is beauty they say. In this shiny and shimmering glitter plus naked nails with a little stripe of white, the saying is totally true.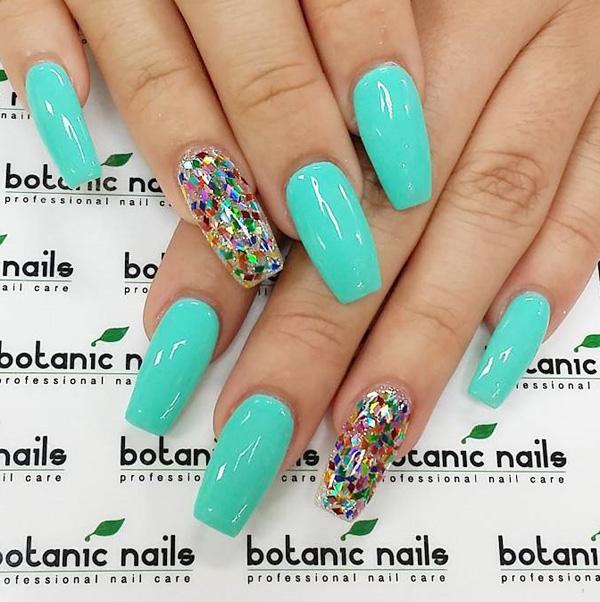 Sea green is a great color which is soothing and calm for the eyes and it could totally rock a coffin nail look alone. But you can level it up with a rhinestone nail polish for added color and life.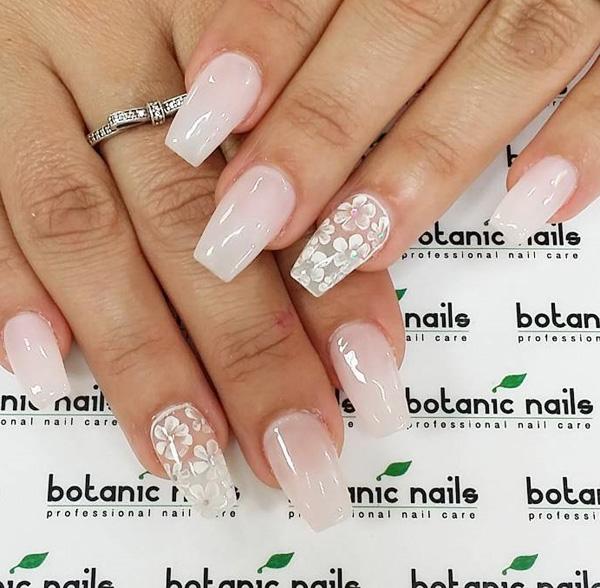 You could be able to get these designs through stencils which you can buy on cosmetic shops or drugstores and even online.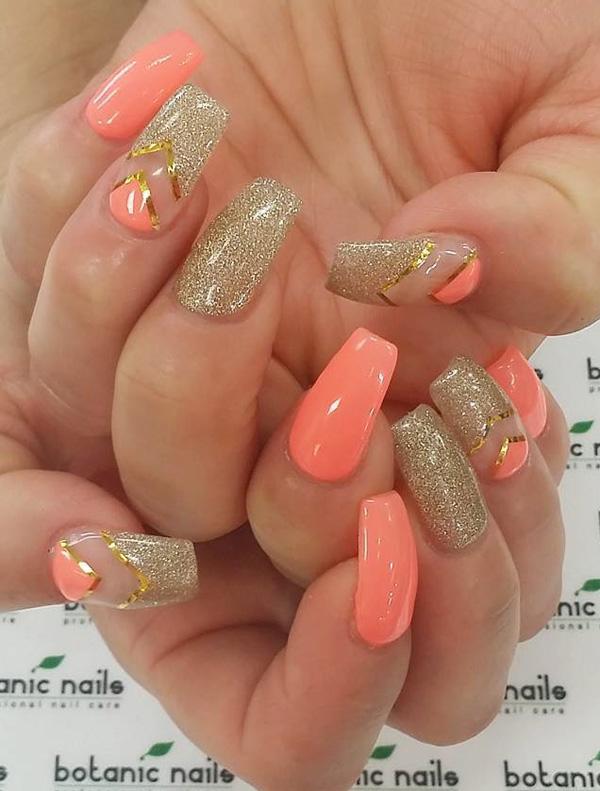 Level up your chevron nail art on a coffin nail with this beautiful and elegant metallic gold, gold glitter and peach design.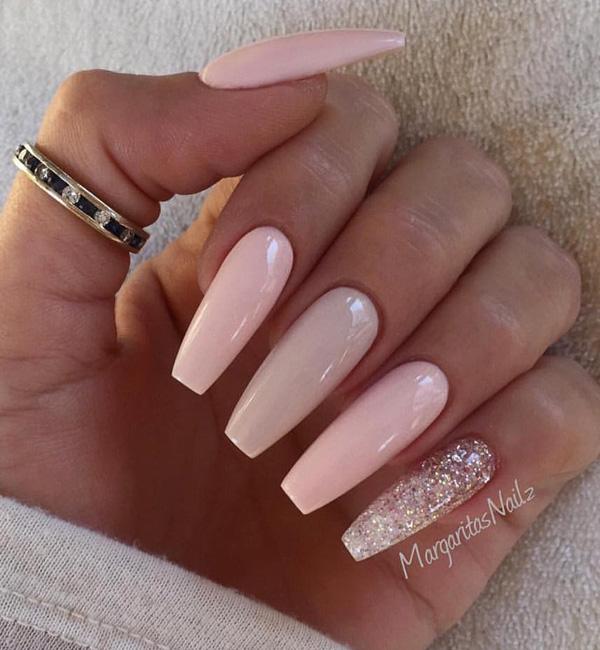 In the matter of coffin nails, the longer the better. The simpler, the more fab. And this look just proves both those points.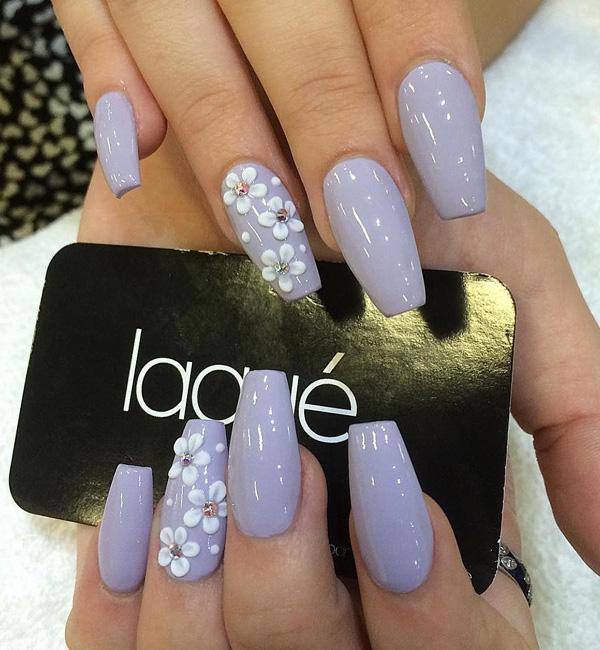 Gray might be an "old" color, but add bits if flowers and diamonds and it would be a perfect design for your coffin nails.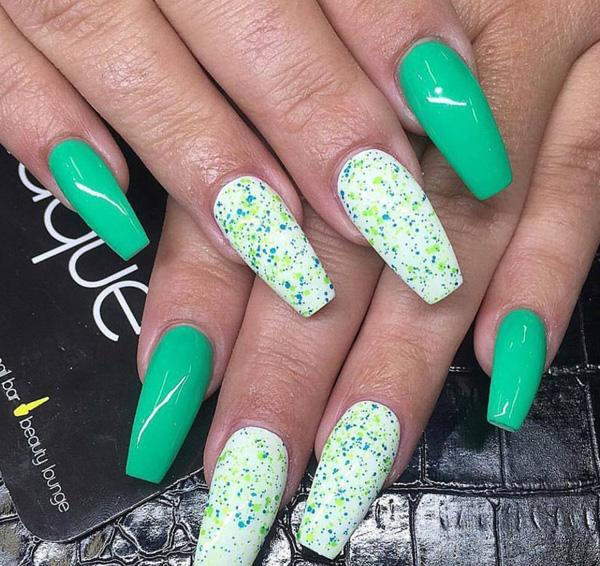 Green nails would be perfect for the summer as this has a cool effect for the eyes. So here's a green and polka dots design for your summer outings.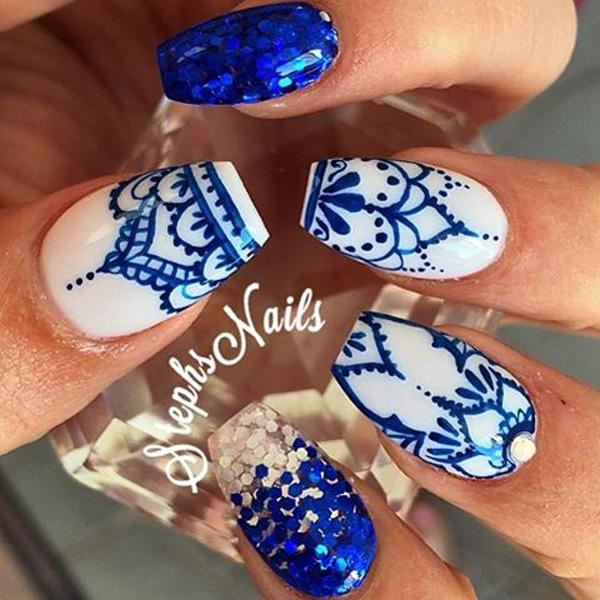 Feel and look royalty with these white and royal blue rhinestones and glorious patterns.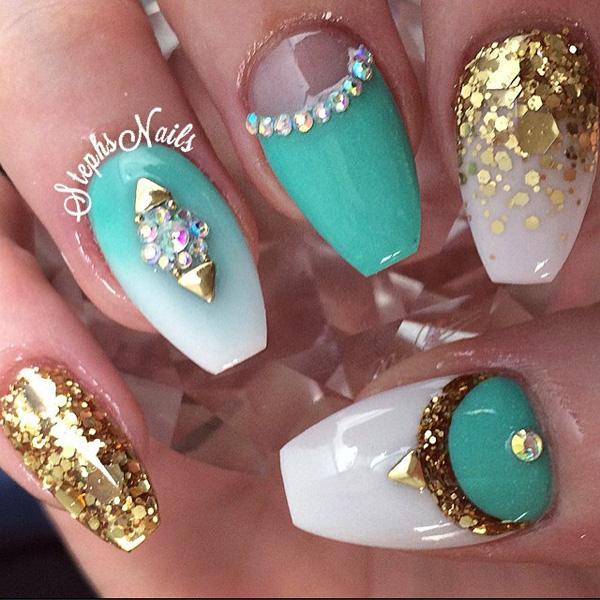 If the other design makes you feel royalty, this design would make you feel like royalty too…a mermaid royalty. Which is even better.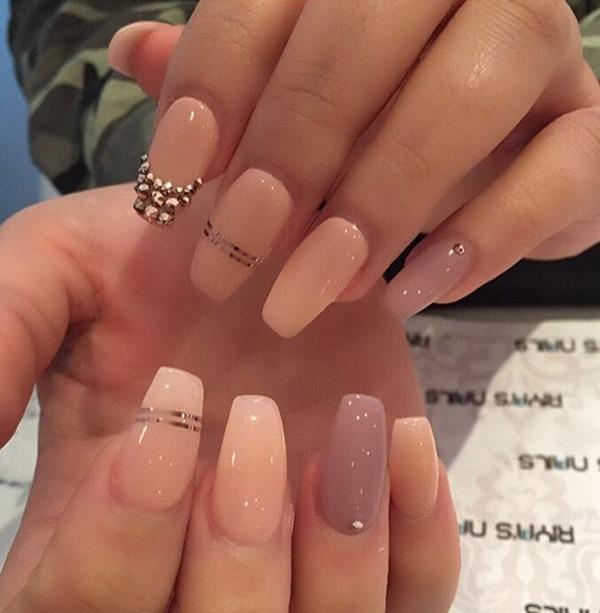 Don't be afraid to use studs for your nail design. It may look intimidating but it could give an extra ooomph! for your look.
Source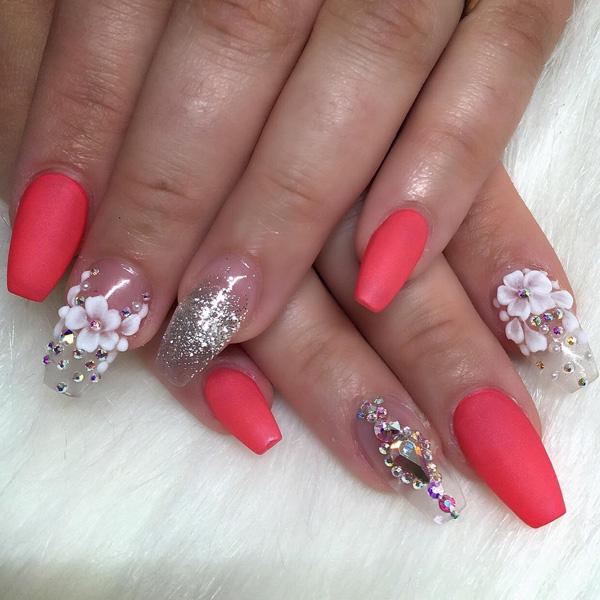 Diamond studded and beautiful. It takes imagination and skills to create these designs.
Source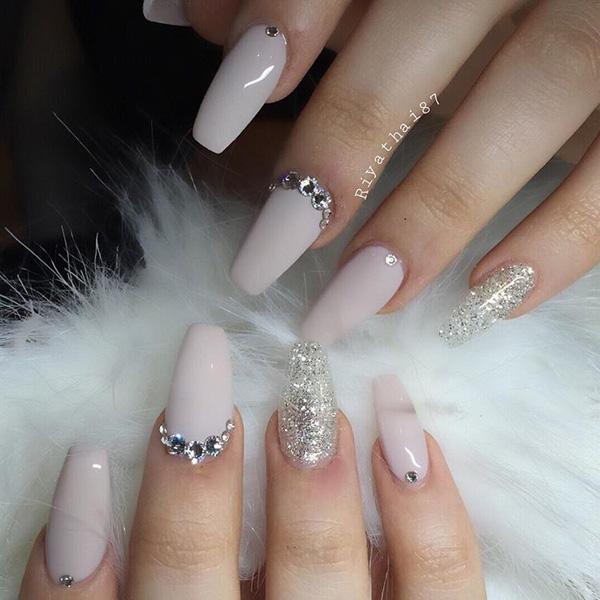 The great thing with using false nails is that these are easy to shape and design. To recreate this look with false nails, you can simply add clear nail polish for the shine and then some diamonds for a crescent moon design. Glitters would also greatly improve your nail art.
Source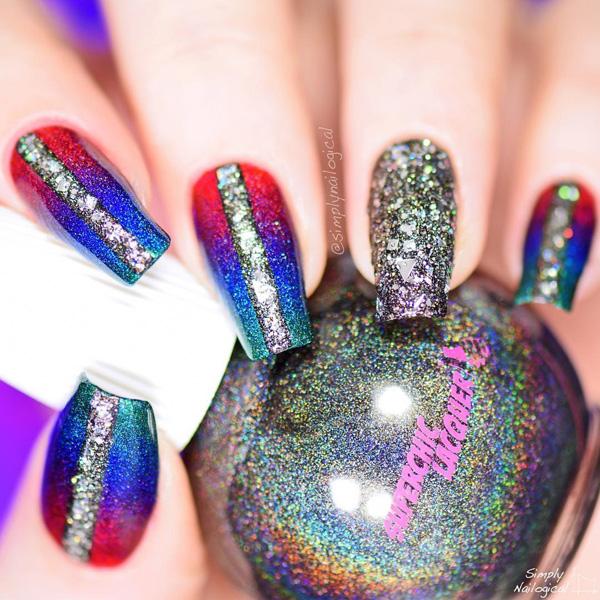 These rainbow colored glitter nail polishes isn't really that hard to find. But this kind of design may require skills in nail art designing. But once it's done, it would definitely look fun and cool.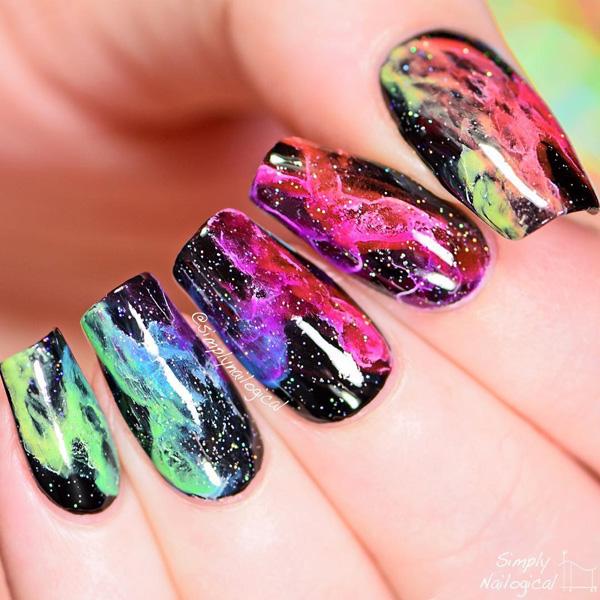 A galaxy inspired marble design on a black background with tiny white dots for stars would be the best coffin nail art design for every astronomy lover.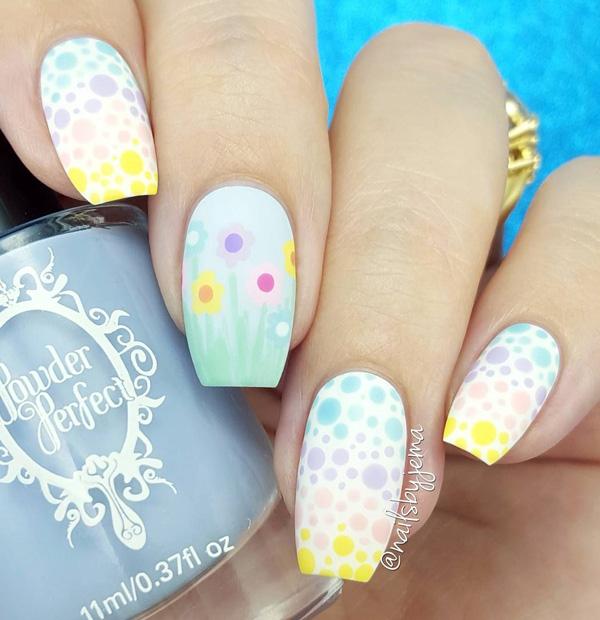 These cute little polka dots are easier if you use the colors you want as the base. Then you can use a polka dot stencil and then paint the white nail polish. The accent of the design is the cute litte flowers in different colors.
Source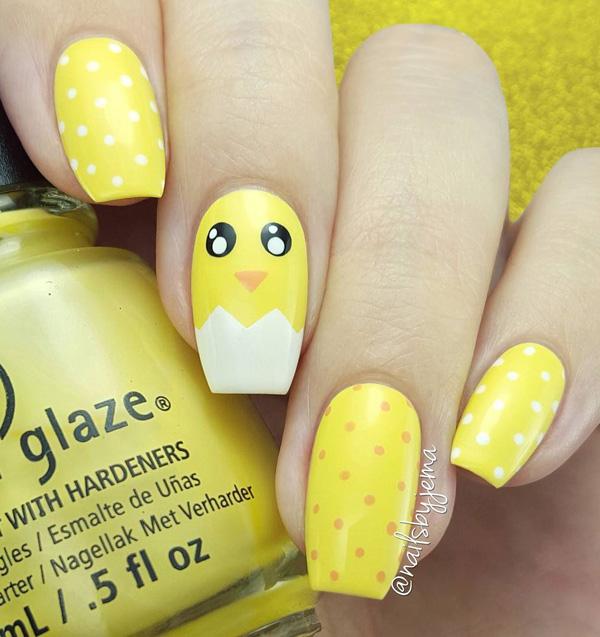 And since we're talking about cute, here's another cute design with pink, white and yellow polka dots plus a cute newly hatched chick! And did I say it's cute?
Source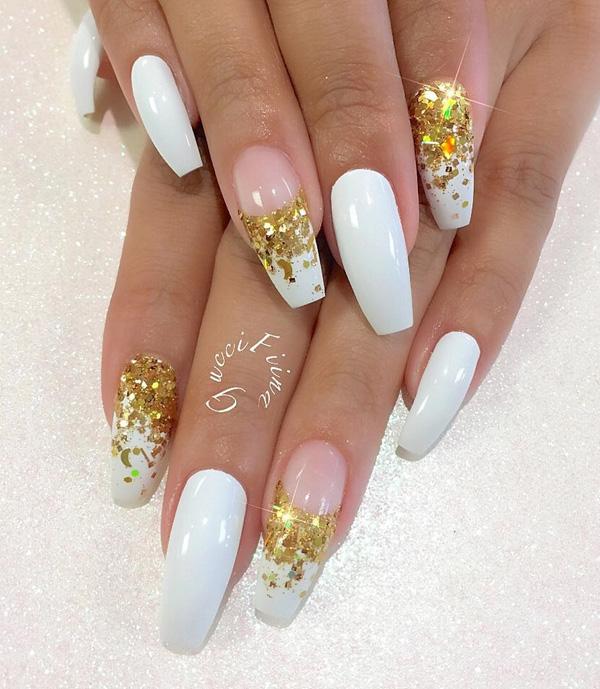 A white french tip isn't bad. But since it's a coffin nail, the tip would be wider. So how about adding gold rhinestones for added glam?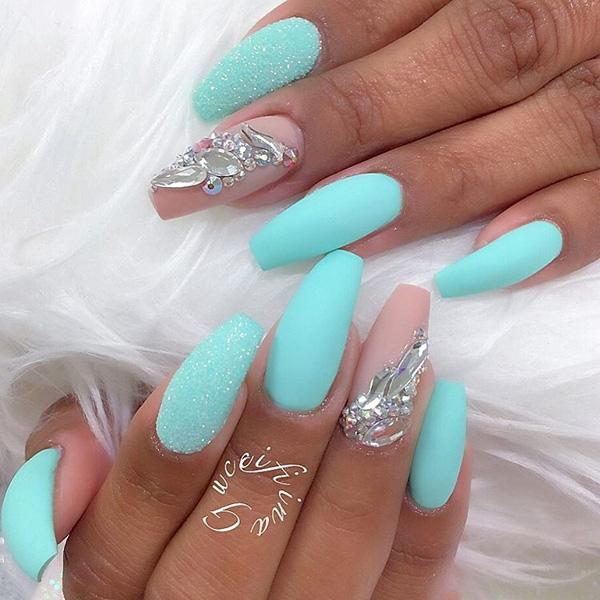 Another sea royalty vibe with this matte sea green nail polish, one with additional glitters and a naked color with beautiful diamonds.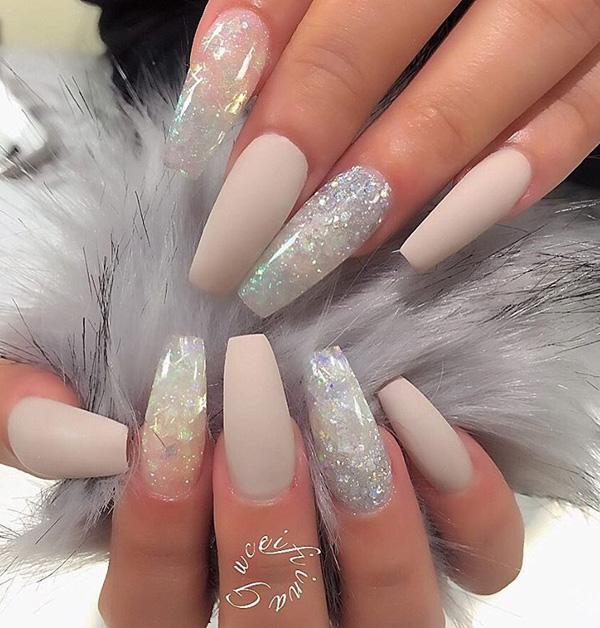 Matte naked colors are the rage now. But you can make the other nails look glass-like with white rhinestones and glitters.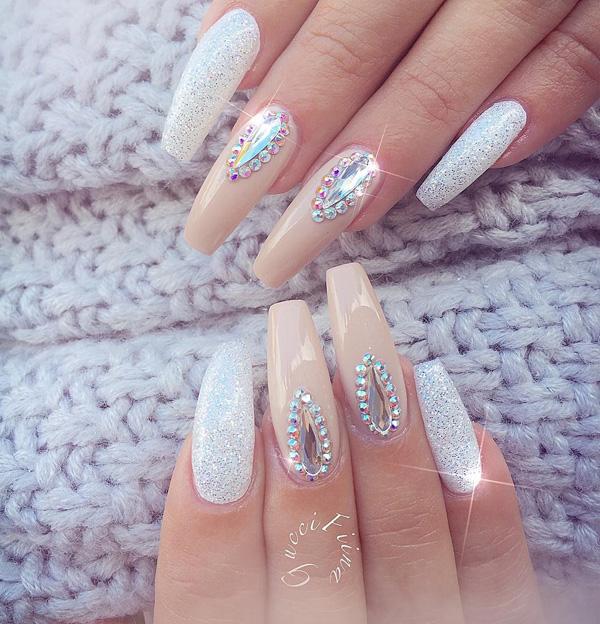 Since coffin nails are longer, it would give you more freedom for designing with diamonds. Here, you can see tear-shaped diamonds surrounded by tiny ones. And it still leaves enough space so it won't look crowded.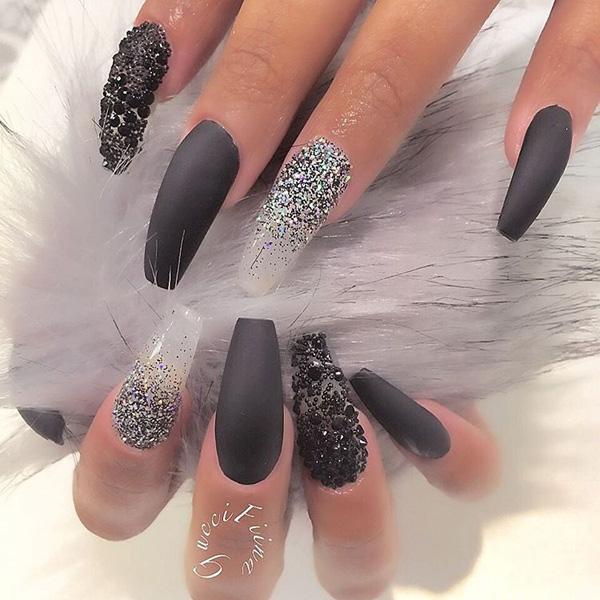 Add black and white glitters and black beads for your coffin nail art. But to subtle it down a bit, you can simply use matte black nail polish on other nails.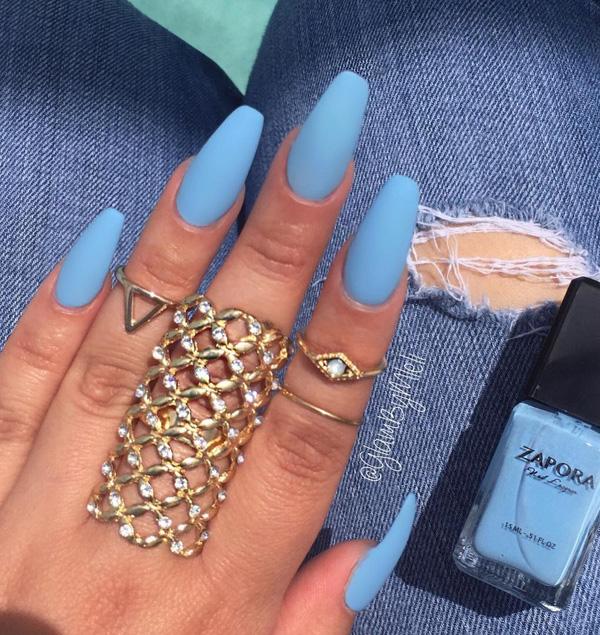 This matte sky blue is perfect for your denim days and causal looks.
Source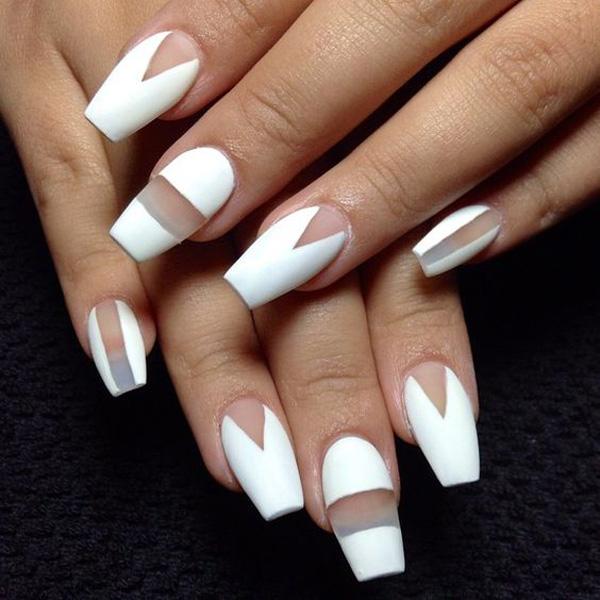 This stunning and unique design is actually quite simple to do. You can cut out the shapes you want with a scotch tape, tape it on your nails and then paint your nails white like the usual. When you strip those tape and you can see the amazing results.
Accentuate your nail art with these beautiful patterns with diamonds for added shine.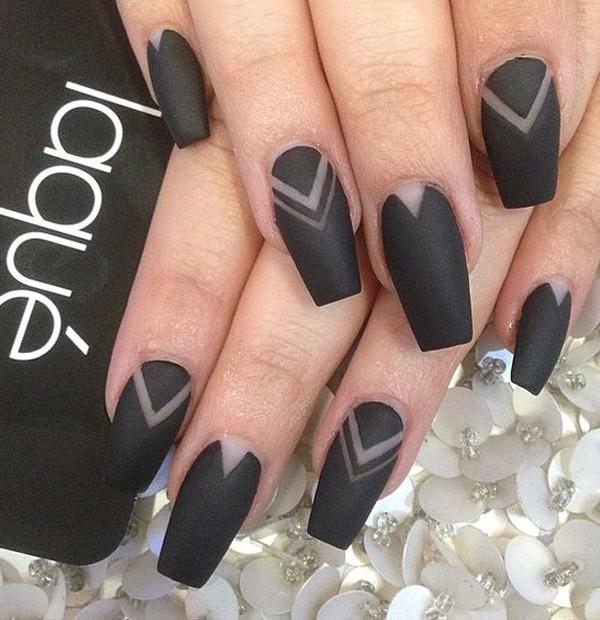 Level up your matte black nail look with chevron patterns.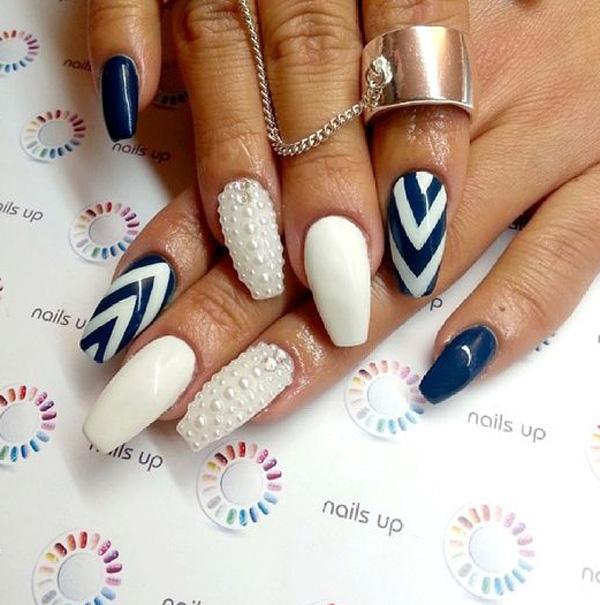 Chevron patterns are great on coffin nails since you can make the patterns slightly bigger like in this design. And of course, you could use little faux pearls to make your design look even more stunning.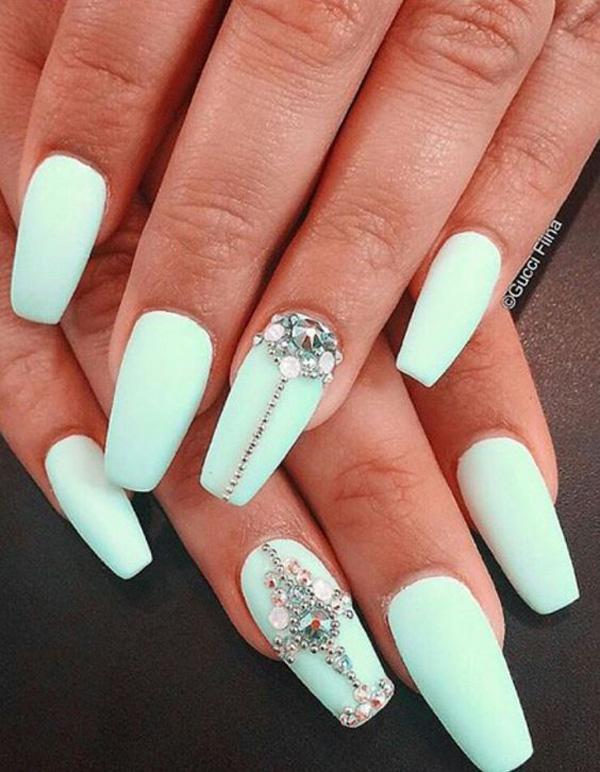 What's the best way to make your matte mint green look even more better? Adding patterns of gold beads and diamonds.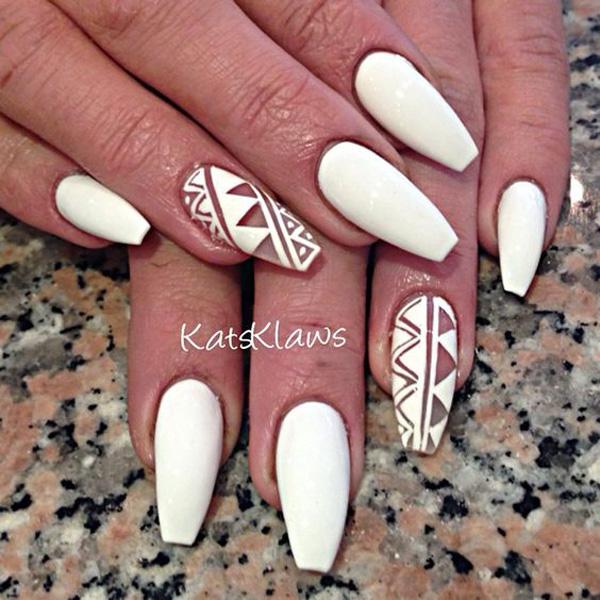 You don't really need to paint your whole nail now. You can actually create a beautiful look by creating patterns where other parts show your normal nail.