Kick off that summer vibe with this hot and bright orange nails to accompany you! Coat your nails with matte orange to resemble the intense heat of the sun. Tone it down with a white layer topped with orange and black leaves to stand out from the matte shades surrounding the ensemble.
Feel the summer heat with fashionable and pretty summer nail art!
Summer days are here again. While preparing your best summer dress you should also try out fun and amazing summer nail art! A fashion girl is often in a beauty nail. This summer a lot of creative and inspirational nail designs have been coming up. It's the perfect opportunity for you to flaunt your best summer nails and enjoy your time in the sun.
What nails make you rock this summer? Summer nails need to be:
1. Eye catching
2. Fresh and fun to look at
3. Intense and bold colors are very much in the summer season
4. Bright hues, saturated colors
5. Vivid shades and day-glo neons are also a good match for the hot weather
Experiment is the key and you shouldn't be afraid to try them all out as much as you can! Think about what elements and colors best represent your summer.
Apart from that you can also search online. The internet is the biggest and most updated place where you can find almost everything. Try going into nail art fashion blogs, nail art websites and Cuded beauty channel to get the latest trends when it comes to the popular nail art fashion in the season.
Now that you have your top picks for summer nail art designs, what's the next step? It's learning how to put on these creative shades. Pull up video sharing sites like YouTube and you can easily find "how to do" videos or nail art tutorials. The tutorials are all in simple and quick steps that you can easily follow after a few minutes. You'll have a ton of summer nail designs in hand in a single day.
Not only is this interesting to do, but you can also show off your fashion statement during the summer break. Change your nail art every time you hang out with friends or go out to a pool party! There are many eccentric and funny designs such as coconut trees, fruits, and even fishes that you can incorporate into the nail art design.
Be funny, be creative and be yourself! Unleash your bright and bubbly side this summer!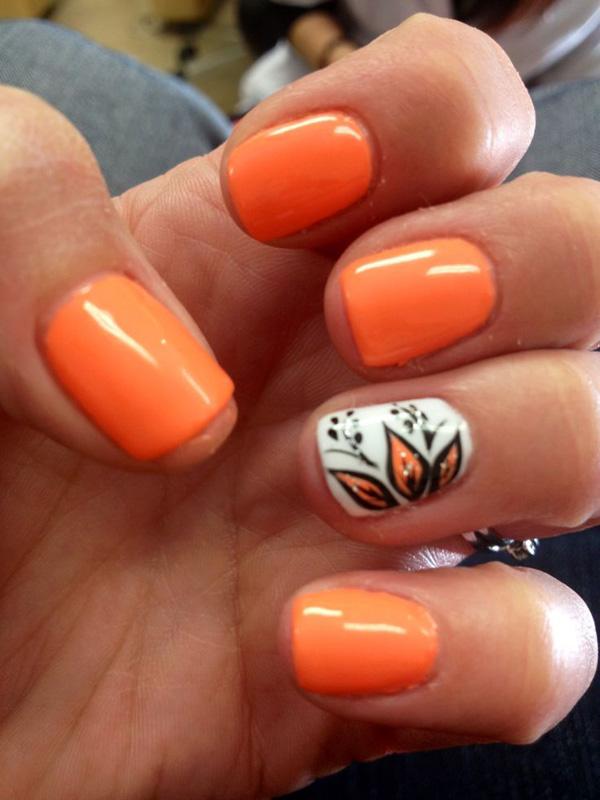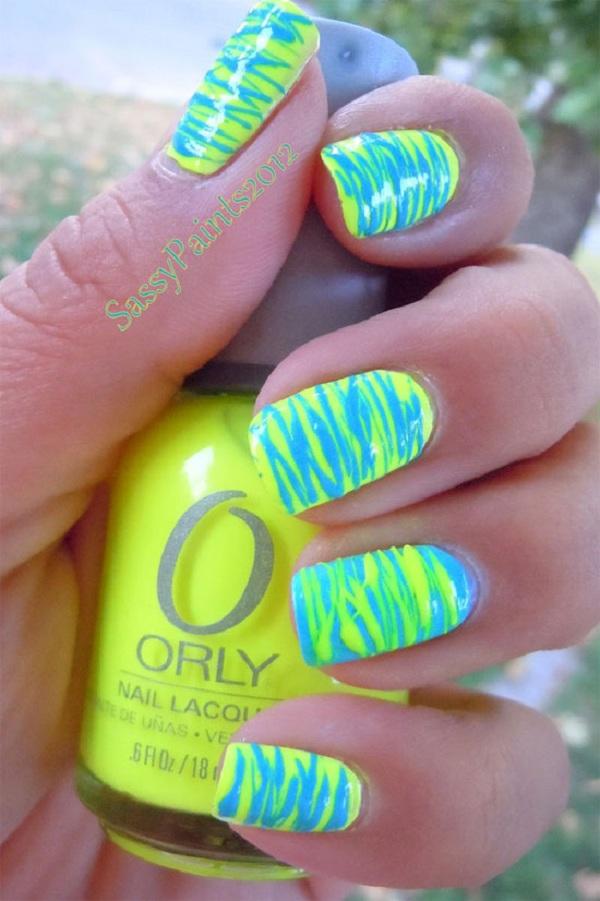 Bright Summer nail art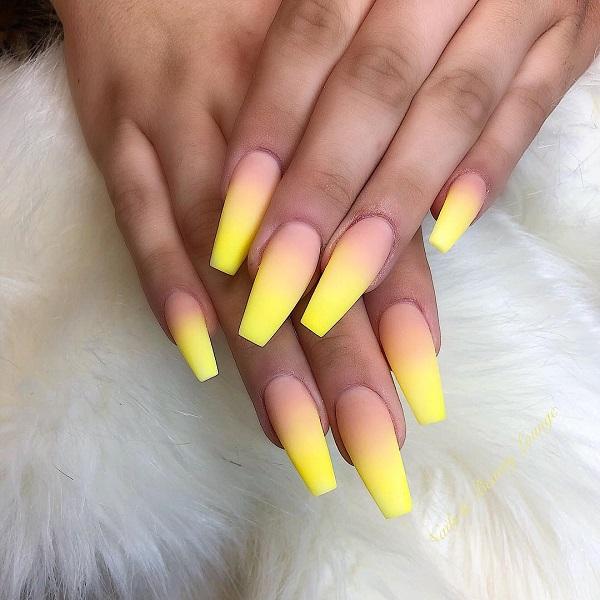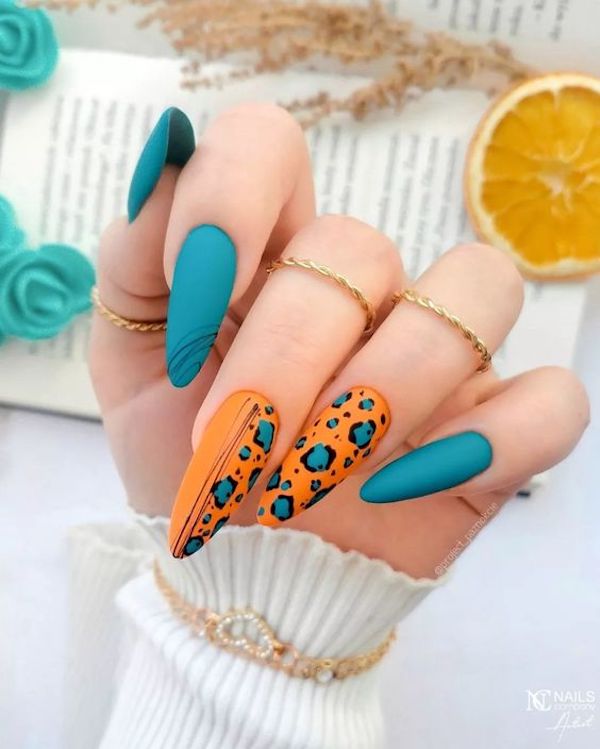 Green french nail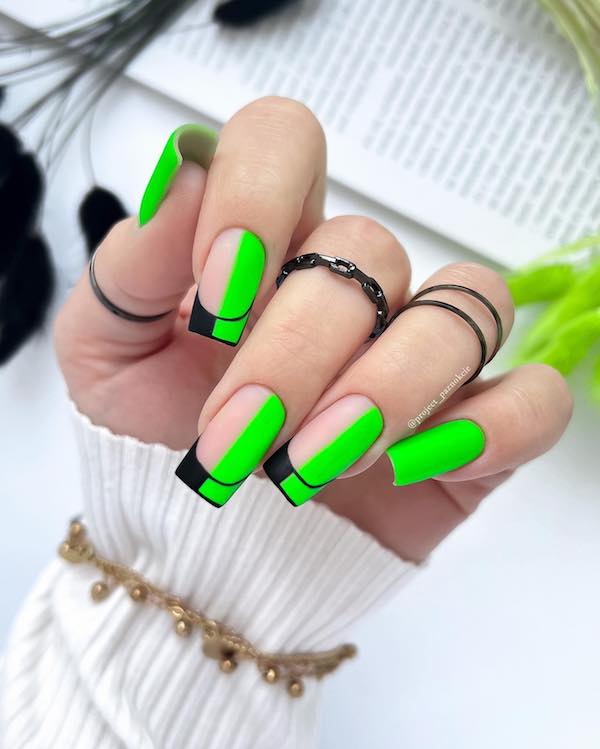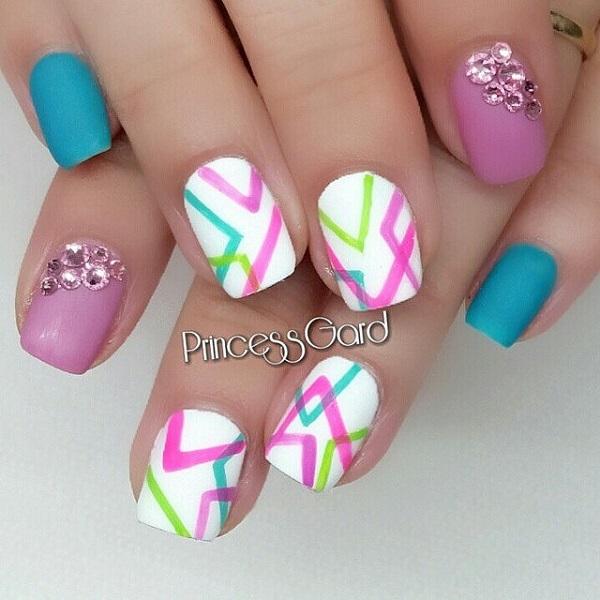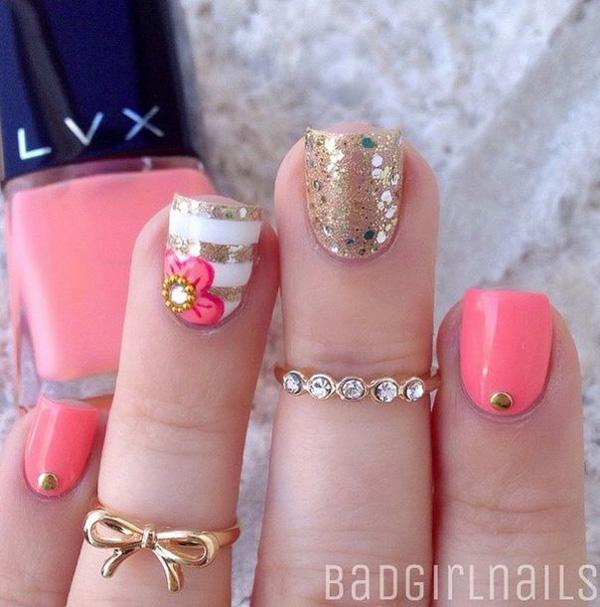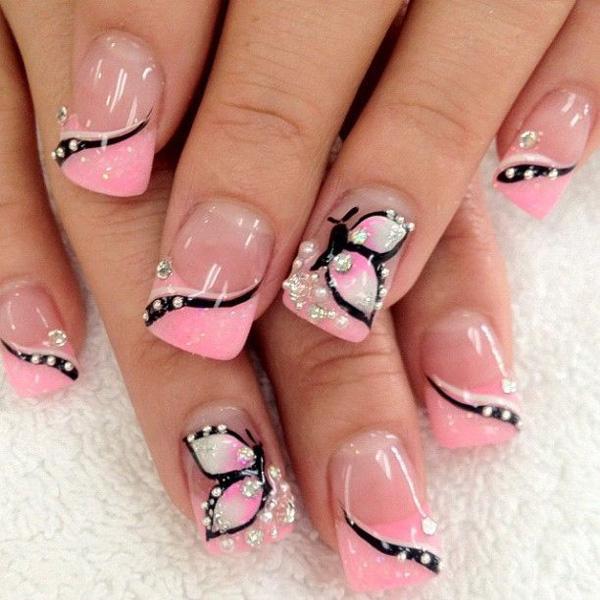 Check out this pretty in pink and black nail art design with silver bead accents. Tipped in light pink shades, the nails are also lined with black acrylic, one of which represents a butterfly with outstretched wings. The design is finished off with a clear white polish to preserve it from the heat and the water that you may encounter this summer.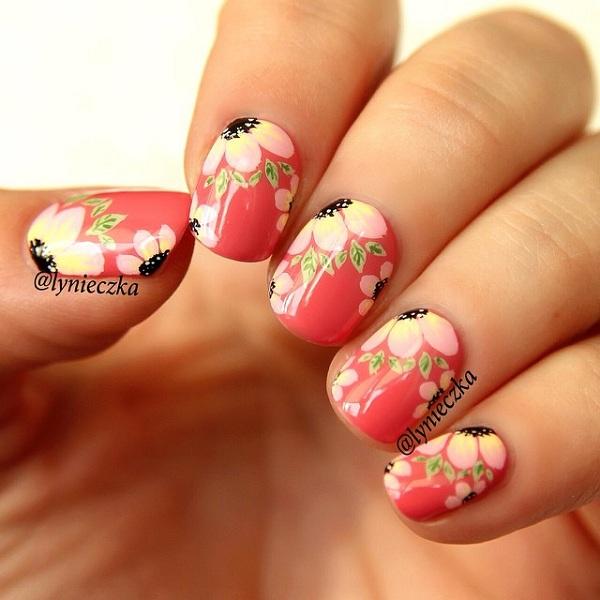 Pretty Summer nail art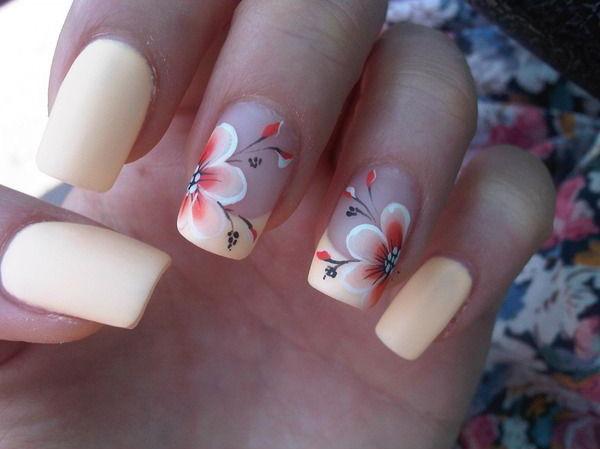 Play around with a creamy matte color on your nails. The design is then topped with a cream and firebrick hues forming a beautiful hibiscus flower. Perfect for venturing the near beaches, this nail art is a great partner for your frilly summer dress and hat.
Add fun to your short square shaped nails with this cool looking nail art ensemble. The aquamarine matte nail coat is just amazing to look at and takes you towards the sea. Being distinct from the rest is a fresh sparkly glitter coated nail and a stripe black and white design topped with a blue and purple hibiscus combination. Artsy and fun to look at nail art design.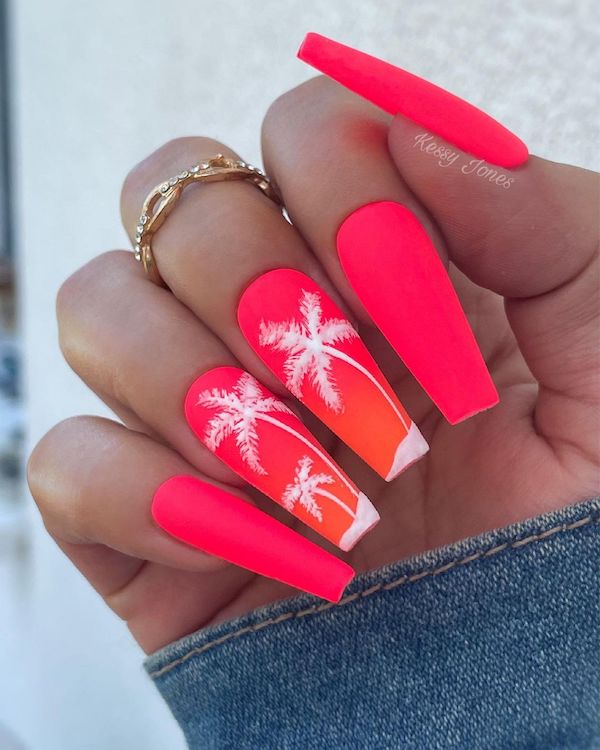 summer nail 2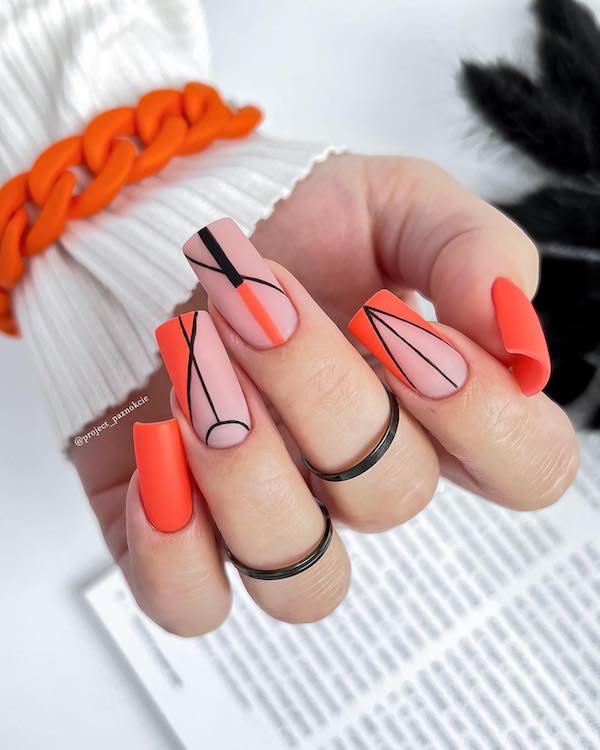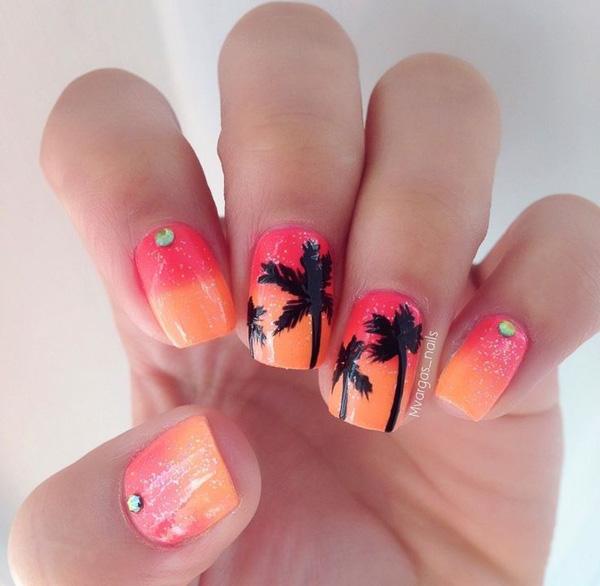 Do you want to bring in the summer sunset with you? If you want to, then this nail art design is perfect for you. Salmon and yellow orange hues combined to reveal a sunset-ish gradient is coated over your nails. Topped with black silhouettes of coconut trees resembling their shadows during the setting sun. It simply makes you feel warm and at home in the summer.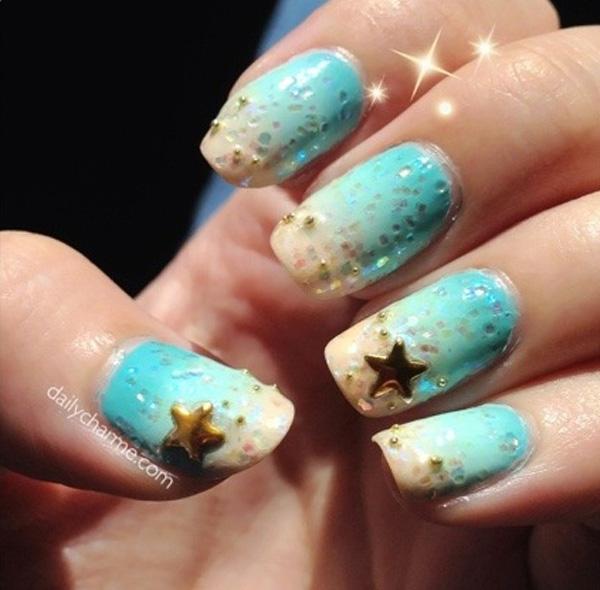 Breezy beach inspired nail art design. It's like dipping your nails into the sea and having the seashore paint itself on it. Coated with cream and light blue gradients to represent the sea, the nails are also topped with gold stars and beads. To make the look even more authentic, small hole like punctures have also been added on top of the design.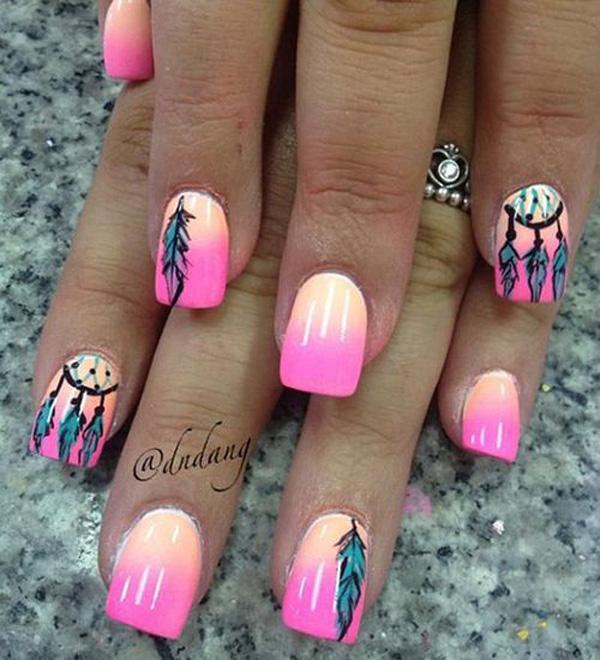 Talk about hot nails and wild dreams! This wonderful dreamcatcher nail art is simply eye catching. The pink and yellow gradients combine to form a pretty horizontal background, with painted feathers to remind you of the summer dream.
Pretty light pastel colors rock this nail art design! Bisque shades play along with white shades in this artistic looking design. Striped glitter is also added as well as a cartoon drawing of an orange hibiscus over a plain white matte. Pleasing to the eyes and sweet looking nail art fashion. Source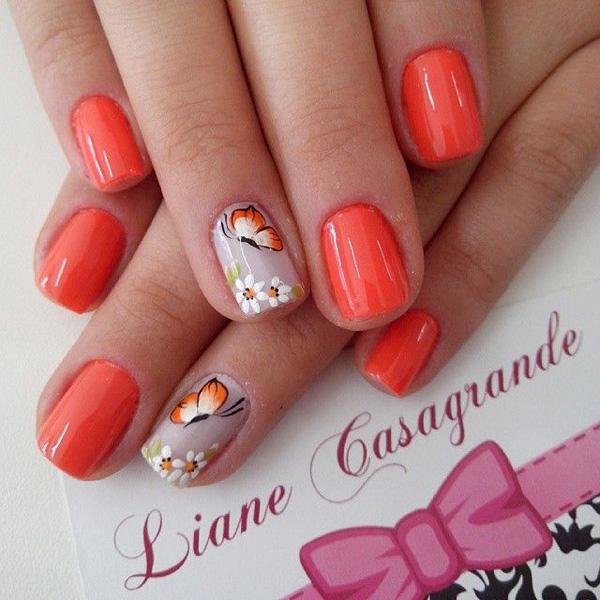 Reveal that feminine edge with this dark orange themed nail art design. While the other nails enjoy an orange matte, we are distracted by the artistically painted white and orange butterfly hovering over a flower that has been painted on top of a white coating. A beautiful and very classy nail design that can suit you best.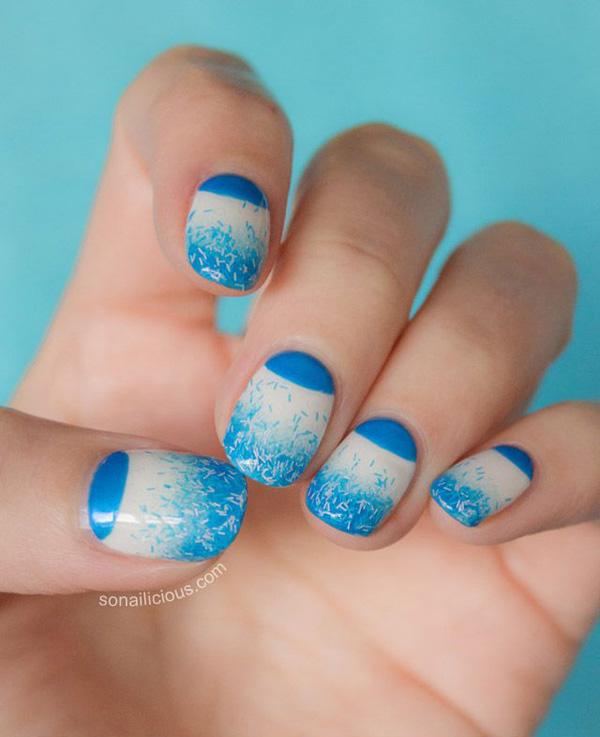 Bring in the coolness of your character with this breezy and chilly looking nail art design. Coated in white and blue lacquer, the design depicts water being splashed all over the nails. It's just like scraping water itself from the pool and having it cling to the nails just to show off.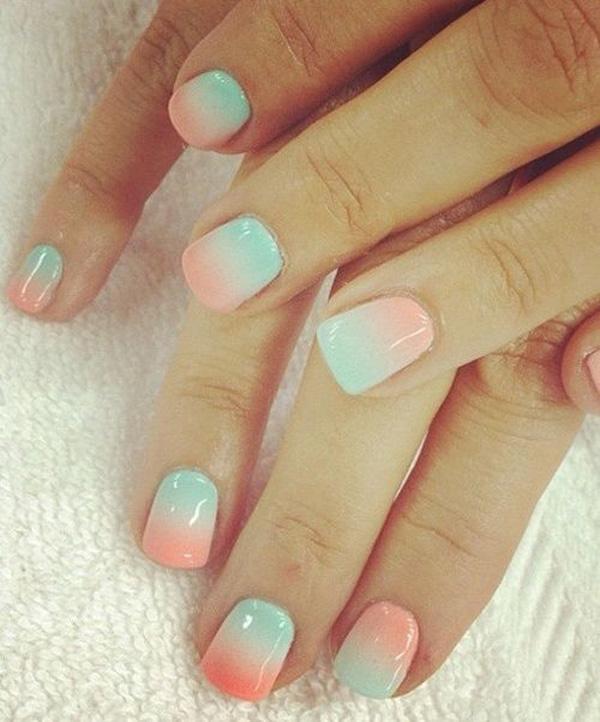 Play around with these warm summer gradients. Coat your nails with light sea green and salmon polish to celebrate the warm sun and friendly atmosphere of the summer. Make your nails look great while going to the beach or dipping in the pool with your friends and family.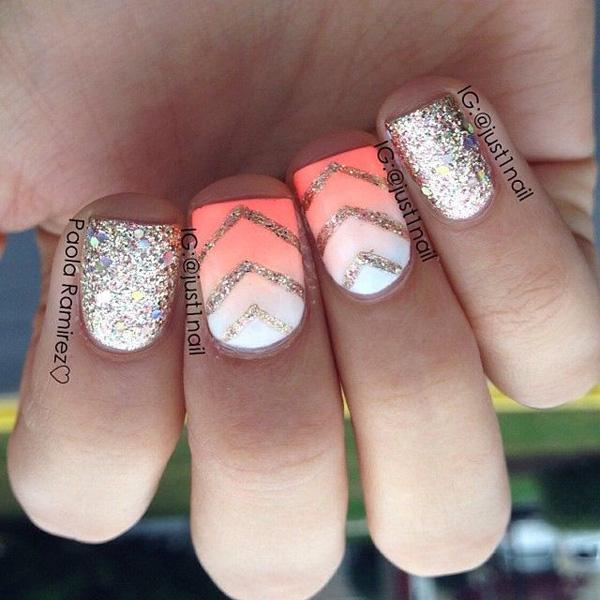 Nothing more can get sparkler than this dazzling ensemble of white and melon polish topped with silver glitter. The glitters have been arranged to form thin v shapes on the gradient to give it a more sophisticated look. A real catchy nail art that's fun to create and look at.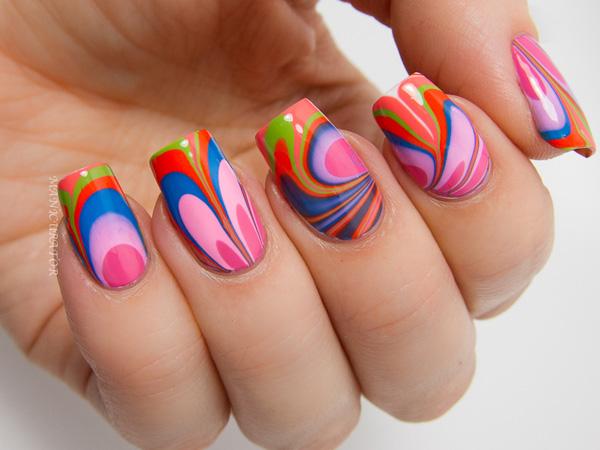 Ever wonder what would happen on your nails if you ever dipped them in rainbow? This is what you can get. Swirly, crazy and bold shapes of water marble nail art. It's a candid looking design that simply states how open and free you are this summer.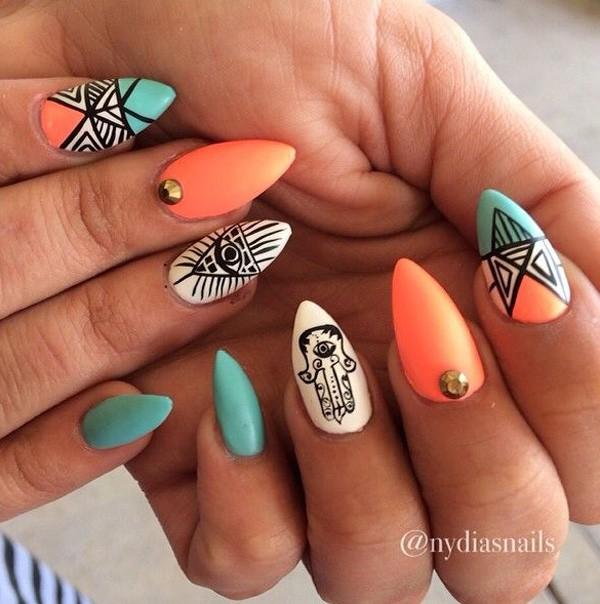 Be bold and creative with this tribal inspired stiletto nails. Coated with blue and orange color combinations, you will simply love the lines and stripes that play along your nails. A very creative looking nail art design you will fall in love with.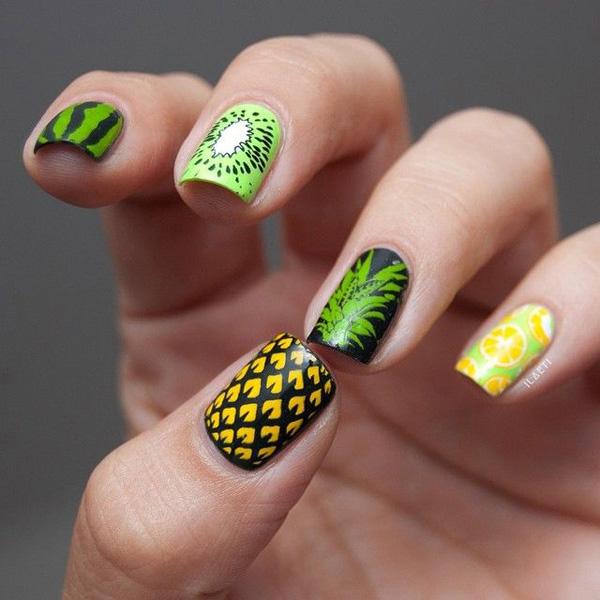 Fill up your nails with this amazing tropical fruit inspired nail art! Coated on with watermelon, oranges and pineapple in bright green, orange and yellow orange colors, even you will find yourself wanting to nibble on them! Fresh and juicy nail art design perfect for the summer!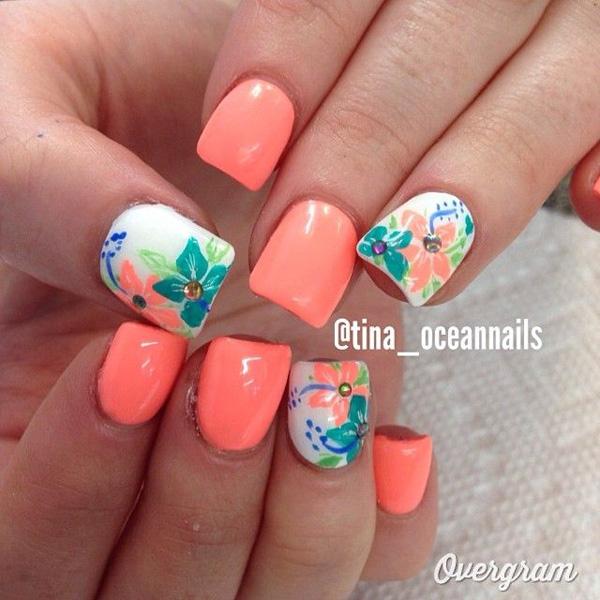 Paint your nails in pretty salmon and hibiscus designs. Matted in salmon, the rest of the nails are then coated in white polish and painted with a combination of aquamarine, sea green, salmon and blue. To add to the sophistication of the nail art a gold bead is placed on top.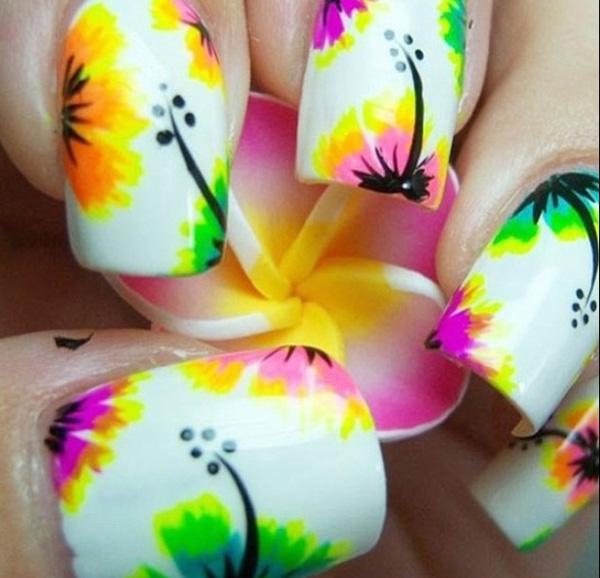 Start coating your nails in these vivid colors. Painted over a plain white polish, the colorful flowers are added in classic shades of pink, yellow, blue and green. The colors mix well to give out a refreshing look to the nails. Perfect for your summer getaway on a vacation island or beach.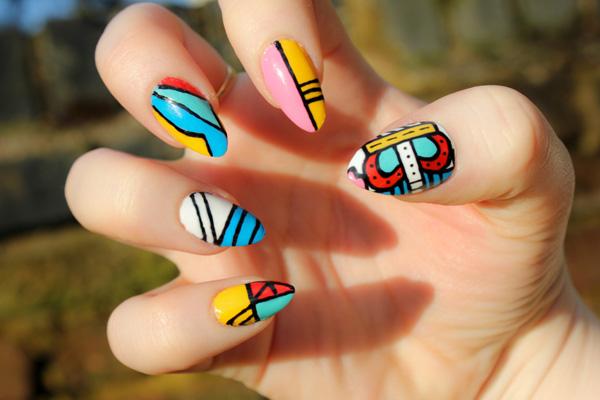 Be bold and be gold. Check out this awesome nail art design which focuses on strong solids and shapes. Each of the nails has different designs adding to the novelty of the nail art fashion. Definitely a must try and you can play along with bright colors such as blue green, white, yellow, red, orange and so much more!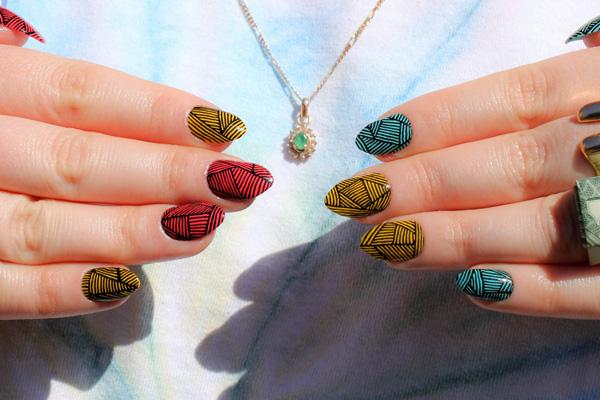 If you like stripes so much then why not try this endearing stripe themed nail art design? The black stripes that run over the matte turquoise, maroon and golden rod polishes simply stand out and make the nails even more interesting to look at. The uniformity of the stripes also adds to the classy effect the design has.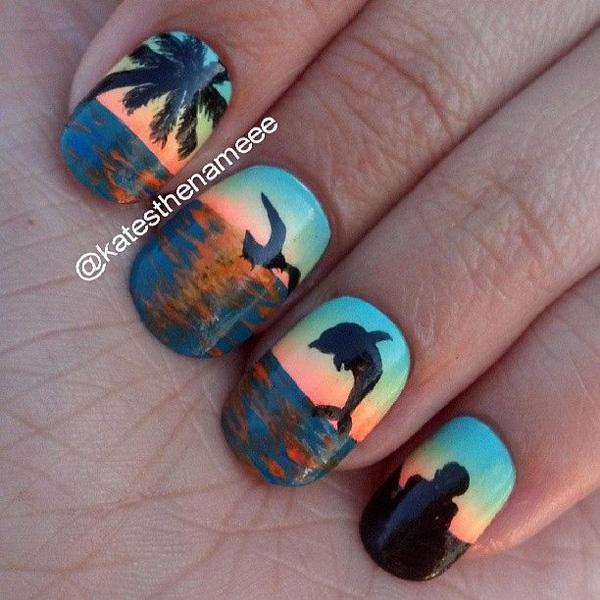 Beach inspired nail art design have been around for some time, and they get even more creative every time. This one not only has the classic coconut tree and dolphin silhouettes, but a silhouette of a tourist as well. Add this pretty nail art design to your summer nails collection and enjoy the warm color combinations of it.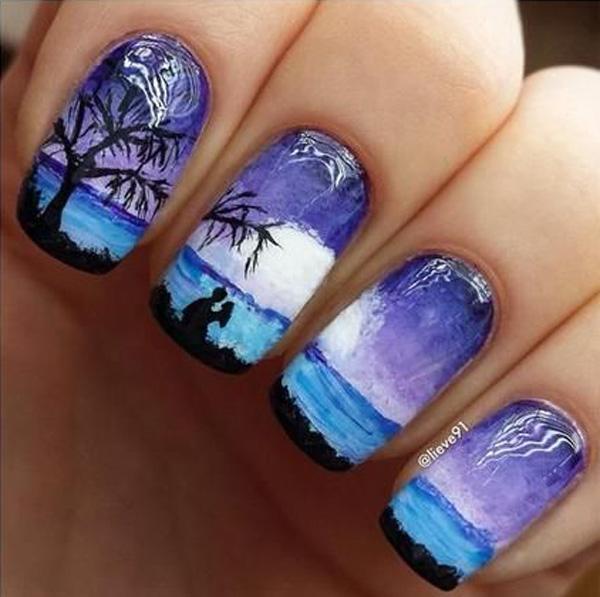 It's like looking at a Van Gogh painting, but your nails. If you think this is amazing then don't hesitate to add it into your list of awesome looking summer nail art designs. Shaded in violet, blue and black hues, this seemingly dark themed nail art design still retains the coolness of summer and the romance that blooms within it.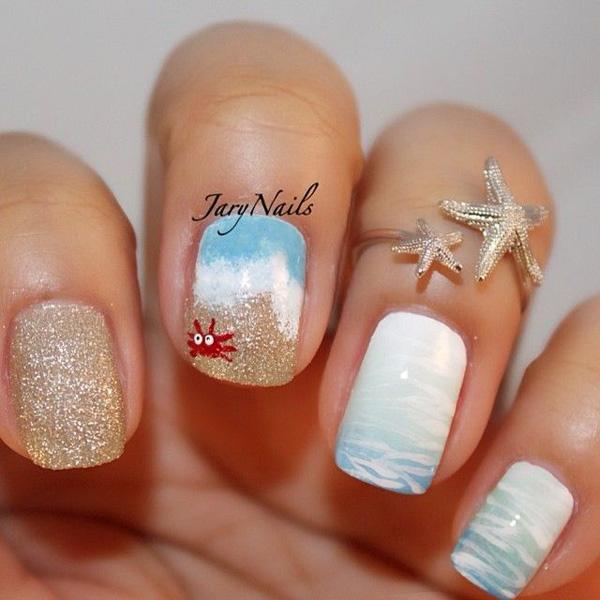 Hit the waves with this adorable looking and beach inspired nail art design! The colors are warm and calm, combining white and blue shades to recreate the waves and using gold glitter for the sand. The crab accent is also a great way to add to the cuteness of this fabulous summer nail art design.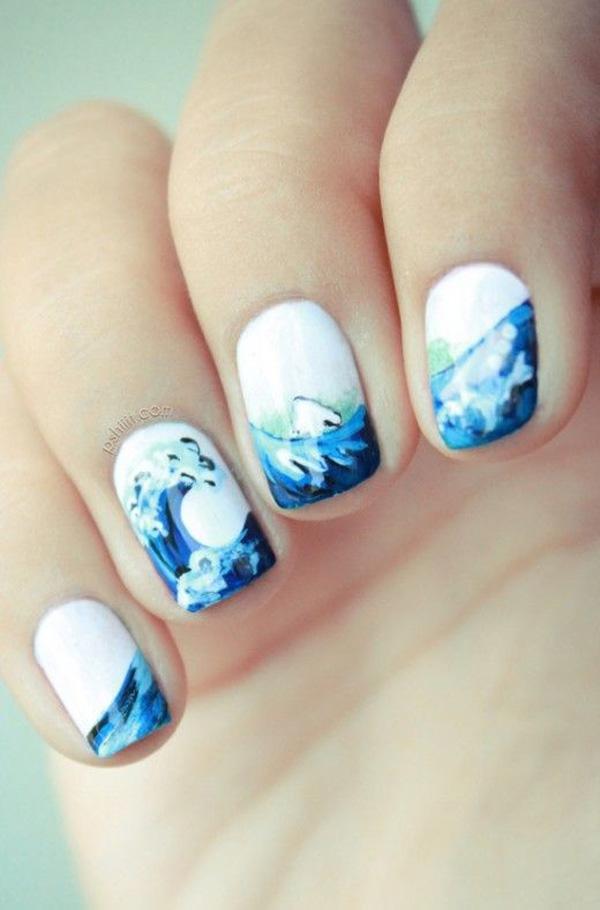 Cool and wavy summer nail art design. This rather simplistic design combines white and blue to create an astonishing number of waves that seem to movie throughout the nails. The tips that have been coated with blue blends well with the white background that serves as the sky. It's refreshing, clean and calm, perfect for a cool and collected summer personality that you have.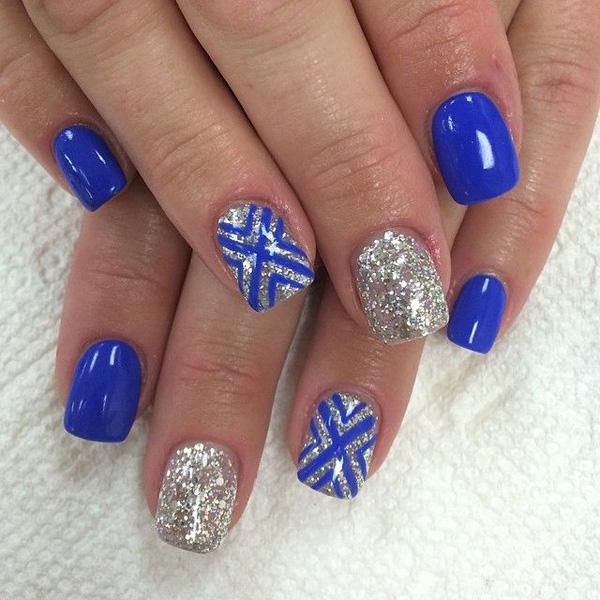 Make way for this royal blue and silver glitter ensemble. The nails are coated with royal blue matte and accented with silver glitter topped with royal blue symbols painted on top. If you want to look classy and sassy then this is the nail art to go for.
Love the green shade? This is the nail art design for you! Mattes of sea green and silver glitters dominate these nails. The combination of silver, green and white just fit so well that you can play around with glitter tips, glitter polka dots and even silver sequence accents to make it stand out. the cute green heart painted on the nail with a white background also helps make the style look really cute.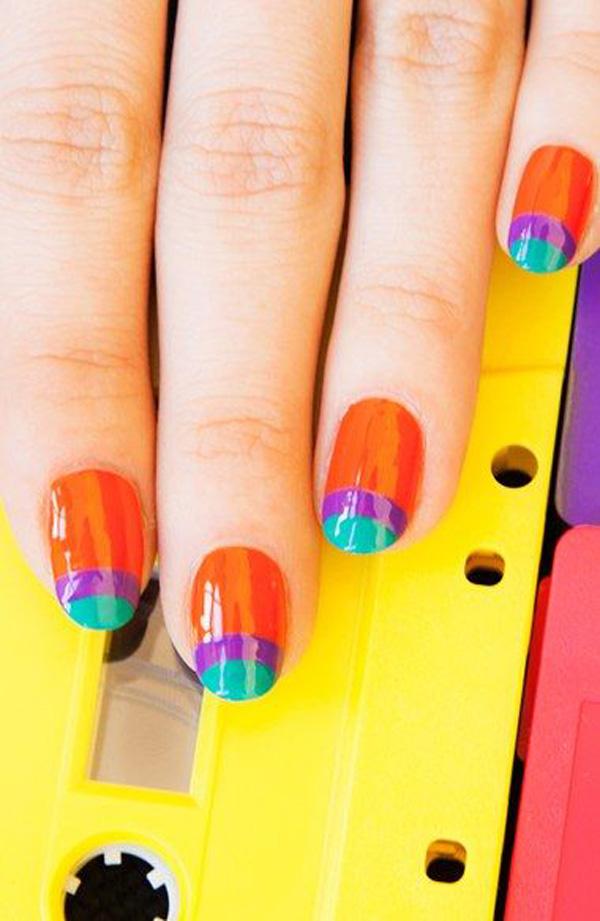 Stand out with these glossy neons! The lollipop inspired design on this nail art design makes it look like you're having ice cream right at the tip of your fingers. Bright and bold colors make this design stand out and make your nails look delicious under the summer sun.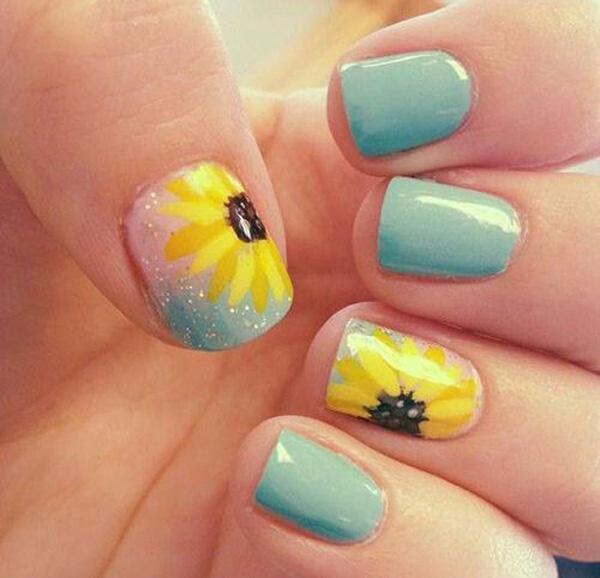 Sunflowers are also in this summer! Coat your nails with this awesome combination of blue shades, glitters and a huge sunflower painted on top of it. The nails start off with a matte shade of light sky blue, accented with sparkles and a bright yellow sunflower as the highlight. Cute and pretty looking, you can never go wrong with this nail art choice.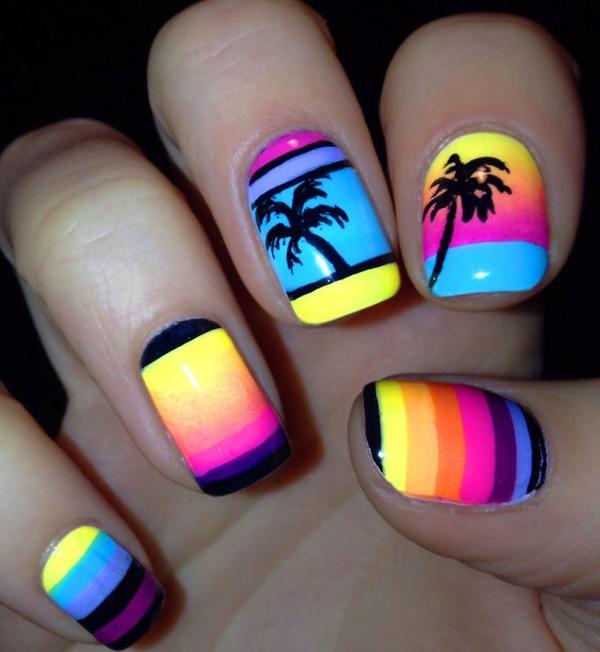 More neons more life! Just look at these electric neon shades that are sure to stand out e especially when you're out partying at night. Black, violet, hot pink, blue, yellow, orange and more colors blend with each other to create this funky and playful ensemble of colors and shapes on your nails.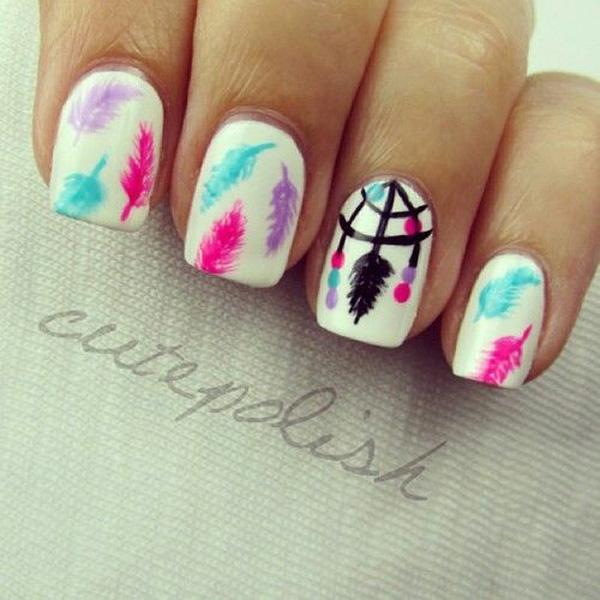 Who says that summer is simple all about multi colored shades and the beach? You can also rock these summer nails which play with white and light colors such as blue, periwinkle, pink and black. Even though they don't paint out any dolphins or coconuts and such the designs till clearly states the summer vibe.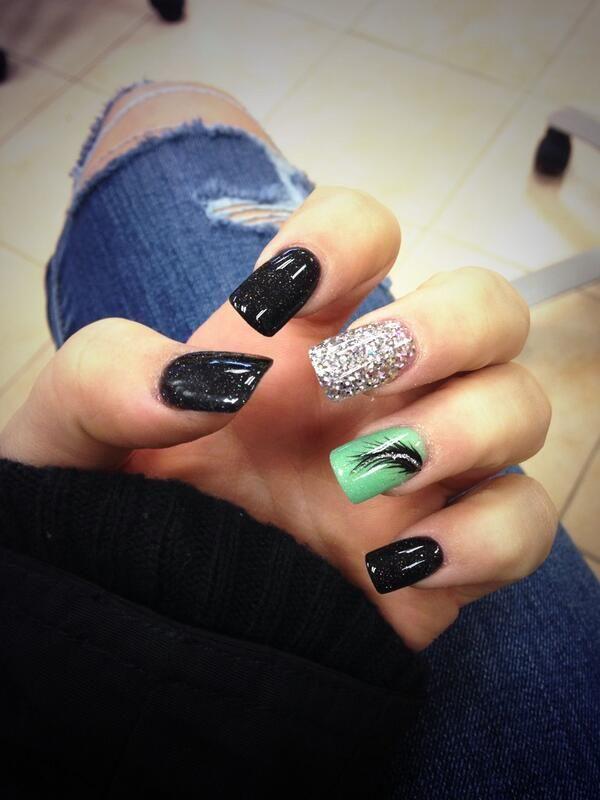 Rock and roll with this black, silver and sea green themed nail art design! Coated in plain black colors, the nails are highlighted by a silver glitter nail and a matte green nail with a black leaf painted over it. Simple but very powerful and pleasing to the eye. If you are a fan of minimalist designs then you can go for this nail fashion trend.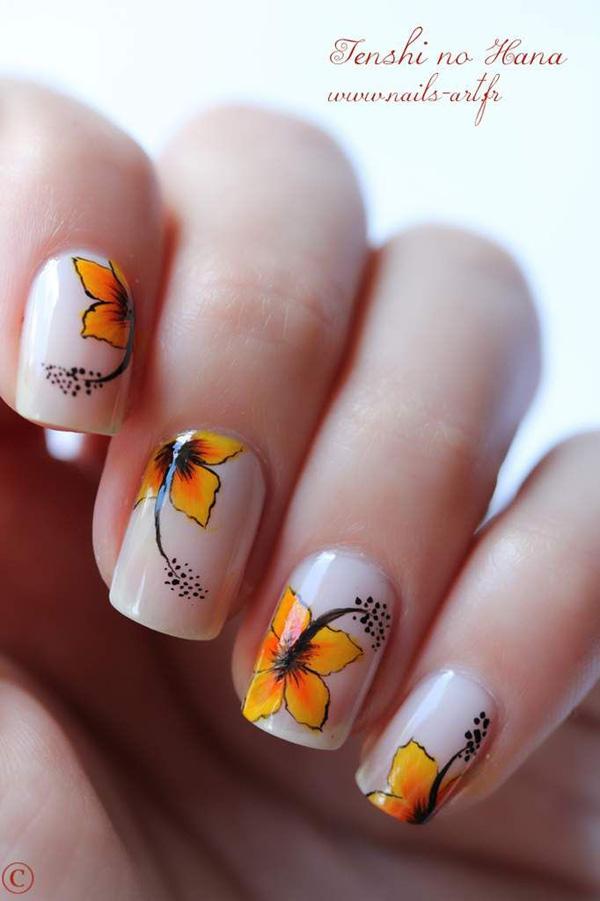 When it comes to summer, the hibiscus flower never ceases to disappear from the theme. This beautiful nail art design focuses on the pretty hibiscus flowers that represent summertime. Coated in a plain white background, petals of a yellow orange hibiscus flower is drawn on top as if to single out its beauty as simple as possible on the nails. Very clean and attractive look.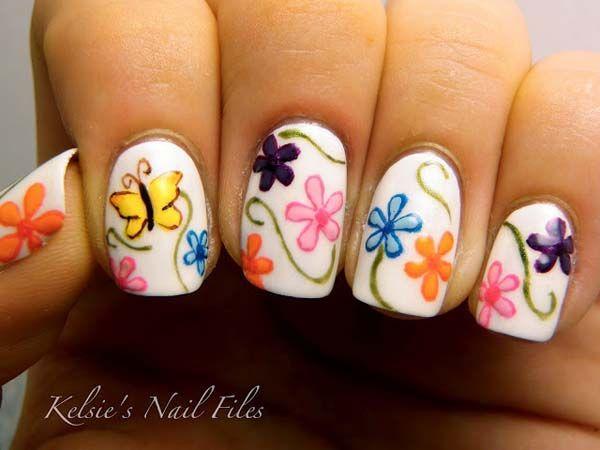 Pretty butterflies and colorful flowers. This is what this nail art fashion tells you. With plain white coating as background, the nails are then painted with multi colored flowers and butterflies that seem to play around on your hand. Perfect for the summertime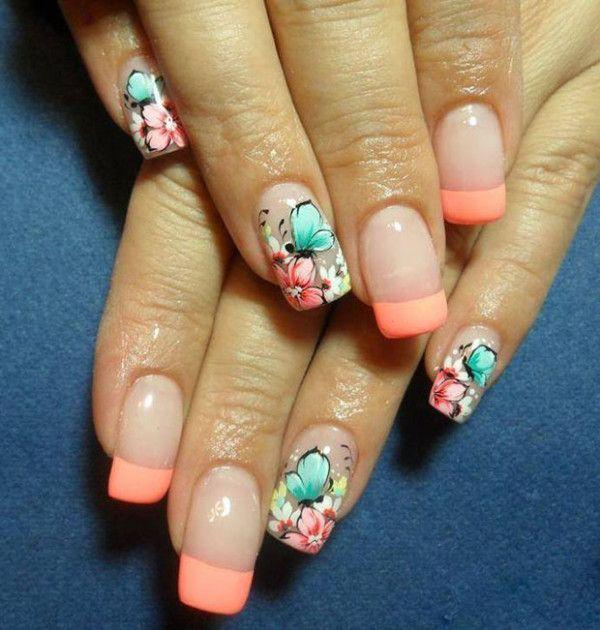 Check out the wonderful melon French tips on the nails. Warm colors and vibrant flowers are the best representations of on great summer and spring seasons.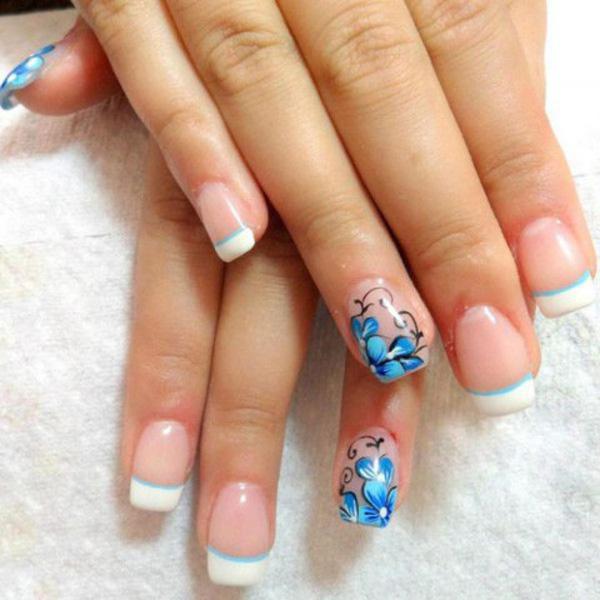 More on the simple and cute looking summer nails. Look at this lovely white French tip while the other nails are adorned with blue hibiscus flowers and topped with clear nail polish for more glow. The design looks pure and innocent and is perfect when you want to go for the look.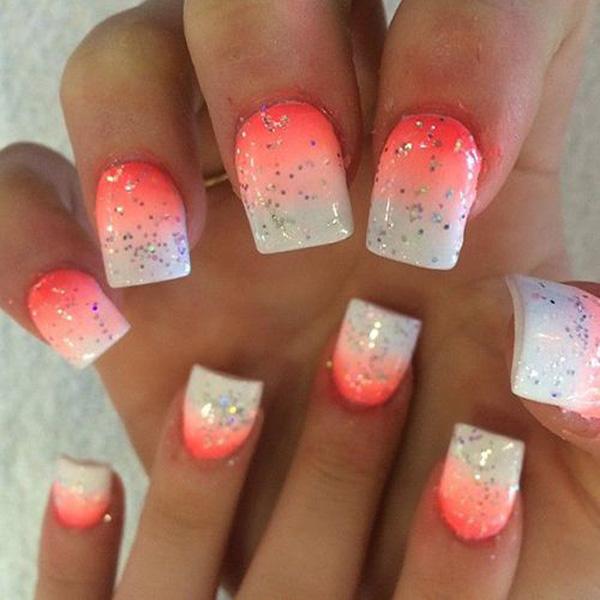 Gradient nails are always the best in making a statement. Check out this salmon and white gradient coats topped with sparkles. It looks very cool and awesome and can match with your summer outfits. When you want to look out of this world and fun to be with, this is the nail design to don.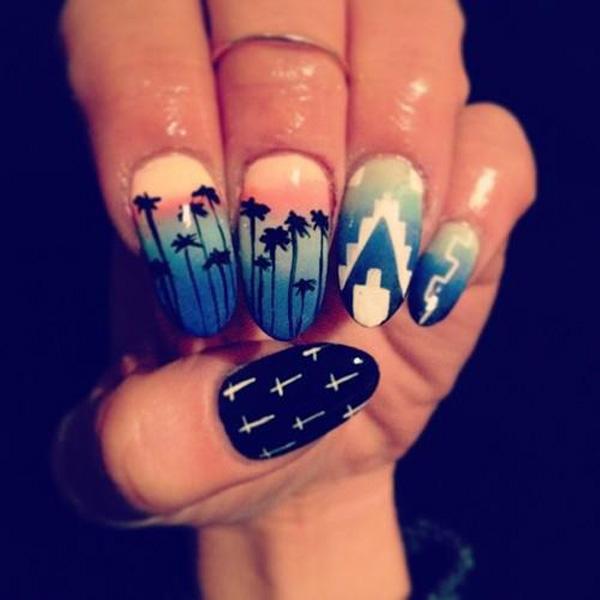 If you're deep into fashionable nail art then you should try out this amazing looking summer sunset nail ensemble. Looking great in midnight blue hues and sunset background, silhouettes are painted over the gradient background to emphasize the end of a fun summer day. Aside from the silhouette coconut trees, bold shapes and white crosses are also painted to add more depth into the design.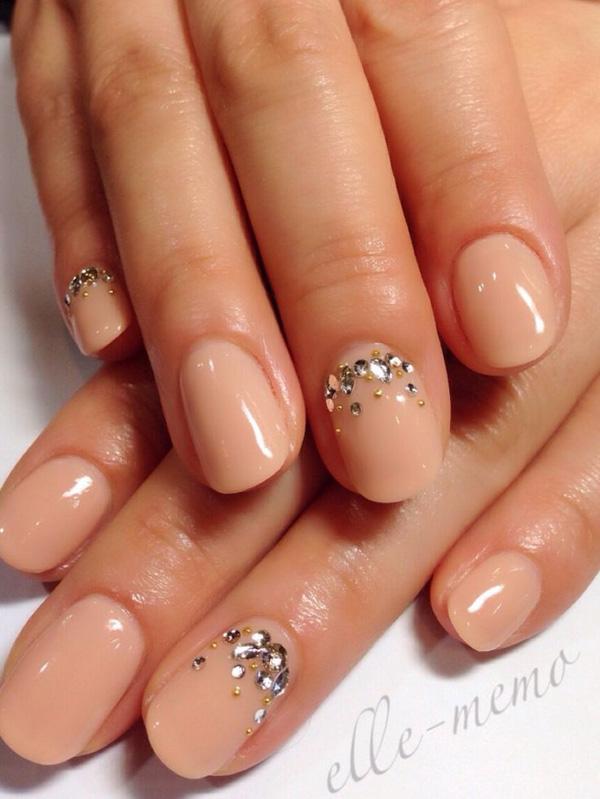 Classy and very elegant. Coated in matte nude nail polish and accented with glitters on top, this summer nail art is simply a kicker for just about anyone. It looks real clean but at the same time very graceful.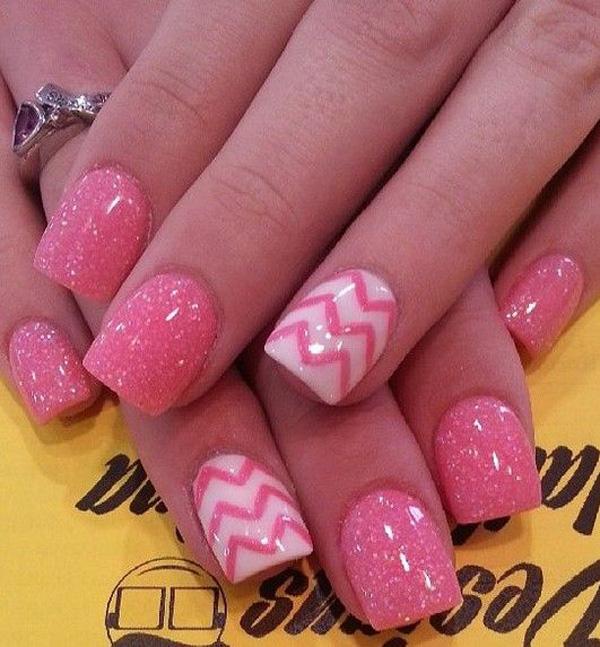 Coated in warm white and pink colors and topped with amazing glitters is surely an eye catcher! The nails are also coated with white background and accented with v-shaped pink polish on top. To add fun to the ensemble were glitters and a clear polish on top.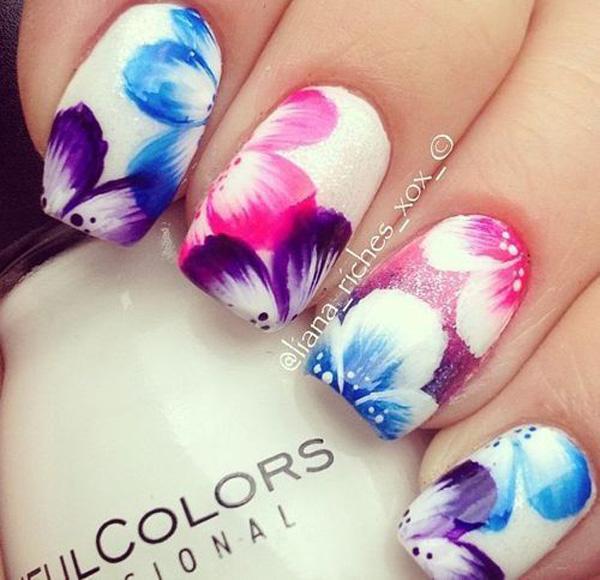 Make way for this beautiful looking summer nails! Coated with white background, the nails are then painted with fresh looking flower petals in violet, blue and pink hues. This nail polish ensemble is perfect for your frilly and fresh summer dress.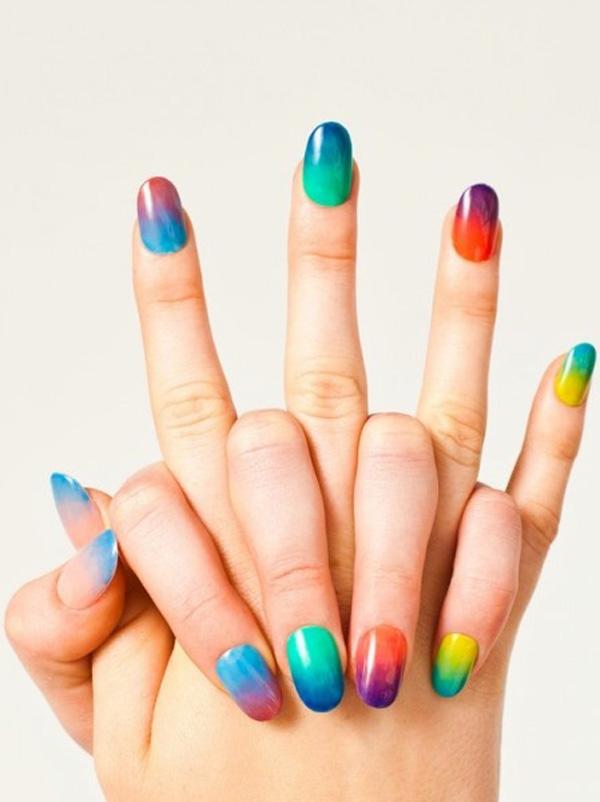 Coated in vibrant and bold colors, this is an amazing and strong looking nail art design. Bright neon colors combined to create gradients play around the nails in a playful fashion. The various hues that are seen on the nails make them stand out and very attractive to the eye.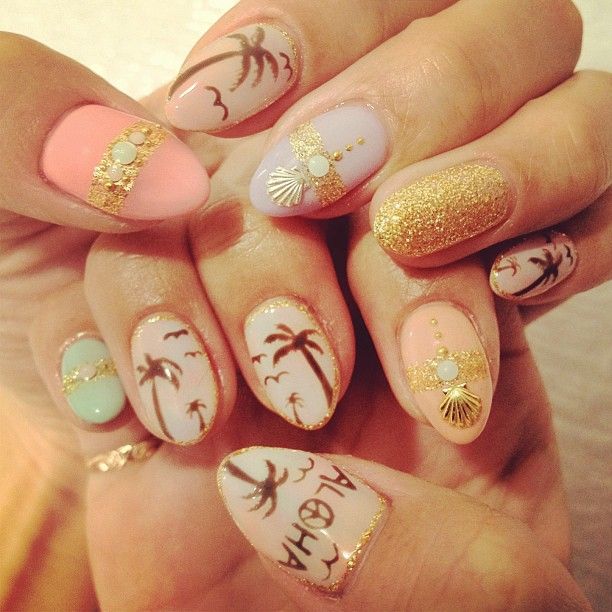 You would love this very artsy and well detailed nail art design! The design focuses on white, gold and burnt sienna hues that just blend in well with each other. You can see that atop the plain white polish are simple paintings of coconut trees and birds on the horizon. Accentuating the design are gold sparkles and adorable cream beads. A single salmon matte is also painted over the thumb nail.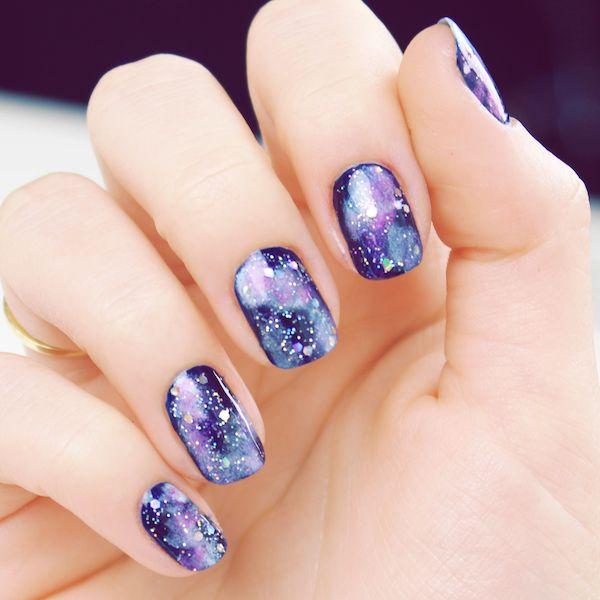 Simply stunning! Fawn over this galaxy inspired design that can also be perfect for the summer occasion. Coated in midnight blue, pink, periwinkle and white polish, you are given the illusion that you're looking at the galaxy through the nails.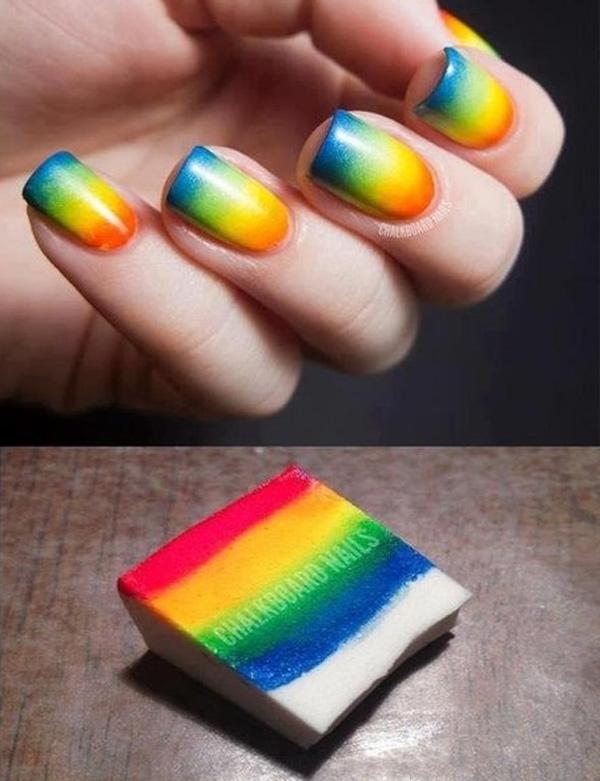 What are you reminded of when looking at these nails? An ice pop? Maybe a parrot? Whatever it may be, the nails simply speak summer! The sift transition of gradients and amazing color combination of red, yellow, green and blue is enough to make just about anyone to fall in love with this nail art design. It's practically easy to create when using a sponge and dipping it to your nail.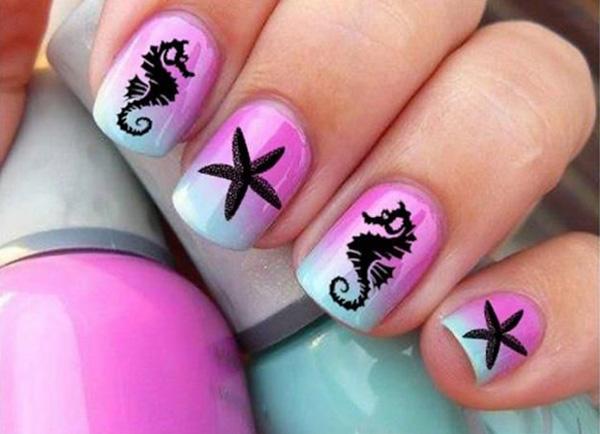 A very unique nail design which starts from a simple magenta and sky blue gradient then topped with black accents. The black polish creates visions of the seahorse, starfish. A very cute and interesting nail art design perfect for the summer time and perfect for you.
Green is definitely a color to be in when it comes to summer. This unique and fun looking nail design looks just like you have cool and crazy watermelon nails. Coated with sea green and forest green shades, the nails are then painted with white zigzag lines which make the overall ensemble more fun and engaging to look at.
If you were looking for a blue version of the nail design above; then this is your answer! Coated in electric blue and white polish, you are sure to have electrifying and beautiful nails ahead of you. The nails are matted in electric blue polish and topped with white zigzag lines; the other nails are coated with matte blue and filled with silver glitter.
Fall in love with these amazing summer nails. You can directly see the colors of the sunset blending comfortably on the nails. Don your nails with light coral pink and gold colors to achieve that warm and fuzzy sunset gradient look on your hands.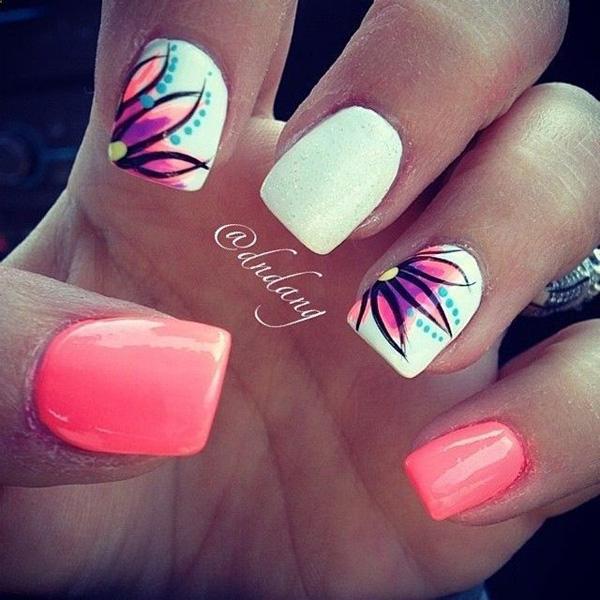 Give a fresh look on your nails with this amazing looking summer nail art design. The nails are coated with white and salmon matte and topped with colorful flowers. If you want to have cute and simple looking summer nails, this is a good ensemble for you.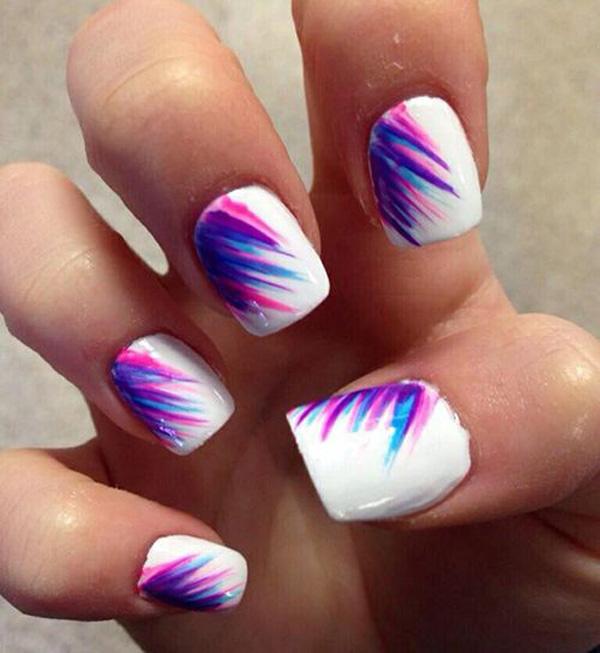 Cool looking feather nail art design that is perfect for your summer escapades with friends. Backed with a plain white polish, your nails are then painted with a combination of blue, pink and violet hues. Simple but looks amazing!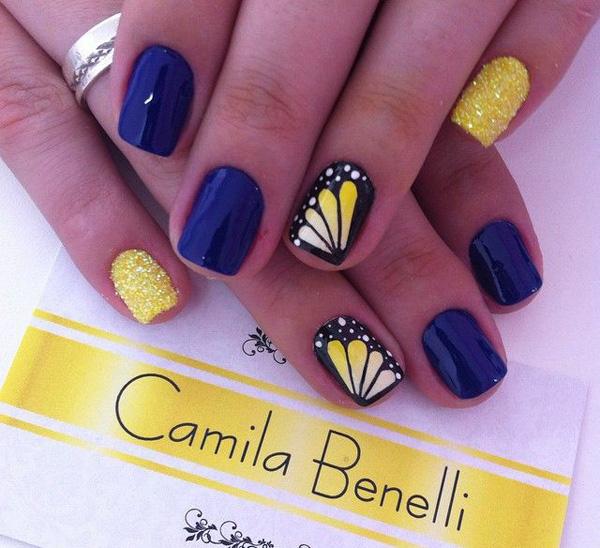 This totally cute and attractive nail art design plays around with yellow, midnight blue and dark polish. It's really eye catching and the butterfly wings are just simply adorable. The nails are coated with matte midnight blue and yellow and topped with glitters for accent. The butterfly wings are then painted over a black nail polish making it look distinctive from further away.
Orange is summer and summer is love. Coat your nails with this adorable orange inspired nail art design. The nails are first coated in white matte and a striking orange polish is painted on top seemingly depicting the orange fruit. Make your nails fruity-licous with this ensemble!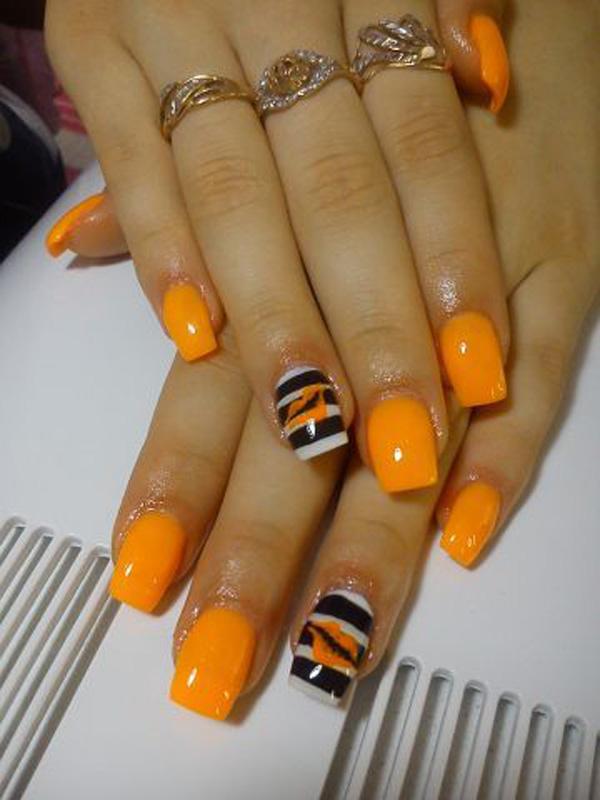 Look out for more orange inspired nails with this yellow orange and black and white striped theme. The yellow orange lips are added on top of the stripes to give a unique accent to the nail art design. It a refreshing and fun look that you can easily recreate on your nails.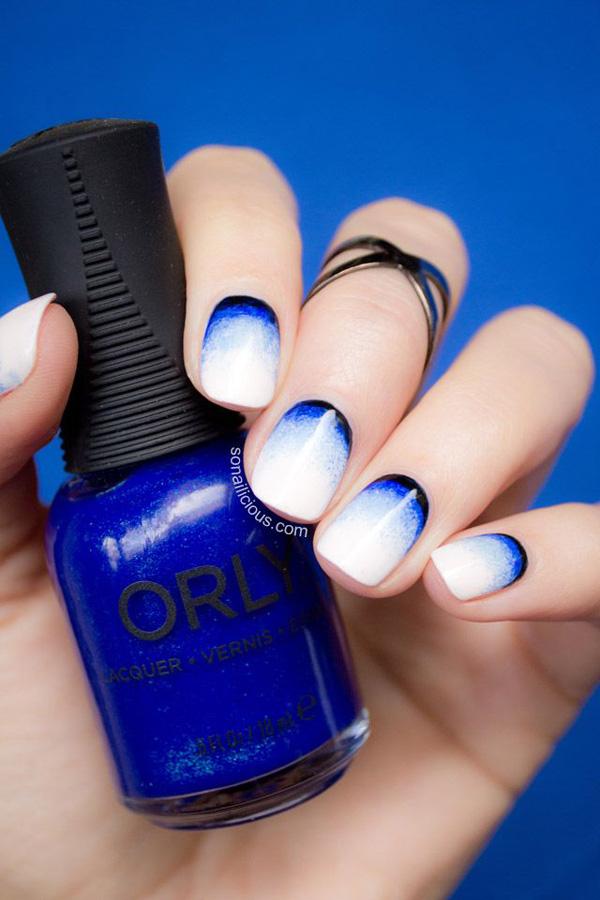 Look at this gorgeous nail art! Inspired with gradients, the nails look like frozen with ice, cool and refreshing amidst the summer heat with the dark blue and sudden white color transitions.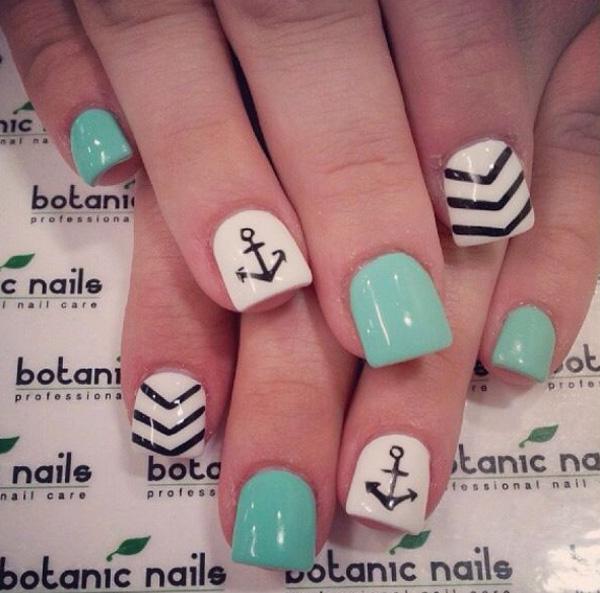 Another win for the short square nails! This is a cute and quirky nail art design that cute lovers will adore. The nails are coated with sea green and white matte and topped with black details; drawing out anchors and v-shaped Chevron lines to further accentuate the nails.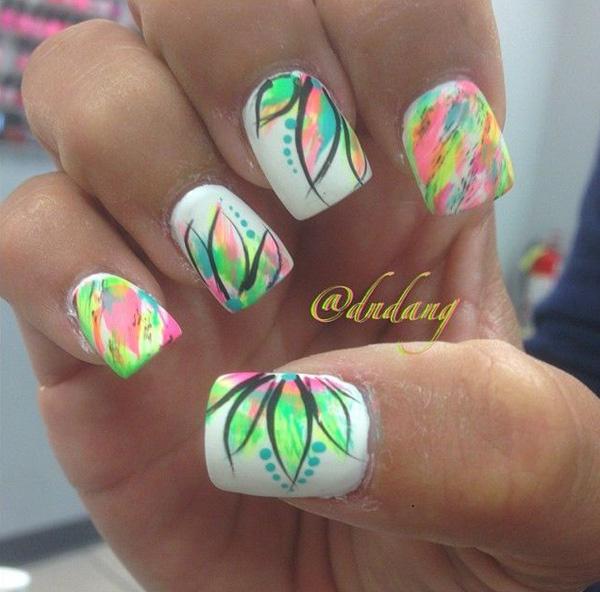 Be bold and have fun. This creative nail art design gives you an idea that sometimes; the wackier the colors are the better they look altogether. Play with your nails with this white coated background polish and add multi colored flower and leaves accents to make you stand out from the rest.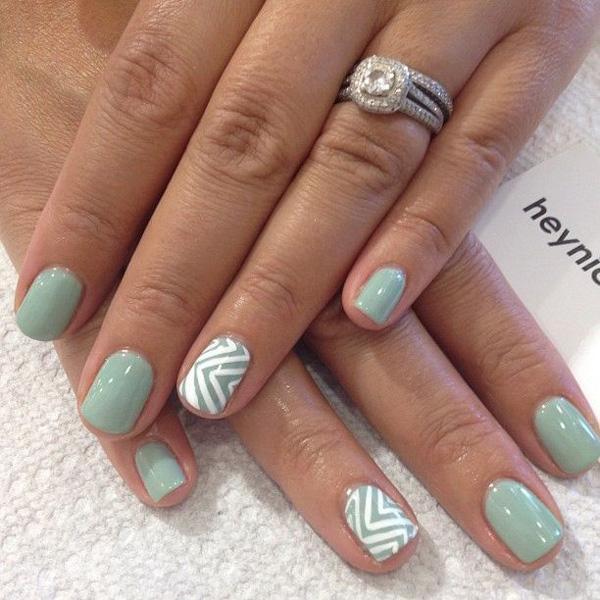 Simple yet beautiful. Coat your nails with powder blue and white combination to create this adorable looking ensemble. Coated in matte powder blue, the nails are then accented with a plain white background and topped with zigzag shaped white stripes. Very easy to recreate on your own and a real eye catchier for this summer.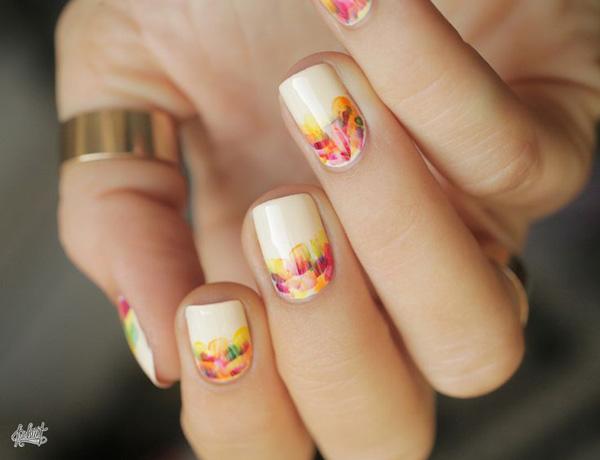 Would you like to know how it feels to have flower grow right out of your nails? This amazing flower inspired summer nail art that will surely blow your mind. The nails are coated in white polish and accents of flowers with colorful hues are added on top. Very pretty and simple, something that you can wear everyday on your nails.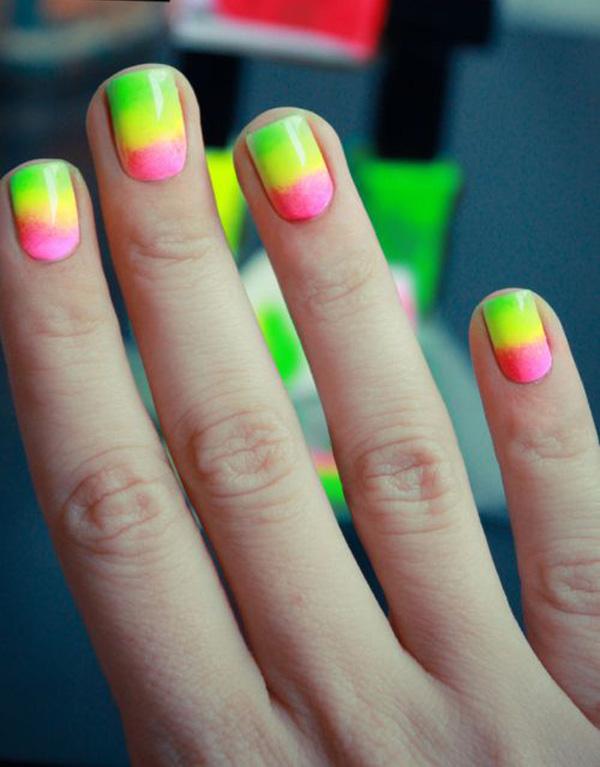 A very cute and refreshing nail art using bright neon colors. Play around with pink, yellow and green colors that you can easily coat together and combine through gradient. The end result looks simply amazing and pleasing to the eye, you totally shouldn't miss out on this one.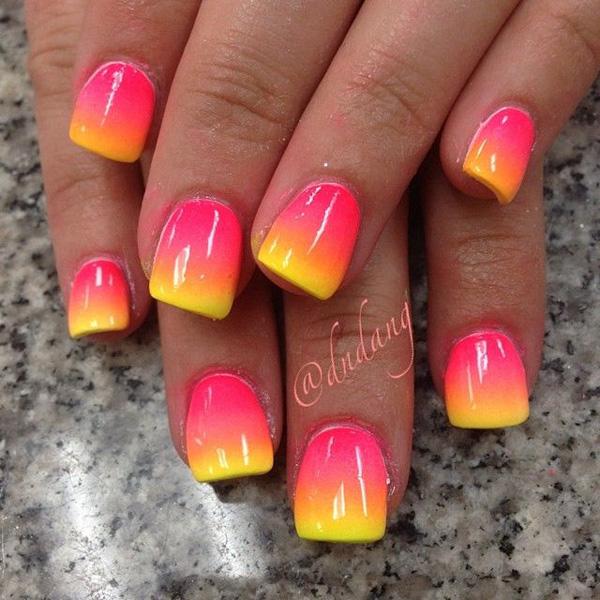 More playful gradients to greet you! Look at this amazing yellow tipped and salmon colored nail art design. The combination of the colors easily depicts that of a sunset on an enjoyable summer day. Make sure you try out this great looking nail art design for your summer getaway.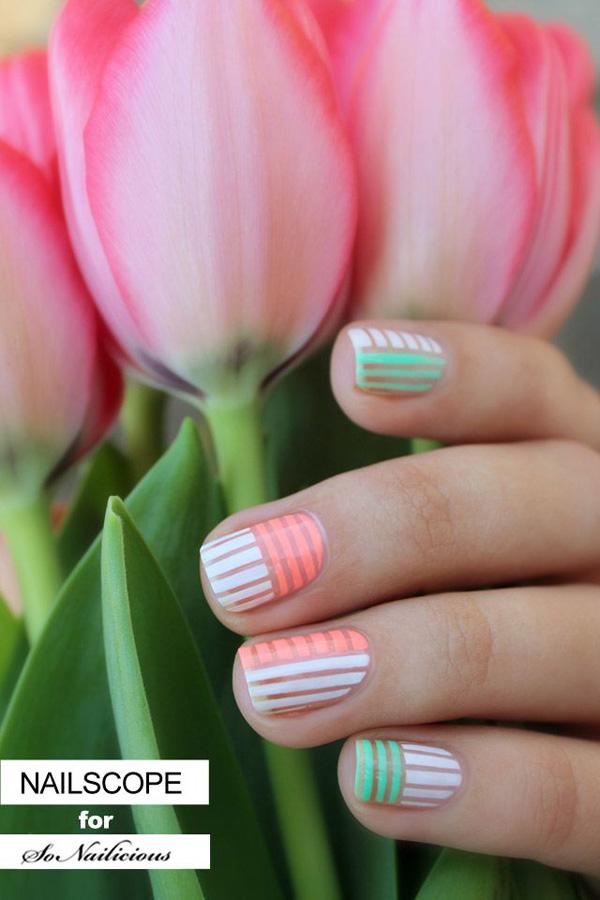 You will surely love the warm and fuzzy colors that this cute nail art gives you. Coated in Summer hues of white, melon and spring green, the horizontal and vertical stripes running across the nails shows a very unique design that's very eye catching.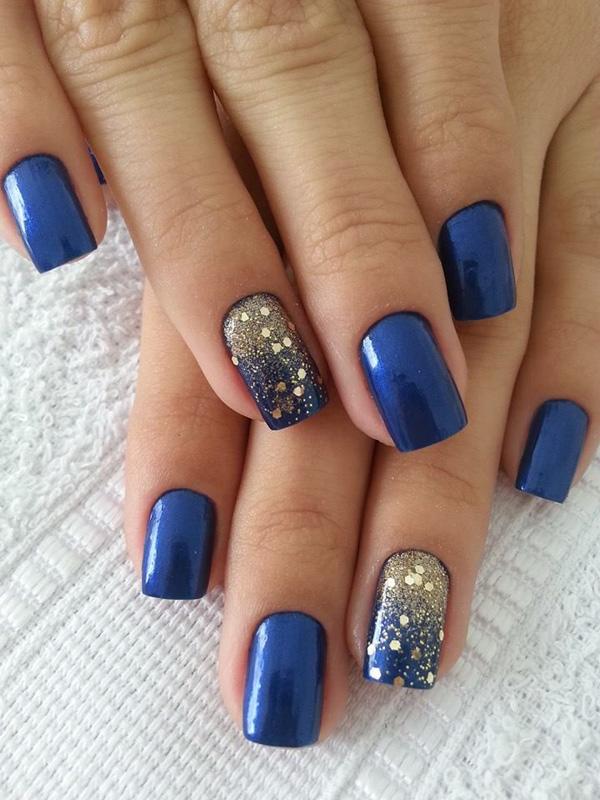 Be strong and bold with metallic blue and gold colors! This amazing looking nail art design reminds you of royalty and makes you feel like one when you wear it. The nails are coated in matte metallic blue colors and topped with golden accents that are just glamorous.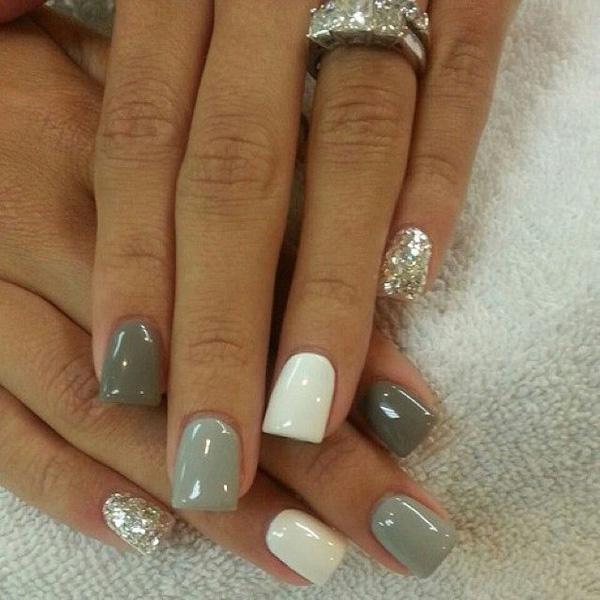 Choose to be sophisticated with this elegant nail art design. Coated in an olive green hue, the nails are also painted with matte white polish plus silver glitter to make the nails stand out. A very clean yet sassy looking nail art design perfect for just about any occasion.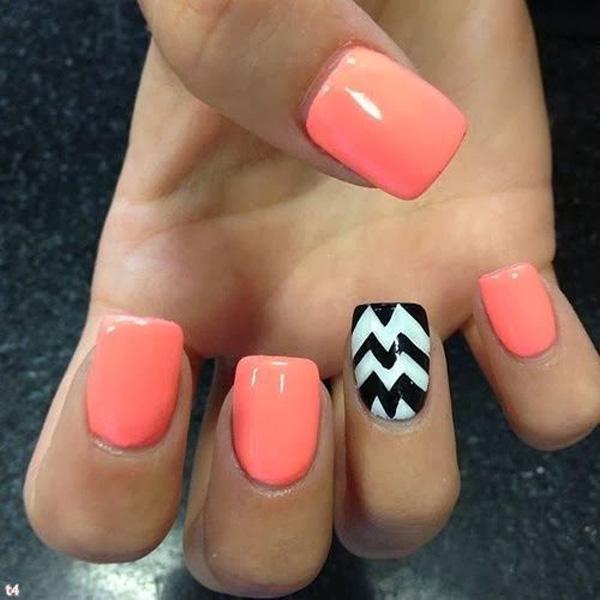 Be crazy and funky with this bright colored nail art design, the nails are colored with salmon, white and black combination which is very pleasing to the eye. A very unique sand simple style that you can easily recreate on your own nails.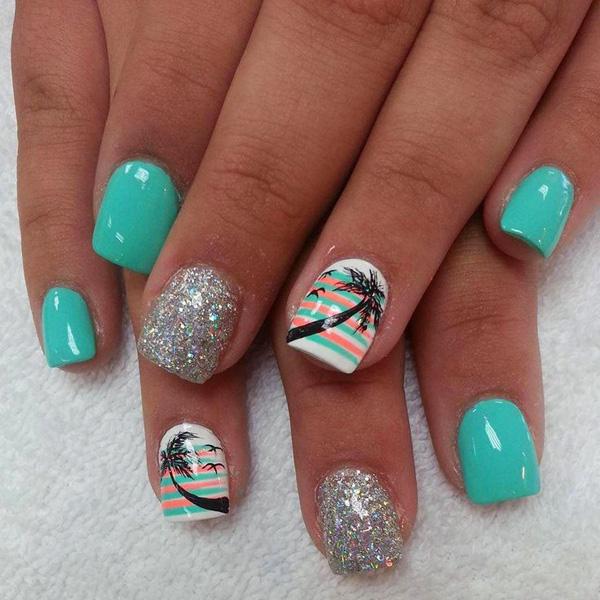 Celebrate the summer with this fun looking nail art design, coated in white, sea green and salmon hues; the design depicts a coconut tree topping a combination of melon and sea green vertical lines. There are also silver sparkles added to make the nail design stand out even more.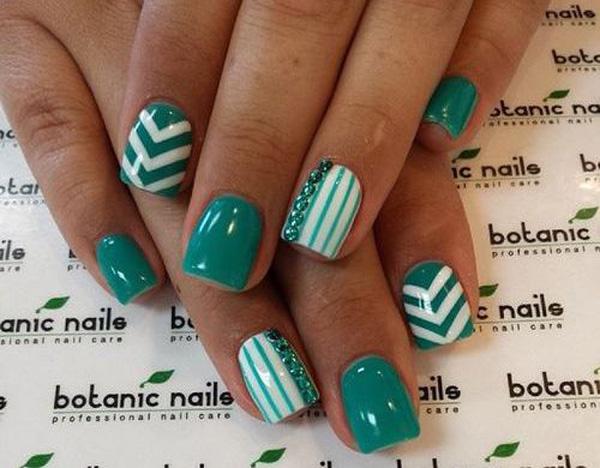 Dip your nails in teal with this fashionable looking nail art design. Combined with white and teal colored beads, the nails are coated in bold shapes and lines combined with matte coats to create a wonderful and fresh looking summer nail art ensemble you would love to have!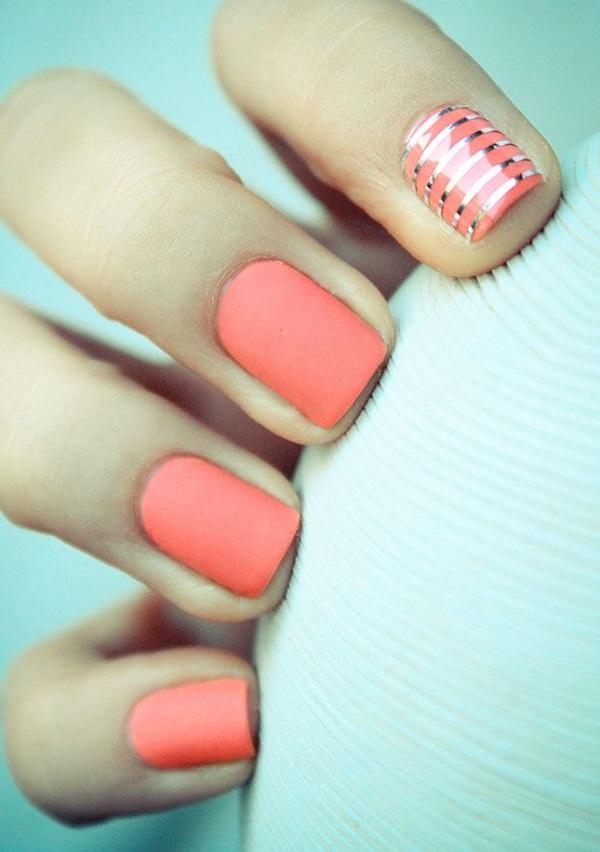 Summer nails with silver stripes