Well, okay. Matte isn't exactly a color, but matte nail polish definitely the rage now. It's actually more of the type of color. It's when a color is flat or dull. It doesn't shine nor is it metallic. It's not even glittery and definitely not glossy. But even when it's a boring type, it's actually one of those colors that you will want to have, especially when it comes to cosmetics.
There's now a whole line of matte lipstick. We're so used to the shiny and glowing lips that definitely makes us look more healthy and hydrated. Yet, matte is popular. It gives a sudden natural feeling to the whole look plus it's extremely sophisticated. There are even matte eye-shadows that are great for the "no make-up" look. And of course, a matte finish powder to avoid any shine on our faces.
But the concept of matte isn't just for the skin or the face anymore. We can also slay with matte nail polish. This has now become the newest trend an it's been going for a whole now. There were velvet nail polish before and that's when people probably realized that matte nail polish actually looked so stunning. It can go well with any look especially when you're pulling out a sophisticated chic look. But it's also great for casual and formals.
The Power of Matte Nail Polish
Since there is no shine, a matte nail polish could be partnered with almost anything. There's a tendency with natural nail polish to get too much sometimes when partnered with various designs such as glitters and metallic nails. It could make the nail design too glossy or shiny.
Now with matte. It's definitely the perfect element. It will balance the metallic or the glitter and it will be a great combination that can make many different looks. Plus even when you partner it with the same matte, it still would look totally amazing. It actually makes it look so clean and polished that it looks like you've done professional help even when it's a DIY look. So what more could it look like done by a pro?
If you think you're ready for the power of matte, then you could definitely look ath these wonderful nail art design in matte and find the inspiration you need.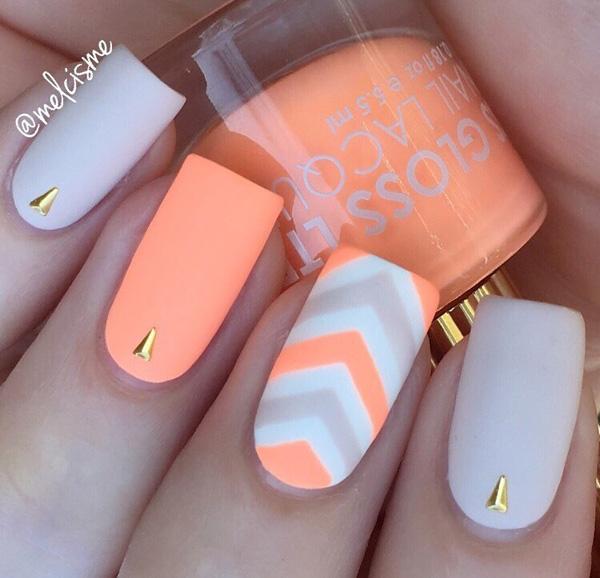 Matte is the New Black
This light orange, white and nude matte ensemble works totally well especially when you want a chic look. Add some gold studs for the plain parts and it's instantly a great design.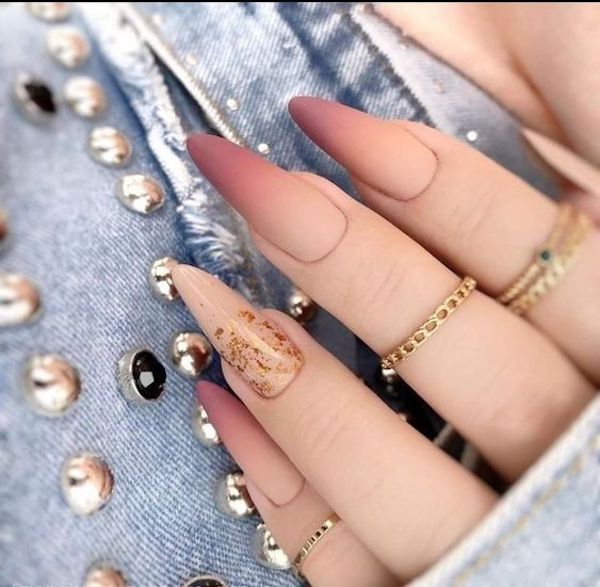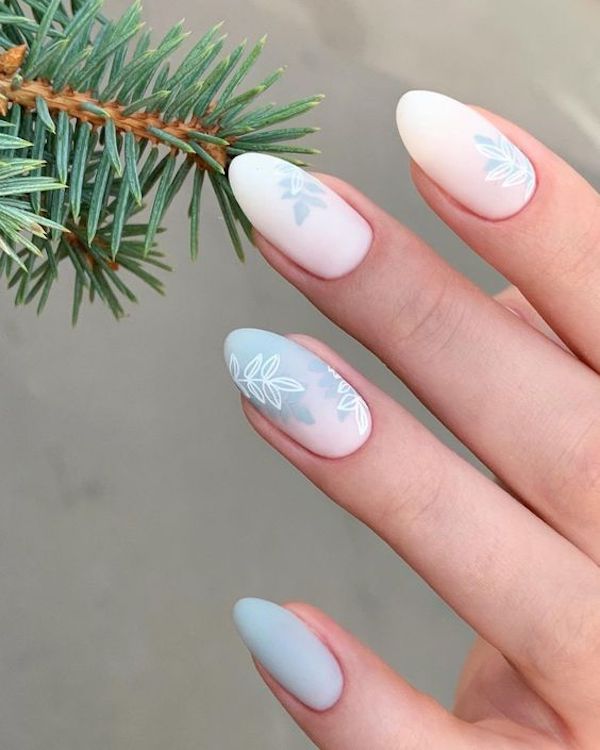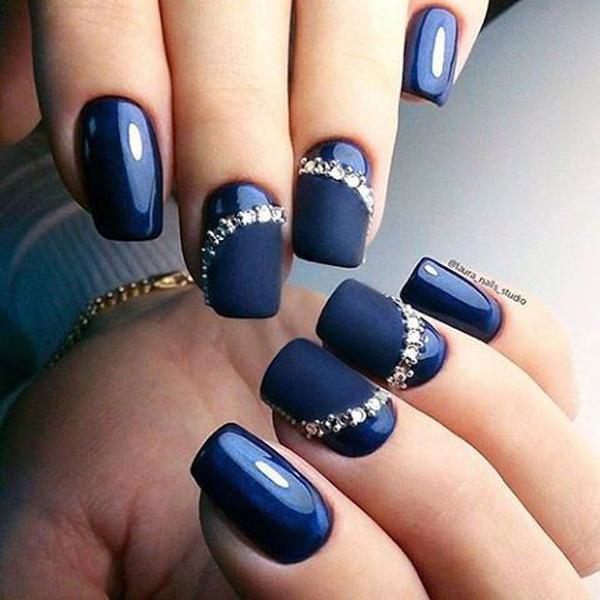 There's our natural glossy blue nail polish and some diamonds. If you put them together, it's great. But if you add a matte nail polish of the same color to balance out the glitters and glossiness, then you've got stunning.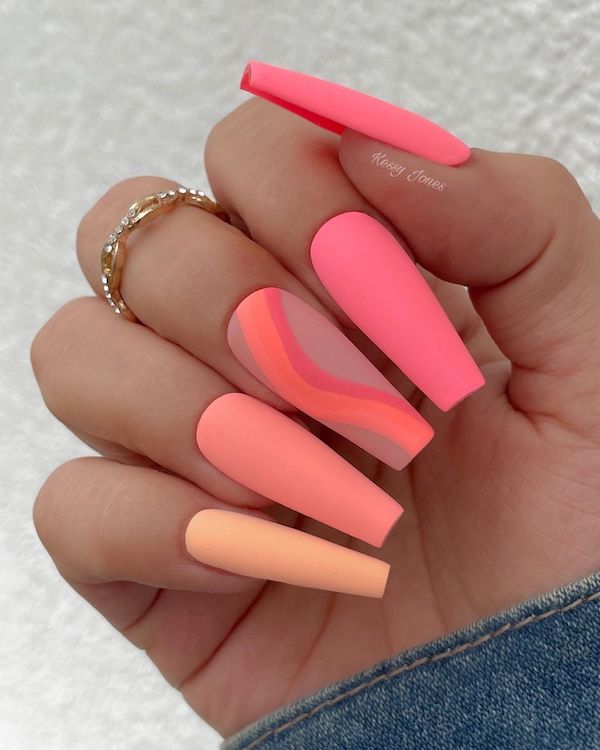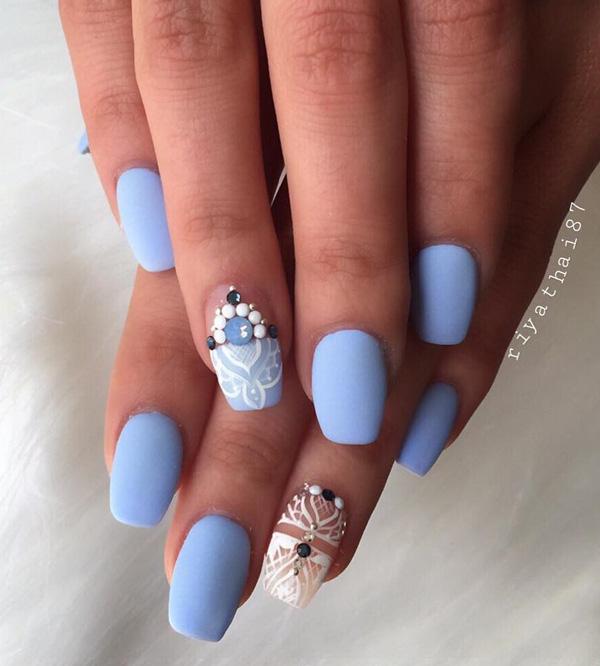 This beautiful sky blue nail polish with white patterns and beads is divine.
Source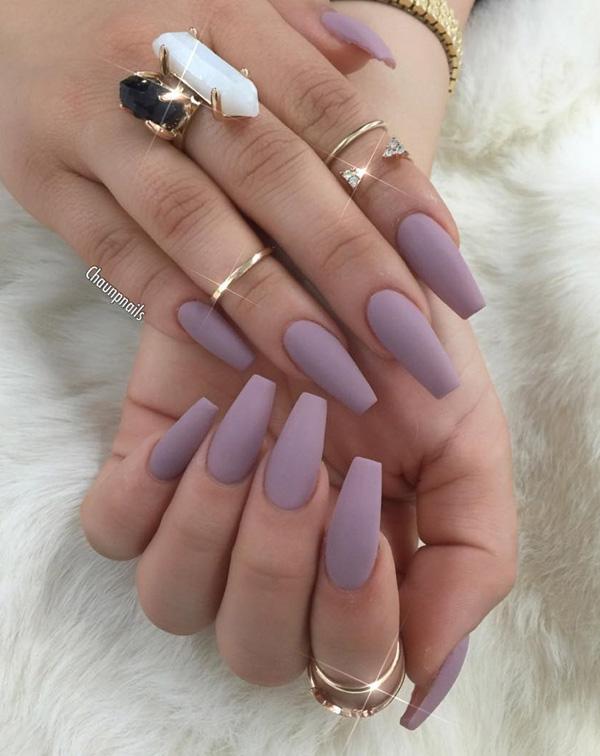 When you've got all the accessories, like rings and bracelets for the bling, sometimes you need to tone it down. It's exactly what's happening in this example. Just some nude matte on coffin nails and everything's ten times better.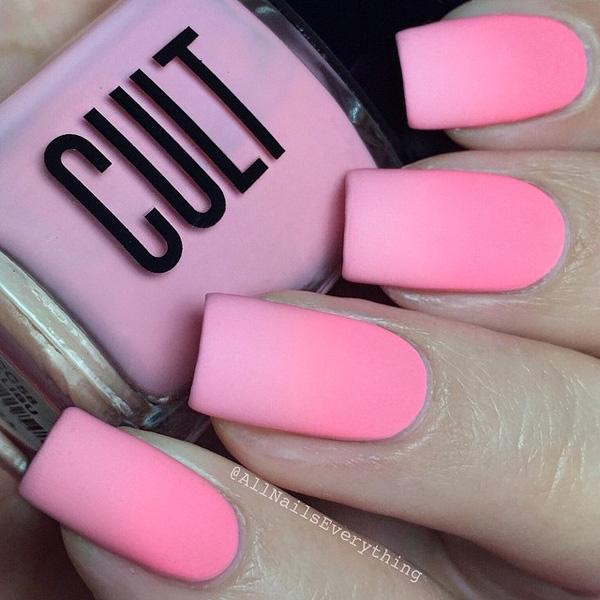 Who says you can't have fun with matte nail polishes even without the decors? This wonderful pink ombre is perfect for a girl's day out.
Source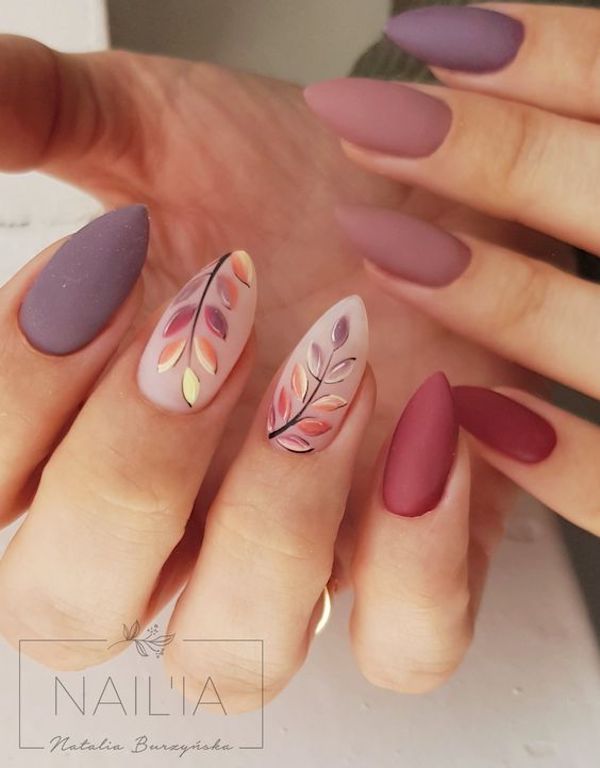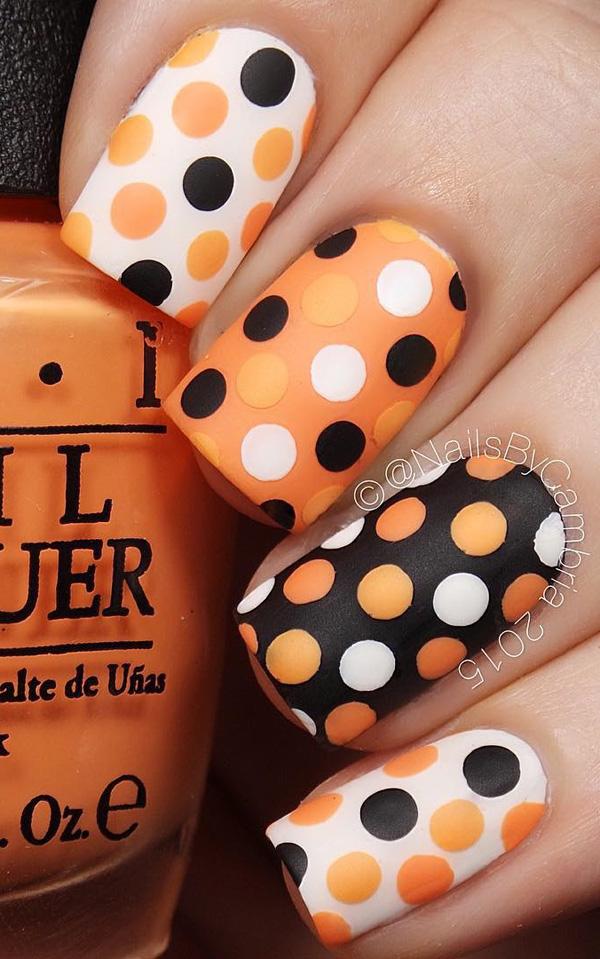 You can even do more fun and interesting designs like in this orange,brown and peach combinations of cute polka dots.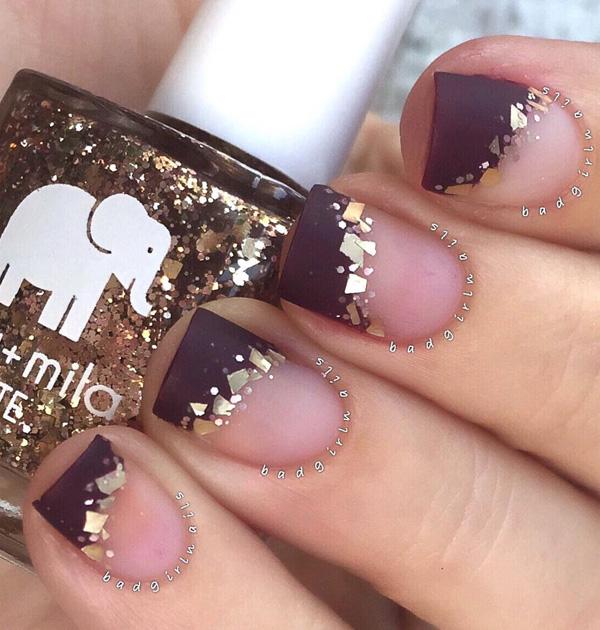 Try a bit of fun with the classic style by doing this French-tip inspired nail art design. Matte chocolate brown on the tips and add some flakes of gold along the lines.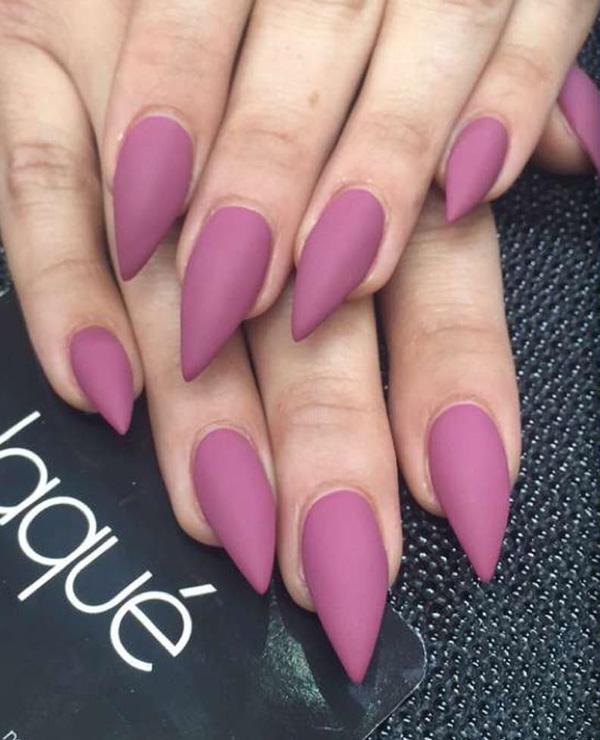 Yep, these claw-like nails could be intimidating but you can make it work to your advantage by painting it with a fuchsia pink nail polish in matte. Since the shape is like the accent, you don't have to add other designs.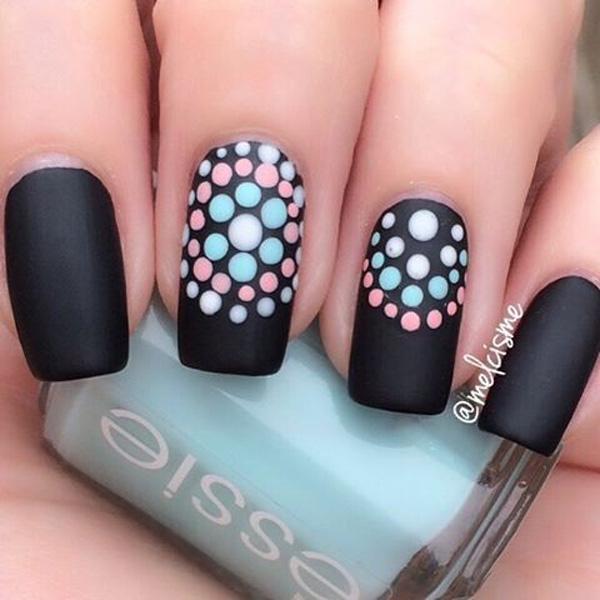 Black nail polish have always been fun to work with, so add some personality to your matte black nails by adding dots in lighter colors.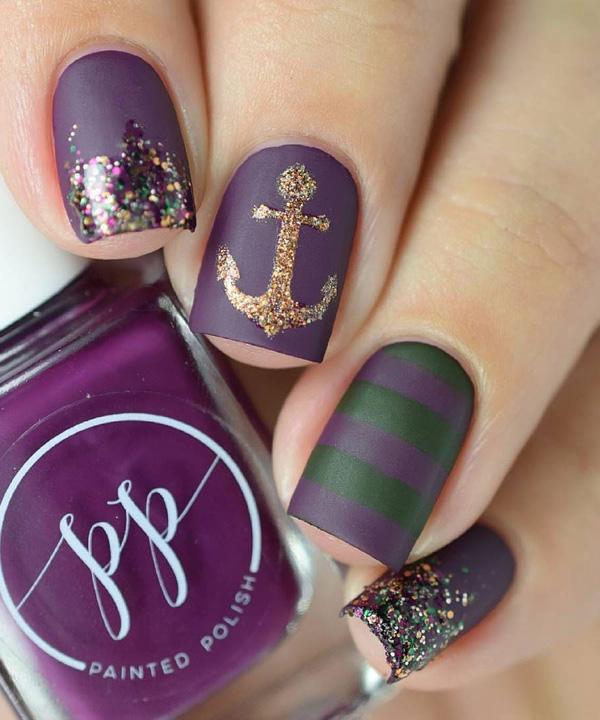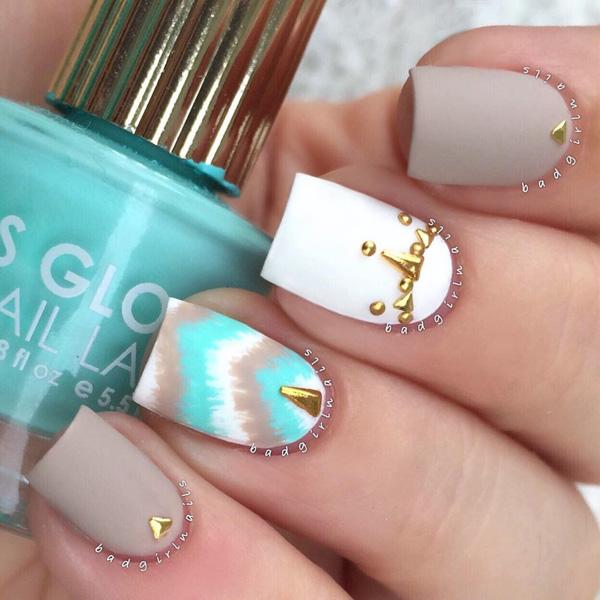 The plain nail polishes with the golden studs, we have seen. But the unique "brushes" are not usual so it's a great design to recreate.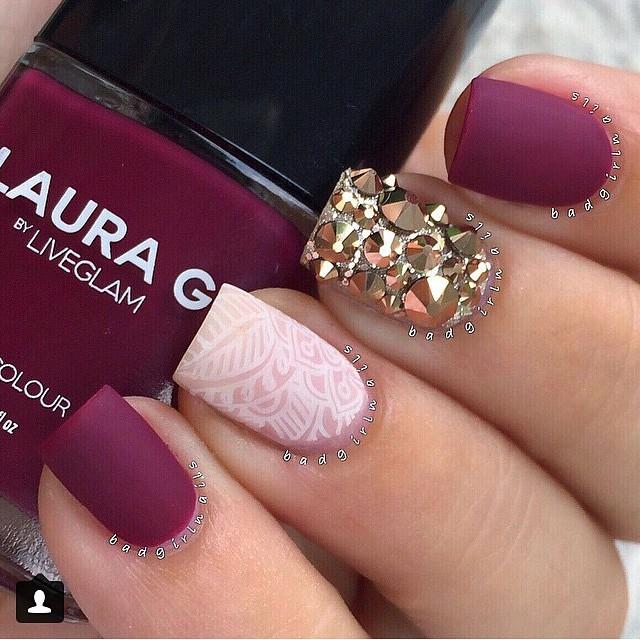 The thing with matte is that you can overdoo a nail and it still won't look so much of an overpowering design. Plus you can have another design with patterns that will make the whole look much better and gorgeous.
Source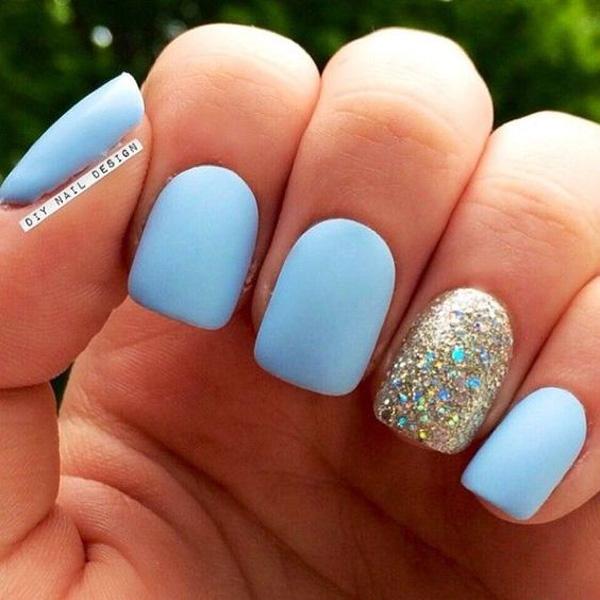 Of course, another classic "ring finger accent design". But this one has a bit of subtlety and yet playfulness with it.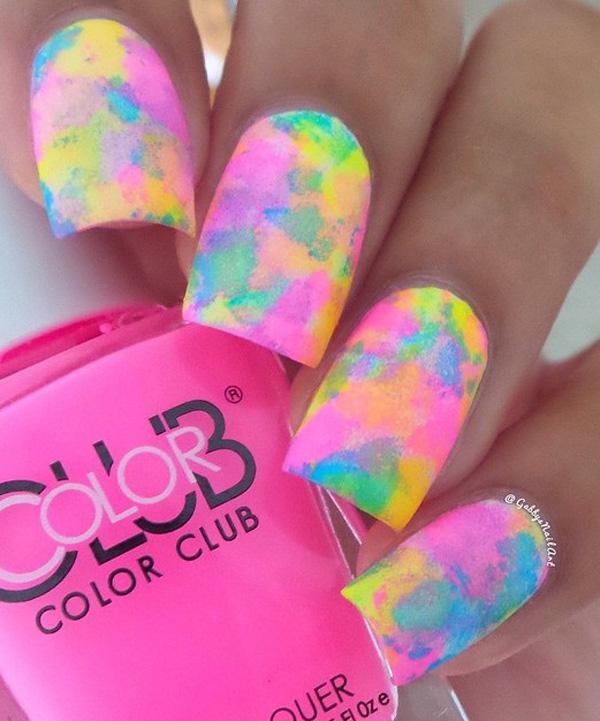 This colorful splash of matte colors is perfect for summer getaways and cool hang outs. You can actually do this by using a sponge to blotch some color on your nails. Having a base will help as well.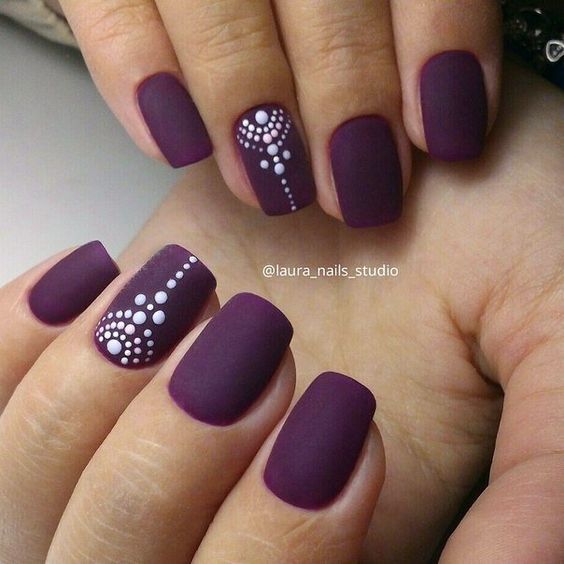 Plum has never looked so royal. Add some white patterns on your matte plum nail polish and be ready for any formal event you're going to.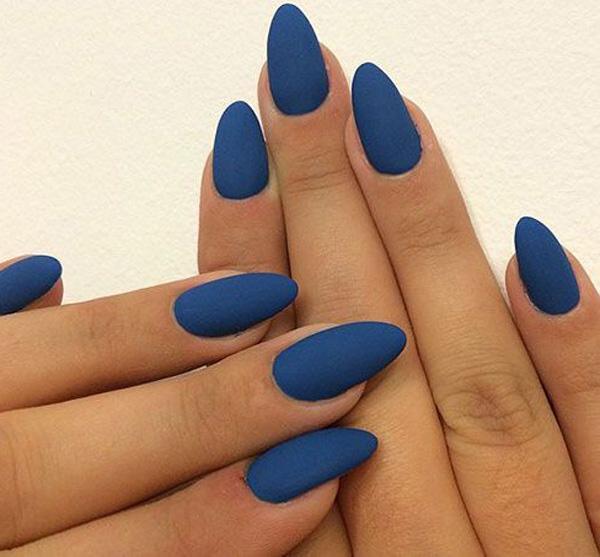 Another simple and yet striking nail design with the coffin nail shape. Again, the shape is the accent so try to go with plain or fewer designs.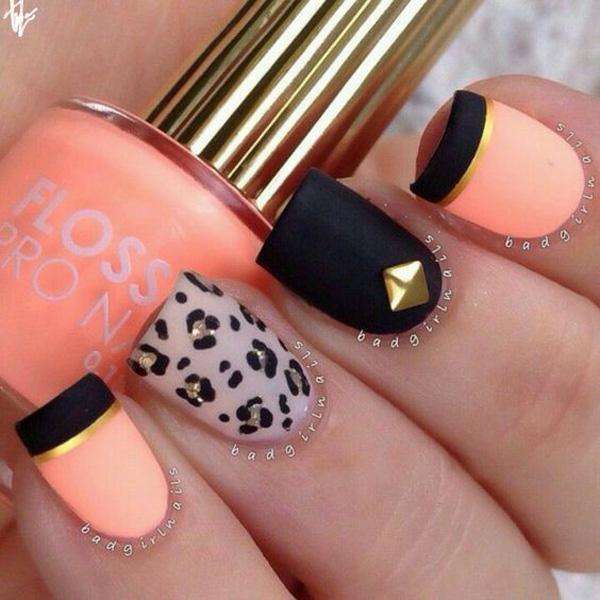 If you're working on a quirky and sassy design, this black orange and gold with a touch of animal print is the best design for you. And look how polished the matte nail polish looks.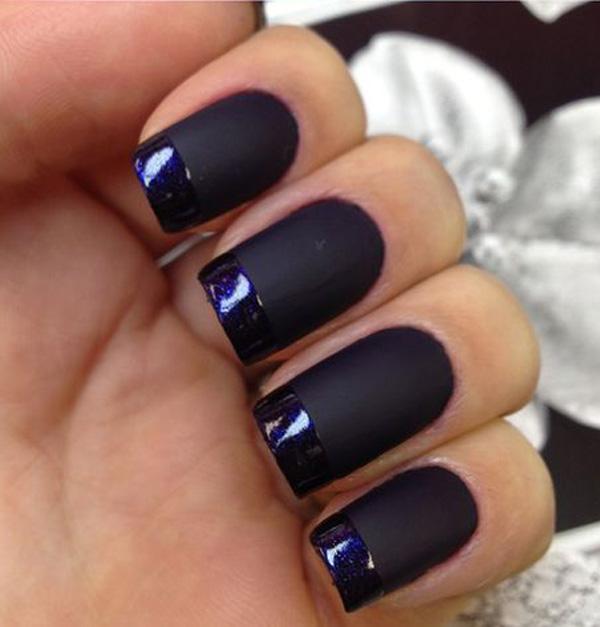 If you think matte black is boring, you can add the glossy black nail polish as a French tip for the accent.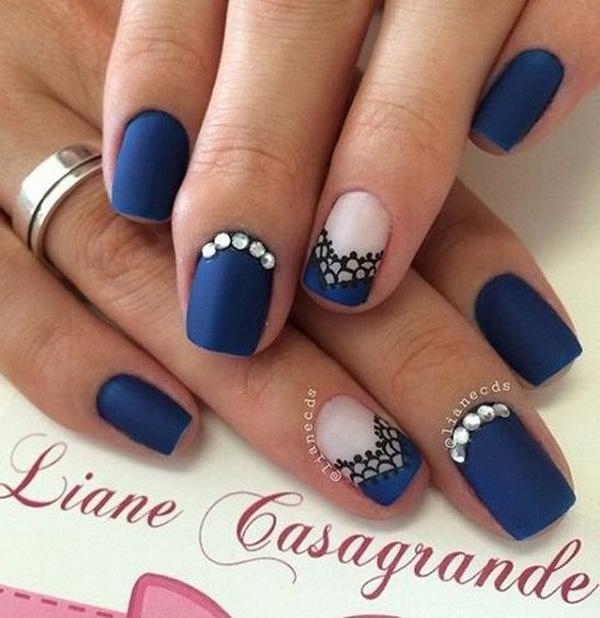 Velvet blue added with diamonds and black pattern is the perfect way to look stunningly regal. And that's just for the nails.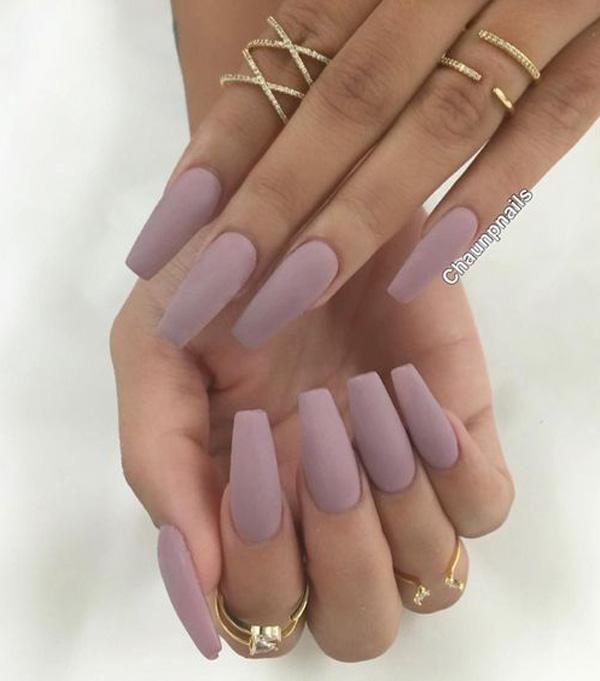 Nude is the new black. Matte is also the new black. Combining these two and you're the trendiest girl there is.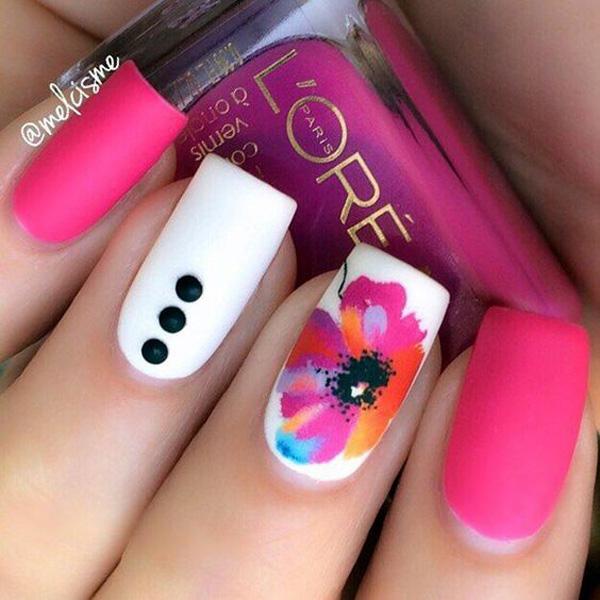 Pink and white is a refreshing color for nail polish especially in matte. But add this wonderful flower design and it just makes everything much better.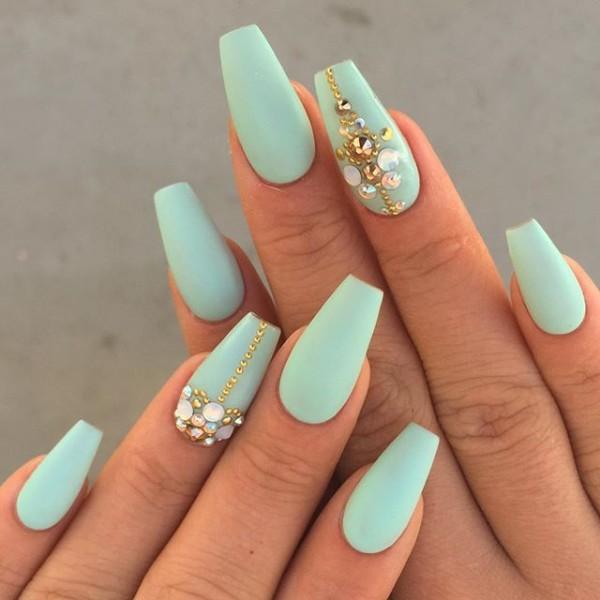 Sea green, totally a mermaid color. So be a royal mermaid with these coffin nail matte sea green design. The golds and diamonds make up for the lack of shine and glitter.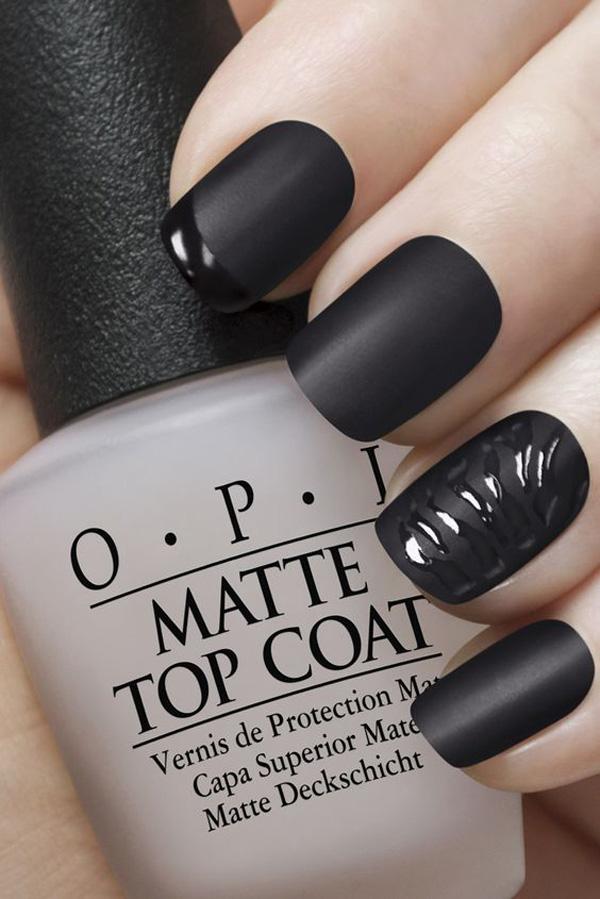 This is almost the same with the black glossy nail polish as French tips. This one, however, takes the accent on the point finger (French tip) and the ring finger (curves).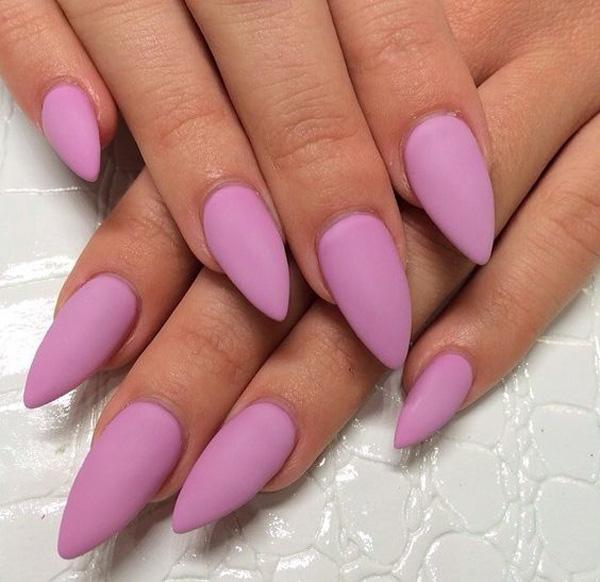 Hot pink in these claw-like nails and you're going to be a hot trendsetter!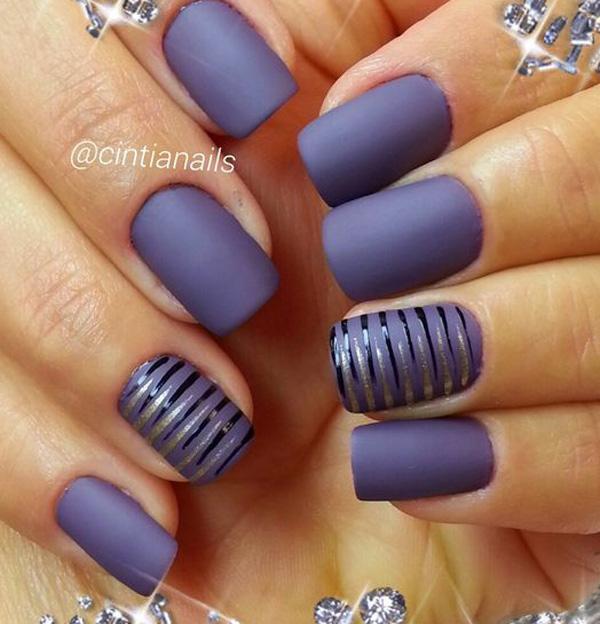 Gray matte nail polishes look extremely sleek. But you can add more fun to the design by adding some stripes of glossy and glittery nail polish in black and gold, respectively.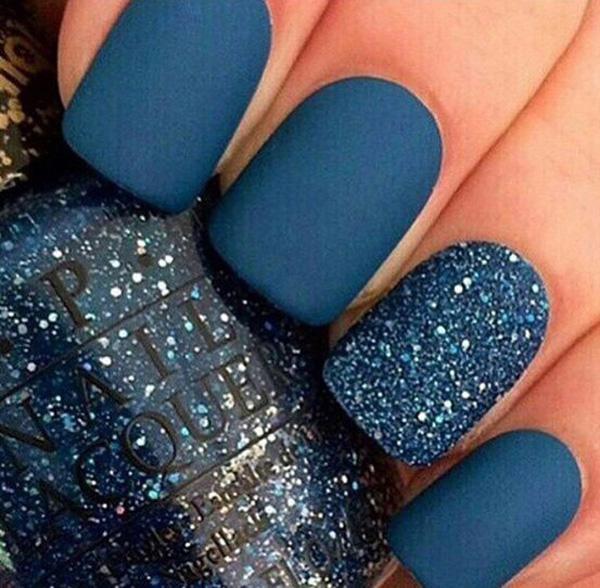 This one is almost the same with normal designs these days where the ring finger's the accent (and usually in all glitters), but you have to do this one in matte for the other four nails.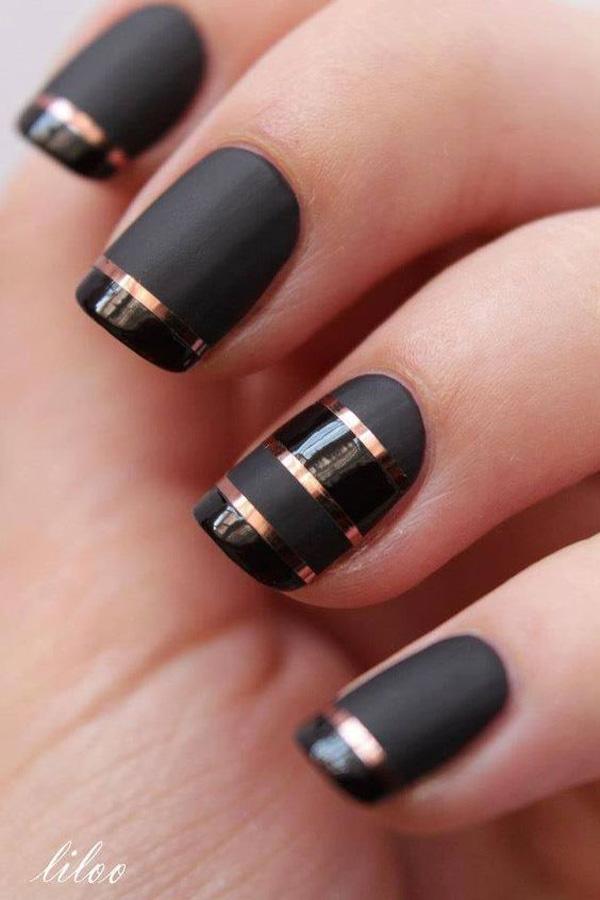 Add a bit more of drama with the black on black French tips by adding gold stripes along the lines. Plus make the ring nail look extra amazing.
If you're having a glittery and distinct design as a chevron pattern as your accent, it may be best to stick with simpler designs for the other nails. You can add just a bit of diamonds for extra flair.
Source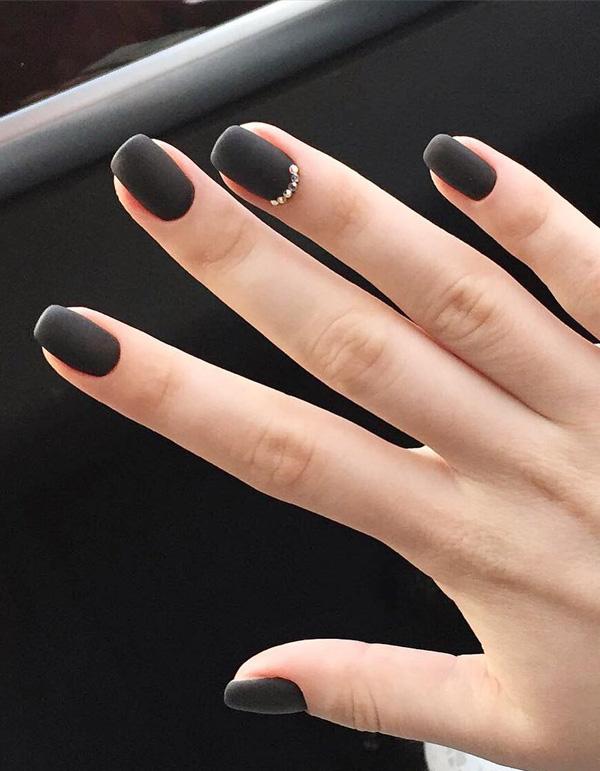 Matte black is already a look that's great for any event. Putting diamonds just makes it a lot more stunning.
Source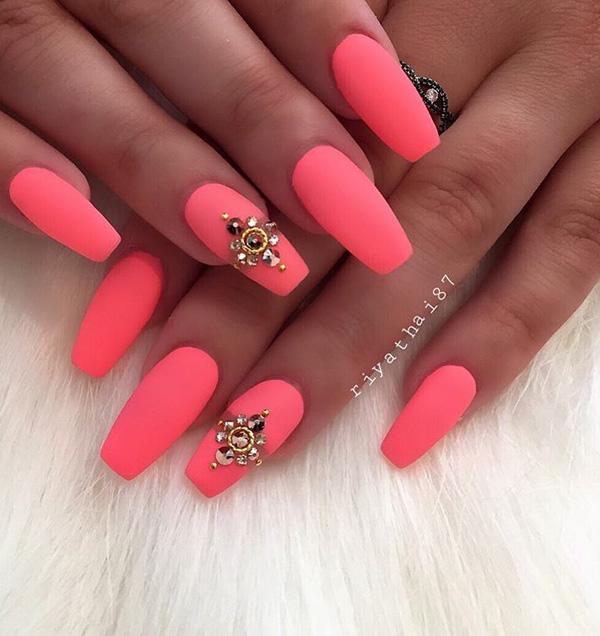 This matte peach design is looking so great, but you can add patterns of diamonds and everything will be perfect for a more sophisticated look.
Source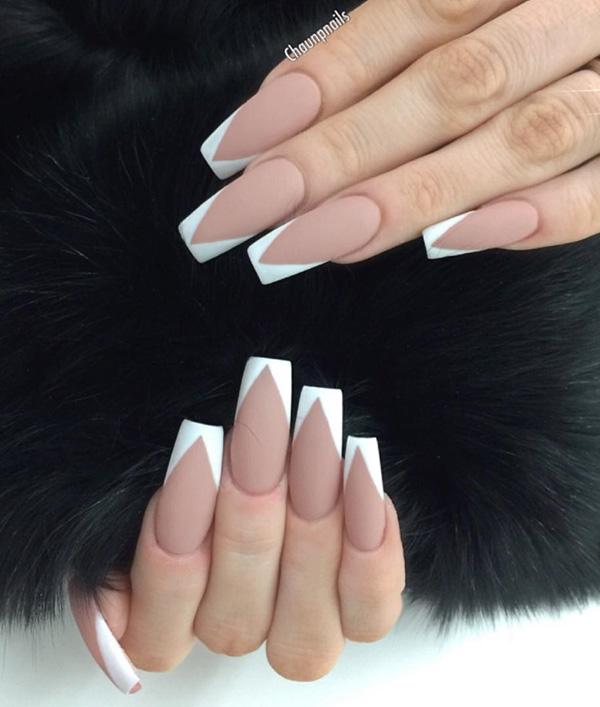 Want to look dangerous without having to? You can have a matte nude base and then paint the sides of the tips in white. This will create an illusion of sharp claws.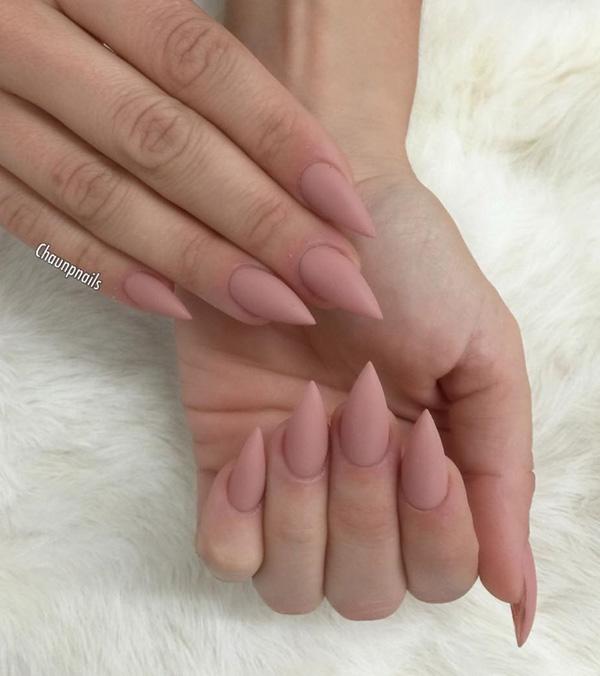 Or you can just create that dangerous and yet unique looking; either by cutting your nails into these claw-like shapes, or by putting fake nails.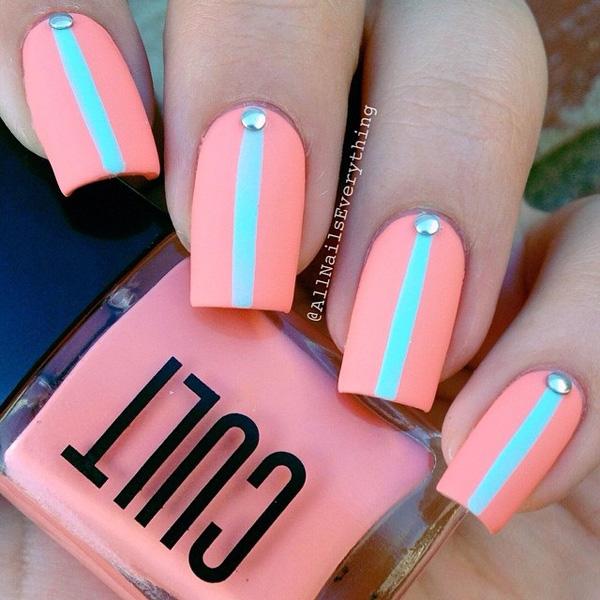 Want a simpler design but something you can easily wear on parties? Pick two colors that are both refreshing. Put your base color (in this case peachy orange) and then create a thin line in the middle with your second color (here,it's green). Then just add some silver studs.
Source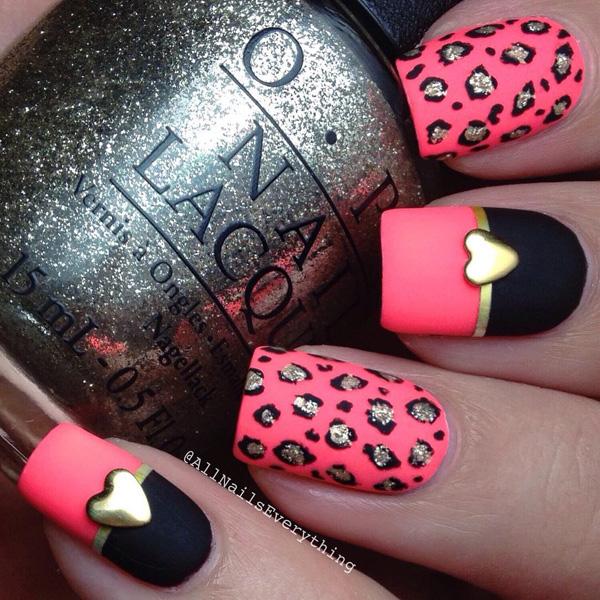 Love pink but love leopard patterns as well? How about combining both for a fun design? And do get those heart-shaped gold studs too.
Source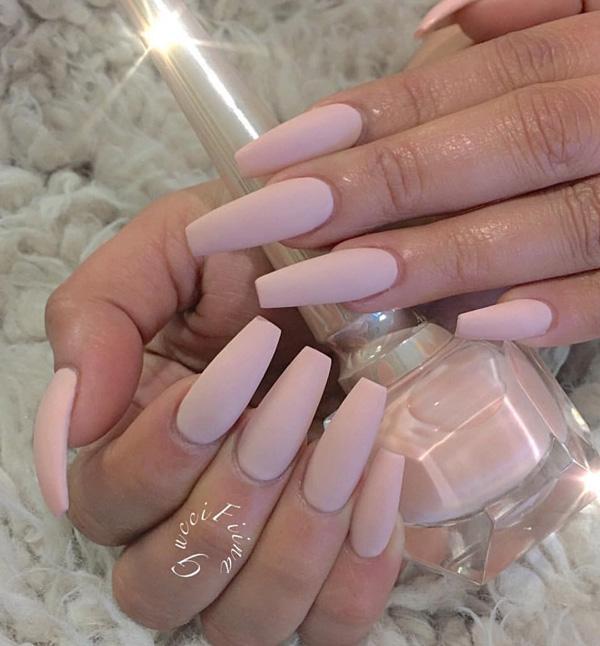 Try out this beautiful pale beige matte nail polish. Simplicity is beauty.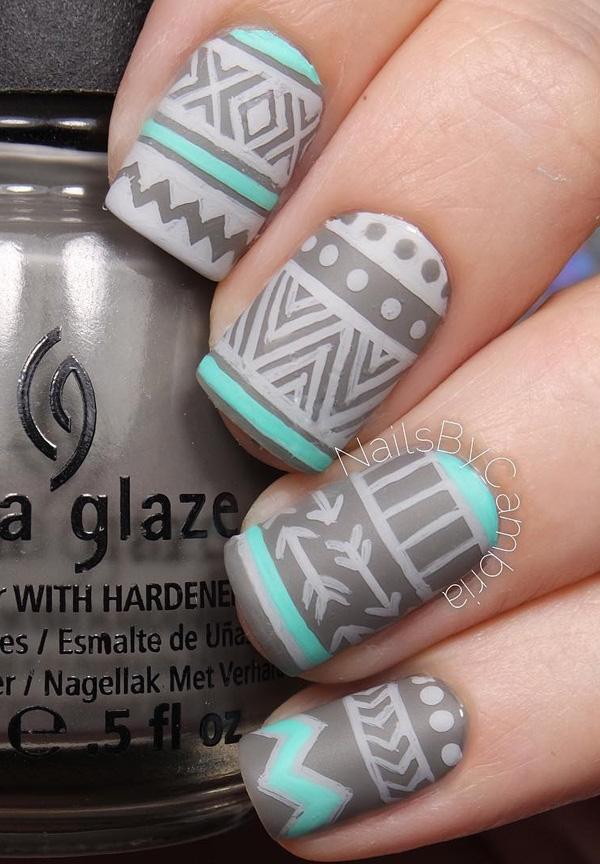 Use your darker matte gray nail polish and use it as the base. Then get your matte sea green and matte lighter gray nail polishes and play with various designs and patterns.
Source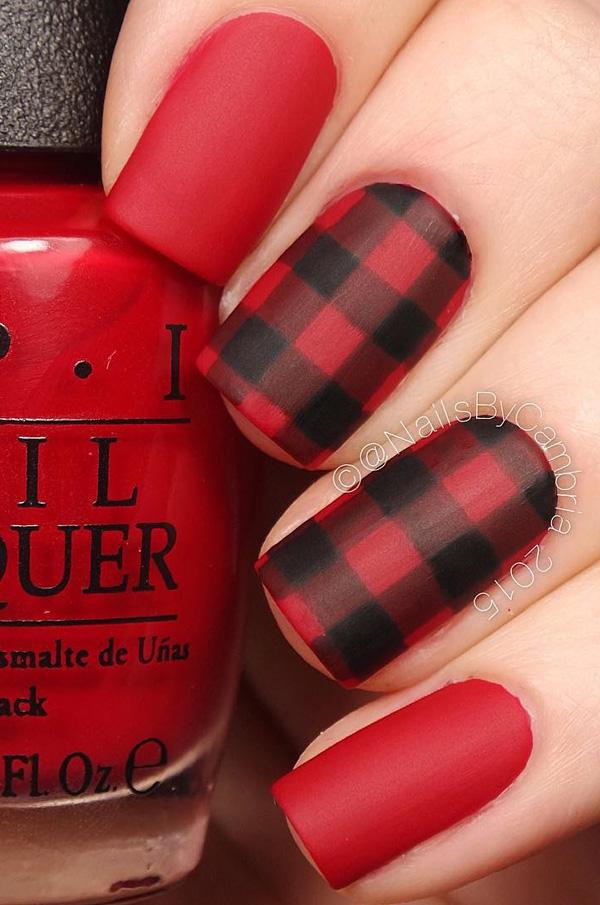 Love plaid? you can actually do this design now on your nails. On glossy nail polish, it won't have the original feeling to it. But with matte, it's perfect; especially in red and black.
Source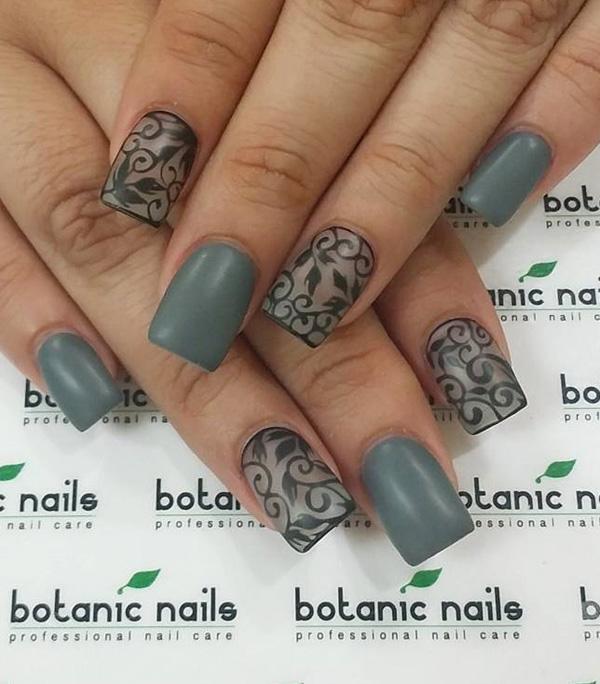 Dark gray matte and with touches of beautiful swirling patterns in black.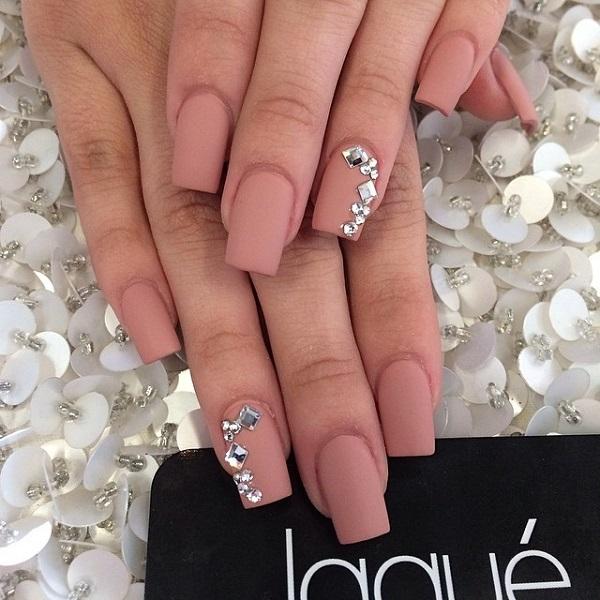 Think matte nude is too…nude? Then add some diamonds. Instantly becomes more interesting than boring.
These matte aquamarine nails are the bomb! Matte, yes! Simple, yes! But absolutely eye-catching especially with those gold rings.
Source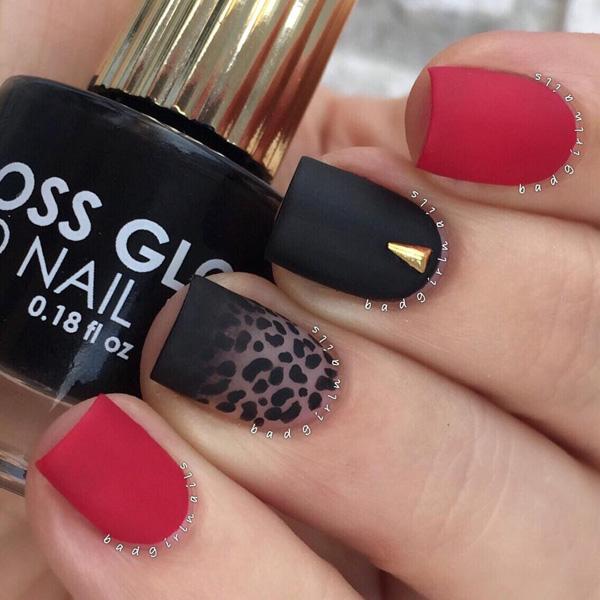 Red and black with a bit of leopard patterns to spice it all up.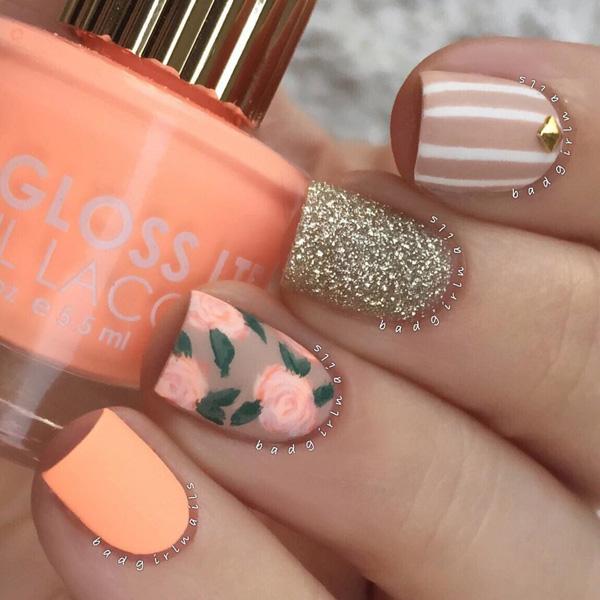 It just calls for matte nail polishes when you're combining various designs all at once like florals, glitters and stripes.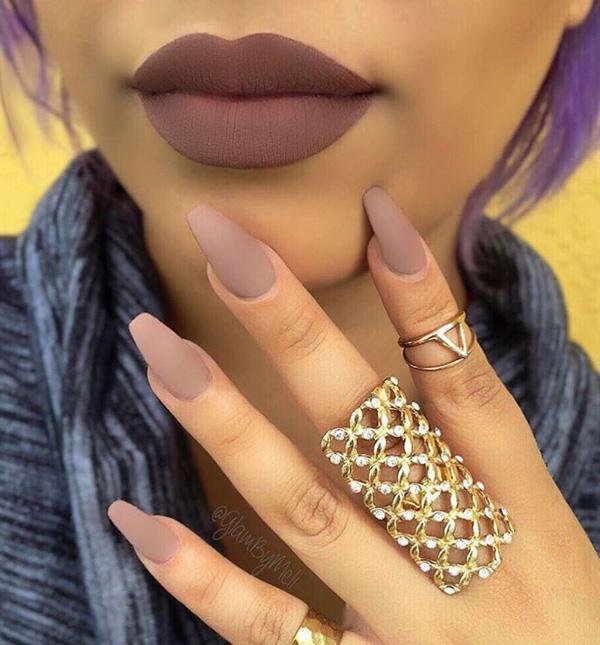 Matte lips are pretty much the rage now. So you can match it up with some matte nail polish as well. You have wide selection of colors but brown looks pretty good both for the lips and the nails.
Source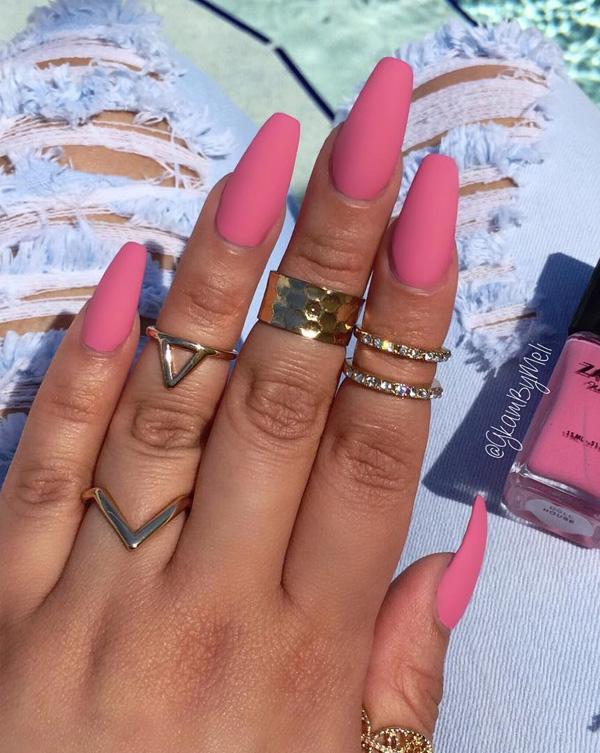 Matte pink can be simple, but this is the perfect look for a rugged chic look.
Source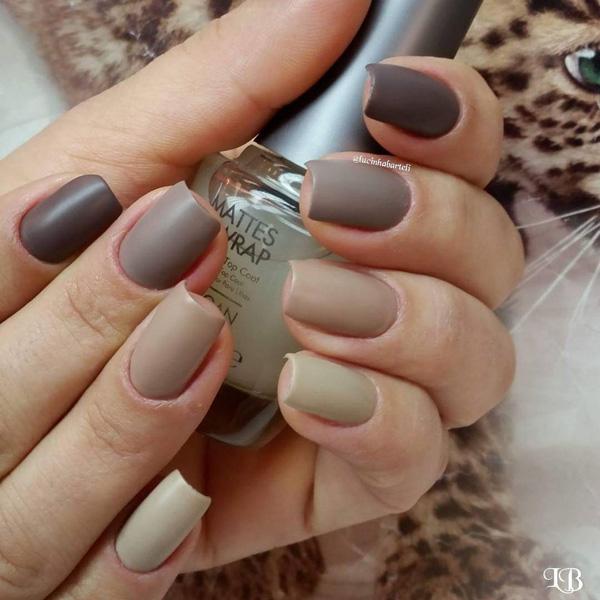 Tired of 50 Shades of Grey? How about the 5 Shades of Brown?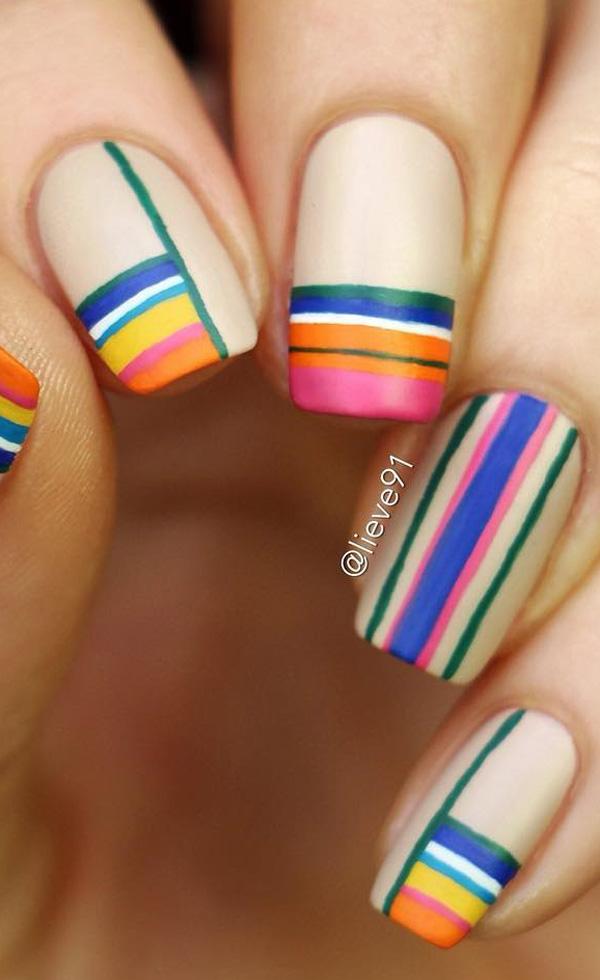 Stripes aren't just stripes. You can now make it look like modern art. So use as many colors as you want.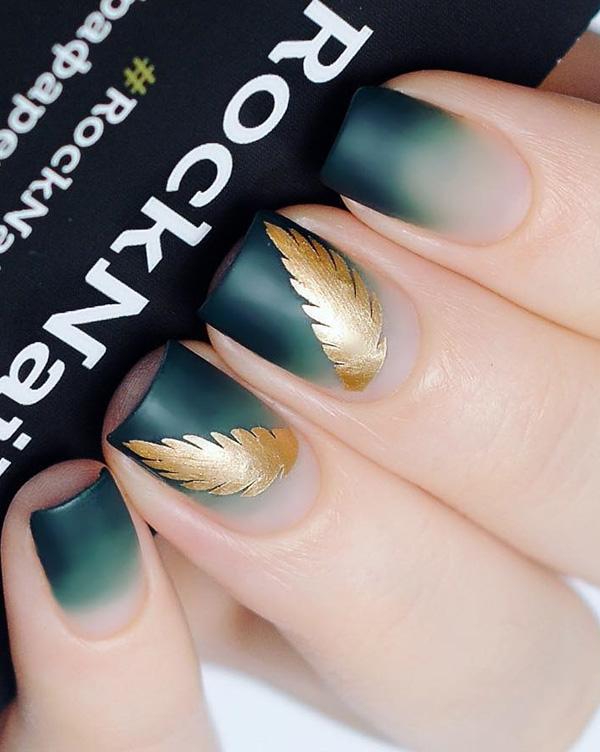 The base is an ombre of white to dark green and it's absolutely beautiful. Add some gold feathers and the design is breathtaking to look at.
Source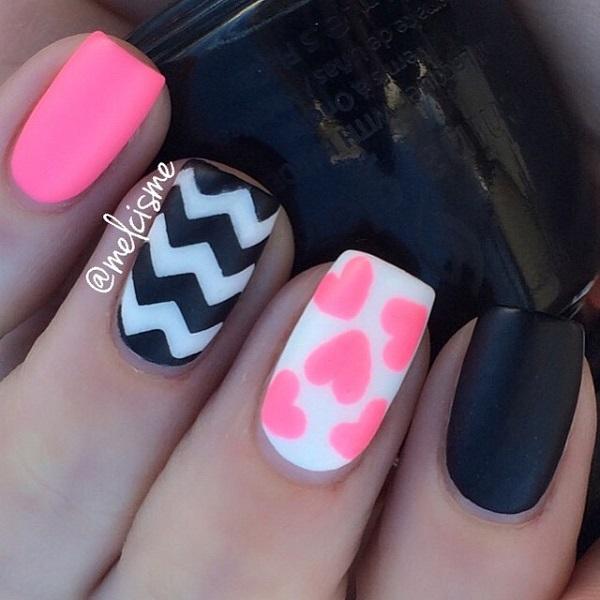 This cute and almost punk-ish design is perfect for any casual days. You can have it while you're having a great day with your friends.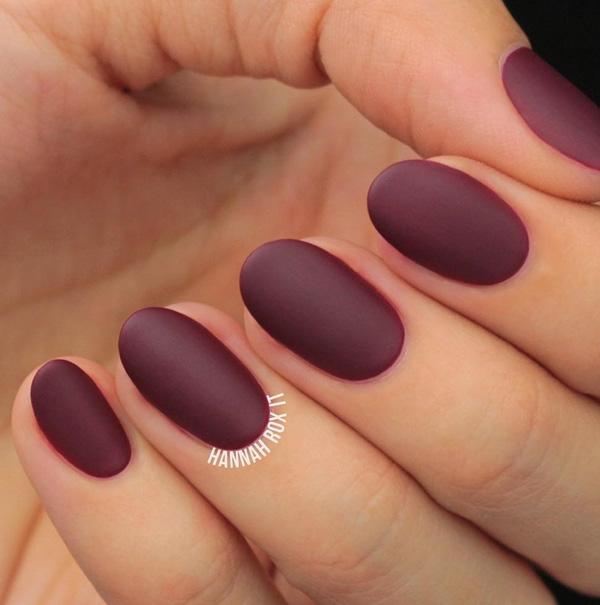 Matte maroon on a perfectly circle nail. The color is strong but the nail shape makes it look softer.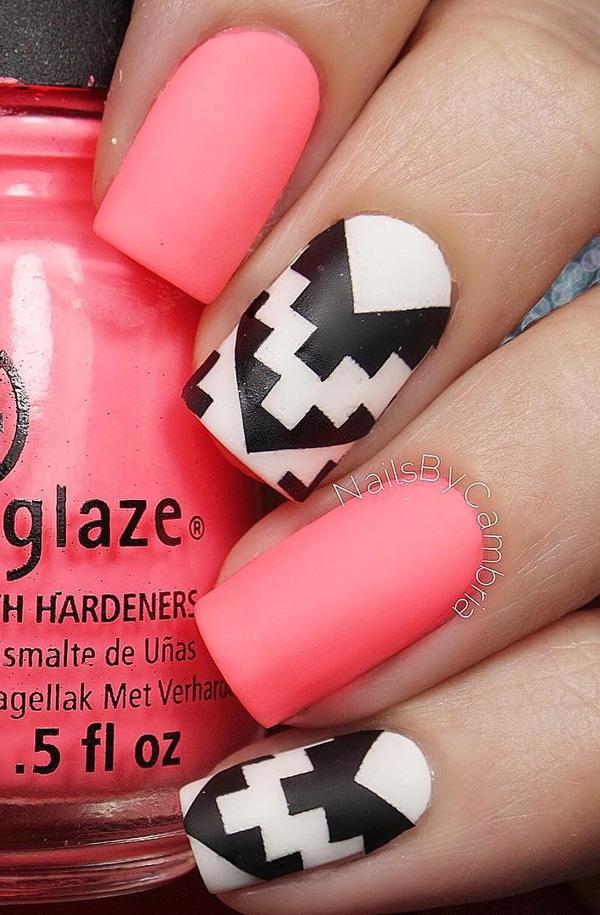 if you love Minecraft or a 2D game, this could be a great nail look. It looks like the design was pixelated.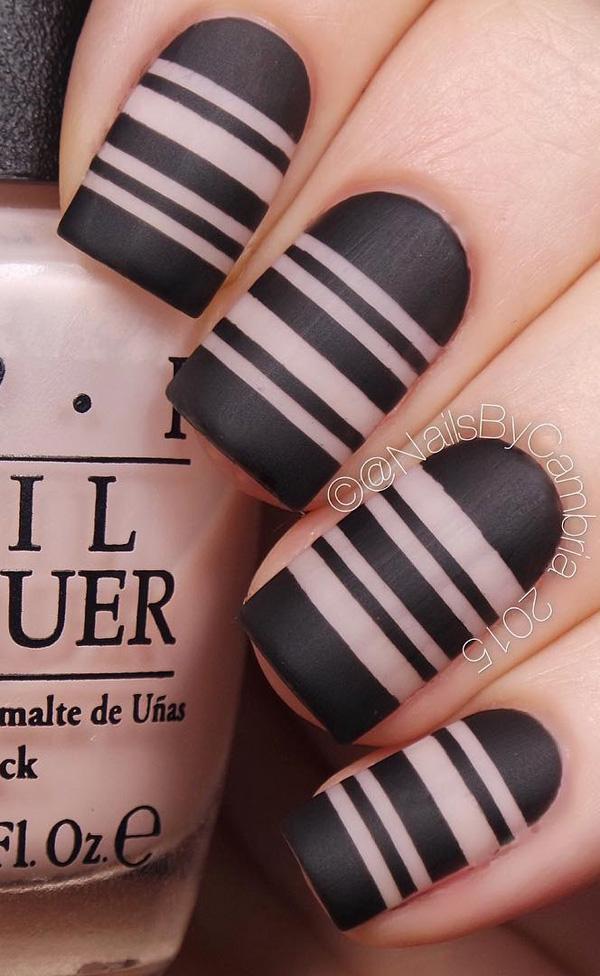 What's the perfect combination for matte black? Of course, nude nail skin color.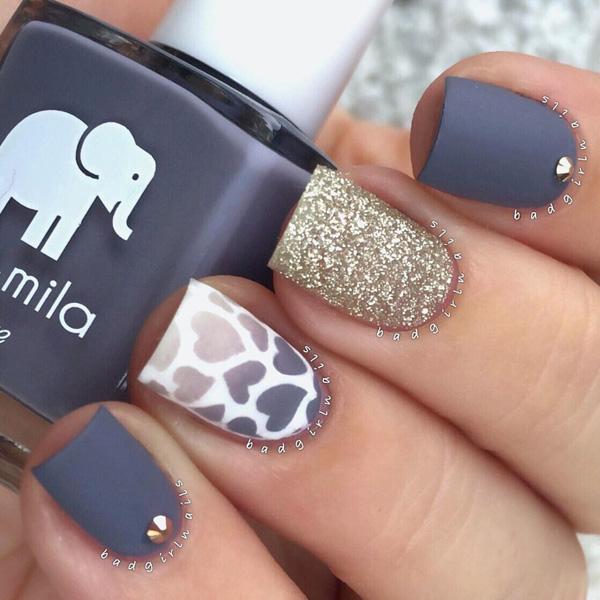 For the ombre effect of the heart design, doing the ombre as the base is needed. Then when it's dry, you could place your pattern for the hearts and work your way.