So your normal nails could get boring. Yes, they do protect our fingers and toes from foreign objects, but it does get boring especially when you needed to attend parties or special events. It has now been a normal thing to let our nails (both on fingers and toes) be part of our outfit. We paint our nails with different colors and designs that suit our clothes and the event. Sometimes, polished nails doesn't even need an event. If we feel like it, we paint it.
And since it has become a norm, a lot of designs have gone out for our nails. Those simple colored nail polishes? Still widely used and has since evolved to a wide array of colors and styles (matte, glitters, metallic, etc.) but a lot of women are now into taking nail polish to another level by creating different designs for nail art. Yep, our nails have now become a canvass.
From simple lines and stripes nails to intricate pictures, the possibility of nail art designs is endless. Some go for abstract designs while others take inspiration from pop culture and literature. It has now become a way for women when it comes to expressing their mood and their passion for fashion.
Now Comes Chevron
One of the best designs these year would have to be the Chevron nail art design. It had been around for quite some time but lately it seems to be everywhere and getting it's bigger than ever comeback. So it's no doubt more and more ladies would want a Chevron nail art one of these days.
However, what is this Chevron nail art? Chevron is a V-shaped pattern. It's an ordinary sign for heraldry before but now it has become a pattern for a lot of things especially with art. And since nail art is a form of art, Chevron is one of the most common and best patterns to choose whatever the occasion or your outfit and makeup is.
But of course the pattern alone on all ten fingernails (or toenails if you prefer) may not be the most exciting design. In fact it can be dizzying. So the best idea is to alternate designs or combine your Chevron pattern with other design or perhaps with simple nail polish. You'd get some ideas and inspiration later down the road.
Preparing for your Chevron Exhibit
So here's what you will need for the Chevron nail art:
Nail Polish of your choice (2 colors at least)
Clear scotch tape
Pinking shears (Just make sure it can clearly cut the scotch tape)
Clear nail polish for top coat and protection
First of clean and prime your nails for the process. Then apply two coats of your base nail polish and let it dry. The trick in making this Chevron nail art is either by a) cutting the scotch tape into mini strips and placing them in your nails with spaces in between then paint your whole nail with the second (and third if you like) color of your choice. Strip away the scotch tape and voila! Chevron pattern; or b) paint blocks of scotch tape with the color/s of your choice, cut them with pinking shears and then tape them into your nails. After any of these two options, you can apply the top coat for protection.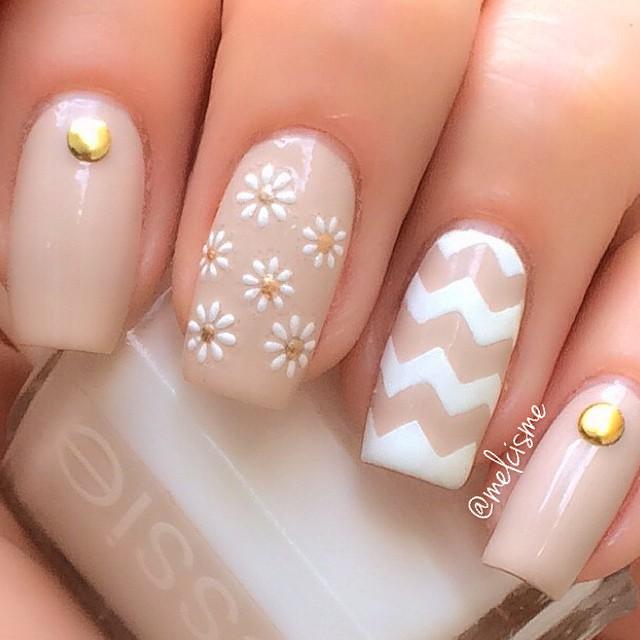 This clean and lovely Chevron nail art design is accompanied by a nail full of daisies and the remaining are simply with a single rhinestone for effect. This is to not overdo the design plus it gives a mature but feminine vibe.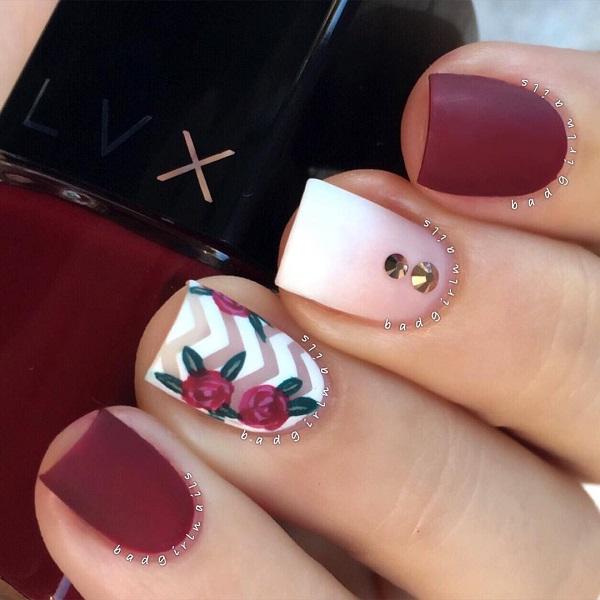 Draw some roses on your Chevron nail; enough so it would still have an accent while showing the pattern. Then with the previous, rhinestones would be the best way to accessorize subtly the remaining nails. Or you can use beautiful matte colors.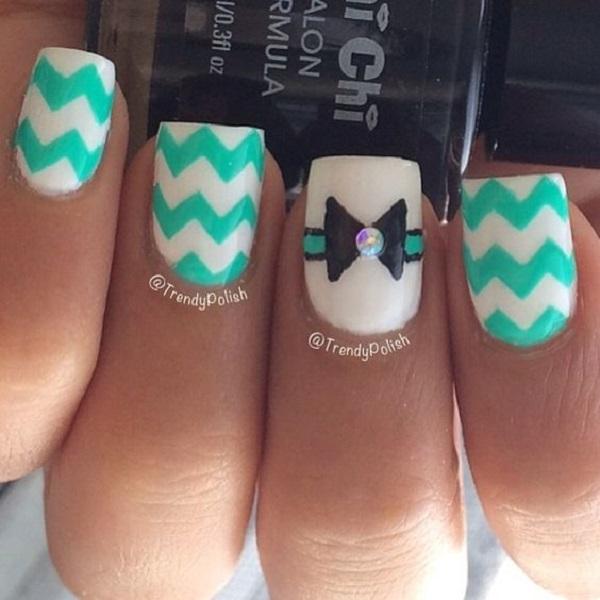 You can put the pattern on all your nails but it would be best if you can at least take the focus on an accent so it won't be too much to look at. For example, the ring finger here is designed with a diamond and bow.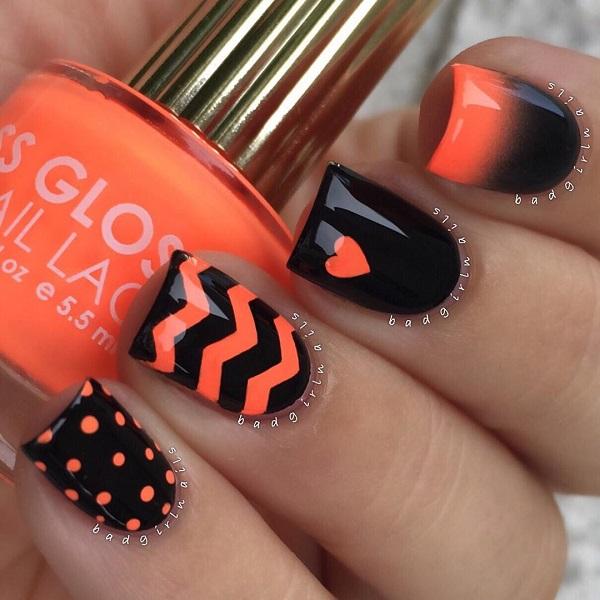 This beautiful look is a combination of different designs such as polka dots, a little heart, ombre and of course, the Chevron.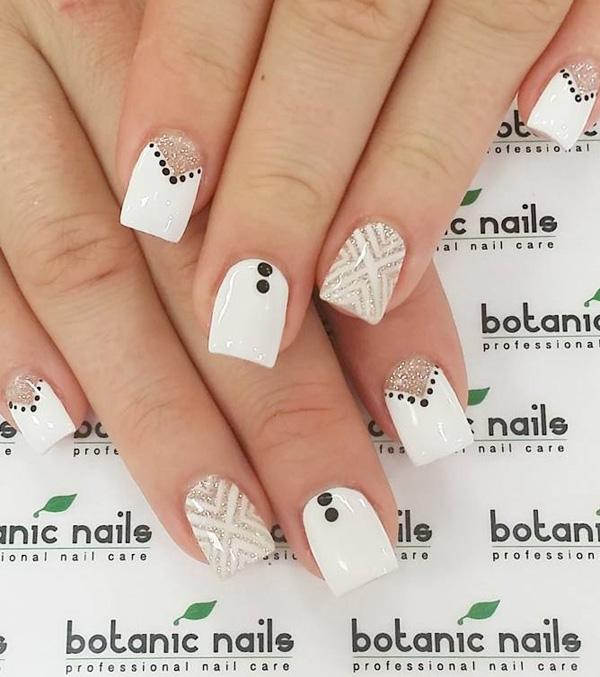 The Chevron pattern in this particular look isn't what we are usually accustomed to. But we can definitely see the V-shaped patterns created with gold glitters. If you're attempting this on your own, be sure you work with a steady hand and thin brush.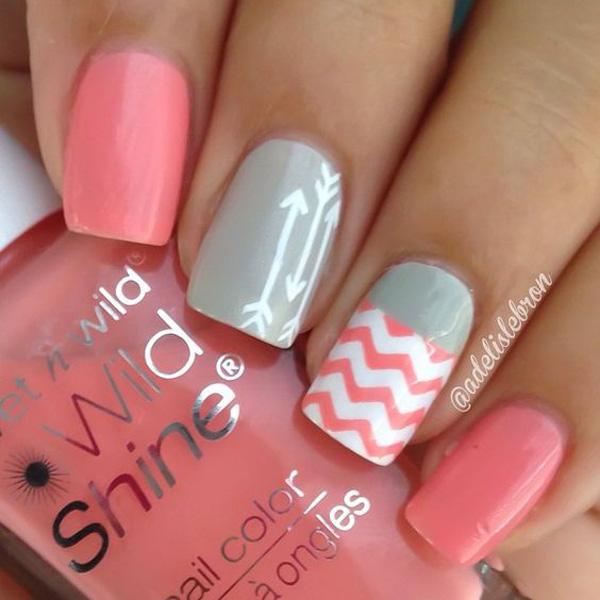 This lovely gray and pink design shows that you don't really need to cover a whole nail with the pattern. We understand if you get tired of cutting those strips.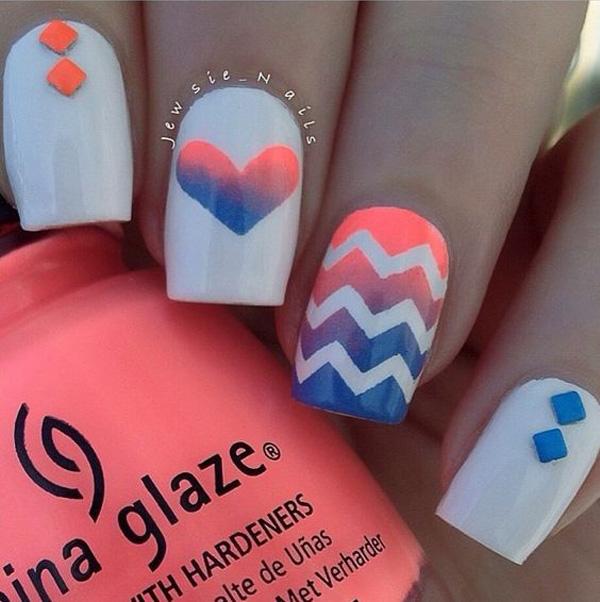 This works by covering the base with the patterned strips, then working on an ombre style on your nails. It goes the same with the heart shape design as well.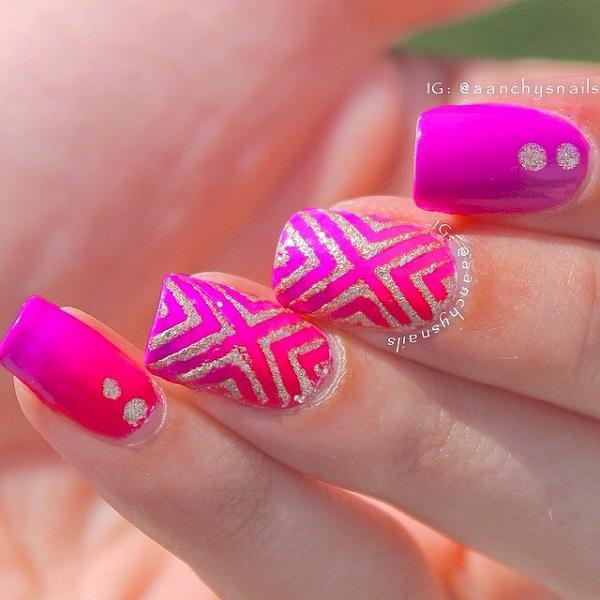 This is another variation of the Chevron pattern. Again, work on an ombre. But this would be your base. Then get your gold glitter nail polish and slowly work on the pattern.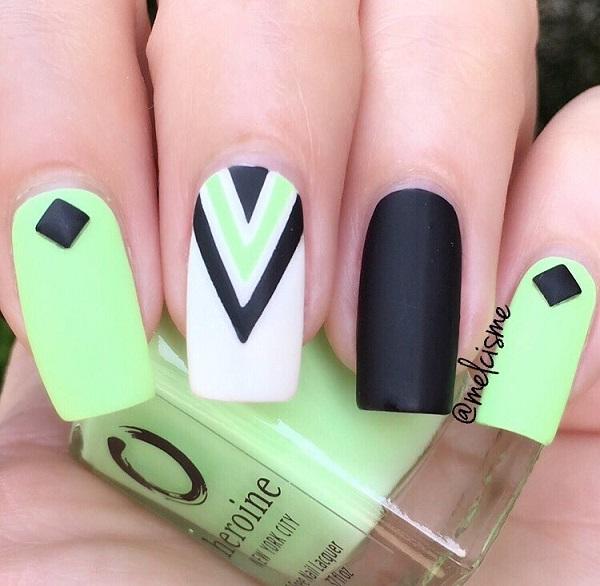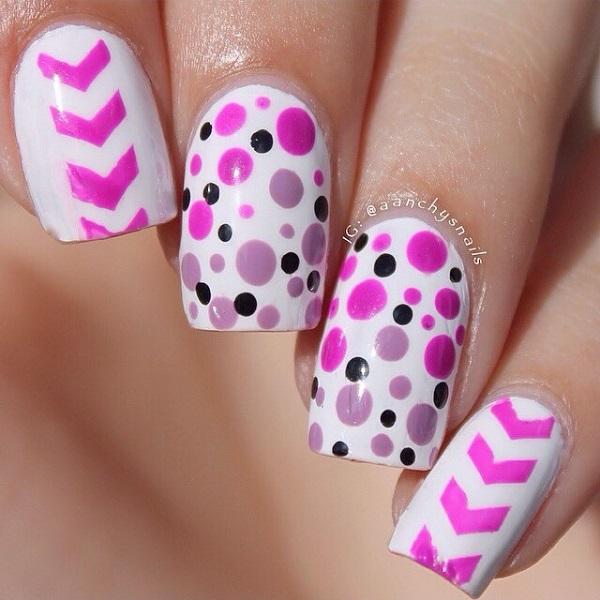 This is actually slightly harder than the other pattern. You'd have to manually cut V-shaped strips as there aren't usual shears with this shape. But the trick is still the same. Then of course, combine with polka dots design if you want.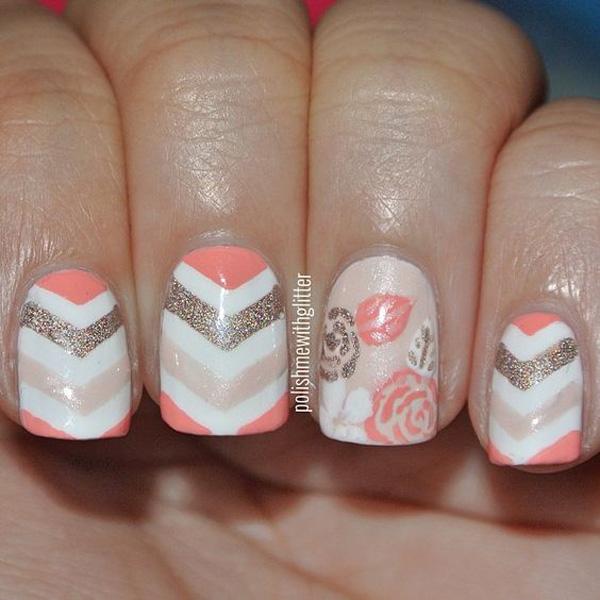 This can be a little bit tricky with the different colors used. However, the strips can guide you when putting the nail polish. You might need an acetone since you might not make it perfect with a single try.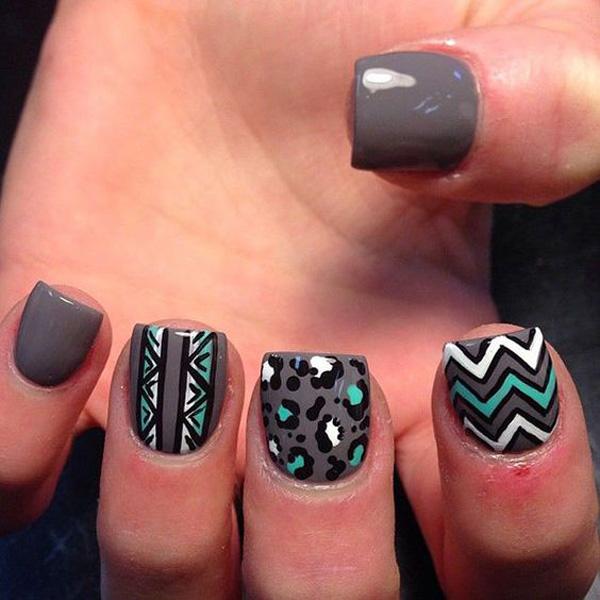 Work on those Chevron patterns and highlight them with black nail polish. It would really make the design come out and sometimes, the little flaws make it look better. And oh, that leopard design is totally awesome as well as that stripes with triangular patterns.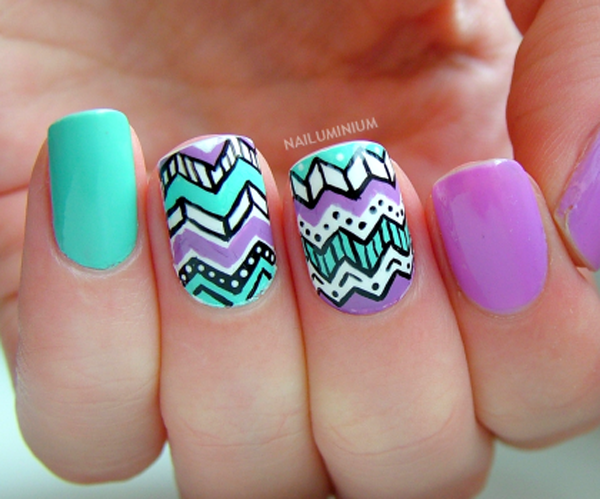 At first it feels complicated, but really, you just need to draw different designs on your pattern. Fun and quirky.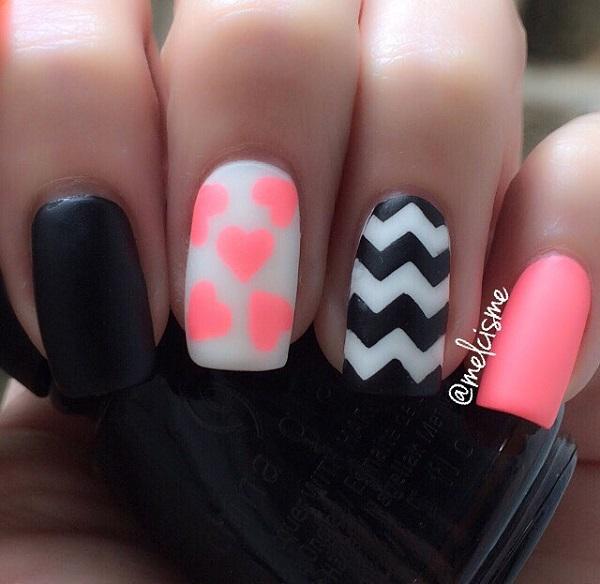 Matte or neon nail polish would give your Chevron pattern a much sleeker look. Especially in black and white.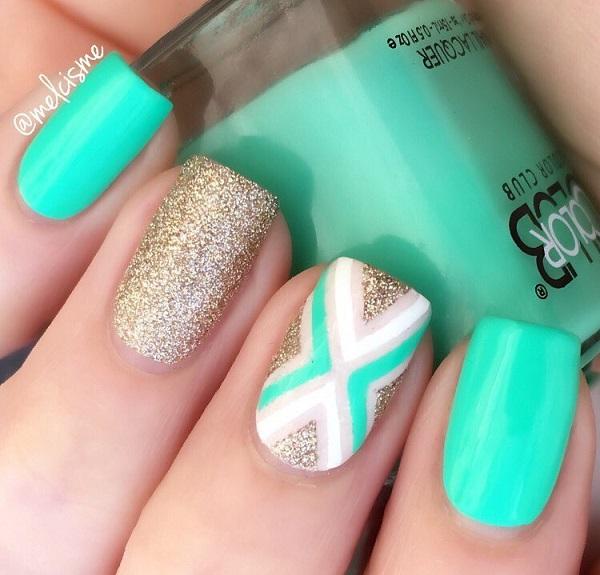 This wonderful Chevron nail design is both classy and fun. The gold glitter nail polish is used as the base so it would be easy to make the outer ends fill with the color.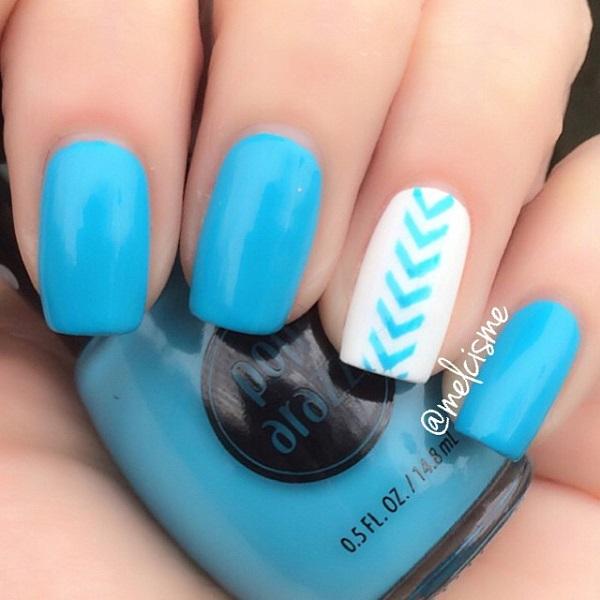 Here's a simple Chevron pattern that will work well with casual look and if you're not that much into nail art or perhaps simple nail polish.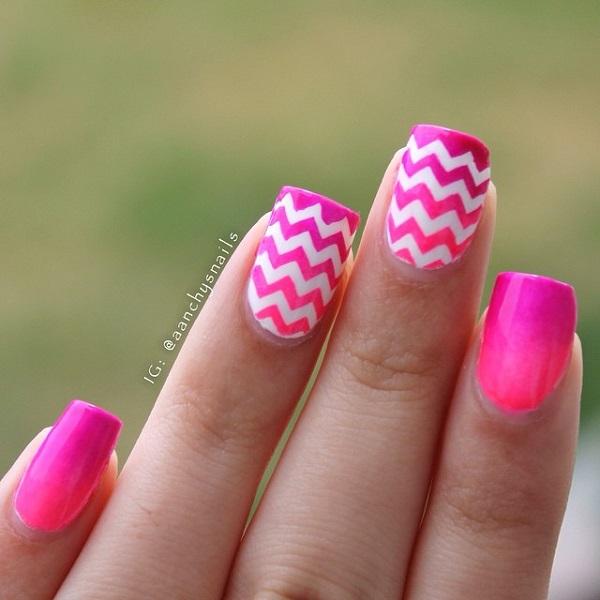 This pink and purple ombre works well as the background color for the white Chevron patterns. Or could it be Ombre Chevron patterns in a white background? But honestly, working on the ombre last would work much easier.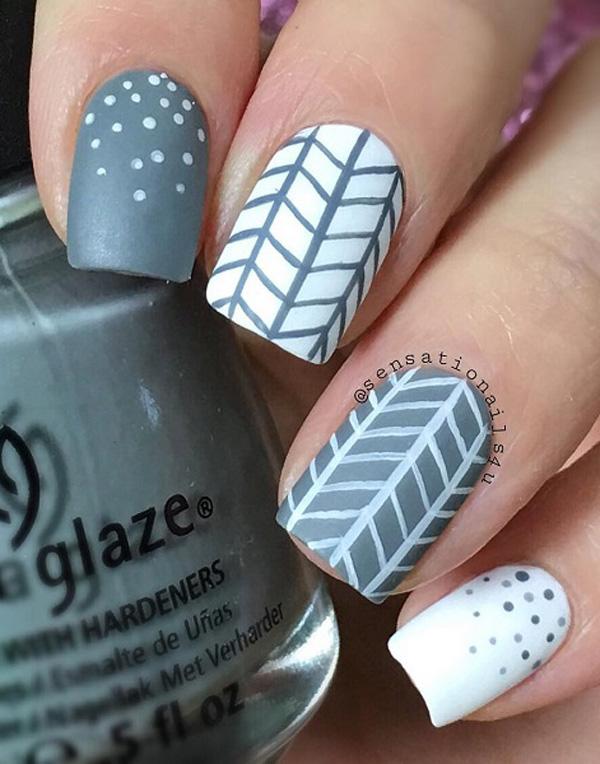 This Chevron style is much easier to do since there's no need for cutting and scotch tapes. Just create three vertical lines then it would be easy to make the V-shaped patterns along the lines.
Source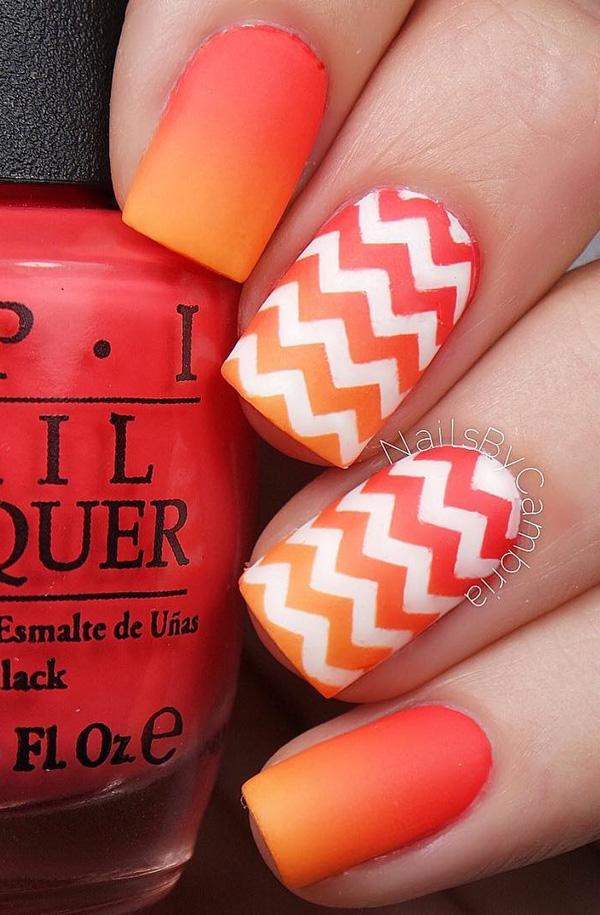 Here's a darker and lighter orange ombre that definitely perfect for the summer.
Source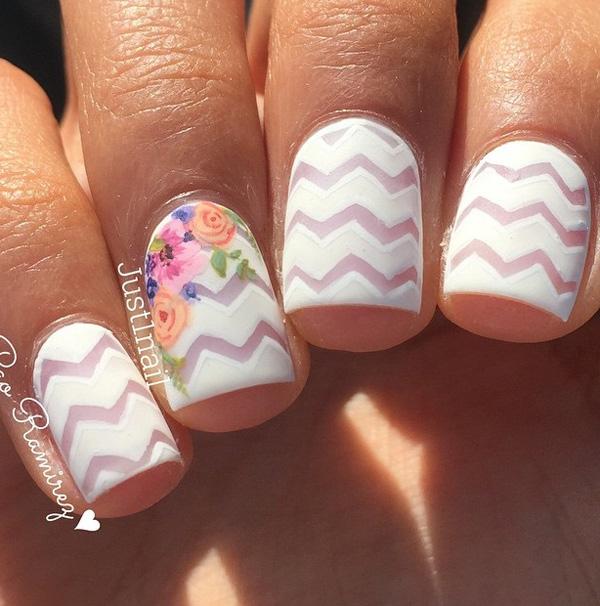 In this design, there will be no base colors. You can simply apply a protective coat of clear polish, cover parts with Chevron strips, then paint with an off white color. Highlight the pattern with a white nail polish and to add an accent, create a beautiful bouquet of flowers.