When you choose the nail polish shades best for you, you always look for the color that looks absolutely good on you. When you have pale skin tone then you should pick on shades that compliment your skin. Don't go for the shades that are contrasting, shades out or compete with your complexion; this goes to the darker skin complexions too.
Pink nail polish is great for light skin tones and there are plenty of options that you can choose from as well. You can try sheer pink colors or bright and neon shades up to those will cooler undertones. You shouldn't just stop with a regular light color nail polish. There are plenty of shades that you can choose from and a lot of them can be perfect for your skin color.
Why Pink Nail Polish?
There are plenty of polishes out there but why should you choose pink? A lot of women associate pink with femininity and the feeling of being pretty and girly all the time. In more recent times, pink has also been shown to represent chic and fierce attitude for women. Women likely would want to use a nail polish that would represent their own attitudes and likes. In some occasions they may choose pink as their soul color for the fleeting moment.
When it comes to designs with nail polish you will never go less. There are plenty of pink polish nail art designs out there. You may even find entire albums dedicated to nail polish designs. The color pink has become synonymous to universal as many people have used its shade in more than one function.
If you feel that pink is definitely your color then don't stop yourself from finding that perfect pink nail polish design and don them on your nails yourself. Pink can have many moods and can convey many meanings. You can have baby pink colors for a softer touch or you can go with hot and neon pink colors to look more punk rock and chic.
But of course not every pink color will fit you well. Just like in other shades you should also take note of what type of pink can make your skin glow. Nail polishes can also make or break the skin tone which is why it is important that you choose a shade that will also suit the skin color that you have.
Types of Pink polish
Neutral pink
The sheer pink shade is by far the best neutral tone for the fair skin. What makes this color great is because it supports pink as well as blue undertones in the pale skin. The color can enhance your skin color but in the same time it does this subtly that it is almost natural looking. When using the sheer pink polish, don't use too much coat on your nail because when applying nude polish your goal is not to conceal the nail bed.
The creamy blush polish
Then you also have the creamy blush polish that is also a good color for the pale skin. This shade has flattering pinkish undertones and has more coverage than the previous shade. When you have a creamy pink nude along with yellow or blue undertones, it can help counter the redness. When you use this polish an almost pinkish flesh tone gives off the look of a very healthy skin.
Pinky beige
Pinky beige is also another pink polish that you can use when you have medium skin tone. This tone can help brighten the skin tone. If you would like to have clean, fresh and a trendy skin then this is a perfect polish to go with. What makes this polish great is that it stands out on medium skin tones. Pinky beige polishes can help make your nails more vibrant and youthful. In a shorter explanation, this polish can make you look younger.
Soft Peach
Another polish you might be interested in is the Soft Peach. This is perfect for those with pale olive skin. With this coat your skin becomes more warm and glowing. Olive skin is already a beautiful tone and you can choose to enhance it with this polish. If you're still thinking of what nail polish to use this summer then the Soft Peach is a ready choice. Summer time is perfect since the nail polish would still compliment your skin when you decide to get a bit tanner.
More pink nail ideas
If you have dark skin you should definitely go for the Rosy Beige. Dark skin doesn't necessarily mean that you can't rock the pink polish. In contrast there are many pink polishes that fit the dark skin tone. Those with dark skin tones can actually handle a greater variety of colors. It's the warm tones of the beige color that compliments perfectly with the dark skin color.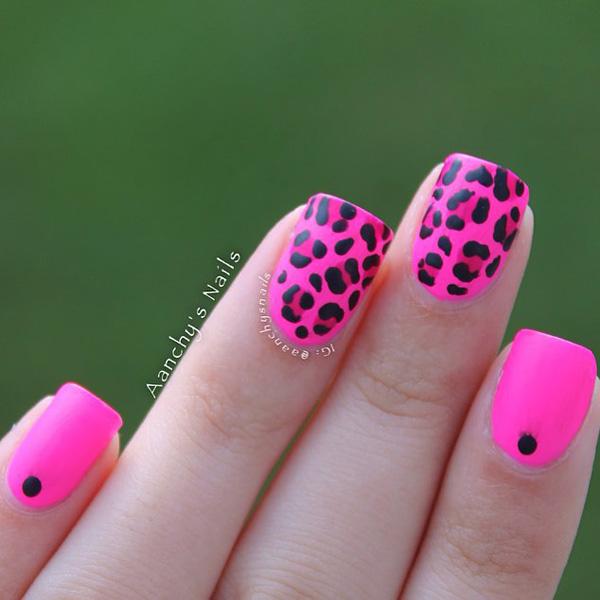 Leopard print nail art design in hot pink nail polish. Use black polish to detail the leopard prints as well as a darker pink polish for the additional leopard print details.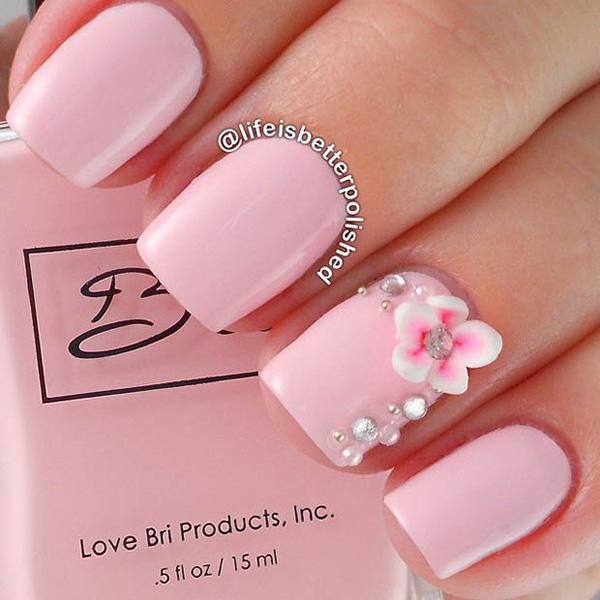 Elegant baby pink
The matte baby pink color looks classy with the additional bed and flower accent on top.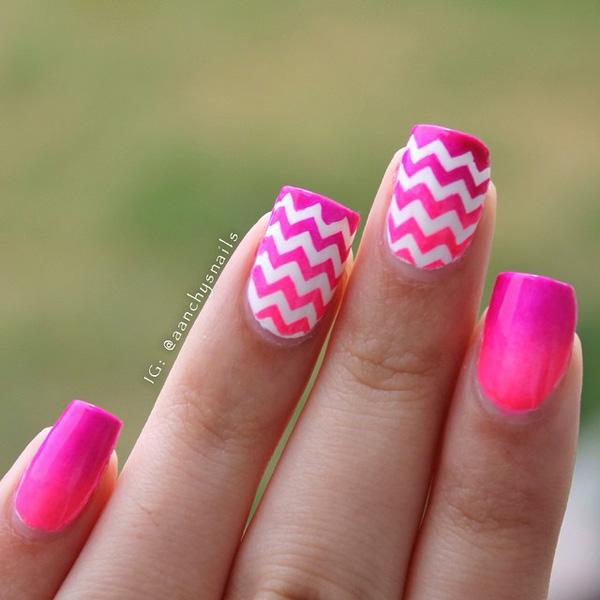 A gradient inspired pink nail art design. Play with various shades of pink with a gradient base coat. Add zigzag white lines on top for detail.
Very cute and unique pink nail art design. This nail art design uses black polish for the tribal designs as well a gradient theme as base coat.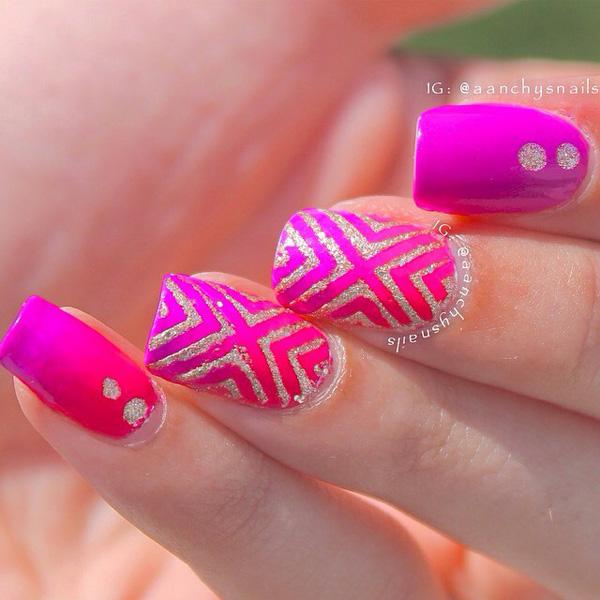 A wonderful looking gradient nail art design.mix up lavender and pink nail polish to create a gradient. Add silver glitter nail polish on top for more effect.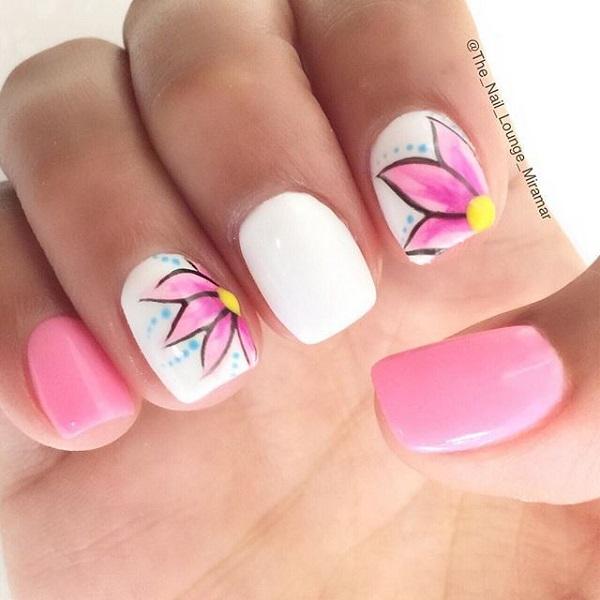 Simple yet beautiful white and pink mattes polish. Additional pink flowers with blue and yellow accents are also added on top as design.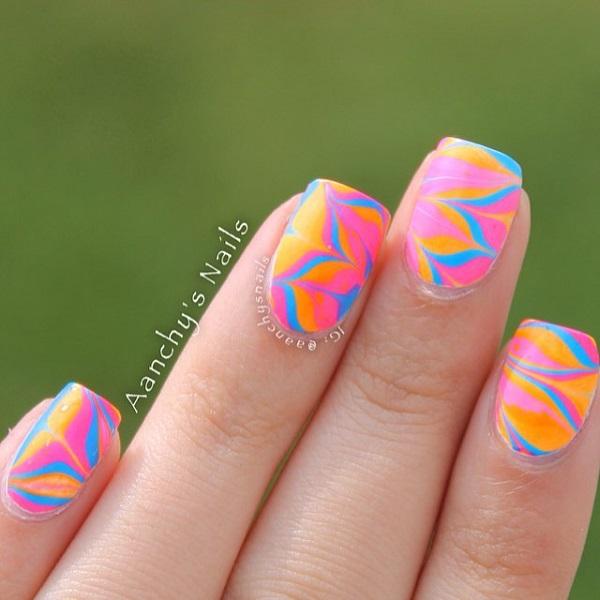 Colorful pink abstract nail art design. This nail polish design also makes use of the colors yellow, orange and blue that has very pretty contrasts with each other.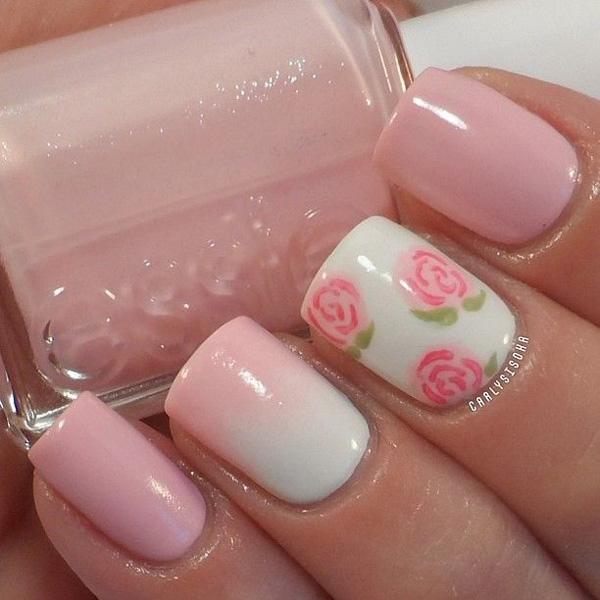 Elegant pink nail art design. White and baby pink colors are used for the gradient effect. On top there is various pink carnation roses added for detail.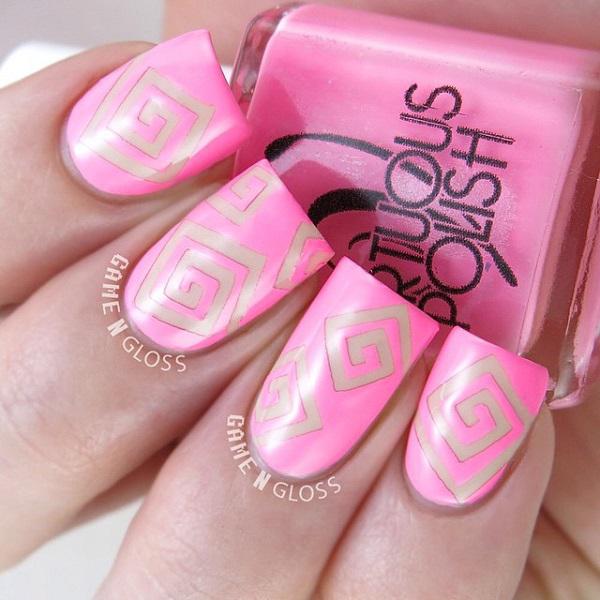 Pink nail art design with abstract detail on top. Use pink nail polish for base color and add silver metallic polish on top to create the portal details.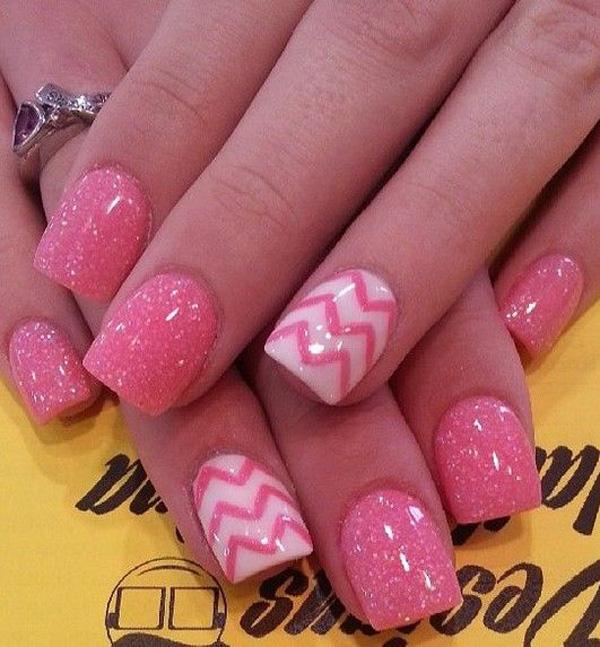 Pink and glitter! What better combination? Use pink glitter nail polish along with a white base coat wherein you can easily add glitter pink details on top.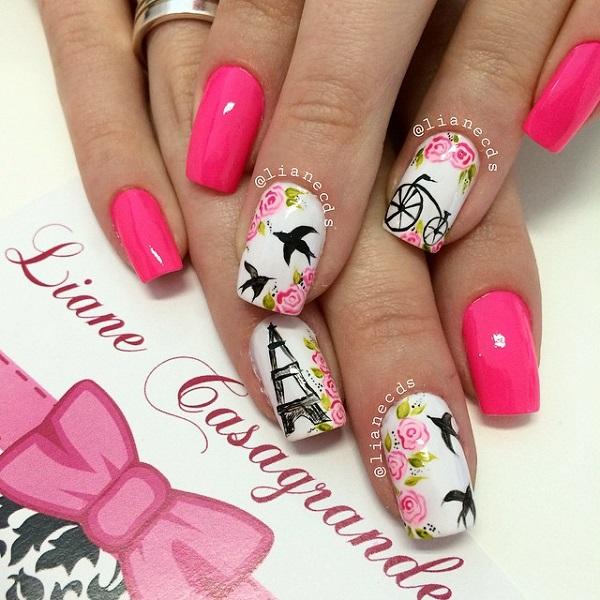 A very candid yet fun looking pink nail art design. Apart from the matte pink polish, white matte color is also used. Additional details such as the Eiffel, doves and a bike in black polish are there as well as pink roses.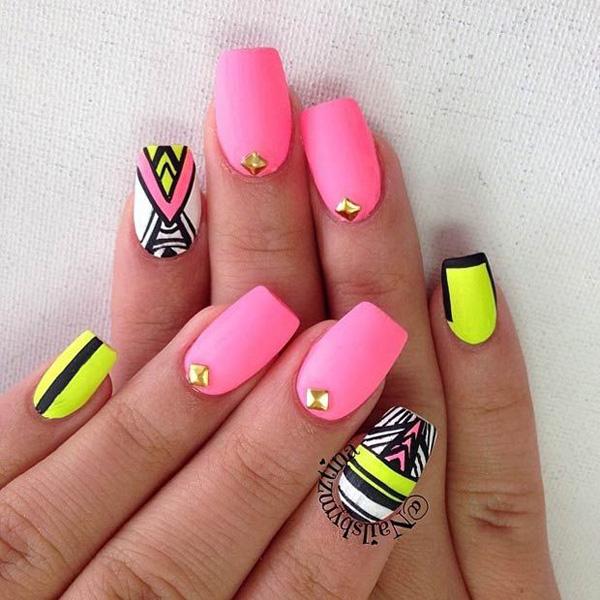 Tribal designs on a pink matte nail polish. Various other colors are used such as black, yellow and white to contrast the soft pink polish. Gold beads are added on top for accent.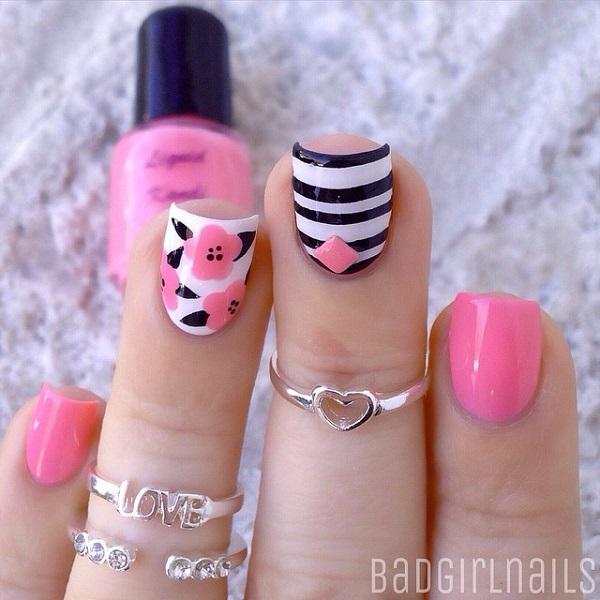 A really cute looking pink nail art design. Using white as base coat, cute pink flowers are drawn on top. Black polish is also used for the stripes as well as the leaves of the flowers.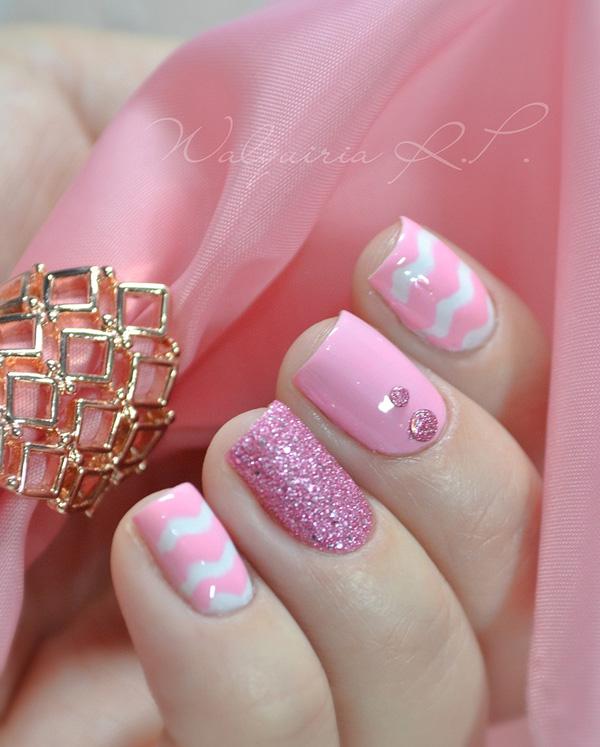 A wonderful looking pink design. Using white as base coat, lovely details such as pink glitters and beads have been added on top. Bold pink zigzag lines have also been painted on top.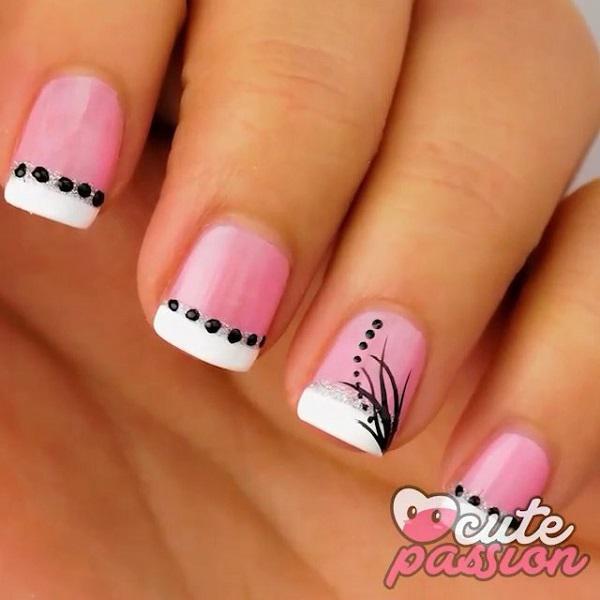 Cute and simple pink polish French tip
Using pink as the base coat and white polish as the French tips. Additional details in black polish are also added.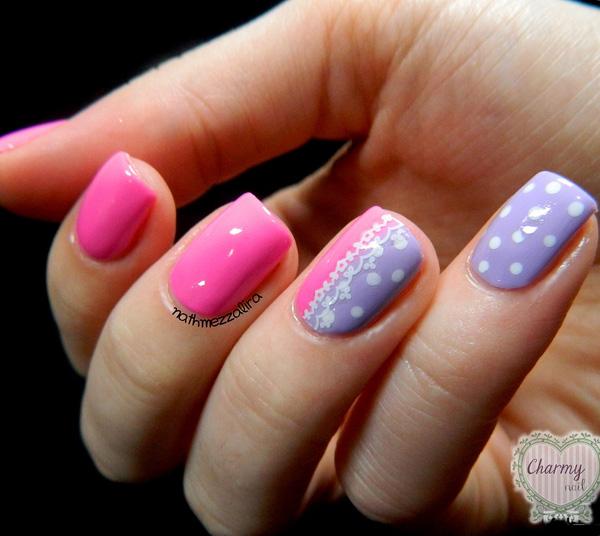 An adorable looking polka dot inspired pink nail art design. The design also incorporates the color periwinkle with lighter shaded dots to compliment the pink shade.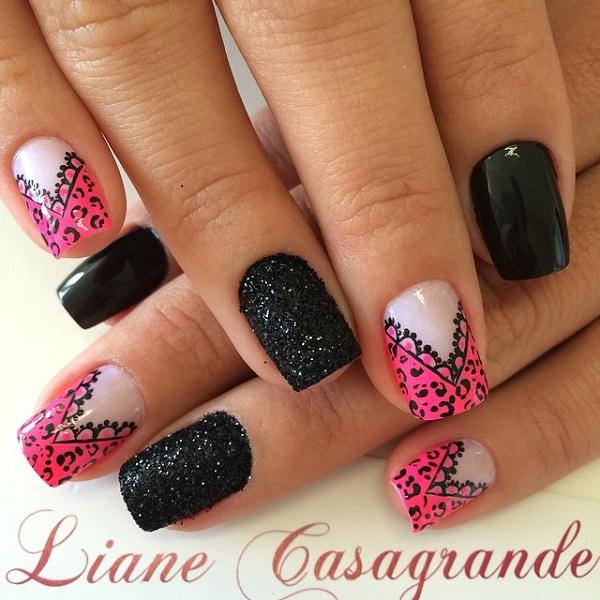 This pink nail art design comes out as rather chic and strong. Using a clear coat as base color pink lace French tips are added on top with black colored details, black matte polish.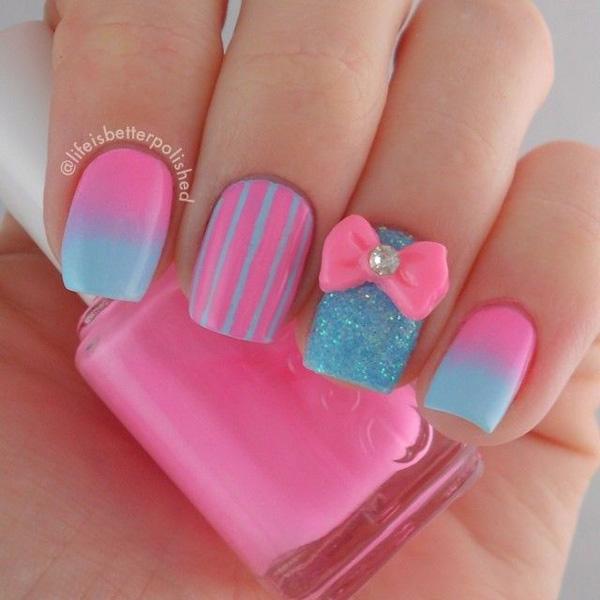 A cotton candy inspired pink nail art design
Predominantly pink, blue polish is also used to compliment the pink color. Gradient styles as well as stripes are also used in the design.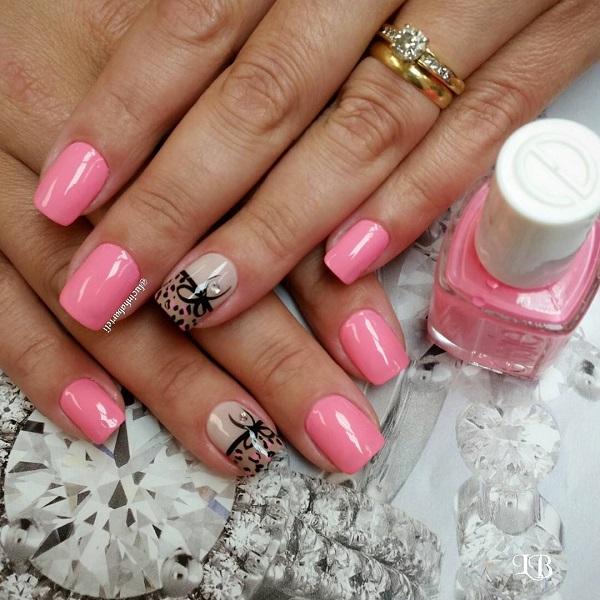 Simple yet elegant looking pink nail art design. A wonderful black ribbon French nail tip has also been added on top of a clear base coat for effect.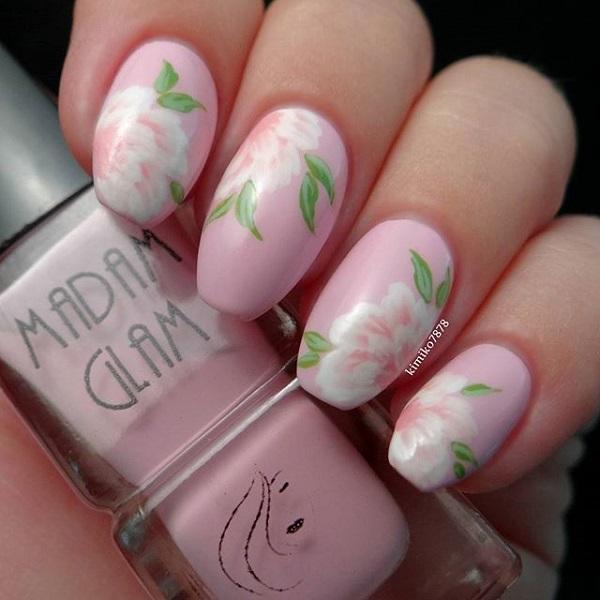 Pink flower inspired nail art design. It's a rather simple yet adorable looking nail art design with beautiful pink flowers on top with leaves in green polish.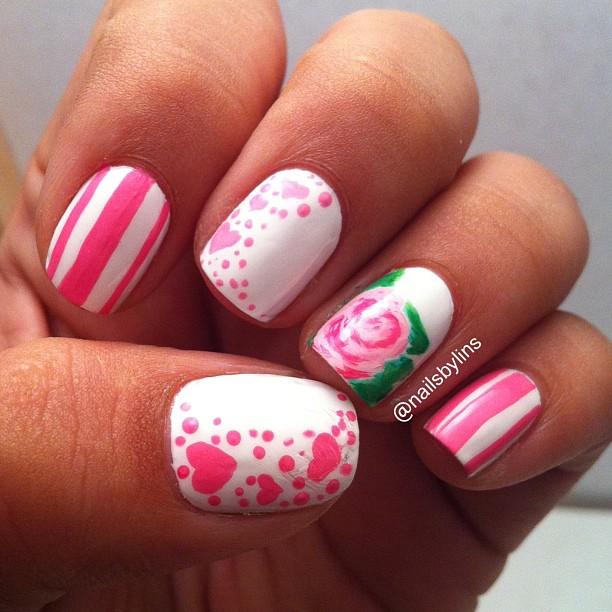 An endearing pink nail art design
You can see a variety of combinations such as pink polish in stripes, bursting hearts and flowers.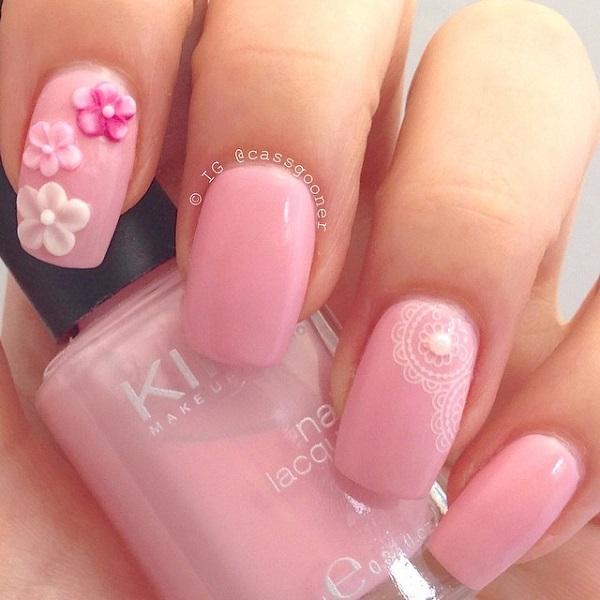 If you're a fan of baby pink polishes then this is eye candy for you, baby pink polish in matte with white lace details on top. Pink and white flowers are also placed on top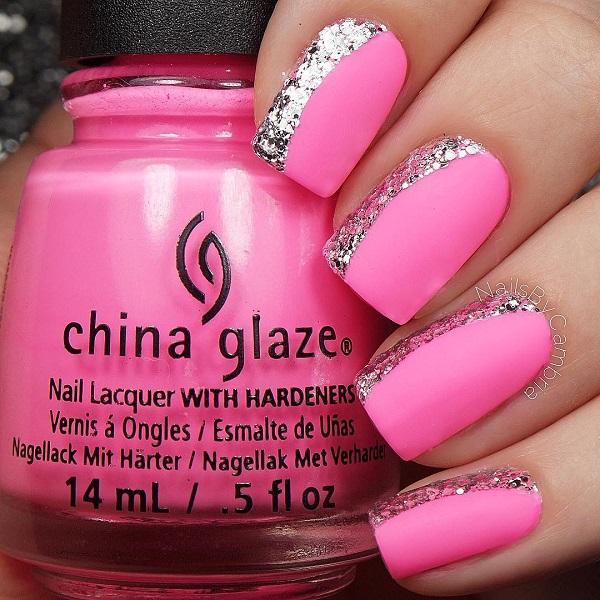 Set a statement with this hot pink nail art design. Using crumpled foil as the metallic side of the design, hot pink polish is used to intensify the look and give off a vibrant vibe from the design.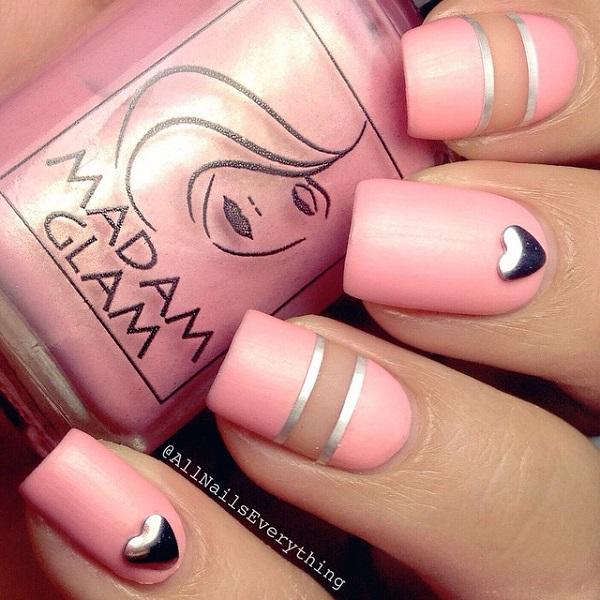 Minimum details are sometimes the best. Check out this baby pink design rocking silver metallic polish and beads.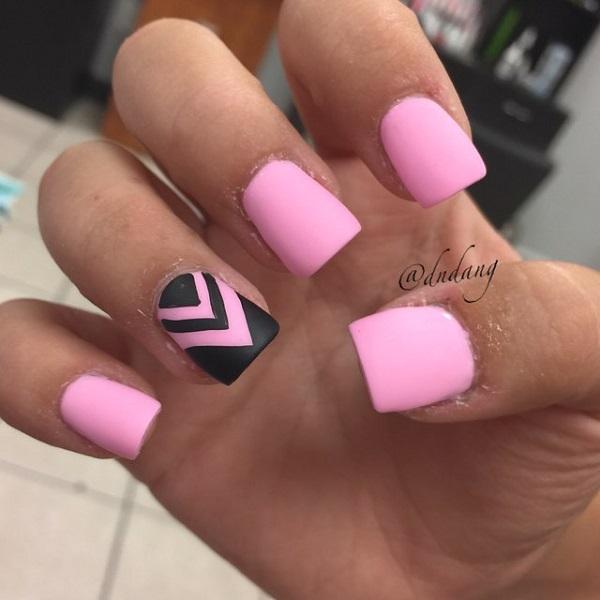 Awesome looking pink nail art design using baby pink matte polish. A lone black nail polish is painted in alternating zigzag lines to simply stand out.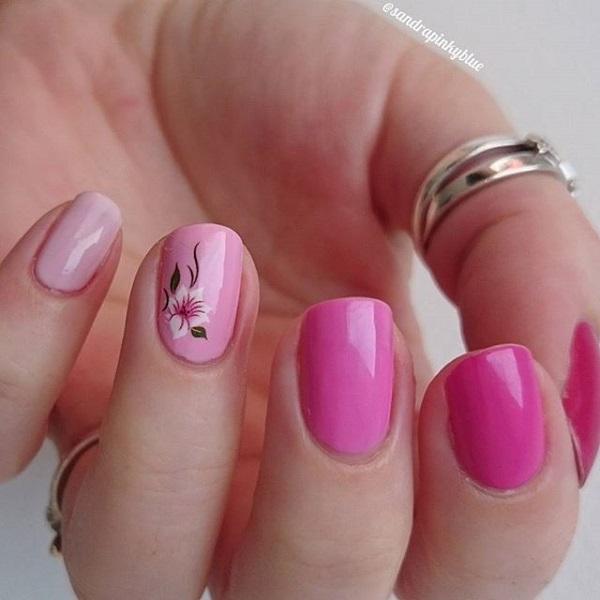 An interesting gradient inspired pink nail art design. Unlike the regular gradient nails the dark to light pink colors are painted on each nail. A small adorable pink flower is then painted on top as accent.
Nice looking gradient pink nail art design. The nail art uses pink, yellow and violet colors for the gradient. A lighter is used for the flower details on top.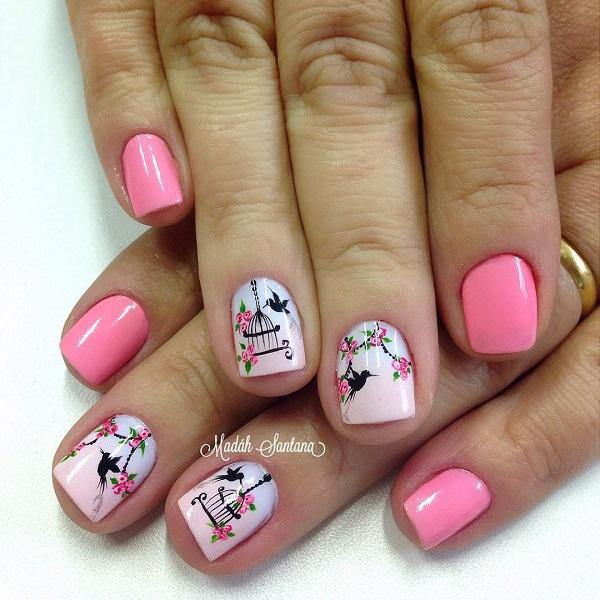 Pink nail art design with birds and birdcages. A wonderful looking pink nail art design using black polish for the bird and cage details. Pink is used as the base color and flower details with green leaves.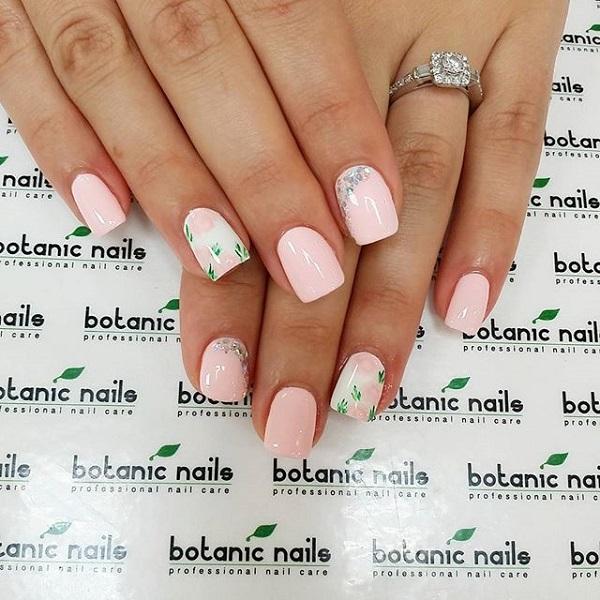 Beautiful and simple pink nail art design. Using white and light pink as base color, soft pink colors with leaves re painted on top. Silver beds are also added for accent.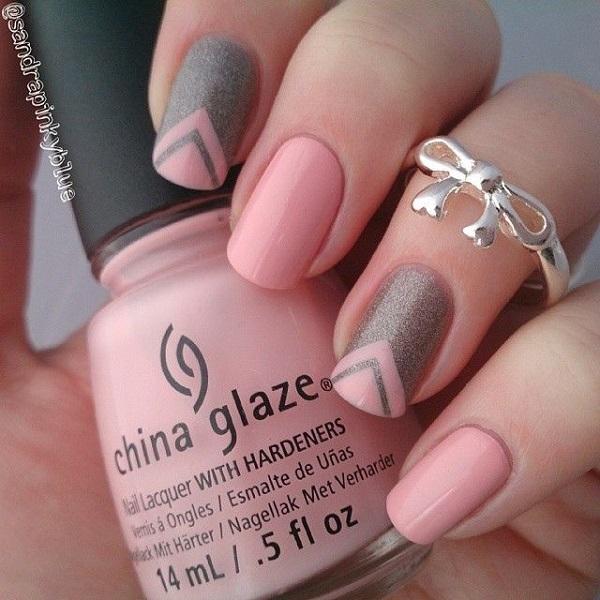 Pretty looking pink nail art design in nude color
This design uses nude pink polish as base color topped with silver glitter polish forming v-shapes are painted on top.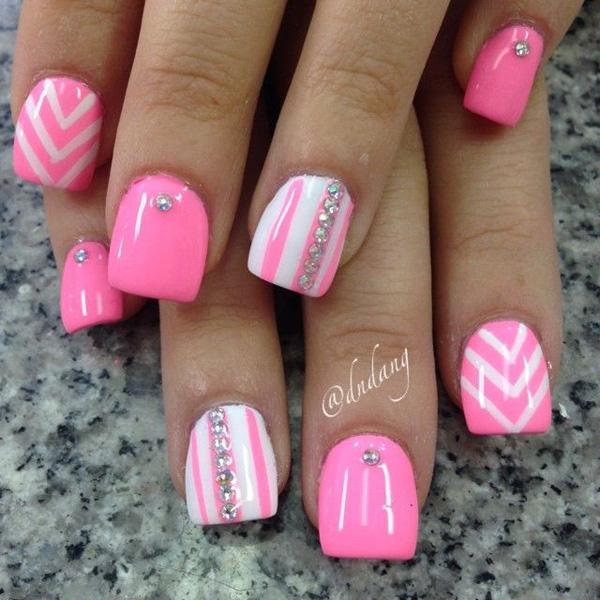 Wonderful looking stripes and zigzag pink
Using pink and white as base color, the contrasting colors are painted over the base colors as the stripes and zigzags. Additional silver beads are added on top.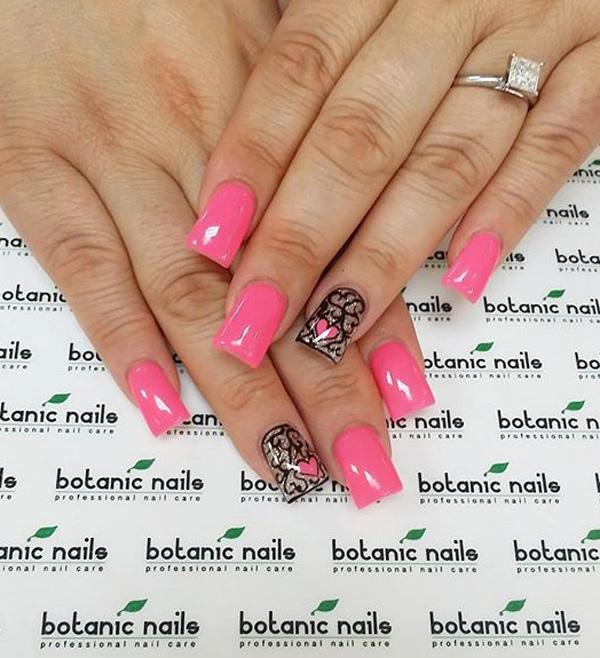 Cute and adorable looking pink nail art design. This nail art design uses pink as base color as well as clear nail polish. A cute heart detail and squiggly lines are painted on top using black nail polish.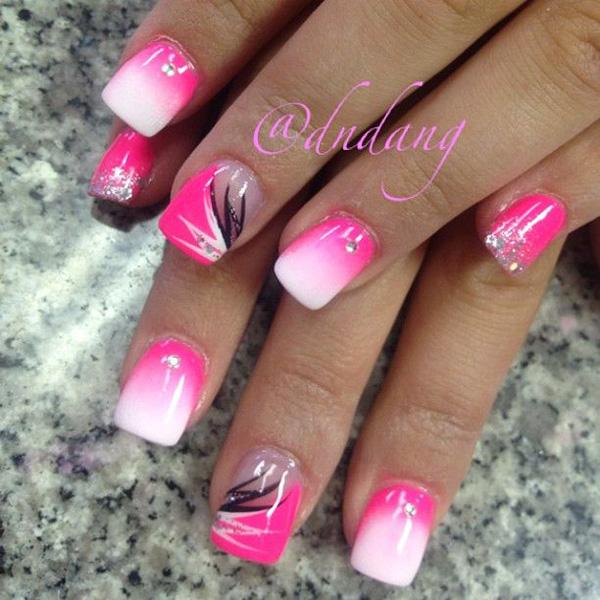 A pink themed gradient inspired nail design. Pink and white nail polishes are used to create the gradient with black and white polish on top for the details.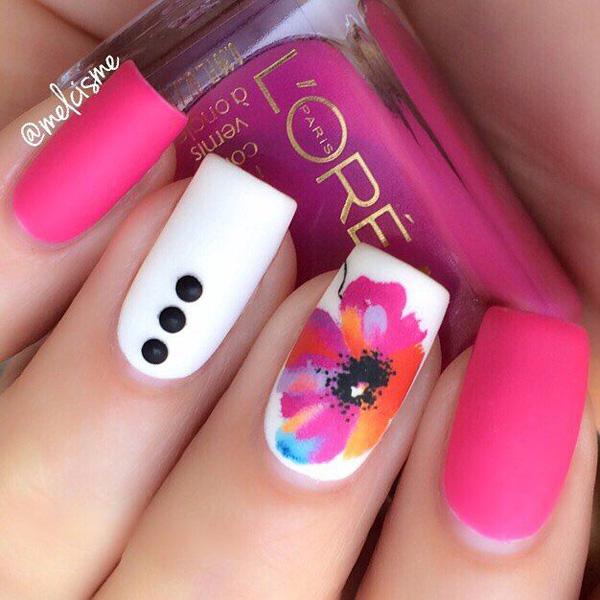 An out of the box pink nail art design. A variety of interesting colors are used for this nail art design with pink and white as the primary base colors. Fun looking designs such as buttons and a flower is also added.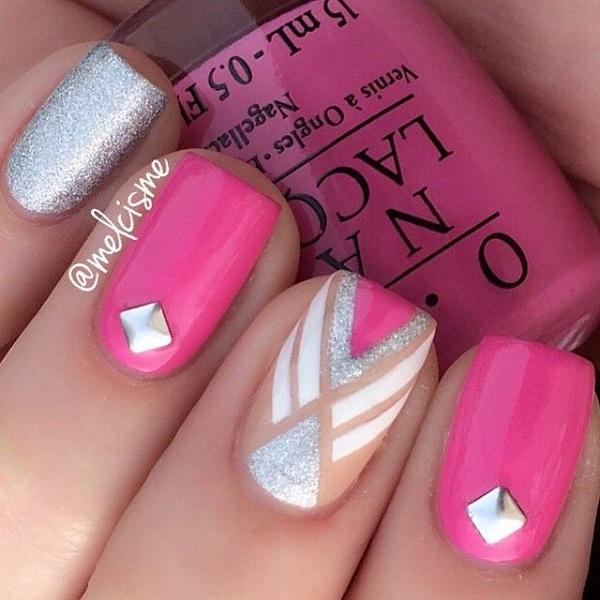 A modern looking pink nail art design. This design uses pink, white and silver glitter polishes for the detail shapes. A silver bead is also added as accent on top.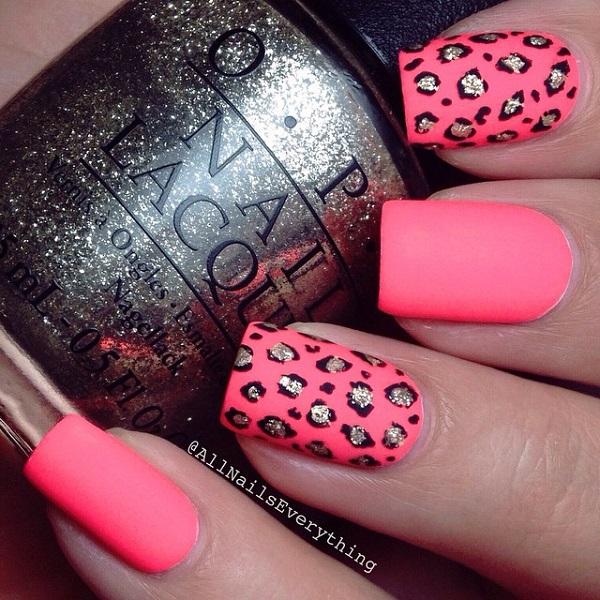 Matte pink and leopard inspired nail art design. The leopard prints are further painted in silver glitter polish and outlined by black polish too stand out.
A pink nail art design with a summer feels to it. Additional colors such as yellow, orange and green are added to the gradient as well as on the flower details. White polish is used as base coat.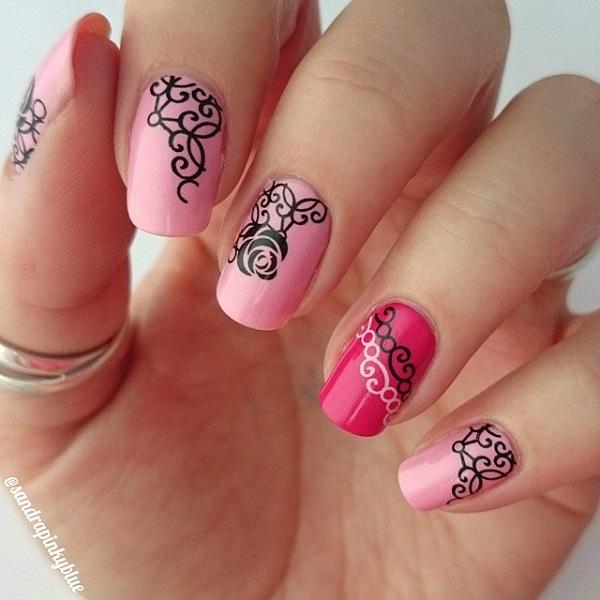 A wonderful looking pink nail art design, Baby pink and salmon pink colors are used as base with black colored details on top forming a rose. White polish is also used for additional details.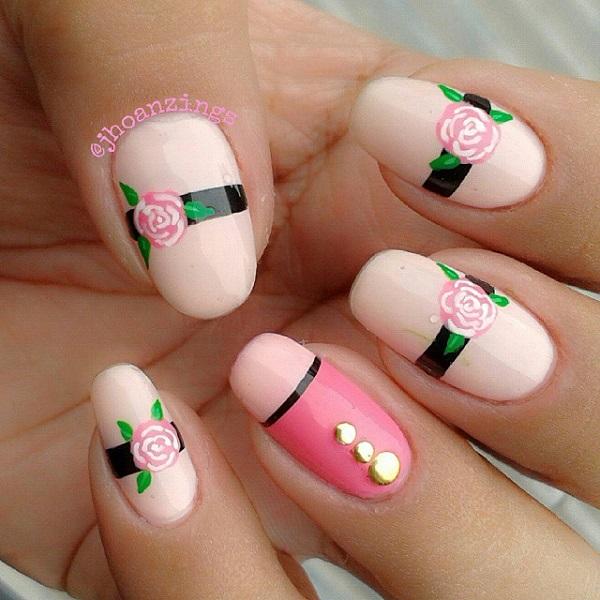 This is a very cute looking baby pink nail art design. A darker shade of pink polish is also used as well as black for the horizontal lines across the nails. Pink roses are painted on top with additional gold beads.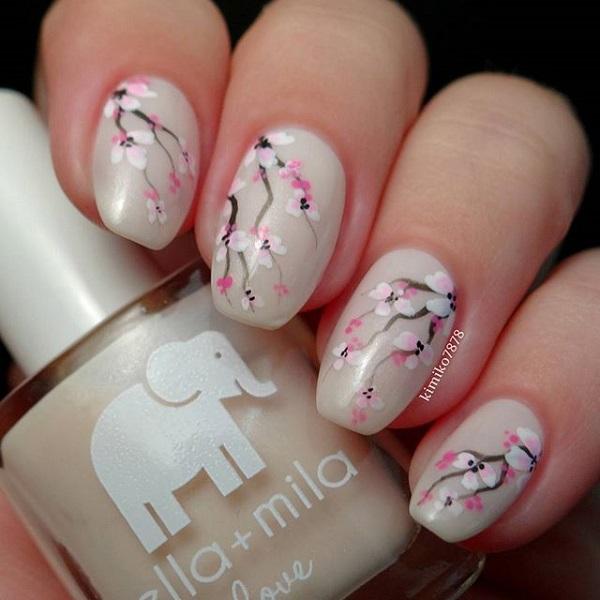 Cherry blossom inspired pink nail art design. A pearl colored polish is used as base while branches of the cherry tree are painted in brown. The blossoms themselves are painted in pink and white polish.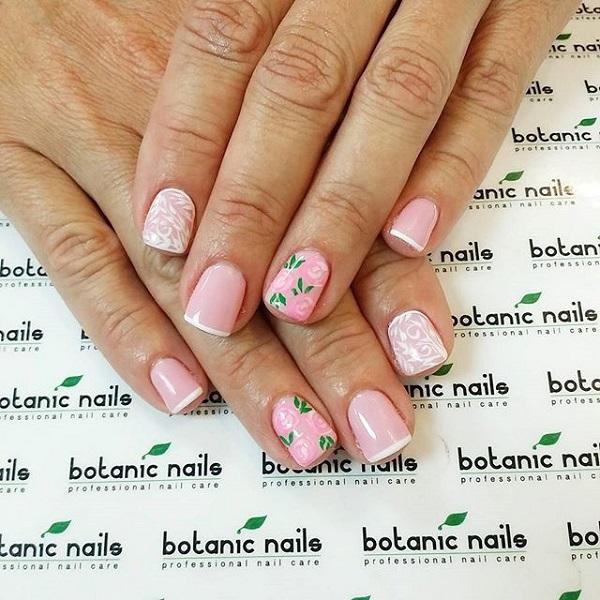 Pink nail art design in white French tips. The design also has white abstract shapes added on top as well as roses and leaves.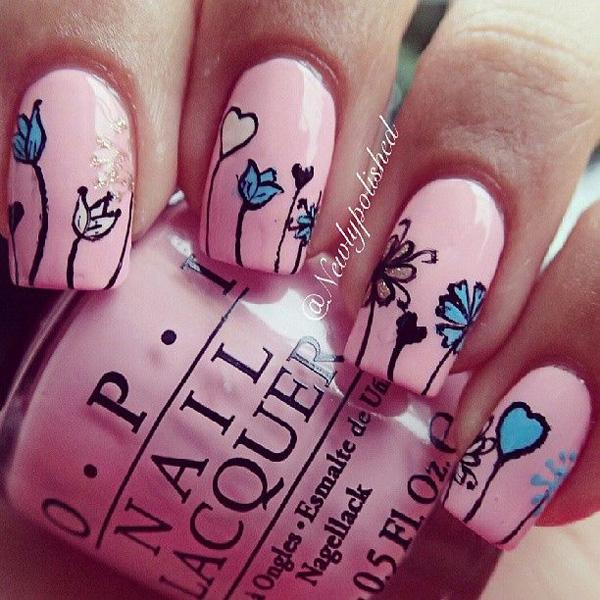 Simple yet cute looking pink nail art design. The base color used for this design is pink with black polish for the outlines. White and blue colors are used for the flowers.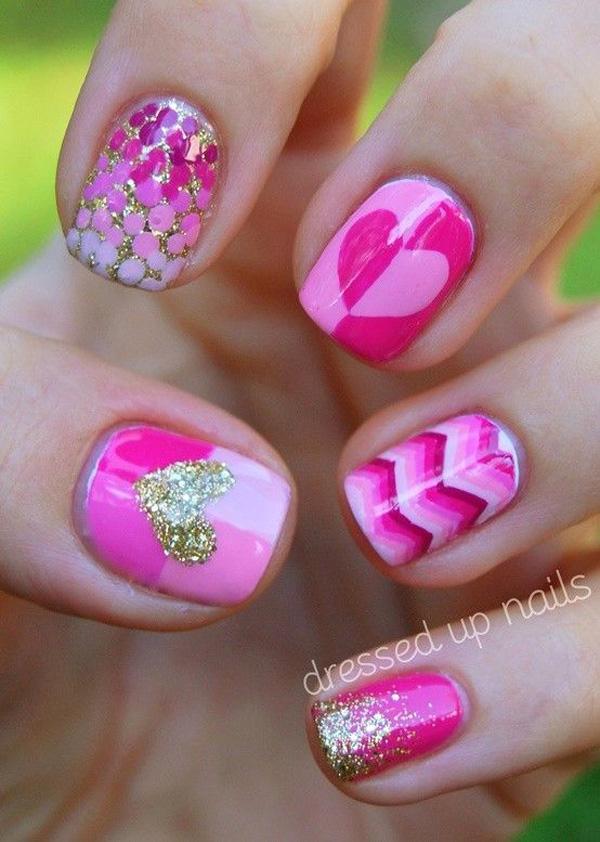 A very creative and gun looking pink nail art design. The design uses shades of pink in light to dark as well as gold glitter polish, the heart, zigzag and lined effect look great with the color combinations.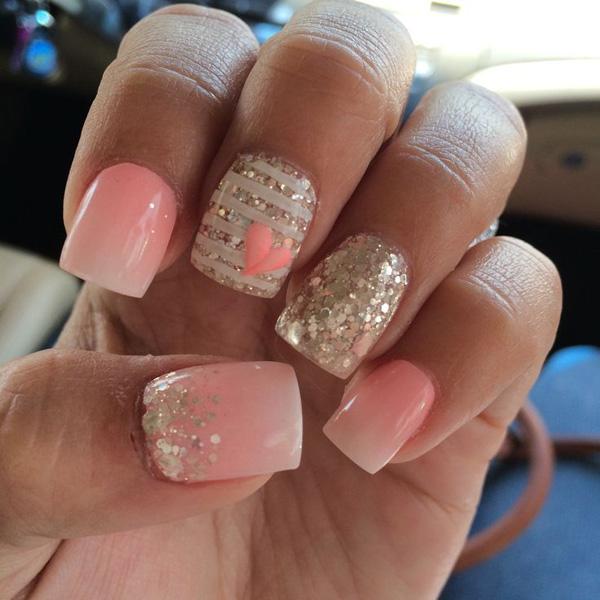 Wonderful looking nail art design in melon polish. White polish is used as base as well as the second color for the gradient effect. Silver and white sequins are also added on top plus a heart.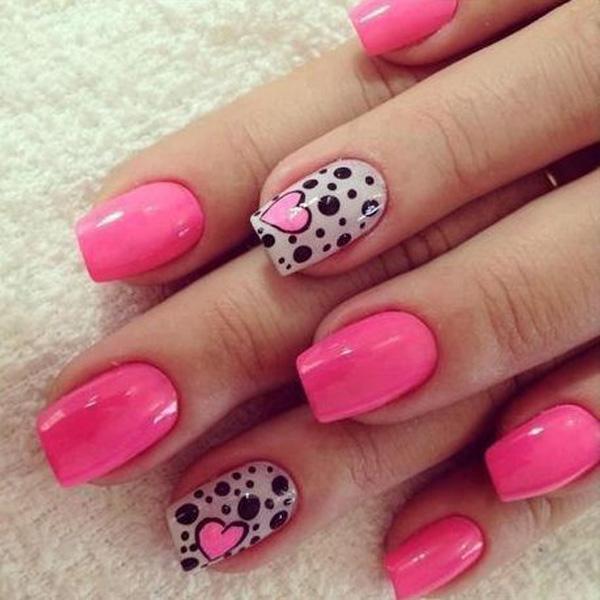 Polka dot and heart themed pink nail art design. Pink and white are used as base colors while black polish is used for the polka dots and details.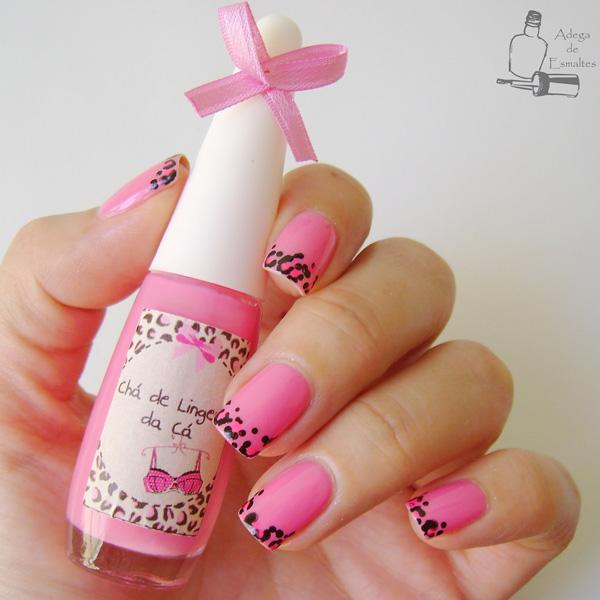 Leopard print French tips in pink shade. A very cute looking nail art design that plays on with the color pink. Black polish is also used for shaping the prints.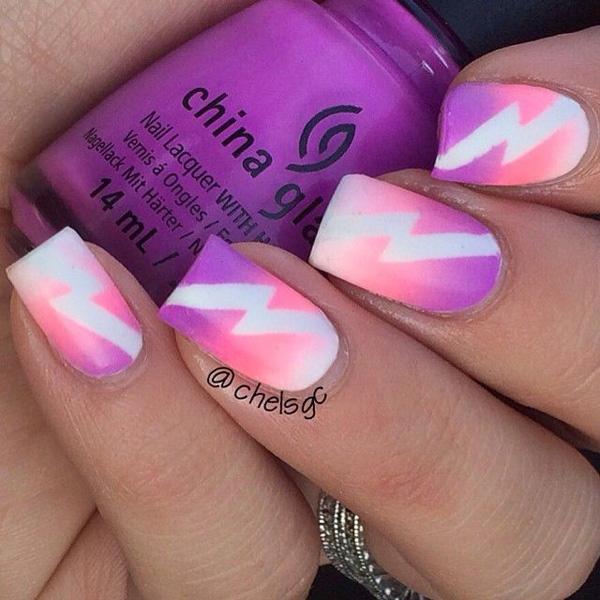 Pink and violet gradient nail art design. To make the design pop out more, a white nail polish is used to draw over a thick zigzag line across the gradient.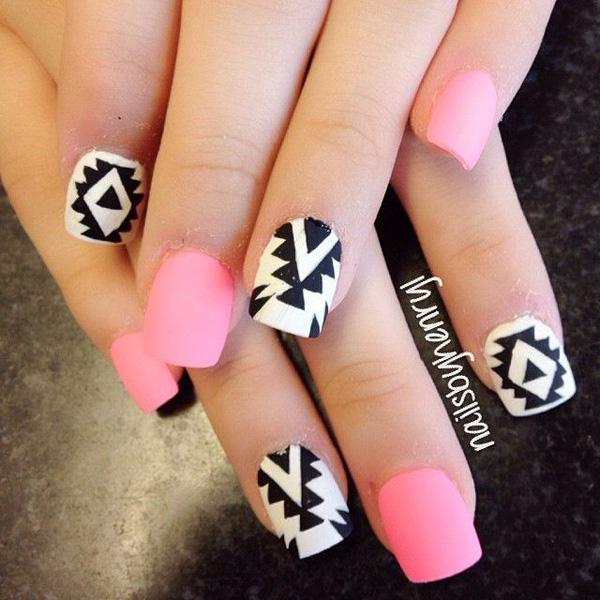 Tribal themes white and pink nail art design. This design uses white and pink as base colors. On top the tribal designs are painted with black polish.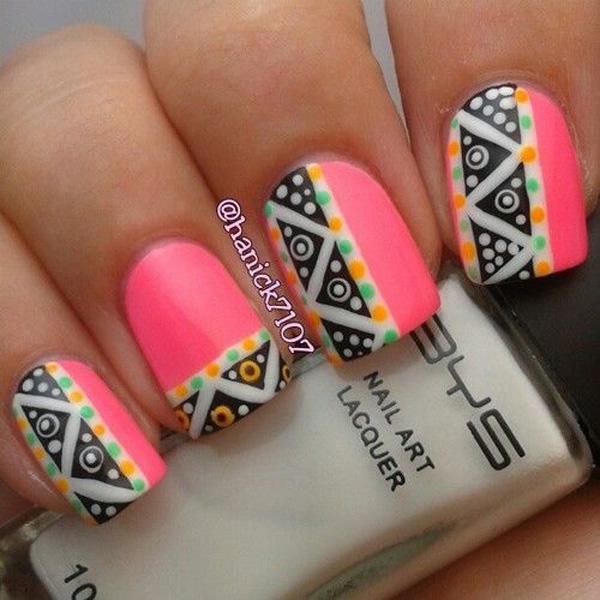 Fun with tribal designs using pink nail polish. The base color of the design is pink while black, white, green and orange are used to paint the details on top.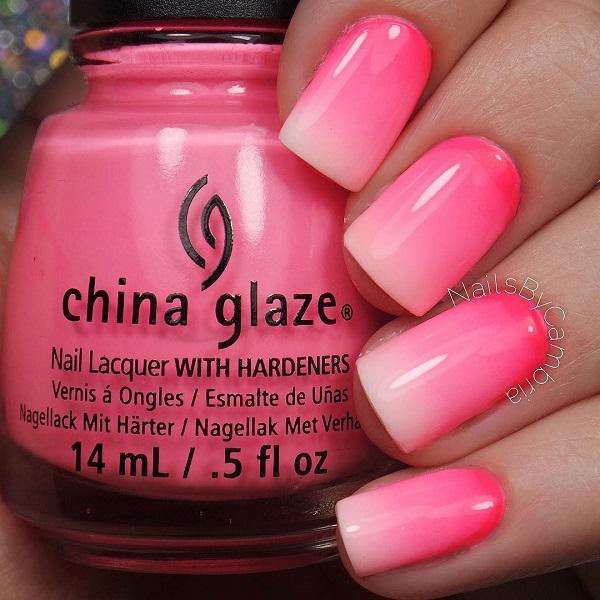 Beautiful pink gradient nail art design. Always go to the classic clean looking gradient and which will definitely match just about any outfit that you wear.