If you desire gorgeous and stylish nails, you are not bound to repeat "classic" of the past. To be a classy trendsetter of nail art, it's absolutely necessary to be in touch with new ideas or designs. To make your style in high standard, stay seasonal from hairstyle, outfit to manicure. And You will need a creative eye and be knowledgeable of essentials.
Nail shapes
Almond shape for nails is still the absolute hot, especially among the younger generation. Since entered on the big door in the world of manicure, its popularity has not diminished. Whether the nails are shorter or longer, with this shape will be extremely modern.
The oval and square fingernails are superfluous because they are classic in the world of manicure. With this form there is no mistake, you only have to choose the shape that best suits your fingers and the shape of the nail plate.
How to make nails healthy
If you upgrade nails every month, make a break between two upgrades for at least a week. And during this time, treat your nails with protective and nutritious creams. In this way, regardless of constant filing, the nail will remain strong and healthy.
Keratin is integral part of hair and nails. If the body produces more keratin, the nails will be healthier and stronger. Milk is rich in calcium, proteins, vitamin D and biotin, and will greatly contribute to healthy nails and hair. Lack of iron could result in brittle nails. But you can complement the element from eggs which contain biotin and iron. Foods rich in vitamin A will make nails less dry. Drink as much water as possible to keep hydration for nails.
Green leafy vegetables contain vitamins A and C. Eat cloves and spinach. Vitamin C helps absorption of iron in the body. Vitamin A accelerates hair growth, and vitamin C is good for the health of the skin of head.
Trending nail art ideas
The black color is back in a big way in the fashion world. Black eye shadow, dark lipstick or black lacquer nails are details which are absolute hot. Black nails do not mean to paint the whole nails in black, but partial. Or simply decorate your nails with black details like rhinestones, dots, black stickers, which definitely make your nails look modern.
Your nails will look trendy if the root of your nails is painted in different color rather than the one dominant in your manicure. Golden glitter varnish or gel is very nice addition to make nails better and more attractive.
French manicure is evergreen and classic nail idea in the world of manicures, which always looks nice with almost any outfits. This spring you can refresh your manicure with as cheerful color as you can, instead of light monochromatic. Embellish nails with rhinestones, silver line between the upper and lower manicure colors.
Neutral or nude colors are gentle. Your hands will look very gently and cared with this style. The soft shades are simply classy, and easy to combine with any outfit.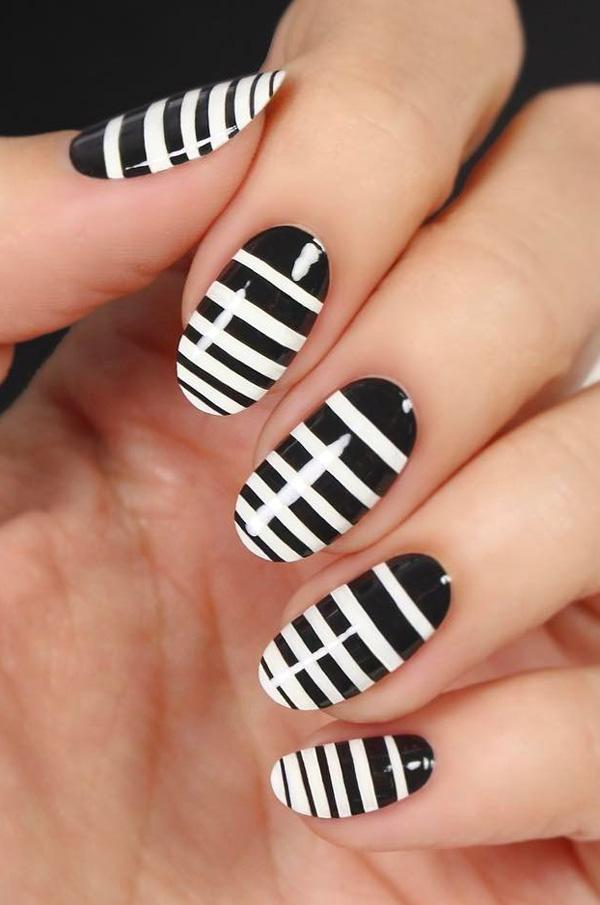 This spring you can feel free to combine those different colors with various geometric shapes or stripes.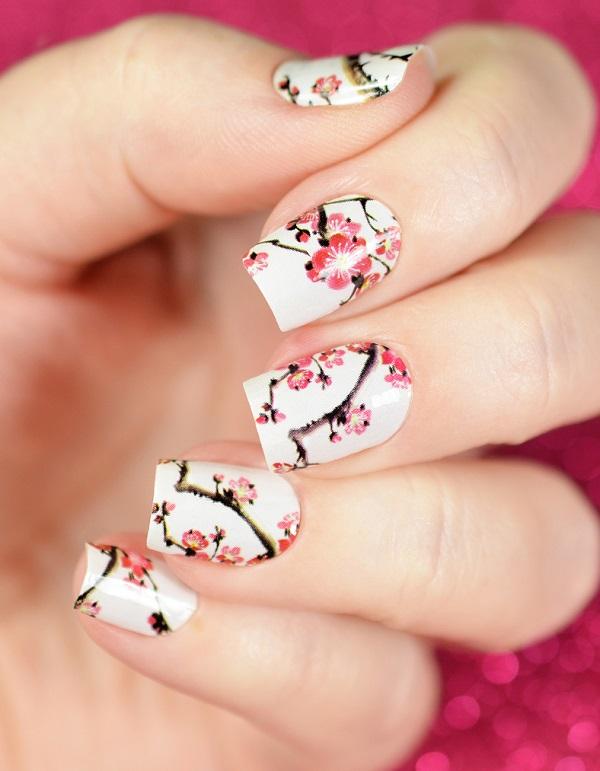 Cherry blossom nails
Spring manicure, very delicate details like flowering branches are very pleasing.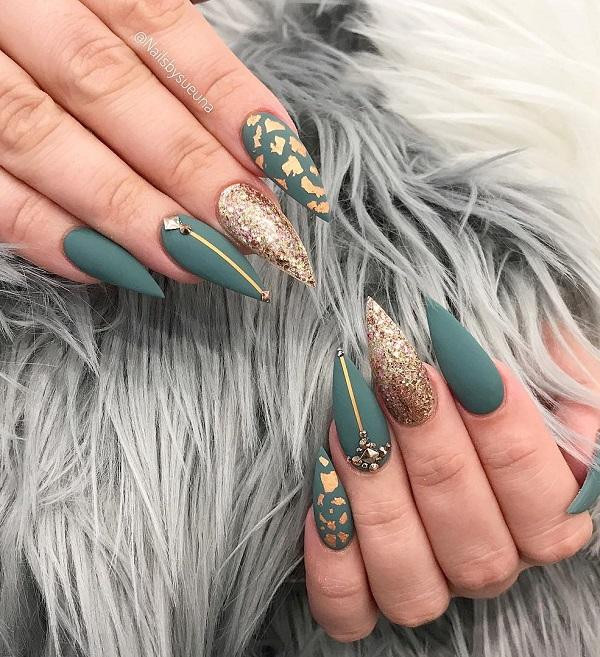 If you want sexy and desirable, this manicure is the right choice. No one will remain indifferent.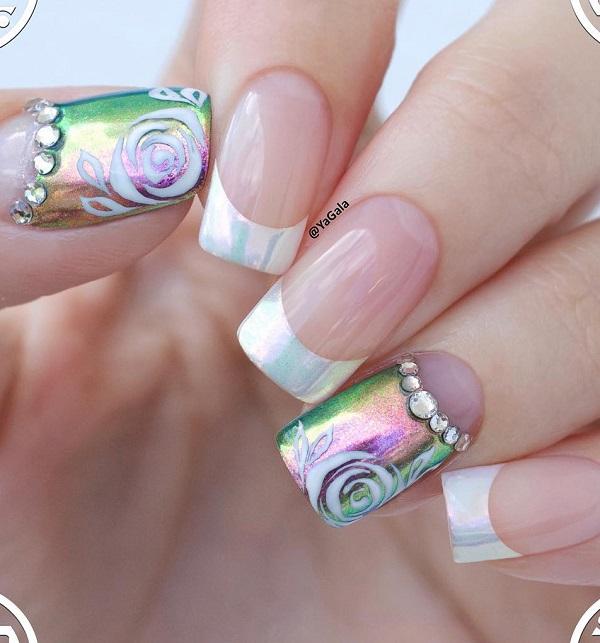 The metallic-colored nails broke the monotony of the French nail tips. As for metallic shades, they remain to dominate on the fashion trend. The style will effectively make you more glamorous, but at the same time some rebellious.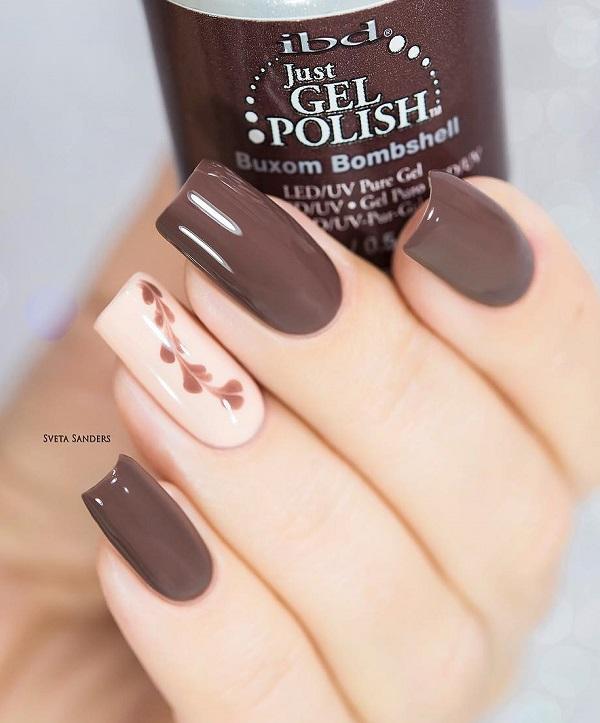 Earth tones like brown and beige have not been out of fashion for years. They are popular, trendy and easy to combine with wardrobe and makeup.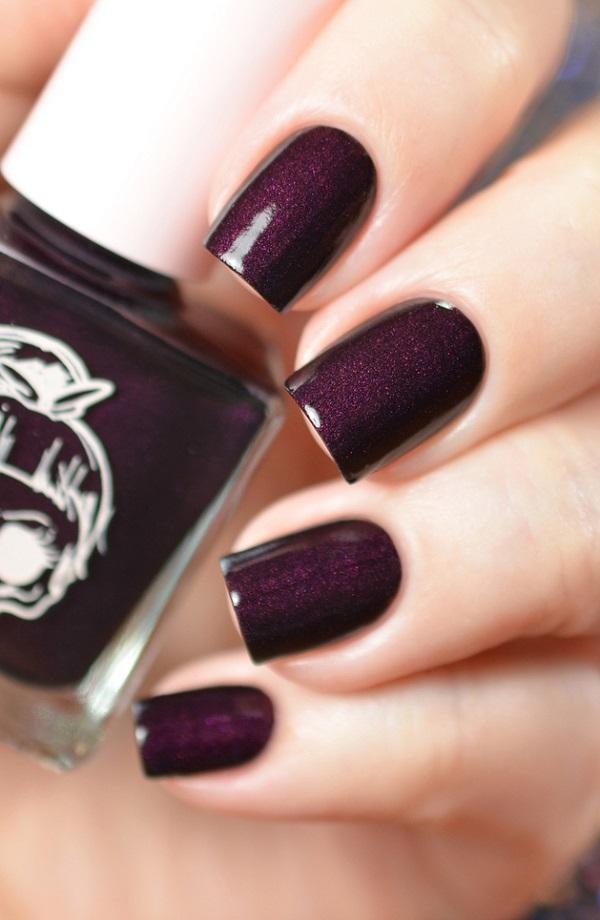 With such short nails you will do all the activities very easily.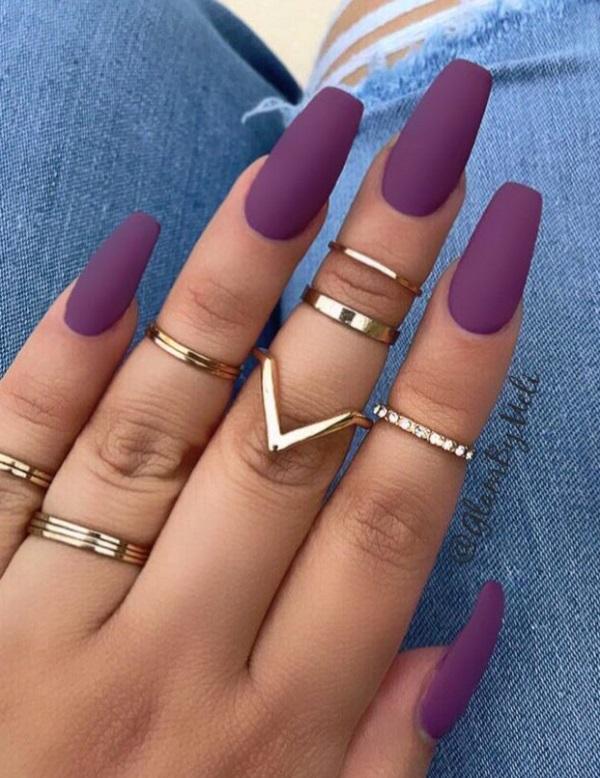 Brown coffin nail ideas
Monochrome matte manicure looks very rich thanks to numerous golden rings.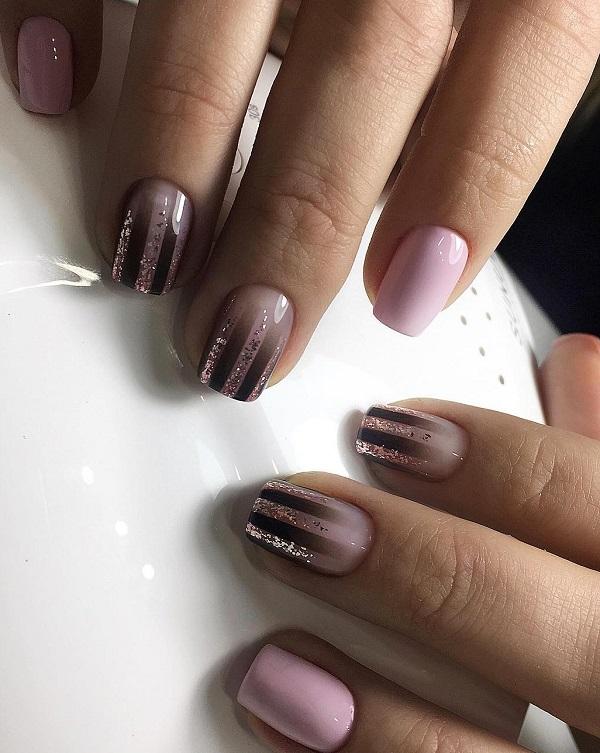 And short nails can be remarkably sharpened. There is almost no warderobe with which this manicure will not go well.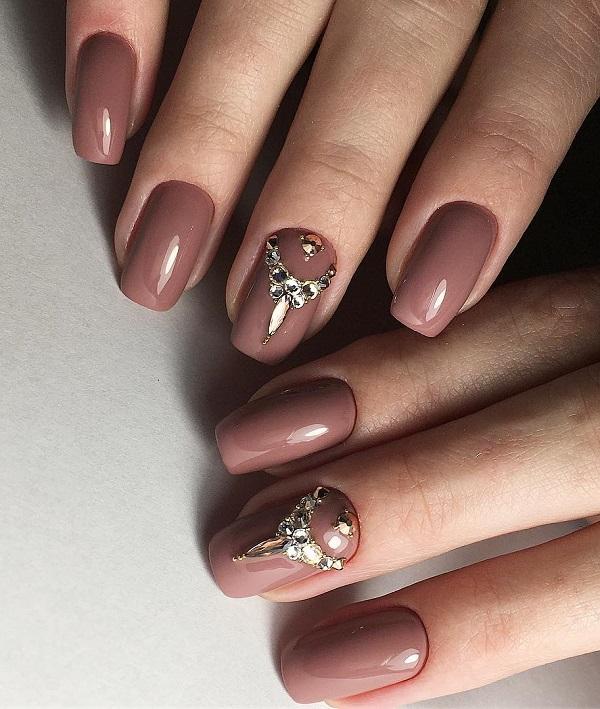 Ladies with style will not bypass this manicure.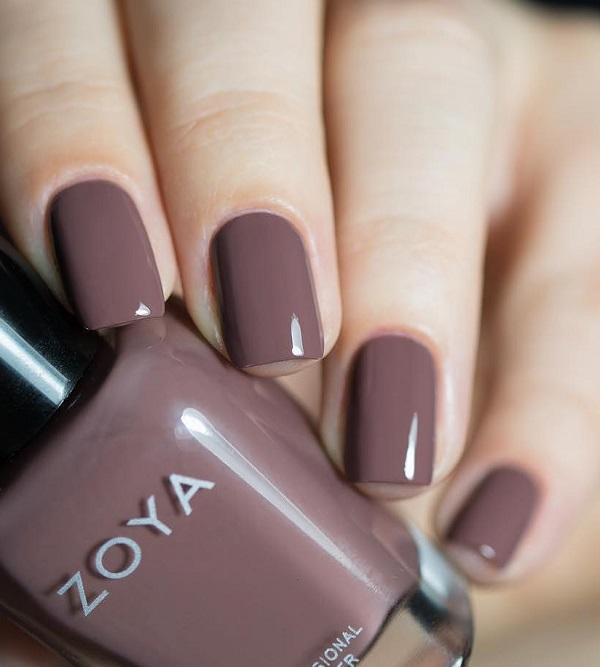 One of the most famous brands of nail polish is Zoya. These lacquers do not contain formaldehyde, formaldehyde wafer, dibutyl phthalate, camphor and toluene.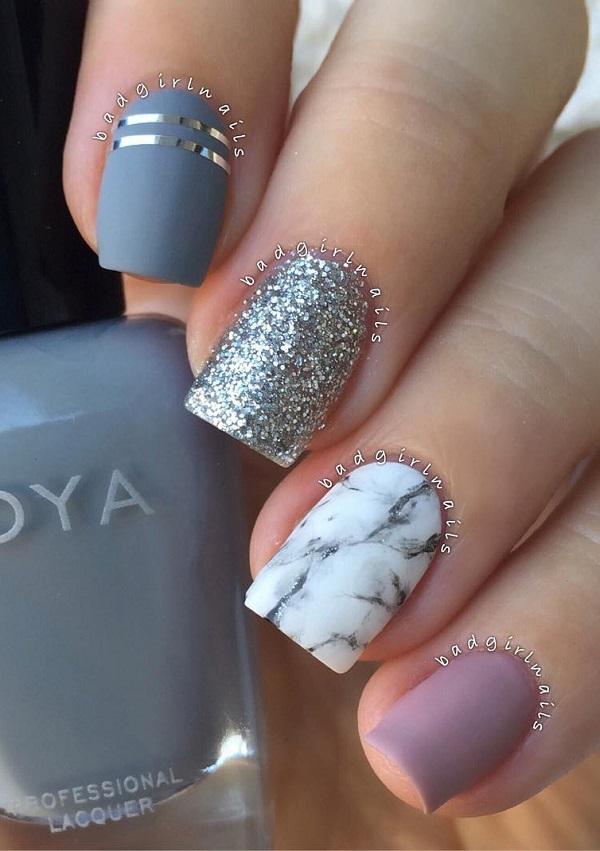 Zoya nail polishes do not contain harmful substances and pregnant women can freely use them.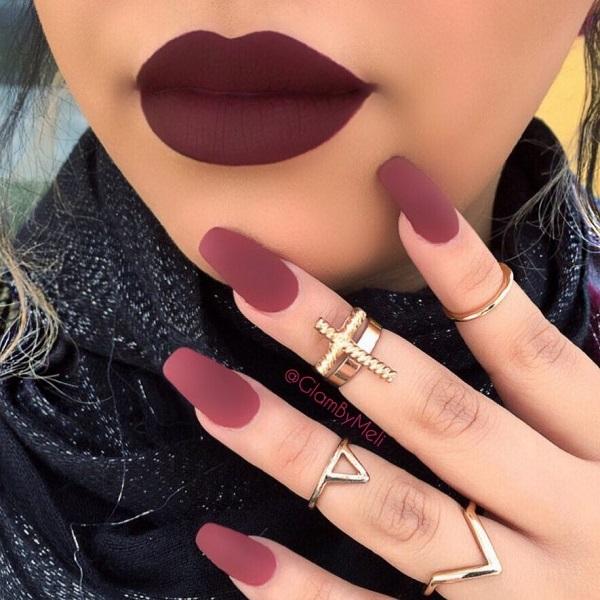 One more example of how effective jewelry affects the visual experience of manicure.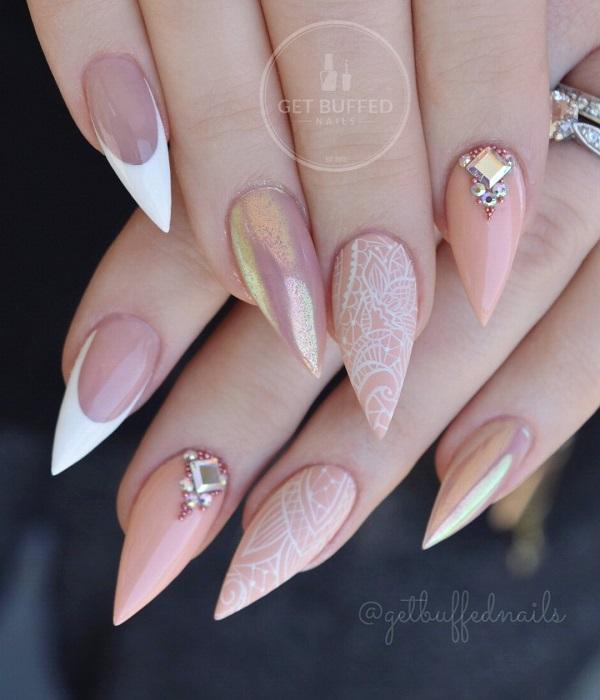 Almond shaped nails are very sensual and provocative. Combine different styles in painting, freely combine classic French manicure with metallic shades, zircons and Indian patterns.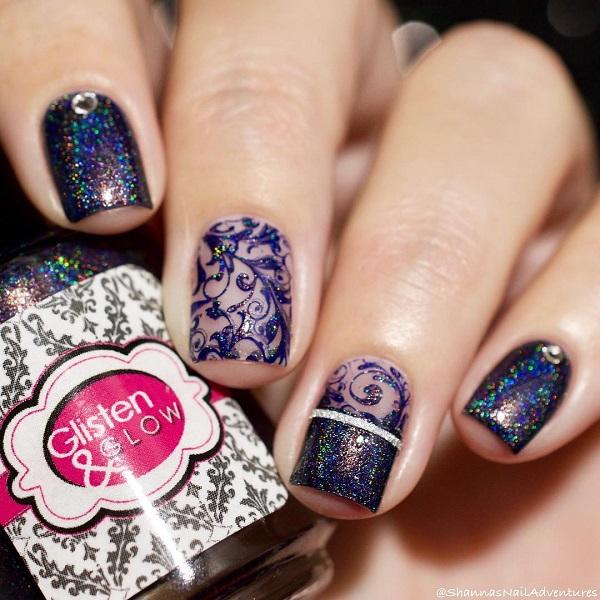 If you are a fan and Glisten & Glow you have no reason to worry. This brand offers everything from nail polishes, to balms for cuticle, nail and hand care products. They have a wide range of quality products that you can see on their site.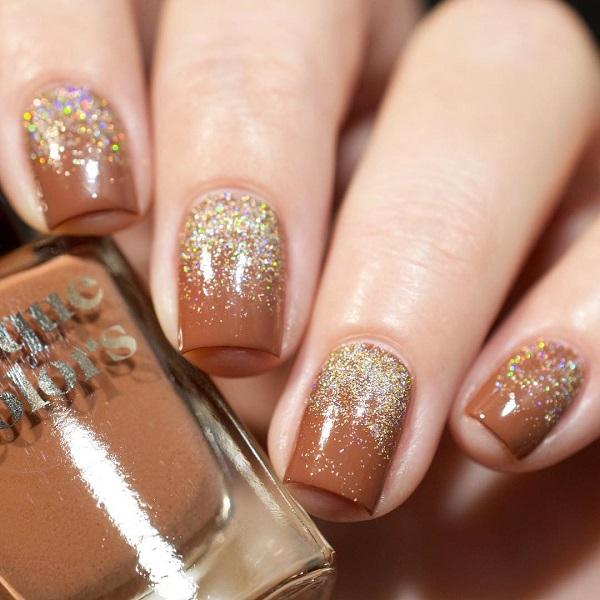 The shine and rhinestones enriches everything so the manicure. If you are indecisive and do not know which pattern to draw on your nails, simply sprinkle the jewels and it will be quite enough.
Flower details are especially popular during spring and summer.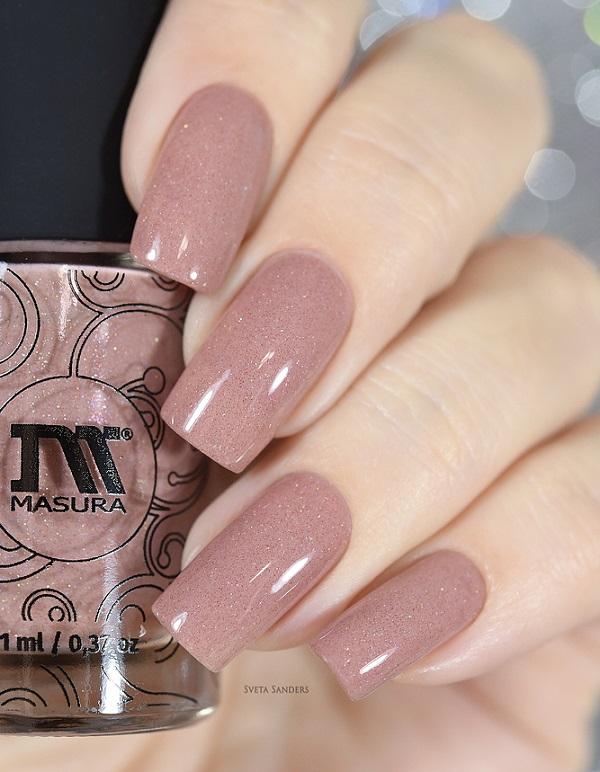 Very femine manicure, the color is gentle and the diamond glow makes it very luxurious.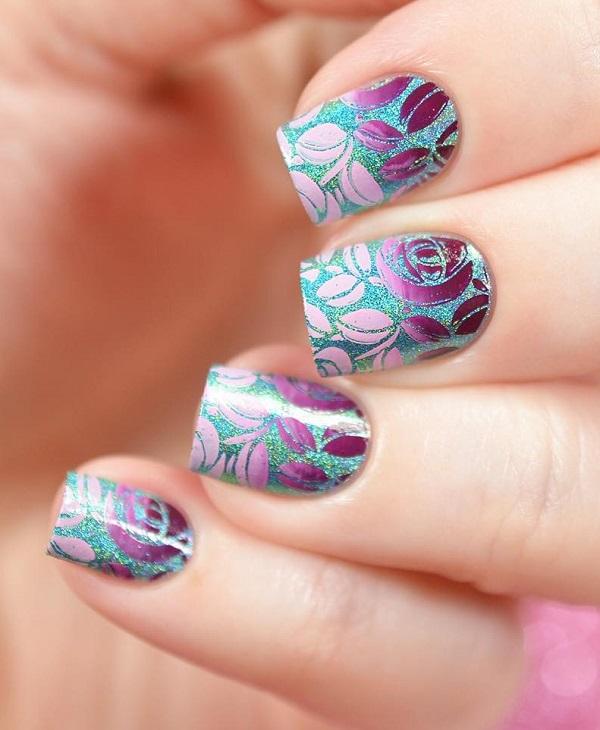 Blue and pink combinations can be performed in various ways, childish, gentle but also very classical and feminine.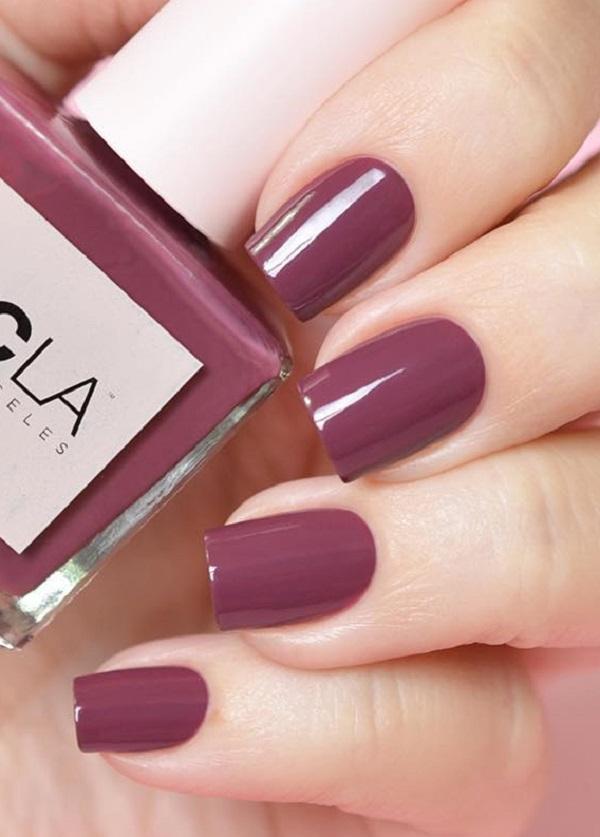 If you do not have time to color your nails every third evening, choose a gel nail polish that varies in UV lamps and lasts up to three weeks.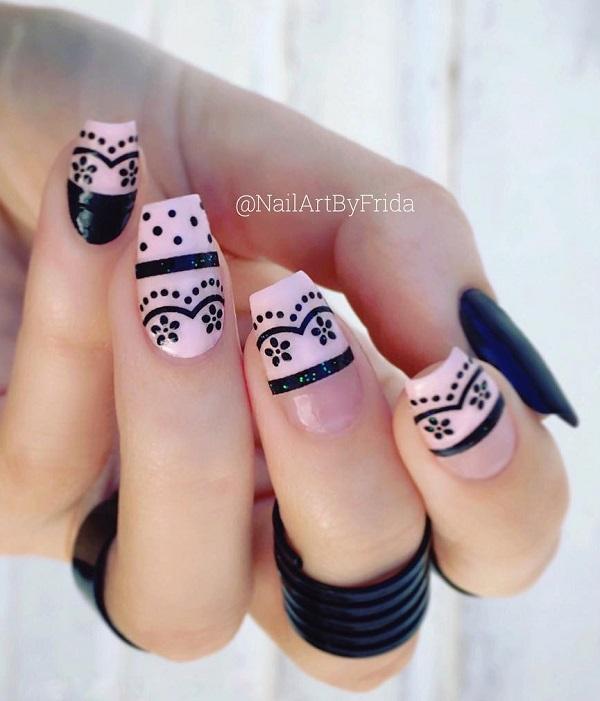 The black and white combination is evergreen in every aspect of fashion.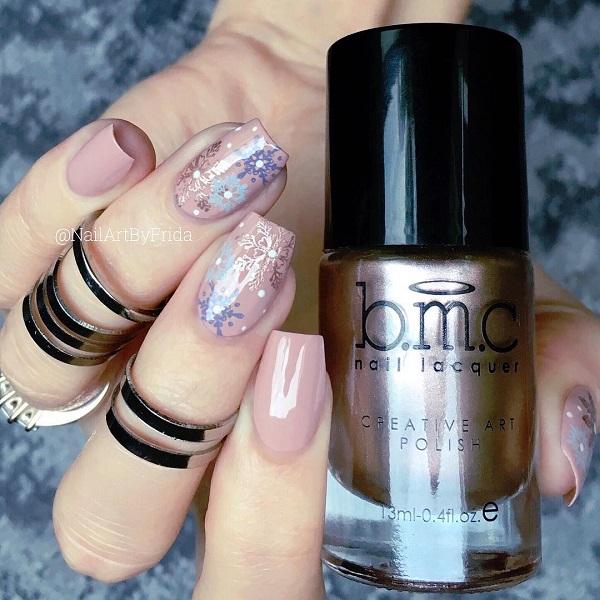 Beige tones stand well to everybody, and they are very gentle. Thanks to them, hands look very nurtured.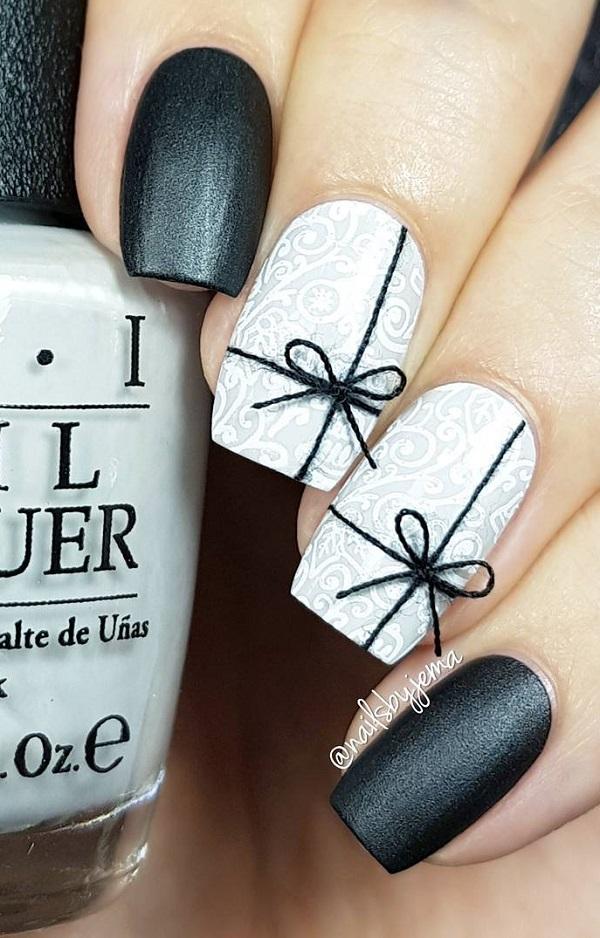 Black and white nails with swirling pattern
Here's another sophisticated way to combine black and white.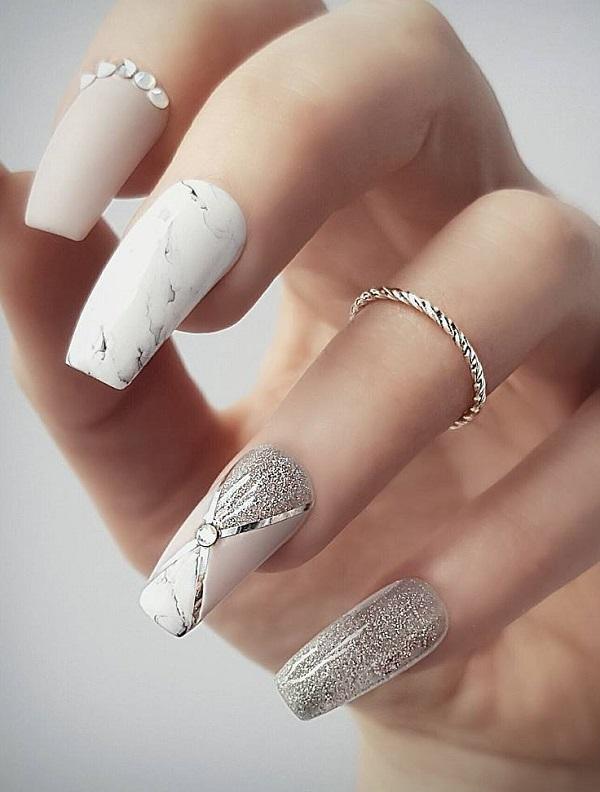 Marble and metallic nail ideas
Manicure with marble effect has gained many fans among the members of the more beautiful sex.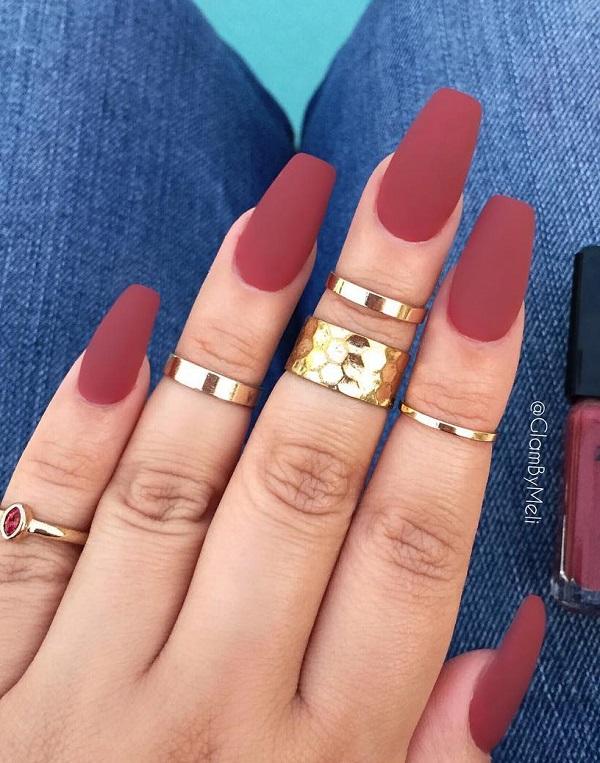 Complete the glamorous look of red matte nails with an effective gold ring.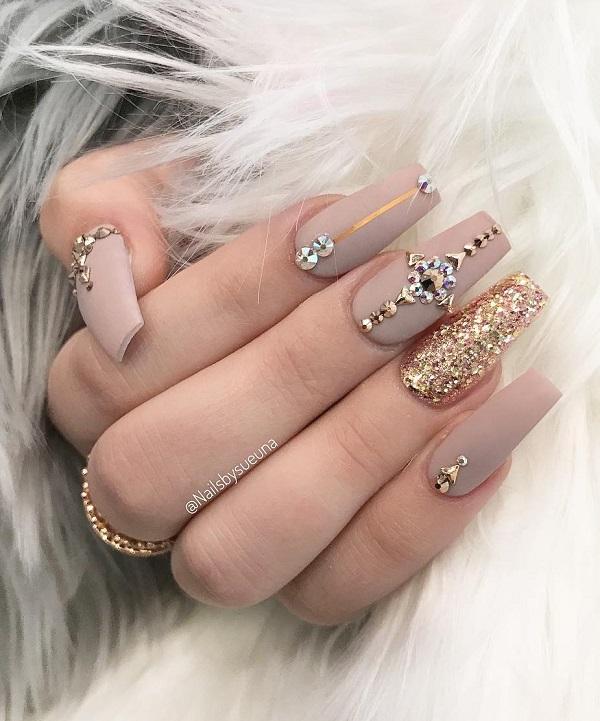 Gold tones and rhinestones look very luxurious and powerful with whatever color to combine.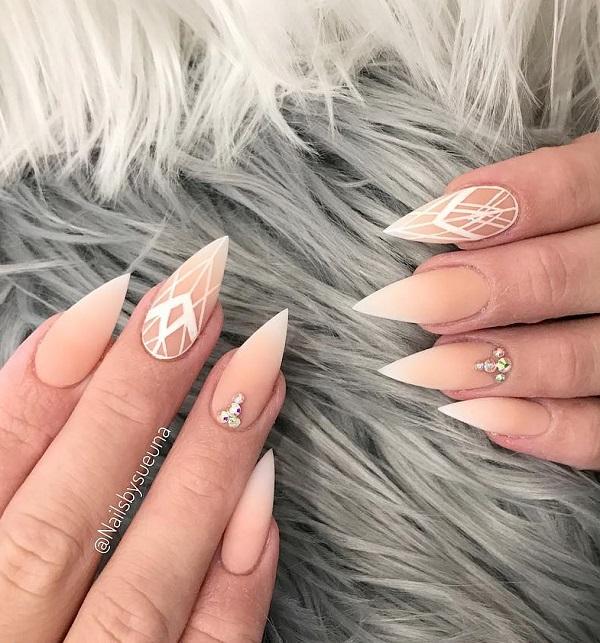 Very gentle, almost imperceptible ombre. Its popularity is the same today as the first time when appeared.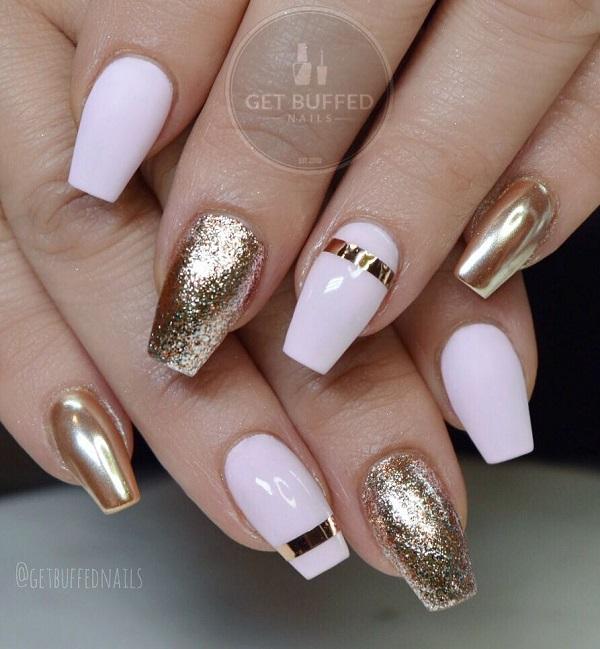 Golden nails are a modern solution for a luxurious manicure. This color is synonym for wealth and luxury. It leaves no one indifferent. The golden color looks very nice in autumn and winter months, but be free to take it whenever you want to look elegant.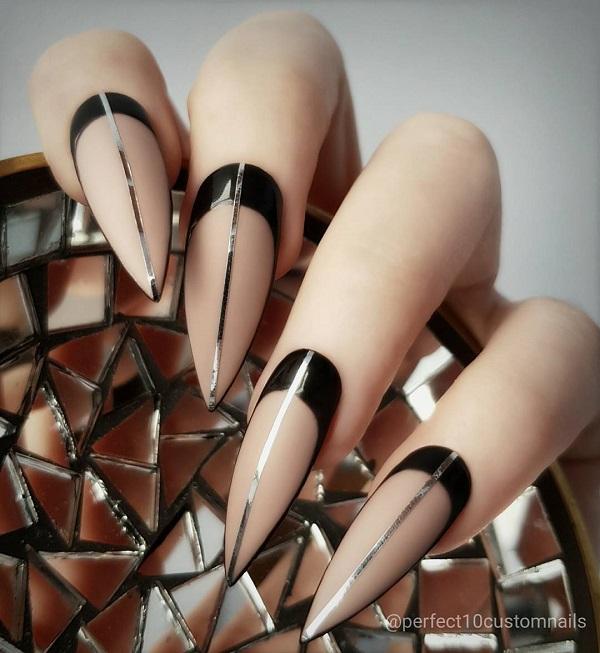 Black is a temperamental shade that will highlight your individualism.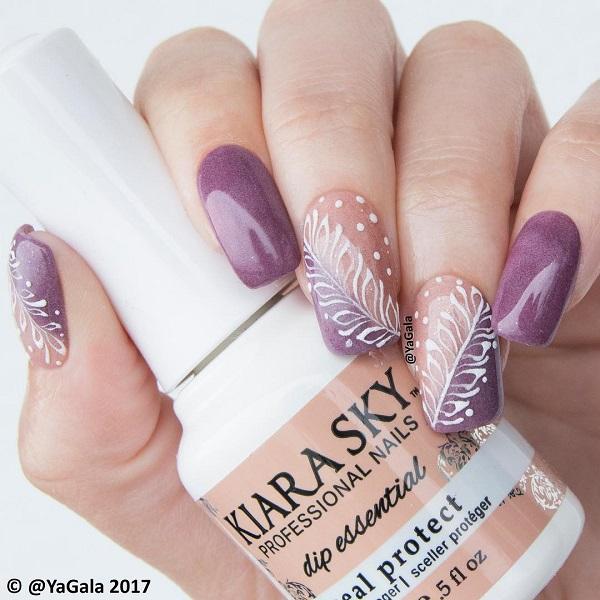 Dots are the old all-knowing way to decorate your nails.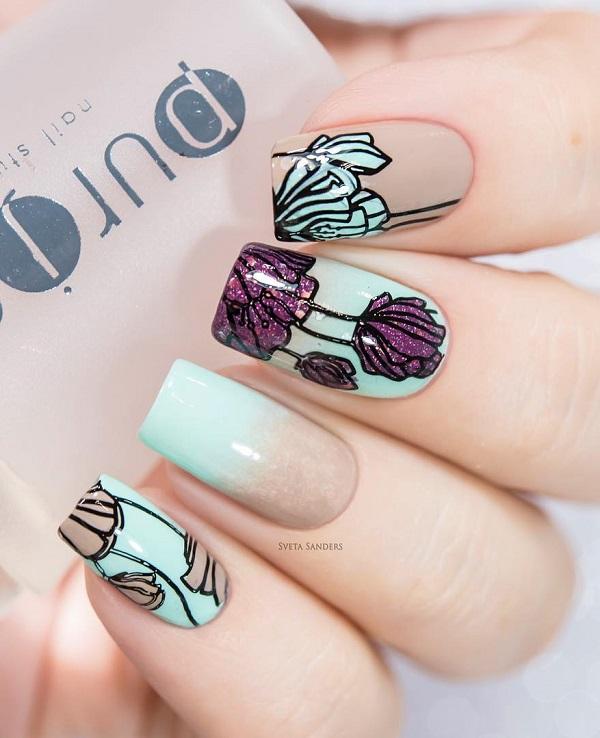 Gentle colors that spill over into each other. Very skillfully made manicure with effective pattern.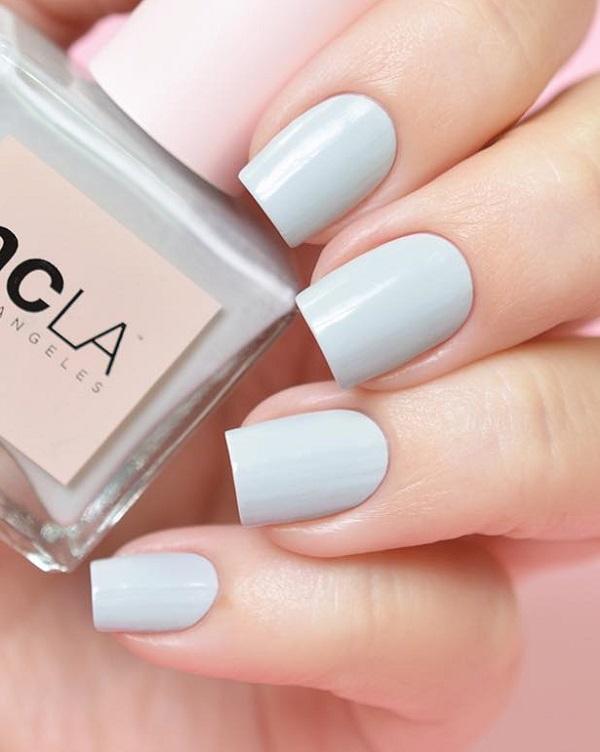 The white polish is sensational and chic. When you are saturated with strong and pastel shades, choose white color.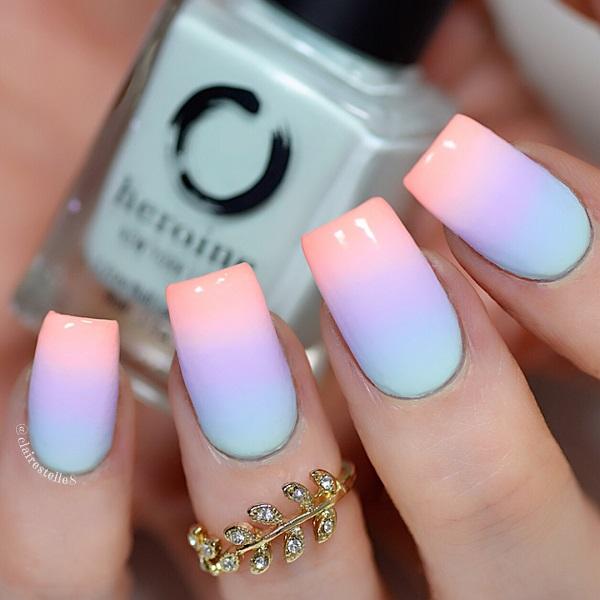 Neon colors emphasize tanned skin and stand nicely on any length of nail.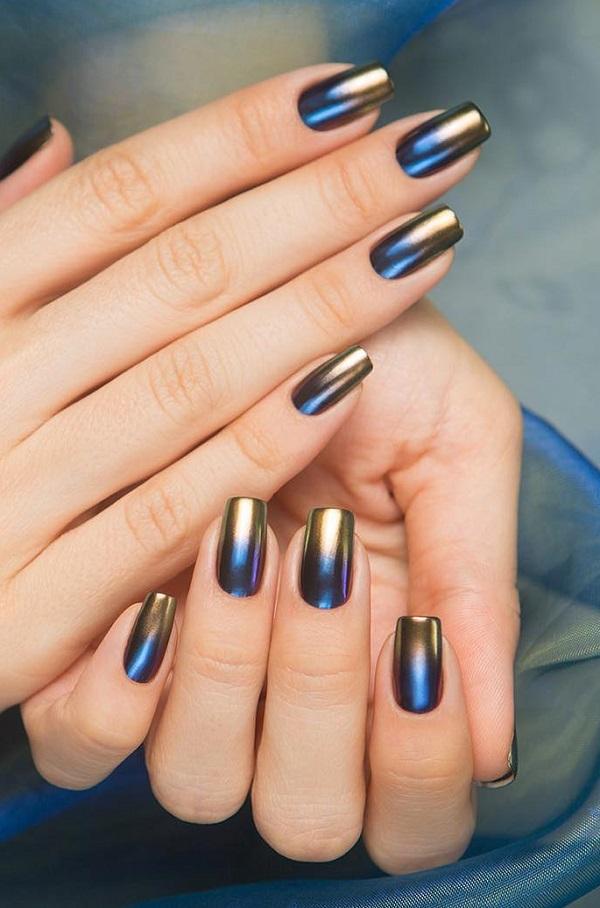 You can get metallic manicures in many ways. You can choose between the nail polish in these colors, and some metallic nail films.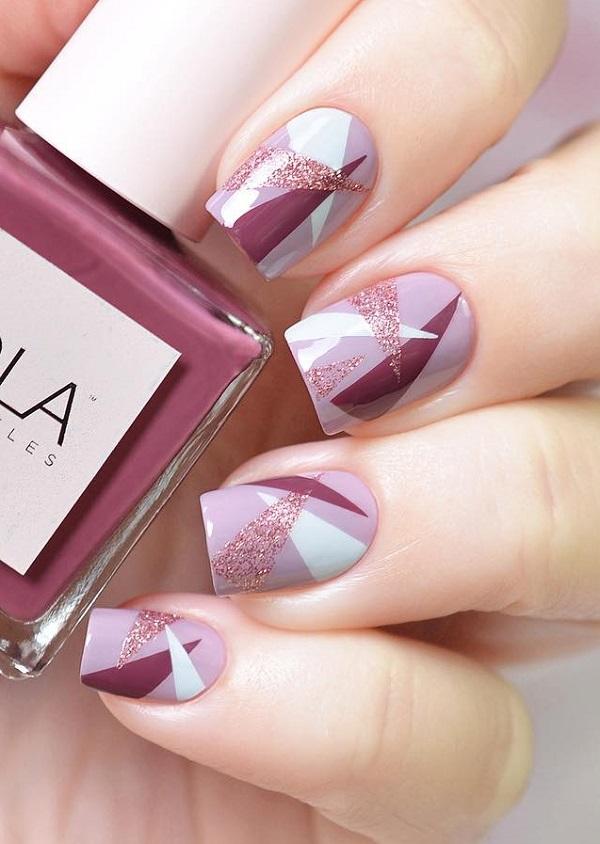 You can get a very elegant manicure with a combination of different shades of one color.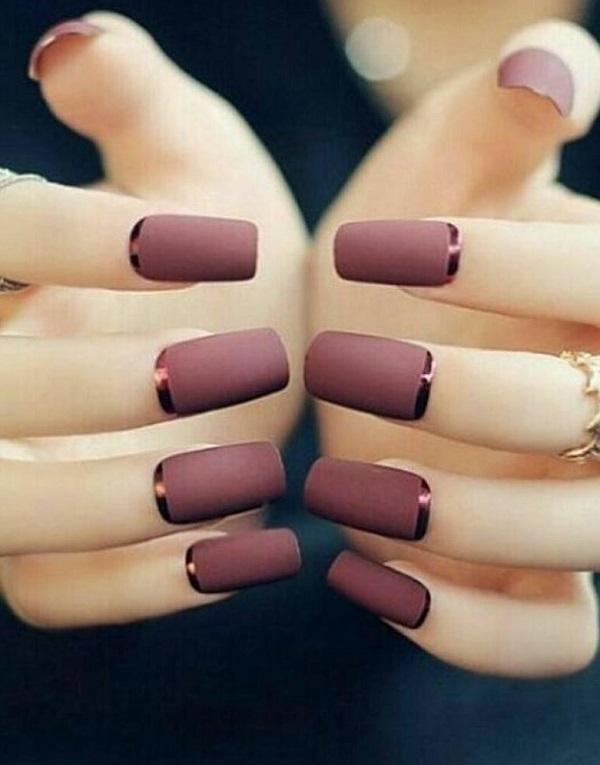 In order not to be a monotone, this manicure is complemented with the same color just glossy at the base of the nail.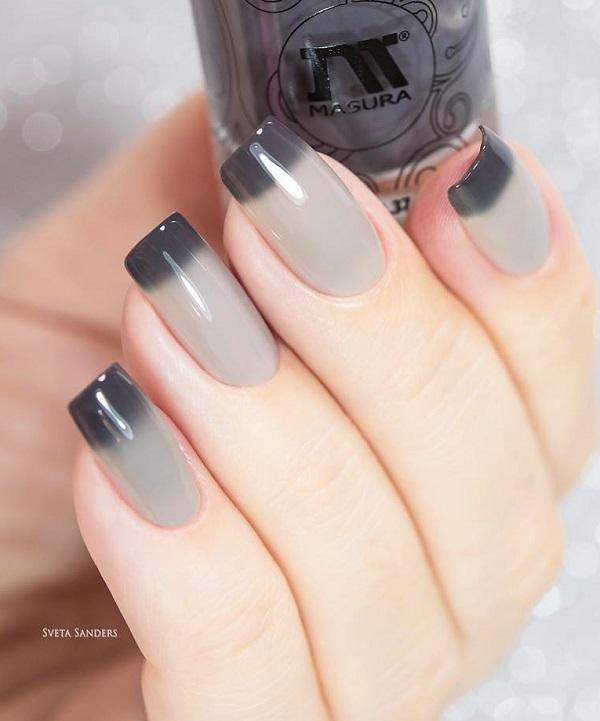 A modern version of the French manicure. Two shades do not have a clear passage and gray color is used instead of white on top.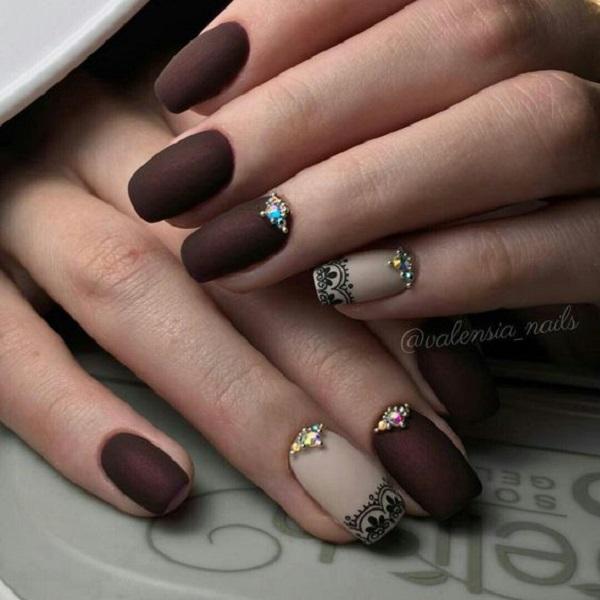 The lace on the nails looks very elegant but in combination with this dark red color look and very extravagant.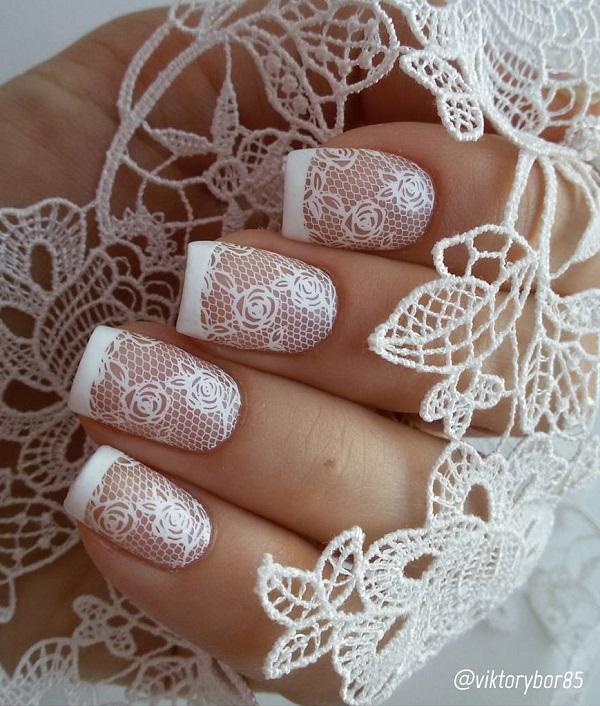 If you marry, choose manicure like this, for example. The lace was created for brides.
Extravagant green nail idea with extravagant rhinestones
For the best effect, combine matte and glossy shades.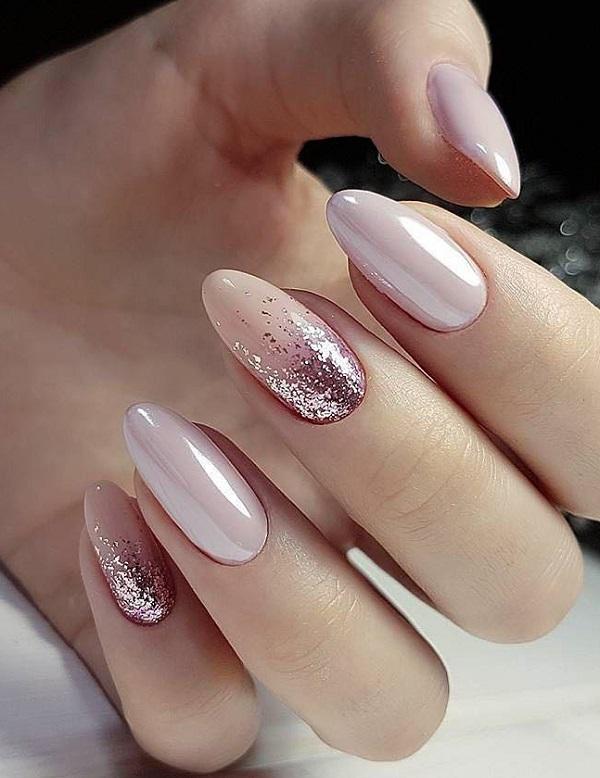 The world of fashion will never be oversaturated of shine, jewels and the color of gold.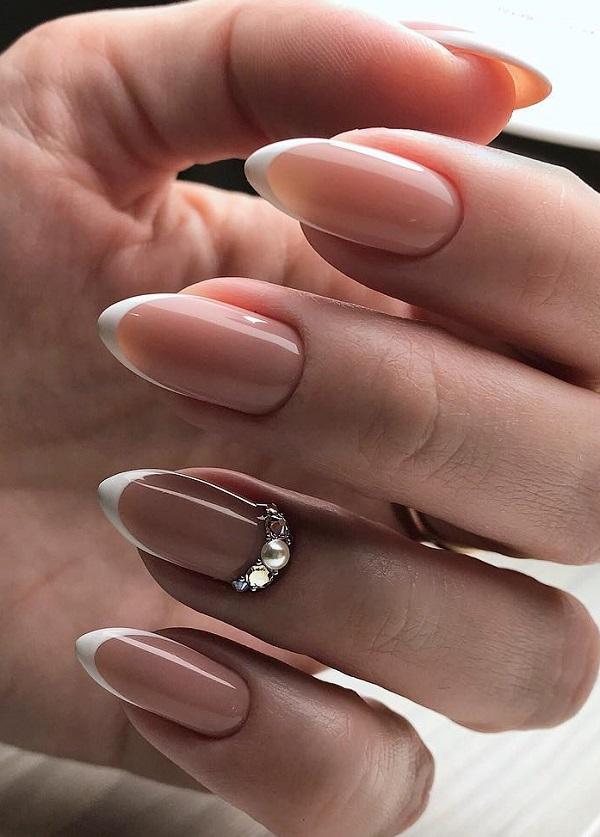 French manicure is always a popular and good choice for every occasion.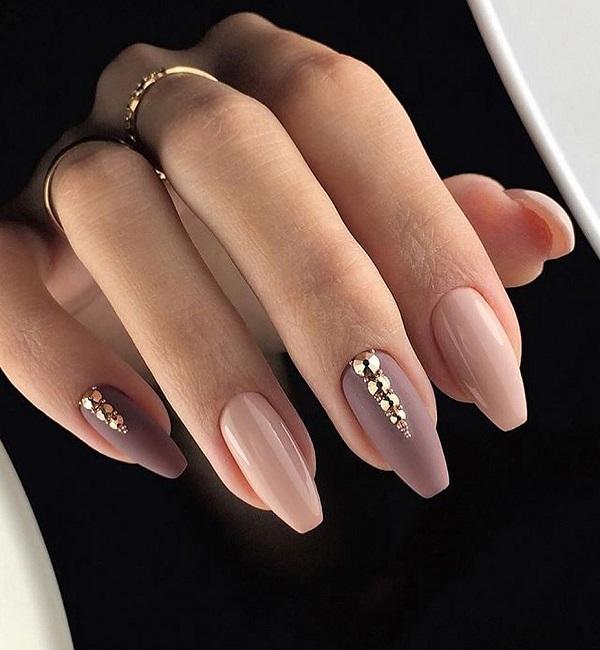 The combination of nude shades and gold colors looks a bit exotic.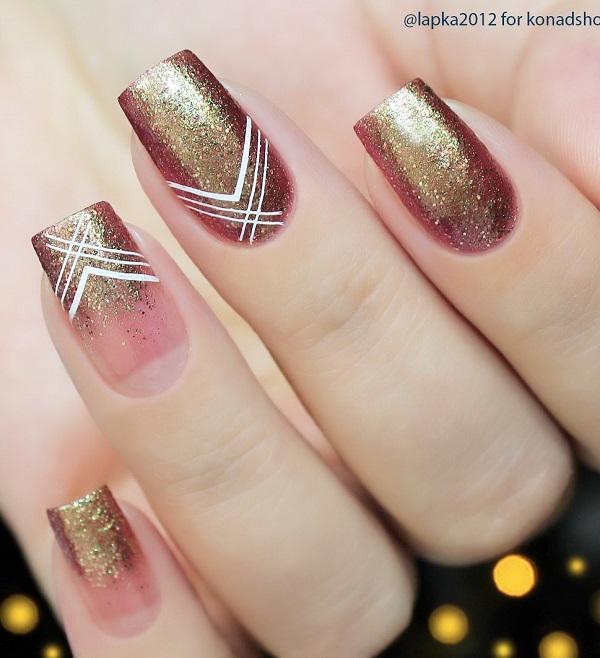 Geometry always finds places in fashion. Lines, triangles, squares can all be placed on a nail.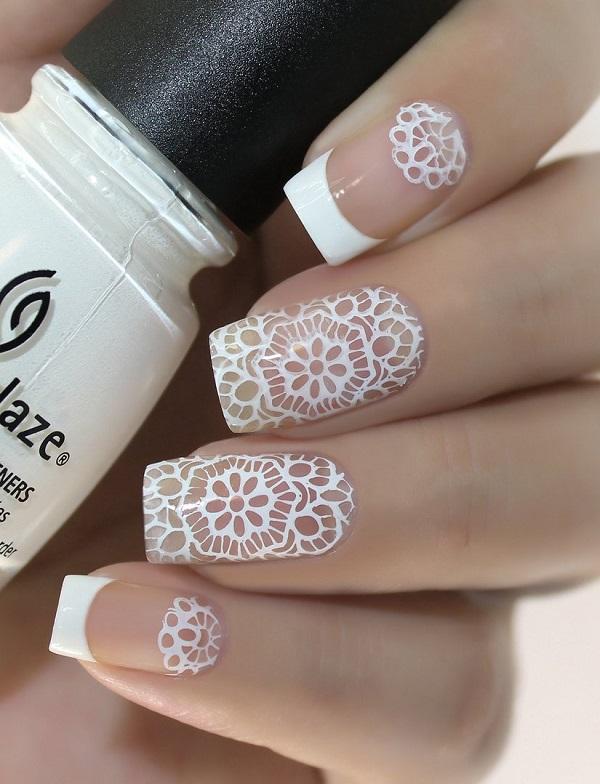 The manicure for the most important day of life can look like this.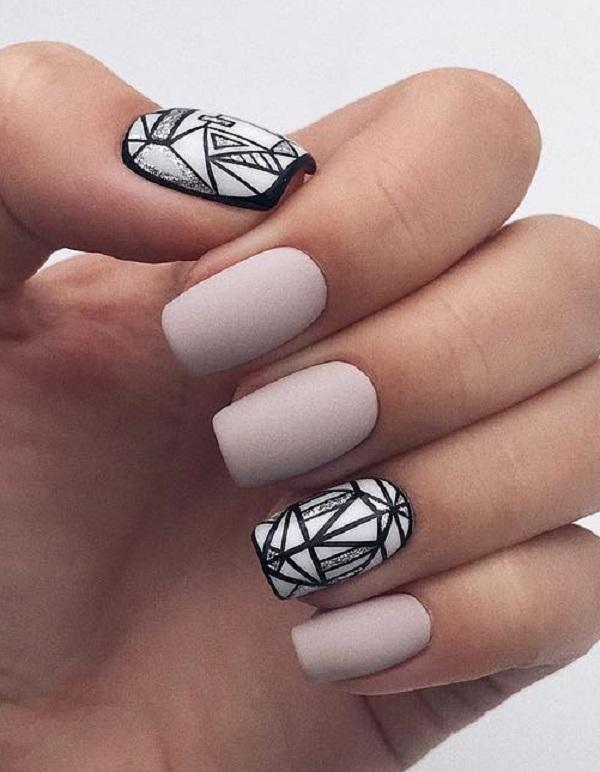 The dark lines and geometric shapes made this slightly boring manicure more effective.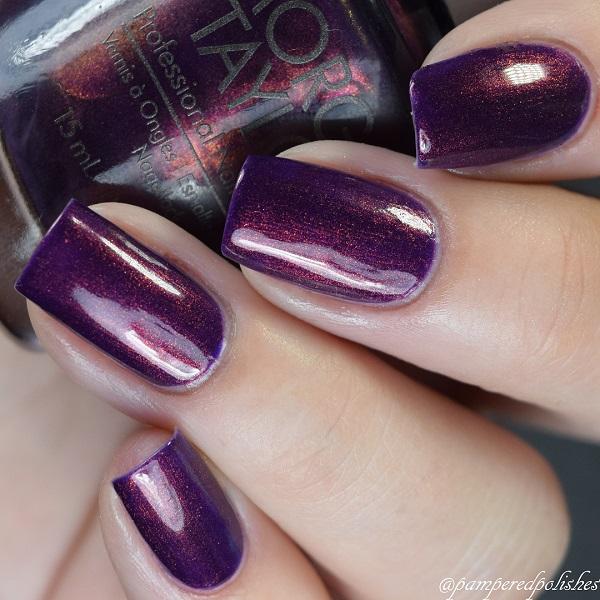 Violet color with diamond gloss is a common choice of ladies of all age groups.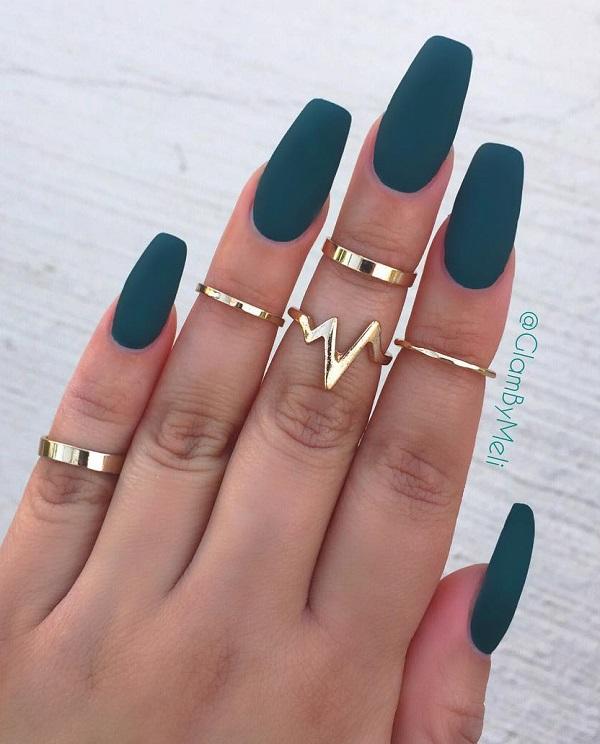 matte manicure
Another matte manicure that has been made more effective thanks to effective rings.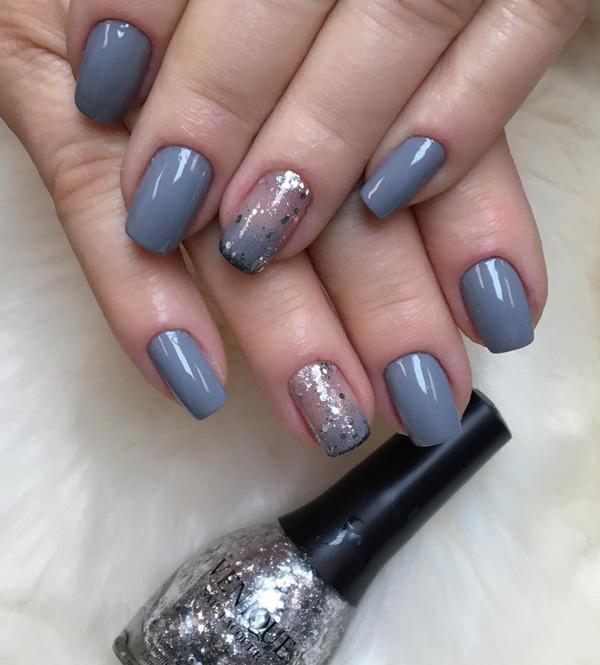 Clean gray color is a little bit cold for my taste, however, if a slightly you refresh it with sequins it will seem much better.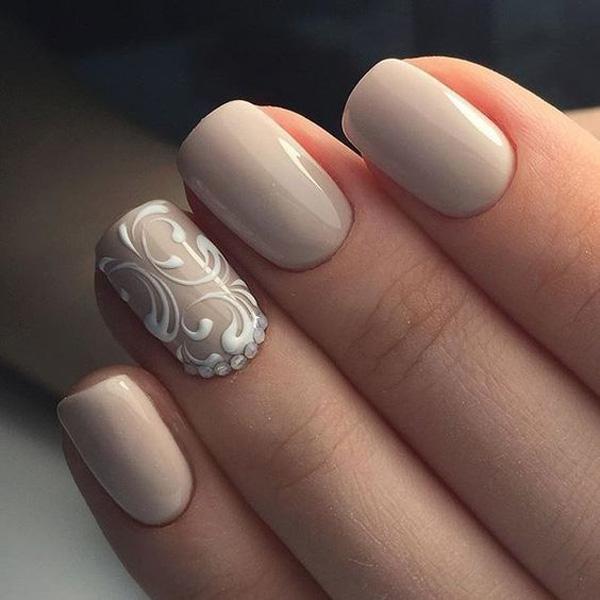 These nails will be good choice for employed woman who loves elegance and wears clothes of different colors. Beige is easy to combine.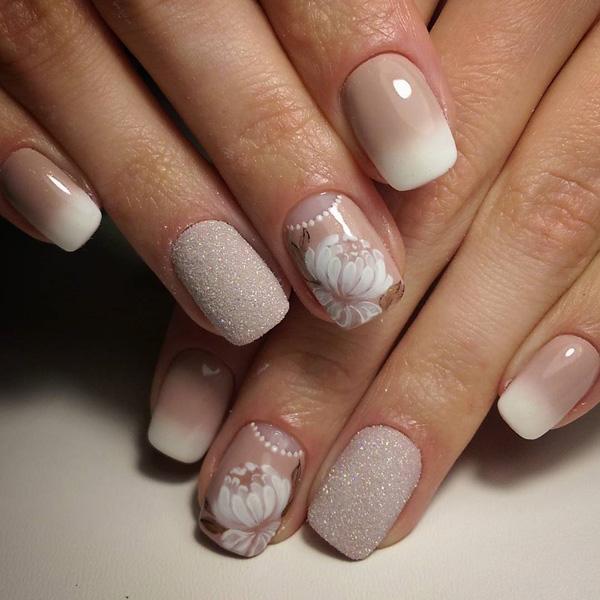 French manicure done by applying ombre technique and enriched with sticker of roses and sparkling sequins on ring finger's nail. Very classy.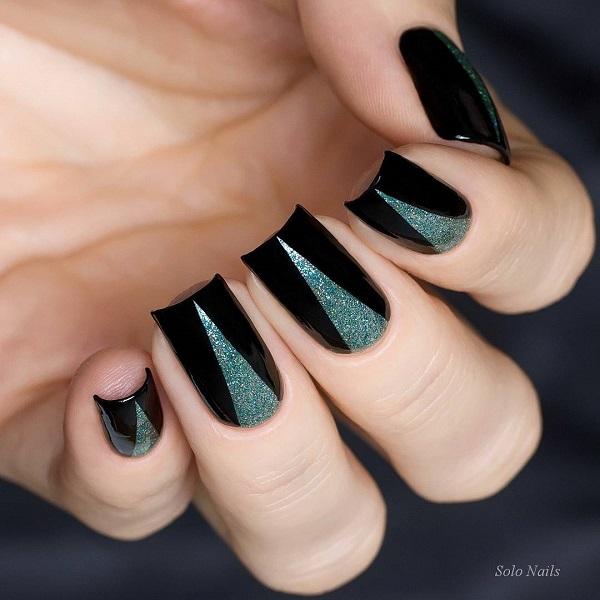 Black manicure enriched with silver pyramids on the middle of the nail is a good example how to combine black with other colors.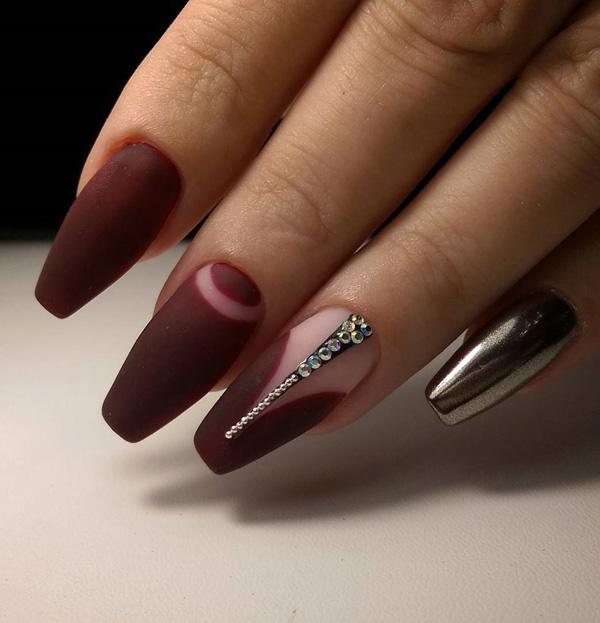 A lot of beauticians select manicure in which one nail is painted in different color. That color must, of course nice to be combined with color which dominates.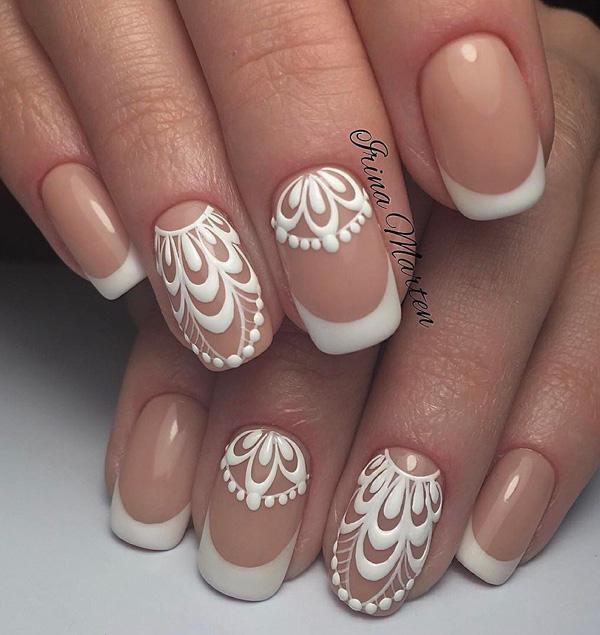 Eternal French manicure with beautiful painted detail on two fingers of both hands. This manicure you can take with every outfit, at any time of day.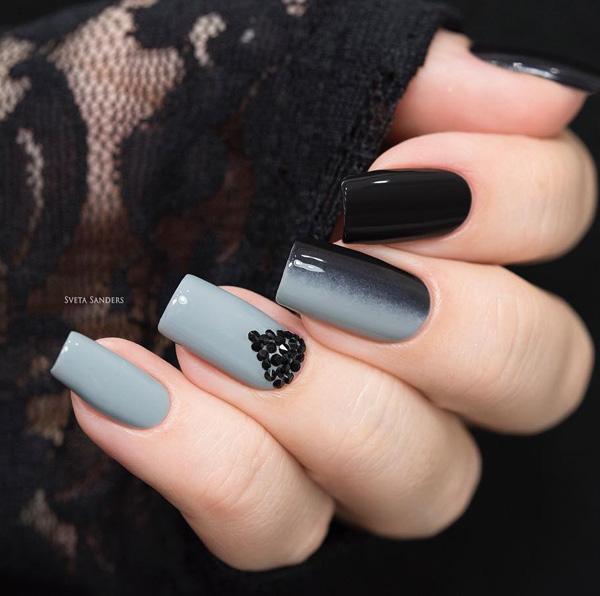 Two cold and somehow boring colors give something quite the opposite – an interesting and modern combination that will gladly take all the fans of these two completely opposite colors.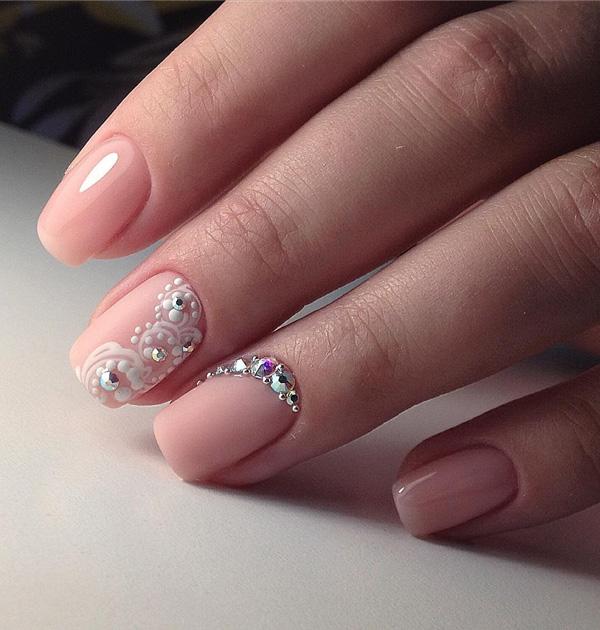 If you are not sure how to decorate your manicure in one color, easily adorn it with rhinestones and immediately it will look different.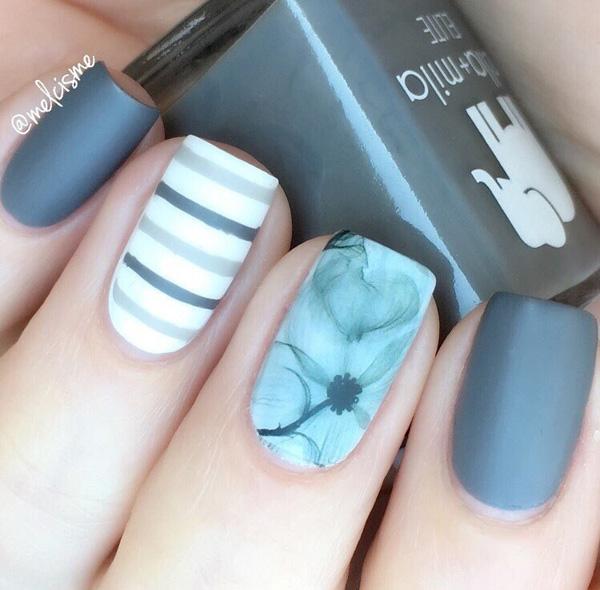 Stripes are modern when we talk about wardrobe, but also and when we talk about manicure. If you have a wide nails stripes need to be drawn straight – that will visually narrow the nail, and if you have a narrow nails horizontal lines will be the right choice.
If you are planning to visit a nice and warm place by the sea, choose this manicure. White and blue colors remind me on the sea waves.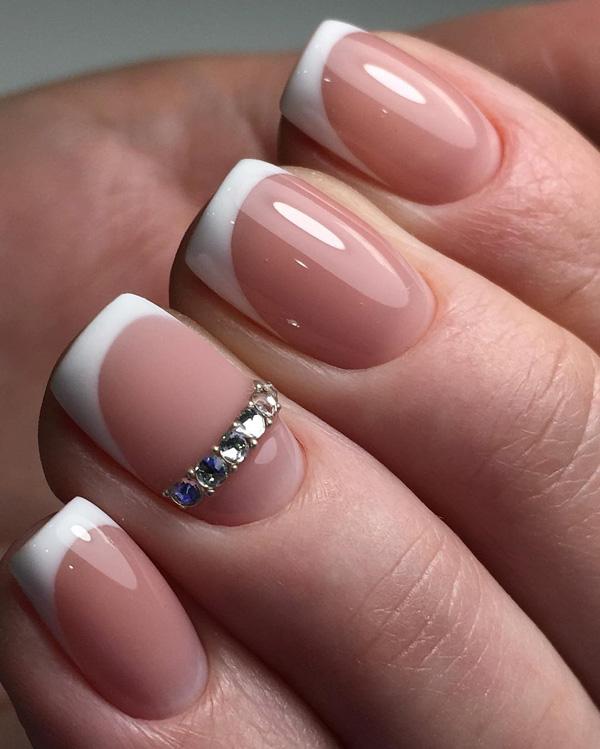 On the matte color of the nail always will nicely stand some shiny detail. In this case, that is the rhinestones on the ring finger!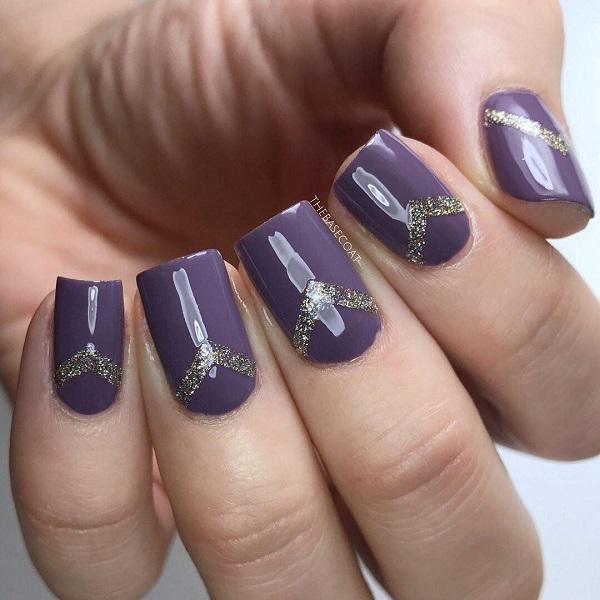 Darker or brighter purple color can be nicely combined with silver glittery nail polish.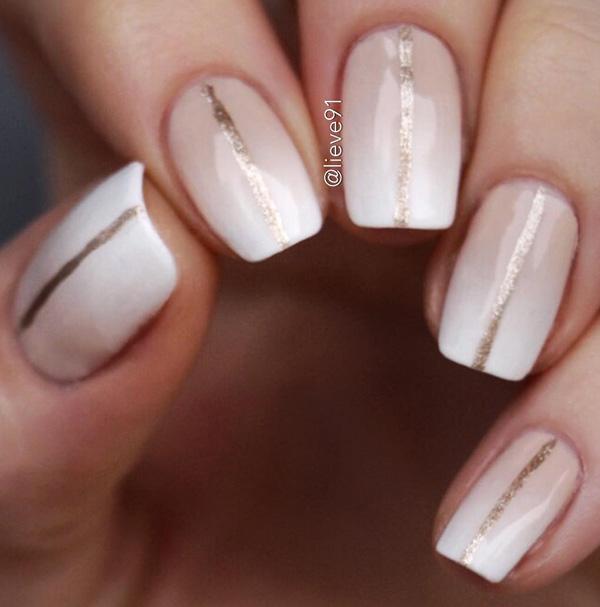 Ombre nail from neutral to white
Very gentle ombre made of nude colors to white with a very mild and imperceptible transition. Gold line in the middle of the nail is responsible for luxurious look of manicure.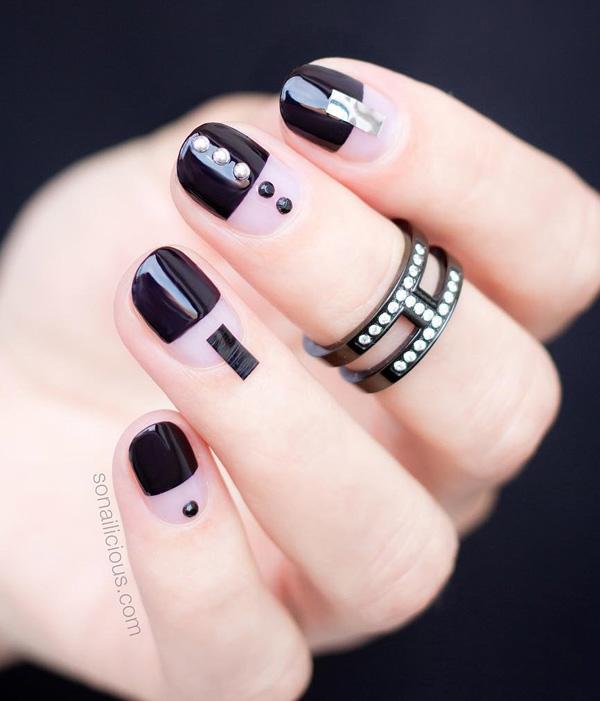 Opposites attract each other. This is the main rule what is respected in this manicure definitely.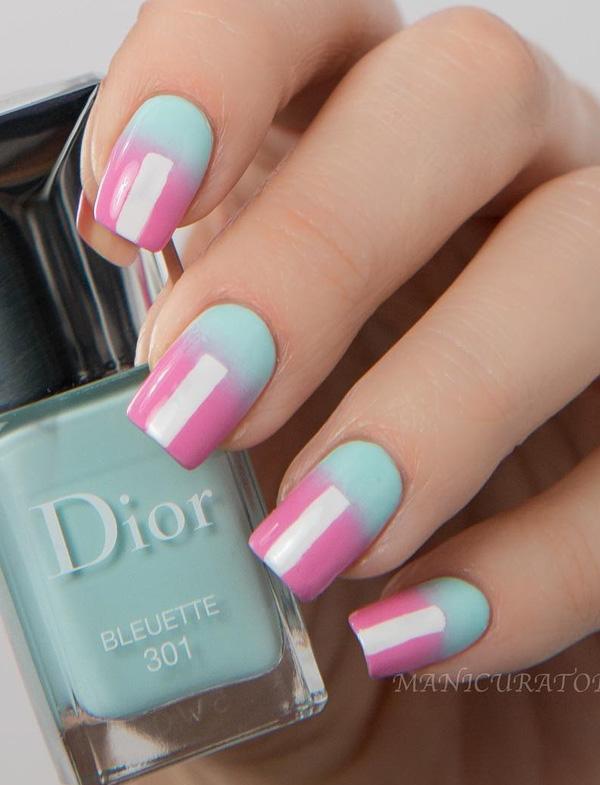 Blue and pink colors are always beautiful combination. Somehow this combination can compete with the black and white combination. The transition from pink to blue is a gentle and subtle and the two colors are literally spilling over into each other.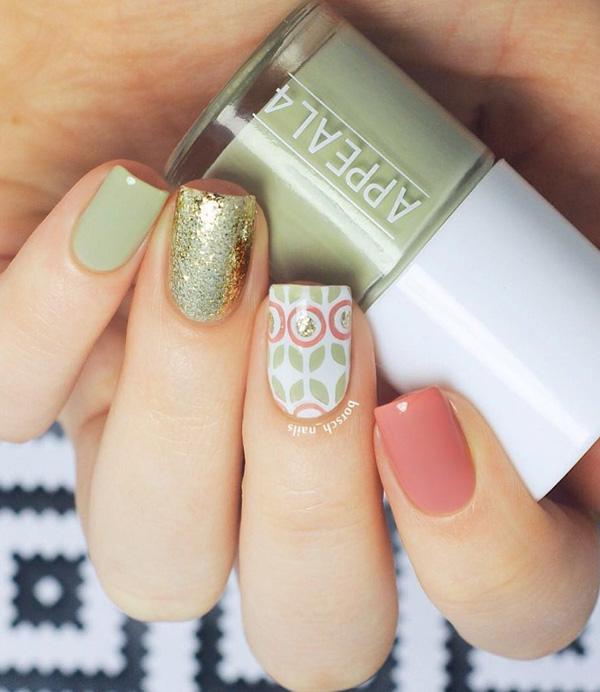 Spring is characterized by pastel colors so if you decide for pastel tones like these in the last two pictures you will for sure be a style icon.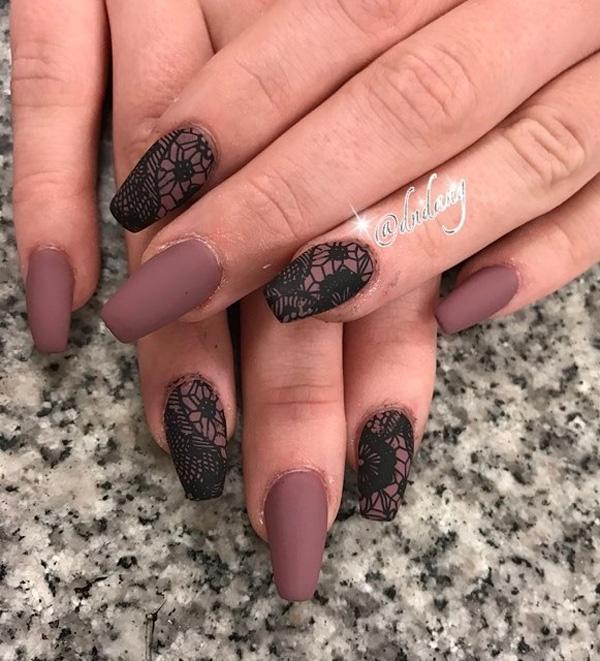 This form of nail visually lengthened fingers and it will stand nice on people with short fingers. If it doesn't interfere with everyday activities freely choose this length.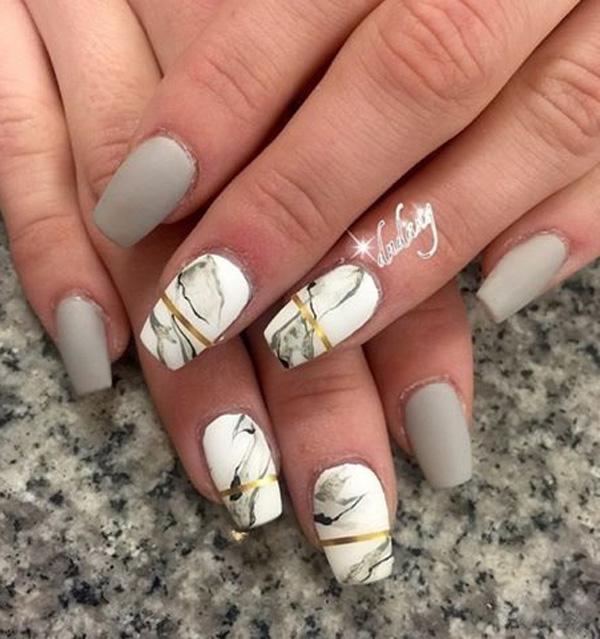 Marble appearance nail idea
.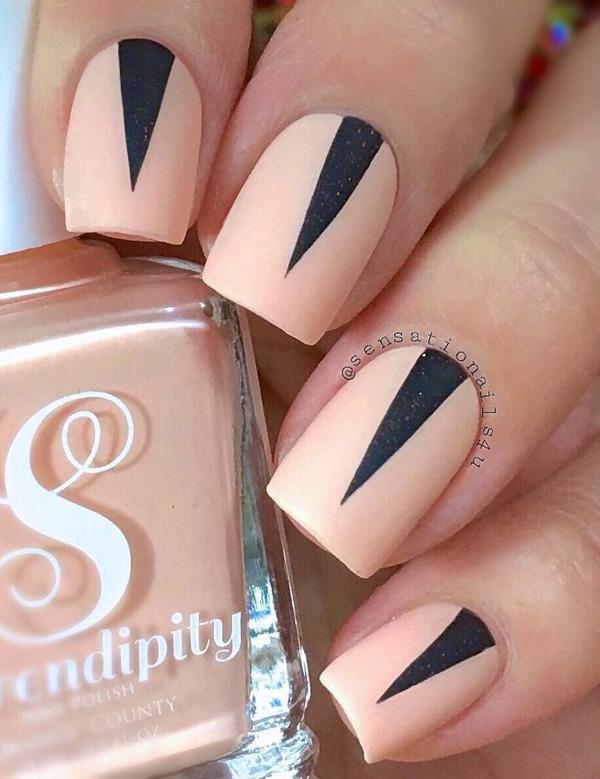 If you decide to use a neutral color for nails, gently and discreet add her some black detail – a triangle, a line, a point and your nails will not be boring at all .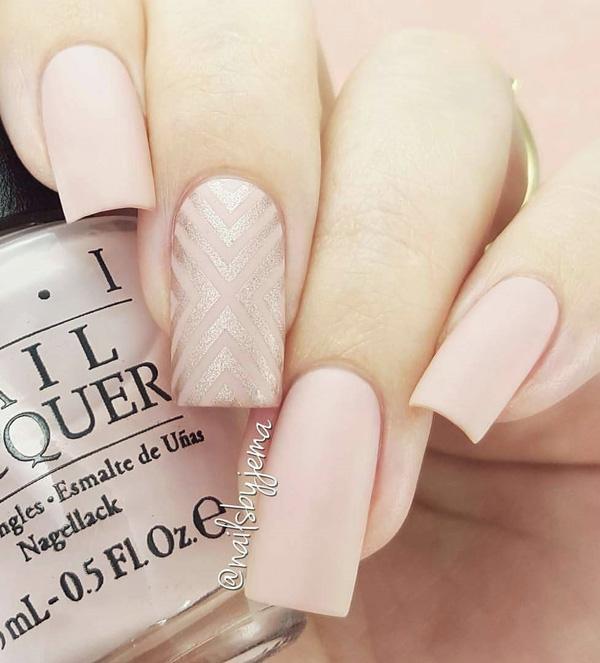 To ladies who have an elongated nail plate will stand nice square shape of nails while to those ladies with wide nail plate we recommend rounder shape because it will visually narrow a little bit nail plate.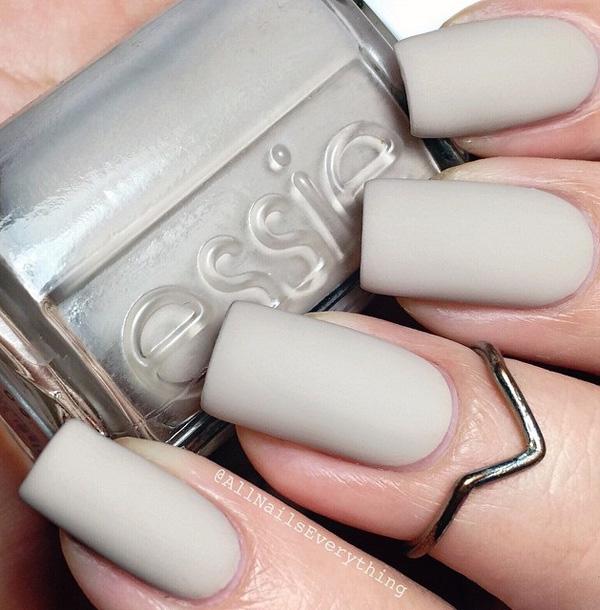 When we arrange nails alone in our home, we often forget the cuticles. Professionals in salons cuticles mandatory treat with adequate resources, push with sticks, and nicely sharpened nail plate. This part of hand care we often ignore but it is very important if we want our hands to look nice.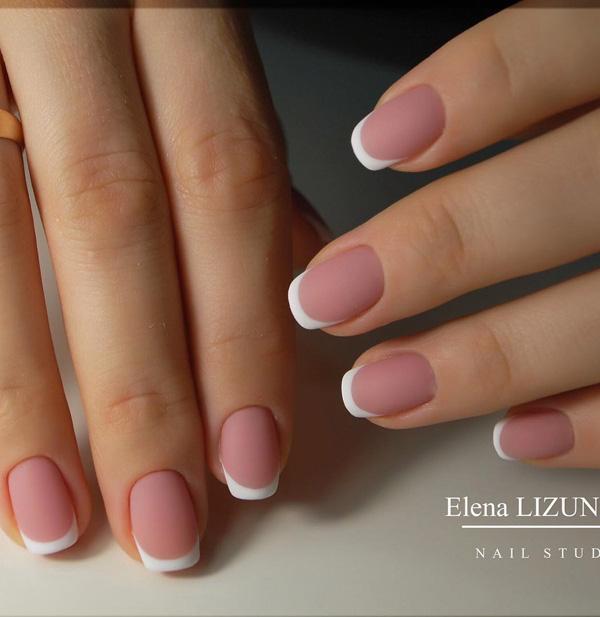 Short nails are especially practical for women who work on computers a lot and need a fast beat. The arms will seem neat and length enough.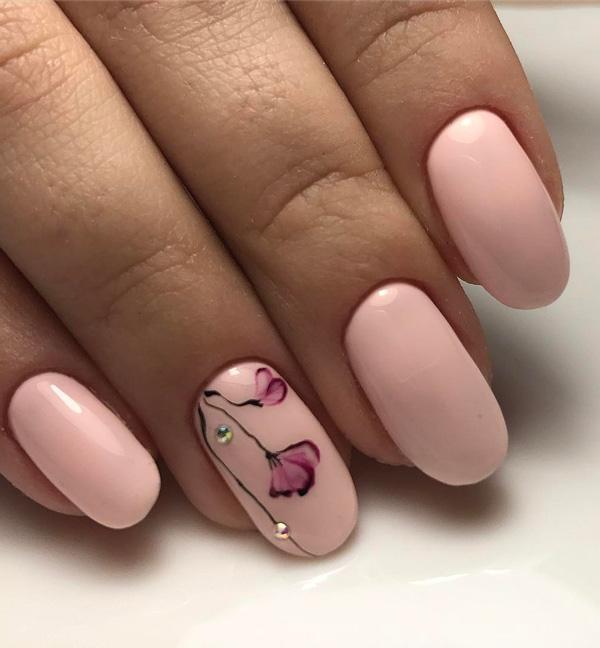 Soft pink color in combination with this shape of the nail, is choice of ladies with style who likes to be feminine at all times.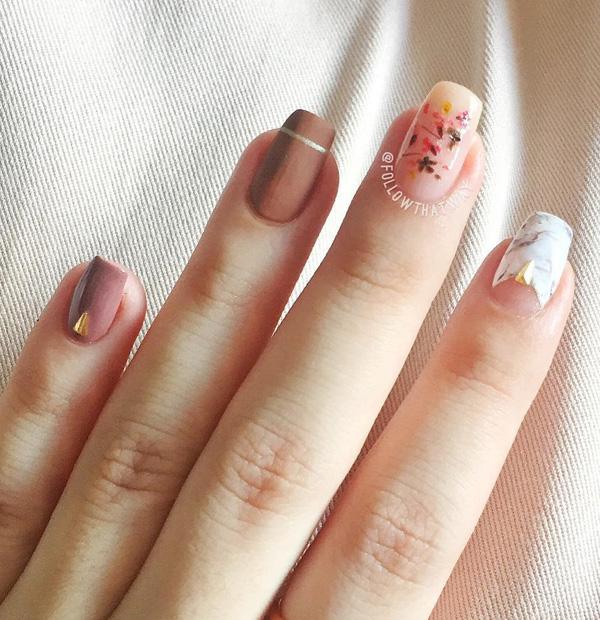 Moderate length of nails. Earth tones are popular for several seasons in a row – so that when we talk about the manicure.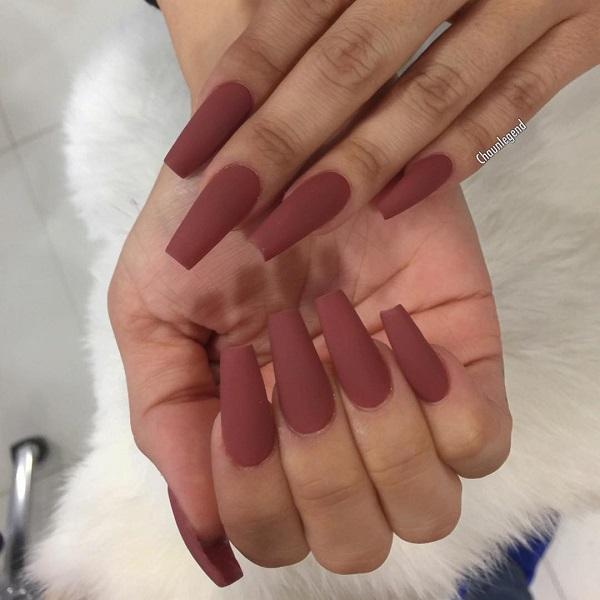 Matte red color is extravagant, and her extravagance even more coming to the fore when it comes to this length of nails.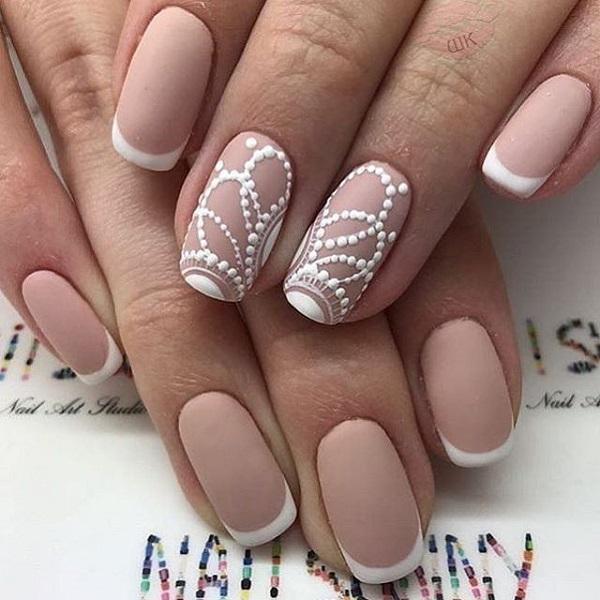 There are special oils for the care of the cuticle that will make your cuticles softer, and with continued use prevent their formation. It is very important to nurture this area because without it's care, beautiful nails can never come to the fore.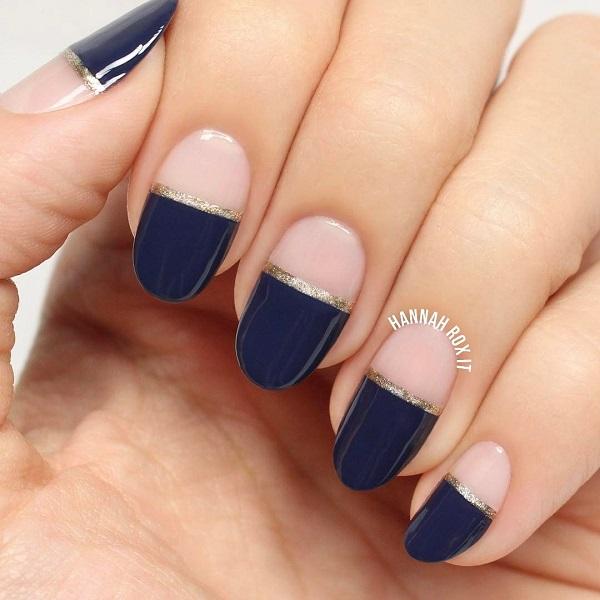 Winter is slowly passing so dark blue color we combined with a light beige shade. For this transition period this will be a great manicure.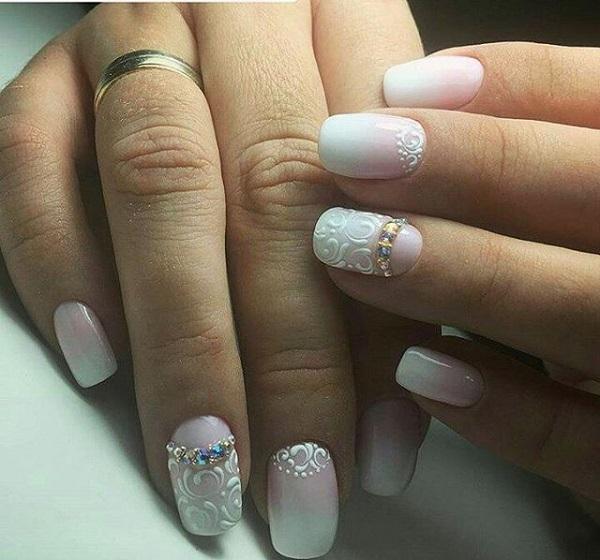 If your nails are weak do not color them with ordinary nail polish. Instead of it put gel on your nails. Your nails will be stronger, and the color will last a long time, until you decide that you need to do correction.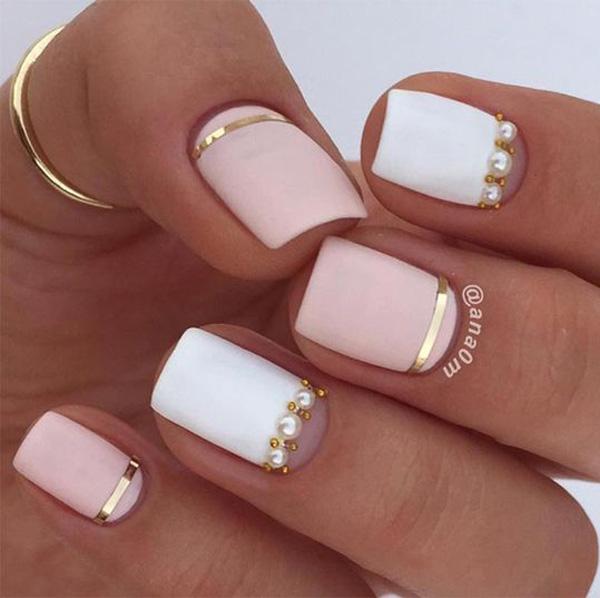 Pure elegance on the nail idea
Most stable technique is gel on your nails, so it is best to decide for it. You'll be spared the full three weeks of painting the nails.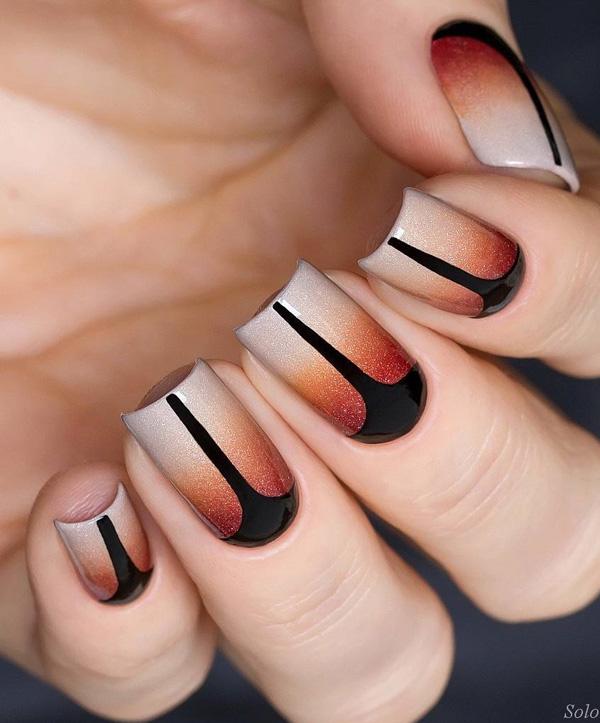 Two techniques wisely embedded – the root of the nail in a different color and black details on the nails. Gel or nail polish with diamond brilliance will contribute to the overall appearance a lot.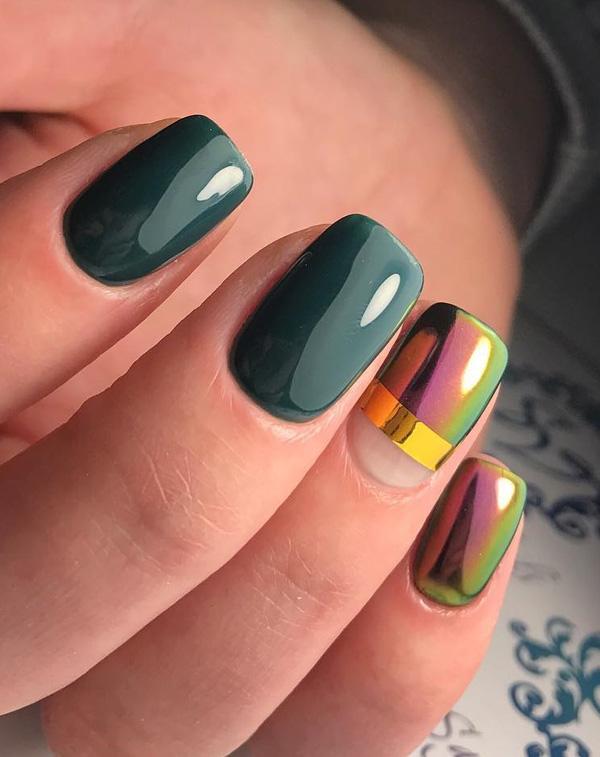 Royal blue color enriched with disco look on some nails. The dark colors of winter slowly being replaced with joyful summer colors.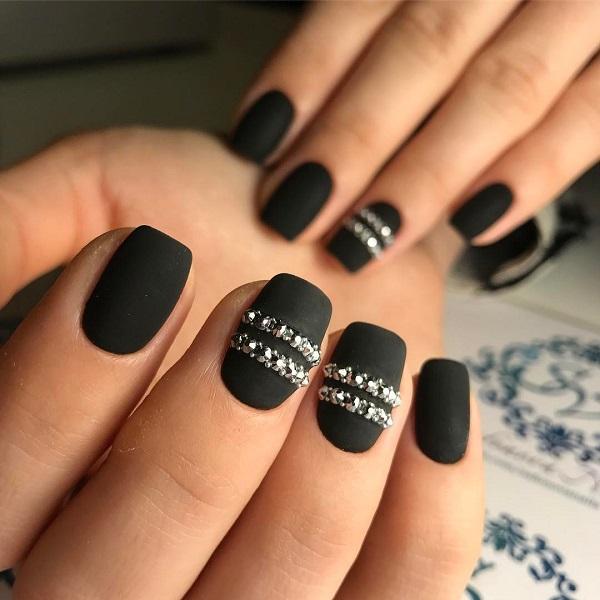 If you are a fan of black nail polish, add a little tinsel and rhinestones and you will get immediately more festive look.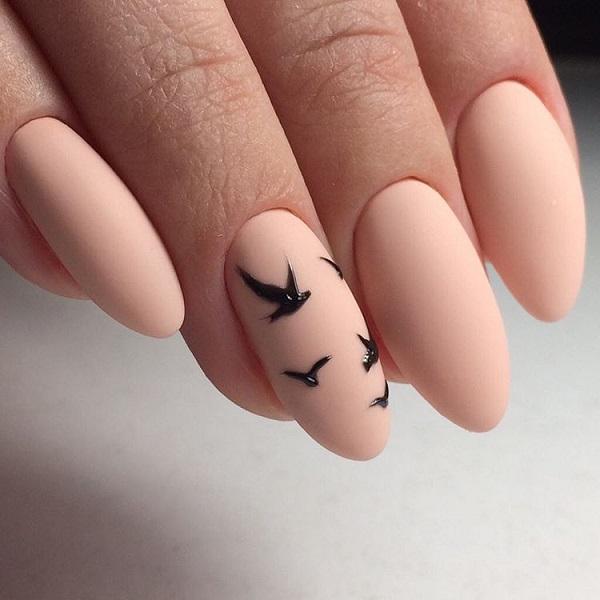 Almond nail design is good because it lengthened fingers but this form of nails is more susceptible to breaking.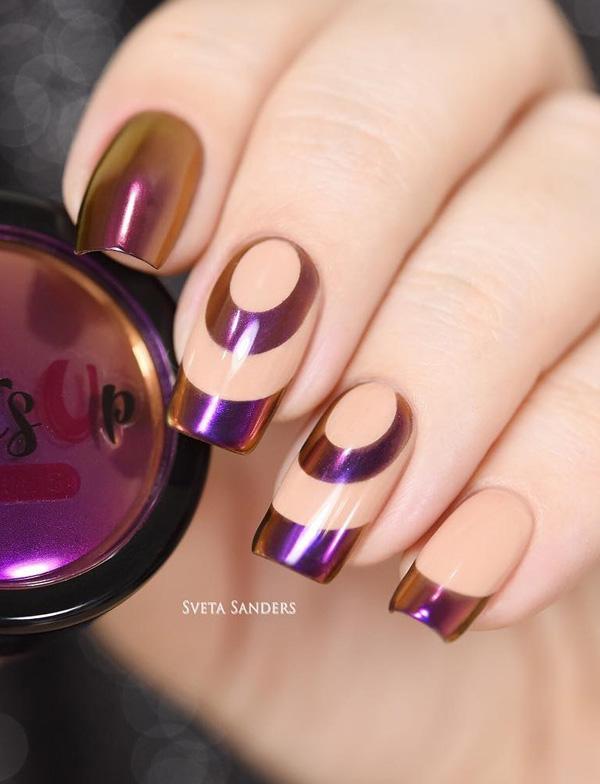 If you have nails of medium length or long nails this form will nicely stand to your hands. This form is very popular when the ladies are doing a French manicure.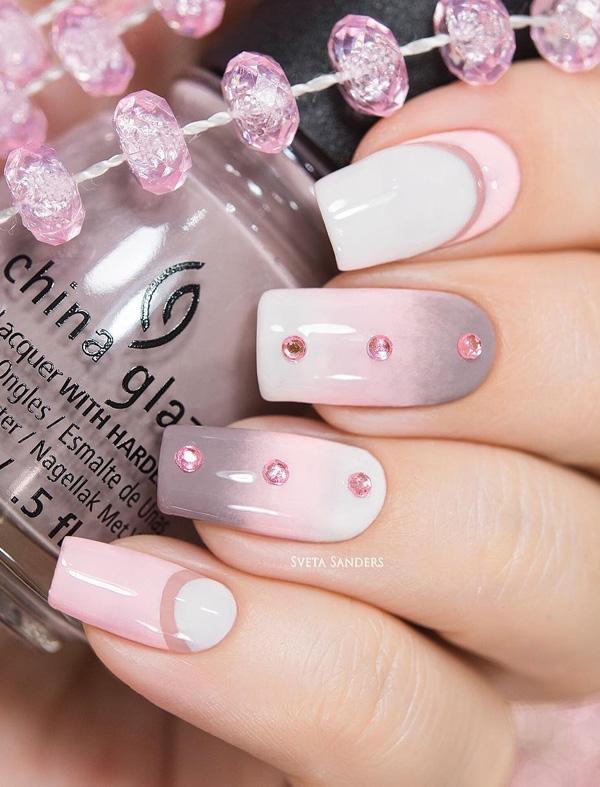 Gentle ombre from gray through pink to white color enriched with pink rhinestones.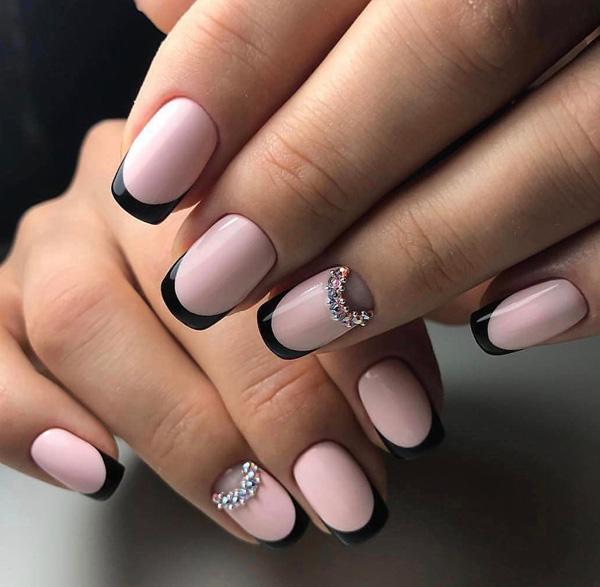 French manicure doesn't always need to be a combination of light pink and white color. Here is on top of nail instead of white exploited black color and the effect is great.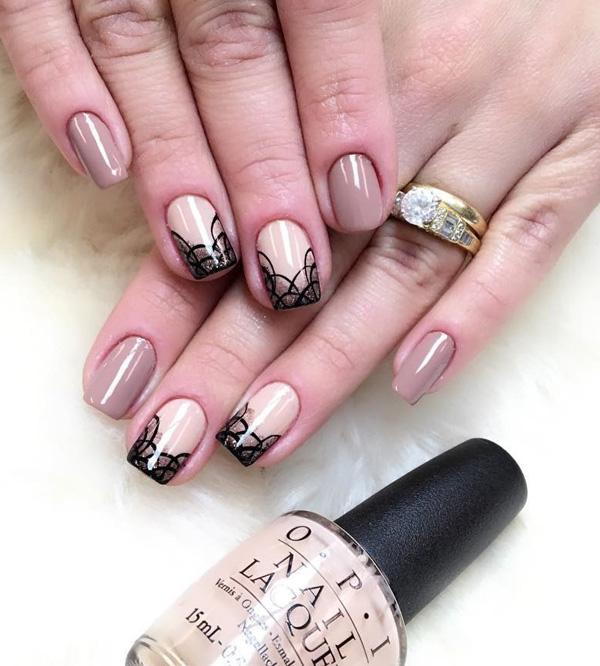 OPI nail polishes have excellent quality, they are long-lasting nail polishes and do not lose their shine. They belong to the world-famous brand. If you are a good drawer, draw the pattern on your nails, and for those a little worse drawers there are stickers for this purpose.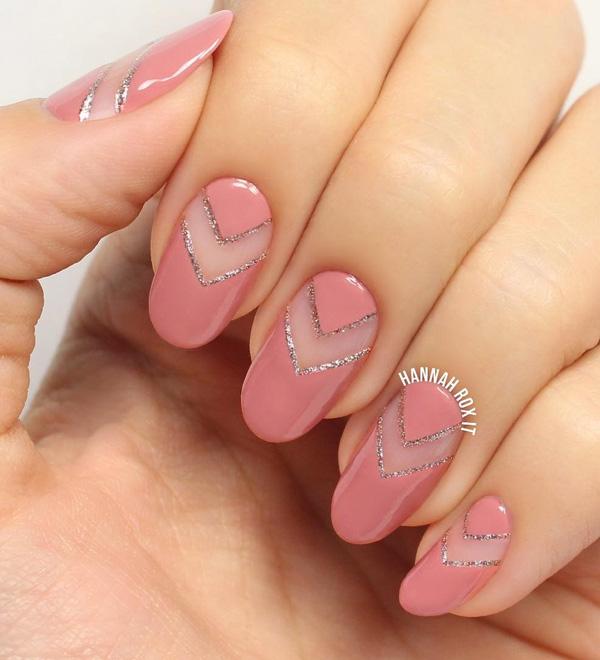 Pink Oval nails with metallic border
Oval nails in light pink color enriched with parts in the natural color of the nail. Excellent for those who have a little elongated nail plate.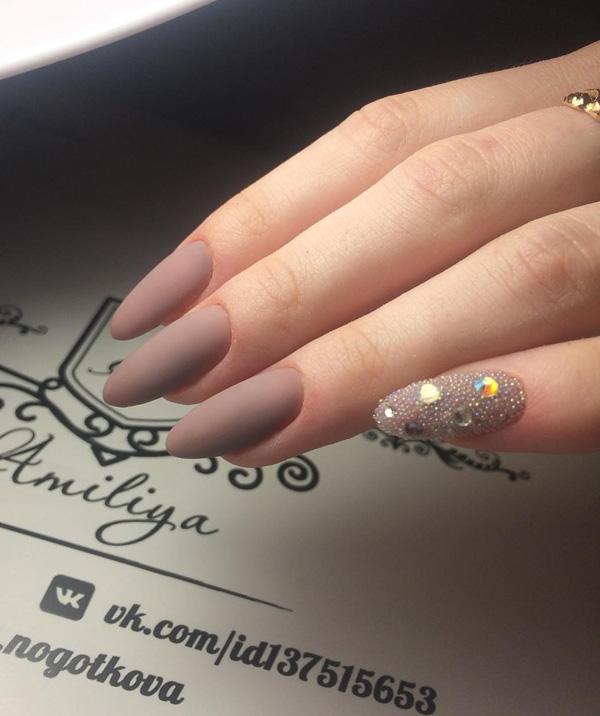 One nail full with rhinestones will be enough for festive and glamorous look of manicure.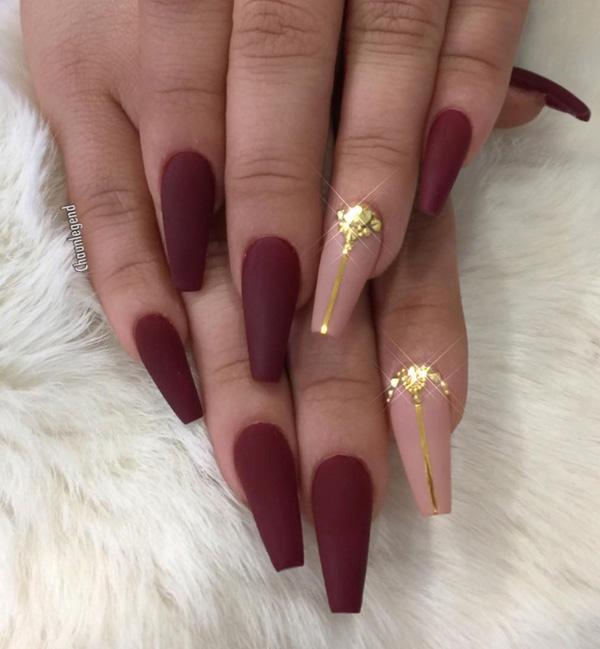 Beige color on forefinger with golden detail, has nice influence on other matte red nails. Royal red color is evergreen, and it will always be a choice of ladies with style.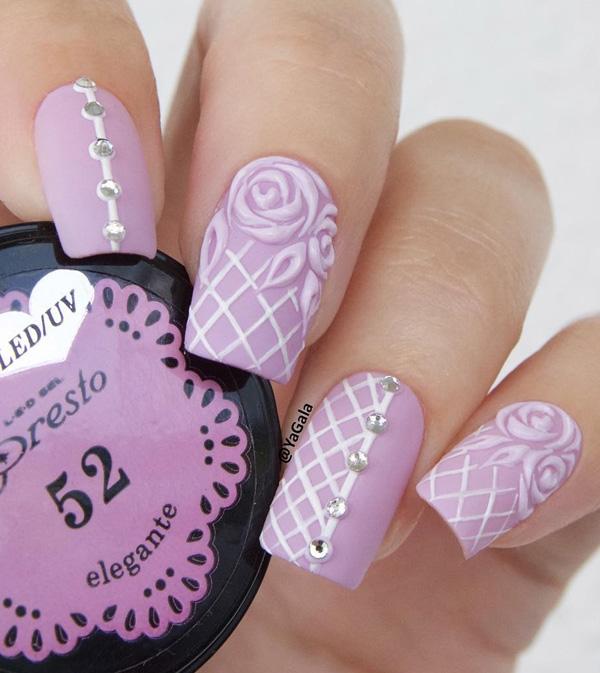 Forms of nails and colors of the nails that are popular are changing constantly, however, there are some classics like this shape which has been since ever popular.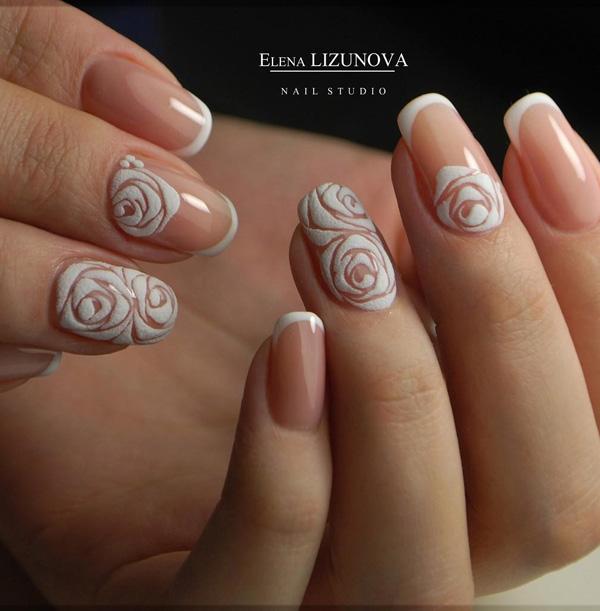 This shallow French manicure will visually elongate your fingers and nails. At the same time it is very fashionable and good for every occasion.