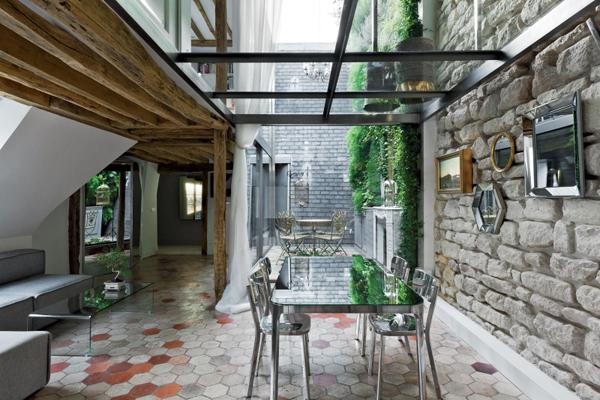 Michael Herrman, principal of French studio Ateliers Michael Herrman recently renovated a duplex apartment in a late 18th century building located in Paris, France.
The 1,500 square foot, three bedroom apartment features a clear glass floor above the dining area to bring daylight to both levels.
The apartment takes on a surreal feeling through this blurring of the edge between the interior and exterior, as well as the multiple layers of transparent and reflective glass surfaces. All of the elements in the apartment are functional, whether inside or outside, including the exterior fireplace.
The use of glass is carried through the design, and includes the glass cabinets in the kitchen, and glass tiles, counters, and fixtures throughout the apartment. The three bedrooms are located on both levels at the opposite end of the apartment, served by private bathrooms, and organized around a separate courtyard.