The hands are something that the first notice on the women while the nails are the most beautiful decoration on each hand. On the one hand, it is important to take care of nails, make sure no grooves on the nails, on the other hand, trim the nails in nice shape. Among various nail shapes, oval nails are discreet in shape but rich in ideas and designs. It's not necessary that your nails are always nice decorated, because modern lounges provide a variety of services such as chiropody gel or acrylic nails thanks to what the village will be beautiful and to a month.
Gelling nails is modern technique to prolong the natural nail and make them stronger. That will help you if you suffer from weak nails. If you suffer from weak nails what often break, gel will give them strength and long lasting. During you put gel on your nails take care about length, if you are employed too long nails avoid couse they can interfere you while you do your work activities. For their decoration there is a lot of ideas, just let your imagination run wild. Another advantage of this manicure compared to the classic manicure with nail polish is that nails colored with nail polish fray very fast, and almost every other evening and again need to paint your nails, while the gelled nails last long.
Two colors are an absolute hit in 2016. These are dark blue colors and dark beige. Dark blue nails can be enriched with rhinestones, zircons, so enjoy them this winter, while the beige colored are superfluous, it is always in fashion, sophisticated, delicate, feminine color for the ladies of impeccable taste.
In the season autumn-winter 2016/2017 continue to be dominated metallic colors on your nails, gold and silver primarily. Also will be modern 'knitted' nails. It is about the manicure where nails reminds to the knitted sweater, nails are embossed. For this is best to use 3D Gel polish, which are similar to ordinary gel only thicker and tougher spills so you can to draw a patterns that remain until you dry them in the lamp. Over that goes the final coat of paint or clear gel. For the upcoming winter this manicure is an excellent choice.
How slowly begins the season of autumn-winter 2016/2017 we slowly saying goodbuy to the pastel tones. Red, in all its shades will be hit in the autumn (mat ton of red, brick red, dark burgundy), as well as black, green, brown, beige …
Color-block is another modern way of painting nails and it is consised of various colors arranged in geometric shapes. It is composed of various colors can be easily adapted to different outfits. This is a minimalist way of decorating nails that always everyone likes.
You just have to choose the length, shape and color that suits you best or stand to your personality. Just so you will be confident and be able to shine. Believe in what you are doing because only in this way you will be the best in it. Believe in yourself … Believe in your style …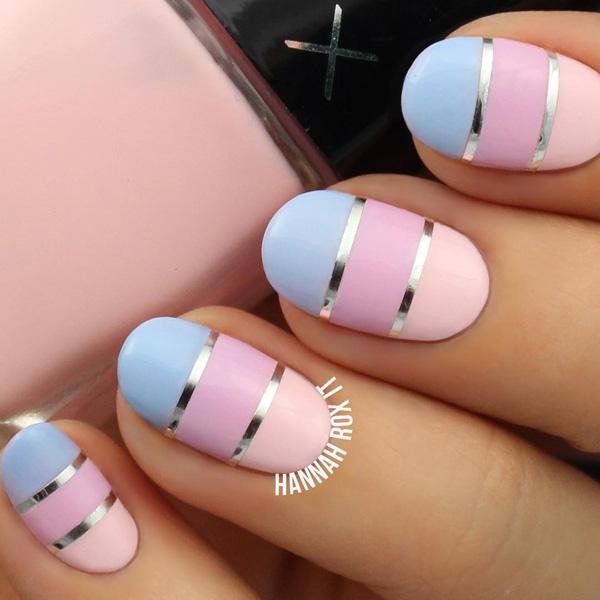 Colorful oval shaped manicure decided by golden stripes.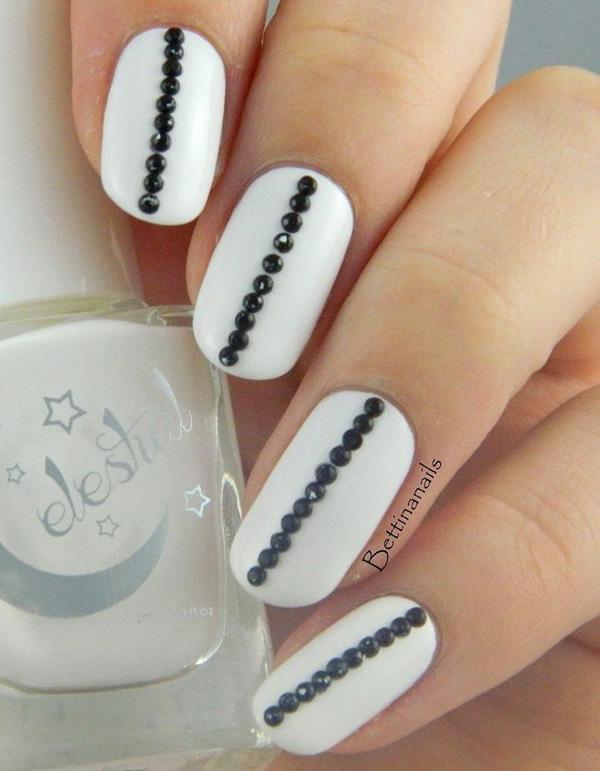 Whice-black combination is always modern, and so is when it is about nails. Black rhinestone white color highlights white color and kills its monotony.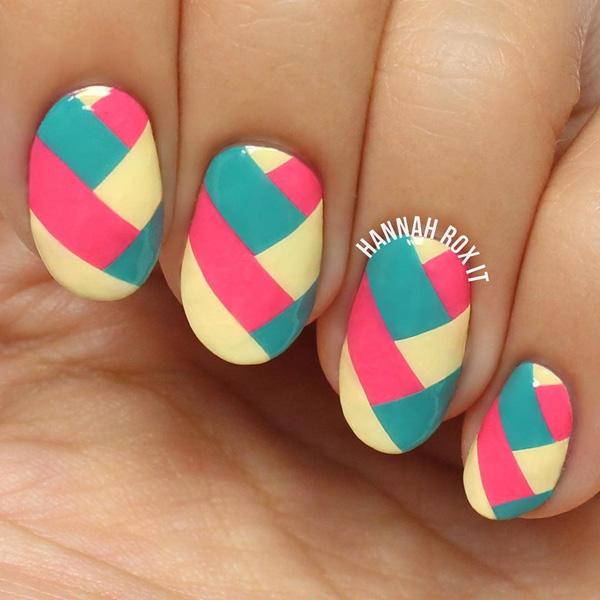 One more idea for color-block manicure. Colors are clear, and set in triangles and rectangles. So, in this manicure colors are set in geometric shapes.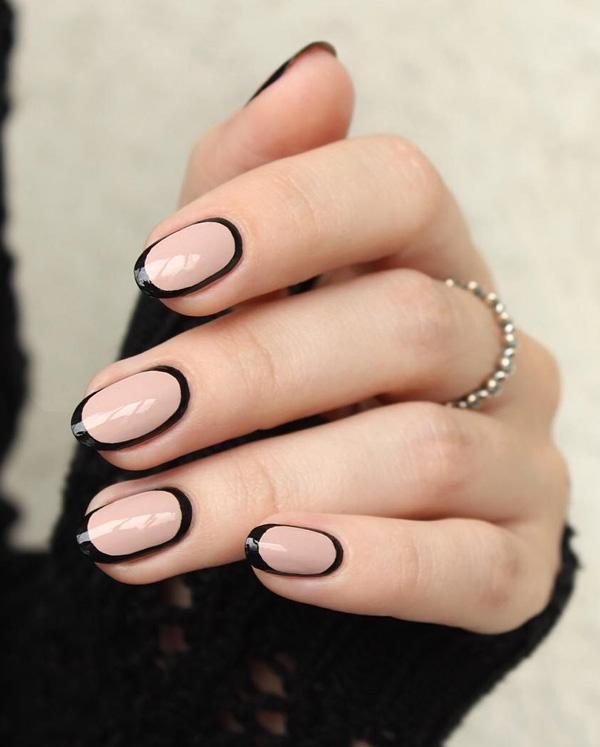 Interesting manicure that nice stands especially the ladies with cheese nail plate because it visually narrows.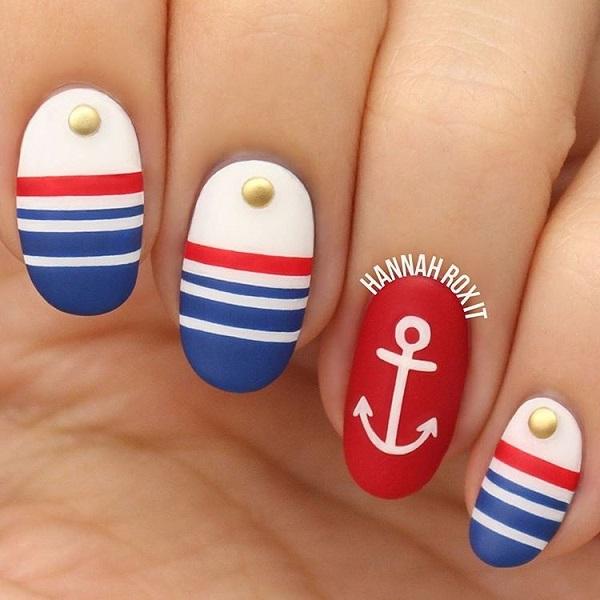 Sailor style is as evergreen as black and white combinations. Although the ladies prefer to wear it in summer, in winter it also can't be a mistake.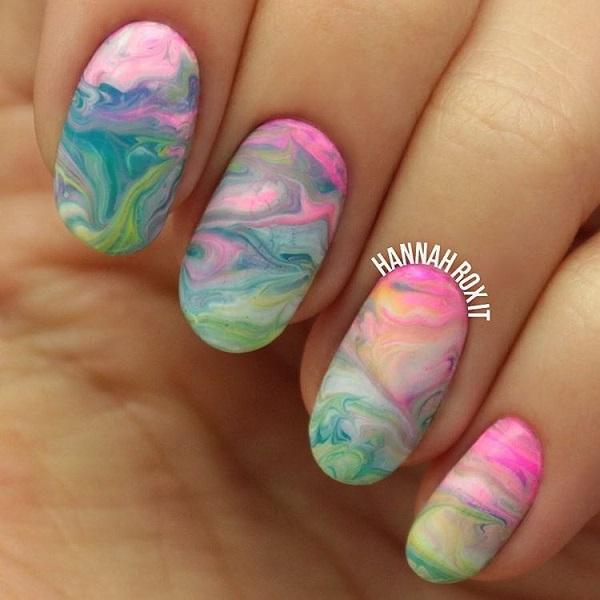 This manicure looks complicated, but it actually isn't. It remind me on galaxy, there are so many colors so it you can easily combine whit every wear combination.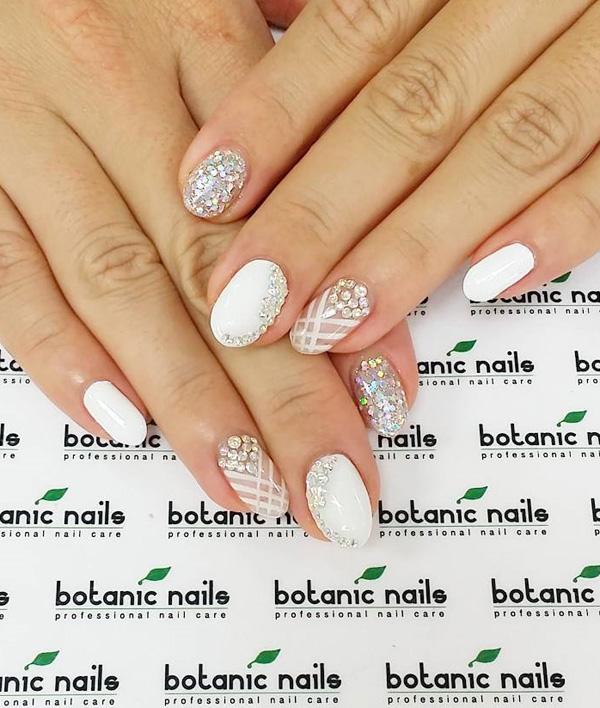 Very femine manicure in pastel tones. Rhinestones and pearls give great contribution to overall impression and make it strong.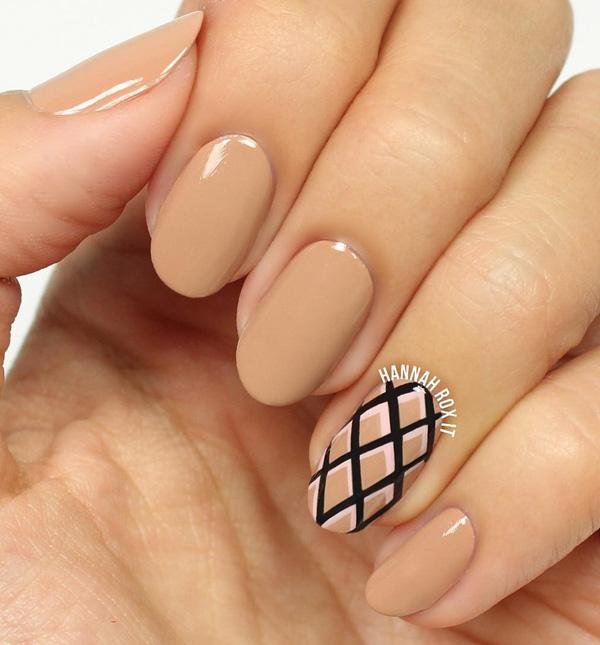 Like I said, beige will be trendy in winter also, so wear it refreshed with some strong color on one nail like in photo where is refreshed with black.
Dark blue color is hit for this winter, it can be patterned in color-bloch way whit rhomboids for example.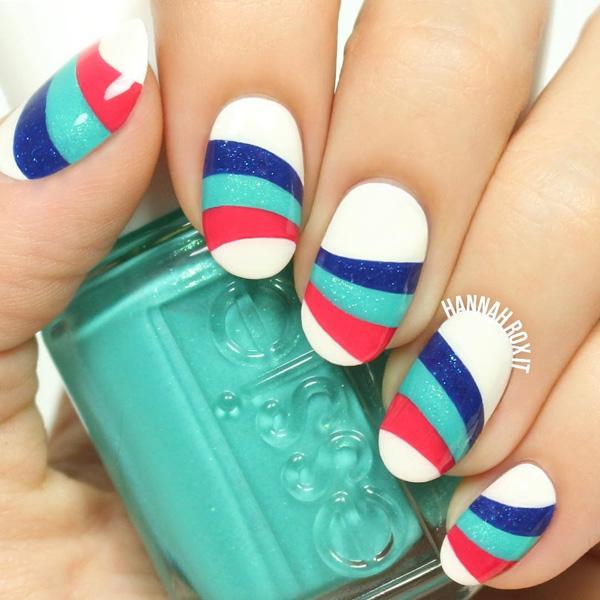 If you prefer natural nails, nail polishes Essie are great choice because they last longer than simple nail polish, and also they have beautiful collection for 2016.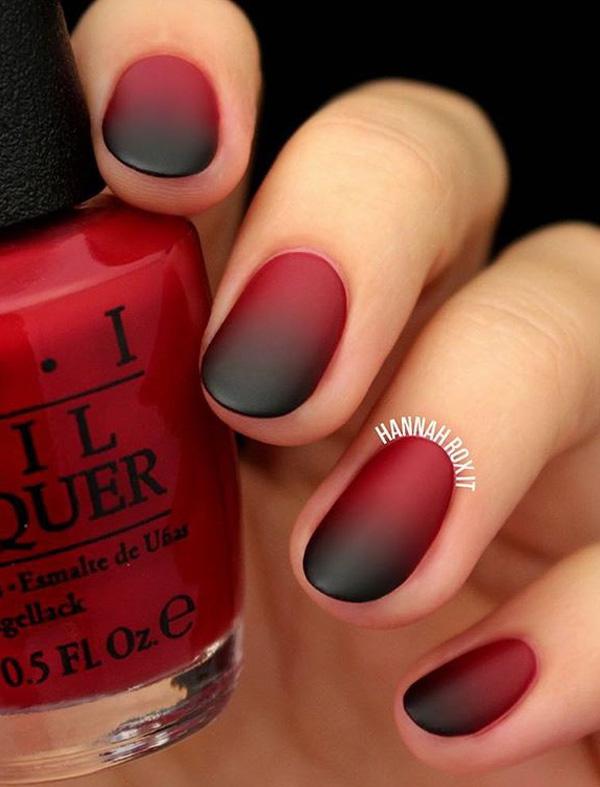 Ombre first became popular in the salons for hair care and then transferred in manicure. Modern for a few seasons, it will be the right choice, especially with such a strong autumn colors like red and black.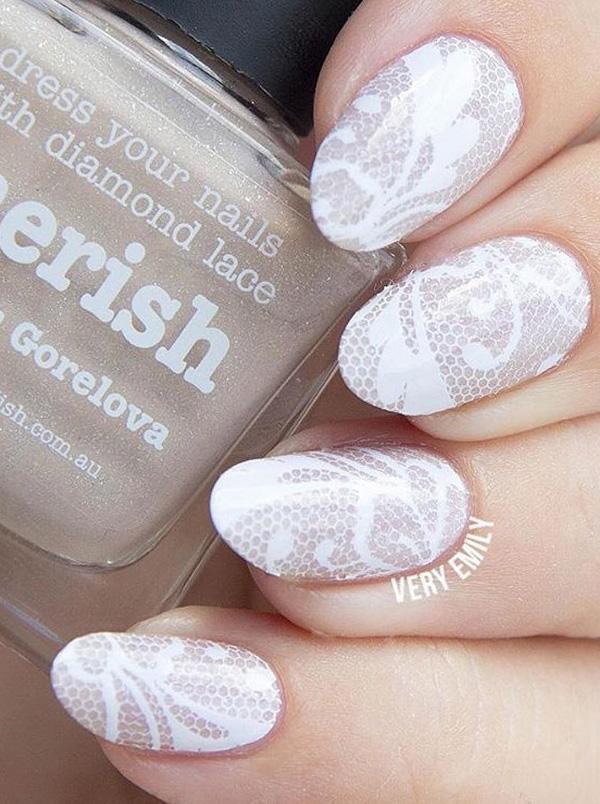 Nail polishes with diamond reflections are sophisticated and glamorous, will give a special touch to your elegant style. There are numerous stickers and labels with which you can pattern nails if you are not great in drawing. Above that only a transparent nail polish and will be great.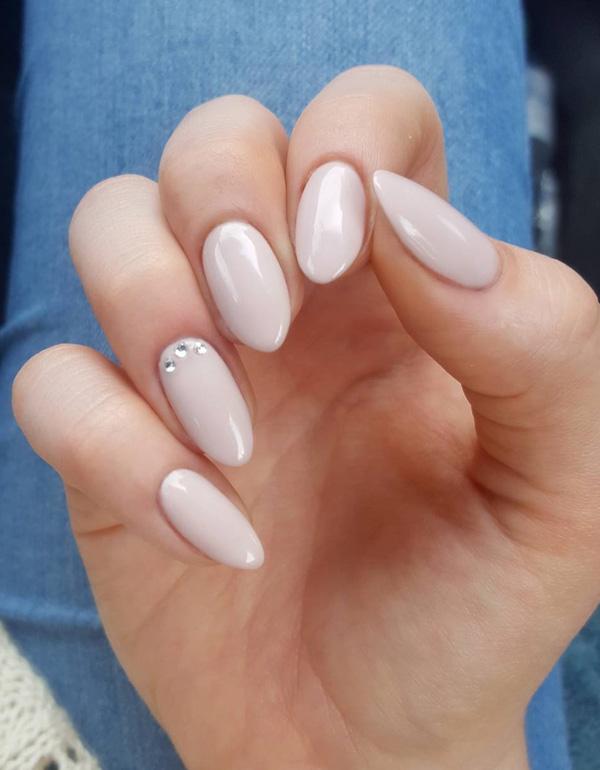 Here we can see how small details as this three rhinestones on ring finger can enrich simple manicure as this in the picture.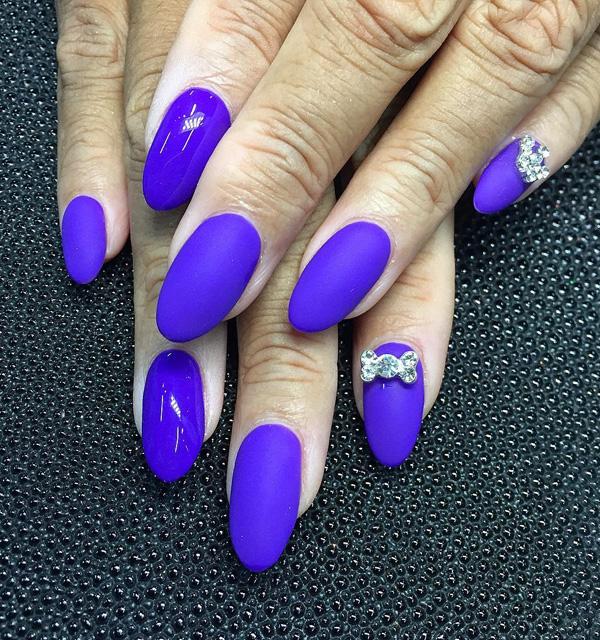 I don't know about you but I prefer combination of matte and shiny nails. It's interesting, opposite things attract eachother, right?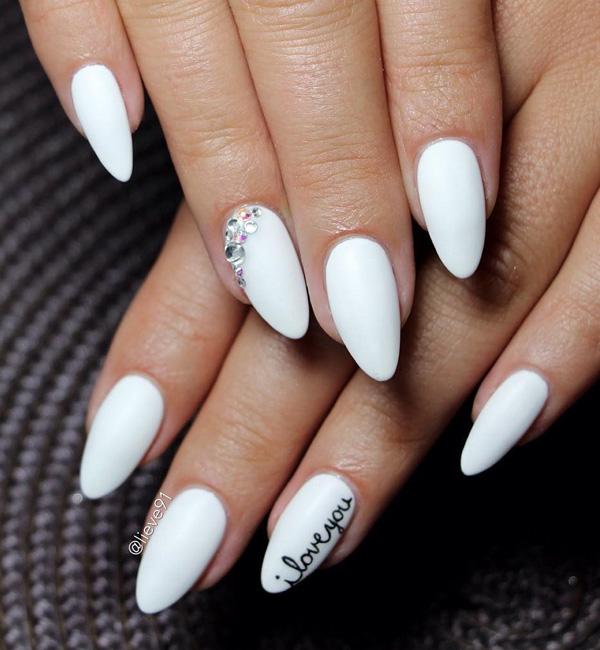 Send message of love whenever you can cause world need love so much. Even on your nail write it.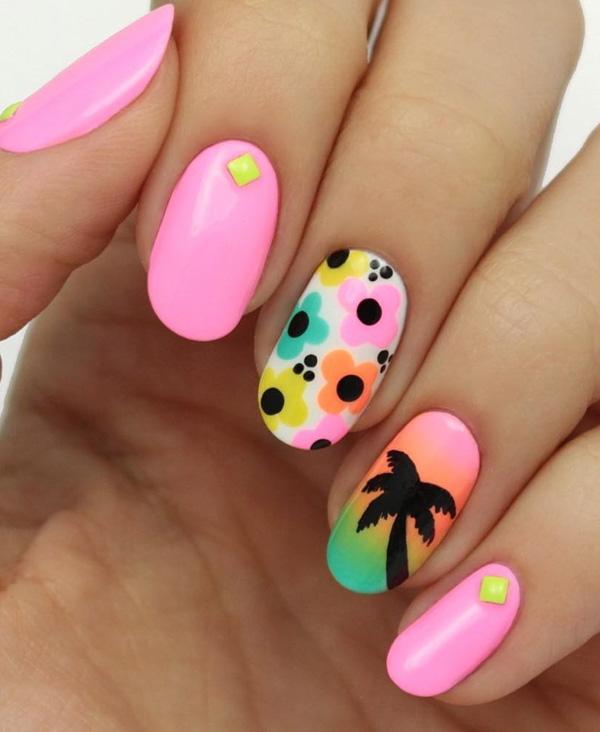 This is one manicure which reminds on sea, on vacation, summer. It is great choice for hot sunny summer days.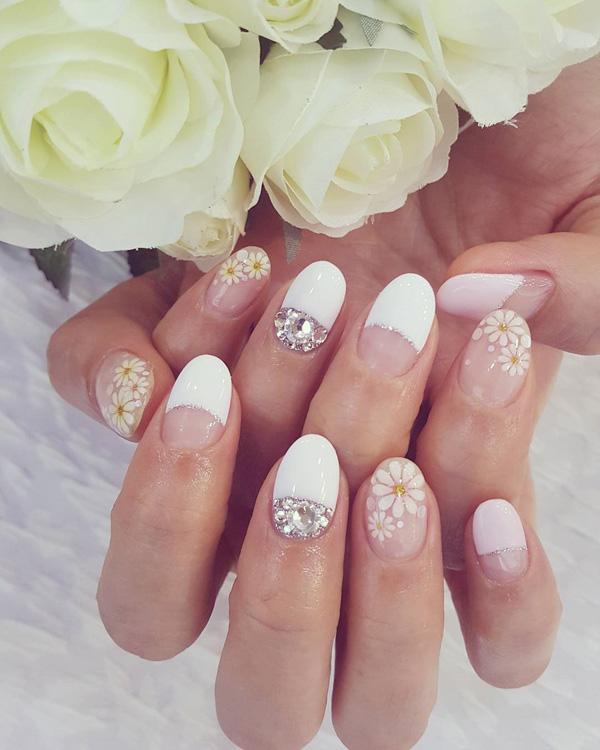 Gently colors and seductive flovers and rhinestones for your the most important day in life. Say yes, while you all are shining like diamond.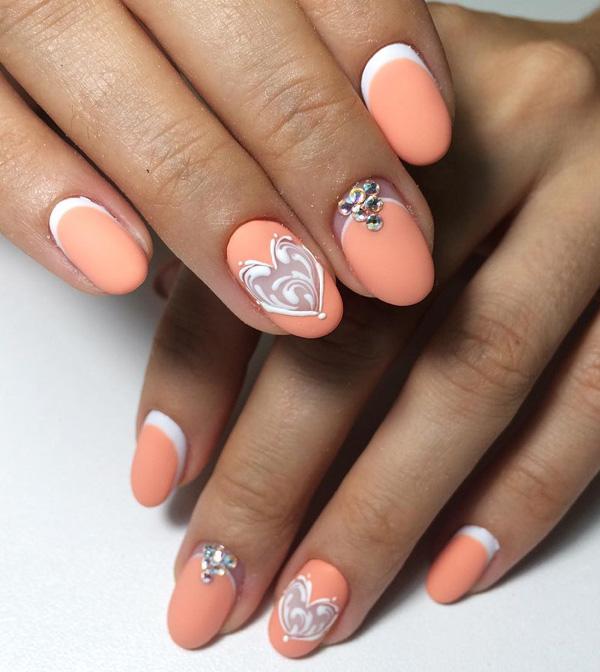 Exotic orange color is the choice of people who are careless and that people can always count. Like yellow it is a warm color that will warm your soul in cold winter days.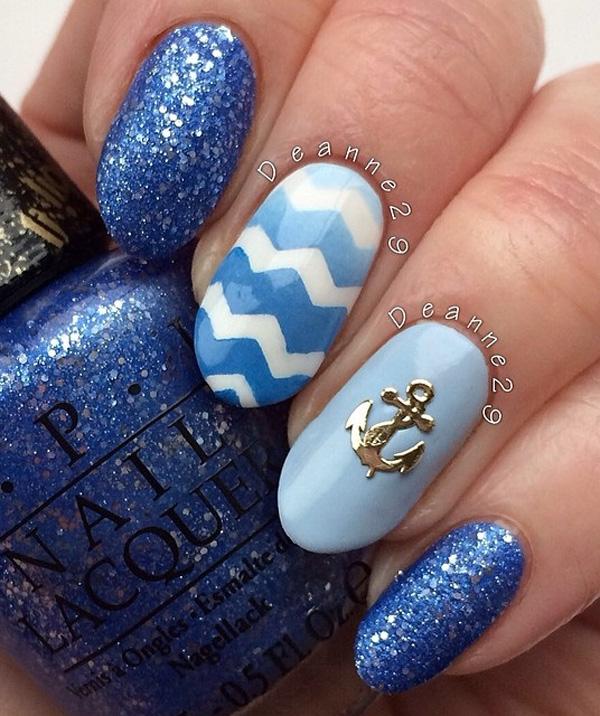 It is true that in different seasons, different forms of nails are modern. Sometimes are modern oval, sometimes squared, sometimes almond nails. Regardless of the mode, take the form of a fingernail that best fit to you because thats the only way your manicure will seem neat and nice.
A little bit pointed nails are very feminine. It is important that the top of nail is on middle of nail, not in side. This manicure fits almost every lady, regardless the length of fingers.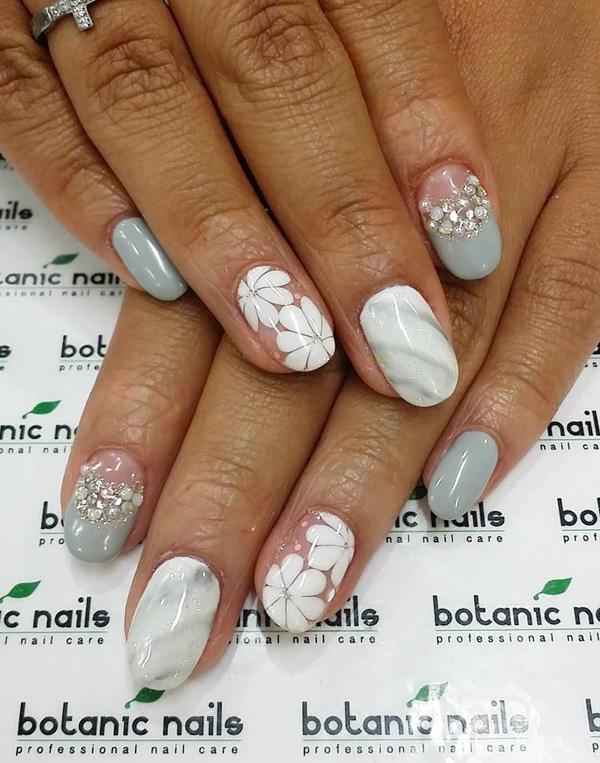 Oval shape of nails for me are the most feminine form of the nail, which specifically fit women with shorter fingers because it visually lengthened it.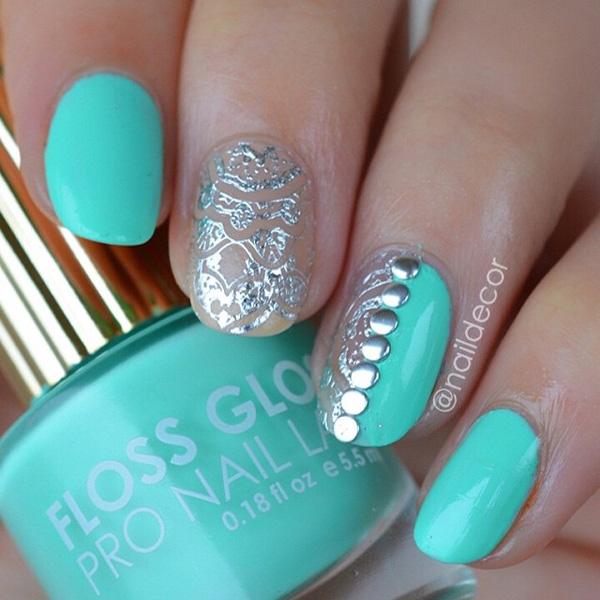 Floss Gloss is very popular brand which gives us a lot of great quality (in terms of durability and gloss) colors. In their collectin released in 2016 you will certainly find some which fits to you.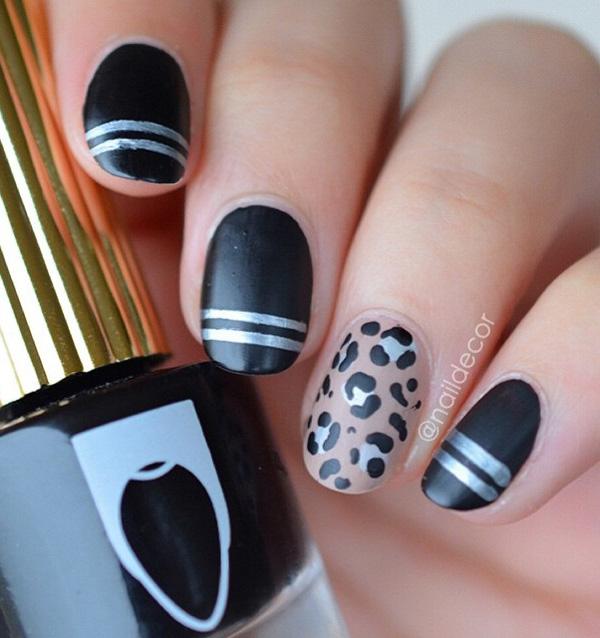 Leopard print is popular for a long time (it is sexy!!!) but does not need to be found only on our clothes. We can have it on our nails. Maybe leopard print nails at all nails are a little too much, but on one or two nails on would be the right choice.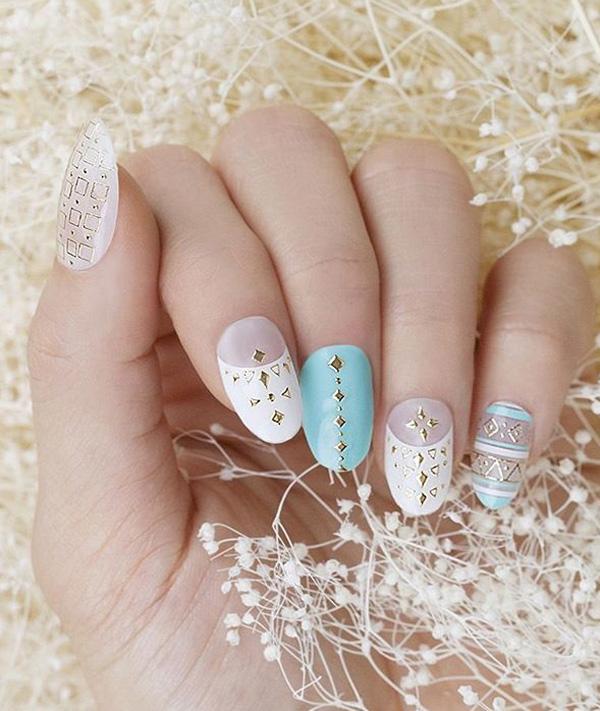 These nails remind me on Oriental East and he is always interesting and exotic. So whether it's summer or winter this manicure can be a failure.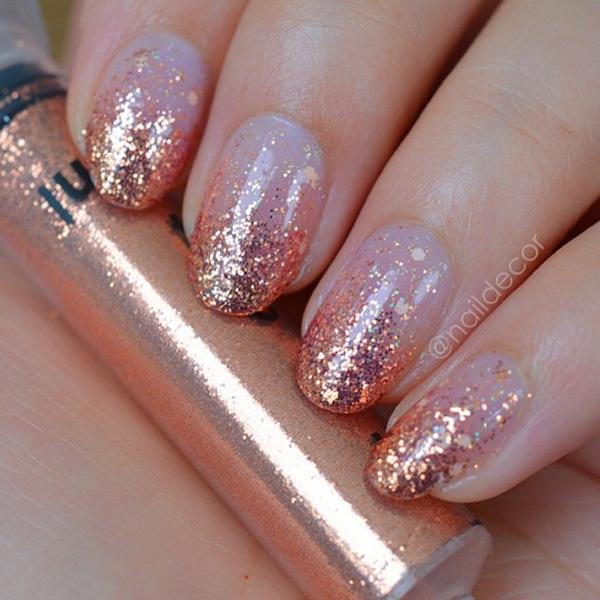 Natural nails paint with colorless nail polish, pour glitter you have prepared on the nail, most put on top and with a special brush drag them down. Above rhinestones put one layer of clear nail polish again and you are ready.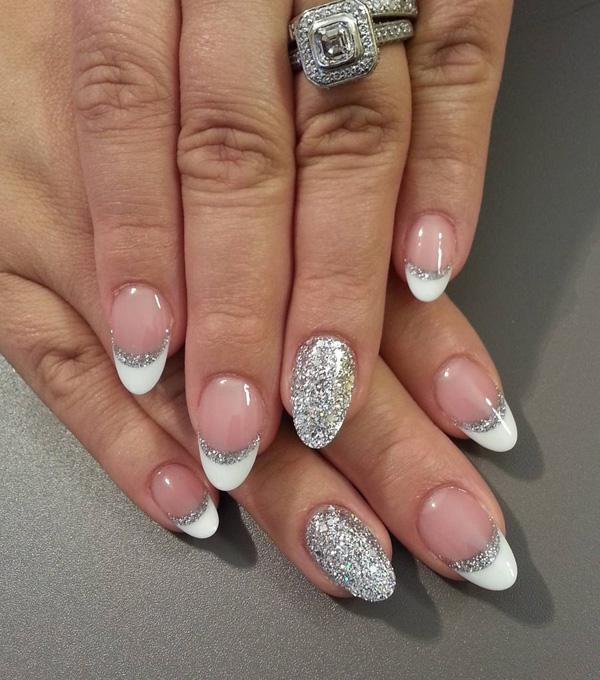 This manicure for me is timeless. Simple, enriched with a little glitter gel, standing beautiful on each hand. Ladys who prefer this manicure are your safe companion in life, simple (in the best sense of the word), next to who you will always feel safe.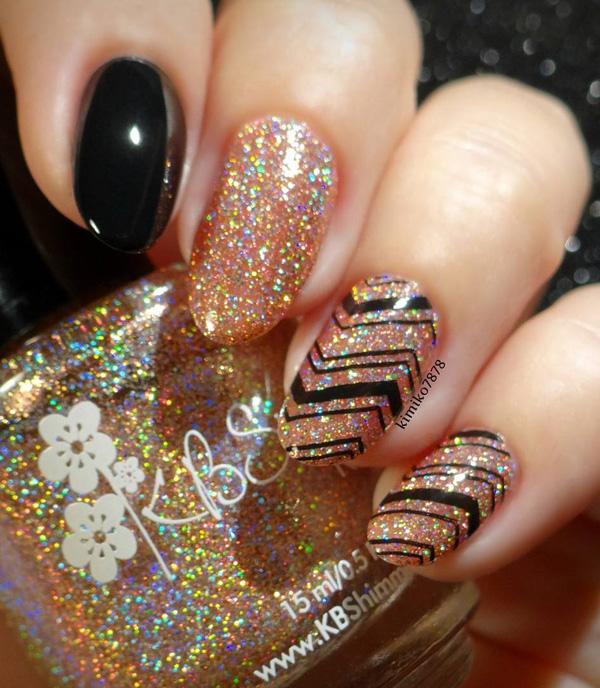 Choose this manicure and you are ready for main party. Golden glitter gel in combination whit black you can combine with little black dress and gold jewelry.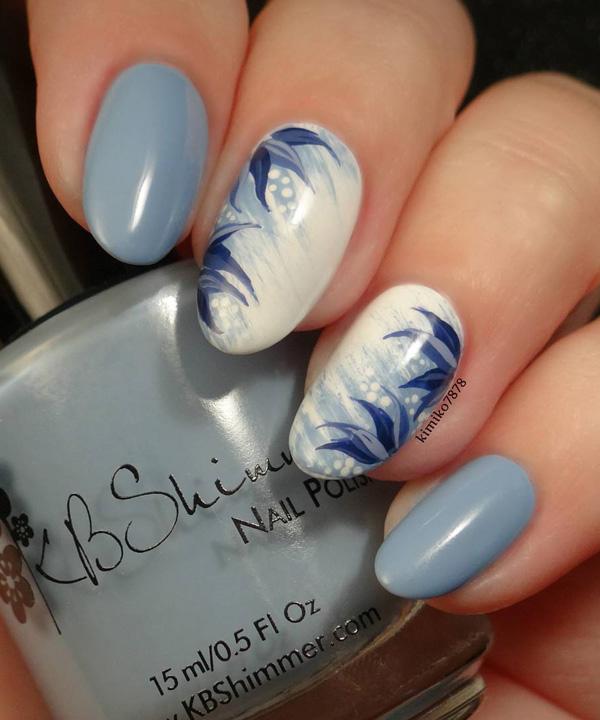 KBS SHIMMER have a lot of products in which you will enjoy as, first of all nail polishes (that is interesting for us), but also colorful soap, creamy sugar scrubs, bath bombs, lotion, hand care products… On their site you can see their offer related to nail polishes. I am sure that you will find something for you…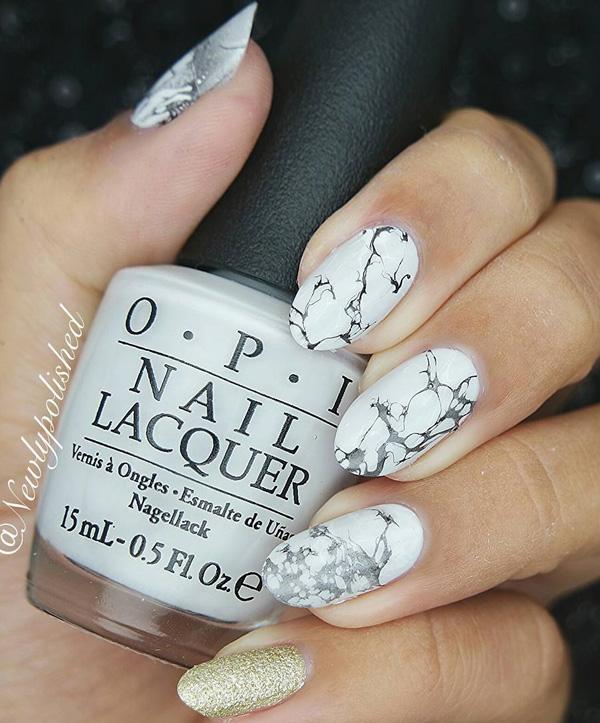 Marble and gold … Let the luxury be seen on your nails. Select OPI nail polishes and enjoy in quality and colors which last longer and feed your nails.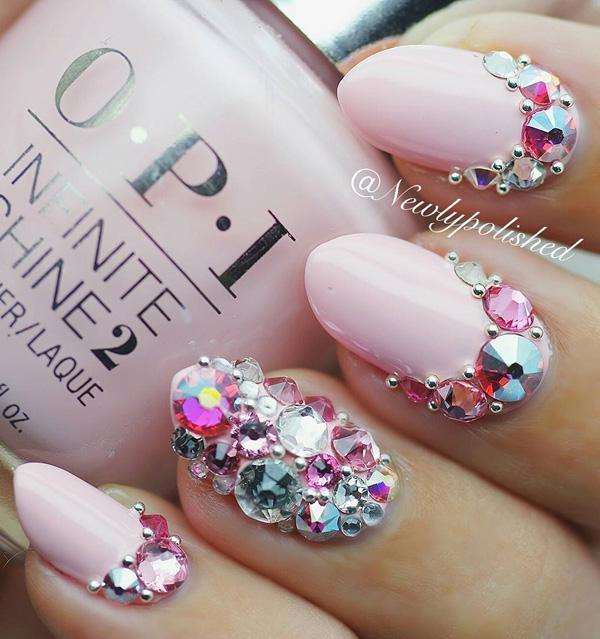 OPI is an American brand of nail polish, which perfectly fit to the natural and artificial nails. They contain vitamins that nourish your nails, feed them and do not damage, contrary harden them. These varnishes sure you will discover in salons for nail care. Why not be like a Hollywood star and use this nail polish.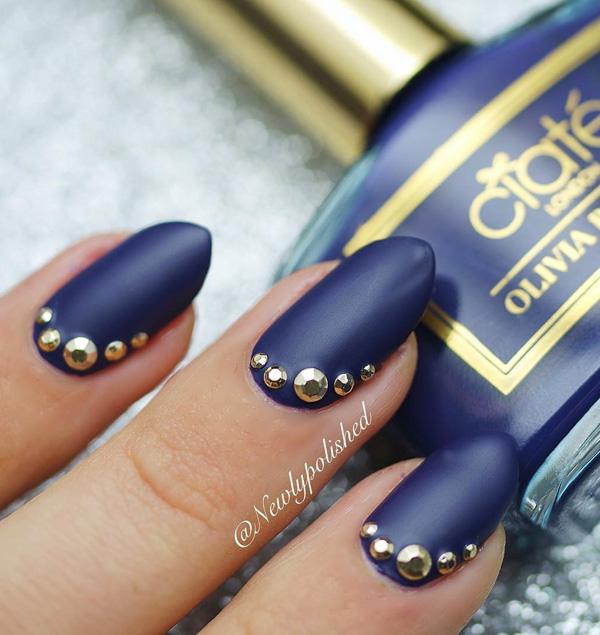 CIAT nails polishes are another extremely quality brand of nail polish. One of their recent news are nail polishes that in day collect brightness (absorb it), and in evening and night shine in neon colors. These polishes you have in yellow, blue, pink, orange. You can feel free to wear them during the day at work and at night in disco.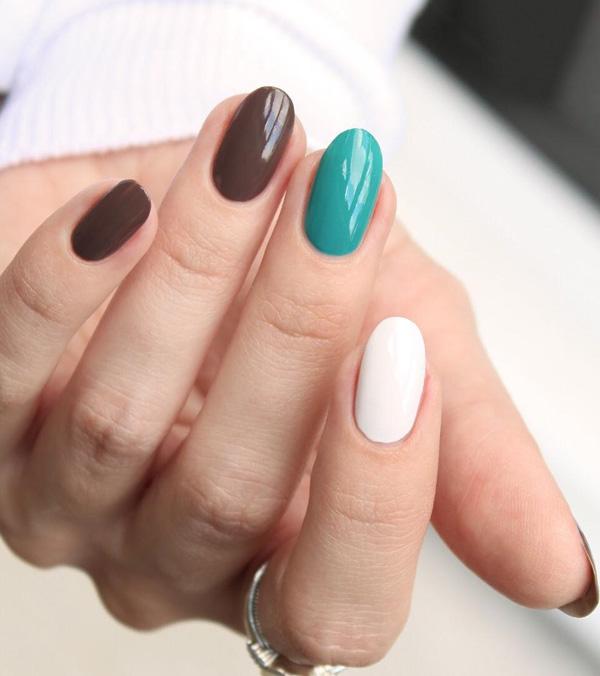 Three colors are never too much, not even on the nails. They say that for four or five colors you will need more skills to combine it, but three colors are permissible.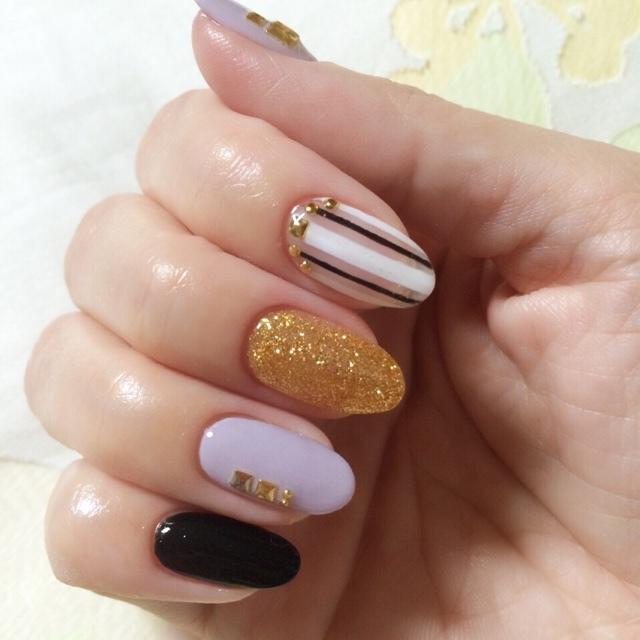 Timeless black and white combination enriched with gold color that this winter will be a total hit. I do not know about you but I like when it shines, so why not decorate nails so?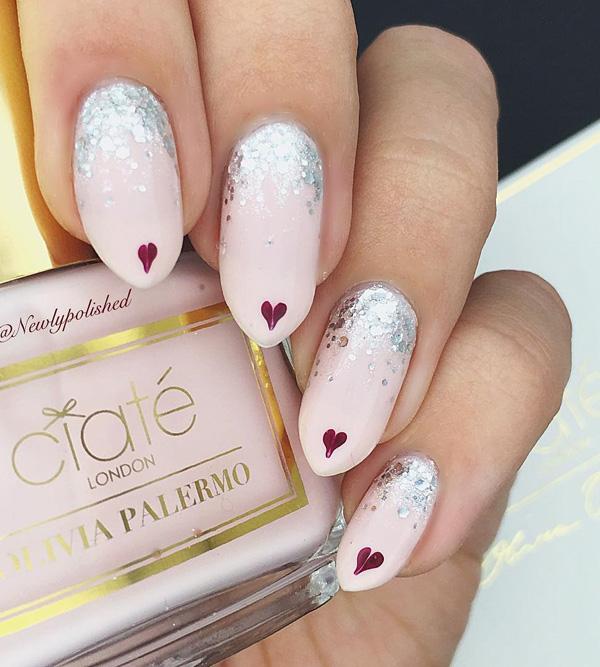 Soft neutral color, decorated with rhinestones at the base of the nail. At the top are hearts, let's send a message of love, it is never too much love, people always need it!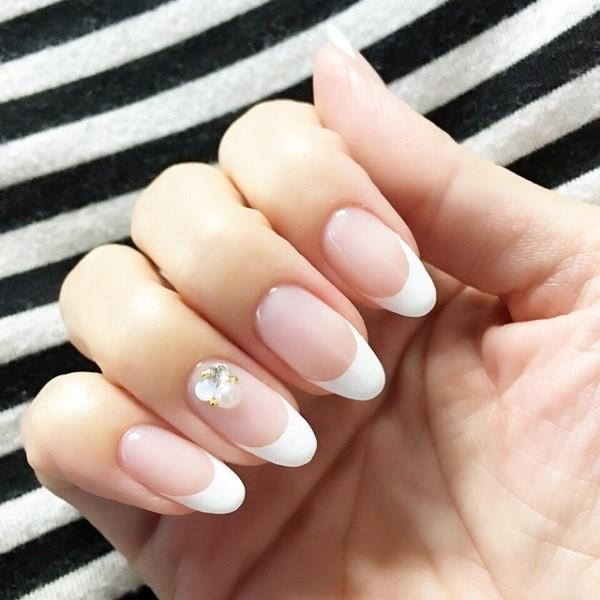 Here we see simple but also timeless French manicure, enriched just with a few zircons and pa pearl.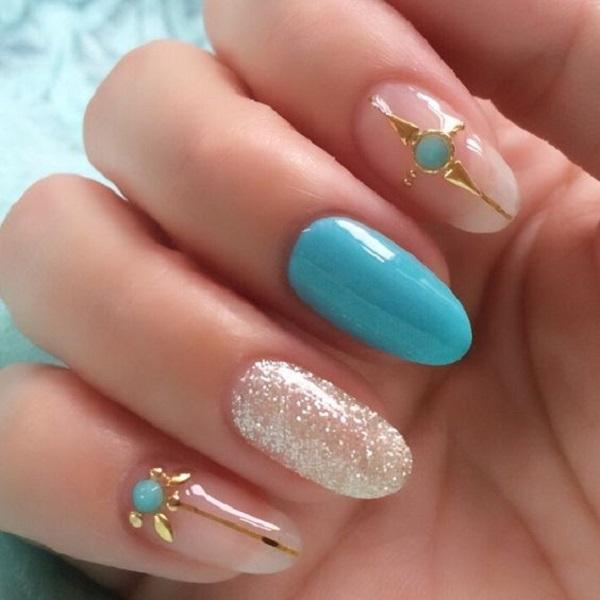 This manicure you can do by gelling nails under the UV lamp, or simply in your own home with three shades of nail polish: blue, white glitter nail polish and nail polish colorless. With a couple of zircons enrich manicure and enjoy!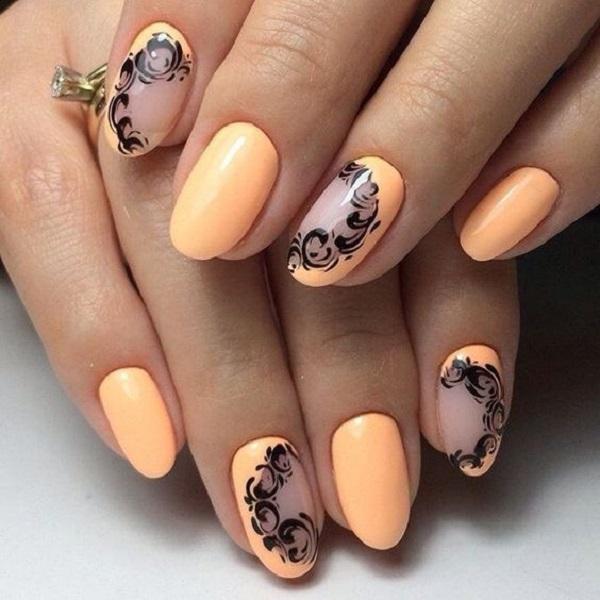 Soft orange color is good and for hot summer, and for cold winter. It is warm color and it will warm you in cold days…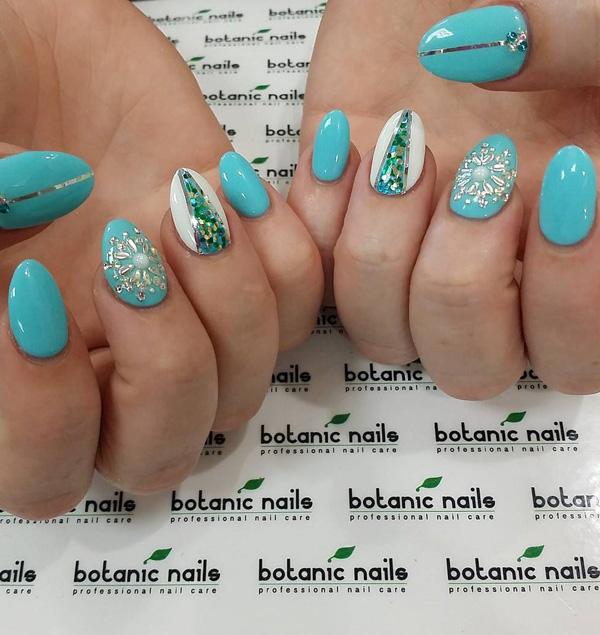 If you have a wide nails choose this form as in photo. Turquoise blue color is modern for seasons and favorite color of many girls around the world. Rhinestones are there to make glamorous every even the most simple combination!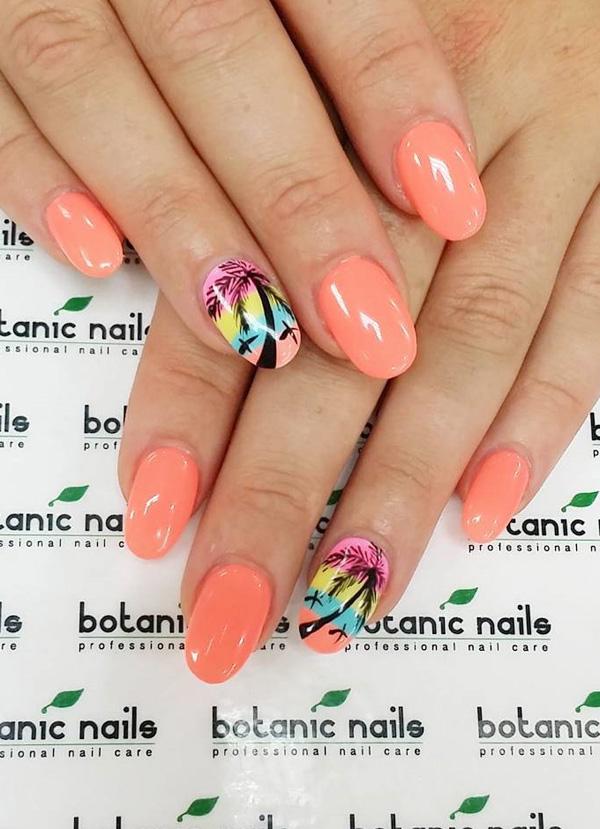 For hot summer days while resting on holiday under umbrella on the beach, the sound of waves treat your soul. One cocktail next to you, your favorite newspaper, the sun …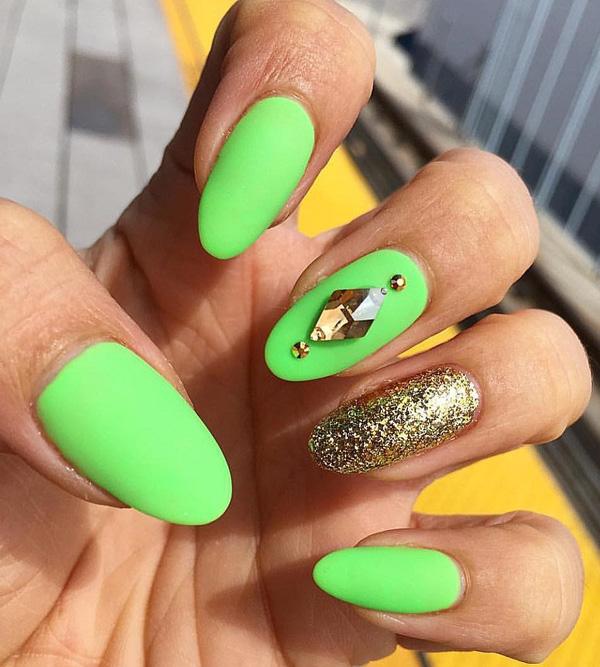 Extremely popular matte manicure, which still can not be entirely matte … there must at least one nail to shine like this treated with golden glitter gel!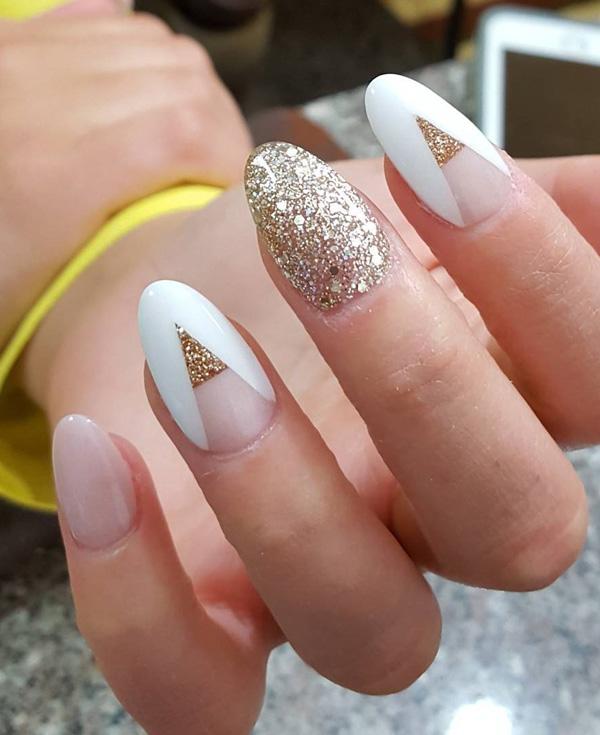 The rounded shape of the nail is very good for ladies who have brittle and soft nails.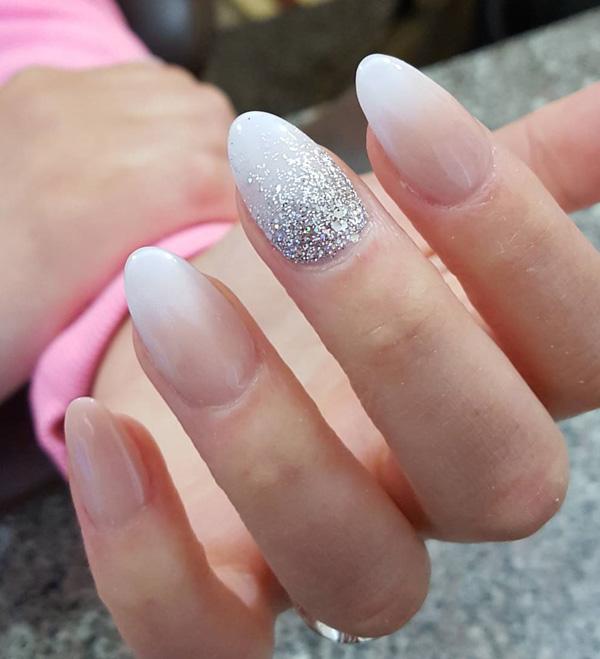 I really like when someone at the root or top of the nail put most rhinestones and with soft brush pull it up to the top or down to the root of nail. It is very easy to do and look very nice.
Strong colors like dark are modern this fall, however, in a wish to get a strong color, be careful not to overdo with the amount of nail polish, which is applied because too much paint will not look good on your hands.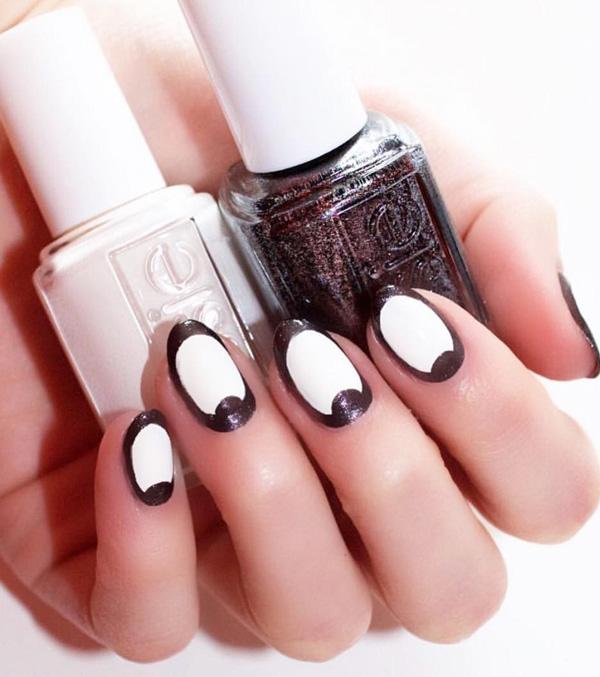 Interesting manicure that will help you to visual narrow the wide nails. Darker color put on the edges, a brighter white color in this case on the middle of the nail.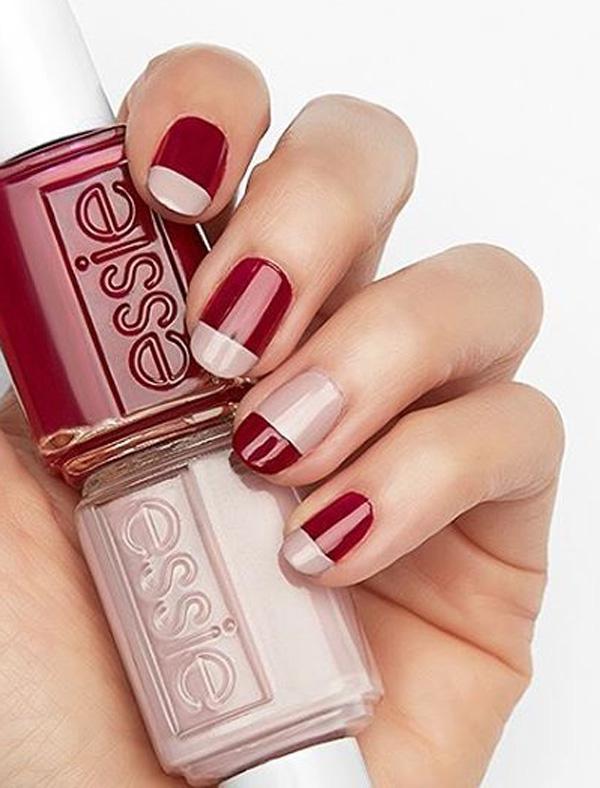 Here's an idea for franch manicure in color. Here are used beige and red color for manicure, nails on all fingers are colored with beige on top except on the ring finger nail where dominates beige and red color is on top of the nail.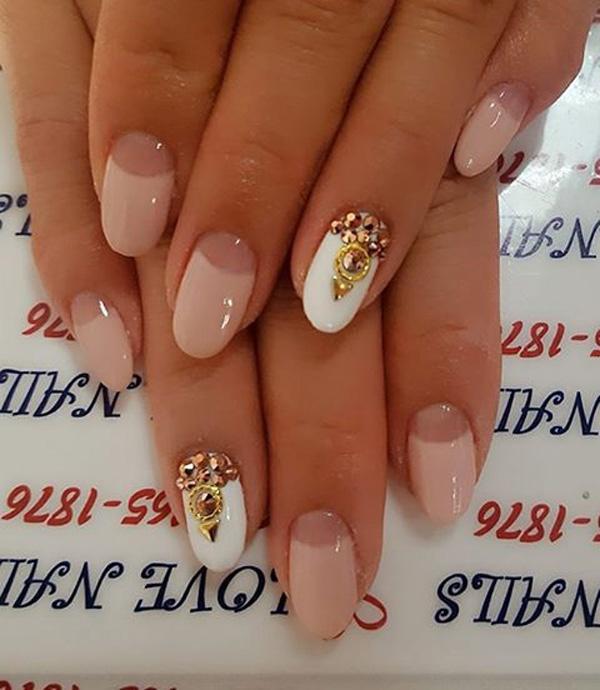 Neutral color in this manicure are very sensitive, and for me this manicure fits gentle seductress.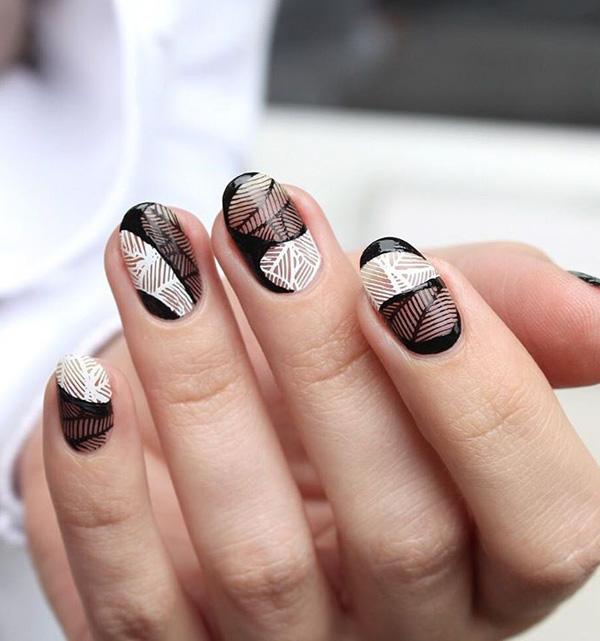 This is one very effective manicure, you can with the help of stickers for patterns to achieve this patterns, or if you are a little more skillful with the help of good thin brushes.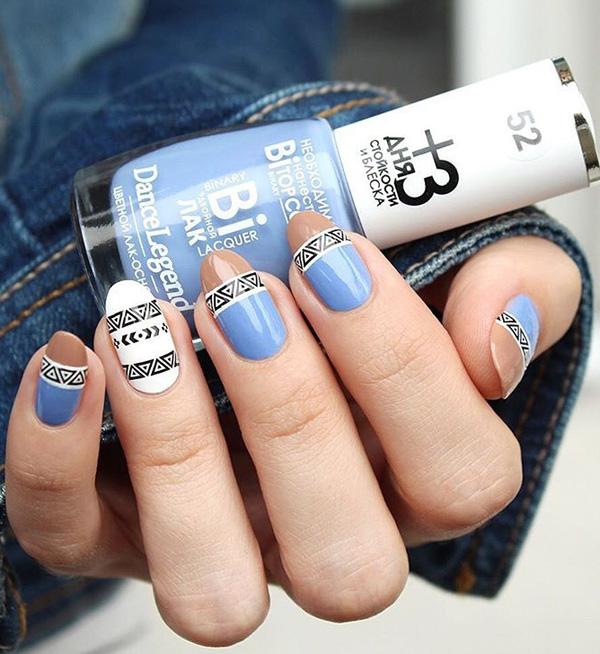 To achieve these triangular patterns use labels that you will adhere over paint color, stickers go through a colorless nail polish to the whole manicure lasted longer.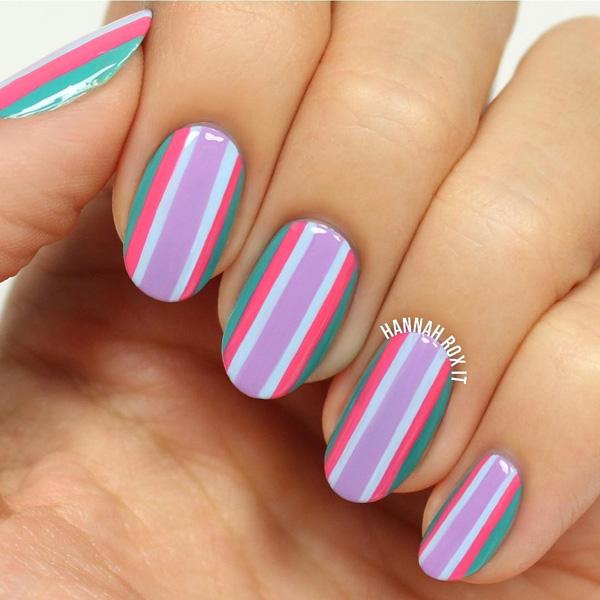 Happy manicure, which I personally would recommend for the warmer spring and summer days, but maybe it can look and refreshing in these autumn days with adequate outfit.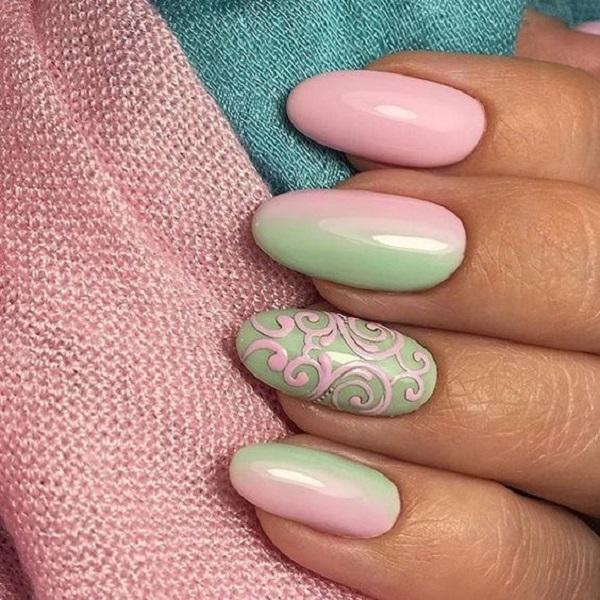 The combination of two gentle colors, gentle ombre on two fingers is very interesting. And for pattern on the ring finger nail you will need a little bit more experience in drawing patterns.