In the realm of tattoos, few symbols are as commanding as the Chinese dragon. This mythical creature, imbued with a rich history and deep symbolism, has been a prominent figure in Chinese culture for centuries. A Chinese dragon tattoo isn't just a striking piece of body art—it's a powerful emblem that carries a wealth of cultural significance.
The Symbolism and meaning
In contrast to the fire-breathing beasts of Western lore, Chinese dragons are benevolent, representing power, wisdom, and prosperity. They're deeply intertwined with the natural elements, believed to control the weather, rainfall, and typhoons. These celestial beings represent the Emperor, embodying power and majesty, and are often depicted in pursuit of a flaming pearl, a symbol of spiritual energy and enlightenment.
Chinese dragons also symbolize balance, reflecting the concept of yin and yang—two opposing forces in harmony. This duality can be seen in the dragon's attributes: they are creatures of water, yet they breathe fire; they symbolize power, yet also wisdom; they are fearsome, yet benevolent.
Chinese Dragon Tattoo Designs
The beauty of Chinese dragon tattoo designs lies in their versatility. They are adaptable, with designs ranging from intricate, full-bodied dragons to minimalist, abstract interpretations. These mystical creatures can be inked in any size, from sprawling back pieces to small, discreet tattoos, and can be placed anywhere on the body. Each design celebrates the rich symbolism of the Chinese dragon, making it a powerful and personal statement.
Chinese dragon shoulder tattoo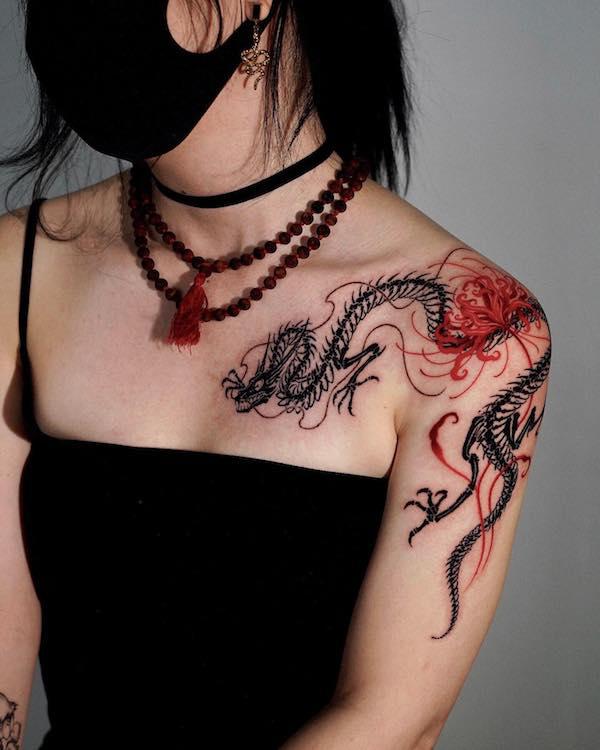 A shoulder tattoo is always a bold statement. A Chinese dragon perched on your shoulder, with its fierce eyes and curling tail, is a symbol of protection and authority. This design is not only visually striking but also serves as a constant reminder of your inner strength and determination.
3D Chinese Dragon Clavicle Tattoo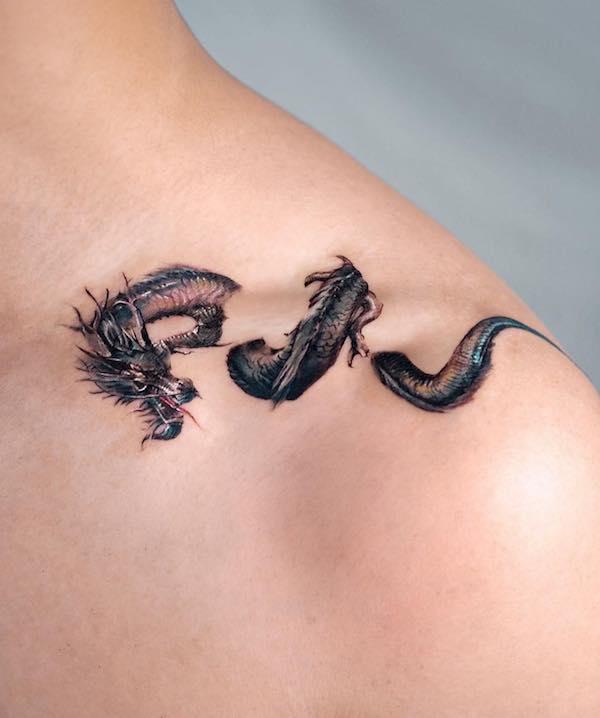 A 3D Chinese dragon clavicle tattoo can be a dynamic spectacle, with the dragon seeming to rise from the skin's surface. The clavicle provides a unique canvas, allowing the dragon's serpentine form to coil and twist, symbolizing fluidity and flexibility. This design can represent overcoming obstacles, as the dragon navigates the body's contours.
Black and Grey Chinese Dragon Leg Tattoo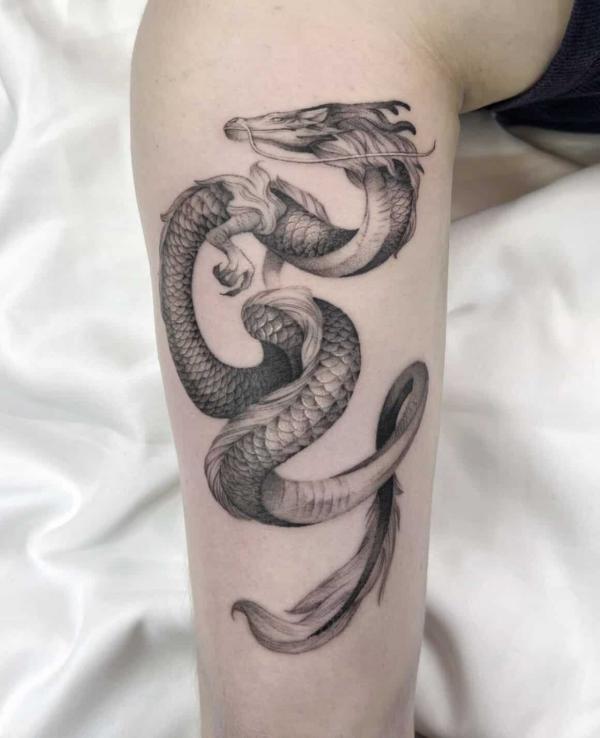 A black and grey Chinese dragon leg tattoo is a striking choice that harnesses the power of contrast. The design can wrap around the leg, using the body's natural lines to enhance the dragon's elongated form. This design resonates with the symbolism of movement and journey, making it a great choice for those on a path of personal growth.
Black and White Chinese Dragon on Hip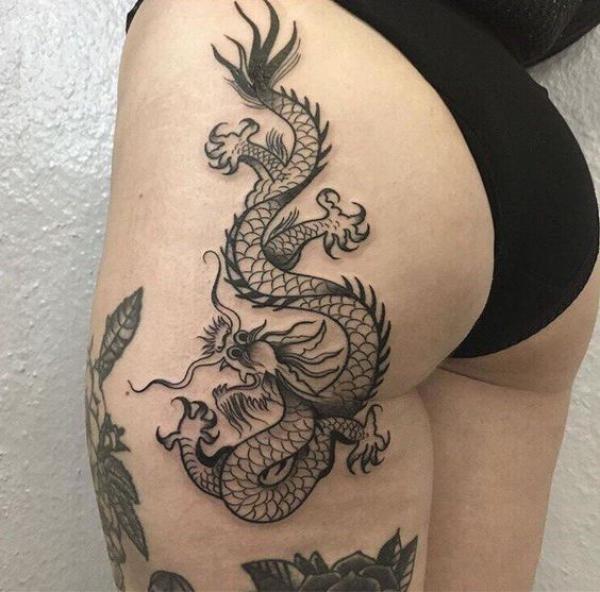 Choosing a black and white Chinese dragon on the hip can create a powerful yet intimate statement. The hip is often a less visible area, lending the design a sense of personal significance. This design can denote inner strength and personal journey, serving as a private reminder of the wearer's inner power.
Chinese dragon and sword with rose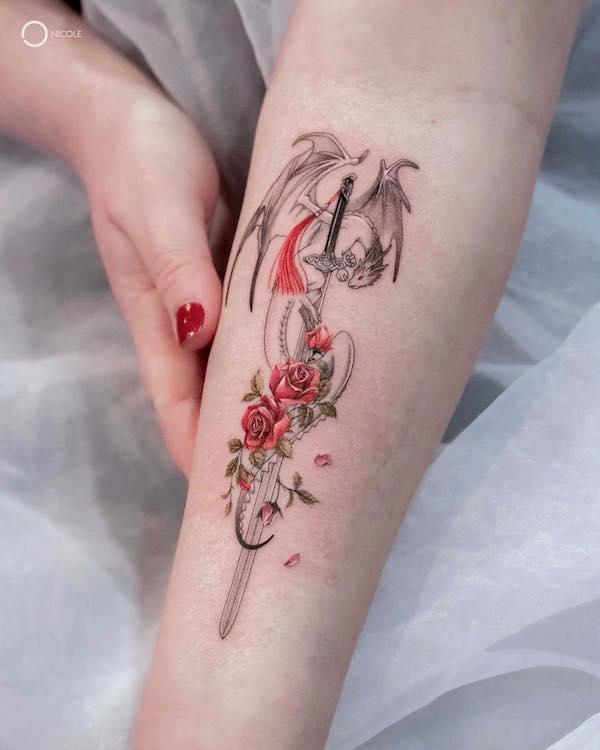 Combine the might of a dragon, the sharpness of a sword, and the beauty of a rose in one tattoo. This design embodies a balance of power , courage, and love or beauty. It's a rich narrative piece that can encapsulate the wearer's personal story or ideals.
Chinese dragon forearm tattoo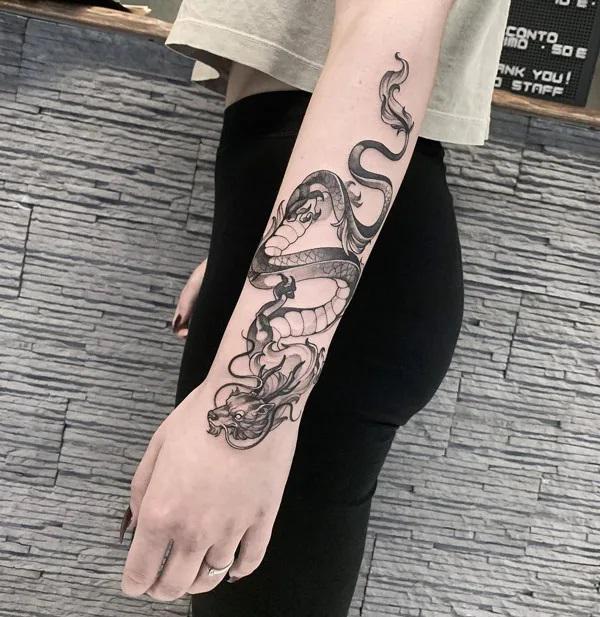 A forearm tattoo often serves as a remarkable conversation starter. The Chinese dragon, in all its magnificent glory, etched on your forearm is a symbol of power, wisdom, and prosperity. It's a design that commands attention and respect. Whether you chose a full-sleeve swirl of scales or a minimalist dragon silhouette, a forearm tattoo is an impressive display of inner strength and personal growth.
Red Chinese dragon thigh tattoo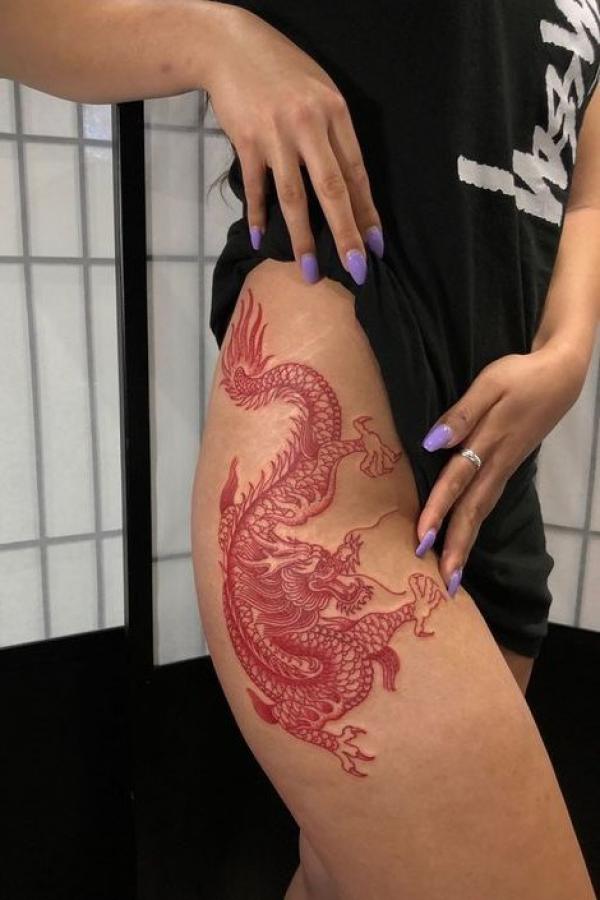 Looking for a tattoo that's bold and fiery? A red Chinese dragon might be the perfect fit. The color red in Chinese culture symbolizes good luck and joy. Combined with the dragon, it's a potent symbol of power, passion, and transformation. The thigh offers a large canvas for a detailed piece, allowing for an impressive and dynamic design that truly stands out.
Chinese dragon and tiger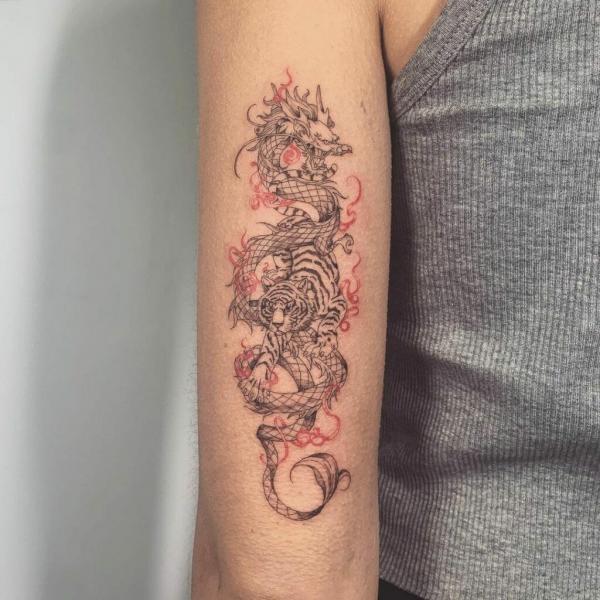 The Chinese dragon and tiger design is a popular design that embodies the yin and yang concept. The dragon, representing wisdom and nobility, is perfectly balanced with the tiger, a symbol of raw power and courage. This tattoo can serve as a visual representation of maintaining balance in life, a perfect blend of strength and intellect.
Simple red Chinese dragon spine tattoo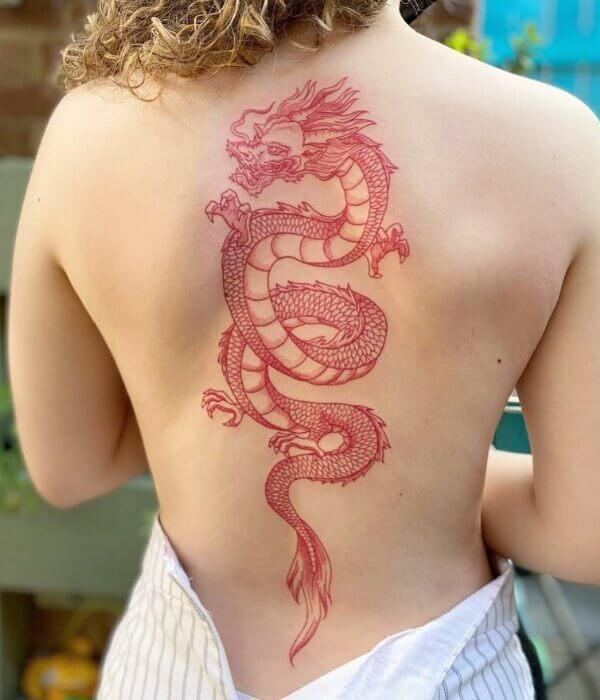 A spine tattoo is a unique and daring choice. A red Chinese dragon tracing the line of your spine can be a stunning display of elegance and resilience. This design is a perfect choice for those who prefer a simple yet powerful statement. The dragon, in its sinuous beauty, serves as a symbol of flexibility and adaptability, highlighting your will to endure and thrive.
Chinese dragon back tattoo for female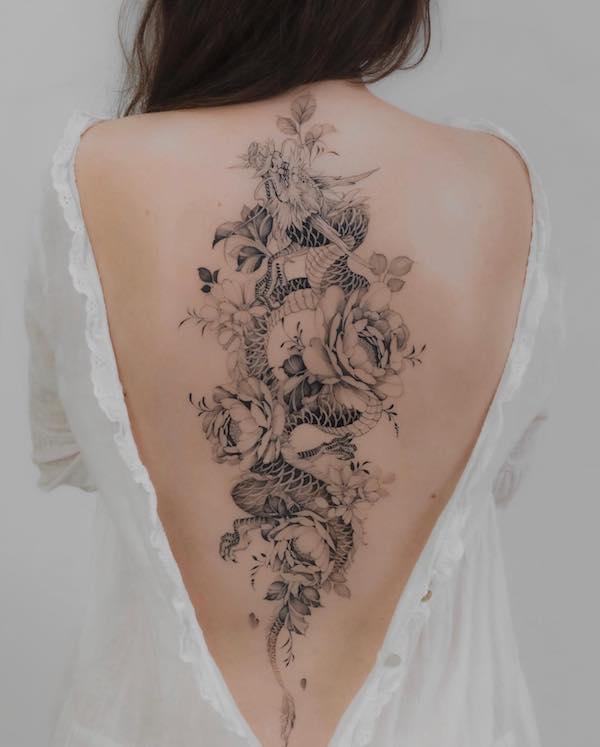 A Chinese dragon back tattoo for females is an emblem of strength, independence, and free spirit. It can be a beautifully intricate piece, with the dragon's scales, claws, and fiery breath meticulously detailed. It's not only a testament to your endurance (because we all know back tattoos need that), but it also stands as a symbol of empowerment, strength, and defiance of norms.
Sketchy Chinese dragon with name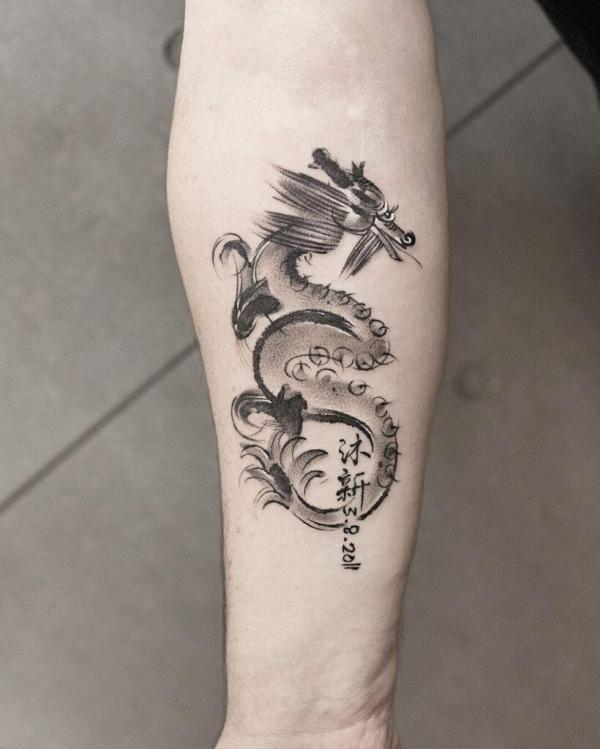 A sketchy Chinese dragon with name incorporated into the design adds a personal touch to the traditional symbol. It's like intertwining your own story with the mythical creature's power and wisdom. The sketchy style lends a raw, edgy vibe to the classic Chinese dragon, making it a unique piece that truly says 'you'.
Chinese dragon rectangular tattoo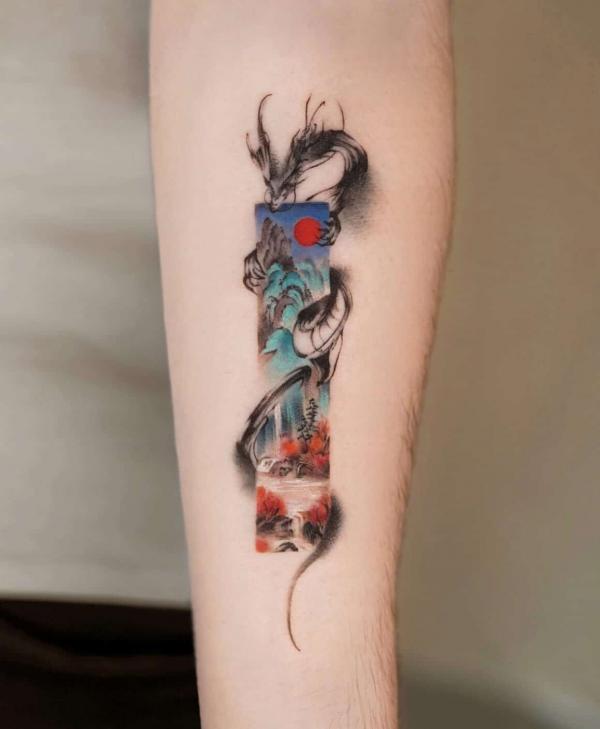 A Chinese dragon inside a rectangular frame is a classic, sophisticated tattoo design. It's like capturing a moment of mythical power and majesty, frozen in time. This design can be as detailed or as minimalist as you like, making it a versatile choice that can adapt to your personal style and taste.
Imagine the power of the Chinese dragon swirling around your arm, its sinuous body coiling and uncoiling on the arm. The dragon's intricate scales and fiery breath can wrap around your arm, creating a moving masterpiece. The sleeve tattoo is not merely a design—it's a declaration of strength, wisdom, and an indomitable spirit.
Coiling coiling dragon and girl
The coiling dragon and girl is a striking piece that narrates a tale of power and beauty. It's a poignant blend of the fearsome and the feminine, where the dragon's might meets a girl's delicacy. This design can represent the harmony of contrasting elements, reminding us that strength and gentleness can exist side by side.
Female Chinese dragon and flower tattoo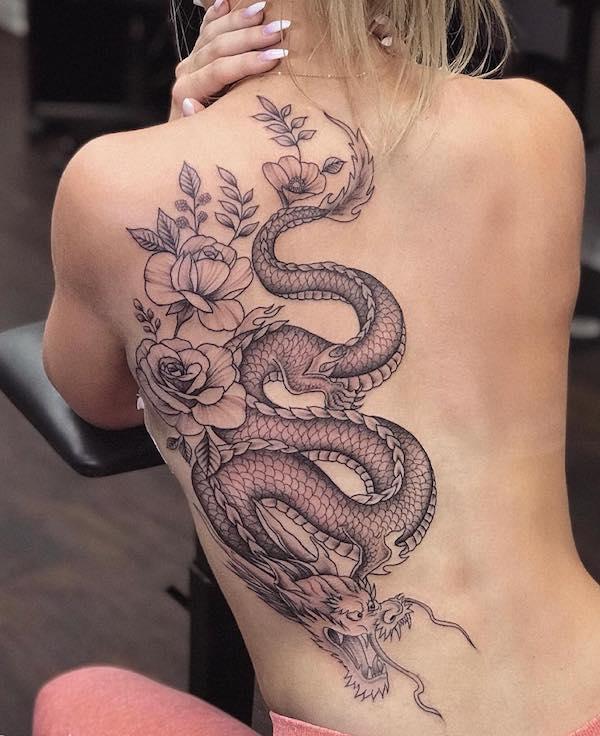 The female Chinese dragon, combined with delicate flowers, is a compelling choice for those who seek to combine power with elegance. The dragon symbolizes strength, wisdom, and prosperity, while flowers add a touch of beauty, grace, and growth. It's a design that speaks volumes about the duality of life—the balance of strength and beauty, power and elegance.
Chinese dragon tattoo with flowers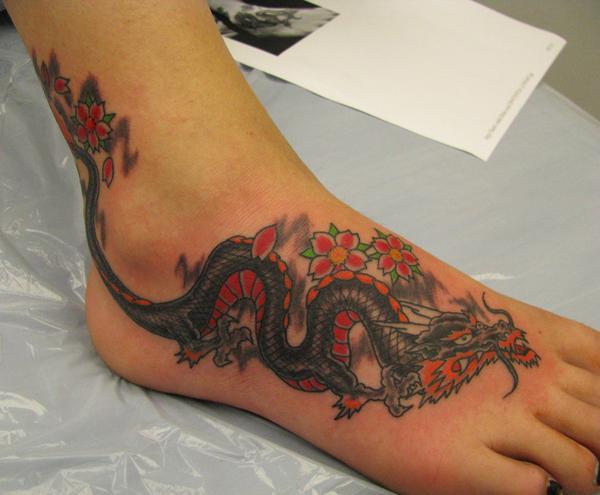 A Chinese dragon intertwined with flowers is a visual feast. The fierce dragon and the blooming flowers create a dynamic balance, symbolizing the dance between power and gentleness, strength and vulnerability. This design is an artistic expression of the interplay between contrasting elements, making it a captivating piece that never fails to impress.
Heavenly Chinese Dragon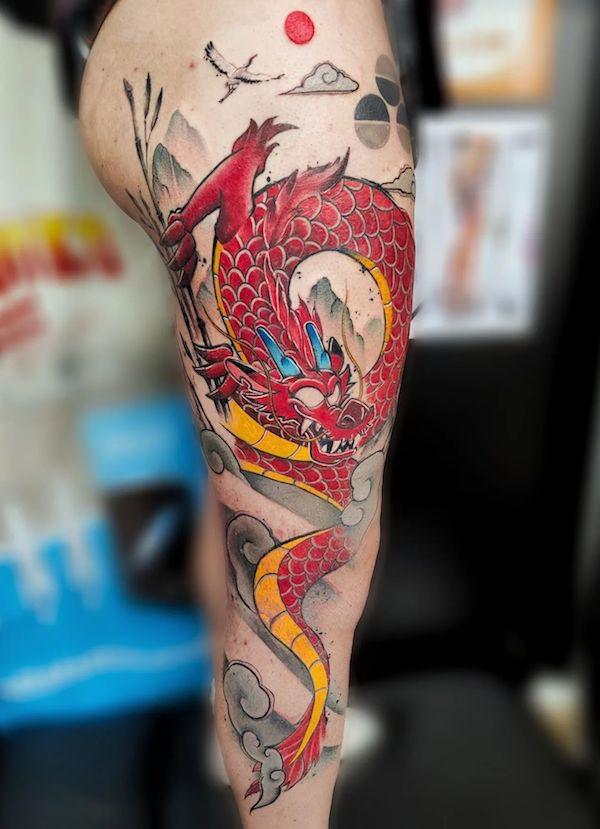 A heavenly dragon tattoo on the leg is a bold and divine choice. The dragon, with its mighty form, can coil around your leg, symbolizing protection, good fortune, and spiritual growth. It's a design that's not just visually stunning, but also a potent symbol of your inner strength and the journey you're undertaking.
Lycoris and Chinese dragon ink painting tattoo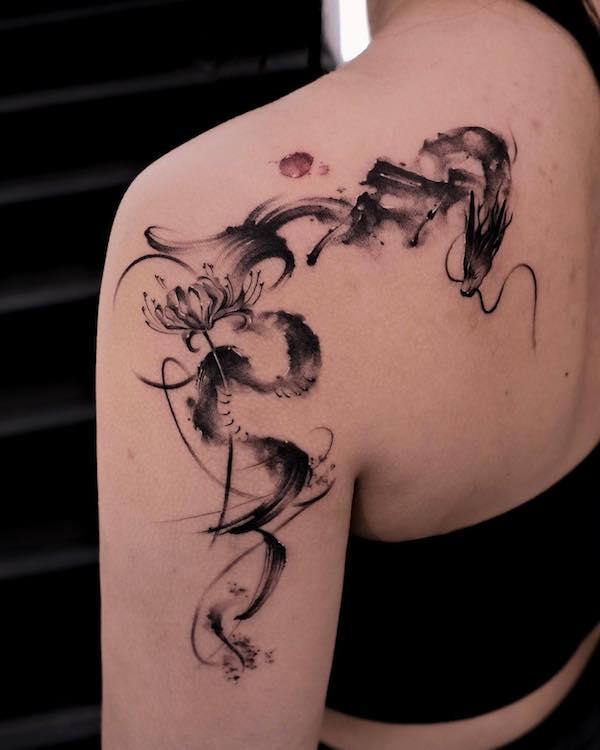 The Lycoris and Chinese dragon ink design is a tribute to traditional Chinese art. The Lycoris, or red spider lily, is a symbol of rebirth and eternal love in Chinese culture. Paired with the dragon, it becomes a powerful emblem of transformation, love, and wisdom. This design, styled as an ink painting, pays homage to the rich Chinese artistic tradition while providing an elegant and meaningful piece of body art.
Chinese red dragon back tattoo for women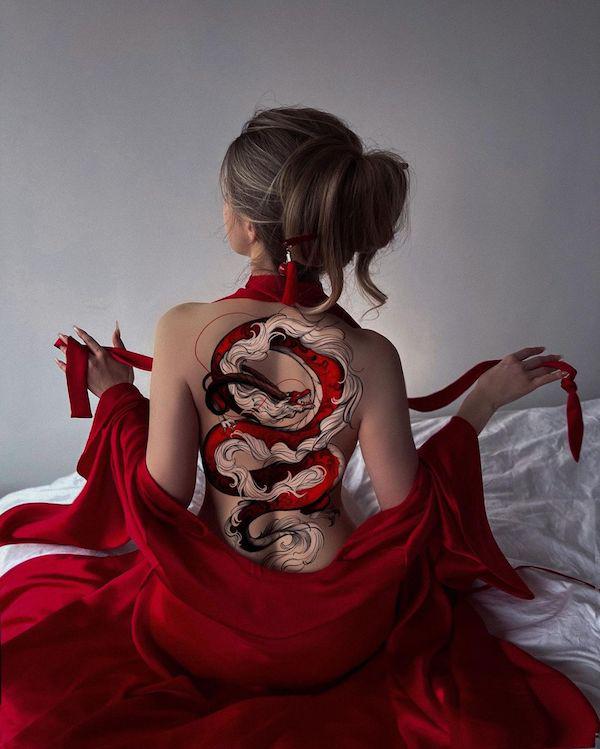 A vibrant Chinese red dragon back tattoo for women is an audacious and fiery statement. The color red, in Chinese culture, is associated with good luck and celebration. The red dragon on the back is not just a striking piece of art, it's also a symbol of power, prosperity, and an unyielding spirit. It's a celebration of the strength and resilience that lies within every woman, making it a powerful and empowering choice.
Color Significance in Chinese Dragon Tattoos
Color is more than an aesthetic choice in Chinese dragon tattoos. Black, often used for its high contrast and dynamism, symbolizes wisdom and deep thought. Gold can denote prosperity, wealth, and grandeur, aligning with the dragon's symbolism as an emperor's emblem.
Popular Chinese Dragon Tattoo Styles
Chinese dragon tattoos come in an array of popular styles, each with its unique allure. Each style provides a unique interpretation, responding to a wide range of personal interests and artistic inclinations.
Traditional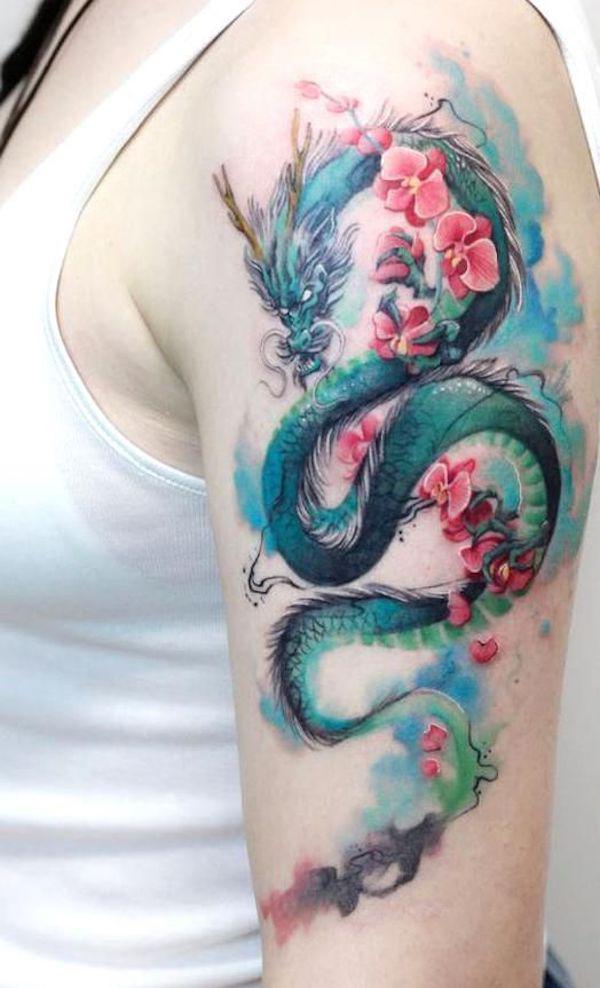 Emulating classic Chinese art, traditional Chinese dragon tattoos often feature intricate details and vibrant colors, capturing the dragon's majestic and mythical nature.
Tribal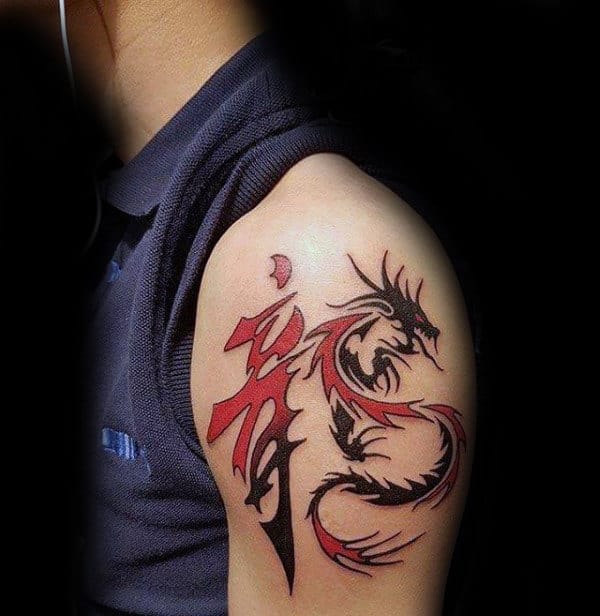 Tribal styles, with their bold black lines and geometric patterns, can lend a unique edge to a Chinese dragon tattoo. These designs often focus on the dragon's form and movements, imbuing the piece with a sense of dynamism.
Realistic
Realistic Chinese dragon tattoos can be truly breathtaking. They capture the dragon's intricate details and imposing form, making the mythical creature appear as if it could leap from the skin.
Watercolor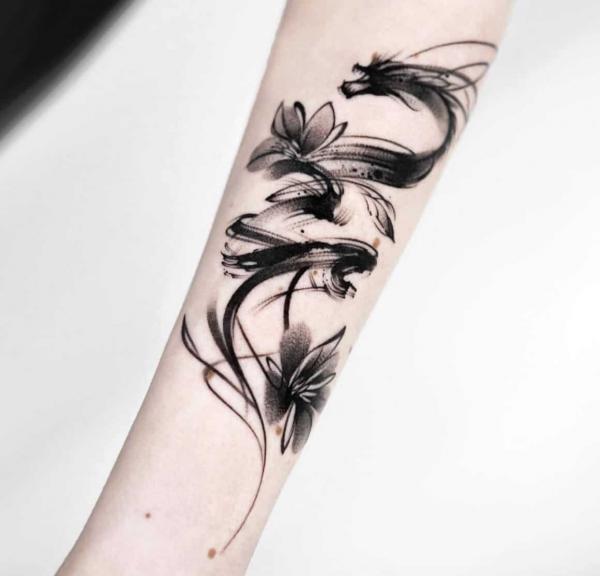 Watercolor tattoos bring a splash of color and spontaneity. The style's fluidity aligns beautifully with the dragon's association with water and its fluid, serpentine shape.
Blackwork
Blackwork tattoos, known for their bold black ink, can create a powerful and contrasting image of a Chinese dragon. This style works particularly well with the black and grey Chinese dragon leg tattoo, emphasizing the dragon's form and the design's textures.
Conclusion
Choosing a Chinese dragon tattoo is a journey into rich cultural symbolism, personal narrative, and artistic expression. Whether it's a 3D spectacle on the clavicle or an intimate black and white design on the hip, the dragon is a commanding presence that tells a story of power, wisdom, and balance.