Hey there tattoo enthusiast! Thinking about getting a sleeve tattoo? You've come to the right place! This comprehensive guide is here to help you learn everything you need about sleeve tattoos, from the different types, variations, placements to some cool and unique ideas. So, let's dive right in and get this show on the road!
What's a Sleeve Tattoo, Anyway?
A sleeve tattoo is, in essence, a series of tattoos that completely (or nearly completely) cover your arm, from your shoulder to your wrist. The term "sleeve" is used because the finished artwork is so large and full that it appears as if you have tattooed your entire arm with an elaborate, inked sleeve of skin.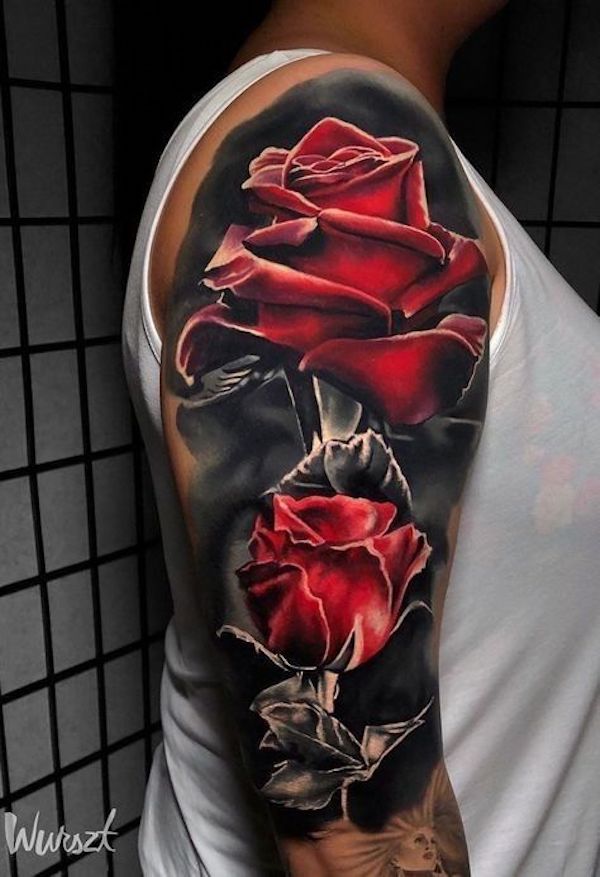 There are mainly three different types of sleeve tattoos available. The variations are based on the coverage or placement of the tattoos.
1. Full sleeve: A full sleeve tattoo covers your entire arm, from your shoulder to your wrist. This is the most popular type of sleeve tattoo.
2. Half-sleeve: A half-sleeve tattoo only covers half of your arm, from your shoulder to your elbow or or elbow to wrist.
3. Quarter-sleeve: A quarter-sleeve tattoo covers only a quarter of your arm, usually from your shoulder to your bicep.
Different Sleeve Tattoo Styles
With that out of the way, let's talk styles! There are plenty of tattoo styles out there. Here we will highlight the following ones.
1. Traditional
If you're all about that old-school vibe, a traditional theme might be just up your alley. They feature classic images like roses, skulls, pin-up girls, nautical symbols, and other iconic images that have been a staple in the tattoo world for ages. They use bold lines and colors, making them hard to miss and perfect for starting conversations. Popular themes of traditional tattoos include: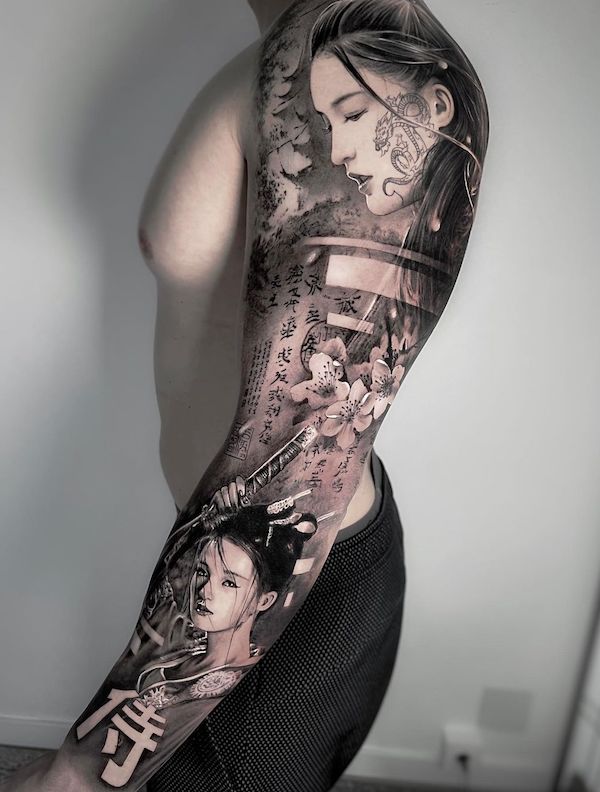 Old-school Americana – Combine classic images like roses, skulls, and eagles with patriotic symbols.
Japanese themes – Incorporate traditional Japanese imagery such as koi fish, dragons, and cherry blossoms.
Celtic designs – Add intricate knotwork and mythological creatures for a striking effect.
Aztec and Mayan – Adorn your arm with ancient and powerful symbols of these Mesoamerican civilizations.
Polynesian – Bold, black tribal patterns are striking and timeless.
Viking and Norse – Embrace your inner warrior with symbols of strength and perseverance.
Greek Mythology – Bring the gods, goddesses, and creatures of ancient Greece to life.
Egyptian – Celebrate the rich culture and history of Egypt with iconic symbols such as the Eye of Horus and Anubis.
2. Animal
Animal-themed tattoos can represent your respect and love for the animal kingdom. You can choose to adorn your arm with your favorite furry friends or create a tattoo mural of diverse animal species. The sky is truly the limit. Here are some of the examples:
Wildlife – Showcase your favorite creatures from around the world, like lions, elephants, and wolves.
Insects – Go for something more delicate, with butterflies and dragonflies.
Birds – Let your arm take flight with majestic eagles, regal peacocks, or colorful parrots.
Sea life – Dive into the deep with whales, sharks, and jellyfish.
Mythical creatures – Let your imagination run wild with dragons, griffins, and phoenixes.
Pet portraits – Honor your furry, feathered, or scaly friends permanently.
3. Geometric
Sharp lines and geometric shapes are hallmarks of this tattoo style. If you're drawn to patterns and symmetry, then a geometric sleeve is a great choice. From intricate mandalas to simple modern lines, there's no shortage of eye-catching ideas in this genre.
Mandalas – Delicate circular patterns create a soothing effect.
Sacred geometry – Integrate symbols like the Flower of Life or Metatron's Cube.
Tessellations – Interlocking shapes create an eye-catching display.
Minimalist linework – Showcase your love for simplicity with subtle geometric shapes.
3D geometric designs – Create an illusion of depth with three-dimensional shapes and shading.
Abstract patterns – Combine geometry with abstract designs for a truly unique sleeve.
4. Literary
For those who love a good book, a literary-themed sleeve tattoo makes perfect sense. You can choose images from your favorite novels or even incorporate quotes and passages from the literature that has touched your life.
Favorite quotes – Immortalize inspiring words from your favorite books or poems.
Book illustrations – Bring beloved characters and scenes to life on your skin.
Calligraphy and typography – Play with different fonts and styles to make your words visually appealing.
Imagery from literature – Combine iconic symbols and characters from beloved stories.
Stacked books – Pay homage to your love of reading with a literal bookshelf on your arm.
5. Nature-Inspired
Nature lovers can adorn their arms with stunning landscapes or captivating scenes from their favorite natural spaces. Subtle images like trees, mountains, sunsets, or even symbolic elements that represent the seasons can combine to create your perfect sleeve.
Floral – Adorn your arm with a beautiful bouquet of flowers.
Trees – Depict the life and strength of mighty oaks or serene willows.
Mountains and landscapes – Bring the great outdoors to you by featuring stunning landscapes.
Astronomical – Be star-struck with planetary, lunar, or celestial designs.
Seasons – Create a living mural of your favorite times of the year.
6. Nautical
Come sail away with nautical sleeve tattoos! Nautical-themed sleeves often feature ships, anchors, compasses, oceans, and other maritime symbols, making for a decidedly adventurous look.
Pirate themes – Embrace the swashbuckling spirit with skulls, ships, and treasure.
Lighthouse scenes – Illuminate your way with these coastal beacons of light.
Ocean waves – Capture the power and tranquility of the sea.
Mariner's compass – Symbolize your life's journey and direction.
Nautical maps and charts – Explore your adventurous side with vintage cartography.
Mermaid and sirens – Dive into fantasy with these mythical seductive sea creatures.
7. Space and Galaxy
Reach for the stars with these out-of-this-world tattoo designs! Gorgeous galaxies, shimmering stars, and impressive planets can all be a part of your ethereal sleeve adventure.
Stargazing – Create a captivating galaxy with stars, nebulae, and constellations.
Astronauts – Journey into the unknown with symbols of human exploration.
Science fiction themes – Pay homage to your favorite sci-fi universes and characters.
Spacecraft – Showcase your love for futuristic technology and interstellar travel.
Black hole – Draw people in with the mysterious allure of these cosmic phenomena.
8. Tribal
Tribal tattoos are known for their distinctive and bold designs. These incredibly intricate and meaningful designs can make for truly captivating sleeve options.
Maori – Embrace the rich tradition of New Zealand's indigenous people.
Samoan – Showcase the intricate patterns and motifs of Samoan culture.
Native American – Connect with the deep history and mythology of the North American continent.
Afrocentric – Celebrate African heritage with designs inspired by tribal patterns and symbols.
9. Religious and Spiritual
Religious and spiritual sleeve tattoos can be deeply significant for some, representing their faith or spiritual journey. Various religious symbols, images, and texts can be expertly woven into a stunning tapestry on your arm.
Christian-themed – Incorporate crosses, angels, and other holy symbols.
Hindu and Buddhist – Experience serenity with depictions of gods, goddesses, and sacred symbols.
Sacred Heart – Display your devotion with this iconic symbol of love and compassion.
Angelic and celestial scenes – Relish in the divine beauty of heavenly beings.
Chakra designs – Balance your body's energy centers.
10. Abstract and Watercolor
For those who appreciate artistic expression, abstract and watercolor tattoos can provide a unique and creative look for your sleeve. Undefined shapes and colors blend together to create a visually striking piece of body art.
Splashes of color – Create a vibrant and flowing display with watercolor-inspired designs.
Brush stroke designs – Showcase your artistic side with a painterly approach.
Freeform shapes – Let your creativity flow with unique and abstract patterns.
Smudged and blended colors – Enhance your sleeve with a soft, ethereal effect.
Portrait merged with abstract colors – Combine realism and abstraction for a striking look.
Cool sleeve tattoo design ideas
Real designs could incorporate several styles. With so many different design options available, it can be overwhelming to choose the perfect one for you. Fear not, we have gathered 70 cool design ideas to inspire you on your journey.
Scenes of the past in the mind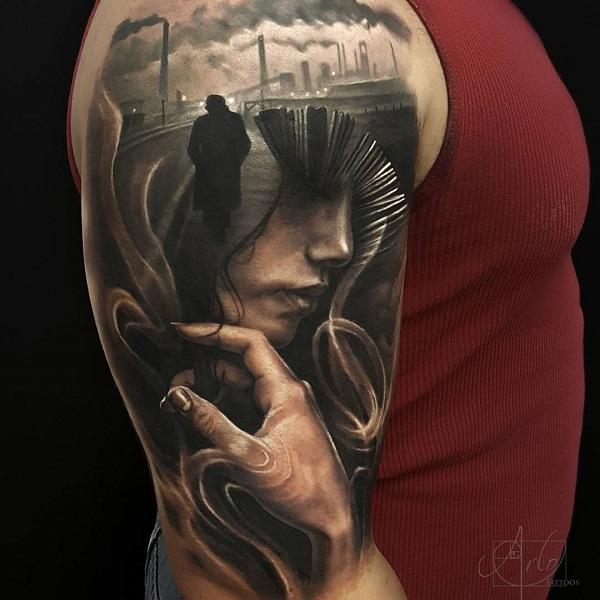 This arm tattoo is a stunning work of art that blends two different scenarios seamlessly into one. The lower part of the tattoo features a partial portrait of a person and a hand, which looks as if the person is thinking and remembering. The upper part shows a man walking toward a factory complex lined with chimneys. The artist created a stunning 3D effect using shading, depth, and perspective.
Film roll and typewriter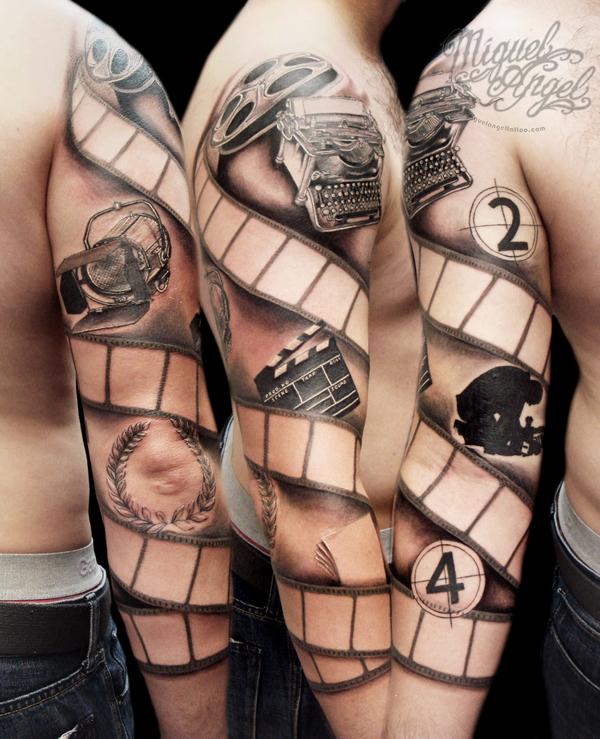 Maori tribal style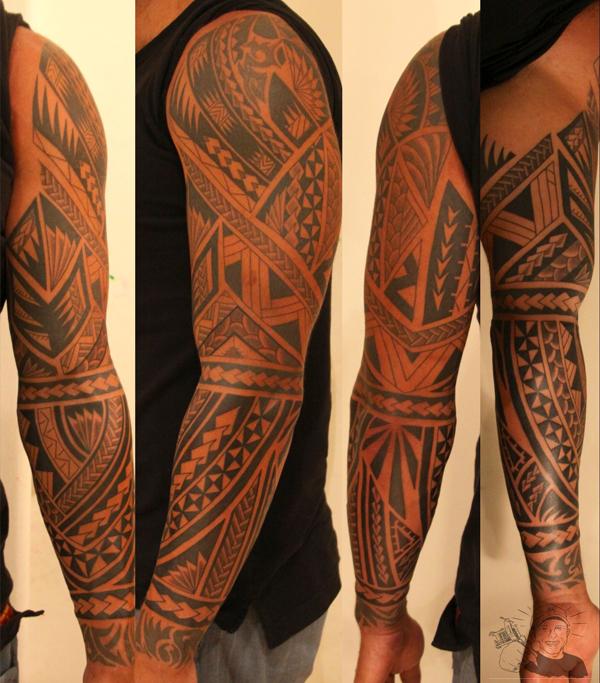 Physalis berries and fern frond leaf sleeve tattoo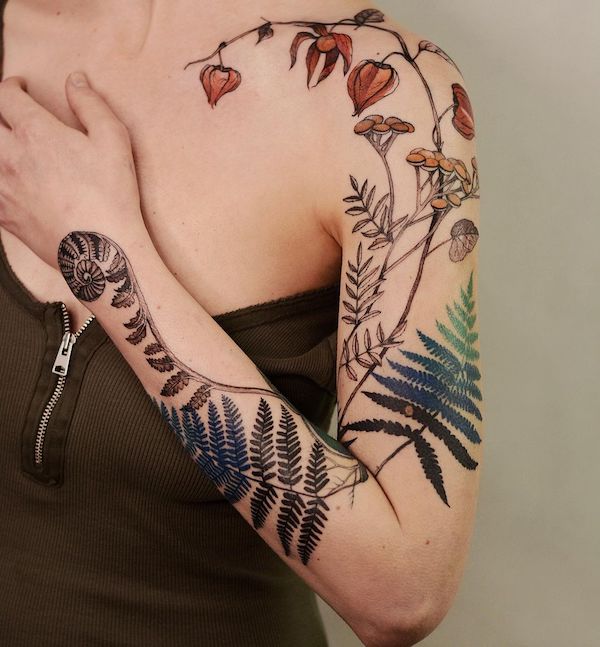 Full Sleeve blackwork tattoo with floral patterns for women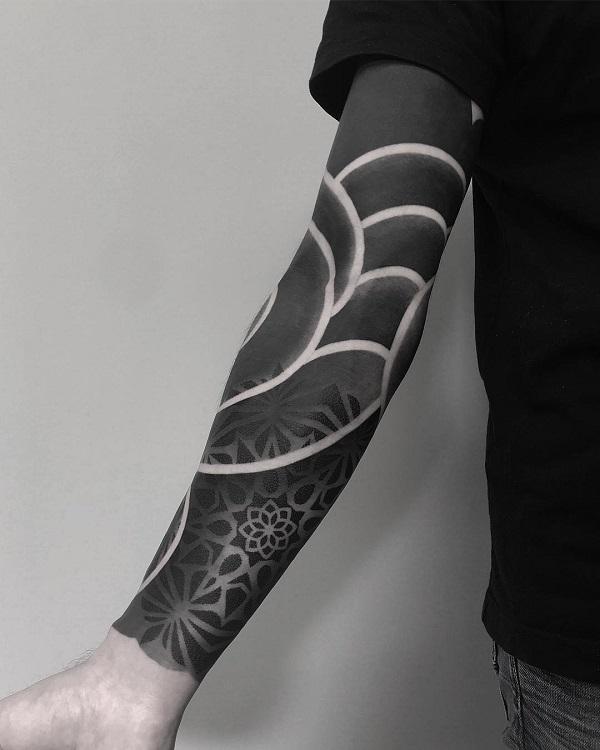 A woman with her eyes closed holding a flower in front of her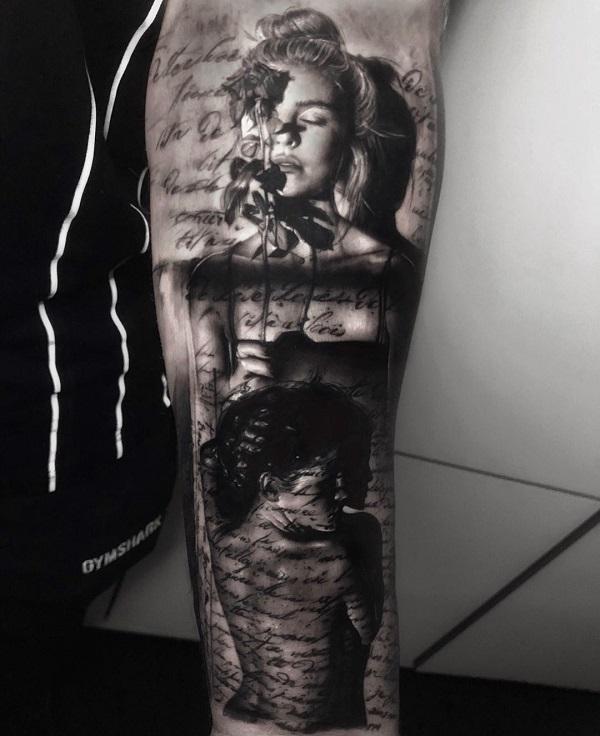 A Wolf howling at moon
Half sleeve tattoo with a tiger head wearing a compass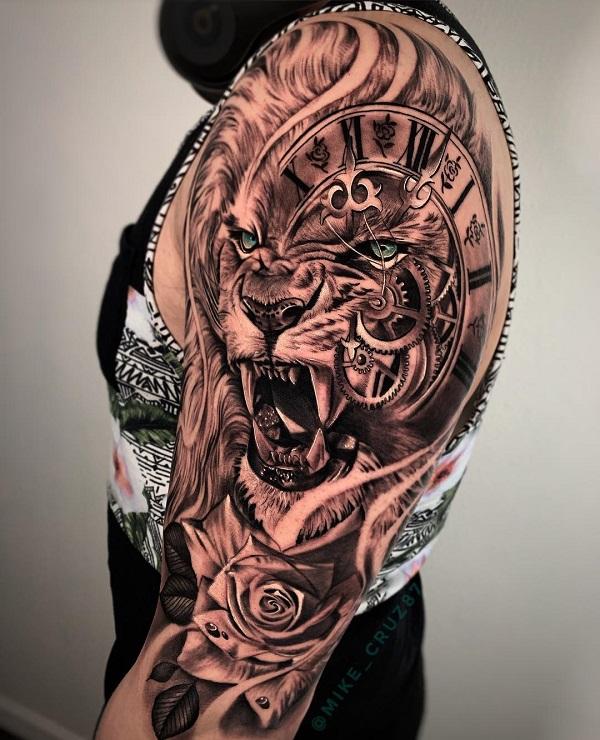 A Roar of Love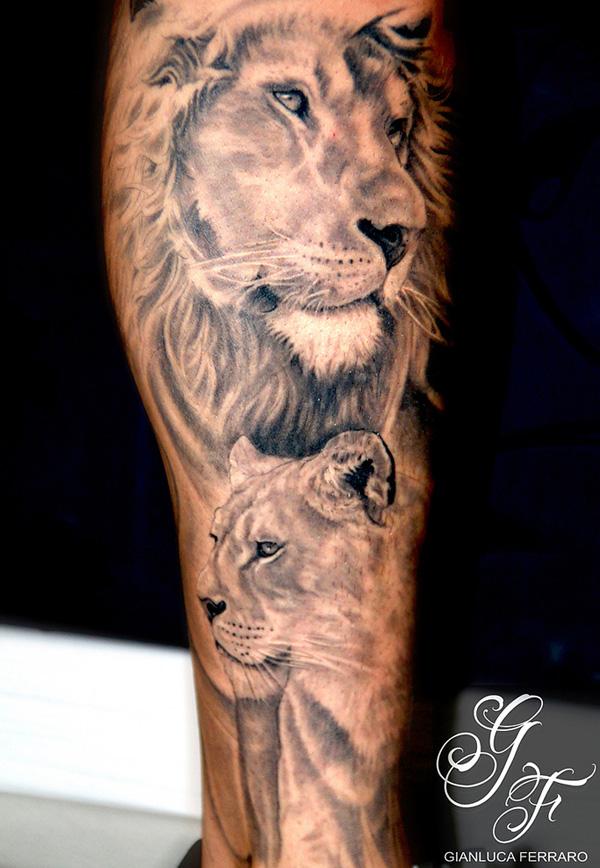 The realistic tattoo might convey the strong bond of love between a father and son, just like the powerful roar of a lion.
Astronaut in the mind of robot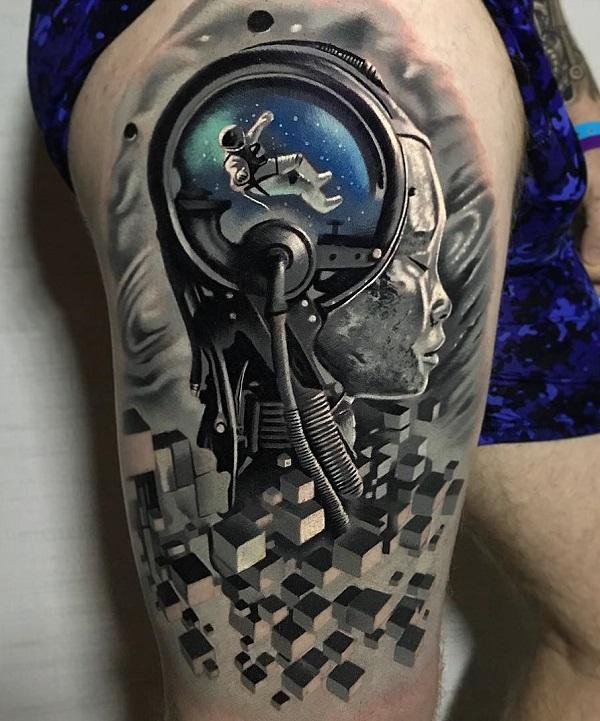 Melted watch in Cubism style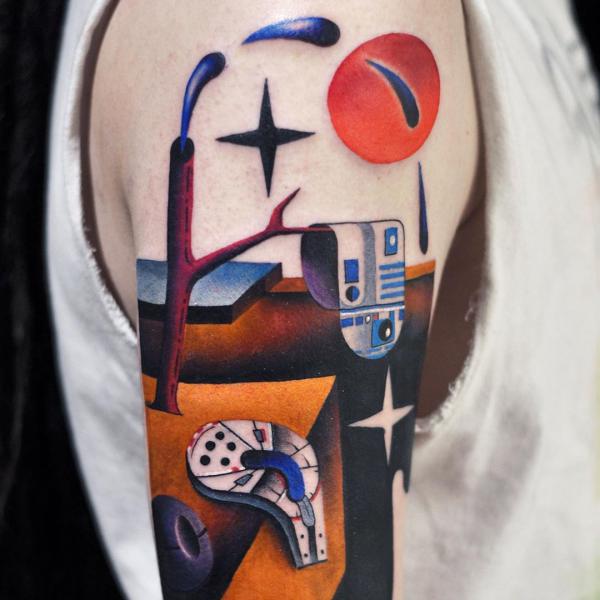 Cubism is an art style that started in the early 1900s. It was started by Pablo Picasso and Georges Braque. The art style uses stylization and warping to show geometric shapes or people in a way that makes people look at it from different angles.
Japanese full sleeve tattoo with wave and flower patterns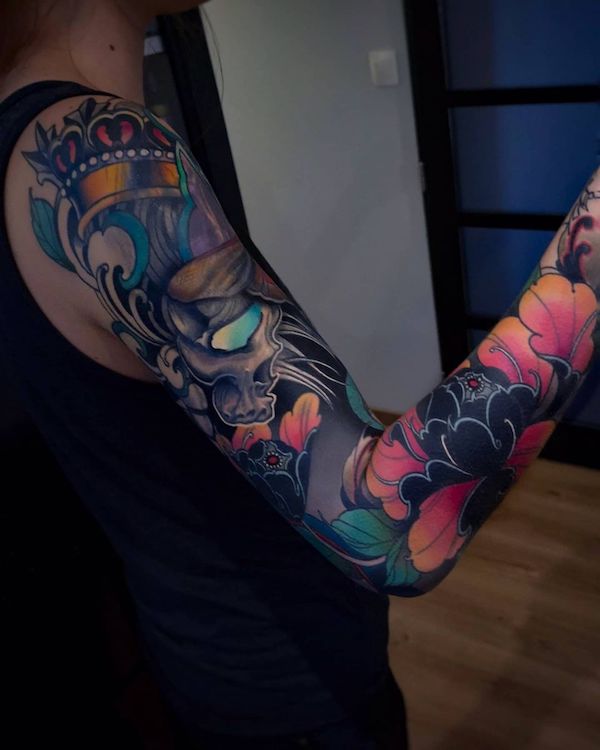 Campfire and rural farmhouse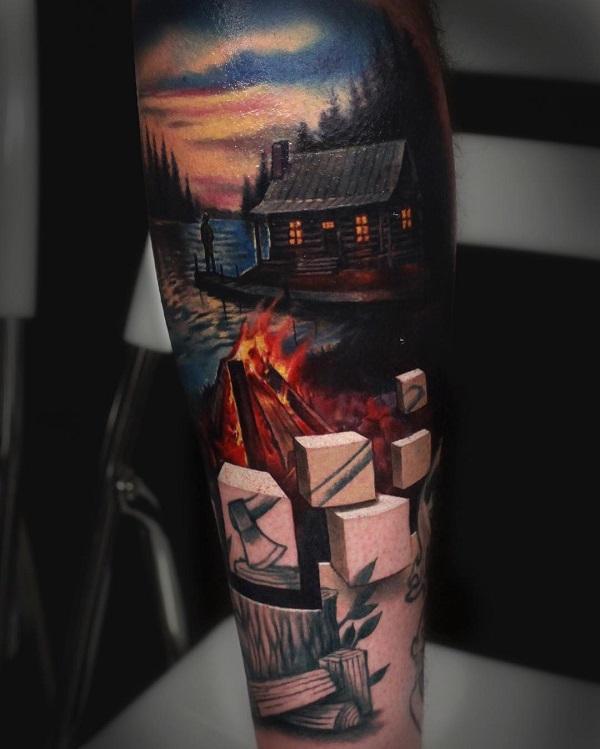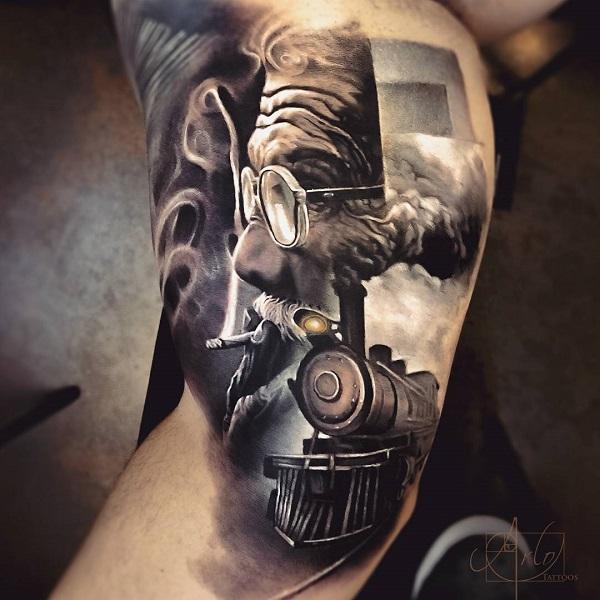 The black and white tattoo depicts a portrait of an elderly man with deep-set glasses and a wrinkled forehead. A cigarette is on his lips, which appears to be not a part of his arm. Beside him, a speeding train seems to be his thoughts, racing along the tracks of his mind. The intricate details of the tattoo creates a stunning 3D effect.
Half sleeve tattoo depicting a little girl under a street lamp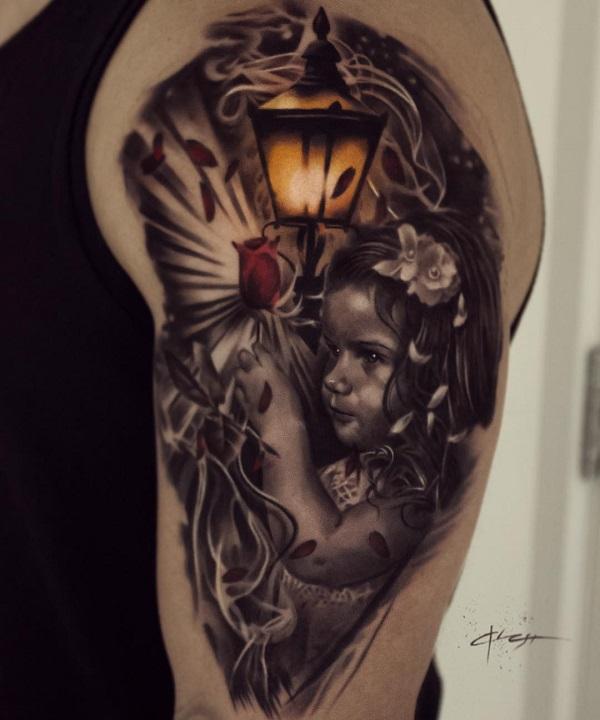 Dancing on the umbrella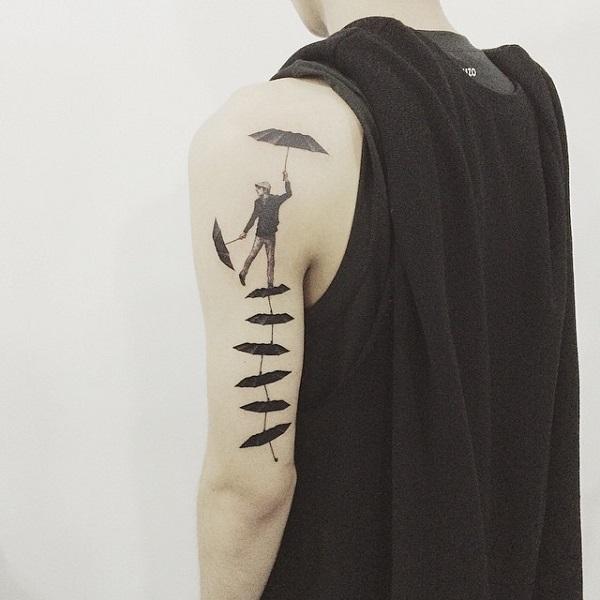 Dotwork armband tattoo with floral pattern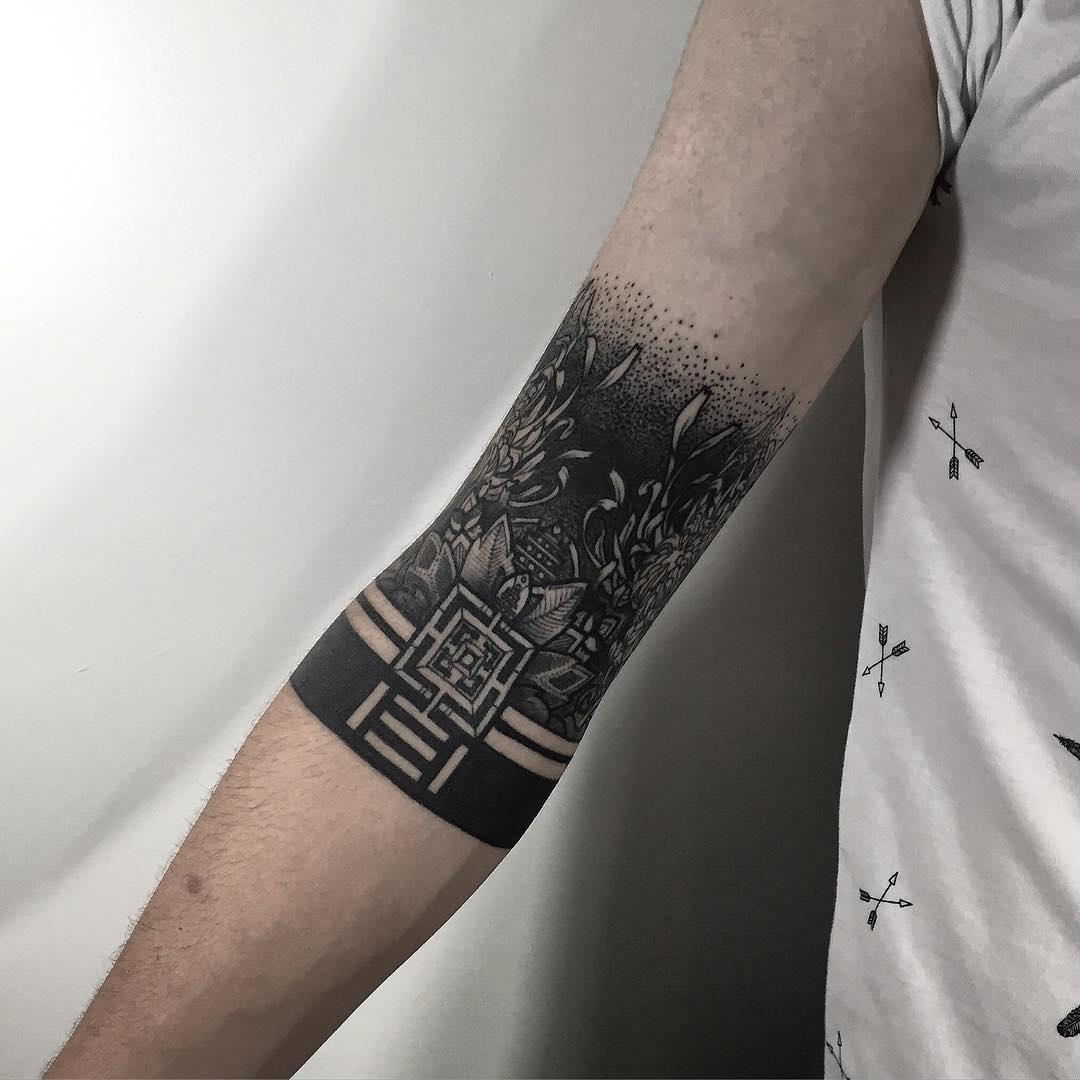 An old man lighting a pipe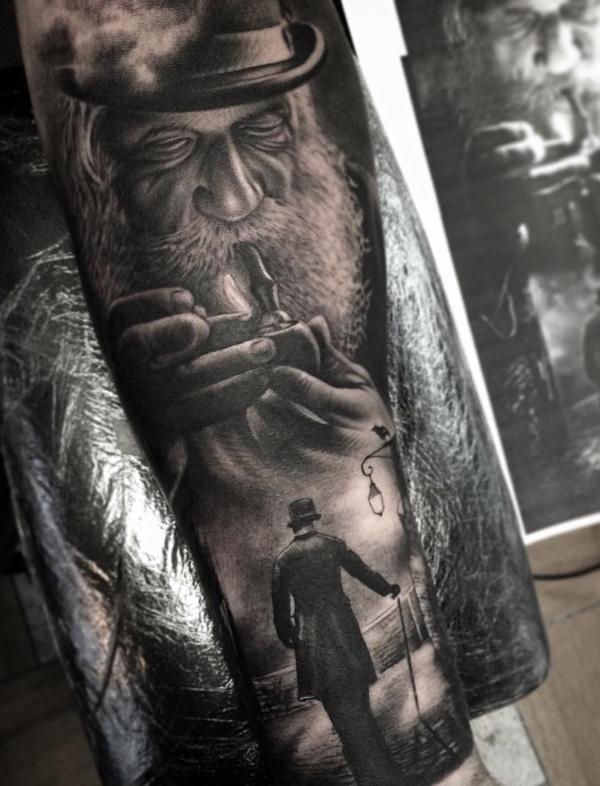 The half sleeve tattoo merges two distinct images into one cohesive design on the canvas of the forearm. At the top of the design, an old man with a long beard lights a pipe. The realistic style does a great job of capturing the fine features of his face and beard. Moving down the design, we see a man with a walking stick under a street light, which appears his thoughts from many years ago. Overall, the tattoo is a beautiful representation of the passage of time and the thoughts and memories that linger with us as we age.
Half sleeve tattoo with red poppy in the wild background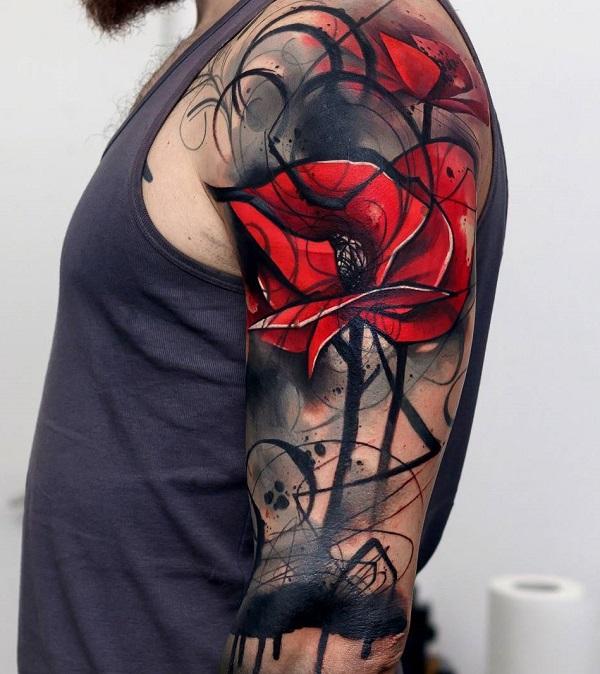 Mechanics sleeve tattoo with turbo and gears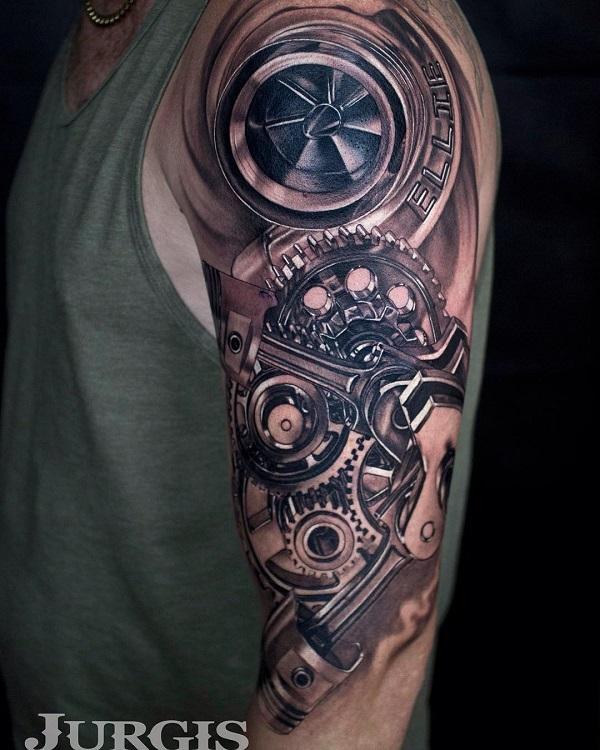 Realistic half sleeve tattoo with an Indian girl wearing a bear headdress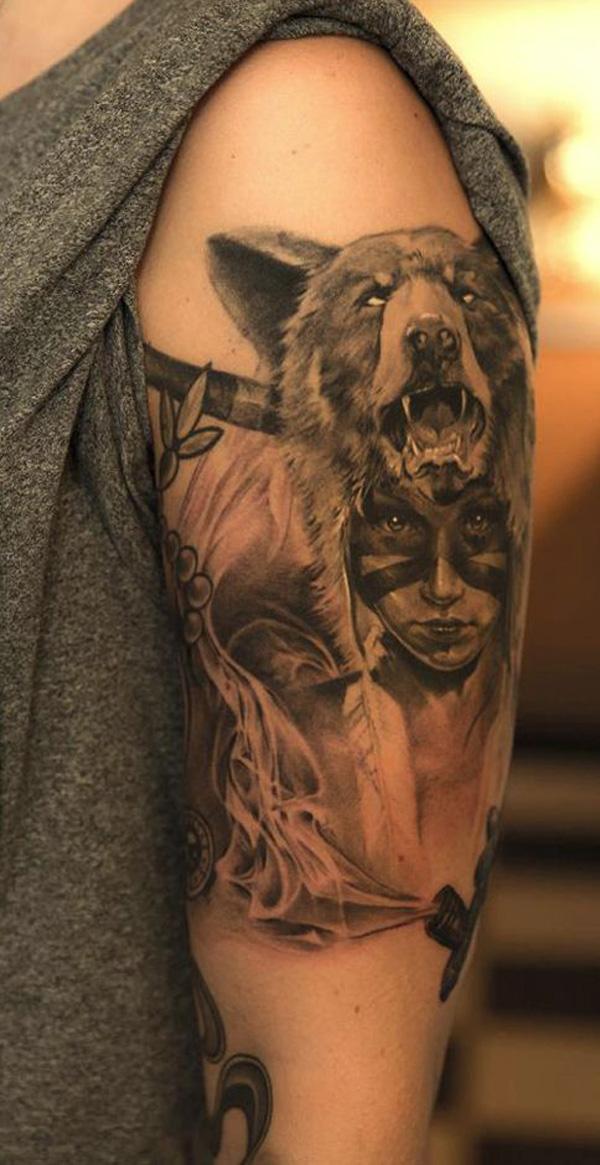 Tropical Leaf negative space tattoo on forearm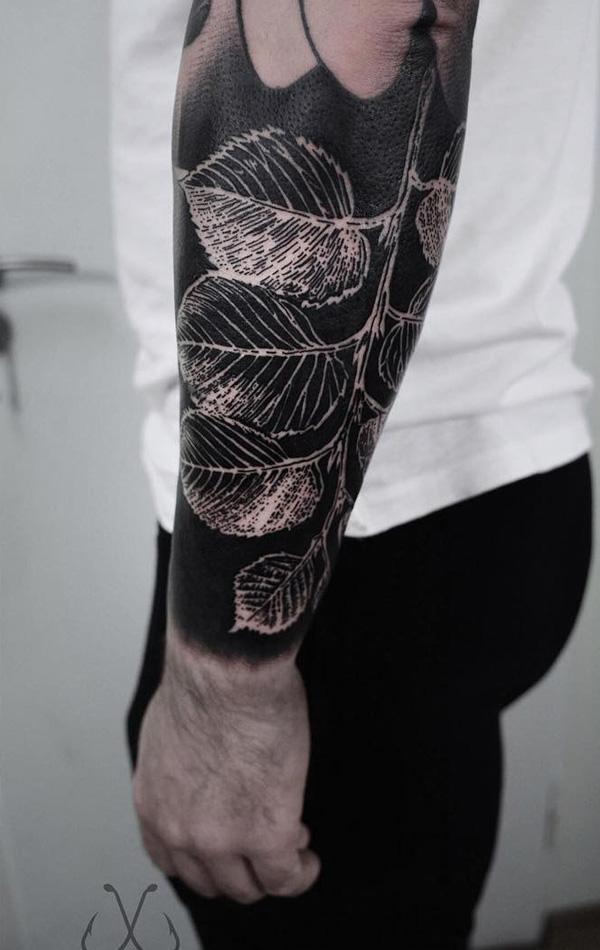 Celebrity portrait tattoo in Realism style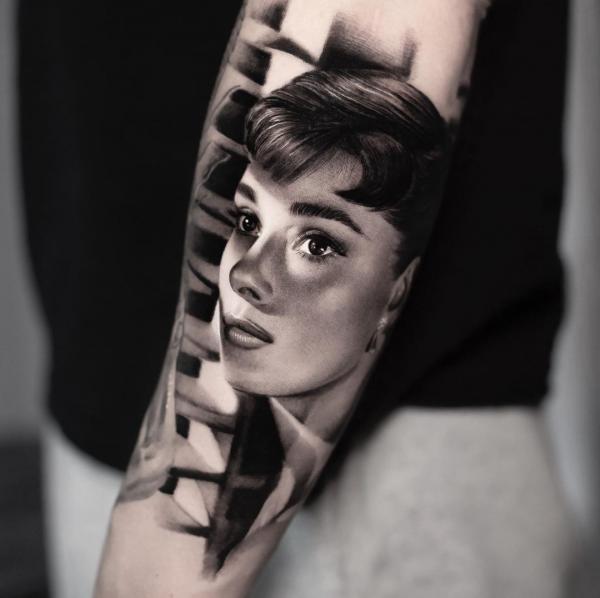 Full sleeve sculpture tattoo of Alexander the great with Angel Wings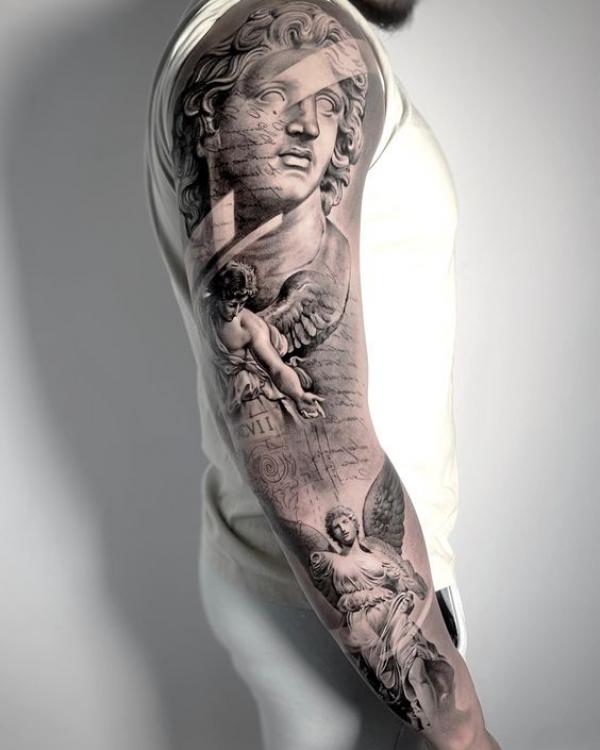 Some say that a tattoo may represent the character of a person who is wearing it.
Stairs with a sad girl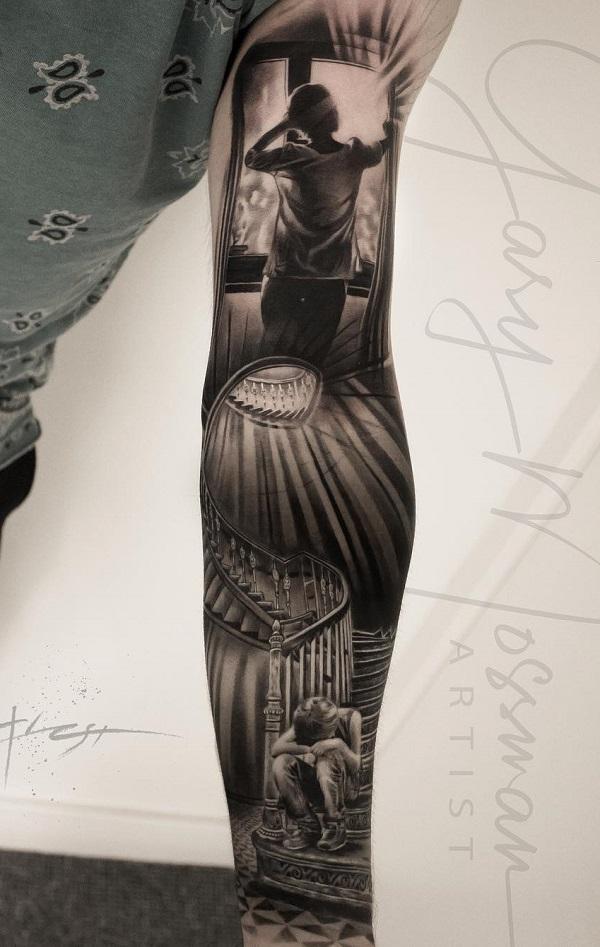 Full sleeve tattoo that is a bit mysterious and surely tells about the life or childhood of the one who wears it…
Skull with Owl and wolf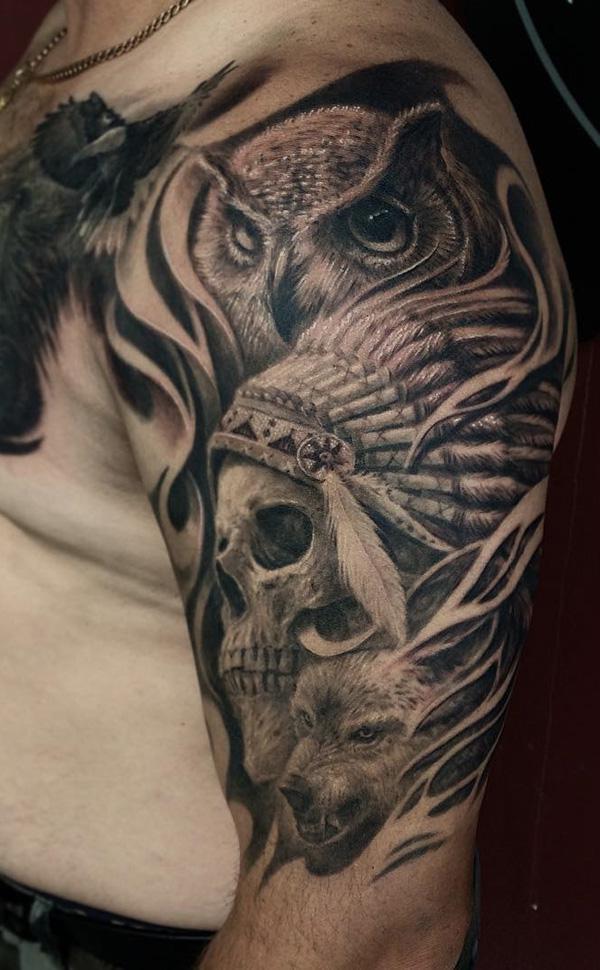 The tattoo shows a skull wearing a feather headdress, which could mean transition from death to life or rebirth. The owl and wolf are also shown, symbolizing wisdom, intuition, loyalty, strength, and spirituality in Native American culture. It's a mysterious picture that invites deep contemplation.
Black and gray Japanese full sleeve tattoo with wave patterns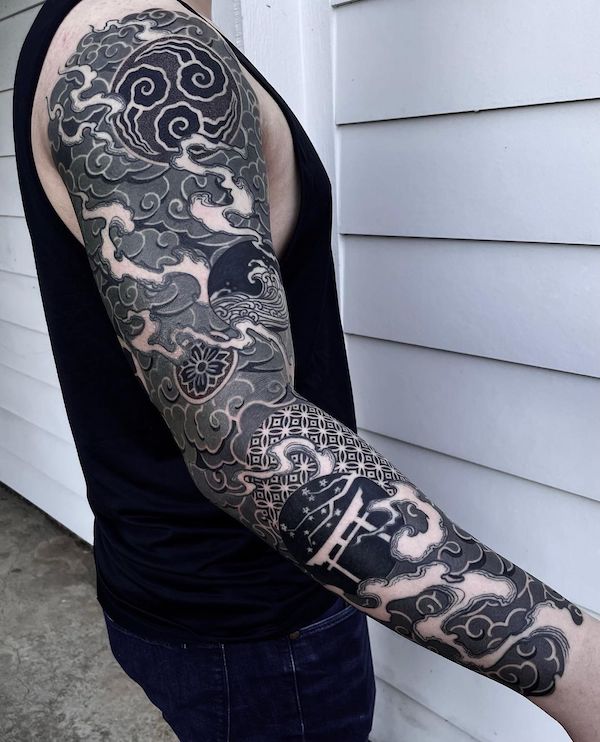 Spectacular view of volcanic eruption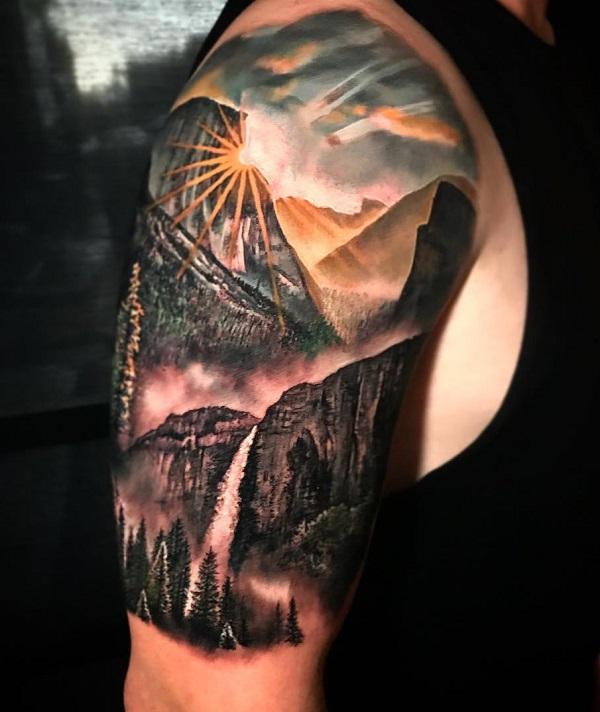 Snake intertwined with a rose forearm tattoo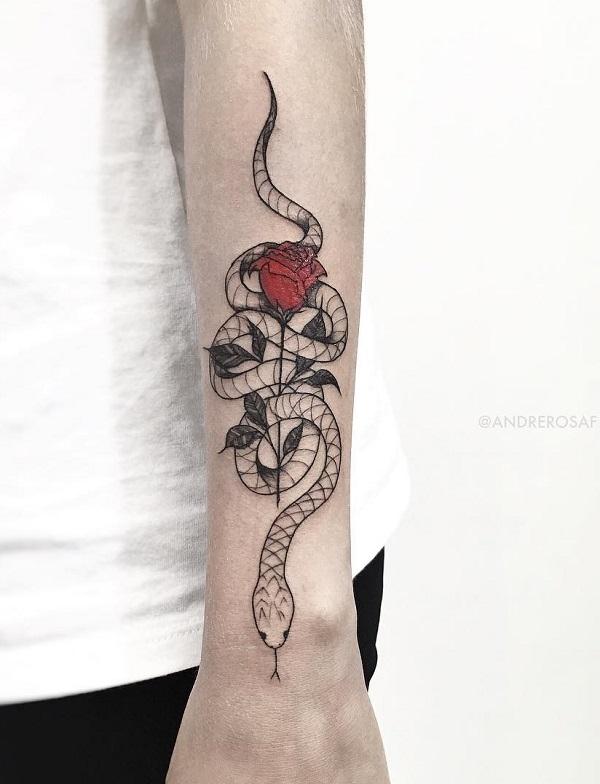 This tattoo features a modern take on traditional Japanese art, with a geisha and cherry blossoms covering the entire arm. The geisha is delicately rendered in black and white, with intricate details that suggest both fragility and strength. The cherry blossoms add a touch of femininity to the design, with their delicate petals and soft curves.
Lighthouse under the stars tattoo on outer forearm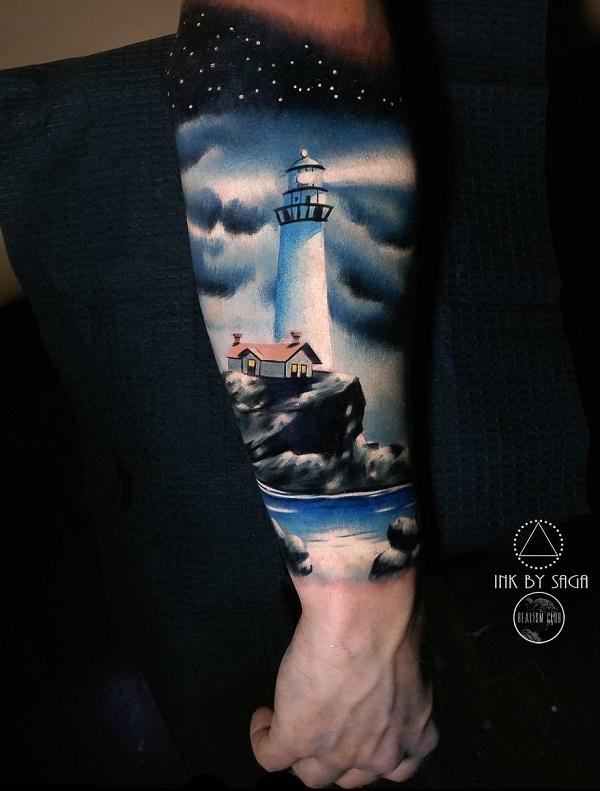 Climbing stairs with clock sleeve tattoo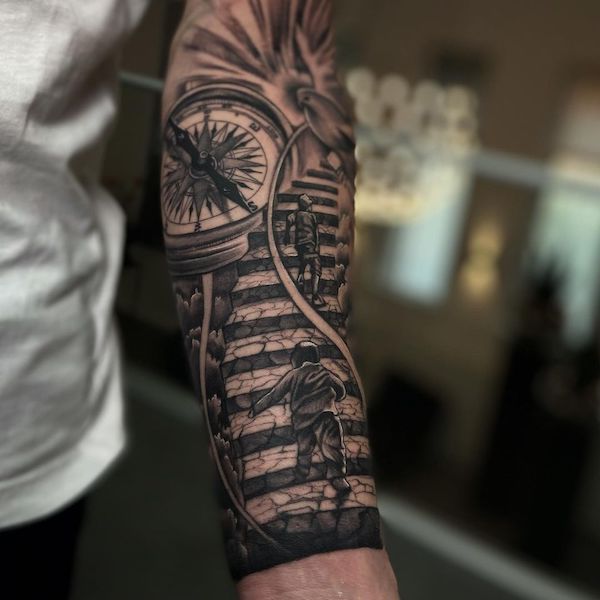 Negative space leaves tattoo on back of forearm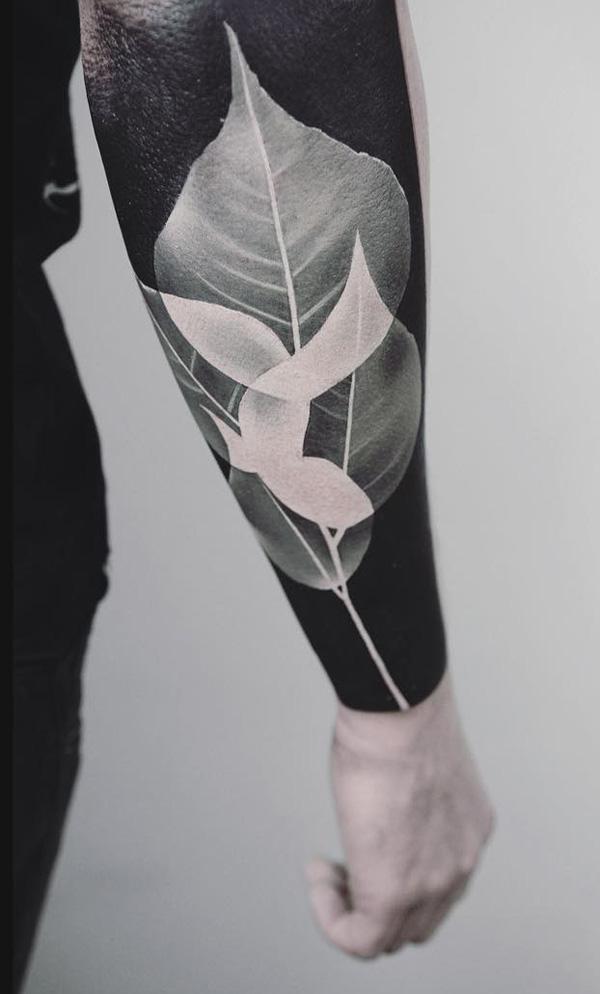 Realistic hourglass forearm tattoo with streaming blood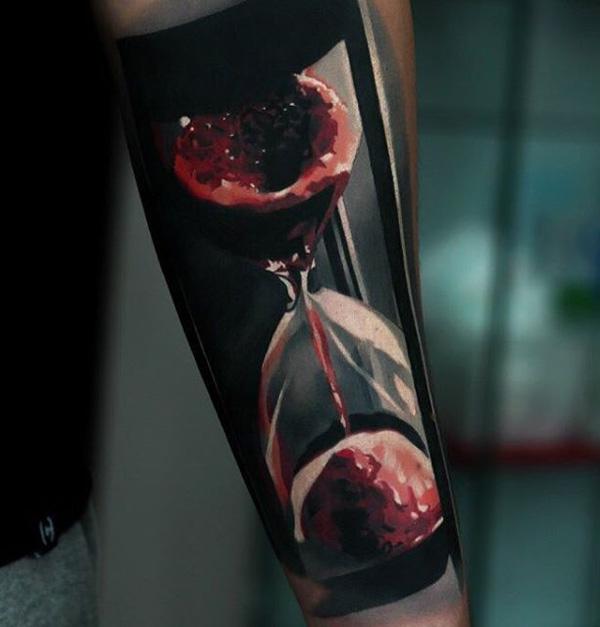 Red – black version is a bit extravagant and always mystical. It seems to me that is most often chosen by a real lover of magic and mysticism.
Castle in the mind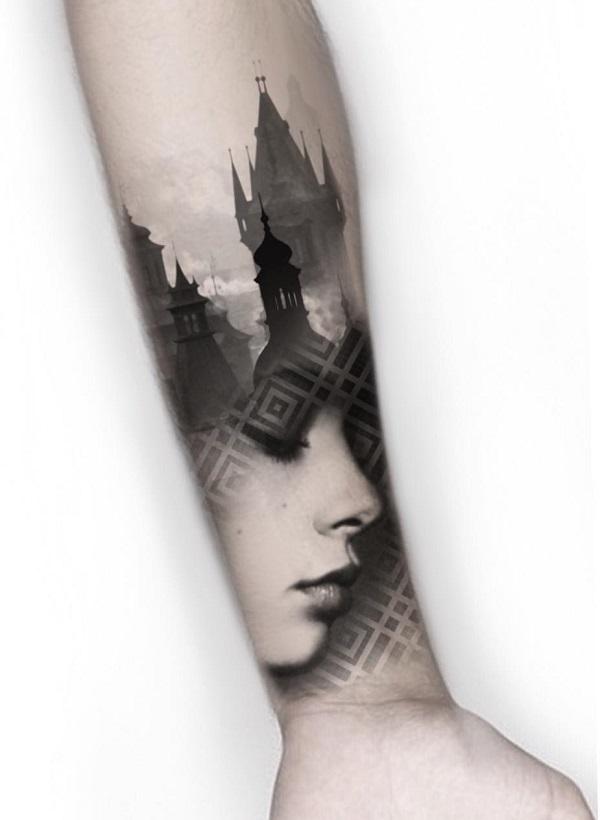 Romantic love on the cello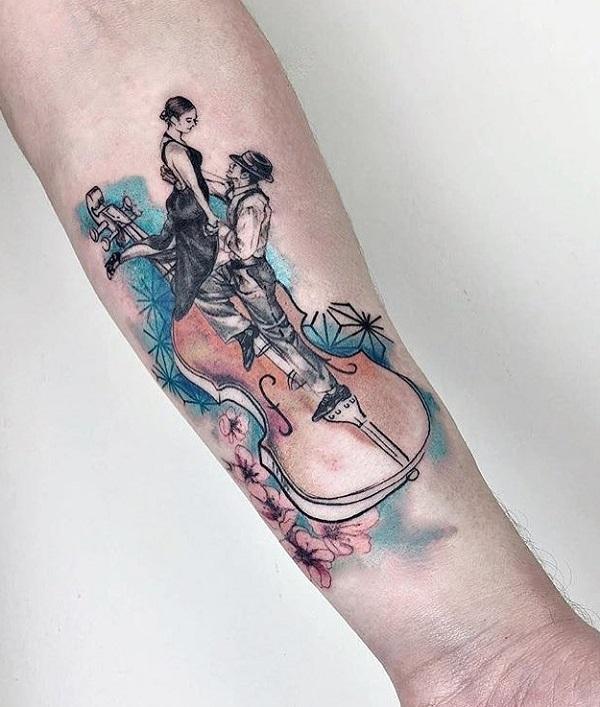 Beautiful landscape tattoo on forearm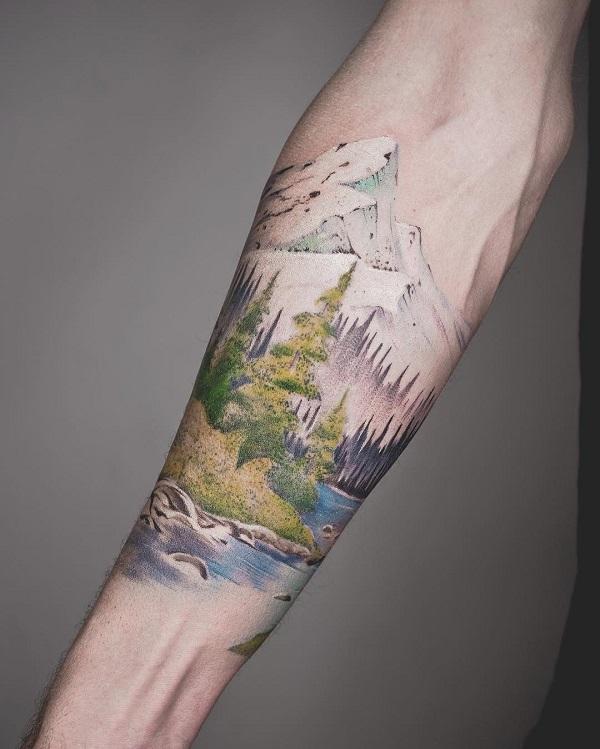 A beautiful tattoo done in soft, understated colors. Tattoo is very effective, despite the fact that the colors are not particularly striking.
Missing a loved one under the moon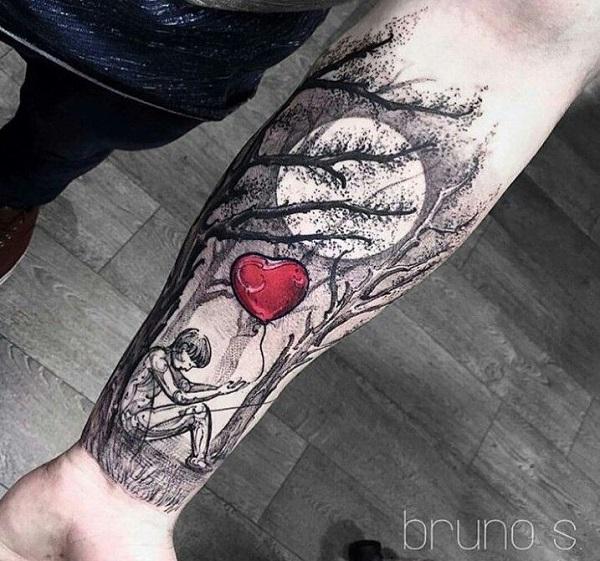 Trash Polka – compass star tattoo on forearm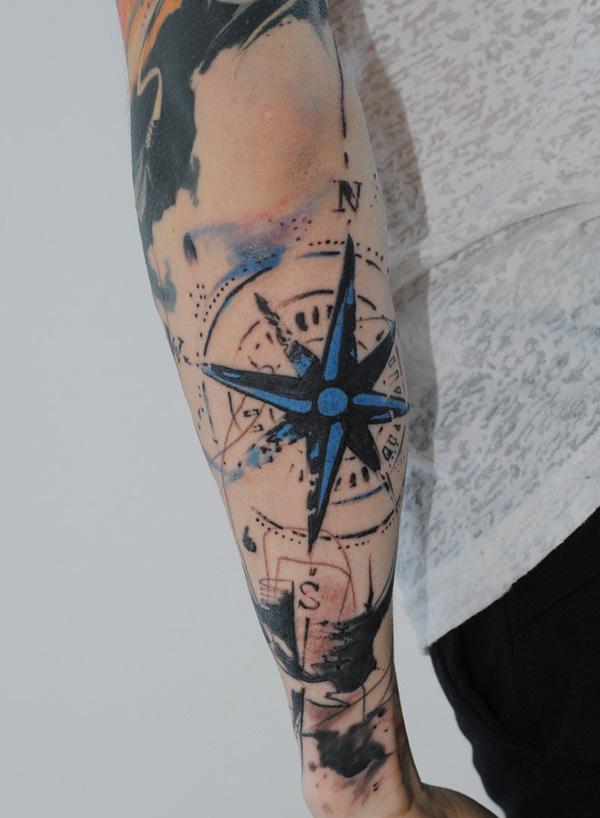 Negative space tropic leaves tattoo on forearm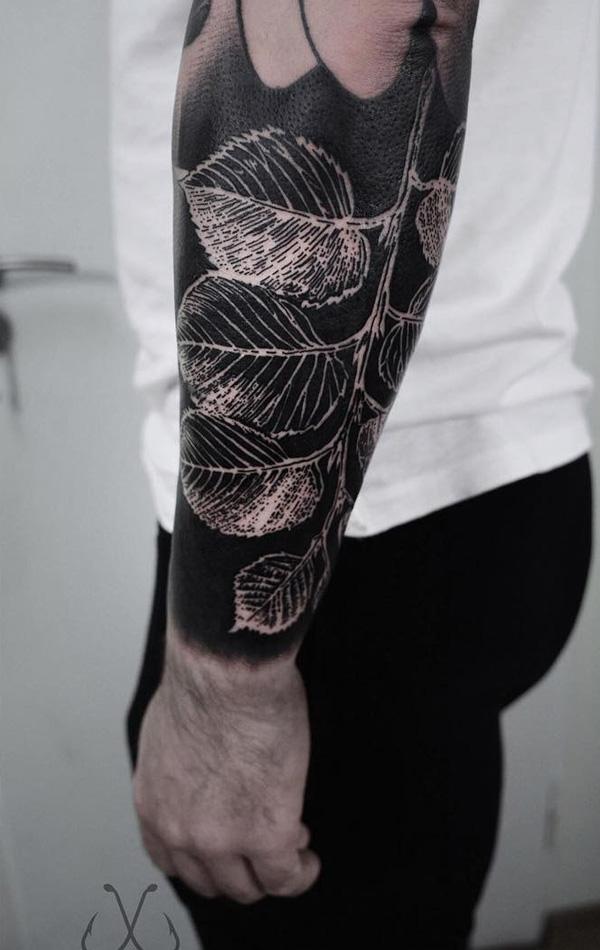 3D puppy forearm tattoo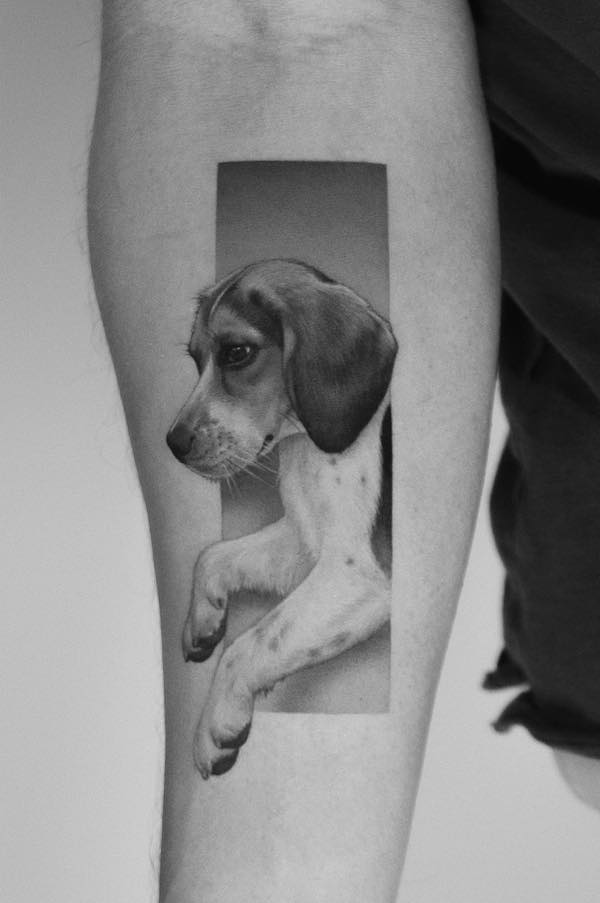 Incredible colorful forearm tattoo with red lily in ocean blue background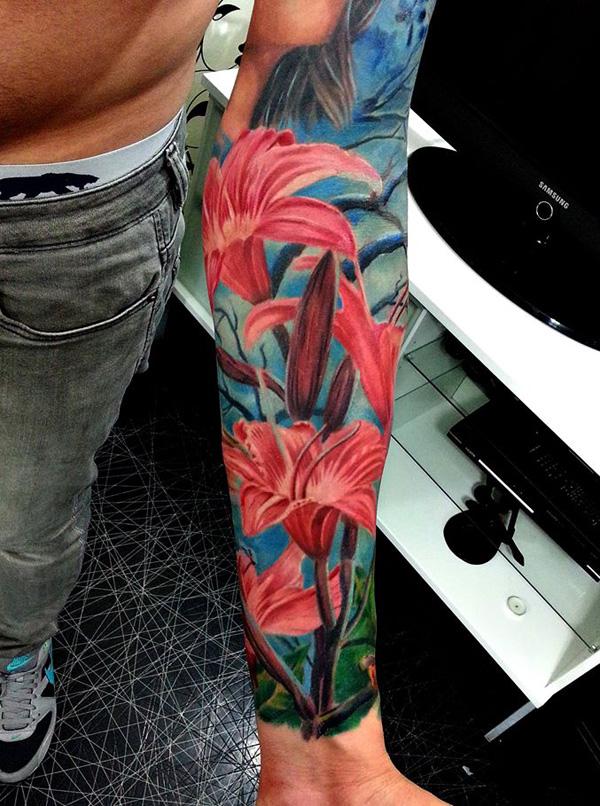 Forest and moon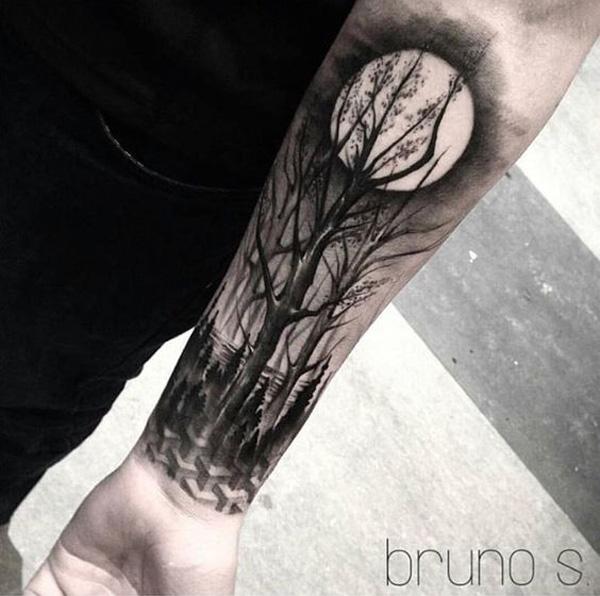 Sun is often regarded as a symbol of masculinity while the moon symbolizes femininity. If you're a guy, this could signify the woman/women in your life. You could be the bare tree starting to grow leaves and growing. It just means you grow with their help.
Geometric sleeve Dotwork with 3D patterns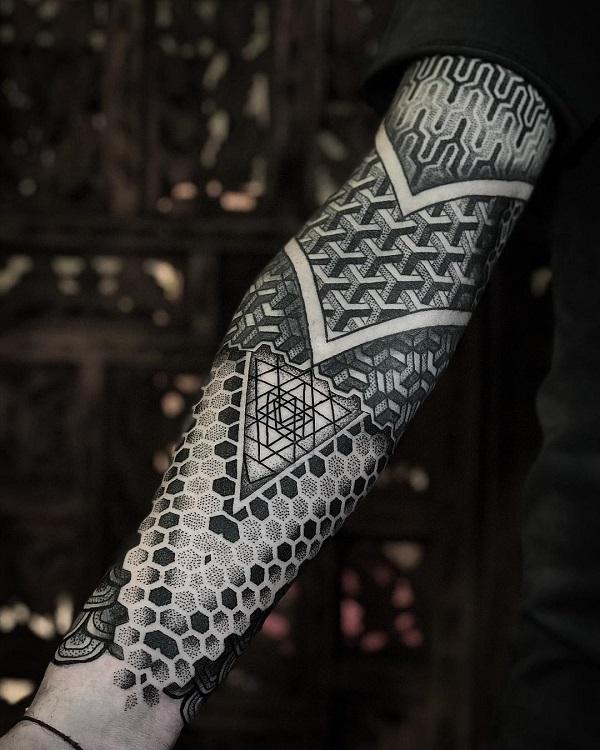 Angry wolf forearm tattoo with mandala pattern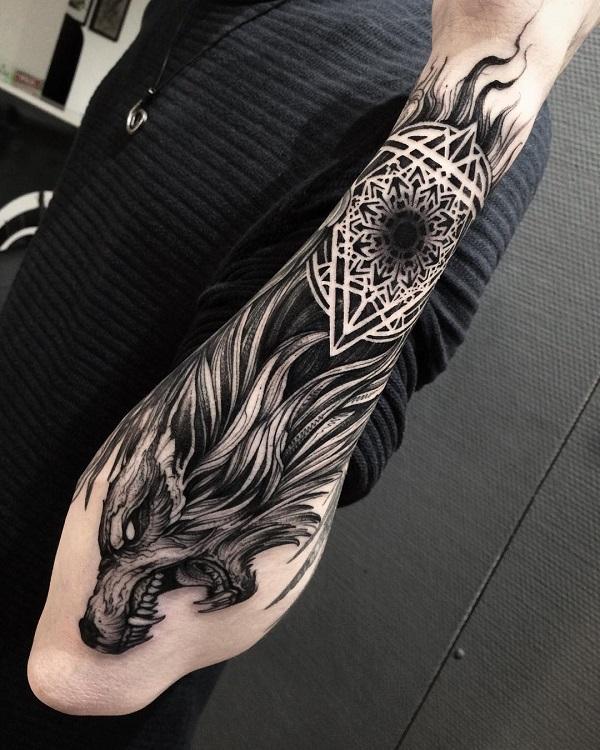 Eye between a clock and praying hands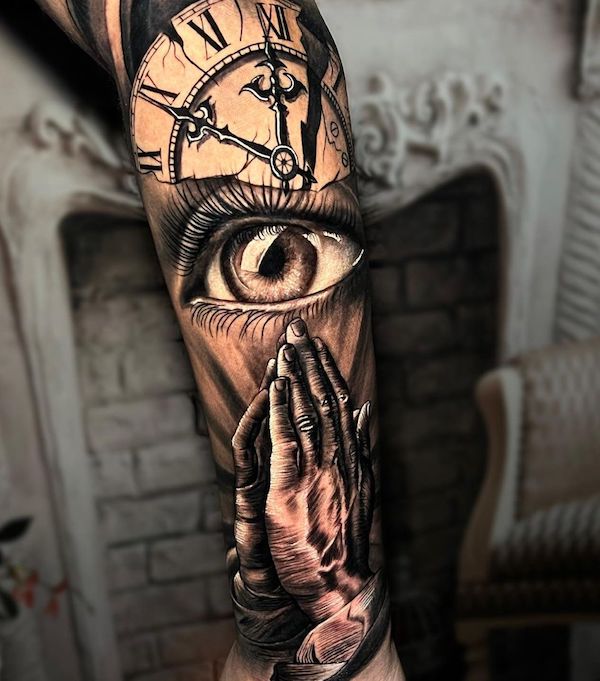 This tattoo is a stunning blend of three realistic motifs: a clock, an eye, and praying hands. The clock signifies the passage of time and the value of savoring every moment. The eye, situated between the clock and the praying hands, represents vigilance and awareness of one's surroundings. The praying hands symbolize faith, spirituality, and the act of prayer.
Pink and red roses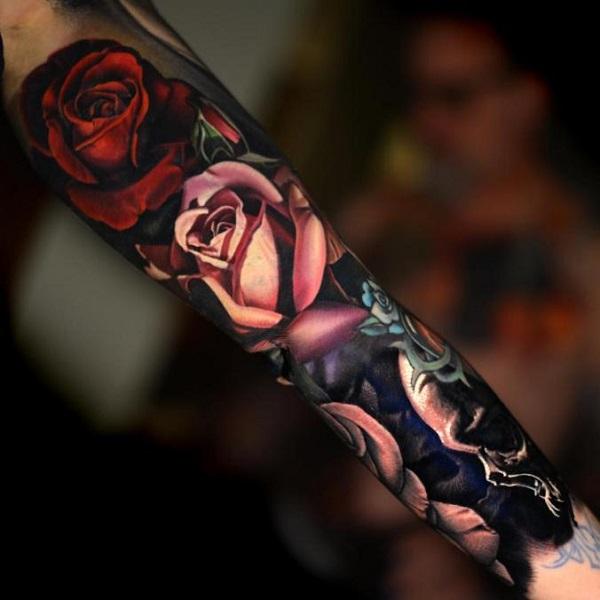 Forearm tattoo with Chinese phrase – Live in Dream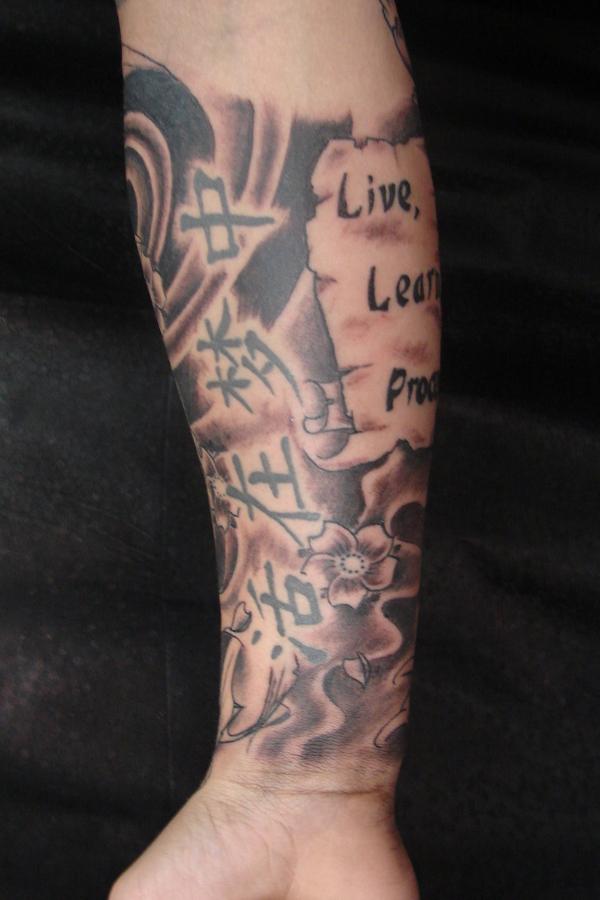 Eyes of UFO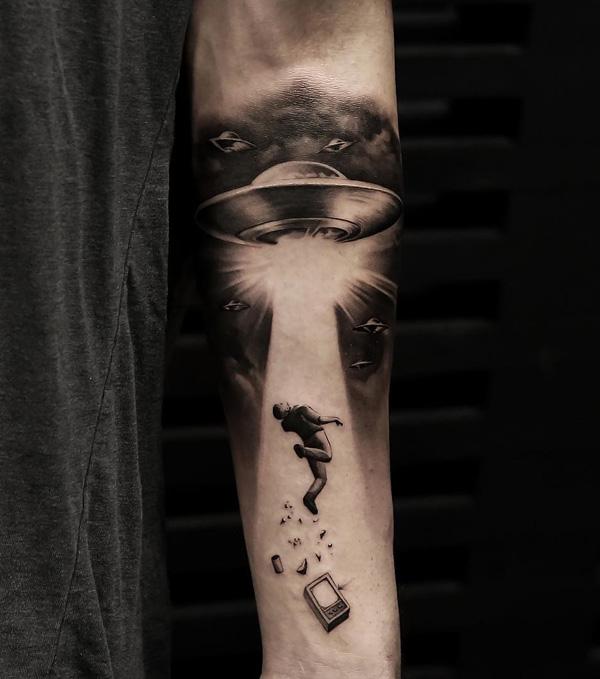 Electrifying lightning and rolling clouds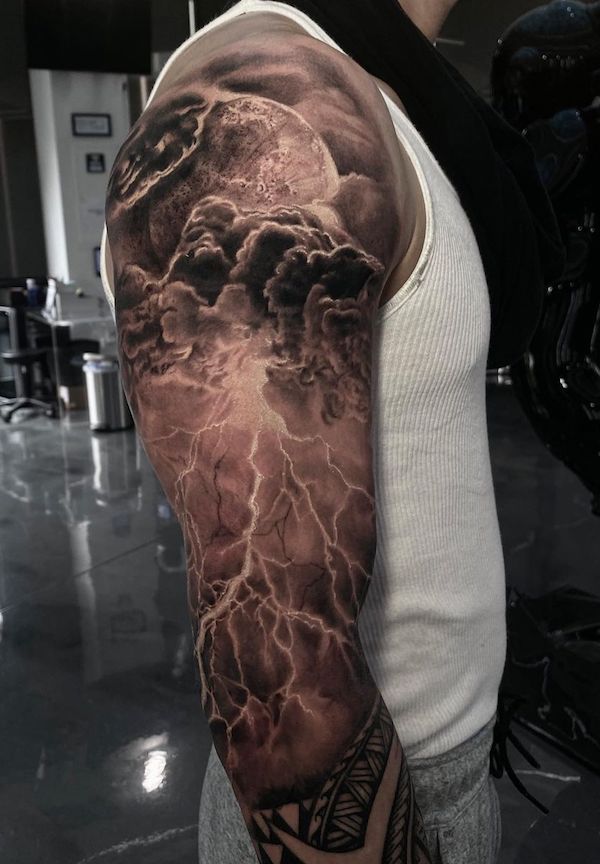 The tattoo features a dramatic and exciting scenery of rolling, dark and foreboding clouds with a sense of movement and energy. Crackling and sparking with power, lightning emerges from the clouds in a net of electrifying energy. This combination creates a symbol of power, energy, and the raw forces of nature. Celebrating the beauty and power of nature, this bold and striking tattoo is sure to make a statement and draw attention wherever it is placed on the body.
Geometric blackwork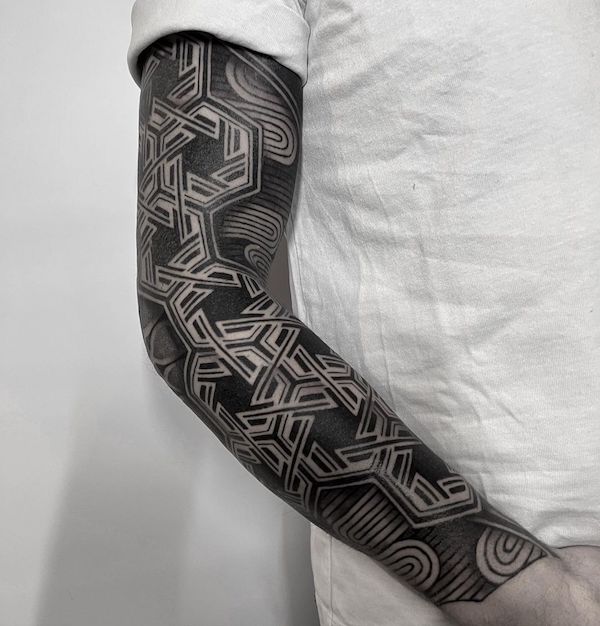 The tattoo is a black canvas featuring a series of geometric shapes created in a blackwork style. The shapes are simple, bold, and clean, with sharp angles and precise lines. The black canvas creates a striking contrast against the skin, catching the eye. Blackwork style tattoos typically use only black ink, emphasizing the graphic look without shading or color. This style highlights geometric designs, emphasizing their clean lines and sharp angles
Illustration sleeve tattoo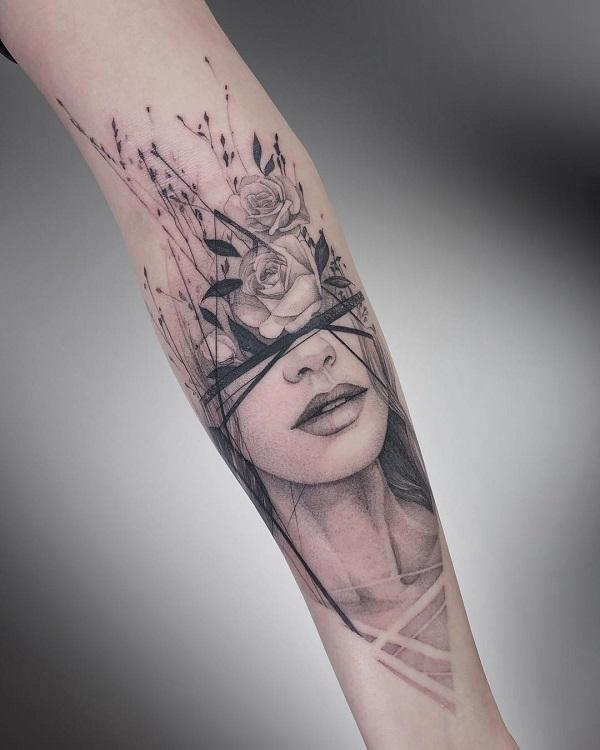 Space with women portrait quarter sleeve tattoo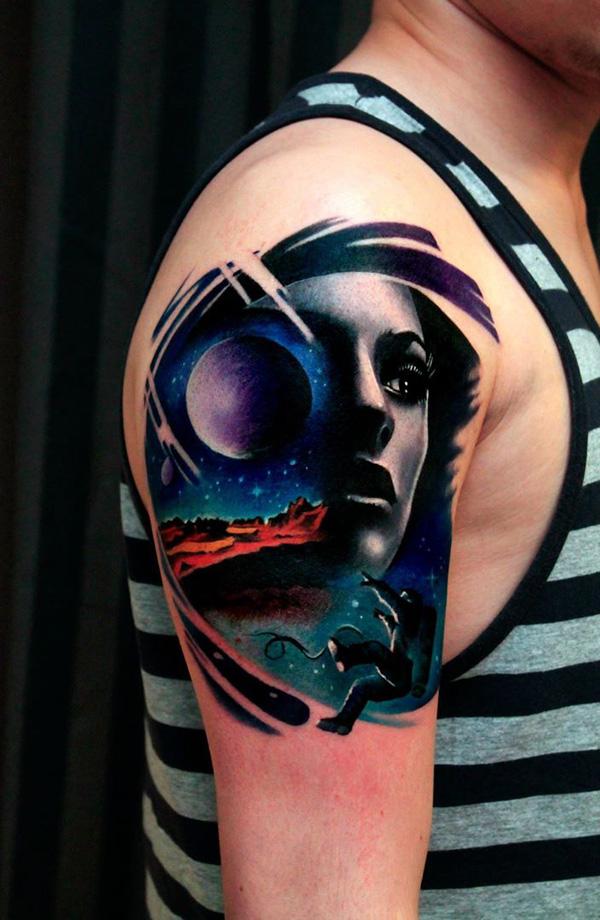 Full sleeve tattoo with skull and woman using in negative space style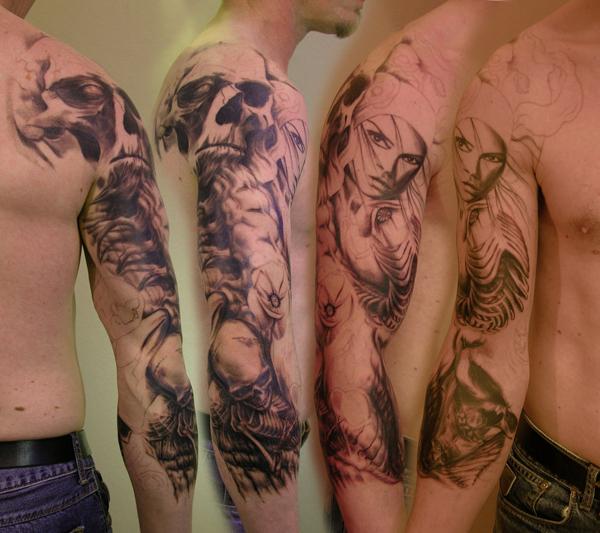 Stylized woman and skull with butterfly and diamond tattoo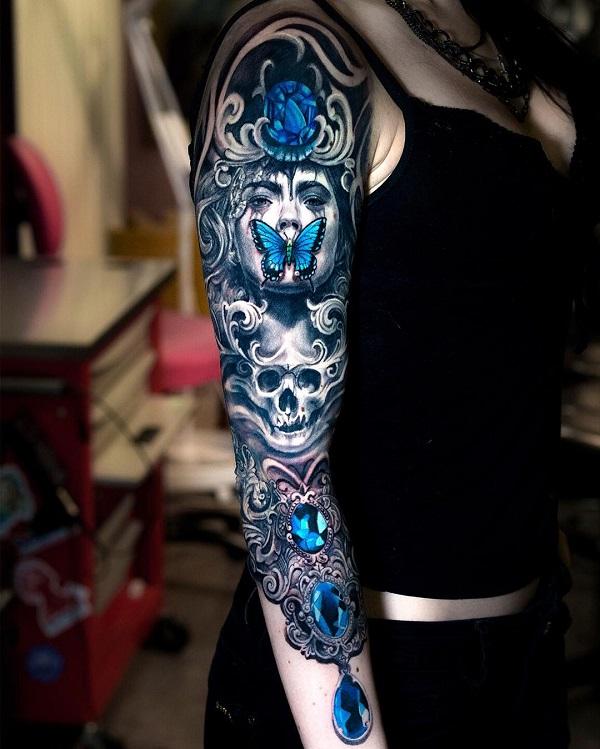 A wrinkled old man with finger on mouth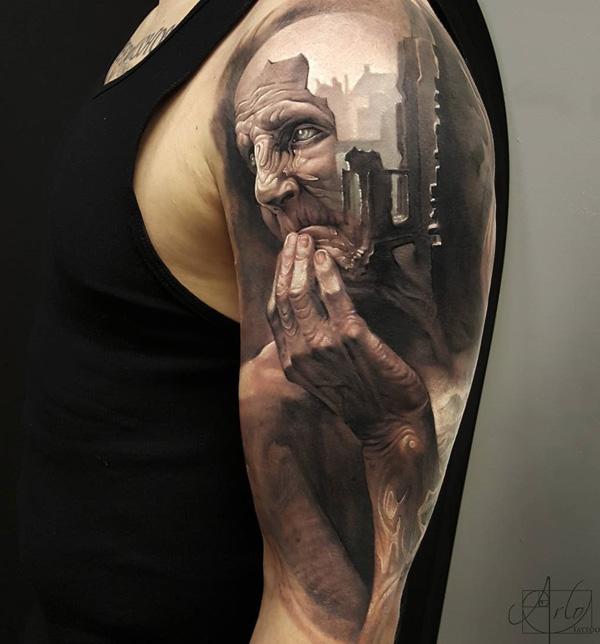 Aztec warrior quarter sleeve tattoo in 3D style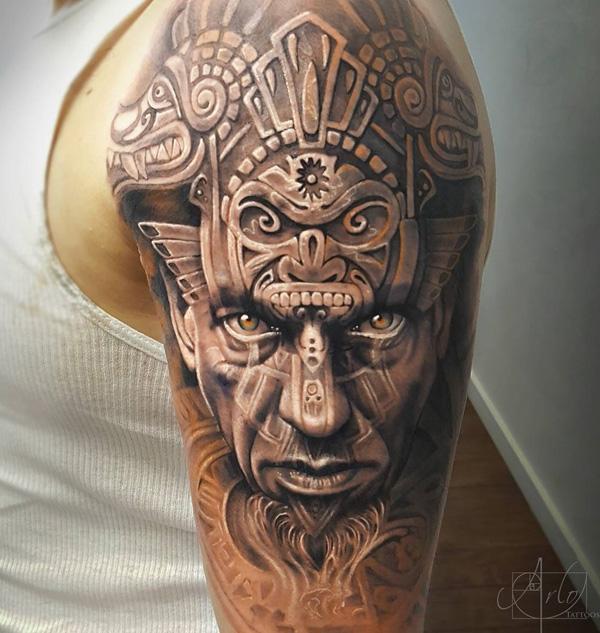 Cool sleeve blackwork with mysterious antique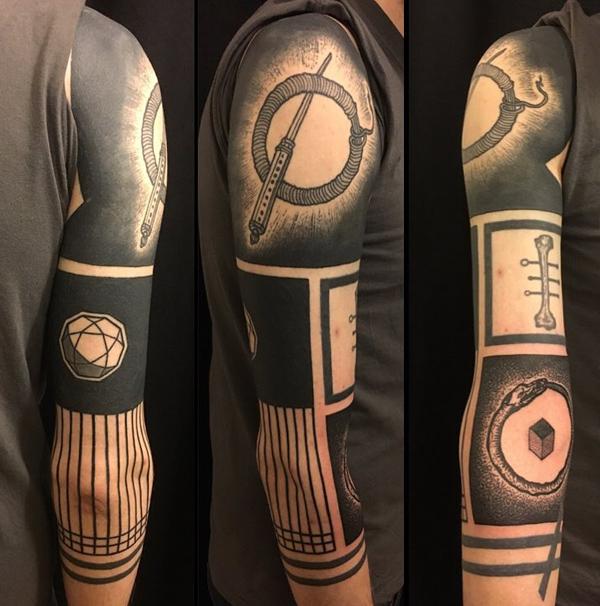 Black and white anime full sleeve tattoo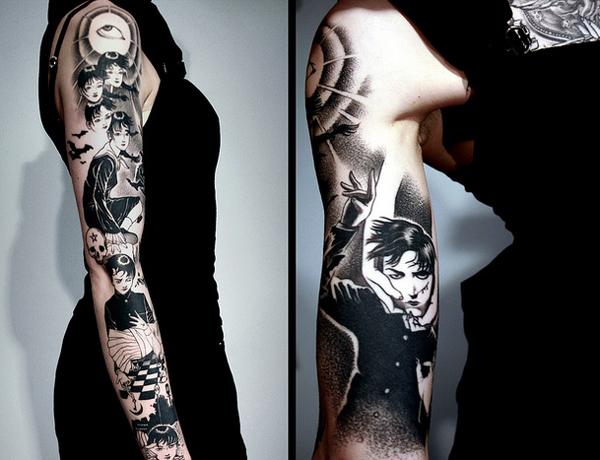 Negative space mountain sleeve tattoo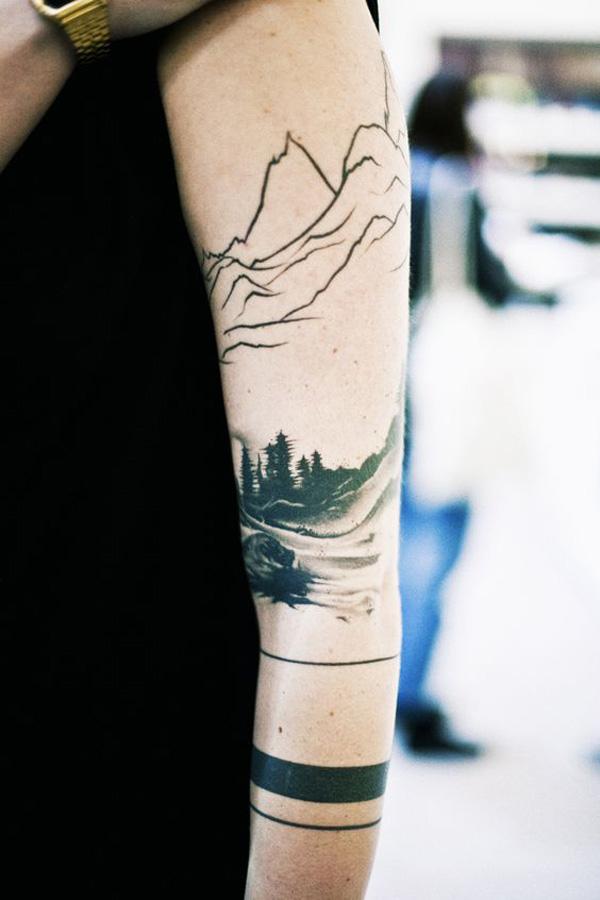 A minimalist style mountain range overlooking a silhouette of a forest. This is great for ladies who want simpler designs.
Baroque swirls with ribbon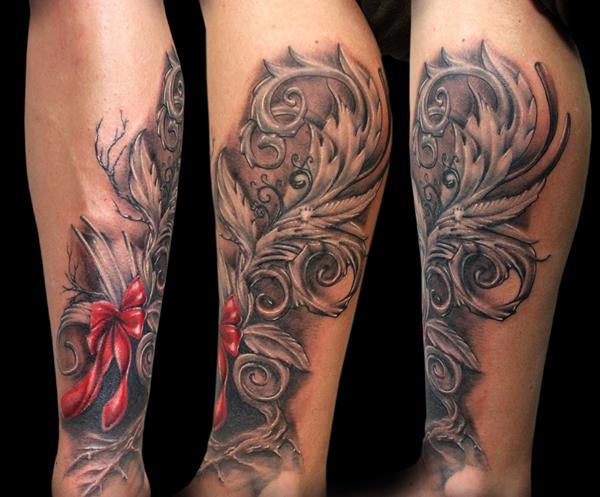 Sleeve tattoo for men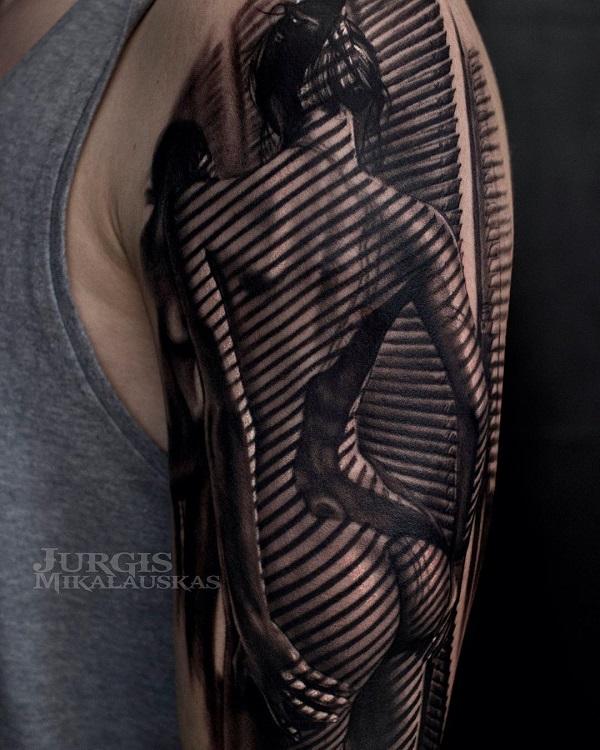 Sleeve tattoo depicting a dark world with bat, dragon and skeleton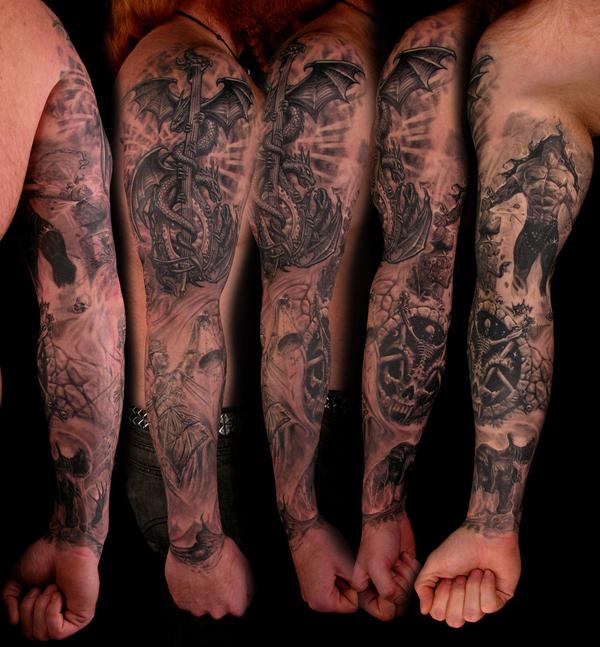 War of orcs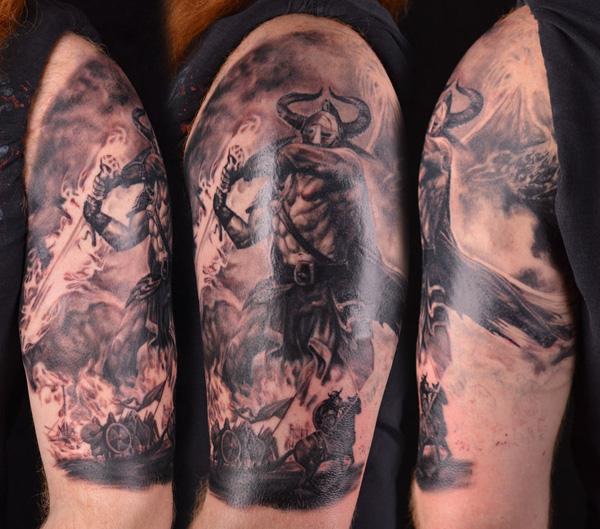 Phoenix sleeve Tattoo in Japanese style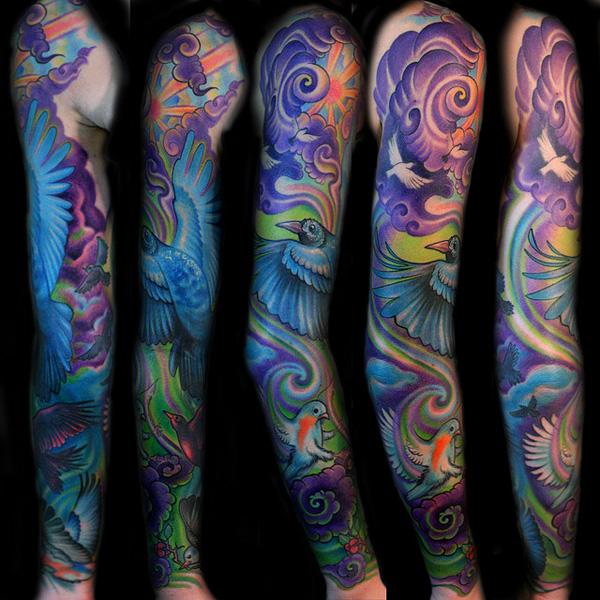 Sleeve Micro Music Skull cards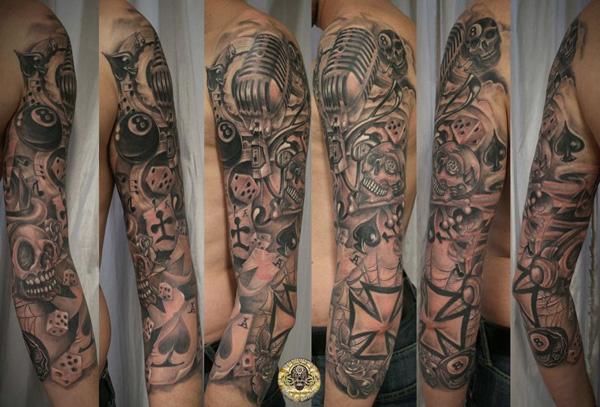 Skull and lily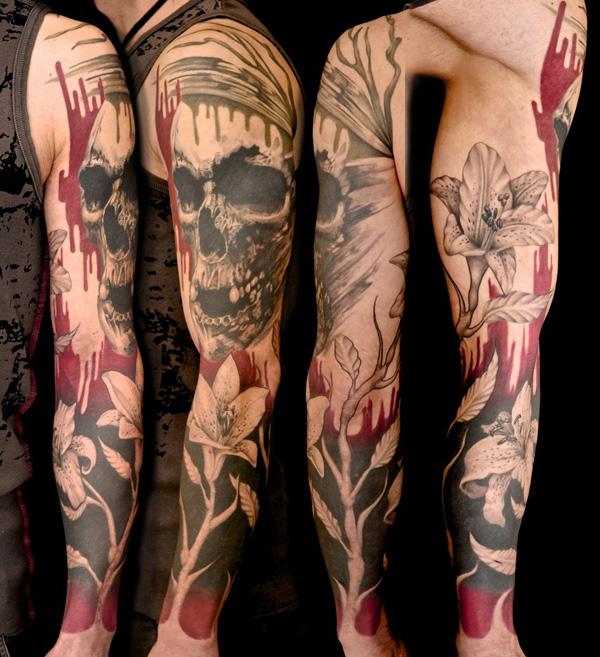 This sleeve tattoo is a stunning and intricate design that combines the contrasting elements of life and death. The lilies represent purity, innocence, and compassion, while the skull symbolizes death and mortality. Together, these elements create a powerful and thought-provoking tattoo that is both beautiful and meaningful.
Maritime full sleeve tattoo with boat, anchor compass and waves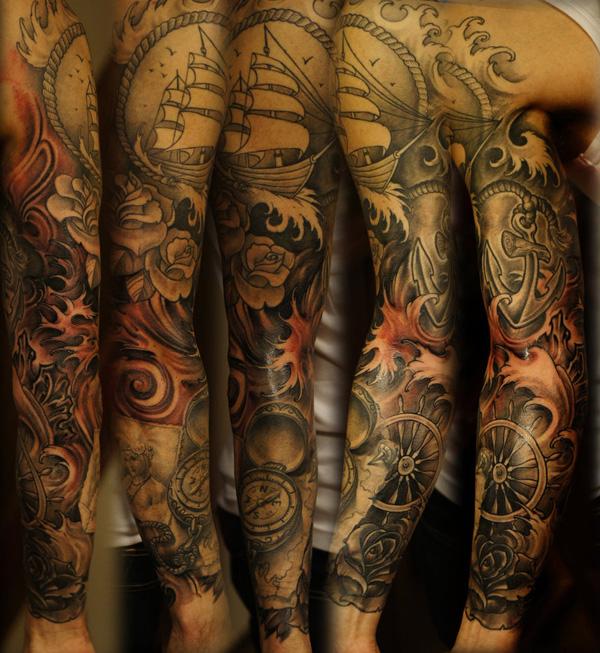 Rose and Spiders sleeve tat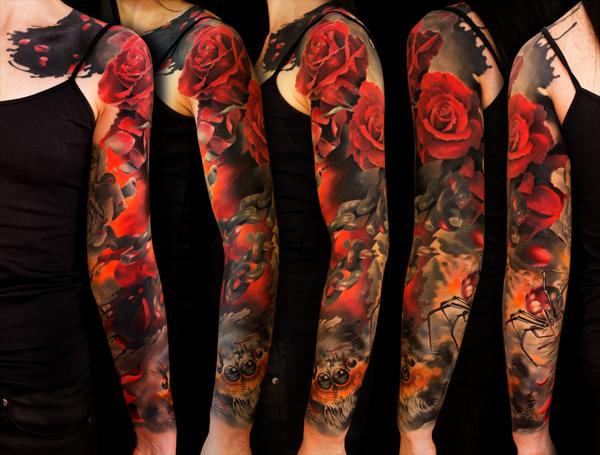 Roses tattoo of vibrant color on a black wash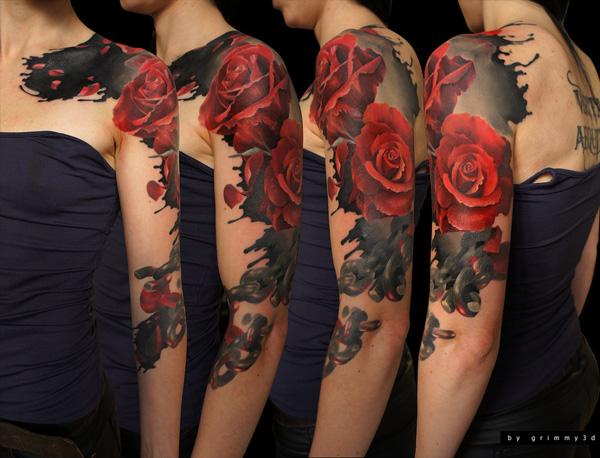 Raven Sleeve Tattoo for women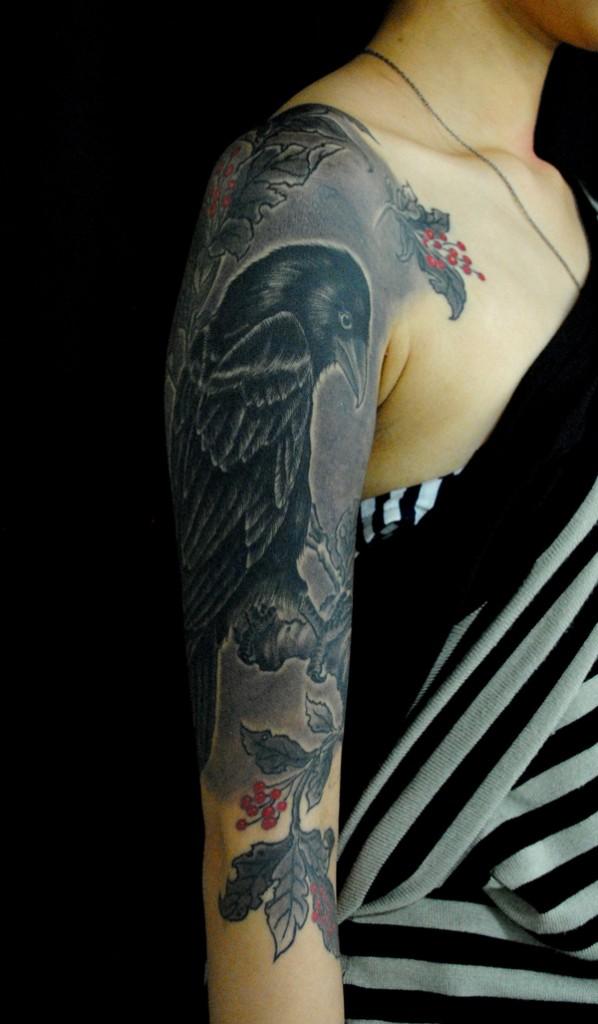 Tall Ships Skull Tattoo Black And Grey

Floral sleeve tattoo in Japanese style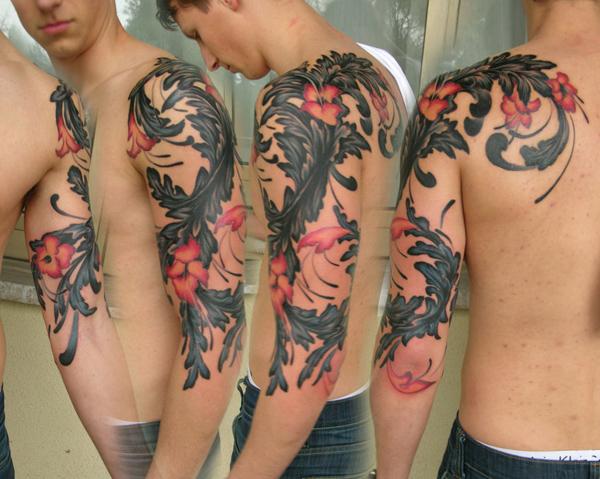 Stylized strings full sleeve Tattoo for music lover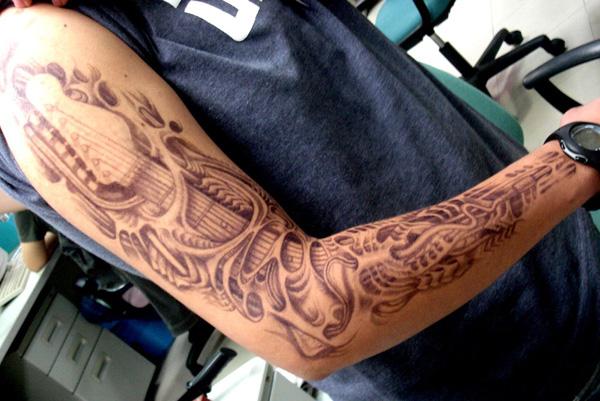 Maori Sleeve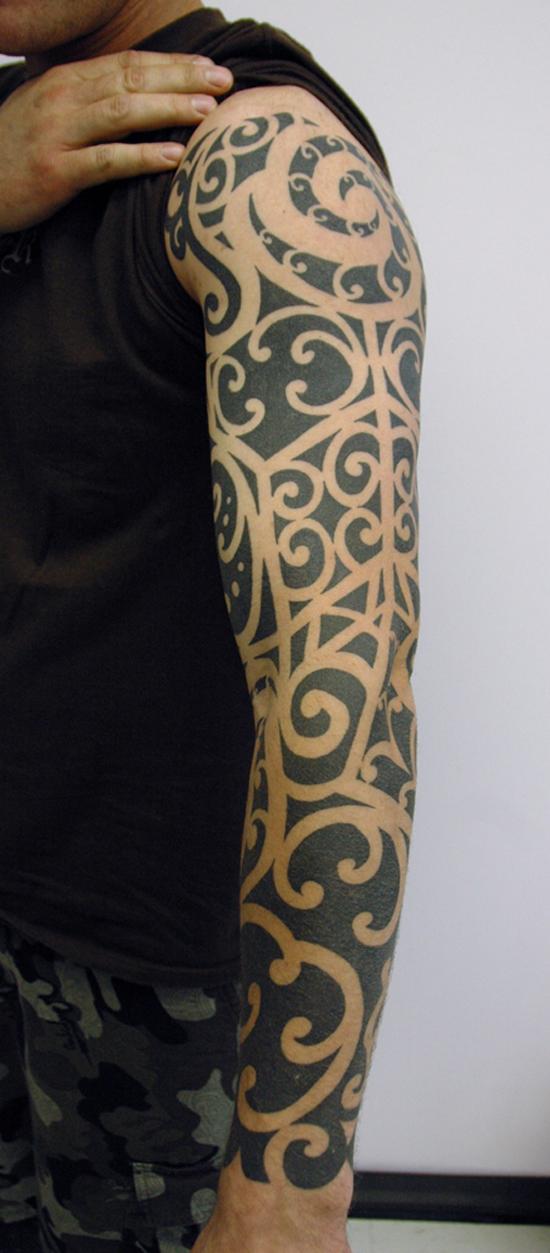 Ripped skin scrips sleeve tattoo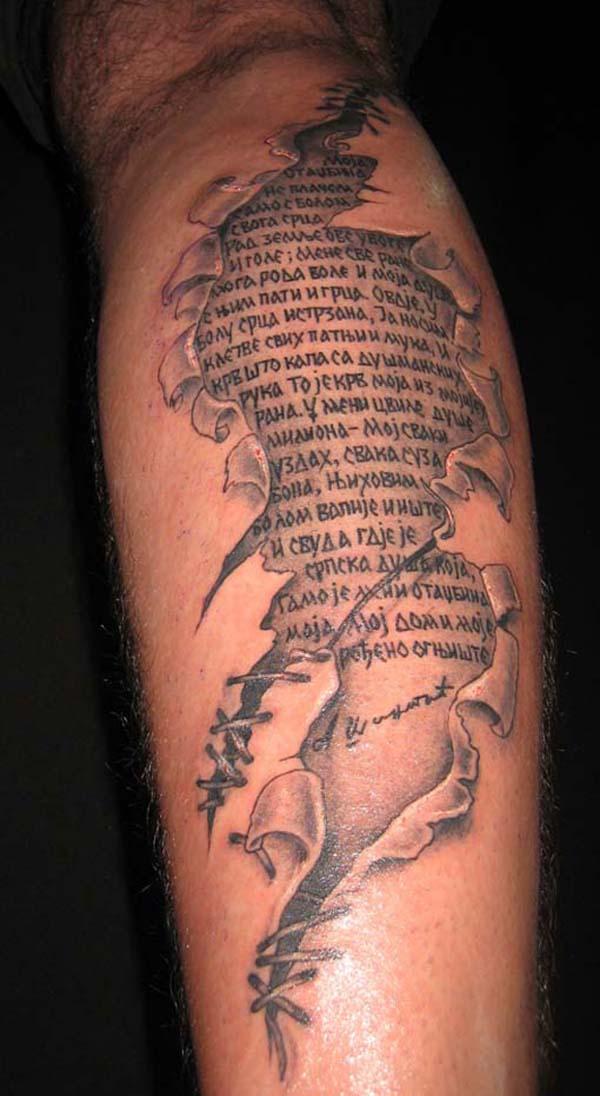 Sleeve Tattoo for couple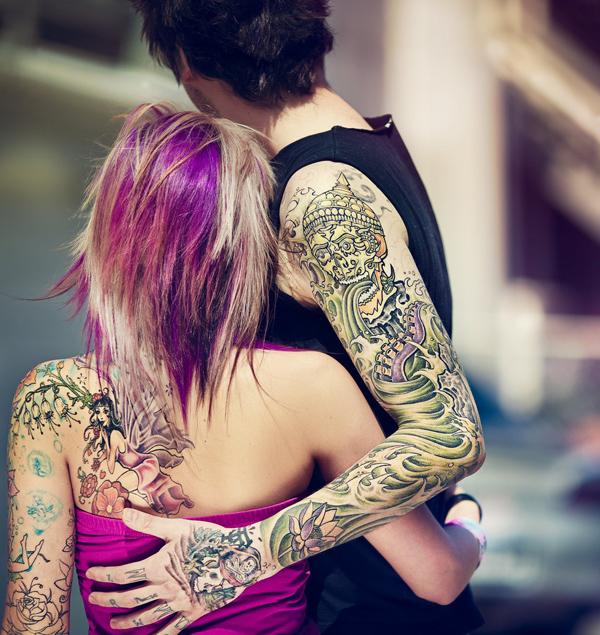 Dragon arm tattoo in vibrant colors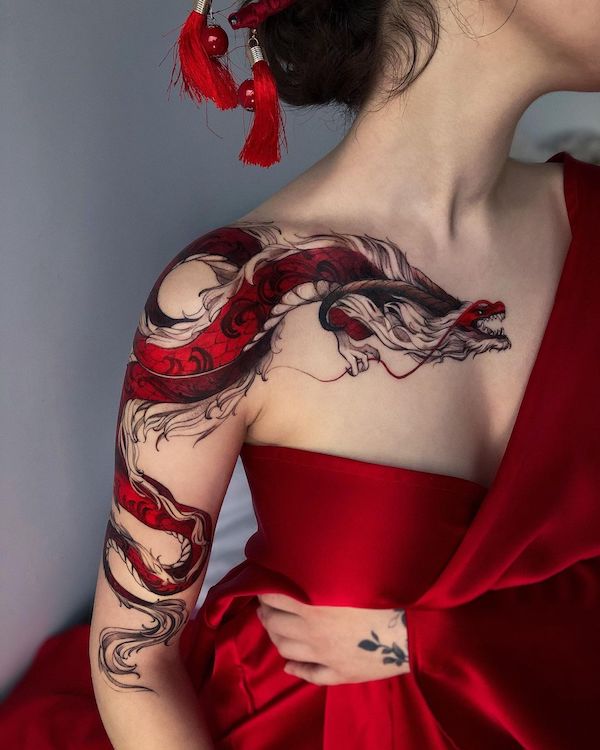 Polynesian tribal sleeve tattoo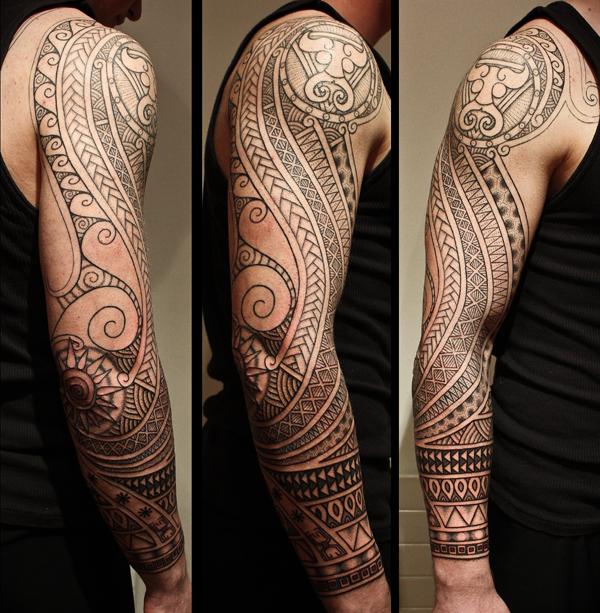 Steampunk sleeve tattoo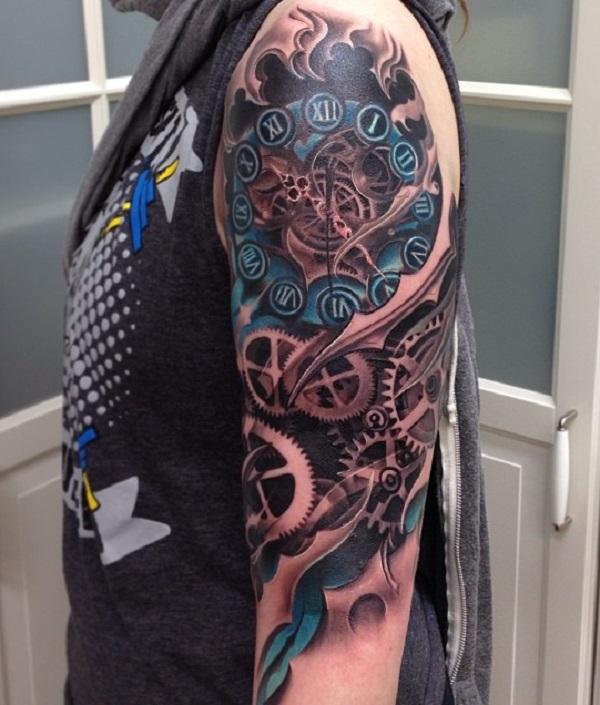 Psychedelic Eagle over an aged tree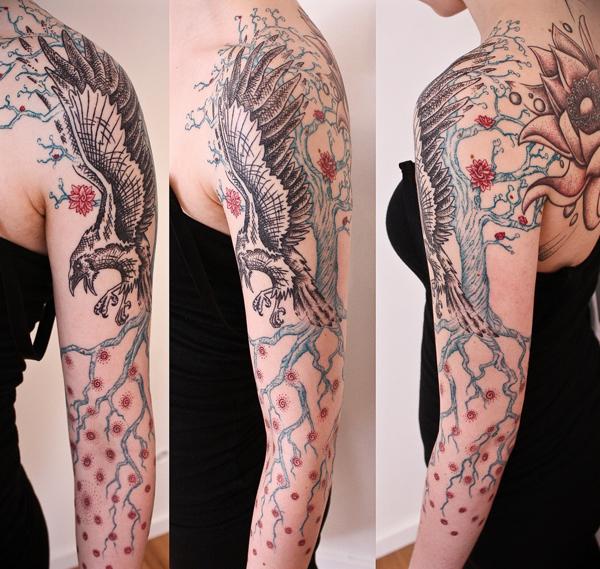 Warrior and eagle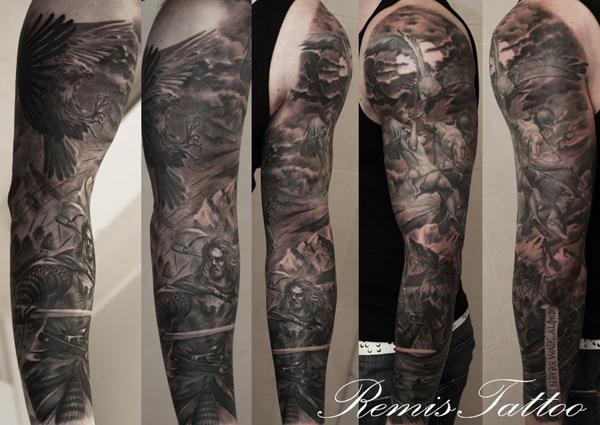 Electronic circuit board blackwork sleeve tattoo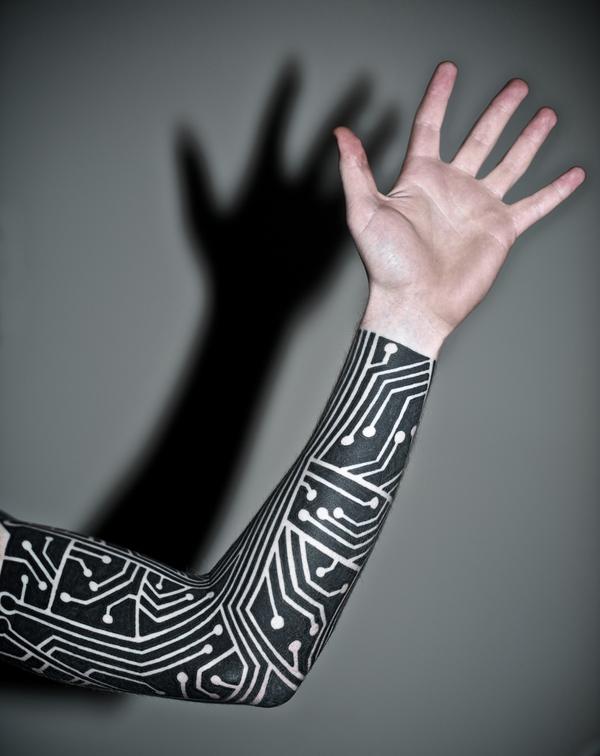 Japanese full sleeve tattoo with floral and swirling waves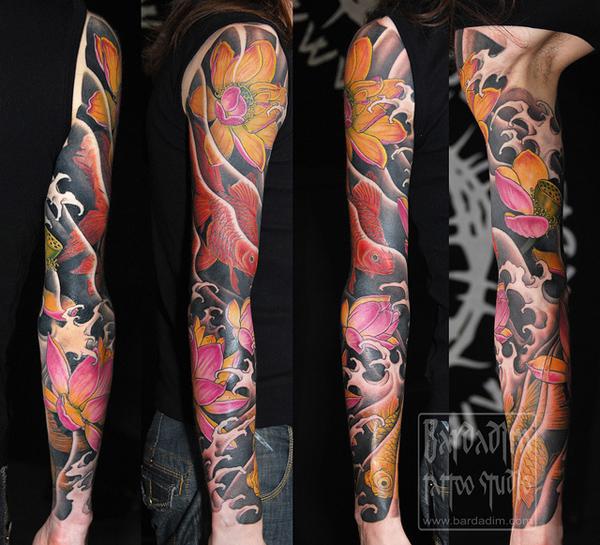 Owl, oil Lamp,fall leaf and wolf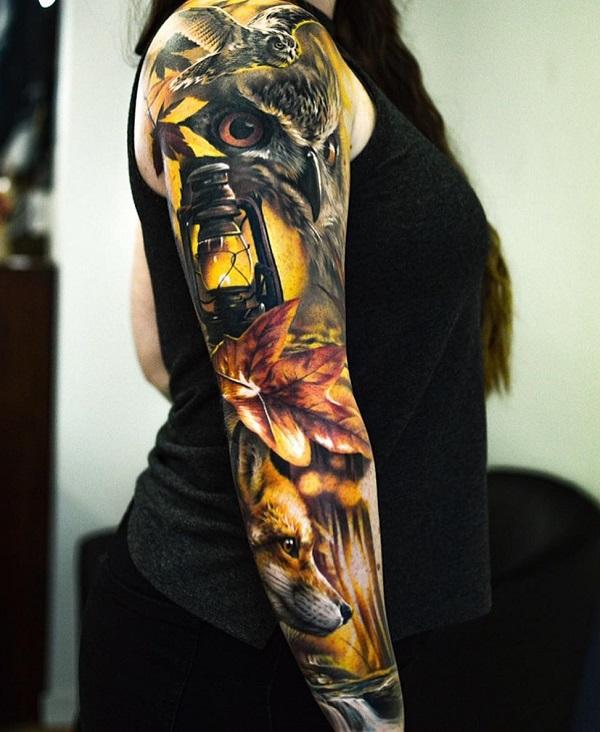 An alerting owl, flying birds, an oil lamp, a fall leaf, and a wolf are all part of a complex and brilliant design that sends a message of being on guard in life. On the other hand, the parts are made to look real, and the theme is great.
Faith tattoo with Bible Verse, Angel, Pray hand on full arm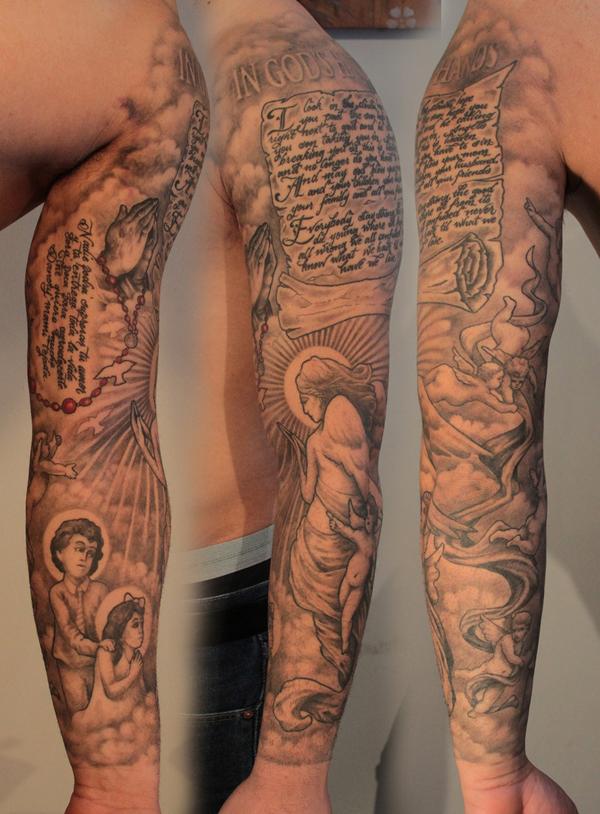 Floral Sleeve Tattoo for women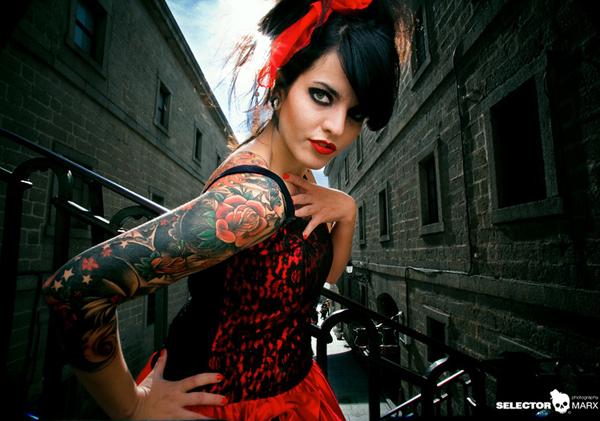 Tribal sleeve and chest tattoo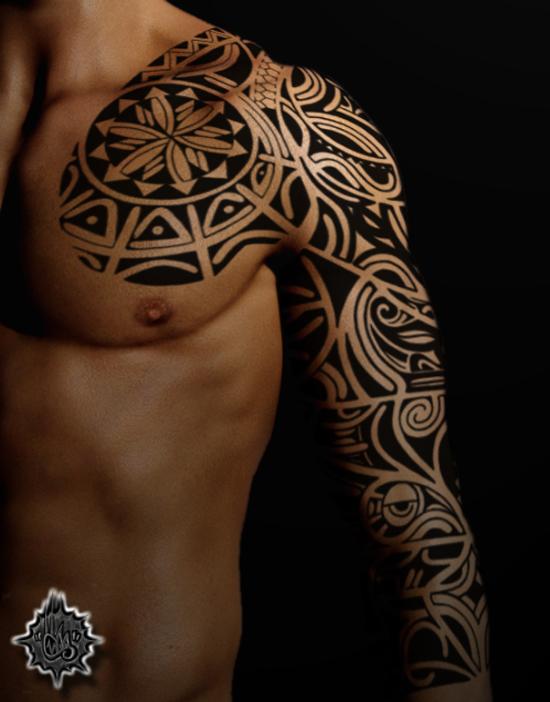 Sleeve and chest tattoo with mantra of Peace and happiness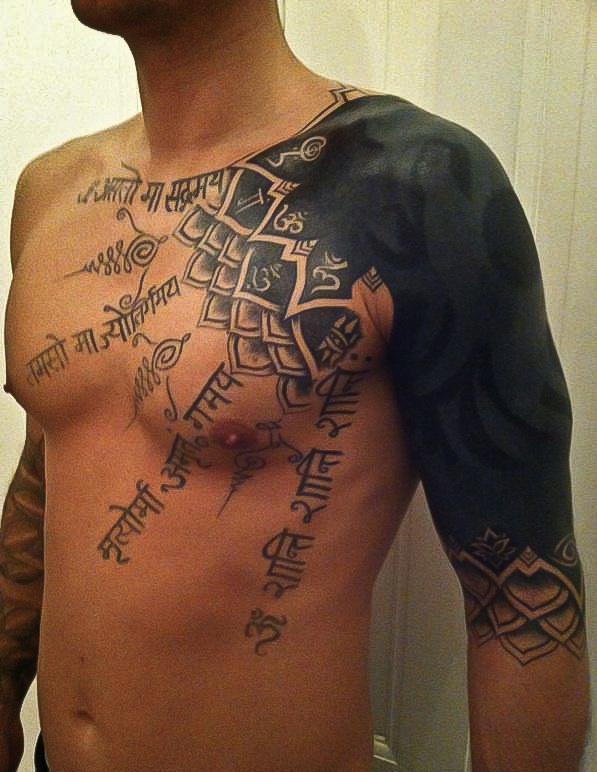 Conclusion
There you have it – your ultimate guide to sleeve tattoos! Now that you know the options and have a wealth of ideas to explore, you can have confidence in your decision to tackle that awesome sleeve you've always dreamed of. Get out there, find a skilled tattoo artist, and start designing the perfect sleeve tattoo to adorn your body and express yourself!