In the past few years, infinity tattoos have become more and more popular because of their beautiful and meaningful patterns. The infinity symbol stands for the idea that there are no limits to what can be done. It is a simple but strong symbol that has led many people to get it tattooed on their bodies. In this blog post, we will explore the meaning behind infinity tattoos, the different ideas and places you can get them, and some things to think about before getting one.
Meaning Behind Infinity Tattoos
The infinity symbol, which looks like an upside-down figure eight, has been used for hundreds of years in math, philosophy, and religion. It stands for the idea that there are no limits to what can happen and that everything is linked and goes in cycles. People have also used the sign to show eternity, rebirth, and an unbreakable bond between two people.
For many people, getting an infinity tattoo is a way to express their belief in the power of limitless possibilities. It can also serve as a reminder to live in the present moment and appreciate the beauty of life.
Placements and Designs
When it comes to placement, infinity tattoos are versatile and can be placed on many parts of the body. Some popular placements include the wrist, finger, or on the back of the neck. Some people also opt for larger designs that cover their entire side or arm.
There are a lot of different ways to make an infinity tattoo, so there is a lot of room for creativity and personalization. Some common tattoo designs include the infinity symbol with a heart or a feather, as well as a tree of life, a compass, or a meaningful quote. Most of the time, an infinity tattoo is put together with other designs. Below, we'll look at different ideas to get an infinity tattoo.
Love Infinity tattoos
The idea of love infinity tattoos is a way to show that love is endless and will last forever. These tattoos are a popular choice for those who want to express their love and commitment to someone significant or a family member.
One of the most popular designs for love infinity tattoos is an infinity symbol intertwined with a heart. This design represents the idea that love is infinite and everlasting, and that the heart is at the center of this infinite love. Another popular design is the word "love" delicately woven into the outline of an infinity symbol. This design is a beautiful representation of the idea that love is infinite and never-ending. The word "love" is a powerful symbol of the emotion that binds us together, and when going with the infinity symbol, it represents that love is an unbreakable eternal force.
Infinity with a red heart symbol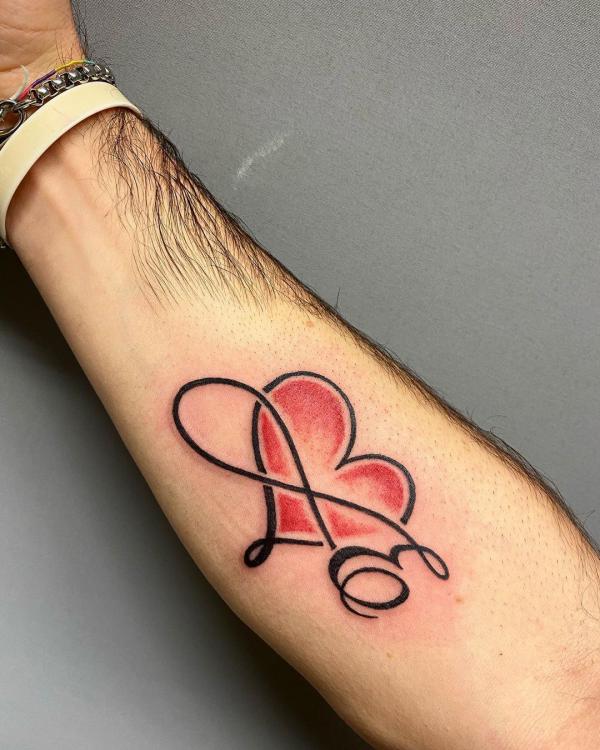 Shoulder tattoo with heart and infinity knots for women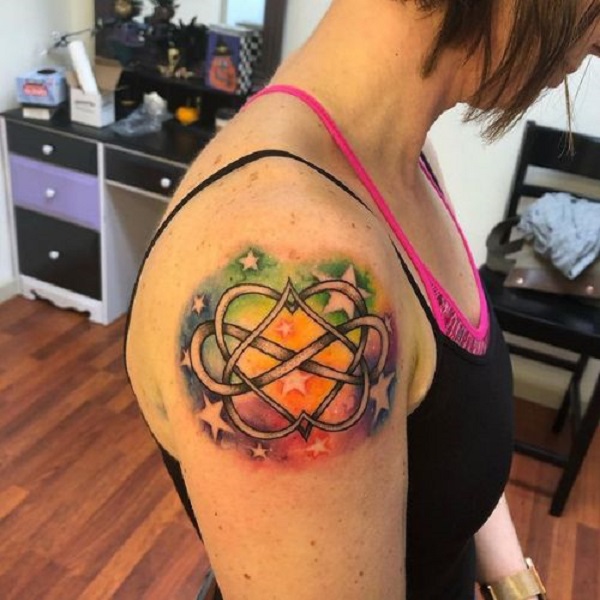 Wrist tattoo with Infinity and finger print heart symbols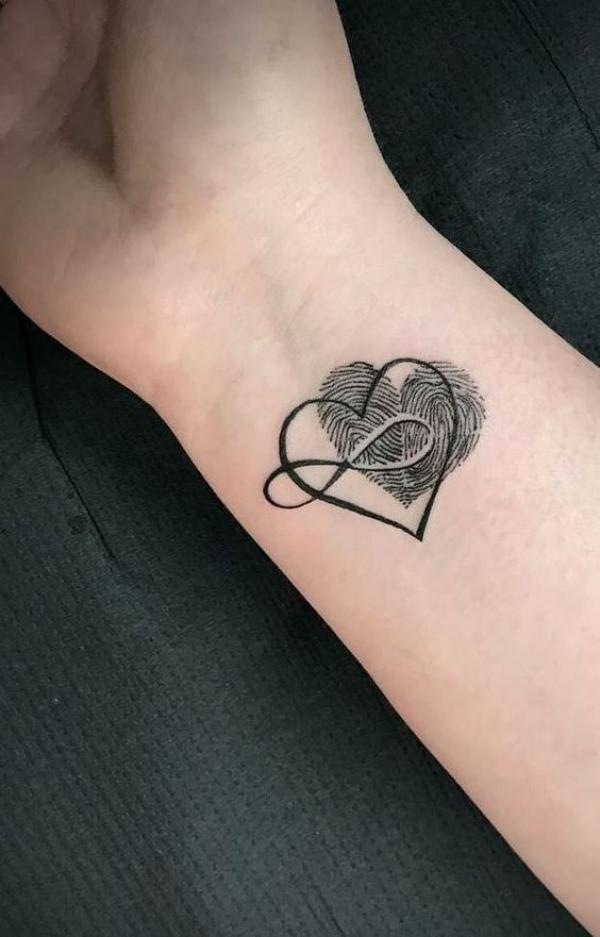 Black and gray infinity tattoo with heart symbol and name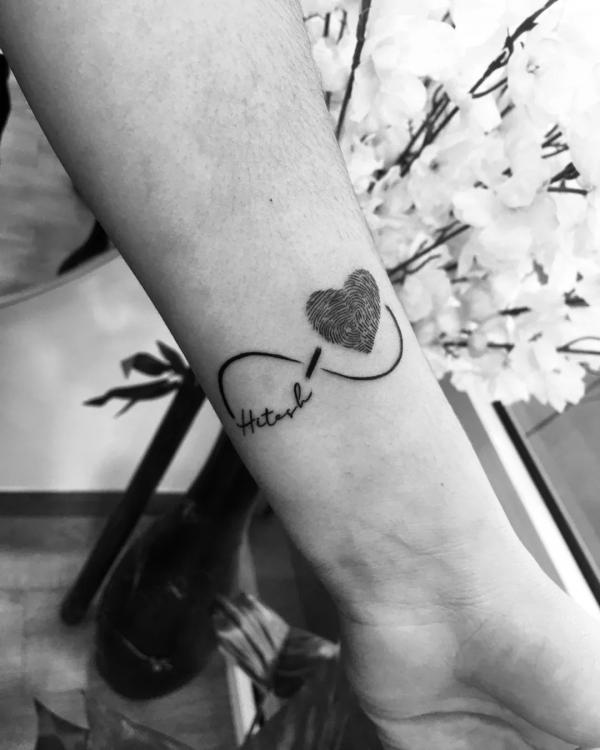 Infinity love for mum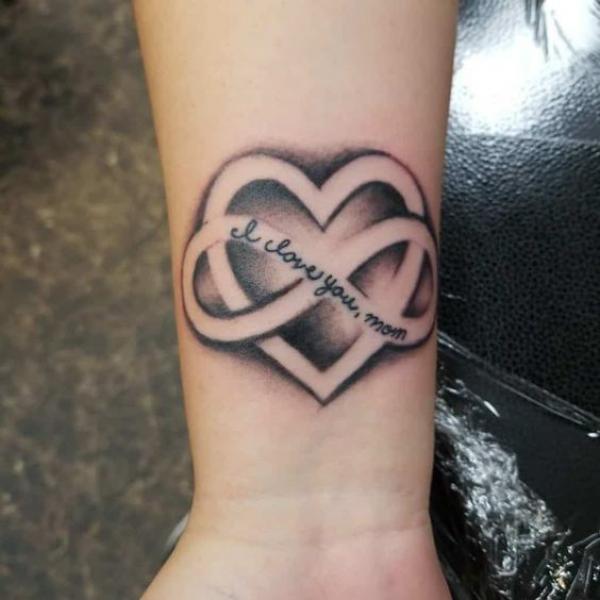 Wrist tattoo with infinity heart symbol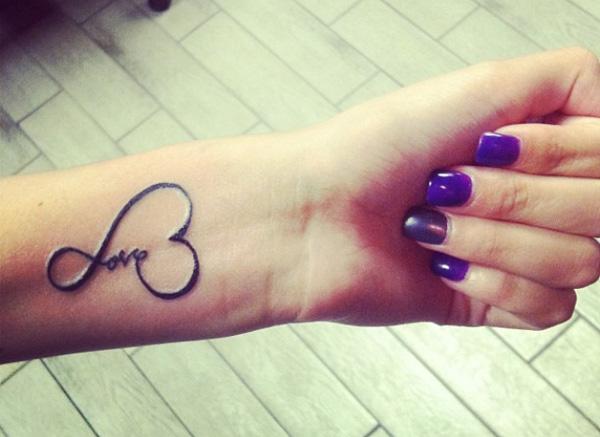 Infinity and heart symbols with paw print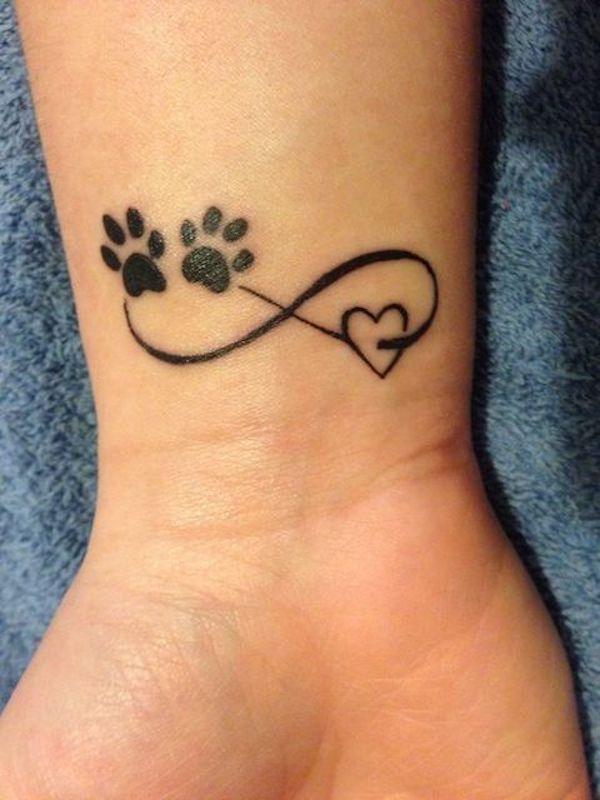 Matching tattoos with infinity heart symbols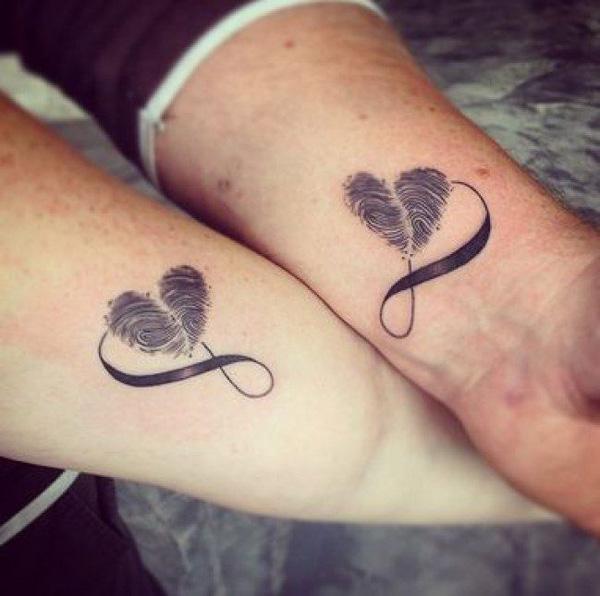 Infinity Heart Tattoo on foot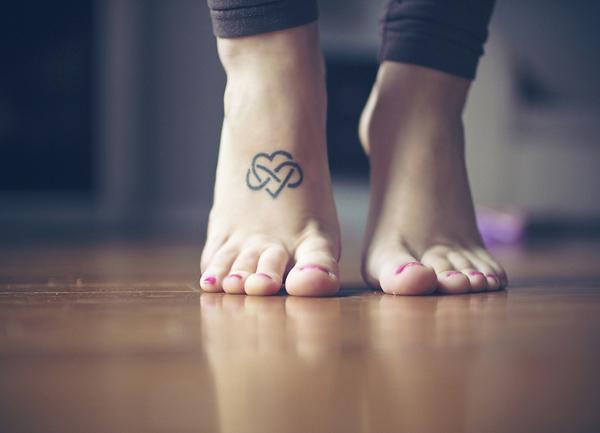 Love Infinity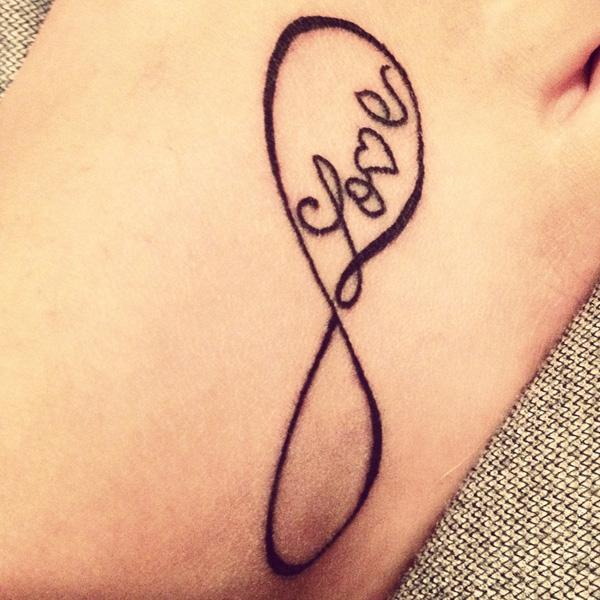 Love infinity with birds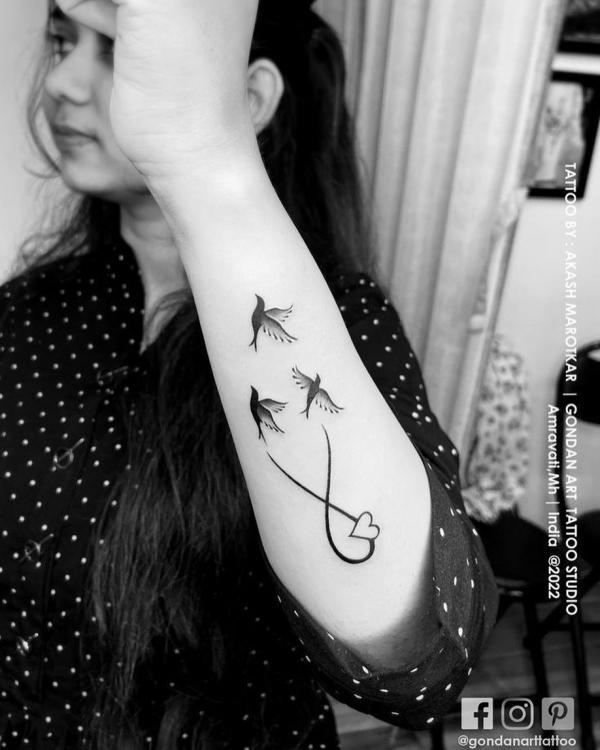 Infinity and heart symbols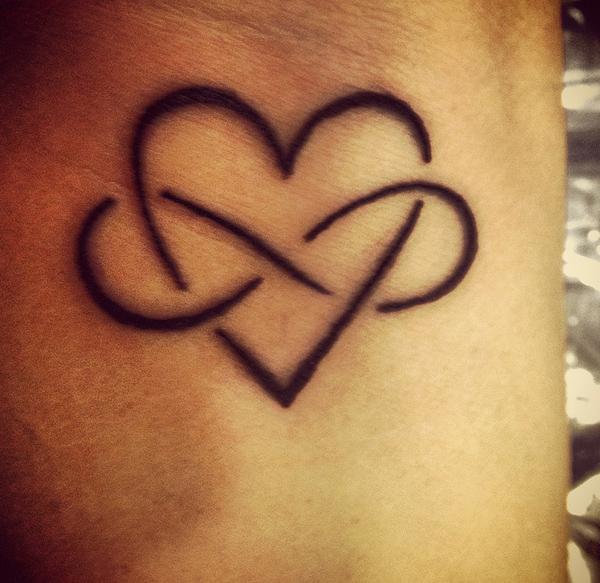 White ink with infinity symbol and love lettering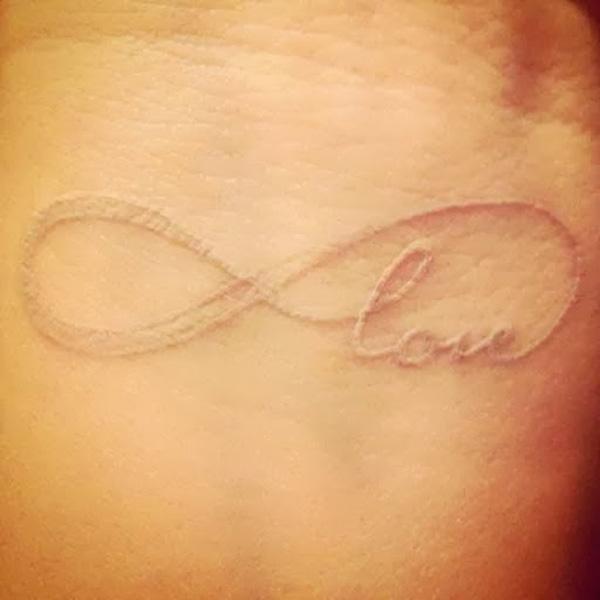 Lotus love infinity tattoo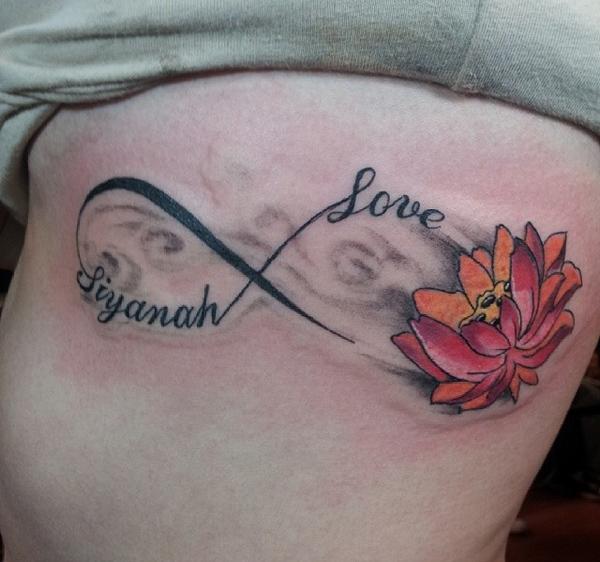 Infinity symbol with love lettering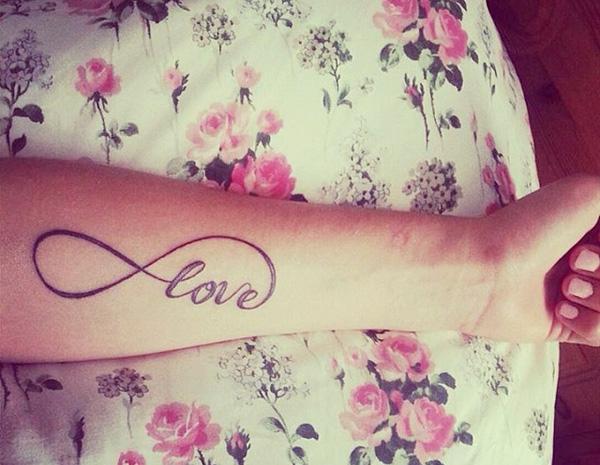 Love infinity tattoo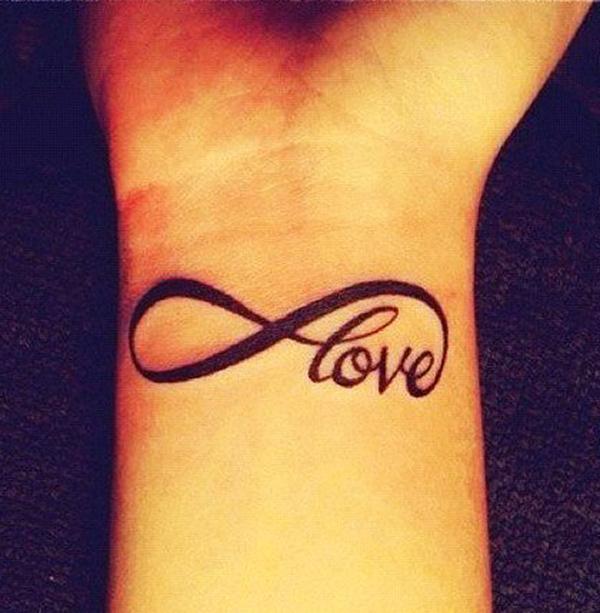 Feather Infinity tattoos
Feather infinity tattoos are a popular choice among tattoo enthusiasts due to their beautiful and symbolic nature. The feather, a common element in tattoo art, reminds us of birds, freedom and beauty. Combining the two elements creates a tattoo design that is both meaningful and visually stunning.
One interpretation of a feather infinity tattoo is that it symbolizes the concept of infinite freedom. Alternately, the tattoo may signify the concept of unlimited affection or connection. The connection between the feather, which can represent a deceased loved one, and the infinity symbol signifies that the love or connection is eternal and will never wane away.
Infinity symbol with a realistic feather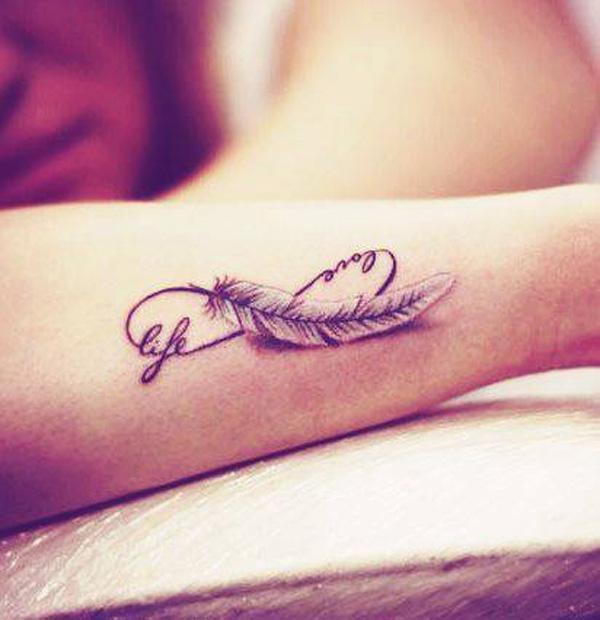 Infinity symbol with family lettering and a feather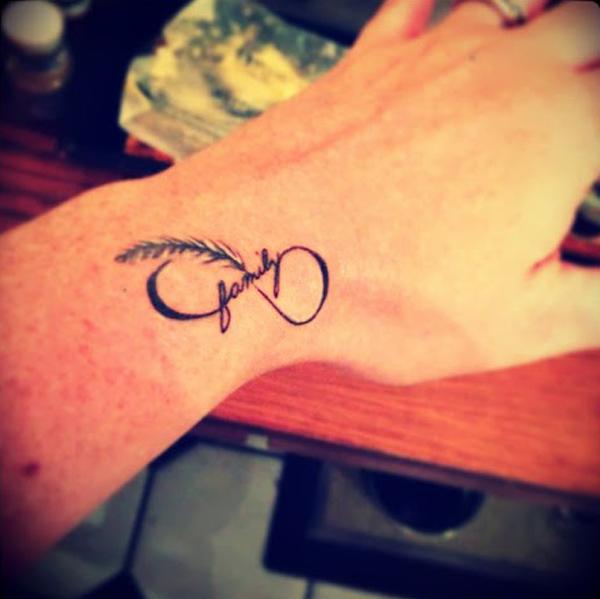 Stay strong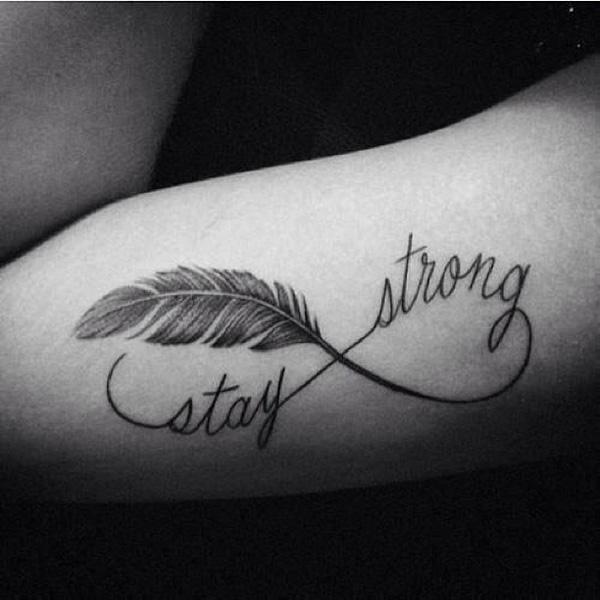 Humber to Lilian feather infinity forearm tattoo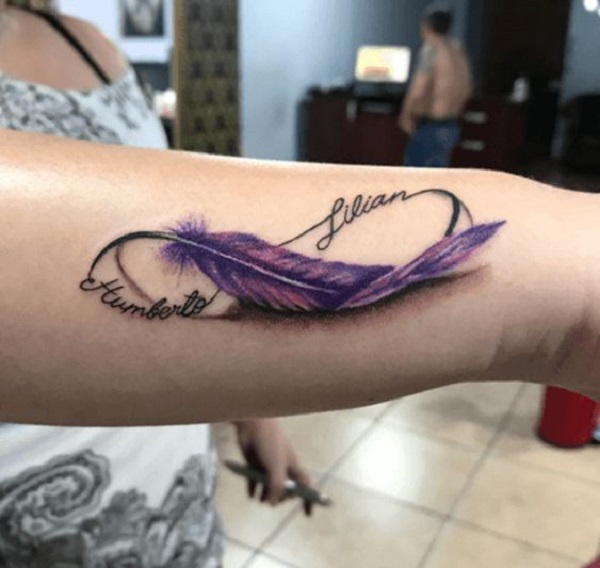 Infinity symbol with heart finger print and birds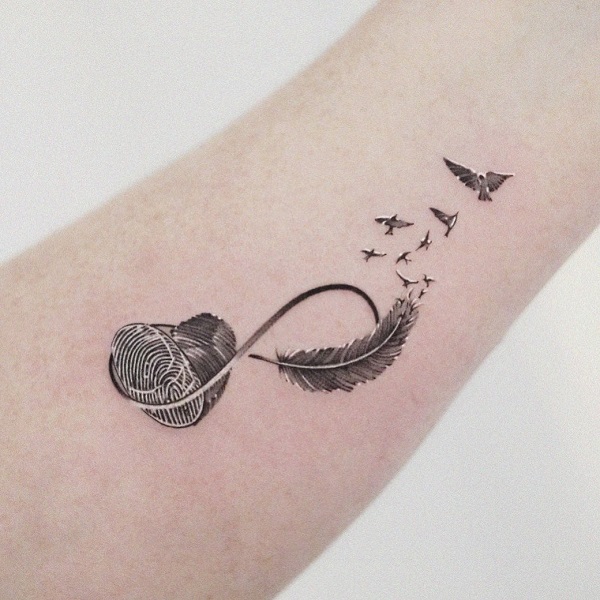 Dolphins and infinity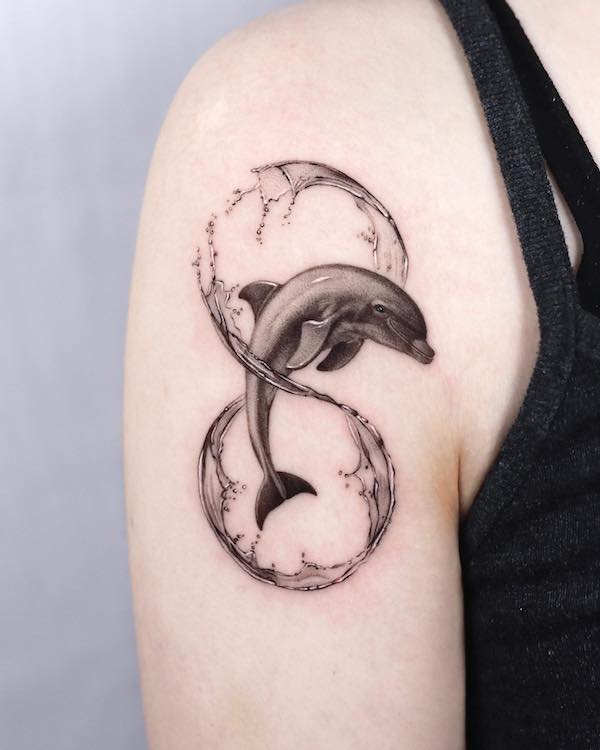 Love always feather infinity birds tattoo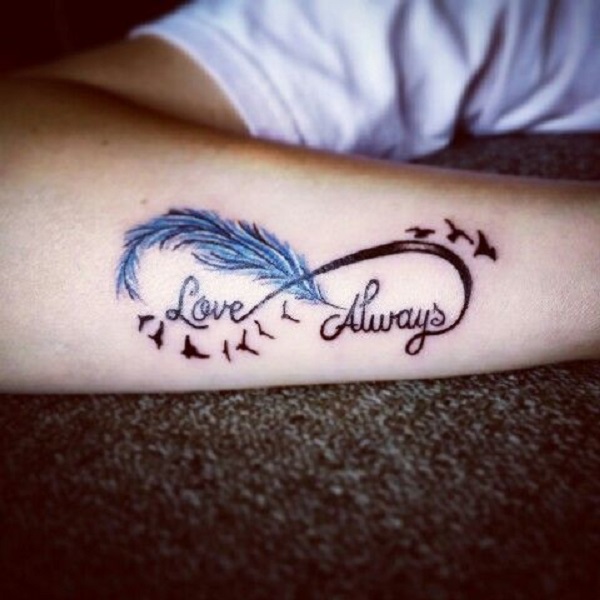 Black and white feather infinity tattoo with birds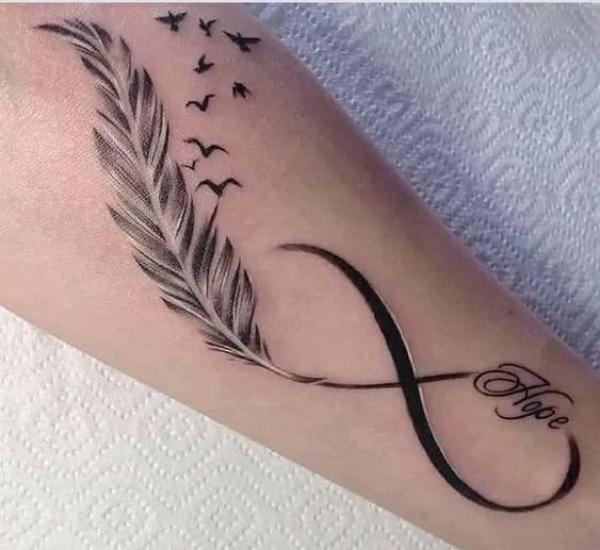 Black and white feather infinity tattoo with names and dates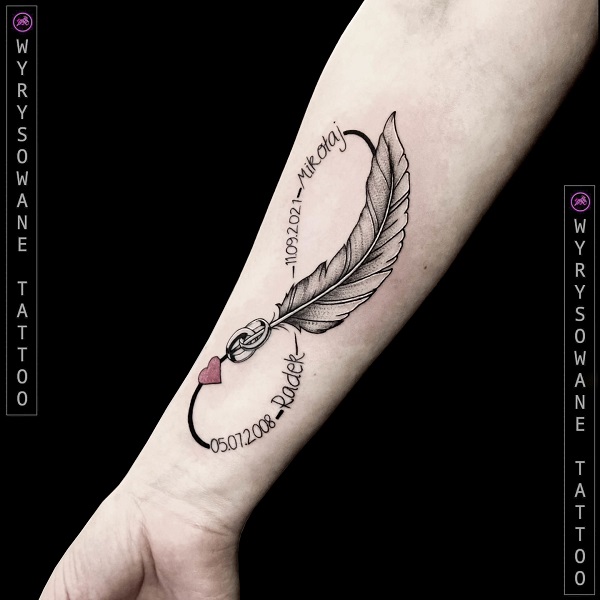 Colorful infinity symbol with feather and swirls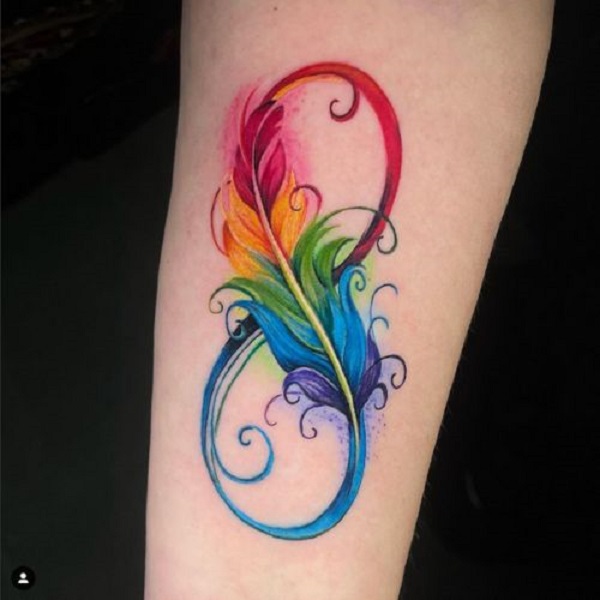 Feather infinity tattoo with names on forearm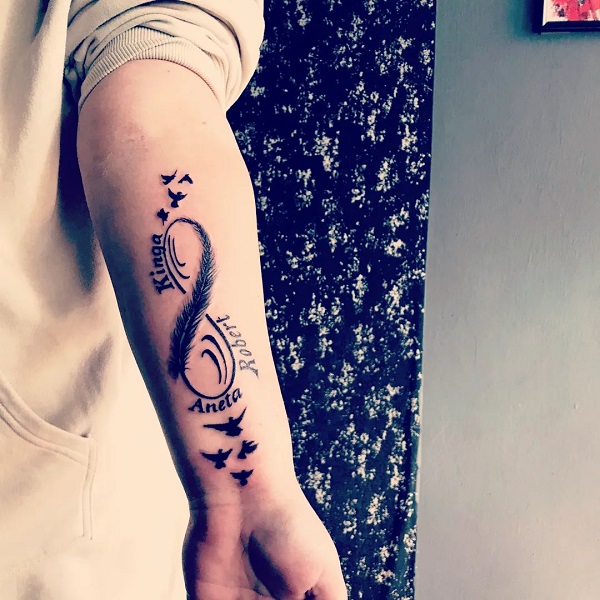 Forearm tattoo with an infinity symbol with feather and birds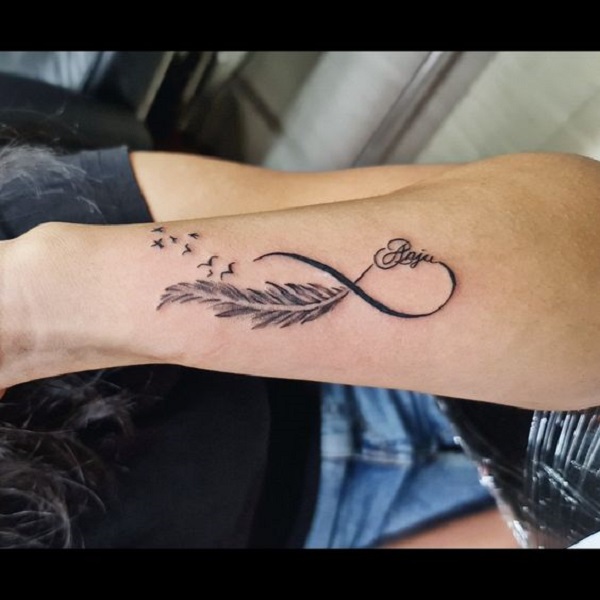 Large infinity symbol with a glowing feather and phrase Stay Strong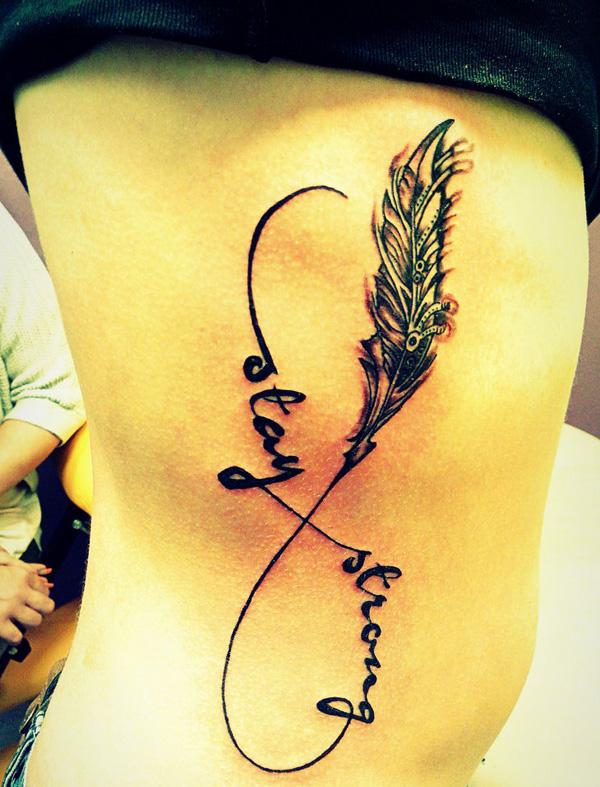 Infinity tattoo with angel wings
An infinity tattoo with angel wings is a popular and meaningful tattoo design that stands for love, faith, and spirituality that will last forever. The infinity symbol stands for the idea that there is no end or limit, while angel wings stand for freedom, safety, and direction. This tattoo design is often chosen by people who want to respect the memory of a loved one who has passed away, show their eternal bond with a loved one, or show what they believe in. Angel wings can be added to infinity tattoos in many different ways, from simple and subtle to complicated and bold. This makes them a flexible and timeless choice for tattoo lovers.
Wings infinity shoulder tattoo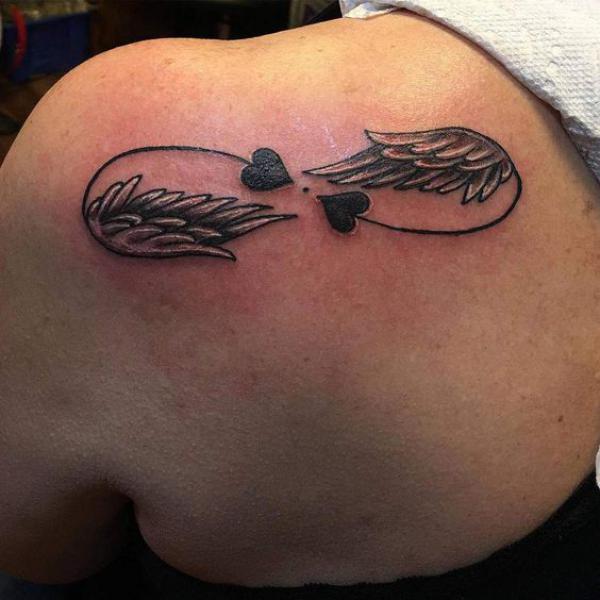 Infinity back tattoo with symmetric wings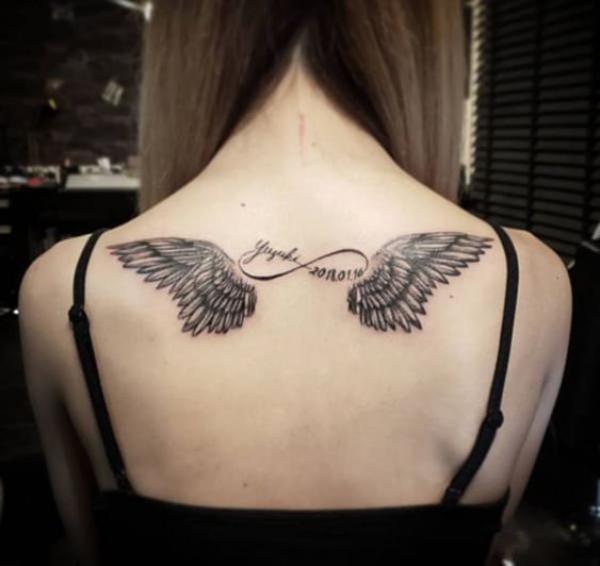 Family infinity tattoos
People often get family infinity tattoos to show how much they love and care for their family. The infinity symbol is used to make these tattoos, which also have family-related parts like names, birth dates, or pictures of family members. The infinity sign shows how close family members are to each other and how much they love each other. These tattoos are a meaningful way to respect the family and show the world how important family values are.
Life and love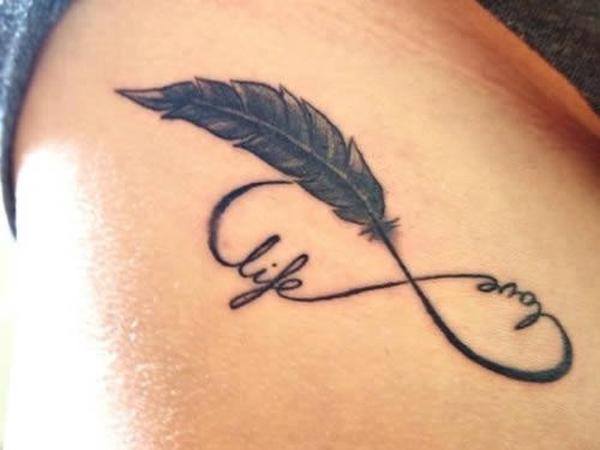 Family forever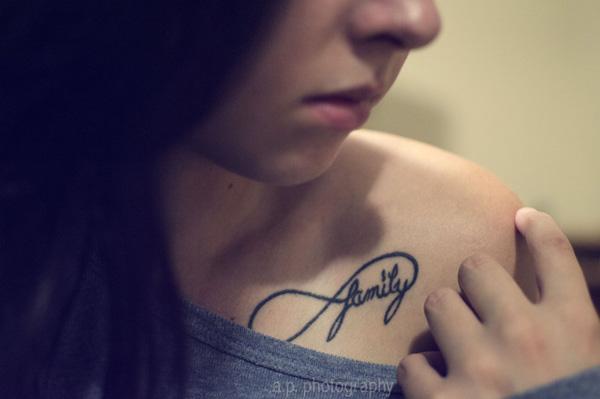 Feather infinity tattoo with lovable family on forearm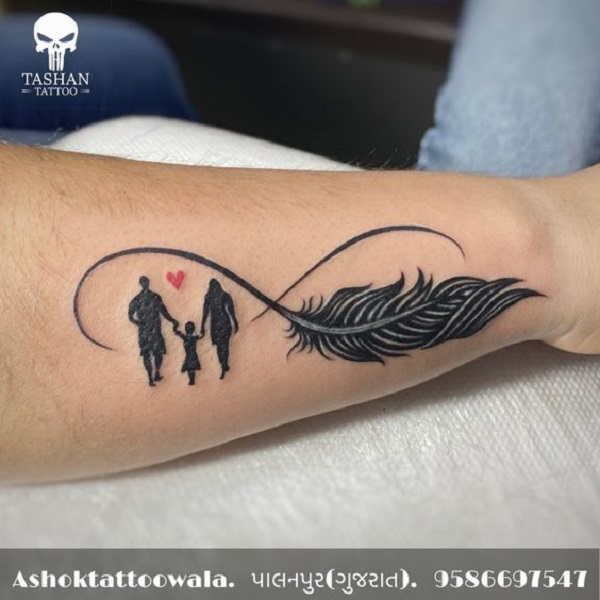 Family and infinity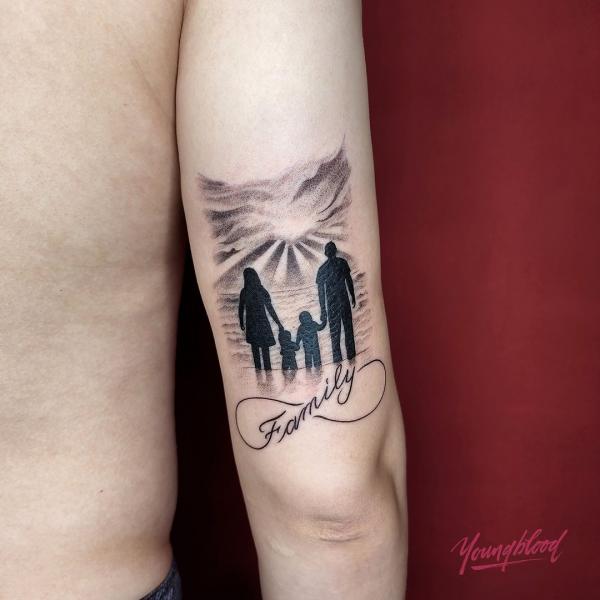 Silhouettes of family members inside an infinite sign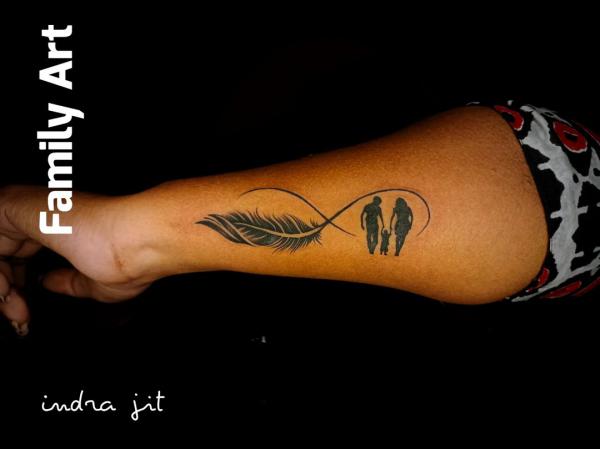 Faith Infinity tattoos
Faith infinity tattoos are a popular choice for people who want a tattoo with meaning and style. These tattoos combine the "infinity" symbol with the term "faith" or other motifs, such as a cross, a dove, or a Bible verse. The infinity sign stands for the idea of eternity, and the religious symbols show a strong faith and devotion. Faith Infinity tattoos can be put anywhere on the body and come in many different styles and sizes. This makes them a flexible and unique choice for people who like tattoos.
Neck tattoo with infinity symbol and faith lettering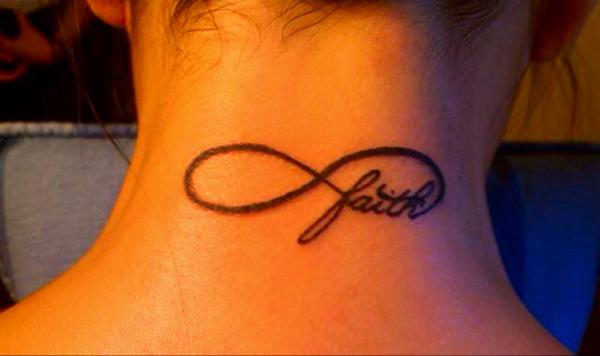 White ink with infinity symbol, faith lettering and birds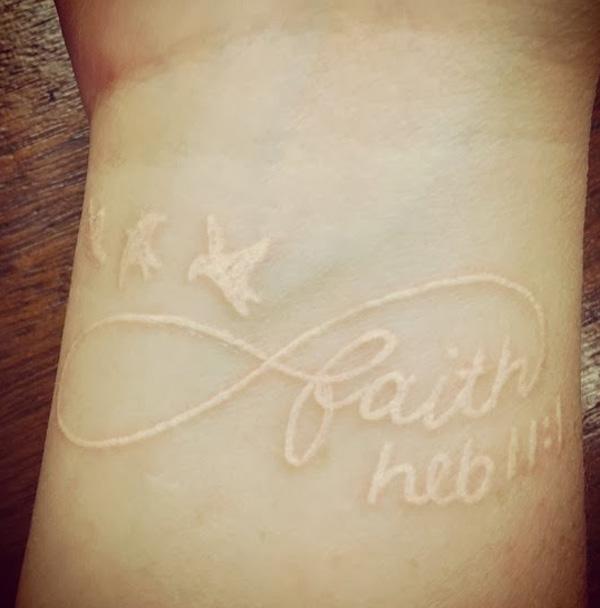 Faith and birds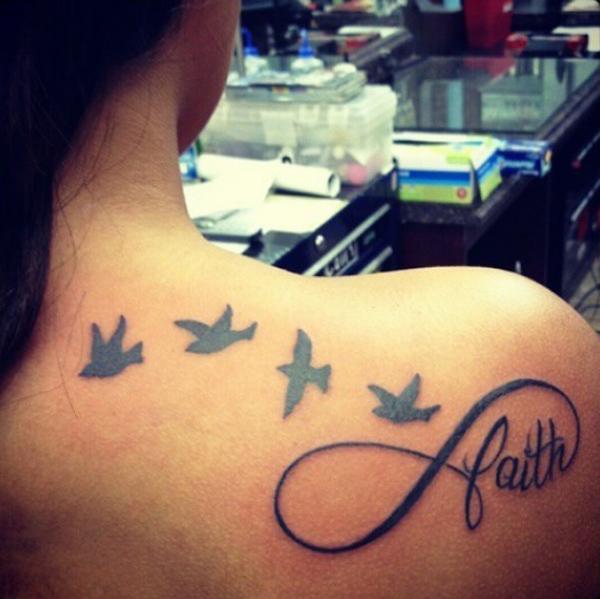 Infinity tattoo with cross and love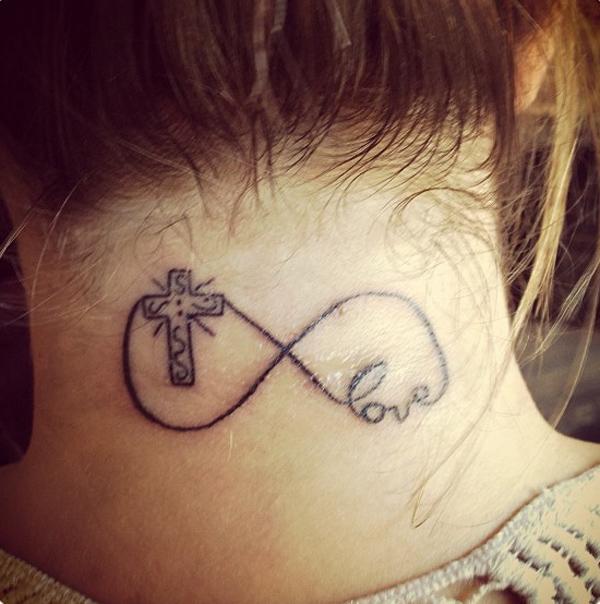 Faith infinity with birds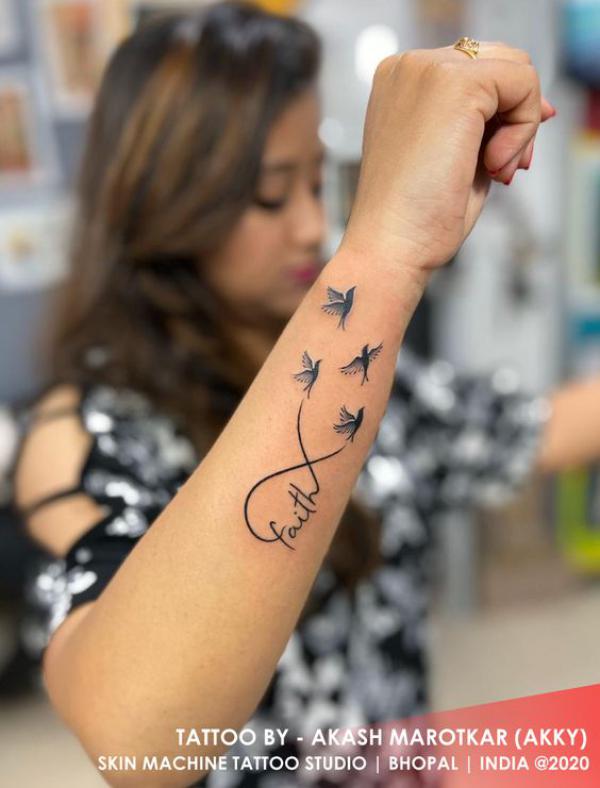 Wrist tattoo with infinity symbol, faith lettering and a bird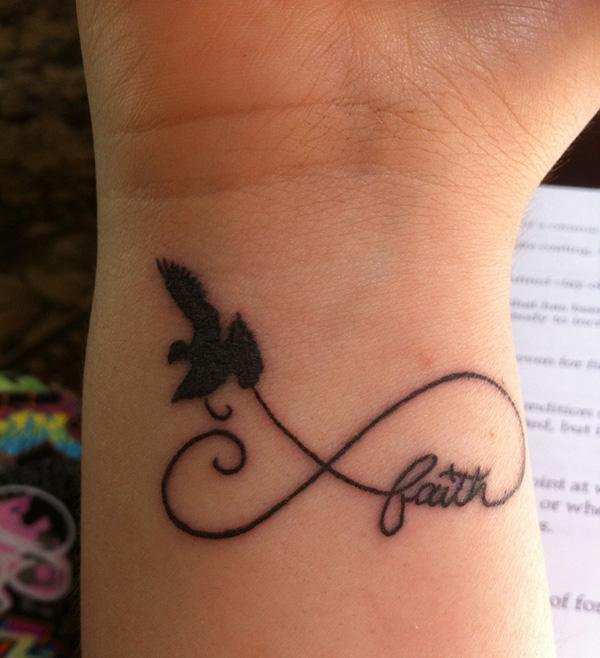 Clock and compass infinity tattoos
When a clock or compass is added to the tattoo, it takes on a greater meaning and shows how important time and direction are. The clock shows how quickly time goes by and reminds the user to live in the moment and enjoy every second. The compass, on the other hand, represents the journey of life and how important it is to stay on your own road. Together, these designs make a powerful symbol of perseverance and determination that encourages people to handle life's difficulties with grace and resolve.
Realistic tattoo with a compass and clouds infinity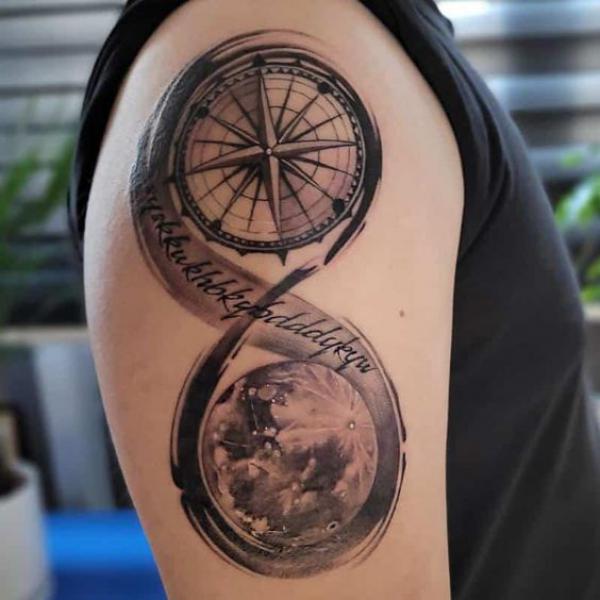 Arm tattoo with a infinity symbol formed by clock and compass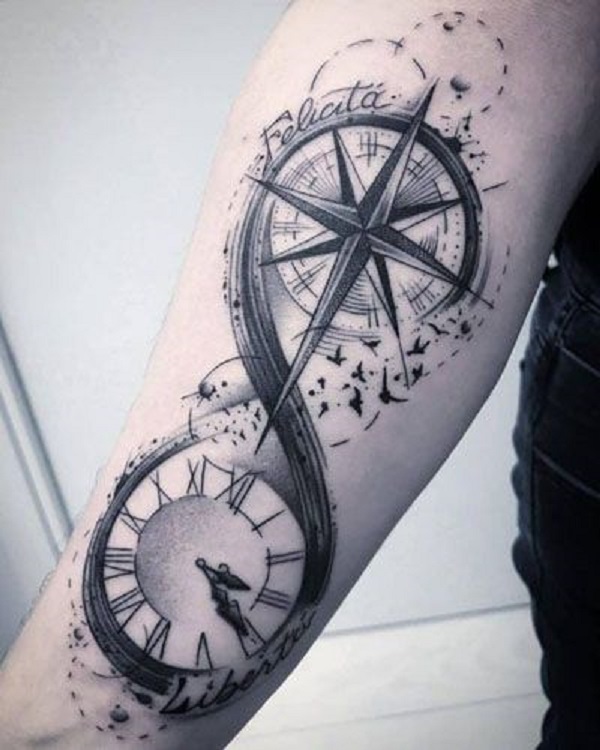 Compass and skull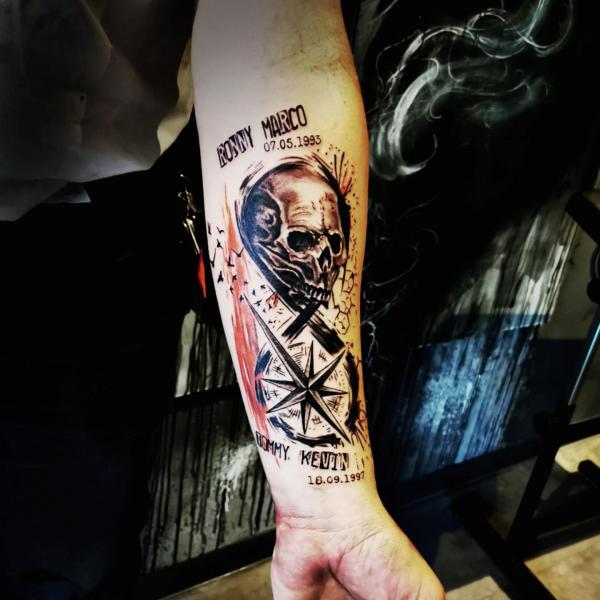 Infinity matching tattoos
Infinity matching tattoos are a popular choice for couples, friends, and family members who want to symbolize their eternal bond. These tattoos typically feature small designs with the infinity symbol on the same body parts of the wearers. Below are some examples of different designs to help inspire your own infinity matching tattoo.
To Infinity and beyond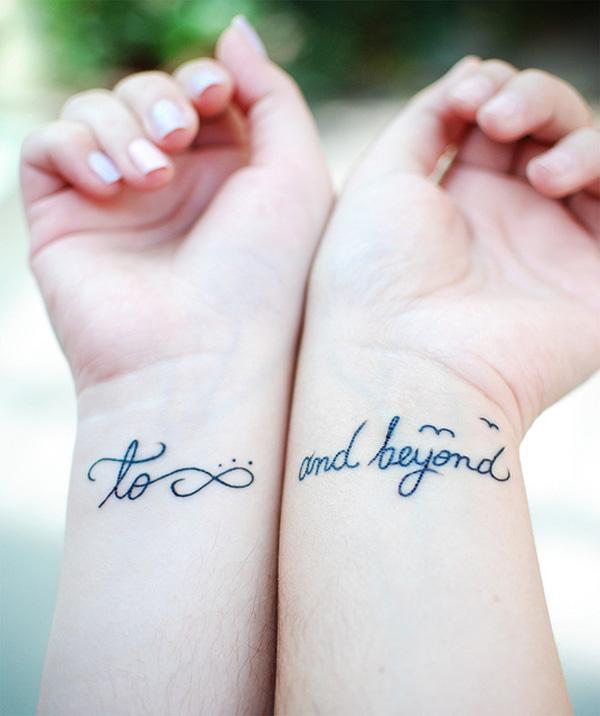 Double infinity symbols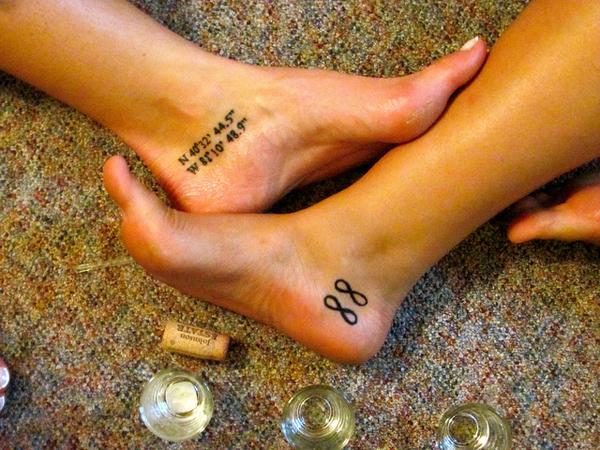 Love and infinity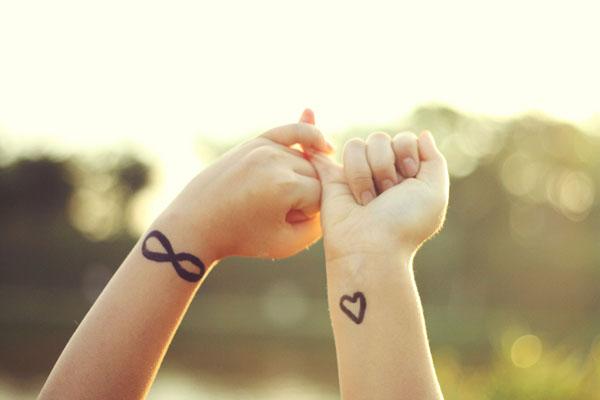 Matching sisters tattoo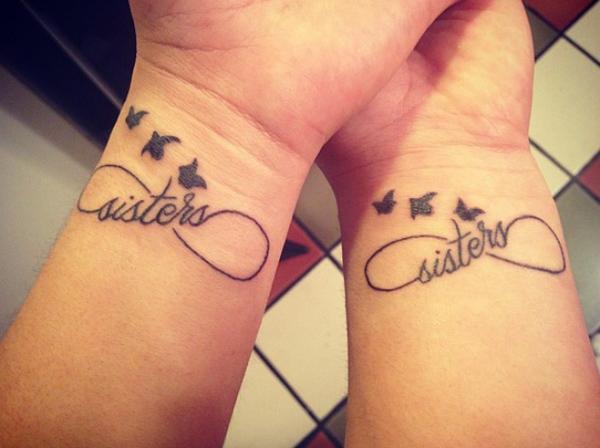 Matching ring tattoos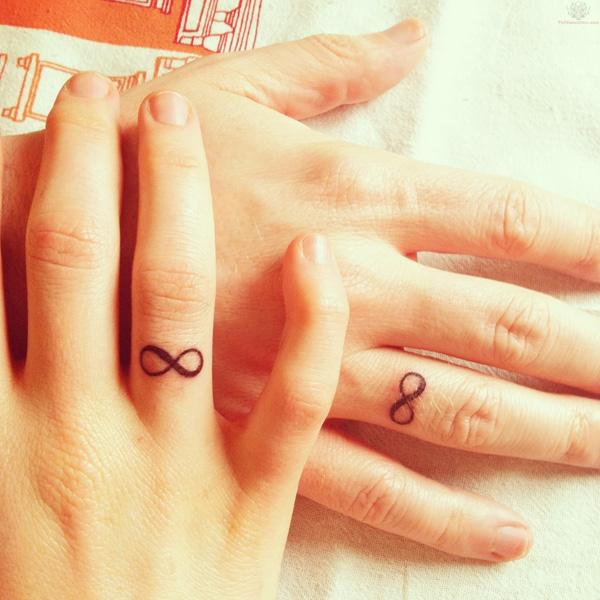 Footprints and infinity symbol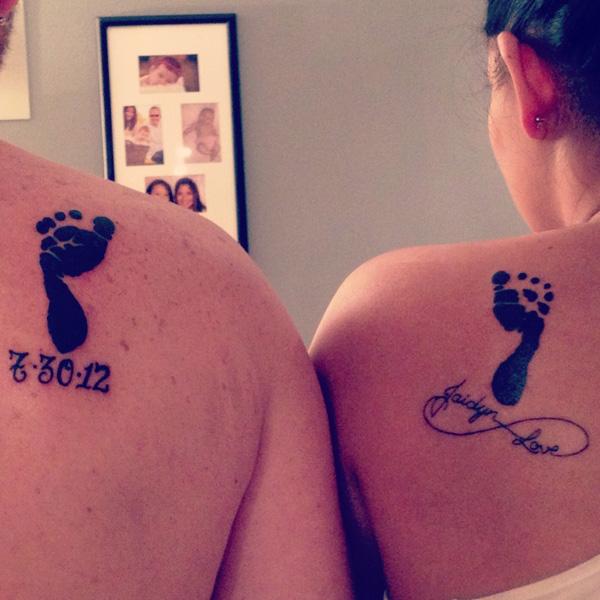 Anchor infinity tattoos
Anchor infinity tattoos are common because they combine the meanings of an anchor and the symbol for "infinity." An anchor is a sign of stability and strength, and the infinity symbol is a sign of eternity and options that never end. Together, they make a pattern that is strong and has meaning that has become more and more popular in recent years. Here are some pictures of anchor infinity tattoos to give you ideas.
infinity symbol integrated with a small anchor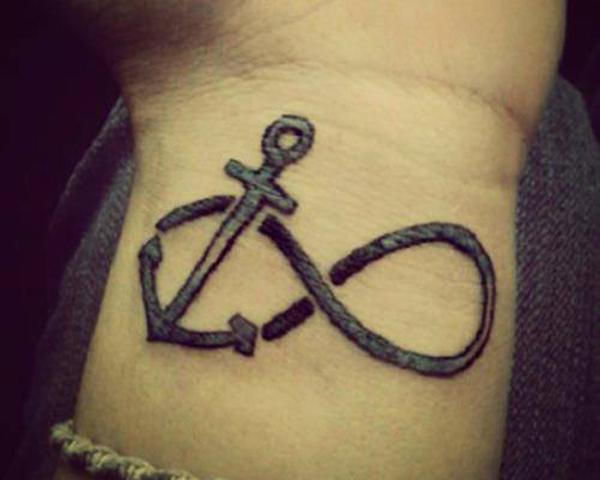 Never sink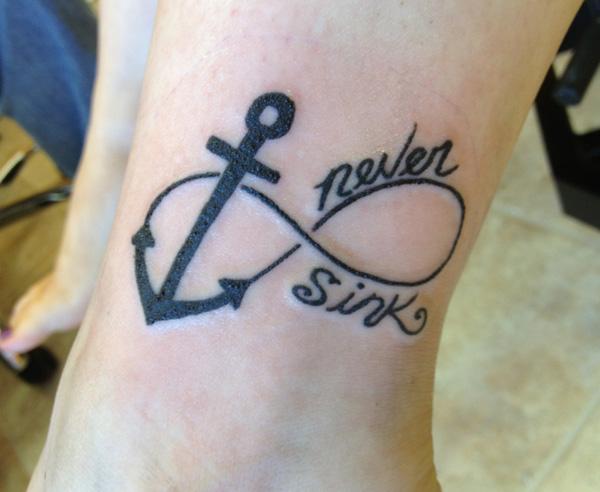 Infinity wreath with anchor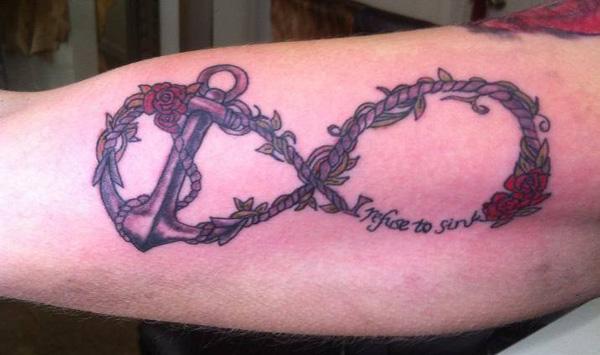 Infinity with anchor feather and butterfly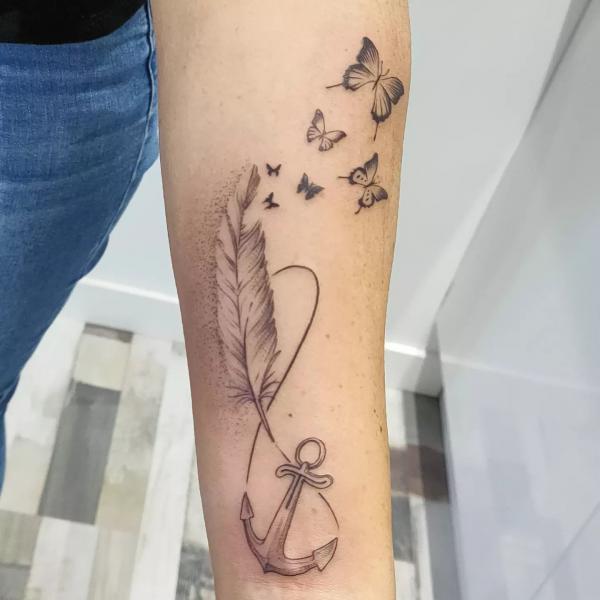 Anchor infinity symbol with phrase – refuse to sink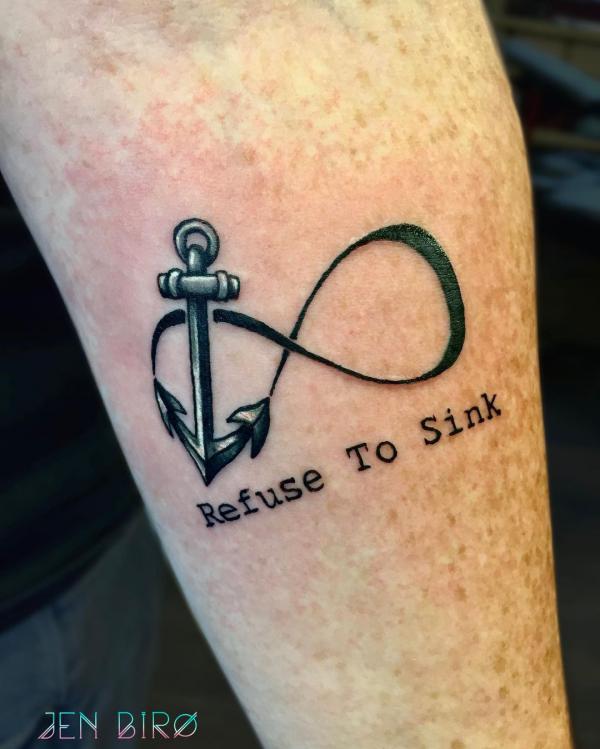 Infinity rope and anchor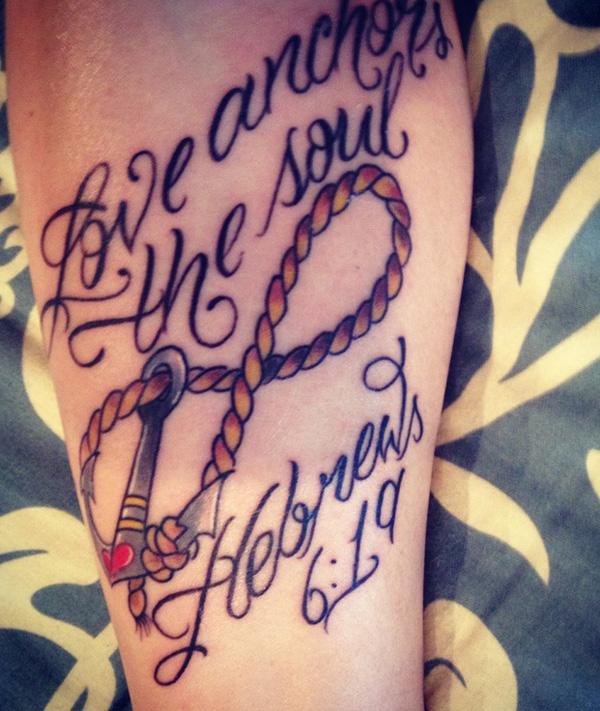 Flower infinity tattoos
Flower infinity tattoos are a popular choice for people who want a design that blends the beauty of nature with the meaning of infinity. Flowers like roses, lotuses, and daisies are often arranged in these tattoos in a way that makes the shape of the infinity sign. The result is a beautiful design that will never go out of style and reflects everlasting love, new beginnings, and all of life's possibilities. These tattoos can be made to fit anyone's tastes because there are so many different styles, and shapes to pick from. Below, we'll show you some of the most beautiful and creative flower infinity tattoo designs to give you ideas for your next tattoo.
Stylish infinity tattoo with rose and leaves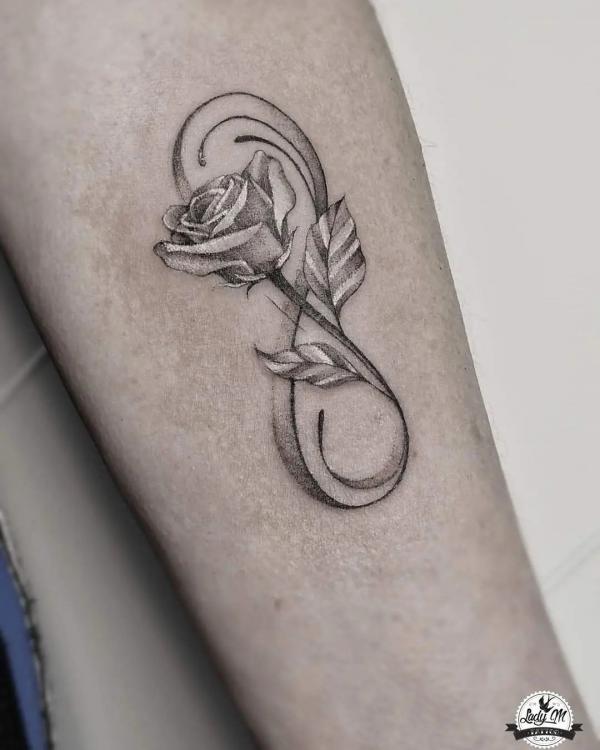 Elegant rose infinity tattoo in black and white on clavicle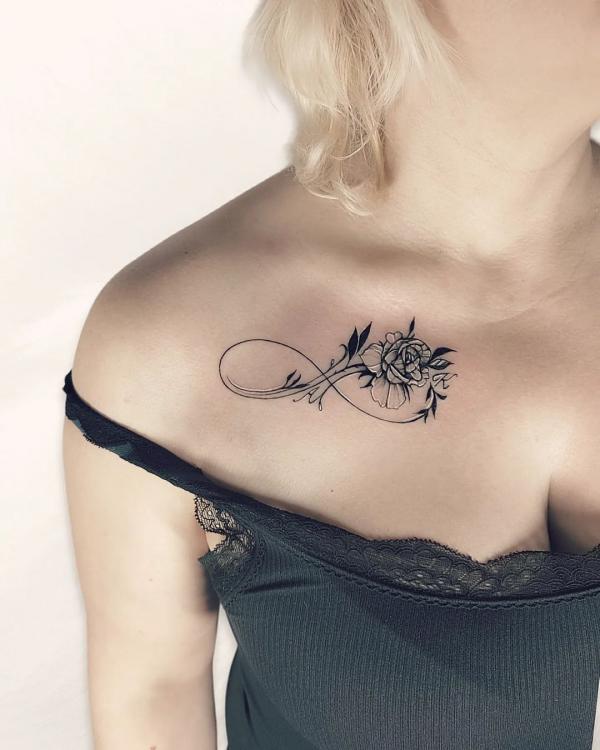 Floral infinity wrist tattoo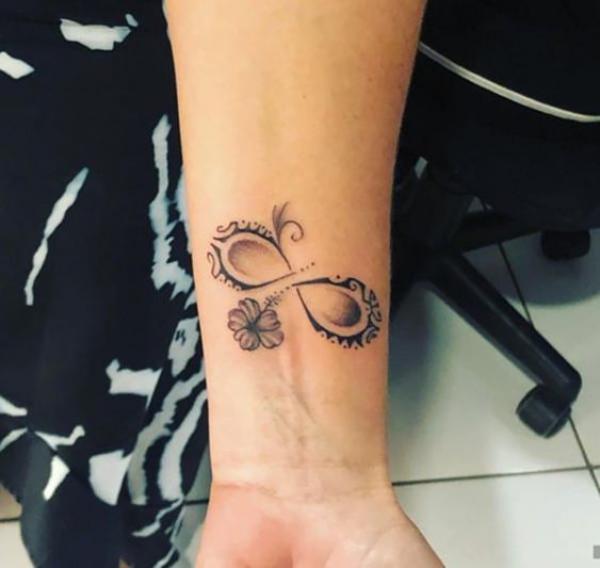 Breathe infinity tattoo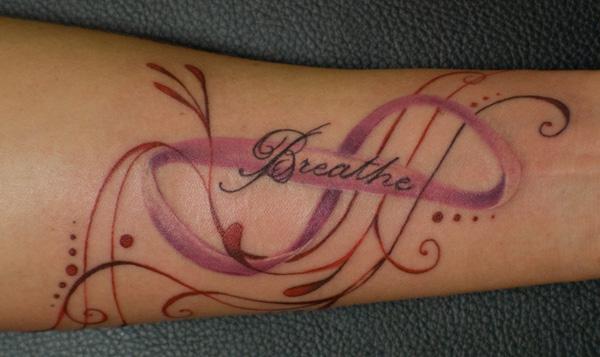 Arrow infinity tattoos
Arrow infinity tattoos are a common design that stands for the idea that there are no limits to what you can do. This tattoo is a mix of two strong symbols: the arrow, which stands for direction, and the infinity sign, which stands for timelessness. People often see the arrow as a symbol of going forward and getting past problems, while the infinity symbol represents the idea that there are no limits and that anything is possible. When put together, these symbols make a design that is both beautiful and has a lot of value. People get arrow infinity tattoos to remember them to stay focused on their goals and to never give up on their dreams.
Linework with arrow through infinity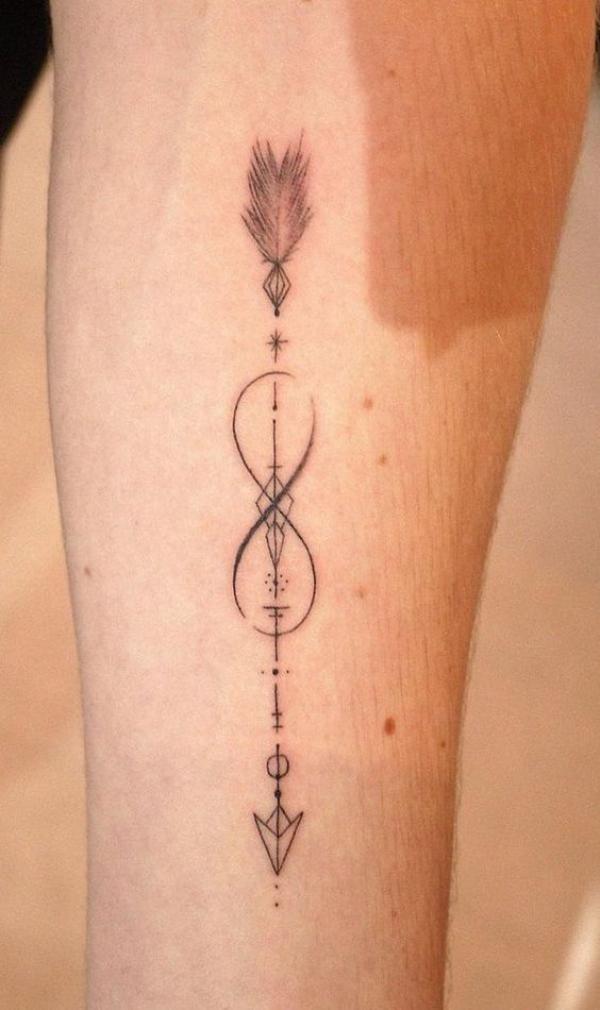 A tattoo of an arrow with feathers at the end going through the infinity sign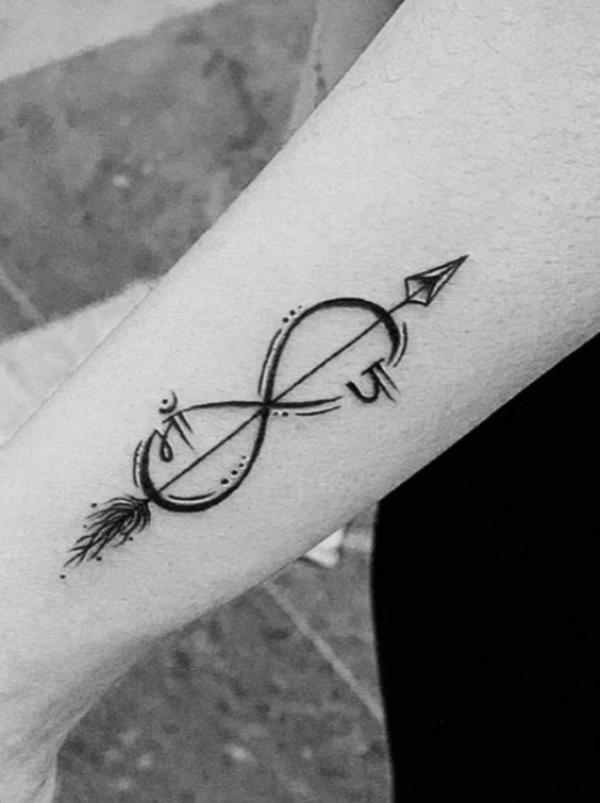 Infinity arrow back tattoo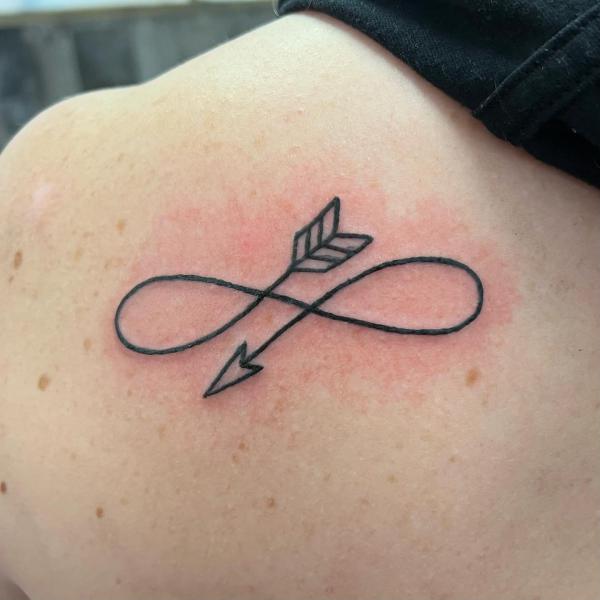 Forearm tattoo with arrow through infinity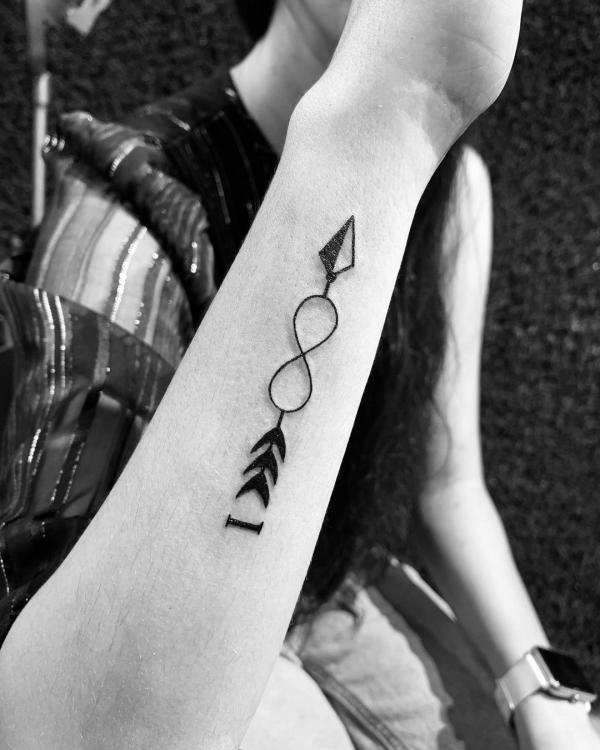 Upper arm tattoo with an infinity arrow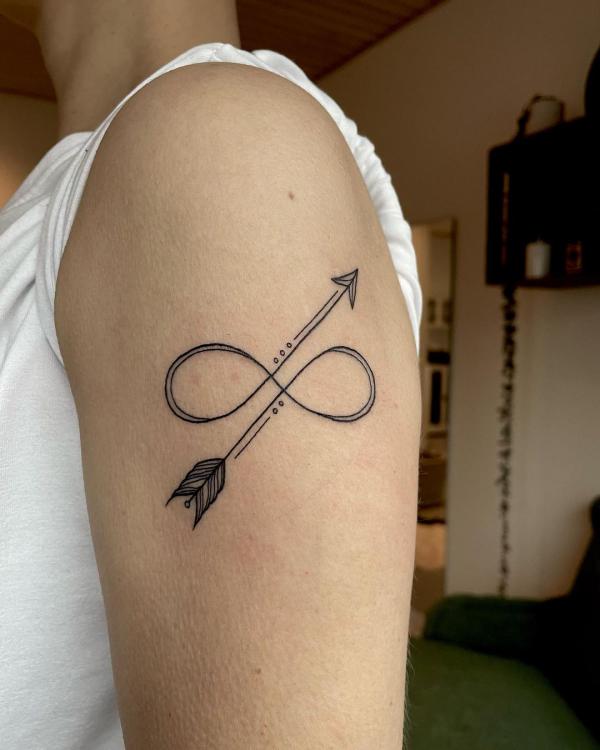 Infinity lettering and scripts tattoos
In the past few years, infinity lettering and script tattoos have become more common, and for good reason. Most of the time, these tattoos have a single word or phrase written in a beautiful script style, and the infinity symbol is added somewhere in the design. The infinity sign is often used to show that there are no limits to what can be done, that love or friendship can last forever, or that something goes on forever. Lettering and script tattoos with the word "infinity" can be a great way to show what you believe or value, and the beautiful fonts make for a timeless and classy design. Now, let's look at some of the beautiful designs that show off this type of tattoo!
Infinity tattoo with fingerprinted heart symbol and dates for Grandad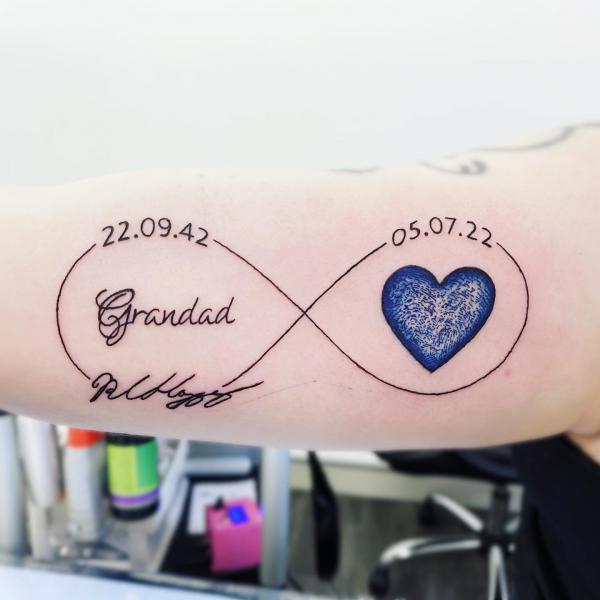 Footprint infinity tattoo with scripts I will love you every step of the way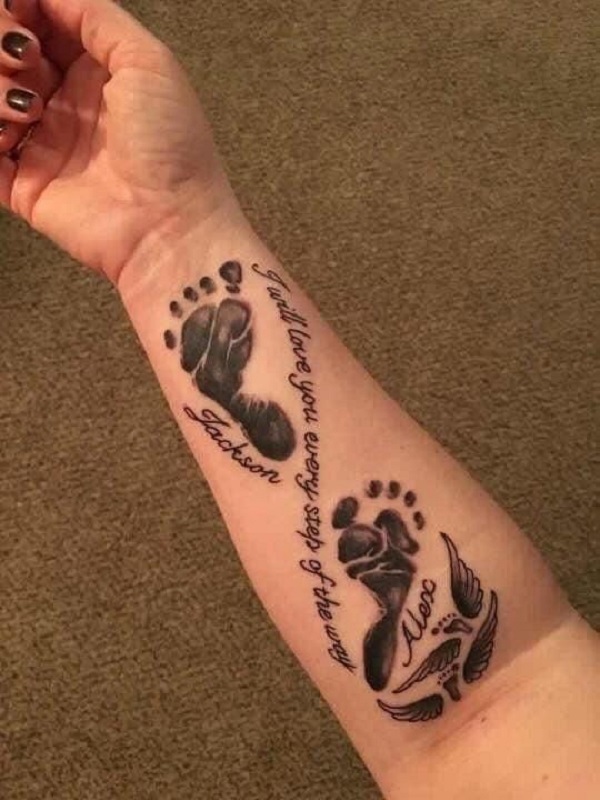 Infinity tattoo with letters of Kids' names and dates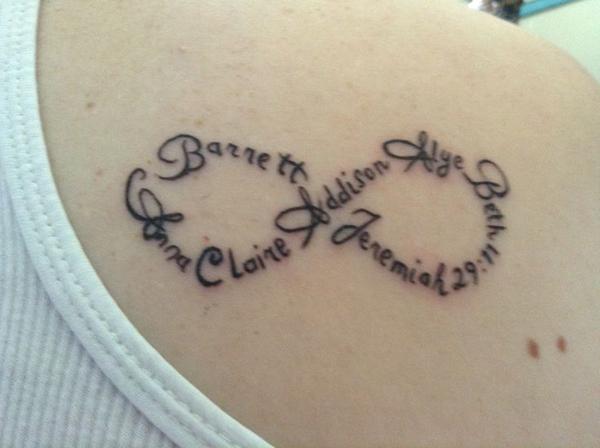 Tomorrow will be better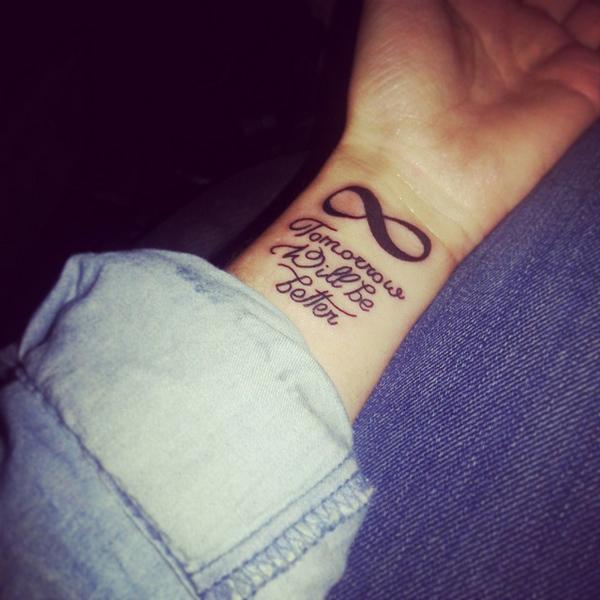 I love you to the moon and back infinity tattoo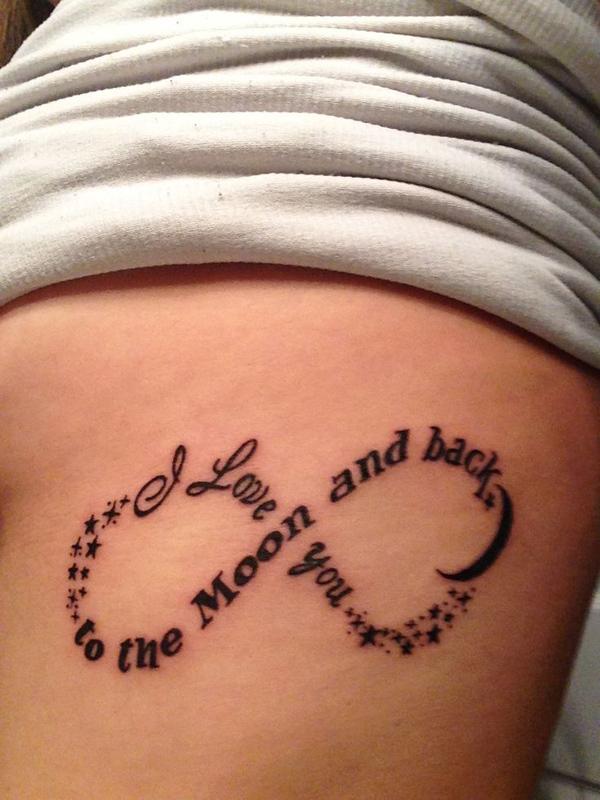 Infinity symbol and letters of this word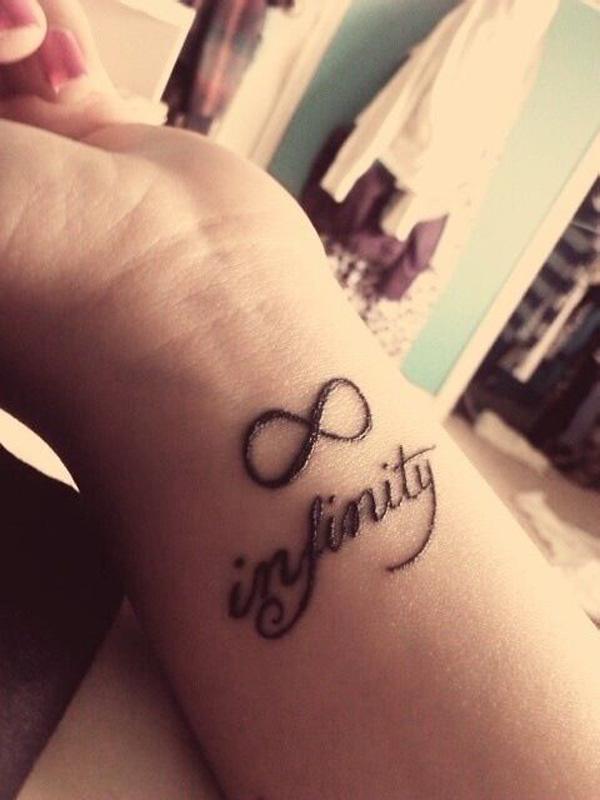 Strength and Infinity Symbol Tattoo Design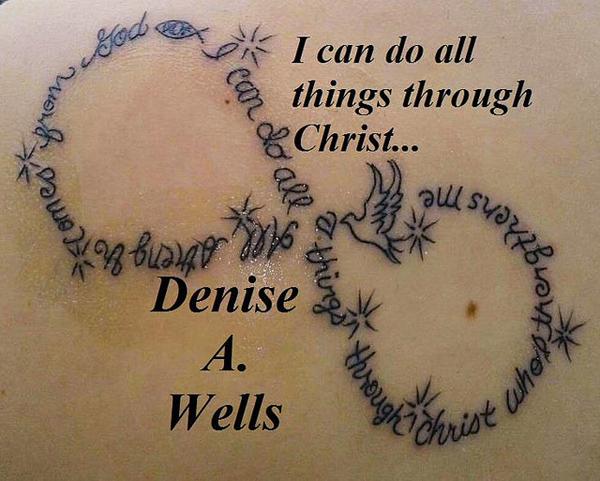 Infinity symbol with script on wrist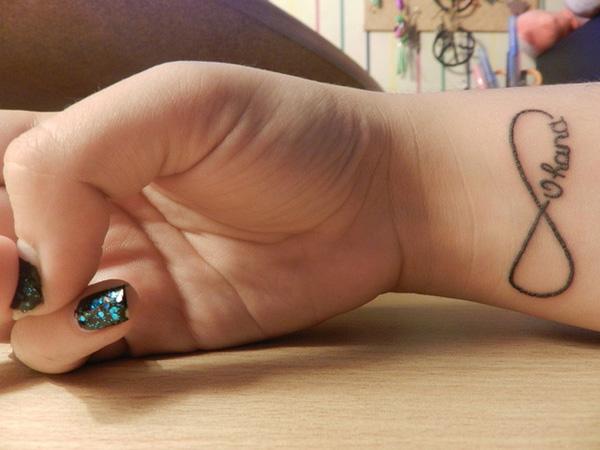 Sister infinity tattoos with quotes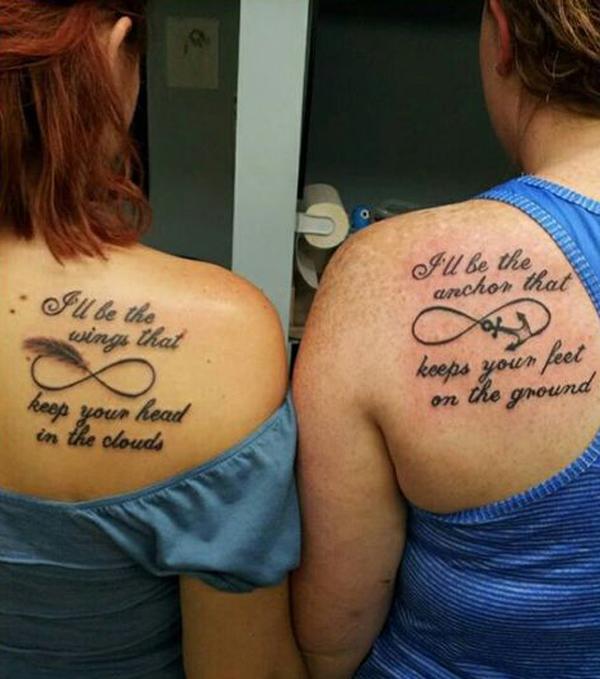 I'll be the wings that keep your head in the clouds.
I'll be the anchor that keeps your feet on the ground.
White ink of infinity symbol with name
Words Infinity symbol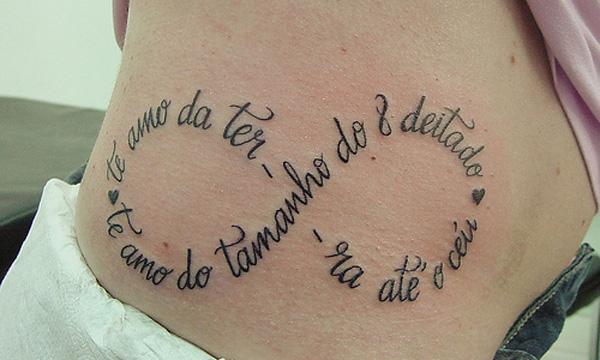 Infinity and names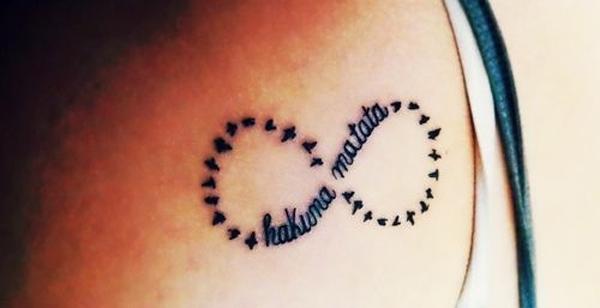 Infinity lettering back tattoo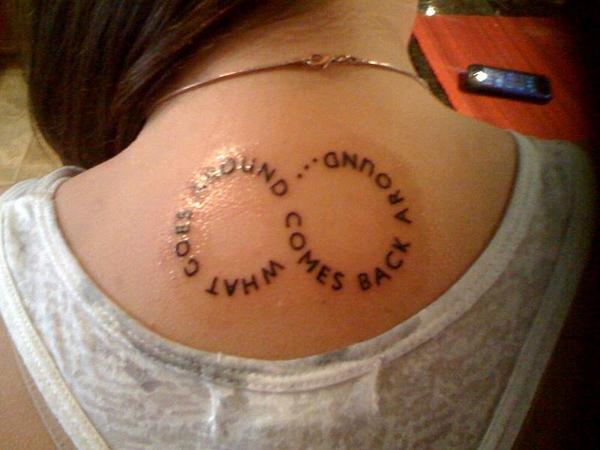 Birds and Dream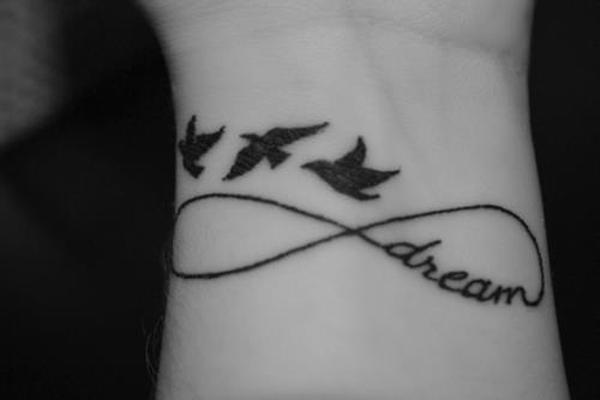 Infinity wrist band
As the name suggests, these tattoos have an infinity symbol, which is often wrapped like a band around the wrist. The infinity sign means that there are no limits, that love lasts forever, and that life goes on forever. It is a flexible design that can be changed with different colors, fonts, and decorations to make it unique and personal. Tattoos like infinity wrist bands are a great way to show your individuality and send a strong message.
Ribbon infinity wrist band tattoo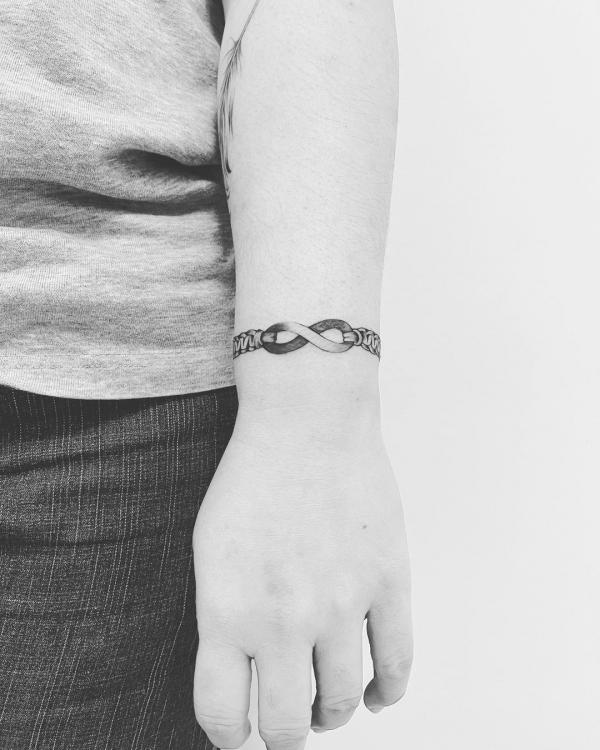 Infinity wrist band tattoo in tribal style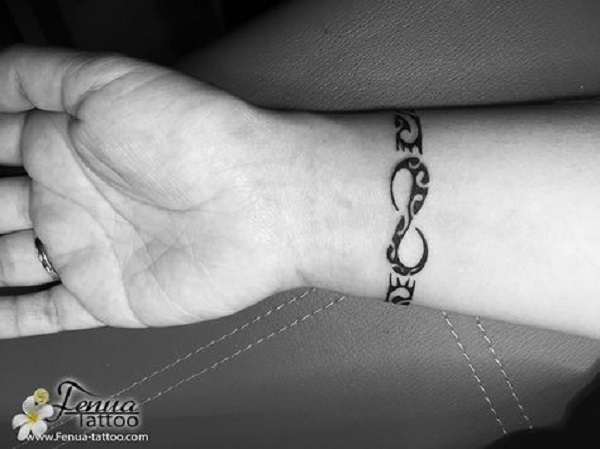 Simple infinity symbol tattoos
With its sleek and timeless design, this type of tattoo is perfect for those who want a subtle yet meaningful addition to their body art collection.
Stylish Infinity symbol tattoo on neck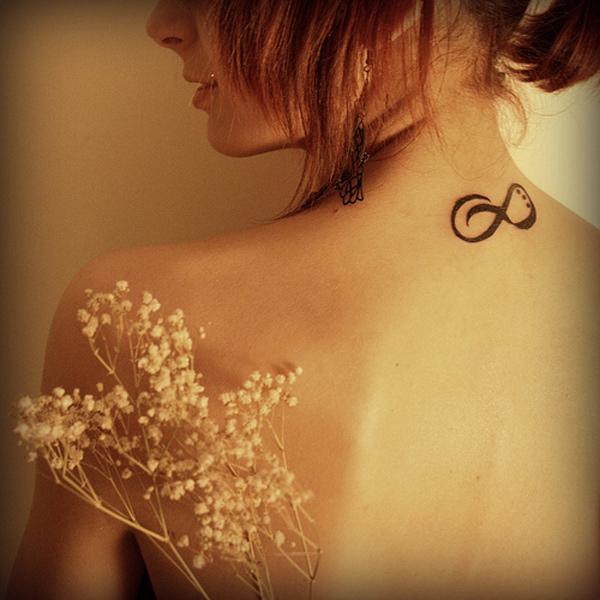 Hummingbird infinity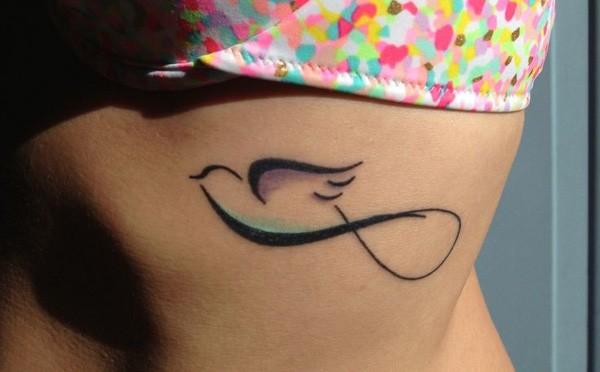 Double infinity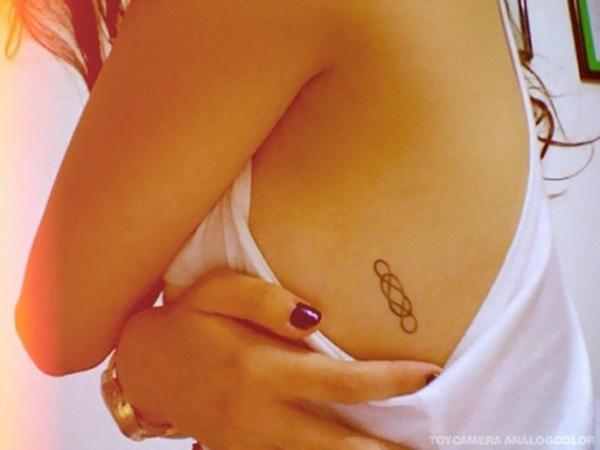 Small Infinity symbol on middle finger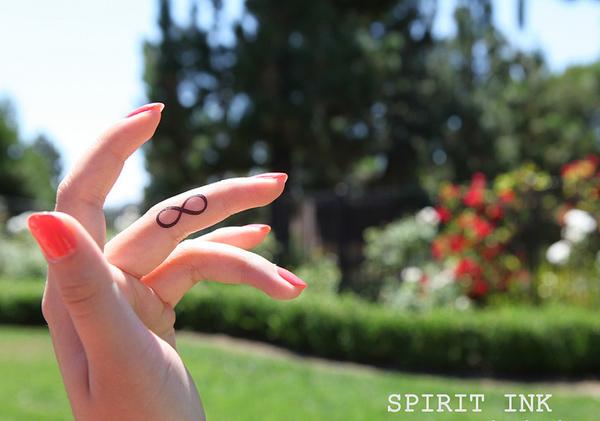 Minnie infinity and bow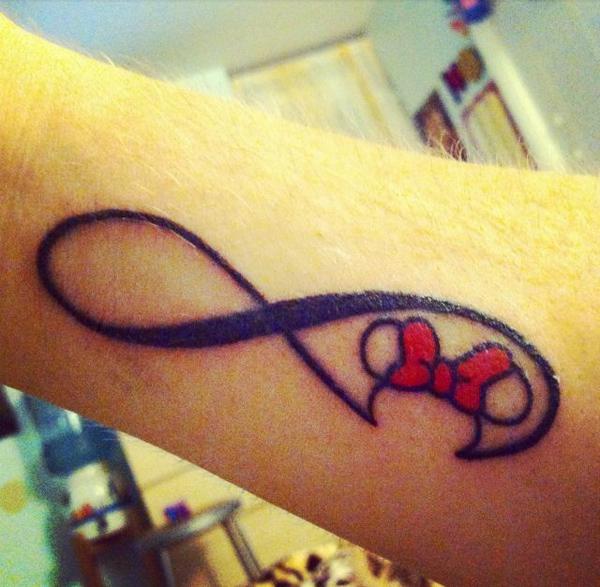 Infinity symbol tattoo with pendant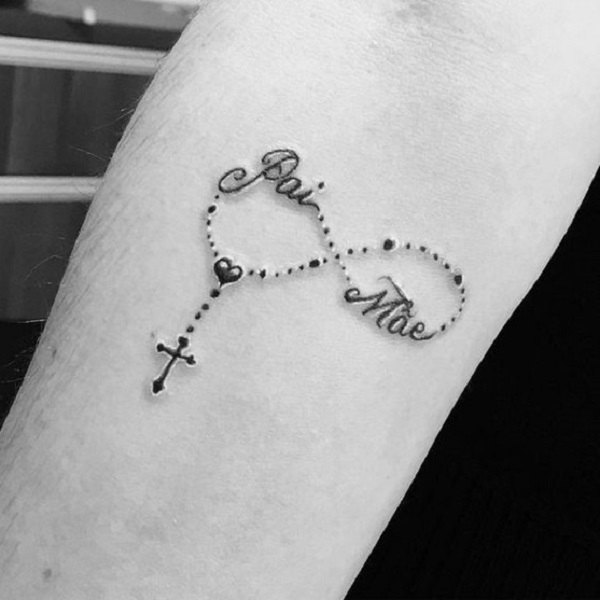 Infinity tattoo with flower and ears of wheat in Yin Yang style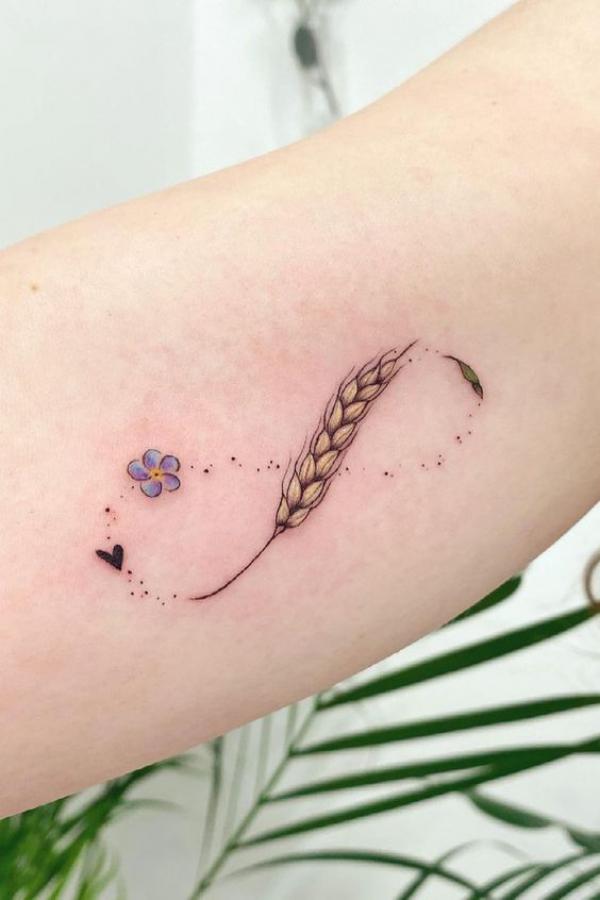 Rainbow infinity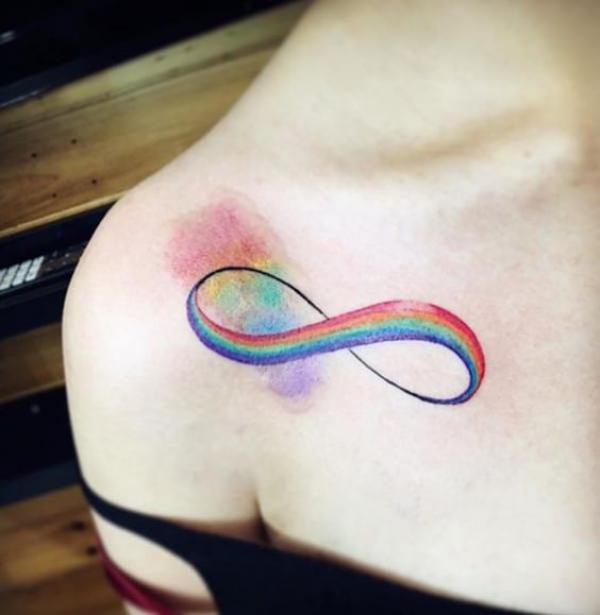 Abstract infinity arm tattoo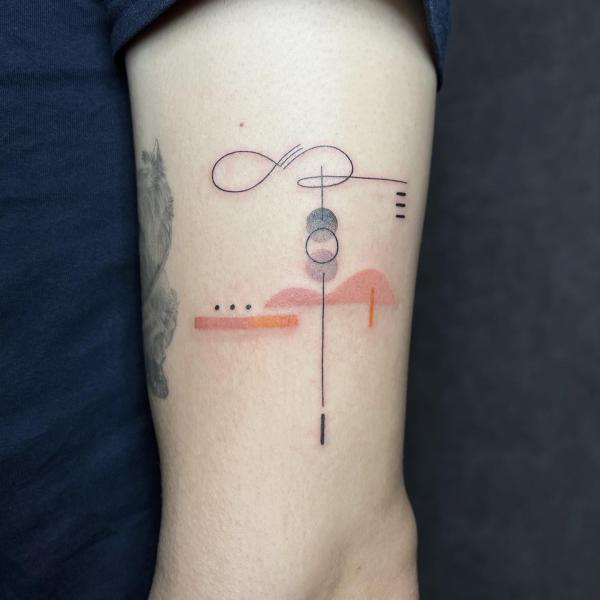 Infinity puzzle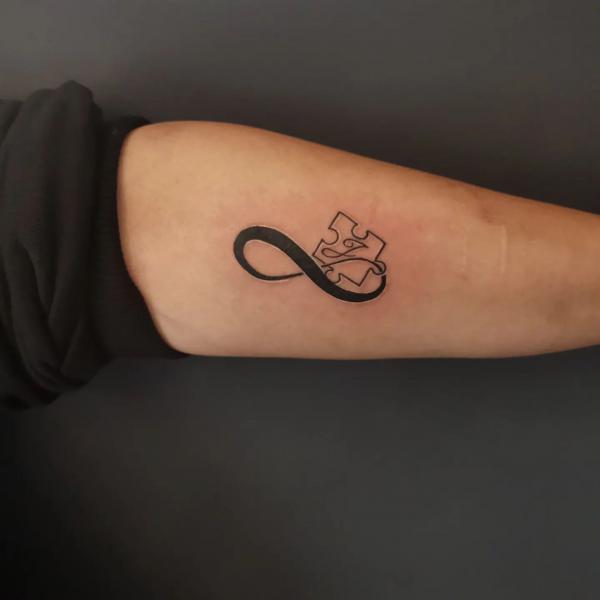 Black splashing infinity collarbone tattoo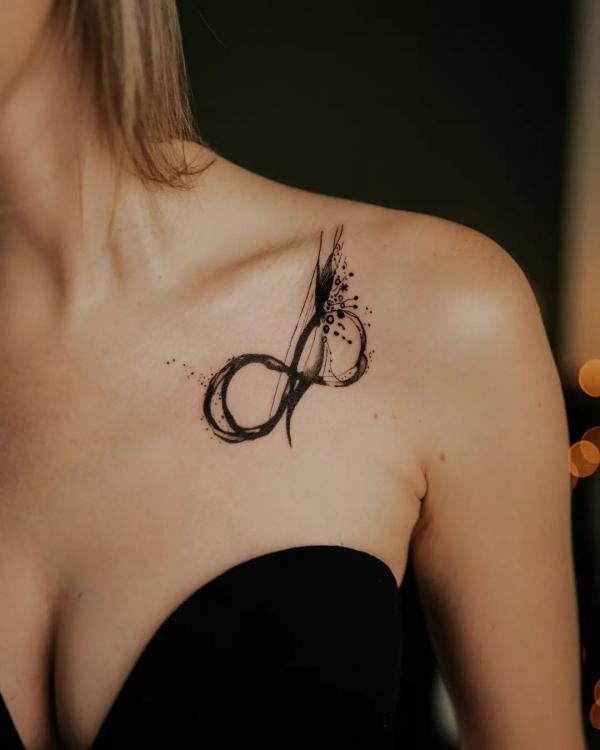 Linework with heart symbols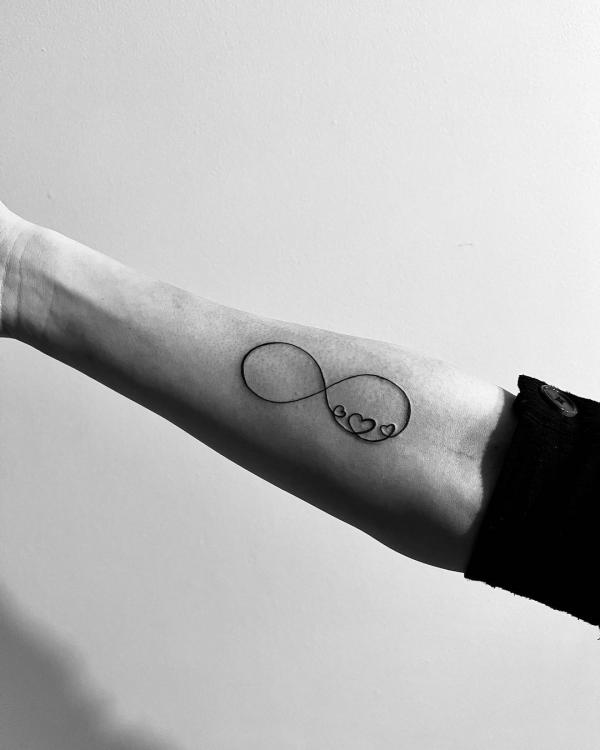 Infinity butterfly tattoos
Infinity butterfly tattoos are a beautiful and popular choice for people who want a tattoo that shows change, growth, and love that will last forever. The butterfly is often linked to these ideas because it changes from a caterpillar to a butterfly, which is a metaphor for human growth and change. Additionally, when the tattoo is put together with the infinity symbol, which stands for endlessness and the idea that something will last forever, it has a greater meaning. These tattoos can be made in many different ways, from simple and minimalist to detailed and colorful. Furthermore, this makes them a good choice for anyone who wants an important and beautiful tattoo.
Infinity symbol with heartbeat and a butterfly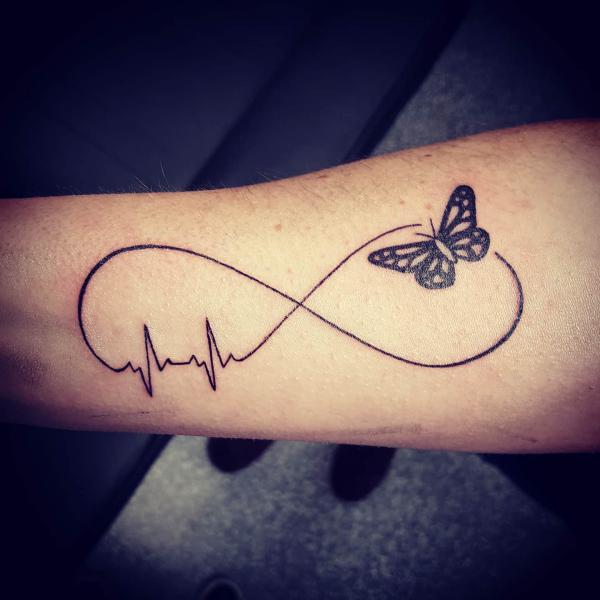 Stylish infinity with butterfly back tattoo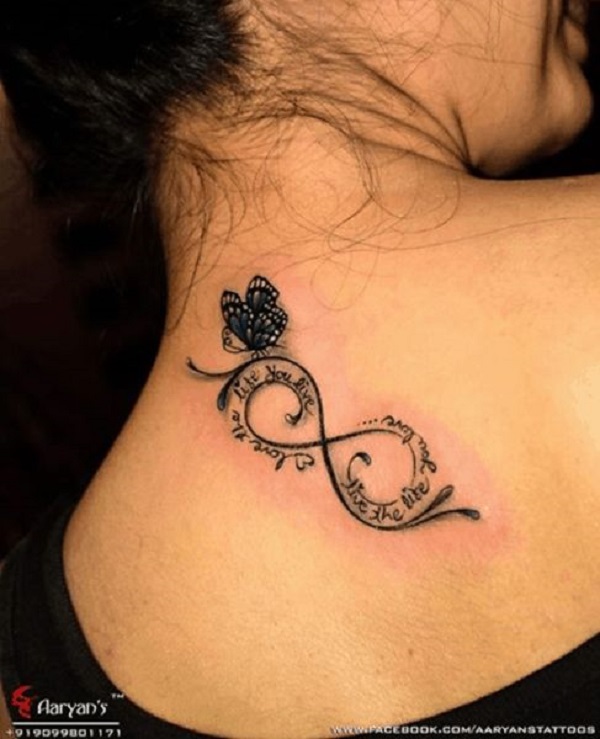 Infinity symbol and butterfly shoulder blade tattoo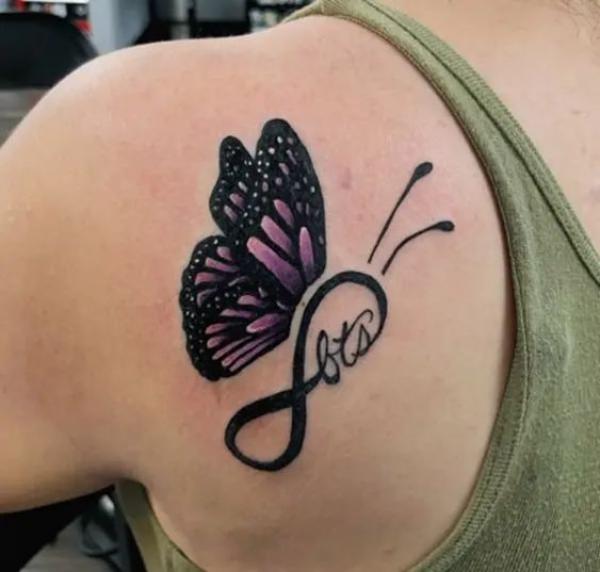 Sewing infinity tattoos
Sewing Needle and infinity symbol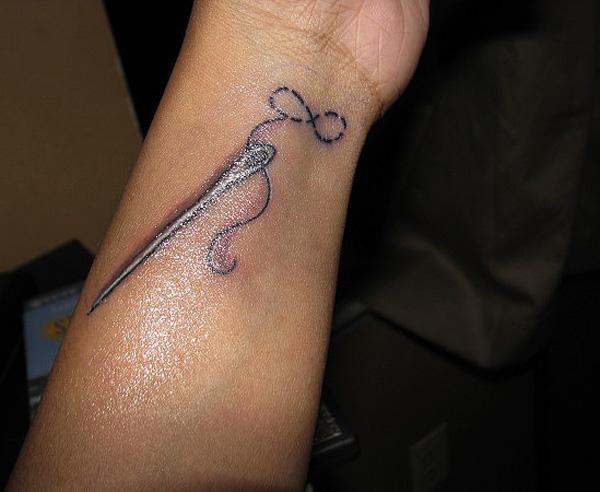 Infinite sewing lines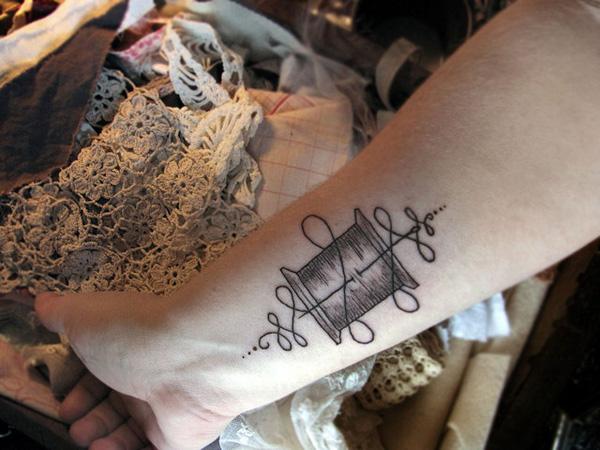 Infinity tattoos for men
Infinity tattoos for men are a great way to express timeless love, strength, and eternal bond. While many of the above designs are also suitable for men, there are several manly designs that are worth showcasing. From bold and intricate designs to simple yet powerful symbols, these designs can make a statement that lasts a lifetime.
Heart and infinity symbol with phrase One moment in time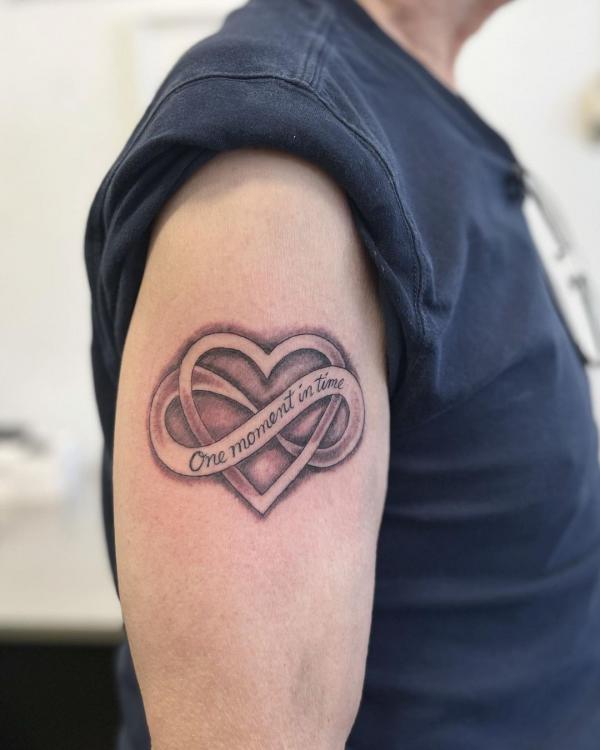 Infinity by snake swirling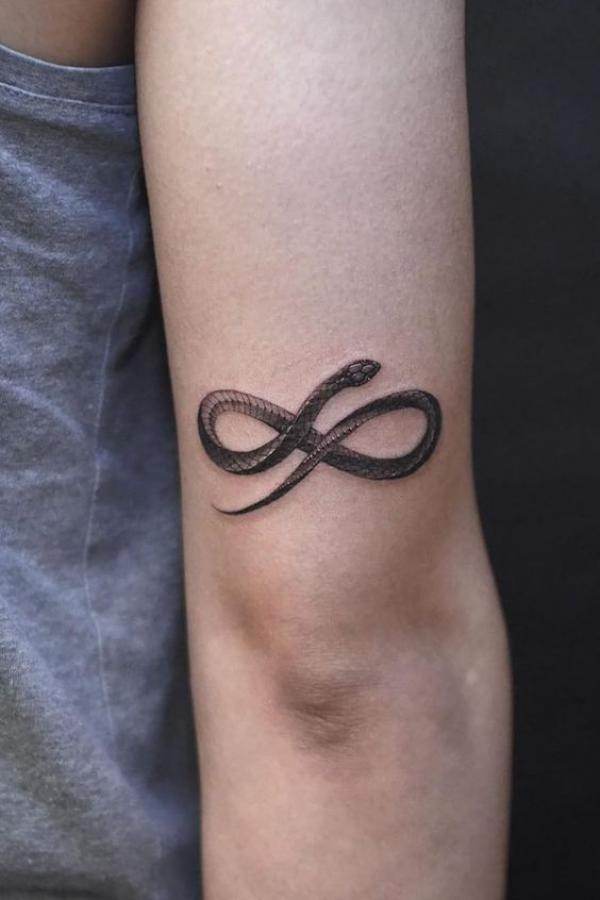 Snake infinity with arrow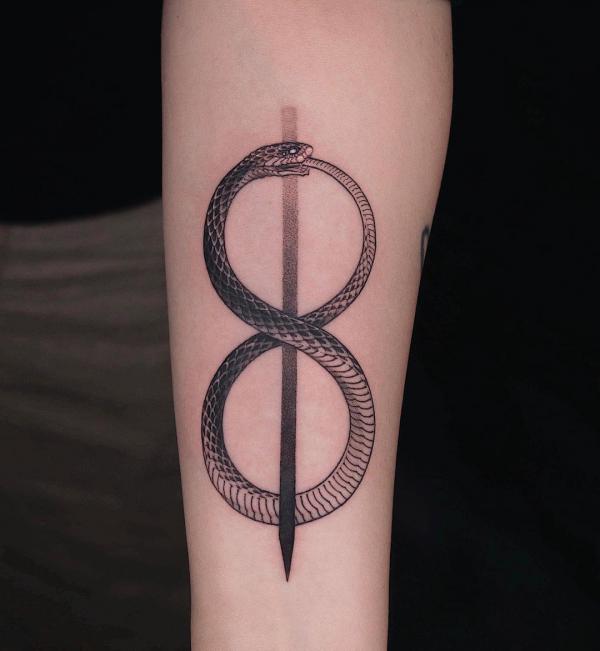 3D infinity tattoo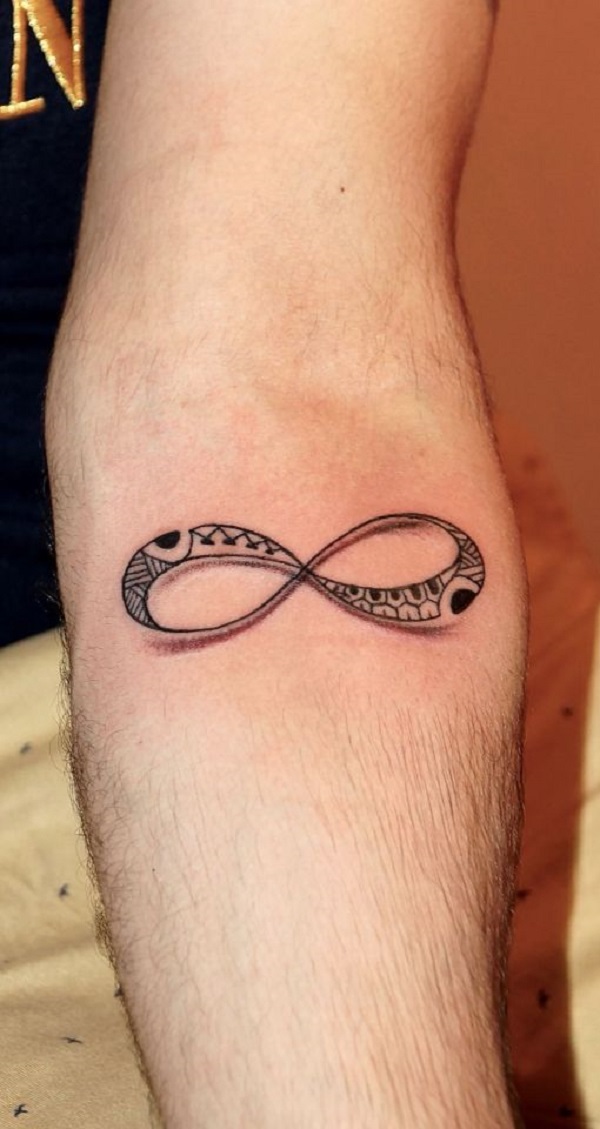 Infinity tattoo for men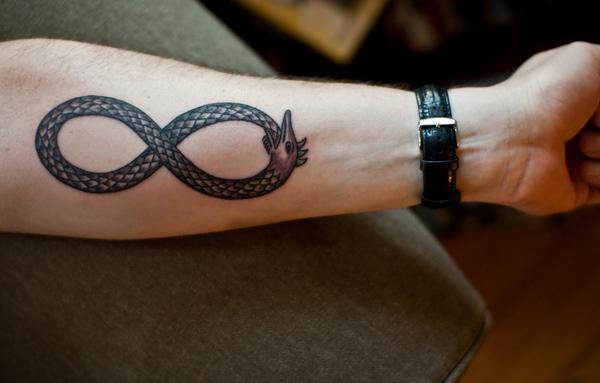 Ripped skin infinity symbol tattoos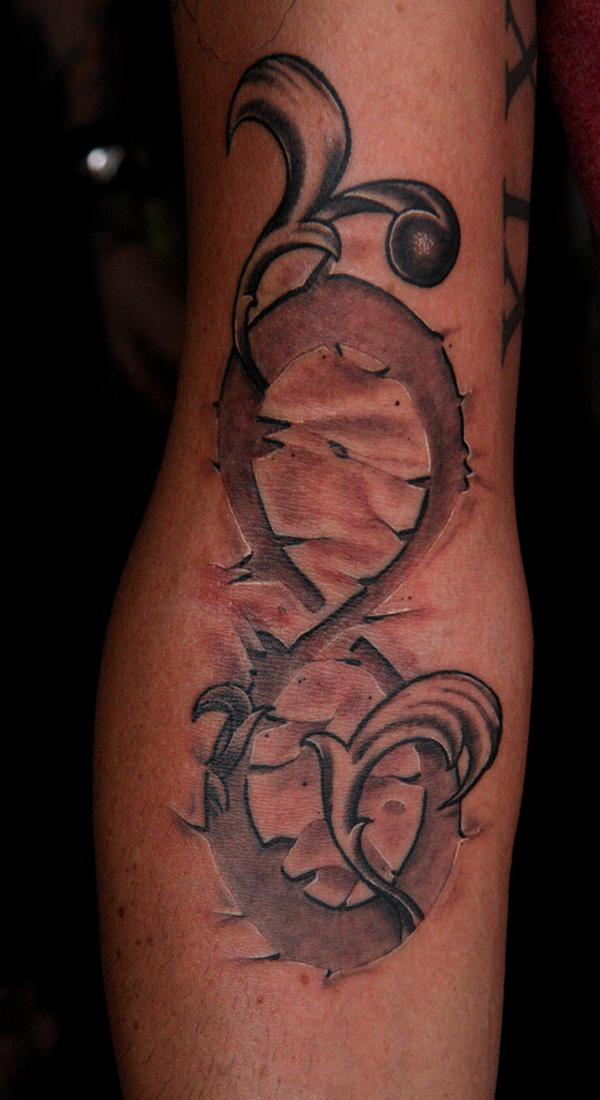 Black and white snake infinity tattoo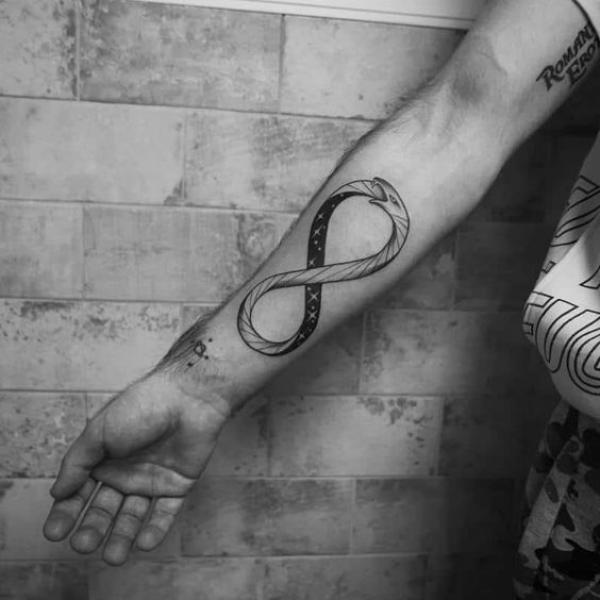 Dragon infinity tattoo on the back of upper arm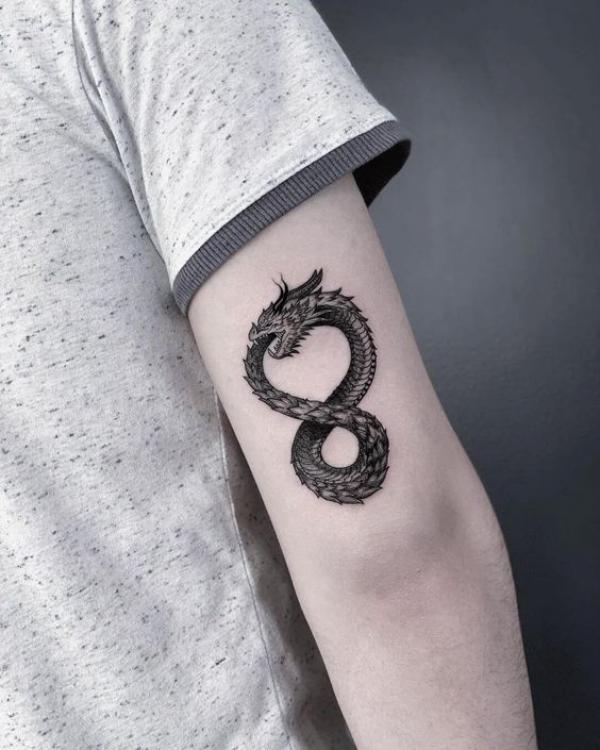 In conclusion, infinity tattoos are a beautiful and meaningful way to express your beliefs and values. With countless designs, there is a high degree of personalization and creativity available. By considering the meaning behind the symbol, different designs and placements before getting an infinity tattoo, you can ensure that your infinity tattoo is a well-informed decision.