When it comes to showcasing your personal style, few things can capture it as effortlessly as tattoos. A badass, beautiful, and meaningful piece of body art, tattoos can help you instantly feel more empowered, confident, and bold. Shoulder tattoos are becoming increasingly popular among both men and women, thanks to their versatility and relatively easy concealment.
In this article, we'll give you a complete guide about the shoulder tattoos, including their scope, pain factors and Pros and cons. We will also explore the diverse range of empowering designs that you can get ideas from. From tribal to elegant florals, there's a shoulder tattoo that can capture your essence and boost your self-expression. So let's dive in and discover why these tattoos are the ultimate form of wearable art.
Anatomy and Scope of Shoulder Tattoos
The shoulder is a popular location for tattoos due to the large surface area and ability to conceal the artwork easily. The shoulder is comprised of several areas, each with different pain levels during the tattooing process. So understanding the anatomy of your shoulder will help you make an informed decision on your tattoo placement. Here's a quick rundown of these areas:
Deltoid: The rounded, outer part of your shoulder connecting your upper arm to the shoulder joint. Pain during tattooing ranges from mild to moderate depending on the individual's pain threshold and proximity to the bone.
Acromion: The bony top of the shoulder where the scapula meets the clavicle. Tattooing pain can be moderate to severe.
Scapular region: Located on the upper back, spanning the shoulder blade. Pain can range from mild to moderate. Some may classify the tattoos on this area as back tattoos.
Upper trapezius: The muscle connecting the back of the neck to the shoulder blade. Pain can be moderate to severe.
Clavicle (collarbone): This bone runs horizontally across the top of the chest and connects the breastbone to the shoulder blade. Tattooing on the clavicle may cause moderate to severe pain.
When choosing a exact location for a shoulder tattoo, consider the desired visibility, design size, and personal pain tolerance. Consulting with a professional tattoo artist can also help in determining the best location for a shoulder tattoo. Basically, a person's preferences and anatomy are two things to think about.
Pros and cons to choose shoulder tattoos
While a shoulder tattoo can be a great way to show off your personality, they also come with some potential drawbacks. Before you commit to getting one, it's important to consider both the pros and cons of having this type of tattoo.
Versatility and Design Options
Shoulder tattoos offer a fantastic range of design possibilities. The curved shape of the shoulder can accommodate both large, intricate designs and smaller, more minimalistic ones. From tribal patterns to floral designs, the options are virtually endless. Moreover, you can extend your tattoo over your arm, chest, or back if you want to add more elements or details later.
Easy to Hide and Show Off
One of the best advantages of shoulder tattoos is that they're easy to hide when necessary. A simple T-shirt, blouse or suit is enough to cover them up for work or formal events. And when you want to show off your ink, just wear a tank top or a stylish off-shoulder outfit. This flexibility allows you to comply with any dress codes or adapt to different situations without the need for permanent tattoo cover-up.
Minimal Distortion Over Time
As our bodies age and change, so do our tattoos. Certain body parts are more prone to weight gain or sagging skin, which can affect the appearance of a tattoo. Fortunately, the shoulder usually maintains its shape better than other areas, so your tattoo is less likely to see distortion over time. While wrinkles and loss of elasticity are inevitable, a shoulder tattoo might still look relatively good even as you age.
Tolerable Pain Level
For tattoo newbies, pain might be a significant concern. Shoulder tattoos are generally considered to be less painful than those on ribcages, feet or elbows. The reason being that the skin over the shoulders is relatively thick with fewer nerve endings compared to other body parts. So, if you have a low pain tolerance, a shoulder tattoo might be the perfect option for you.
Now, let's talk about the cons.
Potential to Fade
The shoulder isn't directly exposed to the sun all the time. However, sunlight is still a major cause of tattoo fading, particularly when wearing tank tops or going shirtless at the beach. To preserve your tattoo's boldness and colors, you'll need to pay extra attention to sun protection. Apply sunscreen specifically designed for tattoos and cover your shoulder with clothing if you're planning to spend a day in the sun.
Limited Exposure for Some
While the ability to hide a shoulder tattoo can be seen as an advantage, it may be a drawback for those who want to showcase their tattoos more prominently. In colder months, your shoulder tattoo may remain out of sight unless you specifically choose outfits that expose it. So, if you're looking for a tattoo that's consistently visible, the shoulder might not be the best option for you.
Less Sensation for Touch-Ups or Cover-ups
If you ever need a touch-up or a cover-up, you might face a little more discomfort than during the initial inking process. Your skin loses some of its sensitivity once it's tattooed, making it a little more challenging to touch-up faded lines or colors. While this may not be a significant downside, it is worth considering, especially if you plan on maintaining your shoulder tattoo's appearance over time.
Stereotypes and Stigmas
Let's face it. Tattoos still have some social stereotypes associated with them. Before getting inked, make sure you're conversant with the meaning and historical context behind the design you choose. You don't want to offend anyone or perpetuate stigmas unknowingly.
Of course, the pros and cons are subjective, and personal preference plays a significant role. The main thing is that you feel confident in your decision before you sit in that tattoo artist's chair. Consider your reasons for getting a tattoo, your pain tolerance, and how your tattoo will fit into your lifestyle.
Best tattoos for shoulder Canvas
Every tattoo tells a story, a tale of love, loss or triumph. And the shoulder provides a perfect canvas for this storytelling. But not just any design will do when it comes to shoulder ink. There's an art to picking the perfect shoulder tattoo, one that complements your body's contours and enhances your overall appearance. So, let's take a stroll down the inky path of the awesomeness!
Small designs
Less is sometimes more, there's no limit to what you can do with a small shoulder tattoo. A little ink can go a long way, especially on a part of the body like the shoulder that commands attention without even trying. So even if your preferred design is small, don't worry – there's still room for impact on the shoulder.
Big and Round
You may have noticed how round designs seem to fit the shoulder. This is especially true for larger tattoos, where round designs can fill the space and create an eye-catching effect. If you're looking for round motifs that would work well for shoulder tattoos, here are a few ideas to get your creative juices flowing.
Mandala: Mandalas are intricate, circular patterns inspired by spiritual and religious symbolism. These designs can range from simple to highly detailed, making them a versatile and captivating choice for a shoulder tattoo.
Floral designs: Circular floral arrangements, such as a wreath of flowers or a single blooming rose, can create a beautiful and natural-looking tattoo. Plus, you can personalize your design with your favorite flowers or colors!
Compass or nautical-themed tattoos: A compass rose or nautical-inspired wheel design showcases your love for travel and adventure. The circular shape of these symbols perfectly matches the contour of your shoulder.
Yin and Yang symbol: Representing balance and harmony, a Yin and Yang tattoo can be a meaningful choice. The circular design works beautifully on the shoulder, whether you prefer a minimalist black and white look or want to add some color.
Celtic or tribal designs: Circular tribal patterns and knots can create a bold, eye-catching tattoo. These designs often feature intricate lines and shapes that can be customized to represent your unique story or heritage.
Zodiac symbols: If you're astrologically inclined, a circular zodiac wheel or your zodiac constellation can make for a stunning and personalized tattoo design.
Circular quotes or texts: If you have a favorite saying, quote, or mantra, a circular text design can wrap it around your shoulder. This option allows you to carry your inspiration with you wherever you go.
Shoulder Tattoo Design Ideas and Meanings
Now we know some of the most important facts about shoulder tattoos. With so many ways to be creative, let's look at some popular design ideas and find out what they mean.
Watercolor shoulder tattoos
If you're an art lover or simply someone who adores unconventional beauty, a watercolor shoulder tattoo may be just what you're looking for. These tattoos boast beautiful brushstroke-like effects, blending colors seamlessly for a breathtaking, fluid look. Watercolor tattoos are pretty versatile, too—choose from abstract expressions of your personality to stunning recreations of your favorite artworks.
Two dragonflies flying over flowers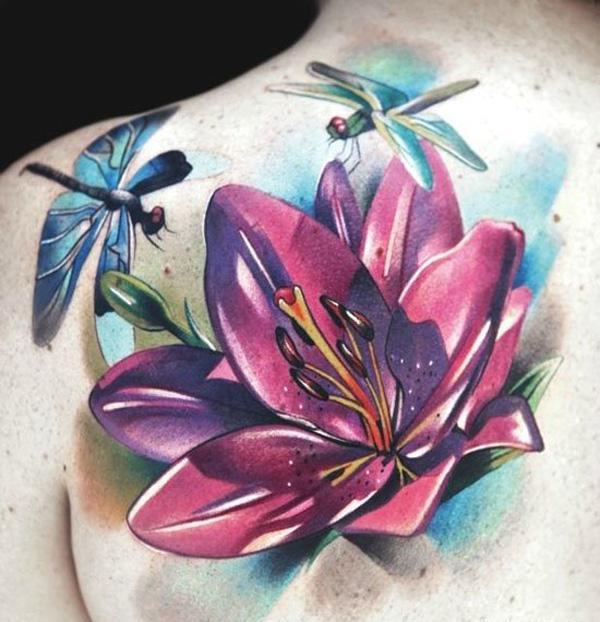 Watercolor splash flower tattoo for women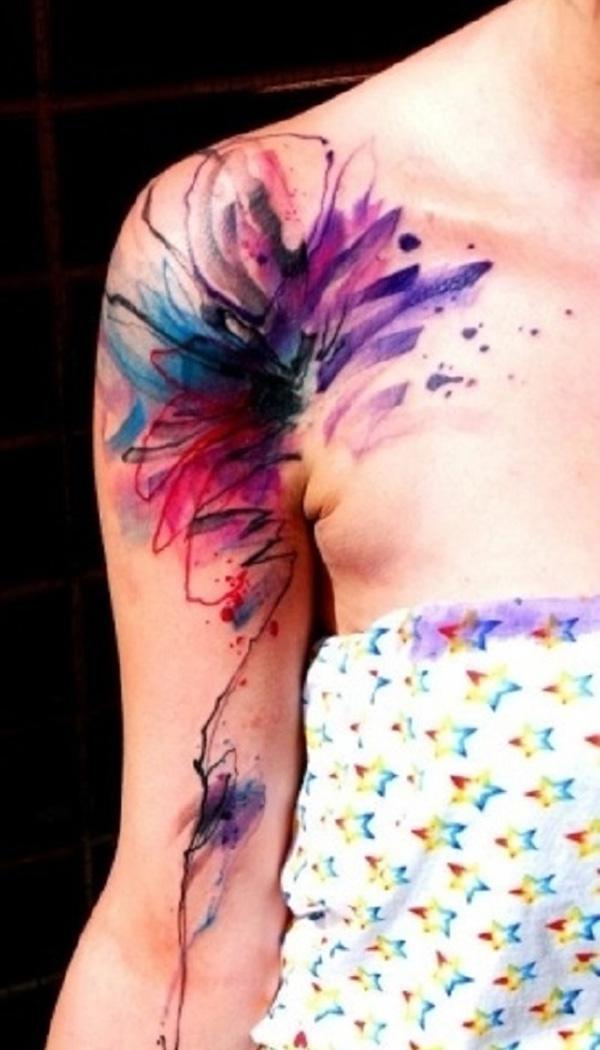 Watercolor floral tattoo with motivational quotes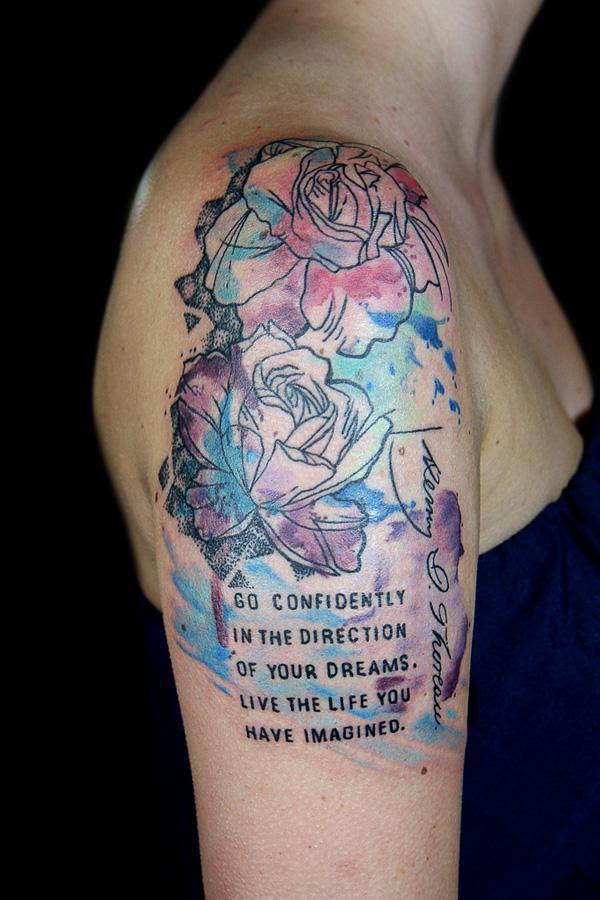 Tribal shoulder tattoos
For those who intentionally carry their ancestry, heritage, and cultural identity with them, tribal tattoos can be both personally significant and visually appealing. These tattoos often feature bold lines and intricate patterns that draw inspiration from various indigenous societies. Opt for a tribal shoulder tattoo, and you'll wear a piece of your history and origins, creating a constant connection to your roots.
Tribal Pauldron tattoo for men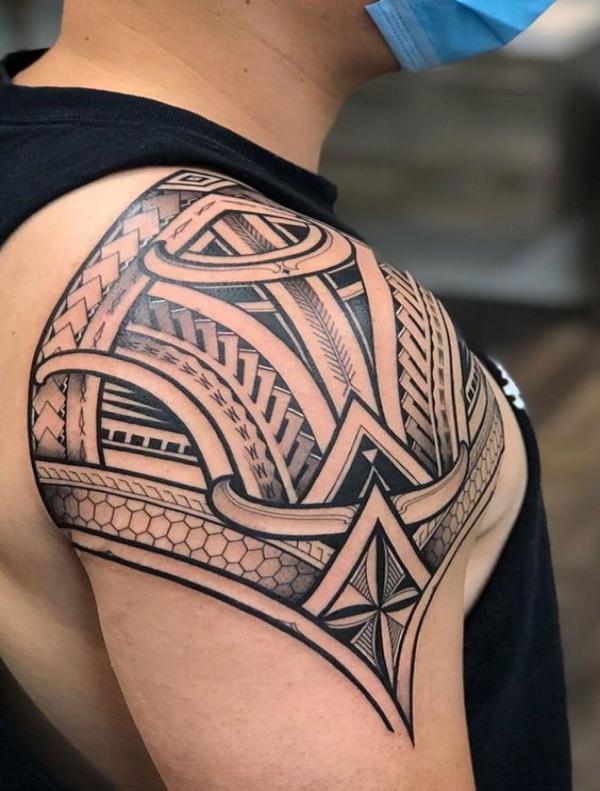 Polynesian tribal tattoo with a turtle
Swirls with floral in tribal style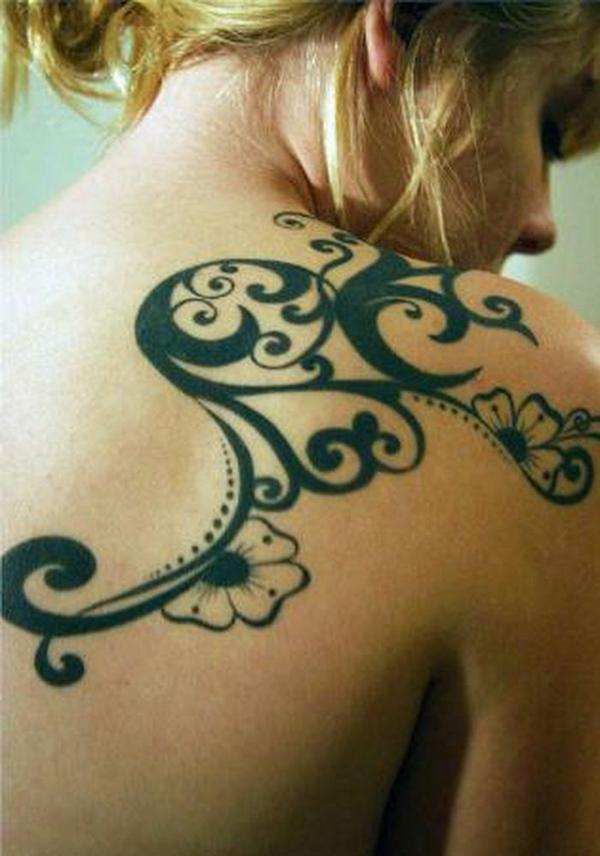 Tribal design covering back and shoulder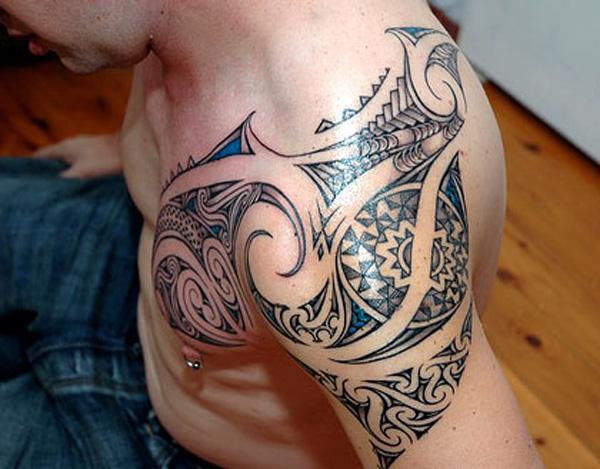 Polynesian tribal tattoo on the shoulder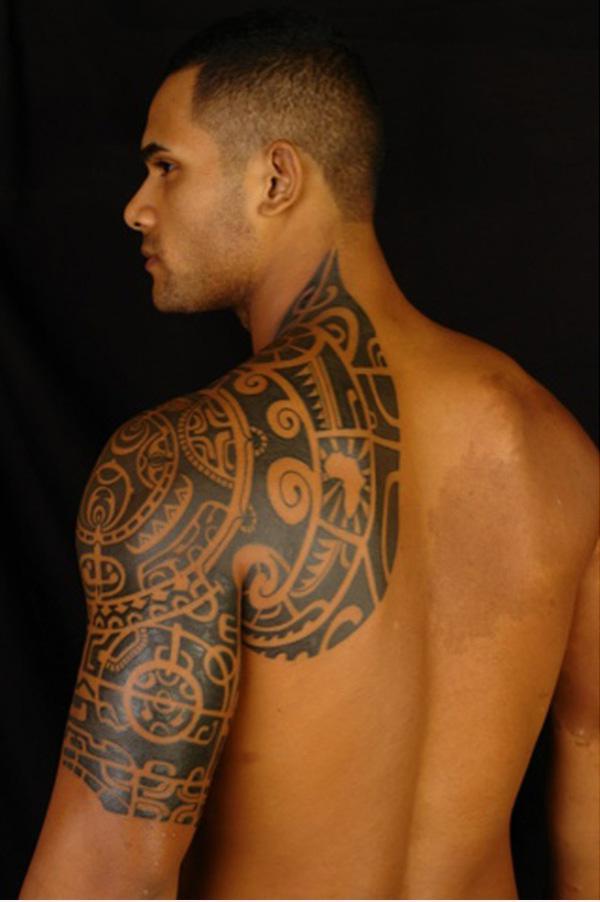 Large Shoulder Tattoo in Tribal Style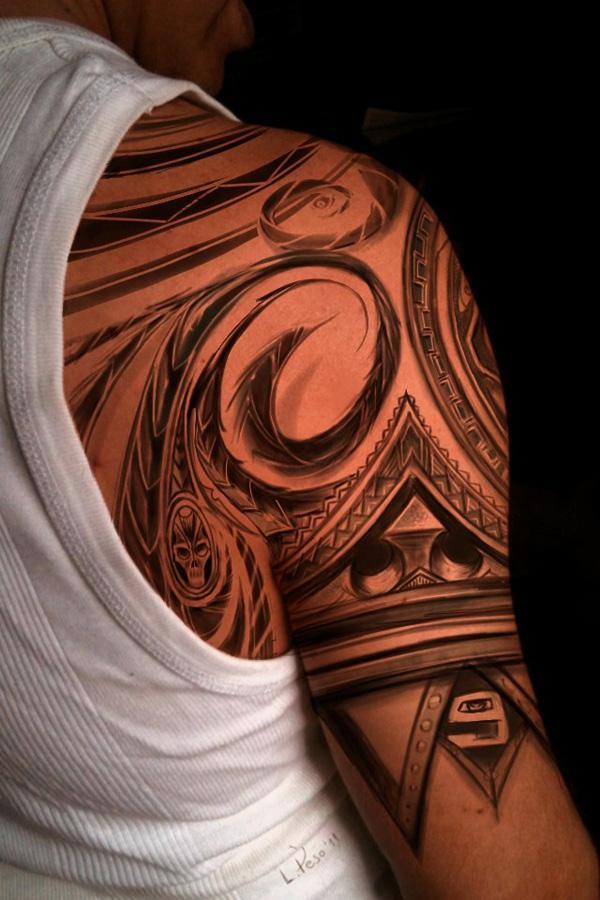 Symbols shoulder tattoos
Symbols are powerful and meaningful ways of expressing ideas that matter to us. Whether you want to immortalize a value you hold dear, celebrate your spiritual beliefs, or simply portray something fun and lighthearted, a symbols shoulder tattoo can help you achieve that. Get creative—explore everything from spiritual symbols like crosses and Star of Davids to philosophical icons such as yin-yang or infinity signs. The options are, quite literally, endless.
Double Bows Tattoo for women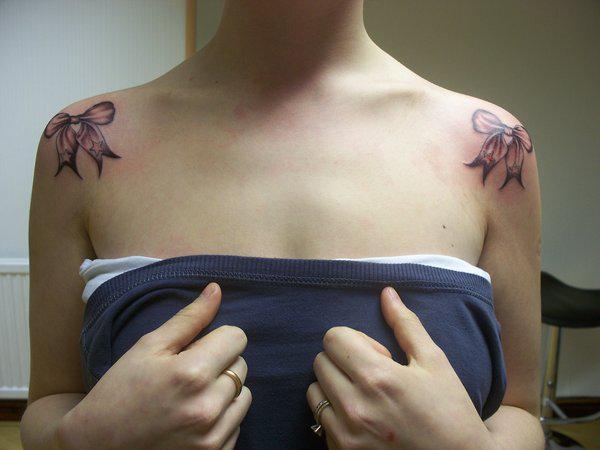 Crimson Bow Tattoo on the Shoulder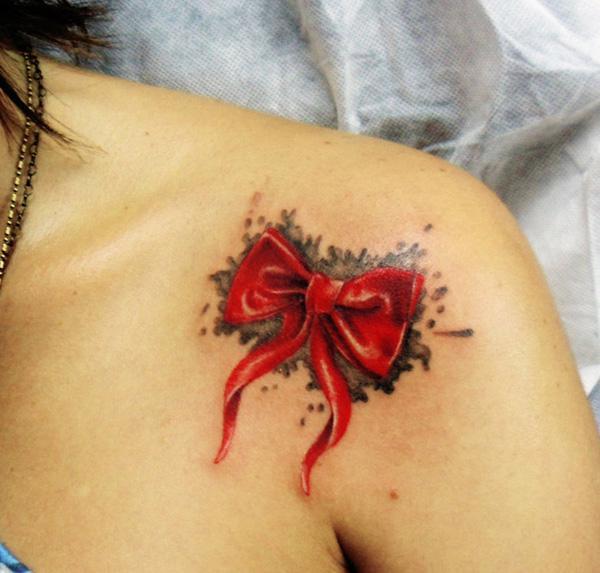 Monogram of Love in heart shape tattoo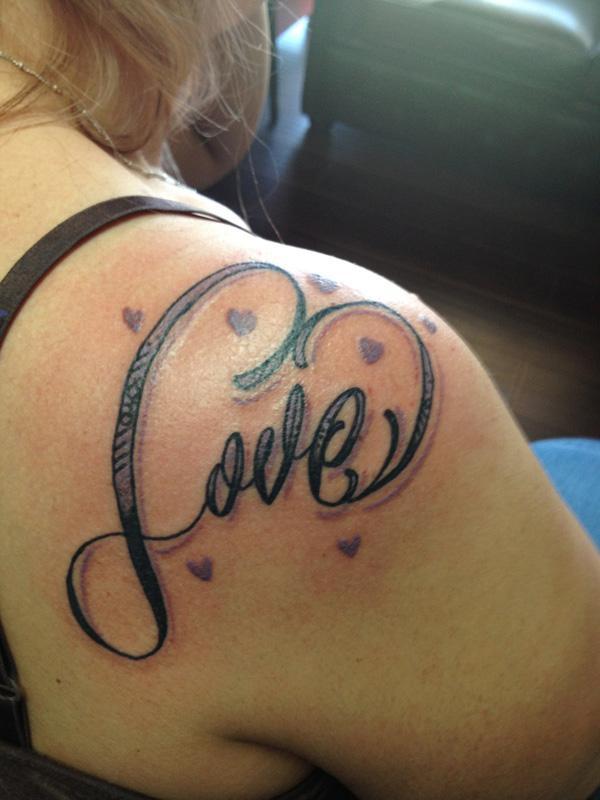 Small shoulder tattoos
If you're not quite ready to commit to a massive piece of ink, small shoulder tattoos provide an excellent alternative. These tiny creations are perfect for showcasing thoughtful designs, while still offering subtlety and discretion. Get inspired by minimalist lines, dainty symbols, and even miniature portraits.
Minimalist man under shining sun and huge rock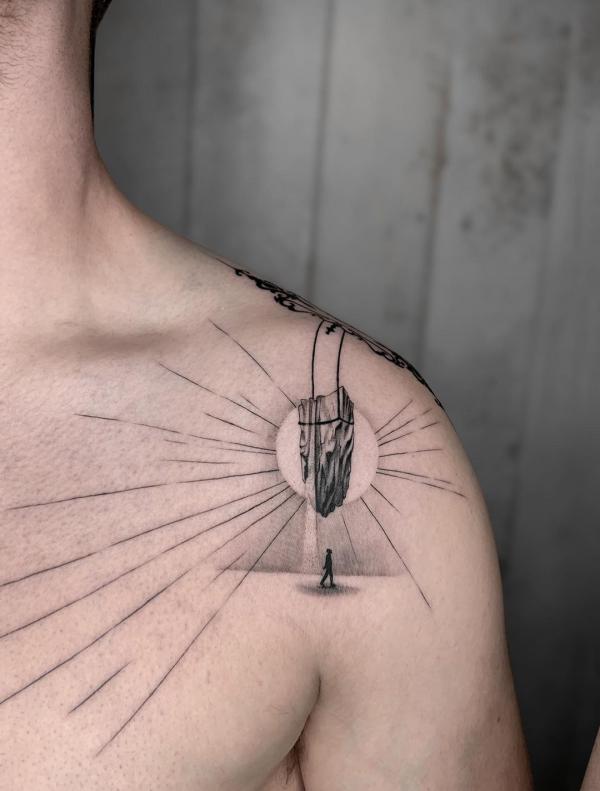 Small tattoo of A budding flower towards the starry sky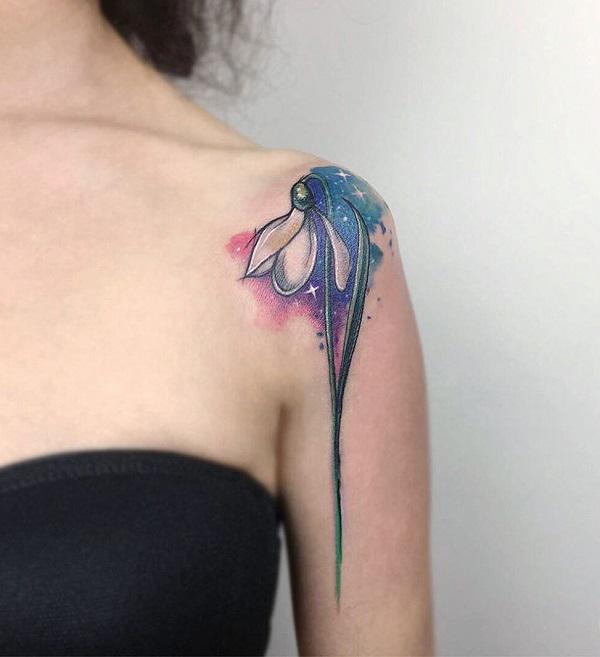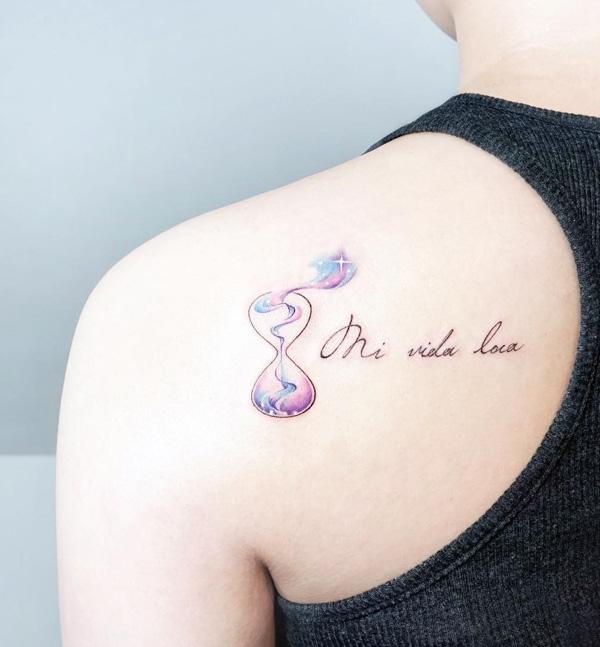 Small but very challenging tattoo on the shoulder with a nice message in Spanish which always sounds a bit exotic.
Minimalist tattoo of a scratching cat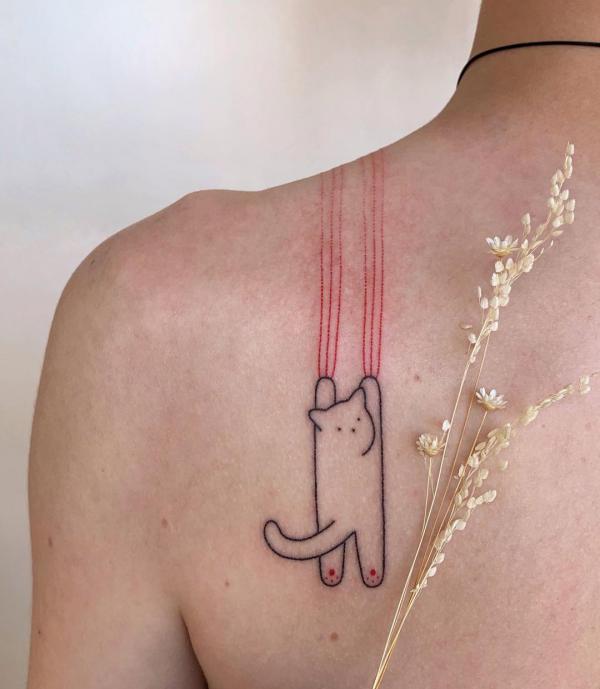 Skull shoulder tattoos
Perhaps you're looking to make a big, bold statement with your shoulder tattoo. If that's the case, consider skull tattoos. These designs can be menacing and fierce, surreal and symbolic, or even cute and quirky. Sift through possibilities such as sugar skulls, animal skulls, and pirate skull-and-crossbones motifs to create a head-turning tattoo that suits you just right.
Skull and flower tattoo on shoulder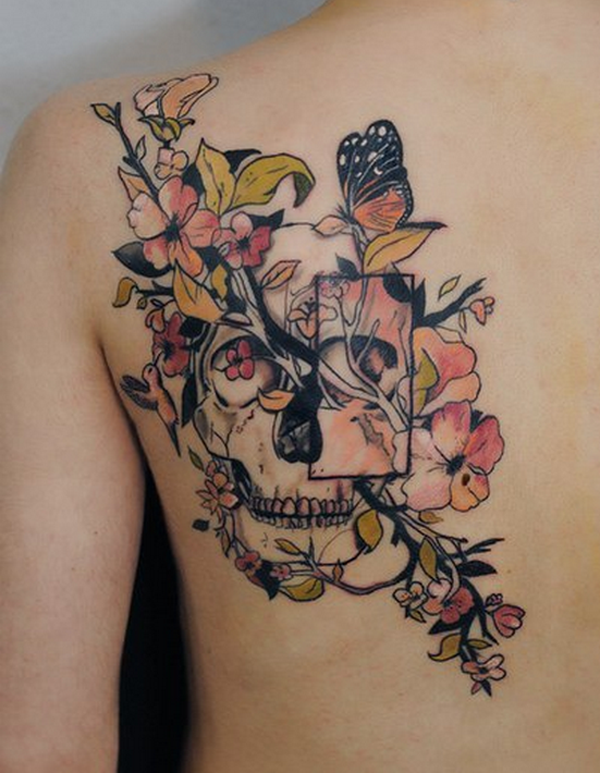 Skull tattoo on the shoulder surrounded by pink flowers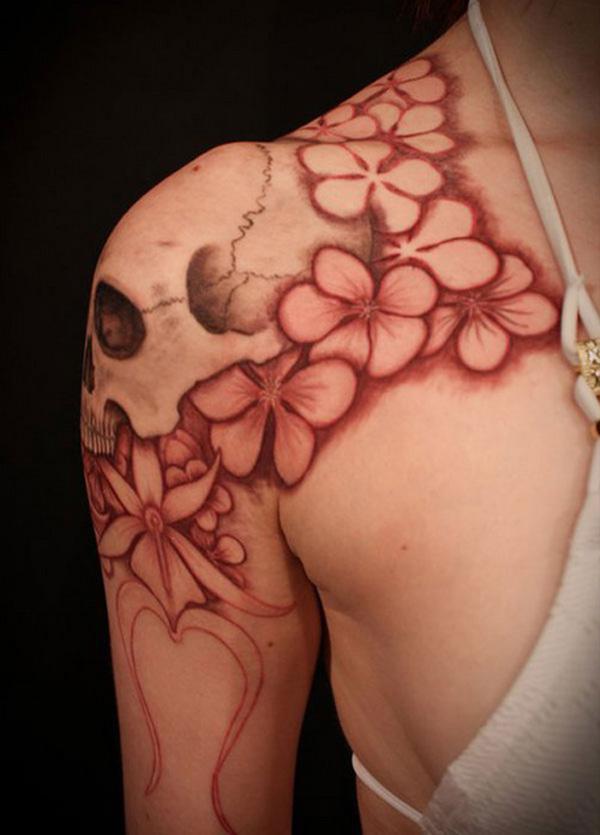 Rose shoulder tattoos
Whether you're captivated by their beauty or the underlying meanings that they represent, a rose tattoo is a classic choice. In the language of flowers, roses convey love, passion, and desire—but also pain and strength. By investing in a rose shoulder tattoo, you're investing in a piece of art that can simultaneously embrace romance and personal resilience.
Vintage Rose Tattoo on the Shoulder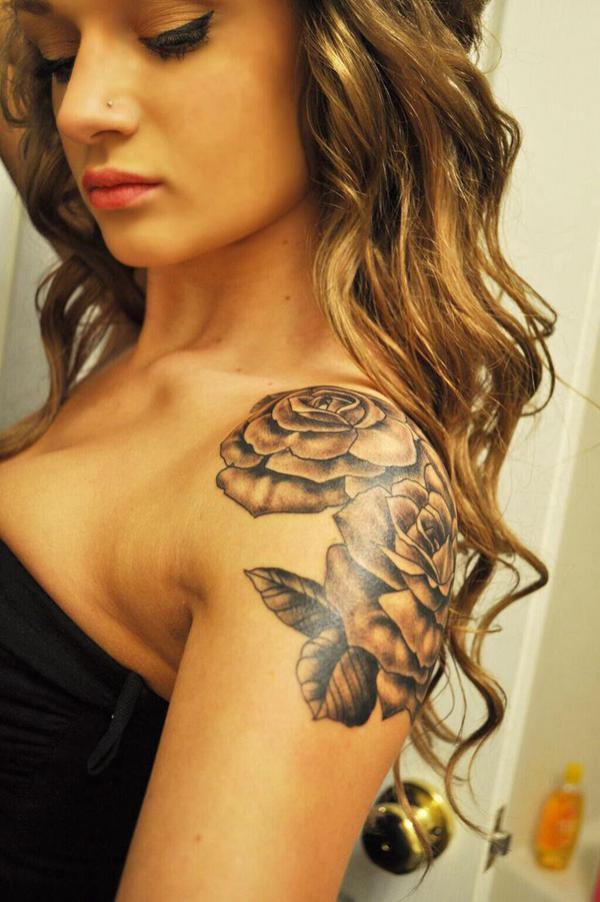 This beautiful rose tattoo is perfect for any woman looking to express her unique style. The black and gray color combination creates a classic, timeless effect that will look great on any skin tone. The intricate details of the design give it an added dimension, while the contrast between light and dark hues adds depth and texture. Whether you're looking for something meaningful or just want to make a statement with your body art, this vintage shoulder tattoo is sure to be a hit!
Deep Red rose tattoo with details such as thorns and leaves
Rose Outline with Quotes on the Shoulder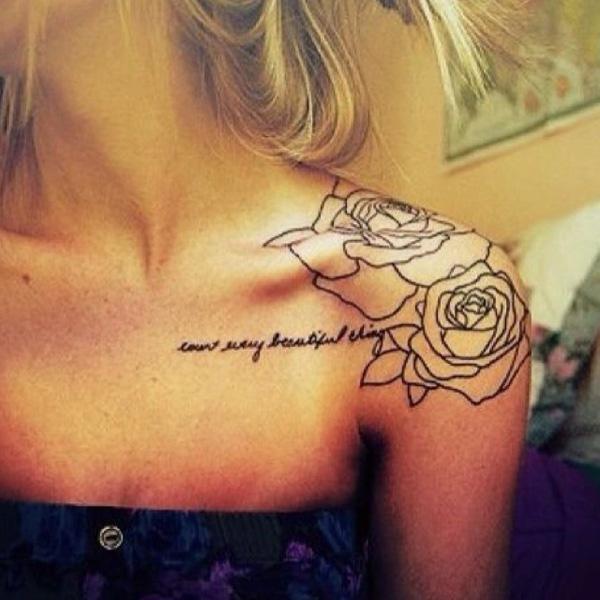 Beautiful crimson rose tattoo on the shoulder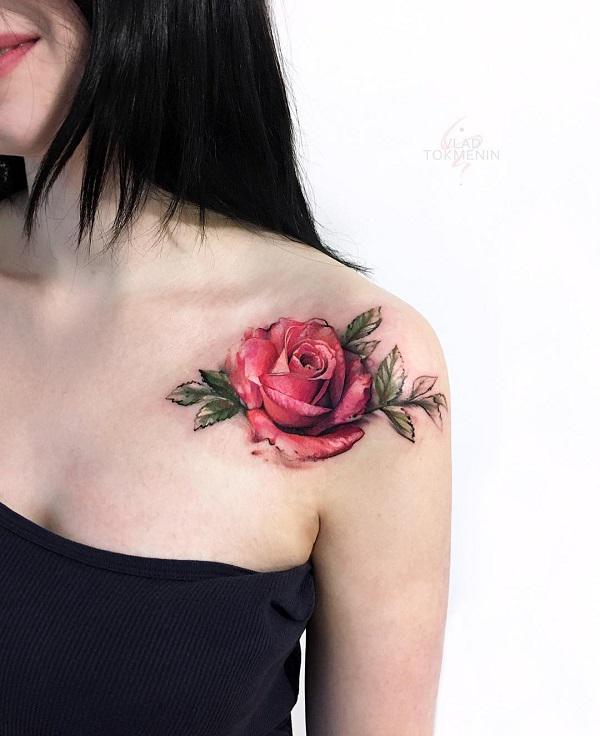 Pink Rose Outlines on the shoulder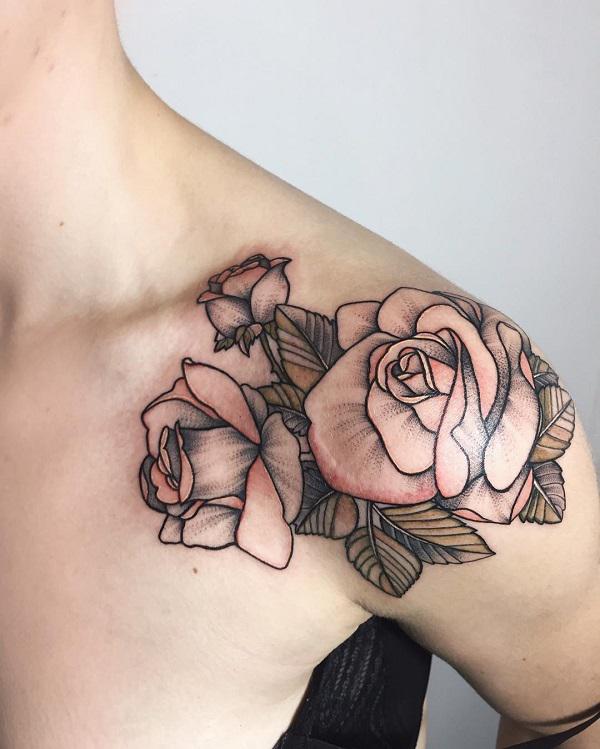 Rose shoulder tattoo for women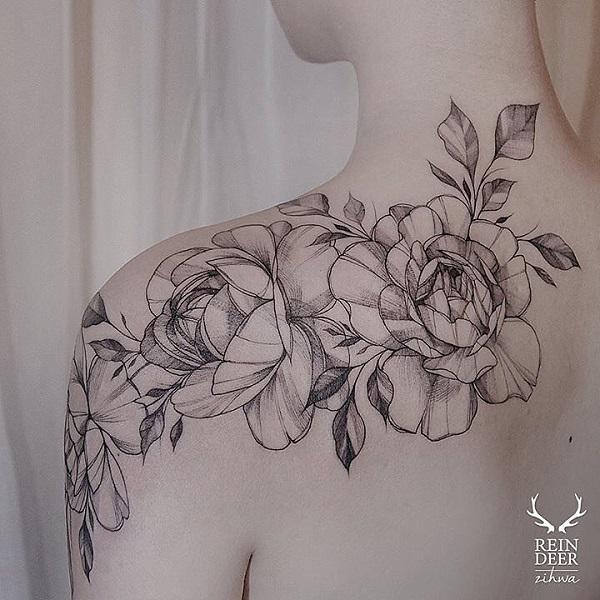 Ink of rose on the shoulder in simple style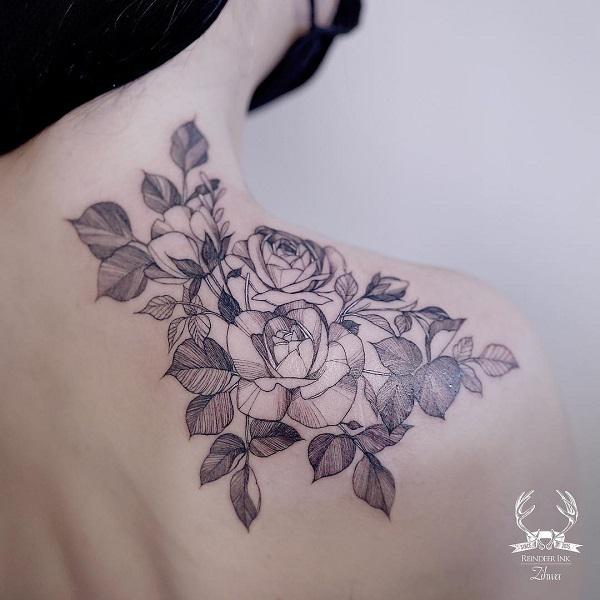 Rose tattoo with dark shade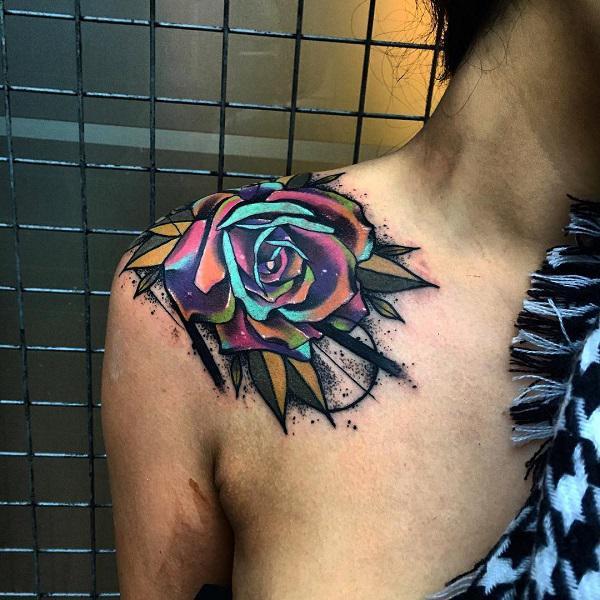 Rose pauldron tattoo for women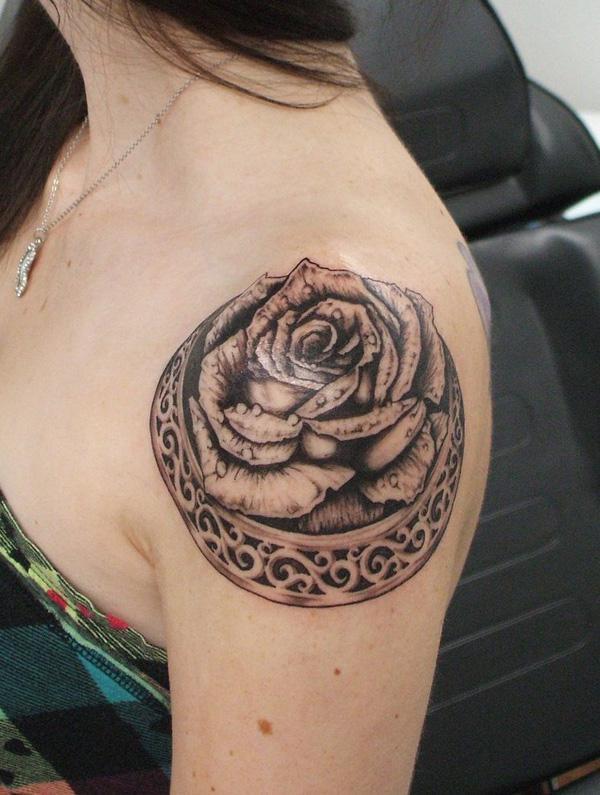 A stem of pink rose with scripts for yourself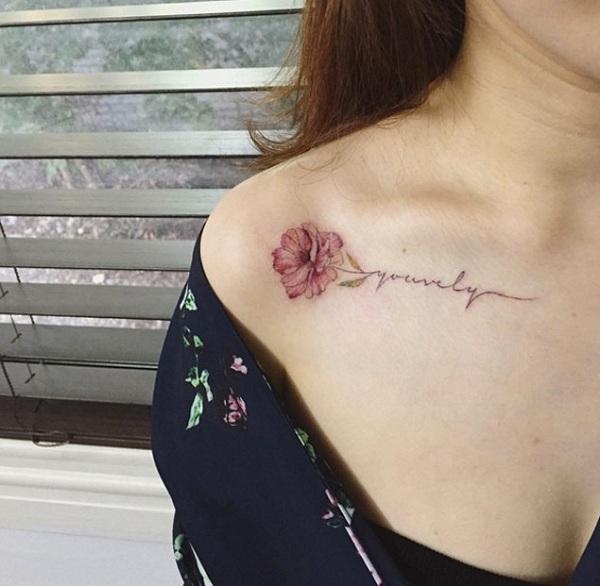 Poppy shoulder tattoos
Delicate yet lively, poppy tattoos are ideal for those looking to showcase their appreciation for nature, symbolism, and elegance. Poppies carry multiple meanings—some view them as representations of remembrance, while others interpret them as symbols of beauty and brief moments of joy in life. Choose a poppy shoulder tattoo, and let the flower's understated loveliness speak for itself.
Striking Poppy tattoo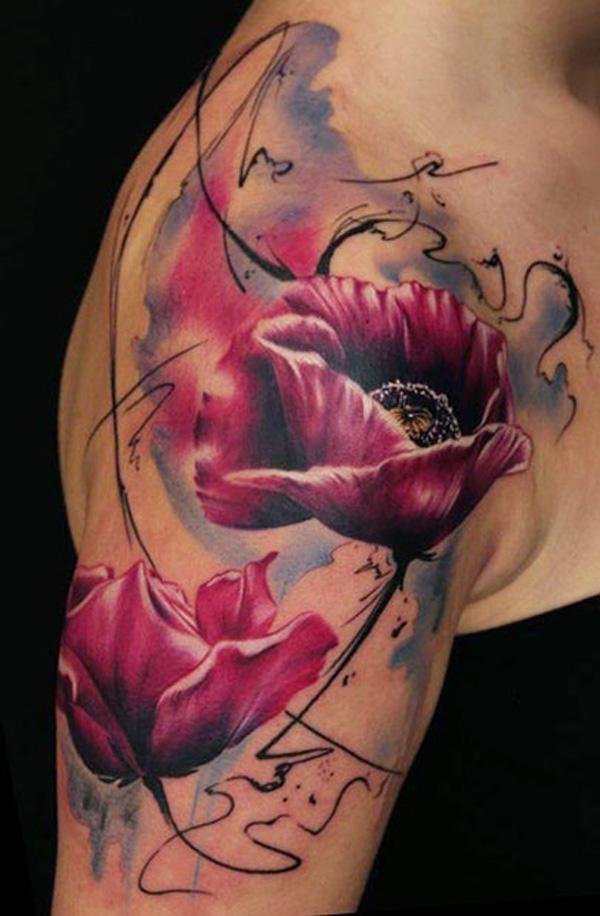 Poppy and Lace swirls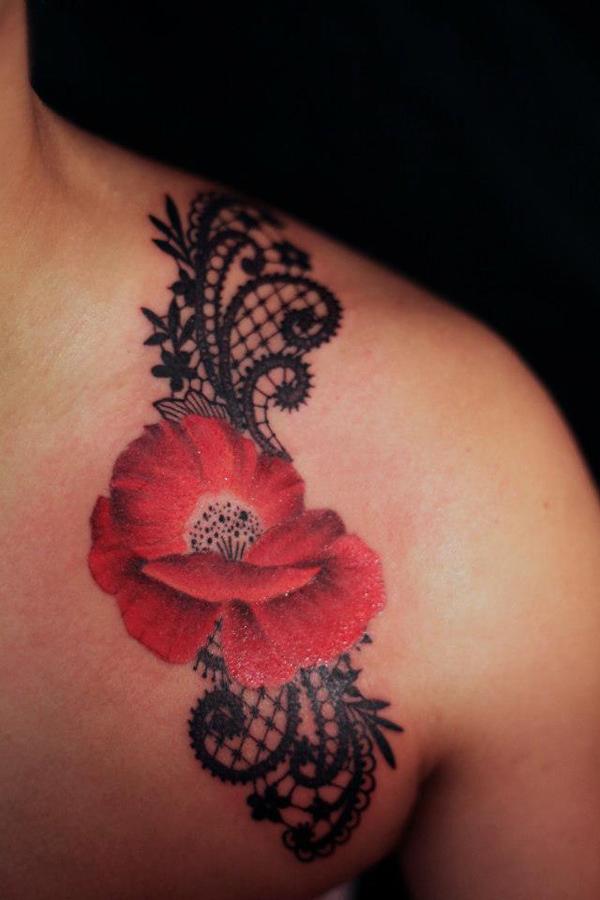 Crimson Poppy Tattoo on the Shoulder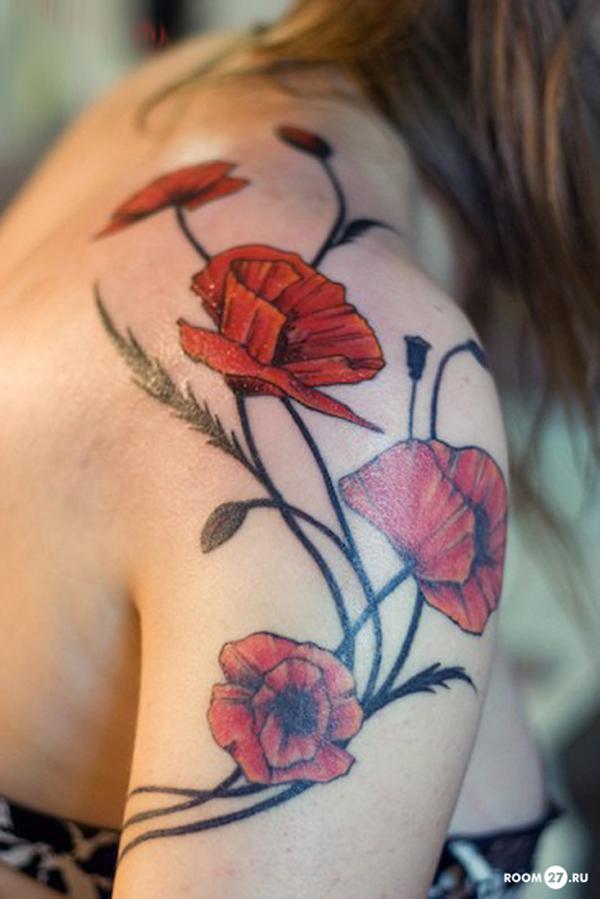 Nature shoulder tattoos
If you're a lover of the great outdoors or feel deeply connected to Mother Earth, nature-inspired tattoos could be your calling. From sprawling landscapes and majestic trees to small, intricate foliage, the options are blossoming here. Pick a scene that speaks to you and let your tattoo artist capture nature's beauty on your shoulder.
Spinning black hole and planet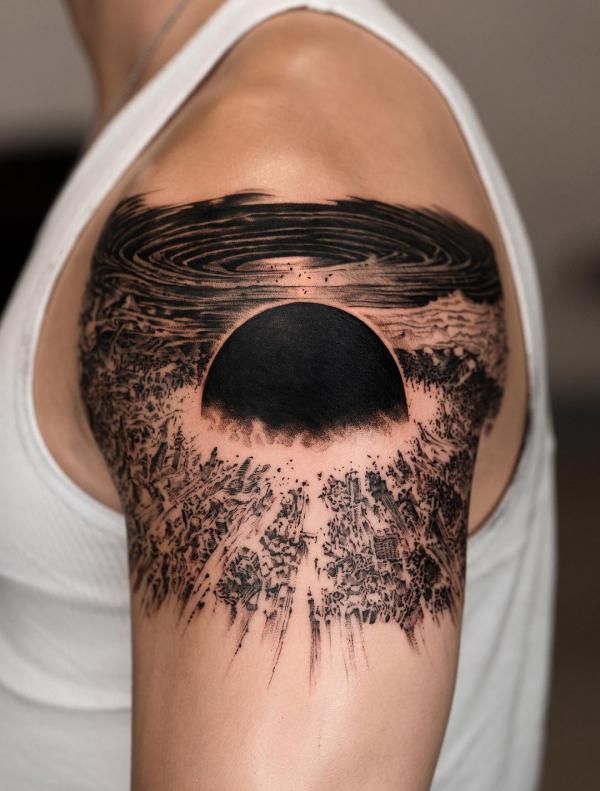 Crows on a spooky old tree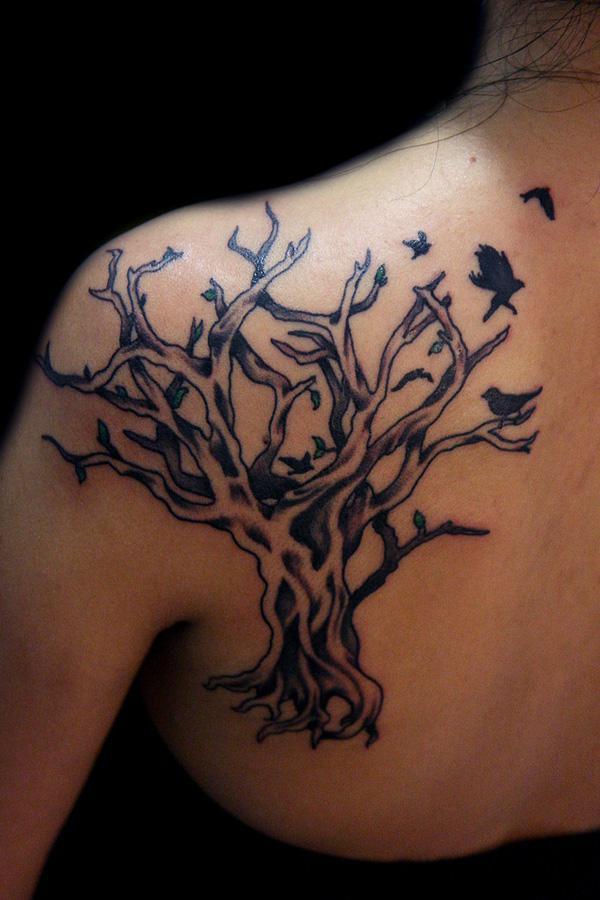 Tree shoulder tattoo for men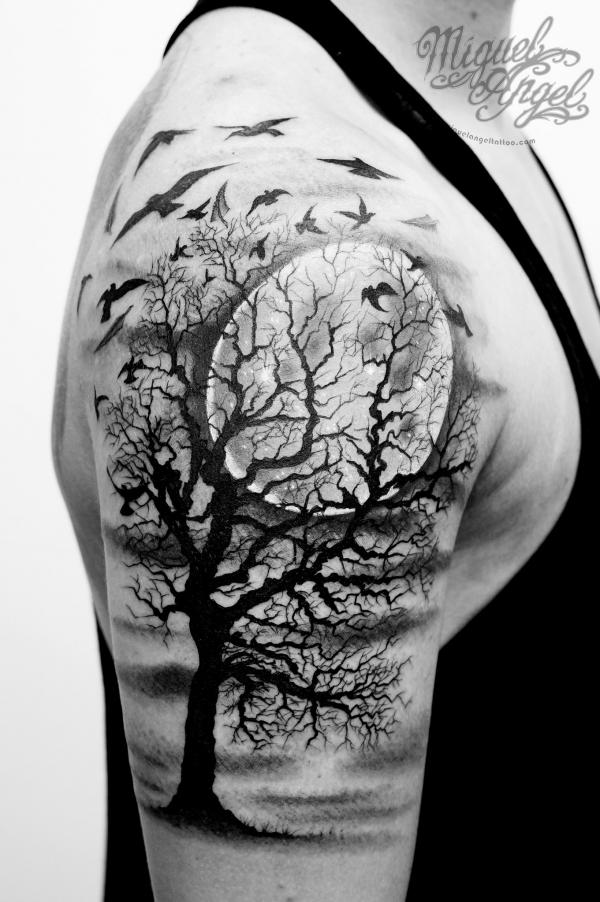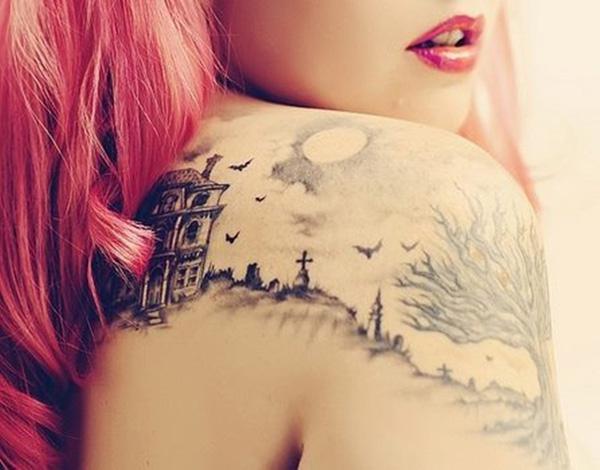 Cloud, feather and stars tattoos on shoulder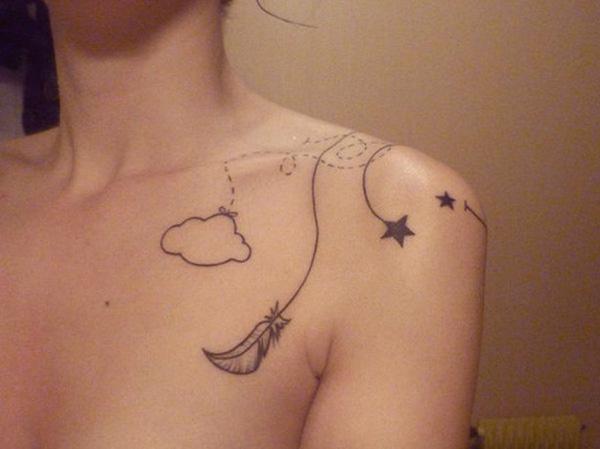 Beautiful flower frame – what image do you want to draw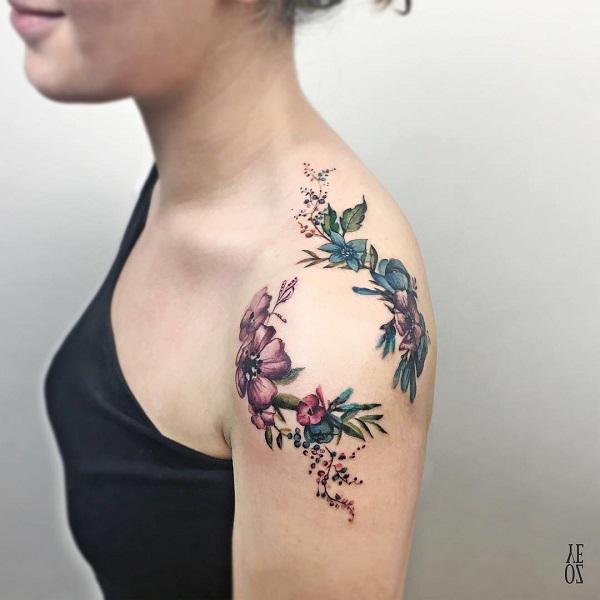 6 pointed-Point symbol tattoo with crescent moon and stars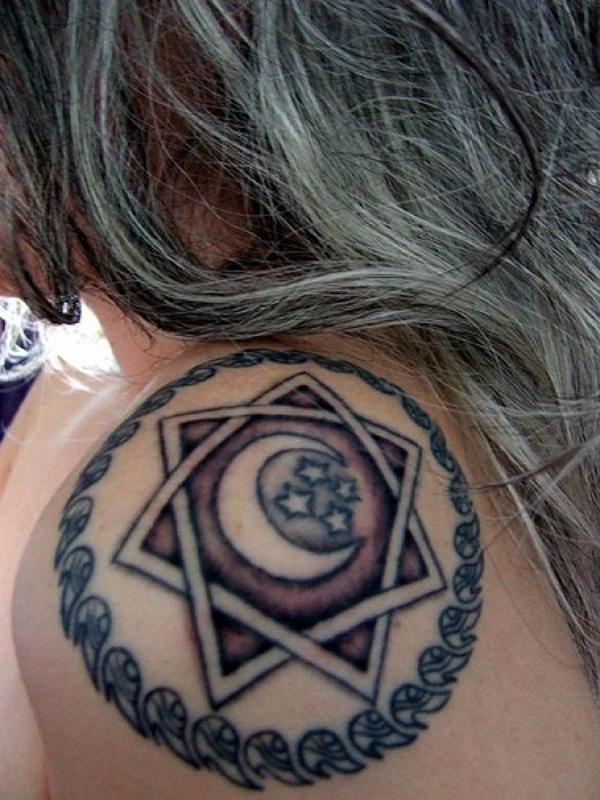 Bee Silhouette Tattoo on the shoulder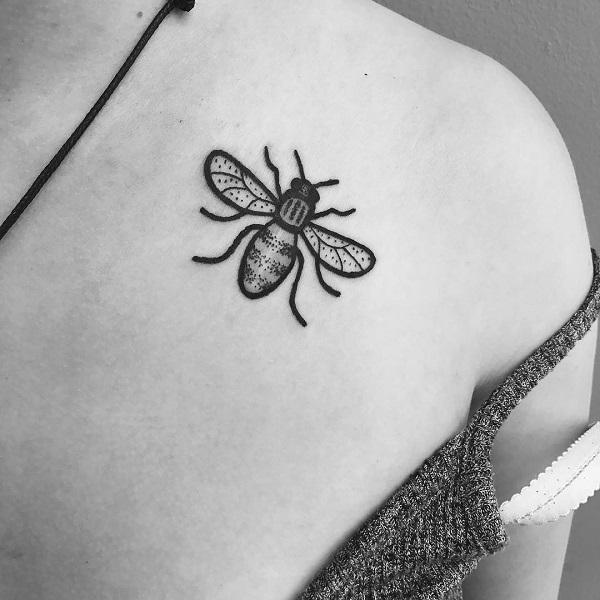 Music shoulder tattoos
For those who can't live without a soundtrack, music-themed tattoos are a fitting choice. Opt for designs that showcase your love for tunes and keep the rhythms of your life pulsating, whether it's a treble clef, a favorite lyric inscribed in stylized text, or even a lifelike portrait of your musical idol.
Music Tattoo on the shoulder
Shoulder tattoos for men
Gentlemen, when it comes to shoulder tattoos, there's no need to shy away from this canvas. Shoulders provide ample space and flexibility for powerful, meaningful tattoos that put your personality on display. If you're looking for inspiration, consider designs that focus on your passions, your beliefs, or your relationships.
Masculine Pauldron Tattoo for men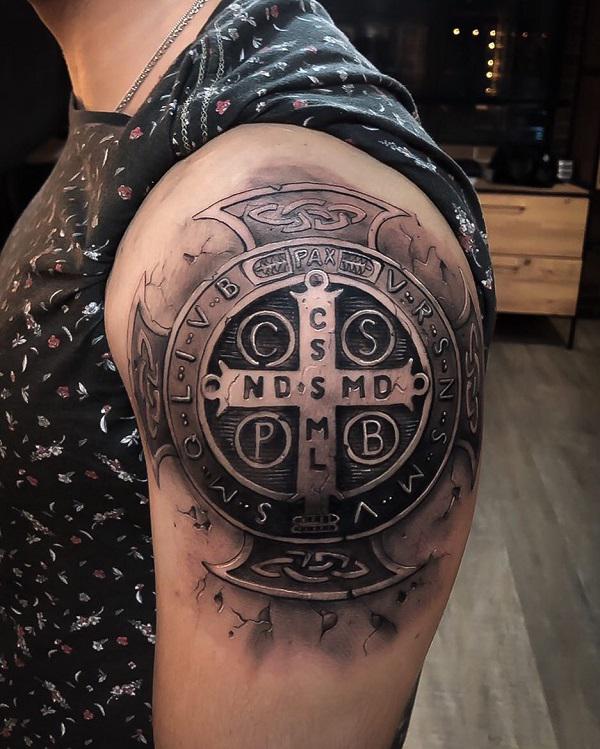 This pauldron tattoo is a unique and powerful design for men. The tattoo features a masculine and realistic style, with the look of metal pauldron protecting the shoulder of an warrior. At its center lies a cross symbol that adds to its symbolism and strength, while the skin around it has been given some ripped effects. This bold design conveys an image of strength and protection, making it perfect for any man looking to make a strong statement through their body art.
Shoulder Tattoos for Women
Though shoulders are an ideal spot for both men and women, some specific designs especially resonate with females. For instance, watercolor, floral patterns, and delicate lettering can be incorporated in these tattoos, creating a beautiful aesthetic. Besides being pleasing to the eye, this approach to body art can be a representation of one's feminine side.
Abstract sensations tattoo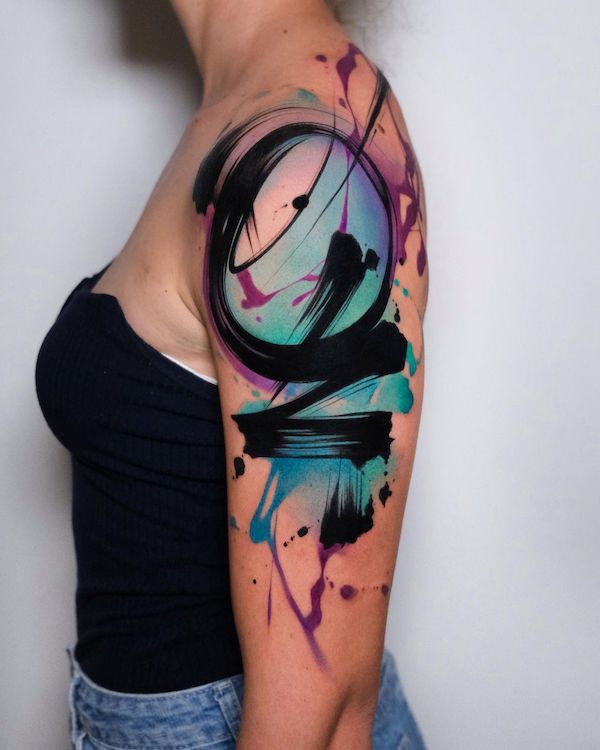 Black and white lace flower tattoo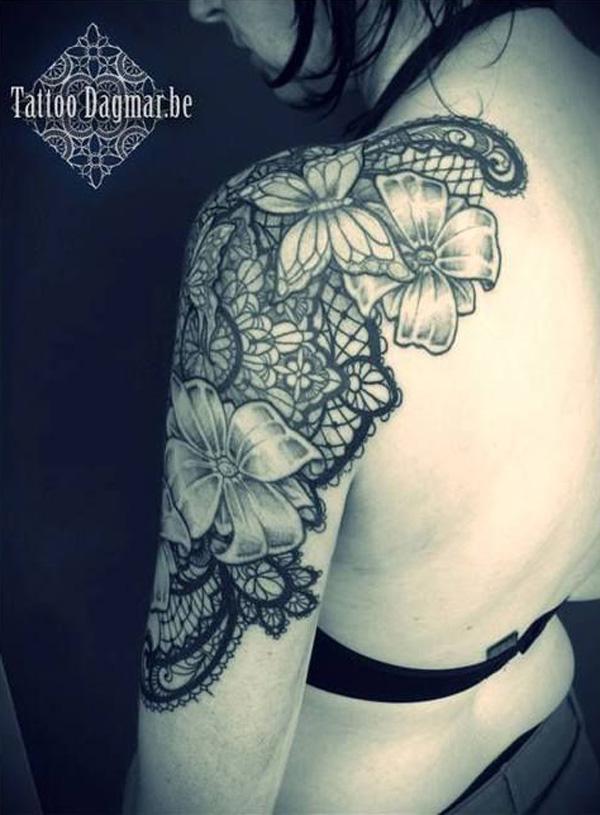 Flowers and lace tattoo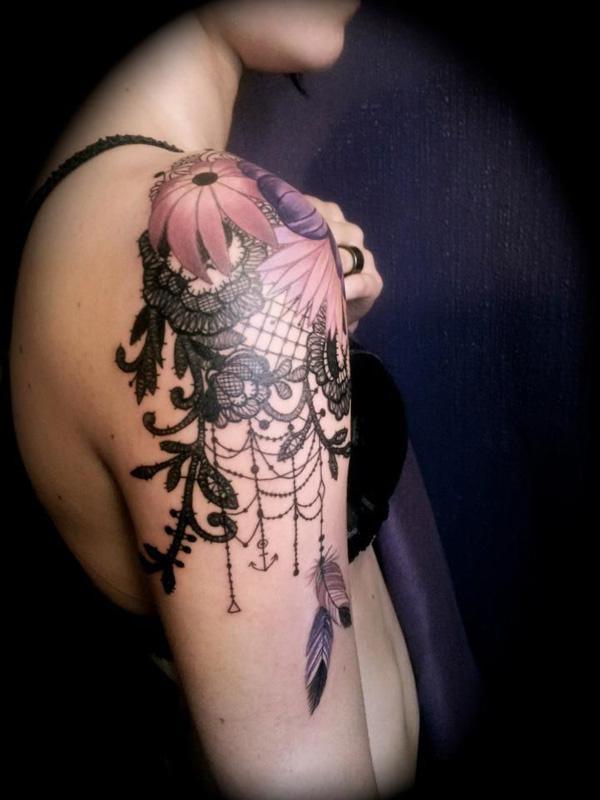 Black and gray flower tattoo for Girls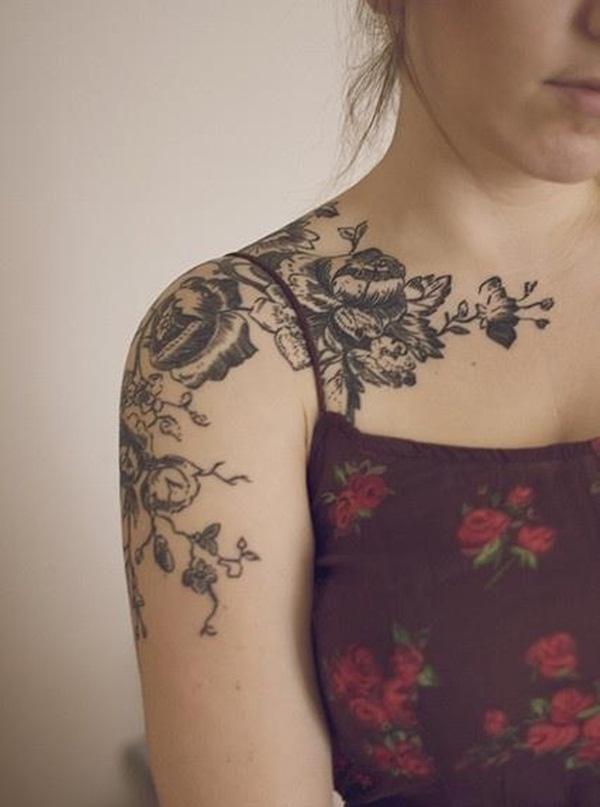 Mandala Shoulder Tattoos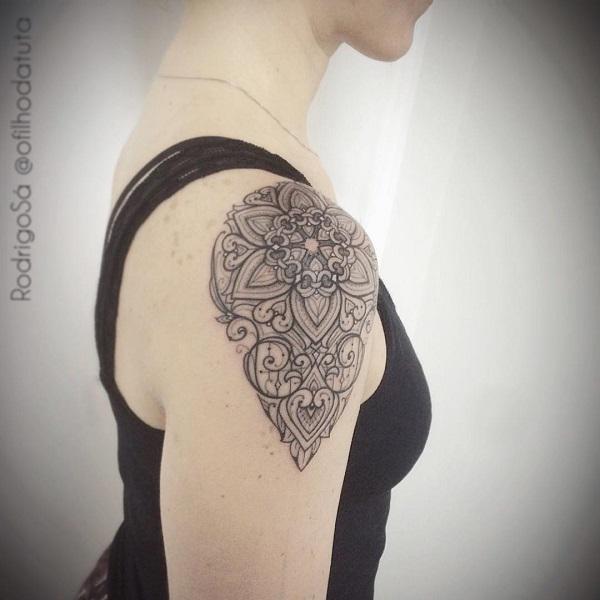 Derived from ancient spiritual practices, the mandala is a popular tattoo choice that represents unity, wholeness, and balance in life. The intricate details and symmetrical patterns found in a mandala's design make it particularly eye-catching when inked on the shoulder.
Mandala blackwork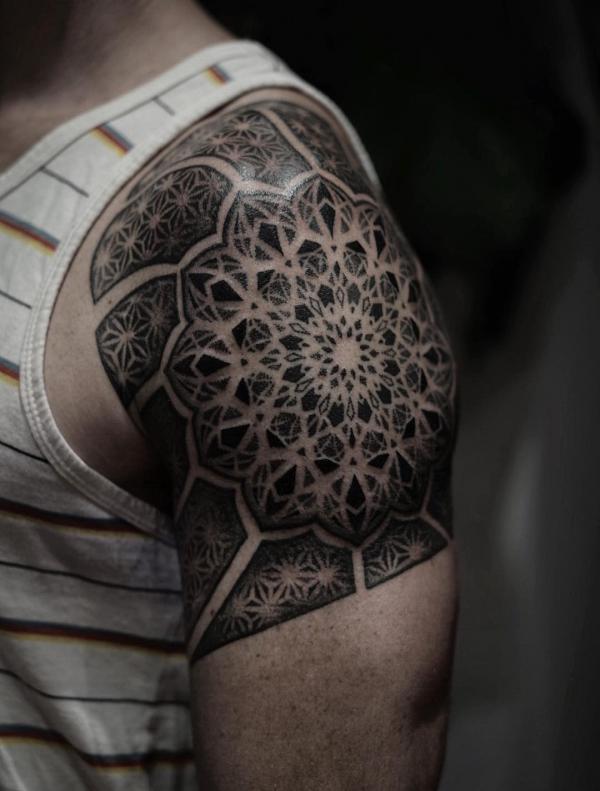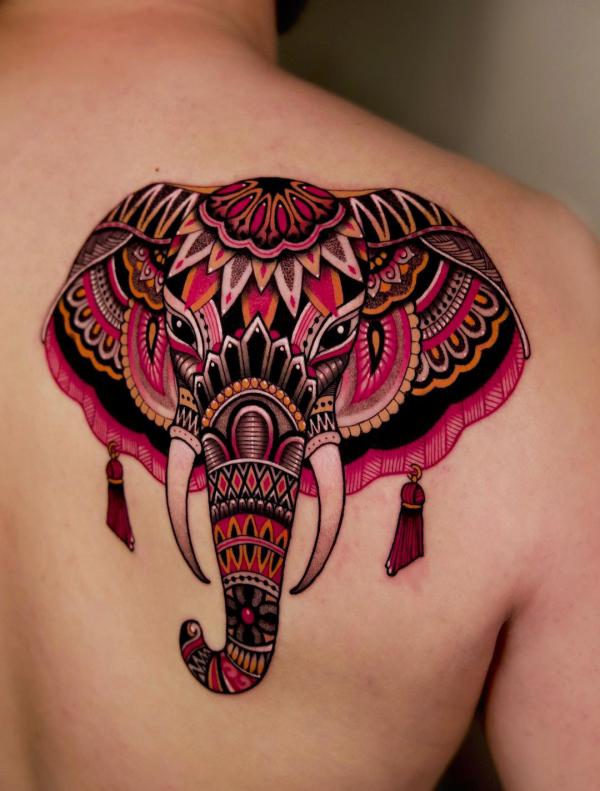 3D Mandala shoulder tattoo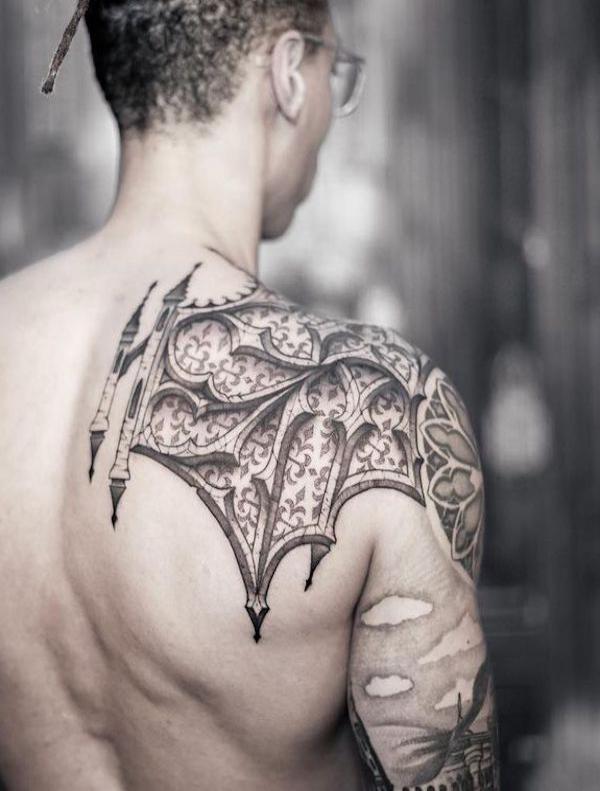 Black and white mandala shoulder tattoo for men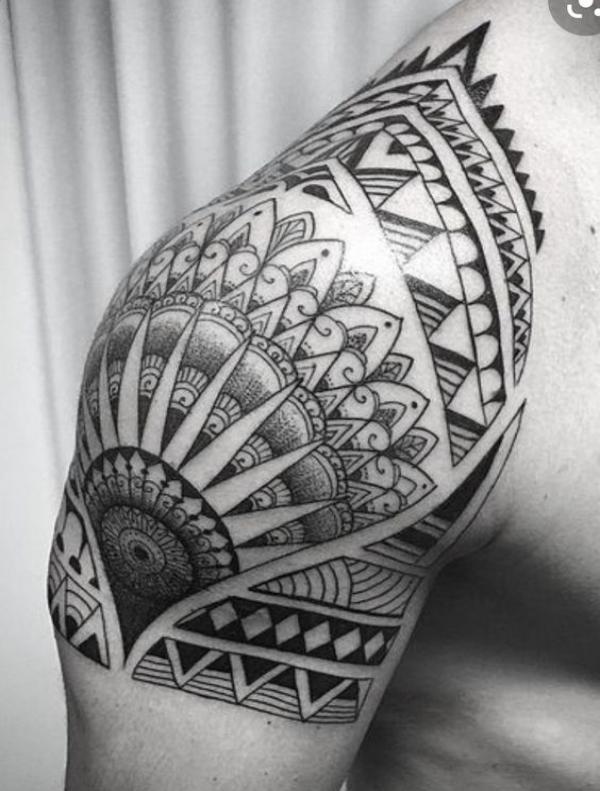 Colorful mandala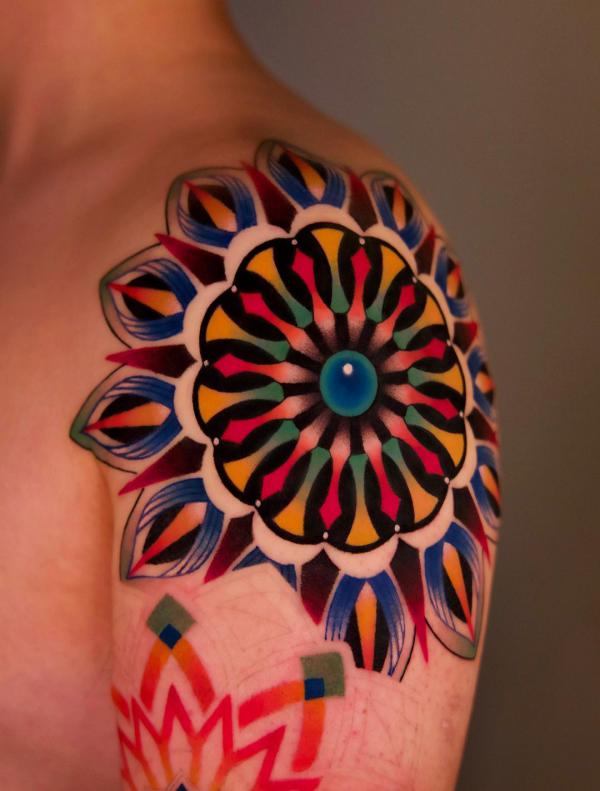 Black and white mandala tattoo covering shoulder and sleeve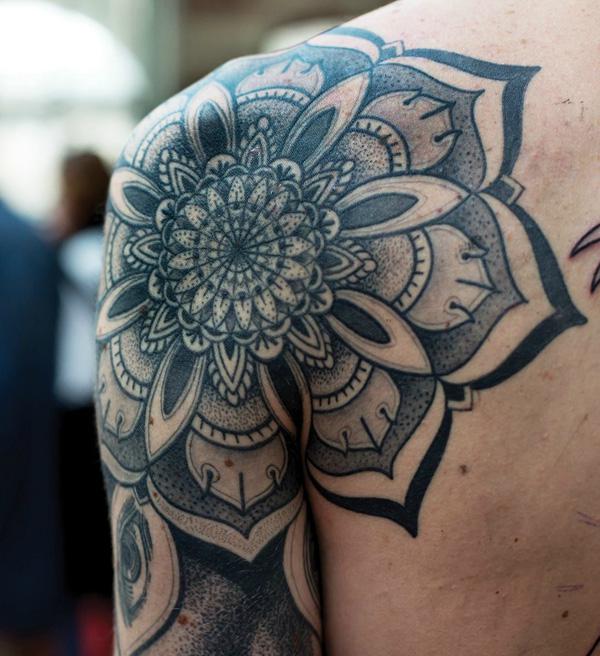 Lily Shoulder Tattoos
For fans of floral tattoos, lilies are a popular option. This delicate and elegant flower symbolizes purity, devotion, and motherhood. If you want to add a touch of femininity to your shoulder tattoo, consider incorporating beautiful lily designs into the mix.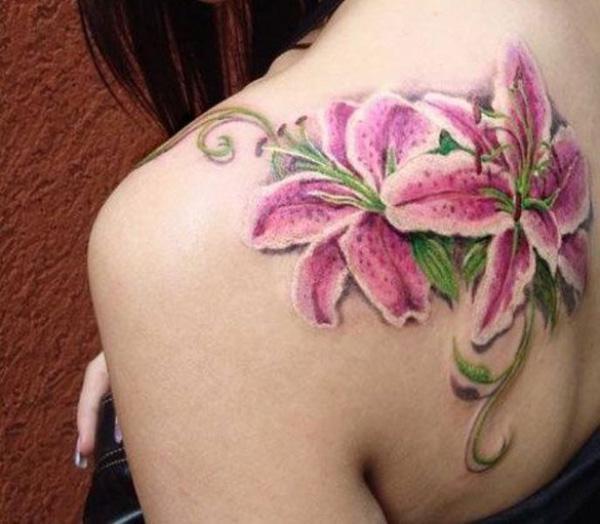 Lily tattoo with swirls in baroque style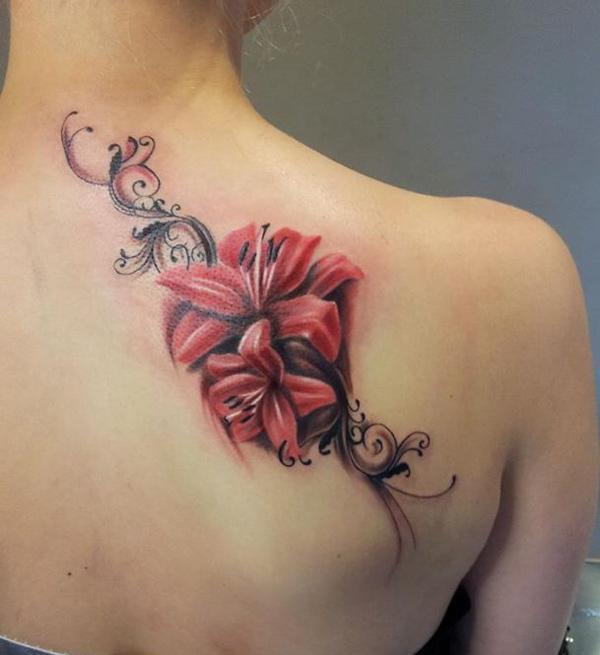 Realistic Lily Tattoo on the Shoulder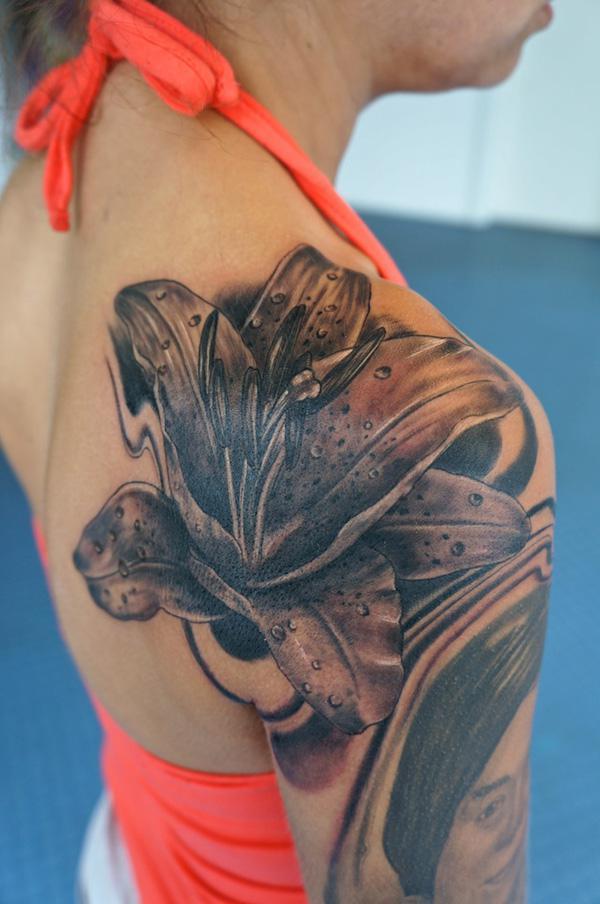 Lettering and script Shoulder Tattoos
Sometimes, the most effective way to convey a message or show your love for a person or idea is through written text. Try lettering tattoos if you would like a bold declaration that expresses your values and beliefs. You can get creative with different fonts, styles, and placements, ensuring your tattoo is uniquely yours.
Cursive script tattoo showing self-believing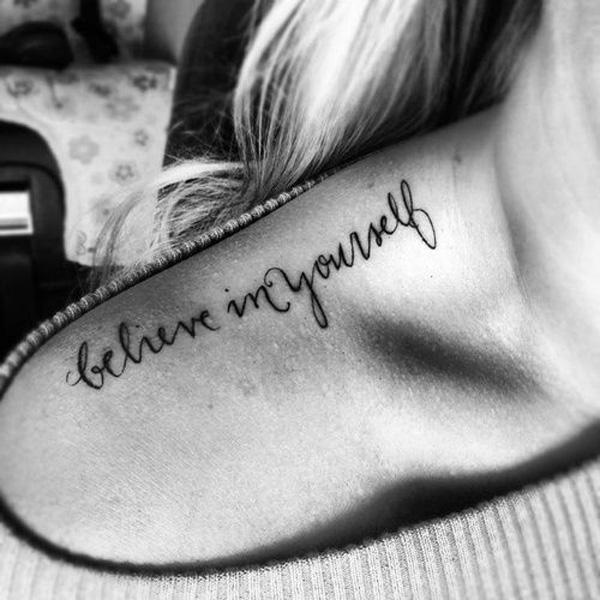 Bird and quote tattoo on shoulder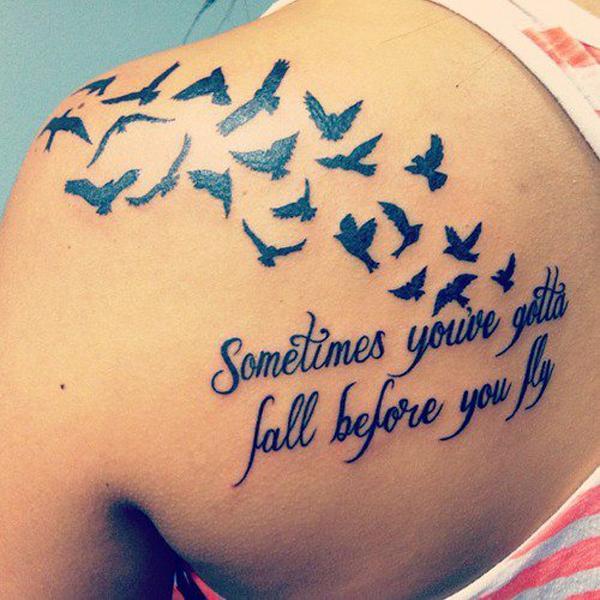 Name tattooed on the Shoulder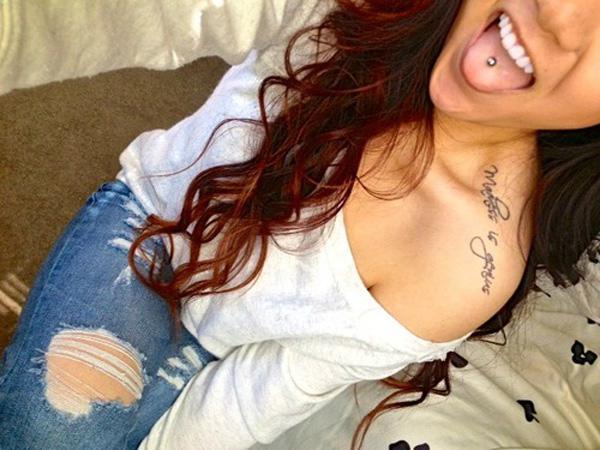 Flowers Shoulder Tattoos
Floral shoulder tattoos are a timeless classic that will never go out of style. Flaunting a beautiful mix of intricate and colorful flower designs evokes an enchanting aura and can be a true reflection of one's love for nature. You can choose from various flower types, each having its own symbolism and artistic appeal.
Ink of flowers in Chinese watercolor painting style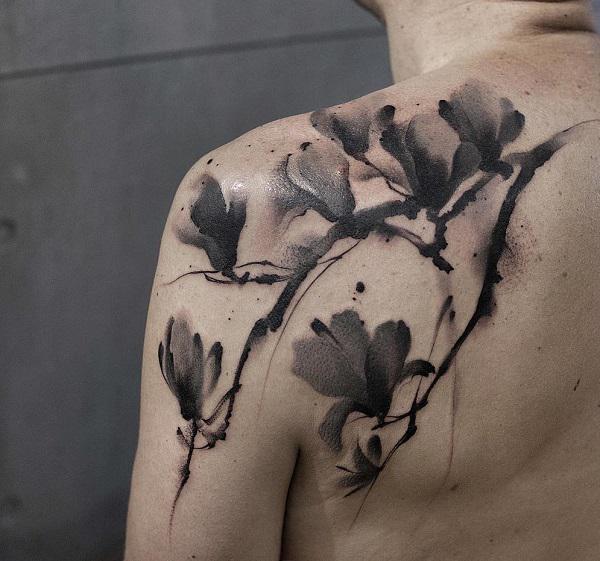 Blue flower tattoo in 3D style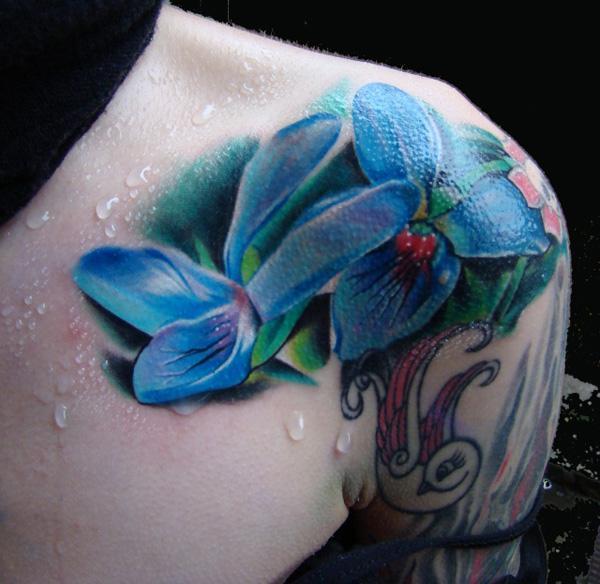 Japanese cherry blossom tattoo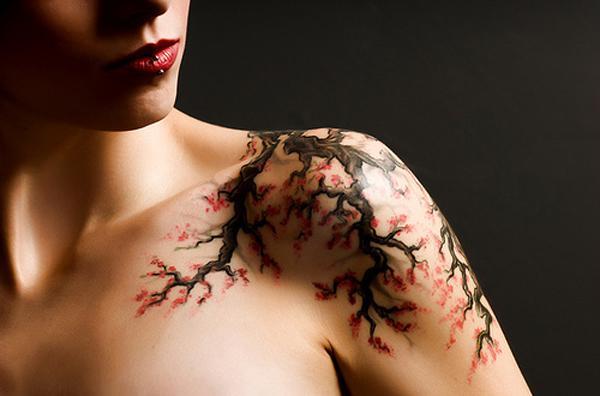 Intricate Flower Tattoo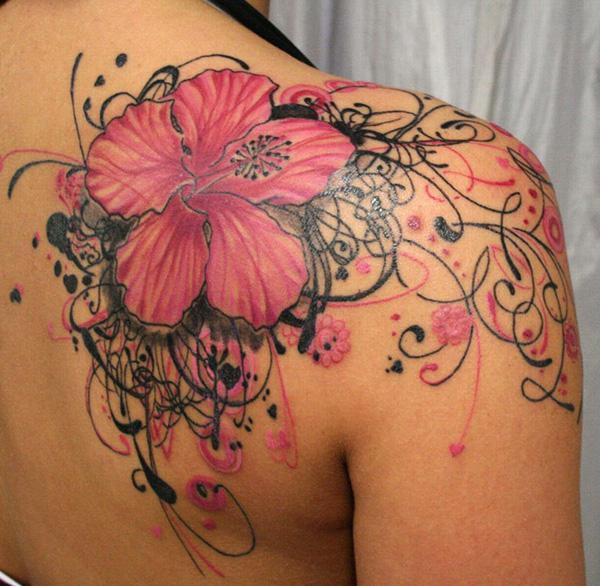 Black and white flowers tattoo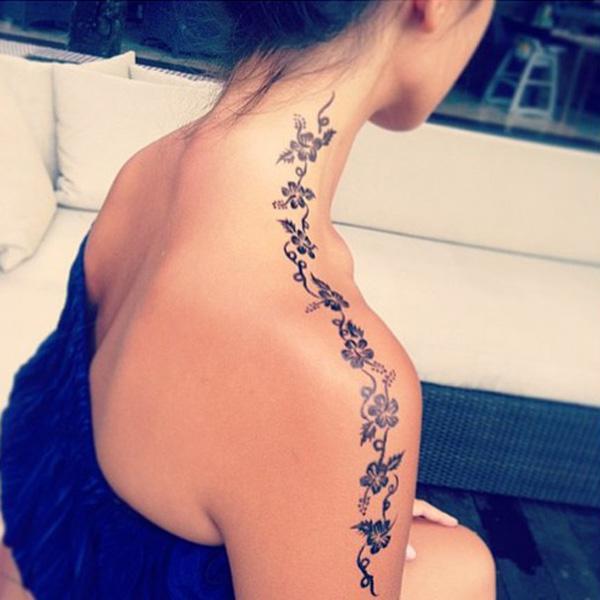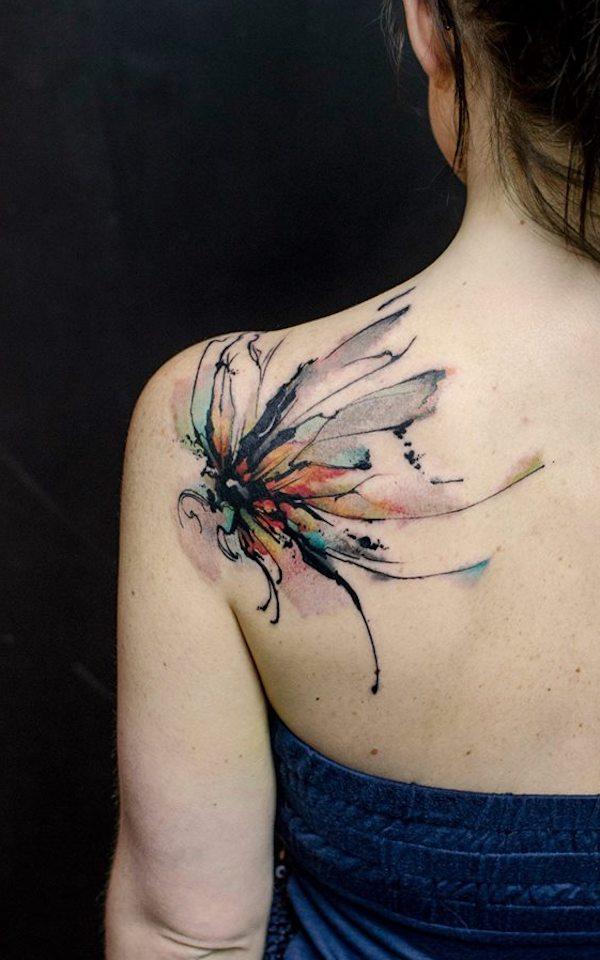 Hawaiian Flower Shoulder Tattoo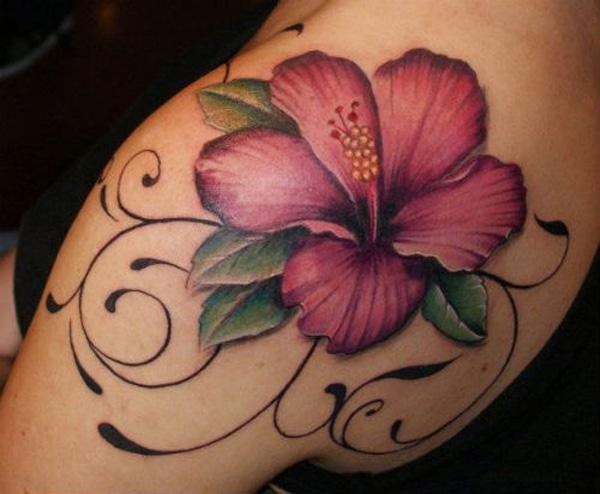 Outline of sunflower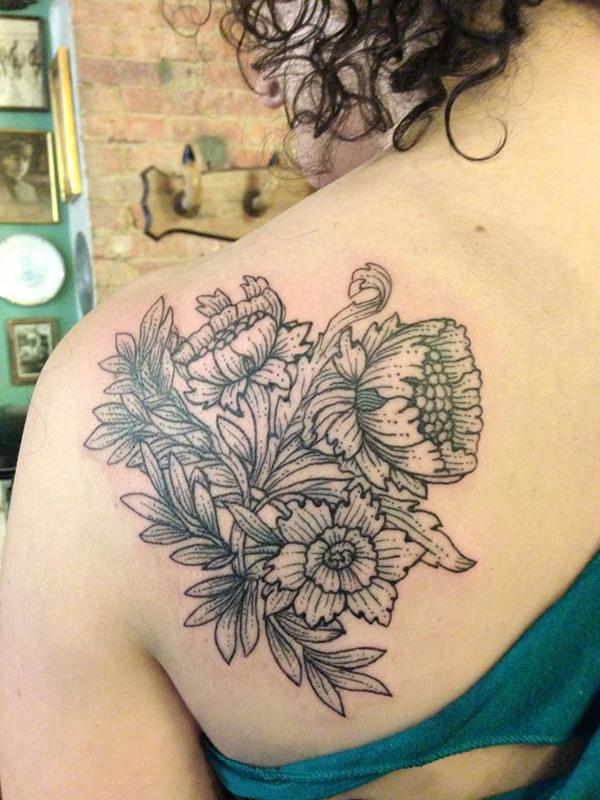 Seamless net pattern with flowers surrounding it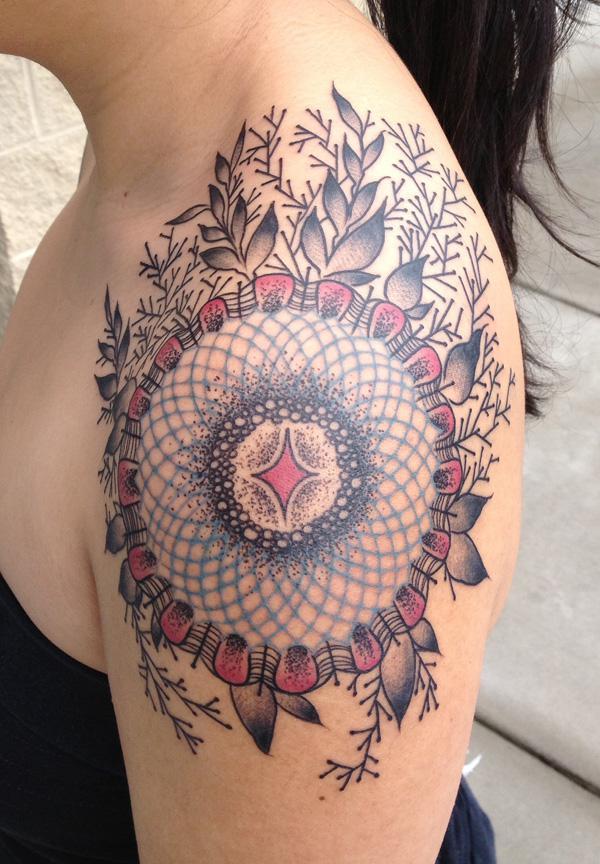 Multiple layers flower tattoo in black shade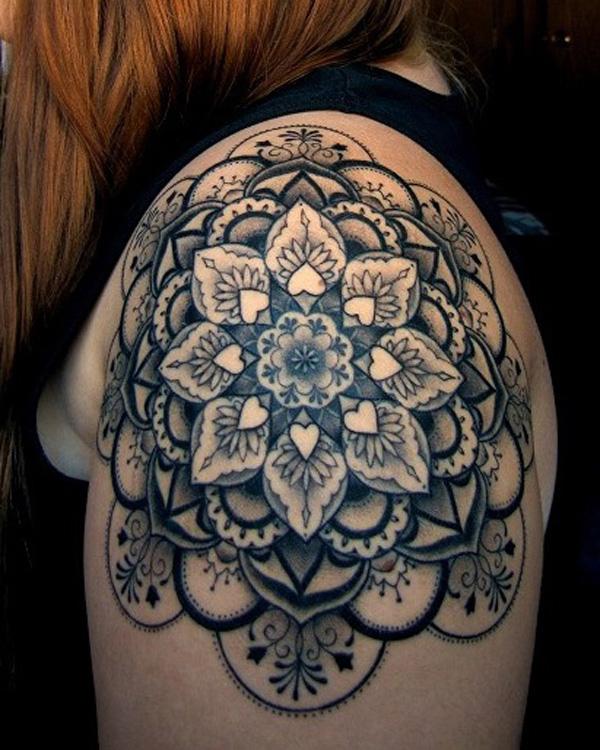 Chrysanthemum Shoulder Tattoos
Speaking of flowers, the chrysanthemum stands out as a particularly meaningful choice. This stunning Japanese flower signifies rejuvenation, longevity, and happiness. Chrysanthemum tattoos make for a visually captivating and meaningful piece of body art that will turn heads.
Black and white chrysanthemum tattoo on the shoulder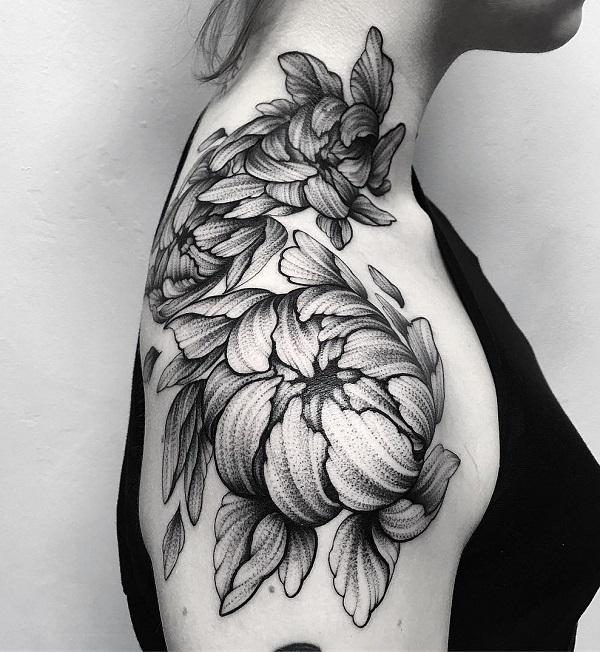 Rose and chrysanthemum outlines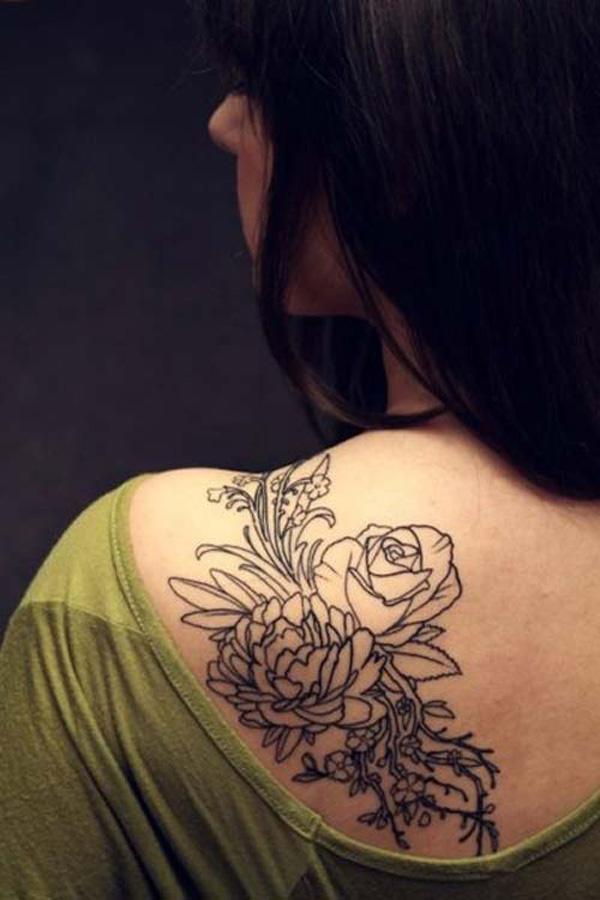 Butterfly Shoulder Tattoos
Butterflies are another popular option for shoulder tattoos, thanks to their natural beauty, grace, and symbolic meanings. They represent transformation, hope, and freedom. Butterfly tattoos can feature various colors, sizes, and styles, allowing for a customized design that suits your taste.
Butterfly tattoo with love phrases to express affection for oneself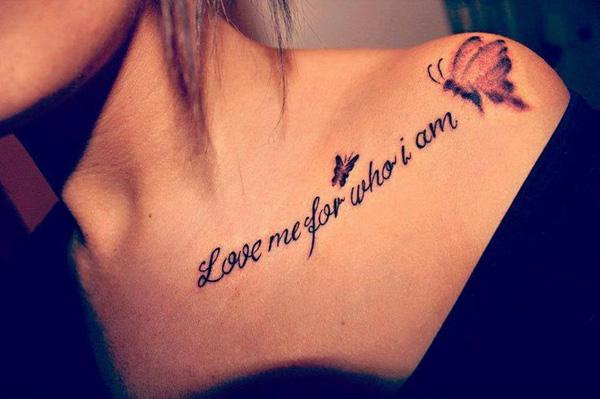 Vintage butterfly tattoo for women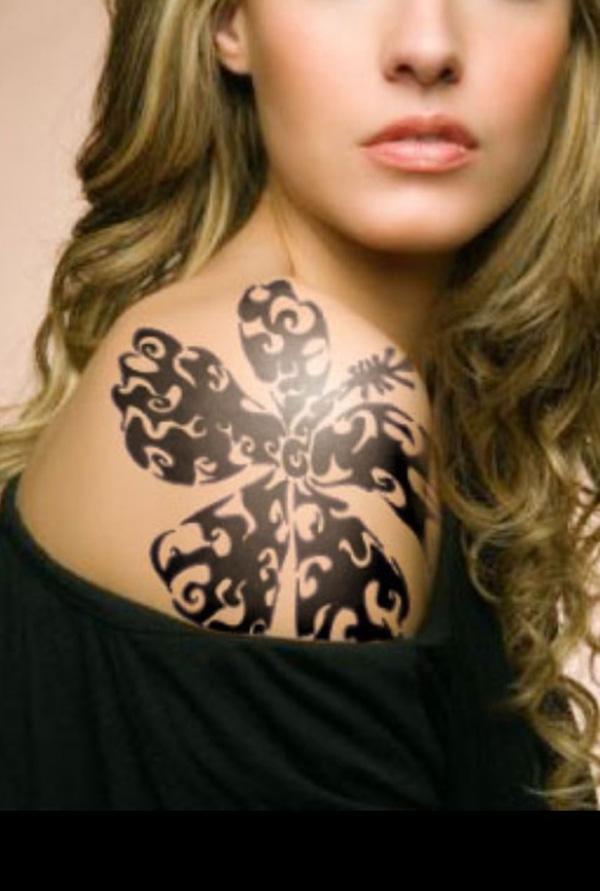 Intricate ink design spanning from back to shoulder and arm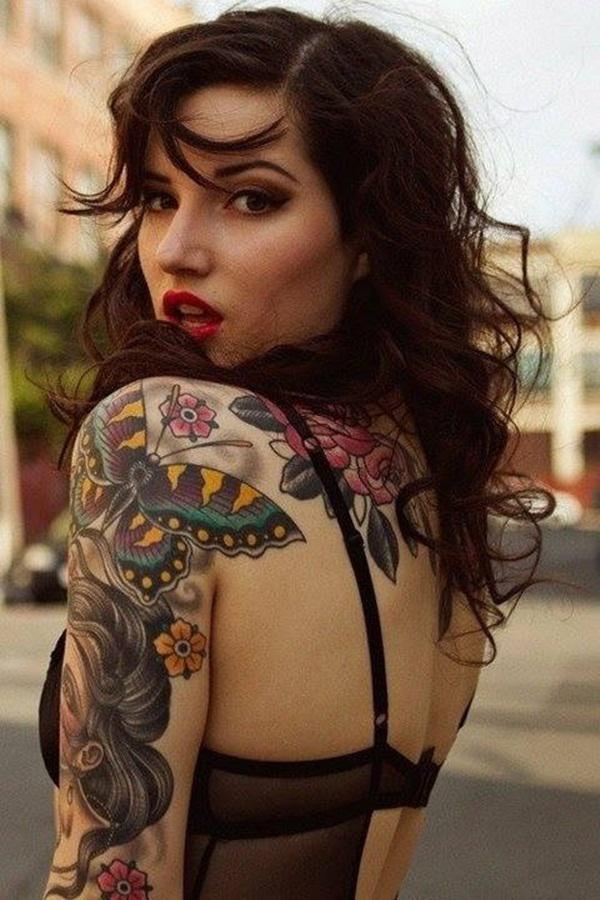 Artistic 3D butterfly on the neck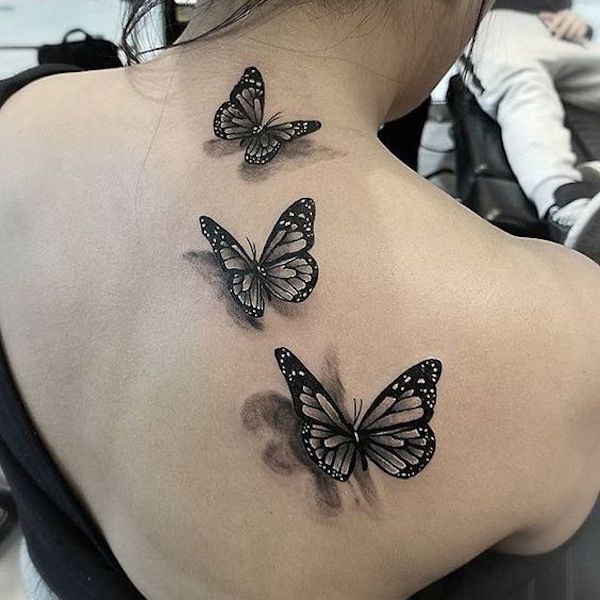 Blue butterfly flying over romantic swirls
Animals Shoulder Tattoos
Incorporating animals into the ink art can serve as a powerful representation of one's spirit or a tribute to a beloved pet. You'll find designs ranging from fierce lions and powerful wolves to cute cats and charming elephants. The right animal design can be an instant conversation starter and a true reflection of your personality.
Realistic Chinese Dragon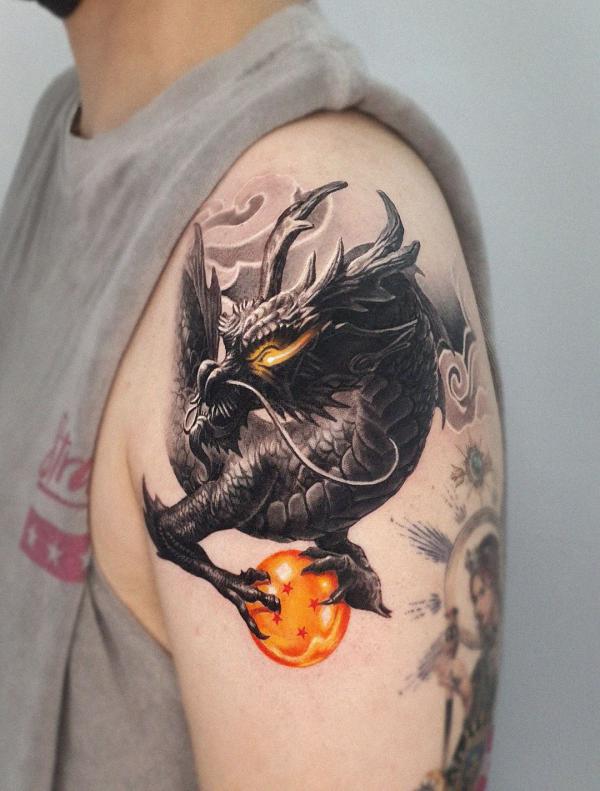 Beetle and skull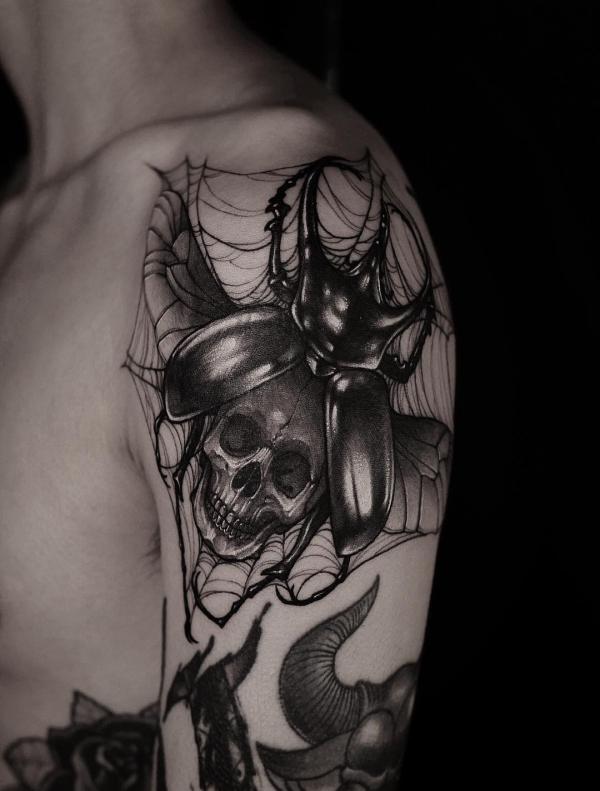 Owl and flower Ink on Shoulder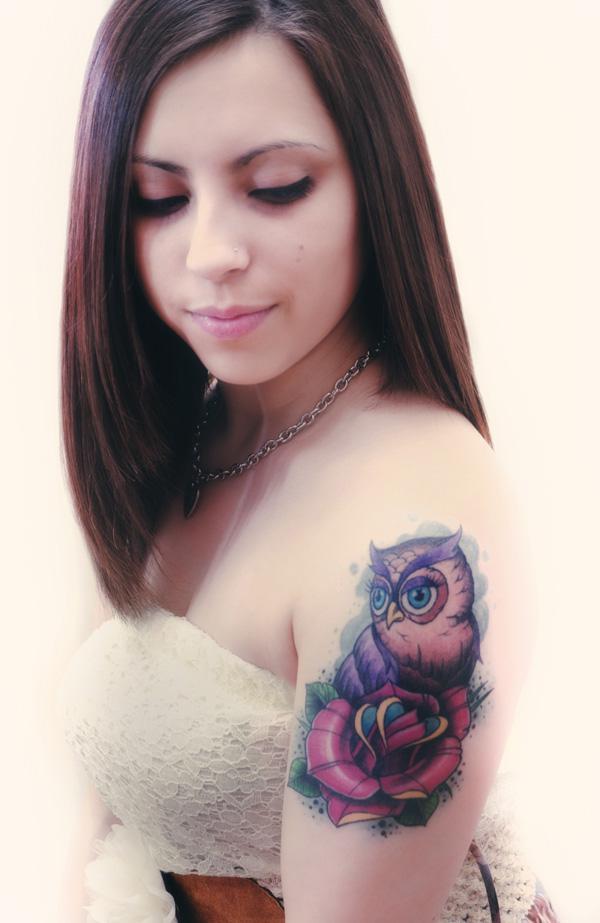 Dandelions and birds blowing in the wind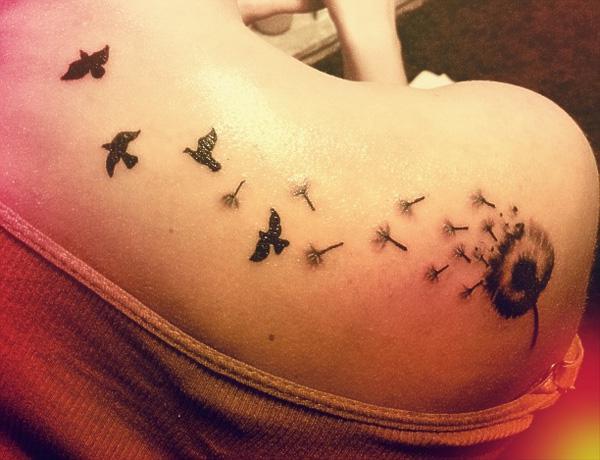 Black and white Bat Tattoo spanning from shoulder to back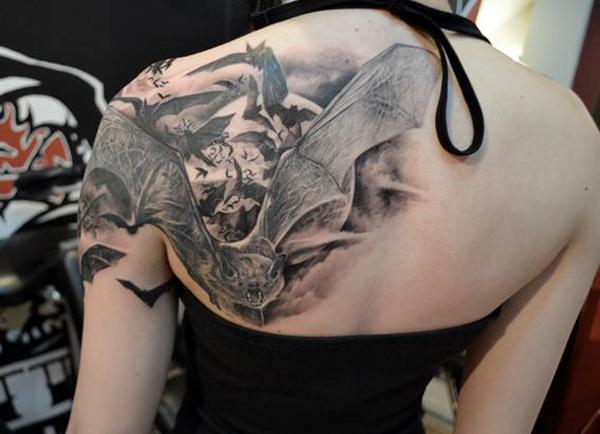 Barbe Rousse moth shoulder tattoo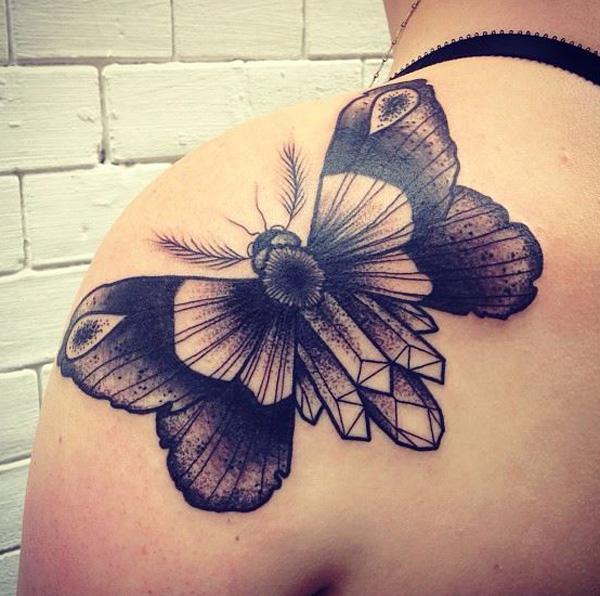 Realistic Spider Tattooed on the back of Shoulder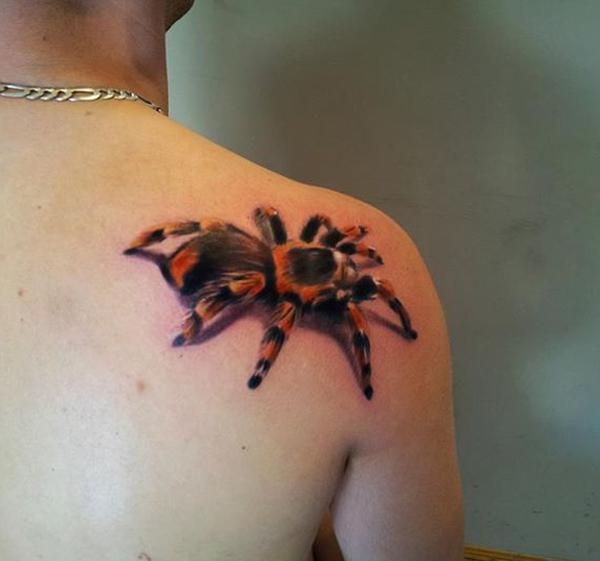 Armor Shoulder Tattoos
If you're a fan of mythology or history, an armor shoulder tattoo might just be the perfect design for you. Armor tattoos can symbolize strength, protection, and resilience. Besides their deep meaning, they also offer an impressive visual effect that brings an air of mystery and intrigue.
Warriors Pauldron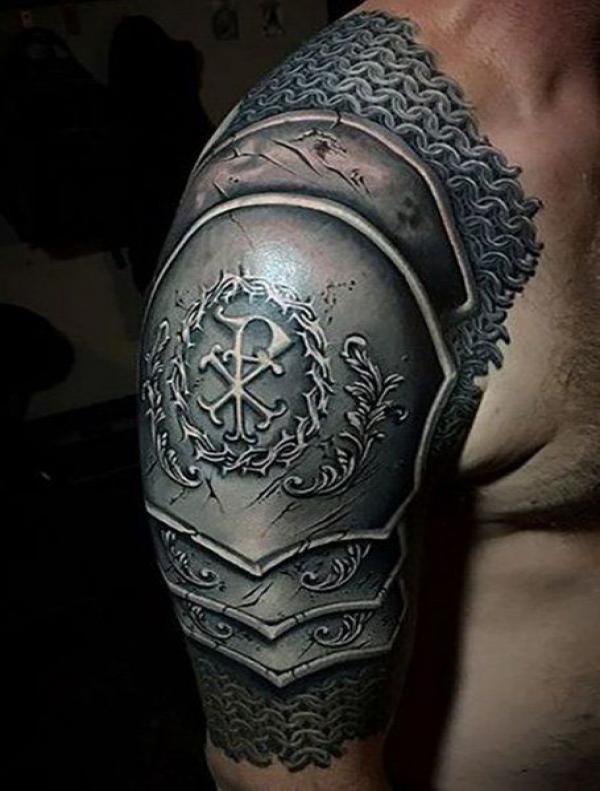 Samurai armor shoulder tattoo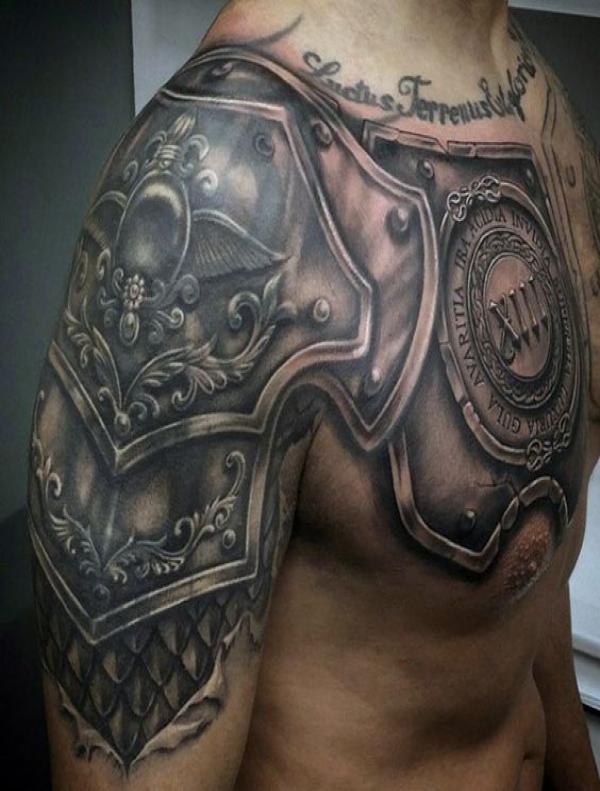 Bird Shoulder Tattoos
Many people find inspiration by getting a bird tattooed on their shoulder. Birds are often associated with freedom, hope, and spiritual guidance. Popular choices for bird shoulder tattoos include eagles, phoenixes, swallows, and owls. Depending on the chosen bird species, the outcome can be an incredibly detailed piece or a more minimalist design.
Eagle tattoo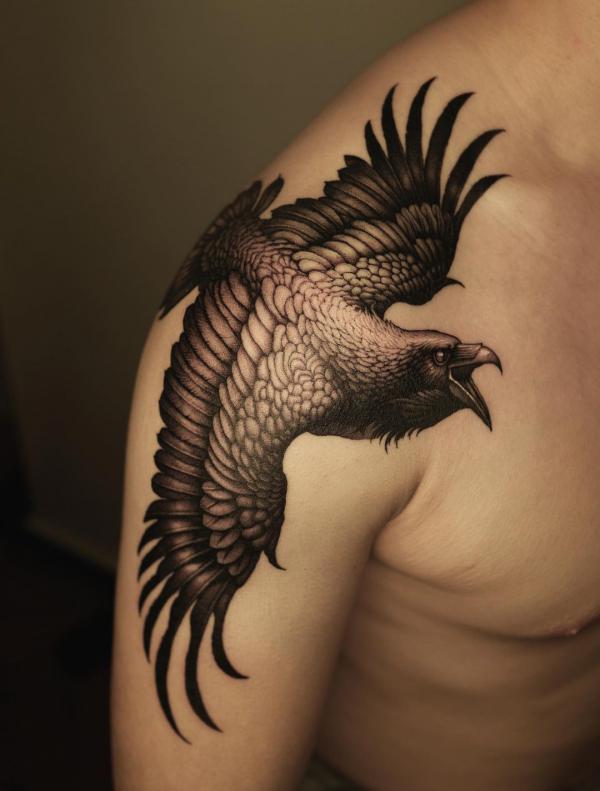 Clock Shoulder Tattoos
Time is an essential aspect of life, and clock tattoos can be a beautiful reminder of that sentiment. These tattoos often symbolize the fleeting nature of time and the need to make the most of every moment. A well-designed clock tattoo can be a real statement piece, showcasing the intricate workings and gears of a timepiece, or it can be a subtle addition to a larger design.
Clock shoulder tattoo with swirls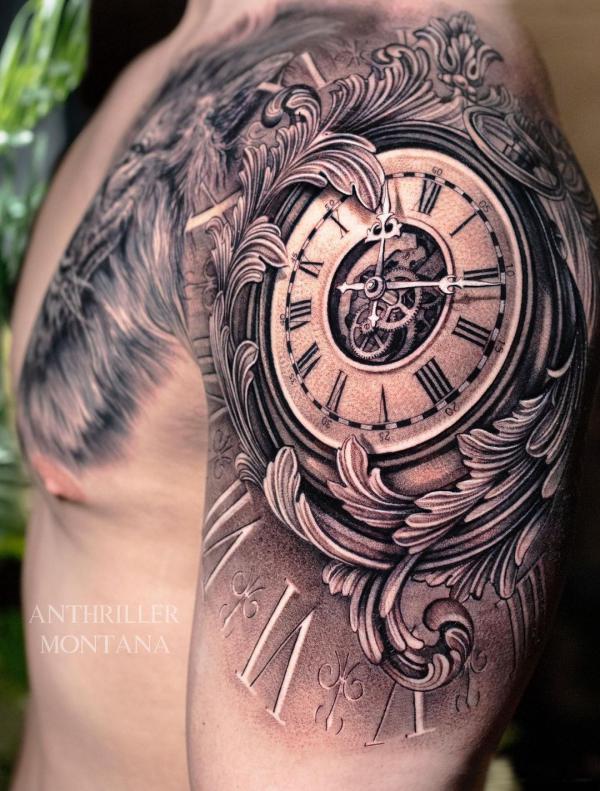 Clock tattoos can be adapted to suit various preferences, from the traditional Roman numeral clock face to modern digital designs. Some popular styles incorporate an antique or pocket watch into the tattoo. The clock may also be set to a specific time that holds personal meaning, such as the birth of a child or the moment a life-changing event occurred.
Nautical Shoulder Tattoos
For those with an affinity to the sea, nautical tattoos might be the way to go. These designs often incorporate images from classic seafaring tales, including ships, anchors, compasses, and lighthouses. A nautical shoulder tattoo can represent a strong connection to the ocean, a sense of adventure, and an acknowledgment of the unpredictable nature of life. They can be a reminder that just like sailors navigating the open seas, we must also learn to navigate through life's challenges.
Nautic shoulder blade tattoo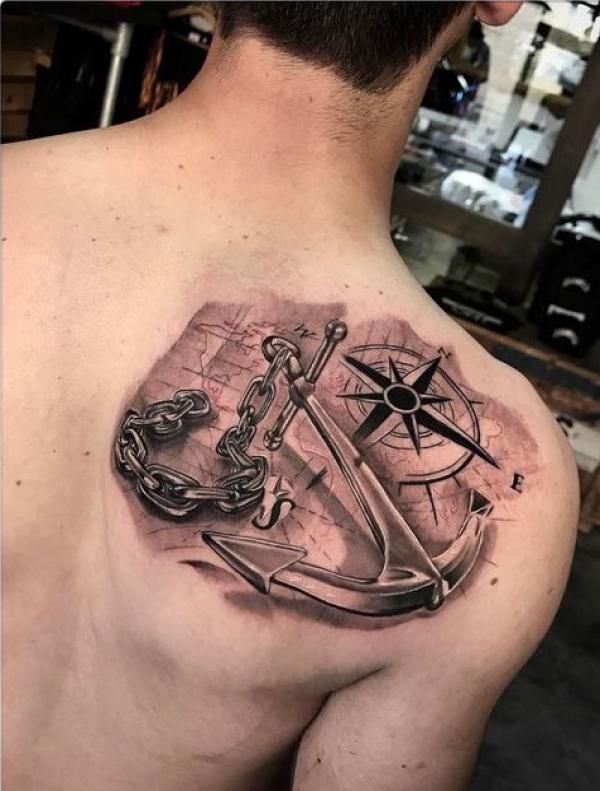 Ship wheel and anchor shoulder blade tattoo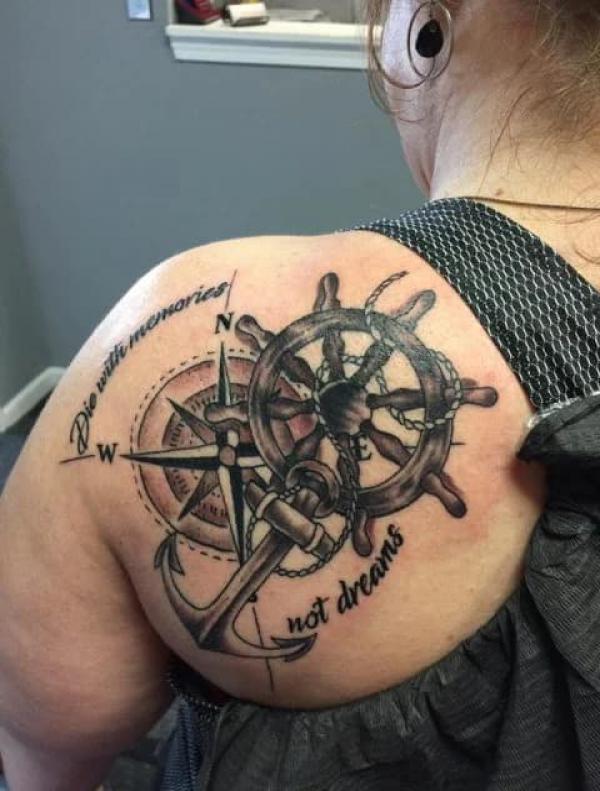 Clock and Compass shoulder tattoo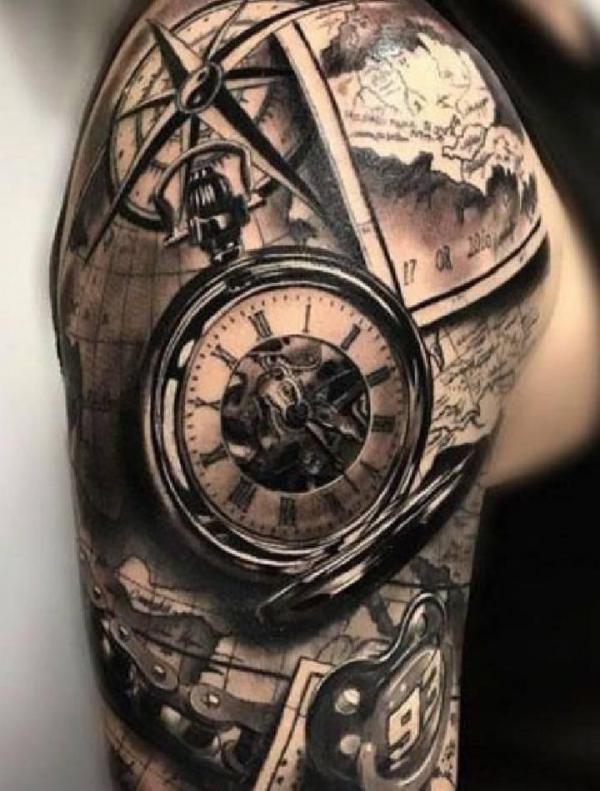 Snake Shoulder Tattoos
Snake tattoos offer a unique and exciting style, with a wide range of options in terms of design, size, and color. Snakes can be portrayed in a variety of ways, from the fierce cobra to the delicate and intricate patterns of a boa constrictor. With their long, slender bodies, snakes can be wrapped around the shoulder or even extending up the arm or down the back.
Hawk ad snake shoulder tattoo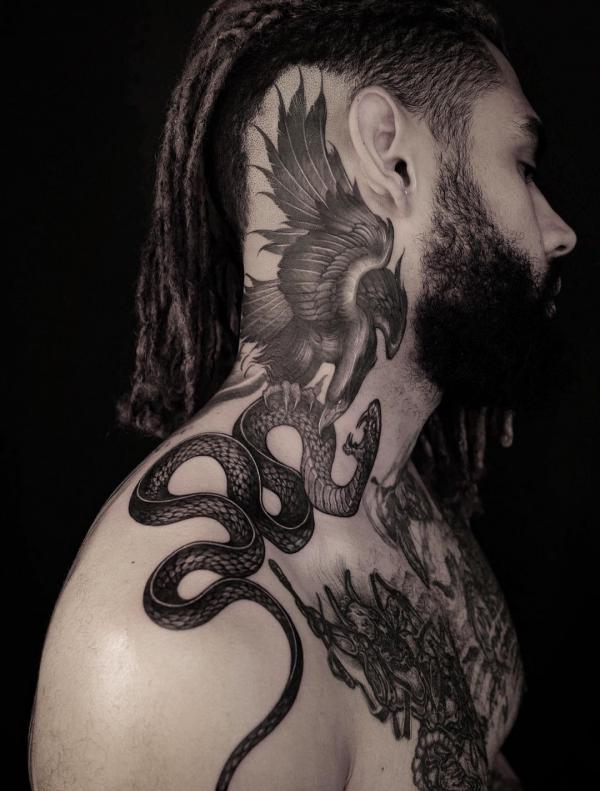 Snake and chrysanthemum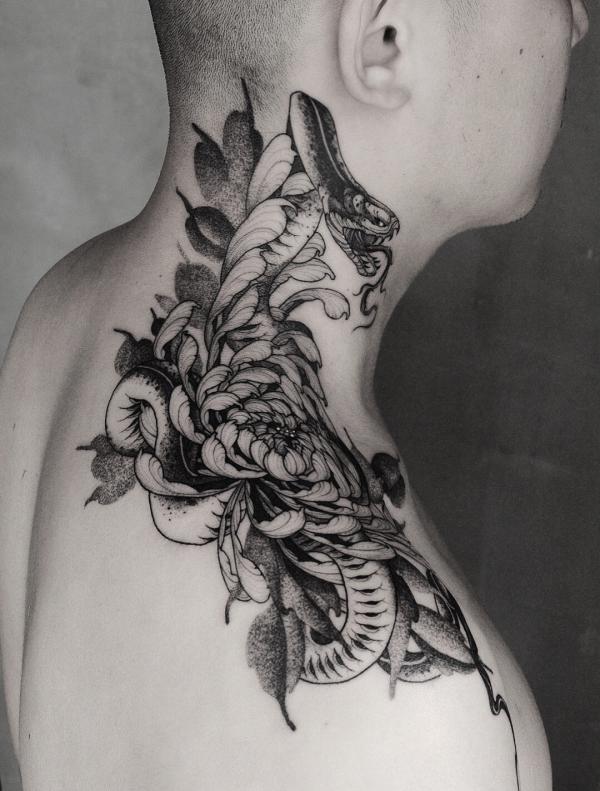 Clavicle snake tattoo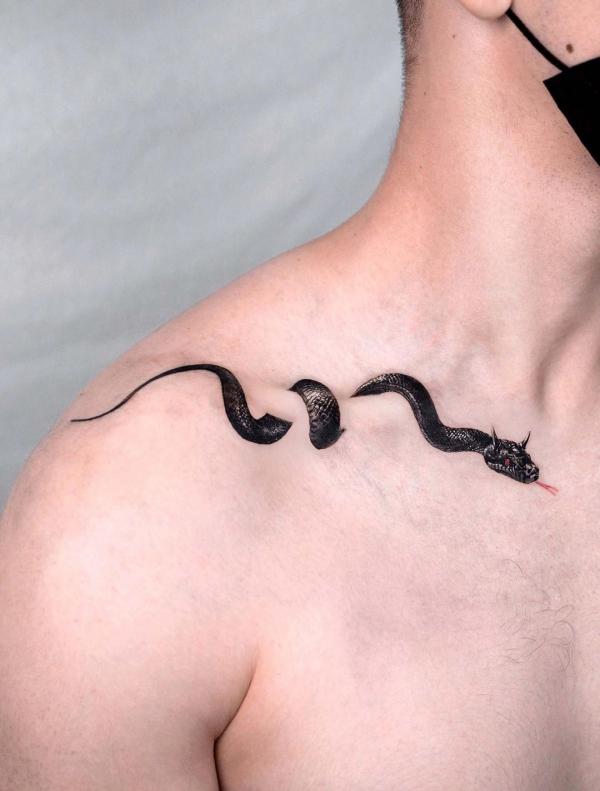 In many cultures, snakes represent wisdom, rebirth, and transformation. They can also symbolize healing and medicine, as seen with the symbol of the caduceus. Conversely, snakes can also signify danger and caution, given their venomous nature in the wild.
Sun and Moon Shoulder Tattoos
Sun and moon tattoos bring together two powerful celestial symbols, often representing the balance between light and dark, day and night, or masculine and feminine energies. A common design option features both the sun and the moon as faces, sometimes intertwined with each other. Others opt for a more abstract representation of the sun and moon, utilizing various shapes and patterns to create a unique tattoo design.
Sun and moon shoulder tattoo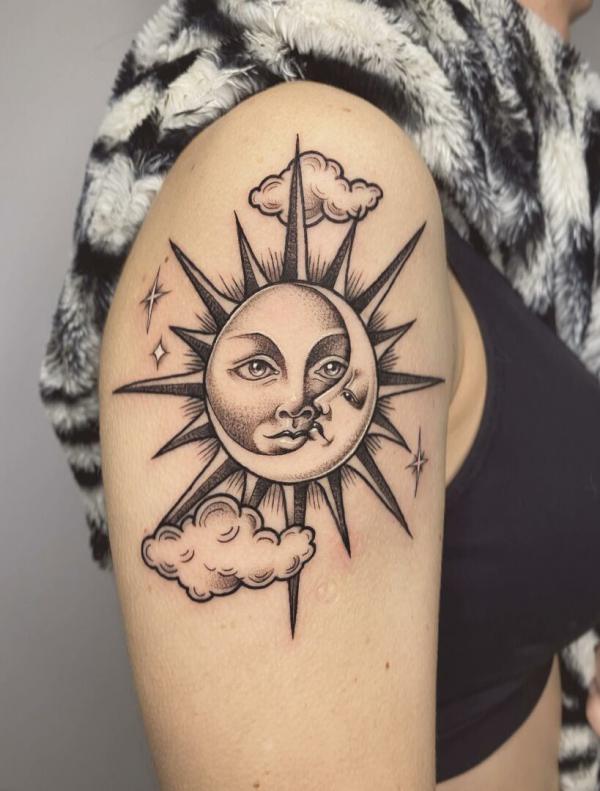 Floral sremcent shoulder tattoo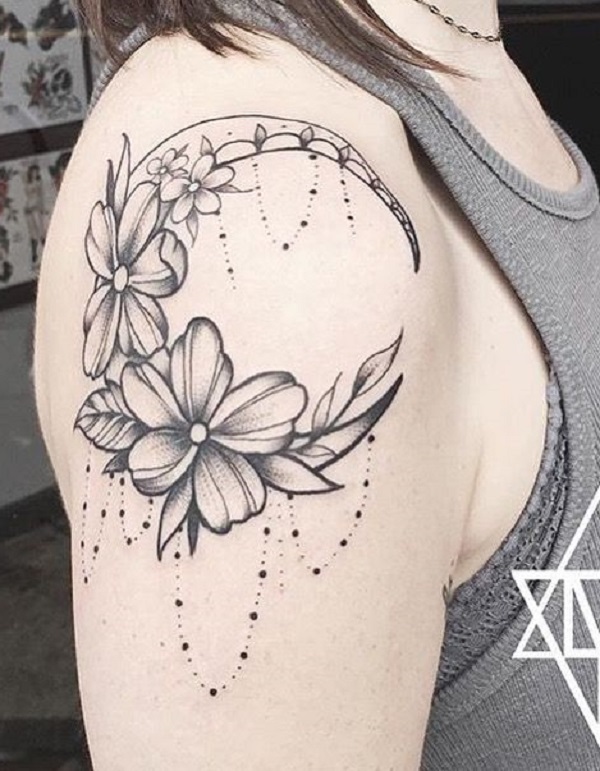 These tattoos can carry deep personal meanings and symbolism, transcending cultural boundaries. The sun is typically associated with vitality, power, and growth, while the moon represents intuition, emotion, and mystery.
Tiger Shoulder Tattoos
Tiger shoulder tattoos bring the beauty and strength of this powerful creature to life, making a bold statement on the skin. As one of the most revered animals in various cultures, tigers symbolize courage, power, and independence. In Chinese mythology, the tiger is considered one of the four sacred creatures, while in Japanese culture, it is a symbol of protection against evil.
Traditional tiger tattoo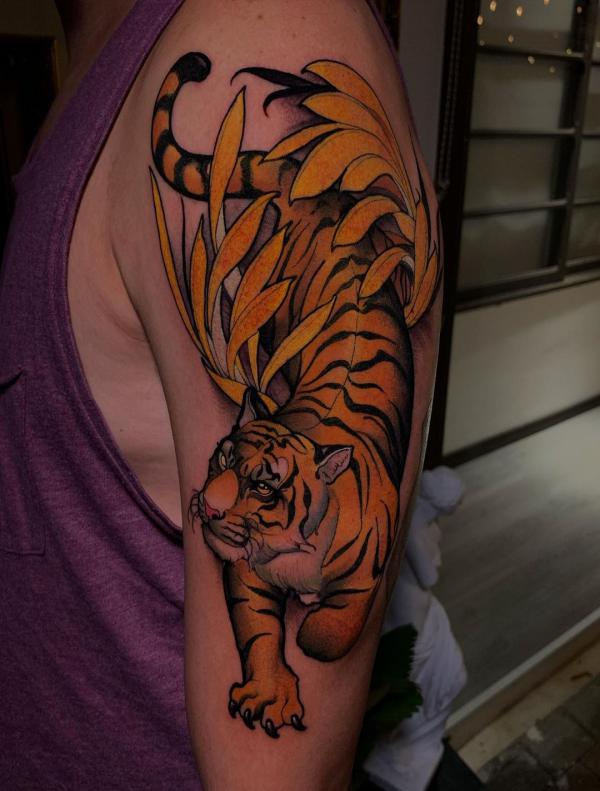 Tiger head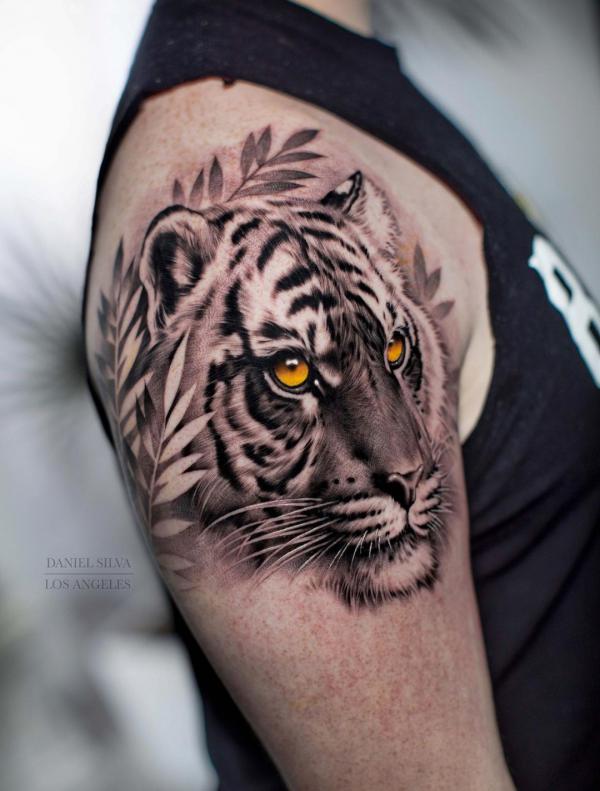 Tiger tattoos can vary from realistic designs showcasing the intricate patterns and colors of a tiger's fur, to tribal or abstract tattoos with a more stylized approach. The size and position of the tattoo can also be adjusted to fit any preference, with some opting for a fierce tiger to cover their entire shoulder, while others choose a smaller design nestled on the shoulder blade.
Wing Shoulder Tattoos
For those seeking a heavenly or spiritual tattoo, wing tattoos can be the perfect choice. Wings often represent freedom, peace, and spirituality, and they can be a powerful symbol of protection for the wearer. The detailing on wing tattoos can range from intricate and realistic to more abstract and artistic, with the flexibility to incorporate other images or symbols into the design.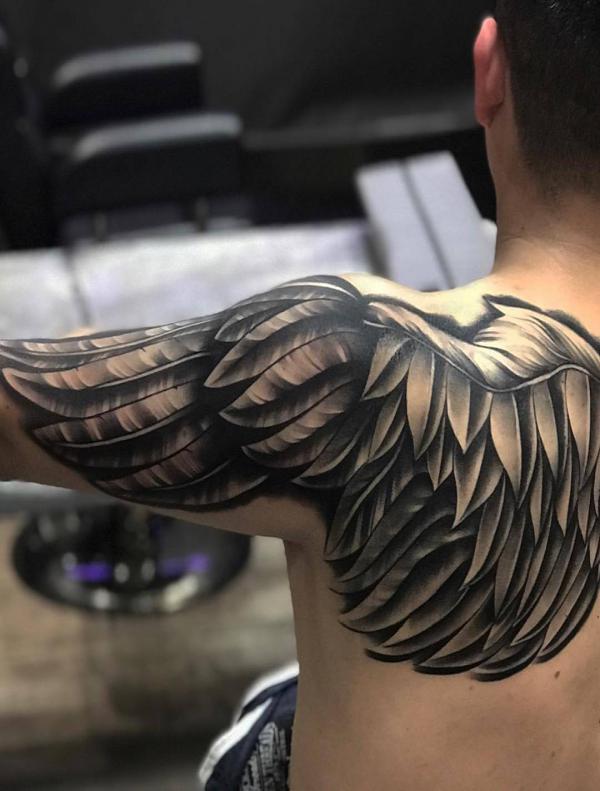 A popular option is angelic wings, thought to represent protection, guidance, and purity. Alternatively, those with a darker inclination may opt for demonic wings, emphasizing a more rebellious or brooding side. Wing tattoos can span across the entire back, just resting on the shoulder, or be scaled down to fit the curve of the shoulder more intimately.
Negative Space Shoulder Tattoos
Negative space tattoos are an innovative and attention-grabbing option for those seeking a unique and creative design. These tattoos utilize the art of contrast, with portions of the image left un-inked, allowing the skin to create the design. The result is a striking tattoo that offers a twist on conventional tattoo styles.
Negative space tattoos can make use of any design or symbol, incorporating the concept into a variety of styles. From intricate mandalas to bold geometric patterns, negative space adds an intriguing depth to a tattoo, making it a true work of art.
Yin Yang Shoulder Tattoos
Yin Yang tattoos are a captivating way to express the concept of balance and harmony through body art. Rooted in ancient Chinese philosophy, the Yin Yang symbol represents the connection of opposing forces in the universe. A shoulder tattoo is an ideal canvas to showcase the intricate design and intricate shading of the Yin Yang symbol. The natural contour of the shoulder enhances the visual appeal of the design, as it follows the body's curves and lines.
Black and white Yin Yang Mouse shoulder tattoo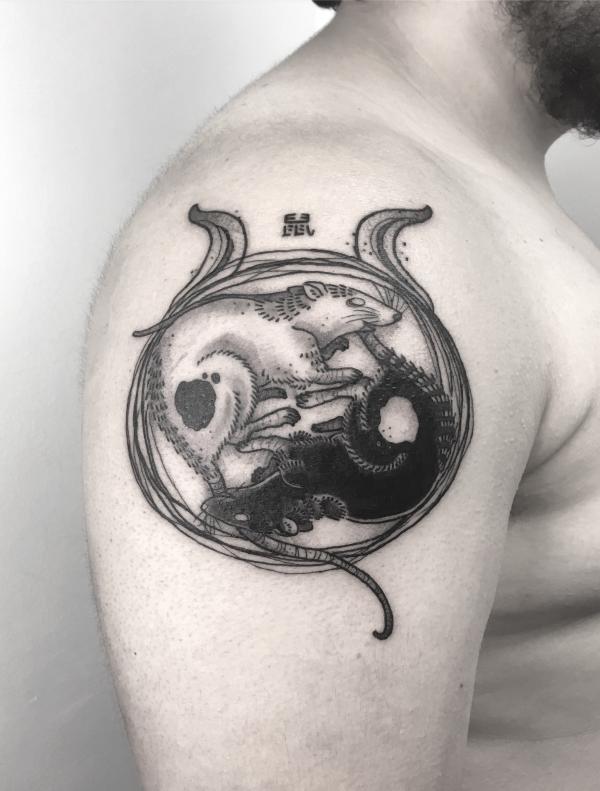 Yin Yang Sun wheel on cracked skin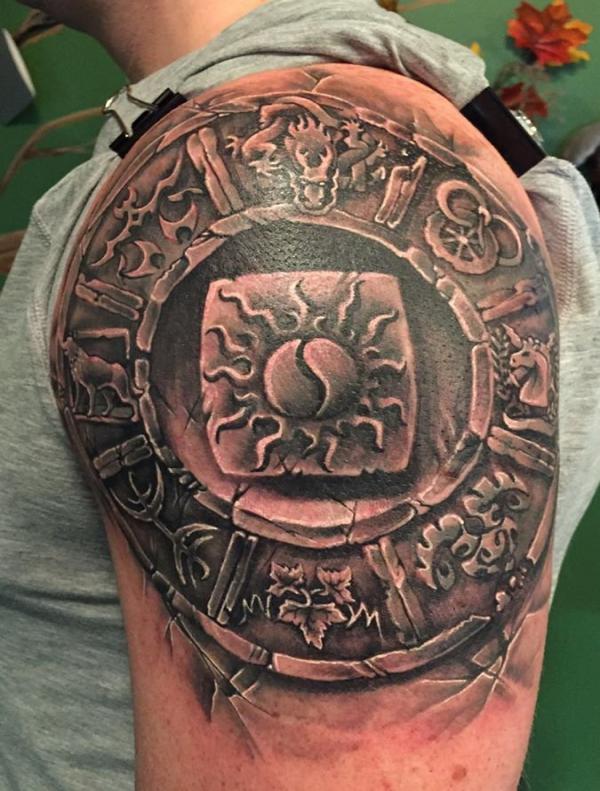 Mandala Yin Yang shoulder tattoo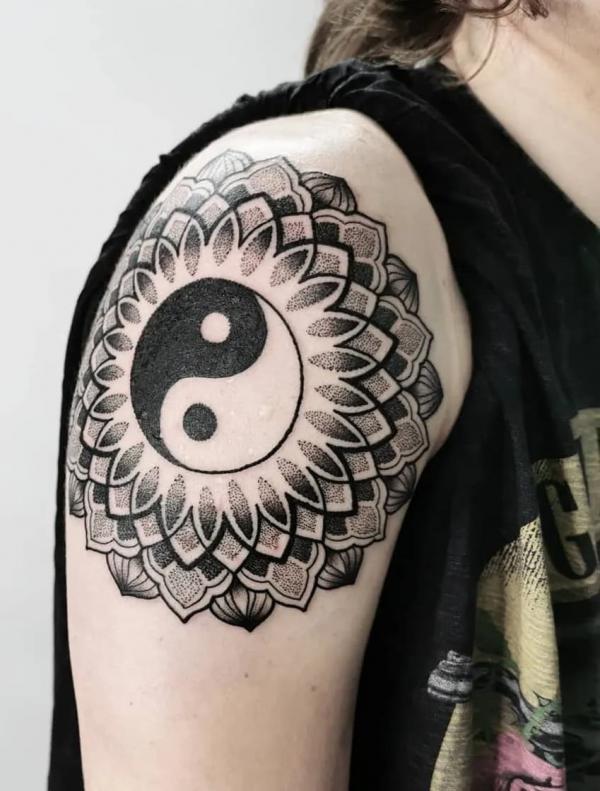 Final Thoughts
Ultimately, choosing to get a tattoo on your shoulder can open up a whole new world of artistic expression, empowerment, and self-confidence. So take control, explore your options, and embrace the idea of adding some badass body art to your shoulder. The result could be a stunning and meaningful tattoo that speaks volumes about who you are and what you stand for.
FAQs related to shoulder tattoos
Q: Do tattoos on the shoulder hurt?
A: Pain levels vary from person to person, but generally, tattoos on the shoulder tend to be less painful than other areas of the body. The shoulder has more padding from muscles and a lower concentration of nerve endings. This helps in reducing pain during the tattooing process. However, certain areas near the shoulder, such as the collarbone or armpit, can be more sensitive.
Q: Is a shoulder a good spot to get a tattoo?
A: The shoulder is considered one of the best spots to get a tattoo. The natural shape of the shoulder provides an ideal canvas for various tattoo designs. You can easily tattoos on your shoulder if needed. And they can also be extended into full or half sleeves for an impressive and more extensive design. Additionally, shoulder tattoos tend to age well as this area is less prone to sagging or stretching, maintaining the integrity of the tattoo's design over time.
Q: Where is the least painful spot to get a tattoo on the shoulder?
A: The least painful spot for a shoulder tattoo varies for different people due to differences in anatomy and pain tolerance. However, the outer shoulder is considered less painful than the inner shoulder, which has more nerve endings and is close to the armpit. The shoulder blade can also be a less painful area as it is padded by muscles and fat. The least painful spot might also be dependent on the size and complexity of the tattoo design. It is essential to communicate with your tattoo artist about pain levels and preferences to ensure a comfortable and enjoyable tattooing experience.