The bedroom is probably one of the rooms you will spend most of your time in a house. Bedrooms are not just rooms where we sleep, enjoy or feel comfortable, but also places where we can DIY and practise creative ideas and add fun or wow in the life, especially for children. For boys, fun and play is more important than sleep. Bedrooms for boys could be designed with fictional hero Superhero full of fun so that they can play and let their imaginations fly.
Blue is always the theme for a boy's bedroom. These days, superheroes are very popular especially among little boys. They believe that they can speak to these superheroes whenever seeing their pictures or properties. As a parent, it's a nice opportunity to utilize the game heroes or characters to fuel the imagination of your little boy.
How to decorate the boy's bedroom in a superhero theme? There are so many superhero ideas available if you could stumble upon on the net. All you need is a little more creativity and time and your children's hero room is good to go. You can start by putting different superhero elements here and there – from a simple clock, curtains, lamps, pillow cases and bed covers. You can even use comic books in decorating your bedroom. Action figures are a plus as well as other toys which your children will probably appreciate. Remember to have fun in decorating these rooms and always keep in mind who you are doing it for. Want inspiration on superhero bedroom idea? Here are the list of collection. I am sure your kids will appreciate it more after.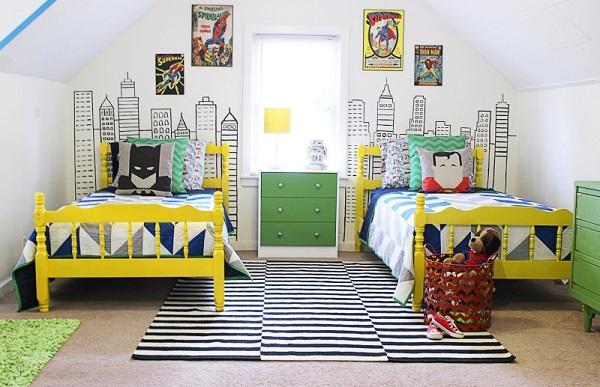 A simple, less clutter superhero bedroom sample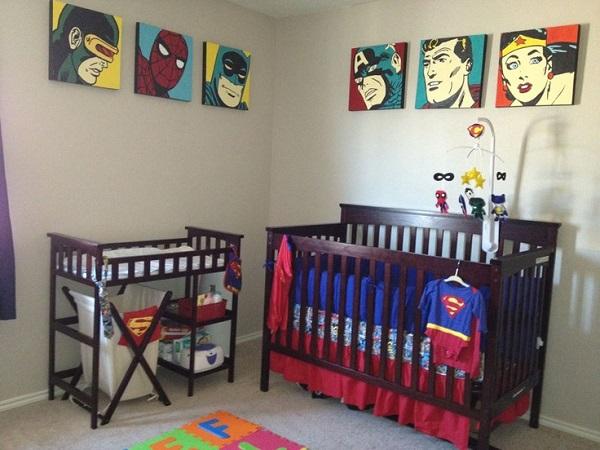 Superhero Nursery
Are you concerned that your son might just be too young to become a superhero fan? Then worry no more. You can also apply the Superhero theme in your little boy's nursery. Just add some Superhero bedding and frames then perhaps a couple of plush toys with non-toxic parts which your little boy might ingest then, voila! A simple Superhero themed nursery.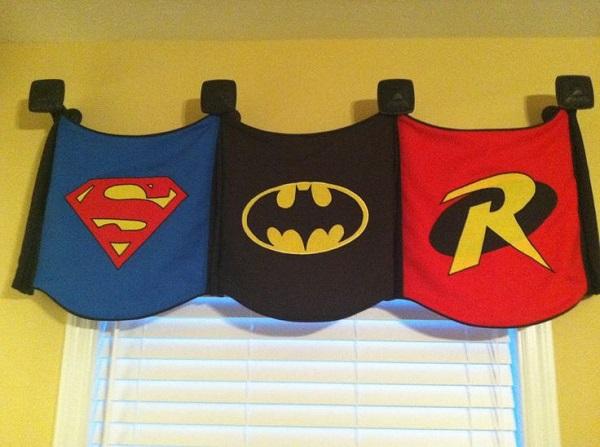 Superhero Banners
As a toddler, you can start adding additional decorations to your little boy's room. How about getting the logos of his favorite superheros and placing them in a set of banners? These banners will later be posted on your son's windows or as decorations in hanging shelves. I am sure your son will be happy to see this as a part of his room.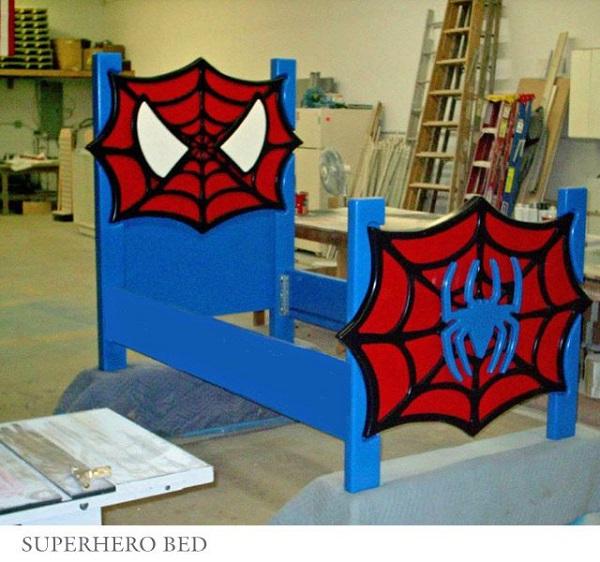 Superhero Bedframe
If you want to go for more, choose your son's favorite superhero and have a bed customized in whichever superhero design is available. In the picture is a bed based on Spiderman. I have seen other beds based on other superheroes like Batman and his bat mobile, Superman and even The Avengers.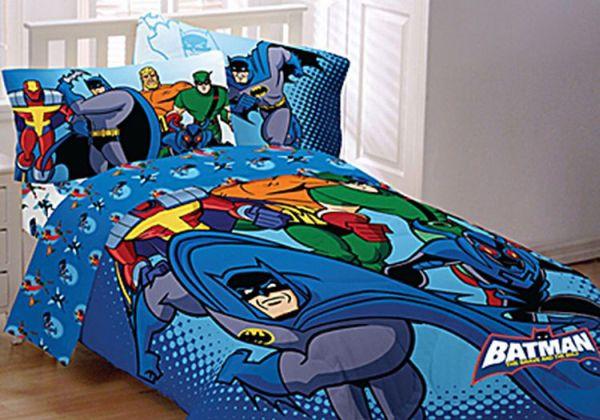 Superhero Bedsheet & Pillow Cases
If you think that a Superhero bed might just be too much for your son's room then how about just settling for some Superhero bedsheets and pillow cases instead? This way you will be able to change your son's bedding with a different Superhero every week. How cool is that?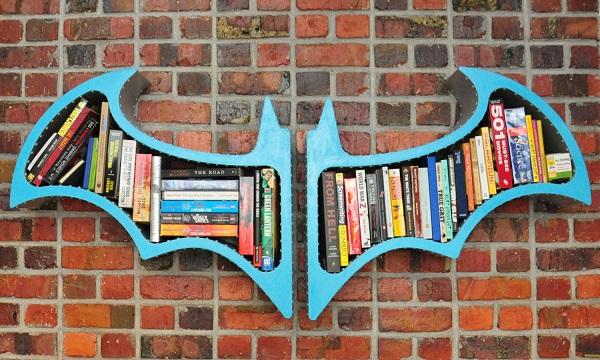 Superhero Hanging Bookshelf
Bookshelves are usually just boring wooden furniture but what if you can incorporate your son's favorite superhero into the mix? How? Here's an example. A hanging bookshelf in the shape of Batman's logo. Imagine how it will look like if your son like Thor or Capt. America. Perhaps it is time to design a Mjolnir or a shield for his bookshelf.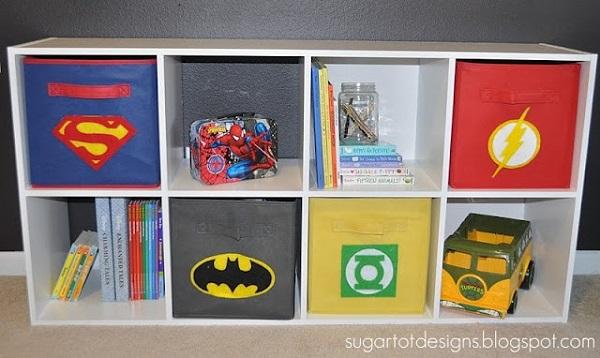 Superhero Storage Boxes for bedroom
Did you know that even simple storage boxes DIY – carton, plastic or cloth can become a part of this superhero theme? If you are using some carton boxes, you can either paint them or wrap them in felt paper of different colors before adding the logos of your son's favorite superheroes. If you will do this, this will encourage him to put back his toys from where they came because of the colorful superhero designs.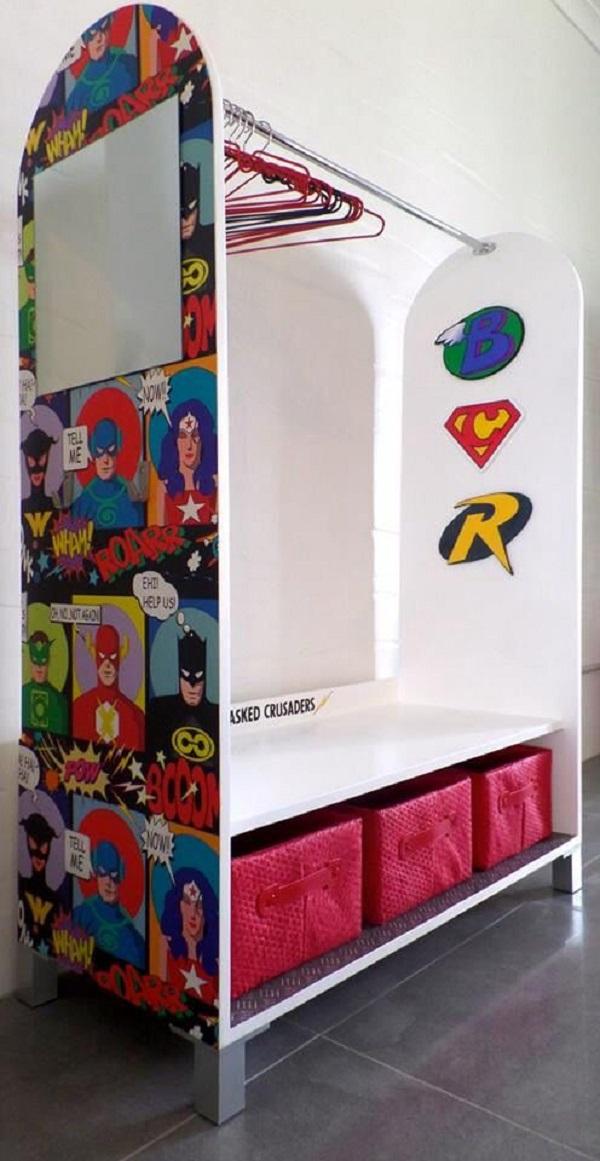 Superhero Open Cabinet
A simple cabinet for hanging your son's clothing can become super by either painting some superhero designs or sticking some comic book pages on the sides. Make dressing up fun.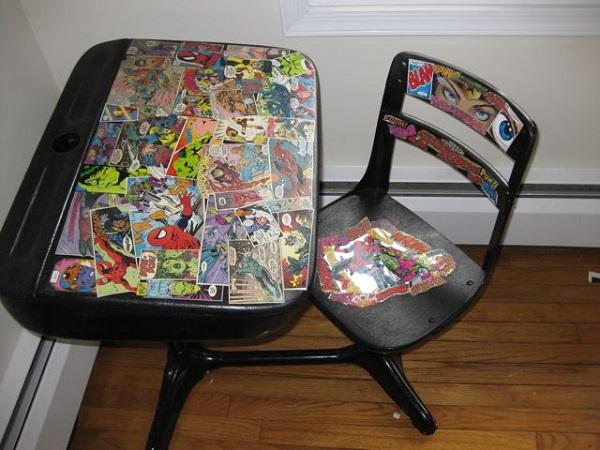 Superhero Comic Book Decorated Desk & Chair
But cabinets are not the only pieces of furniture that you can decorate and turn super. In fact even your son's small desk can become super by you gluing some comic book pages around it. Just make sure that each piece is secured and that your design won't easily get destroyed.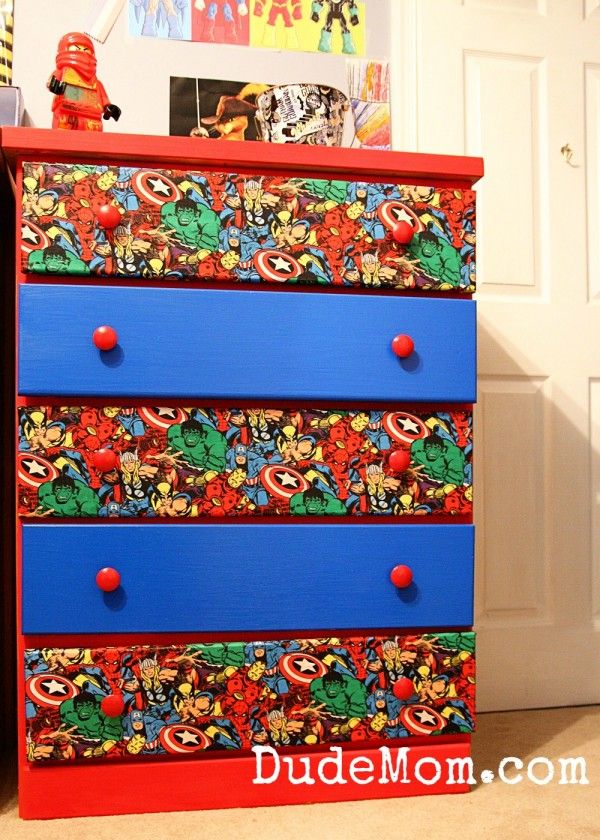 Superhero Comic Decorated Drawers
Drawers can become more fun and super by applying the same concept. I am sure your son will be excited to not just look at his drawers but to use them often as well.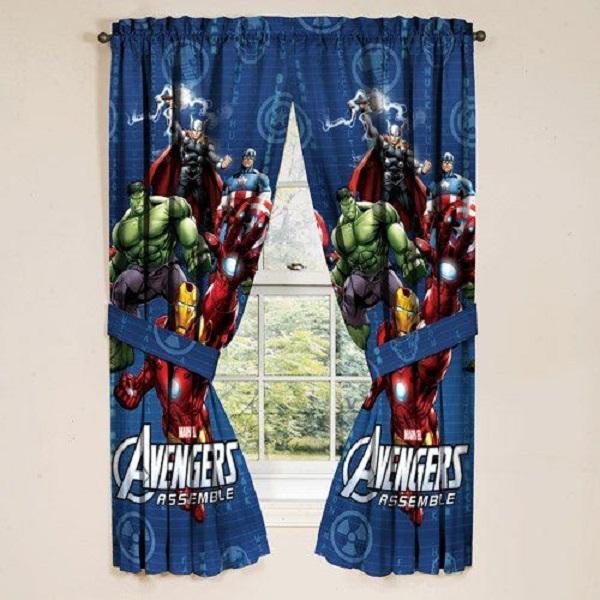 Superhero Curtains
But why stop there when you can also add in some superhero curtains? This will definitely brighten your son's day especially if you get to change the superhero in the curtains every week.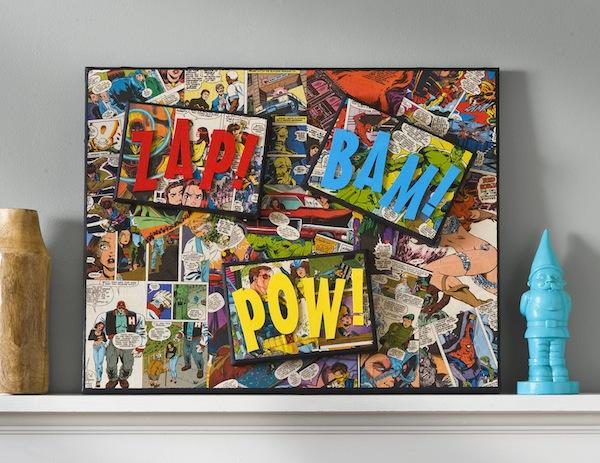 Superhero Action Words Comic Display
POW! ZAP! BAM! – Add these words into your decorations. You can't become a superhero without these words printed out in the comic books with you after all.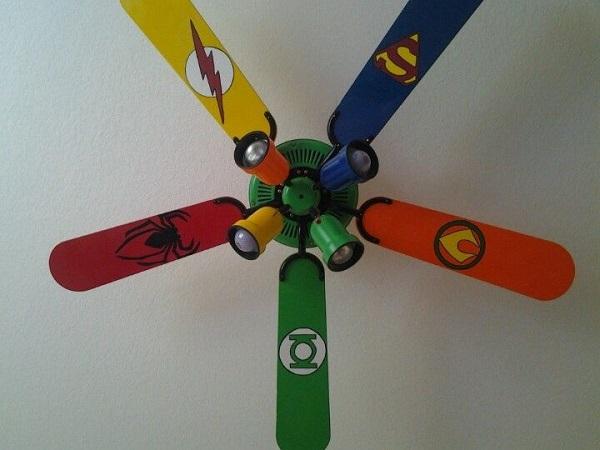 Superhero Ceiling Fan
If your son has a ceiling fan, how about doing this as a do it yourself project? Paint each propeller with your son's chosen superhero logo, let it dry and voila! You've got yourself a superhero ceiling fan.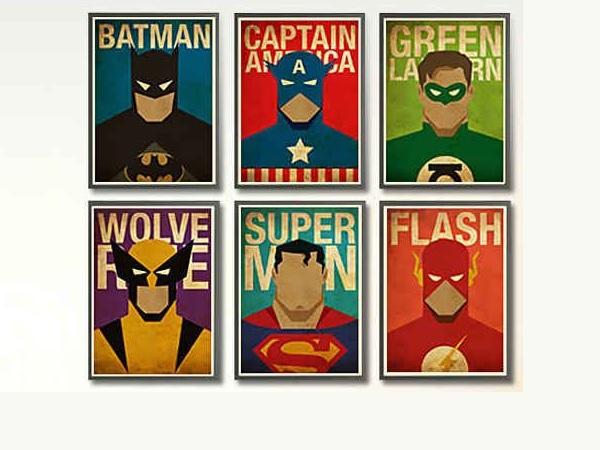 Superhero Frames
Another simple way to decorate your son's superhero bedroom is by choosing his favorite superheros and placing their illustrations in frames and having them on his bedroom walls. Definitely a super idea indeed!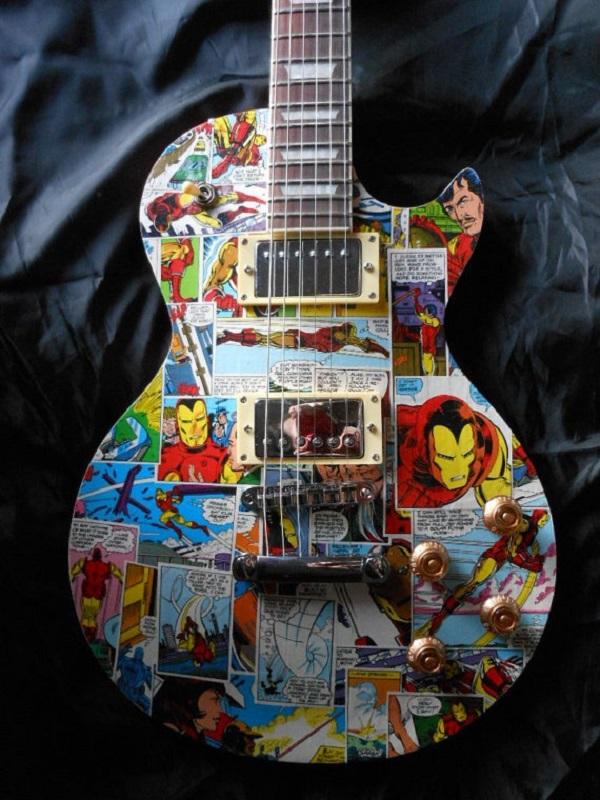 Superhero Comic Decorated Musical Instrument
If your son likes musical instruments and they don't look as good as they once were, try to give them new lives by simply gluing comic book pages on them and making them usable once again. This way, your son will definitely start playing music again.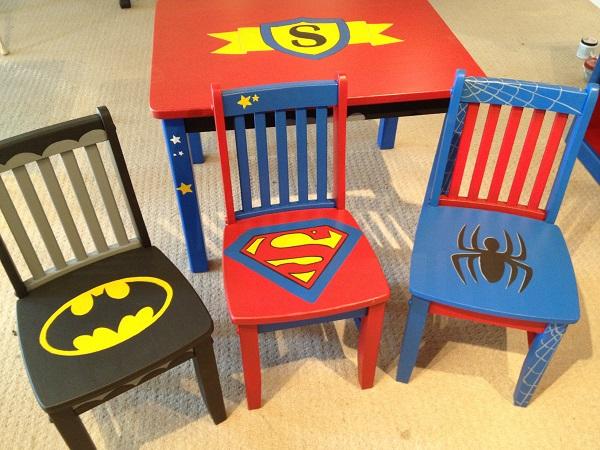 Superhero Logo Painted Table & Chairs
If you are not comfortable with gluing comic book pages to your furniture then, why not paint them? Consider this another do it yourself project. If you are not comfortable with painting without guidance then use stencils before painting. This will guarantee that you will get good results no matter what.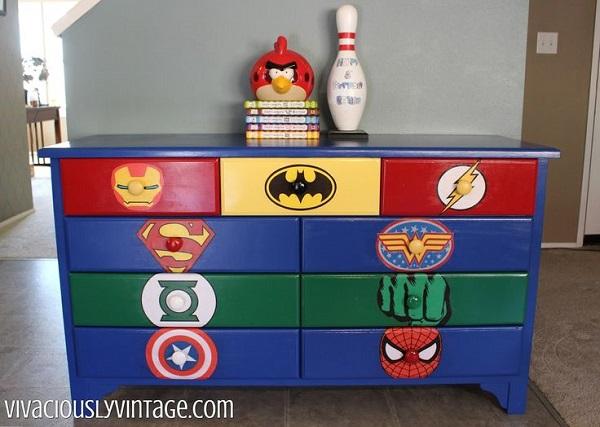 Superhero Logo Painted Drawers
Here's a picture of some drawers painted using stencils. Whoever said simple designs are boring? Don't they look super?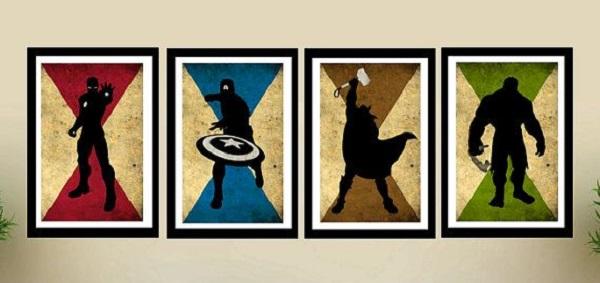 Superhero Logo Silhouette Frames
If you want a simpler approach to the superhero illustrations which you will be hanging on his wall then instead of getting their colored detailed illustrations go for their silhouettes with a little color added to the mix. This is very good especially for older boys as it won't be awkward for them to keep even if they reach their teens.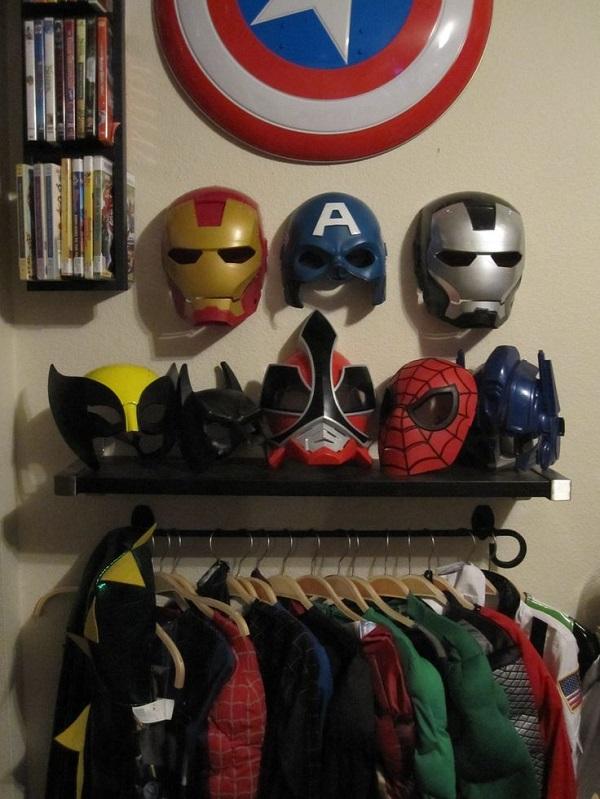 Superhero Masks & Costumes
If you really want to spoil your child then buy him some superhero masks and costumes and hang them in one part of his room. Make sure that they can be accessed by your child so that he will be able to appreciate your superhero gifts more.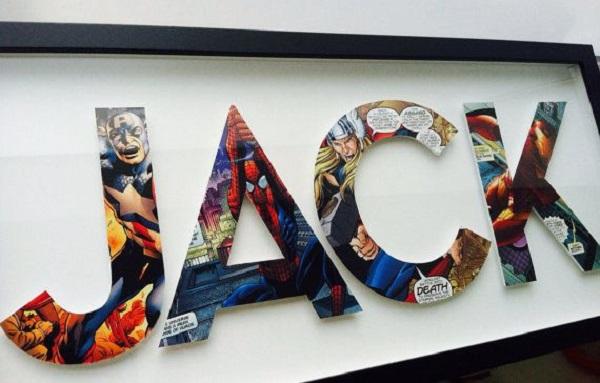 Superhero Comic Decorated Name
This is another example of a do it yourself project. Buy or make some letter cut outs of your son's name and then wrap them with some comic book pages. Let them dry and display in one part of your son's room. Choose big bold letters which will be easier for you to wrap.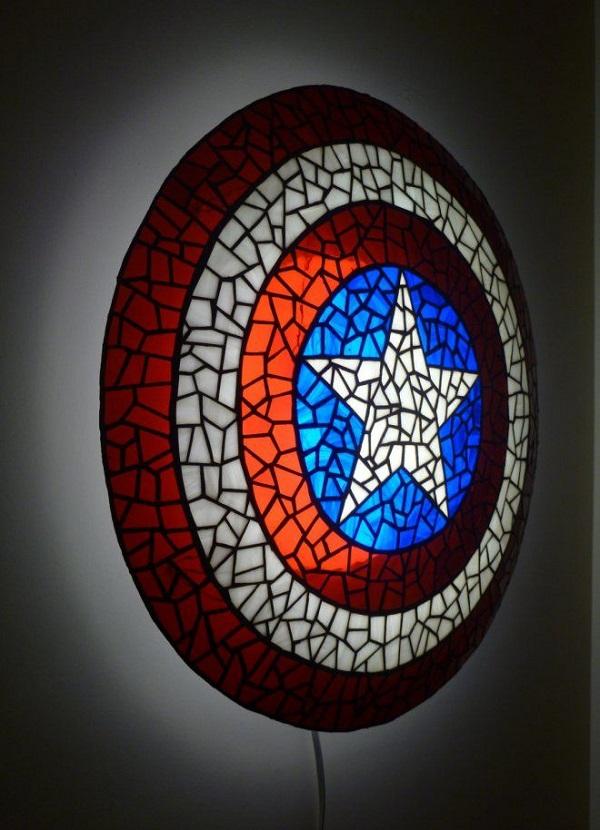 Superhero Novelty Captain America Shield Lamp
Lamps are quite common in bedrooms but if you want your son's superhero bedroom to stand out then try purchasing some unique designs for his lamps. This is an example of a unique lamp design, Steve Rogers A.K.A Captain America's shield.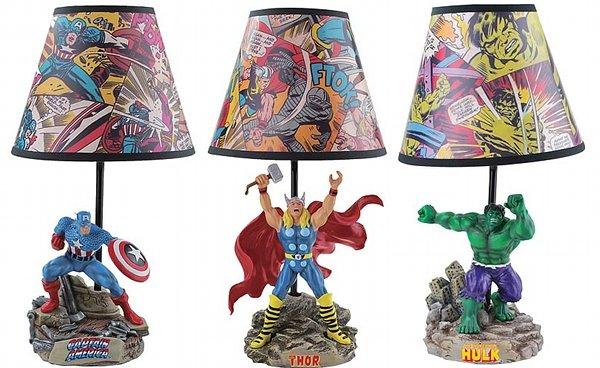 Superhero Novelty Lamps
If you want a different lamp design, how about buying these instead? It is just like having toys and lamps in one. Perfect for superhero fans of all ages.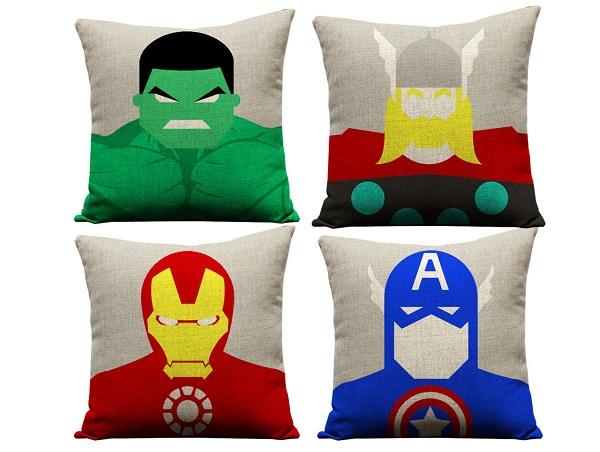 Superhero Pillows
Pillows can be fun too. If you cannot afford to buy expensive superhero pillowcases then how about making your own superhero pillowcases instead? Simple superhero silhouettes are not a bad option for your D.I.Y pillowcases.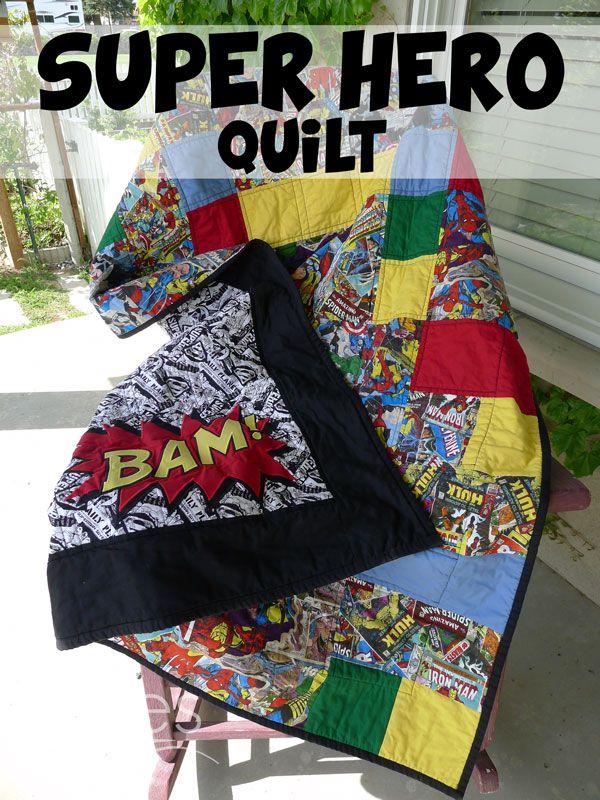 Superhero Quilt for bedroom
If you are creative and good at sewing, this is another perfect D.I.Y project for you. Surprise your son with a superhero quilt this Winter. I am sure your son will appreciate this addition to his superhero room. It is not just comfy, it is also trendy. What more can he ask for?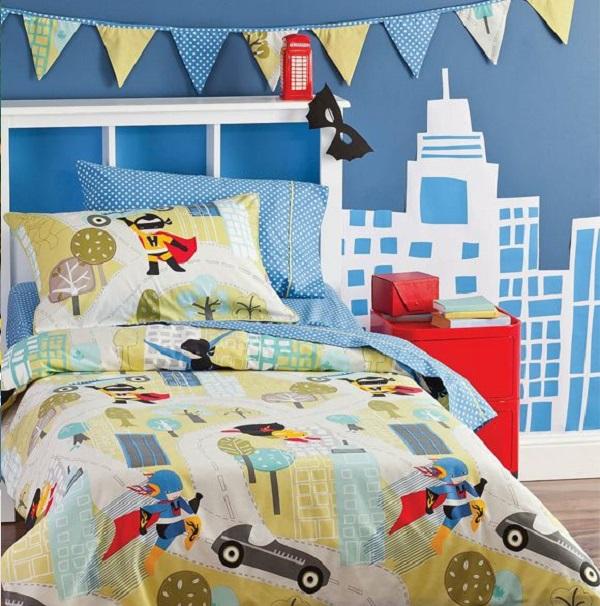 Simple Superhero Theme Room
If you think that the superheros from Marvel and DC are a bit too much and you want to try something different then go for the simple superhero room instead. This room includes having buildings painted on his bedroom walls and capes and masks everywhere.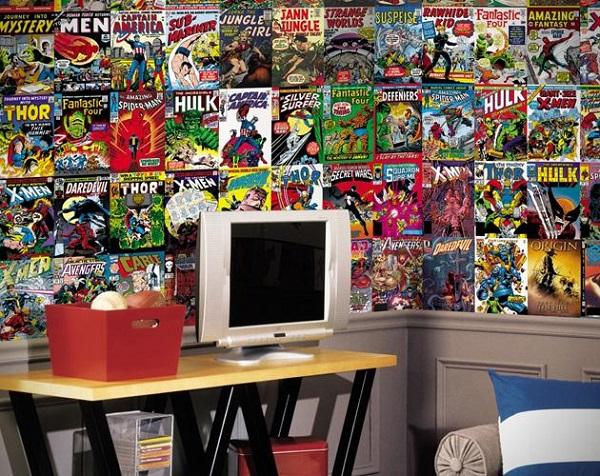 Superhero Comic Decorated Bedroom Wall
Did you know that you can also use comic books in your son's bedroom walls? Actually if you don't want your comic book collection to be used for this D.I.Y project then just print some glossy ones and glue them in your son's bedroom wall. The more colorful, the better.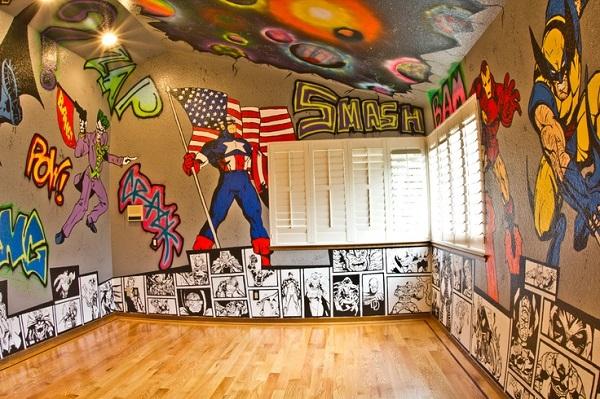 Superhero Painted Bedroom Wall
If don't want to spend so much on the decorations of your son's superhero room then how about having his bedroom walls painted with his favorite superheroes instead? This way you can just use plain decorations and a few superhero accents here and there.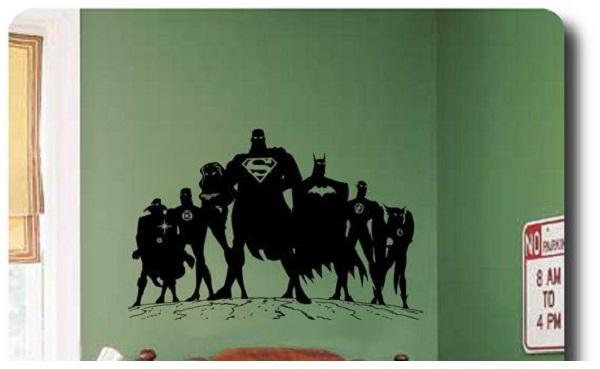 Superhero Silhouette Painting Bedroom Wall
If you want a simple painted bedroom wall, go for the silhouettes of superheroes instead. You can use a stencil for this kind of design making it easy for anyone to do it by themselves.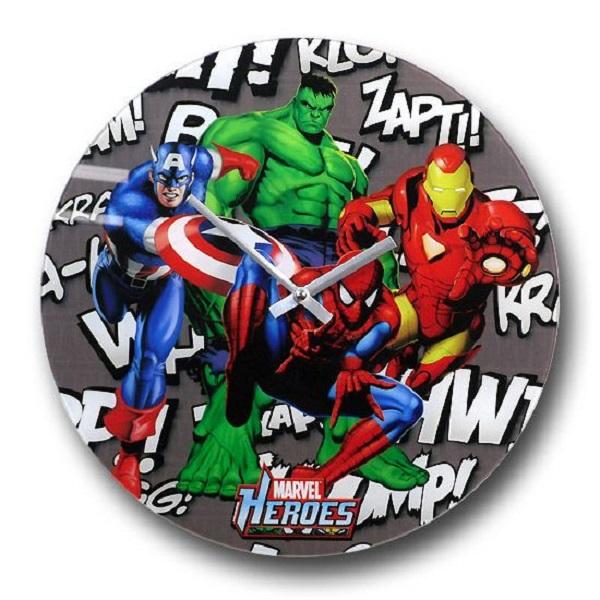 Superhero Wall Clock
Whether it is an alarm clock or a wall clock, a superhero room needs them. Go for the one that is best suited for your child's superhero bedroom.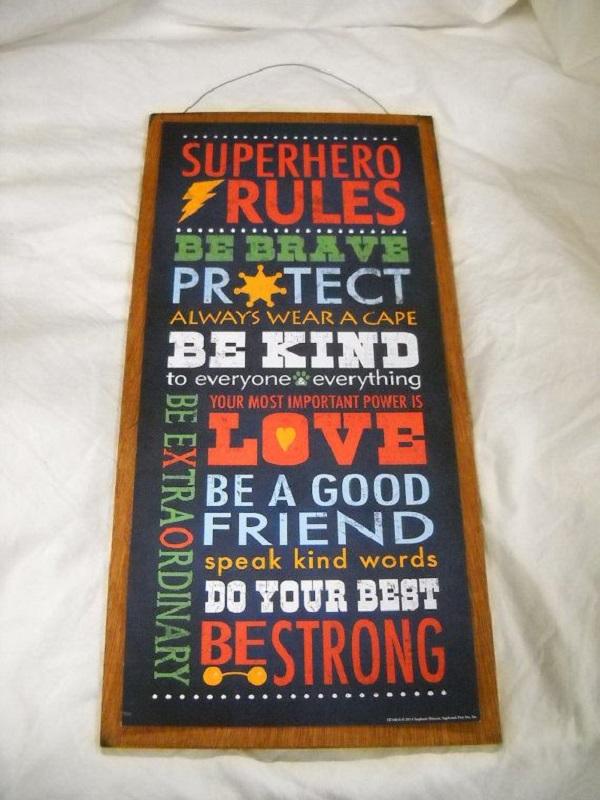 Superhero Framed Quotes for bedroom
But Batman, Superman, Iron man, Captain America and the other superheroes are not the only ones you should put in your son's room as decorations, you can also add quotes for superheroes. Always tell your son that other superheroes do these and that he should too. Perfect motivation for something superhero style.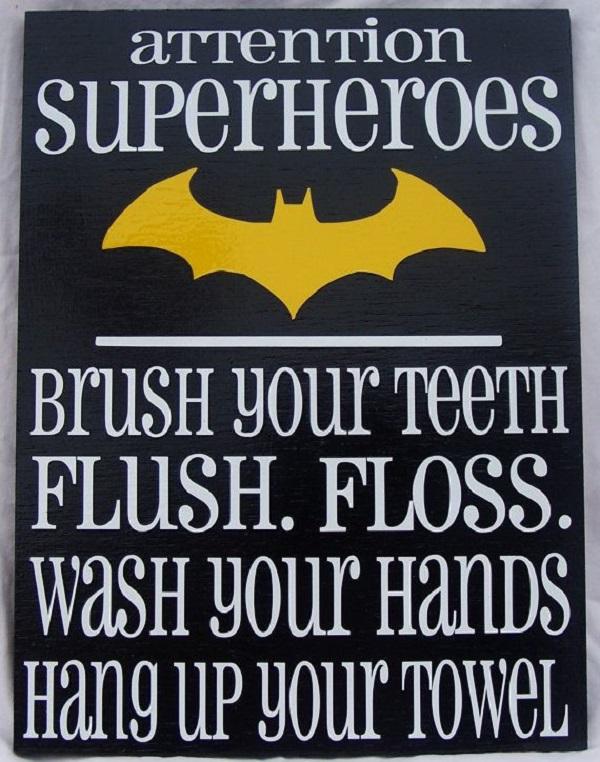 Superhero Framed Reminders
Lastly, a couple of reminders never hurt anyone. From superhero quotes comes, superhero reminders. This will guarantee that even if you do not always supervise your children, they will still obey your so called superhero reminders because they know that if superheros do them then so should they.