Halloween comes from the Celtic mythology and it is associated with pagan customs. Halloween people celebrate in many countries of the world such as the United Kingdom, Canada, Sweden, Puerto Rico, USA, some parts of Australia. This is an important day in the lives of many children. It is celebrated on the night of 31 October. On Halloween most children are happy because then they wear masks of the various movies, cartoons, books heroes. For Halloween children go from door to door in the neighborhood to get candy. When their neighbor opens the door, kids say 'trick or treat' ' what means that neighbors waits a trick if they do not give candy. In North America, this custom is practiced since the 19th century. When is Halloween people organize masquerades and create real lamps from pumpkins.
Have you ever wondered where from this custom – making lamps from pumpkins, comes? Well, there is a story about it. The story is tied to Jack O'Lantern. He was ingenious and stingy blacksmith. Once the devil deceived him by saying that he would give a soul in exchange for drink. The devil turned into a coin that Jack should pay drink. However Jack put coin in his pocket with a cross and the devil was captured. The devil could not return to his original shape, and only after he promised Jack that will not seek his soul next ten years this was acquitted. After ten years, Jack again tricked the devil told him that he picked an apple from the branch. Devil climbed a tree and Jack, meanwhile, drew a cross on the tree and the devil could not come down. When he died after many years, Jack was not accepted into heaven because he was dishonest and sinful, and when he went to hell in front of the door of hell stand the devil. Devil didn't receive Jack in hell already gave him a piece of charcoal and sent back into the darkness. Jack had carved tail in his pocket and put coal in it. Since then, Jack is synonymous of damn soul that can not find a place where it will be settled down rather than eternal wandering.
Entrance hall of this holiday is Ireland. There people this holiday celebrates with fireworks and make fruit cake with amulets.Everyone got a piece of fruit cake and in every part is a talisman. If you get a ring as talisman in that year you will have romance, you'll fall in love, if you get a coin, you will have money all year round and if you get the peace of cloth you'll be poor.
The custom is to speak on Halloween horror stories. Spiders, skeletons, witches, bats are creatures that are related to this holiday. For kids this holiday means a lot, time flies and smile of your kids won't be same next year. Time flies and our kids next year could be much more serious. Neither you nor they will not be younger than you are today, so spend every second with them, give them the love and attention and dedicate yourself to them on 31 October so that they will talk about this Halloween for years.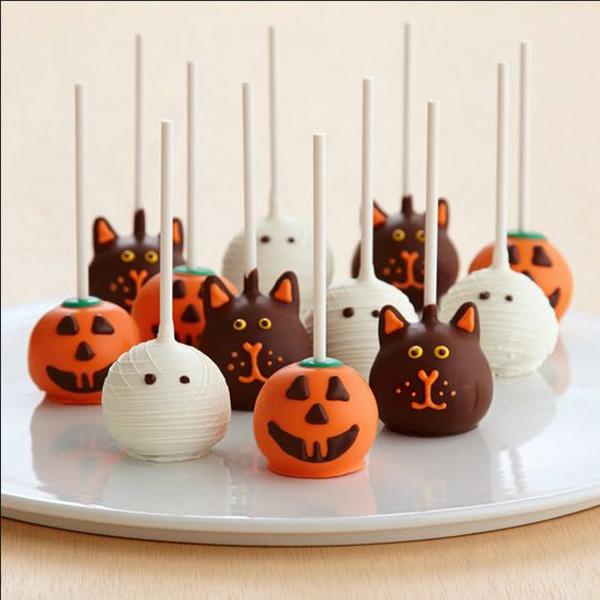 Kids want more than Trick or treat. DIY Halloween you can't wait without ideas of sweets for kids, because if it is so perhaps can happen to you some trick. Make some of your favorite bombs (cakes), dip them into the chocolate, white or black, cover them with orange glaze … There are a lot of ideas, let this image be driving force to do something similar.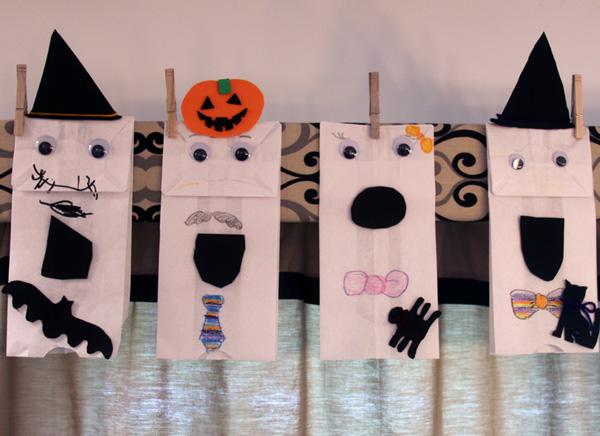 With help of ordinary bags out of the store you can make these ornaments. Spiders, bats, pumpkin lamps, black cats – all are things and creatures that are related to this night.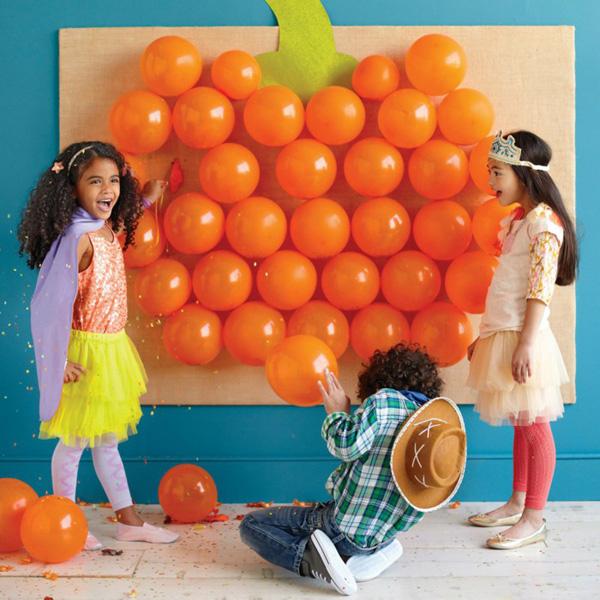 Make a similar panel with the help of balloons and colored paper for your children. Pumpkins binds to this holiday, in front of the house put right pumpkin lamp, and in front of the house put a similar imitation. Kids will be more than satisfied. Of course, do this together with the kids!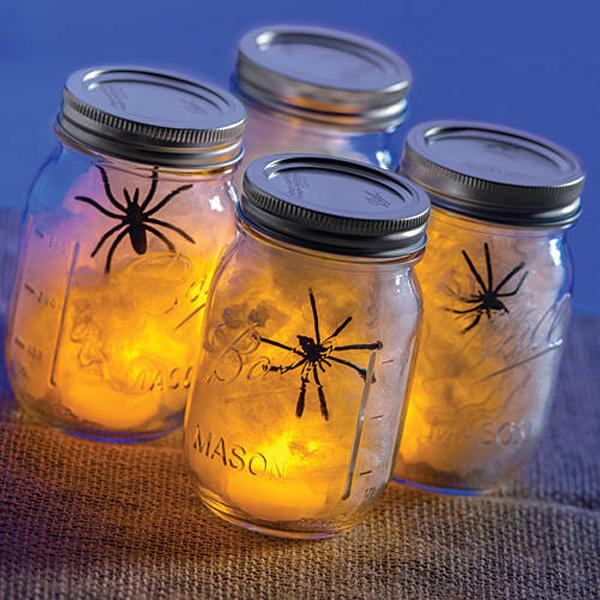 Without spider is impossible to imagine this holiday!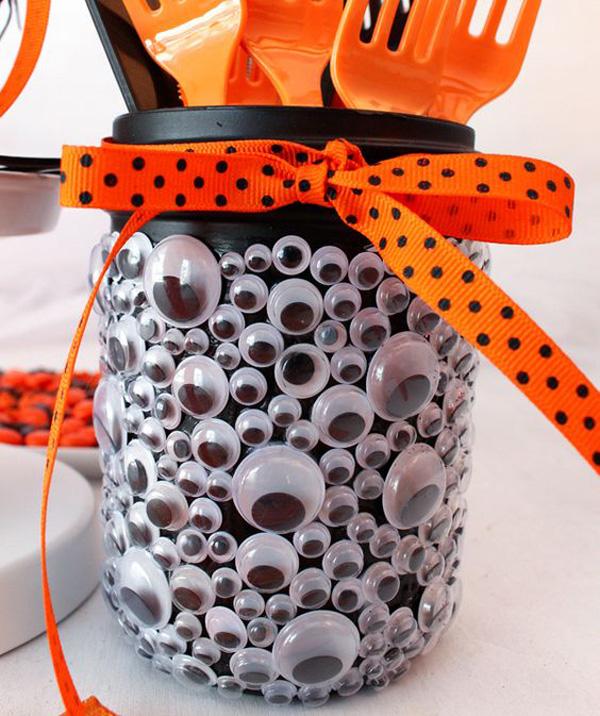 For this decoration you will need an ordinary jar, decorations, such as eyes, orange ribbons and black. Orange and black are the colors of this holiday, so decorate your house and garden in these shades.

If you like this decoration, just follow the instructions from the image and you can not miss.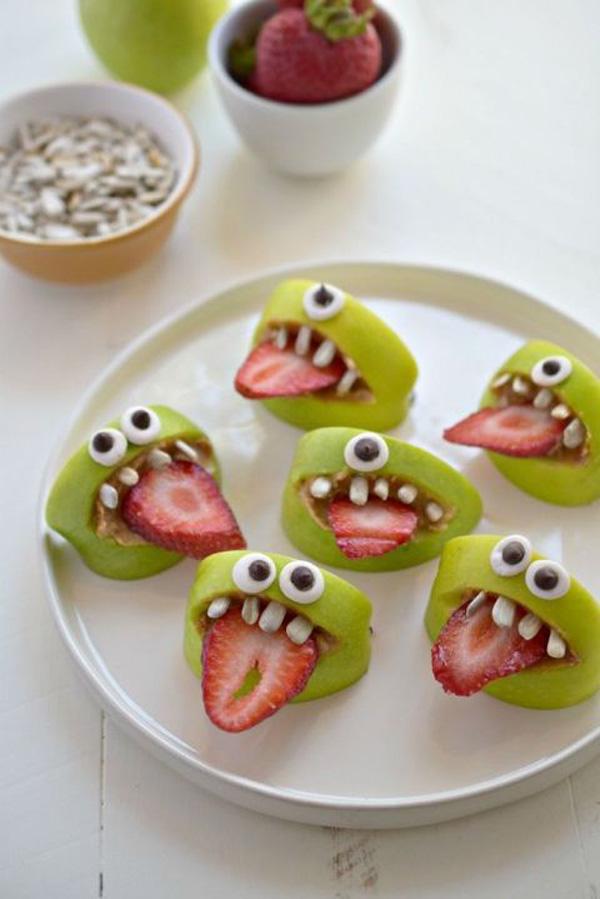 Let the candy to be like some monster when everything else is in that sense of dread, here's an idea for a dessert!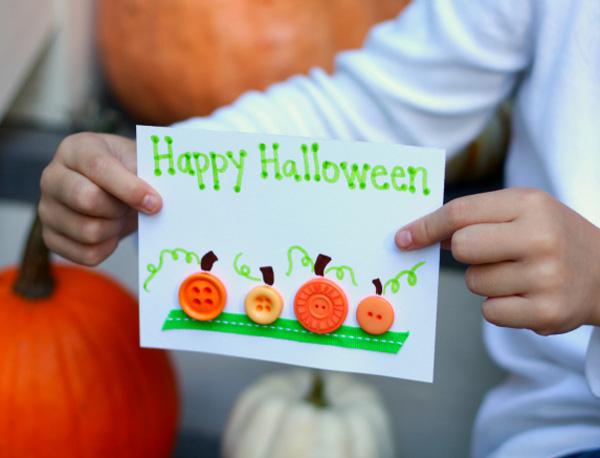 Paper, color pencils, buttons, can't be easier!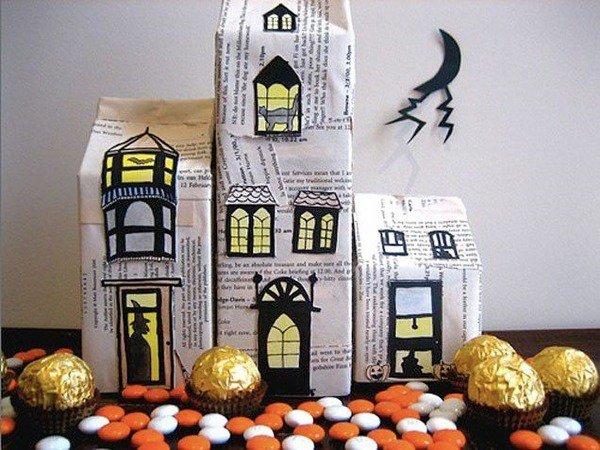 House of horror and horror stories are a must this holiday. You'll make this kind of house of horrors like the house of horrors in previous image.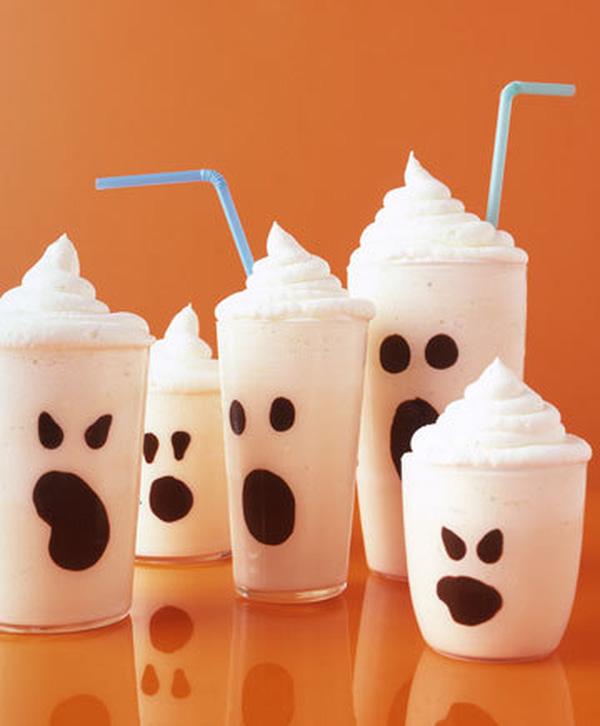 With the help of stickers or paint that you can buy, you can decorate your glasses for guests.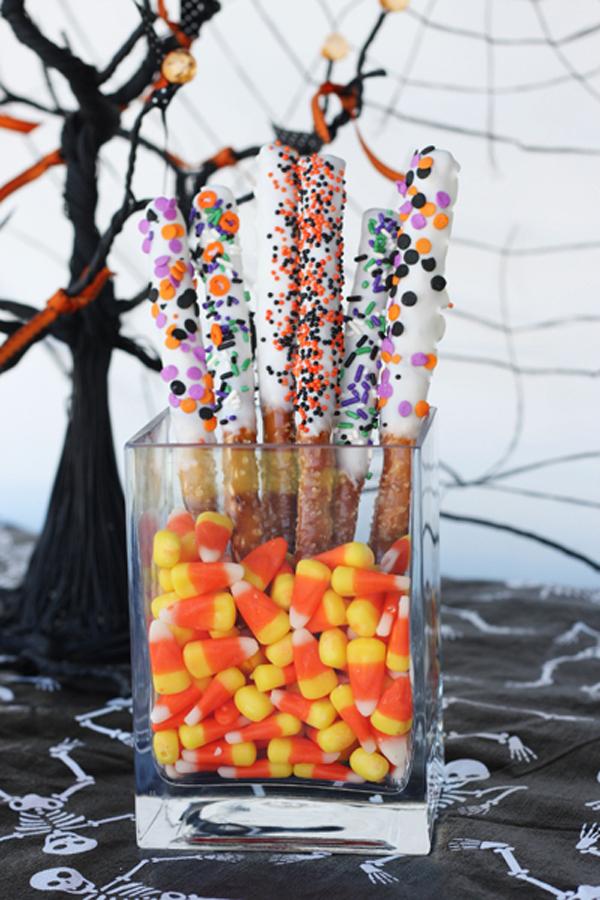 Interestingly decorated sweets, dry tree, and table linen with skeletons…
All of us adore muffins. Prepare them this holiday and decorate it with the details that are related with October 31!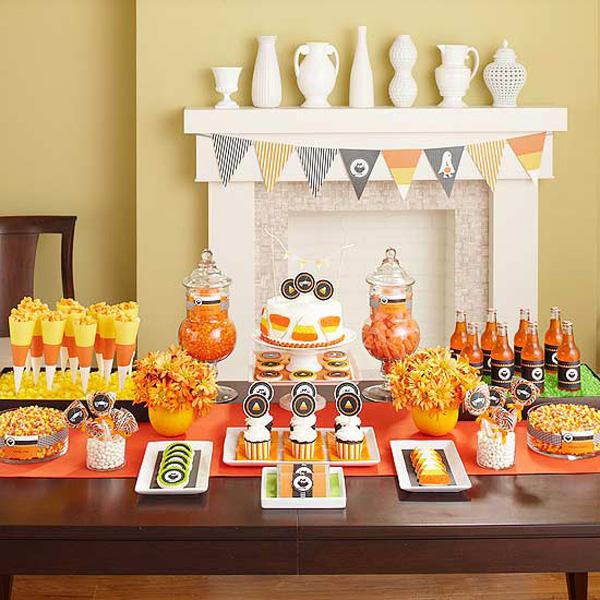 Sweet table children love. Prepare them some similar to this in the picture. There is cake, muffins, peanut and other snacks, juices …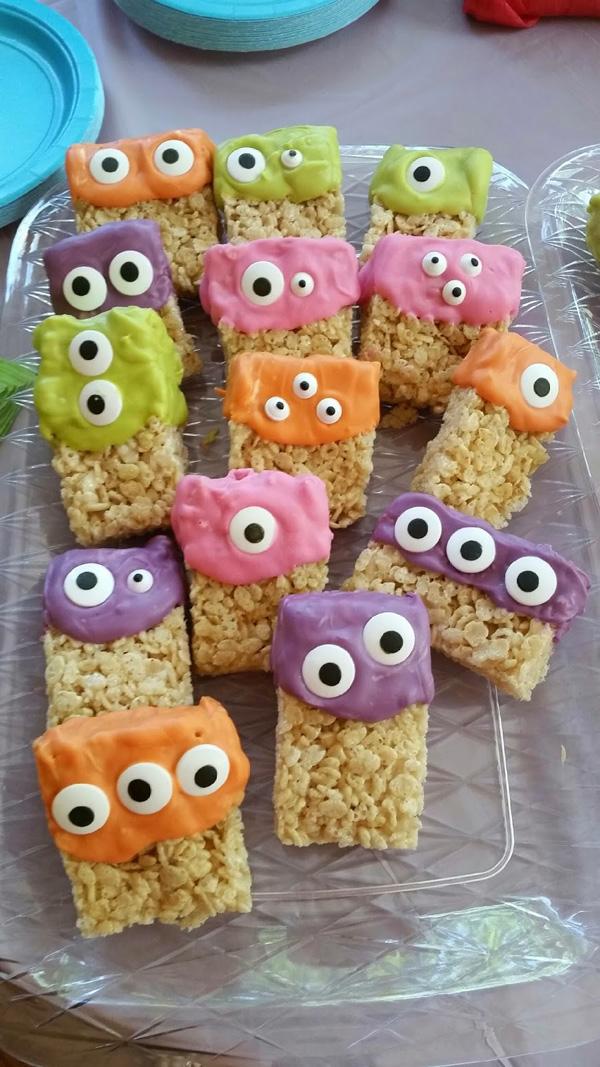 Simple cookies with nuts, seeds, hazelnuts, dried fruit, in spirit of the day of horror.

Stickers such as cats, pumpkins, owls, for decorating the room, tables, windows, will be an excellent choice. Also you can buy or make masks for face, you're kids will be thrilled.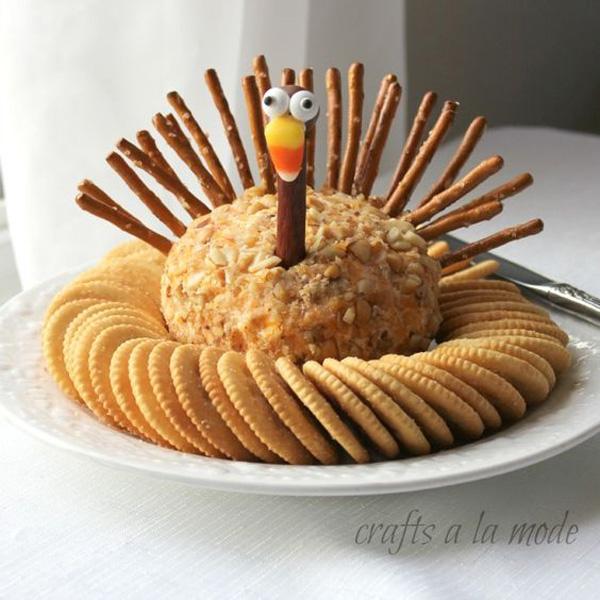 250 grams of biscuits, 150 grams of walnuts, 150 grams of margarine, 150 grams of powdered sugar, 1-2 bananas. All the ingredients unite and make beads or make agent and one large ball like this one and decorate it in a similar way with biscuits and breadsticks.

Pretzels and muffins…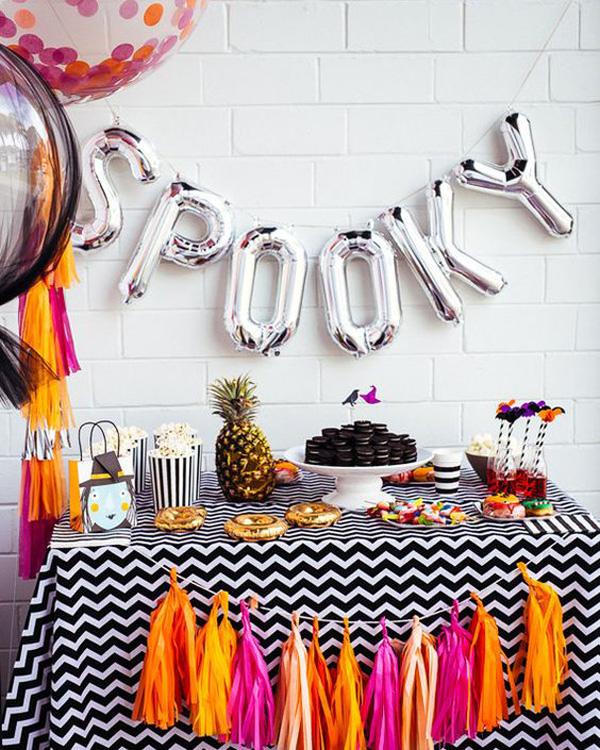 Another idea for sweet table.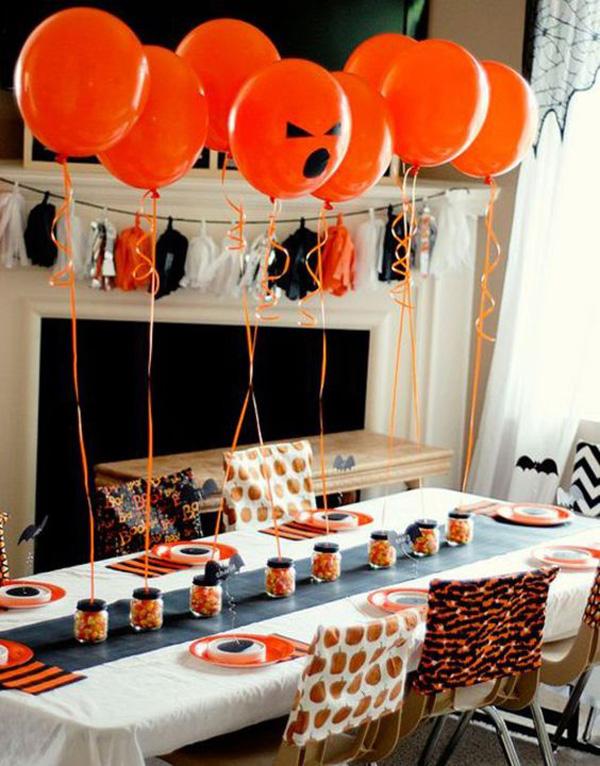 Black-white-orange decoration. The black tablecloth, jars with black lids filled with dry fruits for which we attach the balloons filled with helium.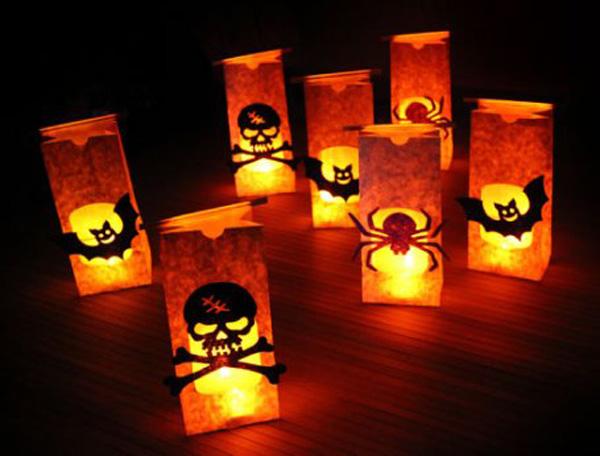 Scary lamps, flitters and skulls, good company and companionship can begin.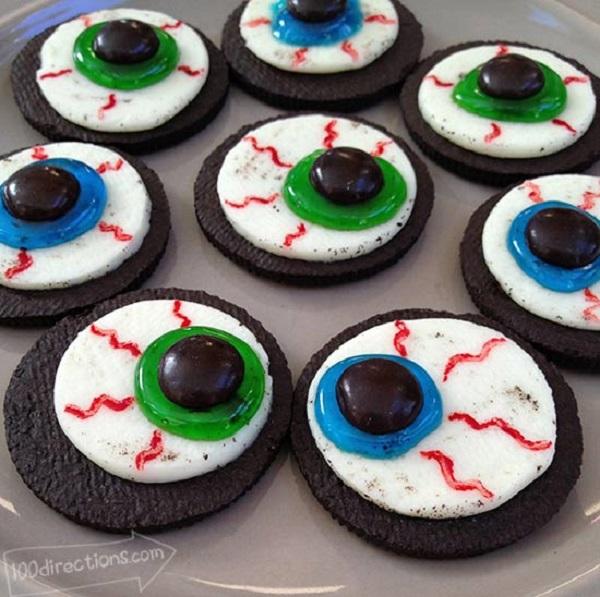 Yes, this can be eaten. Biscuit with white whipped cream, jelly and chocolate candy.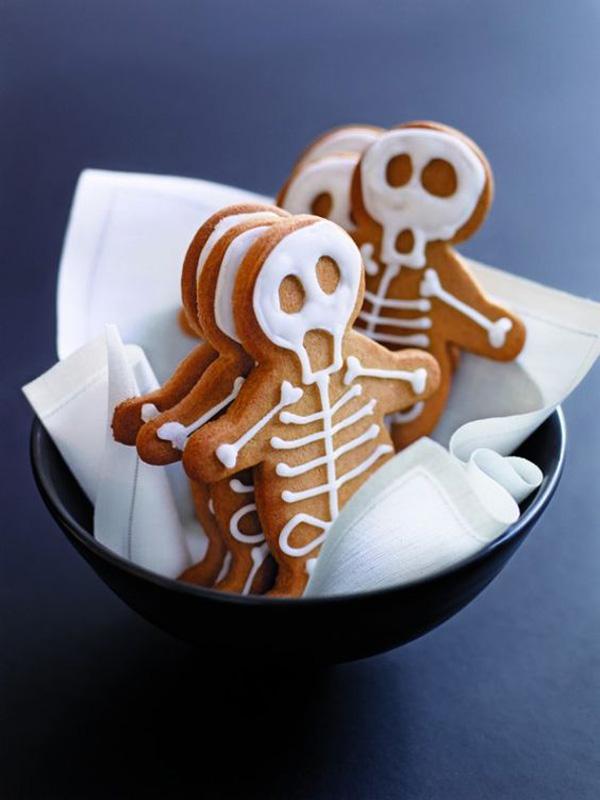 In almost all stores that sell cookware, you can find a template (shapes) for this cookies.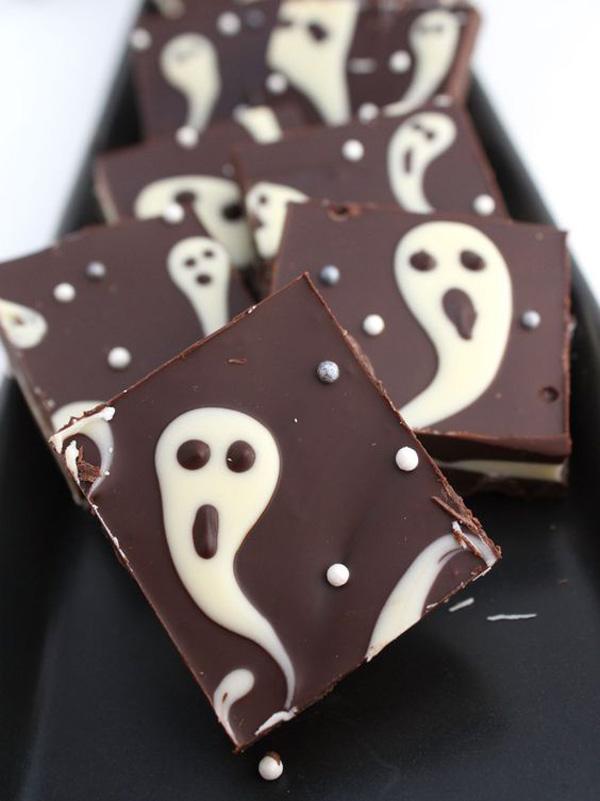 Homemade chocolates and a little imagination. Here's the result!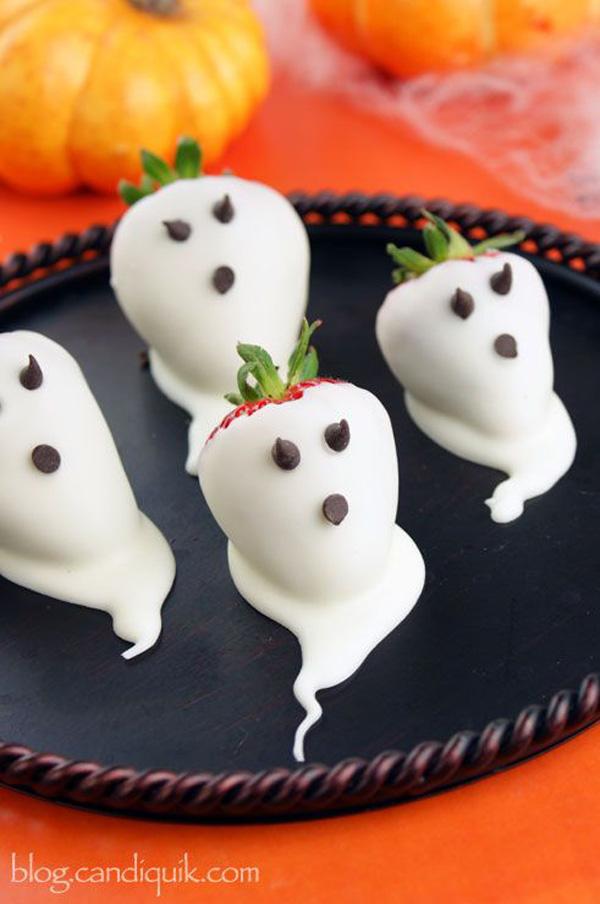 Strawberries in whipped cream or dipped in white chocolate. Our little sweet chocolate sin…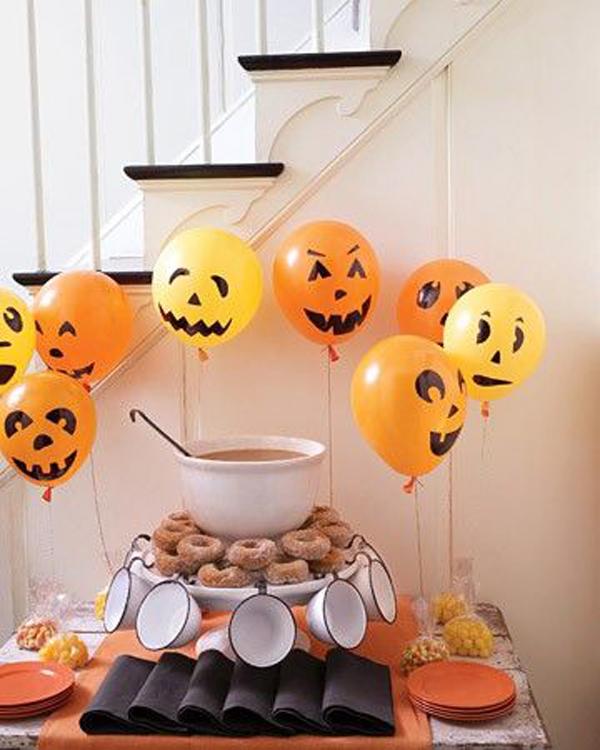 And of course – donuts. There is also a punch. You choose whether you want punch with alcohol or without alcohol.