Scorpion tattoos are a captivating trend that's been around for ages, symbolizing strength, passion, and resilience. Whether you're a Scorpio, a fan of the creature's design, or simply admire the symbolism, there's a design out there for you. In this article, we'll dive deep into the meanings behind creature, exploring their historical and cultural significance, astrological connections. We will also explore the various styles, placement suggestions, and design ideas for scorpion tattoos.
Scorpion Tattoos: A Brief History and Cultural Significance
From ancient civilizations to modern cultures, the scorpion has always held a profound significance. Let's take a look at how different cultures perceive this creature and how these perceptions translate into the symbolism of the tattoo.
Ancient and Modern Cultural Symbolism
Ancient Egyptian mythology saw the scorpion as a protective symbol, associated with the goddess Serket, who was thought to protect against venomous stings. In contrast, in Greek and Roman mythology, the scorpion was associated with death, danger, and treachery, often linked to the story of Orion, a hunter killed by a scorpion sting.
Native American culture respects the scorpion for its ability to balance both good and bad, symbolizing the natural life and death cycle. In some African cultures, the scorpion represents defensiveness and self-protection due to its potent sting and hard exoskeleton.
These ancient and modern interpretations have significantly influenced the meanings associated with scorpion tattoos, offering a vast spectrum of symbolism ranging from protection and defense to danger and death.
The Zodiac Connection: Scorpio Symbolism in Tattoos
For those born under the Scorpio zodiac sign, a scorpion tattoo can hold a deep astrological significance. Let's look at what it might mean for the Scorpios among us.
Scorpio Traits and Their Tattoo Symbolism
Scorpios are known for their passion, determination, and fierce independence. They are the epitome of strength and resilience, never shying away from challenges. These traits mirror the scorpion's natural characteristics, making a scorpion design a fitting emblem for those born under this sign.
For Scorpios, a scorpion tattoo can symbolize their unyielding spirit, their passion for life, and their fearless approach to overcoming obstacles. It can serve as a personal talisman, a reminder of their inherent strength and resilience.
Scorpion Tattoos: Personal Meanings and Interpretations
Apart from historical, cultural, and astrological significance, scorpion tattoos can also carry personal meanings. Here are a few common interpretations.
Symbols of Strength and Power
Just like the scorpion, known for its formidable strength in the face of threats, a scorpion tattoo can symbolize personal strength and power. It can serve as a reminder of one's ability to overcome adversity, to fight one's battles, and to emerge victorious against all odds.
Emblems of Protection and Defense
Drawing from the scorpion's natural defenses – its venomous sting and hard exoskeleton – a scorpion tattoo can symbolize protection and defense. It can represent a protective shield, warding off negative energy and harm.
Tokens of Transformation and Rebirth
Scorpions are among the few creatures that can survive nuclear radiation, symbolizing survival and transformation. Hence, a scorpion tattoo can mark a significant life change or personal evolution, signifying resilience and the ability to adapt and transform in the face of adversity.
Signs of Danger and Death
On a darker note, due to its venomous sting, the scorpion is often associated with danger and death. A scorpion tattoo can symbolize a fearless acceptance of life's darker aspects, a recognition of danger, or a tribute to the thin line between life and death.
Markers of Passion and Sexuality
In many cultures, the scorpion is seen as a symbol of passion, desire, and sexuality. A scorpion tattoo, then, can express intense passion, unapologetic desire, and a deep connection with one's sexuality.
As we've seen, scorpion tattoos are rich in symbolism, carrying a wealth of meaning in their sharp lines and striking designs. They are not merely body art; they are a powerful form of self-expression, serving as personal emblems of strength, protection, transformation, danger, and passion.
Whether you're drawn to its cultural and historical significance, its astrological connections, or its personal meanings, it's essential to recognize the rich symbolism behind this captivating design.
Scorpion Tattoo Styles: From Realism to Tribal
The Realistic Style
Realism in tattooing refers to designs that closely mimic real-life objects or creatures, and scorpion tattoos are no exception. A realistic tattoo boasts intricate detailing, capturing the creature's form and natural textures. It's an excellent choice for those seeking a bold, striking tattoo that almost leaps off the skin.
Earth scorpion and a giant planet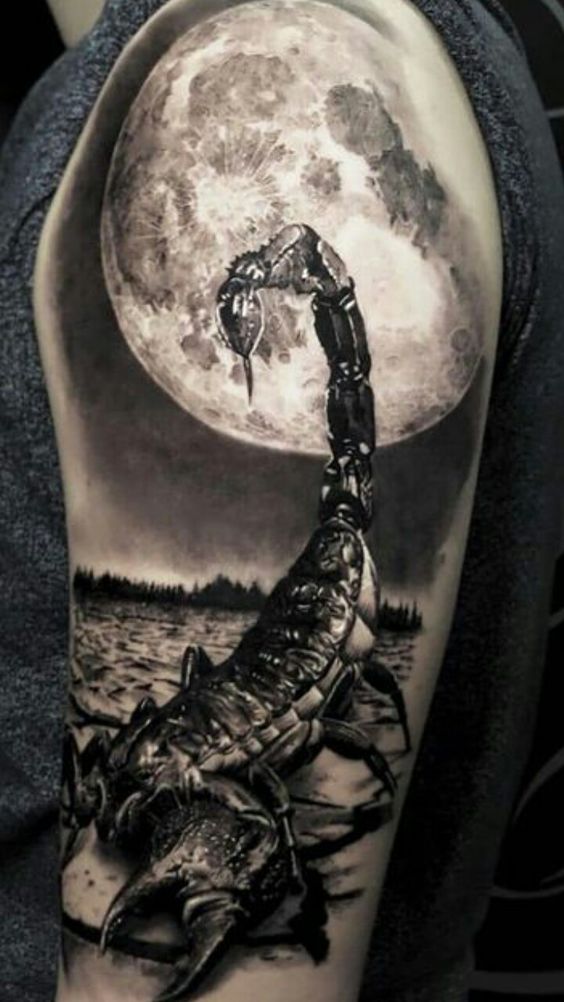 The Geometric Style
Geometric scorpion tattoos are a modern take on the traditional design. They incorporate geometric shapes, lines, and patterns to create a stylized representation of the scorpion. These tattoos are perfect for those who appreciate abstract art and want a tattoo that's as unique as they are.
Geometric scorpion with numbers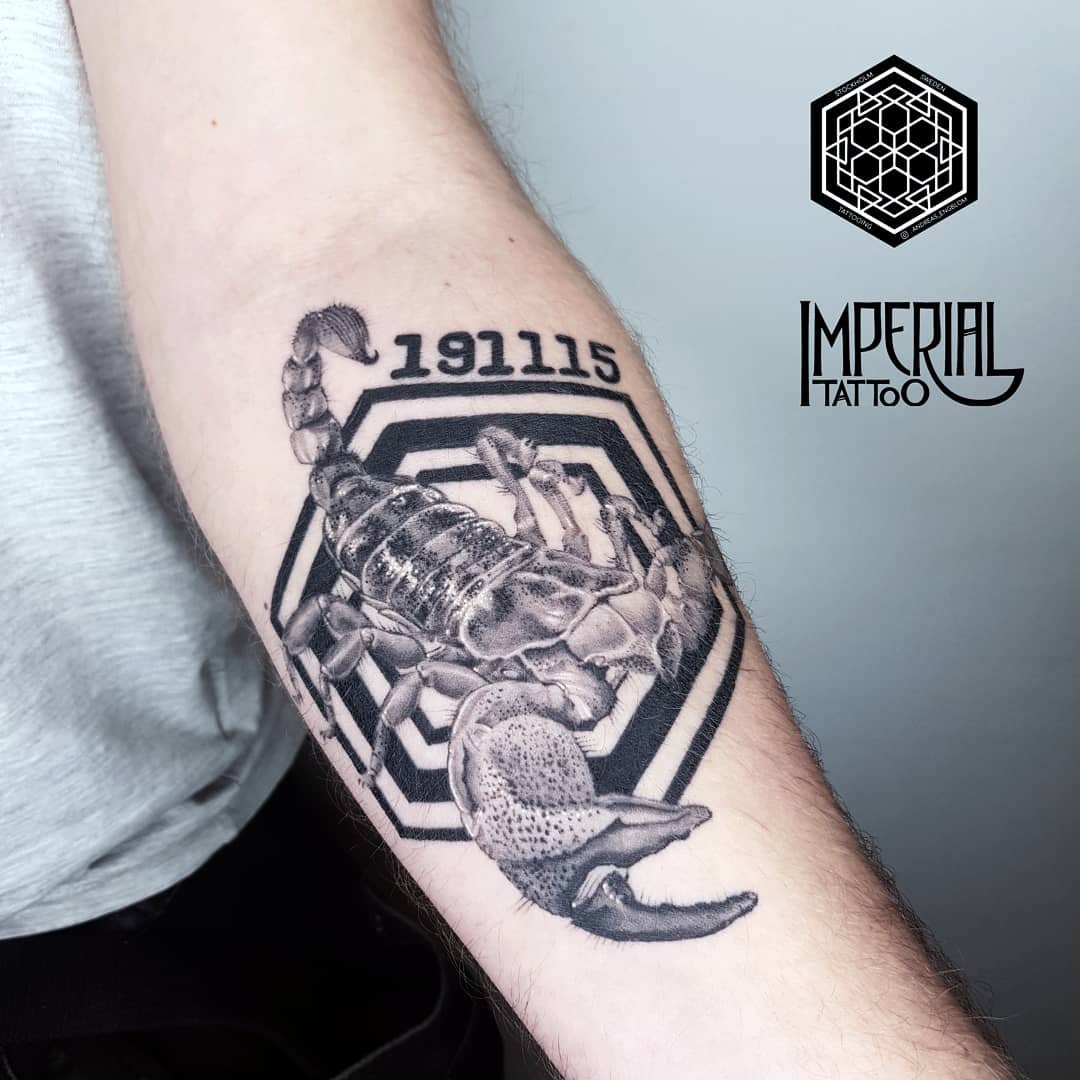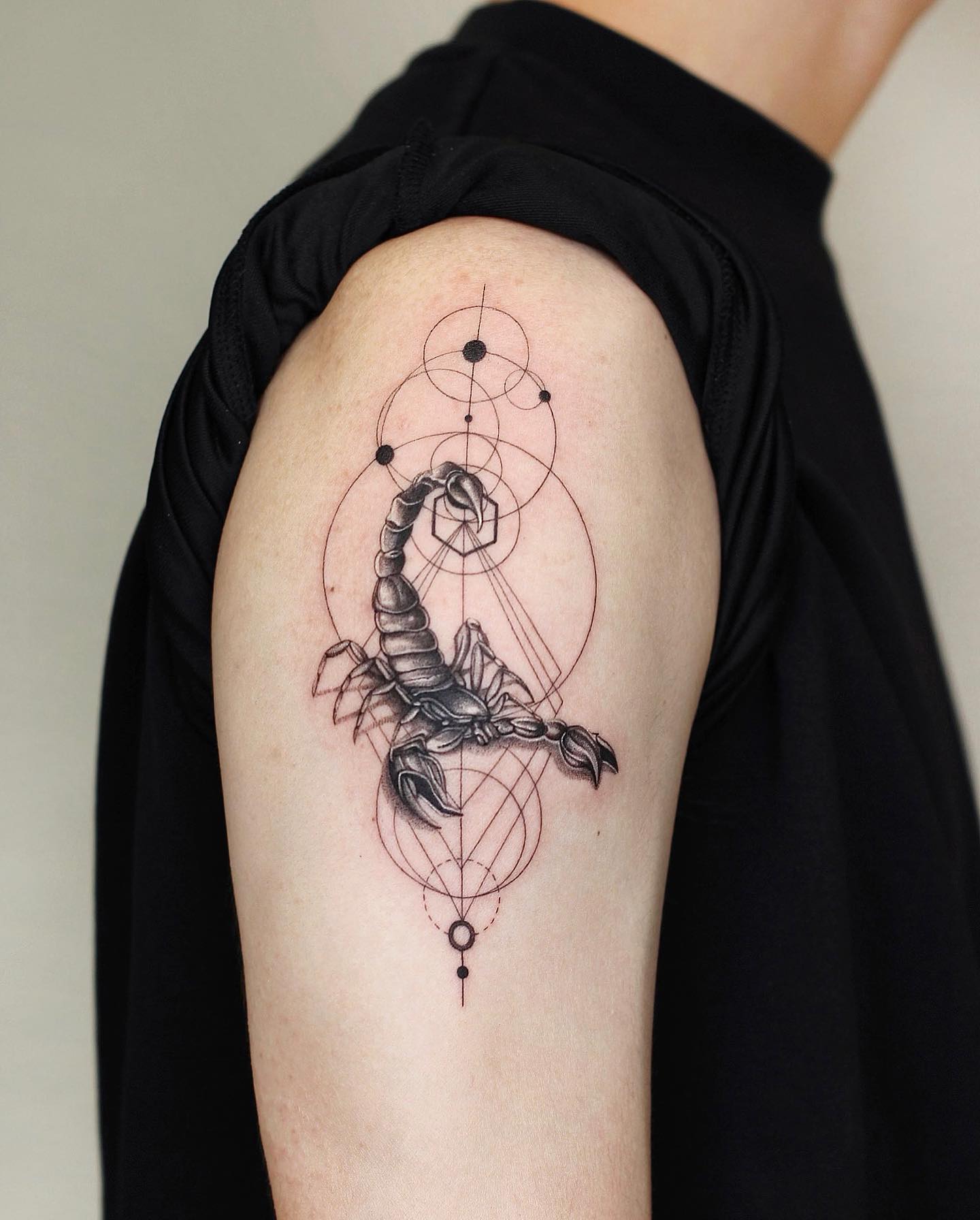 The Minimalist Style
Less is more with minimalist scorpion tattoos. These designs use simple lines and shapes to capture the essence of the scorpion. Minimalist tattoos are subtle, elegant, and versatile, making them a great choice for first-time tattoo enthusiasts or those who prefer understated body art.
Scorpio star sign and scorpio sign in minimalist style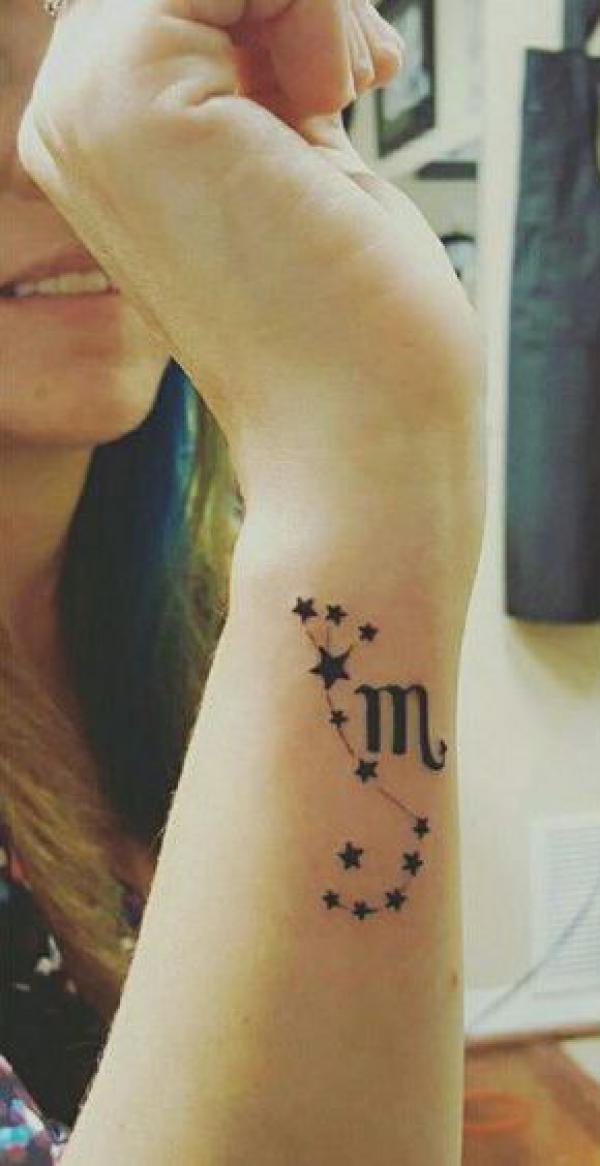 Crescent moon with scorpio constellation map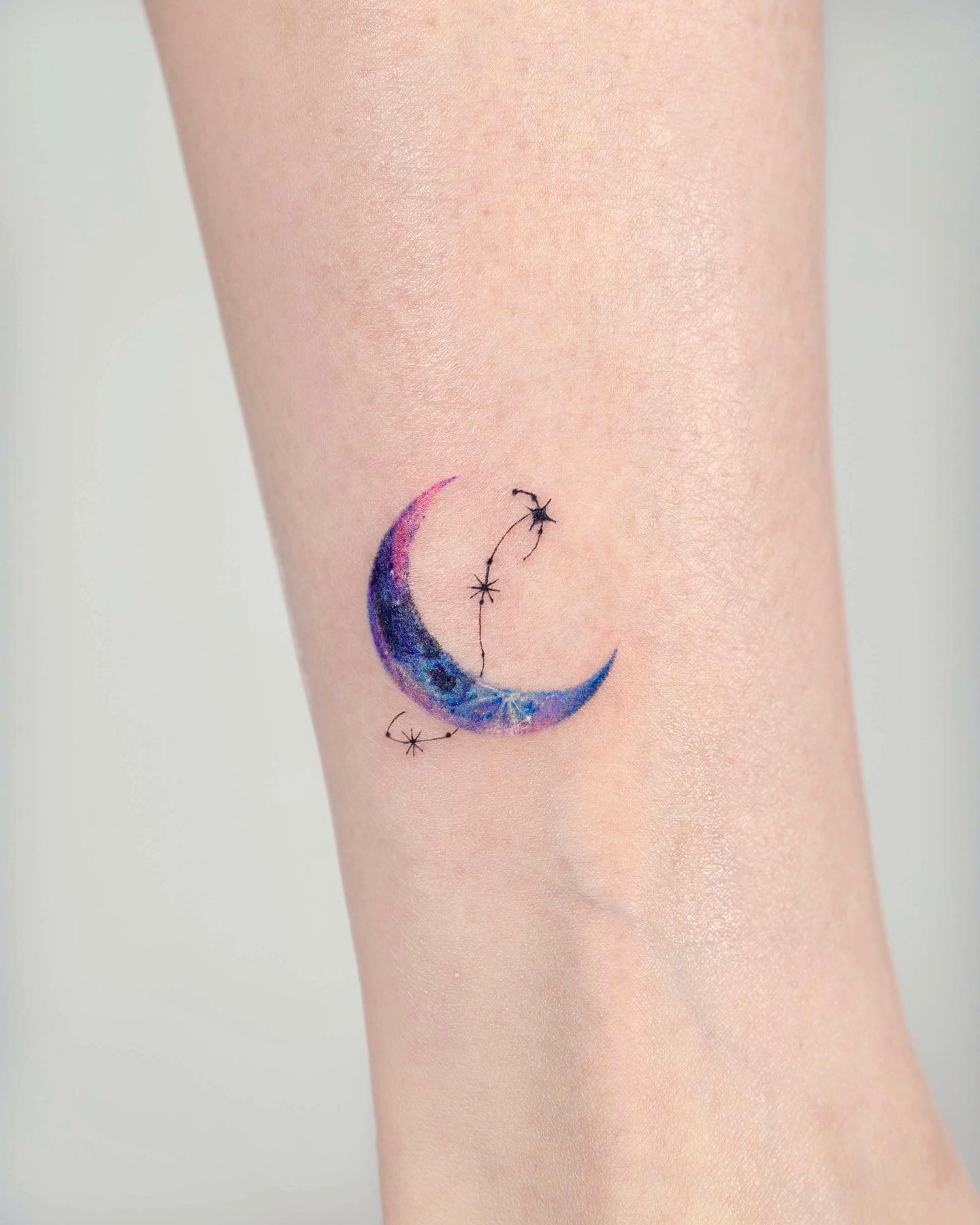 Minimalist Scorpio constellation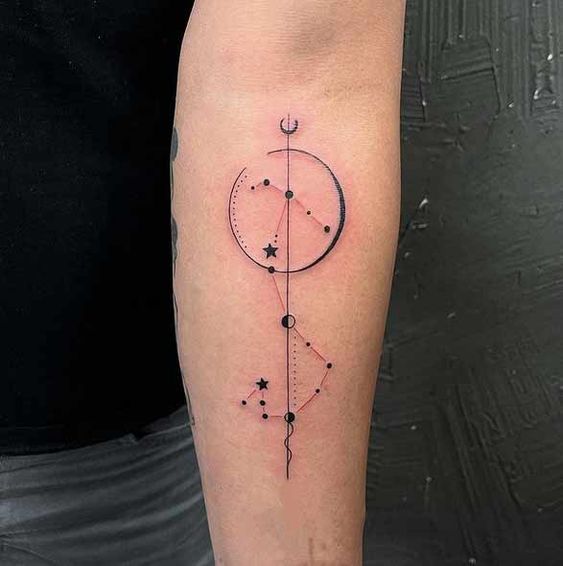 The Black and White Style
Black and white scorpion tattoos offer a timeless appeal. This style uses varying shades of black, white, and gray to create a high-contrast, dramatic tattoo. A black and white tattoo is perfect for those who prefer classic designs with a modern twist.
Black and white roses between scorpion and cat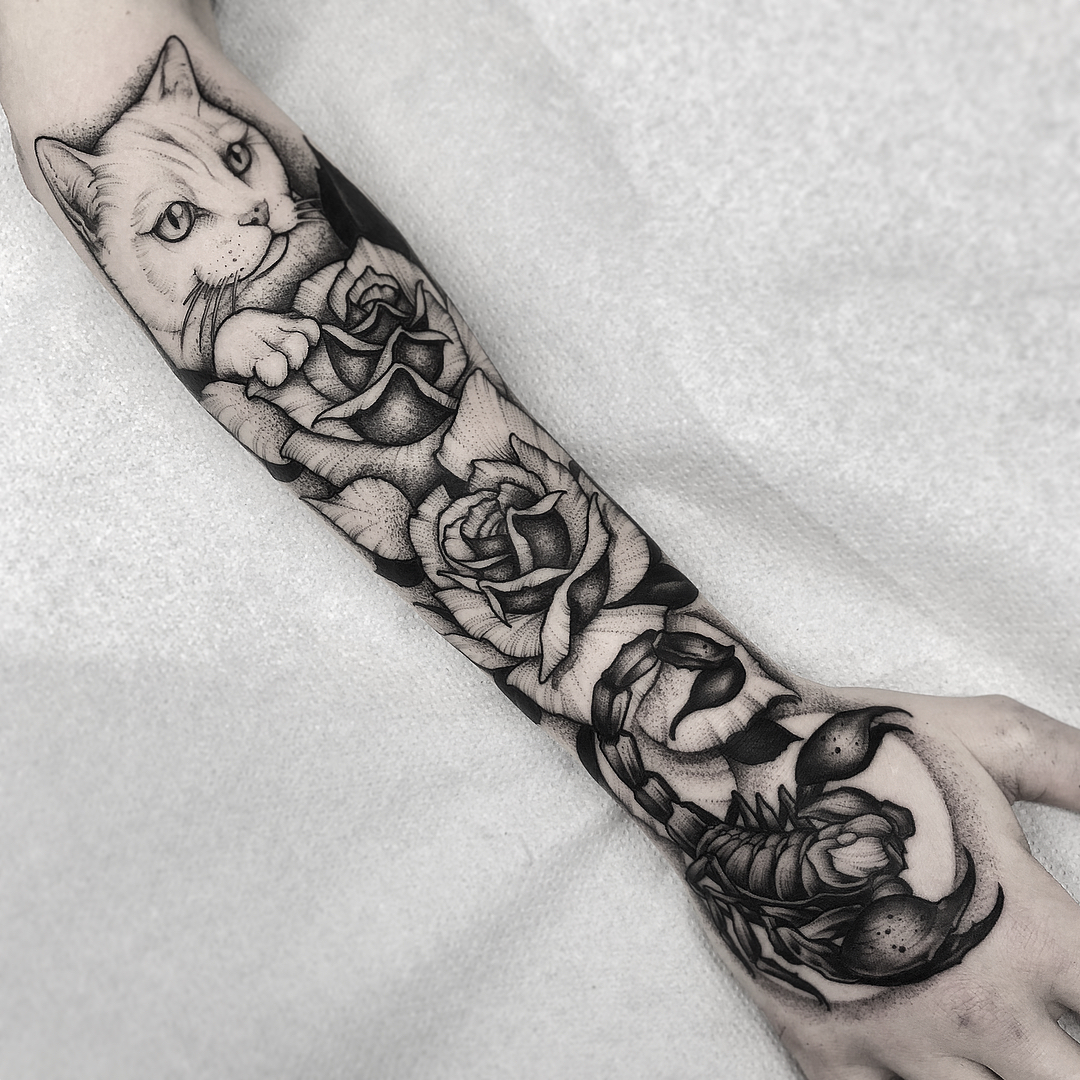 Black and white geometric scorpion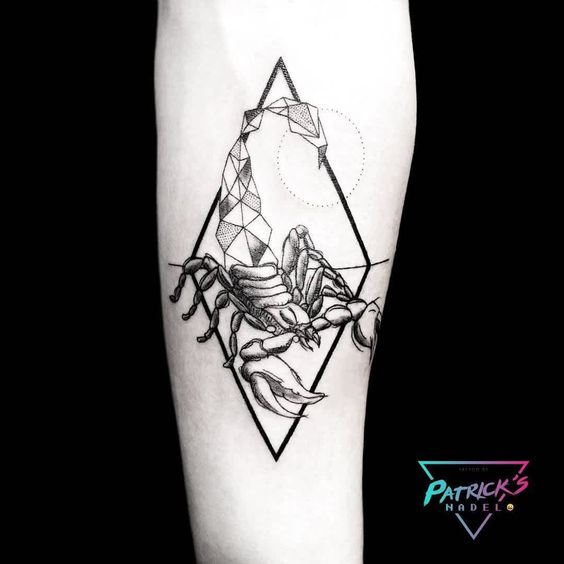 The Watercolor Style
Watercolor tattoos mimic the fluid, vibrant look of watercolor paintings. A watercolor scorpion tattoo incorporates splashes of color and blurred lines, resulting in a dynamic, artistic design. This style is ideal for those who love colorful, eye-catching tattoos.
Watercolor scorpion tattoo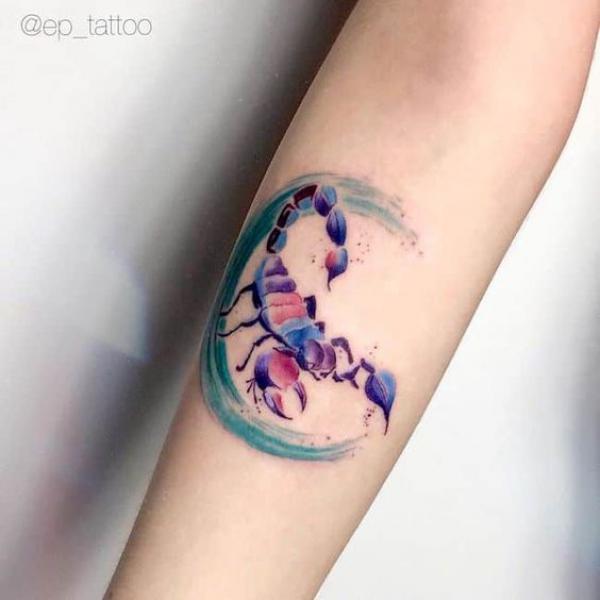 The Tribal Style
Tribal scorpion tattoos draw inspiration from indigenous cultures around the world. They feature bold lines, intricate patterns, and high-contrast designs. If you're drawn to bold, ancient symbolism and want a tattoo that's rich in cultural significance, a tribal tattoo design might be your best bet.
Tribal scorpion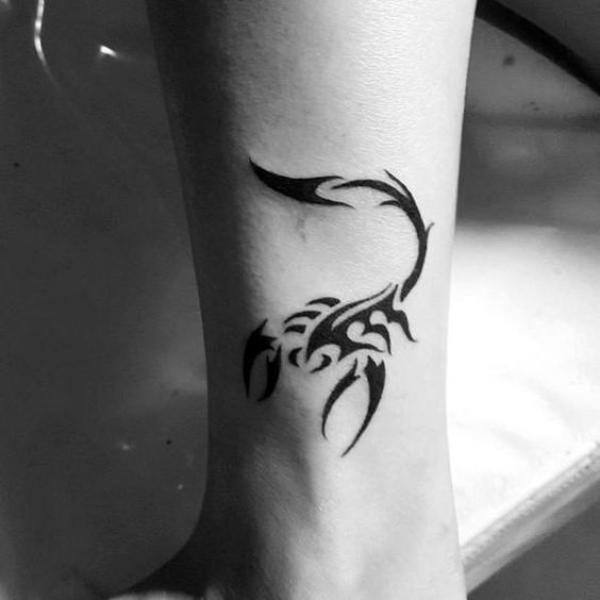 Blue tribal scorpion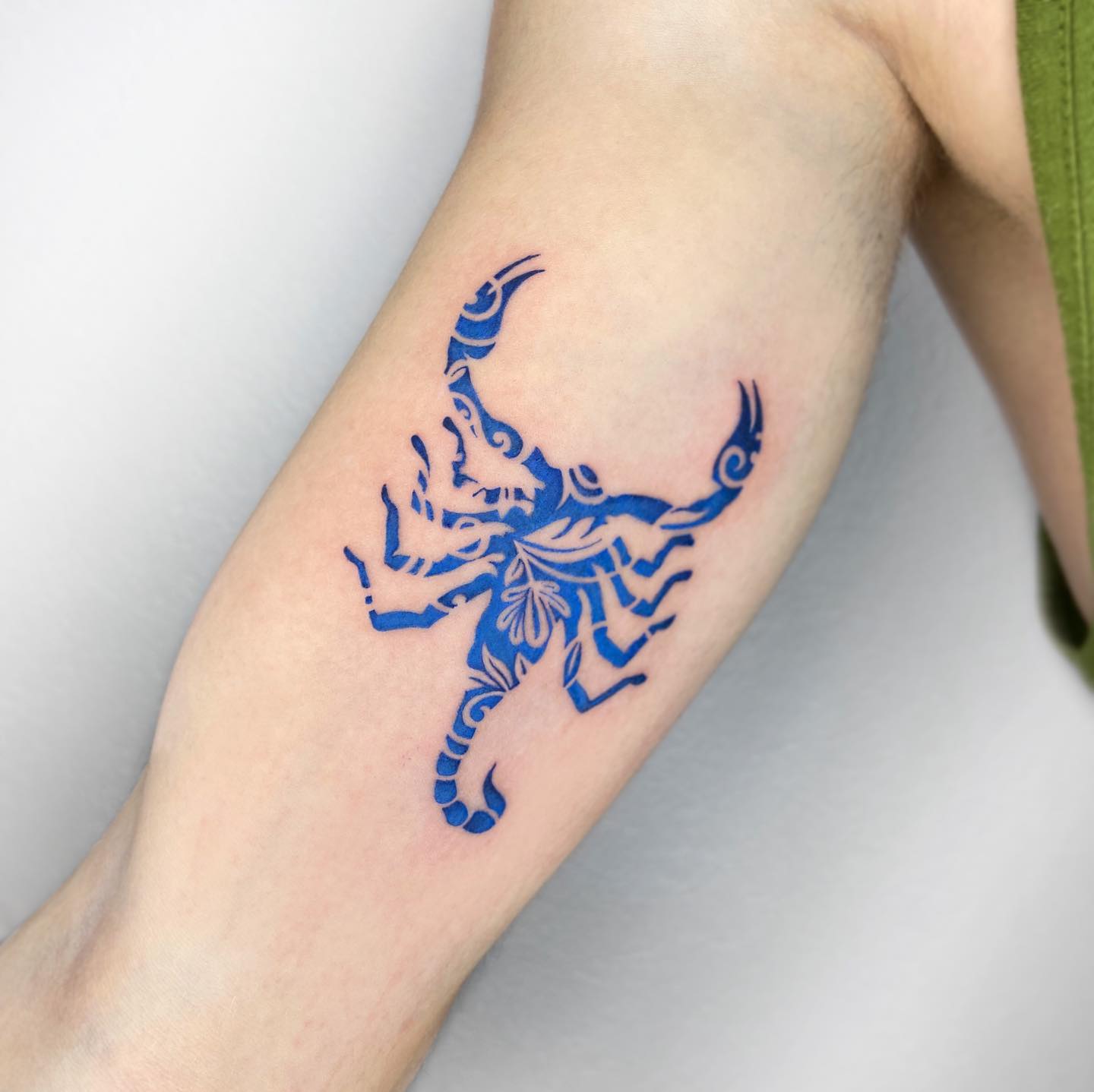 The Girly Style
Who says scorpions can't be feminine? Girly scorpion tattoos incorporate feminine elements like flowers, hearts, and delicate lines, creating a unique blend of strength and beauty. If you're a woman who loves the symbolism of the scorpion but wants a softer design, consider a girly style.
Girly scorpion with stars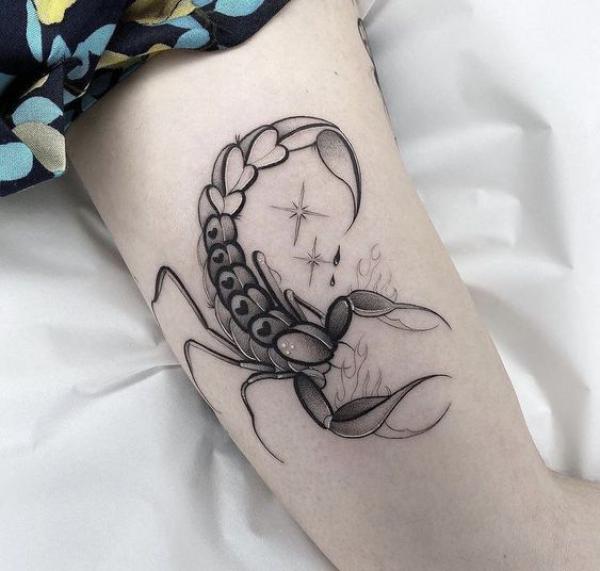 Girly scorpion with camellia on thigh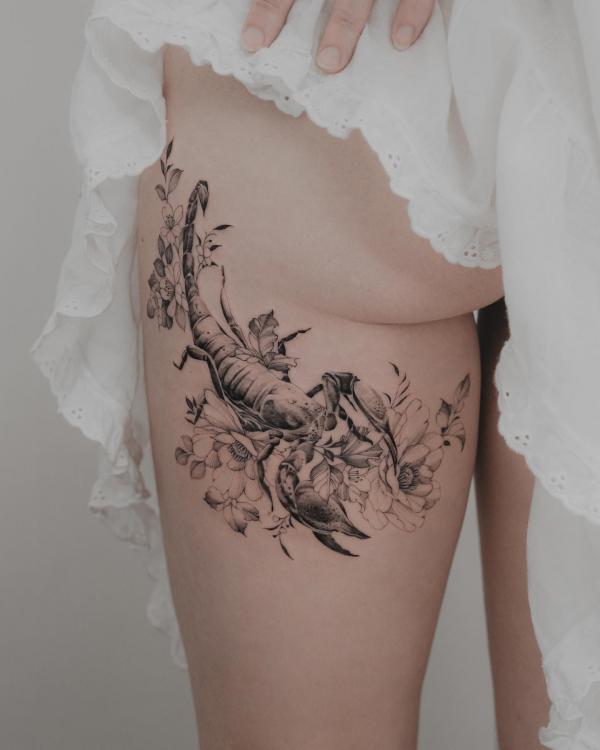 The Dotwork Style
Dotwork tattoos use tiny dots to create detailed designs. A dotwork scorpion tattoo showcases the scorpion's form through meticulous stippling, resulting in a textured, three-dimensional look. It's a fantastic choice for those who appreciate intricate details and unique tattooing techniques.
Scorpion dotwork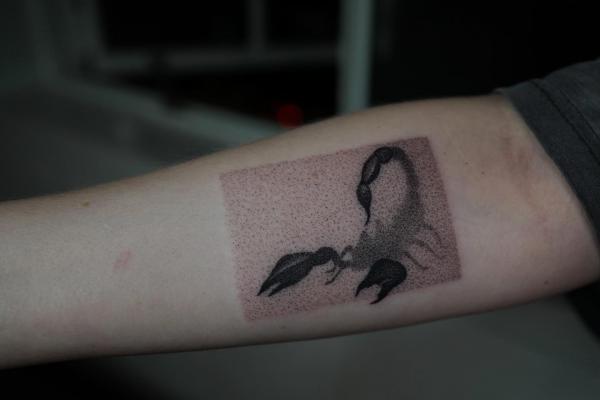 Scorpion and scorpion star sign dot work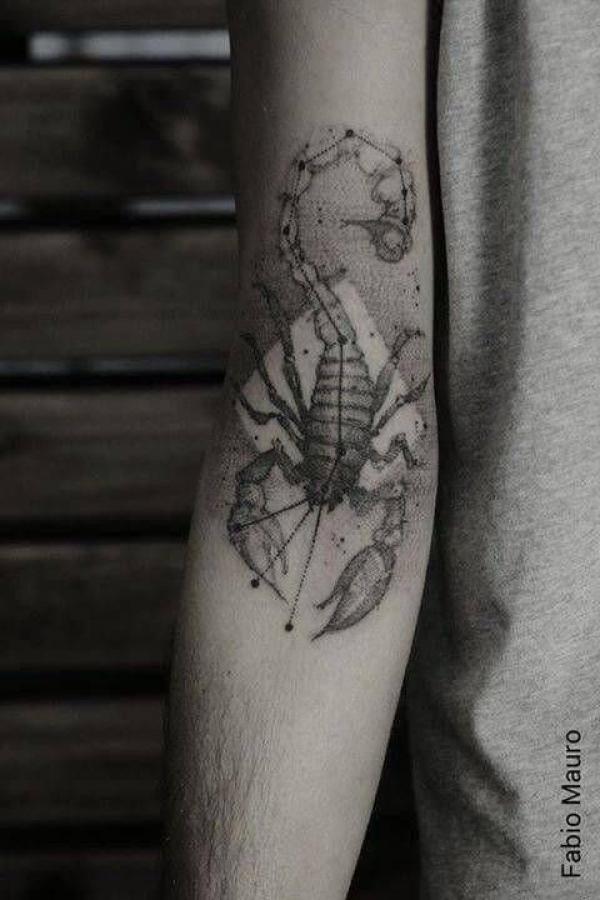 The Traditional Styles
Traditional scorpion tattoos are steeped in history, drawing from old school and neo-traditional tattoo styles. Old school designs feature bold lines, heavy black shading, and a limited color palette. Neo-traditional tattoos, on the other hand, incorporate modern elements such as detailed shading and a broader color palette. Both styles offer a vintage, nostalgic feel, perfect for those who appreciate classic tattoo artistry.
Neo traditional Scorpion and flowers in new school style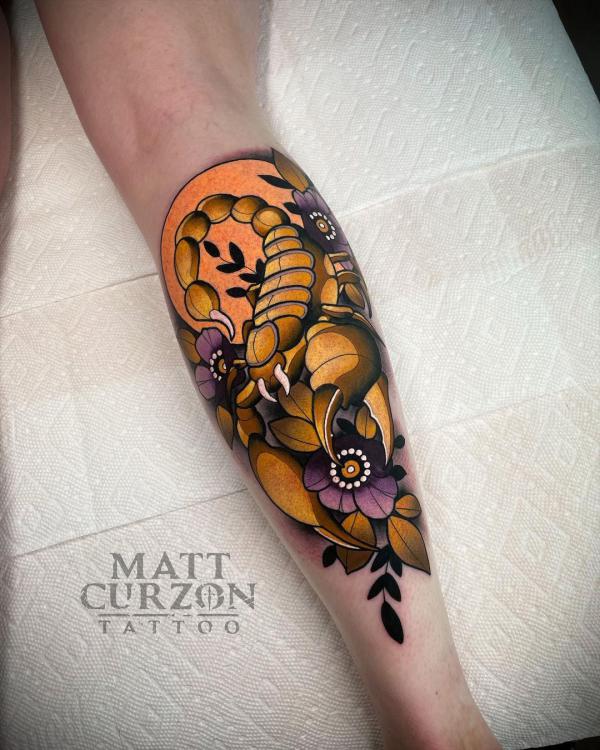 Old school scorpion rose tattoo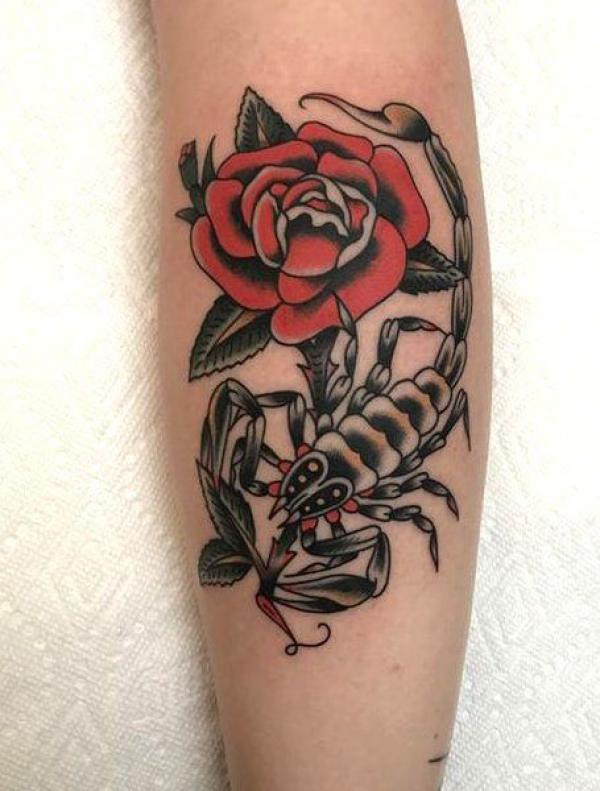 Placement: From Arm to Back
The Arm
The arm is a versatile spot for a tattoo. An upper arm tattoo can easily be hidden, while a forearm or wrist tattoo is more visible. The arm's length and width make it suitable for both large, detailed scorpion tattoos and smaller, simpler designs.
Realistic scorpion in the flowers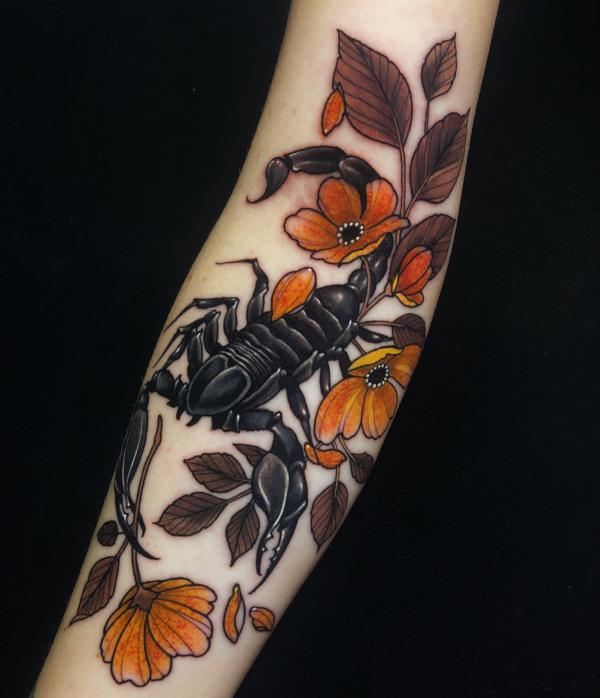 The Wrist
A scorpion tattoo on the wrist is a bold statement. It's highly visible and can serve as a constant reminder of the scorpion's symbolism. Despite the small area, a minimalist or small realistic scorpion fits perfectly here.
Botanical Scorpio Constellation and sign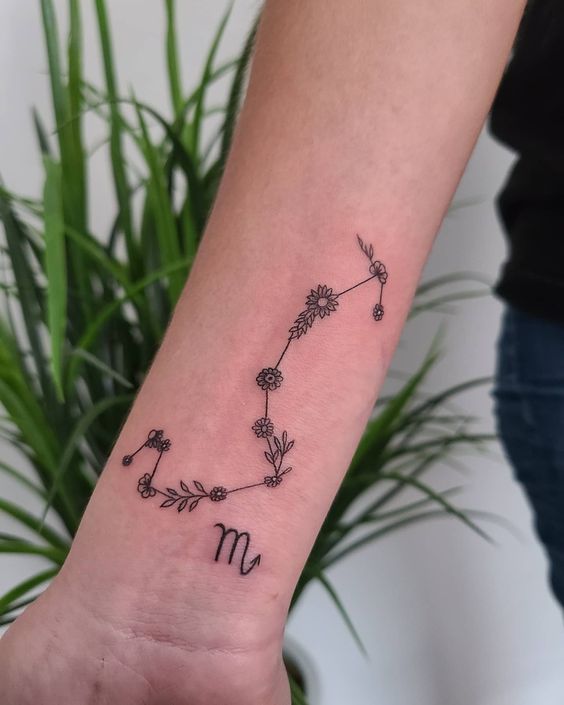 The Hand
Scorpion tattoos on the hand are striking and edgy. Due to the hand's visibility, these tattoos are a constant conversation starter. This placement is ideal for small to medium-sized designs.
Scorpion outline on the palm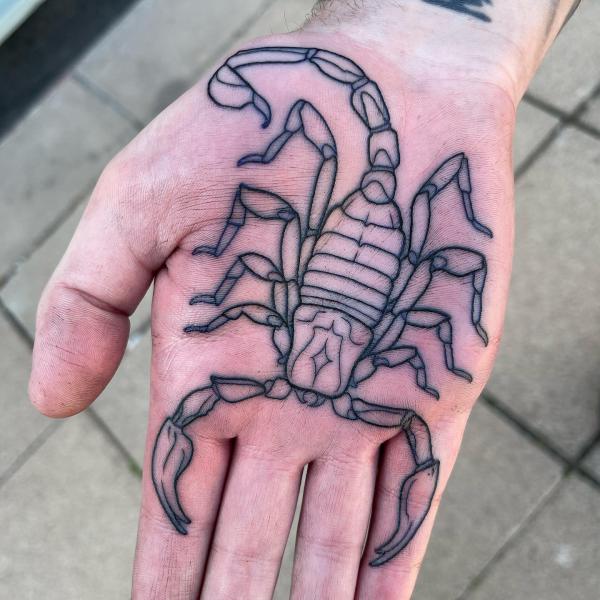 Black and white scorpion on the hnad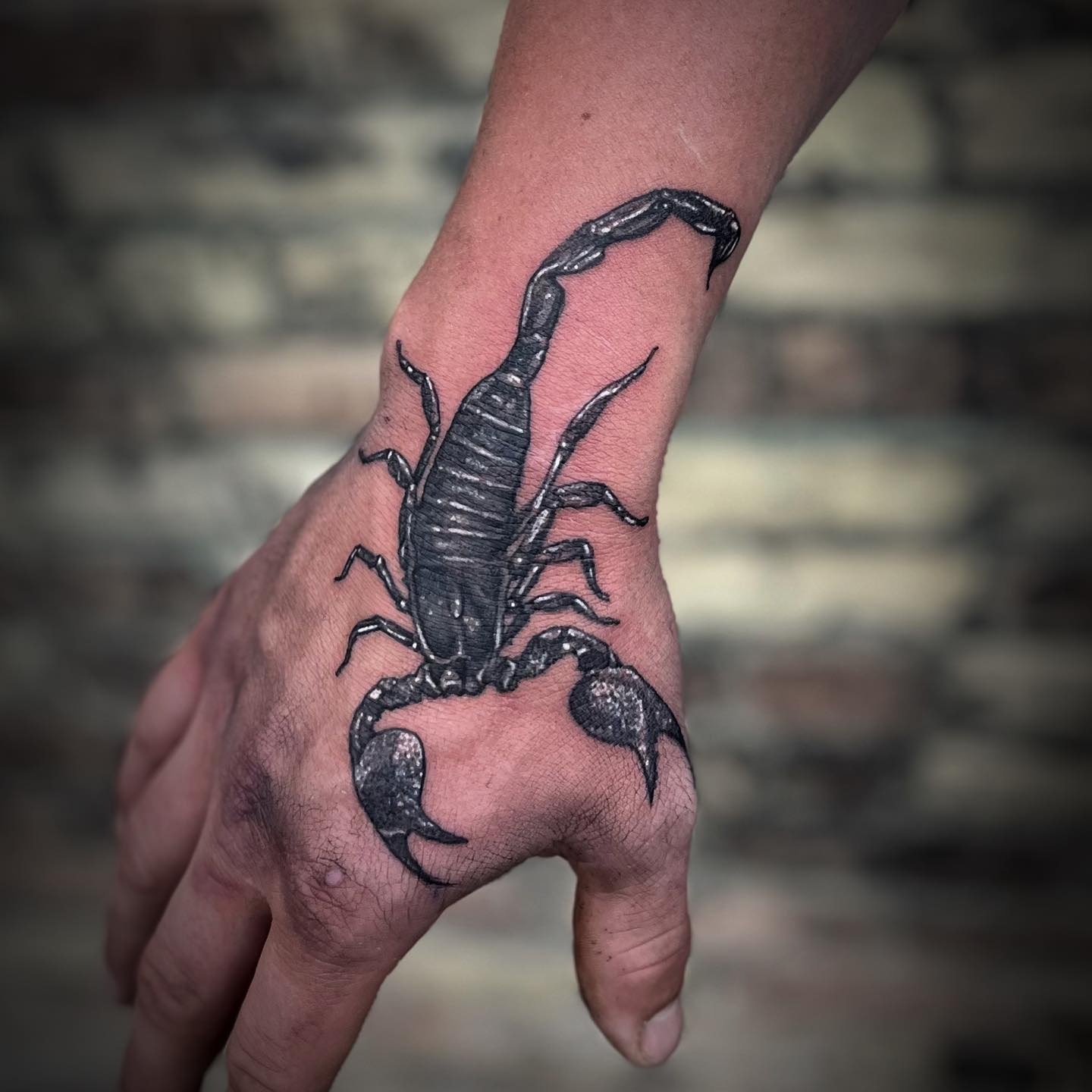 Intricate hand tattoo with scorpion skull cross chain and letters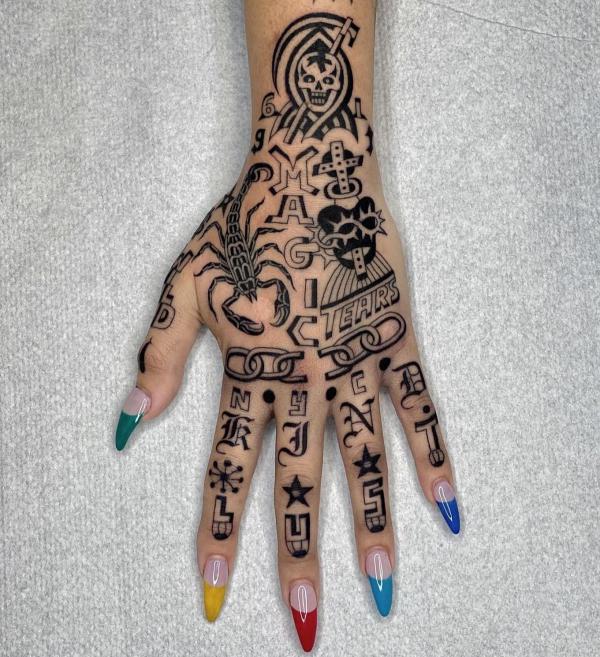 The Neck
The neck is an intimate and daring location for a scorpion tattoo. It's a great spot for small, subtle designs, but can also accommodate larger tattoos that wrap around the neck.
Negative space scorpion and lily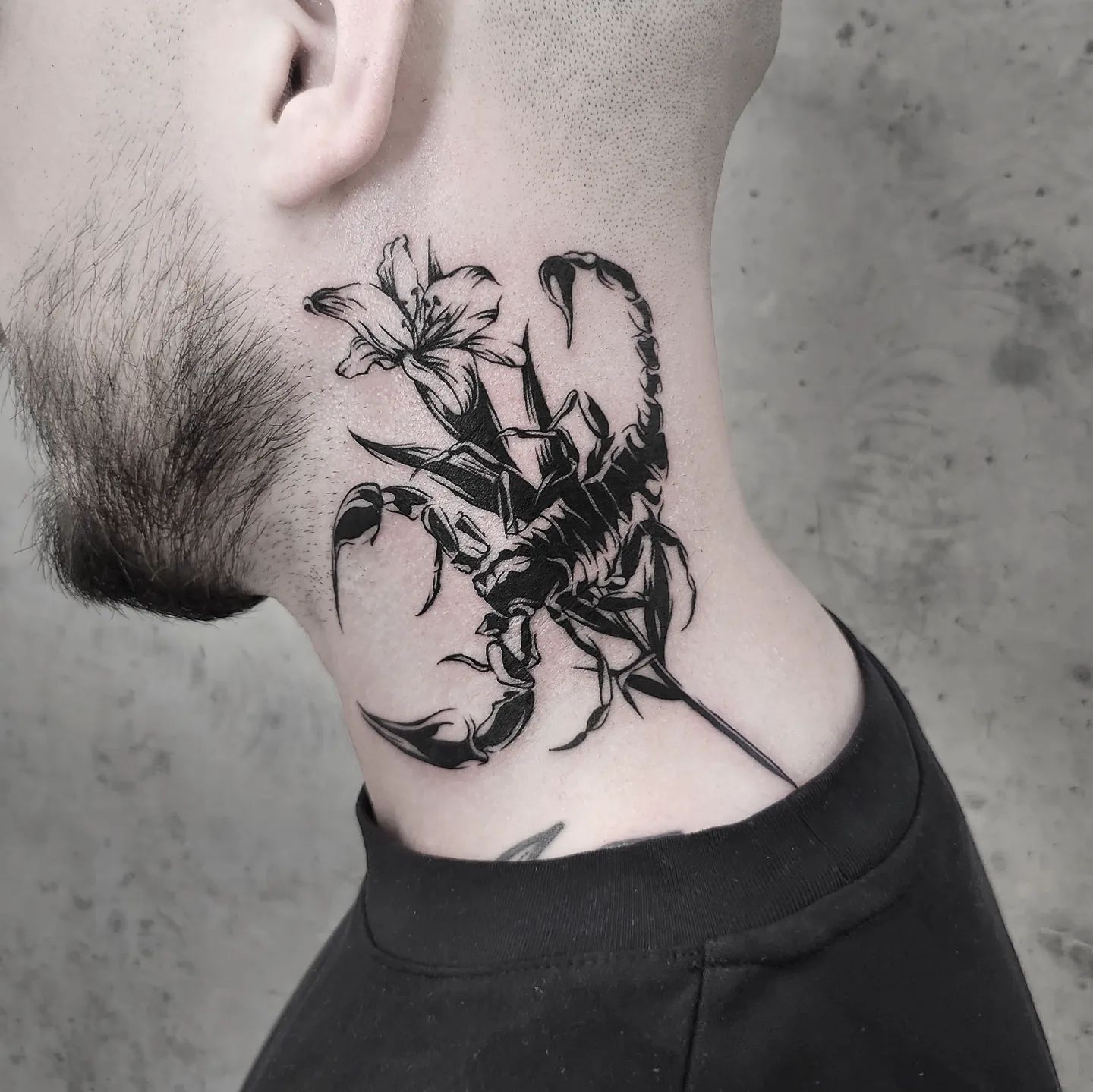 The Thigh
The thigh offers a large, flat canvas for a scorpion tattoo. It's an excellent location for large, intricate designs, and can be easily concealed if needed.
Black scorpion and colorful camellia on the thigh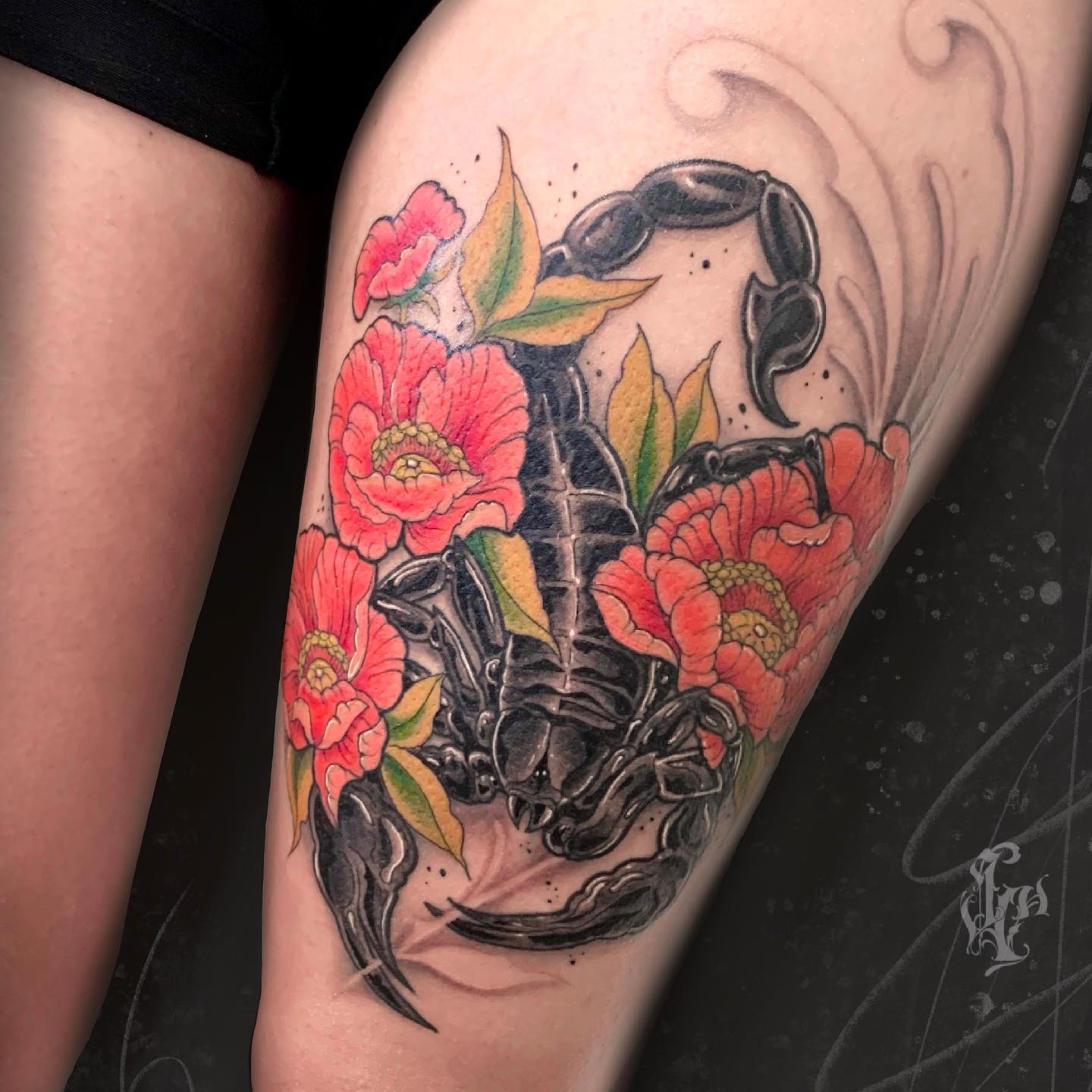 Red and black gradient scorpion holding a heart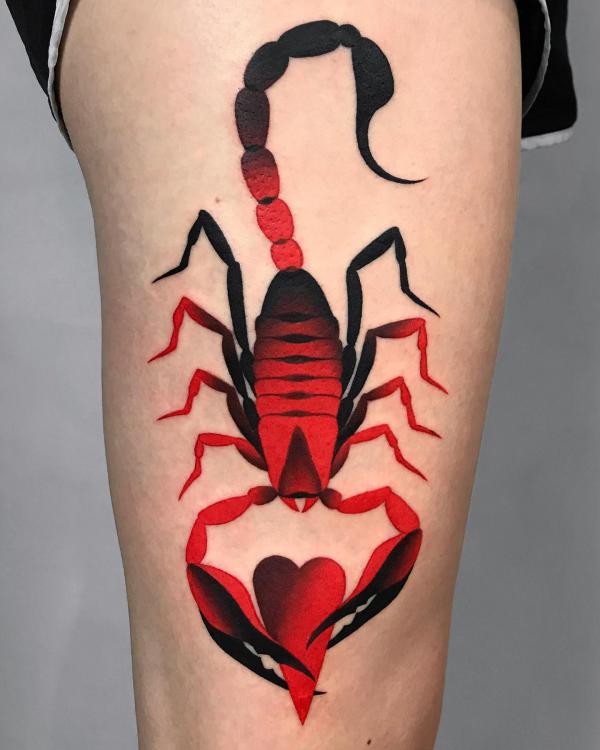 Behind the Ear
A scorpion tattoo behind the ear is a unique and subtle choice. It's perfect for small, minimalist designs and can be easily hidden by hair.
Scorpion ear tattoo
The Shoulder
The shoulder is a classic location for tattoos, offering a good amount of space for medium to large designs. A scorpion tattoo here can either be easily displayed or hidden, depending on your clothing.
Scorpion made of flowers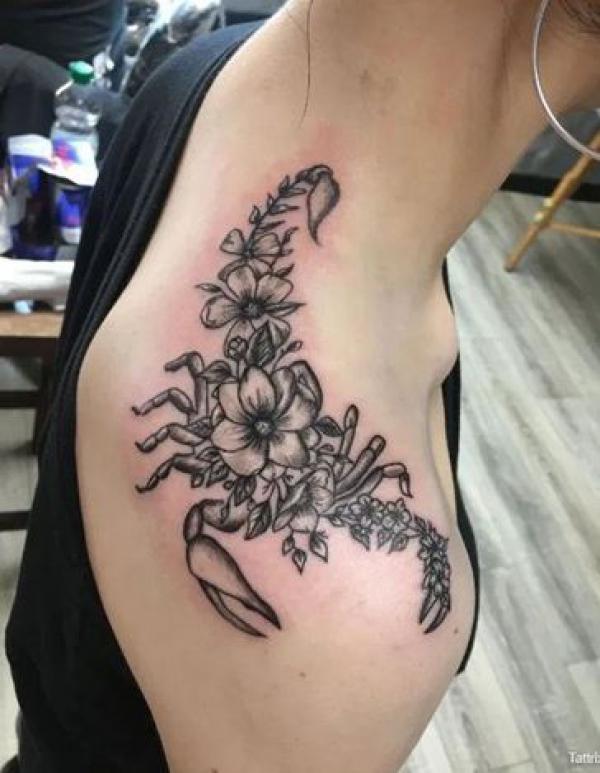 The Chest
A scorpion tattoon the chest is a bold and personal statement. This placement offers a large canvas, allowing for detailed and intricate designs. Given its proximity to the heart, a chest tattoo often carries significant personal meaning.
The Scorpion in the center of the chest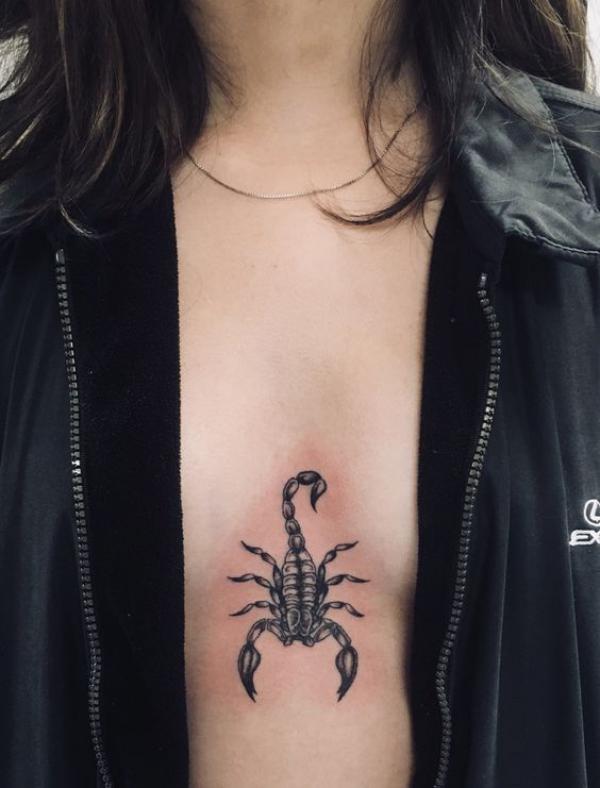 The Back
The back is the largest canvas for tattoos, perfect for large, detailed scorpion designs. Whether it's a small scorpion on the upper back or a large piece spanning the entire back, this placement is versatile and easily concealed.
Tribal scorpion on the back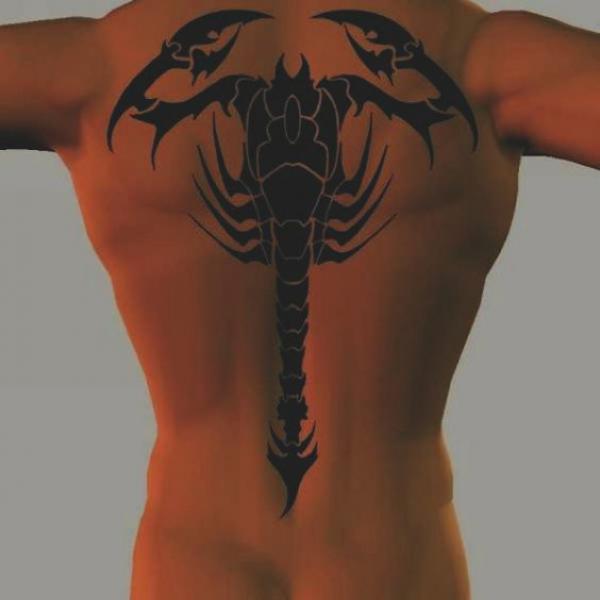 Scorpion Tattoo Design Ideas: From Zodiac Signs to Flower Combinations
Scorpio Sign Tattoos
For those born under the Scorpio zodiac sign, a Scorpio sign tattoo is a fantastic way to show off your astrological identity. These designs can feature a stylized symbol of the Scorpio sign, with or without an actual scorpion. From minimalist symbols to intricate representations, the options are limitless.
Scorpio symbol on a rainbow colored background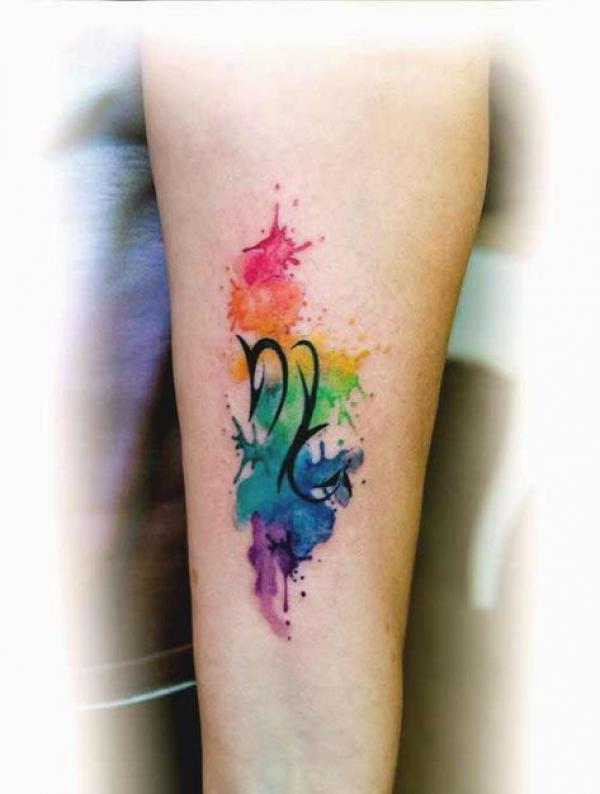 Scorpion and scorpio sign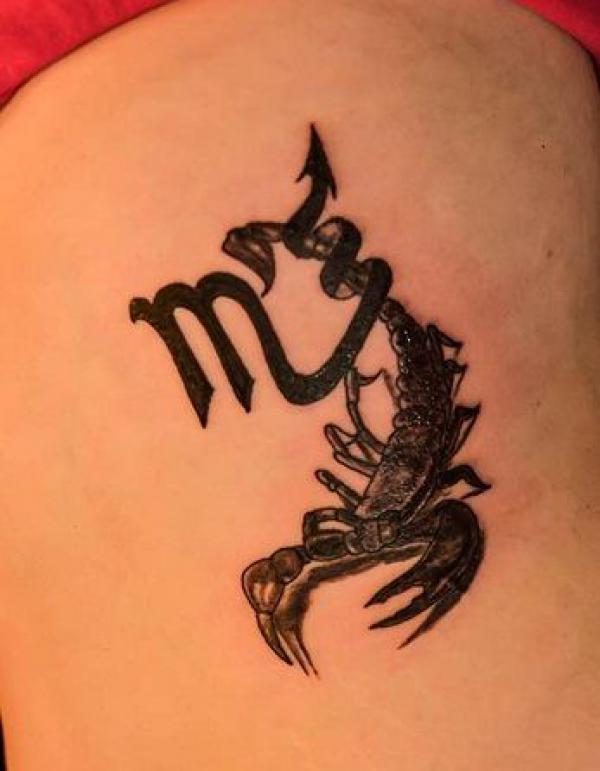 Watercolor scorpion and a scorpio sign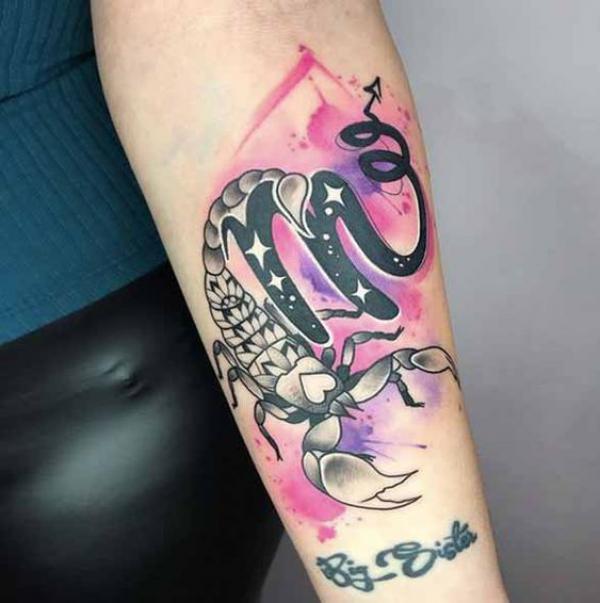 Geometric scorpion with scorpio symbol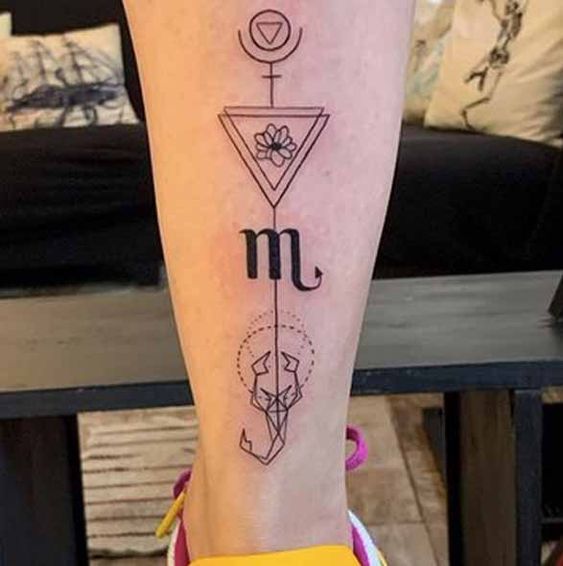 Red scorpio sign with black and white scorpion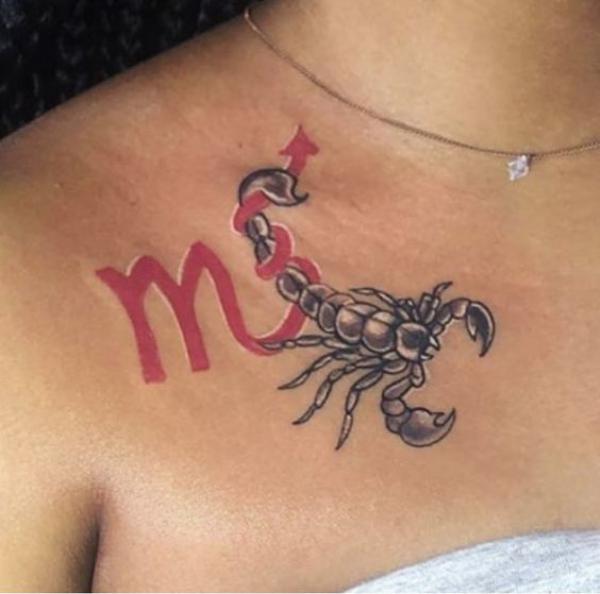 Scorpio sign on inner elbow
Scorpio Zodiac Constellation Map Tattoos
Another astrology-inspired designs are the Scorpio zodiac constellation map. This kind of tattoo designs feature the constellation associated with the Scorpio zodiac sign. It's a subtle nod to your astrological sign, and a perfect choice for astronomy enthusiasts.
Scorpion and scorpio star sign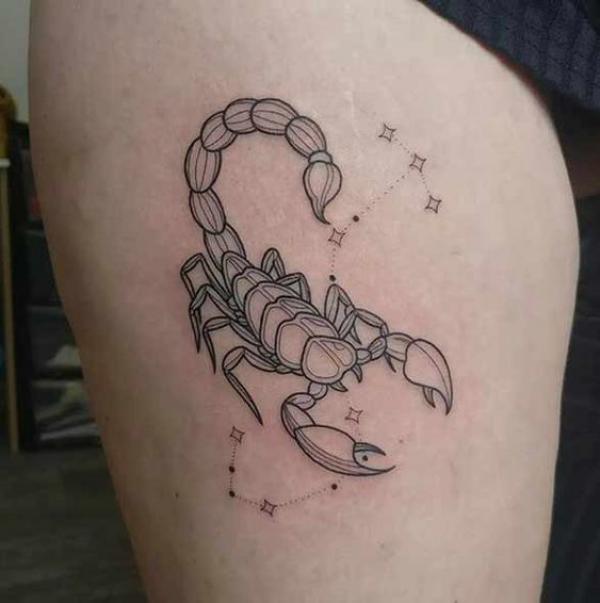 Watercolor scorpio star sign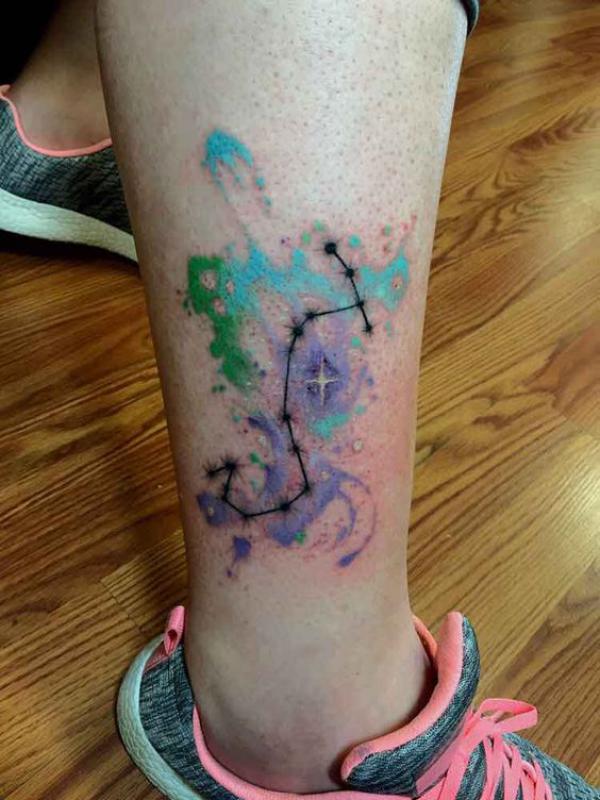 Scorpio constellation map tattoo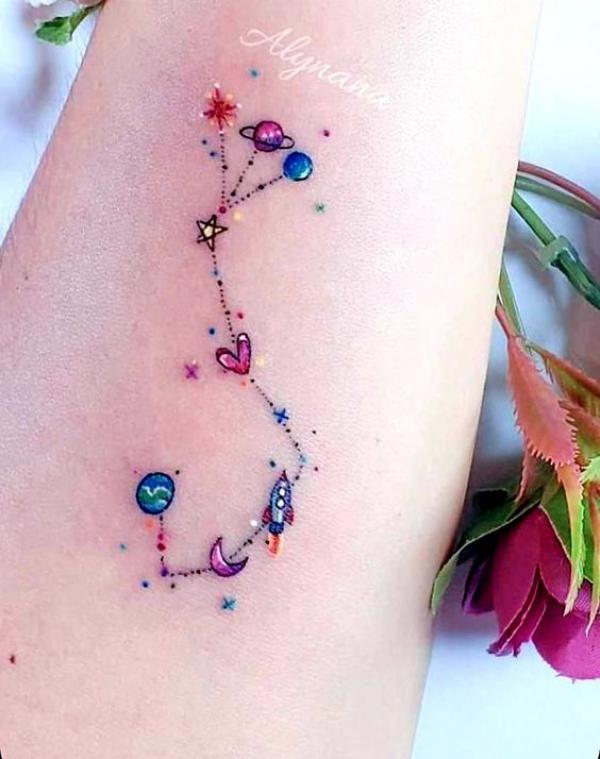 Scorpio Zodiac constellation with blue diamonds tattoo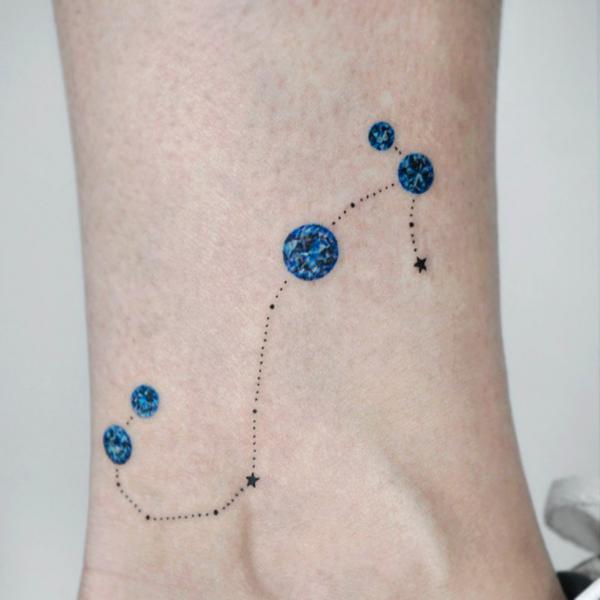 A scorpion and rose tattoo combines the strength and resilience symbolized by the scorpion with the beauty and love symbolized by the rose. These designs represent the balance of power and grace, toughness and gentleness. It's a deeply symbolic design, perfect for those who love meaningful tattoos.
Realistic scorpion and rose on the upper arm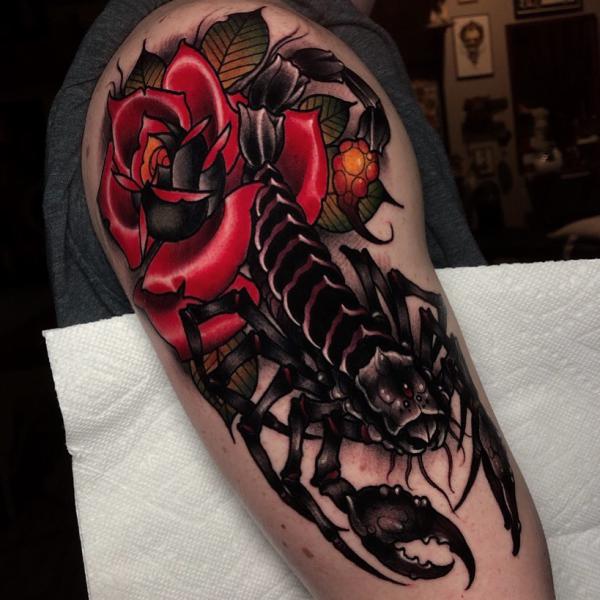 Scorpion and a stem of rose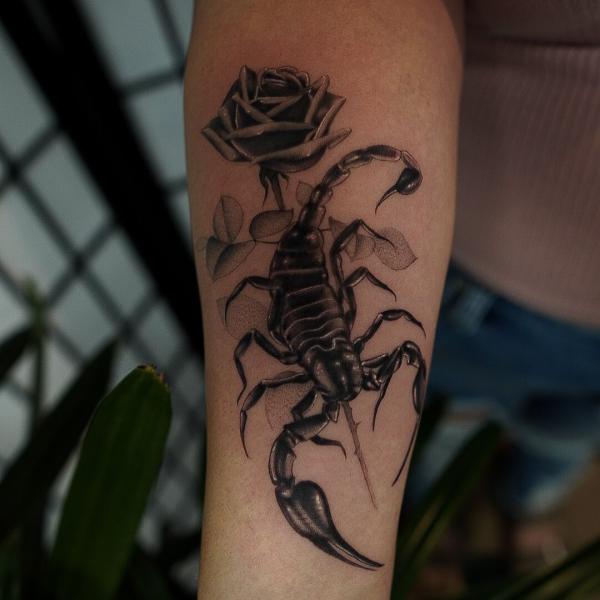 Yellow rose and black scorpion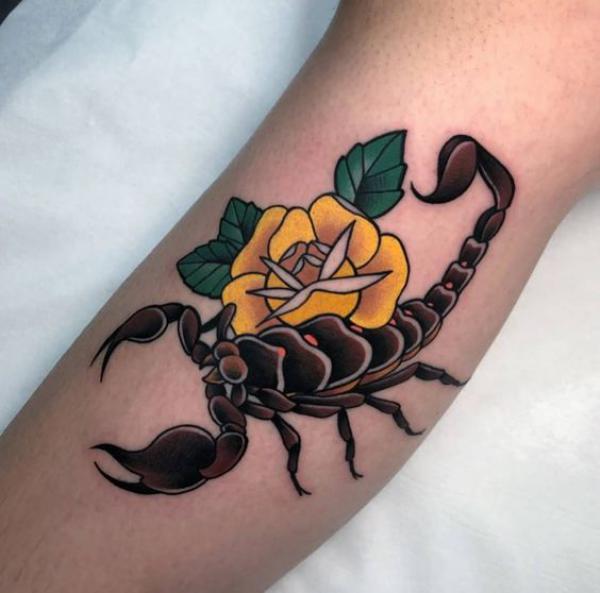 Scorpion with a rose tail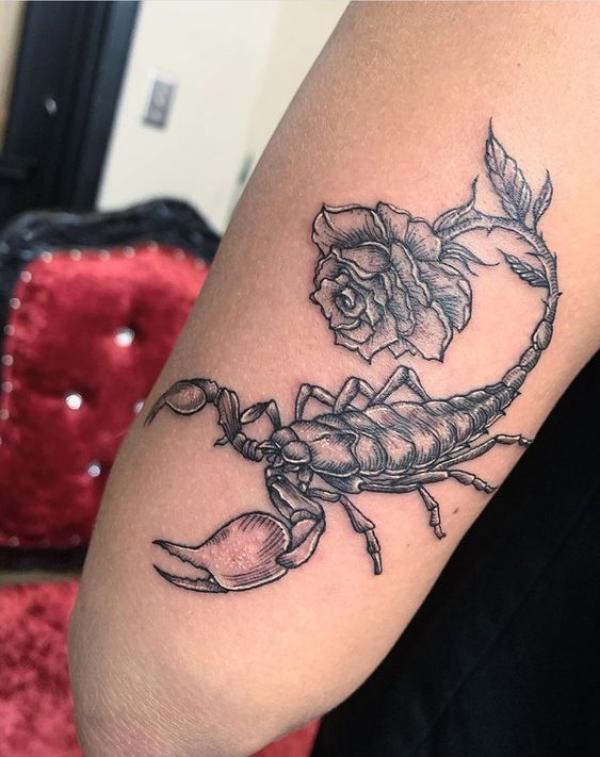 Black and grey scorpion and rose neck tattoo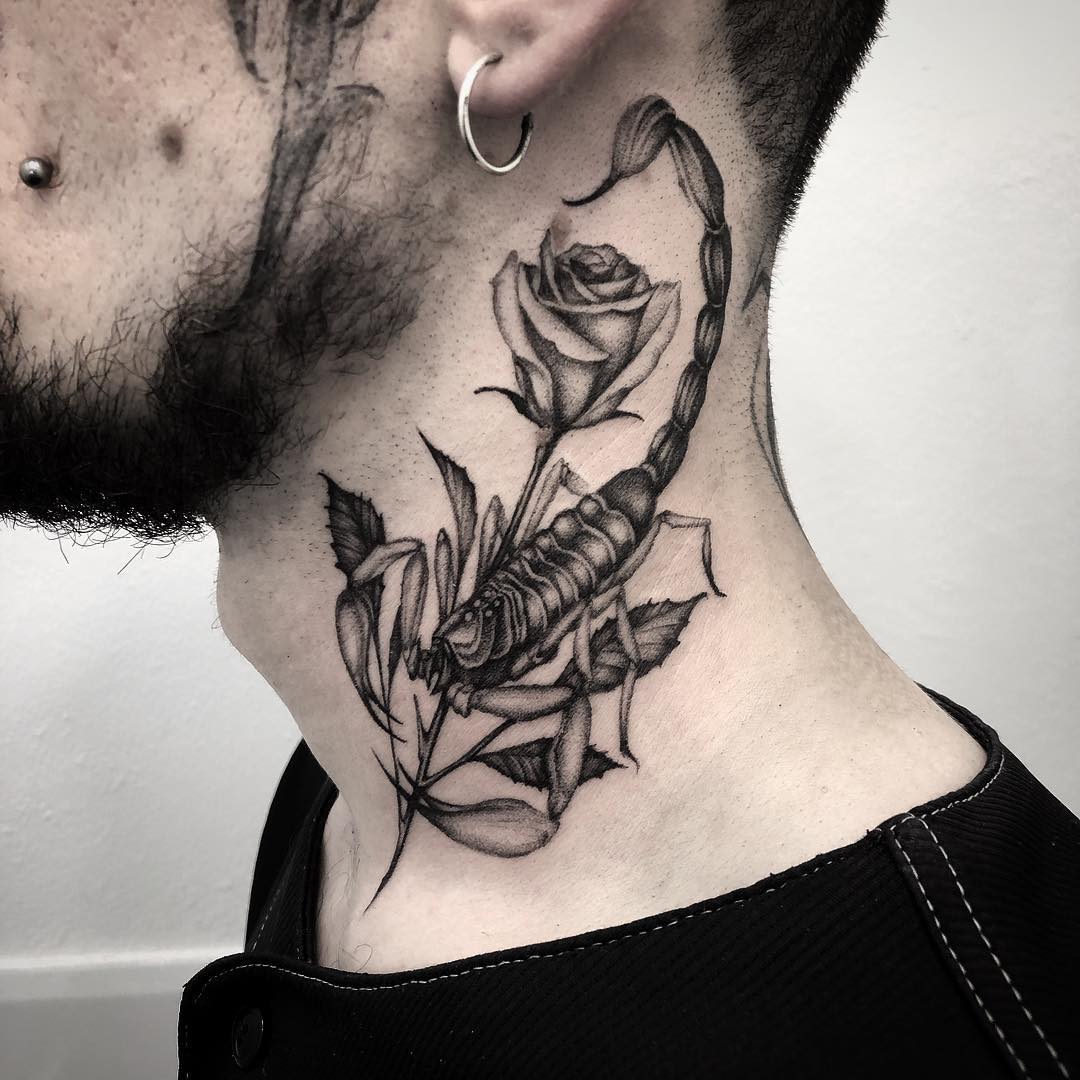 Scorpion with pink rose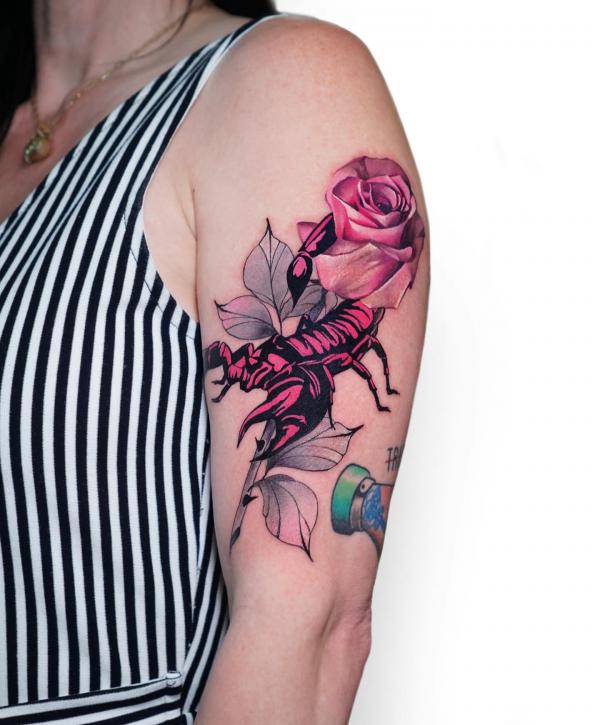 Black rose and scorpion hand tattoo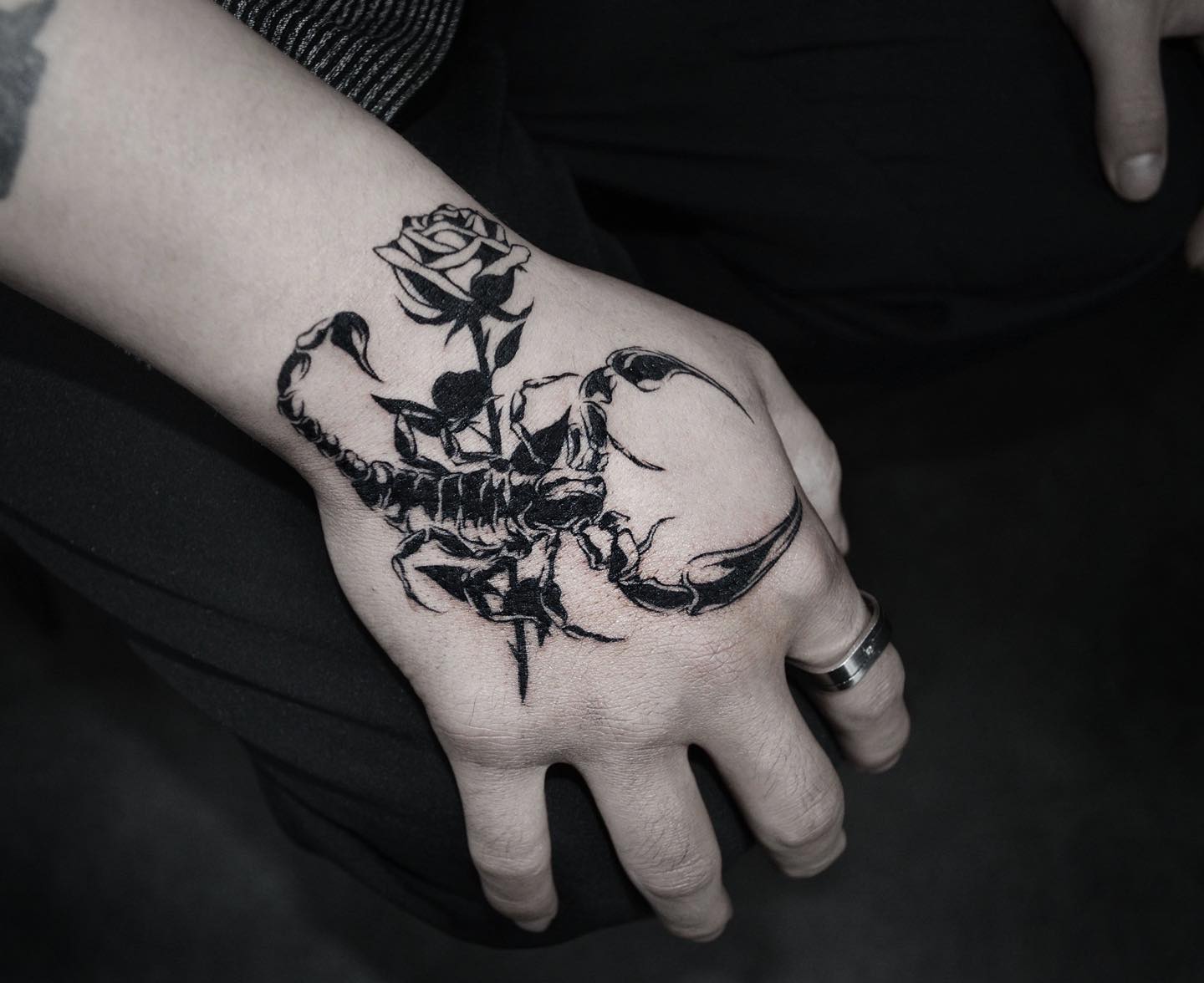 Scorpion with rose approaching the heart with an eye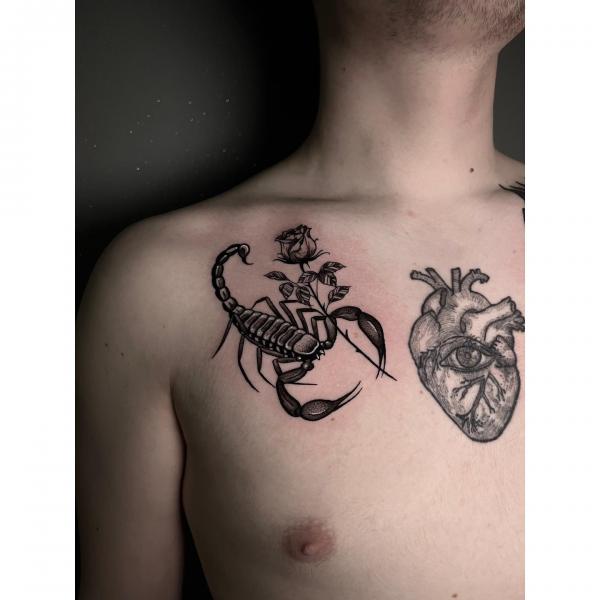 Traditional rose encircled with the tail of a scorpion in heart shape
Vibrant rose and black scorpion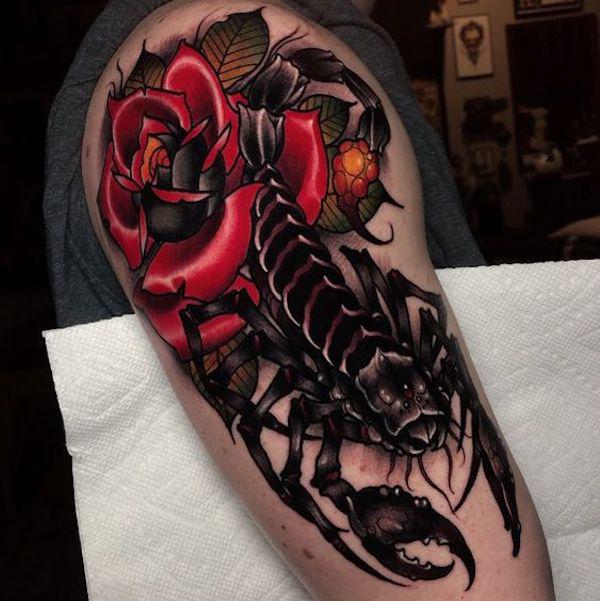 White scorpion adorned with red roses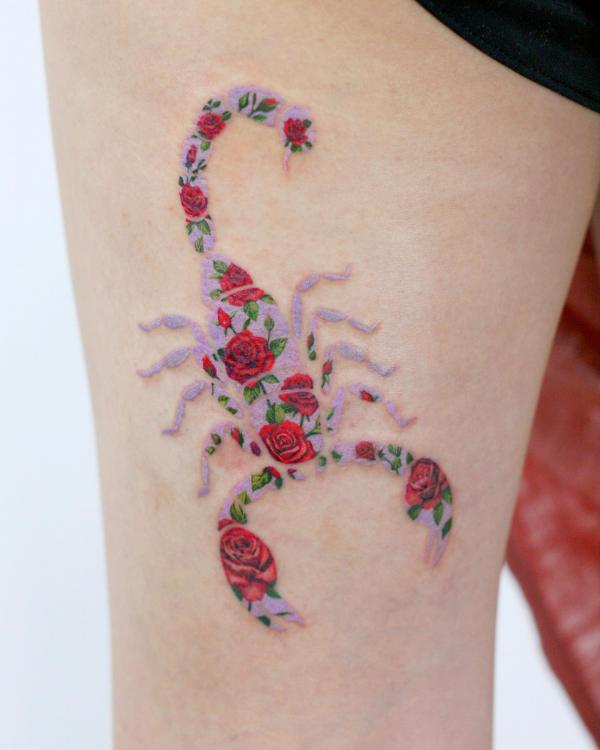 Black scorpion and rose with red shadow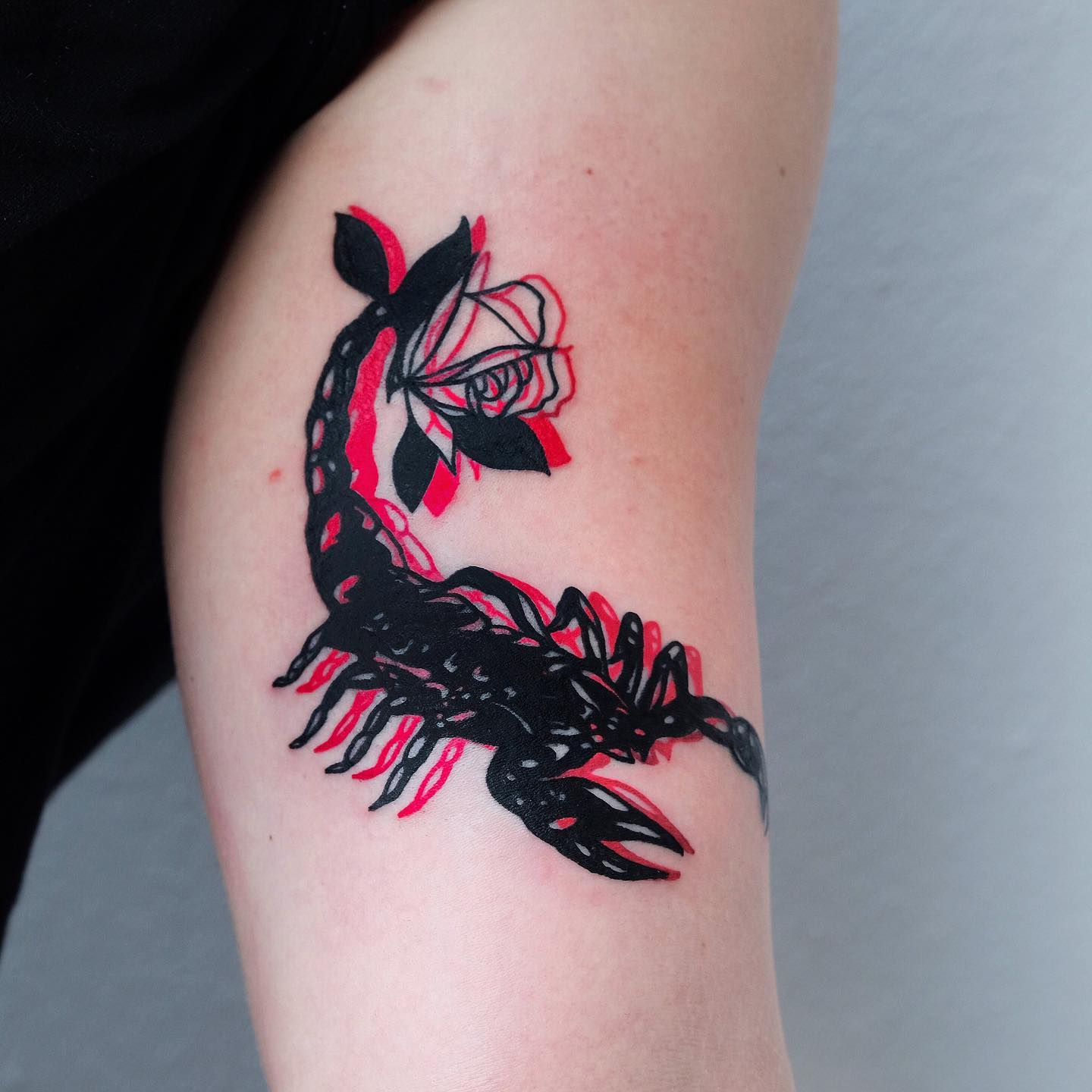 Scorpion on a vase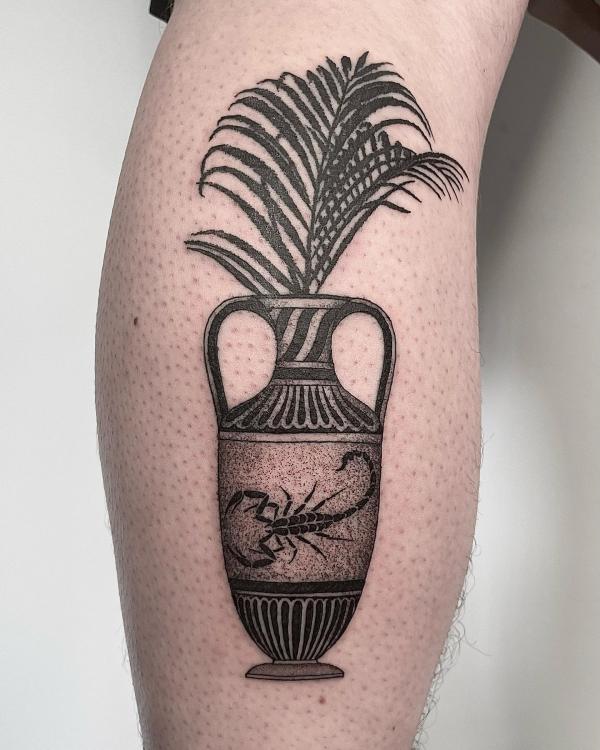 Imagine a black scorpion delicately painted on a vase surrounded by verdant leaves. This design is like an ode to the ancient art of pottery painting. The contrast between the soft curvature of the vase and the sharp, jagged edges of the scorpion creates an intriguing visual balance.
Scorpion on the world map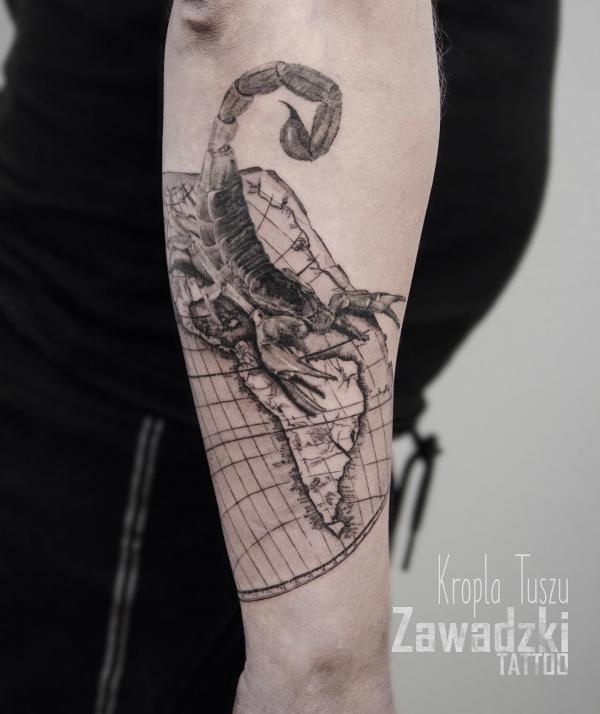 There's a certain power to a tattoo showcasing a giant scorpion sprawling across a world map, tail upturned. This design carries a sense of global domination, reflecting the wearer's indomitable spirit and their intent to conquer their own world.
Scorpion under the starry sky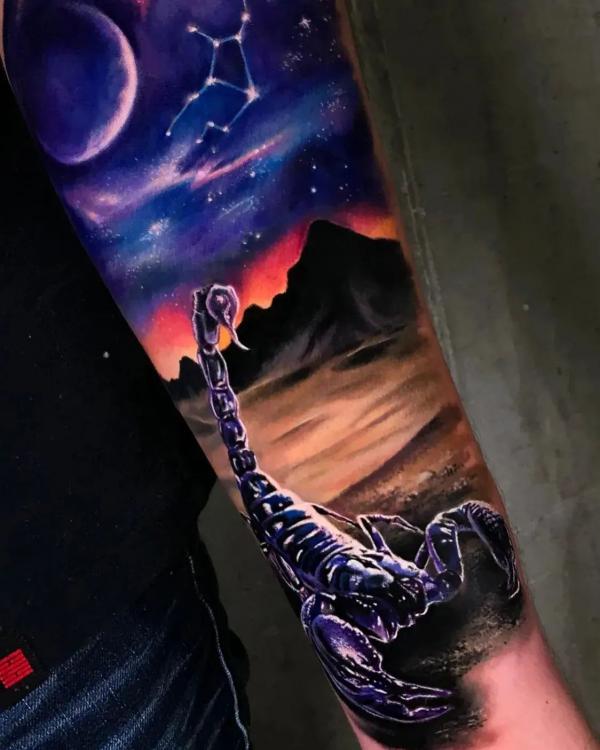 The image of a scorpion crawling on earth under a star-studded sky is deeply evocative. This design can symbolize a deep connection to nature, the universe, and the cycle of life, with the scorpion representing the wearer's journey through life.
Scorpion with hibiscus on the chest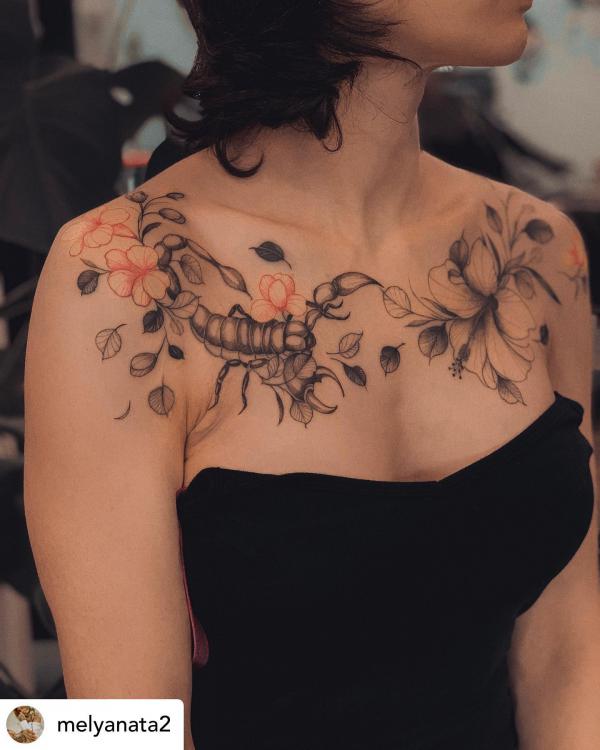 For women seeking a gentler, more feminine design, a light-colored scorpion paired with a hibiscus flower on the chest can be an excellent choice. The hibiscus adds a tropical touch and softens the scorpion's harshness, creating an intriguing juxtaposition.
Scorpion with rose and clock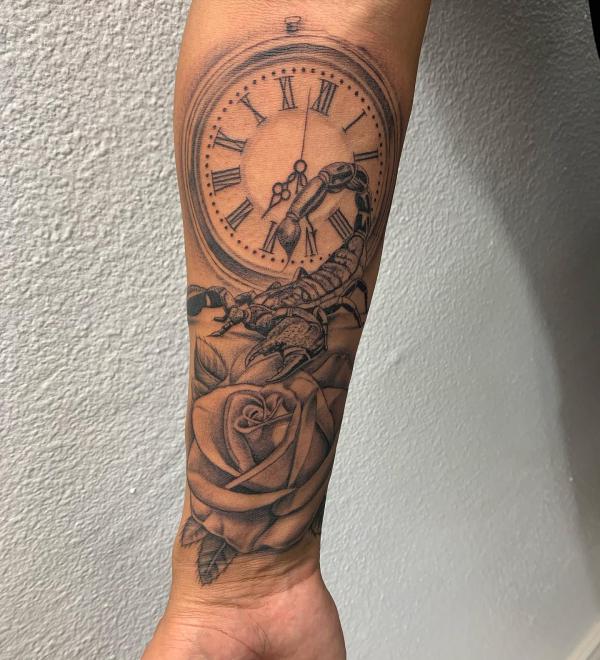 A black and grey forearm tattoo featuring a scorpion between a clock and rose is a classic choice. The scorpion signifies strength and resilience, the rose symbolizes love and beauty, and the clock represents the passing of time – a profound trio of themes intertwined into one design.
Scorpion with sun and moon with a cross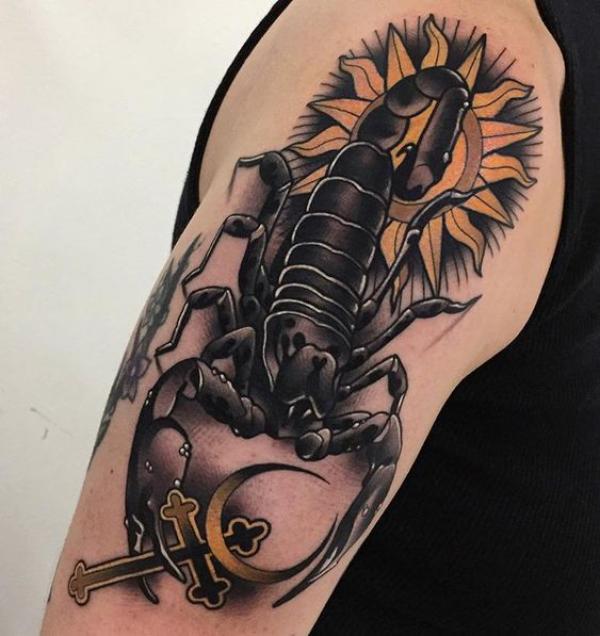 An arm tattoo showing a black scorpion crawling between a sun and crescent moon, perpendicular to a cross, is rich with symbolic imagery. The scorpion, sun, and moon can represent life's cyclic nature, and the cross may signify faith, creating a harmonious blend of symbols.
Scorpion with Zodiac constellations symbols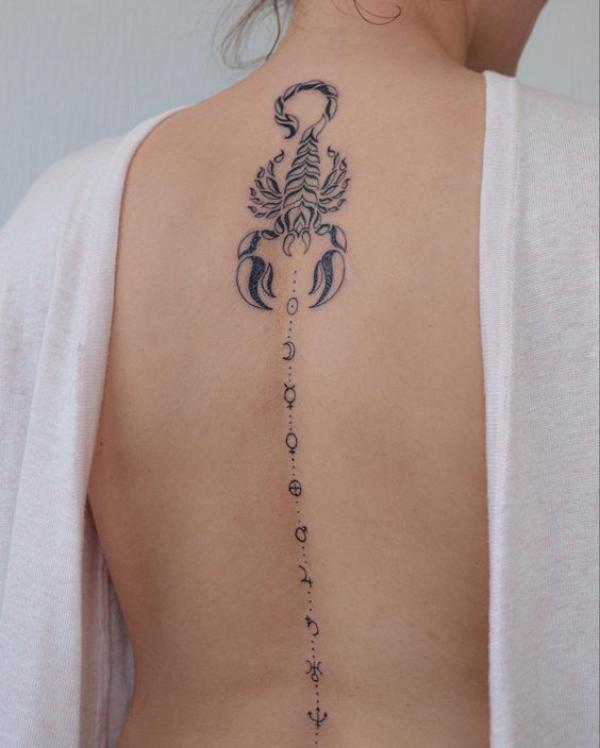 For those who appreciate the mystical, a tattoo design featuring a scorpion and a series of Zodiac constellations symbols along the spine can be truly enchanting. It's a feminine, delicate design that subtly communicates the wearer's astrological interests.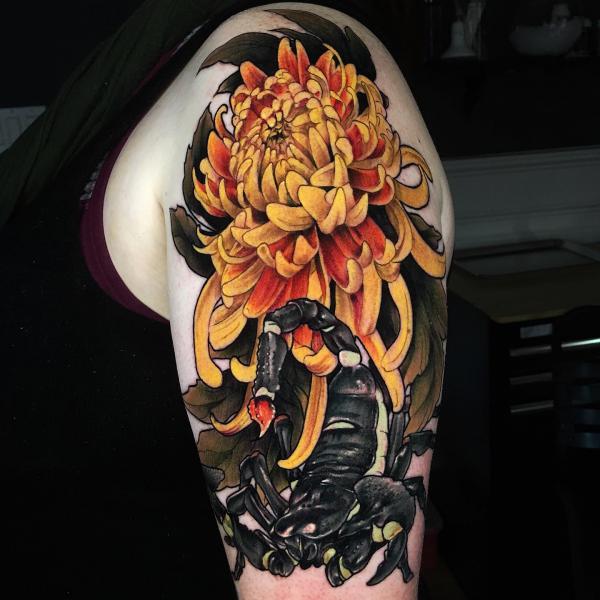 A half sleeve tattoo featuring a vibrant yellow and red chrysanthemum on a black scorpion is a stunning choice. The chrysanthemum, a symbol of rebirth and longevity, pairs beautifully with the transformative symbol of the scorpion.
Scorpion on spider web with lotus and skeleton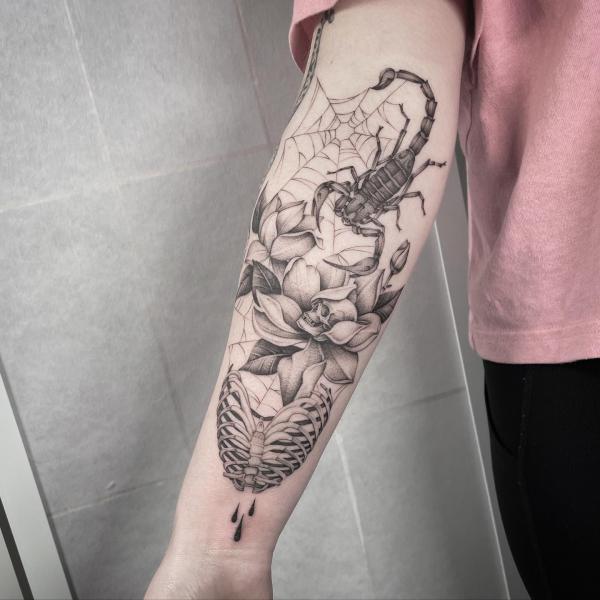 A black and white tattoo of a scorpion on a spider web tattoo, with a lotus flower and skeleton underneath, offers a blend of Gothic aesthetic and spiritual symbolism. The lotus signifies purity and enlightenment, the spider web represents fate, and the skeleton is a reminder of life's fleeting nature.
Snake between two scorpions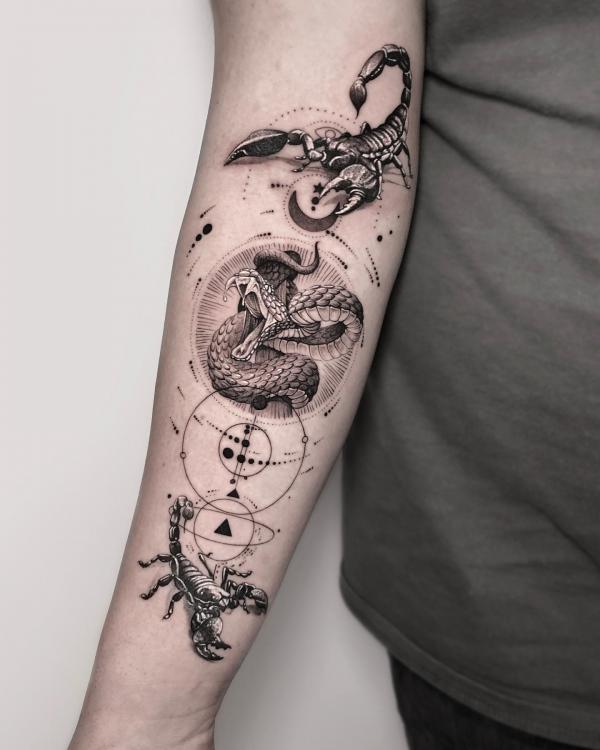 A celestial design of a coiling snake between two scorpions incorporated with geometric orbits is an exquisite choice for those attracted to cosmic symbolism. This design can signify the balance between dual forces and the cyclical nature of existence.
Traditional golden scorpion with flowers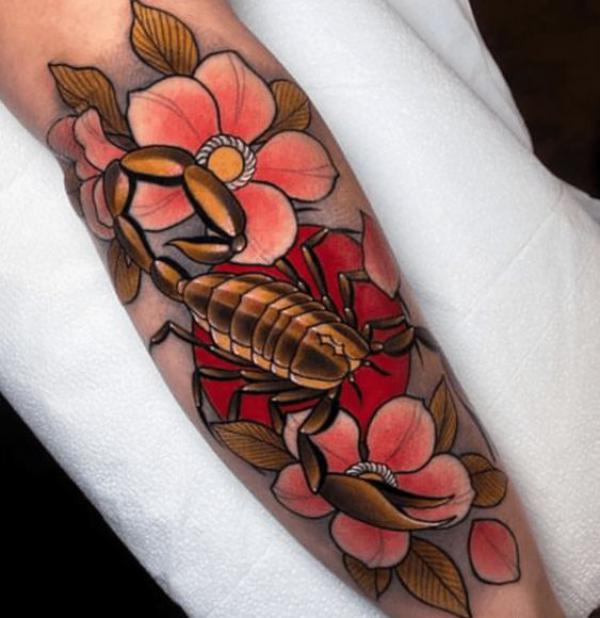 A golden scorpion adorned with flowers in traditional tattoo style is an eye-catching and colorful choice. The gold color adds a regal touch to the scorpion, and the flowers give it a soft, decorative edge.
Traditional scorpion with leaves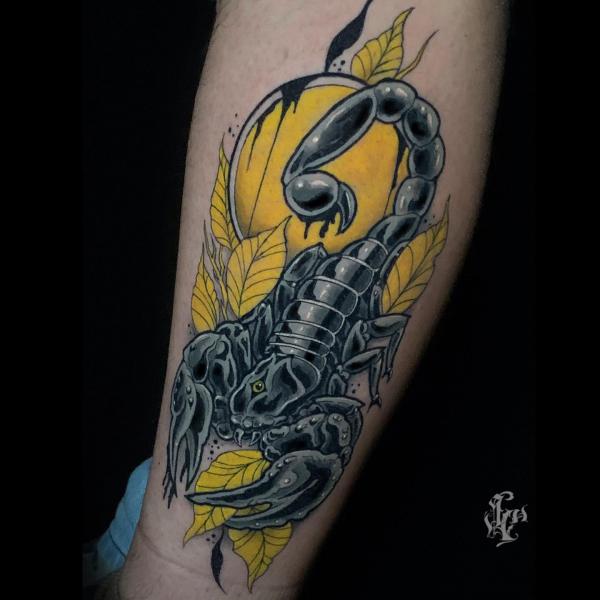 A traditional scorpion tattoo in black, paired with yellow leaves, is a timeless design. The scorpion's black color contrasts beautifully with the yellow leaves, creating a striking visual impact.
Tribal scorpion and sun back tattoo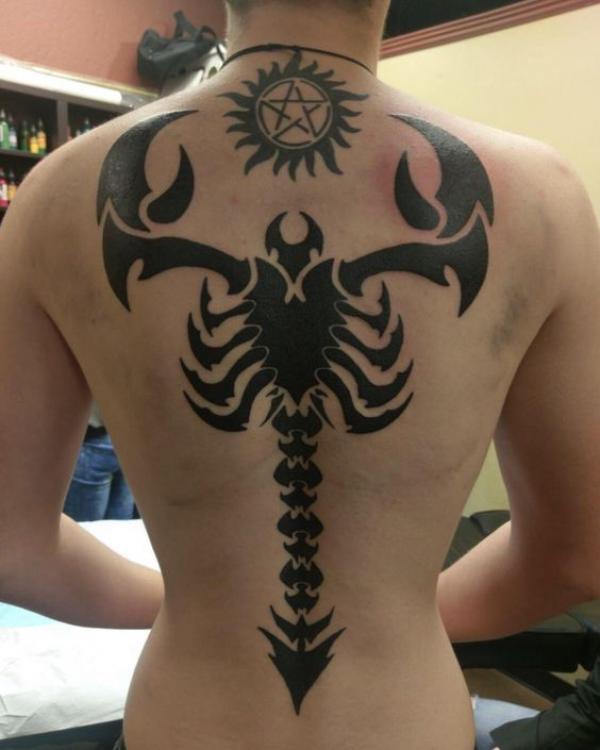 A giant tribal-style scorpion crawling on a man's back, with a long tail portrayed like a spine, topped with a flaming sun with a star inside, is a bold and daring design. It's a showcase of raw energy, strength, and spiritual illumination.
Balance and scorpion with name and date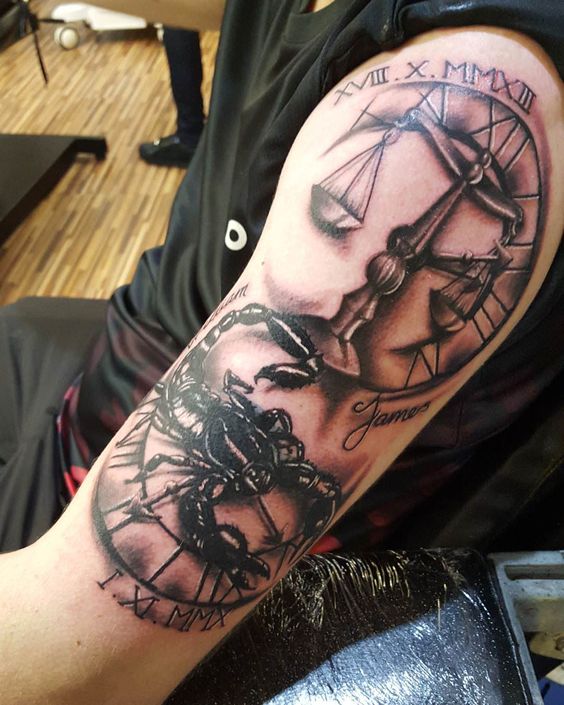 A balanced scorpion resting inside two halves of a clock, accompanied by a name and date, is a poignant design. It suggests a balance between time and eternity, underlining the wearer's personal journey or a significant life event.
Butterfly and scorpion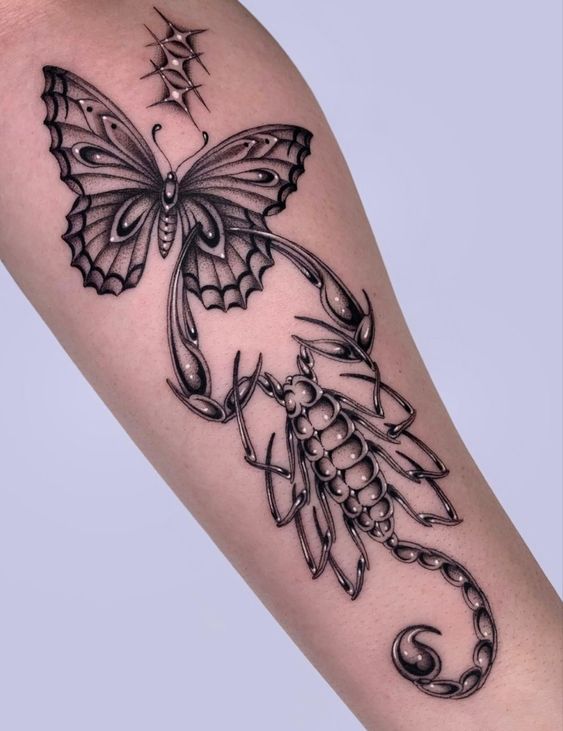 Combining the delicate charm of a butterfly with the fierce energy of a scorpion can create a strikingly beautiful tattoo. Adorned with stars, this feminine design symbolizes transformation and resilience, illuminating a fascinating interplay between softness and strength.
Dagger through a scorpion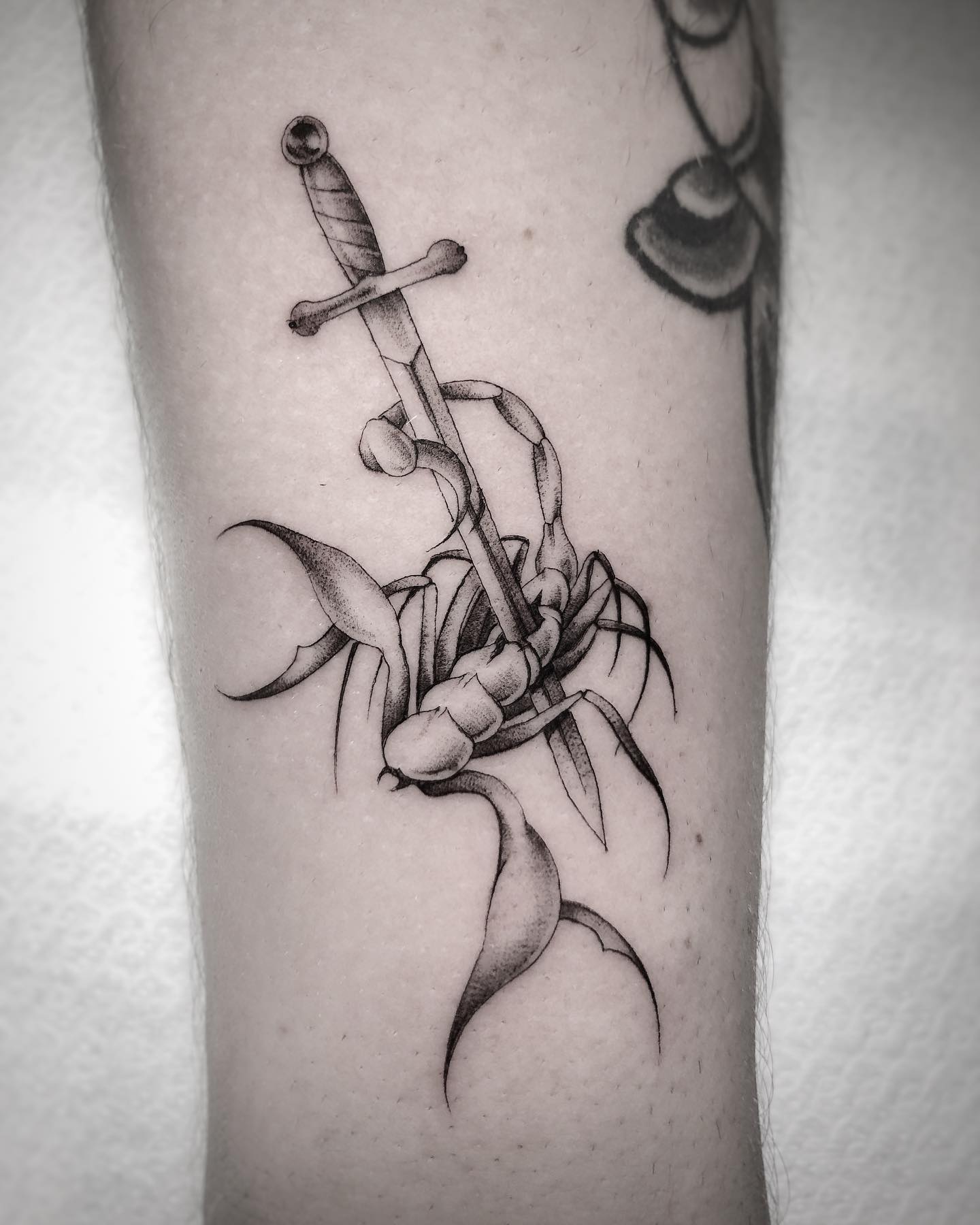 A grey and white tattoo of a dagger piercing through a scorpion creates an intense and powerful visual. This design could symbolize a battle won or overcoming personal struggles. The monochrome style adds to the dramatic nature of the tattoo, making it a captivating choice.
Earth with halo and scorpions chest tattoo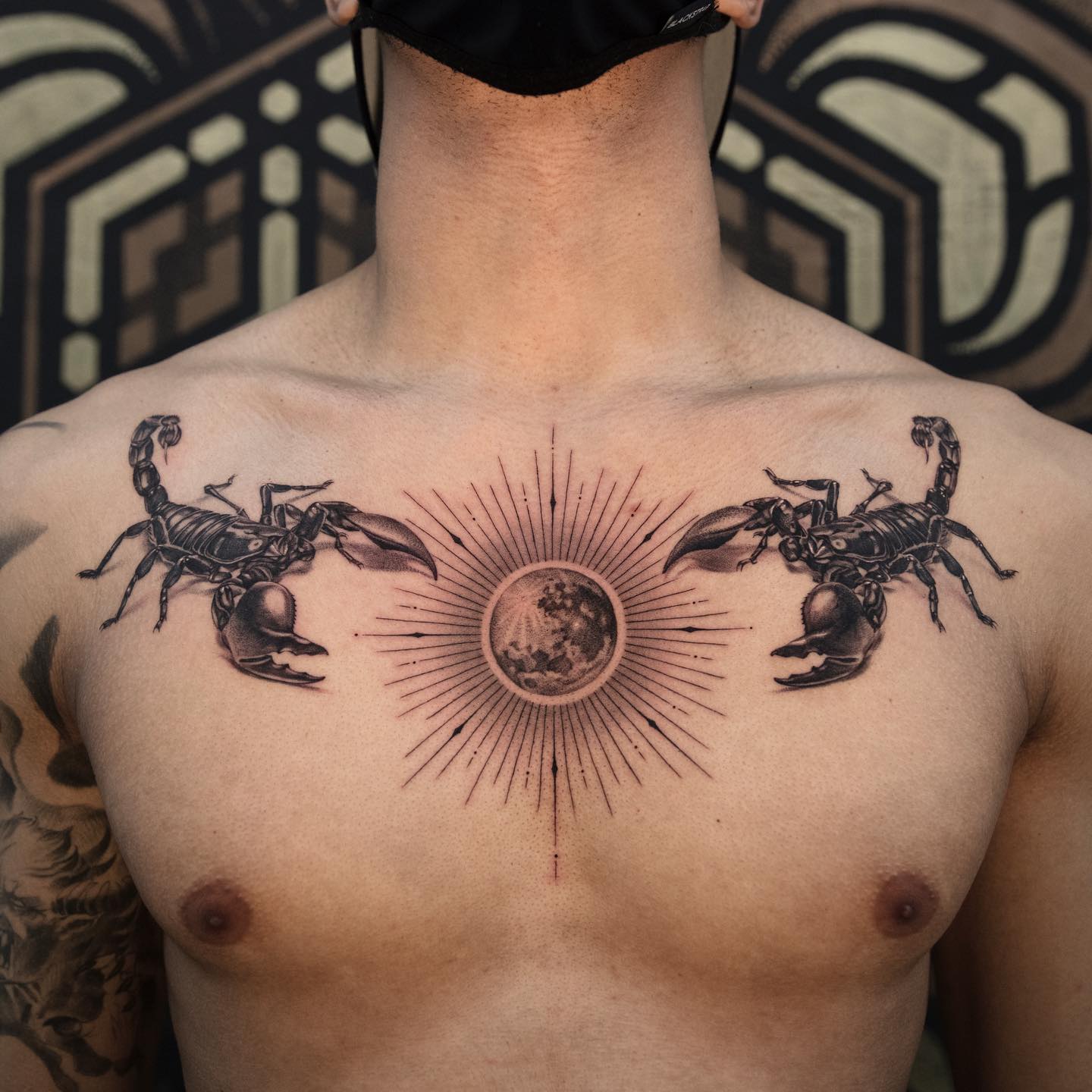 A chest tattoo depicting the Earth with a halo in the center and two scorpions symmetrically crawling on either side is a grand statement piece. The imagery could represent the wearer's deep connection to the world and their resilience in navigating life's challenges.
Geometric scorpion and flowers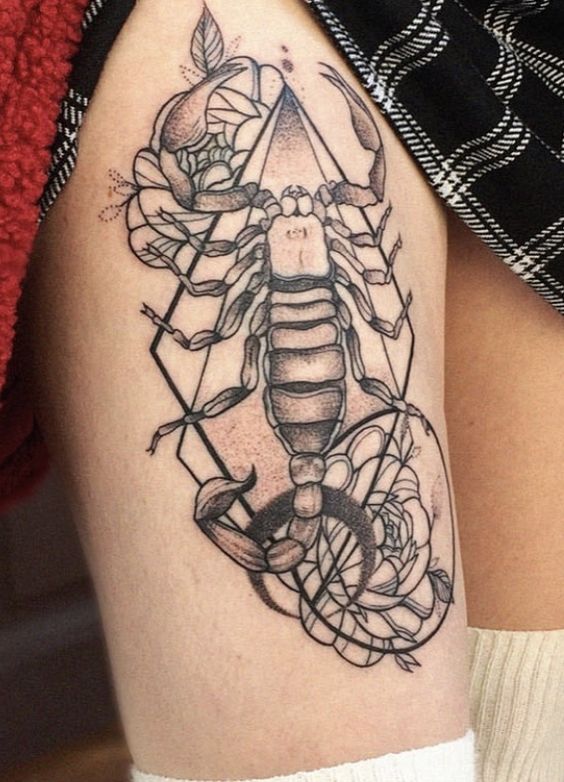 The geometric scorpion and flowers thigh tattoo is a modern design that marries the natural world with mathematical precision. The scorpion, a symbol of protection and strength, is beautifully offset by the floral elements, bringing a sense of balance and harmony to the overall design.
Goat skull with a scorpion and flowers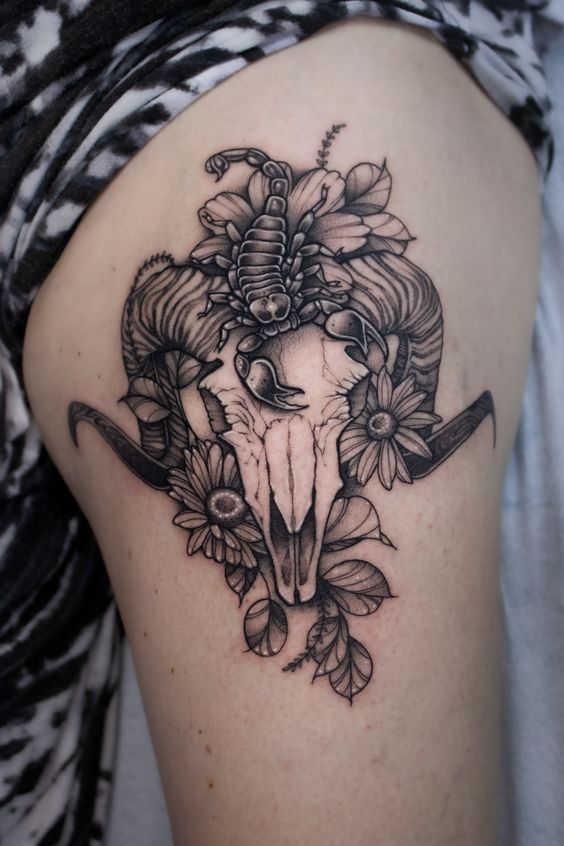 A tattoo featuring a goat skull, a scorpion, and flowers is a unique composition with a slightly macabre charm. The goat skull tattoo can symbolize fearlessness, the scorpion adds an element of danger and resilience, while the flowers bring in a touch of beauty and life, creating a fascinating contrast.
Goddess Kali tattoo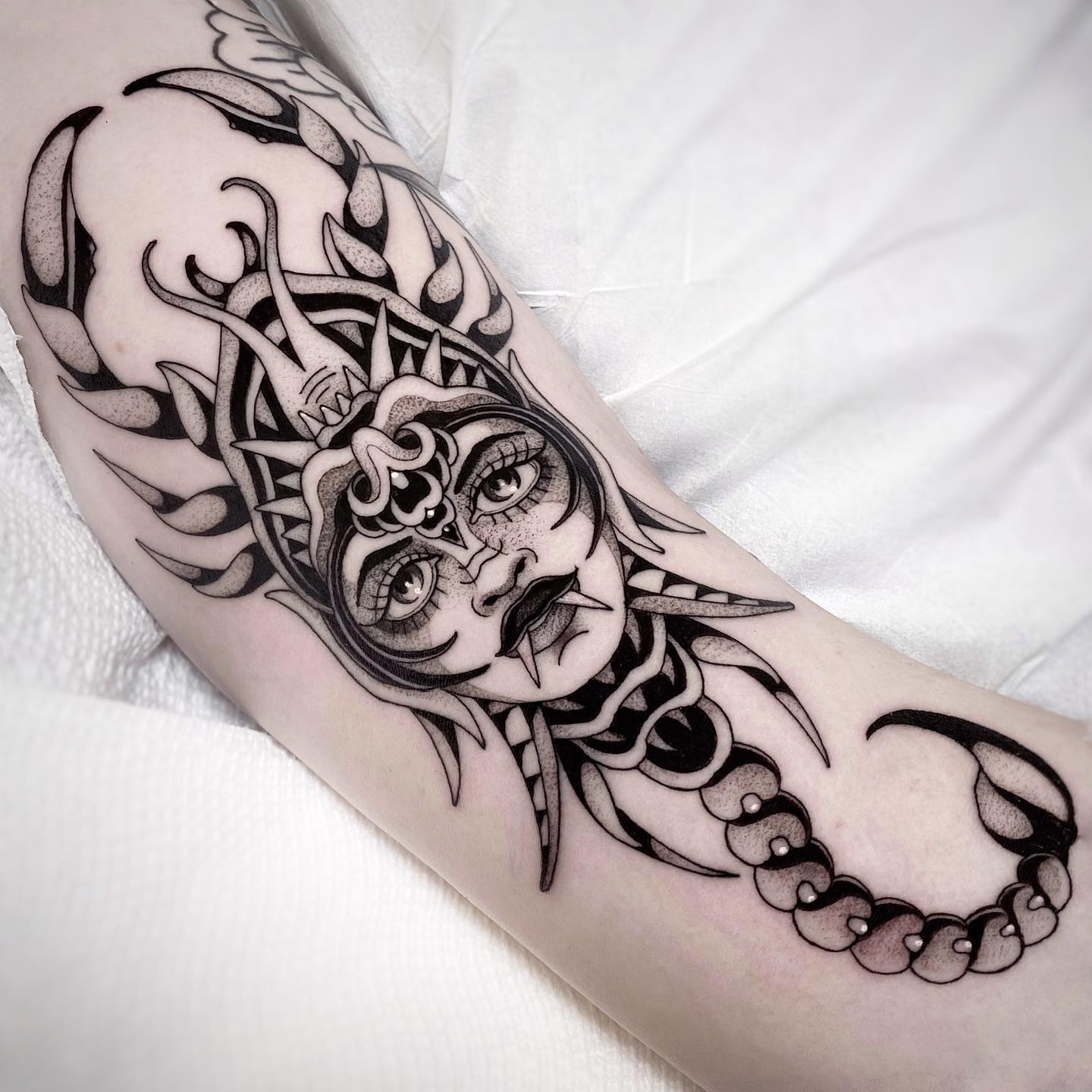 A modern feminine style tattoo of Goddess Kali, complemented by a scorpion, can be a powerful symbol of divine feminine power and transformation. Kali, known for her fierceness and power, pairs perfectly with the scorpion, creating a design that speaks of strength, change, and rebirth.
Iron thorn and scorpion thigh tattoo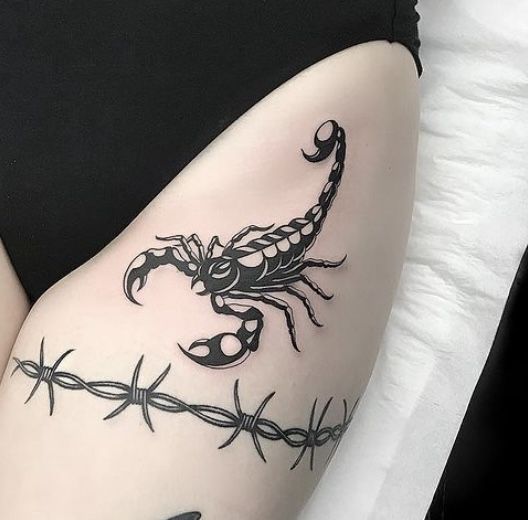 The design of iron thorns encircling the thigh with a scorpion beside is an edgy, intense choice. This design could be symbolic of overcoming hardship and adversity, with the scorpion serving as a symbol of resilience and the iron thorns representing life's challenges.
Scorpion and negative space earth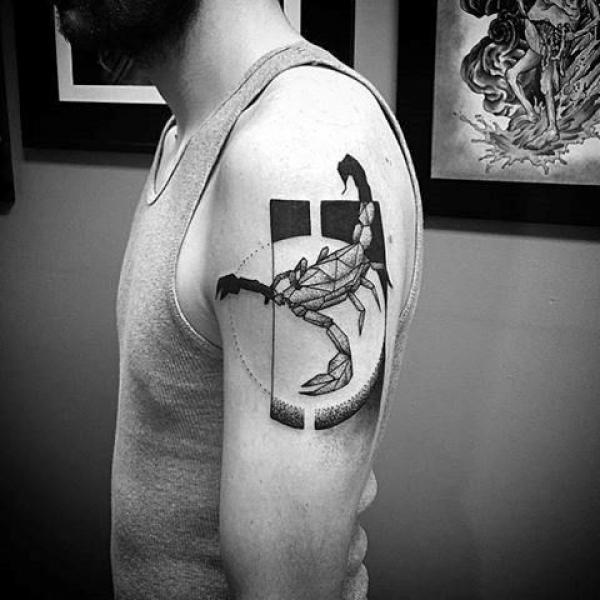 A scorpion tattoo with a negative space Earth design is a unique and intriguing choice. The use of negative space creates an illusion of the scorpion emerging from or being part of the Earth, underlining the interconnectedness of all life forms.
Scorpion and balance outline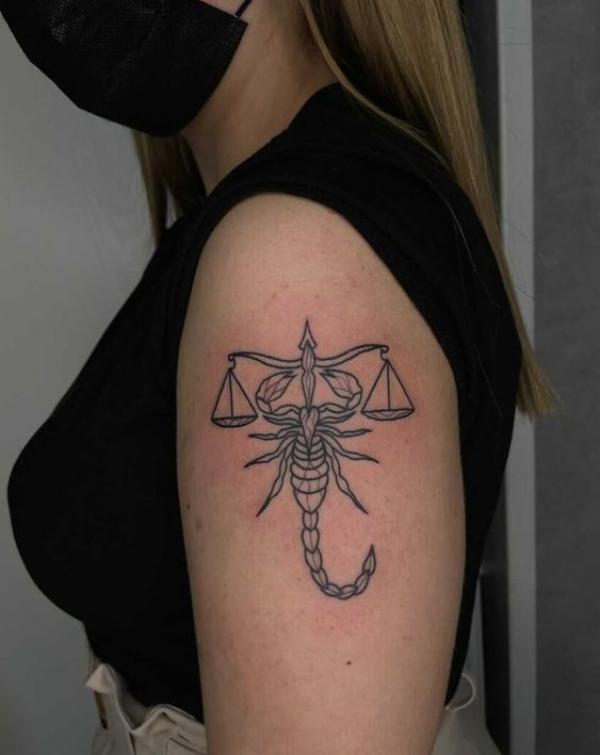 A tattoo design featuring a scorpion and a balance outline is a minimalist yet meaningful choice. It symbolizes the delicate balance of life and the strength required to maintain it. This design can serve as a daily reminder of one's personal strength and the importance of balance in life.
Scorpion and colorful camellia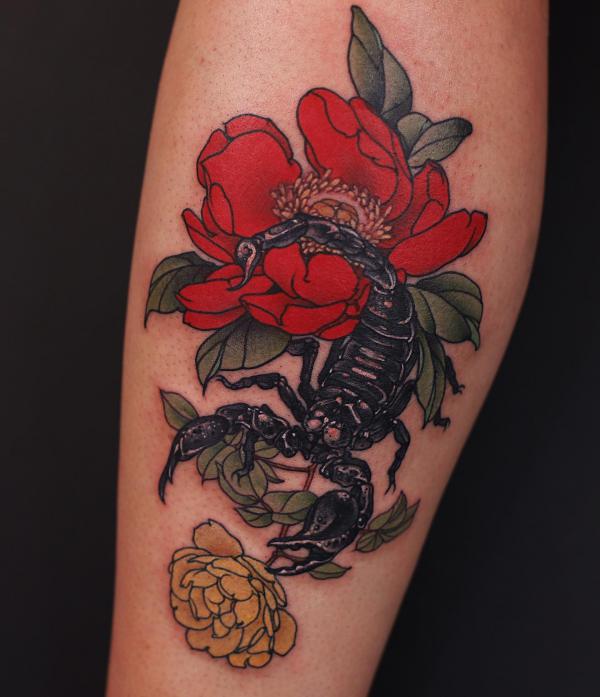 A scorpion paired with a colorful camellia tattoo is a vibrant design choice. The camellia, a symbol of love, affection, and admiration, contrasts beautifully with the scorpion, creating a compelling mix of softness and fierceness.
Scorpion and crescent moon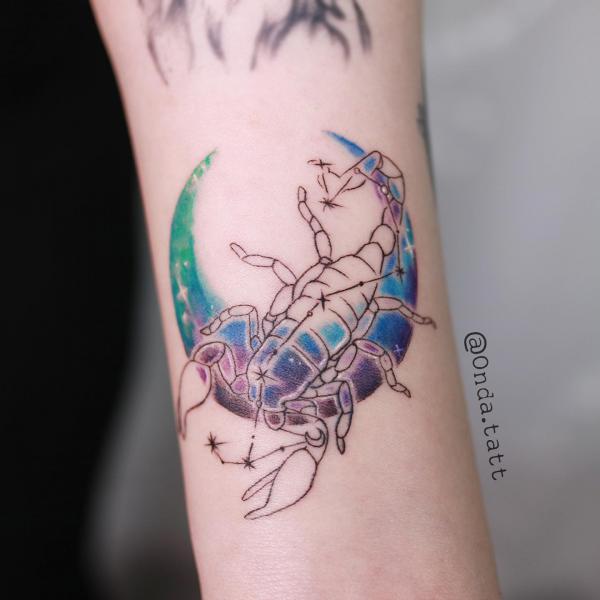 A scorpion with a crescent moon tattoo is a beautiful design that blends earthly and celestial symbols. The scorpion symbolizes transformation, while the crescent moon represents change and cycles. This design beautifully encapsulates the cyclical nature of life and the constant evolution of the self.
Scorpion and eye with words keep it real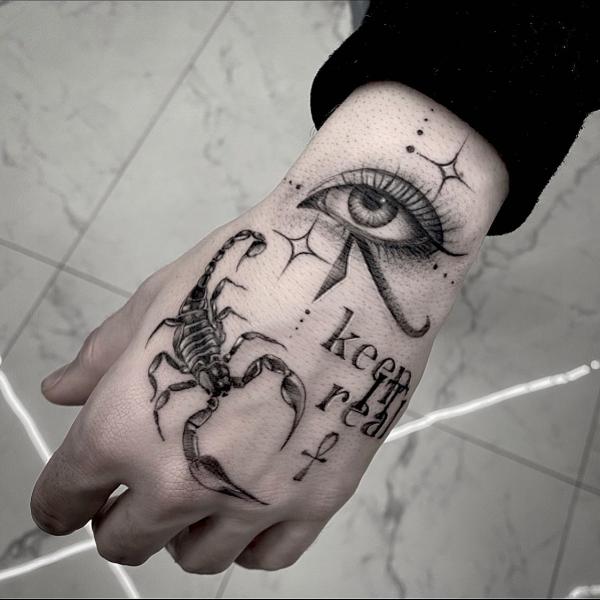 A tattoo depicting a scorpion and an eye, accompanied by the words "keep it real," is a potent symbol of truth and authenticity. The eye stands for truth and awareness, while the scorpion represents resilience, making this design a bold statement of living authentically and fearlessly.
Scorpion and flower in the card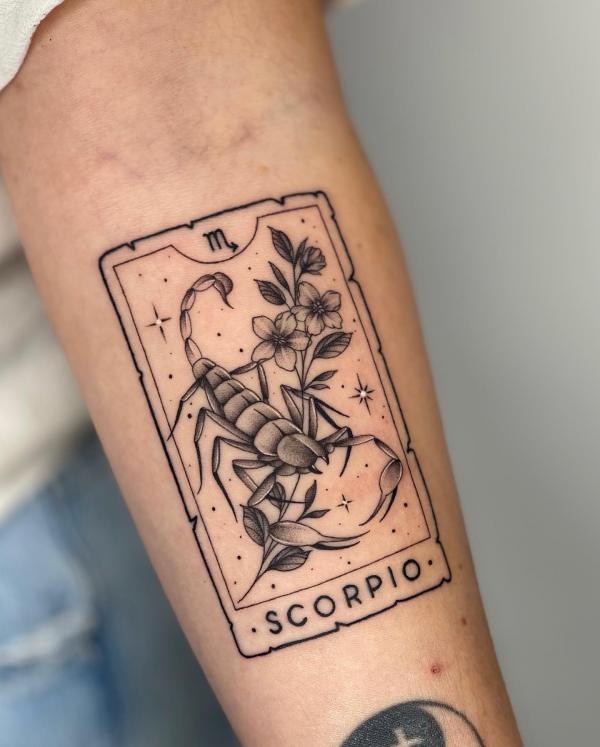 A scorpion and a flower within a card-like frame make for a unique and visually appealing tattoo design. This could symbolize the balance of strength (scorpion) and beauty (flower), encapsulated within the boundaries of the card, suggesting a life lived within certain frameworks but still filled with beauty and resilience.
Scorpion and human eye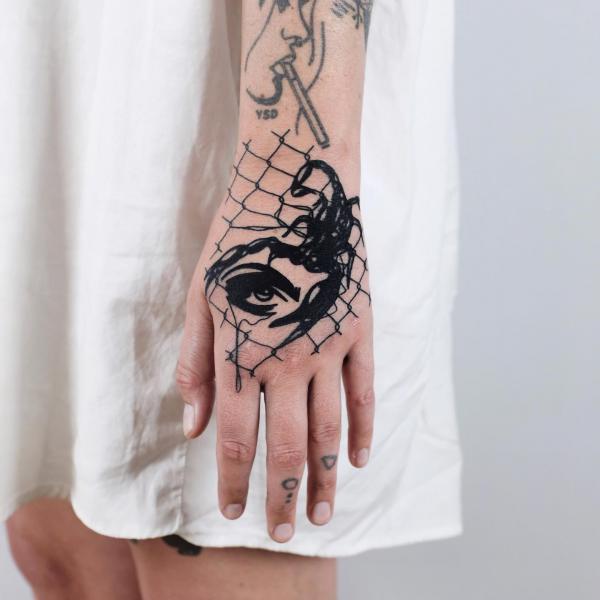 A scorpion and a human eye within an iron web is a design rich with symbolic potential. The eye can represent perception and awareness, the scorpion stands for courage and tenacity, and the iron web could symbolize the complexities of life or the entanglement of fate.
Scorpion and peony with leaves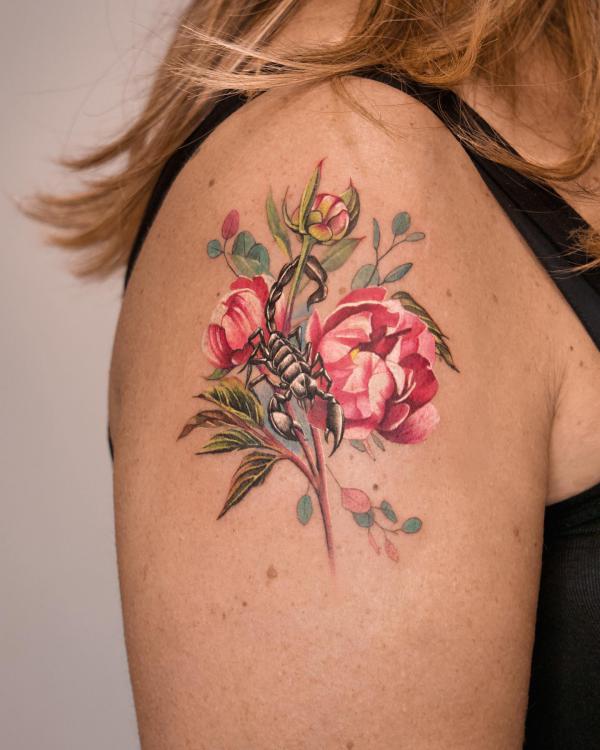 A scorpion paired with a peony and leaves creates a striking tattoo design. The scorpion symbolizes defense and self-protection, while the peony represents beauty and fragility. This combo beautifully captures the dichotomy of life—strength and beauty, protection and vulnerability.
Scorpion and phalaenopsis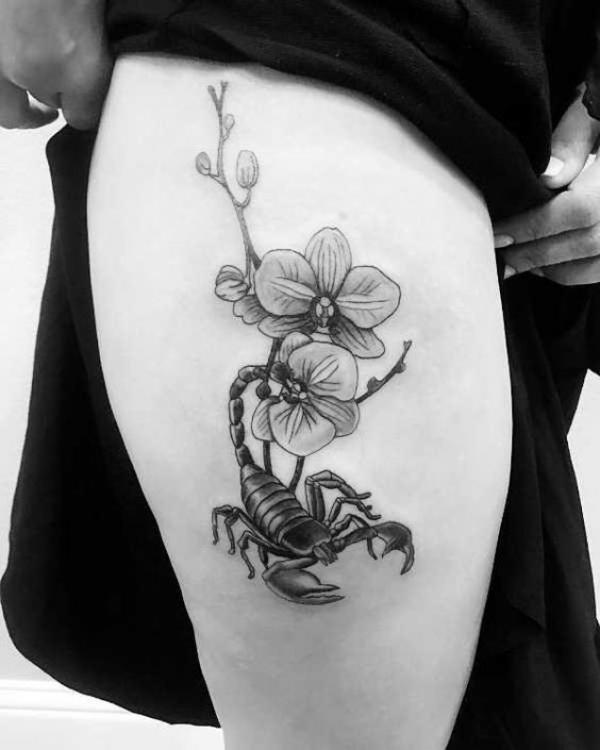 A black and grey tattoo of a scorpion and a Phalaenopsis (also known as a moth orchid) on the thigh is a bold and beautiful choice. The symbolism of the moth orchid (love, beauty, and strength) coupled with the scorpion creates a meaningful statement piece.
Scorpion and Pyramid with names and birds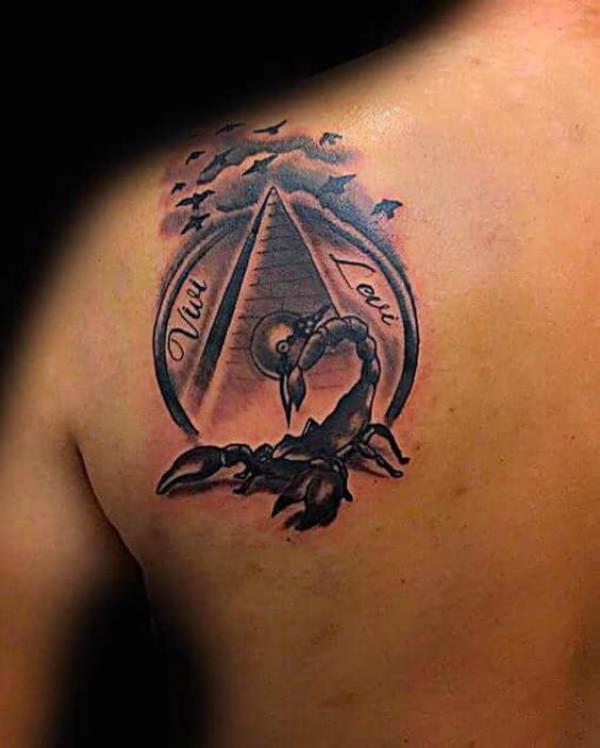 A scorpion and pyramid tattoo, adorned with names and birds, is a deeply personal design that can hold unique meaning for the wearer. The pyramid often symbolizes stability and endurance, the birds can represent freedom or transcendence, and the scorpion adds an element of resilience.
Scorpion and skull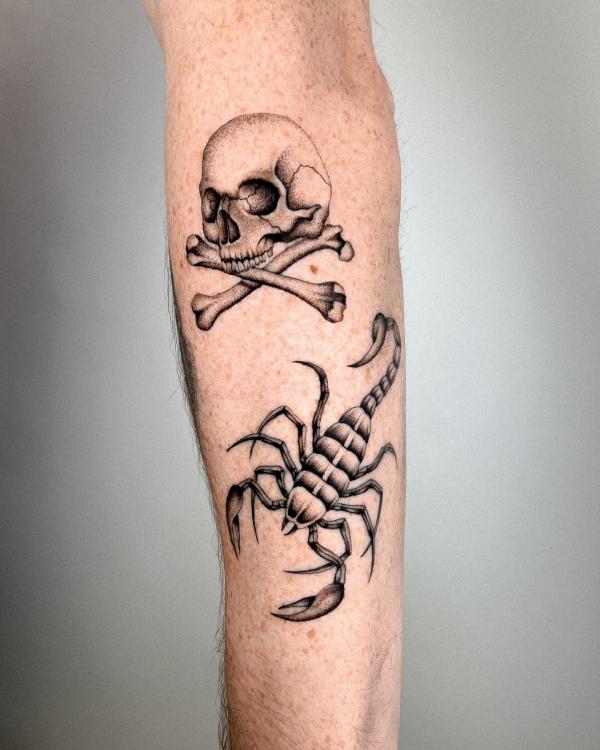 The design of a skull and crossbones with a scorpion underneath is a powerful and dramatic tattoo choice. The skull and crossbones traditionally symbolize danger and mortality, while the scorpion can represent survival and protection. This tattoo can symbolize the wearer's fearless approach to life and their inherent strength.
Scorpion carrying a strawberry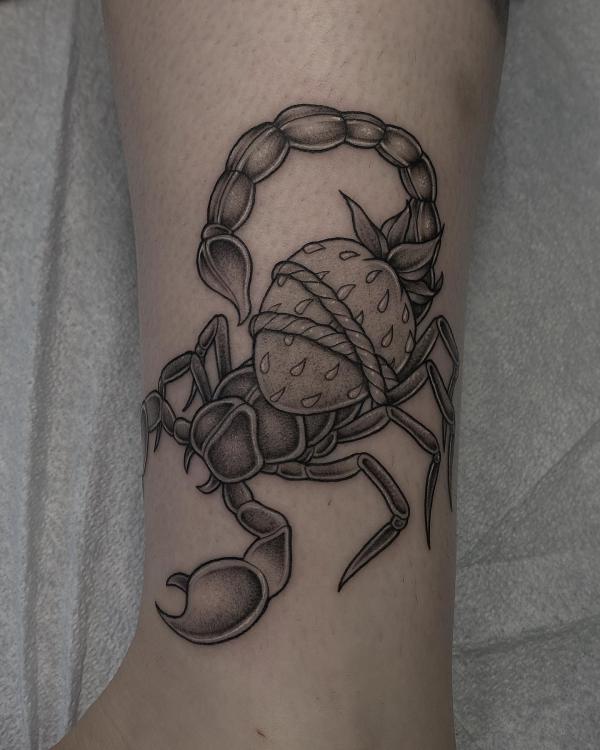 A playful yet meaningful design is a scorpion carrying a strawberry on its back. The strawberry often symbolizes love and joy, while the scorpion is a symbol of resilience and survival. This tattoo could represent the idea of carrying love and positivity through life's challenges.
Scorpion hand tattoo with cherry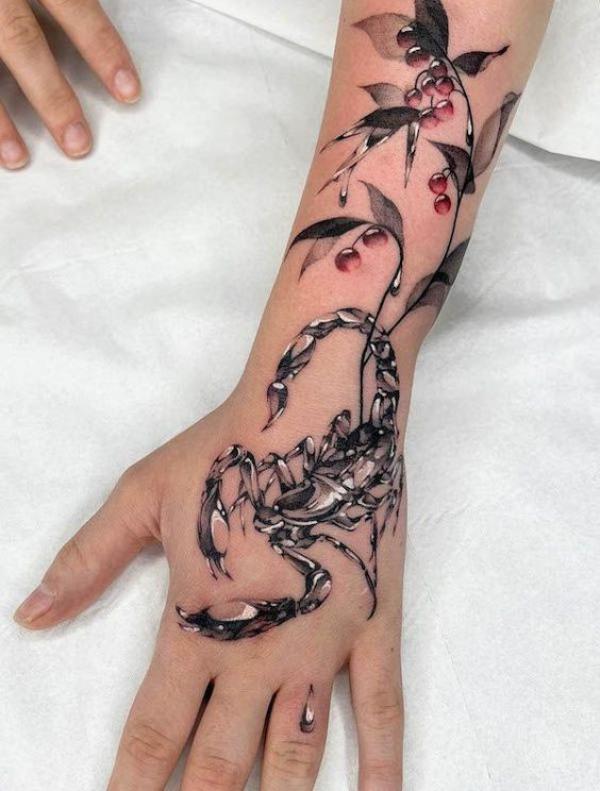 A feminine design featuring a scorpion with a cherry is a delightful blend of sweetness and strength. The cherry stands for love and sweetness, while the scorpion represents resilience and courage, making this design a symbol of the balance between softness and strength.
Scorpion holding a coin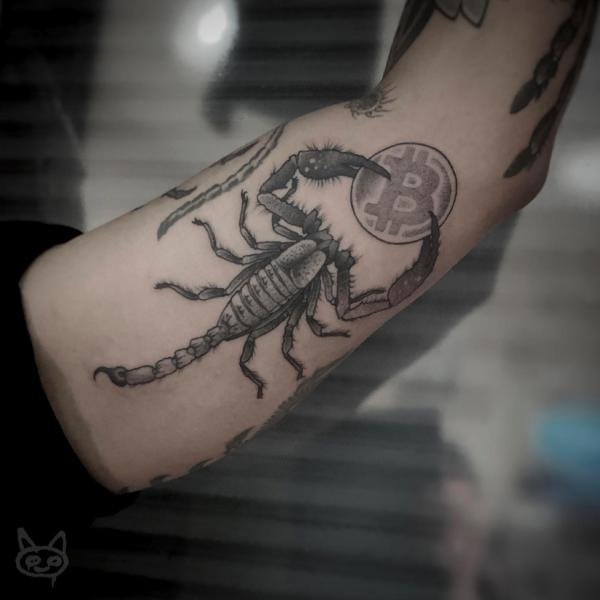 A scorpion holding a coin is a unique tattoo design. The coin can symbolize wealth and prosperity, and when paired with the scorpion, a symbol of protection, this design could represent the protection of one's wealth or the value of being financially resilient.
Scorpion low back tattoo with words flaws and sins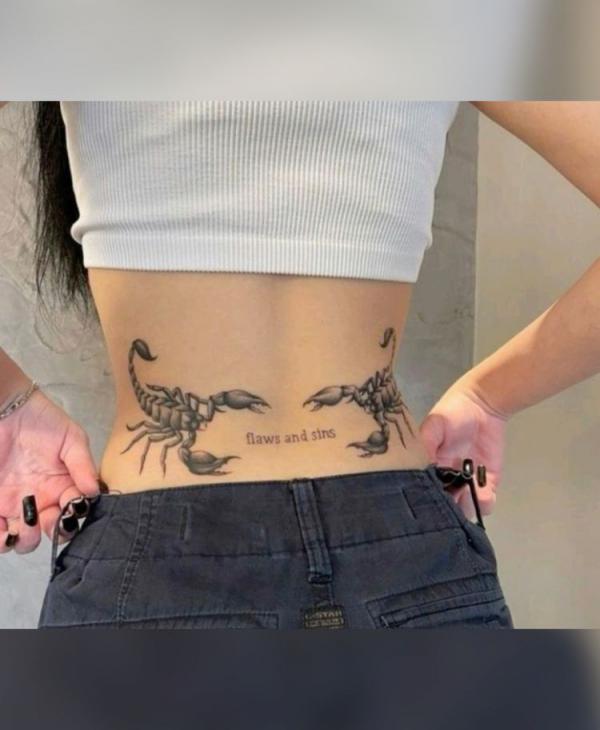 A scorpion tattoo on the lower back, accompanied by the words "flaws" and "sins," can be a personal symbol of acceptance and resilience. It suggests the idea of embracing one's flaws and past mistakes, symbolized by the resilient scorpion, and moving forward with strength and dignity.
Conclusion
From the realistic to the geometric, the minimalist to the traditional, scorpion tattoos come in a plethora of styles that can suit anyone's tastes. Whether you choose to have it on your arm, behind your ear, or on your back, the placement can enhance its visual impact and personal significance. And with design ideas ranging from the Scorpio sign to a scorpion and rose combination, you can ensure that your tattoo is as unique as you are.
Remember, a tattoo is a lifelong commitment, so take your time choosing a design, style, and placement that resonate with you. And a scorpion tattoo, with its potent symbolism and striking design, is guaranteed to make a bold, unapologetic statement. It's a testament to one's strength, resilience, and unabashed passion – a wearable emblem of the powerful creature that is the scorpion.