Gradient nail art, or ombre nail art is one of the prettiest nail art designs that you can easily recreate on your own nails.
By mixing different colors and producing smooth color transitions on your nails, you will give your nails a boost! You may think that it's difficult to follow to produce gradient, it's always possible to find your creativity and DIY with the right steps.
The best part about painting on gradient nails is that you can be as creative as you can in color mixing and can get very stylish results with minimal effort. Gradient nails look elegant and impressive. It doesn't even take long to recreate them on your nails.
They work best with animal print nails as well as butterfly themed nails. You can even customize with beads and sparkles on top of the gradient for effect. You don't have to be scared in trying out gradient nails. for beginners there is a super easy way for you to attain the gradient nails of your dreams. Simply prepare these items:
1. Base color (it can be white or any other color of your choice)
2. Three color coordinated polishes for the gradients
3. Sponge
4. Clean towels
5. Paper
6. Clear nail polish
You may wonder where you might get a sponge; well an easy answer would be the kitchen. You can cut off a small piece of kitchen sponge and use it for the gradient nail polishes. It doesn't matter what size the cut out sponges are, as long as there is one flat side.
On to the fun!
Apply your base color; make sure that the nails are dry before you paint anything above it.
On a flat surface place a clean sheet of paper for your nail polishes. Paint a certain amount of the three polishes that you intend to use for the gradient effect. Lay them out in horizontal position. You should arrange the colors as to which one you would like to be at the tip, middle or inner part of your nails.
Get your sponge and press it face down directly on the polishes. To make sure that the polish has stuck into the sponge you may need to dab it a few more times on the paper with the polishes.
When the colors are ready gently dab the sponge on to your nails. Slowly move the sponge up and down your nails to ensure that the color is able to stick. You can repeat this process a number of times until you are satisfied with the results. What you have to remember is to make sure that each layer is dry each time you apply another layer.
When you are satisfied with the results you can add more detail such as beads, animal prints, butterfly drawings and so much more.
If everything is okay and in place, don't forget to paint on your top coat of clear nail polish. This helps preserve the designs and let's them stay on your nails for at most two weeks.
Don't be afraid to try out this method. There is a first time for everything and another saying goes that if at first you don't succeed, try and try again. Making the color cling to the sponge perfectly might prove as a challenge to you, but with more practice you will be able to master it in no time.
Experiment is the key. Remember that the more that you mix up the colors and styles, the more ideas that you can get to make your gradient nail art designs. Look up various styles of gradient nail art themes online; you can surely find a great deal of inspiration.
There are also plenty of video tutorials that can show you how to paint on gradient nails and they can also give you simple tips and tricks to make your nails look better.
The great thing about trying out gradient nails is that you do not need any complicated stuff to work with; a simple sponge will do plus a dose of creativity. Widen your creativity by combining gradient nails with other nail art designs. Gradient nails are very easy to play with and can be really personalized and customized in every possible way you can imagine.
So what are you waiting for? Make your very own colorful nail art theme and get ready for a whole new, vibrant and colorful world of nail art and polishes await you.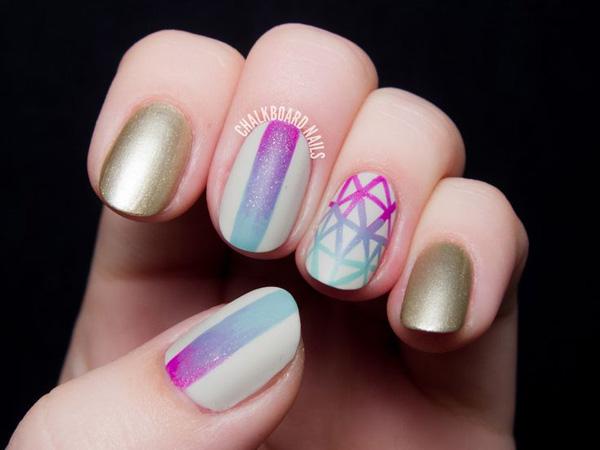 Artistically inspired ombre nail art with striking line details beside matte bronze nails.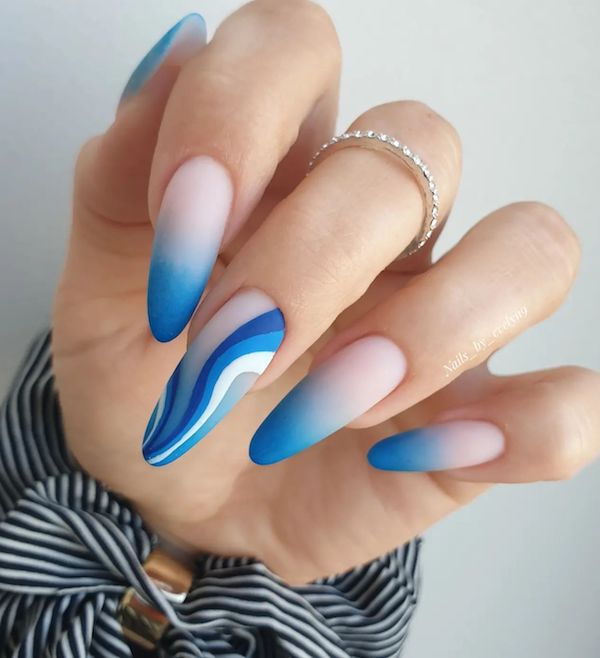 Blue nails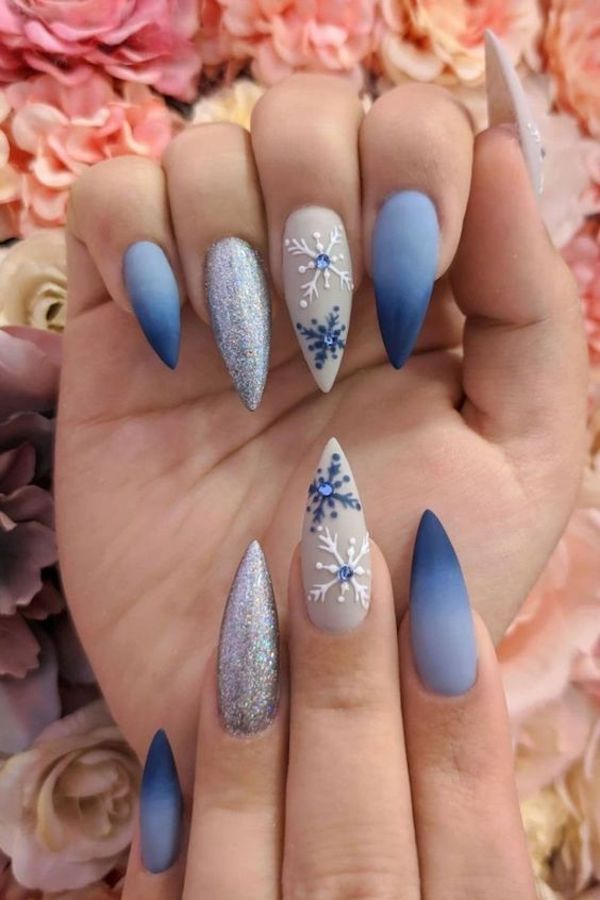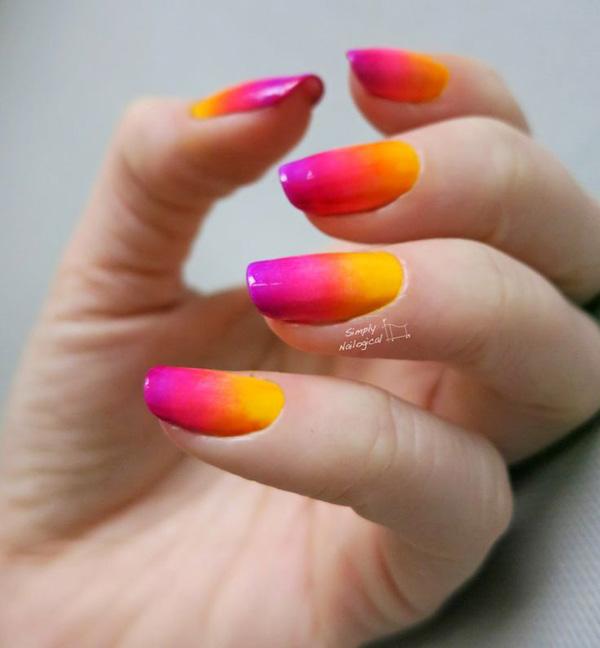 Wonderful combination of yellow red and violet color gradients.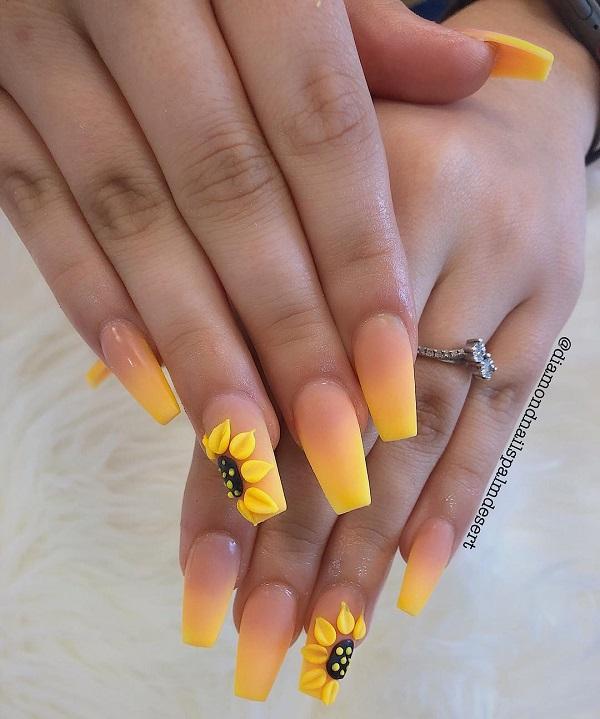 Paint the Ombre color from pink nude to light yellow on the coffin nail. Stand out of the crowd with beautiful nail art with sunflower.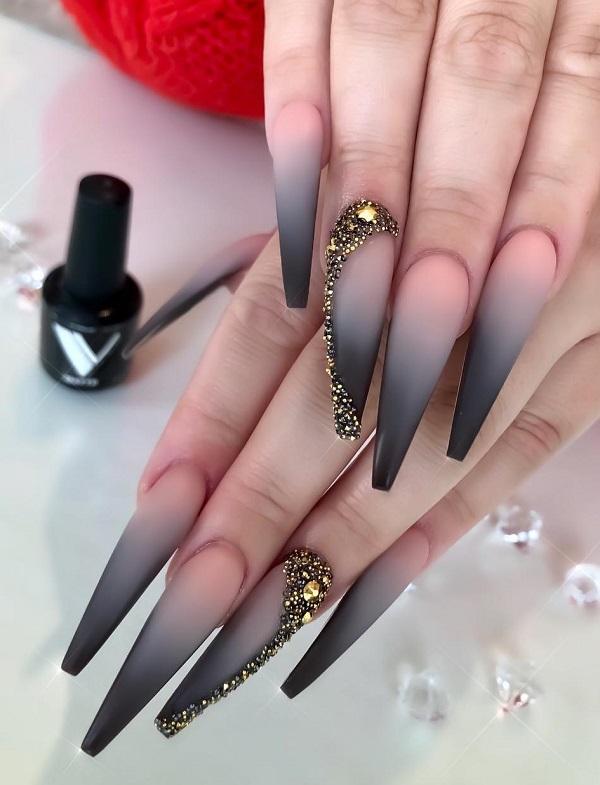 Be bold and paint night to pink colors on the extreme long coffin nails with decoration of stylish gold beads. The gradient must not necessarily mean conservative. On the contrary, it could go with exaggeration.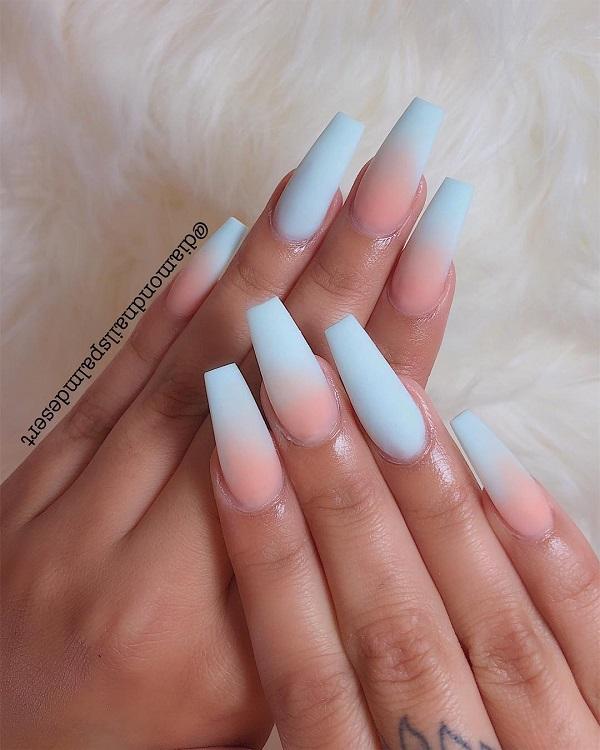 Play around with the cool gradients from pink to frost on the Ballerina nails. Coat your nails with the polish to celebrate the ocean and atmosphere of the summer. Make your nails look great while going to the beach or attending the party with your friends and family.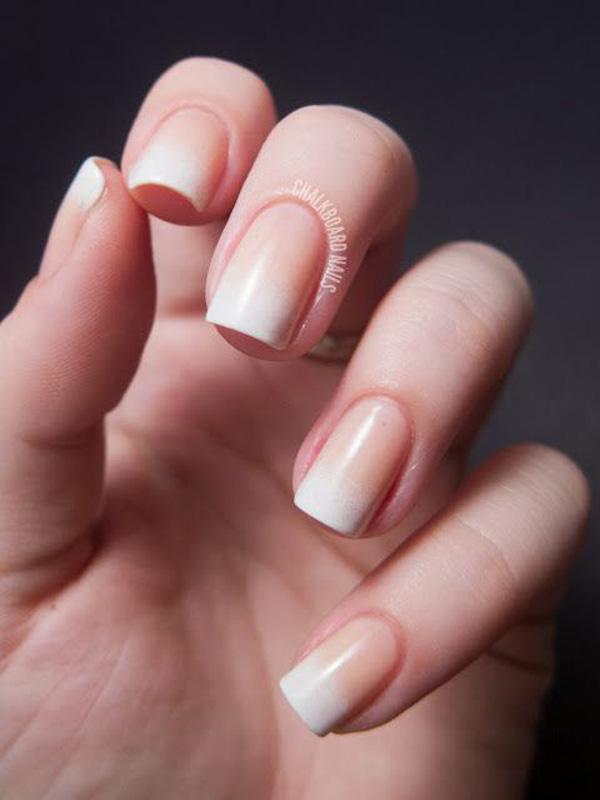 Elegant in nude polish arranged into a gradient theme.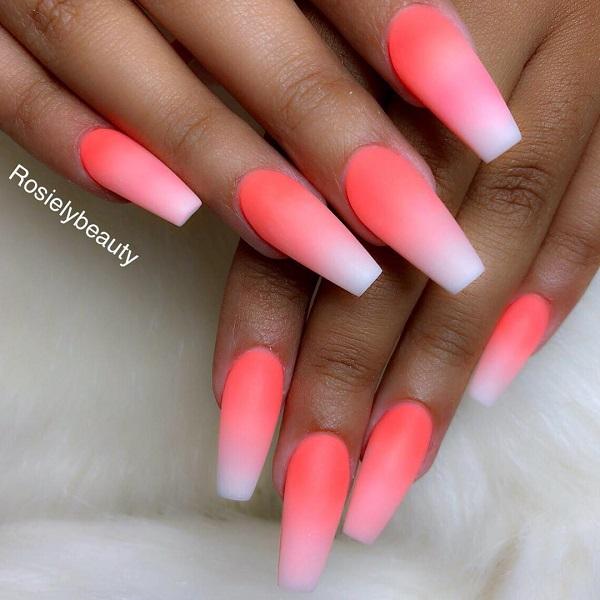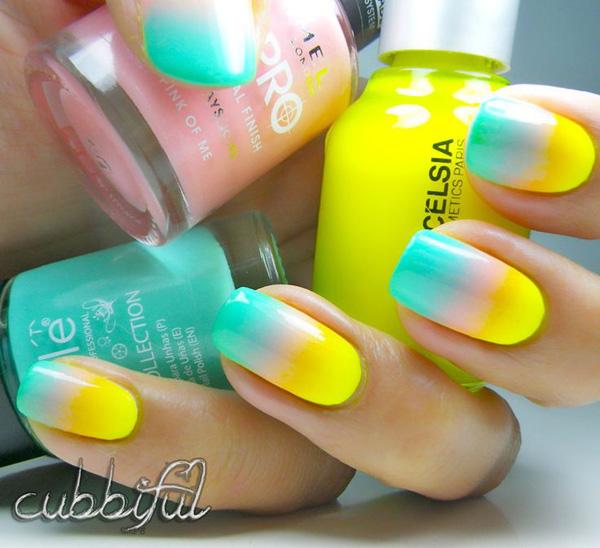 Paint your nails in bright summer inspired colors of yellow, white and sea green.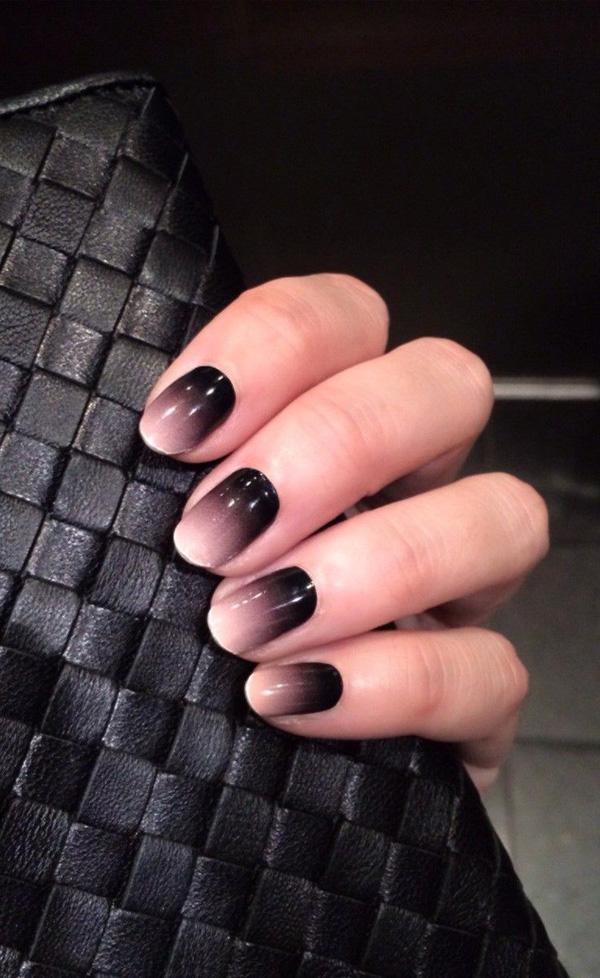 Mysterious and classy black to white ombre nail art.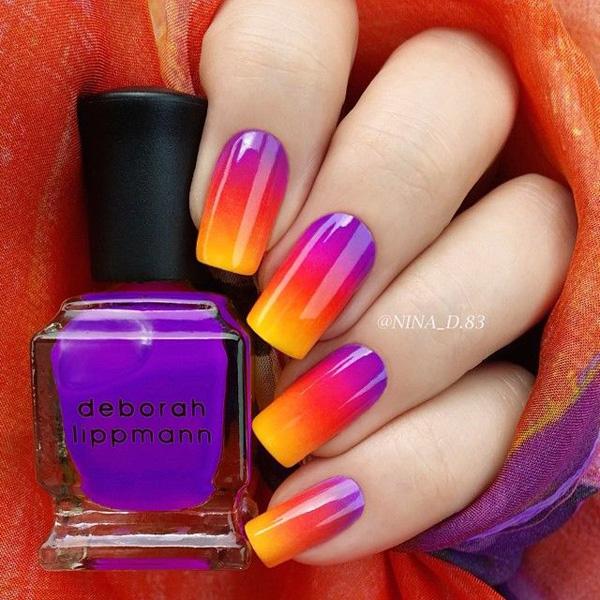 Flaunt your candy coated ombre nails in violet, red and yellow combination.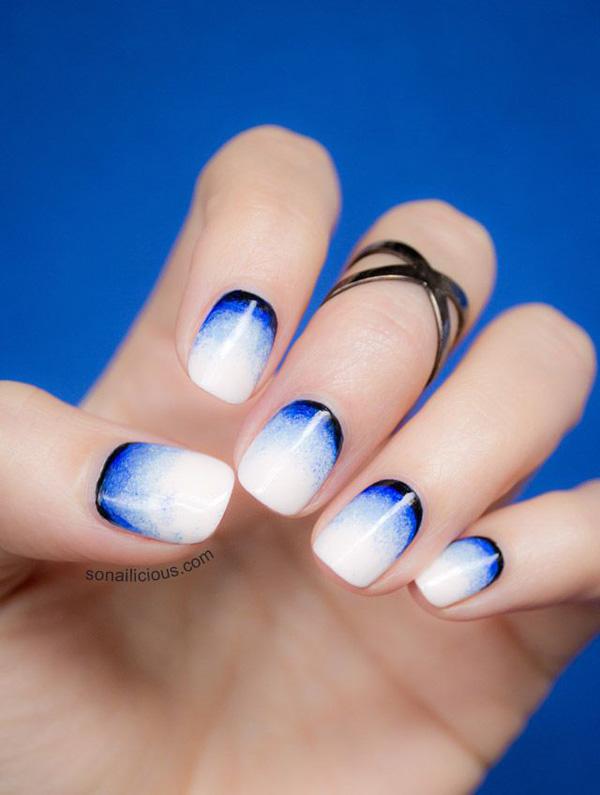 Give a frosty and snowy look on your gradient nails with a combination of midnight blue, green blue and white polish.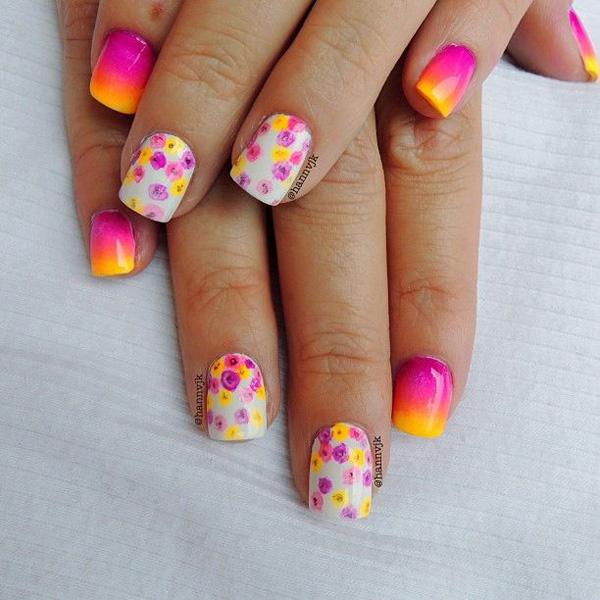 Taking a look at the combination of flower and summer ombre nails, you will simply love the transition that play along your nails. A very creative looking nail art design you will fall in love with.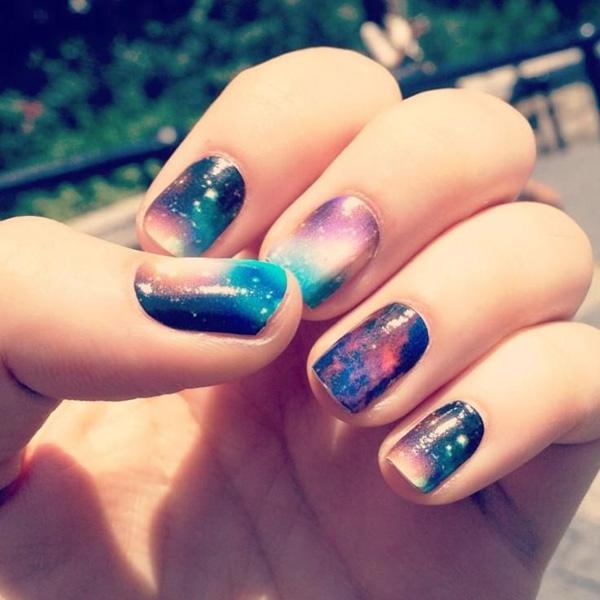 Paint the galaxy on your nails with help of transition in colors.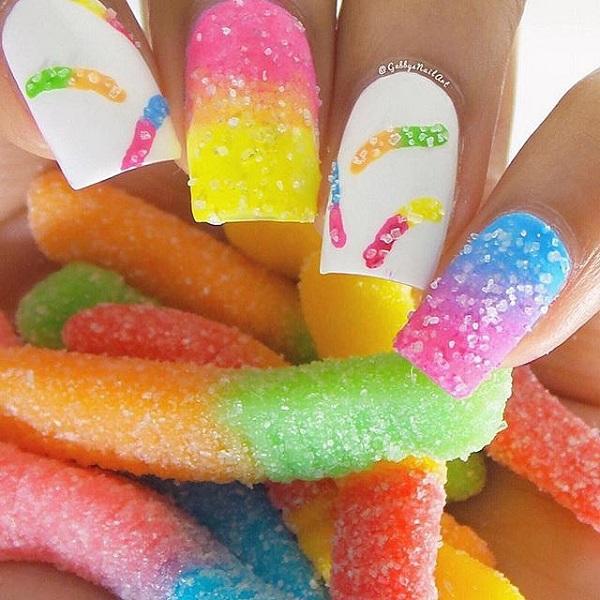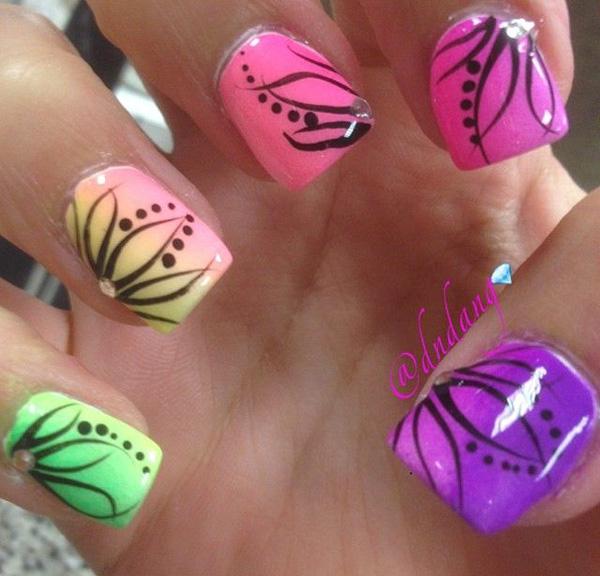 Multi colored gradient nail art theme with thin flower details in black nail polish.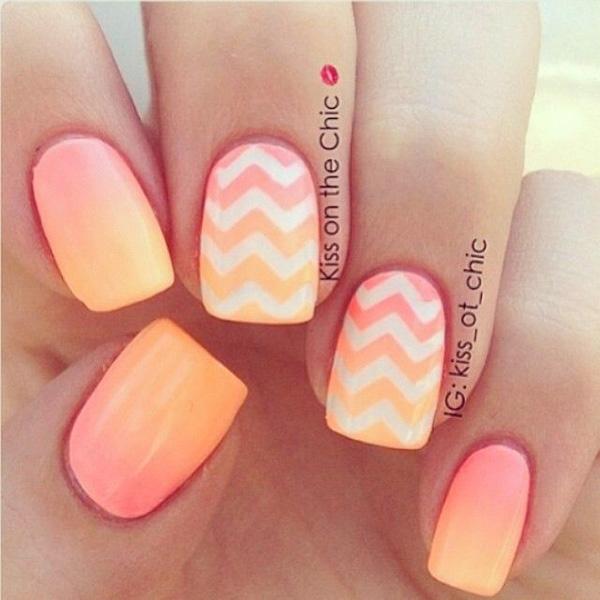 Melon and orange themed ombre nail art with thick zigzag line details in white polish.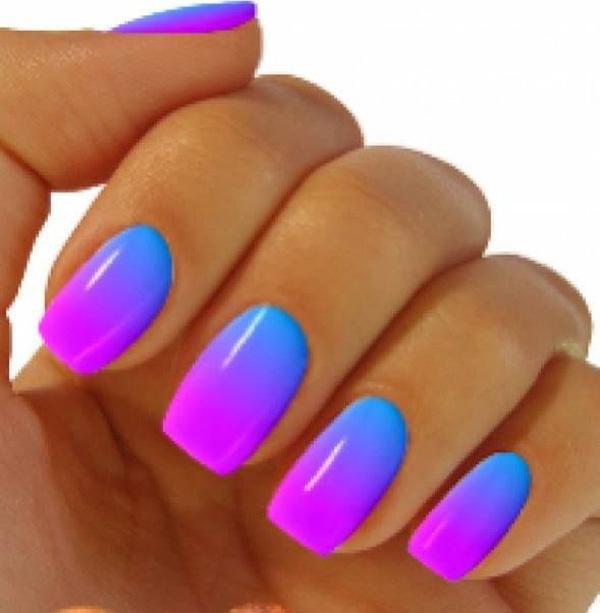 Play around with colors on your fluorescence nails with this blue and violet combination.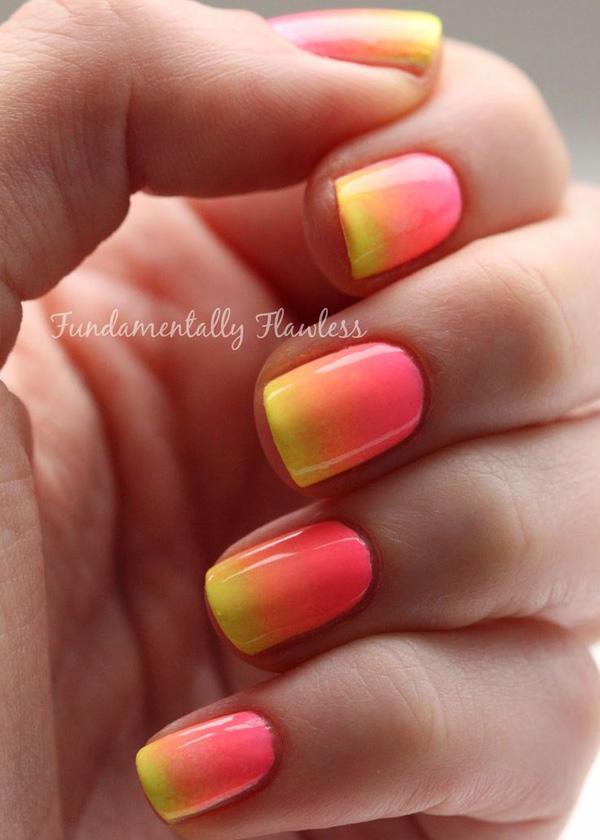 The melon and yellow color combination is perfect for creating a candy themed gradient nail art.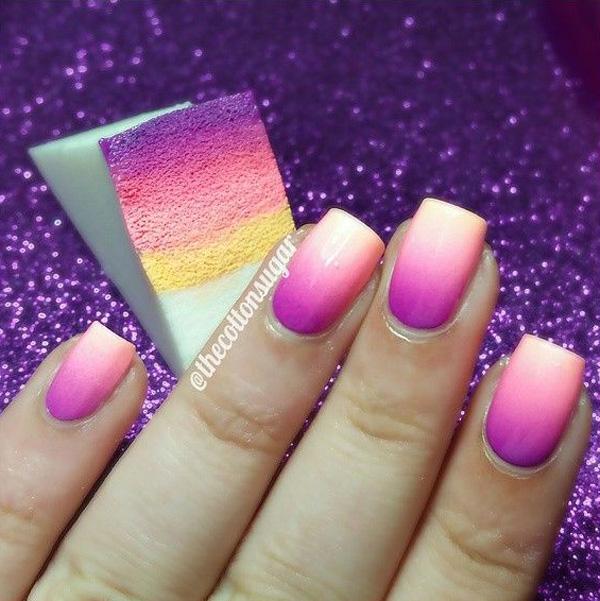 Make your nails more exciting with this gradient nail art in violet, red violet, pink, light pink and yellow polish combination.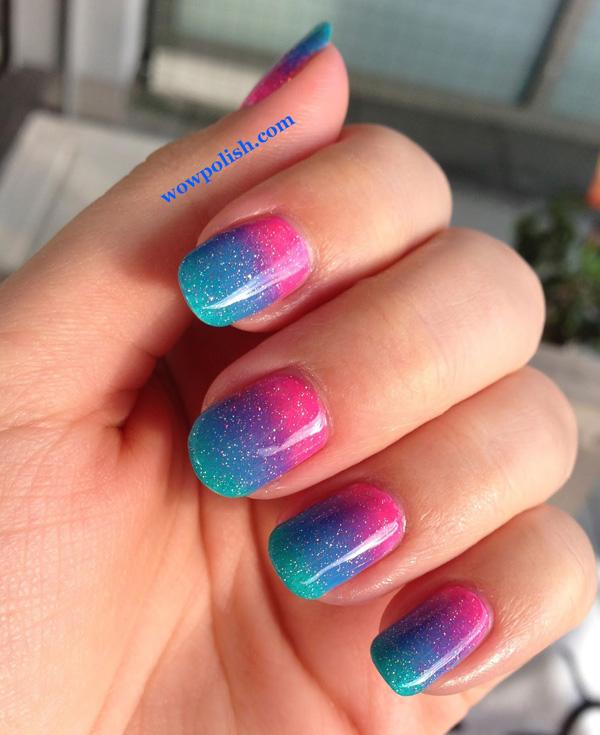 Gummy candy nail art has never looked so yummy in this pink, violet and blue color combination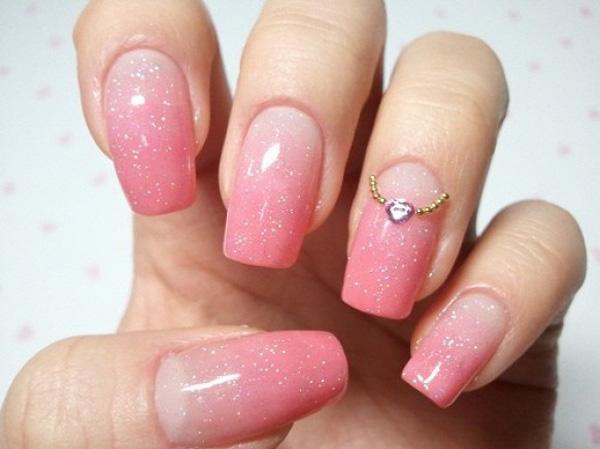 A beautiful and classic looking ombre nail art design in white and pink color combination.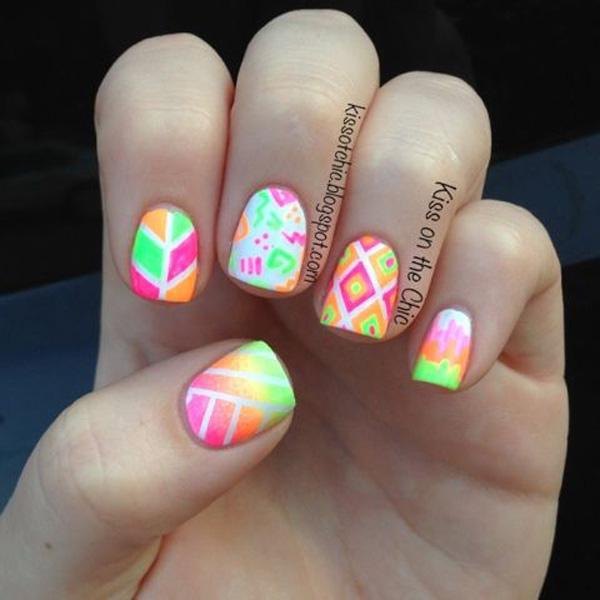 Add more attitudes to your gradient nail art with bright and bold tribal details in white polish.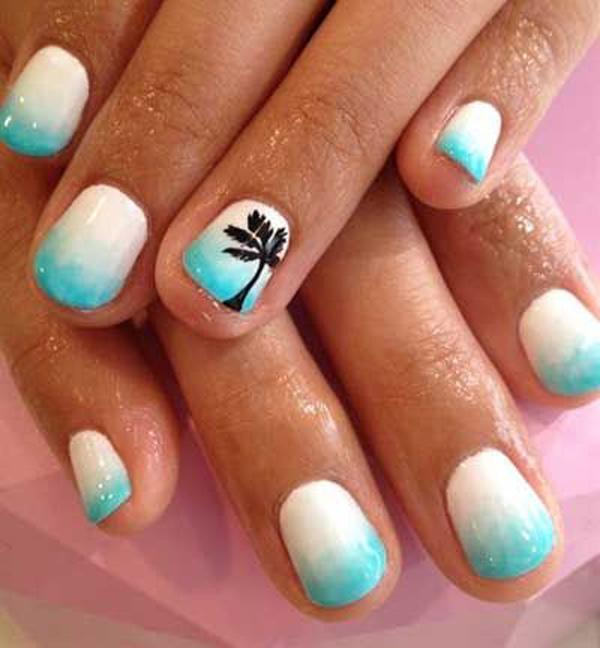 Serene looking nails with white and sky blue gradient color combination.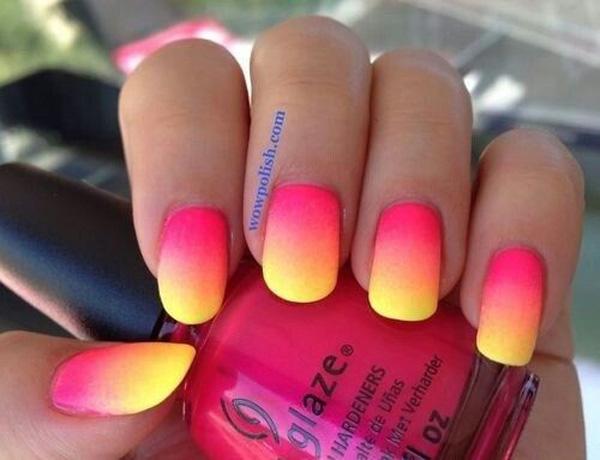 Brighten up your nails with this pink and yellow gradient polish combo.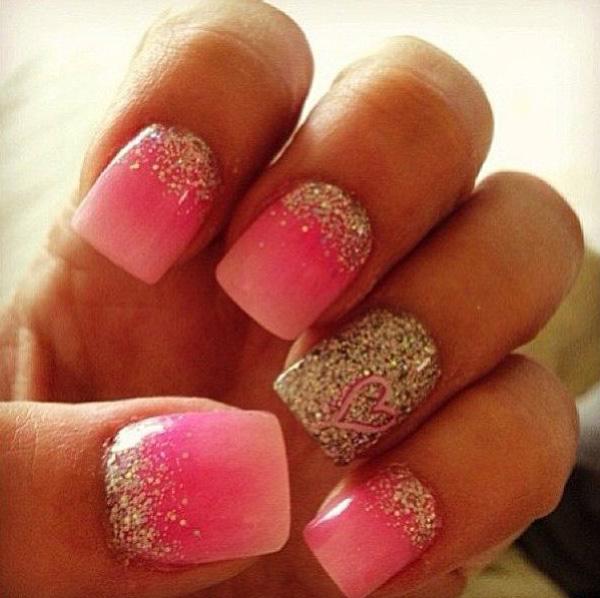 A frost pink ombre nail art design perfect for just about any special occasion.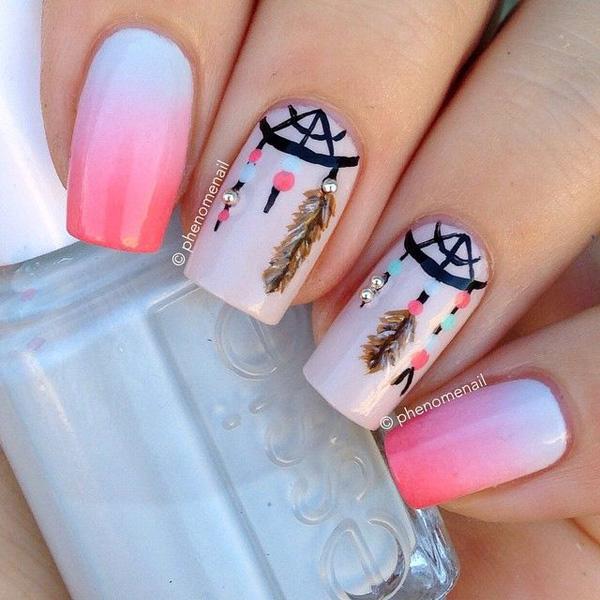 Light ombre nail art design in blue, white and pink combo with intricate details.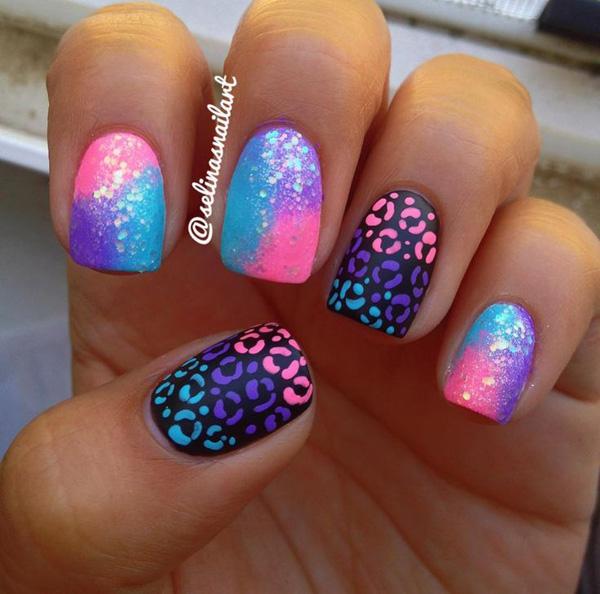 Nail art with a twist of leopard print details in mutli-color.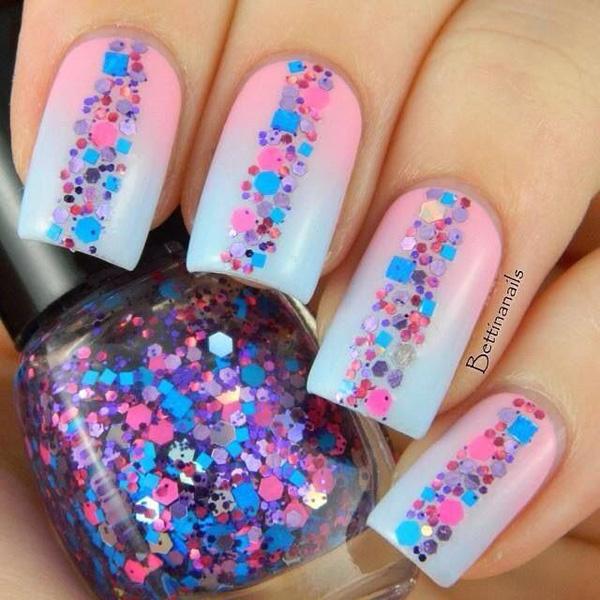 Baby pink and blue themed gradient nail art topped with adorable looking beads.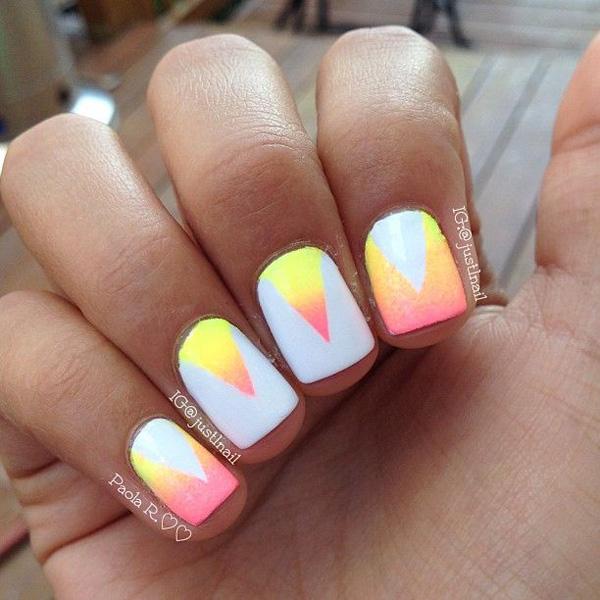 V-shaped gradient themed nails in yellow and pink color combination.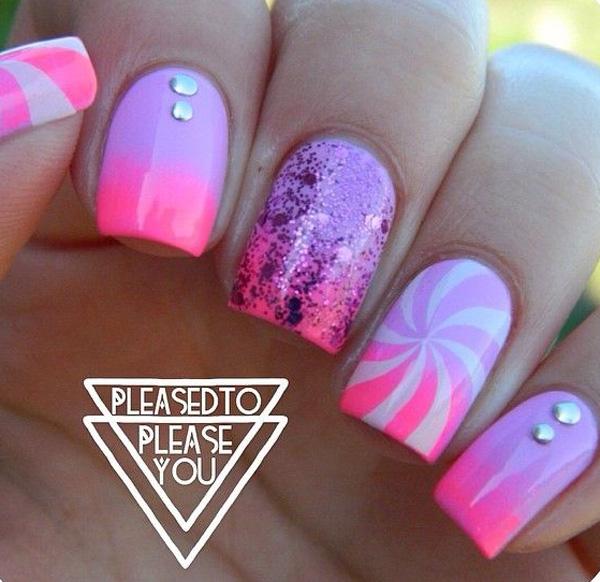 Violet and pink gradient nail art with violet sparkles, beads and swirling white polish details,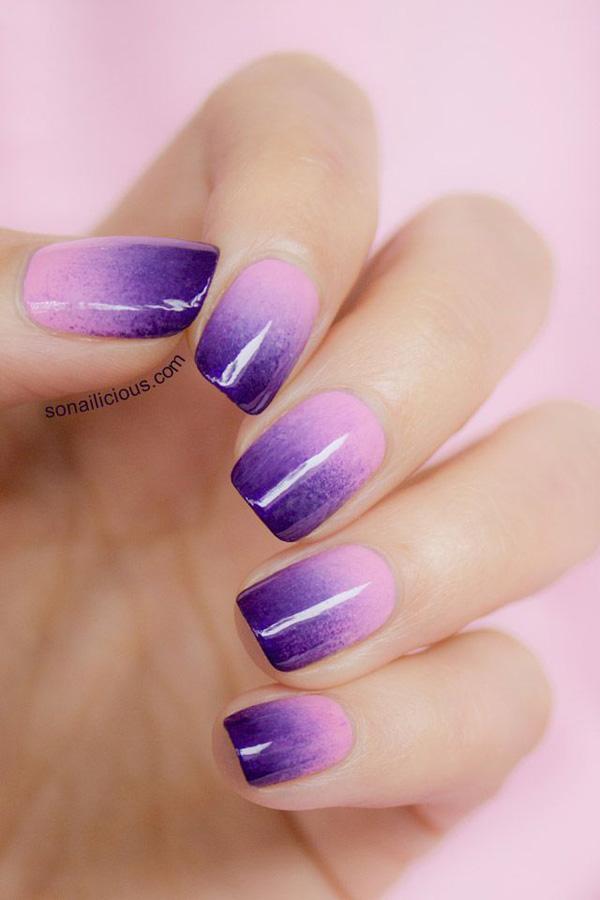 A romantic looking multi-color themed nail art in periwinkle and violet color combination.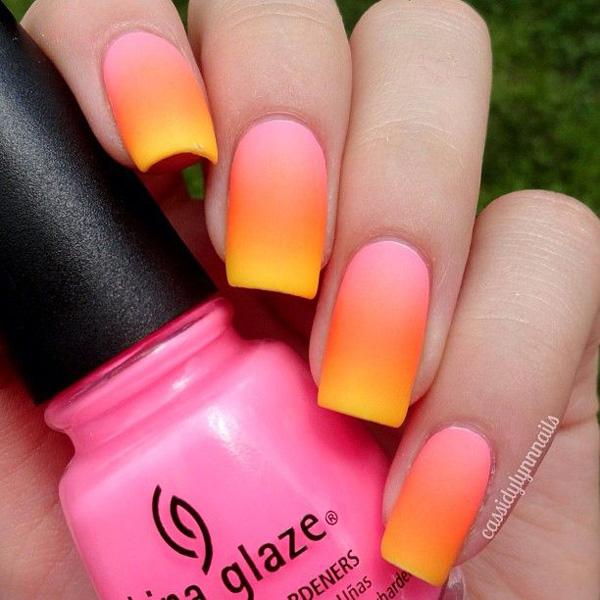 Check out this almost matte effect gradient nail art in pink, orange and yellow combo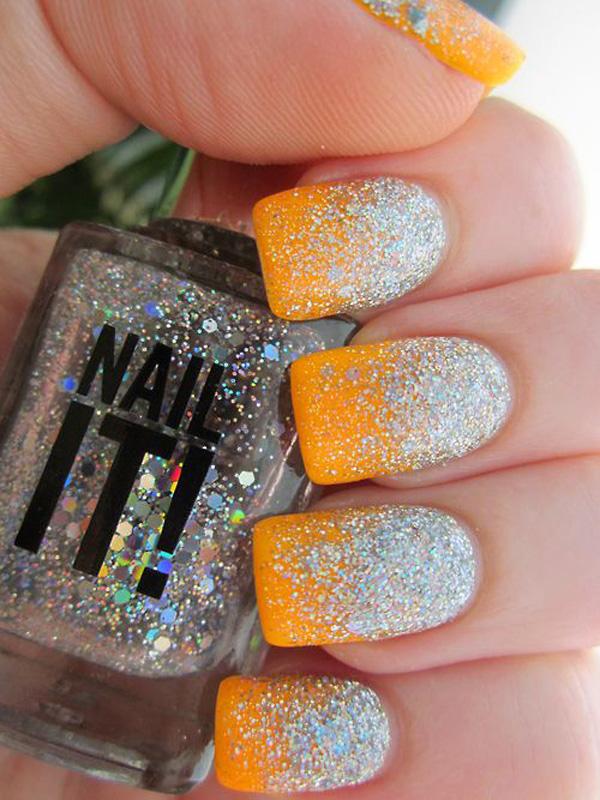 Add the frosted look on your ombre nails with the use of silver dust sparkles and get the same fading effect.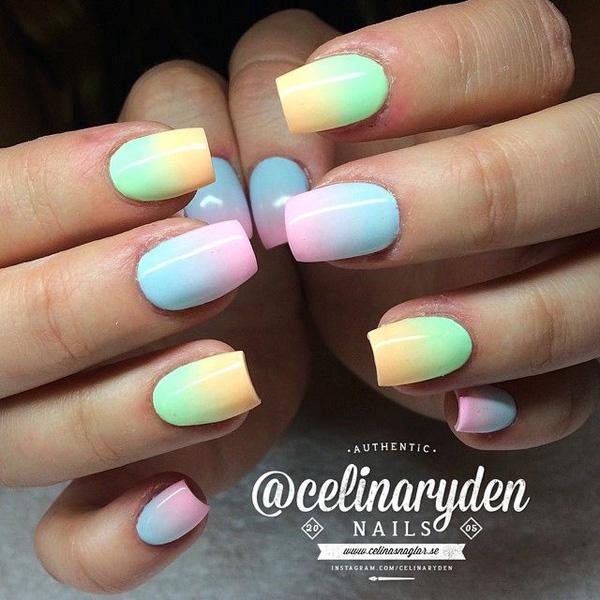 Clean looking gradient nail art with color combinations of green, yellow, blue and pink.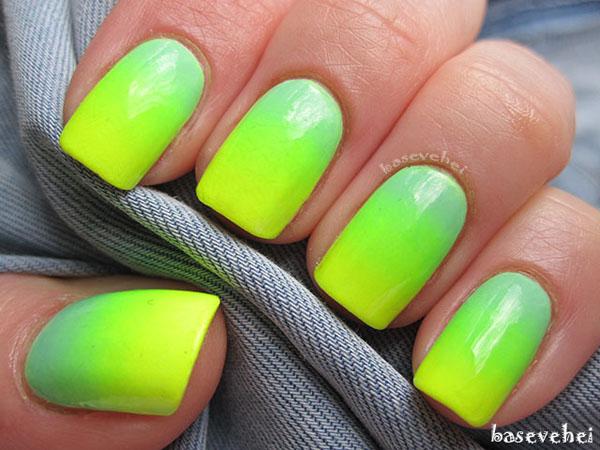 Be closer to nature with this bright green color ensemble arranged in a gradient themed nail art.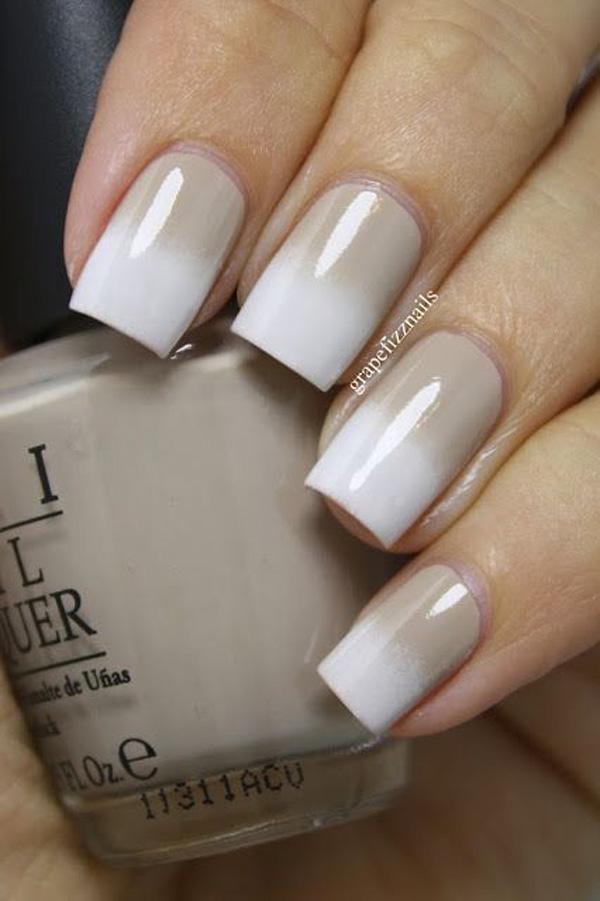 Rock the classic look with this white and bronze inspired gradient nail art.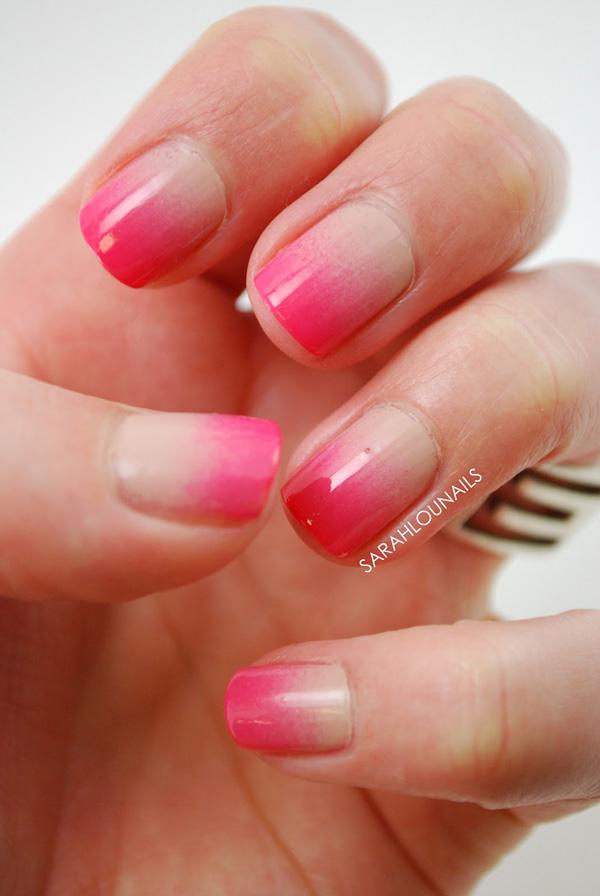 Spice up your short nails with this clear polish and cherry color gradient nail art.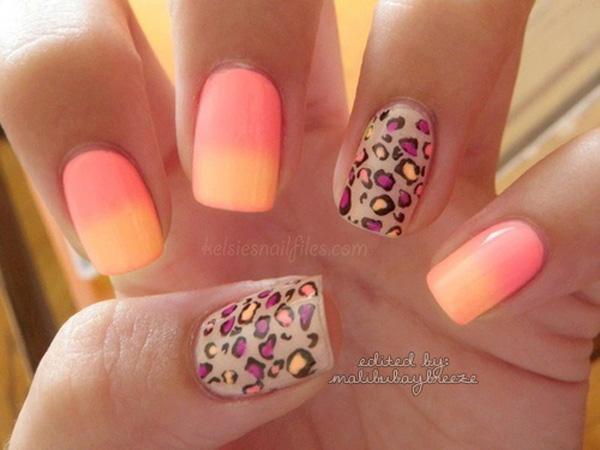 Look at this wonderful melon and yellow gradient combination with colorful leopard print details.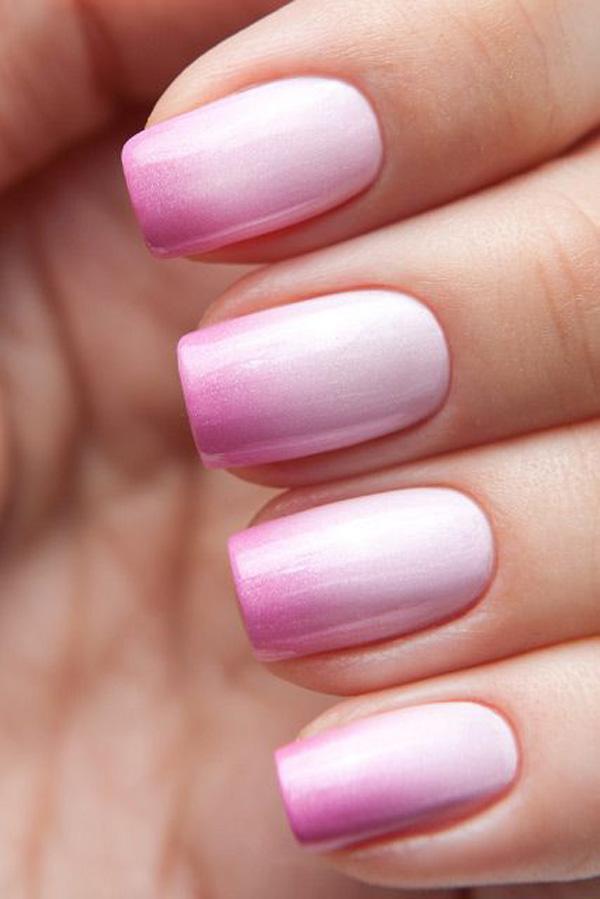 Coat your nails in this wonderful and clean looking white and red violet gradient.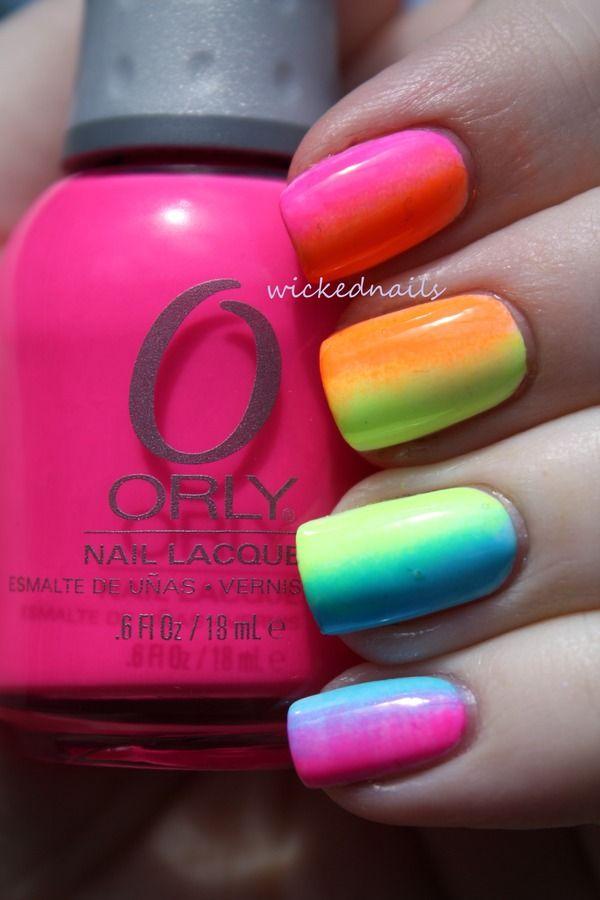 Another style of gradient nail art design in vertical position with multi colored polishes.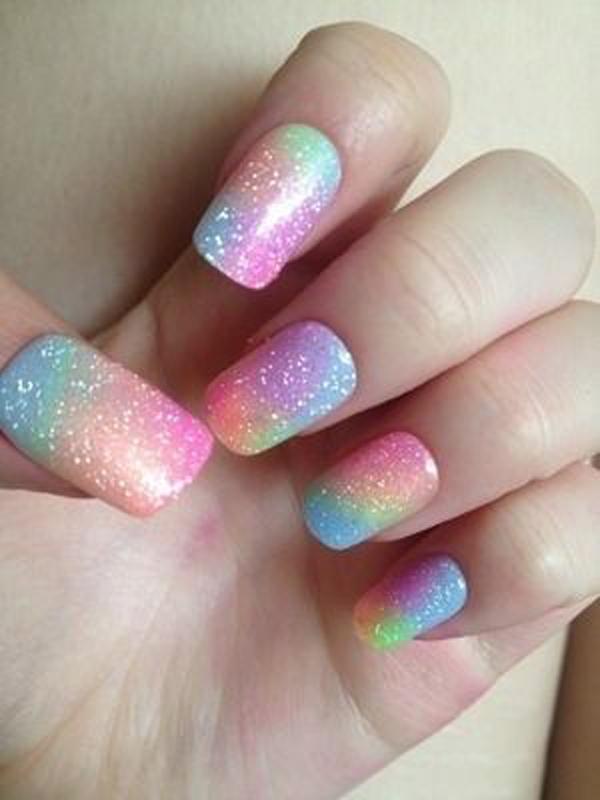 Rainbow colored gradient nail art frosted with silver dust sparkles on top.
A cute gradient nail art design with violet, pink and aquamarine combination topped with bold zigzag details in white polish.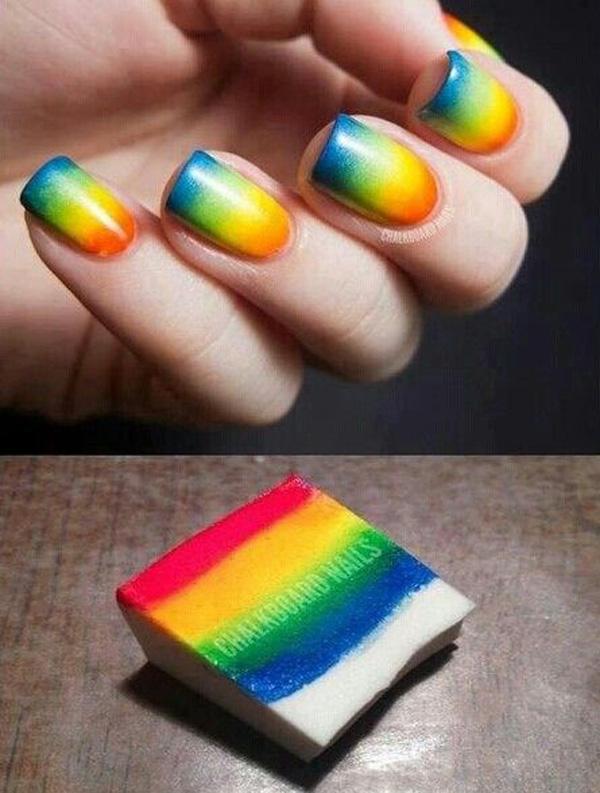 A tropical colored inspired gradient nail art using red, yellow, green and blue colors.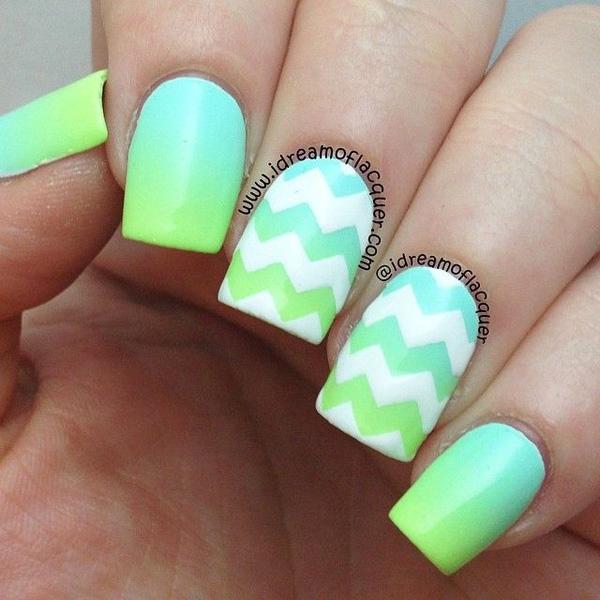 Another zigzag detailed gradient nail art in sea green and aquamarine colors.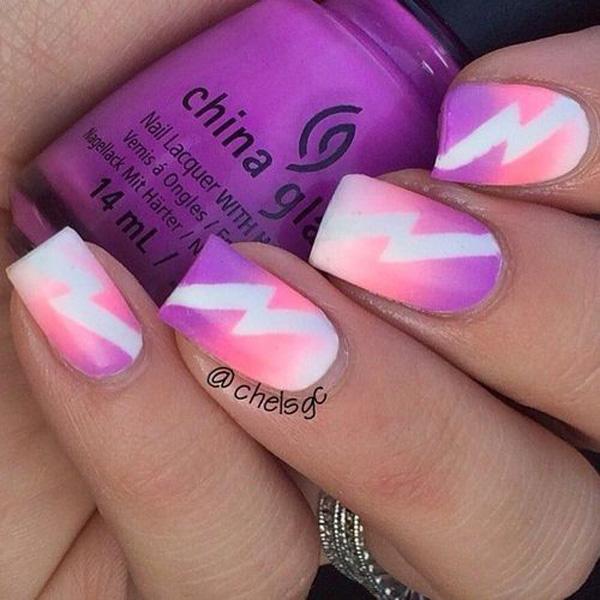 An adorable looking gradient nail art in pink and violet color combination with thunderbolt details.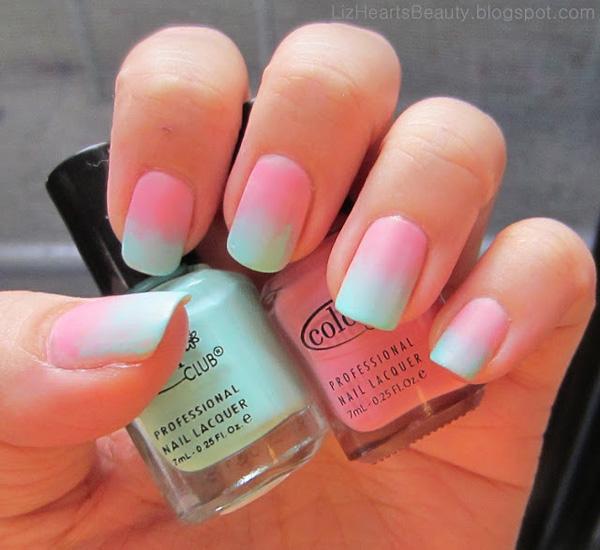 A very light and charming gradient themed nail art in pink and sky blue polish.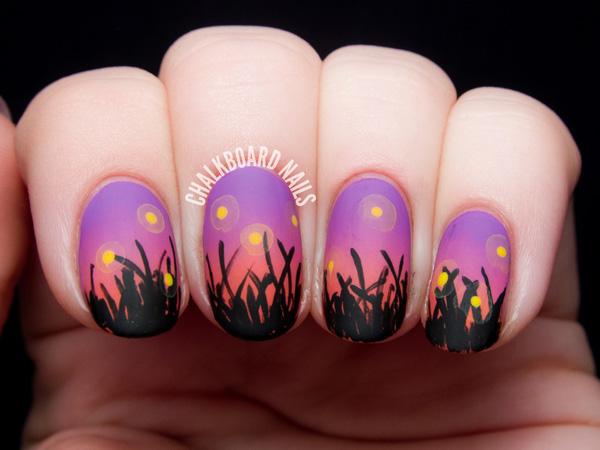 Check out this amazing sunset themed gradient nail art with grass blade and firefly details.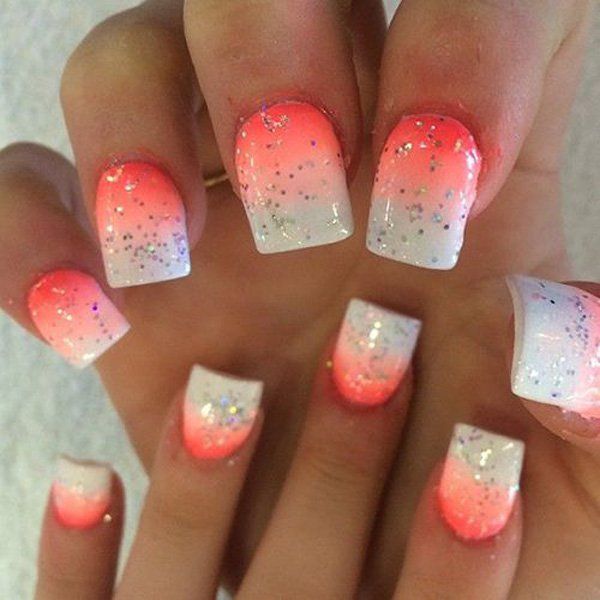 A melon and white gradient inspired nail art with silver dust sparkles on top.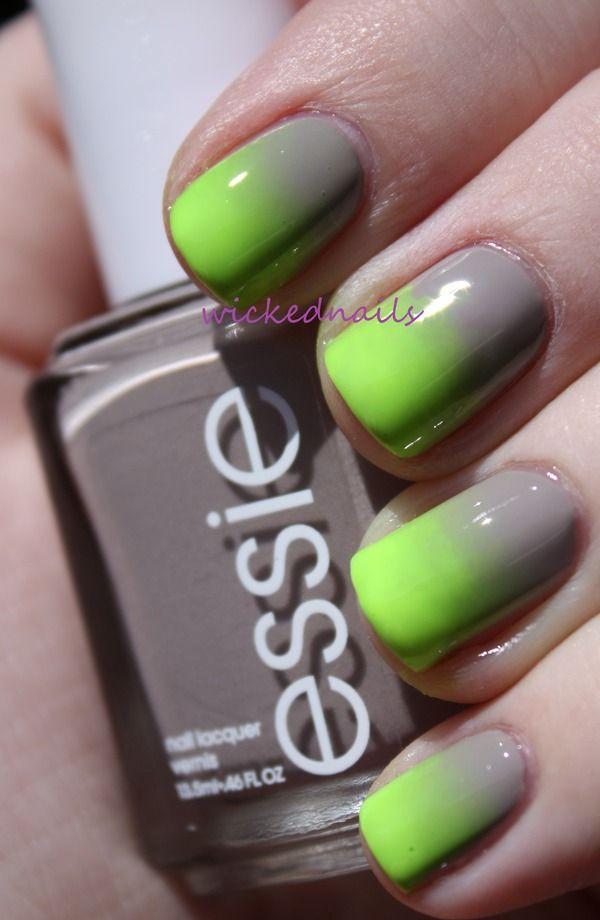 Create a wonderful combination of copper and light green on your nails and stand out.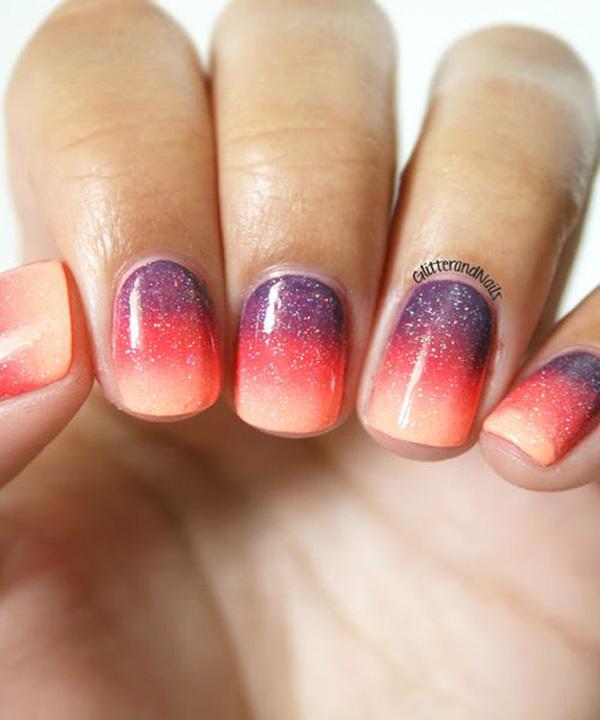 Amazing looking ombre nail art design in violet, pink and melon color combination topped with silver dust sparkles.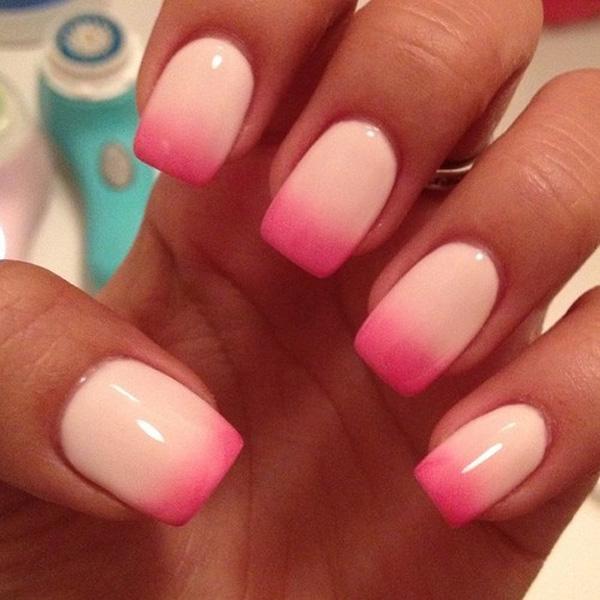 Cute looking gradient inspired nail art in melon and pink tip combination.