There's this white part in the bottom of our nails that is usually referred to as a "Half moon" because of its crescent shape. However, this part is actually called the lunula. A lot of nail art designs has been based on this white part of the nail. There are the Crescent Moon designs that outline the shape of the nails from the bottom. And then, there are the Half Moon nail designs.
The half moon design is basically when the lower part of the nail, right on the lunula, is either covered with studs and faux diamonds, a different color, or is left transparent. It's basically anything that you can think which gives the effect of a half moon shape on the nails.
It's a really different kind of nail art design, but it's not too much. In fact, it can be simple. But it also has a versatility to it since you can make it look simpler or you can make it more intricate and stunning. It's basically a good nail art design no matter what look you're trying to have.
From Simple to Striking
As said, these half moon nails could be very versatile. If you want a simpler look, you could just try mixing a neutral color with a bold one and then create a half moon shape with the other color. It doesn't need to have any other flair to it apart from the colors.
If you want to have it somewhere between casual and fun, you can start creating unique designs and a bit more of designs here and there.
If you want to go full out striking and elegant, rhinestones, diamonds, glitters or even metallic nail polish could go a long way. Longer and narrow nails could also make a difference with how glamorous it will look.
If you're looking for some ideas for your next nail art design, why not choose half moon ones? Here are some of the best designs we've compiled for your convenience.
The Moon on your Nails
No one could go wrong with a nude nail. But of course, it's blunt and dull. Adding a hint of royal blue can make it look extremely classy even when it's a simple design.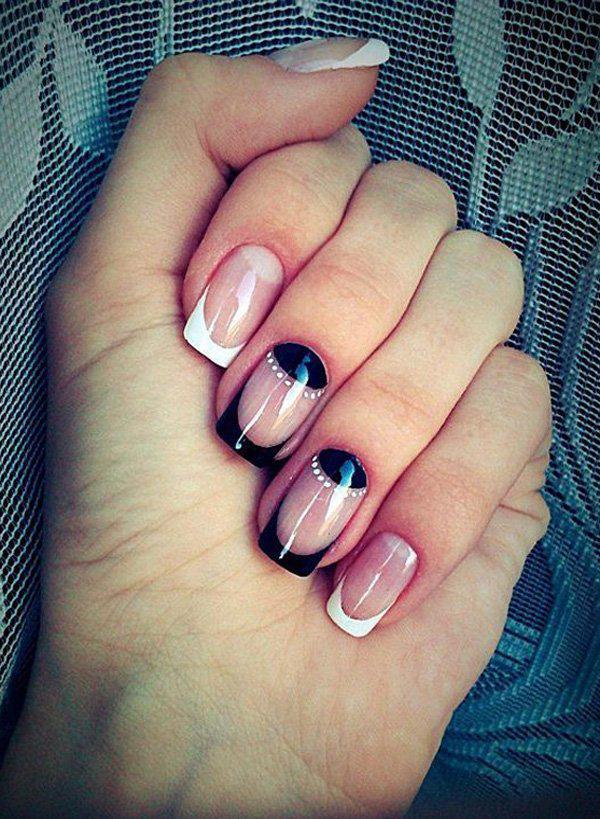 A classic French tip will never go out of style. But add a black French tip with black half moon design and it's bound to become fun as well.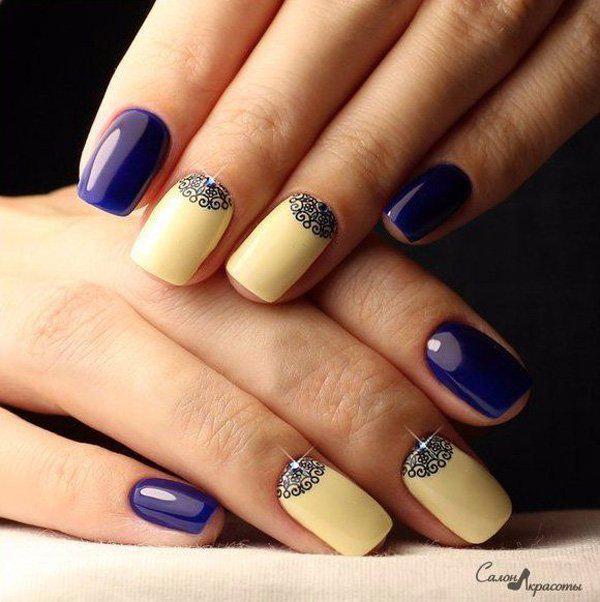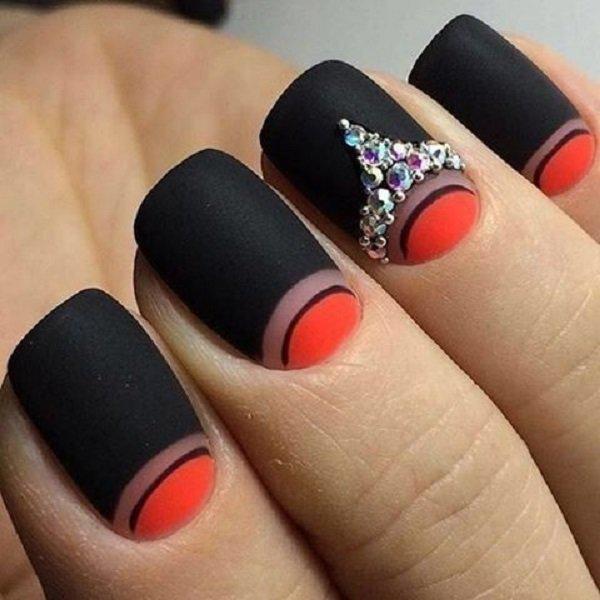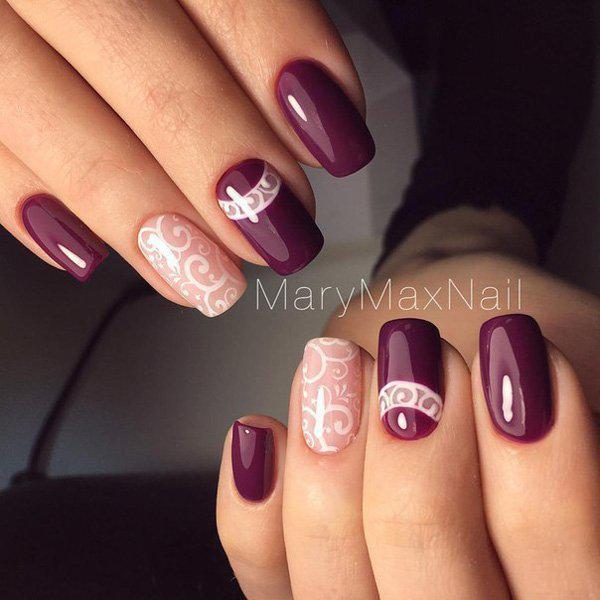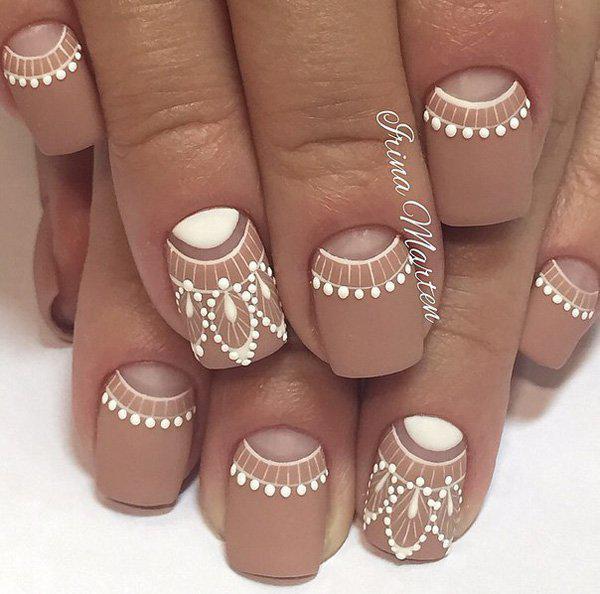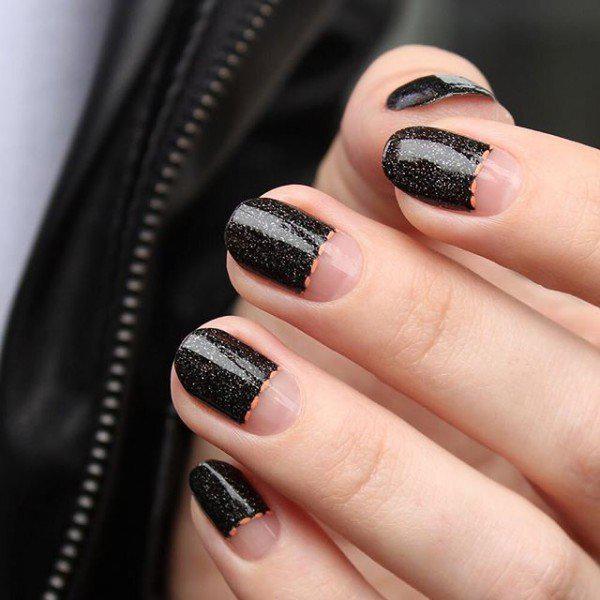 Instead of giving color to the lower part, why not leave it with only a transparent protective coating? It will look unique. Then use a black with glitters on the other parts and just some orange thin lines where the nail and the nail polish meets.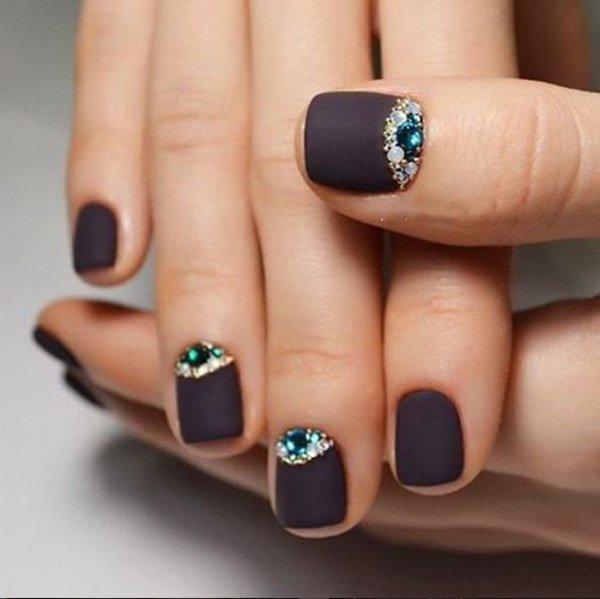 A matte plum nail polish is already beautiful, but somehow punk. Now if you want glam, you may want to take those diamonds and beads and make some half moon designs.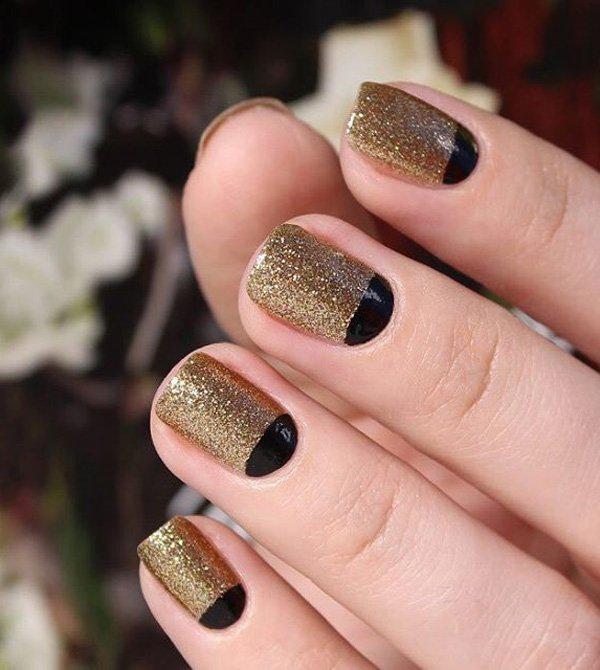 If you want to look a bit elegant for a special day, you could choose to go with full on gold glitters. Then have some black half moon designs along with it. The black will immediately balance the look of the design so it won't appear overwhelmingly glittery.
Since the Crescent moon design and the Half moon design are quite similar, why not join these two? Here's a mix of the designs on a beautiful white and maroon color combination.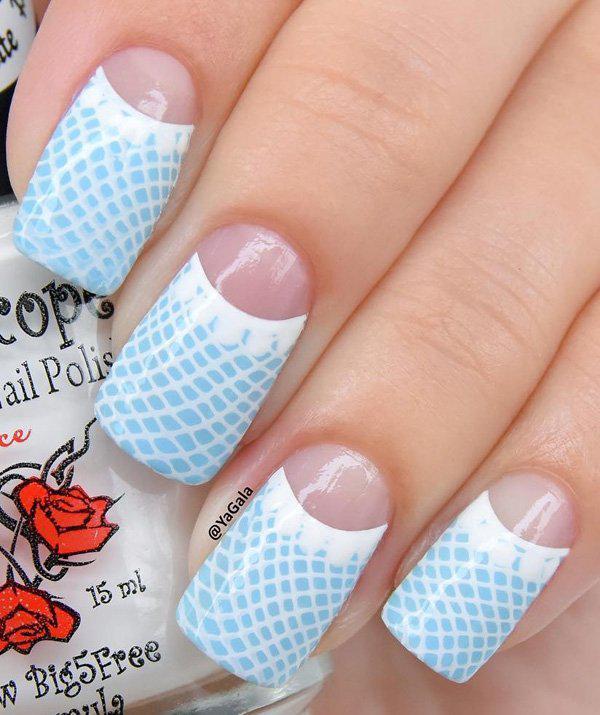 Here's a little mermaid (just because it looks like fish scales) nail art design for you in sky blue and white.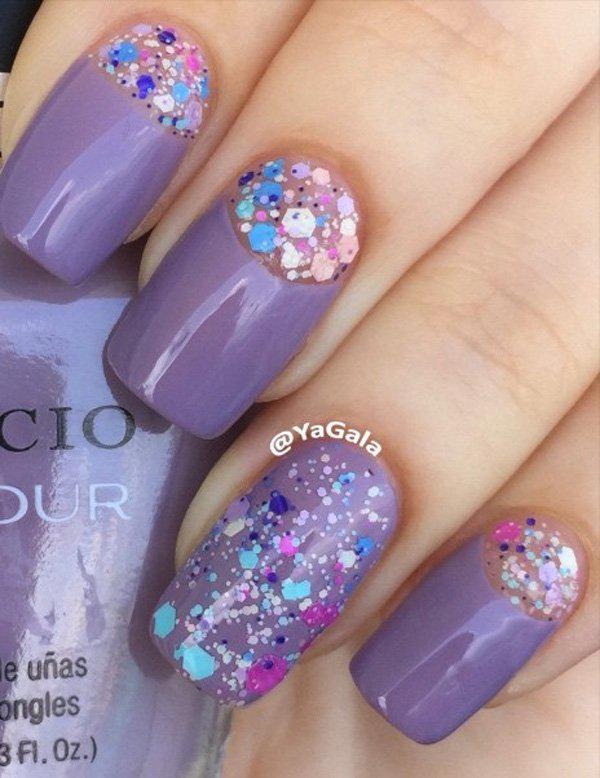 If you want a bit of a girly design, this purple nail polish with rhinestones is perfect for you. Instead of leaving the half moon transparent, you can put some rhinestones on it for more life and fun.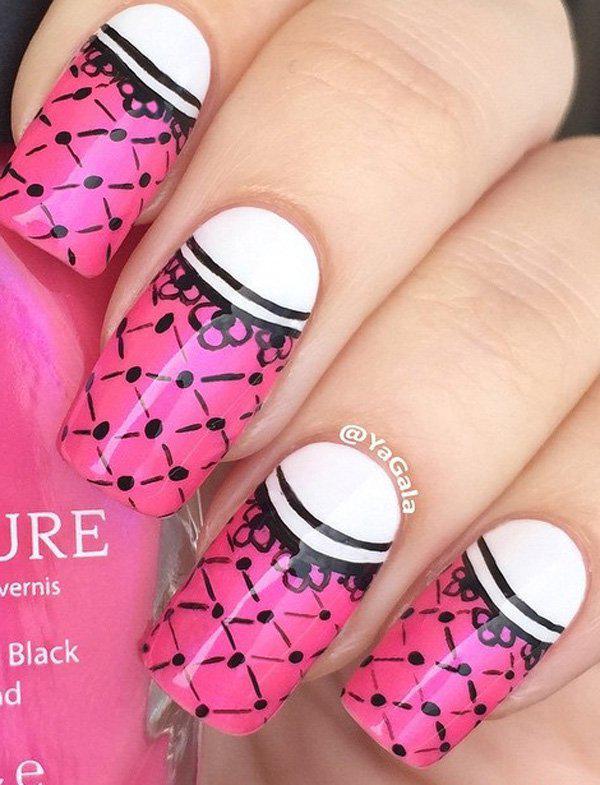 Another sassy and unique nail art design with black details on a pink nail polish. The half moon design is white which is the base.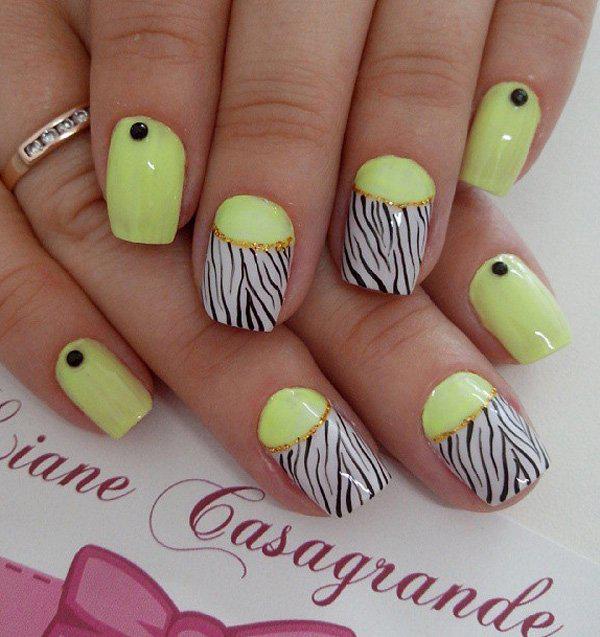 If you think a neon yellow nail polish is not working, why not add some animal prints? The design is bound to make you stand out. But remember not to overdo it.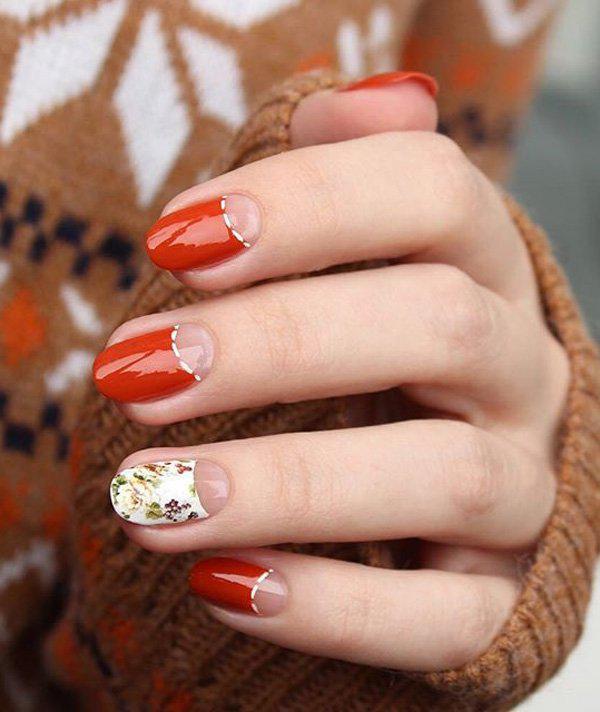 This sienna nail polish is already working wonders when mixed with a half moon designs. But add a bit of floral touch and it's close to a vintage beauty.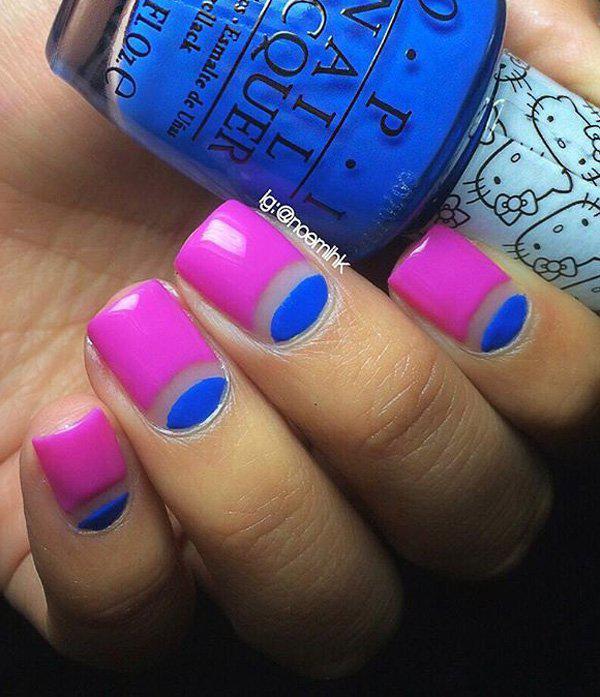 This simple and yet wonderful half moon designs works with two colors: pink and blue. It's basically like the same way you'd do a normal half moon design, but leave a little space between the pink and the blue to make the design unique.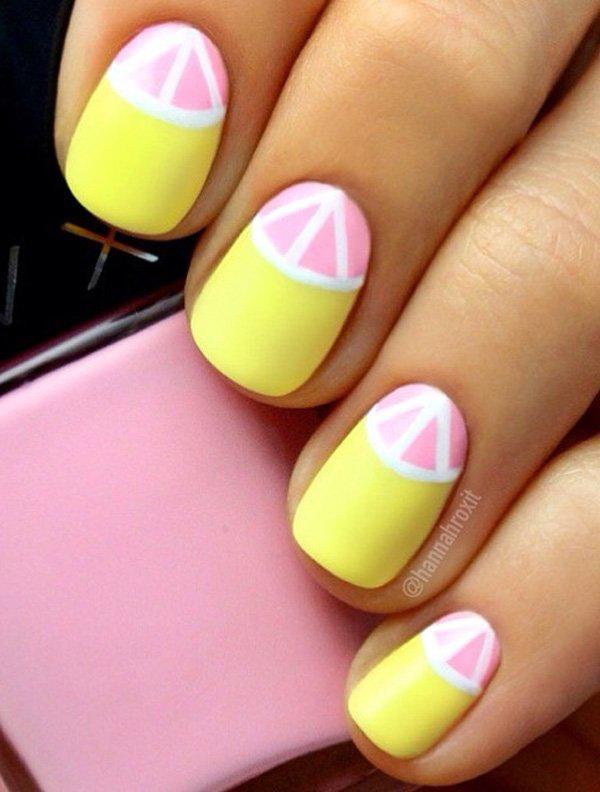 Another refreshing half moon nail art design; this time with matte pink and yellow. The accent this time is creating some lines on the half moon.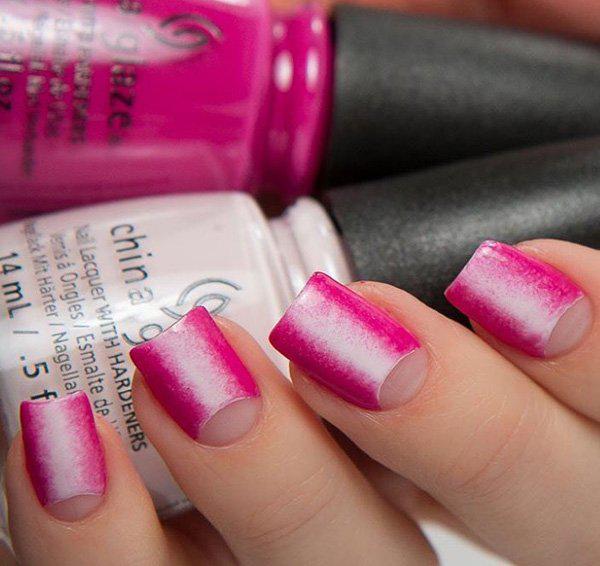 This beautiful pink themed nail art design uses a darker pink and a lighter one. It's like a rough ombre with the lighter pink on the middle. And of course, the half moon would give the whole look more edge.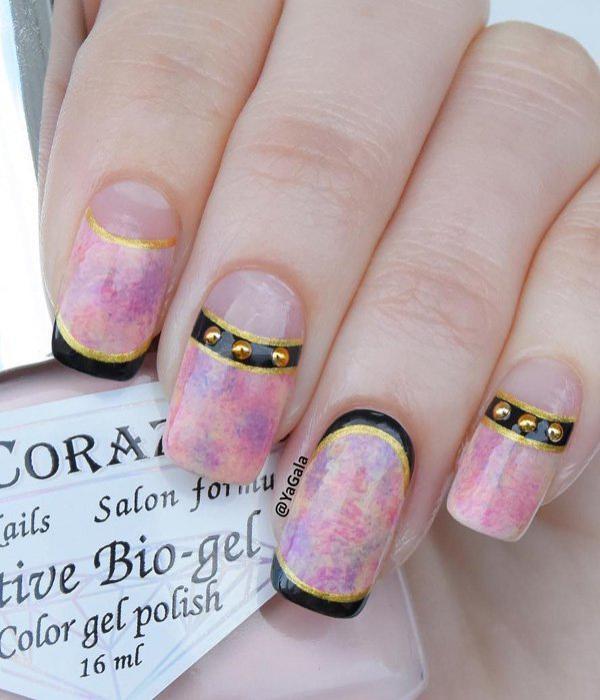 If this isn't a thing of beauty, I don't know what beauty means. The marbled pink and purple base is accentuated with black French tip and half moon outlines with thinner gold nail polish along the outer lines. Plus add those old studs and you're hands are divine.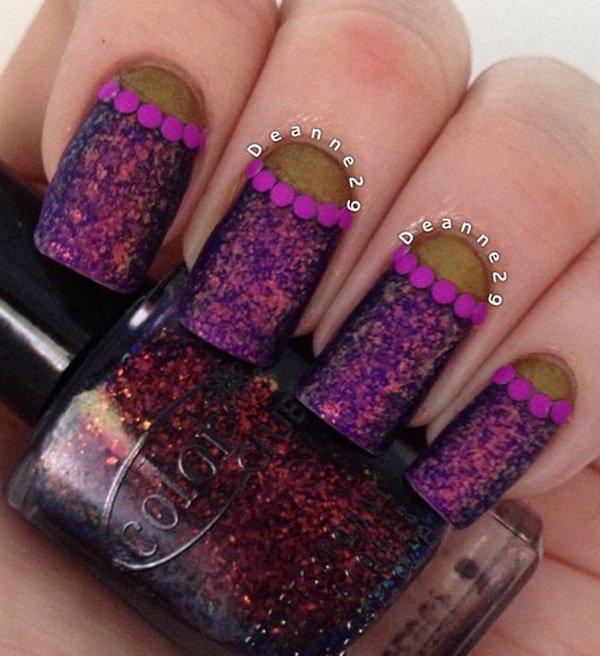 This one may look dark. But it's a fun design, still. It's a pink nail polish with lots of violet glitters. The half moon is a gold metallic nail polish and in between are violet dots.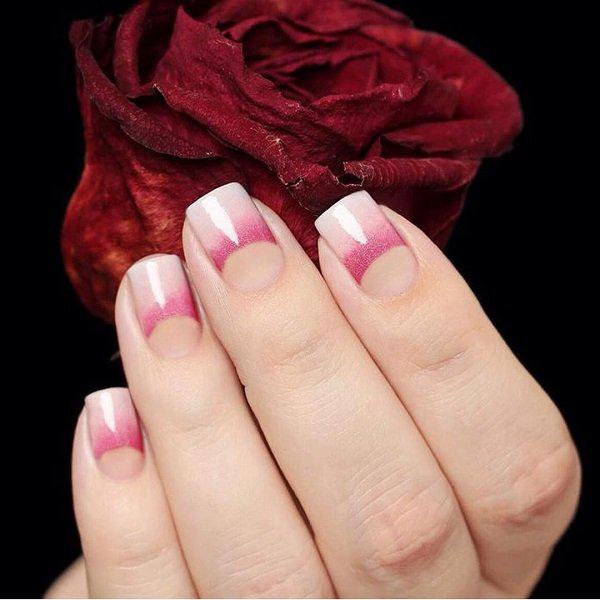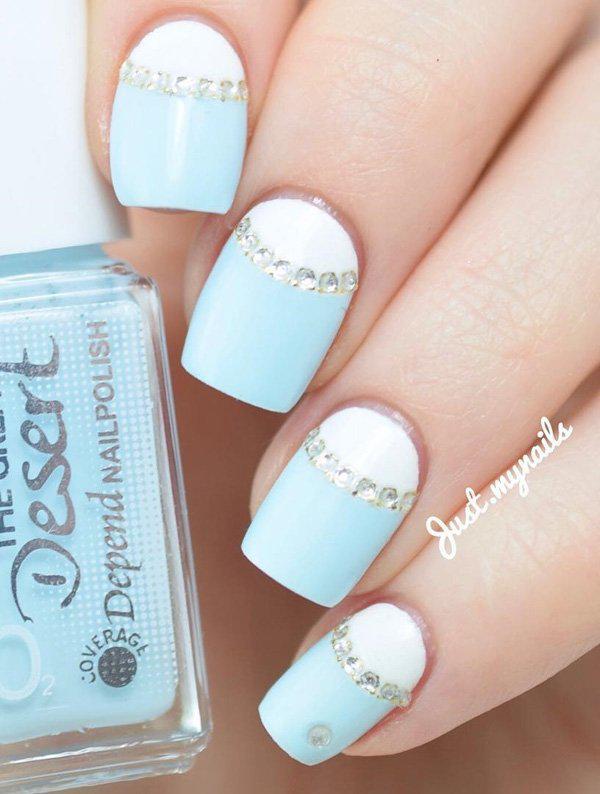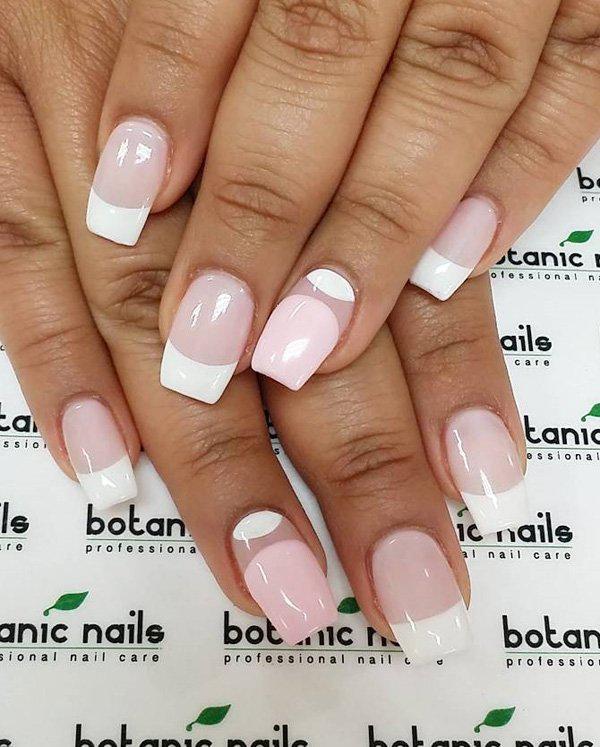 These are classic French tips. But the middle fingers serve as the accent of the entire look. Instead of white strips at the top, it's a white half moon shape covering the lunula and the nude pink lacquer slightly curves for a great design.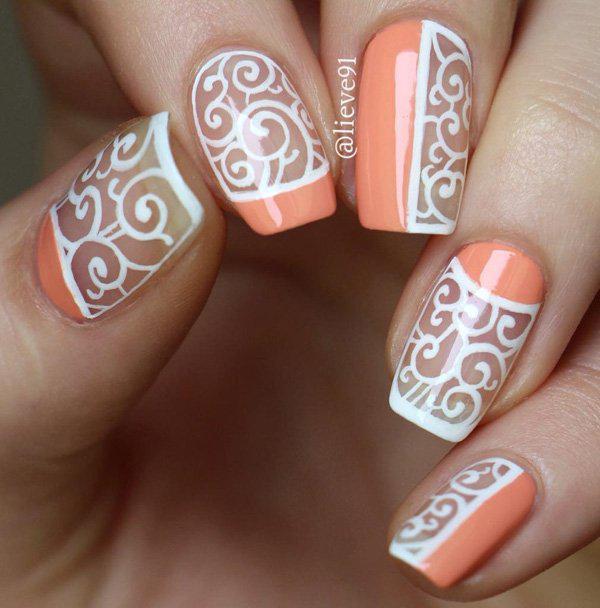 Creating patterns now is a trend among nail art designs. This ne has swirls on a clear base and then some solid nail polish for French tip, half moon designa nd some halfway blocks.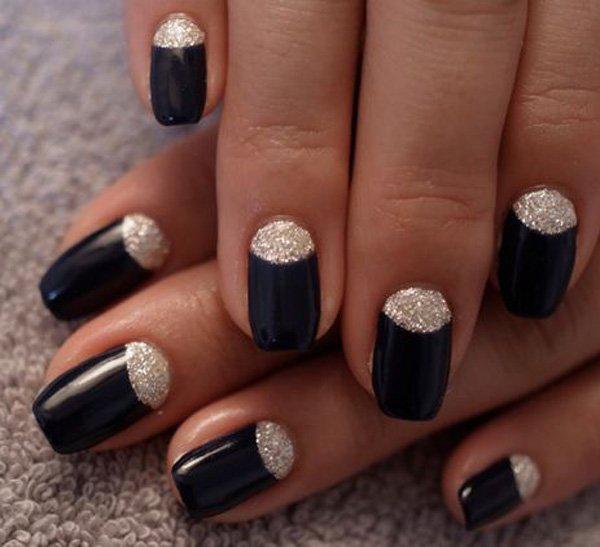 If you want a subtle way to glam up, you can now alternate the gold (in this case silver) and black design we had previously. Instead of the gold glittery nail polish as the base, here it's the black. The half moon is the silver glitters.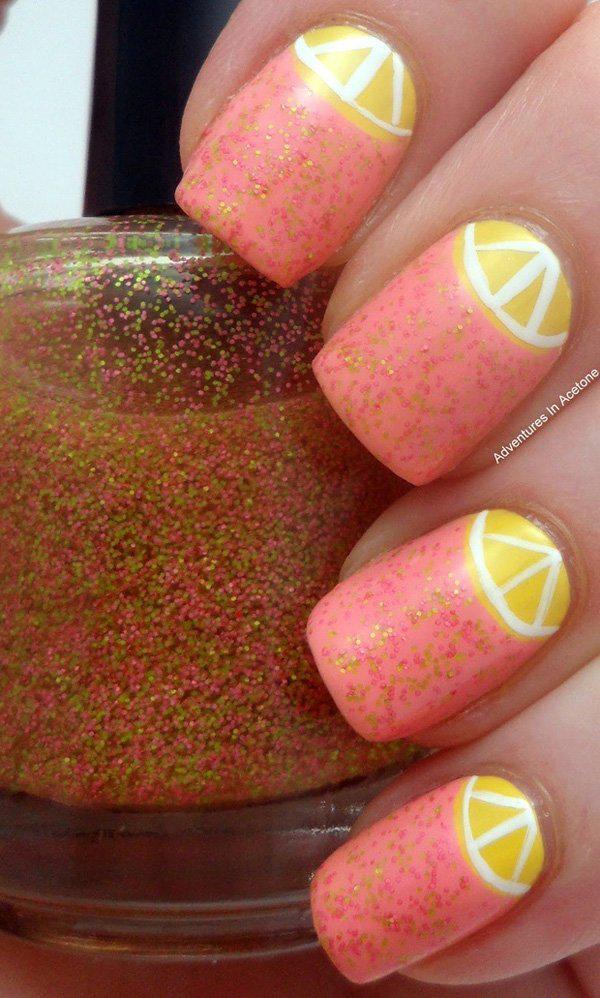 This is basically like the previous one with the white lines on the half moon. But it's upgraded to a more sassy design with pink and green glitters over the pink nail polish.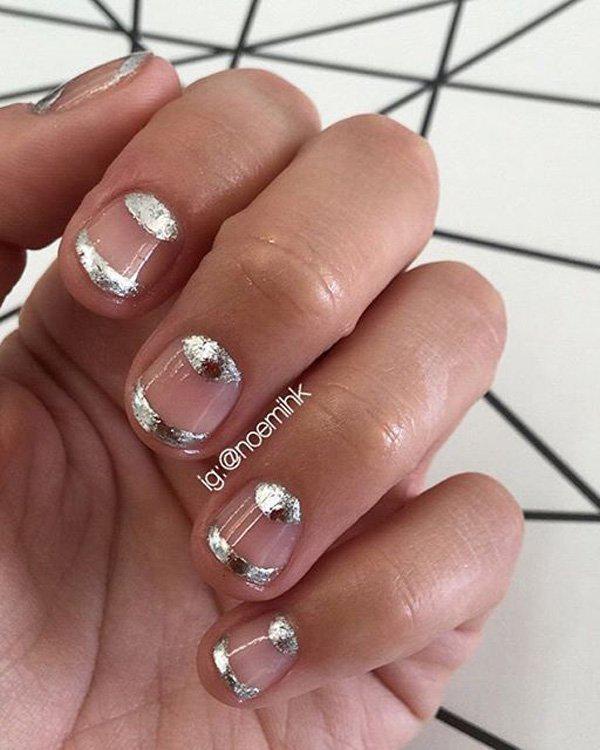 If you wish to have a metallic silver nail polish but you think it's not relaly working well with other colors, why not just use it with your bare nails and just add a protective layer of transparent nail polish.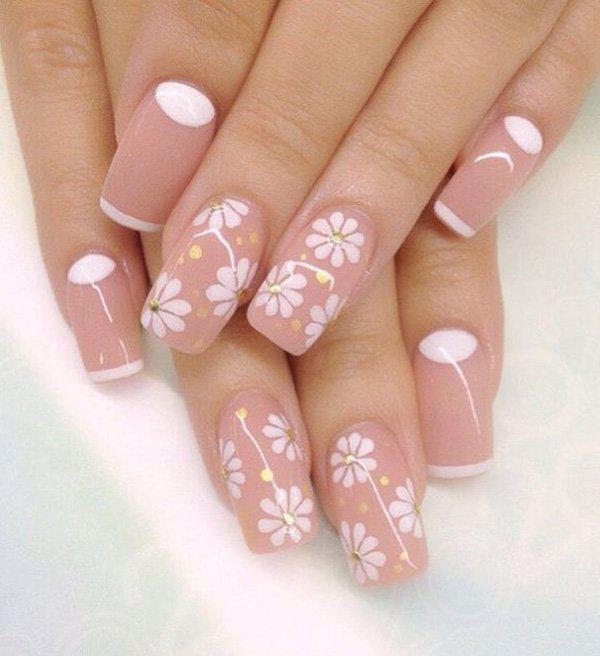 This nude and white combination is extremely working well with the floral design. It's subtle and demure but really stylish.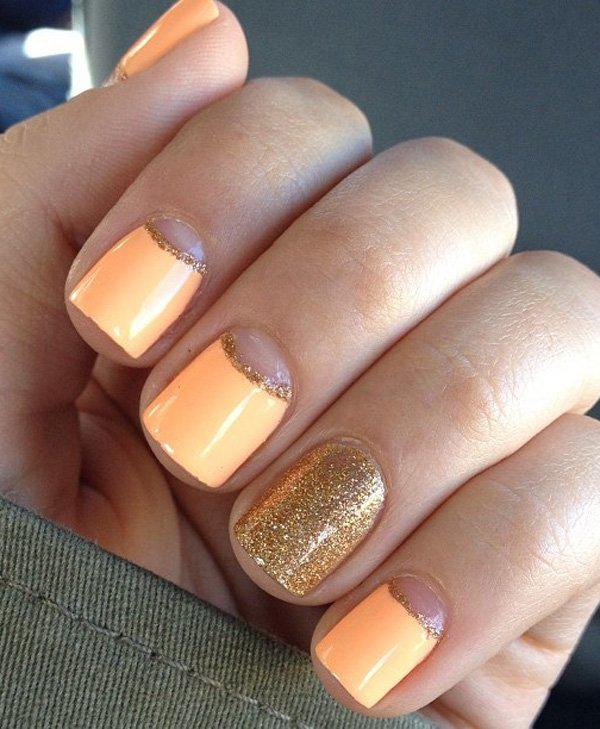 Orange and gold could go well with each other. But just thin lines of gold only to separe orange to the half moon design. The full gold finger is merely for accenting the whole look.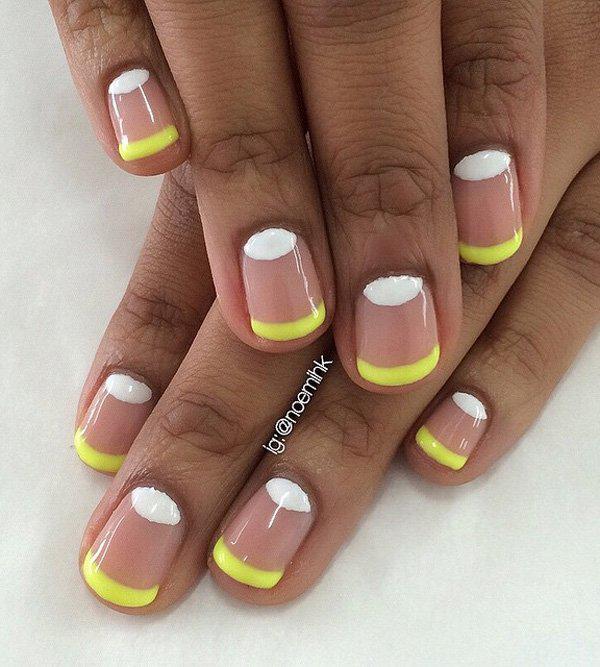 Look more natural with a nude base, a white halfmoon design and a yellow french tip.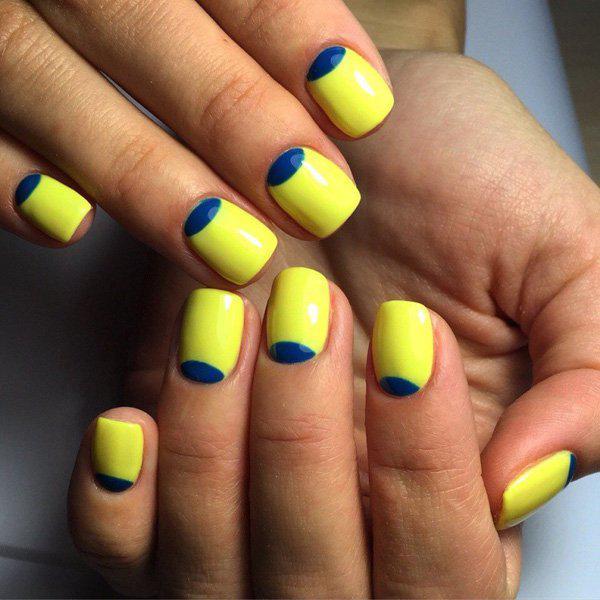 If you wnat a fun combination, try this yellow and royal blue combo. Although simple in design, but fun in colors.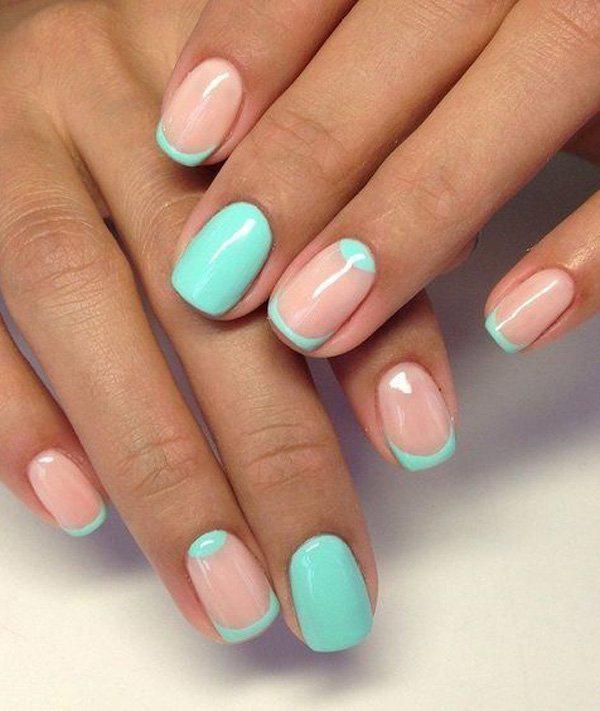 Another wonderful and refreshing minimalist nail art designs is a mint green and nude combination with thin French tips and a smaller half moon.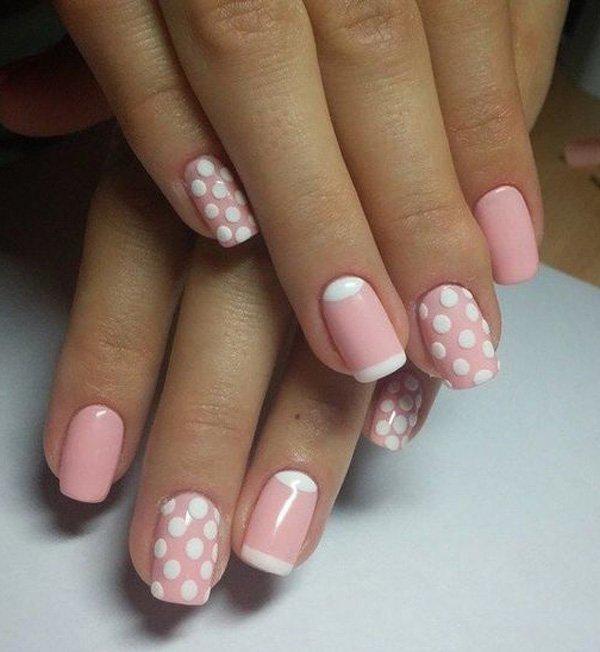 This soft and romantic design could definitely go great with little movie dates and strolling on the park. It's very soft to the eyes and still, really adorable.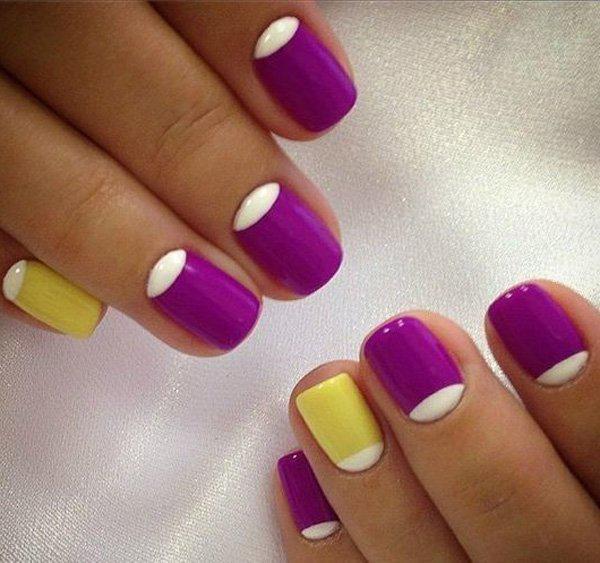 Violet base with a white half moon. But the real show here is the sudden pop of a yellow base and white half moon. It gives a sudden retro vibe.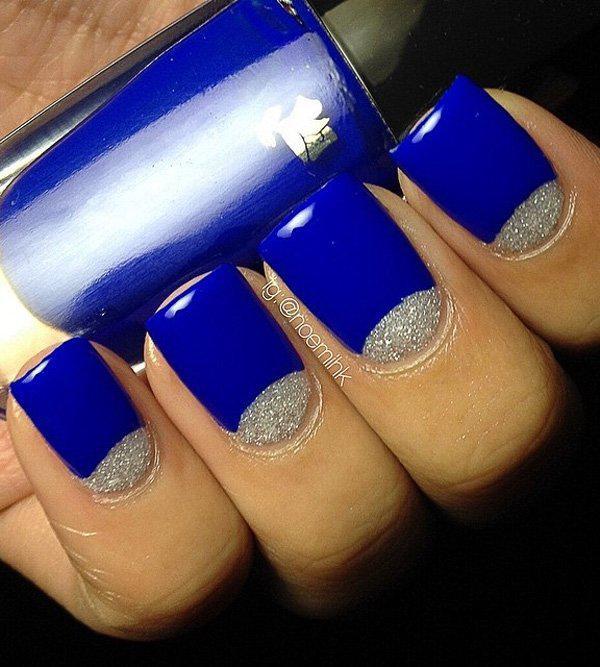 Feel like a royalty with this royal blue and silver glitter combination.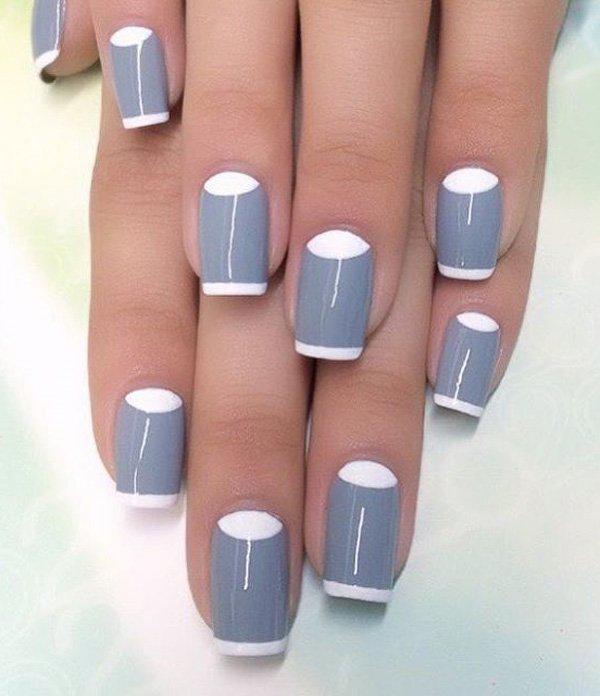 Gray is not normally a color for nail polish. But here, it works really well with a French tip and a half moon design. It's actually very crisp to look at.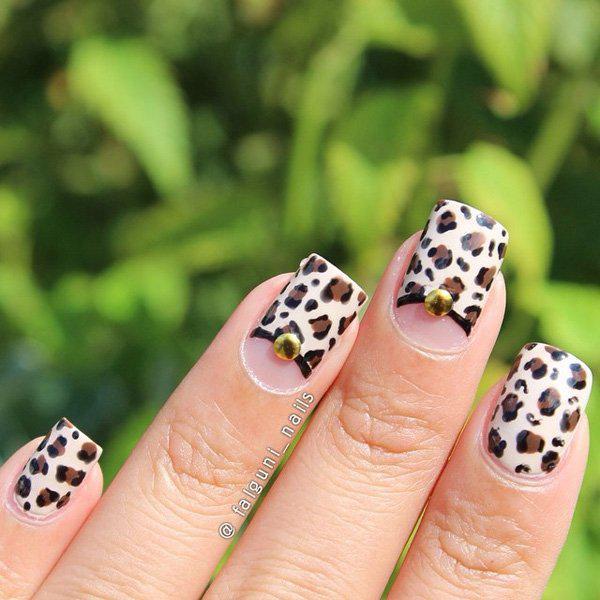 Leopard designs are still in. Just leave a space for the half moon design and take a gold bead to give accent to the design.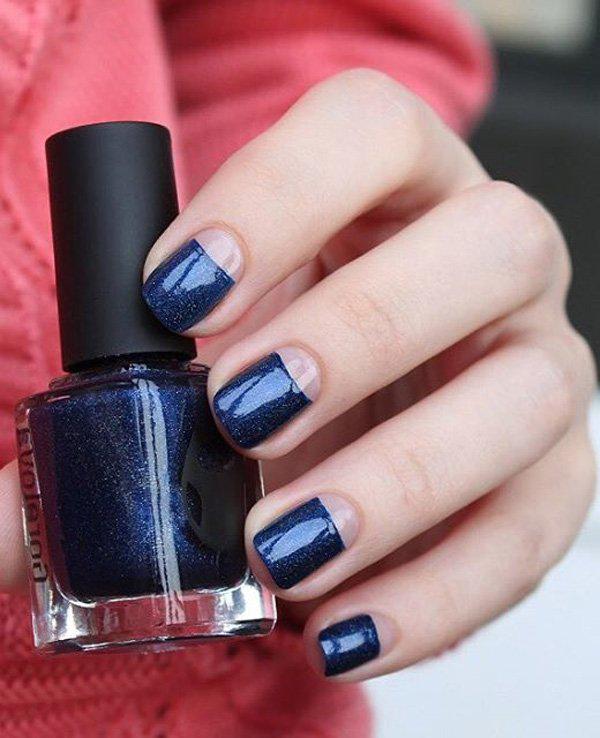 Midnight blue is a really bueatiful color whether completely covering your nails or if you have a half moon design.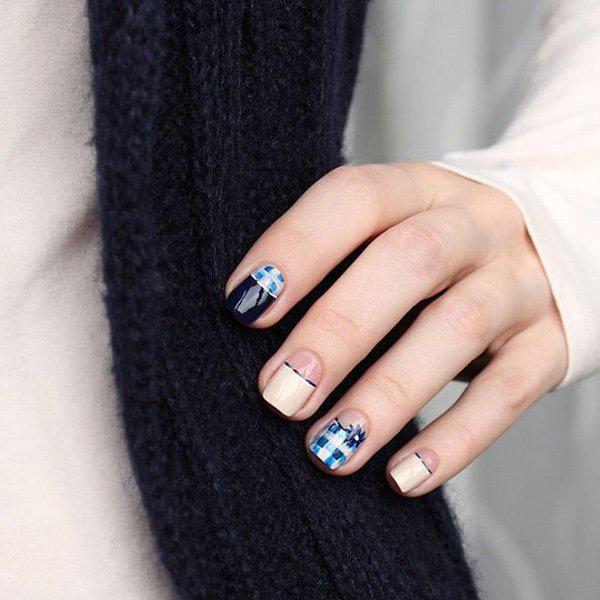 This chic and fun design uses different shades of blue for a plaid look. It's combined with a beige nail polish to make it look more subtle.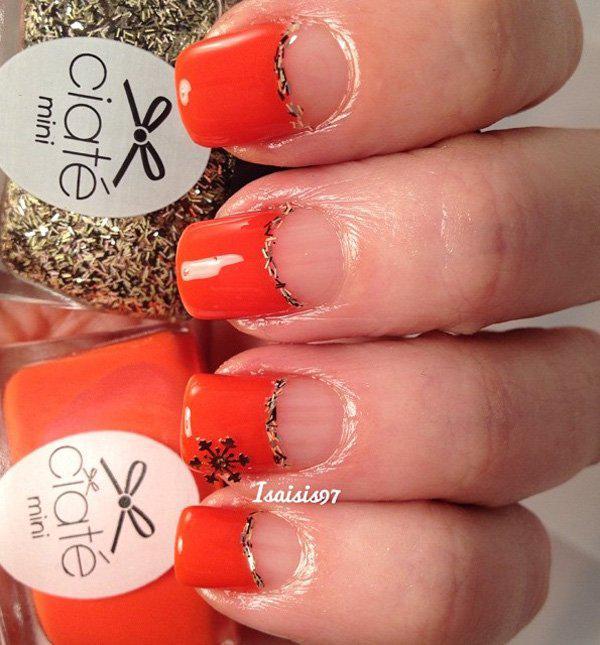 The detail of the design is actually amazing. There are little strips along the nail polish and the nail which makes it look great.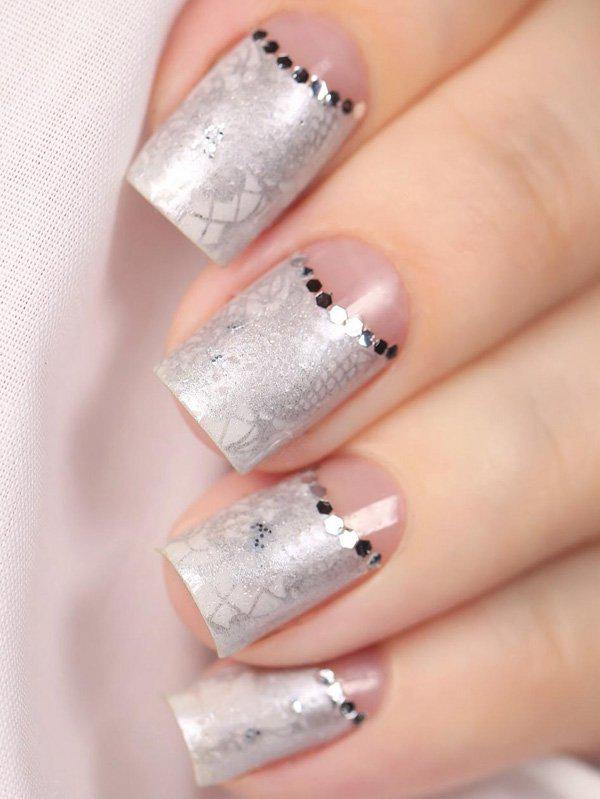 To achieve this gorgeous design, you may want to put a base of a lighter silver nail polish up to the curve for the half moon. Then pick up a stenciled design that you want and then place them over the nails and paint with a darker silver. Then use some silver rhinestones for more accent.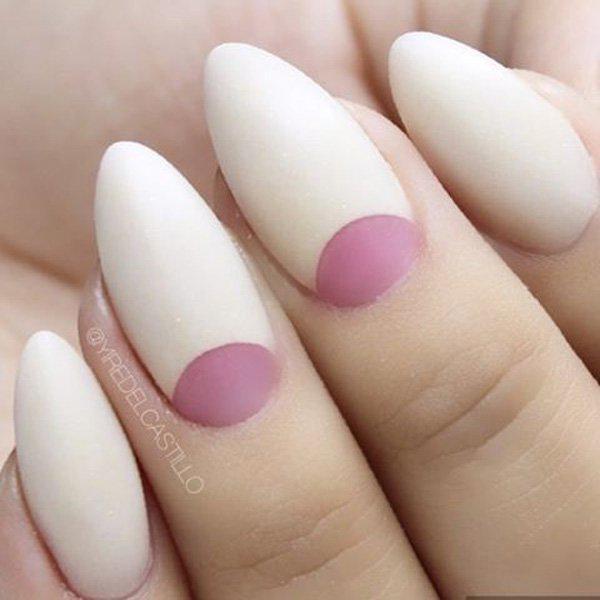 This coffin-shaped nails with white matte nail polis gives an elegant finish with a naked Half moon design.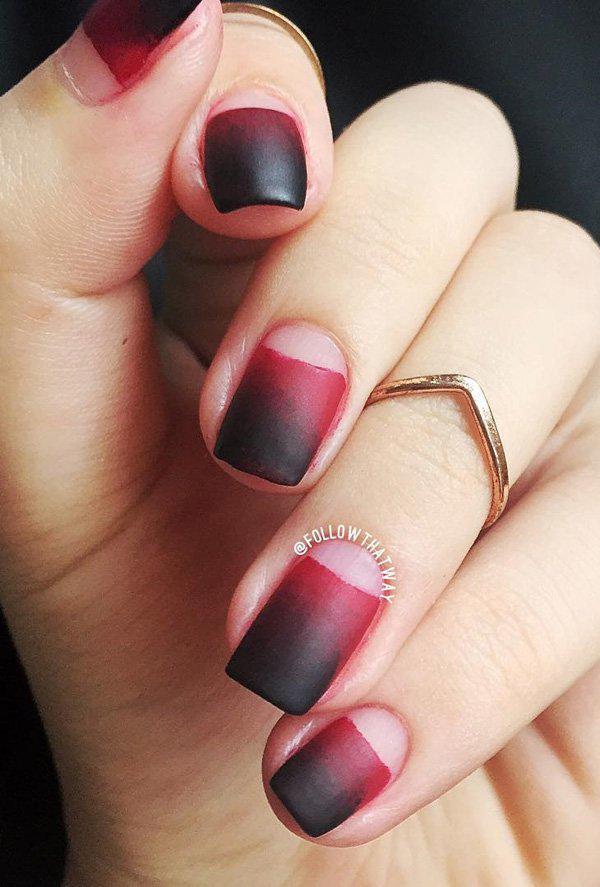 This matte black or red ombre looks a bit subtle with the naked Half moon design.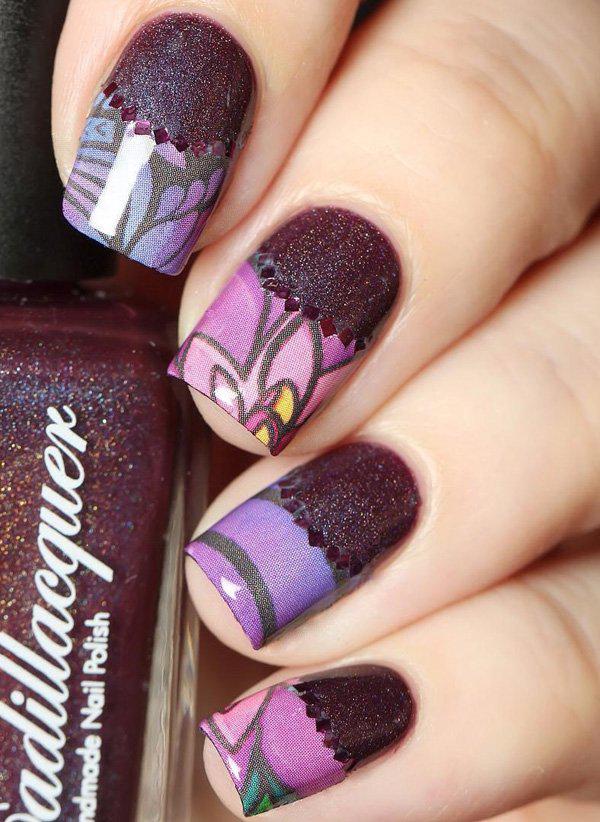 There are electronic nail art designs where we can get complicated designs easily. UIn this design, you can get that and then cover a Half moon shape with purple glitters and purple rhinestones.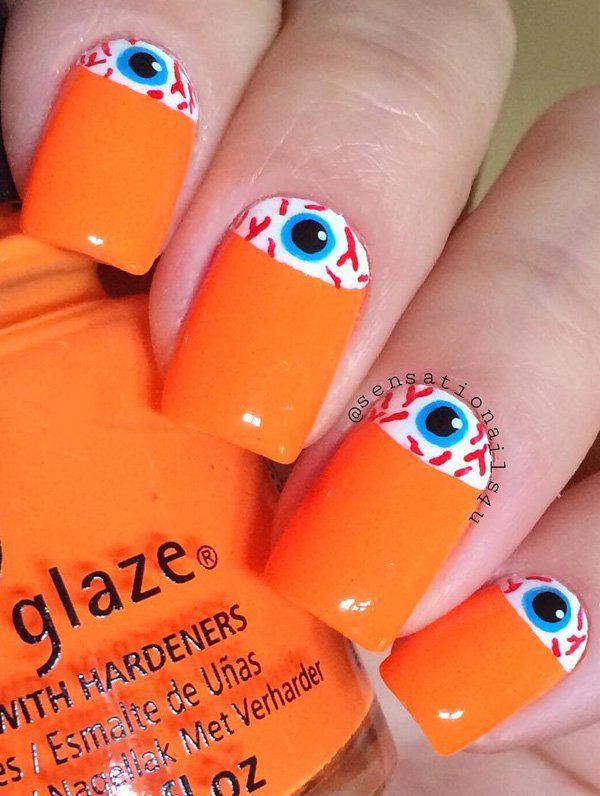 This interesting design may shock you at first, but when you get used to those veiny eyeballs, it's actually a cool design. Makes you think of the movie Monsters, Inc.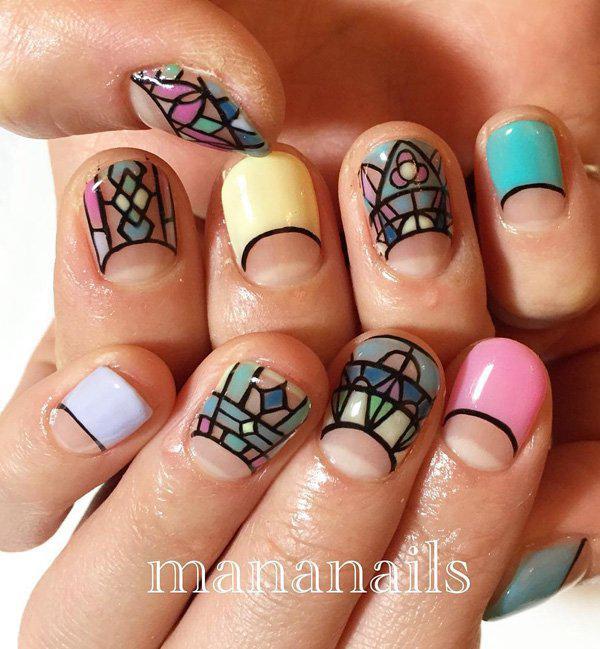 These beautiful nail art designs will make you think of church windows. There's something divine and peaceful about it.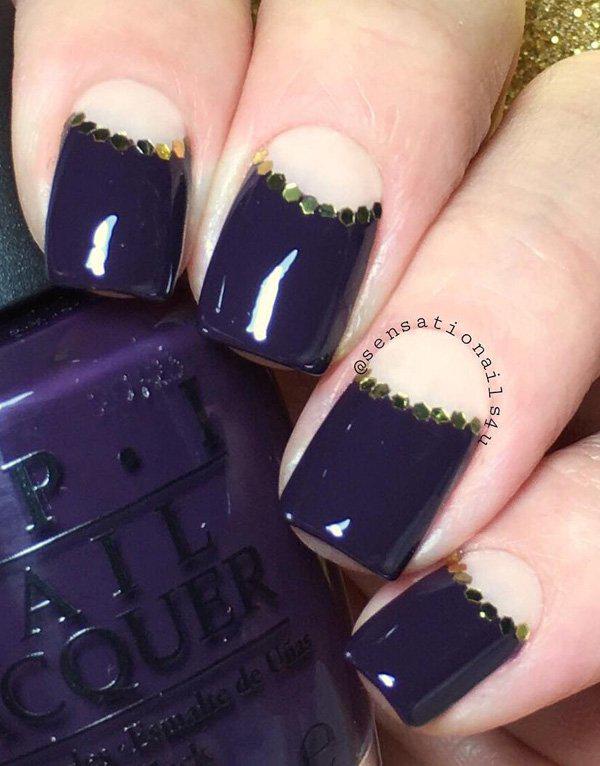 Midnight blue with white Half moon design. This works well with some gold rhinestones in between.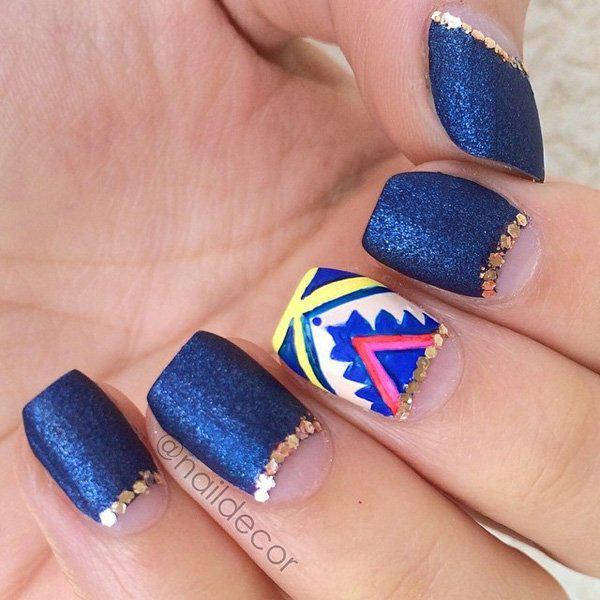 You can now put blue glitters for all your nails without thinking if it's too much. It will instantly be toned down by a half moon design as well as an accent with a different design.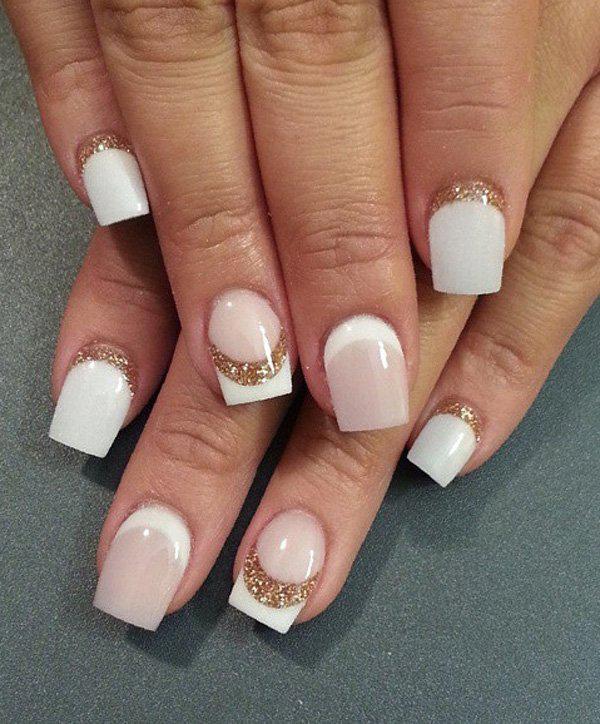 Keep it simple. Keep it stunning. Here's a white French tip and Half moon design with gold glitter details.
Source