Buddha tattoo is a form of Buddhist art influenced by Buddhism. Similar to other religious tattoos, it's popular for those who have faith in Buddhism.
As the follower of Gautama Buddha, there is nothing more important to devote his/her life to Buddhism. The solemn Buddha statue always emanates air of peace and serenity. Traditionally, Buddhists use ritual in pursuit of their spiritual aspirations. Buddha tattoo could be taken as new form of devotion to connect with the essence of Buddha.
Meanings of Buddha tattoos
When you look at Buddha tattoos, you'd often find yourself intrigued by what it means. What is behind this tattoo? Why have someone chosen Buddha among the other deities? The meaning behind these tattoos can be inspiring and can also be a symbol of who you are as a person.
If you're not that much on hidden messages and symbolism and you simply base your tattoos on how it looks, Buddha tattoos are definitely still on the list. There's this simplicity in how these tattoos look yet on careful look, such details that when skillfully inked on your skin would definitely look wonderful.
Buddha tattoo design ideas
The design of your tattoo would play a great role on how your tattoo would look like when it's finished. Realistic looking tattoos are really wonderful to look it. 3D tattoos looks like your tattoo could come alive anytime. Then there's this mysterious beauty when it comes to surrealistic designs. Even abstract and watercolor styles for Buddha tattoos could give it a different appearance. There's a lot of colors that could be used on your tattoo which makes it attractive to the eyes. On the other hand, simpler designs are calming to look at.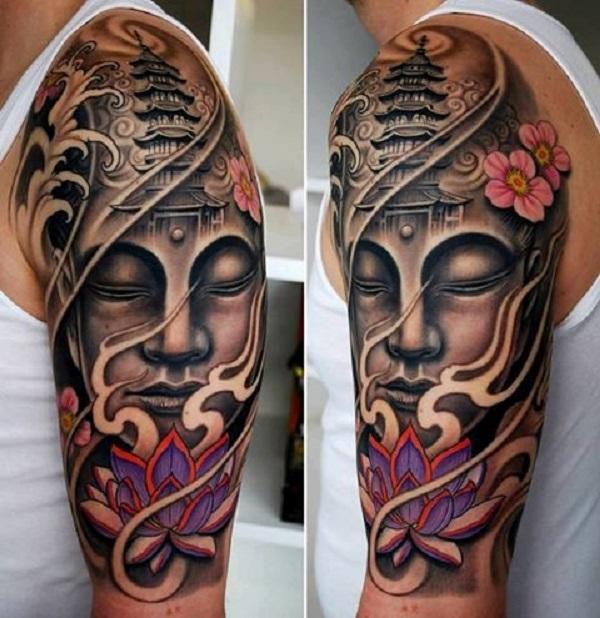 Buddha and Lotus tattoo can symbolize purity
Apart from the message, the 3D effect makes your Buddha look realistic; a perfect design to wear on your sleeves.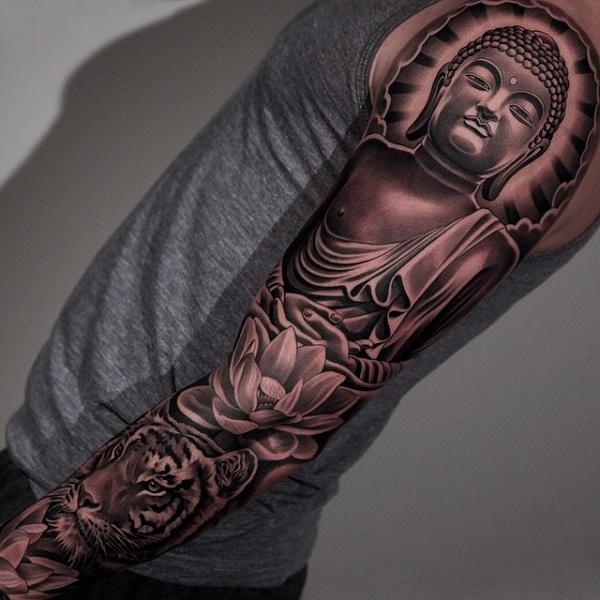 This is a realistic Buddha tattoo with a lotus, for purity, and tiger which can be a symbol of powerful or passionate persona.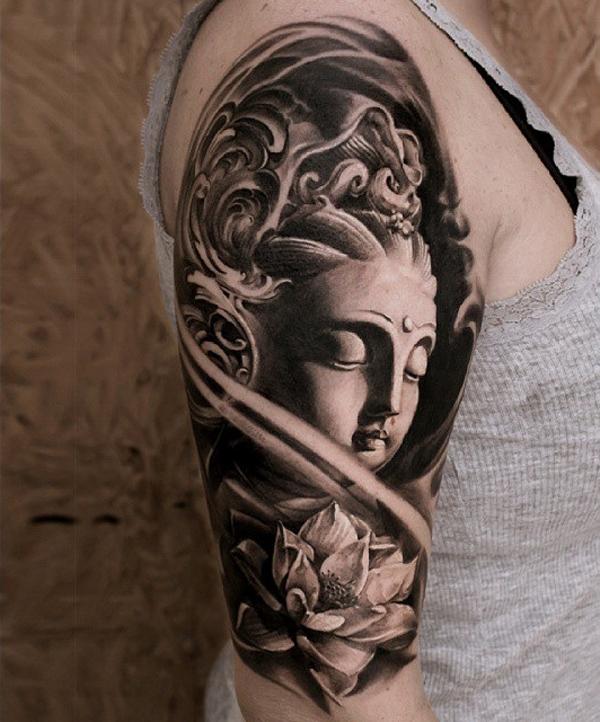 Hyper realistic black and grey Buddha portrait with lotus
This hyper realistic Buddha portrait could portray enlightenment or awakening which are usually the main symbolism of Buddha. The lotus flower is a great addition as it means purity. Both could mean that you are awakened and have become pure.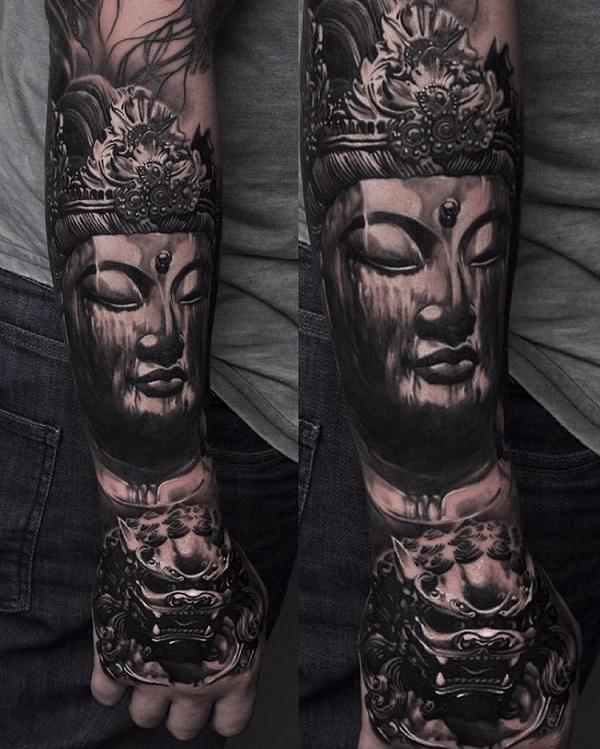 Buddha Blackwork from forearm to hand
Religious tattoos are often depicted with various symbols. For example, you may wonder the meaning of the lion in this tattoo. Lion is the kings of the animals. But in Buddhism, lions are symbolic of the bodhisattvas, the "sons of the Buddha"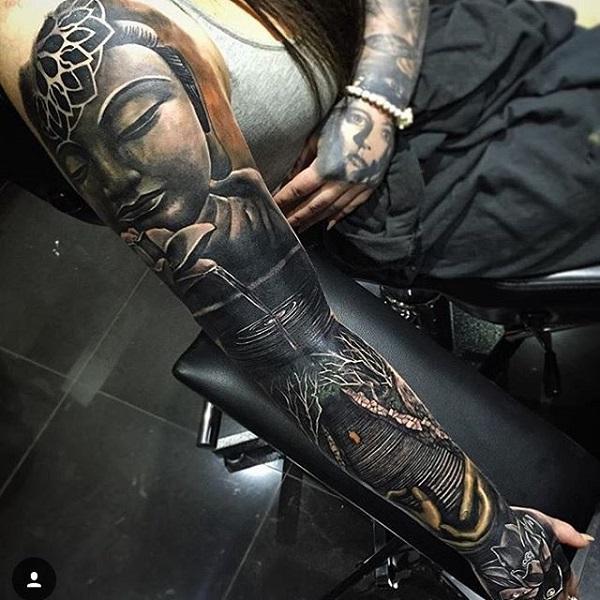 Incredible Buddhism inspired full sleeve tattoo
The blackwork tattoo seamlessly combines Buddha, spring and lotus flower on the hand. Despite the black theme, the full sleeve tattoo displays the impression of majesty and serenity.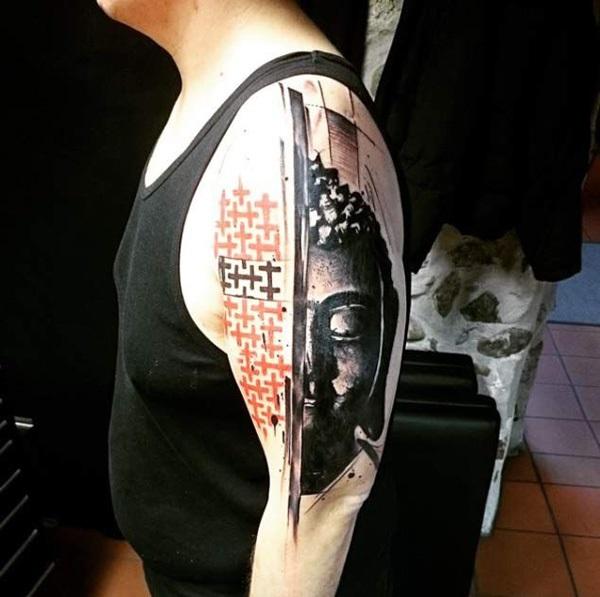 Half face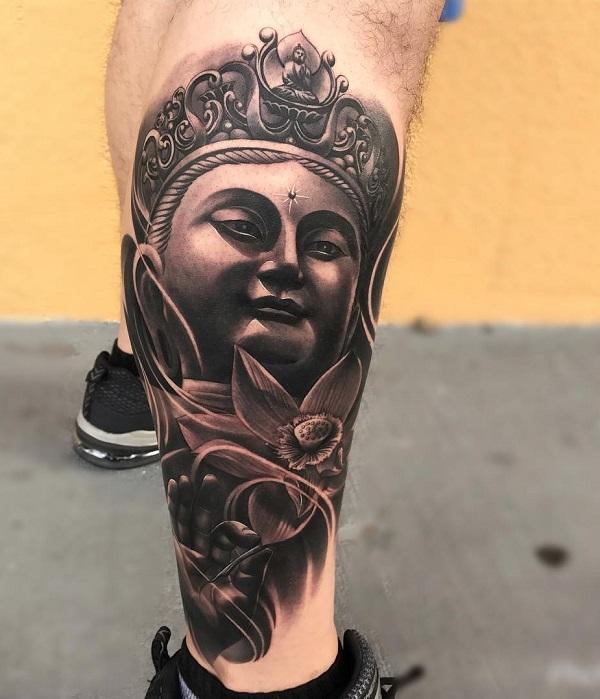 Buddhist smile while holding the flower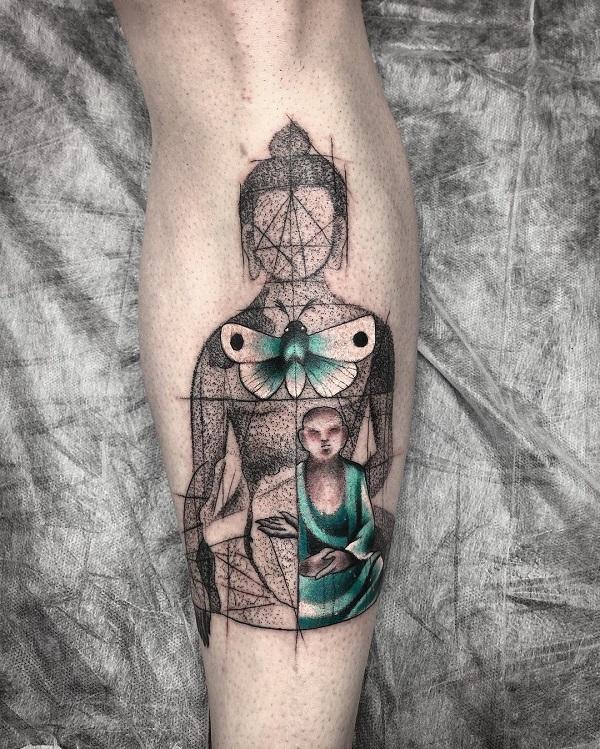 Buddha with butterfly sketchy tattoo on the leg
The Buddha with a halo in mandala style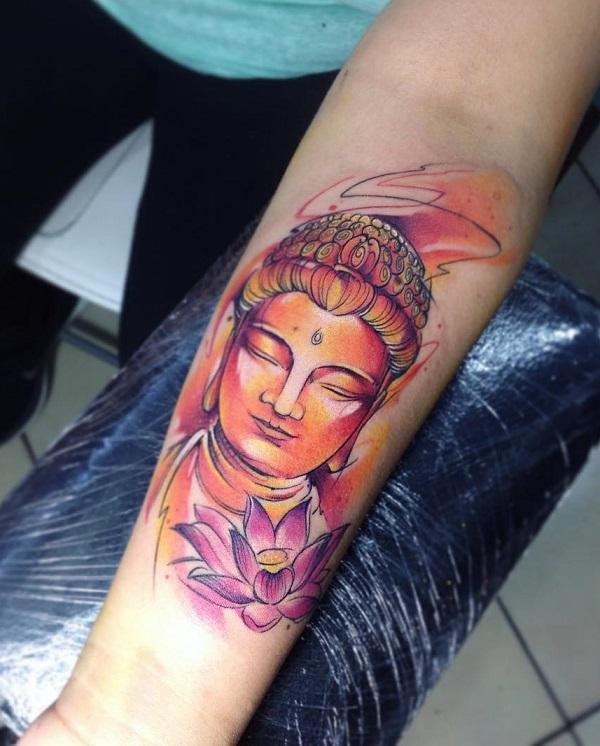 Watercolor style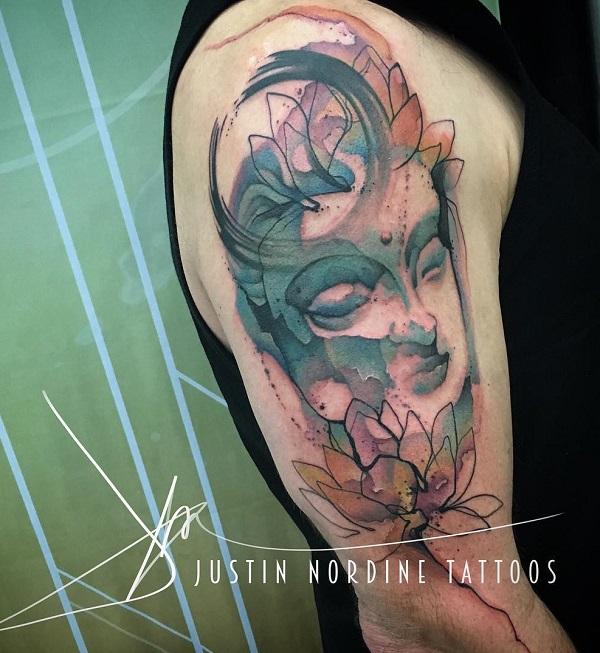 Painting style
The artistic design features strong lines and graphic elements, which perfectly integrates with Buddha face and lotus flowers.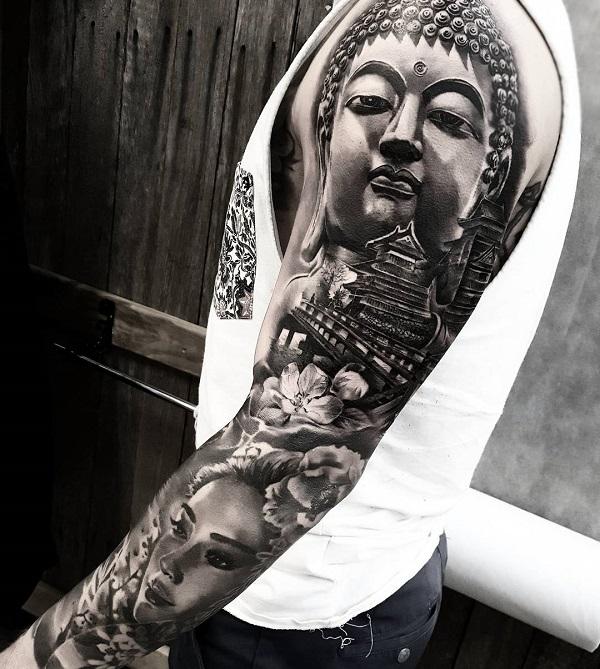 Intricate full sleeve tattoo with Buddha statue, temple, Bodhi tree and woman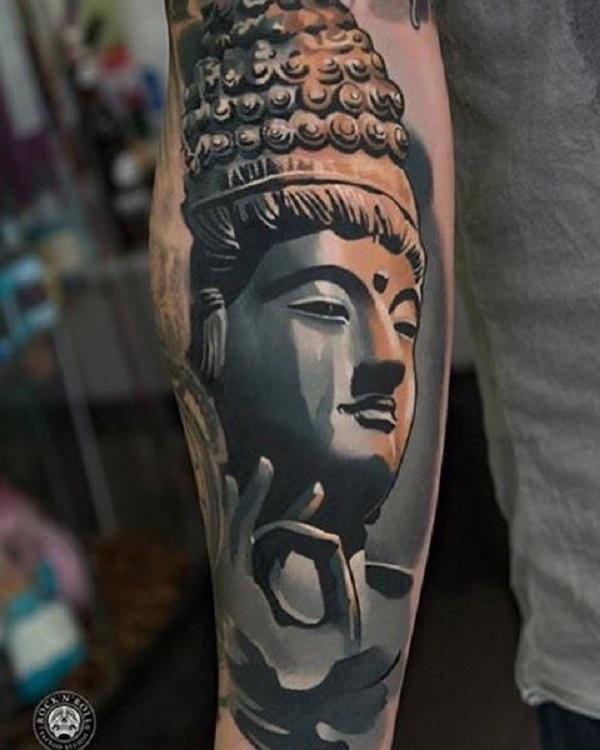 Buddha statue with Karana Mudra (gestures)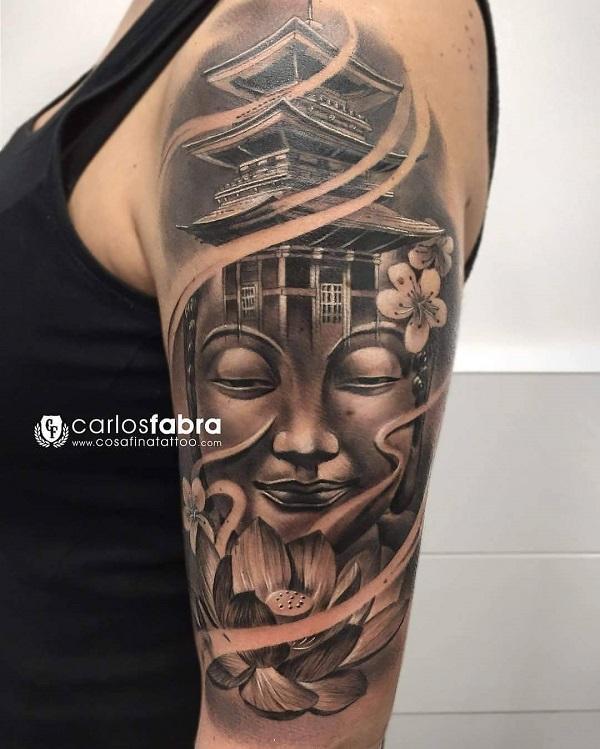 3D buddha with louts half sleeve tattoo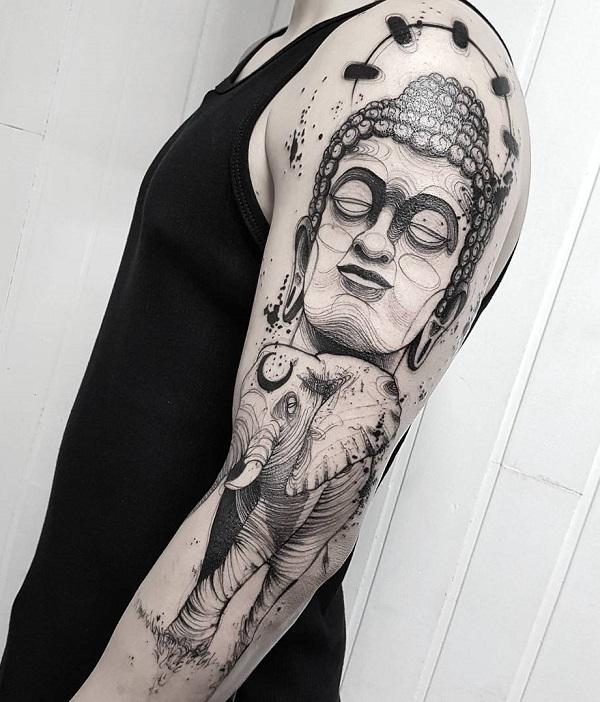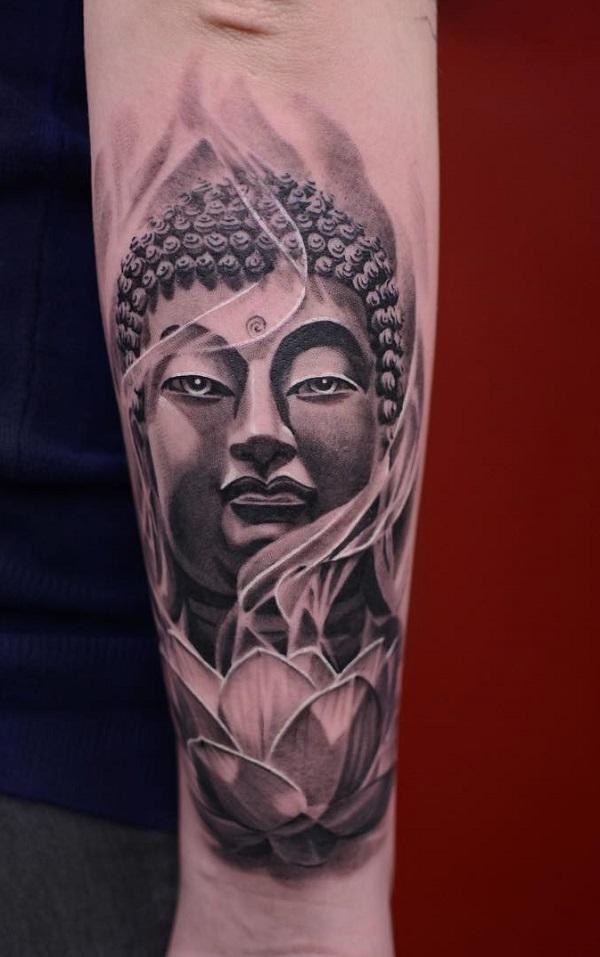 Realistic Buddha and lotus
source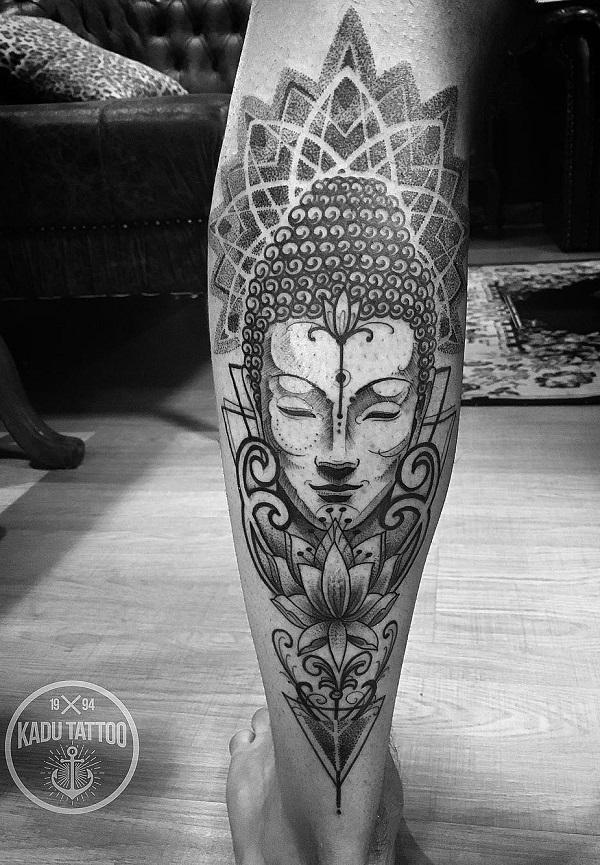 Greyscale combines Buddha, lotus and mandala on calf
source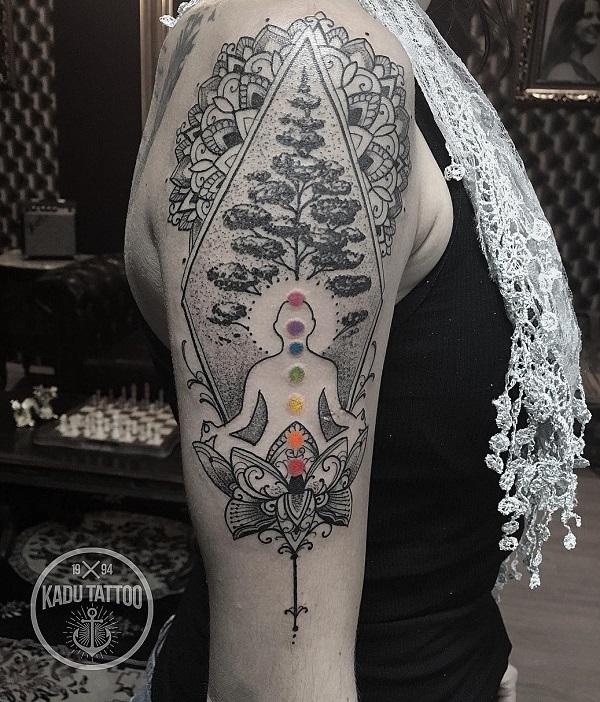 Buddha and mandala tattoo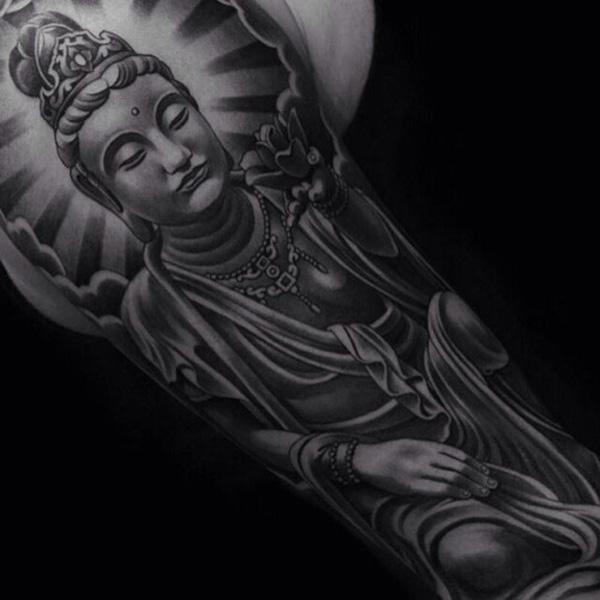 Realistic black and white design
This realistic black and white tattoo design is both calming to the eyes and could be an inspiration to reach enlightenment and awakening or to simply find out the meaning of life.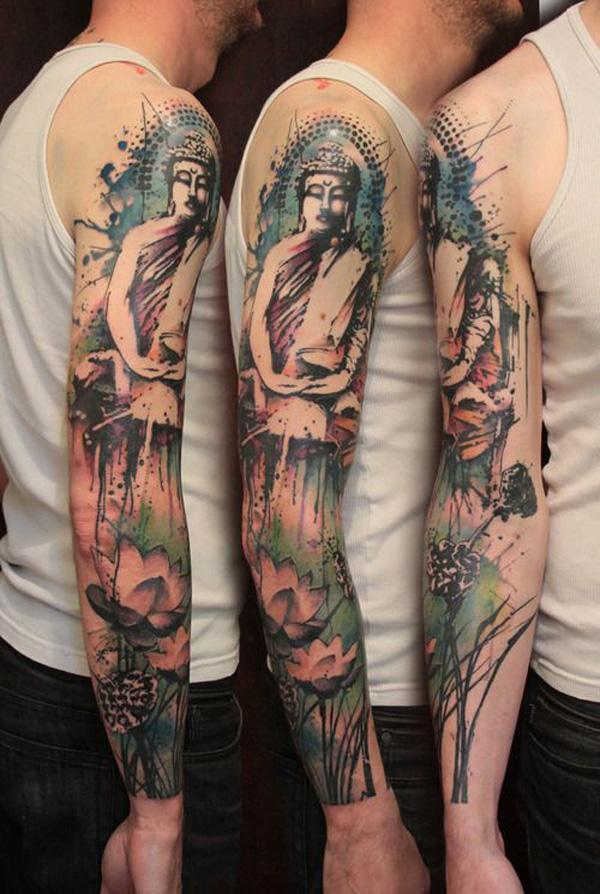 This surreal Buddha tattoo is an excellent choice for people who wants colorful and yet calming design. It's soothing to the eyes since there are no harsh lights and the colors make it look like a hazy dream.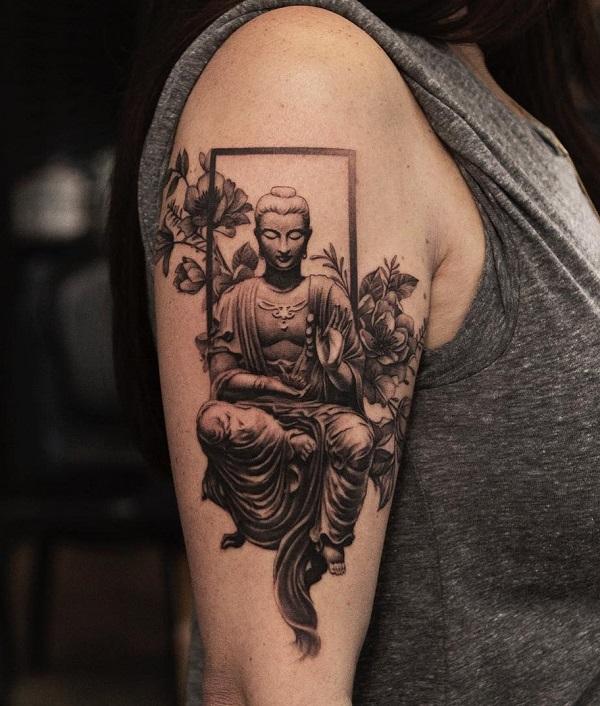 Buddha in meditation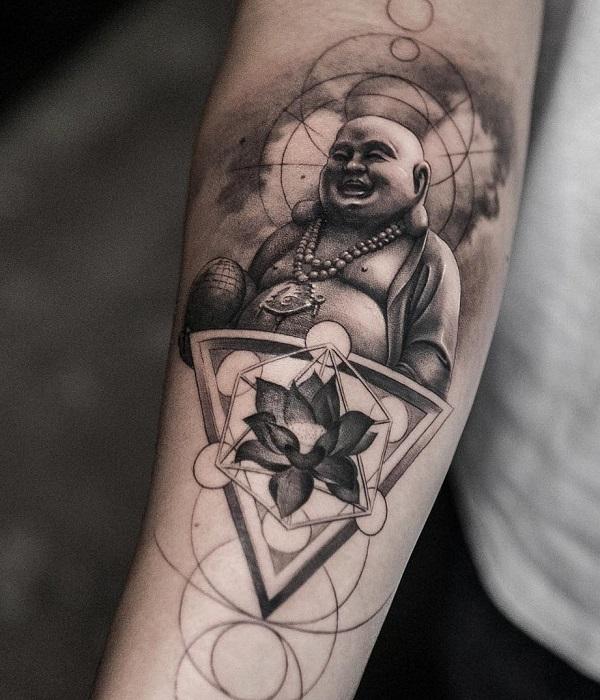 Smiling Buddha with lotus tattoo in black and grey style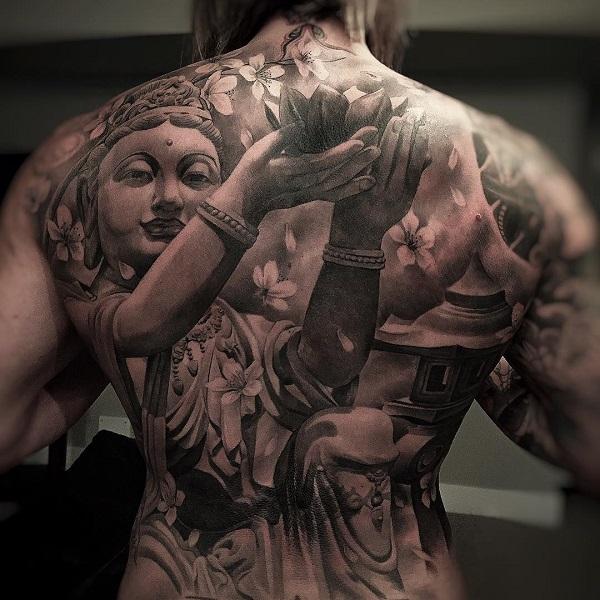 Realistic Buddhism inspired full back tattoo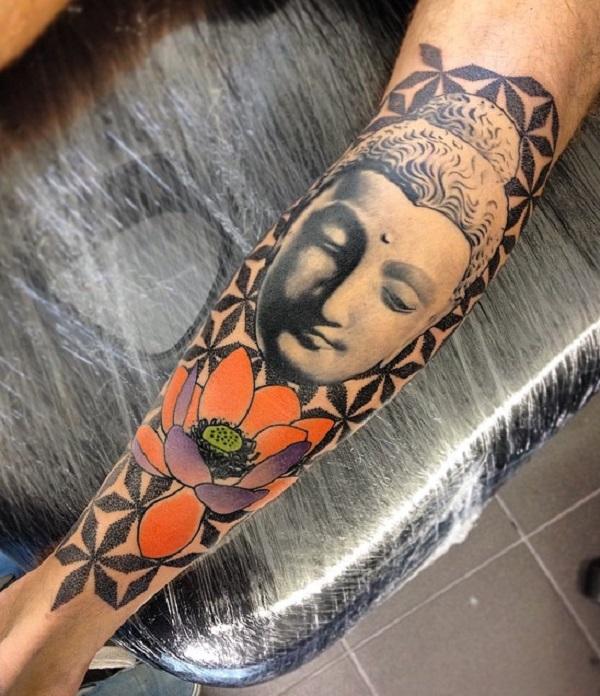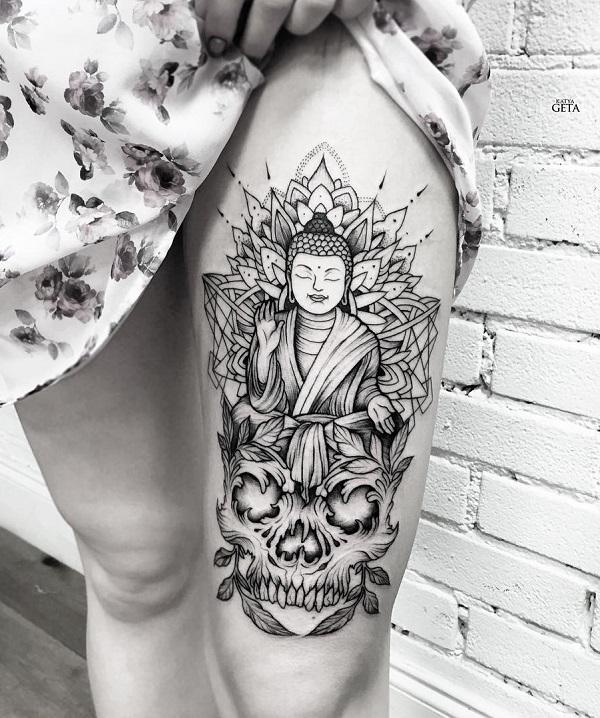 Protection Buddha thigh tattoo for women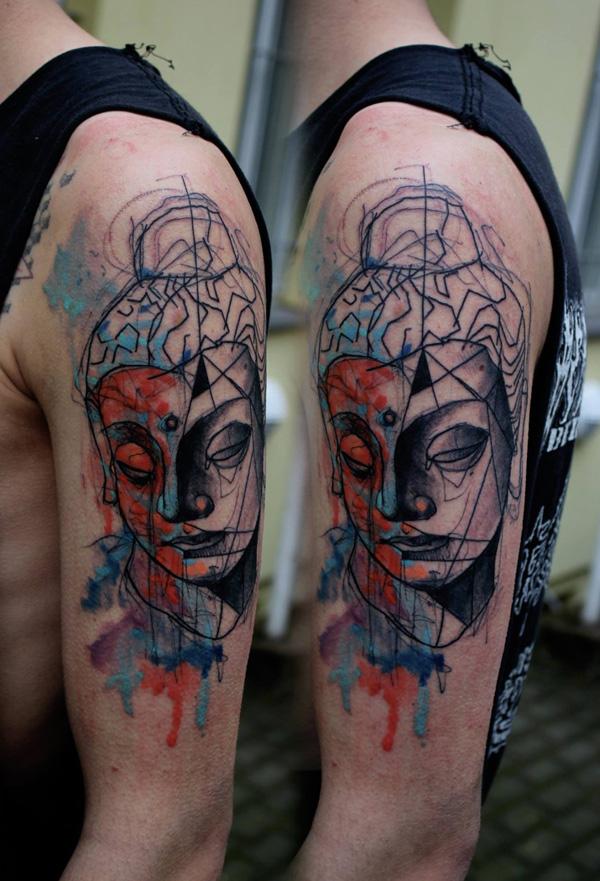 This abstract Buddha design is perfect for artists or to show your artistic side. Since it's Buddha, you can say that it's an awakening of your artistic side.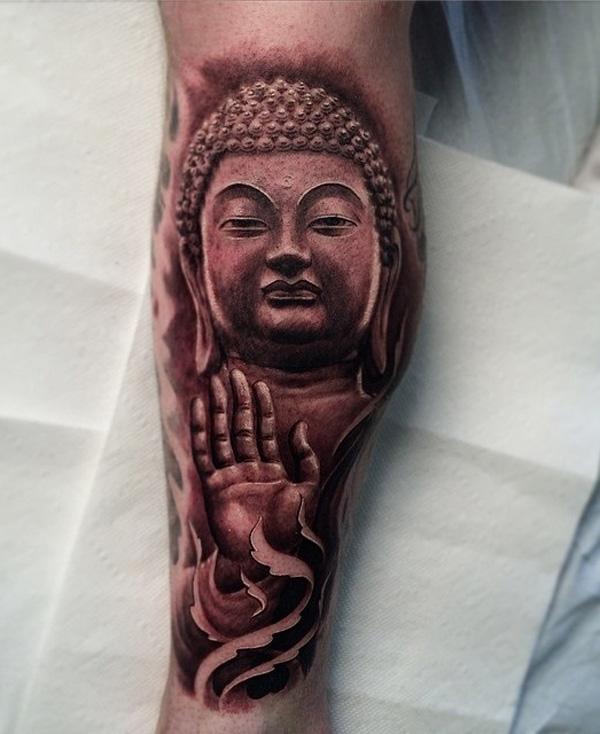 Protection Buddha status
If you want less decorations and more on realistic tattoo designs, then this one is right for you. It looks exactly like those Buddha status you see on Buddhist temples.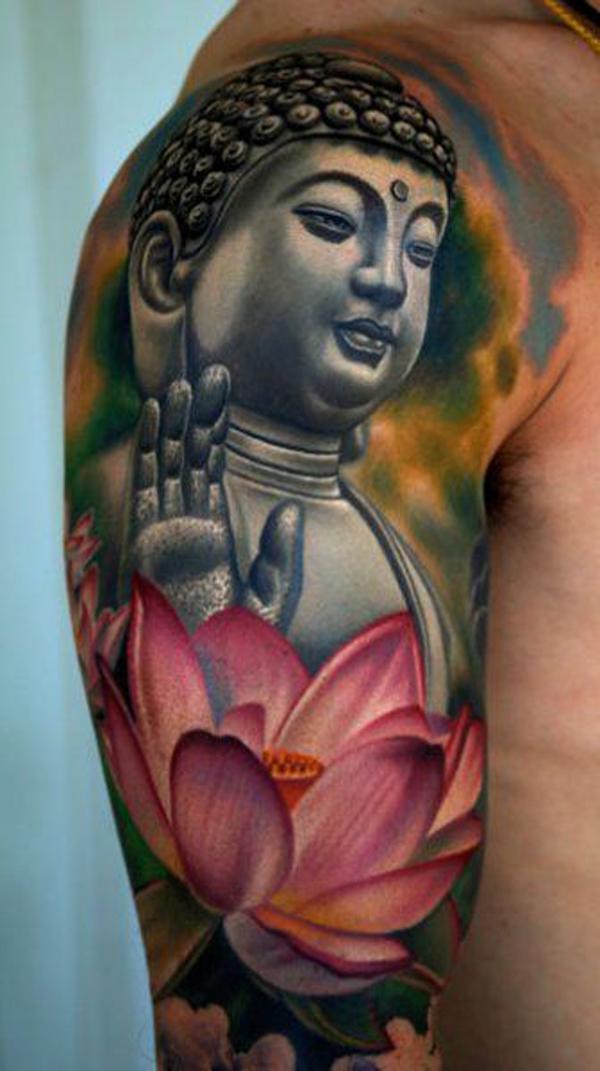 To inspire you to be enlightened and pure, this wonderful Buddha and lotus tattoo could help you. It's bold colors make it pop and look more alive.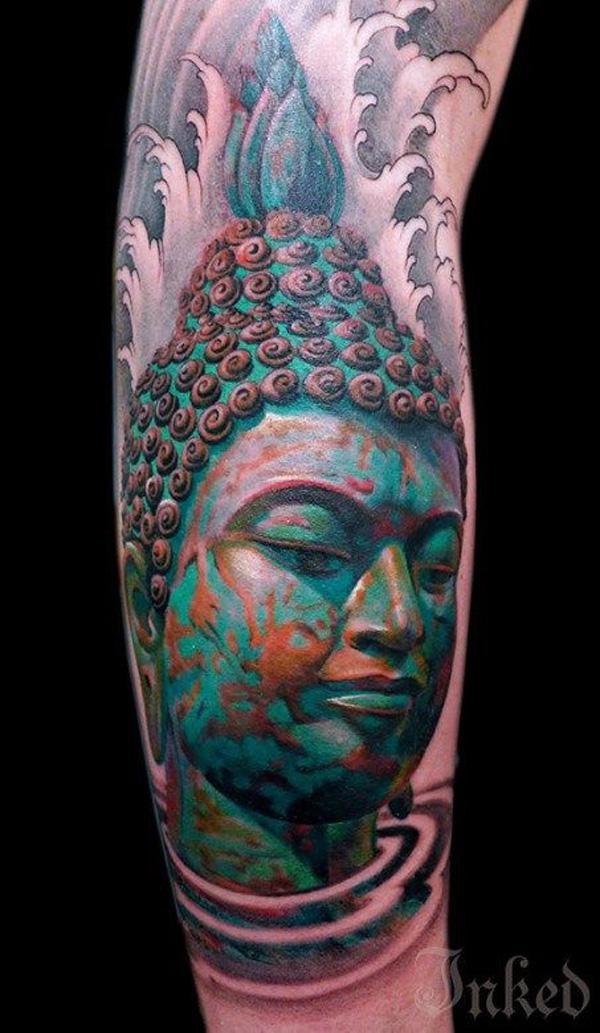 3D tattoo designs are definitely on the spotlight these days. This beautiful 3D Buddha design is perfect to show off to people.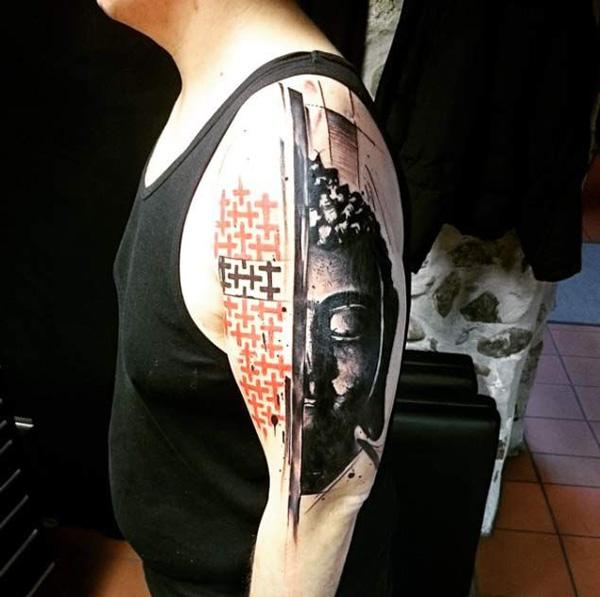 Abstract Buddha design
This artistic Abstract Buddha tattoo clashes old religious beliefs and philosophy and a touch of modern times. It's a new way to depict the famous Buddha.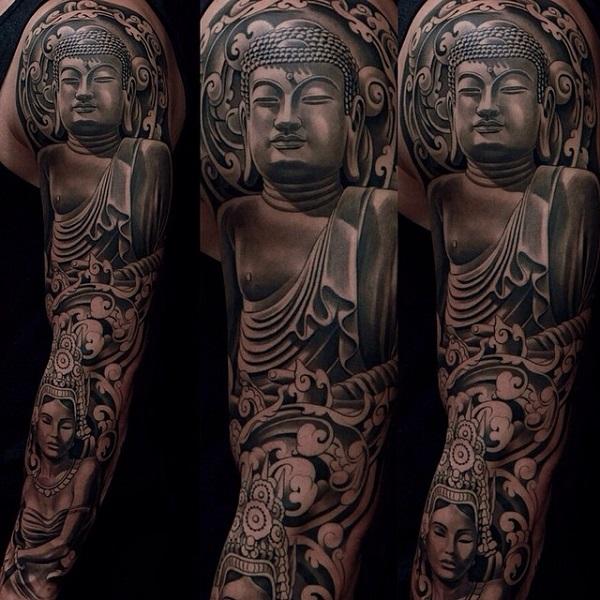 Intricate full sleeve design
This full sleeve tattoo of Buddha is enchanting with the details and careful strokes of curves. The highlights and shadows make a 3D effect and a show of being enlightened.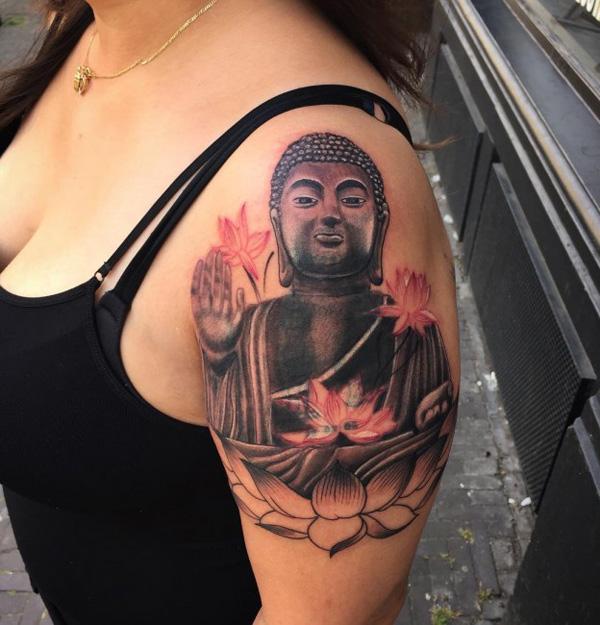 This design is perfect for women since it's simple and smaller compared to previous designs. There's also smoothness in the lines and even how the lotuses were inked.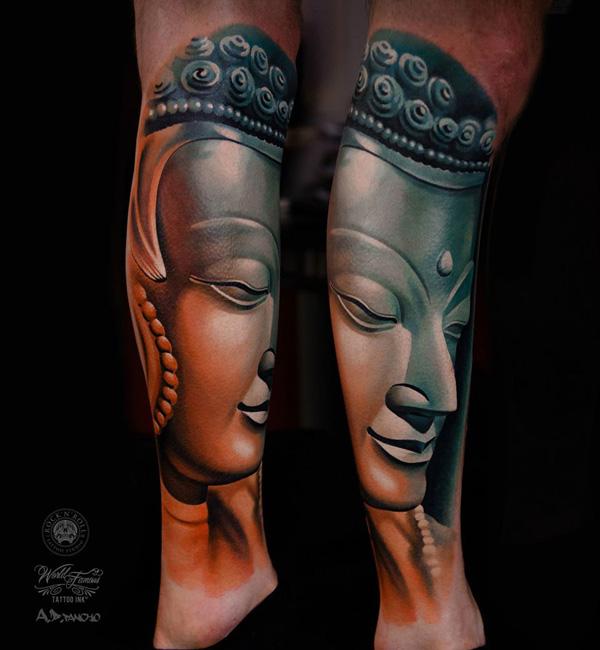 Realistic 3D smiling Buddha design
This realistic 3D smiling Buddha design may look simple but could take a skilled tattoo artist to perfect. It almost looks like it's been airbrushed permanently on your skin.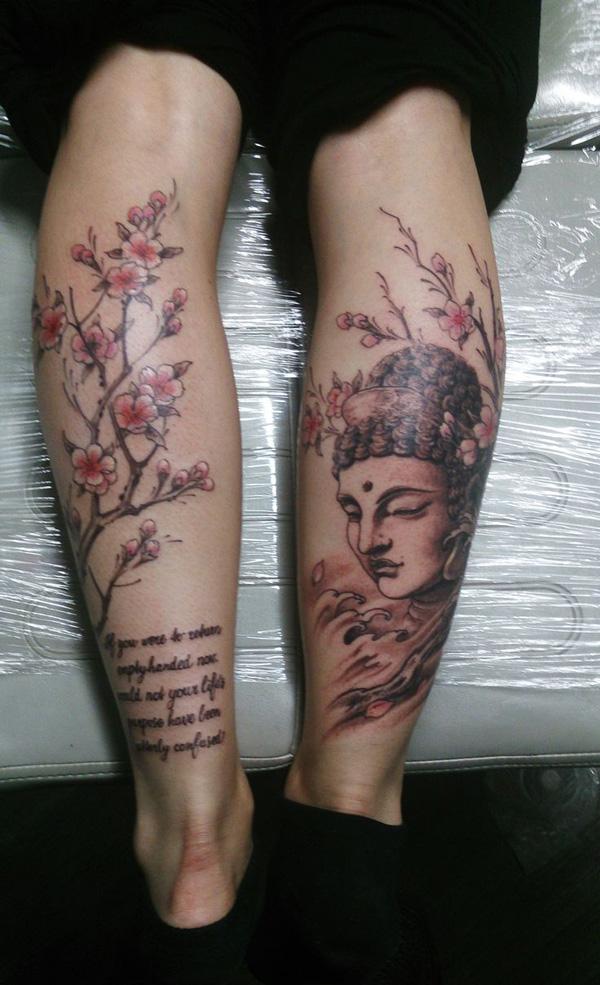 Cherry blossoms are commonly associated with the fragility and beauty of life. Combining it with a Buddha design could offer a wonderful message to inspire you or whoever's looking at it.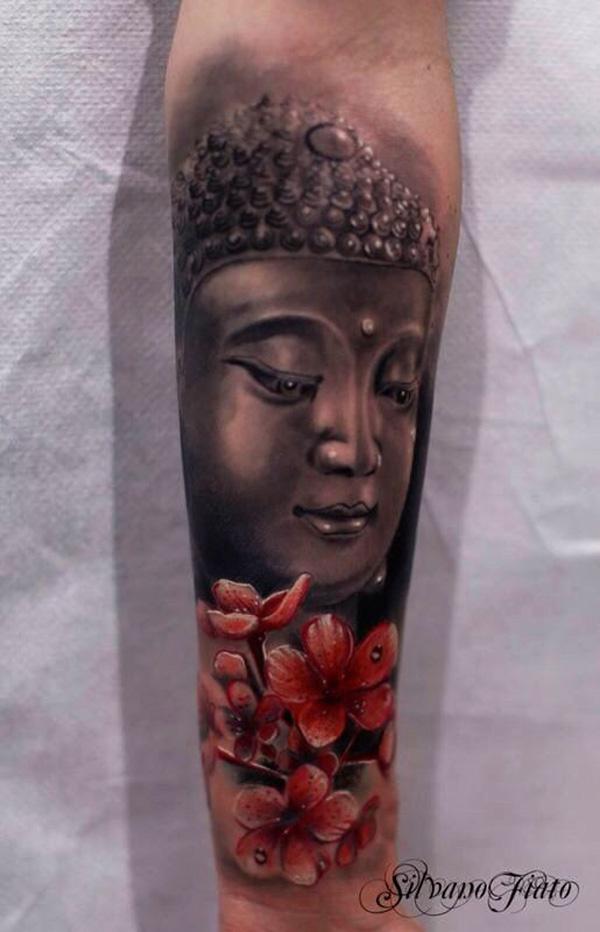 Here's another alternative to the Buddha and Cherry blossom combination. This one can be inked on your arms.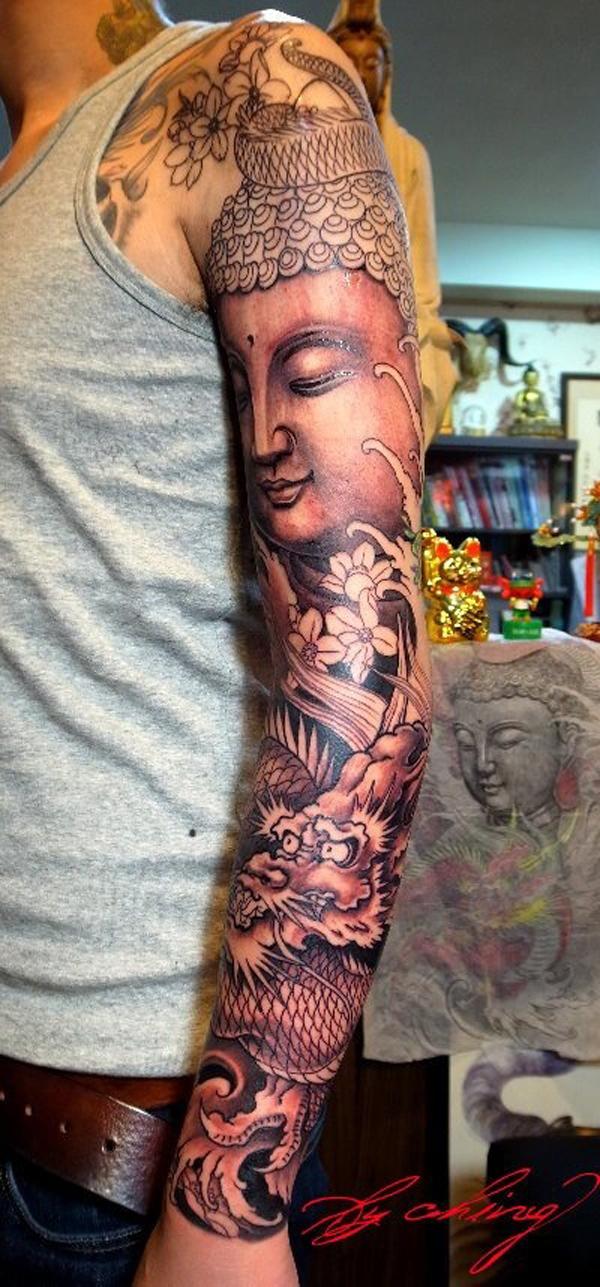 This magnificently tattooed design shows Buddha and an Eastern dragon which signifies good fortune, fertility and protector of life.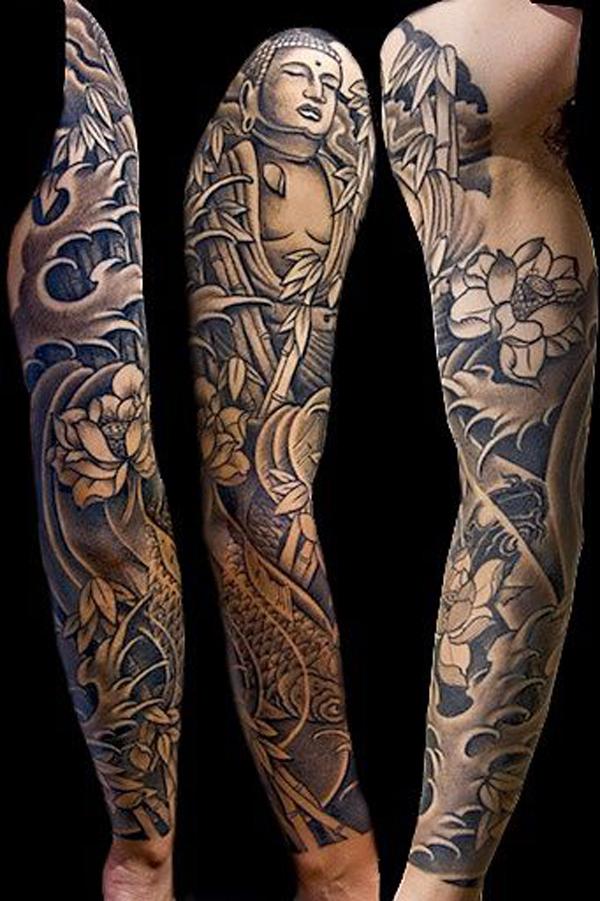 Have this Buddha and Japanese fish and bamboos tattooed on your sleeve and have a touch of the East. Plus the details in this design simply makes a wonderful work of art.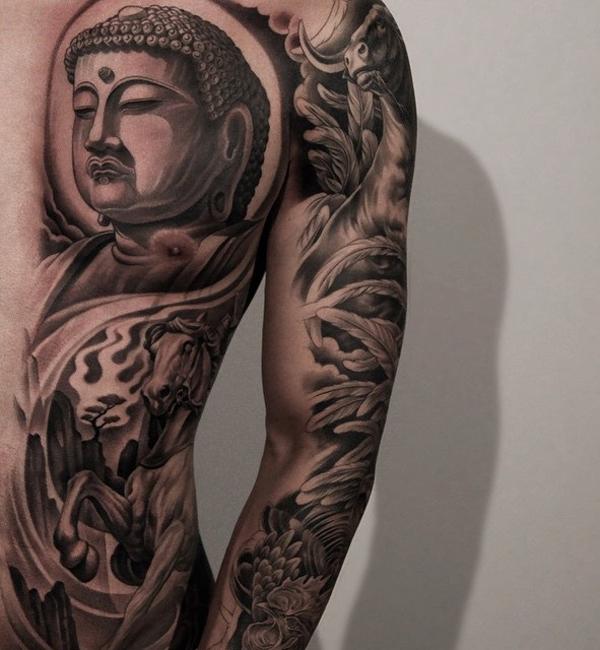 May this Buddha and horse tattoo guide and inspire you to reach enlightenment with the strength horse tattoos usually signify.
This beautiful Buddha and lotus half sleeve tattoo is mild and gentle to the eyes. It's serene and this is why it could be a great design for women.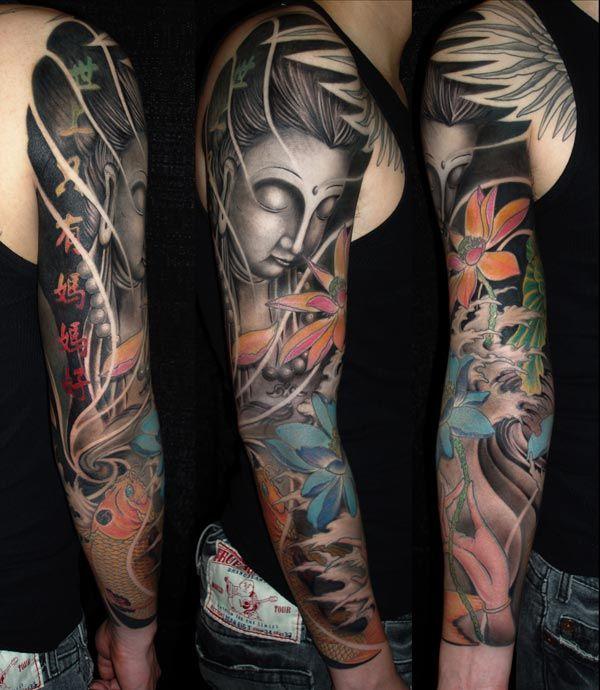 This tattoo design shouts intricacy. It's another perfect alternative design to Buddha and lotus tattoos that you are looking for.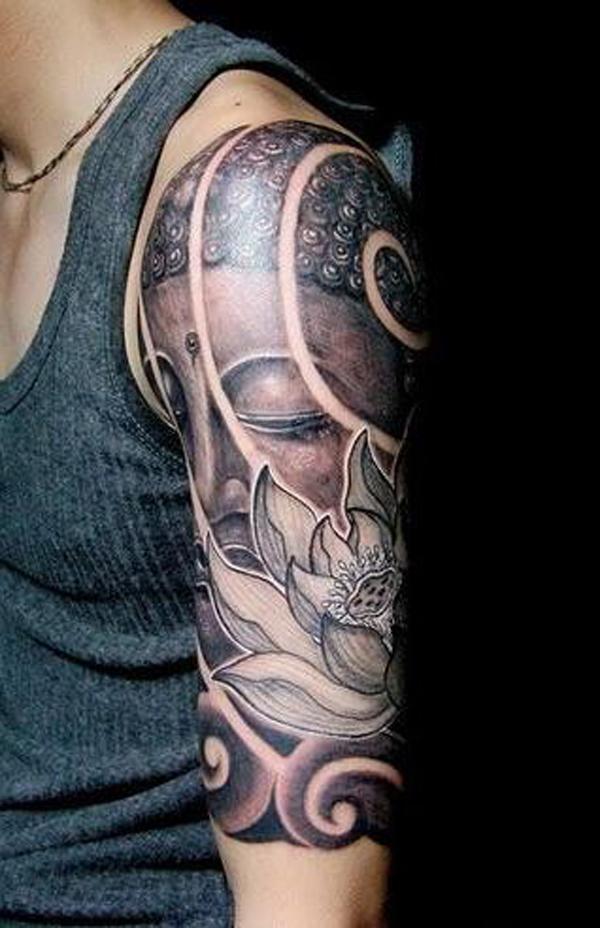 Here's another contender to the Buddha and lotus tattoo that you can choose from. This one is more suitable for half sleeves.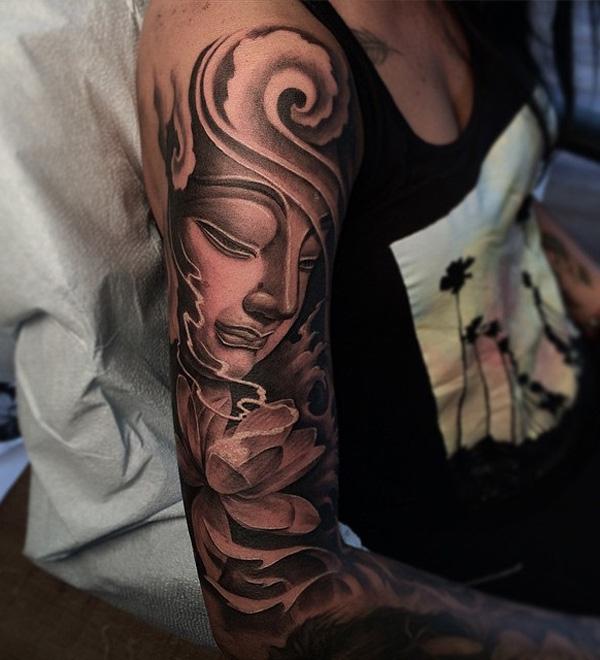 If you want a Buddha and lotus tattoo for your full arm length, you can go with this option. It's subtle and smoothly made so it's also perfect for women.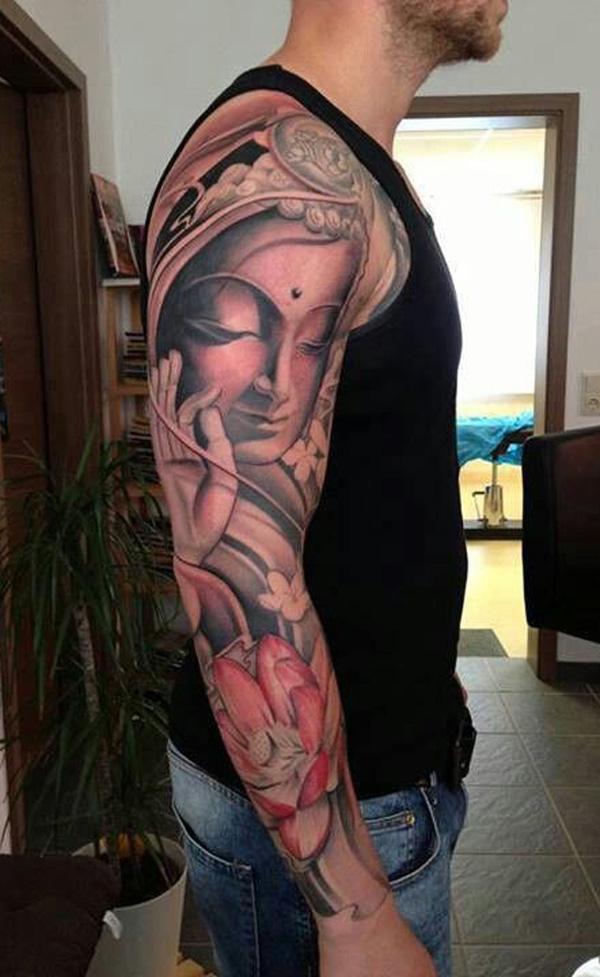 For men, this is one design they can decide on for a full sleeve tattoo. The little touches of pink can make a black and white tattoo appear smoother.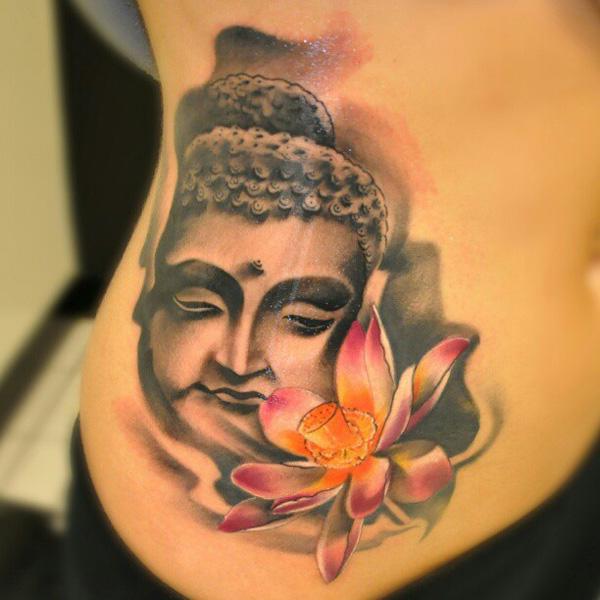 This side tattoo is another perfect choice for women. It's style is more like an oil pastel painting on paper. The blend of the colors makes a perfect 3D effect.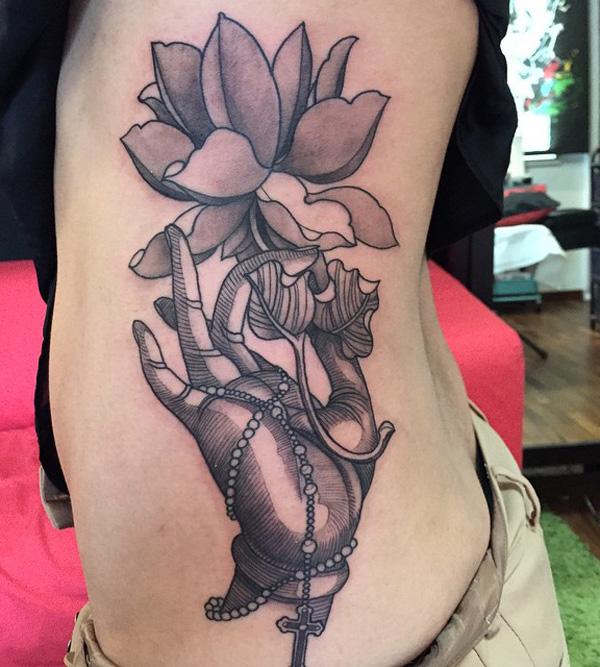 The Buddha's gesture
The hand of Buddha holding a lotus flower is a different one yet another alternative to Buddha and lotus designs. It's not of the norm compared to the other designs so you may want to get this design. It's a side tattoo so you can decide on how big it would be.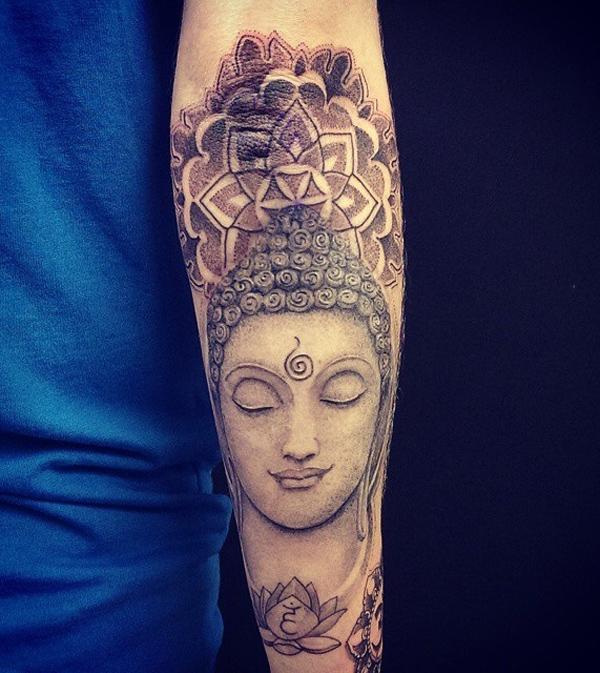 Mandala tattoos are also associated with Buddhism so this is a great combination if you practice the religion. The geometric design of Mandala tattoos could go with the simple and smooth features of Buddha's face. Nonetheless, it would be better to have the Mandala tattoo on a flat surface to show off it's amazing structure.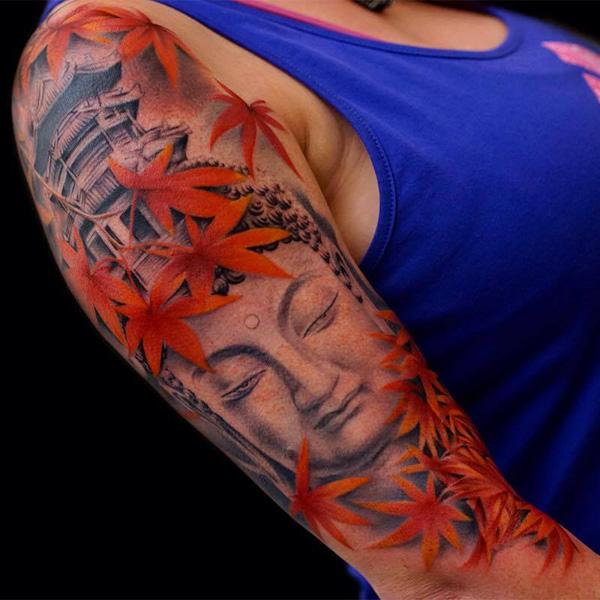 This tattoo could literally look relaxing and that could be because maple leaves are generally associated with relaxation and reservation. The red color of the maple goes with the black and white details of Buddha's face.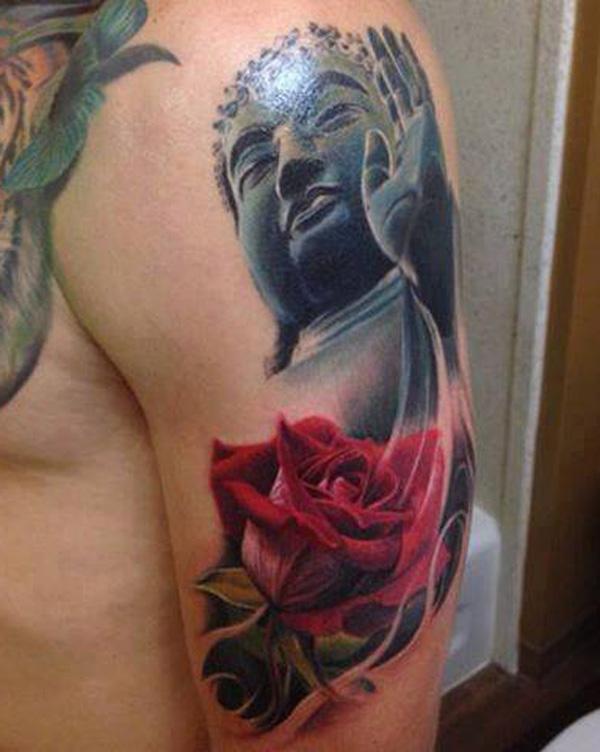 If you think lotus is so common with Buddha tattoos, then how about switching to rose tattoos? Rose symbolizes love and passion even in tattoos. Combining it with Buddhism could show how you are passionate with the practice or with the thought of enlightenment.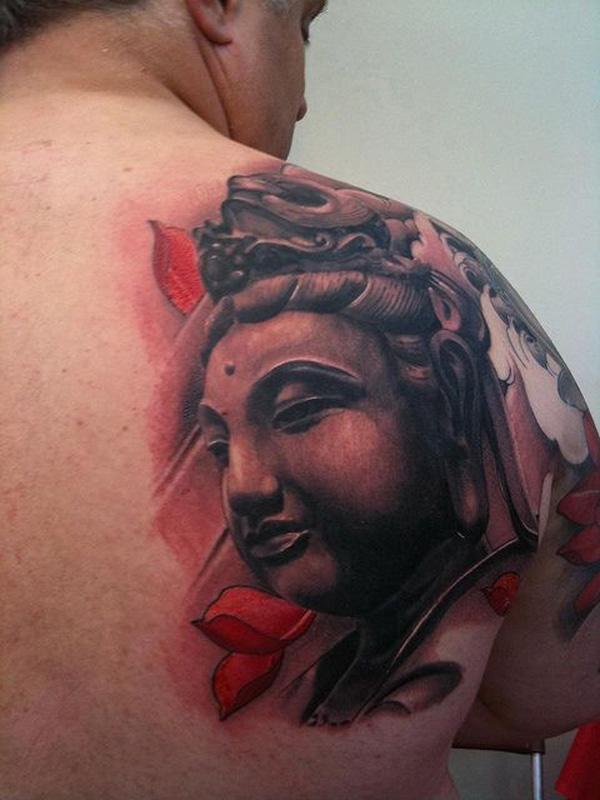 Want a realistic Buddha tattoo on your back? Well then this design is absolutely for you. It's in 3D so it would appear much more alive and ready to guide you to enlightenment.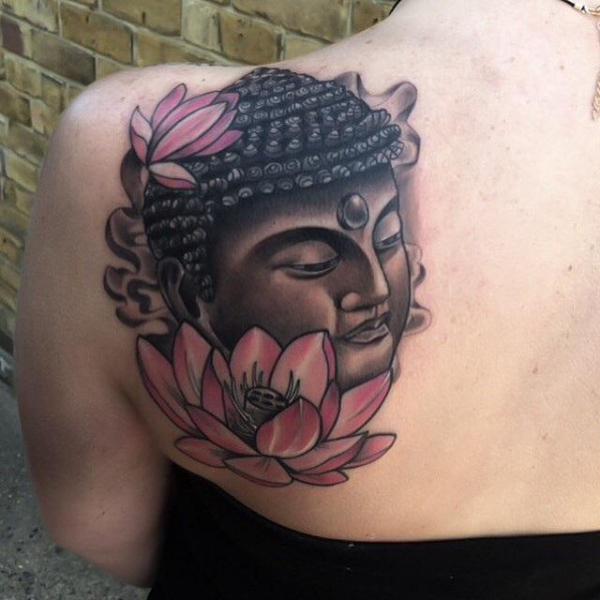 This one is a back tattoo design with Budhha and lotus flower. It could both be for men and women.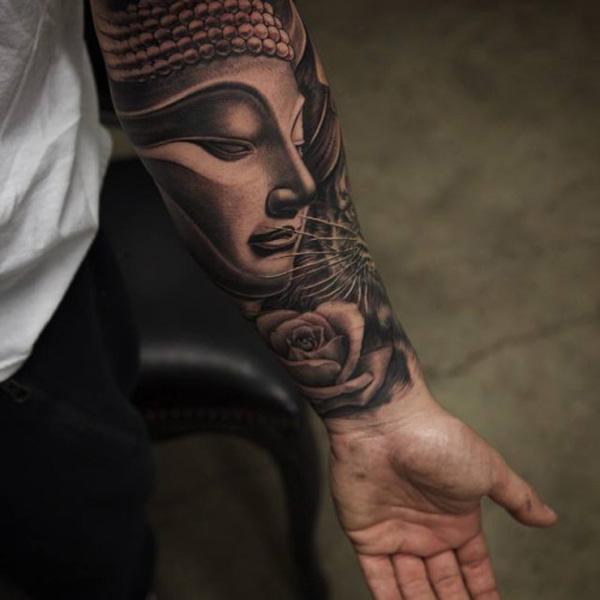 Smooth and delicate yet powerful
This could exactly be what this Buddha tattoo defines. The details on the features of Buddha makes it an interesting and beautiful piece of art that's worthy to be inked in your forearm.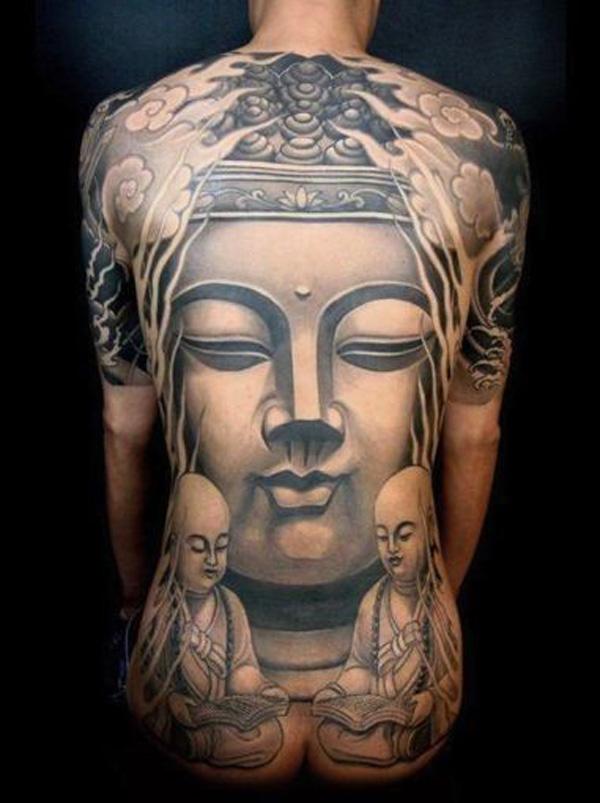 Here's what a full back tattoo would look like. And this one has Buddha as the subject. The smooth lines and blending of the shadows however still makes it smooth and clear even when it covers your entire back.
This one is another choice for the hand of Buddha with a Lotus flower. It's much more simpler than the other one yet there are still the delicate features.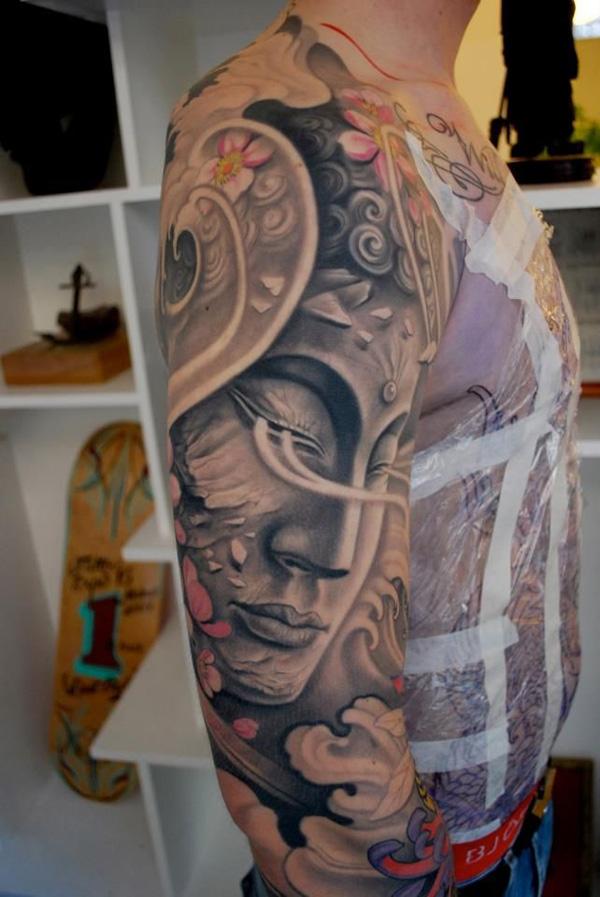 Get this surreal Buddha design for a full sleeve of masterpiece. The little delicate details such as the cracks and fragments makes the whole tattoo appear delicate and beautiful.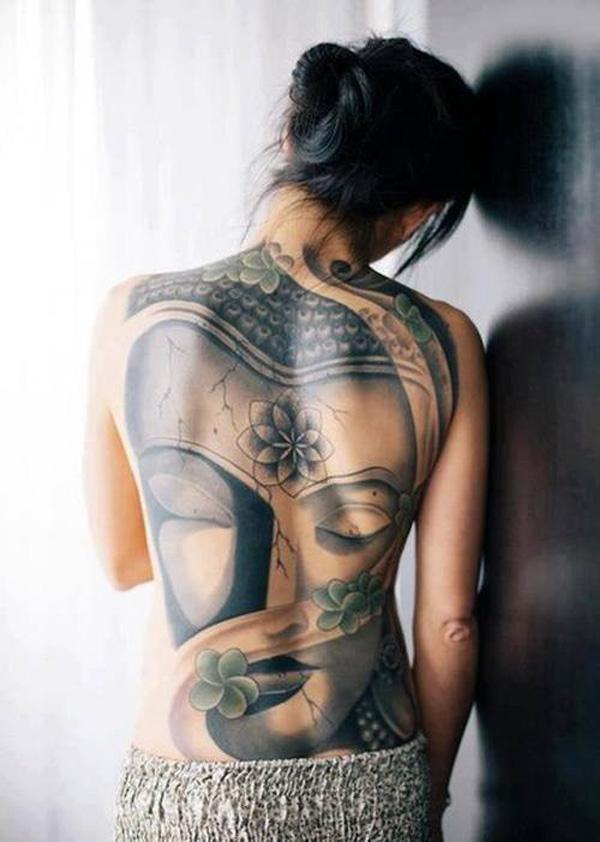 Another full back tattoo with a Buddha portrait. This has more femininity and purity so it could be great for women looking for an inspiring back tattoo.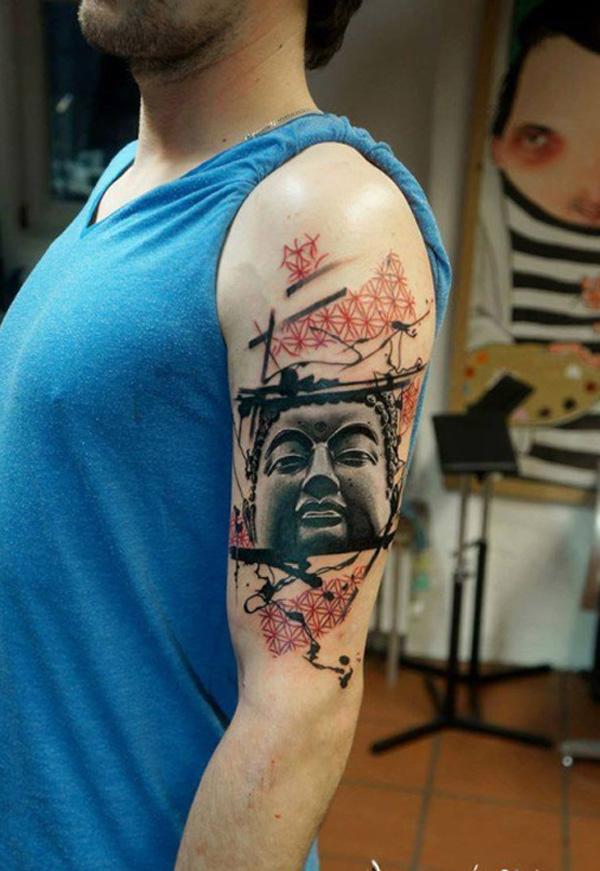 Here's a hyper realistic Buddha portrait tattoo. Just like a photograph printed on your arm.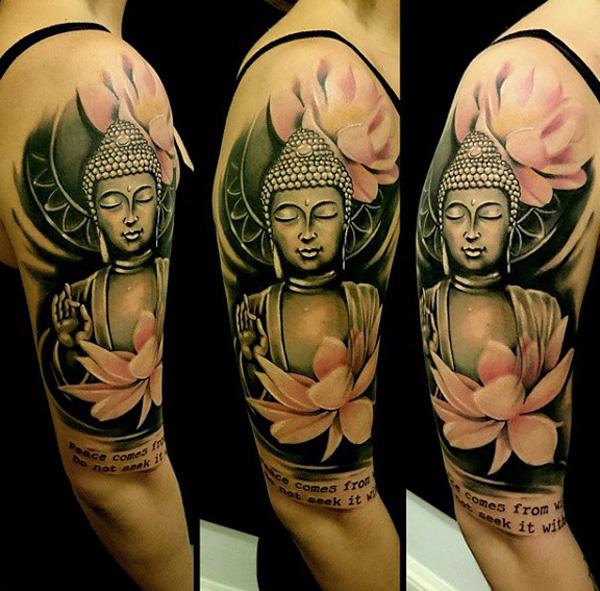 A popping Buddha portrait and a lotus sleeve could offer much more meaning and color in your life with a quote either from Buddhism or a quote that you've lived with.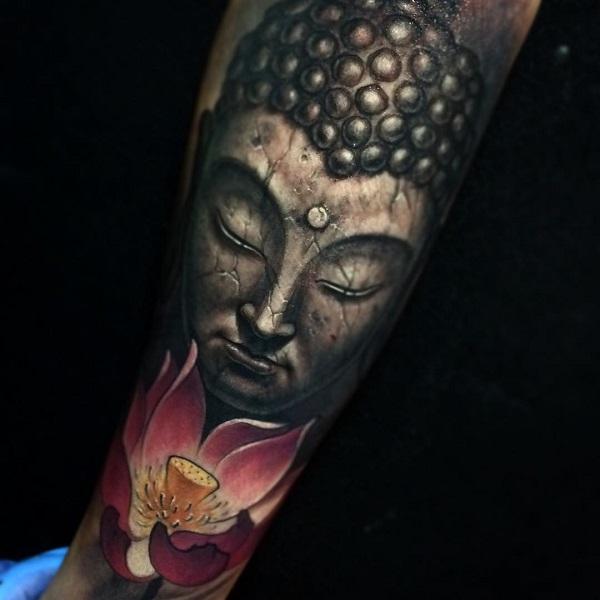 Another great hyper realistic Buddha portrait design with amazing details on cracks. It could denote how you have lived through scars to reach a new awakening and purity in life but you remain unfazed.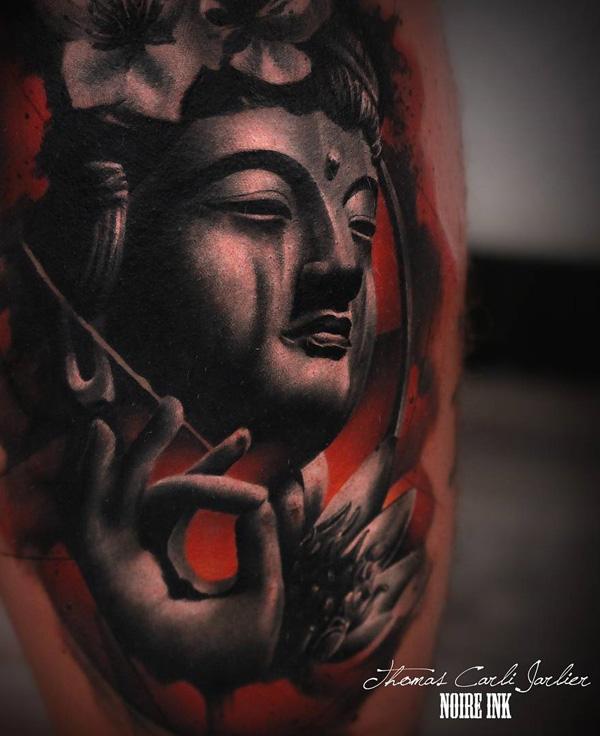 This one is rather darker than most of the designs above which is probably because of the red highlights and the deeper shadows. Nonetheless, this is still another great contender to be tattooed on you.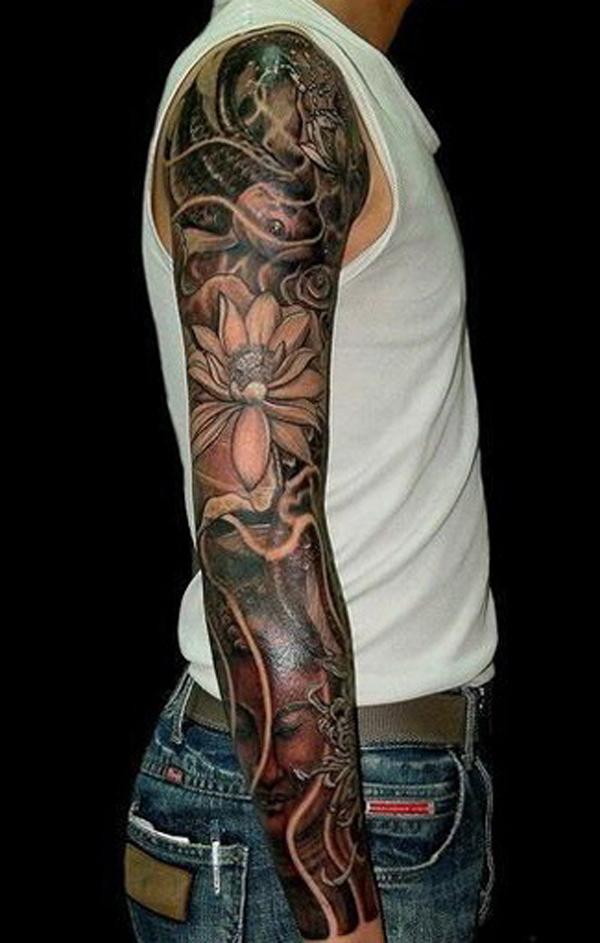 If you're planning on getting a full sleeve tattoo, this one is a good choice. No skin is left behind but it still looks clean and smooth.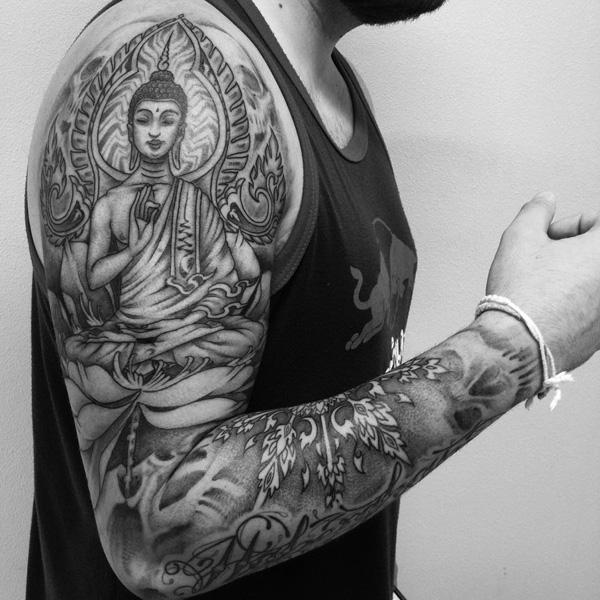 Lastly, here's another sleeve tattoo with a variety of Buddhist symbols and adornments.