The world of tattoos is a realm where art meets symbolism and meanings. For centuries, bears have been considered a symbol of strength, courage, and wisdom across countless cultures. It's no surprise, then, that these majestic creatures continue to be a popular choice for body art enthusiasts. In this article, we'll explore the history of bear tattoos, examining their rich meanings and symbolism. We will also showcase some of stunning examples to inspire your next ink.
Bears in History
Bears hold a special place in the hearts and minds of many cultures around the world. The significance and symbolism of bear tattoos can be traced back thousands of years. In some ancient civilizations, the bear was considered a god or manifestation of divine power.
The ancient Greeks associated the bear with the goddess Artemis, who protected wild animals and hunting. Similarly, the bear was revered by the Celts for its strength and innate connection with the natural world.
Bears in Native American tribes
The Bear symbol has held great significance for Native American tribes for centuries. It symbolizes protection, courage, physical strength, and leadership. With their agility and quickness, black bears and grizzlies were native to North America and were revered by these tribes. The Bear Symbol signifies a good omen and conveys authority. In some tribes, two warriors were known as the Grizzly Bears and would be the first to charge at the enemy in battle.
Bear Tattoos: The Symbolism
Before we get to our list of gorgeous tattoos, let's talk about the deeper meanings behind them. Why do people choose to immortalize these animals on their skin? Here are just a few reasons:
Strength and power: Bears are one of the largest and the most powerful animals physically.
Wisdom and patience: Bears hibernate during the winter months, and they know when it's time to rest and recharge.
Protection and guardianship: Bears are fiercely protective of their young.
Transformation and growth: They are able to emerge from its den after a long, dormant period with strength and vigor.
Resilience and survival: Bears have adapted to numerous habitats and faced many challenges throughout history.
Popular Bear Tattoo Designs
Now that you know more about what bear tattoos mean, let's take a look at some of popular examples. We'll also tell you what they mean and why they might be the right choice for your next ink.
Realistic Bear Tattoos
Realistic howling bear quarter sleeve tattoo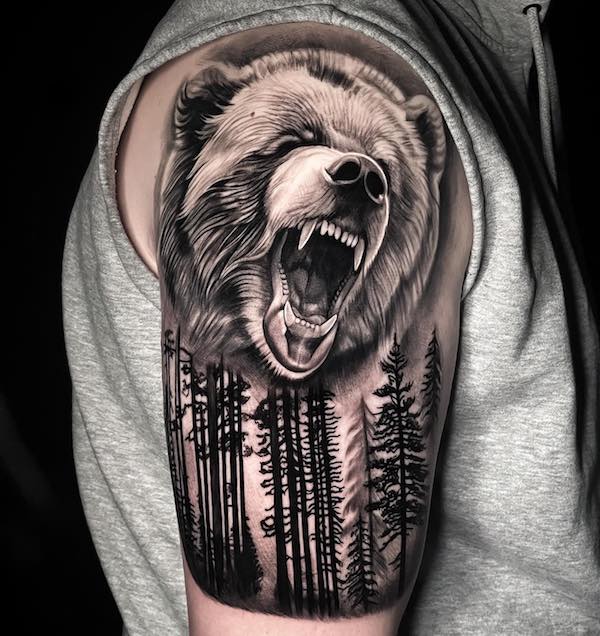 A realistic tattoo captures the likeness of these beautiful creatures with great detail and artistry. It's especially popular for those who admire bears for their sheer strength and natural beauty.
Realism often signifies your appreciation of the bear's true-to-life qualities, such as strength, wisdom, and perseverance.
Realistic bear paw print tattoo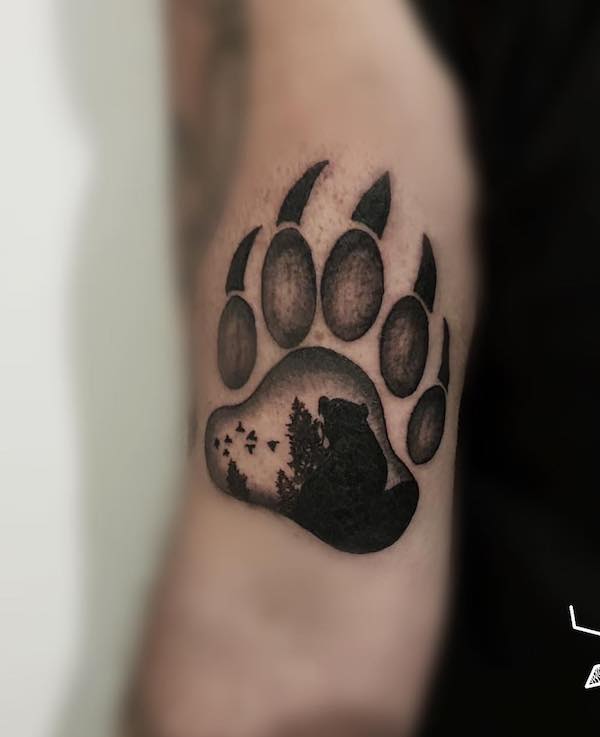 Geometric bear tattoos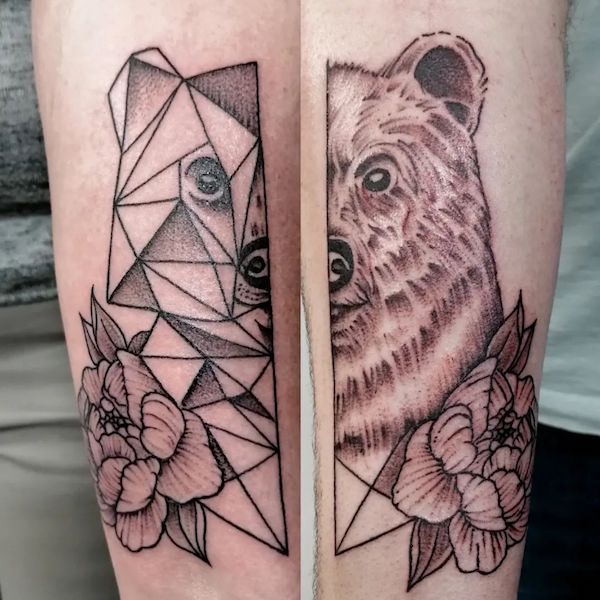 For those who appreciate modern aesthetics and something more abstract, geometric bear tattoos are an excellent option. These tattoos feature a bear's face or body, filled in with various geometric shapes and patterns, creating an eye-catching design.
Combining the bear with geometric elements signifies the balance of nature and order, demonstrating the animal's adaptability with its surroundings.
Tribal Bear Tattoos
Tribal bear shoulder tattoo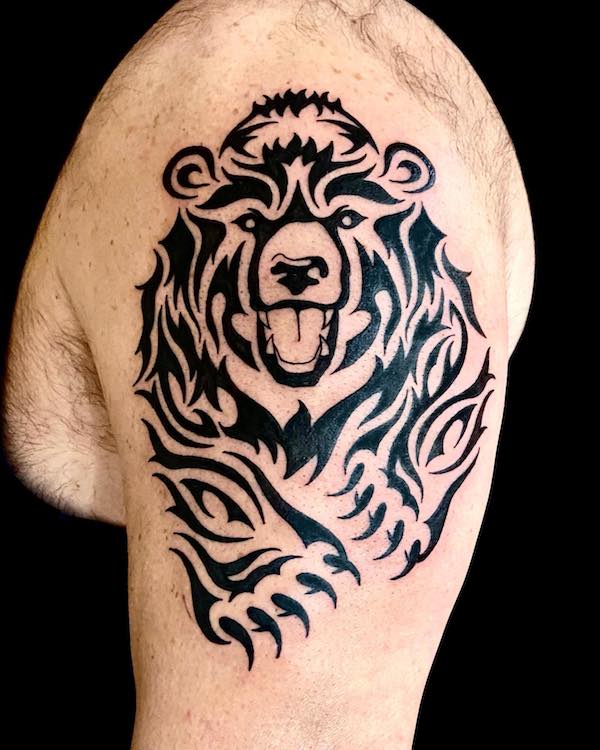 xOriginating from indigenous cultures, tribal bear tattoos feature thick, bold lines and patterns reminiscent of traditional tribal artwork.
By getting a tribal bear tattoo, you can connect yourself with the ancient wisdom and spirituality of indigenous cultures. This tattoo represents the bear as a powerful totem or spiritual guide.
Mama Bear Tattoos
mama and baby bear tattoo 1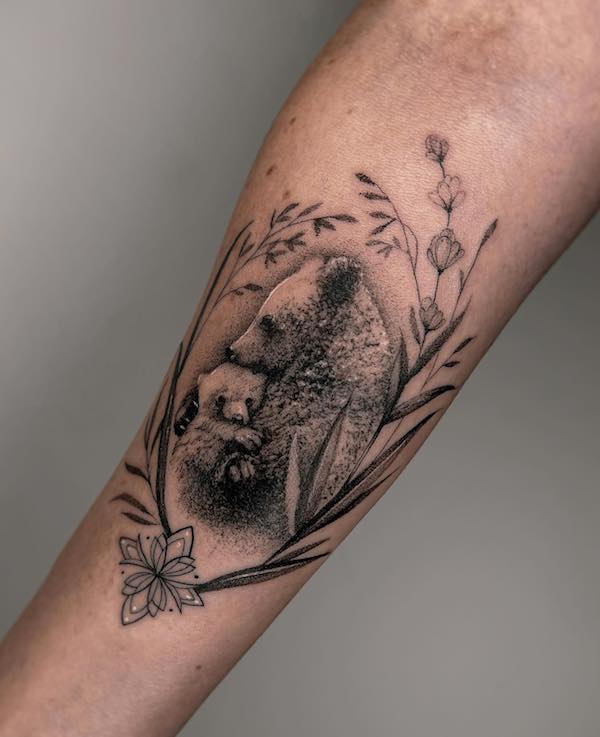 A mama bear tattoo typically involves an adult bear and one or more cubs. It symbolizes the deep bond between a mother and her children. Many mothers choose this tattoo as a celebration of their love and devotion to their family.
Roaring Bear Tattoos
Roaring bear tattoos showcase the fierce, untamed strength of the bear, making for a powerful and bold design choice.
When you get this type of tattoo, it shows that you are strong, free, and fierce. It also shows that you are in charge and won't give up.
Panda Bear Tattoos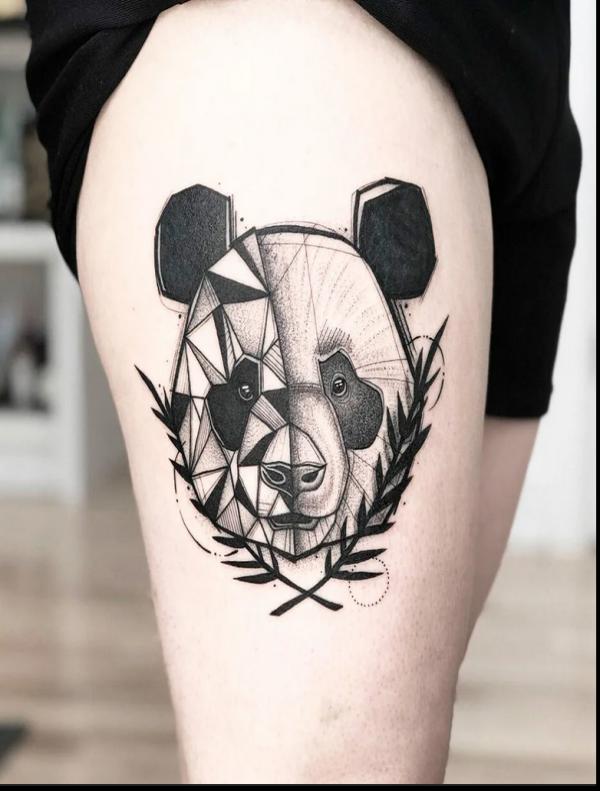 As one of the most gentle members of the bear family, panda tattoos are often endearing and sweet in design.
Panda bear tattoos represent balance, peace, and harmony, reminding us to find tranquility in our often chaotic daily lives.
Polar Bear Tattoos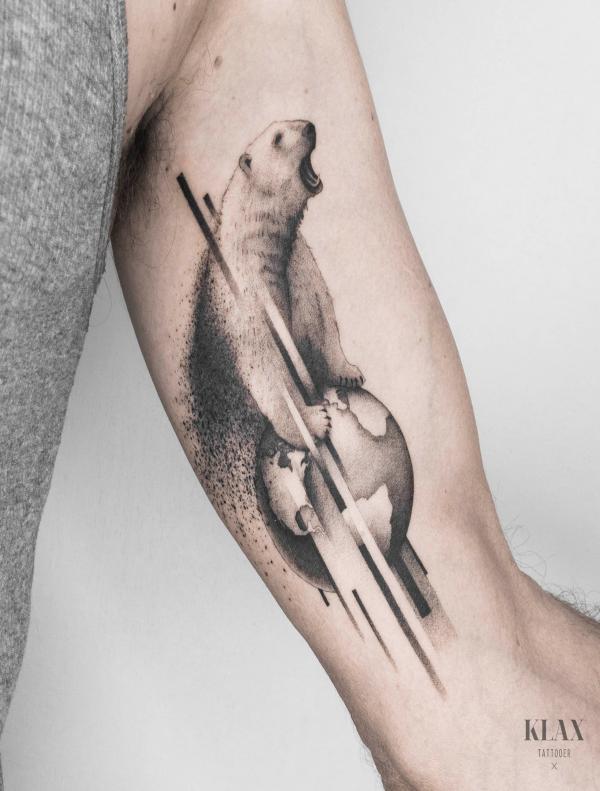 The polar bear is undoubtedly one of the most striking and magnificent bear species on the planet. Its sheer size, strength, and beauty have captivated people for centuries. The polar bear's thick, white fur and piercing blue eyes make it an iconic symbol of the Arctic wilderness. For those who appreciate the beauty and power of animals and nature, a polar bear tattoo is a perfect way to show their admiration.
A polar bear tattoo can represent many things, such as strength, resilience, and survival in harsh conditions. It can also symbolize a deep connection with nature and a desire to protect our planet's wildlife.
Minimalist Bear Tattoos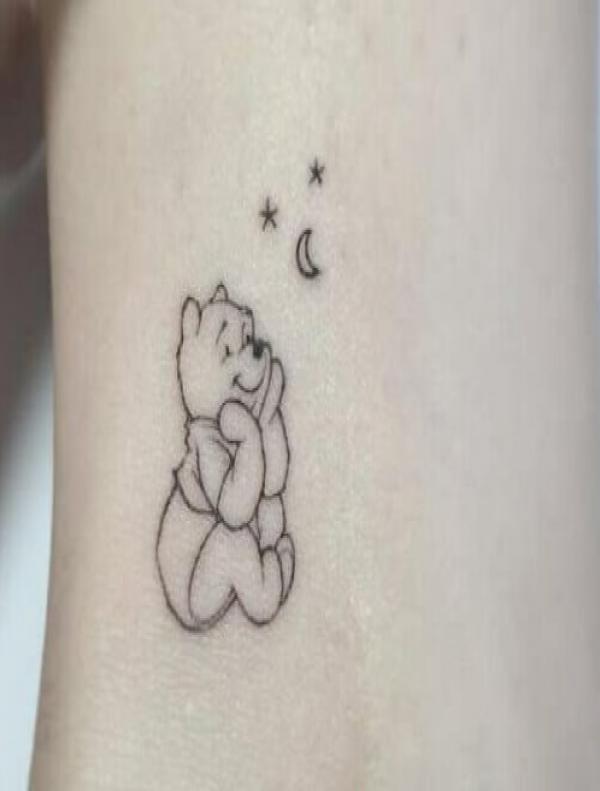 Minimalist bear tattoos boil the essence of these magnificent creatures down into clean, simple, and elegant designs.
Choosing a minimalist bear tattoo displays your appreciation for the animal's raw, unadorned beauty. It also represents your love for the simple yet profound qualities of nature. For those who prefer simplicity and subtlety, the type of tattoo is an ideal choice.
Bear claw lifeline tattoo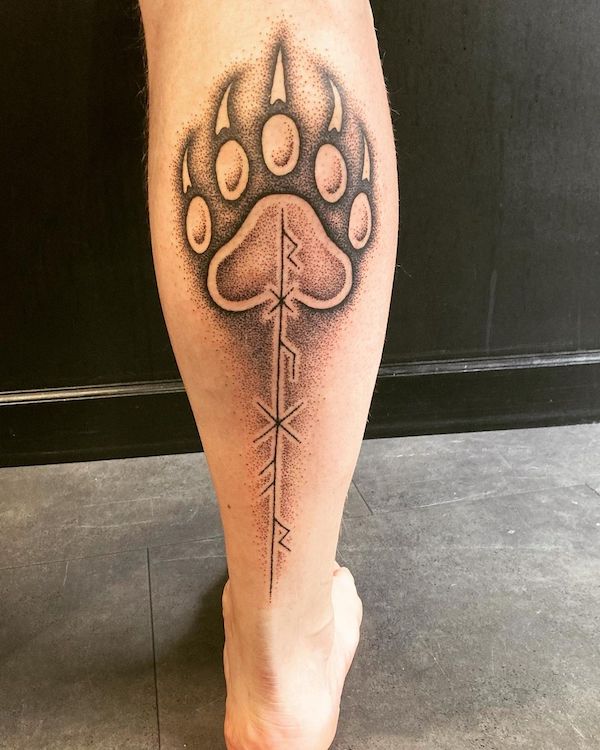 Bear claw tattoos show how strong and dangerous a bear is by using its claws to make designs. They make a subtle reference to the bear's ability to guard, but don't show the bear itself. In short, a bear claw tattoo shows the strength and determination of a bear without having to commit to a picture of the animal.
Landscape bear tattoo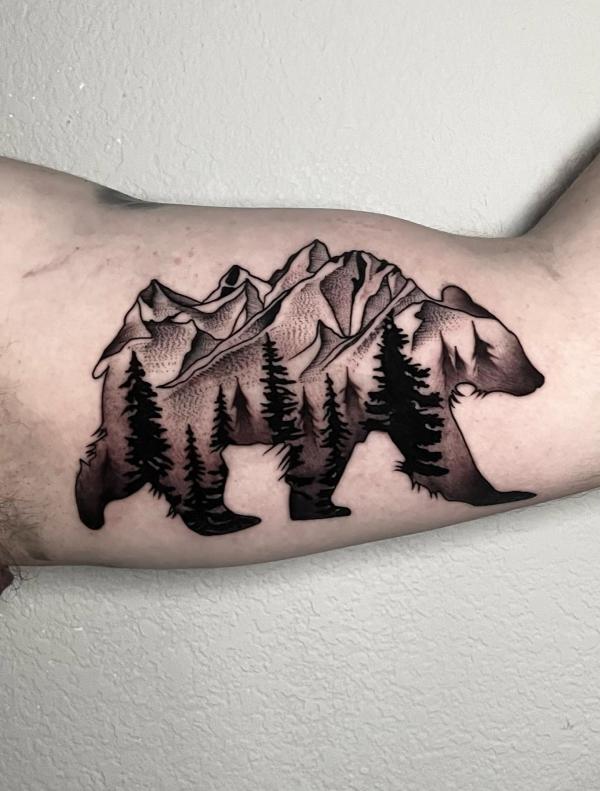 A landscape bear tattoo incorporates a scenic landscape, such as mountains and forests within the body of the bear. This design not only pays tribute to the beauty of nature but also the bear's undeniable connection with its surroundings. The nature-inspired tattoo serves as a reminder to stay true to our origins and appreciate the beauty of every day.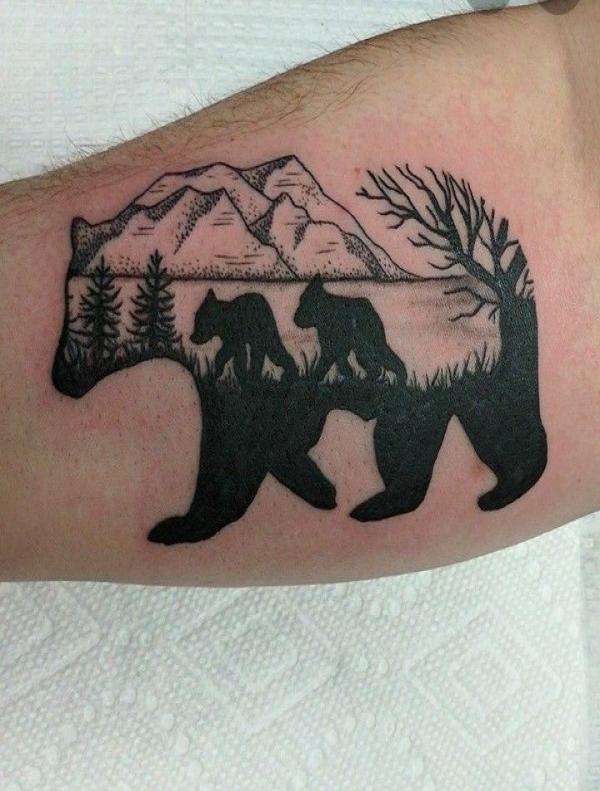 Blue diamond bear tattoo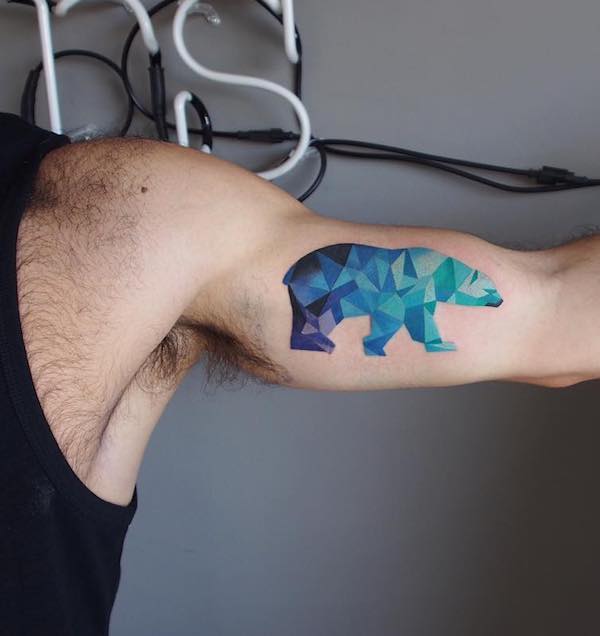 The diamond bear tattoo is a combination of geometrical elements with the bear's image, featuring the diamond texture within the bear body. The blue diamond is known to symbolize hope, aspiration, and an unwavering quest for a more profound understanding of life. When combined with the bear image, it represents determination, courage, and resilience in the face of obstacles. Getting this tattoo can be a reminder of the strength within you to overcome any challenge in your life.
Care bear tattoo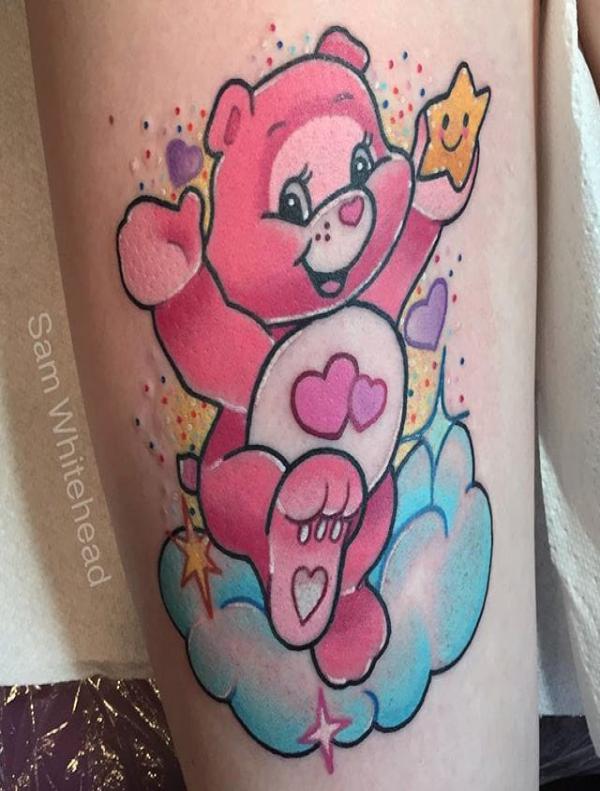 Care Bears, the popular 1980s children's toy, TV show, and movie franchise, featured adorable, colorful bears with unique symbols. A Care Bear tattoo serves as a nostalgic tribute to the simple joys of childhood. It also conveys the idea of sharing positive emotions and spreading kindness to others. By choosing your favorite Care Bear character, you not only have a cute and meaningful tattoo design, but you can also showcase a part of your personality in a fun manner.
Compass and howling bear tattoo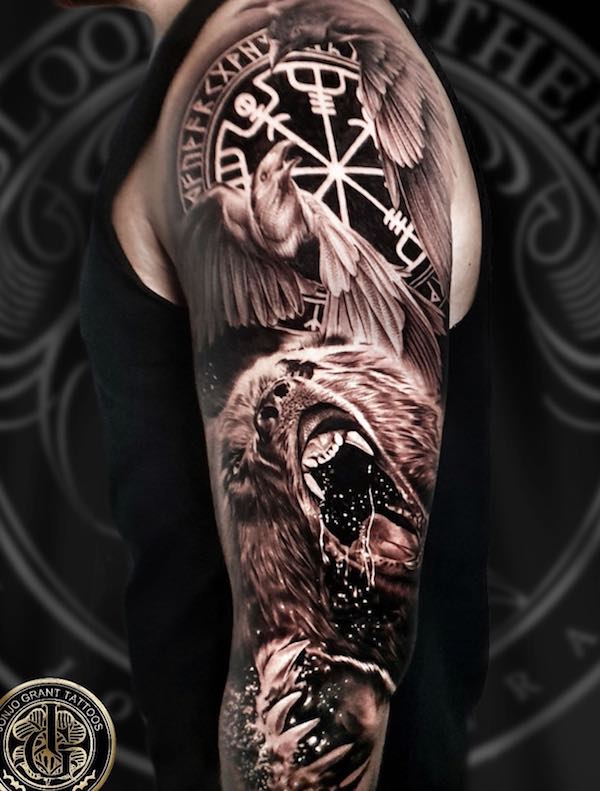 This tattoo combines the majestic image of a bear with the practical and essential function of a compass. It symbolizes stability, wisdom, and direction.The howling bear is a symbol of the wild, untamed spirit of adventure, while the compass signifies the qualities that help us navigate our lives and overcome obstacles. This tattoo can remind you to keep your feet on the ground, embrace your wild side, and remember how important it is to have purpose and focus.
Crowned bear arm tattoo
This tattoo features a bear adorned with a crown, symbolizing its reign and magnificence. Whether it's a Grizzly, Black, or Polar bear, the crowned bear design signifies strength, courage, and leadership. This tattoo can serve as a reminder to embrace your inner power and to lead by example in your life.
Eagle and bear full sleeve tattoo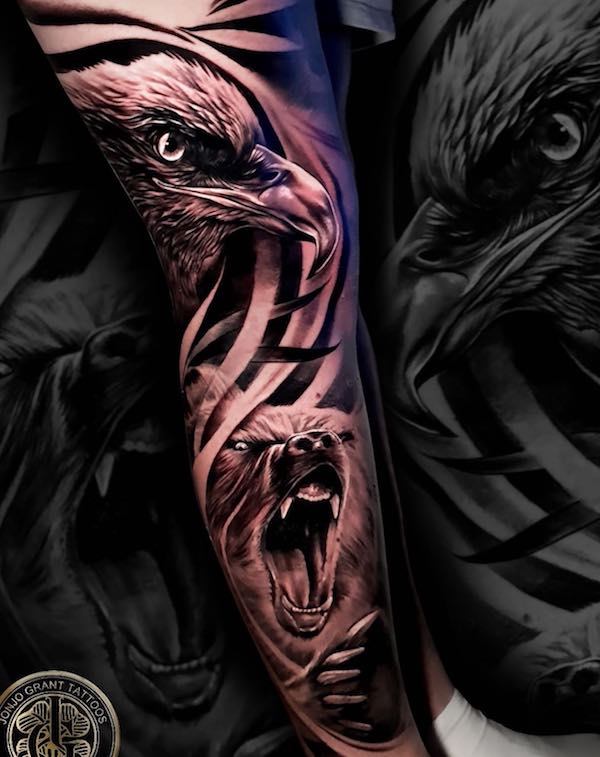 This full sleeve tattoo is a grand and awe-inspiring design that showcases two powerful animals revered in various cultures. The eagle represents freedom, wisdom, and vision. Combining the two creatures is a way to show harmony, respect, and unity between life's powerful forces. It also serves as a lesson that balance is important in every part of our lives.
Grizzly bear sleeve tattoo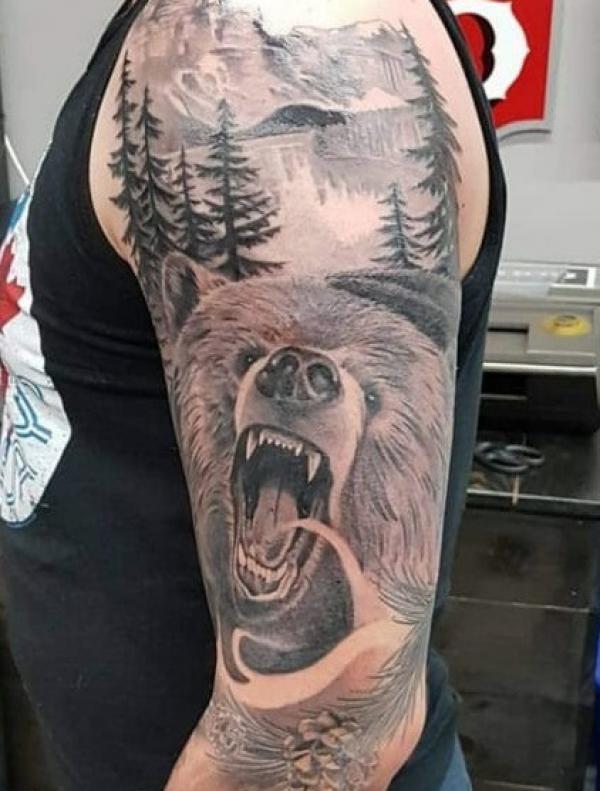 This sleeve tattoo features one of the most formidable species of bear, known for its fierce nature, size, and power. A Grizzly bear ink design can represent self-confidence, fearlessness, and overcoming adversity. It can also serve as a reminder to stay true to your innate strength and go after your goals without fear.
Japanese bear back tattoo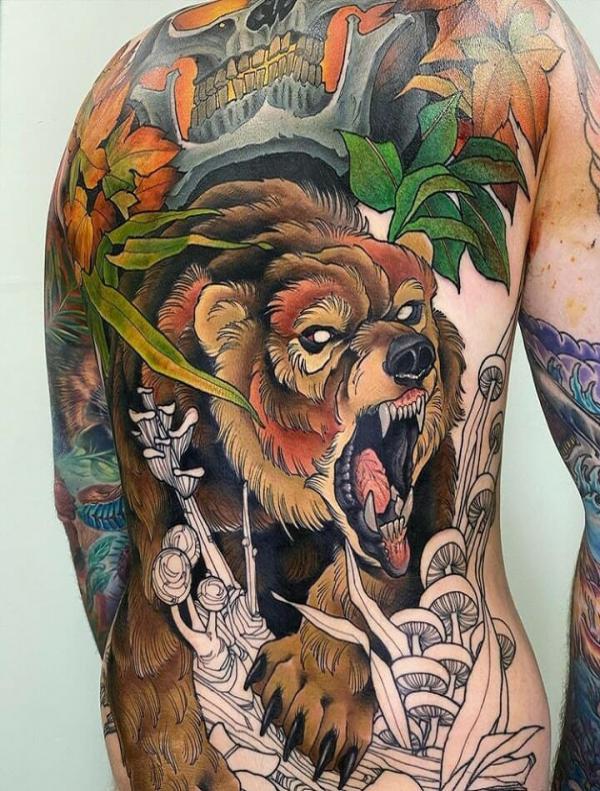 This back tattoo incorporates the bold and intricate elements of Japanese tattoo art with the image of a bear. In Japanese culture, bears are often associated with protection, wisdom, and courage. This tattoo design not only pays homage to Japanese artistry and tradition but also conveys strength, protection, and self-assurance. A stunning and detailed Japanese tattoo serves as a reminder of the importance of embracing the power within, while respecting and honoring one's cultural heritage.
Teddy Bear Tattoo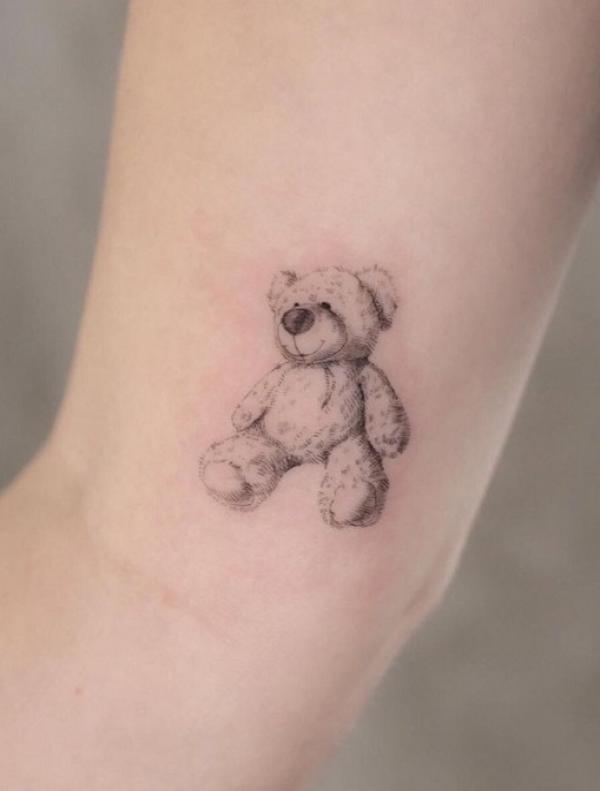 A teddy bear tattoo is a nostalgic and sentimental design that evokes memories of innocence and the comforts of childhood. Many people have valued teddy bears throughout their lives, giving security and company during times of weakness. A teddy bear tattoo can signify the importance of remembering and cherishing the simple joys of life. It also remind us how important it is to keep a sense of wonder and adventure.
Teddy bear dotwork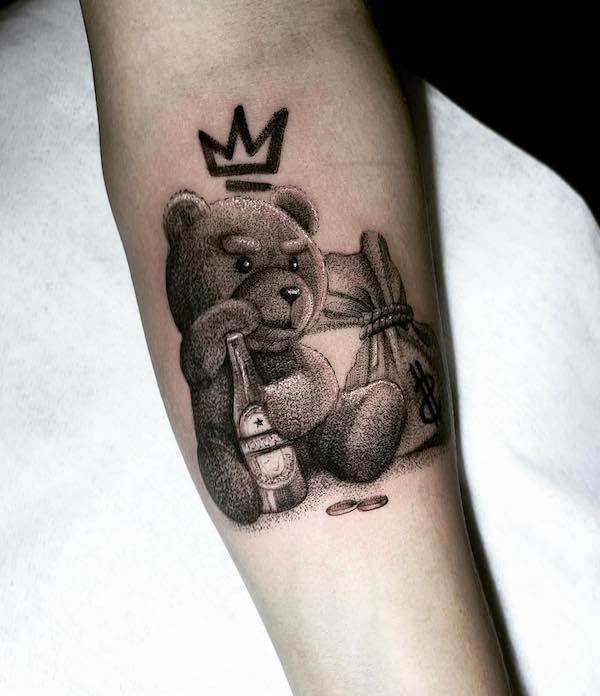 bear family tattoo sleeve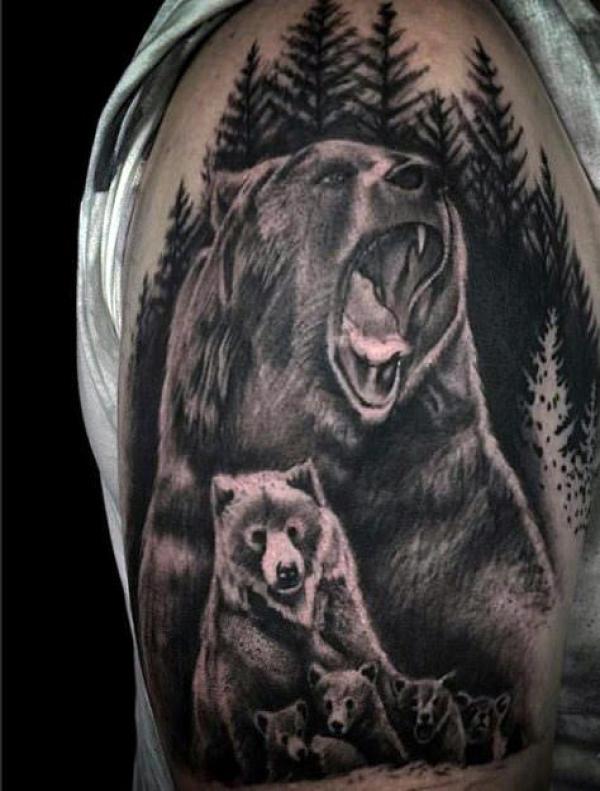 This sleeve tattoo is a powerful design that features a bear and their cubs. The tattoo stands for the ties of family, love, and loyalty, and it also reminds us how important it is to stay close to our loved ones.
The sleeve canvas allows for intricate detailing, showcasing the scenes that depict their harmonious familial picture. Done in black and gray color, this tattoo is a testament to the strength and resilience of familial relationships.
Bear and Cub Carry Wood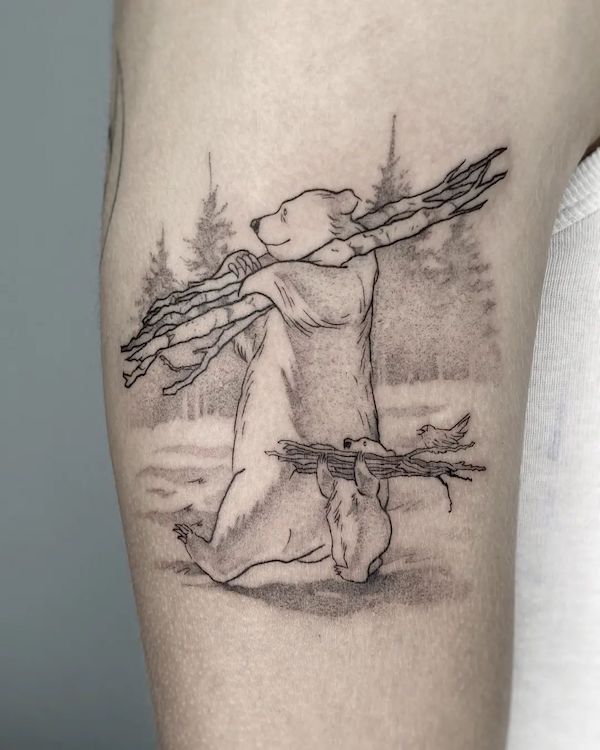 This is a captivating tattoo design that consists of a larger bear and cub carrying woods on their shoulder. This particular tattoo embodies the values of strength, courage, and responsibility.
The lifelike ink is a testament to the importance of nurturing, raising, and protecting the younger generation. The inclusion of the wood emphasizes the hard work and dedication involved in fulfilling these responsibilities.
Bear and cub forearm tattoo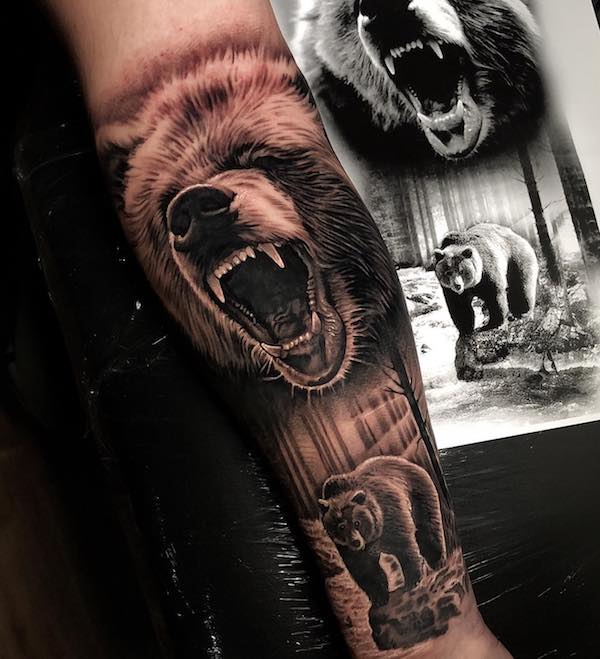 The bear and cub forearm tattoo is a favorite among parents looking for a meaningful design that reflects their bond with their children.
This design can be inked in a realistic or neo-traditional style, and often uses a combination of shading and vibrant colors to create a captivating appearance.
The bear and cub tattoo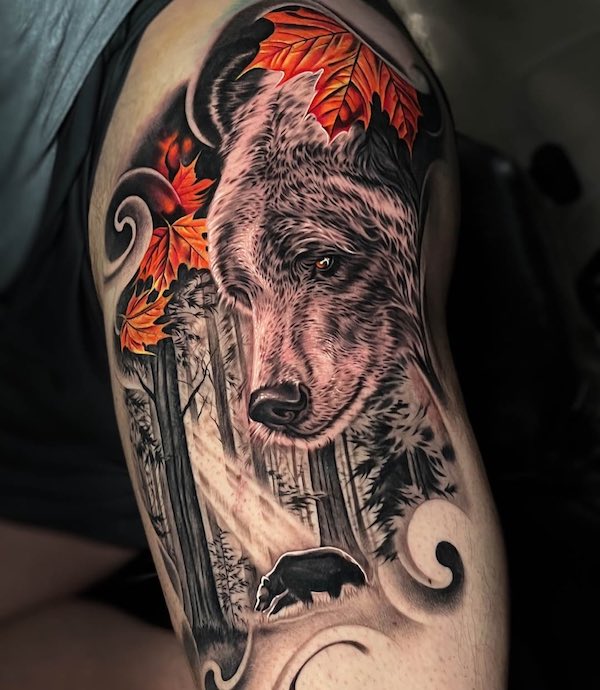 Bear and eagle tattoo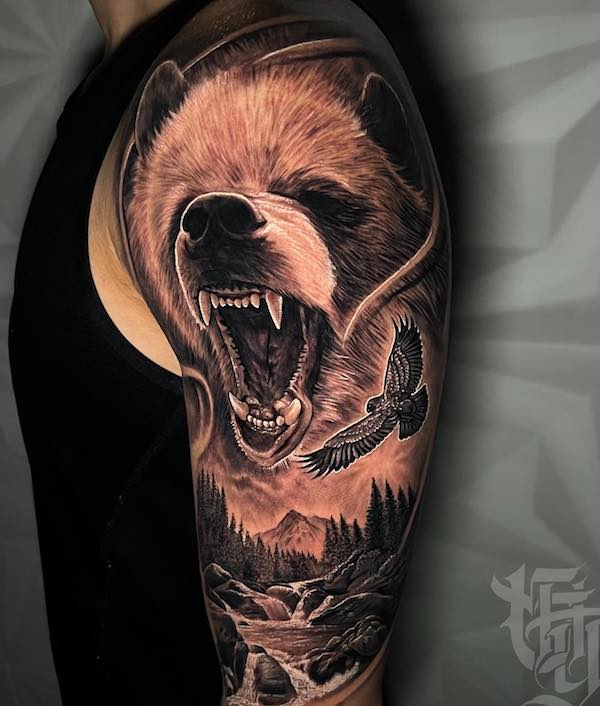 Thehalf sleeve tattoo is an interesting fusion of two powerful symbols. The bear represents strength, protectiveness, and introspection, and the eagle, portrays wisdom, freedom, and nobility.
This design is particularly significant for those who identify with both of these animal totems and want to incorporate their characteristics. Oftentimes, people choose this tattoo for the complementary and contrasting aspects it signifies. For instance, the bear's grounded nature balances the free-spirited eagle.
Bear and forest tattoo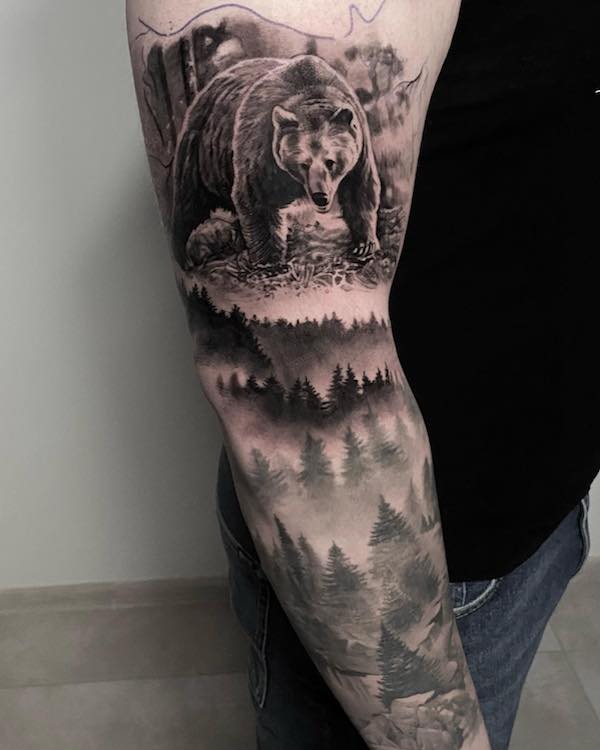 When it comes to connecting with nature, a bear and forest tattoo is an excellent choice. The bear carries with it the spirit of the wild, and pairing it with a forest setting makes a powerful statement regarding one's appreciation of nature and natural cycles.
These tattoos are often done in a detailed realism or illustrative style, capturing the mysticism of the forest environment.
Snake and bear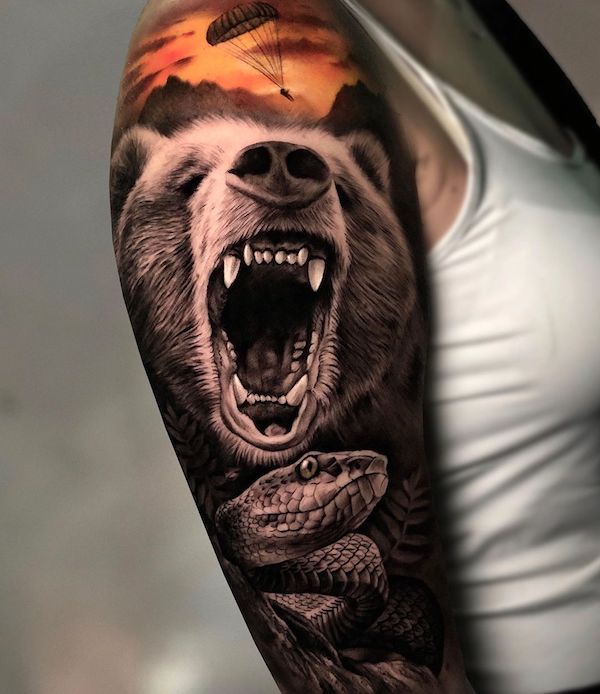 The snake and bear sleeve tattoo is a striking design that combines two strong symbols from the animal kingdom. The clash of the mighty bear against the cunning snake represents a dynamic relationship between power and wisdom, embodying the concept of balance.
This tattoo is an excellent choice for those who appreciate the duality and balance of opposing forces in life. The intricate details and dynamic composition of this piece make it a remarkable addition to any tattoo enthusiast's collection.
Bear and mountains tattoo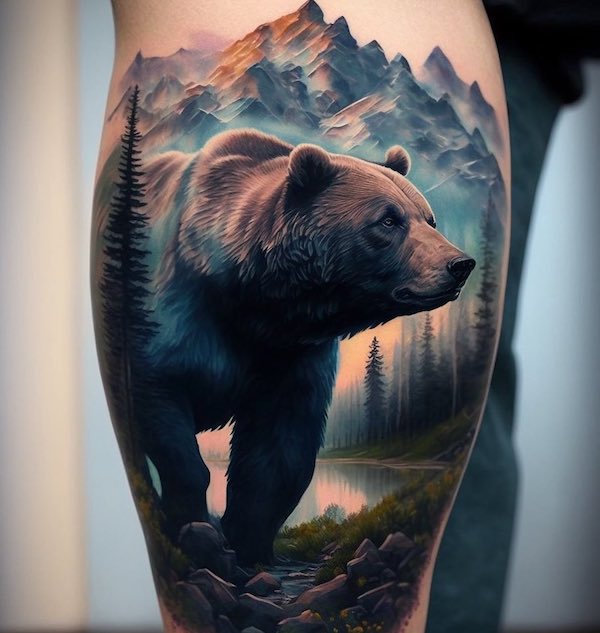 Mountains symbolize strength, stability, and the overcoming of obstacles. When paired with a bear tattoo, it creates an awe-inspiring representation of resilience, endurance, and perseverance.
The bear and mountains tattoo design can be done in a minimalistic or detailed style, using various shading techniques and colors to bring the elements to life. The overall result is a captivating piece that inspires viewers to stay true to their goals and conquer life's challenges.
Winnie the Pooh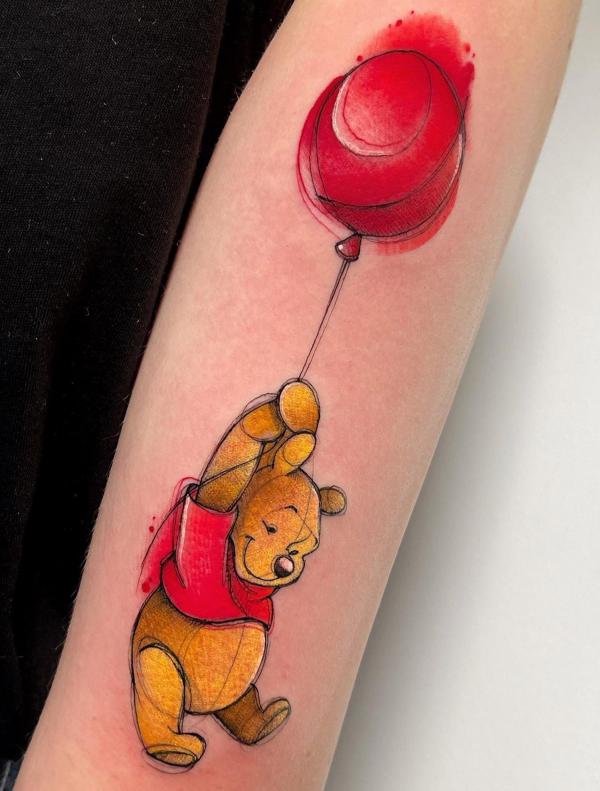 A departure from the more fierce bear tattoos, the beloved Winnie the Pooh is a nostalgic and heartwarming design that reminds one of the innocence and joy of childhood. Fans of the classic A.A. Milne stories often adorn themselves with this beloved bear character to evoke memories of camaraderie, adventure, and the importance of friendship.
Winnie the Pooh tattoos can range from simple linework to full-color portraits, featuring the beloved bear alone or with his friends from Hundred Acre Wood.
Traditional bear and skull forearm tattoo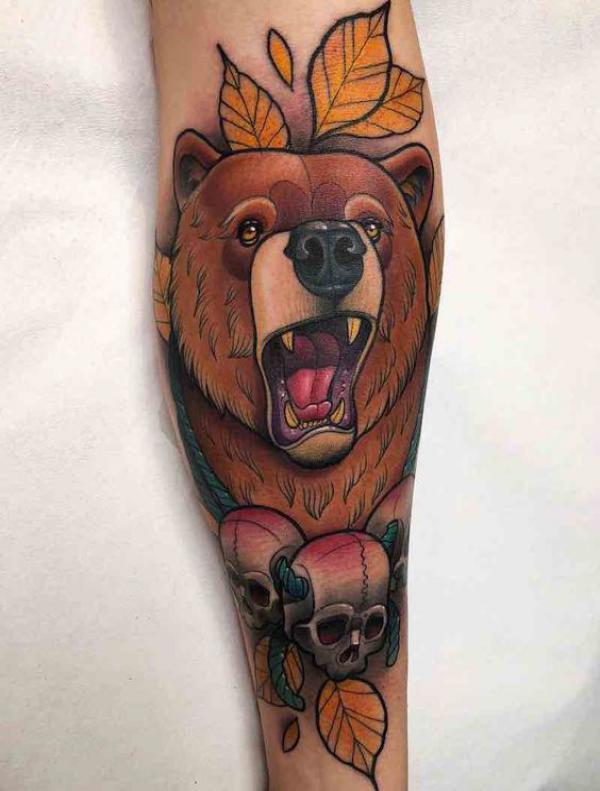 For fans of traditional tattoo styles, the bear and skull forearm tattoo is an attractive choice. This design intertwines the power of the bear with the age-old symbolism of the skull, representing the idea of mortality, life cycles, and the eternal struggle for survival.
Often done in deep black, with bold lines and shading, this tattoo is a dynamic and evocative piece that bears a timeless elegance.
Native American bear tattoo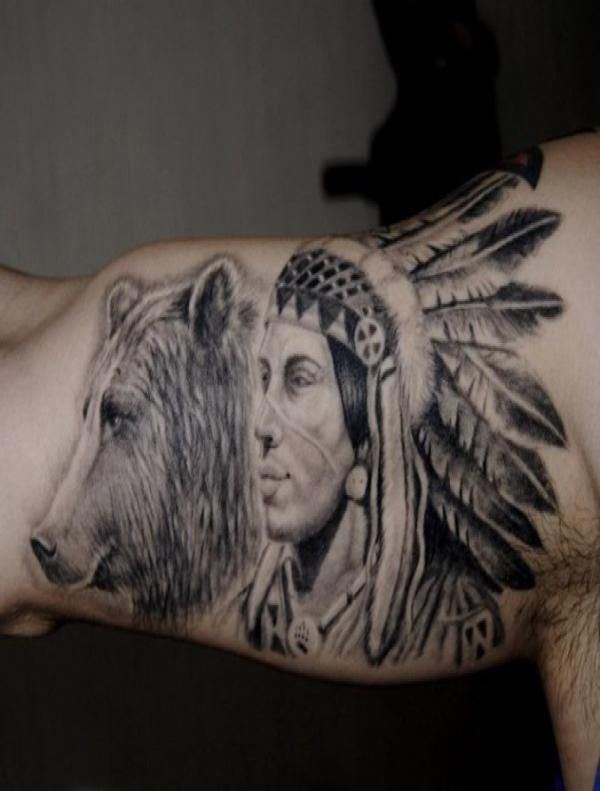 Paying tribute to the indigenous roots of bear symbolism in Native American culture, this Native American tattoo features black and gray styles and a portrait of warrior blended seamlessly with the bear design.
This tattoo not only showcases the bearer's affinity for the bear but also celebrates the rich cultural significance of Native American beliefs and traditions.
Rose clock and bear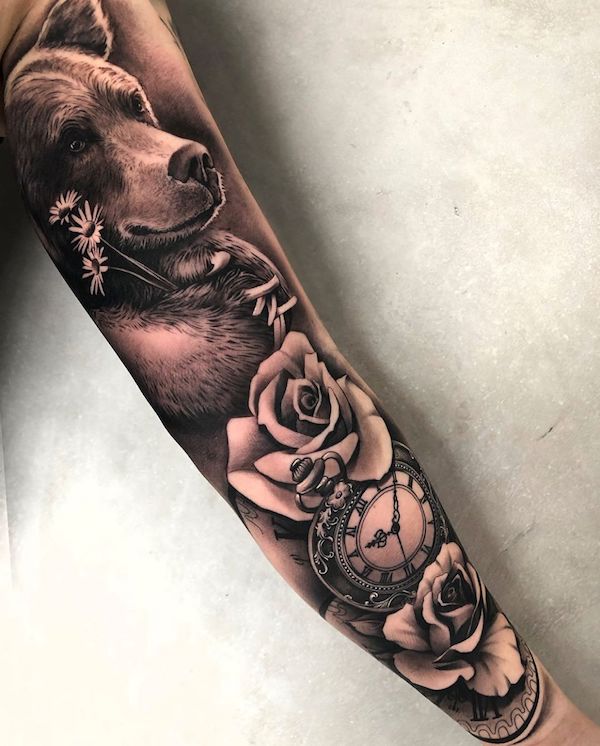 A rose clock combined with a bear tattoo is a powerful and unique statement. The rose represents love and passion, while the clock symbolizes time and the idea of fleeting moments. Combining these two elements with a bear as the central subject of your tattoo can represent the eternal love, protectiveness, and fierce loyalty that the bear embodies. This loving protector guards through the passage of time and signifies the importance of cherishing every moment spent with our loved ones.
Small rainbow bear tattoo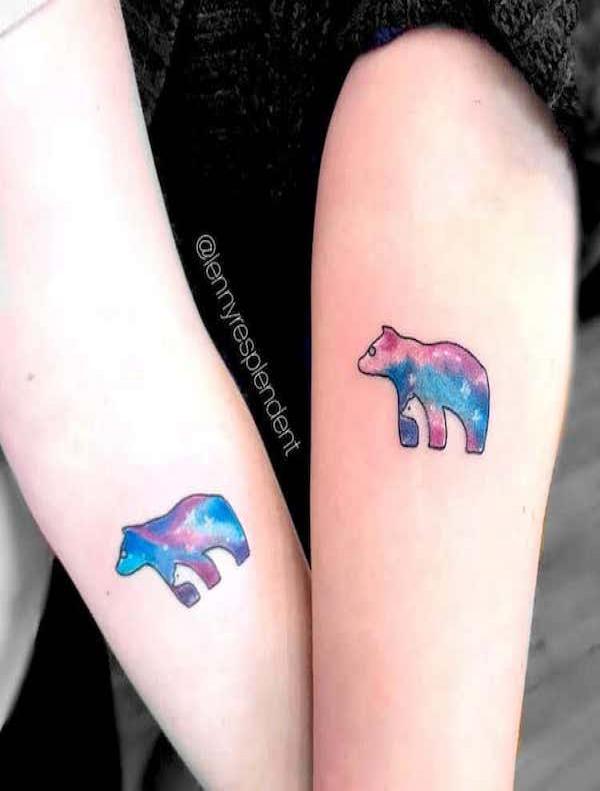 The small rainbow bear tattoo is perfect for those who love colors and need a vibrant vibe in their tattoo ideas. The bear symbolizes strength, courage, and wisdom. Meanwhile, the combination of rainbow hues represents love, acceptance, and diversity. This tattoo design is ideal for someone who advocates for equal rights and wishes to express their solidarity through a distinctive piece of art. Paired with a bear, this tattoo celebrates love in its most genuine form, breaking barriers of race, gender, and sexual orientation, while conveying the boldness and protective nature of the individual.
Starry Night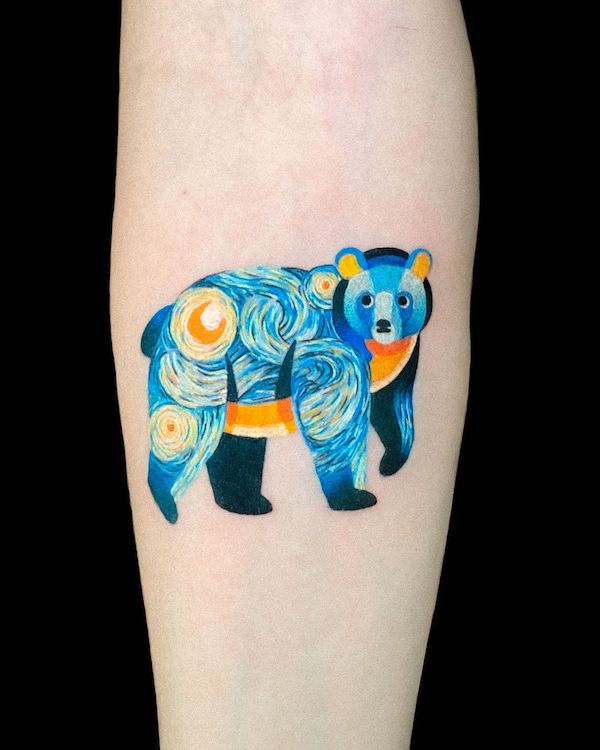 Inspired by the famous Vincent van Gogh painting, the Starry Night bear tattoo is for people who are deeply connected to nature and appreciate art. This design features a bear with its body painted with swirls, stars, and celestial elements reminiscent of the iconic painting. The tattoo can symbolize a connection to the cosmos and the mysteries of the universe, conveying the idea that there is something bigger than oneself. Much like the bear, which has traditionally symbolized power and intuition, the Starry Night bear tattoo encourages its wearer to keep exploring the world and the greater cosmos.
Gummy Bears tattoo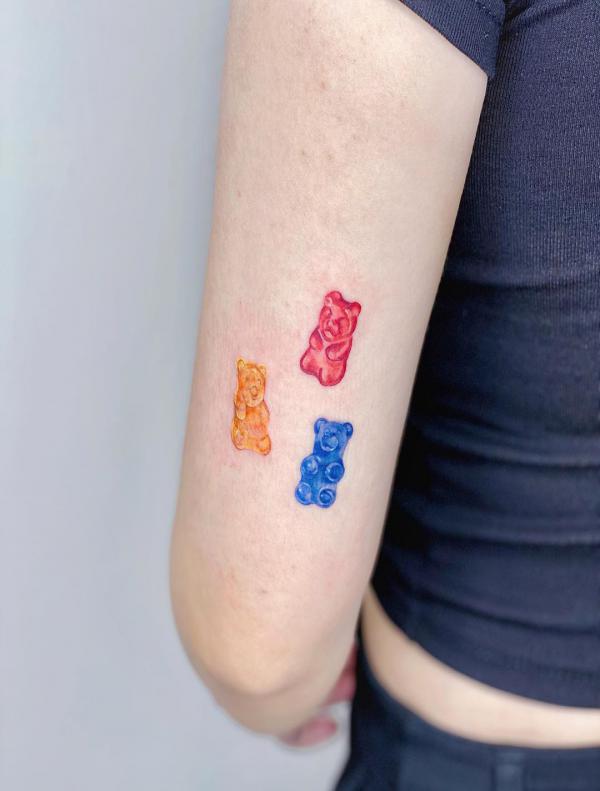 A fun, whimsical choice for fans of pop culture and sweet treats, the Gummy Bears tattoo is all about joy, nostalgia, and a carefree spirit. Like the real candies themselves, the Gummy Bears tattoo is colorful and playful. This design signifies celebrating life, embracing fun, and keeping our inner child alive, no matter our age. The bear element in the tattoo is also a subtle reminder to maintain our strength and resilience in the face of challenges.
New school bear tattoo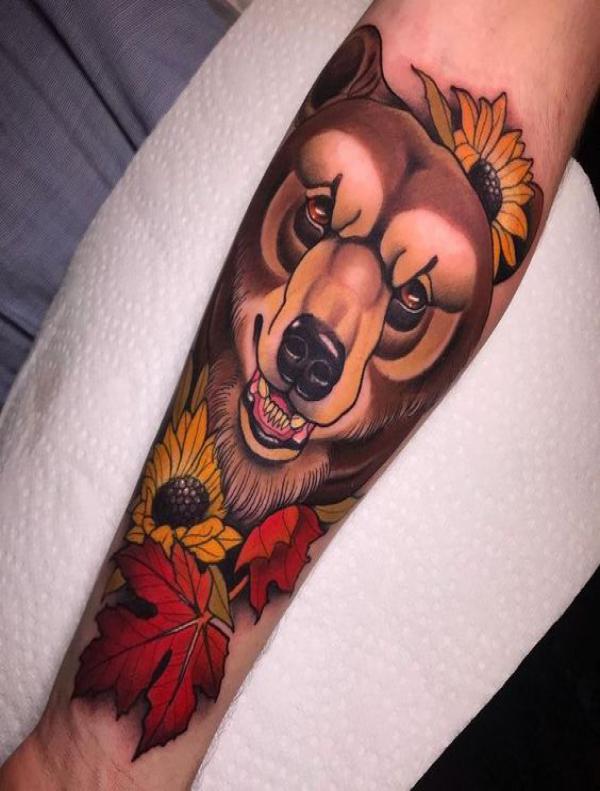 The new school bear tattoo is characterized by its bold color palette, exaggerated features, and intricate details. These designs often feature a bear with exaggerated, cartoonish facial expressions, bringing a sense of humor and creativity to the design. The new school bear tattoo is perfect for someone who embraces their unique style and wants to express their individuality. Combined with the inherent strength and power associated with bears, this tattoo design showcases the wearer's fearless, daring attitude towards life.
Watercolor bear paw tattoo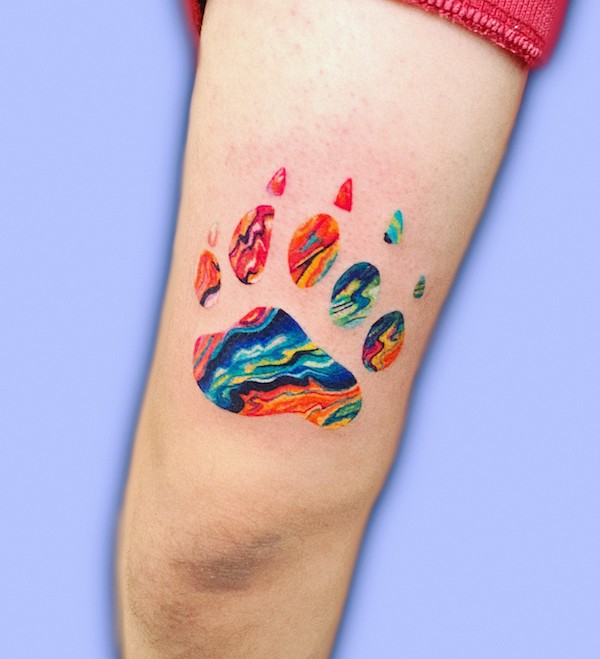 A beautiful fusion of traditional bear symbolism and modern tattooing techniques, the watercolor bear paw tattoo showcases the perfect blend of strength, finesse, and artistry. The bear paw print represents the wearer's connection to their inner wild spirit, never forgetting their primal instincts. The delicate watercolor background brings a contemporary touch to the tattoo, making it a splendid mix of fierce yet elegant.
Bear in fantasy world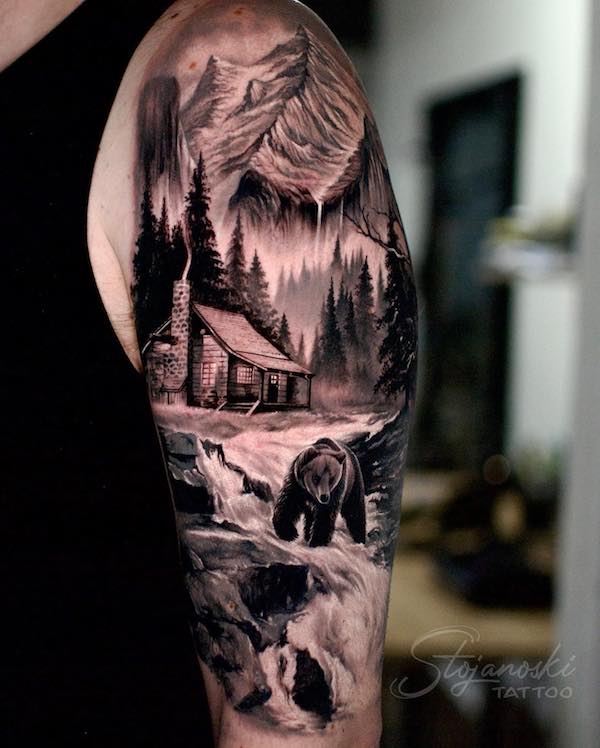 A bear in a fantasy world tattoo is a visually striking design that showcases the strength of imagination and creativity. This design often features a bear within a enchanting landscape. Combining elements of realism and fantasy, this tattoo encourages the wearer to dream big and explore uncharted territories, both physically and mentally. This tattoo design also affirms the power of imagination and the limitless potential we hold within ourselves.
Bear neck tattoo in old school style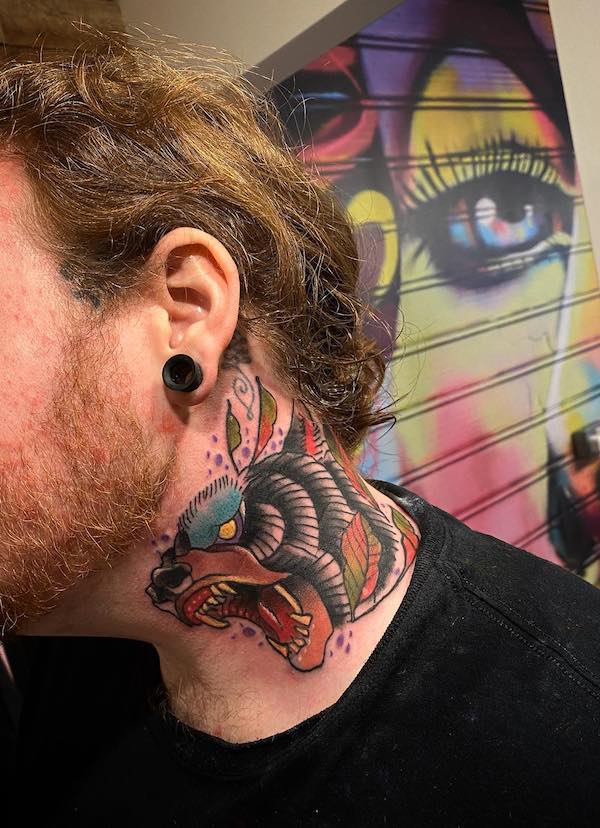 The neck tattoo is a bold choice for people who love the traditional tattoo aesthetic. The old school style is characterized by its thick lines and limited color palette, often featuring bright reds, blues, and greens. Classic symbols often accompany the bear design, which adds a traditional charm to the powerful bear. Much like the bear itself, this tattoo design represents honoring the past without forgetting one's strength and resilience.
Conclusion
Bear tattoos are as rich and meaningful as they are captivating. As you can see, they offer a diverse range of design possibilities and are steeped in rich symbolism and meaning. From showing off your strength and resilience to paying homage to your role as a fierce protector, there's one out there that perfectly captures your essence. Take inspiration from these stunning examples and make your next ink a true testament to your love for these incredible creatures.