Half sleeve tattoos are versatile and offer a canvas for intricate designs and styles. Whether you are a first-timer or an experienced tattoo enthusiast, these tattoos are a great way to express your personality and showcase your creativity. In this article, we will explore the uniqueness of half sleeve tattoos, the different tattoo styles, and showcase some of amazing designs.
What Makes Half Sleeve Tattoos Unique?
Typically, half sleeve tattoos are sleeve tattoos that encompass the arm from the shoulder to the elbow or the elbow to the wrist. They are a unique tattoo design for a number of reasons, which include the following:
Visibility: Unlike tattoos on other parts of the body, half sleeve tattoos can be easily seen and admired, making them an excellent choice for those who want to showcase their ink.
Versatility: The half sleeve tattoo style allows plenty of room for creativity and customization, which makes it possible to create a wide variety of designs that are unique to the individual.
Flexibility: Whether you prefer a minimalistic design or a more elaborate and intricate artwork, half sleeve tattoos offer the flexibility to create a truly unique tattoo experience.
Different Styles of Half Sleeve Tattoos
There are plenty of tattoo styles you can choose from when deciding on a half sleeve tattoo. Here are some of popular styles:
3D Style
3D tattoos use shading and perspective to create the illusion of depth. This makes the design appear as if it is popping off the skin of the wearer. They are perfect for individuals who want something more than the typical flat tattoo design. However, 3D tattoos require a talented and experienced tattoo artist. This is because they involve advanced techniques and precision to achieve the desired effect.
Abstract
An abstract tattoo is a design that deviates from traditional imagery, focusing on shapes, lines, and color to convey emotion and movement. When it comes to creating a truly unique piece, abstract half sleeve tattoos are an excellent choice. Your tattoo artist can combine different elements to express your personality and artistic taste, resulting in a one-of-a-kind design.
Biomechanical Half Sleeve Tattoo
The idea for biomechanical tattoos comes from science fiction. They often combine organic and mechanical elements to create futuristic designs. If you're fascinated by technology and the concept of merging man and machine, a biomechanical half sleeve tattoo can be a unique and thought-provoking addition to your tattoo collection.
Black and White
Black and white tattoos are much like grayscale tattoos; however, they use only black ink and the wearer's skin color for contrast, with no gray shading. The high contrast between the black ink and the skin creates a striking and elegant effect. This style is ideal for minimalist and clean designs that retain an air of sophistication.
Blackwork
Blackwork tattoos have a long-standing history. They stem from ancient tribal tattoo styles and are filtered through modern tattoo artistry. This style only uses black ink to create striking geometric patterns, symbols, or images. The primary focus is on the contrast between the ink and the skin, resulting in bold and impressive designs.
Blackwork half sleeve tattoos are visually intense and feature a singular, unified theme. Popular designs include mandalas, geometric patterns, and minimalist imagery. These tattoos can hold personal significance, as the wearer determines the meaning behind the chosen design.
Brush Stroke
Brush stroke tattoos aim to capture the painterly qualities of traditional Asian ink brush painting. This style uses carefully placed, sweeping lines to create the appearance of a painting done with a single, fluid stroke of the brush. It also integrates elements of calligraphy or nature-inspired designs. A brush stroke half sleeve adds an elegant, artistic touch to any tattoo collection.
Celtic / Norse
Celtic and Norse-inspired half sleeves draw from the rich history and mythology of ancient European cultures. Intricate knot work, interlocking patterns, and detailed depictions of gods and mythological creatures define this style. These designs often incorporate a mix of abstract shapes and symbolic animal motifs, creating an eye-catching and distinctive piece of body art. A Celtic or Norse half sleeve is a powerful and meaningful way to celebrate one's heritage or love for these fascinating cultures.
Cubist Style
Inspired by the famous art movement, cubist tattoos take the form of fragments or broken images, combining them in abstract and unique ways. This style of tattoo is perfect for those looking for something unconventional, thought-provoking, and artistic. Cubist half sleeve tattoos often incorporate elements of other tattoo styles or feature familiar images deconstructed into their basic shapes.
Dotwork
Dotwork is a technique in which the tattoo artist creates an intricate design consisting of thousands of tiny dots. This style is known for its precision and detail, often producing a stunning piece that appears both delicate and bold. With dotwork, imagery such as mandalas, landscapes, and even animals can be transformed into a mesmerizing half sleeve tattoo.
Etching / Engraving
Etching or engraving tattoos take inspiration from historical printmaking techniques, replicating the look of an image engraved on a metal plate or a woodcut. Intricate lines, stippling, and crosshatch shading are hallmarks of this style, and create a unique visual effect when translating onto the skin.
Half sleeve tattoos in the etching style often depict historical or mythological scenes, nature-inspired elements, or even religious iconography—the opportunities for exploration are endless. The result is a beautiful, detailed design that pays homage to traditional art techniques, and serves as a unique conversation piece.
Geometric
Geometric tattoos have always been popular due to their aesthetic appeal and visual impact. These designs incorporate various shapes, lines, and patterns, creating mesmerizing optical effects. Geometric styles give an impressive look to half sleeve tattoos, which can also be combined with other designs. Common themes include dot work, sacred geometry, and optical illusions, creating eye-catching designs with deep symbolism.
Graffiti
Graffiti-style half sleeve tattoos celebrate the distinctive visual language of street art. They use bold colors, thick lines, and intricate patterns to create a dynamic, urban look. This style often features text elements, abstract shapes, or cultural symbols. These elements are arranged in a layered, collage-like composition. Whether you're a graffiti artist yourself or simply admire the aesthetic, a graffiti half sleeve is a vibrant and eye-catching choice.
Illustrative
Illustrative tattoos encompass a wide range of design concepts and styles, as they replicate the appearance of a hand-drawn illustration. These designs can vary from simple line drawings to highly detailed, shaded works of art, bringing the artist's creative touch to the forefront.
An illustrative half sleeve tattoo provides versatility in design, as it can incorporate a variety of elements and styles. Common examples include colorful, playful designs, as well as gloomy or dark themes that showcase the wearer's interests or values.
Inverted
Inverted tattoos are those where the usual black and white or grayscale design is reversed, with the ink primarily filling the negative space, leaving the actual design in the skin's color. Usually associated with more alternative and edgy subcultures, inverted tattoos create a powerful and memorable impression. These tattoos, however, may not age as well as others since the large amounts of black ink might fade, making the design less distinct over time.
Japanese Half Sleeve Tattoo
Japanese tattoos are known for their artistry, detailing, and symbolism. They have a rich history dating back thousands of years. These tattoos often feature traditional Japanese imagery like koi fish, dragons, and geishas. If you appreciate the beauty, history, and cultural significance of this tattoo style, a Japanese half sleeve tattoo can be an excellent choice.
Landscape
Landscape half sleeve tattoos encapsulate the beauty and serenity of the natural world. This style incorporates detailed scenery, from lush forests and mountains to serene beaches and breathtaking sunsets. Landscapes can be rendered in various artistic styles, such as realistic, watercolor, or impressionist. A landscape half sleeve offers a tranquil, visually striking piece of art that showcases the wearer's love for nature and the outdoors.
Linework
Linework tattoos are characterized by the use of clean, precise lines that form intricate patterns, images or typography. They require a high level of skill from the tattoo artist, as these tattoos need to be precise and evenly spaced to appear clean and well-executed.
Linework half sleeve tattoos can be minimal or highly detailed, either encompassing a singular design or incorporating various elements. With this style, the wearers often choose to express an idea, personal message or inspiration through the simplicity of lines, shapes or words. Popular designs include intricate patterns, nature-inspired symbols, and customized typography.
Nature-Inspired
For those who are passionate about nature and the environment, a nature-inspired half sleeve can be a breathtaking choice. From forests and mountains to oceans and animals, the possibilities within this style are nearly endless. A nature-inspired half sleeve tattoo can carry a deep sense of personal meaning, whether it represents a love of travel, environmental activism, or a specific place you hold dear.
Negative Space
Negative space tattoos play with contrast and balance, where the design primarily encompasses the shapes and areas not occupied by the ink. Similar to silhouette tattoos, but usually more complex and intricate, these tattoos create a visually captivating effect. Negative space half sleeve tattoos often involve geometric patterns or cleverly designed images that use the toned skin as part of the overall tattoo design.
Nautical
Nautical-themed half sleeve tattoos showcase the beauty and symbolism of maritime life. Anchors, ships, compasses, and oceanic creatures are common motifs in this style. Traditional nautical tattoos often feature bold lines and solid colors, while more modern interpretations might involve intricate, detailed designs. A nautical half sleeve tattoo pays tribute to the timeless connection between humans and the sea, making for a visually compelling piece of body art.
Neotraditional
Neotraditional tattoos are an evolution of the traditional tattoo styles, inspired from the classic Sailor Jerry and Old School designs. The style makes use of bold lines and bright colors to create a modern look. It incorporates subtle detailing, imagery, and color experimentation to add a contemporary touch.
Half sleeve neotraditional tattoos provide the perfect canvas for intricate designs, often teeming with life and character. Common themes include animals, flowers, and nautical symbolism, all tied together with a contemporary flair that maintains a connection to the past.
New School
New School tattoos are a modern spin on classic styles. They blend elements of street art, graffiti, and pop culture together. This style can also blend with cartoonish imagery, bright colors, and bold, curvy outlines. Popular subjects include animals, pop culture icons, and imaginary characters. A New School half sleeve creates a fun, dynamic look, reflecting the wearer's personality and creative spirit.
Optical Illusion
Optical illusion tattoos play with perspective and visual tricks to create a design that challenges the viewer's perception. These tattoos can be fun, mysterious, or thought-provoking, depending on the chosen design. However, this style often requires a skilled tattoo artist, as the effect relies on precision and understanding of perspective to be successful.
Portraiture
Portrait half sleeve tattoos are an excellent way to pay tribute to loved ones, celebrate cultural icons, or express one's admiration for a historical figure. These designs strive for extreme detail and accuracy, capturing the subject's likeness in a realistic and respectful manner. Portraiture can also extend to animals or fictional characters, offering a wide range of possibilities for self-expression.
Realistic Half Sleeve Tattoo
Realistic tattoos are designed to look life-like and highly detailed. They feature portraits, animals, or nature scenes. A realistic half sleeve tattoo can not only showcase the skill and artistry of the artist but also the personal significance of the subject matter.
Science Fiction / Fantasy
Science fiction and fantasy-inspired half sleeve tattoos are highly creative and imaginative. They often feature magical creatures, futuristic technology, and intricate, otherworldly landscapes. These tattoos also incorporate elements from favorite books, movies, or video games, or explore wholly original concepts. They are striking and evocative, making them a great way to showcase one's love for these rich, imaginative genres
Text-Based
A text-based half sleeve tattoo relies on typography and words to create a compelling visual design. Quotes, poems, or song lyrics can all serve as inspiration for this style. The design also combines creative fonts and placement with illustrative elements to amplify its impact. Text-based tattoos can carry deep personal meaning or express something significant about your identity or beliefs.
Sketch
Sketch tattoos replicate the look of a sketch-like drawing. By utilizing fine lines and shading. The artist create the appearance of an unfinished or rough draft. The design often leaves room for interpretation, allowing the wearer and the viewer to complete the concept in their minds.
In a half sleeve tattoo, this style allows for exceptional imagination, with the possibility to adapt and expand the design. Artists love sketch tattoos as the designs can embrace imperfections and celebrate their creativity.
Steampunk
Steampunk is a genre that combines science fiction and fantasy with Victorian-era technology. A steampunk half sleeve tattoo can include intricate clockwork, airships, or mechanical creatures. This style is perfect for those who love the imaginative world of steampunk and want to bring its magic to their body art.
Surrealist
Surrealist tattoos take inspiration from the surrealist art, often combining elements of the fantastical, dreamlike, and abstract. The designs twist and drift through dreamscapes, creating unique imagery and thought-provoking concepts.
The surrealist style allows for the creation of one-of-a-kind designs that provoke curiosity and engage the viewer. Popular elements include anatomical distortions, unexpected combinations of objects, and floating components. All together form a captivating and mind-bending half sleeve design.
Tribal Half Sleeve Tattoo
Tribal tattoos have been around for centuries. They have evolved over time, incorporating various cultural influences. These tattoos feature bold, black lines and patterns. They are also inspired by the artwork of indigenous tribes from around the world. Tribal half sleeve tattoos can be an excellent choice for those who appreciate the beauty and symbolism of tribal art.
Trash Polka
Trash Polka is a contemporary tattoo style that originated in Germany, combining elements of realism, abstract design, and typography all in black and red ink. The designs are chaotic yet harmonious, reflecting the concept of "order vs. disorder" and creating visually captivating tattoos.
Trash Polka designs present an opportunity to mix various elements, such as realistic portraits, symbols, and words, in a unique manner. This style stands out for its bold and unconventional expression, pushing the boundaries of traditional tattooing and embracing the unpredictable.
Vintage
Vintage-inspired half sleeve tattoos pay homage to the timeless designs and motifs popular in the early 20th century. This style draws from traditional tattoo art, incorporating bold lines, vibrant colors, and classic iconography such as skulls, roses, and pin-up girls. Additionally, the vintage approach can include nods to pop culture of bygone eras, creating a nostalgic yet relevant piece of body art.
Watercolor
Watercolor tattoos are a modern and trendy style. They emulate the look of watercolor paintings, blending colors and creating fluid transitions between hues. The style also incorporates splashes of color, paint drips, and brush strokes. This results in a visually stunning tattoo that has gained immense popularity in recent years.
The beauty of watercolor half sleeve tattoos lies in their ability to depict the subtleties of nature and life. It can also express the diversity of emotions and feelings. Celestial themes, floral motifs, and wildlife designs are popular subjects, either standing alone or combined with other elements.
Woodcut
The woodcut style emulates classic woodblock prints. It uses thick, black outlines and intricate shading techniques. These techniques create the illusion of a woodblock print on the skin. Popular subject matter includes animals, mythological creatures, and nature-inspired scenes. A woodcut half sleeve showcases the artist's skill and attention to detail. It also offers a unique, rustic charm.
Choosing the Perfect Design for Your Half Sleeve Tattoo
With so many design options available, it can be overwhelming to choose the perfect half sleeve tattoo. Here are some tips to help you make the right decision:
Consider the symbolism: Understanding the symbolism behind various tattoo styles and designs can help you choose a half sleeve tattoo that holds personal meaning and significance.
Research tattoo artists: Every tattoo artist has their unique style and area of expertise. Take the time to research and find an artist whose work aligns with the design you have in mind for your half sleeve tattoo.
Think about placement: Consider how the design will wrap around and flow with the shape of your arm to create a visually appealing and cohesive tattoo.
Consult with the tattoo artist: Discuss your ideas and preferences with your chosen tattoo artist, who can provide valuable input to help bring your vision to life.
Unique half sleeve tattoo designs
To inspire your ideas, we have collected the list of unique designs below.
Geometric optical illusion sleeve tattoo for males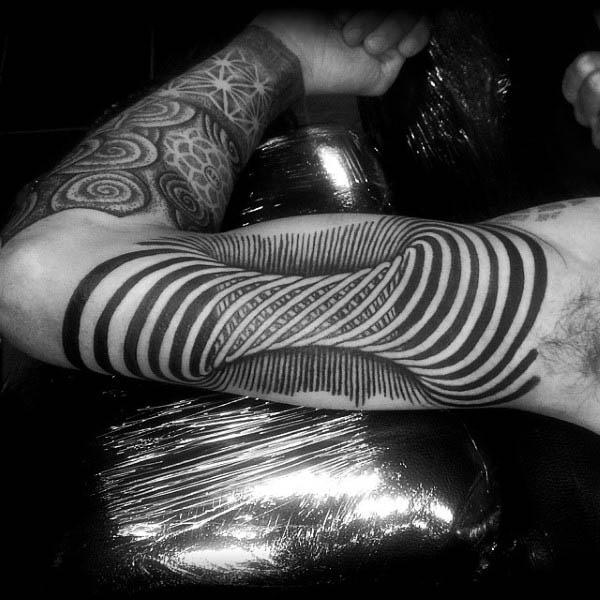 Dreamwalker abstract tattoo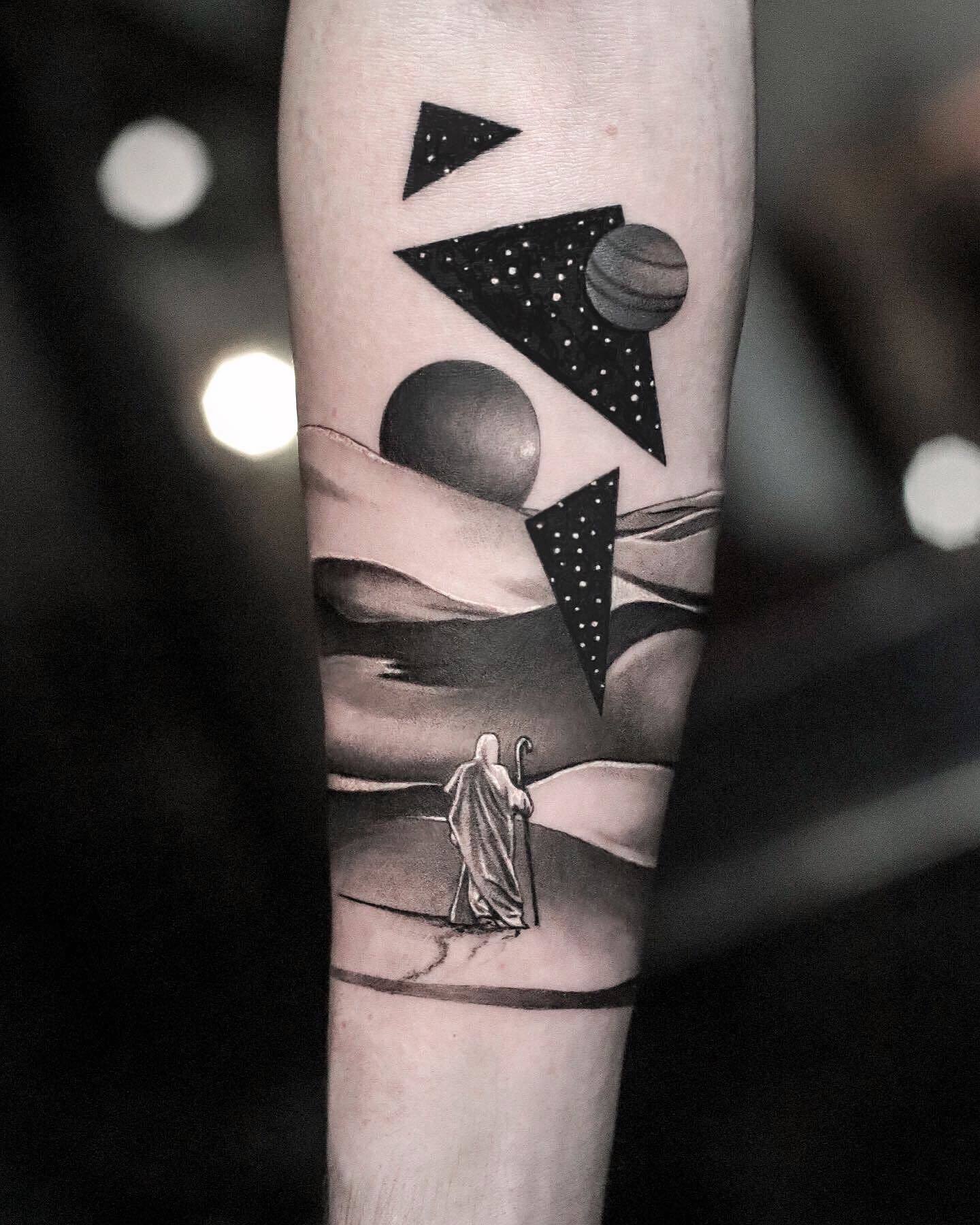 Elephant and zebra sleeve tattoo on upper arm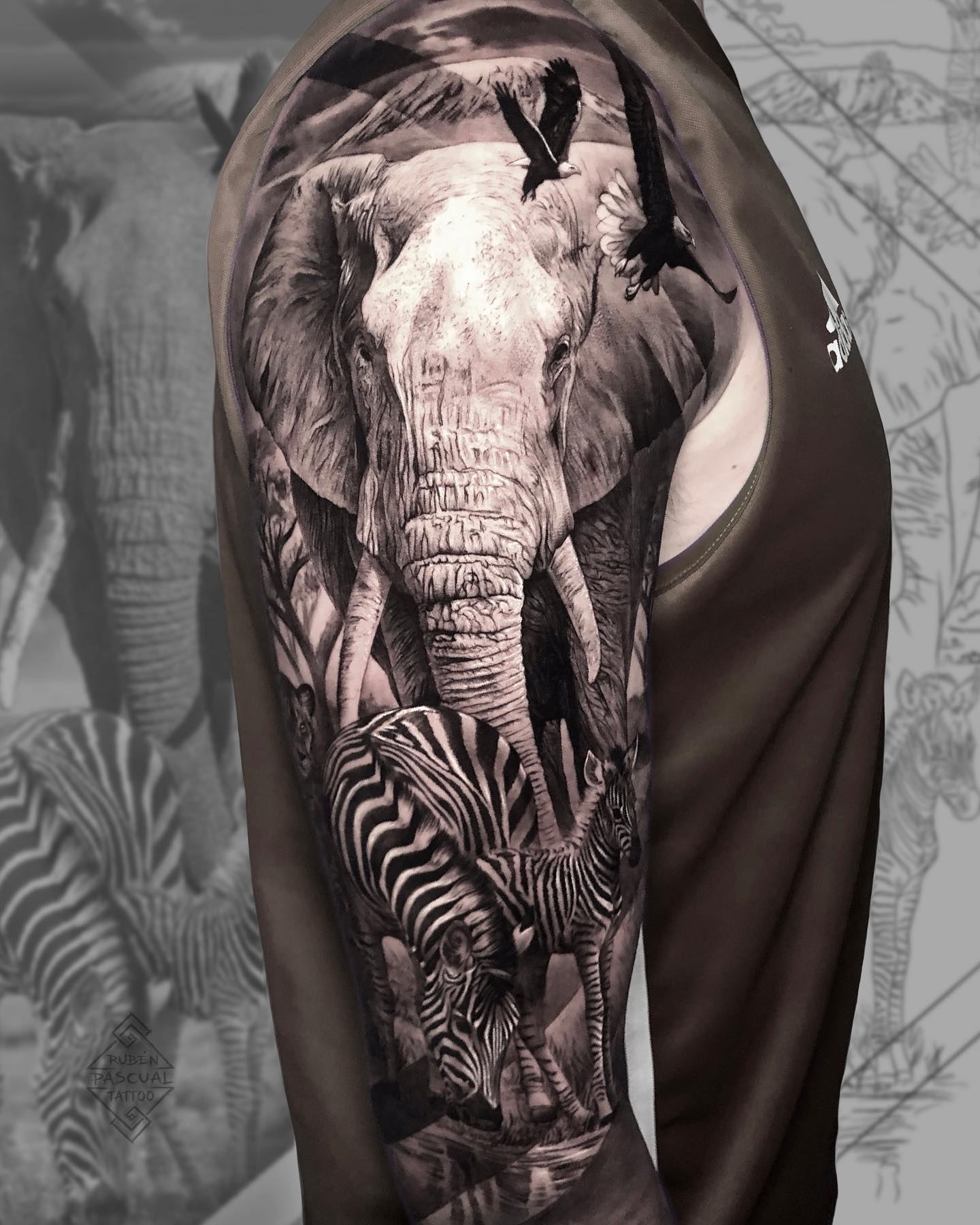 Eye and cross half sleeve tattoo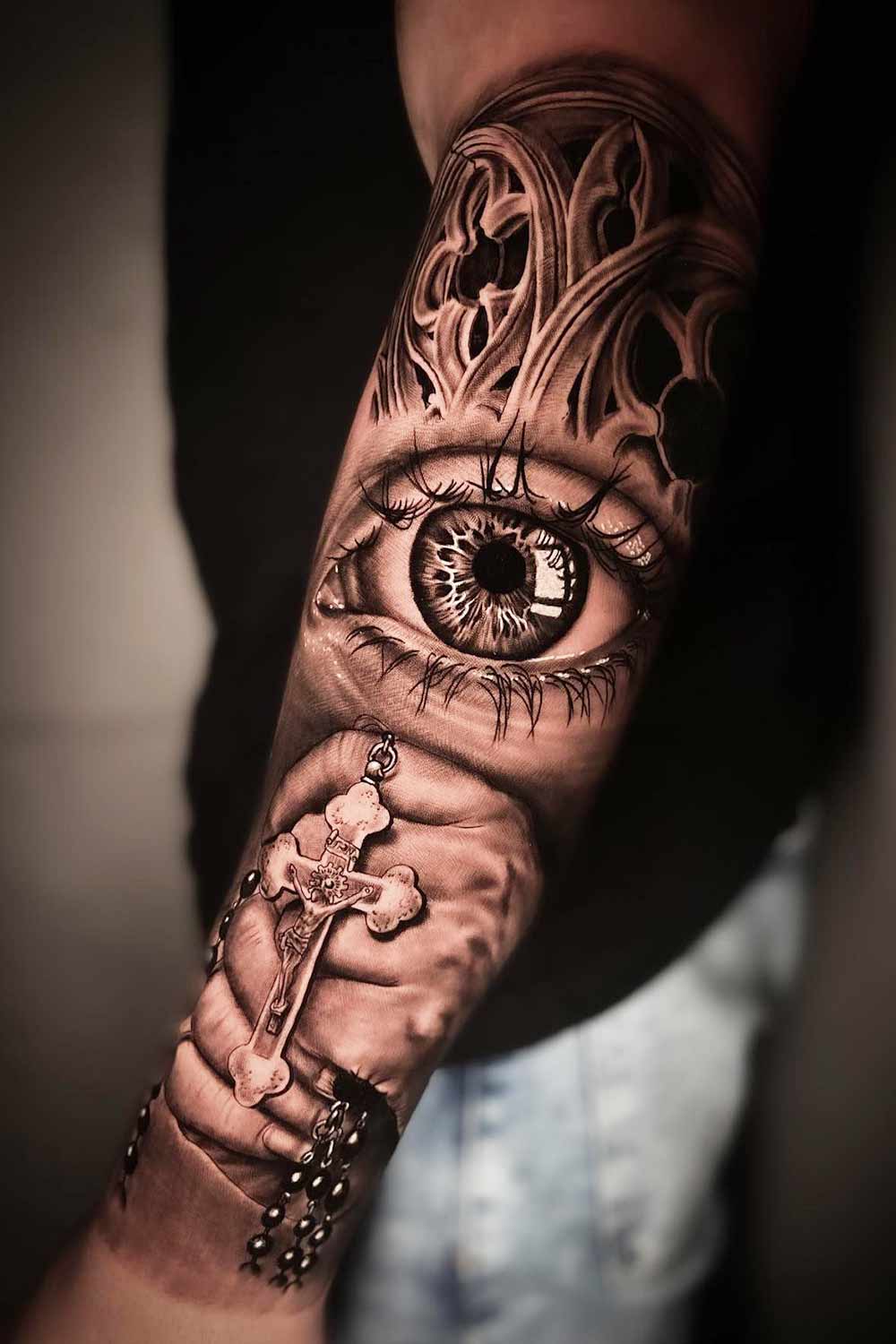 Eye and satellite half sleeve tattoo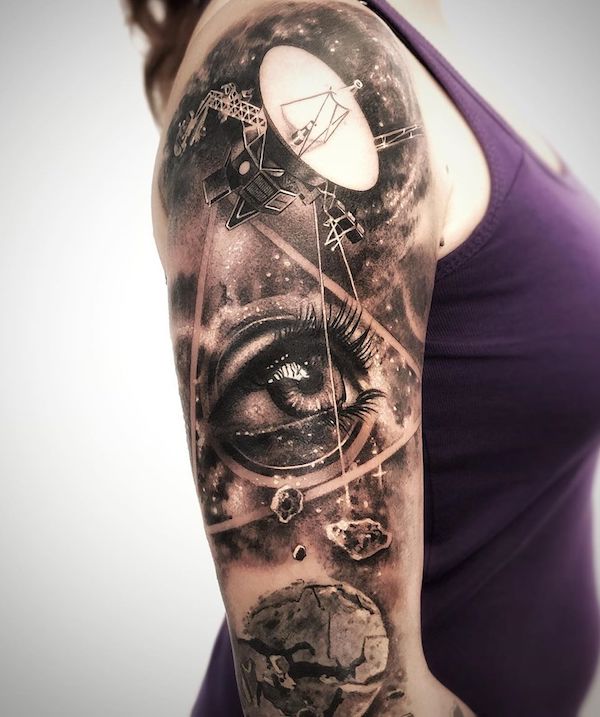 Family walking tattoo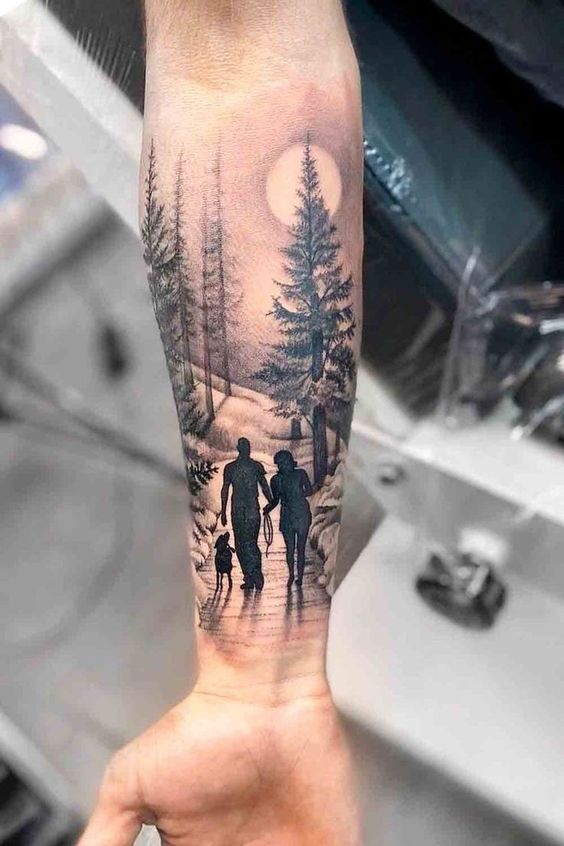 Female face and flowers tattoo new school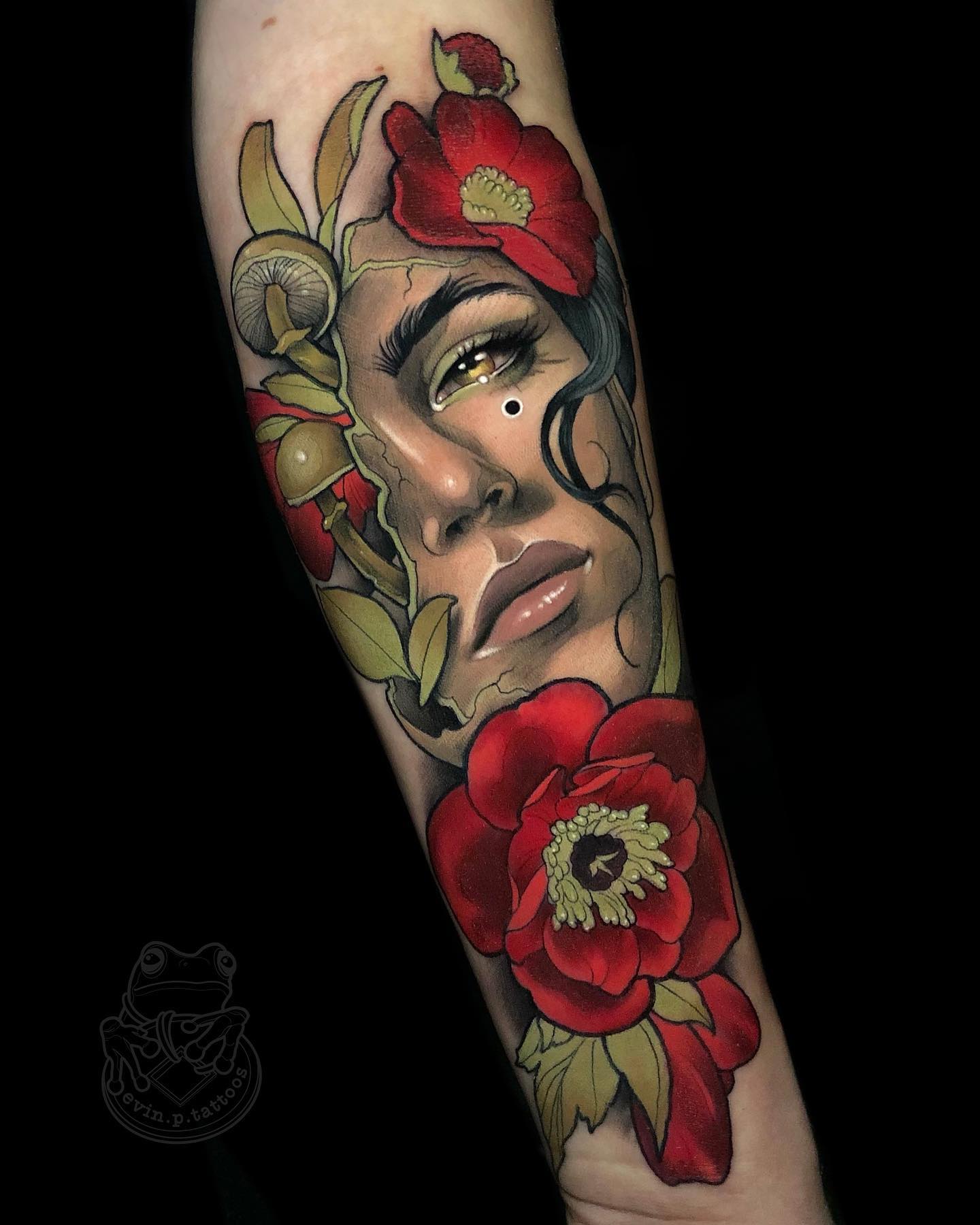 Fern and flower Half Sleeve Tattoo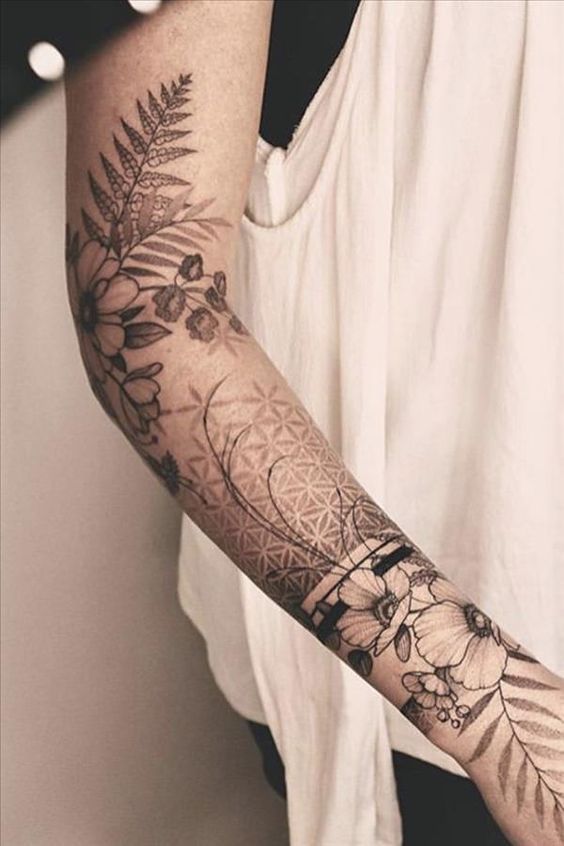 Ferris wheel anf flowers upper arm tattoo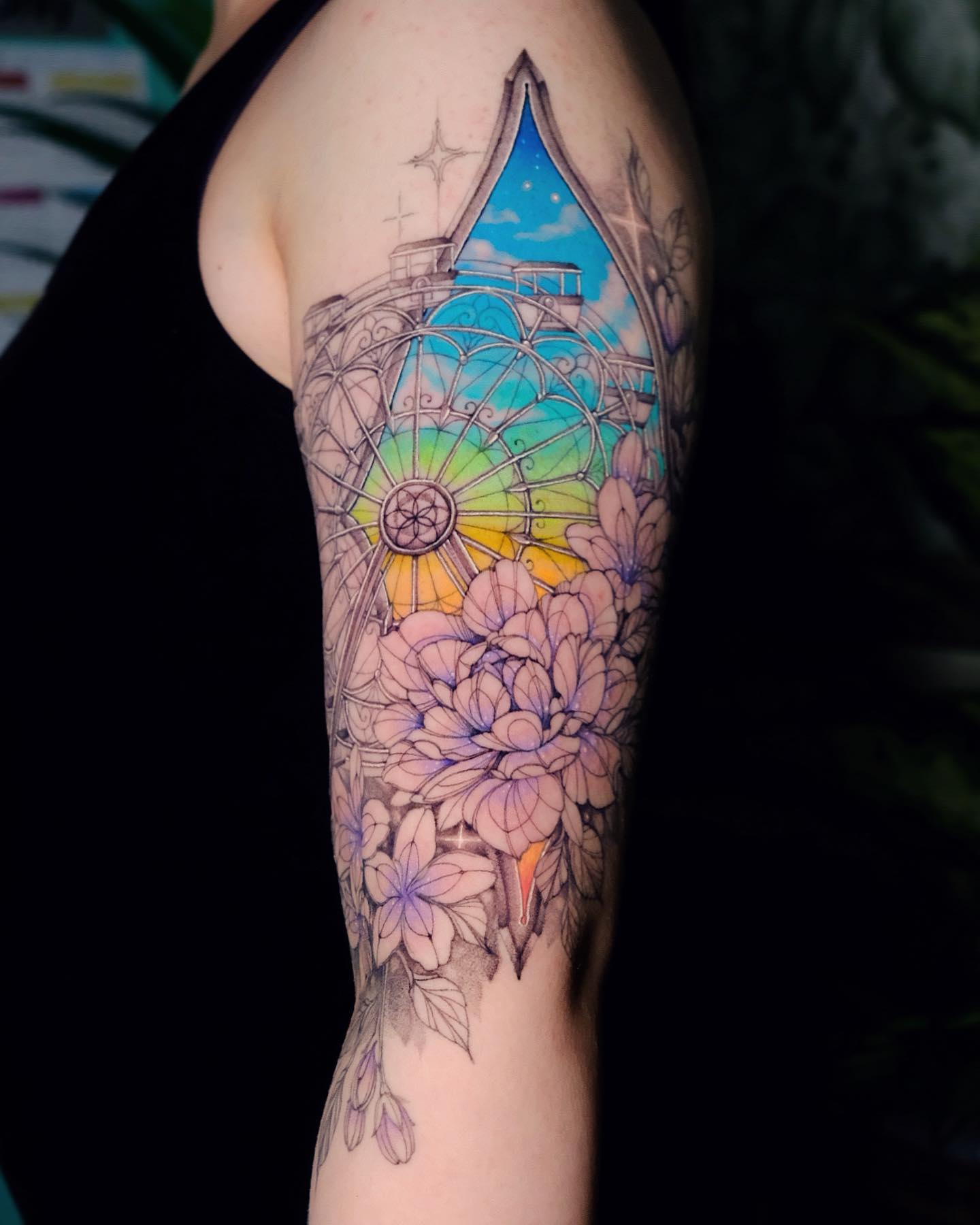 Fire Bird Half Sleeve Tattoo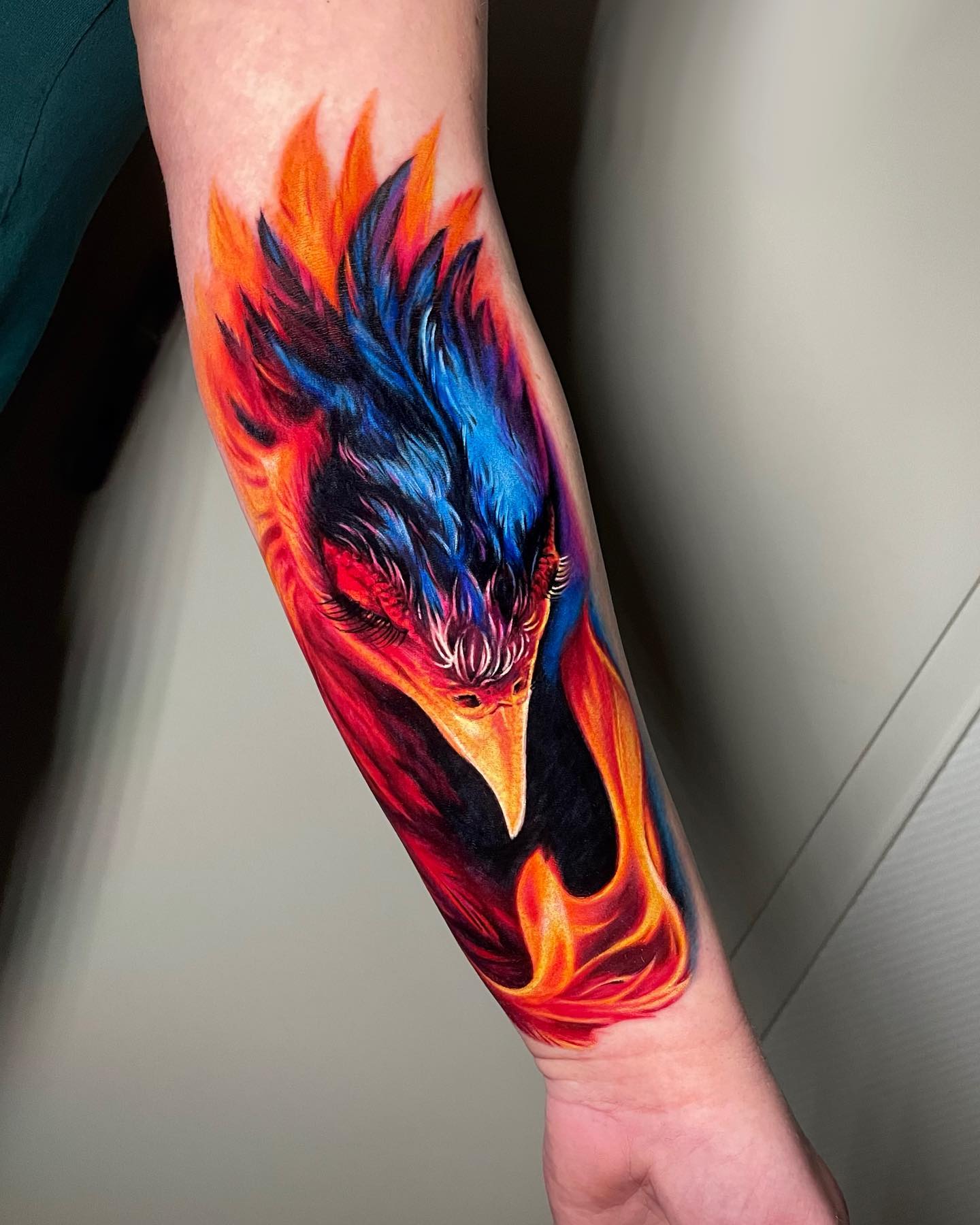 Forearm and hand matching half sleeve tattoos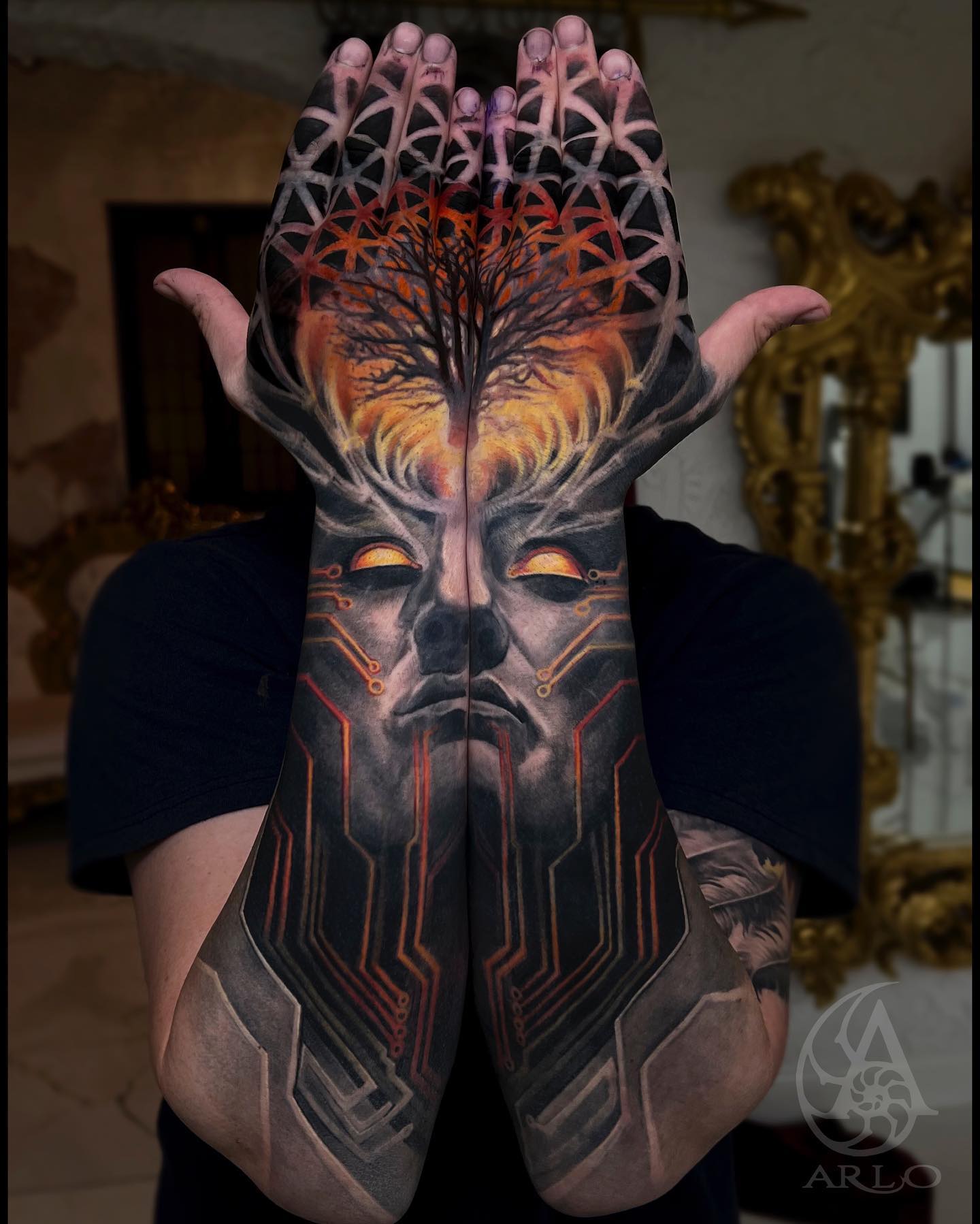 Forearm tattoo with nautical motifs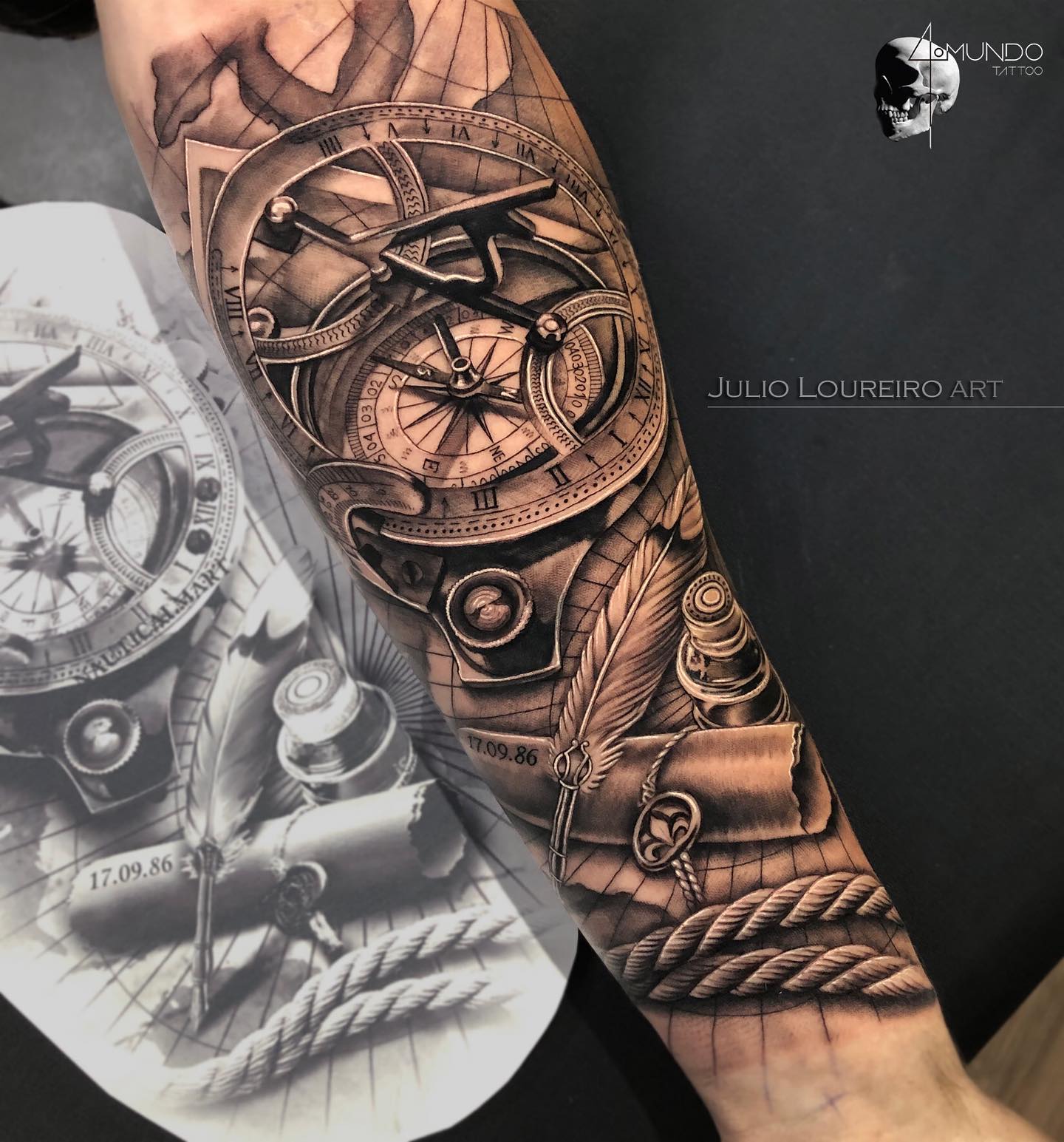 Fox and berry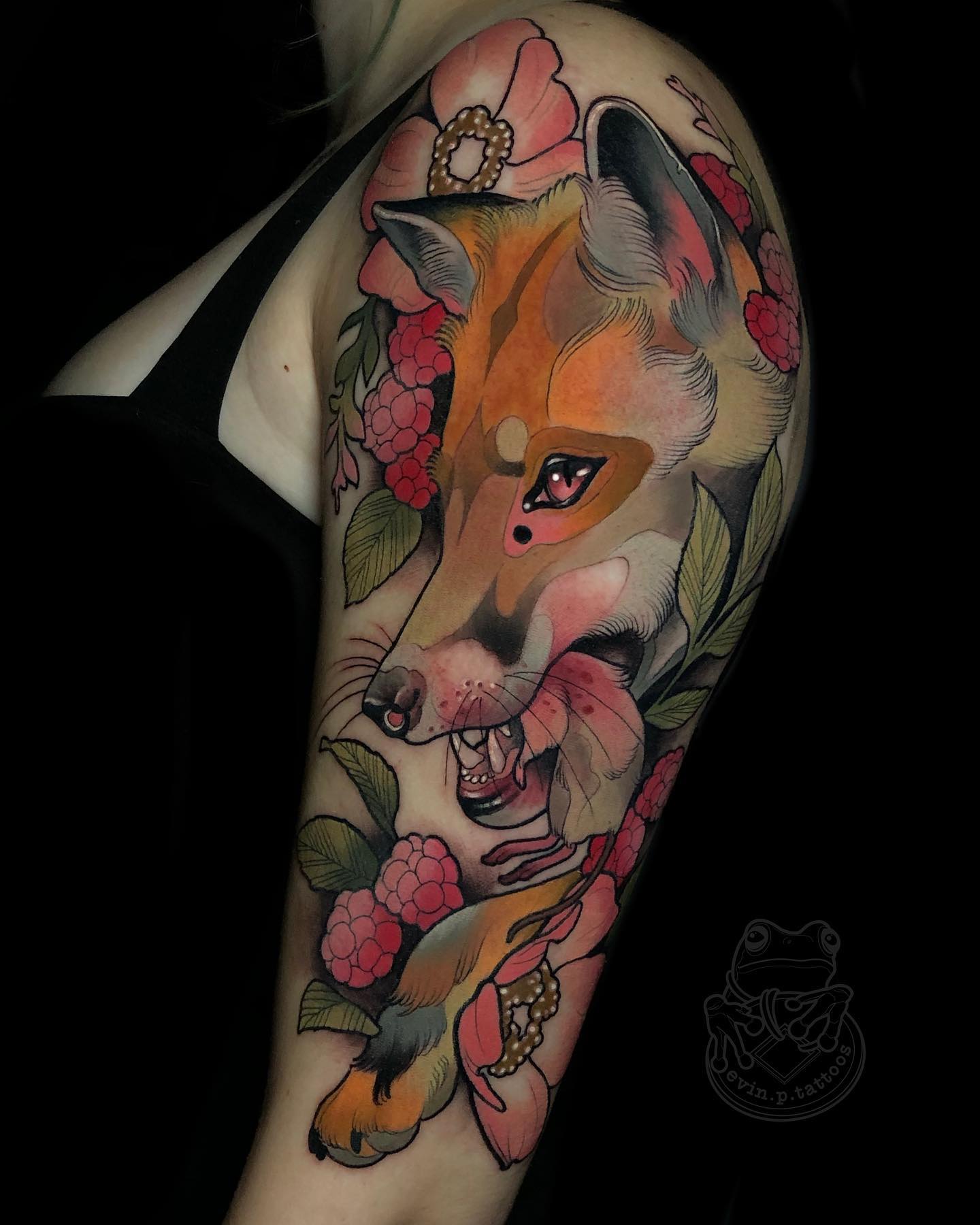 Halloween House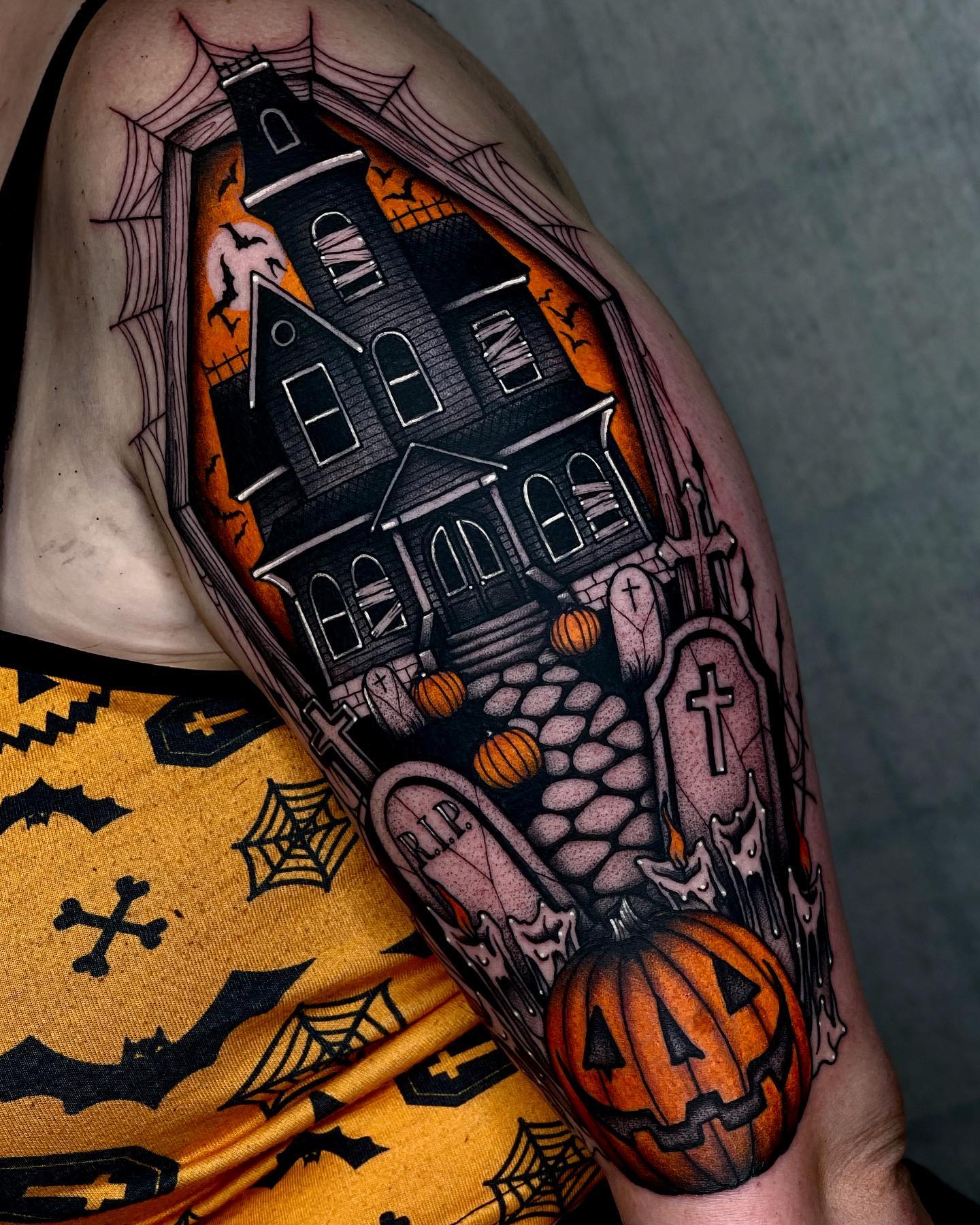 Hummingbird Jewelry tattoo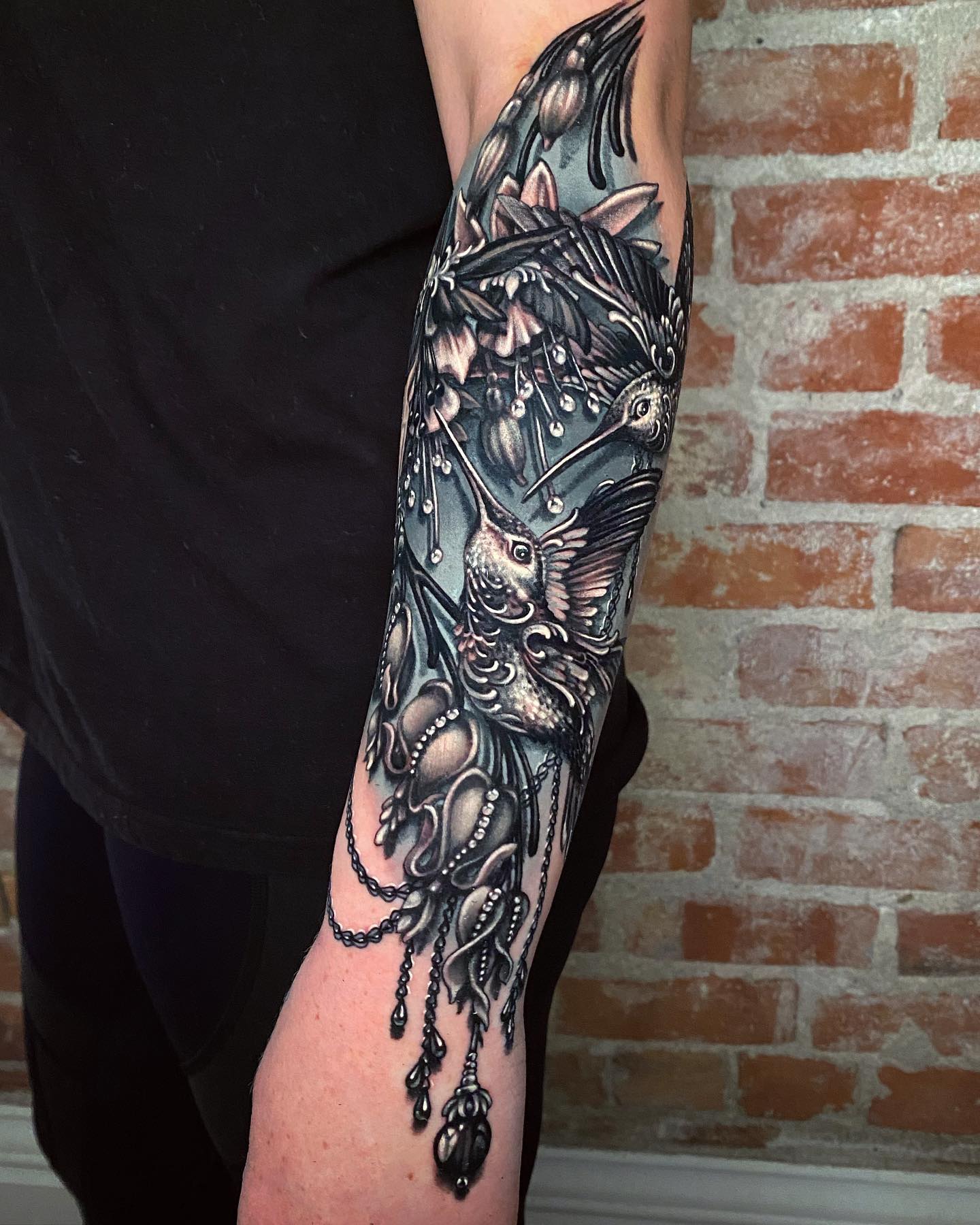 Japanese half sleeve tattoo with ponny and waves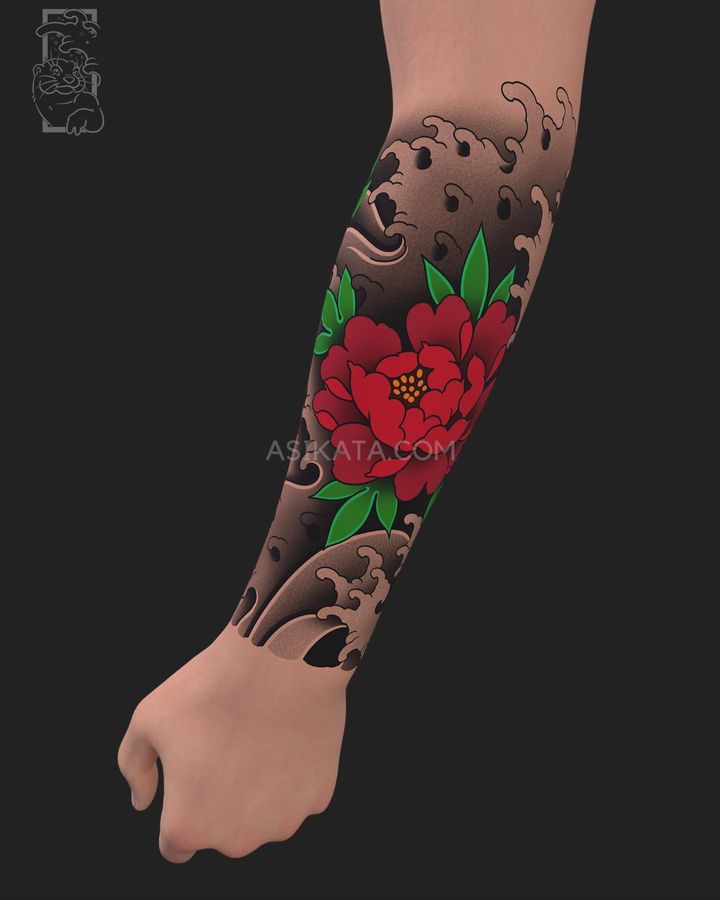 Kitten in the bush
lion and elephant tattoo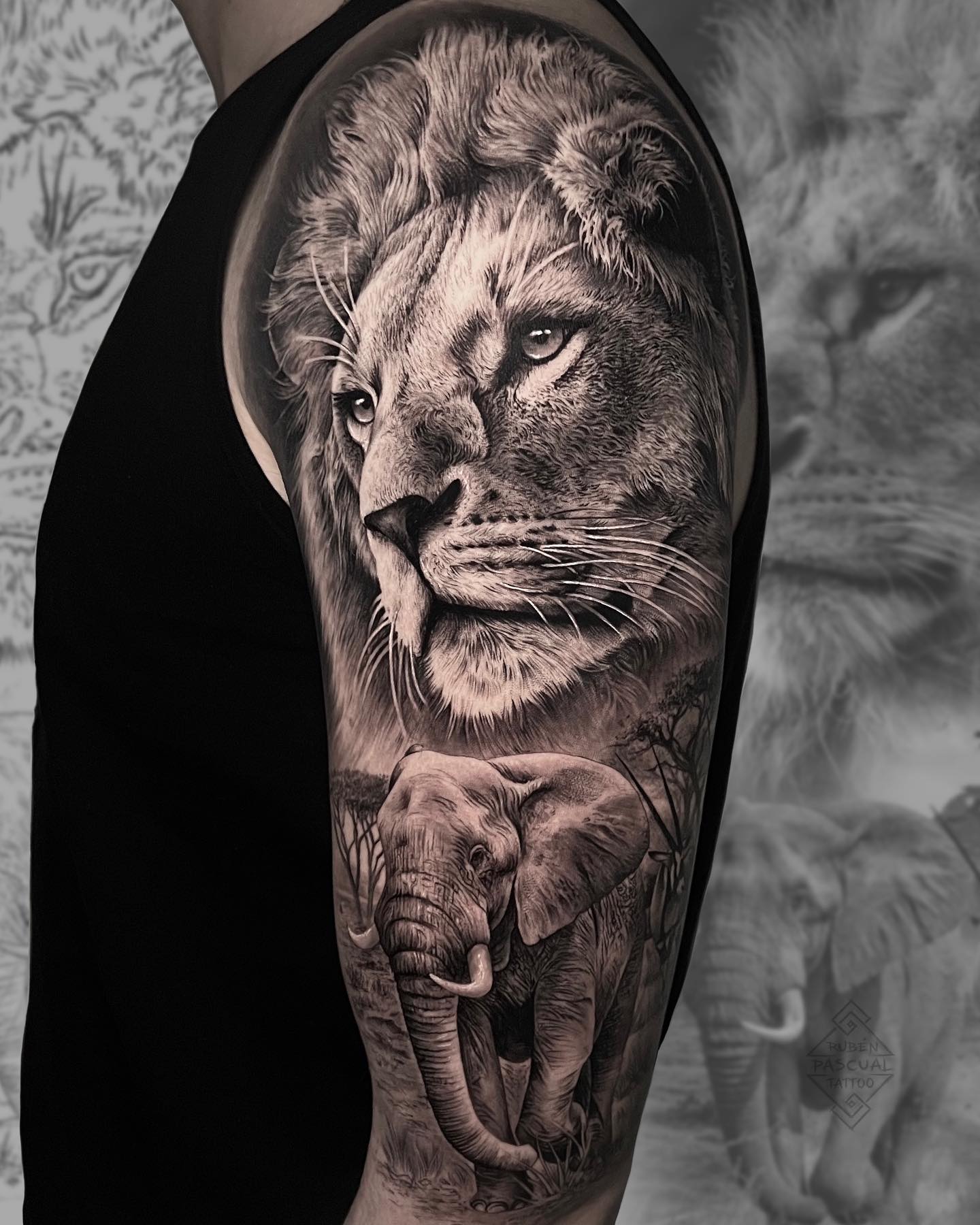 Love episode of Gone with the Wind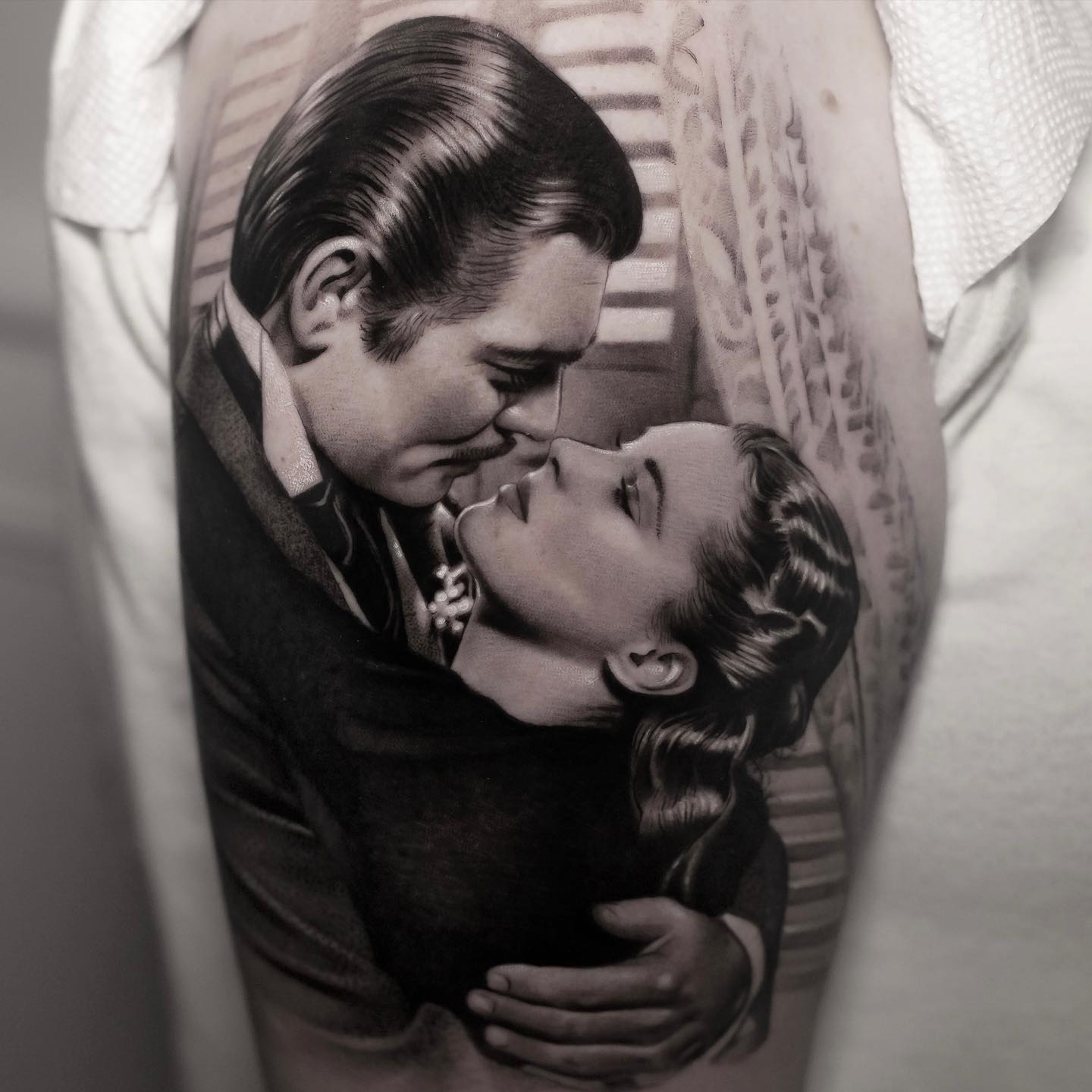 Mandala dotwork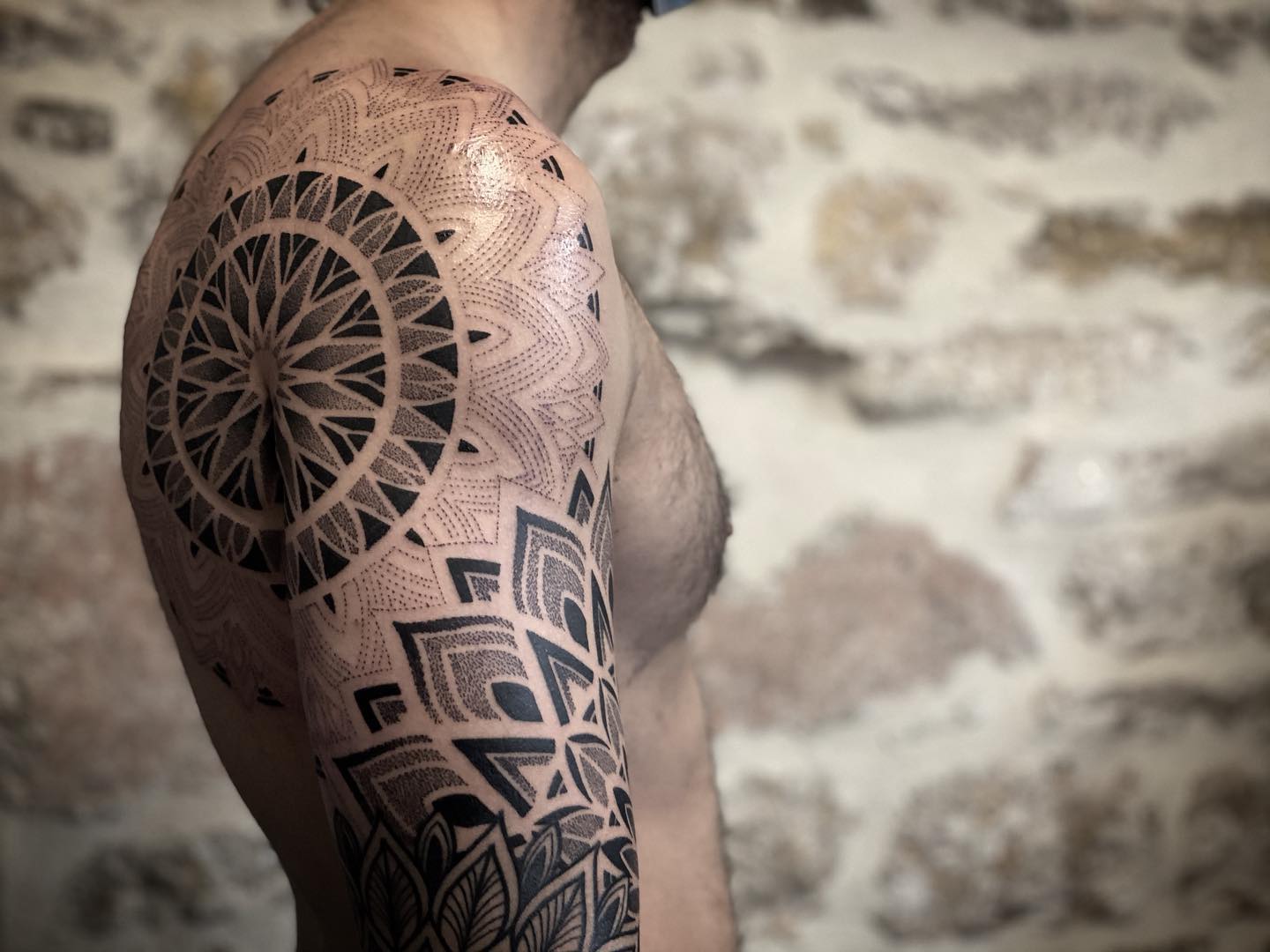 Mandala half sleeve tattoo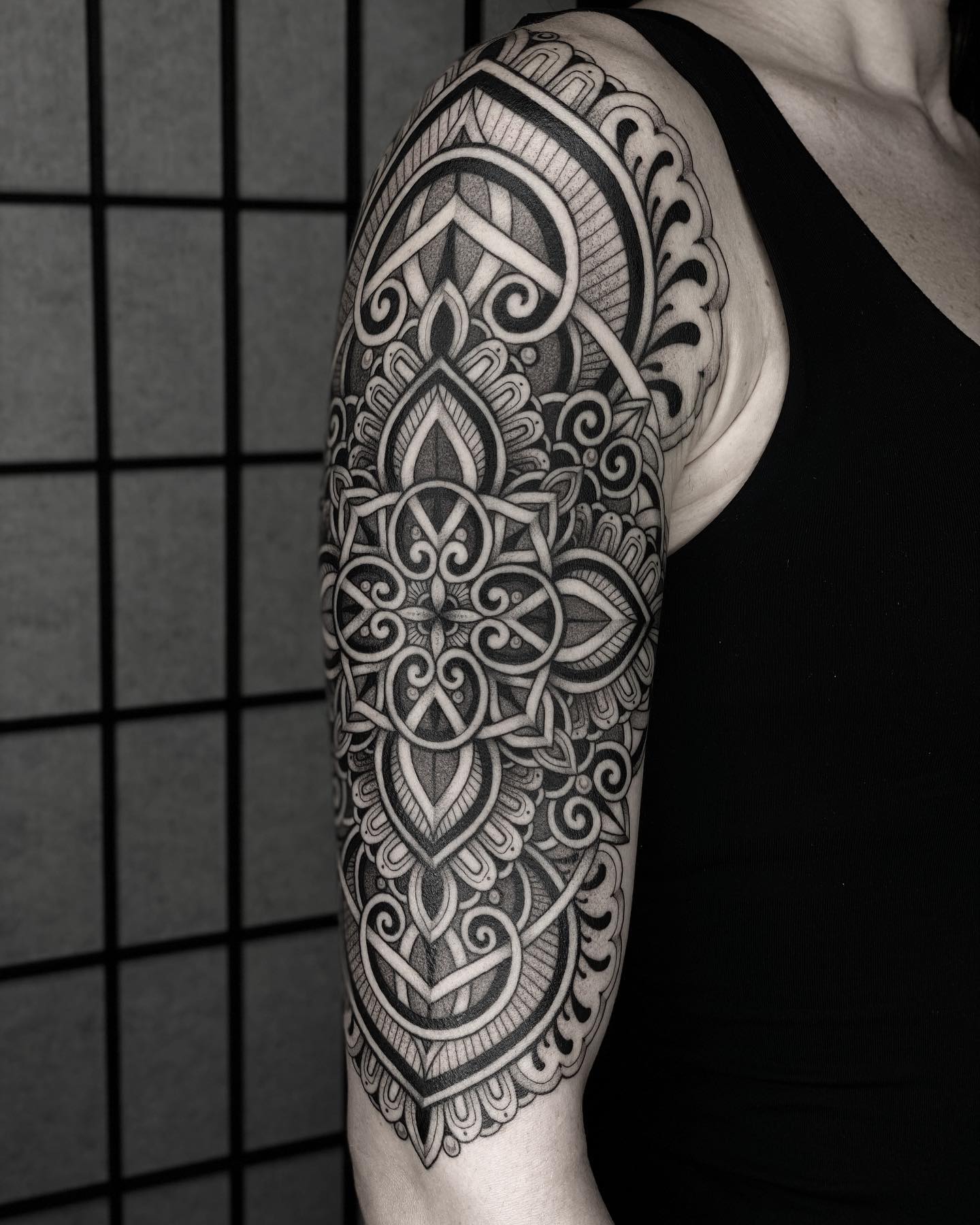 Mermaid forearm tattoo in sketch style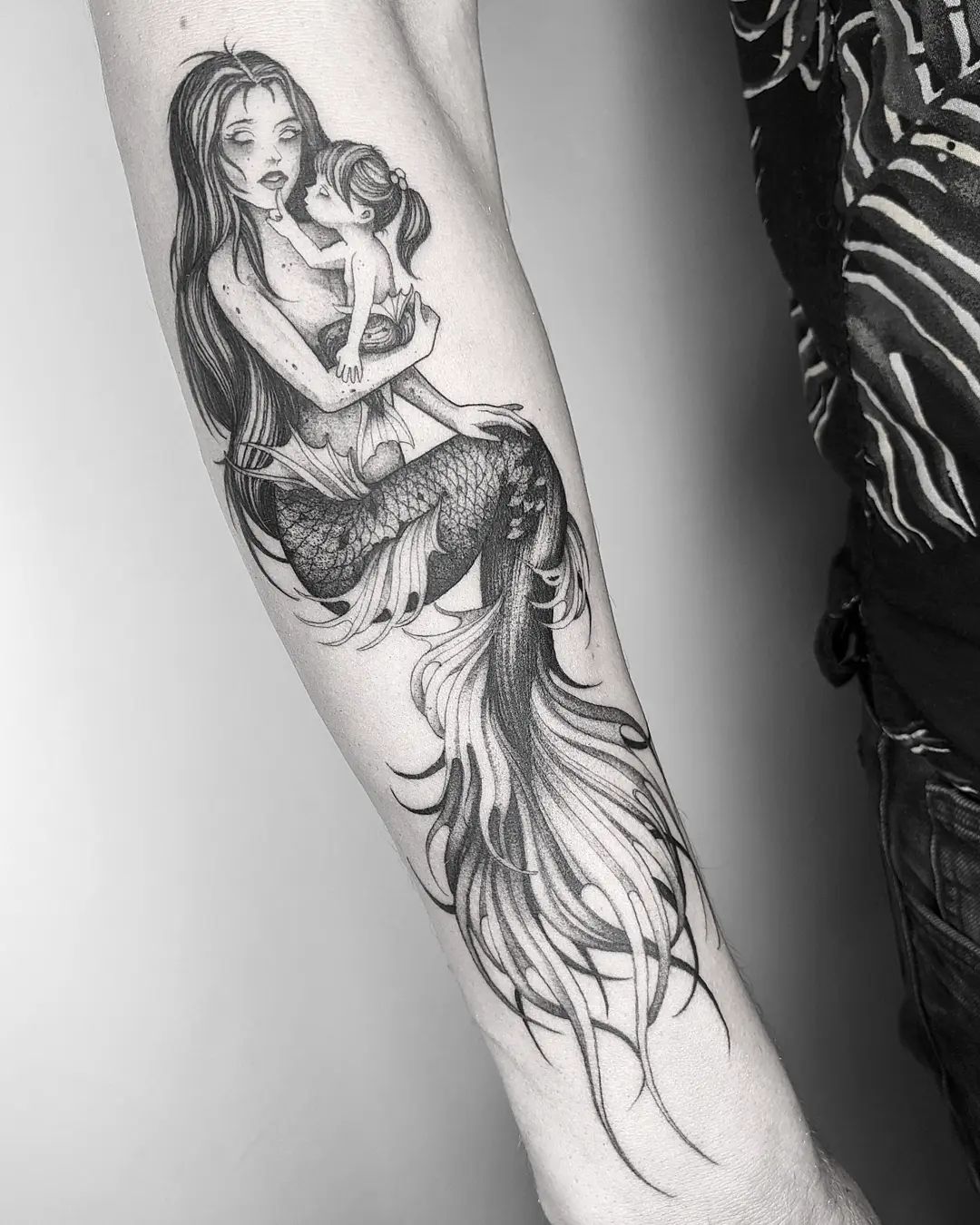 Negative space fern half sleeve tattoo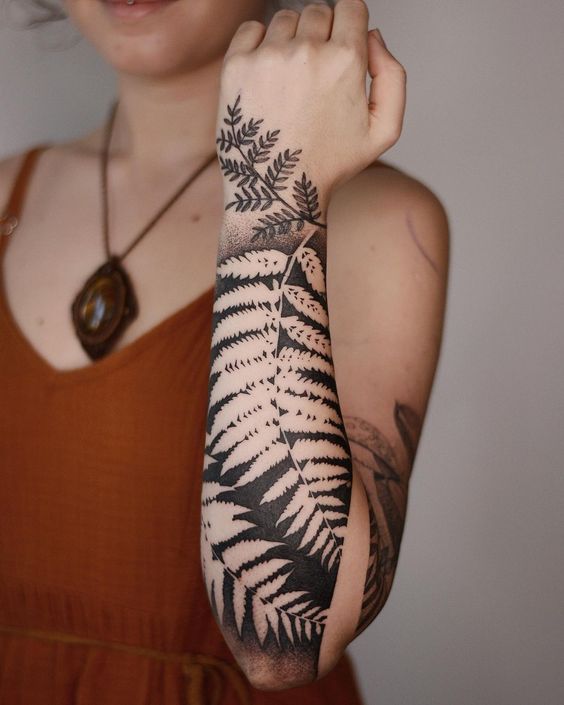 Negative space armband with trees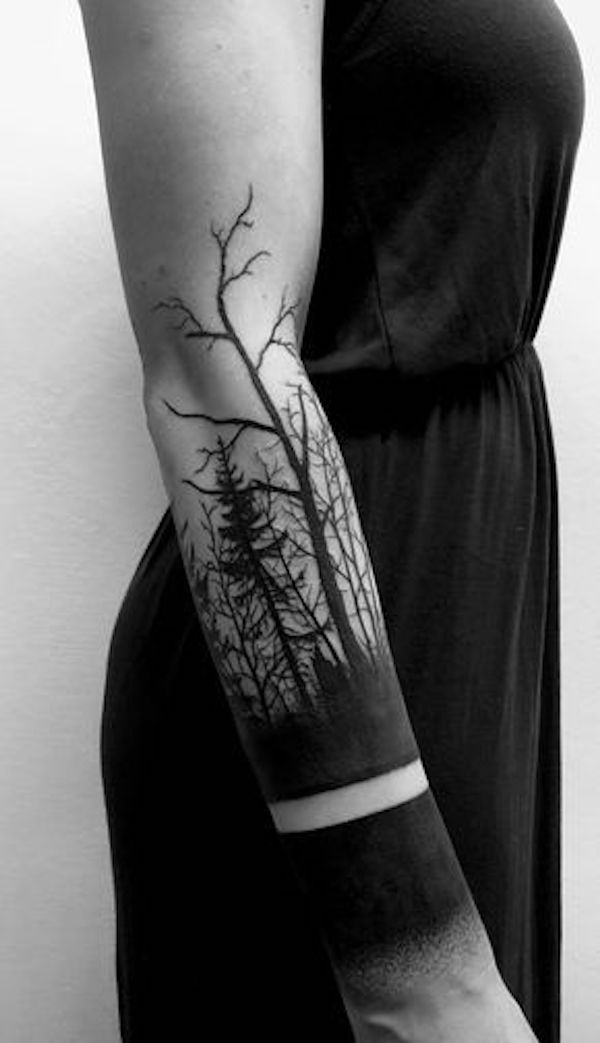 Neo traditional half sleeve tattoo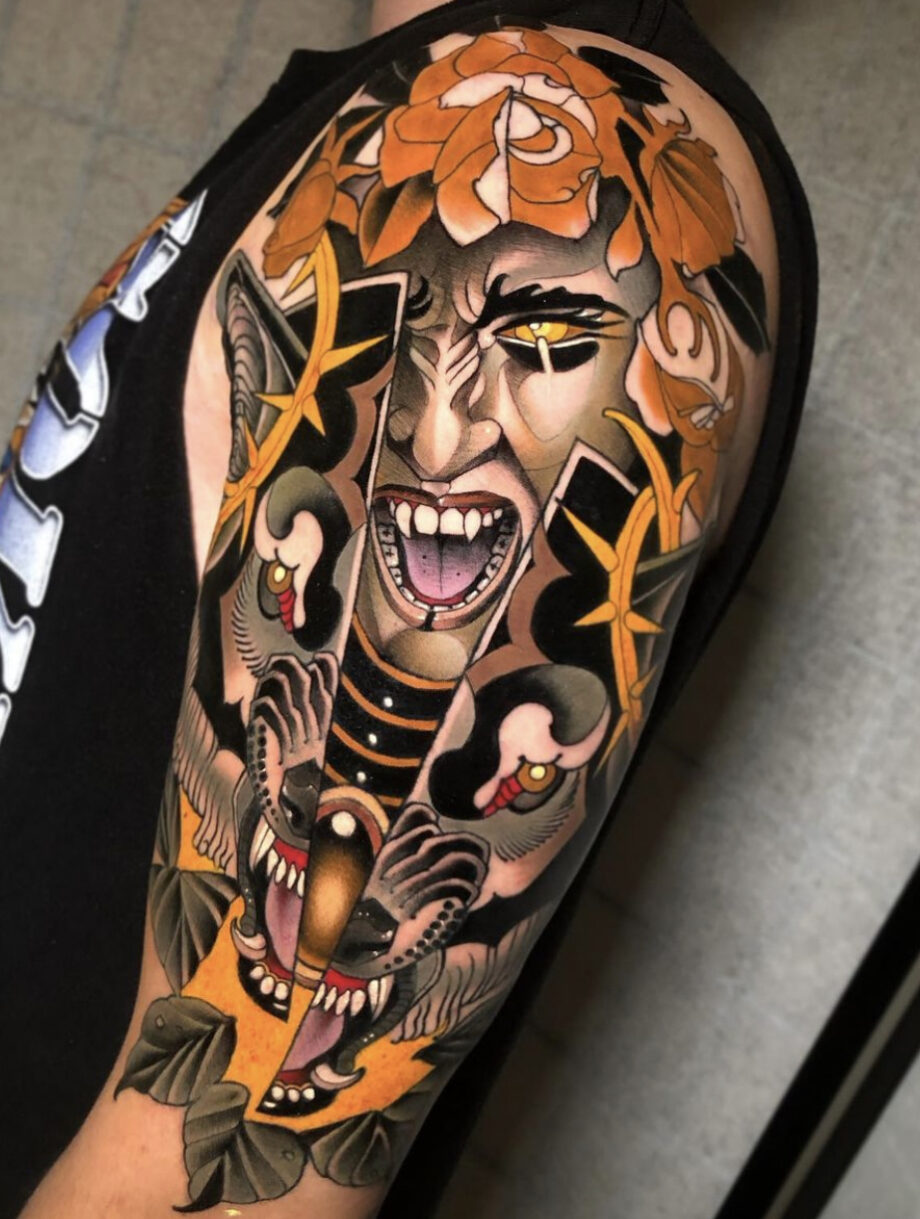 Realistic crimson roses half sleeve tattoo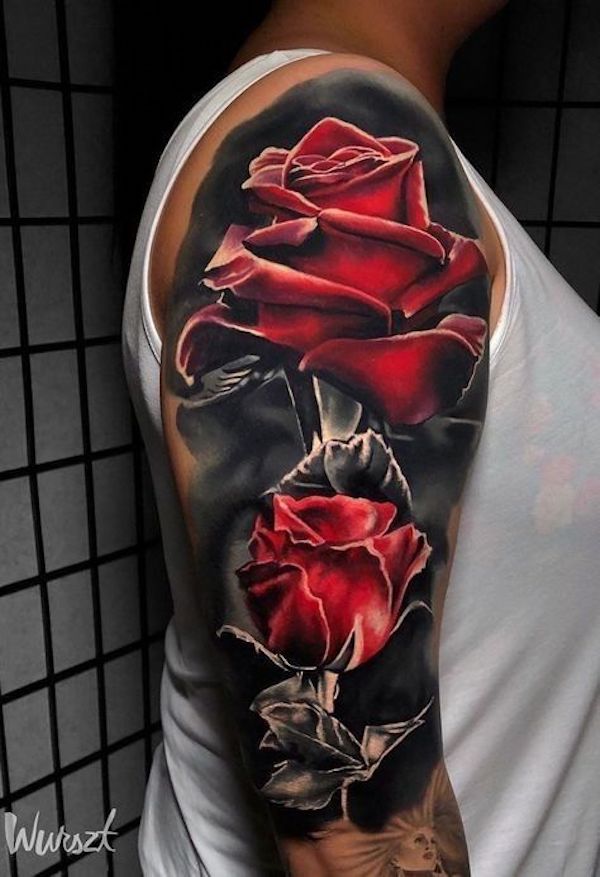 Newspaper tattoo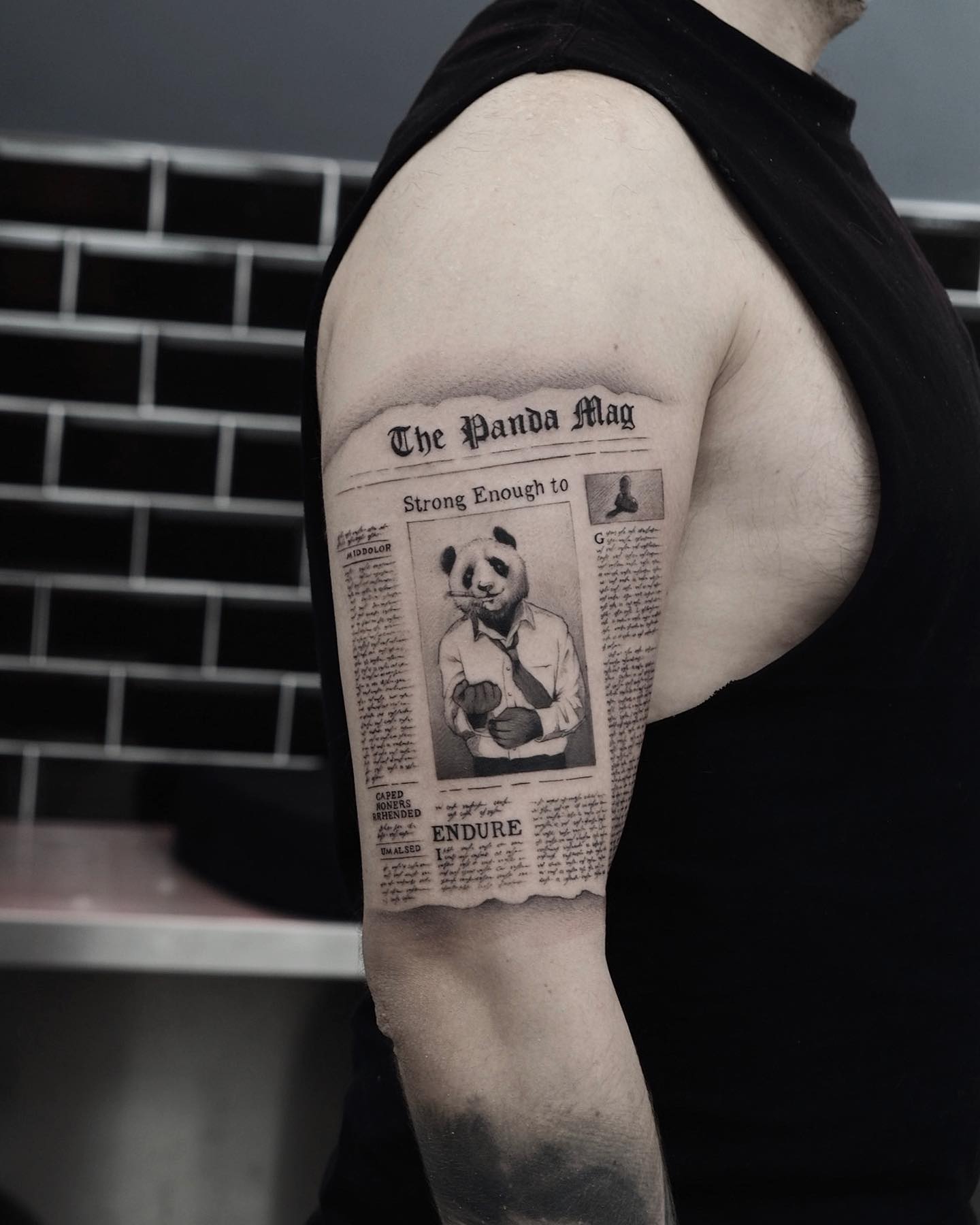 Ocean creatures dotwork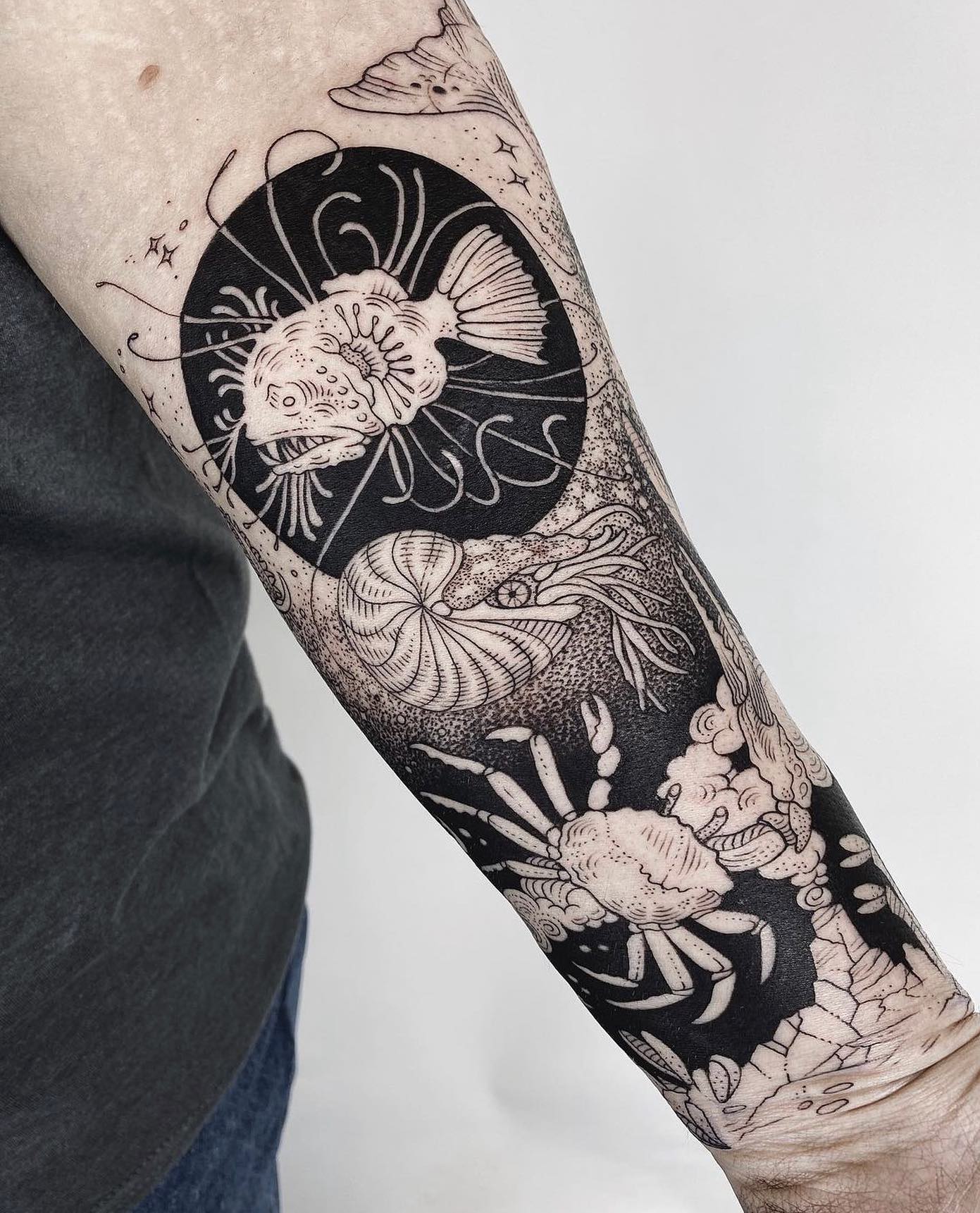 Ocean life in the mind of the old man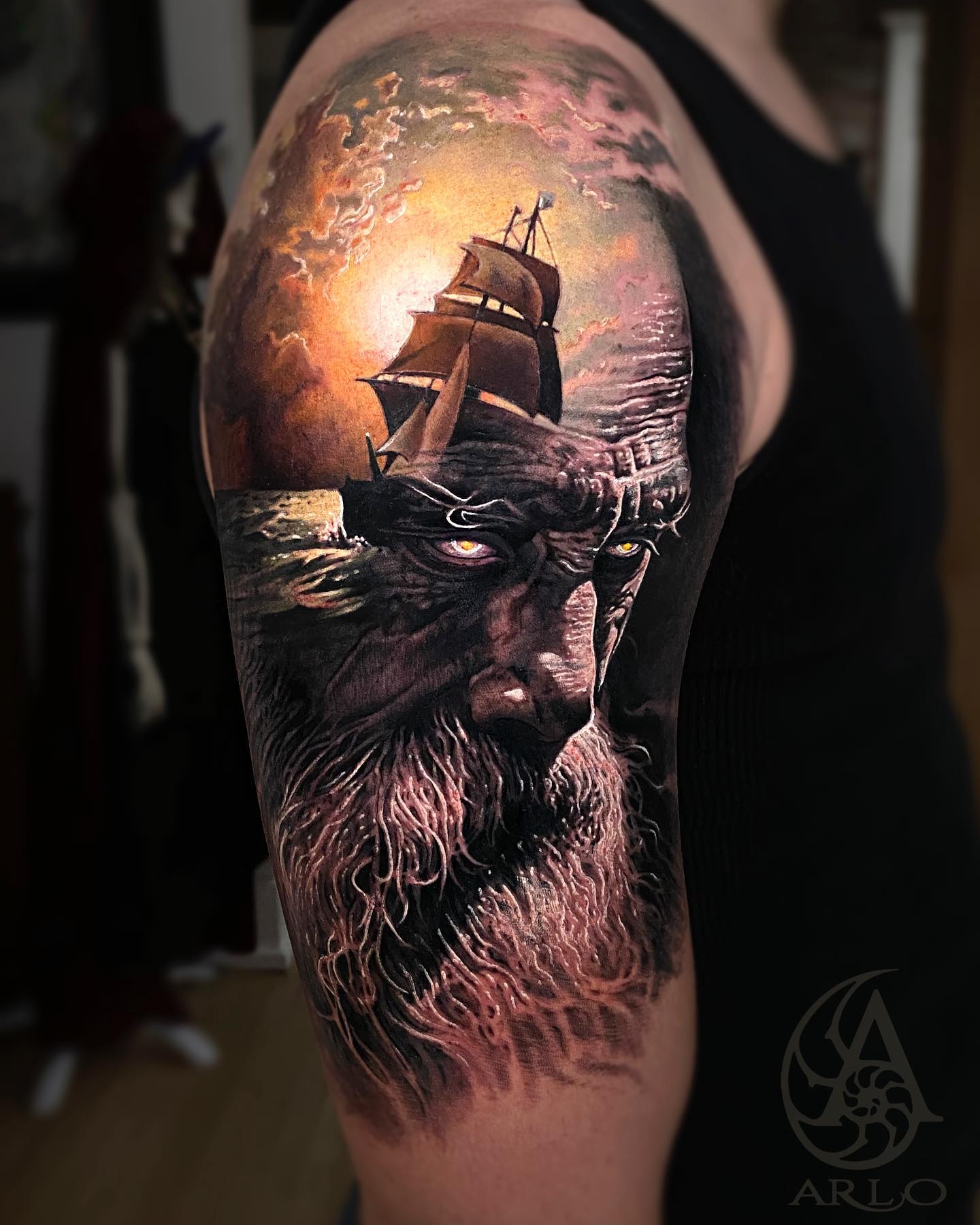 Owl and nuts tattoo in new school style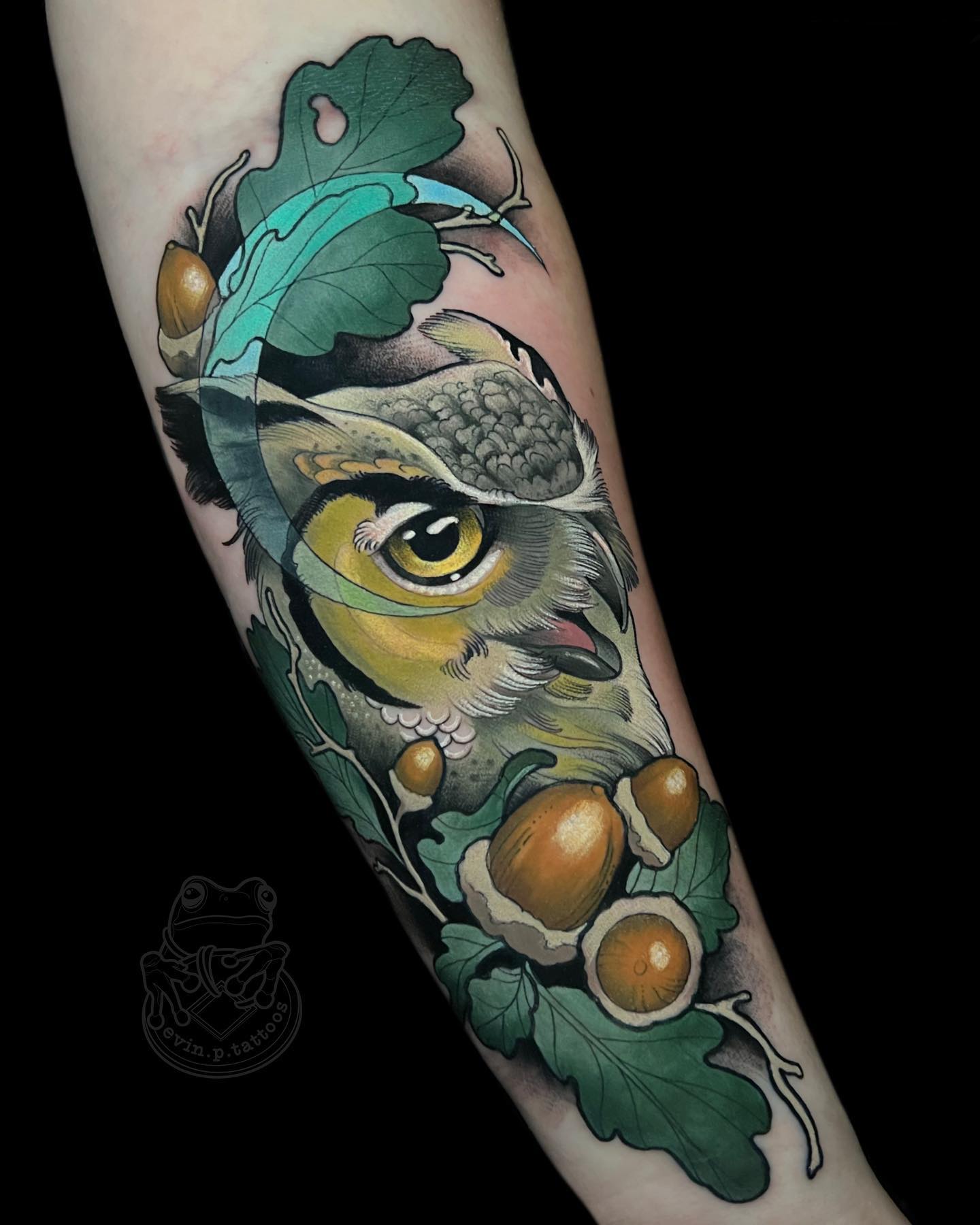 Rare Fireworks Chrysanthemum and gerbera tattoo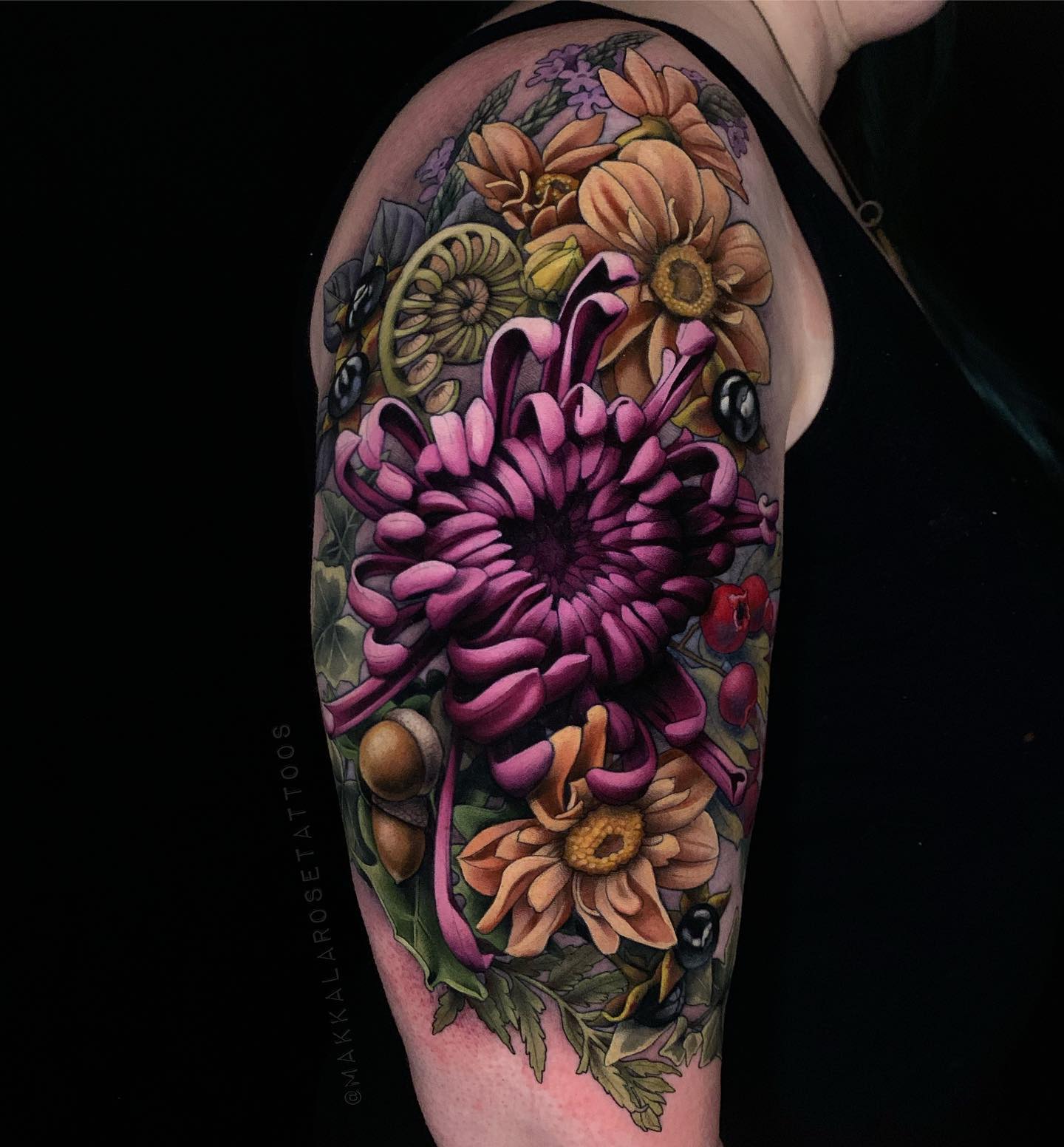 Realistic roses with dew tattoo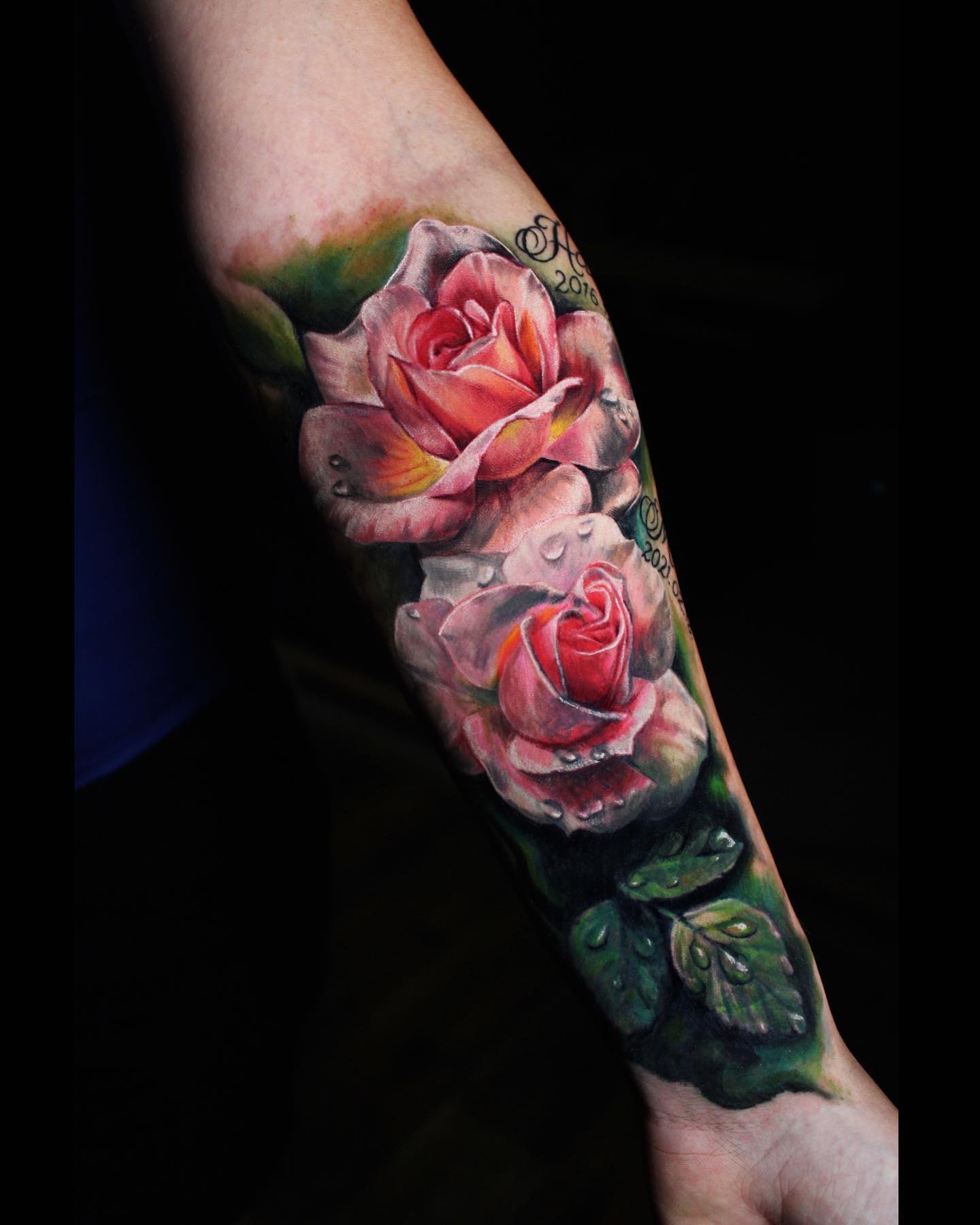 Galaxy tattoo with 3D hexagons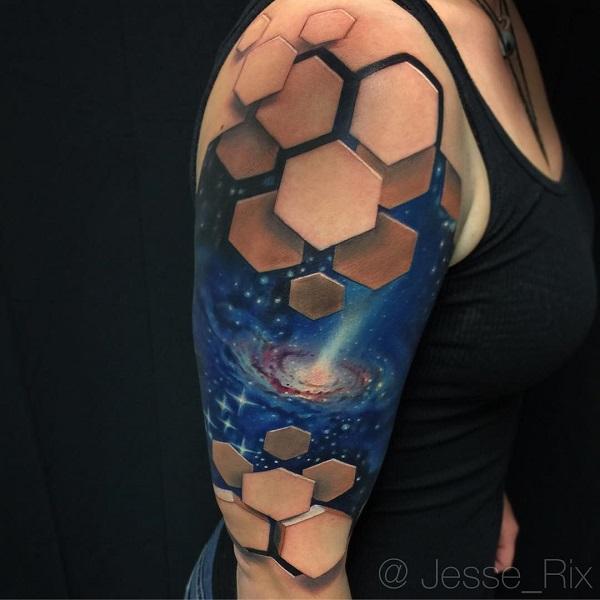 Realistic wolf family tattoo on upper arm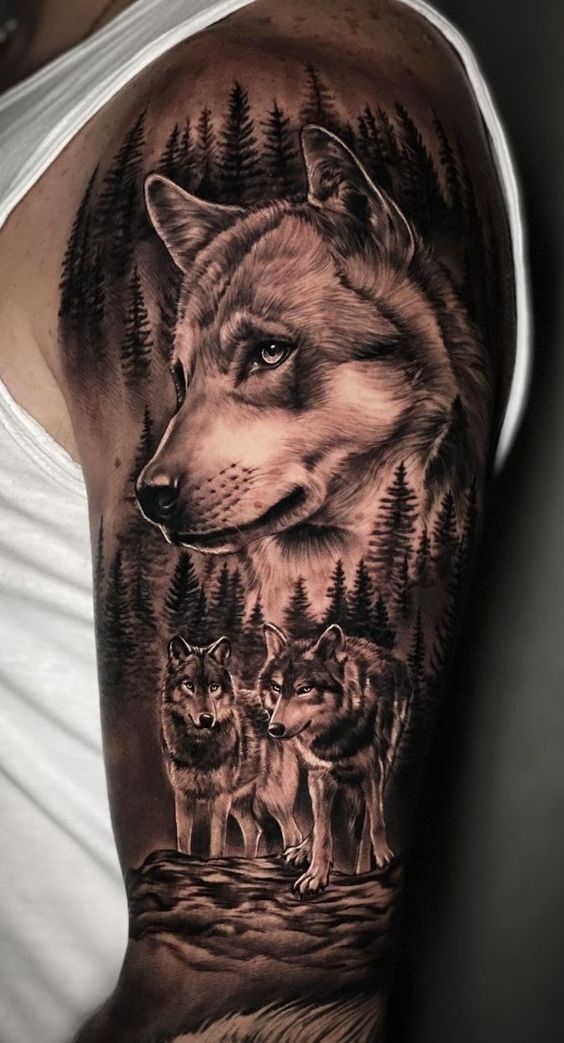 Red rose and female portrait on black background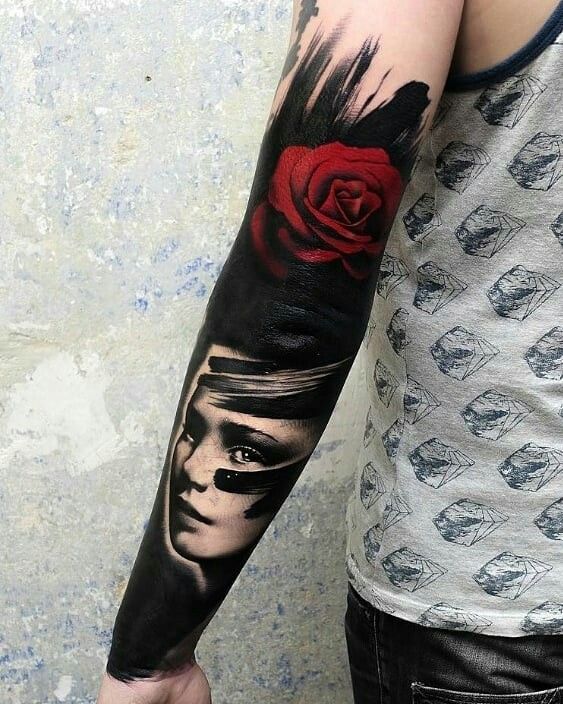 Rose and leopard tattoo in Old School style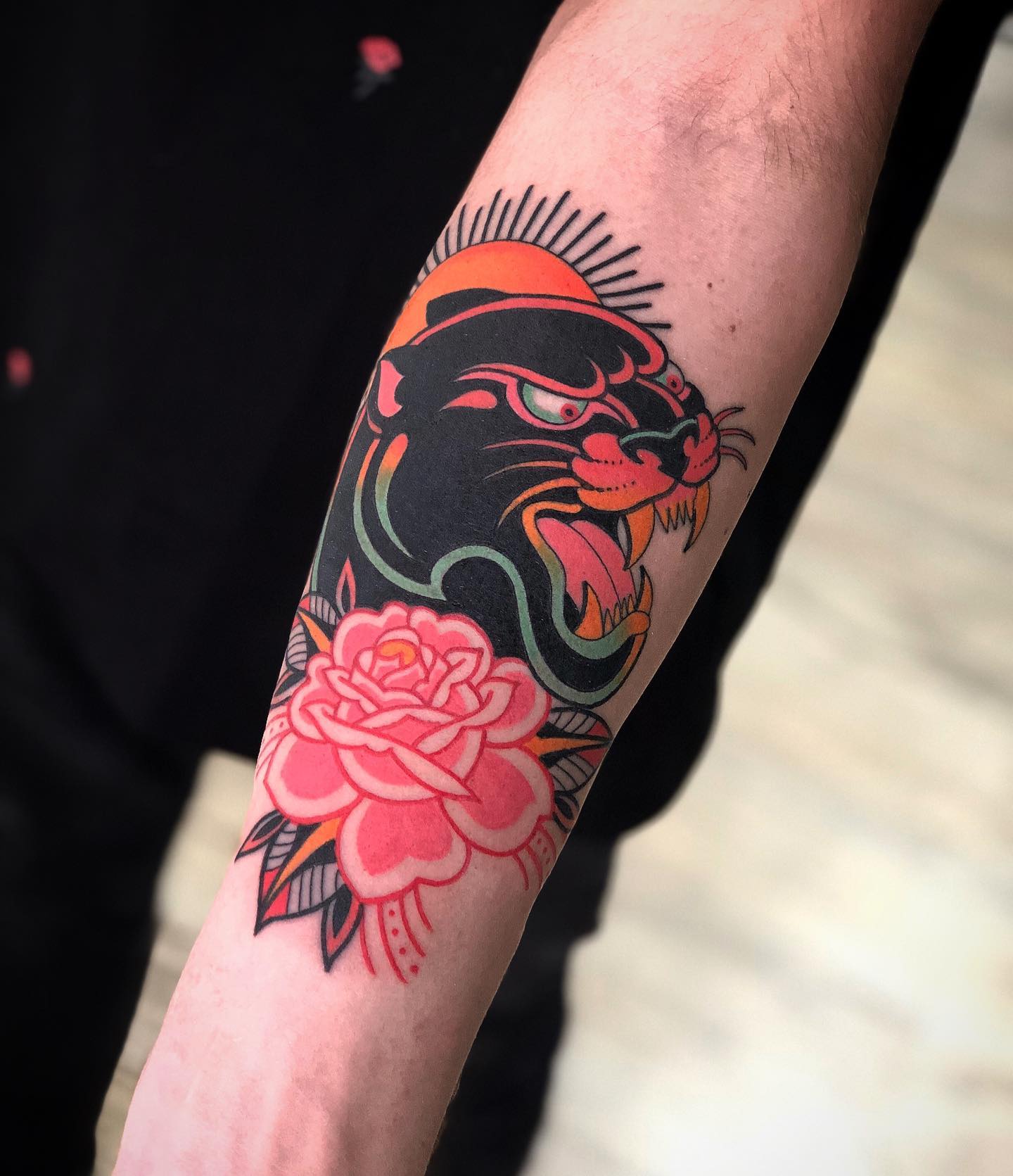 Rose and steering wheel tattoo in old school style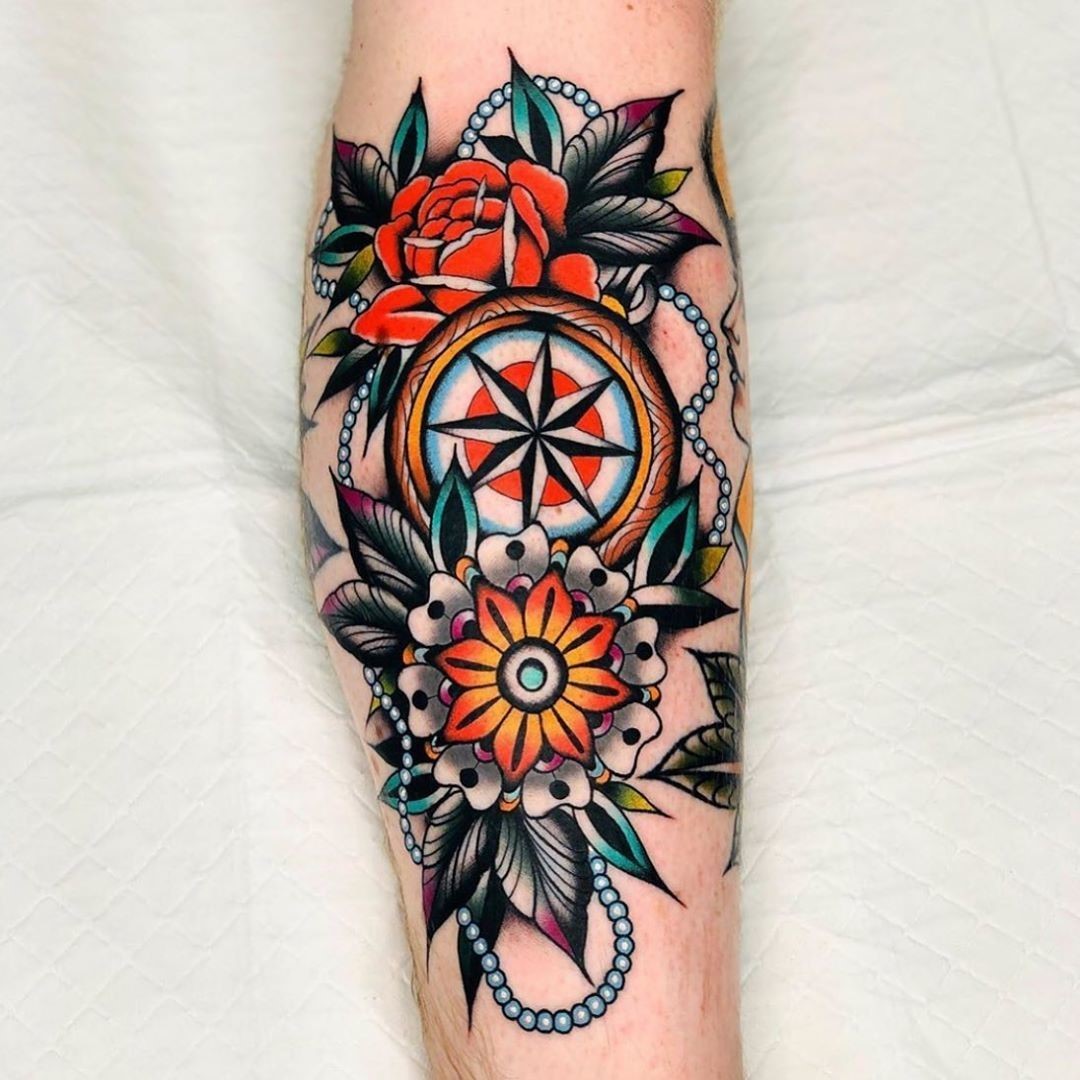 Samurai Mask Tattoo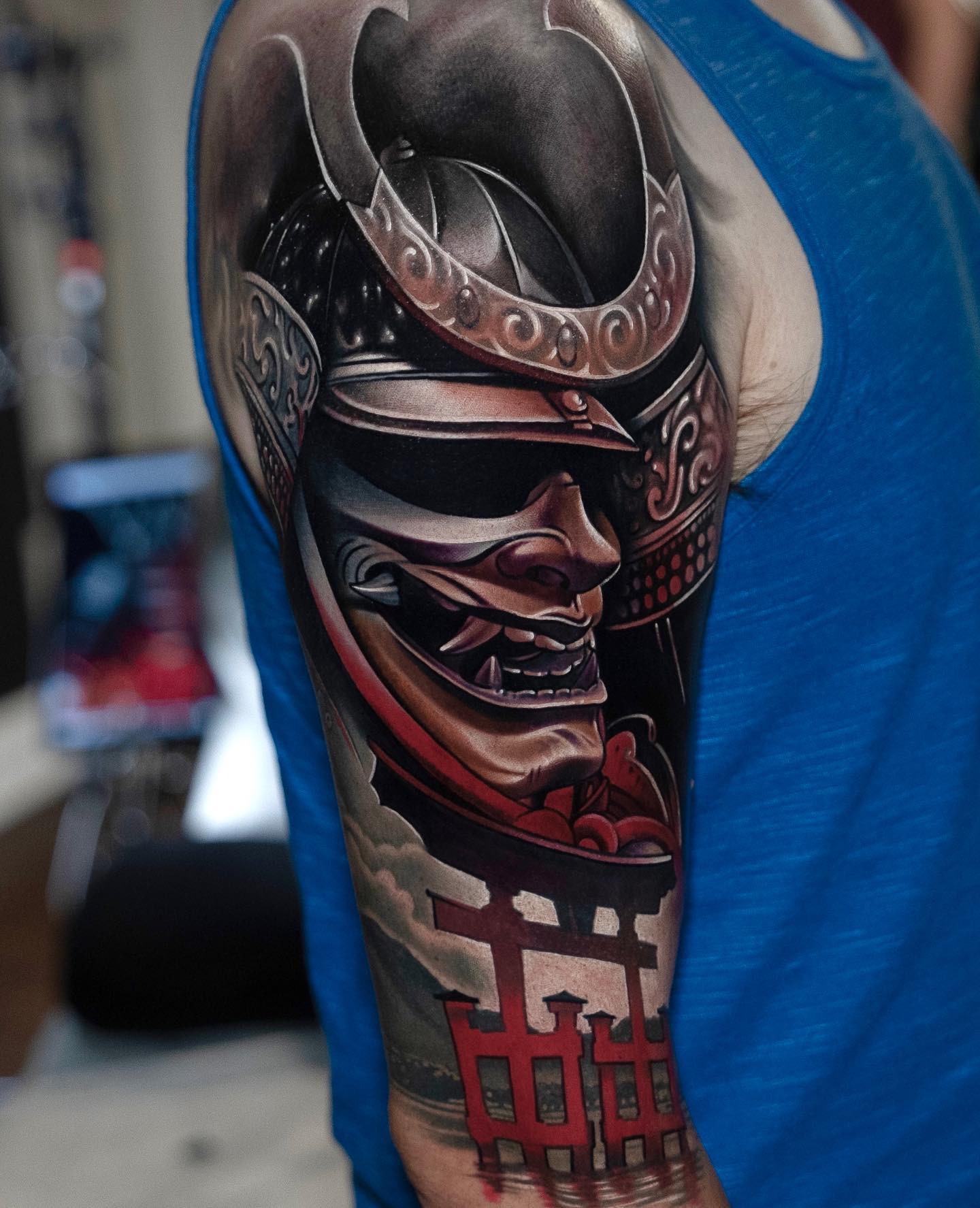 Snake out of torch tattoo in traditional style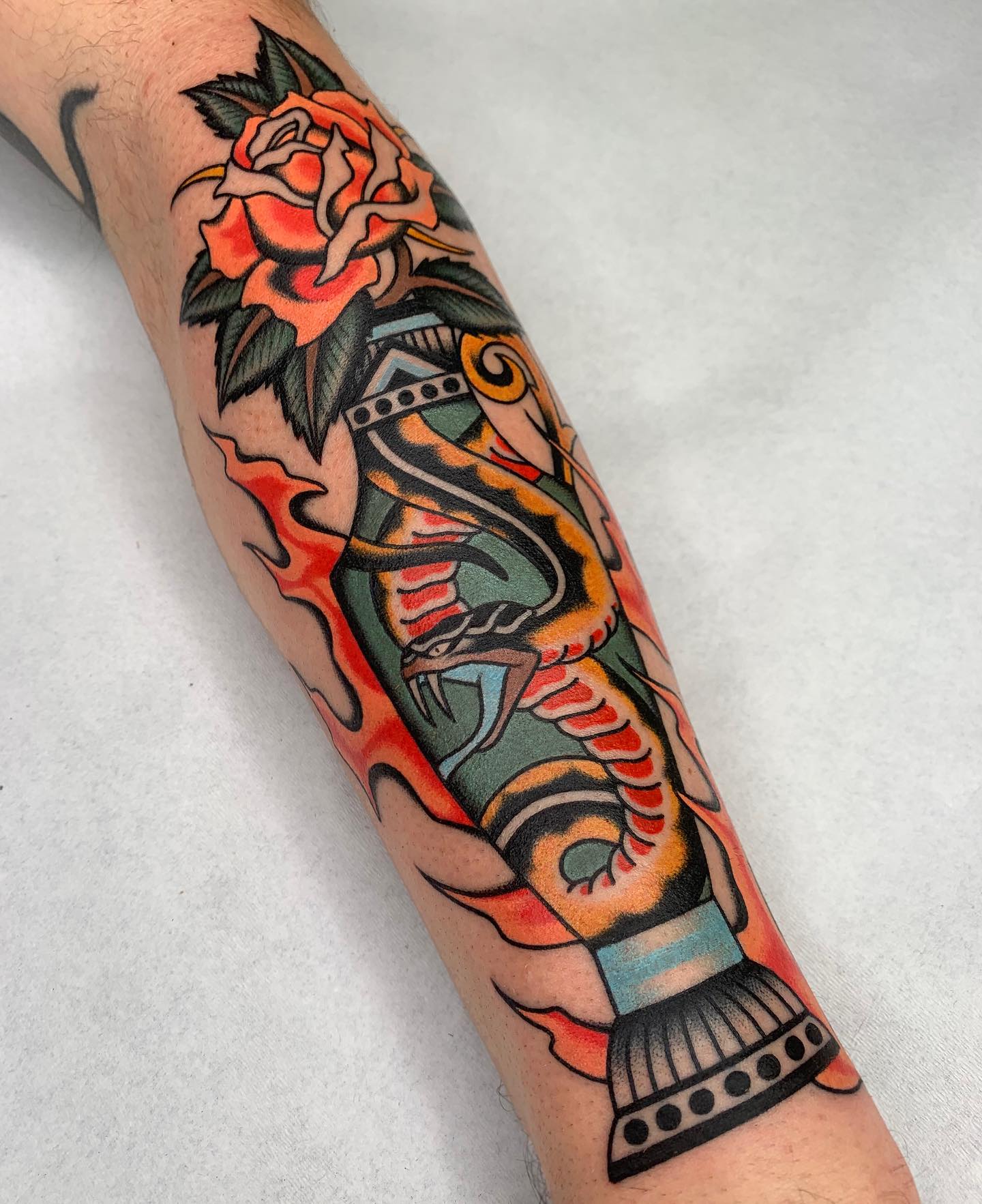 Melted watch in Cubism style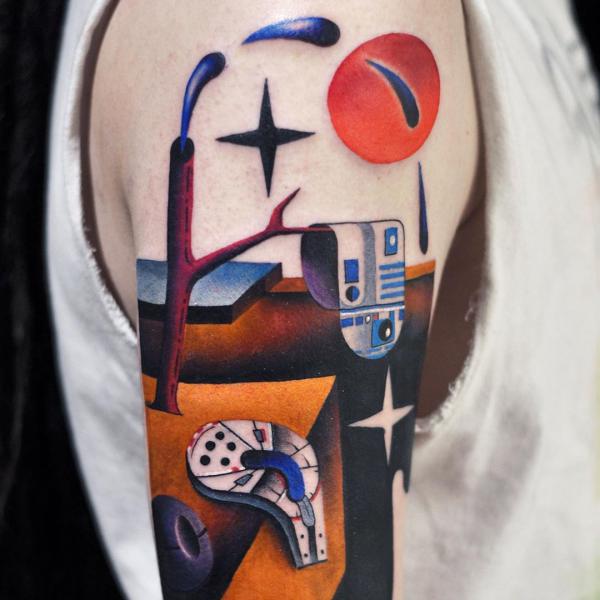 Skeleton with halo arm tattoo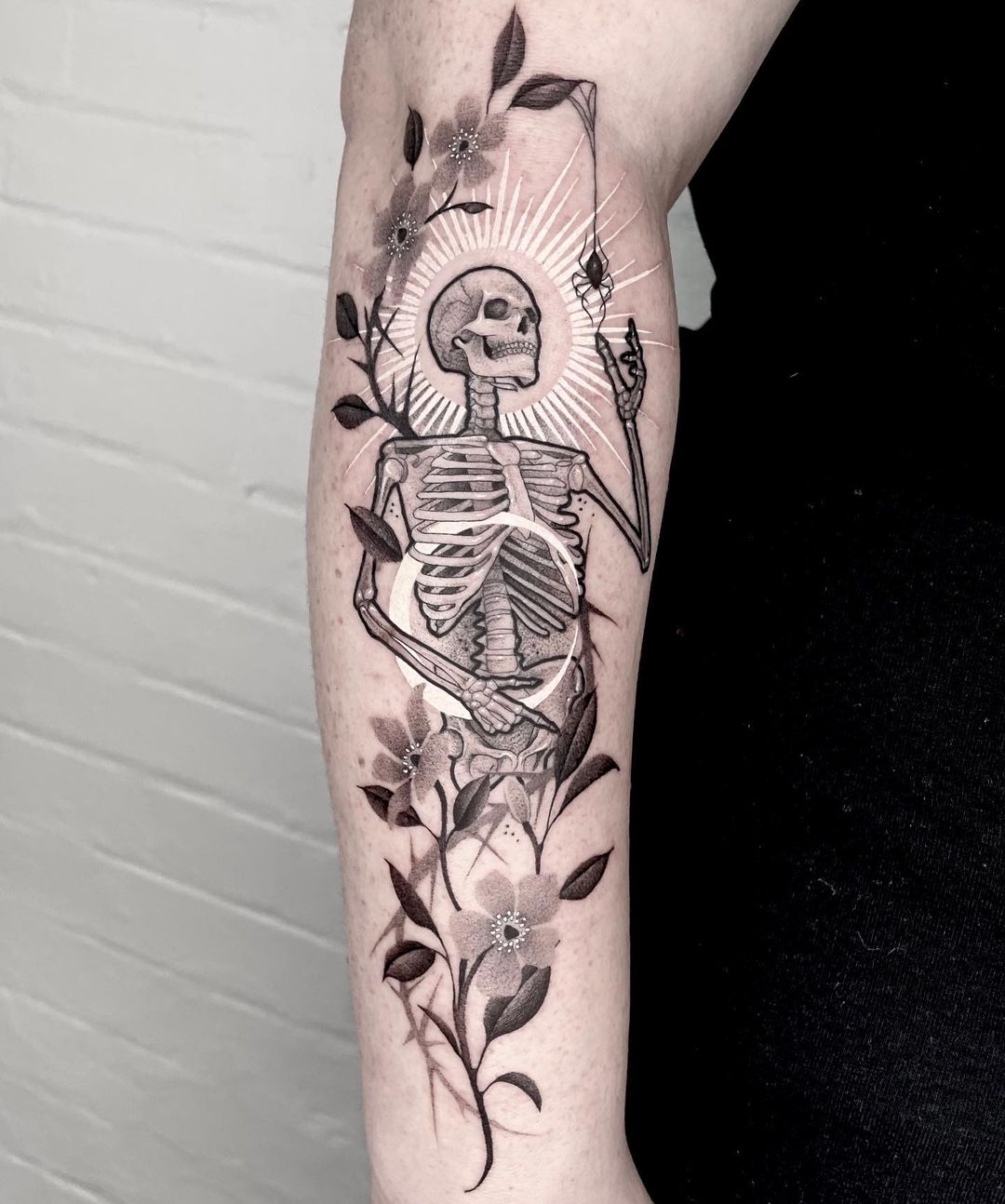 Skull and a Native American girl tattoo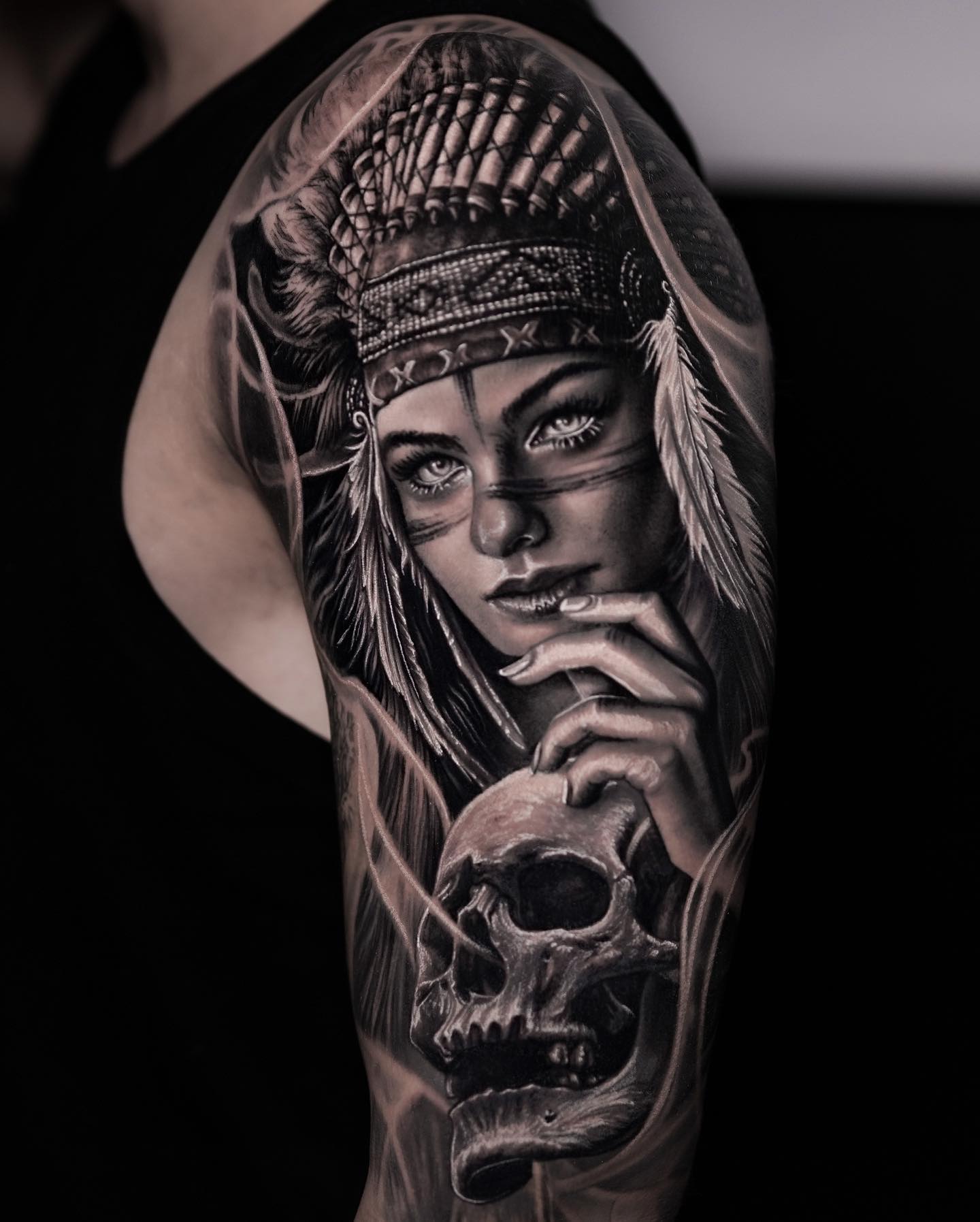 Rose and dove half sleeve tattoo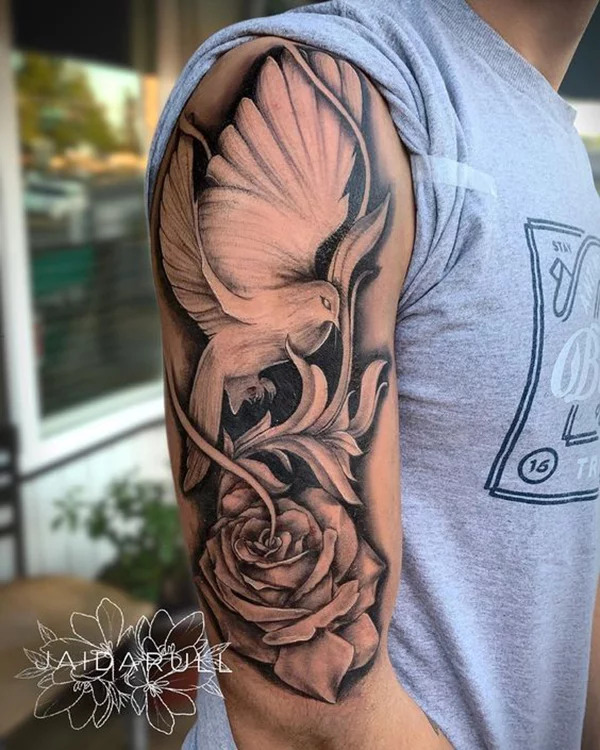 Skull encircled by roses of eternal love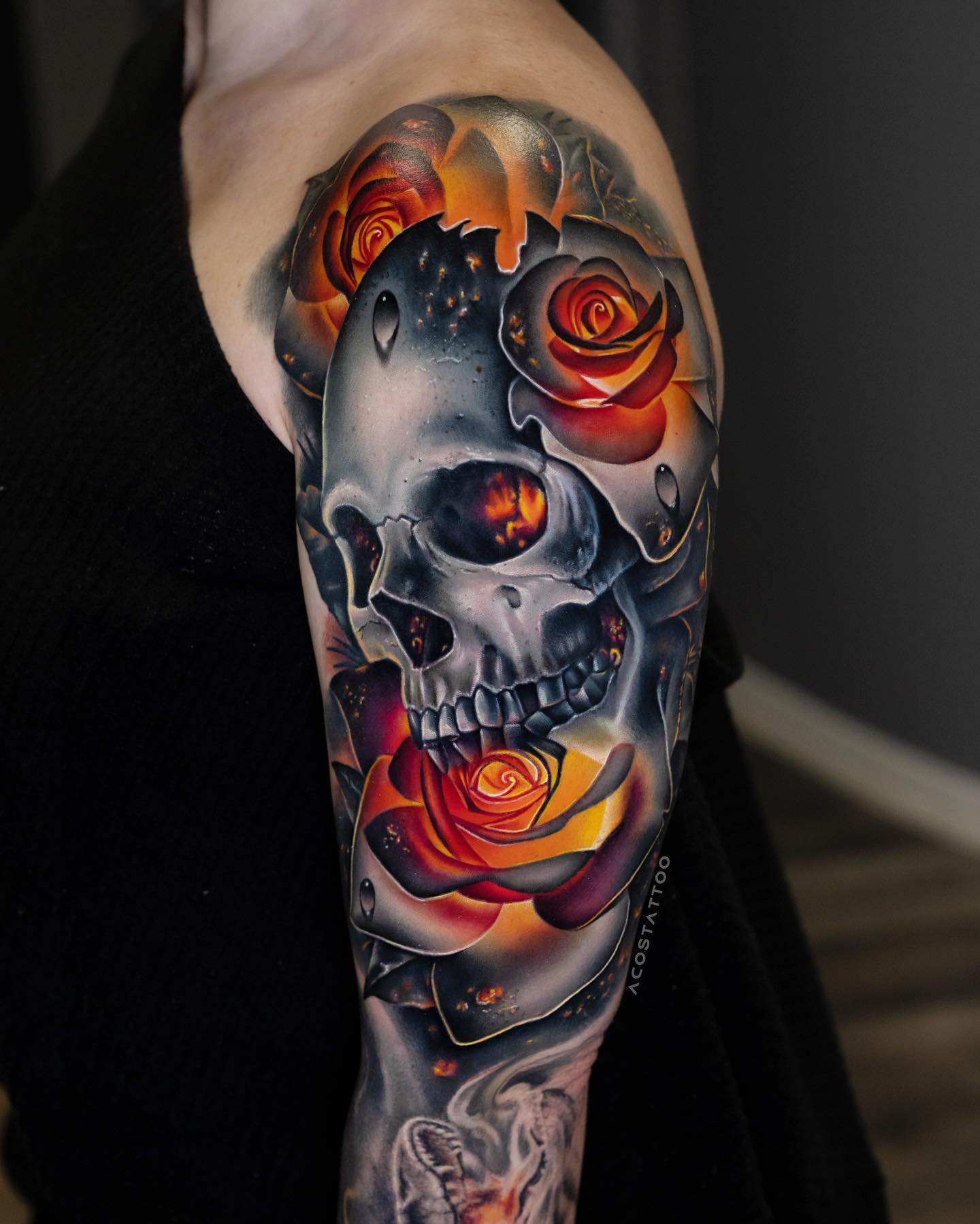 Rose and swirling snake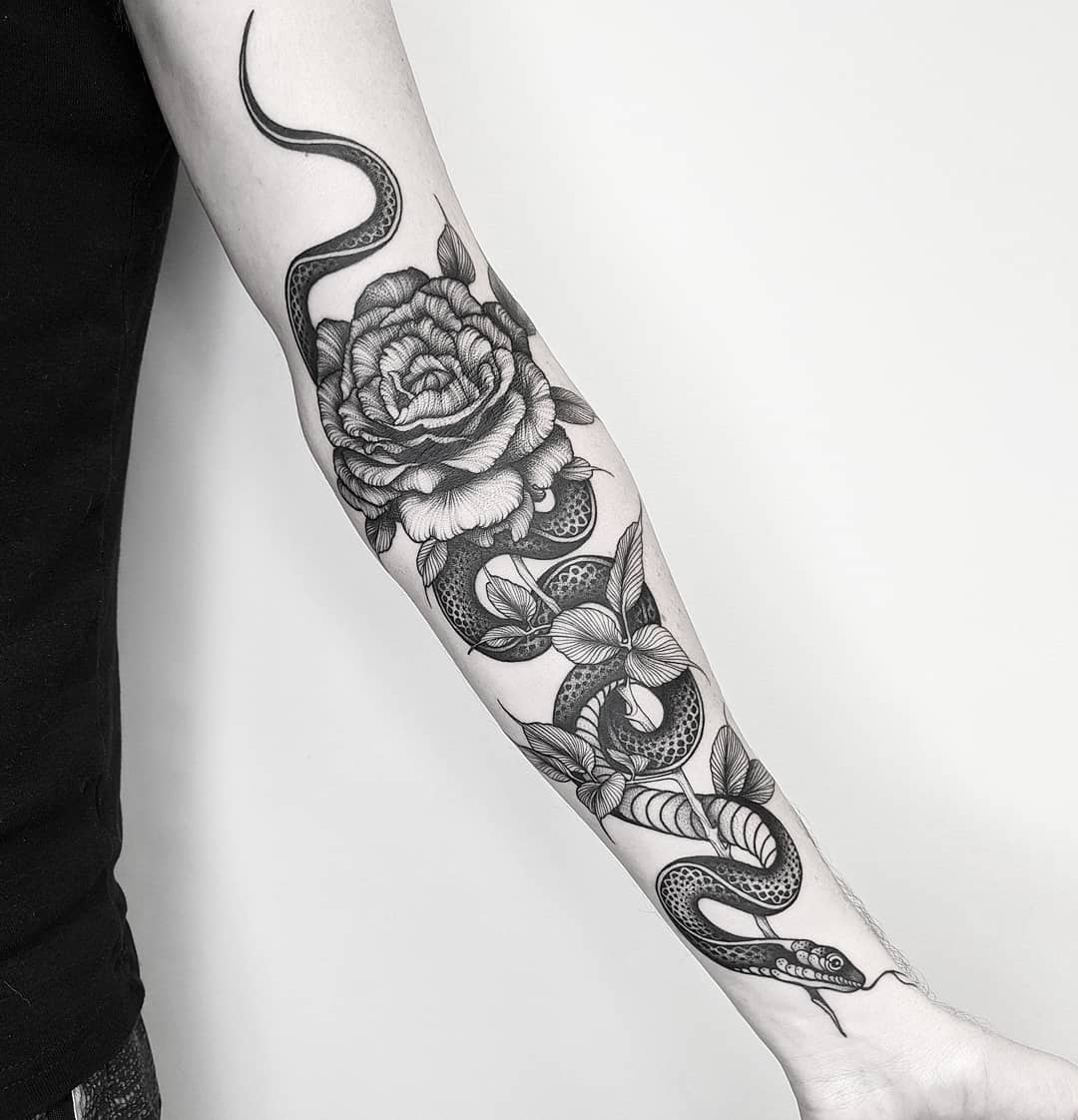 Space and planets Tattoo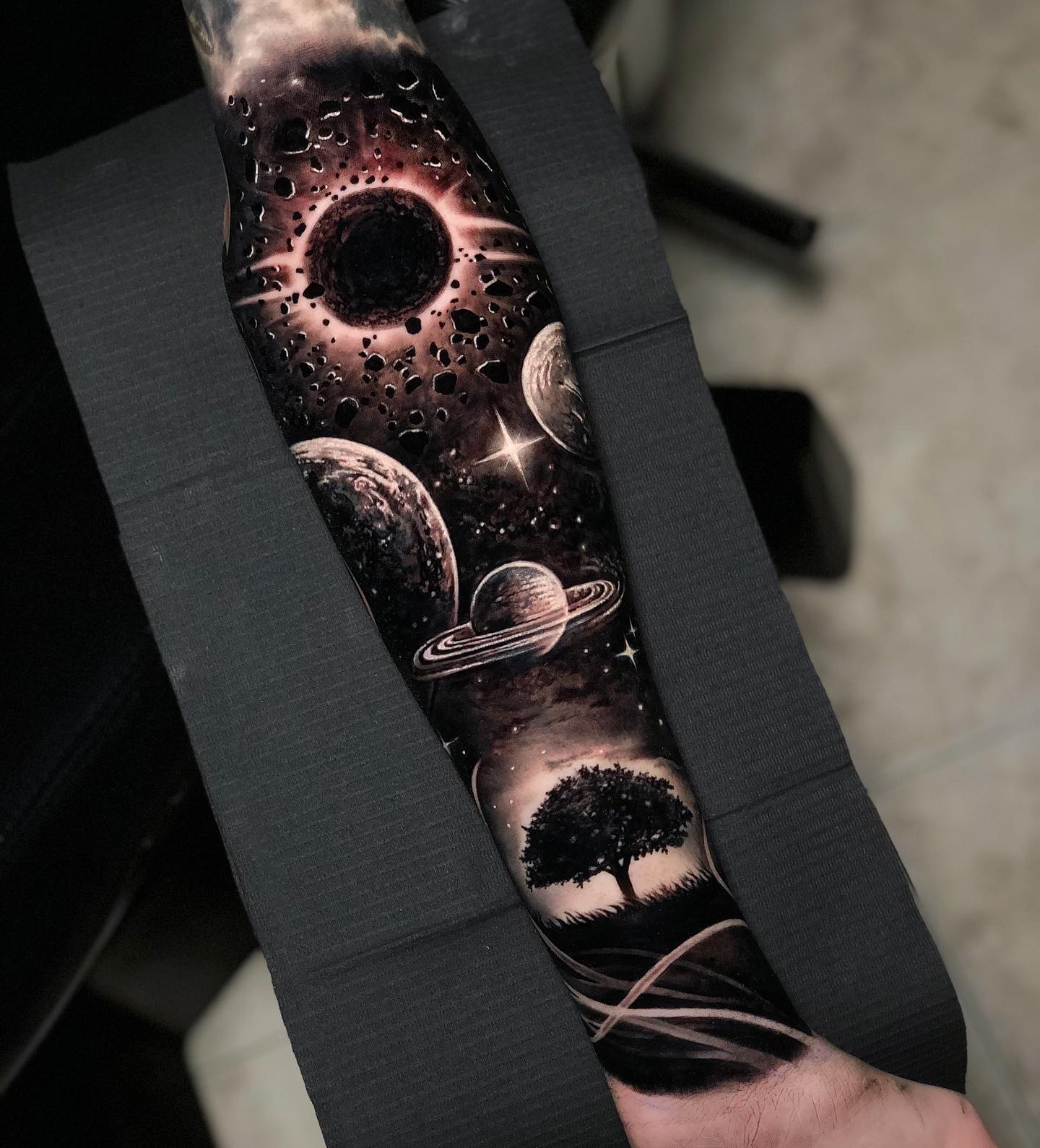 Stairs to heaven half sleeve tattoo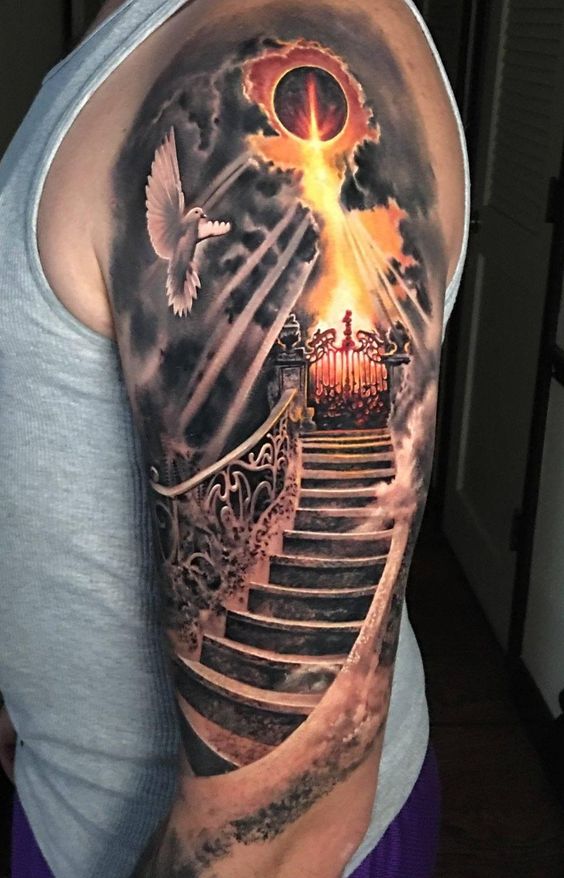 Stylized rose dagger and sake tattoo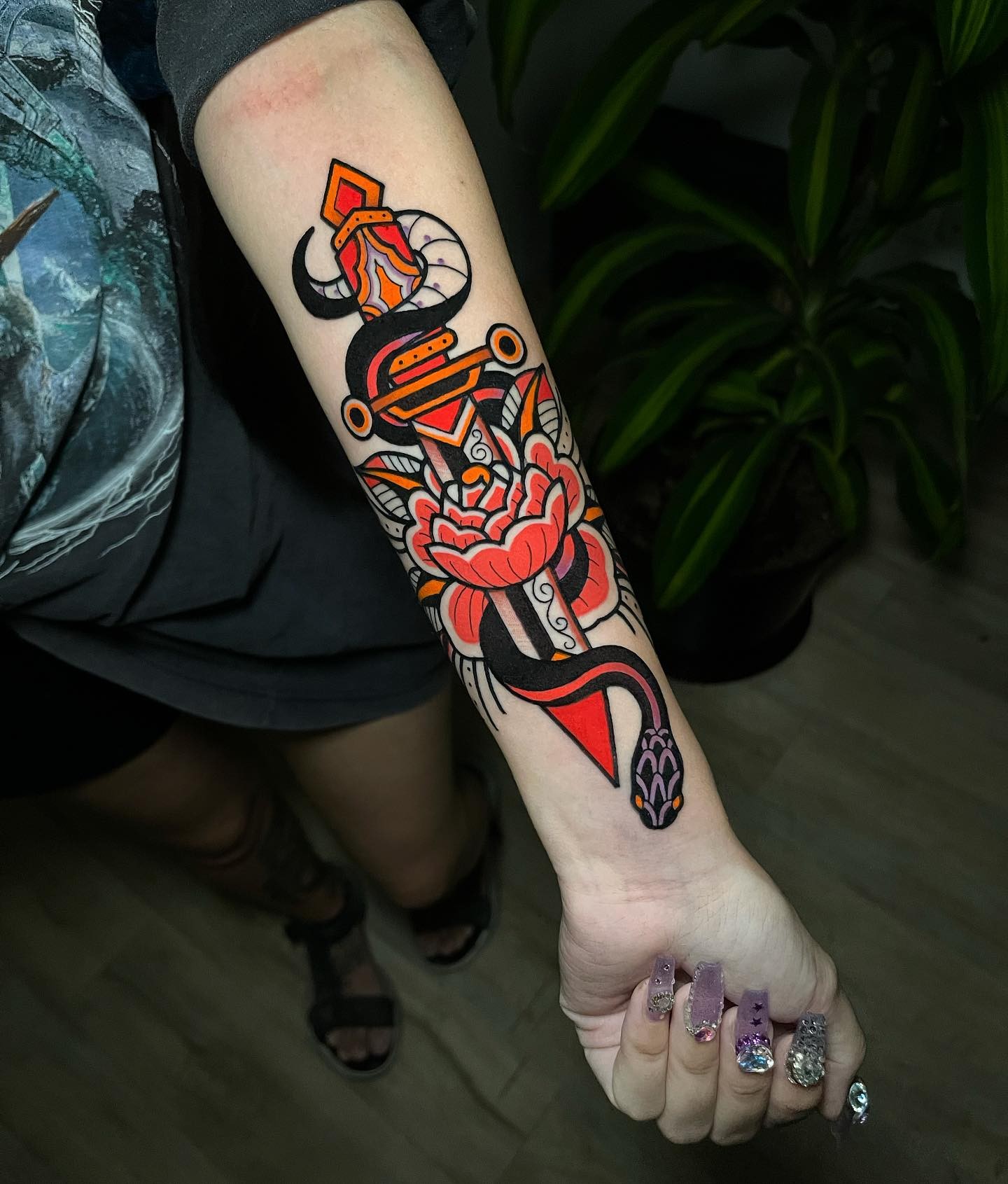 Sunset abstract tattoo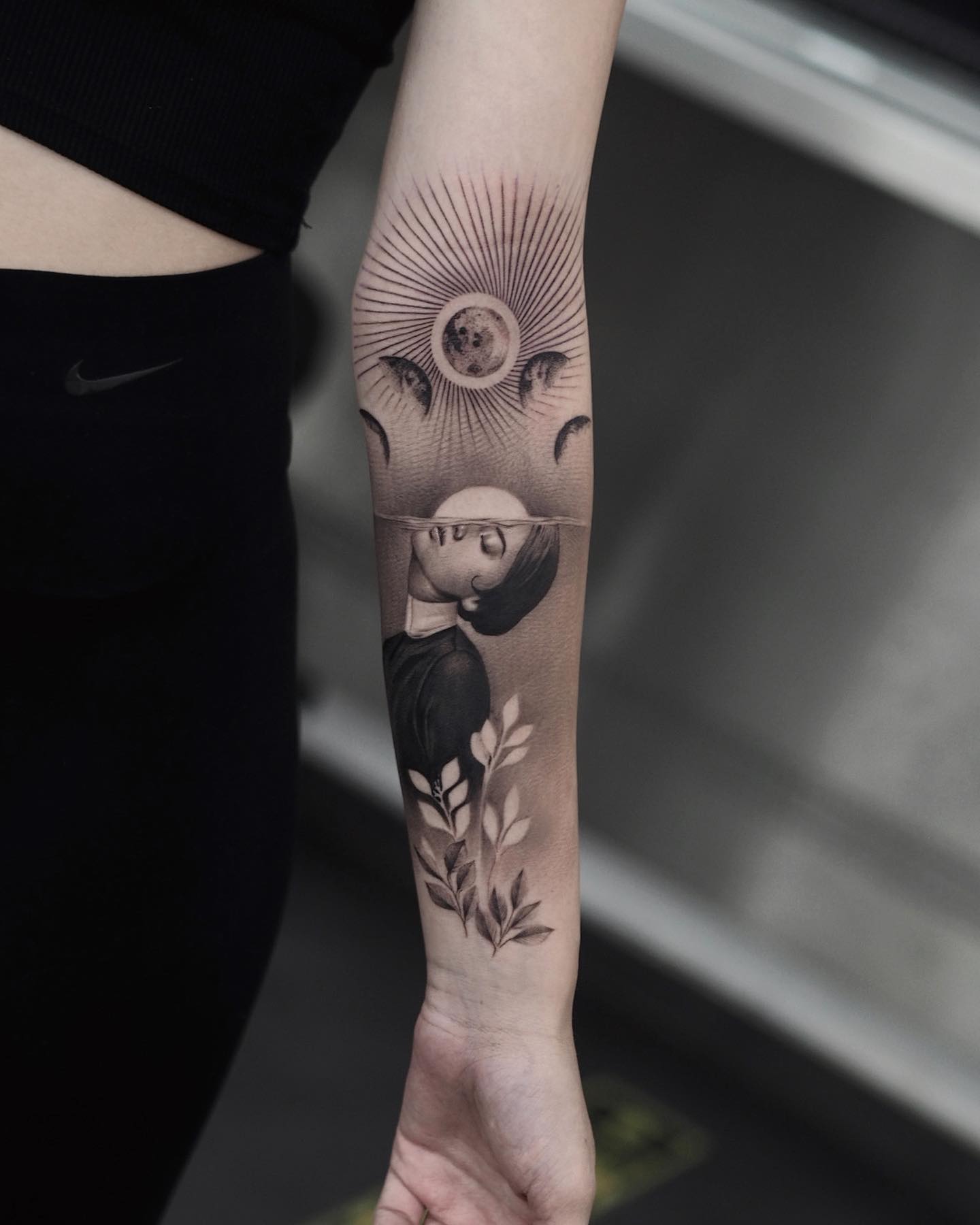 Swirling lines matching forearm tattoos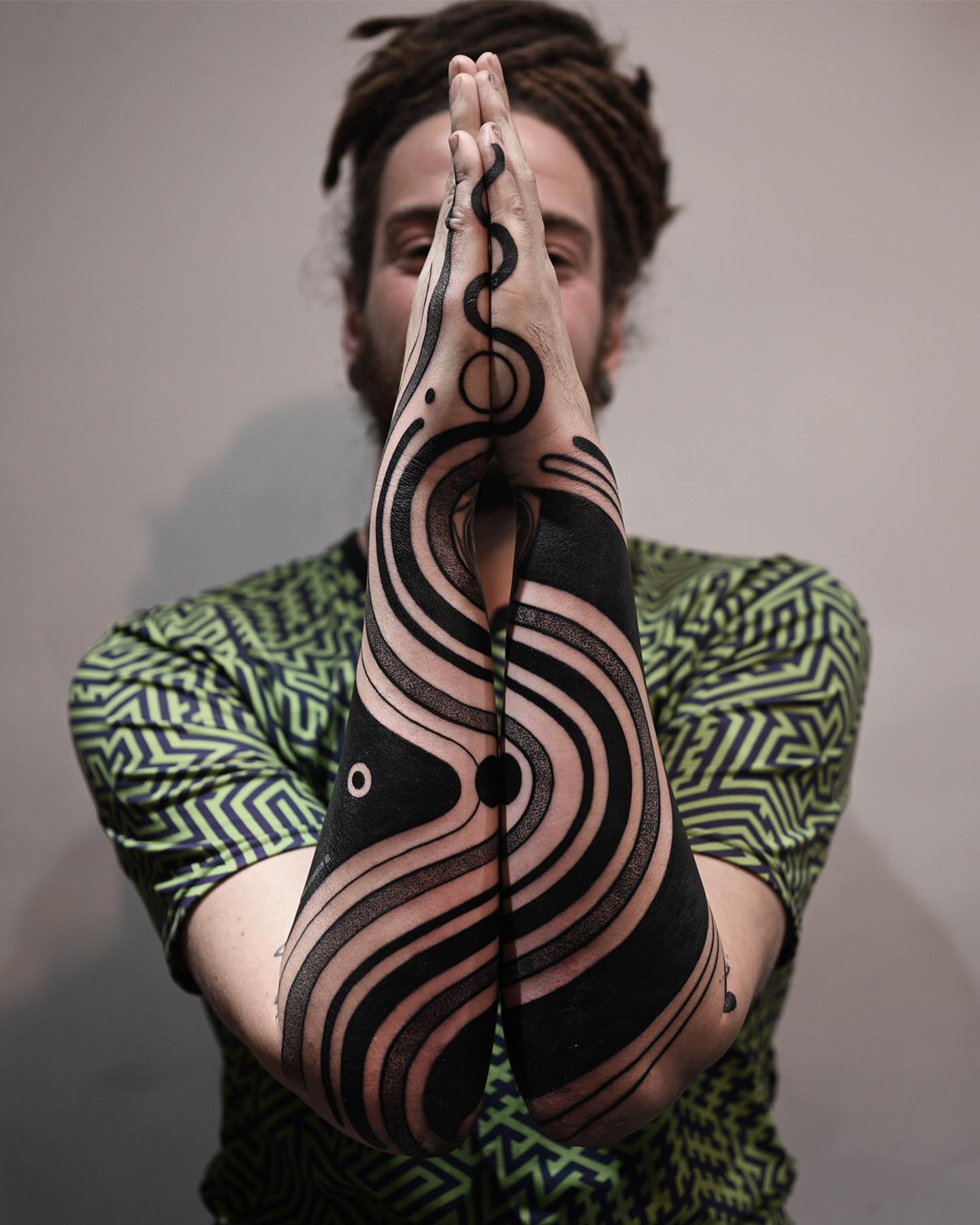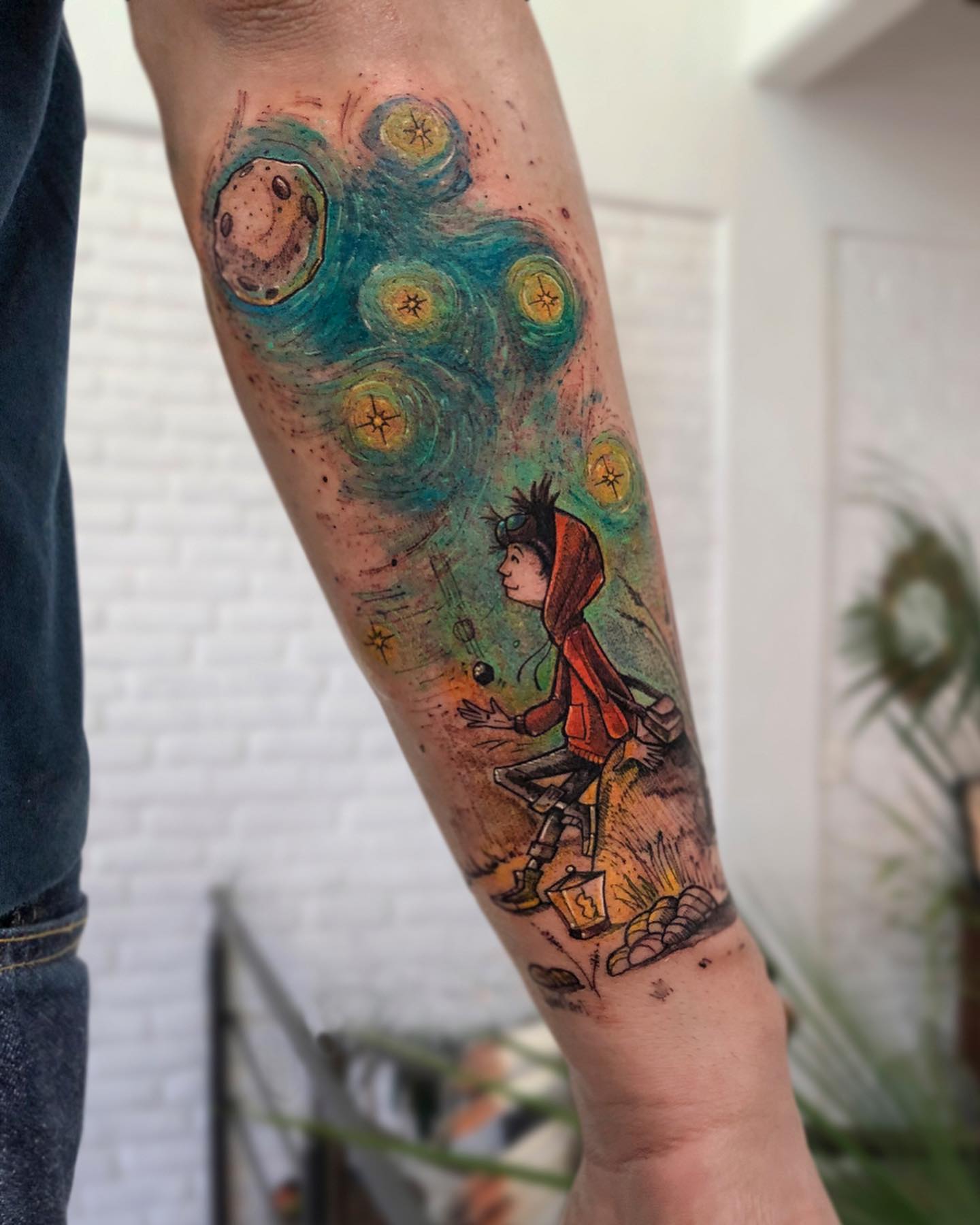 Together to the gate of heaven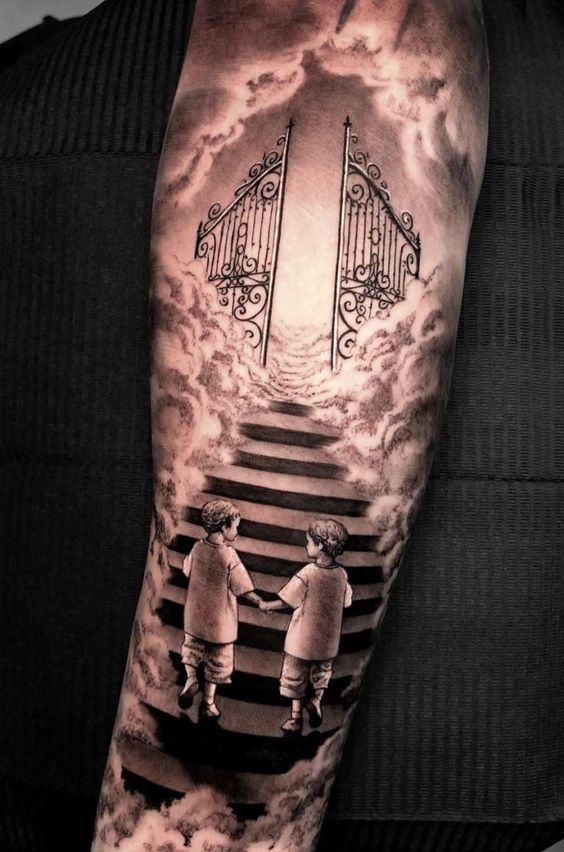 warrior geisha tattoo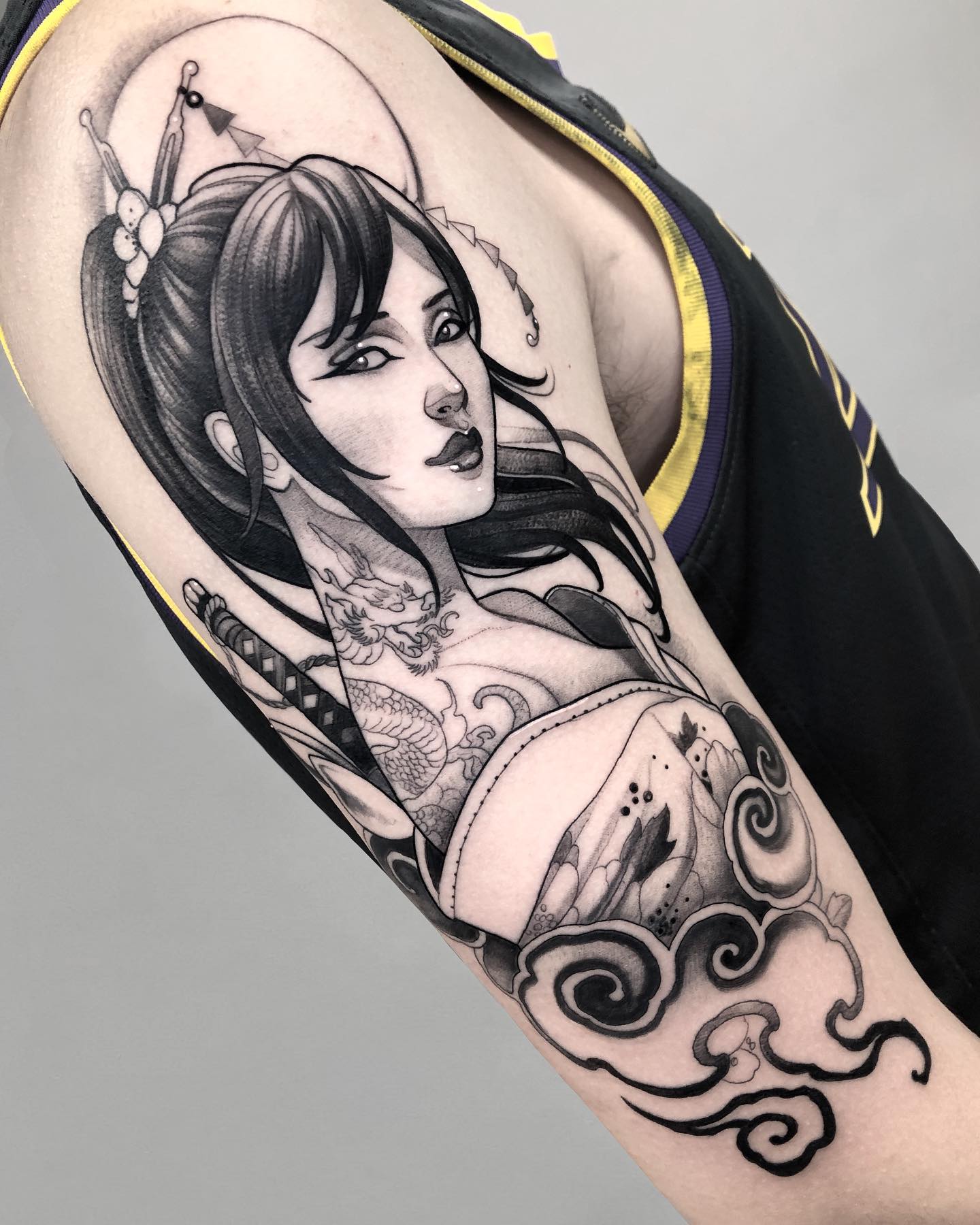 Trees growing out of skull half sleeve tattoo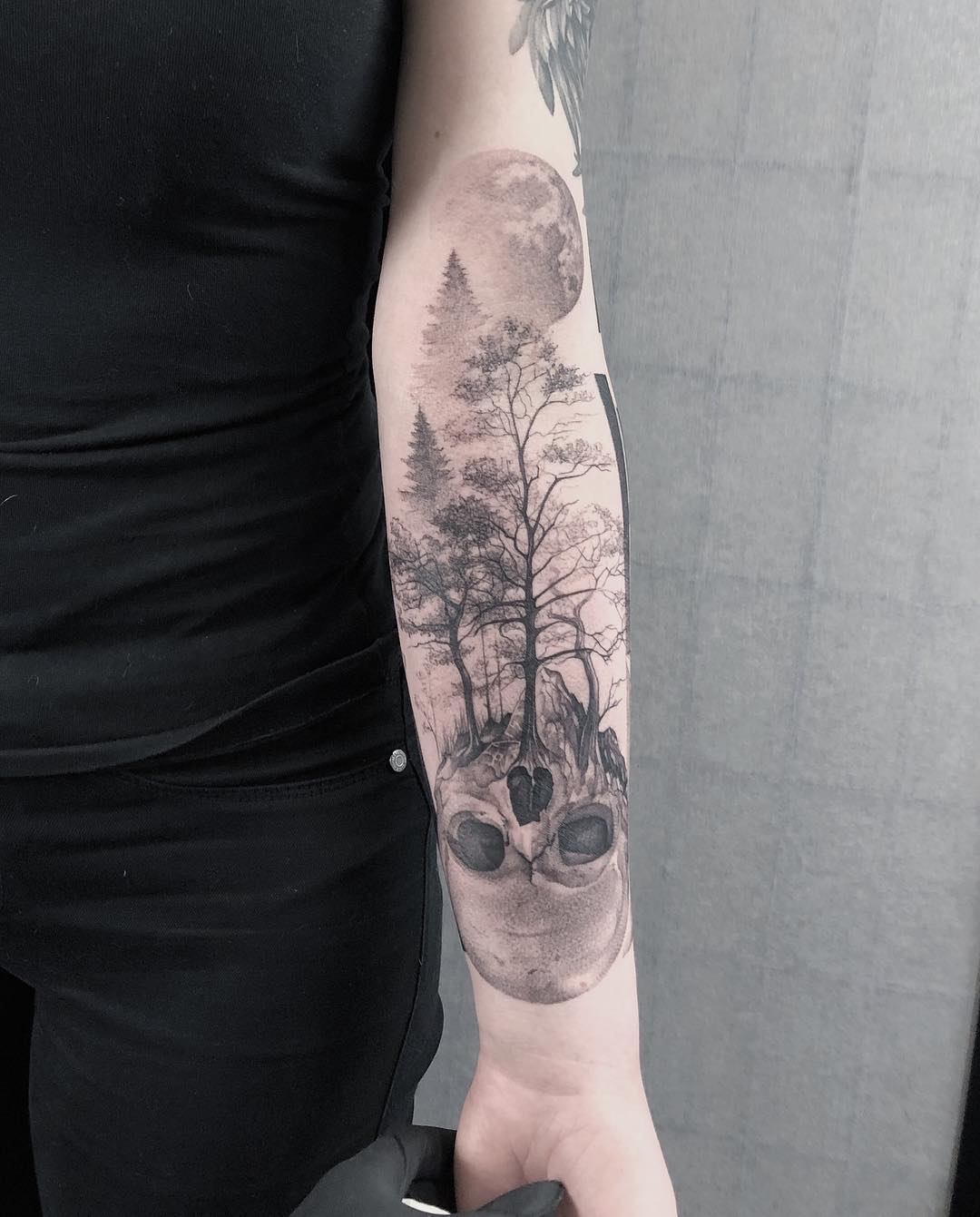 Tribal Half Sleeve Tattoo for men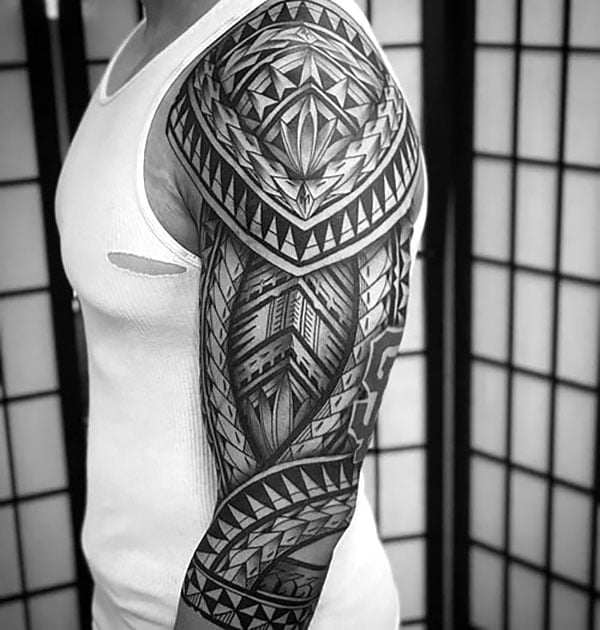 Two worlds in the mind of a native American girl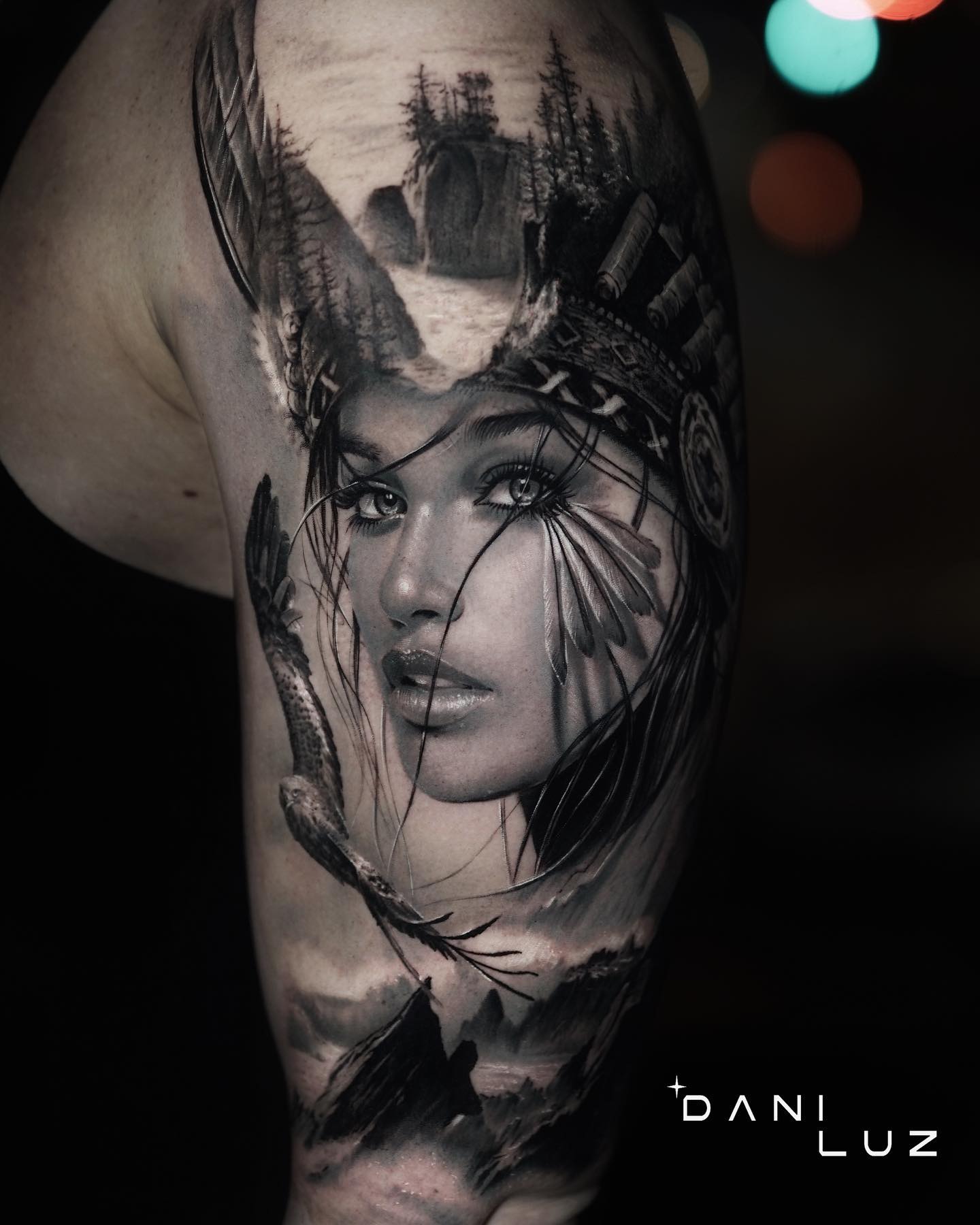 Warrior half sleeve dotwork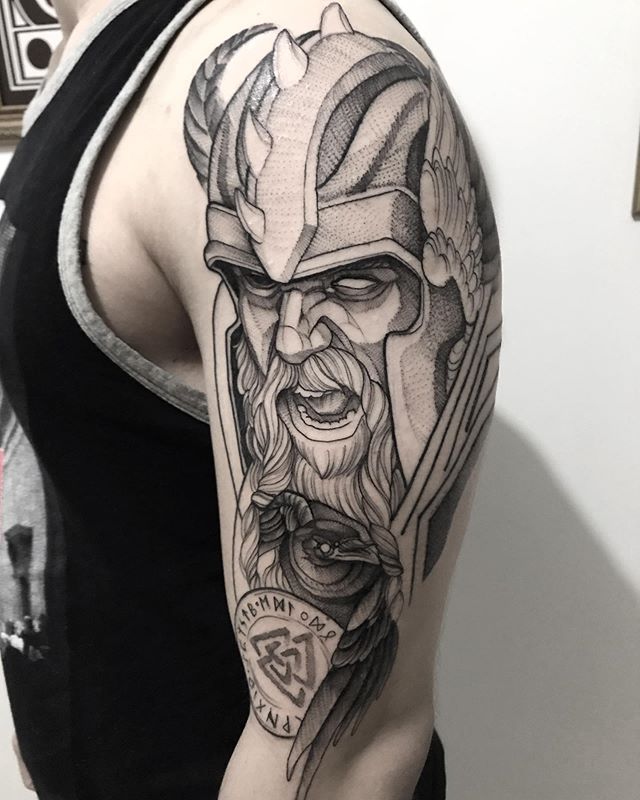 Wolf and forest under the moonlight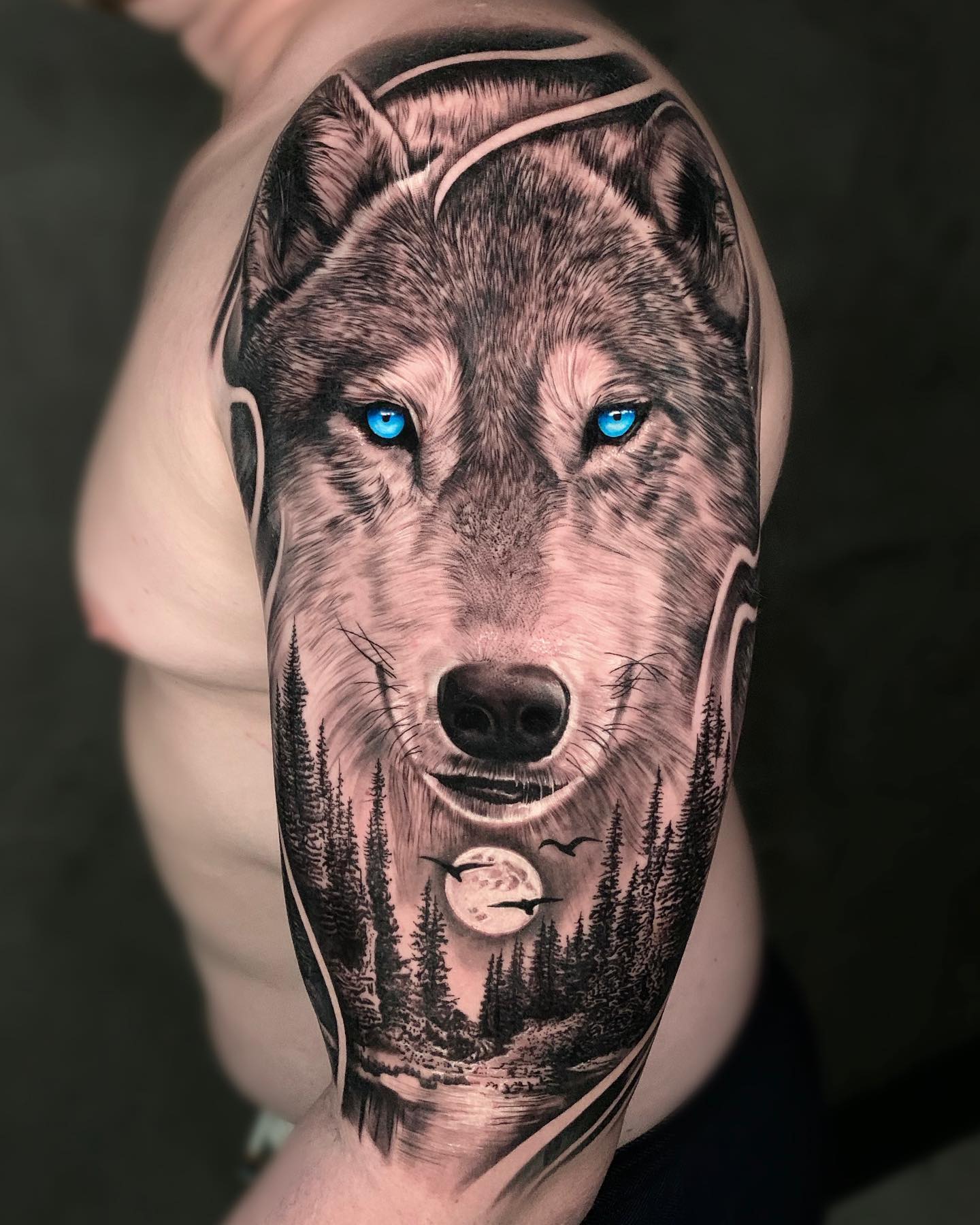 3D Mechnical Half Sleeve Tattoo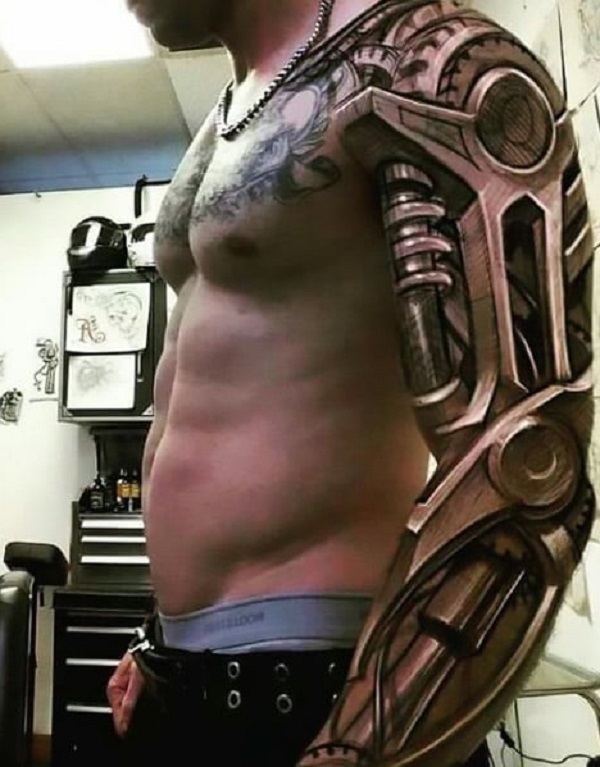 A bit magic deer in the forest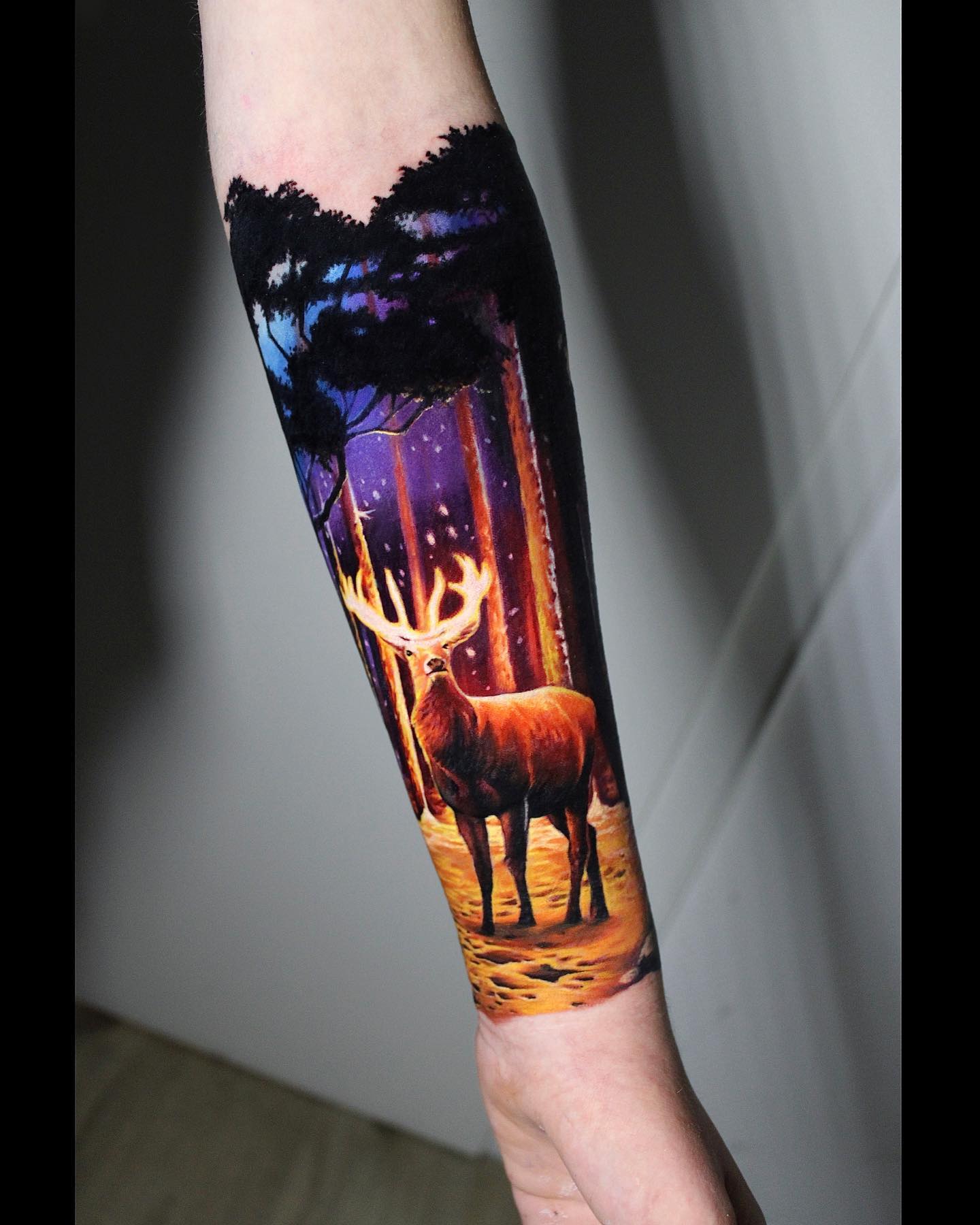 A priest holding sword half sleeve tattoo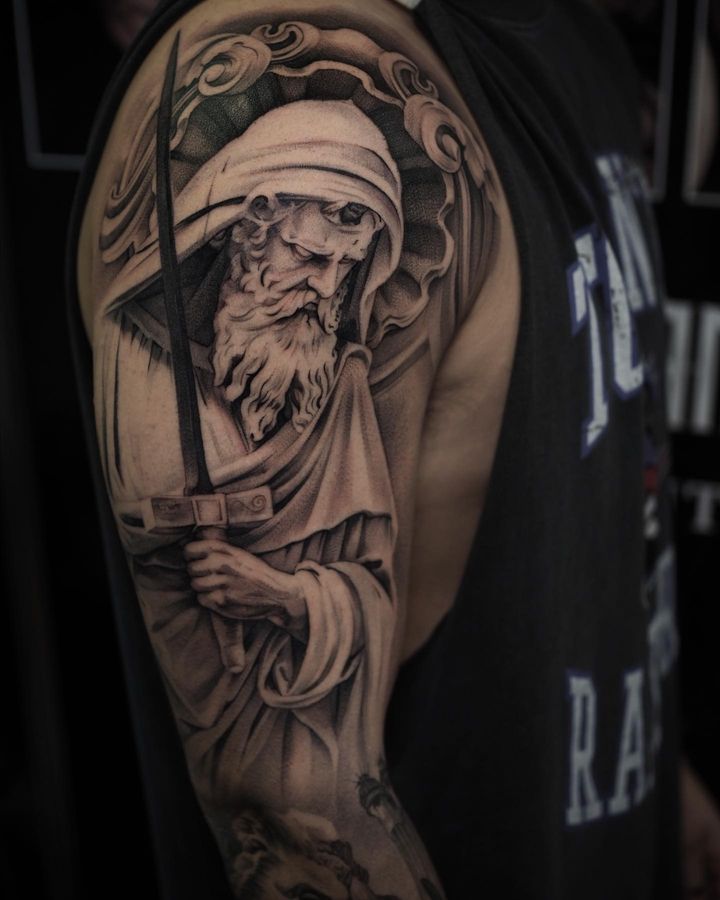 Angel and rose half sleeve tattoo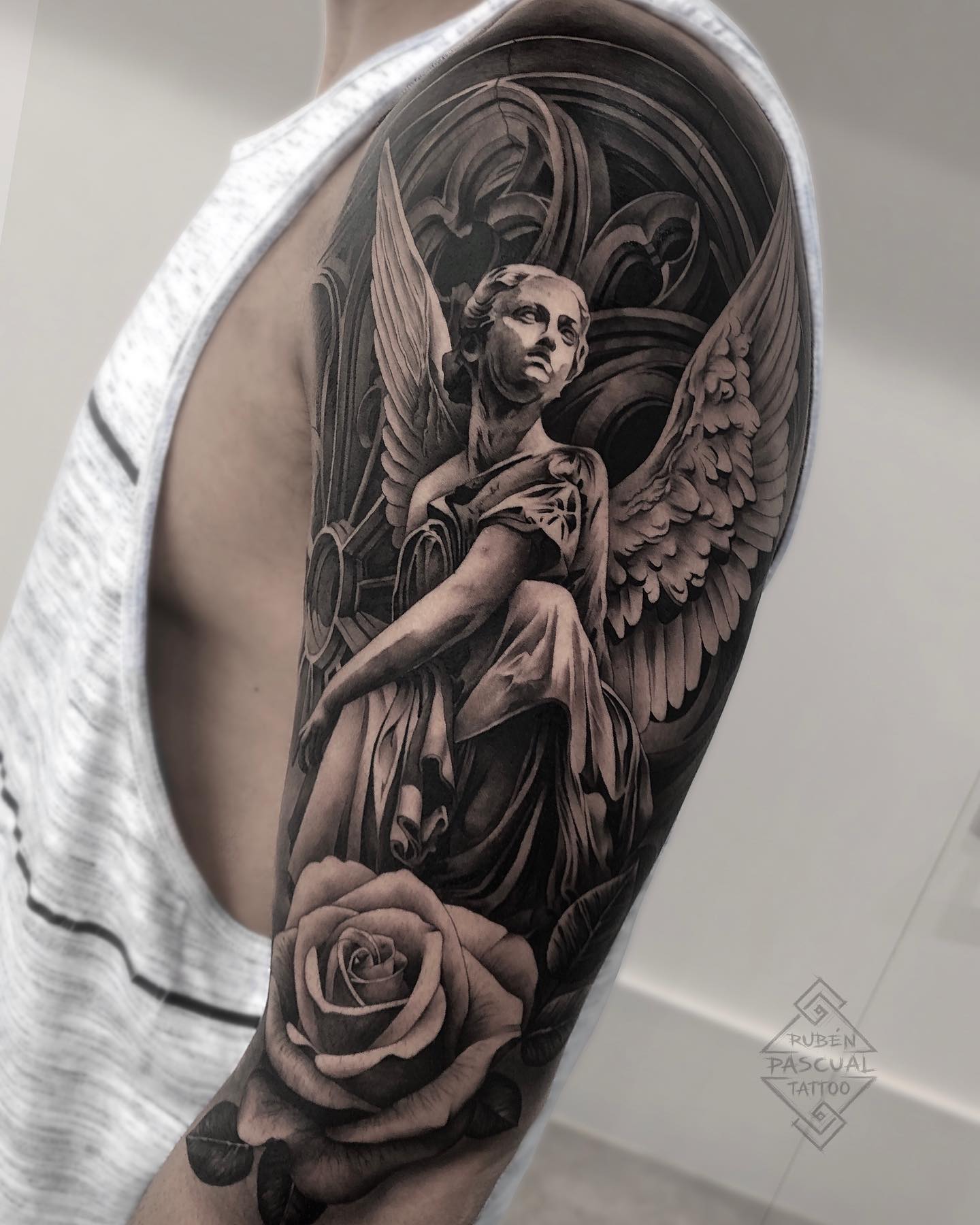 Architecture and Fibonacci Sequence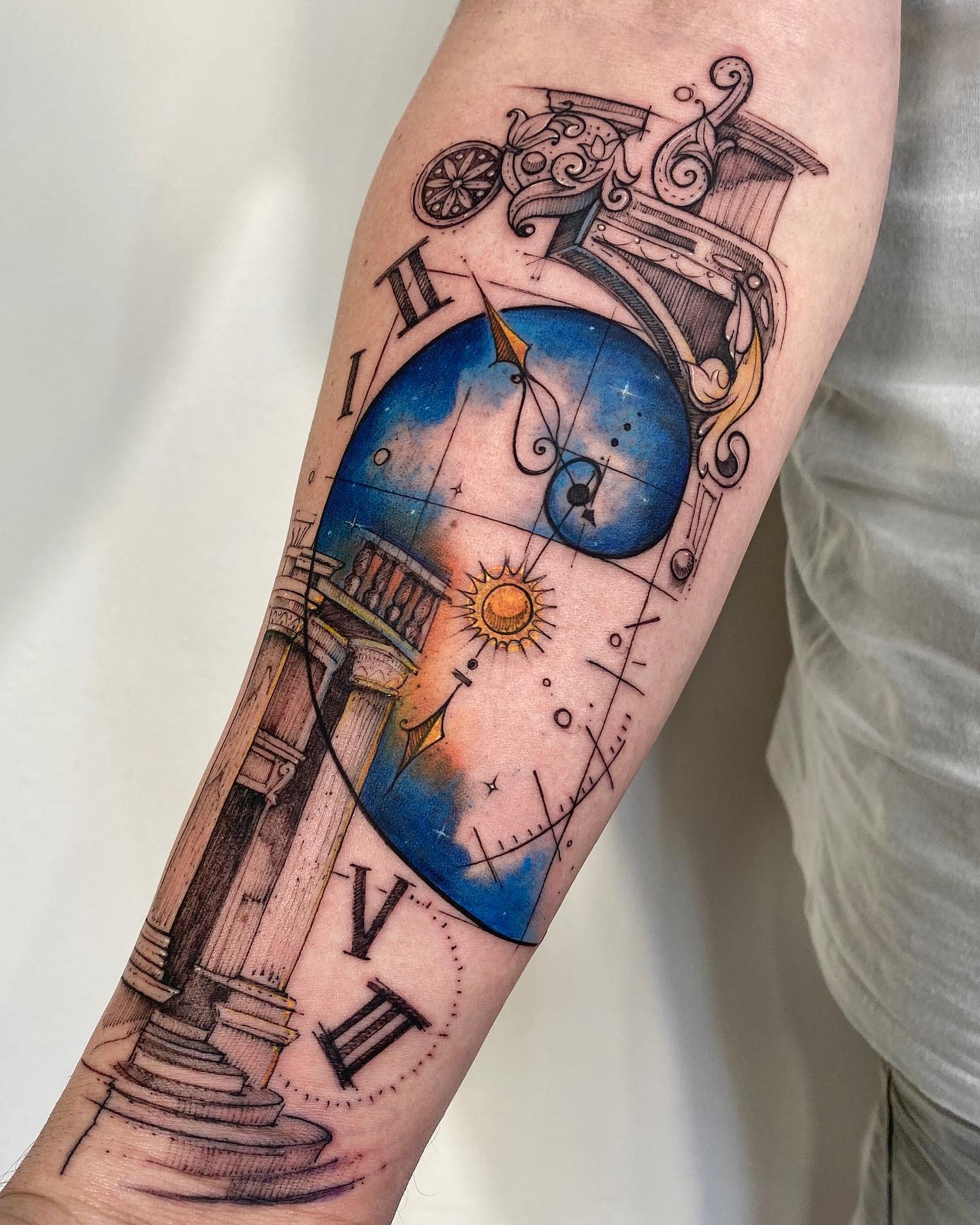 A girl with wolf headdress tattoo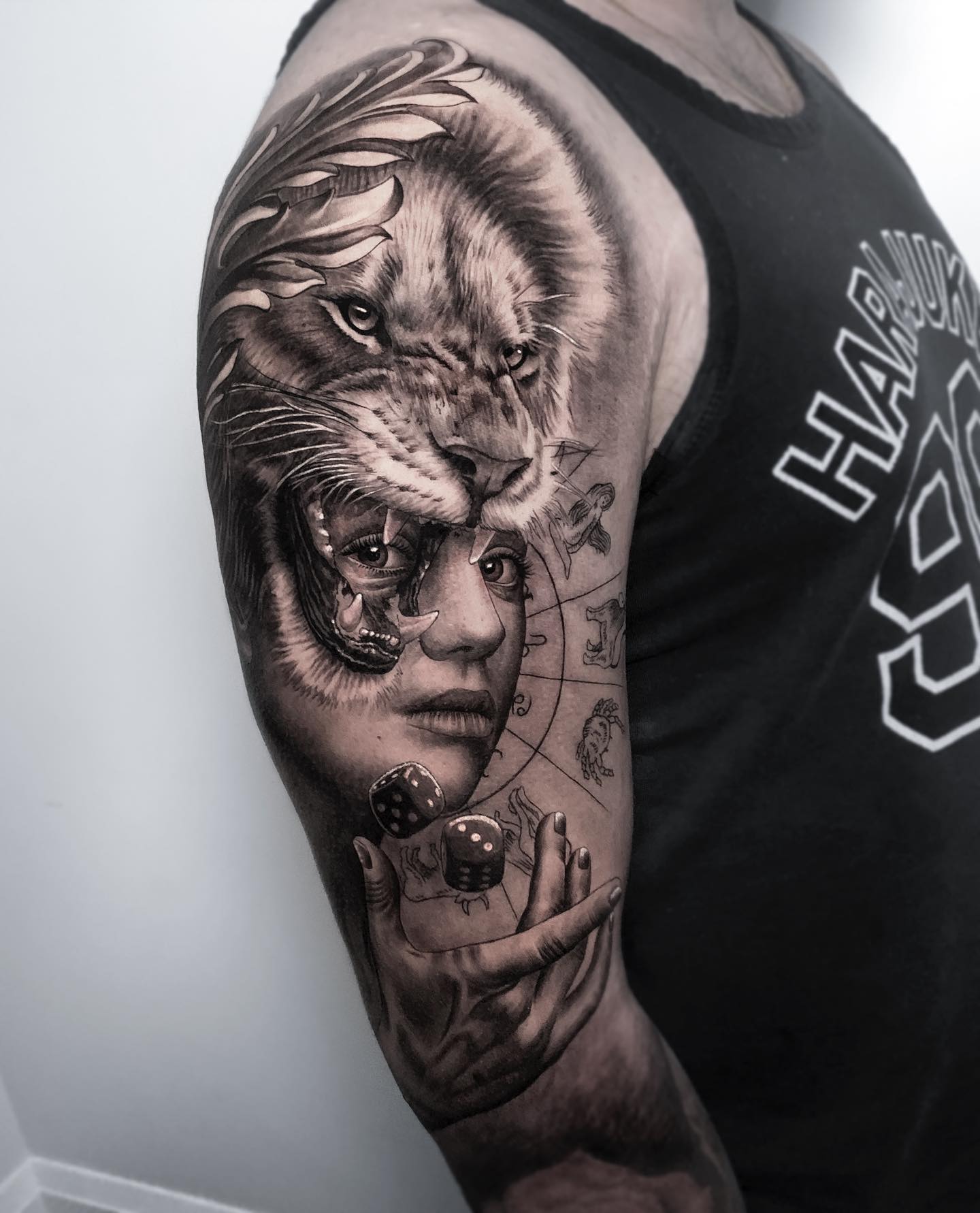 Ares – God of courage and war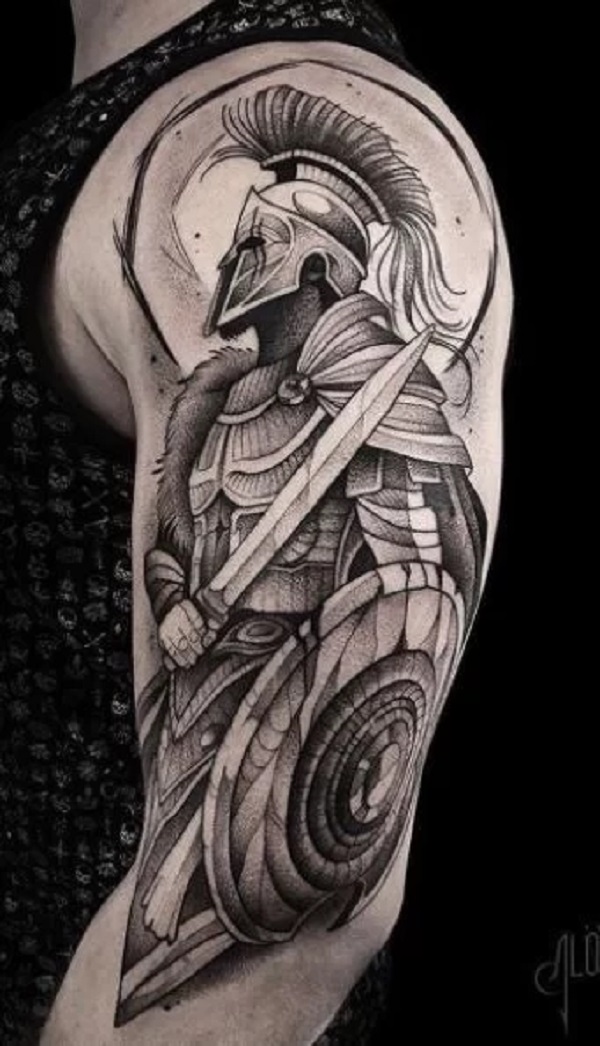 Baroque Jewelry Half Sleeve Tattoo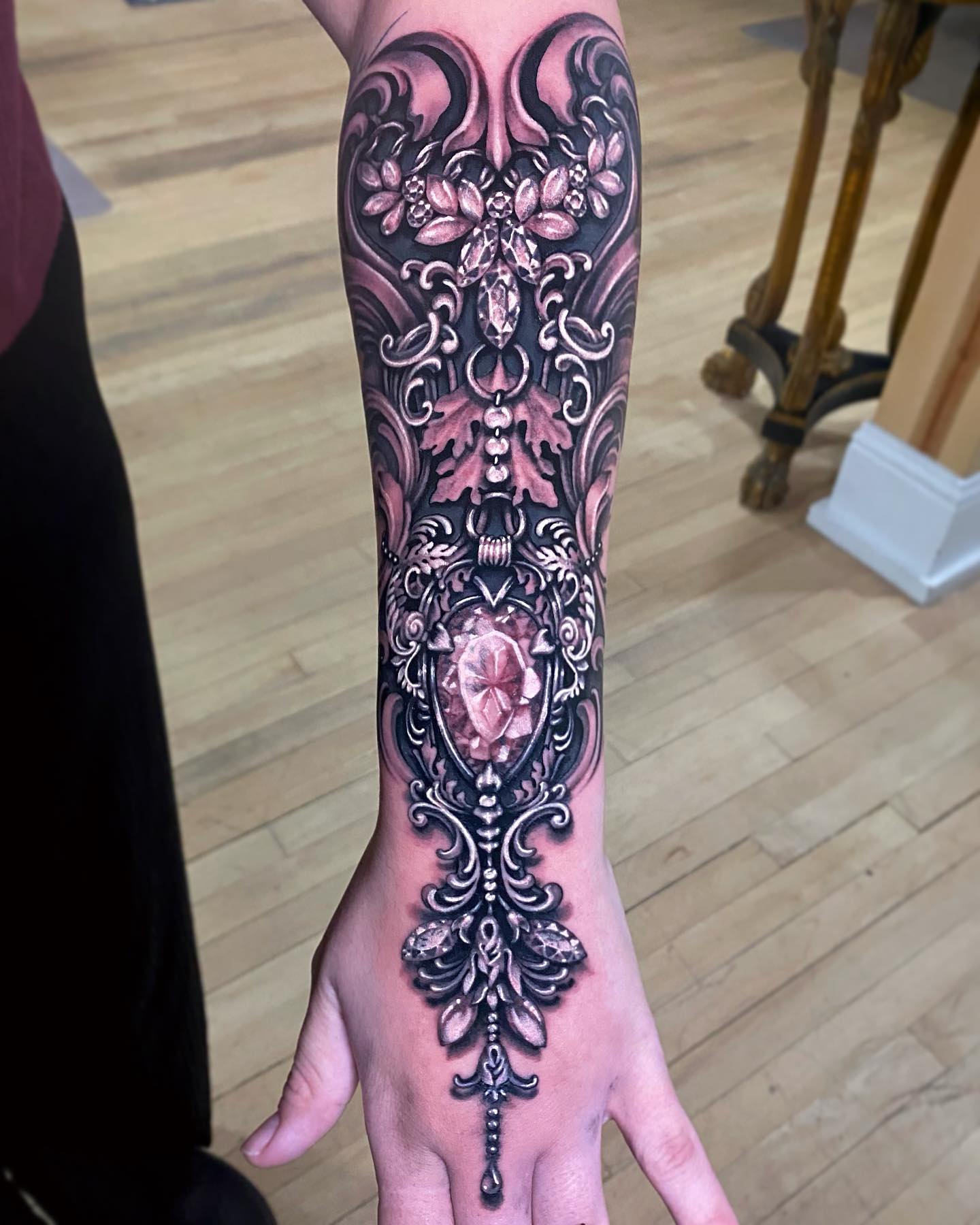 Blackwork of floral patten on outer forearm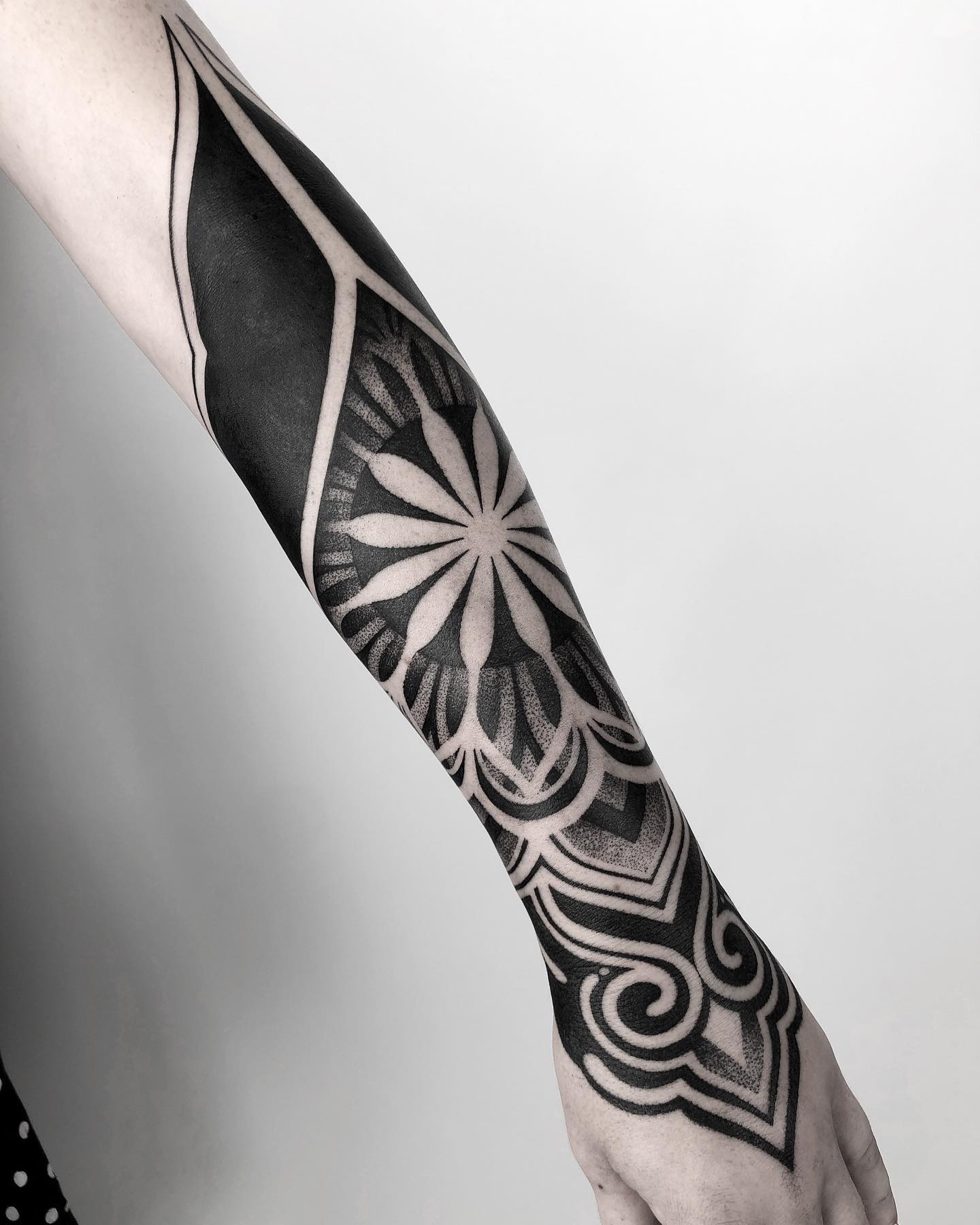 Butterflies flying out of mind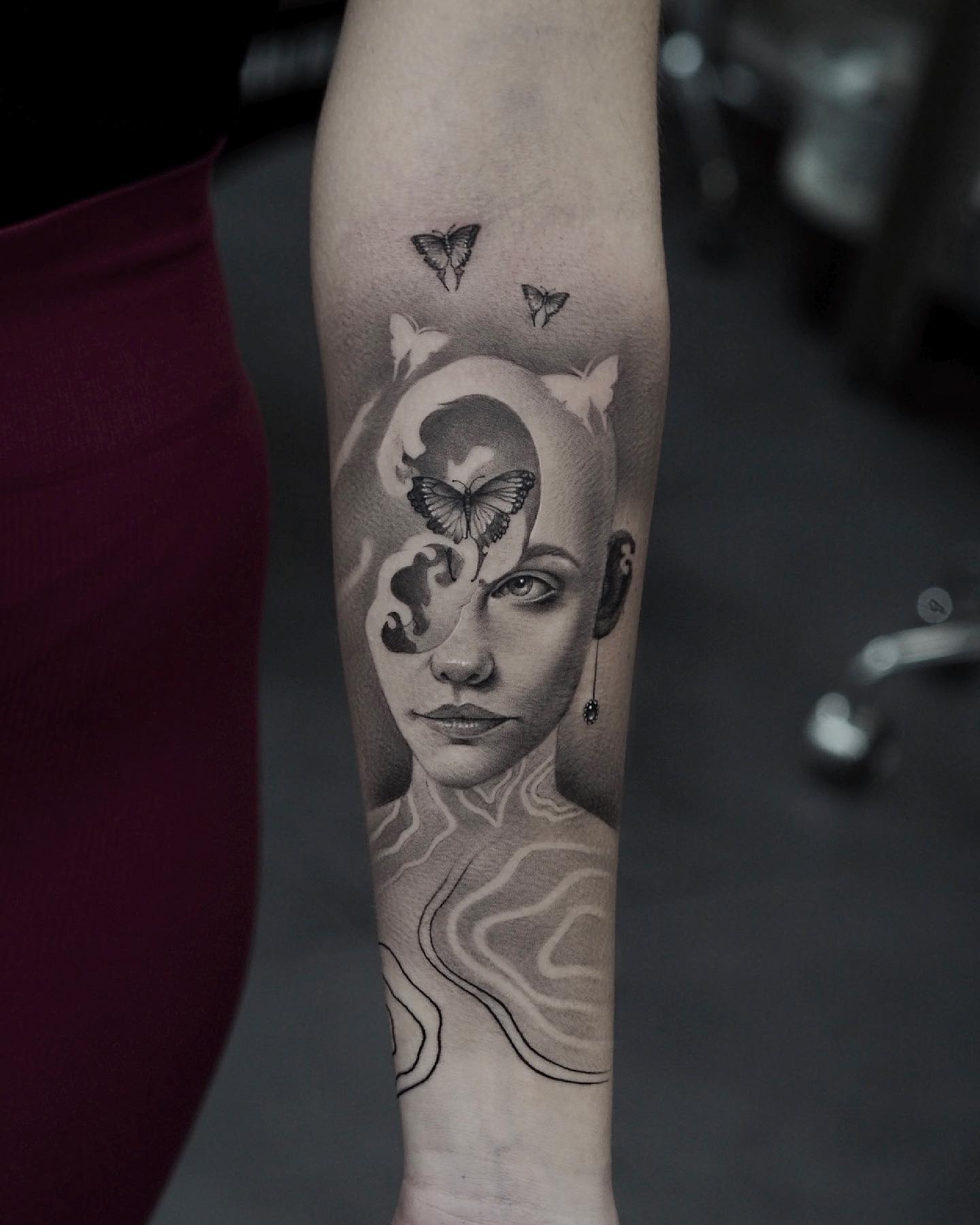 Castle forearm tattoo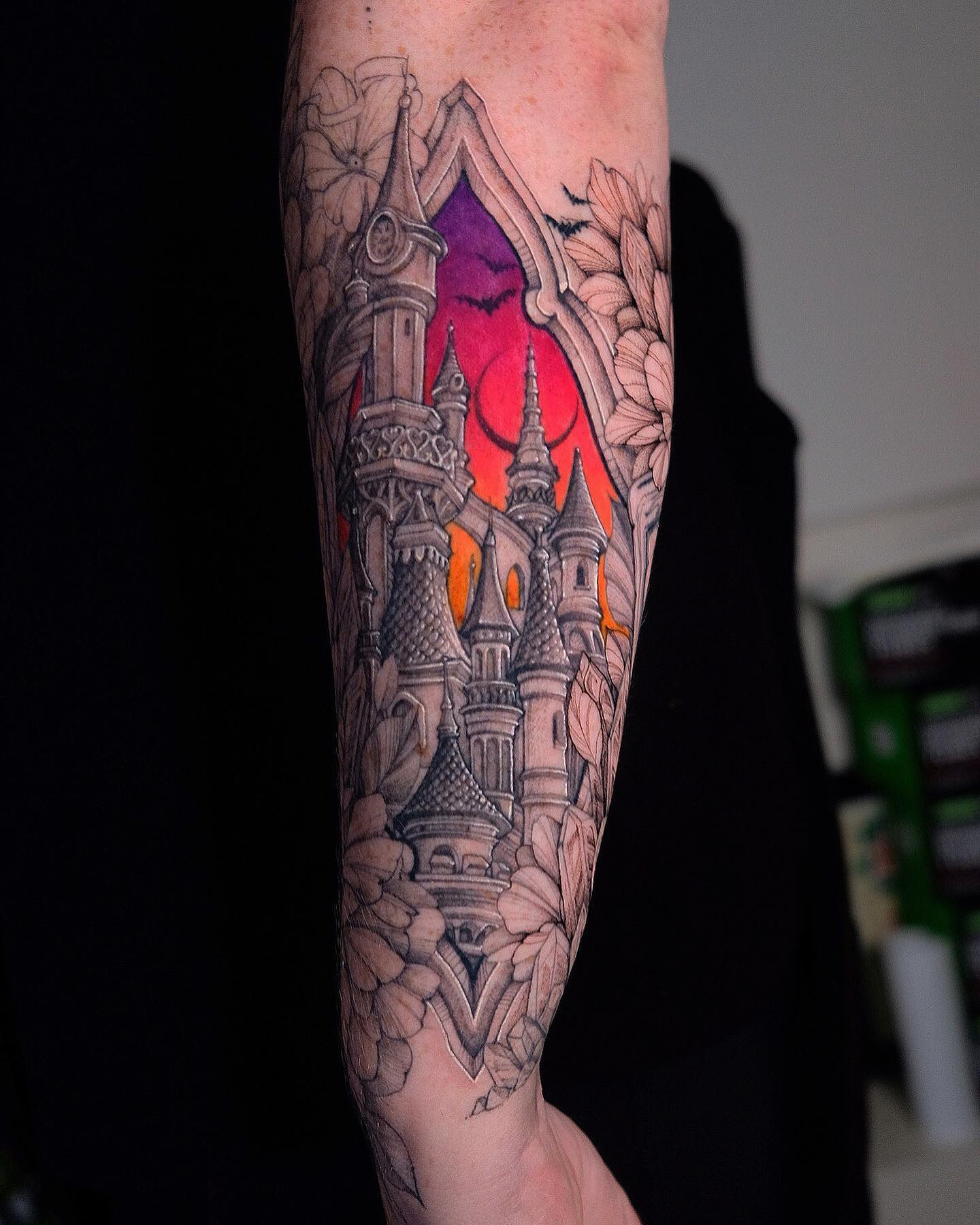 Cats playground forearm tattoo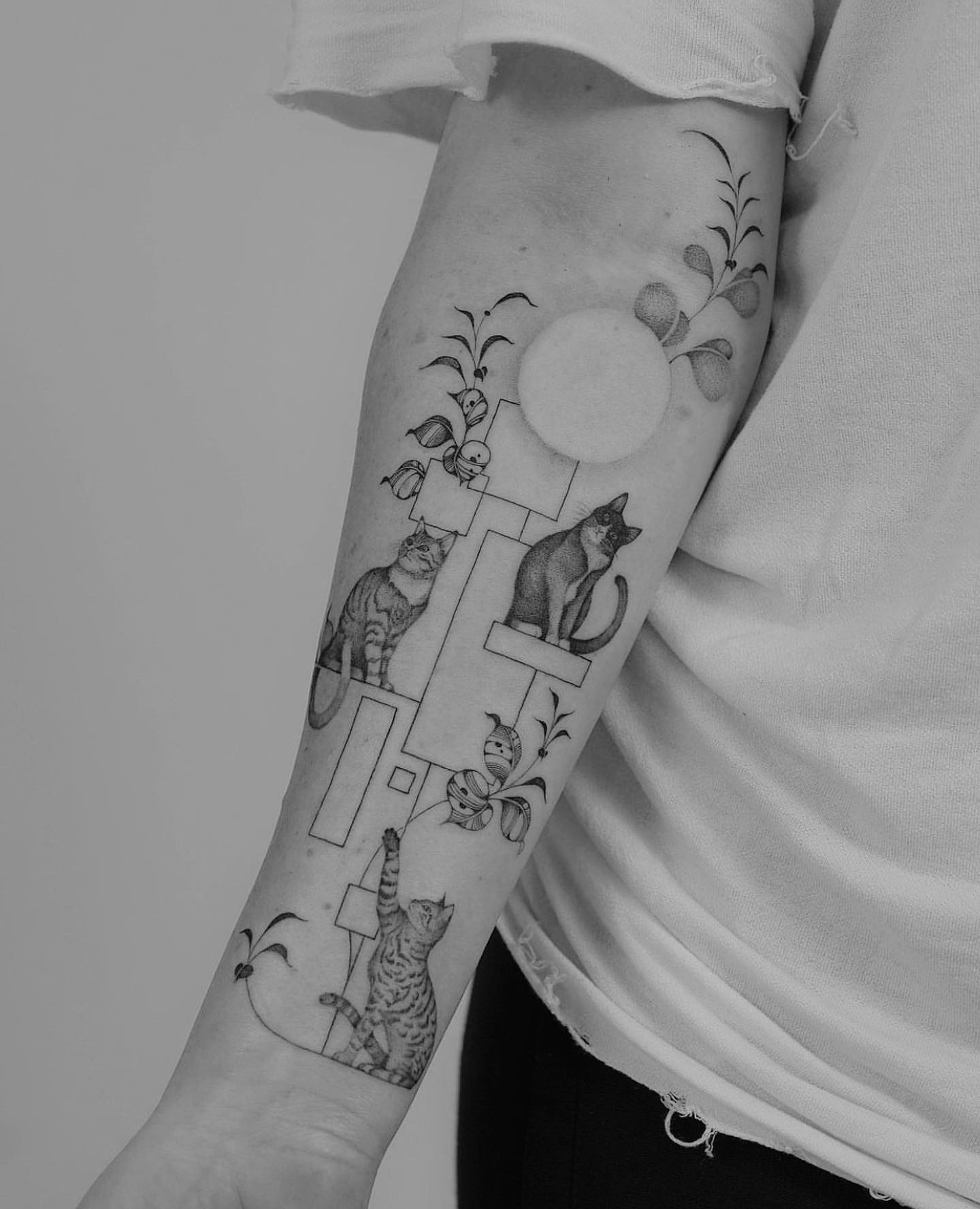 Cherub prayer for protection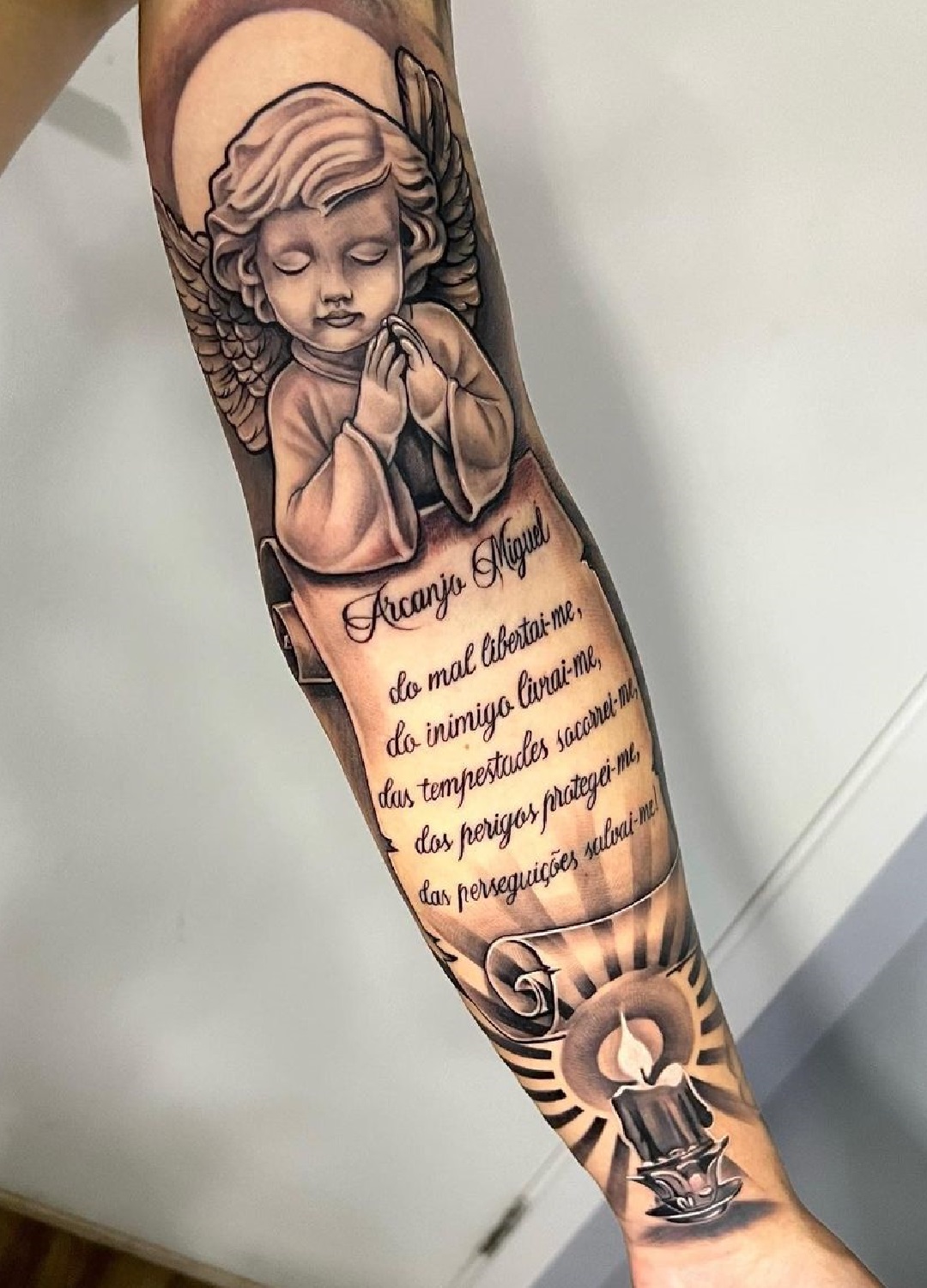 Compass and map half sleeve tattoo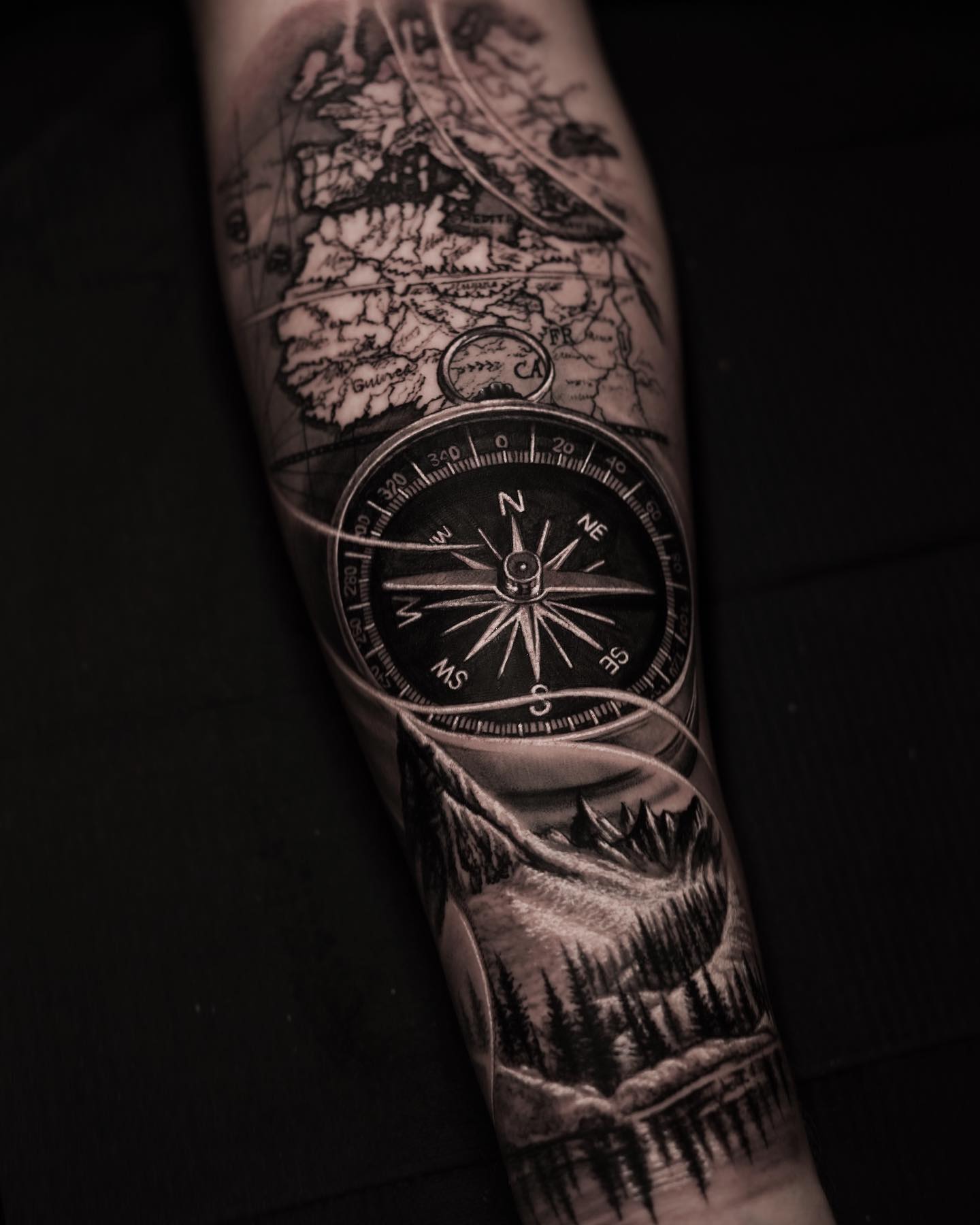 Dracula Castle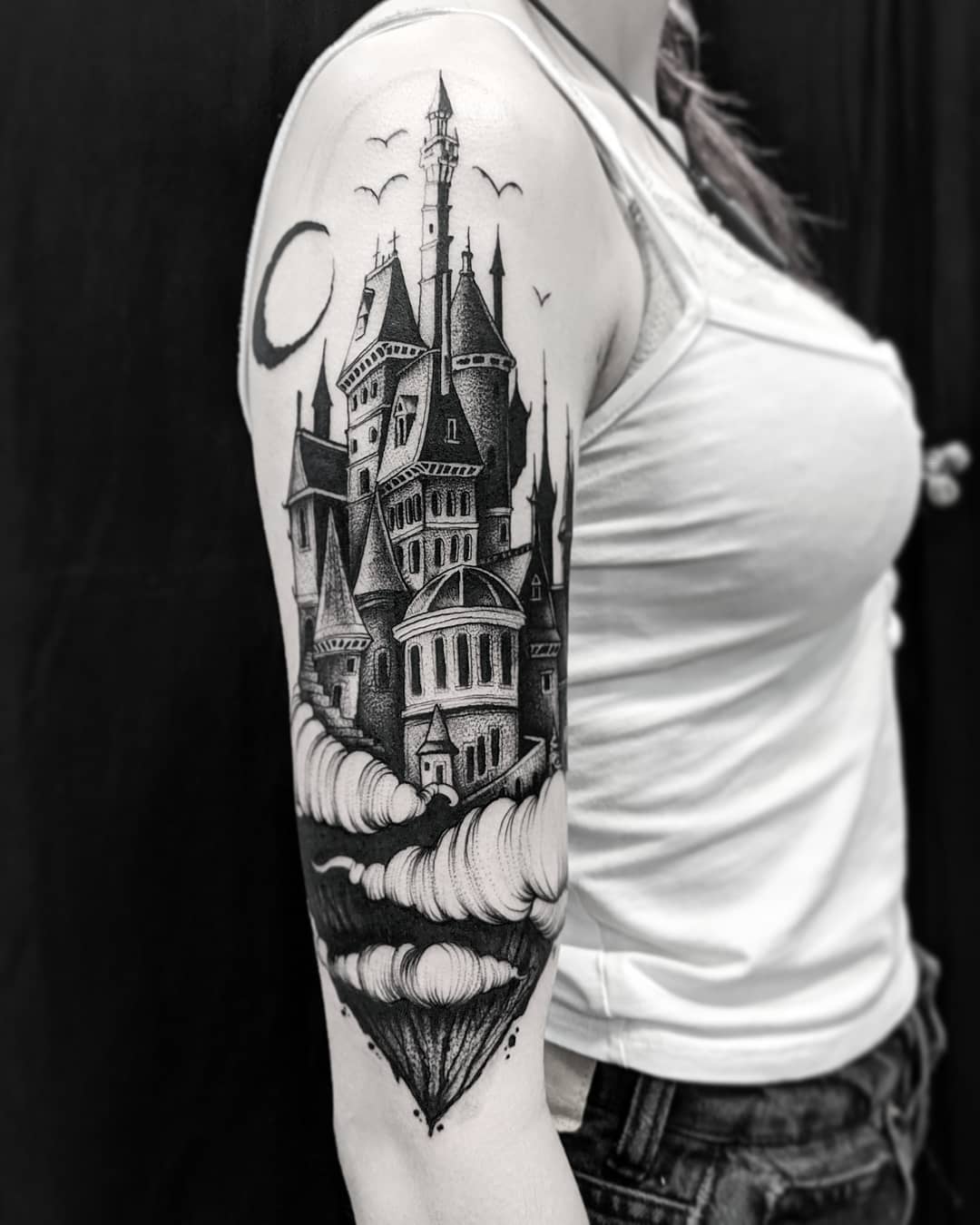 Conclusion
In conclusion, half sleeve tattoos are a popular and versatile tattoo style that allows for a wide range of design possibilities. From tribal and Japanese to realistic and Surrealist, there is one style that suits your preference and taste. By considering the symbolism, researching designs, and working closely with your chosen artist, you can create a truly unique and expressive half sleeve tattoo that you will enjoy for years to come.