One of the best places where you can live is near the sea. The calm waves of the ocean is really refreshing with the tang and the saltiness is in the air. You can swim in the ocean whenever you want. And there's just a sense of calm. This is the reason why a lot of homeowners wish to live on a coastal area. Coastal style becomes popular in home designs for its cozy atmosphere featuring vivid blue, bright light and natural materials such as wood, fabrics.
Although it's not for every home the wood is common in interior design. Wood gives a tropical vibe which is basically what living near the sea is set to make you fell. Wood can also last longer in these areas. Metal could rust easily because if the humidity in the air.
The best coastal home interior design
When it comes to interior designing, the usual colors are lighter tones. There's blue and green as the most common colors we'll see in coastal homes. This makes the surrounding a lot more brighter and fresher. It just suits the wooden furniture and the waves of the ocean. It also makes everything look brighter and wider which is perfect for tiny cottages near the sea.
When it comes to furniture, apart from mostly being wood, these are also contemporary. As contemporary is basically going with the times, we can say that it could look different than modern-day furniture but is close to modern looks. There are also unique lighting, center tables and basically a lot of decorations for centerpieces. Of course, since it's the tropical vibe, there's some fresh flowers in the living room. It definitely adds to how refreshing the whole place is.
The great thing about this type of interior design is that you can enjoy this even when you aren't really living near the sea. Whether you're on the city or the countryside but you want to achieve a refreshing and cool coastal and tropical vibe in your home, you could add some of those coastal elements. It's basically how you choose the colors and the pieces of furniture that will help you achieve the look.
But of course, you could be able to add some of your own designs to your home. You've got all the authority to do anything that you want. Yet if inspiration is hard to get, you could be able to learn some cool tricks and tips with our selection of coastal home designs.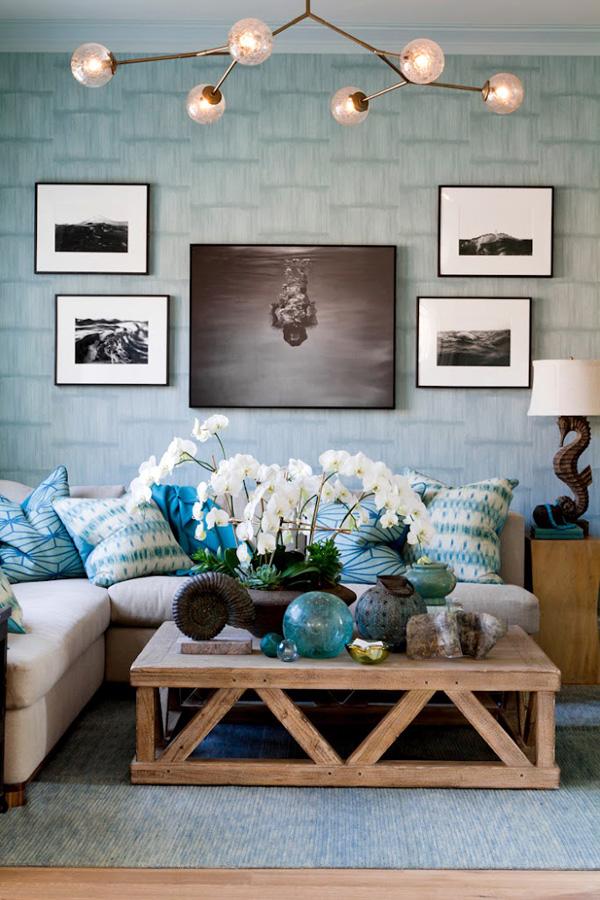 The blue tone is all over the house; in the wall and the pillows and even some of the decorations. There's the wooden center table and a unique lighting. But the best part may be the pictures hanging on the wall.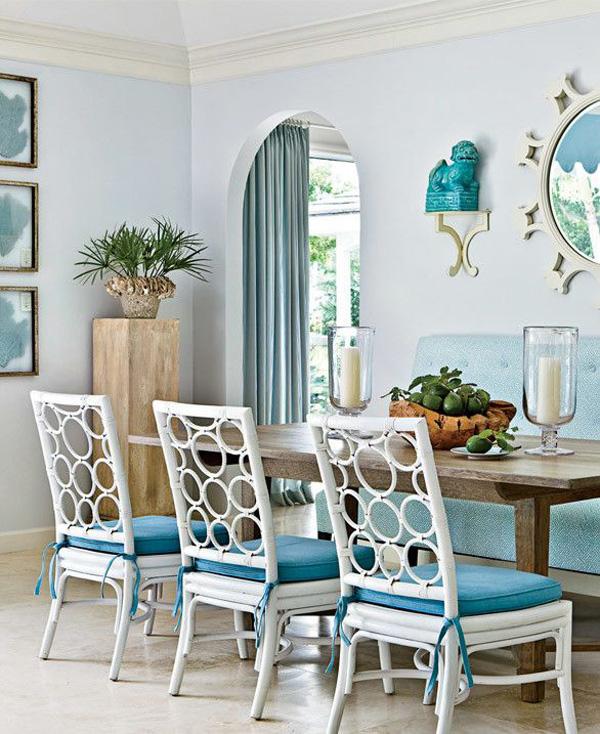 Continue the blue along the kitchen. Partnering it with white walls and chair will instantly brighten up the place. The chairs are wooden in a contemporary design.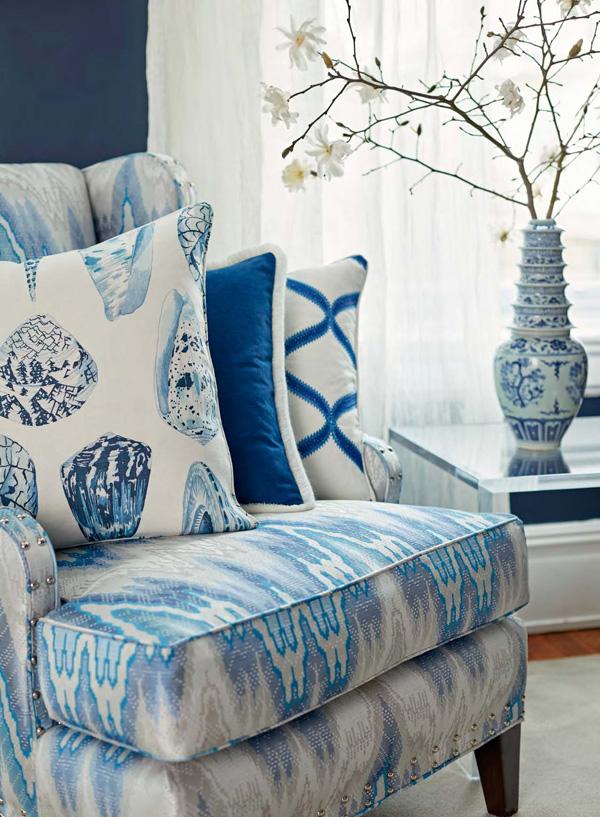 Warm blue tones for your chairs and pillows and even home decorations could be easily achieved through using some designs with shades of blue.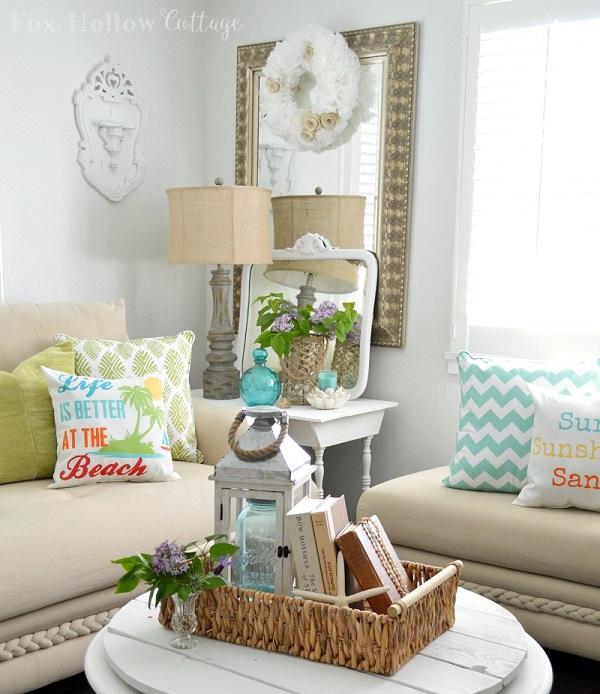 Lighter tones for chairs is also important to keep that brighter vibe. You may want to go with lighter nude colors. Again, there are wooden elements in the house and instead of blue, we can also use green shades like plants.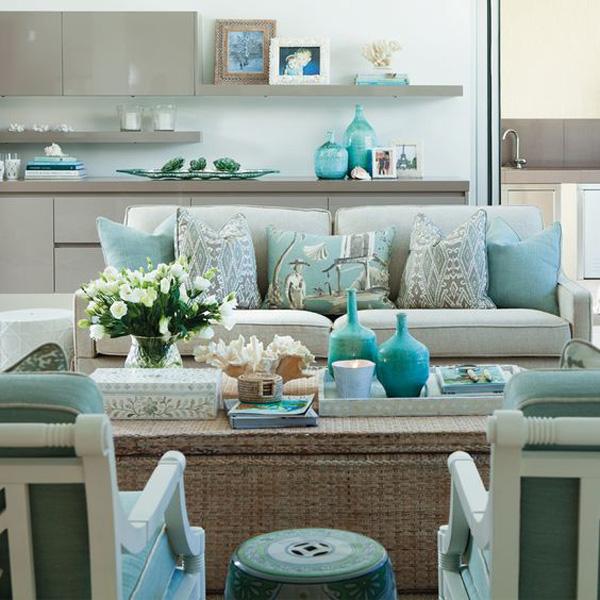 Here's an example when you go for green. But choose the shade of green that is light, like sea green or min green.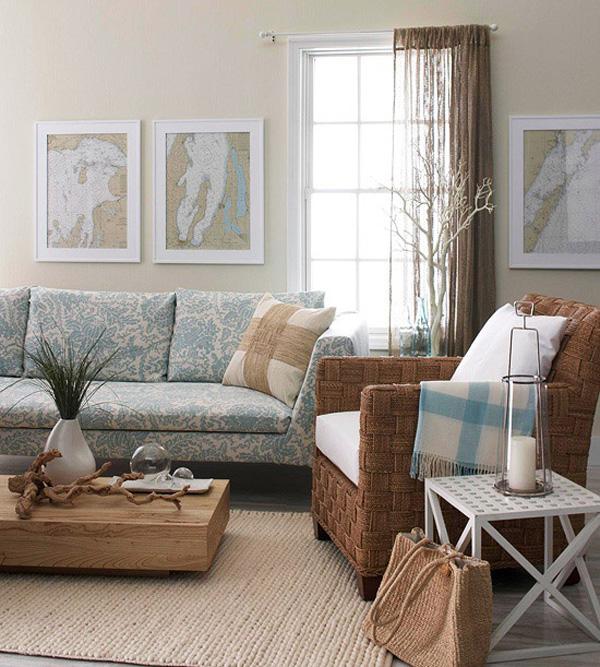 In this design, the dominant color is an earthly shade of brown. There's a wooden table with a dry stem as a centerpiece. But don't forget a fresh plant to counter it. Then green sofa alongside a blue chair. Even the carpet goes well with the whole ensemble.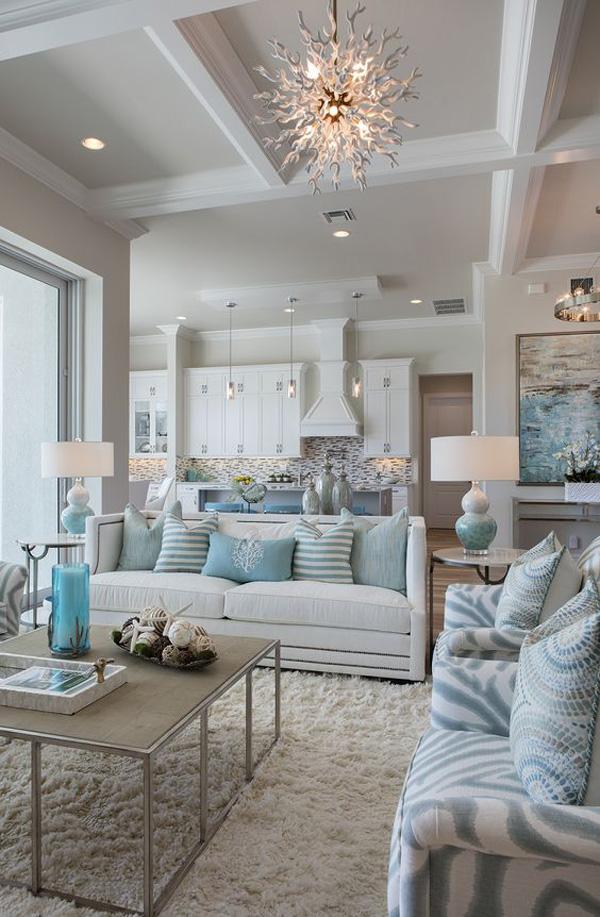 Apart from the geometric design of the ceiling and keeping everything pristine white, a nice and unique lighting will also work. Notice that the lighting is spread throughout the whole room just to provide a more brighter feel.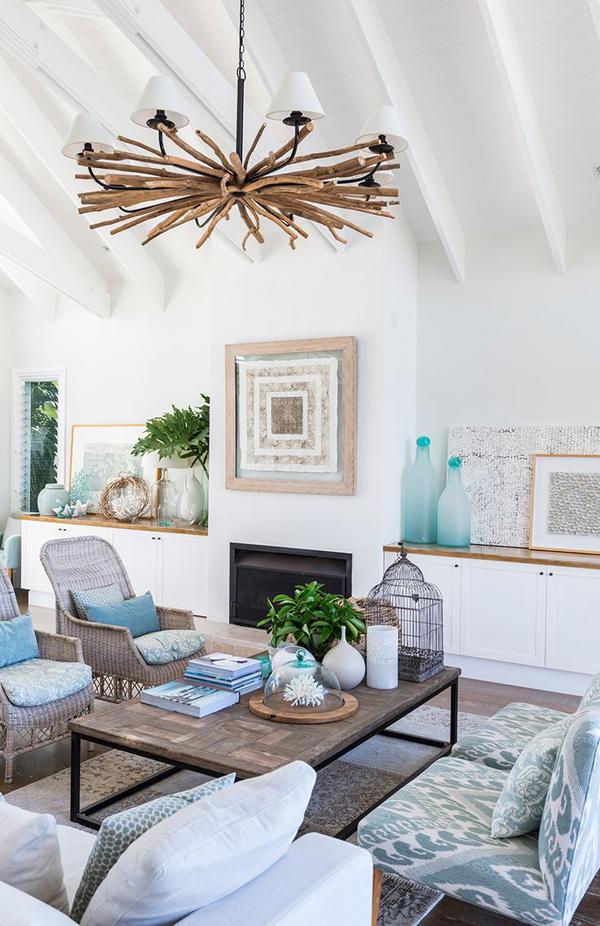 The design for this lighting is made of wood. It's a great piece added by shades of green and brown added on a freshly painted white walls extending to the ceiling.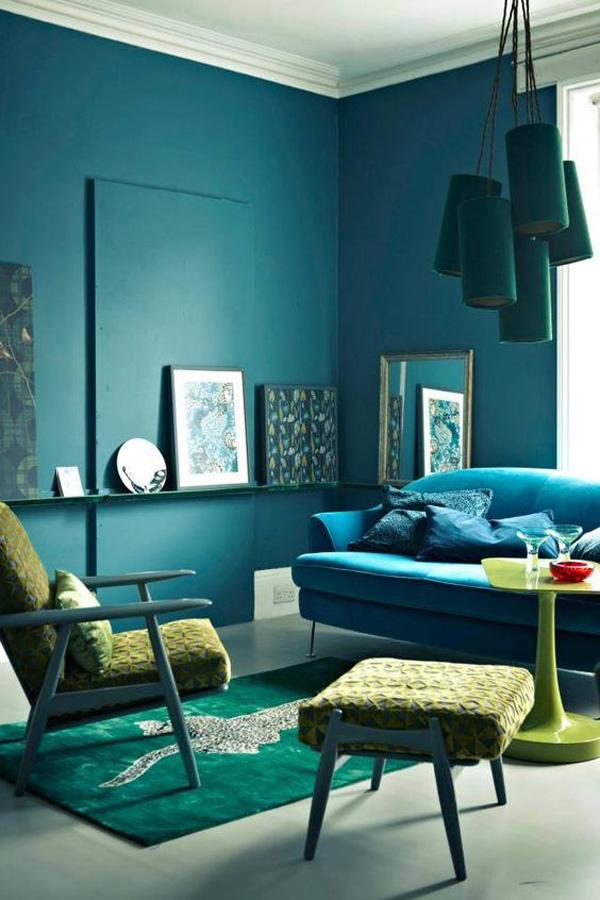 If you're not happy with white walls or you think that it's too boring for you, you can experiment with plainly going for green. Of course, you could go with darker shades to lighter one. You can even paint the whole wall and ceiling green.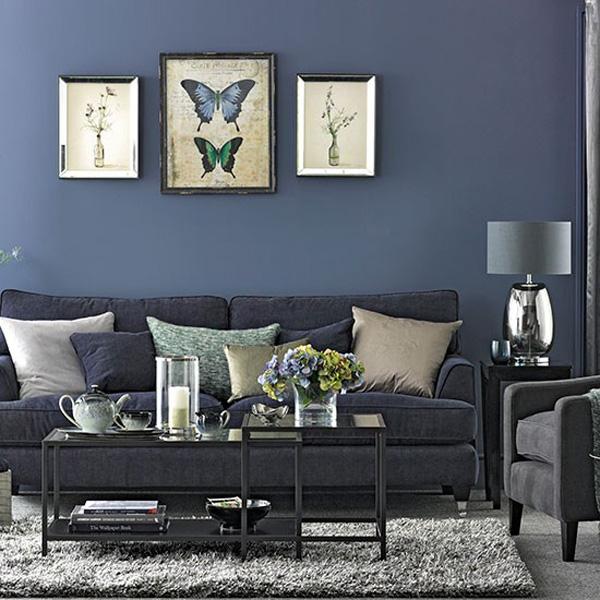 And there are also other choices for a cooler look. Here, it's grey. There are grey walls, and not even the lightest shade. Plus there's a denim sofa and a steel and glass table.
Denim Blue and Grey Living Room Ideal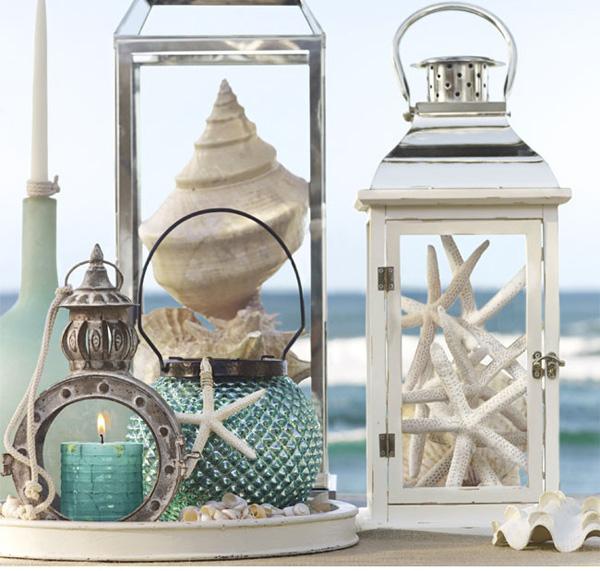 Of course, a house won't look amazing without some coastal-theme designs. Like in this one, you can use some dried up starfish skeletons or perhaps go with shells.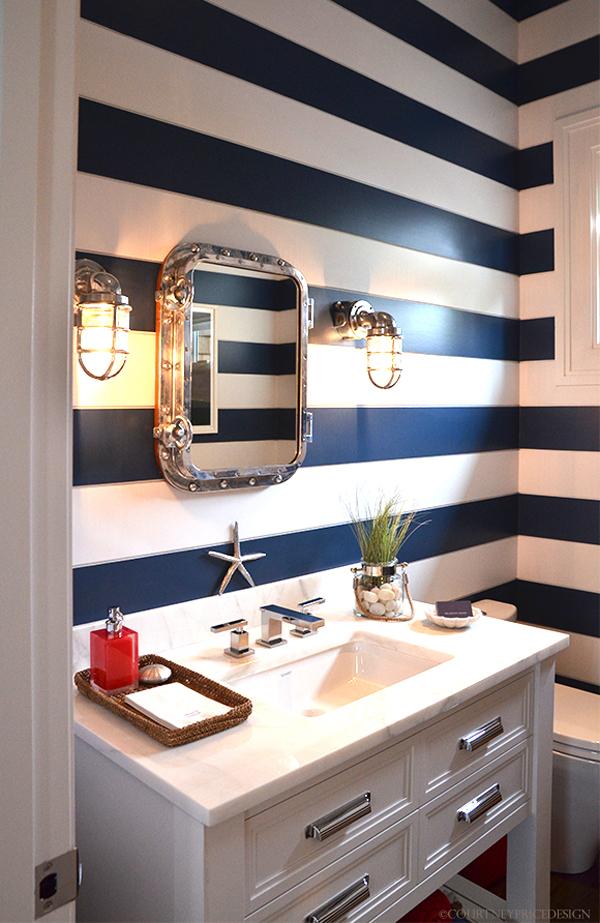 If you want to create a black and white wall with this one, you might want to be sure that you compensate with a brighter light. Of course, little plants will work and even a cute lone starfish design.
Nautical Bathroom by Melanie Roy Design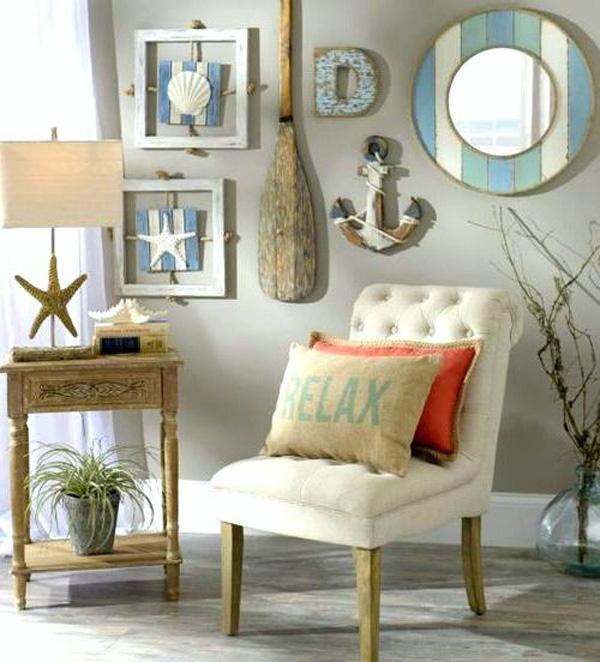 It's the little decorations that could make a room look entirely coastal. You can go with shells, starfishes, anchors and even old paddles.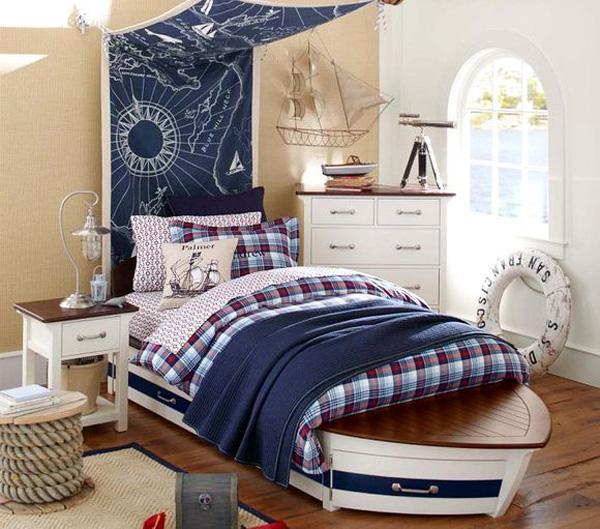 For your bedroom, this awesome boat-shaped bed will definitely make you wnat to get one. The drape a nautical map above your bed and add some cool decoration like all that you can see in the boat used for sea fare.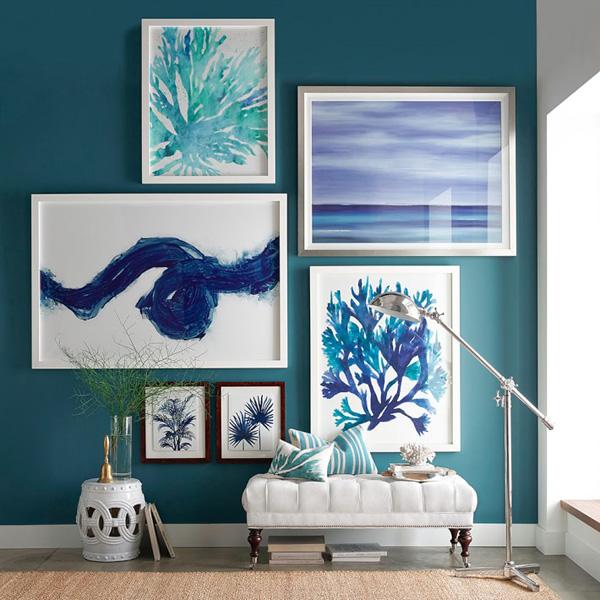 Coral reefs would also do great wonders to keep your place look more coastal and fun.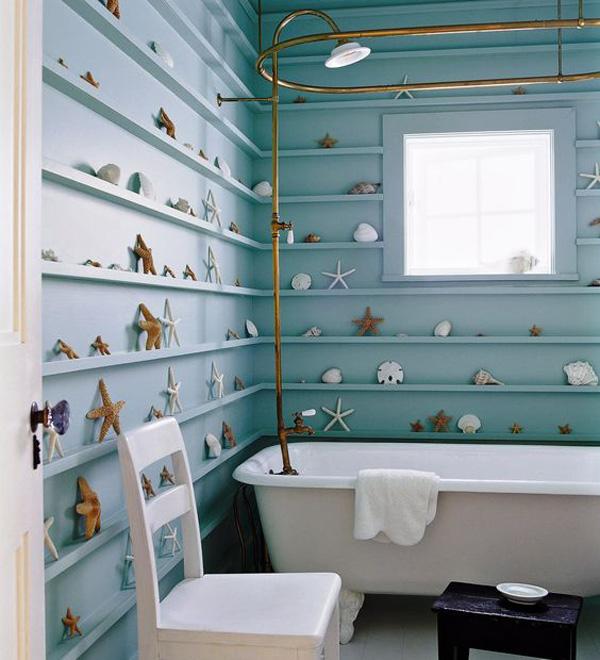 Your bathroom is one of the places where you can really feel like at sea. So why not design the place with different starfish and shells?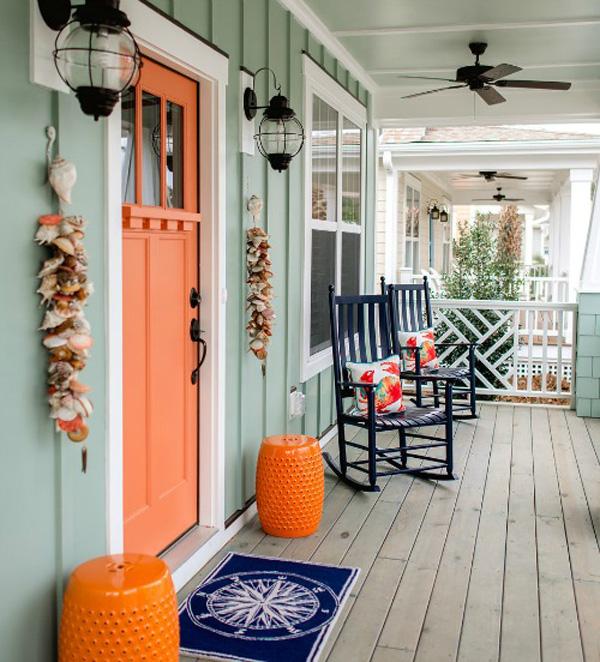 A coastal vibe will start when you enter the door, so designing the deck will also be a good idea. Start with some seashell decoration, a nautical compass for a doormat and some cute crab designed pillowcases for your throw pillows.
beach cottage front door decor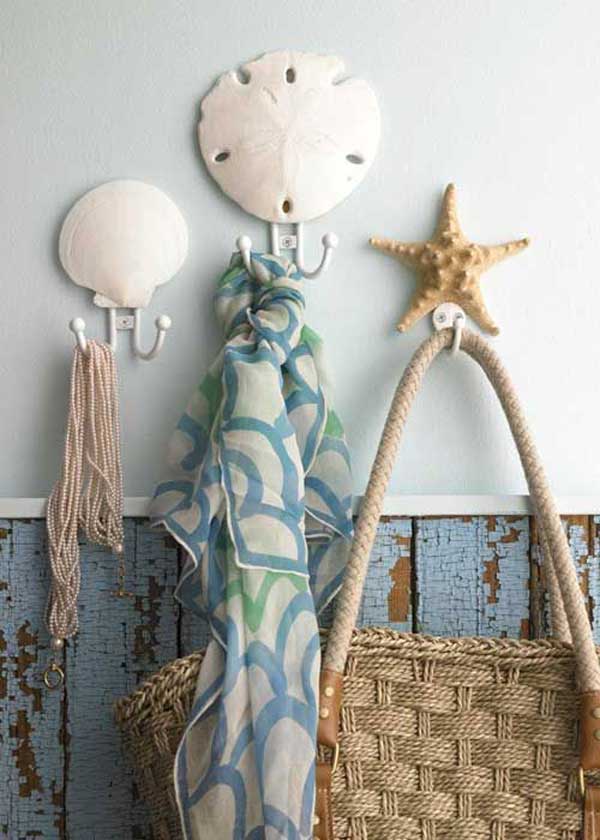 These holders are made from starfish and shells!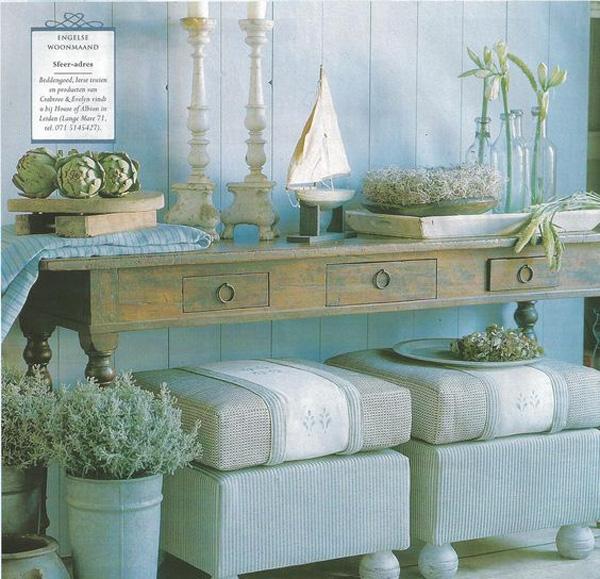 Having a little nursery in your home could make you feel a lot more refreshed. And adding that to a fresh color would create a vibe of being in the sea.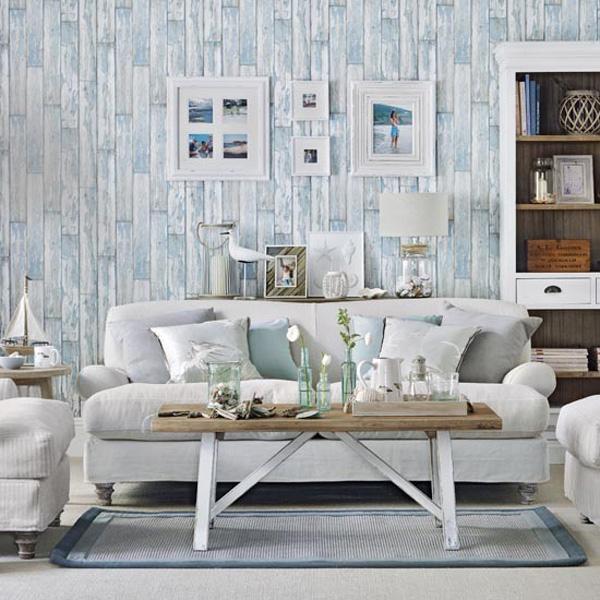 Blue and white resembles the sea and the waves, so it can be very coastal and very refreshing and calming.
blue and white coastal living room ideal home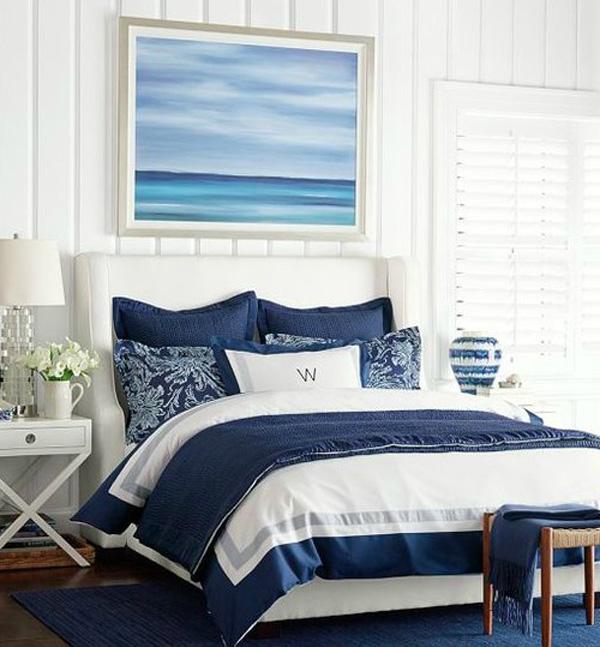 When you aren't near the ocean, make the ocean close by. A picture of the sea will definitely make the coastal vibe alive.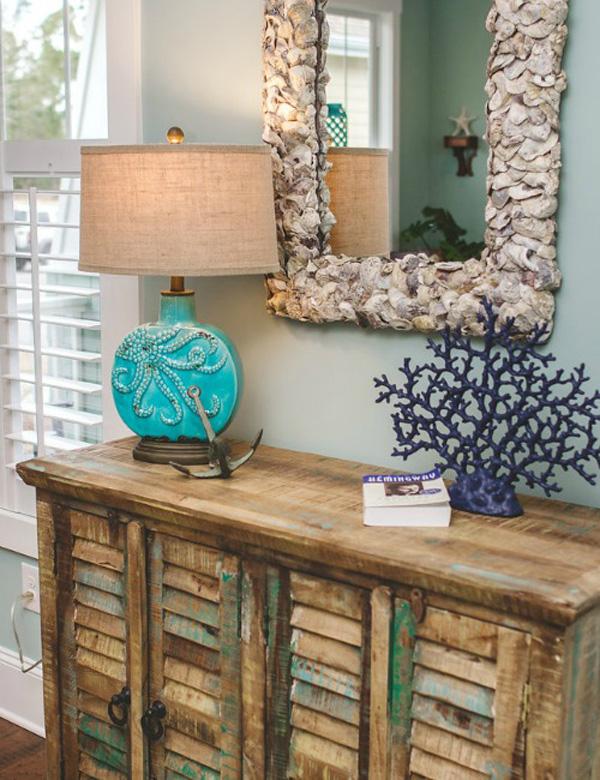 A coral centerpiece, an octopus lamp and a seashell mirror is enough to scream coastal interior design.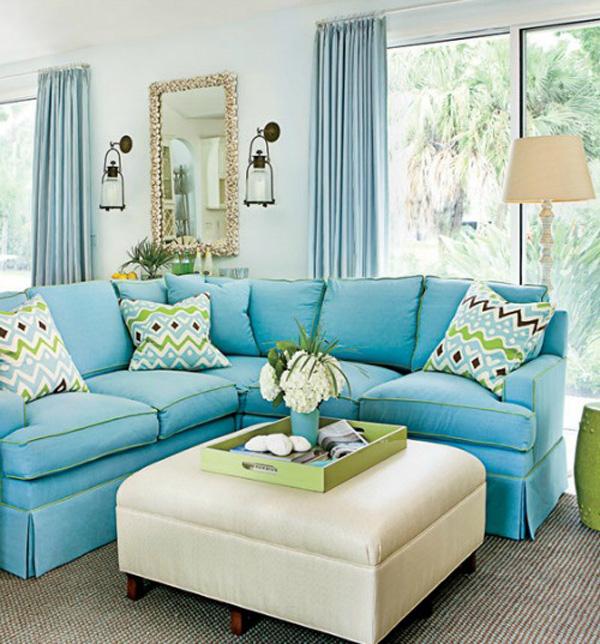 Get the tropics alive with blue and green combination of furniture and decors. You may also want to plant some palm or coconut outside your home if possible.
blue sandy beige coastal livingroom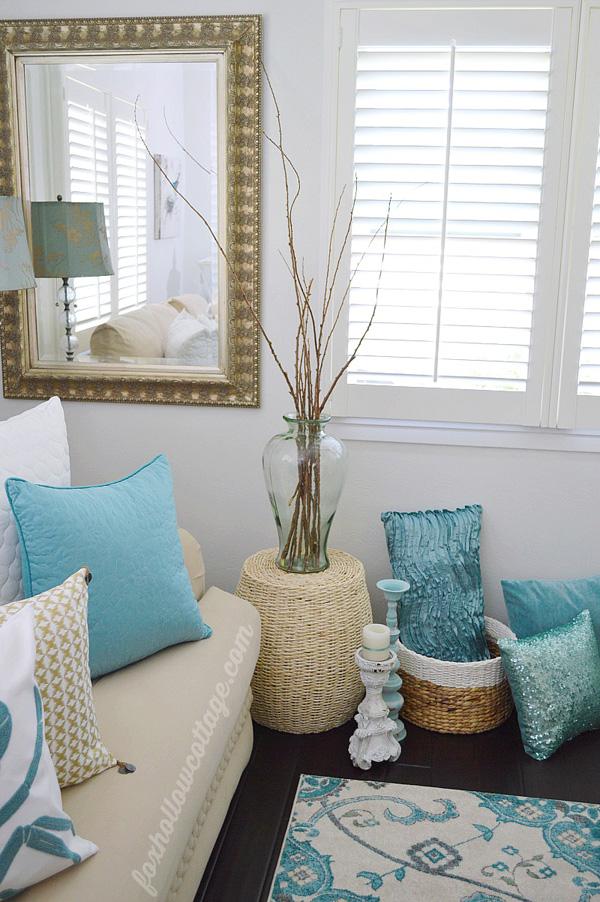 wooden woven baskets plus dried up twigs can definitely make a room so much more tropical looking especially when mixed with blues.
Coastal Cottage Home Decorating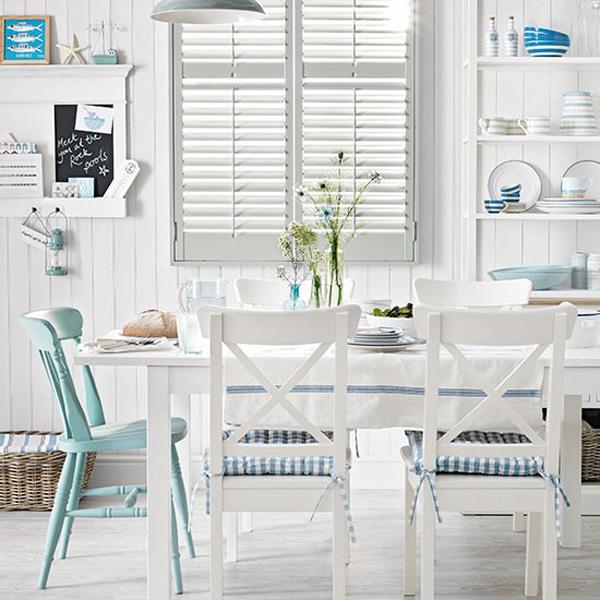 Dining areas need to look immaculate. It just gives you more appetite when it does that. So, you may also want to keep your fining room painted in white and then have checked and stripes of blue and white for accent.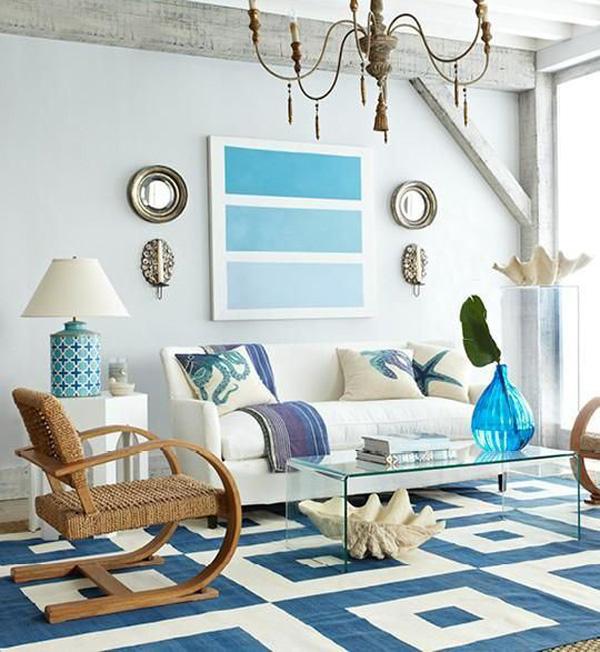 Get some starfish and some octopus on your pillows. Get that blue and white squares for your carpet. get that beautiful blue vase that fits perfectly with the shades of blue on the wall decor. And doen't forget symmetry is beauty.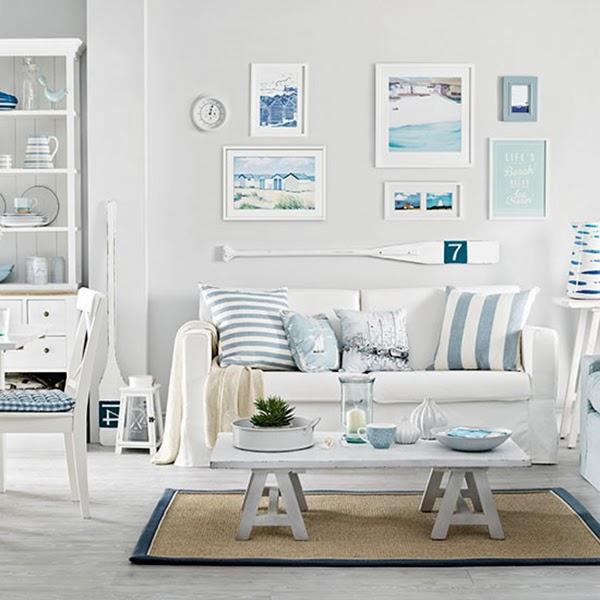 Immaculate white plus a lighter shade of blue will definitely make your home look so soothing and relaxing to be in. And those cute little paddles definitely make good decors.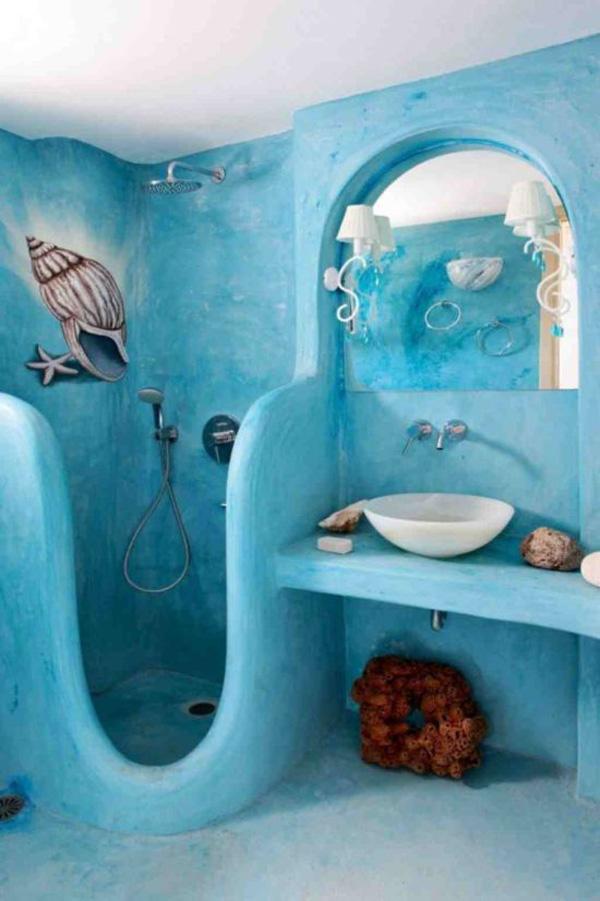 It's under the sea in this amazing bathroom theme. Paint the walls in a sea blue shade, add some corals and then paint some shells and when the water hits you, it would be like swimming in the ocean.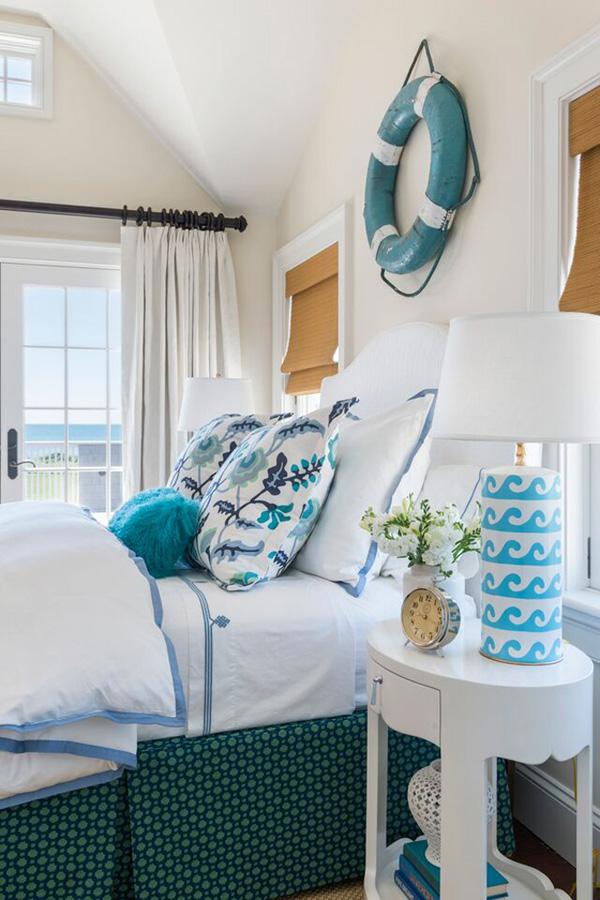 Gather the waves with this lovely lamp. And a balcony looking out to the sea is what will make everything look complete.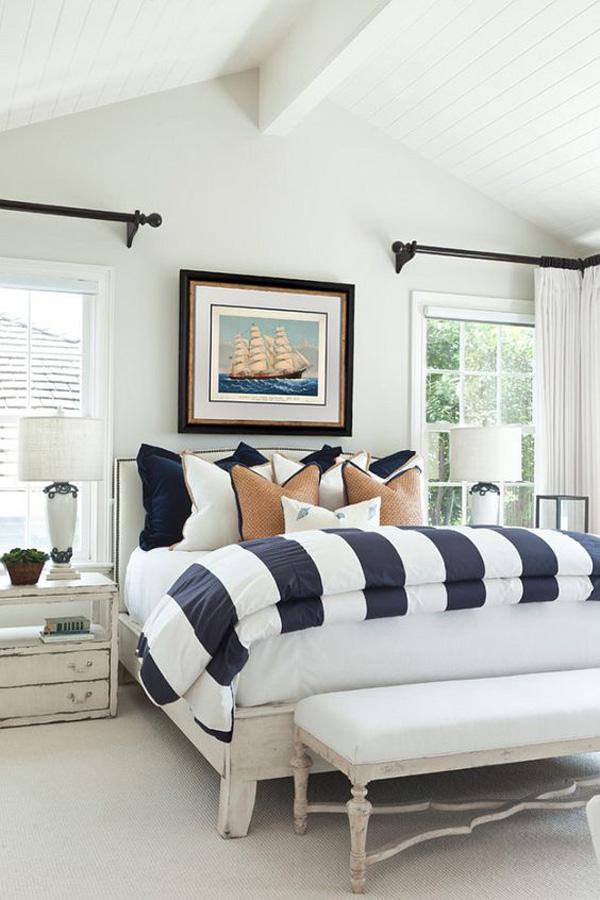 It doesn't always have to be light shades of blue. Navy blue and white could also work. Just keep the style minimal as well.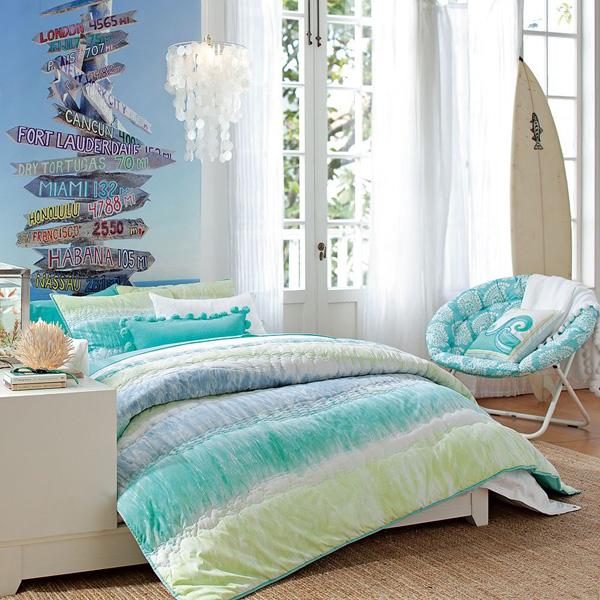 A mother-of-pearl chandelier, plus blue and green duvet with a comfortable looking lounge chair is perfect for any teenage girl who lives by the sea. And partner the surfing board with a wave-design pillowcase.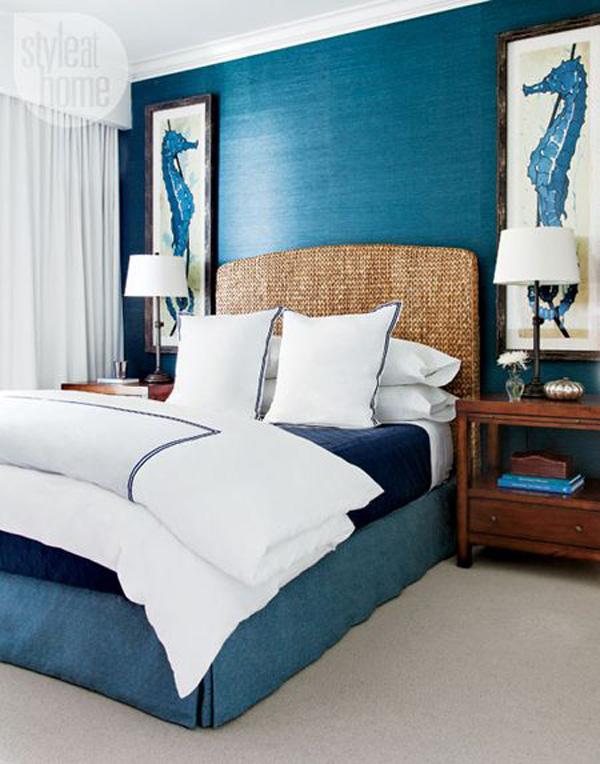 When we say "coastal", it may be always about fishes or shells. Well, these two gian sea horses could also represent marine life.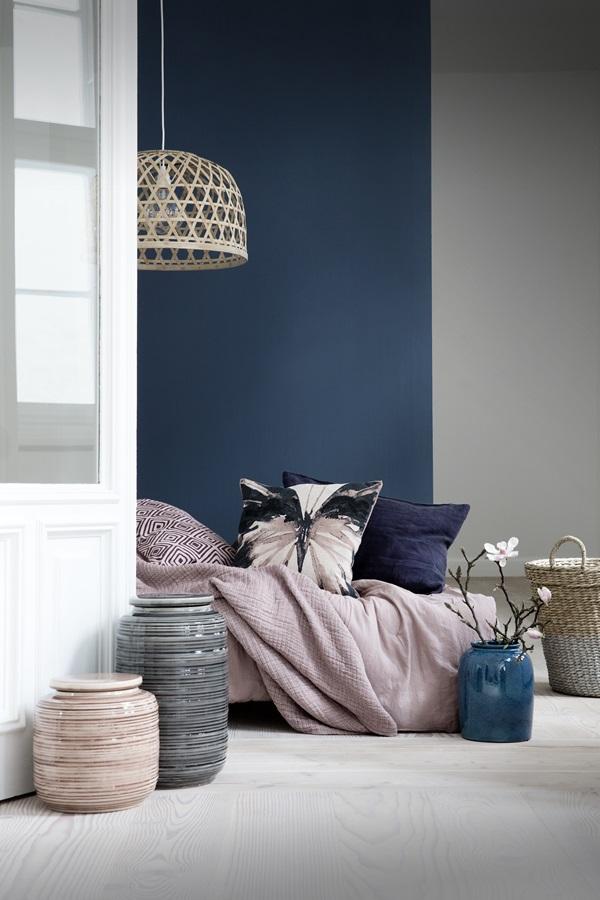 If you're looking for a cozy spot, this will definitely do. It's got the wood elements and the shades of blue. But it has this minimalist feel to it that makes it seem more comfortable.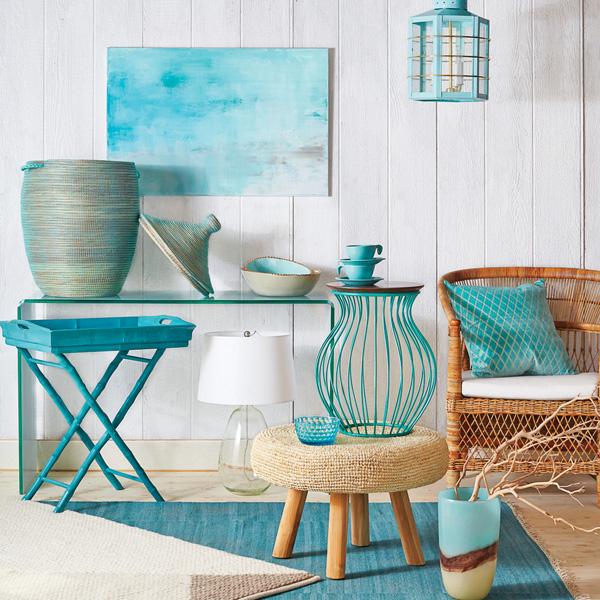 If you want to feel the sea, this is the perfect shade of blue to go for.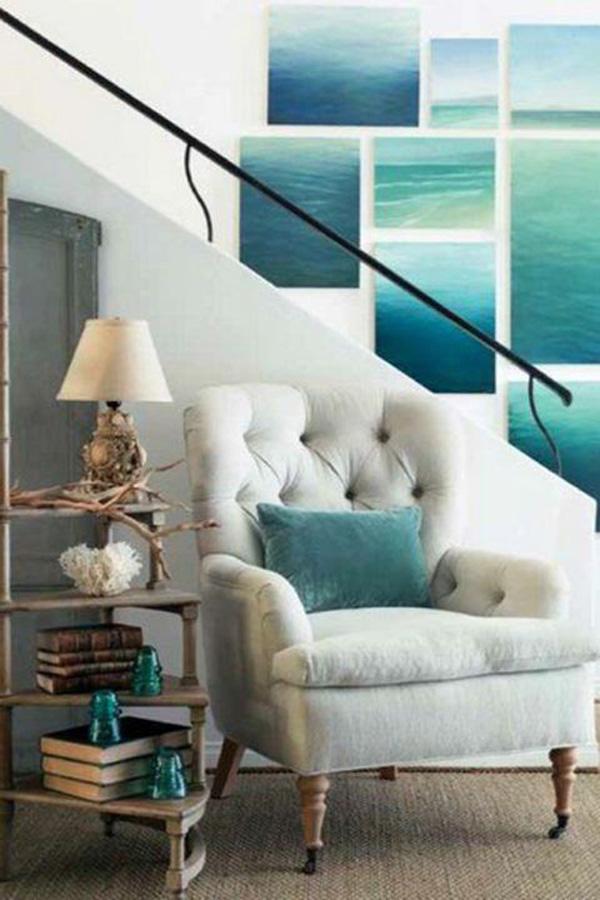 Have a taste of the beauty of the sea with those beautiful wall paintings of the water. But have a taste of comfort on this spot where you can enjoy reading or just chilling.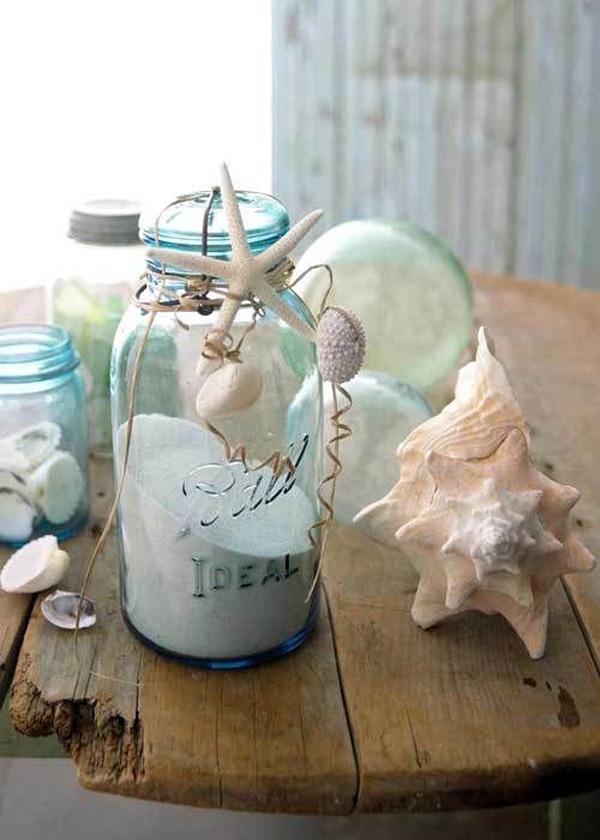 You can create this beautiful DIY jar of sand with some starfish and seashell design. This will be a great addition to your shelves or center table.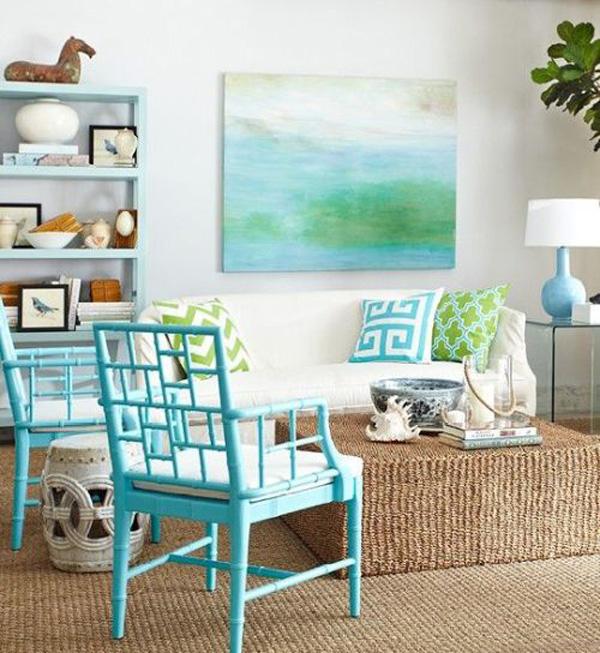 Mixing greens and blues along with wood pieces are also a sure way to let out a coastal vibe. Add to it a beautiful sea bastarct painting for a wall decoration to complete the look.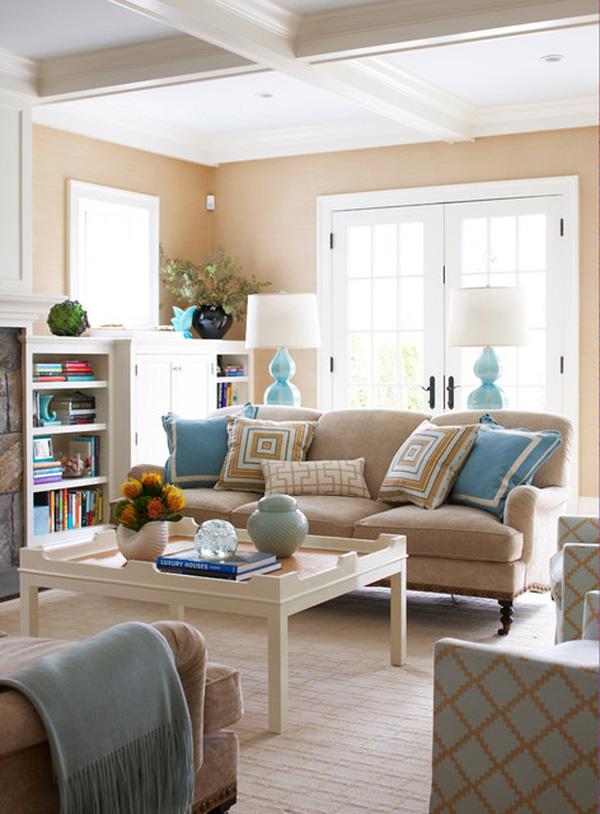 If you're not really someone who wants focus on colors, you can try to make brown the more prominent color and then just add some blues and greens.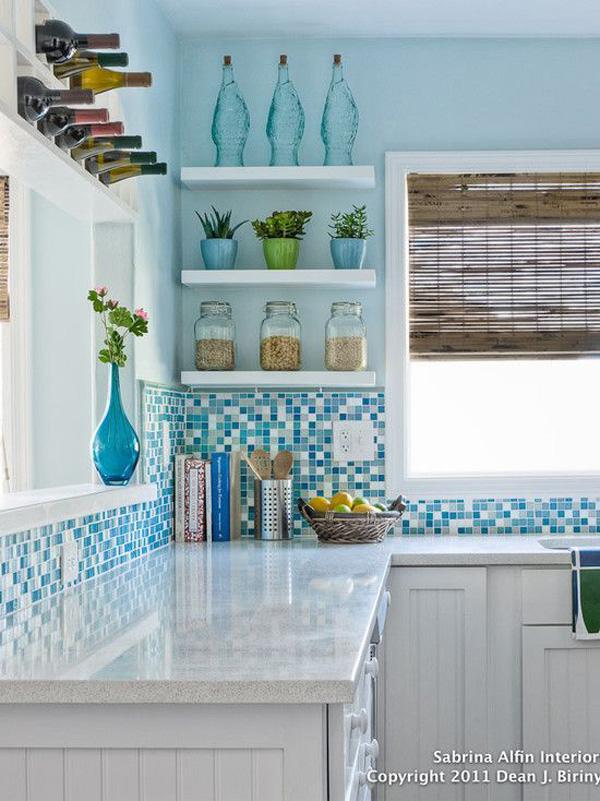 For the kitchen, green is a good color. Partner the walls with your tiles and color everything in blue to give off that cool, refreshing feeling.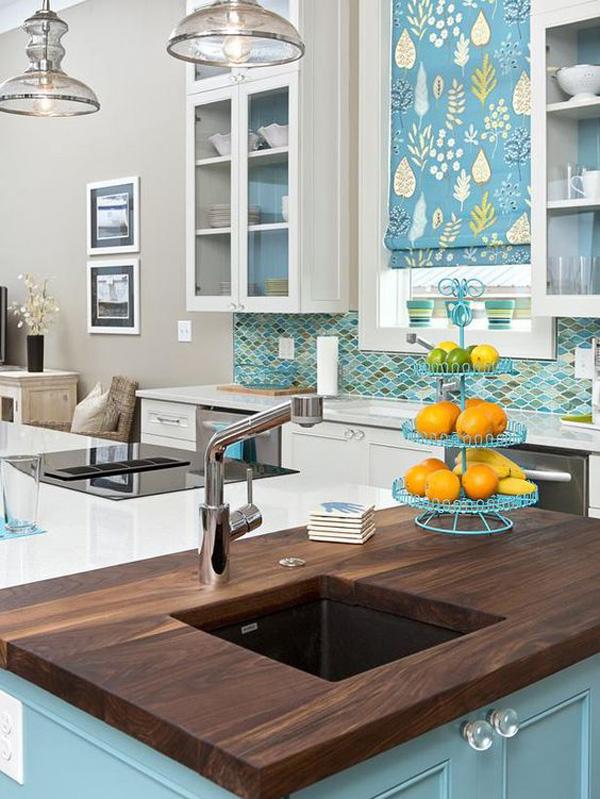 A wooden counter would do a lot of making the place look fancy and coastal along with the blue walls and tiles. And just add some fruits to complete the vibe.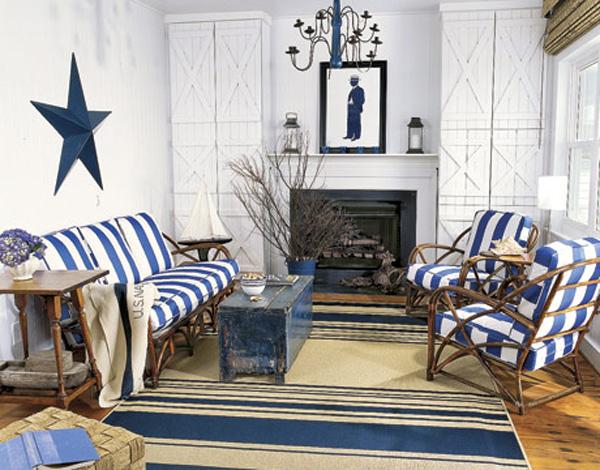 Go for the navy feel and combine stripes of navy blue and white. If you're thinking of a bold wall decor for that blank space, a giant blue star would really bring out the style of the place.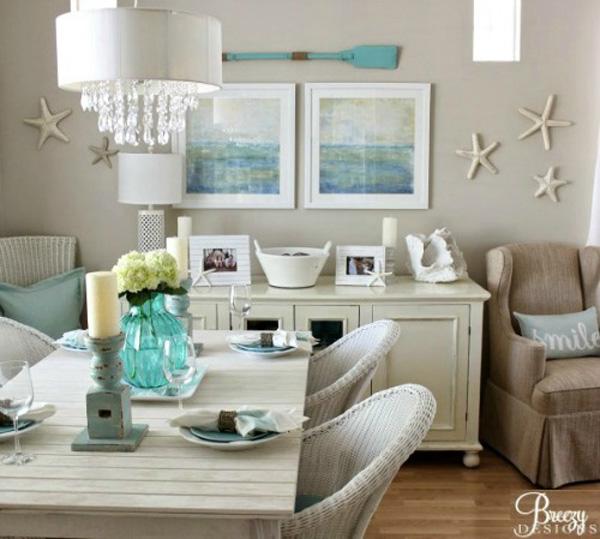 Crystal chandeliers and crystal vases can give that "fragile" feel to a whole place of wood and summer parties. It's basically a way to say home is sweet and a place for keeping things slow.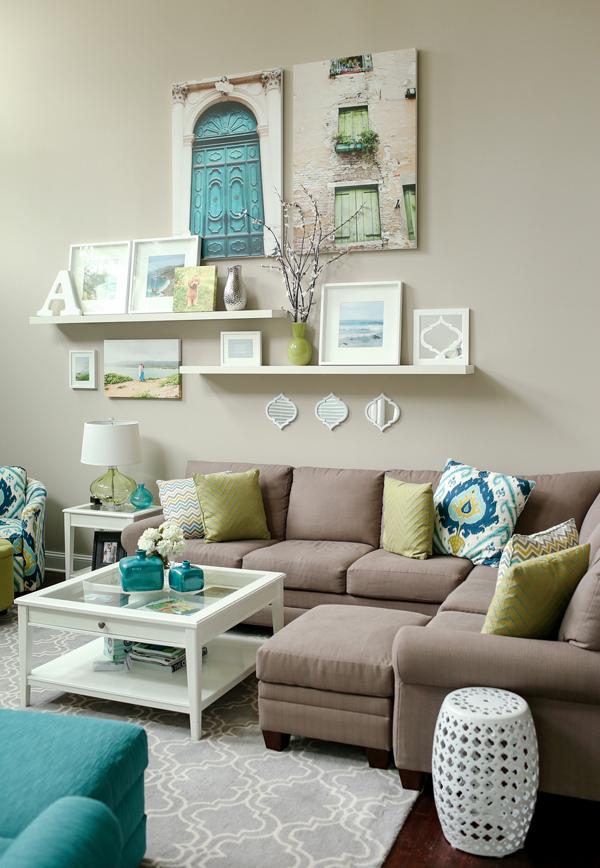 The wall mounted shelf is a great way to decorate the place while being convenient. You can place some pictures of you there by the beach. This is great especially when you're channeling the beach vibe to your suburban home.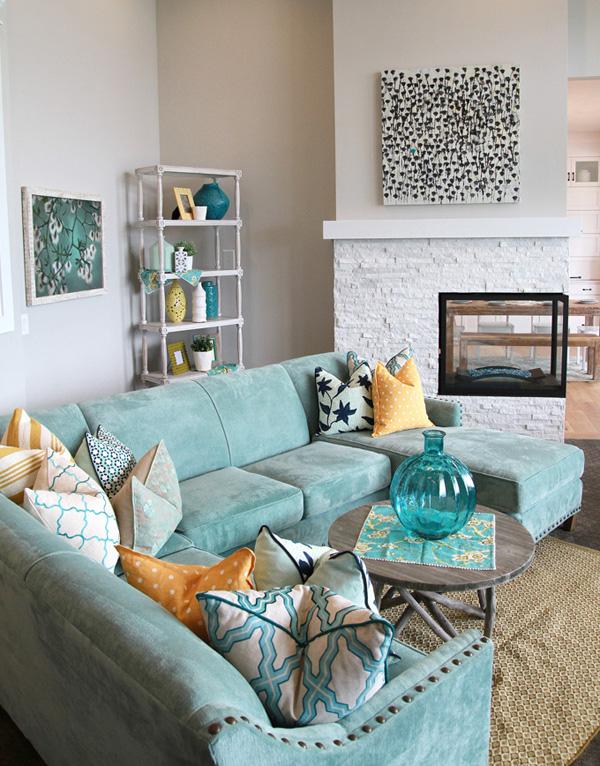 Beige walls can help make the place look a lot more normal and mature. But play with the furniture to achieve a coastal design like a blue suede sofa for a nice feeling to it.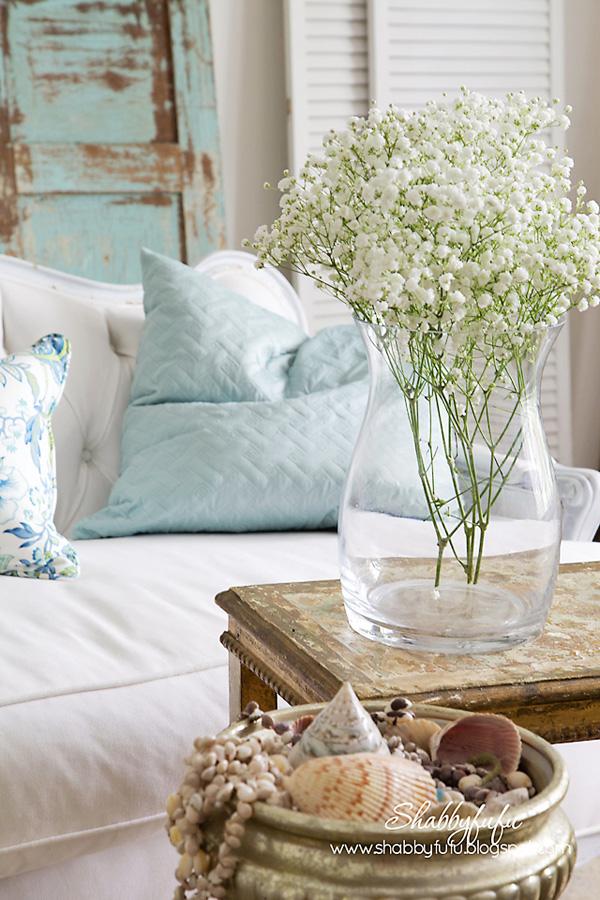 Some washed away door does make everything look authentically coastal. But if you don't have that, fresh little flowers on a vase plus some shells and rocks will help decorate the place.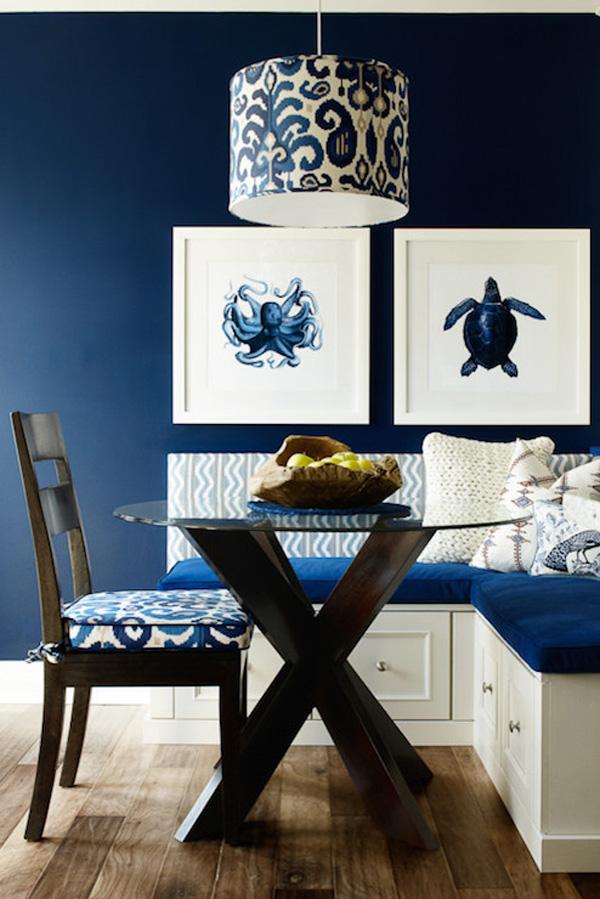 Get these cute little creatures on your wall to accompany you on boring days or to stay up with you during the long nights.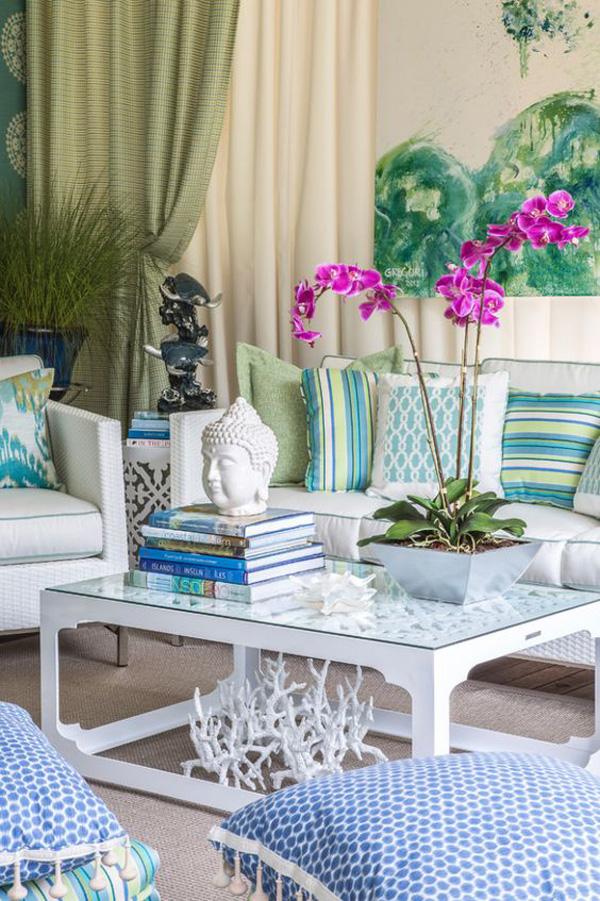 Plants like greens and a beautiful orchid will light up the room in an instant. Fresh flowers and plants do bring out a refreshing atmosphere to a room.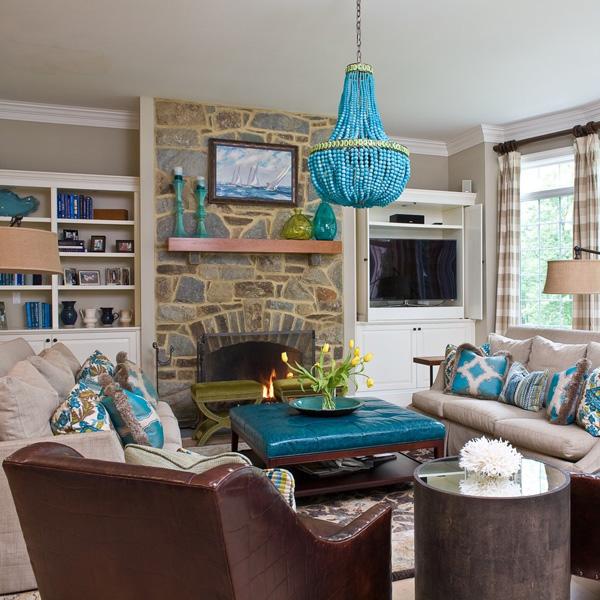 The beaded chandelier doesn't only look coastal, it also looks amazing and unique to give life to a rather common living room.