Deer tattoos have become increasingly popular in recent years, with people from all walks of life choosing to incorporate these elegant creatures into their body art. Graceful, beautiful, and powerful, deer tattoos are a compelling choice for people looking to capture the essence of these majestic creatures. In this article, we will delve into the various aspects of the animal tattoos, including their symbolism, design variations, and placement options.
Symbolism of Deer Tattoos
Deer tattoos are often chosen because of the deep and varied symbolism associated with these creatures. In different cultures and mythologies, the deer has been revered and admired for its many qualities. Let's explore some of the most common symbolic meanings behind body artwork .
Grace and Beauty
The deer is a creature that embodies grace and beauty. Their elegant movements, slender bodies, and gentle demeanor have long captivated the hearts of many. A deer tattoo can represent these qualities, making it a popular choice for those who appreciate the natural beauty and grace of these animals.
Strength and Resilience
Despite their delicate appearance, deer are known for their strength and resilience. They are agile and fast, able to navigate through difficult terrain with ease. A deer tattoo can symbolize one's own inner strength and resilience, a reminder that even in difficult times, we can overcome obstacles and forge ahead.
Growth and Transformation
Deer are often associated with growth and transformation, as they shed and regrow their antlers each year. This process can symbolize the cycle of life and personal development, making a deer tattoo a fitting choice for someone who has experienced significant growth or change in their life.
Spirituality and Connection to Nature
Deer have long been seen as spiritual animals, with a strong connection to the natural world. In many Native American cultures, the deer is considered a messenger between the physical and spiritual realms, and a symbol of intuition and spiritual guidance. In Celtic mythology, the deer is associated with the otherworld, and it is believed that they can help guide souls through the transition between life and death. By choosing a the creature as the motif of the tattoo, individuals can express their connection to nature and their spiritual beliefs.
Design styles and ideas
Deer tattoos come in various designs and styles, allowing for a great deal of creativity and personalization. There are countless ways to incorporate the deer into a tattoo design, with each style carrying its own unique meaning and symbolism. Here are some popular design variations to consider when choosing your deer tattoo.
Realistic Deer Tattoos
For those who admire the natural beauty of deer, a realistic tattoo can be a stunning choice. These designs involve intricate shading and detail, capturing the lifelike appearance of the animal. Realistic deer tattoos can be done in either black and gray or color, depending on your preference.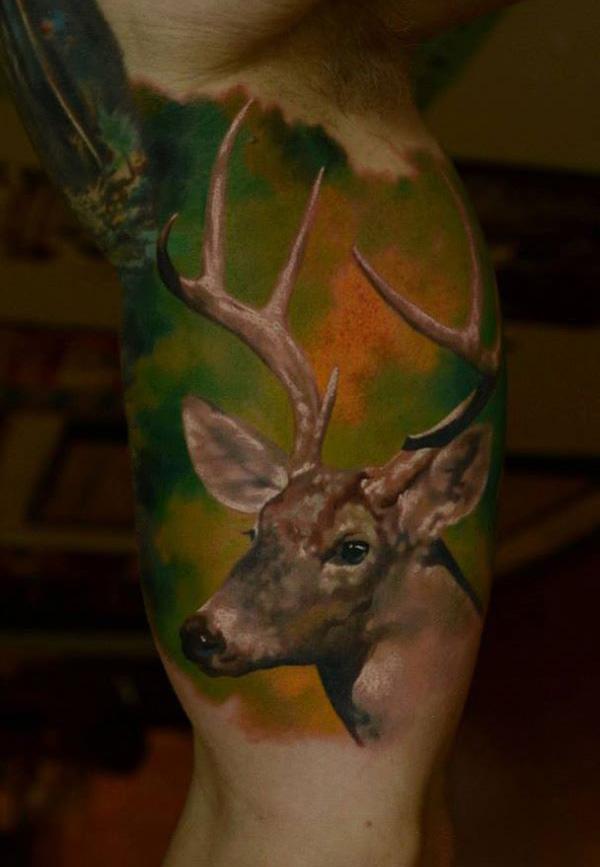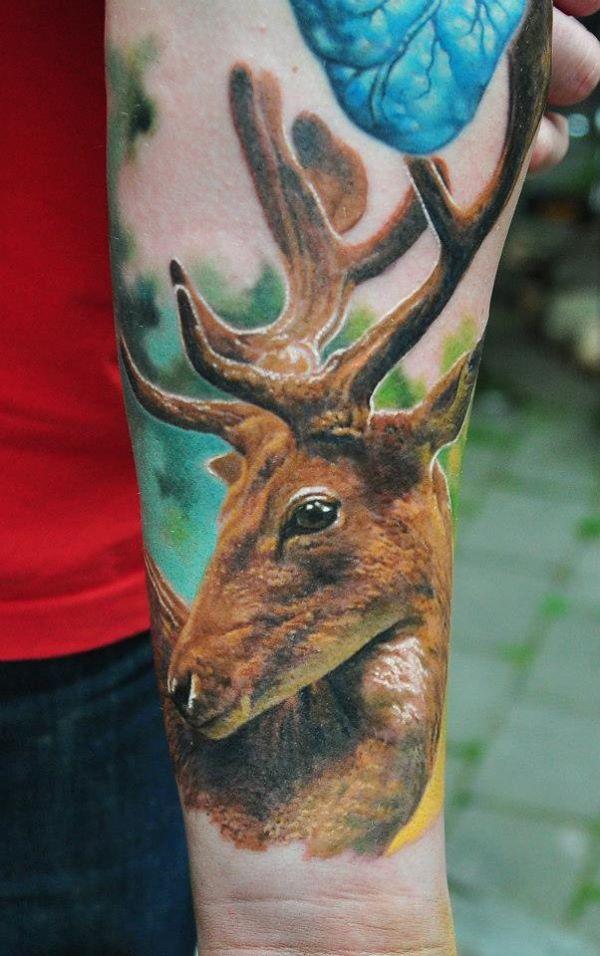 Geometric Deer Tattoos
Geometric Deere tattoos combine the beauty of the deer with the precision and symmetry of geometric shapes. This style often involves the use of bold lines and patterns, creating a striking and modern design. Geometric tattoos can be done in black and gray or with pops of color for added contrast.
Geometric Deer Tattoo on Hand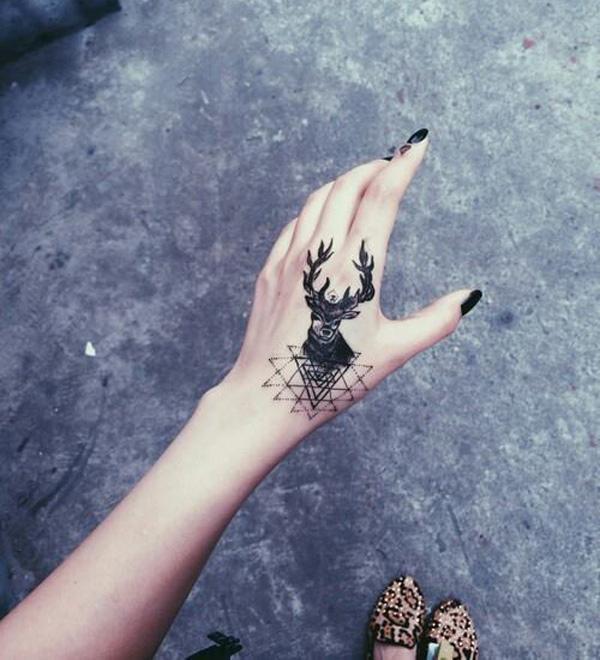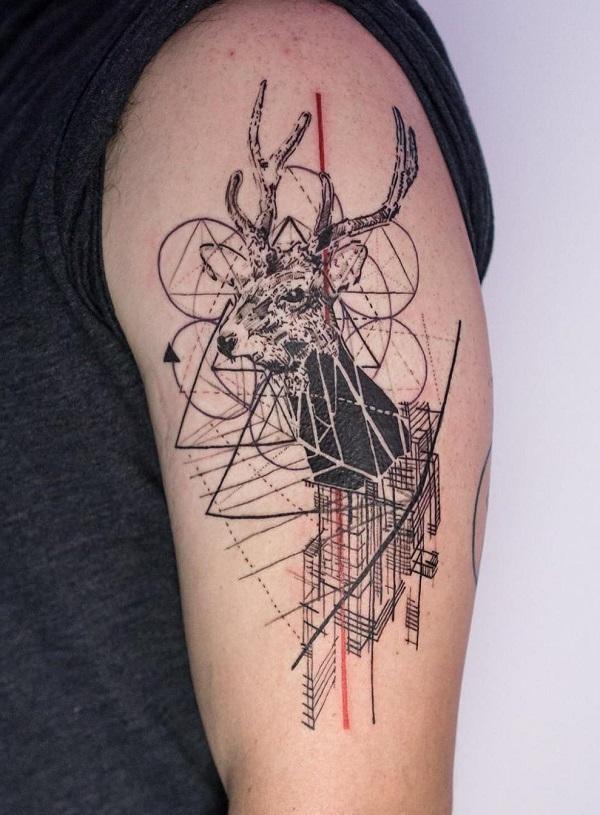 Deer with triangle symbols ink design on forearm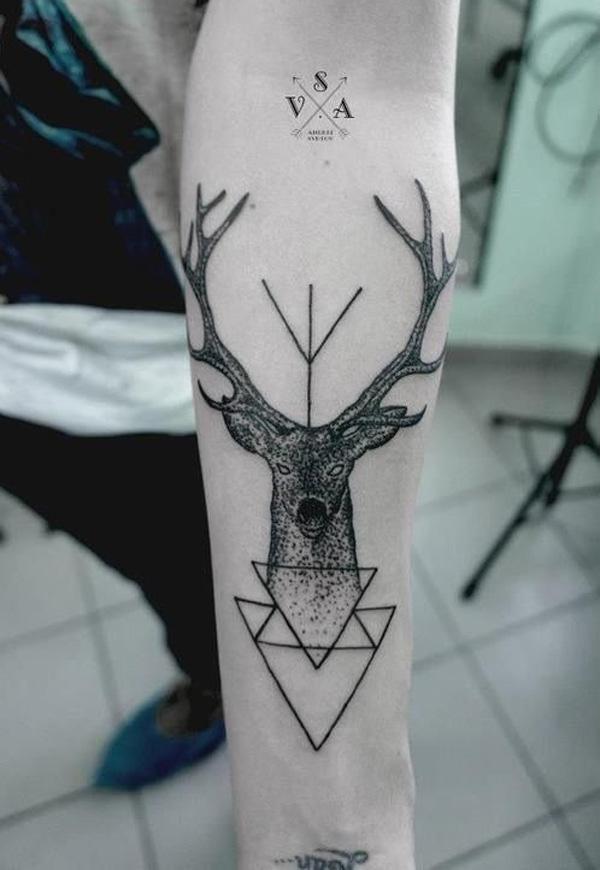 Tribal Deer Tattoos
Tribal deer tattoos are inspired by indigenous and tribal art, featuring bold lines and patterns that create a sense of movement and energy. These designs often focus on the deer's silhouette or head, incorporating traditional tribal elements to create a unique and powerful tattoo.
Watercolor Deer Tattoos
Watercolor deer tattoos are a beautiful and artistic choice that utilizes the fluidity and vibrancy of watercolor paints. These designs often involve splashes of color that blend seamlessly into the deer's form, creating a dynamic and visually captivating body art.
Minimalist Deer Tattoos
For those who prefer a more subtle design, minimalist deer tattoos are an excellent option. These tattoos often involve simple line work or silhouettes, capturing the essence of the deer with minimal detail. Minimalist tattoos can be small and delicate, making them a popular choice for those looking for a discreet tattoo.
Skull and Antler Tattoos
Deer skull and antler tattoos focus on the striking silhouette of the deer's skull and antlers, often incorporating other elements such as flowers, foliage, or geometric shapes. This design can symbolize the cycle of life and death, as well as the strength and resilience of the deer.
Deer and bird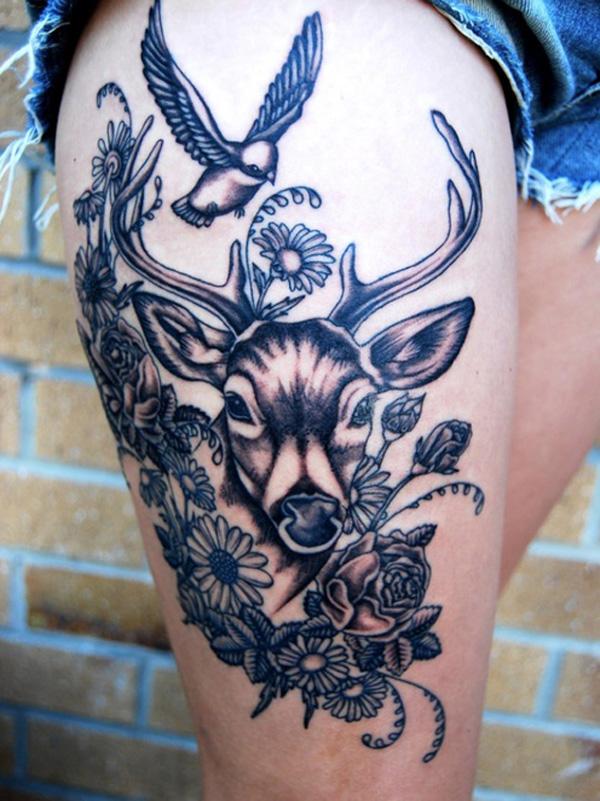 King of the Forest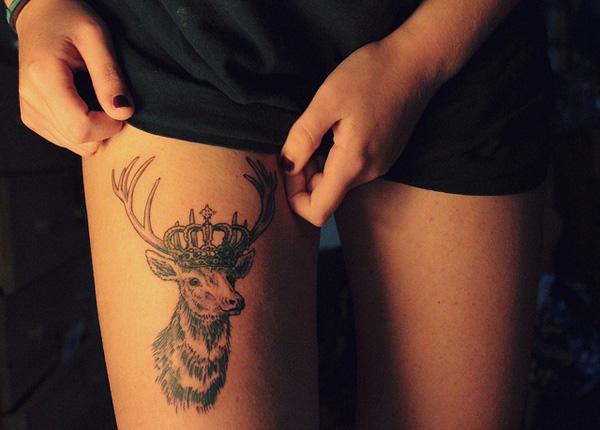 Stag Skull and Flower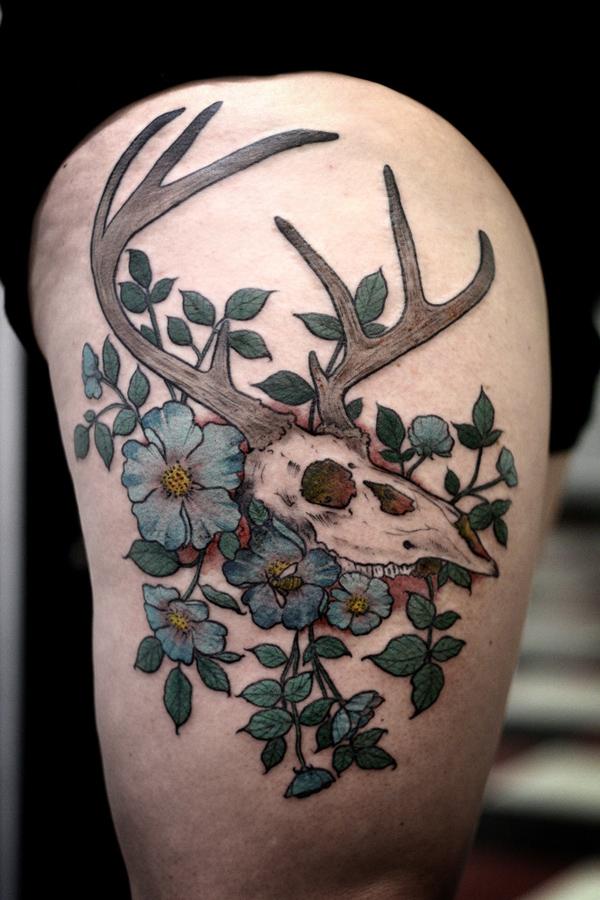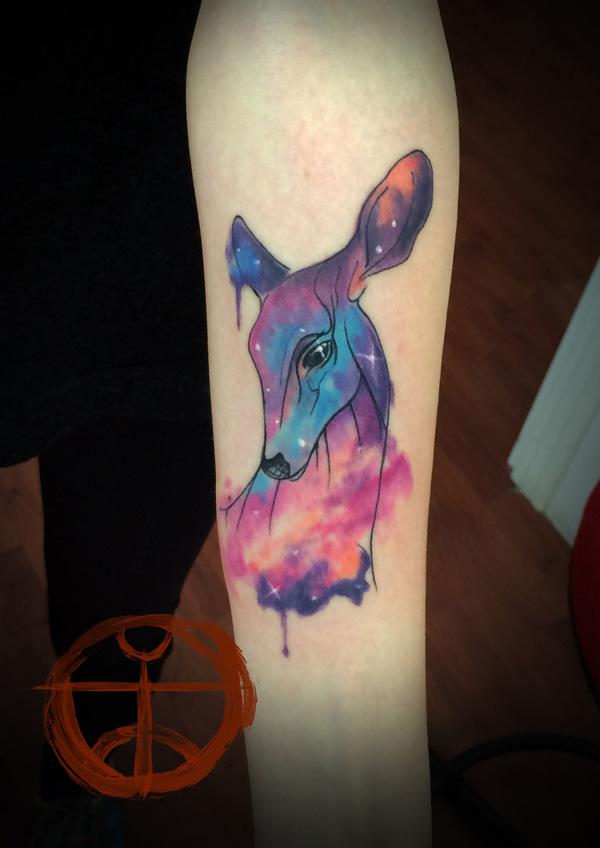 Deer Mother and Baby on Half Sleeve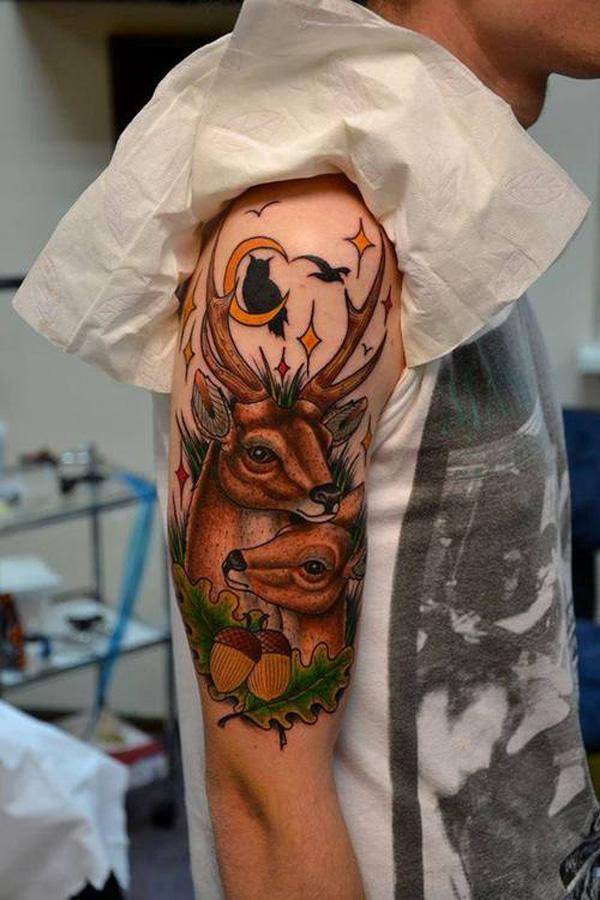 Deer and flower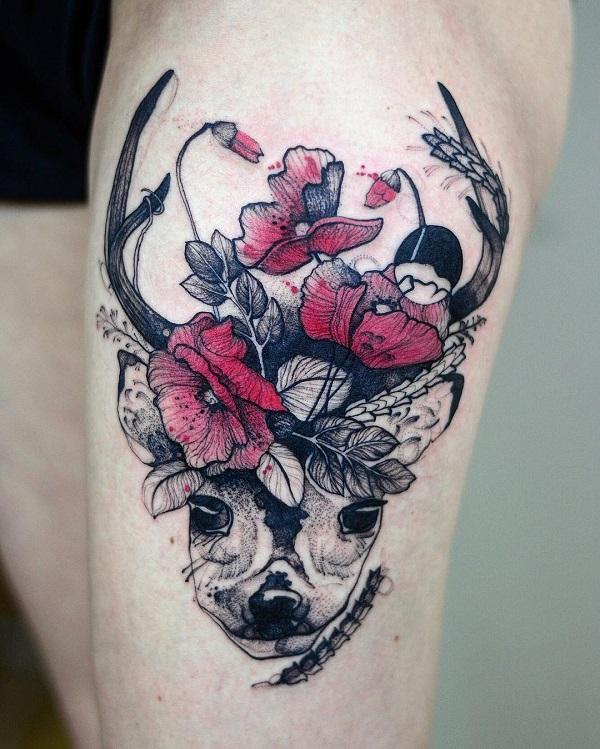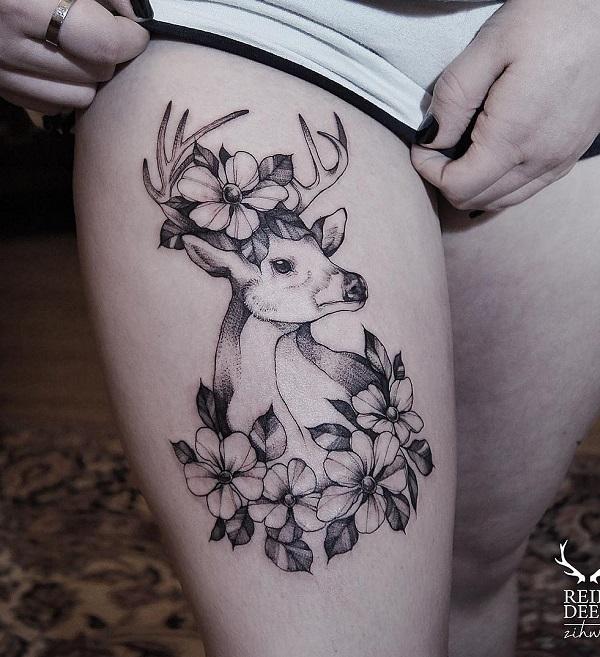 Deer sleeve tattoo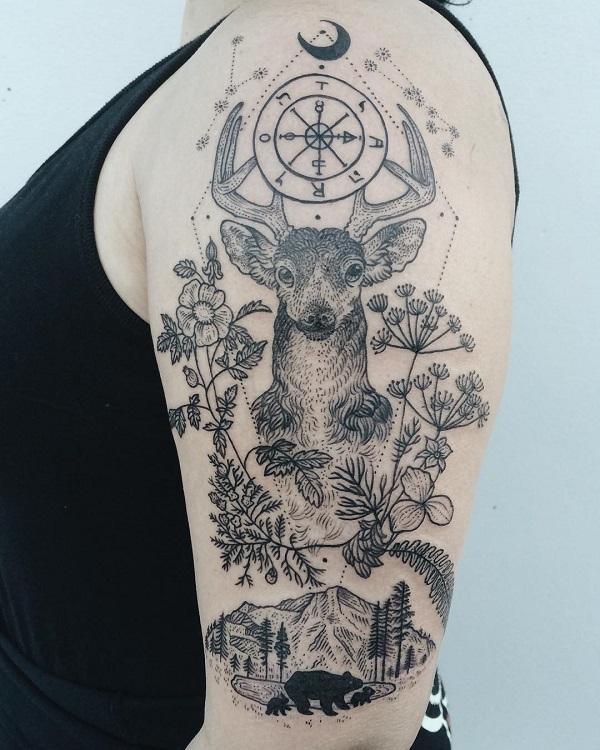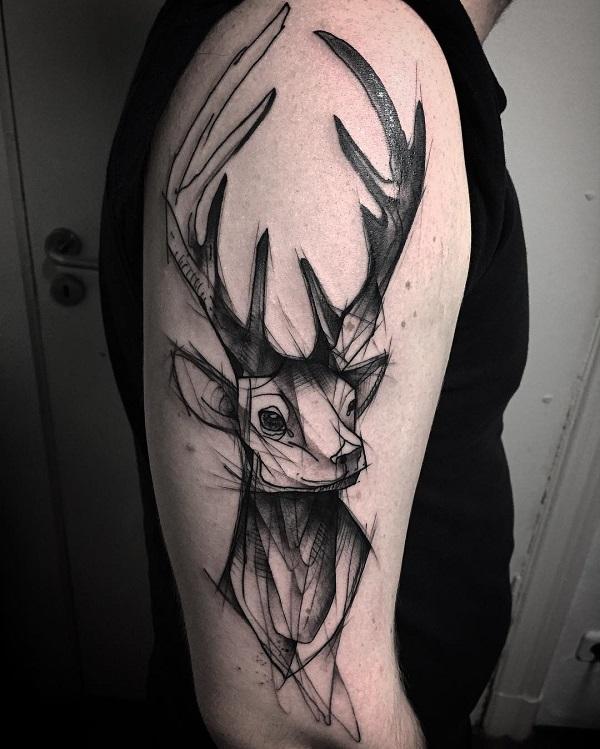 Deer sketch
Crescent Moon, Deer and flower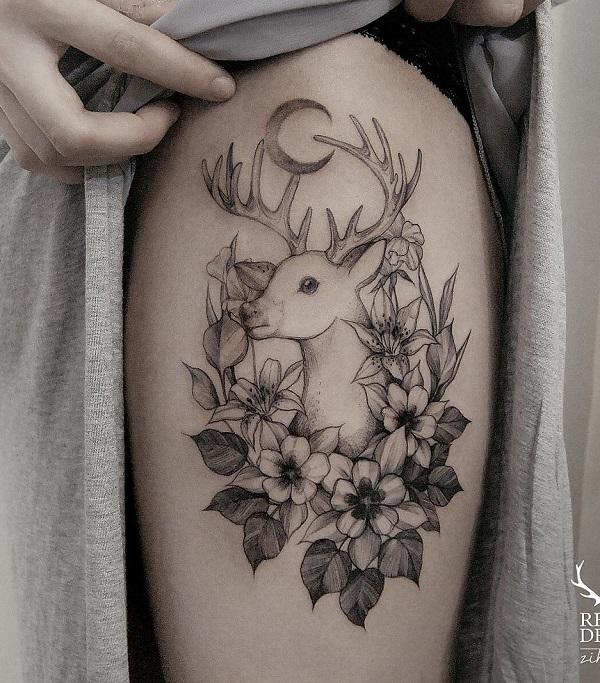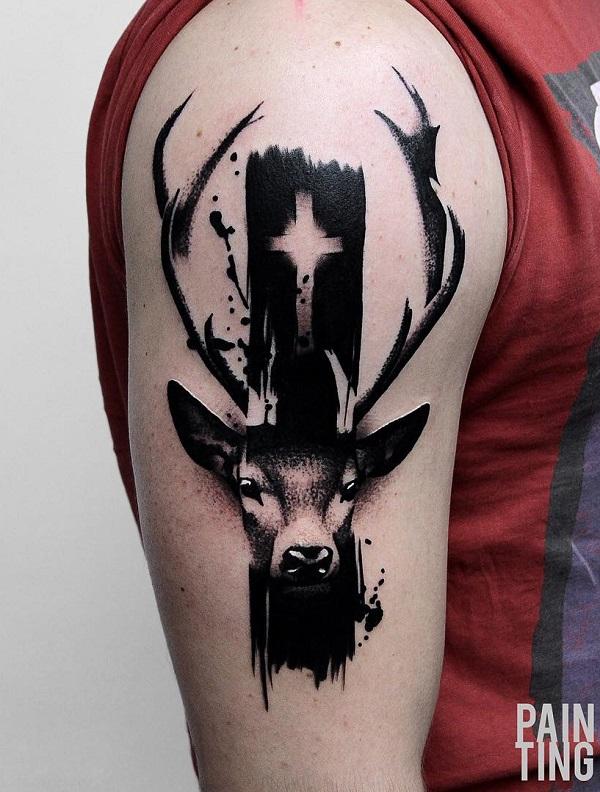 Deer with flower deer tattoo on back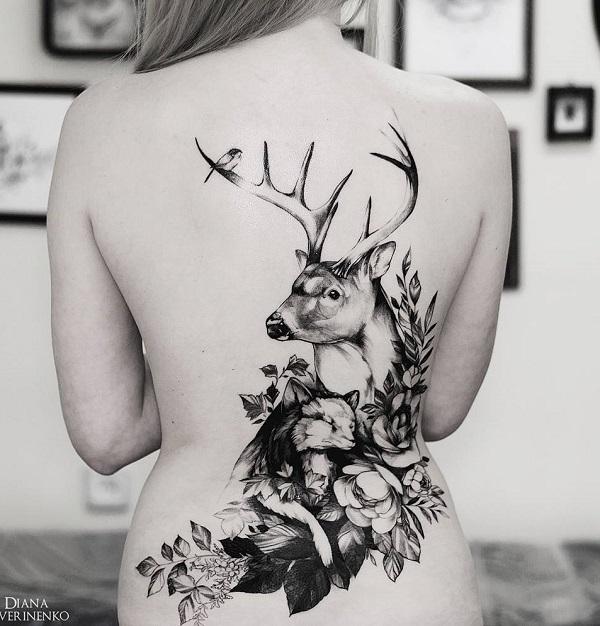 Illustration style deer half sleeve tattoo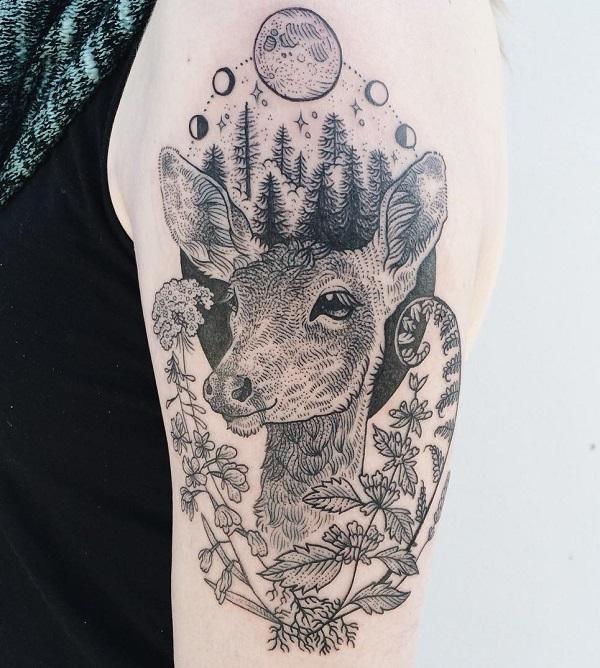 Watercolor deer tattoo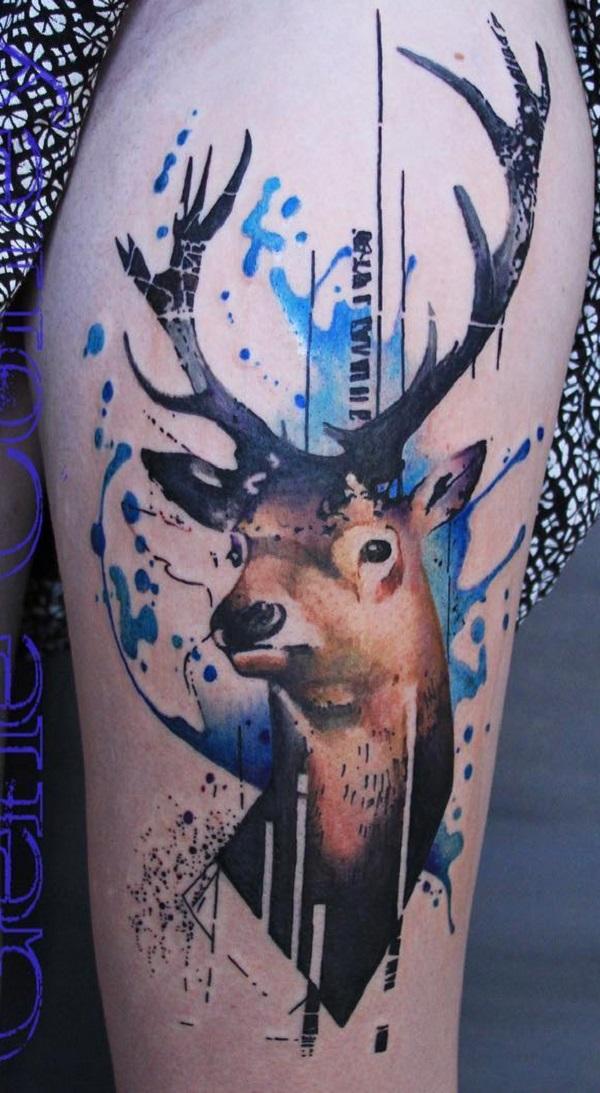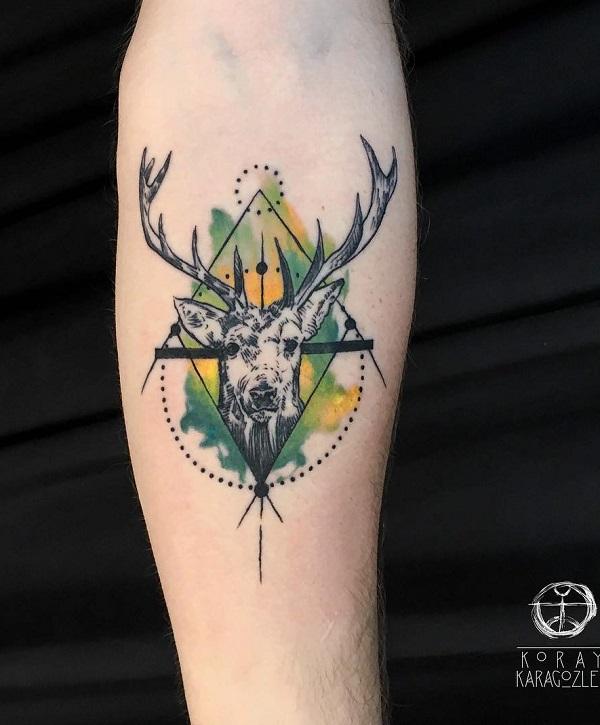 Colored deer sleeve tattoo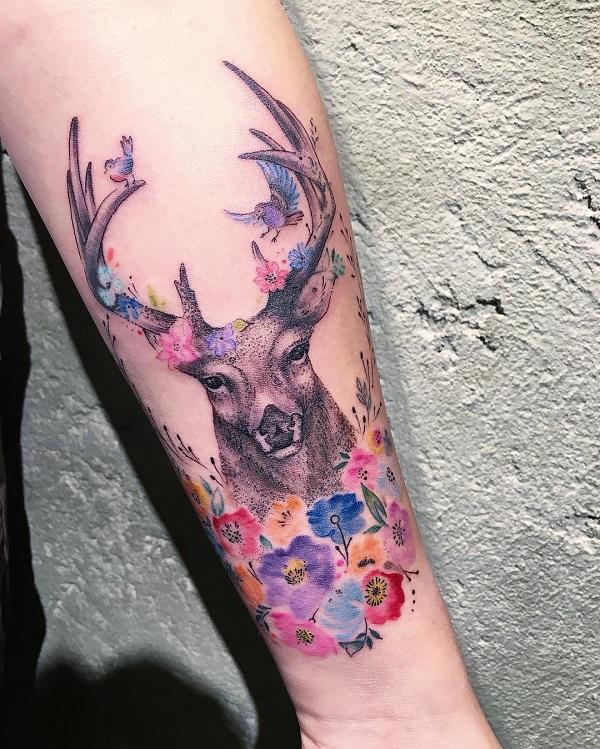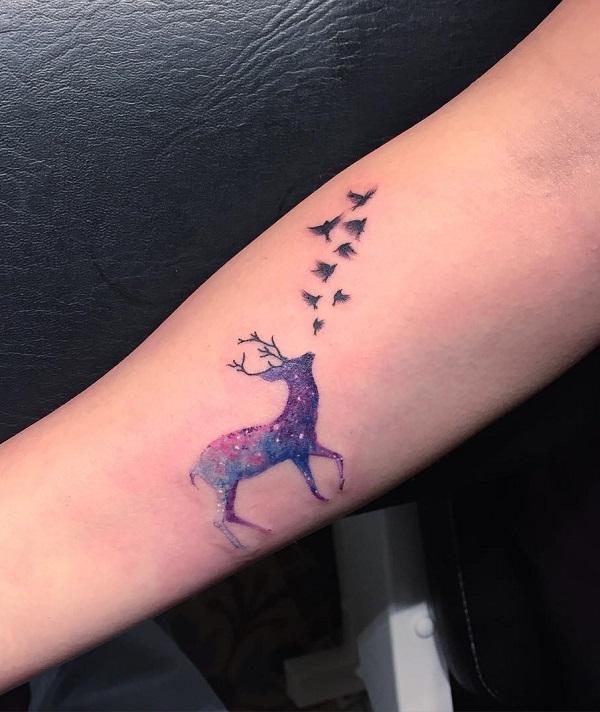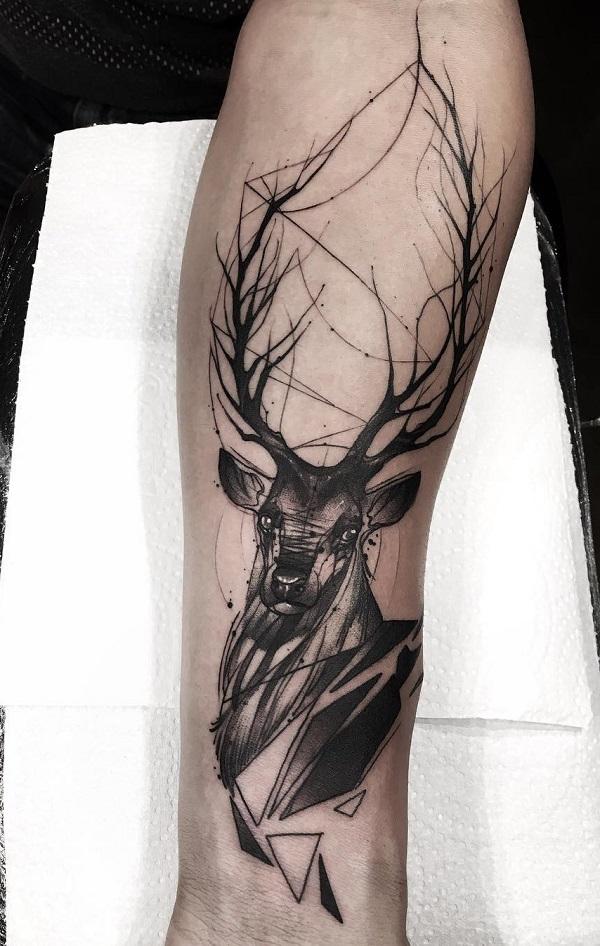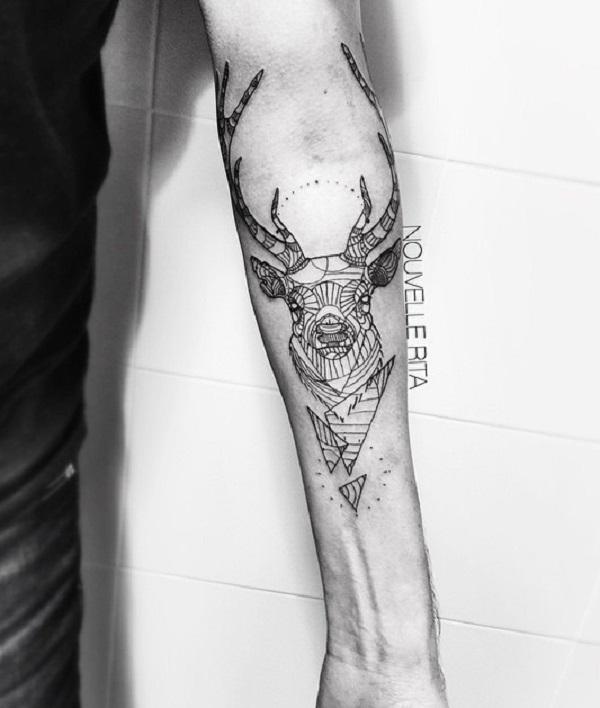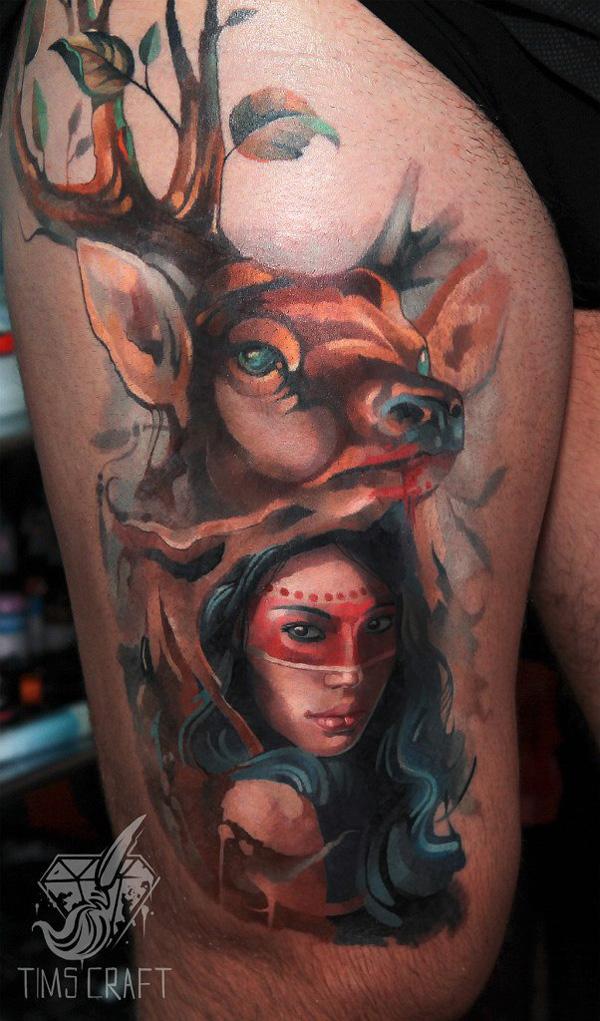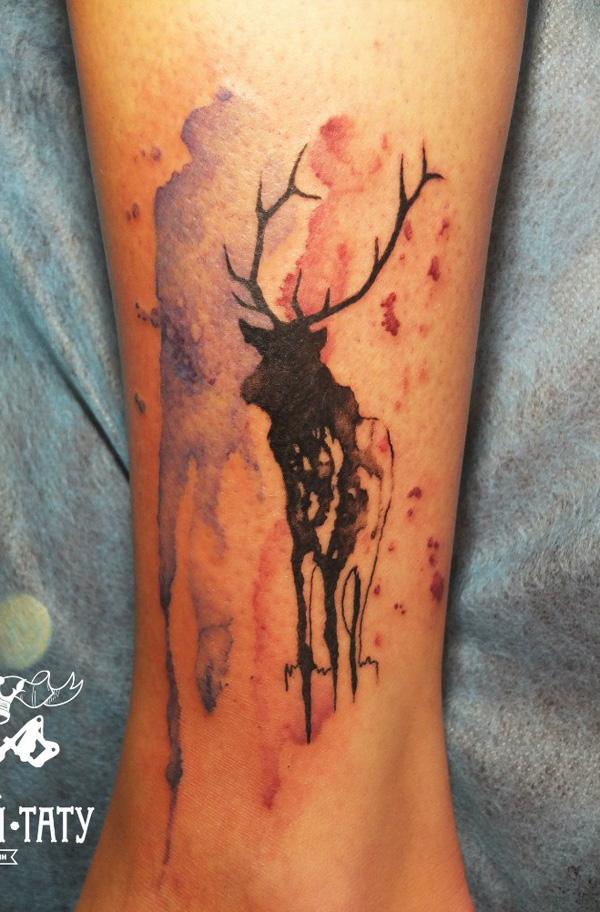 Stag Skull and Tree Antler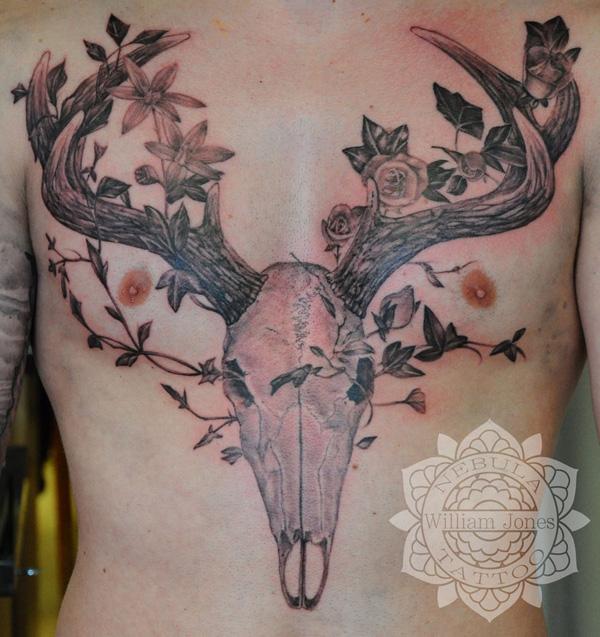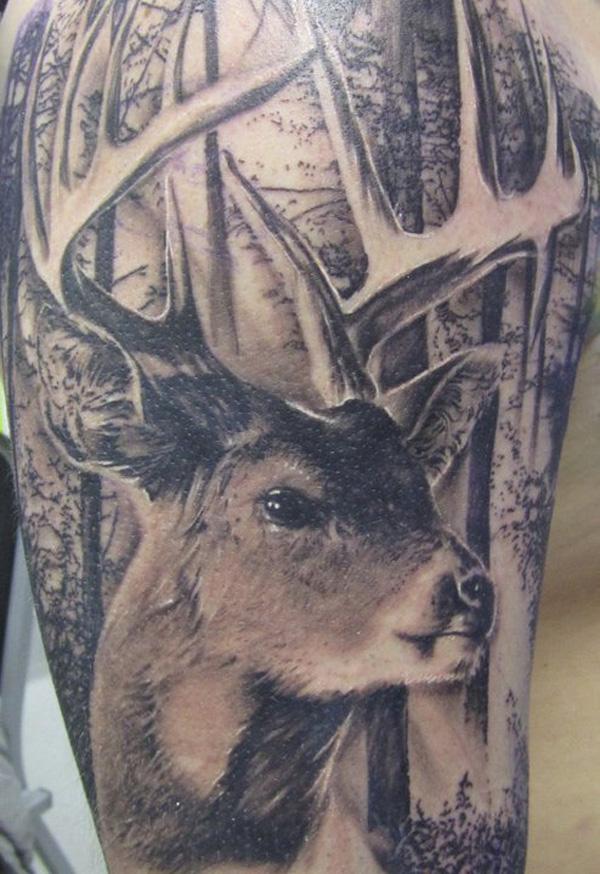 Kerste Diston – Pastel Deer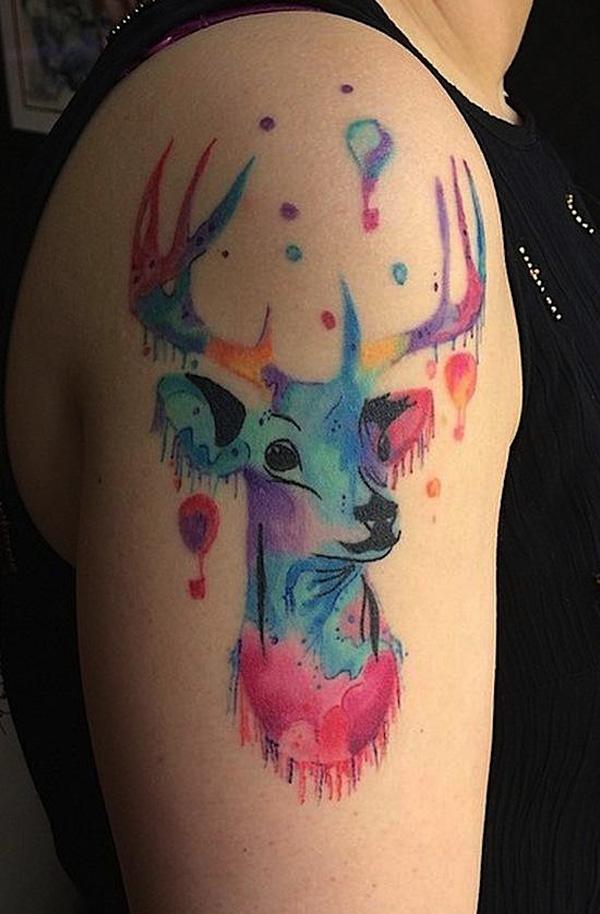 Tiny Deer Neck Tattoo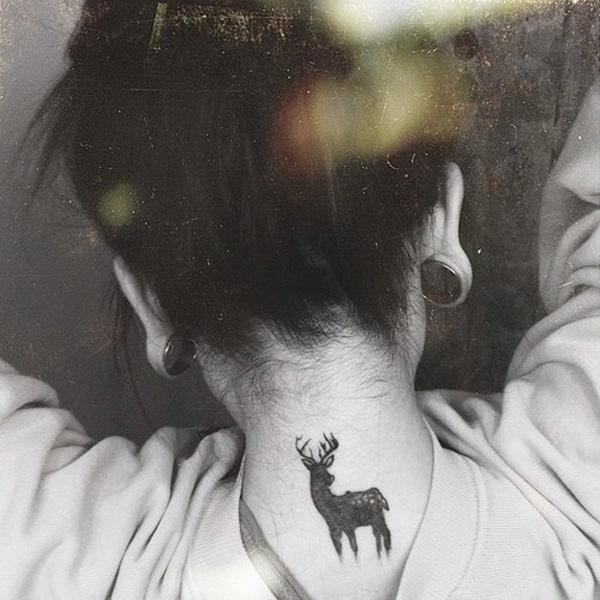 Roses blackberries and Deer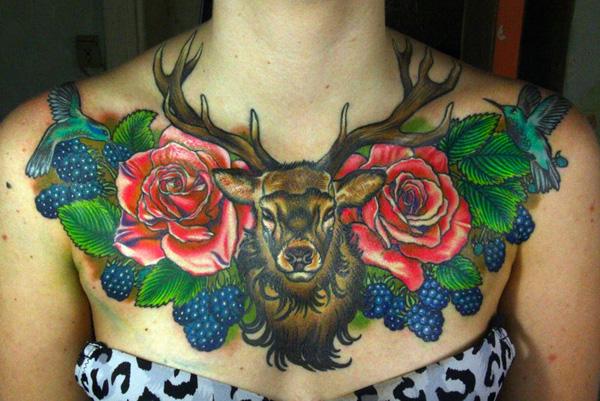 Wolf and Deer Sleeve Tattoo for Women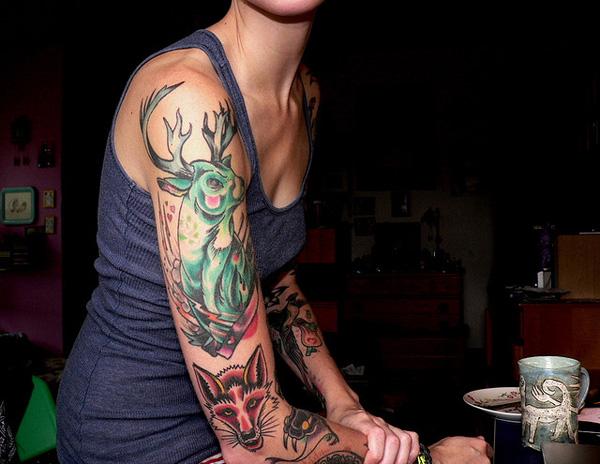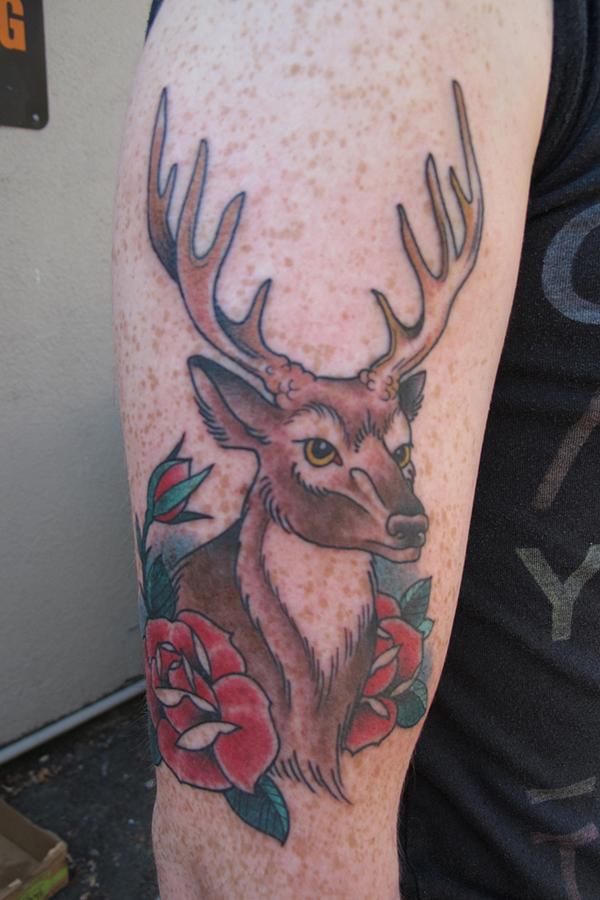 Twin deer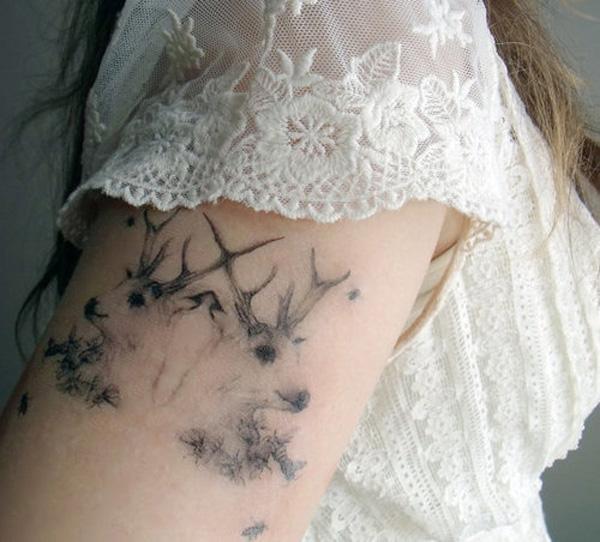 Deer Finger Tattoo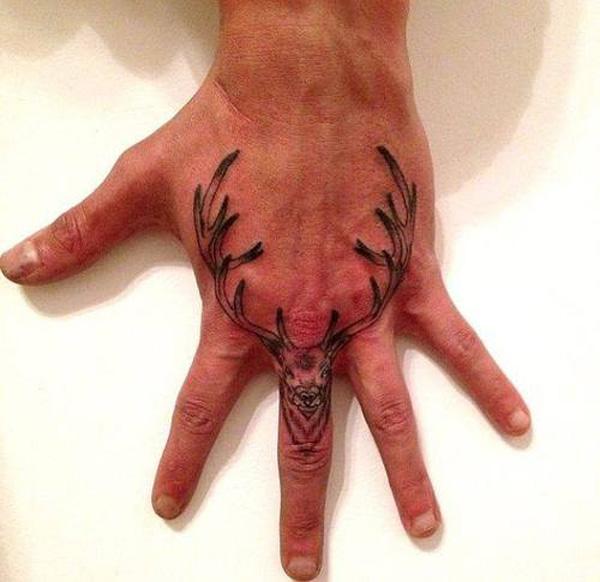 Deer in Illustration style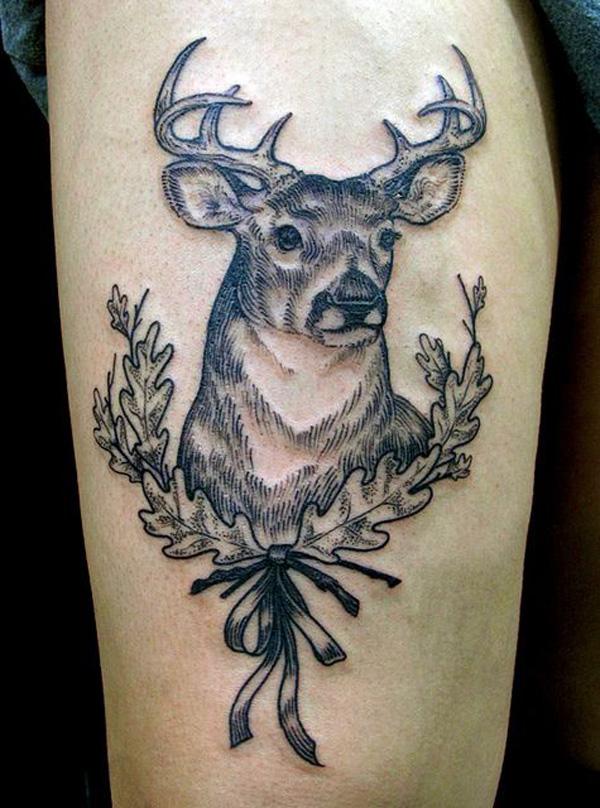 Tea Pot, Deer and Flowers
Illustration style Deer Tattoo on Thigh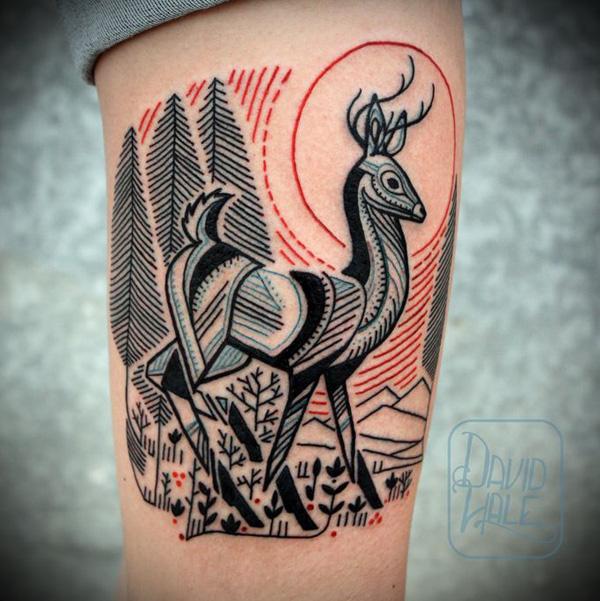 Cute Deer and Flower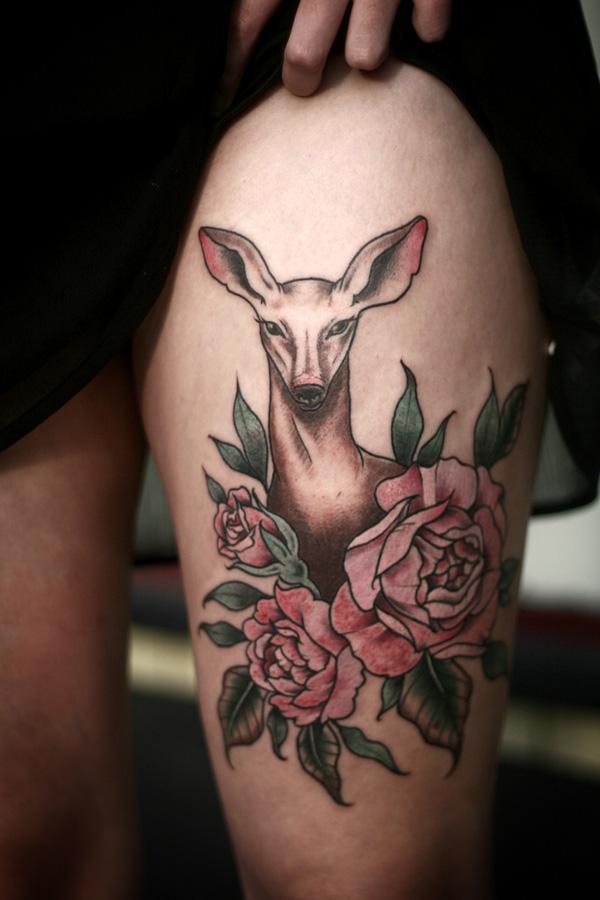 Blue deer and Red plum flowers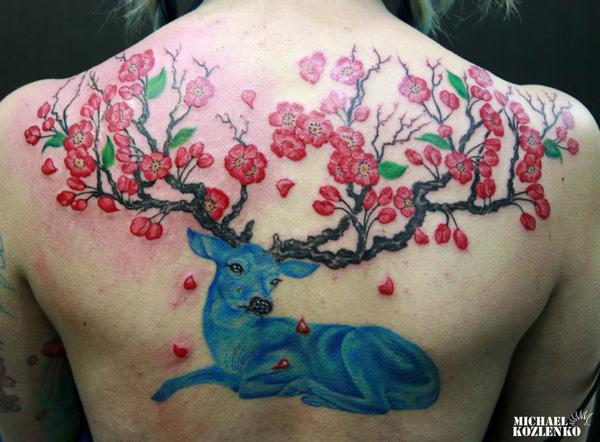 Neo traditional Deer and Skull Tattoo for Men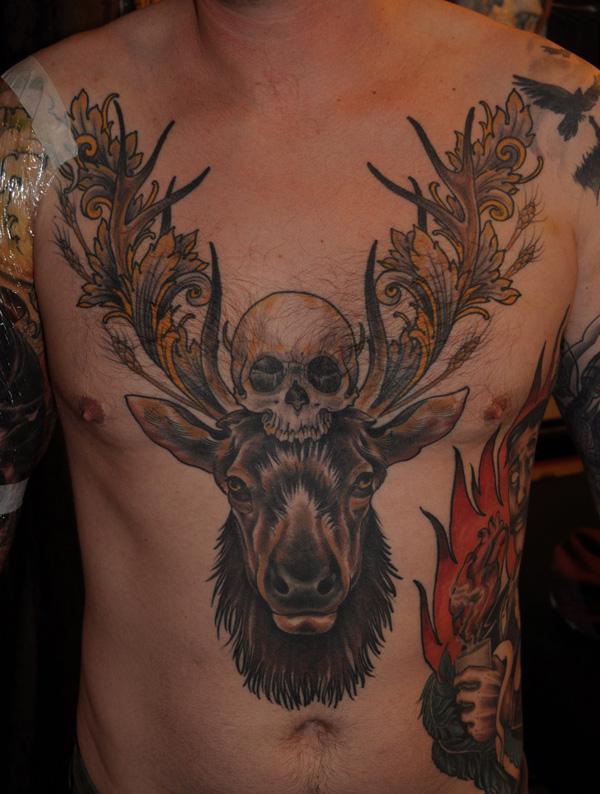 Colorful zodiac deer tattoo on upper arm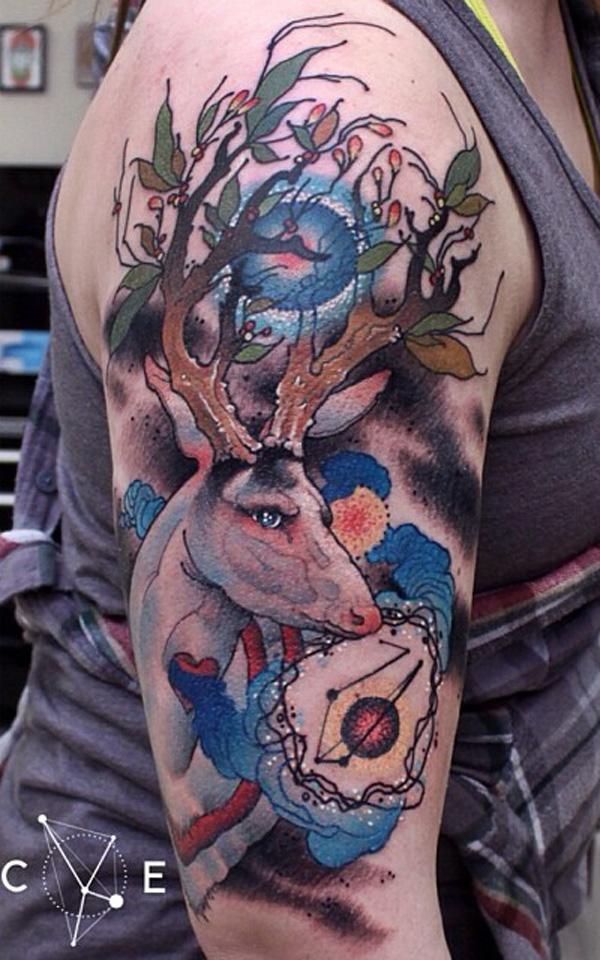 Arrow and Deer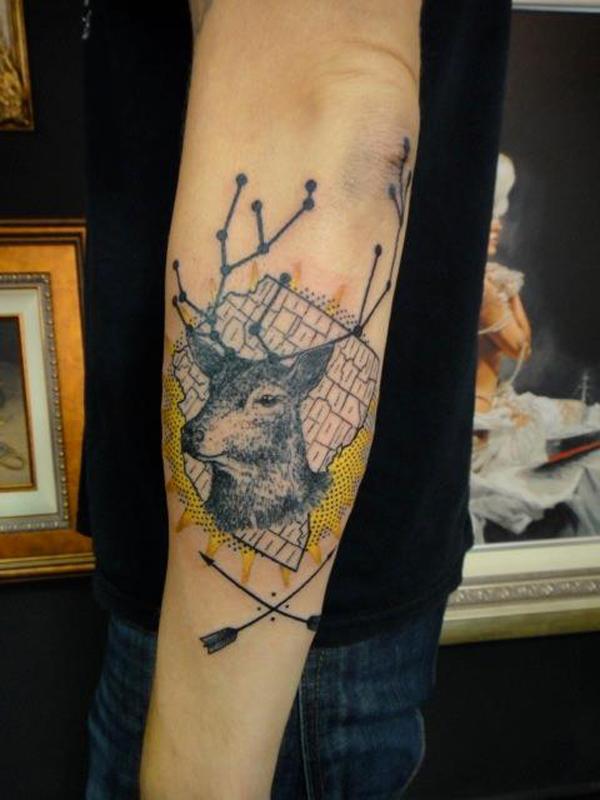 Calf Deer Tattoo for Men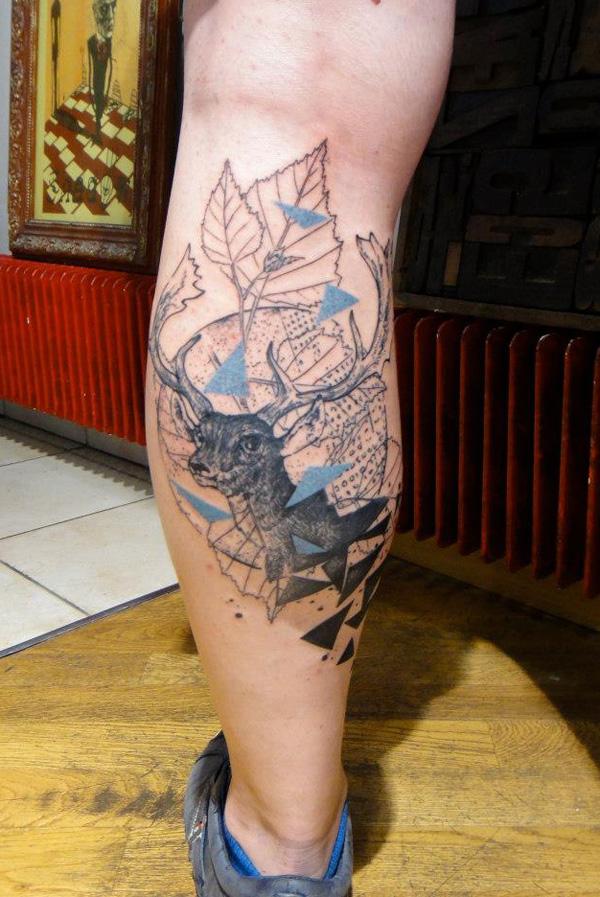 Vintage Deer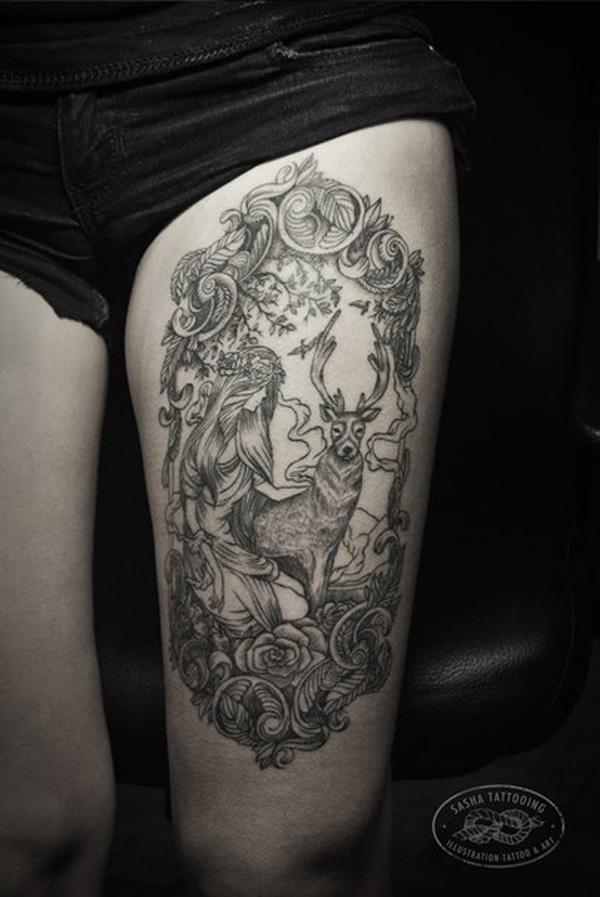 Watercolor Deer Tattoo on Side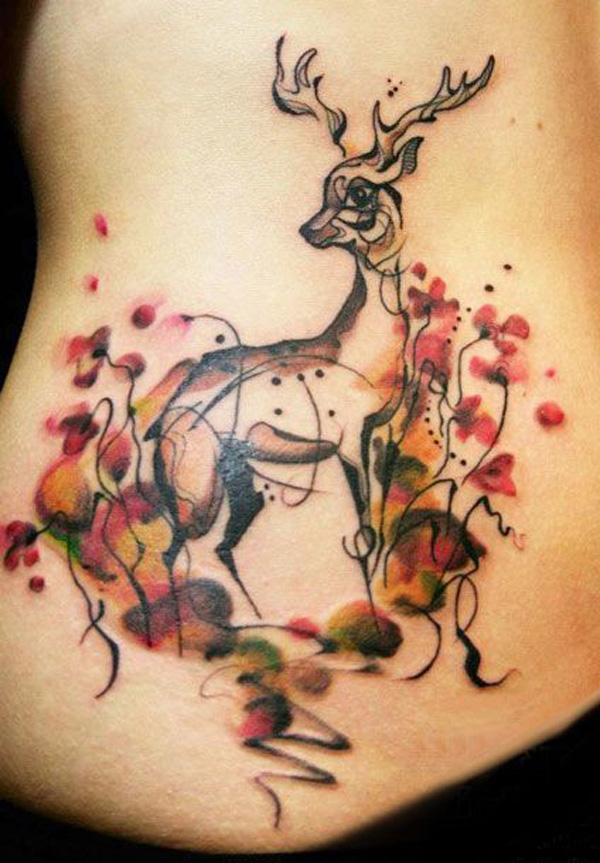 Deer Side Tattoo for Men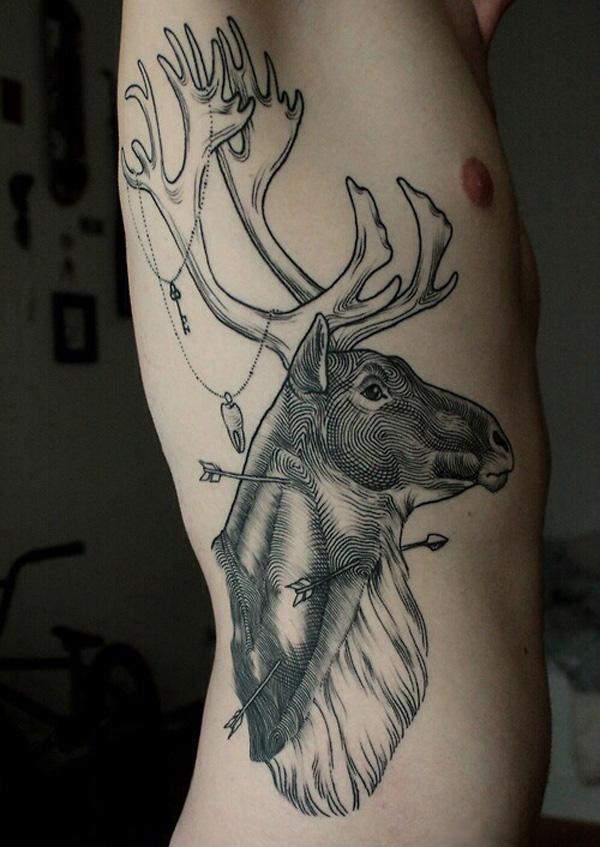 Forearm Watercolor Deer Tattoo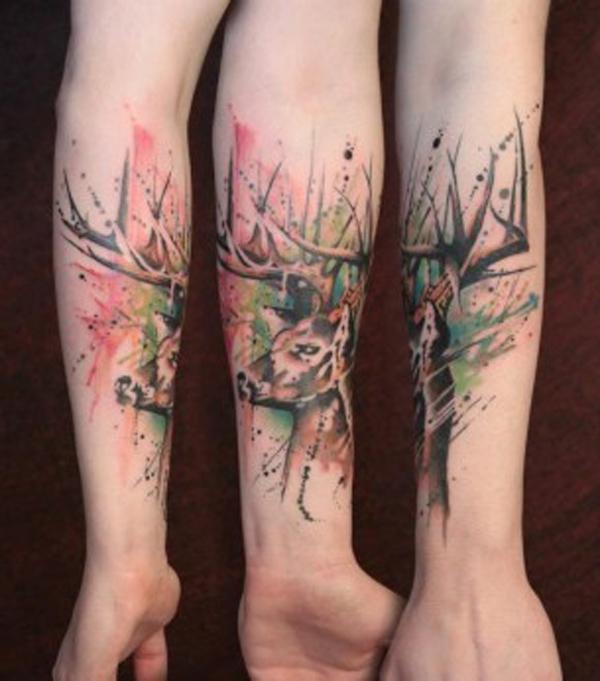 Coloured deer tattoos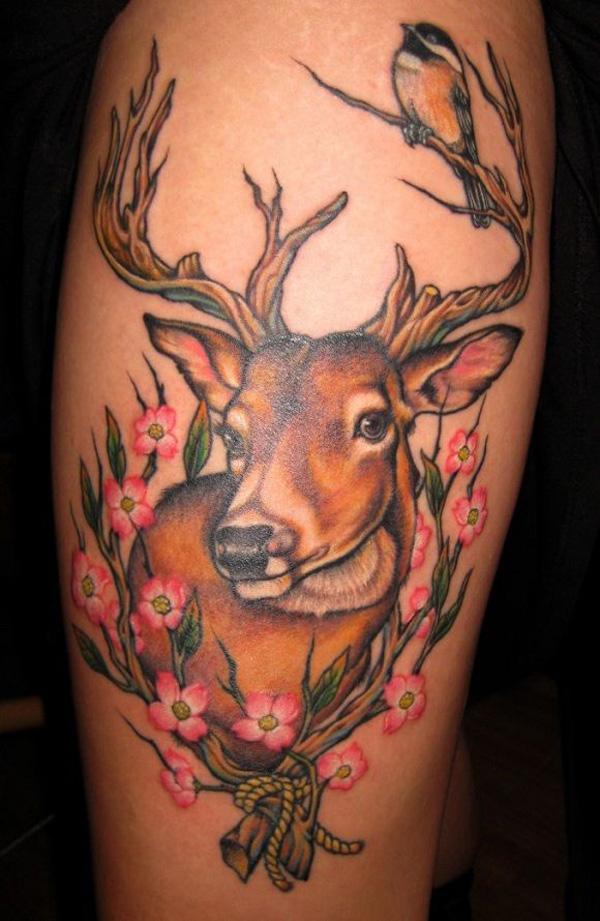 Deer drawing tattoo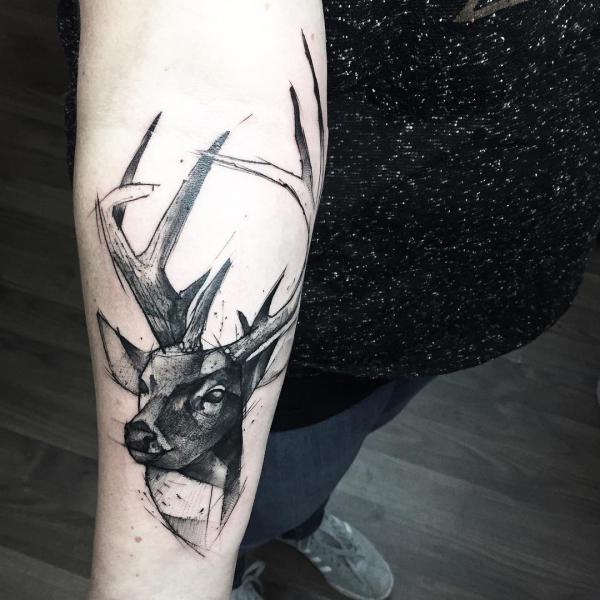 Deer in forest tattoo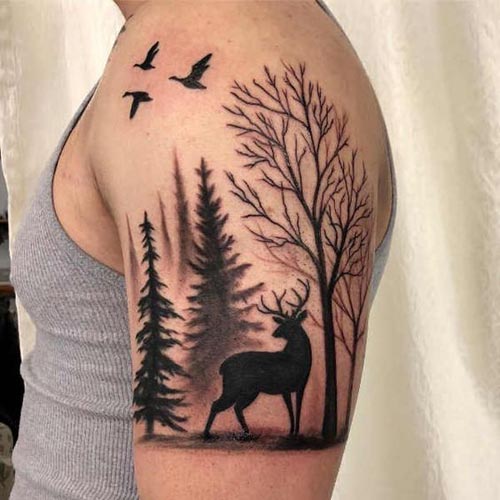 Fine line deer and rose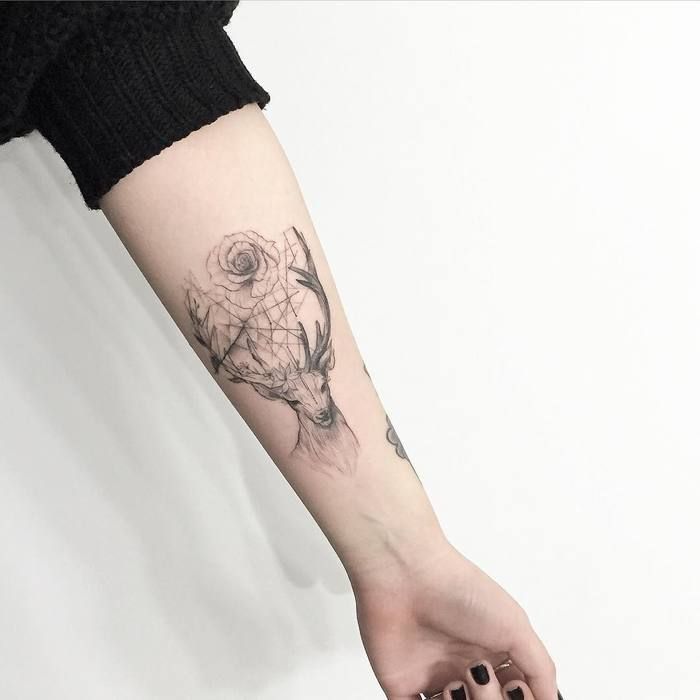 Deer and flowers back tattoo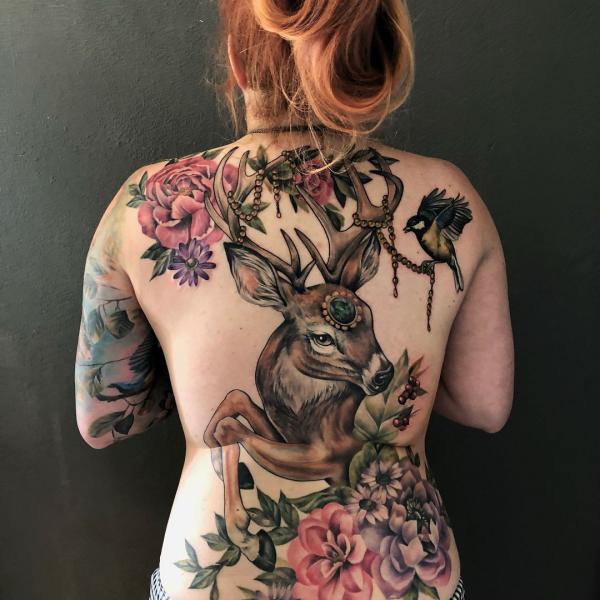 Geometric deer dotwork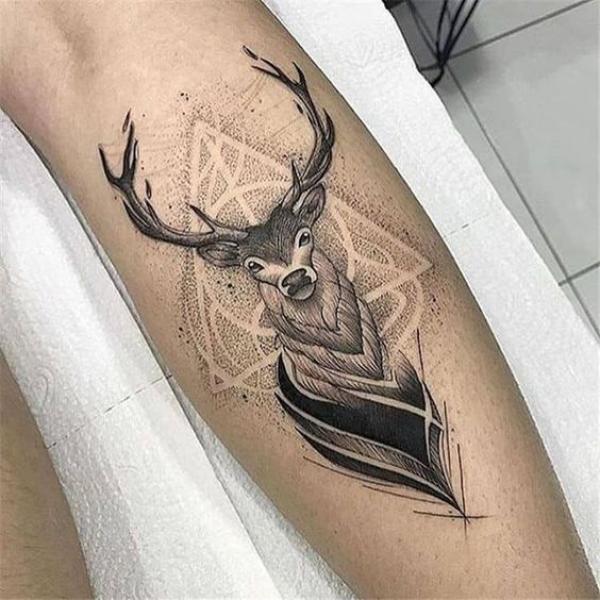 Deer and tree silhouette tattoo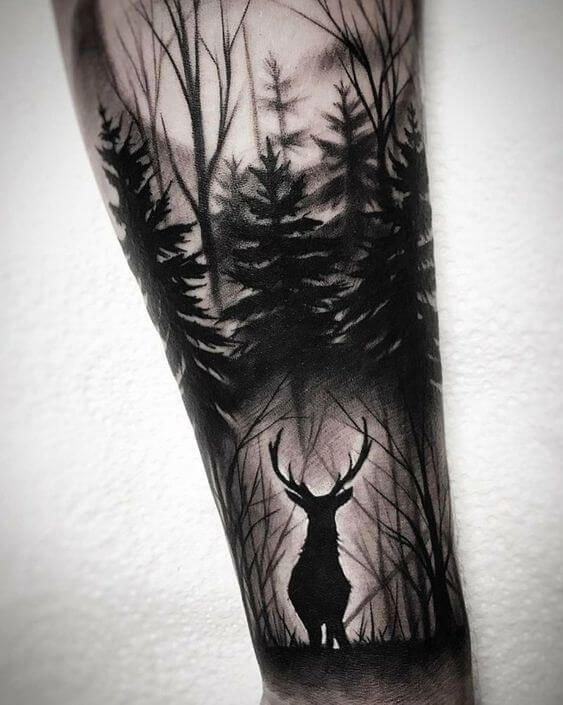 The silhouette style conveys the serene beauty of a deer amidst nature using simple, defined lines. It's a timeless design, ideal for those who appreciate the subtle interplay of light and shadow.
Galaxy deer back tattoo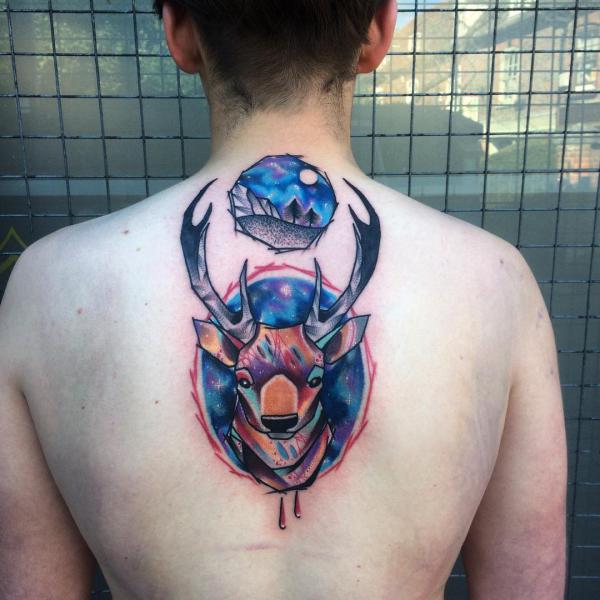 A galaxy deer back pirce infuses the elegance of a deer with the mystery of the cosmos. The vibrant colors and swirling patterns of a galaxy backdrop add depth and intrigue to the design. It's a stunning visual narrative that celebrates the wonder of nature and the cosmos.
Deer and sun dotwork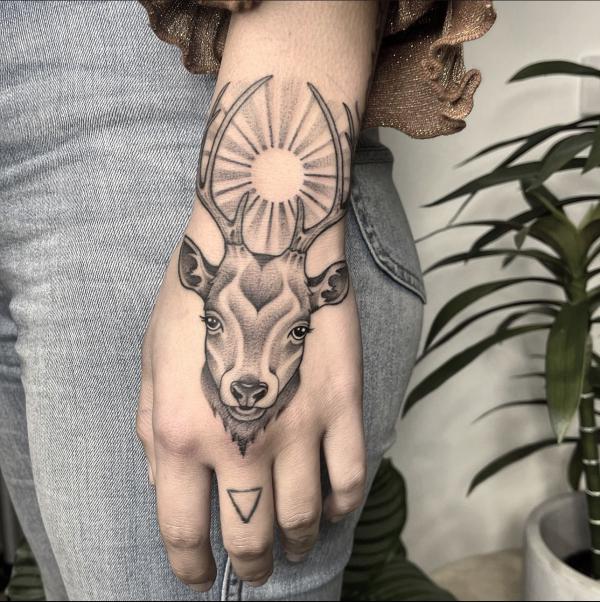 Dotwork tattoos are renowned for their intricacy and unique aesthetic. A deer and sun design combines this style with the graceful silhouette of a deer and the radiant symbol of the sun. It's a design that speaks of vitality, growth, and spiritual enlightenment.
Deer and sunflower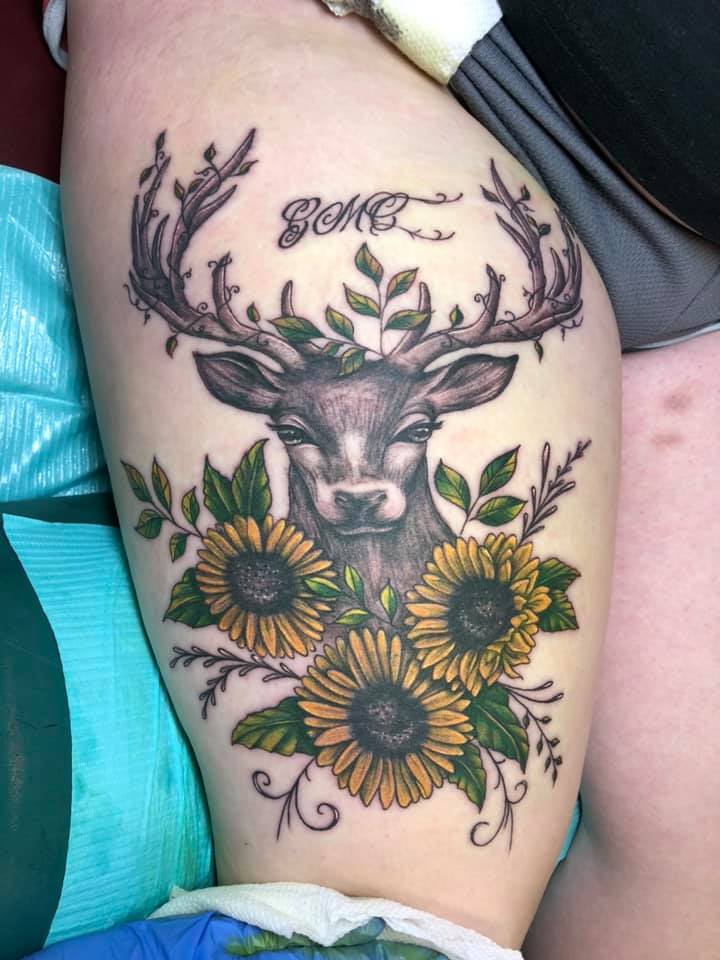 A deer and sunflower ink design is a symbol of life, growth, and natural beauty. The sunflower, with its bright hues and association with the sun, adds a vibrant touch to the graceful form of the deer. It's a unique blend of nature's artistry and symbolic depth.
Realistic deer and trees half sleeve tattoo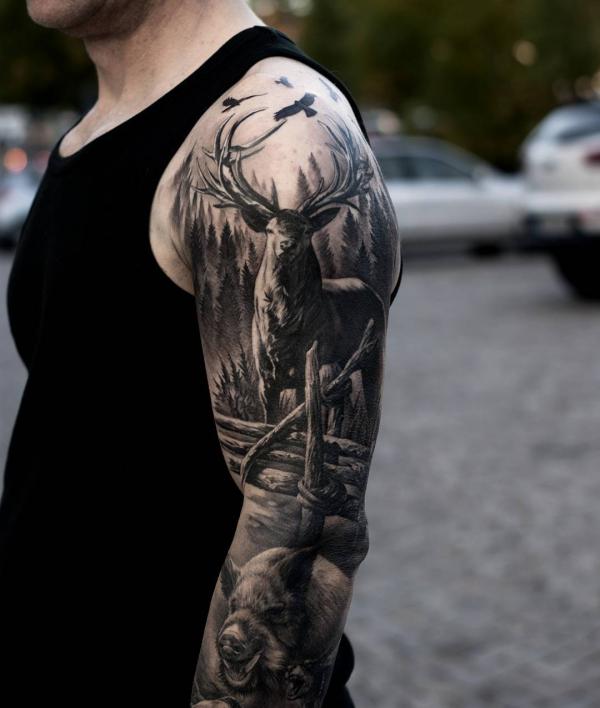 A realistic deer combined with trees is an immersive design. The intricate details and shades bring the deer and the surrounding trees to life, creating a living tapestry of nature on the skin. This design is a testament to the beauty of nature and the transitory essence of life.
Tree deer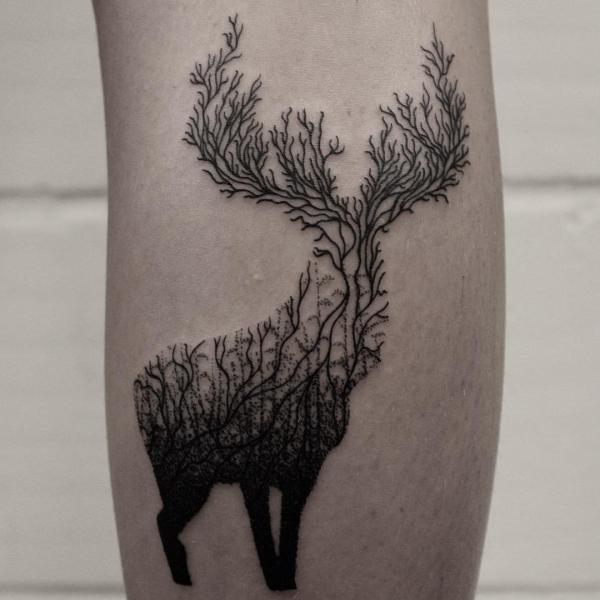 A tree deer design is an artistic fusion of nature's two vital elements – flora and fauna. The design incorporates the shape of a deer with the branching form of a tree, creating a unique symbolic narrative of life, growth, and interconnectedness.
Tribal deer half sleeve tattoo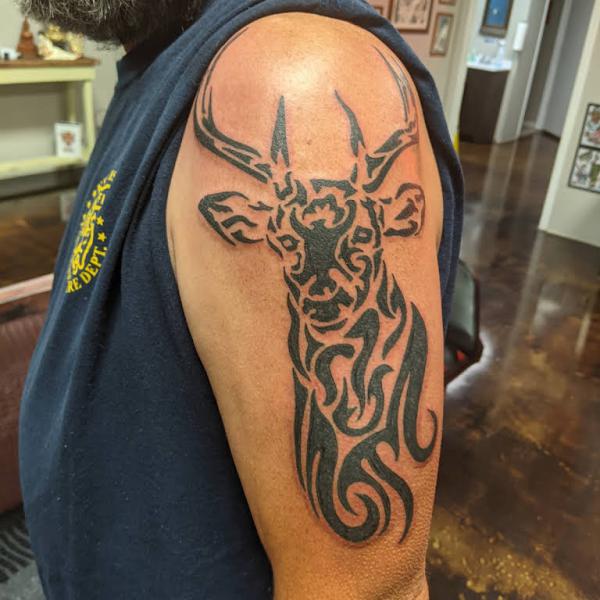 Tribal tattoo designs are known for their bold lines and symbolic meanings. A tribal deer ink design integrates the elegance of a deer with the strong, distinct lines of tribal art. It's a design that embodies strength, tradition, and the spirit of nature.
Deer and maple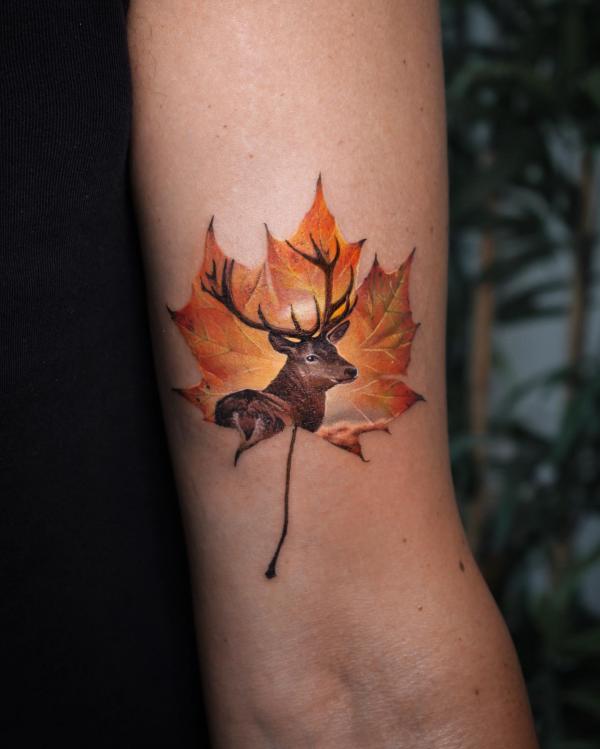 A deer and maple ink design is a beautiful representation of nature and seasonality. The maple leaves, often associated with fall and transformation, add a touch of color and symbolic depth to the deer's elegant form, creating a dynamic visual narrative.
Deer and space tattoo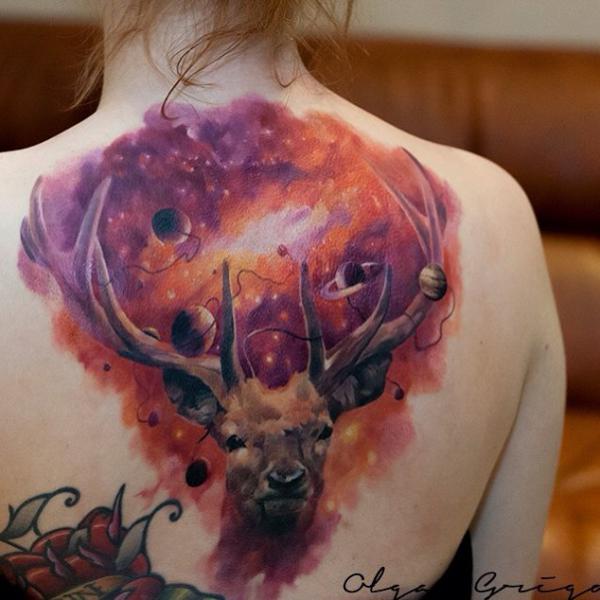 A deer and space design is a blend of the earthly and the cosmic. The design juxtaposes the natural elegance of a deer with the mystery and grandeur of space, creating a striking design that's rich in symbolism and visual appeal.
Tribal deer tattoo on upper arm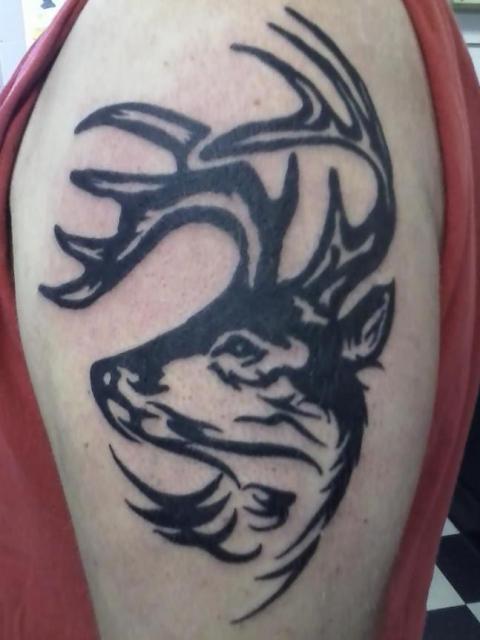 An upper arm tribal deer design is a bold statement of strength, tradition, and connection with nature. The tribal pattern adds a dynamic edge to the deer's graceful form, making it an ideal choice for those seeking a design that's both visually striking and symbolically profound.
Deer and American flag tattoo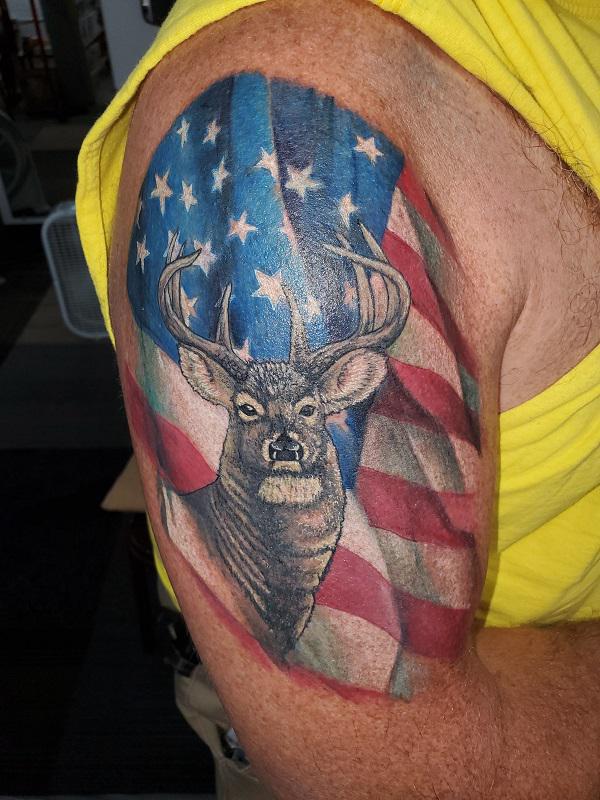 A deer and American flag tattoo is a powerful representation of national pride intertwined with a love for nature. The flag's symbolic colors and patterns, paired with the deer's natural elegance, creates a design that's both patriotic and deeply personal.
Deer and compass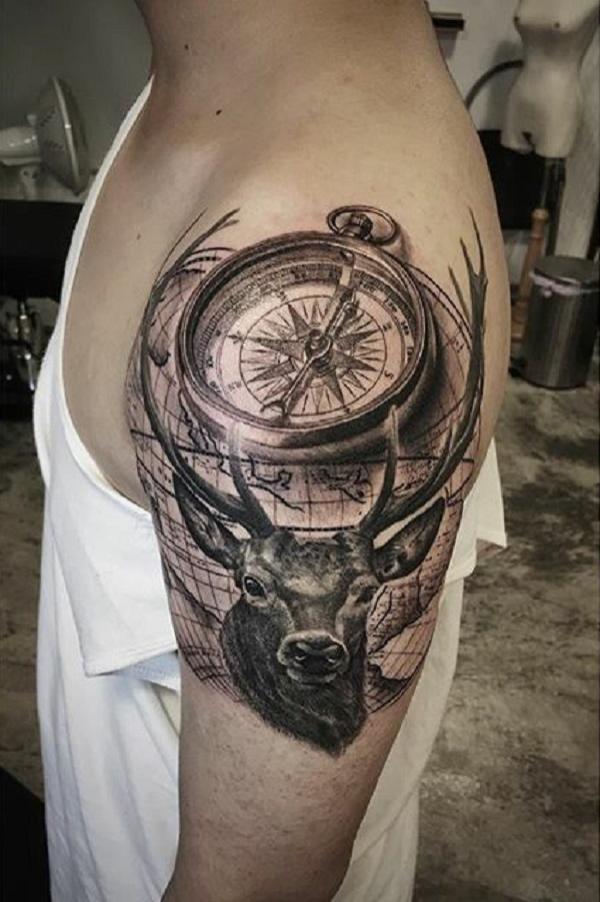 A deer and compass ink design melds the symbolism of guidance and direction with the spiritual and natural significance of the deer. It's a design that speaks of personal journey, spiritual enlightenment, and a deep-seated connection with nature.
Watercolor feminine deer tattoo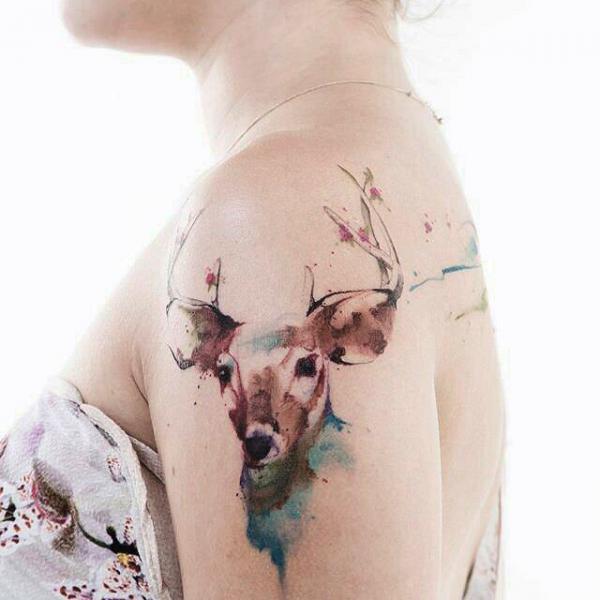 Watercolor tattoos are loved for their fluidity and vibrant colors. A watercolor feminine deer design pairs the soft, dreamy quality of watercolor art with the grace of a deer. It's a design that's distinctly feminine and artistic, making it a favorite among women who appreciate the blend of strength, grace, and beauty.
Deer and cross tattoo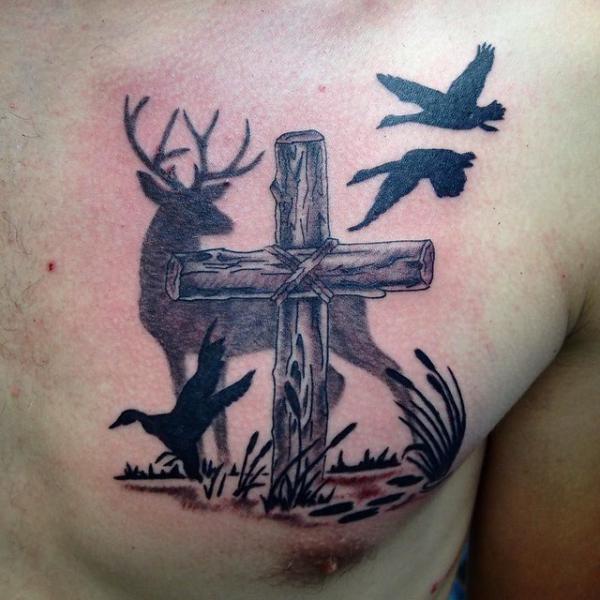 Deer and dagger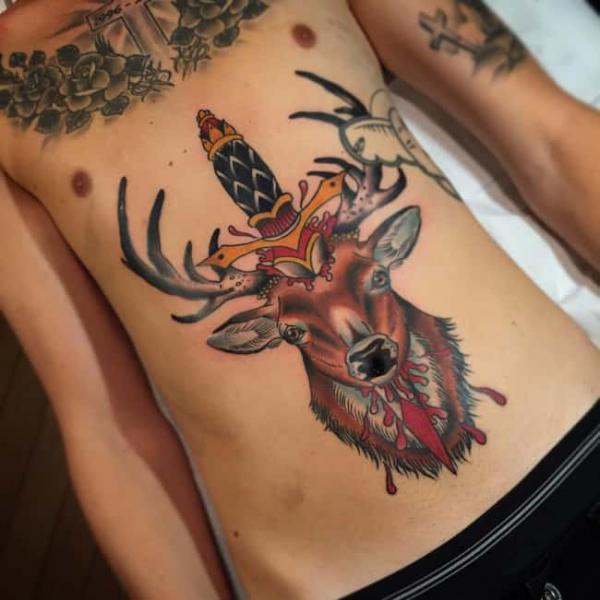 Celtic deer arm tattoo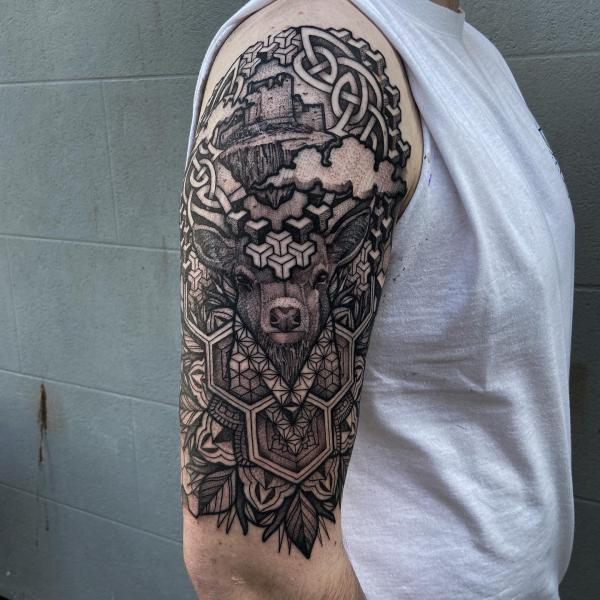 Deer and dreamcatcher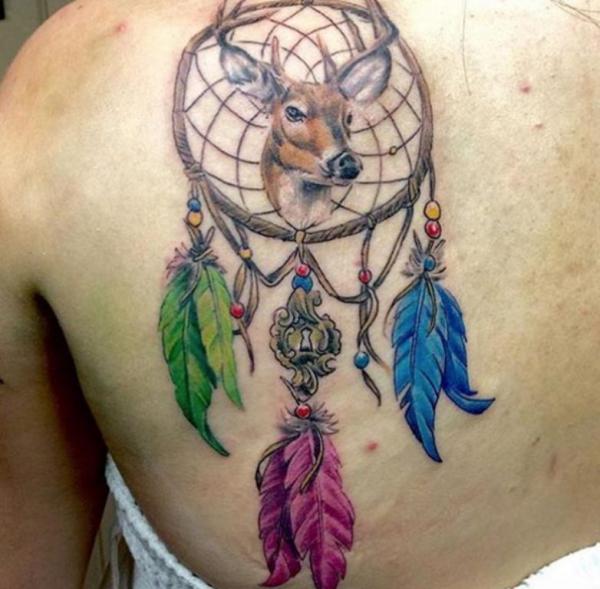 Deer and eagle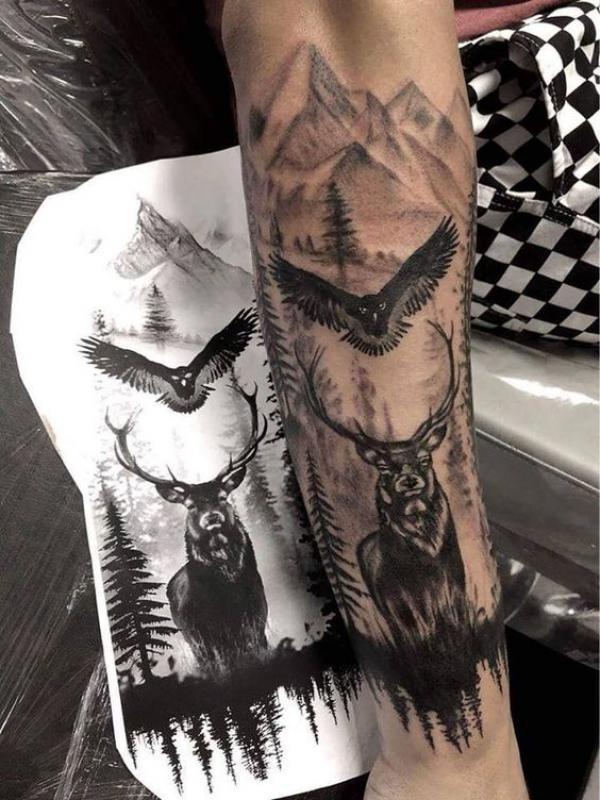 Placement Options
Deer tattoos can be placed on various parts of the body, depending on the size and design of the tattoo. Here are some popular placement options to consider:
Arm Tattoos
The arm is a versatile location for tattoos, offering ample space for larger designs or a discreet spot for smaller tattoos. The bicep, forearm, and wrist are all popular choices for deer tattoos, allowing for easy visibility and creative design options.
Back Tattoos
The back provides a large canvas for deer tattoos, making it an ideal spot for those looking to showcase a detailed or large design. A tattoo on the back can create a stunning visual impact, with the option to incorporate additional elements such as scenery or other animals.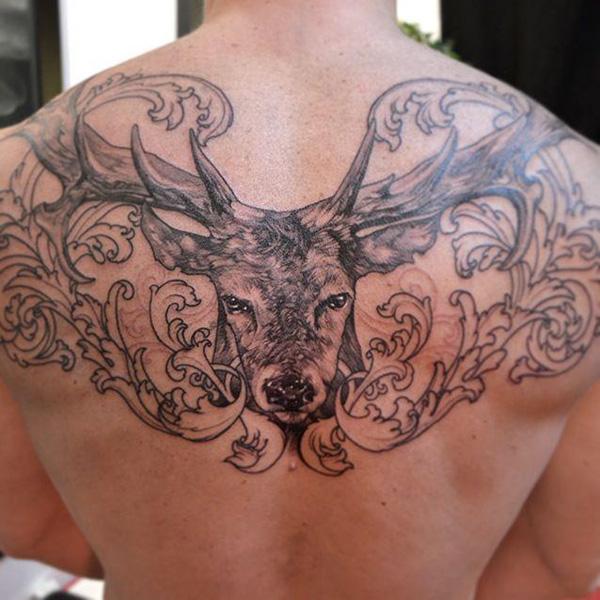 Half deer Half Skull Back Tattoo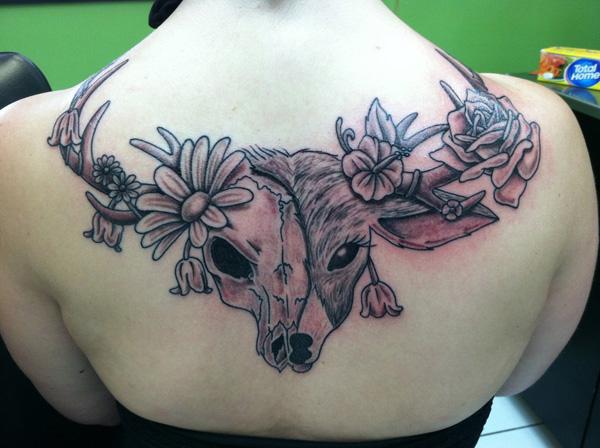 Colorful illustrative deer back piece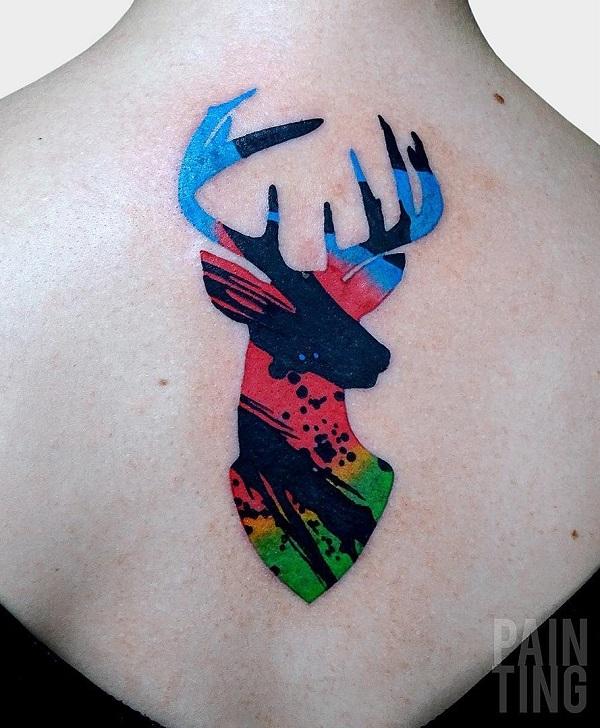 Chest Tattoos
A deer tattoo on the chest can be a powerful and personal choice, symbolizing one's connection to the animal and its qualities. Chest tattoos can be larger and more detailed, or smaller and more subtle, depending on your preference.
Neo traditional deer and rose ink design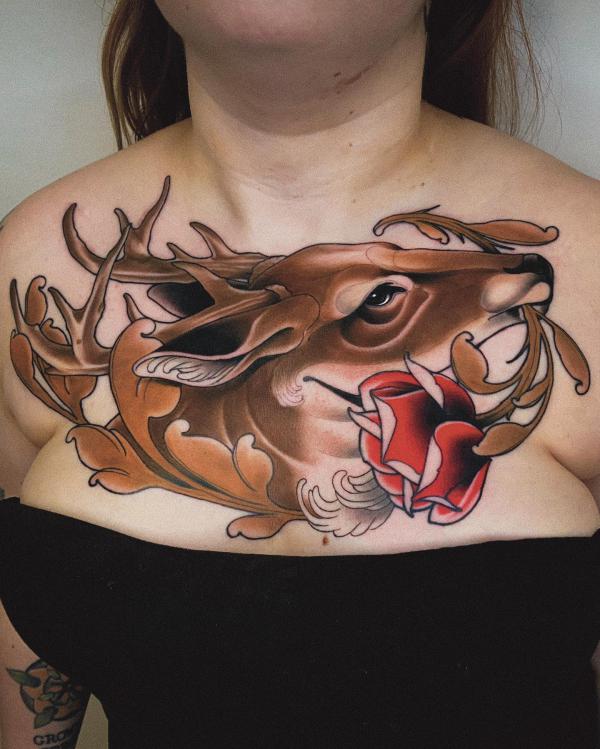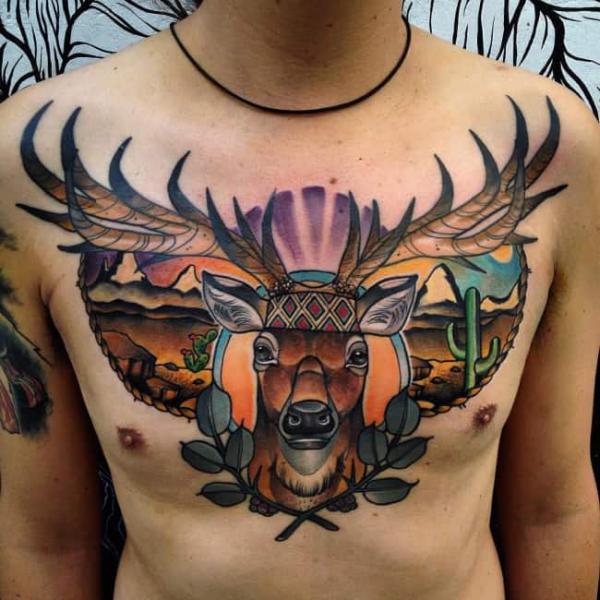 Leg Tattoos
Deer tattoos can also be placed on the leg, with the thigh, calf, and ankle being popular locations. These placements offer flexibility in terms of size and design, allowing for creative expression and personalization.
Foot Tattoos
Foot tattoos are a unique and discreet option for deer tattoos, especially for those looking for a smaller design. A deer design on the foot can be a subtle yet meaningful choice, serving as a reminder of the qualities the animal represents.
Behind the Ear Tattoos
For a more discreet placement, a small deer tattoo behind the ear can be an elegant and charming choice. This location is perfect for minimalist designs, such as a simple silhouette or line drawing.
Deer thigh tattoos
The thigh serves as an excellent canvas for deer tattoos, particularly for females. It offers a broad, relatively flat surface for intricate, detailed designs, allowing the delicate beauty of a deer to be fully appreciated. Moreover, the thigh's natural curvature enhances the elegance of the design, lending a dynamic, three-dimensional effect. For women, a deer tattoo on the thigh combines femininity, grace, and strength in a personal and visually captivating way. It can be easily concealed or shown off depending on the choice of attire, offering flexibility that adds to its appeal.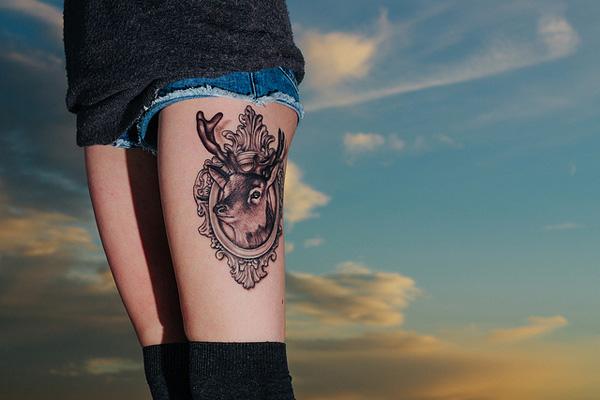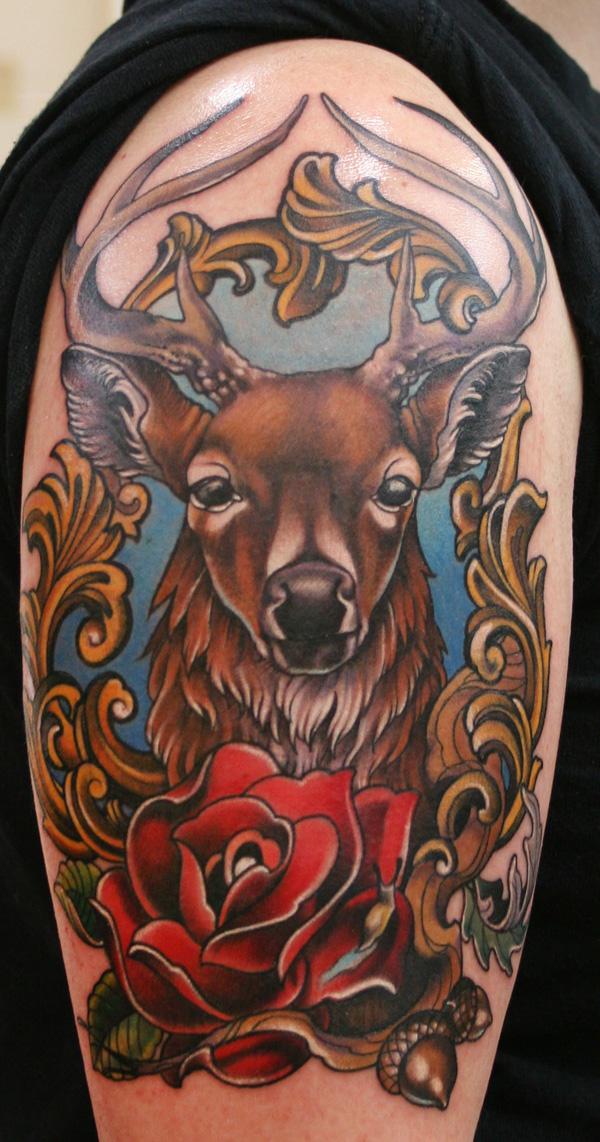 Colored deer adorned with fern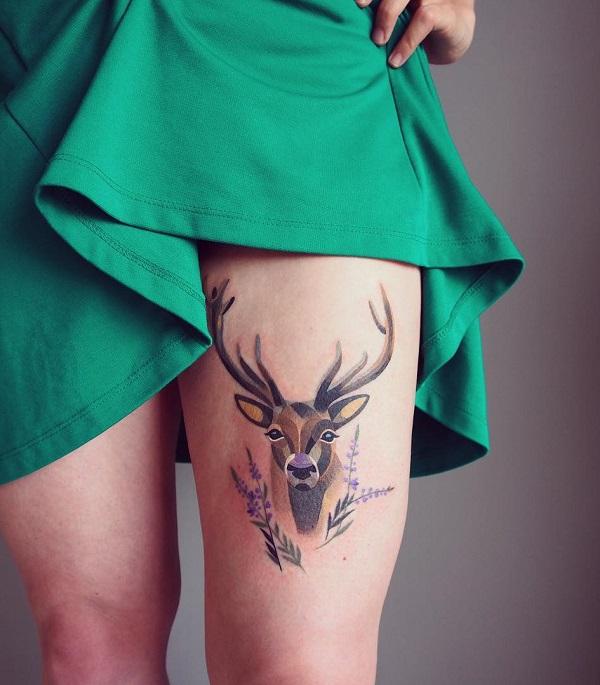 Deer and daisy
Deer and butterfly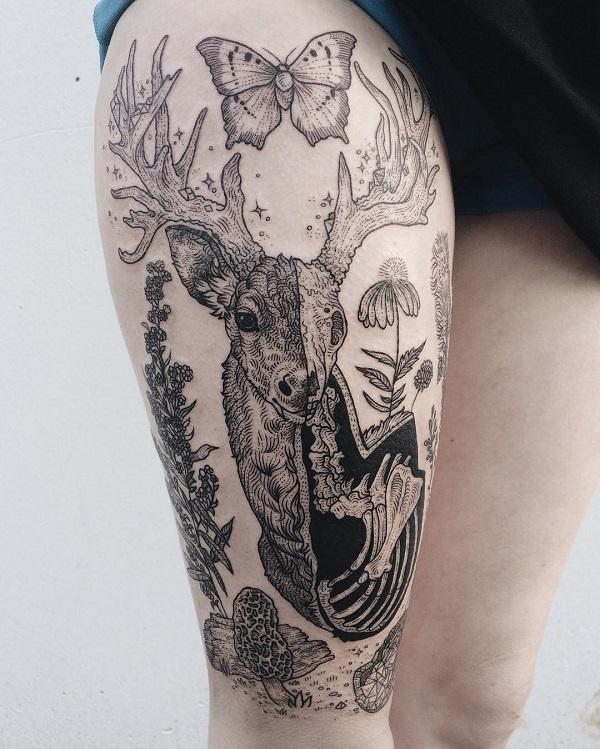 Finding the Right Artist
To ensure that your tattoo is a beautiful and lasting tribute to this majestic creature, it's important to find the right tattoo artist. Here are some tips to help you find the perfect artist for your deer tattoo:
Research artists in your area: Start by searching for tattoo artists in your area and reviewing their portfolios. Look for artists who have experience with deer tattoos or similar styles, such as realistic, geometric, or watercolor designs.

Read reviews and testimonials: Check out reviews and testimonials from previous clients to get a sense of the artist's professionalism, skill, and overall experience.

Schedule a consultation: Once you've narrowed down your list of potential artists, schedule a consultation to discuss your ideas and preferences. This is a great opportunity to ask questions, view more of the artist's work, and get a feel for their personality and style.

Trust your instincts: Ultimately, you should choose an artist who you feel comfortable with and confident in their ability to create a beautiful and meaningful tattoo.
Conclusion
Deer tattoos carry a rich and varied symbolism, making them apowerful choice for those seeking to express their connection to nature, their resilience, and their spiritual beliefs. With a wide range of designs available, from realistic to tribal, geometric to watercolor, and skull and antler styles, there is a tattoo that will resonate with individuals from all walks of life.
By understanding the deeper meanings behind the deer and considering the style and design that best aligns with your personal values, you can choose a design that is not only visually stunning, but also holds great significance to you. As with any tattoo, it's important to work with a skilled artist who can help bring your vision to life, ensuring that your tattoo is a beautiful and meaningful addition to your body art collection.
In conclusion, deer tattoos are a versatile and powerful form of self-expression, embodying the qualities of grace, strength, spirituality, and renewal that the deer represents. By carefully considering the symbolism and design of your deer tattoo, you can create a unique and meaningful piece of art that will serve as a lasting reminder of the beauty and power of this majestic creature.