The foot is the lowermost part of the human leg. It is the important part of our body's locomotion system to make us capable of standing, walking and running. In the tattoo designs, foot also becomes a popular canvas for tattooing. If the leg tattoo is not lower enough for you, foot tattoo may be your choice.
Foot tattoos for women
All the people have the equal choice of different body parts for their tattoo placement. But it appears women tend to select the locations such as rib, low back or thigh, which are easy to hide their tattoos. Similarly, foot is also such less conspicuous to have the body art on. In most of time, people need to wear their shoes. Only in Summary or in special occasions is it the time to flaunt their fashionable tattoos.
The human foot is small but complex. The skin here is very thin. But there are dozens of bones and thousands of nerve endings on this place. The more the bones and nerves, the more likely people experience pain. So if you have low pain tolerance, you will feel sharp pain at the moment to get the tattoo on this place.
On the other hand, it is also found that women have more pain tolerance than men.
Foot tattoo ideas
Despite the small area, there are plenty of tattoo ideas when you consider tattooing on this location. And the tattoos here could be rendered in various cute and lovely styles, for example,
Black and white
Realistic
Watercolor
Henna
Foot tattoos are small tattoos. But it could be meaningful to you if you have a creative idea. So it's important to do a good homework and elevate different designs before getting the tattoo inked. In this post, please enjoy the collection of 50 awesome tattoo designs. Get inspired by these unique tattoo designs.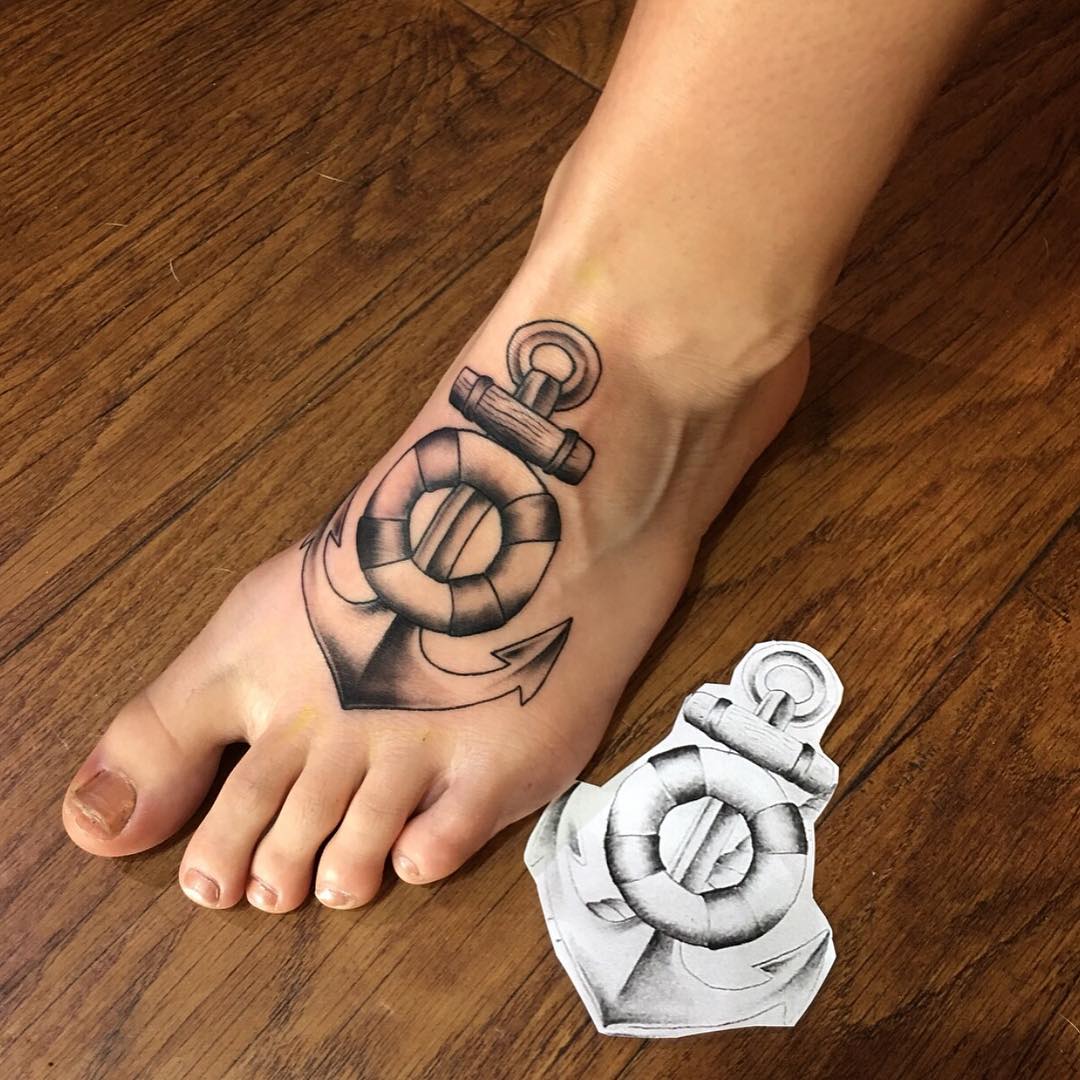 Black and gray tattoo with anchor and Lifebuoy on foot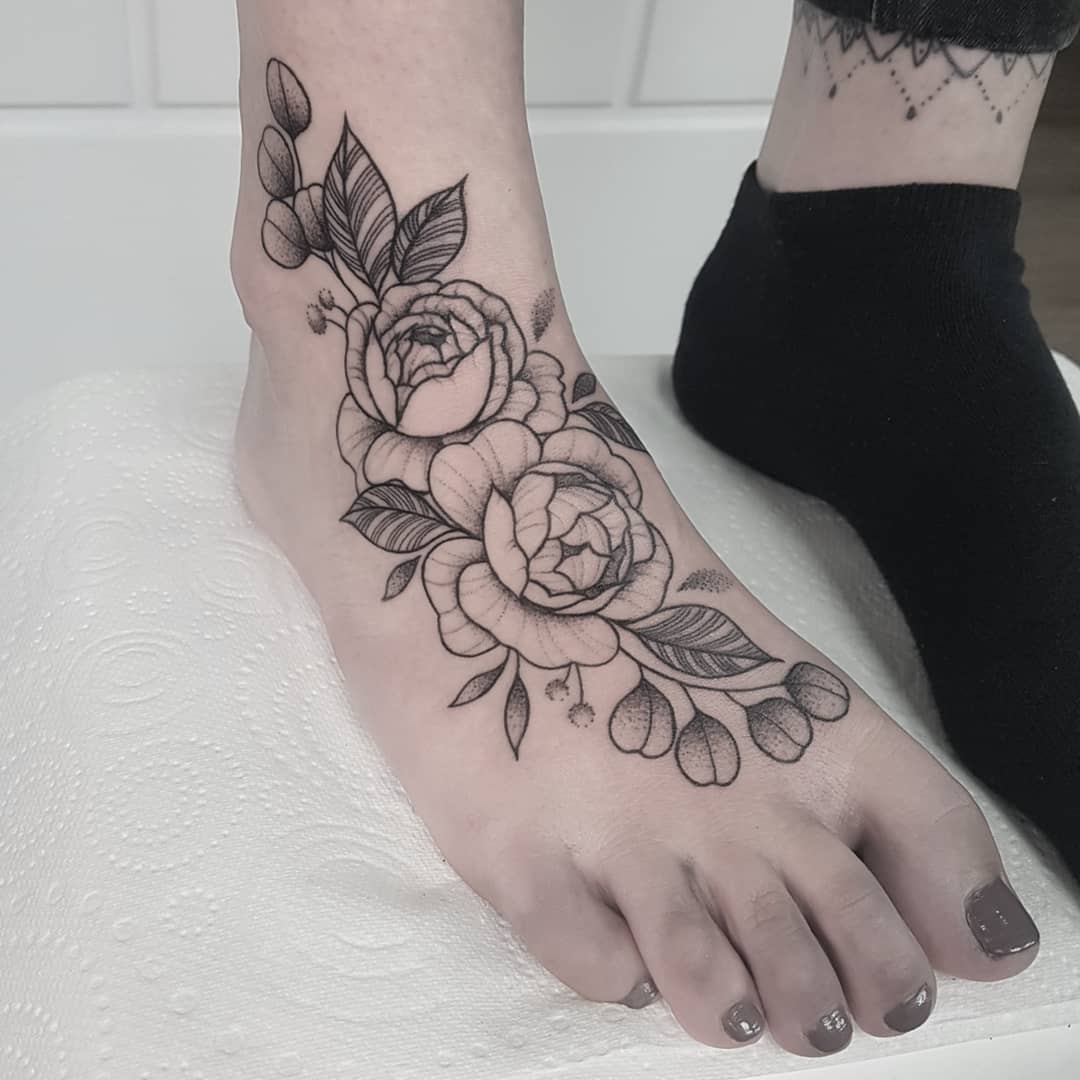 Black and white rose tattoo on the front of foot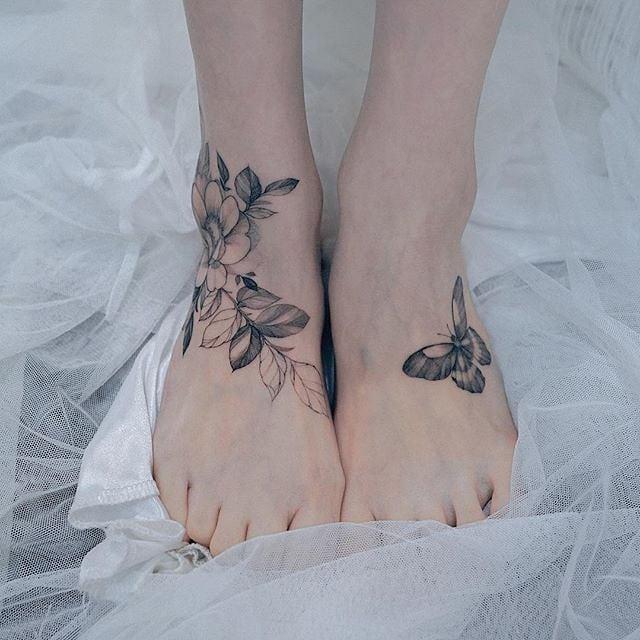 Flower and butterfly matching tattoos on feet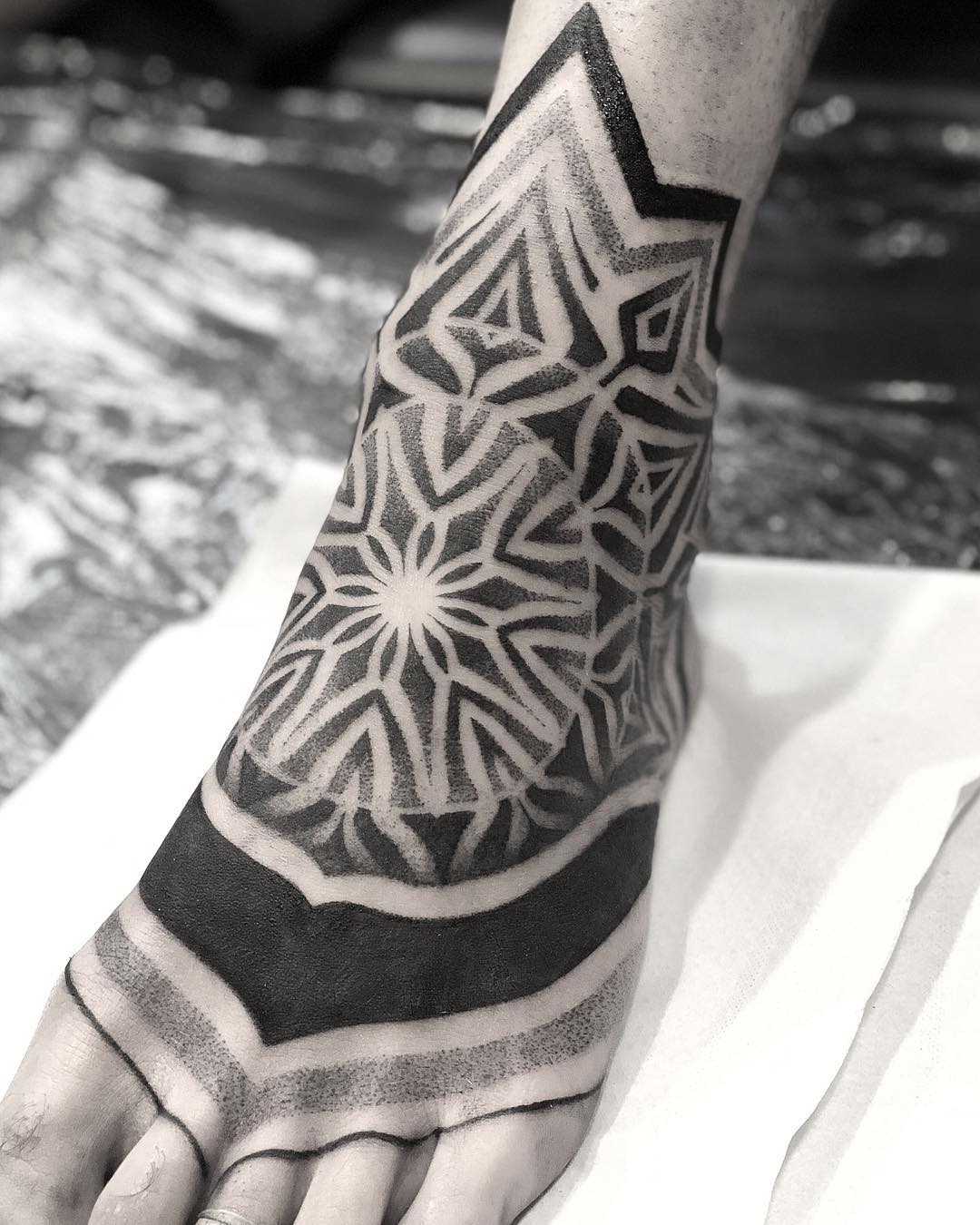 Mandala inspired foot tattoo looking like stock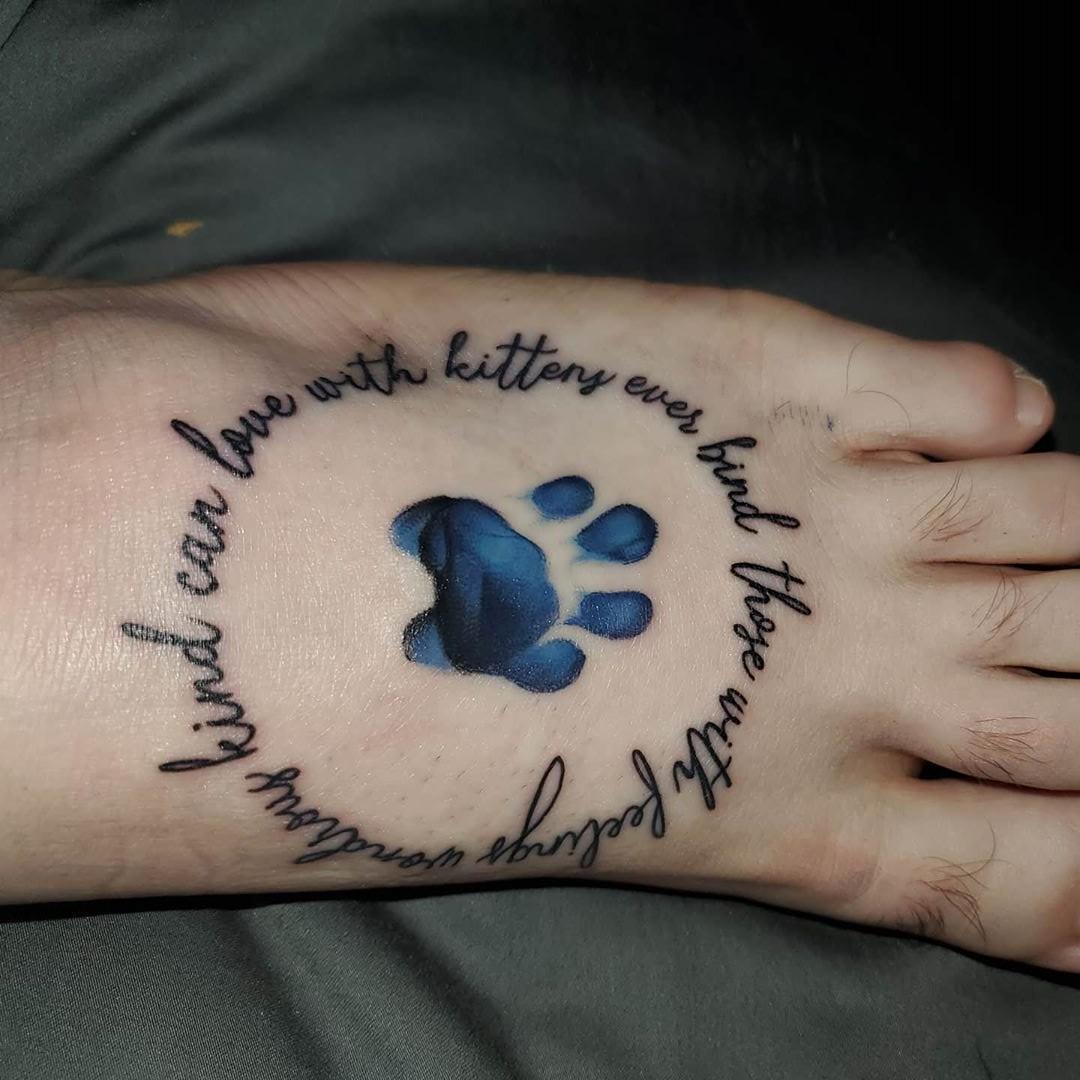 Quotes and paw print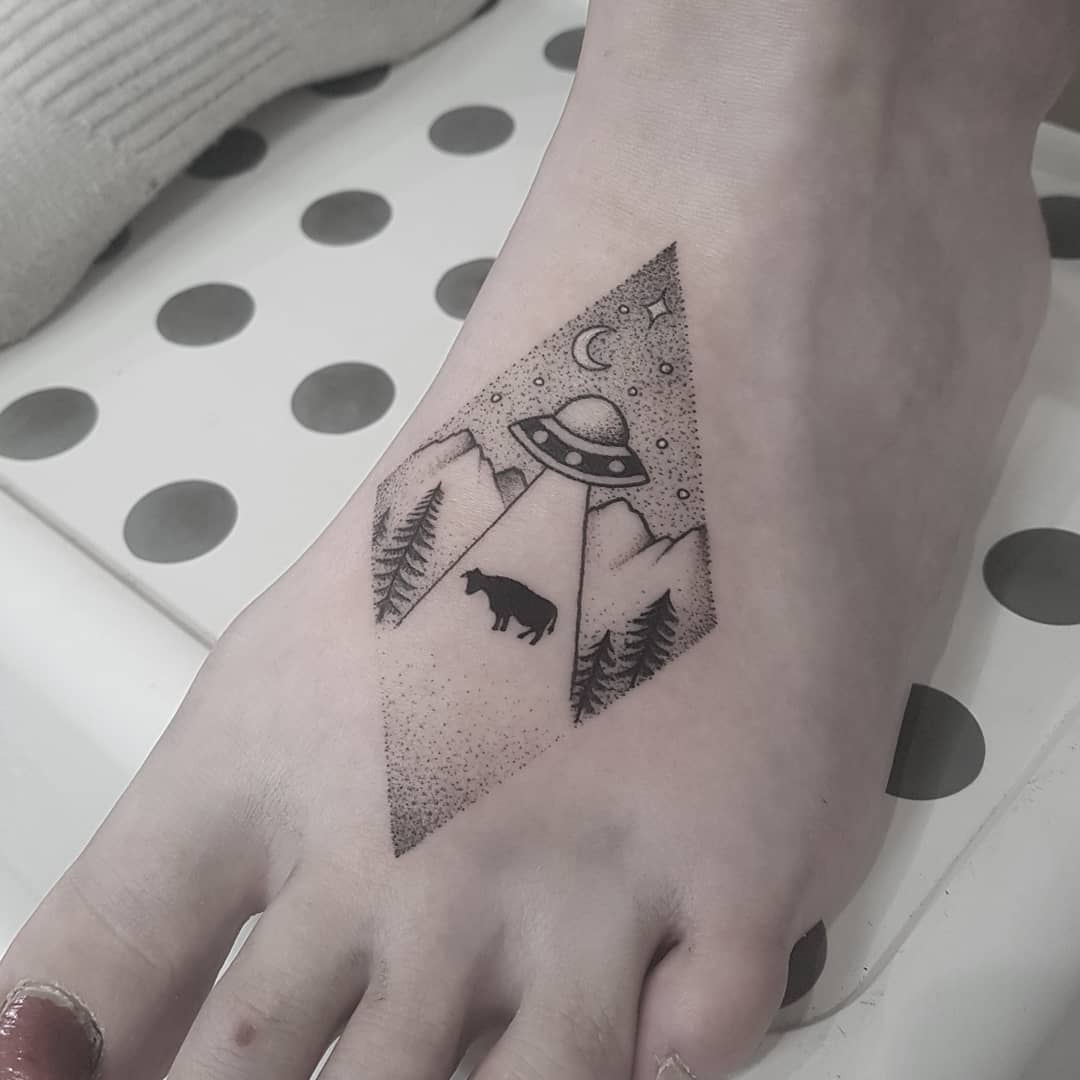 UFO Spot at night
Watercolor Jellyfish tattoo on ankle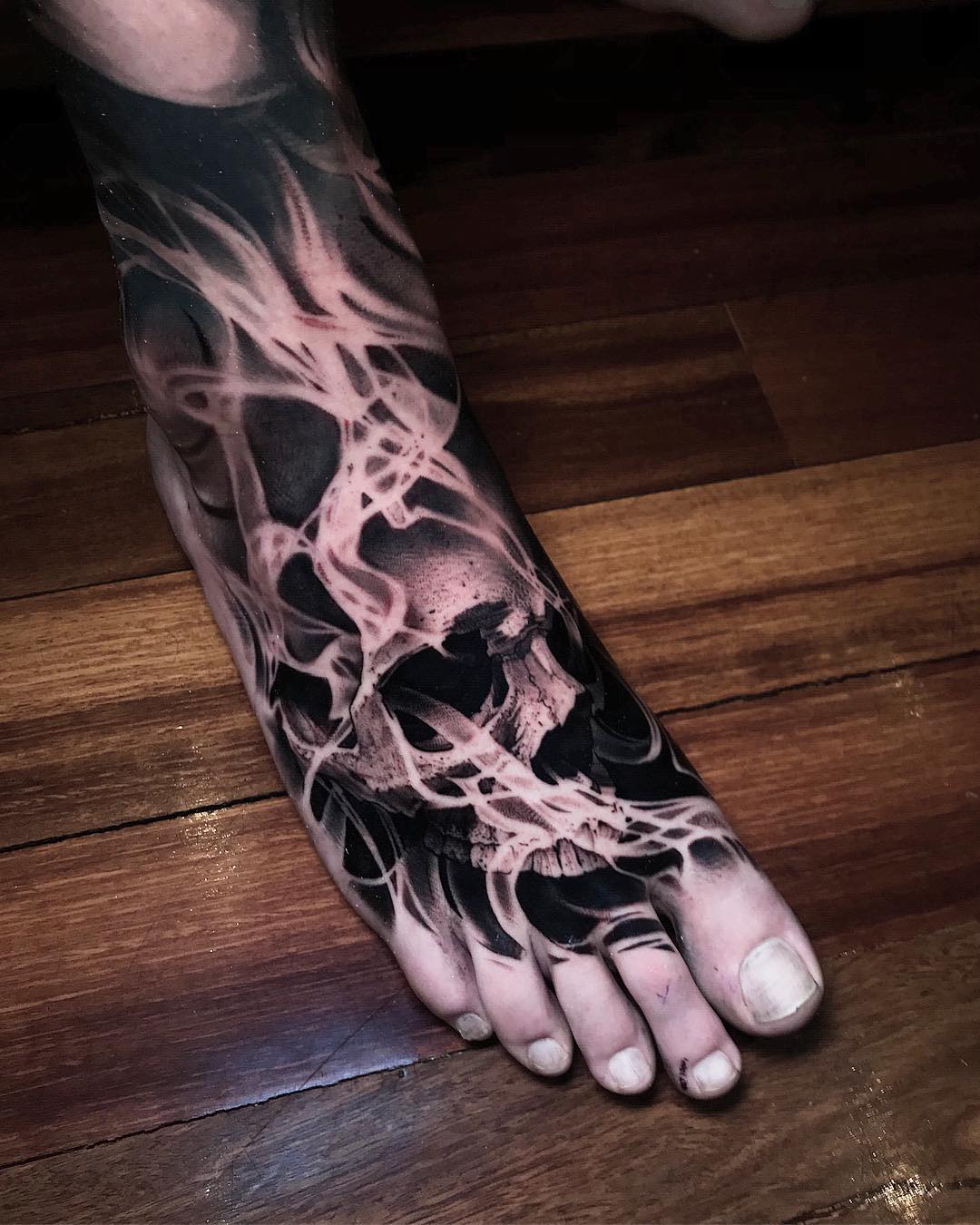 Black and white foot tattoo with skull in fire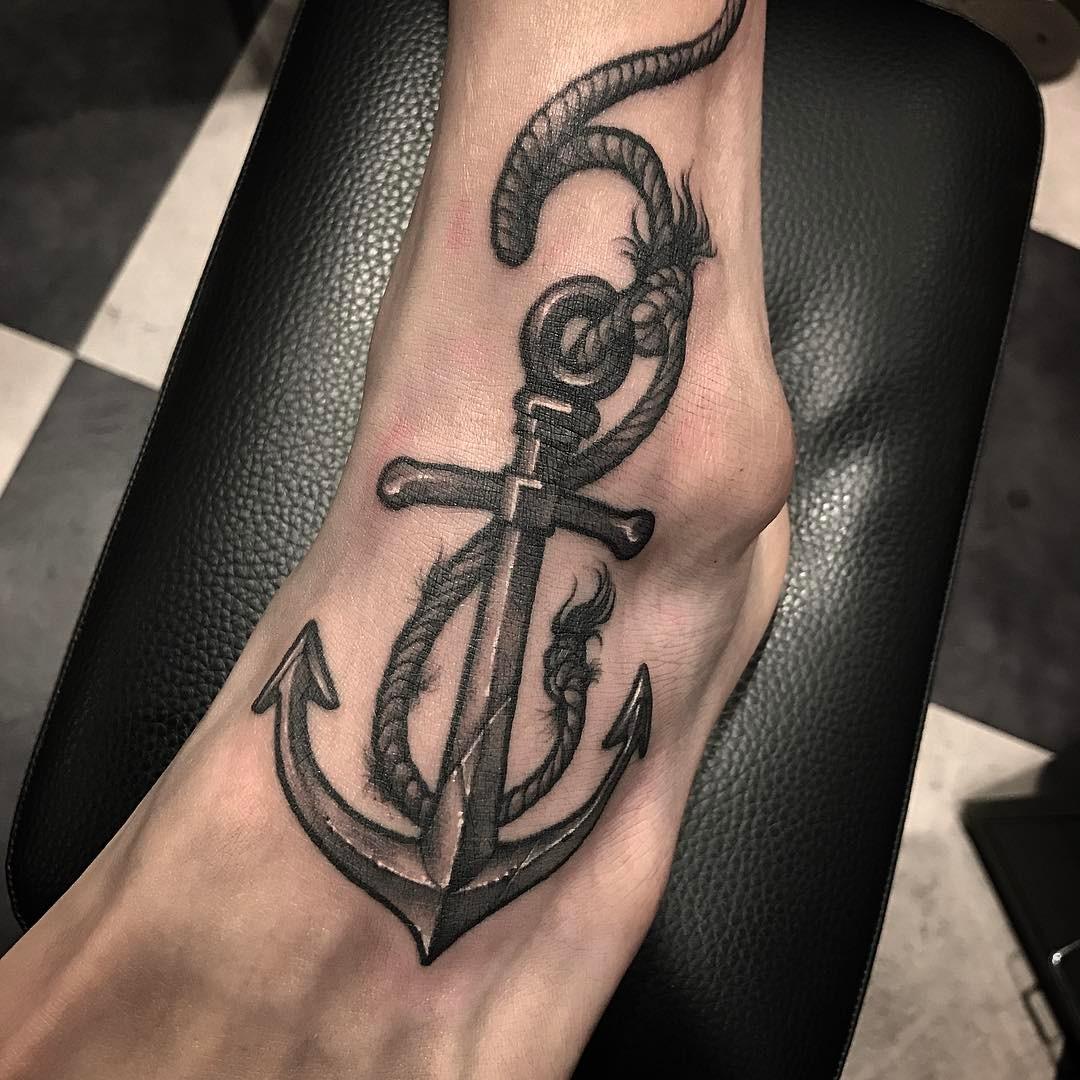 Anchor with rope down to ankle and foot
Feather and birds
The dream feather foot tattoo reminds us of the culture of native American Indians.
source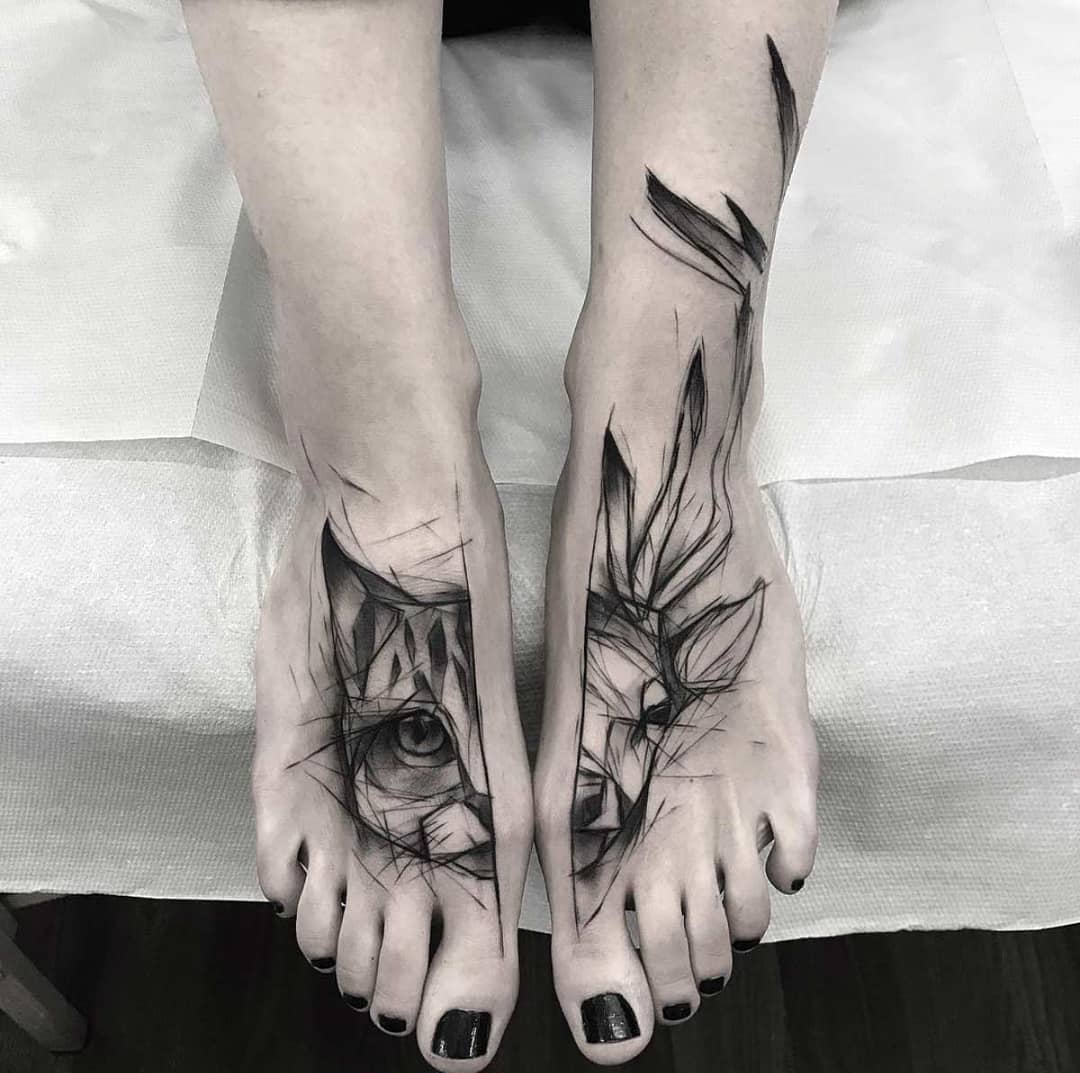 Abstract matching tattoos on feet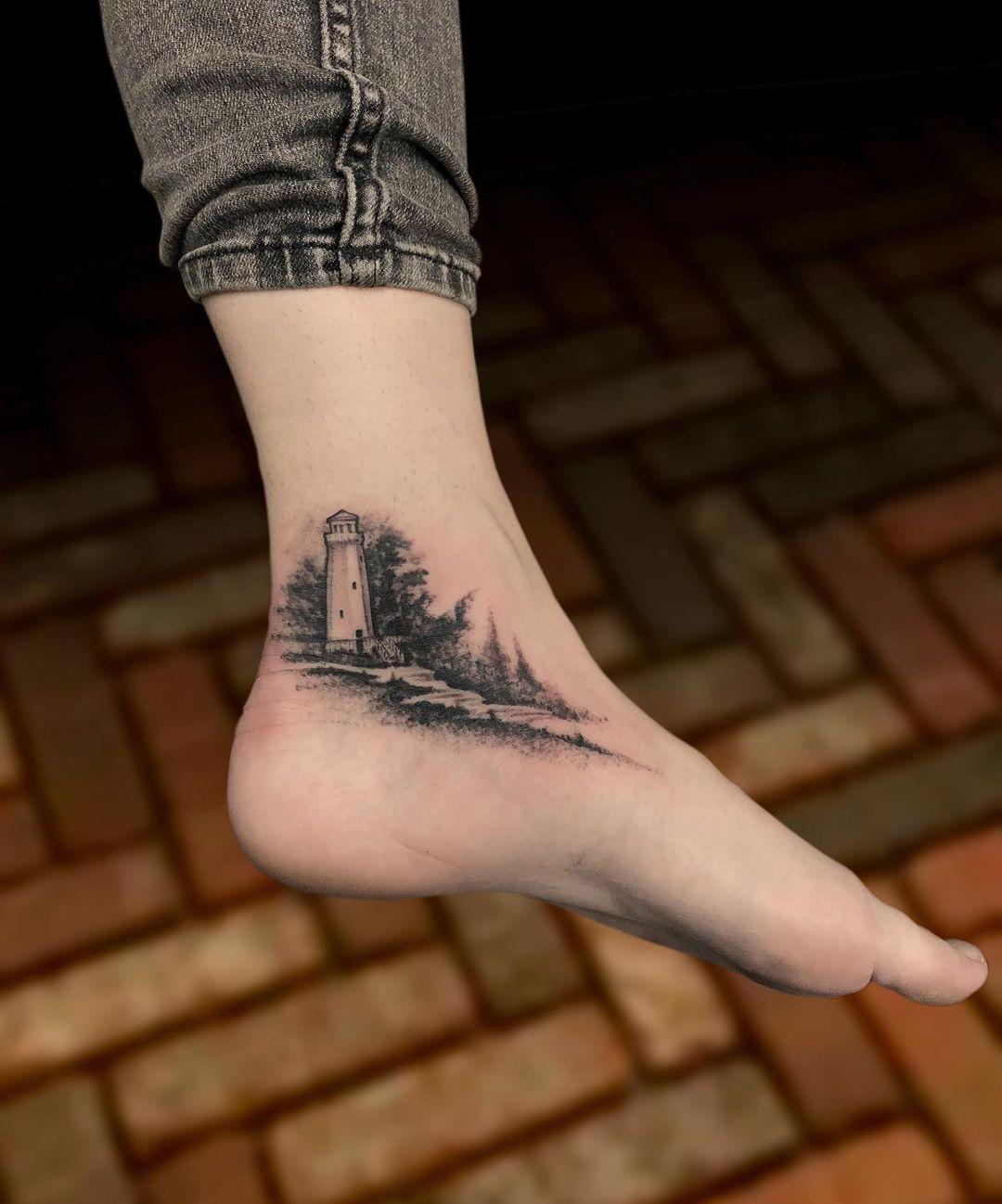 Black and white ankle tattoo with tiny lighthouse and forest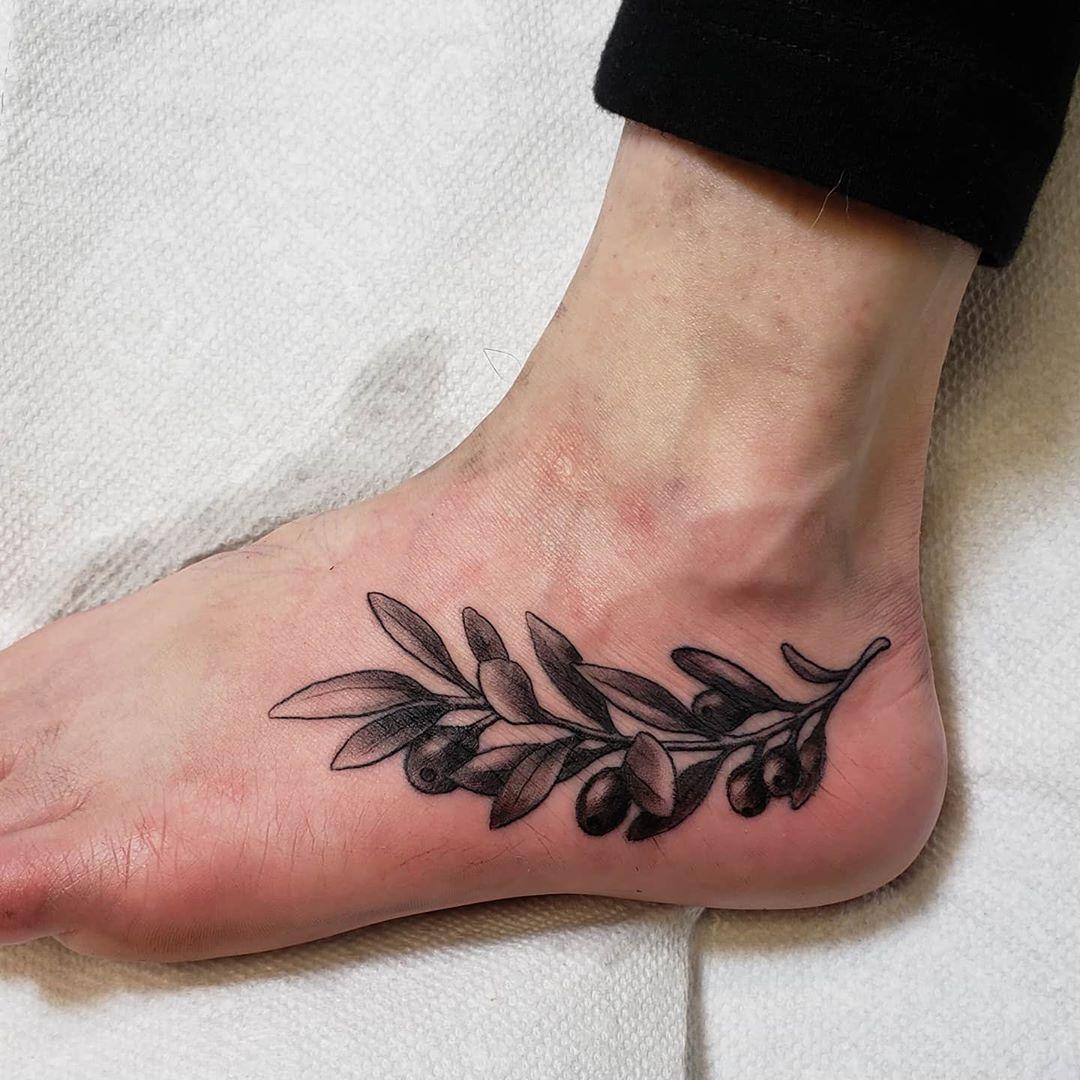 Black and white branch and leaves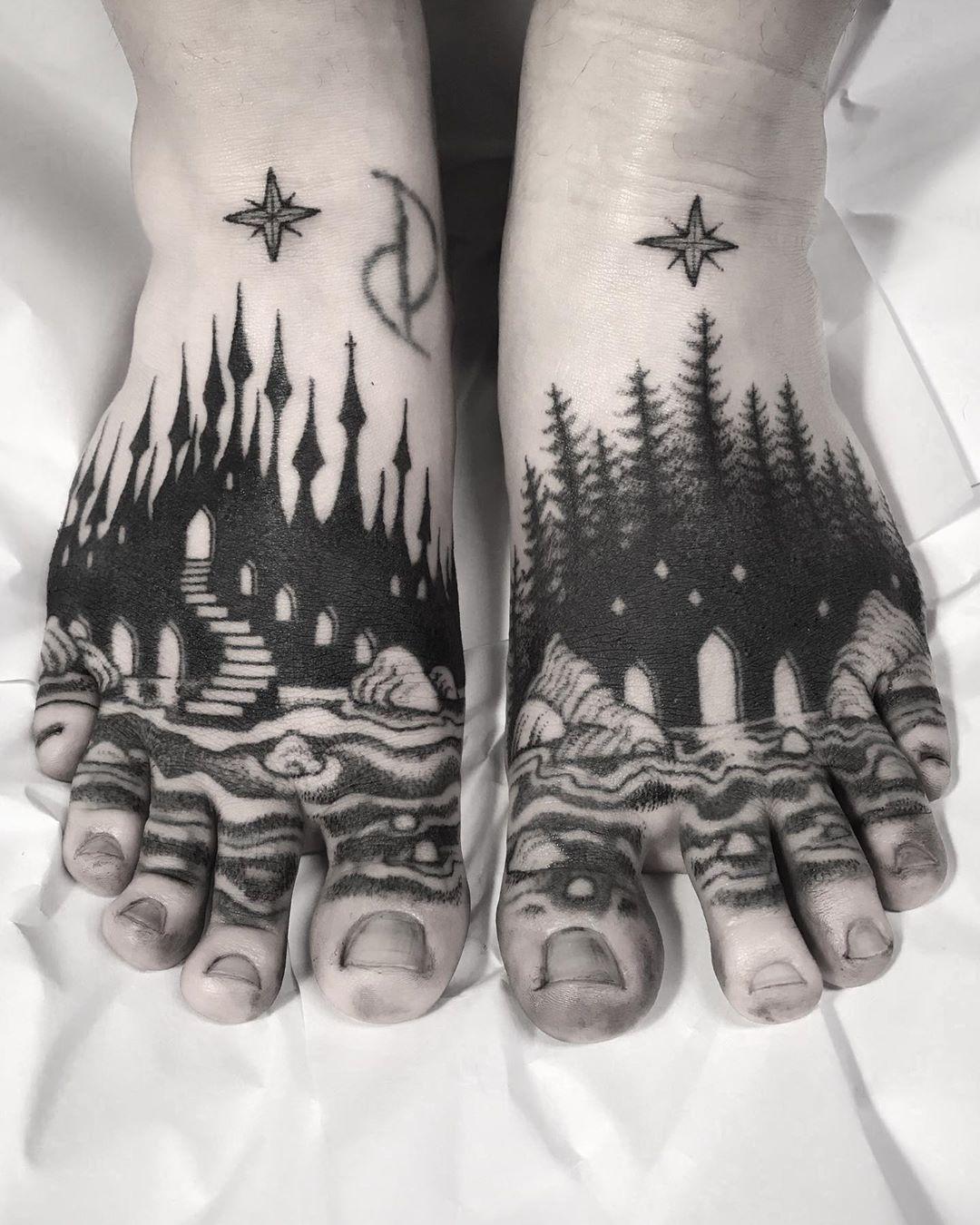 Blackeork forest and temples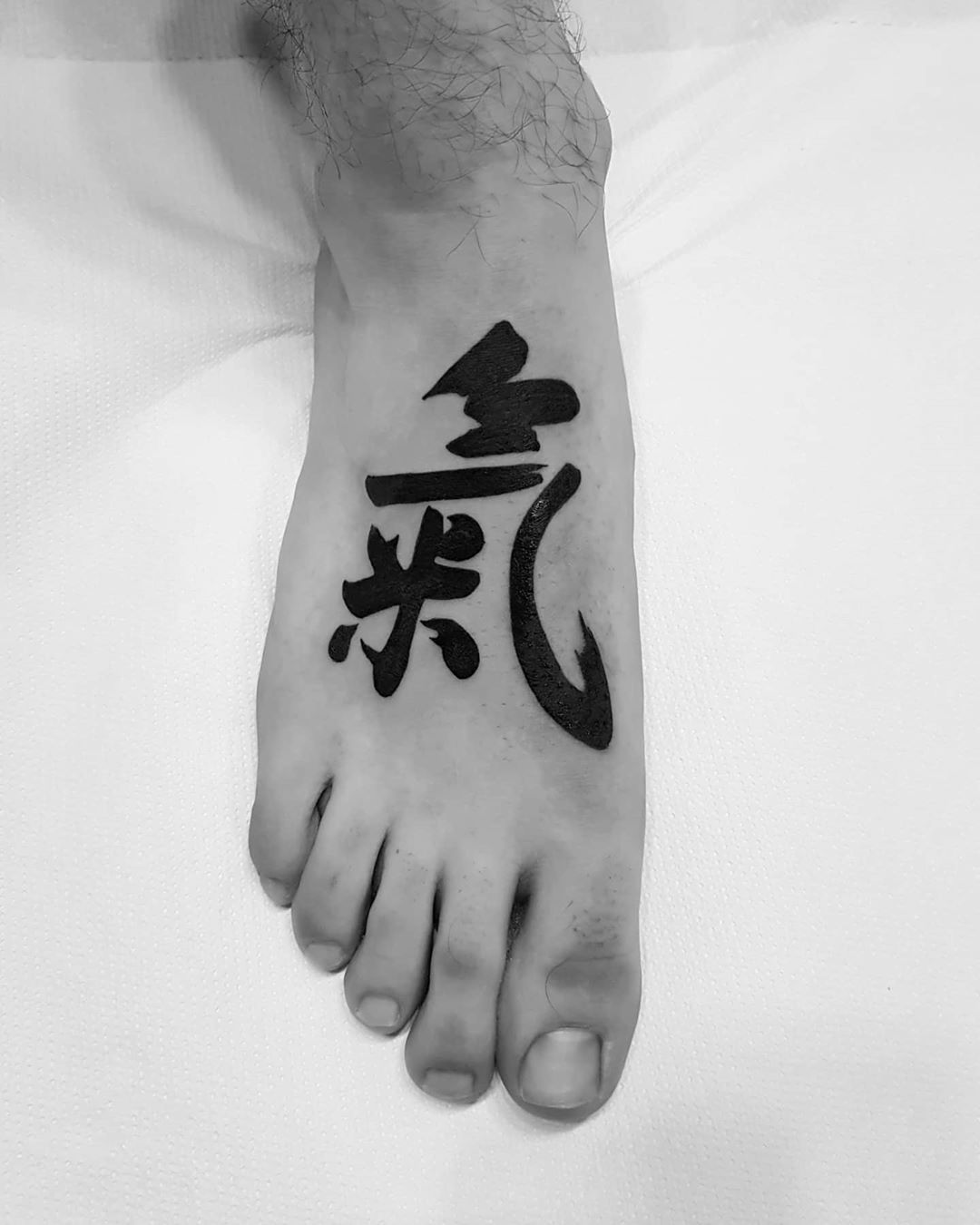 Chinese word Qi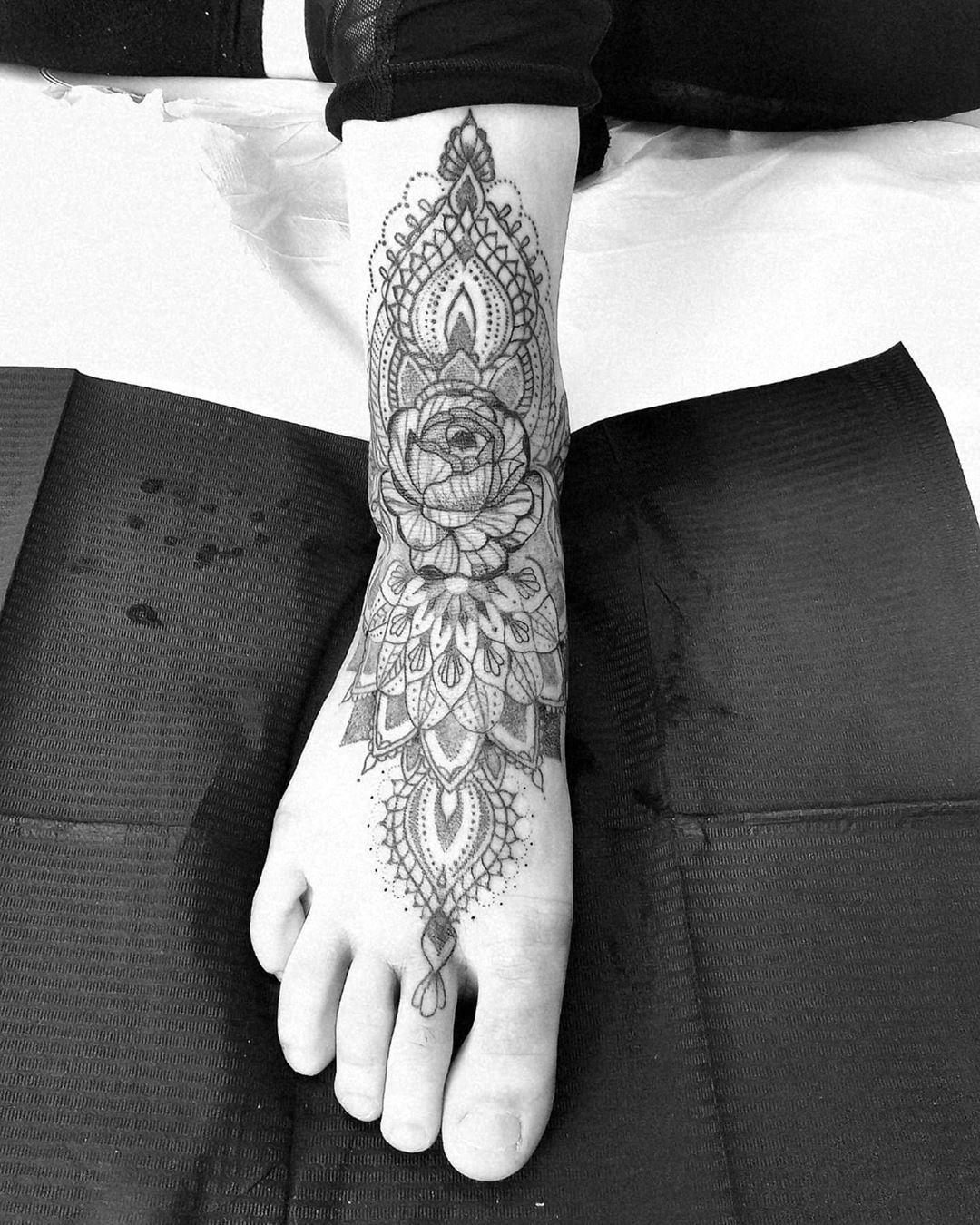 Elegant mandala inspired foor tattoo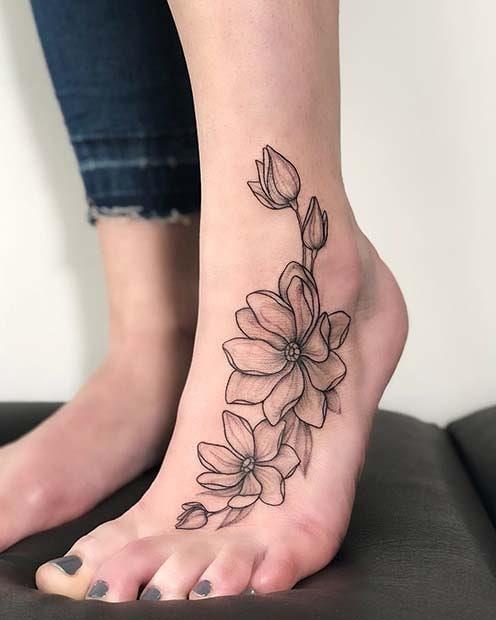 Magnolia outline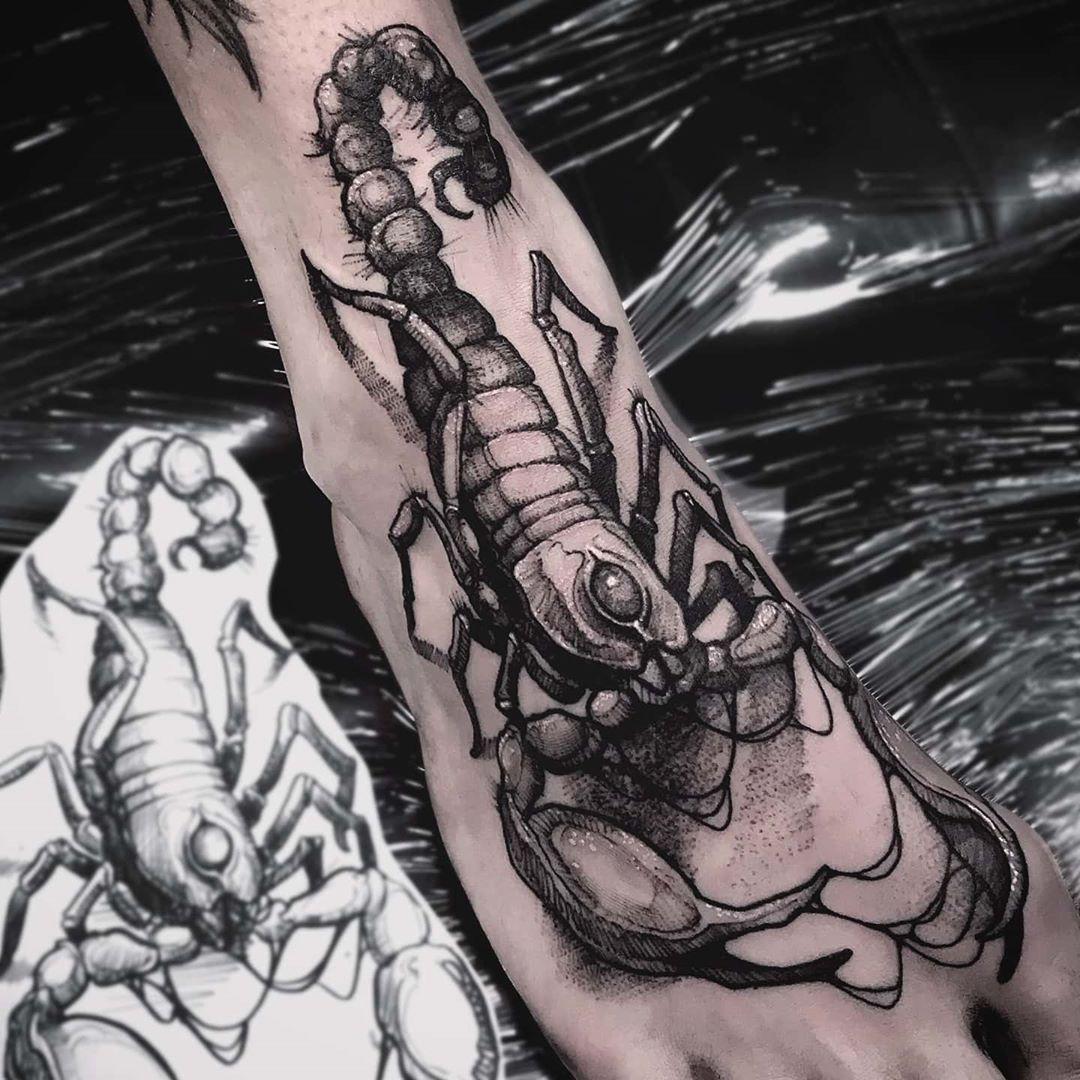 Scorpion from ankle to front of foot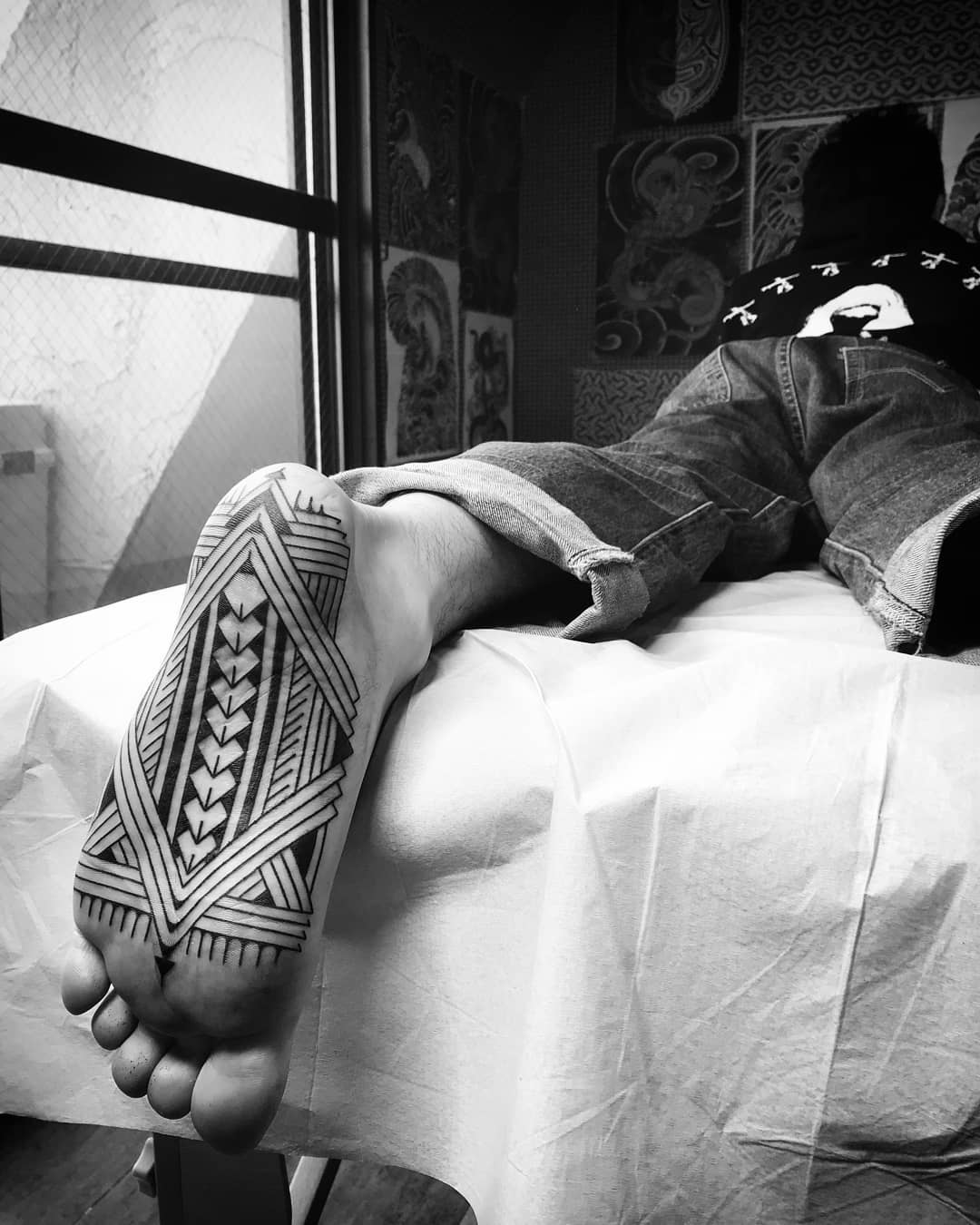 Tribal pattern on the underside of foot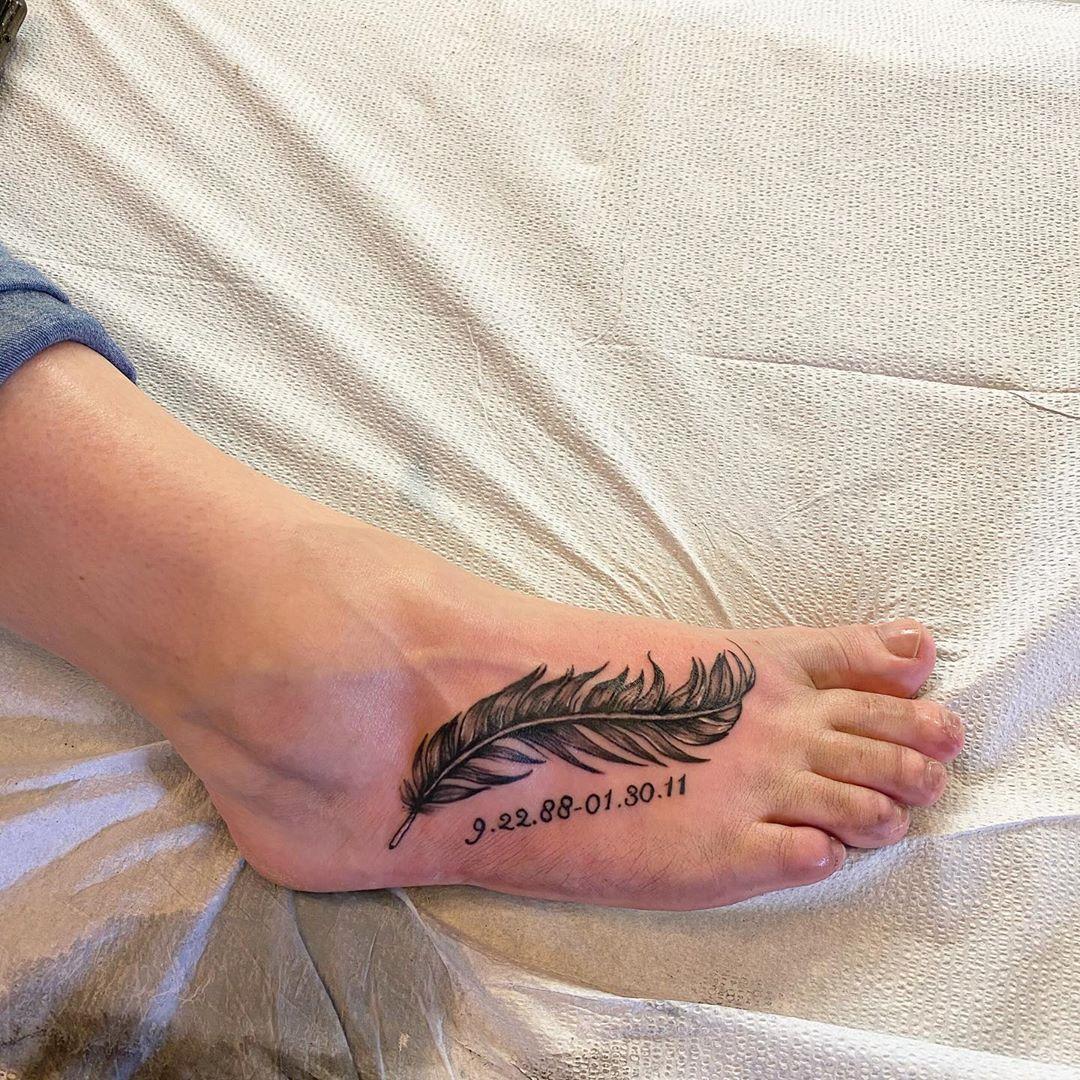 A piece of feather commemorating a period of experience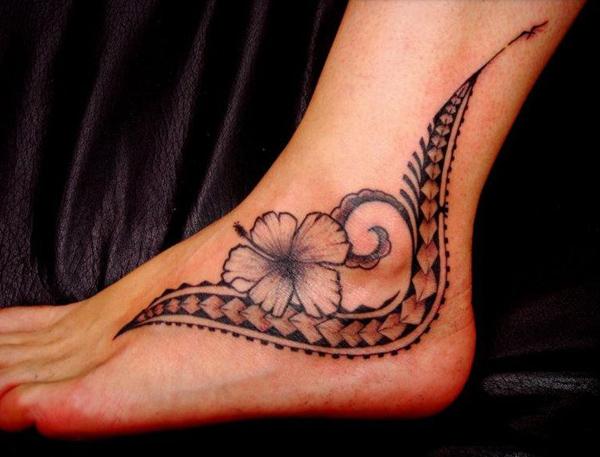 Tribal foot tattoo
Most of tribal tattoos are inked on sleeve, back or shoulders. This one foot looks cute and beautiful.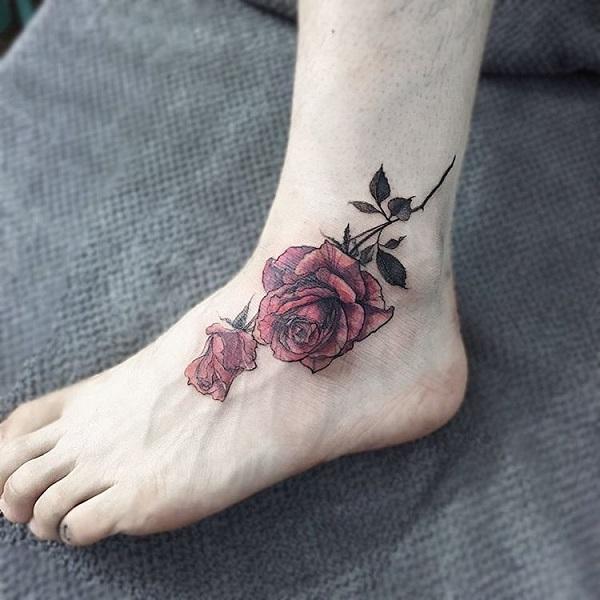 Red roses with thorn tattoo on ankle for women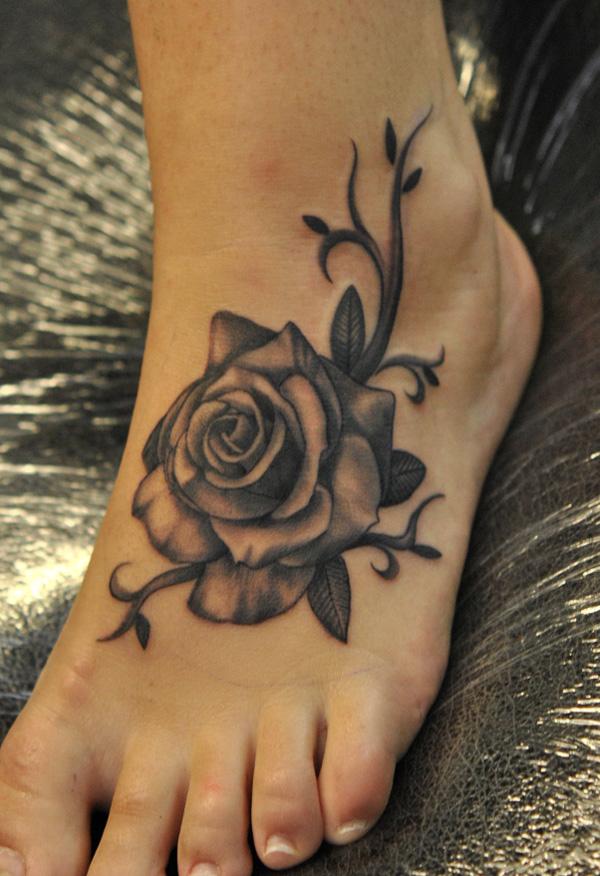 Black rose with thorn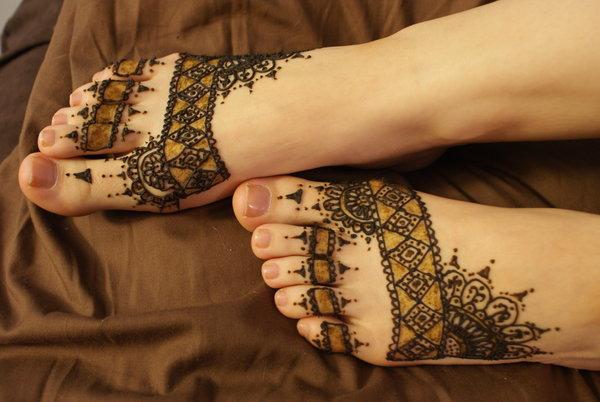 Henna Lace on the front of feet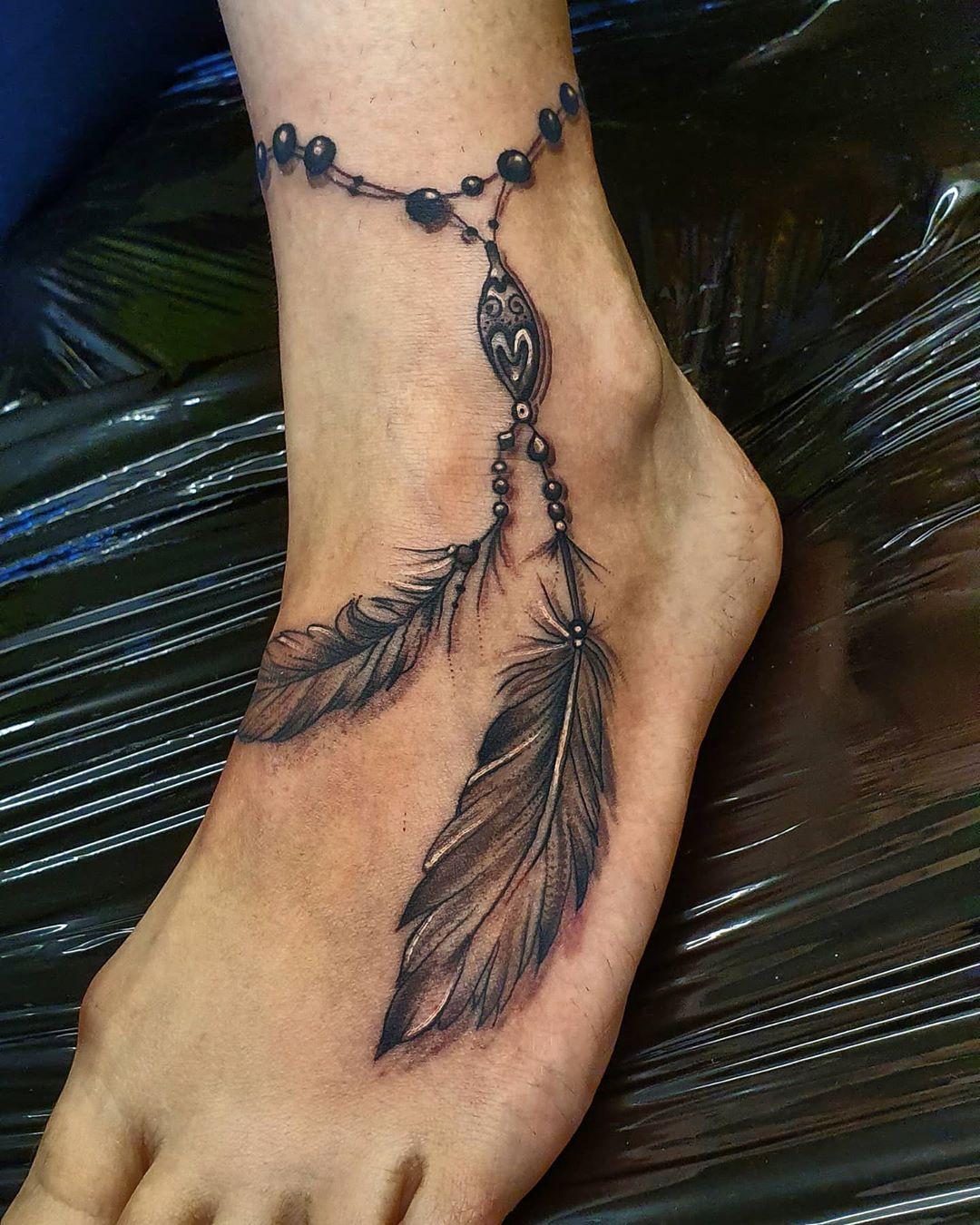 Black and white tattoo with ankle bracelet with feather in Native American style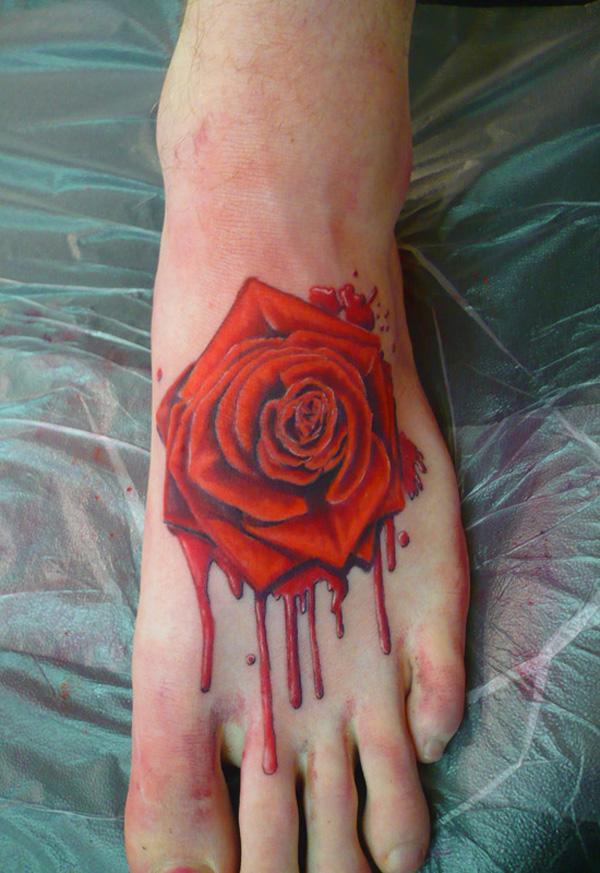 Melting rose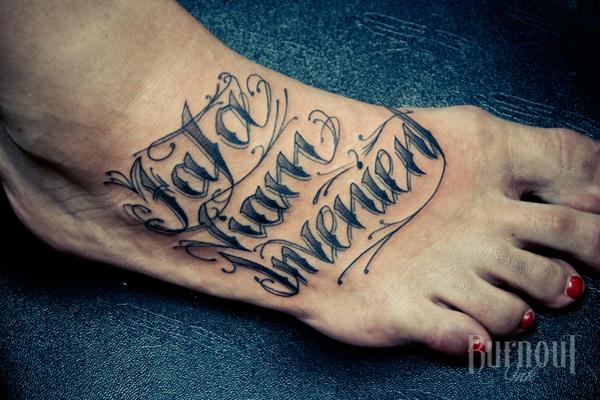 Stylish Font on foot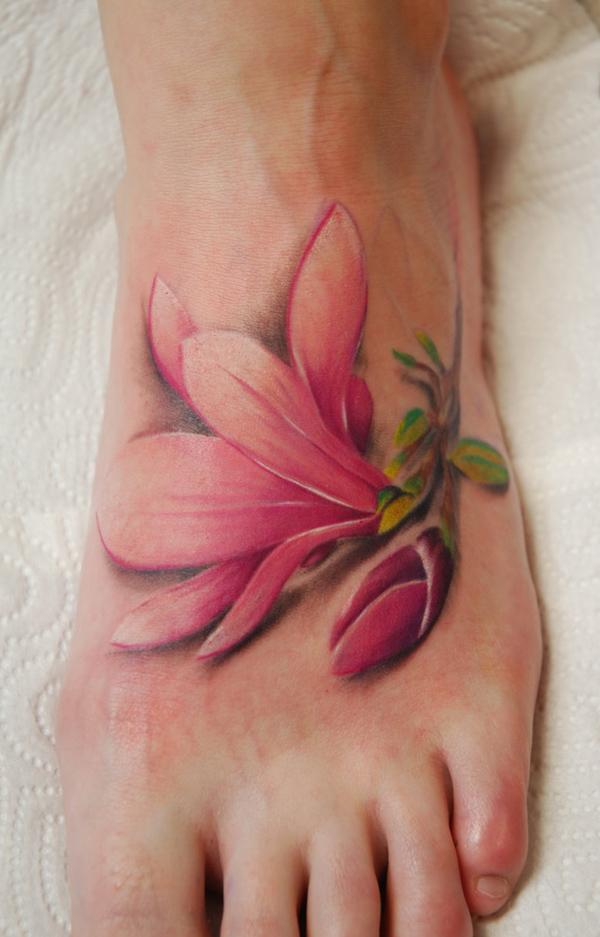 Pink magnolia
Flower tattoos are favorite choices for women. For example, this flower tattoo features a piece of realistic magnolia with great shades on the foot. White magnolia is generally associated with purity and nobility while pink magnolias symbolizes love, innocence, and joy.
source
Feather to birds
A piece of feather was drawn on the foot with flock of birds flying out. On the top, the inked words speak the meaning of the tattoo. "You may say I'm a dreamer".
source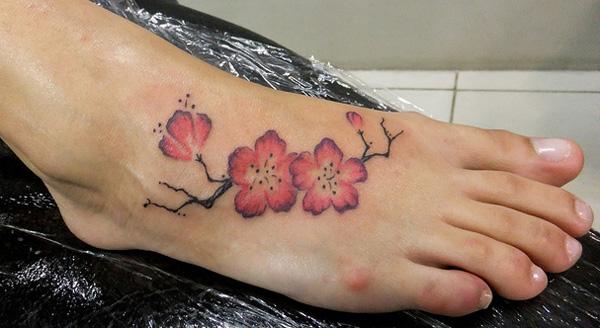 Pretty Sakura
If someone is obsessed with Japanese culture, this cute cherry blossom tattoo may be a good choice. Sakura is the national flower for Japan, which is timeless metaphor for human existence.
source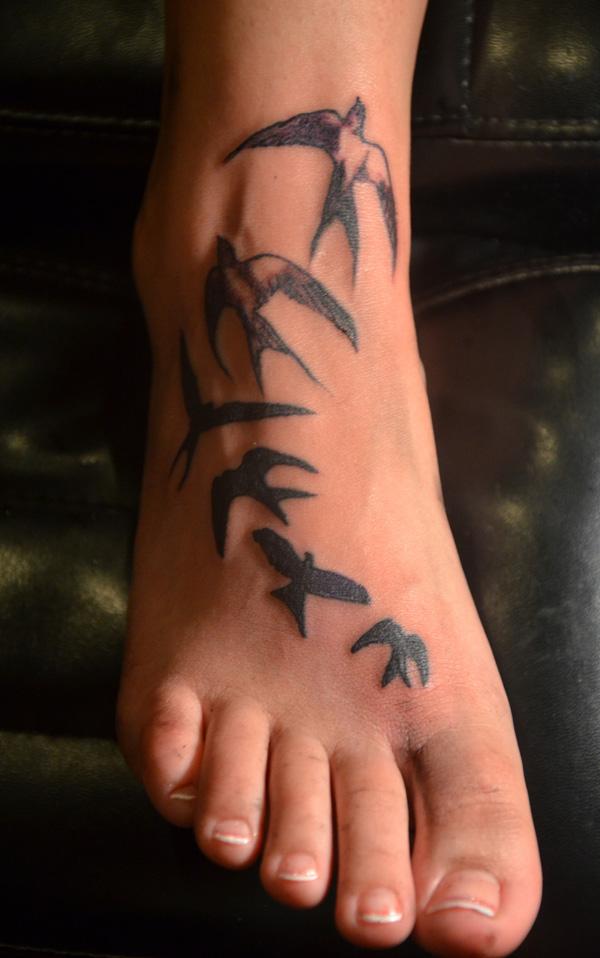 flying birds flock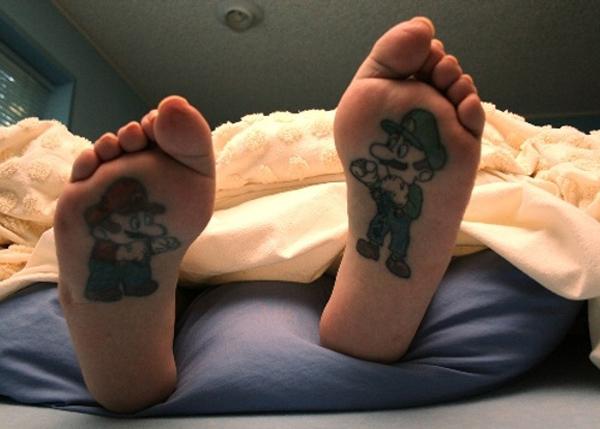 Cartoon figures on the underside of feet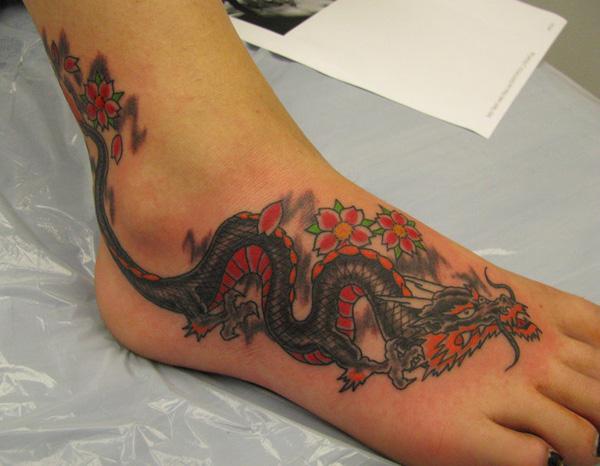 Colorful dragon tattoo on foot for women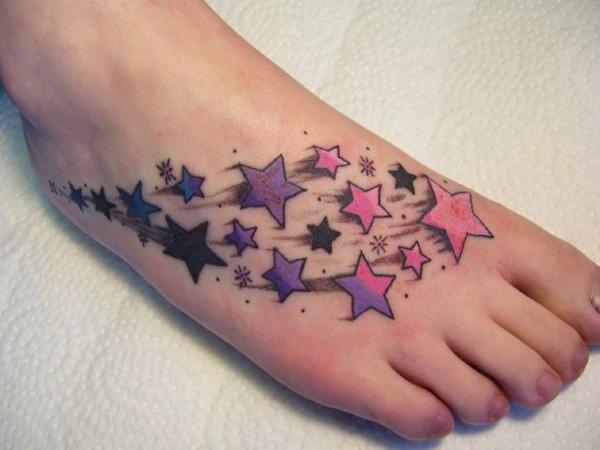 Stars wind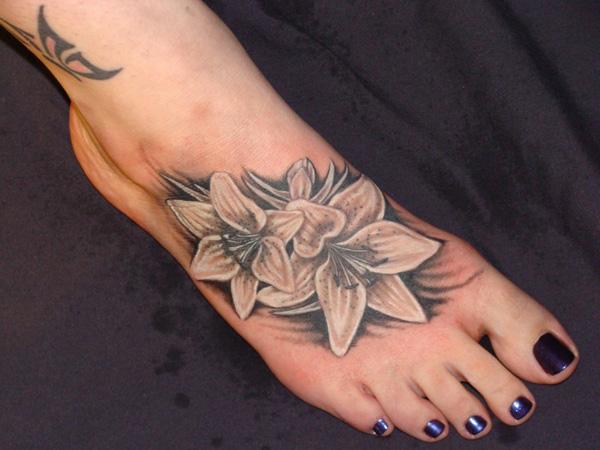 Black and white Lily flower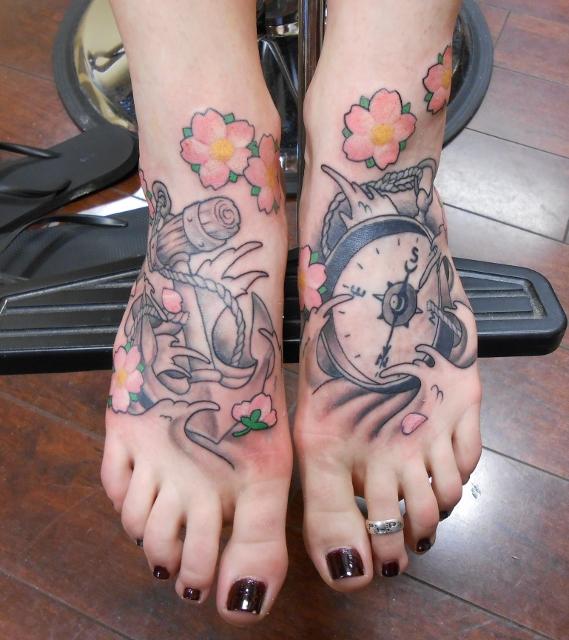 Compass and Anchor Matching Tattoo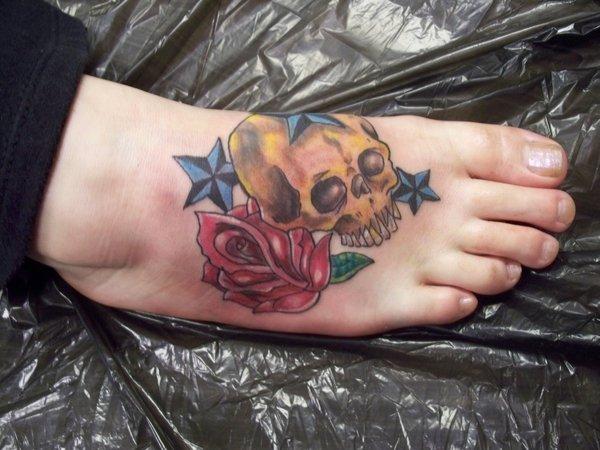 Skull Rose Stars
Skull is one of the popular motif for tattoo designs. It also appears along with rose flower to express love to those passed away. In this design, the stars remind us that the tattoo seems to honor the one who used to serve in the army.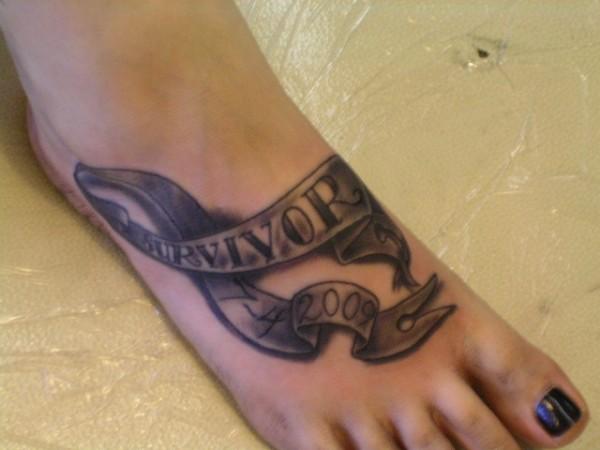 Black ribbon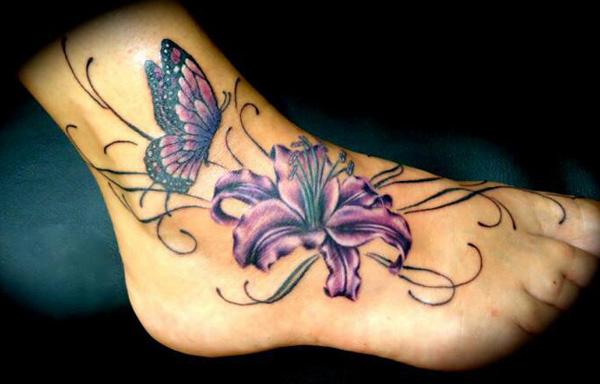 Butterfly and lily tattoo on foot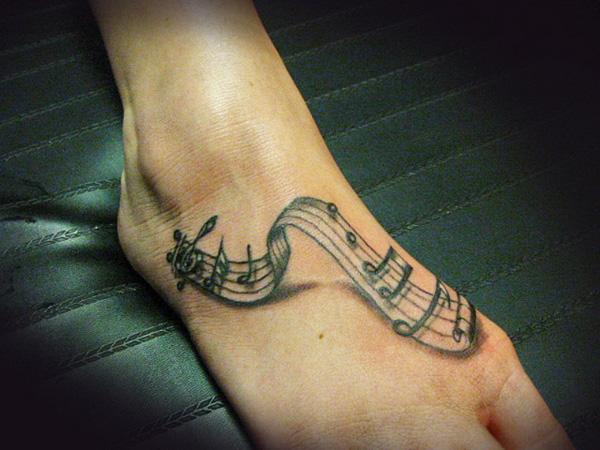 Music notes on foot in 3D style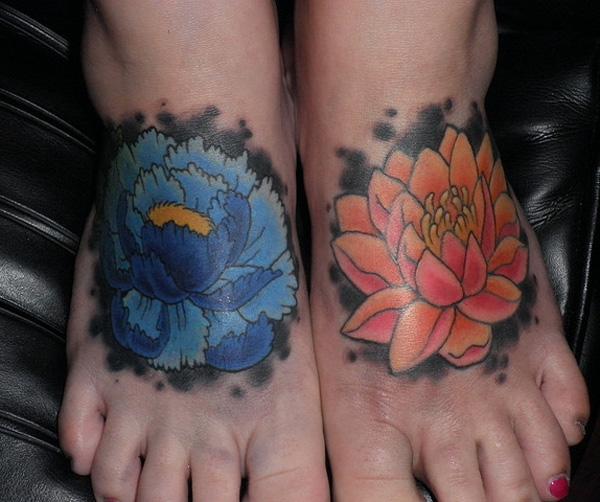 Blue and pink chrysamthemum matching tattoo on feet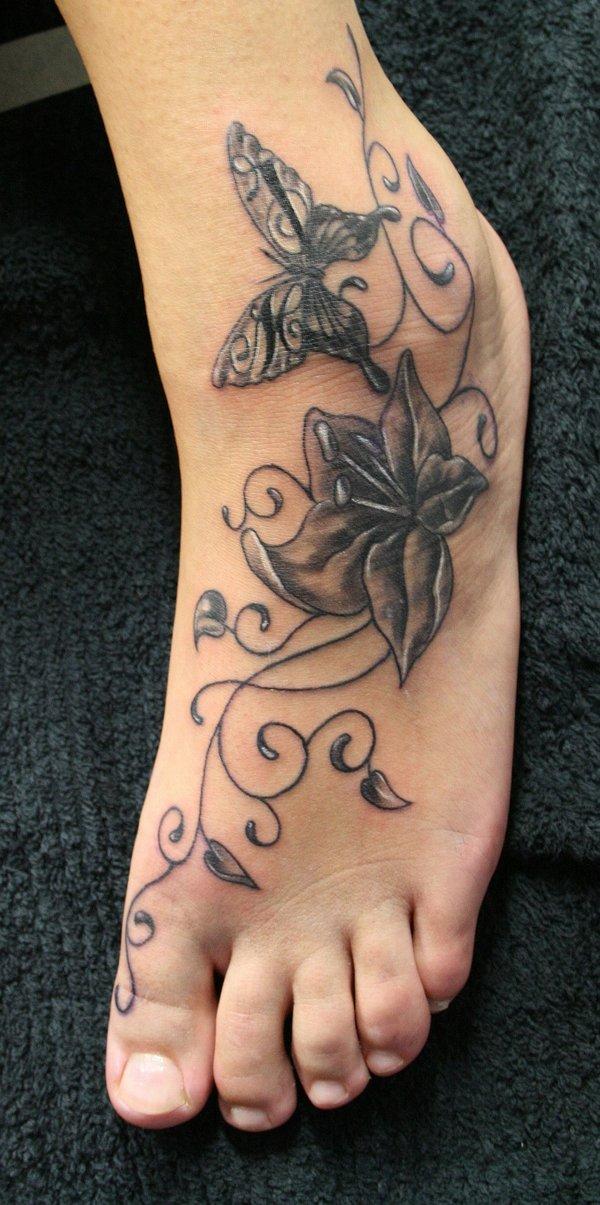 Tribal tattoo with butterfly and flower in greyscale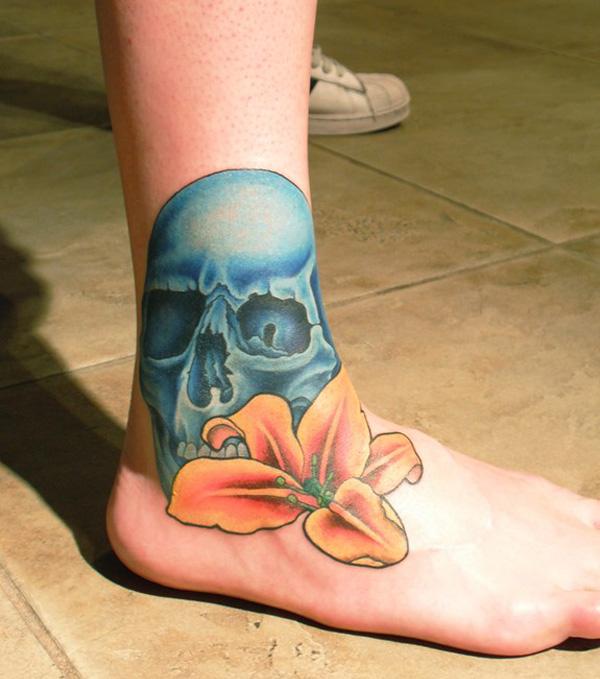 Skull and lily tattoo on foot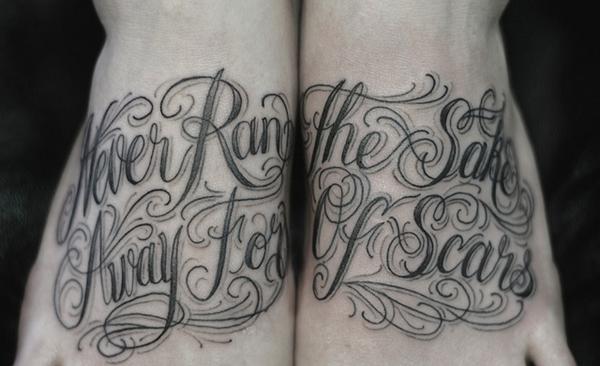 Stylish fonts matching tattoos on feet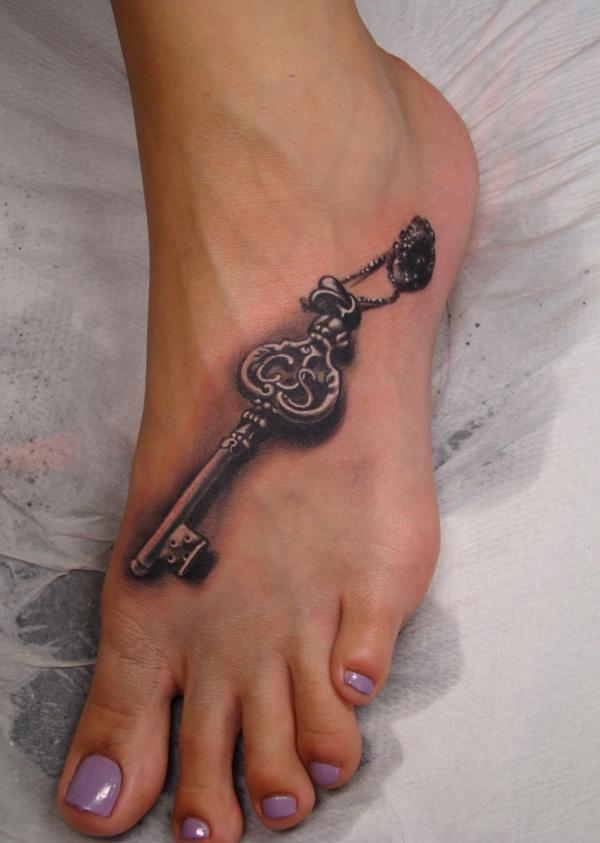 Black and white tattoo with a key and pendant in 3D style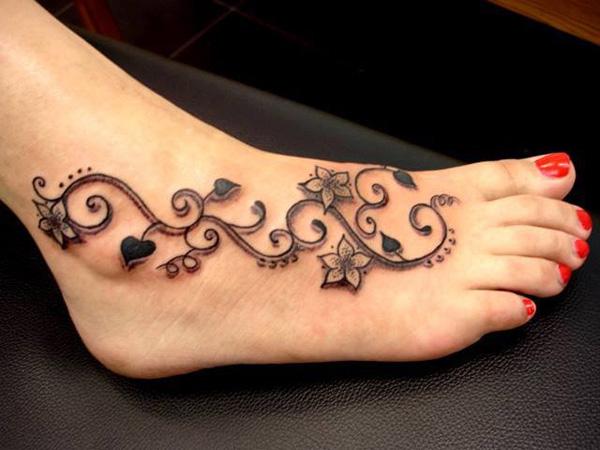 Floral with swirling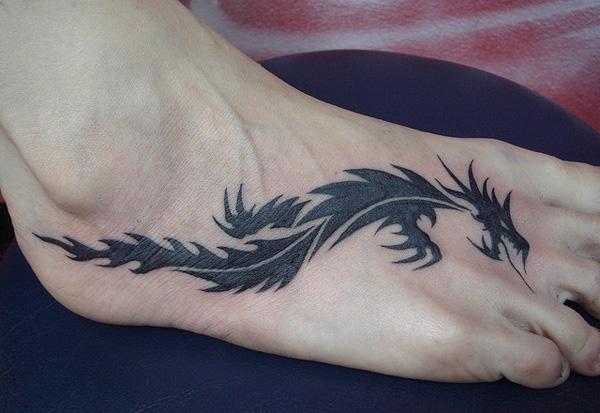 Black dragon tattoo in tribal style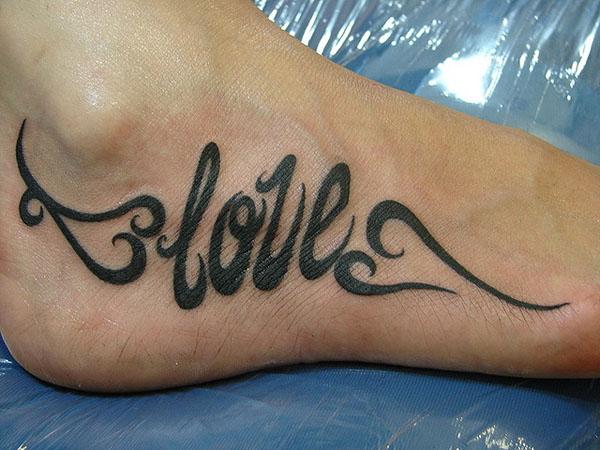 Foot tattoo with Love letters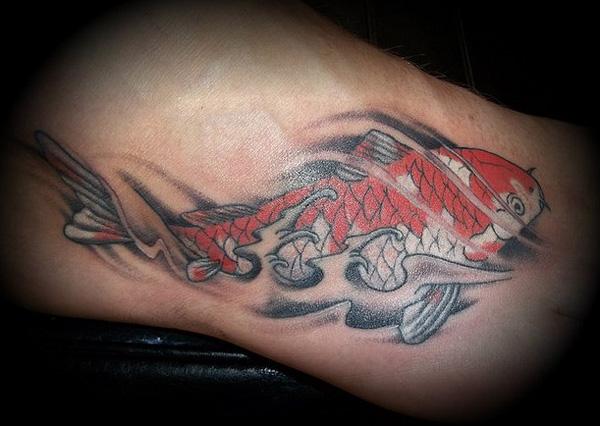 Kio fish tattoo Japanese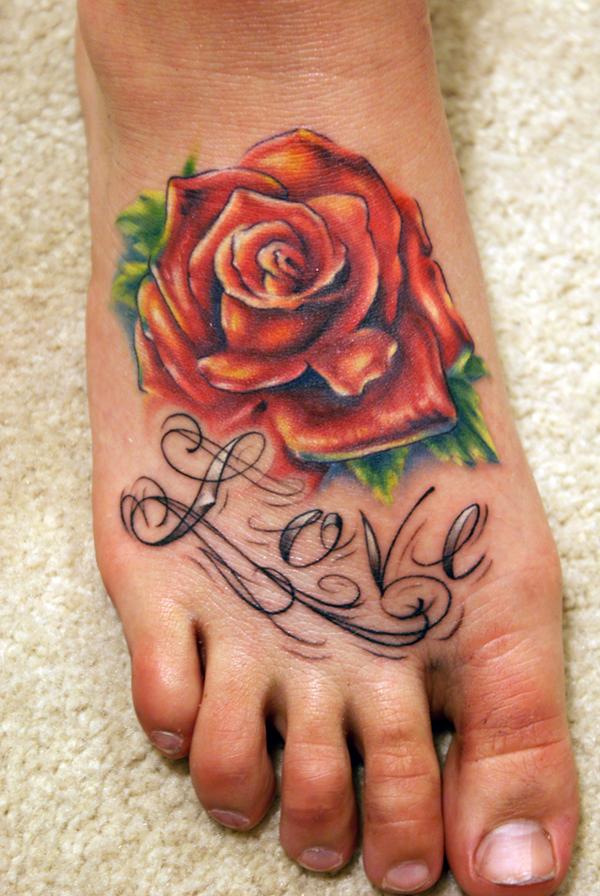 Red rose with gray shade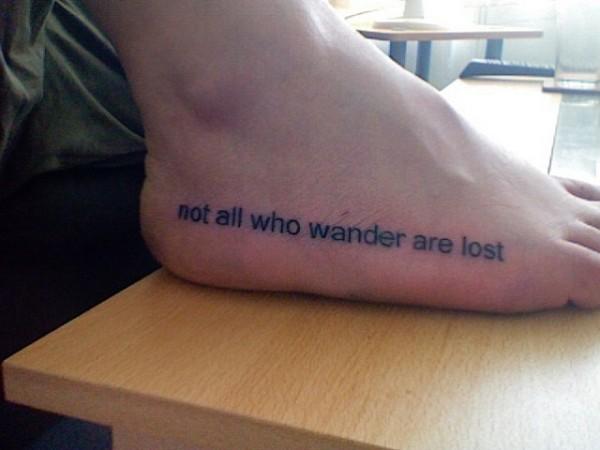 Not all who wander are lost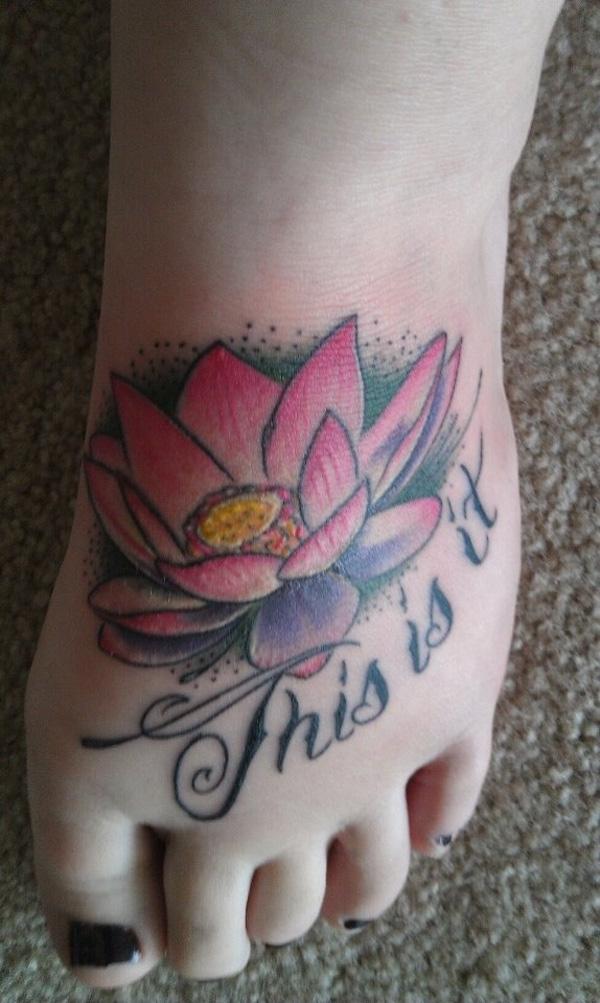 Colored lotus tattoo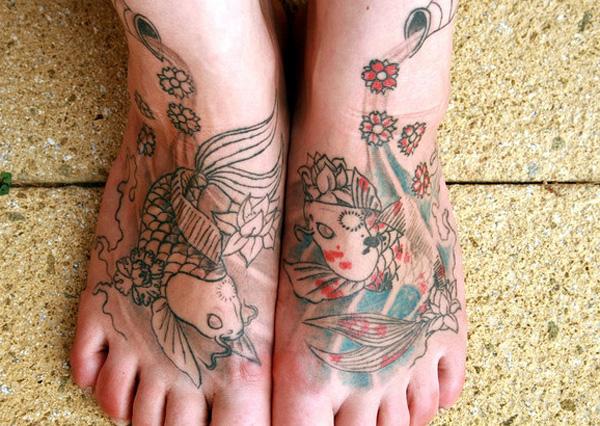 Fish matching tattoos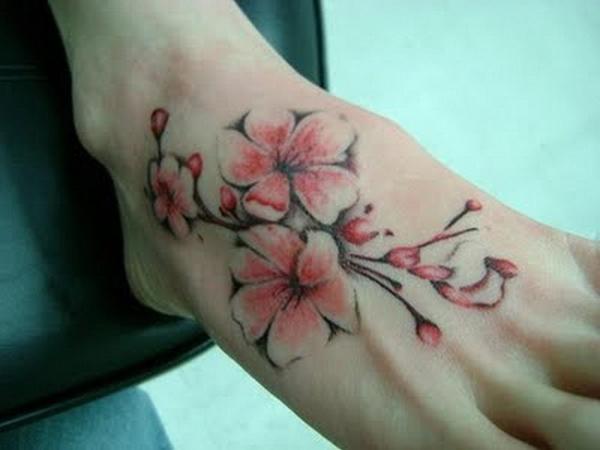 Pink plum blossoms inked on foot for women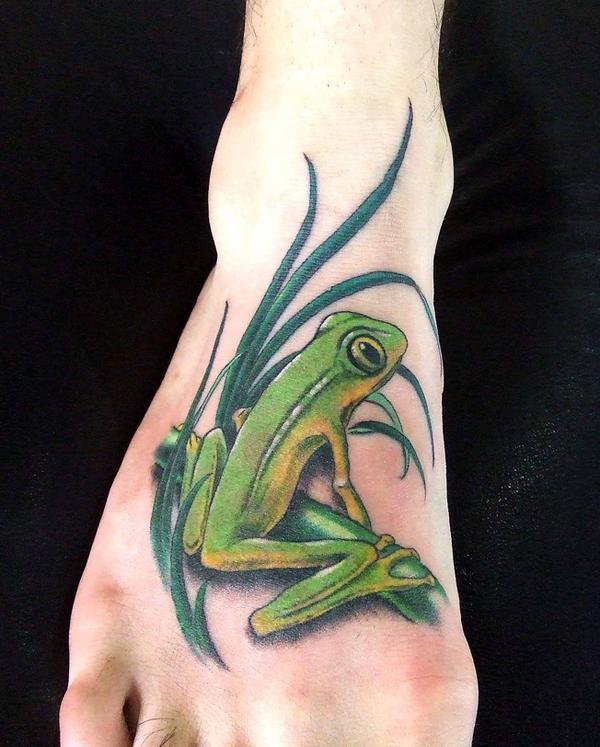 Realistic frog tat on foot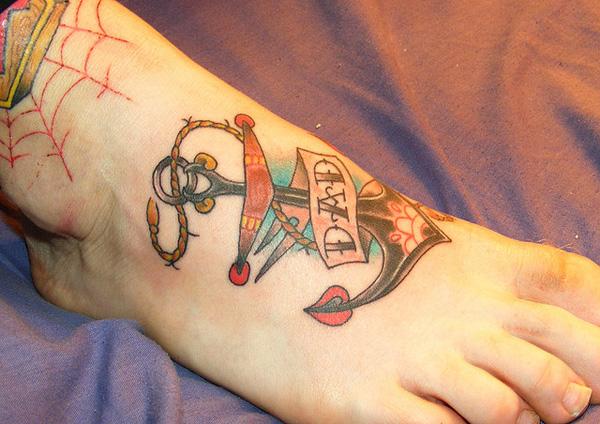 Colored anchor tattoo
Realistic tattoo with black key and red ribbon
This tattoo is so cute and meaningful for a girl who just steps into society. In the course of life, there could be many problems ahead. This tattoo reminds the wearer that there is always way to solve the problem as long as you find the key.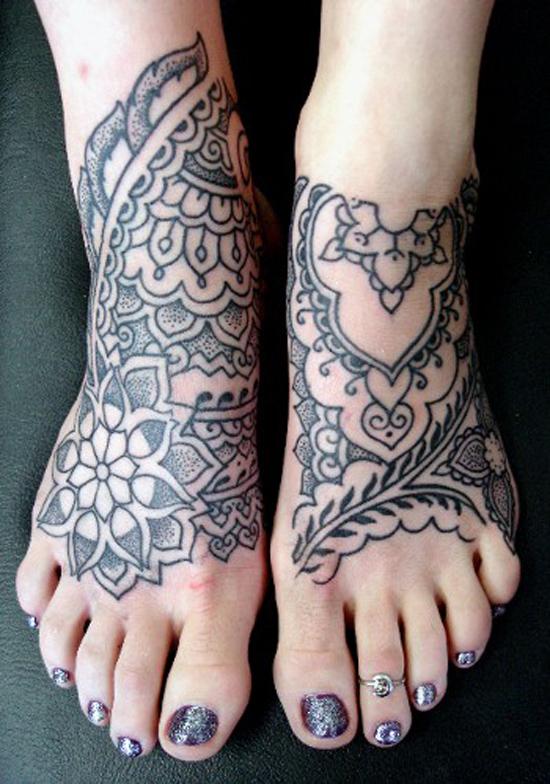 Mandala dotwork on feet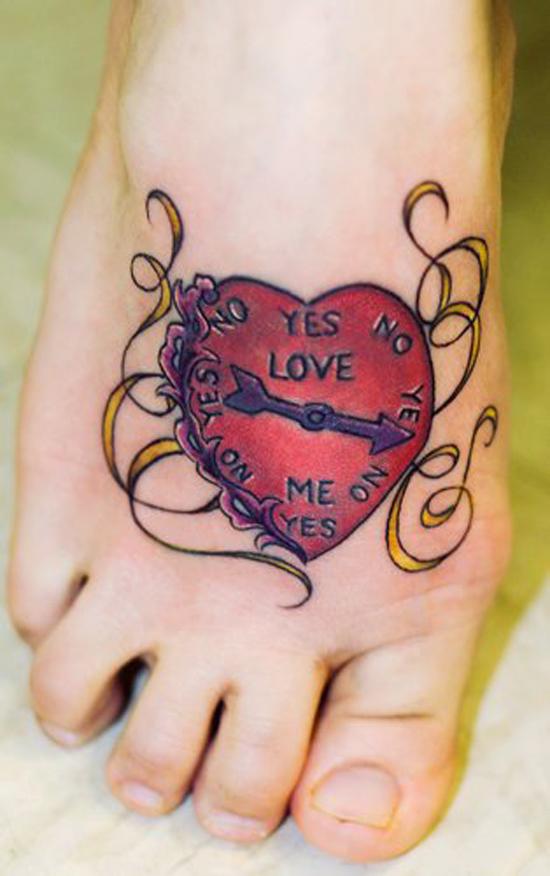 Love clock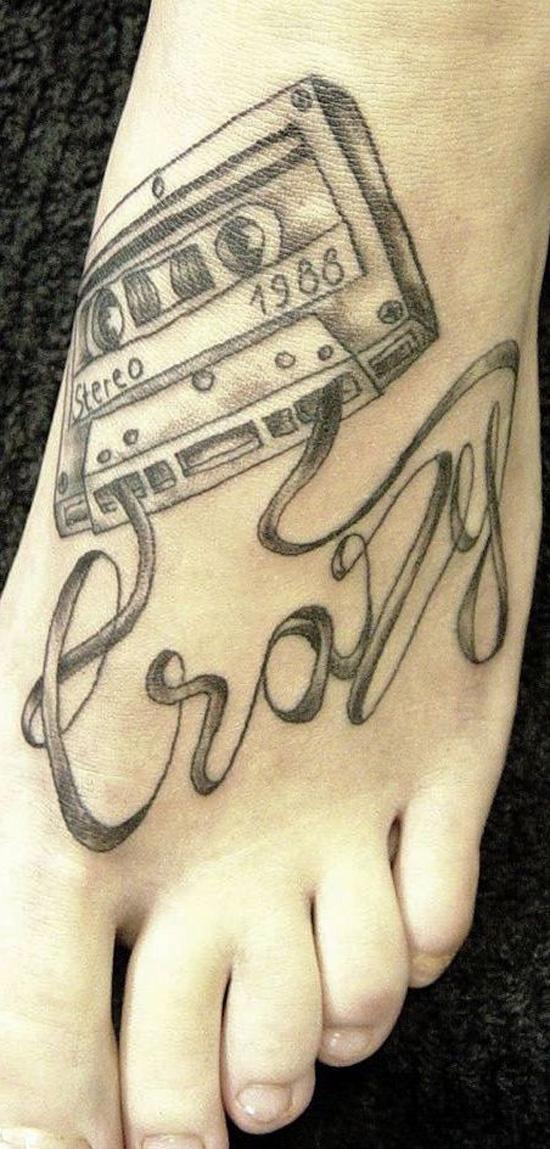 Crazy tape – music tattoo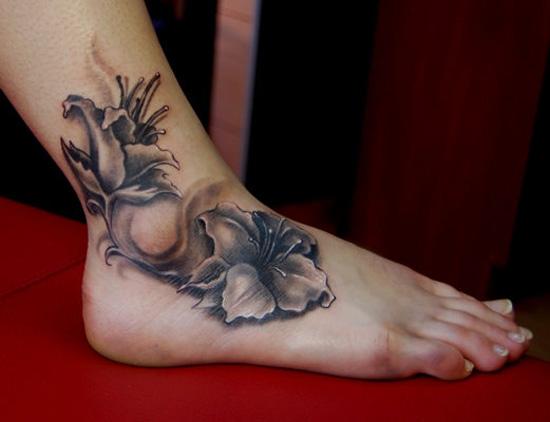 Vibrant Hibiscus tattoo on foot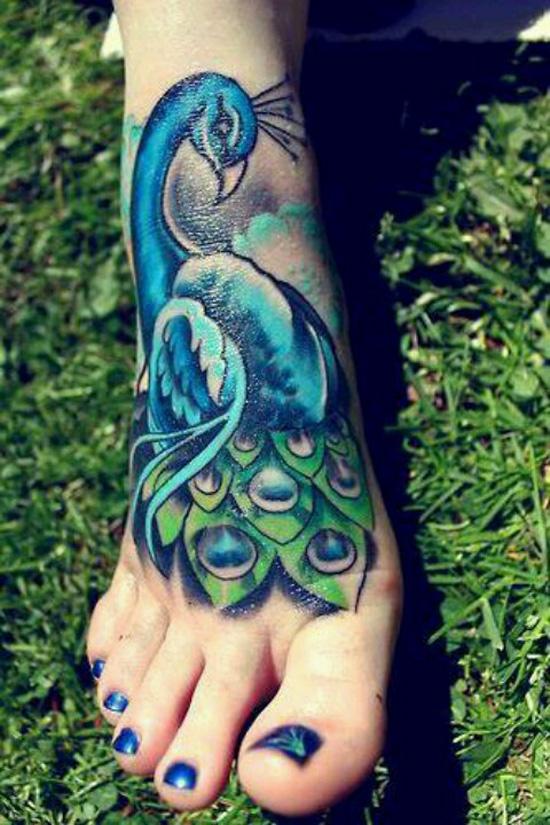 Peacock tattoo on tattoo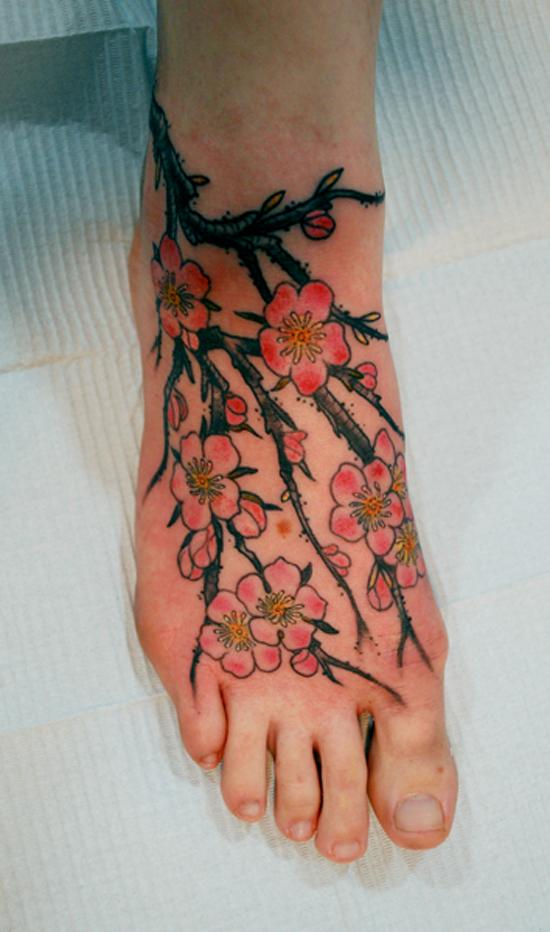 Cherry tattoo on foot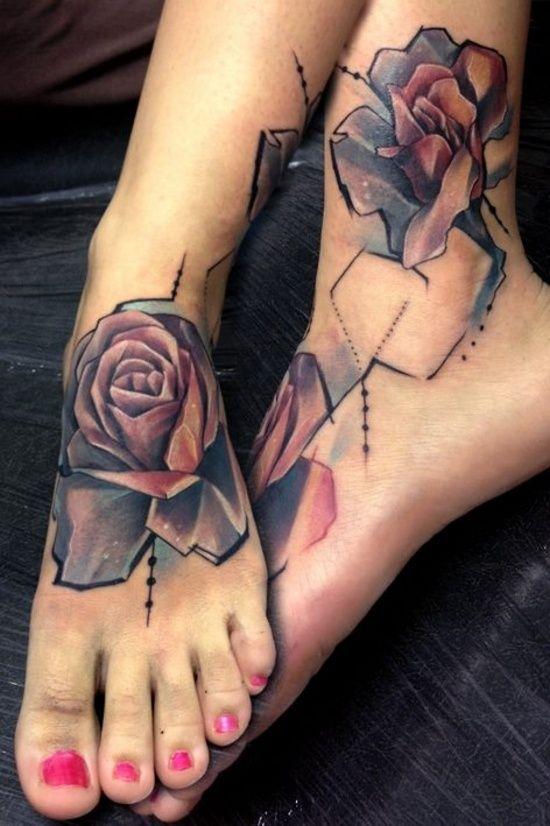 rose tattoo on foot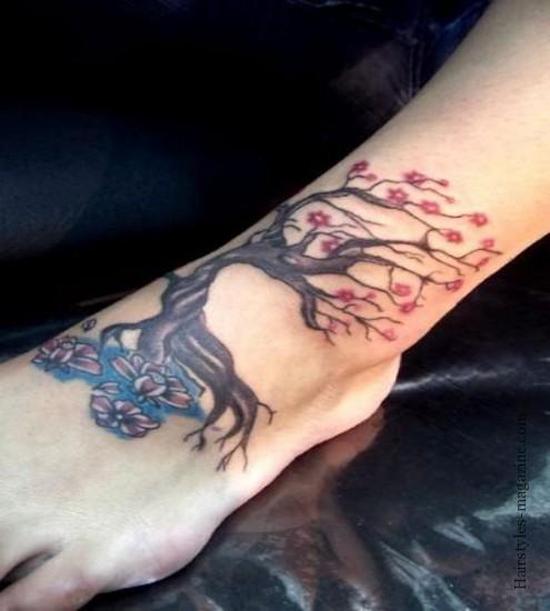 tree tattoo on foot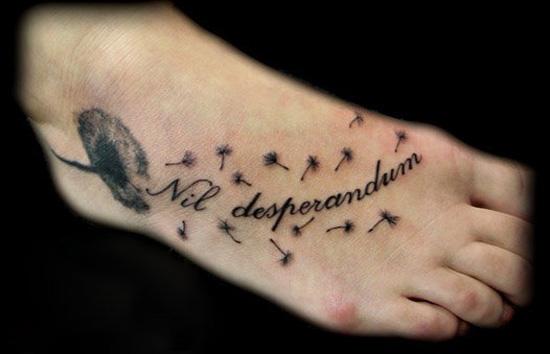 Never despair
This tattoo draws Latin words Nil desperandum on the front of foot, surrounded by Dandelion flowers.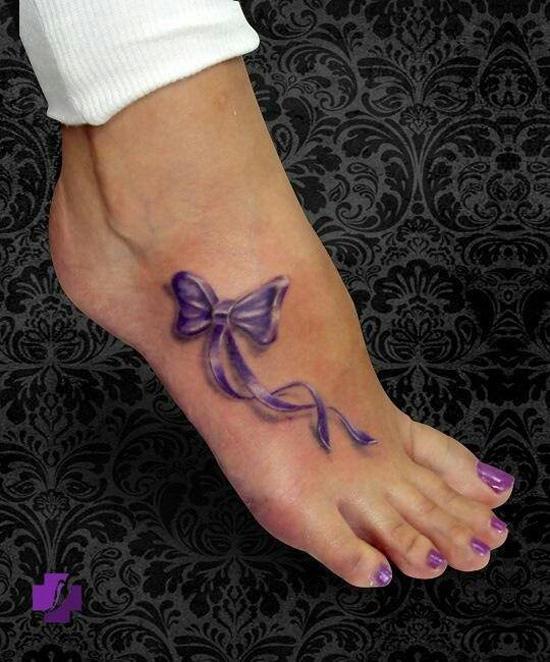 3D ribbon tattoo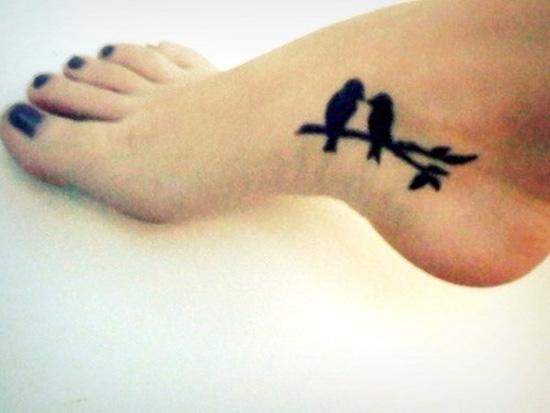 Silhouette tattoo with two lovebirds on the branch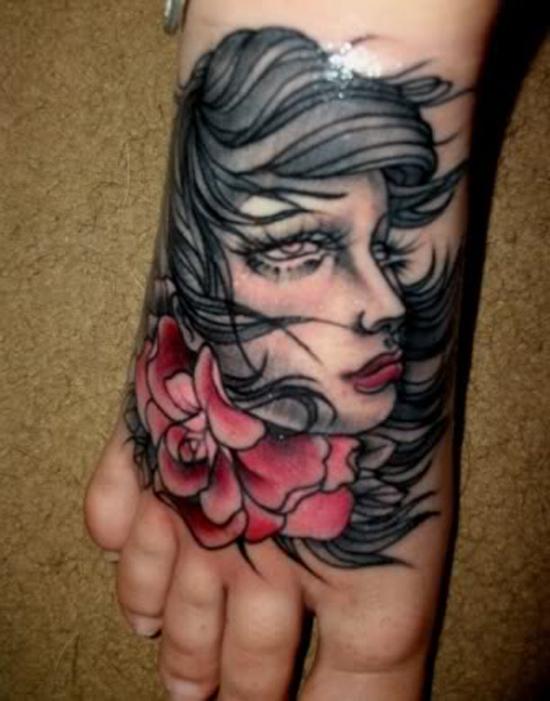 Colored tattoo with flower and portrait of stylish woman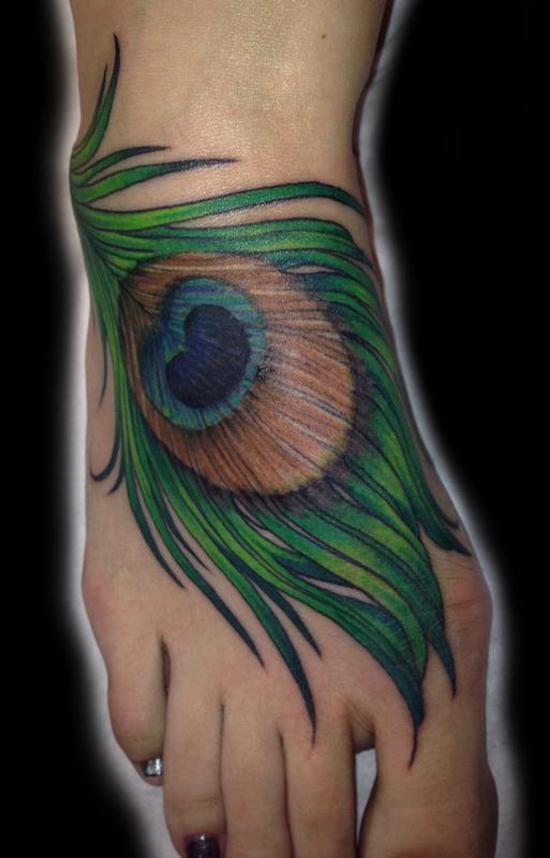 Peacock eye feather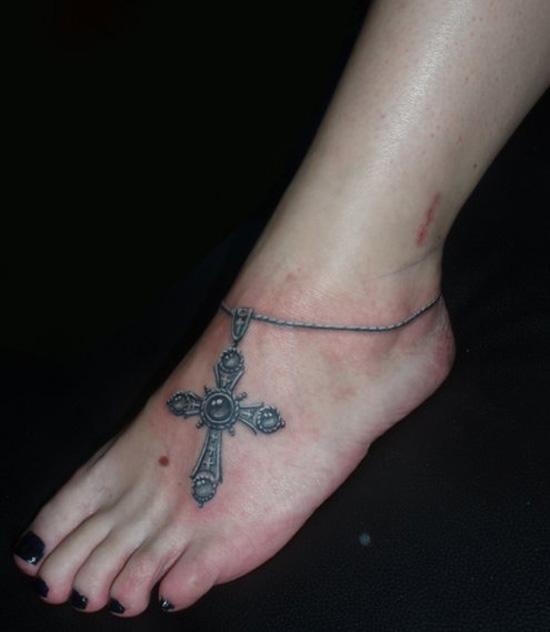 Anklet with a cross in 3D style
Cross with bracelet is the great idea among the tattoo design ideas out there. The anklet appears to hang on the ankle while the cross is placed on the font of the foot.