Hey there, tattoo enthusiast! So, you're considering an ankle tattoo, huh? Well, you've come to the right place. We're here to give you the lowdown on ankle tattoos for women and why they might just be the perfect addition to your ink collection.
The Allure of Ankle Tattoos
Ankle tattoos are alluring for many reasons. They're subtle yet sexy, discreet but daring, and they've got that je ne sais quoi that turns heads. Plus, they're a fantastic way to showcase your personality and style without going full-on back piece or sleeve.
The Element of Surprise
Ankle tattoos can be easily hidden by socks or pants, making them the perfect choice for those who don't want to flaunt their ink all the time. But when you do decide to slip on a pair of pumps or rock a cute sundress, your ankle tattoo will make a stunning appearance and grab everyone's attention.
The Feminine Touch
Ankle tattoos are undeniably feminine. They accentuate your legs, drawing attention to your ankles and making them appear more delicate and graceful. Plus, there's something about an ankle tattoo that adds a touch of mystery and intrigue to your overall look.
Choosing the Perfect Ankle Tattoo
With countless designs to choose from, selecting the perfect ankle tattoo can be a daunting task. Fear not, we've got some tips to help you narrow down your options and find the ideal design for you.
Size Matters
When it comes to ankle tattoos, size matters. Small, delicate designs work best in this area, as they won't overwhelm your ankle and will maintain that subtle, feminine look. However, if you're after something a little bolder, you can still opt for a larger design – just remember to consider its placement and how it will wrap around your ankle.
Placement Perfection
Ankle tattoos can be placed on the inner, outer, or back of the ankle, or they can encircle your ankle like a bracelet. Each placement has its own unique appeal, so think about what suits your style and personality best.
Inner Ankle: Ideal for small, discreet tattoos that you want to keep hidden most of the time. Perfect for those who want a personal and private tattoo that only they (and a select few) will see on a regular basis.
Outer Ankle: A more visible placement, great for showcasing your tattoo when wearing shorts, dresses, or skirts. This placement can make your ankle appear slimmer and accentuate your leg's natural curves.
Back of the Ankle: A popular choice for women who want to add a touch of intrigue to their ink. This placement can make your tattoo appear like a hidden gem, only revealing itself when you walk away.
Ankle Bracelet: For those who want their tattoo to make a statement, an ankle bracelet design is a stunning option. This placement can also create the illusion of a piece of jewelry, adding an extra touch of elegance to your look.
Style Savvy
Choosing a tattoo style that resonates with your personal style and preferences is essential. From minimalist line work to intricate, detailed designs, the possibilities are endless.
Minimalist: Thin lines, simple shapes, and monochrome colors create a minimalist tattoo that's perfect for those who appreciate understated elegance.
Floral: Delicate, feminine, and timeless – floral designs are a go-to choice for women's ankle tattoos. From roses to cherry blossoms, there's a flower to suit every personality.
Tribal: Inspired by ancient cultures and traditions, tribal tattoos often feature bold lines and intricate patterns. These designs can be a powerful way to connect with your heritage or express your inner warrior.
Watercolor: Soft, dreamy, and ethereal – watercolor tattoos are perfect for those who want a unique, artistic design. This style is particularly effective for floral and nature-inspired tattoos.
Ankle Tattoo Design Ideas
Are you looking for examples for your next ankle tattoo? We've compiled a list of design ideas for women that'll have you itching to book your next appointment. From delicate and dainty to bold and beautiful, we've got you covered.
Minimalist Marvels
Less is more with these minimalist ankle tattoo design ideas. Simple, elegant, and effortlessly chic, these designs are perfect for those who appreciate understated beauty.
Line work
A line work adorned your ankle creates a sleek, modern look. You can keep it simple with a straight line, or add a touch of personality with a wavy or zig-zag pattern.
World map outline on the ankle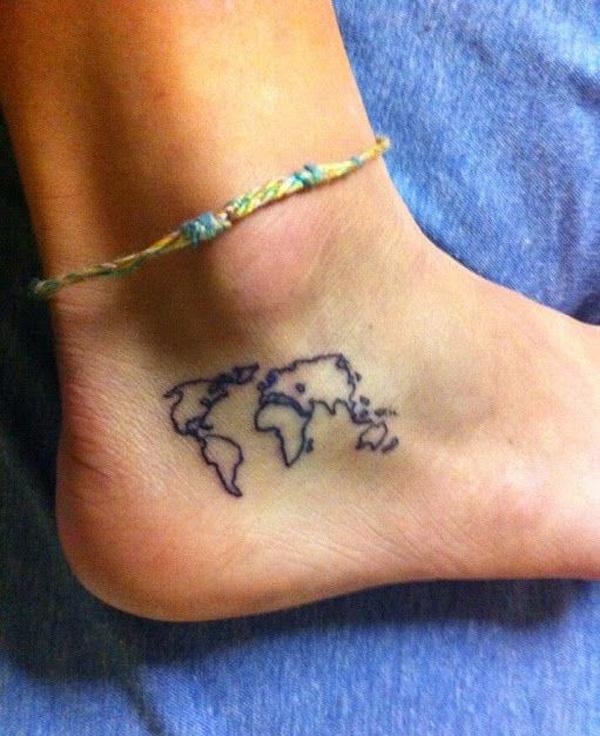 Tiny flower tattoo on ankle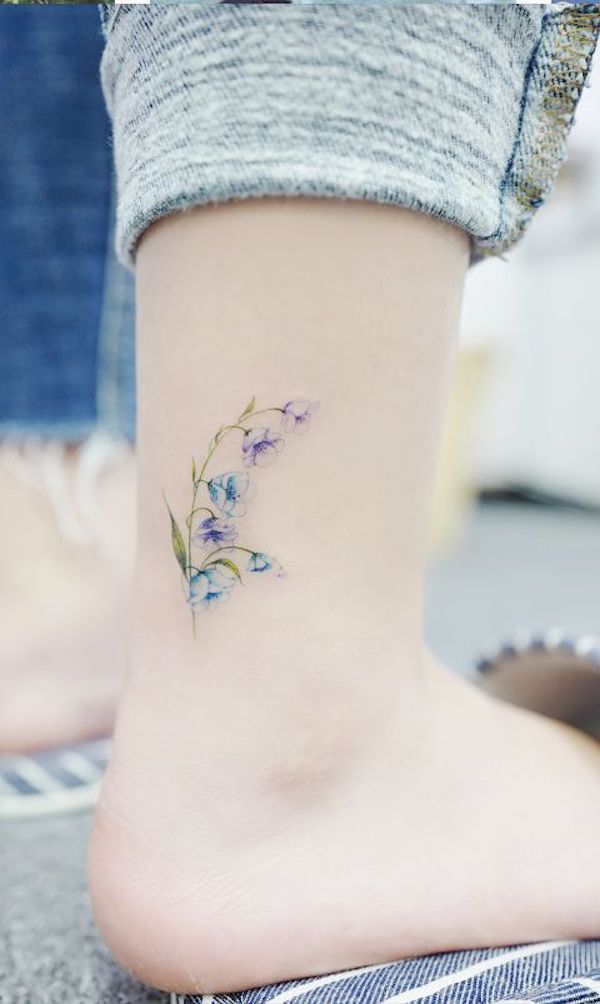 Geometric Shapes
Triangles, circles, and hexagons, oh my! Geometric shapes are a minimalist's dream. Choose a single shape or a combination of shapes for a clean, contemporary design.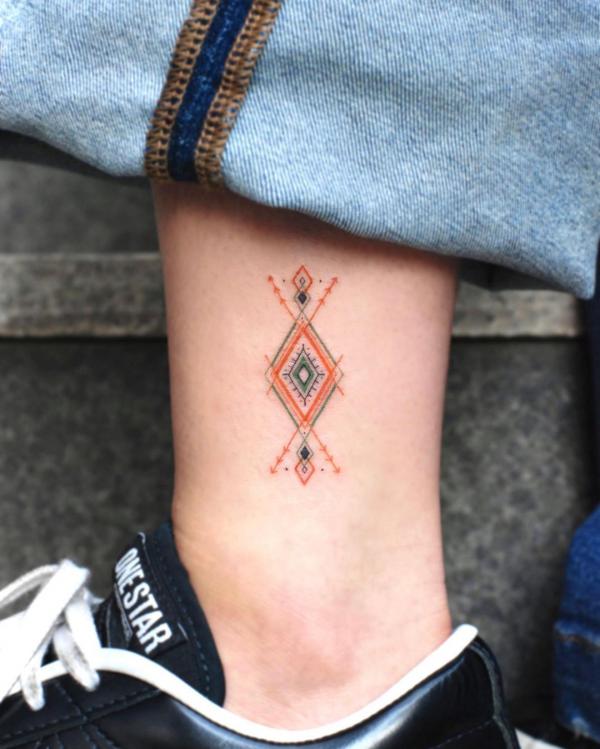 Tiny symbols
A small heart, star, or infinity symbol can make a big impact. Choose a symbol that holds personal meaning or simply appeals to your aesthetic tastes.
Cute anchor with bow tattoo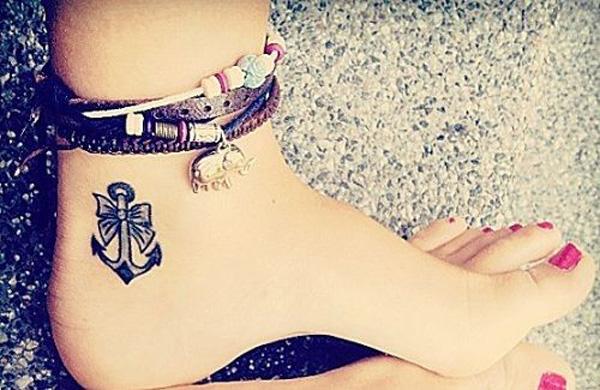 Cute paw print tattoo for women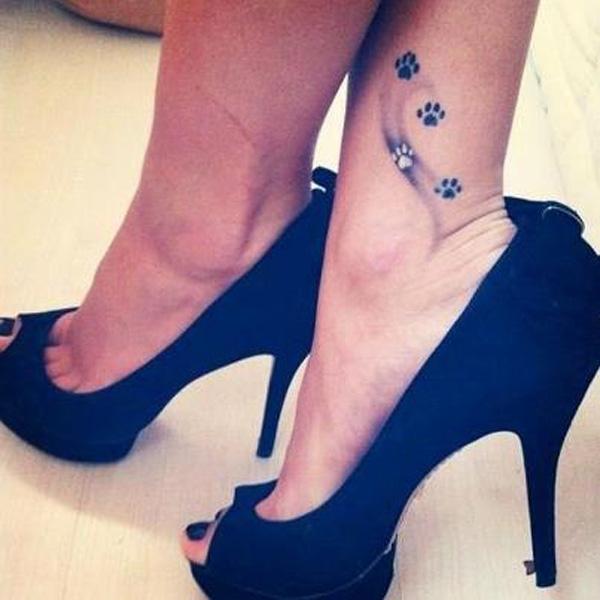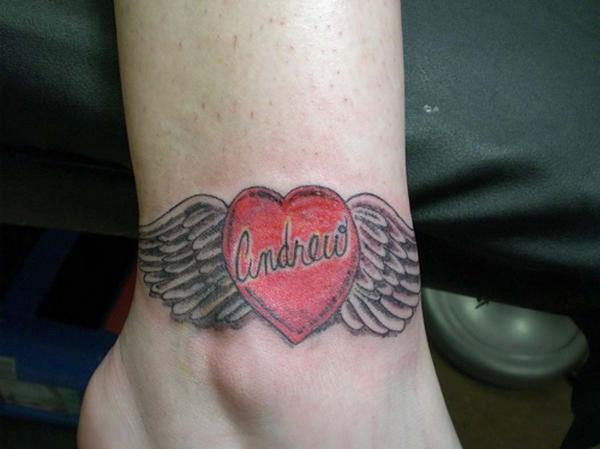 Ribbon bow matching tattoos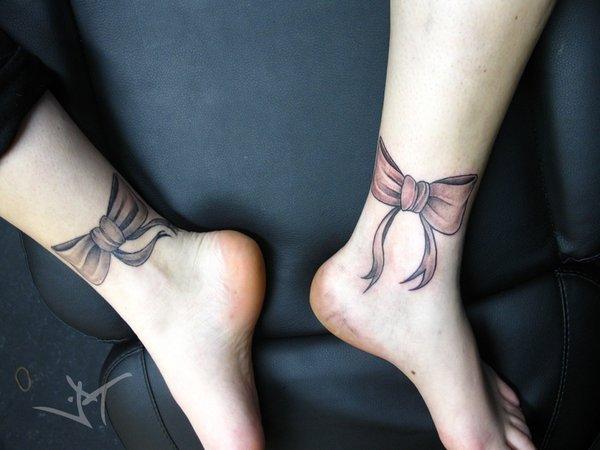 A music note on the heel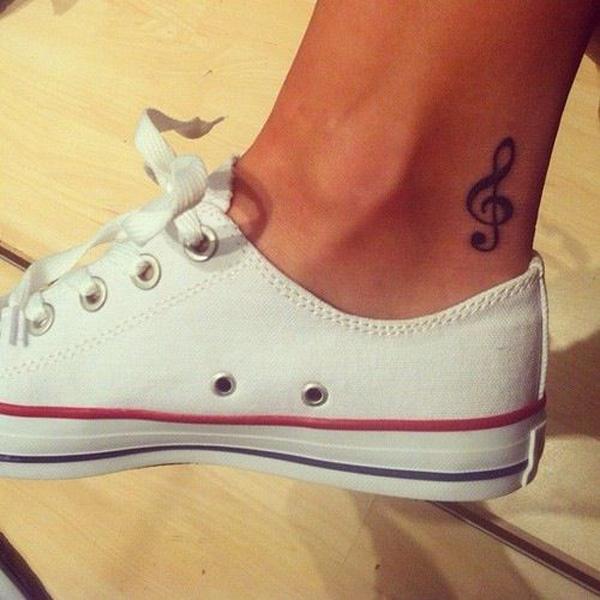 Ankle Rosary Bracelet with cross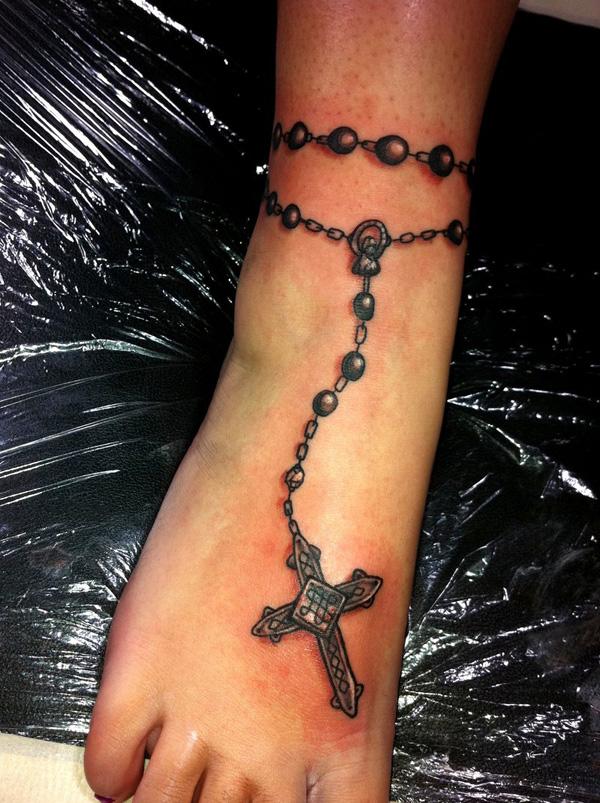 Monogram heart and love tattoo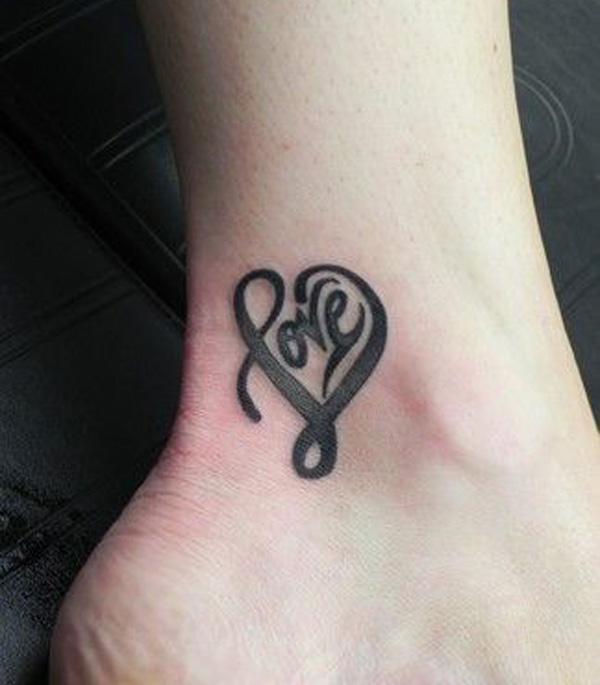 Creative tattoo design fusing the word "love" into the heart symbol.
Fabulous Florals
Flowers and ankle tattoos are a match made in heaven. These feminine, romantic designs are a timeless choice for women.
Roses
A classic symbol of love and beauty, roses are a popular choice for ankle tattoos. Opt for a single, detailed rose or a small bouquet for a more elaborate design.
Vintage Rose with stem tattoo
A stem of rose ankle tattoo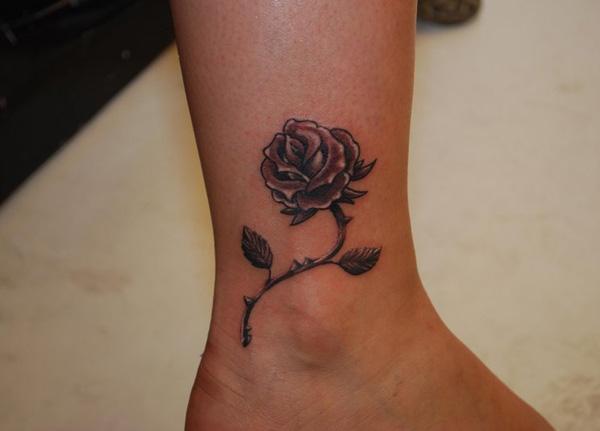 Black and gray Rose with swirling stem tattoo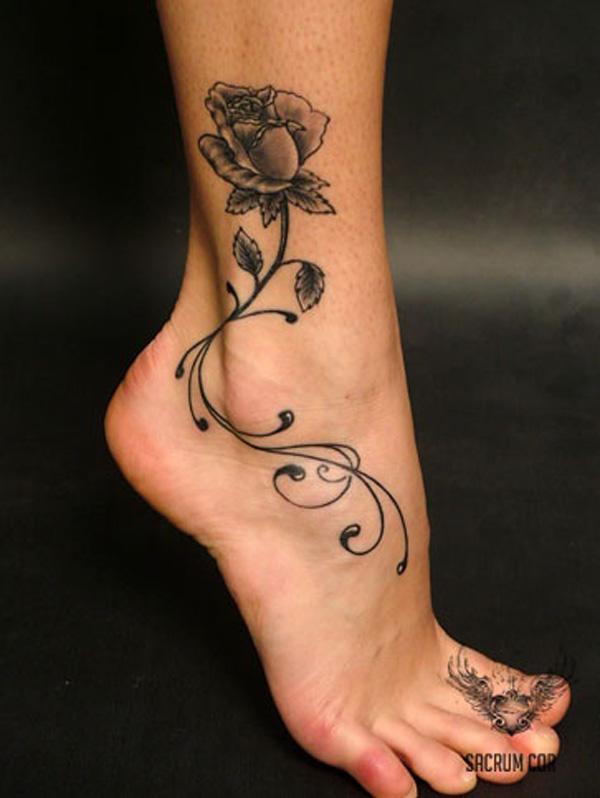 Swirly Floral Ankle Tattoo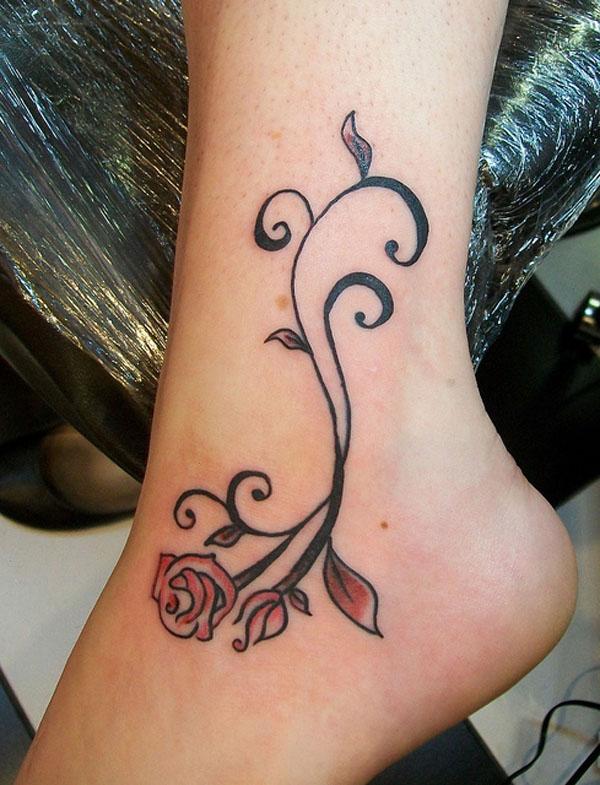 Cherry Blossoms
Delicate and graceful, cherry blossoms symbolize the fleeting nature of life. A branch of these lovely flowers winding around your ankle makes for a truly stunning tattoo.
Cherry Blossoms Ankle Tattoo
Lily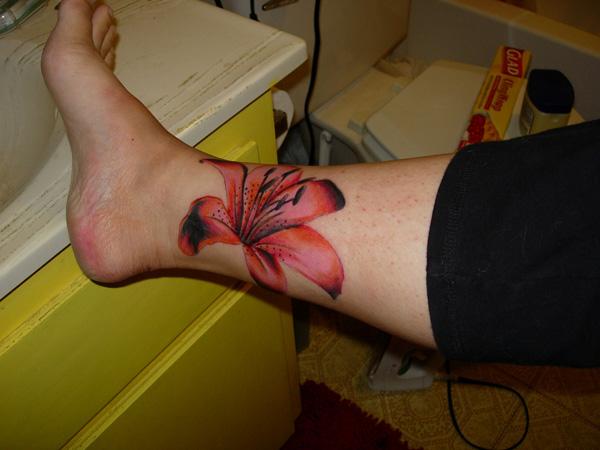 Lilies & swirls tattoo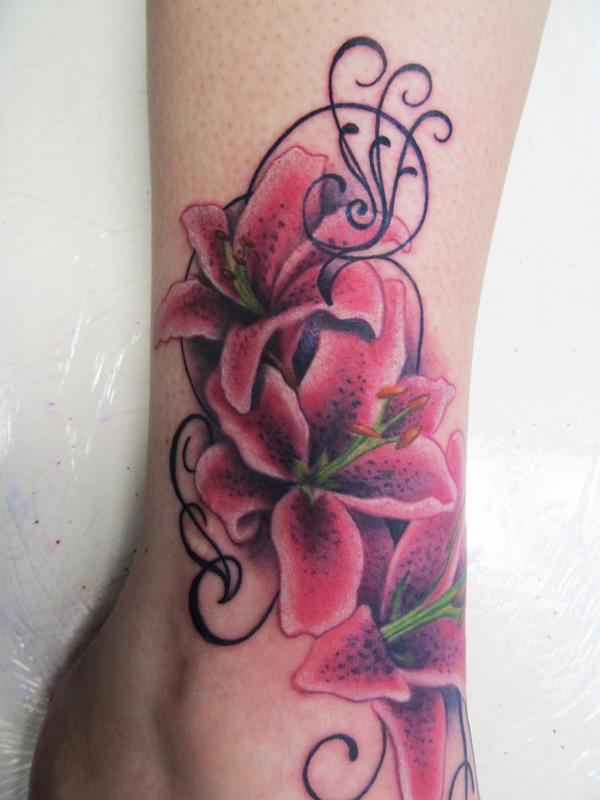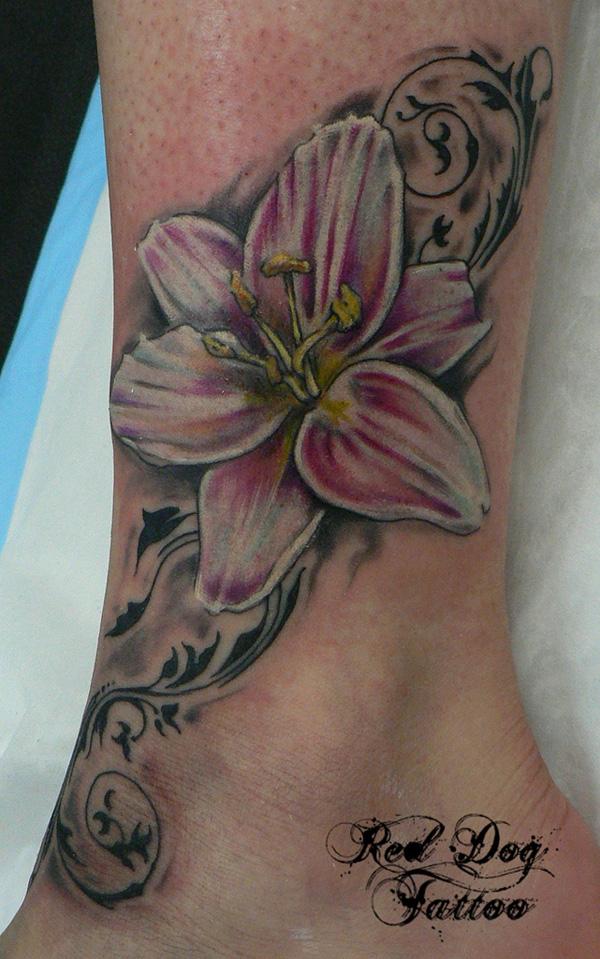 Purple iris flower Tattoo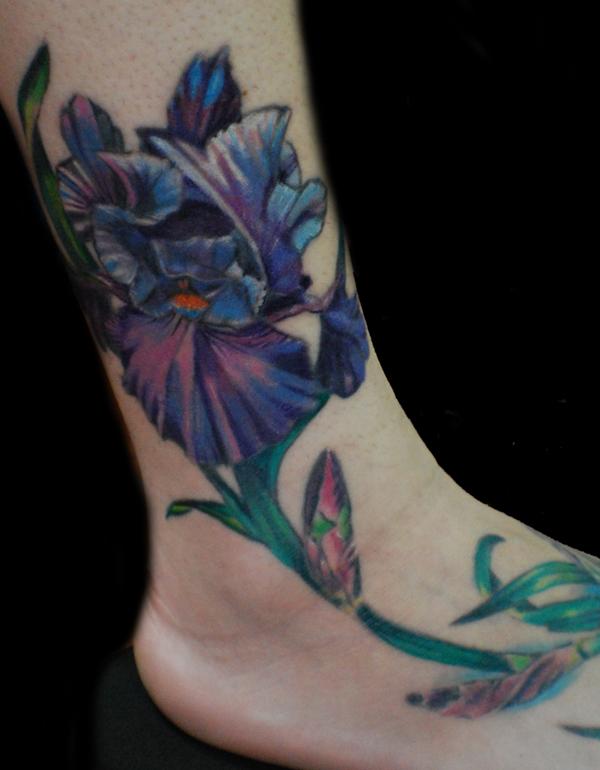 Wildflowers
Embrace your inner free spirit with a wildflower ankle tattoo. Choose one type of flower or a mix of your favorites for a whimsical, nature-inspired design.
Flower on stem ankle Tattoo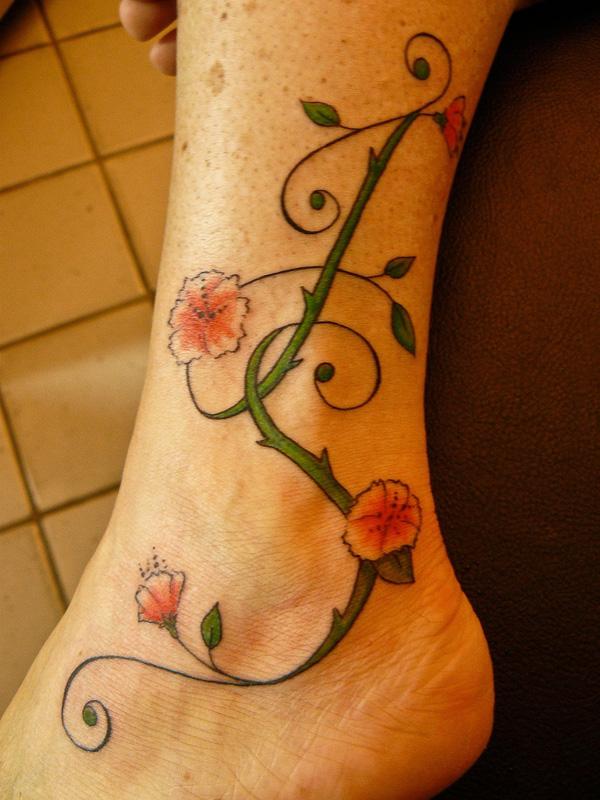 Daisy flowers and Letter I tattoo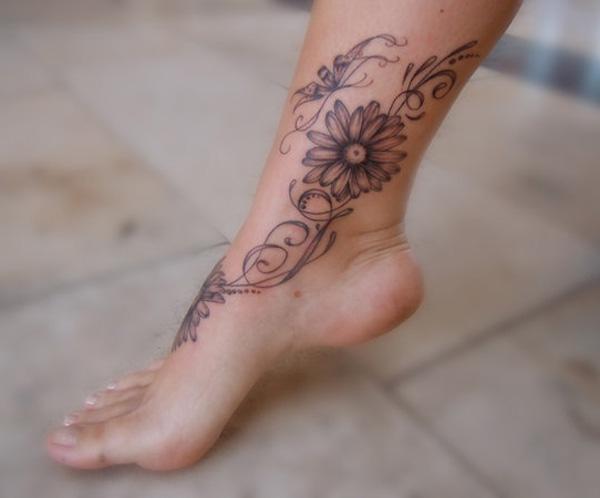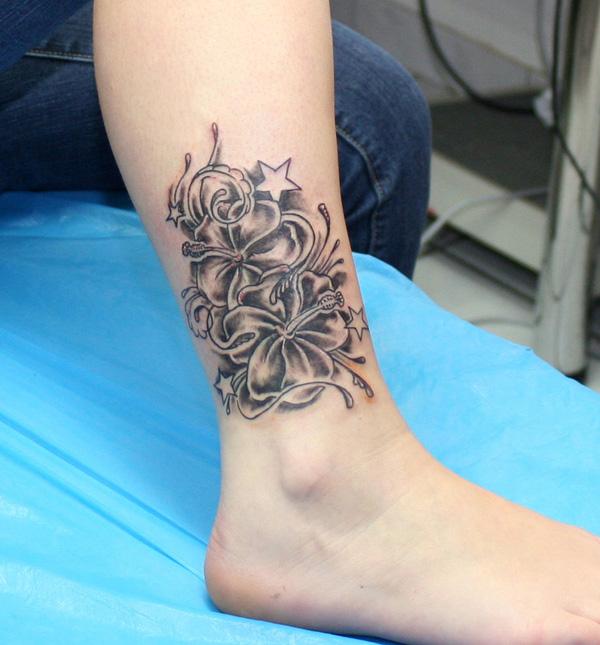 Girlish flower and vines tattoo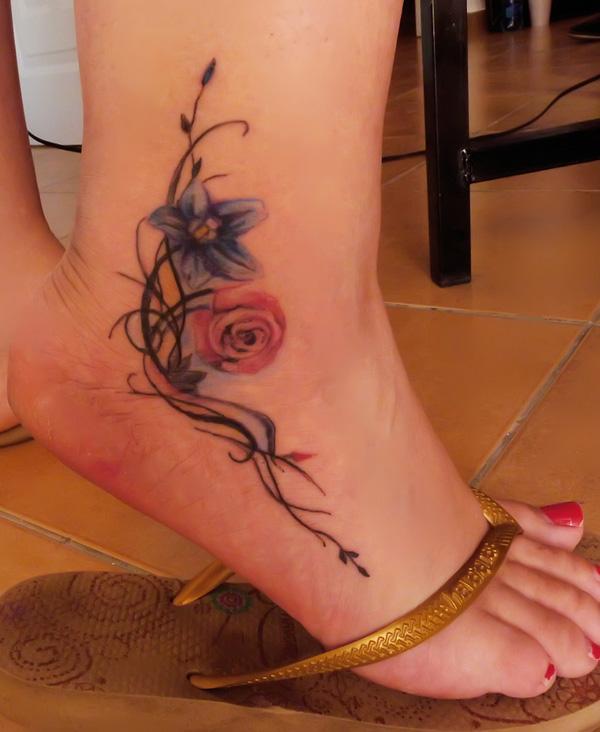 Butterfly and sunflower tattoo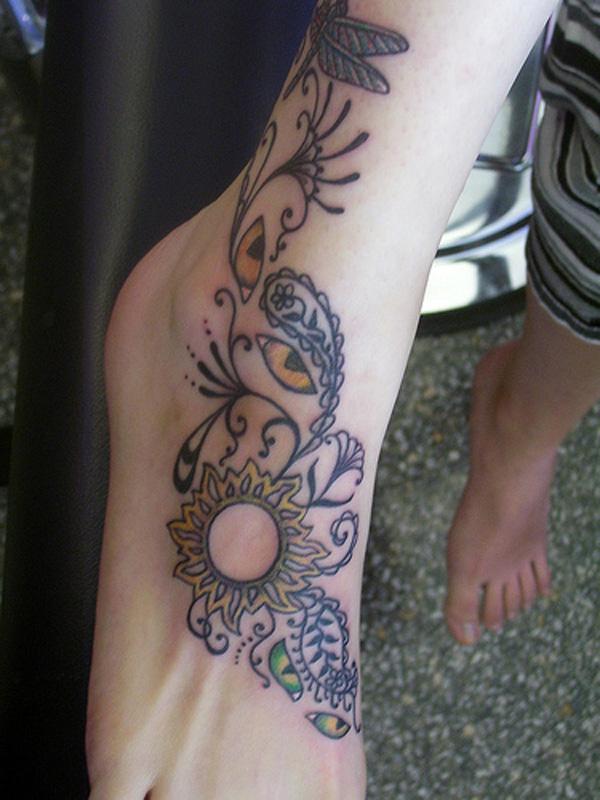 Swirling vine tattoo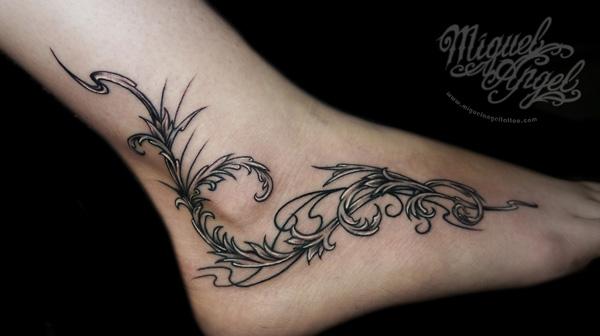 Chicano calla tattoo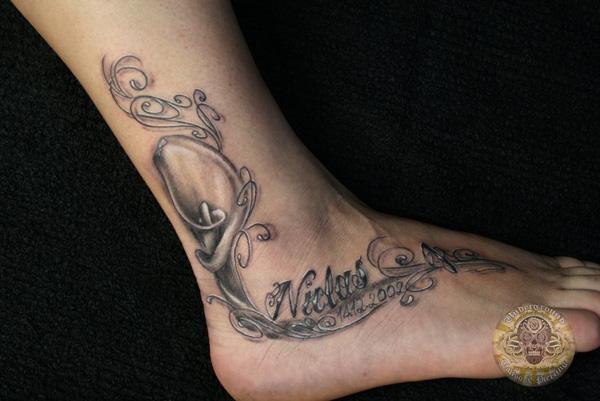 Floral ankleband tattoo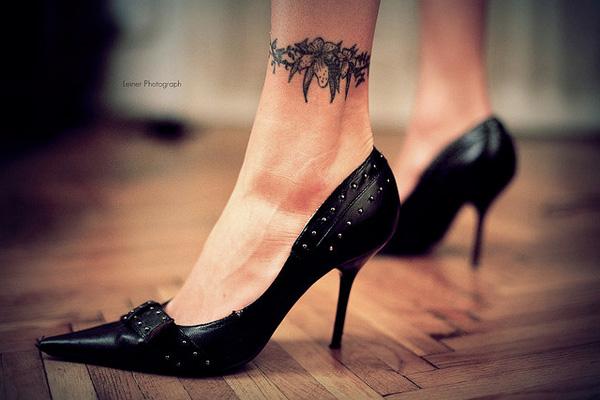 Black and gray lily of the valley on the back of the ankle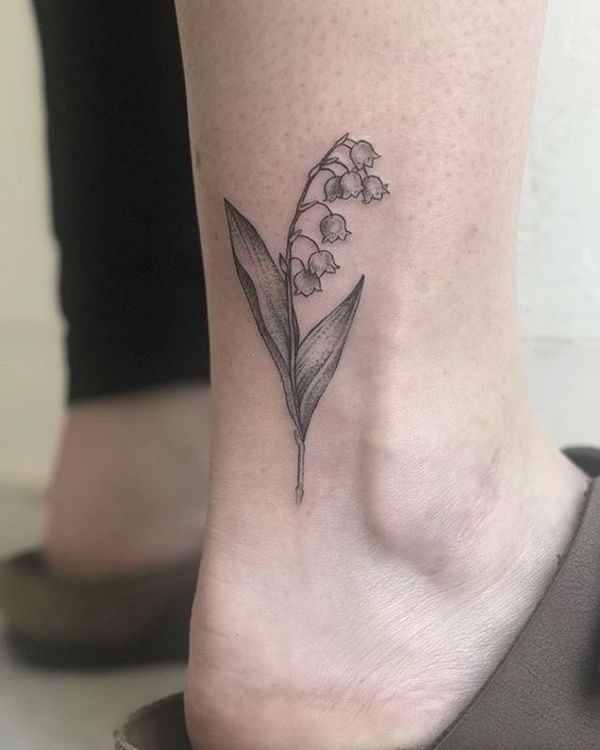 Floral letter M tattoo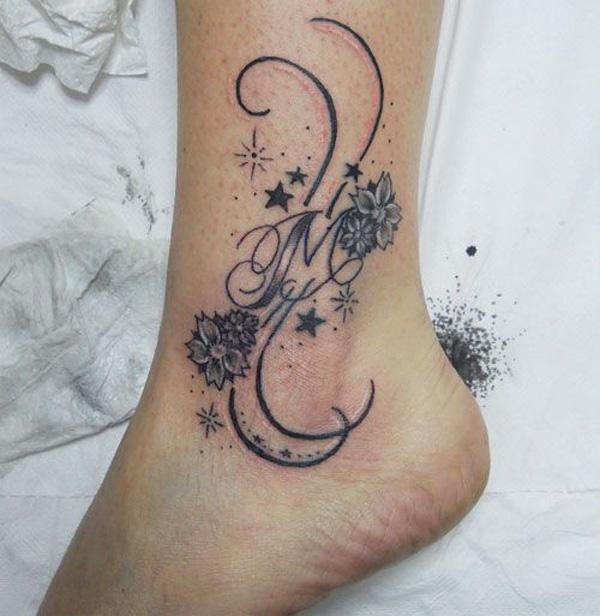 Small lily of the valley tattoo on ankle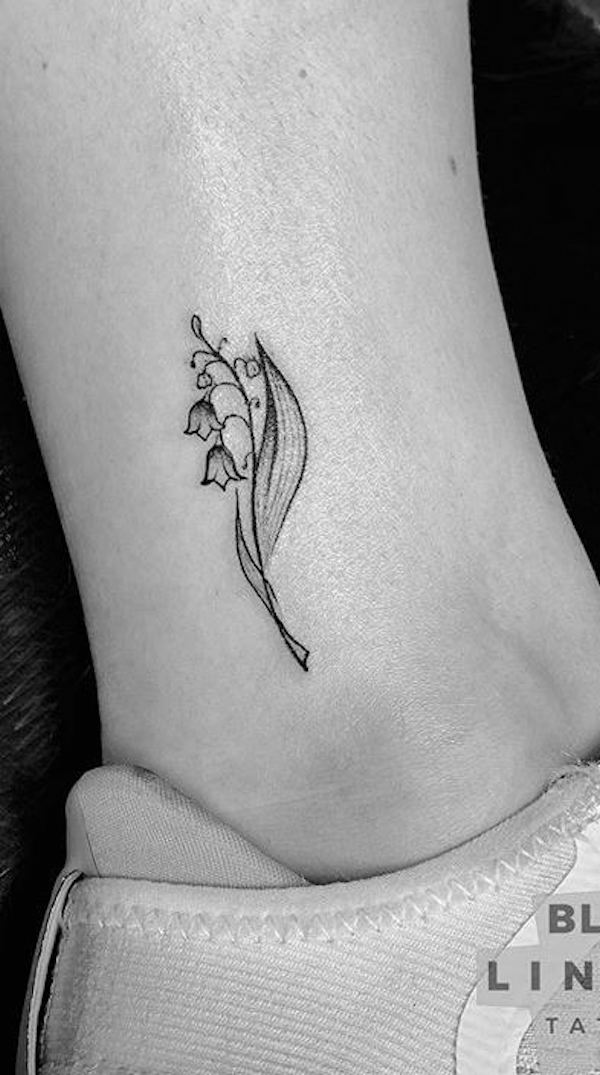 Colorful Rowan Indigo tattoo color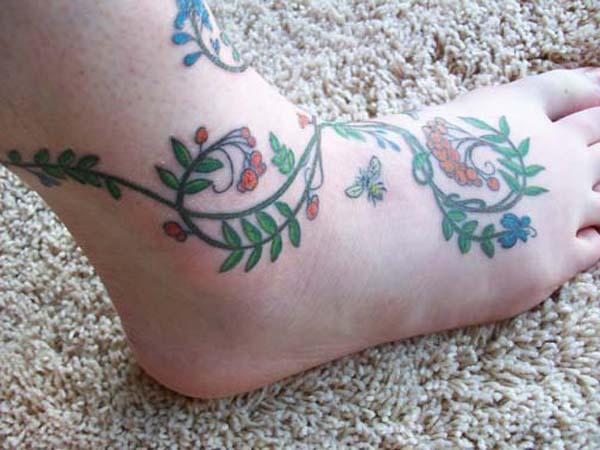 Daisies and vines on foot tattoo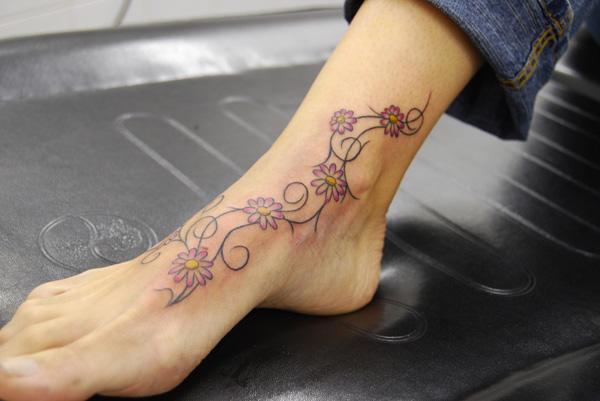 Tribal Temptations
Bold lines and intricate patterns make tribal-inspired ankle tattoos a striking choice. Channel your inner warrior with these powerful designs.
Polynesian-Inspired
Tribal tattoos are known for their strong lines and intricate patterns. A Polynesian-inspired ankle tattoo can be a beautiful way to pay homage to this ancient art form.
Polynesian inspired feminine tattoo design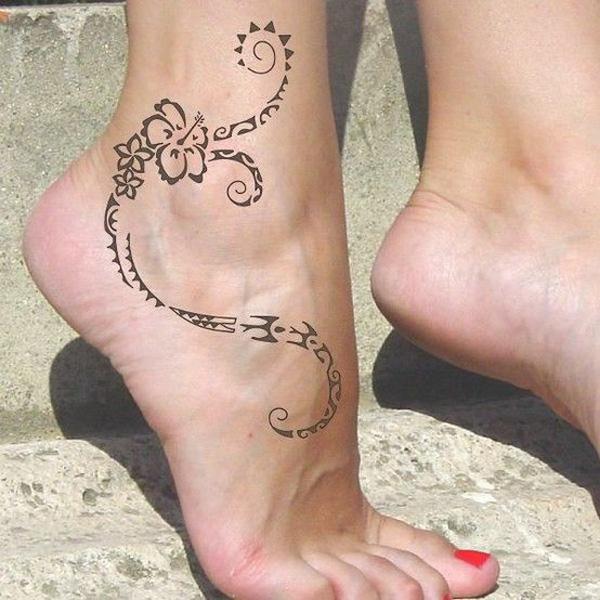 Celtic Knots
Celtic knots are all about connection and eternity. A Celtic knot ankle tattoo can symbolize your connection to your heritage, your loved ones, or even the universe itself.
Celtic Ankle Tattoo Ideas And Design For Women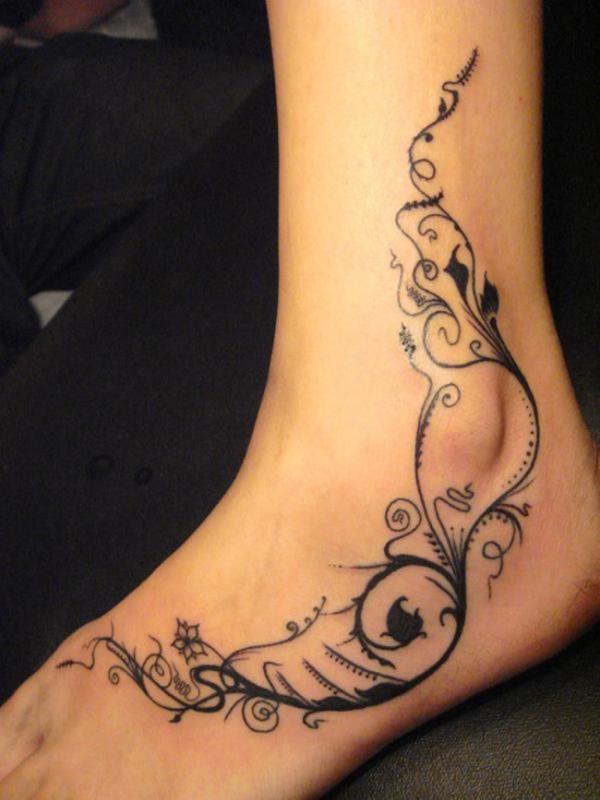 Henna-Style
Inspired by traditional Indian henna designs, these intricate, flowing patterns make for gorgeous ankle tattoos. Consider a henna-style ankle bracelet or a small, detailed design on the outer ankle.
Watercolor Wonders
Soft, dreamy, and ethereal, watercolor tattoos are a stunning choice for those who want a unique, artistic design.
Abstract Landscape
An abstract watercolor landscape can be a beautiful, one-of-a-kind ankle tattoo. Mountains, trees, or even a city skyline can be transformed into a dreamy, painterly masterpiece.
Watercolor Florals
Combine the beauty of watercolor with the timeless appeal of flowers for a truly breathtaking ankle tattoo. Lavender, poppies, or even your favorite flower can be rendered in stunning watercolor splashes.
Celestial Elements
Stars, moons, and planets take on a magical quality when rendered in watercolor. Incorporate your favorite celestial elements into a whimsical ankle tattoo design.
Watercolor abstract planet tattoo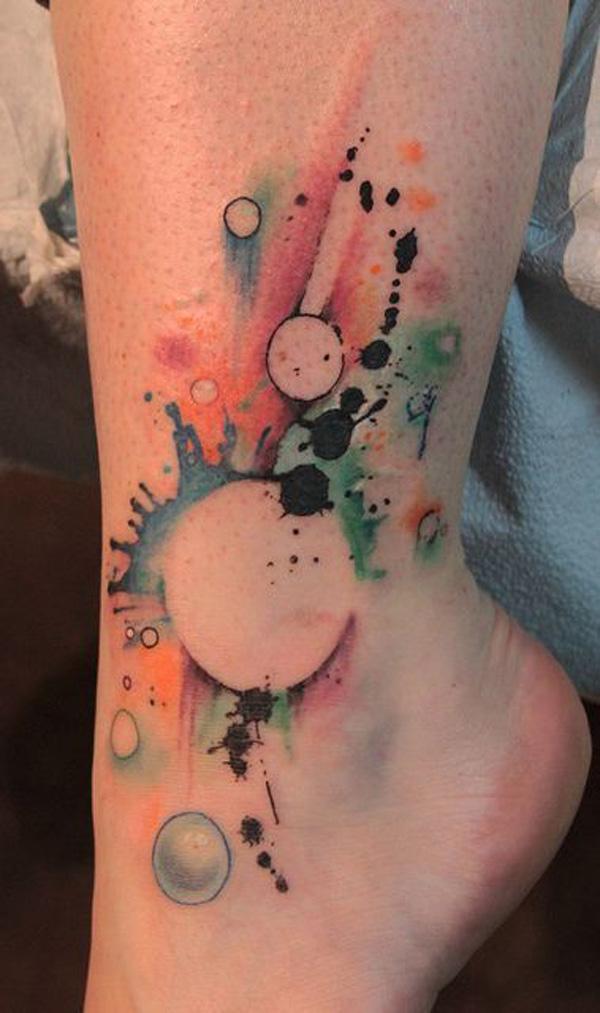 Whimsical Wonders
Unleash your creativity and imagination with these fun, whimsical ankle tattoo design ideas.
Animal Companions
From tiny birds to delicate butterflies, an animal-inspired ankle tattoo can be a playful way to showcase your love for your favorite creature.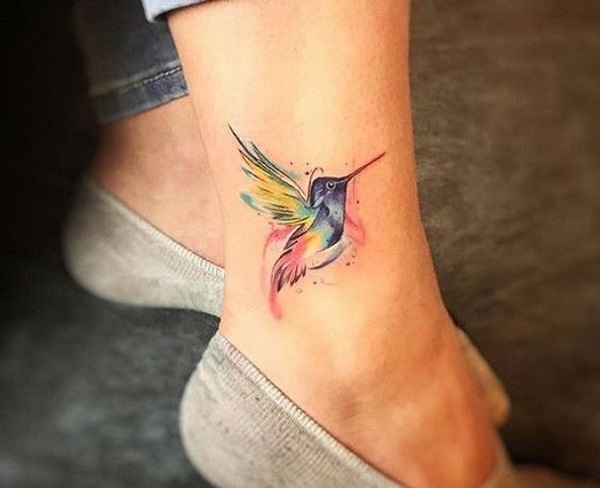 Ascending black and gray sparrows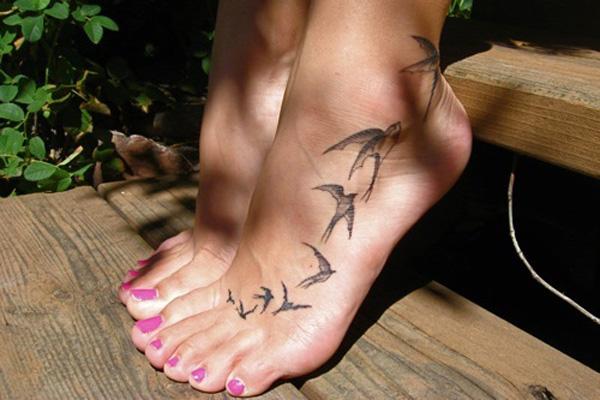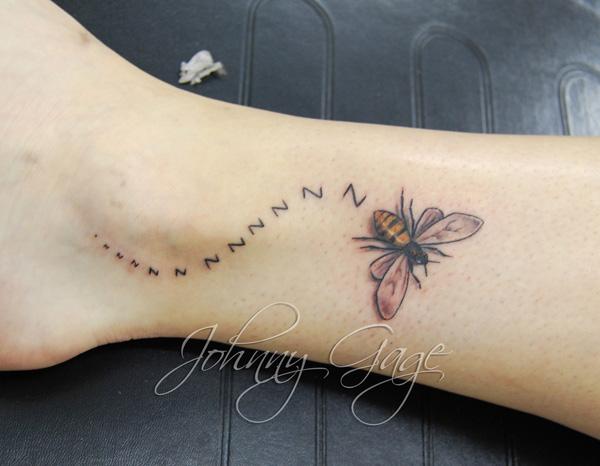 A small owl perched on a branch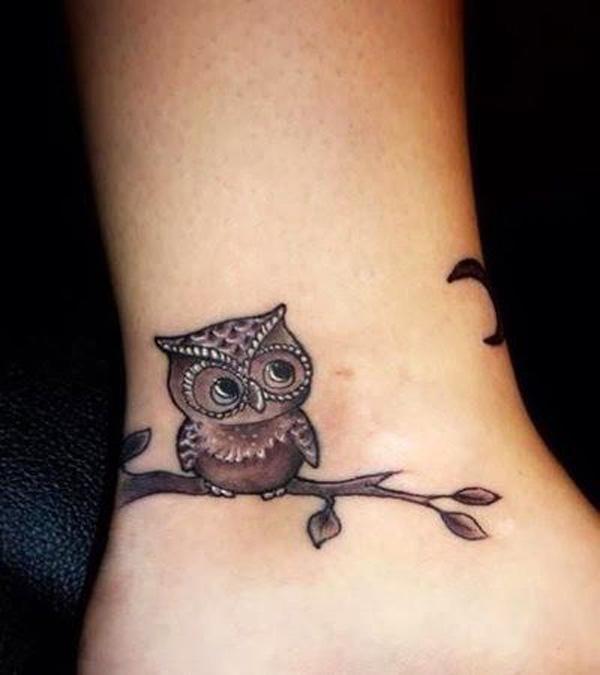 Hippocampus tattoo on ankle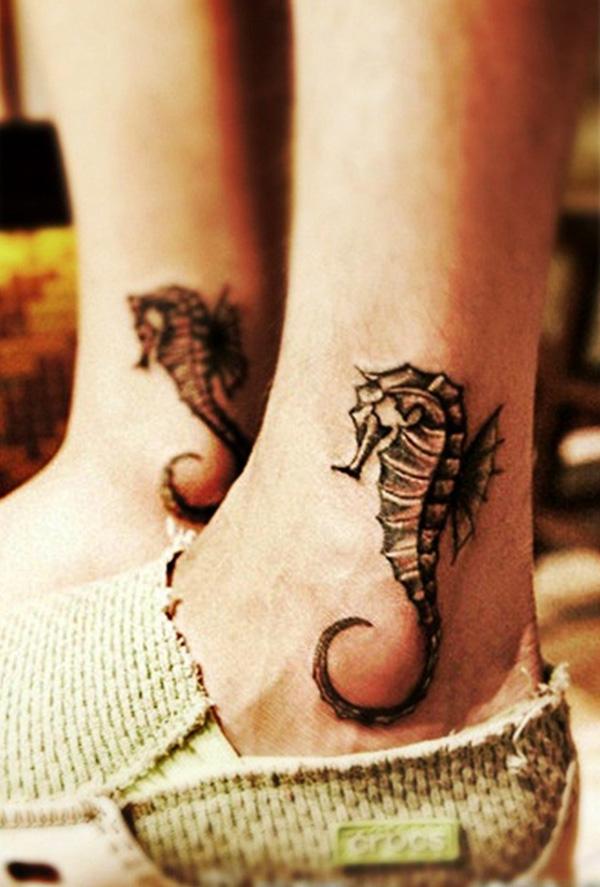 Lettering Dove tattoo with the word Faith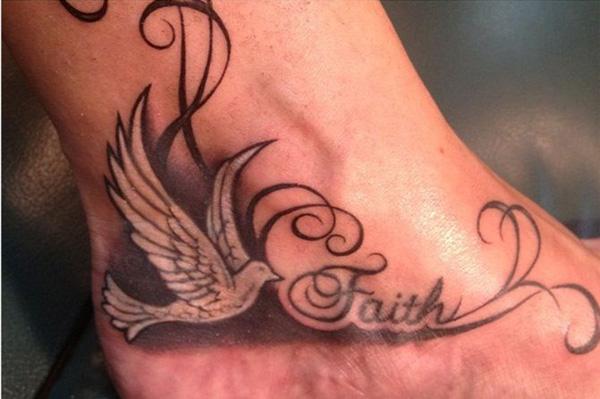 Snake and rose flower ankle tattoo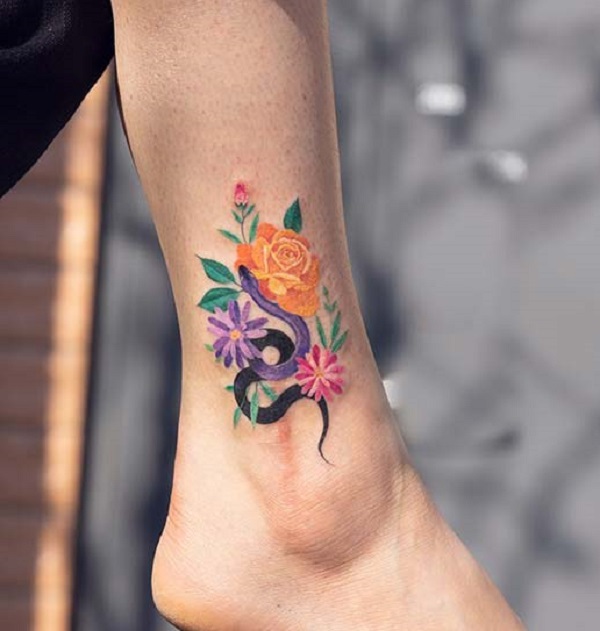 Black and white traditional swallow and flowers tattoo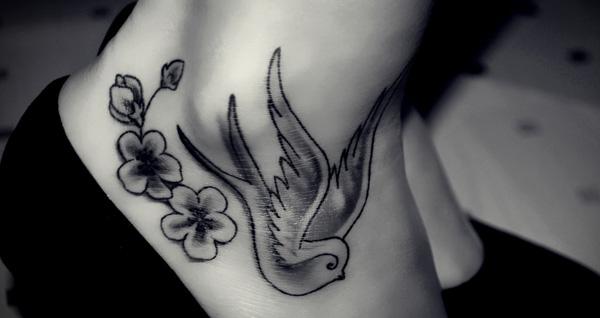 Realistic blue butterfly tattoo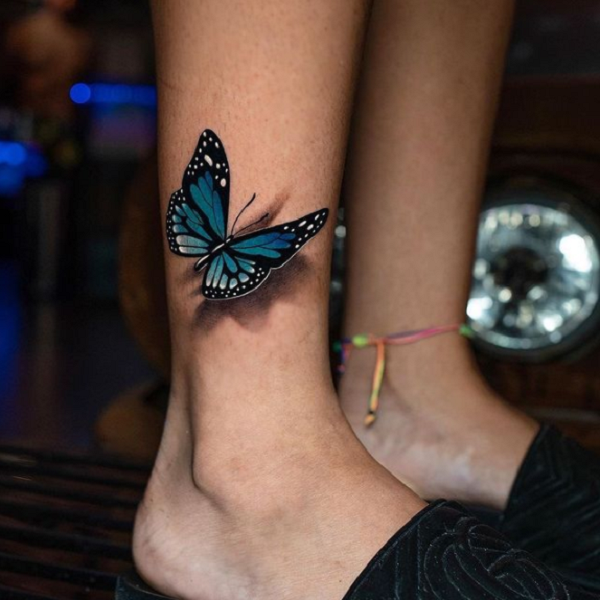 Fairytale Imagery
Capture the enchantment of your favorite fairytale with a whimsical ankle tattoo. A tiny castle, a magical key, or even a fairy silhouette can add a touch of magic to your ink.
Small fairy tattoo on ankle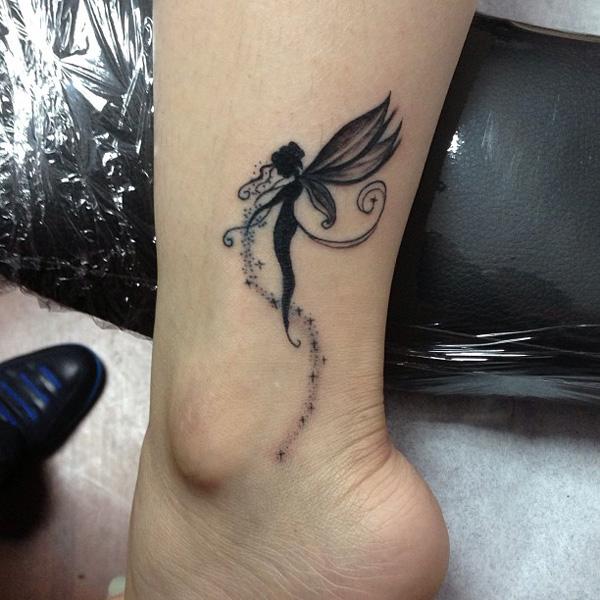 Jesus Angel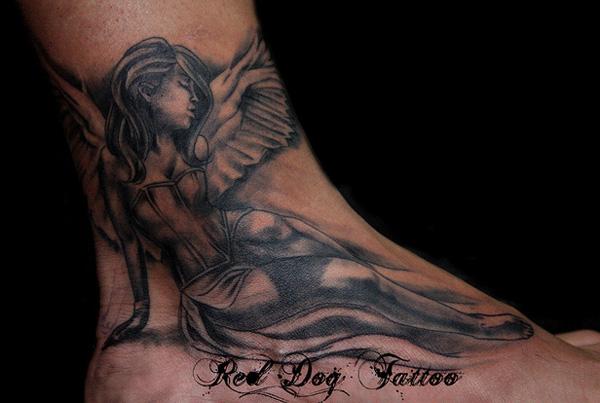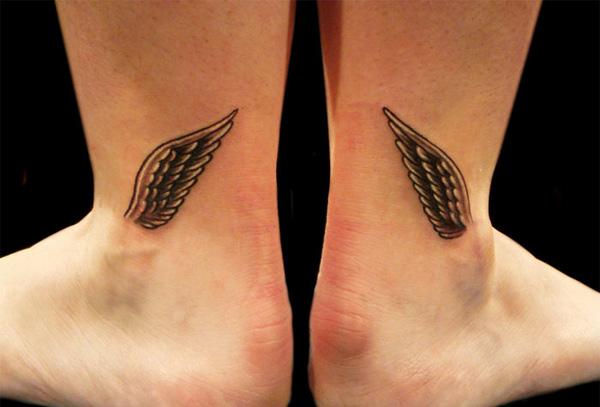 Doodle Art
Turn your doodles into a delightful ankle tattoo. From simple line drawings to more intricate sketches, doodle art can make for a quirky and personal tattoo design.
Meaningful Motifs
Looking for a tattoo that holds special meaning? These ankle tattoo design ideas are both beautiful and meaningful.
16. Coordinates
Commemorate a special place by getting its coordinates tattooed around your ankle. Whether it's your hometown, your favorite vacation spot, or the location where you met your partner, coordinates can be a subtle and elegant reminder of a cherished memory.
Letters and Numerals
Mark a significant date with a Roman numeral ankle tattoo. Birthdays, anniversaries, or even the year you achieved a major milestone can be immortalized in this classic, timeless style.
Memorial tribal tattoo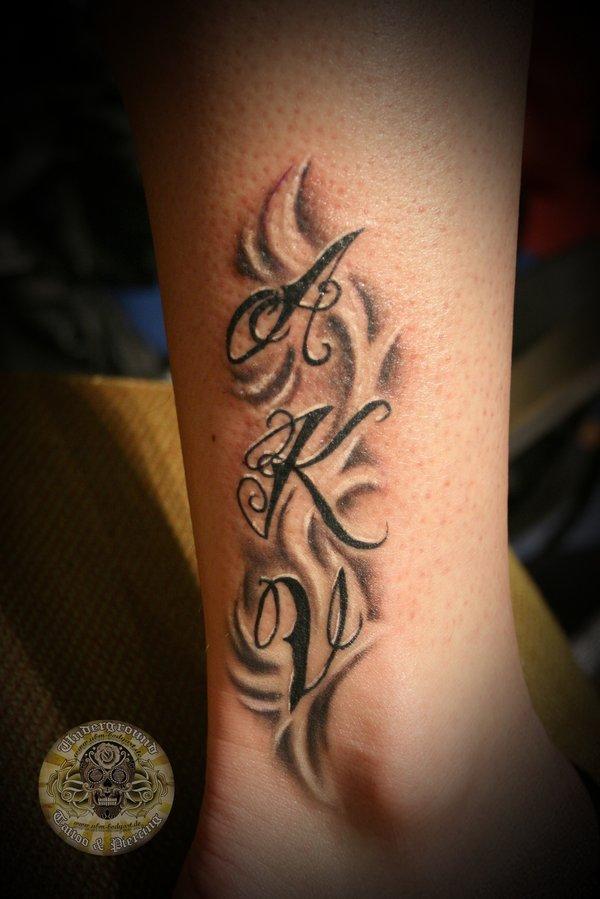 Inspirational Words
Carry your favorite mantra, quote, or word of encouragement with you wherever you go with aninspirational ankle tattoo. Choose a font that reflects your personal style and let your tattoo be a constant reminder to stay strong, be kind, or chase your dreams.
Ohana and Manaoio tattoo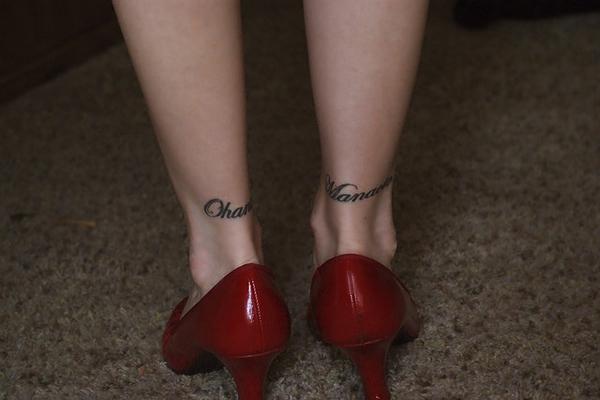 Ohana means family bond and Manaoio means Faith in Hawaiian.
Feminine Favorites
Embrace your femininity with these lovely, delicate ankle tattoo design ideas.
Favorite Patterns
Intricate feminine patterns make for stunning, ankle tattoos. Choose a small, delicate design, or go bold with a full lace ankle cuff.
Lace stocking adorned with red roses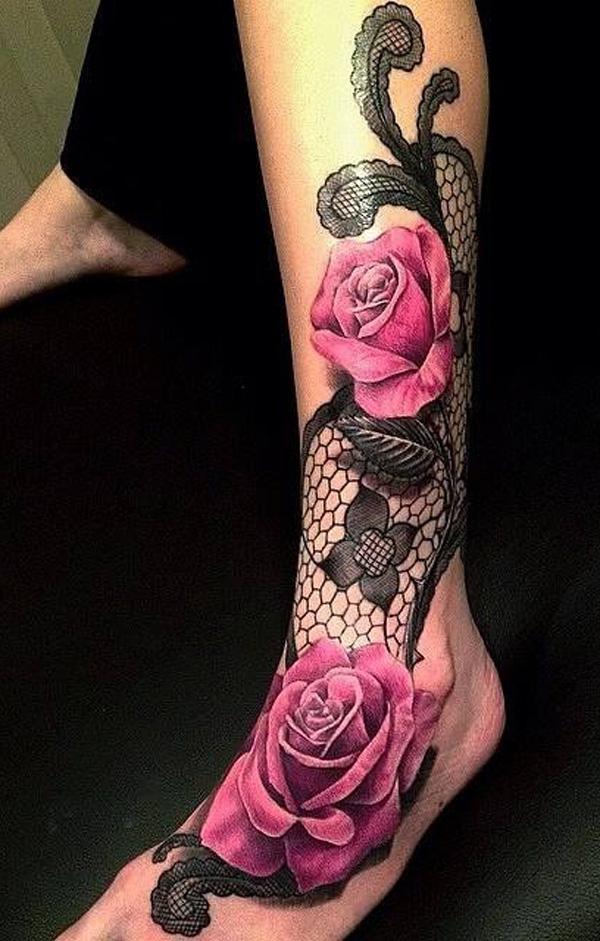 Cheetah and Leopard Print Tattoo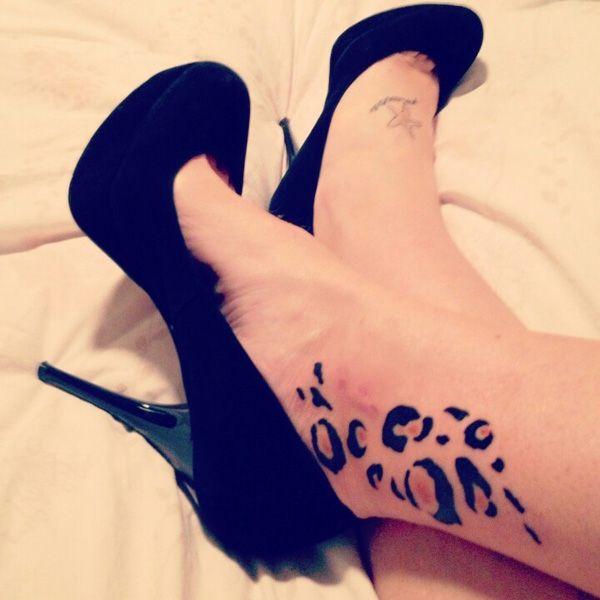 Dainty Chains
A dainty chain ankle tattoo can mimic the look of your favorite anklet, but with the added bonus of never having to take it off. Opt for a simple, single strand or a more elaborate, multi-layered design.
Custom daisy chain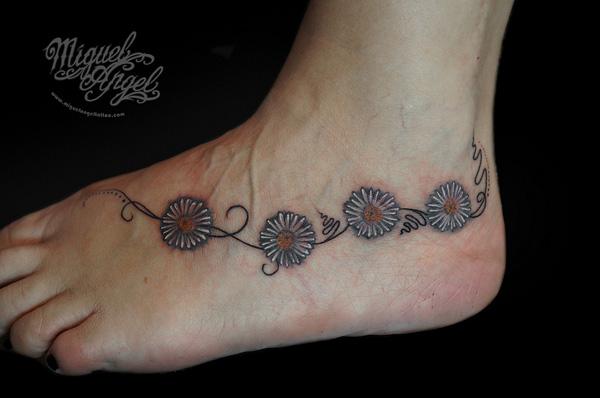 Delicate Feathers
A small, delicate feather can make a beautiful, feminine ankle tattoo. Choose a single feather or a cluster to create a soft, ethereal look.
Negative space feather tattoo on ankle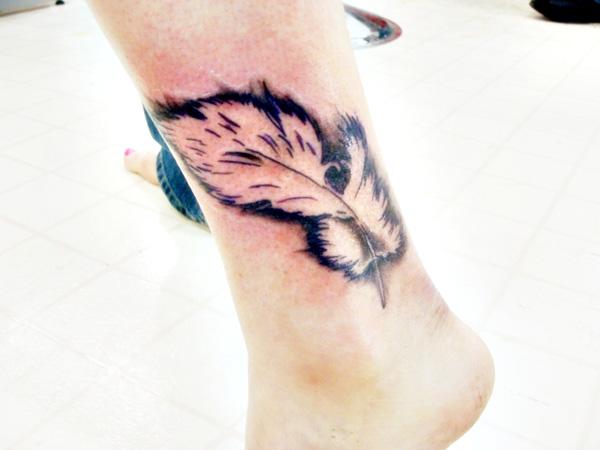 Black and white feather tattoo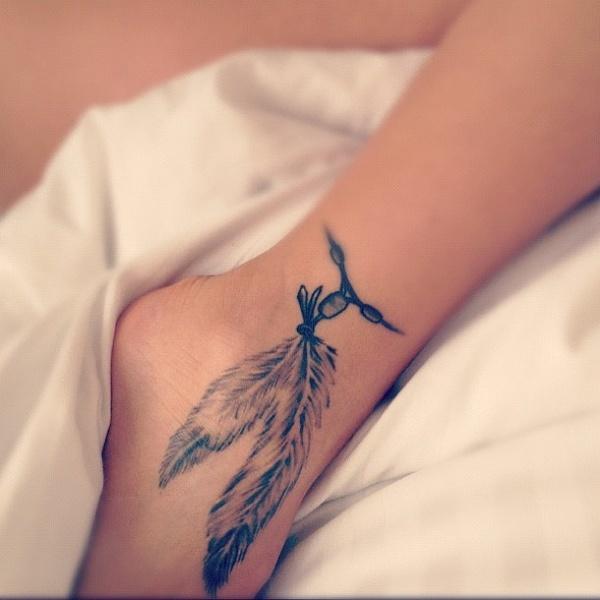 Birds flying out of feather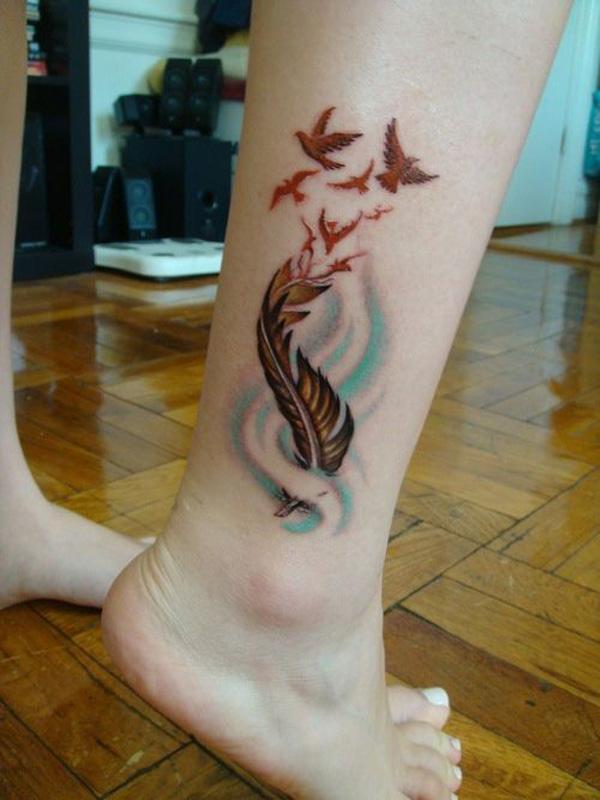 The birds are burned out of top of the feather, a legendary tattoo design.
Bold and Beautiful
If you're looking to make a statement with your ankle tattoo, consider these bold and beautiful design ideas.
Mandala Magic
A mandala tattoo is an eye-catching choice for the ankle. These intricate, circular designs are packed with symbolism and can be customized to reflect your personal tastes and beliefs.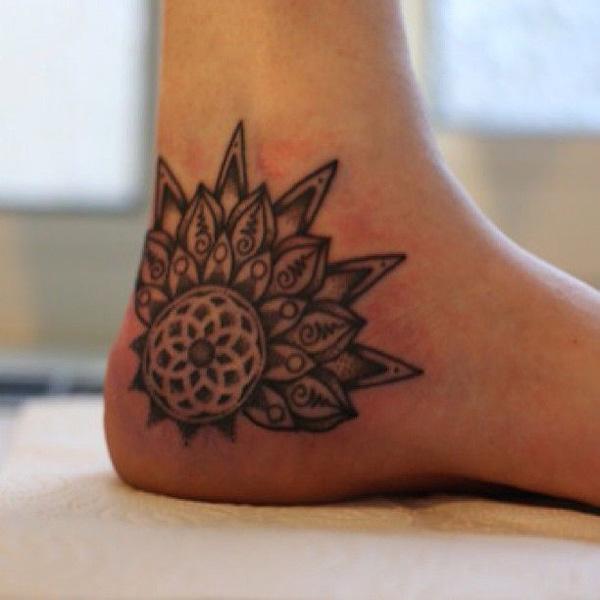 Bold Blackwork
Blackwork tattoos make a strong visual impact with their bold lines and solid black fill. Choose a geometric, tribal, or floral design to create a striking blackwork ankle tattoo.
Ornate Ankle Cuff
An ornate ankle cuff is a showstopping choice for those who want a dramatic, attention-grabbing tattoo. Incorporate your favorite design elements, like flowers, chains, or lace, into a stunning, wrap-around ankle cuff.
Blue rose and rosary with cross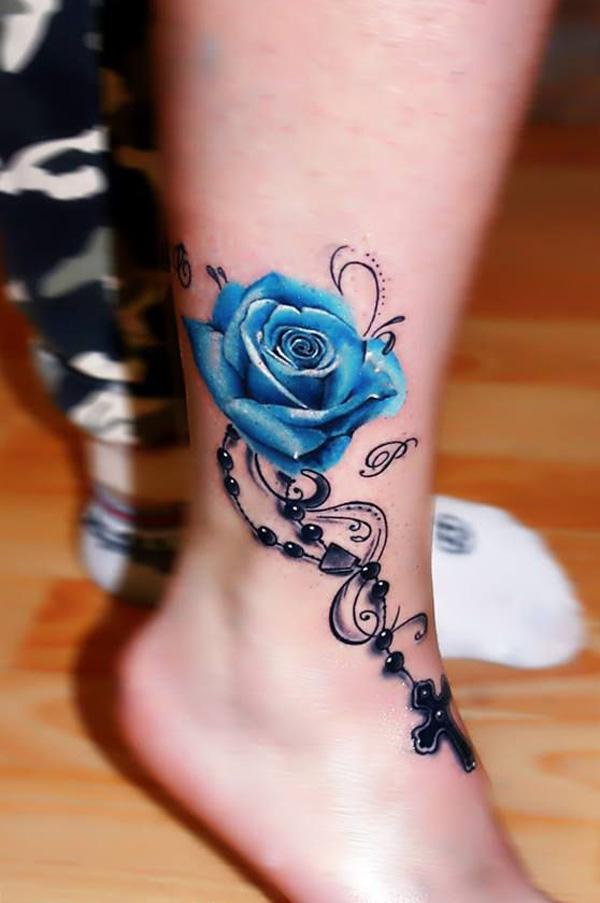 Monarch butterfly and lily tattoo on ankle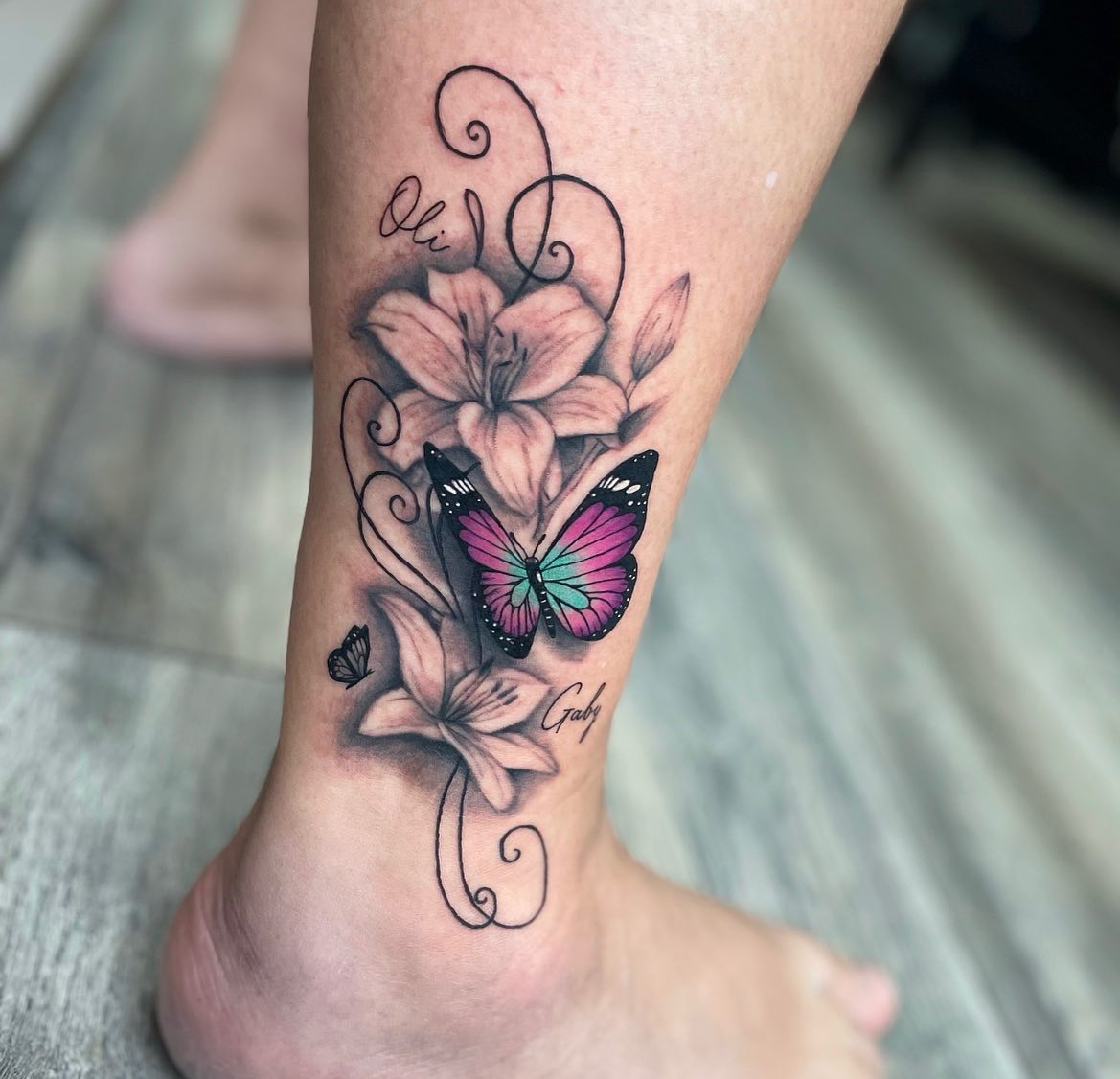 Bow ankle tattoo for women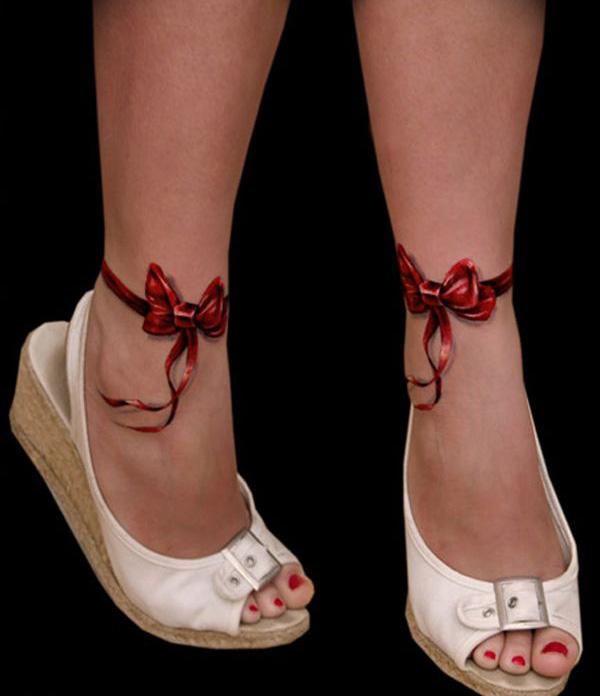 Firing skulls tattoo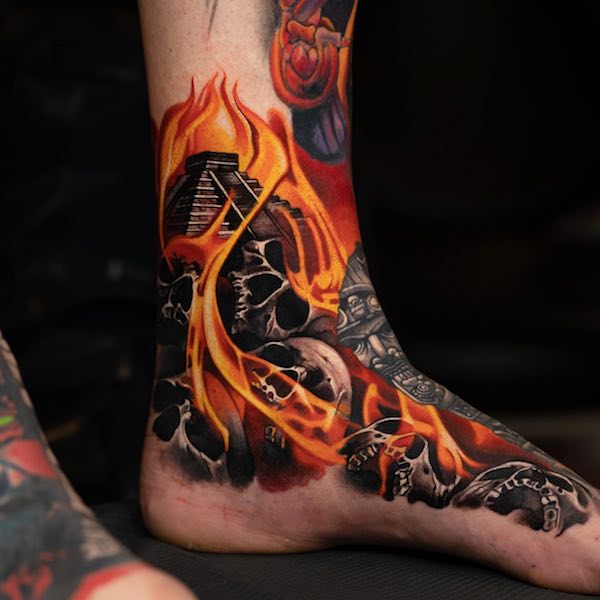 Skull and melted rose tattoo on ankle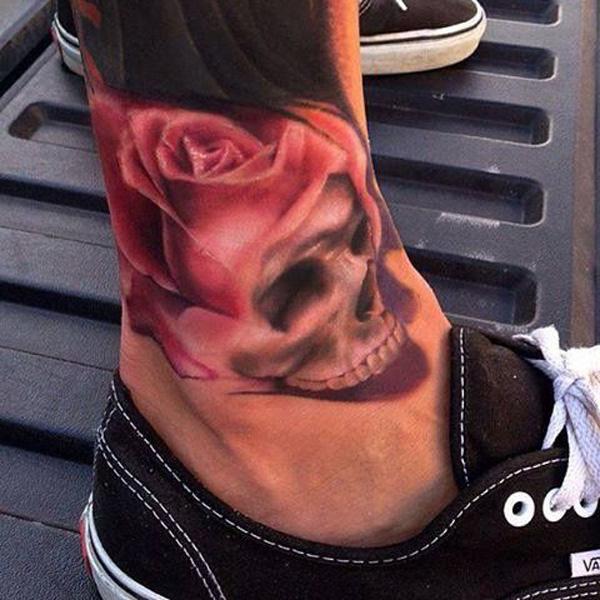 A realistic little crab on watercolor backdrop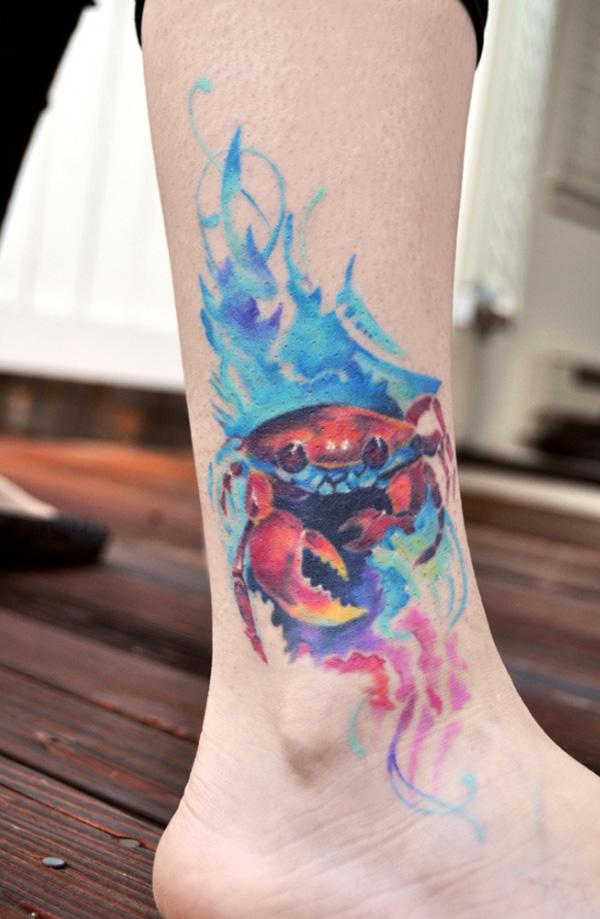 Ripped skin mechanical tattoo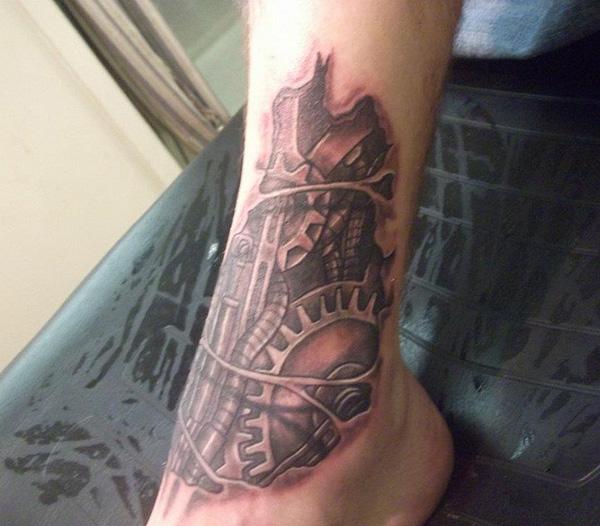 Nostalgic Nods
Celebrate your favorite memories and passions with these nostalgic ankle tattoo design ideas.
Pop Culture Icons
From your favorite movie character to a beloved childhood toy, a pop culture-inspired ankle tattoo can be a fun way to showcase your fandom.
Music notes and staff ankle tattoo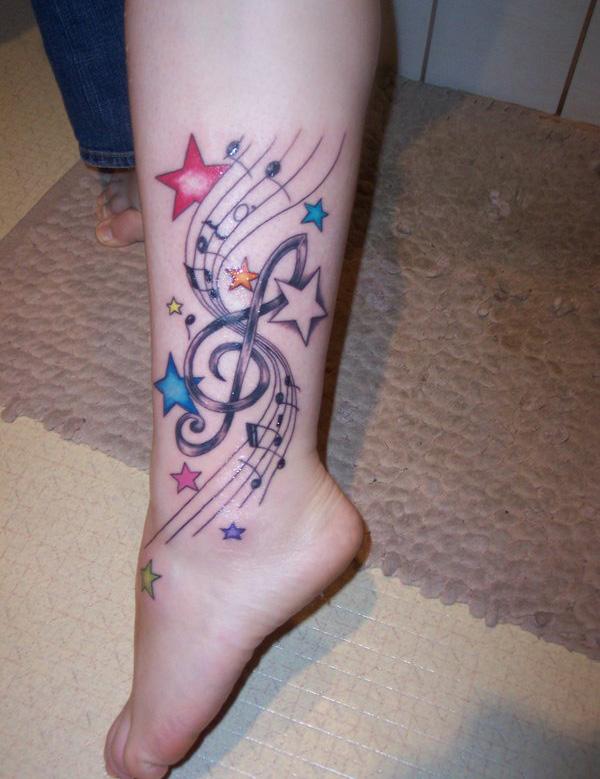 Vintage-Inspired
Pay homage to a bygone era with a vintage-inspired ankle tattoo. A classic pin-up girl, a retro camera, or even an old-fashioned bicycle can be transformed into an inked tribute to the past.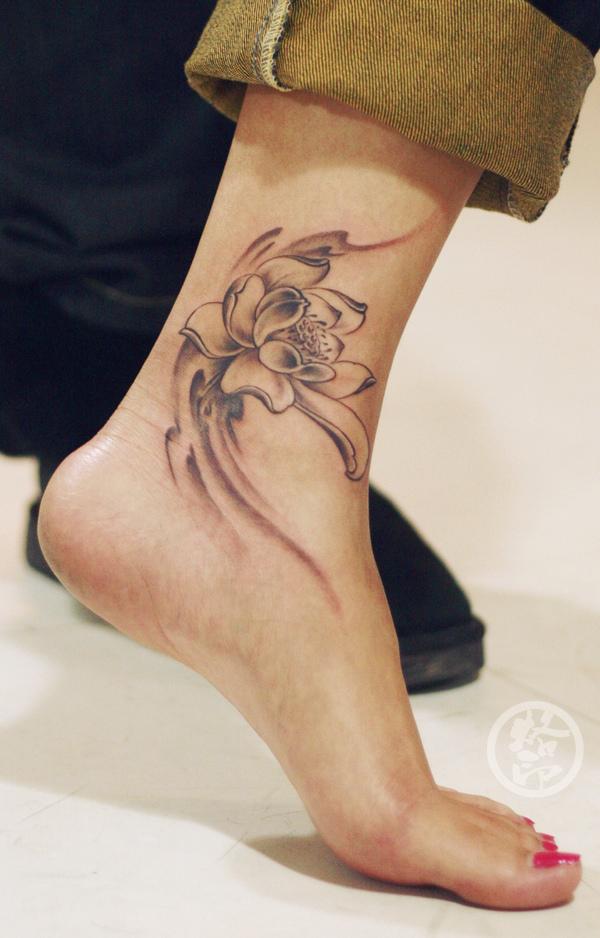 Black and white roses with thorn tattoo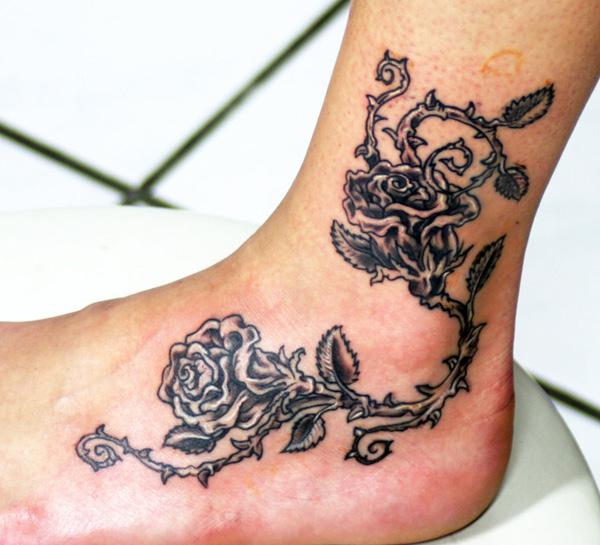 Vintage heart locket and key ankle tattoo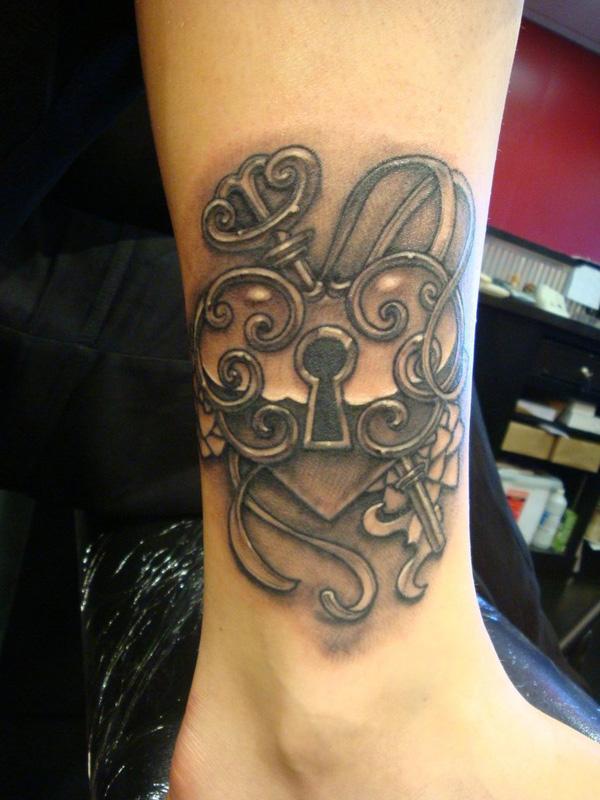 Elegant flower tattoo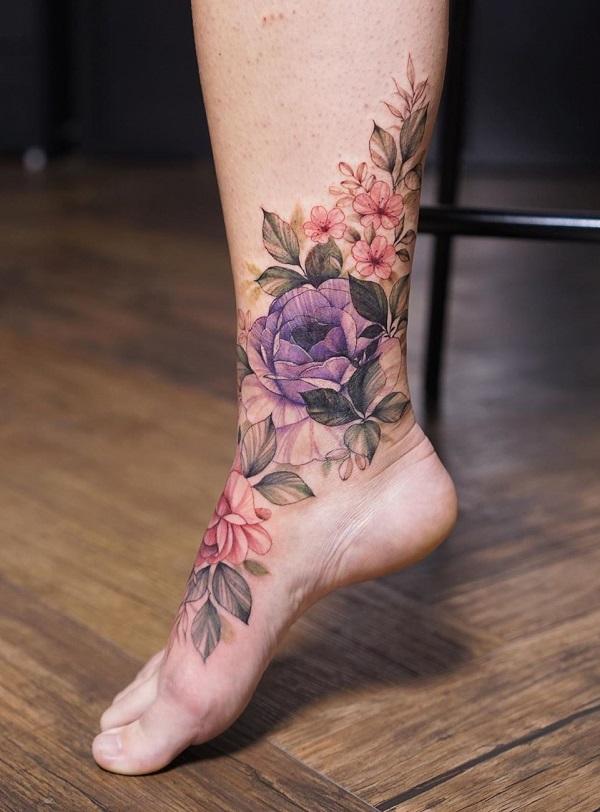 Bird perched on a branch near nest tattoo on ankle and foot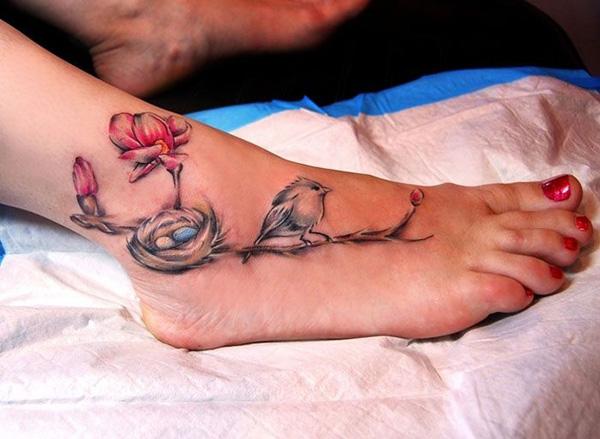 Travel Mementos
Capture the spirit of your wanderlust with a travel-inspired ankle tattoo. A small map, compass, or even an airplane can be a lovely reminder of your adventures far and wide.
Embrace the Pain
Let's be real, tattoos hurt. But before you run for the hills, remember that pain is temporary, and your beautiful ankle tattoo will be with you forever. Ankle tattoos can be more painful than tattoos on other areas of the body due to the lack of fat and muscle around the ankle. But, with a skilled artist and some mental preparation, you'll be able to power through and walk away with an amazing piece of art.
Ankle Tattoo FAQs
Got questions? We've got answers. Here are some frequently asked questions about ankle tattoos for women.
Q: Will my ankle tattoo stretch or warp over time?
**A:** While it's true that skin changes as we age or gain and lose weight, ankle tattoos are less susceptible to warping than tattoos on other parts of the body. The skin around your ankle is relatively stable and less likely to stretch or sag significantly. So, with proper care, your ankle tattoo should age gracefully.
Q: Can I wear shoes and socks after getting my ankle tattoo?
A: After getting your ankle tattoo, it's important to give it some time to breathe and heal. For the first day or two, try to avoid wearing tight shoes or socks that might rub against your fresh ink. If you must wear shoes, opt for something loose-fitting and breathable, like sandals or flip-flops.
Q: Will an ankle tattoo affect my ability to exercise?
A: In the first few days after getting your tattoo, it's best to avoid any high-impact exercises that could cause friction or excessive sweating around your ankle. However, once your tattoo starts to heal, you can gradually reintroduce exercise into your routine. Just be sure to monitor your tattoo closely and avoid any activities that cause discomfort or irritation.
Q: Are there any specific designs that work best for ankle tattoos?
A: While there's no one-size-fits-all answer to this question, smaller and more delicate designs tend to work best for ankle tattoos. These can include minimalist line work, dainty florals, and even small symbols or words. Ultimately, the best design for your ankle tattoo is one that reflects your personal style and preferences.
Wrap-Up: Rock Your Ankle Tattoo with Confidence
Ankle tattoos for women are a gorgeous and versatile way to express yourself through body art. Whether you opt for a subtle, hidden design or a bold statement piece, an ankle tattoo can add a touch of intrigue and elegance to your look.
So, are you ready to take the plunge and get inked? We hope this guide has given you some inspiration and helped you feel more confident in your decision. Remember, the key to a successful tattoo experience is research, planning, and choosing a skilled artist who understands your vision.