The willow tree, with its drooping branches and graceful silhouette, is a popular symbol in various cultures and offers a wealth of inspiration for tattoo designs. Willow tattoos often represent strength, flexibility, and the ability to withstand life's storms. In this article, we'll explore the rich symbolism of the willow tree and provide you with some unique design ideas for your next tattoo.
The Symbolism of the Willow Tree
Before we delve into specific tattoo designs, let's explore the symbolism of the willow tree. This tree is a potent symbol of resilience, adaptability, and healing. It can bend in extreme conditions without breaking, demonstrating its flexibility and endurance – qualities many of us strive to cultivate in our lives.
The willow tree also has a mystical side. In many cultures, it's associated with the moon, water, and feminine energy, making it a symbol of intuition, dreams, and the subconscious. Now, let's use these themes to explore some unique willow tattoo design ideas.
Willow Tree and Sun Tattoo
The sun, with its warm, life-giving energy, complements the willow tree's resilience and adaptability. This tattoo design can symbolize rebirth, new beginnings, or your optimism and vitality.
Traditional willow tree at chair and sun tattoo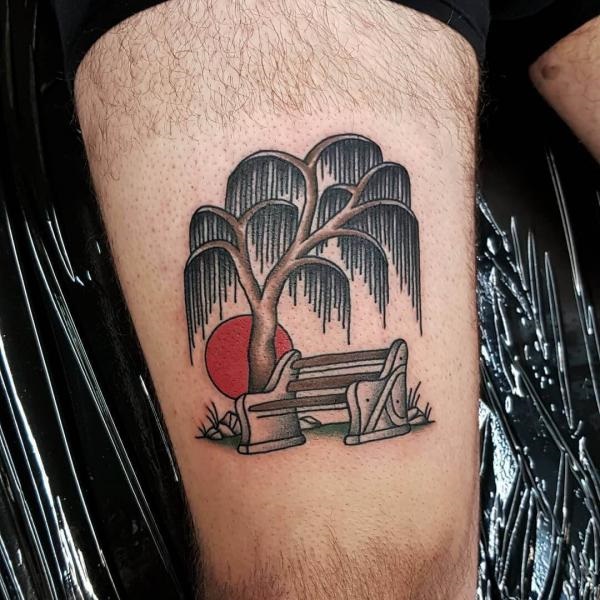 The traditional tattoo is a powerful representation of comfort, serenity, and warmth. The willow tree symbolizes resilience and flexibility, while the chair under its shade can depict a safe space or a peaceful retreat. The sun, radiating in the background, adds a layer of positivity and warmth to the design. Together, these elements create a captivating narrative of solace and hope.
Traditional willow tree and sun tattoo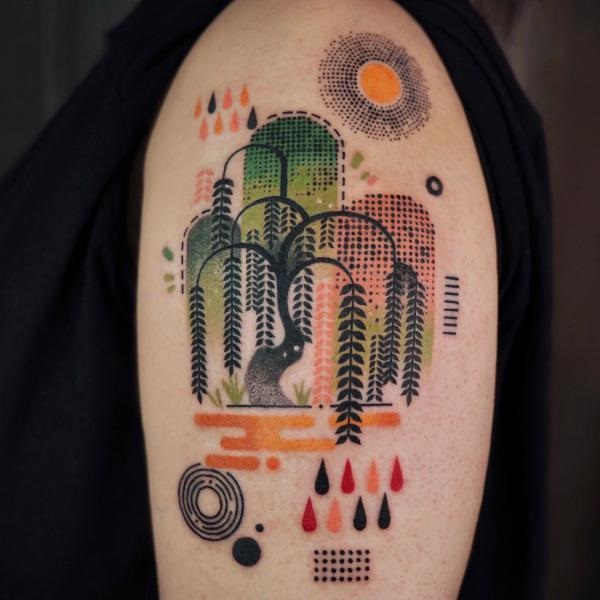 In a simpler rendition, a traditional willow tree basking under the sun can make a striking design. The willow tree's cascading branches and the sun's radiant beams beautifully contrast, creating a visually engaging piece. This design can symbolize growth, vitality, and the power of positivity, serving as a daily reminder of the beauty and promise of life.
Single Willow Tree Tattoo
A single willow tree tattoo is a minimalist and powerful design. The tree's shapely form and drooping branches can be elegantly captured with just a few ink strokes. This design can symbolize your resilience and adaptability, and it's a beautiful way of celebrating your personal growth and strength.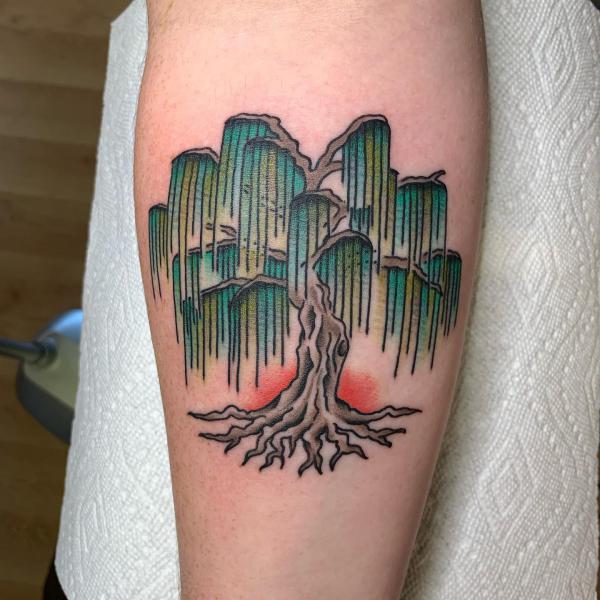 A willow tree paired with the moon creates a mystical and serene tattoo design. The moon, with its connotations of femininity, intuition, and dreams, complements the willow's symbolism perfectly. This design can represent your connection with your inner self, your dreams, or your feminine strength.
Willow tree and crescent moon tattoo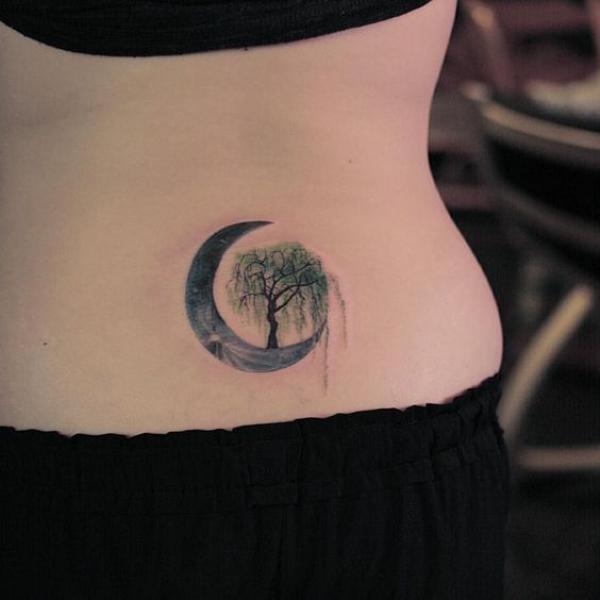 Willow tree with moon and sun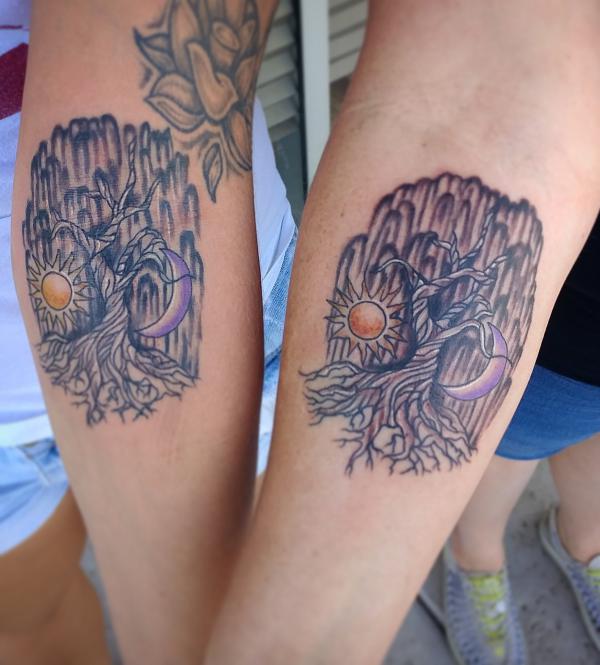 Black and white willow tree and moon tattoo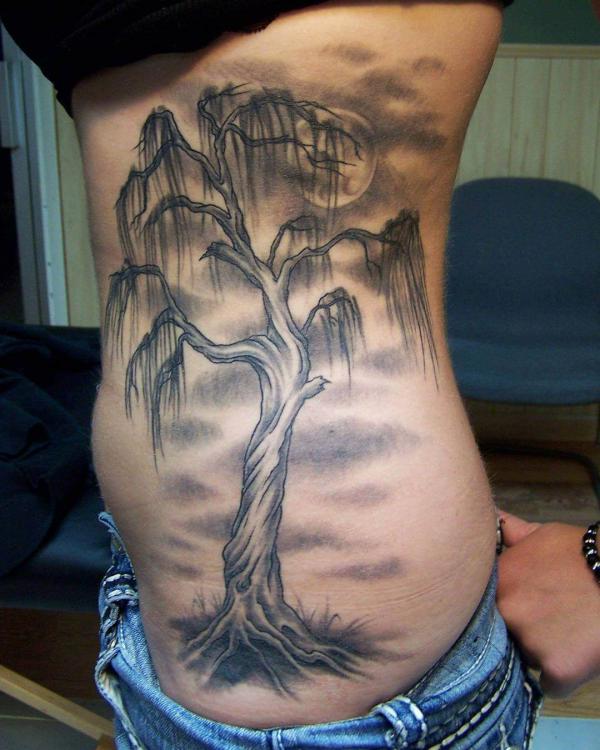 Sun and crescent moon with willow tree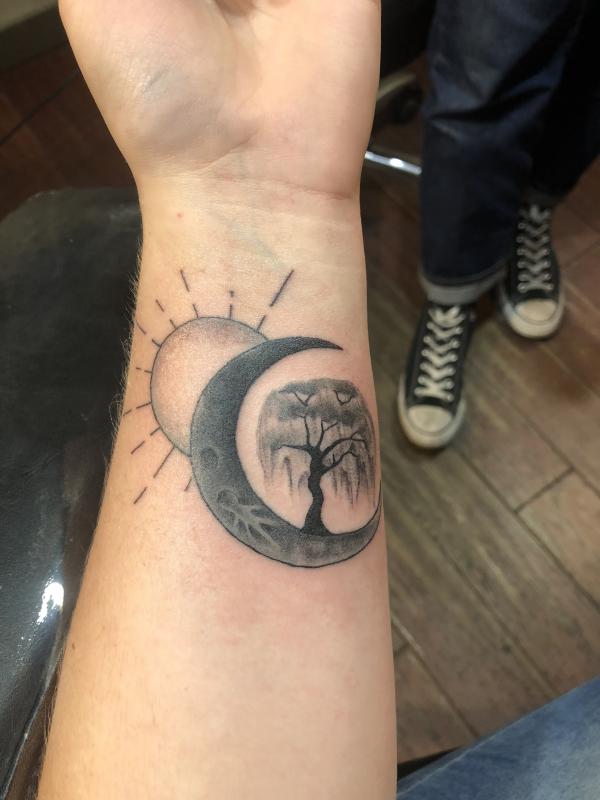 A willow tree and birds design is a symbol of freedom and transformation. The birds, often depicted as silhouettes, can represent your dreams, aspirations, or your transformative journey. The willow tree, with its flexibility and strength, adds a grounding element to this soaring design.
Willow tree and swallow tattoo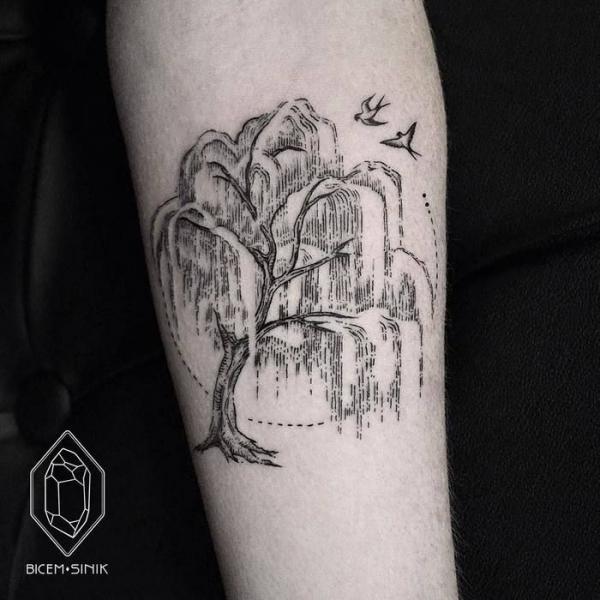 Weeping Willow Tattoo
A weeping willow is a beautiful and emotive design. The tree's drooping branches create a striking silhouette, representing sorrow but also resilience and the ability to recover from life's hardships. This tattoo can be a symbol of your personal struggles and your strength to overcome them.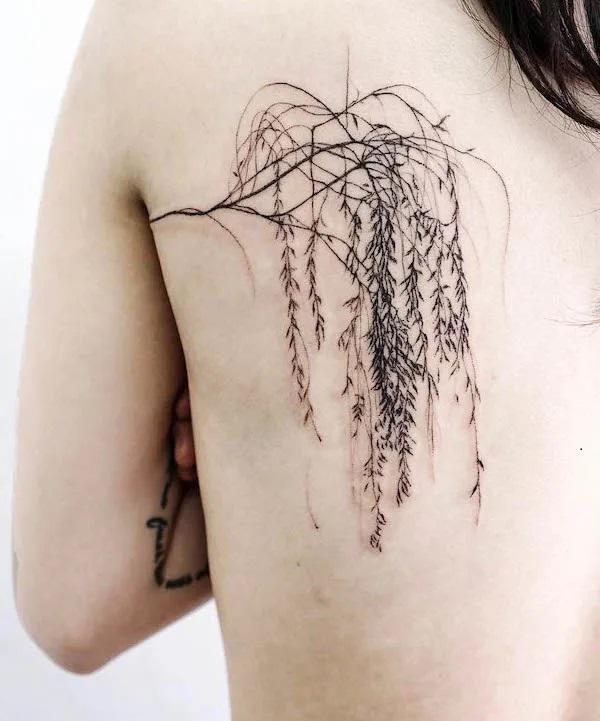 A willow tree and stars tattoo creates a dreamy and inspiring design. The stars can represent your dreams, hopes, or your place in the universe, while the willow tree stands tall, resilient amidst the vast cosmos. This design can symbolize your dreams and ambitions, and your strength to reach for the stars.
Traditional willow tree and stars tattoo sleeve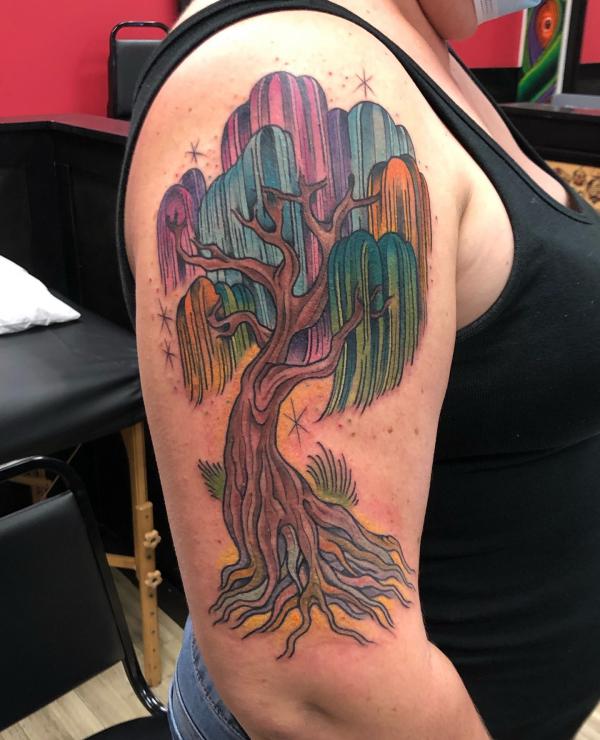 For those looking for a more extensive piece, a traditional willow tree and stars design can be an excellent choice. The willow tree, reaching toward a star-studded sky, creates a dreamy and mystical scene. The stars can symbolize dreams, aspirations, or guidance, adding a cosmic touch to the grounded willow. This design can serve as a beautiful reminder of our dreams and the limitless possibilities of the universe.
Abstract Willow Tattoo
An abstract willow design moves away from traditional representations, using unconventional shapes, lines, and colors to depict the tree. This design is a unique expression of creativity and can symbolize your unique perspective or your desire to see things differently.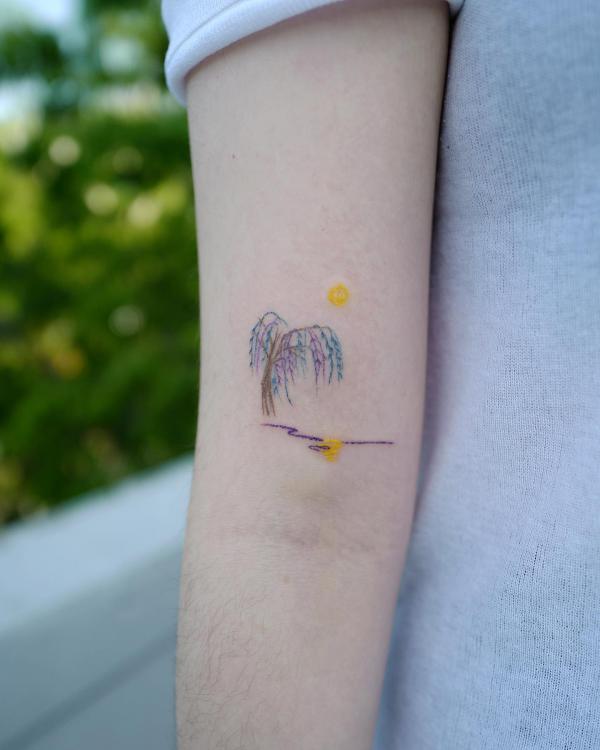 Traditional Willow Tattoos
Traditional willow tattoos often feature a sturdy trunk with cascading branches and leaves, representing strength, flexibility, and resilience. This classic design can serve as a powerful reminder of one's ability to withstand life's challenges. For an added touch, consider incorporating a backdrop of a serene riverside or a moonlit sky to capture the willow's natural habitat.
Traditional willow tree and fish tattoo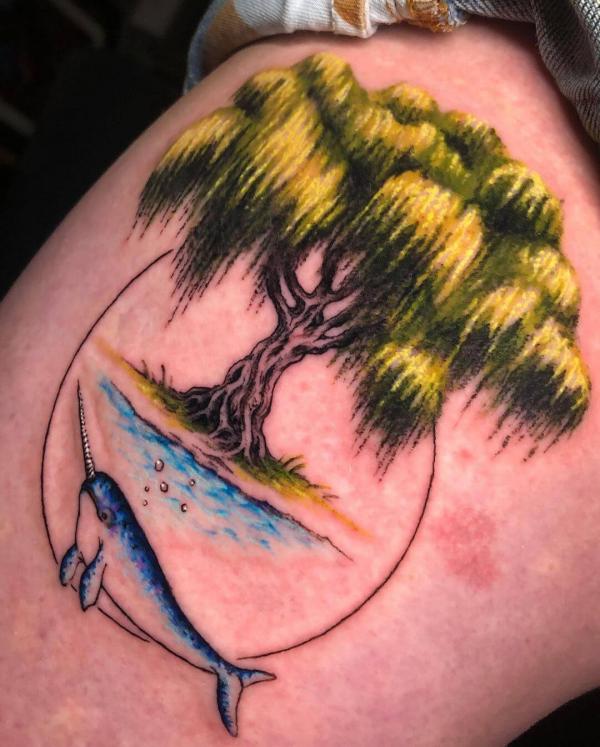 Blending the willow tree with aquatic elements like fish can create a unique and symbolic ink design. In many cultures, fish represent abundance, prosperity, and good luck. The willow tree, standing tall beside or above the swimming fish, can symbolize resilience amidst life's ebbs and flows. This design can serve as a powerful emblem of prosperity, resilience, and the harmony between different elements of nature.
Traditional willow and flower arm tattoo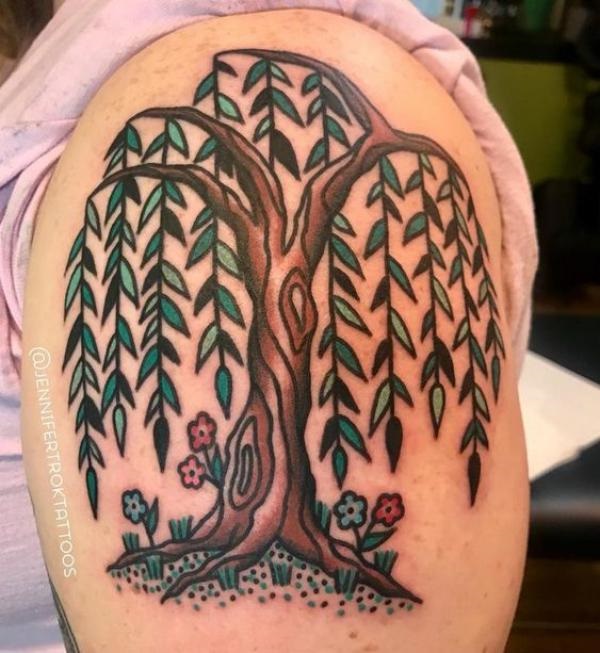 A traditional willow and flower design can beautifully combine the strength of the willow with the delicate beauty of flowers. You can choose your favorite flower or one that symbolizes a trait or memory important to you. Roses for love, daisies for purity, or sunflowers for adoration—the possibilities are endless! Together, the willow and flowers can craft a narrative of resilience and beauty, making a stunning and personal tattoo.
Willow and Leaves Tattoos
A willow tree adorned with detailed leaves can create a visually stunning tattoo. You can choose to keep the design monochromatic for a classic touch, or add splashes of green for a more vibrant and lifelike appearance. This design can symbolize growth and change, mirroring the endless transformation of leaves throughout the seasons.
Willow leaves and sunflower tattoo black and grey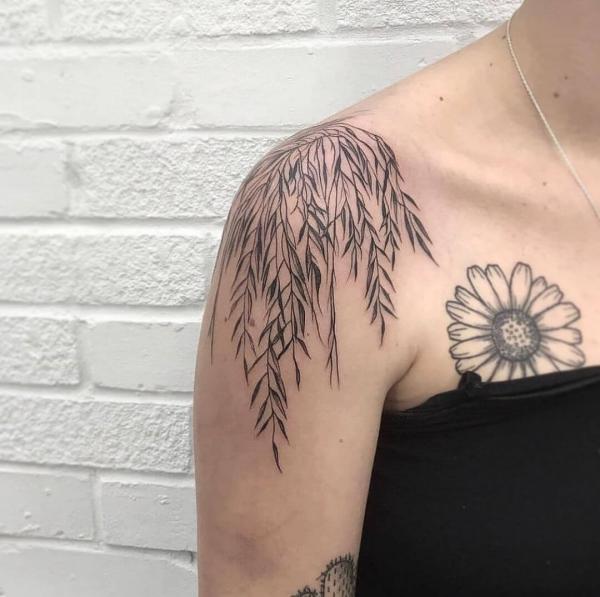 Willow tree with roots and weeping branches and leaves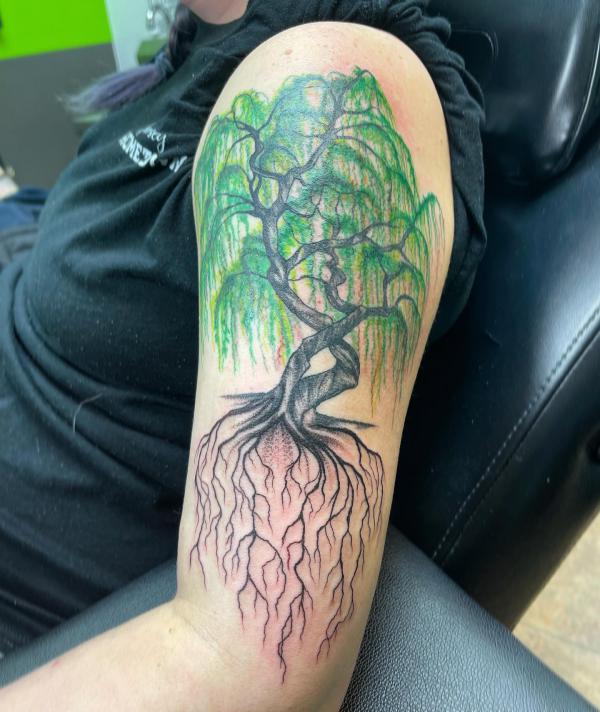 Dark willow leaves and butterfly tattoo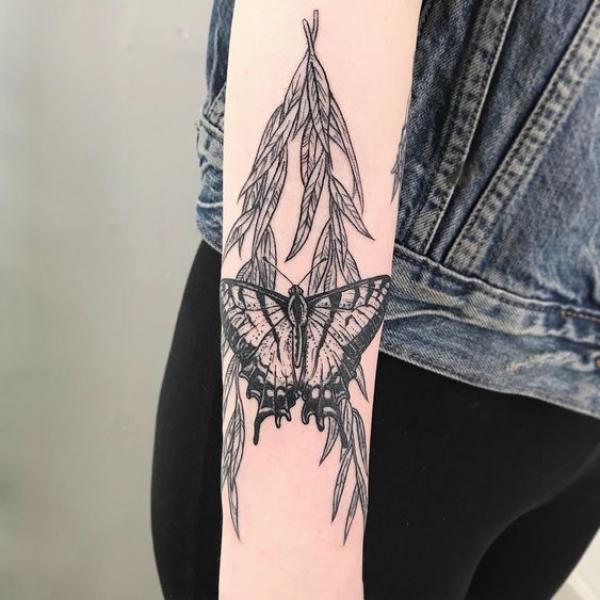 Willow leaves and rose outline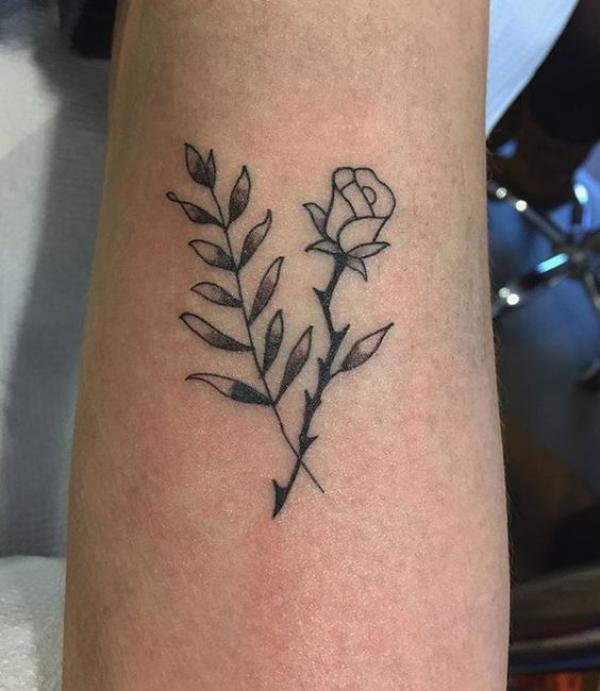 Minimalist willow leaves tattoo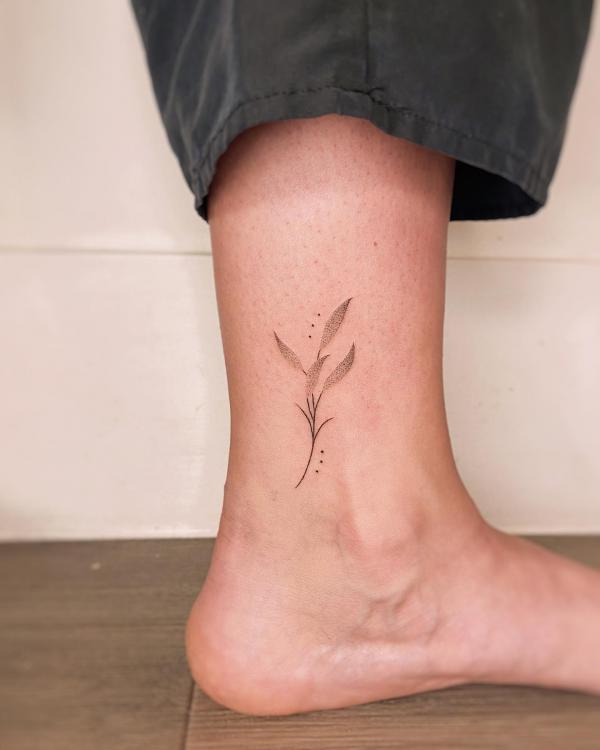 Willow leaf tattoo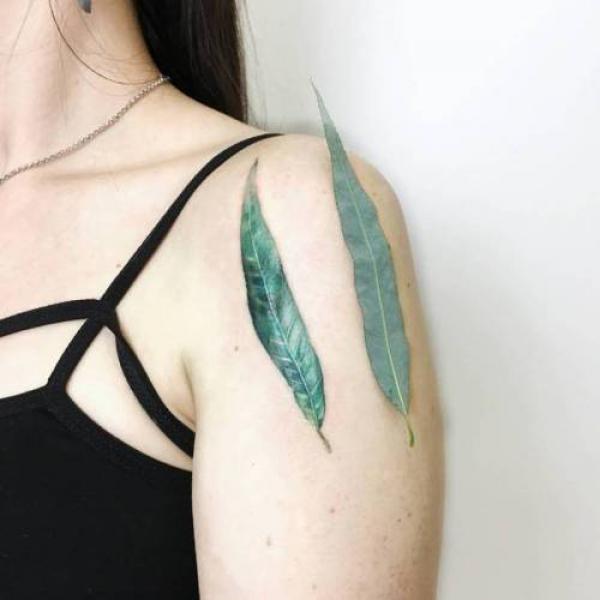 Willow Tree with Swing Tattoos
A willow tree with a swing hanging from one of its branches introduces an element of nostalgia and whimsy to the design. This tattoo could represent cherished childhood memories or the idea of a safe, comforting place. The swing can also symbolize movement and transition, reminding the wearer of life's constant ebbs and flows.
Watercolor willow and girl tattoo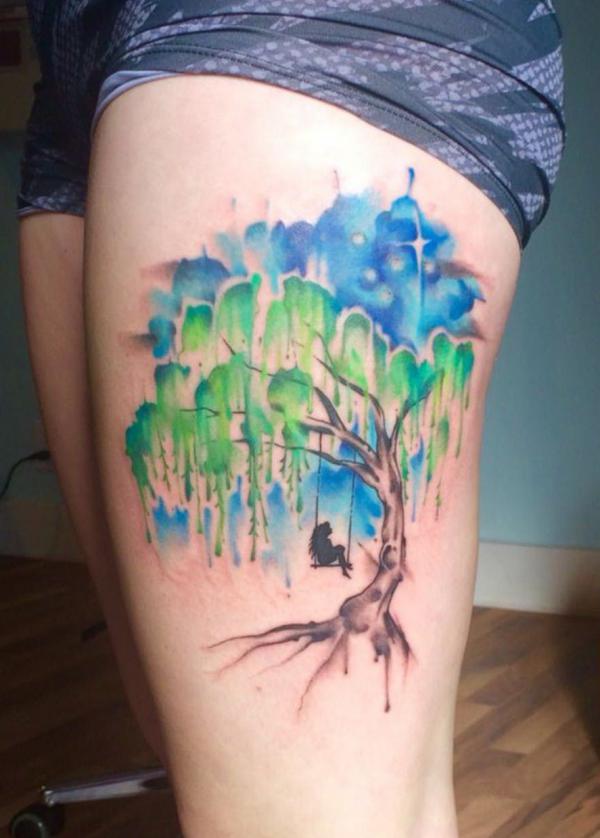 Willow tree and a little girl silhouette on swing tattoo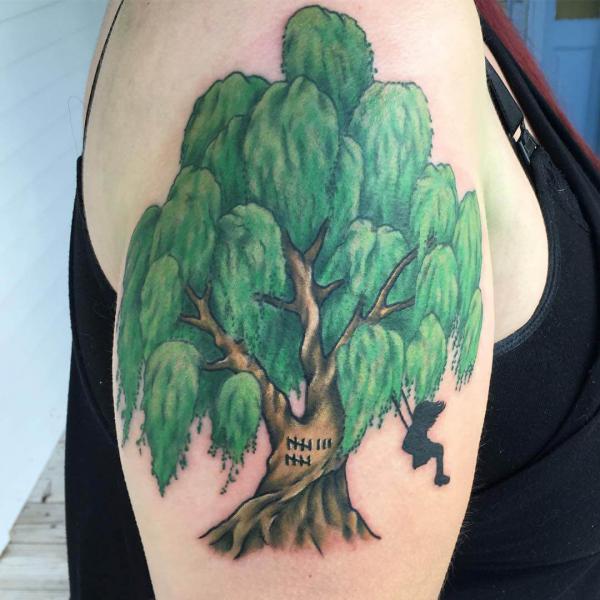 Stylized willow with weeping branches and a little girl on swing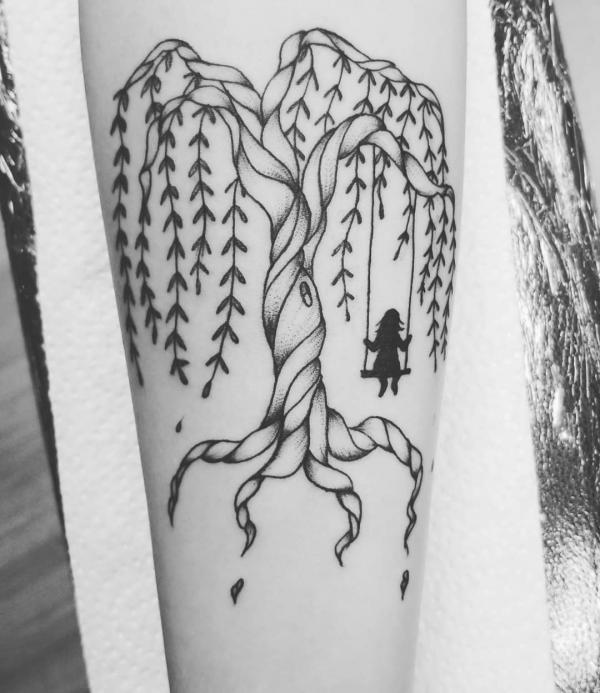 Swing on a willow watercolor tattoo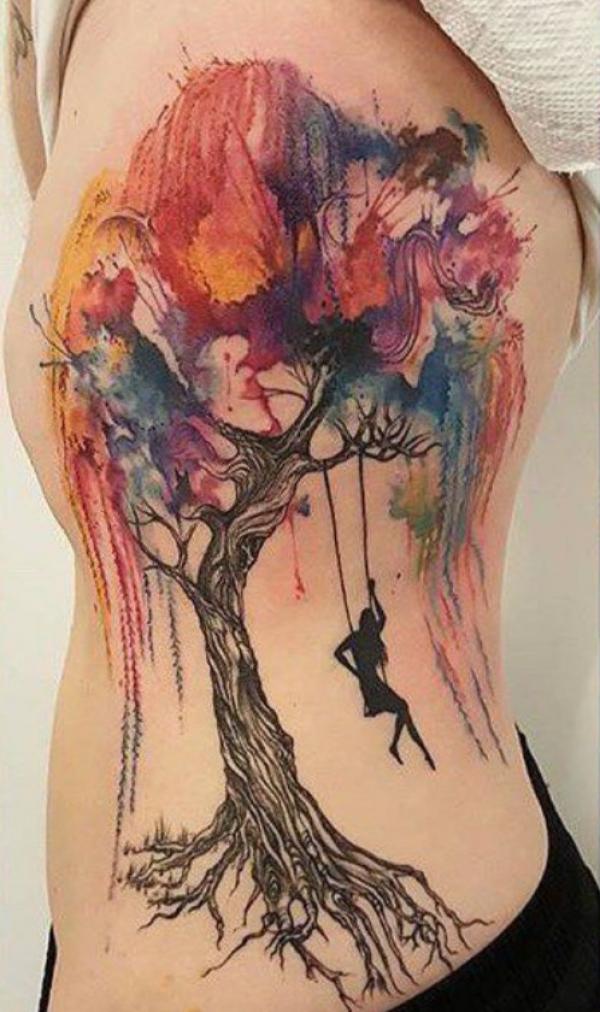 Two kids swing on a willow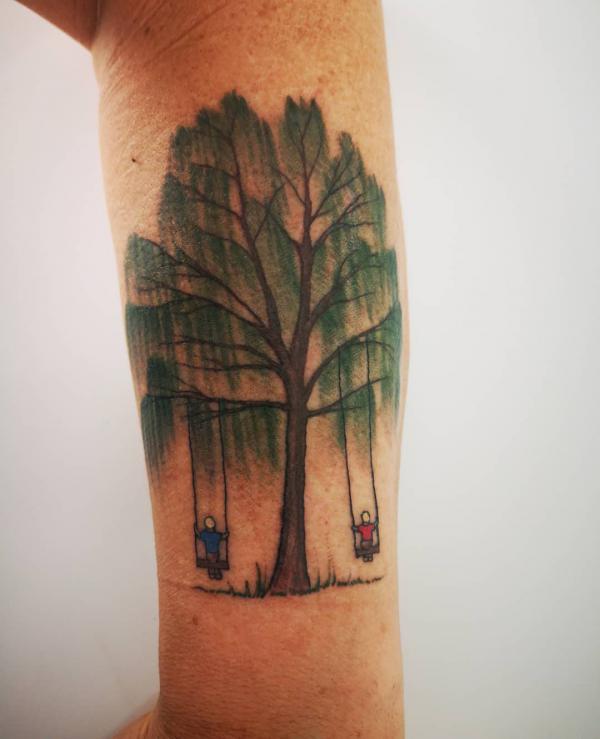 Willow vine tattoo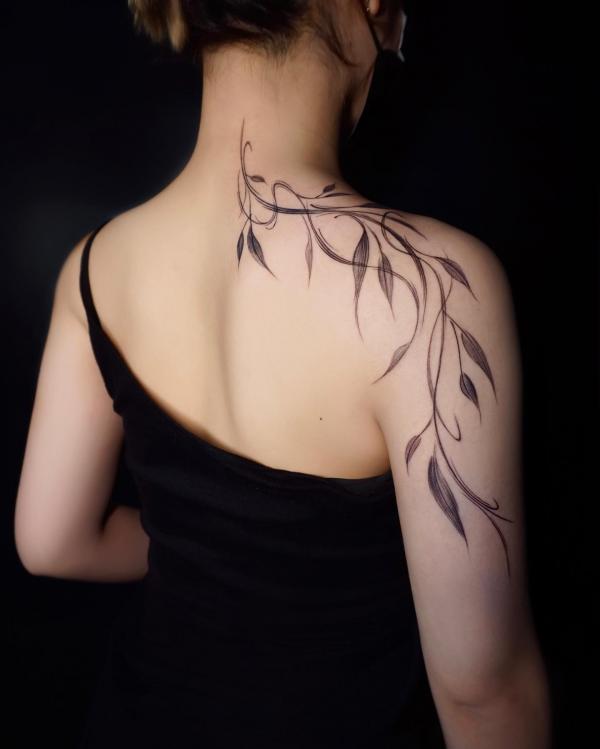 For those who prefer minimalist designs, a willow vine design can be a great choice. This design can feature a single willow branch with hanging leaves, creating an elegant and understated look. The willow vine can be beautifully placed on the wrist, ankle, or the nape of the neck.
A mother holding her daughter at a willow tree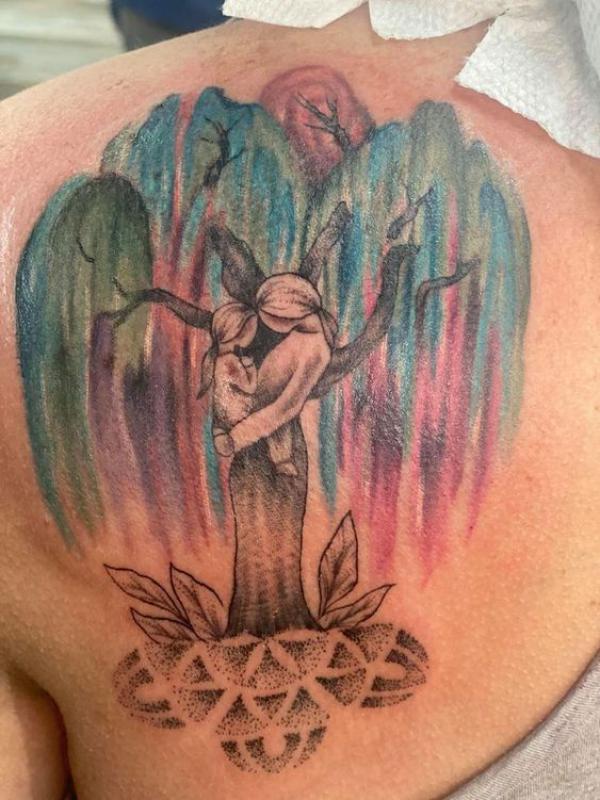 This beautiful design can symbolize the unbreakable bond between a mother and daughter. The willow tree serves as a witness to their love, providing shade and protection. This tattoo can be a touching tribute to the nurturing and enduring love of a mother.
Black and grey willow tree with words my inner child The war is over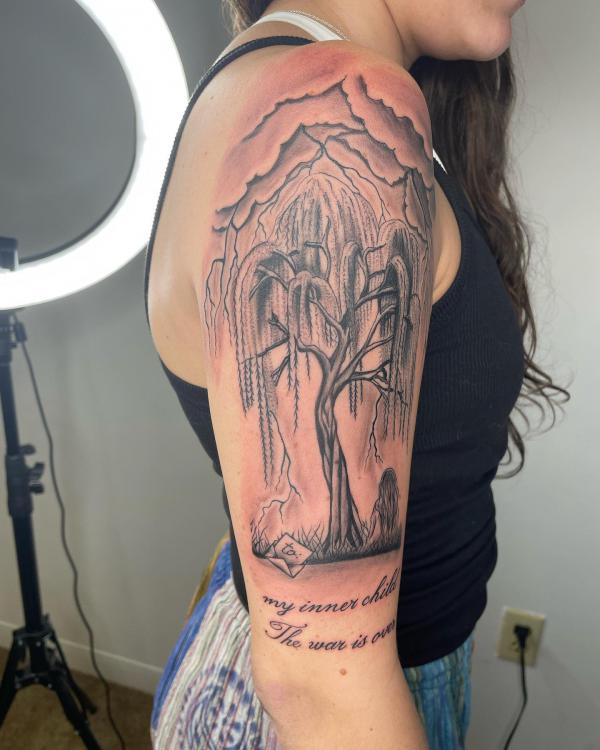 Black and grey tattoos are known for their timeless appeal, and this design is no exception. A monochromatic willow tree paired with a meaningful phrase, like "My inner child, the war is over," can create a deeply personal and emotive piece. This design can serve as a testament to inner peace and self-acceptance.
Fine line Old willow tattoo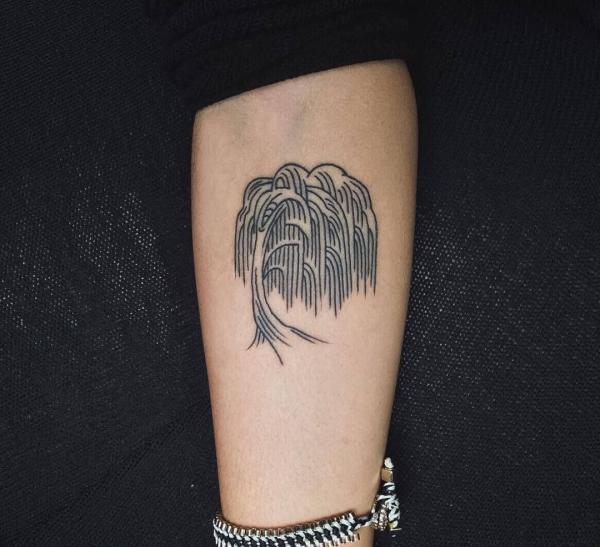 A fine line willow uses delicate, thin lines to create a detailed and intricate design. An old willow tree, with its gnarled trunk and cascading branches, can look especially stunning in this style. This tattoo can be a tribute to longevity and wisdom, symbolizing the wearer's respect for elders or ancient knowledge.
Old willow tree tattoo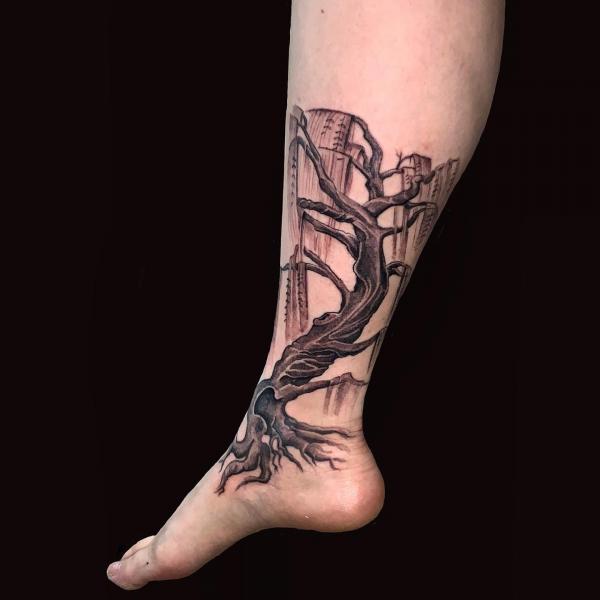 An old willow tree, standing tall and resilient, can make a powerful tattoo design. Each wrinkle and knot in the trunk can tell a story of survival and endurance, making this design a symbol of strength and perseverance.
Old willow tree with names and dates tattoo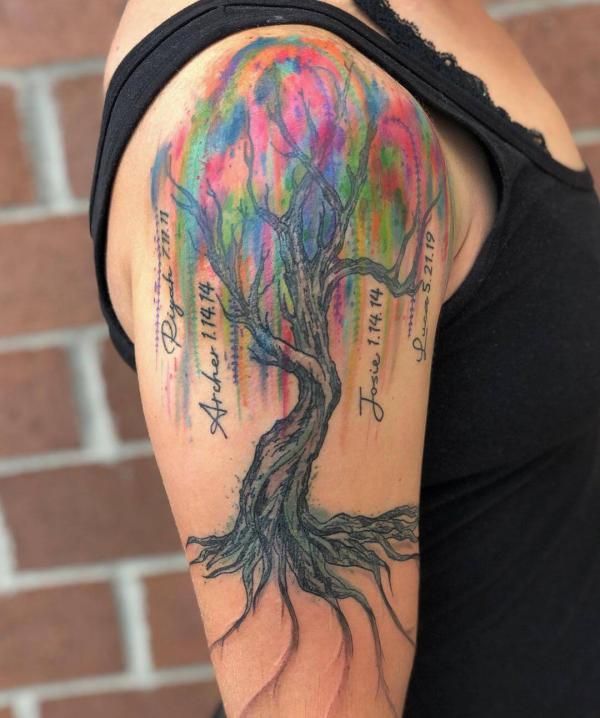 This design can serve as a beautiful tribute to loved ones. The names and dates can be skillfully integrated into the willow's bark, turning the tree into a living memorial. This tattoo can be a constant reminder of the people who have shaped and influenced your life.
Willow tree and butterfly tattoo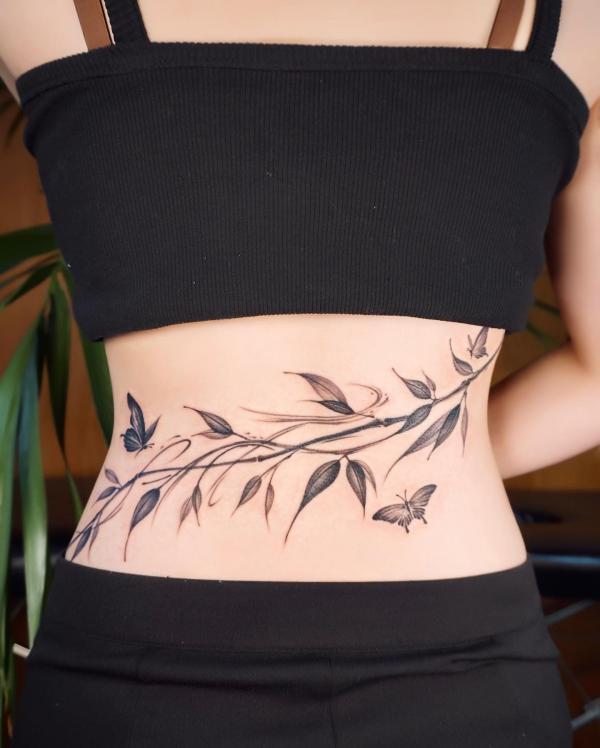 The combination of a willow tree and a butterfly can create a visually appealing and symbolically rich design. While the willow represents resilience and strength, the butterfly symbolizes transformation and rebirth. Together, they can depict a journey of growth and change.
Willow tree circle tattoo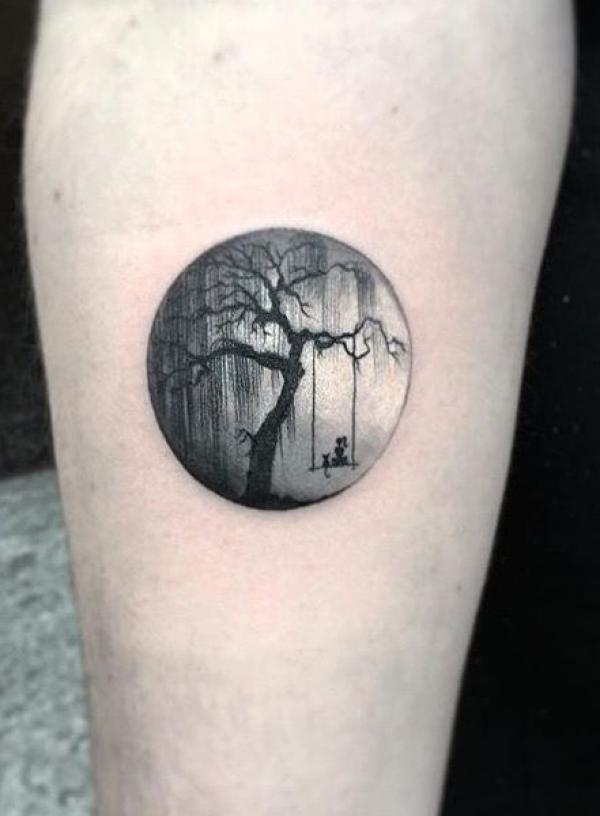 A willow tree enclosed within a circle can symbolize the cycle of life and the interconnectedness of all things. The circle can also give the design a sense of completeness and wholeness. This tattoo can be a reminder that we're all part of a larger whole, connected by the web of life.
Willow tree of life tattoo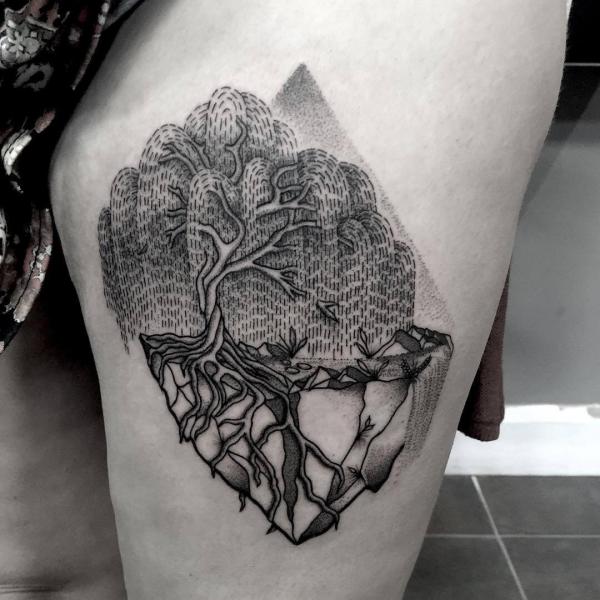 The Tree of Life is a universal symbol found in many cultures, signifying life, knowledge, and interconnectedness. A willow Tree of Life design can beautifully encapsulate these concepts, with its branches reaching for the skies and roots delving deep into the earth, representing the link between heaven, earth, and the underworld.
Willow Tattoo Placement Ideas
The perfect placement for your tattoo is just as important as selecting the design itself. The location of your tattoo can change how it's perceived, and different body parts can lend themselves to different design styles. Here are some ideas that are sure to inspire your next ink journey.
Back
The back provides the largest canvas for your tattoo, making it ideal for intricate willow designs or scenes. A sprawling willow tree across your back can create a truly stunning and dramatic effect. Plus, the curvatures of your back can be used to enhance the drooping branches of the willow, adding a 3D effect to the design.
A woman sitting at a willow tree back tattoo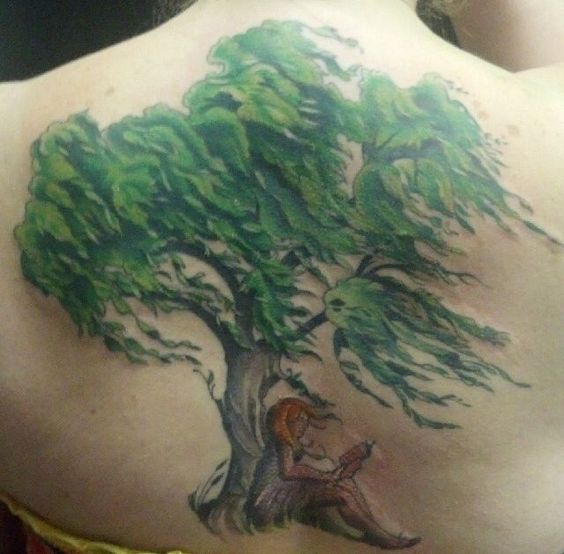 Leg
The leg, particularly the calf, is a fantastic place for a willow tree design. The cylindrical shape of the leg can highlight the willow's tall and slender form, while the muscle movements can bring the tattoo to life. From a distance, a leg tattoo may appear as a neat design, but up close, it can reveal intricate details.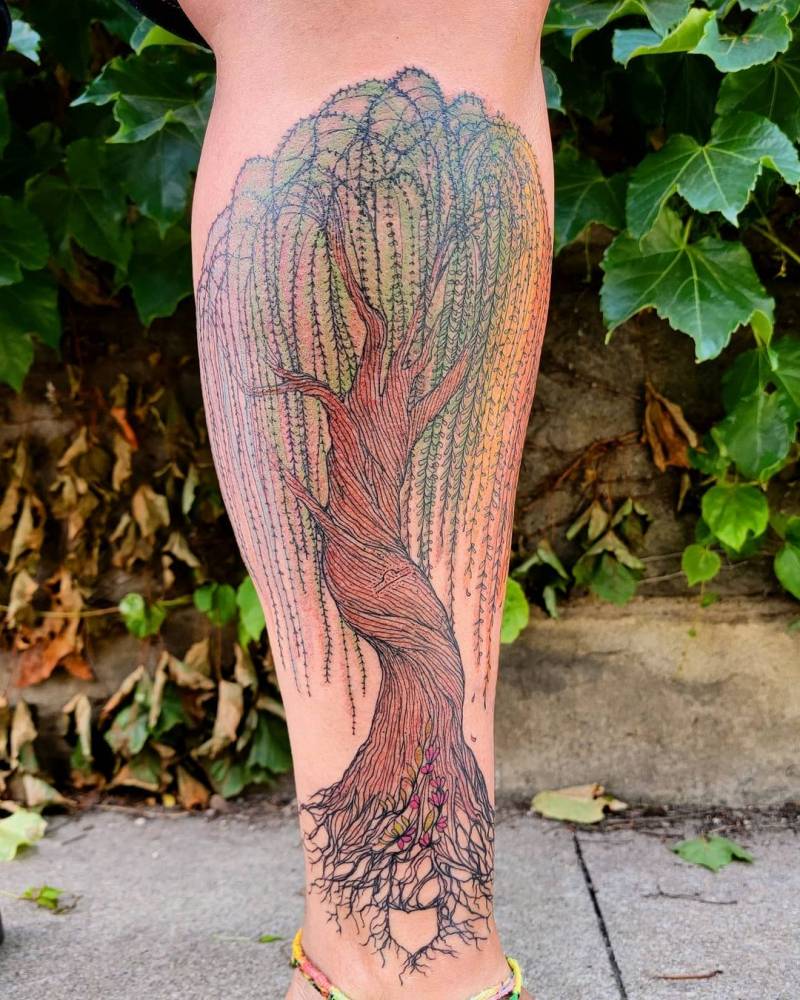 Thigh
The thigh is a popular spot for medium to large ink designs, and a willow tree is no exception. The ample space allows for detailed artwork, and the tree can be designed to flow with the shape of your thigh. Thigh tattoos can be easily covered or displayed, giving you flexibility based on your comfort level and the occasion.
Neo traditional Weeping willow tattoo on thigh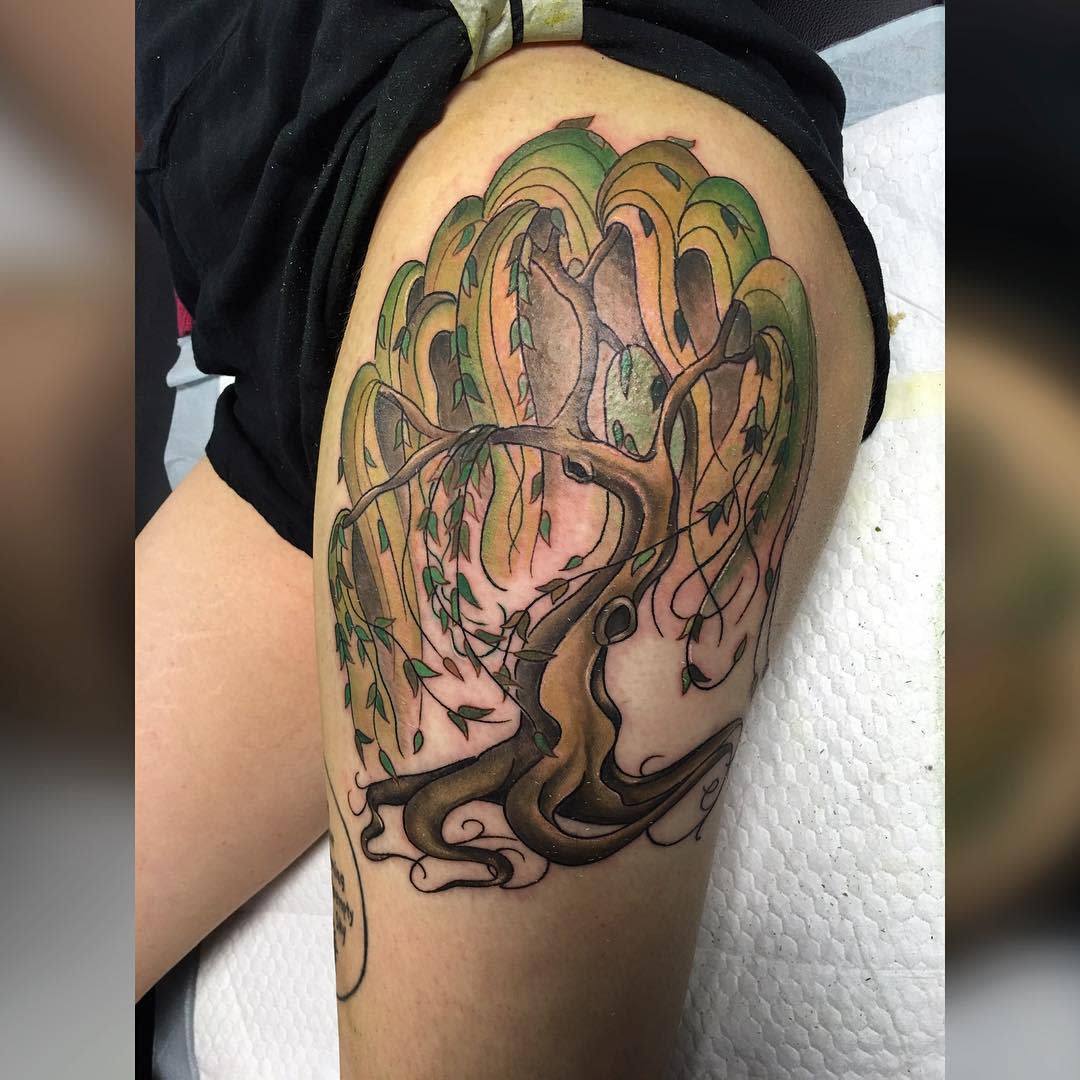 Bicep
A willow design on the bicep can create a unique and striking look. When your arm is relaxed, the tattoo can appear as a cool design, but when your bicep is flexed, the willow can seem to come alive. The bicep is a great location if you want your tattoo to be easily visible but still maintain the ability to cover it up when necessary.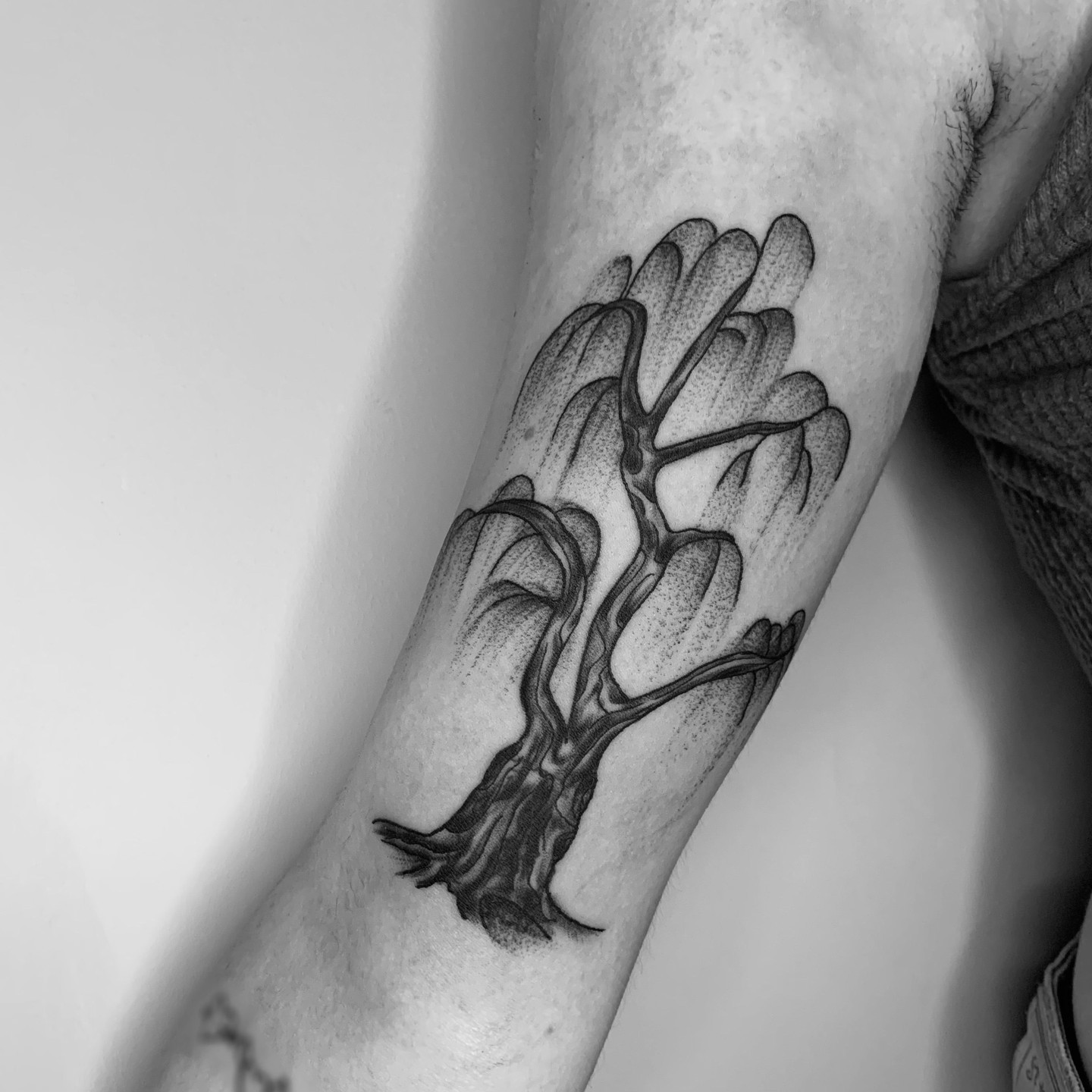 Foot
Although a smaller canvas, the foot can be the perfect place for a minimalist willow design. The tattoo can follow the curve of your foot, creating a delicate and elegant look. Plus, a foot tattoo can be a fun surprise, popping out from your shoes and adding a unique element to your style.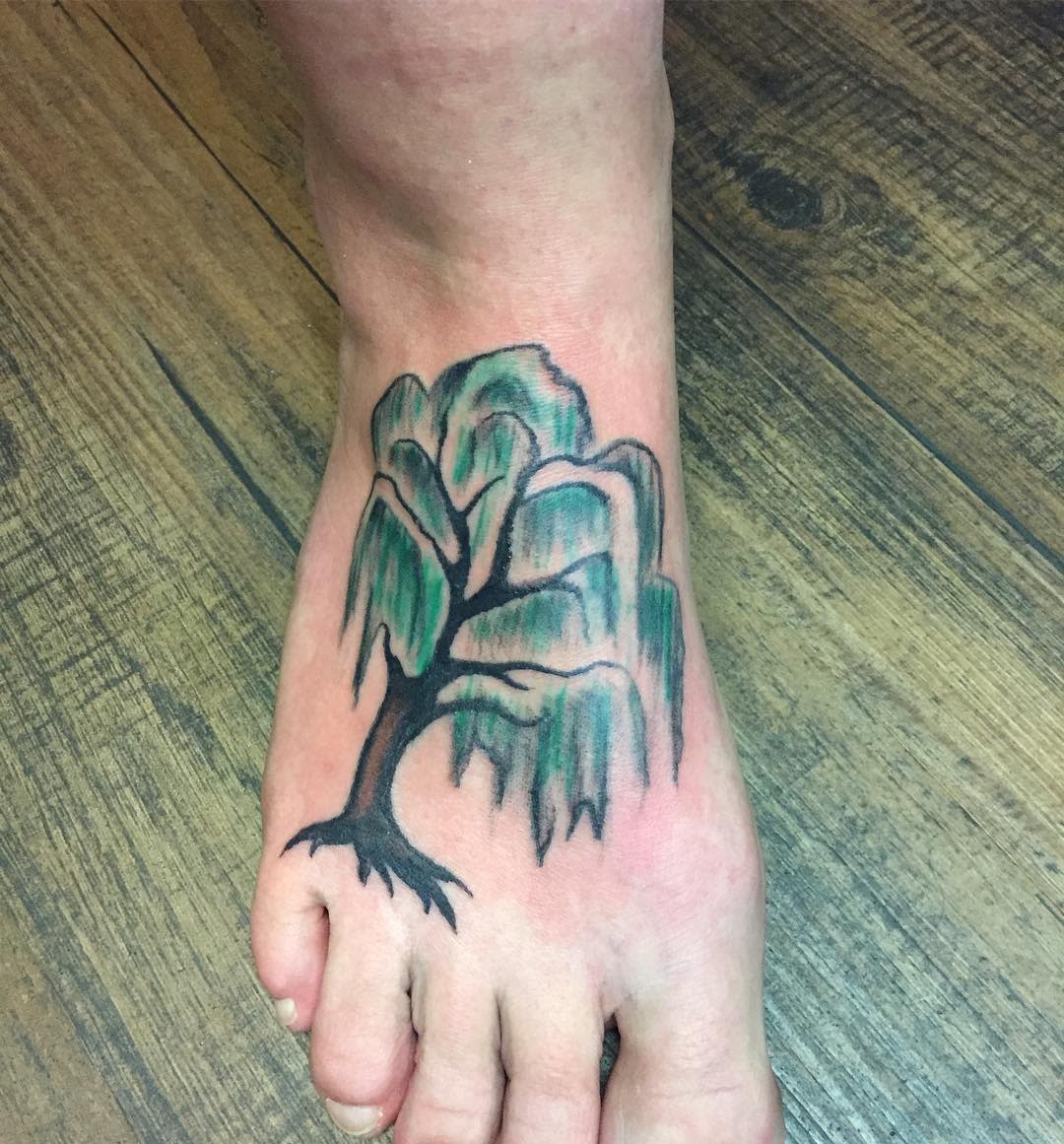 Ear
If you're looking for a small and subtle tattoo, behind the ear could be the perfect spot. A tiny willow tree can create a cute and minimalist look. This placement is also ideal if you want your tattoo to be easily hideable, as your hair or accessories can conveniently cover it up.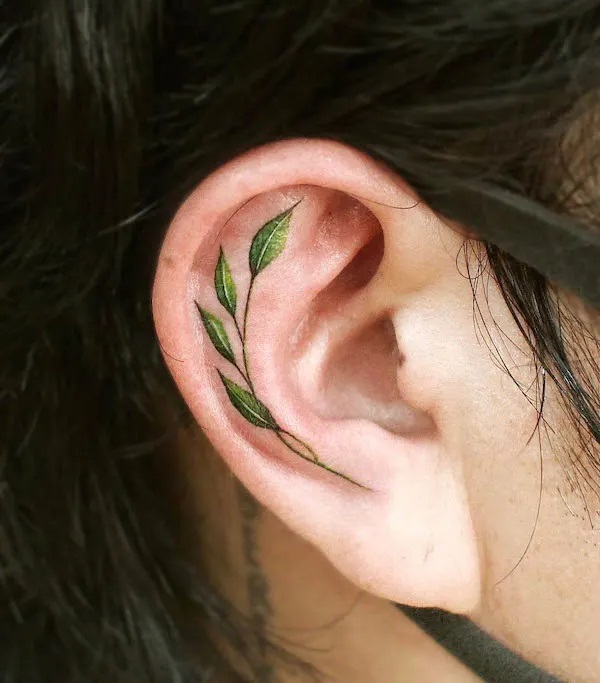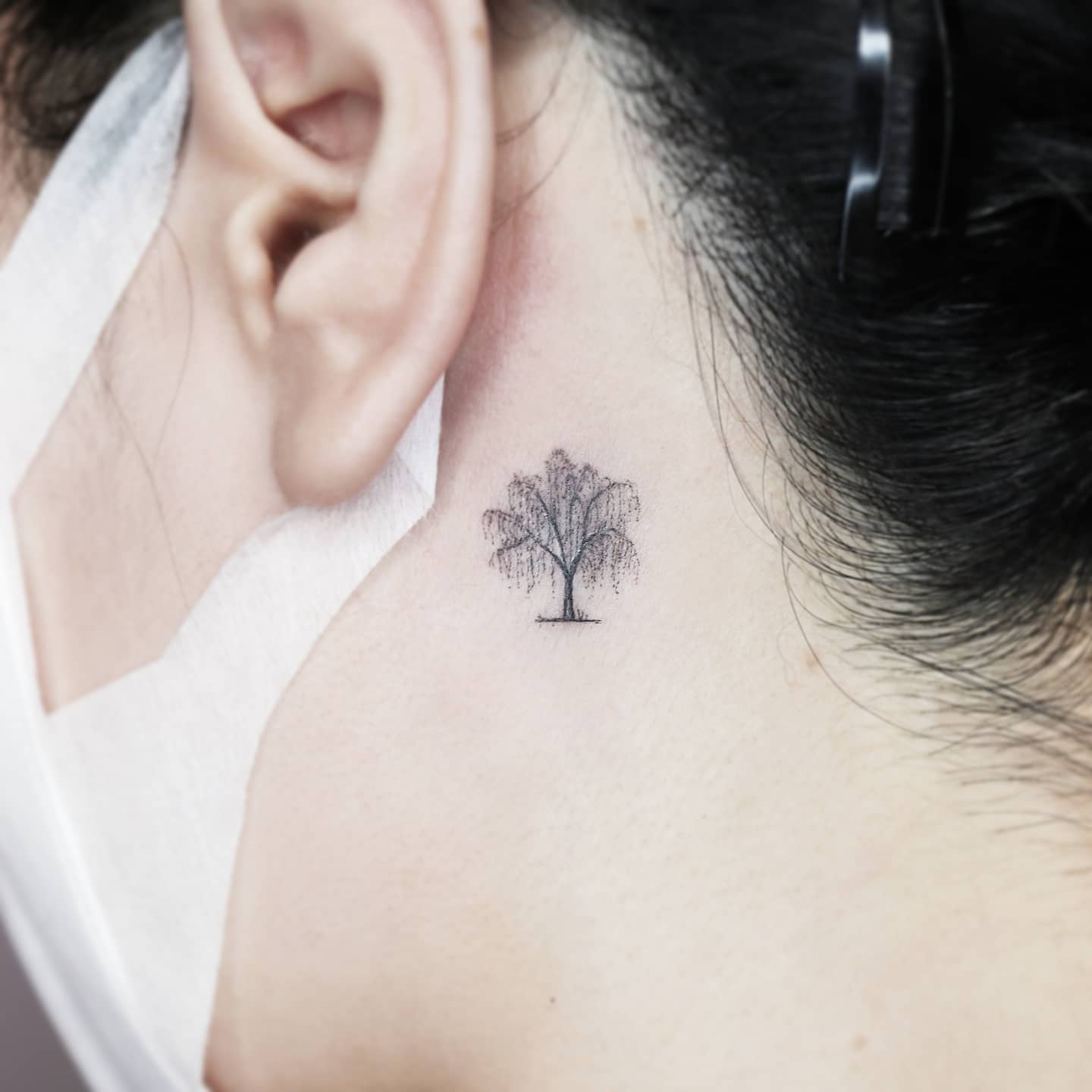 Clavicle
The clavicle, or collarbone, is a popular location for tattoos due to its visible yet discreet nature. A willow tattoo here can create a delicate and elegant look. Plus, the horizontal line of the collarbone can serve as a natural base for the willow, creating a harmonious design.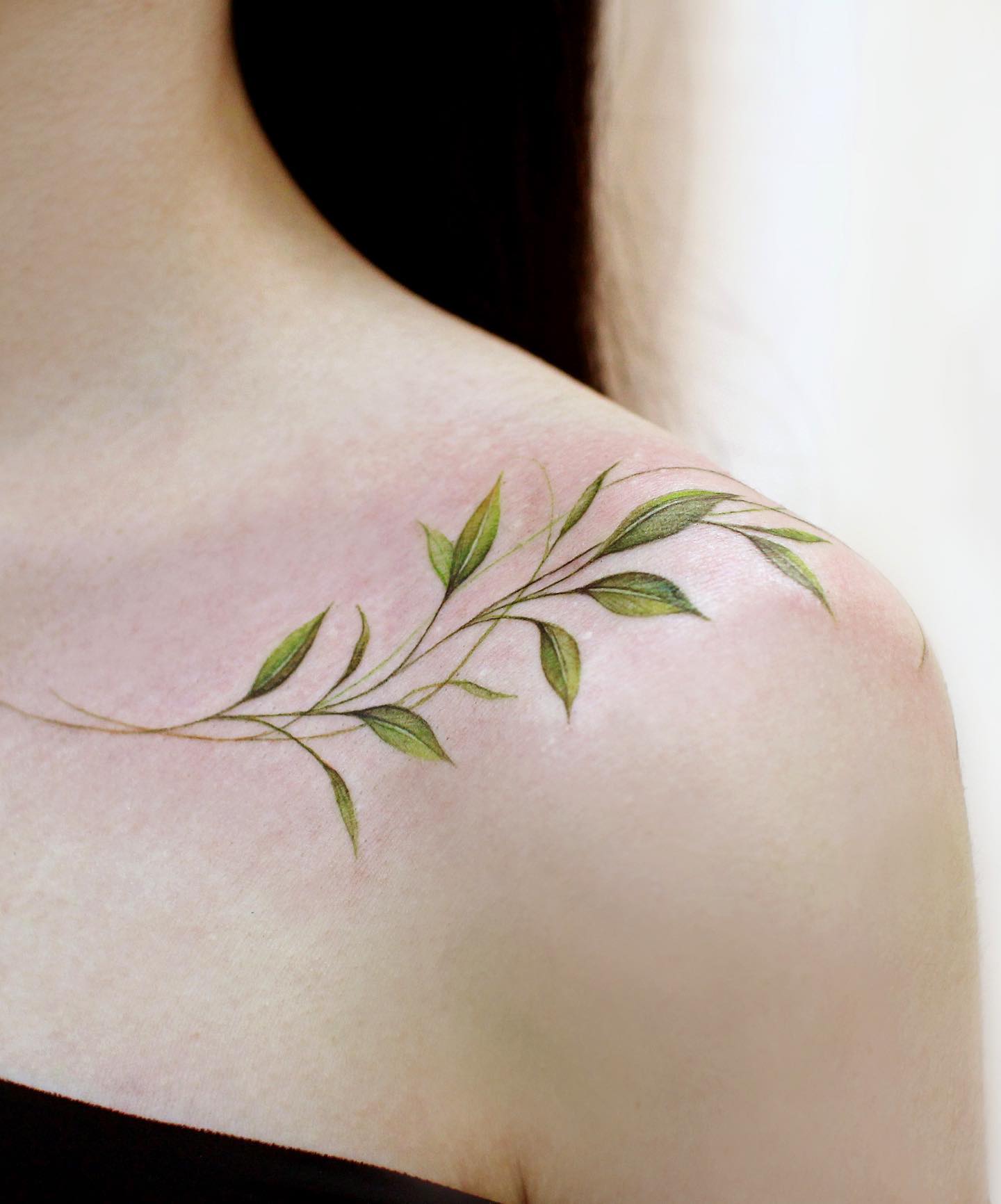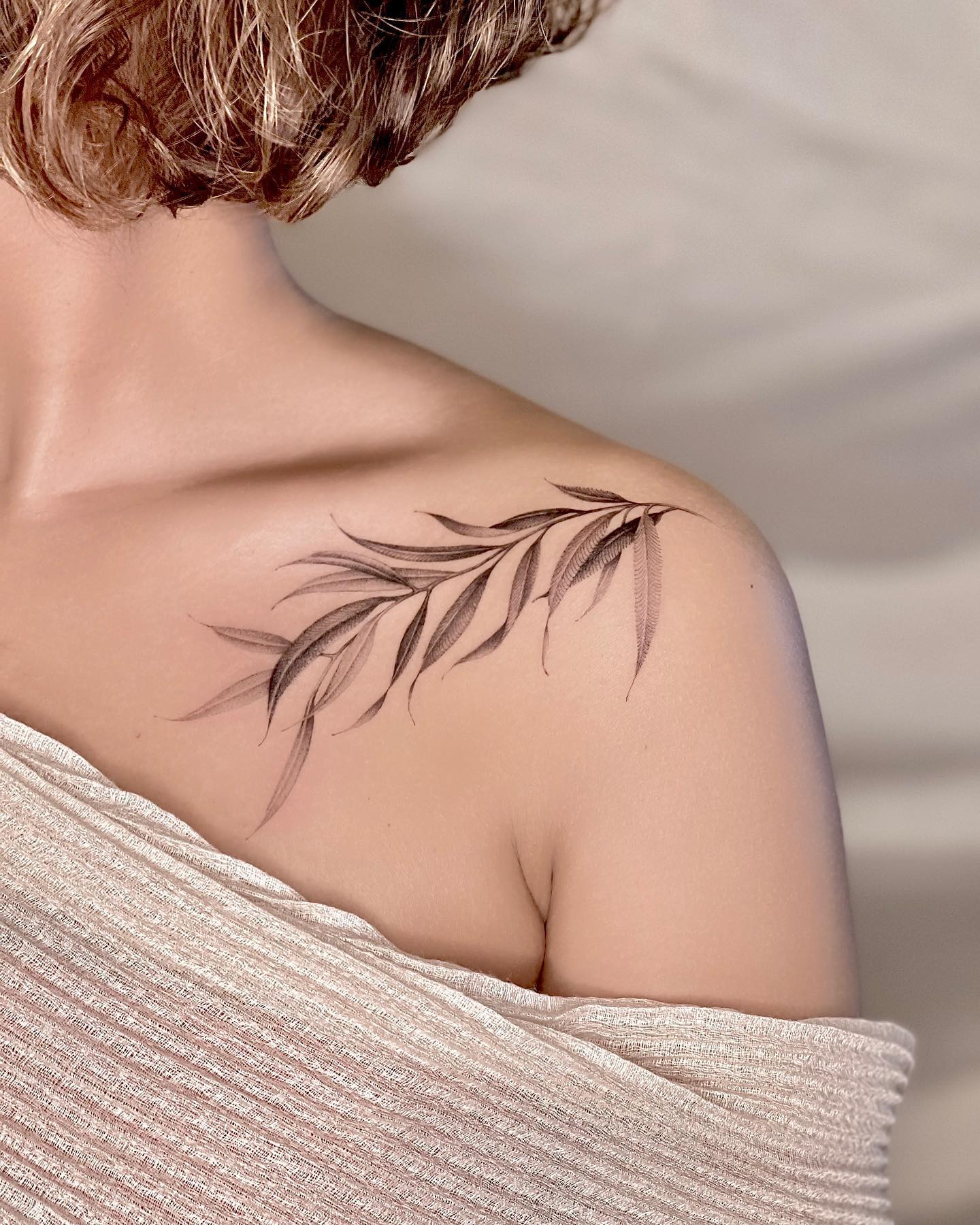 Hand
The hand is a bold and visible location for a tattoo. A design on the back of your hand can make a strong statement, while a tattoo on your palm can be a more personal symbol. Either way, a willow tattoo on your hand is sure to catch attention and stir conversations.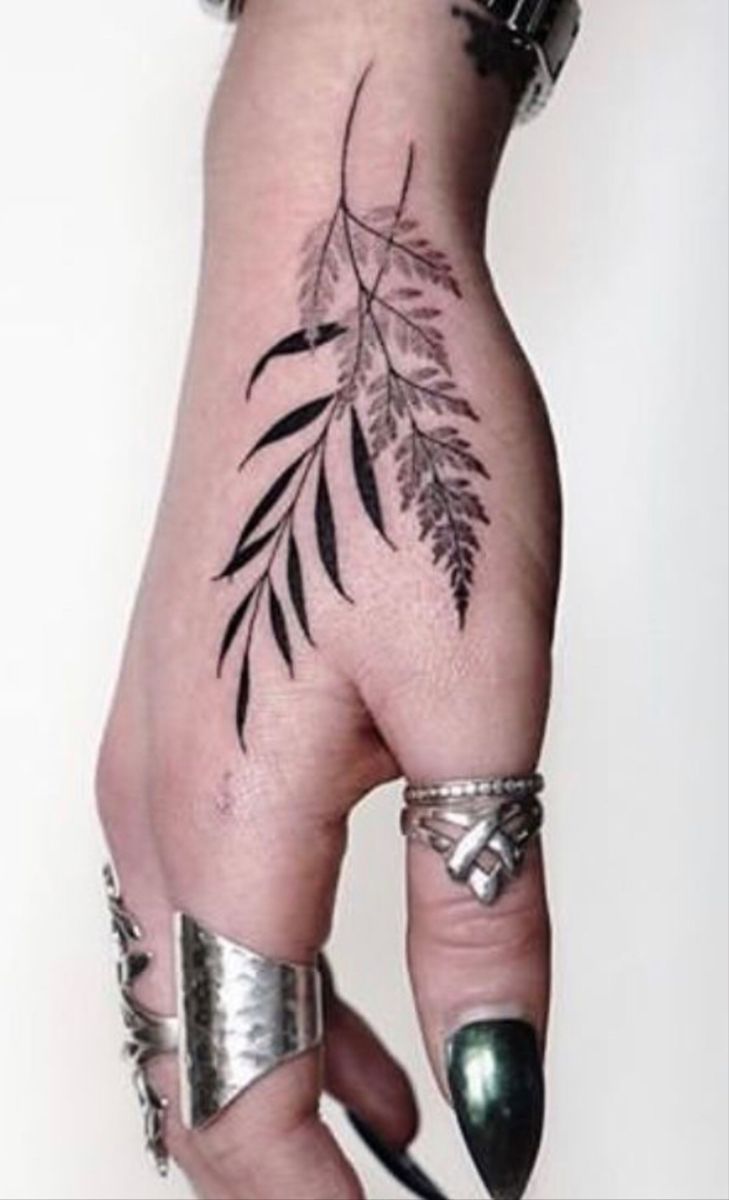 Finger
A willow tattoo on your finger can be a cute and quirky choice. Even a simple, minimalist design can have a big impact due to the unique placement. This location is ideal for small, delicate willow designs and can serve as a constant reminder of your connection with nature.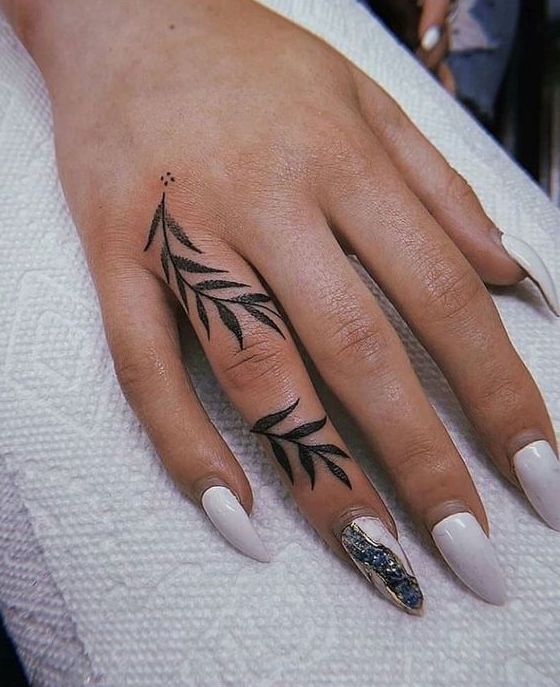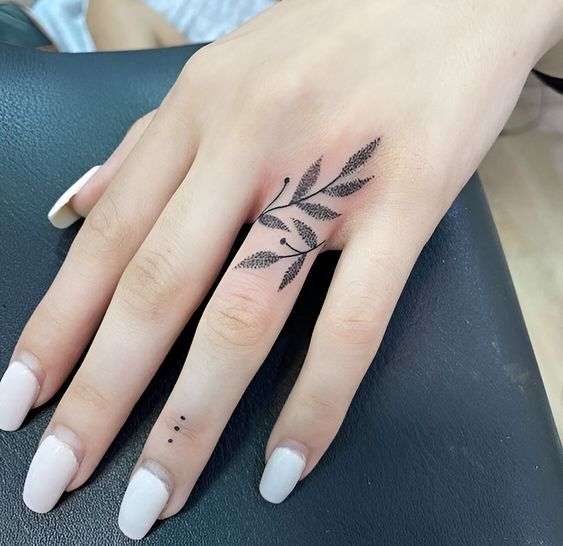 Ankle
An ankle tattoo can be delicate and discreet, making it a great location for a small willow design. The round shape of the ankle can highlight the willow's drooping branches, creating a beautiful and harmonious look. Plus, an ankle tattoo can be a fun surprise, peeking out from your socks or shoes.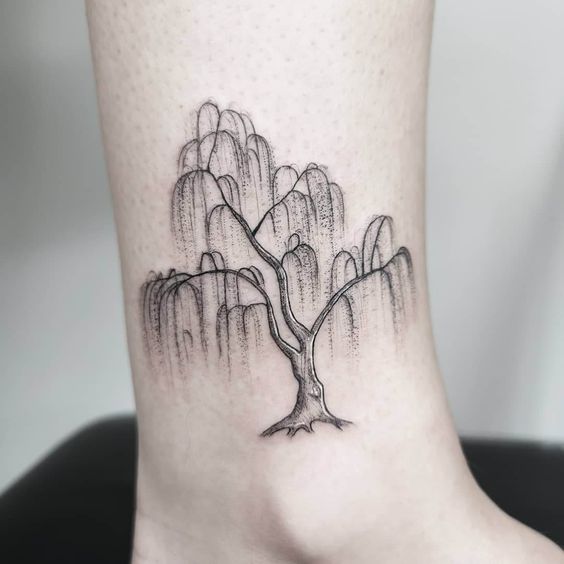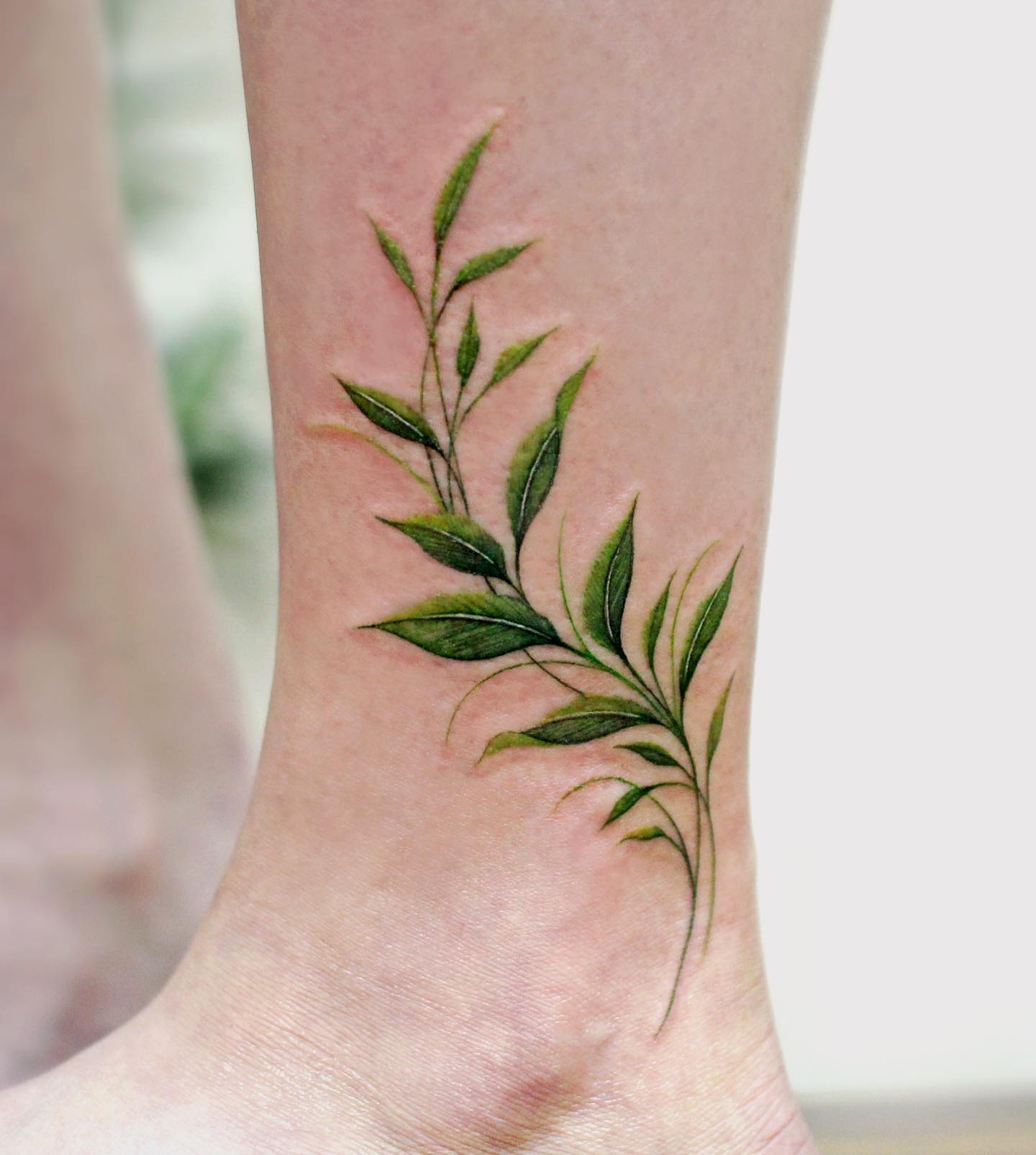 Wrist
The wrist is a popular location for tattoos due to its visibility. A willow design here can serve as a constant reminder of your resilience and adaptability. The round shape of the wrist can also complement the willow's form, creating a pleasing design.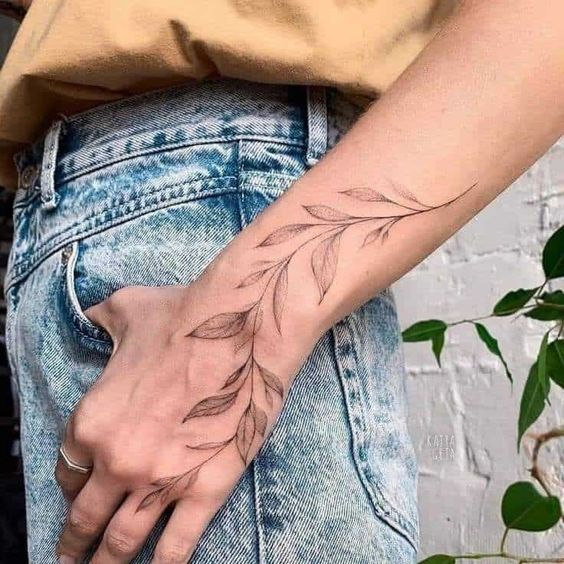 Shoulder Blade
The shoulder blade is a great spot for a medium to large willow tattoo. This location allows the tattoo to be easily covered or displayed, giving you flexibility. Plus, a willow tree on your shoulder blade can create a beautiful and striking look, enhancing your natural body contours.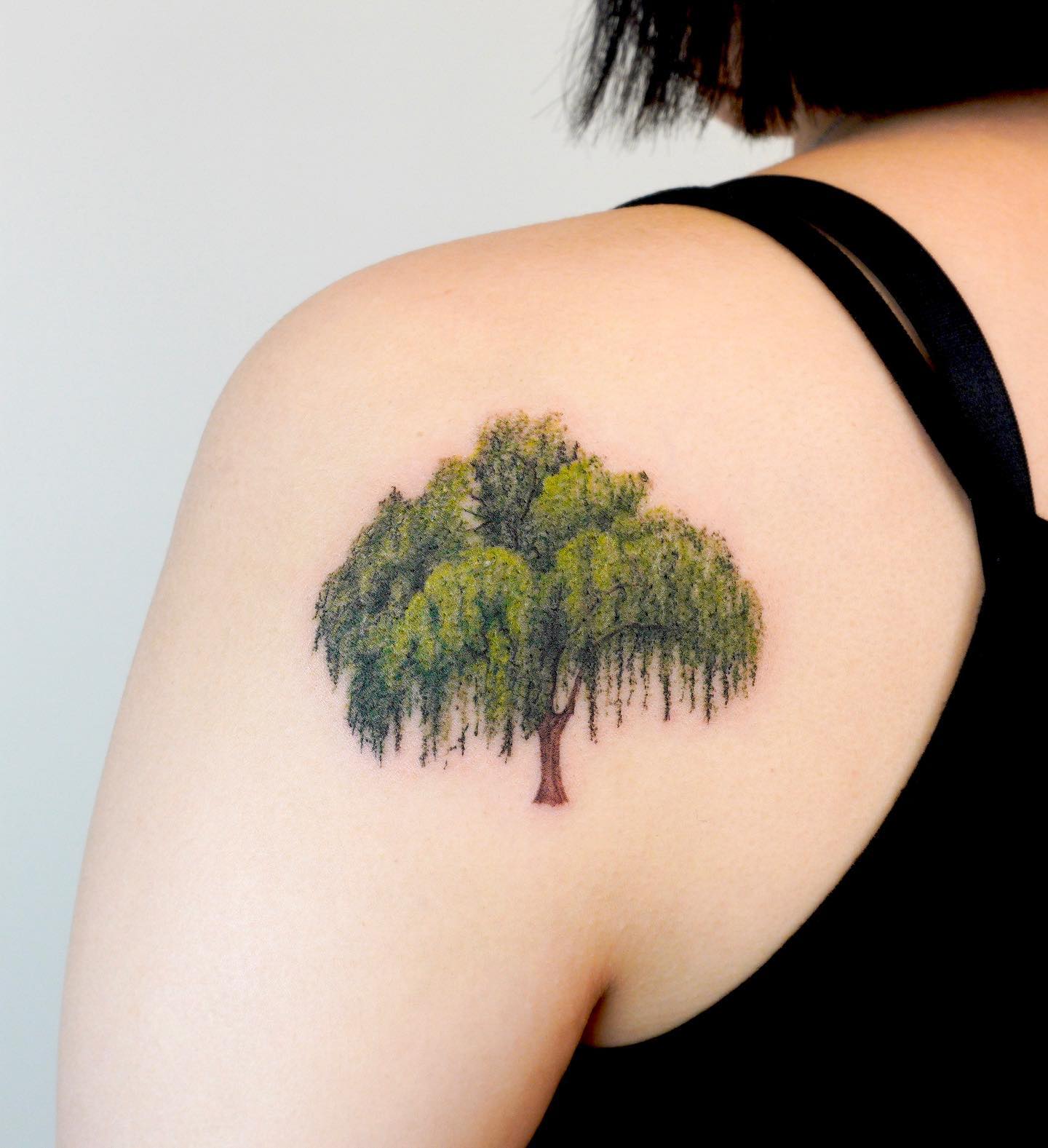 Conclusion
The willow tree, with its rich symbolism and elegant form, offers endless inspiration for tattoo designs. Whether you want a minimalist silhouette or a vibrant scene, a willow tattoo can be a unique and powerful symbol of your personal journey, your resilience, and your connection with nature. Remember, the best tattoo is one that resonates with you. So, consider your personal relationship with the willow tree's symbolism when choosing your design.