When you talk about nail art, you would notice that it has become such a trend that there are new styles popping up almost every year. Just like clothes, nail art designs also vary and change depending on the seasons and what is currently trending. You can easily find a lot of new collection of shades and colors in stores nowadays and it will simply surprise you on how much you miss in one season. However there is one timeless color that for nails can fit into just about any season with the right kind of design and combination with other colors: Gray.
The Classic Gray Polish
Gray is a beautiful color for the manicure that is subtle and at the same time classic looking. When you want a design that will suit just about any season then going with the gray shades is the perfect solution. You can play with the shades of light to darker gray to give impressions of an enjoyable or a much gloomier mood that you have for the day or week. Don't think that you can't work around with gray just because it isn't an instant stand out color; you can always work around with color combinations as styles.
Start looking out for the trends; these are the simplest and fastest ways wherein you will know what to design your nails. You don't have to follow what's in at the moment if you don't feel like it, choose one that suits your mood and personality and you are good to go. Be creative and unique with your nail art designs. What's more important nowadays is to be able to portray your feelings and ideals throughout fashion, not only in clothes but in nails as well.
Below are some of the current nails trends or styles that you might want to get ideas from on your on gray nail art design
Gray nails trends or styles
The black nail art with diamond shaped patterns in the middle. Black and gray is a classic combination that never grows old. You can combine them and they will look simply stunning. They can also fit for just about any season. You can choose to paint the design in any occasion you feel like it.
Another style would be the contrasting French tips. Choose a contrasting color to gray; it can be light or dark depending on the hue of the gray polish that you wish to apply. The important thing is to show the contrasting shades that you can even design alternatively for each nail for more impact.
Silver and gray combination
If you are aiming for a cool and metallic sort of look then this combination is perfect for you. Don't be afraid that the silver nail polish will eat away the gray polish because it won't.
Matte gray nails with rhinestones on the tips
You can design the rhinestones in such a way that they look sophisticated on the nails. Try to design them in a half moon curve on the tips of your nails to form a nail tip lining, or you can simply place a single rhinestone on the tip to make it stand out. It all depends on the style which you are going for and which one you feel comfortable to don on.
You can also try the matte gray nail polish with metallic black polish at the tips. Go with the classic and be timeless with your nails in using this design. Very easy to recreate and can be finished within a few minutes.
Then there is also the light gray nail with dark gray polka dots design. You can change the color of black into something else like hot pink, yellow, green, orange and so on. It all depends on which color you like the most on your gray background. What's important is that the polka dots are in darker shade compared to the gray.
Why not go for embellishments such as cute bows on top of your plain gray nail color. The bows add a cute touch to the nails and can be instant attention-getters. If you love to accessorize and make your nails simply unique then you should definitely try this trend.
Gray nail polish and floral designs is also a popular style. There are just so many things that you can do with floral designs. You can combine the flowers with a plain background, or you can add them on top of a checkered designed nail art and so on.
Speaking of checkered nails, you can also go for gray and red plaid nail art design. The combination of these colors overlapping with each other looks very pretty. Plaid nails are very interesting to look at and when you have the chance you should definitely try them out.
More Gray nail art ideas
Research as much as you can. If you really want the best nail art design for your nails, you can look up blogs or videos of the current trends and what nail designs you might have missed are. It's very easy nowadays to even look up tutorials on how to do complicated nail art designs. All you need to have is the patience and the creativity pursue nail art designing. Best of luck and have fun with painting your nails this in whatever season it may be!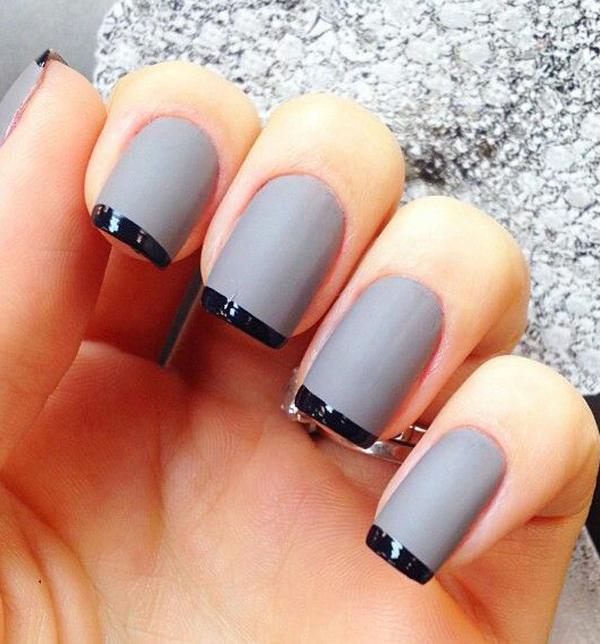 Nail polish with thin black French tips
A very classic looking nails art that you can easily recreate and pant on just about any season.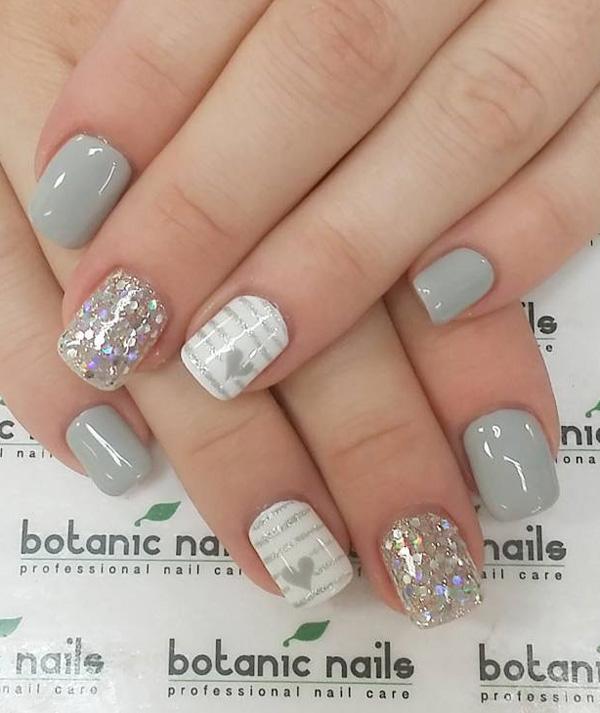 Gray, white and silver nail art with embellishments. Light and cheery looking nail art with stripes and heart shapes, additional sequins have also been placed on top of the silver glitter polish.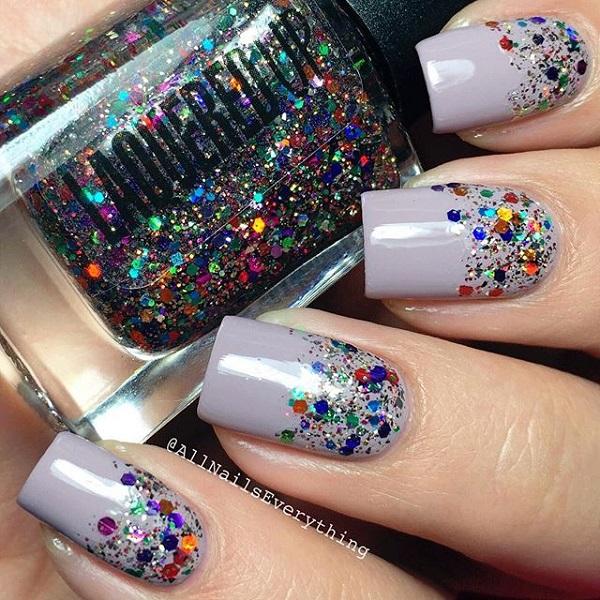 Matte nail polish with colorful glitters and sequins. Give life to your plain gray nails by adding multi colored glitters and sequins to add to the effect.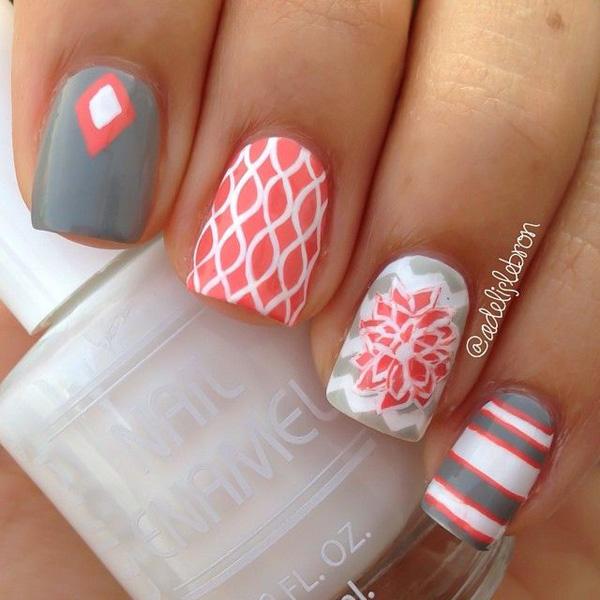 Gray, pink and white nail art design
Paint a variety of designs on your nail polish with diamond shapes, floral shapes as well as stripes to give it more life and design.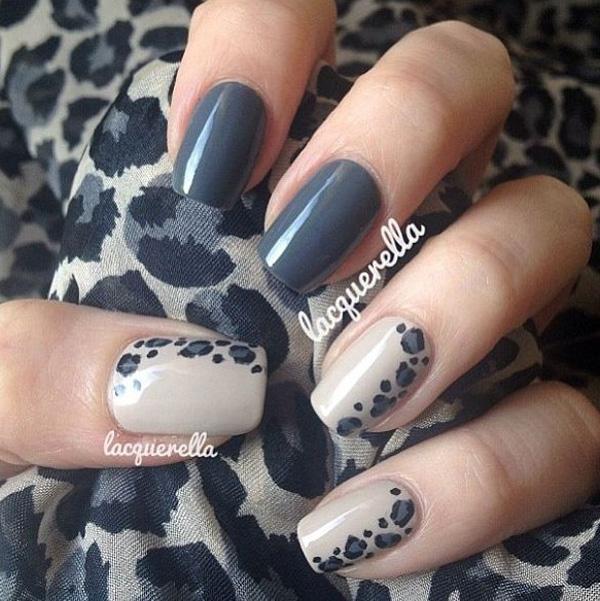 Dark gray animal prints nail art design
A strong looking design with matter dark gray polish plus white polish under a series of black and dark gray animal prints painted on top.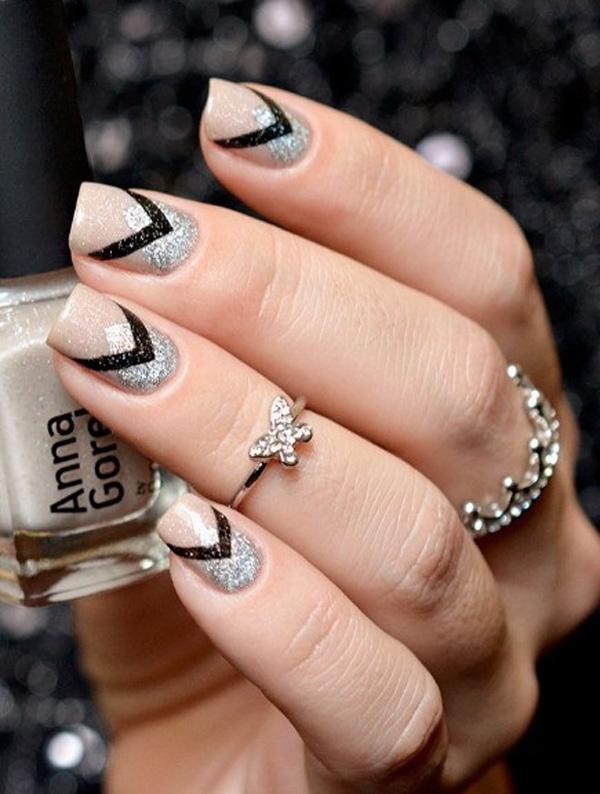 Silver and black glitter nails art
Look stunning and classic with this alternate v-shaped black and silver glitter paint.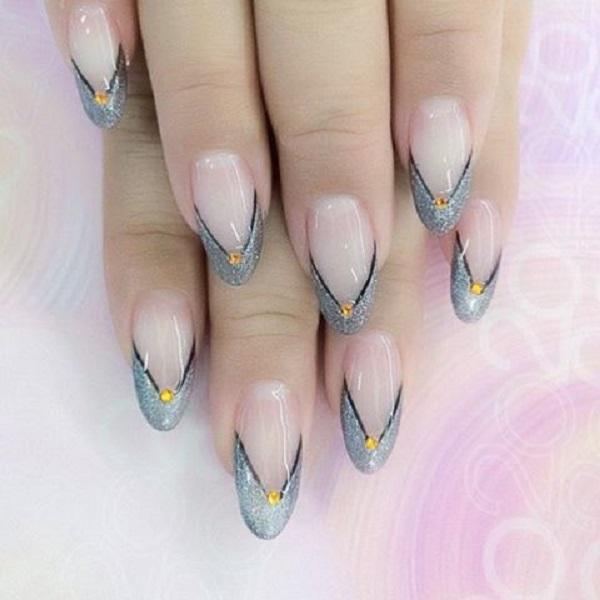 White and blue gray v-shaped French tips. The French tips are then lined with thin black nail polish and topped with gold beads on top.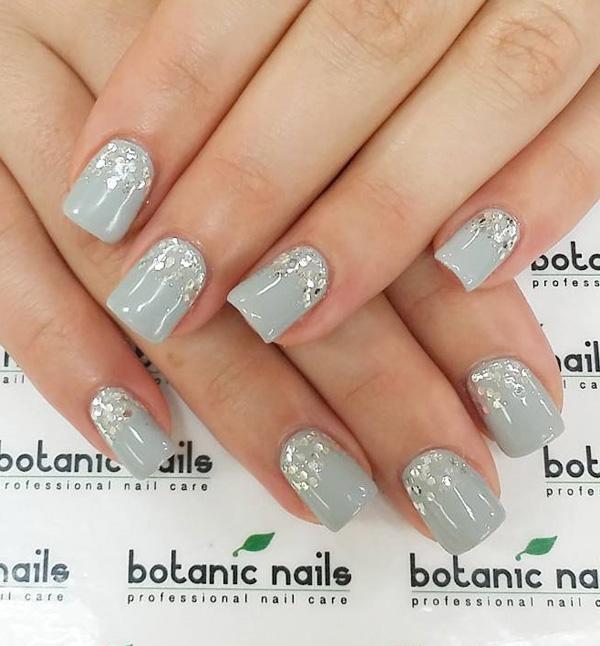 Blue gray and sequins nail art
Light and cheery looking nail art with the help of silver sequins added on top near the cuticle part of the nails.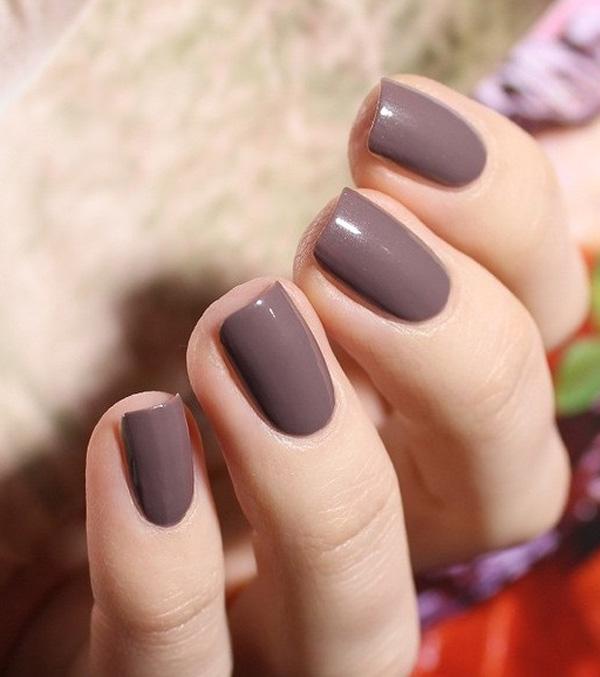 Elegant gary nail
Matte brown gray nails. For a more elegant choice for a matte colored nail art, this would be a great choice that can go with just about any season.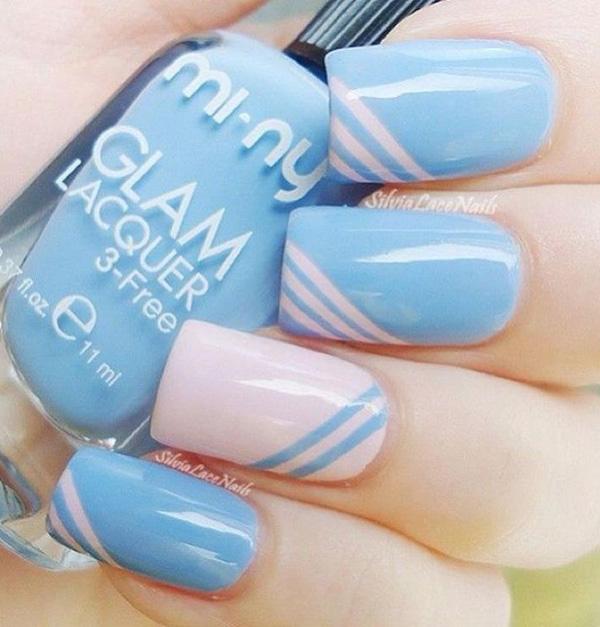 Light gray and light blue nail art. Combine two light colors in diagonal designs and you can come up with this cute and neat design.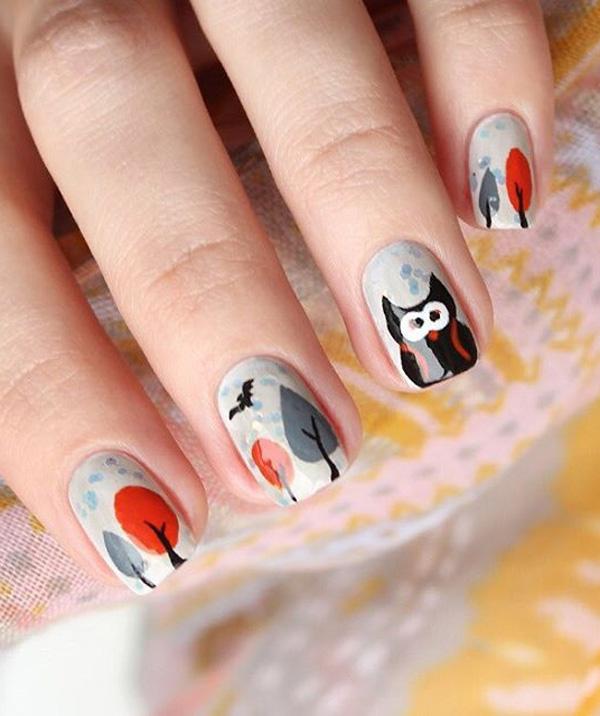 Cute and candid gray nail art
Painted are fall colored tress as well as a big cute owl and flying birds.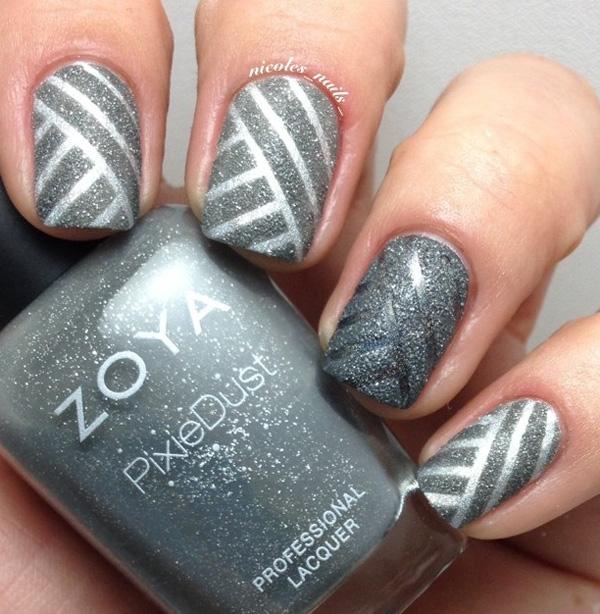 Cool gray nails
Silver glitter nail polish design in diagonal stripes
Make your nails stand and out and be different with this combination of light and dark silver nail polish.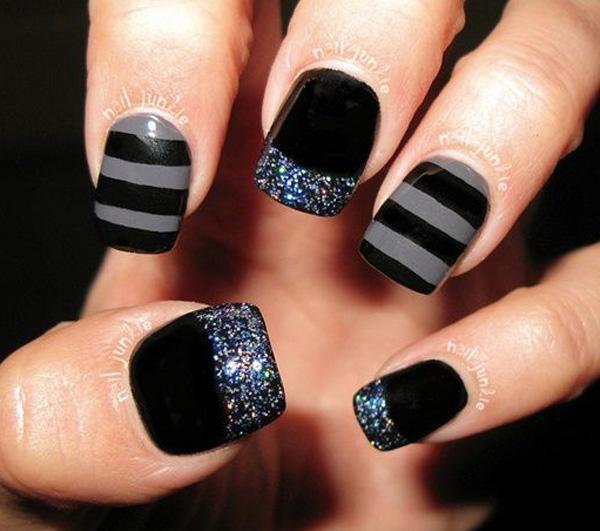 Black and gray nail art combination. The best combination that you can paint on in striped design and you can even add silver glitter as French tips for effect.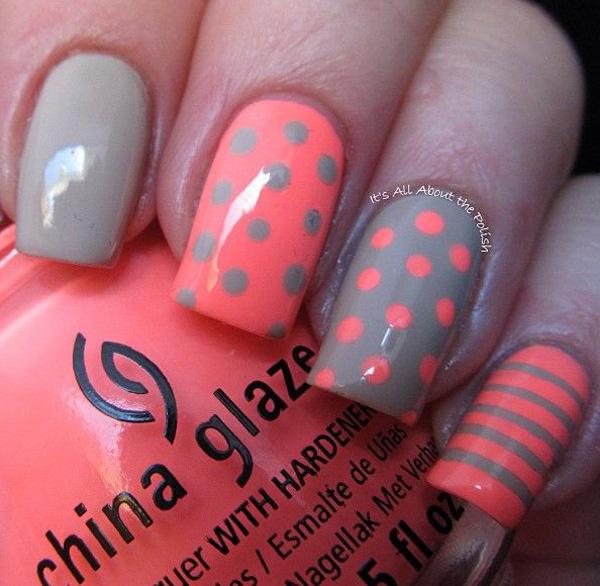 Pink and gray polka dot and stripes nail art design. A modern and very cute nail art design that you can play along with and paint on alternatively each nail.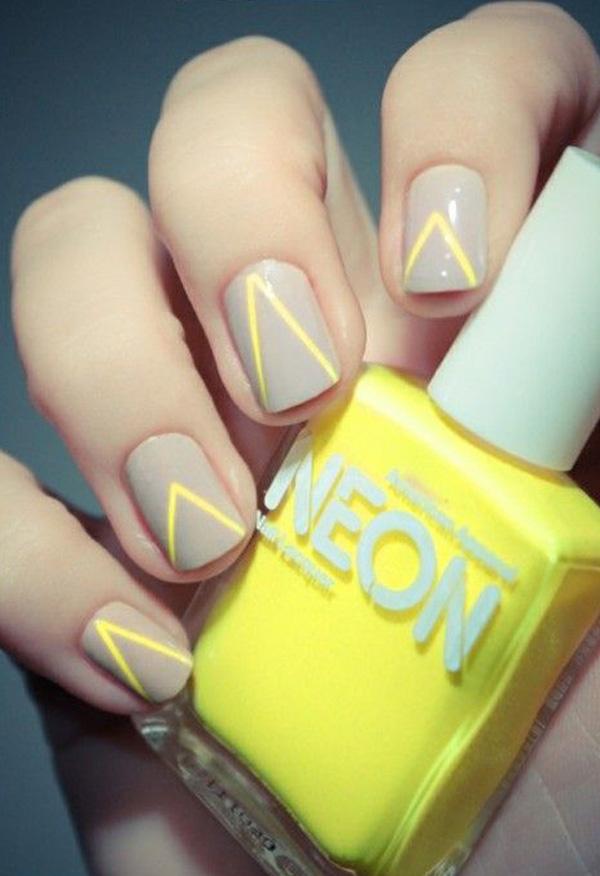 Gray and yellow nail art combination. Paint on thin yellow v-lines on top of your matte gray nails and make a statement in fashion.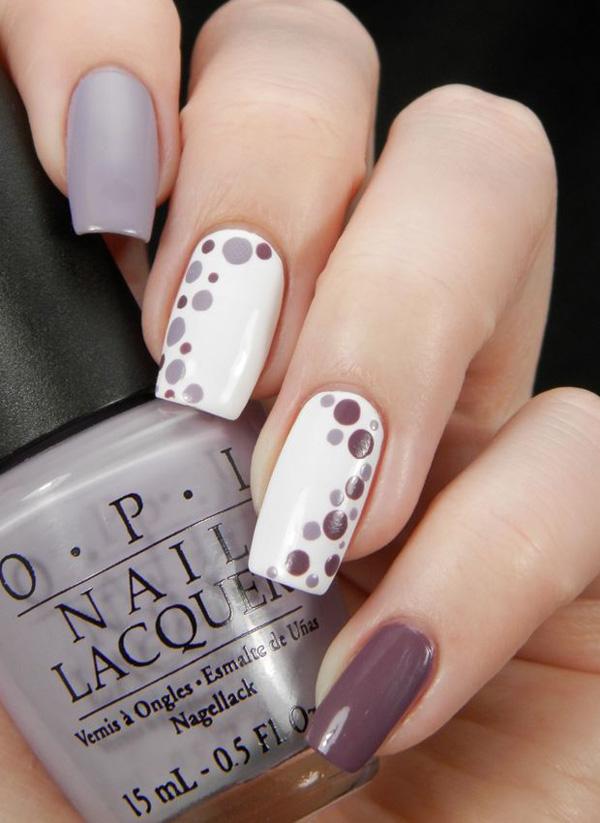 Gray plum and white nail polish combination. Design your nails with white and plum gray polish in polka dots designs for that classy yet cute look.
Gray marble nails art design
This nail art design looks exquisite and at the same time timeless; a very interesting nail art design perfect for every special occasion.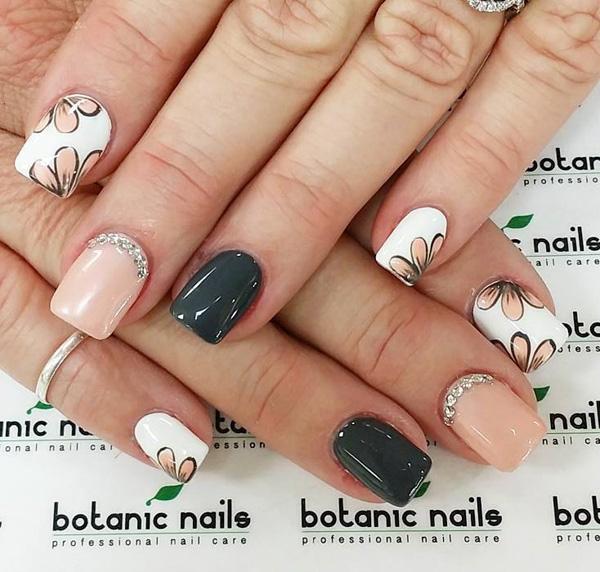 Dark gray, light pink and white nail polish color combination. This matte and floral nail polish design look perfect together; add embellishments of silver beads near the cuticle area for a more stunning effect.
Gray and gold glitter with white nail polish
Give your nails that elegant vibe with gray and gold glitter nail polish with an intricate design topped with gold and white beads on top.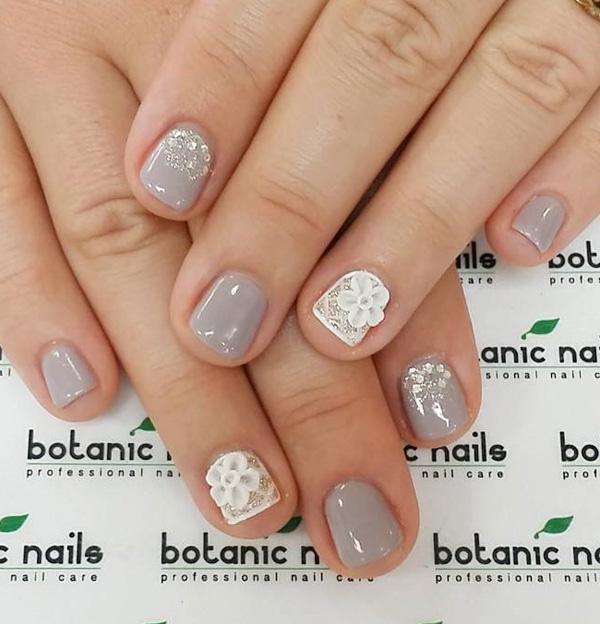 A wonderful looking gray and white nail art design for short nails. Arrange the embellishments into a lace design near the cuticle and add white flower embellishments as well on top for effect.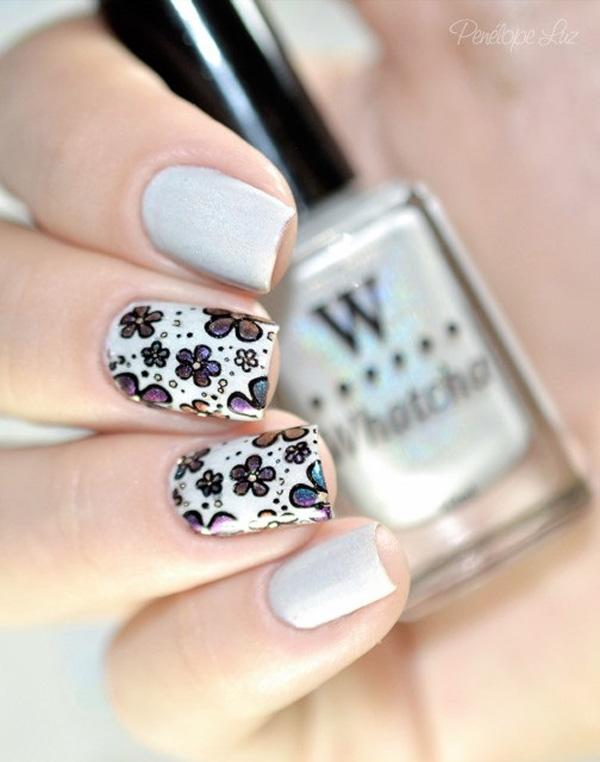 Light gray floral nail art design. Play along with your nails by drawing candid and colorful floral designs on top of a light gray matte background.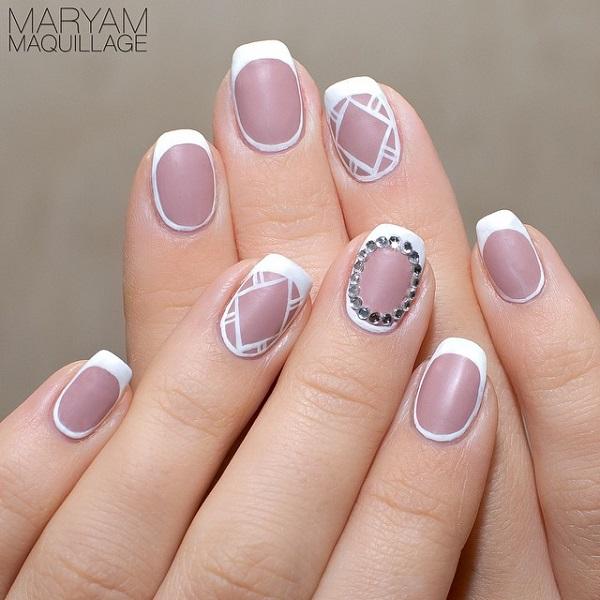 White and pinkish gray French tips. Give your nails a different style of French tips by painting over the sides of the nails extending from the French tips.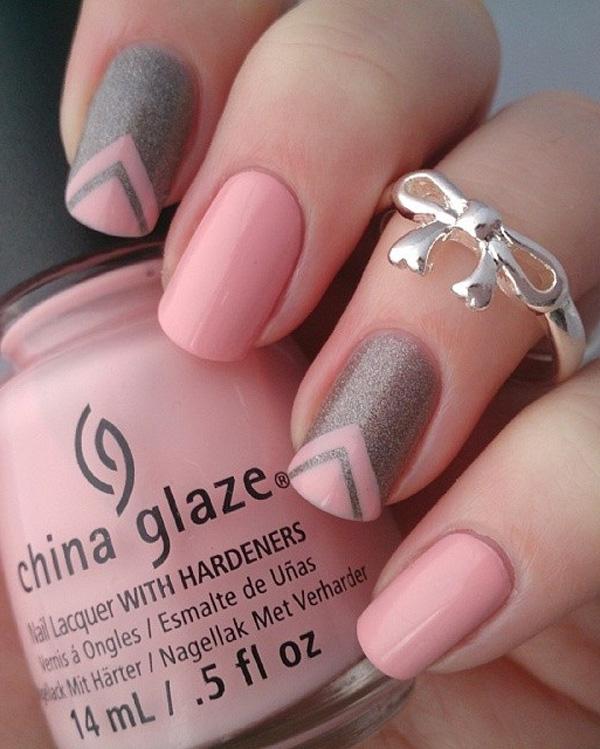 Pink and gray glitter nails art design. Paint alternatively glitter nail polish with pink on your nails creating v-shaped designs along the way.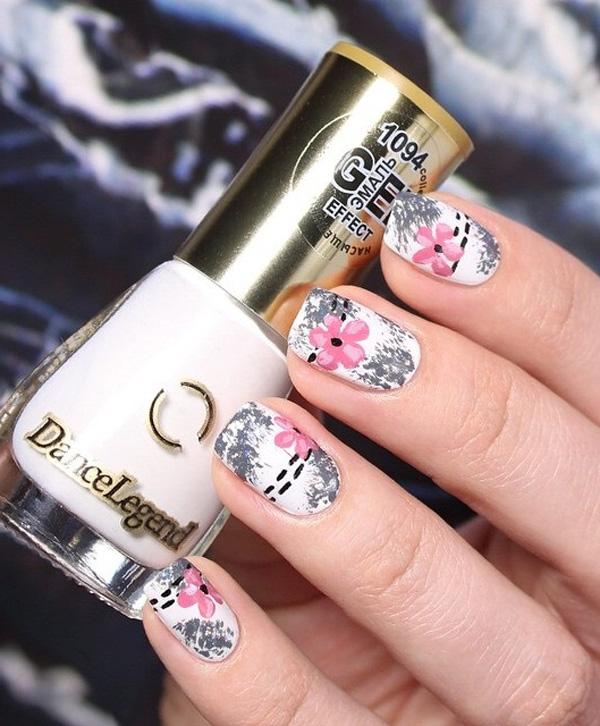 White, gray and pink floral nail art design
With a matte background of white, draw gray silhouettes of flowers and leaves on your nails topped with a bigger pink hibiscus flowers on top followed by thin black nail polish dotted lines across the nails.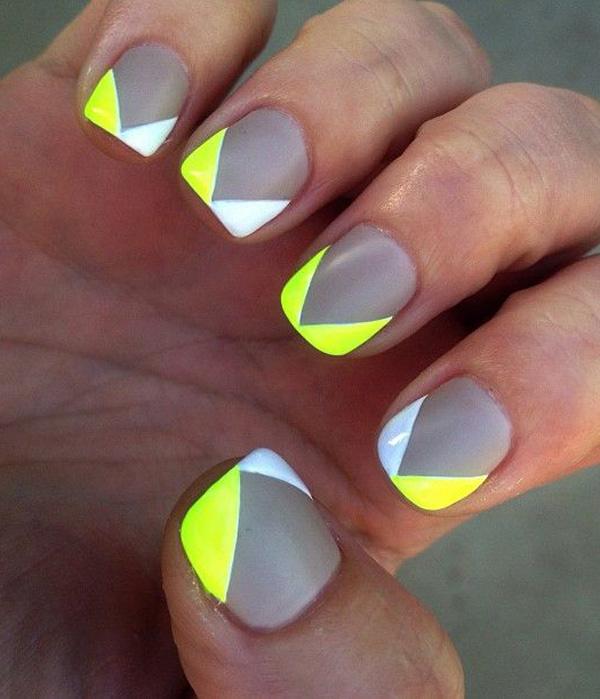 Gray white and yellow v-shaped nail art design. Have your nails don contrasting colors with this great combination of light and neo nail polishes.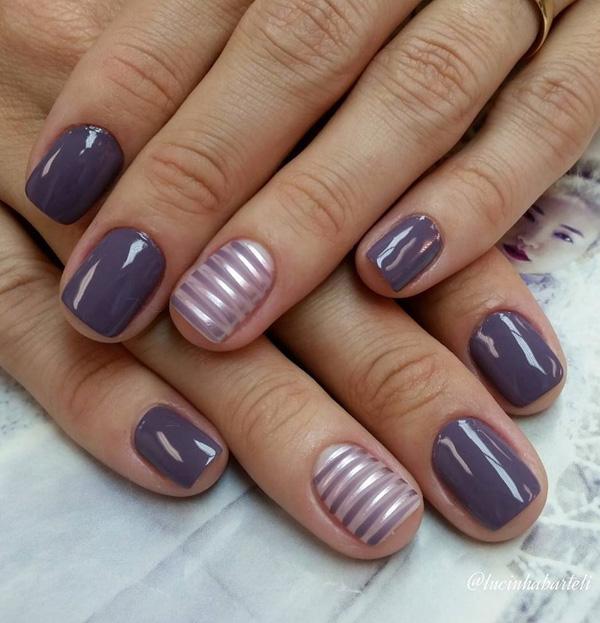 Gray and purple striped design. A cool play on metallic and gray nail polish painted in stripes design with matte purple polish.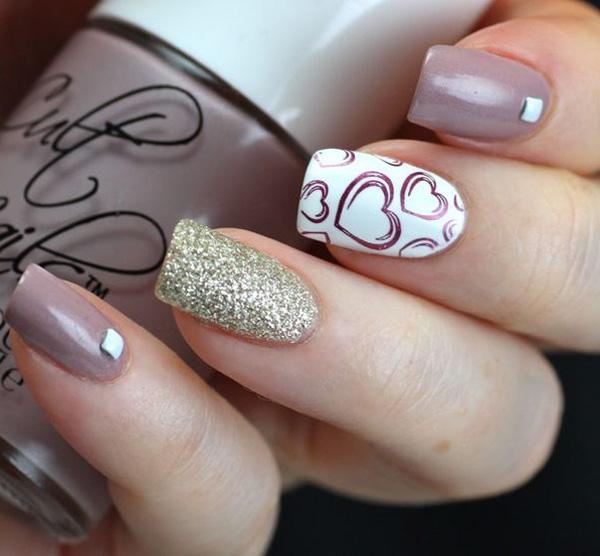 Plum gray and white nail art design. A very cute nail art design with silver glitter and heart details in plum nail polish painted on top of a white nail polish background.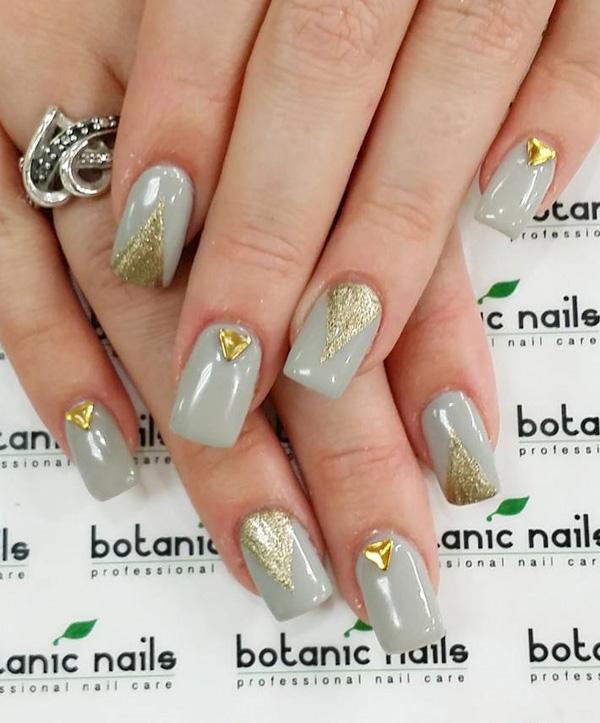 Light gray and gold nail art design. You can't be more regal than this! The gold glitter is painted in v-shapes with a diamond shaped golden bead on top.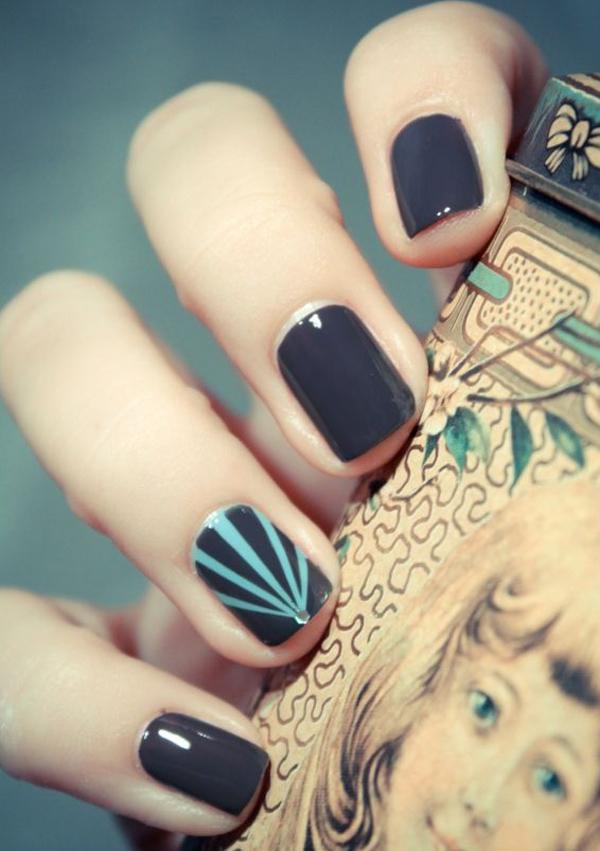 Dark gray and green blue nail art design. Paint your nails in matte dark colors and add thin strips of green blue polish on top forming a triangle shape.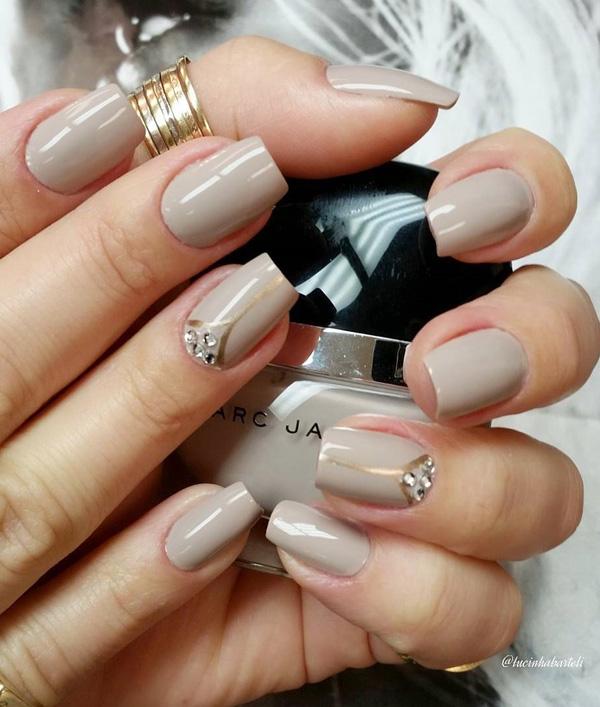 Brown gray and gold nail art design. A wonderful looking nail art design with thin gold strips painted on top plus clear beads to add effect.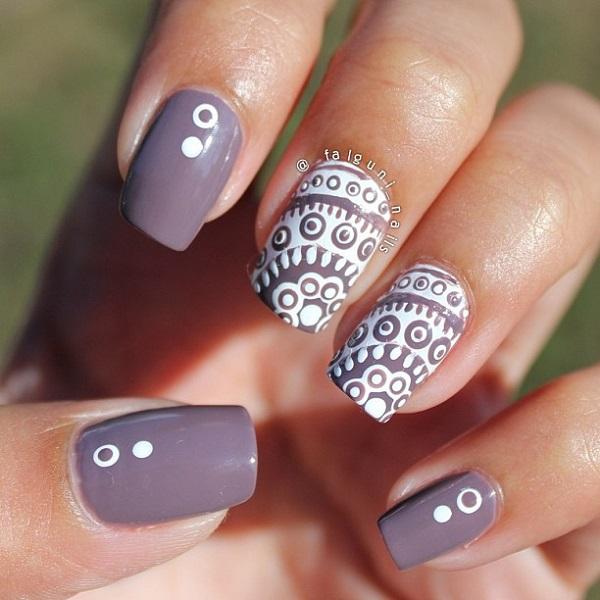 Violet gray and white nail art design
The lace nail art design in white polish looks very lovely on top of the violet nail polish combination as base color.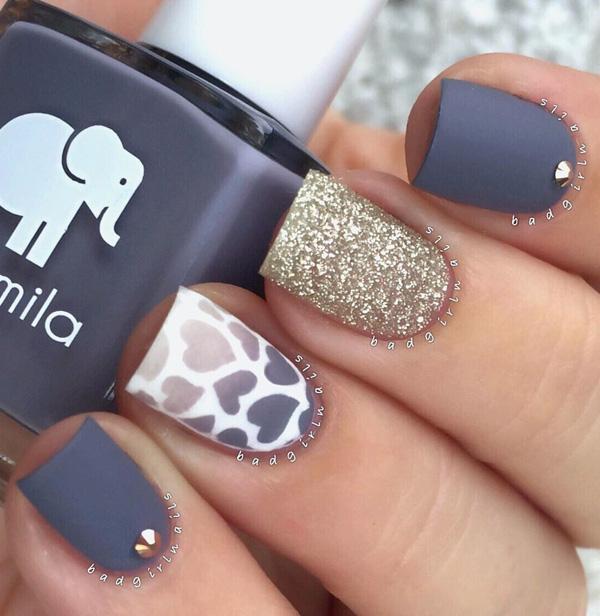 Matte blue gray nail polish with white and gold glitter
The matte design is accompanied by a gradient design as well in hear details. It looks very charming and classy at the same time.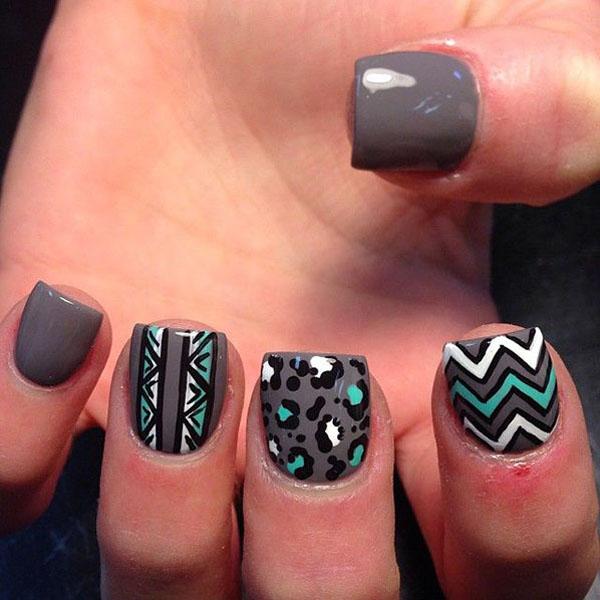 Dark tribal and animal nail art design
Let out your minimalist instincts with this bold and colorful tribal and animal print design on your nails.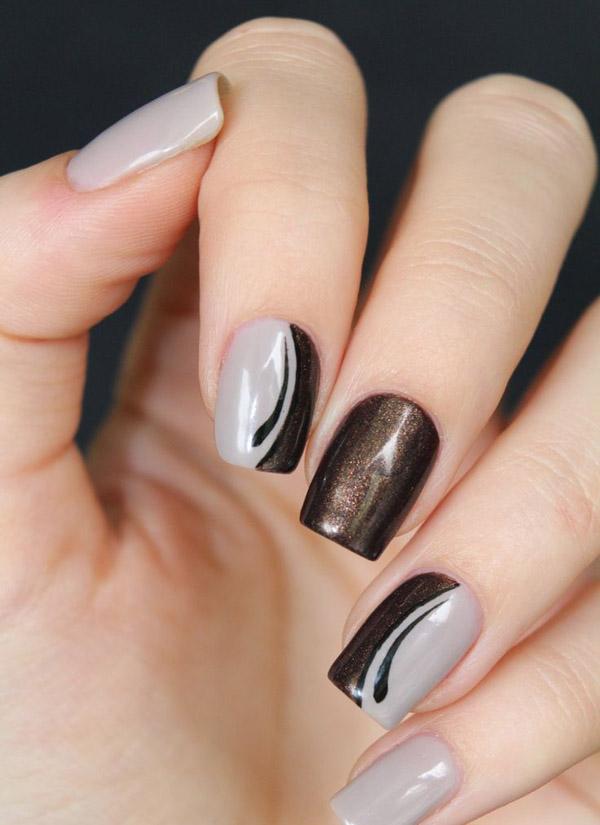 Light gray and copper glitter nail art design. Create half moon design of light gray and copper glitter to make that elegant effect rise.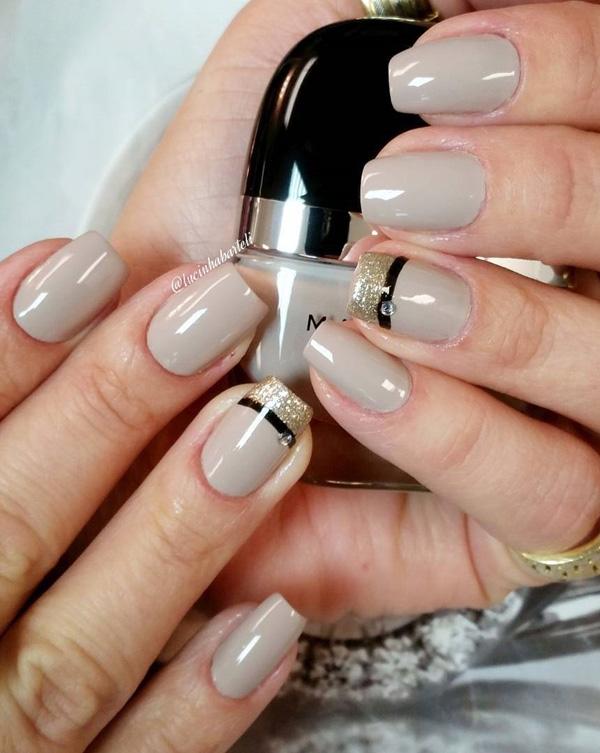 Use light gray as base color topped with gold glitter as French tips with black polish as lining and embellishments on top for additional effect.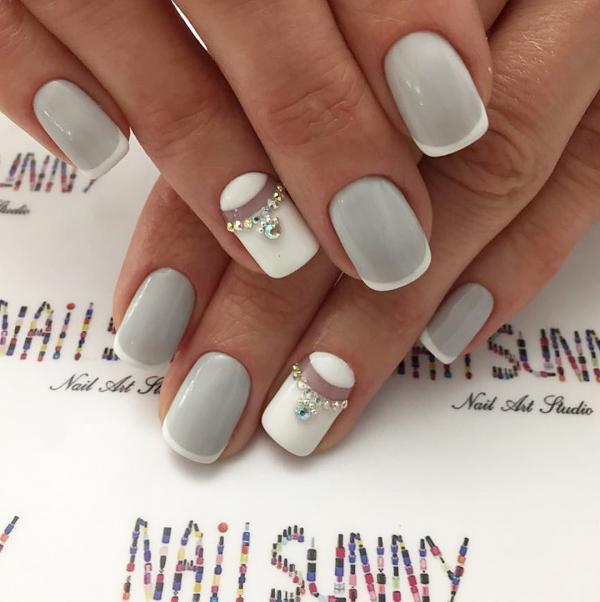 Black and silver gray nail art with shinny beads