Most apartments have balconies and a lot of people don't have ideas of decorating their balconies at all. What you should consider is that you can design your balconies without having to spend much more than you already have. It doesn't even take that much effort to make your balcony look good. If you look at pictures online for reference you might feel at loss since you think you won't be able to replicate the design; don't give up just yet. You'll be surprised to find that there are plenty of hacks when it comes to interior and exterior decoration of your home.
Simple balcony decorating ideas
So what's the first consideration when yu have ideas of decorating your balcony? Why not start with the bare wall? You have the option of not leaving it bare and boring. Any options of interesting art that you can place against the wall decal? If you're worried about the art pieces being too expensive, worry no more. There are a lot of websites that sell relatively affordable art. You can even find websites that specialize in creating cheap wall art.
Make a statement out of your balcony by adding something antique or old. A lot of antique furniture gives the feel of authenticity to the place where you display them. Look for appropriate antique in thrift stores and you can surely find one that suits your style. Remember that your decorations should not always be expensive, sometimes it also depends on which furniture fits the design best.
If you have that artistic drive in you, try to create crafts on your own. There is nothing more cost saving than DIY. Take up a simple DIY project that you can do and start working on it little by little. You can even take your time if you are not in a hurry. The good thing about DIY crafts is that you can personalize them and use mementos to make the designs more precious. You can add names of you and your loved ones on the DIY coffee table or balcony chair you are piecing together with. You can buy different parts from various stores nearby, not only can it save you money but you also get to have a unique set of balcony furniture and decorations.
When putting together your balcony designs always think about making reusable decorations. Since you re foreseeing to move in the future, buy or create decors that you can easily bring with you. Think about making long term or decors that can last for a long period of time. This saves you time and effort of making another one and also saves you money so that you wouldn't buy another one in the next place you're staying at. Make the most out of your budget and invest in decors that you can appreciate no matter how long you have had them.
You can also try experimenting with spray paint that you can apply on the balcony walls. Spray paint is relatively affordable and you can easily find them in the flea markets nearby. A simple coat of fresh spray paint can change the entirety of your balcony's aura. The colors can help make the space wider and make the ambiance cleaner.
Choose double purpose furniture, the more use the furniture has the more space you save compared to buying to types of furniture which can easily be done by one piece. Not only would it look spacious in your balcony but it will also look very creative. There is plenty of push-in furniture that you can disguise as benches but in reality can also serve as a pull out bed or table.
If you wish to save on expenses the best way to do is to look for old items in your garage. Do you have an attic in your old home? There might be a lot of interesting things that you can find there to redesign and decorate. You might be surprised at the number of things you have in store and how they fit perfectly on your apartment balcony now.
And last but not the least if you really need to purchase your essentials in decorating go for the not so costly ones. You can find a lot of surplus of cheaper pieces online if you search for them. Don't be afraid since there are also pieces online that you can buy which are still in good quality. Most of all, enjoy your little decoration project, what's important is that you love what you are crafting because this can give you the best results.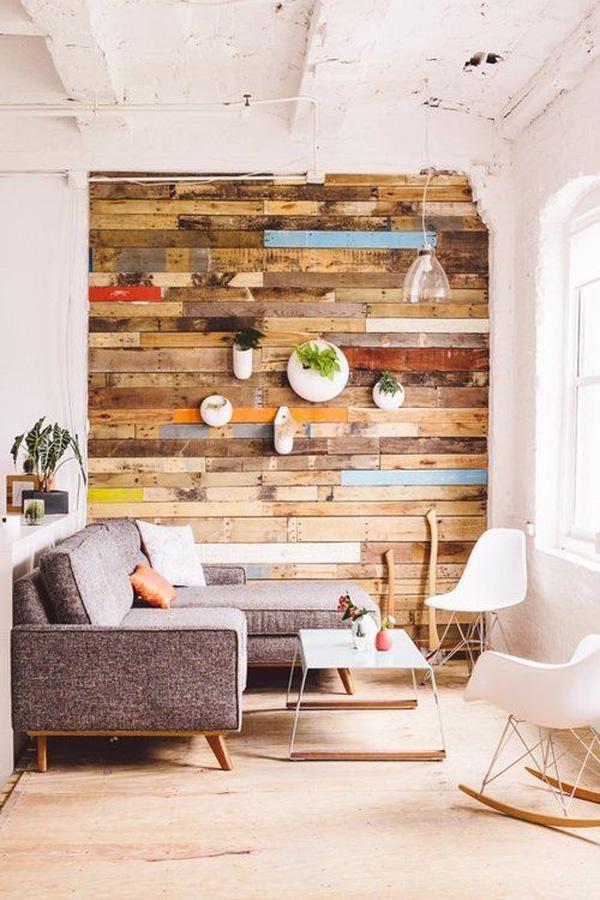 Perfect idea to give a cozy and arm look to your balcony decorating by adding couches, a small coffee table and a wooden themed wall. Try to pick colors that are not too flashy but are cool in the eyes. These color scheme is easier to look at and easier to blend as together.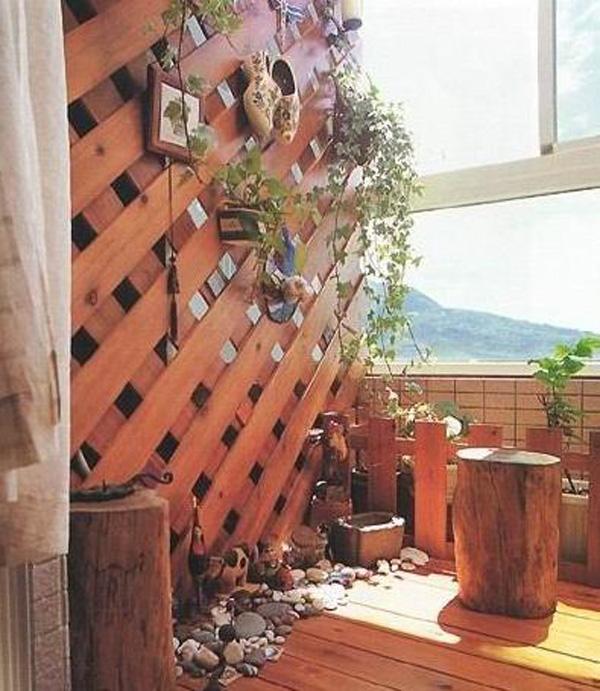 An all natural wooden theme always looks amazing. Add up with hanging plants as well as wooden chairs and beach rocks and you can cook up a great ambiance in your balcony.
Add more spice to your balcony by transforming your boring balcony chair into a fun and elegant looking sing. Decorate the balcony edge with colorful potted plants to give out an air of coziness.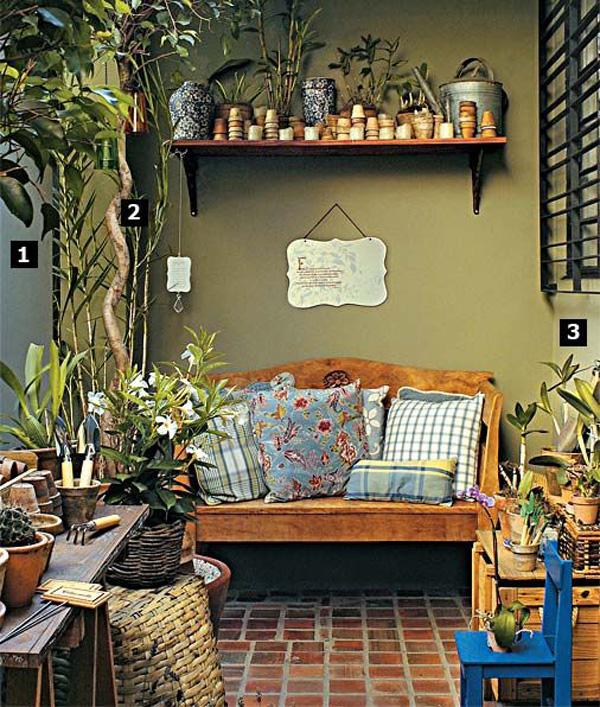 If you happen to have a generous collection of scented candles, you might want to show them off on your balcony. Put up a mini shelf above here you can place all your candles which aren't only there for lighting but can also serve as attractive pieces of décor.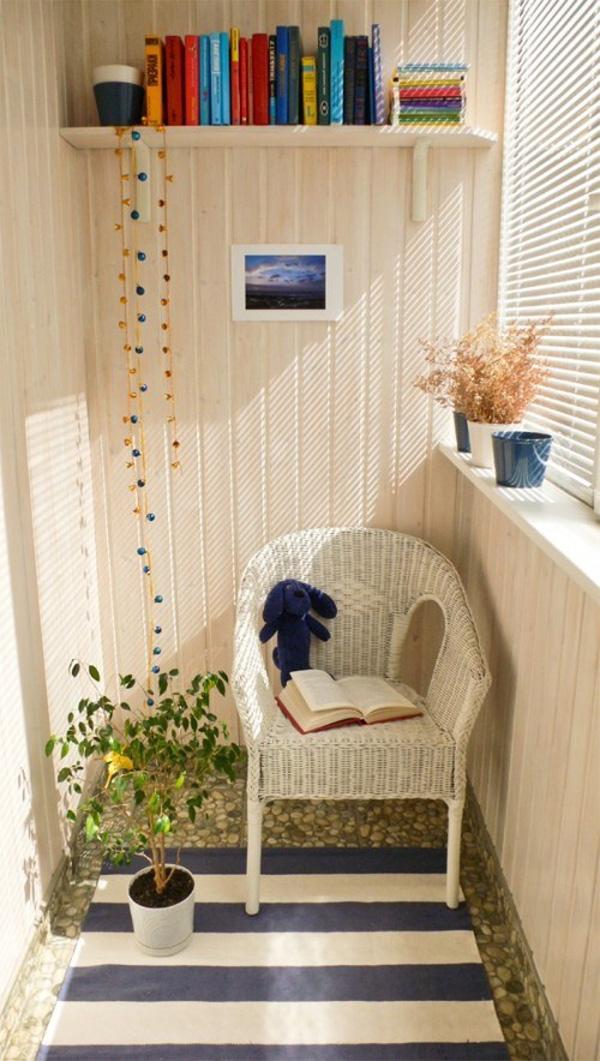 A balcony is the perfect place for book lovers to kick back and dive into the world of imagination. Decorate your balcony with ideas of the tiny bookshelves and paint it in light colors so that the natural daylight can easily enter and illuminate the place.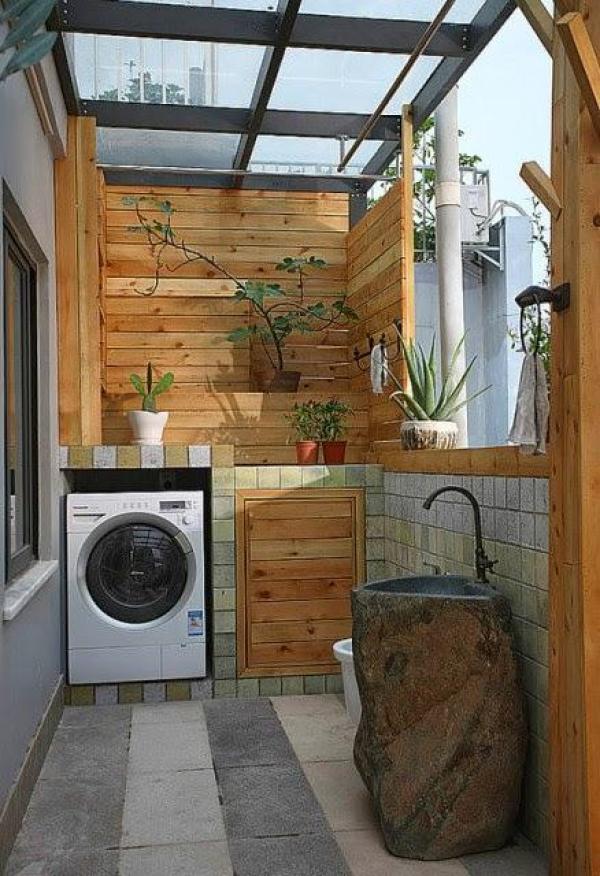 If you're using your balcony as your wash room there is no excuse in not decorating it. Add special pieces of potted plants that can help in air circulation and server as design as well. You can even customize your sink to blend in the wooden themed environment.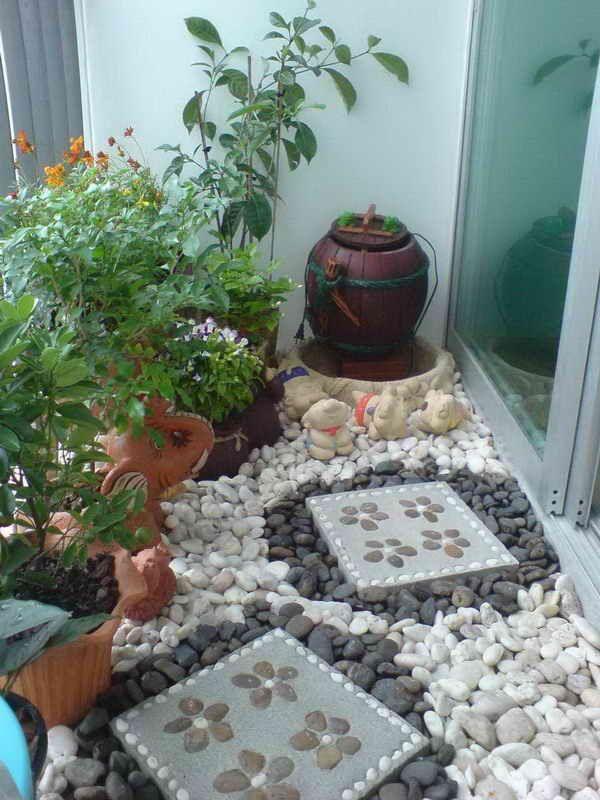 Who said color coded pebbles were only for front and backyards? If you feel like you want your balcony to look more natural, don't hesitate to pile up smooth pebbles that can also serve as your outdoor doormat on the balcony.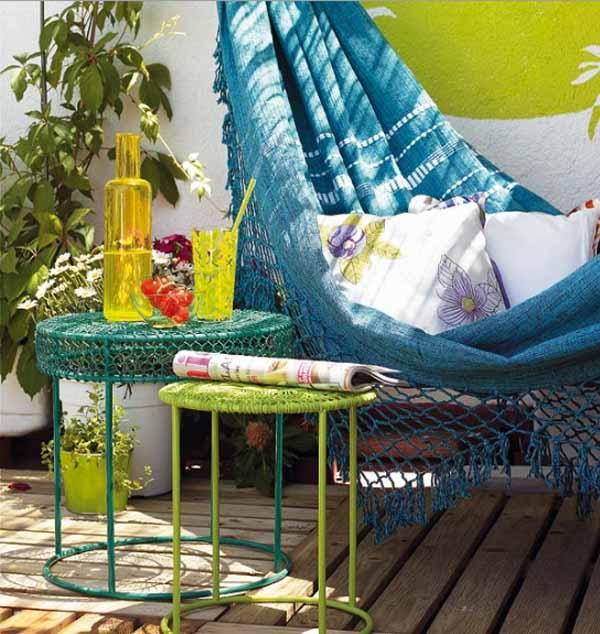 Hammocks aren't only for the beach; you can get them for your balcony as well. Give the beach feeling to your balcony and tie a colorful beach hammock outside with native decorative furniture to go with it.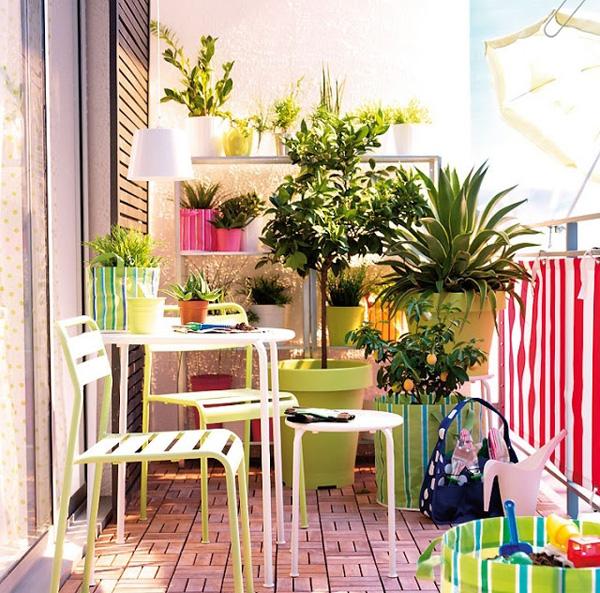 If you want to have an airy balcony, decorating with a variety of potted plants can help you with this problem. Choose green plants that can give off a decent amount of oxygen and at the same time look petite and pretty against your balcony walls.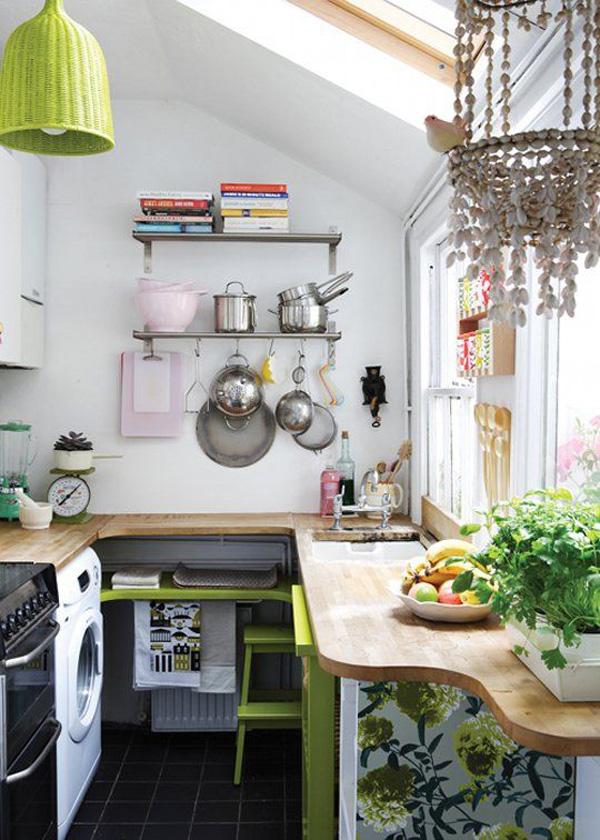 Your balcony kitchen shouldn't look like a drab. Add a little accent of the pacific by adding shell themed mini chandeliers or even mini lamps to increase the accent.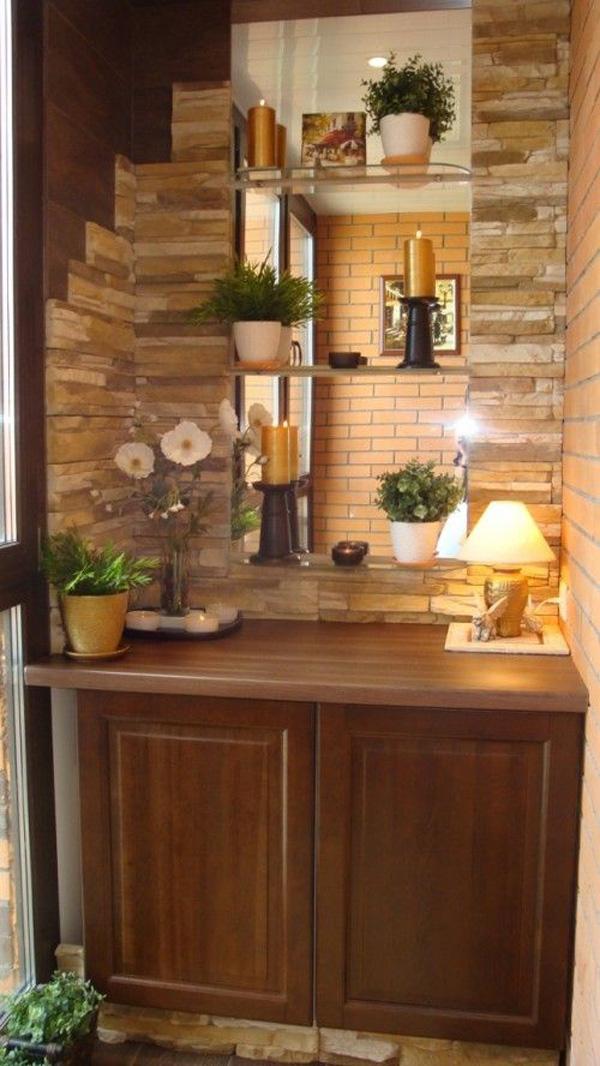 Make use of that extra space in your balcony decorating idea by placing scented candles, potted plants and flowers. This makes your balcony look good and at the same time gives a homey feel to your apartment.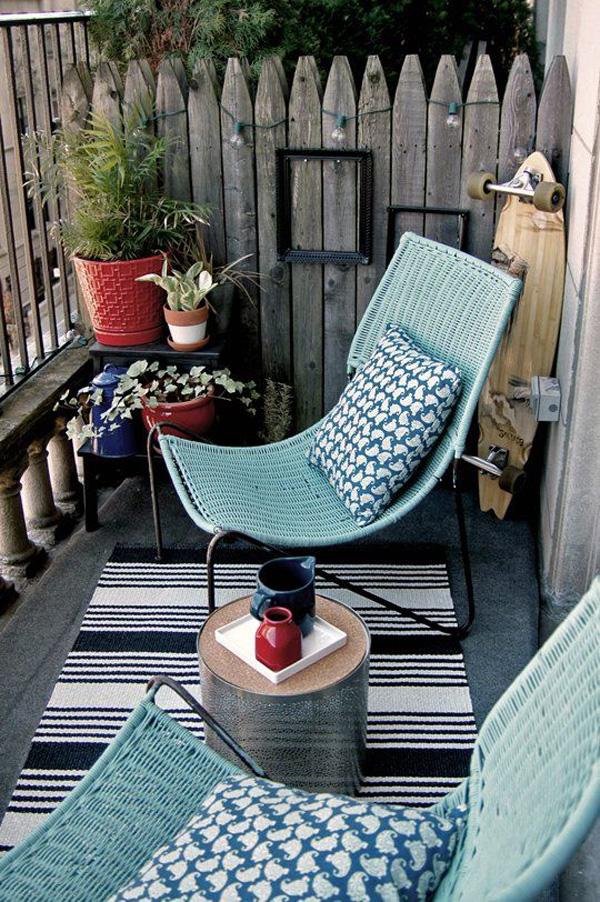 Give a close-to-country look for your balcony. You can do this by adding an authentic wooden fence and framing it with pretty potted plants. Finish the décor with a very comfortable chair and carpet in the middle.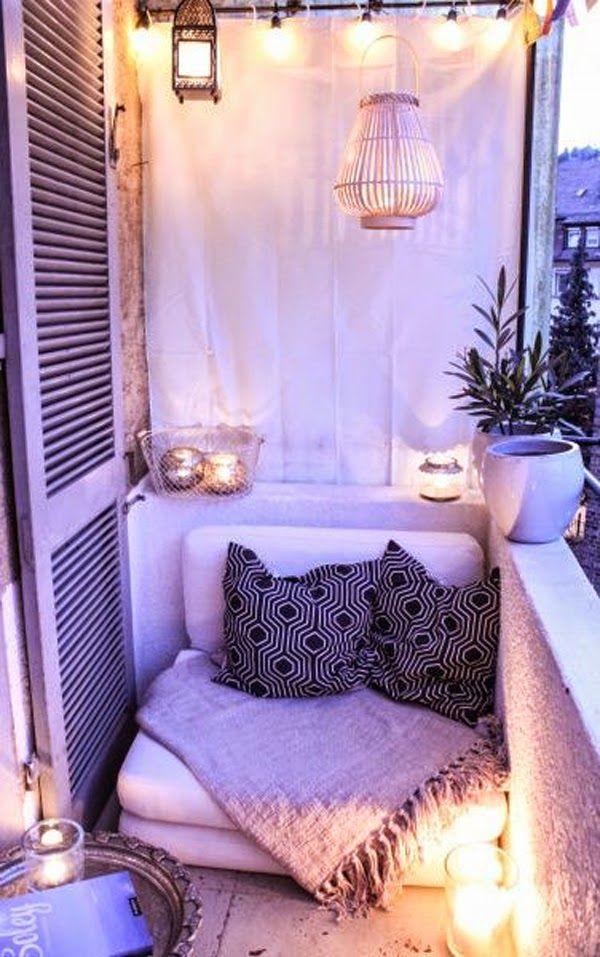 Space shouldn't hinder you from making your balcony comfortable. Throw in a comfortable couch and throw pillows for that homey look. You can even add scented candles in bottles for low light and a home sweet home aroma.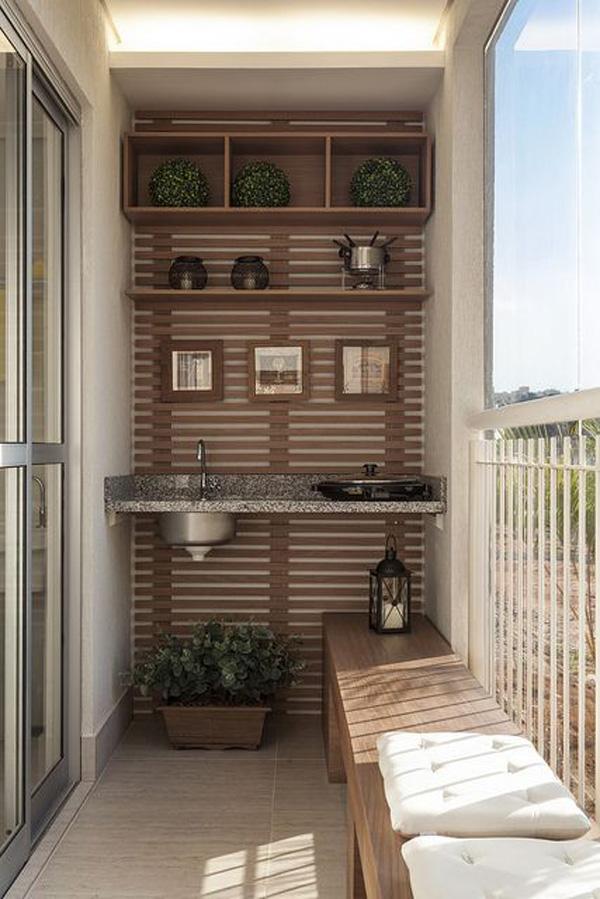 Symmetry is a great aspect to play with. Give your balcony a sheik symmetrical design with a built in shelf and adding similarly shaped furniture in each shelf. This gives your balcony an orderly and neat look.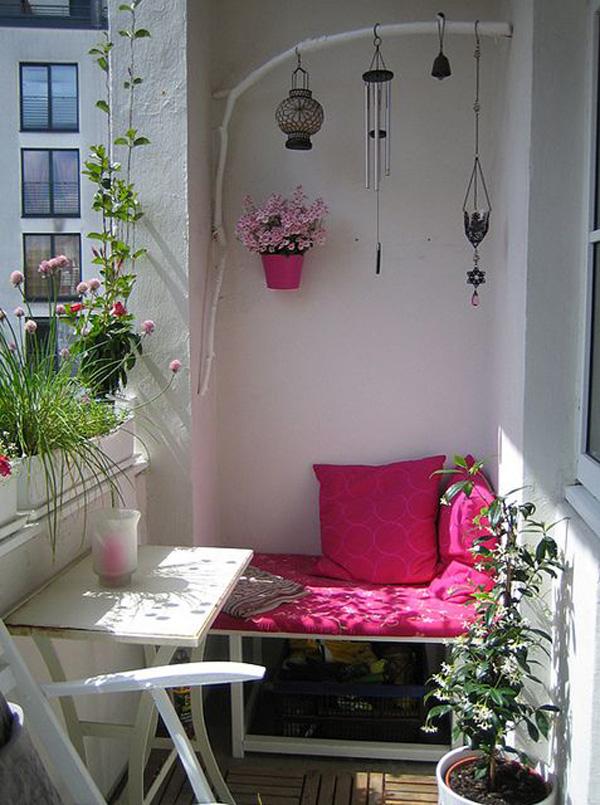 Wind chimes are the perfect accessory for your balcony. You can pace one or more wind chimes depending on your preference as well as when you want to fill the space with wind chimes or add other accessories such as hanging plants and lamps.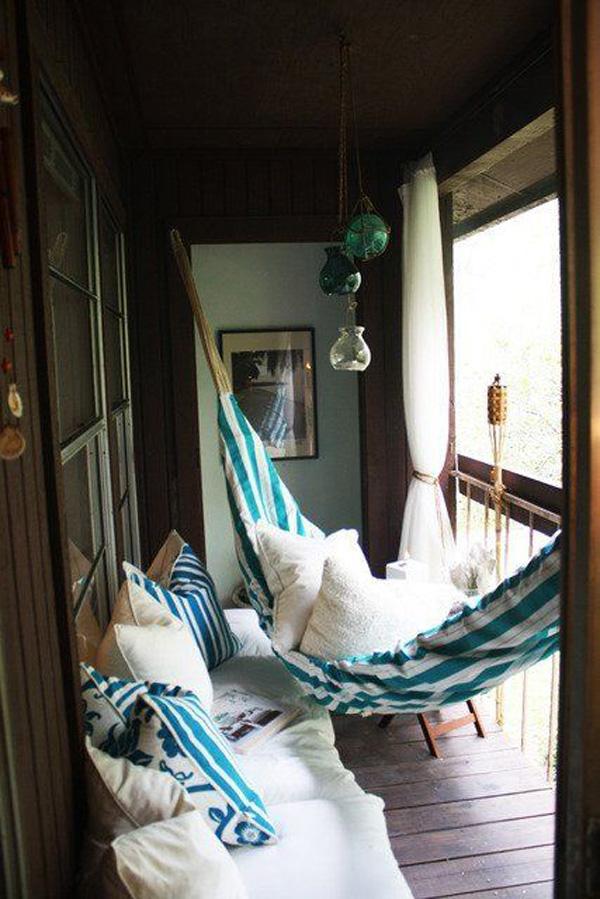 Hammocks are really great pieces of furniture especially when you are working with tight spaces. You can basically hang them everywhere and still add more things inside the space such as couches and stools.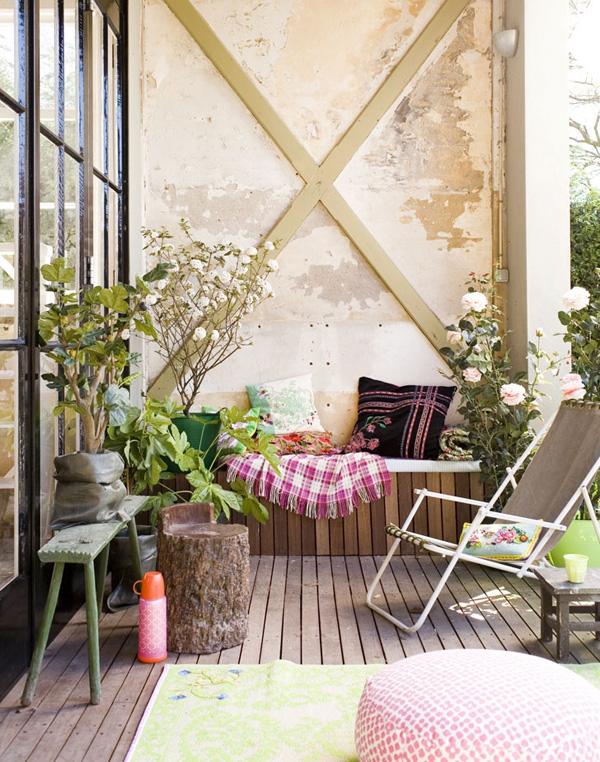 You may think a barren wall and some flowers and plants don't make a good enough balcony décor; you are wrong. You can still make it look great by choosing just the right type of potted plants and flowers and making use of the rustic bare wall. Choose closely themed furniture to go with the wall.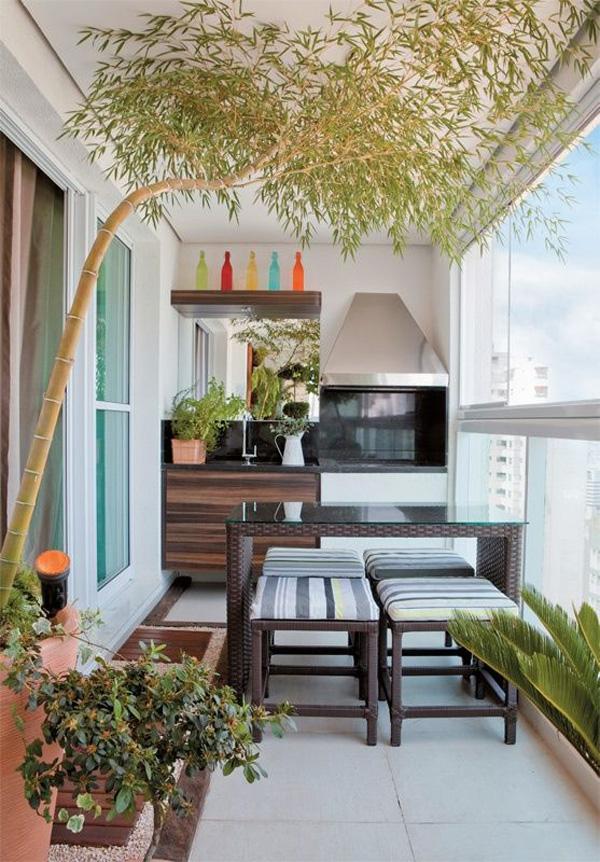 If you really want it you can do a lot on your balcony; even growing a tree. Give that spacious look on your balcony by getting simplistic furniture and avoiding over designed shelves and chairs. The simpler they look the cleaner vibe they give.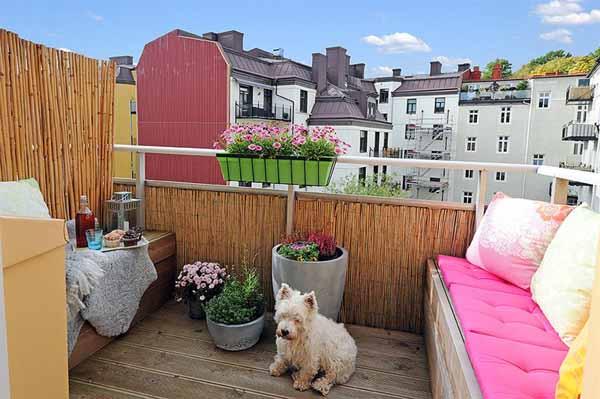 If potted flowers and table converted benches aren't good enough for you, it's time to play along with colors. You can also bring i bamboo fences that have natural tan hues which can add to the roster of colors in your very simple yet outstanding looking balcony.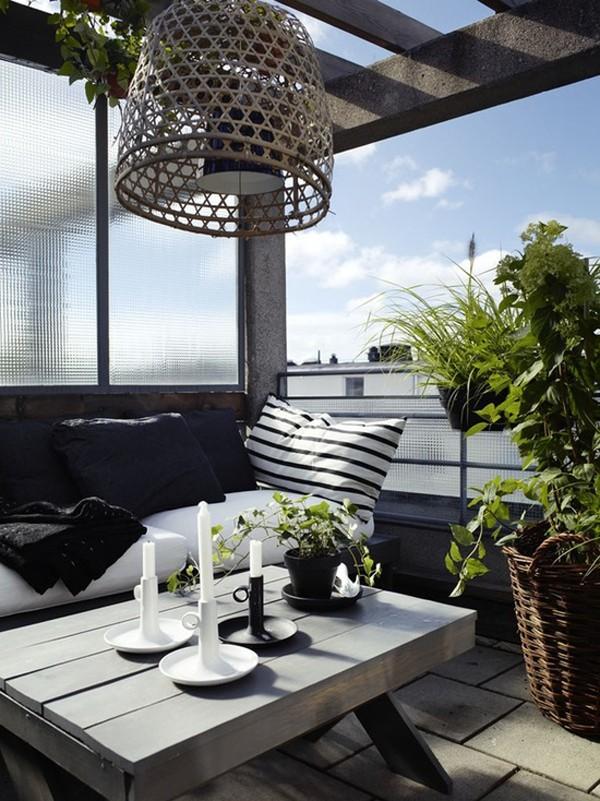 Balcony furniture doesn't always mean that you have to get smaller sized lights or lamps; you can still work with bigger sized chandeliers and simply adjust the rest below. Keep your furniture low and small to give way to bigger pieces in the space.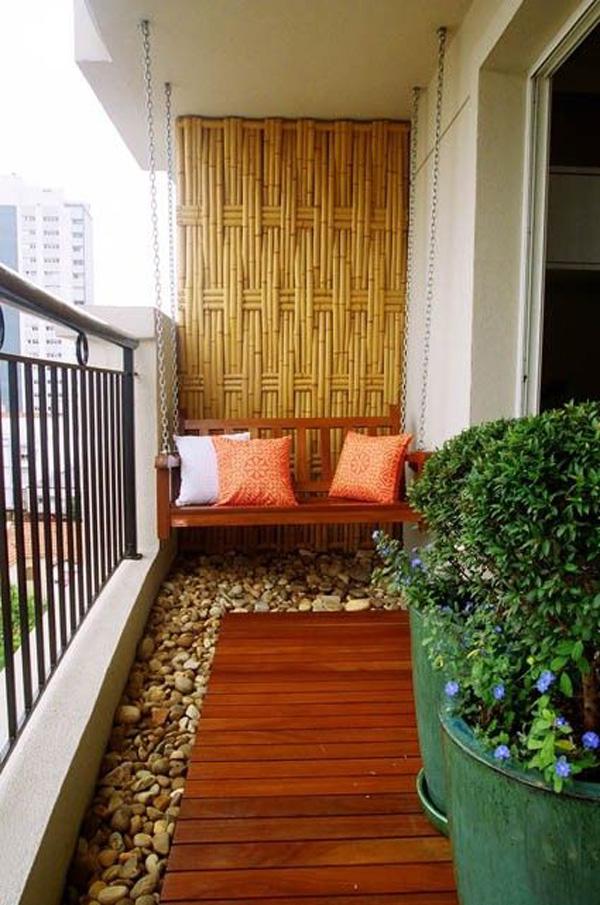 Bamboo inspired walls aren't only great to look at but they also help make your surroundings seem fresh and cool. Add smooth white pebbles as your carpet and potted plants and you will be feeling the cool fresh air blowing straight from your balcony.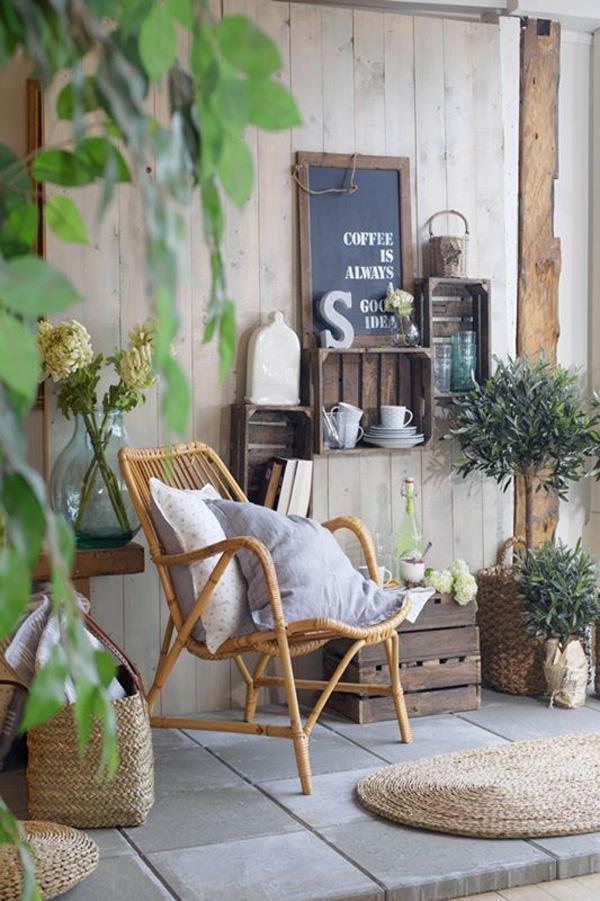 This is a great use of space especially when you want to place things all in the same holding. The side cupboards not only give space for holding utensils it also serves as a wall décor with a mini blackboard on top where you can write just about anything at heart.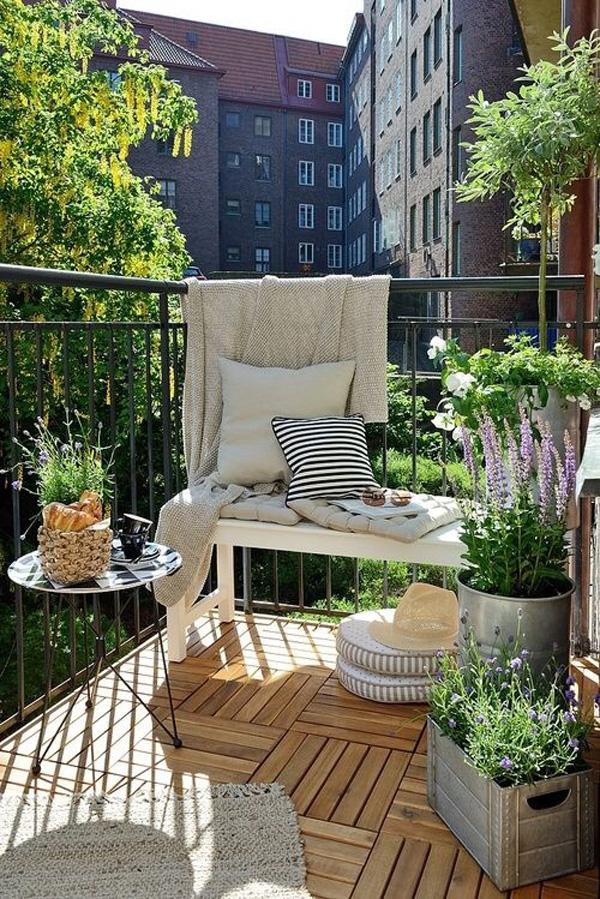 Make the most out of your balcony by adding simple yet multi functioning furniture. Make sure that the floor is well taken designed since this will create a big impact on the overall theme of the balcony.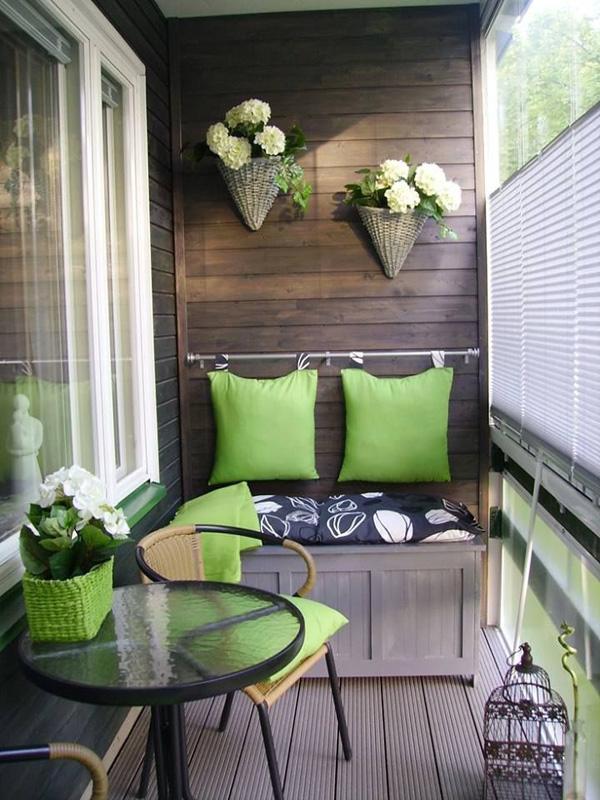 Make use of all the spaces in your balcony by providing hanging ornaments such as flowers, bench turned shelves and even hangers that have double purpose. Giving a certain color theme also helps make everything in sync and coordinated.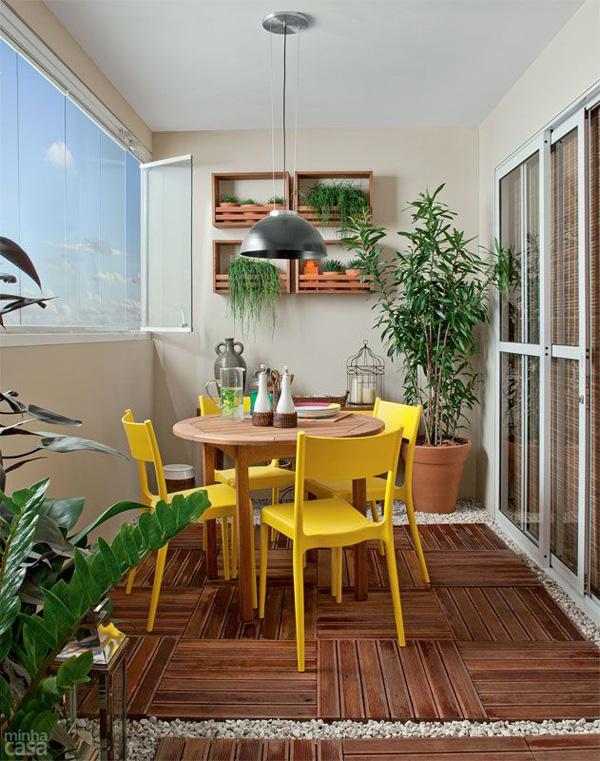 Balconies don't necessarily have to contain the least furniture. You can still experiment on adding more furniture such as a small table, small chairs a hanging lamp and hanging cupboards for potted plants.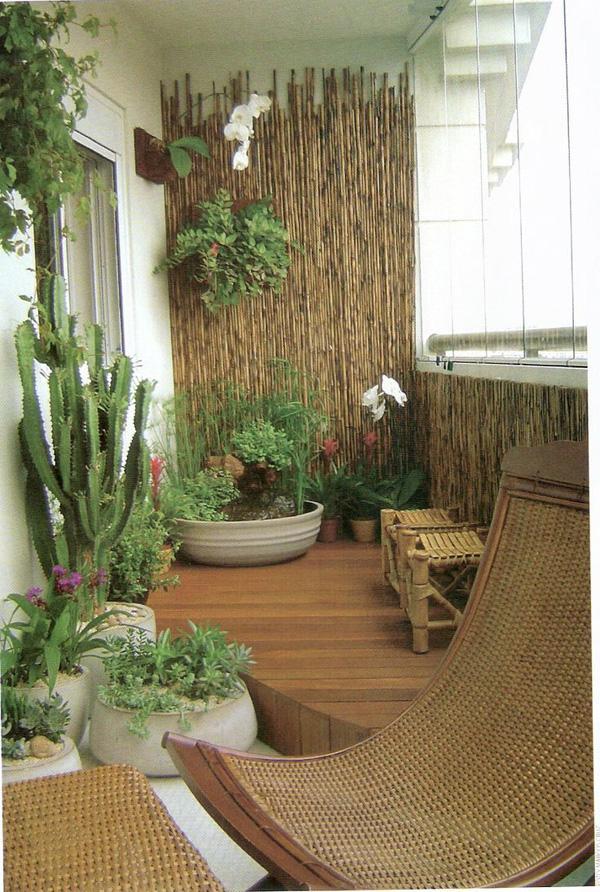 Transform your balcony into a mini garden. You can do this with help from an array of potted plants, wooden chairs and bamboo walls. Pick out various tropical plants, flowers and cacti to complete the look.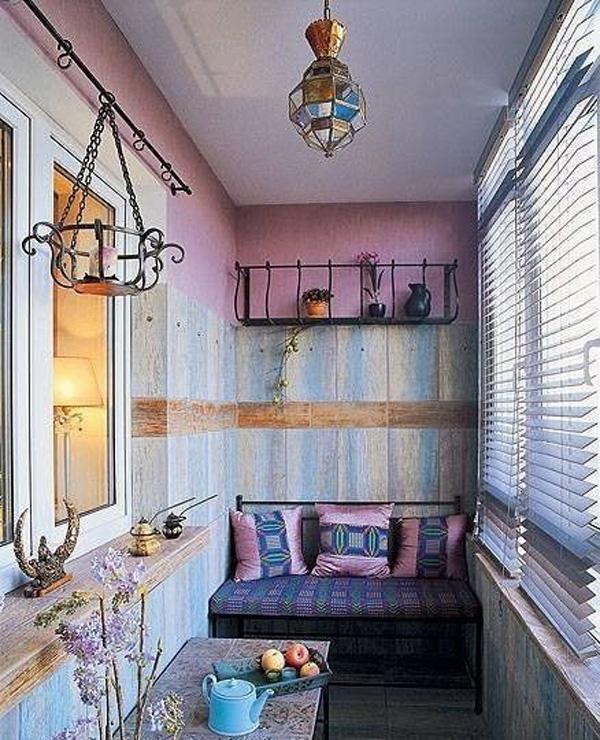 A lot of balcony decors cater to the modern style but you can still inject the old Victorian-esque feel with just the right furniture. Play with paint and wood and combine your favorite colors to give a certain ambiance in the atmosphere. Add appropriate steel decorations for your shelf, lamp and furniture and you are done.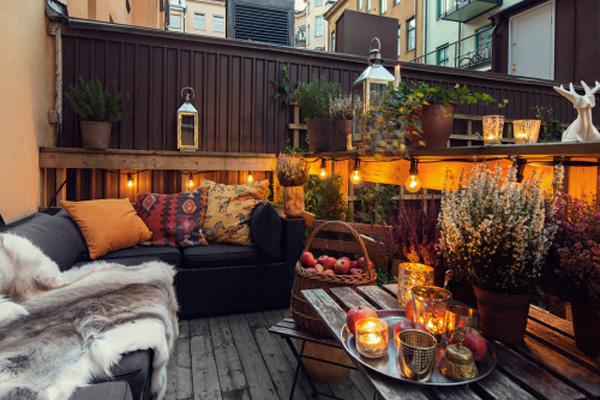 Who says you can't hang out with your crown out in the balcony? This design makes it possible for a small group of people to fit themselves in your balcony. A wide cushion and throw pillows make everything look so comfortable to sit on and the candles give a warm and inviting vibe.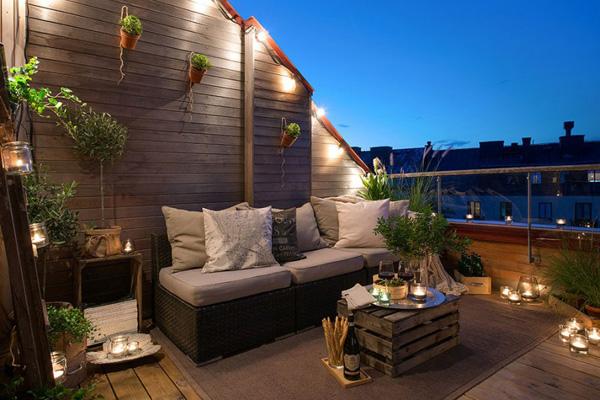 Keep your balcony décor simple and spacious. You might be surprised at how much space the balcony has when you get just the right multipurpose furniture and the right placement of decors and wall designs.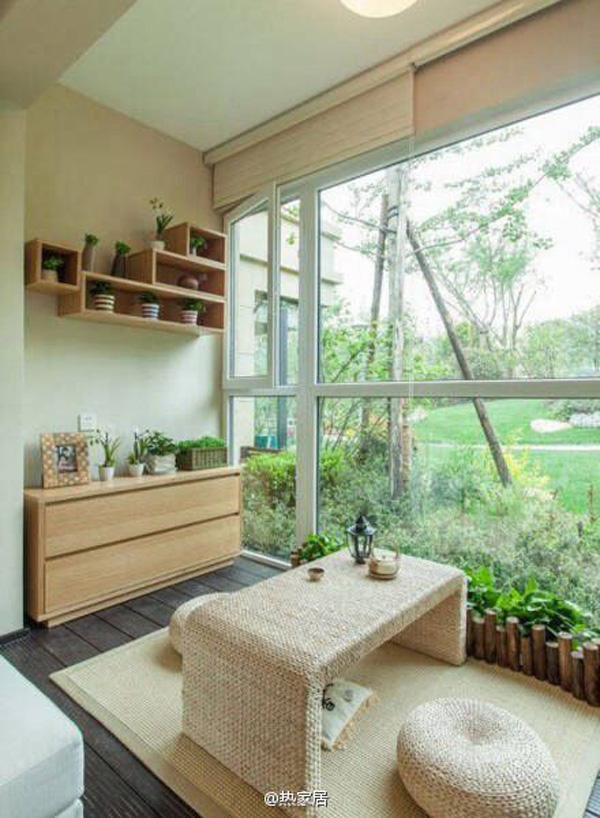 The wall shelves and open cupboards for the potted plants are a great addition to the already nature-friendly setting of the balcony. The wide glass window enables natural light to enter the balcony and the modest furniture helps give the homey aura.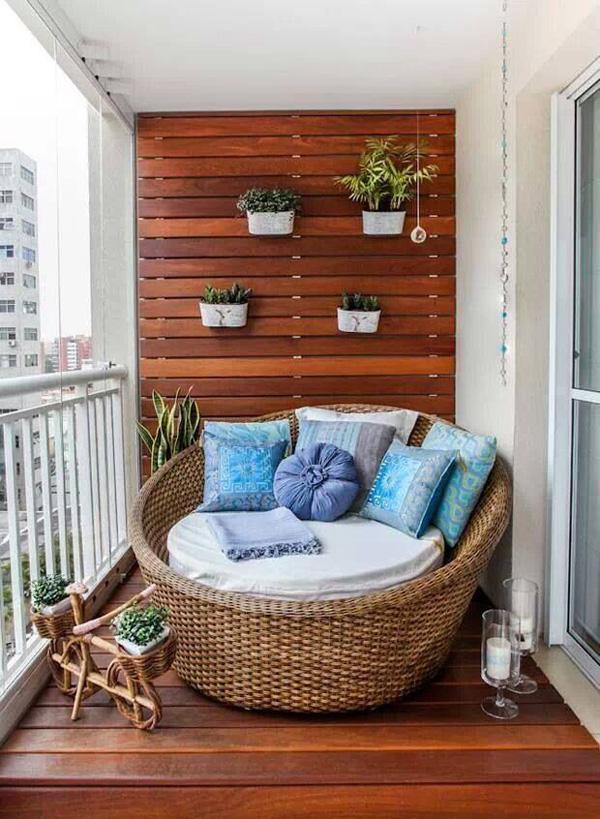 Invest on good quality wooden wall innings that give off the homey vibe. Gets good furniture that is space saving and can serve more than one purpose. Potted plants are also very nice addition to the decoration.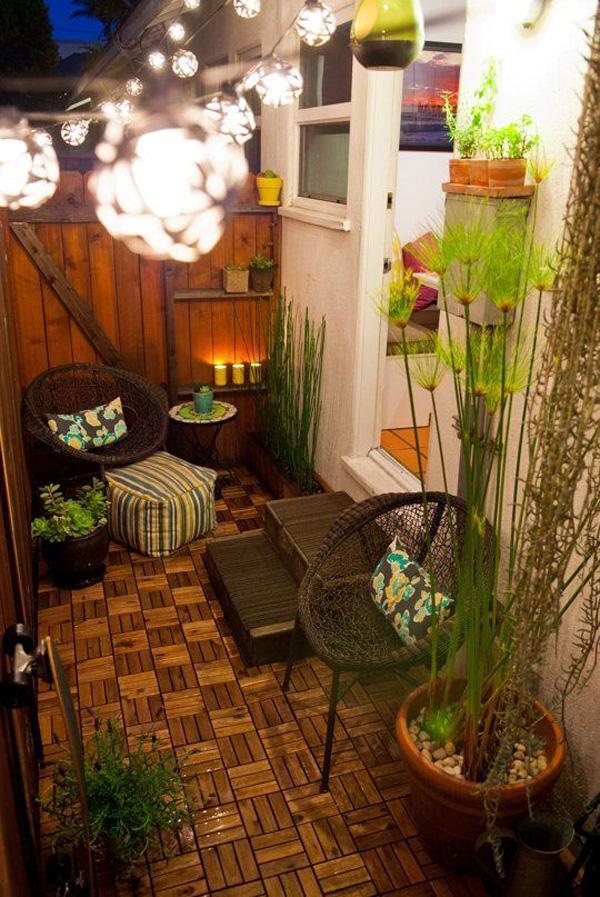 An interesting wood themed apartment balcony décor. You can see that the spaces are filled with furniture however it does not look cluttered. The wooden walls and floor compliment with the theme as well as the organic themed chairs and scented candles.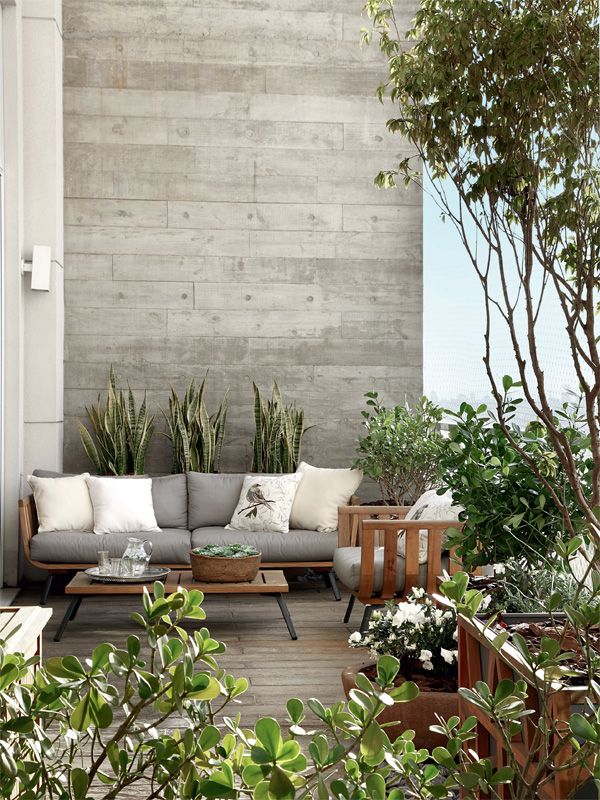 Give your apartment balcony some edge with the white and gray color scheme. The touch of gray brick walls in contrast to the white walls also give out a good charisma. The potted plants and white flowers are also great addition to the overall theme.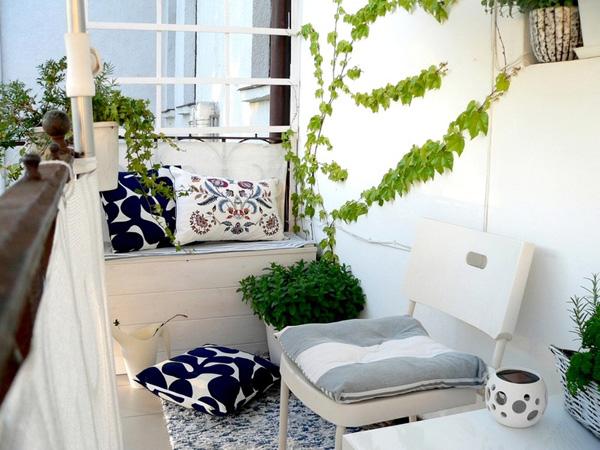 Spice up your balcony by repainting it all white and adding greenery that can stand out. You can also color code your furniture and match it with your newly painted walls.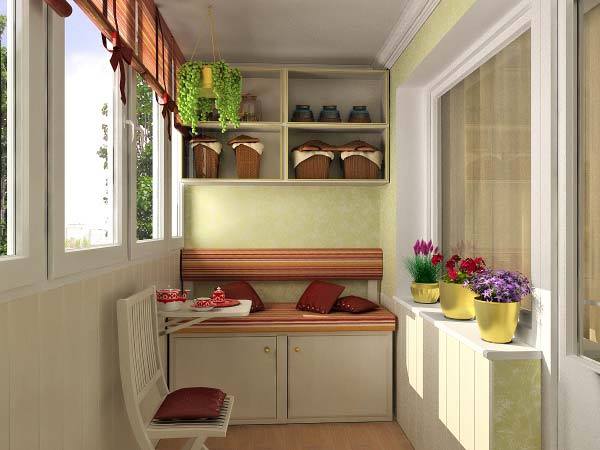 A quaint looking apartment balcony. The minimalist approach of the furniture arrangement looks neat and gives a lot of extra space within the balcony. The horizontal stripes of the bench also helps give an illusion that the space is wider than it originally is.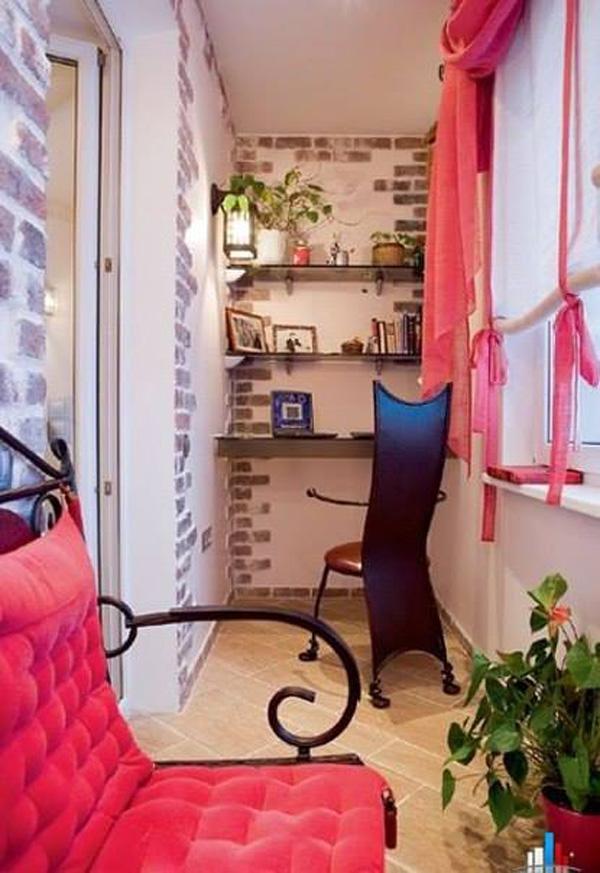 Decorate your apartment balcony in elegant pink. The white and gray brick walls give great contrast to the sharp colored furniture and the shelves perfectly fit the walls for the books and photo frames.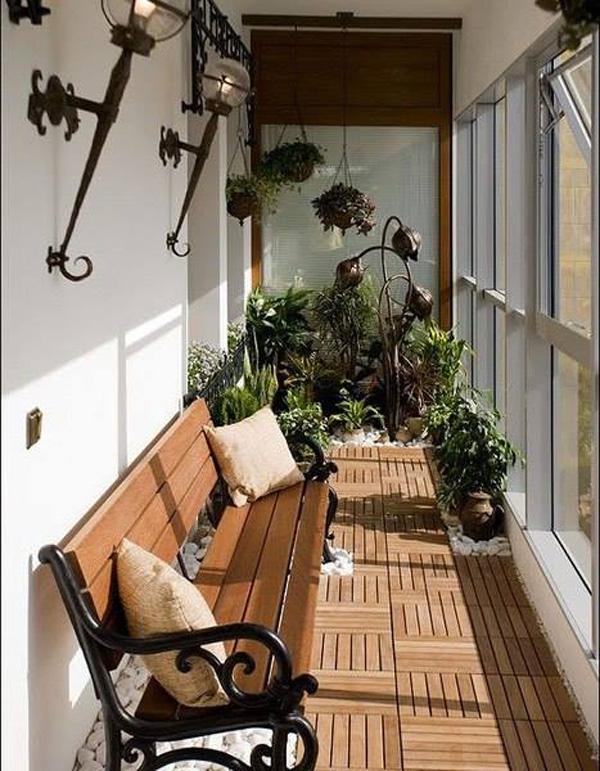 Recreate your very own botanical garden in your balcony apartment. Play around with hanging and potted plants as well as pebbles for the floor. Add an accent of the medieval theme with some wall lamps.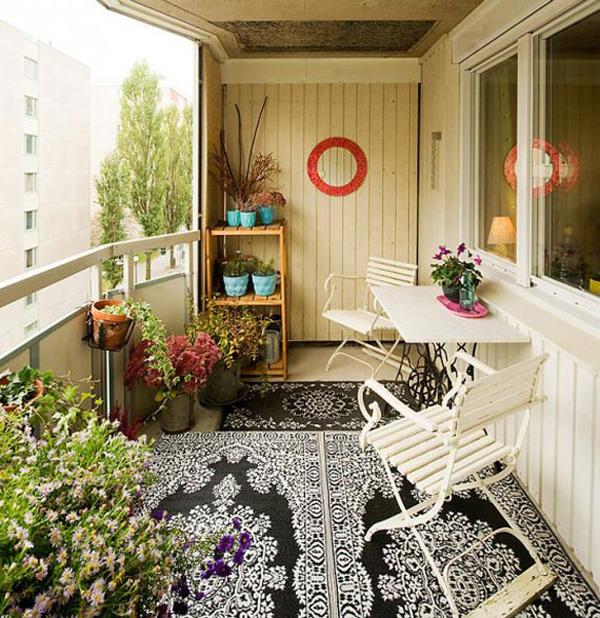 When it comes to designing your apartment balcony you should not hold back especially on the carpeting, choose a great looking carpet that mixes well with your furniture and potted plants.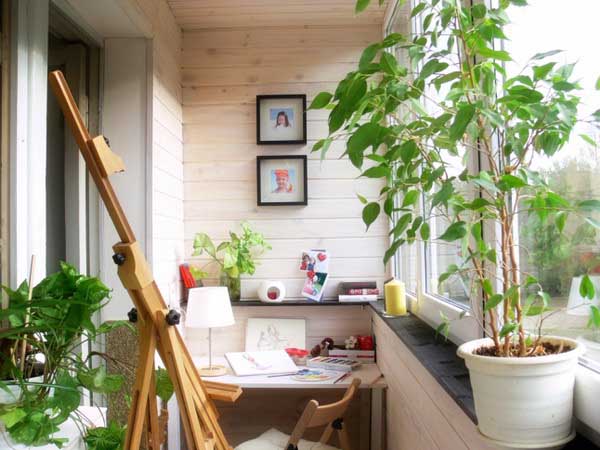 Make your apartment balcony your pseudo workspace with the right type of furniture. Create a table slash shelf on the wall of your balcony and design it simply with frames of your artwork. It looks clean and at the same time work conjusive.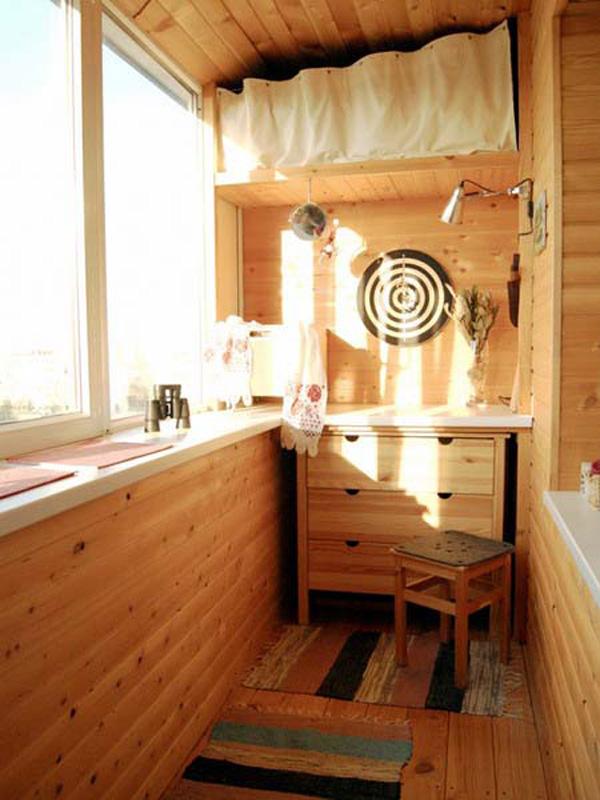 Transform your balcony into a wooden playhouse. Finish the walls and the floors with wood and construct a wooden shelf slash table to fit the overall theme. You can even additional tables on the side of the windows to make use of the space.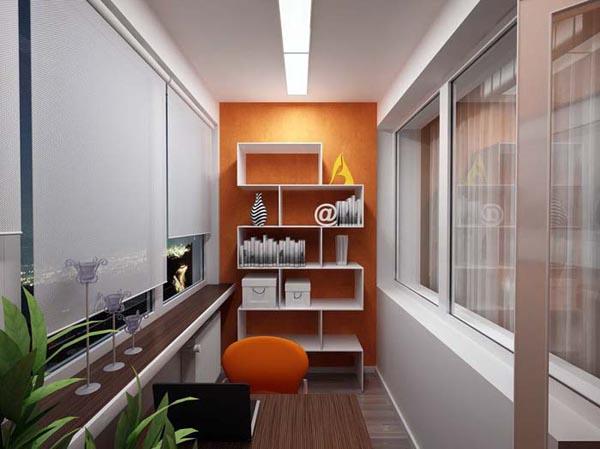 This is a wonderful looking abstract and modern apartment balcony design. The shelves are divided uniformly and at the same time gives a lot of space for the furniture or books placed inside them. The interior of the balcony is more spacious thanks to the table which is hung at the side.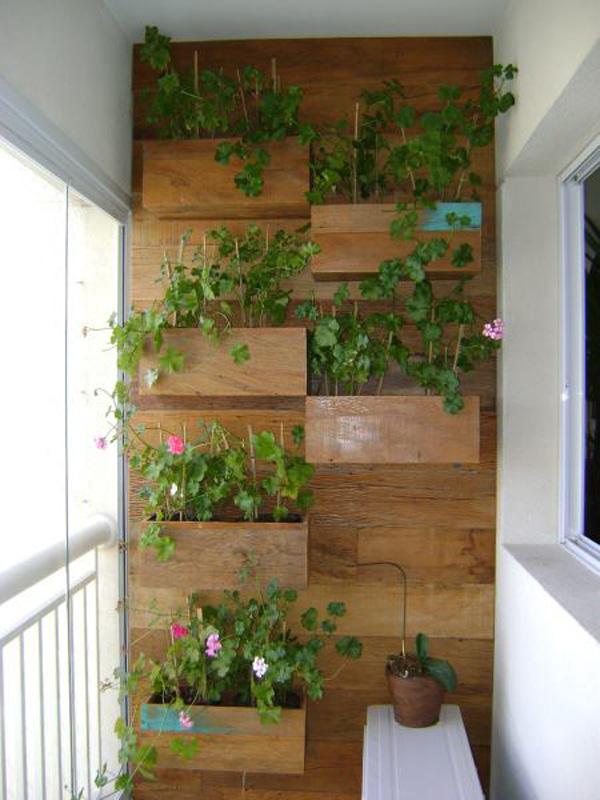 Be creative with how you place your flowers and potted plants on your balcony. Make use of the walls as not only places to hang frames but as actual flower pots too. They can save a lot of space and provide a very artistic look.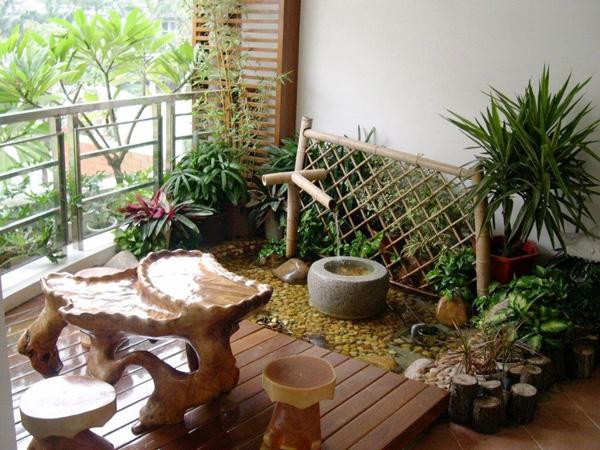 Make a mini waterfall pong with the help of wood and bamboo furniture. This very artistic and very doable balcony design incorporates an all oriental feel to the décor. It also gives the apartment an entirely diverse appearance.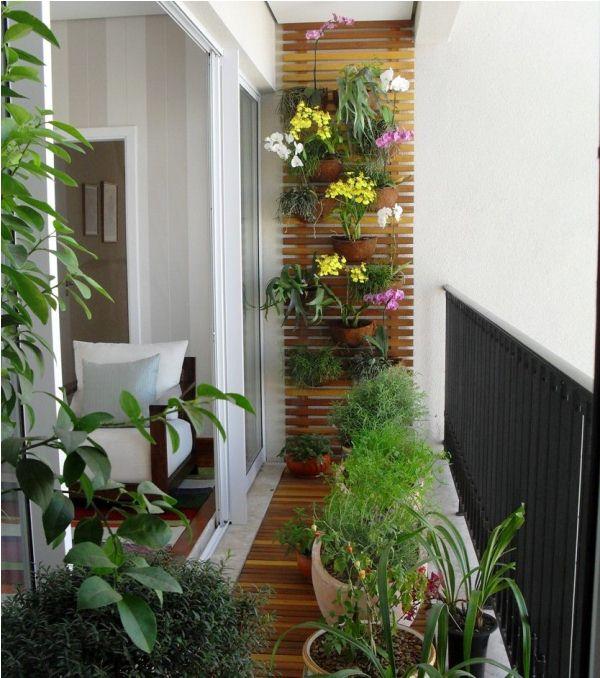 Wooden floors and walls work best with your potted plants and flowers. Arrange them neatly and artistically up your fully furnished wooden wall. This gives you good access to all your flowers and serves as wonderful wall décor as well.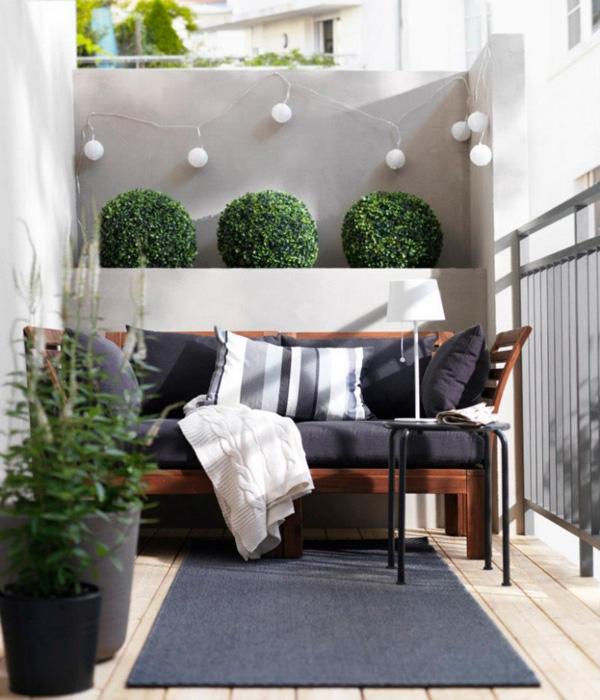 Simplicity is beauty. Make use of minimalist decorating ideas to make your balcony look more spacious but at the same time comfortable and modern. The black couch and humble throw pillows complete the overall relaxing vibe of the balcony.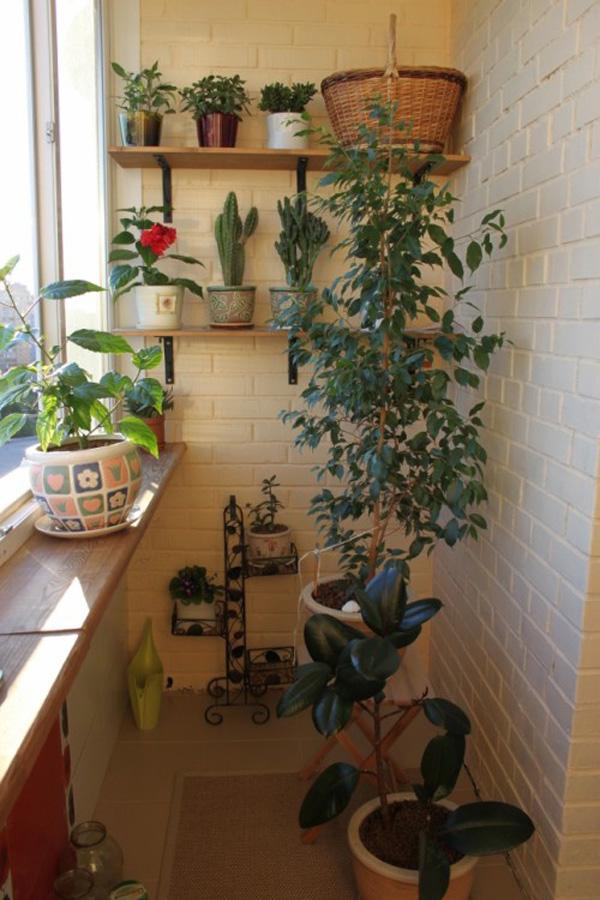 Are you a cactus enthusiast? Make way for your cactus plants in your balcony by building custom shelves that fit the wall and the window. They can serve as wonderful wall ornaments and you don't even need to buy any wall décor anymore.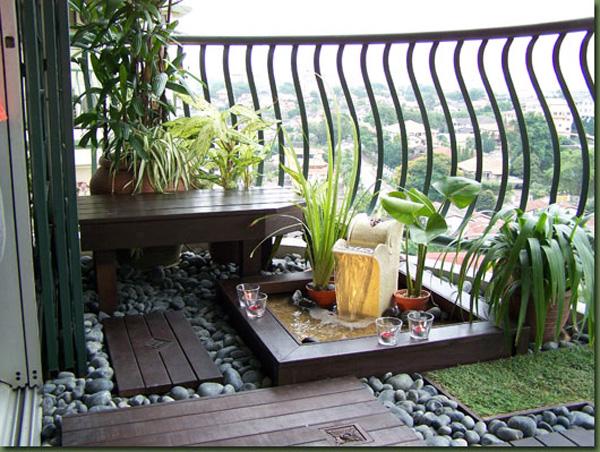 Pretty up your balcony by adding plants and grass. You can easily grow out a small amount of grass framed with pebbles and wooden planks as your walkway. You can design your very own landscape with help from some custom built furniture.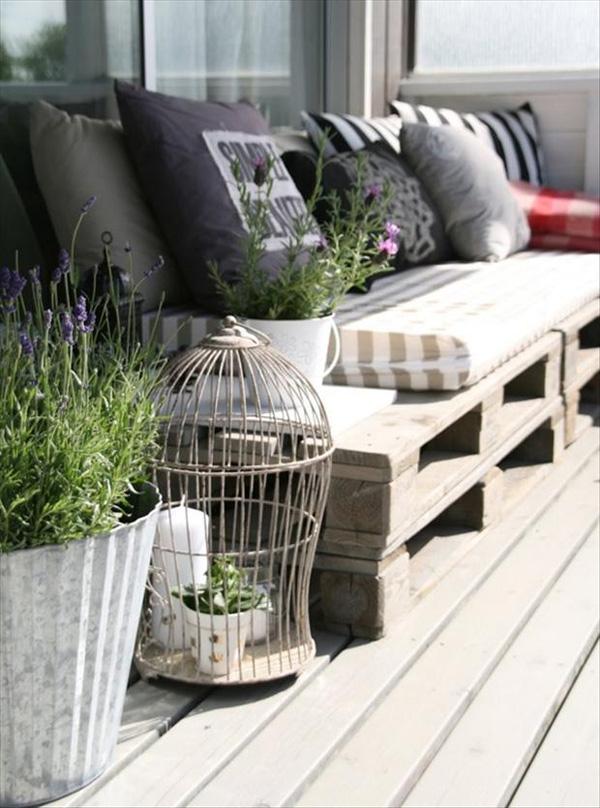 There is nothing like a relaxing apartment balcony with plants. Look for recyclable bins that you can use for your plant's pots to save money. You can also reuse old things like birdcages as designs.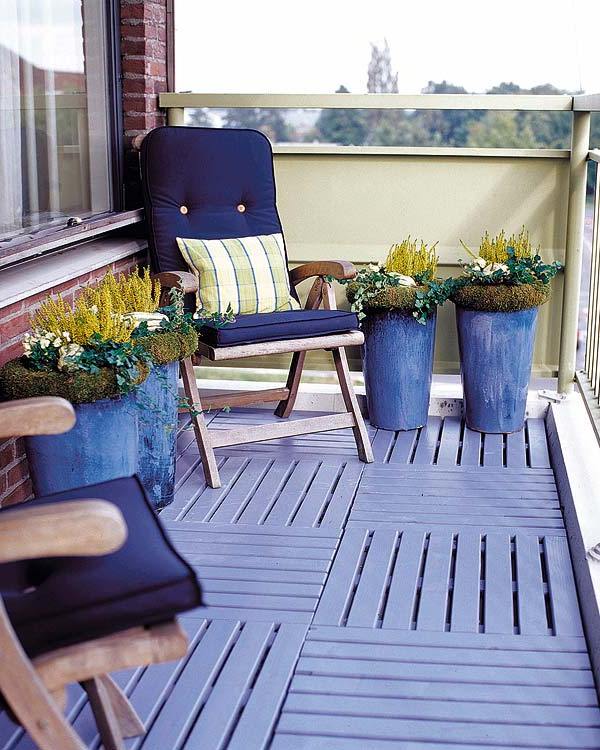 A cool looking and definitely eye catching apartment balcony décor. The wonderful blue colors blend in so well and works well with the wooden furniture. The potted plants also look great with DIY bins as personalized pots.
Go all out with modern apartment balcony design. This bright looking décor uses a lemon green color theme coupled with white accents. The artistically shaped bench slash bed makes a great addition to the already stunning interior balcony décor.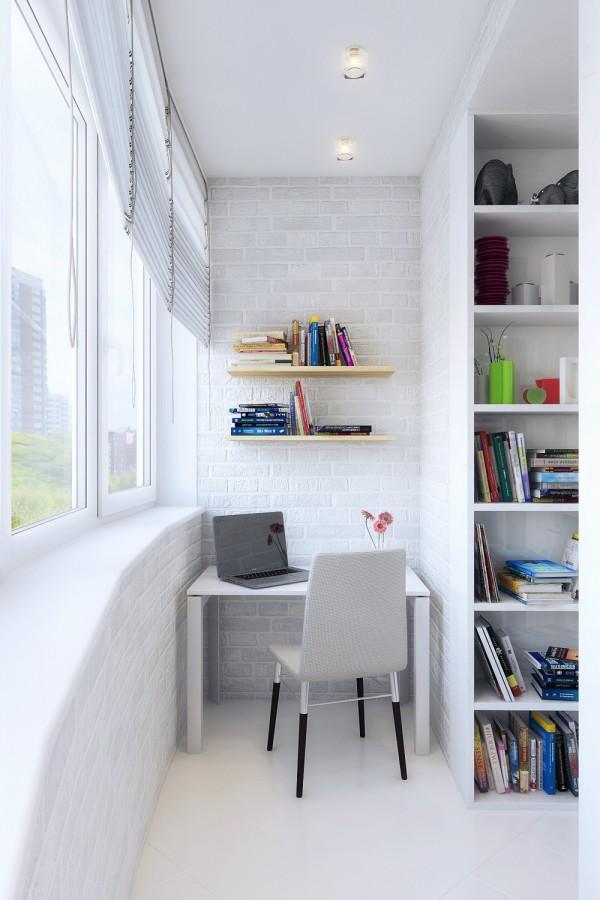 Transform your balcony into a small workspace that looks aesthetically pleasing and not necessarily cramped. Create wall hugging shelves for your books, a small table and chair and everything simply looks and feels perfect.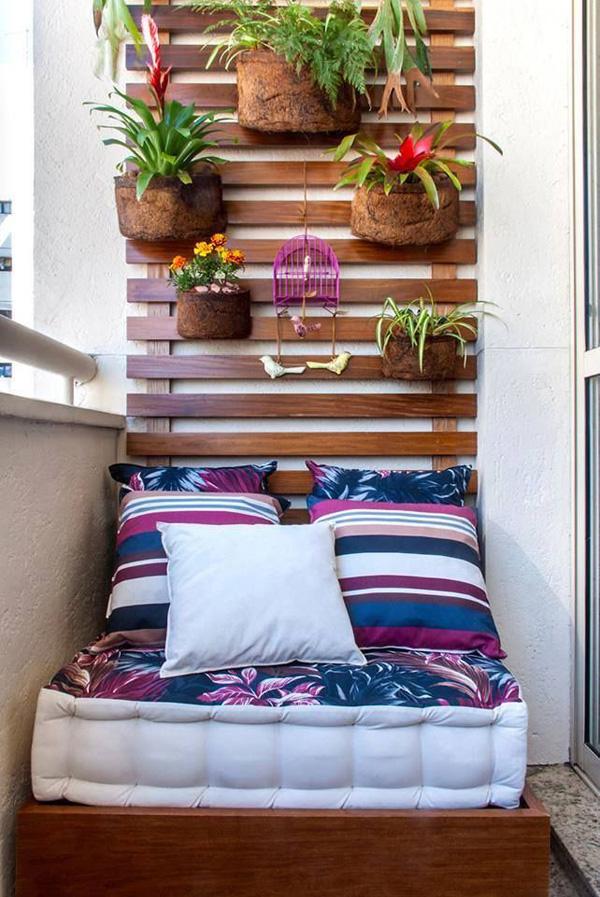 Adorn your balcony decorating with the idea of potted plants hanging on your furnished wooden wall. You can add a small bed that can also be your chair below. Enjoy the view from your balcony and the fresh air from the plants.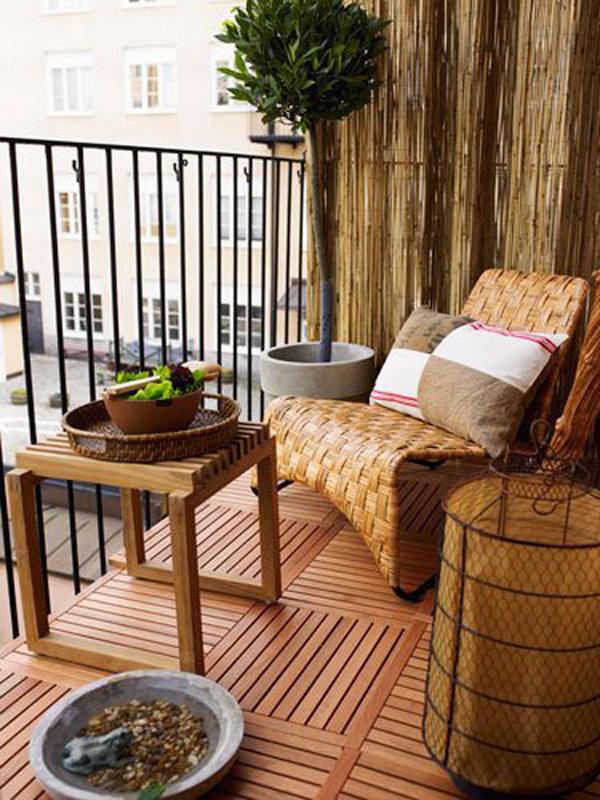 Tap your inner beach hum with these beach inspired furniture for your balcony. These coconut furniture work great when partnered with wood furnishings and plants. Give your balcony that summer beach feel.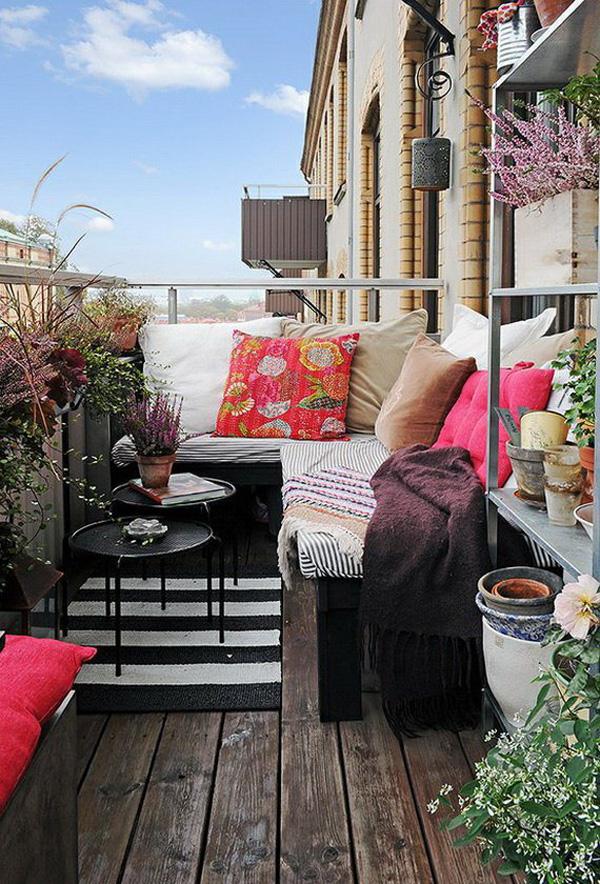 Perfect idea to make a cozy little room in your apartment balcony decorating by adding cushions and throw pillows as well as little coffee tables. Complete the set up with pretty flowers and potted plants and you have a mini space for a quick getaway from the inside house.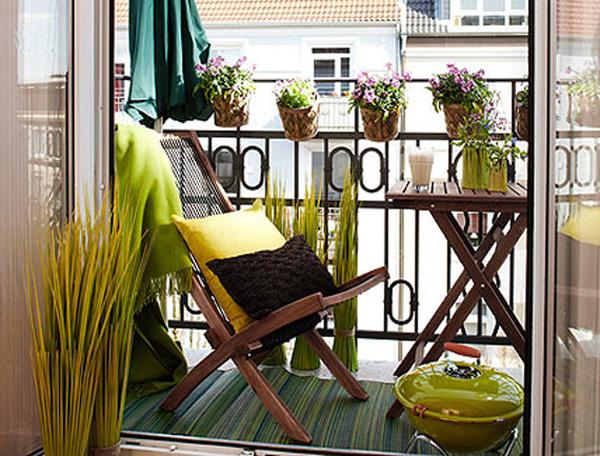 A wonderful combination of hanging plants with your small table and chair on the balcony. Add a color scheme to make everything look pleasing to the eye. The stripes on the carpet also add to the illusion of widening the floor space.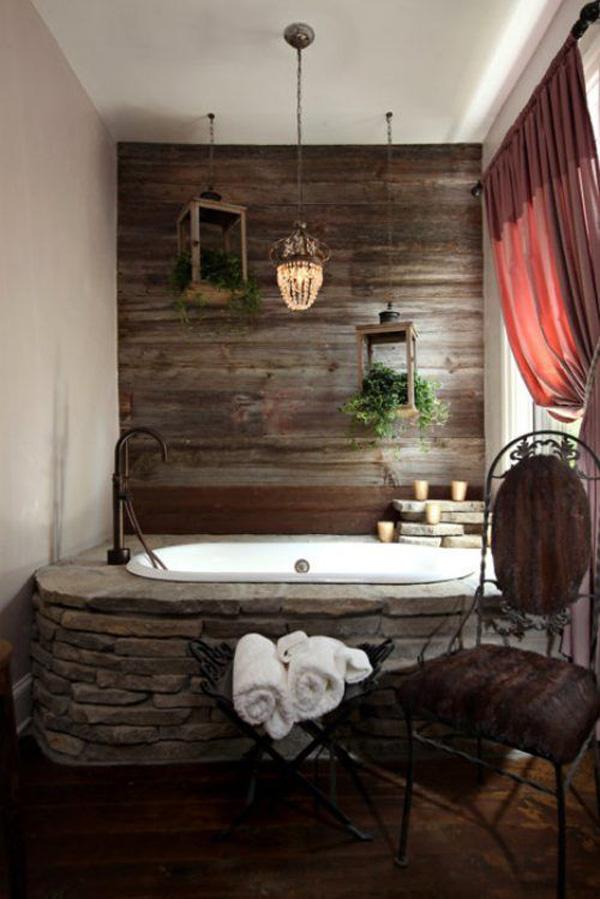 Who says balconies are only for coffee tables? You can transfer your bathtub on your balcony to get the outside view while taking a long bath. Add hanging lights and plants for a better atmosphere and of course curtains.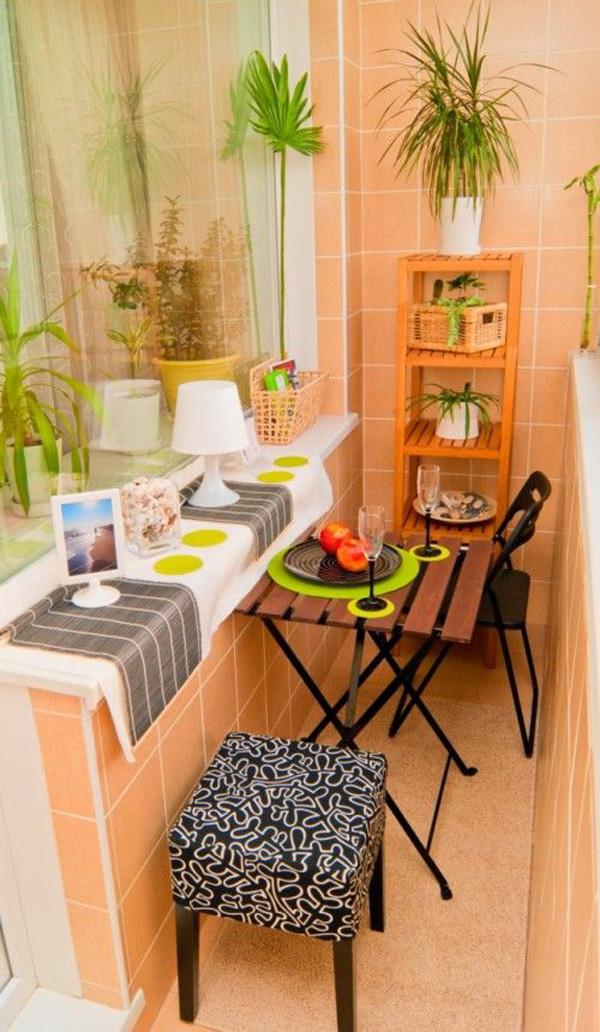 A colorful balcony hang-out place that makes use of limited space. The single table and chair provide as a good fit for the space while the windowsills are also used as table extensions. Add a small shelf for your potted plants and you're good to go.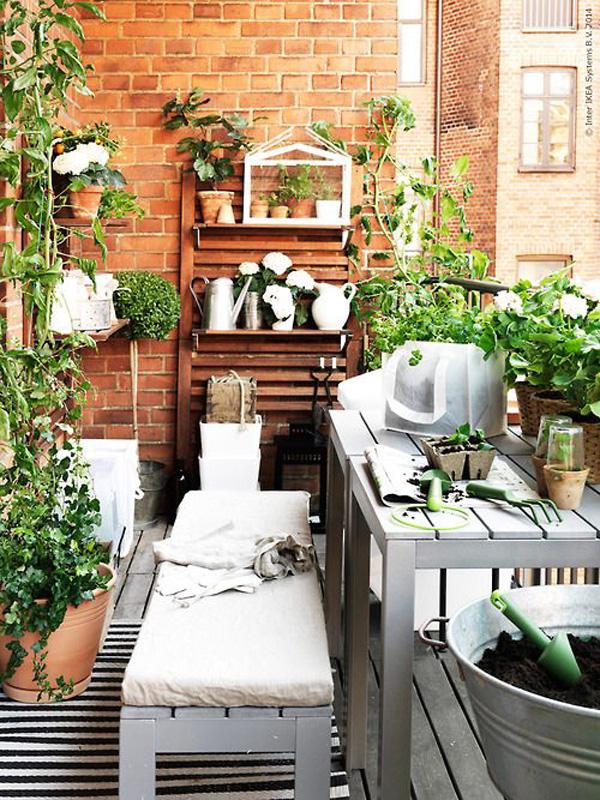 This is a rather busy looking but cozy balcony set up. Fill your balcony with wooden shelves and tables to serve as places where you can place your potted plants. It's easier for you to reach and water your plants and they look like good decorations as well.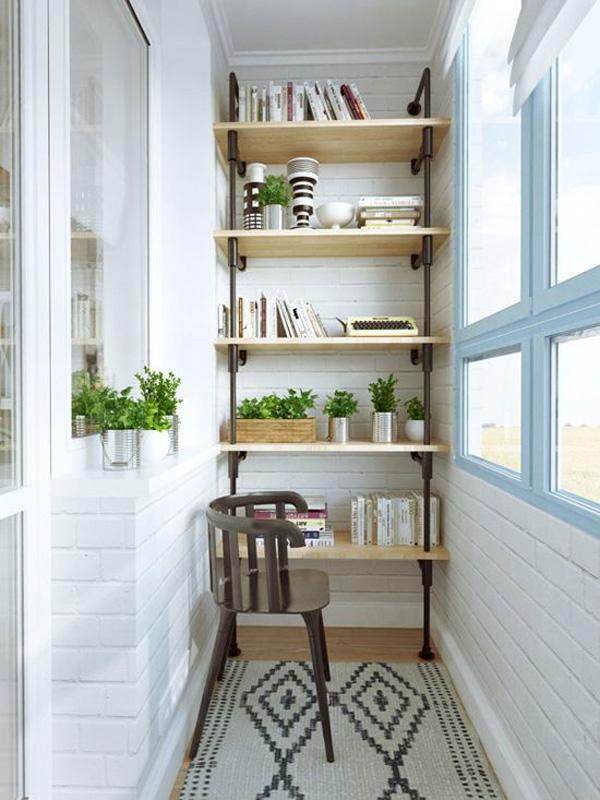 This is the perfect balcony decorating when you want to conserve space but at the same time have more shelves that you can put your books and potted plants in, it is perfect idea to make it look very minimalistic and clean, for a book lover like you.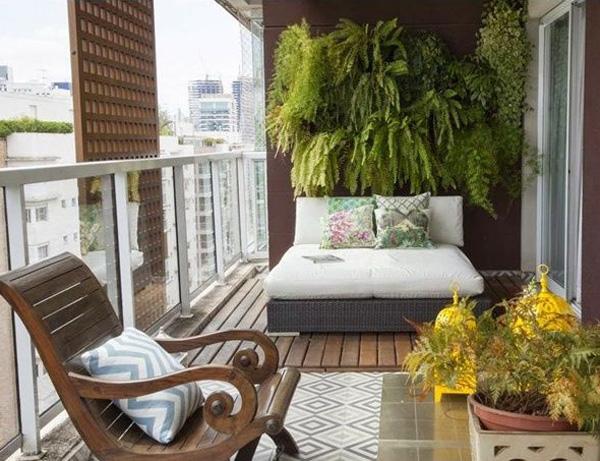 Place a comfy bed on your balcony because why not? Add greenery with help from hanging plants situated on the wall. Add more chairs with the remaining space to complete the décor.