"Every woman is helpless until her nail polish on nails isn't dry", said Burt Reynolds. Ladies pay a lot of attention to their nails and this is normal because the real lady looks cared. And hands and hair are what first catches the eye. Although New Year has past and all the glamour that goes with it slowly is at the end, that's not the reason that you stop shining in the Winter season. Your nails, and you!
What makes crazy almost all trendsetters these few months is Chrome Mirror Manicure and mirror effect on the nails. It is a highly pigmented powder which we can apply with applicator for eye shadow. We rub the dust on the already dry nail polish until we get a clear mirror on the nail. This Chrome powder is not possible to do the on simple nail polish, but only on the gel nail polish and UV gel using UV / LED lamps.
Winter is cold, somewhat gloomy and dark, dark nail manicure is especially fashionable and in balance with the season. This does not mean that we should forget about the gold rhinestones and on, for seasons modern manicure in sailor style on nails. These details can really nice be combined in every winter manicure. Oh yes, also will be popular ombre in this winter so if you are fan of its go ahead, you can't make error. The checkered patterns are somehow related to the winter wardrobe and it didn't bypass our nails. Geometric shapes, embossed nails, matte color on your nails, glitter – all this can be combined into a wonderful winter manicure.
The colors that dominate for years in manicure are red and nude shades. Dark red color, brown, dark blue and green are the colors that can be, in winter months, very seductive. More if you compose with them some of the details that I have already stated in the text, you will be leading lady, and these colors won't be boring but very feminine.
In winter we can't avoid sweater, which we can combine with popular "sweater nails". Embossed nails with motives that reminds us on knitted sweater of our grandmothers. A lot of tutorials on the Internet are related on how to do this manicure in your own house, so with little effort quickly and easily this very popular manicure can adorn your hands. Sweater manicure simplest you can get by applying on the nail a first layer of paint, when it becomes dry put second coat of nail polish. When it dries again, a drop of nail polish put on plstic or glass plate and with tool for drawing or toothpick start drawing sweater motives on your nails. To make them more visible put second coat of nail polish on this motives. Leave to dry second coat also and you're done. Not at all difficult, and very interesting. How look motives of sweater you'll see on several images in our gallery below.
When a woman feels beautiful, she has more confidence, radiating a special energy, she is seductive and attractive… She is satisfied wit herself, what is most important.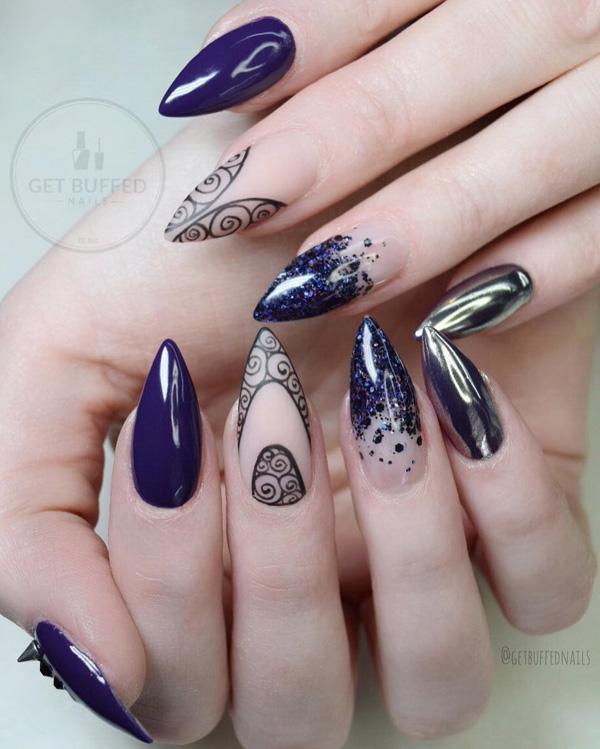 Here we can see a nice combination of dark blue and chrome mirror powder on the little finger, which is perfectly done and gave the appearance of a true small mirror on the nail. Nude shades are neutral and it can be easily integrated into any manicure.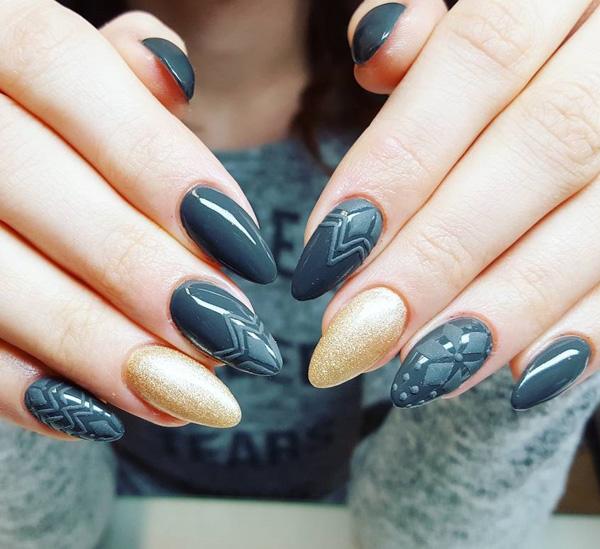 Some darker shades can look very bleak but if they are wisely combined with color of gold, it will look refreshed.
Source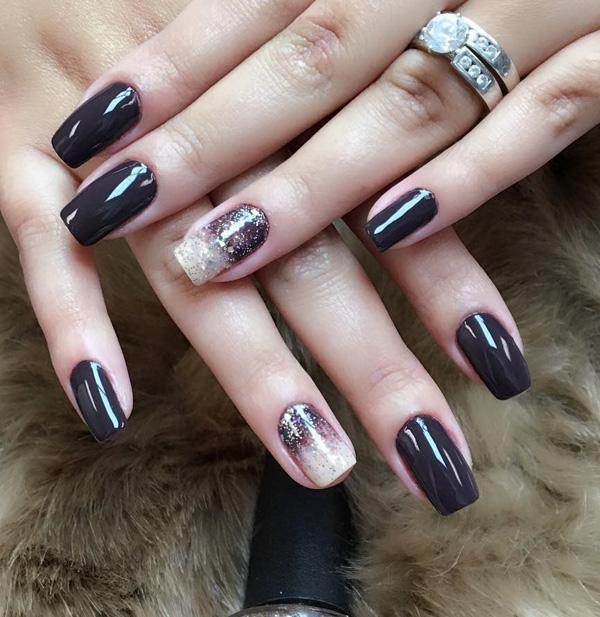 If you have a wide nails choose darker shades which can visually elongate your wide nails. Is's enough to add on one nail a little of rhinestones or a different color that matches the color of the basic manicure and dominant dark colors will shine.
Matte colors on nails dominate for some time in beauty salons, so that it did not avoid this winter. News are the nail polish which when are dry have matte finish, and if you're a fan of artificial nails then only after the final layer of gel with buffer file the nail until it gets a matte tone.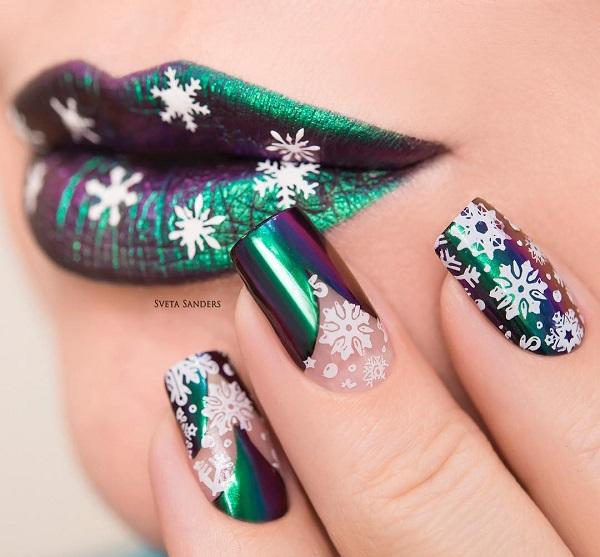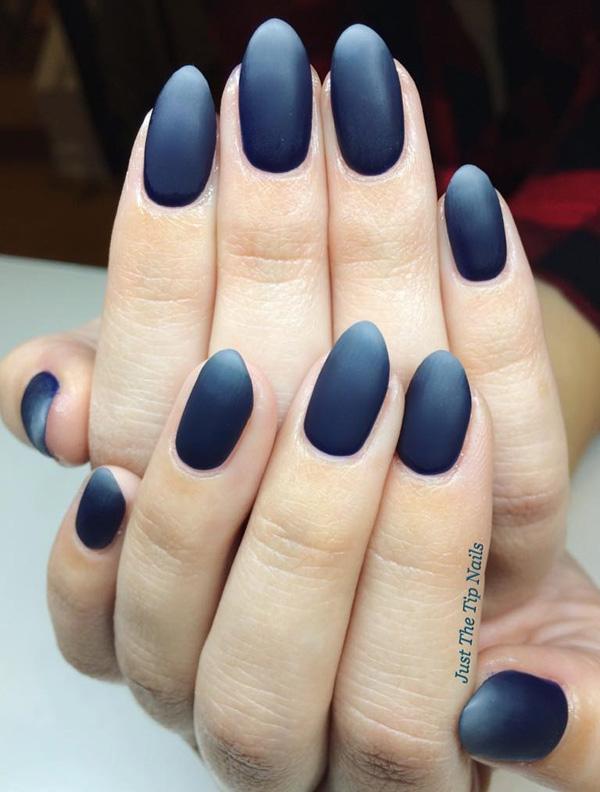 As I said above, ombre is no exception in this season. If you prefer this manicure feel free to take it this winter.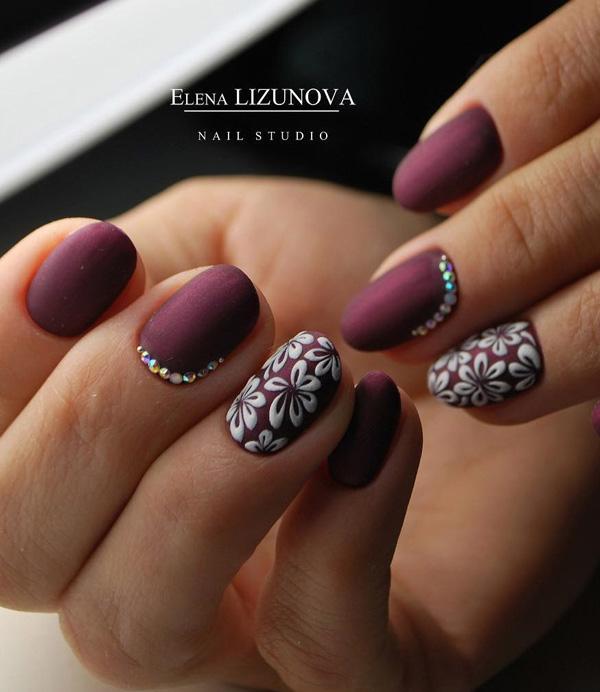 White color is somehow back in a big way in the world of manicures. And this winter you can use it for decoration one or two nails of both hands. If you add a little rhinestones as it is in the photo you will get rich manicure.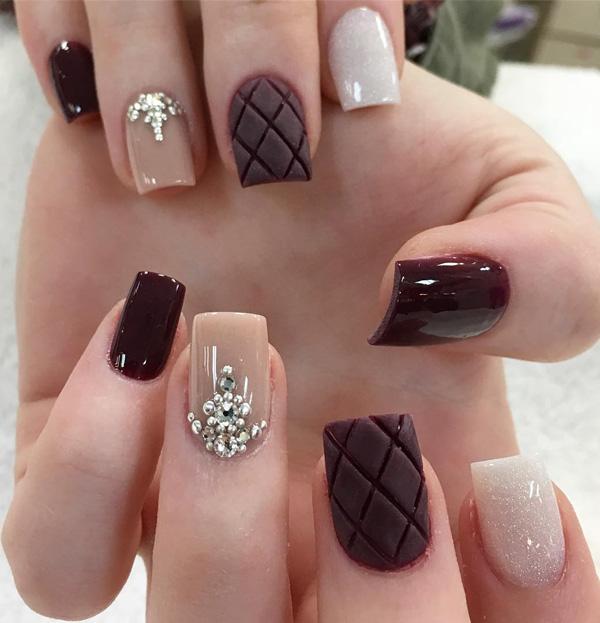 Geometric shapes are popular in the furnishing house, in clothes, but also and when it comes to manicure. The dark red color in the winter months is hit.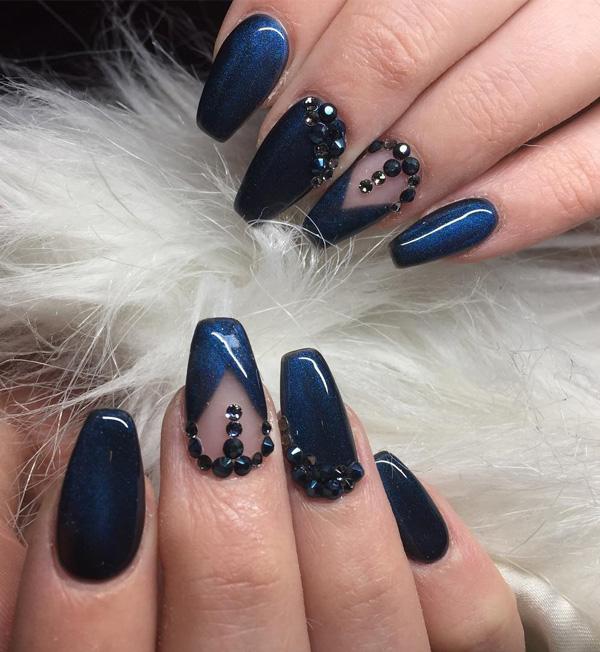 Dark blue color with diamond shine. Generally colors with diamond shine are glamorous and give special note of elegance to your hands.
Source
Here again we can see geometric shapes and clear lines. In this case, black color is real refreshment.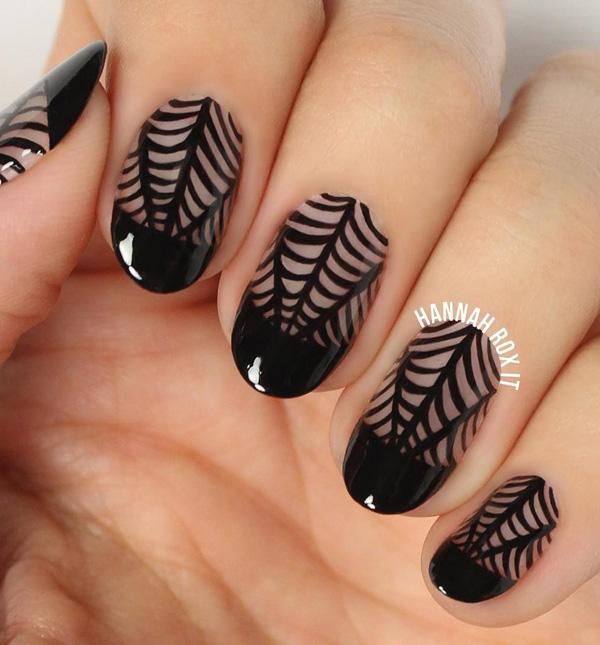 Black color returns on scene on big door. Spider web look a little bit dark but with all this shine its vamp and modern.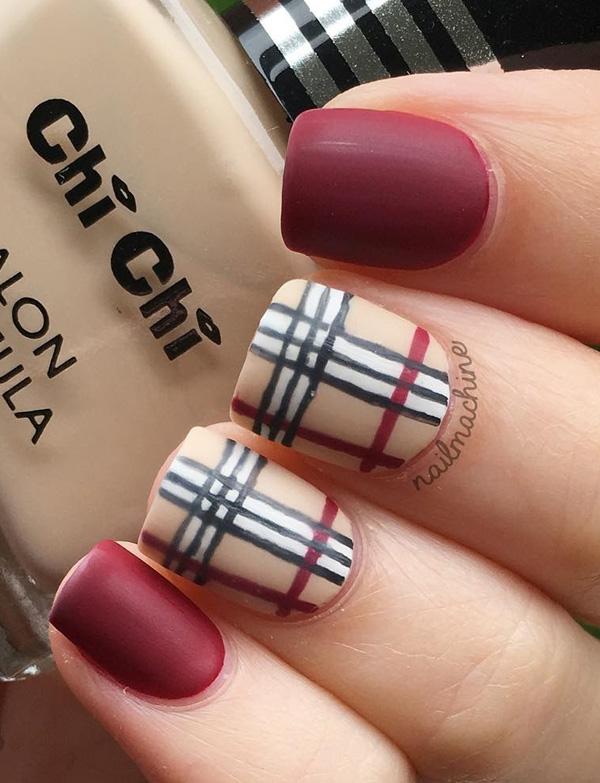 Plaid designs are modern for a few winters when we talk about wardrobe but also in the world of manicure. Here are nicely arranged red, nude, black and white color … Be free to wear this manicure …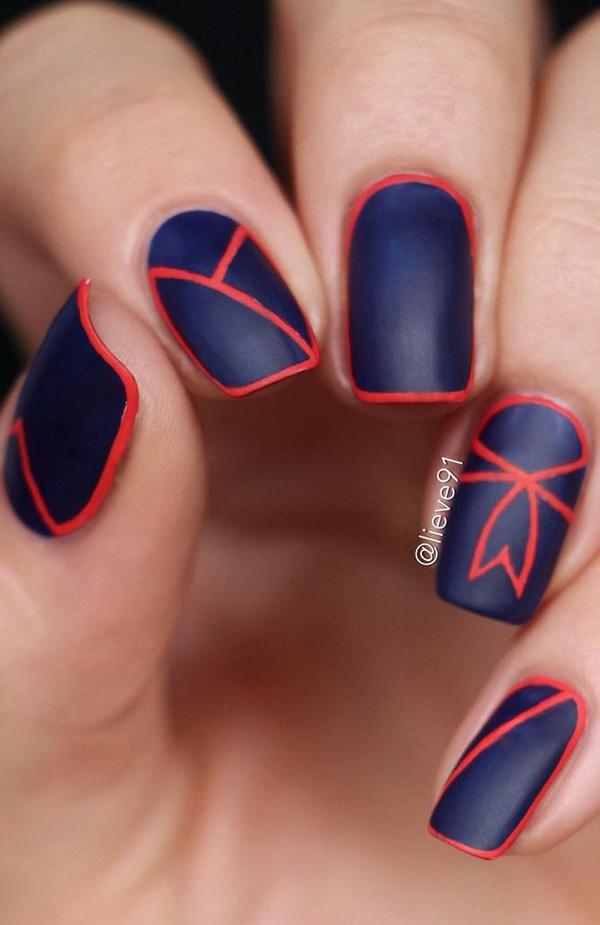 Very good length of the nails, which won't make difficult to perform your daily activities. The colors are modern, somewhat remind me of neon.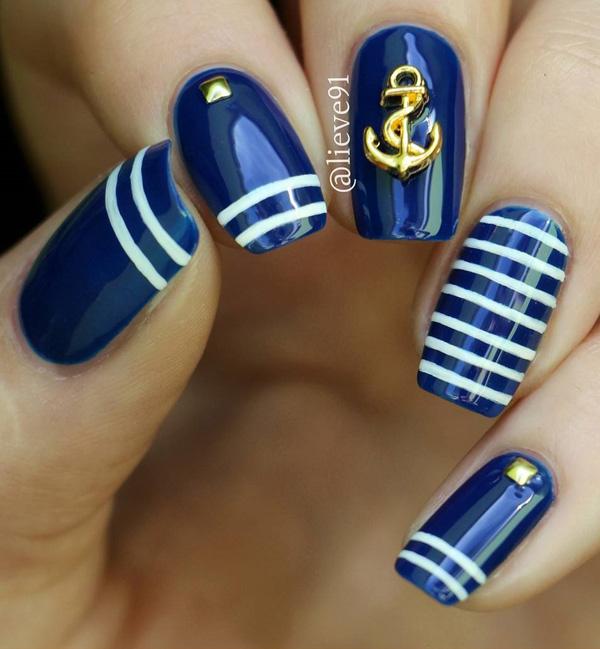 What ever season is, we somehow can't avoid sailor style. It's modern for a long time. This is one nice idea for your manicure. Let anchor bring happiness in every your day.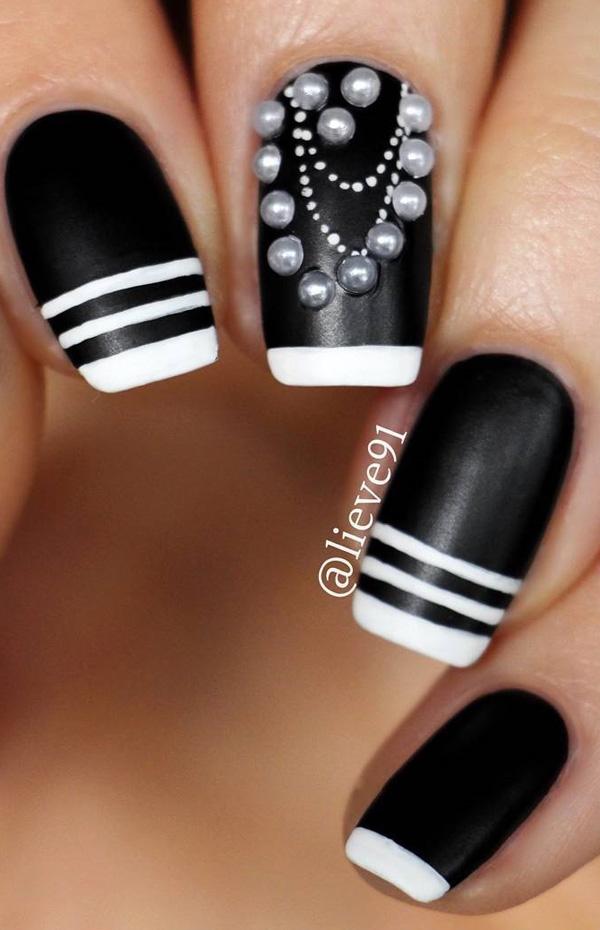 It reminds me on Coco Chanel. That dominate black in combination with white color and white pearls is very elegant.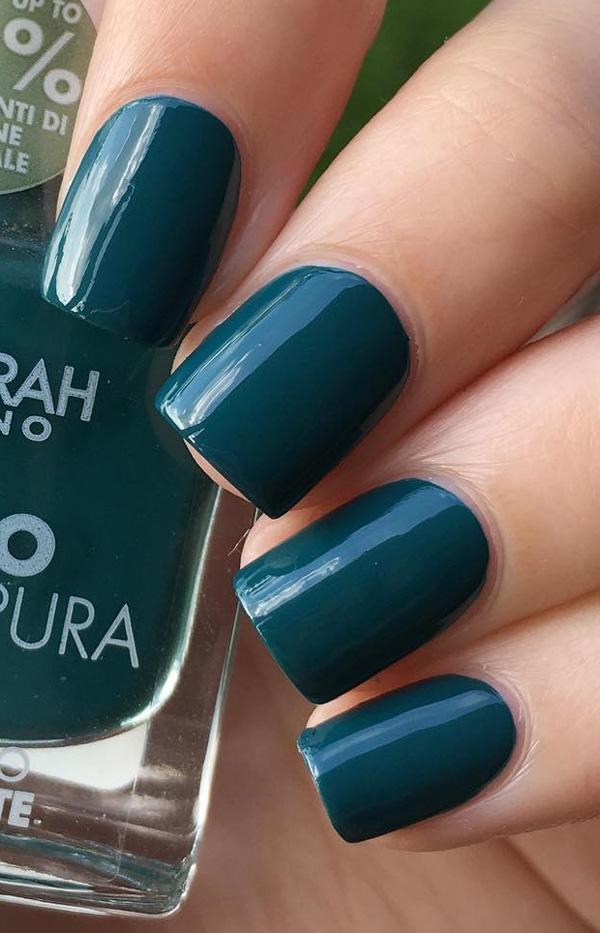 This dark color between green and blue stand perfectly on this short length of nails.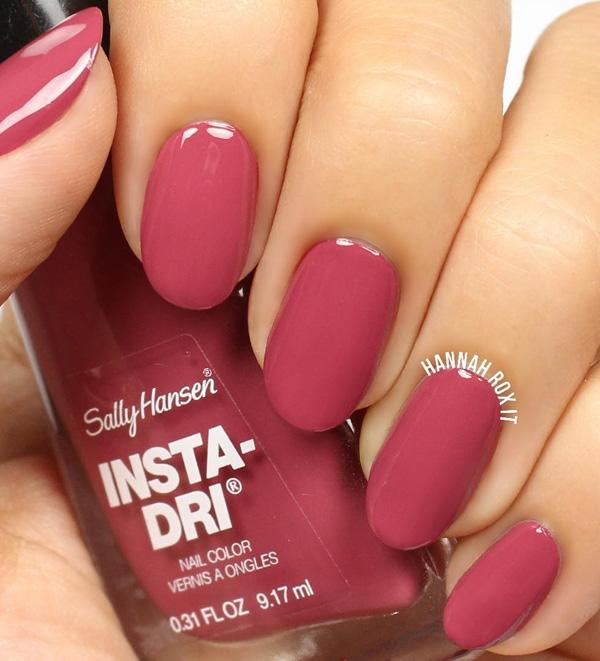 We just talk about dark colors when we talk in context of winter manicure. On this photo we see that and pink color can look very seductive and attractive in this cold period.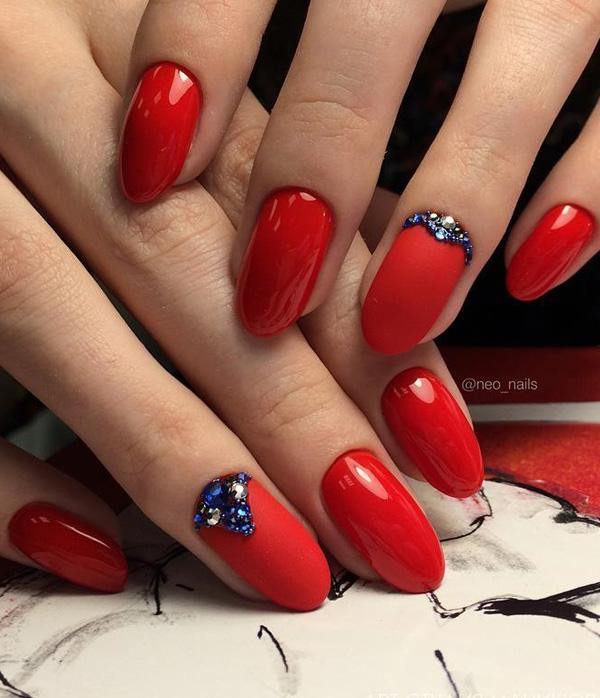 Combination of shiny and matte red is very nice and blue rhinestones give extravagant note.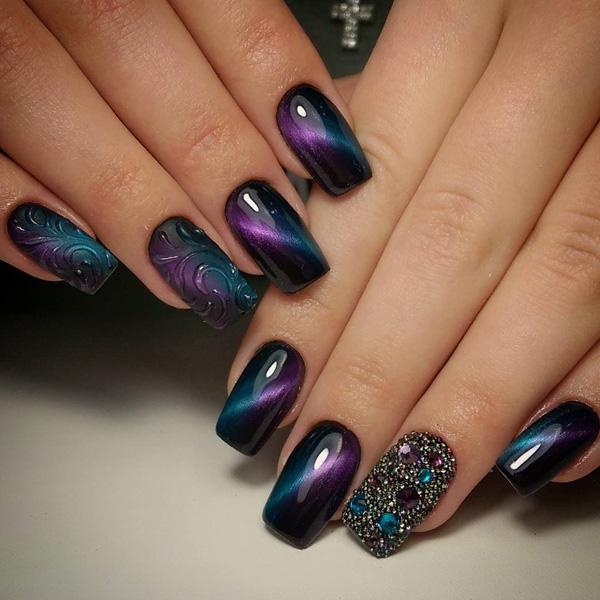 These two colors look as royal. Colourless shiny gel on matte nail looks very classy. Extravagant rhinestones on one nail is very royal.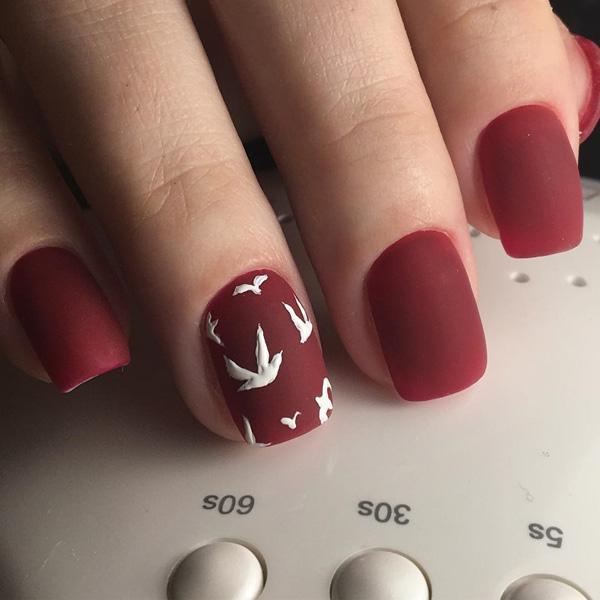 Red color perfectly stands on short nails.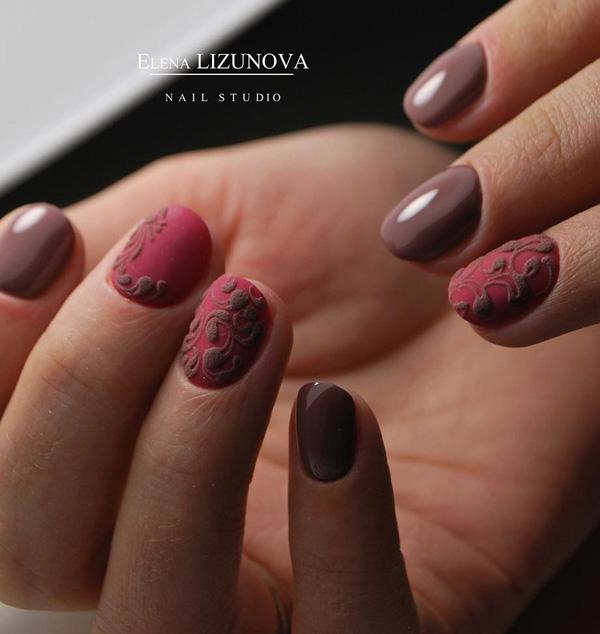 Brown in combination with red looks very classic. This patterns probably look very complicated but in real it isn't so, with right brush you will easily draw this classic patterns.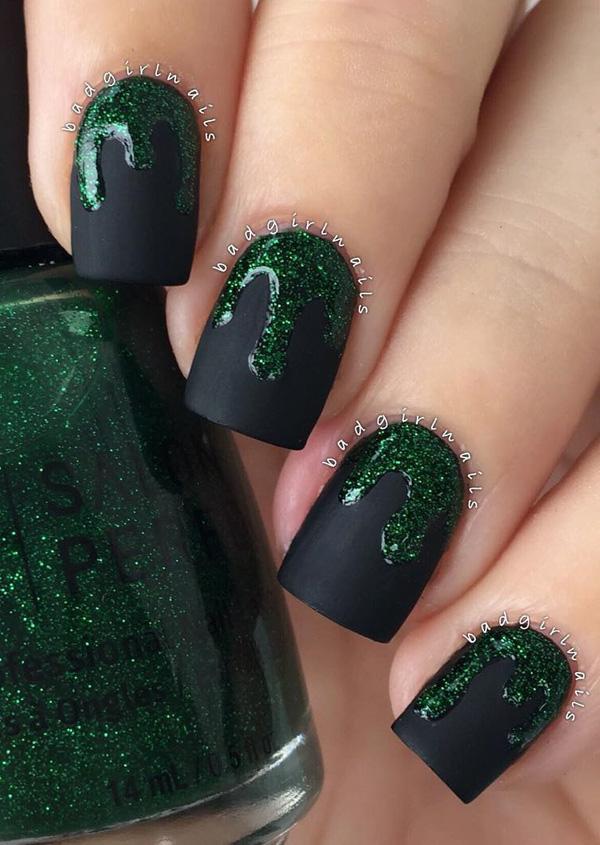 This manicure looks a little bit vamp and attractive for young girls.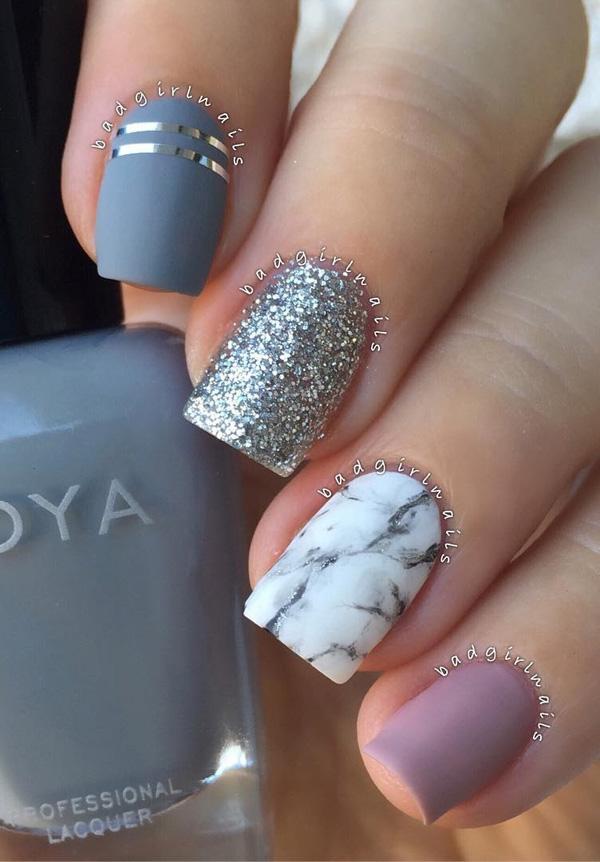 As we can see all nails are different but it isn't conspicuously. Colors and designs are very nice are combined so that they look very attractive.Marble nails are very neat and trendy.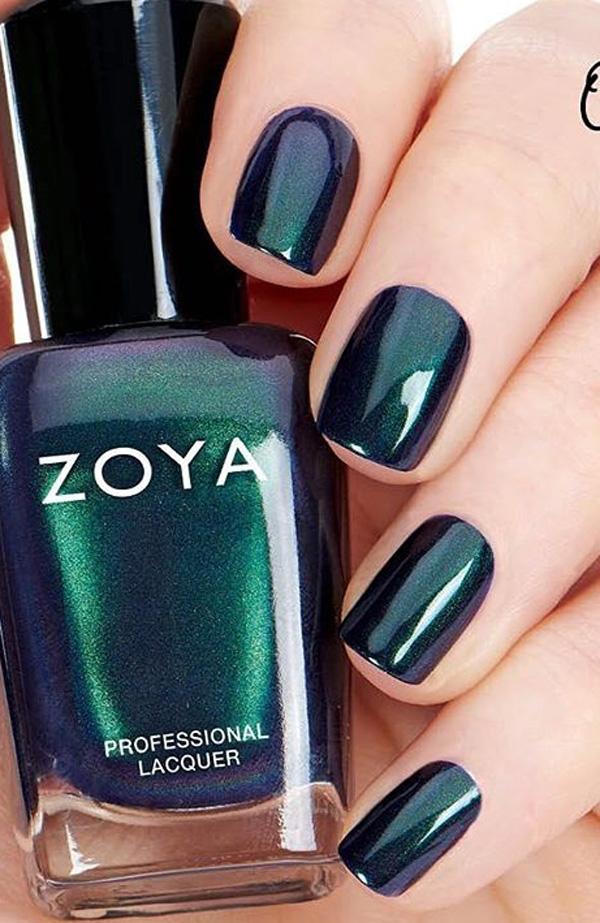 Zoya nail polishes use ingredients that are found natural nails, sulfur amino acids. That better link color to the nail which leads to the fact that the varnish lasts longer and does not peel off. The color on natural nails can last from 7-10 days.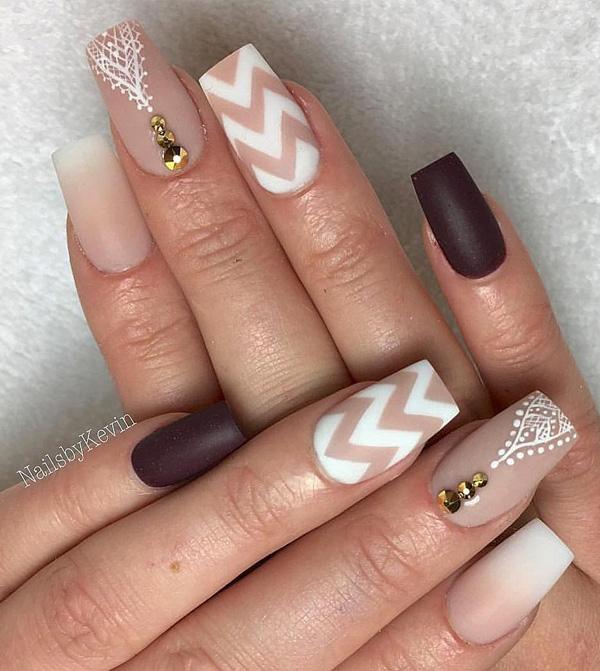 Very nice nude color enriched with dark red color. White details and gold rhinestones are very nicely composed in all manicure.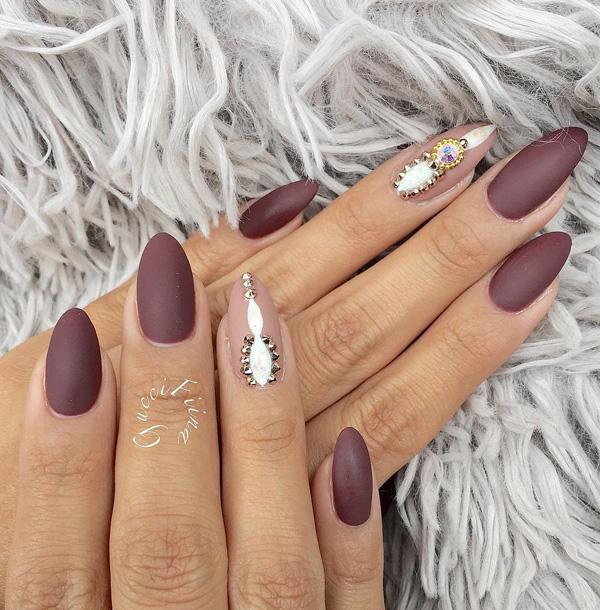 Almond nails are popular for a long time. I very like this shape of nails because it is very feminine, bold and seductive.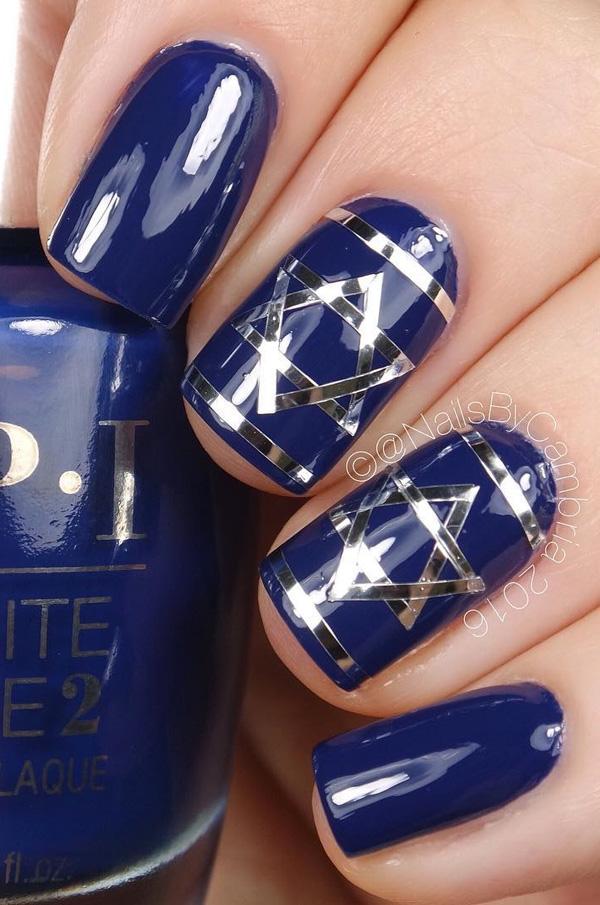 Dark color on short nails visually makes nails longer than they really are. Shiny details are very interesting and easy to do.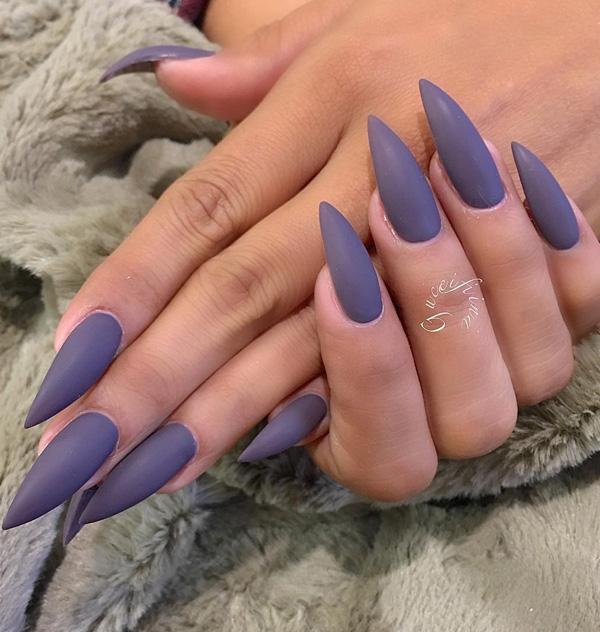 Long matte almond nails in violet color that is very classy. These nails are very long so if you are on vacation it can be very lovely manicure for you, but if you need to go on job, and work on computer think about shorter nails.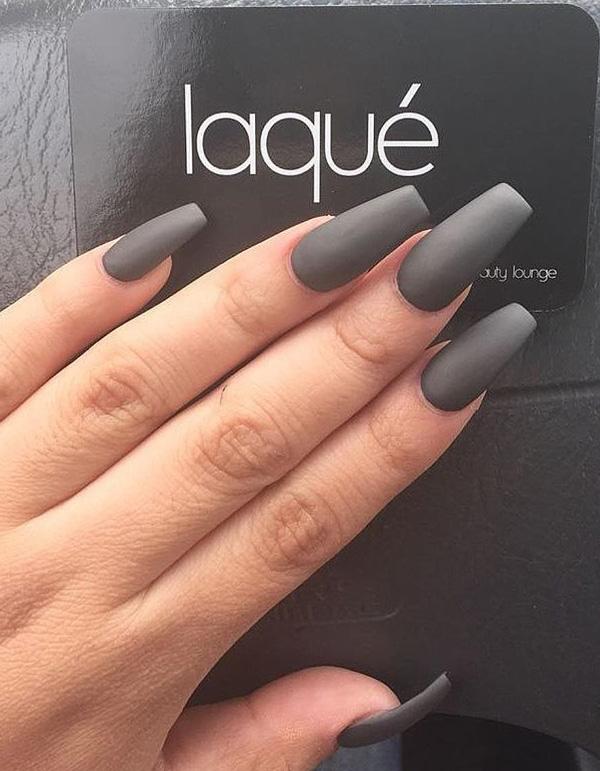 Grey color is very formal for me, but on this length of nails it look very feminine. It's a little bit cold color so you can combine it with pastel pink, lavender, green and blue color.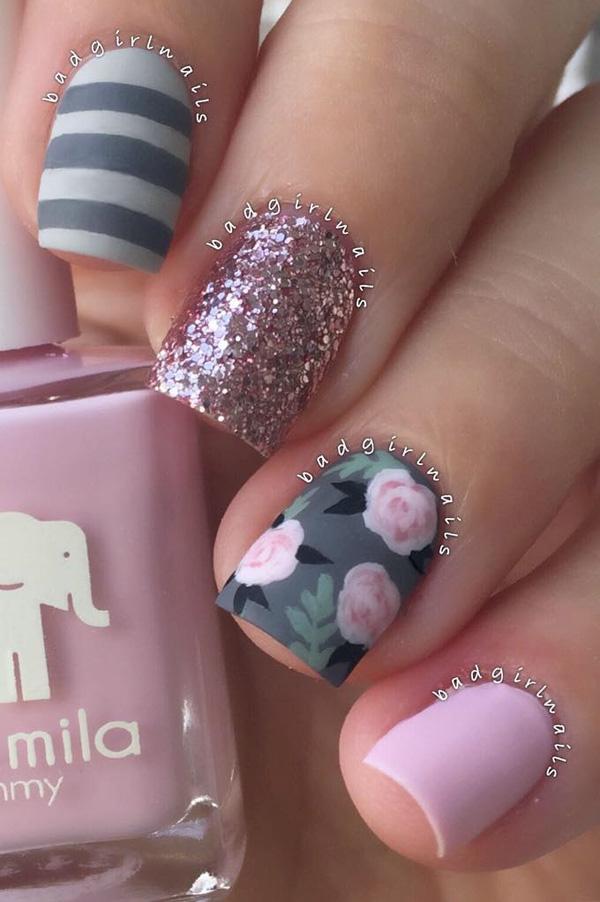 Here we see what I mention in previous image. Grey color is combined with pink roses and green details. One nail is in very light pink shade. There's also a little bit of black color, and beautifully golden sparkle on middle finger.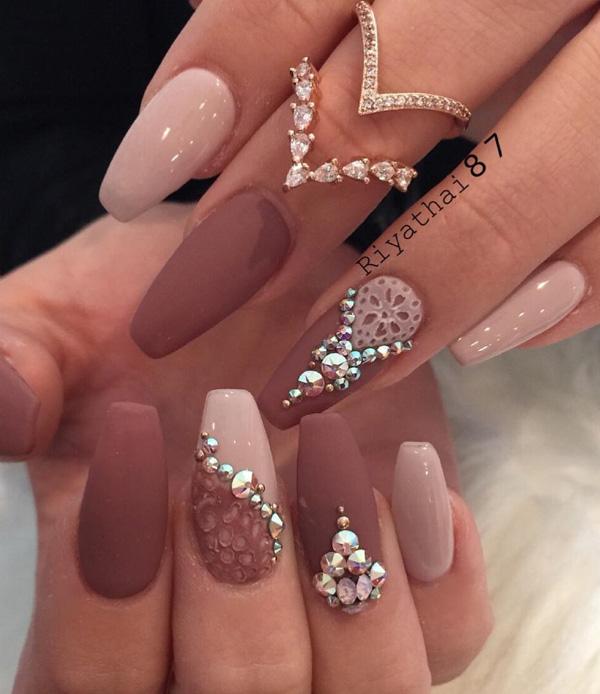 Combination of matte and shiny colors on nails is very popular, and rhinestones make it glamorous. This Earth colors – nude and darker red, are my favorite.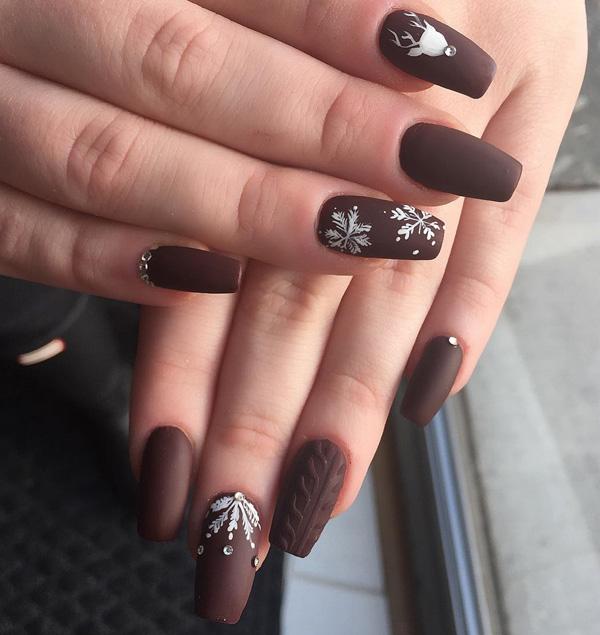 Because the winter has not passed yet, and it will snowing a lot these days decoration of your nails with snow flakes is still desirable.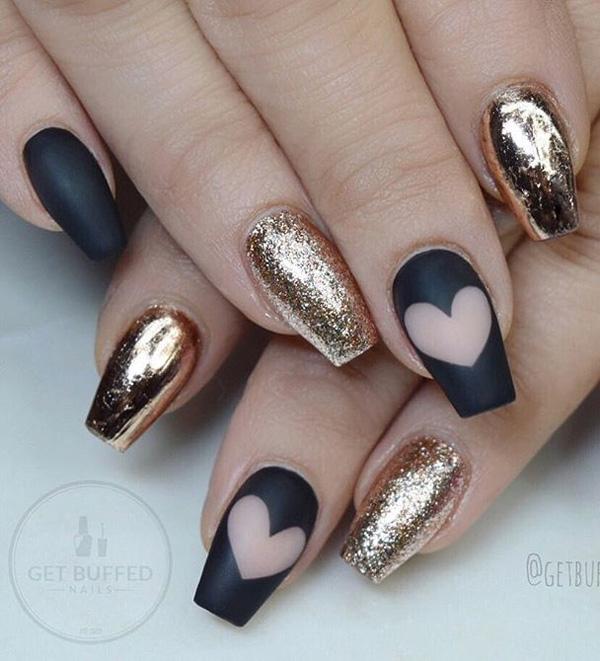 Black and gold combination of colors is very modern. Black color is again more and more modern in mode. Hearts are nice details always.
Almond nails are very popular especially among young girls, although middle aged ladies like to wear it also. Shape is ideal for those with shorter fingers because it will visually elongate.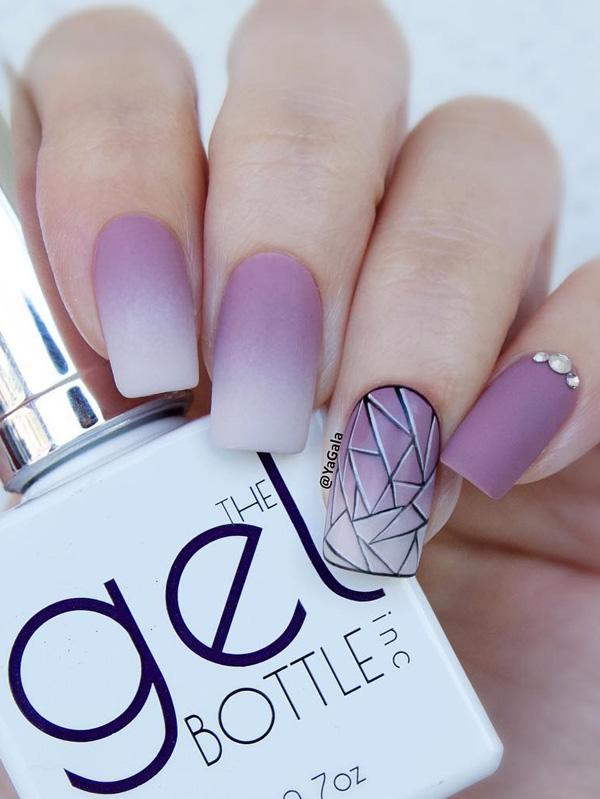 Ombre in pink shade. Geometric shapes like these triangles are what beautify this manicure.
This form of nail stands almost everyone and is very attractive. If you are not good drawer go to the salon and do this adorable glamorous manicure that can be your main decoration this January.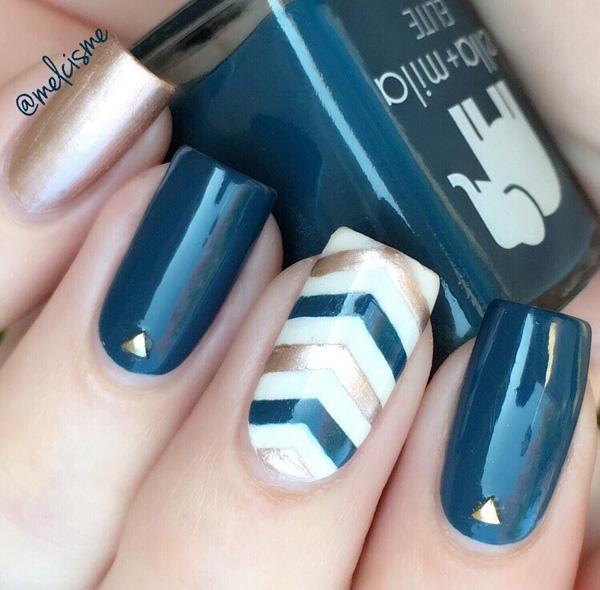 If you decide for square shape of nails observe the edges that are slightly sharper and can easily crack.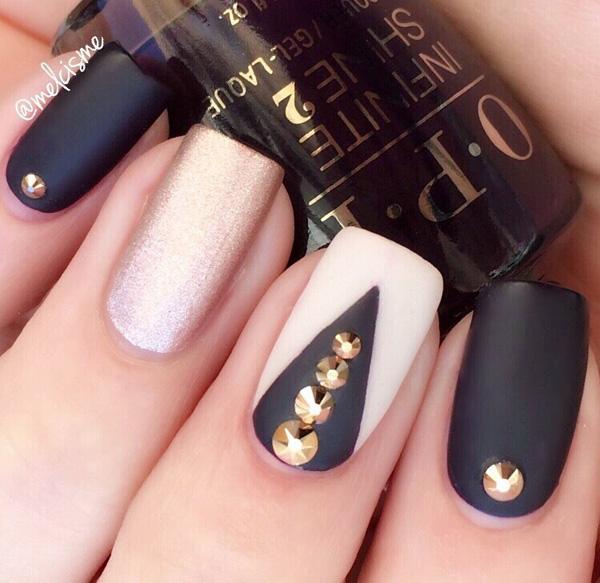 Black and gold combination is somewhat extravagant and brave. This is the eternal combination that I believe will always be in fashion.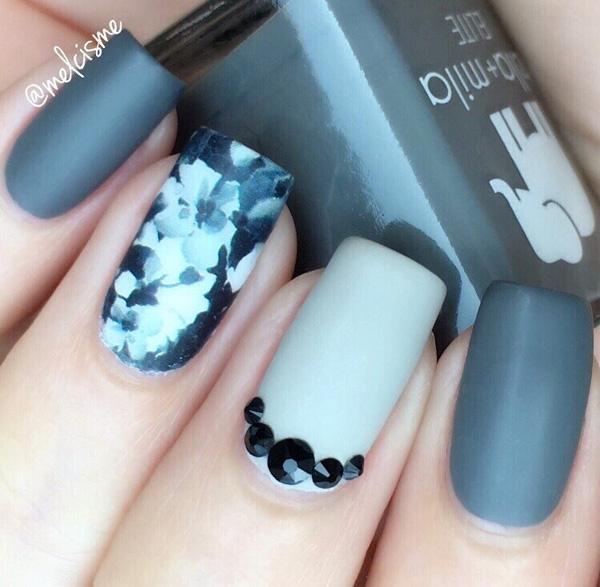 Cold gray color refreshes white and black. Nail on the ring finger is real art.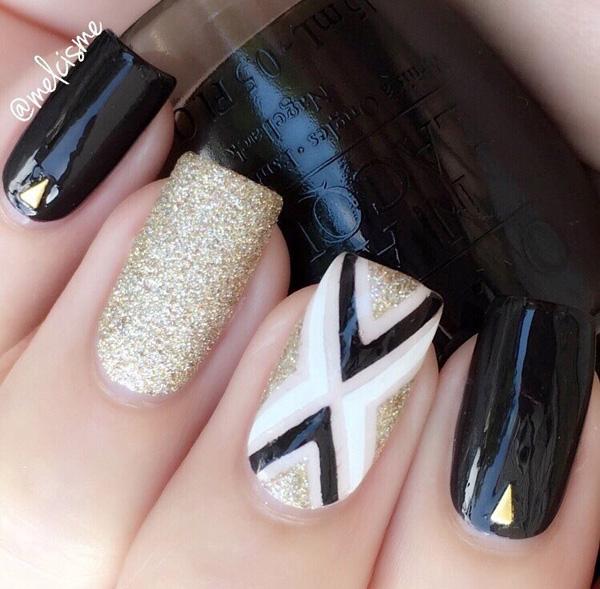 If you select the OPI nail polish you wil get one great combination of quality and aesthetics. These are the nail polishes with great shine, long lasting, which contain ingredients that nourish your nails.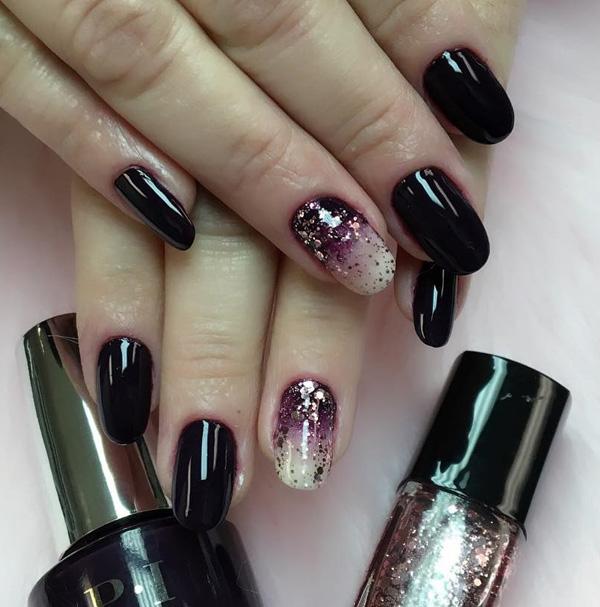 This beautiful black nail polish with luxuriant gloss is enriched with the beautiful varnish with glitter on one nail, which gives a special seal the whole manicure.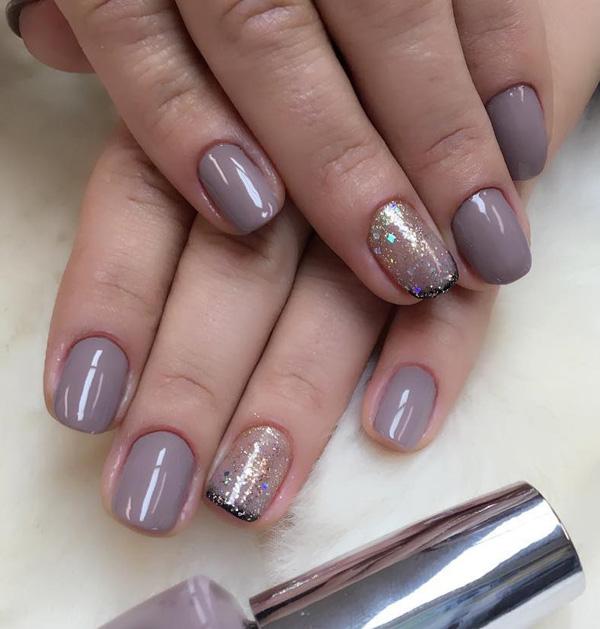 Very beautiful length of nails. When you do not know how to give a special stamp to your manicure just one nail on both hands decorate with rhinestones.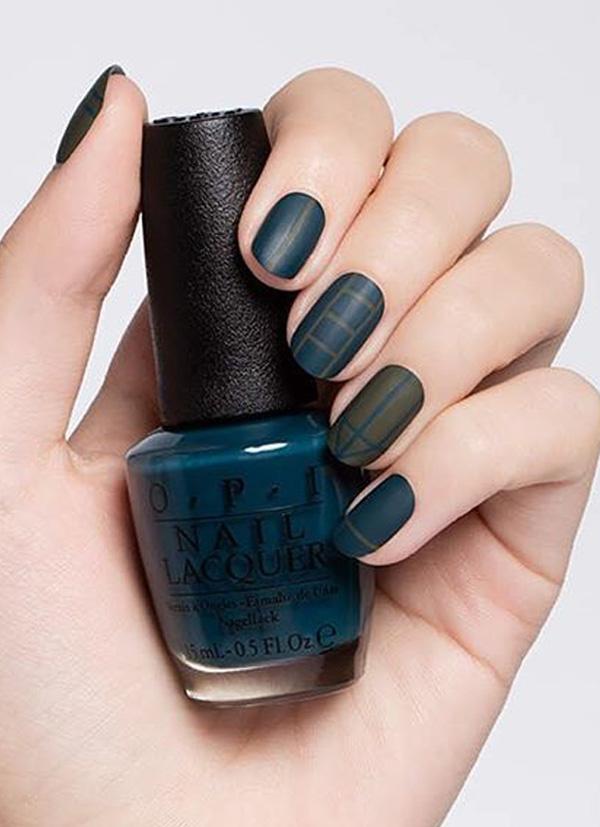 Matte nail color that you will easily get with appropriate nail polish. This manicure is modern, easy to combine with any outfit, so that it will be a big hit.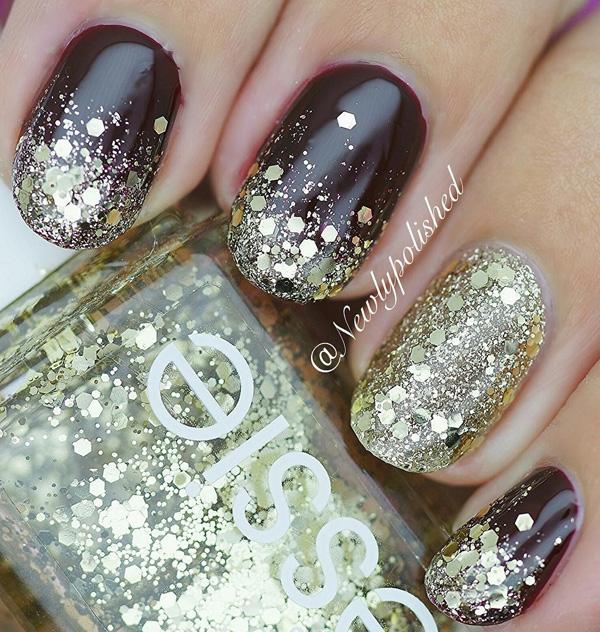 This type of nail shape is the firmest so if you're not a fan of long nails this form could be ideal for you.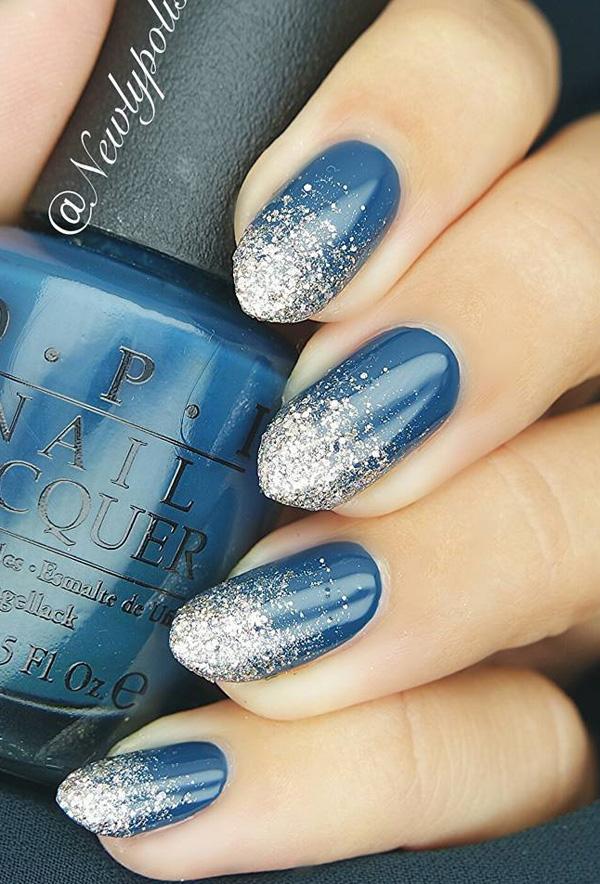 This form somewhat reminds on the peaks of gad… One-colored nails decorate with rhinestones and you'll get glamorous manicure.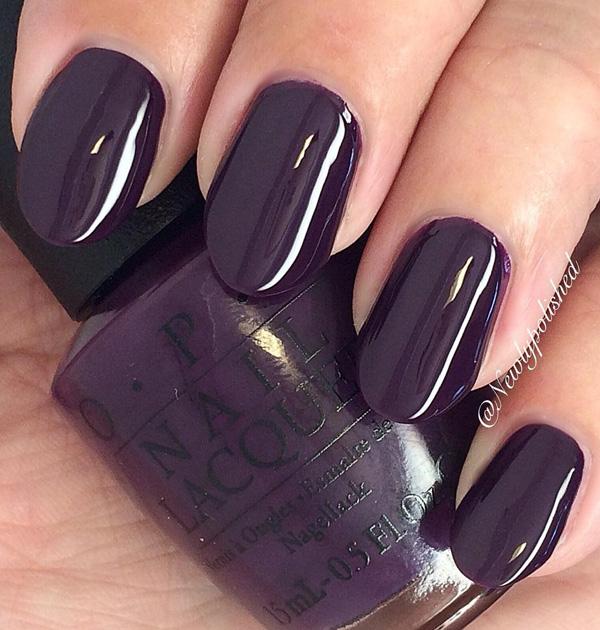 Dark purple is a royal color that is very modern in these cold days. These nails can not leave anyone indifferent, although they have no additional decoration.

Here you see how rings can give a note of luxury to your hands and enrich your manicure.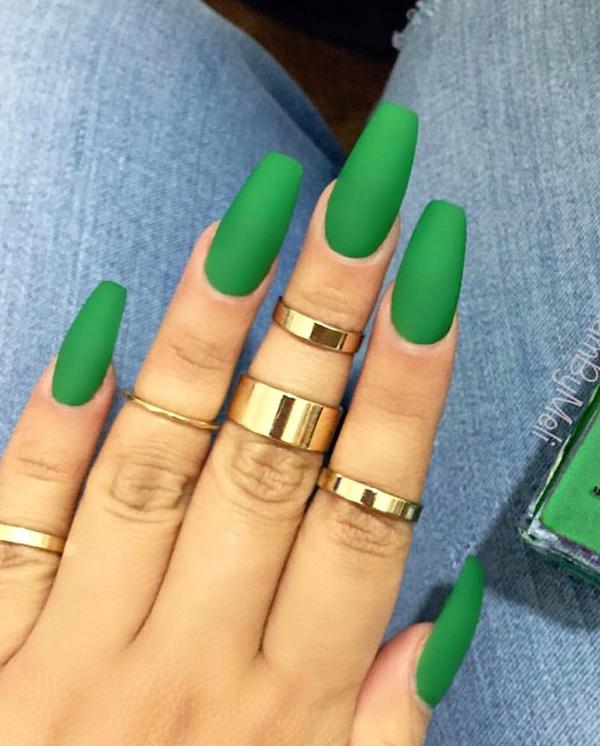 Long green matte nails for lady who want to be in trend. One more example of great effect of rings to the all look.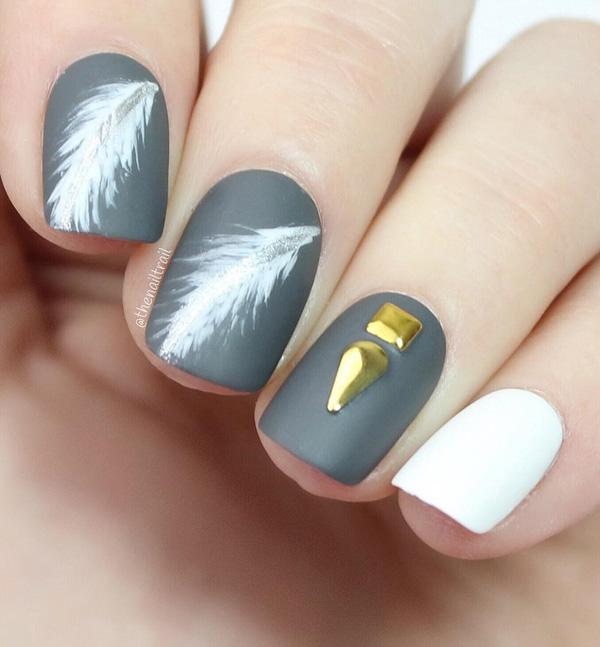 Two small golden details can give warmth to so cold manicure as this grey and white.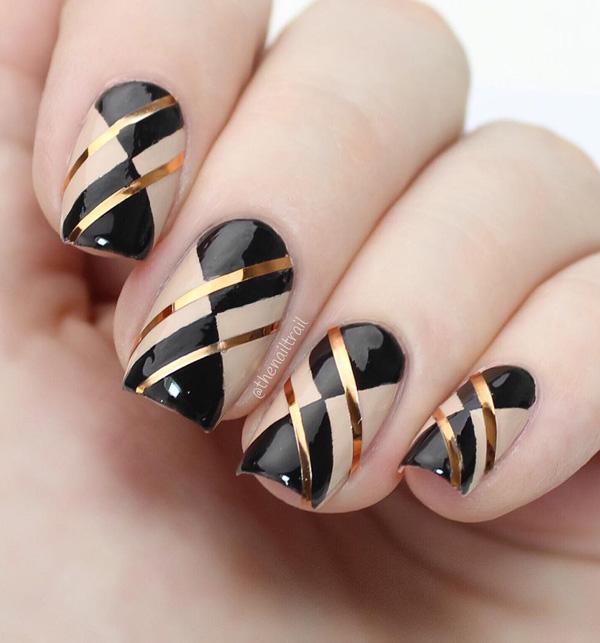 One more combination of warm gold color, and dark cold black color. Combination is very effective and glamorous and you can wear it with every combination of wardrobe.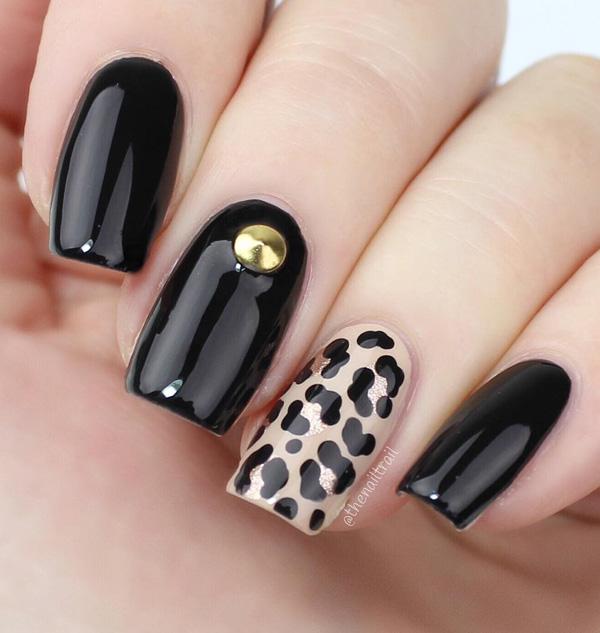 Animal print is popular for seasons but only when it is with taste integrated into the whole outfit.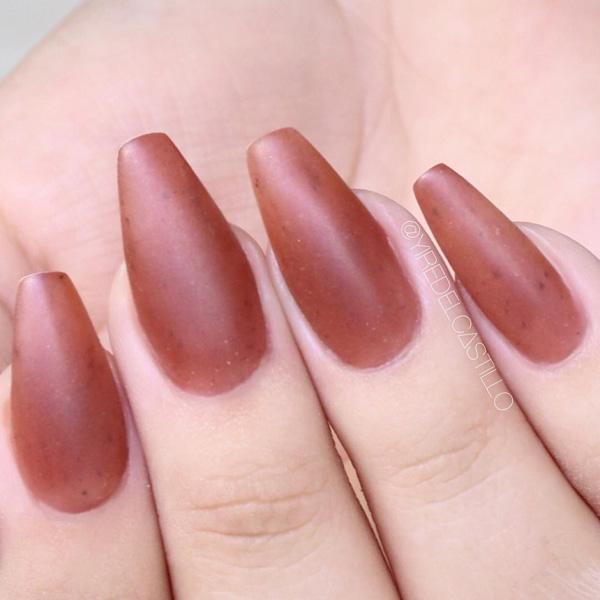 This is squared version of almond shape of nails. It's also called "shape of coffins".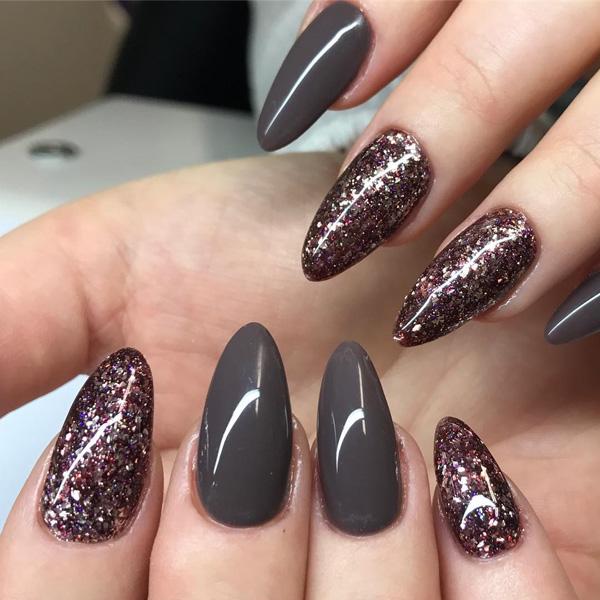 Very attractive almond nails in grey color and rhinestones in color of rotten cherry. It is great for samo glamorous ceremony at which you want to leave the impression of lady with style.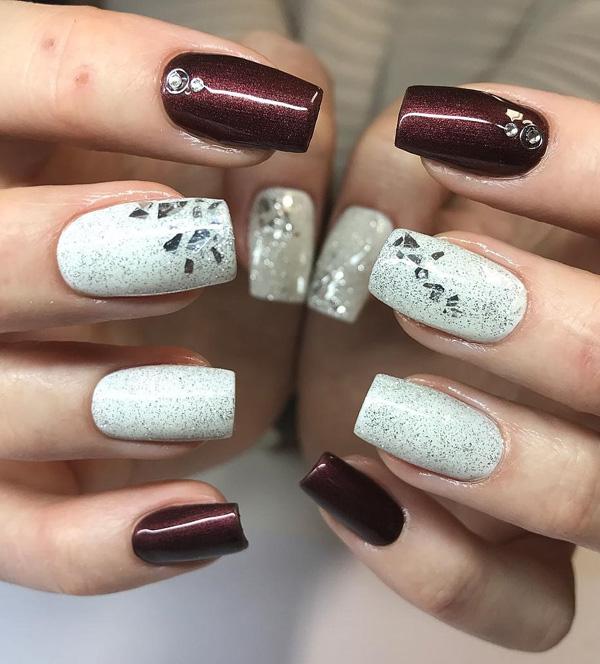 Dark red with diamond shine in combination with white nails and silver rhinestones on it. Very nice combination which you can wear on your job but also in the club.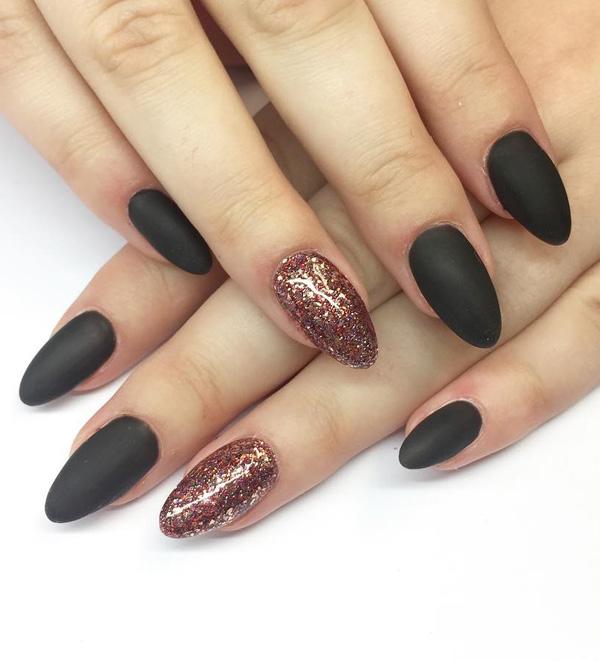 Matte black color is great for fans of this color, and if you want to look elegant combine this color with tinsel and rhinestones.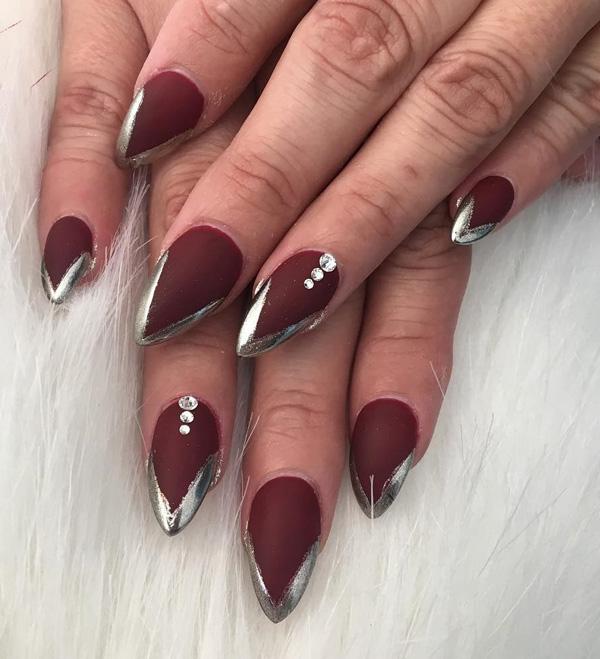 This dark red color is popular called Burgundy. Burgundy color is warm color in comparison with other colors of this season and it is hit!
Source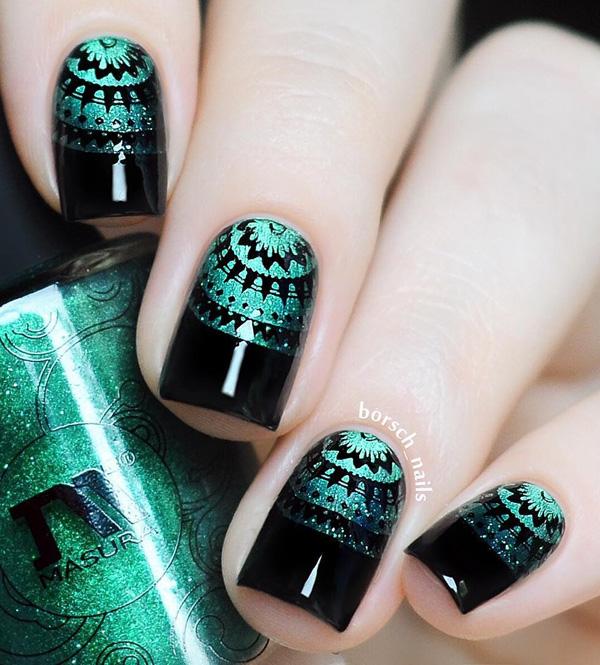 If you aren't good drawer buy stickers that you can use to get this patterns on nails. As you can see nail polishes with diamond shine are very trendy!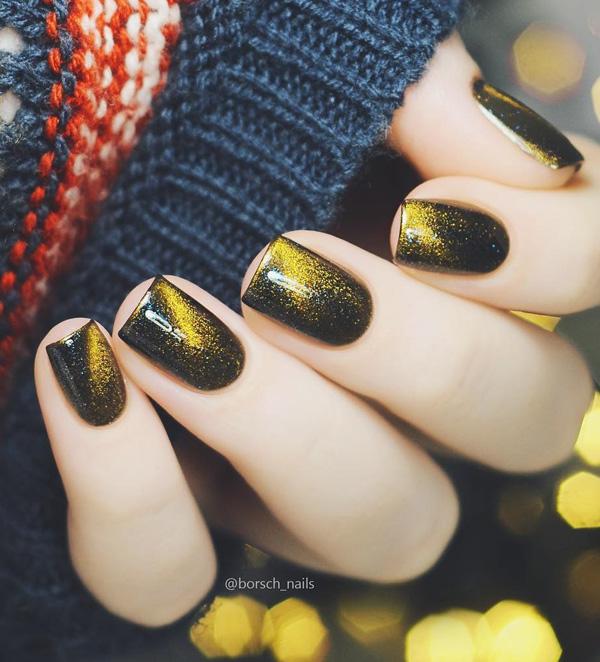 Black color can be boring, but in good combination with other colors it can look very elegant and glamorous.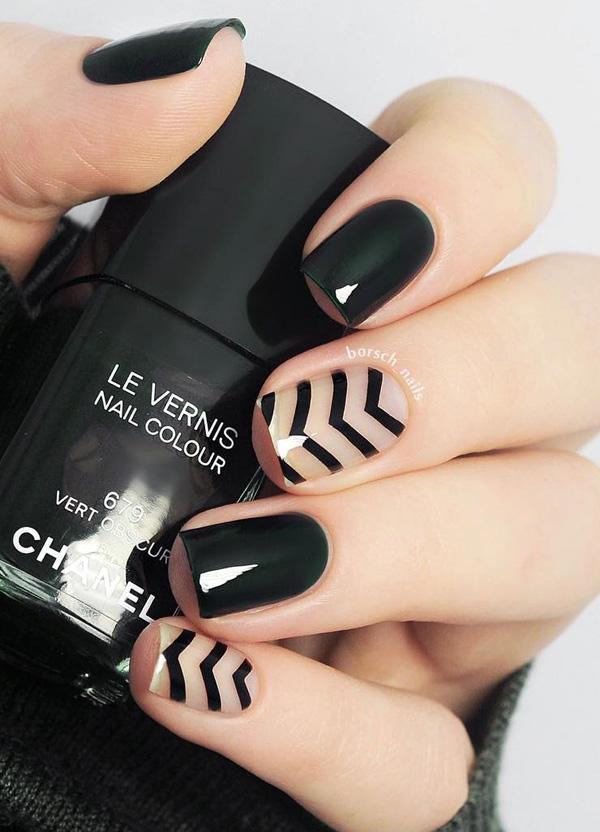 Manicure in black color you an easily combine with every outfit because black goes with every color. It isn't important do we talk about wardrobe or manicure, with black there's no mistake.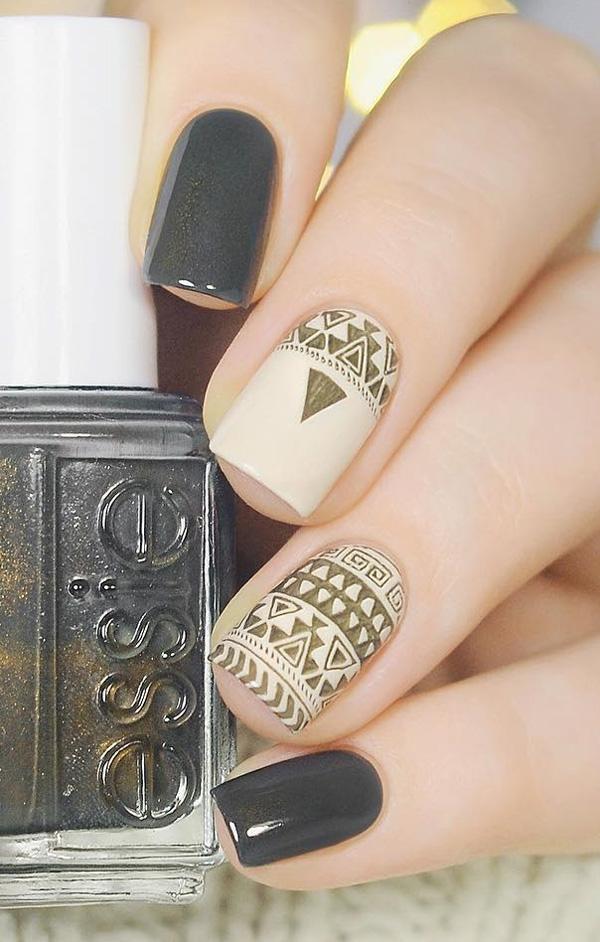 This manicure reminds me of Ancient Egypt. With the help of stickers decorate your nails such as this in the photo.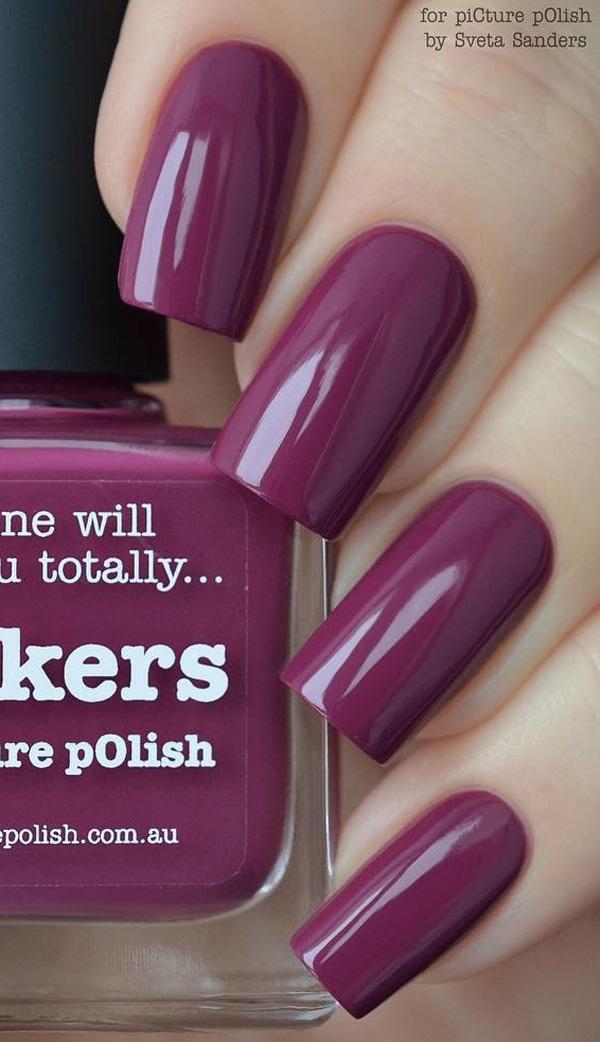 My favorite color is purple. It is evergreen and I always choose that color with much pleasure.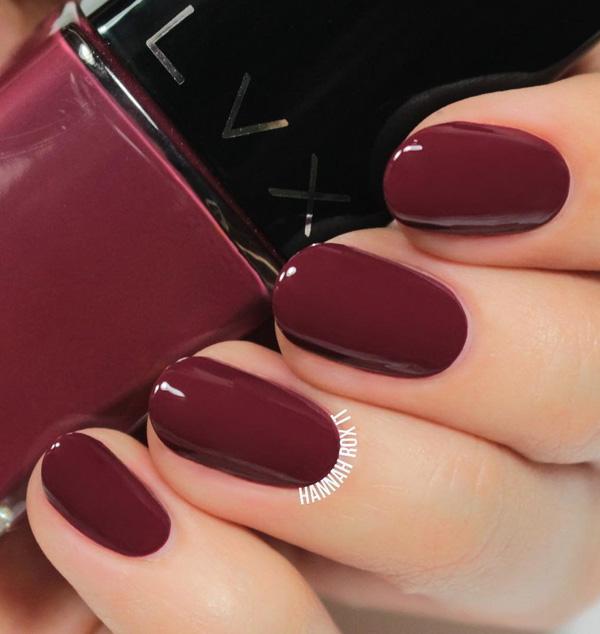 And for the end of course once more time entire red color. It stands great to all, and it is reflection of the pure elegance/ This color is welcome at every opportunity.