Tattoos are more than just body art or a fashion statement. They are a form of self-expression, a way of telling a story, or expressing a certain belief or value that one holds dear. Among the myriad of tattoo designs that have found favor among tattoo enthusiasts, one that stands out for its unique blend of whimsy, mystique, and symbolism is the unicorn tattoo. A creature of myth and legend, the unicorn has become a popular motif in the tattoo world, symbolizing everything from purity and innocence to magic and freedom.
Historical Background and Symbolism of Unicorns
The unicorn, a mythical beast renowned for its singular horn, has been a symbol of fascination and wonder in numerous cultures around the world. It has its roots in ancient mythology and folklore, with the earliest depictions dating back to the Indus Valley Civilization.
In Western culture, the unicorn is often associated with purity, innocence, and magic, thanks to its frequent appearance in fairy tales and fantasy literature. The ancient Greeks, on the other hand, believed unicorns to be real creatures that lived in far-off, mystical lands. They symbolized chastity, strength, and the divine.
In Eastern culture, particularly in China, the unicorn, known as 'Qilin', represents serenity, prosperity, and good fortune. It is often seen as a harbinger of a wise leader or the imminent birth or death of a sage.
Unicorn Tattoos and Their Meanings
The beauty of unicorn tattoos lies in their versatility in design and the depth of meanings they can convey. The unicorn, being a symbol of purity and magic, often represents the belief in the extraordinary and the power of the imagination. Its single horn is often interpreted as a symbol of unity and singularity of purpose.
The color of the unicorn in the tattoo can also carry various meanings. A white unicorn often symbolizes purity, innocence, and magic. A black unicorn, on the other hand, can represent independence, strength, and assertiveness.
Common elements often associated with unicorn tattoos include rainbows, stars, and hearts. Rainbows can symbolize hope, dreams, and prosperity. Stars often represent guidance, while hearts symbolize love and passion.
Popular Unicorn Tattoo Designs
There are countless ways to bring the mythical unicorn to life on your skin. Here are some popular unicorn tattoo designs:
Traditional Unicorn Tattoos
These designs often depict the unicorn as a white, horse-like creature with a single horn, frequently combined with other traditional elements like roses or hearts. These tattoos often carry a classic, timeless feel.
Traditional unicorn and rose tattoo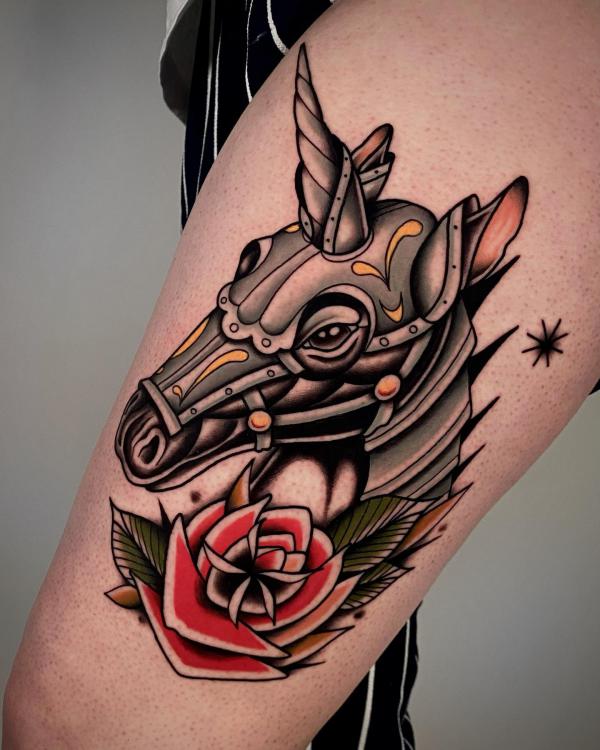 Watercolor Unicorn Tattoos
In these designs, the unicorn is usually presented in a burst of vibrant, flowing colors, resembling a watercolor painting. It's a great choice if you want a tattoo that's visually striking and full of life.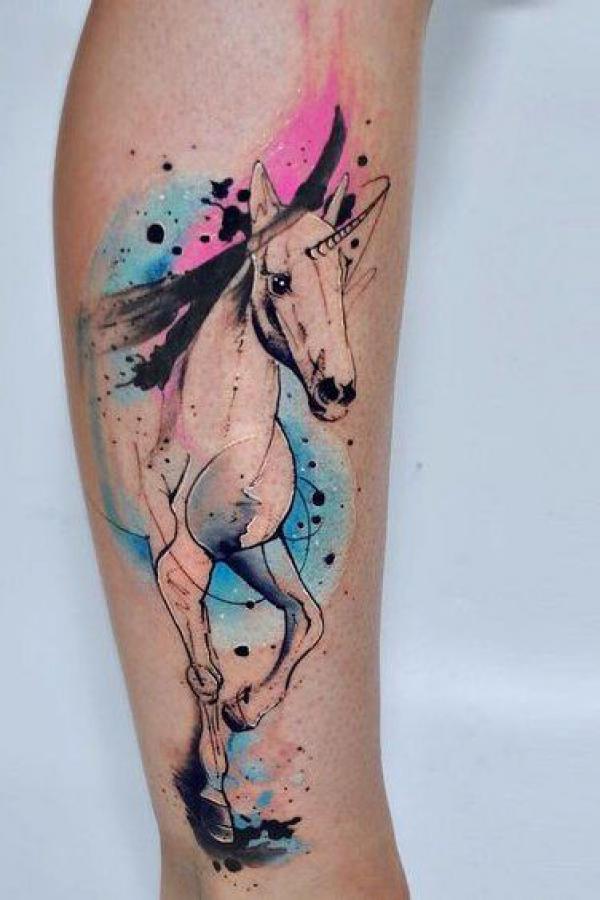 Black and Grey Unicorn Tattoos
These tattoos strip the unicorn of its traditional color, resulting in a design that's more subtle yet equally magical. It's a perfect choice for those who prefer a minimalist or more subdued aesthetic.
Black and grey unicorn and flower tattoo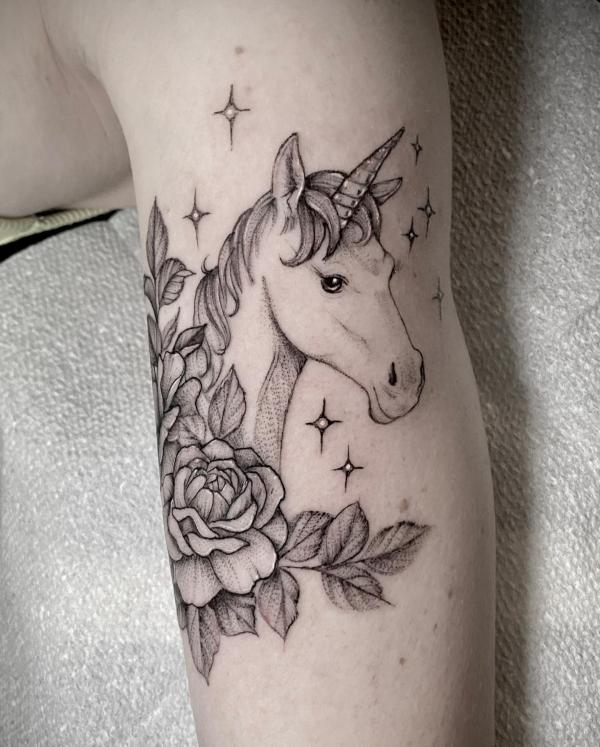 Realistic Unicorn Tattoos
For those who desire a lifelike representation, realistic unicorn tattoos are the way to go. Artists create these designs with a high level of detail and shading to bring a three-dimensional feel to the tattoo.
Realistic unicorn with wings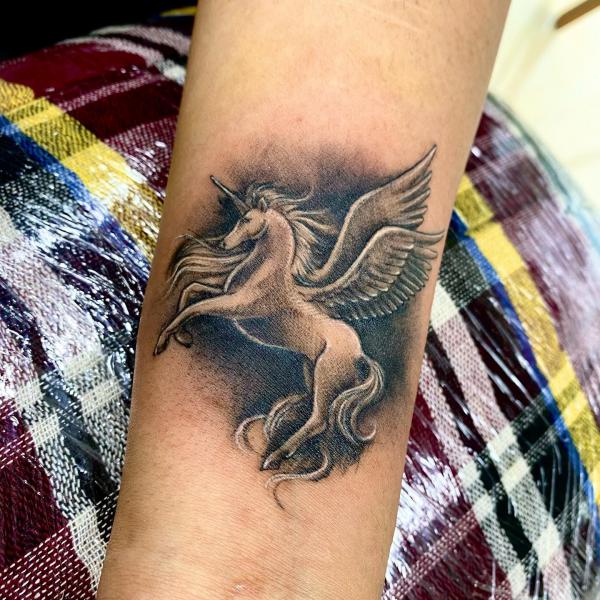 Realistic unicorn head tattoo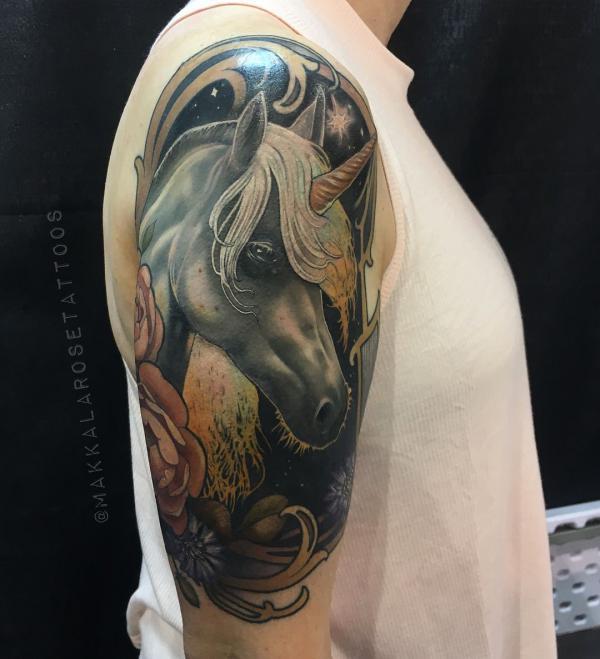 3D Unicorn Tattoos
3D unicorn tattoos take realism a step further, using shadow and perspective techniques to create an illusion of depth. The result is a tattoo that seems to jump right off the skin.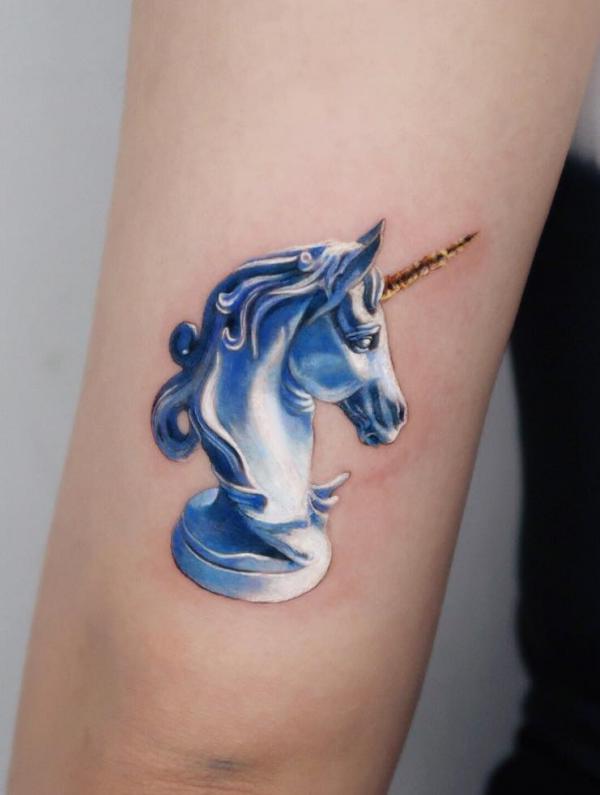 Sketchy Unicorn Tattoo
Sketchy unicorn tattoos mimic the look of a hand-drawn sketch, often resulting in a design that feels personal and creative. They can range from simple line drawings to intricate, detailed designs.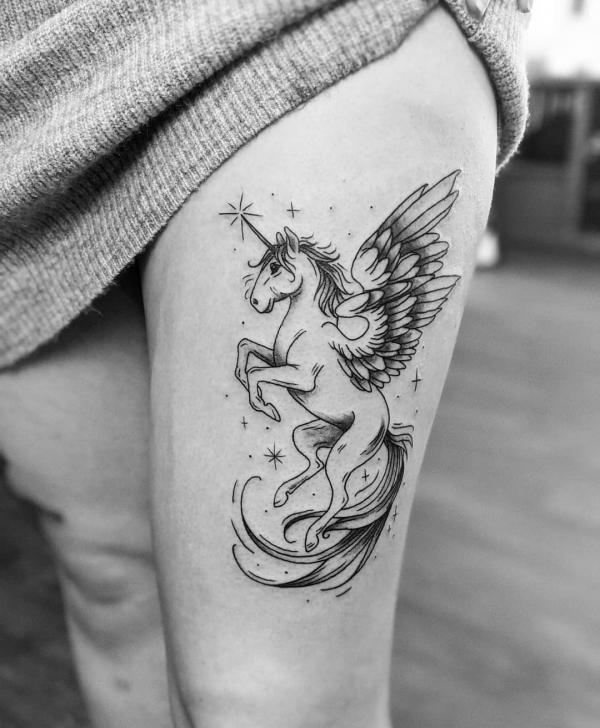 Unicorn and crescent moon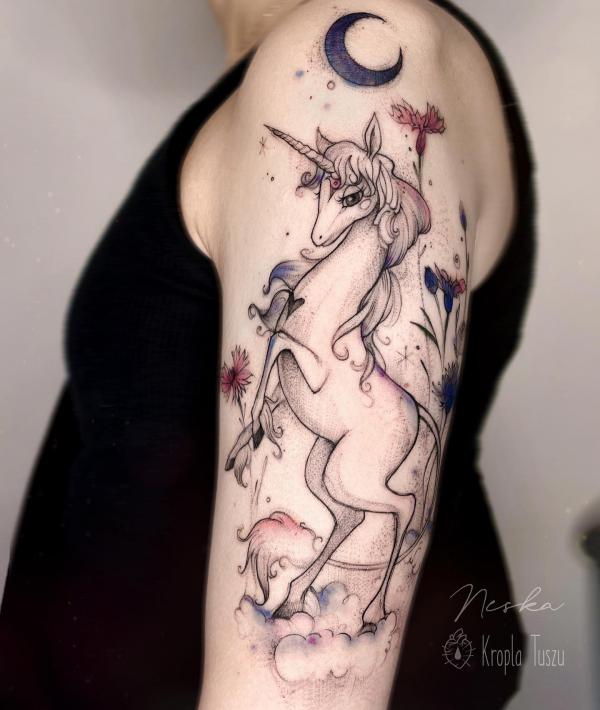 Imagine a unicorn, majestic and pure, silhouetted against a crescent moon. This design can be a powerful symbol of magic, dreams, and the mysterious allure of the night. The unicorn and crescent moon tattoo marries the ethereal beauty of these two celestial symbols, creating a design that's both enchanting and deeply symbolic.
Unicorn and diamond tattoo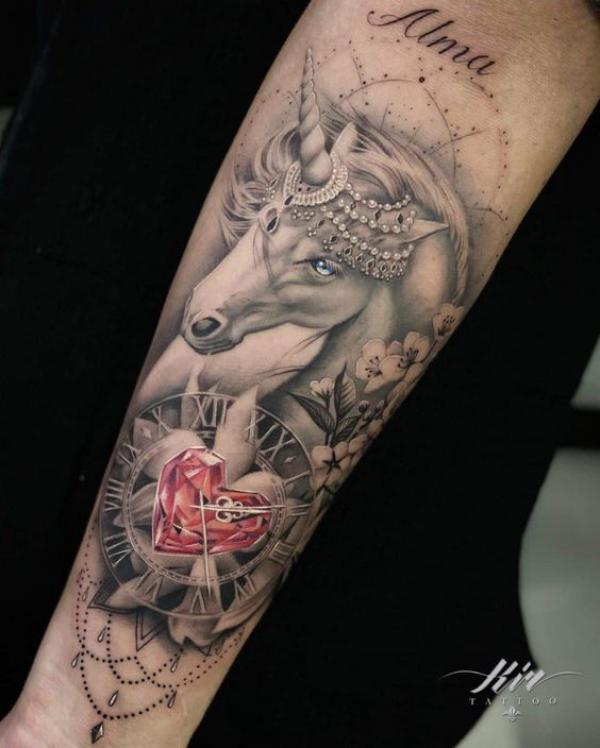 A unicorn and diamond design can be a testament to your inner strength and resilience. The diamond, known for its unbreakable nature, paired with the mythical unicorn, could symbolize your ability to maintain your purity and magic, no matter what life throws your way. This pairing can make for an aesthetically pleasing and deeply meaningful tattoo design.
Unicorn breaking free from chains of demon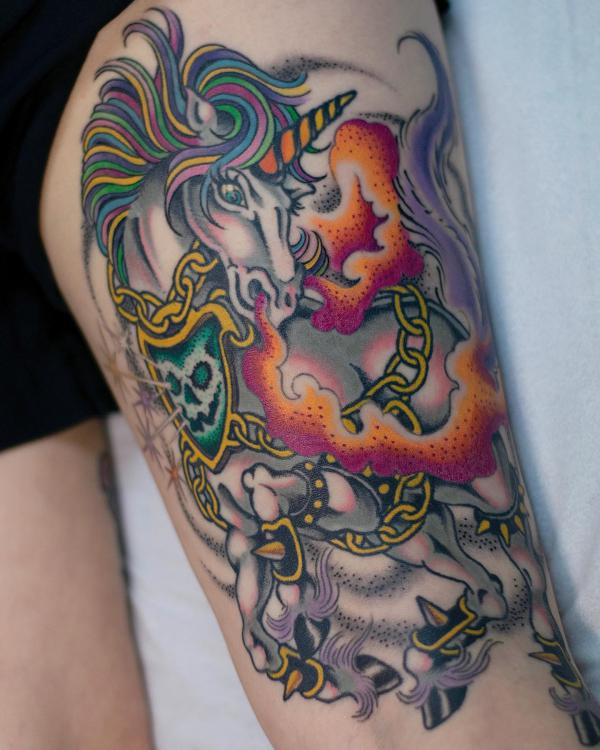 The image of a unicorn breaking free from the chains of a demon can be a powerful symbol of liberation and triumph over darkness. This design can serve as a reminder of your own battles and victories, symbolizing your ability to maintain your innocence and magic, even when faced with life's demons.
Unicorn in the clouds with eyes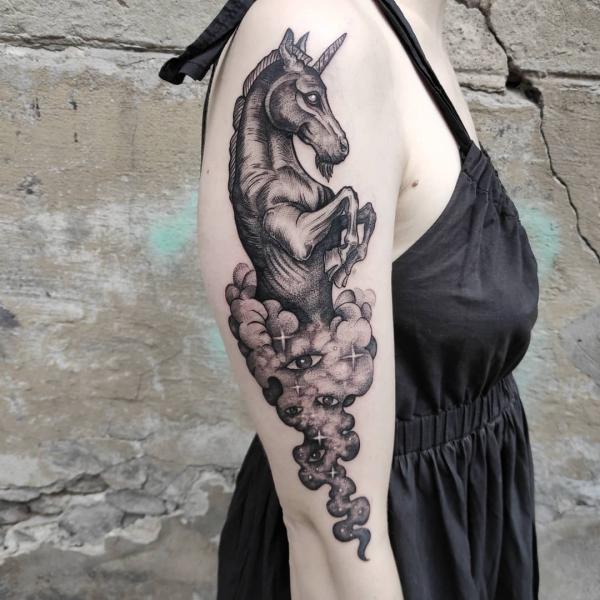 A unicorn in the clouds with eyes can be a unique and mystical ink design. The eyes could represent wisdom and vision, while the unicorn symbolizes magic and purity. This design could serve as a reminder to keep your eyes on your dreams, no matter how lofty they may be.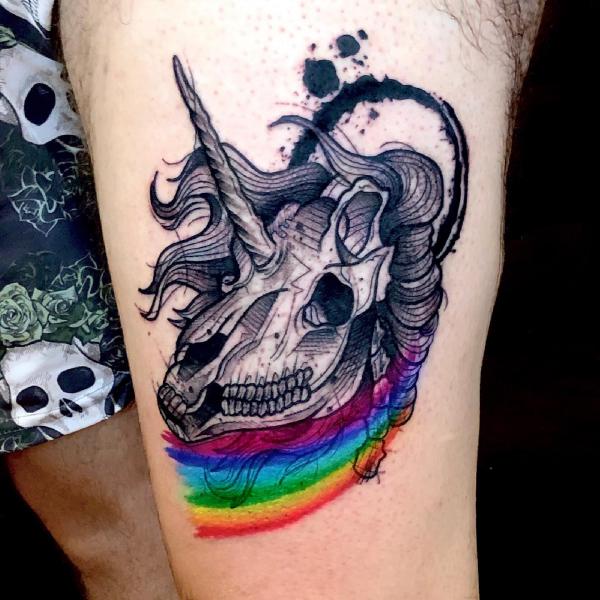 A unicorn skull can be a striking and unconventional design. It can symbolize the cycle of life and death, a reminder that even the most magical creatures are subject to the natural laws of the universe. This design can be a powerful testament to the beauty and transient nature of life.
Unicorn skeleton tattoo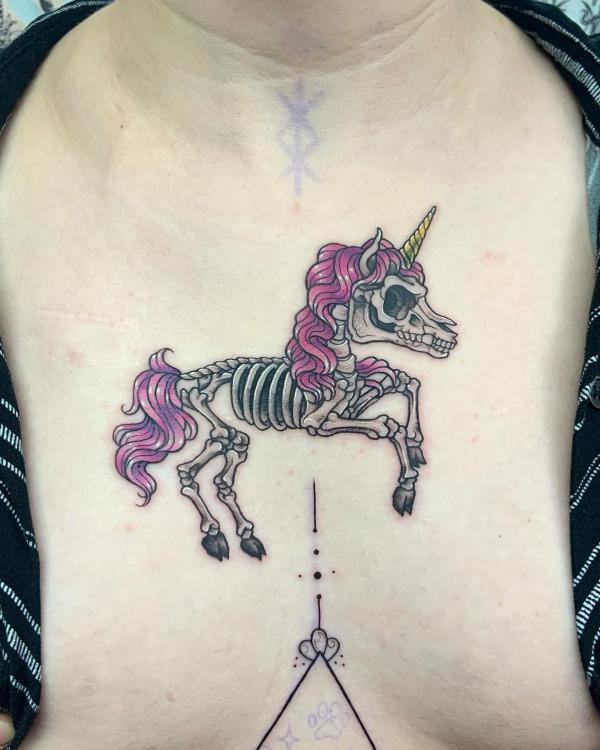 Similarly, a unicorn skeleton design can serve as a stark reminder of the impermanence of life. Even the most magical, mythical creatures have a physical structure that binds them. This design can remind you of your own strength and structure, the framework within you that holds your magic.
Unicorn with a spider lily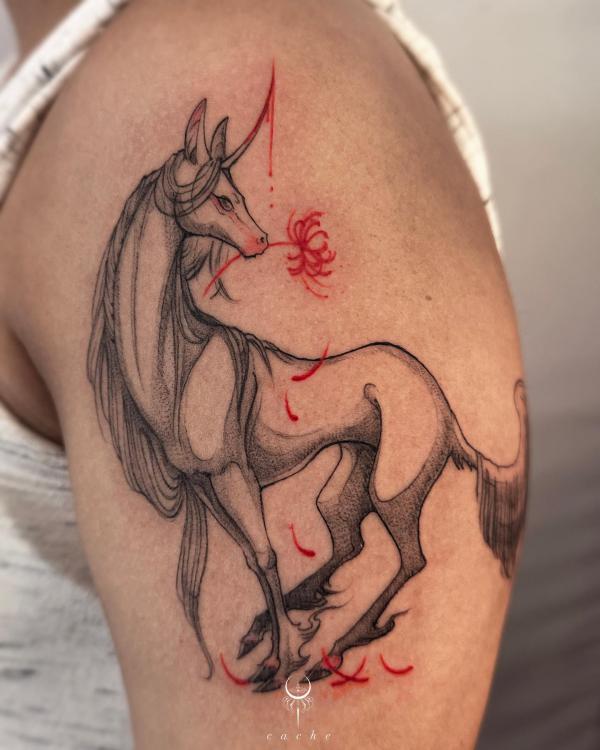 Combining a unicorn with a spider lily can create a deeply symbolic and visually striking design. The spider lily, often associated with final goodbyes and lost memories, paired with a unicorn can symbolize the magic within melancholy, the beauty within loss.
Unicorn with halo above the city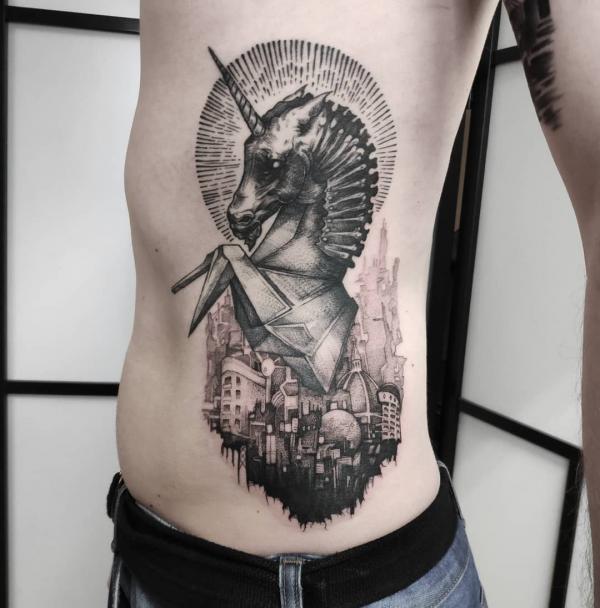 A unicorn with a halo above the city can be a symbol of hope and magic in the midst of chaos and noise. This design can serve as a reminder that even in the busiest, most bustling environments, there is space for magic, peace, and purity.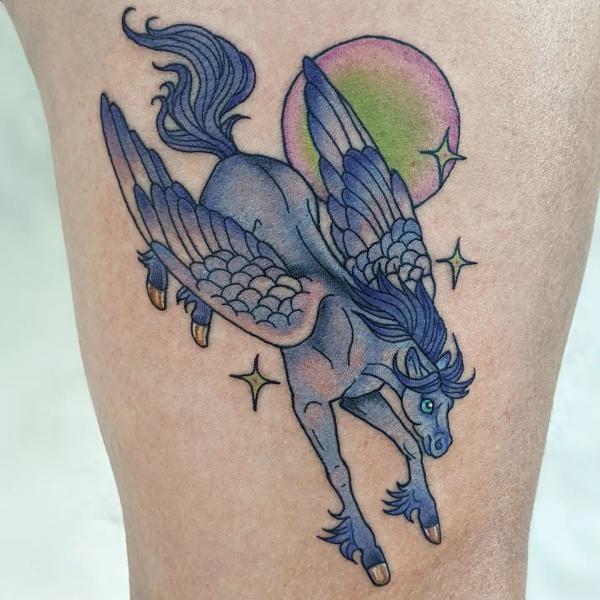 The image of a unicorn with the moon and stars can be a powerful symbol of magic, dreams, and the boundless beauty of the universe. This tattoo design can serve as a personal reminder of your place within the cosmos, your unique magic amidst a universe full of wonders.
Unicorn with purple flowers and diamond tattoo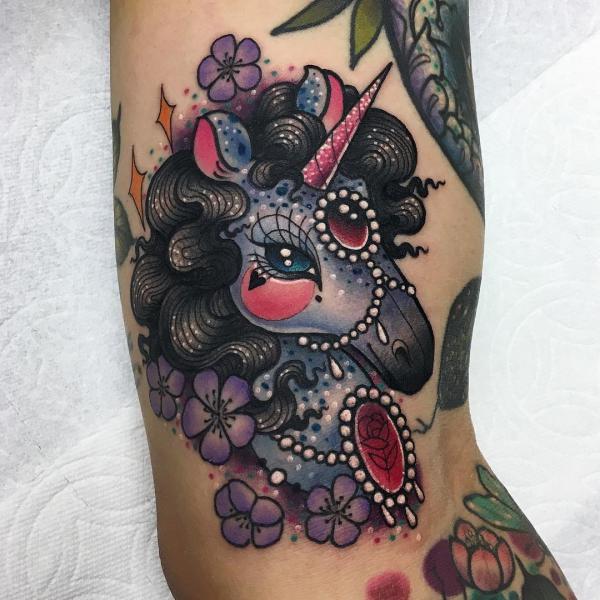 A unicorn with purple flowers and a diamond can make for a beautiful and symbolic design. Purple flowers often symbolize refinement and elegance, while diamonds represent strength and resilience. Together with the unicorn, this design can be a testament to your own elegance, strength, and magical allure.
Unicorn with rainbow hair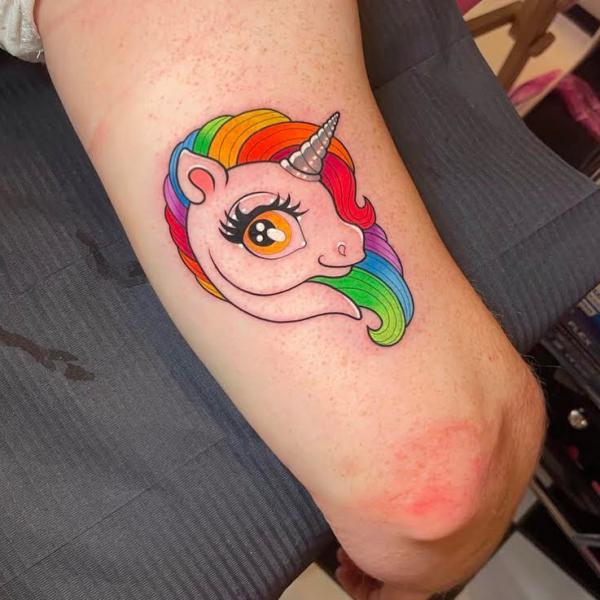 Inject a burst of color into your life with a unicorn sporting rainbow hair. This fun, vibrant design can symbolize diversity, joy, and the magic of being unique. Every color in the unicorn's mane can represent a different facet of your personality, making this tattoo a true celebration of who you are.
Cartoonish unicorn drawing tattoo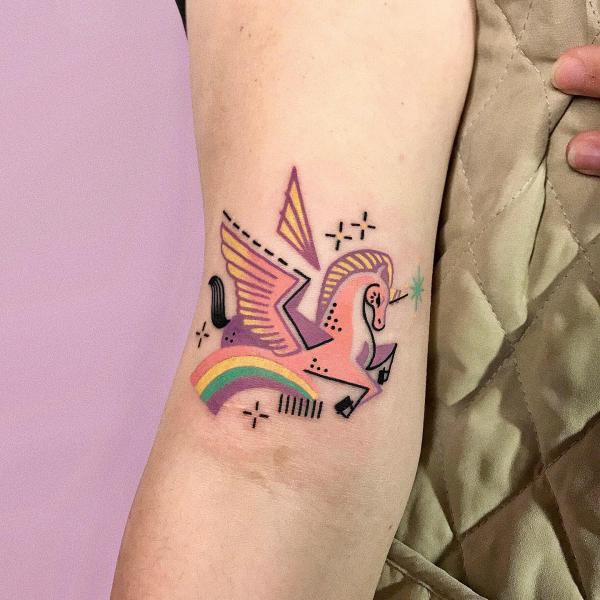 Embrace your inner child with a cartoonish unicorn ink design. This playful design can remind you to never lose your sense of wonder. It can serve as a colorful, cheerful reminder of the magic that exists in the world—and in you.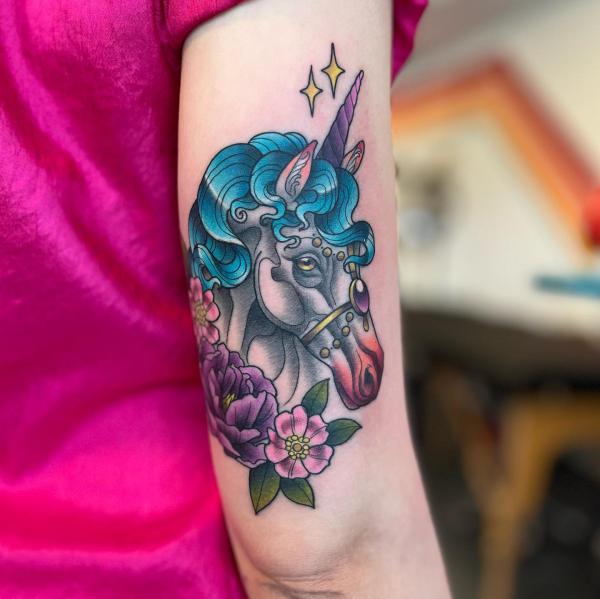 A unicorn prancing amongst flowers can make for a beautifully vibrant and symbolic ink design. The flowers, with their own meanings, can add a deeper layer of significance to your unicorn tattoo. This design can be a testament to your love for nature, your appreciation for beauty, and your belief in magic.
Colorful unicorn with rainbow clouds and moon and stars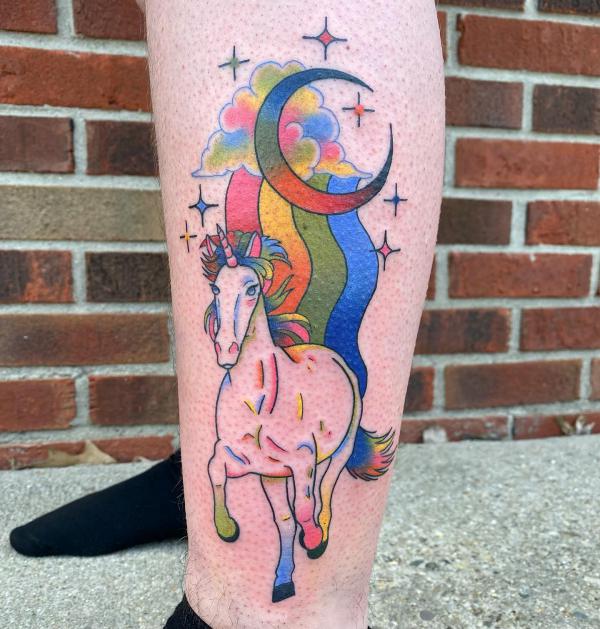 A colorful unicorn amidst a backdrop of rainbow clouds, moon, and stars can be a symbol of dreams, magic, and the infinite beauty of the universe. This design can serve as a reminder that even the sky is not the limit when it comes to your dreams and ambitions.
Cute unicorn with wings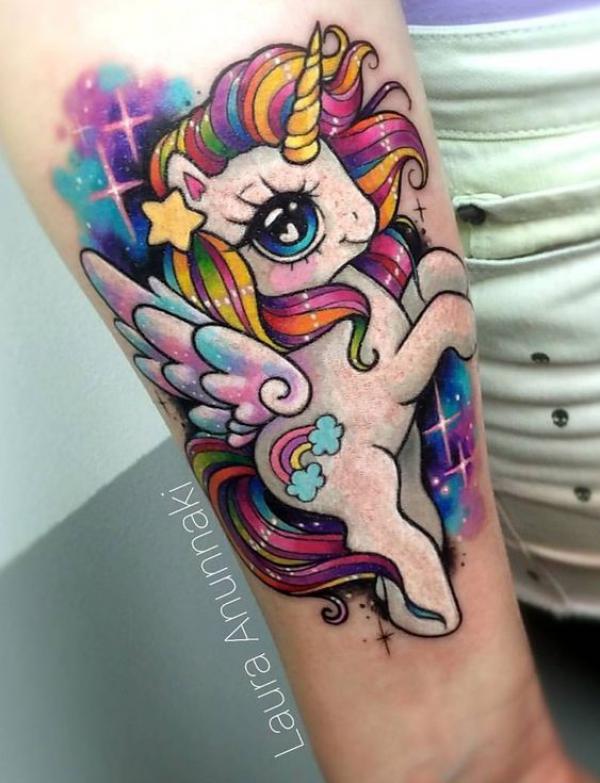 A cute unicorn with wings can be a whimsical and endearing design. It can symbolize freedom, magic, and the power of transformation. This tattoo can remind you that you too have the ability to rise above your circumstances and fly high.
Feminine tribal unicorn tattoo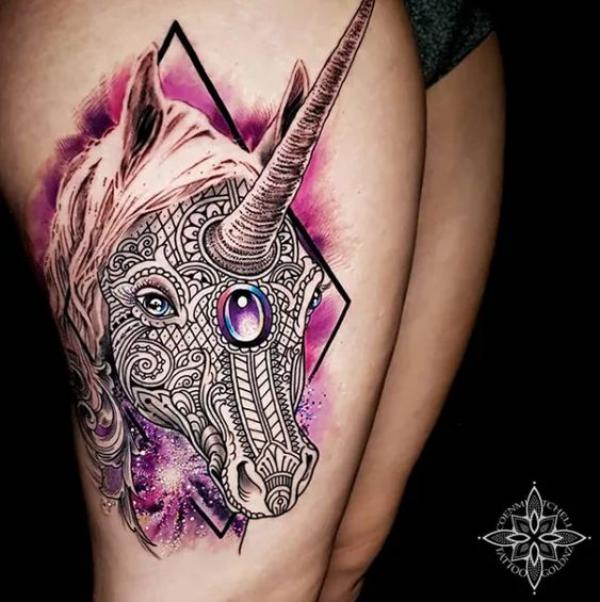 A feminine tribal unicorn tattoo can be a beautiful fusion of tradition and fantasy. The tribal patterns add a touch of the exotic and ancient, while the unicorn brings a sense of magic and purity. This design can be a tribute to your roots and your dreams.
Gothic unicorn skeleton tattoo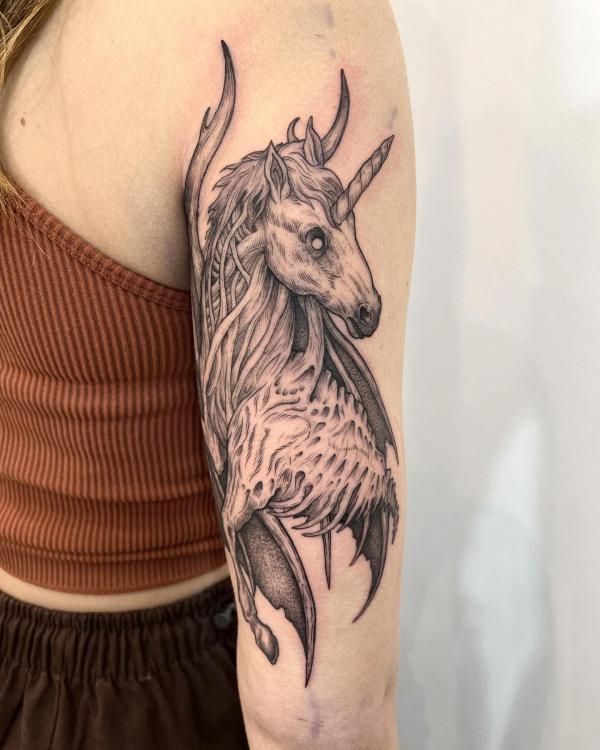 A gothic unicorn skeleton tattoo can be a striking and unconventional choice. It can symbolize the darker side of magic, a reminder that even the most pure and magical creatures have a shadow side. This design can be a testament to your acceptance of both light and dark within you.
Illustrative unicorn and rose tattoo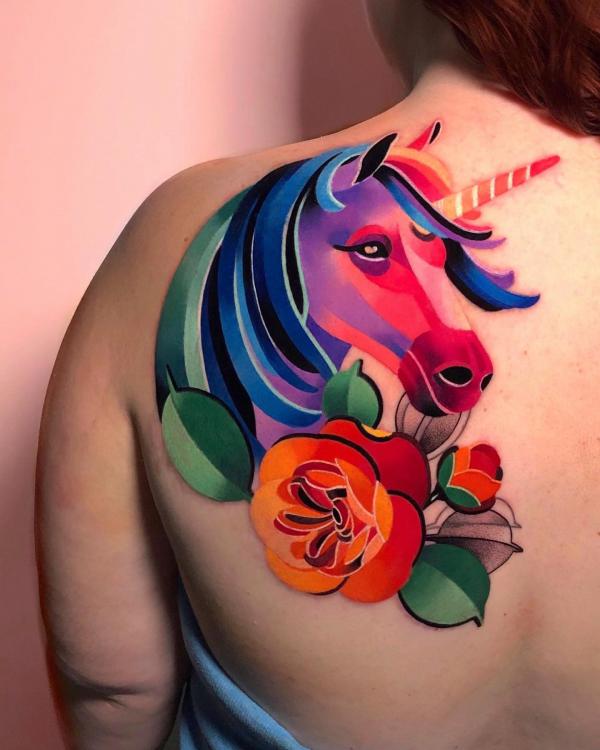 The pairing of a unicorn and a rose in an illustrative style can make for a beautiful and meaningful tattoo. The rose, with its thorns and velvety petals, can symbolize the beauty and pain of love, while the unicorn can represent magic and purity. This design can be a testament to your belief in love and magic.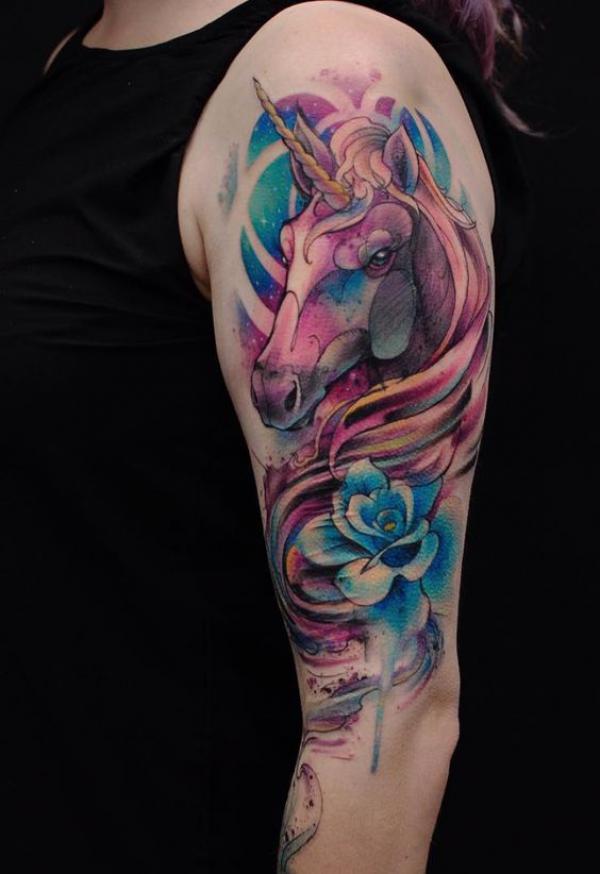 A unicorn and a blue rose can create a deeply symbolic and visually striking tattoo. The blue rose, often associated with the unattainable and the mysterious, paired with a unicorn can symbolize the magic within the elusive, the beauty within mystery.
Unicorn and butterfly cover up tattoo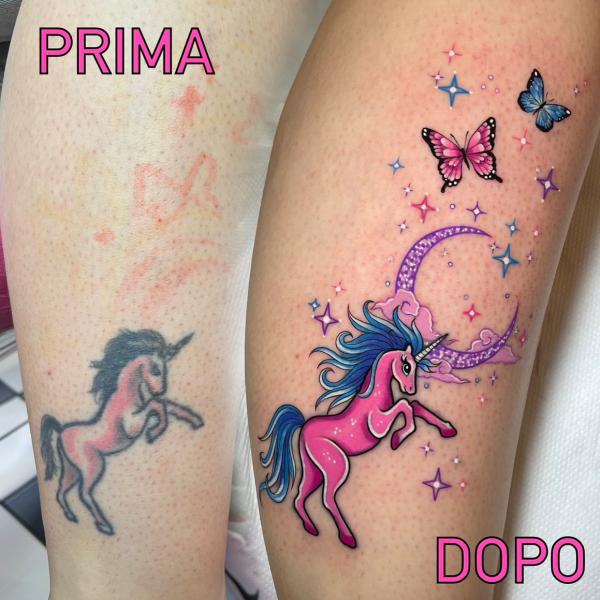 A unicorn and butterfly cover up tattoo can be a symbol of transformation and new beginnings. The butterfly, with its journey from caterpillar to winged beauty, and the unicorn, with its magic and purity, can serve as a reminder of your own growth and transformation. This design can cover an old tattoo, symbolizing a new chapter in your life.
Placement Ideas for Unicorn Tattoos
Unicorn tattoos offer great versatility in terms of placement. The choice of location can depend on various factors like the size of the design, personal comfort, and how prominently you want to display your tattoo. Here are some popular spots:
Forearm
Your forearm serves as an excellent canvas for a unicorn tattoo. This spot is perfect for displaying detailed designs and makes your unicorn easily visible. Whether you're reaching out to shake someone's hand or rolling up your sleeves to get to work, a forearm unicorn tattoo will be a constant reminder of the magic and purity in your life.
Floral unicorn forearm tattoo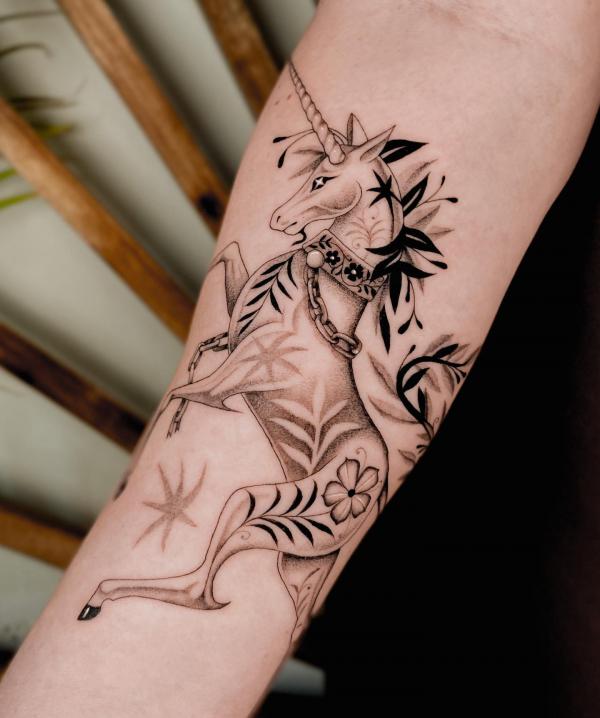 Sleeve
Ready to make a bold statement? A unicorn-themed tattoo sleeve could be a fantastic choice. Imagine an intricate scene of a unicorn in a magical forest, or a celestial unicorn among stars and planets, wrapping around your entire arm. This placement allows for a larger, more detailed design that's sure to turn heads.
Unicorn and hibiscus half sleeve tattoo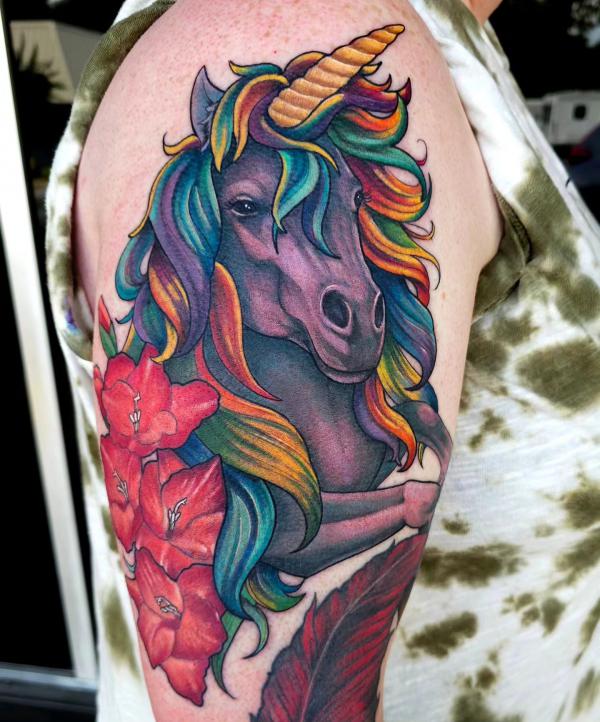 Shoulder s
The shoulder is a versatile spot for a unicorn tattoo. It's an area that can be easily covered or exposed depending on your outfit. A unicorn prancing on your shoulder could be a personal symbol of freedom and magic that you share with the world when you choose to.
Black and grey unicorn shoulder tattoo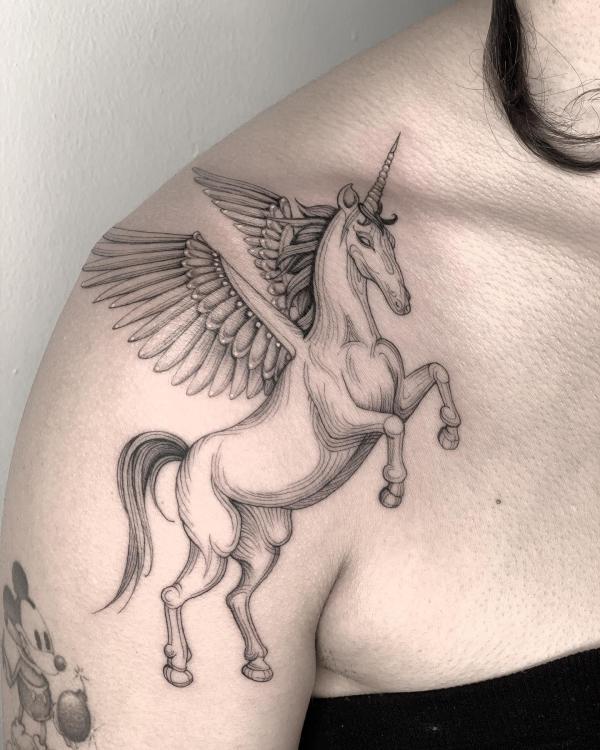 Ankle
If you're looking for a subtler approach, consider the ankle. A small unicorn tattoo here can be a charming, discreet choice. Every time you step forward, you'll be moving with the grace and strength that unicorns symbolize.
Unicorn silhouette ankle tattoo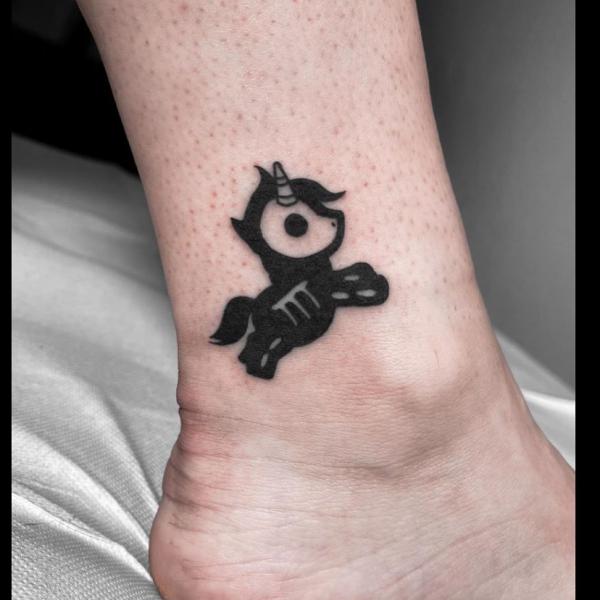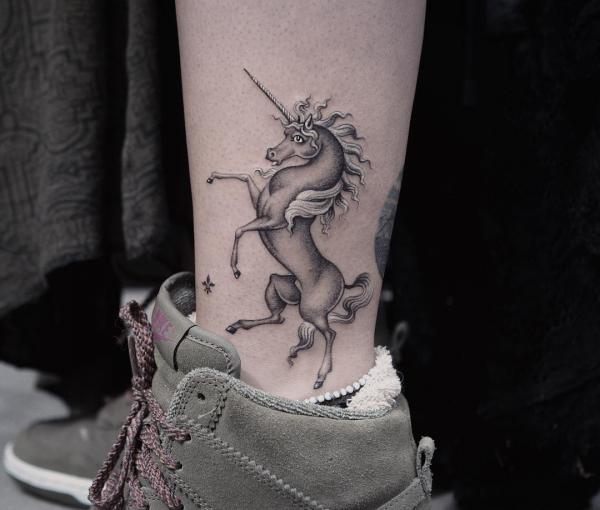 Thigh
The thigh provides ample space for larger, more intricate designs. You could have a majestic unicorn in a sprawling meadow, a battle scene of a unicorn versus a dragon, or even a playful unicorn sliding down a rainbow. A thigh unicorn tattoo can be your secret enchantment or a public piece of art, depending on your outfit for the day.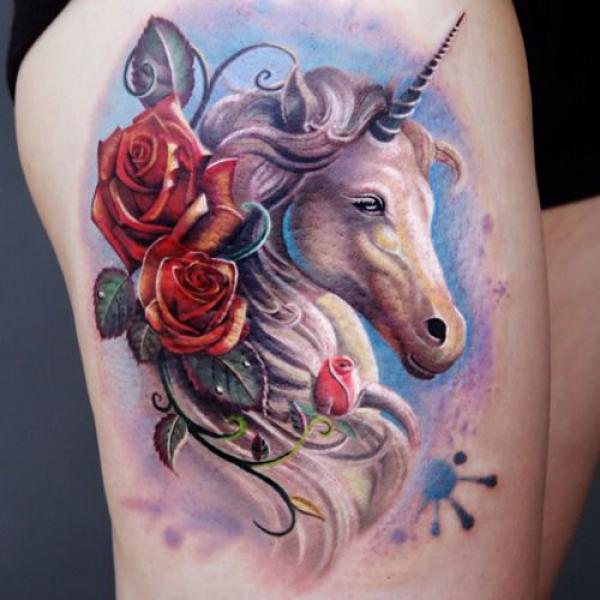 Unicorn with blue hair and roses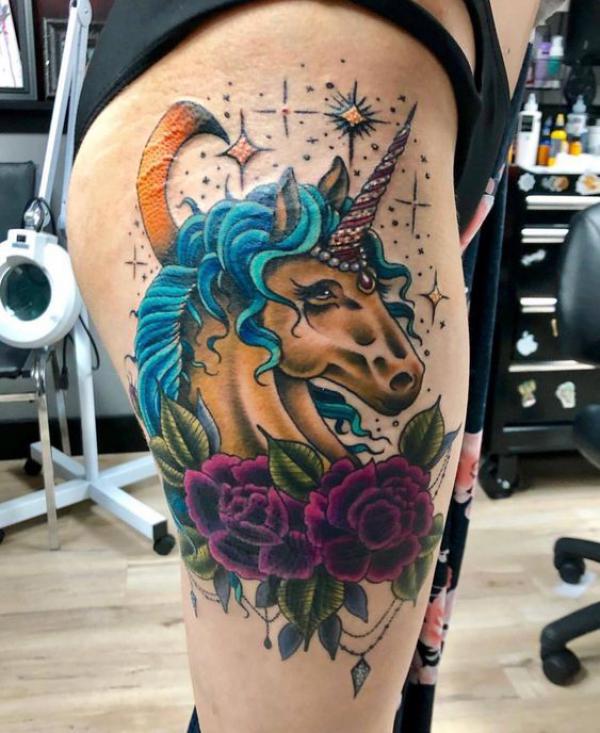 Side
An ink design tattoo on the side of your body can be an especially striking choice. This area offers ample space for a more elaborate design, and the contour of your body can add a unique dimension to your unicorn tattoo. Imagine a unicorn running along the curve of your side, its magic flowing with your every move.
Fine line unicorn with flowers side tattoo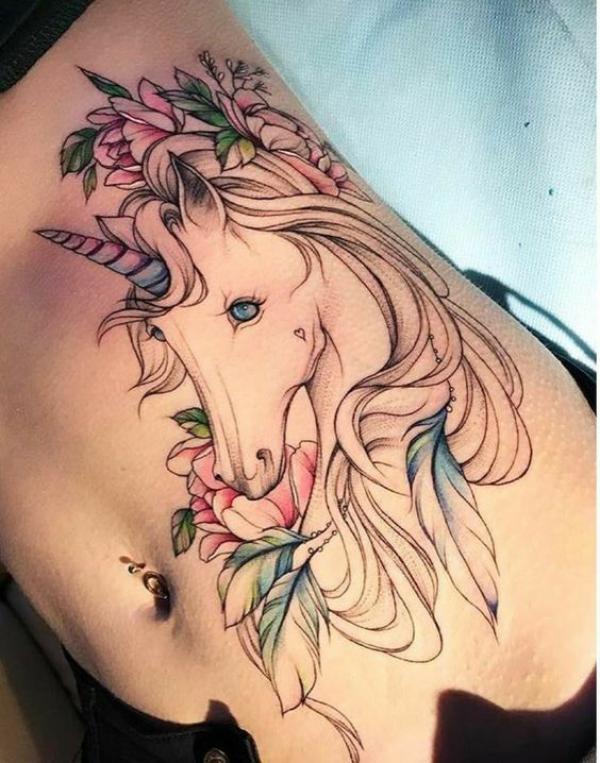 Galaxy unicorn side tattoo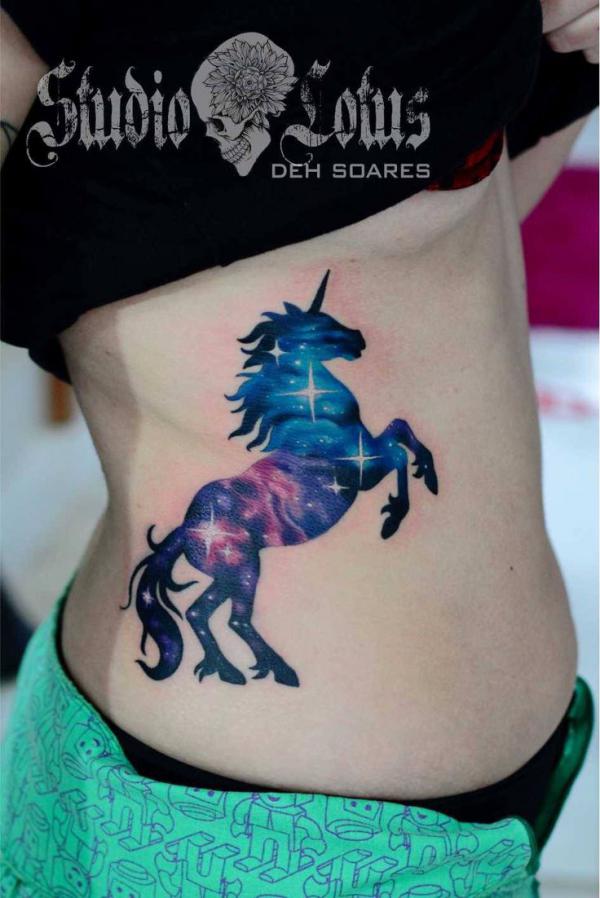 Hand
A small unicorn tattoo on the hand can be a bold statement. Every time you reach out, write, or gesture, your unicorn will be there, adding a touch of magic to your everyday actions. It can be a constant reminder of the mythical in the mundane.
Blue unicorn and thistle tattoo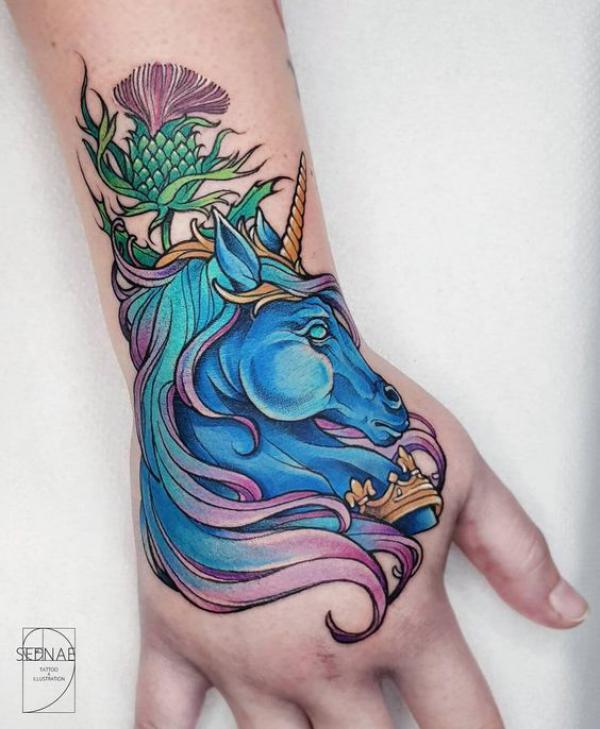 Behind Ear
For a whimsical, secretive choice, consider a tiny unicorn tattoo behind the ear. This spot is perfect for a small, simple design that's easily hidden yet can be a delightful surprise when revealed. It's like whispering a magical secret to the world.
Black and grey unicorn tatto behind ear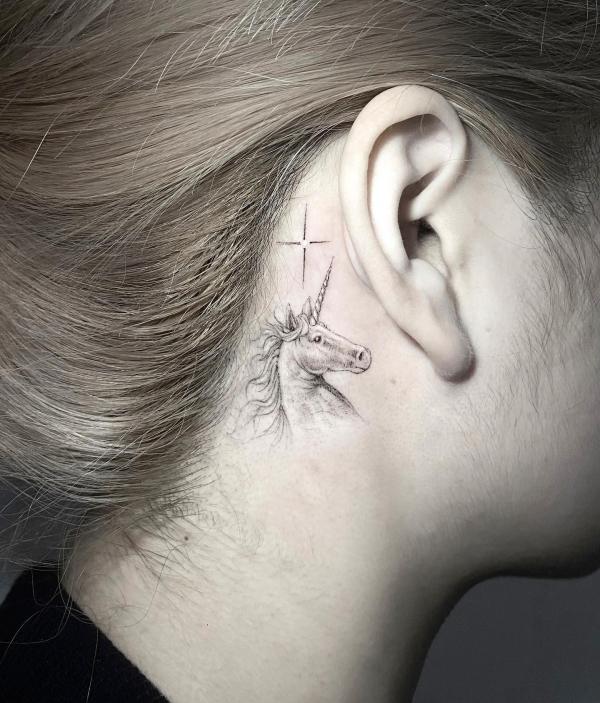 Wrist
Dazzle the world with a flick of your wrist! A unicorn tattoo on your wrist is like wearing a magical charm bracelet, constant and visible in your everyday activities. It makes for a captivating conversation starter and a personal reminder of the magic in your life.
Unicorn wrist tattoo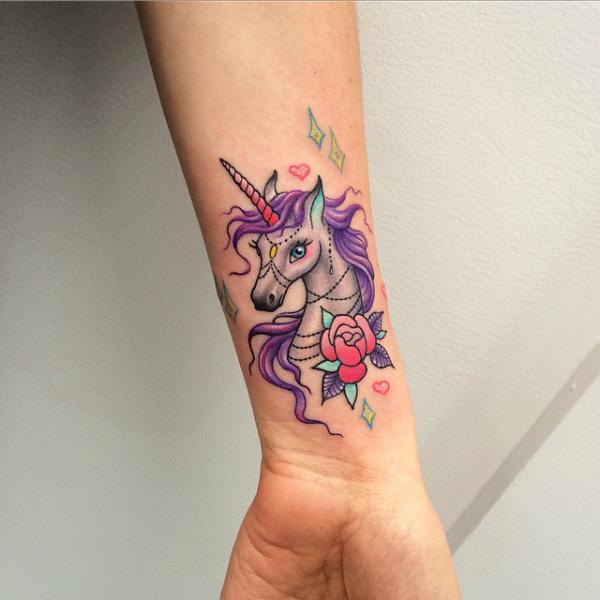 Leg
Stride forward with a unicorn on your leg! This placement offers a broad canvas for a detailed design, whether it's a mythical unicorn frolicking through a magical forest or a simple, elegant silhouette of this majestic creature. A unicorn leg tattoo can be a bold emblem of your strength and uniqueness as you move through the world.
3D unicorn metal ornamental effect leg tattoo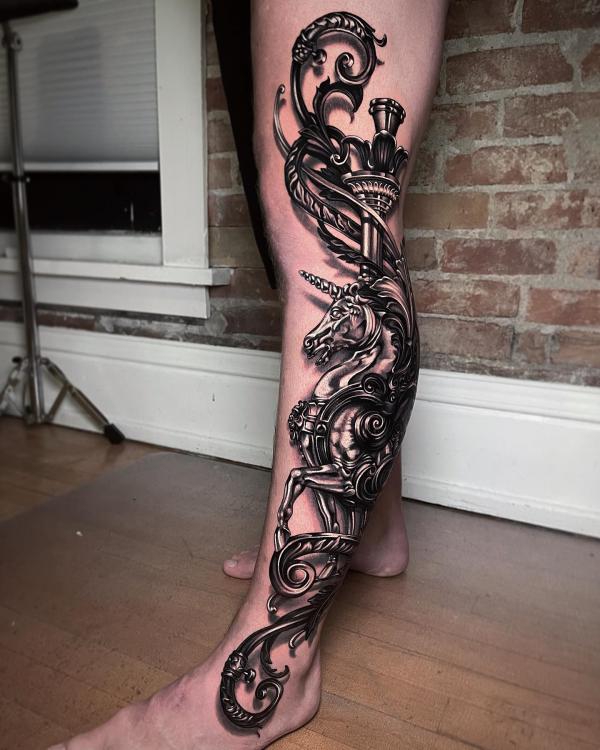 Conclusion
Unicorn tattoos represent much more than a mythical beast. They're an embodiment of magic, purity, freedom, and a host of other meanings drawn from centuries of symbolism. With a range of designs from traditional to 3D, from vibrant watercolor to subdued black and grey, there's a unicorn tattoo to match every aesthetic.
The placement of these tattoos is as versatile as their designs, fitting perfectly anywhere from the forearm to behind the ear. Remember, the most crucial consideration when getting a unicorn tattoo – or any tattoo – is that it resonates with you. It should reflect your personal story, your beliefs, or your dreams.
So, if you see the world with a touch of magic, if you value purity of heart and freedom of spirit, or if you simply love the enchantment that unicorns represent, then a unicorn tattoo might just be the perfect way to wear your heart on your sleeve – or your forearm, or your ankle. Embrace the magic within you, and let it shine for all to see!