In the vibrant world of tattoos, few designs captivate the eye and stir the soul quite like the Koi fish. With roots tracing back to Japanese culture, each Koi fish tattoo tells a tale of resilience, aspiration, and transformation. Hailing from the Land of the Rising Sun, these tattoos embody strength, perseverance, and the power to overcome life's obstacles. Let's dive into the diverse universe of the tattoos, exploring the unique designs that merge tradition, symbolism, and artistry into a stunning canvas.
Different Colors of Koi Fish Tattoo Designs
The beauty of Koi tattoos isn't just about their symbolism. It's also about the wide palette of colors they come in, each with its own unique meaning. Let's dive into the colorful universe and discover what each color represents.
Golden Koi fish
If you're looking to symbolize wealth, prosperity, and good fortune, consider a golden-themed Koi fish design. The golden color is seen as a symbol of wealth and prosperity. This tattoo can serve as a good luck charm, attracting abundance and success into your life.
Golden koi fish with lotus and Buddha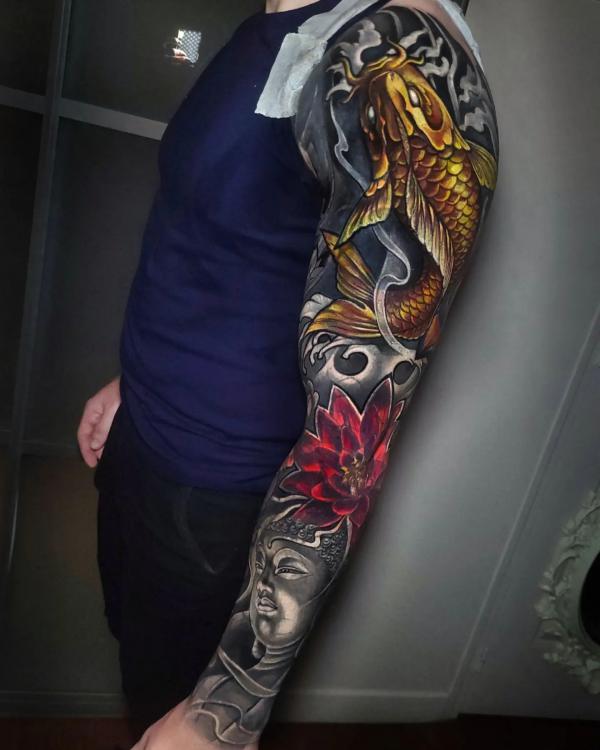 Black
A black tattoo makes a bold statement, and it's as powerful as it is visually striking. In Japanese culture, the black Koi fish symbolizes overcoming great obstacles, reflecting the ability that Koi fish can swim upstream and even leap waterfalls.
Black koi fish with wave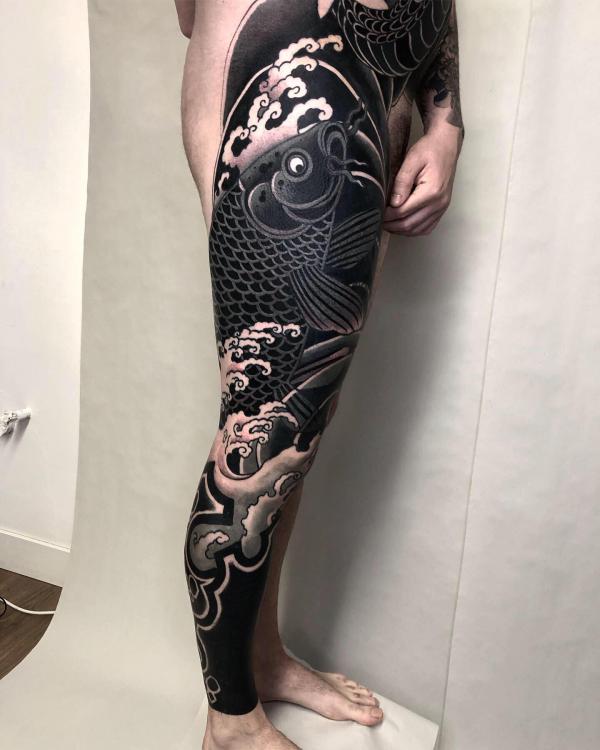 Blue
A blue Koi fish is a beautiful sight to behold. This color represents tranquility, peace, and calmness. It's the perfect choice for those who wish to showcase their serene and composed nature. The blue Koi tattoo can be a symbol of your inner peace and your ability to stay calm in the face of adversity.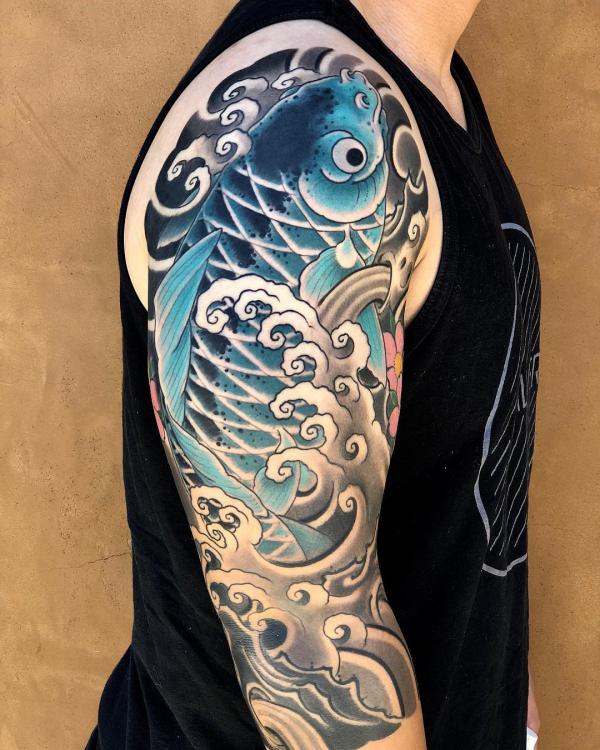 Blue koi fish with golden fins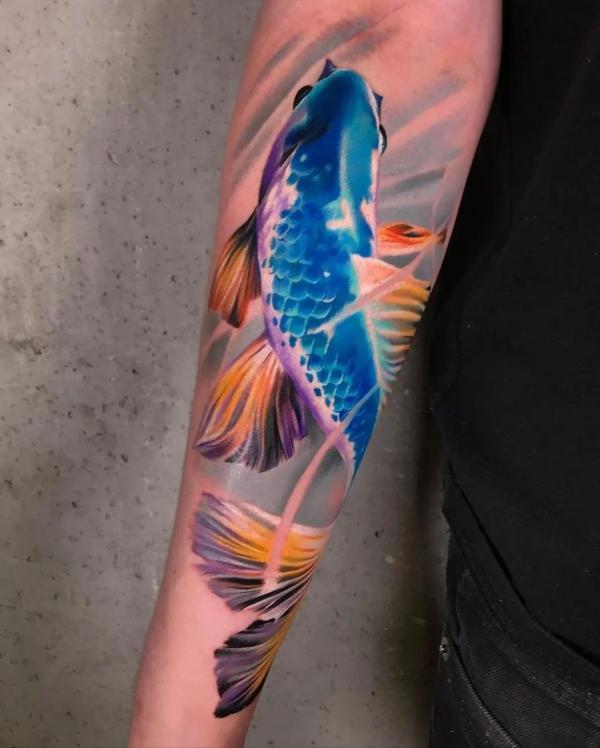 Blue fish lower leg tattoo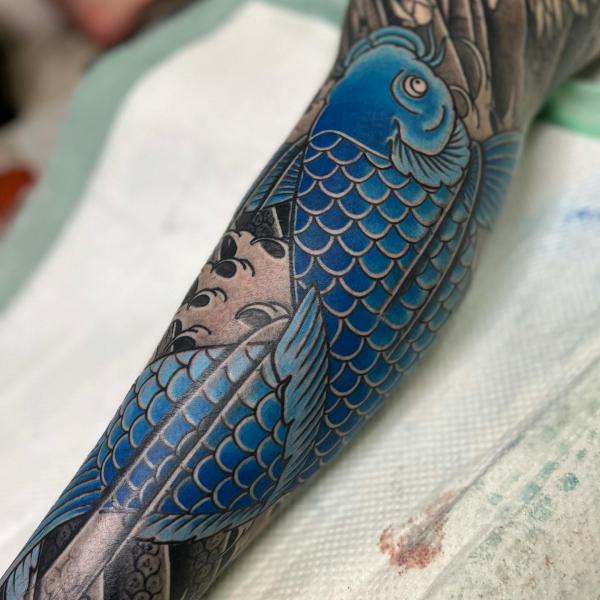 Green
A green Koi fish is a beautiful expression of nature and growth. In Japan, the color green is associated with life, renewal, and energy. This tattoo can symbolize personal growth and your connection to nature. It's an excellent choice for those who value personal development and environmental consciousness.
Green koi tattoo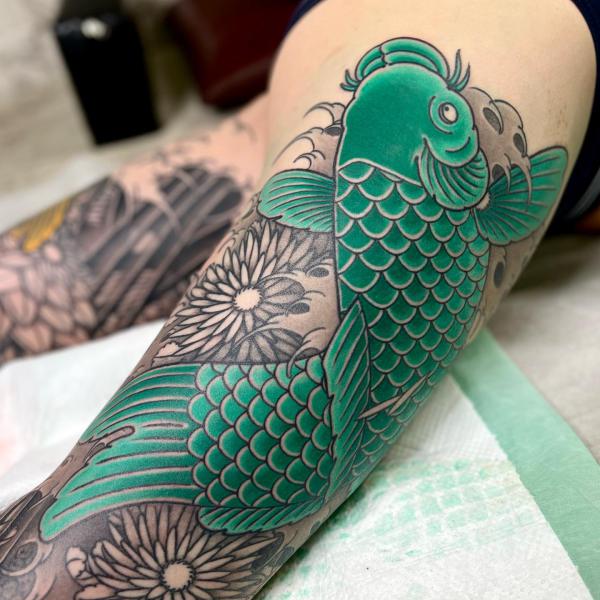 Orange
For a design that's vibrant and full of life, consider an orange Koi fish tattoo. The color orange is associated with energy, enthusiasm, and warmth. An orange Koi fish design can symbolize your zest for life and your vibrant personality.
Orange koi fish hand tattoo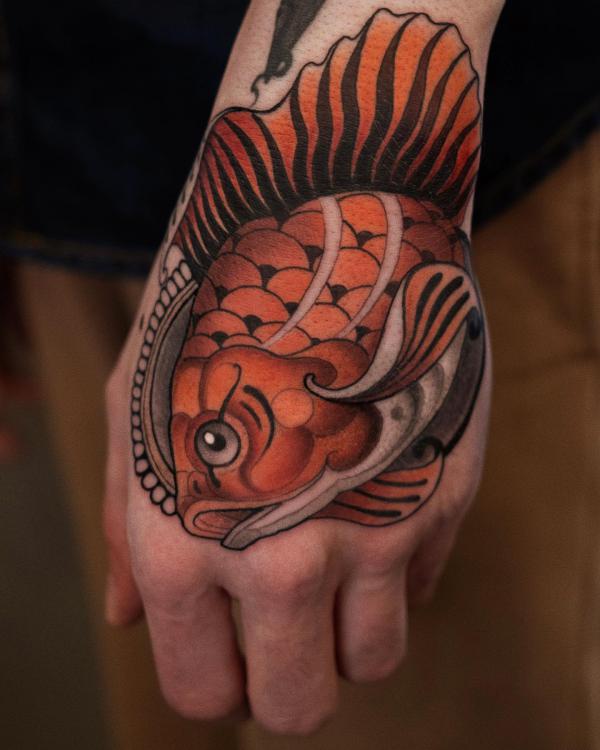 Purple
If you want to feel like royalty, a purple Koi fish tattoo is the way to go. Purple is often associated with nobility and luxury. A purple Koi fish can symbolize your ambition, your dreams, and your desire to achieve great things.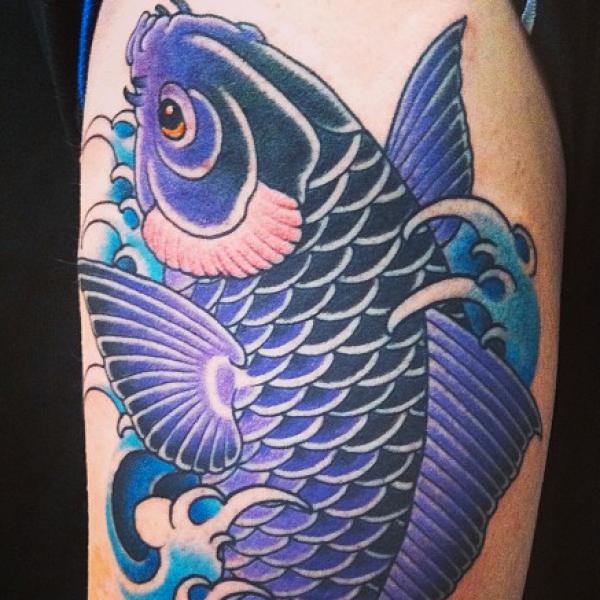 Red
In Japanese culture, the red Koi fish is also a symbol of power and bravery. This is a tattoo for the bold and the passionate, for those who love deeply and live intensely. Whether you're commemorating a passionate love, marking a brave life decision, or honoring your fiery spirit, a red Koi fish tattoo is a powerful choice.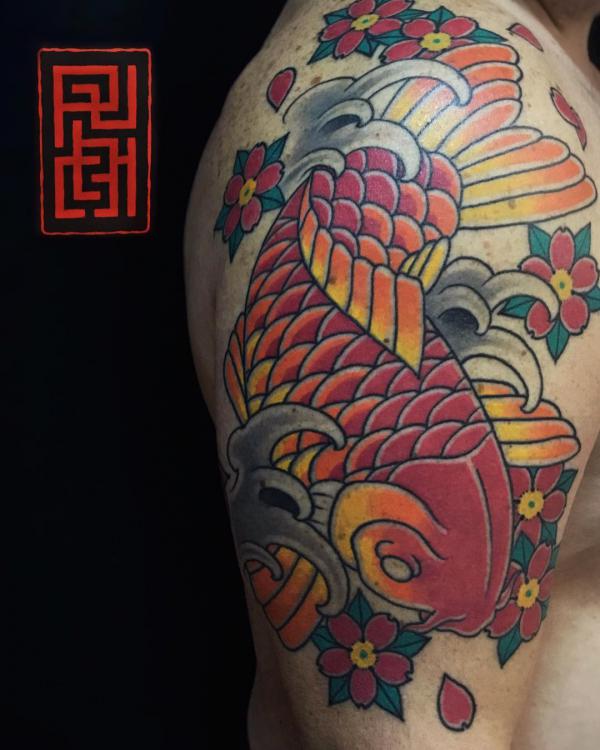 Red koi fish and flowers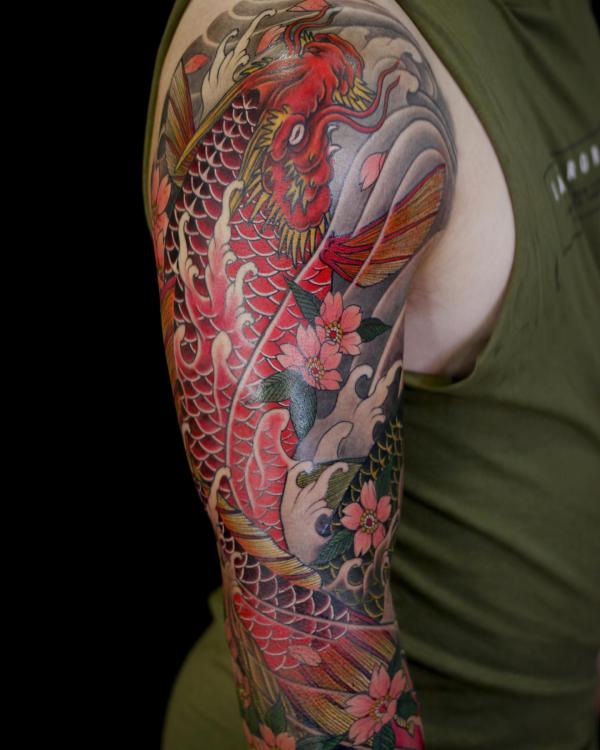 The beauty of this design is that it can be as bold or as subtle as you like. You might opt for a vivid, fiery red that stands out against your skin, or perhaps a more muted, burgundy shade for a subtler look. It's all about expressing your unique personality and journey.
Yellow
If you're looking for a tattoo that radiates warmth and happiness, then a yellow Koi fish tattoo is the perfect idea for you. In color psychology, yellow is associated with joy, optimism, and happiness. It's a color that captures the essence of a sunny day and the feeling of joy that comes with it.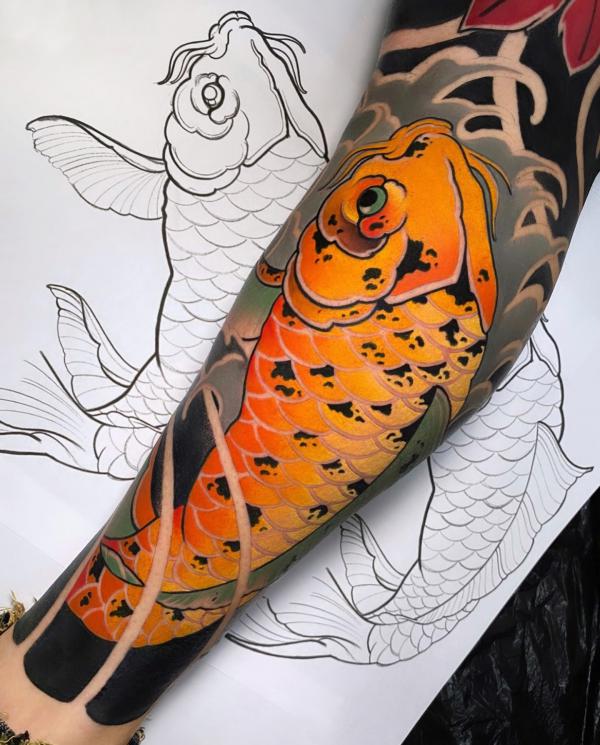 In the context of a Koi fish tattoo, yellow takes on an even deeper meaning. The Koi fish's journey upstream is a symbol of struggle and perseverance, and the color yellow adds a layer of optimism to this narrative. It's a reminder to stay positive and cheerful, even in the face of adversity.
Black and White
A black and white Koi fish tattoo is a classic choice. This design symbolizes the balance and harmony of opposing forces, much like the yin and yang symbol in Chinese culture. It's an excellent choice for those who value balance and harmony in their lives.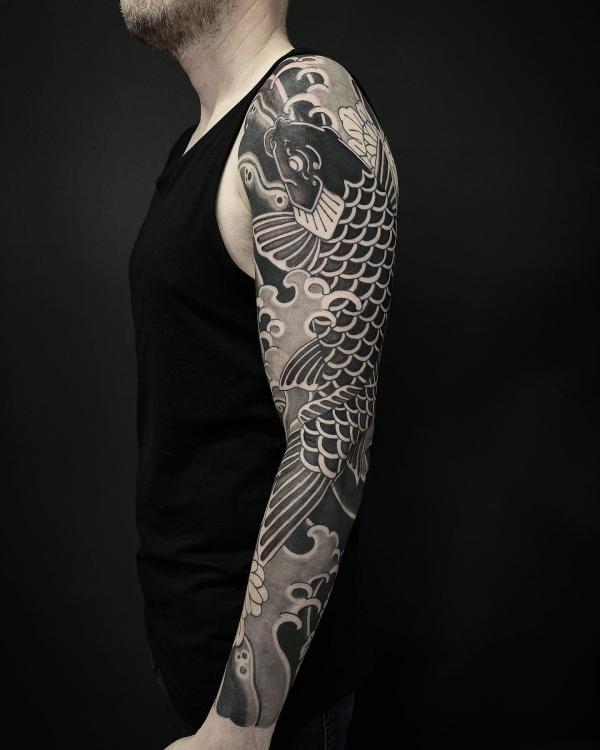 Black and Grey
For those who prefer a less vibrant but equally meaningful design, a black and grey Koi fish tattoo is a great choice. This design offers a more subdued aesthetic while still symbolizing strength and resilience. It's a subtle reminder of your inner strength and your ability to overcome challenges.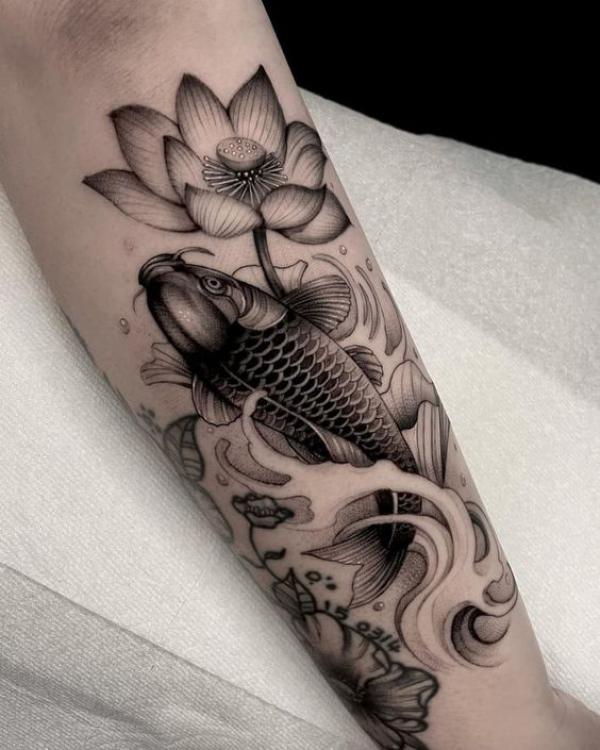 Koi Fish Tattoo Designs
Koi fish ink designs exhibit remarkable versatility, catering to a wide range of personal styles and narratives. From the traditional full-color Japanese Koi, the elegant Koi-Lotus combo, to the modern sketchy Koi, there's a design for everyone. The koi tattoo design can include a variety of motifs, such as cherry blossoms, waves, and tribal patterns. Each design is customizable in terms of color, size, and placement, making the tattoo not just beautiful, but also deeply personal.
Traditional Japanese Koi Fish Tattoos
These tattoos stick to the roots, featuring the Koi in its full-colored glory against a backdrop of waves or waterfalls. They are usually large, detailed pieces that capture the elegance and dynamism of the Koi.
Japanese koi fish and Oni mask tattoo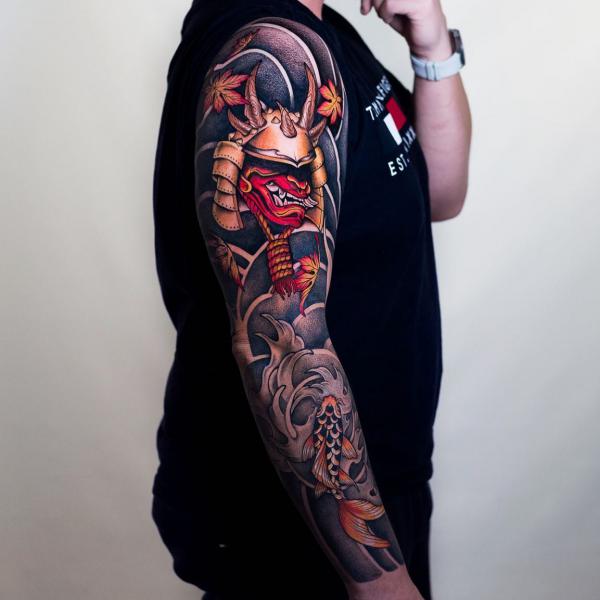 Japanese style koi fish leg tattoo for female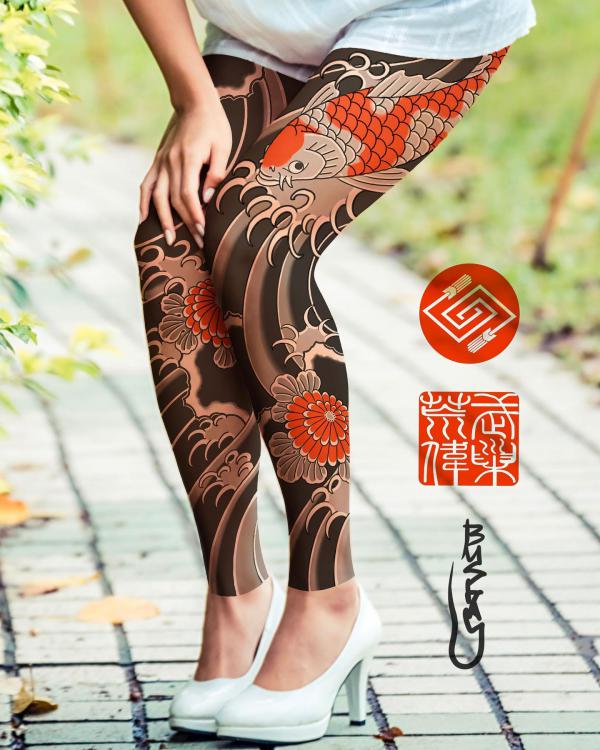 Traditional Koi fish and lotus tattoo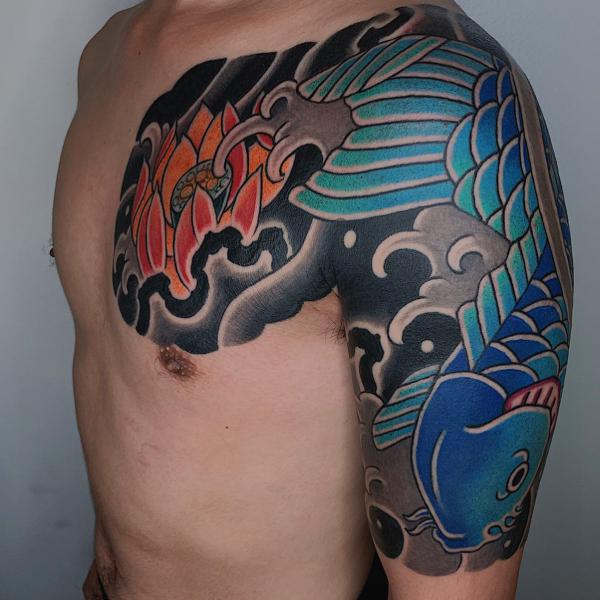 Hannya and koi fish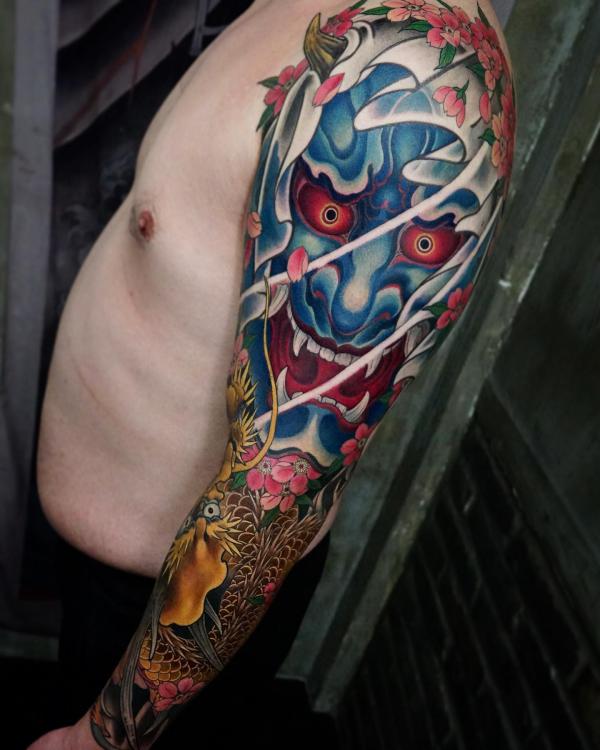 Koi Fish with Lotus Tattoos
The lotus is another powerful symbol in Asian cultures, representing purity and spiritual awakening. A Koi fish paired with a lotus signifies resilience in adversity and a journey towards enlightenment.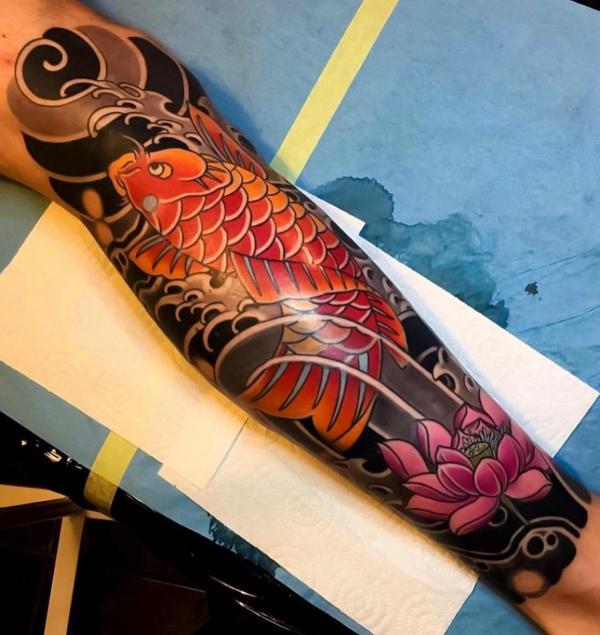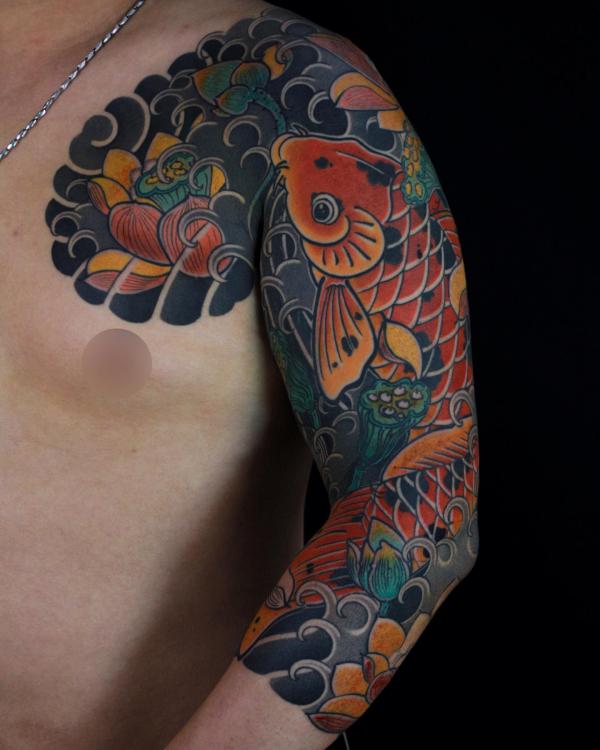 Orange koi fish and pink lotus flowers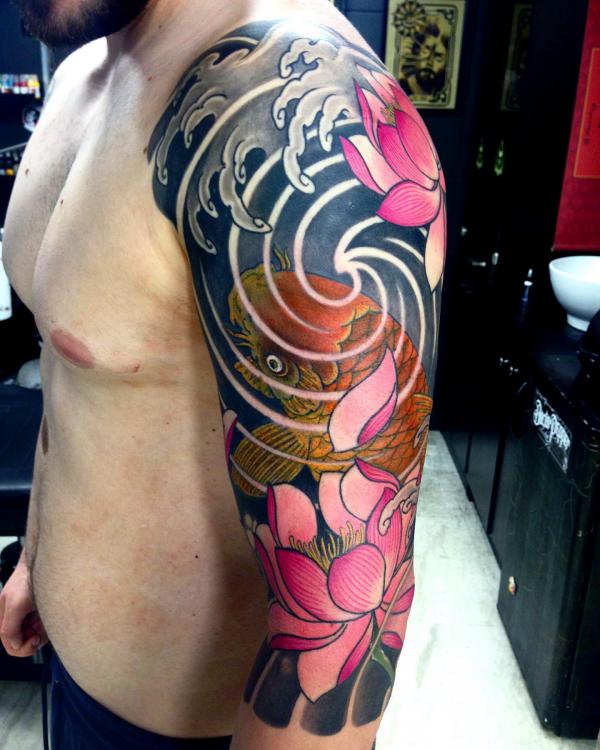 Koi fish and two lotus flowers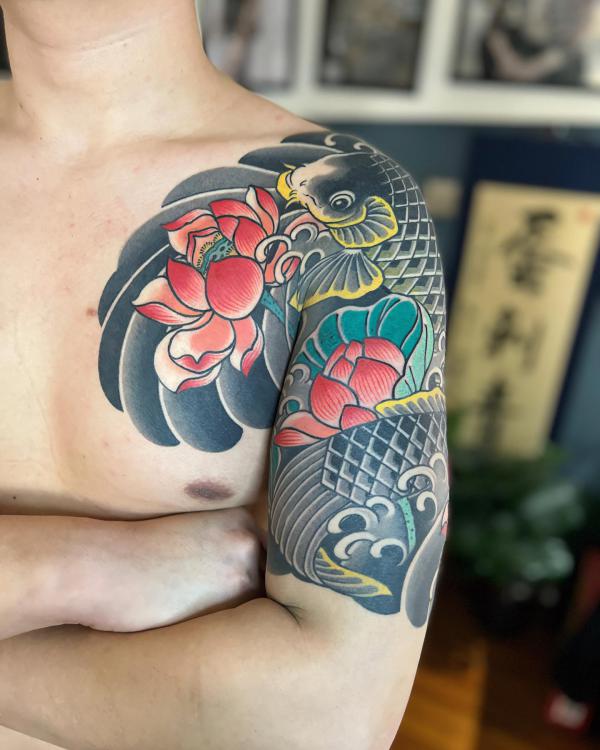 Tribal Koi Fish Tattoos
Incorporating tribal patterns into a Koi fish tattoo adds a touch of rawness and primal energy. These designs often use black ink and intricate patterns, highlighting the Koi's strength and power.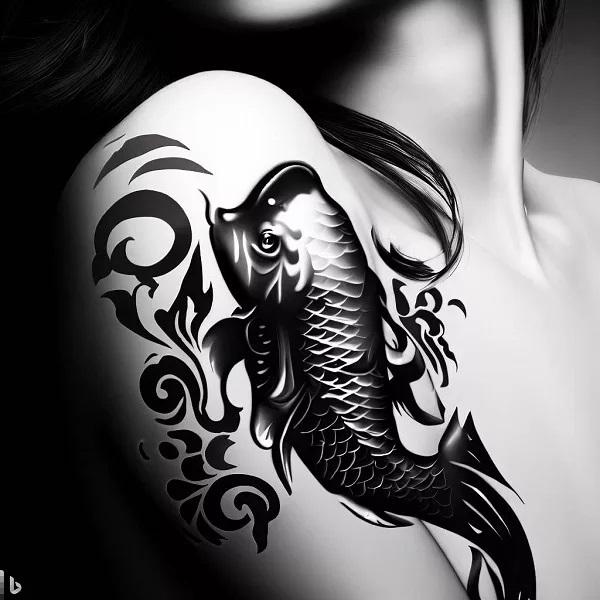 Two koi in tribal style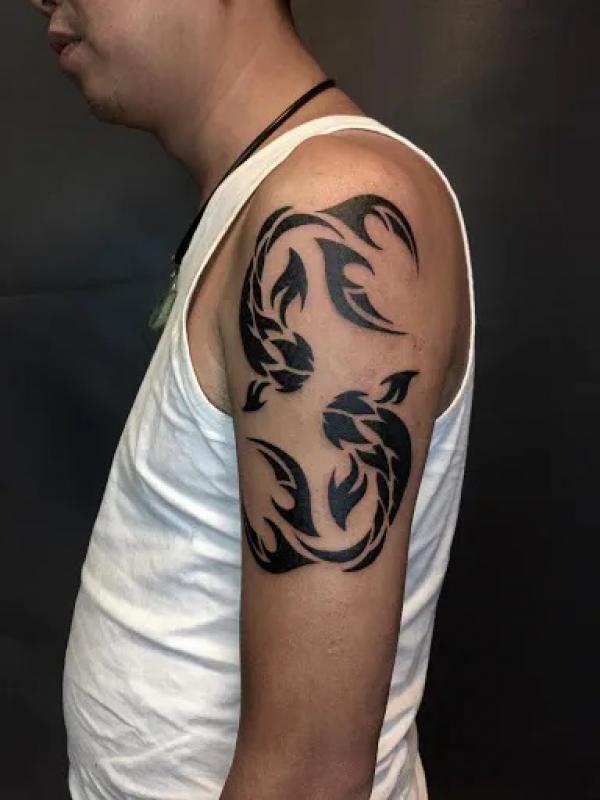 Single tribal koi forearm tattoo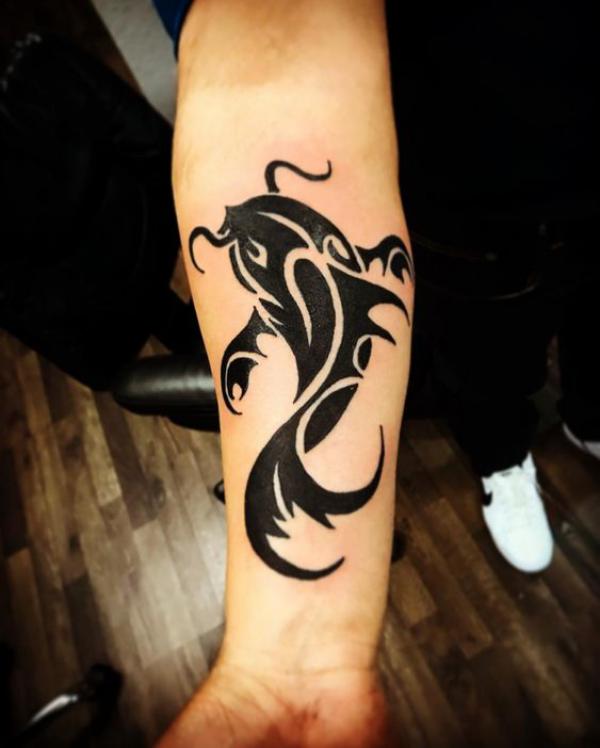 Tribal Koi tattoo for men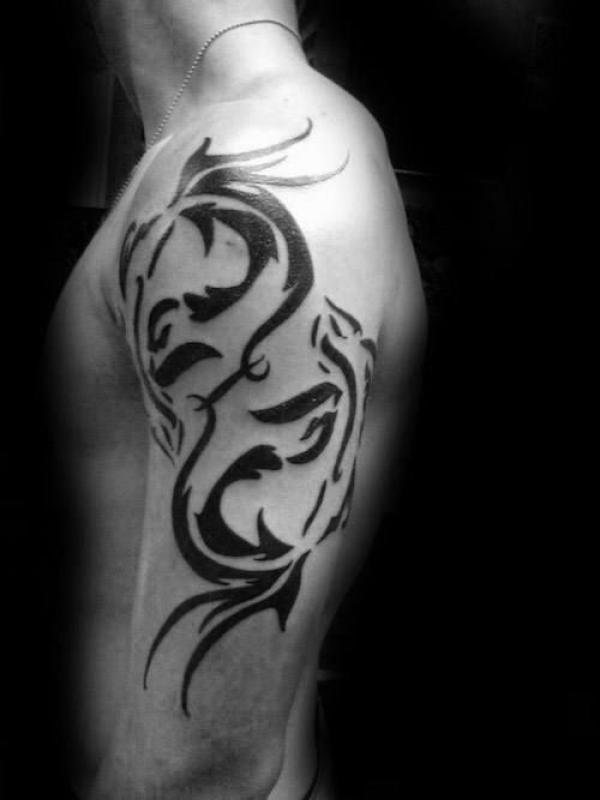 Yin and Yang Koi Fish Tattoos
These designs represent balance and harmony. Two Koi fish, usually one black and one white, are depicted swimming in a circle, mirroring the yin-yang symbol.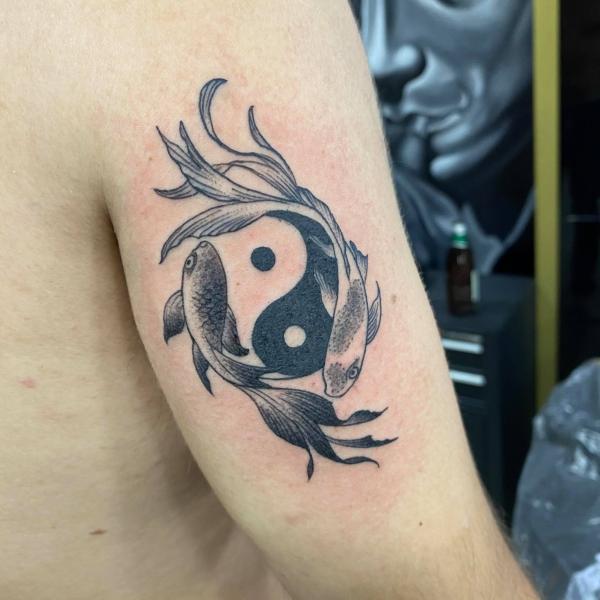 Rainbow Koi fish tattoos
For those who appreciate the beauty of diversity, a rainbow Koi fish design can be a beautiful and meaningful choice. Each color in the rainbow has its own unique meaning, and together, they symbolize diversity, inclusivity, and the beauty of life in all its different shades.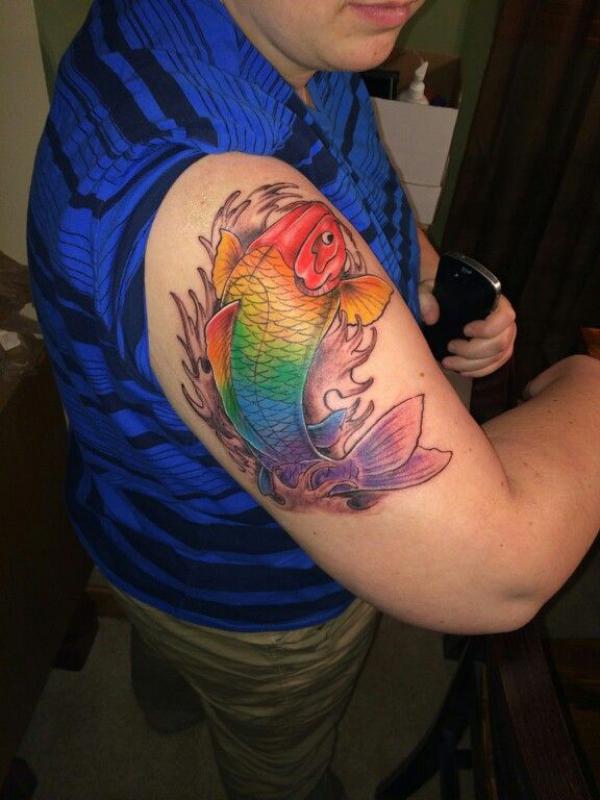 Dragon Koi Fish Tattoos
Dragon Koi tattoos are a direct homage to the legend of the Koi's transformation. They symbolize significant life changes, personal growth, and the courage to power through challenges.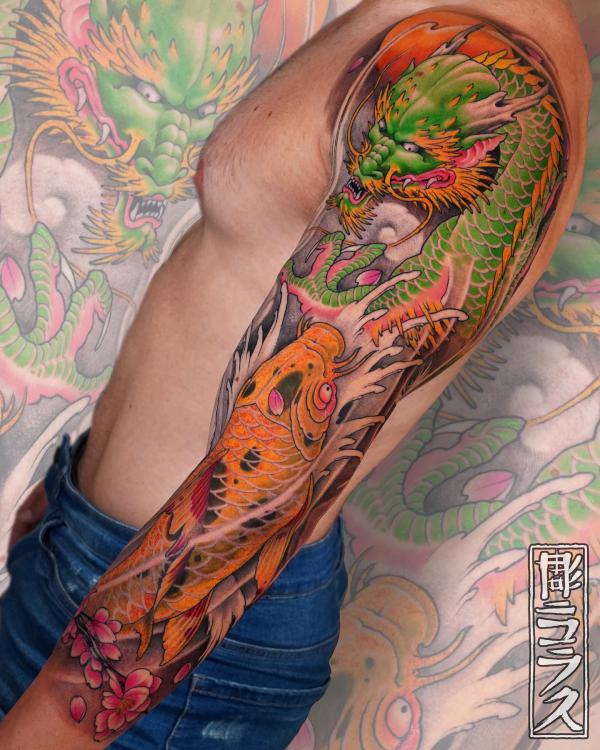 Koi fish turning into dragon tattoo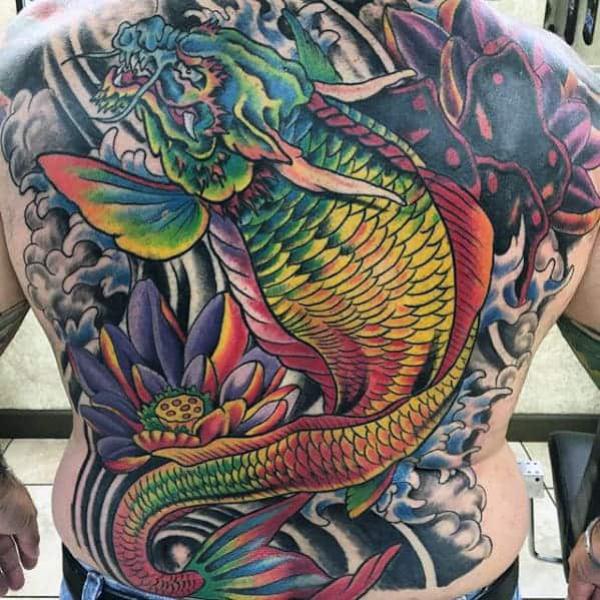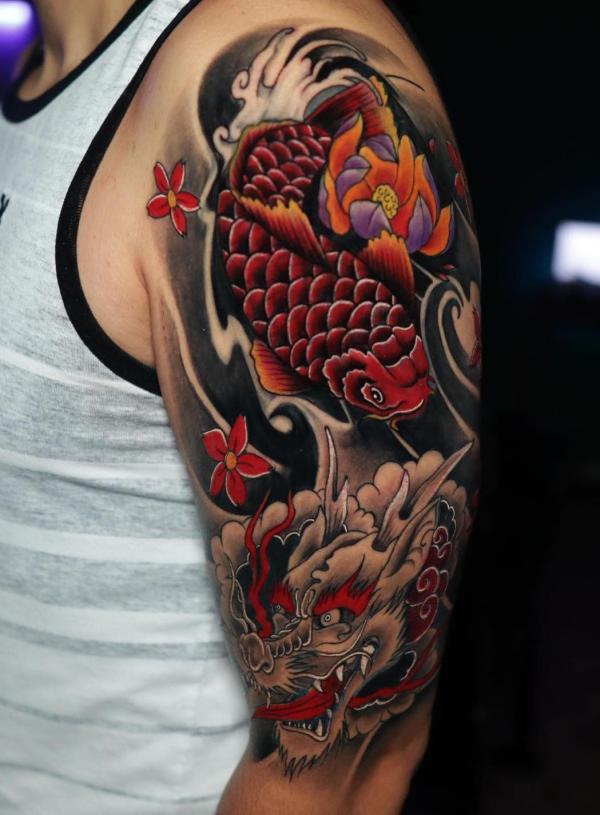 Kintaro and Koi Fish Tattoos
Kintaro, also known as the "Golden Boy," is a popular figure in Japanese folklore. Known for his superhuman strength and friendship with the Koi fish, Kintaro embodies bravery and camaraderie. A Kintaro and Koi fish tattoo blends the courage of Kintaro with the resilience of the Koi, creating a powerful symbol of fearless determination and alliance.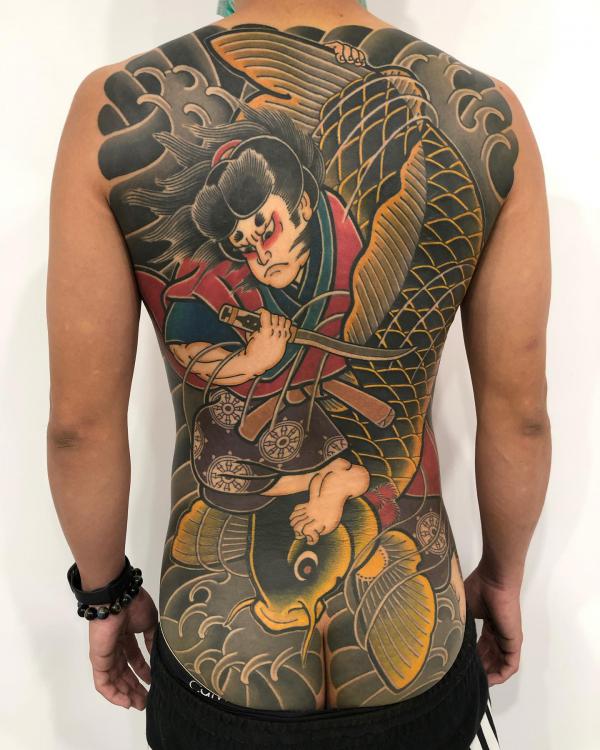 kintaro and koi sleeve tattoo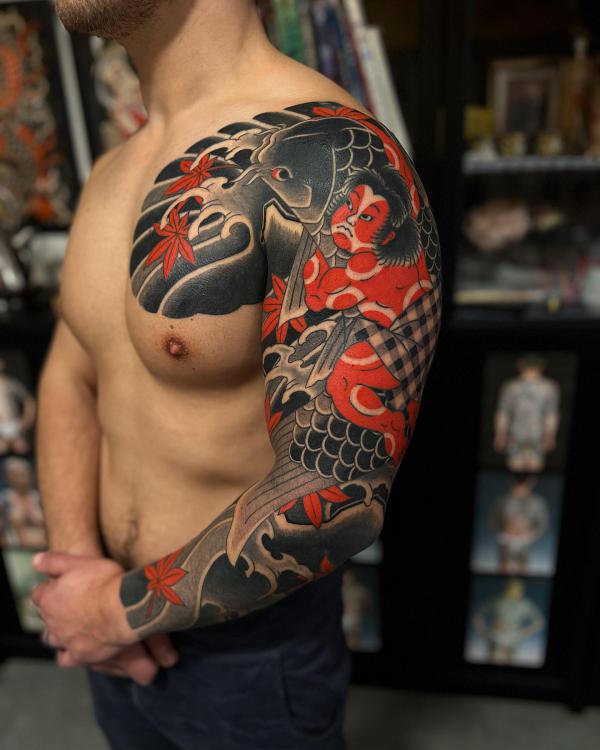 kintaro holding a dagger piercing to a koi fish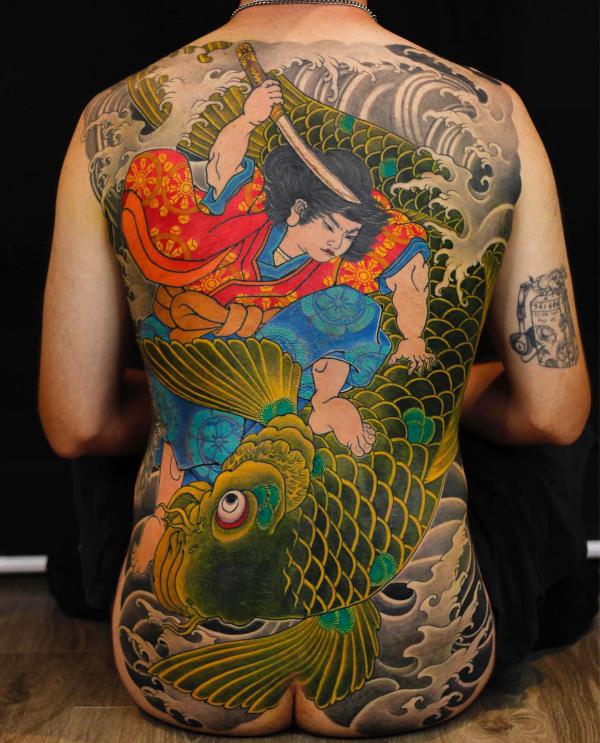 Koi fish behind kintaro holding a dagger on his hand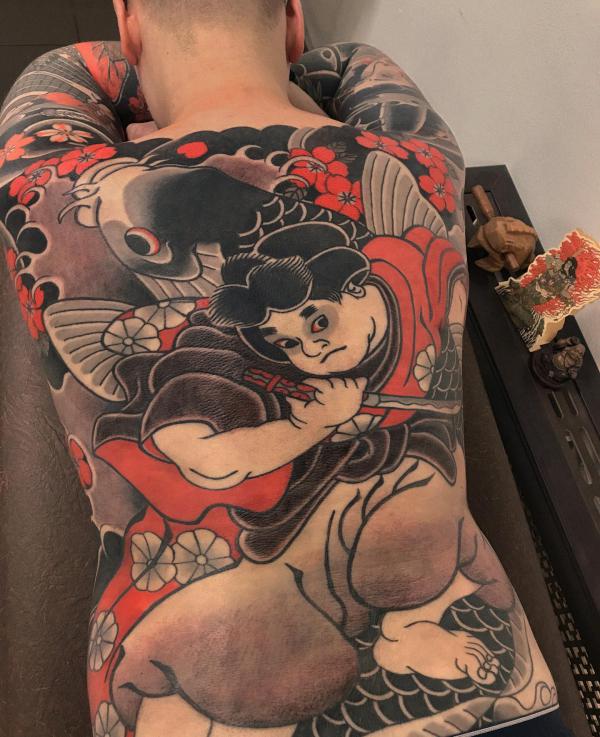 Large koi fish and kintaro with sword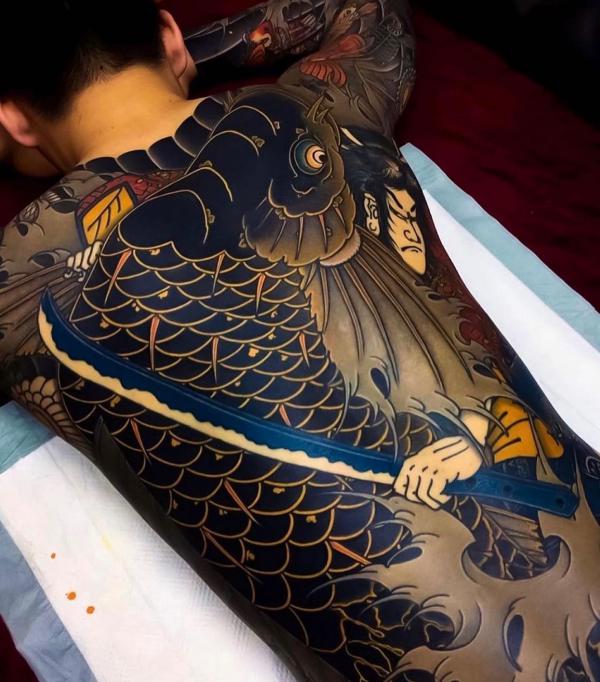 Koi Fish and Geisha Tattoos
A Geisha, an iconic figure of Japanese culture, represents beauty, mystery, and the art of entertainment. As a tattoo, it can symbolize femininity, allure, and the mastery of a craft. When combined with koi fish in a tattoo, it creates a powerful juxtaposition of elegance and resilience, embodying a narrative of grace in the face of challenges. Such designs are not only visually captivating but also rich in cultural symbolism, making them a distinctive choice for fans of Japanese art and storytelling.
Geisha and koi fish chest and arm Yakuza tattoo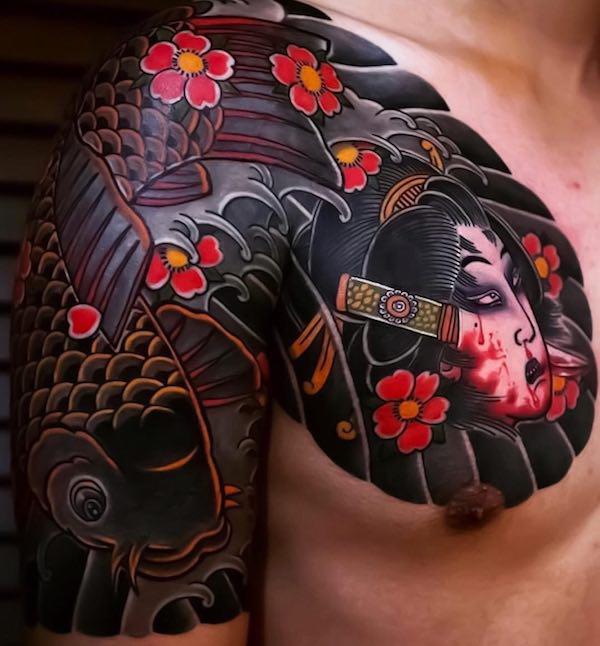 Geisha face and koi fish blackwork on both arms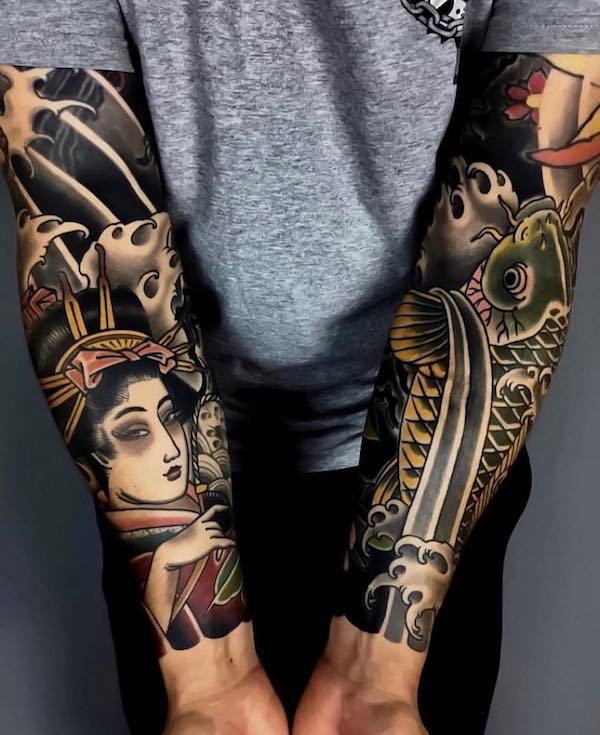 Koi Fish and Cherry Blossom Tattoos
Cherry blossoms, or "Sakura," hold a special place in Japanese culture. They symbolize the fleeting nature of life, marking a time of renewal and optimism. Combining these delicate blossoms with a Koi fish brings a touch of femininity and grace to the tattoo. It symbolizes the ability to navigate life's transient nature with elegance and resilience.
Koi fish head and cherry blossom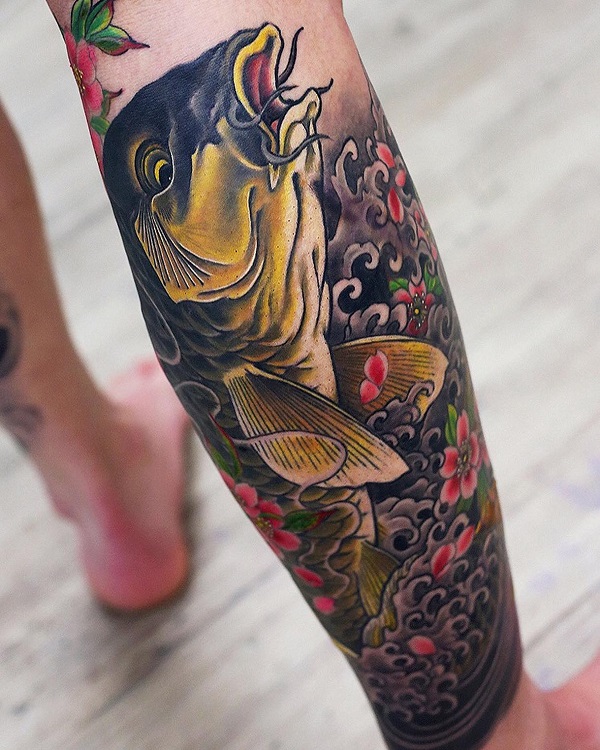 Purple koi fish and cherry blossom side tattoo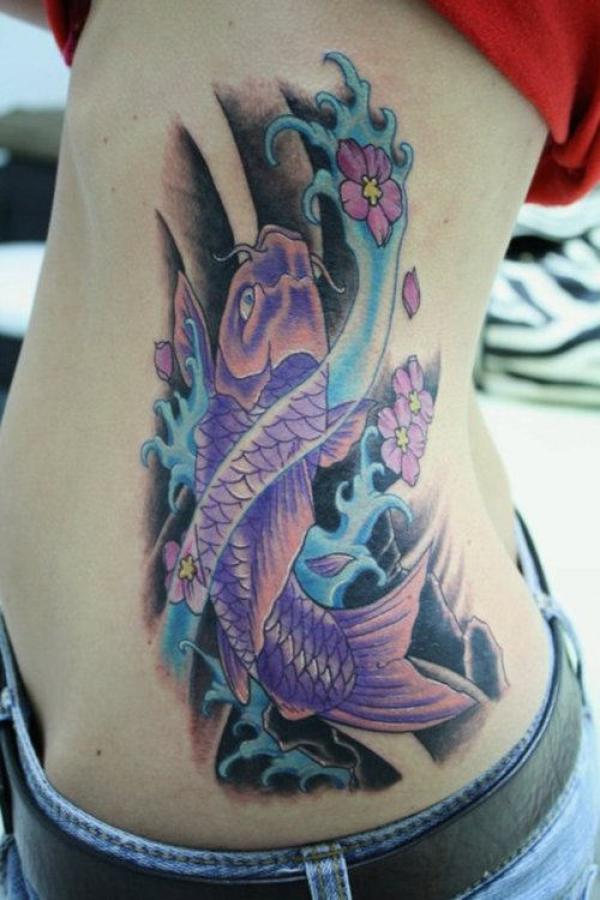 Full back Koi fish with cherry blossom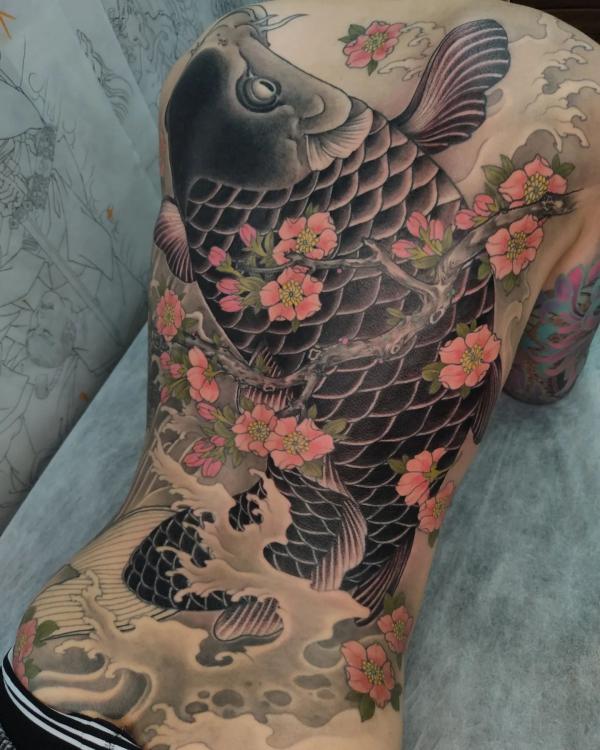 Koi fish and cherry blossom in swirling water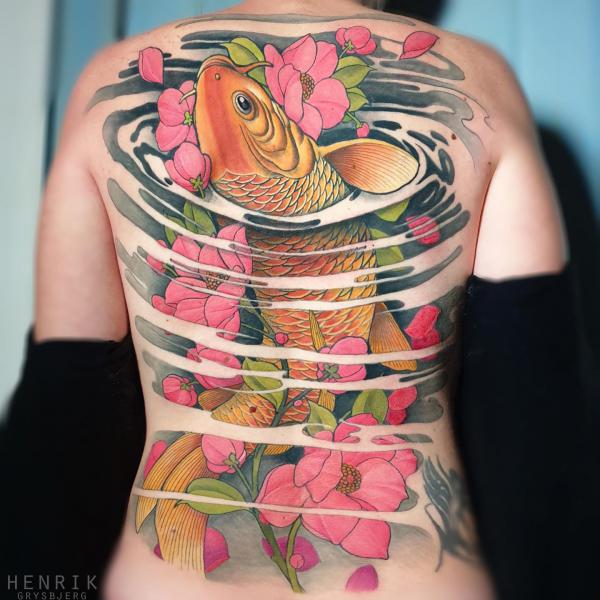 Koi Fish and Chrysanthemum Tattoos
Chrysanthemums are associated with longevity and joy in Japanese culture. Pairing them with a Koi fish tattoo results in a beautiful representation of vitality, happiness, and overcoming adversity. The vibrant petals of the chrysanthemum juxtaposed with the dynamic Koi create a visually stunning piece of body art.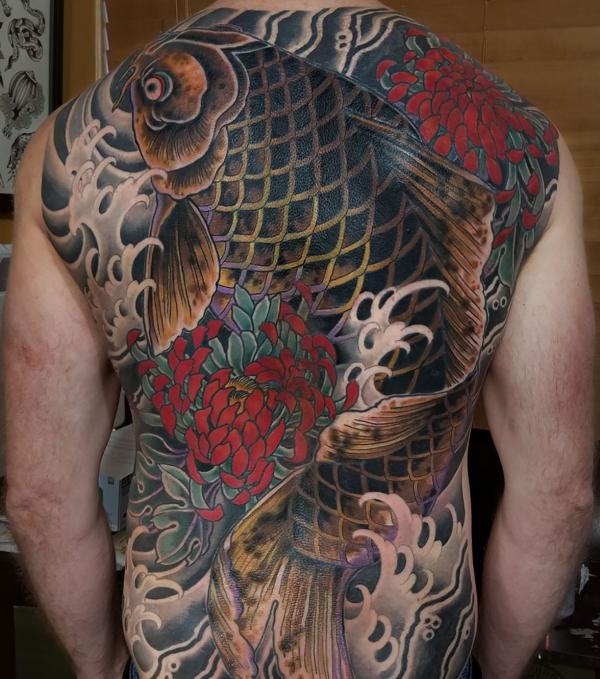 Koi fish and chrysanthemum half sleeve tattoo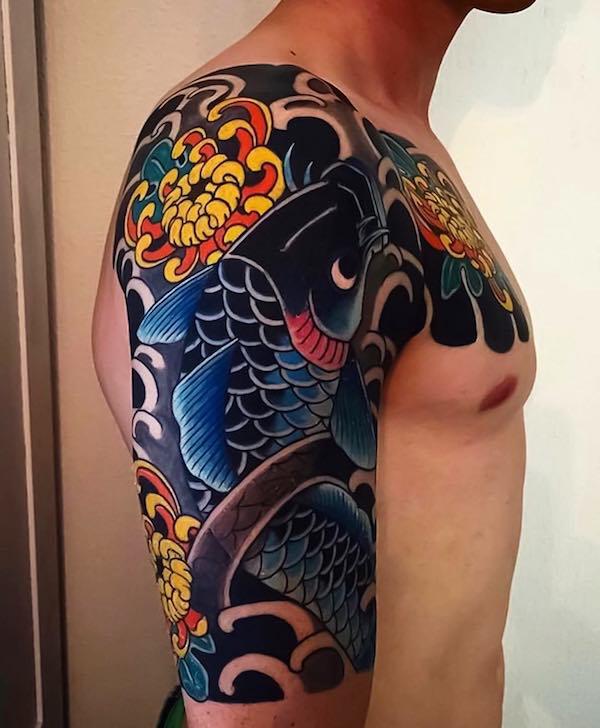 Koi fish in the wave and Chrysanthemum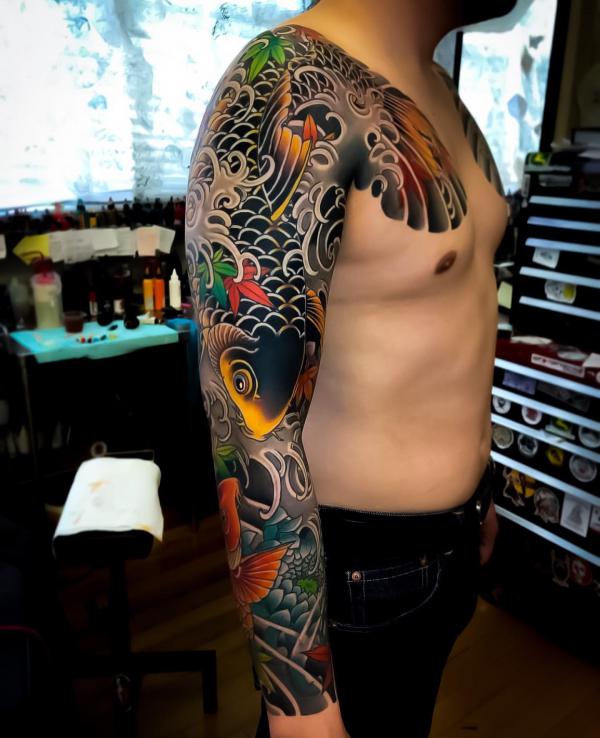 Cat silhouette with koi fish and chrysanthemum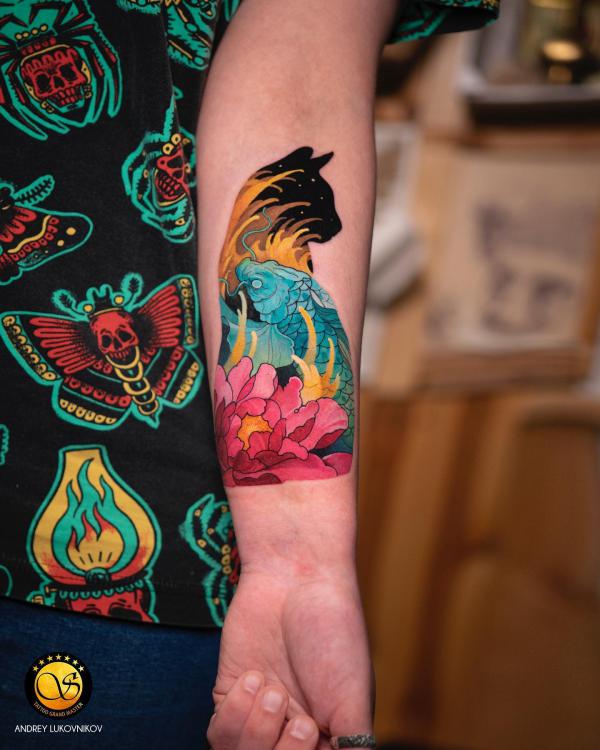 Koi Fish and Maple Tattoos
Maple leaves, particularly red ones, are a common motif in Japanese tattoos, symbolizing the passing of time and the beauty of nature. A Koi fish and maple tattoo captures the essence of change and the courage needed to embrace it. This design tells a tale of transformation, both of the seasons and of the self.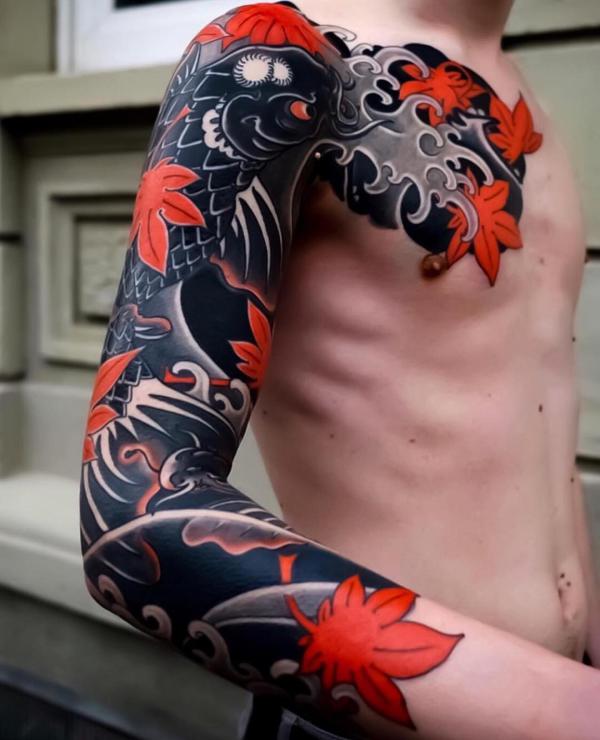 Black koi fish and red maples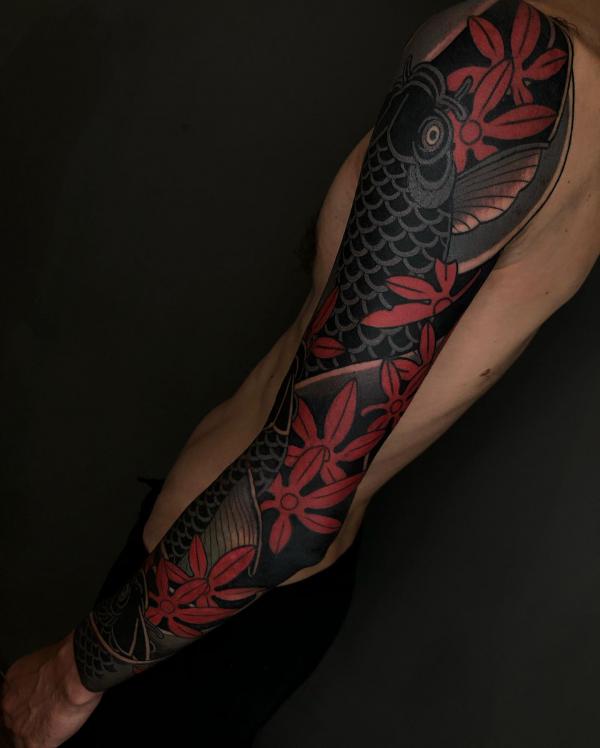 Realistic koi fish tattoo with maples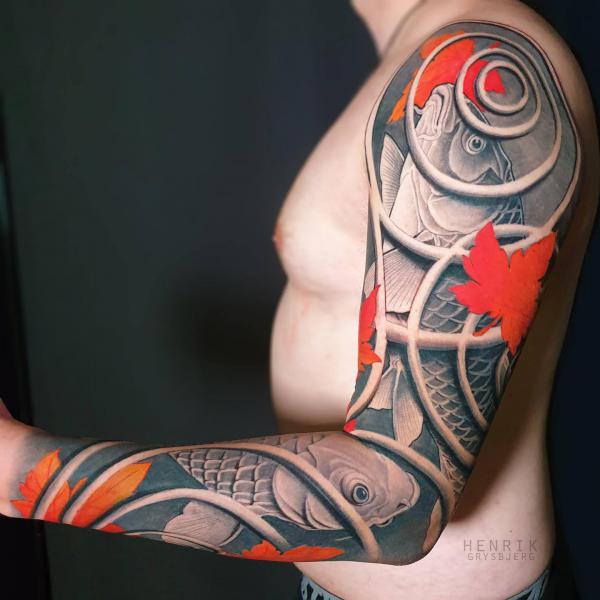 Black and grey koi fish horimono with orange maple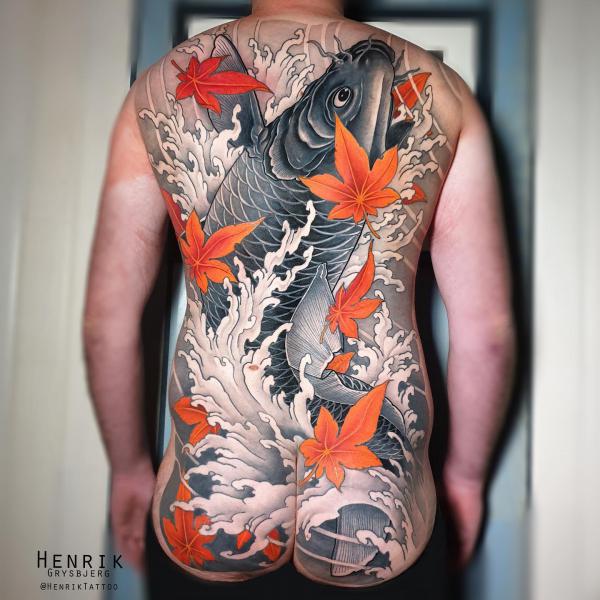 Koi Fish and Wave Tattoos
What better way to portray the Koi's struggle against the current than by placing it amidst turbulent waves? Koi fish and wave tattoos embody willpower, courage, and the ability to stay undeterred by obstacles. The waves' movement adds a dynamic element to the tattoo, enhancing the sense of the Koi's purposeful journey.
Koi fish in wave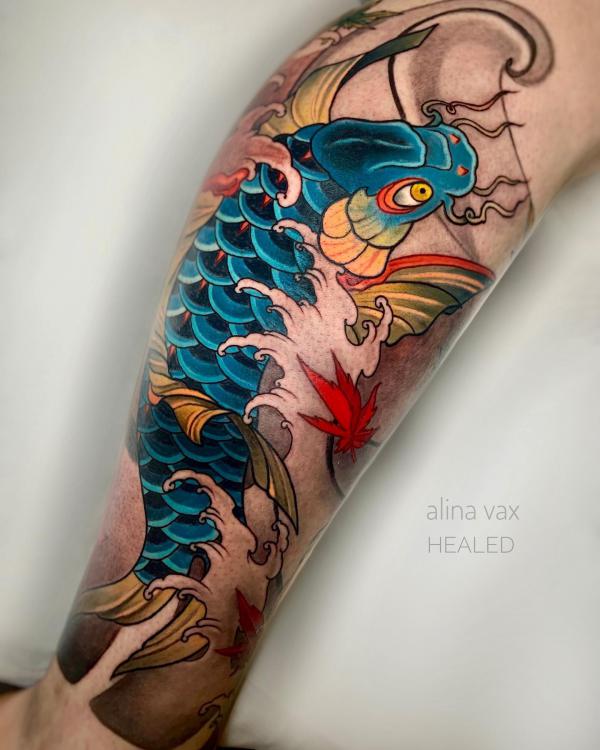 Two koi fish in wave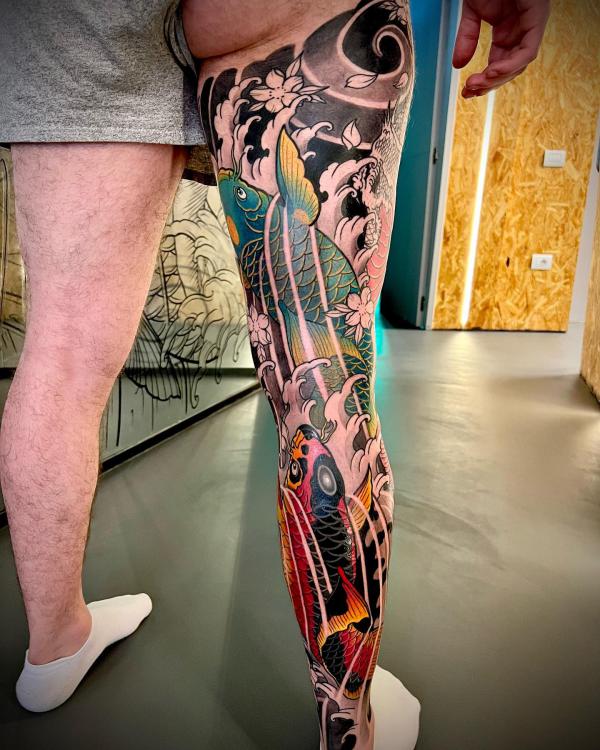 Blue koi fish in wave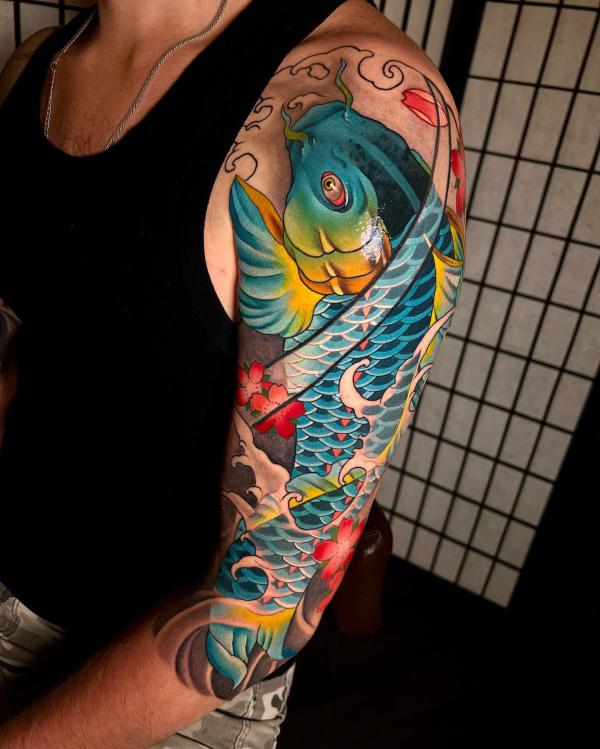 Neo-Traditional Koi Fish Tattoos
Neo-traditional tattoos are known for their bold lines, vibrant colors, and fusion of old and new themes. A neo-traditional Koi fish tattoo maintains the traditional symbolism of the Koi while adding contemporary elements for a fresh, modern look. This style is perfect for those who appreciate tradition but also want to add a touch of personal flair.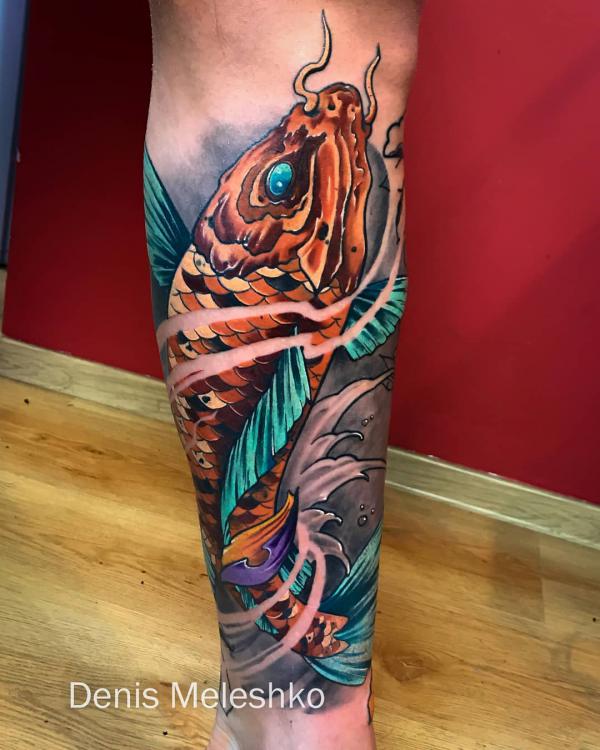 Full sleeve neo traditional koi fish tattoo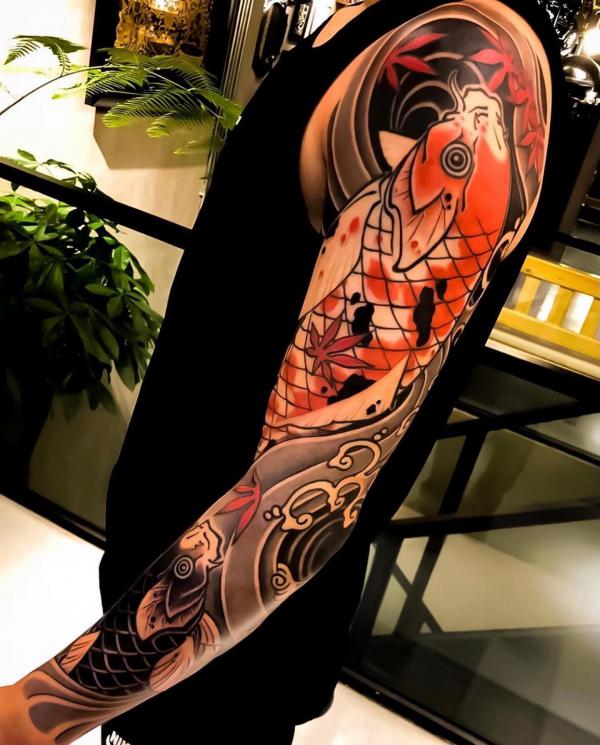 Sketchy Koi Fish Tattoos
Sketchy tattoos, with their loose lines and raw, unfinished look, are like a piece of art in progress. A sketchy Koi fish tattoo presents this symbol of resilience and transformation in a unique, artistic light. It's ideal for those who appreciate the beauty in imperfection and the journey of becoming.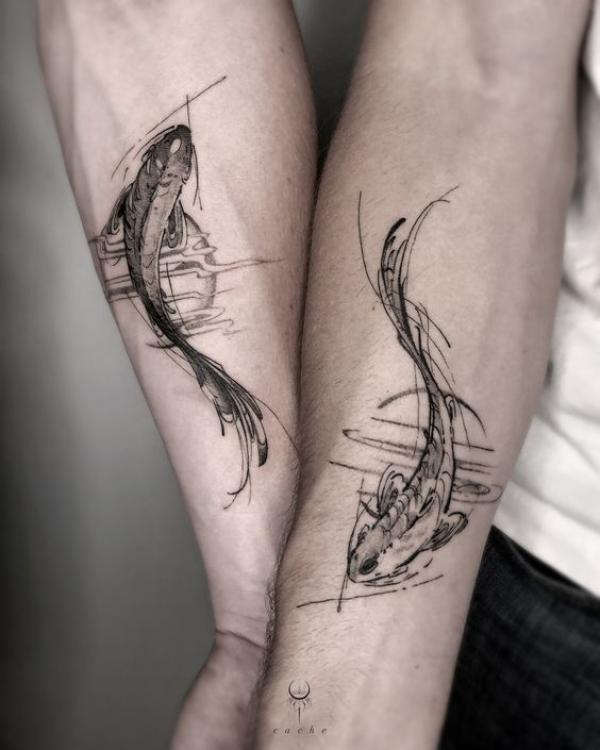 Koi fish drawing tattoo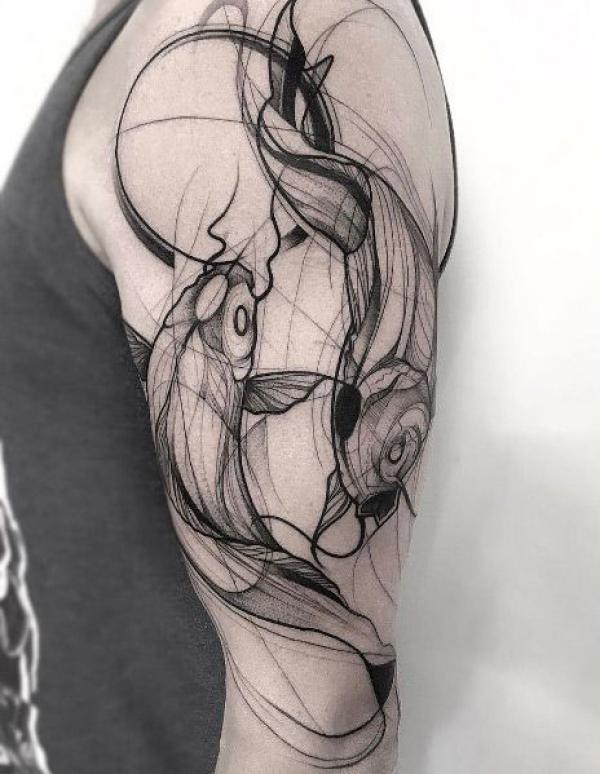 Koi fish Semicolon Tattoos
A Koi fish semicolon tattoo is a potent symbol of resilience and mental health advocacy. The semicolon is a powerful icon in the mental health community, representing a story that could have ended but continued instead. By integrating the Koi fish, a symbol of perseverance and transformation, this design takes on a deeper meaning. The Koi's struggle upstream mirrors the journey of overcoming mental health challenges, making this tattoo a testament to survival and the strength to keep swimming, even against the current.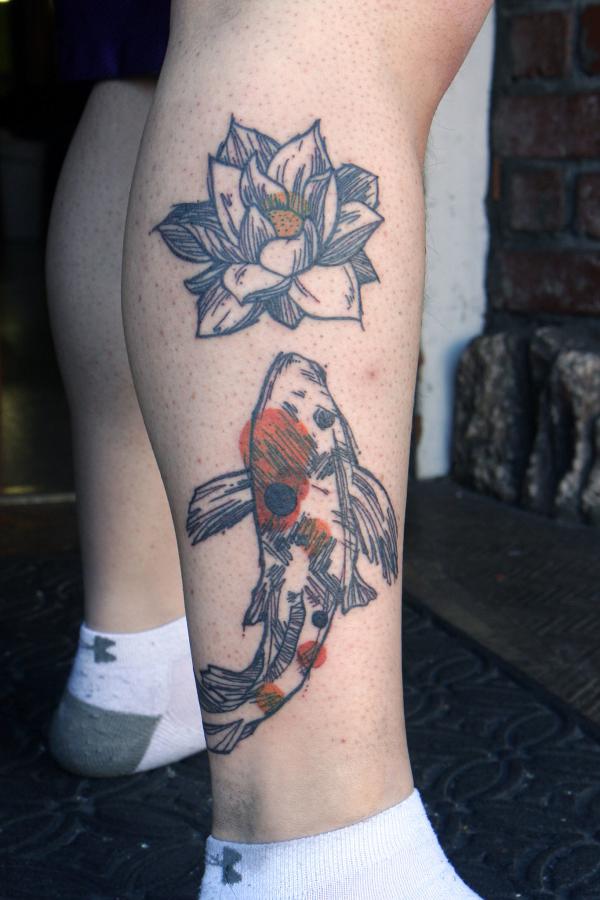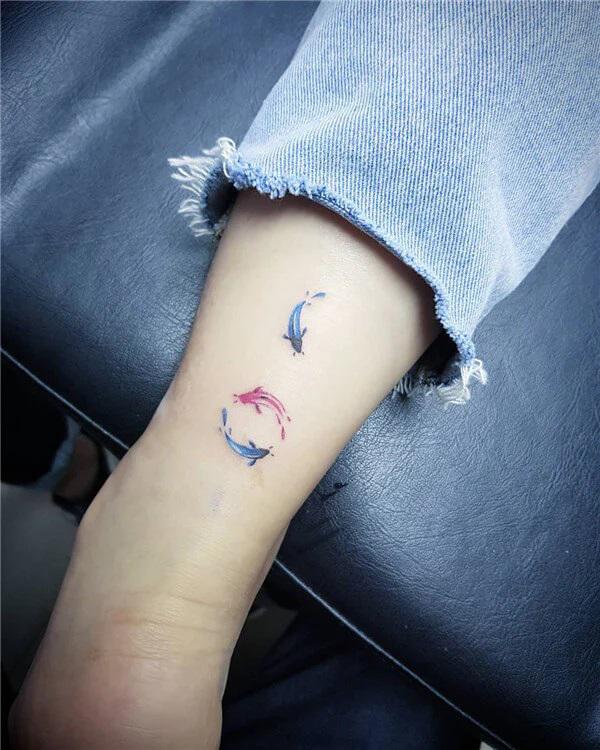 Two Koi Fish Tattoos
Two Koi fish, swimming in harmony, are a powerful symbol of balance and unity. This design is often linked to the yin and yang philosophy, representing opposing forces coming together to form a harmonious whole. Two Koi fish tattoos can also symbolize a romantic partnership, friendship, or twin souls journeying through life together.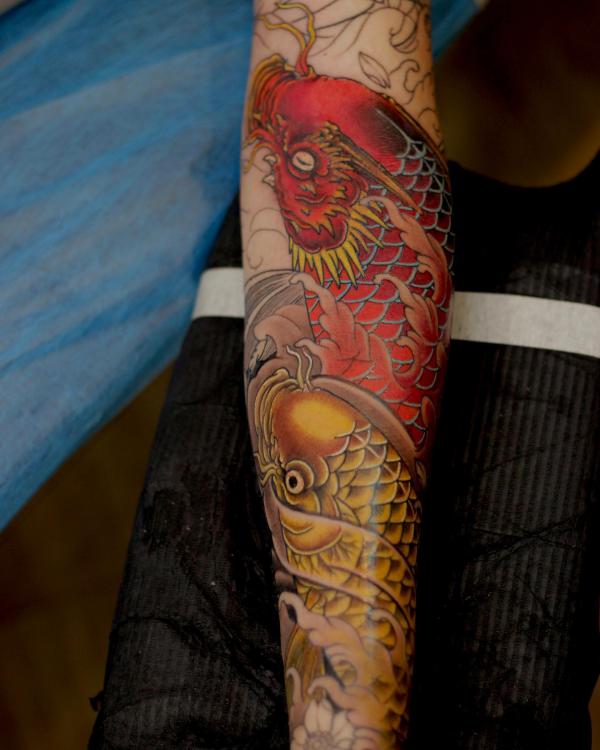 Koi fish tattoo pisces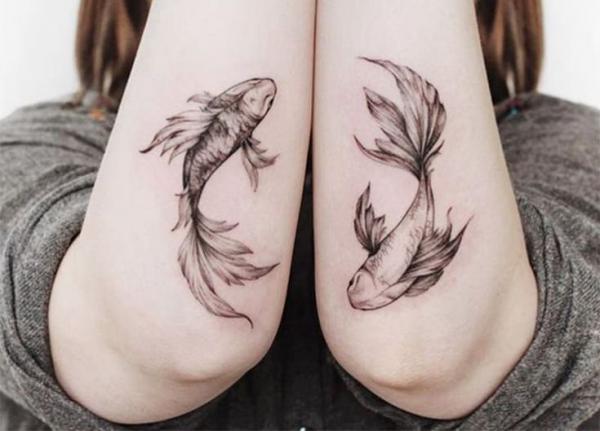 Two Koi arm tattoo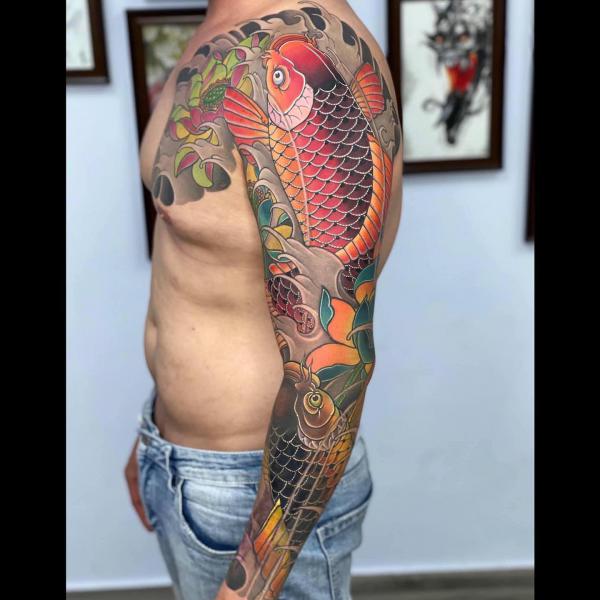 Two koi fish swimming around a lotus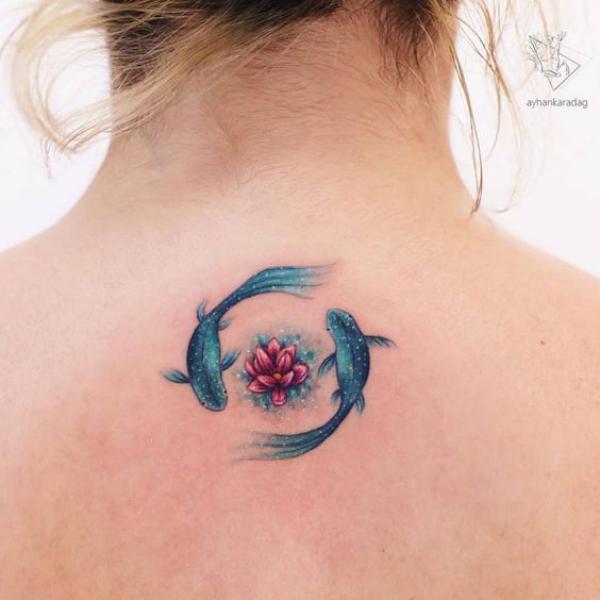 Two koi fish swimming in opposite direction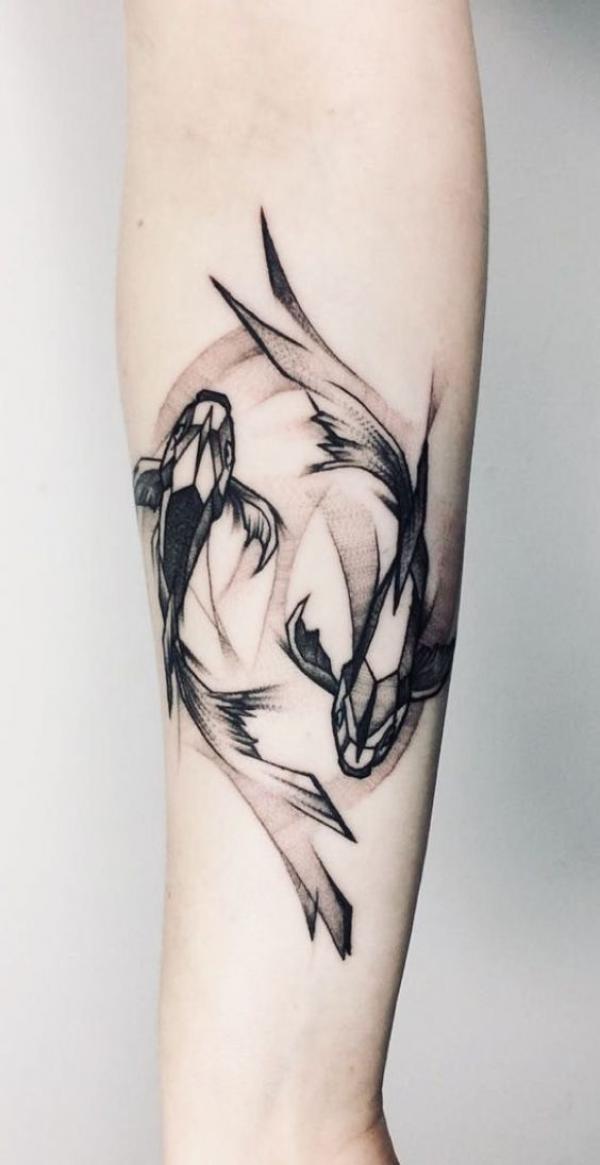 Blue lotus with two koi fish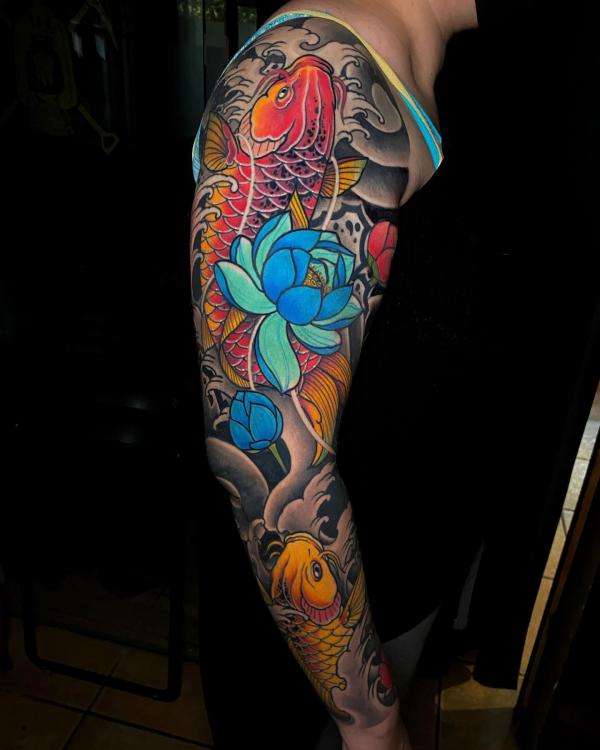 Colorful two swimming koi fish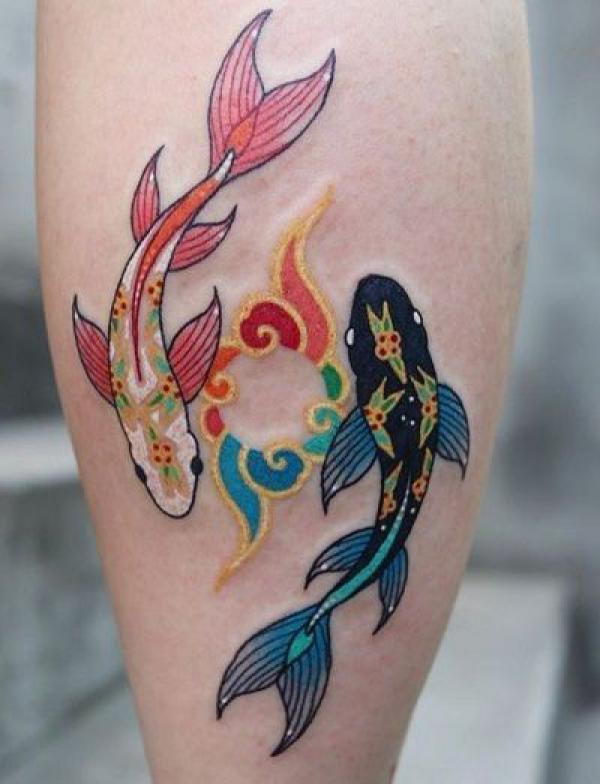 Yakuza body suit tattoo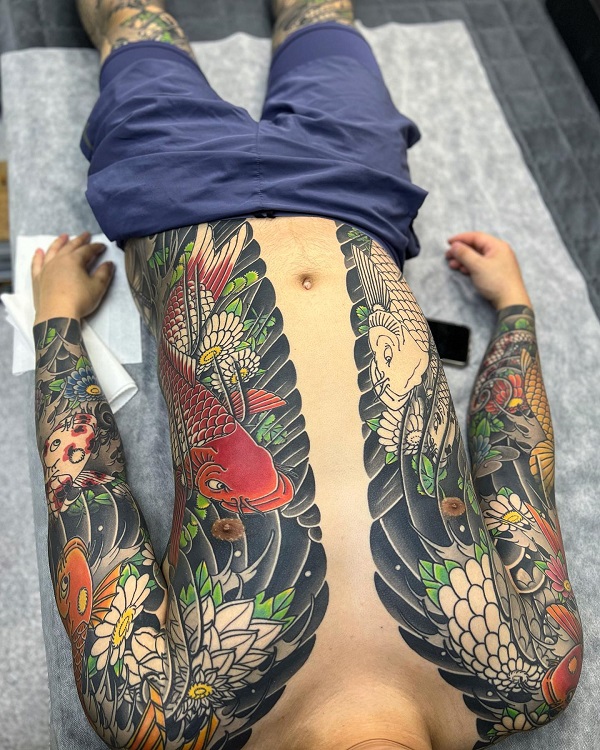 The Yakuza body suit tattoo, featuring the Koi fish, is a powerful and striking piece of body art. This design covers the body from the shoulder down, leaving strategic space empty, a line down the center of the body untouched. The Koi, a symbol of resilience and determination, is a popular motif in Yakuza tattoos. This design speaks of the ability to overcome life's currents, much like the journey of the Koi swimming upstream.
Koi fish and tiger full back tattoo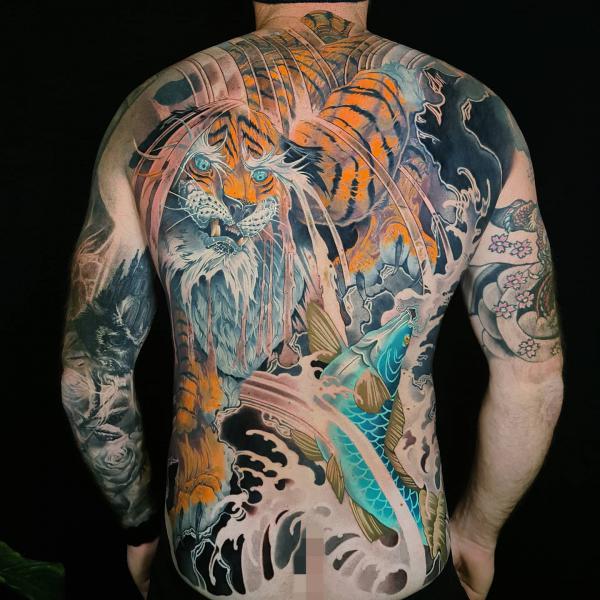 Who said back tattoos need to be subtle? When it comes to creating a bold statement, nothing beats a full-back tattoo that combines the fierce energy of a tiger with the graceful strength of a Koi fish. This tattoo idea is not for the faint-hearted, but it's perfect for those who want a large-scale piece that symbolizes power, courage, and determination.
Three koi fish tattoo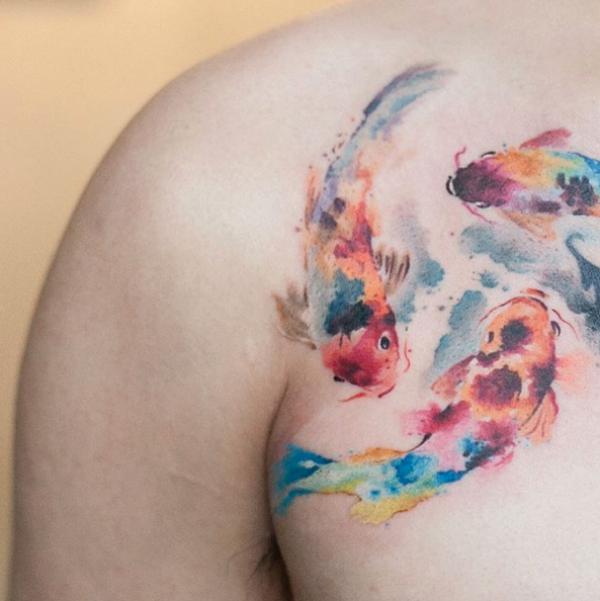 Looking for something a bit more serene and delicate? Consider a design featuring three koi fish swimming in a circular motion. This tattoo can symbolize the cycle of life, unity, and harmony. It's a beautiful choice for individuals who value balance and tranquility in their lives. Plus, the circular pattern can be a striking visual element, especially when placed on a flat surface like your shoulder or upper back.
Koi fish and wave under sun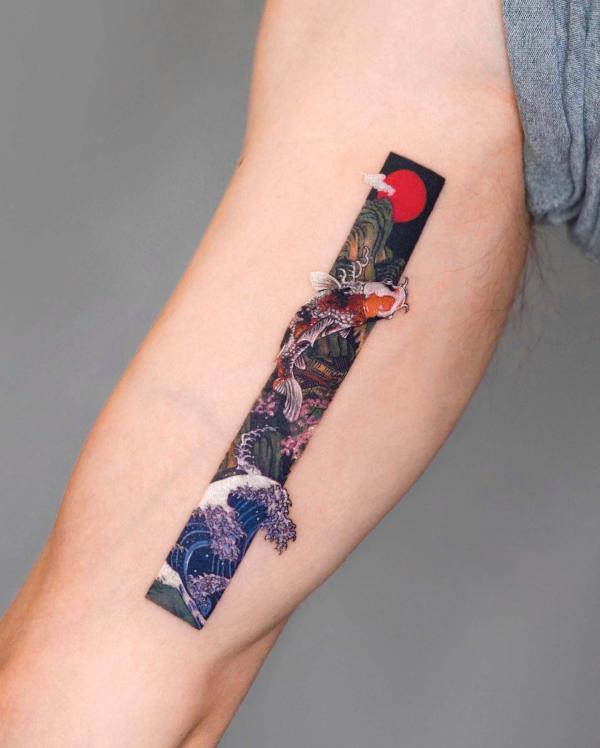 What better way to showcase strength and resilience than a design of a Koi fish swimming against the current under the blazing sun? This tattoo design can be a symbol of your struggle, perseverance, and triumph over adversity. Placed on the biceps, this tattoo can serve as a constant reminder of your inner strength and your ability to overcome any obstacle that comes your way.
Yellow koi fish tattoo upper arm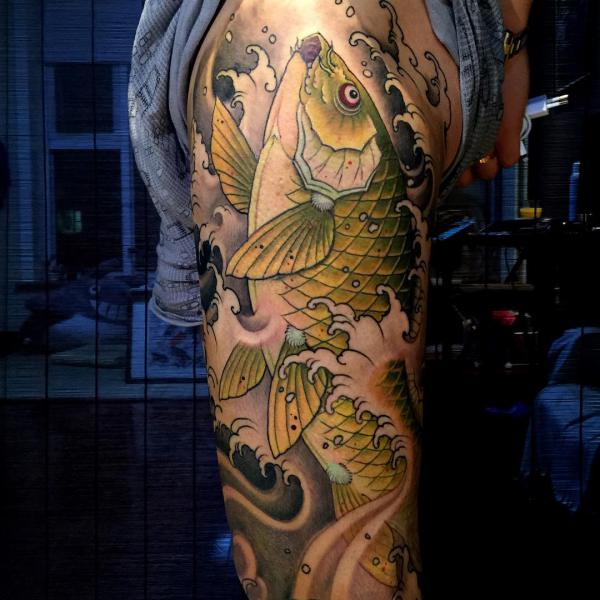 Who says Koi fish tattoos need to stick to traditional colors? A yellow Koi fish tattoo can be a vibrant and eye-catching alternative. In Japanese culture, yellow Koi represents wealth and prosperity, making it a great choice for those who seek abundance in their lives. Placed on the upper arm, this tattoo can be a beautiful, colorful statement piece that you can show off with pride.
Koi fish skeleton tattoo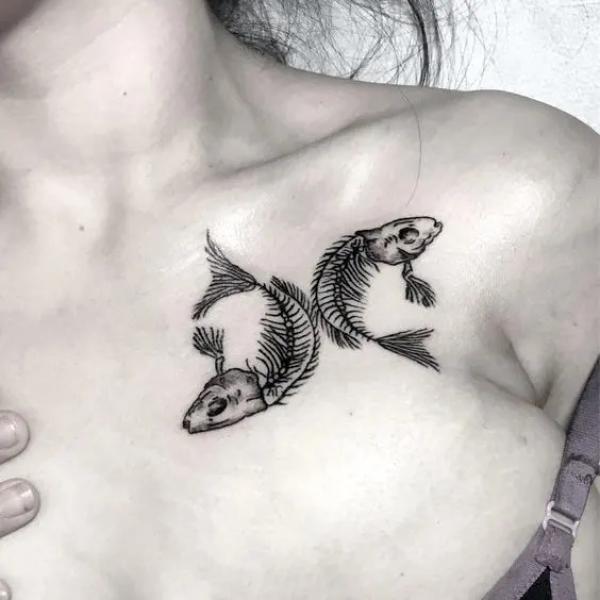 This design takes a different approach to the traditional Koi fish style by focusing on the fish's skeletal structure. A Koi fish skeleton ink design can symbolize the strength and resilience that lies beneath the surface. This design, placed under the collarbone, can serve as a powerful testament to your inner fortitude.
Abstract Koi fish tattoo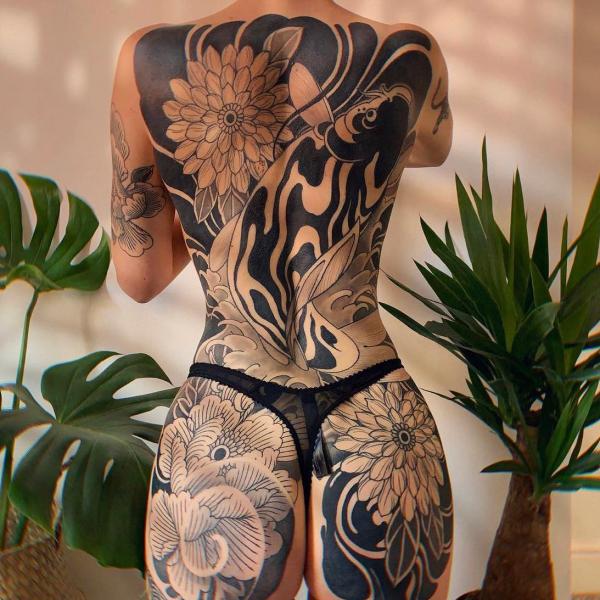 If you're an art enthusiast who loves abstract designs, then this tattoo idea could be for you. A full-back tattoo with an abstract Koi and stylized lotus flower is a unique and artistic way to express your individuality. This design not only combines the symbolism of the Koi fish and the lotus flower but also allows for a creative and aesthetic interpretation that is truly one-of-a-kind.
American traditional koi fish and butterfly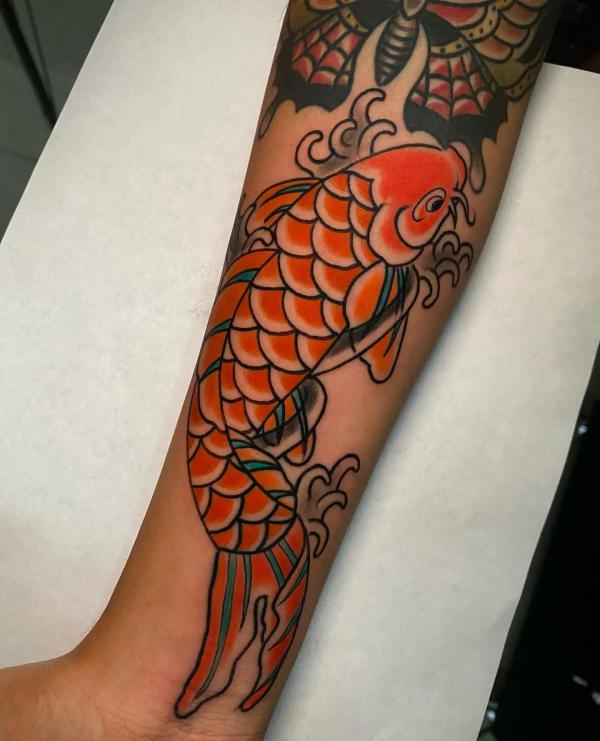 For those who appreciate the bold lines and vivid colors of American traditional tattoos, a Koi fish and butterfly design might be the ideal choice. This design is a blend of Eastern and Western tattoo traditions, creating a visually striking piece filled with symbolism. The Koi fish stands for resilience and courage, while the butterfly represents transformation and rebirth, making this tattoo a beautiful symbol of personal growth and change.
Koi fish arm band tattoo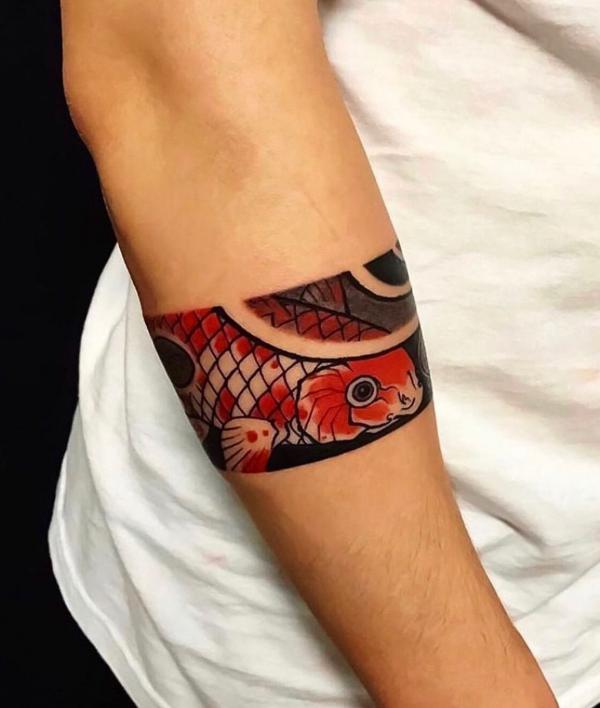 If you're looking for a modern, sleek design, consider a Koi fish arm band design. This design takes the traditional Koi tattoo and gives it a contemporary spin by placing it in an arm band format. It's a stylish and trendy choice that still holds the deep meaning associated with the Koi fish.
Black and grey koi fish and crane tattoo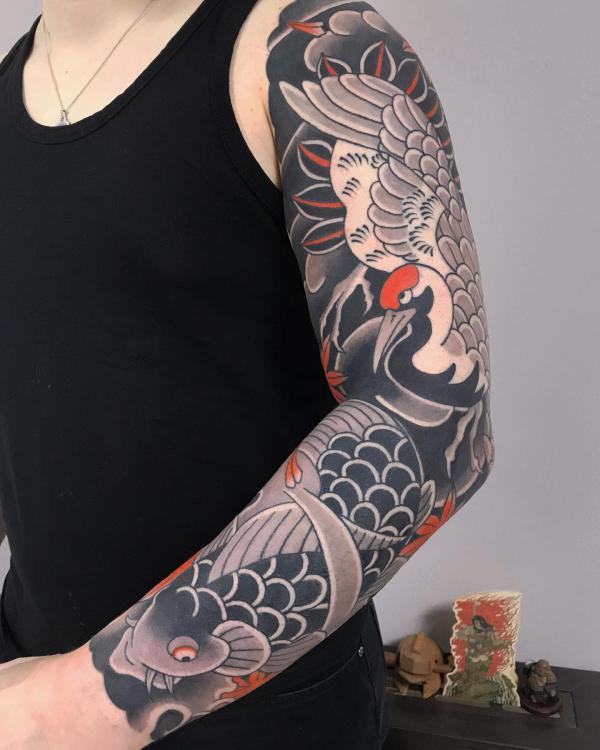 If you're a fan of the monochromatic aesthetic, consider combining a Koi fish with crane in a black and grey style. This design is perfect for a full sleeve, creating a striking contrast between the dark ink and your skin. The combination of the Koi fish and crane adds an extra layer of symbolism, representing strength, grace, and longevity. It's an excellent choice for men who prefer intricate, bold designs.
Black and yellow Koi fish tattoo sleeve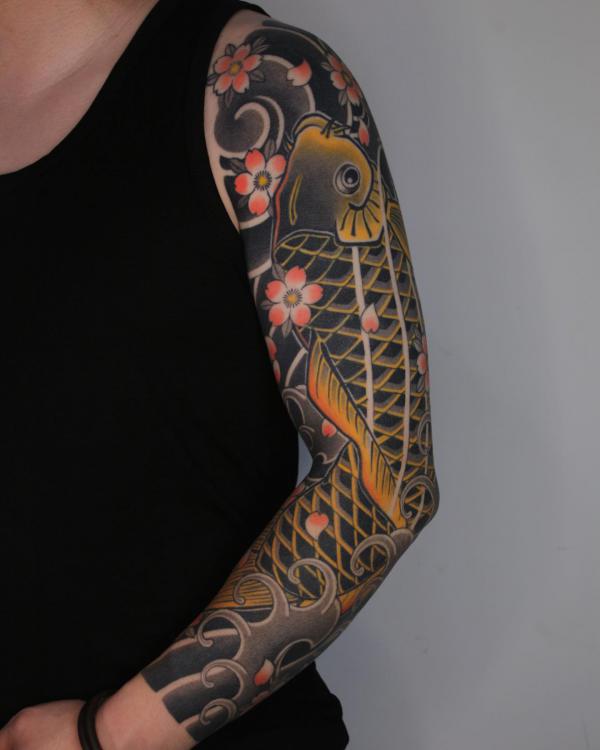 Where black and grey tattoos exude a sense of calm and subtlety, a black and yellow one is all about vibrancy and energy. This sleeve design can create an impressive visual contrast, and the yellow Koi fish can symbolize wealth and prosperity. It's a perfect choice for those who aren't afraid to make a bold, colorful statement.
Hannya mask and koi fish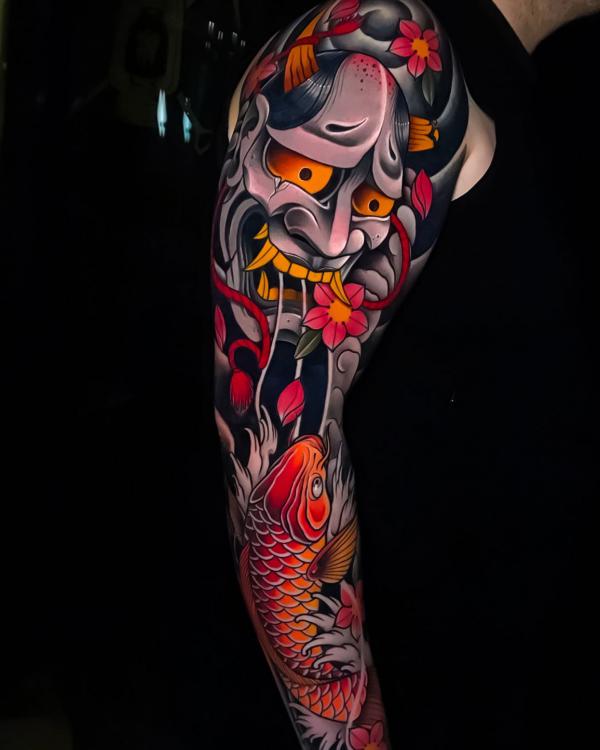 Venture into the realm of Japanese folklore with a Hannya mask and Koi fish tattoo. This full-arm design is steeped in cultural symbolism, with the Hannya mask representing a complex range of emotions, from anger and jealousy to sadness and despair. Paired with the resilient Koi fish, this tattoo can symbolize the struggle and triumph over personal demons.
Koi fish matching tattoo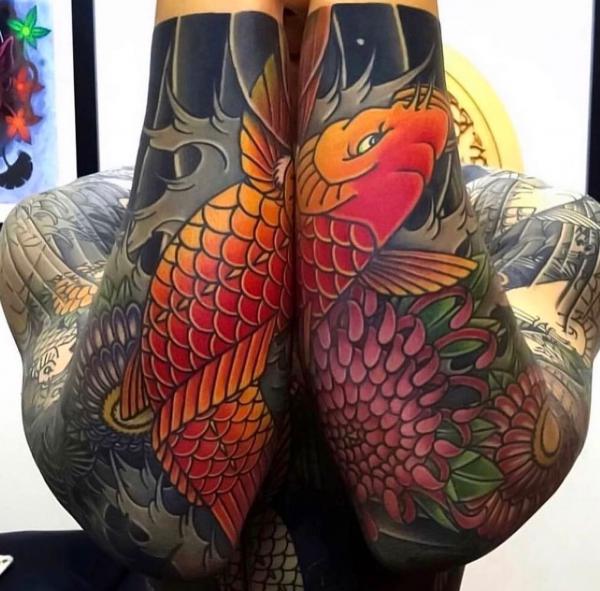 This design splits a vibrant red Koi fish into two parts, each inked on an outer forearm. When you and your partner bring your forearms together, the Koi fish becomes whole, symbolizing unity and deep connection.
Hannya mask koi fish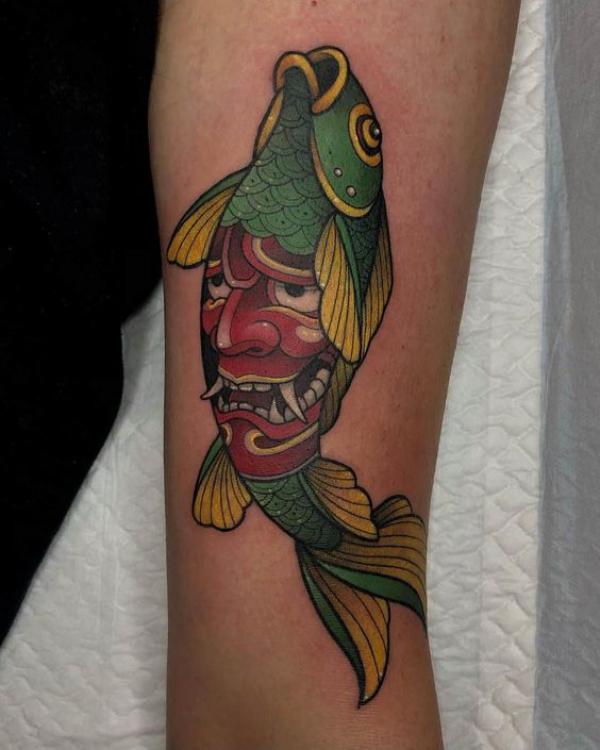 Take a traditional Koi fish design to the next level with a Hannya mask in the fish's belly. This unique blend creates a visually captivating piece, brimming with symbolism. The Hannya mask within the Koi fish can signify the internal struggles we face, while the Koi fish symbolizes our ability to overcome these challenges.
Japanese kio fish and flower tatto for women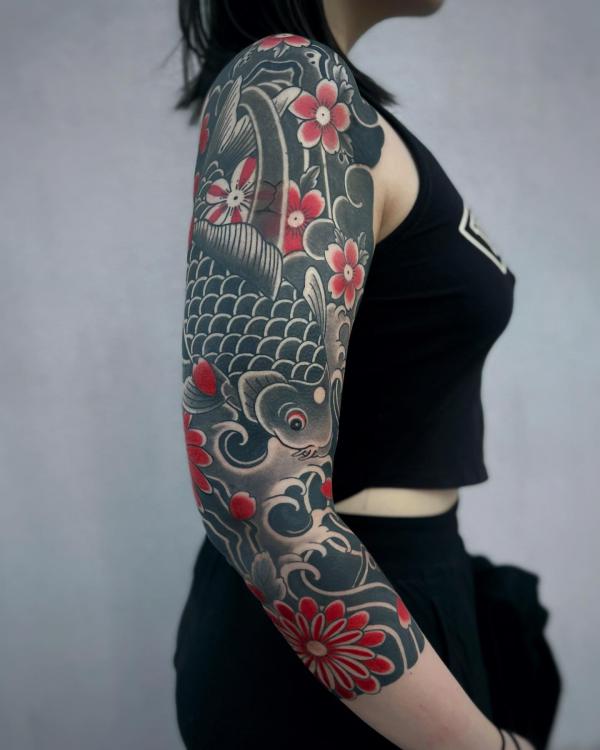 For a design that embodies feminine elegance, consider a Japanese sleeve tattoo with Koi fish and flower . This design perfectly balances the strength of the Koi fish with the beauty and delicacy of flowers. It's an ideal choice for women seeking a tattoo that combines strength and femininity.
Fine line koi fish tattoo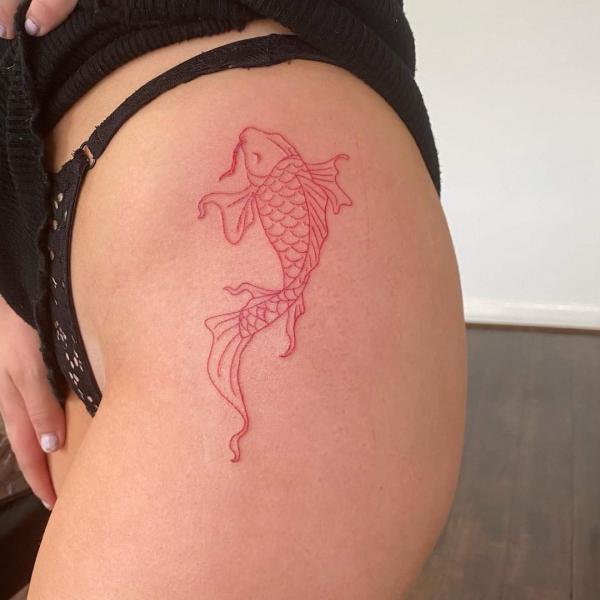 If subtlety and minimalism are more your style, a fine line Koi fish desin might be the perfect fit. This design features a small Koi fish outline, inked in red, on the side of the hip. It's a delicate, understated piece that still carries the profound meaning of the Koi fish.
Japanese koi fish and Tibetan skull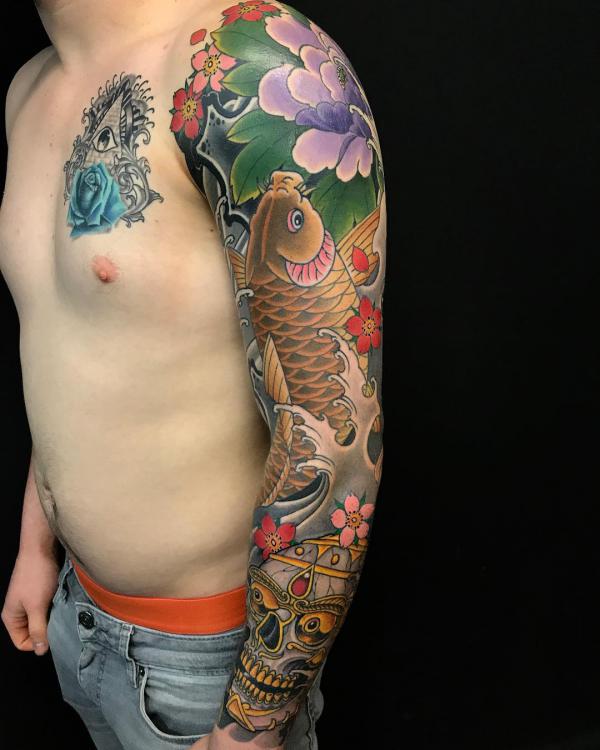 For a truly unique design, consider a Japanese Koi fish and Tibetan skull tattoo. Adorned with flowers, this design is a fusion of cultural symbols, combining elements of Japanese and Tibetan traditions. The Koi fish represents strength and resilience, while the Tibetan skull symbolizes the impermanence of life, creating a powerful statement about embracing change and overcoming adversity.
Koi fish and sun on watercolor backdrop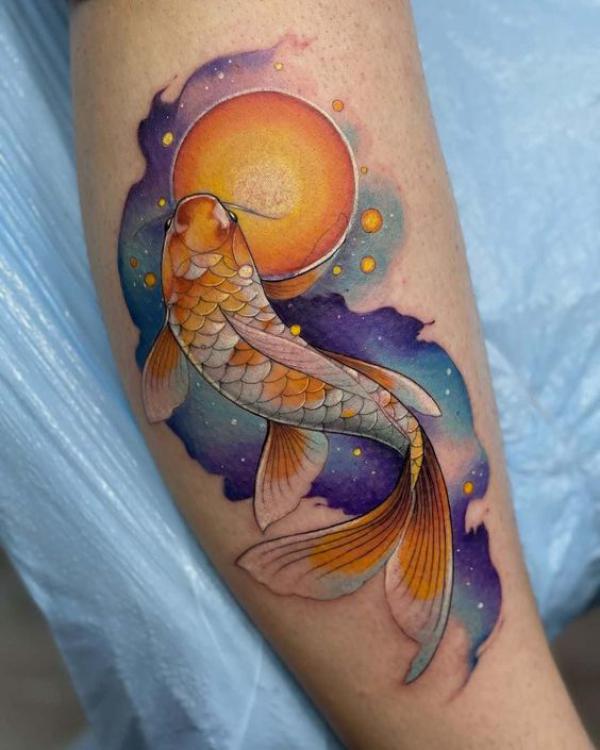 If you're an art enthusiast, a Koi fish and sun tattoo on a watercolor backdrop could be your perfect ink match. This design combines traditional tattoo elements with the fluidity and color variation of watercolor painting. The Koi fish and sun, representing strength and life, contrast beautifully against the soft, flowing watercolor backdrop.
Koi fish tattoo placement ideas
Koi fish tattoos are captivating, offering broad versatility in design and placement. Whether your style is bold or subtle, these tattoos can adapt to your personality and aesthetic. Invoking power, perseverance, and prosperity, koi tattoos can find a home anywhere on your body, fitting perfectly into your unique canvas.
Full Sleeve
A Japanese style full sleeve koi fish tattoo is a daring and bold choice. It allows you to create a flowing, intricate design that covers your entire arm, from shoulder to wrist. The placement provides ample space for details, like water waves, cherry blossoms, or lotus flowers that can accompany the koi fish. This is a dynamic option that can turn your arm into a breathtaking canvas of art, a visual representation of your journey, strength, and resilience.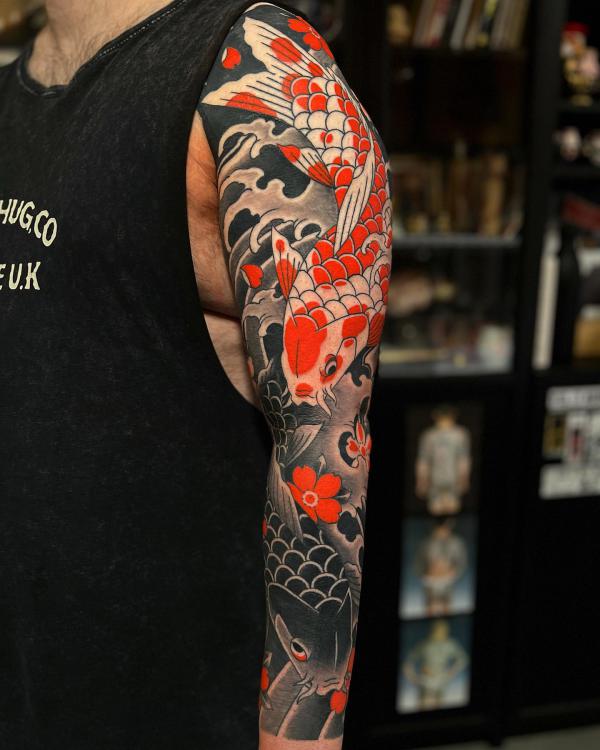 Half Sleeve
If you're seeking something less extensive than a full sleeve but still want a sizeable statement piece, a half sleeve koi fish tattoo might be your best bet. This option covers either your upper arm, from shoulder to elbow, or lower arm, from elbow to wrist. It offers enough room for a detailed depiction of a koi fish, yet it's not as commitment-heavy as a full sleeve.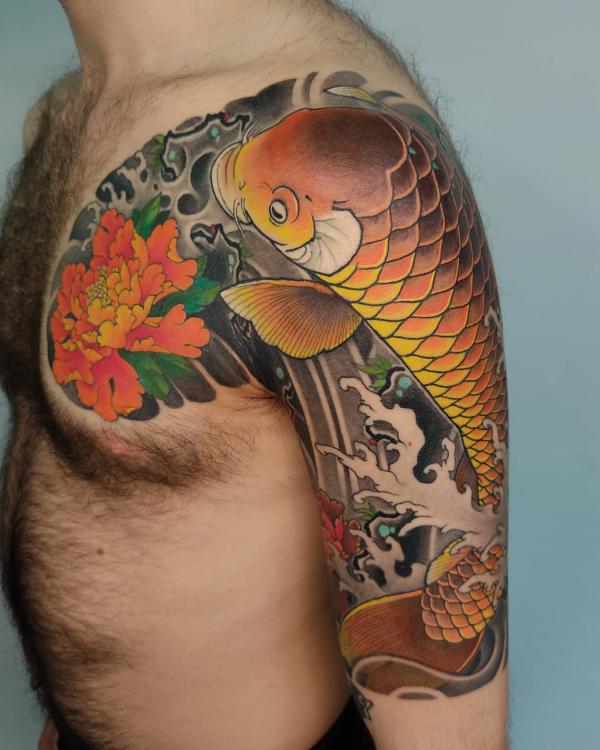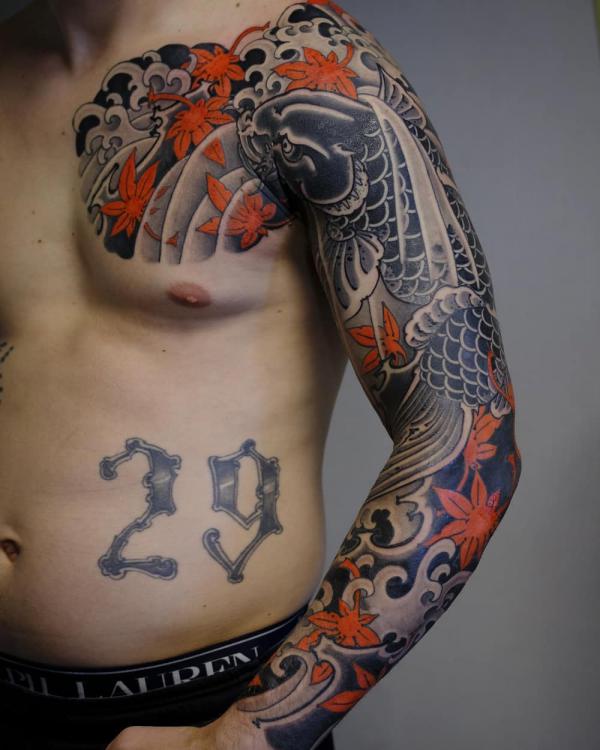 Forearm
A koi fish tattoo on the forearm is a popular choice. It's a location that's frequently visible, making it ideal for a tattoo you'd like to show off. The elongated shape of the forearm complements the natural shape of the koi fish, allowing for a design that looks organic and harmonious. While it's a less extensive area than a sleeve, a forearm placement still provides enough space for a reasonably detailed tattoo.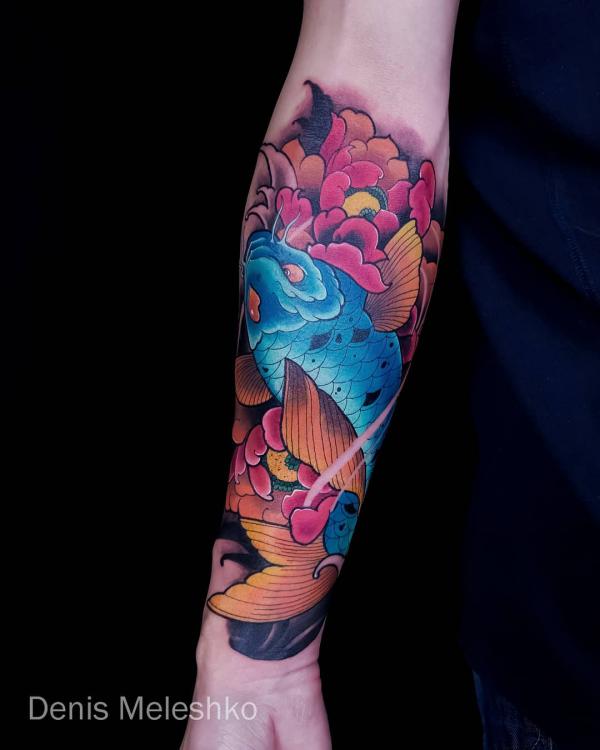 Colored koi fish tattoo design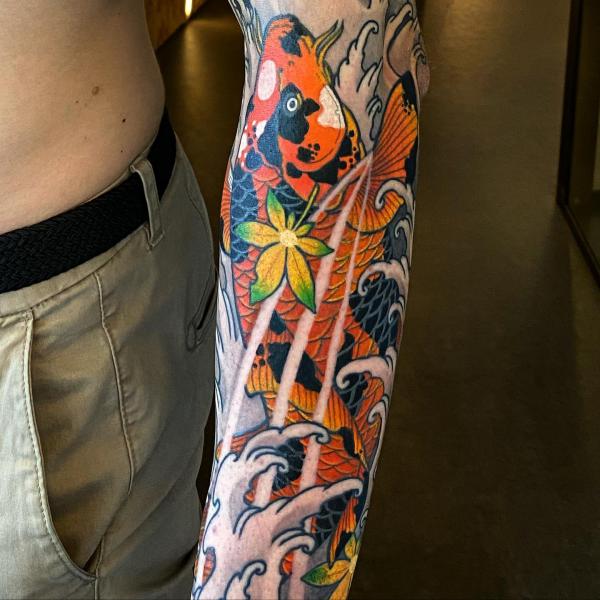 Chest
The chest is a broad canvas that can hold a large, intricate koi fish tattoo. The placement is close to the heart, which could make the tattoo feel more personal. You can easily a chest tattoo. So it's a good idea if you prefer a more private tattoo placement. The chest offers enough space for a single koi fish or even a pair, often designed to look like they're swimming around each other.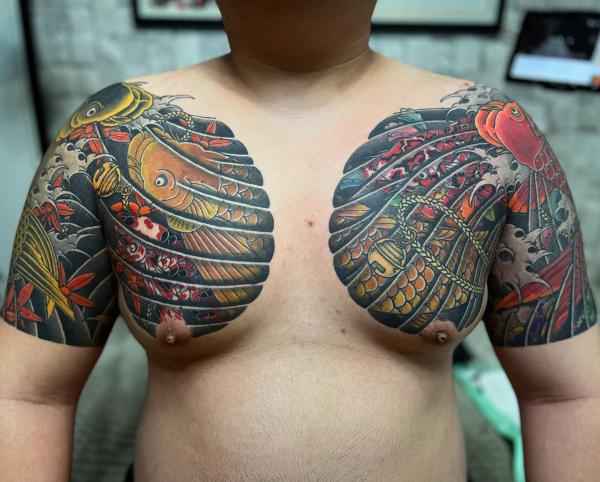 Horimono
For those steeped in tradition and unafraid to make a bold commitment, a horimono, or a full-body tattoo, is an option. This traditional Japanese tattoo style often features koi fish as a central element. Horimono is a massive undertaking that requires commitment and endurance, both in terms of time and pain tolerance. However, the end result is a breathtaking piece of art that covers your entire body, a full canvas showcasing the majesty of the koi fish.
kintaro and koi fish Horimono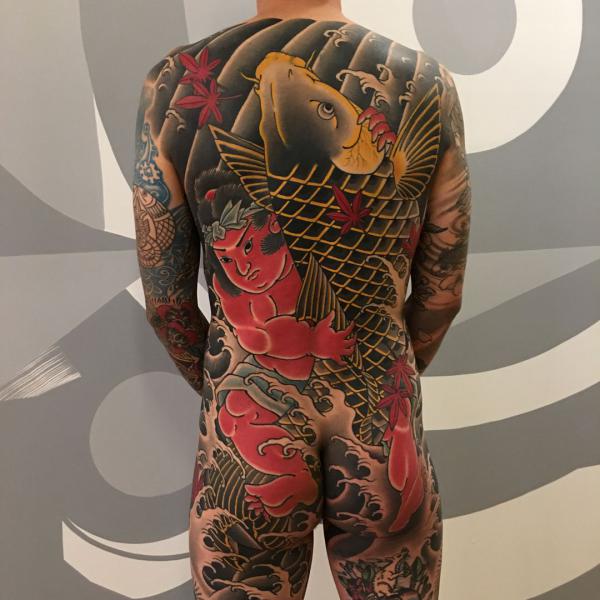 Full Back
A full back koi fish tattoo is another option that offers a large, detailed canvas. Like the chest, this placement can hold a single koi fish or a pair. The design can extend from the shoulders to the lower back, creating a beautiful, flowing depiction of the koi fish. A full back tattoo can easily be covered, adding an element of surprise when revealed.
Large koi fish full back tattoo with Kanji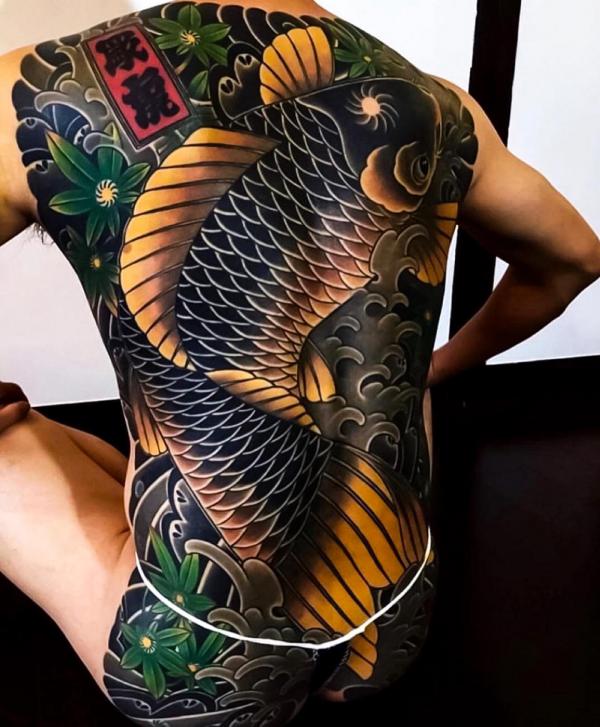 Leg
If you prefer a tattoo that can be discreetly hidden or shown off, a leg placement might be suitable. The tattoo can be placed on the thigh, calf, or even extend along the entire leg, similar to a sleeve. The long, vertical space can accommodate a design that shows the koi fish swimming up or down, creating a sense of movement.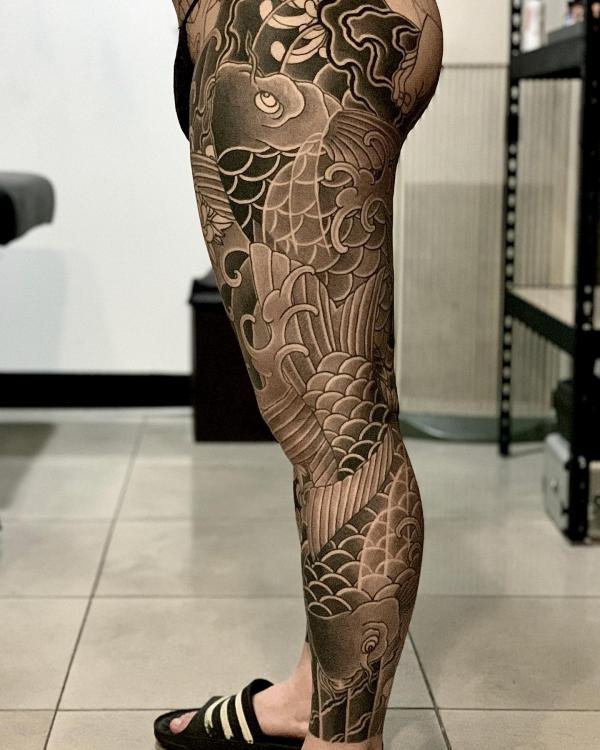 Koi fish and daisy lower leg tattoo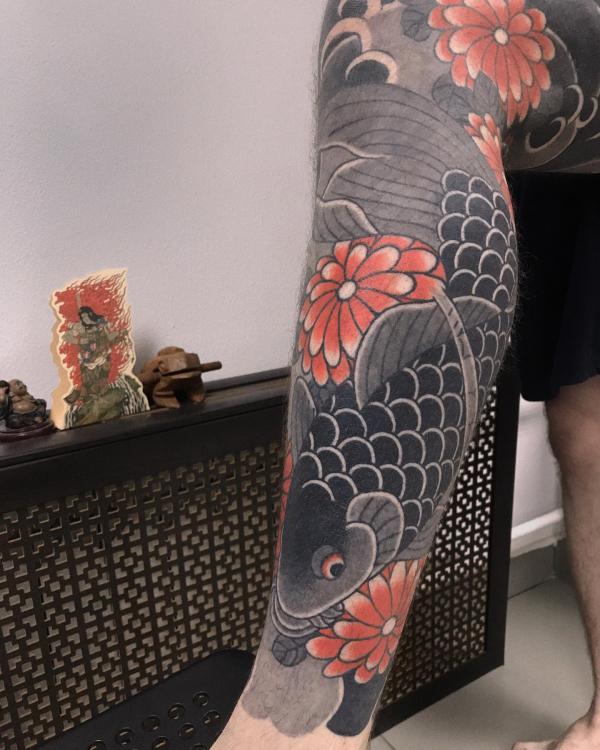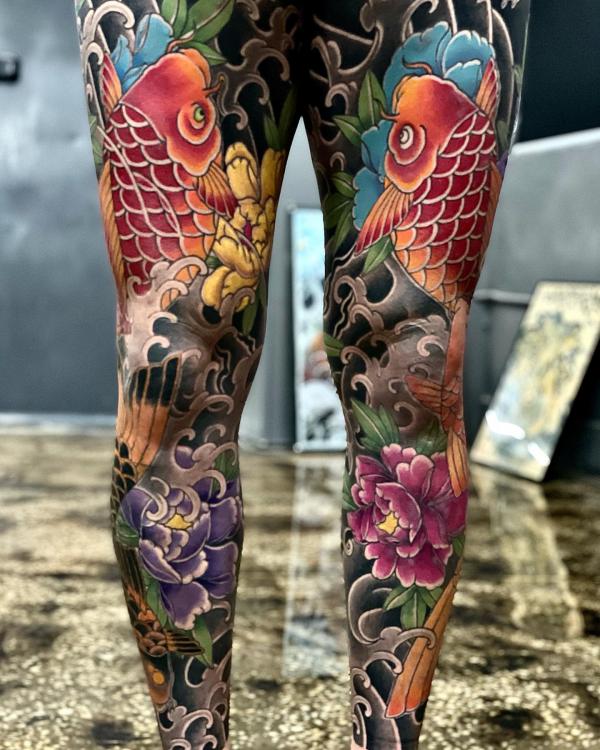 Quarter Sleeve
A quarter sleeve koi fish tattoo, covering the area from the shoulder to the mid-bicep or from the elbow to the wrist, is a more subtle choice. It provides a compact canvas for a koi fish tattoo, yet there's still enough space for a detailed design. It's a balance between the bold statement of a full or half sleeve and the understated elegance of a smaller tattoo.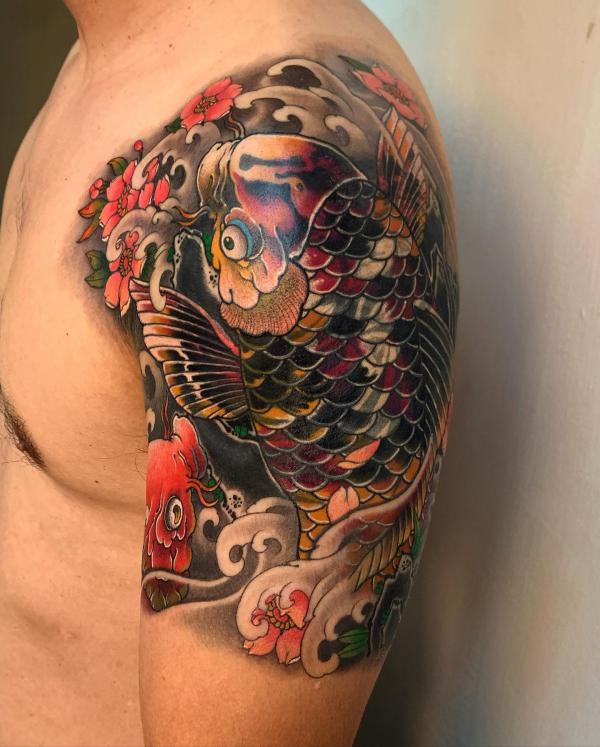 Thigh
A thigh placement is a popular choice for a koi fish tattoo, especially among women. It offers a large space for a detailed design but can be easily covered. A thigh tattoo can be a personal symbol, hidden most of the time but revealed at your discretion. The koi fish's elongated shape works well with the thigh's natural shape, creating an aesthetic harmony.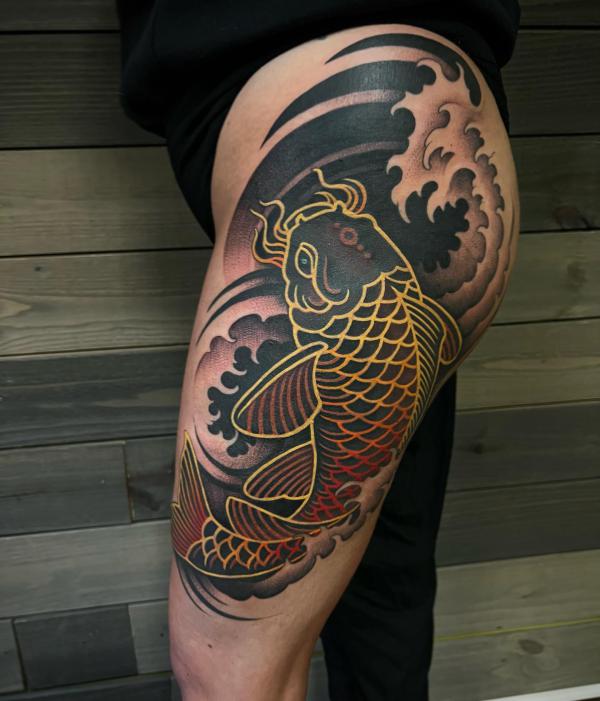 Calf
A koi fish tattoo on the calf can be an exciting choice. It's a location that can be shown off or hidden, depending on your clothing. The calf's rounded shape can create a unique perspective for the koi fish design, giving it a sense of depth and dimension. The area is large enough to include additional elements like water waves or lotus flowers, adding to the overall visual appeal of the tattoo.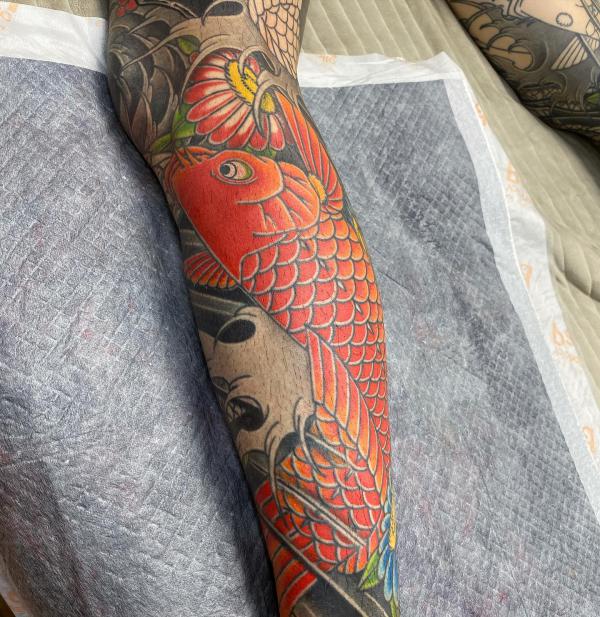 Calf koi fish tattoos in different colors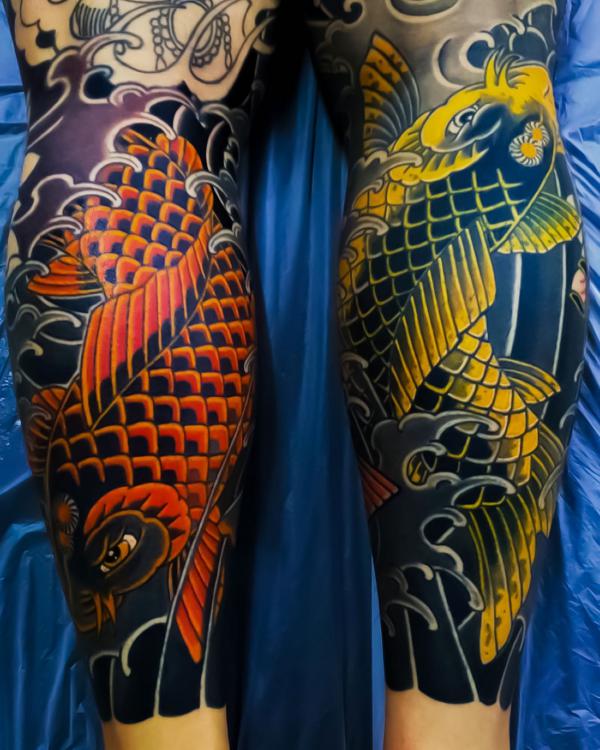 Shoulder
Two small, feminine koi fish swimming around the shoulder cap is a delicate and charming idea. This placement is ideal for a less detailed, more stylized koi fish design. It's a discreet location that's easy to cover, but the tattoo can be shown off with sleeveless tops. The shoulder's rounded shape can also add an appealing dimension to the design.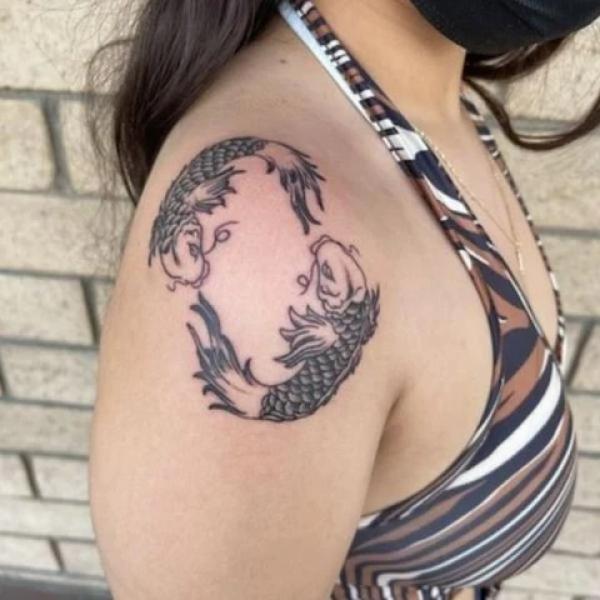 Wrist
A small koi fish tattoo on the wrist is a dainty and subtle choice. This placement is perfect for a minimalist koi fish design, perhaps just an outline or a stylized, less detailed depiction. Despite the small size, a wrist tattoo can still make a significant impact.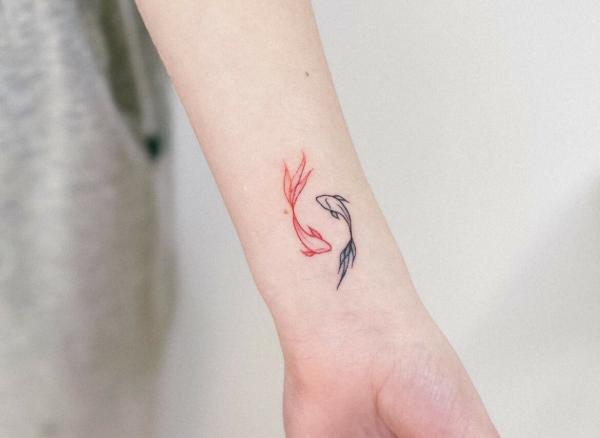 Hip
The hip is another placement that offers a fusion of privacy and exhibition. A koi fish tattoo on the hip can be a hidden gem, revealed only to those you choose. This placement is particularly popular among women. You can tailor the design to curve and flow with the body's natural shape, adding a sense of organic beauty.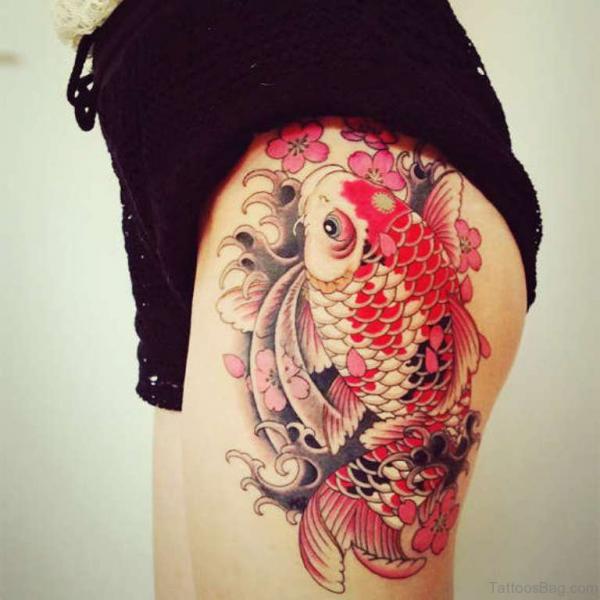 Conclusion
Koi fish tattoos are more than just intricate, colorful designs etched onto the skin. They are stories of resilience, perseverance, transformation, and balance. They remind us that like the humble Koi, we too can swim against the current, conquer our challenges, and emerge stronger. Whether you're drawn to the vibrant hues of a traditional Japanese Koi or the stark contrast of a yin and yang design, a Koi tattoo is sure to add a touch of elegance, mystique, and profound symbolism to your body art collection.
And remember, each tattoo is unique, just like the person wearing it. Embrace the journey, make your mark, and let your ink tell your story.