Skull is one of the most powerful elements of the art creations including tattoo designs. A skull is where the brain is enclosed. When it appears, it could be sharp reminder of death.
However, people get the skull tattoos for various representations. Without a doubt, tattoo is personal. But its classic meanings remain etched in both culture and our collective minds.
Meanings of skull tattoo
Skull has long been considered as the vessel of the soul, or wisdom of ancestors. So the symbol cannot be taken as a mere sign of death, but a symbol of rebirth, symbolizing eternal life.
In some cultures, death is not considered the end of life. They believe that the spirit of the dead has influence to the living family members.
In Mexico, sugar skulls are decorated in gaudy colors with feathers, beads and foils to commemorate the dead relatives. Therefore, the skull here is not scary symbol but used to express the meaning of love, protection and good luck. It is also associated with change, transformation and rebirth.
The tattoos are loved not just for their classic symbolic meanings or their representation of the wicked side of the world. It could be also fashion statement for the wearer. People may love the tattoos just for it looks cool. A skull often appears with other objects, representing their integrated meaning, e.g., skull & roses, could mean grateful dead or love and death.
There are a lot of such combinations which could enlighten your tattoo ideas when you decide to have a skull tattoo wherever on the arm, back, chest, etc.
Add artistic styles in your tattoo
Moreover, it's important to have your tattoo to be created in an artistic styles, if you it appealing. After doing survey for hundreds of tattoos, we found A number of popular tattoo styles in the design of this subject.
Black and grey
Realism
3D style
Neo-Traditional
Blackwork
Colorful
Skull tattoo ideas
In this post, you will find the collection of awesome tattoo designs and ideas. Let us know any one you like. Just drop a link on the comment.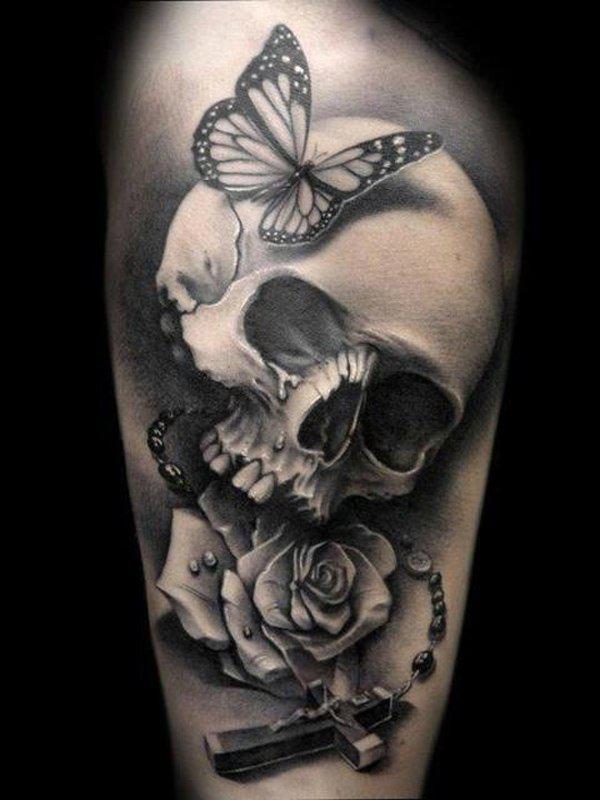 Black and grey tattoo with skull, butterfly, cross and rosary
This beautiful tattoo depicts a sad picture in dark shade. The 3D inked butterfly reminds us of life change and transformation. And the droplets near the eye of the skull appear tears that could be an indicator of sad story behind.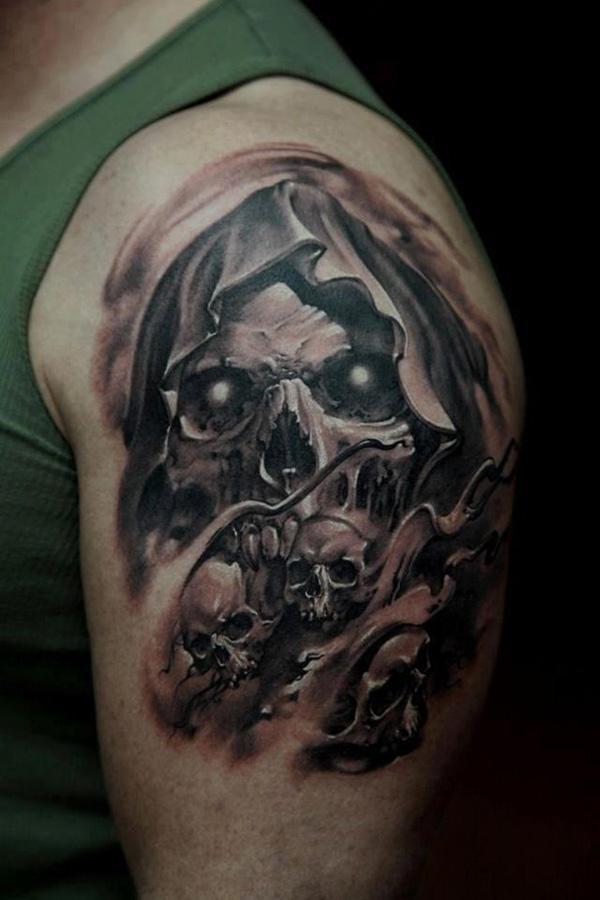 Pirate skulls on half sleeve
A highly masculine form of tattoo belongs to those to show their power and strength. The piece are depicted with skulls as if they are glaring with rage.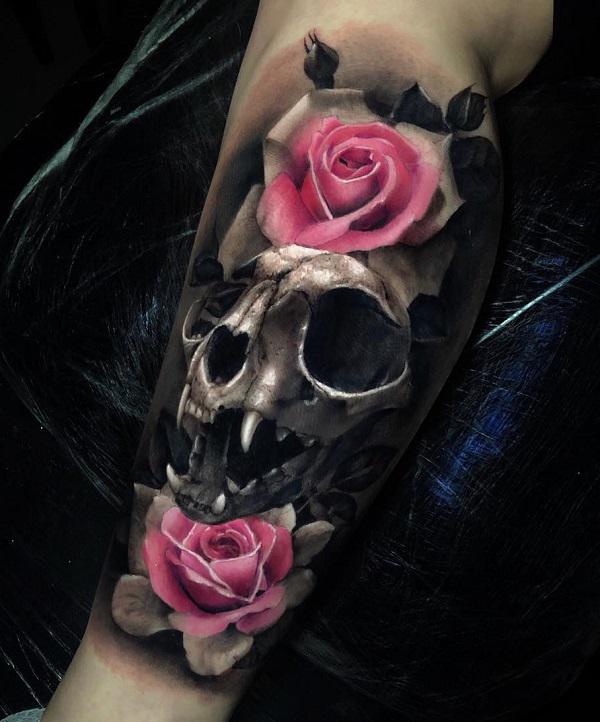 Pink Roses and Feline Skull
This realistic calf tattoo featuring a feline skull is a tribute to the beloved pet of the wearer. At the top and bottom are two pink roses with their outer petals faded to grey.
source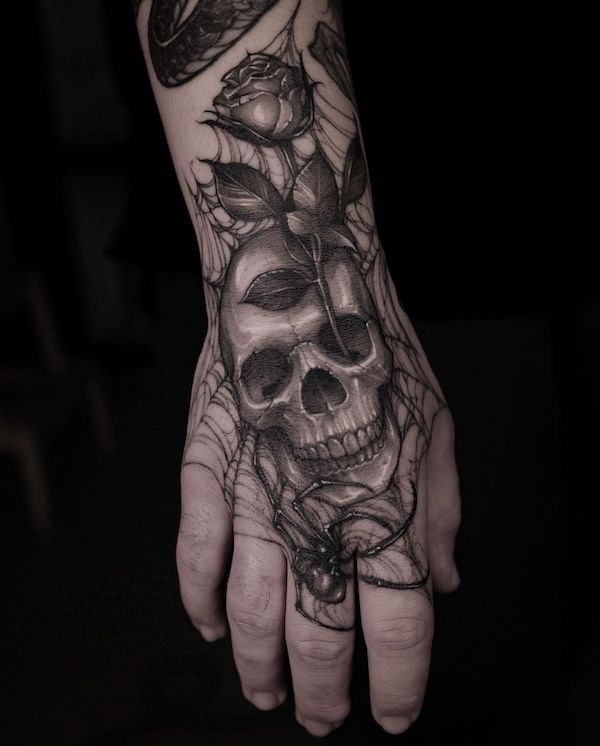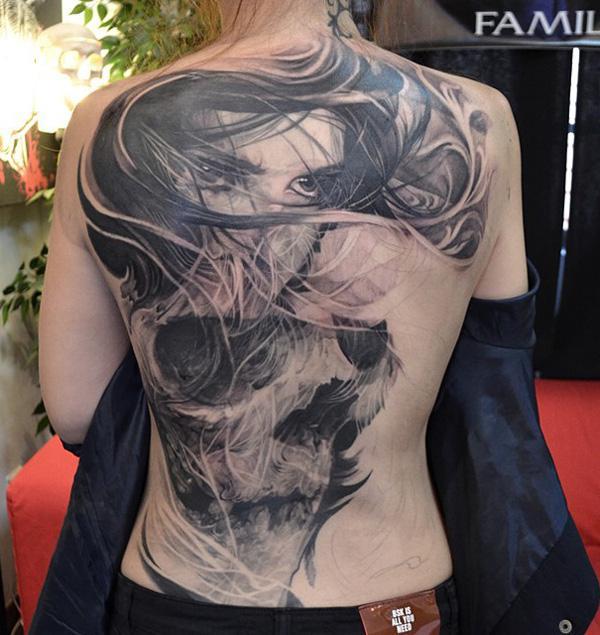 Surrealistic back tattoo with skull and girl portrait for women
The gorgeous tattoo is the best idea for women who'd like to combine the classic symbol with their fashionable styles. The black and white curling lines form the major theme of the abstract tattoo.
source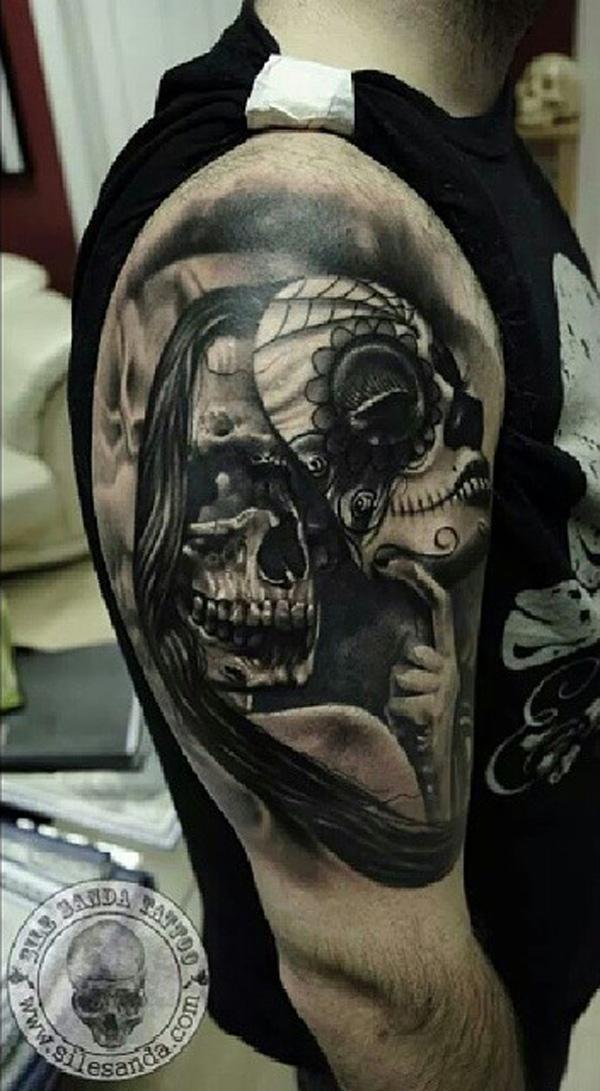 Skull and mask
The dark sleeve tattoo depicts a skull with its half face looking around. The bold frame and a masquerade mask on its finger implies it could swiftly hide its face and adapt to the change.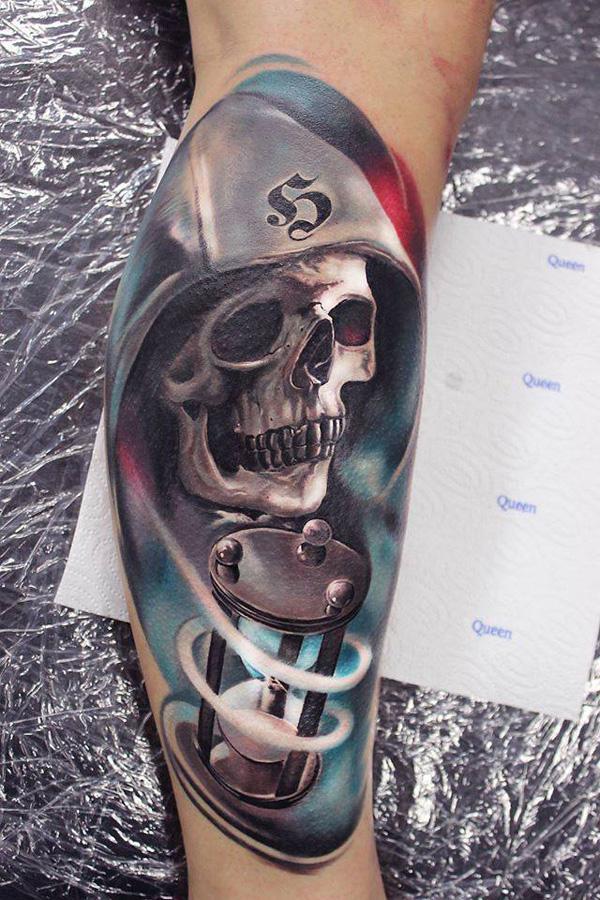 Skull wizard
source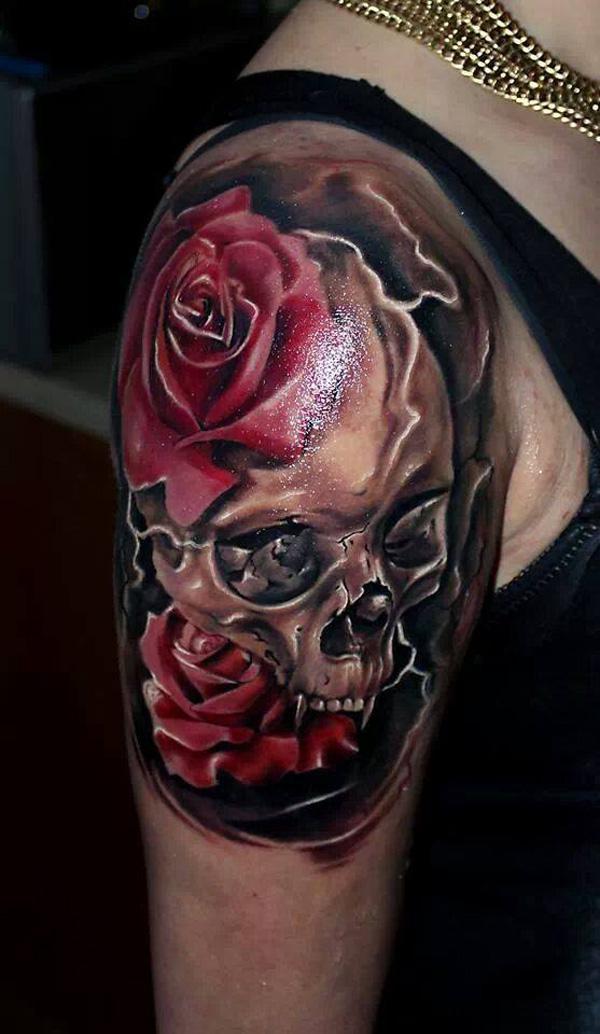 Skull with two red roses
The skull is sometimes scary. But if there's context to read, it would make people moved by the story behind. For instance, the rose here is strong reminiscent of the bride or loved one in the mind of the wearer.
source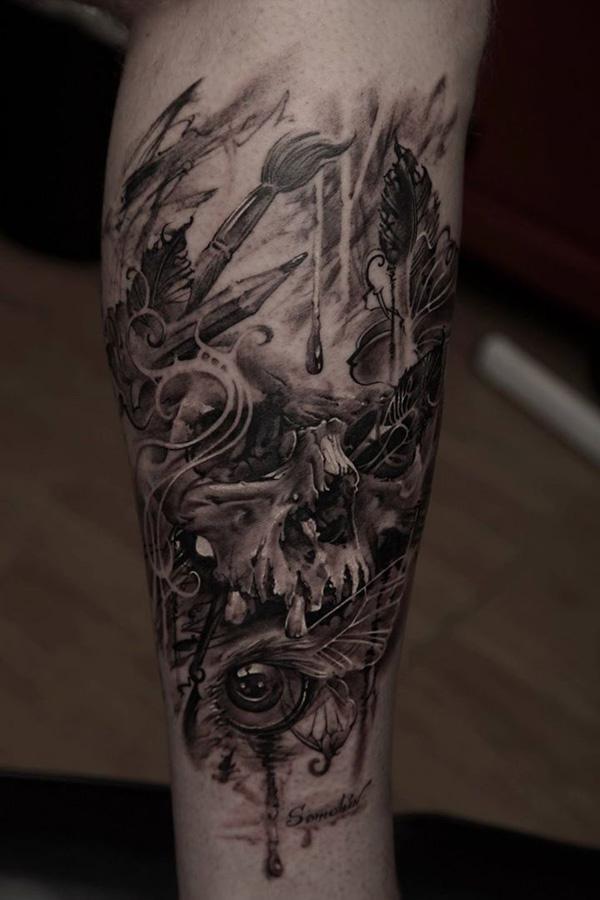 Surrealistic Skull with realistic eye
Abstract art sometimes looks messy or ugly. For example, this tattoo allows seemingly irrelevent symbols such as pens, skull and eye, to appear together. The composite looks messy but make the room for the deepest imagination for various people.
source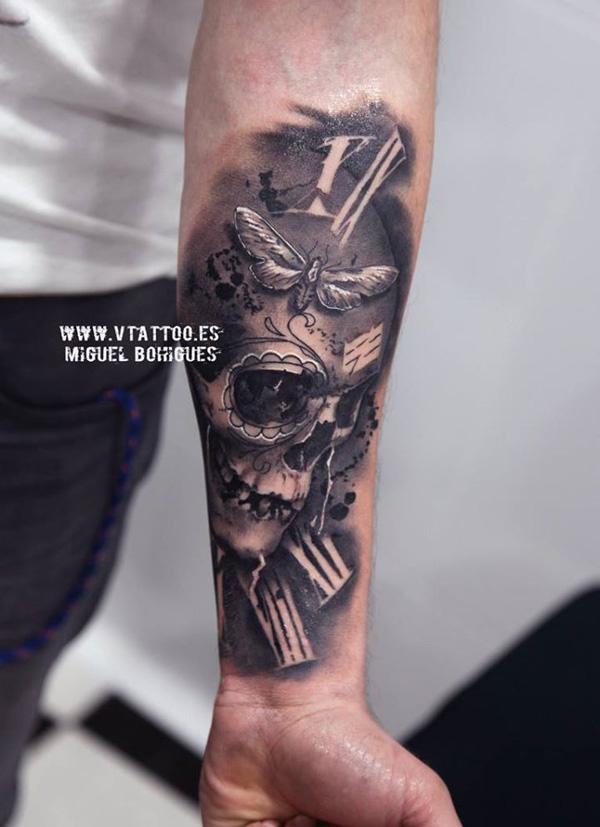 Greyscale Sugar Skull with butterfly
This tattoo combines multiple motifs to express one prominent meaning. The butterfly and clock seems like reminding of changing life.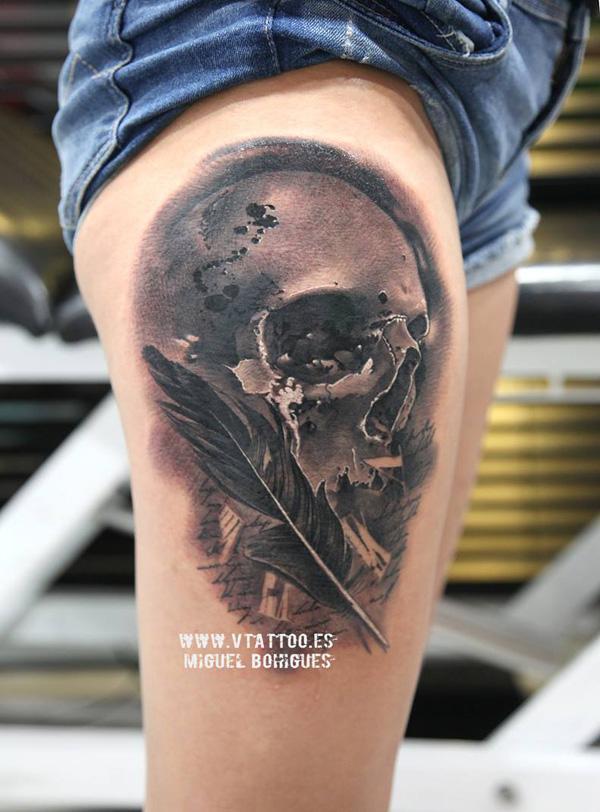 Skull with feather tattoo on thigh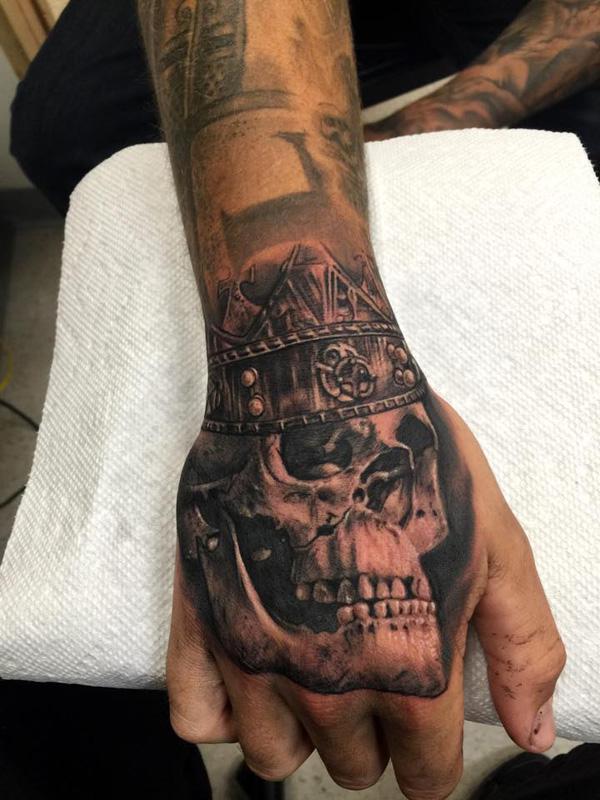 Crowned Skull on hand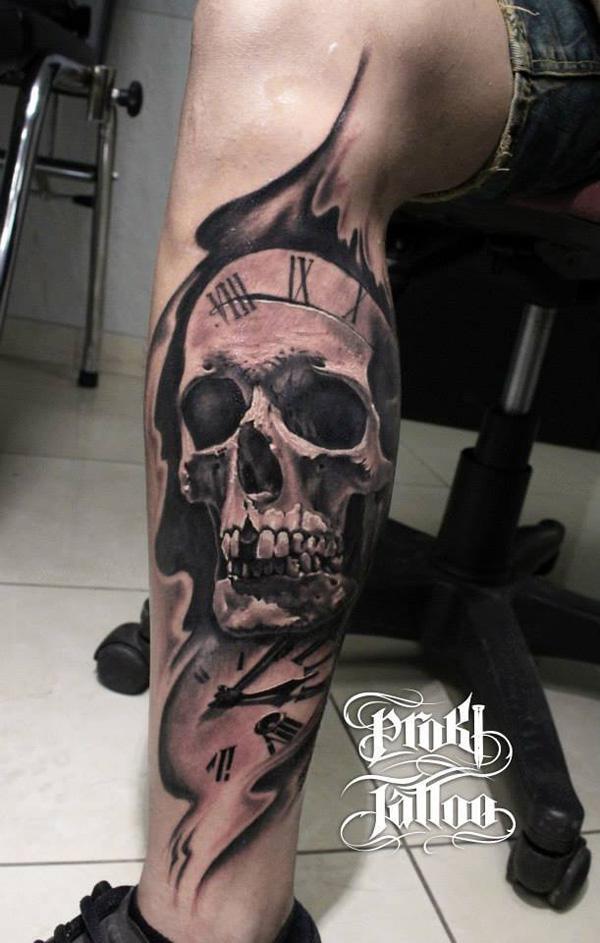 Skull and melted watch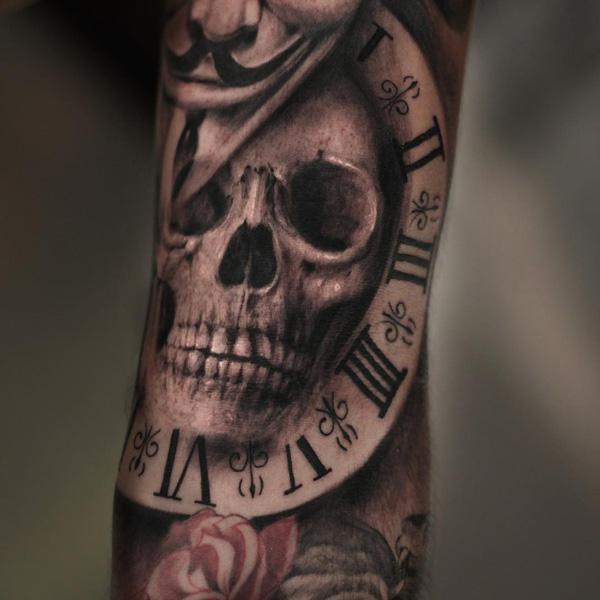 Skull in the watch
source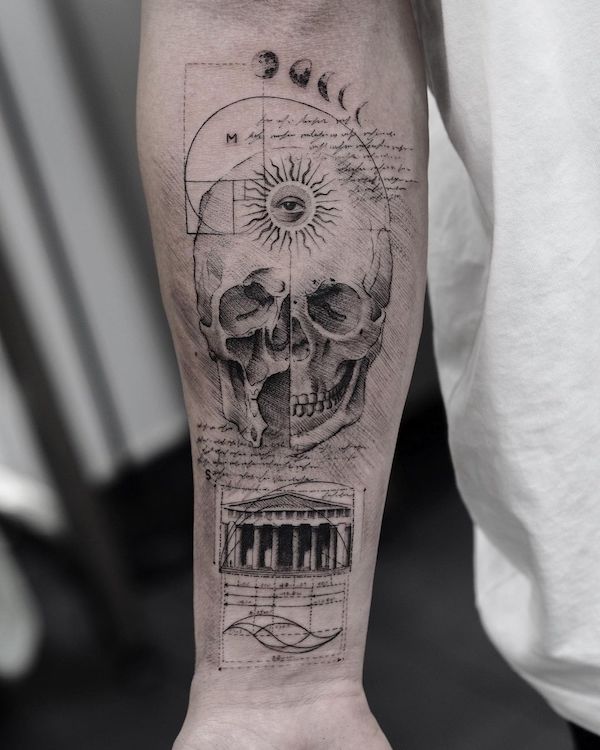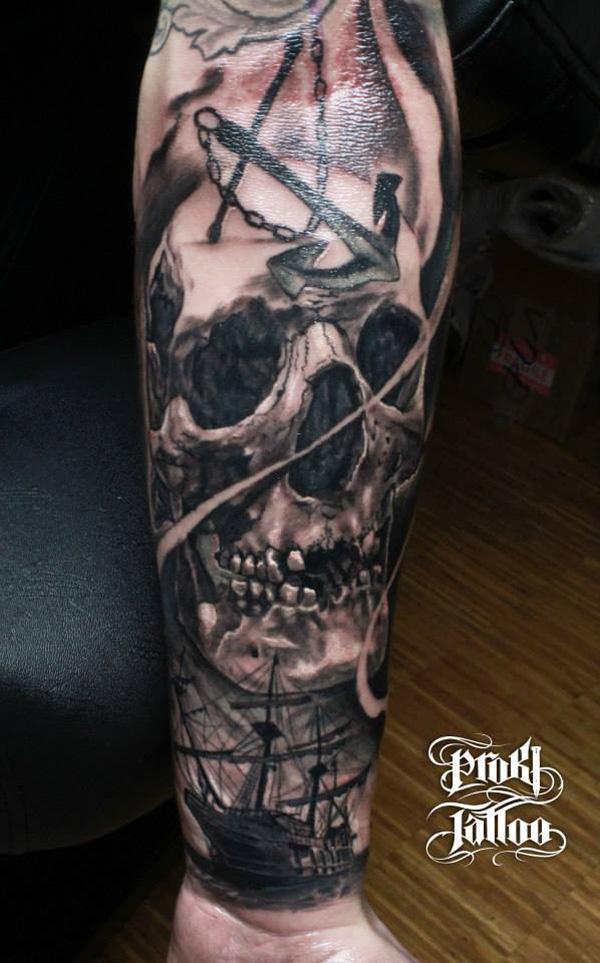 Boat, anchor and skull
source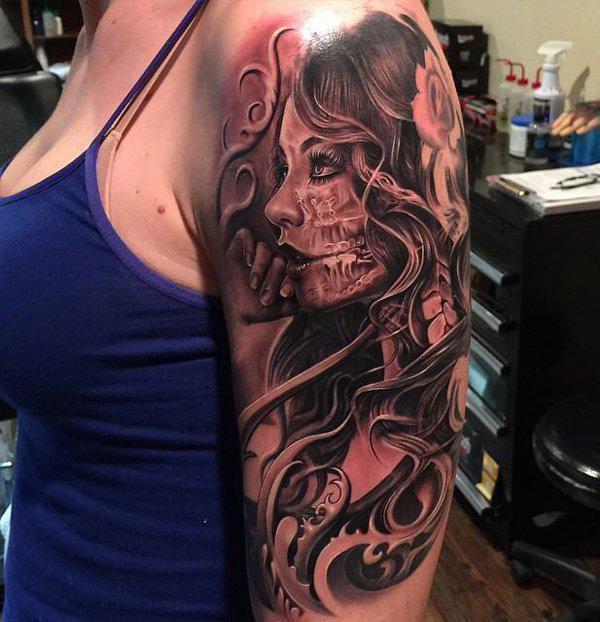 Skull makeup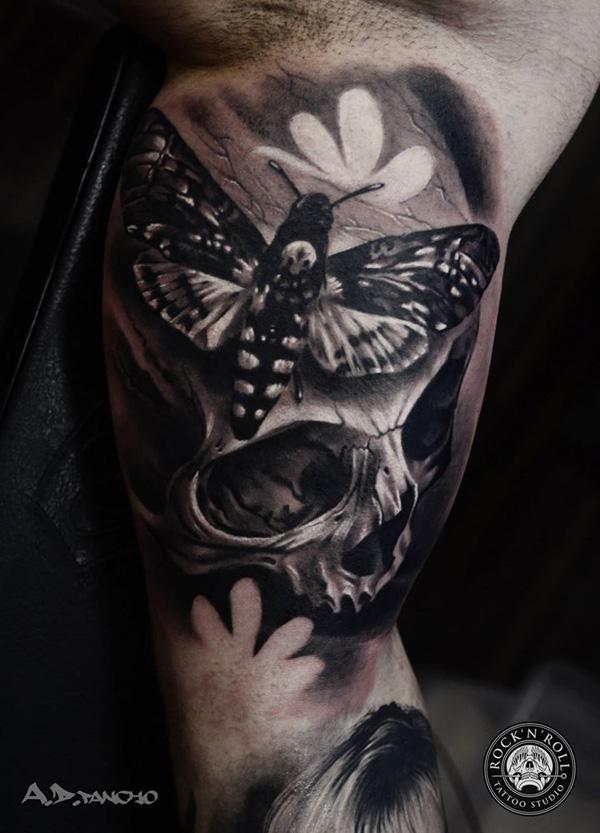 Skull with moth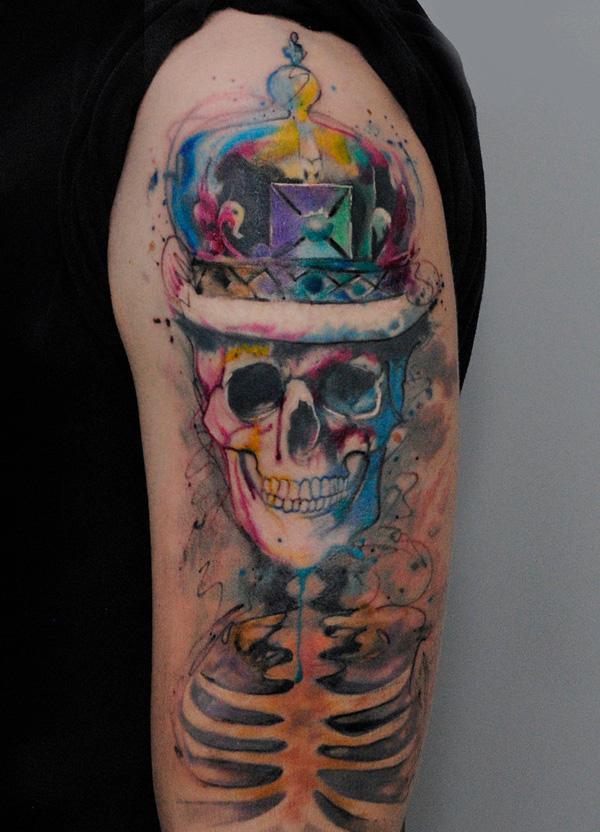 Hatted skull in watercolor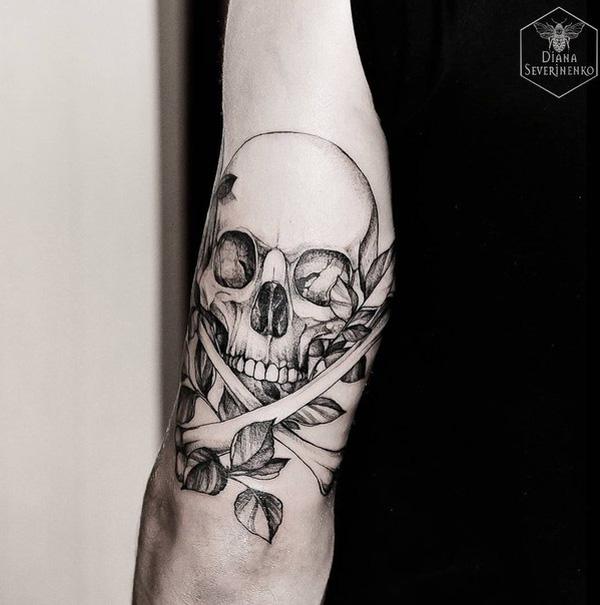 Skull and crossbones in black and grey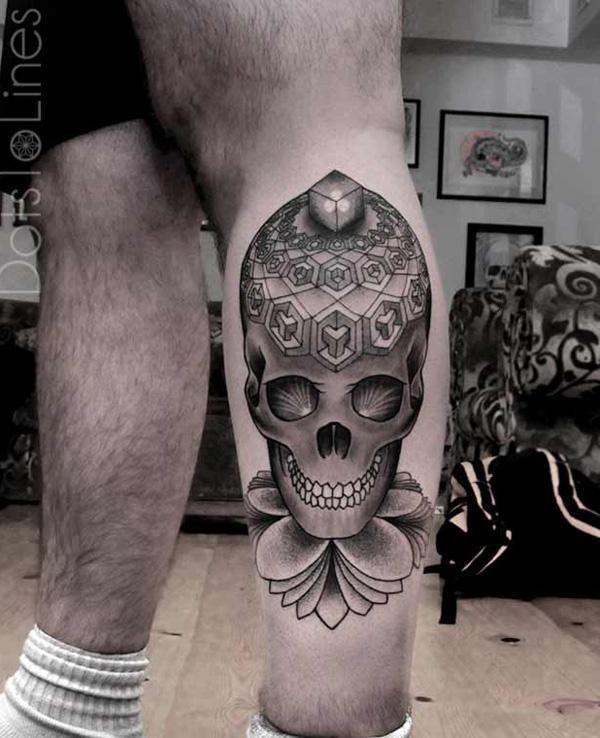 Black and white Sugar Skull tattoo on calf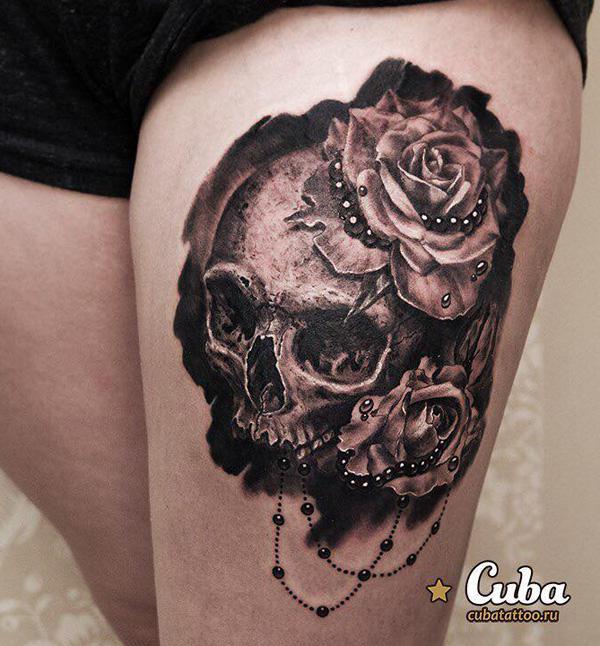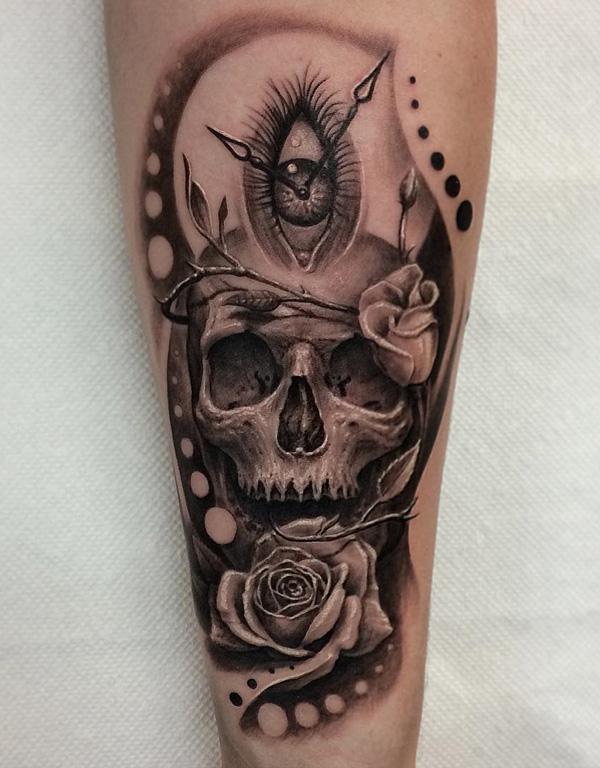 Eyed skull with roses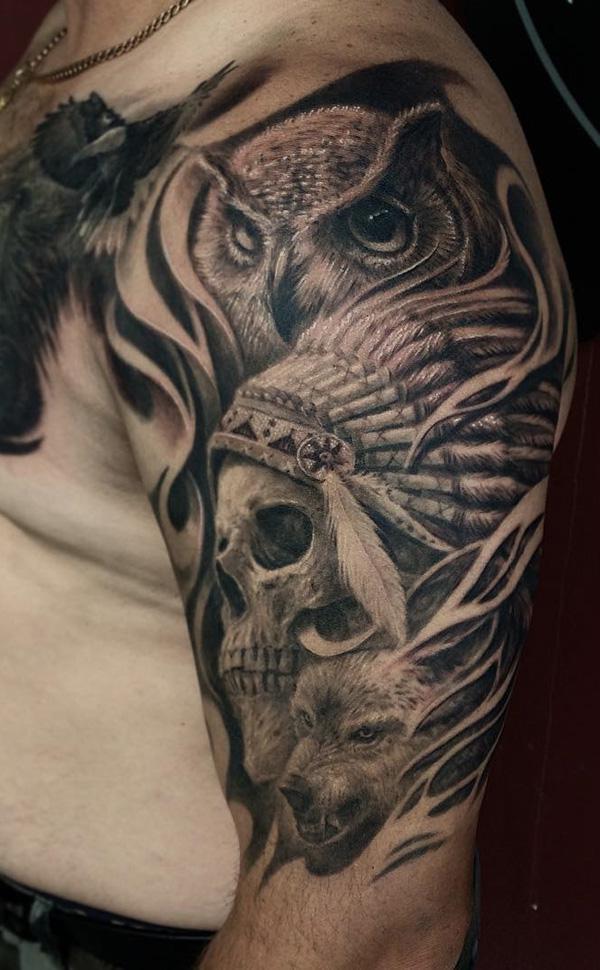 Native American inspired Tattoo with motifs of Owl and wolf
This tattoo depicts a mysterious picture full of elements of Native American culture. The skull is a symbol for death but is wearing a live feather headset. At the same time, the owl and wolf are portrayed realisticall in sharp contrast.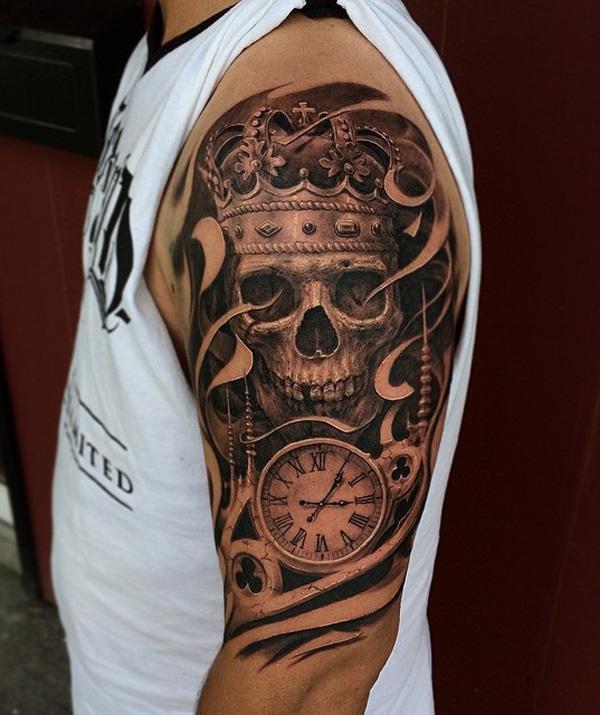 Crowned Skull with watch tattoo
source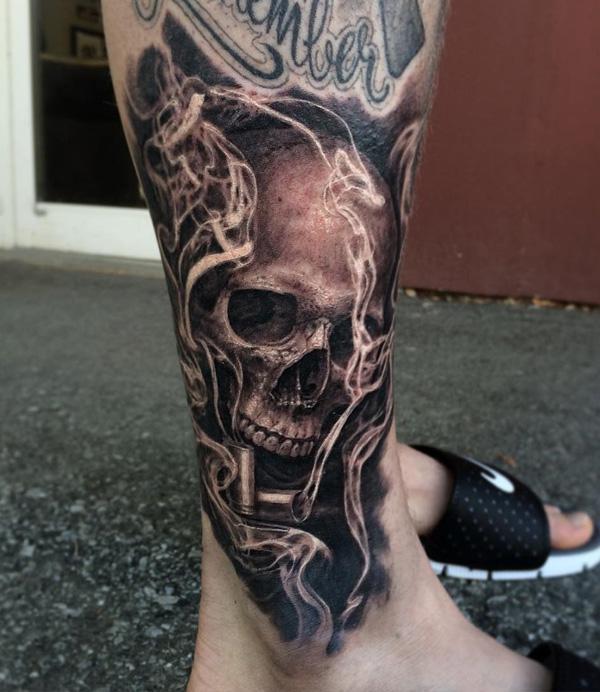 Smoking Skull
source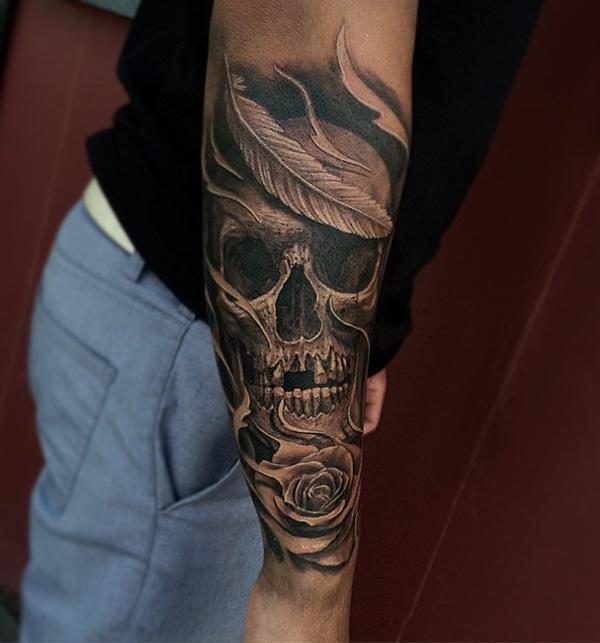 Feather rose and skull forearm tattoo
source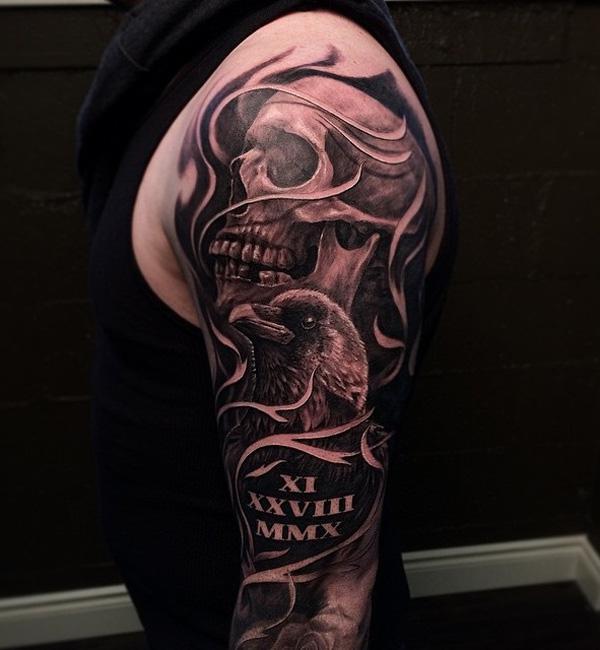 3D Skull with eagle tattoo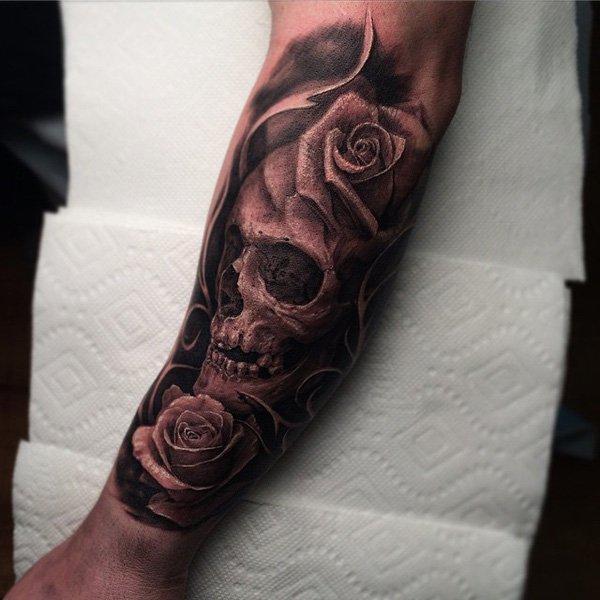 Beautiful skull with rose tattoo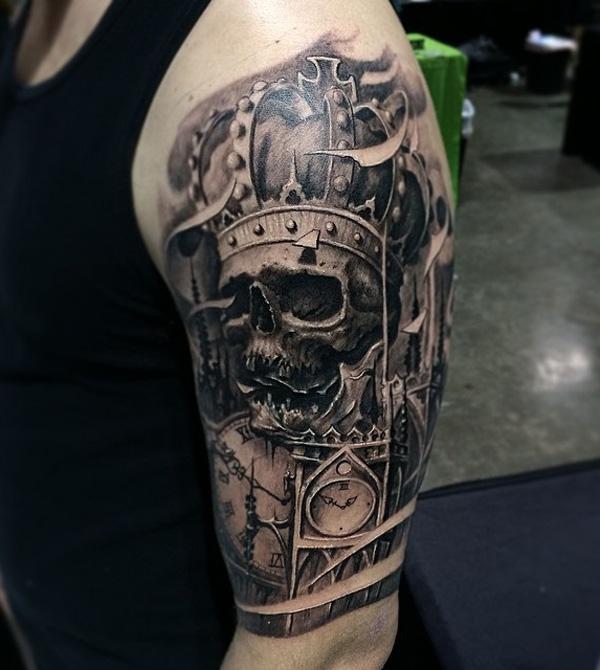 steampunk crowned skull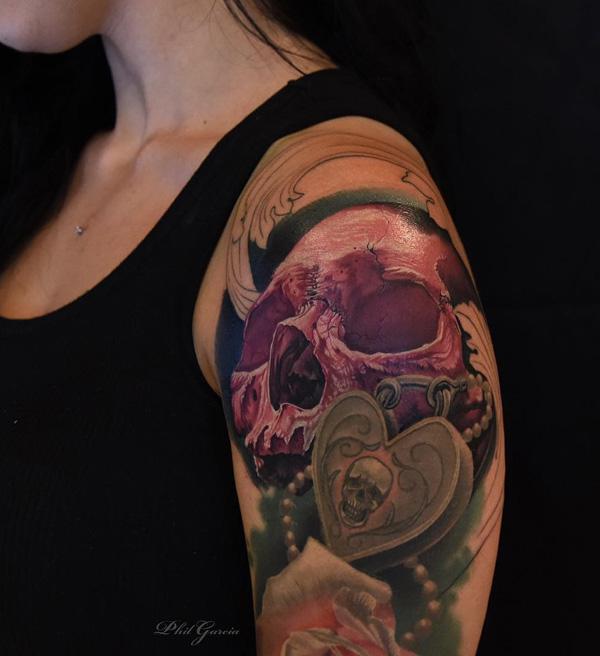 Heart shaped lock attached to skull
Colorful Skull with rose headpiece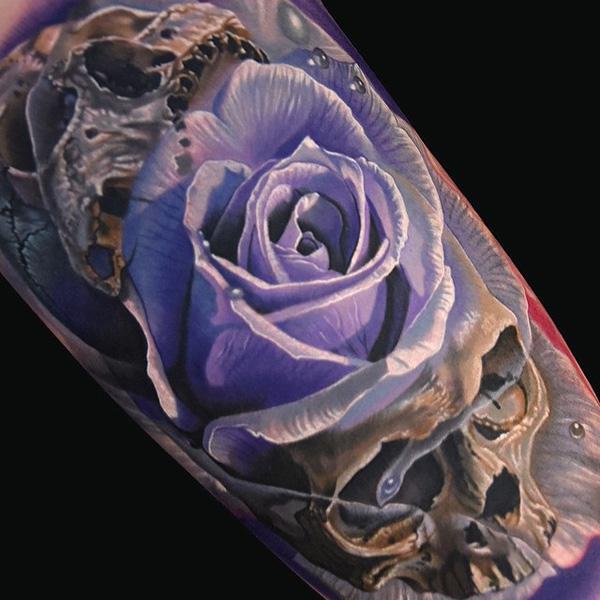 3D Skull and flower
source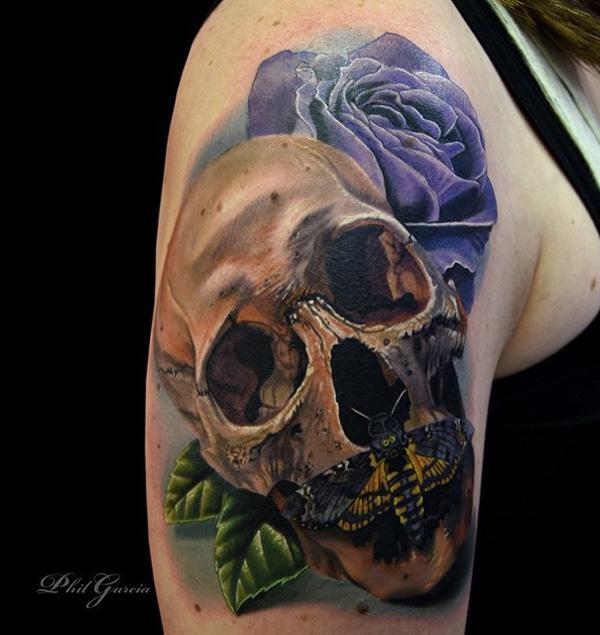 Moth and Skull
Skull and eye
source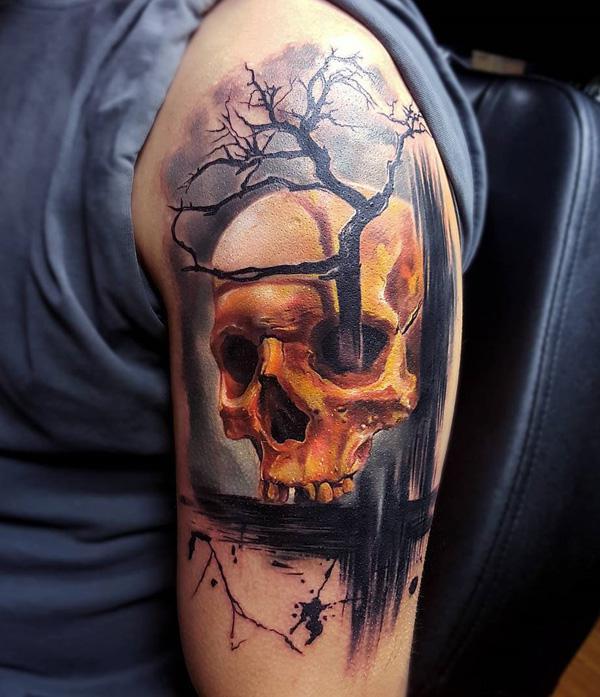 Skull in dark world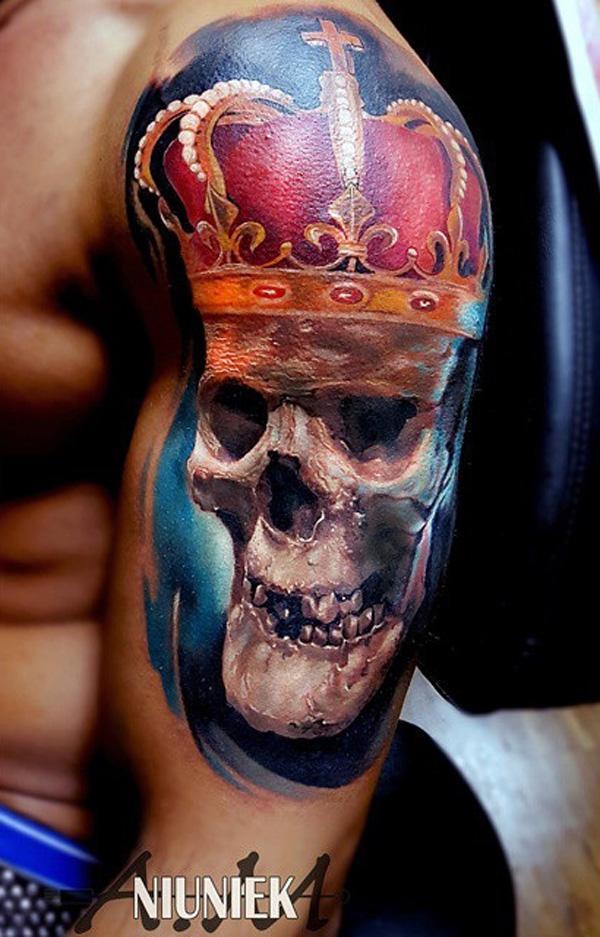 Colorful crowned Skull sleeve tattoo
source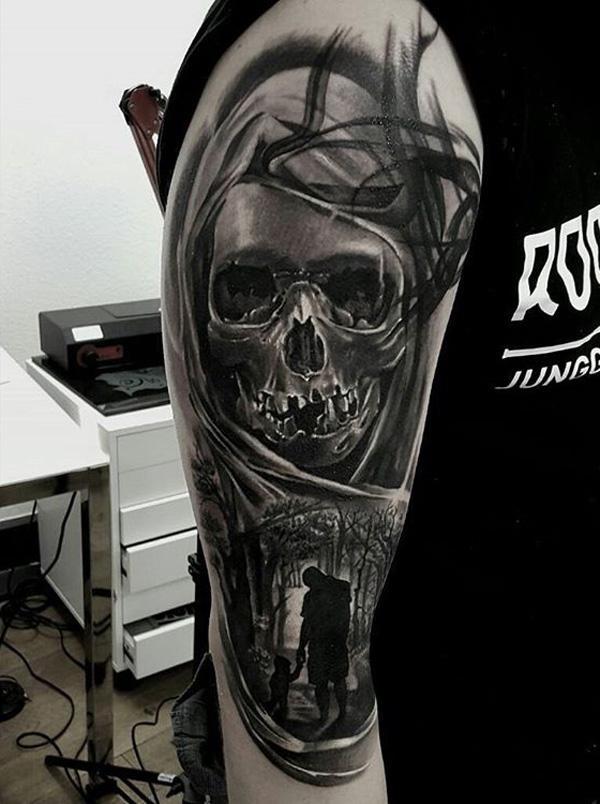 Black and white skull tattoo
This dark tattoo depicts two distinctive pictures that obviously belong to different worlds. On the bottom is the silhouette with a father holding son's hand. This tattoo seems like tribute to the beloved one.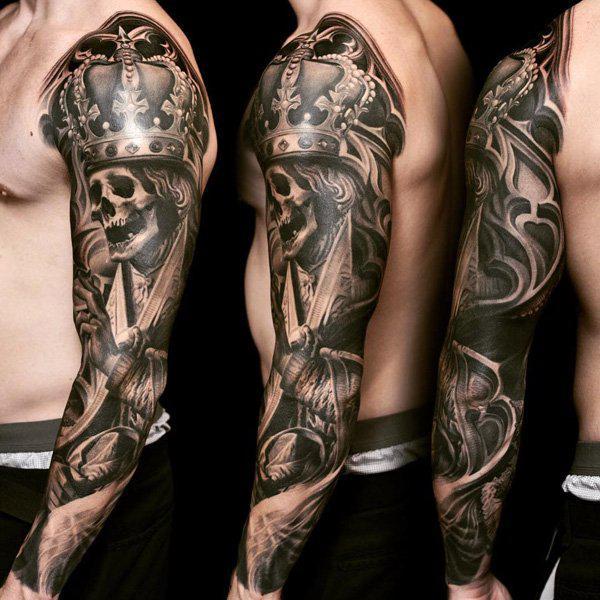 Skull and crown sleeve tattoo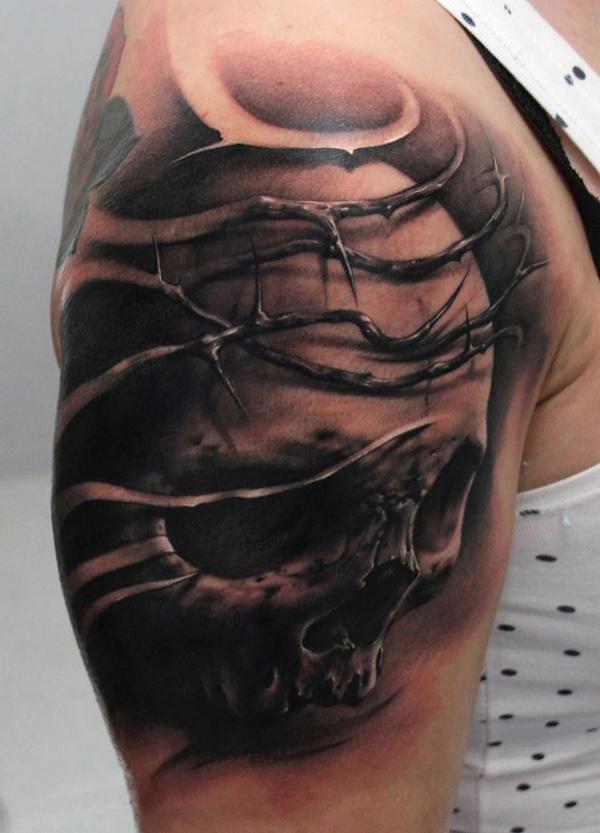 Prickly vines and skull
This design features a realistic skull with added prickly veins going through it. The pricks are drawn in great details with clear shadows.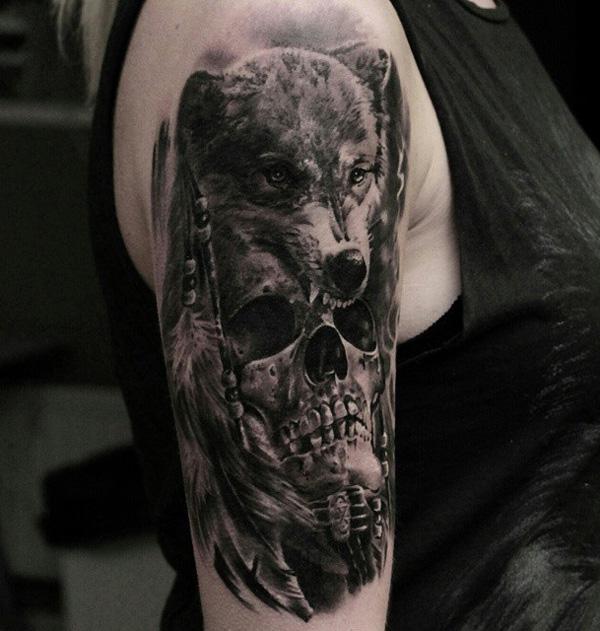 Wolf and Skull
This is a tattoo to honor Native American culture which contains the element of feathers. The wolf seems like headpiece of the skull although it is depicted in realistic manner.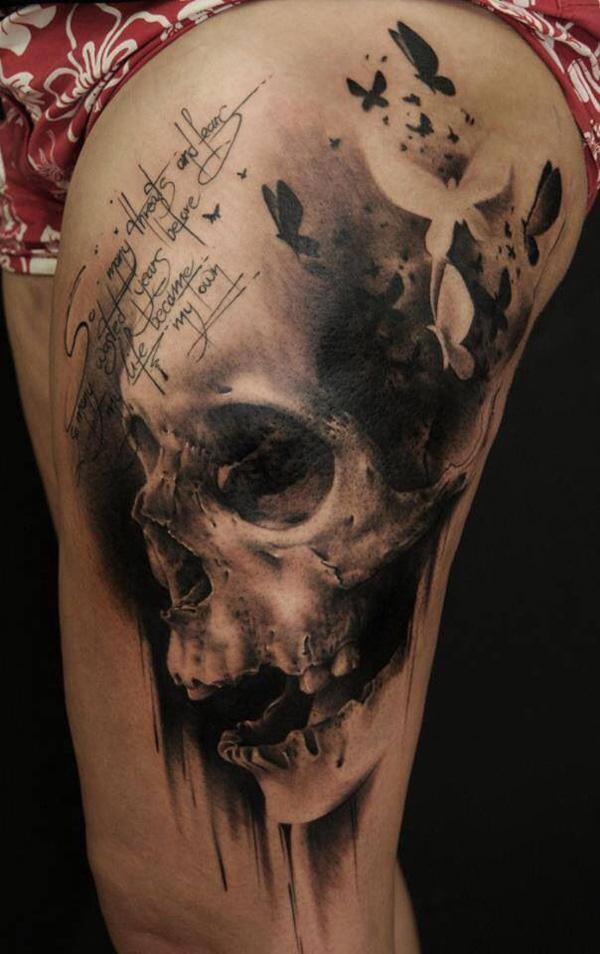 Butterflies and skull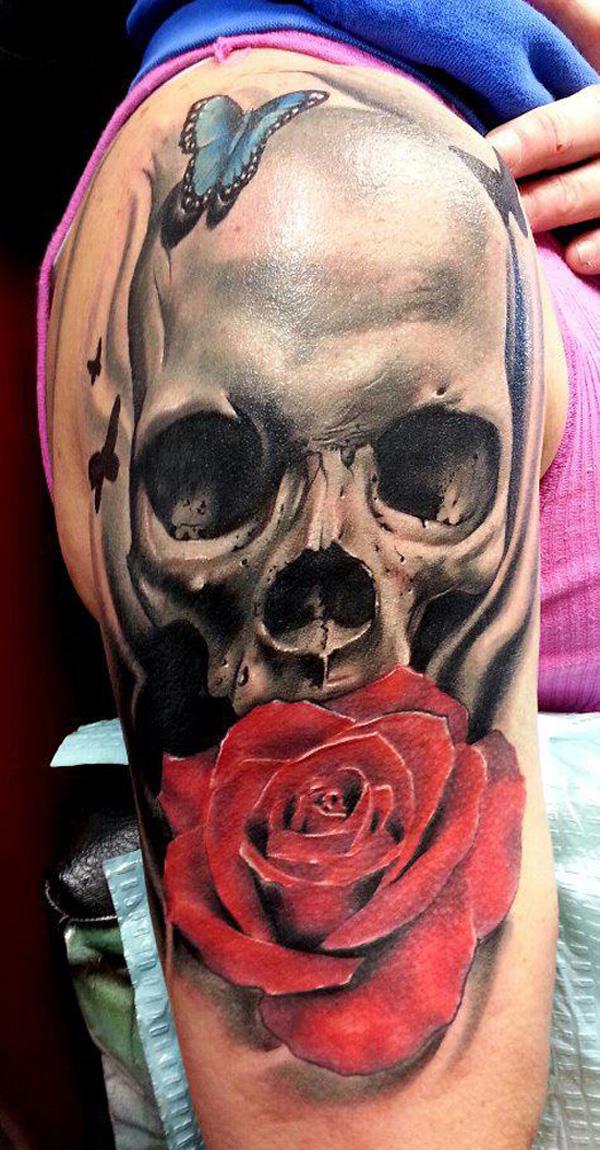 Skull and roses sleeve tattoo
Some tattoos make use of natural protrusions of the body. For example, this tattoo goes from shoulder to the upper arm. The shoulder part makes the skull more realistic and 3D effect. The butterfly is here reminding of change and transformation. And the rose represents the true love in the heart of the wearer.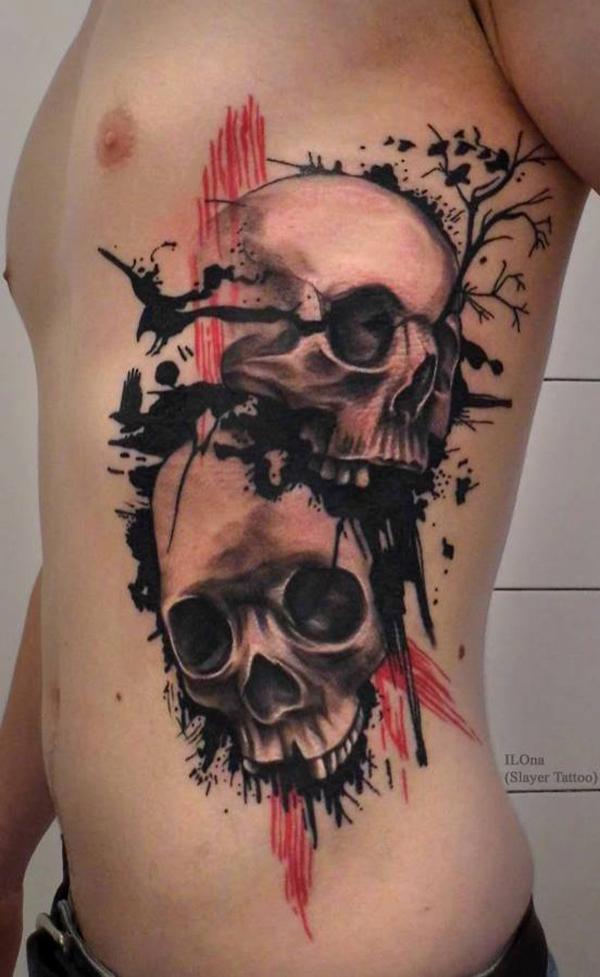 Trash Polka style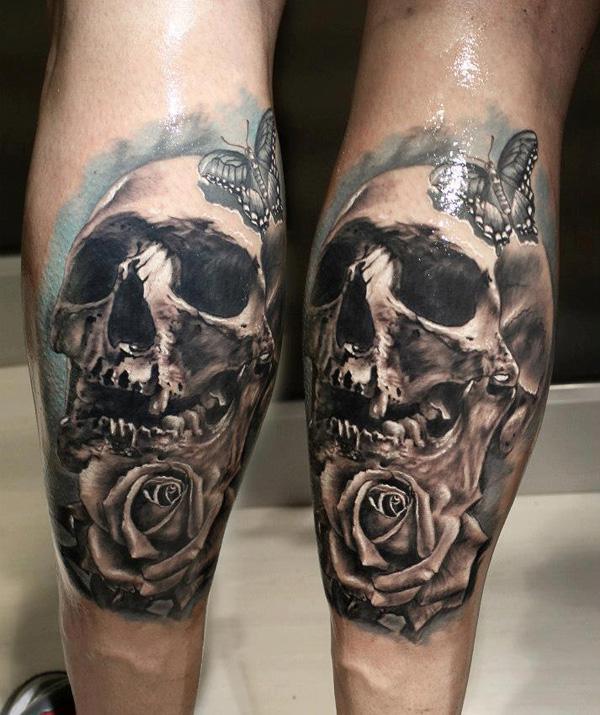 Skull Matching Tattoo with butterfly and rose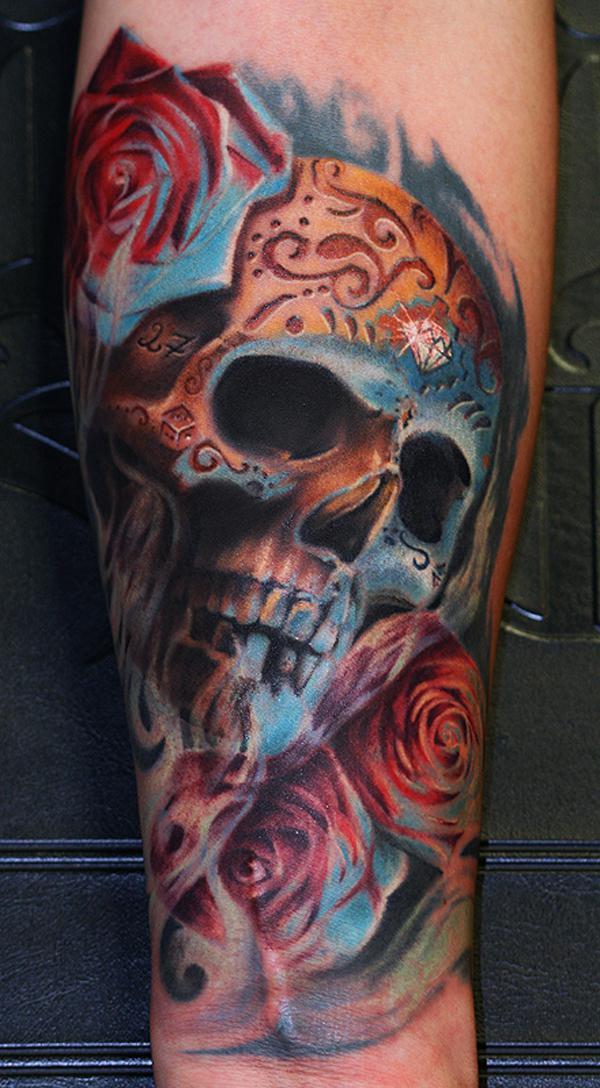 Stylized Sugar Skull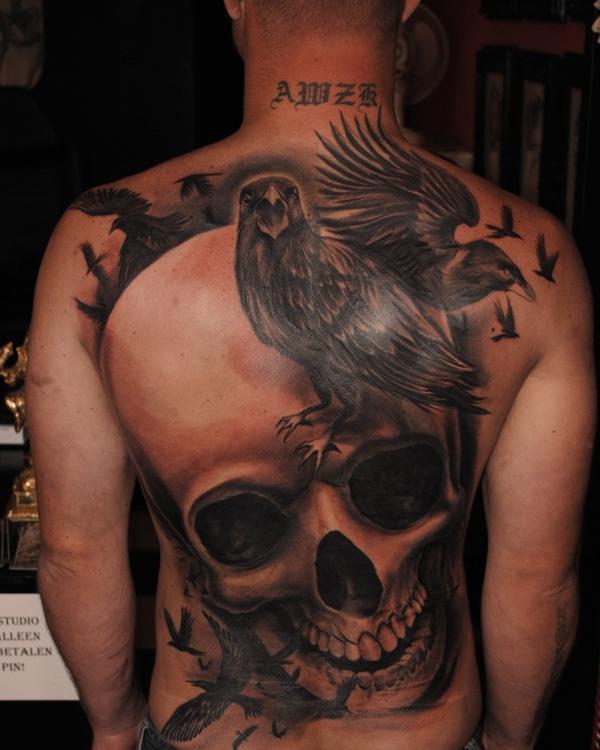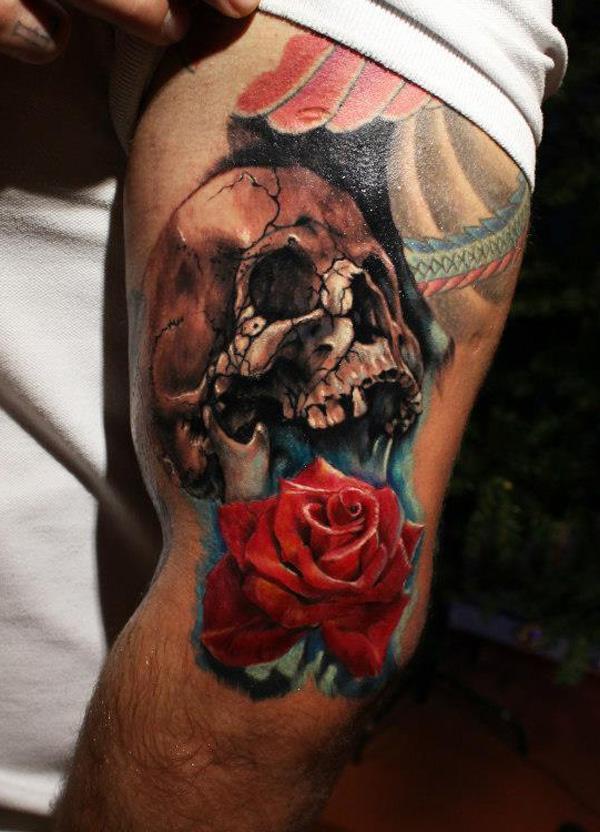 Skull half sleeve tattoo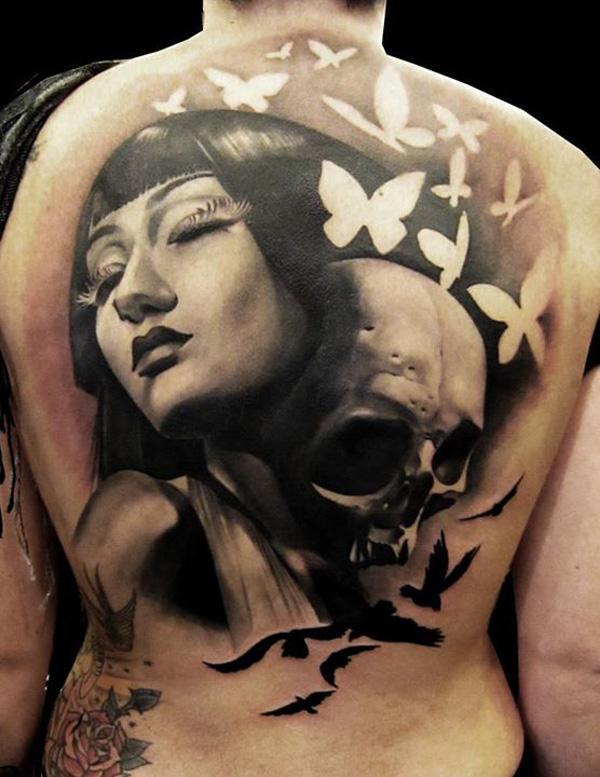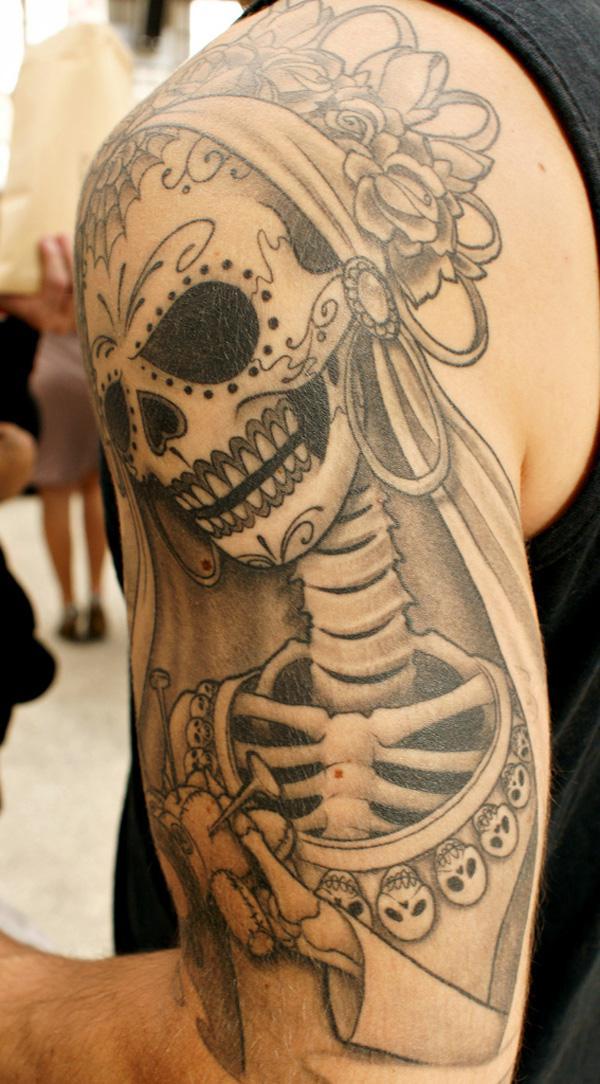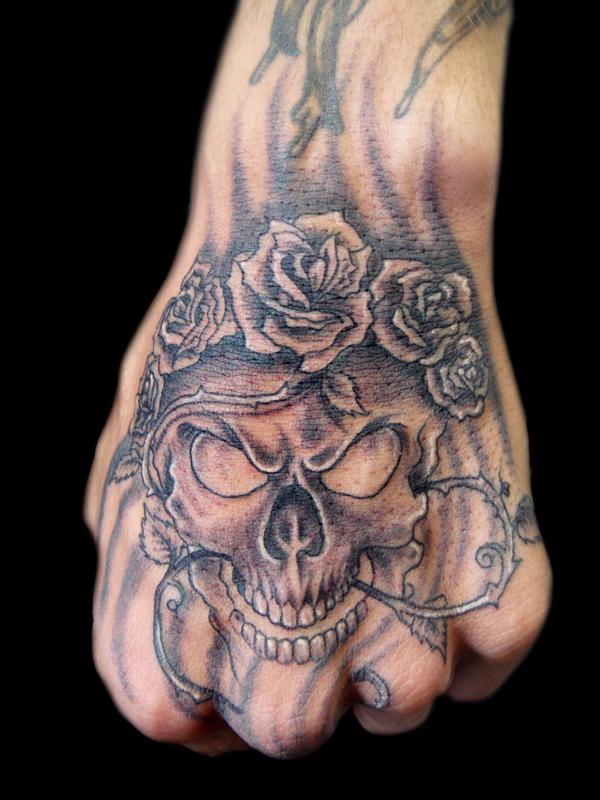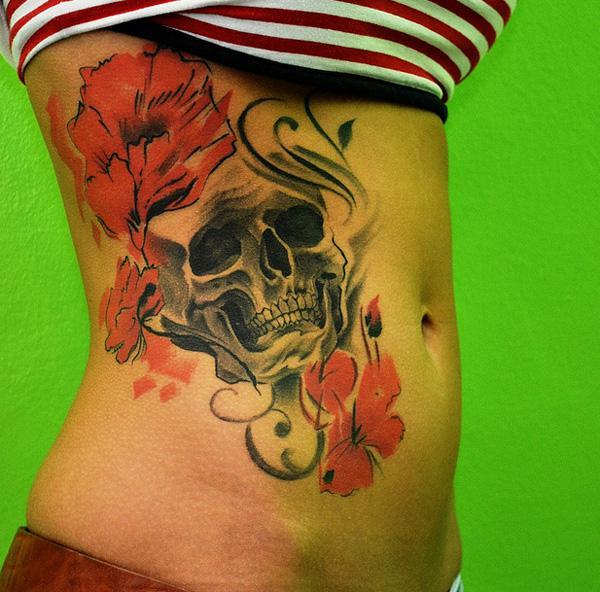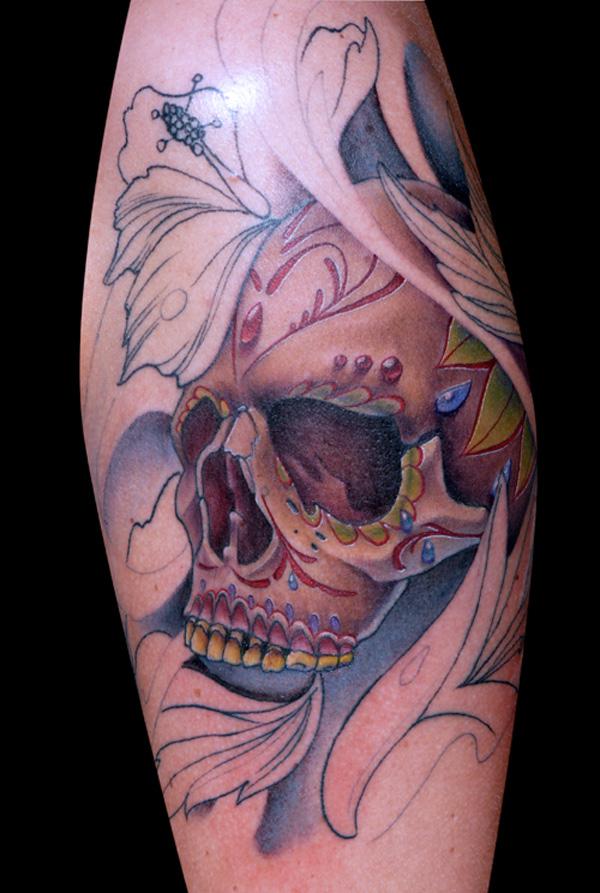 Black and white skull piece on head for men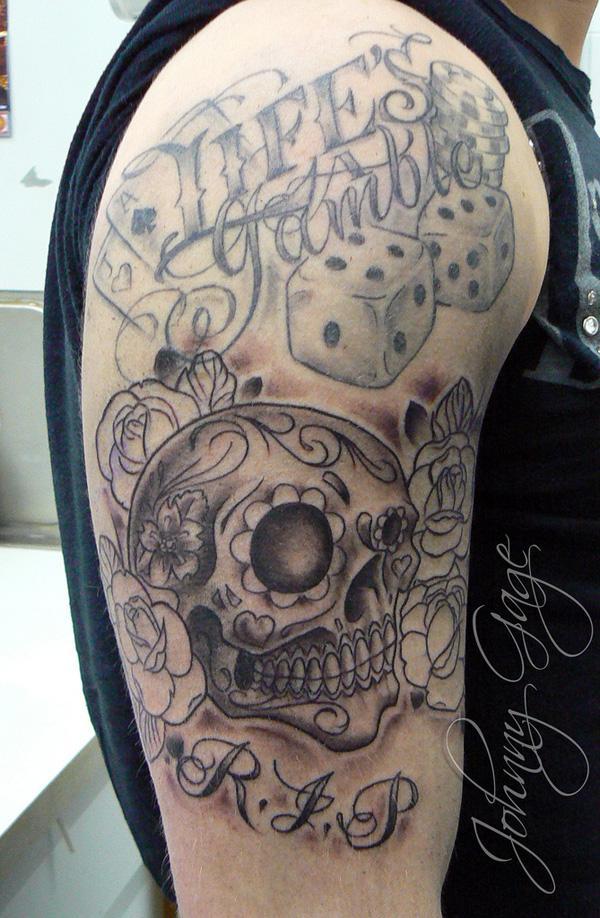 Candy skull
sourcesource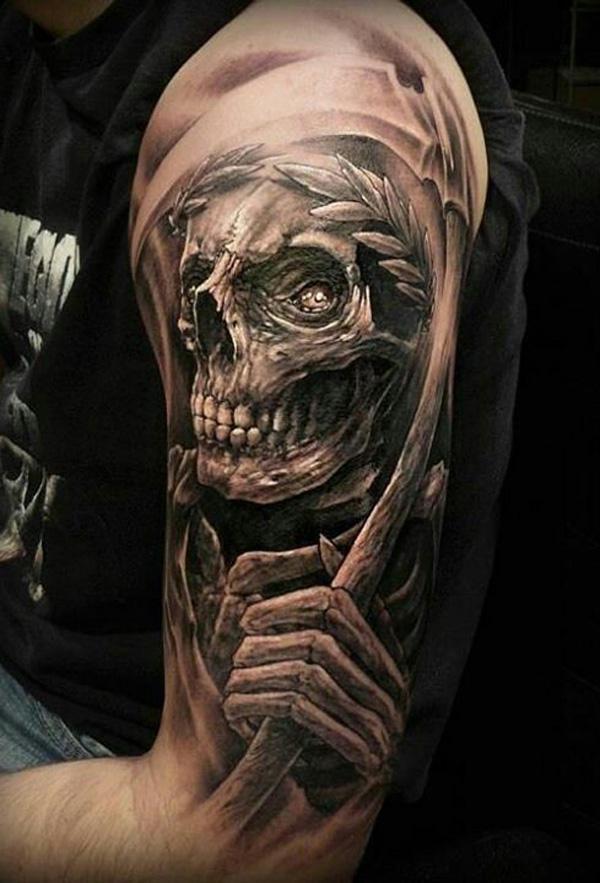 Zombie skull
Skull on hand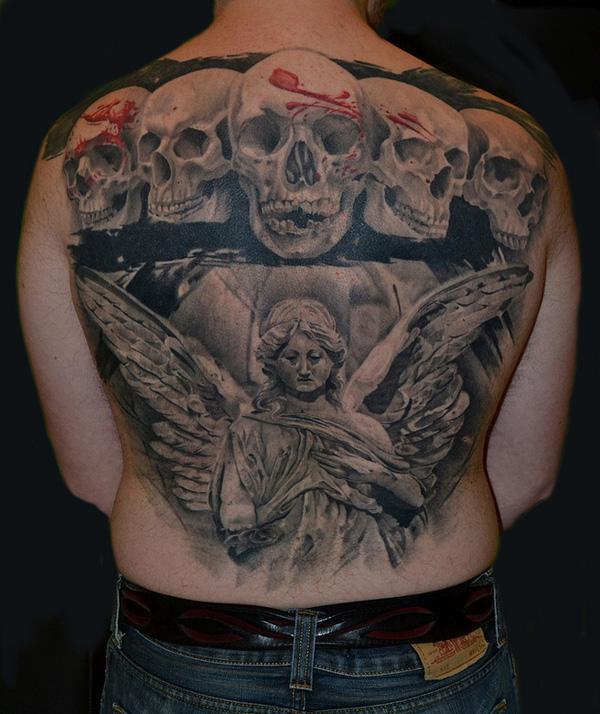 Angel and skulls on full back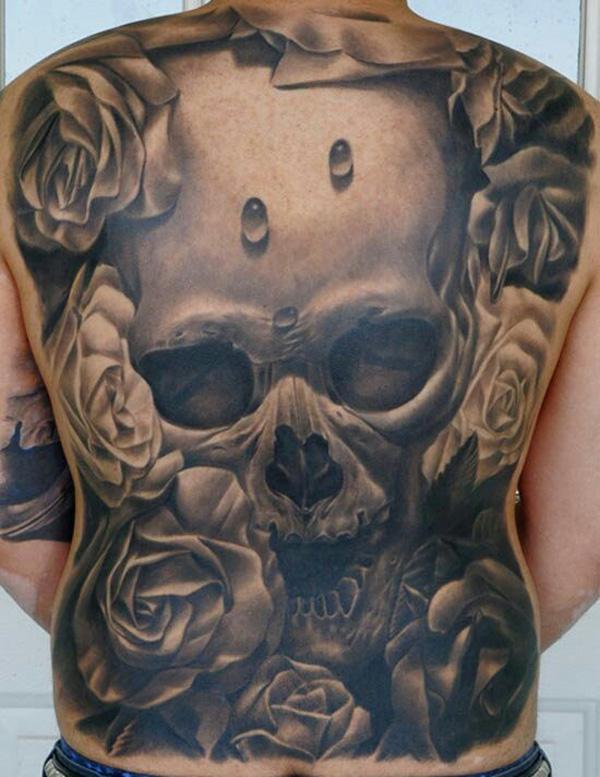 Realistic skull surrounded by Roses on full back with two water droplets in greyscale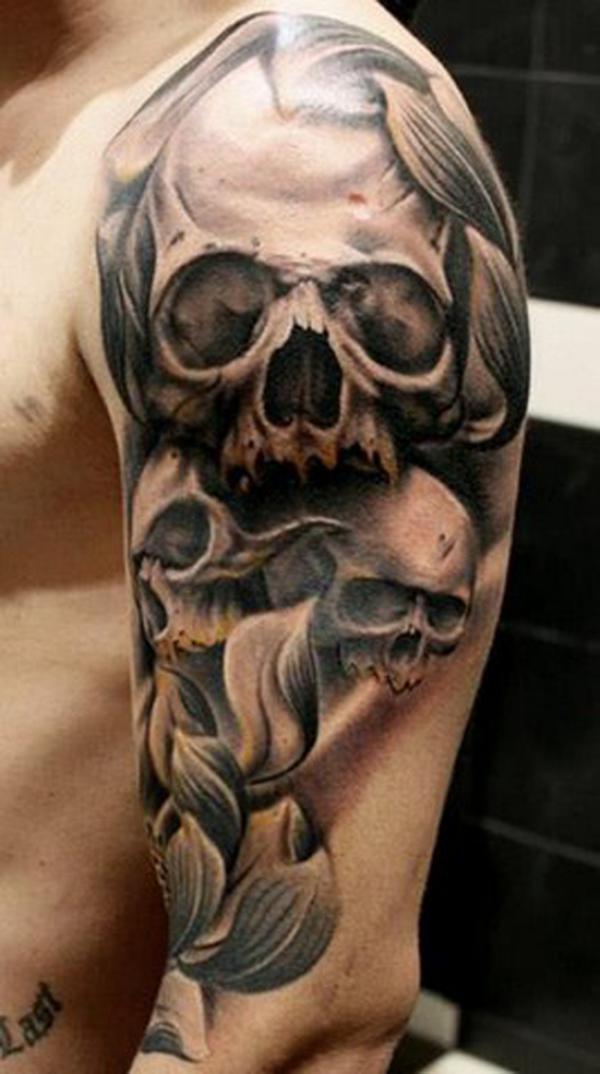 Three Skulls
Red roses, skull and swirls tattoo on back for women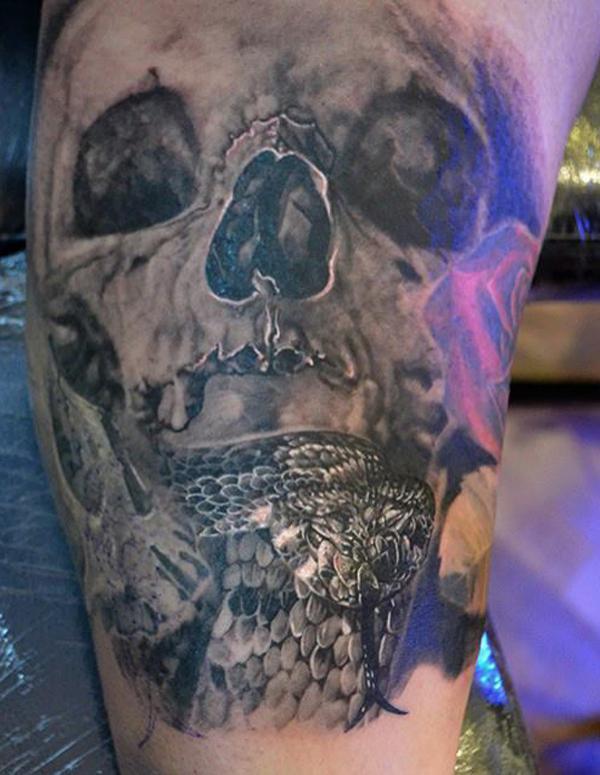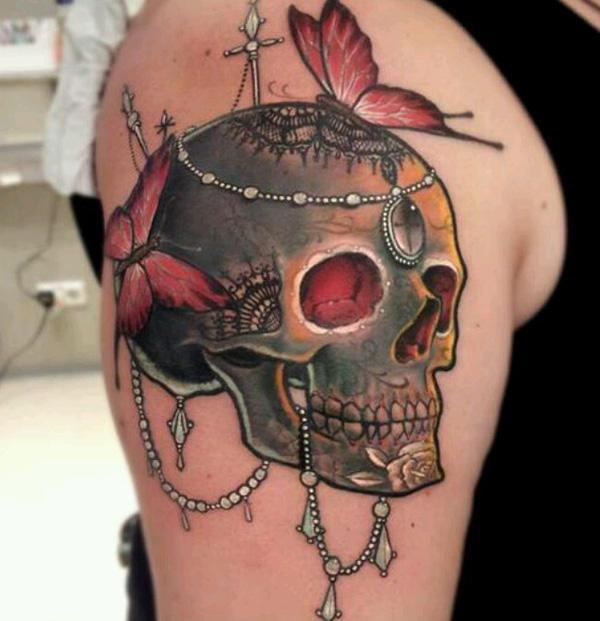 Sugar skull bride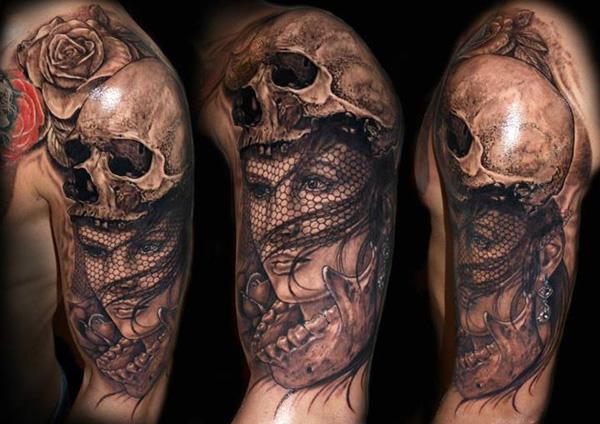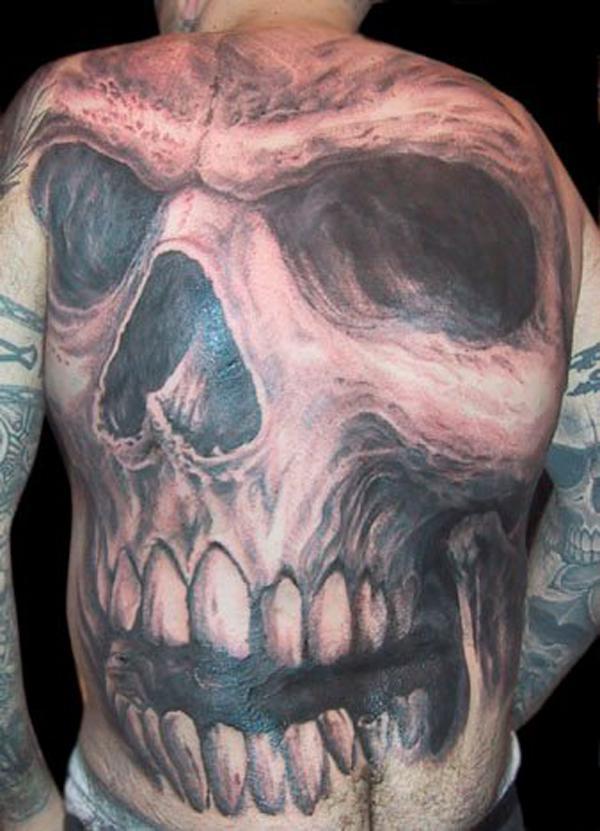 Giant skull fullback tat for men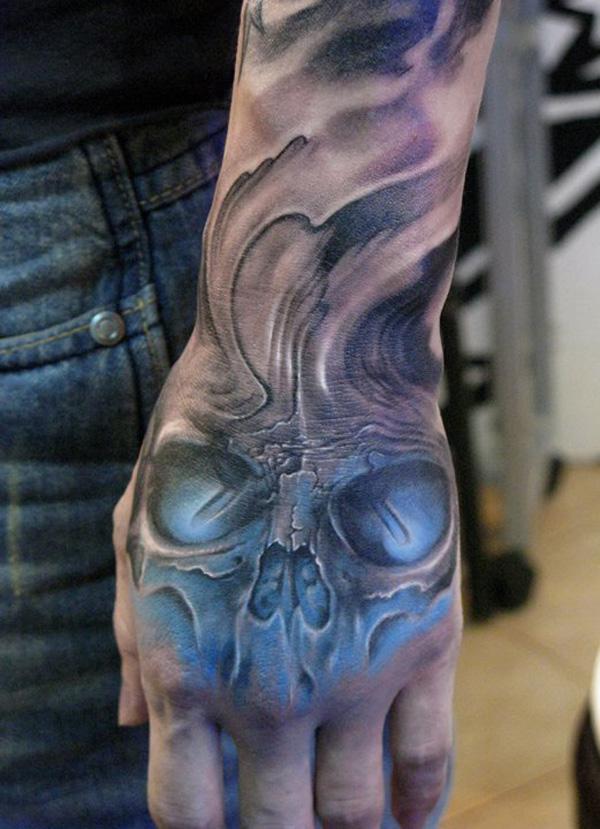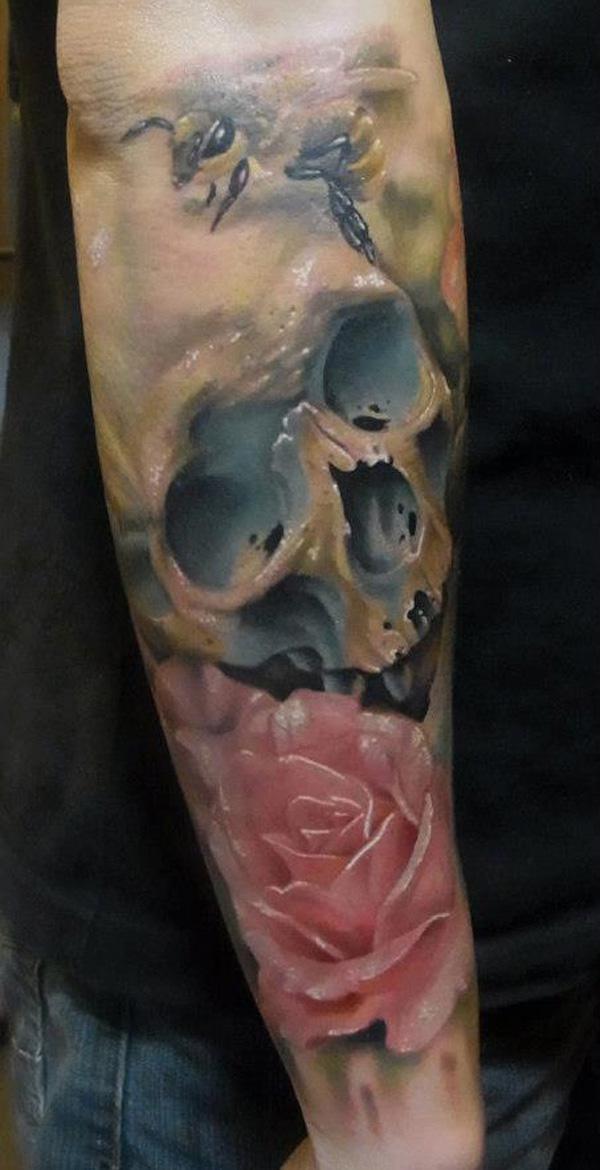 Roses and skull melted in flesh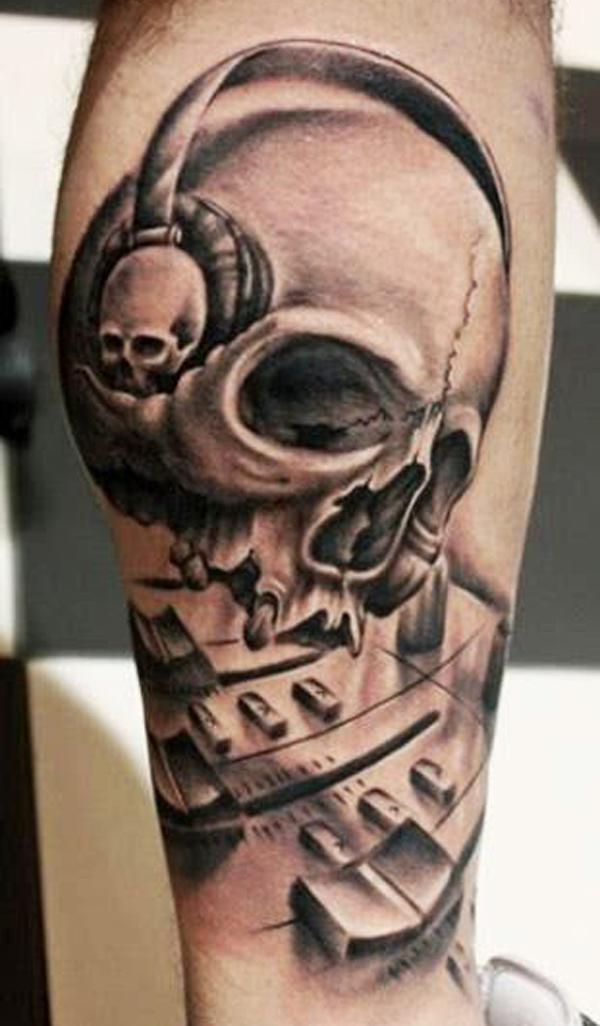 Skull with music headset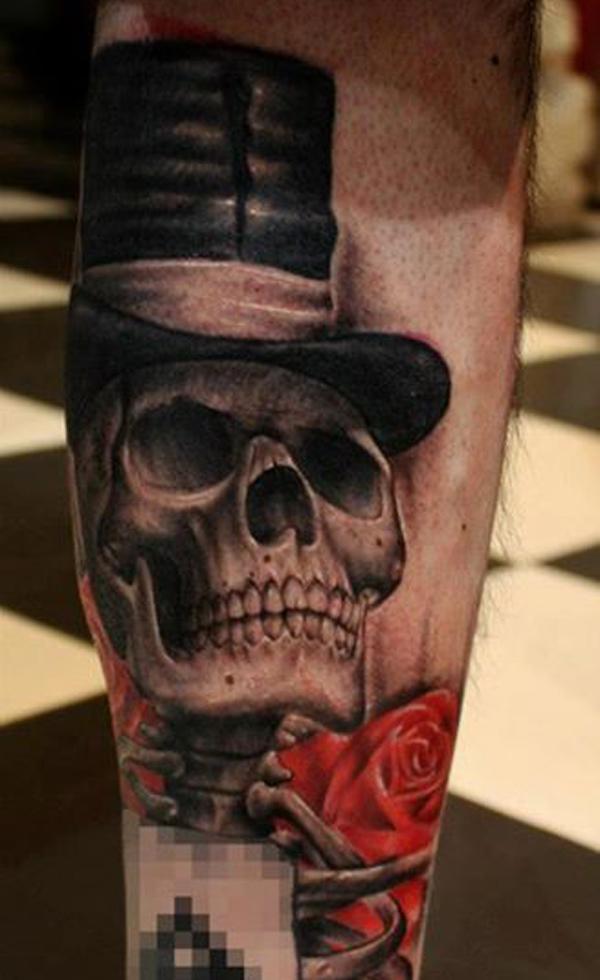 Skull gentleman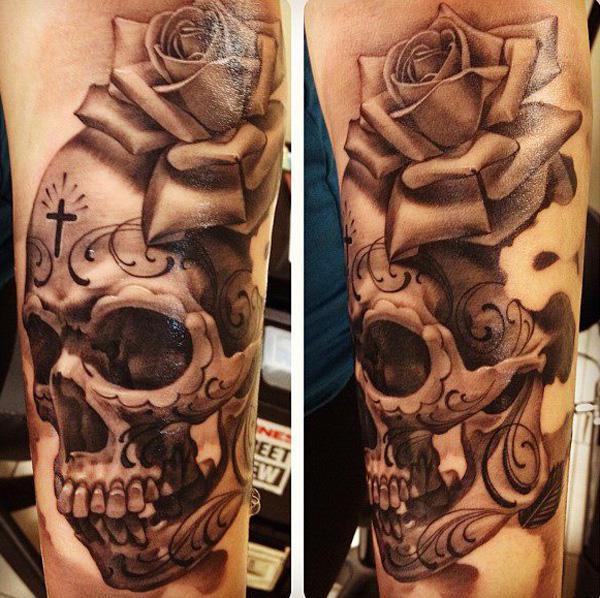 Sugar Skull with rose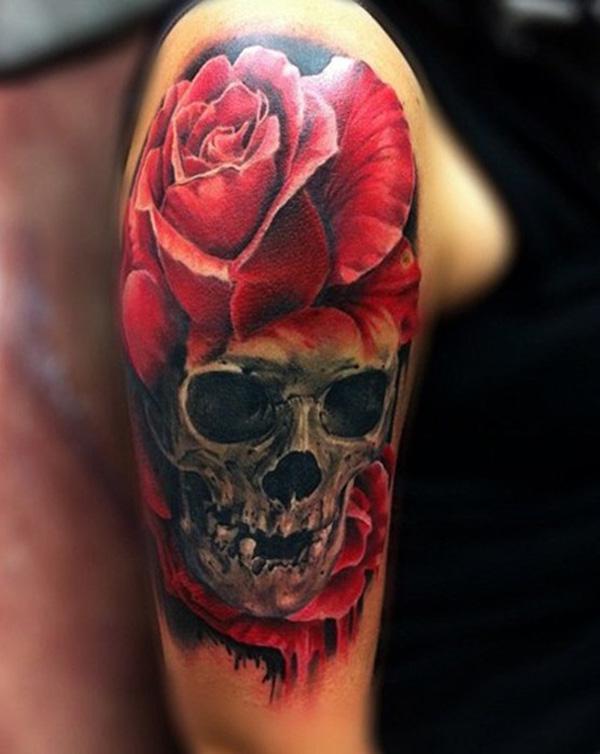 Skull with rose headpiece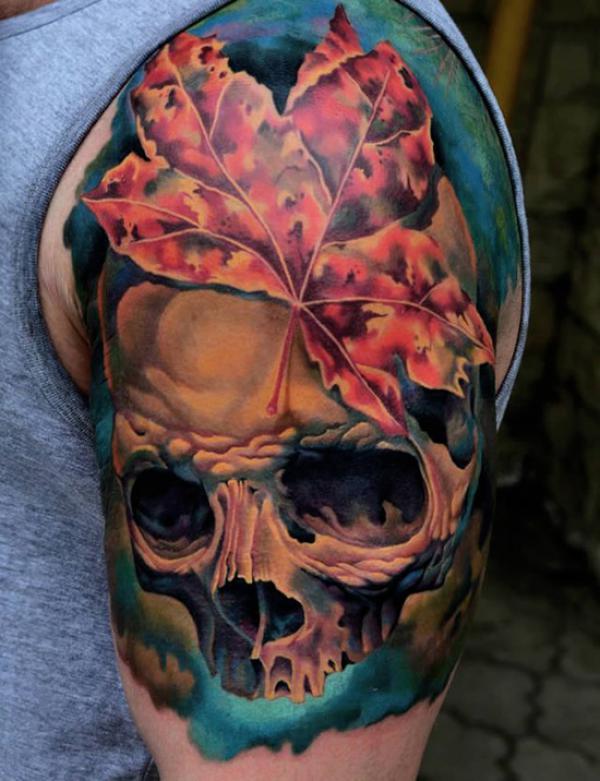 Fall leaf and skull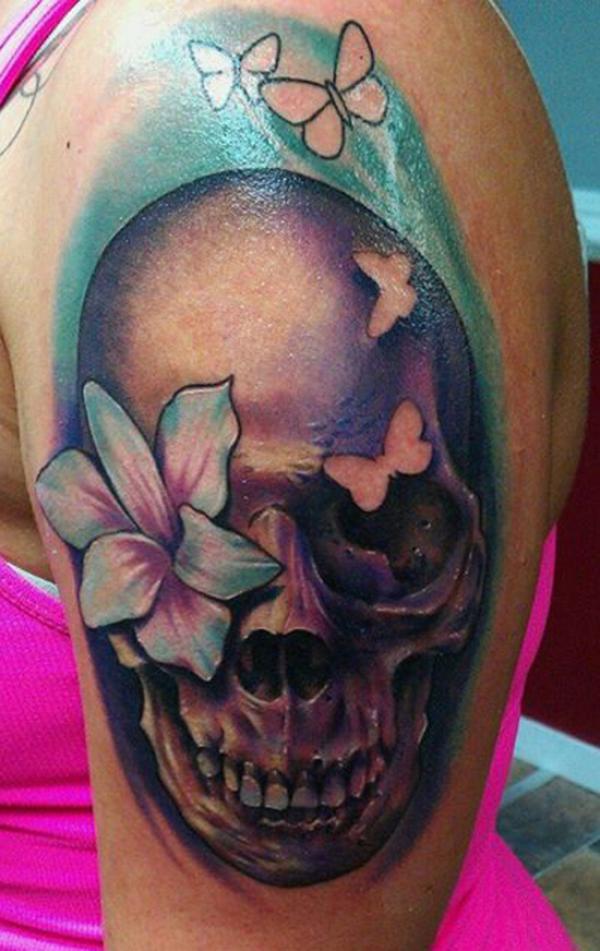 Half sleeve skull tat with lily and butterflies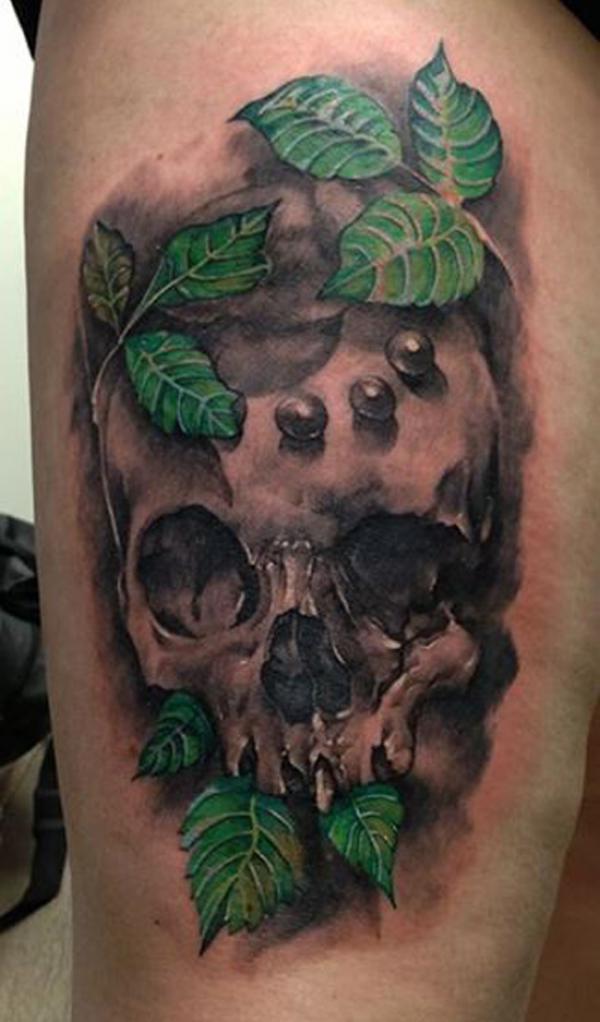 Green leaf and skull in dark sahde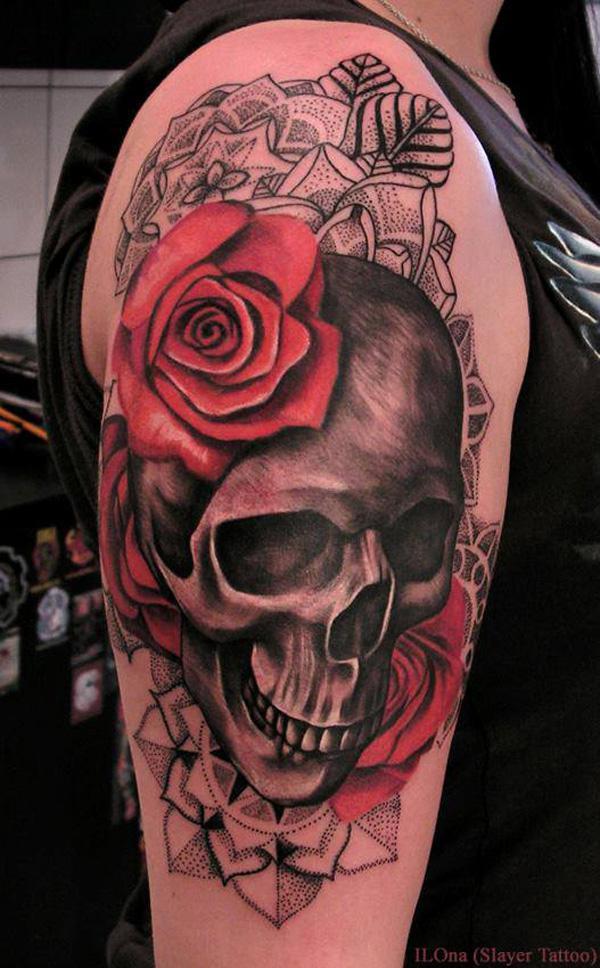 Dotwork with skull and roses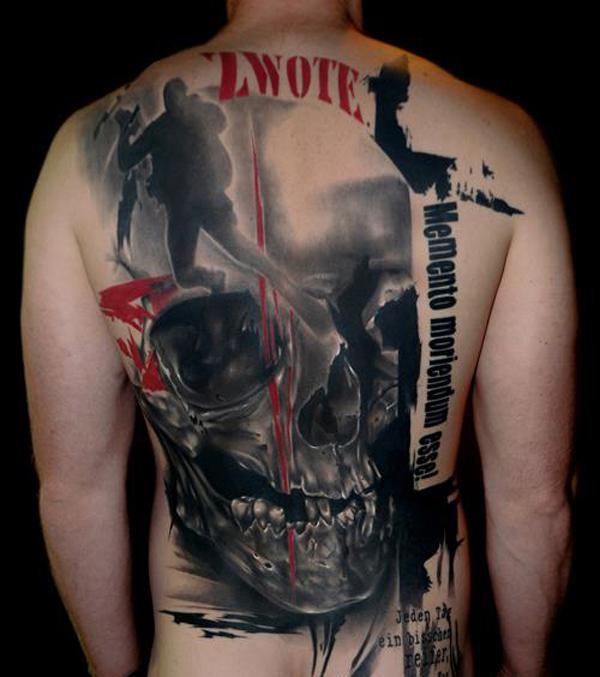 War tattoo with silhouette in Trash Polka style
The Trash Polka style of tattoo features black and red colors. The abstract tattoo is the statement of the wearer to the world. Remember the outcome of war.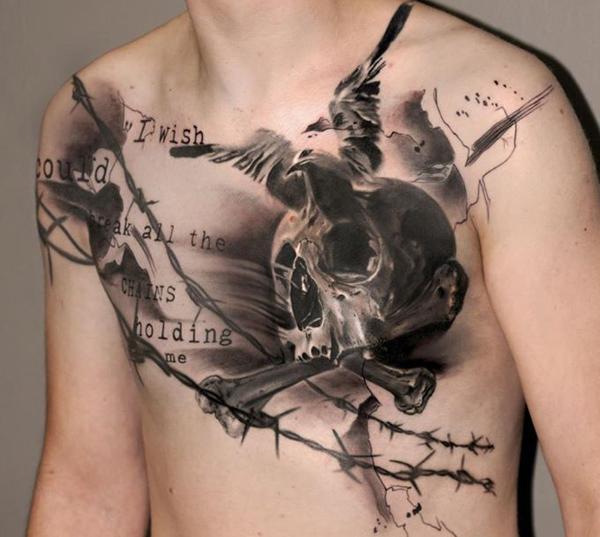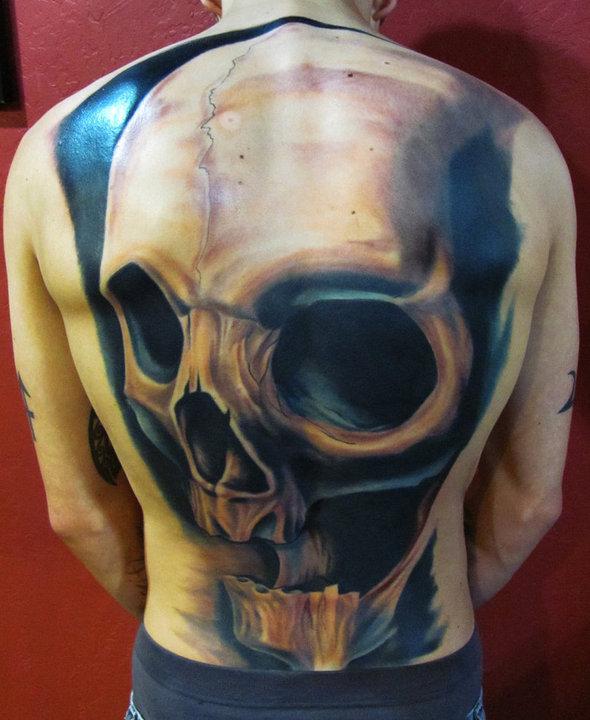 Giant skull tattoo on back
The stunning full back tattoo is giant in size but straightforward in design. It is not involved with complex elements but just single motif. If you look at carefully, large back area actually contains little ink but constitutes the head of the skull. A brilliant idea.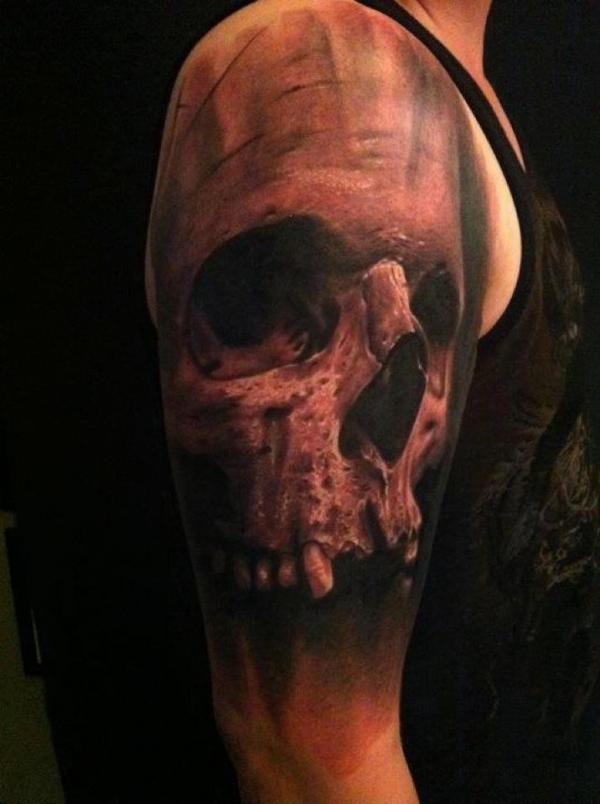 Large skull half sleeve tattoo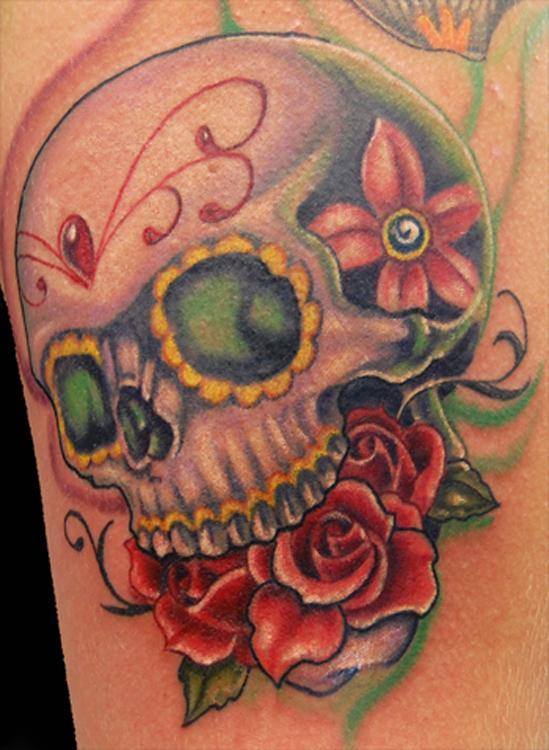 Sugar skull tattoo with rose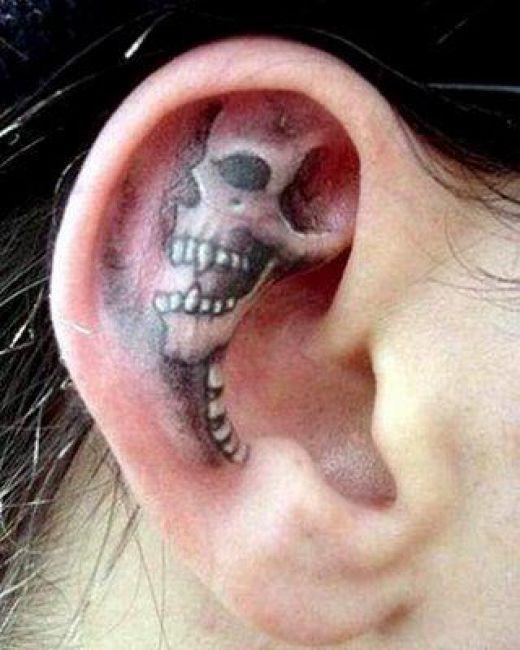 Skull ear tattoo
Placement is not an issue to get an appealing tattoo. For instance, this one is a perfect matching tattoo by using the parts to the outer ear. The ear tattoo could be a sign of protection as well as fashion statement for the wearer.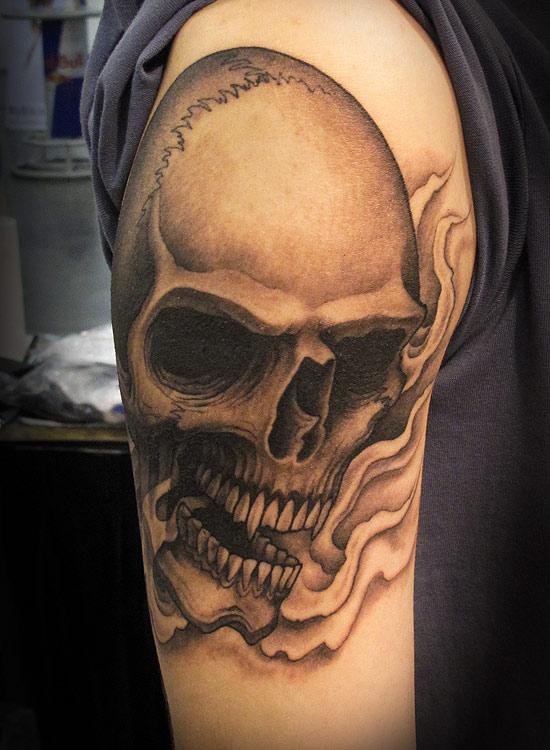 Large skull sleeve tattoo for men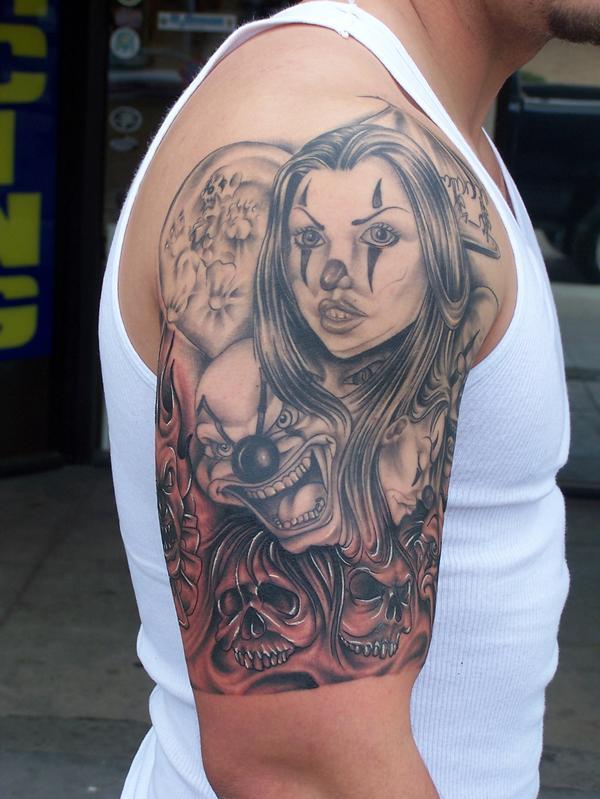 Clown and skulls