Skull is one of the most powerful elements of the art creations including tattoo designs. A skull is where the brain is enclosed. When it appears, it could be sharp reminder of death.
However, people get the skull tattoos for various representations. Without a doubt, tattoo is personal. But its classic meanings remain etched in both culture and our collective minds.
Meanings of skull tattoo
Skull has long been considered as the vessel of the soul, or wisdom of ancestors. So the symbol cannot be taken as a mere sign of death, but a symbol of rebirth, symbolizing eternal life.
In some cultures, death is not considered the end of life. They believe that the spirit of the dead has influence to the living family members.
In Mexico, sugar skulls are decorated in gaudy colors with feathers, beads and foils to commemorate the dead relatives. Therefore, the skull here is not scary symbol but used to express the meaning of love, protection and good luck. It is also associated with change, transformation and rebirth.
The tattoos are loved not just for their classic symbolic meanings or their representation of the wicked side of the world. It could be also fashion statement for the wearer. People may love the tattoos just for it looks cool. A skull often appears with other objects, representing their integrated meaning, e.g., skull & roses, could mean grateful dead or love and death.
There are a lot of such combinations which could enlighten your tattoo ideas when you decide to have a skull tattoo wherever on the arm, back, chest, etc.
Add artistic styles in your tattoo
Moreover, it's important to have your tattoo to be created in an artistic styles, if you it appealing. After doing survey for hundreds of tattoos, we found A number of popular tattoo styles in the design of this subject.
Black and grey
Realism
3D style
Neo-Traditional
Blackwork
Colorful
Skull tattoo ideas
In this post, you will find the collection of awesome tattoo designs and ideas. Let us know any one you like. Just drop a link on the comment.
Black and grey realistic bell tower and skull tattoo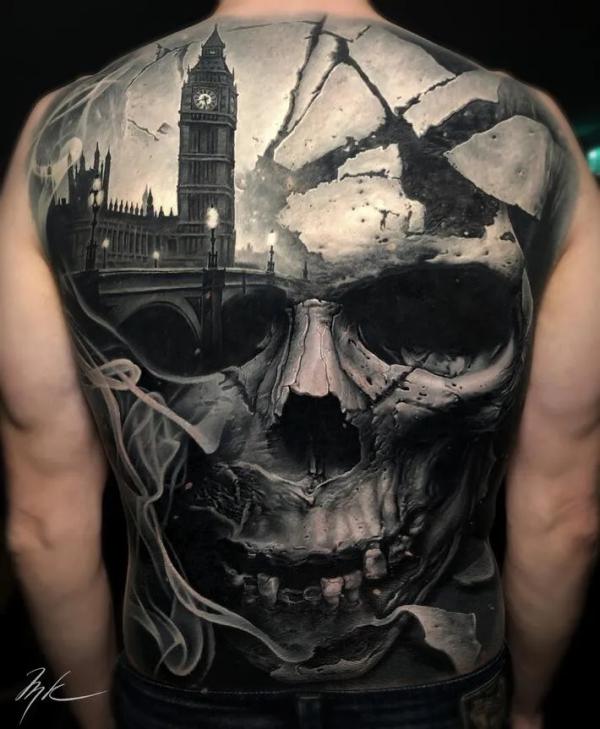 This tattoo design takes the art of monochrome to another level. The bell tower, a symbol of guidance and protection, paired with the giant skull, represents a powerful and profound message about life and death. The grayscale tones lend a dramatic and ghostly aura, making this full back tattoo a striking piece of art.
Chicano skull love tattoo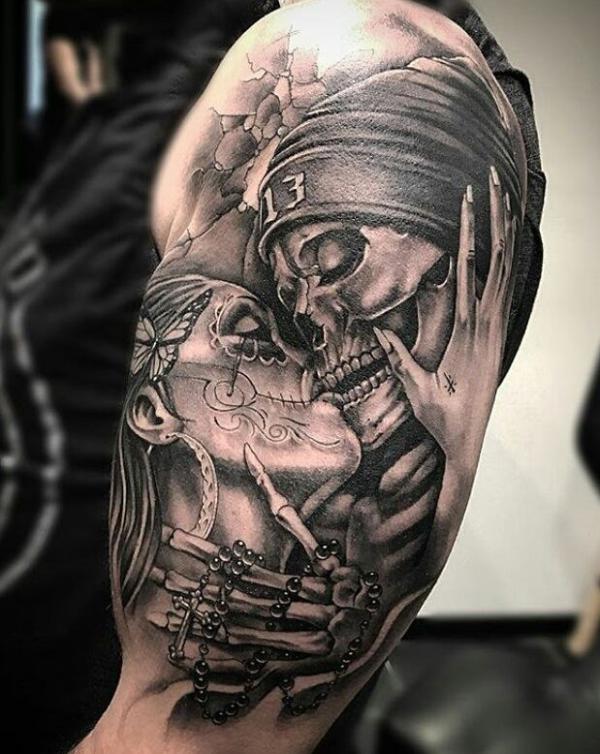 The Chicano art movement has significantly influenced tattoo culture, and this design is a testament to that. It depicts a romantic scene of a skull man kissing a woman, representing eternal love that transcends life. The design's intricate details, coupled with a monochromatic color scheme, create a captivating scene of love and mortality.
Colorful sugar skull with rose and marigold flowers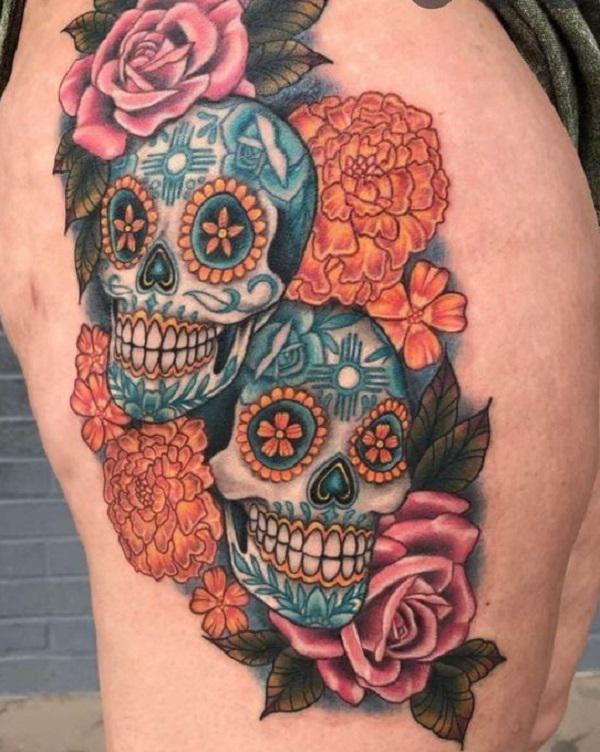 Sugar skulls are a vibrant and colorful part of Mexican culture, representing the Day of the Dead celebrations. A tattoo of a sugar skull adorned with roses and marigolds is not only strikingly beautiful but also carries a deep cultural significance. It's a celebration of life, death, and remembrance, all wrapped into one stunning design.
Black and grey tattoo with skull, butterfly, cross and rosary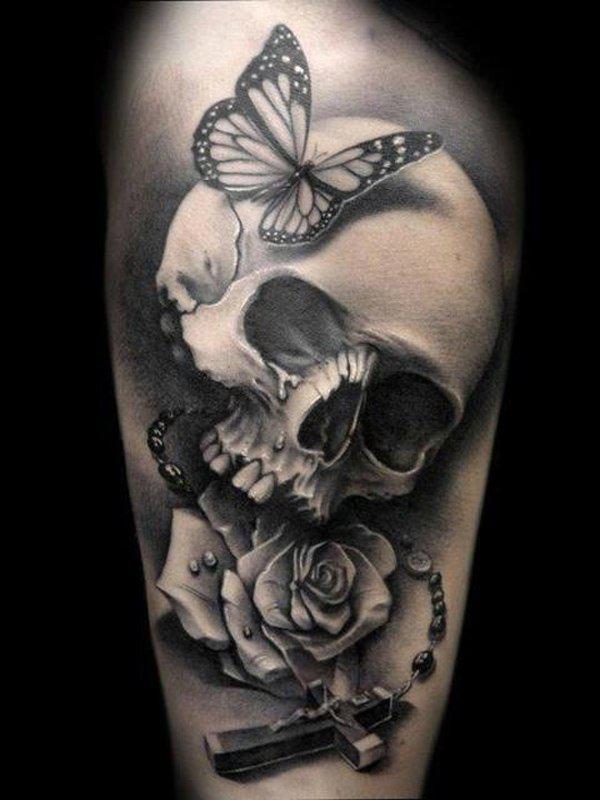 This beautiful tattoo combines multiple symbols depicting a sad picture in dark shade. The skull symbolizes mortality, the butterfly represents transformation, and the cross and rosary are symbols of faith. And the droplets near the eye of the skull appear tears that could be an indicator of sad story behind.
Pirate skulls on half sleeve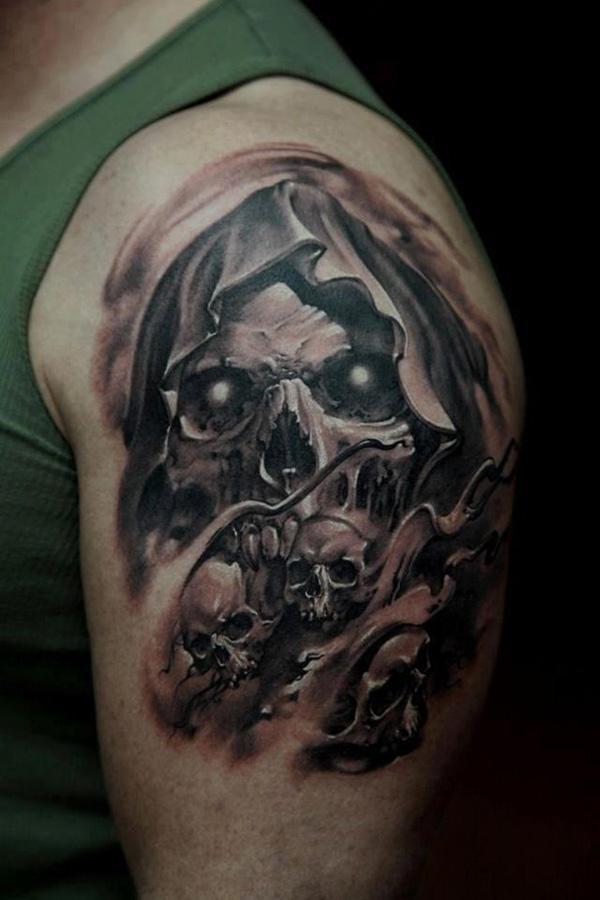 A pirate skull ink design pays homage to the fearless and rebellious spirit of pirates. It's a symbol of freedom, adventure, and the refusal to conform. The design, often detailed with a pirate hat, crossbones, or other nautical elements, makes a bold and edgy statement.
Pink Roses and Feline Skull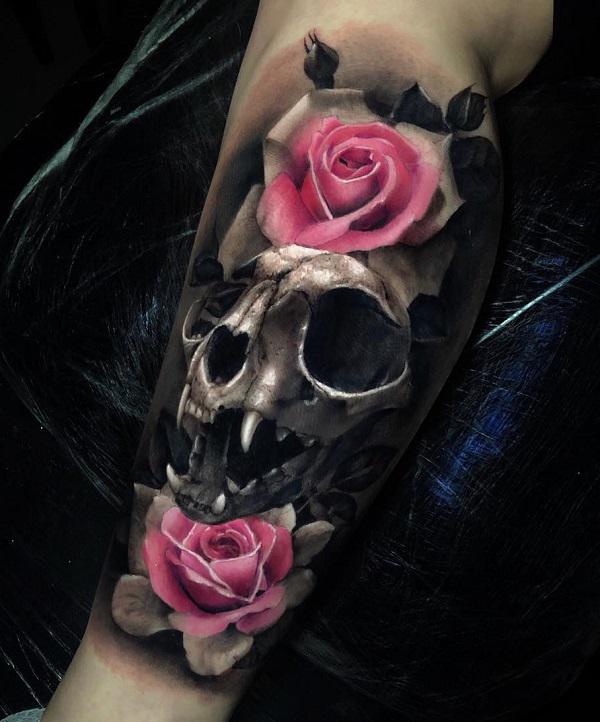 This realistic calf tattoo featuring a feline skull is a tribute to the beloved pet of the wearer. At the top and bottom are two pink roses with their outer petals faded to grey.
The contrast between the soft, romantic pink roses and the fierce feline skull creates a captivating design. This piece is perfect for those who appreciate the beauty in contrasts and the balance between life (roses) and death (skull).
Skull and rose hand tattoo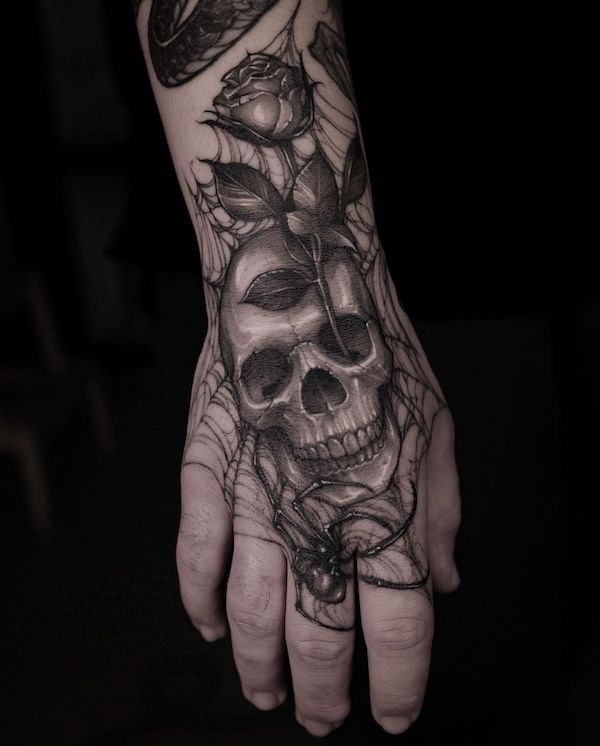 The combination of a skull and a rose is a classic in tattoo art. It's a compelling juxtaposition of life and death, creating a beautiful yet poignant design. Placed on the hand, it stands as a constant reminder of life's fleeting nature.
Surrealistic back tattoo with skull and girl portrait for women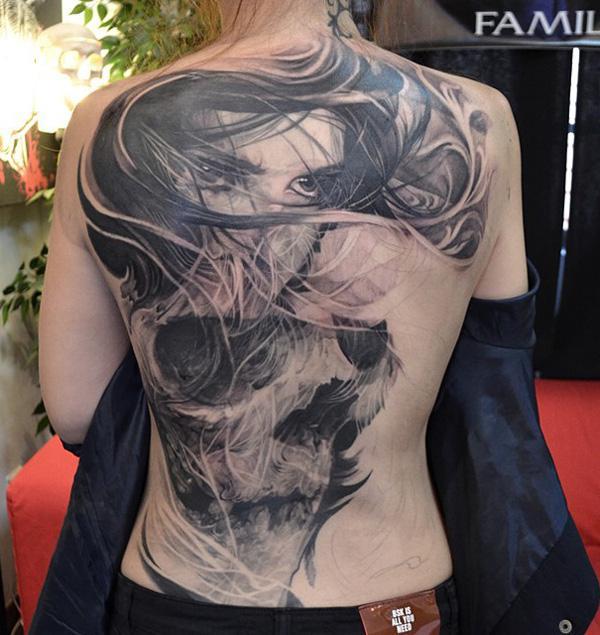 This design blends reality and fantasy, creating a mesmerizing piece of art. The gorgeous tattoo is the best idea for women who'd like to combine the classic symbol with their fashionable styles. The black and white curling lines form the major theme of the abstract tattoo. The girl's portrait symbolizes innocence and beauty, while the skull represents mortality. It's a stunning piece that tells a story of beauty, life, and death.
Skull and mask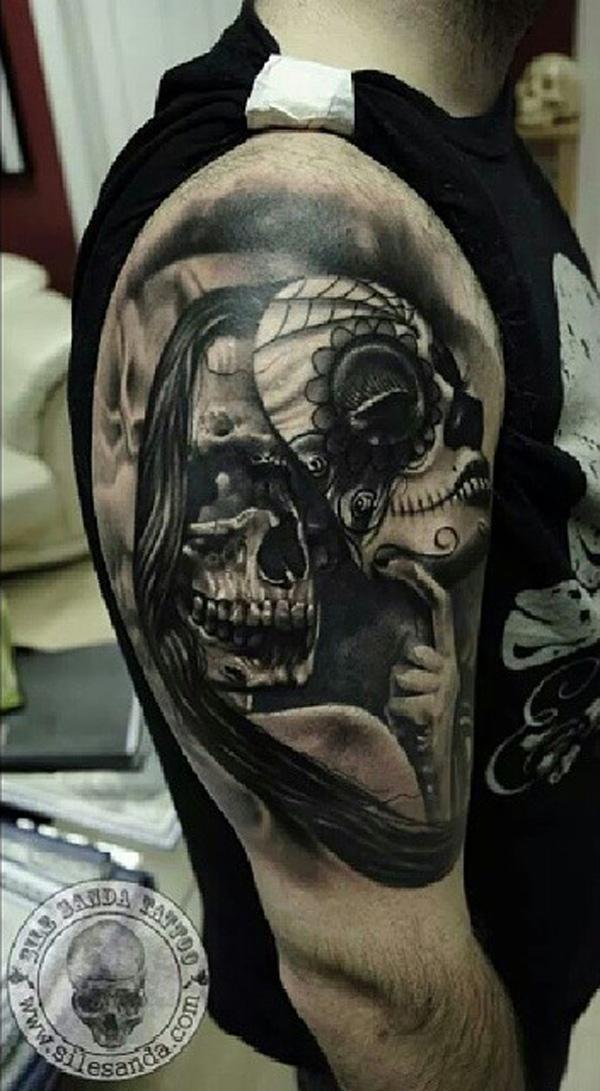 The dark sleeve tattoo depicts a skull with its half face looking around. The bold frame and a masquerade mask on its finger implies it could swiftly hide its face and adapt to the change. It can represent the difference between who we are and who we present ourselves to be, or the contrast between life and death.
Skull with two red roses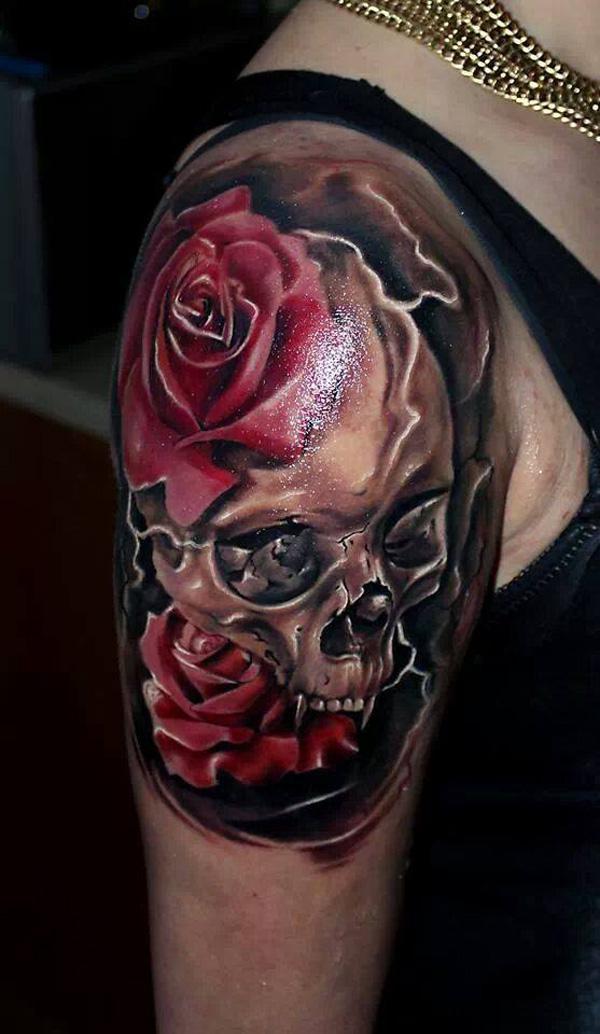 The skull is sometimes scary. But if there's context to read, it would make people moved by the story behind. For instance, the rose here is strong reminiscent of the bride or loved one in the mind of the wearer. This design takes the classic skull and rose motif and doubles the life symbolism with two red roses. It's a bold and vibrant design that stands out.
Surrealistic Skull with realistic eye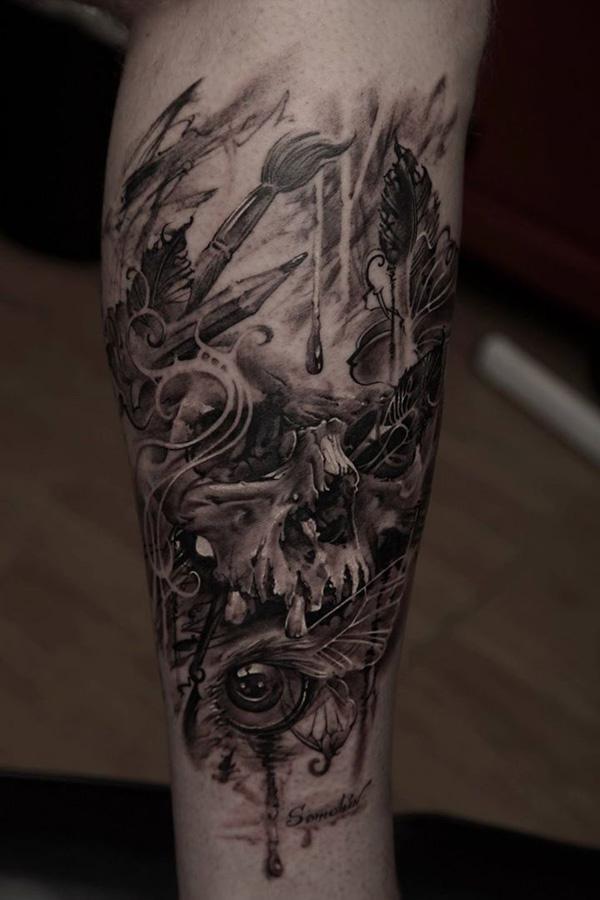 Abstract art sometimes looks messy or ugly. For example, this tattoo allows seemingly irrelevant symbols such as pens, skull and eye, to appear together. The eye adds a sense of depth to the surrealistic skull, creating a stunning contrast. The composite looks messy but make the room for the deepest imagination for various people.
Greyscale Sugar Skull with butterfly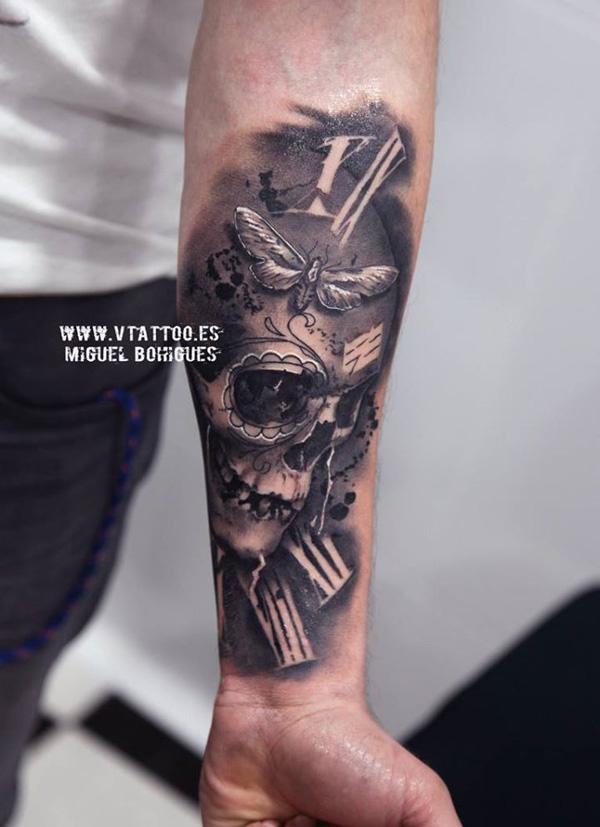 This design combines the sugar skull's cultural significance with the butterfly's symbolism of transformation. The greyscale color palette adds a dramatic touch, making it a unique and meaningful design.
Skull with feather tattoo on thigh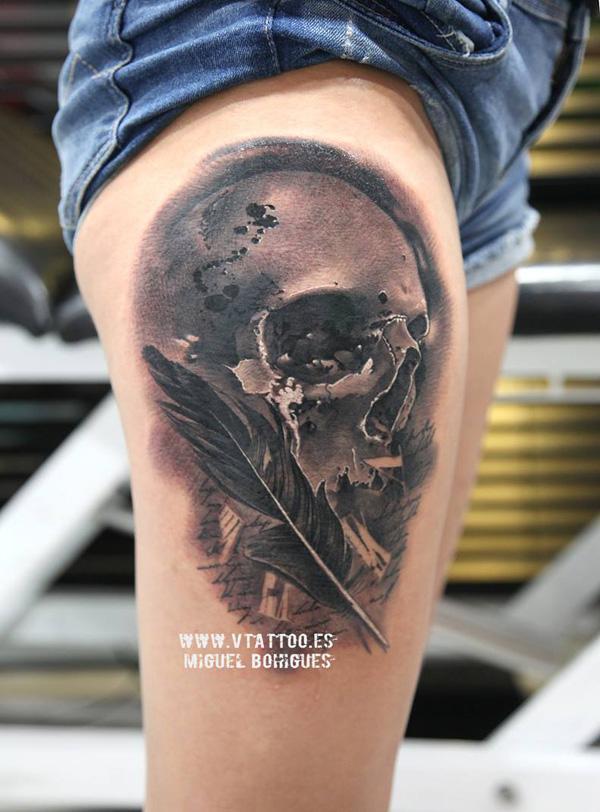 A skull with a feather is a symbol of freedom and the transient nature of life. The thigh placement allows for the design's intricate details to shine, making a profound statement.
Crowned Skull on hand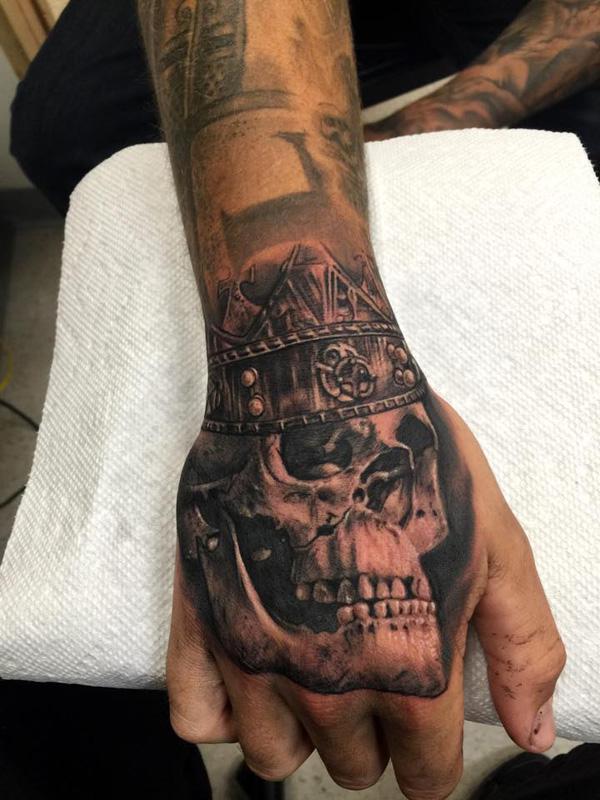 A crowned skull can symbolize triumph over death or a celebration of life. Placed on the hand, it becomes a bold declaration of one's perspective on life and mortality.
Skull and melted watch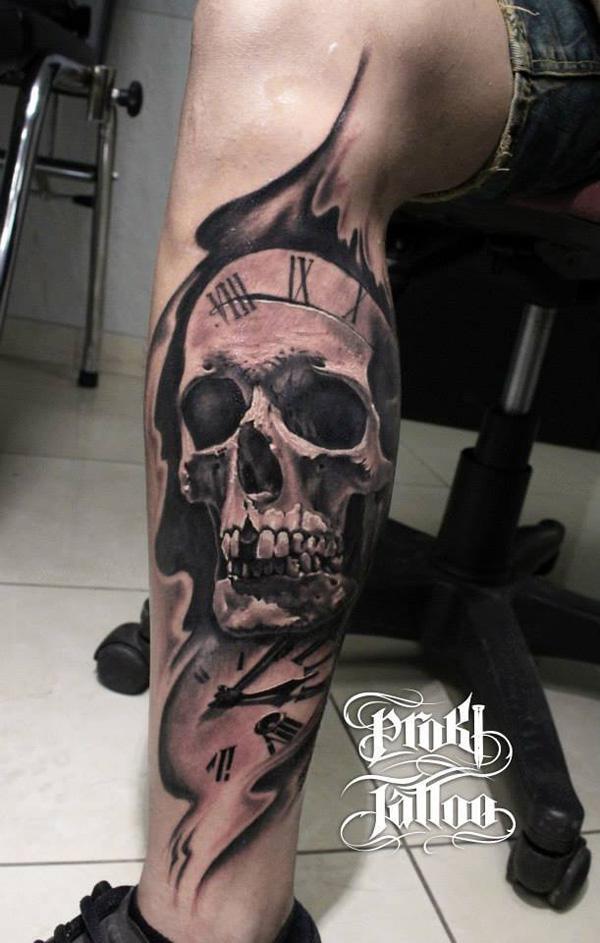 In the realm of tattoo art, this design is a nod to surrealism, specifically to Salvador Dali's "The Persistence of Memory," where the melted clocks symbolize the fluidity and subjectivity of time. The skull, coupled with the melted watch, creates a powerful memento of life's fleeting nature.
Skull in the watch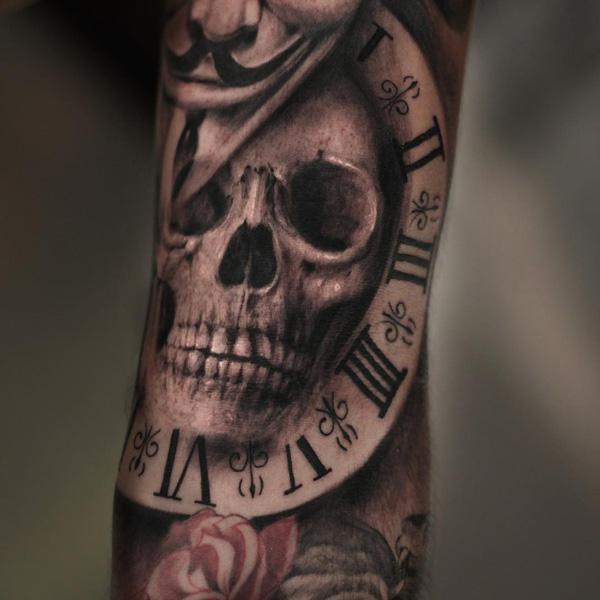 This design takes the concept of time and mortality a step further, featuring a skull within the confines of a watch. It serves as a stark reminder of the inevitable passage of time, creating a visually striking and profound piece of art.
Pencil art style skull tattoo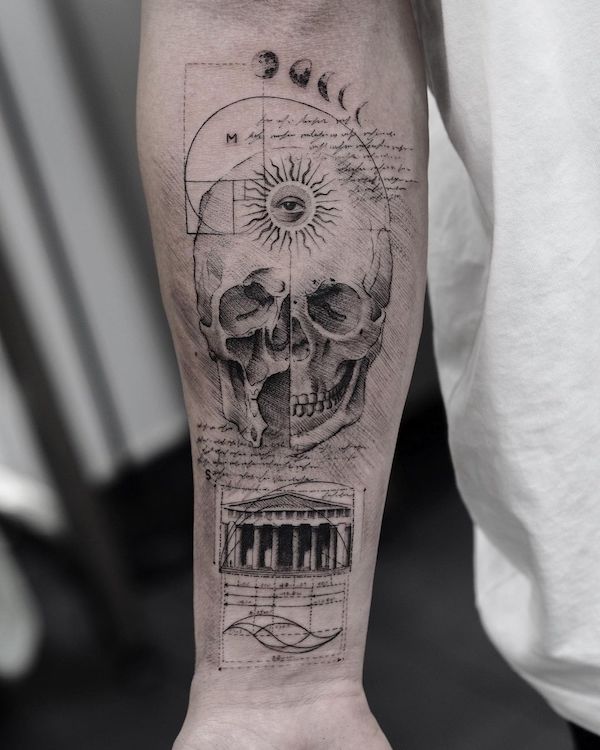 For those who appreciate the raw and organic appeal of pencil sketches, this design is an ideal choice. It replicates the delicate shading and intricate lines of pencil art, lending an authentic and artistic vibe to the skull design.
Skull wizard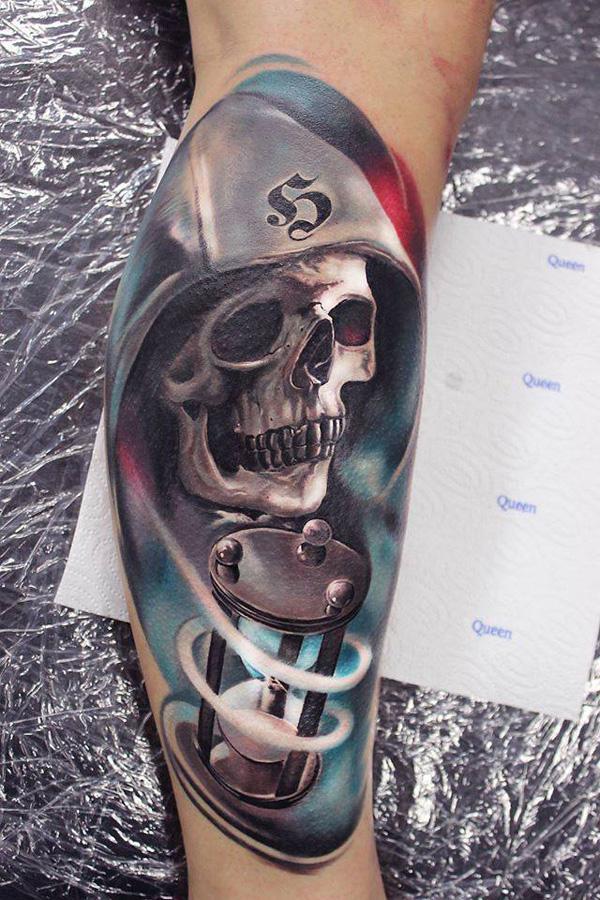 This design combines the mystic allure of a wizard with the symbolism of a skull. Rich in detail and imagination, the skull wizard stands as a symbol of knowledge, power, and the mysterious realm of life and death.
Boat, anchor and skull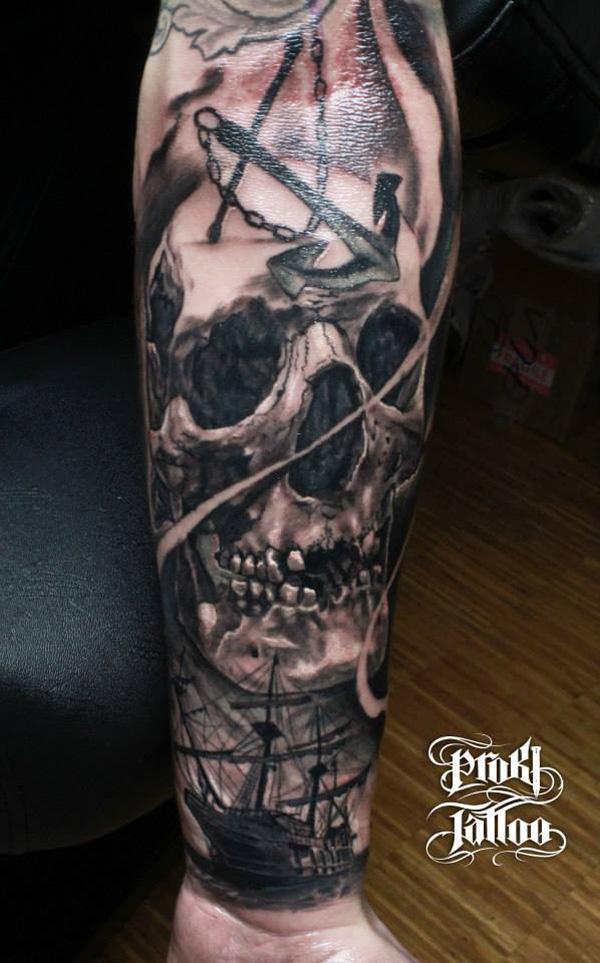 The forearm ink design is a unique blend of nautical and macabre symbolism. The boat and anchor often symbolize journey and stability, while the skull represents mortality. Together, they create a narrative of life's voyage and the certainty of its end.
Realistic skull with purple rose and death moth tattoo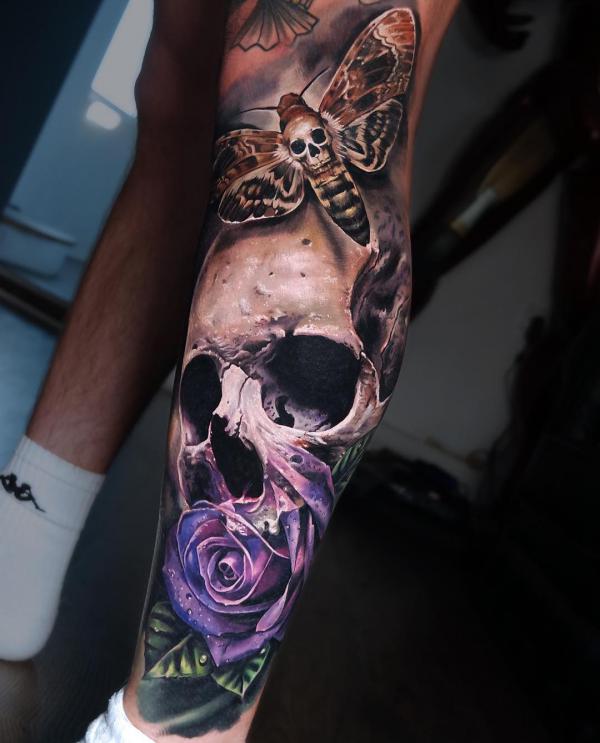 This design is a stunning interplay of realism and symbolism. The skull, paired with a purple rose (symbolizing enchantment and love at first sight) and a death moth (often seen as a symbol of transformation), creates a visually and conceptually intriguing design
Hatted skull in watercolor style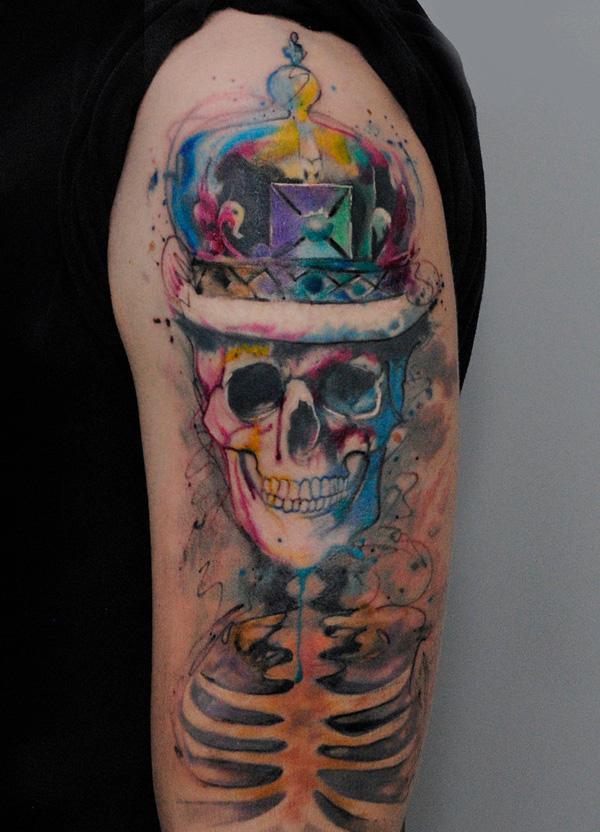 For lovers of color and fluidity, this design is a dream come true. The watercolor style lends a soft, dreamy aura to the skull, while the hat adds a quirky twist. It's a fun, artistic design that stands out in a crowd.
Skull and crossbones in black and grey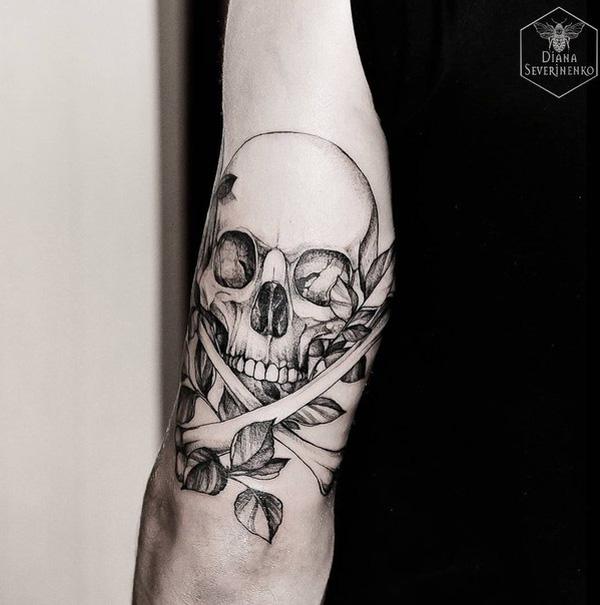 The skull and crossbones is a classic design that dates back to pirate times, symbolizing danger and death. Rendered in black and grey, this design has a timeless, gritty appeal that's perfect for those seeking a bold statement.
Black and white Sugar Skull tattoo on calf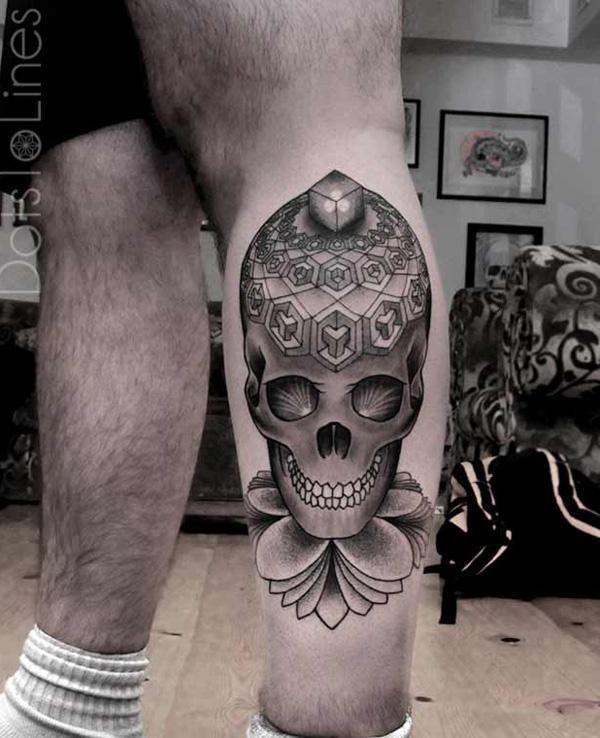 Sugar skulls, originating from Mexican Day of the Dead celebrations, are a vibrant symbol of life and death. Rendered in black and white, the design takes on a more somber tone, creating a striking contrast and a unique twist on a traditional symbol.
Skull with roses and bracelets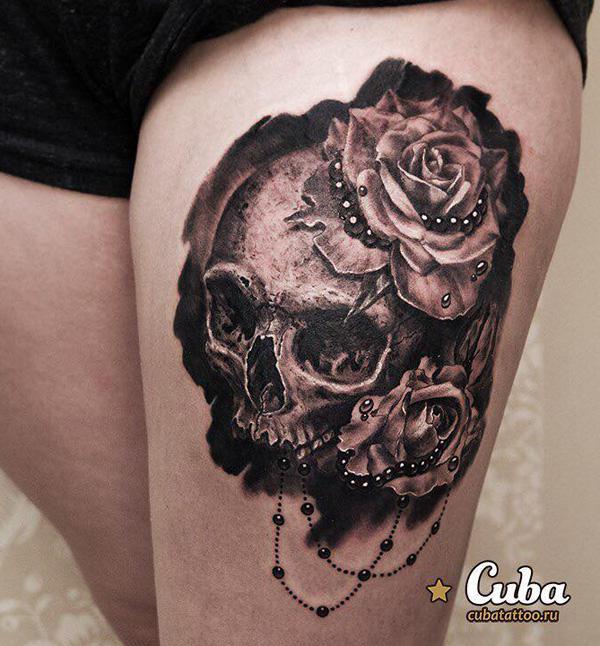 This design combines the macabre allure of a skull with the beauty of roses and the charm of bracelets. It's a fusion of life and death, beauty and decay, creating a visually captivating and symbolic design.
Eyed skull with roses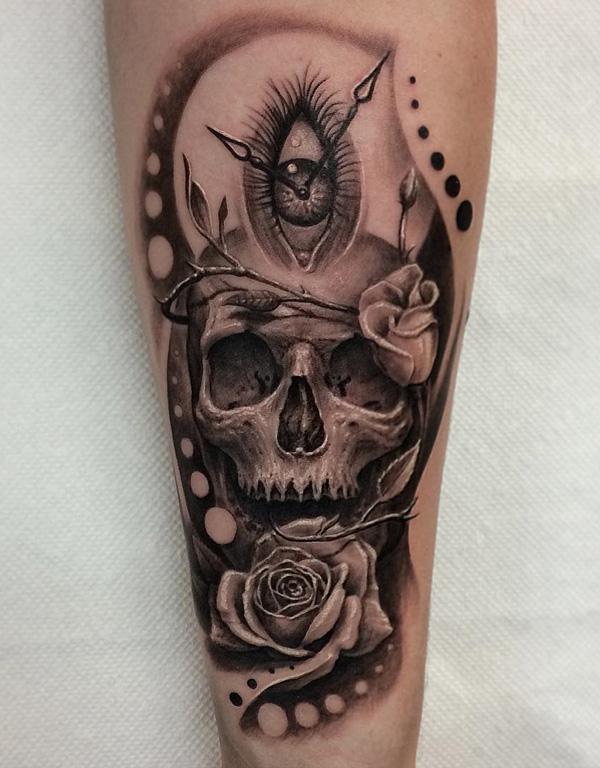 An eyed skull with roses adds a dash of realism and life to the classic skull design. The eyes, often seen as windows to the soul, lend a certain depth to the skull, while the roses soften the harshness with their beauty.
Native American inspired Tattoo with motifs of Owl and wolf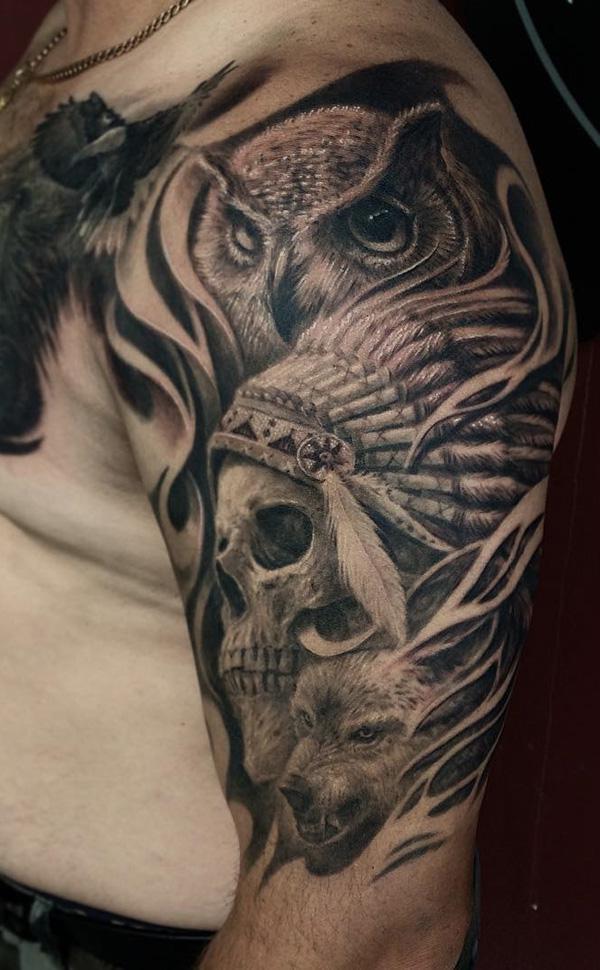 This design blends the skull with the Native American motifs of an owl and a wolf. The owl is often associated with wisdom and the ability to see what others do not, while the wolf symbolizes loyalty and strength. The skull ties in the theme of mortality, creating a design that's rich in symbolism and cultural significance.
Crowned Skull with watch tattoo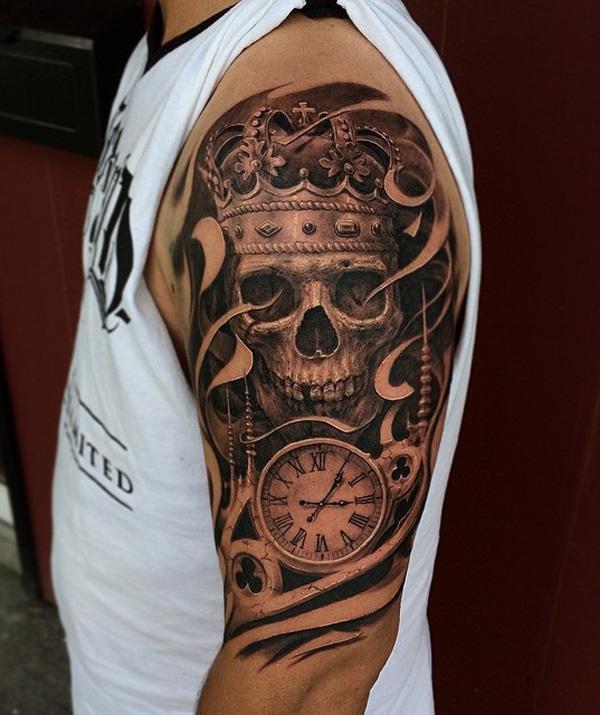 Time is an ever-present reality, and this design marries the symbolism of a skull (mortality) with a watch (time). The crown adds a touch of regality, making a bold statement about life's impermanence and the power of living in the moment.
Smoking Skull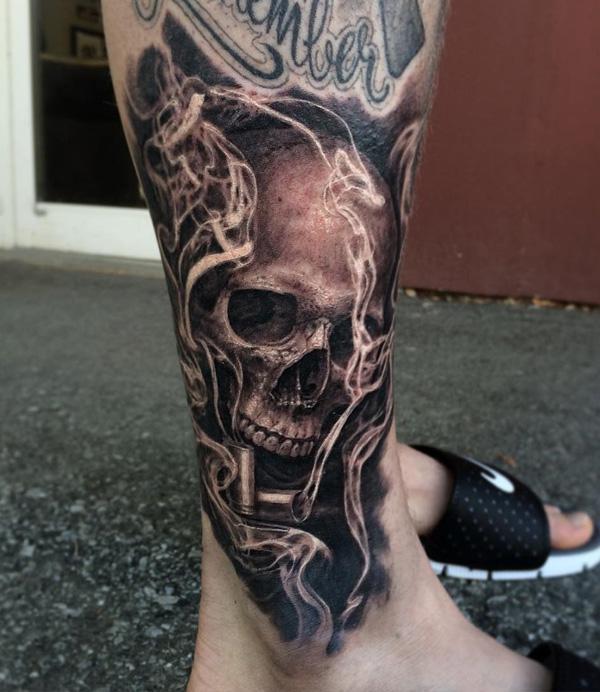 A smoking skull ink design is a striking visual, symbolizing life's transitory nature. The smoke, like life, is fleeting and ephemeral, lending a poignant reminder of our own mortality, all wrapped in a visually striking design.
Feather rose and skull forearm tattoo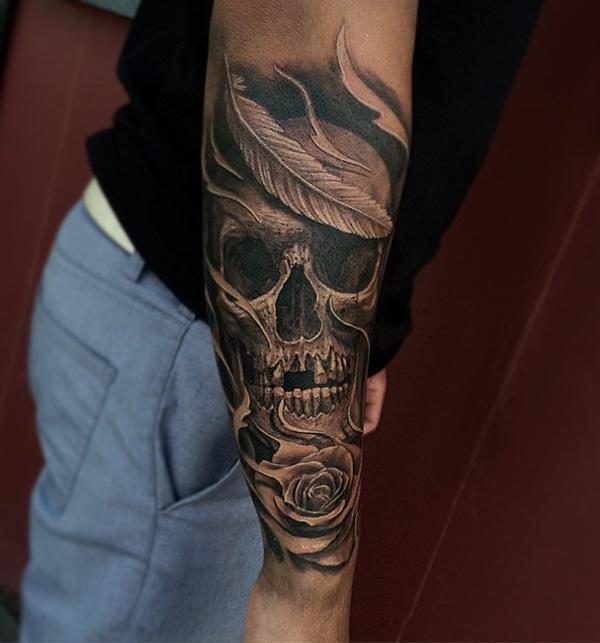 This design is a beautiful amalgamation of life and death symbolism. The skull represents mortality, the feather stands for freedom and inspiration, and the rose symbolizes beauty and life. It's a story of life, inspiration, beauty, and mortality, all etched on the skin.
3D Skull with eagle tattoo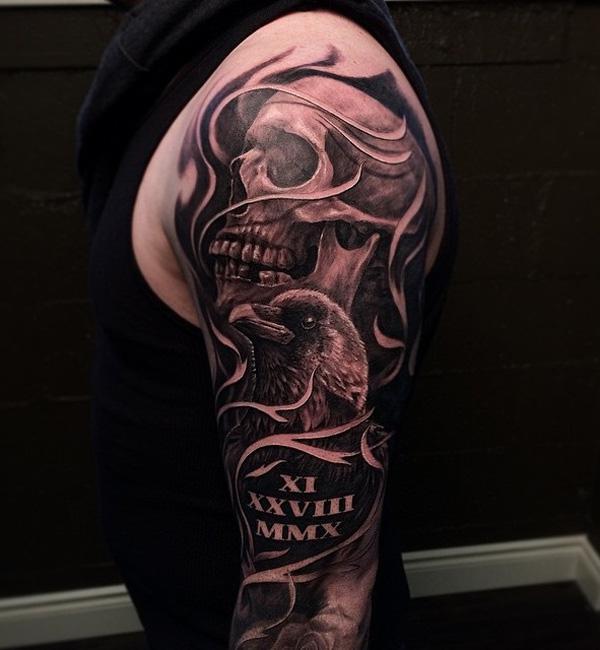 This design brings the skull to life with a three-dimensional technique, adding depth and realism. The eagle, a symbol of freedom and strength, paired with the skull creates a powerful statement about life's strength and its inevitable end.
Beautiful skull with rose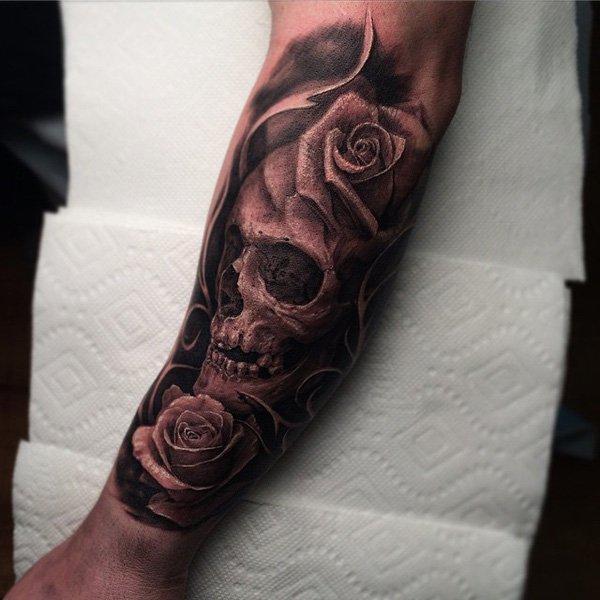 A classic in tattoo art, the combination of a skull and rose represents the balance of life and death. It's a poignant reminder of the transient beauty of life, etched in a visually captivating design.
steampunk crowned skull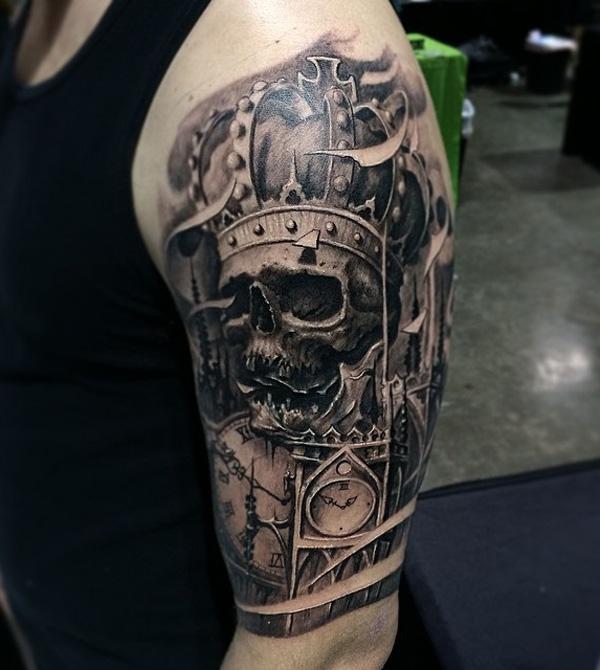 For those with a love for the unique fusion of technology and aesthetics, the steampunk crowned skull offers a different take on skull tattoos. The design is rich in detail, reflecting the intricate steampunk style while the crown adds a regal touch.
Heart shaped lock attached to skull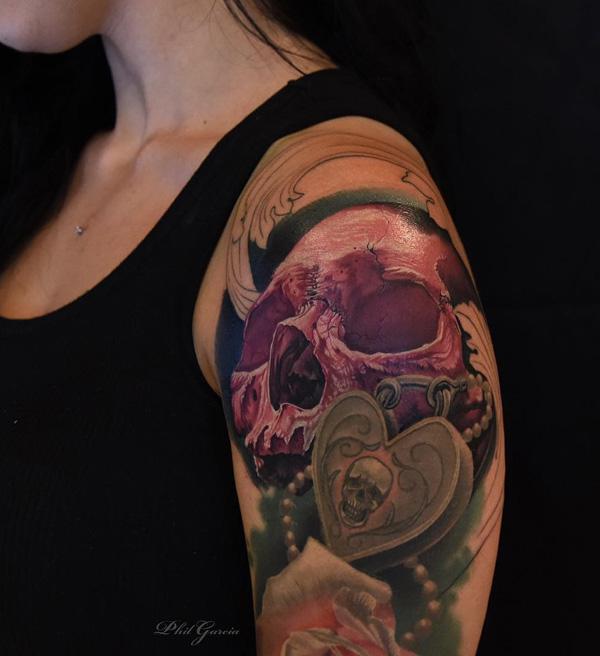 This design is a symbolic representation of love, life, and death. The skull and the heart-shaped lock together symbolize the idea of eternal love, or the secrets that we take to our graves, creating a narrative that's as intriguing as the design itself.
Colorful Skull with rose headpiece
A colorful skull with a rose headpiece is a vibrant celebration of life and death. The colors add a lively feel to the skull, while the rose headpiece symbolizes beauty, making this design a visually appealing piece of art.
3D Skull and flower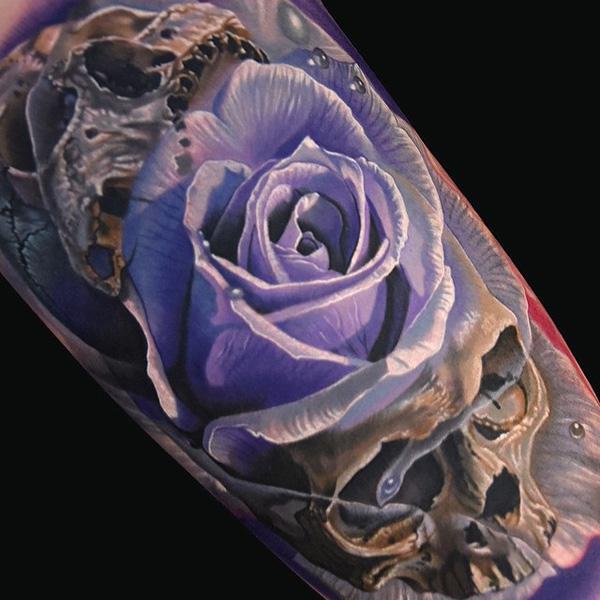 A 3D skull and flower ink design is a beautiful juxtaposition of life and death. The three-dimensional technique adds depth and realism to the design, creating a visually intriguing piece of art that's rich in symbolism.
Skull with blue rose and moth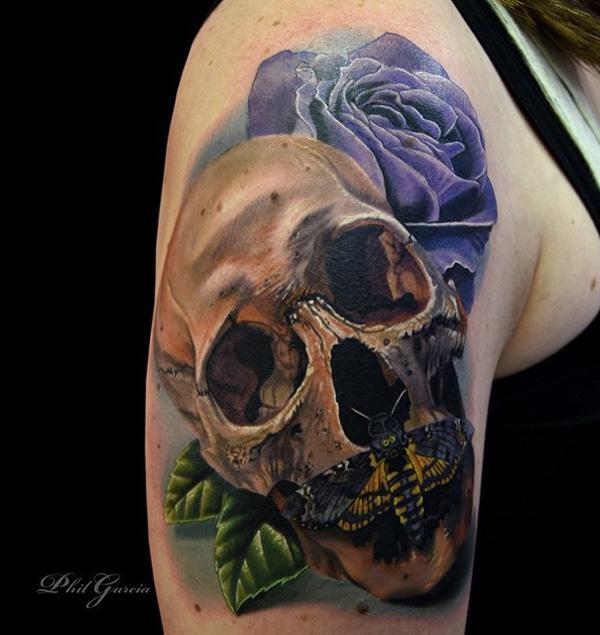 This design combines the macabre allure of a skull with the mystery of a blue rose and the symbolism of a moth. The moth often represents transformation, and the blue rose stands for the unattainable or the mysterious, creating a deeply symbolic and visually captivating design.
Skull in dark world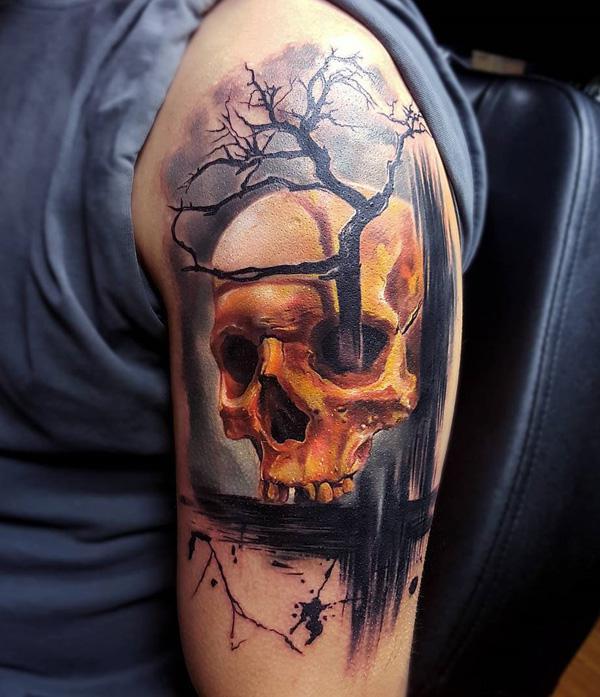 A skull in the dark world is a powerful representation of life and the afterlife. The design uses darkness to highlight the skull, creating a stark contrast that's visually striking and deeply symbolic.
Colorful crowned Skull sleeve tattoo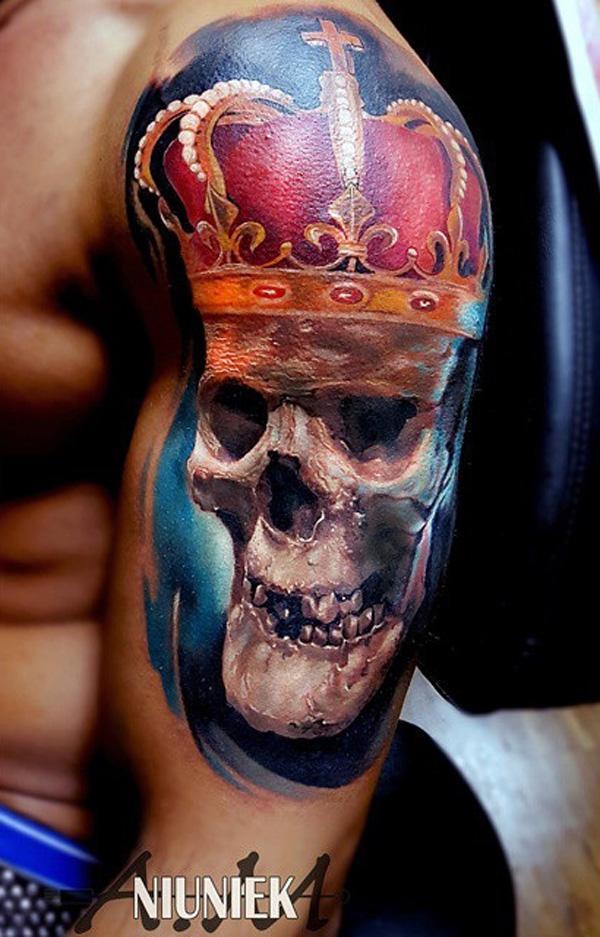 A colorful crowned skull sleeve tattoo is a vibrant celebration of life and mortality. The colors bring the skull to life, while the crown adds a touch of regality, making this design a vibrant declaration of one's perspective on life and death.
Skull and eye
A skull and eye tattoo design is a potent symbol of mortality and insight. The eye, often seen as a window to the soul, adds depth to the skull, creating a thought-provoking design that's sure to turn heads.
Black and white double exposure skull tattoo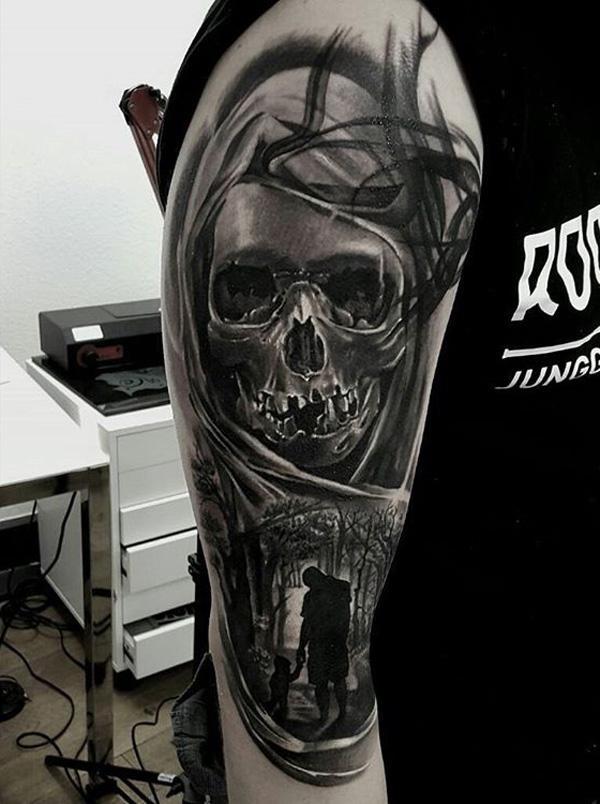 This dark tattoo depicts two distinctive pictures that obviously belong to different worlds. On the bottom is the silhouette with a father holding son's hand. This tattoo seems like tribute to the beloved one.
Skull and crown sleeve tattoo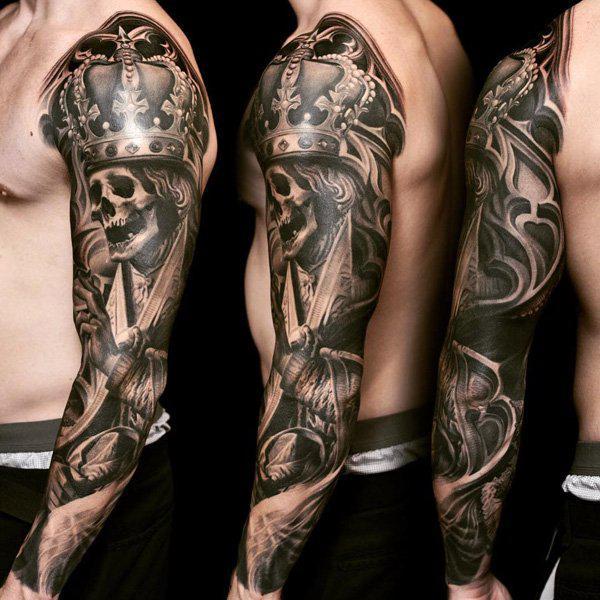 Prickly vines and skull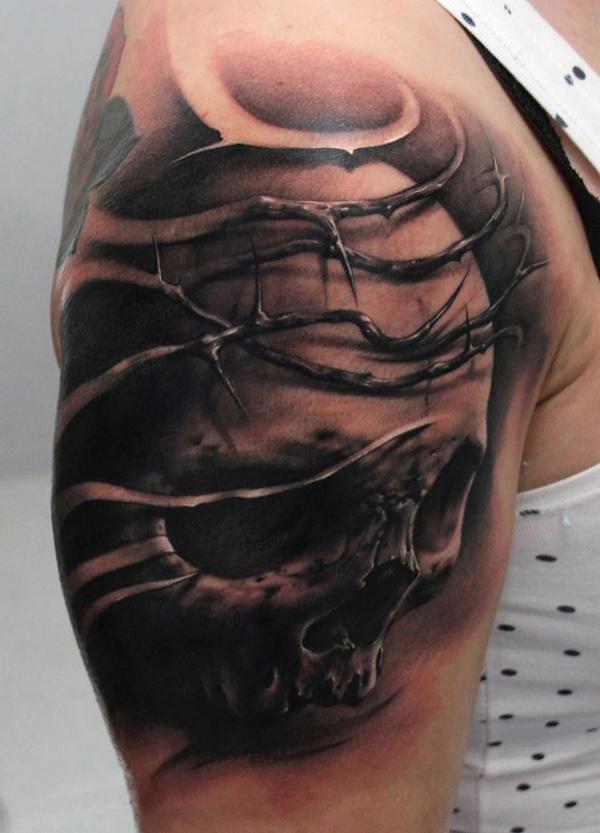 This design features a realistic skull with added prickly veins going through it. The pricks are drawn in great details with clear shadows.
Wolf and Skull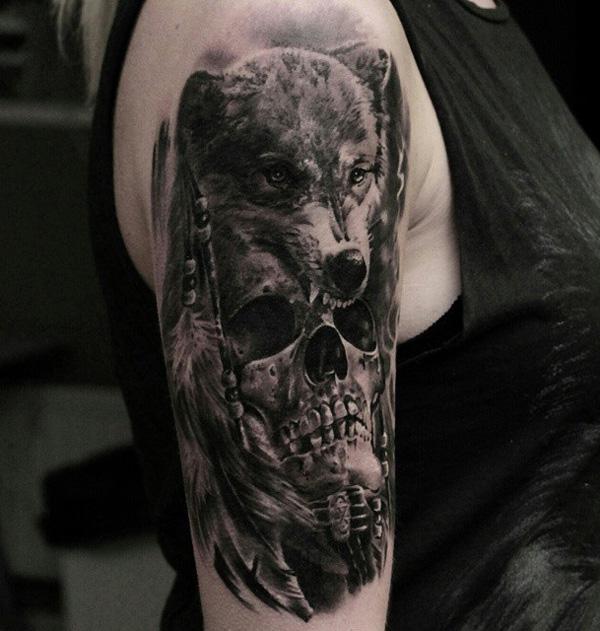 This is a tattoo to honor Native American culture which contains the element of feathers. The wolf seems like headpiece of the skull although it is depicted in realistic manner.
Butterflies and skull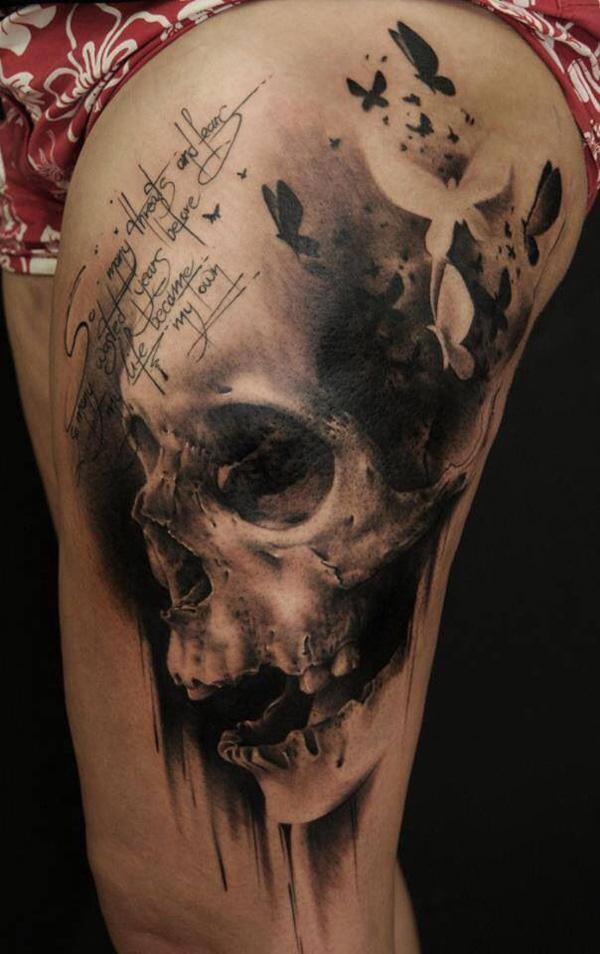 Skull and roses sleeve tattoo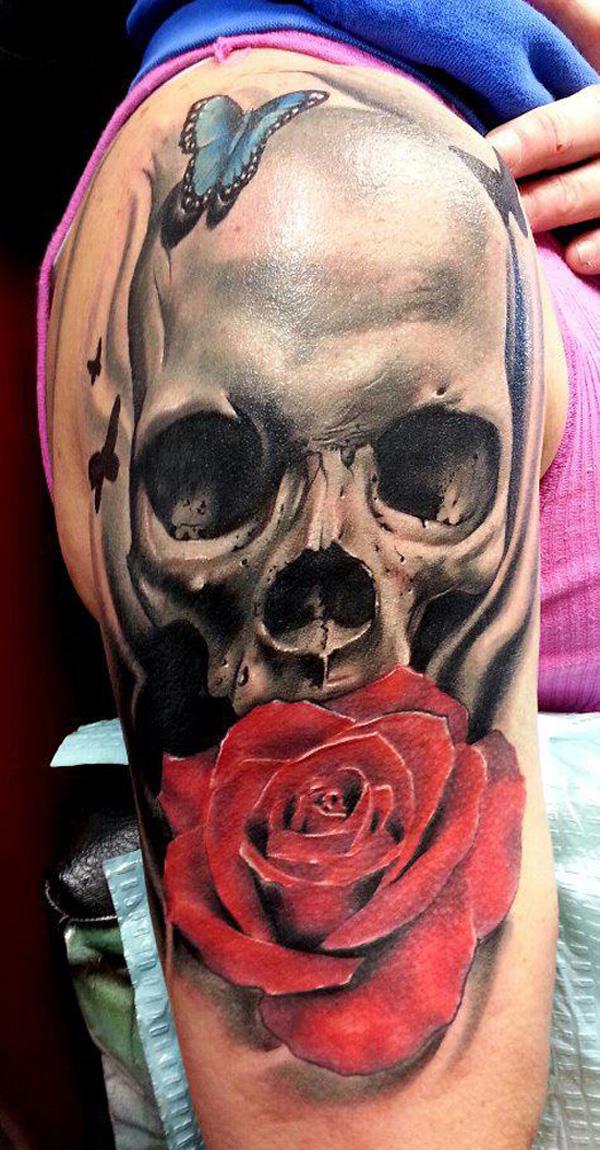 Some tattoos make use of natural protrusions of the body. For example, this tattoo goes from shoulder to the upper arm. The shoulder part makes the skull more realistic and 3D effect. The butterfly is here reminding of change and transformation. And the rose represents the true love in the heart of the wearer.
Trash Polka style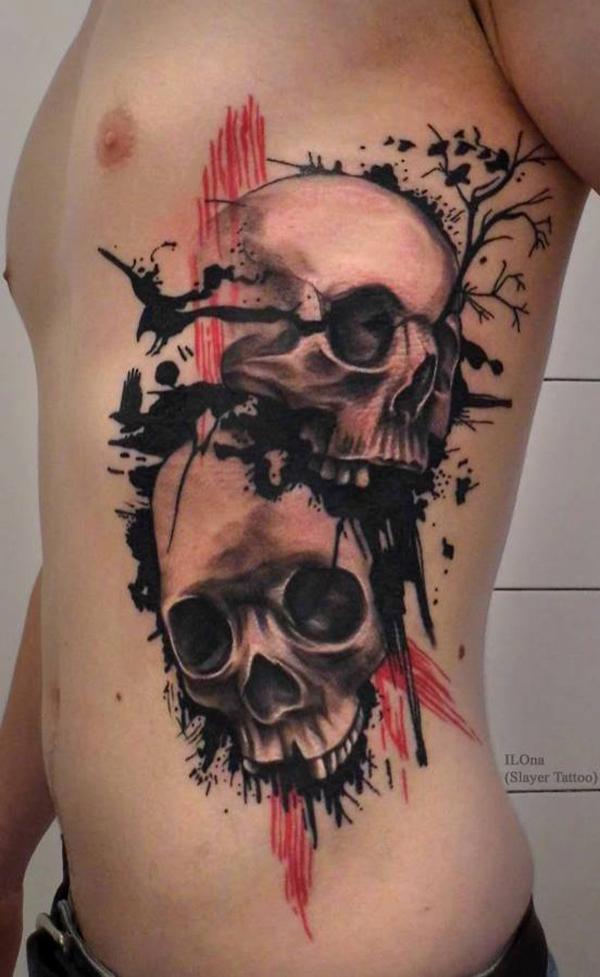 Skull Matching Tattoo with butterfly and rose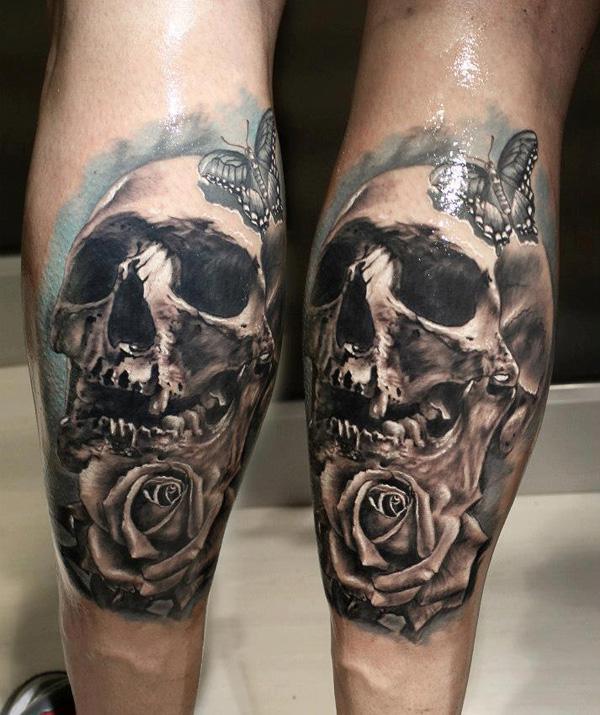 Stylized Sugar Skull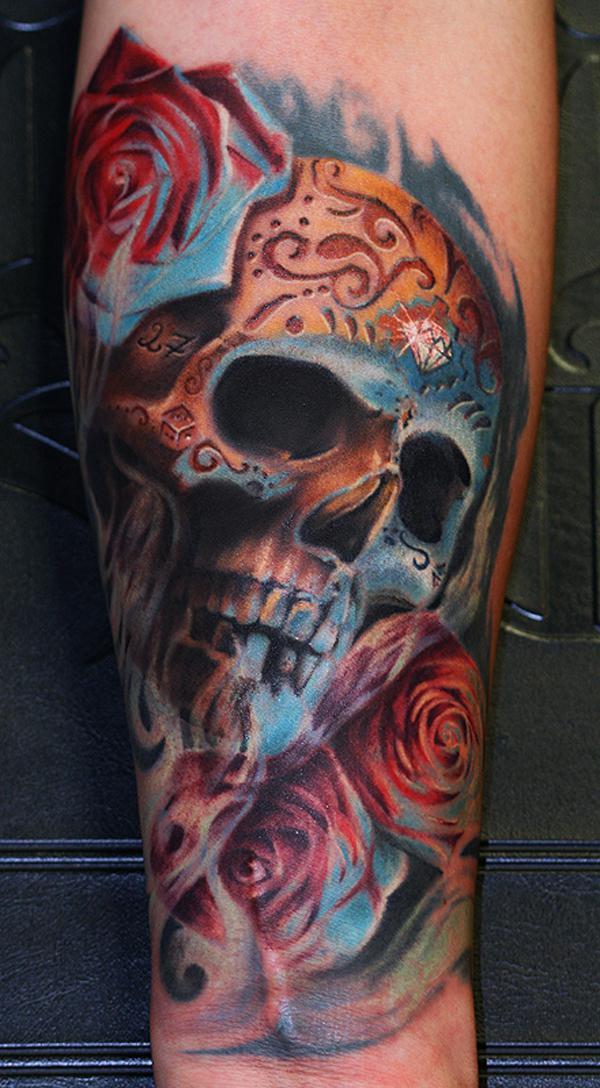 Fullback skull and crows tattoo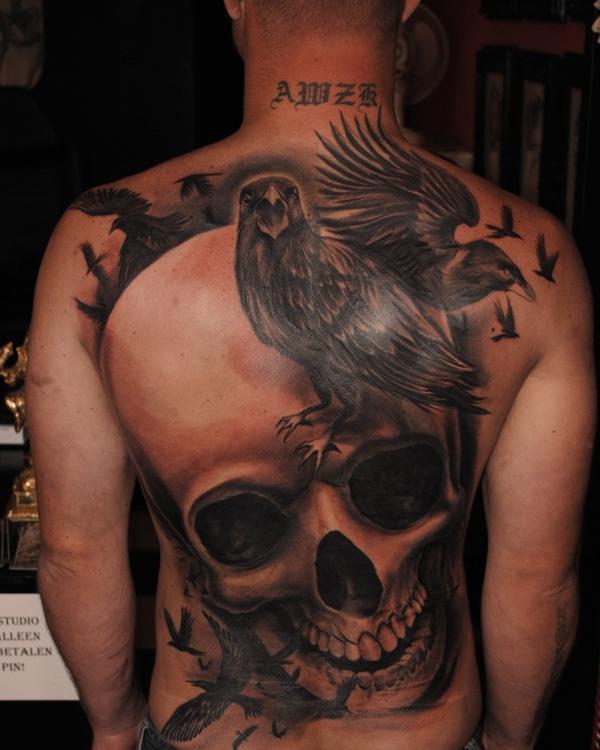 Skull half sleeve tattoo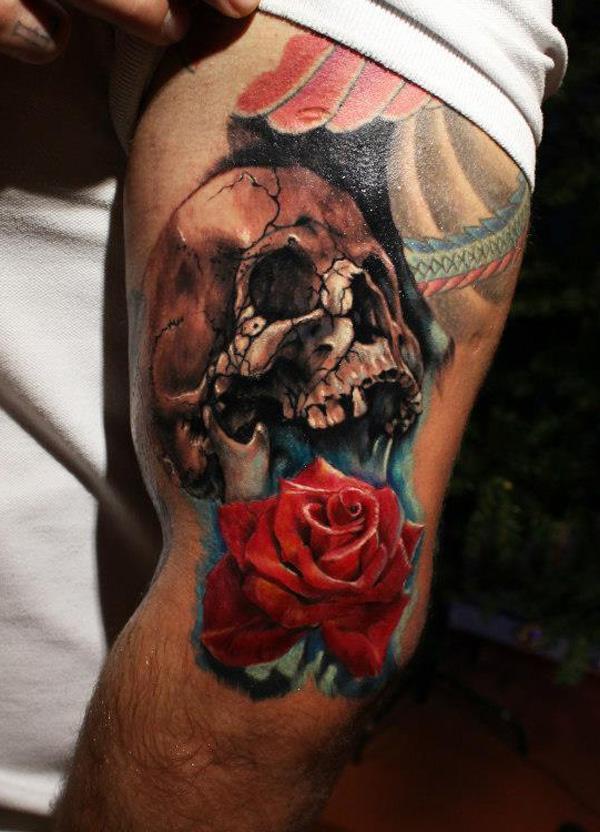 Fullback tattoo in Japanese style with Skull, girl, butterflies and birds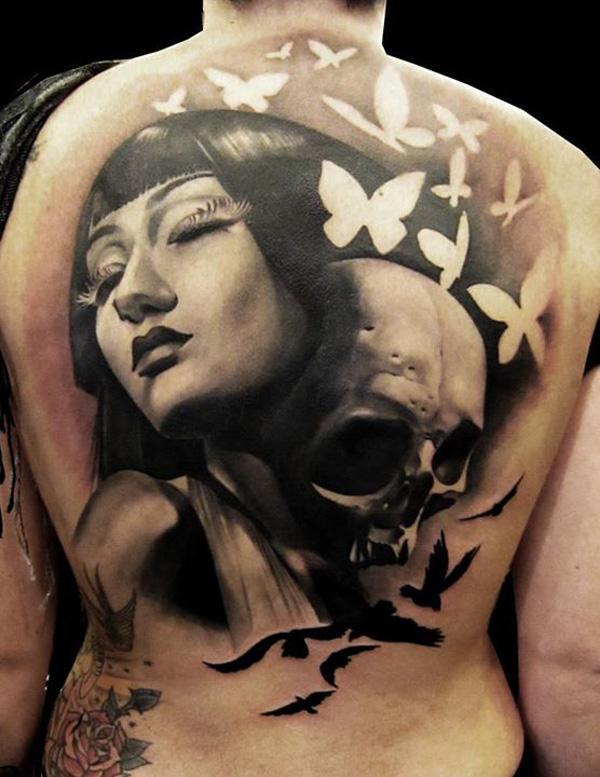 Sugar Skull Skeleton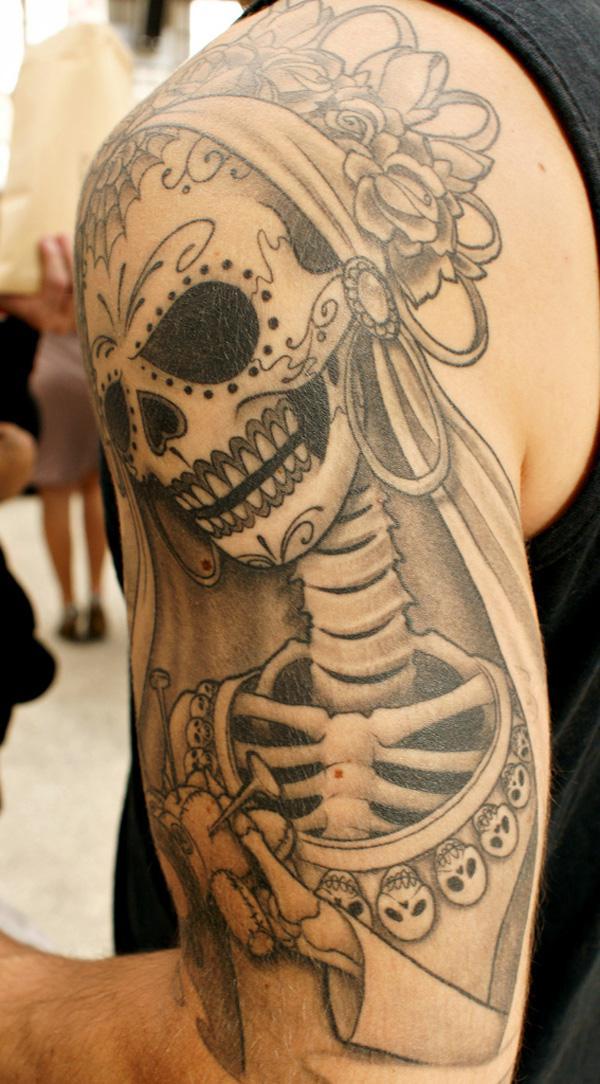 Skull and roses with thorn on hand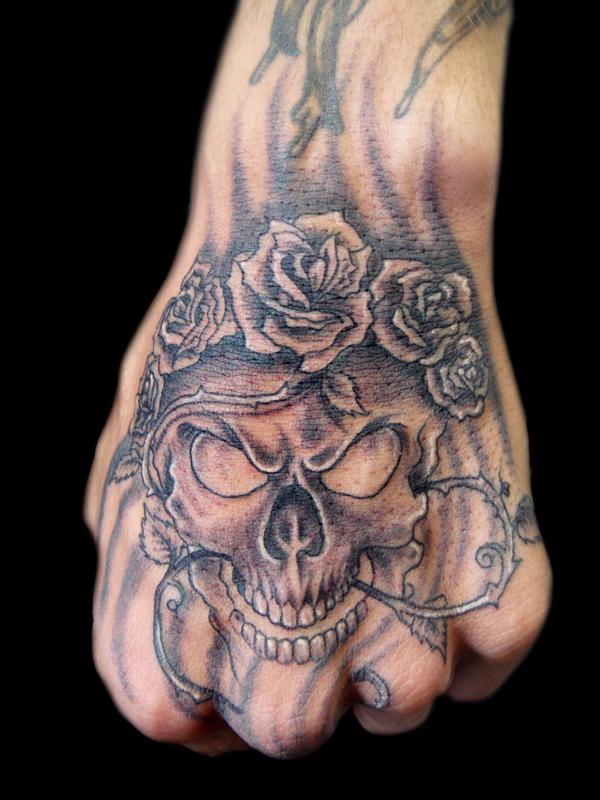 Flowers and skull side tattoo for woman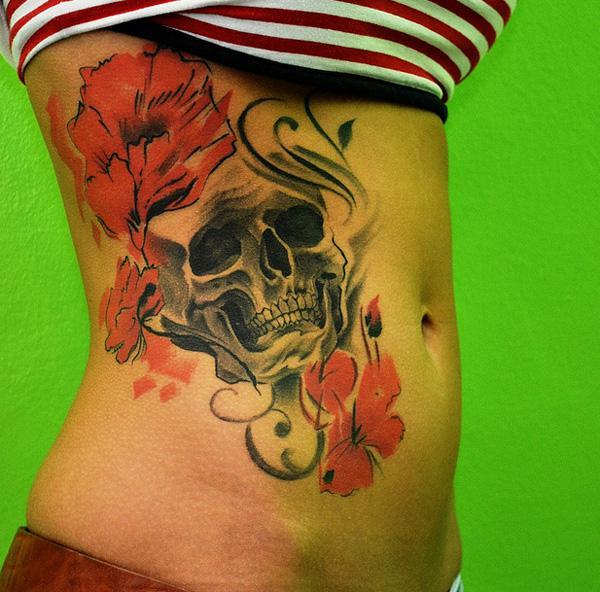 sugar skull half sleeve wip >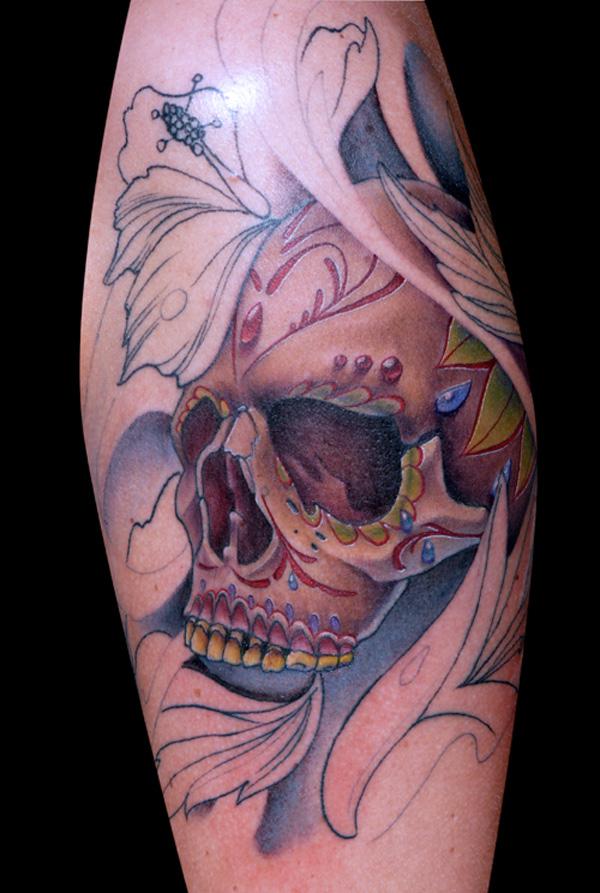 Black and white skull piece on head for men
Candy skull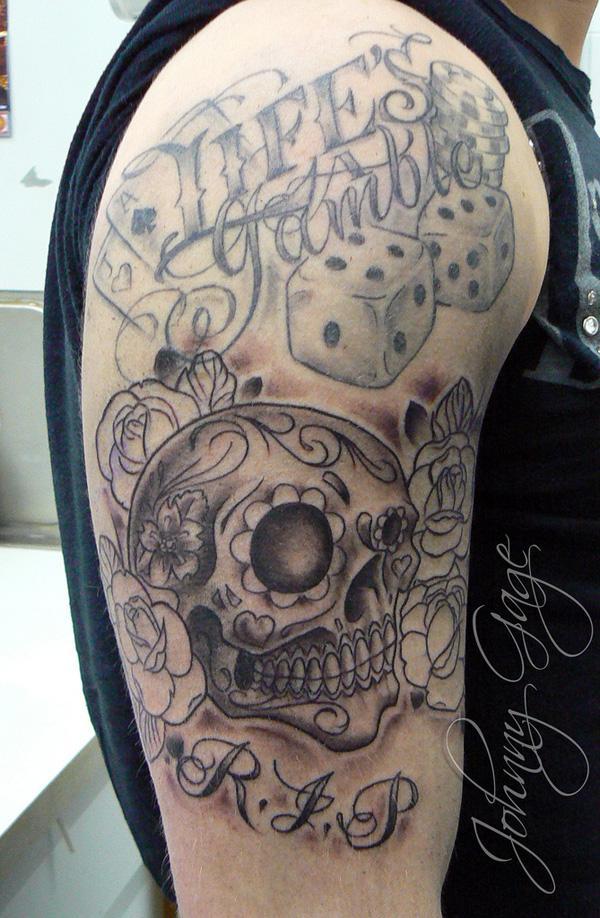 Zombie skull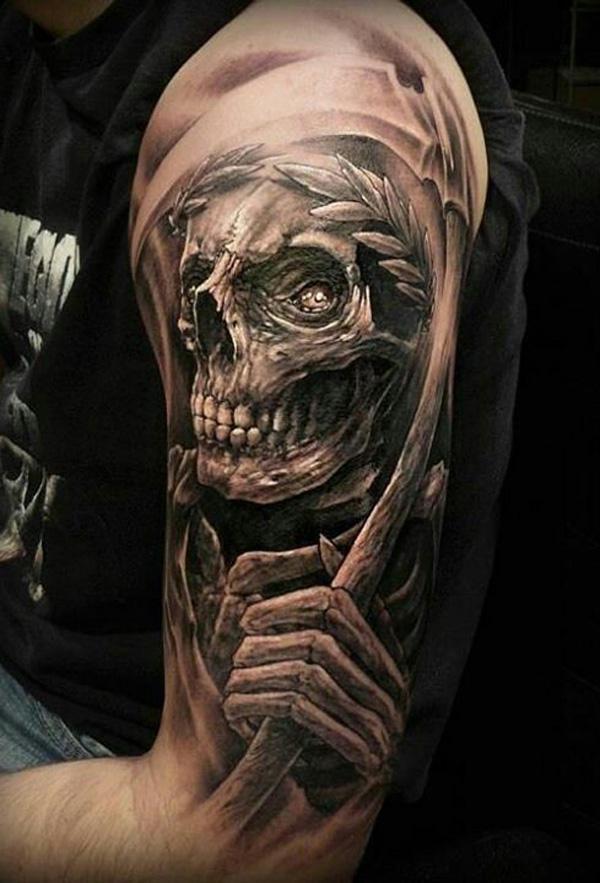 Skull on hand
source
Angel and skulls on full back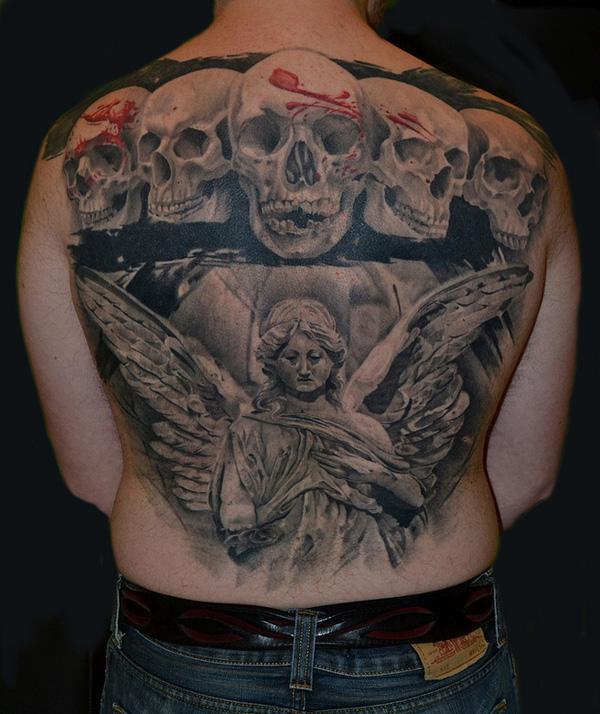 Realistic skull surrounded by Roses on full back with two water droplets in greyscale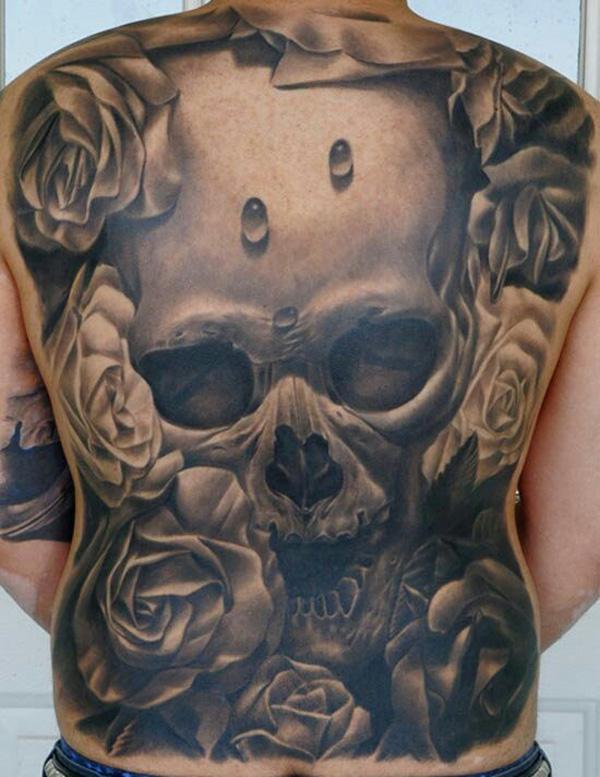 Three Skulls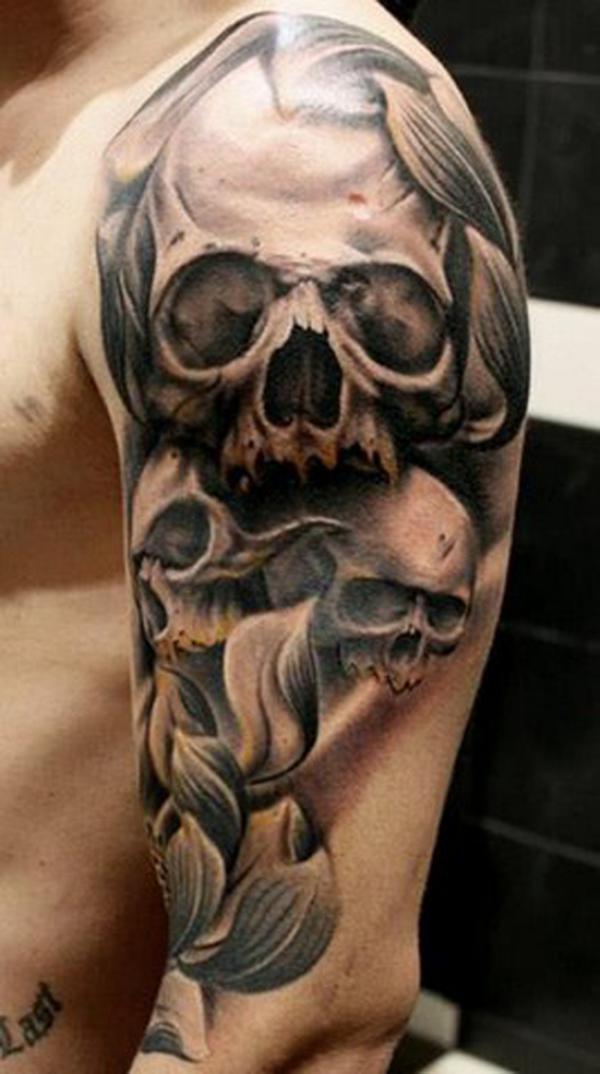 Red roses, skull and swirls tattoo on back for women
Snake and Skull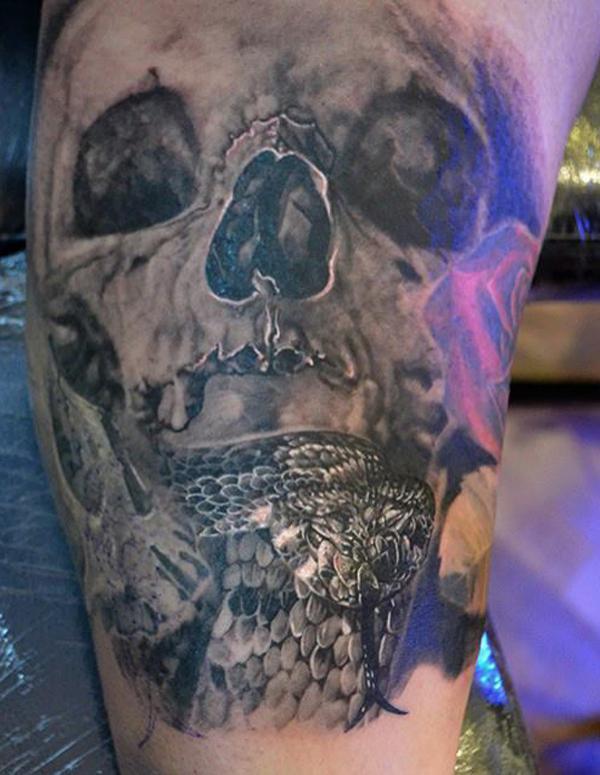 Sugar skull bride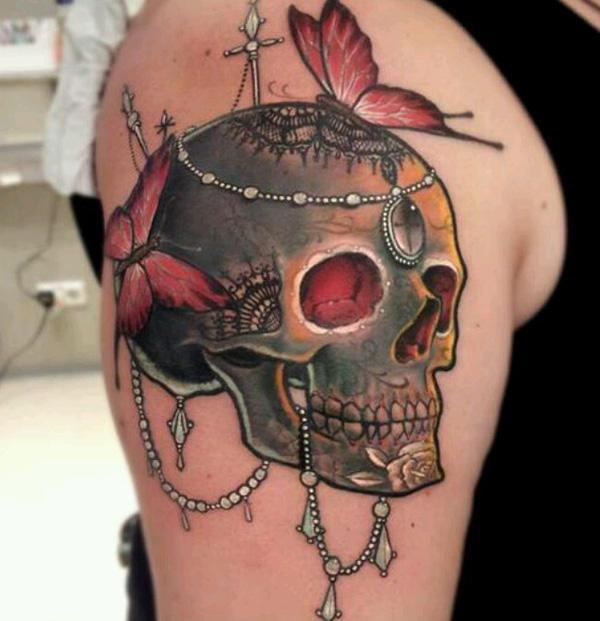 Veiled woman with skull headpiece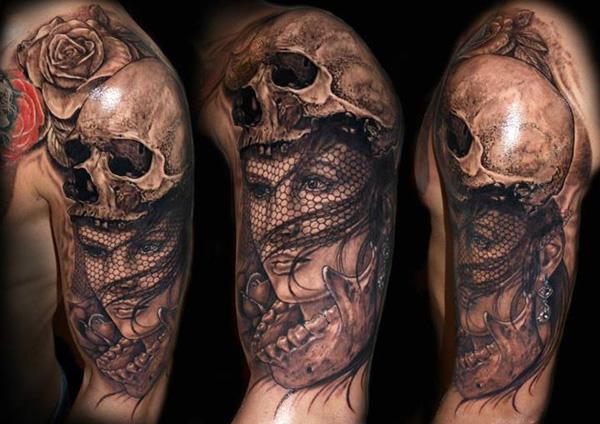 Giant skull fullback tat for men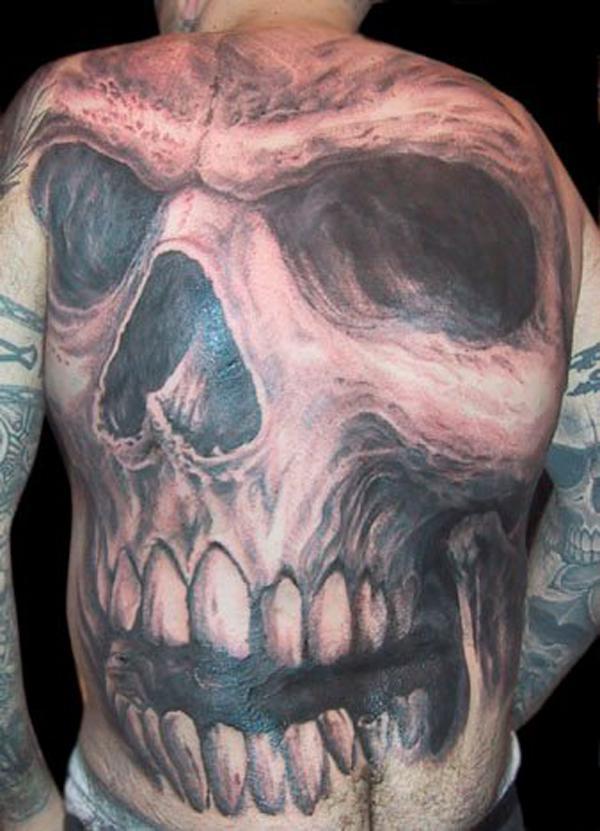 Skull with UV light on hand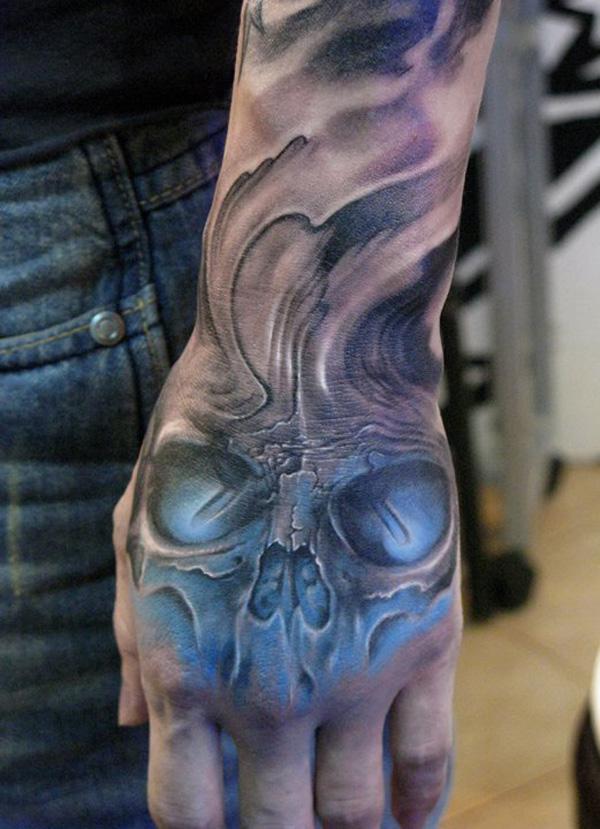 Skull with music headset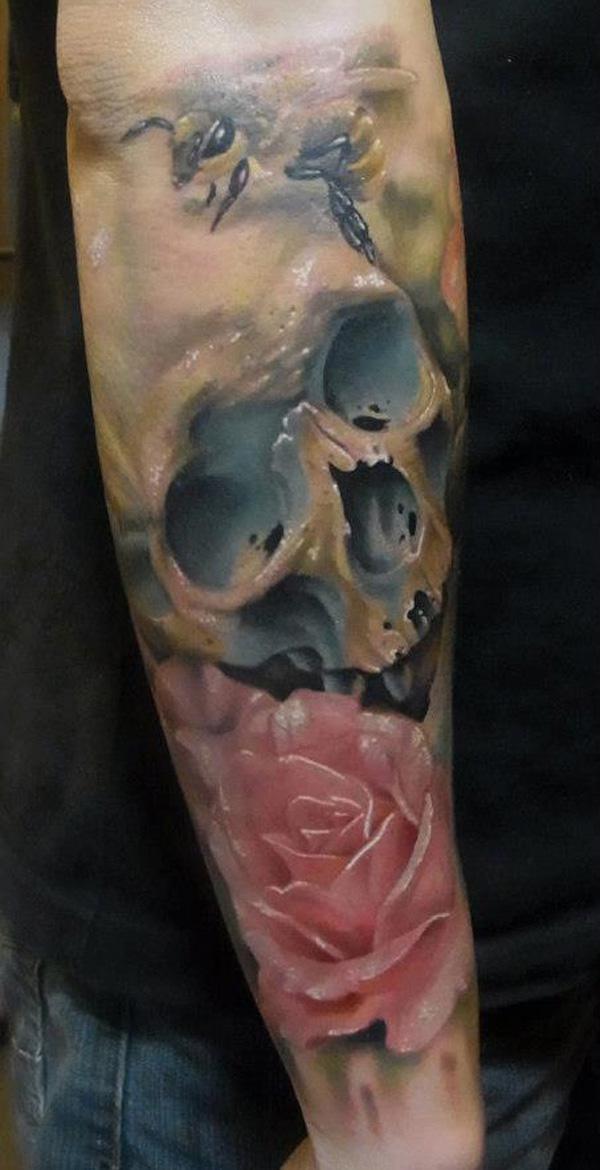 Roses and skull melted in flesh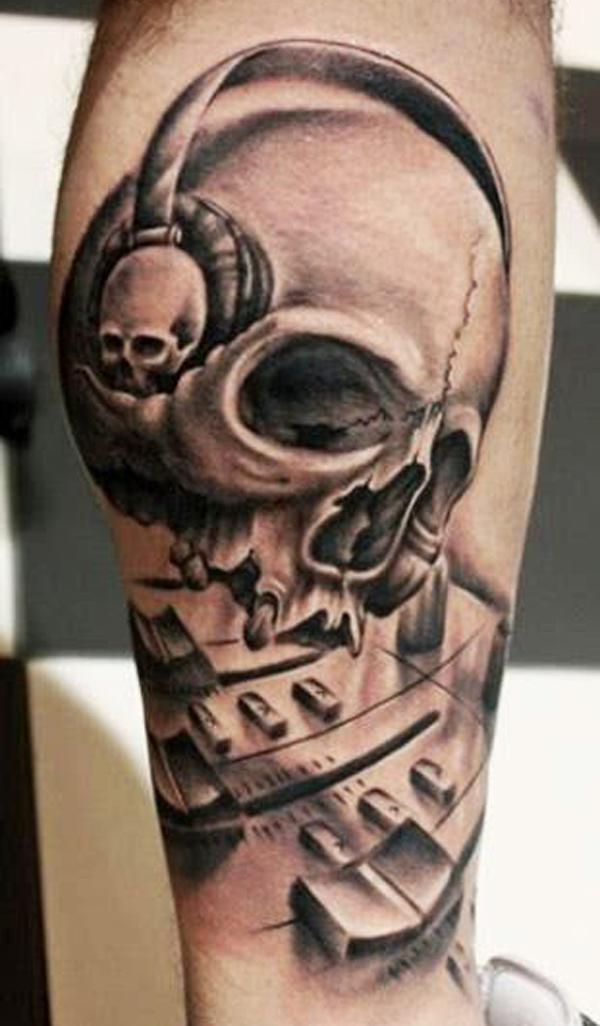 Skull gentleman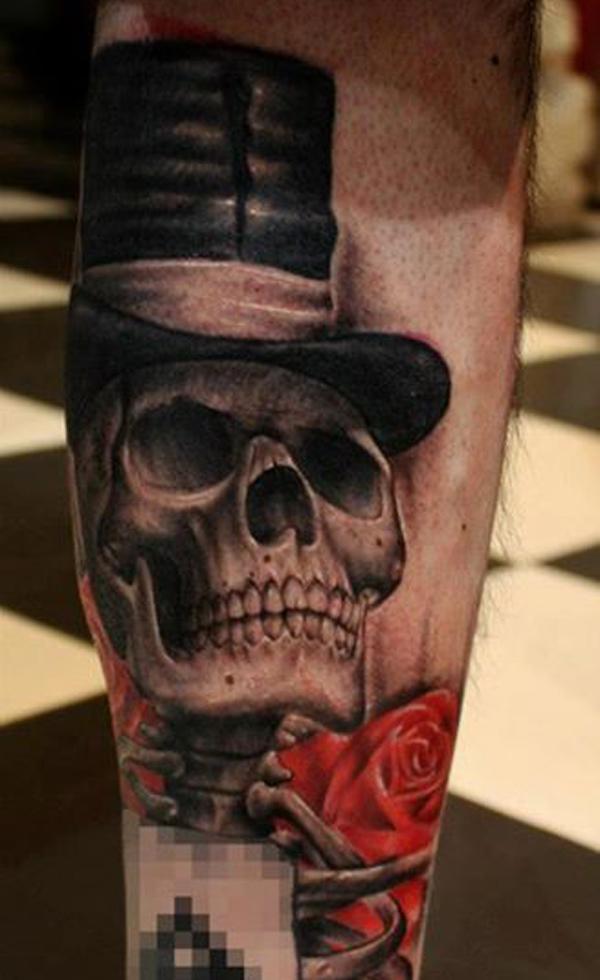 Skull with rose headpiece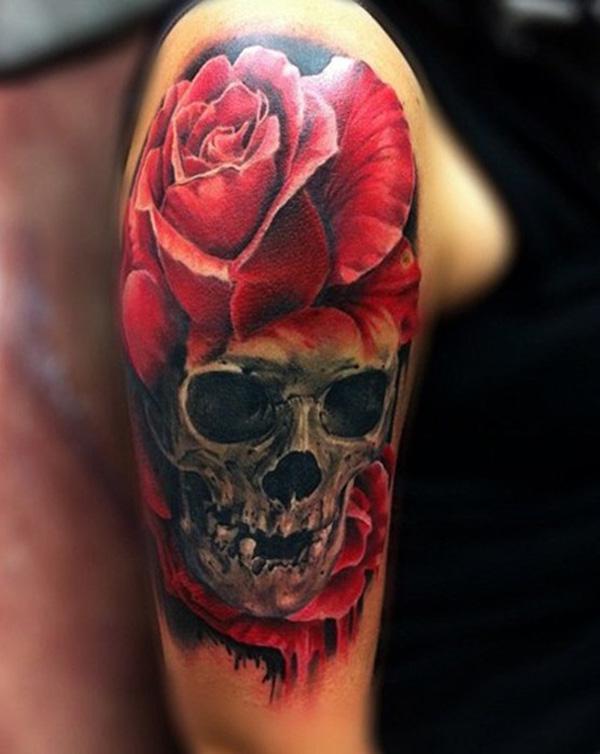 Fall leaf and skull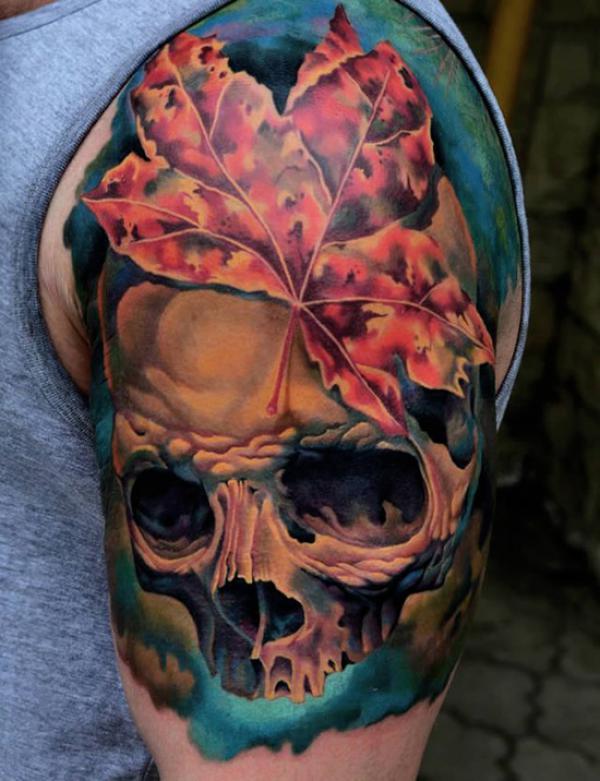 Half sleeve skull tat with lily and butterflies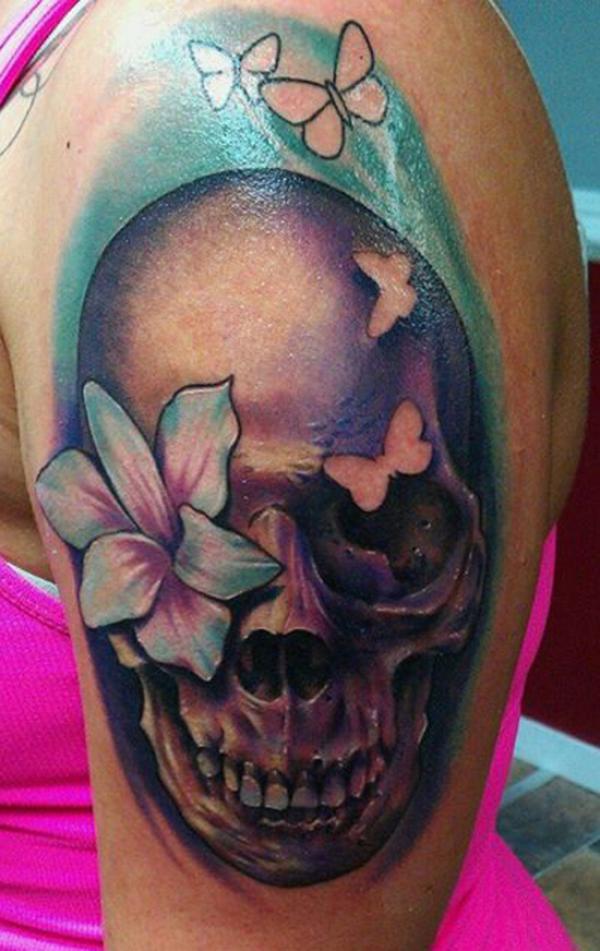 Sugar Skull with rose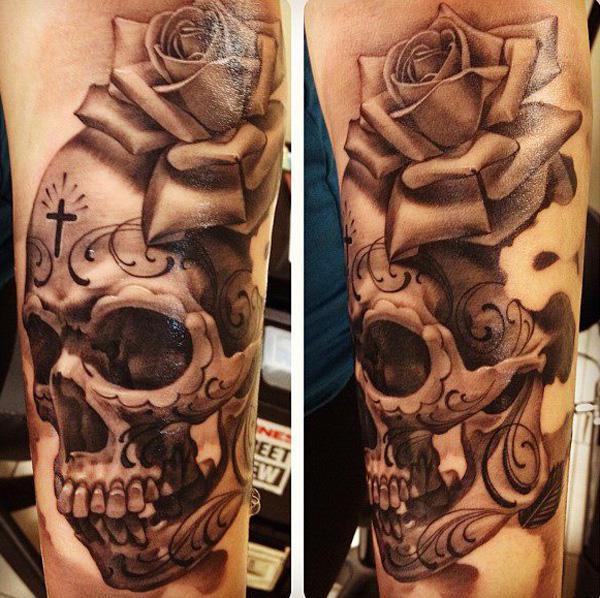 Green leaf and skull in dark sahde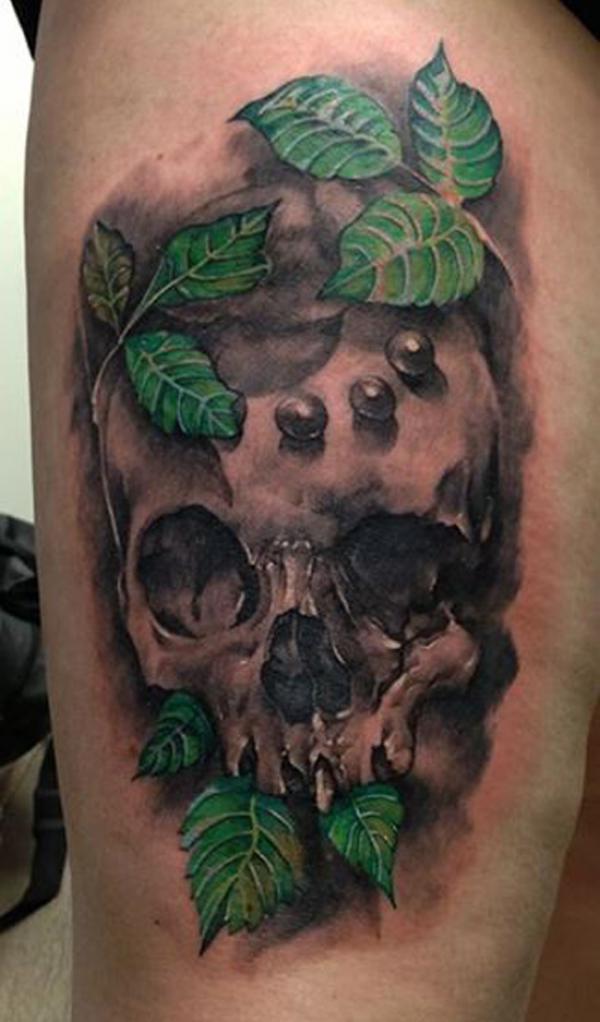 Dotwork with skull and roses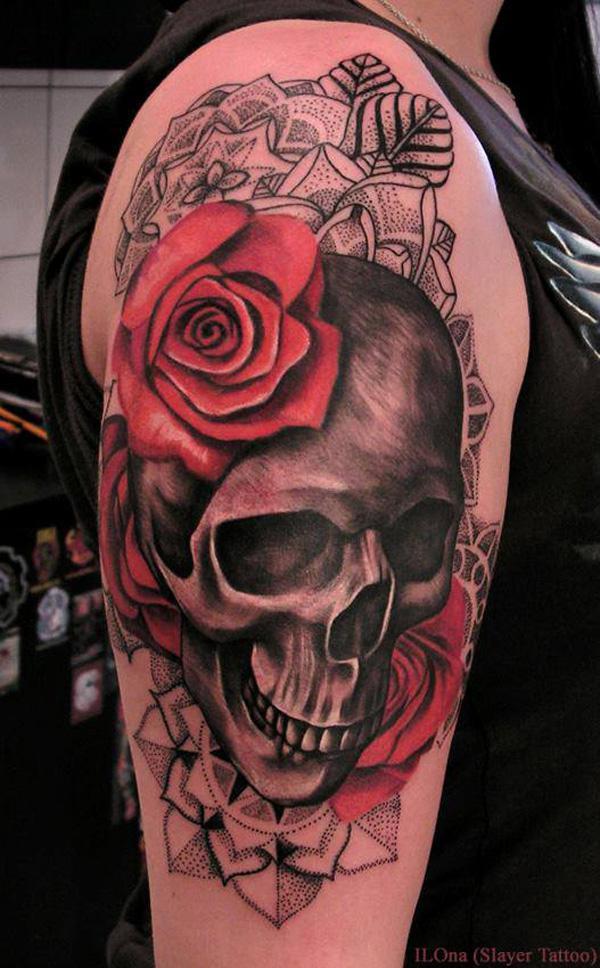 War tattoo with silhouette in Trash Polka style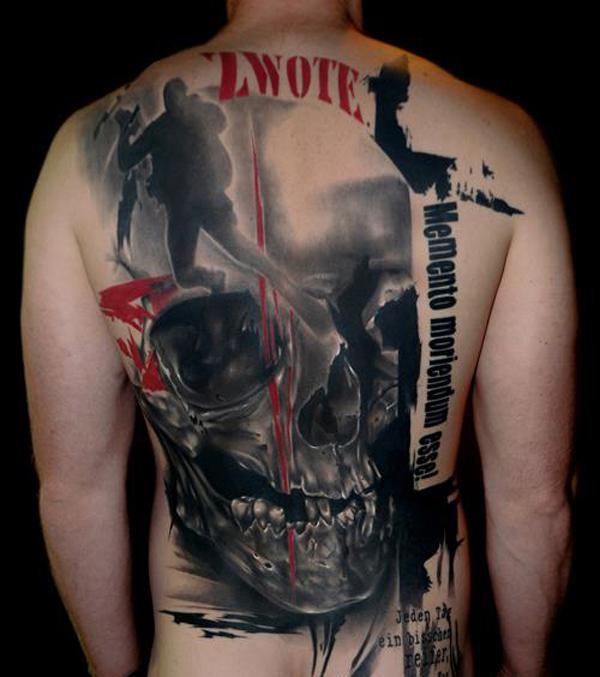 The Trash Polka style of tattoo features black and red colors. The abstract tattoo is the statement of the wearer to the world. Remember the outcome of war.
Skull Tattoo on Chest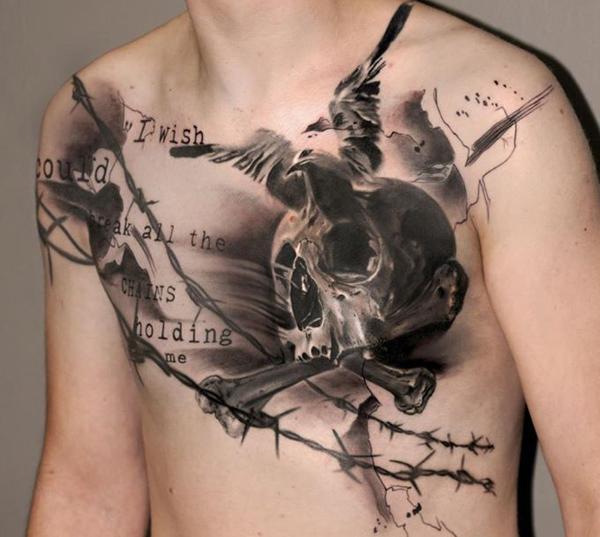 source
Giant skull tattoo on back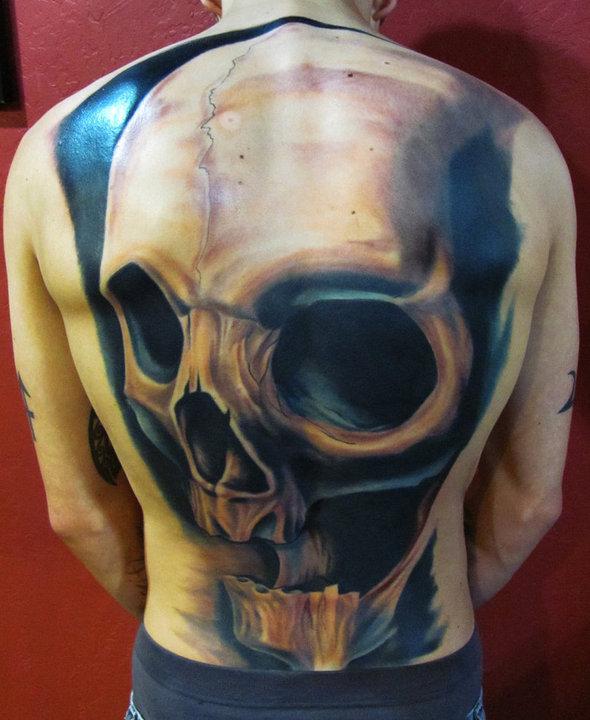 The stunning full back tattoo is giant in size but straightforward in design. It is not involved with complex elements but just single motif. If you look at carefully, large back area actually contains little ink but constitutes the head of the skull. A brilliant idea.
Large skull half sleeve tattoo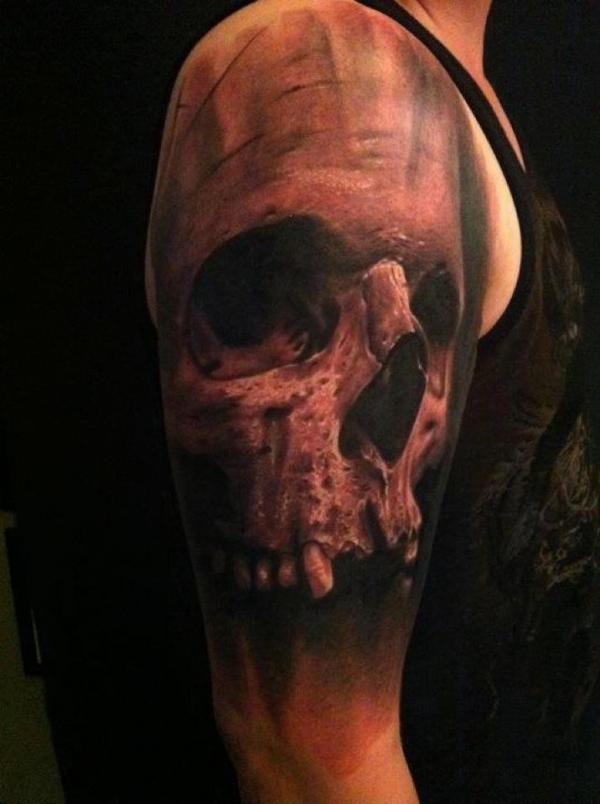 Sugar skull tattoo with rose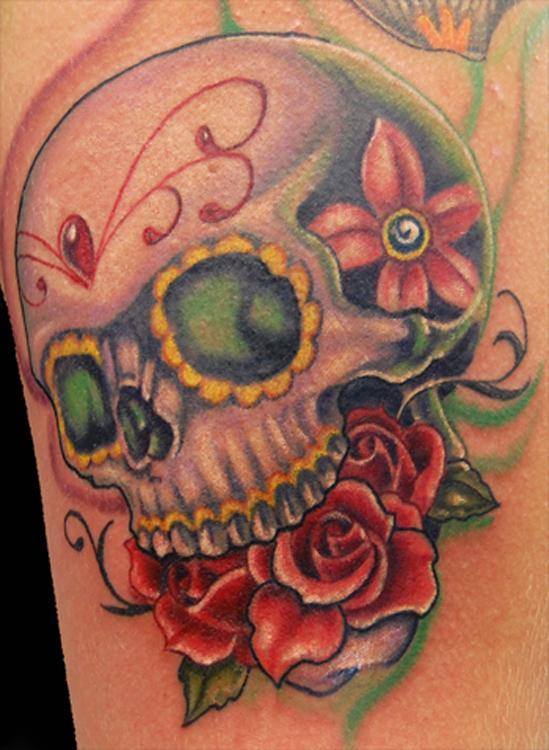 Skull ear tattoo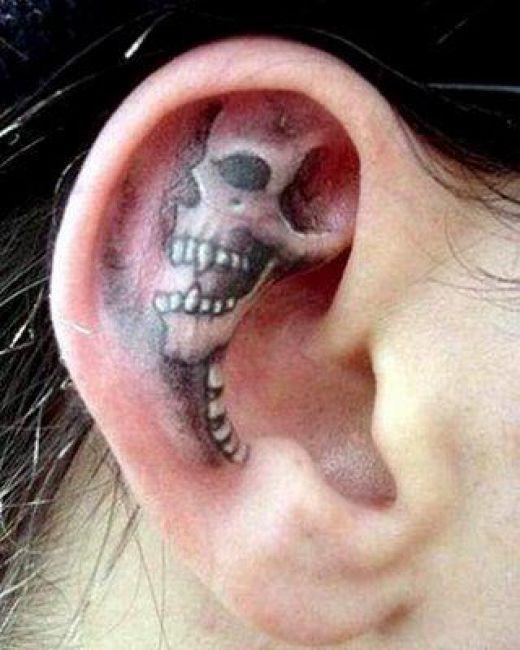 Placement is not an issue to get an appealing tattoo. For instance, this one is a perfect matching tattoo by using the parts to the outer ear. The ear tattoo could be a sign of protection as well as fashion statement for the wearer.
Large skull sleeve tattoo for men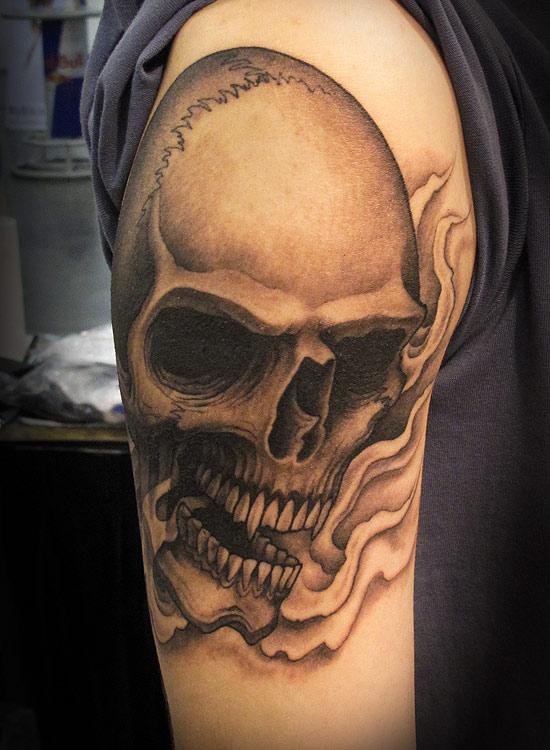 Clown and skulls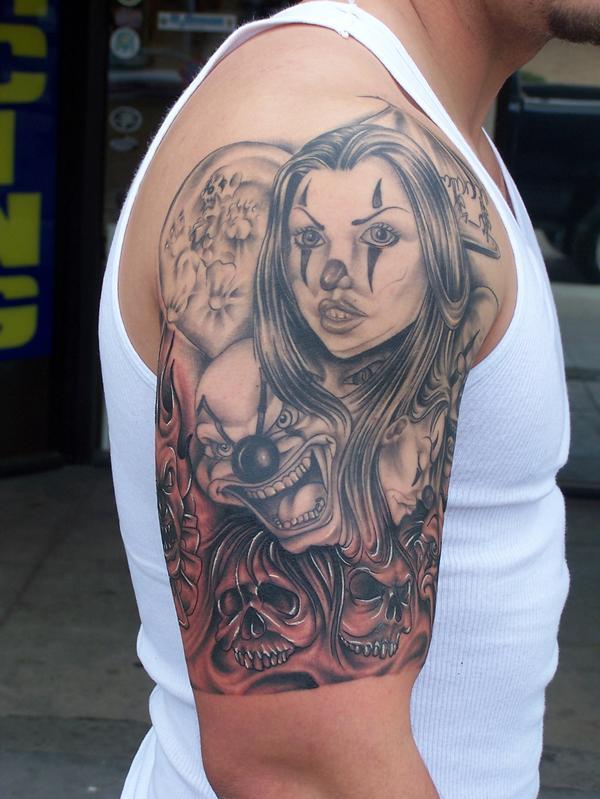 Skull and lily flower tattoo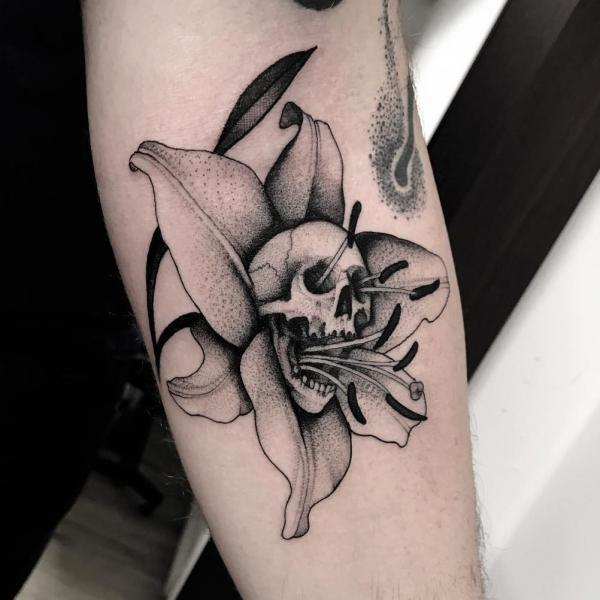 Traditional skull landscape ink design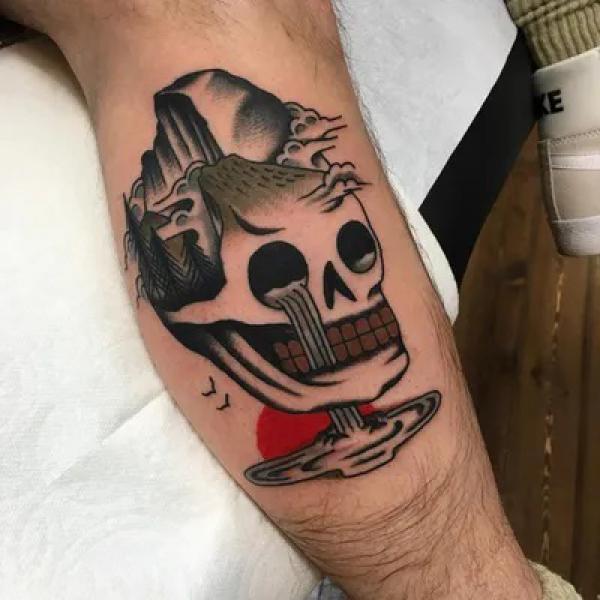 Skull with scythe and spider web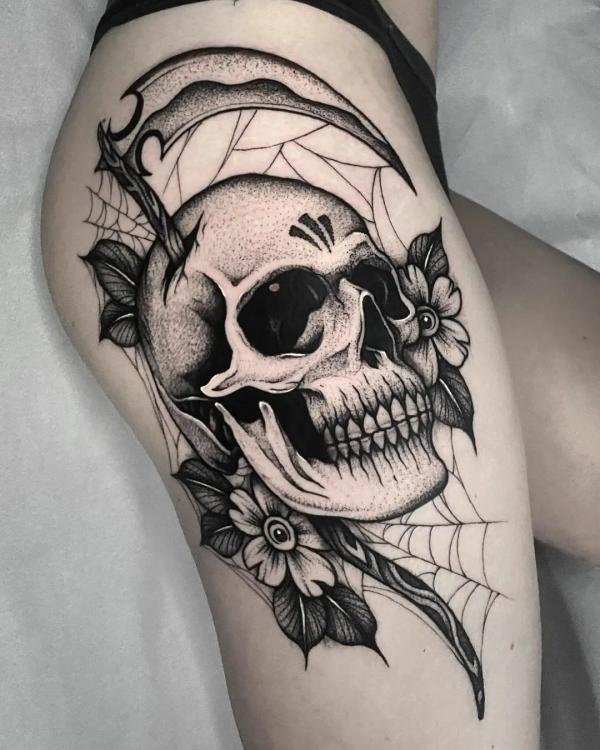 Traditional sugar skull and rose flowers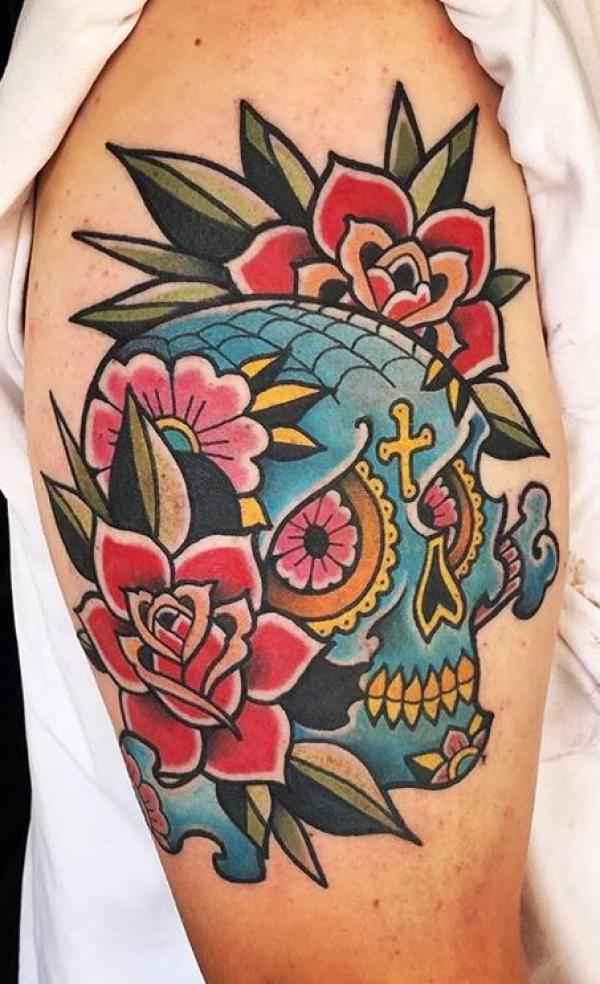 Tree of life with skull inside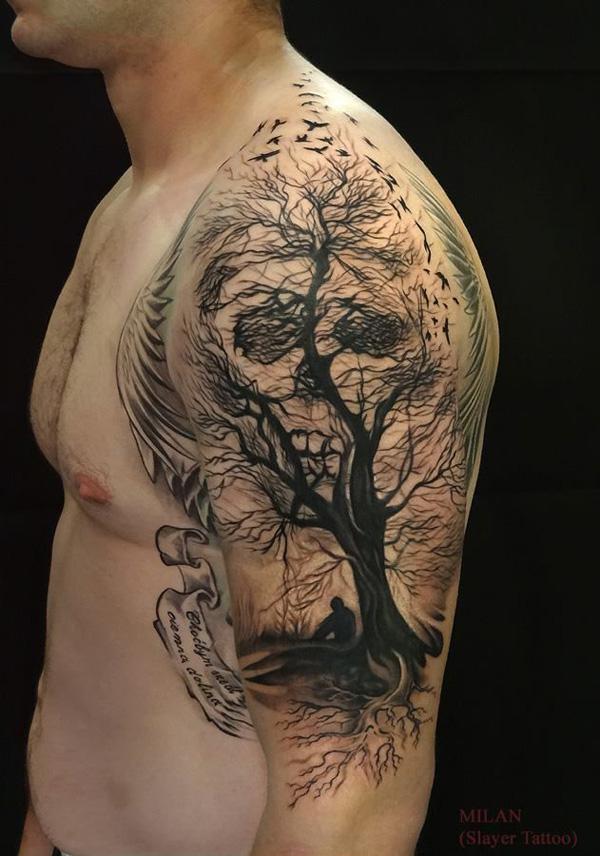 Watercolor music skull tattoo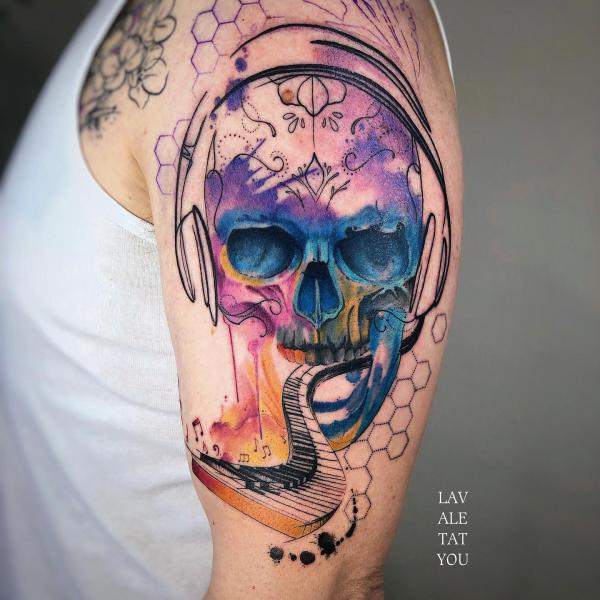 Skull with rose and hourglass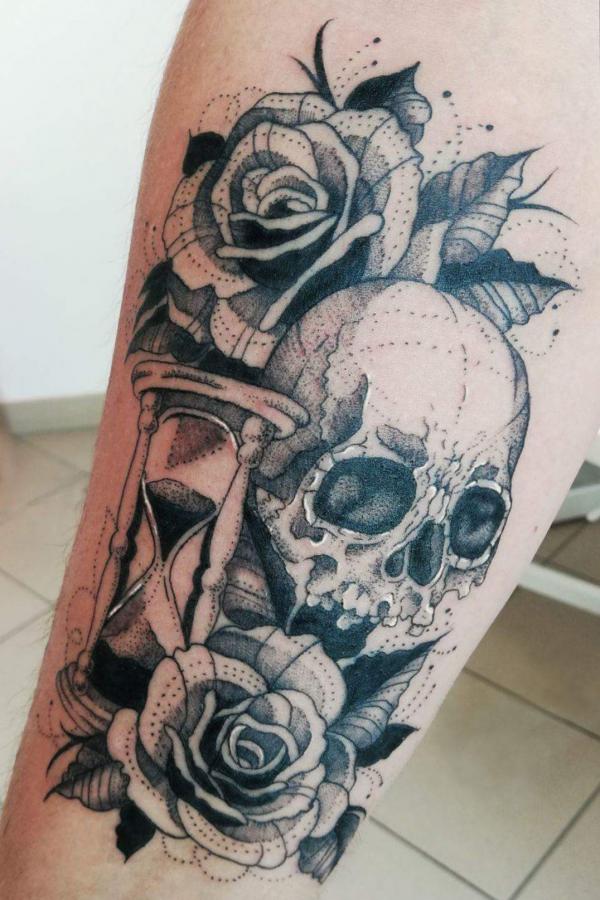 Watercolor skull with helmet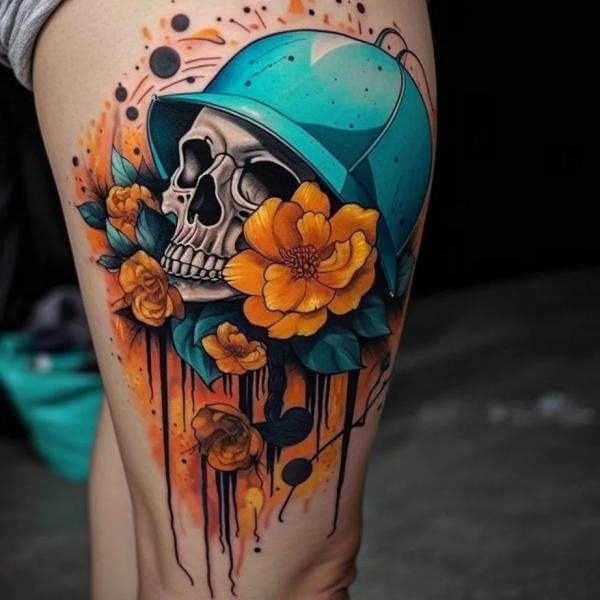 Abstract skull tattoo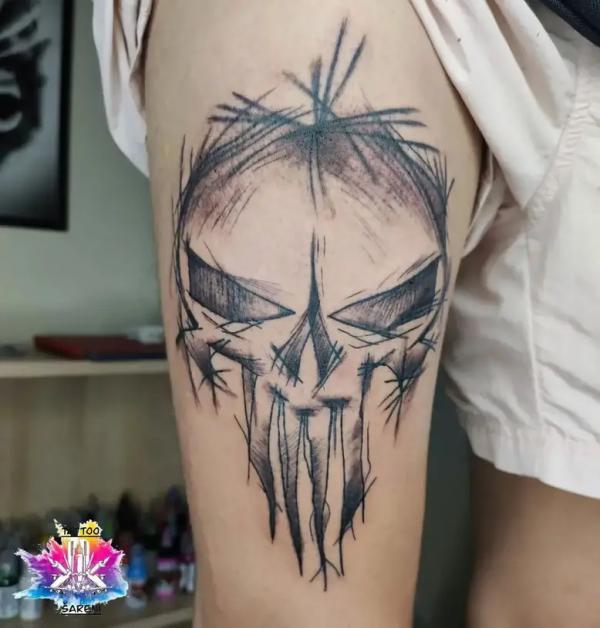 Skull cover up tattoo on hand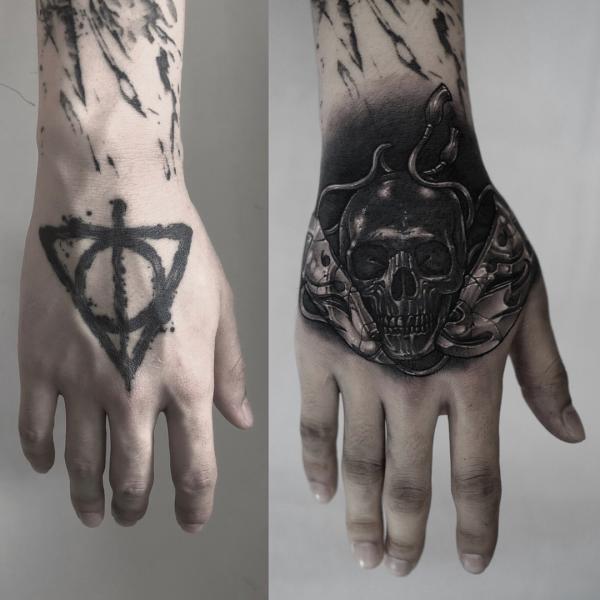 Black and grey skull and bones tattoo on arm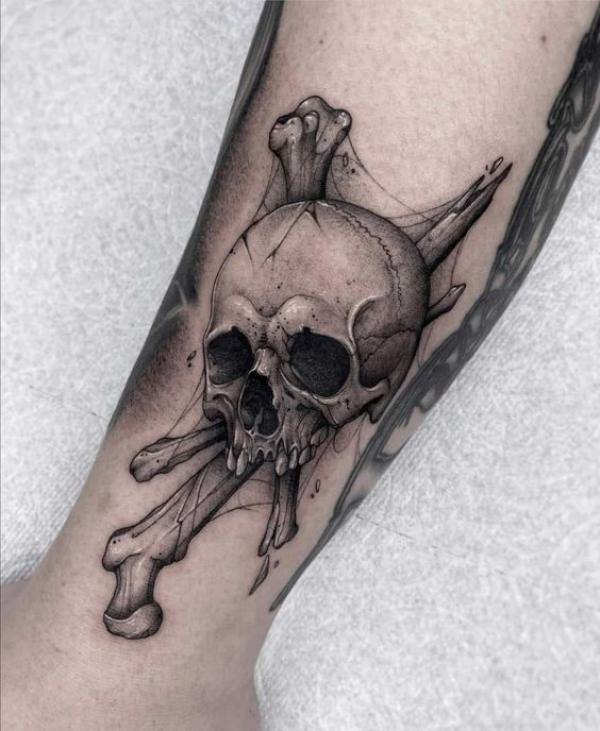 Skull grim reaper love full back tattoo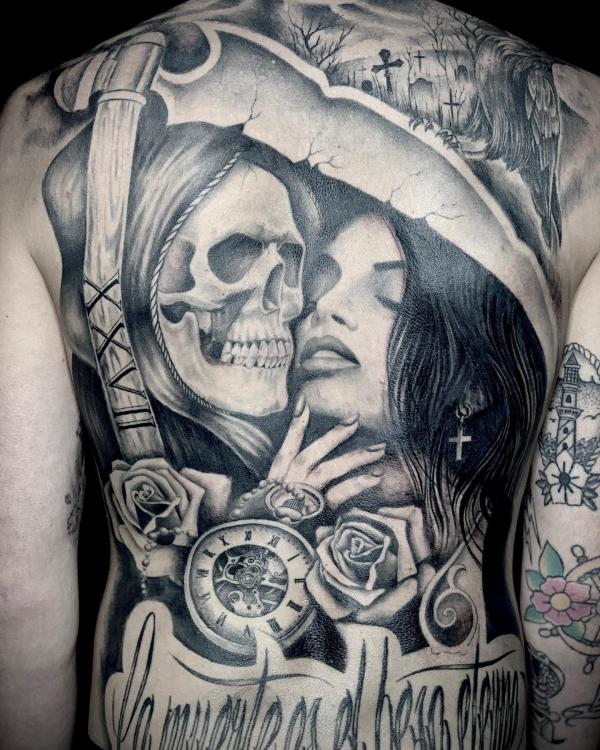 Black and grey skull and daisy flowers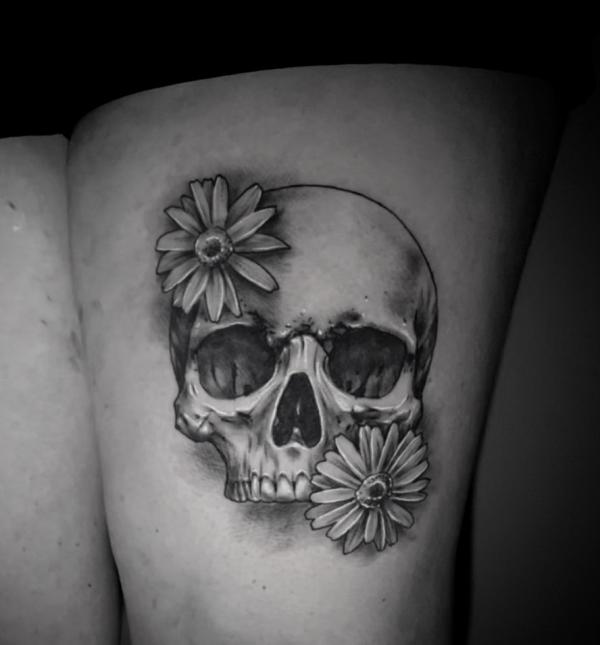 Skull with crown of thorns hand tattoo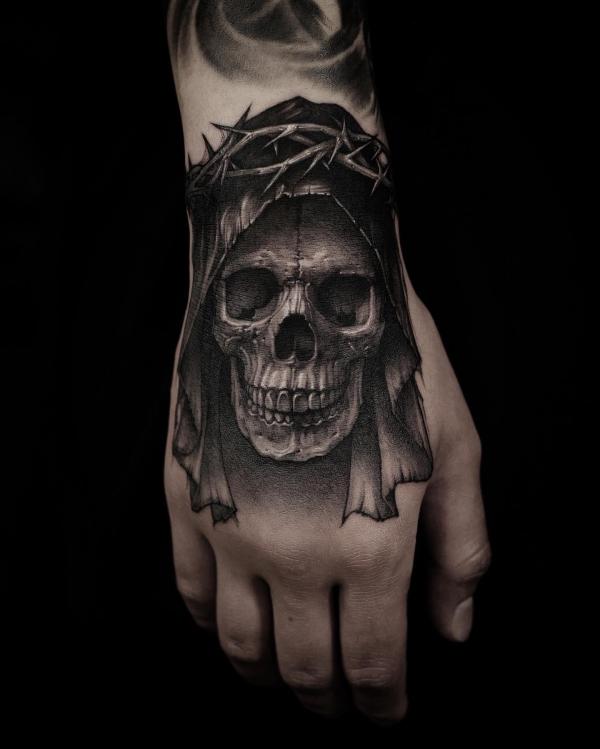 Black and grey skull and mushroom tattoo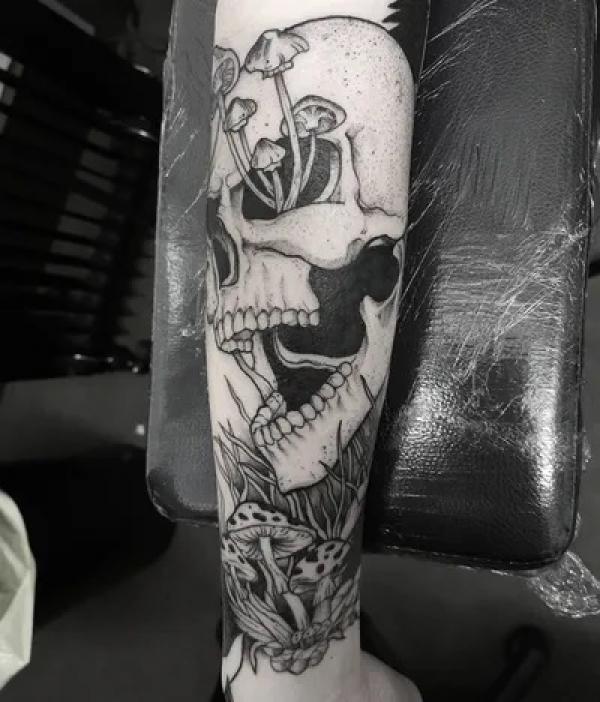 Skull with praying hands tattoo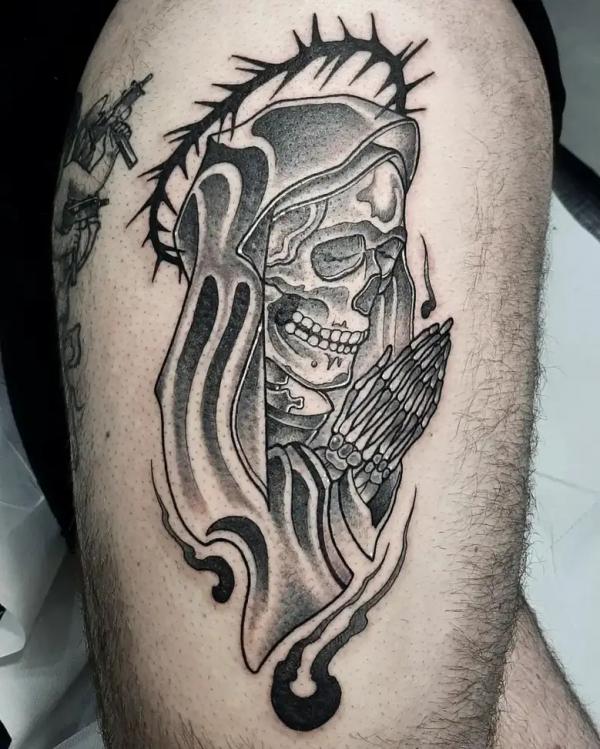 Black and white skull and cherry blossom thigh tattoo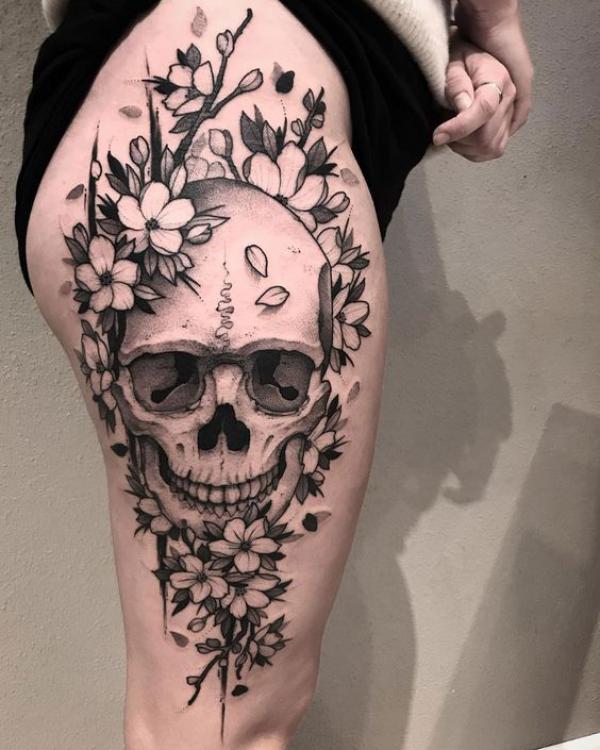 Cowboy skull tattoo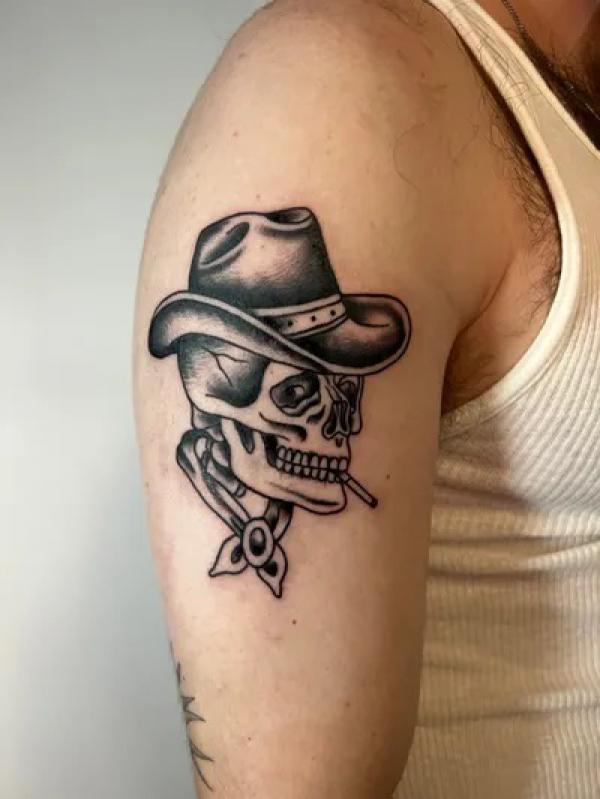 Dark skull and tree forearm tattoo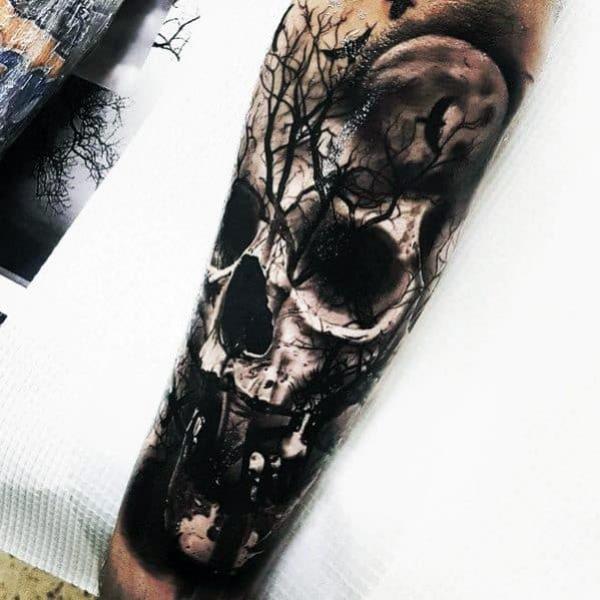 Skull and nature half sleeve tattoo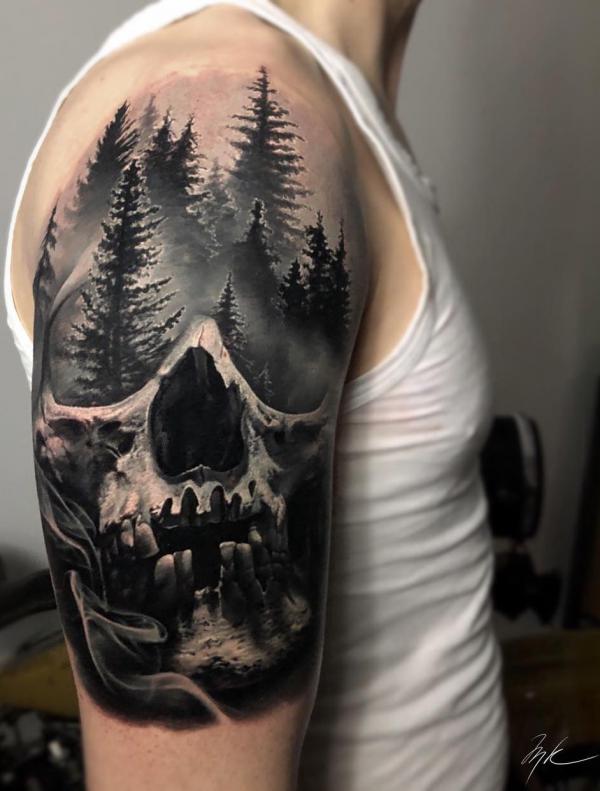 Dark skull with rose and eye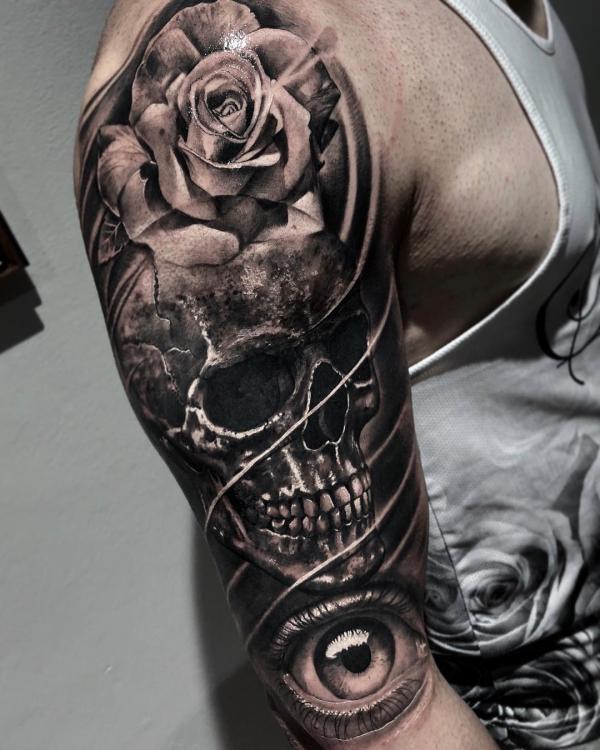 Diamond skull and mushroom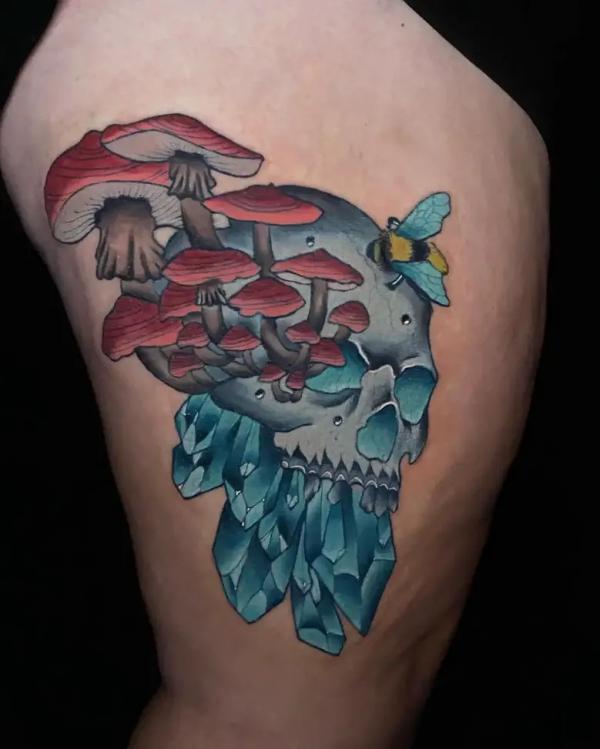 Skull and books
Dragon and skulls full back tattoo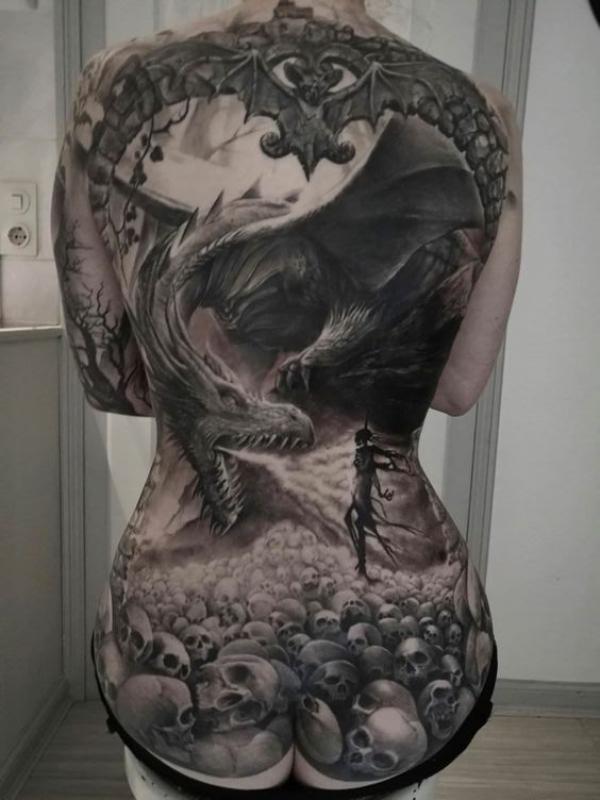 Female face skulls and snake full back tattoo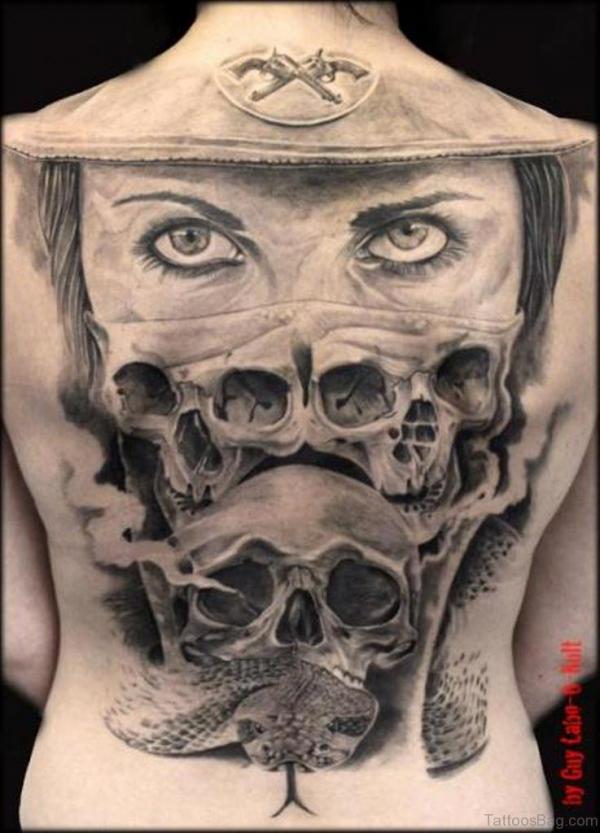 Skull and dove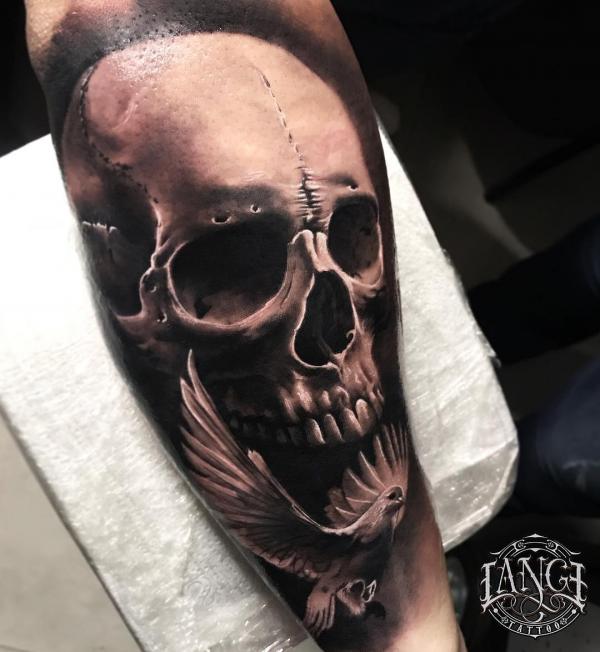 Feminine skull and blue butterfly tattoo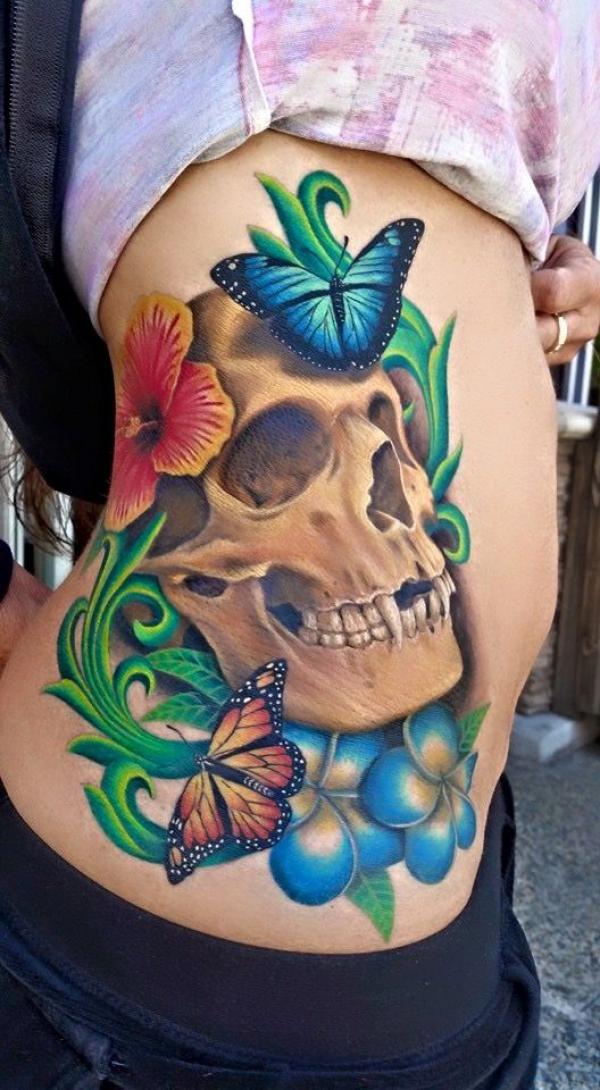 Skull with death moth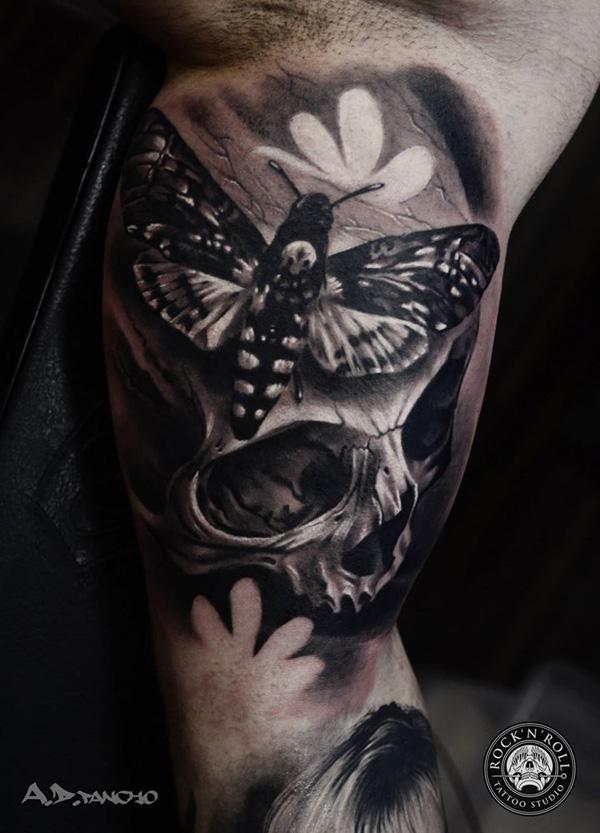 Flaming skull tattoo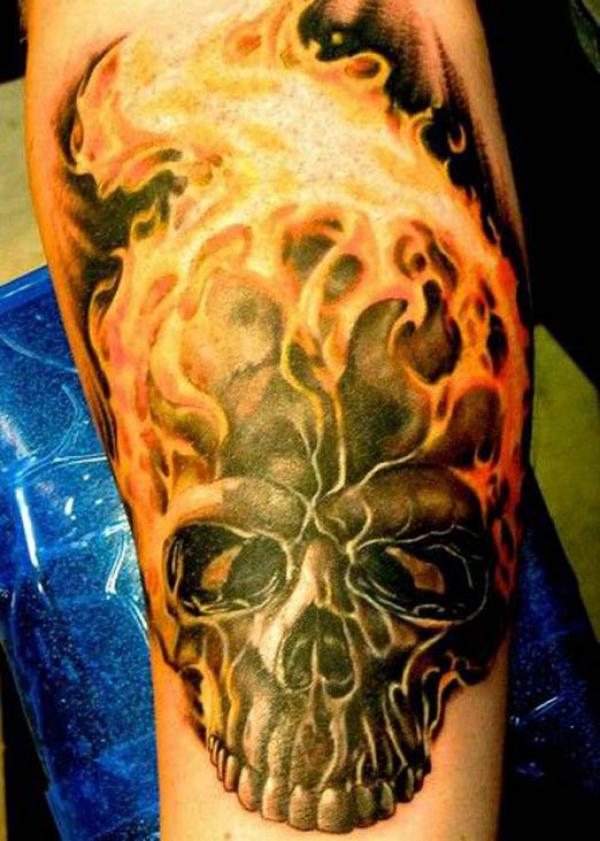 Skull and rose on flower of life backdrop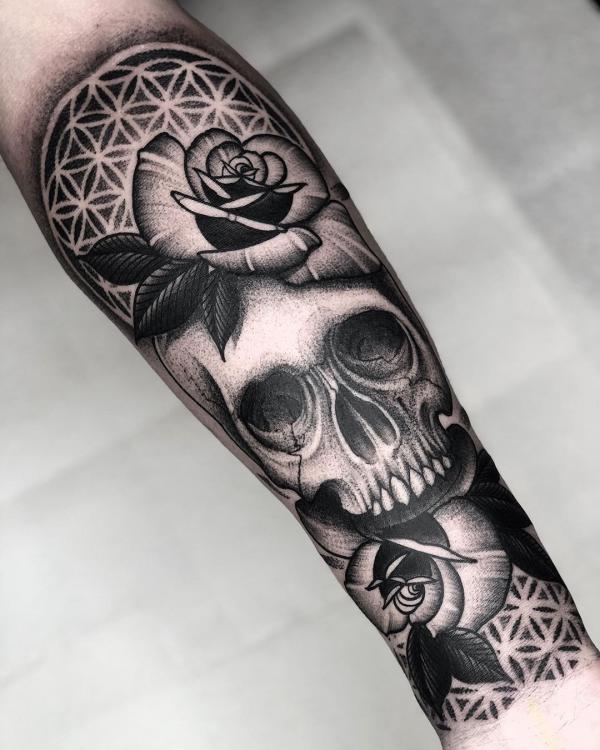 Flaming skull with horns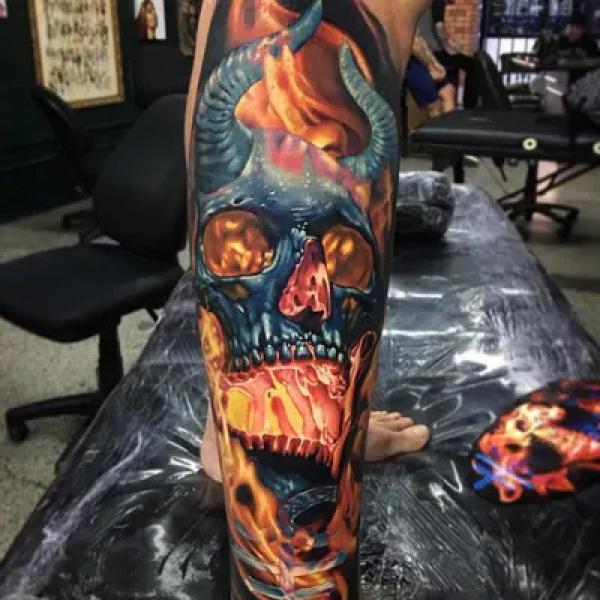 Skull and clock half sleeve tattoo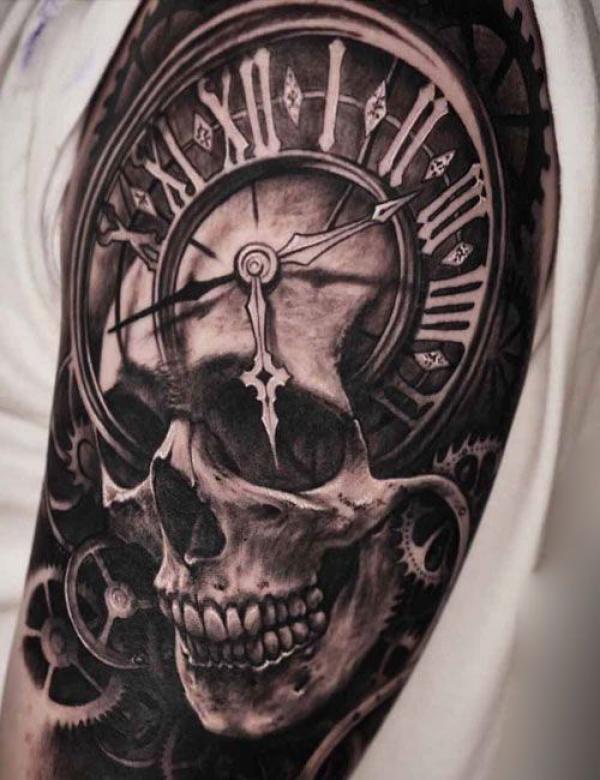 Four skull foot tattoo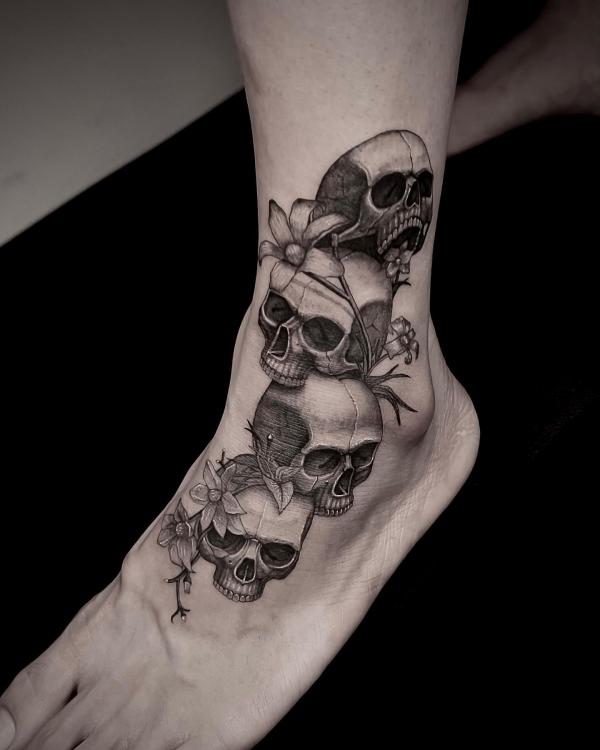 Skull and chrysanthemum cover up tattoo on forearm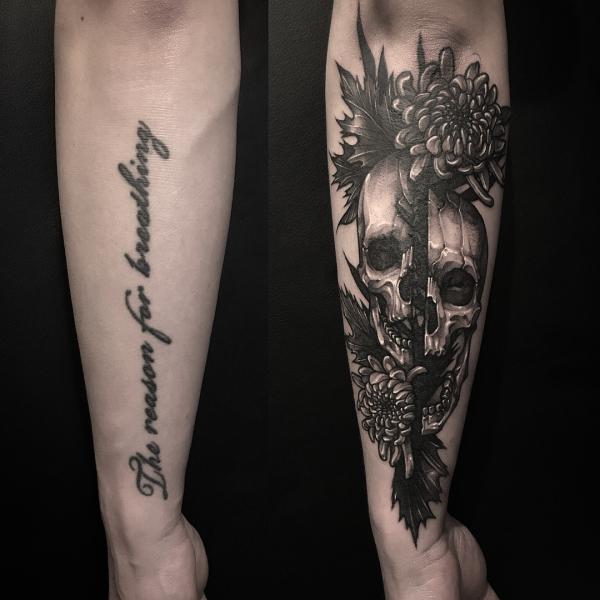 Geometric skull tattoo on thigh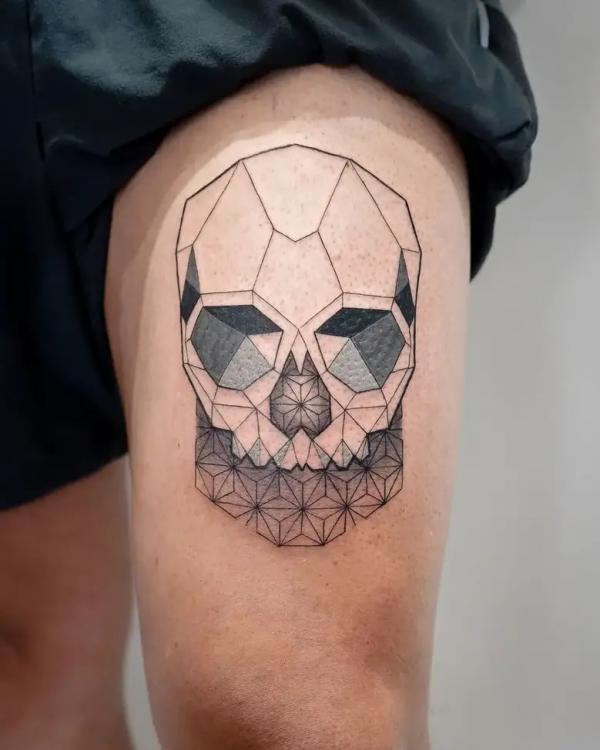 Skull and bones dotwork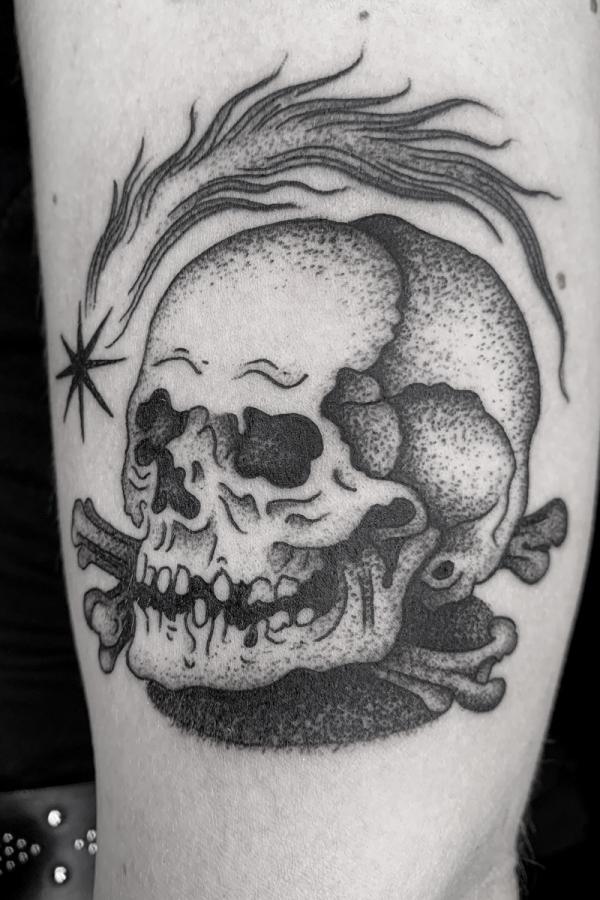 Japanese style skull tattoo with wave and cherry blossom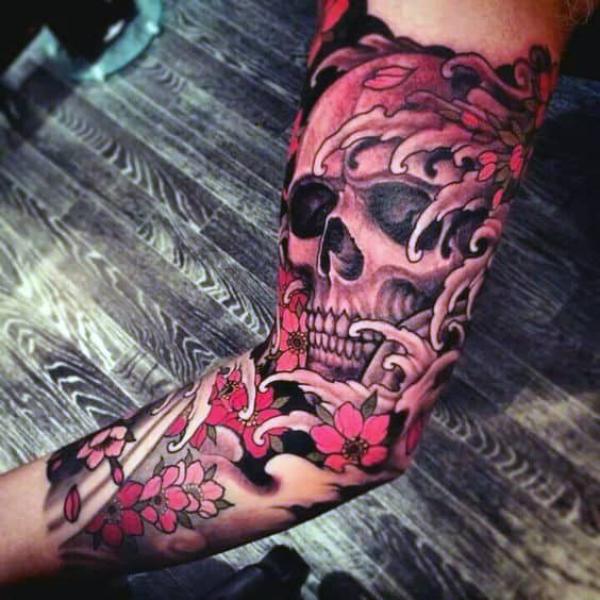 Skull and headdress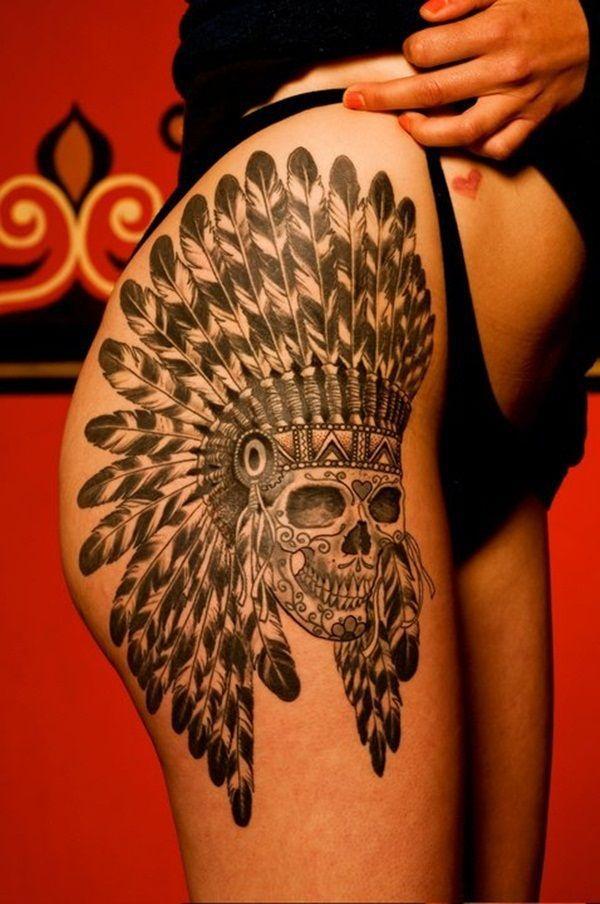 Life and death skull hourglass tattoo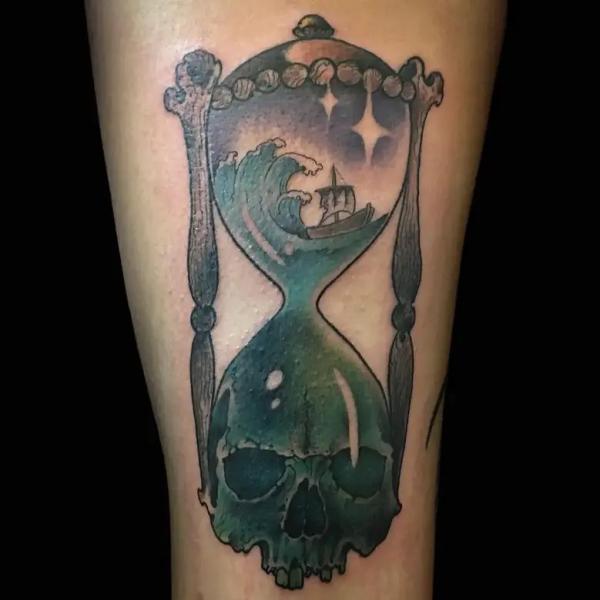 Skull and Day of The Dead Girl Tattoo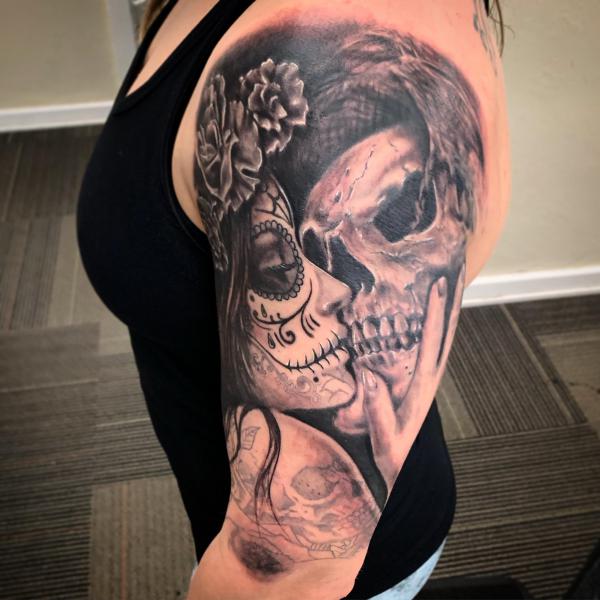 Neo traditional skull and snake ink design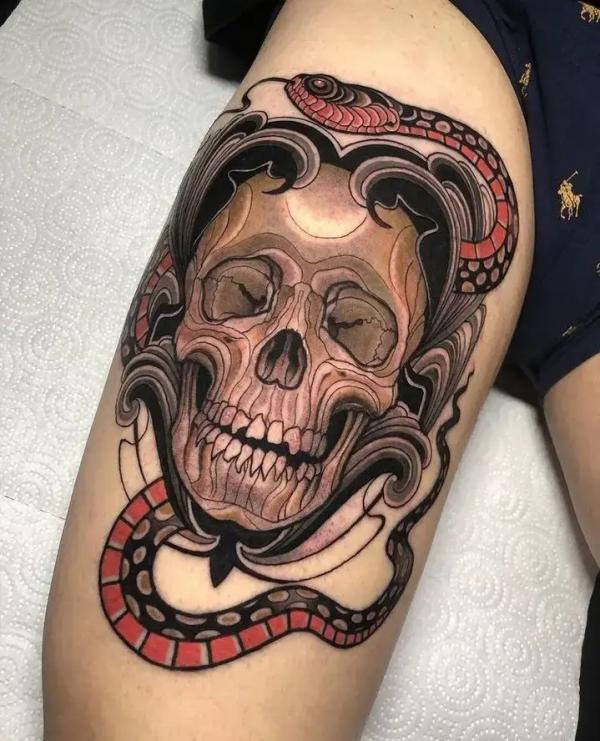 Skull and compass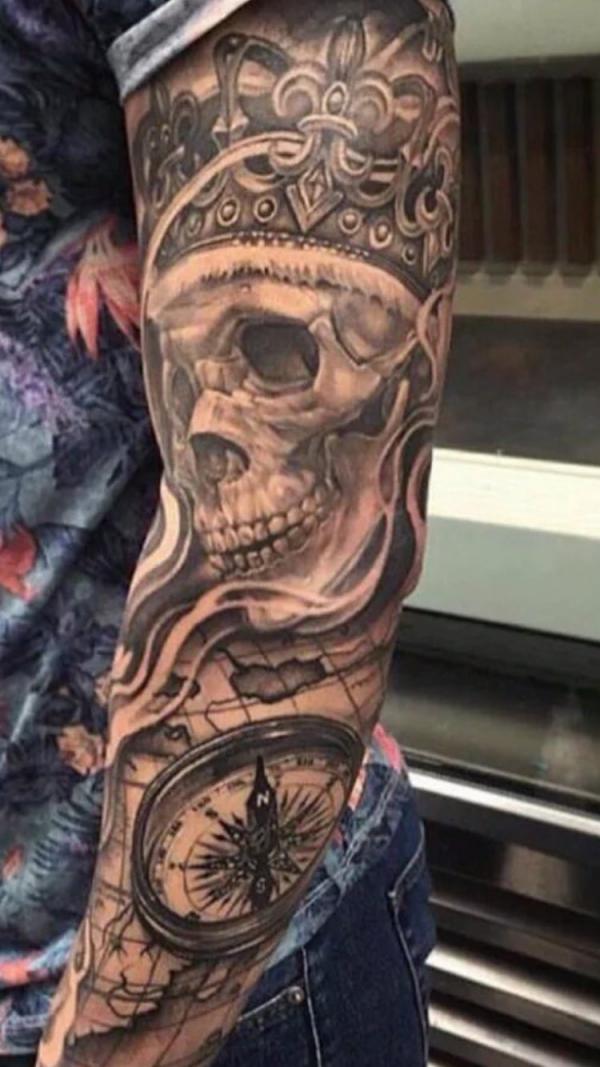 Skull and dagger calf tattoo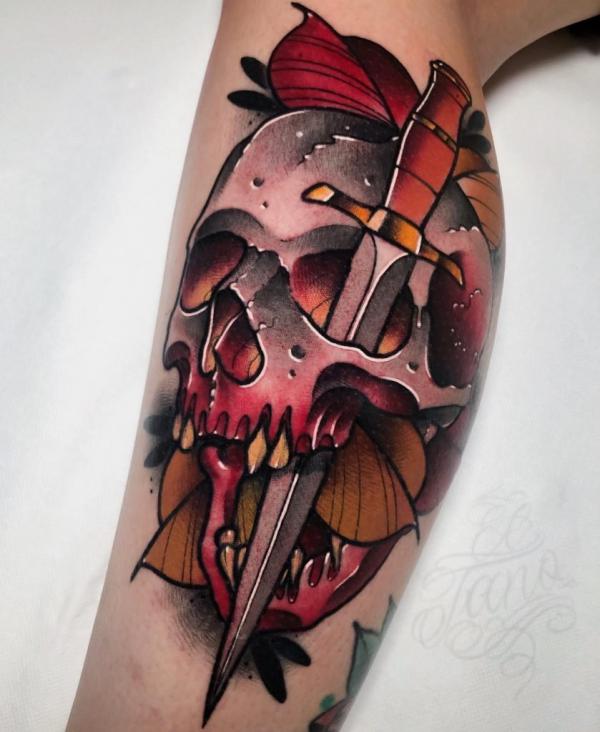 Realistic skull and engine tattoo half sleeve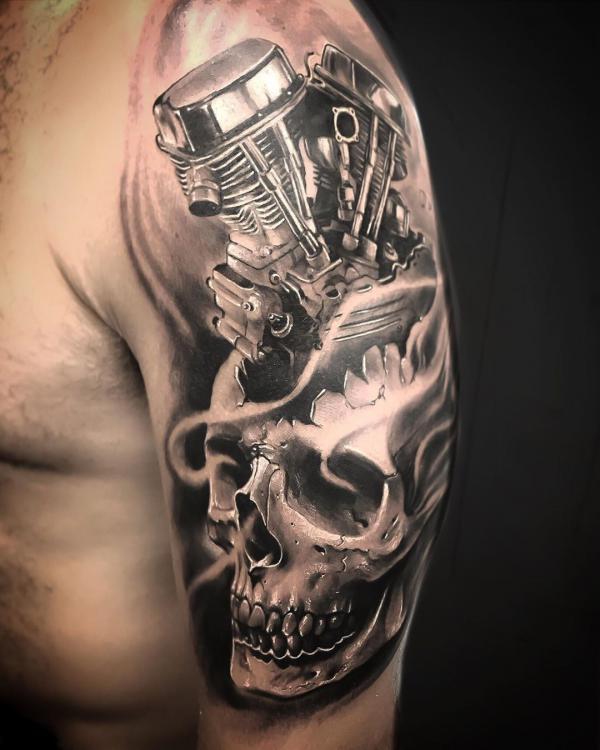 Skull and swinging girl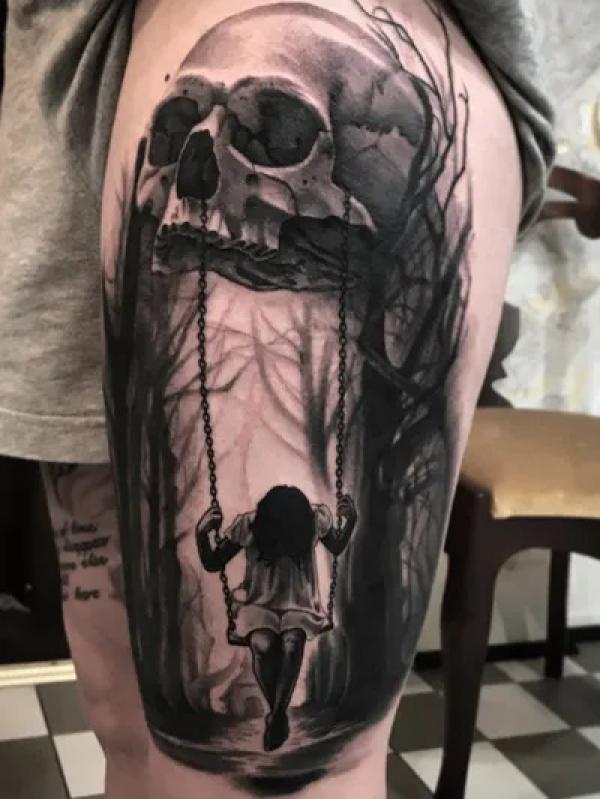 Skull and anchor tattoo