In the realm of body art, tattoos are not merely decorative; they often hold profound symbolic meanings. One such emblem that has transcended time and culture is the Ankh. As an ancient Egyptian symbol of life and eternity, the Ankh has not only endured in historical iconography but has also found its way into modern tattoo culture. Let's delve into the captivating world of Ankh tattoos and unearth their profound symbolism and meanings.
What is the Ankh Symbol? A Brief Overview
The Ankh, often referred to as the 'key of life,' is an iconic symbol from ancient Egypt. Its unique design, resembling a cross with a loop at the top, has intrigued historians and archaeologists for centuries. The symbol's appeal, however, isn't merely in its distinctive design. But it's in its deep, symbolic meaning that it has become a popular choice for body art enthusiasts.
Diverse Ankh Tattoo Designs
Ankh tattoos showcase unparalleled versatility and diversity in their designs. From a simple, classic Ankh to a complex design incorporating other potent symbols, celebrating life, transformation, and eternal cycles. It's a timeless piece that speaks of the enduring nature of existence and your story. Here are some examples of inspiring designs.
Ankh and Eye of Horus Tattoos
Combining the Ankh with the Eye of Horus, another potent Egyptian symbol, creates a compelling tattoo design filled with ancient symbolism. The Eye of Horus represents protection, royal power, and good health. Together, these symbols create a potent narrative of life, protection, and divine power.
Ankh of Eye of Horus scarab and pyramid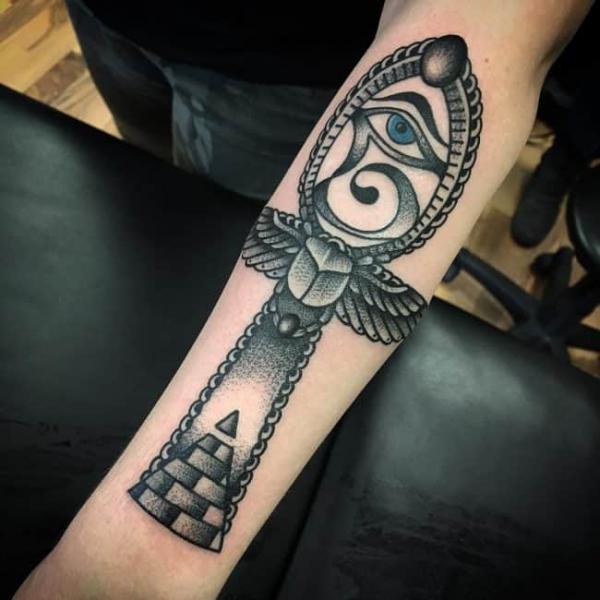 Ankh cross and eye of Horus on backdrop of hieroglyphs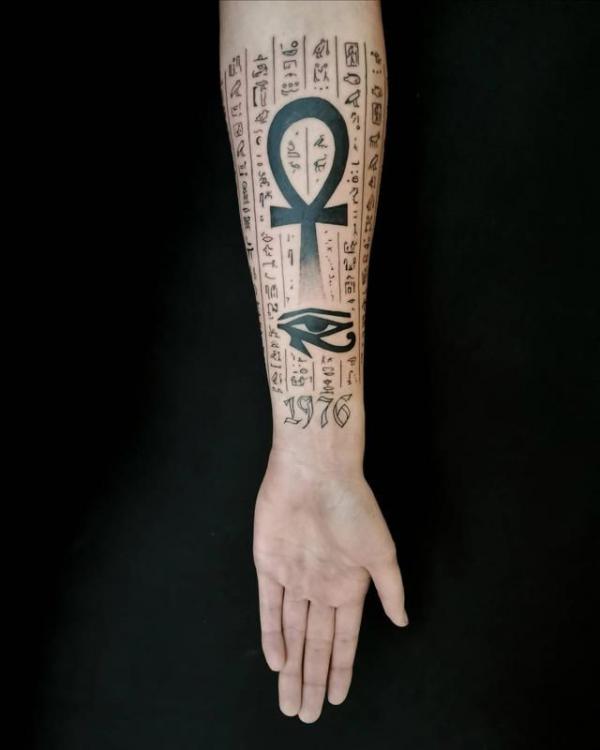 Eye of Horus Ankh with diamond tattoo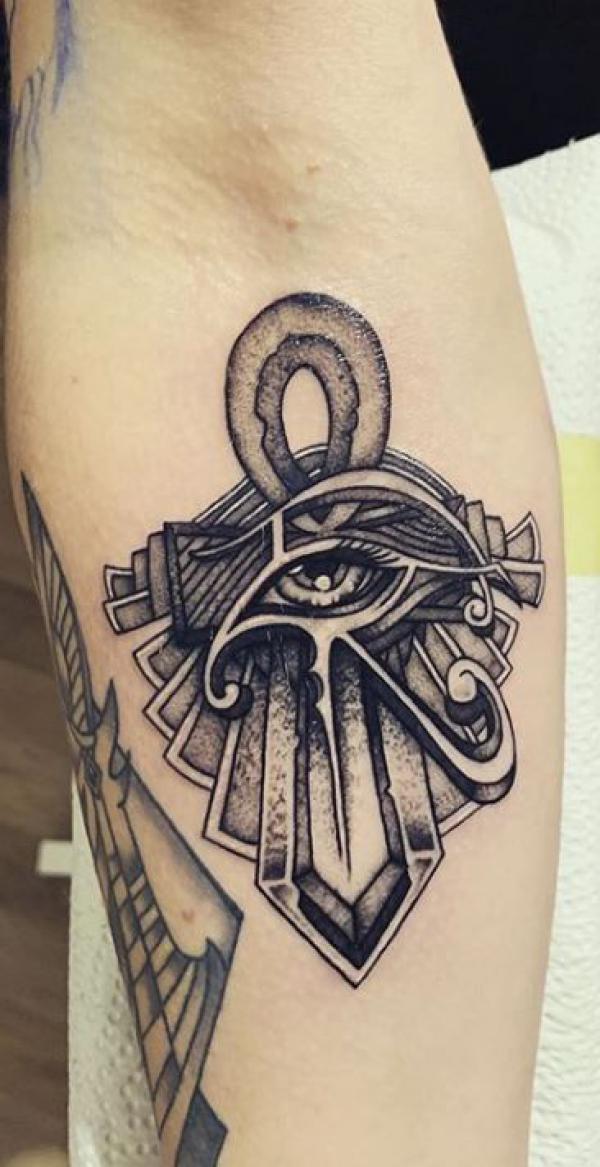 Pairing the Ankh with a lotus flower creates a harmonious design that combines the Egyptian symbol of life with the lotus's representation of purity, enlightenment, and rebirth. The Ankh and lotus design is a beautiful embodiment of life, purity, and spiritual awakening.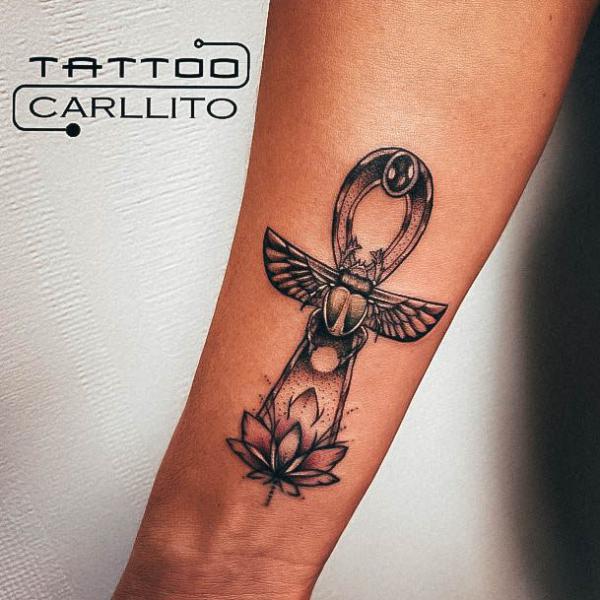 An Ankh flanked by wings is a visually stunning design that adds an element of divine intervention and freedom to the symbol of life. The wings can be detailed and realistic, or stylized and abstract, depending on your personal preference. This design is truly a statement piece, celebrating life and the freedom of spirit.
Ankh cross with wing and eye of Ra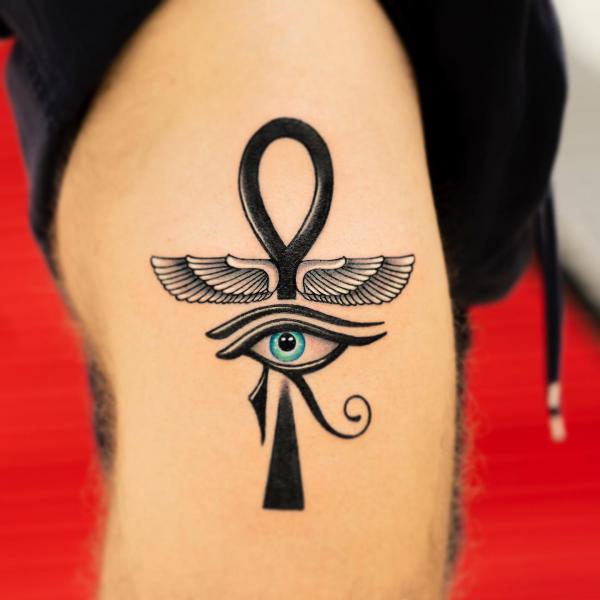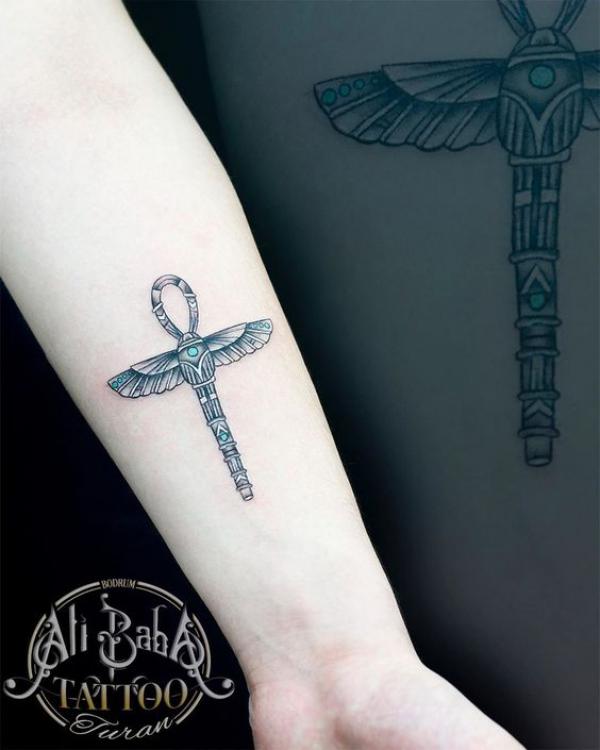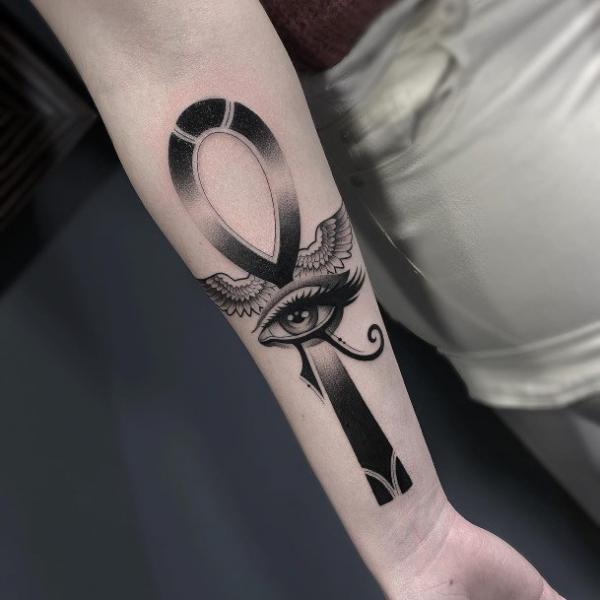 Egyptian Ankh Of Isis With Open Wings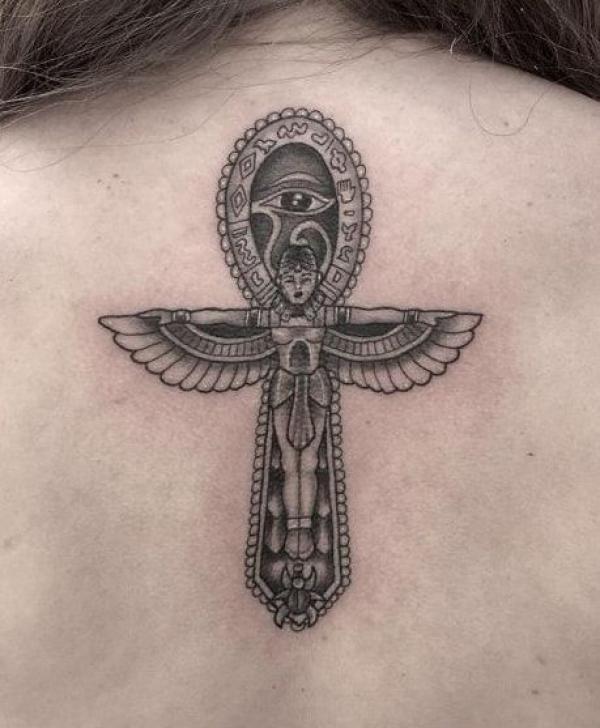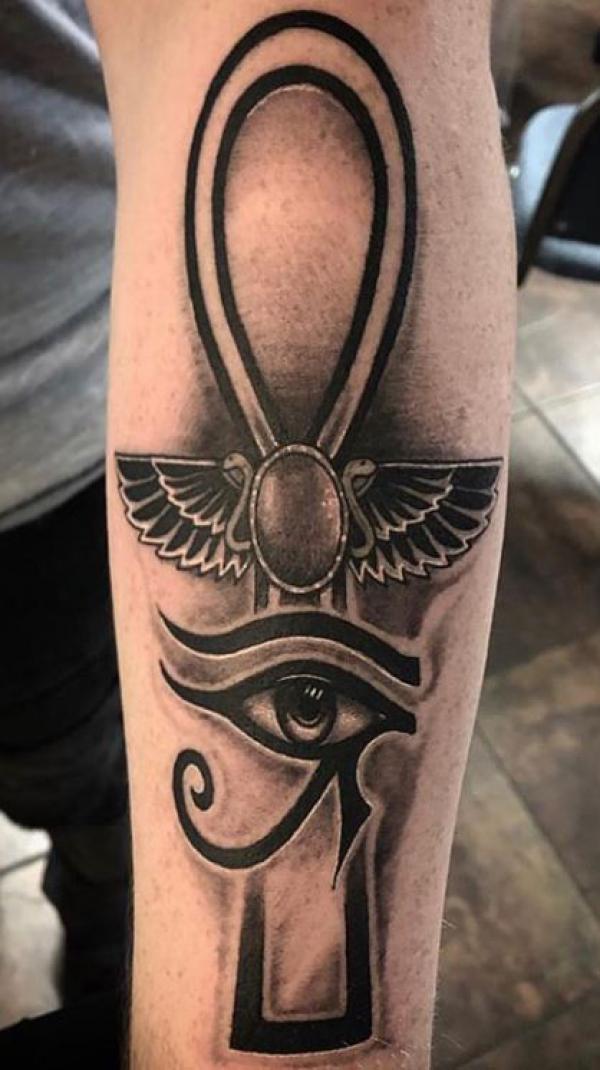 Ankh and Pyramid Tattoos
The Ankh and pyramid ink design incorporates two prominent Egyptian symbols. The pyramid, a marvel of ancient architecture, represents stability and endurance. The Ankh within the pyramid creates a compelling narrative of eternal life and enduring strength.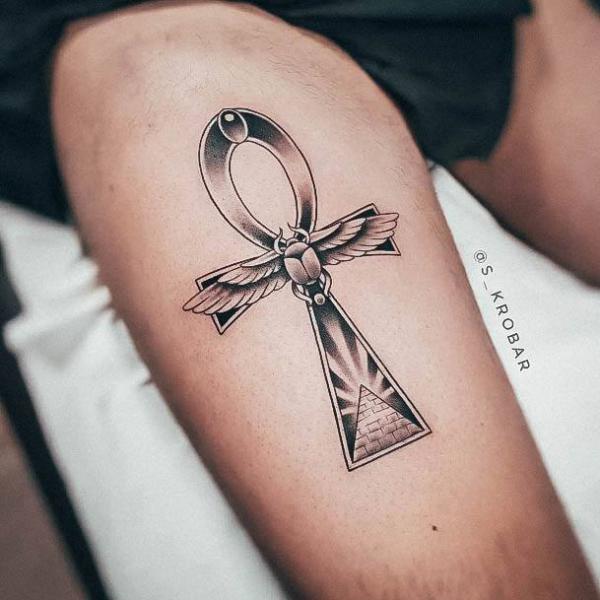 Realistic pyramid with eye of Horus and Ankh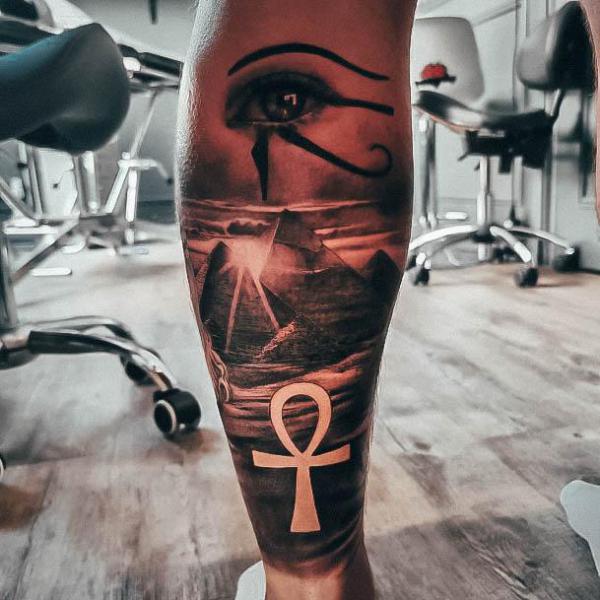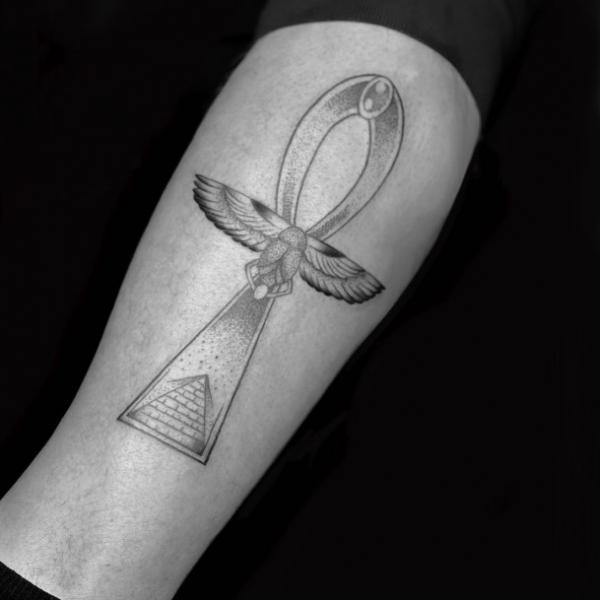 Ankh and Serpent Tattoo
A serpent coiled around an Ankh forms a captivating tattoo design that marries life and renewal with the transformative power of the snake. The snake is a universal symbol of rebirth, transformation, and healing, making this design a powerful emblem of life's continual renewal and transformation.
Ankh symbol with wings and entwined snakes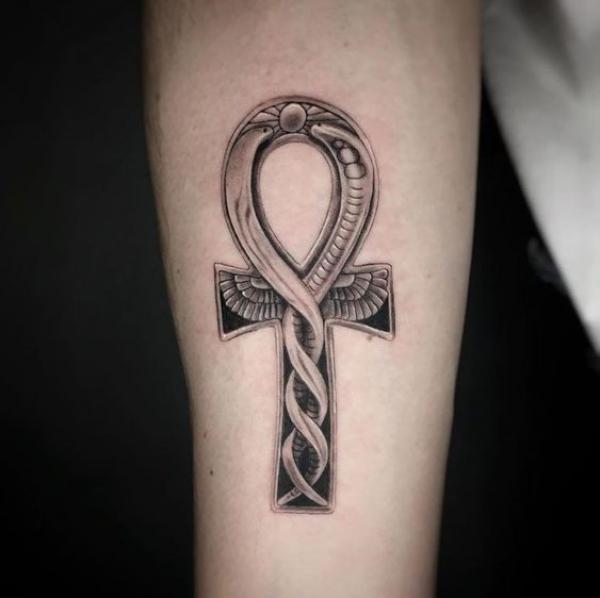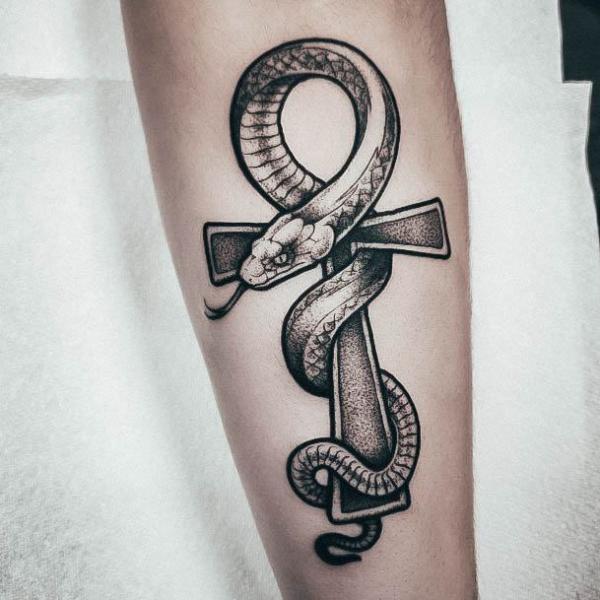 Eye of Ra with Halo and Ankh cross with two snakes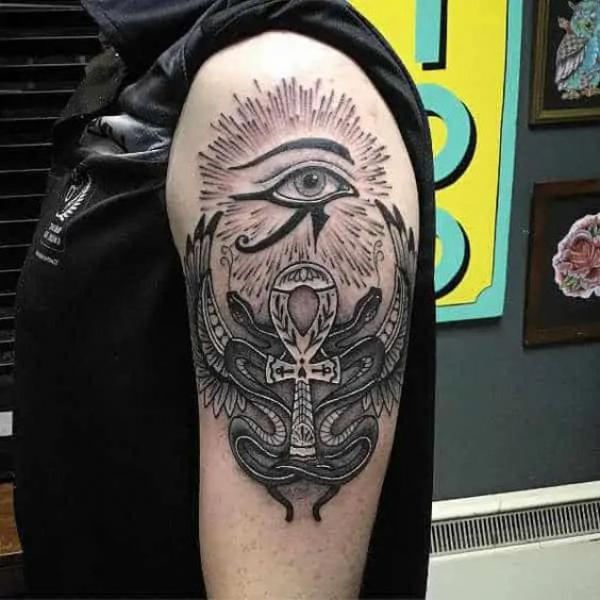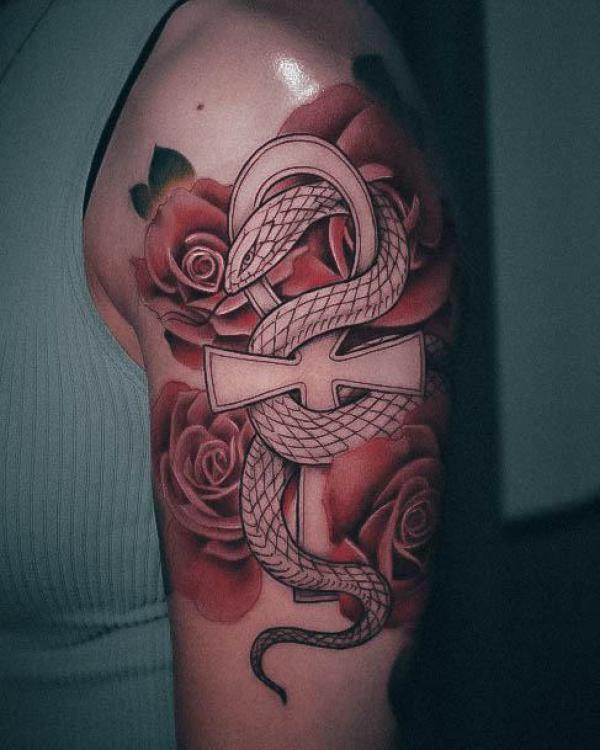 Ankh and Scarab Tattoo
The Ankh paired with a scarab, the ancient Egyptian symbol of creation and rebirth, forms a tattoo design rich in symbolism. The scarab, often depicted pushing the sun, represents the idea of existence being eternal and continually reborn. Combined with the Ankh, this design celebrates the eternal cycle of life and rebirth.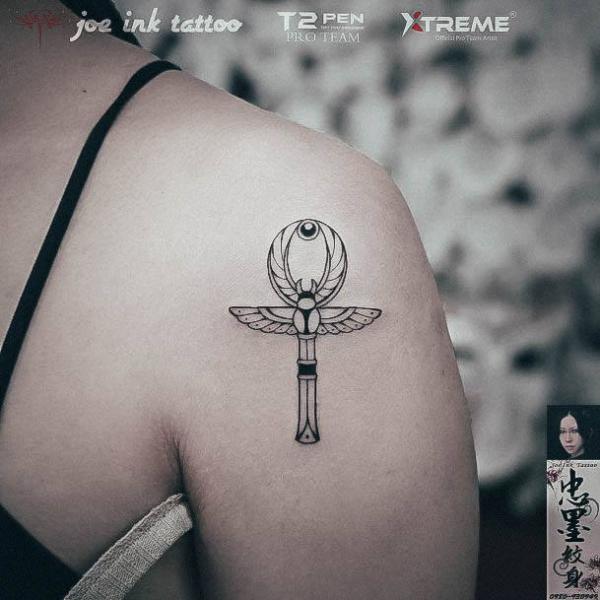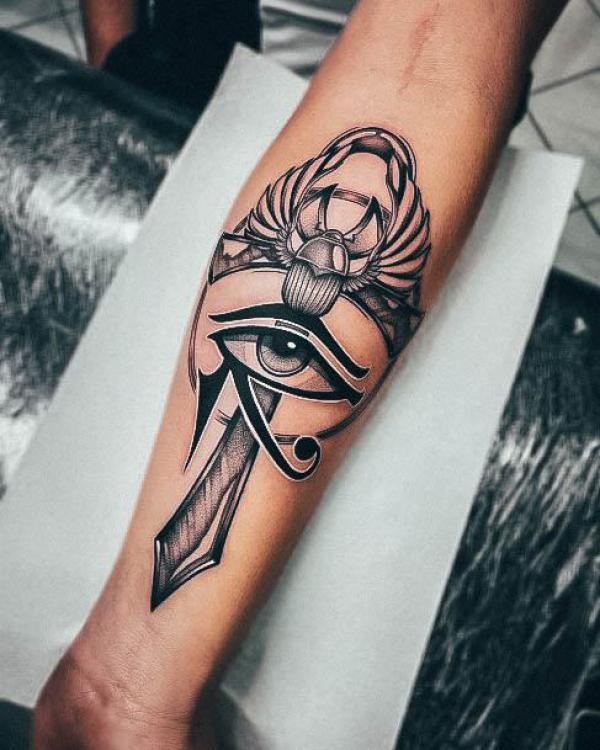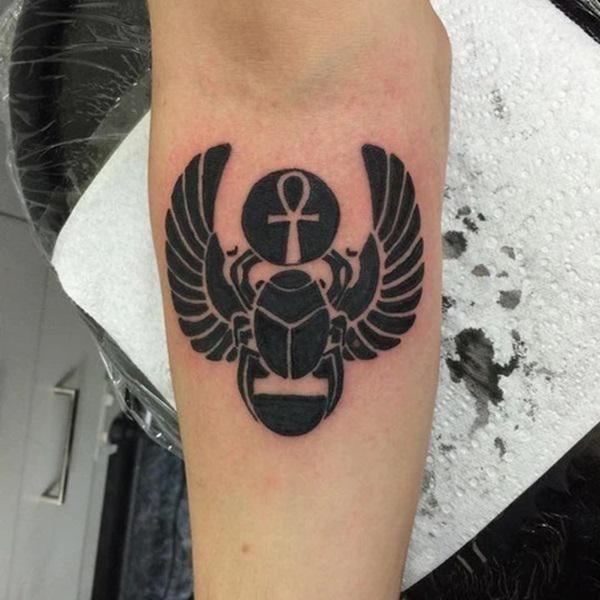 Eye of Ra and Ankh with scarab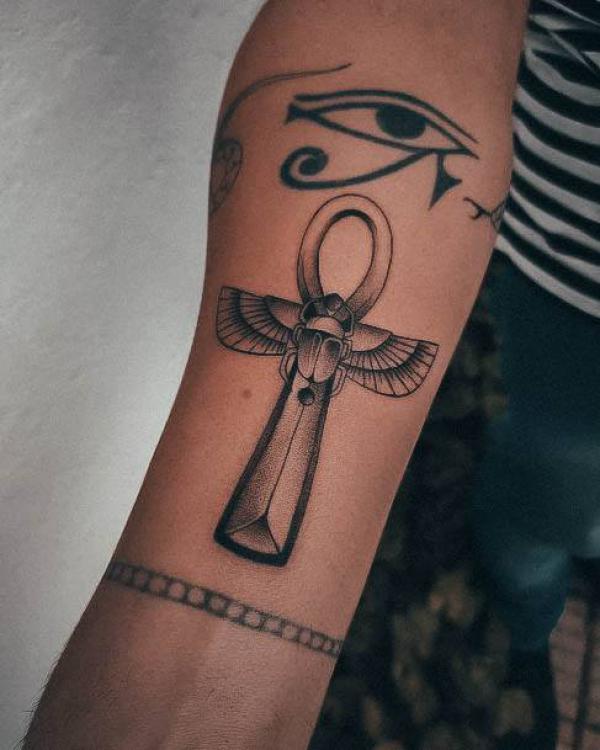 Ankh and scarab with eye of Ra dotwork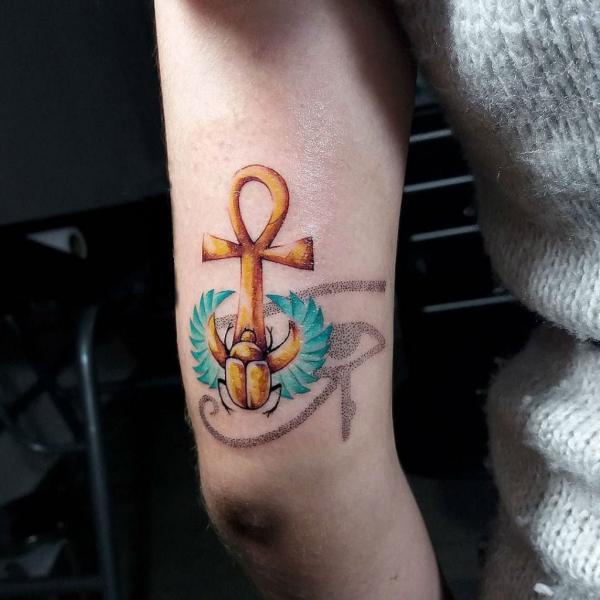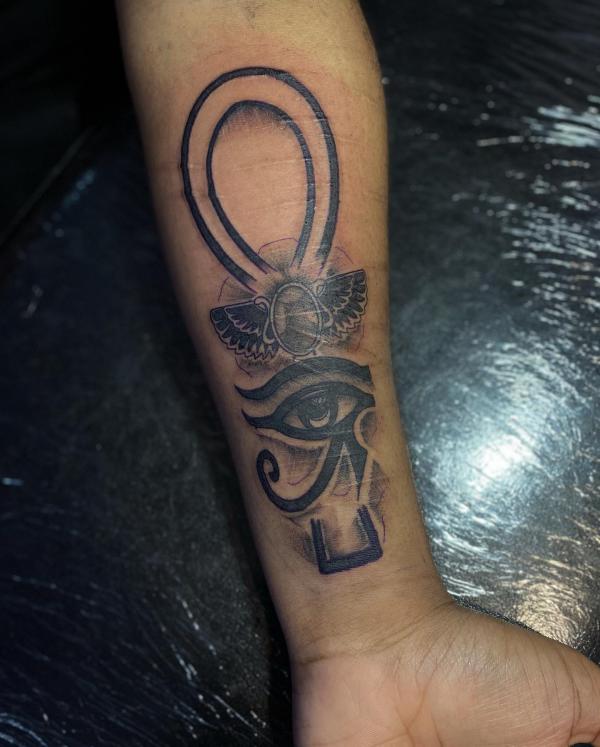 Scarab ankh with eye of Ra and pyramid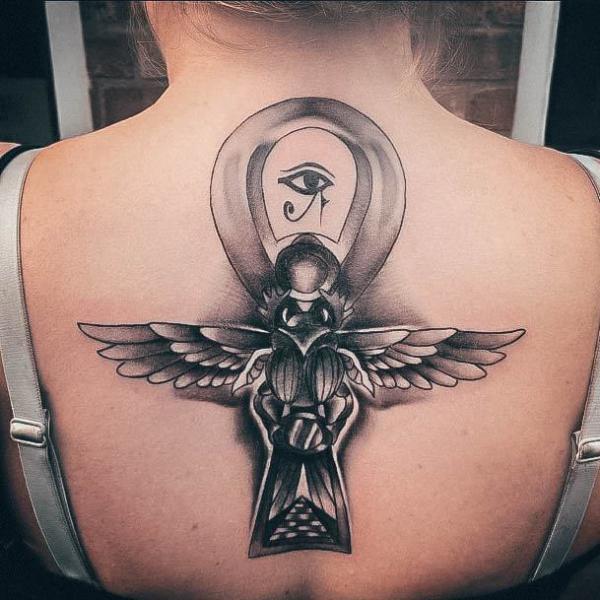 Ankh and Anubis Tattoos
Anubis, the Egyptian god of death and the afterlife, paired with the Ankh, creates a profound tattoo design. This combination symbolizes the journey of life and death, a powerful reminder of the eternal cycle of existence.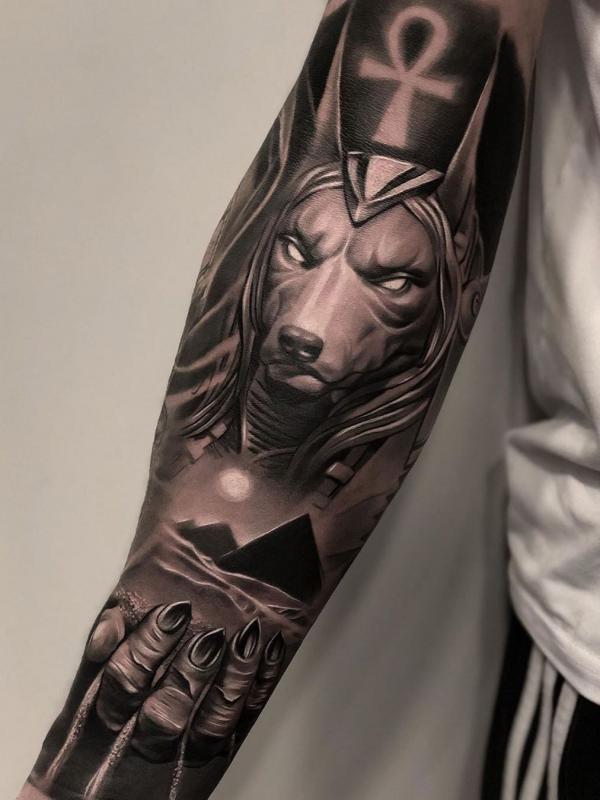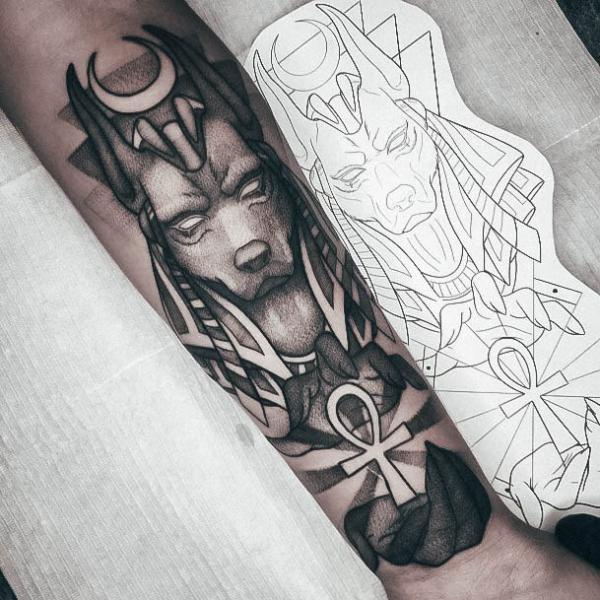 Ankh and Isis Tattoo
Incorporating Isis, the Egyptian goddess of motherhood, magic, and fertility, with the Ankh creates a tattoo design that celebrates life, femininity, and divine power. This design is a radiant tribute to the power of creation and the magic of life.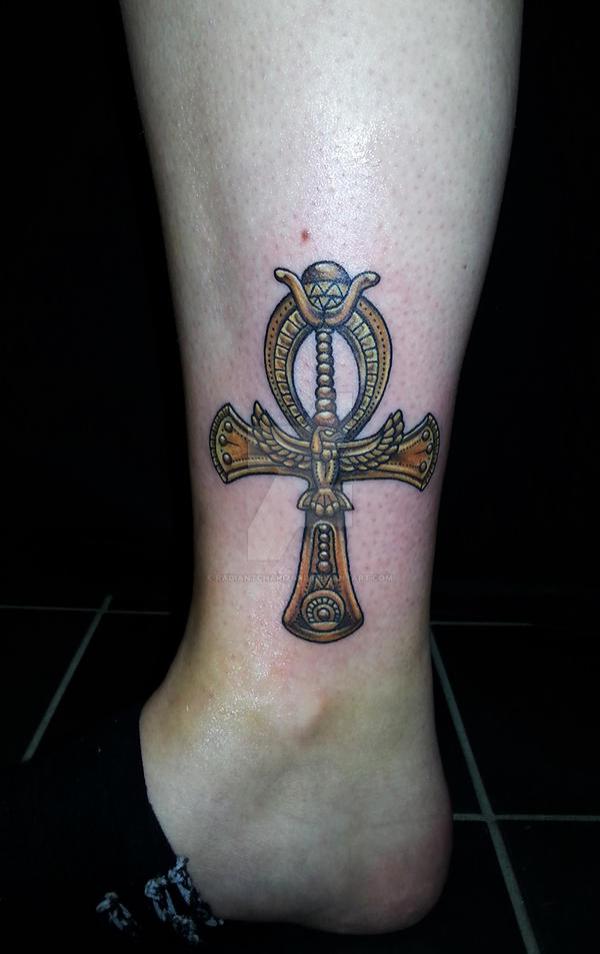 Geometric Ankh Tattoos
A geometric Ankh ink design takes the traditional Ankh and infuses it with modern aesthetics. This design uses geometric shapes and lines to create a stylized rendition of the Ankh. It's a contemporary take on an ancient symbol, perfect for those who appreciate modern design elements.
Ankh Penrose triangle and eye of Horus tattoo black and white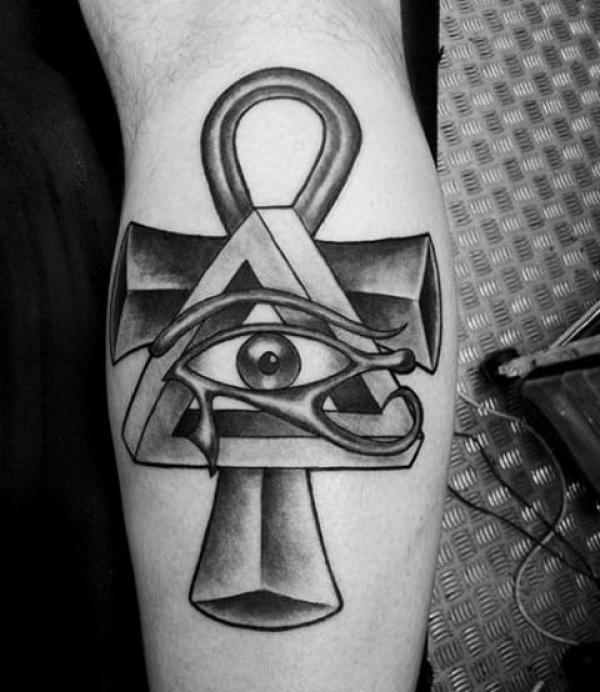 Metatron's cube and Ankh with stars tattoo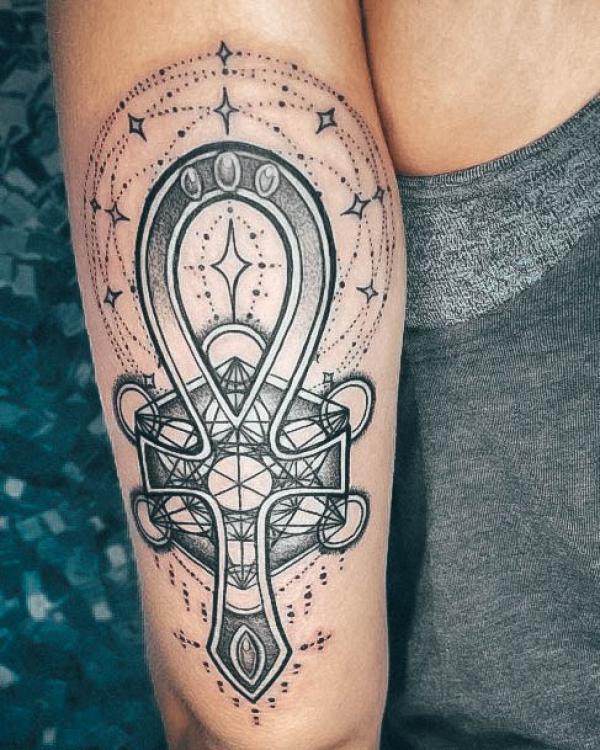 The Ankh combined with a moon creates a tattoo design that brings together the symbol of life with the moon's representation of cycles, change, and femininity. This design is a beautiful commentary on the cyclical nature of life and the constant flux of change.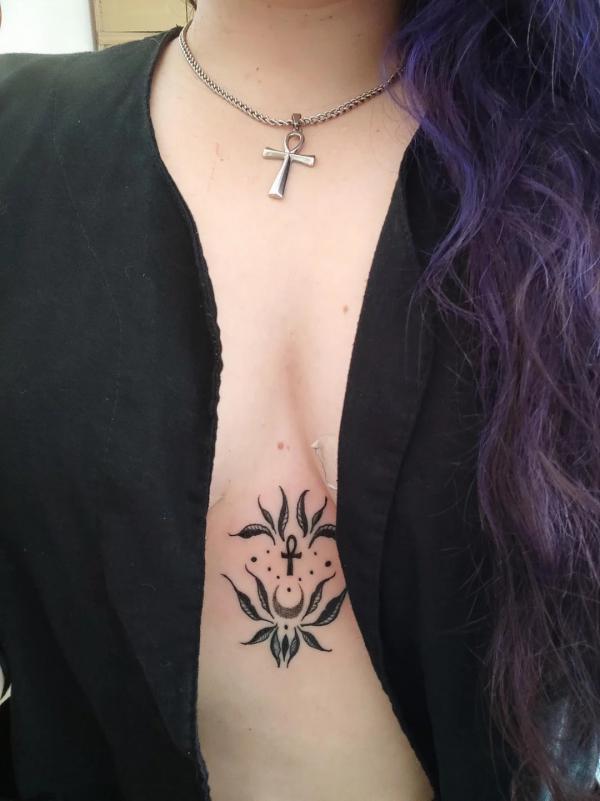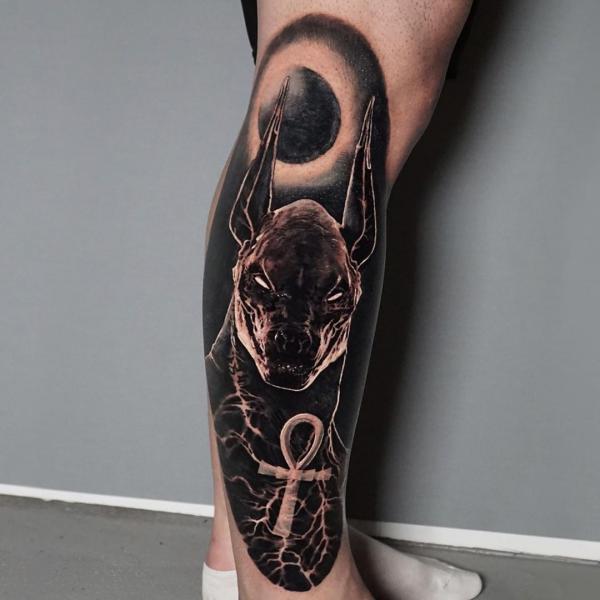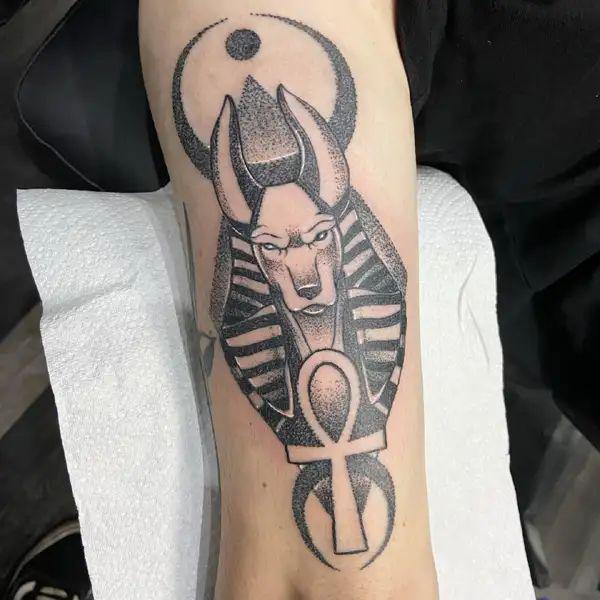 Ankh and Sphinx Tattoo
Incorporating the Sphinx with the Ankh in a tattoo design creates a visually striking narrative steeped in ancient Egyptian mythology. The Sphinx, a creature with the body of a lion and the head of a human, symbolizes strength, wisdom, and the riddle of existence. Paired with the Ankh, this design is a powerful metaphor for the mystery and strength of life.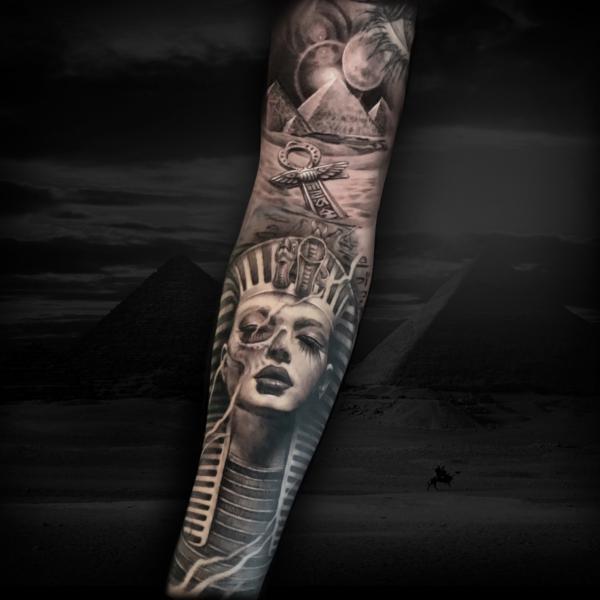 The Ankh and cross tattoo design is a thoughtful blend of Egyptian and Christian symbols, representing eternal life in both cultures. It's a potent amalgamation of faiths and philosophies, encapsulating a shared belief in the concept of eternal life.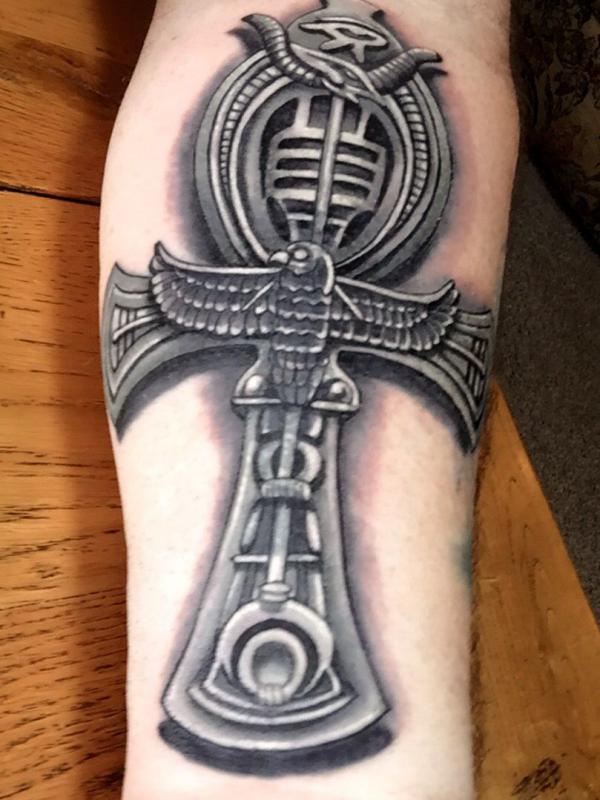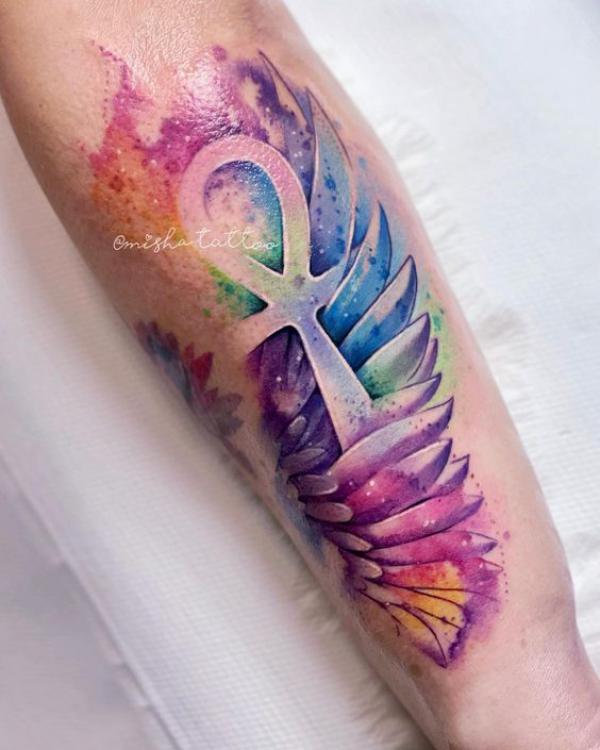 Eye of Ra Ankh cross on cracked skin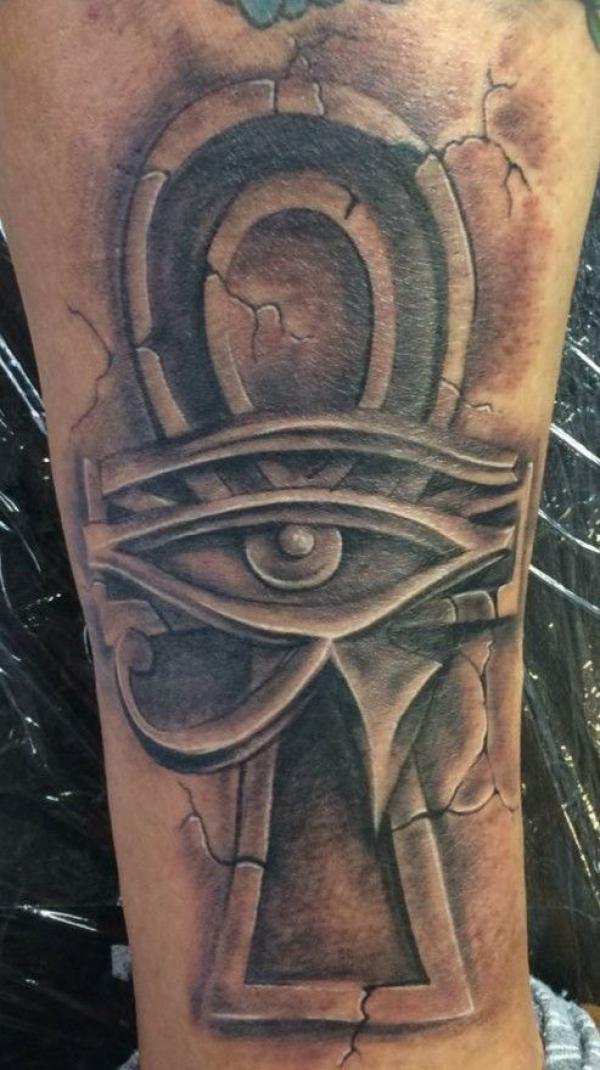 Pairing the Ankh with a heart creates a heartfelt tattoo design that celebrates life and love. The heart, a universal symbol of love and emotion, combined with the Ankh, creates a deeply personal narrative about the love for life and the emotions that color our existence.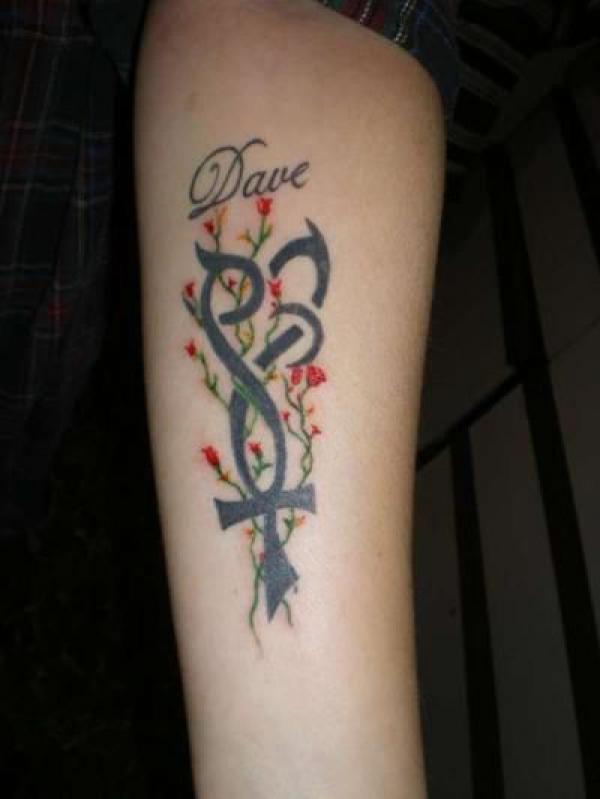 Ankh and Nefertiti Tattoo
The Ankh combined with Nefertiti, the Egyptian queen known for her beauty and power, creates a tattoo design that is a tribute to life, beauty, and feminine power. This design is a powerful statement about the beauty of life and the strength of femininity.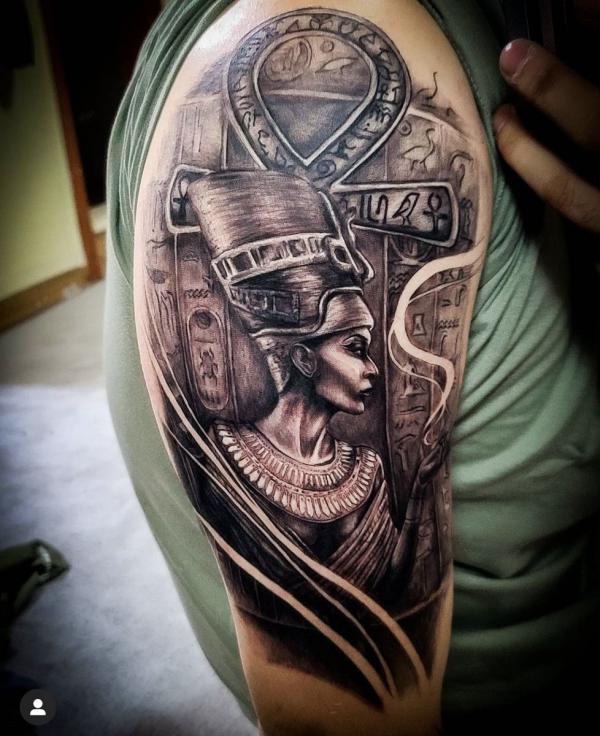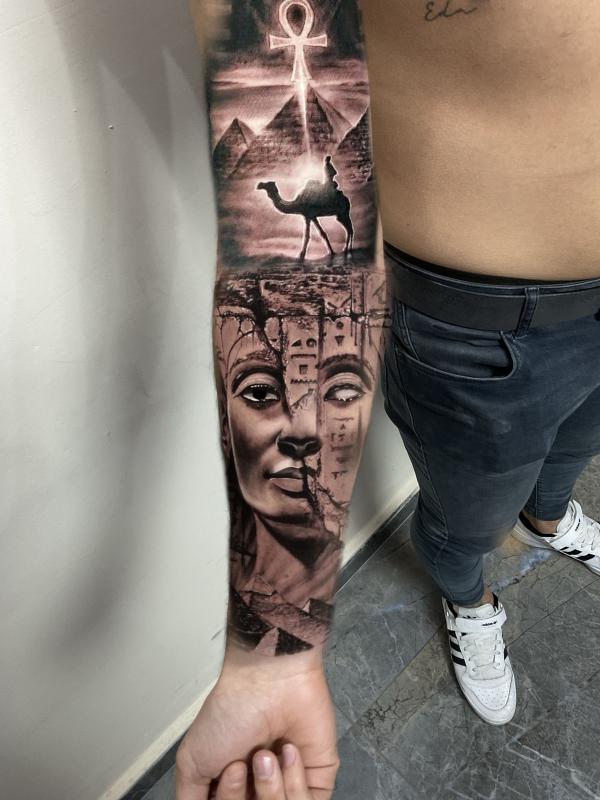 Black and grey ankh tattoo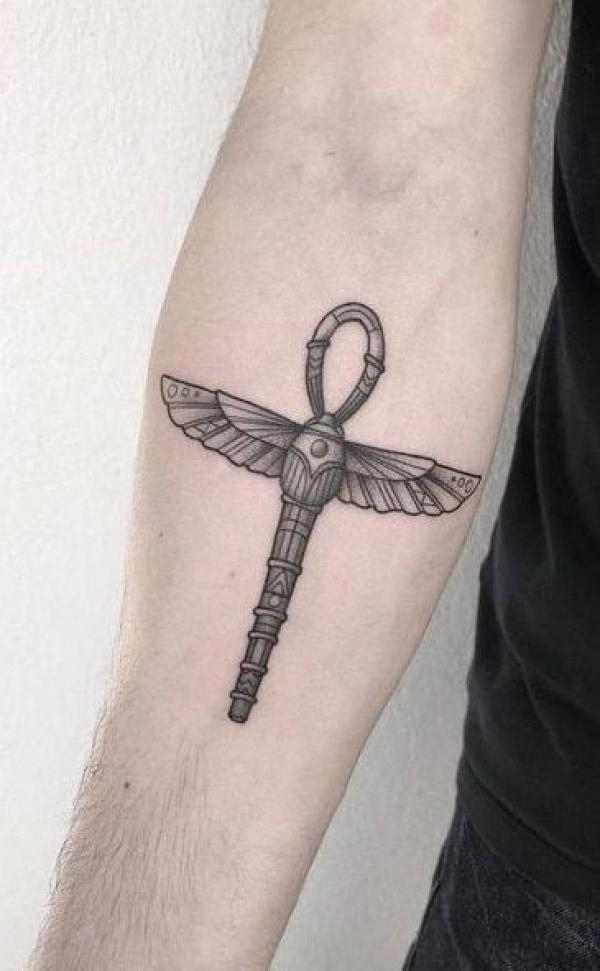 Black and grey Ankh designs are the epitome of classic elegance. The monochrome palette lends a timeless appeal to the design, making it a perfect choice for those who prefer subtlety over color. These tattoos can range from simple black outlines to detailed grey-shaded designs that add depth and dimension to the Ankh.
Egyptian Ankh cross with eye of Ra and eagle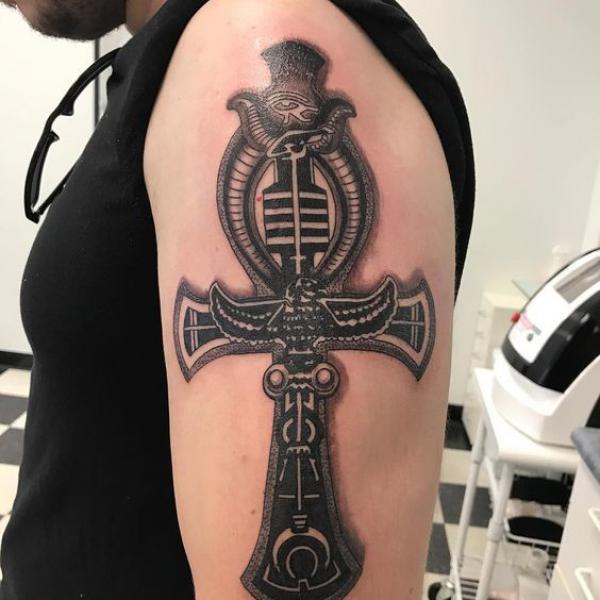 For a design that's brimming with ancient symbolism, consider an Egyptian Ankh cross combined with the Eye of Ra and an eagle. This design blends the life-affirming Ankh with the protective Eye of Ra and the powerful, soaring eagle, creating a tattoo that's visually stunning and symbolically complex.
Floral Ankh tattoo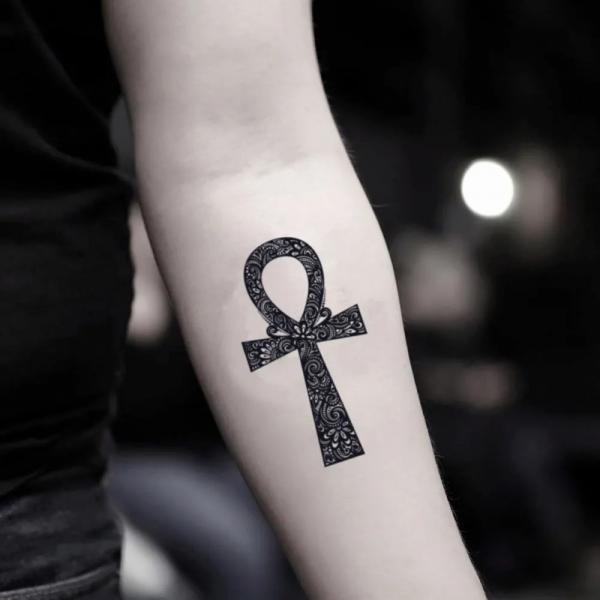 A floral Ankh design is a beautiful way to add a feminine touch to the traditional symbol. This design typically features flowers, vines, or leaves intertwined with the Ankh, creating an organic, nature-inspired tattoo. Whether you choose roses for love, lilies for purity, or vines for growth, a floral Ankh tattoo is a beautiful testament to life.
Gold Ankh tattoo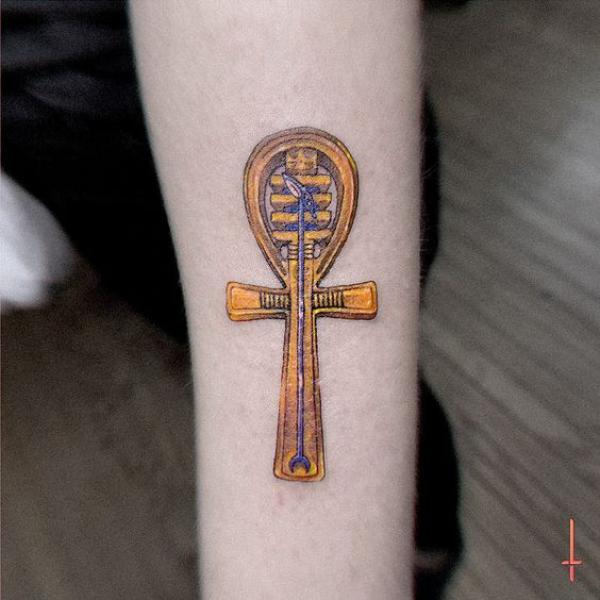 his design uses golden hues to depict the Ankh, creating a design that stands out for its vibrant color. The gold also evokes the riches of ancient Egypt, adding a historical dimension to the design.
Mandala Ankh with eye of Ra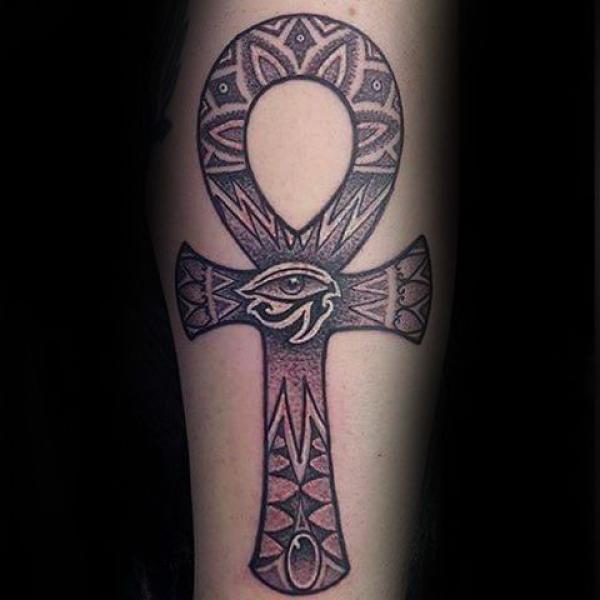 A Mandala Ankh with Eye of Ra piece combines three powerful symbols into one compelling design. The intricate patterns of the mandala, the life-affirming Ankh, and the protective Eye of Ra create a visually intricate and symbolically profound design.
Sketchy Ankh with eye of Ra tattoo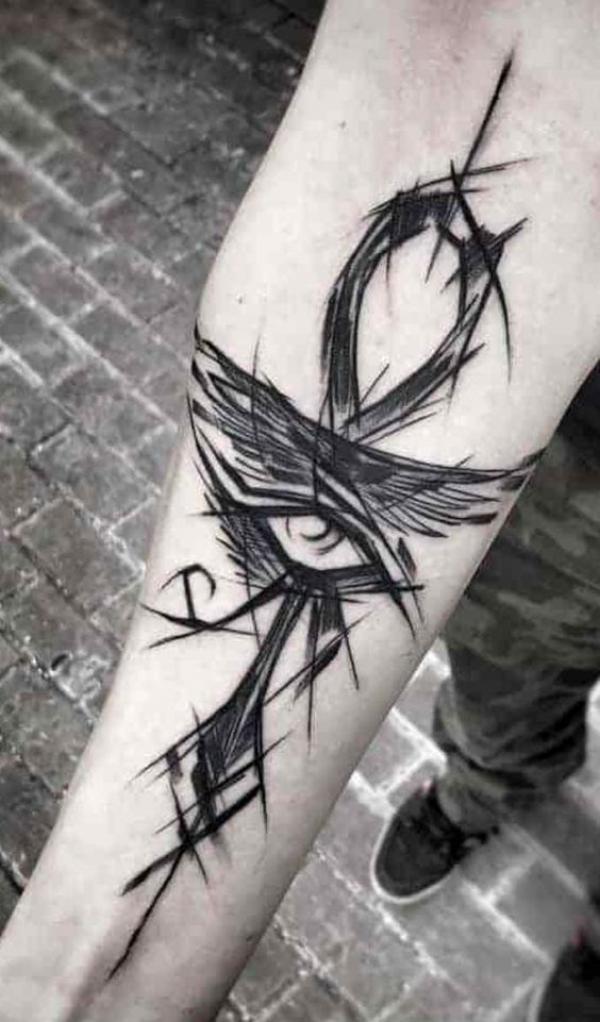 A sketchy Ankh with Eye of Ra design offers a modern take on these ancient symbols. The "sketchy" style gives the design a rough, hand-drawn appearance, lending an artistic and contemporary edge to the tattoo.
Sun eye of Ra and Ankh tattoo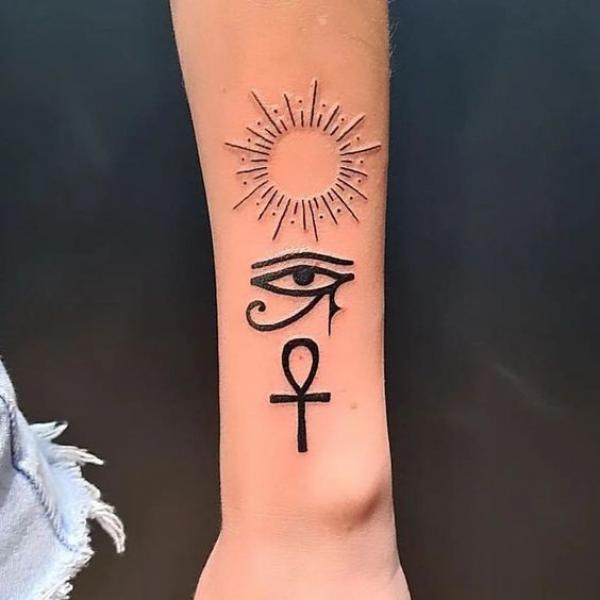 Combining the Ankh with the Sun Eye of Ra creates a design that's radiant with ancient symbolism. The sun, representing vitality and energy, enhances the life-affirming power of the Ankh, making this design a dynamic testament to life.
Traditional Ankh and rose tattoo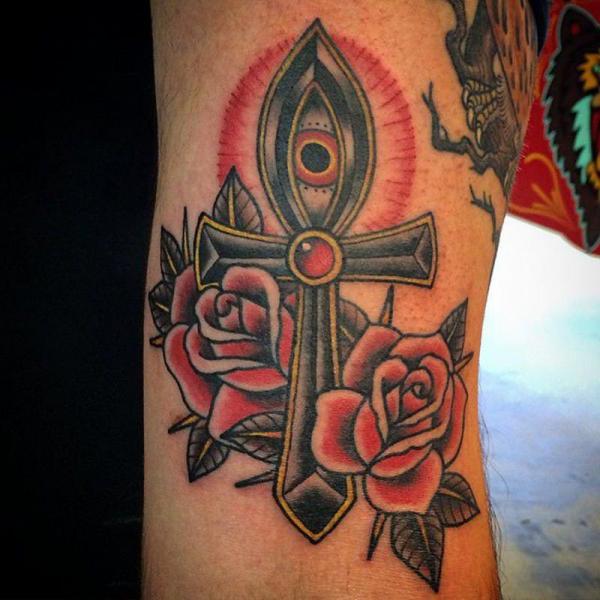 A traditional Ankh and rose piece is a classic design that pairs the Ankh with the timeless beauty of a rose. The rose adds a romantic touch to the Ankh, symbolizing love, beauty, and passion. This design is a beautiful way to celebrate life and love.
Tribal Ankh tattoo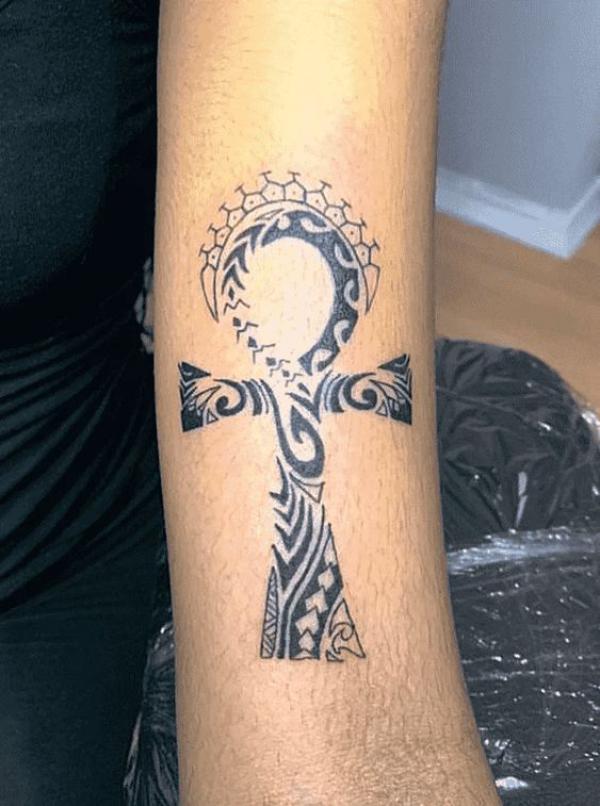 A tribal Ankh incorporates the style of tribal tattooing, known for its bold black lines and geometric patterns. This design adds a modern touch to the ancient Ankh, making it a perfect choice for those who appreciate tribal aesthetics.
Watercolor Ankh tattoo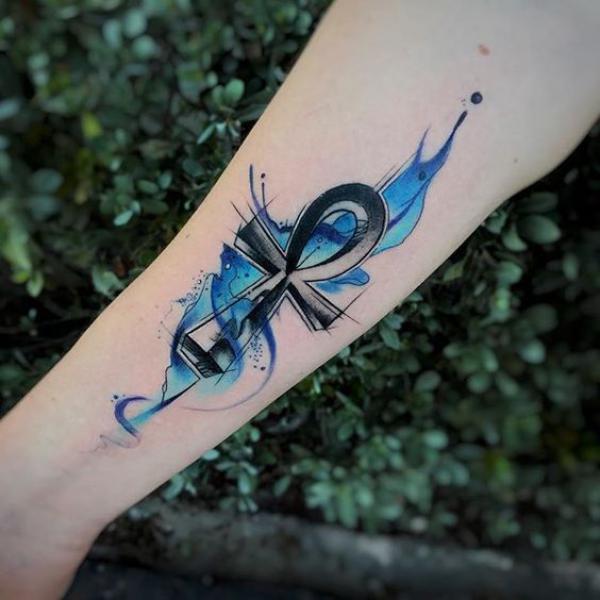 Watercolor tattoos are perfect for those who love color and creativity. This design uses the watercolor tattooing technique, where colors bleed into each other to mimic the effect of watercolor painting. The result is a vibrant, artistic Ankh that's truly unique.
3D rose and ankh tattoo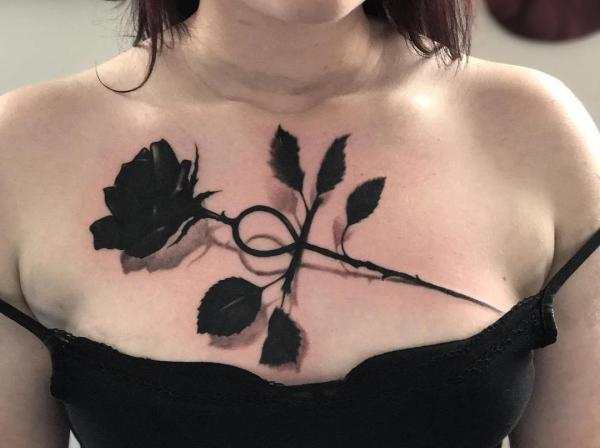 A 3D rose and Ankh tattoo is a visually striking design that adds depth and realism to the traditional Ankh and rose design. The 3D effect makes the rose appear lifelike, enhancing the symbolism of the Ankh and creating a tattoo that's as beautiful as it's profound.
Ankh and crown tattoo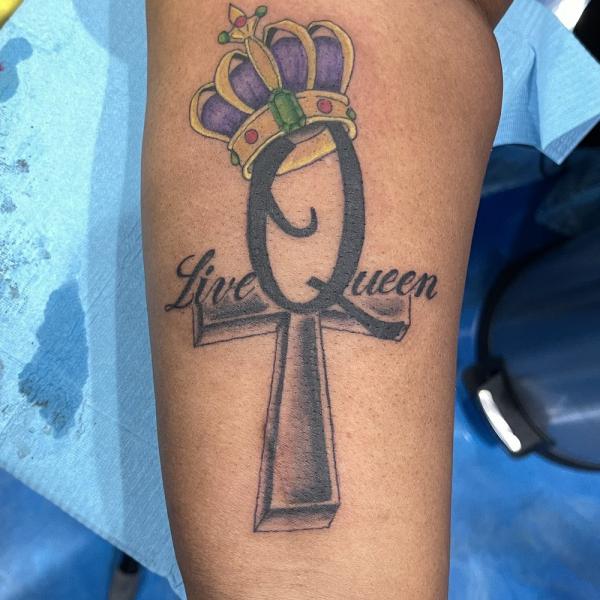 This design pairs the life-affirming Ankh with a crown, symbolizing power, leadership, and self-control. This design is a potent reminder of one's own authority over their life.
Ankh and death moth tattoo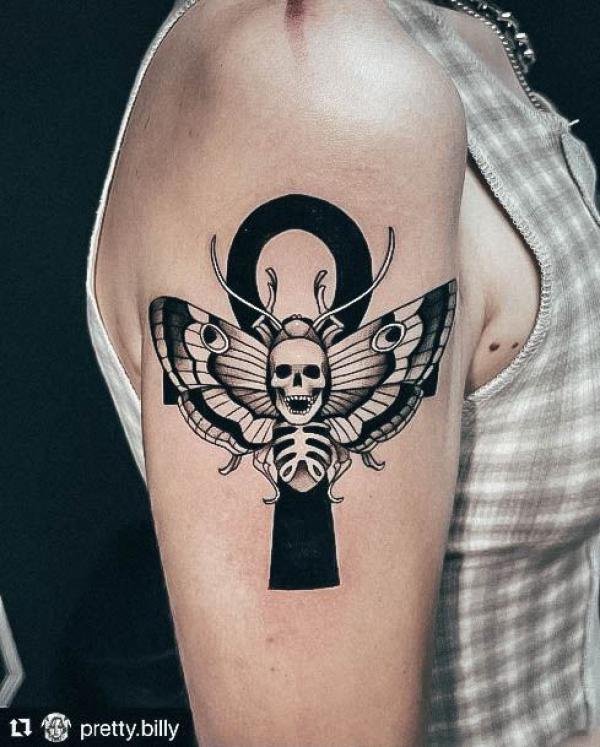 Adding a death moth to an Ankh design can create a stunning juxtaposition of life and death. This design blends the life-affirming symbolism of the Ankh with the moth, often associated with death and transformation. The resulting tattoo is a compelling exploration of life's dualities.
Ankh and eye of Ra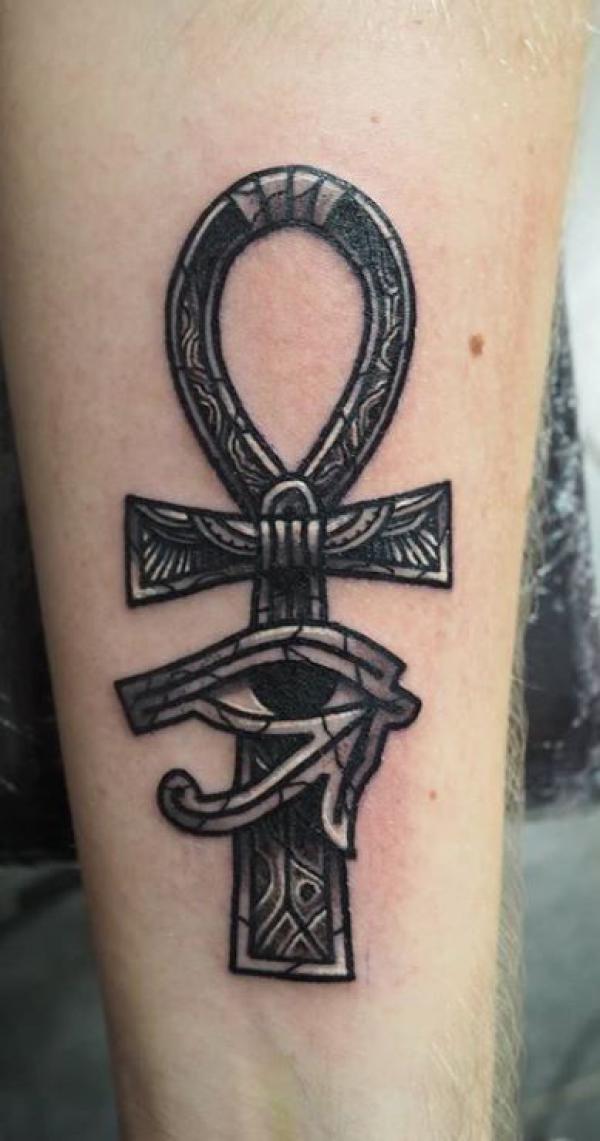 Combine the Ankh with the Eye of Ra for a design steeped in ancient Egyptian iconography. The Eye of Ra, symbolizing protection, complements the Ankh's life-affirming properties, creating a potent symbol of protected life or rebirth.
Ankh and lightning tattoo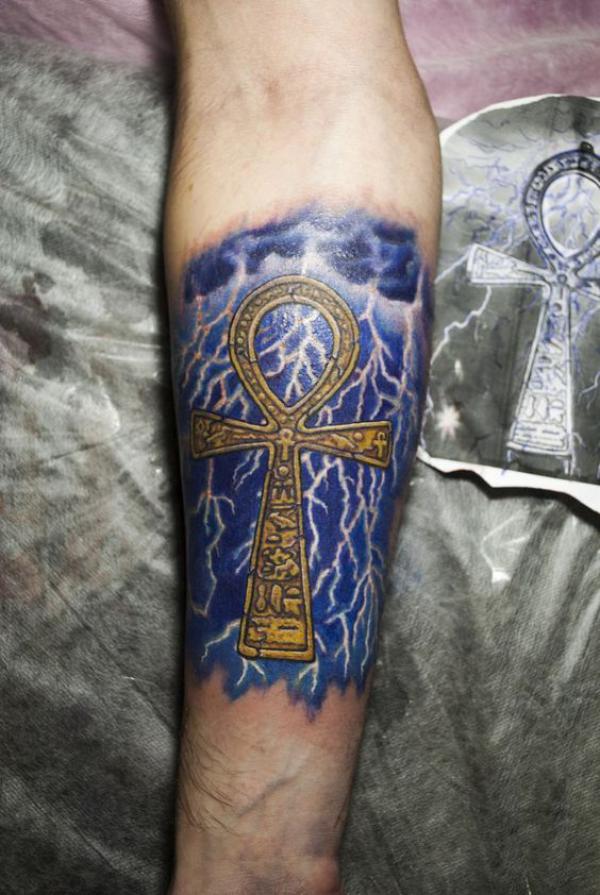 An Ankh and lightning ink design can be a striking choice, embodying energy, power, and life. The lightning bolt adds an element of dynamism and raw energy to the Ankh, making this design a perfect choice for those who live life at full throttle.
Ankh and red butterfly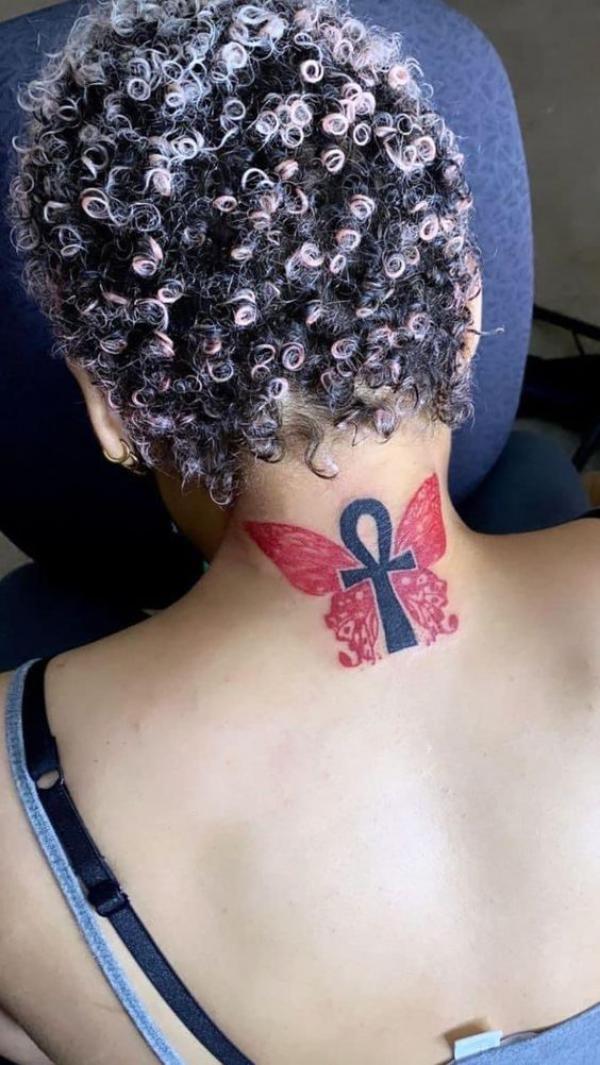 The butterfly, representing transformation, and the vibrant red hue, symbolizing passion and love, add layers of meaning to the Ankh. Placing this design on the neck can make it a stunning focal point.
Ankh cross and eye of Ra matching tattoo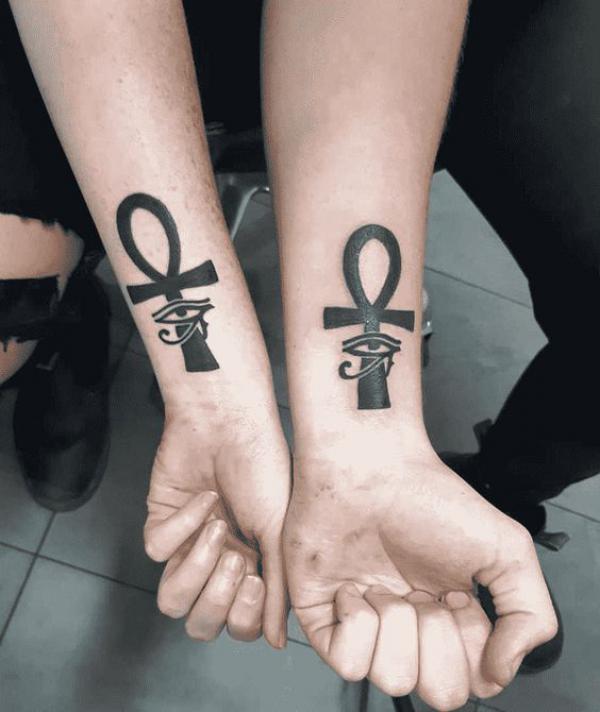 An Ankh cross and Eye of Ra matching design is a fantastic choice for couples, friends, or family members who share a bond. This design, rich in ancient symbolism, can be a meaningful testament to a shared connection or journey.
Ankh cross and all seeing eye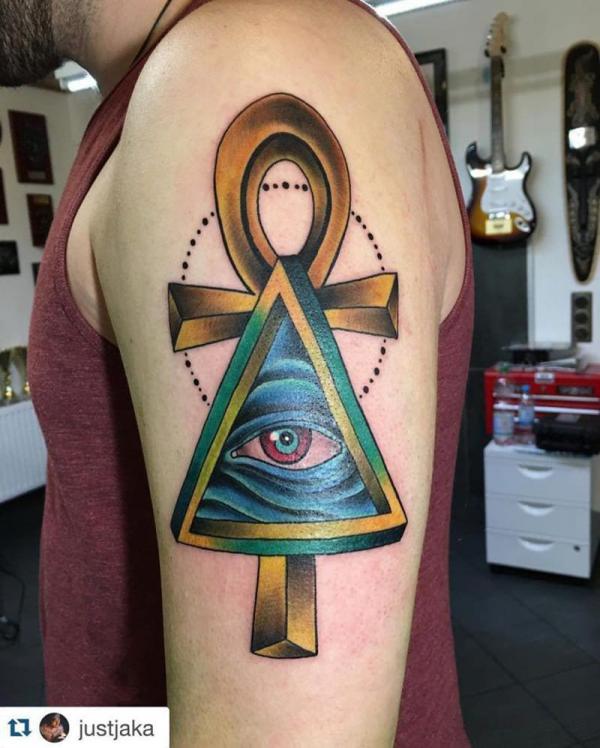 An Ankh cross combined with the All Seeing Eye creates a design with a deep spiritual resonance. The All Seeing Eye, often associated with divine omniscience, adds a spiritual dimension to the Ankh, making this design a powerful symbol of spiritual life and awareness.
Ankh Cross and eye of Ra with sun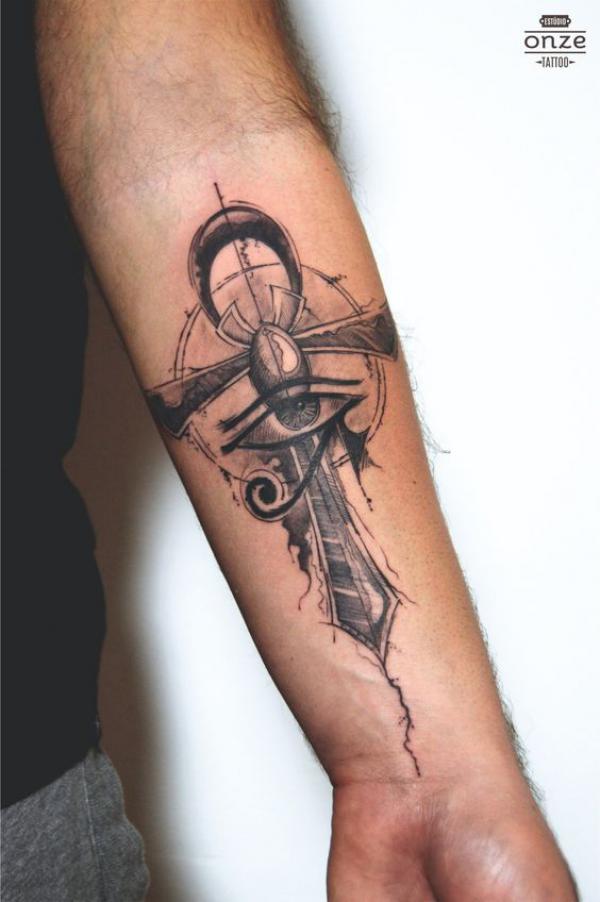 The Ankh cross combined with the Eye of Ra and sun creates a radiant design full of ancient symbolism. The sun, a universal symbol of life and energy, enhances the life-affirming symbolism of the Ankh and Eye of Ra, making this design a vibrant celebration of life.
Ankh eye of Ra cross tattoo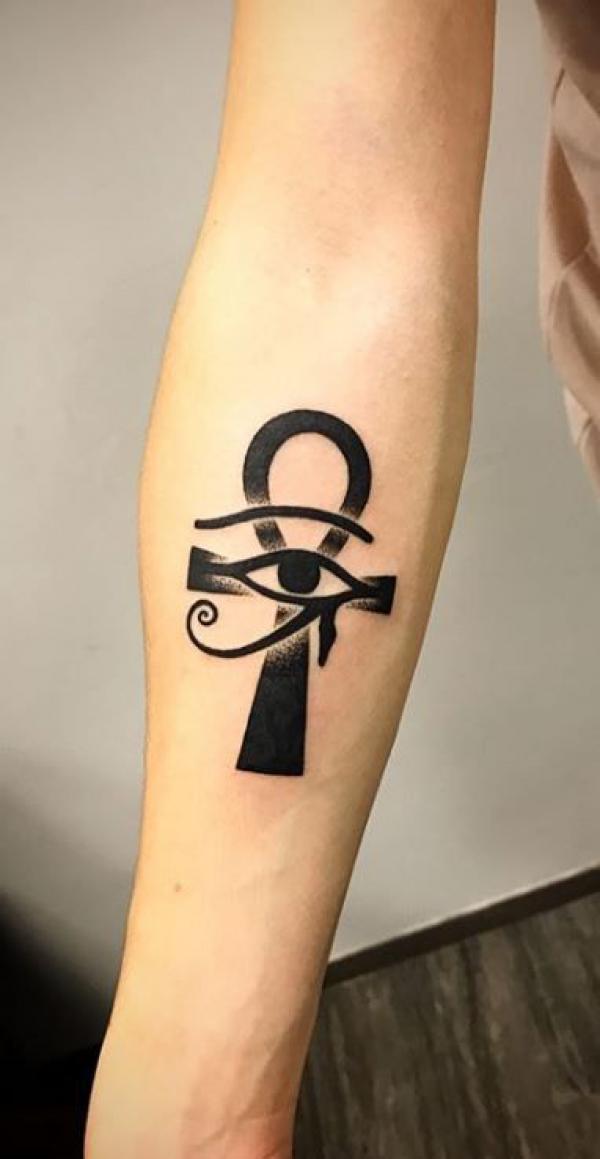 An Ankh Eye of Ra cross brings together two powerful Egyptian symbols in one design. The Eye of Ra, depicted within the Ankh, creates a unique blend of protection and life, offering a compelling design idea for lovers of ancient Egyptian symbolism.
Ankh on cracked skin tattoo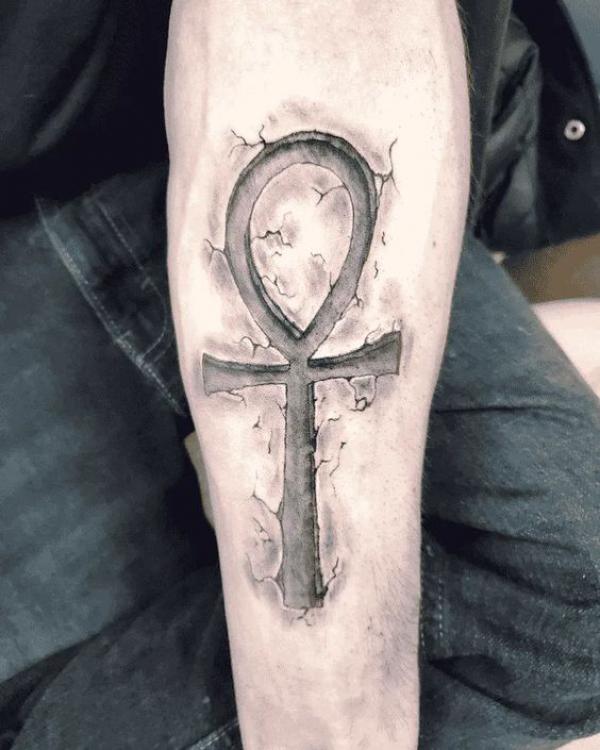 An Ankh on cracked skin ink design can create a dramatic visual effect. The cracked skin gives the impression the Ankh is emerging from within, symbolizing the enduring power of life, even in the face of adversity. This design can be a powerful statement of resilience and the indomitable spirit of life.
Ankh outline tattoo on lower leg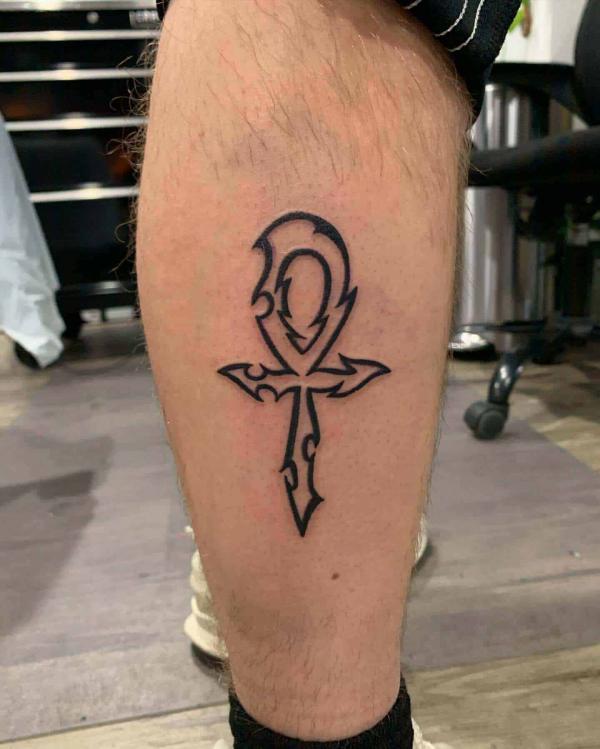 For those who prefer minimalist designs, an Ankh outline tattoo on the lower leg can be a stylish and subtle choice. This stripped-back design allows the Ankh's unique shape and meaning to take center stage, making it an elegant addition to your tattoo collection.
Ankh Tattoo Placement Ideas
Choosing the perfect spot for a tattoo is as important as selecting the design itself. If you've decided on the timeless Ankh symbol, the next step is to figure out the best placement. Here are some popular Ankh tattoo placement ideas that will help you make that crucial decision.
Back
The back provides a broad canvas for larger, more intricate Ankh designs. It's an ideal spot if you're considering an Ankh combined with other elements like wings, a pyramid, or elaborate geometric patterns. Given the ample space, this placement allows for a detailed rendition of your chosen design.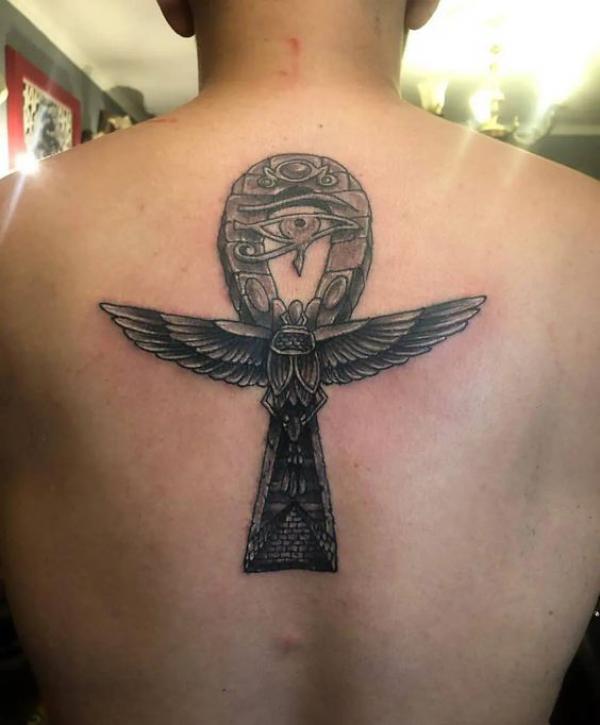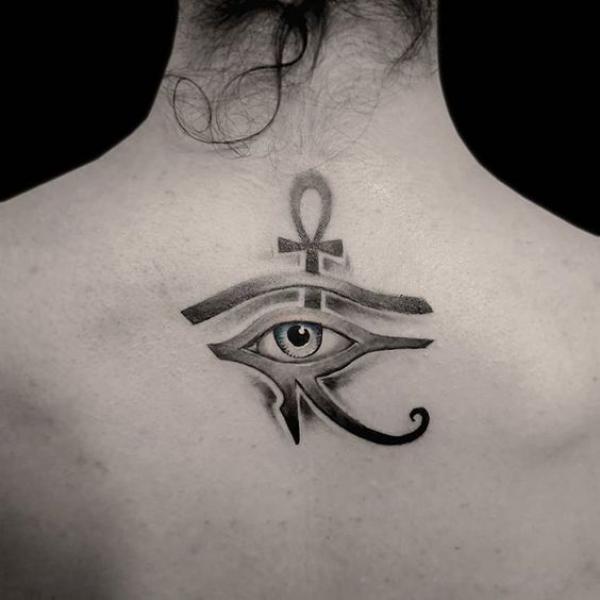 Bicep
If you're looking for a visible spot that can also be easily concealed when required, consider the bicep. The size and curvature of the bicep make it a perfect spot for a medium-sized Ankh tattoo. Whether you want to show off your Ankh tattoo in a sleeveless top or keep it under wraps, the bicep offers that flexibility.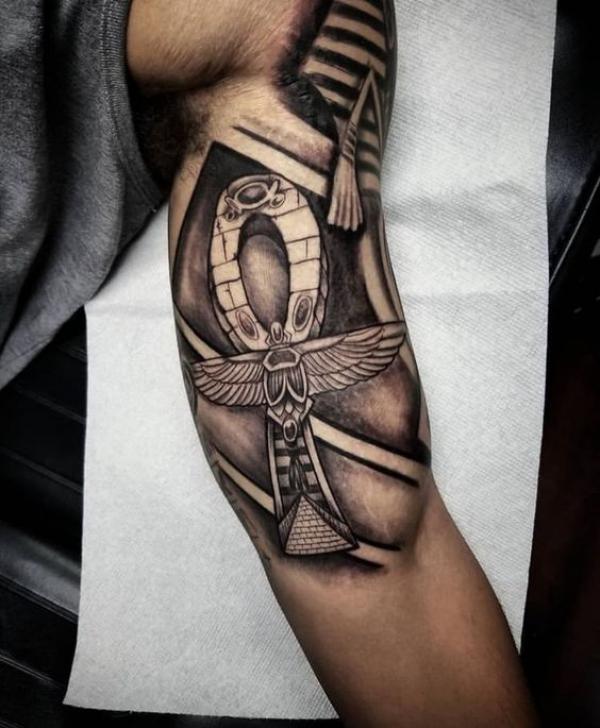 Behind the Ear
For a smaller and more discreet Ankh tattoo, behind the ear is an excellent spot. It's a particularly popular choice among those who prefer a subtler expression of their personality. A tiny Ankh here can be a secret symbol, only visible when you tuck your hair behind your ear or when you're sporting a short haircut.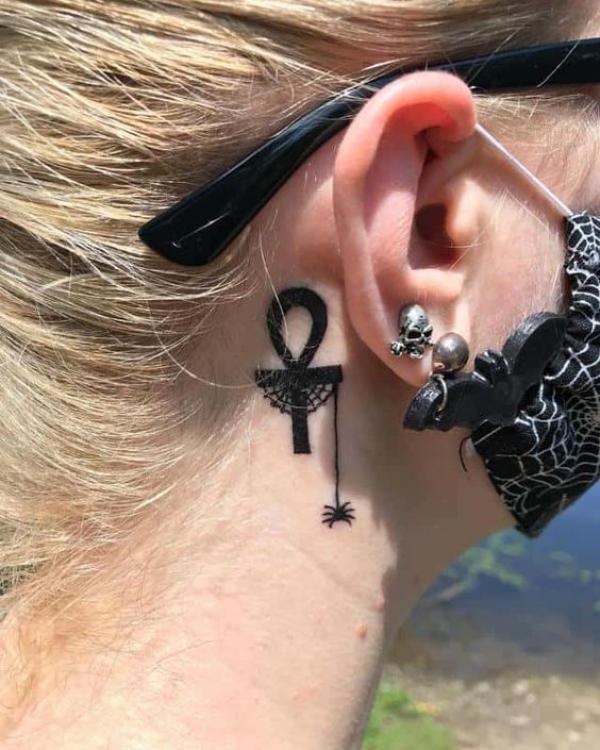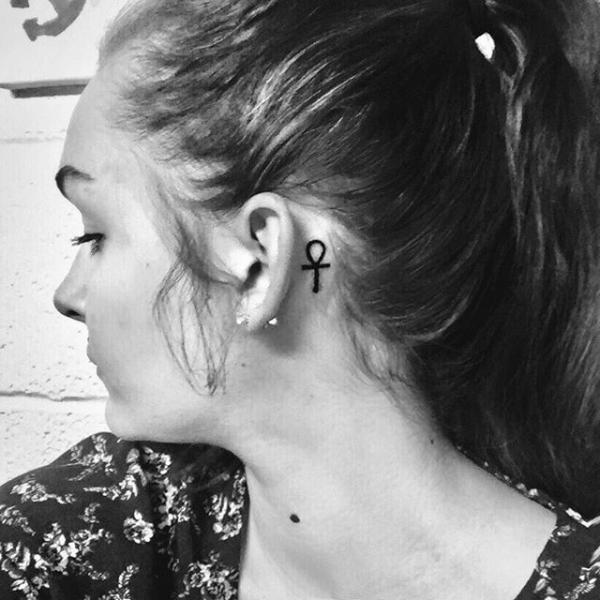 Hand
Placing the Ankh tattoo on your hand ensures that it's always in your sight, serving as a continual reminder of the life-affirming symbol you've chosen to adorn your body. Smaller Ankhs can be placed on the back of the hand or between the thumb and index finger, while larger designs can span the entire hand.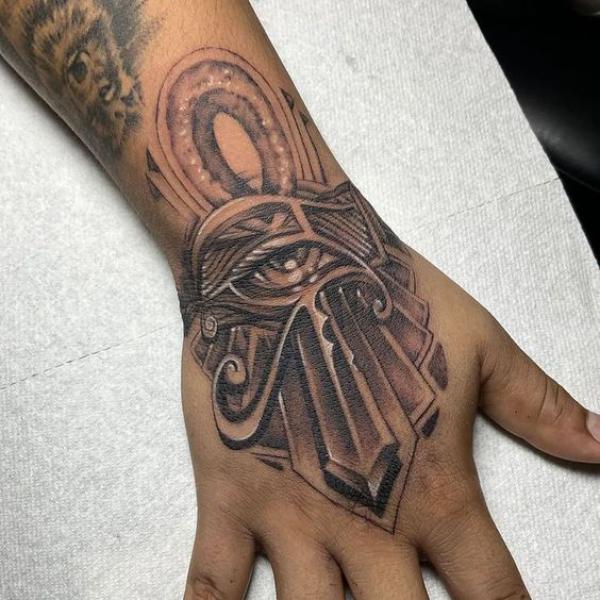 Wrist
The wrist is a popular spot for smaller tattoos, and a small Ankh fits perfectly here. It's a visible area, allowing you to share your symbol with the world. A wrist tattoo is also easy to cover with a watch or bracelet if needed.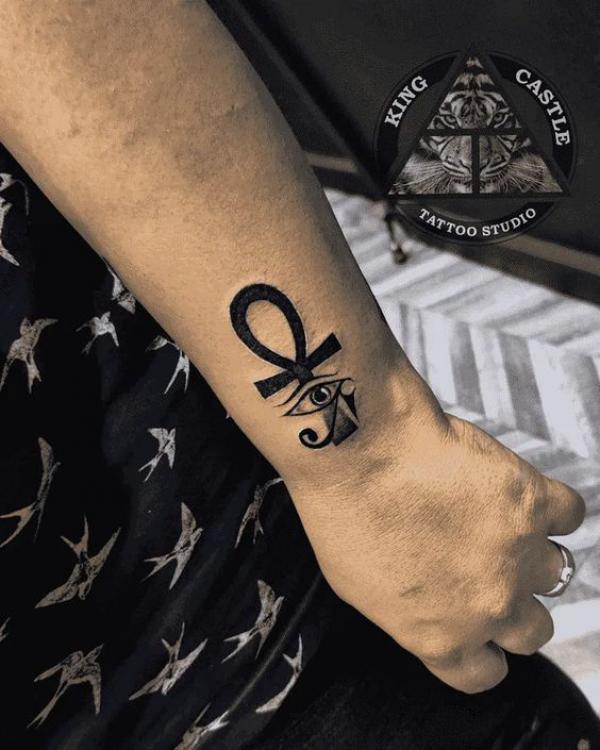 Forearm
The forearm offers a highly visible area for your Ankh tattoo, ideal for those who want their body art to be seen. Whether you opt for a small, simple Ankh or a larger design, the forearm ensures your Ankh is always on display.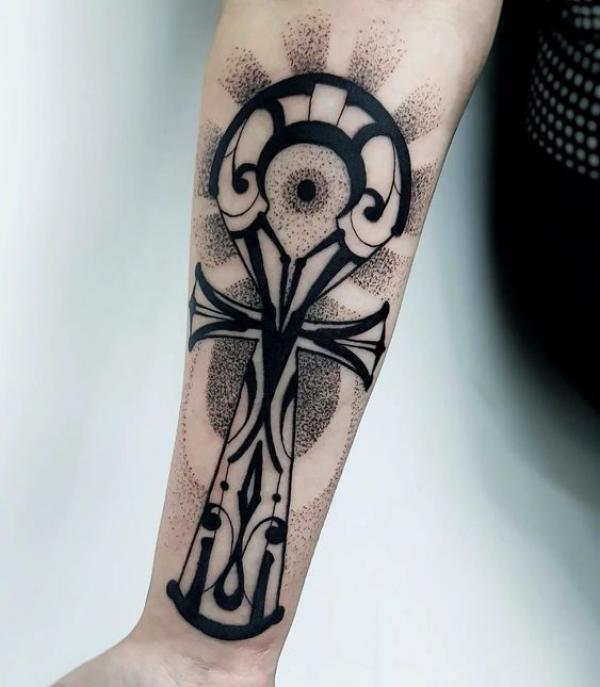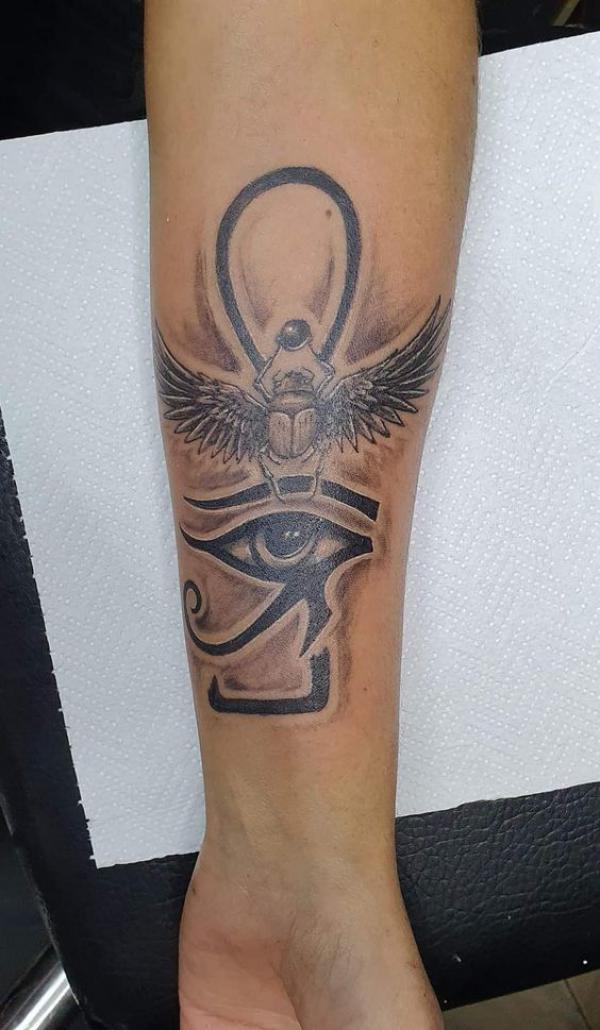 Finger
For a tiny testament to life, consider placing your Ankh tattoo on your finger. This placement is perfect for a minimalist Ankh design. It's a unique spot that adds a subtle charm to your hands.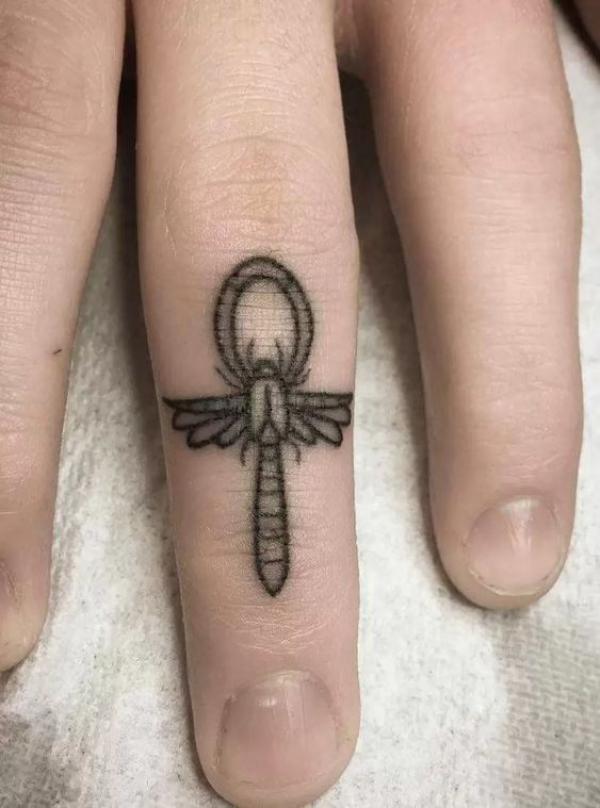 Leg
The leg, being a larger area, allows for larger and more detailed Ankh designs. The calf or thigh are excellent spots for a medium to large Ankh tattoo. It's a versatile location—you can cover it up or flaunt it depending on your outfit.
Neck
The back of the neck is a great spot for a medium-sized Ankh tattoo. The nape is a relatively discreet area, making it a perfect choice if you want your Ankh tattoo to be a personal emblem rather than a conversation starter.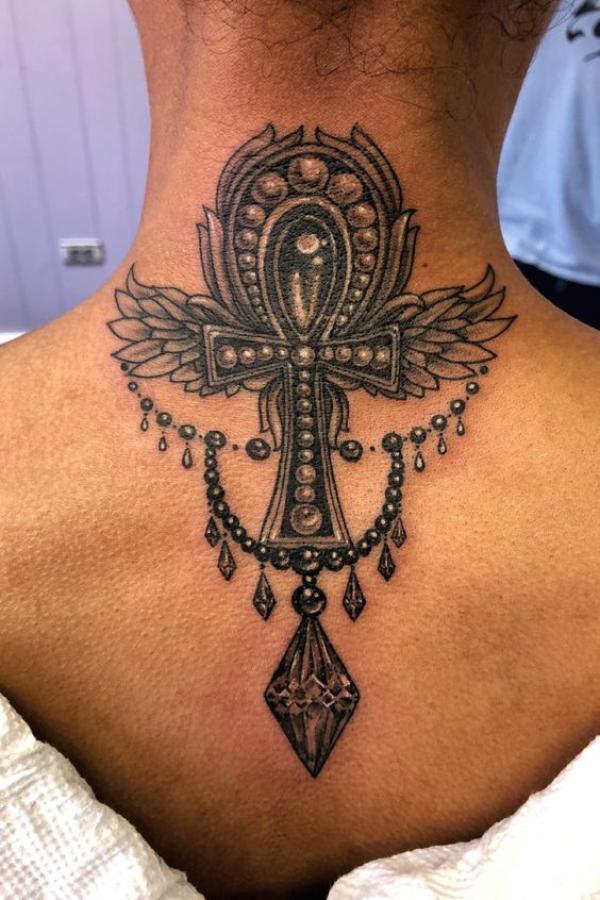 Ankle
An Ankh tattoo on the ankle can add an elegant emphasis to your feet. It's a great spot for a small to medium-sized Ankh. This placement is especially popular among women, often seen peeking out from under a pair of jeans or accentuated by a skirt or dress.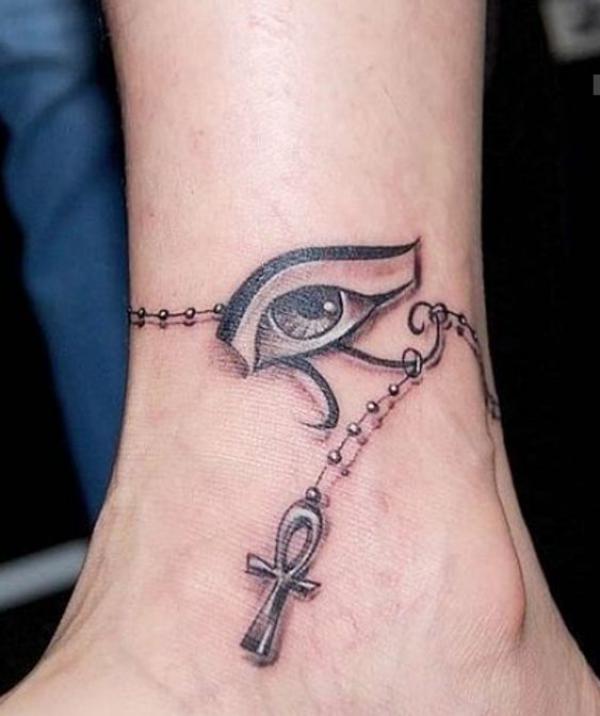 Side
The side of the body, running from under the arm to the top of the hip, is a more private area for a tattoo. It's an ideal spot for a medium to large Ankh design. A side tattoo remains a personal piece, only visible when you choose to reveal it.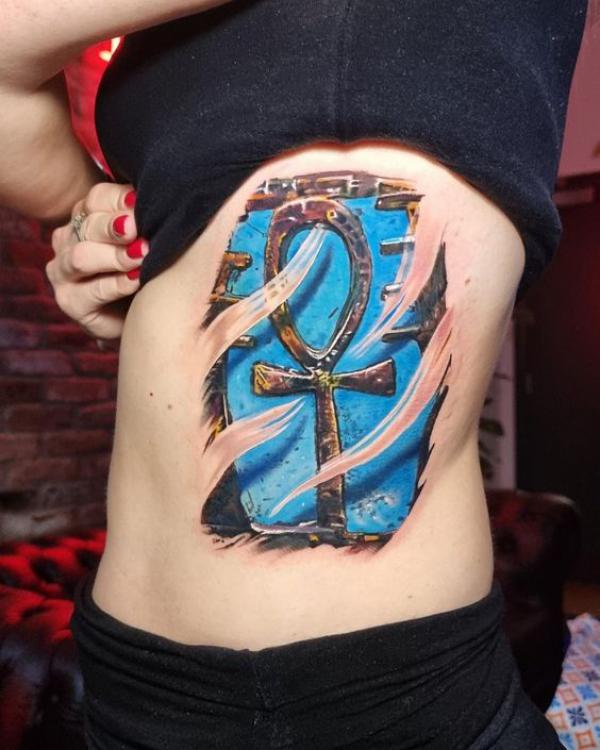 Conclusion
Tattoos offer a canvas to express our individuality, beliefs, and the narratives that shape our lives. Ankh tattoos, with their deep symbolism and unique design, provide a wealth of inspiration for those seeking a tattoo that is both visually compelling and rich in meaning. From simple, classic designs to intricate combinations with other symbols, these tattoos are a timeless choice for body art that celebrates the mystery, strength, and beauty of life.
Remember, your tattoo is a reflection of your unique story. So whether you opt for a simple Ankh tattoo or choose to pair it with other symbolic elements, the most important thing is that it resonates with you. After all, a tattoo is more than just a design on your skin; it's a piece of art that reflects your journey, your beliefs, and your individuality.