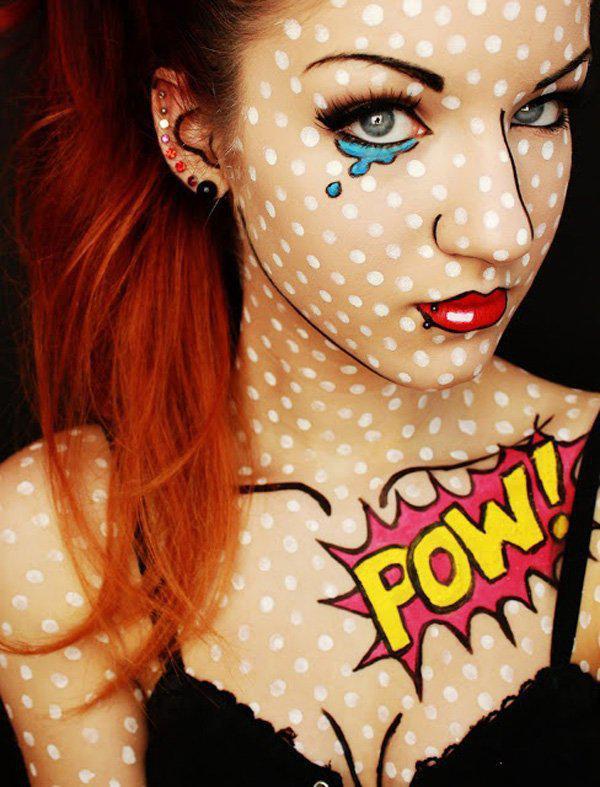 Comic hero inspired Halloween makeup tutorial. Very creative and colorful. The comically drawn tears, background and dots make the overall look outstanding.
Trick or Treat in style!
Halloween is just around the corner. It's about time to plan that smashing Halloween costume of yours and go out trick or treating! A lot of people have turned Halloween into a creative gathering of costumes, make up and craft. If you don't want to be left behind, make sure that you get the perfect Halloween make up for your get up! All it takes is simple planning ahead.
There are many ways where you can apply your own Halloween make up. Others disregard make up just because they are too afraid to try it out or they think it will not look good on them. Remember, it's the makeup that will help make your costume stand out. If you want to be unique in a good way and impress people with your skills then you should definitely try to put on a good Halloween makeup. In this article, you will see various types of Halloween makeup that you can use as reference.
Halloween is simply the perfect night where you can mix reality and fantasy and roam about in the streets. It's the only night in the entire year that you can put on a costume and have a night of enjoyment with friends and family! Of course you would want to look your best but you don't want to spend so much on hair and makeup just to look good. This is why you should try DIY Halloween makeup ideas. It just takes a little practice to get a hang of it and it will definitely come in handy not only this Halloween but on the successive Halloweens that you will be celebrating.
What to check before applying Halloween makeup
A number one precaution when wearing makeup is to test the skin compatibility. There are many beauty products that can have harsh effects on other people's skin. Rashes and itchiness are common side effects and you should check the makeup with your skin first before buying or applying it.
Don't use makeup or baby powder near open flame sources. Open flames aren't the safest area for you to be doing anything at all. Even If you are not applying makeup near that place accidents can happen and you might want to take your business to a much secure place such as your room or the bathroom.
Make sure that the makeup you use has been clinically approved and are for use on the face area. Using any other chemicals might harm your face since the skin on the face is very sensitive.
Even though you really want to, don't mix up different types of makeup. You can't be sure of the compounds within the makeup and some of them might react badly when combined with others and could permanently damage your skin.
Don't apply thick makeup. You will feel heavy later on and it will be more difficult to take them off by the end of the day. Leaving them on is not a good option either.
Kinds of makeup to use
Pancake makeup- used with powderpuff and is used as foundation or base for the makeup.
Cream- usually bought at Halloween and is available in various colors. This makeup is used in ghost, with and devil costumes. They are the same to grease paints but only easier to remove.
Tube or stick makeup- used for highlighting and shadowing on the face.
Face paint- these use special paint for the face area and you should make sure that the paint is approved by the FDA. Look for a certification to be sure.
Body liquid makeup paint- this type of makeup is often used in airbrush techniques.
Adhesive- these can be corn syrup, liquid latex and sprit gum. The liquid latex is made out of ammonia and has strong vapors so make sure you don't use it near the eyes.
Prosthetic- probably the most popular and well loved in Halloween make up. They can give you fake scars, wounds, noses, warts and so much more. They use latex or rubber and can also be made by the combination of tissue layers soaked in adhesive.
No matter what type of makeup you are going to use for your costume just make sure that it will not affect your health negatively. Always check the precautions on the makeup you will be using and perform the skin test no matter. You want to enjoy Halloween and the spookiness it brings to the fullest so it is best that you also feel at your greatest. You want to avoid things such as allergies, rashes and even trips to the hospital on a day that you were supposed to have fun. Allergic reactions can appear within the first hour and if it doesn't fade in a day or two, go to the physician to have it checked.
For more Halloween makeup tips, you can watch video tutorials or blogs where they feature a specific Halloween look you are planning to go for. Below are amazing examples of Halloween makeup looks that you might want to use as your references for your own upcoming Halloween party.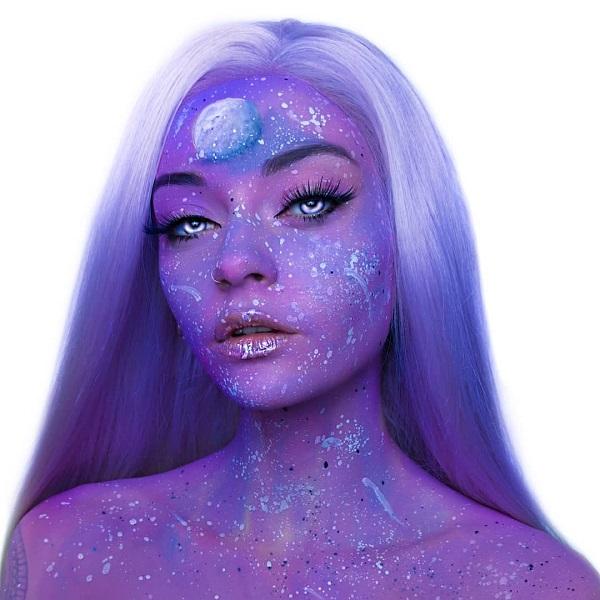 The amazing Halloween makeup with the wig in the same color. The galactic stars are splatted from face to shoulder using the old paint splatter technique.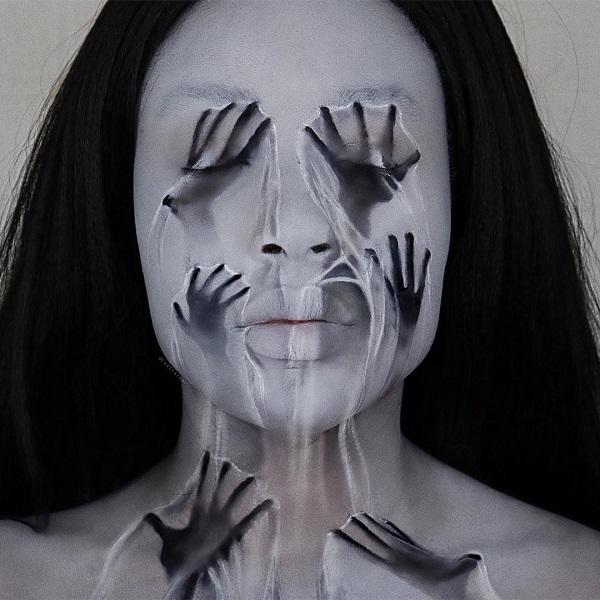 The frightening monster hands climb up from body to face, a horrible Halloween makeup.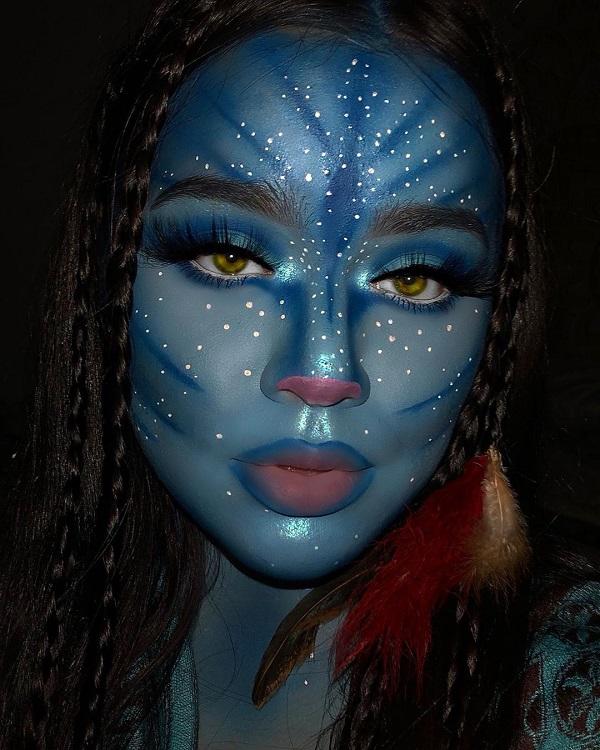 Tree web with starry dots on the blue canvas, amazing Mystique inspired Halloween makeup.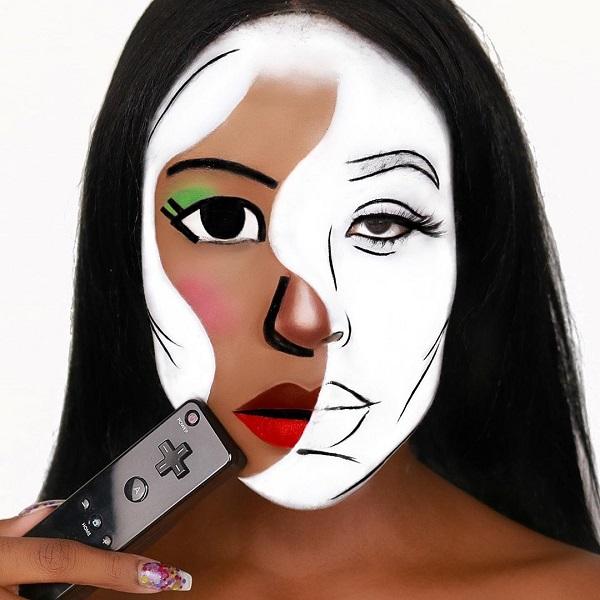 Half human face paired with half dead white ghost face. The red half lip is in sharp contrast to the white half, thanks to the liquid lacquer lipstick. The work features simple sketchy lines and strong contrast.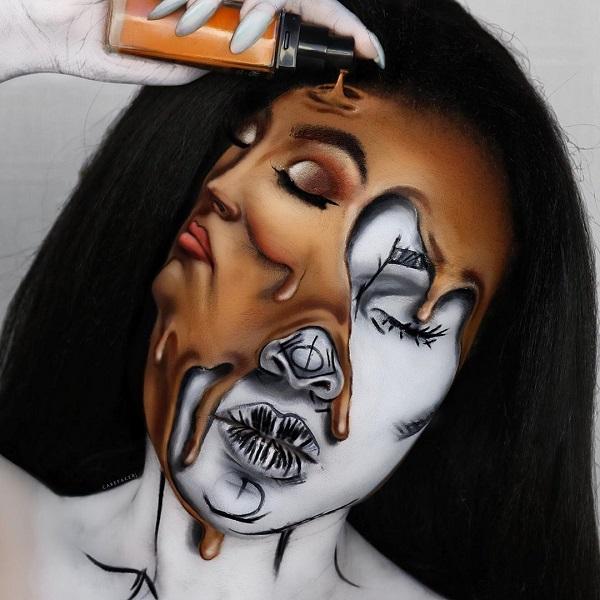 Conjoined two faces, one is melting human face and one is ashen dead. Incredible Halloween makeup inspired by surrealism although it's frightening by appearance.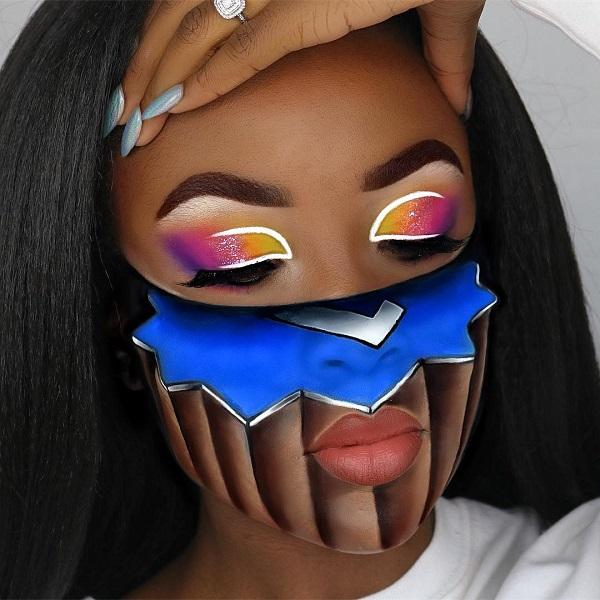 Incredible Halloween makeup turns human face to a 3D simulated cutting piece. The soft angle eyebrow and ombre eyeshadow is highlighted by the white decorating lines. The blue surface looks like playground on the pumpkin land.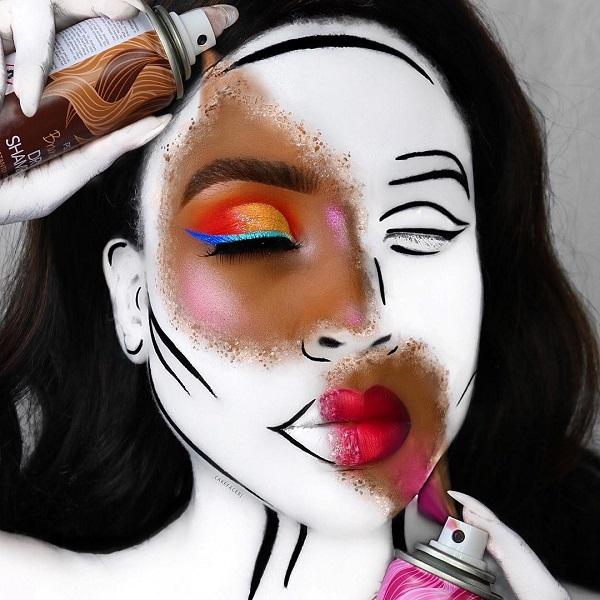 The ashen face looks scary like buried corpse. With the spray of glitters, it starts to exposes revival. Incredible Halloween makeup.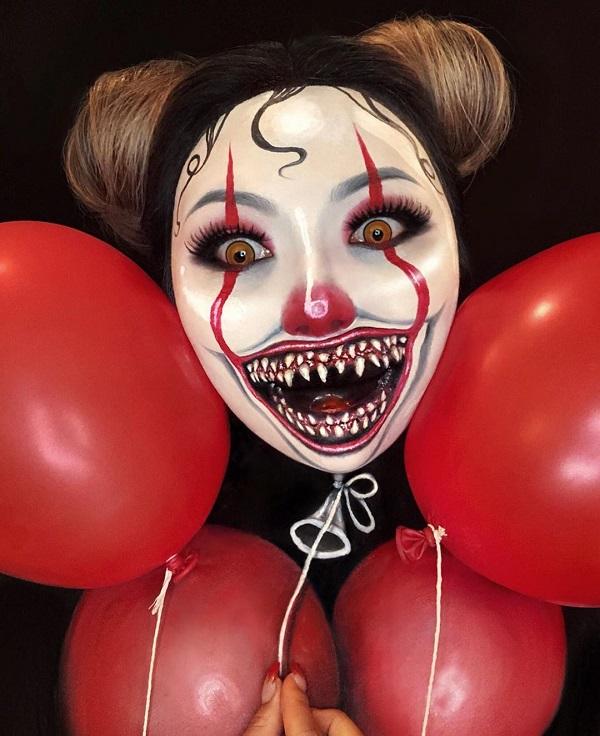 Balloon vampire
The spooky vampire look features bloody big mouth and sharp teeth. The artist finishes off the look with 2 red lines on the cheek and contact lenses. It is a brilliant idea to bring red balloons to take part in the party.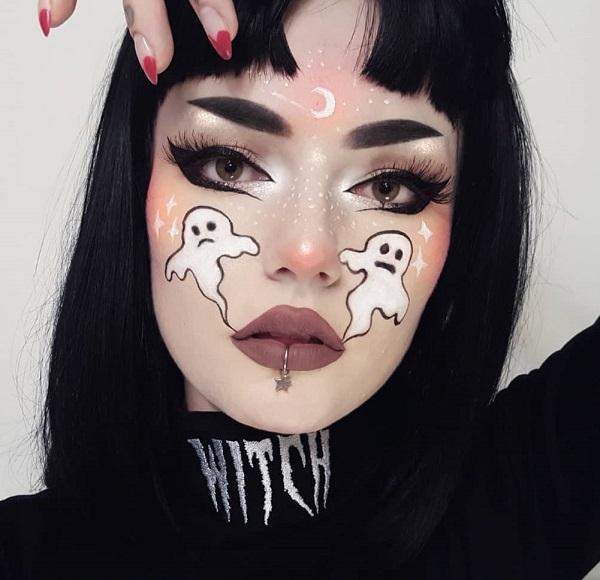 The mystical witch makeup features heavy straight eyebrow and elusive elfs on the theme of bright starry world. A lovely Halloween makeup idea.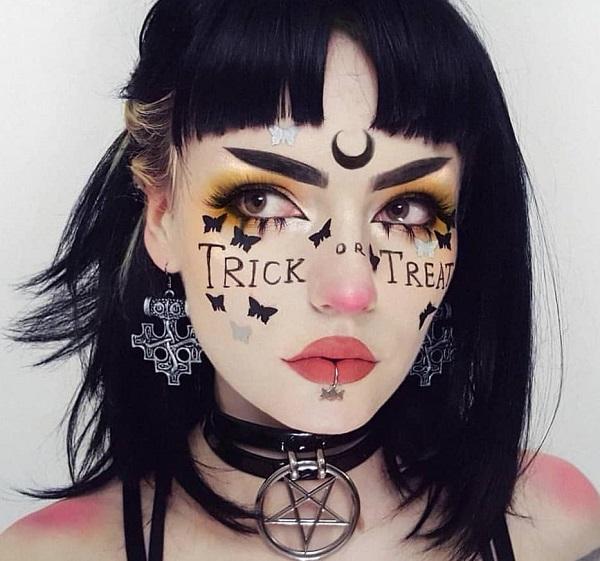 Going for a cool trick-or-treat look for girl? Sexy lip with a cute mouthpiece, heavy straight eyebrow, flying butterflies as well earring pendants, etc. creates a dynamically cool Halloween makeup.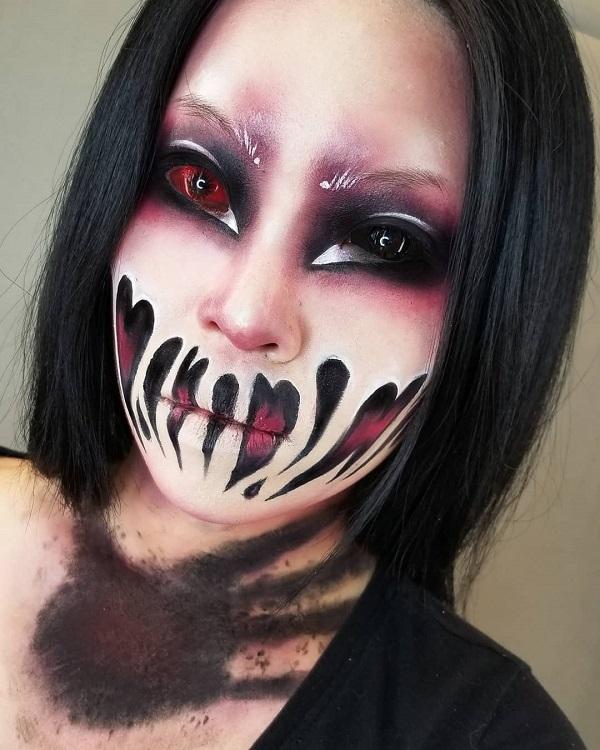 Looking for makeup from anime figures, the Cheshire Cat inspired Halloween makeup could be for you. A dramatically exaggerated mouth and teeth looks spooky, while the subtle cat eyebrow is cute and reminds you of its identity.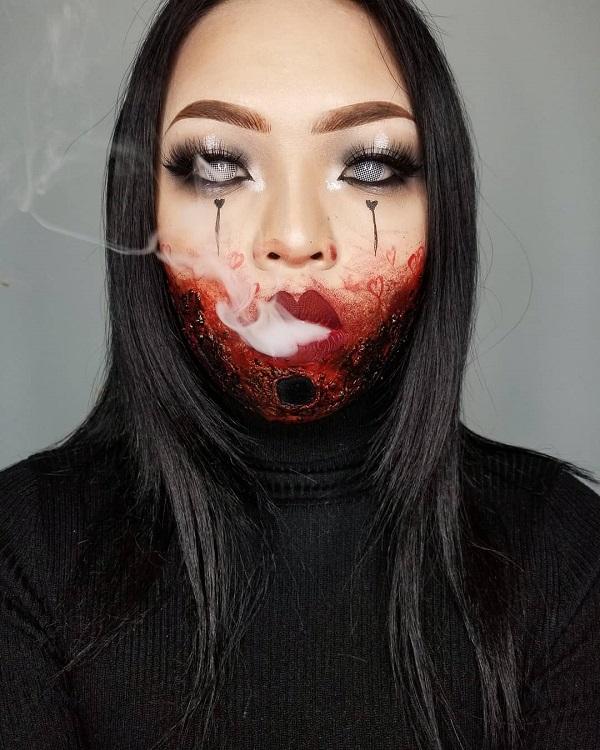 The smoky eyes and bloody chin turn the girl to a living dead. Even the nice shaped soft eyebrow and tiny kites are not enough to bring back to her life.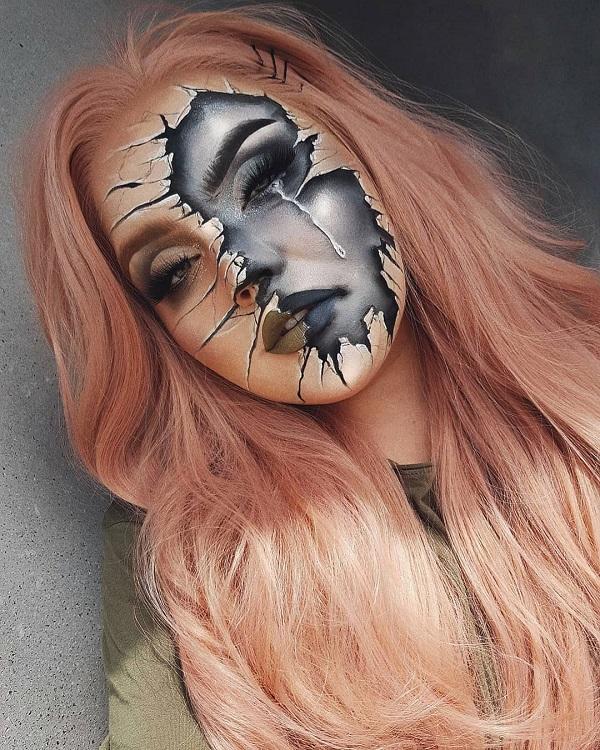 This is a piece of amazing Black Mirror inspired Halloween makeup. The broken face with divergent veins is the metaphor for a ghost from 2 layers of hell.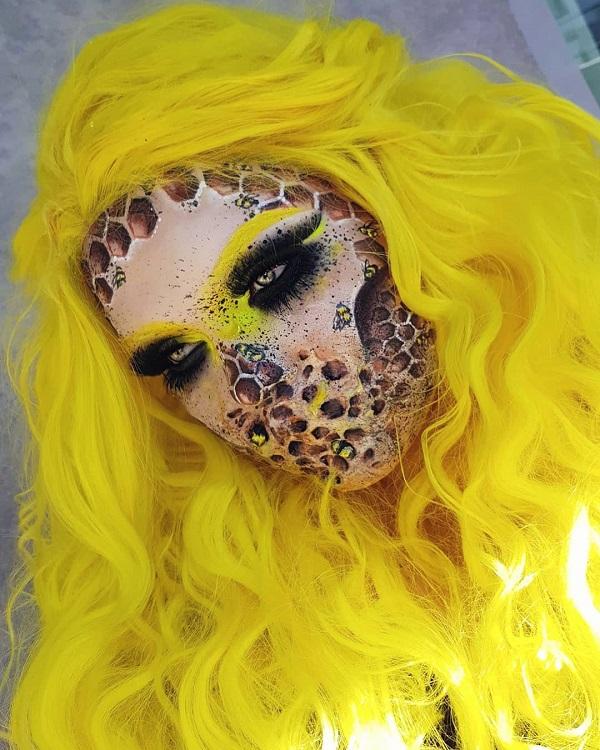 It is a good idea to sport the ghost makeup for Halloween party with your face full of honeycomb and bees, absolutely scary look for attendants.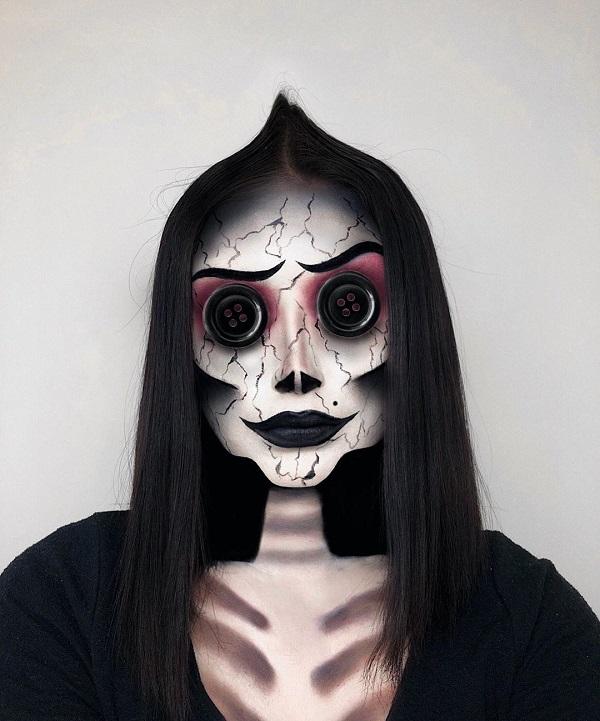 Another adventurous anime character inspired Halloween makeup. Ghost veins, S-shaped eyebrow and skeleton body is the sinister world when the buttons sewed over the eyes.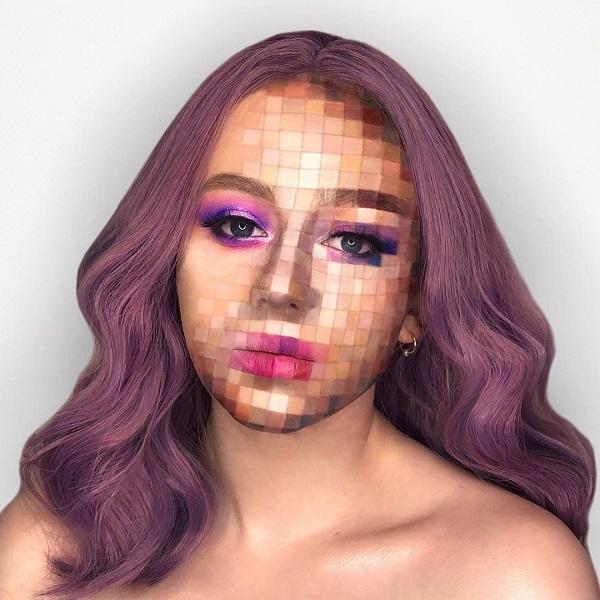 Like to try the decorative art in Halloween makeup. All you need is not Mosaic tiles but makeup kits such as makeup palette, mascara, epic ink liner.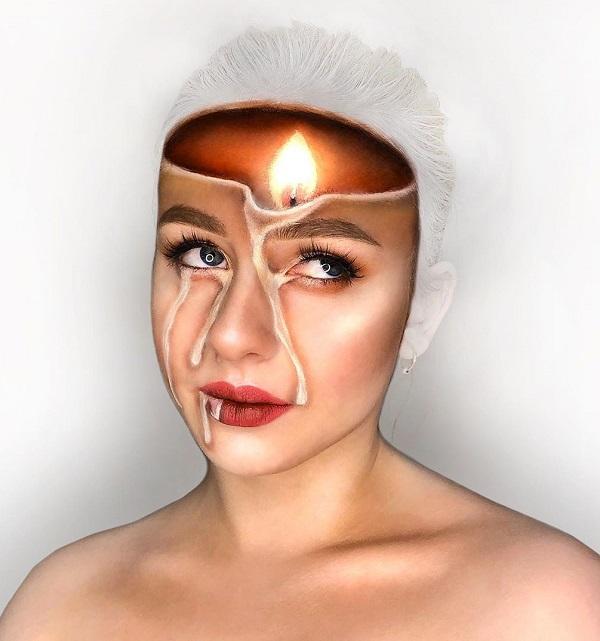 The brain is lit by a candle to shine with a weak light. Her face is dripping with the wax. Looks like an inspirational Halloween makeup idea.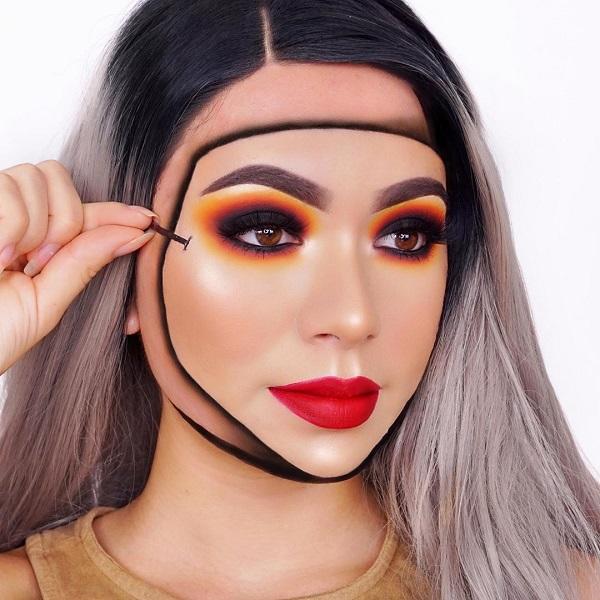 Fake Face
It's incredibly easy to fake your face by depicting outlines along the faked face. You don't even to transform your eyebrows, eyes and lips to create the effect of illusion. If you don't like to show to the people in the party how you're feeling, have a trial of the Fake Face Halloween makeup. And then you're putting up a facade.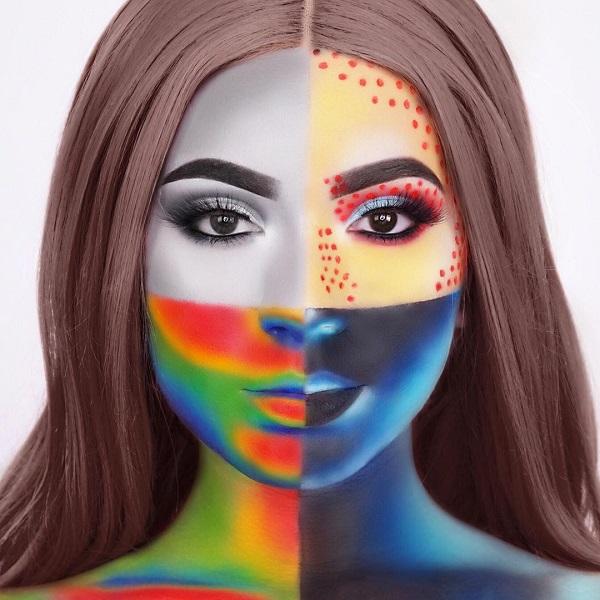 From glow world to dark night to the face with small red spots, the Halloween makeup isn't horrifying at all by appearance. I love the wonderful design.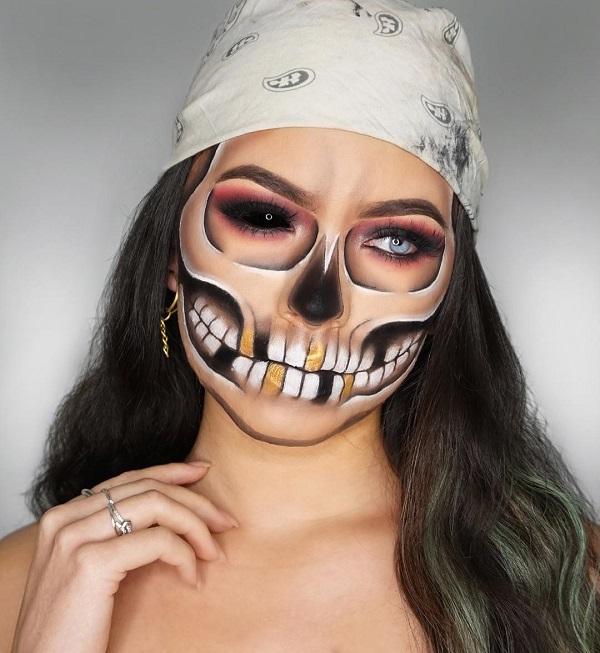 Skull Face
Get scary with the skull inspired Halloween makeup. Black and white contact lenses add soul to the spooky look.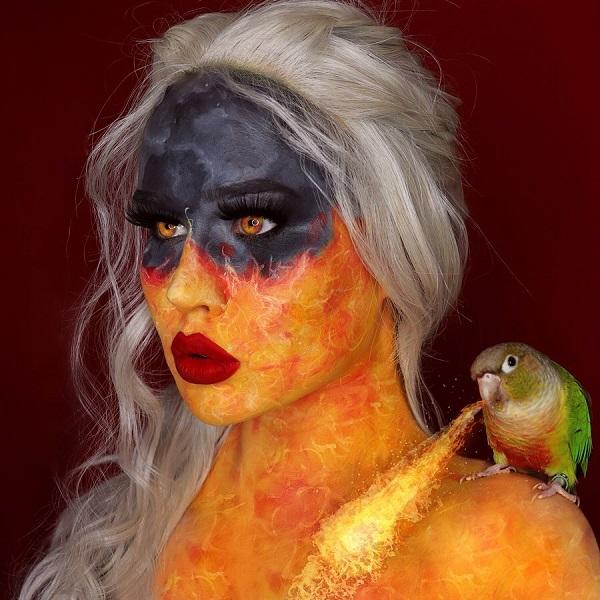 This is a Game of Thrones character inspired Halloween makeup. The hot red skin and scorching forehead presents a hero that is immune to fire even a fiery dragon is breathing out fire to her.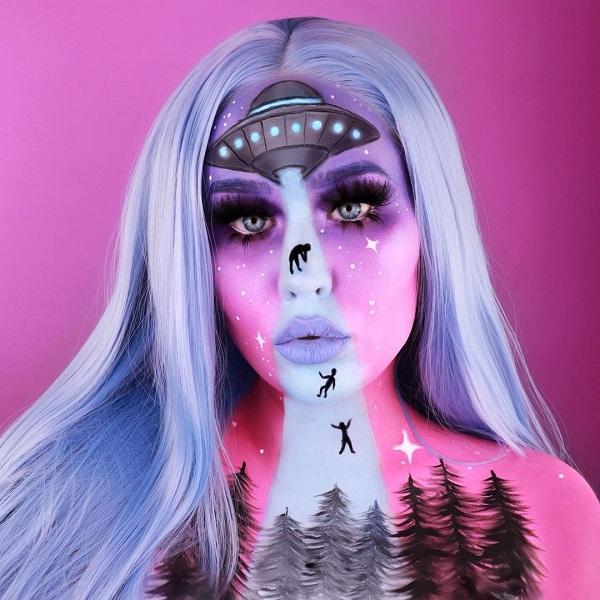 UFO and aliens are good elements to create feeling of mystery. The colors of wig, stars and forest accent the tone of fantasy.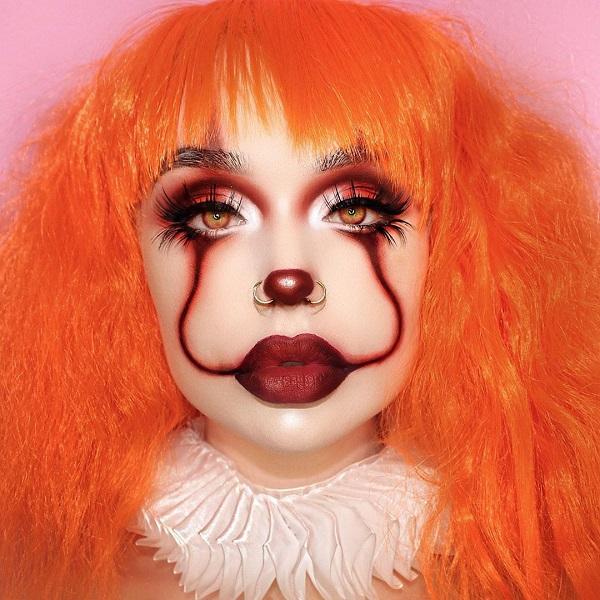 Thin lash with shadow of dark red bleeding all along to the lip. The orange red wig just matches the tone.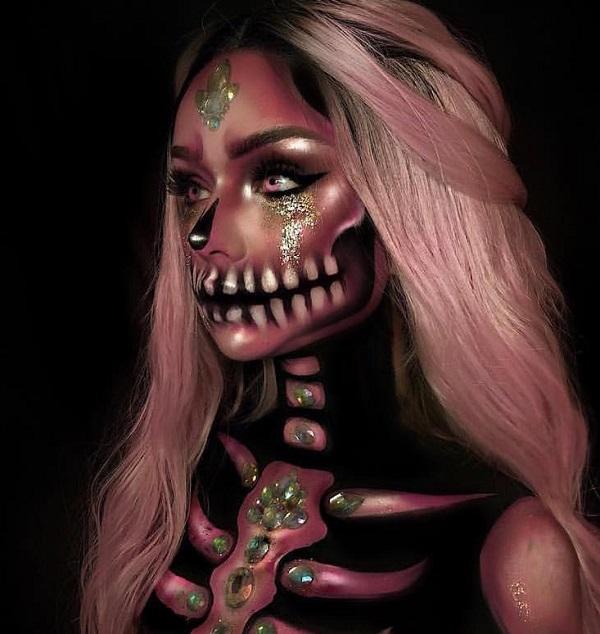 She appears in dark shadow with splendid faux jewels, glitters and the wig matching the tone. Gorgeous Halloween makeup!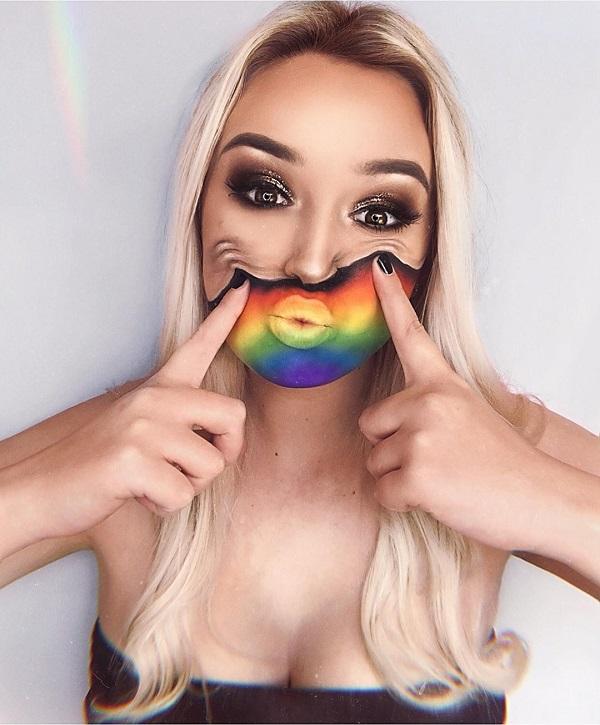 A witty facial expression squeezing out by her fingers. The rainbow half-face is the best remark for the girl.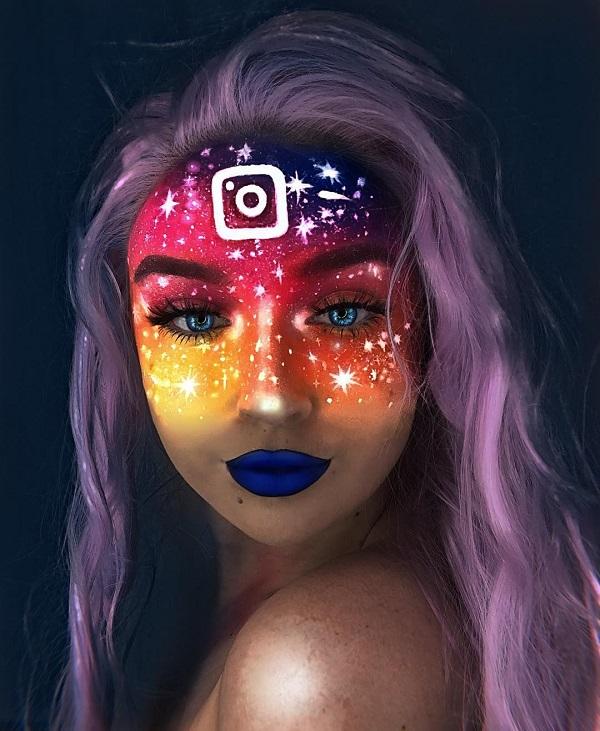 Over half face is painted with the dazzling galactic stars and an iconic symbol on her forehead. What is amazing is it transits down to dark seamlessly.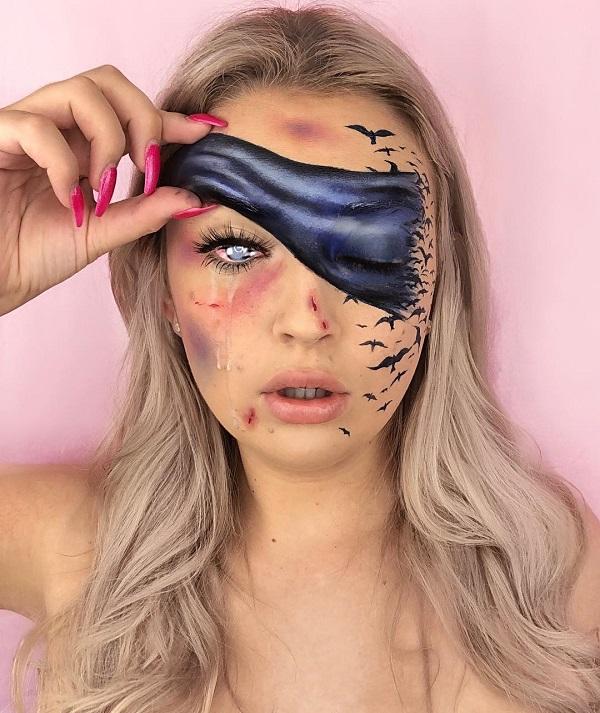 This fake wound and black eye mask is absolutely creepy and scary at the party It's perfectly adding flying birds which bring wonders to the Halloween makeup.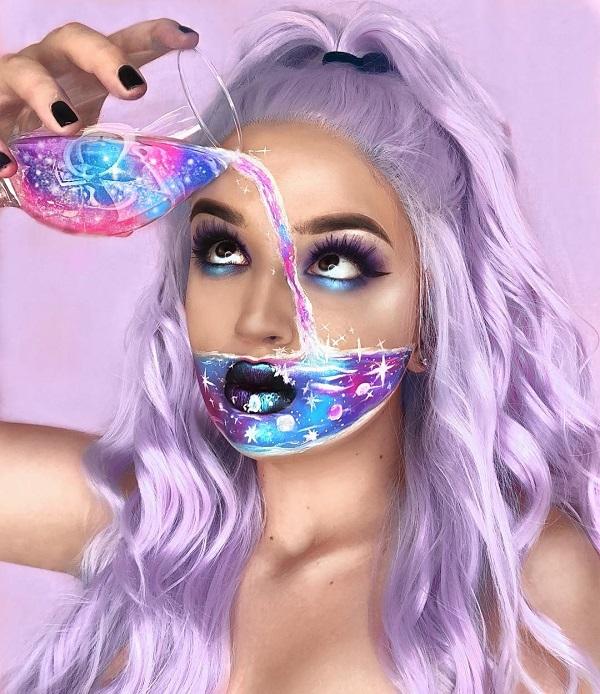 A magic idea to connect the ocean to the sky. The brilliant Halloween makeup makes people feel the vibe of the connection.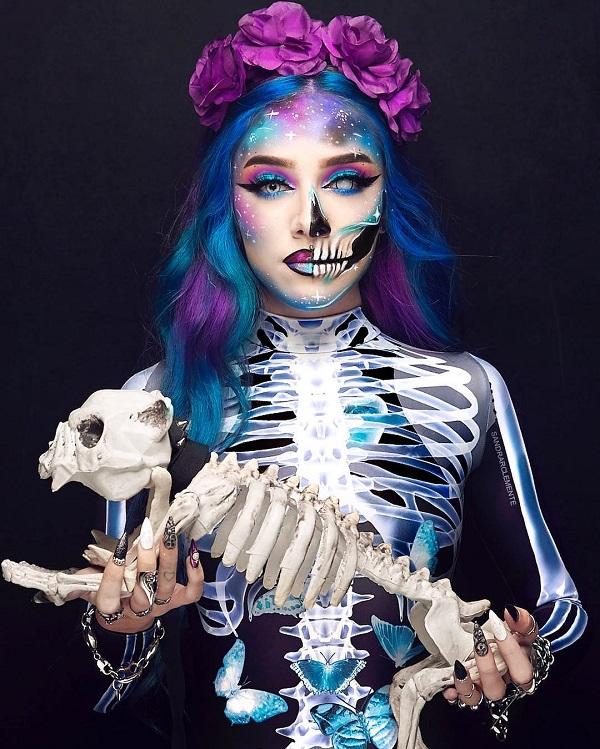 Tim Burton's Corpse Bride has inspired numerous recreations of skeleton brides esp. in costume and makeup fields. The feminine makeup features full body skeletal elements. The skeleton dress is exquisitely created with butterflies as addition to strengthen its symbolic meaning "soul or mind". Half-skull teeth is scary and connects to galactic sky with glossy fluidity, which brings different feeling. The color of the wedding wreath just matches the dark theme.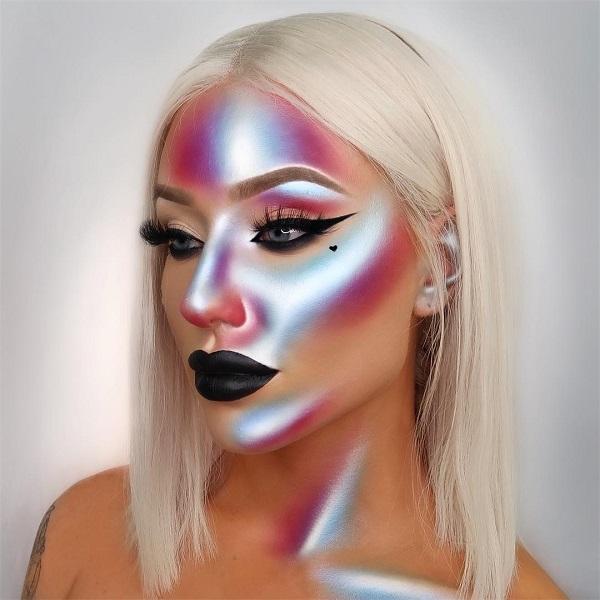 Almost the whole face is evenly painted to the metallic style. The color of the eyebrow and lip perfectly matches the tone. What I can't overlook here is the tiny heart icon painted underneath the eye which is the extra embellishment for the Halloween makeup.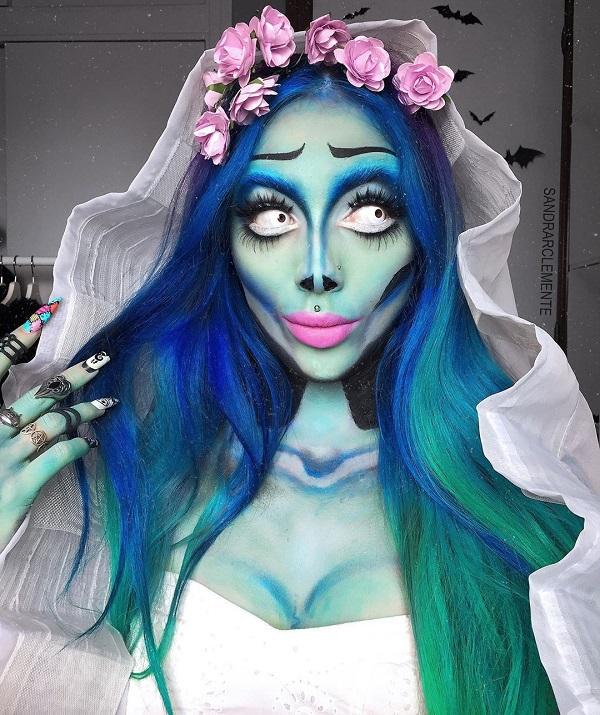 The mix of gloomy and gorgeous look is embellished by the exquisite flowers, Halloween Contact Lenses, dark-blue wig and creepy designed nails.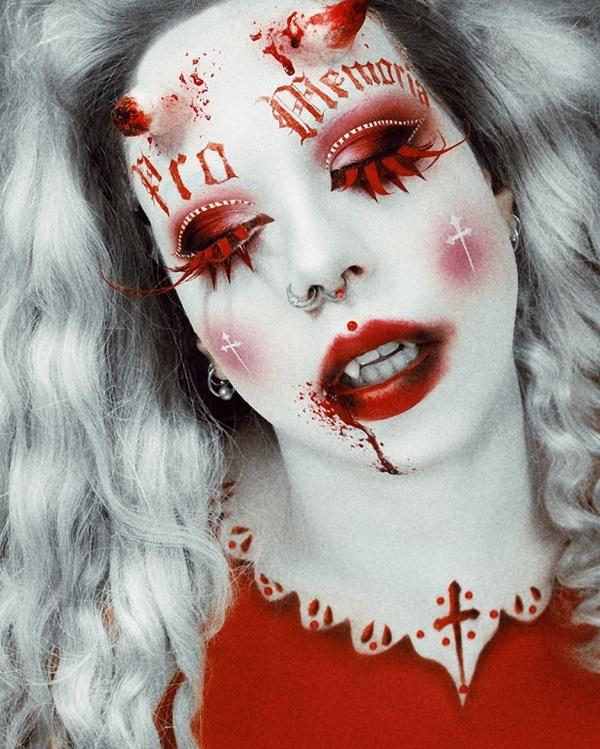 The bloody wound and exaggerated thick lash is highlighted in the clown makeup. A stunning piece in the spooky season.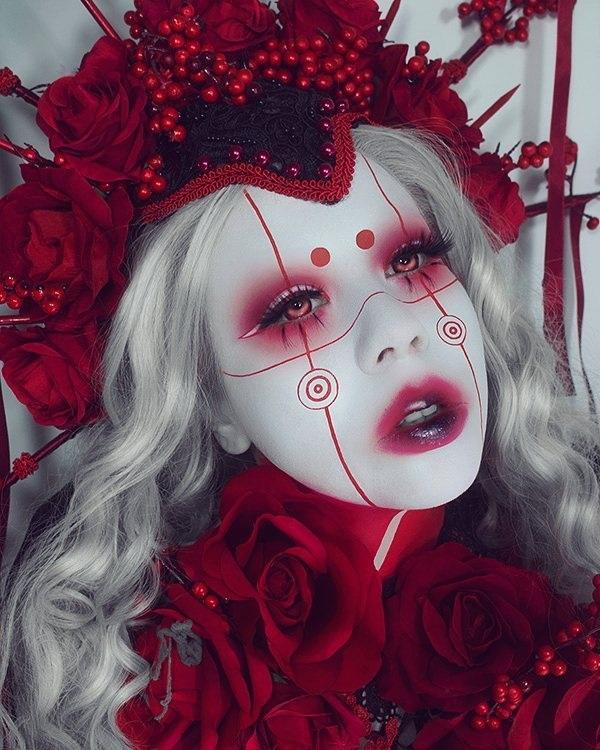 The scarlet red of the chest piece and headpiece decorated by rose flowers is in sharp contrast to the pale ashen face. An image of dead witch longing for beauty.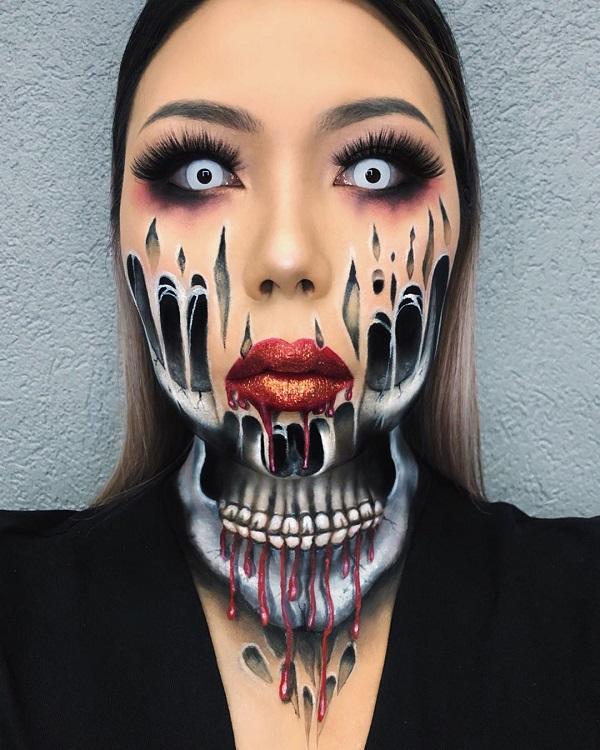 The scary ghost has a skull mouth down to the neck. Wearing contact lenses, her evil look makes my flesh creep.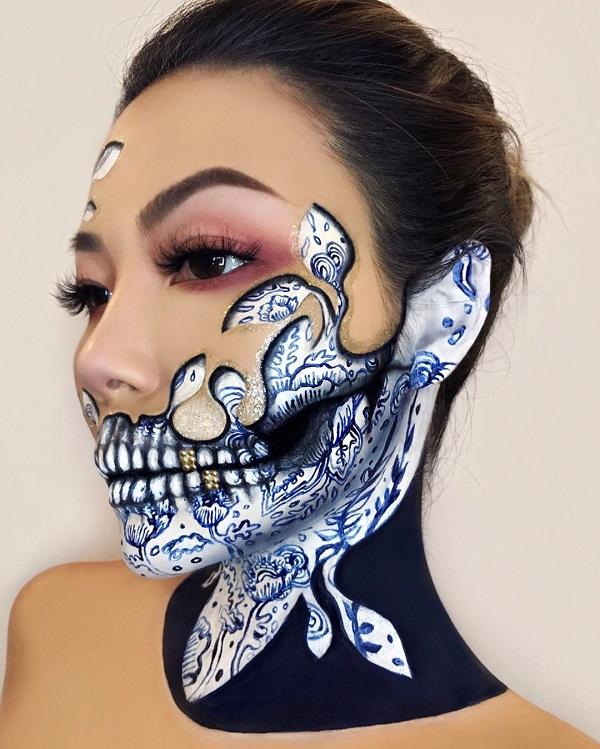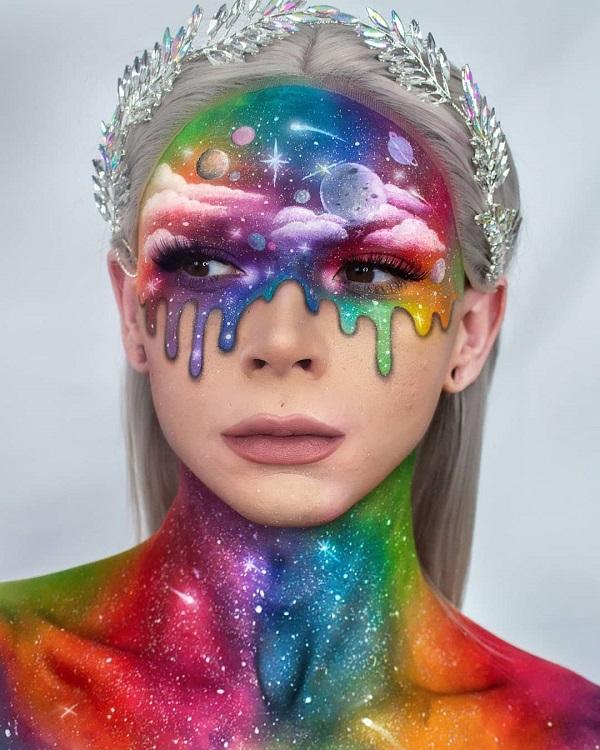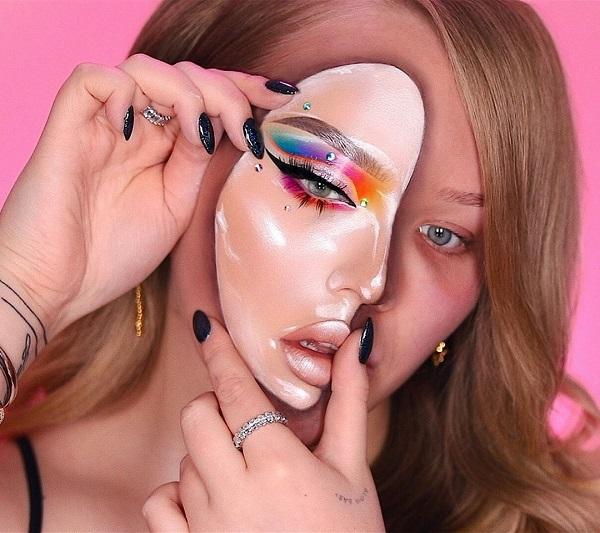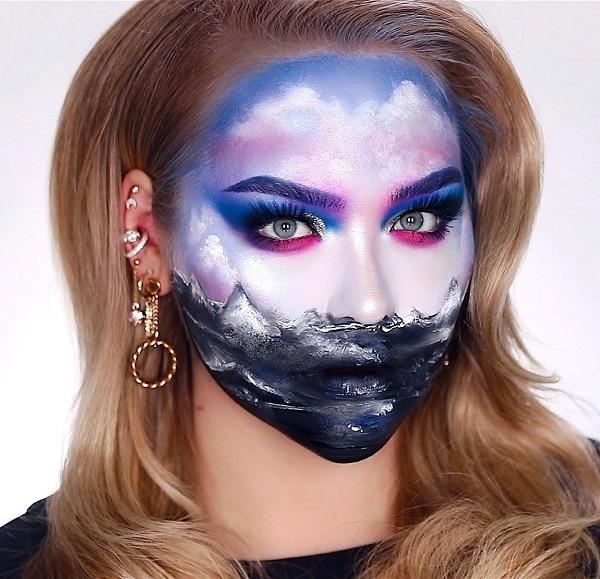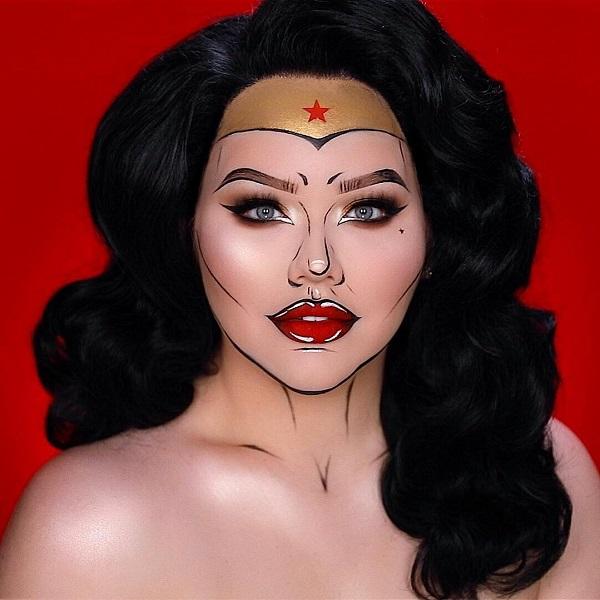 The comic inspired Halloween makeup turns you a fiercely feminine superhero. The makeup sketched out by simple outlines is evidence of professional skill of the artist.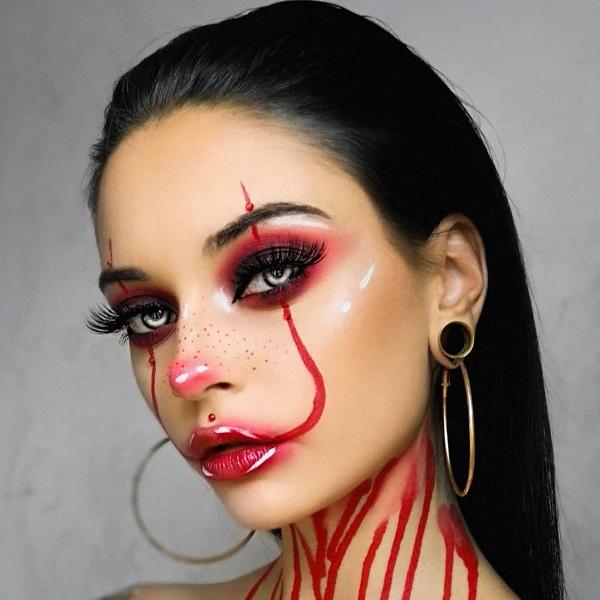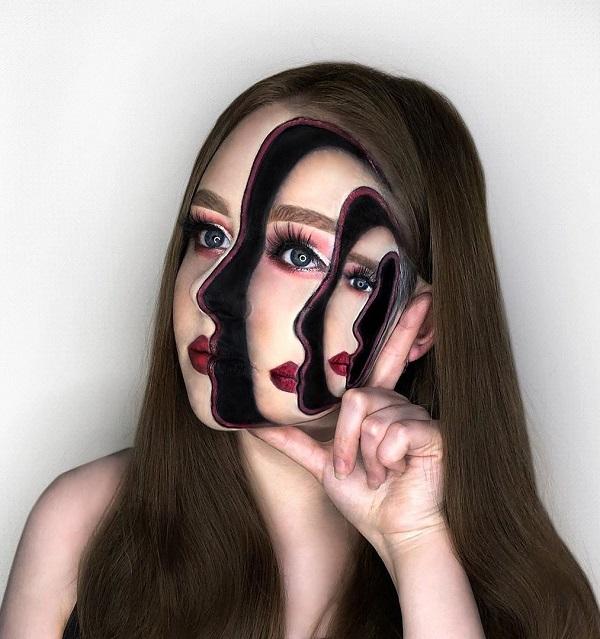 The eery optical illusion brought by the Halloween makeup is incredible. The artist created special illusion effect by fluent use of color and shade. What you see is not what you get here, which sometimes happens in life.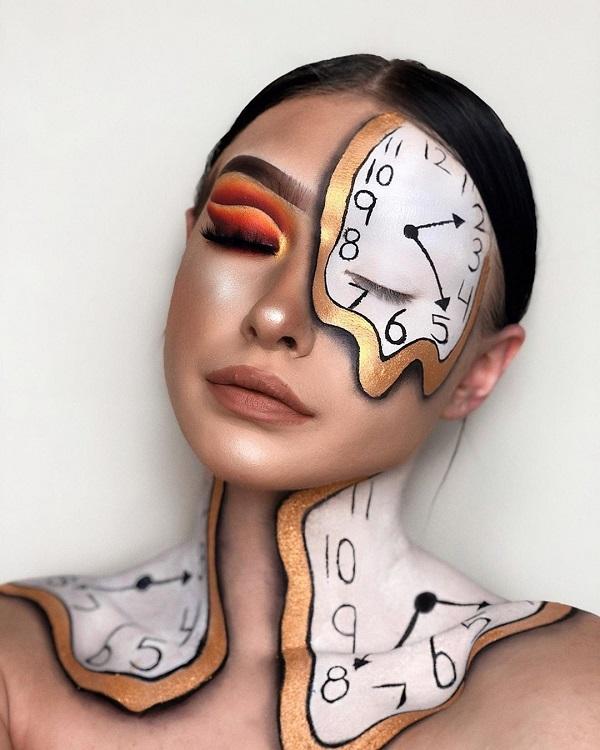 Three melting clocks are prominently displayed on the face as eye mask and on the shoulders. The Halloween makeup was apparently inspired by the painting of Spanish surrealist painter Salvador Dali, The Persistence of Memory.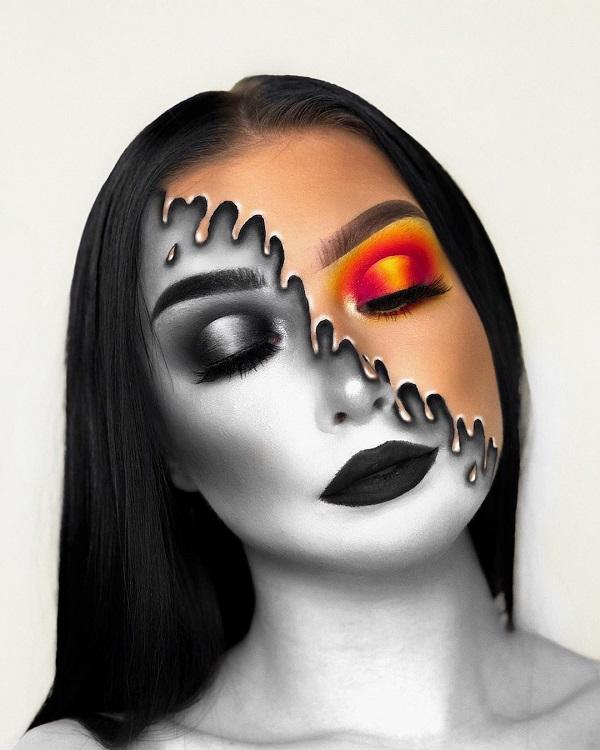 Melting face is dripping down. Two half-faces in different hell.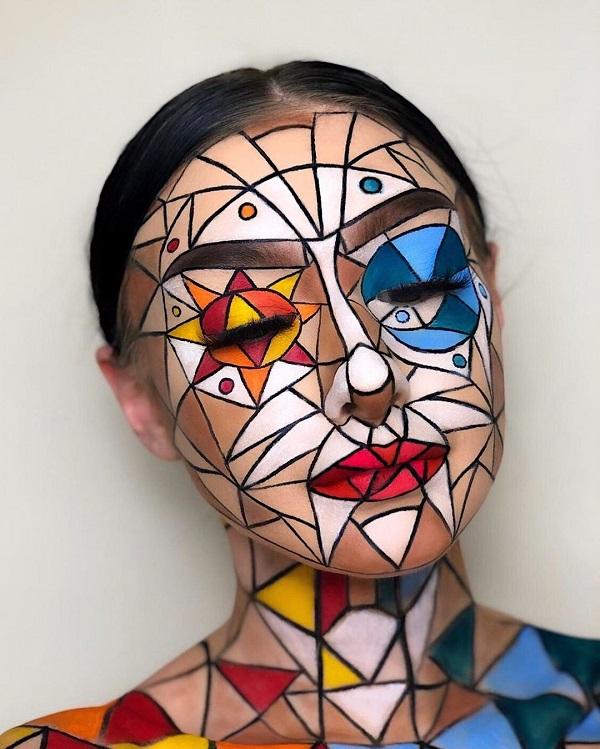 Mosaic art is a traditional art form keeping inspiring artists and creations. From the groundwork in Ancient Greece, to contemporary mosaic, to modern interior design, the abstract art could always produce revival of interest for the artists. Now it's the day of makeup. The geometric grids Halloween makeup is the perfect idea for people who goes for abstract artistic style.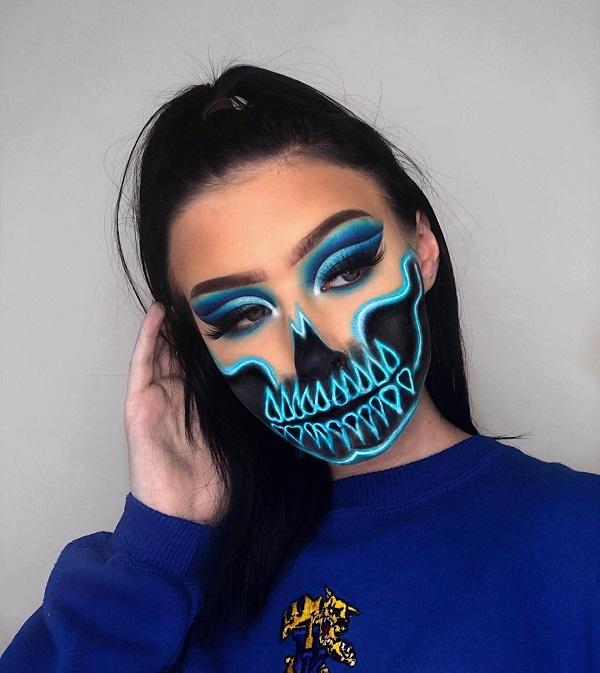 The skull mask, teeth as well as eye shadow are painted with glowing shades of neon. The fluorescence effect is definitely unique when you appear at the Halloween party.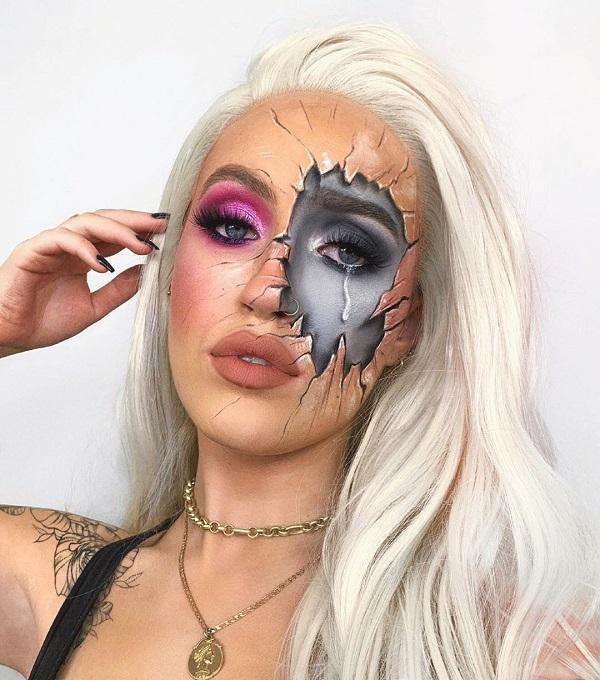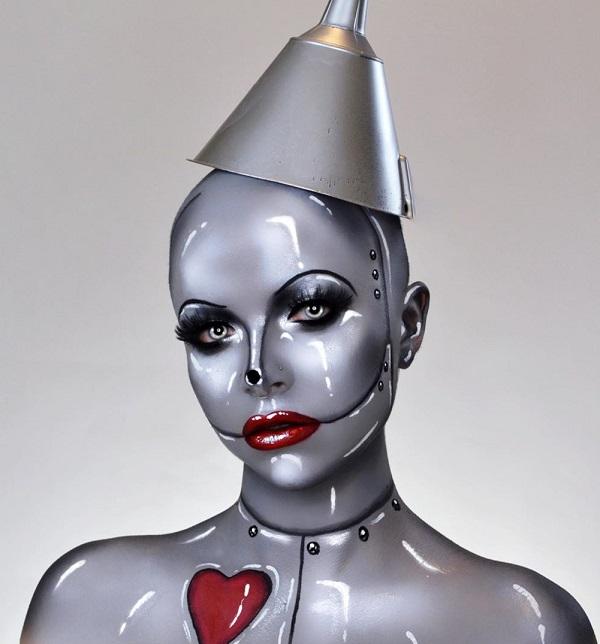 This piece is excellent reformulation inspired by the character in the Wonderful Wizard of Oz, makes the woman appear silvery and a metallic figure. The heart symbol and the tin on her head accent the motif of the fantasy adventure.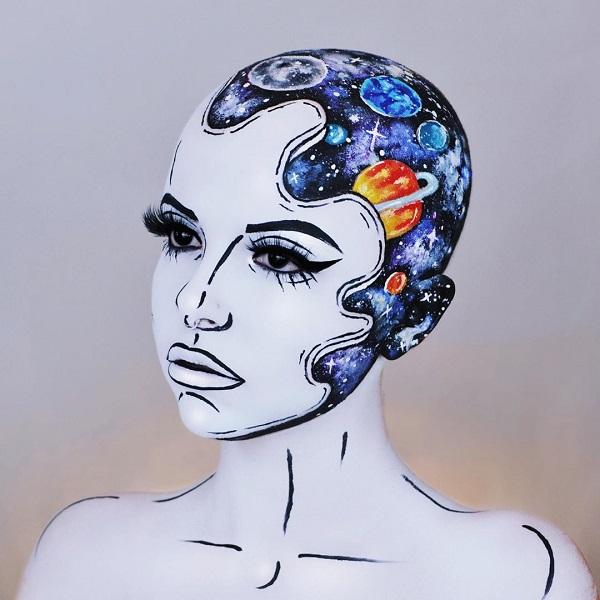 The artist transforms the woman to an alien by Halloween makeup with pure facial look and sophisticated galactic mind.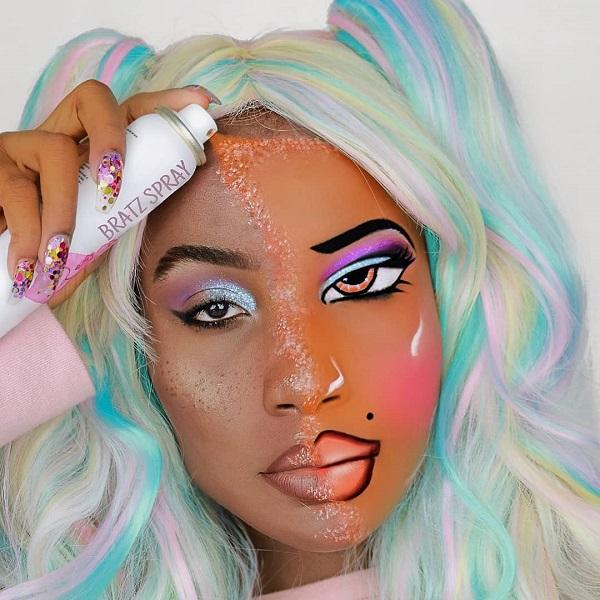 What makes Halloween makeup comic? The colorful blond hair, wondering eye-shadow or the falling glitter?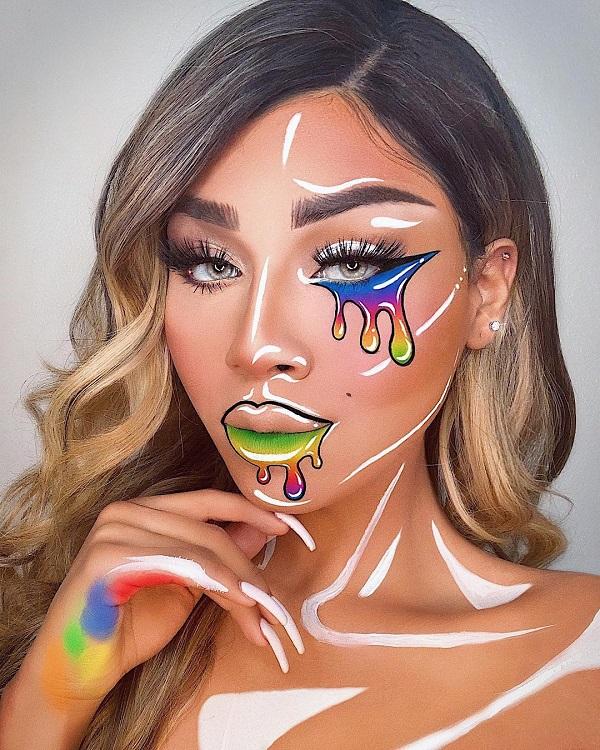 Rainbow could means the bridge connecting sky to earth. In the mind of the makeup artist, it could appear as droplets under the eye or lip. The brilliant Halloween makeup renders cheerful look.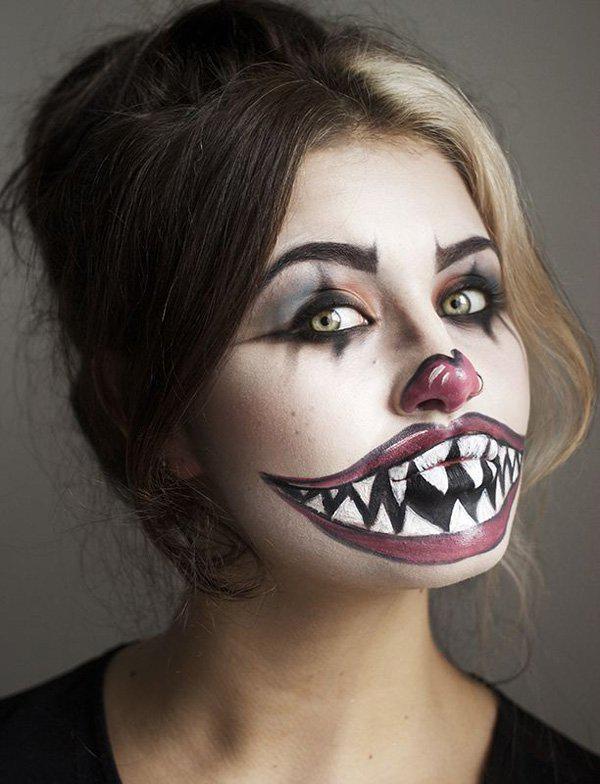 Horrifically magnificent Halloween makeup that you can recreate by yourself. Use dark and light colors that contrast against each other. This freaky clown makeup looks amazing because of the sheer contrast of the colors.
Beautiful Halloween makeup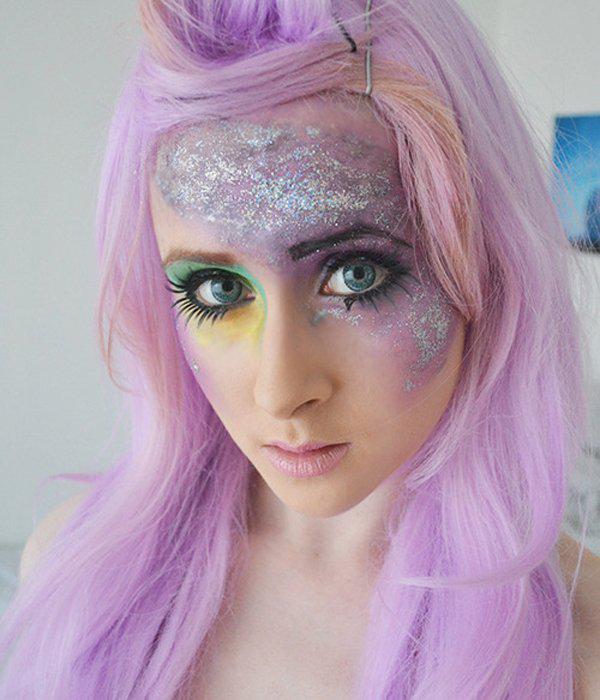 Halloween galaxy princess makeup. Halloween makeup doesn't necessarily mean you have to be scary, you just simply have to be out of this world and this makeup theme suits it just fine.
Galaxy Soldier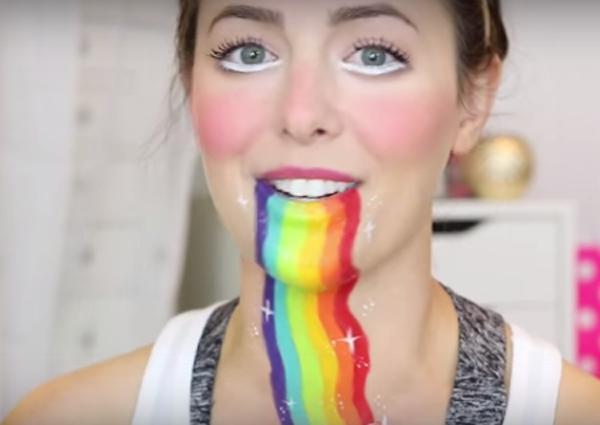 Rainbow tracks Halloween makeup. Even though barfing isn't the best thing in the world, this colorful rainbow themed makeup definitely makes it a very fun and interesting piece for a Halloween costume.
Mind-Blowing Halloween Makeup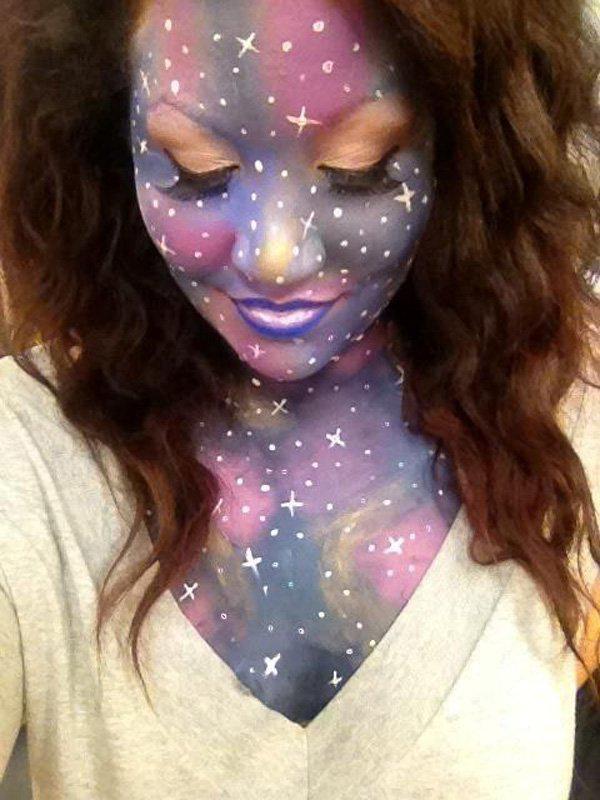 Bring in the whole galaxy with your Halloween makeup. This nebula galaxy inspired makeup looks simply gorgeous and star studded.
Nebula Fantasy Makeup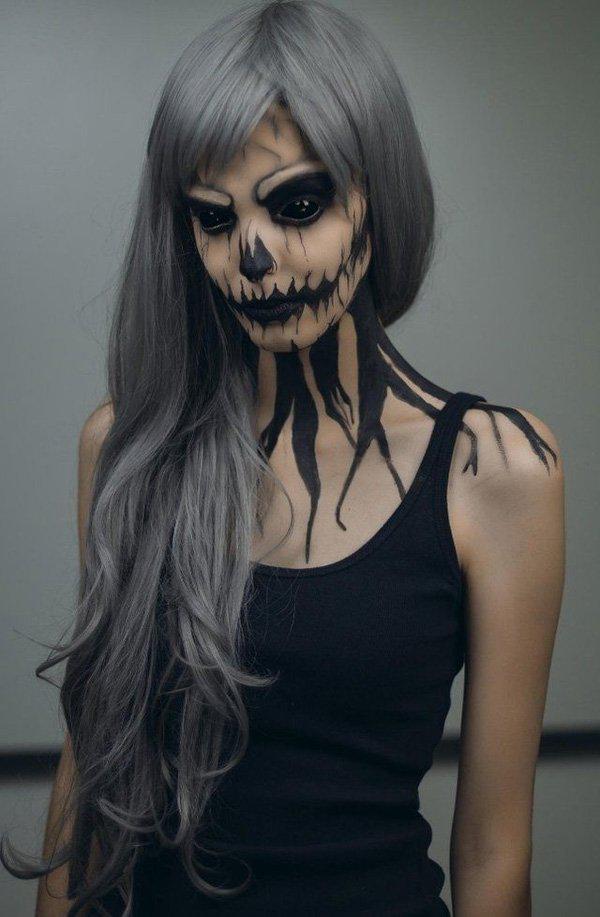 Spooky but gorgeous looking Halloween makeup. Be the death eater with this black themed dark ghoul makeup. Step it up with a pair of all black sclera contacts and scare your way all throughout Halloween.
Awesome Halloween makeup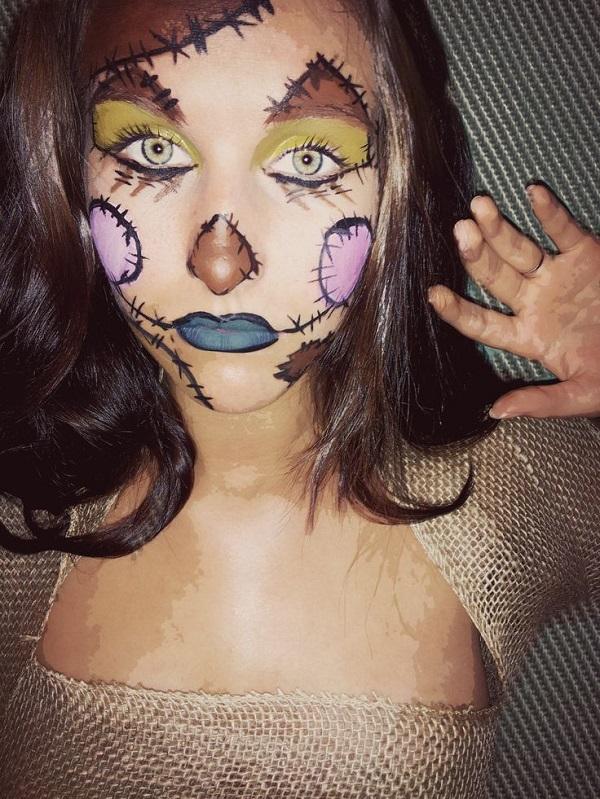 A pretty and colorful stitched Halloween makeup. Look like a raggedy anne doll or a scarecrow with this stitch inspired makeup using various shades and blush.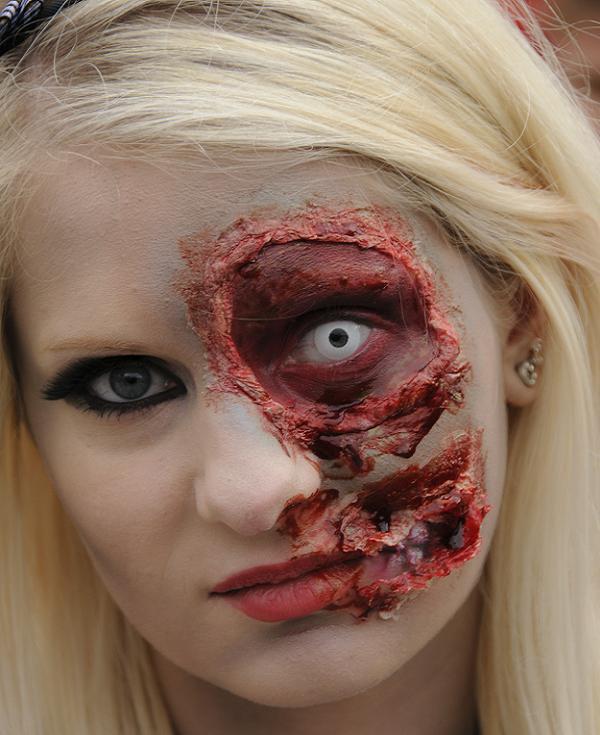 Burned skin Halloween makeup. Looks so realistic that you can't even imagine how it's done. A creative mind plus a bit of prosthetic can enhance this look and make it even more realistic.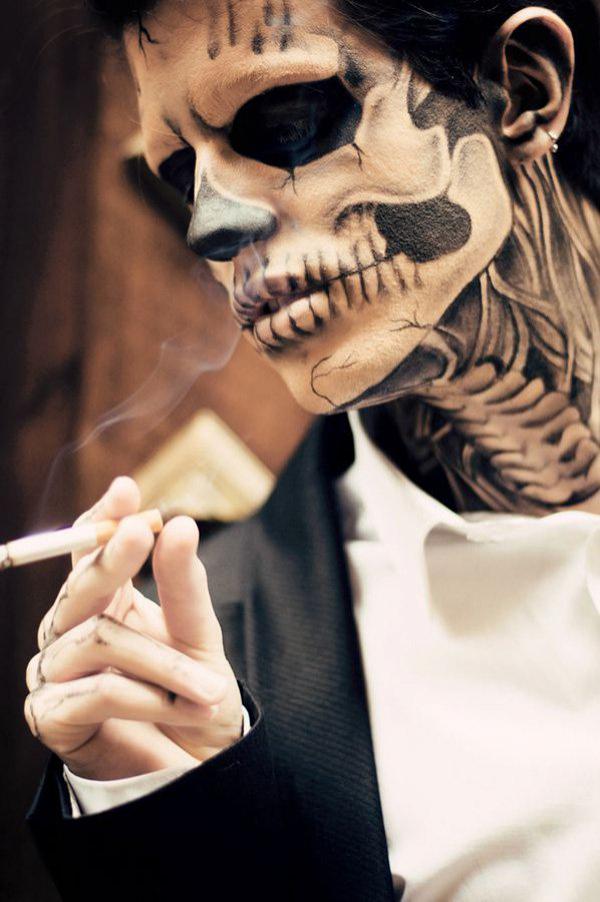 Skeleton themed Halloween makeup. Who says you can't be a dashing skeleton on Halloween? With this ensemble of intricate makeup brush strokes, you might get more than a few good looks from spooky admirers.
Smoking skull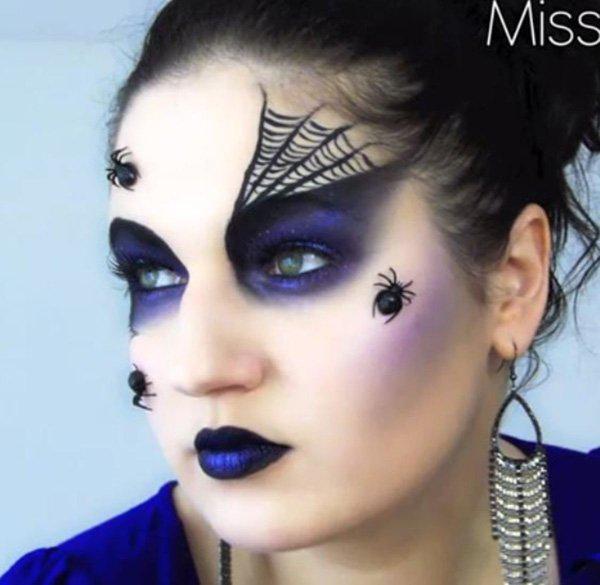 Spider web inspired Halloween makeup. Draw webs and little spiders on your face with help from makeup and its prowess. Make the most out of creating those dark blue smoky eyes which transform into a web.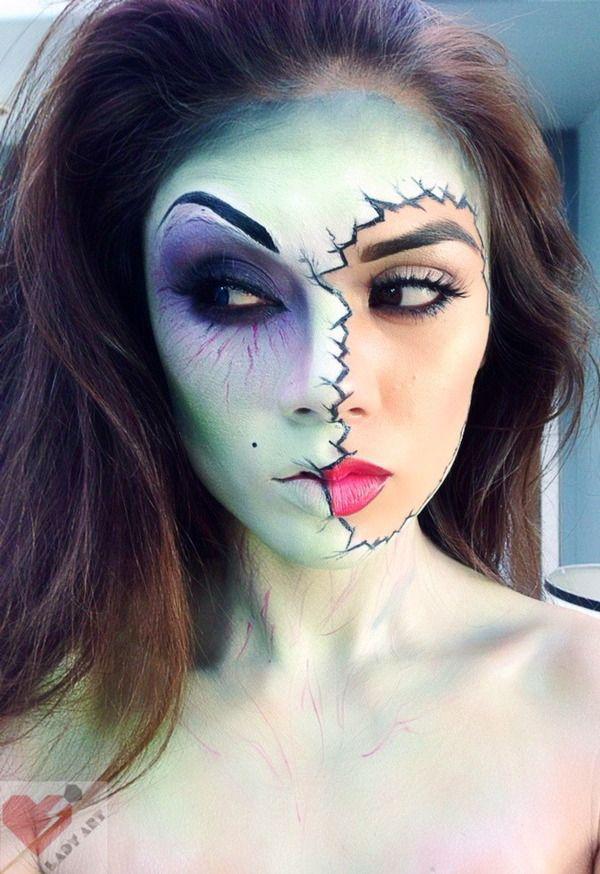 Gorgeous looking Halloween makeup theme. This has an air of corpse bride into it and works perfectly with the cracked double face and sheer contrast of the living and the dead.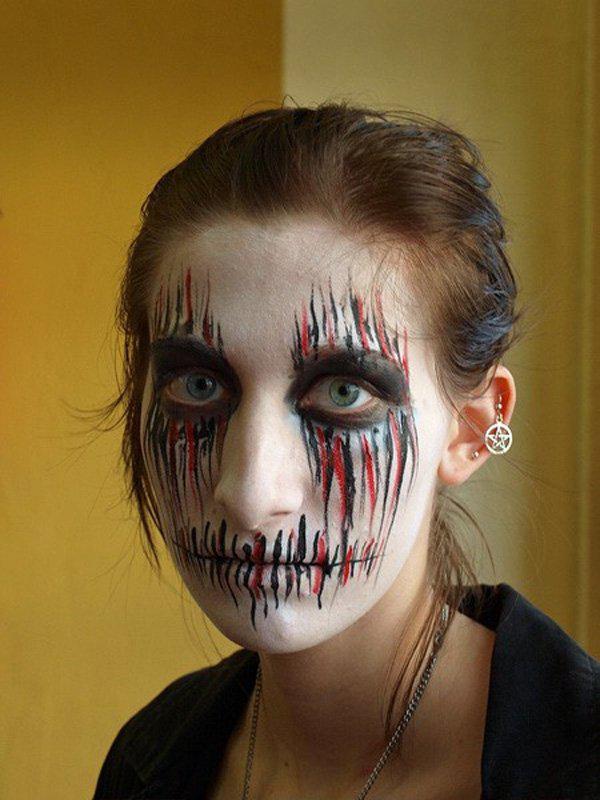 Red and black Halloween makeup. Very simple yet eye catching Halloween makeup. Cover your face in mass numbers of red and black eye shadows depicting stitches and blood on your face.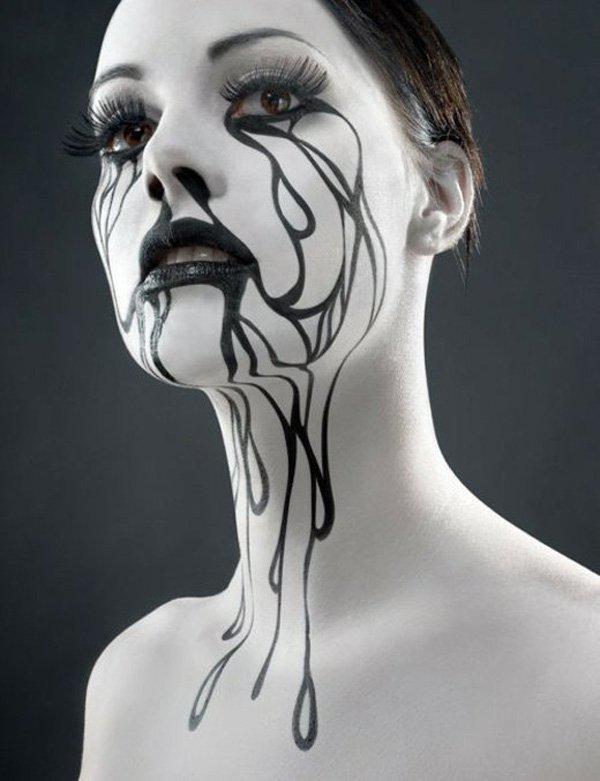 Be spooky yet classy this Halloween with this makeup inspiration. Using black and white makeup, draw intricate lines interconnecting on your face and neck to create a wonderful illusion of overflowing black tears.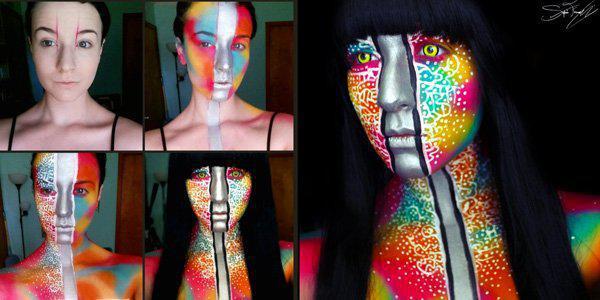 Modern android Halloween theme makeup. If you have a penchant for the out of this world then this neon inspired makeup will definitely fit you well.
Cool Halloween makeup for women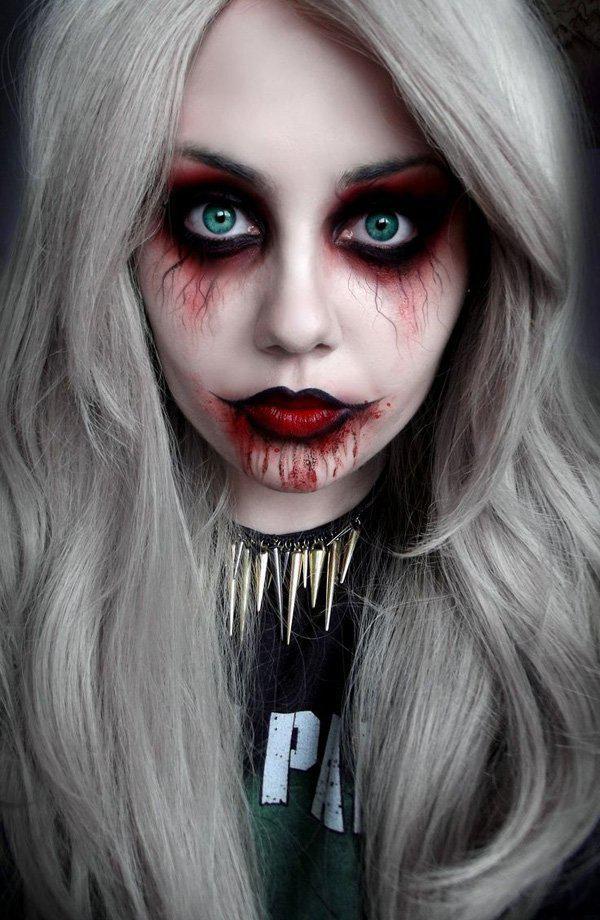 Vampire inspired Halloween makeup. Vampires will never be forgotten on Halloween and this is the perfect look that you can go for with your vampire costume. The color combination of black and red blushes makes a good resemblance to blood and veins running through the body in a creepy way.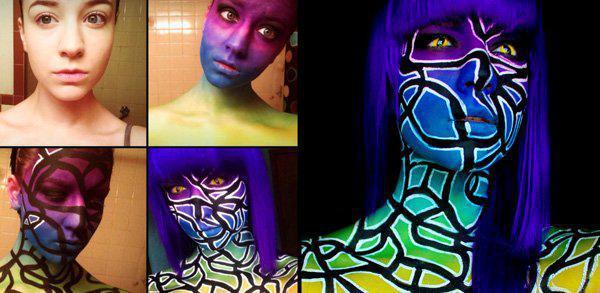 Another neon inspired Halloween makeup. Since Halloween night is celebrated at night you might want to stand out and be noticed from afar. This rather attention getting look sports gradient neon colors that overlap each other amidst dark and bold cracks all throughout.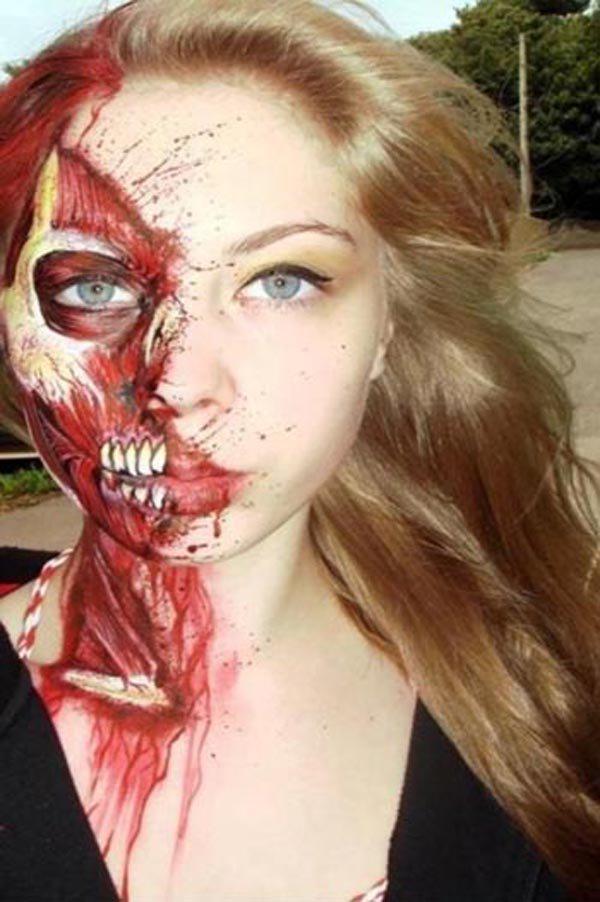 There is nothing much more interesting and creepy than the human anatomy. Human insides Halloween makeup theme will surely make you cringe. The realistic details on the makeup are truly a work of art.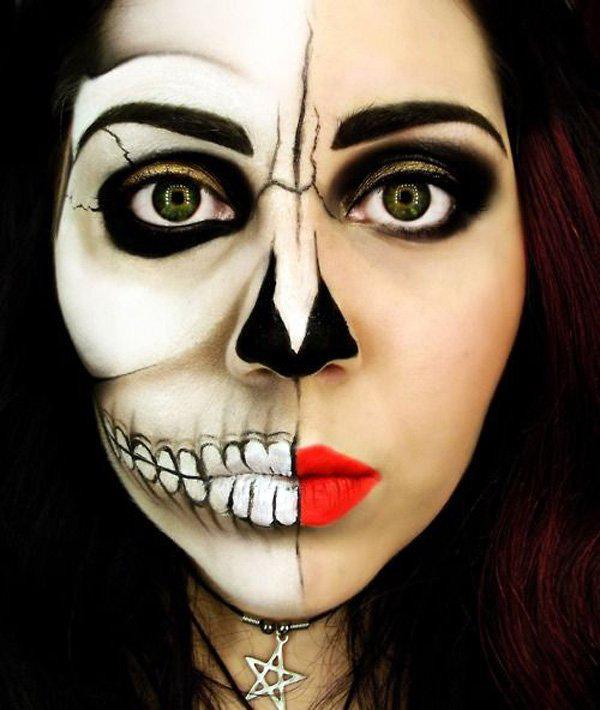 Half woman, half corpse Halloween makeup. This is a good theme when you want to show two sides of the story. The details are creatively drawn and the drama between the faces can clearly be shown.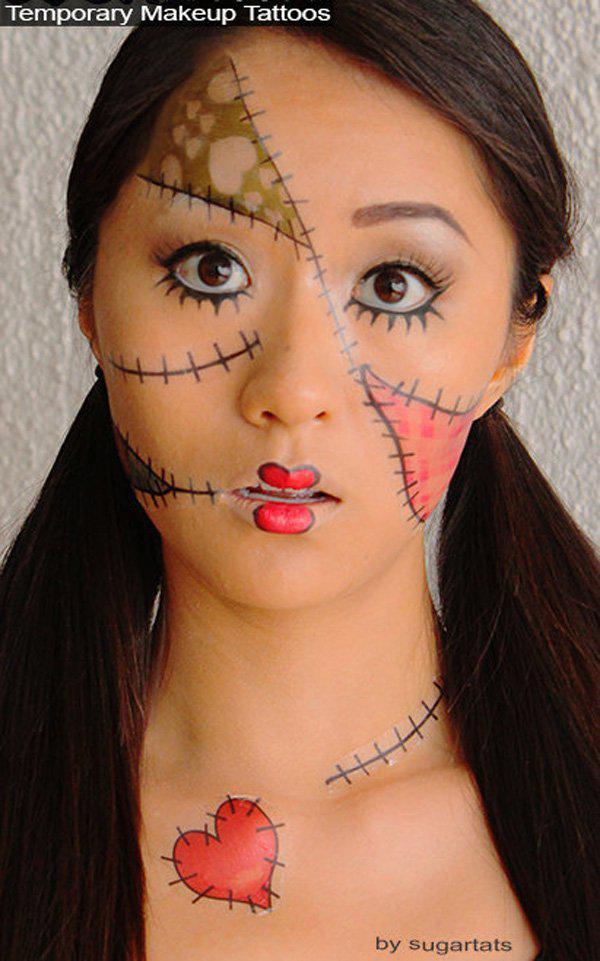 Stitched up Halloween make up. If you don't want too much foundation on your face you can always go with this simple stitched up style.
Early Halloween makeup

Candy cane slash skeleton girl Halloween makeup. Looking crazy is in when it comes to Halloween, but you should not only try look crazy, but look good while being crazy just like in the image.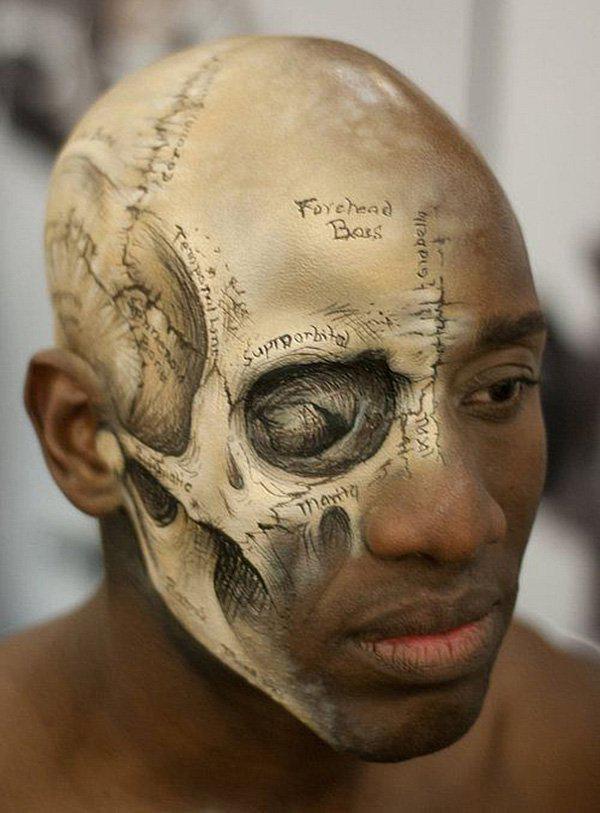 A very detailed exposed skeleton make up. The combination of nude shades and black lining help make the contours of the face look more vivid and recognizable.
Exposed Skull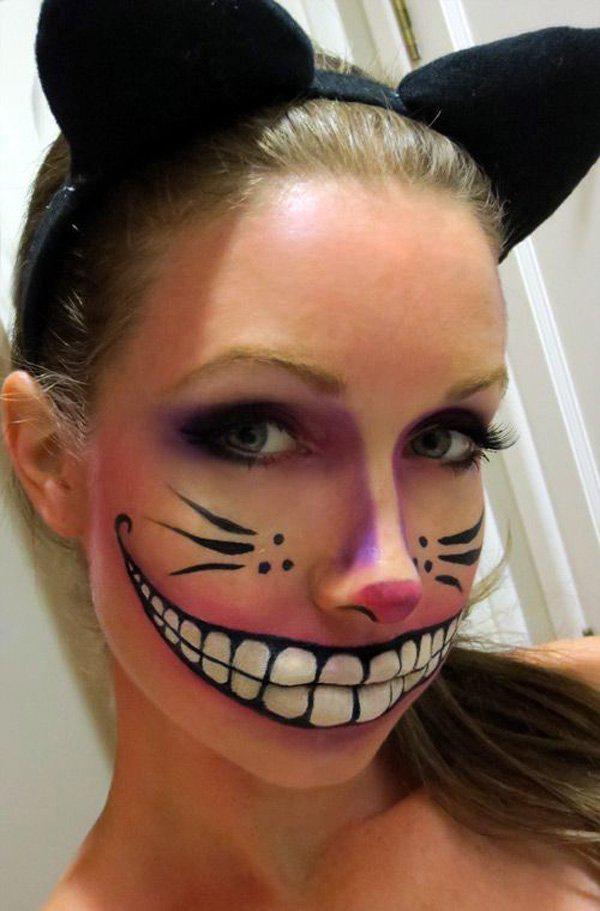 Cheshire cat inspired Halloween makeup. Use your artistic skills and draw the charming Cheshire smile across your face over the lips to create the illusion of a wide cat grin.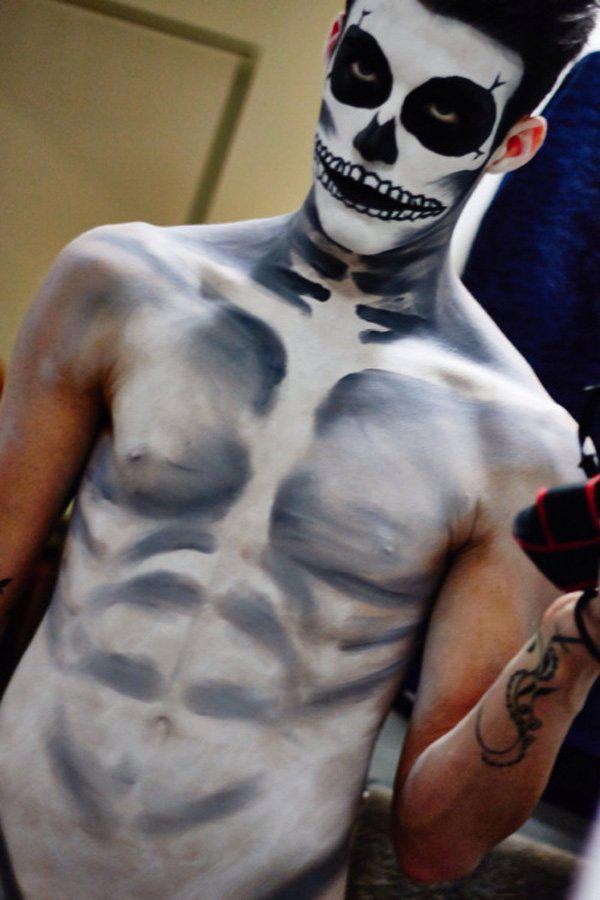 Black and white exposed skull makeup. This makeup also involves painting the body to match the skeleton makeup on the face.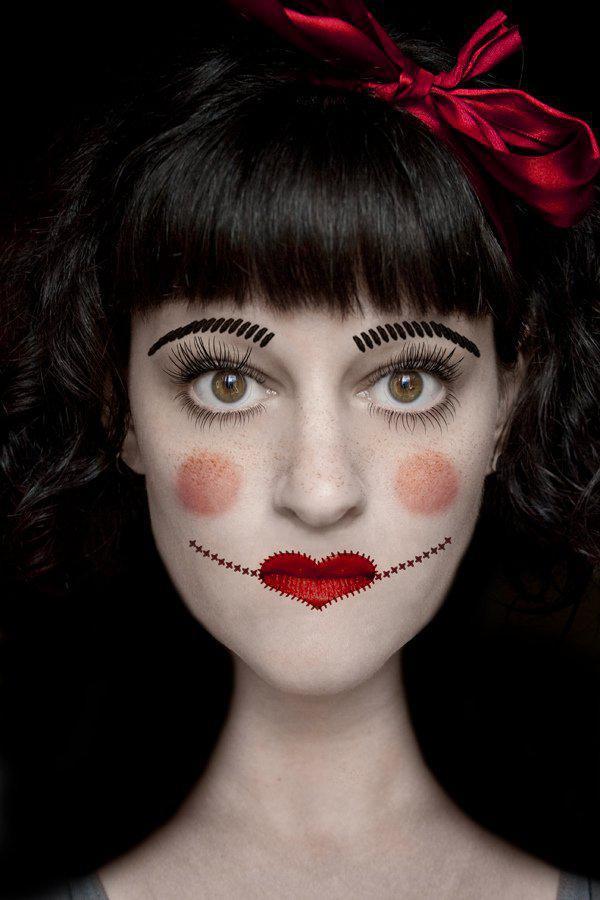 Stitched doll themed Halloween makeup. It consists of using light and dark contrasting colors of white, pale peach and red in to create the innocent yet creepy look.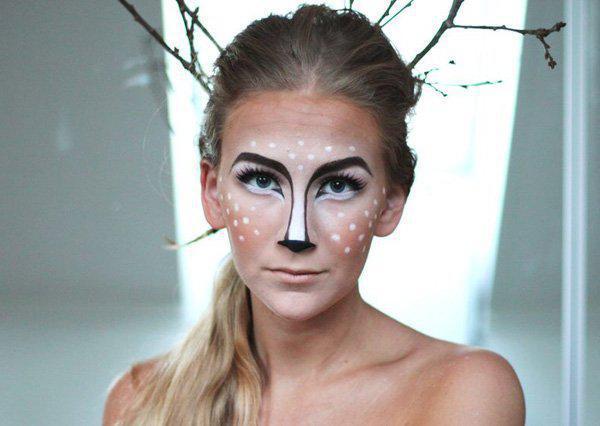 Beautiful snow dear Halloween makeup. This look uses mostly white shades with peach colored blush and black face paint for the nose and brow details.
Halloween makeup for women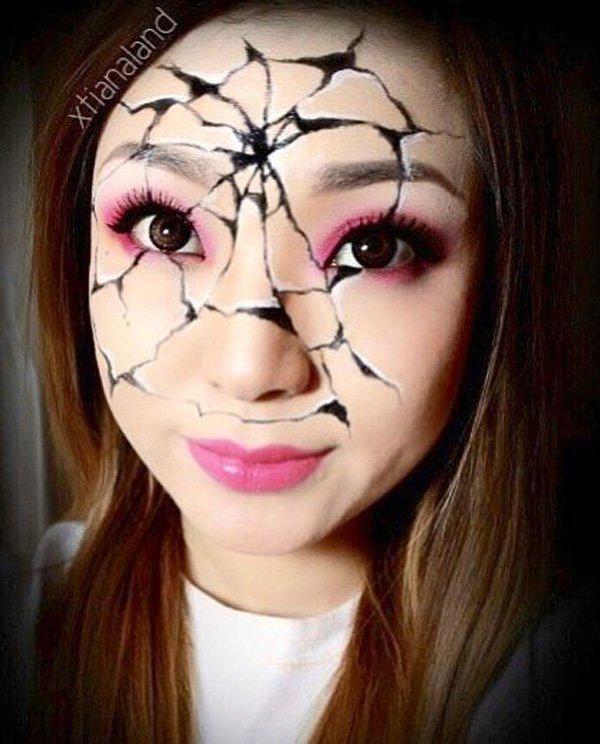 Cracked head Halloween makeup. The artistic cracks painted along the head are with black and white face paint is accompanied by simple yet bright colored eye shadow to highlight the eyes.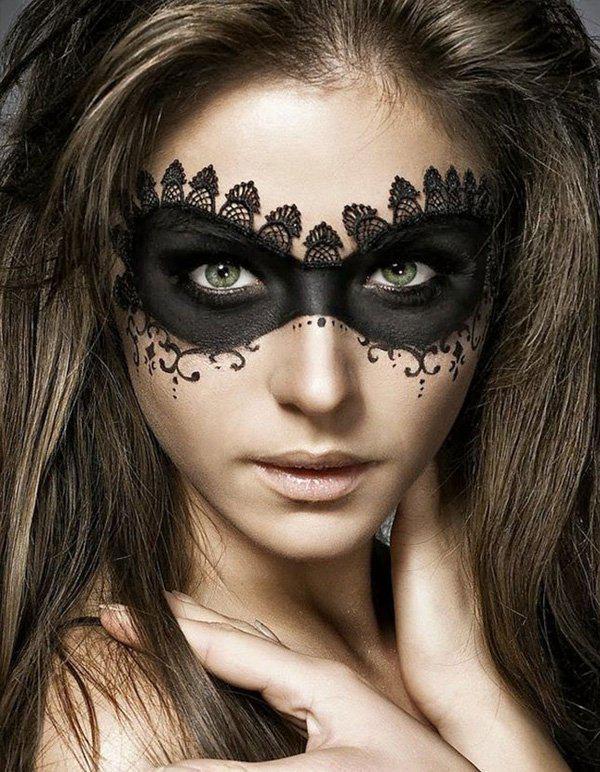 Devastatingly beautiful lace inspired Halloween makeup. Give full attention to your eyes with this lace themed face paint depicting a black ball mask perfect for a night of terror.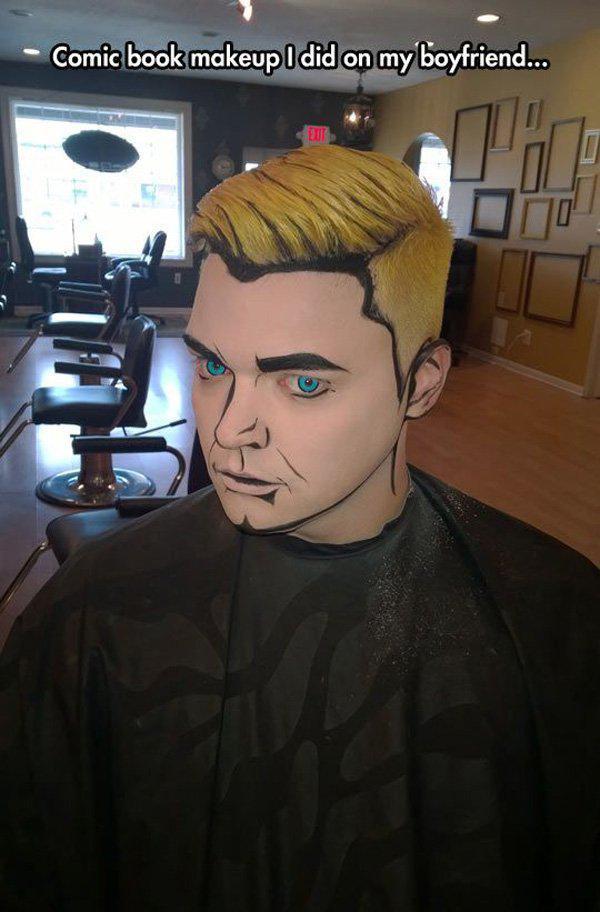 2D comic book character makeup. This makeup technique uses your face as a flat surface while using black face paint for the more specific details on the face.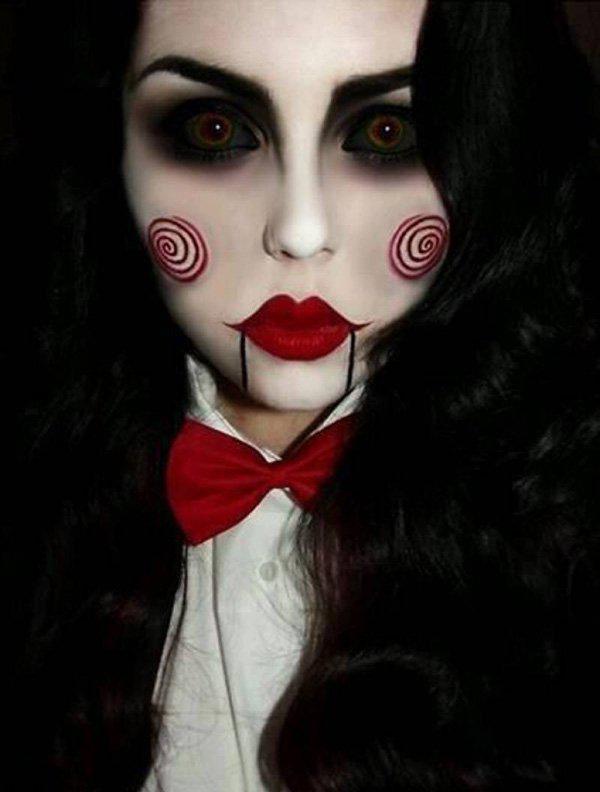 Dark clown Halloween makeup. This style of makeup plays with white, black and dark ted tones on the face. Dark rainbow sclera contacts are then added to complete the creepy look.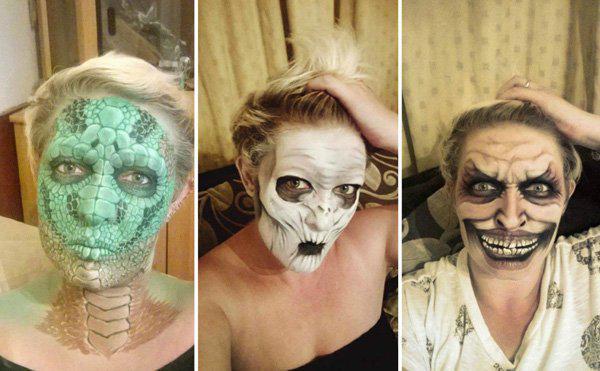 Creepy and detailed Halloween makeup techniques that you can use. The styles are in snakeskin, pale old woman and creepy smiling man themes.
Halloween makeup idea for man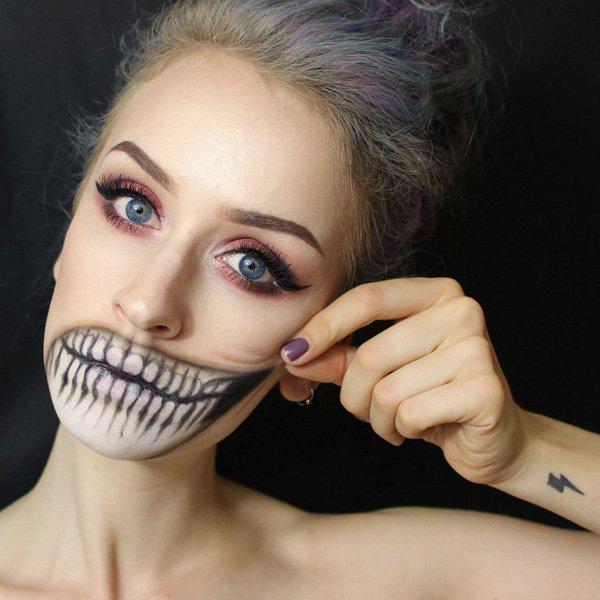 Exposed skeleton smile makeup for Halloween. If you want to make a scary statement but at the same time look normal then this is the look you've been looking for.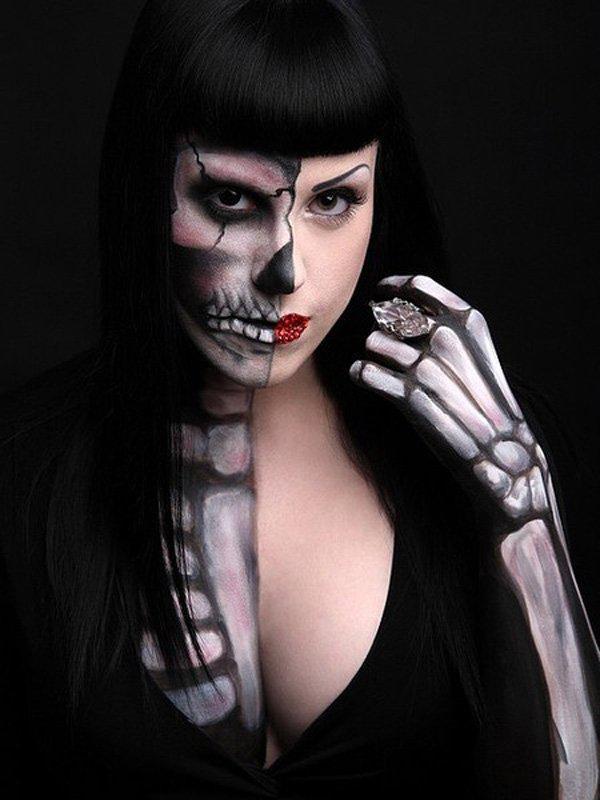 Half exposed skeleton makeup. Give a glimpse of your inner creepiness with this half body and face paint makeup perfect for Halloween parties.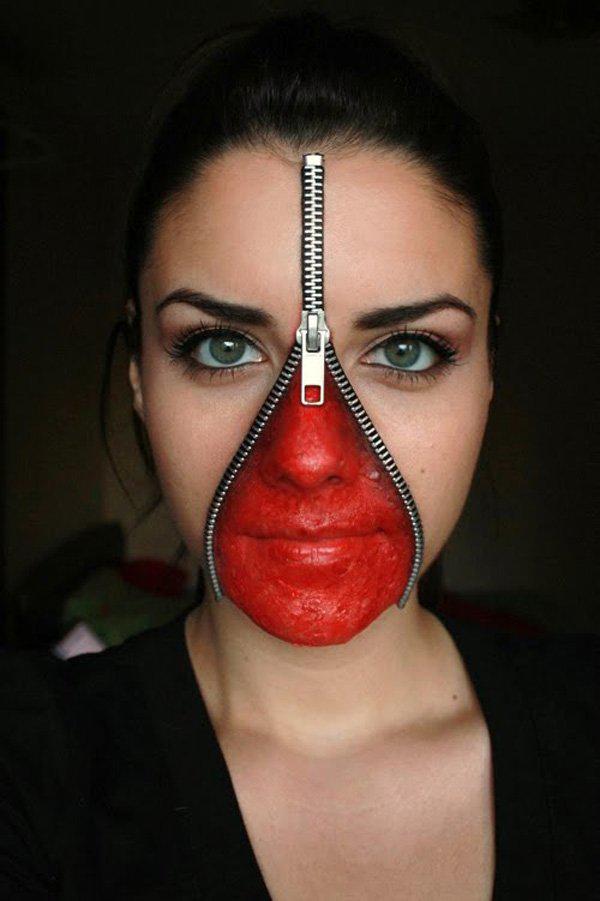 Exposed human meat Halloween makeup. Use a single zipper wrapped around your head that opens on bright red meat paint on your face. If it helps you can also add a bit of prosthetic on the bumps of the meat to make it look more realistic.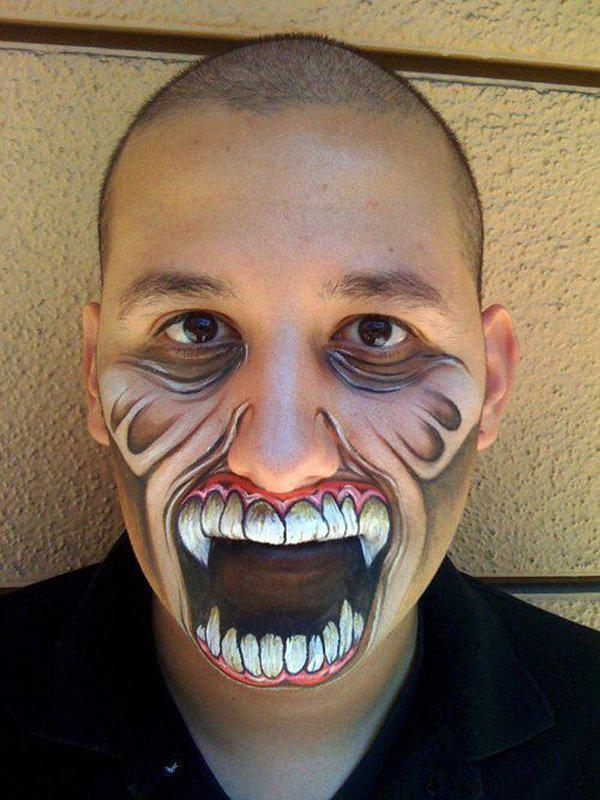 Screamer Halloween makeup. This Halloween look uses the lower half of the face for the mouth and cheek face paint. The fangs and cheek are drawn in detail all the way down to the chin.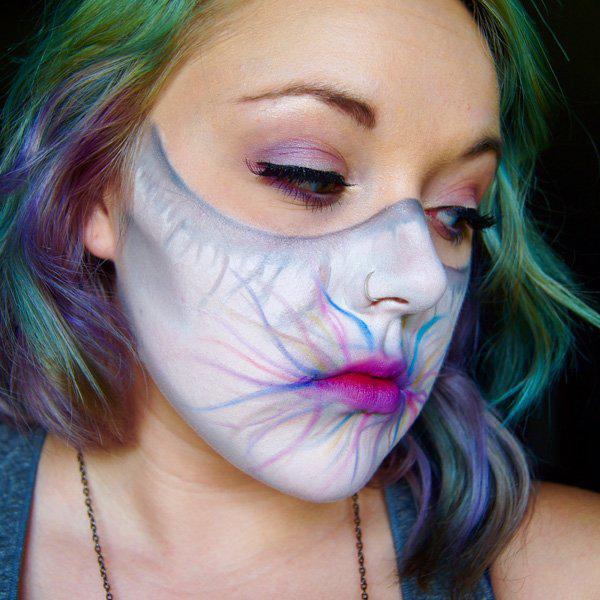 Techno-colored Halloween makeup theme. Using glitter eye shadow and face paint in neon colors, you are able to create vein like protrusions from the lips reaching up to the cheeks. This is definitely an eye catching makeup technique.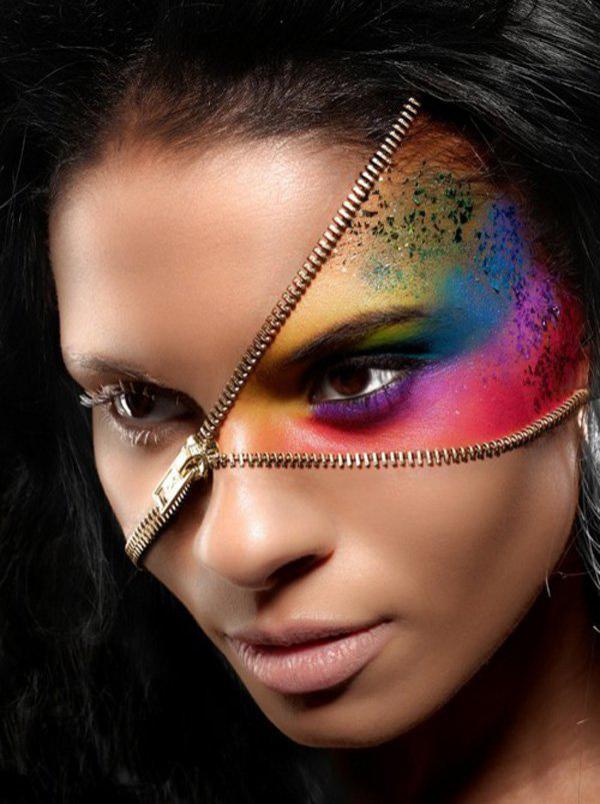 Zipper themed makeup for Halloween. This look uses a real zipper fastened around your head while creating a rainbow themed half face paint design topped with glitter for effect.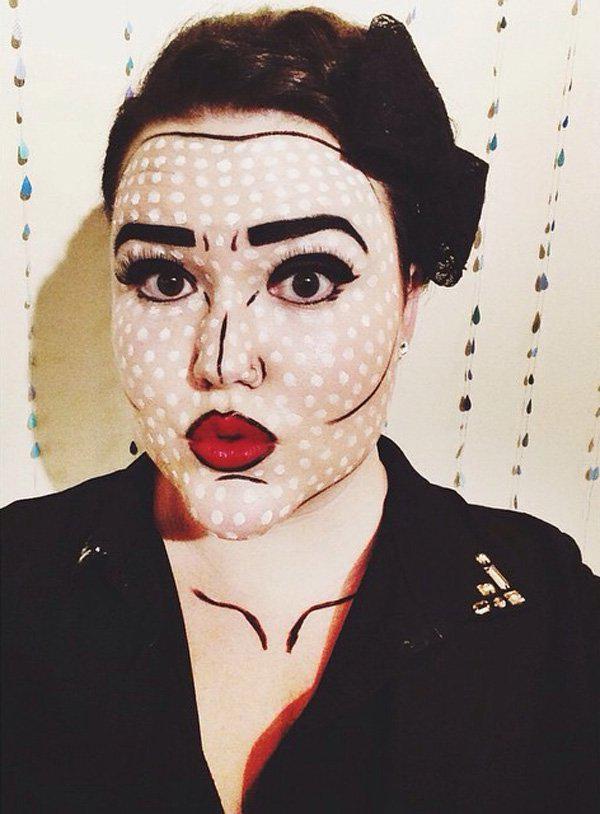 This look is a 2D cartoon character inspired makeup. Make your face look as flat as possible and add bold black strokes to emphasize the 2D effect. Add a bright red lipstick and stand out long eye lashes and you are good to go!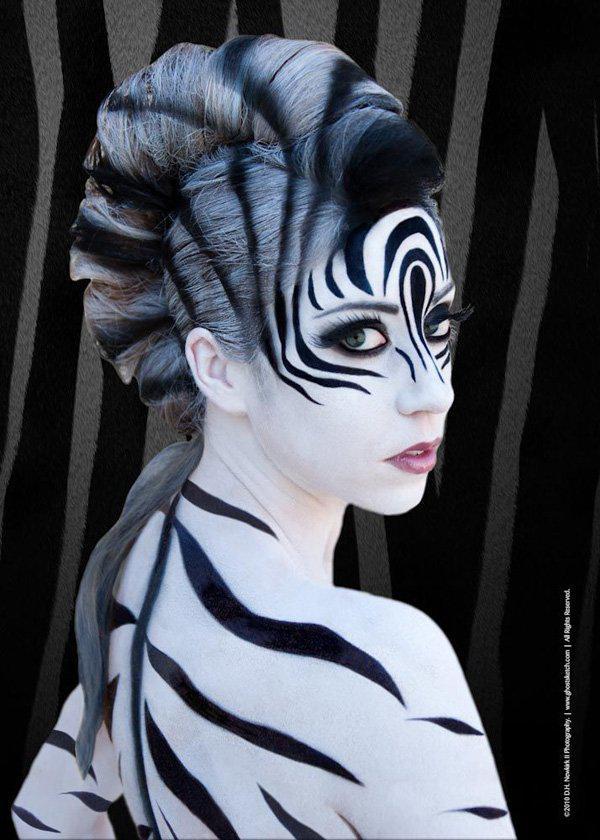 Zebra inspired Halloween makeup. Tuning your inner animal instincts? Cover your entire body in black and white face paint depicting a zebra's coat and stripes.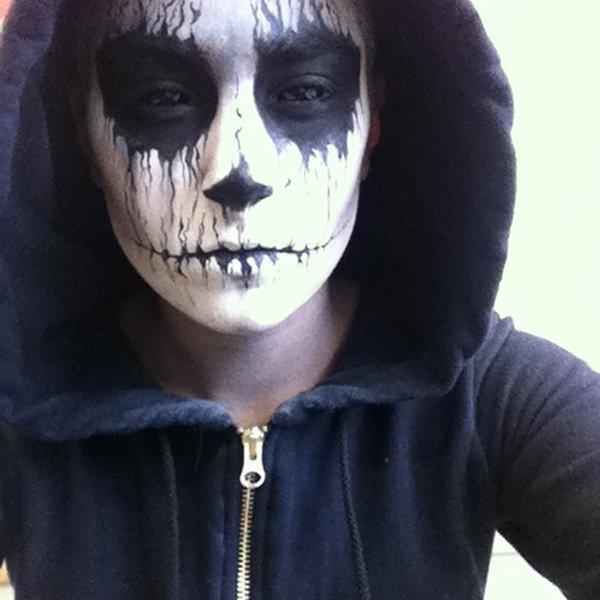 A night before Christmas inspired look. Simple yet spooky and definitely perfect for Halloween.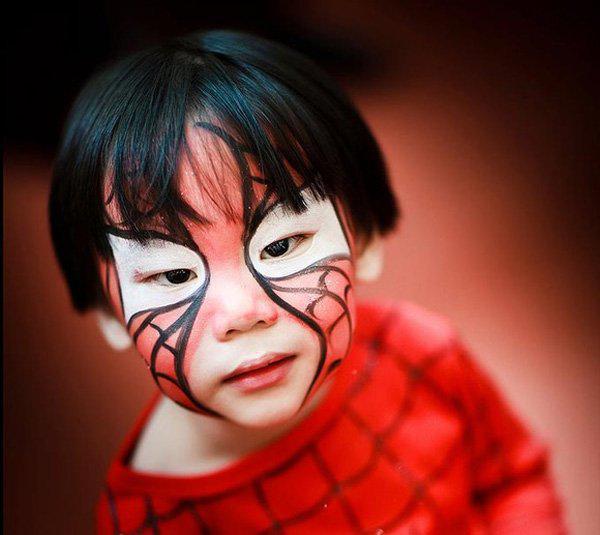 Spiderman makeup for Halloween. Got no time for a mask? Face paint your spidey mask on with just a red, white and black for the web design and whites of the eyes on the mask.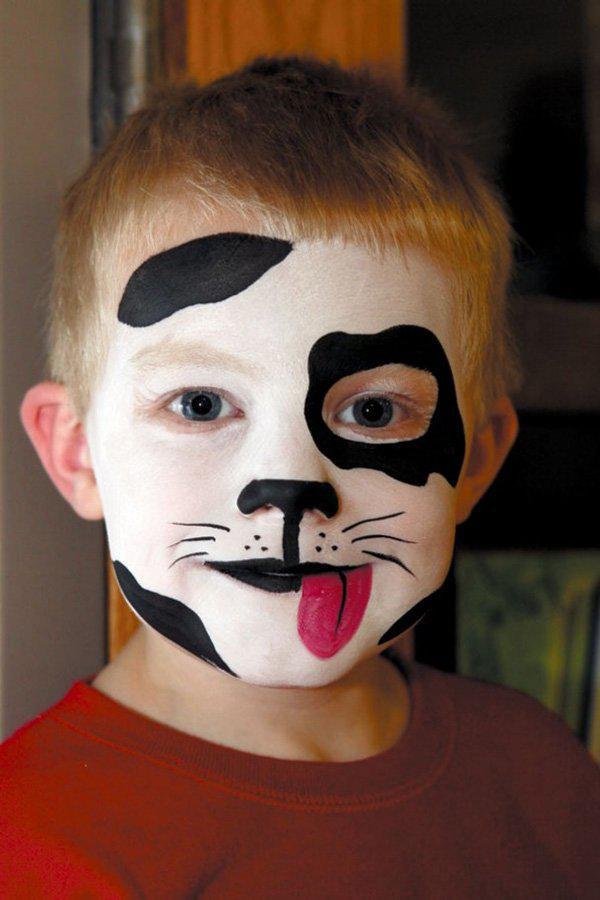 Dalmatian inspired Halloween mask. Love dogs? Get creative with face paint makeup and draw Dalmatian spots, a cute doggy nose and a tongue to complete the canine feel.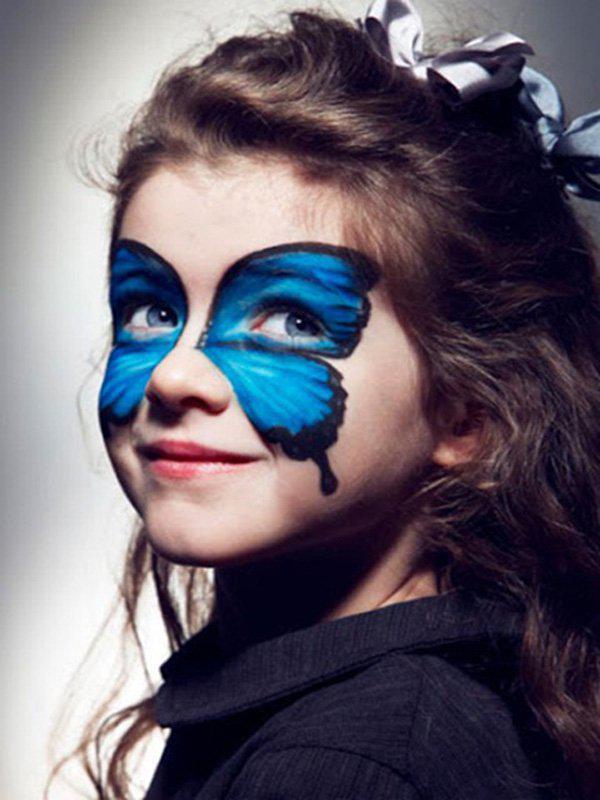 Butterfly wings themed makeup. This look is great for kids since it can also go with just about any costume.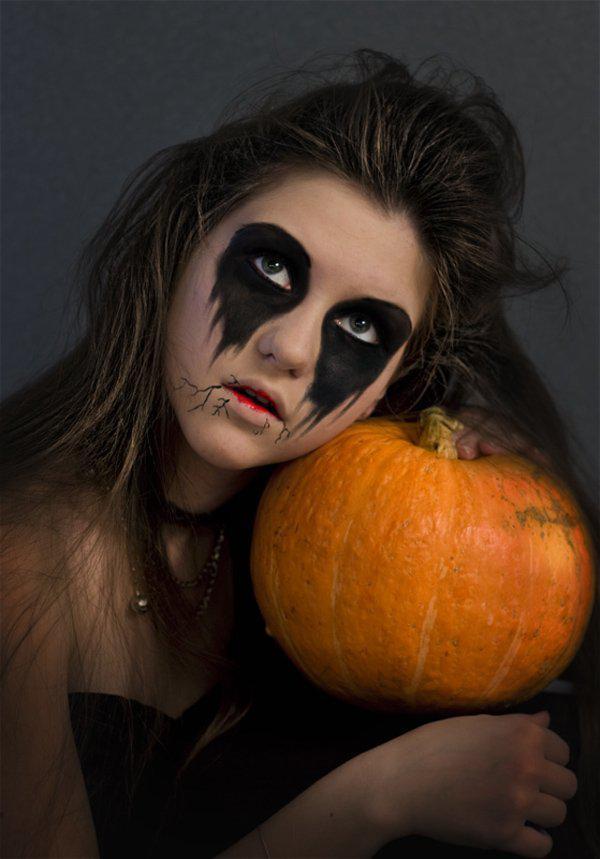 Cute and spooky Halloween makeup. A simple yet great looking makeup technique that you can use for any type of Halloween costume.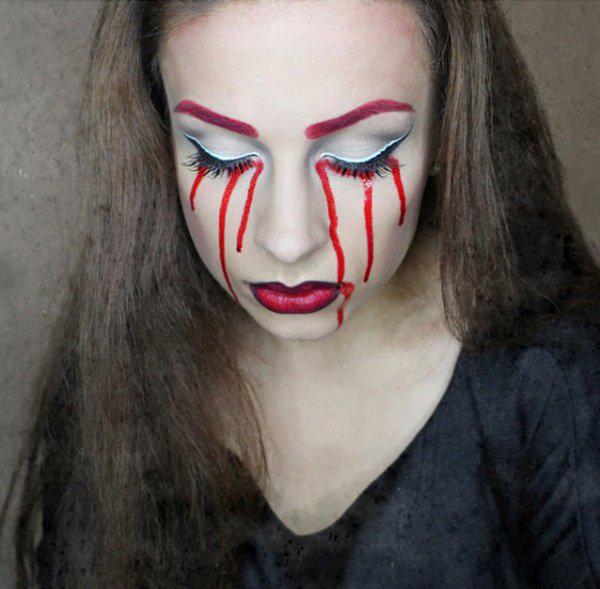 Play around with bloody red tears with this Halloween inspired makeup. Use shades of pale white, dark red and silver to enhance the eyes.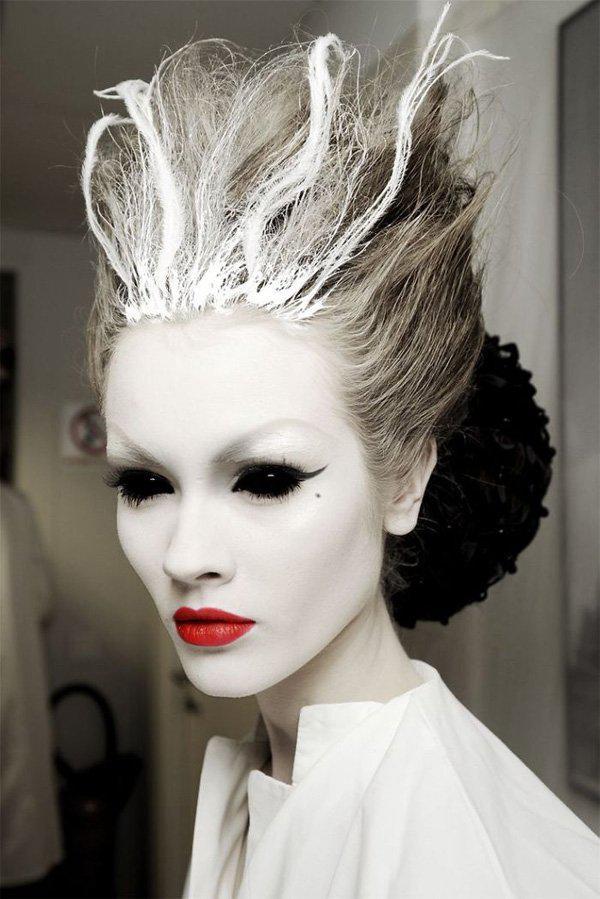 Be the Ice Queen with this mystical looking makeup. Paint your face off white along with the eyebrows and use bright red lipstick to make your lips stand out. Enhance the ghastly effect with black sclera lenses.
Ice Queen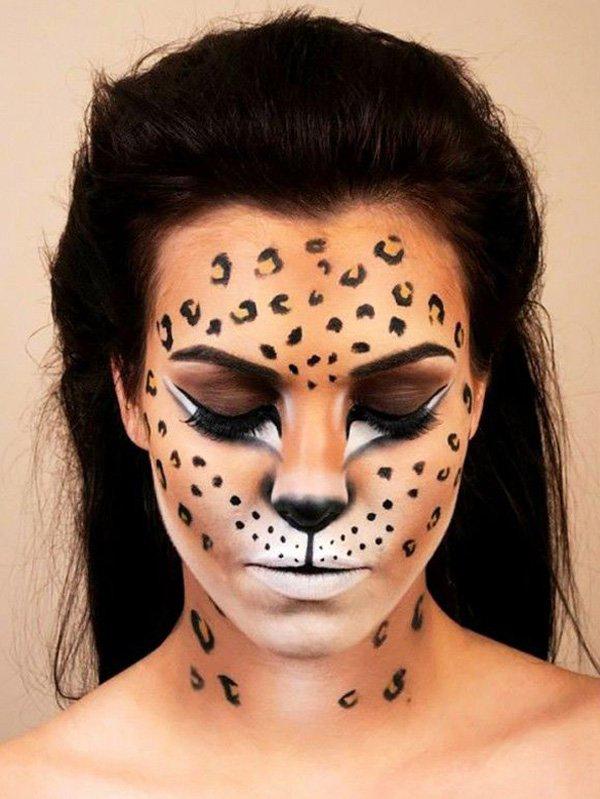 Leopard print inspired makeup. Animal face paint makeup has been making its rounds even from before. Treat yourself to a leopard print makeup this Halloween.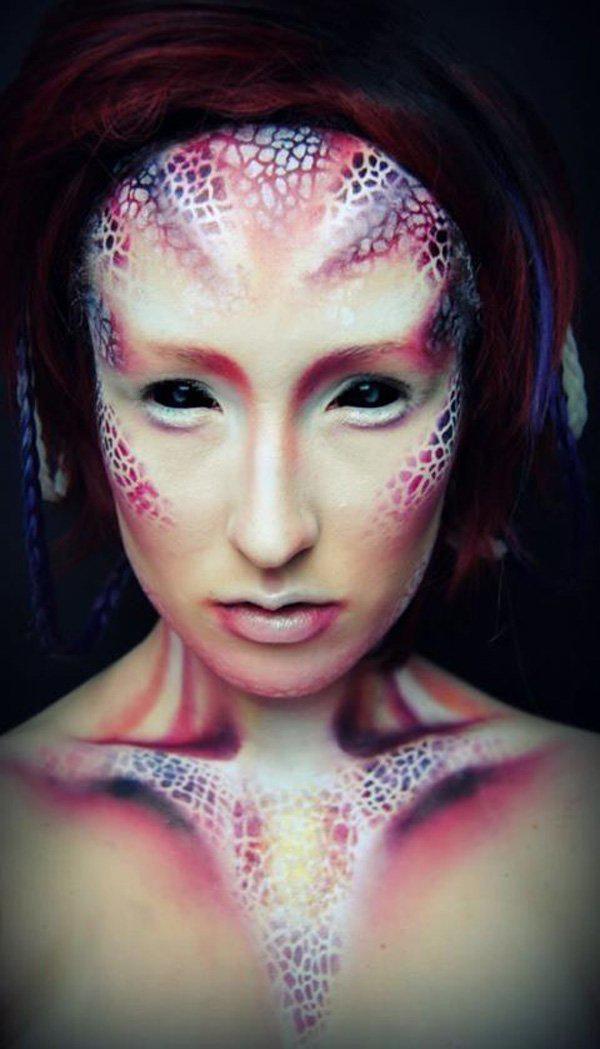 Get this out of this world makeup look for Halloween. Paint on multicolor scales throughout your face and enhance your look with help of black sclera lenses to give that alien-like vibe.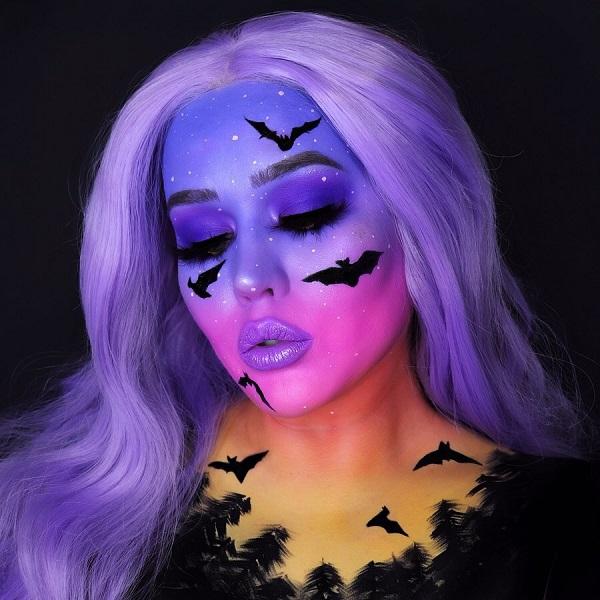 Turn your face and body to a mysterious fantasy by trying the amazing Halloween makeup, which features black bats flying from the forest to the starry sky. The eyebrows, eyes and lip are blended into landscape smoothly. The color of wig is used to accent motif of the design.