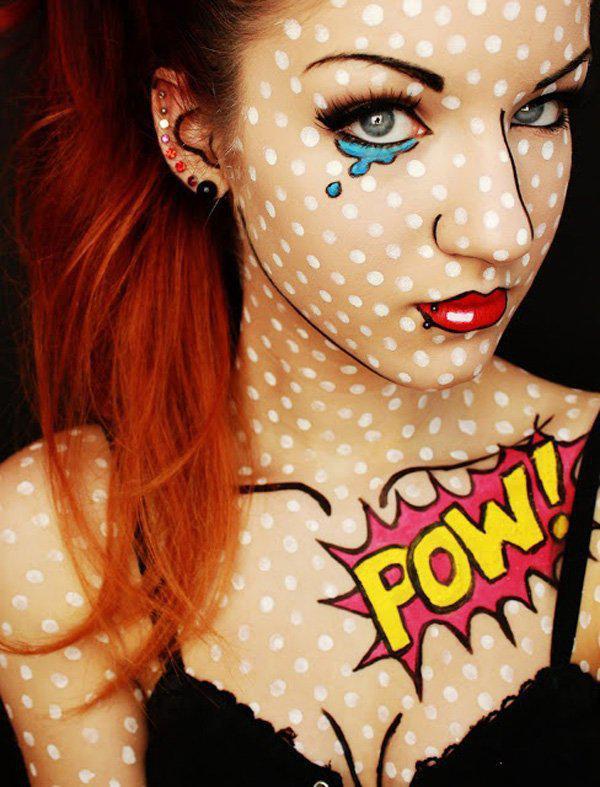 Trick or Treat in style!
Comic hero inspired Halloween makeup tutorial. Very creative and colorful. The comically drawn tears, background and dots make the overall look outstanding.
Halloween is just around the corner. It's about time to plan that smashing Halloween costume of yours and go out trick or treating! A lot of people have turned Halloween into a creative gathering of costumes, make up and craft. If you don't want to be left behind, make sure that you get the perfect Halloween make up for your get up! All it takes is simple planning ahead.
There are many ways where you can apply your own Halloween make up. Others disregard make up just because they are too afraid to try it out or they think it will not look good on them. Remember, it's the makeup that will help make your costume stand out. If you want to be unique in a good way and impress people with your skills then you should definitely try to put on a good Halloween makeup. In this article, you will see various types of Halloween makeup that you can use as reference.
Halloween is simply the perfect night where you can mix reality and fantasy and roam about in the streets. It's the only night in the entire year that you can put on a costume and have a night of enjoyment with friends and family! Of course you would want to look your best but you don't want to spend so much on hair and makeup just to look good. This is why you should try DIY Halloween makeup ideas. It just takes a little practice to get a hang of it and it will definitely come in handy not only this Halloween but on the successive Halloweens that you will be celebrating.
What to check before applying Halloween makeup
A number one precaution when wearing makeup is to test the skin compatibility. There are many beauty products that can have harsh effects on other people's skin. Rashes and itchiness are common side effects and you should check the makeup with your skin first before buying or applying it.
Don't use makeup or baby powder near open flame sources. Open flames aren't the safest area for you to be doing anything at all. Even If you are not applying makeup near that place accidents can happen and you might want to take your business to a much secure place such as your room or the bathroom.
Make sure that the makeup you use has been clinically approved and are for use on the face area. Using any other chemicals might harm your face since the skin on the face is very sensitive.
Even though you really want to, don't mix up different types of makeup. You can't be sure of the compounds within the makeup and some of them might react badly when combined with others and could permanently damage your skin.
Don't apply thick makeup. You will feel heavy later on and it will be more difficult to take them off by the end of the day. Leaving them on is not a good option either.
Halloween makeup inspirations
Pancake makeup- used with powderpuff and is used as foundation or base for the makeup.
Cream- usually bought at Halloween and is available in various colors. This makeup is used in ghost, with and devil costumes. They are the same to grease paints but only easier to remove.
Tube or stick makeup- used for highlighting and shadowing on the face.
Face paint- these use special paint for the face area and you should make sure that the paint is approved by the FDA. Look for a certification to be sure.
Body liquid makeup paint- this type of makeup is often used in airbrush techniques.
Adhesive- these can be corn syrup, liquid latex and sprit gum. The liquid latex is made out of ammonia and has strong vapors so make sure you don't use it near the eyes.
Prosthetic- probably the most popular and well loved in Halloween make up. They can give you fake scars, wounds, noses, warts and so much more. They use latex or rubber and can also be made by the combination of tissue layers soaked in adhesive.
No matter what type of makeup you are going to use for your costume just make sure that it will not affect your health negatively. Always check the precautions on the makeup you will be using and perform the skin test no matter. You want to enjoy Halloween and the spookiness it brings to the fullest so it is best that you also feel at your greatest. You want to avoid things such as allergies, rashes and even trips to the hospital on a day that you were supposed to have fun. Allergic reactions can appear within the first hour and if it doesn't fade in a day or two, go to the physician to have it checked.
Examples of Halloween makeup ideas
For more Halloween makeup tips, you can watch video tutorials or blogs where they feature a specific Halloween look you are planning to go for. Below are amazing examples of Halloween makeup looks that you might want to use as your references for your own upcoming Halloween party.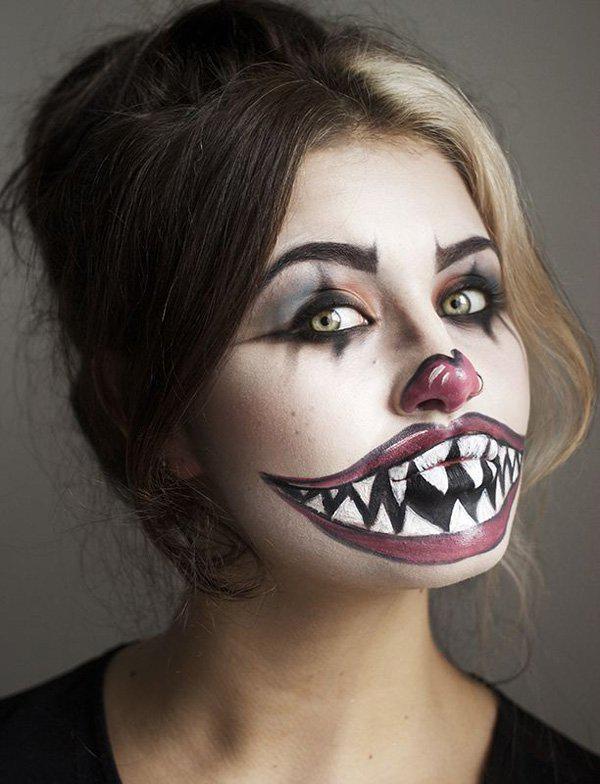 Beautiful Halloween makeup
Horrifically magnificent Halloween makeup that you can recreate by yourself. Use dark and light colors that contrast against each other. This freaky clown makeup looks amazing because of the sheer contrast of the colors.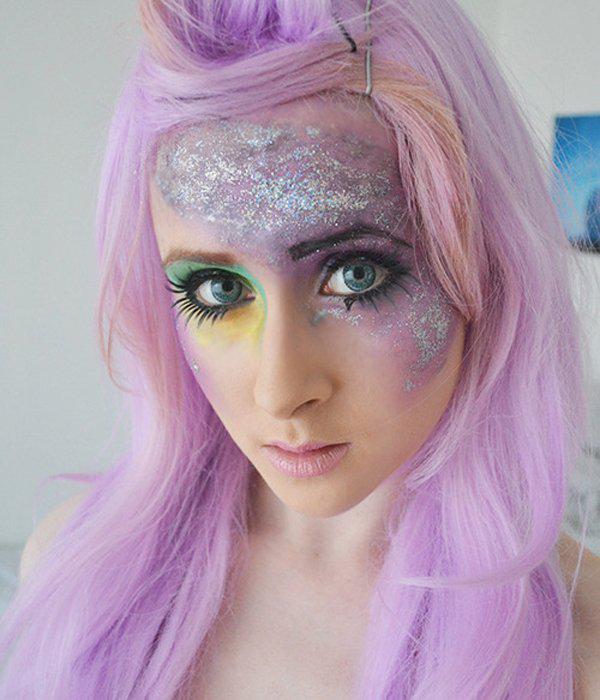 Galaxy Soldier
Halloween galaxy princess makeup. Halloween makeup doesn't necessarily mean you have to be scary, you just simply have to be out of this world and this makeup theme suits it just fine.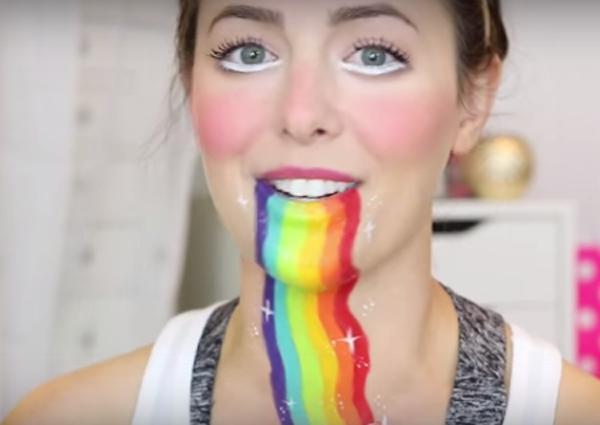 Mind-Blowing Rainbow tracks Halloween Makeup
Even though barfing isn't the best thing in the world, this colorful rainbow themed makeup definitely makes it a very fun and interesting piece for a Halloween costume.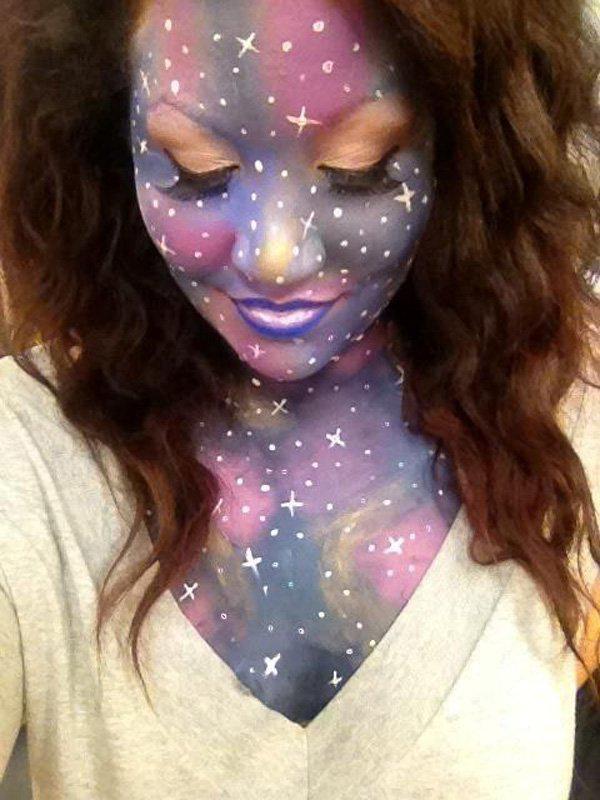 Nebula Fantasy Halloween Makeup
Bring in the whole galaxy with your makeup. This nebula galaxy inspired makeup looks simply gorgeous and star studded.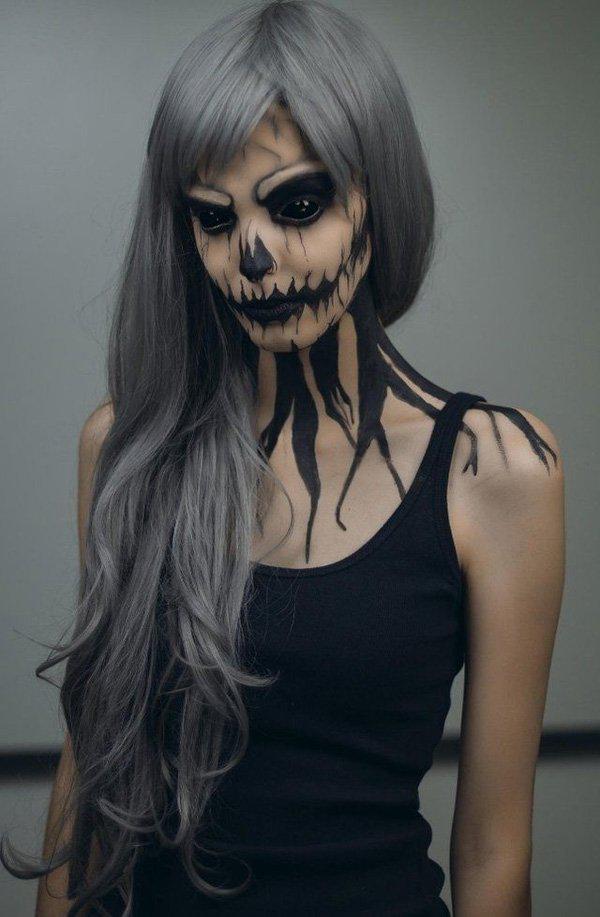 Awesome Halloween makeup idea
Spooky but gorgeous look. Be the death eater with this black themed dark ghoul makeup. Step it up with a pair of all black sclera contacts and scare your way all throughout Halloween.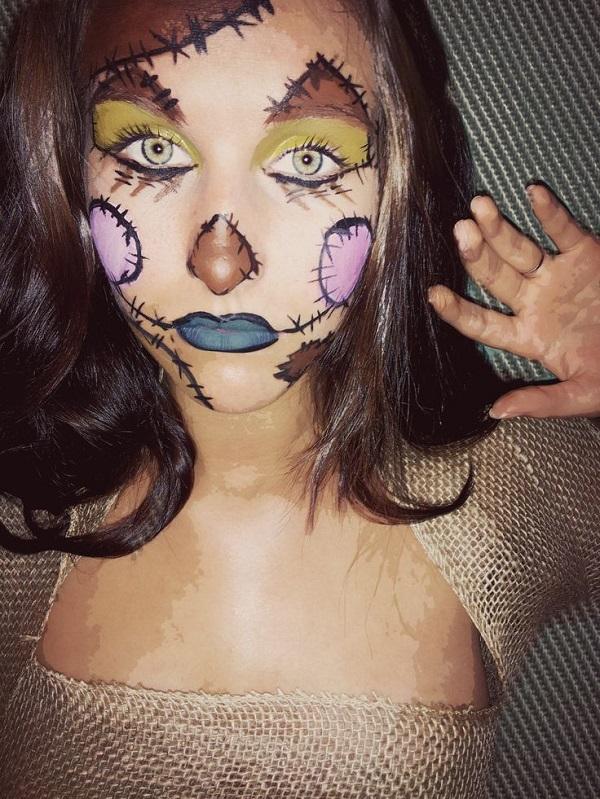 A pretty and colorful stitched makeup. Look like a raggedy anne doll or a scarecrow with this stitch inspired makeup using various shades and blush.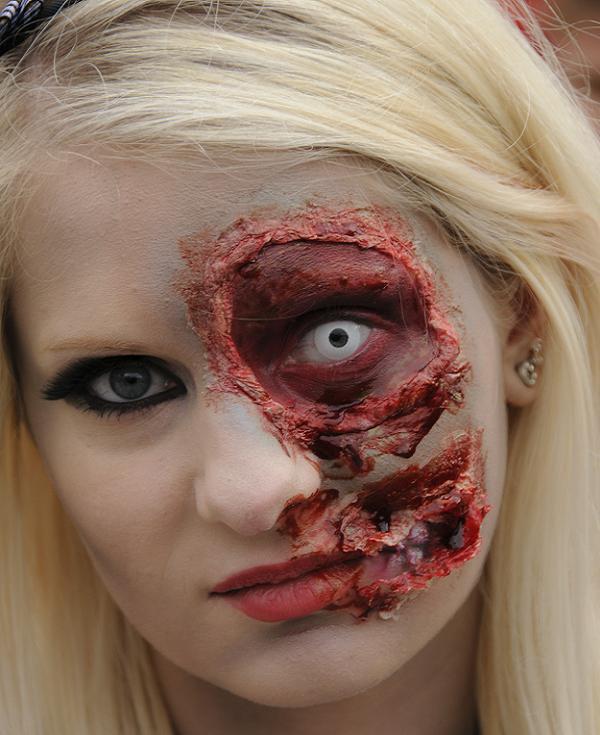 Burned skin Halloween makeup. Looks so realistic that you can't even imagine how it's done. A creative mind plus a bit of prosthetic can enhance this look and make it even more realistic.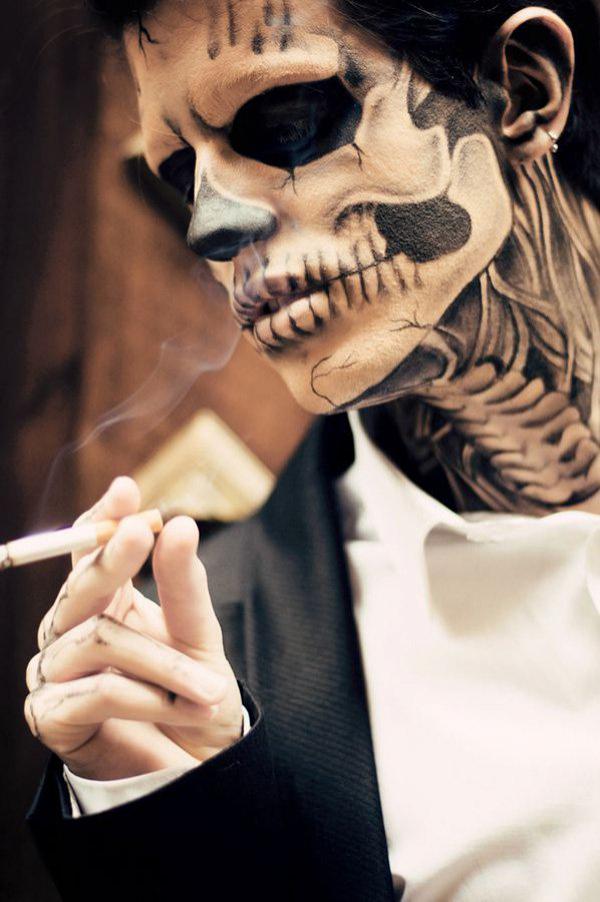 Smoking skull
Skeleton themed Halloween makeup
Who says you can't be a dashing skeleton on Halloween? With this ensemble of intricate makeup brush strokes, you might get more than a few good looks from spooky admirers.