A dandelions is one of the most beautiful flowers that we use in nail designs today. It has wonderful color and simply stands out on the field. There are a lot of beautiful flowers around the world, so what makes dandelions unique and appealing? Their intricate petals or seeds as well as the nature of flying away with the wind, are often a favorite subject for art work, including dandelion nail art designs.
Some deeper meanings of dandelion
Yellow dandelions- The color suggest open communication with others. This color of Dandelion also symbolizes intelligence, clarity, radiance, vibrancy, growth, joy and healing. If you feel that you fit in these categories then it would be a great choice to have yellow colored Dandelions painted on your nails
White dandelions (Puffball) – White has always been a sign of purity, which is why white dandelions also connote the same thing. The color white also signifies cleansing, clarity, the soul or spirit, start of new beginnings and vast space. If you are a person who values space and likes to be in inner peace with your soul then white will be the perfect color to go with your Dandelion nail polish.
Green dandelions (Stem and Leaves) – The green part of the Dandelion is its stem and leaves, which represents Mother Nature. These also represent being well grounded, growth, wholesomeness, nature, resurgence and the gift of life. When you love to commune with nature and feel as if the wild is always calling for you, green is your best color. It is a perfect hue for an adventurous and fun loving person like you who likes growing with nature and celebrating life.
Combining all these meanings one can say that Dandelions stand for life, purity and vitality of a person. You are simply expressing yourself as someone who is open minded, vocal, embracing to changes, values spiritual growth and loves life as it is. Dandelions give out a very positive and beautiful meaning that doesn't simply state that a flower is beautiful on the outside, but it is more elegant on the inside.
Dandelion nail polish patterns
If you're planning on getting dandelion nail art patterns then you should prepare a couple of things, especially when you're doing the design on your own. If you have a budget and prefer to go to a nail salon then that is also a great idea. Going to the salon might make you feel safer about the outcome of the design and have a professional do it. However if you have trust in your artistic capabilities and would want a more personalized nail art then don't hesitate to paint your very own pretty Dandelion nail art!
Just make sure to have the following necessities:
Nail Polish/ Acrylic Paint of your chosen colors
Nail polish Remover
Clear Nail Polish (for finishing)
Dandelion Pattern (for you to follow or base the design on)
Clean towels
Special nail polish pens for the petals
Small brushes (If you don't have specialized pens)
And your very own artistic imagination
Have these at hand and you are more than ready to go! If it's your first time painting on Dandelion designs then make sure to have a lot of patience on you. It might not go perfectly in the first try but practice makes perfect!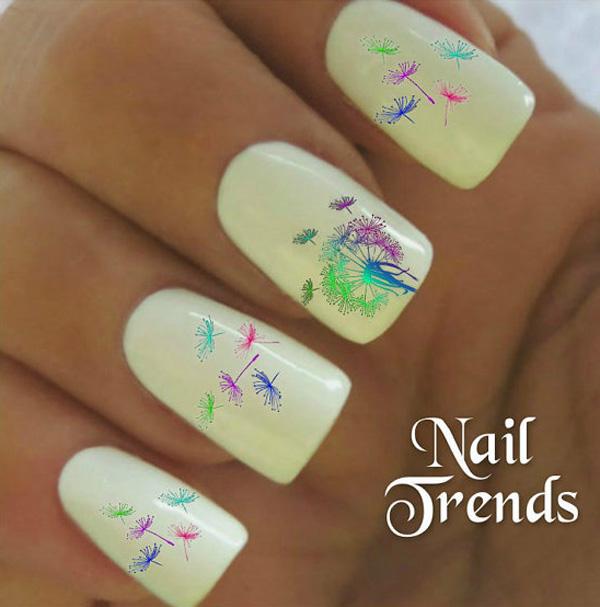 Start off with a white base color for this creative and multi colored Dandelion nail art. The Dandelions are painted in gradient and fading colors that vary per petal and is simple eye catching to look at.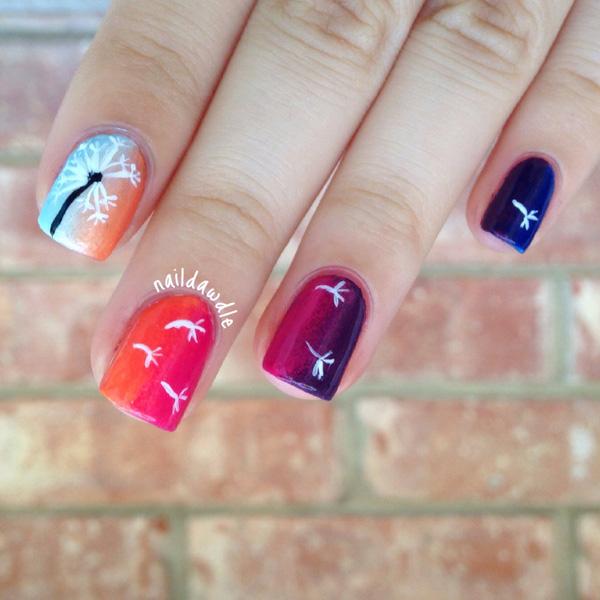 A pretty white colored dandelion over colorful gradients polishes. The petals are scattered all the nails like blown by the wind.
A simple two colored Dandelion inspired nail art. Using white as the base color, black silhouettes of Dandelions are painted on top looking as if the wind has blown off its petals and transported them to the nearby nails.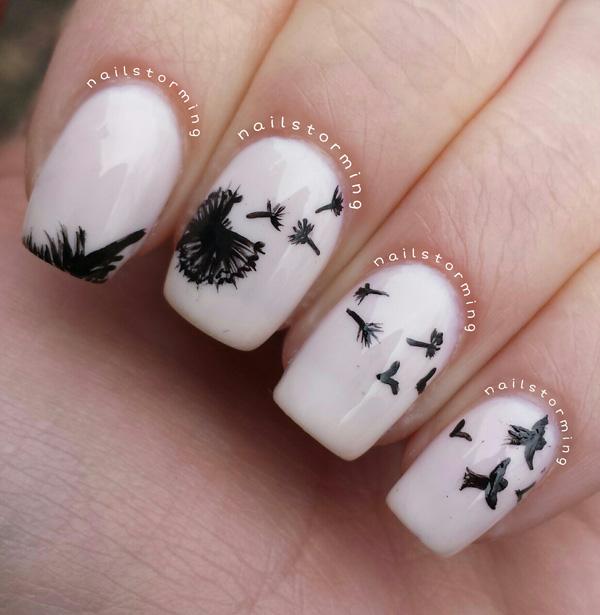 Nail art with dandelion seeds transformed into flying birds. Black silhouettes painted atop a plain white polish for greater effect and impact.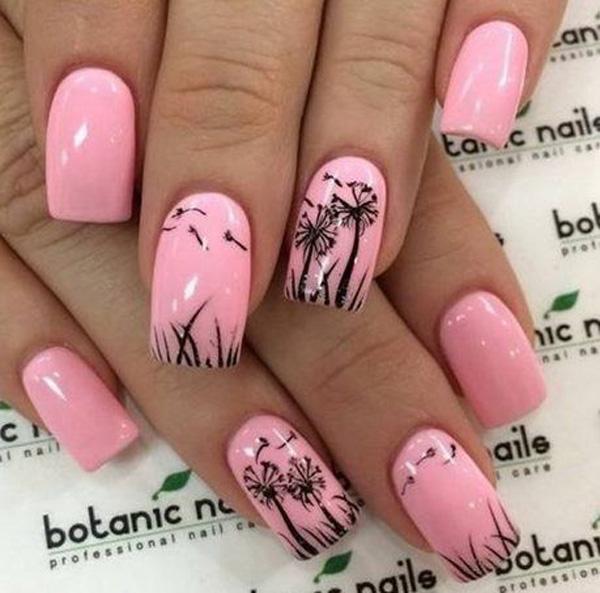 Glamorous nail art with dandelions outlined on the baby pink nails.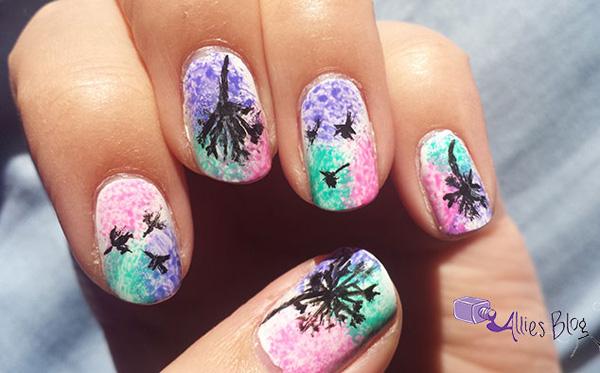 If you are a fan of Van Gogh you will find this nail art style a bit similar to the artists' infamous works. Using blue, green and magenta colors as base, black polish is then used to vaguely draw Dandelions and it's petals flying all throughout the nails.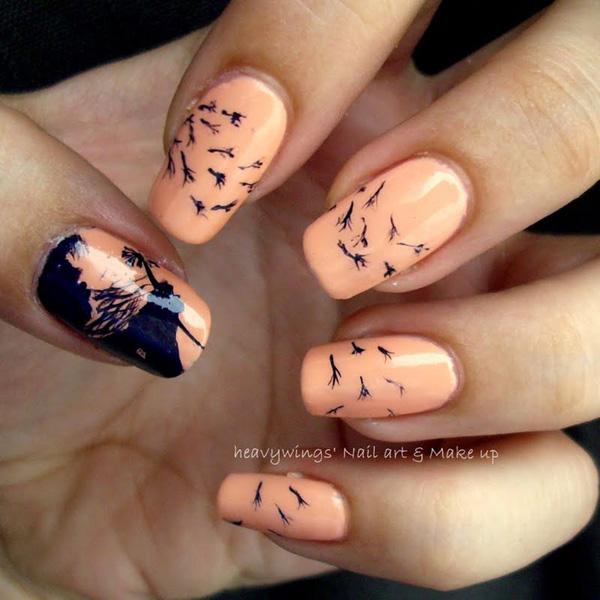 Coat your nails in matte melon polish and have black Dandelion silhouettes painted over them. An awesome looking painting of a person blowing away the Dandelion petals as it travels through the nails has also been creatively added.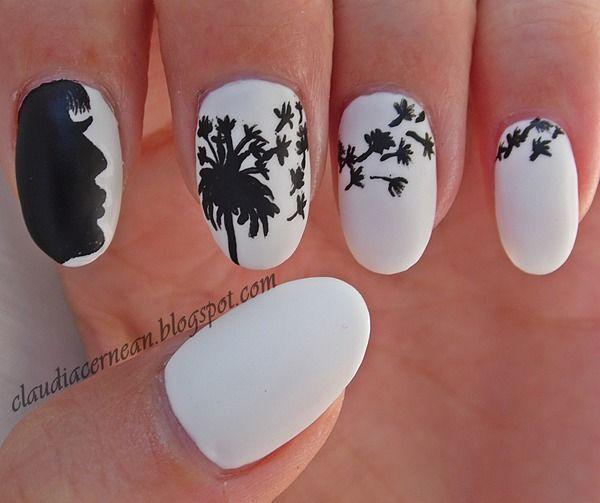 Cover your nails in striking matte white polish as base for your Dandelion nail art. A black silhouette of lady blowing away a Dandelion flower and scattering petals across the rest of the nails.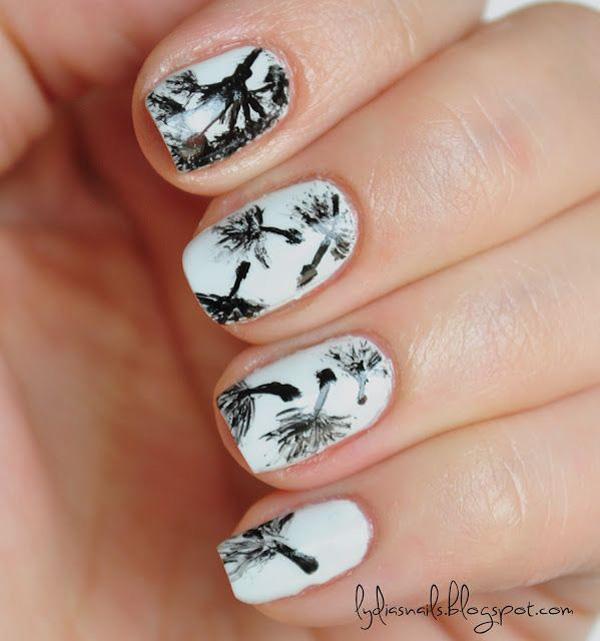 Another white background inspired Dandelion nail art. A black dandelion flower is painted in watercolor style as its petals are drawn flying from one nail to another.
Use a matte olive polish as base color to stand out. The stem of the Dandelion is painted in black while the petals are in white colors perfectly contrasting the background.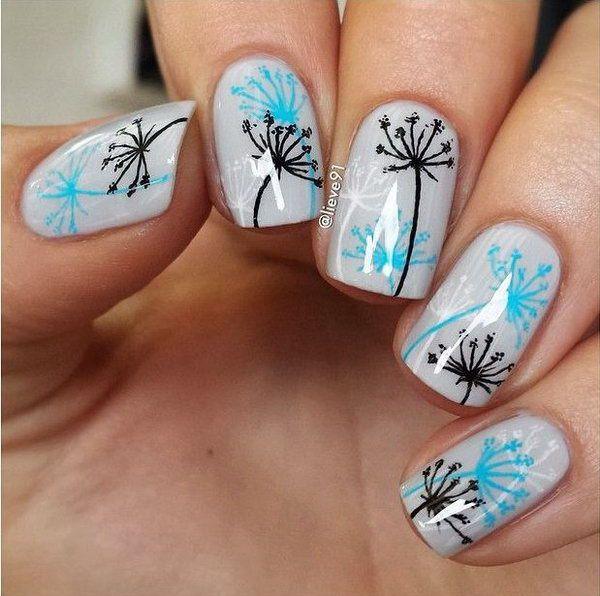 Be different and paint your nails with blue gray base color. The Dandelions are drawn in blue, black and white hues to perfectly blend with the background and at the same time compliment each other's hues.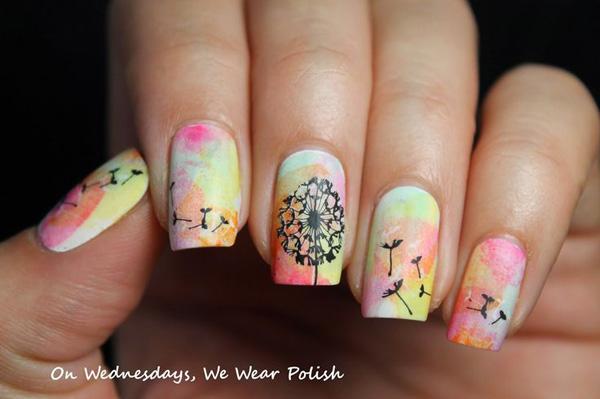 Be creative and try this colorful and tie-dye inspired Dandelion nail art. The base color is a combination of washed out colors of pink, orange, yellow, green and blue while the Dandelions are painted in striking and contrasting black color.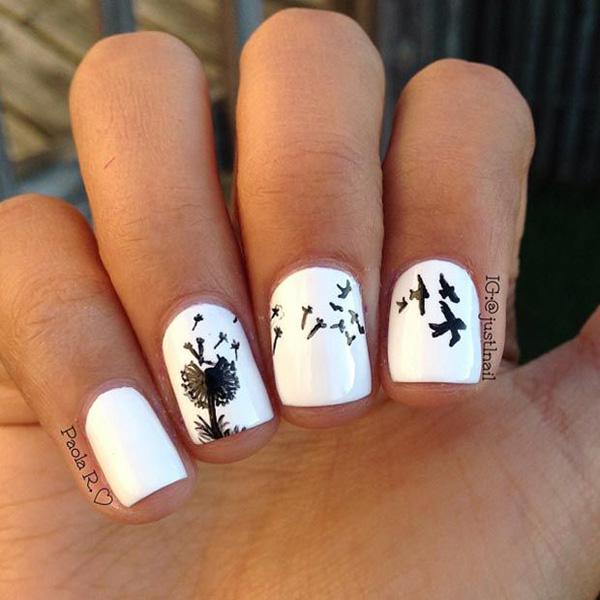 Play with black silhouette dandelions over a matte white base color on your nails. The design gives an illusion that the air is creatively blowing away the petals unto the rest of the nails.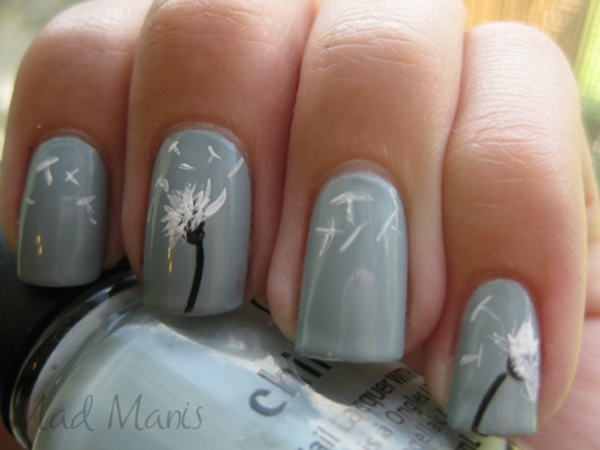 Start off with a blue gray base color on this Dandelion inspired nail art design. Paint the petals white as they travel from one nail to another while the stem is coated in striking black.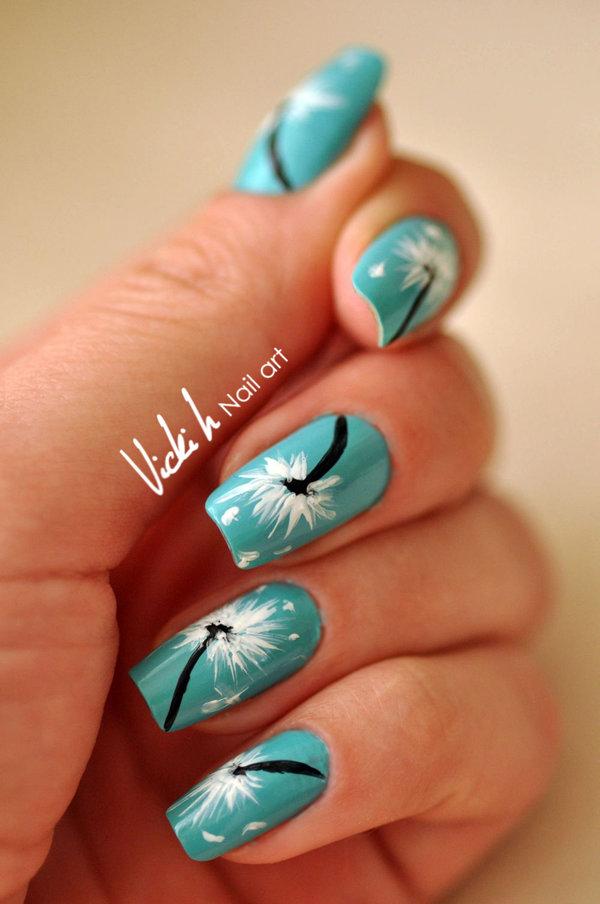 Give life to your nails by using a green blue base color for your Dandelion nail art ensemble. Paint a Dandelion each on your fingernails using white polish as the petals and black for the stems for effect.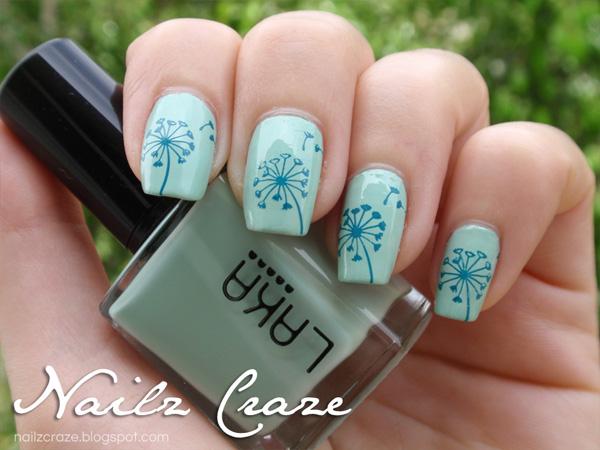 Get creative with light and dark shades in this turquoise hued nail polish. Start off with a light turquoise base color and top it off with darker turquoise Dandelion silhouettes complete with its petals painted flying away with the wind.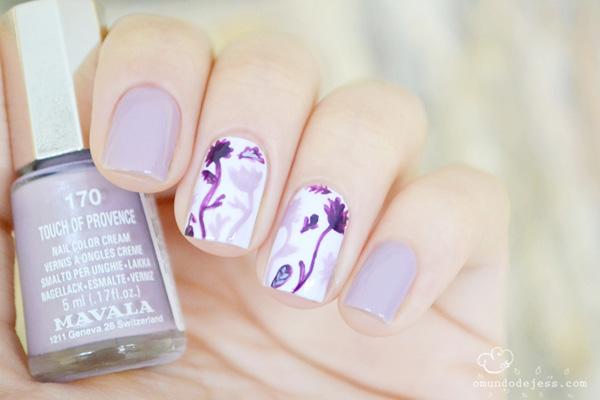 Coat your nails with matte white and periwinkle as base colors while adding shades of periwinkle to draw the Dandelion leaves, stems and petals.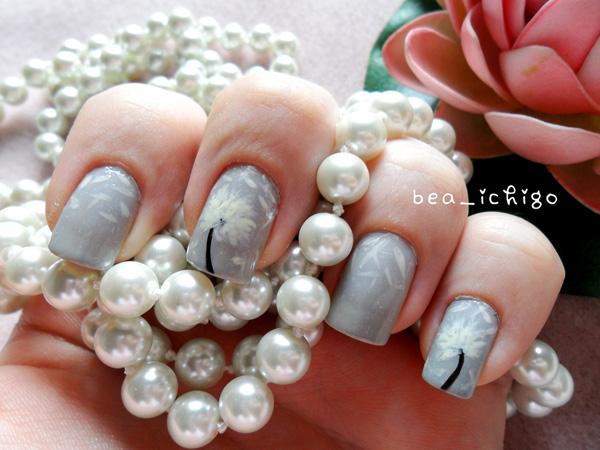 Revel in gray and white color combination with this beautiful Dandelion nail art. Coat your nails in gray base colors and add a striking tint of black for the Dandelion stems and modest white strokes for soft looking petals.
Love blue? Then this light blue matte base color will surely catch your attention, added with black nail polish for painting the Dandelion silhouettes with tiny magenta colored dots looking like tiny sparkles.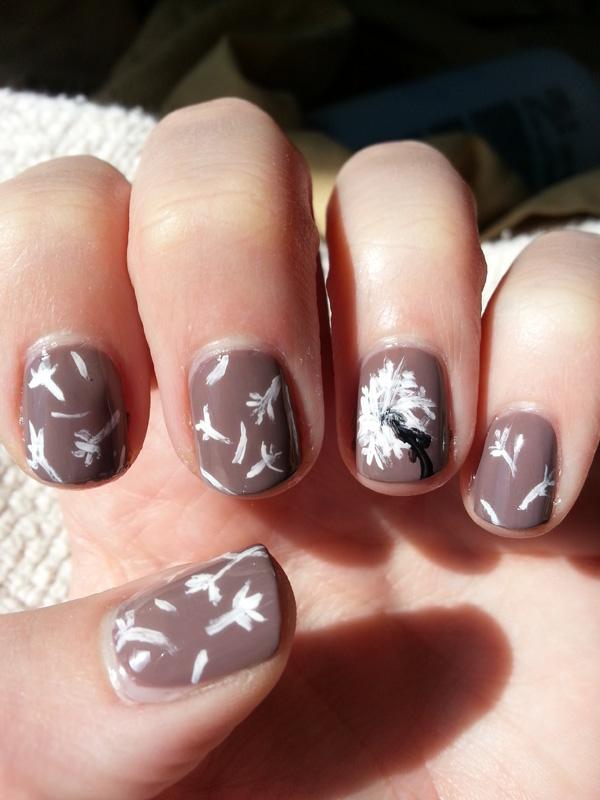 Don't be afraid to play along with colors as this mocha base inspired Dandelion nail art shows you how awesome it looks like with thick brush strokes of white Dandelion petals with a thick black colored stem.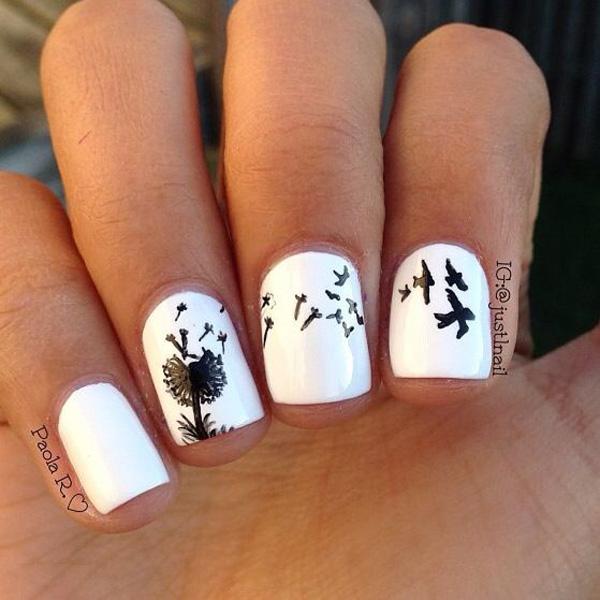 Dandelion painted on the white shade with its seeds flying away, becoming free birds. Love the wonderful nail art.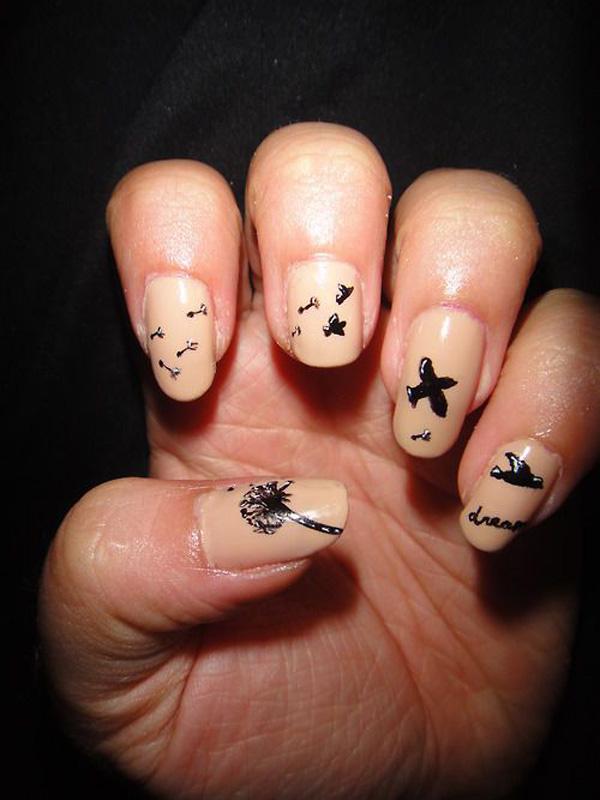 Be stunning with this nude base color inspired Dandelion nail art design. Paint over the base with a striking black polish as you draw the Dandelion silhouettes.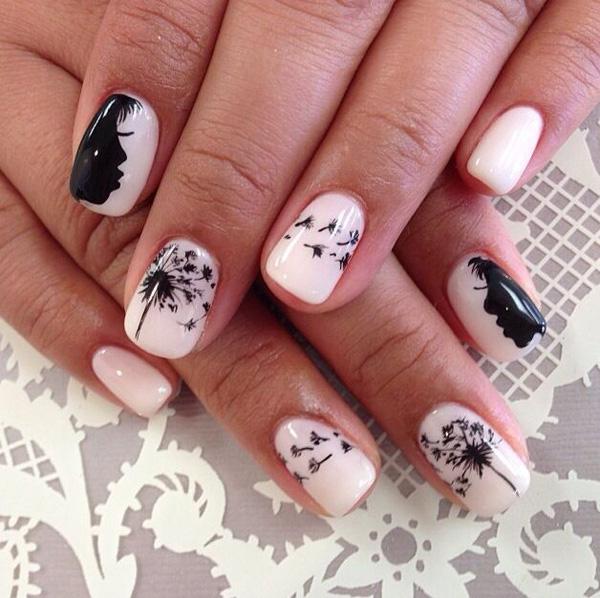 Let your imagination run wide by painting a detailed Dandelion inspired nail art. Use a simple white background and top it with a black nail polish to draw a person blowing away Dandelion petals as they travel from one nail to the other.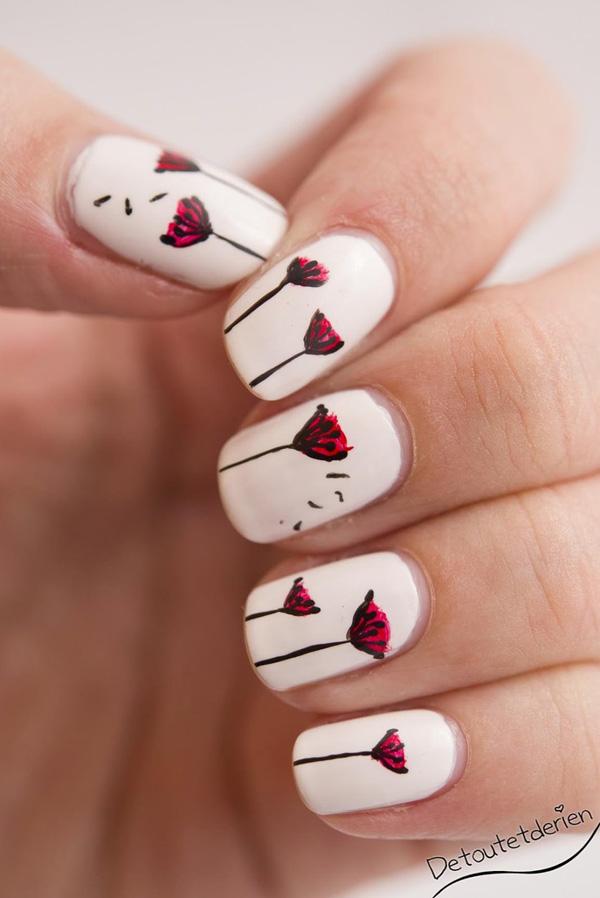 Simplicity is art. Use a matte white background for this interesting design which uses black nail polish for the stems and petals of the Dandelion whilst painting red on top of the flowers giving out a an eye catching color effect.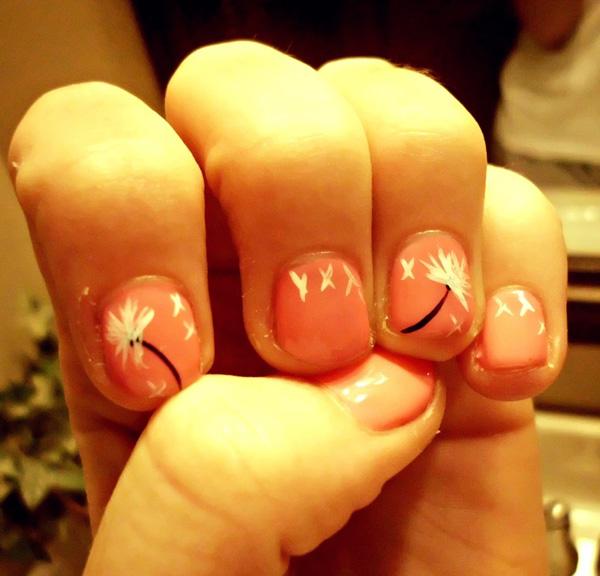 Cute and short nails also deserve adorable Dandelion nail art designs. Start with coating your nails with baby pink nail polish as base color and work your way on the top with a black polish for the Dandelion stem and white polish for its feathery petals scattering throughout the nails.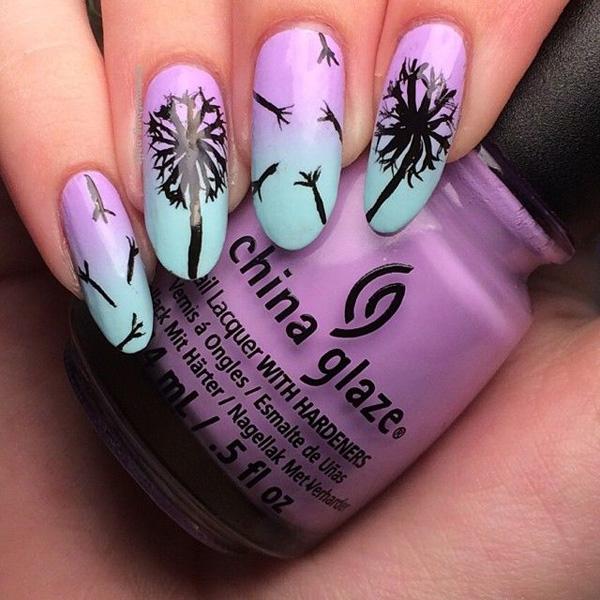 Let beautiful gradient colors take over your nails with this violet and light blue combination for base coating. On top the Dandelions are painted creatively using a black nail polish so that it would stand out better.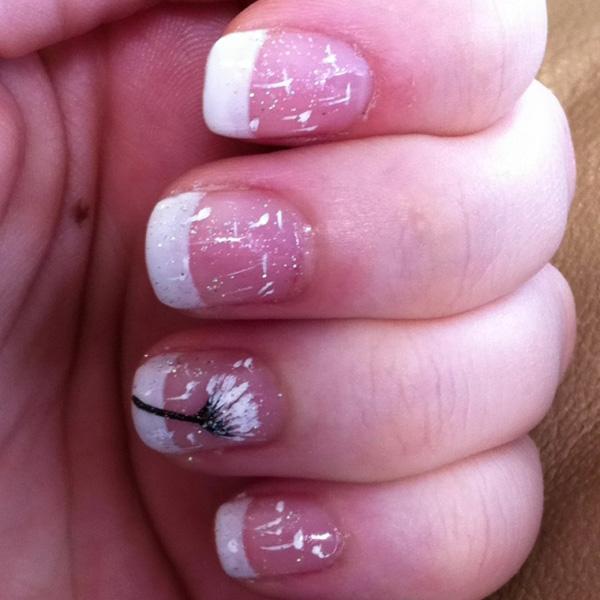 Try incorporating your French tip with a beautiful Dandelion nail art and this is what you will get. A clear coating is used as base color with a white polish for th French tips and Dandelion petals, while black polish is used for the stem.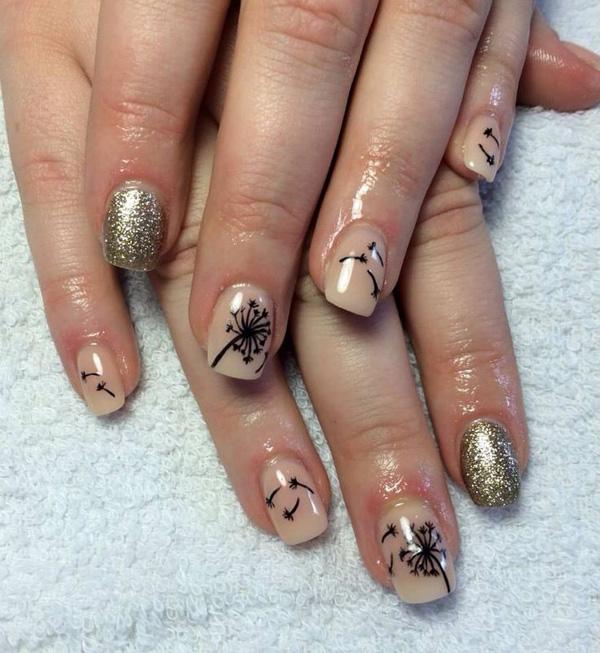 Take a look at this glamorous combination of glitter gold and nude matte colors for the base coating. Black Dandelion silhouettes are then painted over to depict the flower and its petals being gently blown by the wind.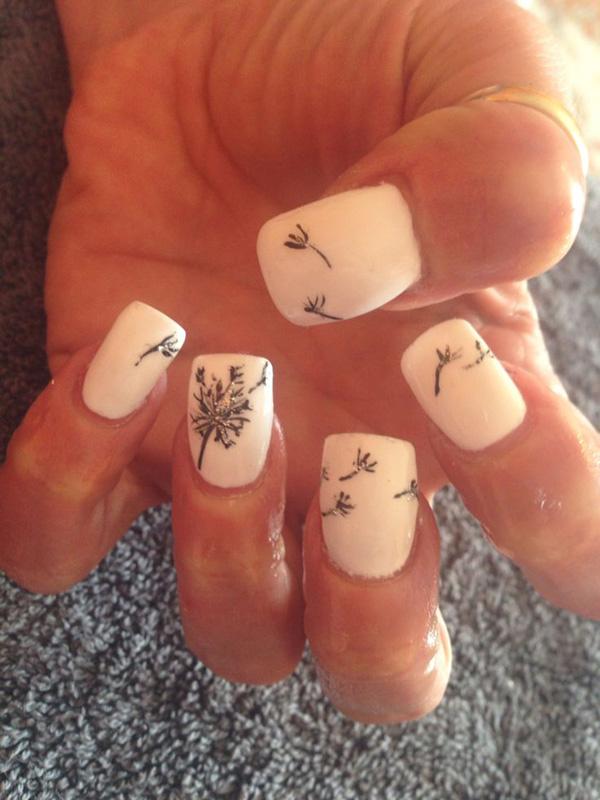 White is a beautiful canvass for minimalistic paintings and nail art is also included. Use a white matte polish for the base coating as you draw thin Dandelion petals and flowers over it.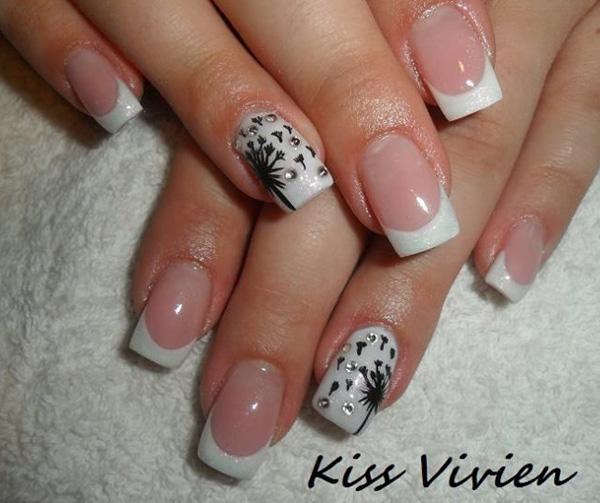 An interesting combination of French tips, Dandelions and beads. Use a clear polish and matte white color for base while you can paint over the plain white base with black Dandelion flowers and add silver beads to complete the effect.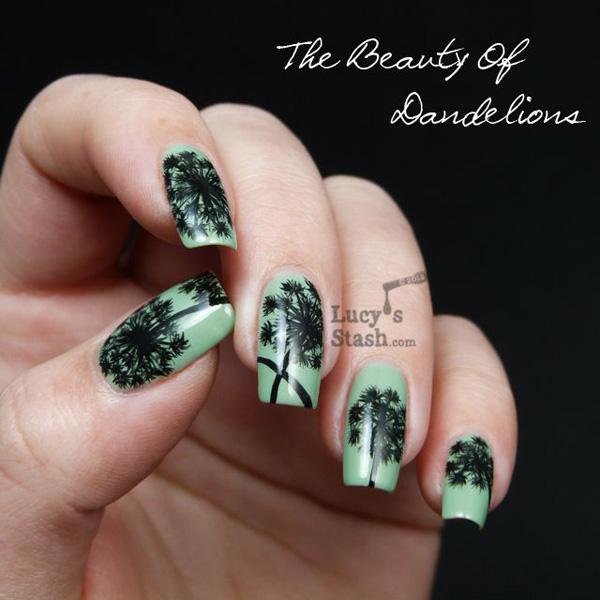 Be bold and strong with a sea green base color for your Dandelion inspired nail art. Paint thick lines of Dandelion flowers in full bloom using a black nail polish to make them easily pop out of the design.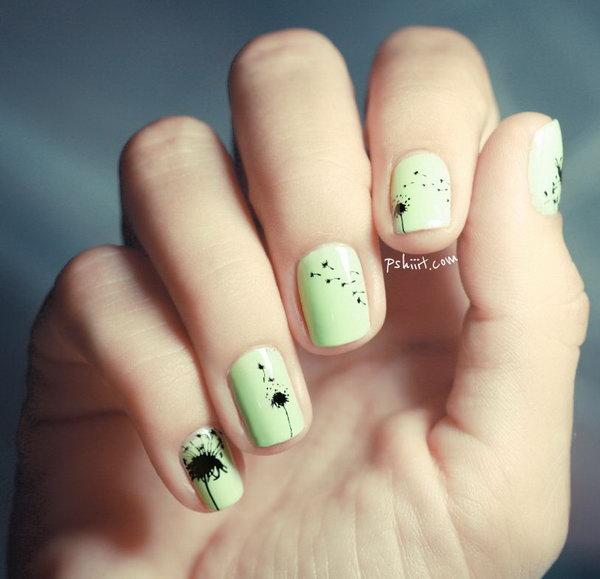 Using mint green as base color gives a refreshing look on the nail. The tiny and thin lines used for the black colored Dandelion silhouettes compliment greatly with its lighter background.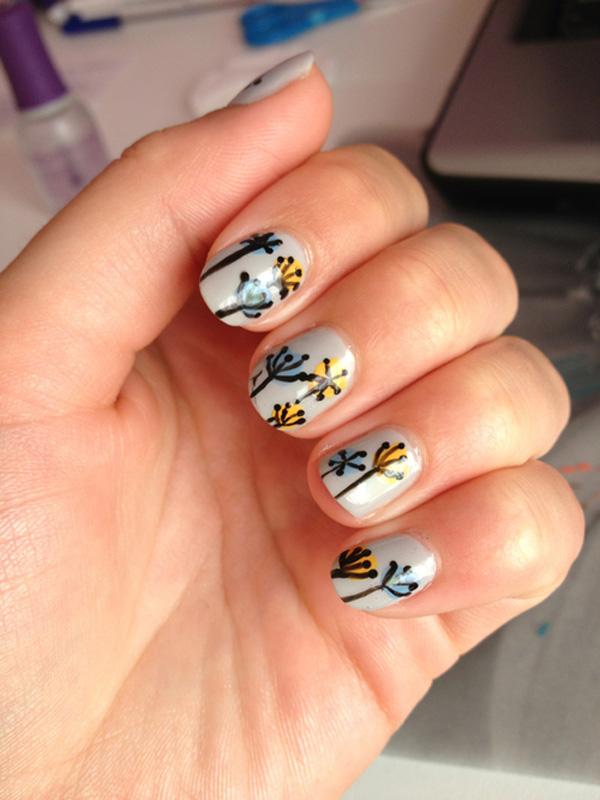 Take a look at this fun and quirky looking design. Use a plain white polish for the base coat while adding bold black colors for the Dandelion stems and add a dab of yellow and blue polish for the Dandelion puffball effect.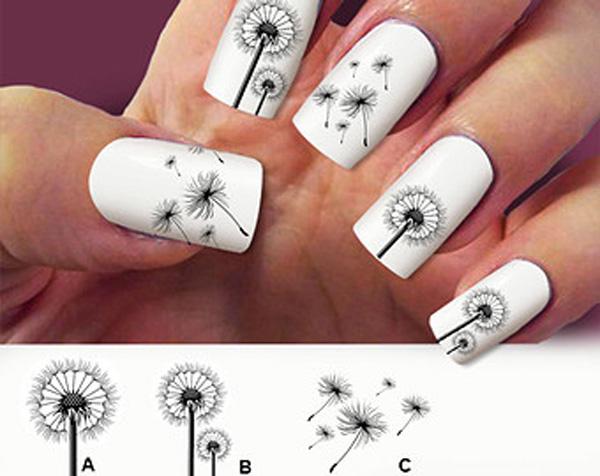 3Looking simply amazing in plain white matte background. The Dandelions are thinly drawn using a black polish with such intricate and interesting details